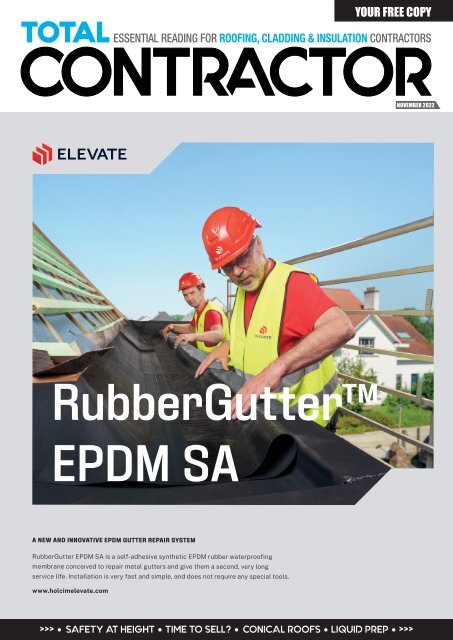 Create successful ePaper yourself
Turn your PDF publications into a flip-book with our unique Google optimized e-Paper software.
NOVEMBER 2022

RubberGutter

EPDM SA

A NEW AND INNOVATIVE EPDM GUTTER REPAIR SYSTEM

RubberGutter EPDM SA is a self-adhesive synthetic EPDM rubber waterproofing

membrane conceived to repair metal gutters and give them a second, very long

service life. Installation is very fast and simple, and does not require any special tools.

www.holcimelevate.com

>>> • SAFETY AT HEIGHT • TIME TO SELL? • CONICAL ROOFS • LIQUID PREP • >>>
---
SPEED AND

SIMPLICITY,

BY DESIGN.

Introducing the new Siderise CT

Cavity Tray.

A unique trilateral design that's flush-fitting, fully aluminium

wrapped and pre-filled with non-combustible stonewool, making

it incredibly quick and easy to install as well as A2-s1,d0 rated.

Its exclusive design* is engineered for use with Steel Framing

Systems and blockwork inner leaves without hot works, screwing

or chamfering, whilst corners are easily cut on-site. Backed by

forty-five years of cavity barrier innovation, full site support

services and our market leading inspection app, Siderise CT

Cavity Tray is another innovation to help make projects easier.

Your Workmanship. Our Ingenuity. Swift Installation.

Discover more at Siderise.com

CERTIFICATE 21/5978

*Patent pending
---
Editor's Comment

MATT DOWNS

EDITORIAL DIRECTOR

MATTDOWNS@MEDIA-NOW.CO.UK

07963 330774

Another issue, another Prime Minister! As Rishi Sunak and his new

Cabinet settle in to Number 10 to tackle the 'difficult decisions' and

address the 'profound economic crisis' he warned of in his first speech

after being asked to form a Government by the King, perhaps the very

least most businesses are holding out for is some sort of stability at

government level.

If roofing and cladding contractors have learned anything over the last few

years, it's the importance of resilience and being able to adjust to

challenges and keep moving forward whatever's going on around them.

However, if any owners of contractors have had enough – who could blame

them?! – and are perhaps interested in testing the waters with regards to

selling their business, our Ask the Solicitor column this month discusses

the steps they should take and key considerations to make from a legal

perspective. As Matthew Catterall of Taylors Solicitors explains, whilst

selling a business can be a "daunting prospect", he points out that "if you

take the time to assess and prepare you can reduce stress, time and

costs." Read his guidance and advice on p14.

Elsewhere in this issue, John Mercer talks all things curved and conical

roofs in his latest Roof Shapes column (p18); Daniel Redfern of Marley

explains why solar PV could be a great addition to your offering (p20); Lorna

Stork of SIG outlines why she feels the focus will remain on sustainability

even if the market cools (p24); Tim Bowers of Flex-R reinforces the

importance of proper training and preparation with liquid systems (p30);

plus, as the World Cup kicks off this month, make sure you track your team

and play along with our WeatherFAST World Cup Wall Planner and

Sweepstake Kit, free with this issue!

Matt

RubberGutter

EPDM SA

A NEW AND INNOVATIVE EPDM GUTTER REPAIR SYSTEM

RubberGutter EPDM SA is a self-adhesive synthetic EPDM rubber waterproofing

membrane conceived to repair metal gutters and give them a second, very long

service life. Installation is very fast and simple, and does not require any special tools.

www.holcimelevate.com

Front cover courtesy of Firestone Building Products / Elevate. Carl Bailey

discusses the critical roofing components needed to create a resilient

roof and the benefits of an EPDM membrane on page 28.

FOLLOW US @TOTCONTRACTORUK

SIGN UP FOR YOUR E-NEWSLETTER AT

WWW.TOTAL-CONTRACTOR.CO.UK

Advertising:

Publishing Director: Andy Dunn

DD: 01892 732 047

Mob: 07963 330777

Email: andydunn@media-now.co.uk

Registered office: 1 Forstal Road, Aylesford, Kent, ME20 7AU

Commercial Manager: Jake Roxborough

DD: 01892 732 047

Mob: 07956 133314

Email: jakeroxborough@media-now.co.uk

The content of Total Contractor magazine (and website) does not necessarily reflect the views of the editor or publishers and are

the views of its contributors and advertisers. The digital edition may include hyperlinks to third-party content, advertising, or

websites, provided for the sake of convenience and interest. The publishers accept no legal responsibility for loss arising from

information in this publication and do not endorse any advertising or products available from external sources. No part of this

publication may be reproduced or stored in a retrieval system without the written consent of the publishers. All rights reserved.

Supported by:

30
---
Contents

3 KEY FEATURES

Image courtesy of

Tudor Roof Tiles

18

14 ASK THE SOLICITOR

Matthew Catterall of Taylors Solicitors

discusses the key considerations owners

should make when looking to sell their

roofing and cladding businesses, and explains

how early preparation is vital to ensure a

smooth sales process

18 ROOF SHAPES: CURVED

Pitched roofing consultant John Mercer focuses

on best practice when it comes to curved roof

slopes and specifically conical roofs

46 OUT & ABOUT: EJOT UK

We attended EJOT UK's recent Open Day where

the company showcased the expansion and

development of its Leeds HQ, and the steps it

has taken to futureproof its offering and support

FURTHER READING

20 SOLAR PV APPEAL

Marley's Daniel Redfern looks at the ever-increasing

popularity of solar PV and opportunities for roofers

22 ROBUST R&D

Klober's Nick King talks research and development and

explains what goes into producing futureproof products

28 COVER STORY

Carl Bailey of Firestone Building Products / Elevate looks

at EPDM membranes and how to ensure a resilient roof

30 PROPER PREPARATION

Tim Bowers of Flex-R explains why proper training and

preparation is so crucial with liquid systems

60

46

60 MAXIMISING MEES

Aisling Sands of Kingspan Insulated Panels talks MEES

and discusses the opportunities for contractors

62 COMPLIANCE GUIDANCE

Lisa Stephens discusses ROCKWOOL UK's recent

guidance on compliance for insulated upstand boards

4 TC NOVEMBER 2022
---
REGULARS

16 NFRC ROOFING TALK

Gary Walpole explains why you must never

compromise on quality when it comes to

choosing and using roofing battens

38 TOTAL TALK: WERNER

As Werner celebrates its 100 year anniversary,

we put the questions to Werner UK MD Justin

White, discussing the attitudes to safety at

height, the need for training and accountability,

and changing mindsets within the sector

58 KNAUF INSULATION

TECH TALK

Bradley Hirst answers questions on the important

topic of fire safety and insulation

64 ASK A. PROCTOR GROUP

The experts at A. Proctor Group discuss thermal

bridges in their latest column

INDUSTRY NEWS

06 WIENERBERGER'S UK BOOST

Wienerberger has announced plans for a new roof tile

facility in Kent, and an upgrade to its Broomsfleet plant

10 UK TEAM PREPARES FOR TEST!

Philip Houghton and Will Emerton are training hard for the

IFD World Championships for Young Roofers in Switzerland

SECTIONS:

TOTAL

ROOFING

18

TOTAL

CLADDING

46

TOTAL

INSULATION

58

VEHICLES, TOOLS

& WORKWEAR

10

70

NOVEMBER 2022 TC 5
---
Industry News

More news, updates and interviews at www.total-contractor.co.uk

FURTHER

INVESTMENT AT RRT

WIENERBERGER SET TO INCREASE UK

PRODUCTION CAPACITY WITH NEW SITE

Colin Stevensen (right), Yard Supervisor at RRT taking

delivery from Craig Robertson of James Gordon.

Following significant investment in the

past 12 months, pitched roof tile

manufacturer Russell Roof Tiles (RRT) has

invested a further £250K in equipment.

The manufacturer has announced it has

recently taken delivery of two new state-ofthe-art

heavy-duty vehicles to help improve

efficiencies at both its Burton and Lochmaben

sites.

The two Doosan DL280 wheel loaders,

supplied by Filtermech and James Gordon Ltd

for RRT's sites, feature the latest innovations

as well as ensuring cab comfort for operators.

James Gordon was established in 1865 and is

said to be the premier distributor of

agricultural and construction equipment in

Southwest Scotland, while Filtermech is the

UK's leading supplier of the global range of

Doosan equipment.

RRT says this is another investment to ensure

it is utilising its team and equipment to the

maximum, to improve efficiencies and output to

keep up with ongoing demand for its roof tiles.

Wienerberger has announced plans to

significantly expand and transform its roofing

capability in the UK and further increase its

exposure to the growing UK renovation market.

The manufacturer says these investments,

designed to deliver organic growth from an

increasingly efficient cost base, will bring an

increase in UK production capacity, whilst also

implementing technological solutions to deliver on

the decarbonisation element of its ambitious

sustainability roadmap.

With this in mind, Wienerberger says the facilities

will combine new production technologies, helping

to minimise the CO ²

footprint from manufacture,

and will deliver additional new products that

further lower CO ²

emissions per square metre of

installed roof.

The roof tile manufacturer has announced a new,

state-of-the-art concrete roof tile production

facility will be sited in Smeed Dean, Kent,

strengthening Wienerberger's production footprint

in the largest regional market of London and the

South East. The business says it will also

complete the ambitious renovation of its

Broomfleet clay plain tile factory, eliminating the

use of natural gas and the associated CO ²

emissions from the firing process, moving it to

energy-efficient electric kilns using 100%

renewable energy sources.

Heimo Scheuch, CEO Wienerberger AG., explained:

"These investments are showcasing our clear

commitment towards our sustainable growth

strategy. We are strengthening our position in the

renovation market whilst further pursuing our goal

of a CO ²

reduction of 40% by 2030 by actively

driving our energy transition. Our investment in a

fossil fuel free clay roof tile factory is a first for

Wienerberger and the British market as a whole. It

demonstrates our commitment to the UK and our

customers and their drive to deliver 'zero carbon

ready' homes by 2025, but also Wienerberger's

ability to transform our industry towards a green

future."

Wienerberger says it expects the new tile-making

facilities to break ground in 2023 and be fully

operational in 2024. The manufacturer says this

will increase the company's production capacity,

enabling it to better serve the needs of its

customers, with new and existing tile formats,

providing additional capacity with lower CO ²

emissions from manufacture, transport and

installation that combine to deliver more, lower

embodied carbon roofs into the UK market.

www.wienerberger.co.uk

Bruce Laidlaw, Operations Director,

commented: "It's important that we continue

to make new investments to boost

productivity and support our team. Using new

machinery also helps strengthen our aim to

reduce our carbon footprint and become

carbon neutral by 2040. We're working with

independent body Planet Mark who are

verifying and measuring carbon data to

reduce emissions across our whole

business." www.russellrooftiles.com

Wienerberger has announced plans to renovate its Broomfleet manufacturing facility, including the introduction of energyefficient

electric kilns using 100% renewable energy source, plus build a new manufacturing facility in Smeed Dean, Kent.

6 TC NOVEMBER 2022
---
TAKE YOUR

ROOFING BUSINESS

TO THE NEXT LEVEL WITH NFRC

Technical advice, the industry quality stamp and fantastic

profile-raising opportunities—for all roofing disciplines

NFRC sets the highest

standards for work across

all roofing and cladding

disciplines. But we're much

more than the industry's quality

assurance stamp. Membership

of the trade association offers

contractors and suppliers a

range of powerful technical

and commercial advantages.

These include a profile on our website

and directory listing, making your

business easier for clients to find. Plus

exclusive access to technical support and

updates, an exclusive health and safety

app, and advice on training provision.

For suppliers, key benefits include

numerous opportunities to engage with

roofing contractors all over the country.

And as the voice of the roofing sector,

NFRC makes our members' views

heard where it matters most. We work

with government, standards bodies

and training providers to promote the

interests of the industry, and of the

construction market as a whole.

3 | Working Towards Zero Avoidable Waste in the Roofing Sector

NFRC trade

membership benefits

WHAT BEING AN NFRC MEMBER MEANS FOR YOU

3 | Working Towards Zero Avoidable Waste in the Roofing Sector

NFRC supplier

membership benefits

EXCLUSIVE ACCESS TO OUR ROOFING

CONTRACTOR MEMBERS

Call 020 7638 7663 or visit

nfrc.co.uk/TCbenefits to request our

benefits brochure—and find out more

about what NFRC membership can do

for your business.

NFRC GROUP ALSO INCLUDES

Competent Person Scheme:

self-certify roof refurbishment

to Building Regs

Roofing operatives

competency accreditation

Promoting roofing as a

skilled profession and

offering career advice

UK's premier event for the

roofing industry

Recognising best roofing

training standards

Supporting hardship, training/

upskilling, volunteering

and environment

Contractors with knowledge,

skills and experience of

heritage roofing systems
---
Industry News

OLD PLEAN ROOFING

PICKS UP AWARD!

Stirling-based Old Plean Roofing, run by

Mark and Fiona Thornton, has been named

Small Business of the Year at the Scottish

SME Business Awards 2022.

Voted for by the public, the awards recognise

creative and successful SMEs from across

Scotland and selected finalists who push the

boundaries of innovation and imagination in

their field.

The team at Old Plean Roofing – who have

been working to raise standards across the

roofing industry – are said to be delighted

with the accolade.

Co-founder Fiona Thornton explained: "We

launched our business with the aim of

improving industry standards and offering

people an honest, efficient roofing service

with a high level of competency. We hear so

many heartbreaking stories about rogue

traders preying on unsuspecting people and

have even been involved in fixing the issues

they've caused when they walk off site after

failing to carry out a job properly. We want to

demonstrate that there are good roofing firms

out there and customer feedback suggests

we've been successful in achieving our core

goals. It's great to be recognised for all we are

doing to help raise benchmarks in the roofing

world, and we're particularly thrilled to have

won this award since it was decided by a

public vote."

More news, updates and interviews at www.total-contractor.co.uk

HEADLINE SPONSOR ANNOUNCED FOR LRWA

AWARDS AND GALA DINNER 2023

The Liquid Roofing and Waterproofing

Association (LRWA) has announced Proteus

Waterproofing is the headline sponsor for its

Awards & Gala Dinner 2023.

Offering solutions for new builds and

refurbishments, the waterproofing specialist is

headquartered in Essex, and following rapid

expansion, delivers projects across the UK.

Returning for the fifth time, the LRWA Awards &

Gala Dinner will take place at the Titanic Hotel on

22 March 2023 in Liverpool. Following the

success of the 2022 event, the LRWA says the

celebration is expected to attract more than 300

people from across the liquid roofing and

waterproofing sector.

Jordan Bailey, Director at Proteus Waterproofing,

said: "We have been an LRWA member for six

years and attended the awards since they were

launched in 2017. Having watched the event go

from strength to strength, we wanted to show our

support as a headline sponsor and play a role in

showcasing the best projects and workmanship

from across the UK.

"The liquid roofing and waterproofing industry has

a lot to be proud of, and the LRWA Awards & Gala

Dinner is the perfect opportunity to demonstrate

that. We are looking forward to being part of the

celebration and recognising the impressive skills

and strengths of all those who work in the sector."

Sarah Spink, CEO of the LRWA, added: "We would

like to say a huge thank you to Proteus

Waterproofing and our other supporters for

backing the LRWA Awards & Gala Dinner 2023.

"Having sold out on the last two occasions, the

event has cemented itself as a highlight in the

roofing calendar. Tickets for the 2023 event are

now on sale and we expect there to be even more

demand as we work with the hotel to make the

awards even bigger and better.

"Although the entire construction industry

continues to face change and challenge, many of

our members have achieved growth over the past

year. This is testament to their skills,

professionalism, and dedication. Our event is a

great platform to once again shout about these

successes, and bring together the contractors,

clients, manufacturers, and suppliers which are

helping our sector to thrive."

The LRWA says the award categories for 2023 will

remain the same, including 'Liquid Roofing Project of

the Year over 1000m²', 'Liquid Roofing Project of the

Year under 1000m²', 'Liquid Waterproofing Project of

the Year, and 'Liquid Roofing Project of the Year in a

Buried Application.' Awards will also be given to

individuals in categories, including 'Trainer of the

Year' and 'Student of the Year.' www.lrwa.org.uk

Mark Thornton added: "We pride ourselves on

our reputation and are delighted to win our

first business award which recognises the

first-class service we provide. We're doing all

we can to represent the roofing industry in a

positive light and our aim is to become the

roofing builder and maintenance contractor of

choice in Central Scotland."

www.oldpleanroofing.co.uk

8 TC NOVEMBER 2022
---
WestWood Liquid Technologies Limited

31 Morris Road, Nuffield Industrial Estate,

Poole, Dorset BH17 0GG

Phone: +44 800 808 5480

www.westwood-uk.com

Liquid Applied

Waterproofing Systems

Car Parks

Flat Roofs

Metal Roofs

Gutters

Roof Terraces Balconies

Liquid Applied

Waterproofing Systems

Car Parks

Flat Roofs

Metal Roofs

Gutters

Roof Terraces

Balconies

WESTWOOD 2022.indd 1
---
Industry News

LANGLEY ANNOUNCES

FUTURE VISION

Langley has announced a major business

restructuring and transformation

programme following a period of rapid

growth.

The Langley Group, which has operated under

the Langley name since the 1960s, says it

has brought its core offerings under one roof

as it invests in its mission 'to deliver the

most innovative, future-proofed roofscape

solutions for the built environment, that have

a lasting, positive impact'.

By restructuring the business, Langley says it

will provide a much broader, convenient and

effective customer experience across its

diverse offerings which span design, supply,

build, maintenance and training.

The Group has announced it will now operate

three core business units: Roofing Solutions,

Eco Solutions and Regeneration to deliver

holistic and integrated roofing, greeninfrastructure

and rooftop development and

extension services designed to help

customers successfully meet the challenges

of climate change, while also addressing

societal pressures – including the cost-ofliving

crisis, lack of affordable housing and

limited access to green space.

Tony Silvestri will remain Group CEO for

Langley and commented on the business'

transformation: "Langley has been through a

transformational period of growth in recent

years and I'm incredibly proud to share the

future vision and structure of the business

with our customers, colleagues and partners

as we enter a new era. We're committed to

our vision of For Better Living, innovating in

everything we do, improving the lives of

everyone we work with and having a positive

impact on the world around us."

www.langley.co.uk

More news, updates and interviews at www.total-contractor.co.uk

PREPARATIONS UNDERWAY AS UK TEAM

BEGINS TRAINING FOR IFD WORLD CHAMPS

Training sessions for the UK Roofing

Team are now underway for the 28th

World Championship for Young

Roofers, which will see team

members and their mentors travel to

St. Gallen, Switzerland, to compete

against other young roofers from

around the world.

This has been made possible by

Recticel Insulation UK, who sponsored

the Team to enable them to travel to

Switzerland and take part.

The Team is made up of previous winners of the

UK-based SkillBuild competition and includes Will

Emerton (formerly a student at Leeds College of

Building) and Philip Houghton (formerly a student

at The Eastern Region Roof Training Group). They

are being mentored by Bob Coutts, Matt Timby

and Andy Rowlands, all of whom have long

histories of highly skilled workmanship in roofing.

To prepare, Will and Phil are practicing a range of

skills against the clock, with guidance and advice

from their Mentors. They have access to a

purpose-made competition rig, a replica of the

one they will be using at the championship. One

major challenge that the team will be facing is

needing to be adept with a Swiss mountain roof

design – something the Swiss, Austrian and

German teams are already well versed in.

Materials have been sourced from a number of

generous suppliers so that the team have the best

opportunity to practice with the correct materials.

A. Proctor Group, BMI, Etex, Ecological Building

Systems UK, Fakro GB, Recticel Insulation UK,

Rockwool UK, SR Timber and Velux have all

contributed materials to the UK Team for this

purpose.

Paul Simpson, Recticel Commercial Director, said:

"Good luck to the UK team in this year's IFD

competition. They are a wonderfully talented,

hard-working group, hence Recticel is incredibly

Left to right: Phil Houghton, Competitor, UK Roofing Team; Paul Simpson,

Commercial Director at Recticel Insulation; Will Emerton, Competitor, UK

Roofing Team; with Mentors Andy Rowlands and Bob Coutts.

proud to be their official sponsor for this

acclaimed industry contest. The IFD finals are a

chance for the team to showcase their expert

roofing workmanship on a world stage, whilst

flying the flag for the fantastic levels of talent and

professionalism that define the UK roofing sector

globally. Whatever the outcome of this year's

finals, the UK team are great ambassadors for

this country and our industry."

Bob Coutts, Mentor to the Team, said: "It's

fantastic to be back training for the IFD World

Championships with two highly skilled and

motivated young roofers in Will Emerton and

Philip Houghton. Will is the senior member as he

competed in Riga, Latvia, 2018, where we won

the day three 'Special President's Prize'.

"This is Philip's first experience of IFD and he has

a steep learning curve as all the tasks are set by

the home country where many of the roof details

are very different to UK practice.

"Switzerland has set very difficult tasks for the

competitors both in technical details and size of

rigs, so it will challenge all the competitors –

including the poor mentors Matt Timby, Andy

Rowlands and myself!"

The team at Total Contractor would like to wish

William and Philip every success in the

competition!

10 TC NOVEMBER 2022
---
Bringing it together.

Always a reason.

Always a better way.

Always a difference!

INTEGRAL SWARF FILTER

EJOT VACUtest kit

There are many ways to install a self-drilling fastener.

Then there's the right way.

Because self-drillers are designed and manufactured

to ensure the integrity and long-term performance of roofing

and cladding systems, simple procedures like regular seal testing

go hand in hand with installation best practice.

EJOT's VACUtest kit is light, extremely efficient and incorporates

a unique swarf filter, integrated into its design.

A choice of two robust suction cups mean that a scheduled test

is a quick and simple procedure for all standard applications.

From tools to technique, up-to-date knowledge of correct

installation more than pays for itself.

Read more at www.ejot.co.uk/construction-quicklinks.

EJOT HIGH STRENGTH SUCTION CUPS

Robust design offers greater airflow resistance.

Best Products. Best Practice.

24mm

34mm

OPTIONAL EXTRA 54mm SUCTION CUP

Available on request for

special application

washers.

Talk to your EJOT Sales Engineer

Visit ejot.co.uk

Email sales@ejot.co.uk

Customer Service 01977 687 040
---
Industry News

CRS ACQUIRES

ALLIED ROOFING

Complete Roofing Systems (CRS) – the

Warrington-based roofing and cladding

contractor – has acquired Allied Roofing of

Stockport in a seven-figure deal backed by

an SME loan from Mercia.

The acquisition, which is the first by CRS, is

said to bring additional skills to the business

and will enable the contractor to build its

presence in the social housing sector.

CRS, which employs over 100 staff, operates

on a national basis for clients including Aldi,

AstraZeneca, Warner Leisure, the Restaurant

Group and the Ministry of Defence.

Established in 2010 by father and son Stuart

and Jamie Lennon, the company is led by CEO

Mike Wharton, a former fund manager who

has held senior positions in the roofing

industry. Since his appointment in 2019, CRS

says revenue has more than doubled to

almost £20 million and the company has

continued to build its blue-chip client base.

Allied Roofing was founded in 1989 by Mark

Threlfall, who was joined 10 years ago by his

business partner Neil Higson. The company,

which specialises in pitched roofing, now

employs almost 30 staff and works primarily on

public sector and social housing projects across

the North. CRS says the company will continue

to operate under the Allied Roofing brand.

Mike Wharton commented: "This is an exciting

development for CRS. Allied Roofing's skills

and clients are complementary to ours and the

acquisition provides many avenues for growth.

We look forward to working with Mark, Neil and

the team to further develop the company. At

the same time, we will continue to pursue

opportunities to build the CRS business. As

the roofing industry is very fragmented, we

see potential to make strategic acquisitions

alongside organic growth."

More news, updates and interviews at www.total-contractor.co.uk

TONALITY ADDED TO PURA'S FACADE OFFERING

Pura Facades, a leading supplier of natural,

non-combustible cladding products, has been

appointed as the exclusive distributor of

Tonality terracotta tiles in the UK.

Already known for its supply of Austrianmanufactured

glass reinforced concrete

(GRC) panels from Rieder, Pura says it

also designs, engineers, fabricates and

delivers on a just-in-time basis to

construction projects across the UK.

The supplier says the addition of Tonality to its

portfolio is an exciting development for

contractors in the UK, providing them with a

consistent and reliable supply of high-quality

terracotta tiles that are manufactured to the

highest quality standards in Germany.

Pura Facades says architects will appreciate that

Tonality tiles are made from the world famous

Westerwald clay and manufactured using the

Kerlis sinter kiln method, thereby justifiably

claiming to be among the best terracotta façade

products on the market.

The supplier says the breadth and quality of the

coloured glazes available is second to none, and

have been widely used on many projects the

world over. The company points out that the

Tonality range is available in more than 50

standard colours (and in seven surface finishes),

and provides architects and developers with a

huge range of creative and aesthetic possibilities

for their projects. The company says tiles are

The Wave leisure resort

in Vejle, Denmark.

Left: James Butler; Above: The Quatermile

apartment project in Edinburgh.

available in large sizes, up to 600m x

2m, which provide better coverage than

other terracotta manufacturers, and Tonality

is also available in lamella, baguette and brise

soleil shapes.

Commenting on the exclusive appointment, James

Butler, Commercial Director of Pura Facades,

said: "Pura's ethos is based on high quality

products backed up by great service. That's why

we are so pleased to be representing the Tonality

brand in the UK. While the quality of its tiles are

second to none, the cost of Tonality products is

remarkably competitive. That's why we are sure

there is a very bright future for this brand of

terracotta facades in the UK."

Pura Facades says award-winning project

references already exist for Tonality terracotta in

Europe including The Wave leisure resort in Vejle,

Denmark and Paracelsus Bad spa in Saltzburg,

whilst in the UK, outstanding Tonality projects

include Maggie's Centre in Nottingham and

Quartermile apartments in Edinburgh.

www.purafacades.co.uk

www.completeroofingsystems.co.uk

12 TC NOVEMBER 2022
---
Handrails:- EasyGuard

free-standing Guardrails

*CurveyGuard – an aesthetically pleasing curved rail.

*EasyGuard – raked or straight legs dependant on

application. *FoldGuard – folding handrail.

Trip hazard reduction – long thin base-plates with

Counterweights used on un-secured ends only. Placed at 2m

centres maximum to enable use for leading edge protection.

Galvanised or powder coated finish. Protective mats 5mm

bonded to the base plates.

Standards – Exceeds Class A EN13374- Class A; For

leading edge protection HSE/SR 15, September 1988.

Nationwide delivery or contract installation. – Free material

quantifying service – info@safetyworksandsolutions.co.uk

Ladders:- Easy Fit

Compliant to both BS/EN 5395 and 14122 –

To comply with the standards for

permanent ladders all mild steel then hot

dipped galvanised to BS/EN 1461.

All typical ladders bespoke – email

info@safetyworksandsolutions.co.uk for a

survey check sheet.

Easy Fit, all ladder components are Easy

to assembly; in manageable parts Easy to

handle and install.

Rest Platforms and ladders with special

fixing requirements; solutions provided by

Safetyworks in house.

(All components for British Standard

compliant ladders require steel components

with timber and aluminium recommended

for temporary use only)

HANDRAILS

-

LIFELINES

-

WALKWAYS

-

FALL GUARDS

-

FLEXIDECK

-

DEMARKATION

-

LADDERS

-

STEELWORK

-

Tel: 01487 841400

www.safetyworksandsolutions.co.uk
---
Ask the Solicitor

SELLING UP: HOW TO PREPARE AND

MAKE SURE IT WORKS FOR YOU

'I'm looking to sell my roofing business. What are the next steps I should take and key

considerations I should make from a legal perspective?' Matthew Catterall, Corporate

Partner at Taylors Solicitors, talks us through the main areas to focus on, and explains

why early preparation is crucial to ensure a smooth process...

You may have read about the

recent acquisition of Allied

Roofing by Complete Roofing

Systems, so in this article we take a

look at some key issues if you are

considering putting your own

business on the market.

Selling your business, especially if

you are a 'first time' seller, can be a

daunting prospect. However, if you

take the time to assess and prepare

you can reduce stress, time and

costs – think of it like fixing a roof

in the summer before a barrage of

winter storms!

Sometimes there can be an unsolicited approach to

buy your company from out of the blue which

catches you flatfooted, but where you have time to

plan ahead I recommend you consider the following:

Establish your objectives

You may think this is simple – I want to sell my

business!

However, do you know what your business is

worth? Will it be enough for you to retire on?

About the author: Matthew Catterall is a Corporate Partner at Taylors Solicitors. For more

information about preparing your business for sale or indeed the sale process itself, contact Matthew

via 07748 633149 or matthew.catterall@taylors.co.uk

"Selling your business,

especially if you are a

'first time' seller, can be

a daunting prospect.

However, if you take the

time to assess and

prepare you can

reduce stress, time and

costs"

Get your house in order

Once you get into the nitty-gritty of

a sale to a potential purchaser, the

first major undertaking is the 'due

diligence' process. This is the

process by which the potential

buyer and their accountants will

investigate every nook and cranny

of your business to identify any

issues.

Issues can lead to price reductions,

or to you having to indemnify the

buyer against any identified issues

getting worse or costing them

money. Early identification of any

issues pre-sale, and making good any that are

identified (to the extent possible) is therefore

critical to a smooth transaction. You don't want to

incur significant fees and then find the buyer

pulls out because of an issue.

Major areas that you need to consider include,

but are not limited to, the following:

• Tax. Are all your tax returns and payments in

order? Do you have any ongoing disputes with

HMRC? Is all your tax paid up-to-date?

The market for businesses, just like the products

you sell, varies over time, so taking early and

specialist advice is important. An independent

accountant will provide specialist advice, so

beware of the 'business sales agents' that will tie

you into onerous sales contracts, which can force

you to not only compromise on value (they are

only interested in getting a sale – any sale – over

the line), but can also leave you with a hefty

commission fee once you do so.

Do you want, or need, to sell quickly, or do you

have time to find the right purchaser? Quick sales

are possible but generally involve compromising

on price and/or payment terms. If you know you

want to sell, then plan ahead 12 or 18 months in

advance. Starting the process early can help

maximise your gain.

• Accounts. Organised sets of up-to-date

financial information will instil confidence in a

buyer, especially when it comes to agreeing a

price. If you don't prepare regular, detailed

management accounts, consider doing so,

especially where you have some time before you

want to sell.

• Contracts and terms of business. If your

14 TC NOVEMBER 2022
---
usiness operates with fixed contractual

arrangements with other parties – think supply,

distribution or agency agreements – are they upto-date?

Do you have signed copies of those

contracts and do they need extending? Are your

purchase and supply terms and conditions up-todate?

A buyer will want to know that they have a

solid base for the business to continue operating

once you have sold.

"It is vitally important that, before disclosing any

information (including the identity of the

business), the prospective purchaser enters into

a non-disclosure agreement (an NDA) with you

that will protect you from an unscrupulous buyer

'raiding' your company for confidential

information" – Matthew Catterall

• Employees. Are your employment contracts

and HR records in order? Do you have appropriate

policies and procedures in place?

• Statutory records. These include your share

certificates and corporate records. Are they in

your possession? (they could be with your

accountant) If they cannot be located, get them

written up.

• Insurance. Make sure that you are fully and

properly insured against all necessary risks, and

ensure that premiums are paid up-to-date. Can

any outstanding claims be resolved?

Taking steps to address any areas of concern –

whether big or small – will allow you to present a

business that looks neat and tidy and which is

appealing to prospective purchasers. If you have

any areas of concern that you are not confident in

dealing with, consider appointing professional

advisers early to assist with preparing your

business for sale.

Why not get their lawyers and accountants to

perform a 'health check' on the business so that

any issues can be dealt with?

Marketing

So now you have your house in order, how do you

find a buyer?

Generally, there are four main avenues to

consider:

• Sourcing a trade sale yourself from your

business contacts, say customers who may want

to secure their supply chain;

• Would an MBO by your other directors be

possible?

• Engaging with an experienced, independent

corporate finance adviser;

• Engaging a 'business sales agent'.

Finding a potential buyer yourself could

potentially save on commissions, but beware of

confidentiality issues slipping out into the market,

which could affect staff morale (See: initial

discussions with prospective purchasers).

"Beware that an

indicative offer is there

to get your attention, to

flatter you and hook

you into a sale – it does

not mean that is the

price you will receive

in cash on completion"

An independent corporate finance adviser will

likely take an 'up front' fee to work with you to

value the business and prepare marketing

materials, with a 'back end' commission based

on the value achieved. The adviser will then go to

market on a confidential basis, filtering the

prospective purchasers and working with you to

achieve the best result. Their in-depth

knowledge of corporate finance will assist you in

maximising value.

The path with a business sales agent is similar to

that of a corporate finance adviser. However, in

our experience, many are less knowledgeable,

charge higher commissions and lock you into

significant exclusivity periods where a fee is

payable, even if they didn't find you a buyer.

Initial discussions with prospective

purchasers

Once you have found a prospective buyer (or

buyers), it's time to engage with them to further

the process. Often buyers will make indicative

offers based on limited information about your

business, but will need to firm up those offers

once they have had a chance to undertake their

due diligence exercise.

Beware that an indicative offer is there to get your

attention, to flatter you and hook you into a sale –

it does not mean that is the price you will receive

in cash on completion.

It is vitally important that, before disclosing any

information (including the identity of the

business), the prospective purchaser enters into

a non-disclosure agreement (an NDA) with you

that will protect you from an unscrupulous buyer

'raiding' your company for confidential

information e.g. on pricing or poaching key

employees, customers or even suppliers.

It is usual for sellers to engage lawyers at this

point to draft and agree the NDA as it's such an

important document. Once that has been

signed off, the sale process can begin in

earnest.

Next month: The team at Taylors Solicitors will

guide you through the next steps towards

completion once you have found a buyer.

Contact Taylors Solicitors

01254 297900

www.taylors.co.uk

@taylorslawfirm

NOVEMBER 2022 TC 15
---
NFRC Roofing Talk

CHECK YOUR TIMBER BATTENS

Gary Walpole, NFRC's Health, Safety and Environment Officer, explains why roofers

must never compromise on quality or safety when it comes to battens, and points out

what to look out for when choosing fully graded roofing battens.

Due to the high demand for treated timber,

compounded by the shortages created by

conflict in Ukraine, the UK's exit from the

EU, and the COVID-19 pandemic, it is transpiring

that there is a large volume of imported product

that is falsely stamped as BS 5534 or has been

dyed a different colour and then marketed and sold

as compliant material. Using battens that are noncompliant

does not necessarily mean a cost saving

for the contractor or the end user, as suppliers of

non-compliant battens are actually selling them for

the same price as compliant battens.

These inferior products will all have an impact on

the life expectancy of the roofs, but more

importantly it raises the concern for the health

and safety of the operatives using them.

There are also concerns that some roofers have

become complacent – if they believe they have

purchased pre-graded material they will often

use it without inspecting it, and this could be a

critical factor to their safety on the roof.

Battens supplied and fixed in accordance with

BS 5534 are designed to have adequate strength

to support the dead load imposed and wind loads

on roofs clad with tiles or slates, and may be

used as an alternative to roof ladders in line with

current guidance in the Health and Safety

Executive's HSG 33 Health and Safety in Roof

work and INDG 284 Working on Roofs.

The use of inferior battens that do not comply

with BS 5534 has the potential to cause roof

failures and accidents. This risk of accidents

increases when the roof battens are being used

as an alternative to a roof ladder and are

therefore taking the additional live load of the

operative installing the roof. HSE guidance – HSG

33 Health and Safety in Roof Work – states that

battens must be a minimum size of 50mm x

25mm (maximum span 600mm) or

38mm x 25mm (maximum span

450mm) and meet the grading

requirements specified in BS 5534:

Code of practice for slating and tiling and

NFRC Technical Bulletin 33: Graded battens for

slating and tiling.

Non-compliant battens should not be installed.

Ungraded battens may prove weak and vulnerable

to failure should the roofer inadvertently walk on

these areas whilst covering the roof, potentially

putting roofing operatives at harm. There is also

the issue of quality assurance of the whole roof

system and the impact using inferior battens

could have on the longevity of the roof.

What to look out for:

BS 5534 states that all graded roofing battens

should be marked with the following:

• Supplier's details

• Batten size

• Species

• Relevant Standard (in this case BS 5534)

• Third-party certification.

Supplier Details

Relevant Standard

Size Species 3rd Party Certification

Note: All battens should be individually marked.

Further checks to ensure compliance

Marking alone is not necessarily proof that the

batten has been graded correctly. However, there

are a few simple steps that can be taken to

ensure the battens you are using are compliant:

1. Ensure you are purchasing battens from a

recognised supplier who is happy to supply you

Left: Gary Walpole, NFRC.

with the relevant compliance

documentation and any third-party

certification, which should be retained

for your records.

2. Check the thickness of the batten, as BS 5534

states that a batten should be 25mm thick with a

tolerance of -0/+3mm. A roofing batten should

be 25mm and never less.

3. Check to see if any knots are present: BS 5534

states that 'the sum of both faces can be no more

than the width, for example 38mm / 50mm'. If a

knot is visible on both sides of a batten when

added together, the overall size should not be

more than 38mm or 50mm.

4. Do not rely on a coloured roofing batten to be

compliant. Different manufacturers colour their

battens as a visual aid to indicate compliance,

however the organisations that supply

substandard products are also aware of this and

colour their battens.

5. BS 5534 graded battens should not rot: if you

see signs of rot, decay or growth on a batten, do

not use it.

Next steps for industry

NFRC has issued a Safety Alert to highlight the

issue to the wider construction sector, working

with the assistance of the recently formed

industry Timber Batten Working Group, which is

hosted by NFRC. The group is made up of leading

batten manufacturers, merchants and

contractors, and will continue to monitor the

situation and educate the industry of the risks of

using non-compliant roof battens.

Contact NFRC

www.nfrc.co.uk

@TheNFRC

16 TC NOVEMBER 2022
---
oof

lantern

10%

NEW TRADE

CUSTOMER

DISCOUNT

QUOTE CODE:

TCK01

glazed in

seconds

faster

to fit

Supply & install the multi-award-winning aluminium Korniche Roof Lantern.

Fitted in minutes, glazed in seconds. The strongest lantern in class, available

up to 3x2.5m in four glass panels and a maximum size of 6x4m

Delivering the best products, with the best

service, at the best price

Contact Made for Trade for a Kwikquote today

madefortrade.co | sales@madefortrade.co | 01642 610799

*Discount applies to all trade customers and applied to the first, single item purchase only of the Korniche Roof Lantern
---
Perfectly Pitched

ROOF SHAPES PART FOUR:

CURVED ROOFS

In the latest article in his series focusing on different roof shapes, Pitched Roofing

Consultant John Mercer discusses curved roof slopes, and specifically conical roofs.

Generally, the most suitable roofing

materials for curved roofs are those laid

double lapped, such as natural or manmade

slates, and concrete or clay plain tiles.

Before a decision about which roof covering to

use, the pitch, exposure and curve radius must

all be considered. For slating, reference must be

made to BS 5534: the British Standard for slating

and tiling, to establish the suitability of any given

slate length and width for the location. BS 5534

provides the methodology for determining the

minimum value for the head lap and side lap,

bearing in mind that slates must be cut to a

width and taper to maintain the

curve of the roof slope.

For plain tiling, it is a little

more straightforward as

BS 5534 provides

prescriptive

recommendations rather than

calculation methods. For

example, the minimum roof pitch

must be at least 35 degrees, or 40 degrees if

using irregular, handmade clay tiles. The headlap

must be at least 65mm and should not exceed

one third of the tile length, and the minimum side

lap is 55mm. Plain tiles, because of their

relatively small size, are more suitable for smaller

radius curved roof slopes.

Boarding and underlay

To achieve a smoother curve across the rafters,

particularly on a conical roof, it is worth

considering boarding the roof before installing tile

or slate battens. Thin plywood can be used in

layers and with staggered joints and laps to

create a final plywood thickness of 25mm.

Left: John Mercer; Above: Oast House roofs utilising tiles from the Tudor Roof Tiles Collection.

Image courtesy of Tudor Roof Tiles.

Underlay should be laid

vertically over the plywood,

ensuring the minimum side and

headlaps are maintained in

compliance with the recommendations

given in BS 5534.

Battening

For tighter curves it will be almost impossible to

force 25mm deep battens into the roof curve. One

option is to make a series of small cuts into the

batten, a process called 'scarfing'. For a convex

curve the batten should be scarfed on the side to

be fixed against the roof, or for a concave curve

on the front surface of the batten.

Alternatively, each 25mm batten depth could be

made up from layers of thinner batten, e.g. four

layers of 6mm thick battens could be used to

build up to a 25mm total depth.

A third option is to soak and steam battens to

make them pliable enough to fit the roof curve,

though such a facility may not be available on

many sites.

For heritage and some traditional roofing works,

the slates or tiles can be fixed directly to the

plywood without the use of battens.

Slate & tile laying

Whether using slates or plain tiles, the general

process of installing them is the same for both.

Taking plain tiles, the battens should be set out at

a gauge of 100mm to provide the minimum

headlap of 65mm. The first courses can be laid

and, if necessary, the sides of each tile tapered to

ensure the gaps in the side joints do not exceed

3mm. When laying the next course, ensure that

each side joint is over the centre of the tile below,

or at least within the middle third of the tile.

18 TC NOVEMBER 2022
---
With regards to the aesthetics of the finished roof,

the side joints can be set to occur over the centre

line of the tile below. In this way, the vertical lines

of the side joints can be maintained all the way

up the roof slope. However, this may result in far

more tile cutting. An alternative approach, and

one that can give a pleasant, more random

appearance to the tiling, is to fit full width tiles in

each course where possible (with any tapering

that may be required) and allow the side joint to

drift within the middle third of the tile below, thus

keeping to the 55mm minimum side lap. Where

this becomes impossible, then a tile-and-half tile

can be used, cut along its length, to bring the side

joint back to within the middle third of the tile

below.

As the tiling nears the top of the conical roof, it

will become impossible to maintain a 55mm

minimum side lap due to the narrow width of the

cut tiles. When this occurs, lead soakers can be

fitted between the tile courses to weather the side

laps. If the cut tiles become too narrow to

"When tiling or slating a curved roof slope,

ensure that the roof pitch, site exposure, and

curve radius are considered and the minimum

recommended side lap can be maintained"

mechanically fix, then a lead cap will be

necessary in place of the tiles.

If using man-made slates, the original riven

edges of the slates will be lost when cut. This will

be particularly apparent on convex roof curves.

Therefore, the use of natural slates, which can be

re-dressed, could be considered.

With regards to mechanical fixing, it will be

necessary to carry out a wind loading calculation

to determine the appropriate number and type of

fixings. Every slate must be mechanically fixed. For

plain tiles, the minimum requirement is to twice nail

each tile in every fifth course for roof slopes below

60 degrees. For roof slopes of 60 degrees and

above, every tile must be twice nailed.

Summary

When tiling or slating a curved roof slope, ensure

that the roof pitch, site exposure, and curve

radius are considered and the minimum

recommended side lap can be maintained,

especially after cutting the sides of each tile or

slate.

Ensure that every tile or slate can be fully

mechanically fixed. For roof slopes over 60

degrees, every plain tile must be twice nailed.

Contact John Mercer

www.johnmercerconsultant.co.uk

Johnmercer 3

MEET

DANELAW'S

VERG FAMILY

Our innovative range of tile verge units remove the need for mortar

and allow for a secure application to the roof. They are all tested for

wind uplift resistance and comply with the BS 8612 Standard for dry

Our unique, patented design suitable for single and double

cambered concrete and clay plain tiles at batten gauges 88mm to 104mm.

intermediate gauge single-lap interlocking tile types.

Designed for all single lap interlocking plain tile types

between 170mm and 200mm batten gauges.

IDV Our original interlocking dry verge which suits most single lap

interlocking concrete tiles between 260 and 355mm batten gauges.

TIDV Suits all large format thin leading edge concrete tile types

between 260mm and 355mm batten gauges.

call us: 01327 701 910

email: sales@hambleside-danelaw.co.uk

www.hambleside-danelaw.co.uk

For interlocking roof

verges, only the Slate

Grey contains up to

100% recycled PPC

45+ YEARS OF ROOFING INNOVATION
---
Solar PV Projects

SOLAR CONTINUES TO SOAR

The fact that renewable energy helps protect the planet has always made it an attractive

option for those looking for more sustainable ways of living. However, as Daniel Redfern

of Marley explains, in the midst of almost unprecedented energy price hikes, the appeal

of renewables – including solar PV – has not only increased, but is likely to continue

apace as consumers look to reduce their outgoings...

Earlier this year, changes to Part L of the

building regulations saw Solar Energy UK

estimate that up to five times the number

of new homes could be built with solar

technology, whilst the government's VAT cut to

0% on the installation of energy-saving materials

in residential properties was a boost to the retrofit

market, making green technologies, such as

solar, much more affordable for a greater number

of people.

Solar – a hot topic

Now, with uncertainty surrounding energy

supplies coupled with rising costs, unsurprisingly,

it's a hot topic. In August, the BBC reported that

the energy bills crisis had prompted a big rise in

the demand for solar, whilst according to Solar

Energy UK, just over 3,000 solar installations

were being carried out every week, up from 1,000

per week in July 2020, with one contractor

reporting that they had seen enquiries about solar

panels increase ten-fold in that month alone.

Indeed, Chris Hewitt, Chief Executive at Solar

Energy UK, stated: "More solar panels are being

put on British roofs than ever before."

Growing demand

Daniel Redfern, Marketing Manager at Marley,

explained: "MCS, the body that defines and

maintains standards for small-scale domestic

renewable energy and heating across the UK and

has recorded all certified installations since

2008, reports that 76,560 solar PV installations

were completed from January to August 2022 – a

30% increase on the 61,431 installed in the

whole of 2021.

"In August 2022, there were 12,411

solar PV installations recorded by

MCS, up from 5,082 in August 2021.

That represents a huge 144%

increase and helps combat concern in

the renewable energy sector that demand

for solar PV would diminish after the

Feed-in-Tariff (FiT) incentive ended in

April 2019.

"Overall, solar PV installations

comprise more than 80% of the 1.4

million renewable installations so far

registered with MCS, taking the total number of

'sunny roofed' residential properties to over one

million and counting."

Marley SolarTile: a sustainable future

To help satisfy this demand, Marley SolarTile has

been developed to deliver on aesthetics,

installation and importantly, sustainability. For

years, only 'bolt on' systems were available,

however Marley SolarTile now provides a truly

integrated roof system that fits seamlessly with

the design of the roof.

Marley SolarTile does away with the need for

counter battens as required on other in-tray roof

systems, thanks to its double fixing to battens

and trusses, and by replacing existing tiles rather

than fixing over the top of them, greatly reduces

the risk of costly tile breakages on the roof.

Completely compatible with all clay and concrete

tiles and slates, Marley SolarTile is supplied as a

complete kit with all components such as

adhesive flashing and fireproofing materials

included, so there's no extra material costs.

Whilst colour-coded boxes make for

easy installation, the patented pushtogether

design means that

installation times of less than one

hour per kilowatt peak can be

achieved.

Don't miss the opportunity

Daniel continued: "Now, more than

ever, solar should be discussed on

every roof and roof truss enquiry – it's

a great upselling opportunity for roofing

contractors across the UK.

"Whilst investment will be necessary to ensure

that they have upskilled their workforce and are

qualified to fit solar panels – such as becoming

MCS certified for example – the benefits and

ongoing opportunities far out-weigh the costs.

Moving forward together

"The way we produce our energy is changing

rapidly and although solar may seem like a totally

new market for some contractors, the opportunity

is too big to miss. With Marley SolarTile, we

provide an innovative, reliable and sustainable

solar energy system that, when used alongside a

full range of Marley roofing products, forms part

of our full roof system, complete with our 15-year

guarantee. In addition, we continue to support our

roofers with advice and training on all aspects of

solar PV installation as we move forward

together."

Find out more about Marley SolarTile

www.marley.co.uk/solarinstall

01283 722222

@MarleyLtd

20 TC NOVEMBER 2022
---
Perfect

Partners.

Introducing our all new building regulations

compliant* and fast to fit Timber Sloping Upstand,

the perfect partner to our popular em.glaze

Fit em.glaze for compliance

Forest Friendly Timber

150mm depth

Pre-assembled for faster fitting

5 degree pitch

for water run off

Our new Timber Sloping Upstand has been cleverly

designed to ensure that all fixed and concealed

motor em.glaze aluminium flat roof lights instantly

comply with the new Part L Thermal and Part B Fire

building regulations for both new build and

refurbishment projects.

Constructed using Rockwool insulation sandwiched

between marine grade plywood panels and C16

graded CLS timber, lined with fire rated plasterboard.

Our new proprietary Timber Sloping Upstand is

delivered pre-assembled for faster installation and

provides peace of mind for any tradesperson that

every em.glaze aluminium roof light is fully compliant.

- Part L and Part B building regulations compliant*

- Available from stock in 18 standard sizes

- Supplied pre-assembled for faster installation

- Constructed from forest friendly timber

For more information on our new Timber Sloping

Upstand, and how our products comply with the

new building regulations, simply visit our website

www.whitesales.co.uk or call us on 01483 917580

*Timber Sloping Upstand only Part L and Part B compliant when fitted with em.glaze product
---
Product Development

ROBUST R&D REQUIRED TO MEET

CHANGING DEMANDS

Latest pressures on the construction industry, caused by growing concerns for

economic slowdown, are placing greater emphasis on product choice for distributors

and contractors. With this in mind, Nick King, Portfolio Manager at Klober, explains

why research and development (R&D) is fundamental for providing building

professionals with futureproof products to suit their needs.

Despite recent reports from The Bank of

England warning of an impending

economic downturn, the construction

industry is still set to see a steady output

increase in 2022 and into 2023. As the forecast

is still uncertain, organisations must focus on

meeting an evolving demand in the market

through their offerings.

The fluctuation of product demand, dependent on

consumer spending, is the key market driver for

highlighting the importance of access to a range

of relevant products. Manufacturers must play

their part in introducing such solutions through

the stages of research and development (R&D).

1Establishing market needs: Identifying

demand is an essential first step during

R&D and allows for the viability of new

products to be justified before any further steps

are made. Customer feedback has proven to be a

strong method. For example, Klober collates

annual customer insights and frequent surveys to

help map out market drivers and potential

upcoming challenges.

Looking ahead, manufacturers will analyse

purchasing trends to identify any potential need

for product improvement. It's this level of insight

that moves building technology and processes

further along. With Building Regulations

constantly tightening, and the general pace of

change in society increasing, circular learning is

critical.

Once a product has launched or been updated, it

doesn't stop there. Ongoing market

research is vital for further

innovation. Klober's Dry Ridge Kit

is an example of such. In early

2021, a 6m Dry Ridge Kit was

launched, following positive

feedback and demand for an

equivalent suitable for larger

housing, a 10m kit was brought to

market in November 2021. More

recently, this continuing analysis

Above: Nick King, Klober.

uncovered a demand for additional

installation assistance within the

kit, which has led to the release of the Ridge Kit

with Fixed Lugs.

2Considering logistics: Once a product

plan has been agreed, it needs to be put

into practice. There are various stages to

this which includes looking at the viability of

logistics. A market brief is created to outline

budgets, price points, margins, and capex costs.

Liaising with logistics warehousing departments

is key for understanding volumes and storage

capacity.

This is the perfect time to determine and fine tune

any design or aesthetic choices, and bigger

decisions such as material type should be

clarified. It's also important to consider the

tooling process, as quotations will need to be

agreed. Lead times can often be around 20 weeks

so processes of design and manufacturing will

need to keep in line with this.

3Meeting quality standards:

Extensive risk analysis is

then implemented by roofing

manufacturers as part of a

vigorous testing process. For

example, Klober uses a gated

system in the form of a trafficlighted

document, which allows

red-risks to be highlighted and

addressed. Testing plays a central

role and enables amends to be

made to improve these to amber

and green criteria.

Klober's technical centres enable professional

testing to confirm each product complies with

and exceeds both regulatory standards and

durability requirements. British Standards are

adhered to while all tests are conducted,

including ageing tests for UV stability and wind

tunnels for emulating storm conditions. Another

useful tool is 3D printed prototypes, which allow

for trial installations to be undertaken and client

feedback to be gathered.

4Confirming storage & setup: Once

technical approval has been granted, the

product will need to be systematically

logged with codes and relevant information such

as weight and required pallet size for storage.

During this process, third-party accreditation may

be progressing whilst documents such as

installation guides should be considered.

Before sales of the product can go ahead,

packaging requirements such as box size, print

22 TC NOVEMBER 2022
---
and material must be evaluated. With

sustainable packaging on the rise,

greener options have become a major

consideration for many organisations.

Klober, for example, use recycled and

recyclable packaging materials when

possible.

Before a product is made

available, an in-house

launch will often take

place. Internal

communication is key

for getting the sales

teams up to speed to

ensure an effective launch.

Final thoughts

An impending economic downturn has provided

an important market driver for manufacturers to

evaluate their product offerings. Naturally this

will result in a large portion of the home

"It's likely that

many homeowners

will be wanting to

avoid any false

economies and

therefore spend on

quality items that last"

improvement market reviewing spending habits.

Yet this doesn't necessarily mean blanket costcutting

exercises. Instead, it's likely

that many homeowners will be wanting

to avoid any false economies and

therefore spend on quality items that

last without the need for repair and

maintenance.

At Klober we invest heavily into

ensuring all our product ranges offer

suitable choice, often with a good,

better, and best solution – all of

premium quality but to suit a range of budgets.

Our robust R&D processes have been essential

to bringing this broad range to market and will

continue to offer a reliable supply to roofers

through whatever economic challenges lie

ahead.

Contact Klober

www.klober.co.uk

@KloberLtd

For further r

inform

ation

or a hire quotation call

01858 412 100

Email: sales@cookerhire.com

www.cookerhire.com
---
Sustainability: Comment

KEEPING THE FOCUS ON

SUSTAINABILITY

Will the current focus on sustainable solutions remain a priority if the market cools?

Lorna Stork, ESG Director at distributor SIG, outlines why she thinks it will…

Those of us with long memories will

remember the Code for Sustainable Homes,

with its original target of 2016 for the

introduction of zero carbon new homes. The

financial crisis of 2008 effectively scuppered that

programme and the question is: is it different this

time?

I genuinely think it is – for three main reasons.

Firstly, the effect of climate change is becoming

more apparent every year and there is a national

and global consensus around the urgent need to

reduce carbon emissions. The UK has been ahead

of the curve in this regard, being the first

country to declare legally binding

targets to become a net zero

carbon economy by 2050.

Secondly, I would argue that

the current energy crisis should

give additional impetus to the

carbon reduction agenda by

focusing on the financial cost of

consuming energy.

Finally, I think that this time around we have

collectively invested properly in the move towards

sustainable building. Product innovation,

technical advances and new ways to measure

and demonstrate low carbon emissions have all

been developed in the last decade. Not only do

we have to continue, I think there is a genuine

consensus that we will.

Direction of travel

Building Regulations lay down the direction of

travel for new buildings and we are in the middle

of the implementation of the Future Homes

Standard, currently requiring a 31% reduction in

carbon emissions compared to the 2020

Images: SIG stocks the Marley SolarTile PV system as part of its drive to offer more products that

support a sustainable building agenda, plus provide customers with the products to meet demand.

regulations.

This time we really do know

how to build high

performance homes that are

approaching zero carbon in use. It's

challenging and the technical team at SIG is

frequently involved in providing product solutions

to meet increasingly stringent thermal

conductivity targets for the external fabric of new

homes.

The game-changer this time, however, is the

recognition of the importance of embodied

carbon. We can't hope to get anywhere near our

national carbon reduction targets if we simply

ignore the impact of the manufacturing process.

There is no point in striving to create buildings

that generate no carbon emissions in use if they

have achieved that result by using materials that

have themselves generated huge amounts of

carbon during their manufacture.

Developers, housebuilders and even main

contractors are starting to publish their zero

carbon commitments, fully aware that these can

only be met if the supply chain works together.

As a major distributor, SIG has produced its own

zero carbon roadmap but, like everyone else, we

are only able to control the emissions from our

own business operation. With targets in place to

eliminate carbon emissions from our transport

fleet, offices and warehouses, we also need to

work with product suppliers to find or develop

lower carbon products.

We're in a great position to stimulate the

development of such products as we can provide

an immediate distribution channel for promising

new offers, helping to build a market fast for

emerging businesses.

And we are also in a position to help responsible

Continued on page 26

24 TC NOVEMBER 2022
---
We are now a recommended fixings

supplier for the QuadCore Assured

System Warranty.

W: fixfast.com l T: +44 1732 882387 l E: sales@fixfast.com
---
Sustainability: Comment

Continued from page 24

customers make the right environmental choices

which is not as easy as it might appear.

Embodied carbon and EPDs

Until very recently there was no commonly

accepted method for calculating the embodied

carbon of any product. It's still not a precise

science, but Environmental Product Declarations

(EPDs) provide the most comprehensive

information.

EPDs consider the whole lifecycle of a product,

taking into account: the carbon emissions

associated with the extraction of raw materials;

the manufacturing process for the final product;

any emissions associated with its performance in

use and emissions associated with its disposal at

the end of its life.

With a common calculation process it becomes

possible for customers to make product choices

based not only on technical performance and

cost, but also on carbon emissions. We are

certainly seeing more requests for this type of

information and are encouraging our suppliers to

"I think that we have

crossed a line. The

pace of change is

accelerating and the

growing economic

case to reduce our

reliance on fossil fuels

will speed it further"

provide the carbon calculations for their products.

The more entrenched this way of thinking

becomes within the supply chain, and the greater

the investment in zero carbon options, the less

likely it becomes that any government could

unwind the progress made to date.

So far there is no sign of any weakening in

commitment from the top. Most commentators

expect Building Regulations in England to follow

those of Sweden, France and other European

nations and impose limits on the total embodied

carbon allowed in new buildings.

In addition, I'm expecting to see greater regulation

around existing buildings. Any rental property

already needs to demonstrate its energy

efficiency with an Energy Performance Certificate

(EPC). Currently the requirement is for all such

properties to have an EPC rating level E but the

door is clearly open to raise the standards further.

Incentives to upgrade

And finally there is cost. Successive governments

have struggled to find the right incentives to

encourage homeowners to improve the energy

efficiency of their homes – but a 100% increase

in central heating cost might just make that

process a little easier.

It is a bit dispiriting to consider that, had the

original targets been maintained, we would have

been building zero carbon homes for six years

already. However, I think that we have crossed a

line. The pace of change is accelerating and the

growing economic case to reduce our reliance on

fossil fuels will speed it further.

Contact SIG

www.sigroofing.co.uk

01480 466 777

@SIGRoofing

26 TC NOVEMBER 2022
---
Roofing underlays

Ventilation solutions

Expert technical support

Ventilation

Condensation

Control

Choiceiseverything

With one of the most comprehensive

ranges of roof underlays and ventilation

solutions available in the UK and Ireland,

Glidevale Protect offers tried and trusted

performance for any project. When you're

creating better buildings and healthy

homes, choice really is everything.

Glidevale Protect is a specialist UK producer, offering

ventilation solutions, condensation control and energy

efficiency across the built environment.

For technical guidance or to book a presentation,

contact us on +44 (0)161 905 5700, email

info@glidevaleprotect.com or visit

www.glidevaleprotect.com/choice
---
Cover Story: Firestone / Elevate

HOW TO BUILD A RESILIENT ROOF

Carl Bailey, Regional Technical Manager for Firestone Building Products (soon to be

Elevate), discusses the critical roofing components needed to create a resilient roof and

the benefits of an EPDM membrane.

The need for resilient roofing

has never been more

important. As the impact of

climate change takes hold, it is

crucial that a roof protects against

increasingly severe weather,

including extreme temperature

change, rain, hail and wind.

As well as minimising the risk of

any roof damage and associated

costs, a resilient roof can help to

futureproof a building. If a

property needs to extend or

adapt, then it may have to

accommodate new plant,

service penetrations and

equipment such as solar

panels. A robust roof covering

should enable these types of works to be

delivered efficiently, with minimal disruption and

assured weatherproofing for many years after the

installation.

Weathering the storm

A resilient roof relies on durable components and

a robust design. Combined, these factors must

create a system which is resistant to all types of

extreme weather, moderate movement cycles,

and any impact on the roof from a falling object.

The system should also allow any future

maintenance or repair work to be carried out

quickly and effectively.

The waterproofing membrane is a crucial

component in the system and must provide the

attributes needed to ensure resilience. Specifying

an EPDM single-ply membrane is a highly

effective solution that will meet these

requirements and can be used for flat and low

Left: Carl Bailey; Above: RubberGard installed at Royal De Ree

Holland. © Royal De Ree Holland B.V.

slope roofs on all types of building.

Made from a synthetic rubber compound,

EPDM membranes are highly flexible and can be

elongated by more than 300% without any

detriment. This allows them to return to their

original shape and performance after severe

weather and remain stable for decades.

A chemically inert material, EPDM has a low

environmental impact and does not contain any

plasticiser. It is also resistant to factors that can

accelerate wear and tear over time such as UV,

heat, hail and building movements.

If there was a situation that did result in the need

for a repair, an EPDM can be easily restored by a

contractor using simple procedures and tools.

Even after many years of use the durability of the

membrane will avoid the need for a costly strip

out and refurbishment. This durability also means

the membrane can accommodate rooftop

additions such as solar panels, minimising the

potential for any damage during the install.

If solar panels do need to be

retrofitted, an EPDM membrane

offers a further benefit as it will be

resistant to the extra heat that is

generated.

The qualities of EPDM membranes

are evidenced by the longevity of

buildings across the world and

studies that show a properly

formulated EPDM roofing membrane

can last for more than 50 years.

RubberGard EPDM, for example, has

been used to create resilient roofs in

areas ranging from Alaska to the

Arabian Gulf. One of the oldest roofs

to benefit from this membrane was

installed in Wisconsin, in the US, more than 40

years ago and is still standing strong despite

being subjected to extreme weather conditions.

Installing a resilient roof

The specified membrane must be installed to the

right standards to ensure a resilient roof that

performs as expected. All roofs are different so

many factors will need to be considered prior to

selecting the membrane attachment system.

For an EPDM membrane, a mechanically

attached system can provide a fast and costeffective

method, especially for steel or wooden

decks. It is most suited to large, open roof areas

with few penetration details, such as

warehouses.

The RubberGard EPDM system, for example, is

mechanically attached using a non-penetrating

system. QuickSeam Reinforced Mechanical

Attachment (RMA) strips are secured to the

structural deck. Large panels of the RubberGard

28 TC NOVEMBER 2022
---
Firestone Building Products set to

become Elevate:

Firestone Building Products will

become Elevate and is part of the

Holcim Group. The change means that

Elevate will be the new brand name for

Firestone's roofing, wall and lining

systems, all of which remain in the UK

market.

RubberGard installed at Cougnaud Campus,

France © Holcim Solutions & Products

www.holcimelevate.com

EPDM waterproofing membrane will then be

bonded to the framework of self-adhesive strips,

meaning no fasteners are required to penetrate

the waterproofing membrane. The positions of the

mechanical attachment strips will be calculated

based on the building's location and height,

exposure level, deck type and fastening

system to resist wind load.

Another option, depending on the

load-bearing capacity of the roof

deck and structure, is to loosely

lay the EPDM membrane over the

substrate and securely hold it in place

using approved ballast such as stones or

pavers. This will require extra equipment to move

the ballast, but overall can provide another quick

installation that can be carried out in all weather

conditions. The ballast covering also provides

additional mechanical protection of the

waterproofing membrane.

The most versatile attachment system is the fully

adhered system, which is suitable for smaller

roof areas, unusual roof shapes and more

complex penetrations. The EPDM membrane is

bonded to the substrate using a specially

formulated adhesive. This solution is highly

resistant to wind uplift and lightweight making it

suitable for roofs with limited load bearing

capacity.

Robust support

The substrate onto which the EPDM membrane is

Above: Firestone RubberGard installed at

GEWO, Austria © Oliver Heinl.

Left: RubberGard roof system.

installed must be sufficiently

durable for the roof's life and

anticipated functions. If the EPDM

membrane is installed over insulation, an

insulation material with a high compressive

strength should be used to prevent deformation

from foot traffic.

The use of rigid PIR (polyisocyanurate) foam

insulation is recommended for roofs where

maintenance access will be required throughout

the roof's service life. Greater resistance can be

achieved using a high-density cover board on top

of the insulation package.

High density cover boards are ideal for a fully

adhered attachment system where the insulation

layer is not compatible with the adhesives. Noncombustible

gypsum boards provide a highly

durable option and are often required to achieve

the higher ratings required on FM-Global projects.

Controlling condensation within the roof system is

another important consideration. A suitable air

and vapour control layer (AVCL) should be

selected based on the temperature and relative

humidity within the building, the deck type and

attachment method for the insulation and

waterproofing layers. Installing a highperformance

AVCL between the structural deck

and insulation will prevent condensation forming

and possible deterioration over time.

Technical advice

When planning a roof project, it is recommended

to take a 'system approach.' The system should

be decided in conjunction with technical advice

from the EPDM membrane manufacturer and

applied in accordance with their guidelines. Once

the system is approved by the technical services

team, and executed by a trained licensed

contractor, a long-term warranty can be provided

for peace of mind.

Benefits for all

As the prospect of more unpredictable and

severe weather continues, it is essential that

buildings are strong enough to cope. As the first

line of defence, the roof has a crucial role to

play. A robust design and the right roofing

system will ensure a resilient structure that

delivers benefits for building owners, occupiers

and visitors.

Contact Holcim Elevate

01565 756186

www.holcimelevate.com

NOVEMBER 2022 TC 29
---
Liquid Systems

PREPARATION, PREPARATION,

PREPARATION

With interest in liquid waterproofing rising, Tim Bowers, Installation and Training

Manager for Flex-R, reinforces the importance of proper training and preparation for

those installing liquid systems.

Roofers keen to expand their skill set would

be right to consider liquid waterproofing

systems. The promise is a simple and

compelling one: fast and easy application which

makes short work of complex roofs. However, this

ease of application can lead to a false

assumption that no additional skills or training

are required.

As with any roofing system, the principles of

proper preparation and training are key to

ensuring the system is fit for purpose, installed

correctly, and fully covered by supplier

warranties.

When to use liquid waterproofing...

There is no-one-size-fits-all solution, so choosing

which system is appropriate often comes from

first assessing the roof in question. For

refurbishments or repairs, single ply systems

have their respective advantages and

disadvantages. Where liquid waterproofing excels

is when complexities in roof layout, access, and

time are present.

Take, for example, a roof with multiple abutments,

complex detailing, and penetrations. These would

pose a real challenge for an overlay system,

adding a significant amount of time onto the job.

With liquids, their ability to mould to these

complexities can effectively save time and

provide a thorough solution.

While roof structure can affect choice, so can other

factors such as access. Without proper space or

any easy way of getting power to the roof,

contractors can turn to liquids to carry out the work.

Similarly, in scoping out the project, contractors

might face restrictions from building owners. It's

common to prohibit hot works or impose time

restrictions, which can affect the choice of

system used.

Continued on page 32
---
WATERPROOFING

SOLUTIONS

FOR ROOFS

PRODUCT SOLUTIONS AVAILABLE

FLEECEBACK

SINGLE-PLY

EPDM SYSTEM

SINGLE COMPONENT

LIQUID PU

WATERPROOFING

SYSTEM

Flex-R provides EPDM system solutions for both new build and

refurbishment projects, and offers a range of support services.

f

SYSTEM WARRANTIES AND ACCREDITATIONS

f

TRAINING

f

TECHNICAL SERVICE AND SUPPORT

f

SPECIALIST REGISTERED INSTALLERS

TO FIND OUT MORE

VISIT US AT

STAND

E61

...OR CONTACT US TODAY ON

01494 448 792 | enq@flex-r.co.uk | www.flex-r.co.uk

FRWSA1022 V1 | © Flex-R 2022. All rights reserved. The information contained in this document is believed to be correct at the date of publication. Images shown are for illustration purposes only.
---
Liquid Systems

Above: Flex-R places a strong focus on training and correct application, and any contractor purchasing liquid waterproofing from the manufacturer must first take part in a training course.

Continued from page 30

Training in the system

For Flex-R, any contractor purchasing liquid

waterproofing must first take part in a training

course. How well a product performs as intended

can be directly correlated to the skill of the

installer.

If the coverage is too thin or the wrong primer is

used, then the system won't perform as well and

can result in expensive rectifying works.

Additionally, while Flex-R offers warranties for

liquid waterproofing, these will only apply if the

product is installed by a competent and certified

Specialist Registered Installer.

Getting to grips with liquid waterproofing

Standard practice is to start with a site survey or

roofing condition report. It's imperative to

understand the materials used on the roof and

reveal hidden problems that can affect the liquid

system.

Liquid waterproofing can generally be applied

directly onto substrates or as part of a build-up

including insulation. However, understanding the

build-up will provide insight into how well the

liquid will perform.

Adhesion tests with the substrate should be

undertaken to demonstrate how well the system

will remain in place against wind uplift and

movement. Different materials affect the strength

of the adhesive and proper care should be taken

to optimise the system.

Preparation is key for liquids. From repairing any

significant damage to the roof surface, through to

cleaning and clearing any debris, every bit of time

spent upfront getting the roof ready will improve

the effectiveness of the system.

Primers should also be considered for ageing felt

and asphalt. Other materials such as metal or

concrete require their own specialist primers. As

well as improving adhesion, primers can act as

blockers against issues such as bitumen bleed to

improve the lifespan of the roof and reduce

maintenance.

One final area which often catches contractors

out is calculating how much product they need.

Typically, a 2mm thickness is required across the

roof surface, so take care to carry out the

appropriate calculations to understand the

volume of product needed.

The key takeaway

While the above may make it look as though more

time is spent preparing than installing, the payoff

lies in the speed and ease with which the liquid is

applied.

The combined efficiencies of the installation with

long service life and warranties of up to 25 years

makes liquids an attractive option. Once fully

trained, contractors can quickly realise the

benefits.

Further info on liquid systems or training:

www.flex-r.co.uk

Email: enq@flex-r.co.uk

01494 448792

32 TC NOVEMBER 2022
---
SL ALUMINIUM

Whatever the project

we have a rainwater system to suit

your plans and your budget

SL ALUMINIUM

XL ALUMINIUM

GRP

CAST IRON

XL ALUMINIUM

COPPER

Traditional and modern gutters,

pipes and hoppers come in a

comprehensive range of aesthetic

styles, materials and colours to

suit all buildings and budgets.

For more information please

call 0113 279 5854 or email

info@rainguard.co.uk

w w w . r a i n g u a r d . c o . u k

Squareline

ALUMINIUM FASCIA & SOFFITS
---
i-folding

door

15%

INTRODUCTORY

DISCOUNT *

QUOTE DISCOUNT

CODE

TCK02

Delivering the best products,

with the best service, at the best price

Contact Made for Trade for a KwikQuote today

madefortrade.co | sales@madefortrade.co | 01642 610799

*Discount applies to all trade customers and applied to the first, single item purchase only of the Korniche Bi-folding Door | *Korniche Bi-folding door price is based on 7-7-0 configuration 5100 x 2000

stock colour, delivered. Unglazed. Price is correct at point of publishing. Delivery restrictions apply. Product specification and prices may be subject to change without prior notice.

*PAS24 as standard requires laminated glass installation
---
SAVE HOURS ON SITE

with the only clip-bead that delivers glazing

and de-glazing in seconds. The Korniche

Bi-Folding Door has more to offer..

As standard!

Competitive glass supply

Trickle vents positioned in outer frame (No frame

extenders required for PART F compliance)

PAS24 security as standard*

Korniche matching hardware, including brushed

stainless steel

EASY GLIDE

EVERY TIME

Precision

engineered

articulated axle

with fully bearinged

rollers

Enhanced thermal

performance

FREE nationwide

delivery

10 YEAR warranty

GLAZED IN

SECONDS

UNGLAZED, EXC VAT

Including FREE delivery

BEADED IN

SECONDS
---
Advertorial: North West Aluminium

COMPARING STEEL AND

ALUMINIUM GUTTERS

The team at North West Aluminium give their thoughts on the different materials.

What are the differences between

steel vs aluminium gutters?

Deciding on the best material option

for a property's gutters begins with a closer

look at the primary material differences and

how they can affect long-term outcomes.

Steel was long thought of as the go-to

material for gutters due to its durability,

corrosion resistance and toughness. It can

also be galvanised with a protective zinc

coating to reduce the likelihood of rust build-up

over time.

Aluminium gutters hit the market more recently,

in the 1960s. Widely acknowledged as a

lightweight but durable metal that functions as an

efficient heat conductor, it is also more easily

roll-formed than steel and is non-magnetic.

Perhaps the overriding factor for some when

comparing steel vs aluminium gutters is the

upfront cost, and typically, aluminium tends to be

slightly less expensive overall, perhaps twothirds

of the price of steel. But there are other

factors in its favour.

Installation-wise, aluminium is considerably lighter

and innately more flexible than steel which makes

the fitting process less involved, so much so that

many property owners prefer to install it

themselves rather than pay professional installers.

Weather-resistance

Climate is another important factor to be

considered when comparing steel vs aluminium

gutters. Steel gutters, and galvanized steel

products, are resilient in extreme weather

conditions, and it seems a consensus that the

earth is experiencing more of these. But steel

gutters tend to rust over time so while they may

hold up better, in severe winter and icy conditions

the standing ice, snow and water can speed up

the oxidation process and lead them to rust more

quickly.

Subsequently, steel gutters need a bit more

maintenance. Standing water should not be

allowed for long periods of time. And where there

is a zinc coating, this should be regularly

inspected, and any new rust spots dealt with

appropriately.

Conversely, aluminium is a rust-proof metal, and

consequently more low maintenance than steel.

And, while aluminium is more prone to denting, it

is still very durable – the thickest aluminium

gutters can endure fallen tree branches, heavy

snowfall and ice.

In climates with extreme temperature

fluctuations, aluminium will expand and contract

more than steel, but this variation, and its

propensity for leaks at joints or seams, can be

designed out by professional installers. While

steel gutters can be installed as a seamless

system, specialised transport may be required to

deliver the long sections to site.

Form & colour

Functionality aside, you may ask whether there

are any other differences when comparing steel

vs aluminium gutters. In fact, the form also

requires consideration, as the specific design

features of a building can dictate whether

aluminium or steel gutters are used.

It's important to scrutinise the surrounding

materials that will come in contact with the

gutters as both steel and aluminium will have

galvanic reactions when installed in proximity

with dissimilar metals such as zinc and

copper, which are increasingly being

specified by design-led architects for roofs

and cladding.

For instance, when steel encounters copper,

a galvanic reaction can cause it to rust out

faster, while aluminium, though not completely

compatible with copper, will not have nearly the

reaction as that of steel and copper.

Aesthetically, colour choices are the same with

steel as they are with aluminium, with the option

for both to be custom painted to complement or

contrast the colour of their host building. And both

can use a variety of fixing systems, including

hidden or exterior brackets or straphangers, to

securely and safely fasten the gutters to the house.

Steel vs aluminium gutters: which one

lasts longer?

When it comes to longevity, both aluminium and

steel gutters have a lifespan of approximately 20

years when properly maintained. Within that time

frame, aluminium gutters will need to be monitored

for dents and leaks and steel ones for rust.

Downspouts location

Last but not least, the location of the downspout

is just as important as how many downspouts a

building requires. Downspouts help the run-off

flow out and away from the house, but installed

steel ones can corrode and damage the façade of

the building, which can be unsightly at best, and

fiddlesome and expensive at worst, to repair.

Contact North West Aluminium

www.northwestaluminium.com

36 TC NOVEMBER 2022
---
The beauty of natural slate, engineered for

heavyweight durability and lightweight handling.

Meet Cambrian: A full system designed using

recycled Welsh slate, to be fully weathertight and

easy to install, for the perfect finish every time.

It's not just beautiful – it's beautifully engineered.

Find out more at

bmigroup.com/uk
---
Total Talk: Werner

SAFETY AT HEIGHT: RAISING

STANDARDS & CHANGING MINDSETS

In order to avoid serious injury or falls when working at height, adequate training and

knowledge of height safety remain critical. With this in mind, we put the questions to

Justin White, Managing Director at Werner UK, discussing attitudes to safety,

messaging around training and best practice, product development and innovation,

plus look back on the company's 100 years in business, which it celebrates this year.

TC: How is the company celebrating its

100 year anniversary? – it's such a

significant milestone

JW: Over the past year we have celebrated with

our staff and customers by offering special

promotions and launching innovative products in

order to provide the best service possible. The

celebrations will be overflowing into 2023, so

watch this space!

TC: What have been some of the key

developments for the company in recent

years?

JW: Leading the way in innovation has always

been a large focus here at Werner and we are

continually looking at how we can evolve our

products, using buyer feedback, to make easy to

use and safe working at height equipment.

We are proud of the products that we develop and

some key launches over the last couple of years

have been our Leansafe X3 multi-purpose ladder,

and the very exciting launch of our Adjustable &

Linking PRO Platform which is being unveiled at

this year's National Painting and Decorating Show.

To grow as a business, we have recently invested

in a new 174,000 sq ft facility which will enable

us to increase our UK manufacturing as well as

host more industry events and training.

TC: What do you feel is the key to Werner

having been able to not only survive 100

years, but develop its offering and grow

as a brand?

"People

shouldn't be

afraid to

demand the

right training

and equipment

for the job"

JW: Investment in staff is vital in order to show

value and create a positive working space. A

happy and well-equipped team enables us to

work effectively to meet the demands of our

customers and end users. This also allows us to

diversify our offering to ensure we are covering all

bases of product offering and innovation.

With a strong pipeline of product innovation and a

global manufacturing and distribution offering,

Werner is in a strong industry position and we are

excited to see what the next 100 years hold!

TC: You recently launched your Stepping

up to Ladder Safety campaign – how has

it been received and what are the main

takeaways from the guidance for

tradespeople?

JW: Safety is key for us and it always has been.

Our job as a manufacturer is to help educate

users into understanding when to use work at

height equipment and how choosing the right

equipment is key to safety. Year on year falls from

height remain the leading cause of workplace

fatalities due to the incorrect use of work at height

Left: Justin White, MD at Werner UK.

equipment caused by inadequate

training or attitudes to safety.

The research we have carried

out for the Stepping Up to Ladder

Safety campaign shows that

tradesmen want to prioritise their

safety, and as manufacturers, we have a duty to

advise best practice when using access

equipment.

Our research revealed that 48% of people worry

about safety when working at height, that is why

we created a series of best practice guides to

help users feel more confident when using

working at height equipment. By launching

Stepping up to Ladder Safety we hope to

encourage users to think about whether they are

using the right tools for the job and how they can

safely use their equipment to prevent accidents

occurring.

Following the launch of the campaign, we have

received high levels of engagement across all

our social channels, as well as positive

feedback and support from tradesmen within

the industry.

It is something that we're keen to keep promoting,

as the falls from height figures have remained

consistent for the last decade, we're keen to see

them drop and to help be a part of that positive

change.

Continued on page 40

38 TC NOVEMBER 2022
---
NOW PLAYING

MADE IN THE UK

ROOFSHIELD ®

THE AIR & VAPOUR PERMEABLE PITCHED ROOF UNDERLAY

0:03 3:29

01250 872 261

contact@proctorgroup.com

@proctorgroup

www.proctorgroup.com
---
Total Talk: Werner

Continued from page 38

TC: As you mention, the statistics

regarding falls from height are still

frightening. Do you think there will always

be those who are willing to cut corners

and take risks?

JW: It's very true that there will probably always

be those that cut corners or think that an

accident just won't happen to them. We believe

that this change needs to be made from the 'top'

and that we need to be encouraging managers

and business owners to promote best practice

and ensure that all workers have the correct

equipment for the job and that they are

competent to use it.

However, the onus then also needs to be on the

users of the equipment themselves. It shouldn't

be a luck of the draw that people have the correct

working at height products to use, and people

shouldn't be afraid to demand the right training

and equipment for the job.

We are hopeful that education and resources

through our safety campaign will help to reduce

this. Training should be completed as a must for

all people working at height and here at Werner

we offer a variety of training courses to ensure all

users are aware of what the key safety

considerations are.

According to latest reports from the Health and

Safety Executive (HSE), falls from height

accounted for 44% of all non-fatal injuries over

the past 5 years and 25% of all fatal injuries,

therefore it's crucial that users follow best

practice guidelines to make working at height

both easier and safer. We have big plans for next

year to focus on this, so watch this space.

TC: How important is feedback from users

and the trade when it comes to product

development? Can you give any examples

where this has been crucial?

JW: Extremely important. We developed our

recently launched Leansafe X3 as a result of

direct feedback from customers.

Listening to feedback from professionals within

the construction industry, Werner knew that users

"So often within the

industry an incorrect

ladder is used for a job

as the user only has

one in the van, or is

unable to transport

multiple ladders"

had a need for a professional and flexible 3 in 1

solution. So often within the industry an incorrect

ladder is used for a job as the user only has one

in the van, or is unable to transport multiple

ladders – this is where the concept originated

from. Werner used market research to design a

product based on user demand after determining

that not always having the right equipment was a

particular pain point for tradesmen.

The idea of the Leansafe X3 was created to push

boundaries and Werner has always been

dedicated to designing products that make waves

in the industry as well as making working at

height easier and safer. Developing a 3 in 1

solution that is easy to operate and transport

means that users now have access to a step

ladder, extension ladder and leaning ladder all in

one product, intending to minimise incorrect

ladder use and ensuring users have the right

working at height equipment for a job.

We have always led the way in innovation, and

the Leansafe 3-in-1 ladder shows that. It was the

first product of its kind to hit the UK market

where we owned the patent.

TC: How has the support you offer in

terms of product selection, advice and

training changed over the decades? Do

you feel customers are more receptive to

this type of support?

JW: We have spent a lot of time understanding

what the pain points are for our customers,

whether that's areas of training that need

highlighting or advice on how to address a certain

issue. To ensure our customers have access to all

the advice they need, as part of our Stepping up

to Safety campaign, we have created 'How to

guides' which can be found on our website where

professionals can use these if in doubt.

Customers look at more content online to help

them decide which ladder to choose and we have

a range of product videos to assist with product

selection and installation.

Training is also a key area for us and one that we

are keen to focus on. The take up of training has

declined over the past few years, obviously

Coronavirus had an impact on this and it doesn't

seem to have recovered since. It's a worry that

there are a lot of professionals out there that are

working at height without any relevant training,

and this is something that we're hoping to

address in the near future.

TC: What can we expect from Werner in the

next couple of years? What are going to be

the main areas of focus for the company?

JW: Product innovation is a big thing for Werner

and you can expect to see some exciting product

launches for 2023. We will always take pride in

leading the way when it comes to offering the

best products in the market that have been safety

tested to the highest standards.

We will continue to leverage our global

manufacturing capabilities to meet the demands

of our customers and a big focus will be on our

UK manufacturing offering.

And finally, as mentioned earlier, our Stepping up

to Safety campaign is something that we are

really keen to keep focus on. We have some new

developments planned for this next year and want

to help take safety and training to the next level

within the industry.

As we grow as a manufacturer, we hope that

height safety awareness and user knowledge

grows with us.

View the full version of this interview at

www.total-contractor.co.uk

Contact Werner

www.wernerco.co.uk

@WernerLadderUK

40 TC NOVEMBER 2022
---
GREAT

WITH

SLATE

TILE

WITH

STYLE

NEW HERITAGE VALLEY

The unique, dry-fix, invisible valley

trough, for a heritage aesthetic

that's cost-effective and

simple to achieve!

BRE tested

to PD CEN/TR

15601

Test B & D

• Unique S-profile design

• No valley roof tile required

• No special eaves closures required

• Far less tile-and-a-half or slate-and-a-half required

• BRE weather resistance tested

www.filon.co.uk

Telephone 01543 687300 Email: sales@filon.co.uk
---
Roofing Updates

For further info on all these updates and more, visit www.total-contractor.co.uk

PROTECT VIKING AIR DELIVERS FOR HOUSEBUILDER

Leading building materials manufacturer,

Glidevale Protect, has supplied its

Protect Viking Air pitched roofing

underlay across a new build

development for housebuilder

Pennyfarthing Homes in Verwood, Dorset.

Glidevale Protect's high-performance air and

vapour permeable roofing underlay has been

installed by appointed roofing contractor

Ford Roofing of Hampshire at Pennyfarthing

Homes' Potters Wood housing scheme, a

bespoke development featuring a mix of new

build two, three and four bedroom semidetached

and detached homes.

The Protect Viking Air roofing membrane was

fitted across all the pitched roofs, including on

apartments at the development. The classleading

underlay helps avoid the risk of harmful

condensation and achieves superior air

permeability, tested at 50 Pascals to

Above: The Protect Viking Air pitched roofing underlay was used by

Pennyfarthing Homes for its new build development in Verwood, Dorset.

BS EN 12114, meaning it can be used in cold

roof construction without additional roof space

ventilation as accepted by the NHBC.

Glidevale Protect says its premium underlay

boasts the best air and vapour permeability on

the market. It is independently certified by

BM TRADA as well as having the strongest wind

uplift resistance of its product type, enabling it to

be used in wind zones 1-4 at 345mm batten

gauge, in accordance with BS 5534, without

the need for additional counter battens or

integral tape. This ensures Viking Air can be

used across a large area of the UK and

throughout Ireland.

Used in both cold and warm roof construction

without the need for additional ventilation,

thereby saving labour costs by avoiding the

need for additional accessory products,

Viking Air can also be wrapped over the ridge

rather than needing to cut it short on each

side, which not only ensures good ventilation

and water tightness, but also saves installation

time. Its unique grid design also makes it easy to

cut onsite.

For more information on Glidevale Protect, visit

www.glidevaleprotect.com, email

info@glidevaleprotect.com or call

+44 (0)161 905 5700

NEW GUIDE FOR LOW LINE UNDER ROOF SYSTEM

Onduline, the lightweight roofing systems and

waterproofing specialist, has announced the

launch of an installation guide for its new

under roof system, ISOLINE LOW LINE, said to

be 'the only system in the UK to be BRE tested

and BBA Accredited to as low as 10º with a

30-year guarantee.'

Designed specifically for use on low pitch roofs,

the company says this lightweight bituminous

underlay sheeting has been rigorously tested and

is said to be at least three times less likely to leak

compared to a traditional tile system.

The installation guide explains what ISOLINE LOW

LINE is, the installations that it is suitable for, the

benefits of the system and how it works, and then

goes on to describe step-by-step fitting of the system with handy imagery

and illustrations.

Ardit Strica, Technical Manager for Onduline Building Products, said: "We

have received fantastic feedback from within the

construction industry since the launch of ISOLINE

LOW LINE. As it's the only bituminous corrugated

under roofing system in the UK that can be used

on a pitch as low as 10º, it is having a really

positive impact on new and renovation projects

alike.

"The launch of the brochure and installation

guide on the Onduline website means that

professionals have the opportunity to take a

look at how ISOLINE LOW LINE works, the

benefits of the system, what projects it is

suitable for and see step by step just how easy

it is to install."

To view the installation guide for the ISOLINE

LOW LINE roofing system visit:

https://uk.onduline.com/en/professionals/tools/installation/isolinelow-line-installation

42 TC NOVEMBER 2022
---
Lead?? Use Ubifllex instead!

Another smart, sustainable solution from

08/4577

Ubiflex non-lead flashings

25 year guarante ee, BRE tested, BBA certified

Up to 50% quicker to install than lead

80% lighter than lead – less risk of injury

No scrap value, so no risk of theft

Environmentally friendly, recyclable, non-toxic

Available as a system, complete with adhesives,

clips and accessories

U bbink UK Ltd •

01604 433000 • info

@ ubbink.co.uk • www.ubbink.co.uk
---
Roofing Updates

For further info on all these updates and more, visit www.total-contractor.co.uk

SWIPE RIGHT WITH CMO TRADE APP

Are you looking for the perfect partner for

your next building project? Online builders'

merchant CMO Trade has launched a new

mobile app to make it easier than ever to find

the construction products and materials you

need at a time and place to suit.

Whether you need roofing materials in a rush, to

increase your insulation order, or want doors on

next day delivery, the CMO Trade app provides

access to over 100,000 products across all eight

of the company's specialist online superstores.

Designed to help busy trade contractors save

both time and money, the new app is available

for all CMO Trade account holders and offers

some additional benefits, including special offers

and exclusive discounts on larger orders. Users

of the new CMO Trade app will also be supported

by the merchant's award-winning customer

service, with advisors on hand by phone or live

chat to assist with orders from start to finish,

CMO Trade says its new app makes it easier than ever to

find the construction products and materials you need at a

time and place to suit.

including producing invoices for trade users to

send to their own customers.

A CMO Trade Account can either be cash or credit

and as all of CMO's products come directly from

the supplier, the best and most competitive

prices can always be guaranteed. As an

introductory offer to all new and existing account

holders, CMO Trade is currently offering 5%

discounts on all first orders placed via the new

app, with 6% off second orders and 7% off the

third.

Rather than spending valuable time travelling

around multiple builders' merchants to source

the necessary tools and materials, CMO Trade

offers everything the busy trade customer needs

to build and repair a building, from smaller

residential jobs to larger, more complex

commercial contracts.

The new CMO Trade app can be used to purchase

from Roofing Superstore, Insulation Superstore,

Door Superstore, Tile and Floor Superstore, Total

Tiles and Drainage Superstore, which has

recently extended its offering to include

gardening and landscaping products.

For more information, visit

www.cmotrade.co.uk/pages/cmotradeapp or

search for the CMO Trade App on the Google Play

Store or Apple App Store.

GLIDEVALE PROTECT EXPANDS UNDERLAY OFFERING

Leading building products manufacturer Glidevale Protect has

strengthened its existing range of pitched roofing underlays with the

launch of Protect VP200 – a type LR, vapour permeable, and

completely airtight roofing membrane with a vapour resistance that

exceeds the requirements of BS 5250, helping to avoid the risk of

harmful condensation in the roof space.

New Protect VP200 is a medium weight, highly durable and completely

waterproof underlay, suitable for use on all pitched roofs in wind uplift

zones 1 and 2 at 345mm batten gauge, covering a large area of England

and Wales. Achieving a resistance to wind pressure of 1022 Pa when

tested to Annex A of BS 5534, Protect VP200 is suitable for use as a

secondary line of defence against wind driven rain and snow across all

pitched cold and warm roofs, including fully supported applications.

Glidevale Protect's unique dry fix universal ventilated ridge and hip

systems, Protect Fulmetal UniRoll or RediRoll, ensuring both condensation

control and water penetration resistance within the roof space.

For more information on Glidevale Protect, please visit

www.glidevaleprotect.com, email info@glidevaleprotect.com or call

+44 (0)161 905 5700.

Fully independently certified by BM TRADA, the underlay's highperformance

and competitive technical characteristics make it an ideal

choice for new build and re-roofing projects in accordance with BS 5250

and NHBC requirements.

For a complete cold roof solution, Protect VP200 can be combined with

Above: Glidevale Protect has launched the Protect VP200 roofing underlay.

44 TC NOVEMBER 2022
---
Greener Ideas.

Greener Future.

Rainwater System Solutions

Kytun

GutterClad

northwestaluminium.com
---
Out and About: EJOT UK

'CONVERTING CUSTOMER PROBLEMS

INTO PRODUCT SOLUTIONS'

Total Contractor attended EJOT UK's Open Day, where the fastener and fixings specialist

showcased the recent expansion and development of its Sherburn-in-Elmet, Leeds, HQ,

which has better positioned the manufacturer to support customers in terms of supply,

as well as technical support through R&D and testing...

The small details have always – or should

always have been – important in

construction, but as the pressure grows

through legislation, regulations and new

standards to ensure buildings meet evertightening

energy efficiency targets, are built as

they were designed so they maintain performance

levels throughout their lifetime, and crucially

meet safety standards – whether that be in terms

of fire performance or load-bearing challenges –

it's clear the small details are going to have an

even bigger impact on projects moving forward.

This idea was evident at EJOT UK's

Open Day at the company's

Sherburn-in-Elmet site where the

building and industrial fastener

manufacturer showcased the

significant investment in its

manufacturing capacity,

warehousing, and expansion and

upgrade to its Applitec technical support

facility.

Continued growth

EJOT UK has shown continued growth since it

was established in 1985, with strong backing

from the family-owned Group. Discussing the

company's recent investment and expansion,

Richard Bowhay, Sales Manager for Construction

Fasteners, who has been with the company since

1997, explained: "I've seen the company grow

dramatically; when I started (25 years ago) we

were turning over in a calendar year what we now

do in a week! We grew so fast in those early days

but we're still grounded like we were back then –

just much bigger."

Above: EJOT has invested heavily to expand its Sherburn-in-Elmet UK site, which includes the upgraded

Applitec Centre which is a key tool for R&D and testing to support customers. Left: EJOT Colorfast range.

Innovation and customer

support

Key to that growth has been the

company's strong focus on innovation and

customer support. The company is at the

forefront of fastening systems for roofing and

cladding projects. Key products from the

manufacturer's vast offering including the

EJOFAST self-drilling screw range, the EJOT

Colorfast nylon head range, and the EJOT Opticore

fastener – which was developed to improve the

installation of membrane-faced composite

panels, and was one of the first products to be

developed by the team at the Applitec Centre –

have solidified the manufacturer's position as a

leading fastening and fixing solution provider.

Robert Hardstaff, MD at EJOT UK, and his team

are rightly proud of the investment in the site and

their new Applitec Centre which they say is unlike

any testing and R&D facility in the UK, with the

upgrade said to have tripled the size of the

previous Applitec Centre. At the time of the

investment announcement, Robert stated: "This

investment in our UK site represents a major step

forward for EJOT, giving us a unique position in

the market in respect of the levels of technical,

logistical and sales support we can offer, with a

strengthening of our manufacturing base."

He continued: "Our ethos of 'converting customer

problems into product solutions', both reactively

and often proactively to prevent problems

evolving in the first place, requires us to have the

right technical resources and quality procedures

in place to meet whatever challenges our

customers face."

And following a tour of the site and new Applitec

Continued on page 48

46 TC NOVEMBER 2022
---
WE THINK OUR PRODUCT IS GREAT.

BUT DON'T JUST

TAKE OUR WORD

FOR IT.

Real reviews of Easy-Trim Ridge

Kits from installers*

I WOULD BUY

AGAIN

Used on a new garage.

Easy to install and

well manufactured.

MORTAR FREE FIXING

Excellent product, mortar free mechanical

ridge tile fixing with easy to follow

instructions.

10/10

Perfect. Easy to install

and everything needed

supplied. Plastic pieces

(terracotta in mine)

matched well to the

ridges.

BEST RIDGE KIT

AROUND

Alway use this dry ridge

kit for clay angled

ridge, fits the best

RECOMMEND

Quick and easy to use.

Good Result.

QUICK AND EASY DRY RIDGE SYSTEM 5*

Easy to fit. All parts required are included also

instructions dedicated to the dry ridge system, looks

and feels like a quality product, with plenty of

ventilation via the roll webbing.

ASK FOR US BY

NAME IN YOUR

LOCAL MERCHANTS

Unit 12B, Metcalf Drive,

Altham Industrial Estate,

Altham, Lancashire,

England, BB5 5TU

Tel 01282 930680

sales@easy-trim.co.uk

www.easy-trim.co.uk

* Reviews taken from a selection of merchants selling online
---
Out and About: EJOT UK

Continued from page 46

Centre, it's clear EJOT

UK have that at their

disposal. But as the

team point out, whilst

the facility is set up to

further the

manufacturer's R&D and

product development,

it's also there to support

customers and provide

reassurance for them

through testing and

ensuring they have the

right solution for a

specific project.

The upgraded

Applitec Centre is

packed with stateof-the-art

equipment

including a 3-D resin

printer to create prototypes,

light cabinets to test colour, shadow graph

machines for intricate measurements, a Vickers

machine for hardness testing and rigs for testing

components and systems.

The facility enables the team to support specifiers

and contractors when it comes to standard pullout

tests, complex application testing, ultraviolet,

metallurgical and chemical composition data

analysis, right through to the provision of data to

demonstrate strengths and fastener capability.

But alongside this equipment, the technical

knowledge within the team and the pride they

take within their work is also clear, and it's a

huge bonus for customers to be able to tap into

this support.

'Testing, testing and more testing'

In an earlier article in Total Contractor, Brian

Mack Technical Business Development Manager

at EJOT UK, gave an insight into the team's ethos

when it comes to getting things right. Discussing

innovation and the importance of testing, he

explained: "not only good research and

development is required, but testing, testing, and

Significant investment from the family-owned EJOT Group

has seen EJOT UK expand its Sherburn-in-Elmet site so it

can further support customers and meet future challenges.

more testing is required. Real-life trials and a

process of ensuring that a unique, innovative

solution offers qualities, performance and

benefits, to deliver to expectations on time, every

time. Only a circular process of 'Innovative,

design, test, repeat' can do this."

And it's clear that following the backing of the

Group and recent investment, EJOT UK have the

team, tools and are in an even better position to

provide that level of precision and support.

Indeed, the company

has been very vocal on

the sector issues and

challenges such as the

importance of installing

self-drilling fasteners

correctly and prioritising

regular seal testing, and

it has developed a wide

range of videos and

support tools help guide

contractors and

installers on best

practice, plus practical

solutions to ensure

components are

installed correctly and efficiently.

This is just another example of the emphasis the

company places on ensuring its customers are in

a position to do what they do best, and the

importance it places on raising standards within

the sector.

Better positioned to meet demand

As mentioned at the beginning of this article, the

details are going be crucial as we move forward

in construction, and it's clear there will be a

greater focus on correct installation of roofing

and cladding components as we look to improve

the performance and safety of our built

environment.

This will place pressure on the whole supply

chain from specification right through to

installation, and despite the challenges of the last

few years, the recent significant investment at

EJOT UK has better positioned the manufacturer

to be able to increase capacity and meet demand

for supply, plus support customers with

installation challenges on site, or to create

solutions for their technical issues at the

beginning of projects.

Contact EJOT UK

www.ejot.co.uk

01977 687040

48 TC NOVEMBER 2022
---
The Complete

Supply Chain

MCRMA members provide the

complete supply chain for

sustainable metal-clad building

solutions in the industrial and

commercial sectors.

Our members encompass

• Systems manufacturers

• Component manufacturers

• Systems installers

• Stockholders

• Independent roofing and

cladding inspectors

• Industry support services

providers

Visit www.mcrma.co.uk

to find out more about the MCRMA and its members.

The 'MCRMA The Building Envelope Authority' is a registered Collective Trademark of the Metal Cladding and Roofing Manufacturers Association Limited.
---
Productivity & Sustainability: Opinion

BUILDING FOR A BETTER TOMORROW

David Wigglesworth, Managing Director at SFS UK, says construction is entering a

period of rapid growth, whilst also facing big questions about productivity and

sustainability. How it responds, he says, will define the future of the industry and, to a

degree, the future of the planet. Below, he looks at what the sector can do to safeguard

the future while also delivering an inspirational built environment.

The noise around COP26 has reinforced what

we've all known for years: our environment

is in trouble, our futures are threatened,

and the time has come for action, not words.

Everybody needs to take responsibility –

individuals, government, industry and, of course,

construction. Construction especially.

Everyone from the U.S. Green Building Council to

the UN's United Nations Environmental

Programme agrees. Construction is responsible for

40% of the world's energy usage, 25% of water

usage and c 33% of greenhouse gas emissions.

This is a heavy charge sheet and if we're going to

secure the future of our planet, a lot of work

needs to be done. Not least because the world is

on the threshold of a construction boom. In the

UK alone, some £650 billion has been earmarked

for economic and social infrastructure projects

over the next 10 years, taking in schools,

hospitals, transport links, entertainment, office

buildings and homes as the government sets out

to transform lives and level up society.

So if we're going to meet challenging future

targets for more buildings and net-zero

emissions, construction is going to have to make

big changes. This isn't negotiable, it's built into

the programme. 'Project Speed' is focussed on

encouraging the industry to work better, faster

and greener. Equally, in its document –

Transforming Infrastructure Performance:

Roadmap to 2030 - the Infrastructure and

Projects Authority is upfront about what's

needed; more data to measure efficiency and

inform decision making.

The direction of travel is clear, but construction

has been notoriously slow to get the

wagons rolling. Research shows

that productivity in

construction has grown only

1% over the last 20 years,

far lower than other

industries. Equally, there's a

real shortage of labour,

exacerbated by Brexit, an ageing

workforce and a poor image which is

deterring millennials and Gen X. This is a pressing

issue. In 2021, the Construction Skills Network

revealed the need for 217,000 new workers by

2025 which has encouraged a flurry of activity in

terms of apprenticeships, up-skilling and

retraining. Finally, the sector has been slow to

embrace digital – the very technology that can

help drive productivity gains. Fortunately, this is

now changing. Unfortunately, the ageing

workforce isn't always receptive.

So construction is under pressure from

environmental, economic and demographic fronts.

It's also being asked to leave a legacy – not just in

terms of aesthetics, but also in how the built

environment can positively impact people and the

planet in the long term. These are big issues that

architects, specifiers, and investors will be

expected to address. It's also the responsibility of

those who supply the industry to do everything in

their power to support this drive.

Major manufacturers such as ourselves at SFS

are taking this responsibility seriously, and our

efforts cover four main areas: sustainability,

digital, productivity and people. As our efforts will

help safeguard the future of the sector, it's worth

looking at each of these a little more closely. And

right now, the most pressing is

without doubt the environment.

Towards the concept of

embedded carbon

Today's tenders seek more

sustainable products and

technology, and recycling, upcycling

and Cradle to Cradle have

become part of construction's lexicon.

Manufacturers are responding. At SFS for

example, 'go green' initiatives touch on everything

from lighting solutions and manufacturing with

100% recycled material, through to insulation

which improves the thermal performance of

rainscreen subframes.

Such steps are being taken industry-wide and are

important, but as yet there is no exact or

universal way of measuring sustainability. True,

EPDs and the European standard EN 15804 go

some way toward meeting this need and are

common requirements for building specification,

but a lack of transparency consistency remains.

Having a reliable and universally accepted

measure would benefit specification, while also

providing manufacturers with clear parameters to

work towards. Embracing such a scheme is vital

to our future, and the way forward may well be

with the notion of 'embedded carbon'. This refers

to the total carbon impact of any particular

product – including raw materials, manufacturing

and transport, as well as installation and

disposal.

However, although organisations such as ACAN

(Architects Climate Action Network) and Part Z

Continued on page 52

50 TC NOVEMBER 2022
---
CLA

AIM A FREE

PRODU

UC

T

Claim a FREE

Product with

Selected

Promotion

nal Machines and Kits

BL1850B

18V LXT 5.0Ah Battery

B-53811

100 Piece Bit Set

DMR110

DAB+

Site Radio

ADP05

18V

/ 14.4V LXT

USB Charger

FREE ADP50 or DML186: DHP482 2JX14, DHP484TJX9, DHP485TJX8. FREE DMR110 or BL1850B: DLX2202TJ J1, DLX2134TJ.

FREE B-53811:

DHP453F001 53F001, DHP

P485T001.

Claims can be registered on-line

from 1st October

20222 and must be registered within 28 days of purchase for

qualifying model dels. Qualifying mode

dels must be purchased by 31st March 2023 to

quali ify and registered within 28 days.

makit tauk.com

m/redemem

ption

18V DML186 LXT LE ED Torch
---
Productivity & Sustainability: Opinion

Continued from page 50

are lobbying for its adoption, the UK has no

formal regulation regarding embodied carbon

emissions.

There's no doubt that large manufacturers have a

role to play here. As an example, SFS is part of

the UN Global Compact which supports the

principle of introducing Approved Documents to

cap embodied carbon emissions on all major

construction projects. Equally, it has signed up to

the BRE's EPD scheme, including deploying BRE's

online tool, LINA, which provides a consistent,

scientific base for measuring embodied carbon.

SFS is currently verifying its NVELOPE subframe

systems, before rolling it out to other products.

Such initiatives, when widely adopted, will bring

transparency into tomorrow's supply chain.

Faster and more efficient working

To accelerate productivity, construction has

turned to innovations in construction materials

and methods, not least pre-fabrication. Equally,

manufacturers are working hard to develop

products which enable faster and more efficient

installation. Again, this is happening across the

whole sector.

As a global building envelope specialist, the focus

for SFS is on roofs and rainscreen cladding, so

critical to many current projects. As an example,

there's a major UK drive to refurbish older

schools, 66% of which were constructed before

1976. Simply fitting onto the existing structure,

cladding can improve both the aesthetics and

thermal performance of the building without

running up the huge costs involved in demolition

and rebuilding. Giving buildings a second life is

also a key tenet of sustainable construction.

Additionally, speedily installed roofs and

rainscreen systems secure the building envelope

at an early stage, protecting the asset while

enabling work to continue inside. Here, simple

products such as time-saving fasteners can help

improve installation speeds.

Innovations and technologies such as these are of

vital importance to drive the industry towards a

more sustainable future, and it's why bodies such

as Construction Excellence and the Construction

Innovation Hub Platform Project exist. SFS is one

of the many organisations which share their

commitment and are engaged in their work.

Another key area for improvement lies of course

in digital, and again major construction suppliers

need to be in the vanguard.

Driving digitalisation

A recent study by the World Economic Forum

estimated that full-scale digitalisation in nonresidential

construction could save £0.5-0.9

trillion in engineering and construction costs over

the next decade, with a further £0.2-0.4 trillion in

operations.

After a long period of slow adoption, the pace of

change has picked up and we're seeing innovative

applications of technologies including automation,

3D printing, augmented reality and drones. While

these make the headlines, the real practical gains

are being made with better data and shared tools

helping improve decision-making.

Again, manufacturers are responsible for

developing these tools and making them available

to the market. One such example is SFS'

ConnectSuite, an online portal hosting a variety of

smart tools to help streamline product selection,

specification and design. For example, NVELOPE

Project Builder for rainscreen subframes systems

generates key engineering calculations as well as

providing component guides and list prices, NBS

specifications and 3D modelling of thermal point

loss areas.

By ensuring an efficient build today, digital has a

key role in building for tomorrow.

Safeguarding the future of people

With an average age of just over 40, construction

has an ageing workforce, predominantly white

males. Women and BAME communities are

seriously under-represented and young entrants

don't find the sector attractive. The growing skills

shortage is a threat to our whole industry and the

pressure is on to bridge the gap. Everyone can

contribute by taking on apprentices, providing

ongoing training and making the industry more

employee-friendly. By modernising and

embracing digital, and by strengthening its

commitment to sustainability, construction can

gradually change its image and become the

inspirational and transformative sector it is so

capable of being.

No single organisation can tackle this alone. It

demands innovation, commitment and

partnerships. In the case of SFS, this has meant

forging links with universities to engage earlier

with students, as well as developing a range of

RIBA-approved CPD modules for architects and

specifiers. Delivered through the dedicated SFS

academy, other initiatives include training and

toolbox talks designed to rapidly improve people's

capabilities. Combined with professional on-site

services covering testing and installation,

activities such as these will ensure a skilled

workforce, equipped for the challenges – and

opportunities – of modern construction.

More informed choices

Construction is key to the future of individuals,

communities and the planet, and it needs to

create buildings which aren't just for today, but

for generations to come.

Architects, specifiers and investors can bring this

vision to life in their designs, but they need the

big construction companies to support them fully

on their journey. They have a right to expect this

– and manufacturers have a responsibility to

respond and ensure buildings that are safe and

sustainable.

By investing in people, digital and more

sustainable methods and technologies, major

companies like SFS will help those architects and

specifiers make more informed choices, deliver

more efficient projects and create a built

environment that doesn't just inspire, but also

helps secure everyone's future.

Contact SFS UK

https://uk.sfs.com

@SFSGroupUK

52 TC NOVEMBER 2022
---
AIM Open State Cavity Barriers

Tried, Tested & Trusted

The AIM Open State Cavity Barrier range, in the event of a fire, provides

a high performance barrier to the passage of hot smoke and fire behind

the cladding system. It is designed to enable a continuous airflow behind

a rainscreen and timber frame cladding system thus helping to prevent

problems of condensation.

● Choice of four OSCBs deliver

insulation and integrity performance

up to 120 minutes

● Quick and cost effective installation

● Easy to install with a simple

fixing procedure

● Colour coded for ease of

identification

● Tested for use with a wide range

of substrates

● Tested with rail and corner details

● Suitable for cavities up to 425mm

Call us on 01293 582400

Email sales@aimlimited.co.uk

Download datasheet at

www.aimlimited.co.uk/oscb
---
Updates

For further info on all these updates and more, visit www.total-contractor.co.uk

FURTHER INVESTMENT AT FREEFOAM

Freefoam Building Products says it is

delighted to announce the arrival of two

additional new extrusion lines to its

production plant in Northampton.

Supplied by Austrian company Greiner

Extrusion, Freefoam says the new lines will

increase production capacity by 12.5%. With

continued expansion, a growing customer base

and increased turnover, the company says this

significant investment further underpins

Freefoam's commitment to remain at the

forefront of PVC extrusion capability in the UK.

Geoff Barnett, General Manager at Freefoam,

explained: "We've been planning this addition

to our facility for many months and I'm very

pleased to see our plans come to fruition.

These new lines will increase

capacity of our production of

PVC fascia, soffit and gutter

products, and allow us to

operate more efficiently."

He continued: "We have a long

and successful relationship with Greiner and by

choosing these new lines to work alongside our

existing extruders we can make significant

efficiencies. We follow and embrace lean

principles of manufacture and this

standardisation across the production plant

allows complete interchangeability between

lines. It maximises the benefits of transferable

skills, tooling and spares in order to keep lines

continually running and minimise down time."

Freefoam says the new lines

will also bring new jobs, as

operating a 24/7 production

facility means an extra five

team members will be

joining the company, making

a total of 154 now employed

in Northampton. The manufacturer says it is

committed to continuous improvement and

maximising efficiencies, and these two new lines

form part of these developments. Alongside a

wide range of other infrastructure projects around

the manufacturing and mixing plant site in

Northampton, the company says these changes

will ensure Freefoam production facilities are fit

for purpose now, and in to the future.

www.freefoam.com

CAVITY BARRIERS PROVE THEIR FIRE PERFORMANCE

Siderise RH Cavity Barriers have again proven

their passive fire protection capabilities as

part of a ventilated facade system – this time

as part of a brick slip façade system which

successfully met the requirements of BR 135

when tested to BS 8414-2.

BS 8414-2 is a 60-minute large scale system

test that mimics a fire breaking out of a window

and exposing a cladding system to a severe fire.

The test was conducted independently by

international consultants Thomas Bell-Wright

and comprised a 28mm Ash & Lacy MechSlip

Brick Cladding System, combined with stonewool

insulation slabs, and Siderise RH25 and RH50

cavity barriers used horizontally and vertically

with associated galvanised steel brackets. The

system was fixed to a steel framing system and

the result only applies to this configuration.

Siderise RH Cavity Barriers are a partial-fill

product made from a compressed stonewool

lamella core, incorporating a continuous bonded

intumescent strip along the leading edge. This

allows for the free ventilation and drainage

necessary for a ventilated facade; however, when

exposed to the heat of a fire, the intumescent

strip will rapidly expand to fully seal the gap and

protect the facade system from fire spread.

Siderise says it is committed to third-party

testing all its products and is a strong advocate

of large-scale fire tests, which are invaluable to

understanding how a whole facade system –

including its cavity barriers and firestops –

performs in a realistic application.

www.siderise.com

54 TC NOVEMBER 2022
---
Advertorial: Cedral

HOW CAN CEDRAL SLATES AND

FACADES HELP YOUR PROJECT?

The experts at Cedral discuss an interesting project which showcases perfectly why you

should choose Cedral slates and cladding for your next project...

Anew development of

homes on a canal-side

plot in Oxfordshire

came with very specific

planning requirements.

Planners requested that the

design of the homes replicate

the look of wharf

buildings found

alongside canals or

marinas.

Cedral products

helped developers

Aquinna Homes

provide part of the

2-step solution:

1. The developers opted for a

warehouse style design for the homes,

with gable ended pitched roofs to

create an industrial feel. Cedral

Thrutone Smooth fibre cement slates in

Blue-Black were chosen for their quality finish

and uniform colour.

2. Outdoor storage areas for bins and bikes were

specified by planners for the front, rather than the

back, of the houses so that canal views would not

be obstructed. These storage spaces are a

common feature of wharf buildings and normally

wooden-clad. Aquinna opted for Cedral Click

facades with a woodgrain finish in Slate Grey, to

achieve the look of wood without the need for

costly and time-consuming maintenance.

Cedral roofing and cladding: the benefits

High performance, low maintenance:

Manufactured to withstand nature's harshest

conditions, fibre cement doesn't rot, rust, warp or

crack and is frost, mould and water resistant.

Images: Cedral's range of roofing and cladding solutions

helped overcome developer Aquinna Homes overcome a

number of challenges for its development of canal-side

homes in Oxfordshire.

Cedral products have an excellent fire

performance classification of A2-s1, d0.

Long life expectancy: Our fibre cement cladding

is a strong, durable and versatile material that is

easy to work with and has a minimum life

expectancy of 50 years. Cedral slates are among

the strongest in the market with a proven lifetime

of over 60 years.

Easy installation: With a

lightweight structure, easy-cut

planks and colour-matched

trims, Cedral cladding offers

the durability and resilience of

cement in a lighter alternative

for fast installation. Cedral

slates can be placed on lighter

trusses or frames without any

additional reinforcement and

work on low pitch options

down to 20°.

Extensive style and colour choices:

Our cladding planks can be mounted

vertically or horizontally and come in a

choice of 21-factory applied colours, two

woodstains and a choice of woodgrain or

smooth finish. Slates come in a range of

beautiful colours and styles making

them exceptionally architecturally

versatile.

And the final verdict on the Oxfordshire

development?

"The final result has totally met our expectations

and is visually very striking," explained David

Chidlow, Director of Aquinna Homes. "Using

Cedral takes away the need to do heavy

maintenance and gave us that easy-on-the-eye

uniform look we were after.

"I would very much recommend all Cedral

products. I have used them now on several

schemes and have never had any problems –

they are all good quality products."

Contact Cedral

01283 501 555

www.cedral.world/en-gb/

@CedralUK

NOVEMBER 2022 TC 55
---
Knauf Insulation Tech Talk

THE ROLE OF INSULATION IN THE FIRE

SAFETY OF BUILDINGS

Fire safety must be factored into building construction to minimise the risk of fire spread

and ensure there are adequate escape routes for occupants. So, this month Bradley

Hirst, Technical Services Manager from Knauf Insulation, answers questions about fire

safety and insulation.

What fire safety performance

measures relate to insulation?

Fire resistance and reaction to

fire are two different, but very

important fire safety

performance measures to be aware of

when designing a building.

What is fire resistance?

Fire resistance measures how well a material or

system can withstand and prevent the spread of

fire. To maintain escape routes and contain the

fire, building regulations state that certain loadbearing

structures must provide fire

resistance for a specified time period.

For example, Knauf Insulation's FireteK

Beam and Column Slab is a

Rock Mineral Wool insulation

solution designed to protect loadbearing

structural steel. It has a melting

point of over 1,000°C and can provide up to

120 minutes fire resistance.

Remember, products that provide fire

resistance are extensively tested, so

always use a product designed for

the application to ensure it will

deliver the desired performance.

What is reaction to fire?

Reaction to fire measures how a material or

system will contribute to the development and

spread of fire should it occur. Euroclass reaction to

fire classification gives all UKCA and CE marked

materials a rating from F (easily flammable / the

lowest) to A (non-combustible / the highest). It

measures whether or not a material will ignite,

Left: Bradley Hirst, Technical Services Manager from Knauf Insulation. Main pic: Knauf Insulation Mineral

Wool is non-combustible with the best possible Euroclass A1 or A2-s1,d0 reaction to fire classification.

Inset, top: A1 Fire Class Logo; Below: Knauf Insulation Rocksilk RainScreen Slab is non-combustible so is

suitable for use in the external walls of relevant buildings over 18m.

produce smoke or flaming droplets.

All of Knauf Insulation Mineral Wool

is non-combustible with the best

possible Euroclass A1 or A2-

s1,d0 reaction to fire

classification. This means it will

not contribute to the development

or spread of fire should it occur. In

contrast, rigid board insulation typically achieves

between a B and an F Euroclass reaction to fire

classification.

What are the building regulations relating

to non-combustibility?

Building regulations in England and Wales ban the

use of combustible insulation on the external

walls of certain buildings above 18m tall (11m in

Scotland). The scope of buildings covered by the

regulations in England will be expanded in

December 2022.

But legislation is not the only reason to use noncombustible

materials. Many large architects and

contractors are choosing to use non-combustible

materials on their projects, such as Knauf

Insulation's Glass or Rock Mineral Wool. That's

because it's the simplest way to minimise fire

risk and give clients peace of mind about the

safety of their buildings.

Contact Knauf Insulation

www.knaufinsulation.co.uk

@KnaufUK

58 TC NOVEMBER 2022
---
A2

Insulation

solutions

for flat roofs

Recticel Insulation is an experienced flat

roofing partner, providing innovative and

reliable insulation solutions for flat roof

applications.

Discover the ideal solution for your flat roof

project at recticelinsulation.co.uk
---
Minimum Energy Efficiency Standards

MAXIMISING THE OPPORTUNITIES OF

THE MEES

By Aisling Sands, Technical Director at Kingspan Insulated Panels.

When the Minimum Energy

Efficiency Standards

(MEES) came into effect in

2018, it marked the beginning of

increasingly stringent energy

efficiency regulations relating to

private rented properties in England

and Wales. As we near the April

2023 deadline for the next changes,

when landlords will no longer be able

to let any property with an EPC rating

lower than an E, whether occupied or

not, we look at the opportunities this

offers contractors and the priorities when

upgrading a property's energy efficiency.

What are the MEES requirements?

The MEES legislation essentially prevents

landlords from leasing substandard and energy

inefficient buildings. By addressing the worst

performing rental properties, the MEES aims to

contribute towards upgrading the UK's building

stock – and with fines up to £150,000, landlords

cannot ignore the costly price of not complying.

Beyond the 'EPC E by 2023' requirement, a

government white paper confirmed its intention to

require all rented non-domestic properties to

achieve EPC B by 2030 including an interim

target of EPC C in 2027. Therefore, landlords

need to be aware that the MEES will continue to

rise in the coming decade, and it makes sense for

them to begin futureproofing properties as soon

as possible.

For non-domestic buildings, retrofitting as

opposed to rebuilding is clearly the most costeffective,

quickest and most environmentally

sensitive option. Raising buildings beyond the

minimum standards now prevents a return to

further disruptive renovation a few years later, as

Above: Some older non-domestic buildings such as

warehouses, offices, supermarkets and schools can feature

little to no insulation within the original cladding and roof

structure. Top: Replacing a dangerous, uninsulated asbestos

roof with insulated panels will immediately improve a

building's thermal performance and enhance its value.

"Contractors can

swiftly and easily help

customers to meet the

MEES requirements"

well as immediately lowering operational costs

and saving energy. This presents an opportunity

for contractors who are ready to provide retrofit

solutions which both meet the current MEES and

help to futureproof against further legislative

changes.

Fabric first

Whilst there are a variety of ways to go about

improving the EPC of a building, raising the

thermal efficiency of the building

fabric remains one of the most costeffective

ways to make long-term

improvements.

Some older non-domestic buildings

such as warehouses, offices,

supermarkets, and schools can

feature little to no insulation within

the original cladding and roof

structure, and suffer from issues

such as thermal bridging around

joints and openings. Some buildings

may also contain potentially harmful materials

such as asbestos.

For these buildings, the best solution is often to

strip back the original cladding and fit a new,

energy-efficient system such as a metal-faced

insulated panel system. From a practical point of

view, their single component design and

engineered jointing means that once the original

cladding is stripped, you can quickly and easily

get the panels installed and make the building

weathertight. In roof applications, this reduces

the amount of time working at height and

provides a safer, more walkable surface for

installers once each panel is secured.

The most recent developments in insulation

technology provides a thermal conductivity as low

as 0.018W/mK allowing a thinner and more

lightweight product – crucial when dealing with

existing buildings to keep structural loading to a

minimum. This technology makes it possible to

achieve U-values as low as 0.12W/m²K, easily

meeting the regulatory requirements. The factory

engineered jointing can also help to create a

highly airtight structure, further reducing the

building's energy usage and improving its EPC

rating.

60 TC NOVEMBER 2022
---
"Many non-domestic buildings

feature expansive flat roof spaces,

making them ideal for solar PV

installations, providing a free and

independent source of power"

Above: The Kingspan QuadCore PowerPanel roof panel provides a simple, two-in-one

solution to improve MEES.

Renewable interventions

When undertaking refurbishment of the building envelope, building

owners are also able to consider a wealth of renewable options which can

further raise the EPC rating of the building and futureproof it against

rising energy costs. Many non-domestic buildings feature expansive flat

roof spaces, making them ideal for solar PV installations, providing a free

and independent source of power.

Beyond the standard 'on-roof' solutions, new solar PV roof solutions are

available which combine a high-performance insulated panel with an

efficient lightweight monocrystalline photovoltaic panel. In addition to

being quick and straightforward to install, these products ensure that a

high level of thermal performance is achieved, whilst simultaneously

embracing the benefits of renewable solar energy to realise even greater

operational savings and energy security in an offsite engineered, two-inone

solution.

A unique opportunity

Through a combination of highly efficient insulation technology and

capitalising on the power of PV, contractors can swiftly and easily help

customers to meet the MEES requirements – reducing disruption for

tenants and maximising the energy cost savings and revenue for building

owners and occupiers. This ensures the longevity of non-domestic

building stock, protecting asset value, and most importantly staying

ahead of future energy legislation.

Contact Kingspan Insulateds Panels

www.kingspanpanels.co.uk

01352 717 251

NOVEMBER 2022 TC 61
---
Insulated Upstand Boards:

COMPLIANCE GUIDANCE OUTLINED IN

NEW ROCKWOOL TECH BULLETIN

Lisa Stephens, Building Envelope Product Manager at stone wool insulation

manufacturer ROCKWOOL UK, outlines the company's latest industry guidance, and

explains the background to its introduction.

At ROCKWOOL, we have released a

technical bulletin to provide guidance

to contractors on the use of bonded

construction materials, such as insulated

upstand boards, and the finished product's

subsequent Euroclass reaction-to-fire rating.

Following the Grenfell disaster, a ban on

combustible materials in the external walls of

relevant buildings over 18m came into force

in 2018, reinforcing the importance of noncombustibility

and regulatory compliance in

all areas of building construction.

Construction elements attached to the façade –

such as upstands, balconies and terraces – fall

within the scope of this ban. However, to develop

specific solutions for these applications, some

manufacturers have adopted techniques that

include the bonding of insulation materials to

create a composite board, which raises the

potential for an inaccurate reaction-to-fire rating

to be claimed on the finished product.

In response, we have written a technical bulletin

to give advice to contractors on the use of these

composite products, and the potential impact of

these on a building's compliance with both

Approved Document B (ADB) and the combustible

ban (the need to achieve Euroclass A2-s1, d0 or

better).

About Euroclass

The simplest way to determine the combustibility

of a building product is by checking its Euroclass

reaction-to-fire rating. A product's Euroclass

rating factors a comprehensive set of

characteristics, including ignitability, flame spread,

heat release, smoke production and propensity for

producing flaming droplets and particles.

Above: The new ROCKWOOL technical bulletin provides compliance guidance

for insulated upstand boards.

Only products achieving classifications 'A1' and

'A2-s1, d0' can be used where the combustible

ban applies.

Euroclass classifications for bonded

insulation materials

Put simply, we're seeing assumptions within the

industry that bonding two Euroclass A1 rated

materials together results in a composite A1

product, which certainly isn't always the case.

Upstand boards for parapet walls are one of the

products that fall within the ban which are often

formed of two bonded insulation materials – a

facing board and an insulation board. It is critical

to understand that when two materials are

bonded, even if both are rated Euroclass A1

independently, the resulting composite product

will not necessarily achieve Euroclass A1 status

– or even A2-s1,d0.

This is because the organic content in the

adhesive used to bond materials adversely

affects the finished product's reaction-to-fire

rating, potentially resulting in a combustible

Euroclass rating of B or lower. Achieving a noncombustible

rating for these products requires the

adhesive to be applied in a factory-controlled and

precisely-calibrated manner.

For composite products, independent test

evidence is required for the finished product

to demonstrate compliance with Approved

Document B (ADB) and the combustible ban

(achieving Euroclass A2-s1, d0 or better). In

some cases, a bonded composite product

may meet these requirements, but

responsible architects, specifiers and

contractors should always request evidence

of the reaction to fire classification EN

13501-1 from the manufacturer to prove this.

It's vital that we support the industry to

understand the importance of specifying and

working with products that meet stringent safety

ratings. We hope that adding this technical

bulletin to our suite of support resources will give

valuable advice to a wide range of audiences.

A tested bonded solution

ROCKWOOL HARDROCK ® UB34 is a noncombustible

insulation solution designed

specifically for parapet walls and upstands on flat

roofs. It comprises a dense 50mm slab of

ROCKWOOL stone wool insulation bonded to a

rigid 6mm fibre cement board, and is suitable for

use on buildings over 11 metres that are affected

by the ban on combustible materials.

Impact and weather resistant, ROCKWOOL

HARDROCK UB34 is independently tested as a

finished composite product, and has been proven

to achieve Euroclass A2-s1, d0.

More information about ROCKWOOL HARDROCK

UB34 can be found at https://rockwool.link/TC

Contact ROCKWOOL UK

www.rockwool.com/uk/

@ROCKWOOLUK

62 TC NOVEMBER 2022
---
Ask The A. Proctor Group

THERMAL BRIDGES AND ENSURING

BUILDINGS PERFORM AS DESIGNED

In the latest article in our series about some commonly held myths for contractors

concerning thermal and acoustic insulation, condensation control and fire protection, the

experts at The A. Proctor Group tackle the question: Is it true that the odd cold bridge is

not a problem and insulating reveals doesn't make much difference?

Why a cold bridge / thermal bridge

matters

Acold bridge, more commonly referred to as

a thermal bridge, will result in additional

heat loss through a conductive part of the

building envelope that needs to be included in the

building's energy assessment calculation. The

heat loss caused as a direct result of thermal

bridging will lead to increased energy costs for

buildings and homes. It is estimated that thermal

bridges can account for 20-30% of the heat

loss in new build houses. The drive to

improve the insulation of homes

will result in thermal bridging

becoming even more

significant. In addition,

thermal bridging can lead to

Left: Spacetherm Blanket from The A. Proctor Group. Above: Spacetherm Multi consists of Spacetherm

Aerogel insulation blanket bonded to a 6mm Magnesium Oxide Board.

cold spots, adding to the risk of

condensation and the potential for

mould growth.

Where thermal bridges are found

Within the construction of buildings, there are

typically two types of thermal bridges which can

occur:

• Repeating

Non-repeating thermal bridges

typically occur at junctions where

walls and floors penetrate the thermal

envelope, around windows and doors, and steel

lintels connecting the internal and external walls.

These require more complex calculations and

cannot be accounted for in the U-value but will be

accounted for by the PSI-value or Y-value (Ψ).

Thermal bridges also commonly occur due to air

non-dwellings. New build homes are to be

assessed under a new Standard Assessment

Procedure (SAP10.2) calculation. SAP10.2

stipulates increased insulation requirements and

new targets for the TER (Target Emissions Rate)

calculations. SBEM will continue to be used for

non-residential dwellings.

Identifying where cold bridging exists or the risk

of thermal bridging can be achieved using

• Non-Repeating

gaps or penetrations through the insulation layer thermal imaging. The A. Proctor Group provides

and between the external and internal structures. comprehensive technical support – including

A repeating thermal bridge will occur where

poorer insulating materials intersect other layers

of insulation within the building fabric. Examples

include timber or steel studs in framed

construction, at the point of wall ties, or the mortar

joints of insulated walls and balconies. The differing

heat flow due to a repeating thermal bridge can be

accounted for in the U-value calculation.

So air leakage is a potential issue increasing the

importance of efficient airtightness at the design

stage.

Identifying thermal bridging

Part L of the Building Regulations has recently

been updated, requiring a reduction of 31% fewer

carbon emissions for dwellings, and 27% for

advice on thermal bridging calculations – to

contractors and designers. This service helps the

client to identify and specify the right material

and required thickness for maximum efficiency.

The calculations demonstrate the effect of

thermal bridging before and after applying the

chosen solution.

Continued on page 66

64 TC NOVEMBER 2022
---
is for evolution.

Kingspan

GreenGuard ®

Kingspan

Aquazone ®

Kingspan

OPTIM-R ® E

The OPTIM-R ® E Inverted Roof System

blends high performance OPTIM-R ® E

with Kingspan GreenGuard ® , topped

by Aquazone ® .

OPTIM-R ® E adds a protective coating to Kingspan's

ultra-performance OPTIM-R ® vacuum insulation panels,

providing a slim solution for insulating inverted roofs

and terraces when thresholds and demanding U-values

prevent the use of conventional insulation.

Encapsulated, easy to handle and super-efficient with a design

lambda as low as 0.009 W/mK. OPTIM-R ® E is backed up by

Kingspan's excellent design service providing detailed drawings,

U-value calculations, and project support, enabling straightforward

specification and installation.

Find out more at www.kingspaninsulation.co.uk/optim-r-e

Further information on the Kingspan range is available on:

T: +44 (0) 1544 388 601 | E: info@kingspaninsulation.co.uk

www.kingspaninsulation.co.uk

Pembridge, Leominster, Herefordshire HR6 9LA.
---
Ask The A. Proctor Group

Continued from page 64

How to prevent thermal bridging

A popular measure of tackling thermal bridging

and improving energy efficiency in buildings is

installing insulation. Improving the insulation of a

building is an example of a fabric-first approach

to building design. In fabric first construction, the

building elements are designed to reduce the

reliance on external systems, such as mechanical

or electrical heating or cooling systems. A fabricfirst

approach will maximise both airtightness

and insulation.

The move to increase the insulation of buildings

is not without its challenges, particularly in those

areas which are difficult to insulate, e.g. existing

buildings, solid wall buildings, window reveals,

doorways and openings. However, the use of

high-performance Spacetherm insulation can

help overcome this.

The Spacetherm insulation range comprises highperformance

aerogel insulation that can be

bonded to various boards to suit specific

applications. On its own, Spacetherm Blanket is a

versatile material that is both vapour permeable

and hydrophobic, making it ideal for solid wall

insulation. It can be bonded to a magnesium

oxide board to produce Spacetherm Multi. This

can be as thin as 16mm, including 10mm of

insulation and a 6mm board, making it ideal for

breaking the cold bridges typically found at

window reveals. Also, as it's available in greater

depths, it allows walls to be insulated to a thinner

depth than would otherwise be possible. For

example, 45-50mm of Spacetherm insulation

would bring a typical wall down to the 0.3 W/m²K

required for building regulations and EnerPHit

certification. In addition, Spacetherm (CBS) cold

bridge strips can easily be applied to minimise

cold bridges. The cold bridge strips consist of

Spacetherm Aerogel insulation encapsulated in

polyethelene. Spacetherm CBS is an ideal choice

for timber or steel frame structures and can be

cut to various widths to suit different

applications.

Addressing the challenge of internal insulation,

Spacetherm Wall Liner is a thin thermal laminate

Above: The introduction of Spacetherm Multi insulation significantly improved the heat efficiency of this Grade II listed Georgian

townhouse in the historic city of Bath, which was built in 1818.

of about the thickness of a standard layer of

plasterboard. It consists of 10mm of Spacetherm

insulation and a 3mm Magnesium Oxide board

adhered to the wall to provide significant thermal

retention compared to the uninsulated wall.

Typically, it would bring a solid stone wall (with a

starting U-value of around 2.3 W/m²K) down to a

U-value of between 0.7 and 0.9, representing a

noticeable drop in energy lost through the wall.

Façade retention projects

Another area where we encounter the challenge of

cold bridging is façade retention projects. Often in

these projects most of the building is demolished

and replaced with a modern new-build structure,

retaining only the facade of the existing structure.

Air leakage and cold bridging are the most

significant problems to be overcome, so by

combining a vapour-permeable, self-adhering air

barrier membrane with a layer of highperformance

insulation, Wraptherm offers an

ideal solution to address these.

Wraptherm is installed on the reverse of the

retained facade stonework. However, as

Wraptherm is vapour-permeable, it does not

adversely affect moisture movement through the

facade stonework. This helps limit the damage

that can occur when moisture flow through older

stonework is altered by refurbishment works.

As well as protecting the existing building fabric,

Wraptherm's hydrophobic properties provide a

secondary barrier to water ingress, sealing tightly

to door and window frames and other

penetrations and limiting heat loss associated

with air leakage. The unique layer of aerogel

insulation in the Wraptherm also effectively limits

cold bridging by providing a continuous insulation

layer across the back of the facade. Hence, there

is a thermal break between the new structure

internally and the cold outer stonework, further

boosting the energy performance of the

upgraded building. Combining these properties

into a single material, Wraptherm speeds up and

simplifies the installation process and reduces

on-site defects and requirements for costly

remediation.

It is crucial that contractors understand the

importance of preventing and reducing the

occurrence of cold bridges in building

construction. Even the odd cold bridge will reduce

the energy efficiency of the building, leading to

higher energy costs for the users and, at the

worst, failure to comply with the requirements of

the latest building regulations. The A. Proctor

Group has placed significant investment in

developing some of the most effective highperformance

solutions to address the challenge of

hard-to-insulate areas such as window and door

reveals, ensuring a fabric-first design approach

and reducing the gap between "as-designed" and

"as-built".

Contact The A. Proctor Group

www.proctorgroup.com

@proctorgroup

66 TC NOVEMBER 2022
---
Technical support

Roofing experts on-hand to offer help and advice

Assured standards

Meets all British Standards and regulations

High-quality components

Tested for maximum performance, meaning no call backs

Estimates & fixing specs on demand

We'll help you create them on site and on the go

Comprehensive roof solution

Easy installation with tried and tested compatible components

Need a complete

roof system?

We've got you covered.

With all elements brought together from a single

source, you can be confident that everything

will work together perfectly – and that high

performance is all backed up with a 15-year

system guarantee. Find your peace of mind.

marley.co.uk/roofsystem
---
Insulation Updates

For further info on all these updates and more, visit www.total-contractor.co.uk

A I M'S FLOOR CAVITY SOLUTION

A I M Acoustic & Insulation Manufacturing's

Raised Access Floor Barrier is designed to

prevent the passage of fire and smoke through

underfloor cavities.

By subdividing large uninterrupted cavities, the

barrier provides up to 120 minutes insulation and

integrity. It can also reduce room to room airborne

sound through floor voids by at least 50db,

according to A I M.

Incorporating raised access floors as means of

providing space for services, such as electricity and

data cables, is now standard practice in new builds

and refurbishment projects, but the space below

the floor can risk the rapid spread of fire and

smoke.

Cavity barriers are required within buildings to

subdivide a large high risk area into smaller, more

manageable fire compartments. These fire

compartments slow down the spread of fire within

a building allowing time for the occupants to

escape and to provide safe access for firefighting

personnel.

A I M's Raised Access Floor Barrier is designed for

the subdivision of large uninterrupted cavities. It

has been tested to EN 1366-4 standards and to the

principles of TR31 and provides up to 120 minutes

integrity. A I M provides a range of solutions –

75mm, 100mm and 125mm thick product variants

provide insulation for 30, 60 and 120 minutes

respectively*. It also achieves the Euroclass rating

of A1, non-combustible.

An added benefit of the A I M Raised Access Floor

Barrier is that it reduces airborne sound through

underfloor voids. Acoustic tests to BS EN ISO

10848-2 (2017) show that it can achieve at least a

50db room-to-room airborne sound reduction when

used in-conjunction with a Kingspan Raised Access

floor system.

The A I M Raised Access Floor Barrier is

straightforward to install, both during construction

and retrospectively. When aligned under a partition

it can be used to maintain partition rating. It can

also be used to create a Plenum chamber.

Made from high density Rockwool stone wool

slab, faced with a printed Class 0 impervious foil

on both sides which helps identify the product,

the barrier is available cut to size or in slabs

suitable for cutting on site. It is installed dry with

'L' shaped fixing clips. *The access floor and structural

slab should have a fire rating at least that of the barrier.

www.aimlimited.co.uk

STO DELIVERS ON GALWAY HOTEL PROJECT

A selection of Sto products have been used to provide

outstanding thermal performance for a prestigious new

hotel in Ireland.

The company's StoTherm Mineral M system, Sto-Rotofix

mechanical fixings, Stolit render and StoColor Dryonic X-Black

façade paint have all been used on the impressive new Dean

Hotel which has been built in Galway.

"This was a complex project and we worked very closely with the architect to

develop the ideal insulation solution for the hotel," explained Sto Account

Manager Gareth Hastings. "Dean Hotels each have a very unique

appearance, and Dublin-based Architects Lawrence and Long wanted to

continue that approach and create a striking chessboard-influenced design

which included various changes of planes and surfaces. Our StoTherm

Mineral external wall insulation system was ideal for this, especially when

combined with our StoColor Dryonic X-Black façade paint which allowed

them to use a very dark coloured render. This wouldn't have been possible

with many other insulation and render combinations."

The StoTherm Mineral M system is based on durable mineral-fibre insulation

boards which combine excellent thermal performance with

unrivalled fire protection and a high degree of sound insulation.

They can also be installed without the need for additional

expansion joints, which enhanced the hotel's chessboard design.

The insulation boards were installed onto both the lightweight

steel frame and cement particle board substrates that were used

in the construction of the hotel. The installation was completed

using Sto's unique Sto-Rotofix mechanical fixings to create a

drained cavity, and a façade finish that could withstand the high wind

loadings imposed by the hotel's coastal location. These fixings enable the

insulation boards to be adjusted after installation to accommodate any

surface irregularities. The project was completed with the addition of Stolit

K1.5 render, which offers extremely low water absorption, plus a high

elasticity characteristic that ensures exceptional resistance to mechanical

movement. The surface was then coated with StoColor Dryonic X-Black – a

specialist façade paint, with a micro-textured surface that encourages any

moisture that falls onto the façade to run off rapidly. This prevents the growth

of the micro-organisms that cause unsightly stains by ensuring that the

façade dries quickly. www.sto.com

68 TC NOVEMBER 2022
---
HOW DO |

FINd NEW

CUStOMERs

FASt?

Insight Data helps you pinpoint

your ideal trade and commercial

customers using our database of

60,000 prospects – with detailed

business and financial data not

available anywhere else.

• Local builders

• Construction companies

• Housebuilders

• Builders merchants

• Architects & specifiers

For more information

or your free demo, call

01934 808 293

Visit: www.insightdata.co.uk
---
Safety Articleat Height

WORKING AT HEIGHT SAFELY – IS IT

ALL IN THE ATTITUDE?

Werner, the world's leading manufacturer and distributor of ladders and access

equipment, is championing health and safety training with the launch of its new

campaign 'Stepping up to Safety'. In this mini-series, Trevor Rabson, Werner's Training

Manager, will look at why training is so important when it comes to working at height

safely, what contractors need to consider and how best practice can make all the

difference between safe working and potential injuries.

This month, Trevor talks about attitudes to working at height and how this can have an

impact on the safety of workers.

The Work at Height Regulations 2005 (WAHR)

apply to all work where there might be a

risk of a fall liable to cause personal injury.

Since the introduction of the regulations, the UK

has consistently had some of the lowest

workplace fatality and serious injury rates in

Europe. However, the issue is that they are

consistent, not falling, and it is this that needs

addressing.

In January 2018, the All Party Parliamentary

Group (APPG) on Working at Height launched an

inquiry to look at why workers fall from height,

leading to death and serious injury, and to come

up with a set of recommendations to reduce the

overall number of falls.

One of the recommendations that came from this

research described how improving

communication could help to better poor working

at height procedures. So, could increased

communication lead to less falls from height?

Cultural issues and attitudes within a business

can have a very real impact on these figures,

however, the lack of consistency in preventative

measures, training and education from one

organisation to another is quite frankly, alarming.

The APPG spent a year investigating the causes

of falls from height, to understand the effect they

have on workers' lives and to make

recommendations as to how best mitigate falls in

As part of its bid to help increase safety when people are working at height, Werner has recently launched its Stepping up to

Safety campaign,

"Sadly, a culture of 'just

get it done' means that

more and more

accidents are still

occurring when they

just don't have to"

the future. The majority of responses to the

inquiry stated that culture, and in turn, attitude,

plays a crucial role in whether a fall will occur.

It found that the stronger the safety culture within

a company, the safer the place of work and the

less likely it is that workers will experience a fall

from height. But what factors can influence this

culture and attitude and how can they be upheld

or changed?

Performance of a regular task: those carrying

out a regular task can become complacent and

oblivious to the risk and potential consequences

of a fall. Users need to ensure they take a

sensible approach when considering

precautions for work at height and that no

matter how small the project, that these are

carried out.

Continued on page 72

70 TC NOVEMBER 2022
---
£

239 .00 EXC.VAT

£286.80 inc.VAT

CATALOGUE

GET YOUR

65 SUPERSTORES

NATIONWIDE FREE COPY!

HYUNDAI DIESEL

IN-STORE

GENERATORS UP TO 125KVA

PG3800A

Model KVA HP Volts exc.VAT inc.VAT

PG2500A 2.2 5.6 230 £239.00 £286.80 Honda

PG3800A 3 5.6 230 £299.00 £358.80 engine Britain's

models

Tools &

PG3800ADV 3 5.6 230/110 £329.00 £394.80

PG6500ADVES* 5.5 9.7 230/110 £579.00 £694.80 available

* with wheels

Machinery Specialist!

AVAILABLE IN

DIESEL/PARAFFIN

ELECTRIC

ABRASIVE

230

&

HEATERS

FROM ONLY

HEATERS

CUT-OFF

£

DEVIL

110

DOUBLE

7003

SAWS

VOLT

229 .00 EXC.VAT

DOUBLE £274.80 FOOTER inc.VAT

DEVIL

2850

PETROL DUMPER

ALSO

V

VISIT YOUR LOCAL SUPERSTORE

BARNSLEY Pontefract Rd, Barnsley, S71 1EZ 01226 732297

B'HAM GREAT BARR 4 Birmingham Rd. 0121 358 7977

B'HAM HAY MILLS 1152 Coventry Rd, Hay Mills 0121 7713433

BOLTON 1 Thynne St. BL3 6BD 01204 365799

BRADFORD 105-107 Manningham Lane. BD1 3BN 01274 390962

BRIGHTON 123 Lewes Rd, BN2 3QB 01273 915999

BRISTOL 1-3 Church Rd, Lawrence Hill. BS5 9JJ 0117 935 1060

BURTON UPON TRENT 12a Lichfield St. DE14 3QZ 01283 564 708

CAMBRIDGE 181-183 Histon Road, Cambridge. CB4 3HL 01223 322675

CARDIFF 44-46 City Rd. CF24 3DN 029 2046 5424

CARLISLE 85 London Rd. CA1 2LG 01228 591666

CHELTENHAM 84 Fairview Road. GL52 2EH 01242 514 402

CHESTER 43-45 St. James Street. CH1 3EY 01244 311258

COLCHESTER 4 North Station Rd. CO1 1RE 01206 762831

COVENTRY Bishop St. CV1 1HT 024 7622 4227

CROYDON 423-427 Brighton Rd, Sth Croydon 020 8763 0640

DARLINGTON 214 Northgate. DL1 1RB 01325 380 841

DEAL (KENT) 182-186 High St. CT14 6BQ 01304 373 434

DERBY Derwent St. DE1 2ED 01332 290 931

DONCASTER Wheatley Hall Road 01302 245 999

DUNDEE 24-26 Trades Lane. DD1 3ET 01382 225 140

EDINBURGH 163-171 Piersfi eld Terrace 0131 659 5919

32721

FROM HEADER ONLY

£ FROM ONLY

409 DOUBLE

.00 EXC.VAT

DOUBLE £490.80 FOOTER inc.VAT

3400W

FROM ONLY

£ DOUBLE

89 DOUBLE

.98 EXC.VAT

£107.98 FOOTER inc.VAT

PVP11A

*Pumps solids

up to 30mm

dia. #Clean/

dirty water

(solids up

to 5mm

dia.)

†Sewage

cutter pump

GENERATORS

Ideal for fast

efficient

heating

Extra-long

run fuel tanks

– up to 53 litres

Variable heat output

with thermostat control

XR80

model MAX output exc.VAT inc.VAT

XR60 14.7kW £229.00 £274.80

XR80 20.5kW £279.00 £334.80

XR110 29.3kW £329.00 £394.80

XR160 46.9kW £419.00 £502.80

XR210 61.5kW £479.00 £574.80

Offering low cost,

efficient heating

DUAL

VOLTAGE

230&

110

VOLT

IN STOCK FROM

£226.80 inc.VAT

TURBO FAN GAS

HEATERS

FROM ONLY

£ DOUBLE

94 DOUBLE

.99 EXC.VAT

£113.99 FOOTER inc.VAT

INVERTER

GENERATORS

£ FROM ONLY

249 DOUBLE

.00 EXC.VAT

DOUBLE £298.80 FOOTER inc.VAT

IG1700F

1700W

IG3500AF

Model

Max

Output Sockets Weight

kg

exc.

VAT

inc.

VAT

IG1700F 1700W 2 22 £249.00 £298.80

IG3500AF 3400W 2 35 £409.00 £490.80

HEAVY DUTY

CAT117

SUB PUMPS

IN STOCK

110

VOLT

PROPANE

GAS FIRED

MODEL

MAX

OUTPUT kW exc.VAT inc.VAT

Little Devil II 10.3 £94.99 £113.99

Devil 700 14.6 £116.99 £140.39

Devil 900 24.9 £159.98 £191.98

Devil 1600 36.6 £189.98 £227.98

Devil 2100 49.8 £269.00 £322.80

Devil 4000 117.2 £479.00 £574.80

HSEC650A

Max

Head exc.VAT inc.VAT

Max Flow

Model LPM

PVP11A* 258 11.0m £89.98 £107.98

HSE130A# 140 7.0m £119.98 £143.98

HSE650A† 290 9.5m £249.00 £298.80

HSE1400A† 430 13m £389.00 £466.80

FROM ONLY

£ DOUBLE

43 DOUBLE

EXC.VAT

£52.79 FOOTER inc.VAT

MODEL VOLTAGE

HEAT

OUTPUT

exc.

VAT

inc.

VAT

DEVIL 2850 230V 2.8kW £43.99 £52.79

DEVIL 7003 230V 3kW £76.99 £92.39

DEVIL 7005 400V 5kW £98.99 £118.79

DEVIL 7009 400V 9kW £152.99 £183.59

DEVIL 7015 400V 15kW £229.98 £275.98

ELECTRIC TILE

CUTTERS

180mm continuous rim diamond

blade Table tilts up to 45° for

bevel cutting Max depth of

cut: 35mm at 90° / 22mm

at 45°

ETC8

BEST

SELLER

£ FROM ONLY

54 DOUBLE

.99 EXC.VAT

£65.99 FOOTER inc.VAT

TRANSFORMERS

TOP QUALITY

FROM ONLY

£ DOUBLE

72 DOUBLE

EXC.VAT

£87.59 FOOTER inc.VAT

All of these transformers include 2m mains lead

Power Tool Socket Outlets Weight exc.

Model Rating No Type kg VAT inc.VAT

CTR750/1 750VA 1 16A 9 £72.99 £87.59

CTR1000/1 1000VA 1 16A 10 £75.99 £91.19

CTR1500/2 1500VA 2 16A 12 £99.98 £119.98

CTR4000/2 4000VA 2 16A 20 £169.98 £203.98

CTR5000/3 5000VA 2/1 16A/32A 32 £209.98 £251.98

CTR6300/3 6300VA 2/1 16A/32A 40 £329.00 £394.80

ELECTRIC

COMPACTOR

£ FROM ONLY

199 DOUBLE

.00 EXC.VAT

DOUBLE £238.80 FOOTER inc.VAT

Cuts ferrous

metals up to

100mm dia

FROM ONLY

£ DOUBLE

149 .98 EXC.VAT

DOUBLE £179.98 FOOTER inc.VAT

Disc

Model Motor Size exc.VAT inc.VAT

CON14110 1800W 355mm £149.98 £179.98

CON14 2400W 355mm £159.98 £191.98

DEMOLITION

HAMMER

CON1500DD

Ideal for use with concrete, stone,

granite,brick,fence post footing etc Inc.

pointed chisel, fl at chisel & carry case

BELT SANDERS

FROM ONLY

£ DOUBLE

43 DOUBLE

.99 EXC.VAT

£52.79 FOOTER inc.VAT

CBS2

Model Motor M/Min exc.VAT inc.VAT

Clarke BS1 900W 380 £43.99 £52.79

Clarke CBS2 1200W 480 £94.99 £113.99

Makita 9911 650W 75-270 £104.99 £125.99

5.1kW

EXETER 16 Trusham Rd. EX2 8QG 01392 256 744

GATESHEAD 50 Lobley Hill Rd. NE8 4YJ 0191 493 2520

GLASGOW 280 Gt Western Rd. G4 9EJ 0141 332 9231

GLOUCESTER 221A Barton St. GL1 4HY 01452 417 948

GRIMSBY ELLIS WAY, DN32 9BD 01472 354435

HULL 8-10 Holderness Rd. HU9 1EG 01482 223161

ILFORD 746-748 Eastern Ave. IG2 7HU 0208 518 4286

IPSWICH Unit 1 Ipswich Trade Centre, Commercial Road 01473 221253

LEEDS 227-229 Kirkstall Rd. LS4 2AS 0113 231 0400

LEICESTER 69 Melton Rd. LE4 6PN 0116 261 0688

LINCOLN Unit 5. The Pelham Centre. LN5 8HG 01522 543 036

LIVERPOOL 80-88 London Rd. L3 5NF 0151 709 4484

LONDON CATFORD 289/291 Southend Lane SE6 3RS 0208 695 5684

LONDON 6 Kendal Parade, Edmonton N18 020 8803 0861

LONDON 503-507 Lea Bridge Rd. Leyton, E10 020 8558 8284

LUTON Unit 1, 326 Dunstable Rd, Luton LU4 8JS 01582 728 063

MAIDSTONE 57 Upper Stone St. ME15 6HE 01622 769 572

MANCHESTER ALTRINCHAM 71 Manchester Rd. Altrincham 0161 9412 666

MANCHESTER CENTRAL 209 Bury New Road M8 8DU 0161 241 1851

MANCHESTER OPENSHAW Unit 5, Tower Mill, Ashton Old Rd 0161 223 8376

MANSFIELD 169 Chesterfi eld Rd. South 01623 622160

MIDDLESBROUGH Mandale Triangle, Thornaby 01642 677881

£ FROM ONLY

159 DOUBLE

.98 EXC.VAT

DOUBLE £191.98 FOOTER inc.VAT

ABRASIVE

SANDING

BELTS IN

STOCK

4 WHEEL DRIVE

TRUCK

£1798.80 DOUBLE FOOTER inc.VAT

3 forward gears with reverse Narrow 760mm

width, fi ts through most doorways

NORWICH 282a Heigham St. NR2 4LZ 01603 766402

NORTHAMPTON Beckett Retail Park, St James' Mill Rd 01604 267840

NOTTINGHAM 211 Lower Parliament St. 0115 956 1811

PETERBOROUGH 417 Lincoln Rd. Millfi eld 01733 311770

PLYMOUTH 58-64 Embankment Rd. PL4 9HY 01752 254050

POOLE 137-139 Bournemouth Rd. Parkstone 01202 717913

PORTSMOUTH 277-283 Copnor Rd. Copnor 023 9265 4777

PRESTON 53 Blackpool Rd. PR2 6BU 01772 703263

SHEFFIELD 453 London Rd. Heeley. S2 4HJ 0114 258 0831

SIDCUP 13 Blackfen Parade, Blackfen Rd 0208 3042069

SOUTHAMPTON 516-518 Portswood Rd. 023 8055 7788

SOUTHEND 1139-1141 London Rd. Leigh on Sea 01702 483 742

STOKE-ON-TRENT 382-396 Waterloo Rd. Hanley 01782 287321

SUNDERLAND 13-15 Ryhope Rd. Grangetown 0191 510 8773

SWANSEA 7 Samlet Rd. Llansamlet. SA7 9AG 01792 792969

SWINDON 21 Victoria Rd. SN1 3AW 01793 491717

TWICKENHAM 83-85 Heath Rd.TW1 4AW 020 8892 9117

WARRINGTON Unit 3, Hawley's Trade Pk. 01925 630 937

WIGAN 2 Harrison Street, WN5 9AU 01942 323 785

WOLVERHAMPTON Parkfi eld Rd. Bilston 01902 494186

WORCESTER 48a Upper Tything. WR1 1JZ 01905 723451

FREE

484 PAGE

PHONE

0844 880 1265

ONLINE

www.machinemart.co.uk

PROFESSIONAL

ROUTER

• Plunge depth

up to 66mm

• Variable

speed

• Inc. 1 /4",

3/8" & 1 /2"

collets

INC. DISC

& HANDLE

ONLINE

www.machinemart.co.uk

TELESALES

0115 956 5555

CLICK & COLLECT

OVER 10,500 LOCATIONS

CALL & COLLECT

AT STORES TODAY

SAME DAY

Calls to the catalogue request number above (0844 880 1265) cost 7p per minute plus your telephone company's network access charge. For security reasons, calls may be monitored. All prices correct

at time of going to press. We reserve the right to change products and prices at any time. All offers subject to availability, E&OE. * Terms & conditions apply see machinemart.co.uk/finance for more details

6.5HP

CAST IRON

STOVES

BIG

125LTR

bucket

ROTARY

HAMMER

DRILLS

Powerful

heavy duty

professional

drill ideal

BIG 16" ALL

TERRAIN TYRES

SDS

+

CDT300 300

KG

£ FROM ONLY

1499 DOUBLE

.00 EXC.VAT

CON1500RDV

for trade

use FROM ONLY

£ DOUBLE

66 DOUBLE

EXC.VAT

£80.39 FOOTER inc.VAT

Model

Power

(W)

Cap.

(mm) exc.VAT inc.VAT

CRD1100 1100 13-40 £66.99 £80.39

CON1200RD 1200 13-40 £79.98 £95.98

CON720RHD 720 13-40 £89.98 £107.98

CON1500RDV 1500 13-40 £99.98 £119.98

9 GREAT

STYLES

BARREL HEADERIII

£

289 .00 EXC.VAT

£346.80 inc.VAT

CCM125D

CEMENT

MIXERS

Max.

Cap Volts exc.VAT inc.VAT

Model

CCM125D 79L 230V £269.00 £322.80

BELLE MINI 150 90L 230V £425.00 £510.00

BELLE MINI 150 90L PETROL £749.00 £898.80

ONLY

£ DOUBLE

99 DOUBLE

.98 EXC.VAT

£119.98 FOOTER inc.VAT

ANGLE GRINDERS

CON1150

FROM ONLY

£ DOUBLE

29 DOUBLE

.98 EXC.VAT

£35.98 FOOTER inc.VAT

Model Disc (mm) Motor exc.VAT inc.VAT

CAG800B 115 800W £29.98 £35.98

CON1150 115 1150W £35.99 £43.19

CAG2350C 230 2350W £69.98 £83.98

8" SLIDING

COMPOUND

MITRE SAW

• 2000W motor

• Laser Guide

FROM ONLY

£ DOUBLE

269 .00 EXC.VAT

DOUBLE £322.80 FOOTER inc.VAT

£ FROM ONLY

184 DOUBLE

.99 EXC.VAT

DOUBLE £221.99 FOOTER inc.VAT

PLATE 23KG

BUCKINGHAM HEADER II

£

299

230

.00 5kW

EXC.VAT

£358.80 inc.VAT

ENERGY NEW

VOLT

400x320mm

RATING A+

CMS216S

HULK

ENERGY

RATING A

VIDEO

ON-LINE

FROM ONLY

AVAILABLE IN

SUBMERSIBLE

DRYWALL

£ DOUBLE

230

64 DOUBLE

.99 EXC.VAT

£77.99 FOOTER inc.VAT

BOOSTER

WATER CAT117 PUMPS

SANDERS

&

WET & DRY

PUMPS • Auto ON/OFF

DWS180

110

VACUUM

fl oat switch

VOLT

Maintain mains

FROM ONLY

£ DOUBLE

CLEANERS

pressure

DOUBLE

.98

FROM ONLY

59

EXC.VAT

Compact, high

£ DOUBLE

£71.98 FOOTER inc.VAT

46 DOUBLE

.99 EXC.VAT

performance wet &

£56.39 FOOTER inc.VAT

dry vacuum cleaners

DWS 225LR for use around the

*Pumps solids

Ideal for home, workshop,

up to 30mm

dry sanding garage etc.

BPT600

diameter

* SS = Stainless Steel

FROM HEADER ONLY

PSV1A HIPPO 2

DUST & smoothing

£

189 .98 Max Flow Max

EXTRACTION hard to reach

EXC.VAT

Dry/Wet

£227.98 inc.VAT BPT1200SS

Model LPM Head exc.VAT inc.VAT

OUTLET

areas

CSE400A 115 8.0m £46.99 £56.39

Model Motor Capacity exc.VAT inc.VAT

Max. Tank

Disc

PSV3A 133 8.0m £49.98 £59.98

CVAC20P 1250W 17/13 ltr £64.99 £77.99

Model Output Cap. exc.VAT inc.VAT PSV1A* 140 5.8m £59.98 £71.98

Model

Size

Extension exc.VAT inc.VAT CVAC20PR2 1400W 14/12 ltr £79.98 £95.98

BPT600 50 L/Min 19ltr £189.98 £227.98 HIPPO 2 (230V) 85 6.0m £68.99 £82.79

DWS180

190mm Handheld £59.98 £71.98 CVAC20SS* 1400W 17/13 ltr £77.99 £93.59

BPT1200SS 61 L/Min 19ltr £239.00 £286.80 PSP125B 116 7m £73.98 £88.78

DWS225LR (230V)

225mm up to 1.7m £109.98 £131.98 CVAC25SS* 1400W 20/17 ltr £87.99 £105.59

CBM250SS 100 L/Min 24ltr £419.00 £502.80 PSV5A 217 8m £69.98 £83.98

DWS225LR (110V)

225mm

up to 1.7m £119.98 £143.98 CVAC30SSR* 1400W 24/22 ltr £112.99 £135.59

OPEN MON-FRI 8.30-6.00,

5 EASY WAYS TO BUY...

SAT 8.30-5.30, SUN 10.00-4.00

SUPERSTORES

NATIONWIDE

CR4
---
Safety at Height

Continued from page 70

According to the WAHR, before working at

height you must work through these

simple steps:

• Avoid work at height where it is

reasonably practicable to do so

• Where work at height cannot be

avoided, prevent falls using either an

existing place of work that is already safe

or the right type of equipment

• Minimise the distance and

consequences of a fall, by using the right

type of equipment where the risk cannot

be eliminated

The adage 'familiarity breeds contempt' is

extremely true and the attitude of 'I'm only

going to be using a ladder for a minute', or 'It will

never happen to me', sadly does not make people

invincible.

Scared of reporting: It may be that workers who

know equipment isn't safe, or that they don't

have the correct equipment or training for a task,

are scared to bring this up with their superiors.

Sadly, a culture of 'just get it done' means that

more and more accidents are still occurring when

they just don't have to.

Users need to be competent; they need to be

trained to use equipment and they need to have

access to the correct equipment – this should not

be a luck of the draw situation; it is the basic

requirements of keeping users safe and ensuring

everyone goes home at the end of the working day

the way they started it.

Users shouldn't be afraid to demand the correct

equipment and training, and they shouldn't have

to ask. This should be a top-down culture

whereby owners and managers within a business

are ensuring that staff safety is a priority – not

money and/or time.

More often than not, it takes a near miss or a

fatal accident for leaders to sit up and take action

and this just shouldn't be the case.

Lack of project planning: Lack of planning

during all stages of a project is a significant

"More often than not, it

takes a near miss or a

fatal accident for

leaders to sit up and

take action and this

just shouldn't be the

case"

cause of falls from height. Insufficient planning

can impact in a number of ways: under-resourced

quotes being supplied at the tender stage to

ensure a contract win; reliance on generic risk

assessments and methods which lack details for

specific projects, and poor design considerations

for construction, impacting on working practices.

All of these can have a knock-on effect on user

safety.

Lack of training: Alongside shortcomings in the

technical and regulatory training currently being

provided to managers, there is still a shocking

lack of training being undertaken by users of

working at height equipment across the board.

There are a variety of work at height training

courses available within the construction

industry, depending on what equipment users

utilise. Most of these courses can be completed

within one day and are a cost effective way of

ensuring that workers are safe and competent

when using equipment to work at height.

Training partner

Werner is proud to work as a partner with

both the Ladder Association and PASMA to

offer ladder safety and tower training

courses to individuals and businesses

with a view to increasing the safety of

working at height.

Stepping up to Safety

For those who experience non-fatal

accidents, a fall can lead to life-changing

injuries and affect not just the victim but

also their family, friends and colleagues.

As part of its bid to help increase safety

when people are working at height, Werner

has recently launched its Stepping up to

Safety campaign, to help professionals stay safe

when working at height.

Working at height injuries and fatalities can be

reduced with the drive for change from industry

manufacturers and associations to lead the way

in safety when working at height, leaving

employers and employees feeling confident and

safe at work.

Contact Werner UK

www.wernerco.com/uk/ladder-safety

www.wernerco.com/uk/training

@WernerLadderUK

72 TC NOVEMBER 2022
---
PURPLEXED

ABOUT YOUR

MARKETING?

In a world where marketing and customer behaviour is constantly

changing, you could be forgiven for being in a state of confusion

when it comes to your own marketing.

As a fully integrated marketing agency, Purplex is powered to

alleviate this stress and help ambitious companies like yours build

their reputation, business, and future.

With more than 35 years industry experience our specialist teams

build campaigns that cut-through the noise and create integrated,

consistent, and clear messages across all platforms to build brand

awareness and drive your business to greater heights.

SPEAK TO THE EXPERTS IN:

MARKETING

CONSULTANCY

PR & MEDIA

RELATIONS

VIDEO PRODUCTION

& EDITING

BRANDING &

CREATIVE

WEB & E-COMMERCE

DESIGN

SOCIAL MEDIA

MARKETING

SEARCH ENGINE

OPTIMISATION

PAY-PER

CLICK

IF YOU'RE PURPLEXED ABOUT YOUR MARKETING, SPEAK TO THE EXPERTS

T: 020 3137 9319

E: grow@purplexmarketing.com | W: www.purplexmarketing.com

HQ: 200 Worle Park Way, Weston-super-Mare, BS22 6WA
---
Updates

For further info on all these updates and more, visit www.total-contractor.co.uk

HEAD TO TOE PROTECTION!

Snickers Workwear's ergonomic

base layers, insulating mid layers

and weather-protective outer layer

clothing provide 'head to toe'

functionality and protection.

They not only allow craftsmen and

craftswomen to quickly adjust to

changing weather conditions, but also

give them the opportunity to make

sustainable choices about the clothes

they wear on site.

This winter's new Jackets, Trousers and Topwear

feature high-tech, breathable fabrics that not

only deliver dryness and warmth, but also

provide advanced ventilation for

controlling body heat, so you can

always work effectively, whatever the

weather.

Advanced fabrics like these are

integral to every part of Snickers

Workwear's 'head to toe' layering

system. They combine perfectly with

the brand's hallmarks of best-in-class

durability, comfort, ergonomics and

sustainability.

www.snickersworkwear.co.uk

SCREWFIX LOCKS-IN UNBEATABLE VALUE

Screwfix has launched its Unbeatable Value commitment to help tradespeople remain competitive and meet the needs of their customers.

At a time when value is key for both the trade and consumers, Screwfix has made the commitment to offer Unbeatable Value through a combination of

price cuts, price locks, low prices on products, and bulk save offers. The new campaign runs across many ranges including 1,000 prices cuts and more

than 8,000 bulk save options. In addition, Screwfix is locking hundreds of prices on essentials until the end of the year, providing the certainty

tradespeople need for quoting on jobs. Customers can rely on the great value and high quality of a wide range of must-have products, including DeWalt

Safety Boots, which have remained at the same low price for 6 years – locked until at least at the end of 2022 – and the Makita 18V Brushless Cordless

Combi Drill, at a breakthrough price to get the job done affordably and right first time. What's more, with energy prices being crucial, Screwfix has

exclusively secured Tado Smart Thermostat Starter Kit for under £100, allowing customers to save up to 28% on their energy bills. Jack Wallace,

Marketing Director at Screwfix, commented: "We know tradespeople are seeking great value to ensure they can be as competitive as possible when

quoting for work. That's why we've launched Unbeatable Value. We're committed to ensuring we deliver unbeatable value day in, day out, so tradespeople

can get what they need, when they need it, to get their jobs done quickly, affordably, and right first time." www.screwfix.com

ON GUARD! A STEP FORWARD IN SAFETY FOOTWEAR

The timeless designs of Toe Guard safety shoes are complemented by their uncompromising focus on safety

and 'wearer-wellbeing.'

The new Toe Guard Wild Mid WR is a waterproof, metal free S3 safety boot made of PU coated, rip-stop leather

upper. It has a wide fit for optimal comfort plus a reinforced toe area for extra safety.

The boot is designed with minimal seams in critical areas for longer-lasting durability, while the waterproof

membrane will keep your feet comfortably dry. It comes with a lightweight anti-slip rubber outsole with soft nail

protection that's also heat and oil resistant with a certified ESD function.

Starting at the mid £30 mark and available from Snickers Workwear stockists, the Toe Guard range of safety shoes and boots is probably the best value

for money footwear in the UK, with features that keep them one step ahead of the competition.

www.toeguard.com

74 TC NOVEMBER 2022
---
FALL

PREVENTION

30

Year Product

Warranty

SOLUTIONS

www.roodsafe.com

Operating in UAE - SAUDI ARBIA - UK - EUROPE

The experts at working at height solutions

Email donna.martindale@rooDsafe.com • TEL +44 (0)115 9274111

• WALKWAY

• HANDRAIL

• EYEBOLTS

• PPE HARNESSes

• ABSEIL ANCHORS

• MOBILE ANCHORS

• ROOF MOUNTED

• CABLE SYSTEMS

• DAVIT SYSTEMS

For Road Safety

www.roadflash.co.uk