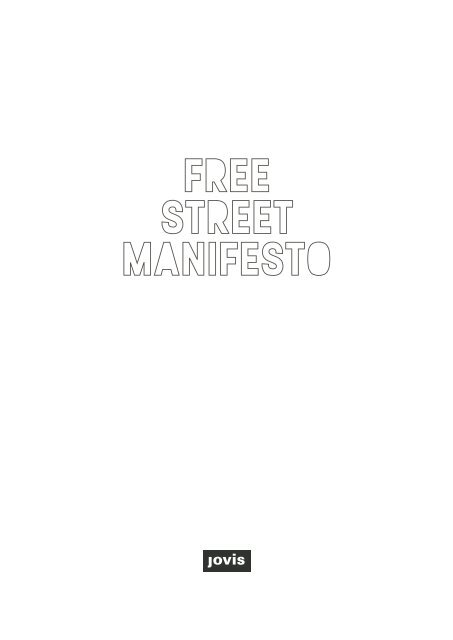 Free Street Manifesto
ISBN 978-3-86859-775-2
ISBN 978-3-86859-775-2
SHOW MORE
SHOW LESS
Create successful ePaper yourself
Turn your PDF publications into a flip-book with our unique Google optimized e-Paper software.
Consequences of environmental pollution

Health-conscious consumers

Consequencesofdigitalisation

nces of italisation at

tion

Opportunities for

decentralised office work

Elimination of entire

Desire for new

producer-consumer connections

Possibilities for decentralised

production processes

Changes in consumer behaviour

through online trade

Decentralised distribution

stations: logistics

and mobility hubs

New jobs in the transformation

and management

of neighbourhoods

Seasonal and local

food cultivation and

consumption

New forms of

democratic

neighbourhood

co-determination

Wild and diverse

planting

High air and

CO2 pollution

Unsealing of traffic areas

for microclimate and

biodiversity

Creating a strong identity

and barrier-free urban

design for more colourful

neighbourhoods

Cities as

Extreme weather conditions:

heavy rain and heat waves

Expansion of sustainable

and multifaceted transport

infrastructure with major

restrictions on cars

shared habitats for

humans and animals

Older and more diverse

population

Crop failures and supply shortages

Consequences of climatechange

chang

e

industries through automation

low-wage sector

Dead-end,

Growing social inequality

Consequences of social inequality
---
WHY THIS

MANIFESTO?

Because our future's at stake!

We've got a lot on our plate for the years and decades ahead: the climate crisis

caused by us humans, demographic change and growing social inequality, as

well as fast-paced developments in a digitalised and competitive world. As a

group of researchers, planners and creatives, we've been looking at ways to help

us shape our realities and our lives for the better. In doing so, we've focused on

a part of urban space that barely gets a mention but where we all live—a space

that belongs to all of us, namely the street.

In an entirely inefficient use of urban space, streets today are clogged with

private vehicles. This valuable space has the potential, when freed up, to provide

society with more social, ecological and healthy areas to live, move and work.

Thank you for your interest in the Free Street Manifesto. Visit our website

www.strassen-befreien.de to find out more and get in touch with us.

Free Street Alliance

7
---
8
---
CONTENTS

7

10

28

48

70

92

110

132

150

158

Why this Manifesto?

Neighbourhood thesis

The street as a place for chance encounters.

Changing streets to change societies.

Mobility thesis

The use of urban space as a car park is a fundamental error of judgement.

Real freedom goes well beyond our private cars. It's time to free

ourselves of them!

Economy thesis

The free street: lifeline for progress.

For more reliable supplies and new spaces for creativity and innovation.

Health thesis

The free street: a charm offensive.

Here, everyone can feel safe, stay healthy and move about freely.

Climate thesis

The free street: protecting our lives and those of future generations.

Helping communities cope with extreme weather conditions.

Political thesis

It takes political will to free the streets.

Try new things, keep what works and embrace conflicts.

Participation thesis

It takes pioneers to free the streets.

We can all play our part to make the change.

Bibliography

Imprint

9
---
THE STREET

AS A PLACE

FOR

CHANCE

ENCOUNTERS.

CHANGING

STREETS

TO CHANGE

SOCIETIES.
---
Neighbourhood thesis

SOCIAL CREATURES

WITHOUT A TERRITORY

Public streets and squares are the great common spaces of any town or city. A place

for everyone regardless of age, views, or skin colour. Economic status shouldn't

matter. Yes, the street's always been the place to be for thousands of years—at least

in theory.

For as long as we can remember, the

space outside of our homes and dwellings

(whether tent, hut or house) has been a

place for neighbourly exchange. A place

where people have celebrated and shared

things. To a greater or lesser extent, it's

always been a public space that's followed

the fashions and customs of the times.

Since the middle of the 20th century, however,

public space has become less and less

important. The motorisation of the masses

on the one hand and the modern separation

of different spheres of life on the other

have changed urban public spaces into

places where the only thing that matters is

getting from A to B as quickly as possible.

There are good reasons for why things developed

the way they did. Modern humans

can easily get overwhelmed by living and

working in such close quarters. In turn, this

can often lead to people avoiding anything

new or unknown. It's simply easier to live in

one's own little bubble. After all, who wants

to rely solely on the neighbours for the

latest in politics? And, while it's true that

modern technology has made it possible

to be connected 24/7, it's also clear that

the everyday gossip and chit-chat on the

street have all but disappeared. The same

goes for the loss of neighbourly help with

the little things in life—something that we

once all used to take for granted.

People don't really know each other any

more, and even people-watching has become

obsolete. The triumph of the automobile

meant less space on the streets for

people whose lives, as a result, took place

behind vast glass and metal constructions

instead. It's a palpable shift that's rippled

through society and changed us—as individuals

and as a whole.

Social cohesion suffers when life happens

behind closed doors or in only partially

public spaces and when we miss out on

experiencing other ways of life. Ambivalence

tolerance, that is, the ability to not

only recognise and experience completely

different ways of life, but also to understand

them to be equal, is by no means

a given. It has to be learned. How streets

are planned is pivotal in opening up these

learning opportunities. And so, in the spirit

of a liberal and heterogeneous society and

with the Free Street Manifesto, we're calling

for more space and a place for everyday

encounters, because streets free of cars

promote neighbourly coexistence.

14
---
Neighbourhood thesis

The function of the street

in towns and cities has

fundamentally changed in

recent decades. Streets have

increasingly become a space

for cars and a means to get

from A to B. Social interaction

with others has decreased as

a result.

15
---
Low-threshold encounters

Sports activities such as ping-pong tables,

boules courts, street chess or mobile street

furniture encourage neighbourly interaction.

Experience also shows that in an increasingly

diverse society, neighbourhood gardens are

particularly well suited to overcoming linguistic

and cultural barriers among neighbours. Joint

work creates informal and relaxed situations, in

turn giving rise to common topics of interest (cf.

Haarmann & Lemke, 2021).

Street concierge

Communal life on communal grounds won't

organise itself. Certain rules and tasks have to

be distributed. New communal infrastructures

or temporary licences for use might be taken

over by sponsors or patrons, for example. A

'street concierge' might also assume the role

of caretaker on the one hand, ensuring that all

interests get taken into consideration, while

supporting people in need of help with daily

tasks as and when on the other.

Inviting places of communication

Not all benches are made equal! A welldesigned

meeting place on the street follows

certain parameters. Jan Gehl, a Danish urban

planner, has extensively analysed these patterns

(cf. Gehl, 1986). How inviting people find a

place to be depends largely on its green spaces,

pleasant materials and surfaces, but also the

right balance of protection from the elements

and surroundings and a feeling of openness and

freedom. At best, an urban space offers different

seating options for different needs—from individual

and isolated to grouped and conducive to

conversation; with and without tables, with and

without recliners, and with features for people

with special requirements, such as expectant

women, children or people with mobility issues.

22
---
Culture as an initial spark

Shared experiences can become the initial spark

for a stronger sense of neighbourliness: be it

street flea markets, an event such as Lichterwege

(city light installations) in Wuppertal,

wandering installations such as the Pop-Up

Wald Berlin (a moving forest) or cultural events

such as open-air cinema or stage

performances.

Community pavilions

In high-density, expensive urban areas, heated

and lockable pavilions for common use can

also be built on former car parking spaces.

These common spaces could be used for a

variety of purposes at various times of the day

(for example, as a kindergarten playroom in

the morning, homework supervision midday,

senior citizens' teatime in the afternoon and

rehearsal room for the neighbourhood choir in

the evening). Use should be free of charge or for

a small fee, and the allocation system should be

transparent and based on previously set criteria.

Soft Edges

A prerequisite for active neighbourly coexistence

is to blur the boundaries between the private

and public domain. Creating such soft edges

provides better opportunities for socialising—

residential streets, front gardens, driveways

and verandas make ideal convivial spaces to

promote neighbourly interaction.

Sheltered zones

Shelters or pergolas offer loosely-connected

neighbourhood communities a place to meet

even when the weather conditions are not

ideal (intense heat, rain, etc.). Young people in

particular, but also senior citizens, depend on

informal meeting places where they can meet

their peers.

23
---
THE USE OF

URBAN SPACE AS

A CAR PARK IS

A FUNDAMENTAL

ERROR OF

JUDGEMENT.

REAL FREEDOM GOES

WELL BEYOND

OUR PRIVATE CARS.

IT'S TIME TO FREE

OURSELVES OF THEM!
---
Mobility thesis

Multi-modal: the right vehicle for every journey

For many people, a life without their own car is virtually impossible

to imagine. Despite this, our mobility needs can already be met

today in a multimodal way by combining different means of

transport, for example. Pioneers out there who are living their lives

multi-modally are already proving that it works! Unfortunately,

the absolute freedom to choose the means of transport is still too

expensive. This must change quickly!

What would it be like to always have the

right means of transport available? What

would it be like to be able to quickly and

reliably switch from one mode of transport

to another? To make hiring any

vehicle both straightforward and inexpensive?

On free streets, the combination of

different mobility options is simple and

affordable. With best-price procedures

and flat-rate schemes or even individual

mobility budgets, multi-modal transport/mobility

will become the norm.

7.04 a.m.

Just a few steps from home: I

spend a little time tending our

street garden every morning.

8.58 a.m.

In a neighbourhood just around

the corner: I hop onto a small

e-bus and head to the office—

it's always on time.

38
---
Mobility thesis

11.06 a.m.

Customer appointment:

I take a bike, as it's the

quickest way.

1.07 p.m.

To my favourite snack bar:

no problem—e-scooter to the

rescue!

3.11 p.m.

Transporting something

heavy: no worries,

I can grab a cargo bike.

4.02 p.m.

Picking up the kids:

I take the bus back

to our neighbourhood.

7.38 p.m.

After dinner: I'm happy to

spend some time on the free

street.

39
---
Aslan, a family man, works for

a large insurance company. He

commutes 2 x 15 kilometres every

day. With regular city traffic,

the one-way journey takes him 45

minutes.

Since Aslan likes to number-crunch, he works

out that on average he works 206 days a year

(minus holidays and sick leave) which costs him

310.5 hours commute time spent in his car.

That's almost 13

full days and

nights per year

and 1.42 years of

his overall

working life …

At a gross

annual salary of

85,000 euro,

he and the

national

economy lose a

total of 129,513

euro and just

under 70 cents -

petrol and car

wear not

included!
---
Affordable public street

offices have sprung up all

over the city on former car

parks since the streets

were freed. Working from

home isn't really an option

for Aslan and his family, so

he uses local street coworking

spaces almost daily

- plus, he likes to get out

of the house sometimes. He

now only ever goes to his

company's headquarters for

important team meetings.

The good thing about the

'street office' is that it's

within walking distance

and great for regular

neighbourly interaction

with people from all

professions and walks of

life. It's not uncommon

for great opportunities

to pop up again and again

alongside work that call

for Aslan's expertise,

which he enjoys very

much.

Plus, he now has more

time for his family and his

hobbies.
---
Health thesis

SYMPTOMS OF

A SICK CITY

Polluted air, constraints on space, and a lack of identity: as big and as interesting as

our towns and cities are, in many ways, they're just not a healthy place for humans.

The amount of traffic on public roads has

a direct impact on people's health and

quality of life. German cities with their busy

streets full of parked cars affect people's

health and quality of life—no thanks to

air pollution, noise, accident risks, and

restrictions on mobility and visibility. It's

the people living, walking and cycling in

these towns and cities that are affected

the most, including more vulnerable road

users such as expectant women, children,

the elderly and people with disabilities.

Here, health is to be understood both from

a medical and socio-ecological standpoint

that includes taking economic, social,

spatial and traffic conditions into account

(cf. Wolf, 2022). How road traffic influences

health is also a matter of equal health

opportunities. People who live near busy

roads simply have a higher risk of getting

sick.

Driving

from A to B

6%

Leisure

23%

Average time

spent sitting:

8.5 hours

(National workday average)

Work

33%

Watching TV

29%

Computer/

smartphone

12%

When we free streets, they can be transformed

from health-threatening to

health-promoting streets. Health is a

fundamental right, making it a state and

societal obligation to promote and maintain

health. This can be done in part by creating

or changing living conditions and environments

such as urban neighbourhoods and

streets so that they promote health and

quality of life. Since the 1970s, the World

Health Organisation (WHO) and the Healthy

Cities Network—to which many cities in

Germany belong—have been calling for the

health of the population to be improved

through appropriate urban development

and transport policies.

It's time that more is done to address this.

A street is attractive and health-promoting

if it has the following: few to no cars meaning

better air quality, low noise levels and

safety for all road users.

Towns and cities can be a healthier place

for us and remain attractive in the long

term if we follow the WHO guidelines. This

is also highly desirable from an economic

and ecological point of view because highdensity

living forms an ideal foundation for

achieving greater resource efficiency. It's

time to share and keep each other warm in

the winter!

74
---
Health thesis

Getting around, but not really moving

Graphic page 74

Own representation according

to Froböse & Wallmann-

Sperlich, 2021, p. 30.

Most people say that the main

reason for their physical inactivity

is that everyday distances

are too long to cover on foot or

by bike. A perceived lack of time

in everyday life is also a frequently

cited reason (Voermans

et al. 2016, p. 15ff.).

The division of towns and cities into functionally

separate spaces for living, working,

shopping and recreation is the reason

why we have no choice but to spend a lot

of time on the move. The problem is that

although we're going from A to B to C, we're

still not getting enough physical exercise.

In Germany alone, more than two thirds of

all people in paid jobs commuted to work by

car in 2020. What's more, plenty of people

use their car even when their route to

work is less than ten kilometres (DESTATIS,

2021a).

Around 80 per cent of commuters get little

or no exercise on their way to work, whether

that's by car or public transport. The

problem isn't the commute alone though;

working from home more, too, isn't helping

the fact that we simply aren't physically

moving enough throughout the day (DAK,

2021).

The less we move, the more we're at risk of

heart attacks, strokes, high blood pressure,

diabetes, cancer, dementia and depression,

leading to shorter life expectancy. Worldwide,

around seven per cent of all deaths

from cardiovascular diseases are attributed

to physical inactivity (cf. WHO, 2020;

Katzmarzyk et al., 2022).

A lack of physical activity also increases

the risk of a severe case of COVID-19 or even

a fatal outcome (cf. Sallis et al., 2021).

To start with, 57 per cent of those surveyed

in Germany about their physical and sedentary

behaviours sit for at least 8 hours

a day. People who sit for long amounts

of time with little to no physical activity

during the course of a day have a much

higher mortality rate (cf. Froböse & Wallmann-Sperlich,

2021, p. 31).

'Whether we add more physical activity

to our daily lives depends, among other

things, on our surroundings, in other words,

on the constructed and natural environment

in which we live.' This means that

street design as well as traffic and spatial

planning can promote or hinder physical

activity (cf. Edwards and Tsouros, 2006).

Additionally, a person's social environment

as well as gender, age, individual abilities

and motivation all influence how physically

active a person is. On average, people in

Germany are physically active for less than

one hour per day—and that includes everyday

commutes, errands or the like on foot

or by bike (Voermans et al., 2016, p. 15).

The distances Die Wege are sind oft

often simply einfach too zu long lang

47

47

Lack of Zeitmangel

time

45

45

Graphic

Illness, Krankheit, physical körperliche

limitations Einschränkungen or overweight oder

Übergewicht

28

28

When you ask Germans why

they exercise so little, these

are the most frequent answers

given. Own representation

according to Voermans et al.,

2016, p. 15ff.

lack of motivation,

fehlende Motivation,

can't get kann myself mich together nicht aufraffen

I just don't ich bewege like to mich einfach

be on the nicht move gerne

6

6

28

28

75
---
THE FREE

STREET:

PROTECTING

OUR LIVES

AND THOSE

OF FUTURE

GENERATIONS.

HELPING COMMUNITIES

COPE WITH EXTREME

WEATHER CONDITIONS.
---
Climate thesis

FROM BEING THE CAUSE

TO BECOMING THE VICTIM-

CAN WE COPE?

We have made our homes in medium-sized and large cities and in megacities. In fact,

in Germany, almost 80 percent of the population live in cities and metropolitan areas.

These abundant city dwellers consume a large part of the available resources and

are the main cause of climate-damaging carbon dioxide emissions (CO 2

). They heat,

they travel and they consume. Does this mean that more people should move to the

countryside? Absolutely not! We need to make sure that cities keep their appeal even

in decades of climate change, because they offer a great opportunity in their very

density of coexistence.

In the coming years, more extreme

weather is to be expected in Germany due

to man-made climate change. Heat waves

will become more frequent and life-giving

rain showers rarer; groundwater levels will

drop; soils will become drier and harvests

uncertain. At the same time, the risk of

heavy rainfall and flooding will increase,

especially in heavily surface-sealed areas.

As city dwellers, we must now recognise

that we are both the cause and the victims

of climate change. But we also have

options—we can choose to take action to

change this situation. We can protect ourselves

and future generations in our towns

and cities and maintain—or perhaps even

improve—our quality of life.

We can drastically reduce the amount of

individual private transport means used.

It's even conceivable that a sustainable and

decentralised economic system can be established

on the basis of free streets. There

are resource-saving solutions for cities

that wouldn't work in less densely populated

rural areas. Everything from mobility

to office space can be shared. Changing

behaviour and consumption patterns can

be quickly scaled to many users and reduce

millions of carbon footprints at once. Now

all we have to do is to make sure that urban

settlement remains an attractive option.

We need to make Germany's larger cities

fit for climate change. Let's start with the

communal commons of the street!

96
---
Climate thesis

Human-induced climate change

increases the risk of devastating

floods after heavy rainfall.

© Hans Braxmeier / pixabay.com

97
---
Climate thesis

CO-EXISTENCE

AT LAST

To reduce or prevent climate impacts such as floods, droughts, heat waves and the

extinction of species, we need to free streets and make them more resilient.

A scenario.

It would all begin with the passing of a

moratorium: as of day x, no new surfaces

are allowed to be sealed, and if in exceptional

cases they are, you'd be obliged to

re-move surfaces on twice the amount

of land elsewhere. This law would see the

transport revolution bring about a soil revolution

of sorts, too. But it wouldn't just be

the complex and time-consuming removal

of surfaces from major roads across the

cities that would expose valuable green

corridors; drainage ditches that would

be constructed quickly and with less CO 2

would also be created everywhere on a

smaller scale. They would ensure that rain

could seep into every street to cool the air

through evaporation when the temperatures

go up.

The transformation of towns and cities

would do everyone good, but for no-one

more so than children. They would benefit

from the variety of play and retreat options

available. Both streets and infrastructure,

as well as the thriving forest strips on former

major roads, would encourage them to

move about more and explore their creativity.

From an early age, they would learn

to navigate the outdoors on their own and

to be more self-confident and independent.

Vast public spaces would be varied and full

of life. Nature would entice people out of

their homes every day because there is so

much to go and experience within walking

distance: trees, animals, outstanding

architecture and encounters with neighbours.

People would be proud of this rediscovered

spacious common 'living room'.

102
---
Climate thesis

Today, roads take up massive

amounts of space in our cities.

In the future, many streets

will have to have sealed surfaces

removed so that city life

remains bearable in times of

climate change.

Visualisation: Stefano Tiracchia as part of the Experiencing the Transport Revolution project.

103
---
IT TAKES

POLITICAL

WILL TO

FREE THE

STREETS.

TRY NEW THINGS,

KEEP WHAT WORKS

AND EMBRACE

CONFLICTS.
---
Political thesis

'Only the rich can afford to live on free streets anyway!'

Many people are concerned that neighbourhood

beautification automatically

means that rents will go up, that current

incomes won't be able to cover costs and

that a move out of the town or city is inevitable.

This development, also known as

gentrification, has indeed been observed

in some towns and cities in recent years.

However, correlation is not causation. While

it's true that street beautification can

result in higher rents, it's also true that

the effects are minimal in many places (cf.

Buchanan et al., 2007). Instead, fundamental

factors such as market fluctuations or

new transport infrastructure in the vicinity

seem to have a much bigger effect on rent

prices (cf. Carmona et al., 2018).

It's also questionable whether traffic calming

measures should really be done away

with in order to exclude potential gentrification

effects. This would require the effective

protection of tenants and a housing

policy oriented towards social goals.

It makes sense not to focus exclusively on

well-off inner-city neighbourhoods for

traffic calming projects, but to deliberately

make socially weaker areas more attractive

through redesign. This can reduce social

segregation. After all, free streets should

lead to a better life for everyone—especially

the less well-off because they're the

ones currently living in less attractive

places with a lot more traffic.

'Free streets only attract tourists and they're a nuisance for residents.'

Residents on recently freed streets, including

in Copenhagen (cf. Andersen, 2020)

and Madrid (cf. Conquero & Ruiz, 2019), are

reporting that they attract a lot of tourists.

The positive effects are hard for residents

to see because of the popularity of the

streets and the resulting noise. It's a point

of criticism that's very understandable,

since one of the ideas behind free streets is

less noise and more peace and quiet. Even

though the background noise that comes

from people and not from engines is all part

of living on a free street, it can become a

problem when too many people get together

in spaces that are too small. This is, of

course, also indicative of there being too

few free streets. The solution to the problem

is obvious.

122
---
Political thesis

'After all, cars are the best indicator of thriving social interaction!'

After decades of cars dominating our roads

and our streets, it might be hard to believe,

but study results from the USA and the UK

are surprisingly clear: in both San Francisco

(Appleyard & Lintell, 1972) and Bristol (Hart

& Parkhurst, 2011), it has been shown that

the number of social contacts between

residents on a street is strongly related to

the daily volume of private motorised traffic.

On busy streets, residents have at least

one third fewer friends and acquaintances

than on streets with less traffic.

'So, what about people who are dependent on their cars for health reasons?'

As an ageing society on the one hand, there

are a growing number of people who really

need a car for health reasons. Many people

can only cover longer distances by car. On

the other hand, these people also need

assistance with wheelchairs or walkers in

any given immediate vicinity. Free streets

offer a clear advantage to these people in

their need as it's easier and safer to move

around closer to one's home—but accessibility's

a prerequisite for this. Then there's

always also the option to use a car to get

you to your front door, provided you drive

safely and slowly, of course. After all, those

who truly need their car should still be able

to use it. If people that didn't really need

their cars stopped using them, there'd be

enough space for those that depend on

their vehicles.

123
---
Gardening can be a political act

Planting, tending and caring for greenery in

public spaces is more than just about creating

a beautiful space or being good for nature. It

shows that you care about your neighbourhood,

your town and the world, and it might even

encourage people to join in.

Another interesting campaign is Gieß den Kiez

(Water Your Neighbourhood). There's an online

platform that provides an interactive map of

Berlin's urban trees that you can take responsibility

for on a coordinated basis.

www.giessdenkiez.de

Living together responsibly

We all play a role in the transport system—we

can shape it for the better or for the worse.

However, car drivers have a special responsibility

towards more vulnerable road users. A

car's heavy body may well help to protect its

occupants, but it can often prove to be a serious

health hazard or even fatal for pedestrians and

cyclists. This means that it's the really cool ones

who are travelling around relaxed and behaving

courteously!

144
---
Taking up political office

Transport and building issues are decided in

municipal committees. Those who get involved

in local politics have a direct influence on the

shaping of urban life.

Self-appropriation of public space

Vibrant public spaces are not created by special

decree. Instead, action is what's needed, and

that action can be taken without any additional

rules and regulations. Citizens who use pavements

and parking spaces for their temporary,

social and neighbourly get-togethers breathe

life into the very concept of freeing the streets.

Car-free installations and events

Car-free school and play streets and special

events such as Park(ing) Day or the Tag des

guten Lebens (Day of the Good Life like in Cologne)

can be initiated or officially requested by

citizens/neighbours. Experiencing the changes

to the urban space often generates stimulating

debates on the perpetuation of such concepts.

145
---
IMPRINT

Free Street Alliance

Paper Planes e.V.

paper planes e.V. came up with the

project idea and holds responsibility

for the conceptual work, the images

of the future, and the communications

around the project. The thinkand-do

tank is known for its radical

proposals for sustainable city planning,

ruffling feathers with projects

like Radbahn Berlin and morgenfarm

berlin.

Berlin Social Science Center

The Research Group Digital Mobility

of the Berlin Social Science Center

(WZB) is a leading force in the area of

Research on Mobility Practices. The

team enriches the project with their

academic expertise and ample experience

with transitional processes in

sustainable city planning.

Technische Universität Berlin

The Department of Work/Technology

and Participation at the Technische

Universität Berlin (TU Berlin) specialises

in participation processes

in the context of research projects.

The team fosters the involvement of

citizens in the project and ensures

their contributions are reflected in its

outcomes.

The project is funded by the

Mercator Foundation.

Initiative and project management

Jonas Marx (project impetus)

Matthias Heskamp | paper planes e.V.

Stefano Tiracchia | paper planes e.V.

Perttu Ratilainen | paper planes e.V.

Simon Wöhr | paper planes e.V.

Dr. Birgit Böhm | TU Berlin

Dr. Weert Canzler | WZB

Prof. Dr. Andreas Knie | WZB

Editorial lead

Simon Wöhr | paper planes e.V.

Co-authors

Jasmijn Lodder | paper planes e.V.

Tobias Biehle | TU Berlin

Dr. Birgit Böhm | TU Berlin

Dr. Weert Canzler | WZB

Dr. Juliane Haus | WZB

Theresa Pfaff | WZB

Contributors

Giulia Pozzi | Fabulism

Marco Piazza | Freelance Architect

Arne Janssen | paper planes e.V.

Kristin Karig | paper planes e.V.

Mathilde Kærgaard Skaaning | paper

planes e.V.

Dr. Francesca Weber-Newth | paper

planes e.V.

Friederike Tautz | TU Berlin

Sophie Persigehl | Urban Impact

Jonas Schorr | Urban Impact

Dr. Martin Gegner | WZB

Lara Meyer | WZB

Franziska Zehl | WZB

Translation from German

Jeanette Mooney

Jenny Wade

Editing

Jasmijn Lodder | paper planes e.V.

Layout

Giulia Maniscalco | paper planes e.V.

Renderings

Jonas Marx | Reindeer Renderings

Comics

Carlo Miatello (artwork) |

Freelance Illustrator

Stefano Tiracchia (ideation & storyboarding)

| paper planes e.V.

Simon Wöhr (ideation & texts) |

paper planes e.V.

Illustration of infographics

Kristin Karig | paper planes e.V.

Stefano Tiracchia | paper planes e.V.

Illustration measures

Matthias Heskamp | paper planes e.V.

Cover image

Jonas Marx | Reindeer Renderings

Lithography

Bild1Druck | Berlin

Printed in the European Union

Citation suggestion: Free Street

Alliance (ed.) (2022). Free Street

Manifesto. Berlin: JOVIS.

158