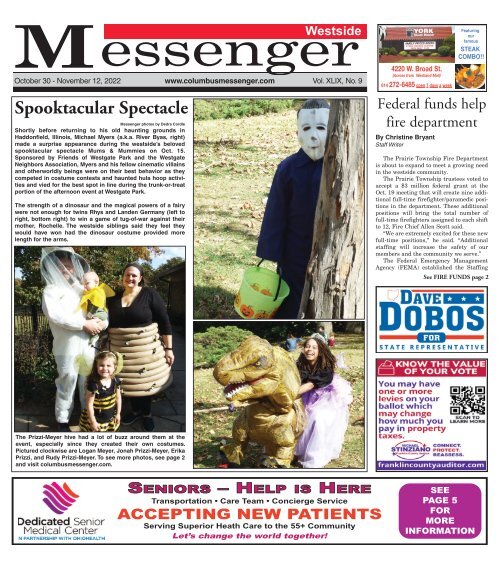 Westside Messenger - October 30th, 2022
You also want an ePaper? Increase the reach of your titles
YUMPU automatically turns print PDFs into web optimized ePapers that Google loves.
Messenger

Westside

October 30 - November 12, 2022 www.columbusmessenger.com Vol. XLIX, No. 9

4220 W. Broad St.

(Across from Westland Mall)

Featuring

our

famous

STEAK

COMBO!!

Spooktacular Spectacle

Messenger photos by Dedra Cordle

Shortly before returning to his old haunting grounds in

Haddonfield, Illinois, Michael Myers (a.k.a. River Byas, right)

made a surprise appearance during the westside's beloved

spooktacular spectacle Mums & Mummies on Oct. 15.

Sponsored by Friends of Westgate Park and the Westgate

Neighbors Association, Myers and his fellow cinematic villains

and otherworldly beings were on their best behavior as they

competed in costume contests and haunted hula hoop activities

and vied for the best spot in line during the trunk-or-treat

portion of the afternoon event at Westgate Park.

The strength of a dinosaur and the magical powers of a fairy

were not enough for twins Rhys and Landen Germany (left to

right, bottom right) to win a game of tug-of-war against their

mother, Rochelle. The westside siblings said they feel they

would have won had the dinosaur costume provided more

length for the arms.

614 272-6485 open 7 days a week

Federal funds help

fire department

By Christine Bryant

Staff Writer

The Prairie Township Fire Department

is about to expand to meet a growing need

in the westside community.

The Prairie Township trustees voted to

accept a $3 million federal grant at the

Oct. 19 meeting that will create nine additional

full-time firefighter/paramedic positions

in the department. These additional

positions will bring the total number of

full-time firefighters assigned to each shift

to 12, Fire Chief Allen Scott said.

"We are extremely excited for these new

full-time positions," he said. "Additional

staffing will increase the safety of our

members and the community we serve."

The Federal Emergency Management

Agency (FEMA) established the Staffing

See FIRE FUNDS page 2

The Prizzi-Meyer hive had a lot of buzz around them at the

event, especially since they created their own costumes.

Pictured clockwise are Logan Meyer, Jonah Prizzi-Meyer, Erika

Prizzi, and Rudy Prizzi-Meyer. To see more photos, see page 2

and visit columbusmessenger.com.

SENIORS – HELP IS HERE

Transportation • Care Team • Concierge Service

ACCEPTING NEW PATIENTS

Serving Superior Heath Care to the 55+ Community

Let's change the world together!

SEE

PAGE 5

FOR

MORE

INFORMATION
---
PAGE 2 - WESTSIDE MESSENGER - October 30, 2022

Mums and Mummies Photos

Continued from page 1

"Mr. Mum" Tom Prince (top) poses with a

few of the mums that were for sale at the

event. The long-time Friends of Westgate

Park volunteer grows a majority of the

flowering plants in his westside home.

All of the Mums & Mummies proceeds

go to FWP to fund year-round beautification

projects at the park.

Bottom right, Tim Sterling originally

came to Mums & Mummies to show support

for his husband Allen as he performed

with the Dancing Witches of

Westgate, but two unexpected things

happened while waiting for the magical

showcase. The first was he made a new

friend in Cindy Williams and the second

was his 3-year-old dachshund Coco

took the top prize in the animal costume

contest. "I just wanted to dress her in

this cute pumpkin outfit," he said. "I didn't

have any plans to enter the contest."

www.columbusmessenger.com

America'

ica's s Fa

av av vorite Treasure ure e Hunts!

2022

Nov. 26 &

27

Dec. 17 & 18

Antiques, Collectibles,

Jewelry, Vintage,

Home Decor, Militaria

and more!

2023

Jan. 28 & 29

Feb. 25 & 26

Mar. 25 & 26

Dressed as the Scarlet Witch, Ashley

Montana gets ready to pass out candy

during trunk-or-treat.

FIRE FUNDS

Continued from page 1

For Adequate Fire and Emergency Response (SAFER)

grant to provide funding directly to fire departments

and volunteer firefighter interest organizations to help

increase or maintain the number of trained, front-line

firefighters in communities.

The Prairie Township Fire Department has been

operating on a 20-year-old staffing plan, yet has seen

the number of calls increase as the westside has experienced

further development. In 2021, the fire department

responded to 6,401 calls for service, up 15 percent

from 2020.

The $3 million SAFER grant will fund nine new

positions, including salaries and benefits, for three

years. Scott says the department does not anticipate

spending all of the grant funds over the three-year

period.

"The grant allows for application of an extension to

exhaust any remaining funds," he said. "Once all of the

funds are spent, we will evaluate our financial situation

and determine the need for additional revenue."

Scott said the department will continue to pursue

outside funding to help pay for current and future

expenses as well.

"We have been fortunate to receive several grants

over the last few years and we will continue to pursue

outside funding to the furthest extent possible," he

said.

Forecasting what tax revenue will look like in three

years is difficult, he says.

"We can only predict revenue based on current tax

collection numbers," Scott said.

Predicting future spending is also difficult due to

the fluctuation of fuel and supplies, he said.

"Near the end of the grant period, we will have a

much clearer picture of our needs."

Full-time Prairie Township firefighters work 24-

hour shifts every three days. All full-time members are

both firefighters and paramedics.

"We can hire members as firefighter/EMTs, but

they have to become paramedics within two years,"

Scott said.

The department has a current full-time eligibility

list already, so Scott says he expects the hiring process

to be quick. He plans to present a list of names to the

board of trustees at the Nov. 30 regular meeting. The

nine new hires would then begin service Jan. 1, 2 or 3,

depending on which crew they are assigned.
---
www.columbusmessenger.com

October 30, 2022 - WESTSIDE MESSENGER - PAGE 3

Community and township look for best use of land

By Christine Bryant

Staff Writer

Nearly every day, a group of neighborhood

kids gather at the corner of Mix and

Stiles avenues in Prairie Township.

The plot of land has become a place

where they can throw the football, run

around and take a break from screen time,

says Catherine Martinez, who lives nearby

and whose 12-year-old son often joins the

group.

"Kids will ask, 'Do you want to go to the

field?'" she said. "It's like their 'Sandlot.'

It's their place to just be kids."

When Prairie Township considered

donating the L-shaped piece of land to

Homes on the Hill, a non-profit organization

that develops affordable housing in

southwestern Franklin County, a group of

neighbors banded together in an effort to

keep that parcel of land undeveloped. They

called themselves, "Friends in the Field."

"Our neighbors really showed up at the

(Prairie Township Board of Trustees) meeting

and said that we really need a safe

place for our children to play," Martinez

said.

At the Sept. 7 board meeting, the

trustees voted down giving the parcel to

Homes on the Hill after taking into consideration

community input.

Although the lot currently remains a

greenspace for the kids to gather,

Township Administrator James Jewell

cautions that the only action that the township

has taken with the land so far is stopping

the designation to Homes on the Hill.

"We're back to the drawing board," he

said.

Developing the land into housing would

have generated an estimated $52,000 in

total annual tax revenue across all agencies,

Jewell said.

"We're kind of in limbo and continue to

mull it over and maintain it," Jewell said.

There may be additional parcels of land

nearby that could be converted into a

greenspace where neighborhood kids could

gather, he said, but Martinez says the lot

at the corner of Mix and Stiles avenues is

within eyeshot of neighbors' homes, allowing

them to watch their kids while they

play.

"We'd like to see a community garden

there," she said. "We can grow our own

food, we can teach young kids and get the

kids at (Stiles Elementary) involved."

Martinez said she has been working

with the Franklin Park Conservatory and

other organizations in the area to learn

more about community gardens and creating

spaces where neighbors can gather.

"The more involved our community is

with our children, the better off they are,"

she said.

She also plans to approach township

officials to further discuss the possibilities

for the land. In the meantime, Jewell says

he encourages any community members or

organizations to submit requests for the

land or to approach township officials with

their ideas.

"We encourage the community to give us

some direction on what they would like

done with the property," he said.

around the westside

Senior Christmas Party

Prairie Township invites its residents to

attend a Senior Christmas Party. This

event will be on Friday, Dec. 9 from 4:30 to

7 p.m. at the Community Center, 5955

West Broad St.

The event will feature a fully-catered

dinner from Hudson's Edge Catering, fun

games, holiday music, an ugly sweater contest,

prizes and more. The township will

also be accepting non-perishable food items

for the local food pantry. Attendees must

be residents of Prairie Township and must

be 62 years or older. Call 614-982-2123 to

RSVP to this event by Nov. 14. You must

RSVP in order to attend.

Trunk-or-Treat at

Columbia Heights

Columbia Heights United Methodist

Church will host a Trunk-or-Treat event

from 4 to 6 p.m. Oct. 30 at 775 Galloway

Road. For additional information, visit

wherefriendsaremade.org.

Hilltop Legal Clinic

The Legal Aid Society of Columbus will

host a Hilltop Legal Clinic every Monday

from 4 to 6 p.m. at the Columbus

Metropolitan Library Hilltop Branch, 511

S. Hague Ave. in Columbus. A legal aid

attorney will be available to answer questions

regarding landlord and tenant issues,

public benefits, consumer debt, and family

law. To receive free advice, you must have

a gross household income below 200 percent

of the Federal Poverty Level. For more

information, call Legal Aid at 614-241-

2001.

Breakfast at the Lodge

to benefit Special Olympics

The Westmeath Masonic Lodge #623 is

preparing breakfasts once a month to benefit

the Special Olympics. The public is

invited to have breakfast the second

Saturday of each month at 2925 West

Broad St. Adults eat for a donation of $6,

children age 3 and above pay $3. Serving is

from 9 a.m. to noon.

Our Savings Rates

1.75 %

1

APY

2. 25 %

2

APY

"Friends in the Field"

s ar

e on the rise!

Contact me today for details!

Maggie Colombini

Br anch Manager, Wilson Road Office

(614) 351-2100

Maggie.Colombini@Heartland.Bank

1

Annual Percentage Yield (APY). Minimum opening deposit is $1,000. Minimum balance to earn interest is $0.01. Minimum balance to earn promotional APY

is $50,000.00. This is a tiered rate account. The promotional APY of 1.75% is av ailable for the following tiers: $50,000 - $99,999 and $100,000 - $499,999.99. The

promotional AP Y for the tier of $25,000 - $49,999.99 is 1.25% APY. Regular rates apply to the following tiers: $0.01 - $9,999.99 is 0.01% APY; $10,000.00 - $24,999.99

is 0.02% APY; and $500,000 + is 0.05% APY. The promotional rate to applicable tiers is guaranteed for 180 days from the day of account opening. After 180 days, the

rate may change at any time as the Heartland Bank Money Market Savings Account is a variable rate account. To qualify for the promotional rate, the opening deposit

must be from funds not currently on deposit with Heartland Bank. Limit one (1) promotional Money Market Savings Account special per household per six (6) months.

APY accurate as of 08/01/2022. Fees may reduce earnings. Accounts closed less than 180 days from date opened will be charged an early close fee of $25.00. Personal

accounts only.

2

Annual Percentage Yield (APY). Minimum balance to open and maintain the advertised 12 month APY of 2.25% is $5,000. APY is accurate as of August 29, 2022.

Maximum deposit is $250,000. Please see your local branch office for disclosure information regarding terms and conditions. Penalty may be imposed for

early

withdrawal. Rates are subject to change at any time. No brokers please. Limit ed time offer. Limited to one per household. Not valid with money currently on

deposit at Heartland Bank. Personal accounts only.
---
PAGE 4 - WESTSIDE MESSENGER - October 30, 2022

www.columbusmessenger.com

Community Focus

Improvements planned at Glenwood Park

By Dedra Cordle

Staff Writer

The city of Columbus continues to make

improvements at a popular westside destination

that is often referred to as 'the gateway

to the Hilltop community.'

Last year, the city's recreation and

parks department formalized plans with

the local consulting, engineering, and construction

firm Resource International Inc.

to revitalize specific areas of Glenwood

Park. Although the community hub on

Fairmont Avenue encompasses more than

16 acres of land, the primary objective of

WESTGATE UNITED

METHODIST CHURCH

61 S. Powell Ave., Columbus,OH 43204

Come - Let's Worship Together

and Meet our New Pastor

Nancy Day-Achauer!

Worship Service 9:00 a.m.

Sunday School 10:00 a.m.

westgateumc@sbcglobal.net

614-274-4271

GLENWOOD UM CHURCH

2833 Valleyview Dr.

(Corner of Valleyview & Hague Ave.)

(614) 274-8469

Pastor Leo A. Cunningham

Join us for In-Person

Sunday Worship at 10:45 a.m. or

Join us for Online Worship at

Glenwood UMC YouTube

http://tinyurl.com/GlenwoodUMC

this project was to make enhancements to

its 8.7 acres of wooded terrain.

City officials said they were told by the

community that improvements to this area

were of the utmost importance.

"The department wanted to partner

with the community to revitalize and

restore the forest at Glenwood Park to

make it accessible and safe to park users,"

said communications and marketing manager

Stephanie Garling. "Half of the park

was under-utilized because eight acres of

forest lacked formalized trails, wayfinding

signage and good visibility."

She said in addition to improving the

HOGE MEMORIAL

PRESBYTERIAN CHURCH

2930 W. Broad St., Columbus, Ohio 43204

Sundays at 10:30 a.m.

In Person Worship

Live Streaming Sunday Worship Service

at 10:30 a.m. on Hoge Facebook Page

Worship & Free Meal

Saturdays at 5:00 p.m.

www.hogemempresby.org

Please visit the

Westside Church

of your choice.

List your Worship

Services here.

For info. call 614-272-5422

Be a Part of Our Local Worship Guide

Our upcoming Worship Guide is geared toward celebrating faith and helping readers connect with

religious resources in our community. Make sure these readers know how you can help with a presence in

this very special section distributed to more than 25,000 households in the Westside area.

Contact us today to secure your spot in our Worship Guide.

614.272.5422 • kathy@columbusmessenger.com

Messenger

Westside

safety for the park users, the project will

also restore the area back to health.

"This restoration is a chance to enhance

a forested wetland, improve biodiversity in

the park, remove invasive shrubs like honeysuckle

and establish a native understory."

Project managers said the first phase in

this multi-phased project is mostly complete.

One of the first things the team did

was cut back on the density of the forest,

making the area more visible to pedestrians

and motorists along West Broad Street.

According to Michelle Eckels, the vicepresident

of environmental services at

Resource International Inc. the forest area

space is overgrown with invasive species,

filled with dead trees, and used as a homeless

camp because it was so dense with

extra foliage.

"The primary goal (of phase one) was the

clearing of this area," she said during a

project update at the Greater Hilltop Area

Commission meeting in October. "We wanted

to be able to see across the whole vegetative

area, so you could see across Broad

Street and so that they could see you across

that wooded area."

She said the thinning out of the density

eliminated much of the "unwanted activities"

that were present in the park prior to

this project.

The second phase, or the design phase,

is currently underway and is approximately

75 percent complete. This portion of the

project focused on what the community

said they would like to see in the park, such

as benches, wayfinding signage, restoration

of the steps to the wetland area, and

enhanced wildlife biodiversity.

According to Eckels, the naturally existing

wetland, or vernal pool, will not be

touched during this process. Although

some residents in attendance at the meeting

expressed concern about its ability to

attract mosquitoes, she said it was not the

project's objective to be rid of the insects

completely.

"Hopefully some of the clearing (of the

overgrown brush) has and will help…but

that is not something this project has set

news and notes

out to eliminate," she said.

What the project will do is create a

native wildlife habitat that will attract

bees and butterflies, especially Monarchs.

Eckels said the diversity of the vegetation

in the area is "not high" so this phase

will enhance the wetland to bring more pollinators

into the area.

The second phase will also do more to

bring humans to the area by placing benches

near the wetland, adding educational

signage, creating visible, but natural,

walking trails, and constructing a new

staircase for easier access to the area.

The commission asked the project's

team leads whether these steps would be

accessible for those with physical limitations.

They said they would not be as the

amount of grading that would have to be

done was too excessive for the wooded area.

Another feature in the second phase was

the prioritization of pedestrian safety in

the area. The project team said they have

seen evidence of cars, trucks, motorbikes

and ATVs accessing the lower terrain,

which is strictly prohibited.

Eckels herself was almost run over by a

vehicle when preparing to take a stroll

down to the natural walking path.

To keep vehicular traffic out of the

pedestrian-only area, there will be additional

mounding features made to the

upper, middle and lower terrace, fencing

around the path entrance and removable

bollards. All measures will be done in such

a way as to not restrict access for safety

vehicles or park maintenance equipment.

The first and second phase of the project

cost approximately $23,000 and $92,000,

respectively. Garling said the city department

is still finalizing the budget for the

third phase which would see the construction

of the pollinator garden, the natural

walking trails, the benches at the vernal

pool, and the staircase. Additional invasive

species and felled trees would also be

removed during this phase.

The anticipated completion for the

Glenwood Park Natural Area restoration

and revitalization project is late 2023.

Property Tax Assistance Program

The Franklin County Auditor's office is

now accepting applications for the Property

Tax Assistance Program (PTAP) from lowincome

older homeowners who need help

paying their 2022 first-half property taxes,

said Auditor Michael Stinziano.

The PTAP provides emergency one-time

property tax assistance to low-income

homeowners age 60 or older and is a nonprofit

entity. New this year, the PTAP

application can be submitted online.

PTAP applications are reviewed by a

board that includes the Franklin County

auditor's office, Franklin County treasurer's

office, Franklin County Office on

Aging, Central Ohio Area Agency on Aging,

and several other partner organizations.

"PTAP can help older residents on fixed

incomes keep their homes despite rising

home values," Stinziano said. "I encourage

anyone who needs assistance and qualifies

to apply to the program."

Applications are due by Nov. 18.

Information about the program and an

application can be found on the auditor's

office website, franklincountyauditor.com.

The PTAP was founded in 1987 and has

supported hundreds of qualifying homeowners

in Franklin County.
---
www.columbusmessenger.com October 30, 2022 - WESTSIDE MESSENGER - PAGE 5

Columbus bond package

would support local parks

Columbus Mayor Andrew Ginther

joined city and community leaders recently

to outline how the proposed $1.5 billion

bond package on the ballot would support

the Columbus Recreation and Parks

Department. Specifically, Issue 15 would

allocate $200 million for planned capital

investments in parks, playgrounds and

facilities without raising or imposing new

taxes.

"Our parks and community centers are

central to who we are and who we aspire to

be," said Ginther. "It is essential that we

continue to grow and strengthen our

incredible parks system so that everyone

can enjoy the broad range of benefits they

provide, and so we can realize our full

potential as a vibrant, dynamic and diverse

community."

If approved by Columbus voters, funding

would be allocated as follows:

•$100 million: Planned renovations and

replacements

•$48 million: New greenway and park

development

•$14 million: Acquisition for future

parkland

•$14 million: Small program projects for

rental, golf and sports facilities

•$10 million: Large program projects for

rental, golf and sports facilities

•$8 million: Emergency replacements

•$6 million: Unanticipated, time-sensitive

high-priority projects

"Columbus parks represent our values:

open to everyone, free, and owned by the

community," said council president

Shannon Hardin. "If it is not for all, then

it's not for us. We know that parks are for

all of us."

Voted bonds allow the city to borrow

money to pay for capital improvements at a

lower interest rate, saving residents millions

and allowing the city to invest more

in neighborhoods. Recent examples of projects

paid for by bond funding include the

renovation of the Scioto Southland

Community Center, construction of the

Linden Community Center, the expansion

of North Bank Pavilion, the renovated

Goodale Shelterhouse, the John Burroughs

Park renovation, Olentangy Trail expansions

and improvements, the lower field

and skatepark at Tuttle Park and the

Wyandot Lodge Construction at McKnight

Outdoor Education Center.

"We see time and again the tangible

impact of these improvements on our residents,"

said Columbus Recreation and

Parks Department Director Bernita Reese.

"By making the investments we need to

continue our progress and plan for future,

we will build a parks system that strengthens

our city's quality of life and lays the

groundwork for greater opportunity and

excellence."

The bond package — Issues 14-18 — will

be voted on by Columbus residents in the

general election on Nov. 8. Early voting is

currently underway at the Franklin

County Board of Elections at 1700 Morse

Road.

For more information, visit

vote.franklincountyohio.gov.

SENIORS — HELP IS HERE!

Your Doorstep to Your Doctor!

We provide:

• Transportation • Personal Coordinated Team Care

• Concierge Service • Convenience of all services under one roof

• Superior Healthcare • We serve to 55+ Medicare-eligible Community

Call for more information:

Trae White, COS - Community Outreach Specialist

614-551-5367

trae.white@dedicated.care

Let's change the world together!

NORTH

2260 Morse Rd

Partnership with

3 LOCATIONS:

WESTSIDE

50 N. Wilson Rd.

WHITEHALL

5156 E. Main St.

Messenger photo by Dedra Cordle

Falling into a fest of fun

Grove City resident Isabella Yake (left) and westside resident Nadia Ackerman bury

themselves in a bed full of straw at the Shekinah Christian School's Fall Celebration

on Oct. 15. The 5 and 6-year-old friends were in attendance at the Plain City event

because their parents wanted to give them something fun and different to do in the

surrounding area.
---
PAGE 6 - WESTSIDE MESSENGER - October 30, 2022

Get the word out

FAST

Advertise your Craft Show

or Bazaar in the classifieds.

It's easy to do.

Just call or email Kathy at

614-272-5422

kathy@columbusmessenger.com

for all of the details

"BEST NEW YEARS PARTY IN TOWN"

18 th Annual

Mike Albert

and

The Big E. Band

Per Couple Prices

Overnight Package - $319

Party Only Packages - $250

Single Packages Available

Prices include

Dinner, Drinks, Room, Party favors,

Full Breakfast

Crowne Plaza • 6500 Doubletree Ave. (formerly Marriott North)

The Ohio Department of Development announced

that up to $182 million will be available to support

small businesses in Ohio.

"There is no better place to live, work, and raise a

family than in Ohio, and our small businesses are a

major reason why," said Governor Mike DeWine. "My

administration is dedicated to supporting the small

businesses that are so integral

to our state, especially those

that need extra support to get

off the ground and become a

success."

The funds are being awarded

to Ohio as part of the federal

State Small Business Credit

Initiative (SSBCI). Ohio will

initially receive approximately

$52.4 million to support socially

and economically disadvantaged

individuals, very small

businesses, and early-stage,

technology-based companies.

The remaining funds will be

made available through multiple

allocations as the state

meets expected performance

targets.

The Department of

Development will administer

the SSBCI program in Ohio

through the Minority Business

Development Division and the

www.columbusmessenger.com

Government Focus

Zoning code updates discussed at WAC

By Hannah Poling

Staff Writer

Zoning was the topic of discussion at the October

Westland Area Commission meeting.

Kevin Wheeler, assistant director for growth policy

with the city of Columbus, attended the meeting to discuss

the future of zoning. He said the Columbus zoning

code has not been updated since the 1950s and city officials

are looking at an overhaul of the zoning code.

"Zoning can be a barrier to seeing what the community

wants and investing in our community. Or it can

set the standards," Wheeler said.

Wheeler said that the city has updated the code in

bits and pieces over the years but they have never

taken a look at the code to make sure that it makes

sense with the ever-changing evolving and growing

city.

"If the city is going to continue growing, then we

need to figure out how to manage that," Wheeler said.

According to Wheeler, the city code does not provide

for future housing needs and it does not support transit.

In addition, the code is not user-friendly and there

is an overreliance on site-to-site negotiation.

"No zoning code is really user friendly but ours is

very unfriendly. In the end, you have to be almost an

expert to understand. That leaves neighborhoods and

communities behind in the conversation," he said.

The city is planning to work on addressing the code

in phases - starting with a mixed-use corridor.

According to Wheeler, the city is going to do its first

round of work looking at these mixed-use transits to

see how they can update the zoning code and map to

allow for more development while being consistent

with what the community is trying to achieve. He

hopes to start formulating a plan throughout 2023 as

they shape what this will look like. They are hoping to

have something to present to city council by 2024.

Wheeler plans to come back before the commission

to keep the community updated on the progress.

State initiative to help small businesses

After school snacks

at local libraries

Columbus Metropolitan Library has

once again partnered with Children's

Hunger Alliance to provide after-school

snacks for children ages 1-18 at several of

its locations including:

• Franklinton Branch: Monday -

Saturday: 3:30 to 4:30 p.m.

Ohio Third Frontier, splitting the funding among four

programs that are expected to be available by the end

of 2022:

• The Community Development Financial

Institutions (CDFI) Loan Participation Program will

provide loans to socially and economically disadvantaged

individuals, very small businesses, and businesses

located in CDFI tracts.

• The Ohio Collateral Enhancement Program will

provide collateral on small business loans made by

financial institutions to allow small businesses to

access loans that otherwise would have been denied.

• The Ohio Venture Fund will provide capital to

investment funds to invest in early-stage, tech-based

companies.

• The Early-Stage Focus Fund will complement the

existing Ohio Third Frontier Pre-Seed Fund to support

funds that target investments to early-stage, techbased

companies in underserved communities and

populations.

"Small businesses are the backbone of the Ohio

economy, and this money will help ensure they are

positioned to grow and create good jobs across Ohio,"

Development Director Lydia Mihalik said. "Our staff is

working hard to stand up these programs so the funding

can flow to businesses as soon as possible."

The American Rescue Plan reauthorized and

expanded SSBCI, which was originally established in

2010 to increase access to capital for traditionally

underserved small businesses and entrepreneurs.

Additional details about the programs are available

at Development.Ohio.gov.

around the westside

• Hilltop Branch: Monday - Friday:

3:15-3:45 p.m. and Saturday: 2:15 - 2:45

p.m.

These locations were selected for the

meal program based on student need. A

typical super-snack provided by Children's

Hunger Alliance consists of a fruit, vegetable,

protein, grain and milk.

For more information, visit cholecystenterorrhaphy.org.
---
www.columbusmessenger.com

In Entertainment

Romantic comedy uses

star power to shine

A vital piece that has been missing in

the romantic comedies of late — besides a

truly original plot, that is — is the lack of

genuine movie stars featured within. To be

fair and kind to the up-and-coming actors

and the well-known faces who are cast in

their stead, they mostly do an admirable

job of trying to sell these products of pure

fluff to the masses, but it is the presence of

the movie star that can make even the

most standard rom-com on the lot truly pop

off the screen.

"Ticket to Paradise", a romantic comedy

that was released solely into the theaters

on Oct. 21, understands the power that

they can hold and uses it to their advantage.

Truthfully, it doesn't have a great

script, but it doesn't have to have one

because George Clooney and Julia Roberts

are speaking its words. And it's not even

that romantic, but it doesn't have to be

because Clooney is smiling his crinkly

smile and Roberts is giving her clarion call

laugh. Heck, it's not even particularly good,

but it doesn't really have to be because

these sparkling and beautiful people are

throwing their sparkle and beauty around

in a movie whose locale is as equally

sparkling and beautiful.

This is a film that knows it is not a great

piece of cinematic art, but it effortlessly

wields the power of the movie star and

somehow manages to be something that is

light and fun and mostly charming. With

the shininess of the stars and the magnificent

of its beachscapes, it lulls you into

looking past its general ho-hum-ness and

asks that you bask in a world that you

could never dream of living — or afford to,

for most of us.

In "Ticket to Paradise," Clooney plays

David Cotton, a bachelor architect living in

Chicago who, after nearly 20 years of being

divorced, still gripes about his first and

only wife to any co-worker who is willing to

lend an ear — or just be within his general

vicinity. For her part, Roberts plays

Georgia Cotton, a gallerist semi-living with

her pilot boyfriend who, after nearly 20

years of being divorced, still gripes about

her first and only husband to any co-worker

who is willing to lend an ear — or just be

within her general vicinity.

Although they are bitter exes to the

core, they have managed to raise a nearly

perfect daughter Lily (Kaitlyn Dever) who

has just graduated from law school and is

on her way to a prestigious job at the top

law-firm in Illinois. To celebrate her

accomplishments, David and Georgia have

paid to send her and her best friend Wren

(Billie Lourd) on an all-expense paid vacation

to Bali for two months before they

have to get used to the soul-sucking grind

of adulthood.

Feeling as if they did a good deed by

The Reel Deal

Dedra Cordle

working together on this project, the (when

put together) demonic duo agree to never

see or speak to the other again — and they

do just that until Lily shoots off an email

saying she met a wonderful local man

named Gede (Maxime Bouttier) and they

plan to marry within a weeks' time.

Not wanting their daughter to make the

same mistake as they did — David and

Georgia married right out of college and

she put her career plans on hold to support

her family — they strike a rare truce and

agree to work together to sabotage their

impending nuptials from the inside. While

the film does not fully acknowledge how

truly awful their mission is and how off the

deep-end they are, the genuine movie stars

play their parts so well that they manage

to infuse their characters with some

pathetic charm so you do not outright hate

them for their occasional bouts of

wretchedness.

This romantic comedy likes to split its

time between the two couples, one fresh in

the bloom of love and the other, well, decidedly

not — or so it seems. Over the course of

trying to crush their daughter's heart and

spirit, the latter pair can't help but get

swept up in the magic of the island and the

unresolved issues that have frayed their

once loving friendship and romance.

Although both of the couples could use a bit

more of a romantic chemistry, it's hard to

deny that the adults are the most interesting

pairing to watch, much of it due to the

fact that they were given the most material

to work with and had the characters who

were the most developed. It also doesn't

hurt that they are played by movie stars

who know how to chew the fat from any

scene.

"Ticket to Paradise" is a movie where

you can see how much fun the actors had

filming it, and for the most part, that

translates out of the screen and with the

audience. But with its over-reliance on the

star power of Clooney and Roberts, some

aspects of the film suffer from a lack of

attention paid to other important elements.

Overall, this film isn't a bad one but if

you are able to withstand the presence of

Clooney and Roberts together again, you'll

probably notice the cracks in the foundation

a bit more. But if you just want to turn

off your brain and watch beautiful people

do ugly things and then put in some work

to beautify themselves again in a majestic

location, then this might be something you

want to check out when you get a chance.

Grade: B-

Dedra Cordle is a Messenger staff writer

and columnist.

Pet Corner

Pets of the week

Artemisia is a sweet

1-year-old gal. She is

a fun-loving girl looking

for her furever

home. She likes toys,

pets, and definitely

treats. Artemisia will

keep you entertained.

She is up for

adoption through Colony Cats and Dogs.

FYI: colonycats.org

Charlie is a 3-monthold

who was rescued

from a high kill shelter

in West Virginia. He is

a sweet snuggle bug

and a good listener.

He is crate trained

and almost house

trained. Charlie loves

to play with other

dogs and is respectful

of cats. He is current

on vaccines,

neutered, and ready to find his forever home.

Adopt him from Colony Cats and Dogs.

FYI: colonycats.org

October 30, 2022 - WESTSIDE MESSENGER - PAGE 7

These furry friends are available

for adoption at local

rescues and shelters

Reed is an 8-year-old

terrier mix who is a bit

of a wallflower. Reed

is a shy yet charming

dog who is searching

for a patient human

with a relaxed

lifestyle. He could use

some gentle guidance

to help him

come out of his shell. Reed is up for adoption

at the Franklin County shelter.

FYI: franklincountydogs.com

Polar is a real go-getter.

This 3-year-old

mixed breed is action

oriented. He would

love a home with

someone who wants

to get outside and get

moving. Polar would

make a great walking

or jogging partner. He

has a ton of energy

and loves to play ball.

If you think you can keep up with, contact the

county shelter about meeting Polar.

FYI: franklincountydogs.com
---
PAGE 8 - WESTSIDE MESSENGER - October 30, 2022

www.columbusmessenger.com

Police levy in Franklin Township

VOTE

DAVE

DOBOS

For

State Representative

Franklin Township will ask voters to

approve a police levy on the Nov. 8 ballot.

According to the Franklin County Board of

Elections, the tax will be an additional 7.4

mills, which amounts to $0.74 for each one

hundred dollars of valuation, for a continuing

period of time. This will be the fourth

time in two years that the township has

asked voters to approve a police levy. The

polls for the election will be open from 6:30

a.m. to 7:30 p.m. on Nov. 8. Early voting is

already taking place.

Levy estimator now available

With early voting beginning, Franklin

County Auditor Michael Stinziano is

reminding homeowners that the updated

Levy Estimator is now available to help

them understand how a proposed levy

would affect their property taxes.

Levies and bond issues are on the ballot

in several jurisdictions across the county,

including in Columbus and Franklin

Township, both of which could affect the

services residents receive and their property

taxes.

"Voters in Franklin County may have

one or more levies on their ballot which

may change how much they pay in property

taxes, and I encourage every qualified

voter to know the value of their vote before

heading into the voting booth," Stinziano

said.

To use the Levy Estimator, visit audrapps.franklincountyohio.gov/LevyEstimato

r. After selecting your home's location or

entering a parcel number, the estimator

will show both your current and estimated

taxes if a levy or bond issue in your jurisdiction

passes in the November general

election.

Early and absentee voting began on Oct.

12 and will run through Nov. 7.

For more information about voting and

early voting hours, visit vote.franklincountyohio.gov.

"I offer my common-sense values and solutions as your

candidate for the State Legislature. As your

Representative, I'll fight for our families so they can build a

better future for themselves. I will lead the way with

economic, educational, and workforce development

initiatives, and I'll work to keep our communities safe. I will

engage with both Republicans and Democrats to advance

the common good. I humbly ask for your vote."

"Dave's abilities will help us move

Ohio forward"

—Ohio Governor Mike Dewine

"Dave's work on the Columbus School Board and in our

community well suits him for our legislature."

—Ron O'Brien

former Franklin County Prosecutor

We need Dave Dobos FIGHTING FOR US.

DaveforUs.com

PAID FOR BY THE OHIO HOUSE REPUBLICAN ALLIANCE

PAID ADVERTISING

Adam Miller for State Representative

Friends,

It has been my great honor and privilege to

represent you these past 6 years in the Ohio

House of Representatives. The Miller family has

called the West Side-Hilltop neighborhood our

home for over 110 years. Redistricting expanded

my District's borders, keeping the Hilltop, adding

Prairie Twp., Galloway, and parts of Hilliard, but

my passion for the Westside and for representing

each of you has not changed.

Legislation I've sponsored which has been

signed into law include ensures good government

and protects public assets (HB 190), authorized

$120 Million and created 600 jobs in State support

for a new Hilltop Area Mental Health

Hospital (State Budget); and provides 7-figure

funding for public after school extra-curricular

programs, priorizes DEI protections for Ohio

businesses, and increases funding for Ohio

Veteran's organizations (HB29). As the only

member of the House Finance & Appropriations

Committee from the Westside, my approach will

PAID ADVERTISING

Dobos a Candidate for the Ohio House

Dave Dobos, longtime west Columbus resident,

is a candidate for the Ohio House of

Representatives 10th District. He obtained the

Republican endorsement for the seat when threeterm

incumbent Laura Lanese opted not to run for

reelection in June. He will face off against his

Democratic opponent Russ Harris in the Nov. 8th

general election. The new 10th District encompasses

west and southwest Columbus (south of

Sullivant Avenue), Grove City, and parts of the

south side of Columbus.

If elected, he intends to focus on economic

development issues, education, workforce development,

and public safety and crime prevention.

With Intel building its massive new $20 billion

chip manufacturing facility in central Ohio, he

will work with the local business community to

encourage related enterprises that expand or

emerge here to locate on or near the west, southwest

or south portions of Columbus and Franklin

Spencer 4Higher Media LLC, in partnership

with The Ohio Sickle Cell and Health

Association, announced the Franklin County

Office on Aging will present the third annual

Caring for the Caregiver Expo on Nov. 5 in

Columbus at The Boat House at Confluence Park

at 9 a.m. The Caring for the Caregiver Expo is a

free one-of-kind event that allows caregivers, first

responders, essential workers, parents, grandparents

and guardians a chance to enjoy pampering

services like massages, reflexology, mini-manicures

and facials. Attendees can participate in

health and fitness activities, including yoga, aerobics

and line dancing. Lunch and Learn sessions

with guest speakers and community resources and

continue to leverage state support for improved

transportation infrastructure, meaningful job creation,

affordable housing, and addiction recovery

support housing, enhancing neighborhood safety/removing

urban blight, and protecting the environment.

Health care must be more affordable

and easier to access – particularly for seniors and

shut-ins. In the wake of court decisions fundamentally

changing women's reproductive rights,

know that I will always protect a woman's right to

make her own medical decisions and bodily

integrity. Similarly, I will continue to advocate for

more mental health, wellness, and suicide prevention

dollars pushed to the local level.

Please continue to reach out for assistance on

any state, local or federal governmental matter

where you need help or on any policy issue that

matters to you. Your e-mails and letters are persuasive.

Thank you for your support!

Adam C. Miller

Ohio State Representative

County.

"We have a window of opportunity for Ohio to

become the high-tech manufacturing center for

the U.S.," says Dobos. "I want to help us grow the

economic pie and assure that all of us can share in

the benefits."

Long active in his community, Dobos has

assumed leadership roles at various times in several

west Columbus organizations, including the

Greater Hilltop Area Commission, Hilltop

Business Association, Hilltop Historical Society,

& West HS Alumni Association.

Dobos has developed a reputation for independent

thinking, an analytical, data-driven

approach to solving problems, and a collaborative

style when working with others to achieve group

objectives.

He has two adult special needs sons, both currently

living in group homes.

PAID ADVERTISING

Caring for the Caregiver Expo

information from health care organizations, businesses,

and government agencies will be available.

The Franklin County Office on Aging provides

centralized access toprograms and individualized

services for older adults, dependent adults,

and their families so they can preserve their independence

and stay in their own home. Franklin

County residents aged 60 and older can access

programs and services through the agency, as well

as support services for caregivers and kinship

families, including adult day services, durable

medical equipment, caregiver counseling and

more. Call (614) 348-2667 or visit caringforthecaregiverexpo.com

for information.
---
www.columbusmessenger.com

WESTSIDE MESSENGER - October 30, 2022 PAGE 9
---
Making better use of old pumpkins

PAGE 10 - WESTSIDE MESSENGER - October 30, 2022

Picking pumpkins and gourds to decorate your yard

and doorstep is part of many families fall traditions.

While it's easy to toss old pumpkins and gourds into

the trash, doing so creates unnecessary food waste and

wastes natural resources.

There's a better way to use those pumpkins. Below,

the Solid Waste Authority of Central Ohio (SWACO) is

sharing simple ways you can safely dispose of your old

pumpkins and gourds while doing your part to care for

the environment.

• Eat Your Pumpkins: When it comes to preventing

food waste, SWACO's Save More Than Food campaign

wants you to know that eating food is best. You probably

can attest to how tasty roasted pumpkin seeds can

be, but did you know that uncarved, fresh pumpkins

can be used to make pies, breads, soups and more.

• Feed Local Wildlife in the Winter: Birds love to

nosh on little pumpkin snacks. Once you scrape out the

flesh and seeds and remove any paint or remnant wax

(in the case of a jack-o-lantern candle), cut the pumpkin

into small pieces that could fit into a bird feeder or

dish. Toss out any pieces that are starting to grow

mold, as those are unsafe to consume. Be aware that

other critters may want a pumpkin snack, so if you live

in a more urban community and want to avoid inviting

more squirrels, raccoons, deer or other pests in your

yard, this option may not be ideal for you.

• Donate to Local Farms: Feeding farm animals can

be expensive, so donating pumpkins and gourds to

local farms is a simple way to support local farmers.

Plus, common farm animals like cows and chickens

love to snack on them. Call your local community

farms to see who may be accepting pumpkins or consider

posting in local Facebook or NextDoor groups to

connect with others who are collecting these items for

local farms.

• Compost at Home: Before you toss your pumpkins

in your backyard to decompose, be sure to clean them

thoroughly, removing any seeds or any other non-compostable

materials (e.g., decorations, accessories, stickers,

etc.). Also, scrape the skin off any pumpkin that

has paint or marker. Cut the pumpkins into pieces so

it's easier for them to break down in your compost pile.

Don't worry if it doesn't happen overnight — it takes

about 8 to 12 weeks for pumpkin pieces to break down

completely.

Drop Off Pumpkins at Local Collection Sites: Make

a difference this fall when you drop off your harvest

vegetables at one of these participating pumpkin and

gourd collection locations:

•City of Columbus: Nov. 1 — 30 (Monday — Friday)

at the Division of Refuse Collection, 2100 Alum Creek

Drive, between 8 a.m. and 3 p.m.

•Dublin: Oct. 17 — Dec. 9 at the Dublin Service

Center, 6555 Shier Rings Road

•Grandview: Oct. 29 - Nov. 11 at 1525 Goodale

Boulevard (next to the food waste drop-off)

•Grove City: Oct. 31 — Nov. 27 at Fryer Park, 3899

Orders Road

•Hilliard: Oct. 28 — Dec. 2 at 3770 Municipal Way

(next to the food waste drop off)

•New Albany: Nov. 1 — Dec. 2 at New Albany

Public Service, 7800 Bevelhymer Road

Intact and decaying pumpkins, carved jack-o'-

lanterns and gourds are all accepted. Please remove

candles and avoid dropping off pumpkins that have

been painted or drawn on with permanent markers.

www.columbusmessenger.com

Hilltop History & Heritage

The Green Gables restaurant was located at the southwest

corner of West Mound Street and Harrisburg Pike. It was

both a unique drive-in and dine-in restaurant for Hilltoppers

in the 1950s, 1960s, and 1970s. This photo is from a 1958

remodel of the restaurant. Servers came to you and took

your order while you relaxed in your car. They were known

to have the best strawberry cream pie, chicken in a basket,

and cheeseburgers. The restaurant was founded by Milt

Lustnauer (West HS 1935). He later started the Burger Boy

Food-O-Rama restaurant chain (ultimately renamed Borden

Burger) whose first unit appeared on the opposite corner at

Mound and Central Avenue. A McDonald's now sits on the

former Green Gables location.

If you have a photo to share, contact Stacy Berndsen-

Campbell at stacyberndsen12@gmail.com.

Messenger

Westside

Hilltop Library - 511 S. Hague Ave.

United Dairy Farmers - Hague & Sullivant Ave.

Alex Carry-Out - Binns & Sullivant Ave.

Dollar General - Kingsford & Sullivant

Dollar General - Georgesville & Atlanta

M & S Carry-Out - Georgesville & Atlanta

United Dairy Farmers - Georgesville & Parwick by Freeway

Thorton's Gas Station - Georgesville & Norton Rd.

Shell Gas Station - Georgesville & Norton Rd.

Kroger - Georgesville Square

Turkey Hill - Georgesville & Clime Rd.

United Dairy Farmers - Clime & Demorest Rd.

Walgreens - Clime & Demorest Rd.

Certified Gas Station - Briggs & Demorest Rd.

Starting November 28, 2021

Pick-Up At These Locations:

Kroger - Eakin Rd. & Harrisburg Pike

Speedway Gas Station - Eakin Rd. & Harrisburg Pike

Heartland Bank - Great Western Shopping Center

Walgreens - Harrusburg & Hopkins

Certified Gas Station - Broad St. & Orel

Walgreens - Hague Ave. & Broad St.

Marathon Gas Station - Georgesville & Industrial Rd.

La Plaza Tapatta - Georgesville & Hollywood Rd.

BP Gas Station - Georgesville Rd. & Broad St.

Westland Library - Lincoln Village Plaza

Giant Eagle - Lincoln Village Plaza

Thorton's Gas Station - 4990 W. Broad St.

Walgreens - Broad St. & Galloway Rd.

Kroger - Broad St. & Galloway Rd.

READ US ONLINE: www.columbusmessenger.com

CVS Pharmacy - Norton & Hall Rd.

United Dairy Farmers - Norton & Hall Rd.

Circle K Gas Station - Norton & Hall Rd.

Dollar General - Norton & Hall Rd.

Marathon Gas Station - Broad St. & Murray Hill Rd.

Speedway Gas Station - Broad St. & Murray Hill Rd.

Dollar Tree - Broad St. & Murray Hill Rd.

Speedway Gas Station - Broad St. 7 Freeway

Sheetz Gas Station - Westland Mall

Speedway Gas Station - Broad St. & Wilson Rd.

Kroger - Consumer Square Shopping Center

Franklin Township Business Office - 2193 Frank Rd.
---
www.columbusmessenger.com

WESTSIDE MESSENGER - October 30, 2022 PAGE 11

A love

of space

By Dedra Cordle

Staff Writer

On Sept. 3, Thomas Howard Smith sat

at his desk in his London home, perched on

the chair, staring intently at a large computer

monitor. A television screen in an

adjoining room could have offered him a

more expansive view, but his satellite signal

was not working well that day—a fact

that he found to be humorous and somewhat

ironic considering the technological

advances that were to occur before his

eyes.

Locked into a live stream via the

National Aeronautics and Space

Administration (NASA) web page, Smith

soaked in the sight of a 322-foot tall rocket

called the Space Launch System (SLS) that

was minutes away from blasting off into

the atmosphere. Ever since childhood, he

has had a passion for airplanes and spacecraft

(real and fictional), but looking at this

marvel of design, engineering, and operation

hit him a little differently.

"It was just parts being assembled when

I started working on the SLS and the

Artemis program with our [NASA] team,

and seeing it completed and ready to

launch was a real treat for me," he said.

Unlike most people who were watching

the feed through the web stream or live on

a cable news, Sith was familiar with the

verbiage from the mission control booth

and knew something was amiss during the

systems test prior to the scheduled launch.

Sure enough, the initial mission that

would take the uncrewed spacecraft Orion

into a month-long distant retrograde orbit

around the moon was postponed when a

liquid hydrogen leak was detected.

Retired from NASA for the past three

years and living more than a thousand

miles from the Kennedy Space Center in

Cape Canaveral, Fla., Smith said he was

ready to pack a bag, get in his car and

drive down I-71 to help the operations crew

find and fix the problem so they could get

the rocket and spacecraft into the sky for

exploration of the lunar surface.

"Lisa [his wife] told me to sit back

down," he said with a laugh. "I have the

utmost confidence that they can find and

fix the problem, but I just wanted to go

there and help."

Smith said he wasn't too disappointed

that the SLS did not launch initially

because "reality is, nothing new goes on

the first try." Even so, he could not quell

the buzzing sensations that were coursing

through his body from the experience.

Messenger photo by Dedra Cordle

Thomas Howard Smith's budding love for science and space

exploration was cemented when, at age 7, he watched the

Apollo 11 moon landing on the television set in his home in

London. He would later spend more than three decades working

for the National Aeronautics and Space Administration (NASA)

on the operations team for shuttle missions, the International

Space Station, and the Artemis program. Although the powerful

rocket, the Space Launch System, has yet to have a clear window

to blast off into space, the Artemis program will allow for

further exploration of the lunar surface with uncrewed and

crewed missions. The program's ultimate goal is to put humans

on Mars.

"I am so excited about this program and the implications it

could have on our future, finding life outside of our planet and the

possibilities of new scientific breakthroughs and discovery," he

said. "And to know that I played a part—a very small part, mind

you, but a part nonetheless—in this new phase of space exploration

that could inspire a new generation of scientific minds and the science-curious

is still hard to wrap my head around."

Smith recalls liking science and "space stuff" as a young boy.

His dream to work at the space agency started to take root at the

age of 7 when, on July 20, 1969, he watched Apollo 11 Commander

Neil Armstrong and lunar module pilot Buzz Aldrin land and walk

on the moon from the television set in his home in London.

He said prior to that event, he really had no knowledge of

NASA and what it would come to mean to him and so many others.

"Watching the landings on the moon was just very exciting to

me, just from the point of view of people exploring a place no one

had been before," he said. "Added to that, I was then what would

be called a 'tech-nerd' now."

After the historic event took place, Smith went on something

akin to a personal mission as he attempted to get his hands on any

book or magazine or piece of literature on space and science fic-

See LOVE OF SPACE page 12
---
PAGE 12 - WESTSIDE MESSENGER - October 30, 2022

LOVE OF SPACE

Continued from page 11

tion. He started to build his own miniature

rockets that he and his friends would try to

launch. His father, George, who would

later retire as the deputy warden of London

Correctional Institution, and his mother,

Shirley, who was a local sixth-grade

teacher, encouraged their son's interest but

they were not always amused by his antics.

"They were supportive of my interest,

but they didn't always appreciate the racket

we would make with our rocket launches,"

he quipped.

After graduating from London High

School in 1980, Smith attended Michigan

State University where he joined their Air

Force Reserve Officer Training Corps. Four

years later, equipped with a bachelor of science

in physics and astronomy, the second

lieutenant requested a transfer to the

Vandenberg Air Force Base in Santa

Barbara County, Calif., which was collaborating

with NASA on Space Shuttle missions.

"For the first half of my Air Force

career, I was working on planning and

hardware processing for the first shuttle

mission that was to have been launched

from Vandenberg, and I did some training

at the (Kennedy Space Center) in Florida,"

he said.

When the shuttle launch facilities at

Vandenberg closed shortly after the 1986

Challenger disaster, Smith transferred to a

program at the base in charge of Titan, a

heavy lift rocket that carried large intelligence

and reconnaissance satellites into

orbit. There, he provided engineering and

analysis assistance to get the program back

on its feet after it experienced an uncrewed

accident in a manner similar to the crewed

Challenger mission.

In 1988, a friend told Smith that NASA

was hiring for its operations staff and he

decided to apply. Having given up the

dream of being an astronaut at 10 due to

poor eyesight—"I knew it would disqualify

me for being any kind of military pilot,

which was the primary background for

most astronauts at that point"—he knew he

could process the data and set schedules

and help find a solution to any mechanical

issue that could arise. Still, he didn't think

he would be selected.

Then he was.

"I think I sat there [after the initial

interview when he was told he was unofficially,

but mostly officially, hired] for about

an hour just absorbing what had happened,"

he stated.

From 1988 to 1997, Smith worked operations

for the Space Shuttle processing, a

job he described as scheduling backwards

from a planned launch date to make sure

the right parts are getting ordered and the

right people are being called to fix problems

that occur to ensure the safety of the

missions, especially the manned crews.

He said one of the most difficult things

he had to do while working at NASA was to

find the mechanical parts of the manned

Columbia Space Shuttle that experienced a

catastrophic failure as it reentered the

atmosphere in 2003.

In 1997, Smith went to work in

International Space Station (ISS) processing,

which he said was interesting, albeit

frustrating, because the largest modular

space station was being constructed in

"chunks."

"Each chunk that went up—and we're

talking like 40 chunks—changed the configuration

of the station, and all of the configurations

had to work," he explained. "So, it

was like if you bought a car and you had

two tires and part of an engine and maybe

a seat, you had to find a way to make it

operate. And then later, you would bring

up maybe a couple more times, a bigger gas

tank and another seat, and you would have

to find a way to reconfigure the parts in

order to make it work because people are

[now] living on this station and they need

power, and electrical power, and their life

support units have to work."

Smith said those stressors were compounded

when the teams at their partner

agencies in Canada, Europe, Japan, and

Russia would have a different way of finding

solutions to problems.

"I loved working with the Italians, but

they had a very different way of doing

things, you might say," he laughed. "If you

were working on a [launch] problem in

August and tried to get ahold of one of their

operations team members, you wouldn't be

able to get ahold of them because August is

their vacation month.

"It was sometimes stressful, but always

interesting working with all of these different

agencies and all of these different personalities."

During his time in ISS processing,

Smith got involved with planning for Mars

missions and later came to work on operations

planning for the Ares I program

which later became the Artemis program.

Although the initial mission of the Artemis

program is to create a long-term human

presence on the lunar surface for further

exploration of the moon, its ultimate goal is

to send humans to Mars via a series of

experiments to determine how astronauts

could get to the Red Planet and live on it

for a duration of time.

"The moon will essentially be a testing

ground [for Mars expeditions]," Smith

explained. "The equipment wouldn't necessarily

be the same, but a lot of the concepts

of how the equipment is used—like the

space suits, the science equipment, the

vehicles that the astronauts roll around in

and go to different places—you can test that

stuff out on the moon where they're close to

Earth. If something goes wrong, you can

bail out and come to Earth within a few

days, but once they get to Mars, they're not

going to have that option.

"It takes months to get there, and you

can only return to Earth during a specific

window in our rotation."

Smith reiterated his excitement about

the potential of the Artemis program and

its implications for science, space exploration,

life on Earth, and life within the

universe.

"Carl Sagan, who is one of the people I

think had a pretty big clue about what was

going on, outside of his own personal life,

said, 'We are a way for the cosmos to know

itself', and I take that to heart," Smith said.

"If we are the only intelligent species

around, that means we have a responsibility

to try to keep understanding the universe.

We have a responsibility to try not to

let ourselves get wiped out in some way,

and we have a responsibility to keep trying

to understand the universe.

"And if there are other kinds of life, not

civilizations, but just life like amoebas or

bacteria, we have to try to understand how

it works, how they work, and add that to

our library of what life looks like on another

planet, in another place, and compare it

www.columbusmessenger.com

to our extensive library of what life looks

like here on Earth."

Smith said it will be a great day for science,

a great day for space exploration,

when the Artemis I program officially

launches. The launch is now scheduled for

mid-November. He added that he hopes it

will inspire a new generation of explorers

who go out and discover, and build their

own backyard rockets, and dream.

Thomas Howard Smith holds master of

science degrees in engineering management

and space science. He teaches an introductory

astronomy course at Columbus State

Community College.

CLASSIFIED ADS

Deadlines: Grove City, Groveport & All editions - Mondays at Noon.

West, Canal Winchester, South & Madison editions -Tuesdays at 5 p.m.

CEMETERY LOTS

2 Lots-Sunset Cemetery,

1 has opening/closing

$5000-both. text 614-271-9848

INFORMATION

FALL INTO A

NEW HAIRSTYLE!

Come See Me At

My New Location!

Call Marilyn Weaver

For An Appt.

For a New Haircut/Color

614-348-6670

Relax Wellness

3663 Broadway,

Grove City

ASSOCIATION ADS

DIAGNOSED WITH

LUNG CANCER? You

may quliafy for a

substantial cash award -

even with smoking history.

NO obligation! We've

recovered millions. Let us

help!! Call 24/7, 1-888-

650-9135

Directv Stream - Carries

the Most Local MLB

Games! CHOICE

Package, $89.99/mo for

12 months. Stream on 20

devices in your home at

once. HBOMax included

for 3 mos (w/CHOICE

Package or higher.) No

annual contract, no hidden

fees! Some restrictions

apply. Call IVS 1-866-629-

6086

Aloe Care Health medical

alert system. Most

advanced medical alert

product on the market.

Voice-activated! No wi-fi

needed! Special offer

w/code CARE20 for $20

off Mobile Companion. 1-

855-341-5862

xCome & Get It!

COME AND GET IT!

Need to Get Rid of Something Fast - Advertise It Here For FREE!

Deadlines are Mondays by Noon

Call For Publication Schedule 614-272-5422

FREE Garden Straw for gardens or bedding. Call for appointment for pickup.

Circle S Farms, 9015 London-Groveport Road, Grove City, 43123

Grove City - 614-878-7980

FREE - Metal from old camper frame, Need a truck to pickup..

CC - Obetz - 614-632-1013

FREE - Children's Wooden Play Set - Good Condition w/Sand Box under it, Step Ladder up

Slide to go down & a rope swing. Also separate Swing Set w/4 swings.

190 Inah Ave., Cols, 43228 near the Fire Dept.

West Columbus - 614-878-1930, ask for Linda

. Come and Get It! is a bi-weekly column that offers readers an opportunity to pass along

surplus building materials, furniture, electronic equipment, crafts, supplies, appliances,

plants or household goods to anybody who will come and get them - as long as they're

FREE. NO PETS! Just send us a brief note describing what you want to get rid of, along

with your name, address and phone number. Nonprofit organizations are welcome to

submit requests for donations of items.

Send information to The Columbus Messenger, Attention: Come and Get It, 3500

Sullivant Ave., Columbus, OH43204. Deadline is Mondays at NOON for following

Sunday's publication. Messenger Newspapers is not responsible for any complications

that may occur. Please contact us when items are gone. 272-5422

Come & Get It!
---
www.columbusmessenger.com

October 30, 2022 - WESTSIDE MESSENGER - PAGE 13

CLASSIFIED ADS

Deadlines: Grove City, Groveport & All editions - Mondays at Noon.

West, Canal Winchester, South & Madison editions -Tuesdays at 5 p.m.

xPublic Notices

xCraft Shows

PRAIRIE TOWNSHIP

BOARD OF ZONING APPEALS

PUBLIC HEARING NOTIFICATION

November 8, 2022 at 7:00 P.M., at the

Prairie Township Hall, 23 Maple Dr.

Variance Application No. 679-VA-22 – Parcel No. 240-000498,

163 Lawrence Avenue, Columbus, Ohio 43228. To grant a Variance

from the provisions of Section 1110 #18a (Driveway Development

Standards in the R-6 District); to permit the owner to

maintain a driveway with greater width than permitted by the Resolution

in the R-6 (medium density residential) District.

Variance Application Nos. 680-VA-22 through 698-VA-22 –

Parcel Nos. 240-002742, 240-002743, 240-002754, 240-002755,

240-002756, 240-002757, 240-002758, 240-002759, 240-002834,

240-002835, 240-002837, 240-002838, 240-002840, 240-002841,

240-002842, 240-002843, 240-002844, 240-002850, 240-002851,

Postle Blvd., Columbus, Ohio 43228. To grant Variances from the

provisions of Sections 930 Table 2 (Dimensional Requirements)

and 1014 (Fences and Walls); to permit the owner to construct a

new home on each lot of record with less setbacks (front, side,

and rear), greater lot coverage, less ground floor building area (for

homes with more than one floor), and less setback for fences on

corner lots than required by the Resolution in the R-6 (medium

density residential) District.

ASSOCIATION ADS

Wesley Financial Group,

LLC Timeshare Cancellation

Experts Over

$50,000,000 in timeshare

debt & fees cancelled in

2019. Get free

informational package &

learn how to get rid of

your timeshare! Free

consultations. Over 450

positive reviews. 888-965-

0363

Update your home with

beautiful new blinds &

shades. Free in-home

estimates make it

convenient to shop from

home. Professional

installation. Top quality -

Made in the USA. Free

consultation: 877-212-

7578. Ask about our

specials!

Stroke & Cardiovascular

disease are leading

causes of death according

the American Heart

Association. Screenings

can provide peace of mind

or early detection! Call

Life Line Screening to

schedule your screening.

Special offer - 5

screenings for $149. 1-

866-518-8391

Public Notices

ASSOCIATION ADS

Paying top cash for men's

sportwatches! Rolex,

Breitling, Omega, Patek

Pillippe, Heuer, Daytona,

GMT, Submariner and

Speedmaster. Call 833-

603-3236

The bathroom of your

dreams for as little as

$149/month! BCI Bath &

Shower. Many options

available. Quality

materials & professional

installation. Senior &

Military Discounts

Available. Limited Time

Offer - FREE virtual inhome

consultation now

and SAVE 15%! Call

Today! 1-877-540-2780

Vivint Smart Security.

Professionally installed.

One connected system for

total peace of mind. Free

professional installation!

Four free months of

monitoring! Call to

customize your system. 1-

833-841-0737

Become a Published

Author. We want to Read

Your Book! Dorrance

Publishing Trusted Since

1920 Consultation,

Production, Promotion &

Distribution. Call for Free

Author's Guide 1-877-729-

4998 or visit

dorranceinfo.com/ads

PRAIRIE TOWNSHIP

BOARD

APPOINTMENTS

The Prairie Township Board of Trustees is

accepting letters of interest from residents for

board appointments on the Prairie Township

Board of Zoning Appeals and the Prairie

Township Zoning Commission. Volunteers

must live in the Township.

Submit letters of interested to:

Prairie Township Commercial Building

& Zoning Department

25 Maple Drive, Columbus, Ohio 43228

No later than December 5, 2022

ASSOCIATION ADS

Internet &WIFI Starts at

$49 Call us Today to Get

Started. Find High-Speed

Internet with Fiber Optic

Technology No Credit

Check, No SSN Required.

Call us Today 866-396-

0515

Vivint Smart Security.

Professionally installed.

One connected system for

total peace of mind. FREE

professional installation!

Four FREE months of

monitoring! Call now to

customize your system. 1-

855-870-2073

BUYING CLASSIC CARS,

TRUCKS, SUVs

**American and Foreign**

Any Condition. Buying

entire car collections.

$$PAYING CA$H$$

Please call 717-577-8206

KRMiller1965@yahoo.com

Put on your TVEars &

hear TV w/unmatched

clarity. TVEars Originaloriginally

$129.95 - now

w/this special offer only

$59.95 w/code MCB59! 1-

888-805-0840

ASSOCIATION ADS

Replace your roof with the

best lookng and longest

lasting material -- Steel

from Erie Metal Roofs!

Three styles and multiple

colors available.

Guaranteed to last a

lifetime! Limited Time

Offer - $500 Discount +

Additional 10% off install

(for military, health

workers & 1st responders)

Call Erie Metal Roofs: 1-

855-338-4807

Become a Published

Author. We want to Read

Your Book! Dorrance

Publishing - Trusted by

Authors Since 1920

Book manuscript submissions

currently being reviewed.

Comprehensive Services:

Consultation, Production,

Promotion and Distribution. Call

for Your Free Author's Guide 1-

866-482-1576 or visit

http://dorranceinfo.com/macnet

DENTAL INSURANCE

from Physicians Mutual

Insurance Company.

Coverage for 350 plus

procedures. Real dental

insurance - NOT just a

discount plan. Do not wait!

Call now! Get your FREE

Dental Information Kit with

all the details! 1-877-553-

1891

www.dental50plus.com/

macnet#6258

CRAFT SHOWS

FALL CRAFT BAZAAR

Crafts. Baked Goods,

Basket Raffles and

Light Lunch Offerings

Sat., Nov. 12, 9am-3pm

Ss. Simon & Jude Church

9350 High Free Pike

West Jeff

ASSOCIATION ADS

Donate Your Car To

Veterans Today! Help and

Support our Veterans.

Fast - FREE pick up.

100% tax deductible. Call

1-800-245-0398

Switch and save up to

$250/yr on talk, text &

data. No contract or

hidden fees. Unlimited talk

& text with flexible data

plans.

Premium

nationwide coverage.

100% U.S. based

customer service. Limited

time get $50 off any new

account. Use code

GIFT50. 1-855-903-3048

!!OLD GUITARS WANT-

ED!! GIBSON, FENDER,

MARTIN, Etc. 1930's to

1980's. TOP DOLLAR

PAID. CALL TOLL FREE

1-866-433-8277

Your Holiday

Craft Show

Bazaar or

Bake Sale!

Call Kathy at

614-272-5422

Craft Shows

ASSOCIATION ADS

Are you receiving

SSDI/SSI Benefits? You

may be eligible for

additional benefits. CALL

US TODAY Citizen

Disability 1-888-490-6616

SELL YOUR ANTIQUE

OR CLASSIC CAR.

Advertise with us. You

choose where you want

to advertise. 800-450-

6631 visit macnetonline.

com for details.

Safe Step. North

America's #1 Walk-in Tub.

Compreshensive lifetime

warranty. Top-of-the-line

installation and service.

Now featuring our free

shower package & $1600

off - limited time!

Financing available. 1-

855-417-1306

ADVERTISE

ASSOCIATION ADS

HughesNet - Finally, superfast

internet no matter

where you live. 25 Mbps

just $59.99/mo! Unlimited

Data is Here. Stream

Video. Bundle TV &

Internet. Free Installation.

Call 866-499-0141

WANTED!

MOTORCYCLES!

ANTIQUE AND CLASSIC.

Honda, Kawasaki, Suzuki,

Yamaha, Triumph, BSA

and other foreign models.

$$PAYING CA$H$$

717-577-8206

KRMiller1965@yahoo.com

ASSOCIATION ADS

Protect your home from

pests safely and

affordablly. Pest, rodent,

termite and mosquito

control. Call for a quote or

inspection today 844-394-

9278

Discount air travel! Call

Flight Services for best

pricing on domestic &

international flights inside

& from the US. Serving

United, Delta, American &

Southwest &many more.

Free quote! Have travel

dates ready! 844-951-

2014

Want Faster & Affordable

Internet? Get internet

service today with

Earthlink. Best internet &

WiFi Plans. Call us Today

to Get Started. Ask

about our specials! 866-

396-0515
---
PAGE 14 - WESTSIDE MESSENGER - October 30, 2022

www.columbusmessenger.com

xEmployment

HIRING WAREHOUSE

UP TO

$19/HR +

UP TO

$3K SIGN-ON

NO WEEKENDS • NO MANDATORY OT

OPEN INTERVIEWS

WEDNESDAY 10AM-1PM

1568 Georgesville Rd. Columbus, OH 43228

JOBS.MSCDIRECT.COM

Applicants must sucessfully pass a background check and drug screen.

Equal Opportunity Employer: Minority, female, veteran, individuals with disabilities, sexual orientation/gender identity.

WANTED

Host/Hostess • Back-Up Cooks

Grill • Servers • Dishwashers

You Can Work 29+ Hrs. Based on

Your Availability & Performance

Immediate Full/Part-time Openings

We Offer:

• Weekly Pay

• Paid Training

• No Tip Sharing

• Paid Vacation

• Employee Meal Discount

• Position/Salary Advancement Plan

• Discount Purchase Plan

Apply online at crackerbarrel.com/careers for

Hilliard Location 614-878-2027

ASSOCIATION ADS

The Generac PWRcell

solar plus battery storage

system. Save money,

reduce reliance on

grid, prepare for outages

& power your home. Full

installation services. $0

down financing option.

Request free no obligation

quote. Call 1-877-

539-0299

ASSOCIATION ADS

READY TO BUY, SELL

OR RENT YOUR

VACATION HOME OR

HUNTING CAMP?

Advertise it here and in

neighboring publications.

We can help you. Contact

MACnet MEDIA @

800-450-6631 or visit our

site at MACnetOnline.

com

ASSOCIATION ADS

Eliminate gutter cleaning

forever! LeafFilter, the

most advanced debrisblocking

gutter protection.

Schedule a FREE

LeafFilter estimate today.

20% off Entire Purchase.

Plus 10% Senior & Military

Discounts. Call 1-855-

791-1626

Aloe Care Health, medical

alert system. The most

advanced medical alert

product on the market.

Voice-activated! No wi-fi

needed! Special offer-call

and mention offer code

CARE20 to get $20 off

Mobile Companion. Call

today-1-877-728-4065

Attention Viagra users:

Generic 100 mg blue pills

or generic 20 mg yellow

pills. Get 45 plus 5 free

$99 + S/H. Call Today 1-

877-707-5518

DISH TV $64.99 for 190

Channels + $14.95 high

speed internet. FREE installation,

Smart HD DVR

included. Free Voice Remote.

Some Restrictions

apply. Promo Expires

1/21/23. 1-866-590-5561

WANTED

SCHOOL BUS DRIVERS

The South-Western City School

District is currently hiring drivers

for the 2022-2023 school year

$18.80/hr Plus Bonuses

WE WILL TRAIN

Available positions are for substitute

drivers that can develop into

"Regular" positions with benefits.

Interested individuals can call

614-801-8550 to set up an interview.

Applicants should have an excellent

driving record and must submit to

drug, alcohol, and background

screening. A high school diploma or

equivalent is required. EOE

GREENLAWN RV

Lockbourne, OH

RV TECHNICIAN NEEDED!

No Prior Experience Necessary

We Will Train!

Immediate Start - Full Time Position

Contact Toby Boetcher

at

(740) 983-0149

ASSOCIATION ADS

The Generac PWRcell, a

solar plus battery storage

system. SAVE money,

reduce your reliance on

the grid, prepare for power

outages and power

your home. Full installation

services available. $0

Down Financing Option.

Request a FREE, no obligation,

quote today. Call

1-866-783-0292

Prepare for power

outages today with a

GENERAC home standby

generator. $0 Down + Low

Monthly Pmt. Request a

free Quote. Call before the

next power outage: 1-855-

948-6176

NEED IRS RELIEF

$10K-$125K+ Get Fresh

Start or Forgiveness.

Call 1-877-705-1472

Monday through Friday

7am-5pm PST

Dental Insurance -

Physicians Mutual Insurance

Comopany. Covers 350

procedures/ Real insurance -

not a discount plan. Get your

free dental info kit! 1-855-

.526-1060 www/dental50

plus.com/ads #6258

ASSOCIATION ADS

IMPORTANT

NOTICE

The following states: CA,

CT, FL, IA, IL, IN, KY,

LA, MD, ME, MI, MN,

NE, NC, NH, OH, OK,

SC, SD, TX, VT and WA

requires seller of certain

business opportunities to

register with each state

before selling. Call to

verify lawful registration

before you buy.

BATH & SHOWER UP-

DATES in as little as

ONE DAY! Affordable

prices - No payments for

18 months! Lifetime warranty

& professional installs.

Senior & Military

Discounts available. Call

855-761-1725

Thinking about installing

a new shower? American

Standard makes it

easy. FREE design consulation.

Enjoy your

shower again! Call 1-

833-769-0995 today to

see how you can save

$1,000 on installation, or

visit www.newshowerdeal.com/mac

Employment

EARN EXTRA

$$ $$

HOLIDAY MONEY

The Advertising Department at the

Columbus Messenger Newspapers

is seeking a

Helper for the Sales Department.

No Experience Necessary

Duties include: Set Appointments,

Make Calls, Run Errands, etc.

Salary plus auto allowance.

Seniors welcome to apply.

Please send your resume to:

Doug Henry, Advertising Manager

Columbus Messenger Newspapers

3500 Sullivant Ave.,Columbus, Ohio 43204

or e-mail to doughenry@columbusmessenger.com

ASSOCIATION ADS

DISH TV $64.99 FOR 190

Channels + $14.95 High

Speed Internet. Free Installation,

Smart HD DVR

Included, Free Voice Remote.

Some restrictions

apply. Promo expires

1/21/23. 1-866-479-1516

VIAGRA and CIALIS

USERS! 50 Generic pills

SPECIAL $99.00. 100%

guaranteed. 24/7 CALL

NOW! 888-445-5928

Hablamos Espanol

READER

ADVISORY

The National Trade Association

we belong to has

purchased the following

classifieds. Determining

the value of their service

or product is advised by

this publication. In order

to avoid misunderstandings,

some advertisers do

not offer "employment"

but rather supply the

readers with manuals, directories

and other materials

designed to help

their clients establish mail

order selling and other

businesses at home. Under

NO circumstance

should you send any

money in advance or give

the client your checking,

license ID or credit card

numbers. Also beware of

ads that claim to guarantee

loans regardless of

credit and note that if a

credit repair company

does business only over

the phone it's illegal to request

any money before

delivering its service. All

funds are based in US

dollars. Toll Free numbers

may or may not

reach Canada. Please

check with the Better

Business Bureau 614-

486-6336 or the Ohio Attorney

General's Consumer

Protection Section

614-466-4986 for more

information on the company

you are seeking to

do business with.

DO YOU NEED

SEASONAL EMPLOYEES?

Call KATHY to ADVERTISE!

and reach over 40,000 homes in the

West & Grove City Messengers

614-272-5422

kathy@columbusmessenger.com

ASSOCIATION ADS

Protect your home w/home

security monitored by

ADT. Starting at $27.99/

mo. Get free equipment

bundle including keypad,

motion sensor, wireless

door & windows sensors.

833-719-1073

Attention oxygen therapy

users! Inogen One G4 is

capable of full 24/7 oxygen

delivery. Only 2.8

pounds. Free info kit.

Call 877-929-9587

AT&T Internet. Starting at

$40/month w/12-mo agmt.

1 TB of data/mo. Ask how

to bundle & SAVE! Geo &

svc restrictions apply. 1-

855-364-3948

Elminate gutter cleaning

forever! LeafFilter, the most

advanced debris-blocking

gutter protection. Schedule

Free LeafFilter Estimate

today. 20% off Entire

Purchase. 10% Senior &

Military Discounts. Call 1-

833-610-1936

ASSOCIATION ADS

Safe Step. North

America's #1 Walk-in Tub.

Compreshensive lifetime

warranty. Top-of-the-line

installation and service.

Now featuring our FREE

shower package & $1600

off for a limited time! Call

today! Financing

available. Call Safe Step

1-833-356-1954

Prepare for power outages

today with a GENERAC

home standby generator.

$0 Money Down + Low

Monthly Payment Options.

Request a FREEQuote--

Call now before the next

power outage. 1-855-465-

7624

Looking for auto insurance?

Find great deals

on the right auto insurance

to suit your needs.

Call today for a free

quote! 866-924-2397
---
www.colulmbusmessenger.com

Homes for Sale

Equal Housing Opportunity Statement: "We are pledged to the letter and spirit of the U.S. policy for the achievement of

equal housing opportunity throughout the nation. We encourage and support affirmative advertising and marketing

program in which there are no barriers to obtaining housing because of race, color, religion, sex, handicap, familial status

or national origin." This newspaper will not knowingly accept any advertising for real estate which is in violation of the law.

Our readers are hereby informed that all dwellings advertised in this newspaper are available on an equal opportunity

basis. To complain of discrimination, call HUD toll free at 1-800-669-9777.x

FOR SALE BY OWNER

2 Bedroom Condo - Glenford Village

$73,900

3% Buyers/Agent Commission Paid

4714 Tarryton Ct.

Many Updates, Free Heat.

Qualified Buyers Only.

Please Call 614-519-0152

By Appointment Only

Homes for Sale

xFocus on Rentals

WEDGEWOOD

VILLAGE

1, 2 and 3 BR Apts.

Rent Based on Income.

Call 614-272-2800 or visit us

at 777 Wedgewood Dr.

TTY/TDD 711

EQUAL HOUSING OPPORTUNITIES

INFORMATION

Have Something To Sell?

Need To Rent That Property?

Try The Messenger!

For Info On

Placing An Ad Call

614-272-5422

CHILD CARE

OFFERED

Depend. Quality Child care

in loving hm. Exp. Mom, n-

smkr, hot meals, sncks,

playroom, fncd yd. Reas.

rates. Laurie at 853-2472

Rentals

HELP WANTED

Looking for a house

cleaner very soon.

Starting pay $15 per hour

and $16 per hour after 60

days. Must have own

transportation and a

background check

required. Contact Mendy

614-774-7529

Kings Kids Daycare

in Grove City is hiring Fun,

Loving Teachers for PT &

FT shifts. Please email

sarragc@outlook.com or

call 614-539-0349

WANT TO BUY

WE BUY JUNK CARS

Call anytime 614-774-6797

ANTIQUES

WANTED

Victrolas, Watches,

Clocks, Bookcases

Antiques, Furn.

Jeff 614-262-0676

or 614-783-2629

We Buy Junk Cars &

Trucks. Highest Prices

Paid. 614-395-8775

We Buy Cars & Trucks

$300-$3000.614-308-2626

MISCELLANEOUS

FOR SALE

LGWasher - smart drum

model #WT1001CW, Dryermodel

#DLE100lW - Set

$500; Samsung Fridge,

bottom freezer-$300.

614-465-7348 lv message.

CONDOMIUMS

Condo for Sale By Owner

4483 Greystone Village

Dr, Cols. 2 Bed/1.5 bath,

900 sq ft, att. 2 car gar.

Built in 1993. For details

visit: 4483greystone.com.

Written offers accepted

until Nov. 7, 2022

RENTALS

Eakin-1 Br Apt, crpt, appls.

No Pets 614-560-3050

2 BR HOMES

Bsmt. $1000/mo

614-530-8097

CONDO FOR RENT

Galloway Village - 3 BR,

2 BA, 2 car gar.

Beautiful neighborhood.

Rent $1500/mo + dep.

614-465-7763

October 30, 2022 - WESTSIDE MESSENGER - PAGE 15

xClassified Services

BLACKTOP

BLACKTOP SEALING

Driveways & Parking Lots

614-875-7588

SANTIAGO'S

Sealcoating & Services LLC

Quality Materials Used

FALL IS HERE!

Driveway Seal & Repair!

Top Seal Cracks!

Residential & Commercial

Mulching, Edging & Clean-ups

"Ask for whatever you need."

BBB Accredited-Fully Insured

Call or text for Free Est.

614-649-1200

CONCRETE

11/6

A/M

EDDIE MOORE

CONSTRUCTION

Quality Concrete Work

Lt. Hauling & Room Add.,

Block Work & Excavation

Stamp Patios,

Bsmt. Wall Restoration

35 Yrs Exp - Lic & Ins.

Free Ests. 614-871-3834

GALLION

CUSTOM CONCRETE LLC

Specializing in Custom Colors &

Custom Designs of Concrete.

Including Remove & Replace

44 yrs exp & Free Est.

Licensed & Insured

Reputation Built

On Quality

Ronnie

614-875-8364

See Us On Facebook

www.gallioncustom

concrete.com

ALL-CITY CUSTOM

CONCRETE

All Types Concrete Work

New or Tear Out-Replace

40 Yrs. Exp.

(614) 207-5430

Owner is On The Job!

AJ's Concrete,

Masonry

Good Work - Fair Prices

Block Foundations

Driveways • Sidewalks

Epoxy/Overlay Floors

Bonded-Ins. • Free Ests.

614-419-9932

www.hastingsnsons.com

Driveways & Extensions

Patio & Walkways,

Porches & Steps,

Garage/Basement Floors

Hot Tub/Shed Pads,

Stamped/colored concrete

Sealing of new &

existing concrete.

FREE ESTIMATES

Contact Adam

614-756-1754

hastingsandsons.

columbus@gmail.com

11/20 W/SW

11/20 A

CLEANING

DEEP CLEAING &

WALL WASHING

Call Judy 614-746-0273

FENCING

EAZY FENCE

Chain Link - Wood

No Job Too Big or Small

All Repairs ~ Free Est.

Insured. 614-670-2292

GUTTERS

Bates & Sons

GUTTER CLEANING

5 ★ Google Reviews

614-586-3417

HAULING

DEAN'S HAULING

614-276-1958

DUMPSTER RENTAL

4 Days - $275 & Up

No Hazardous Materials

Tires - $10.00 each

Call 614-254-1131

HEATING & COOLING

HVAC

HEATING & A/C

Fast Service - Licensed

614-633-9694

INFORMATION

FOR ONLY

$74.00

You Can Reach

Over 42,000 Homes

In Our

West & Grove City

Areas

For Info Call

272-5422

HOME

IMPROVEMENTS

C&JHandyman

Services LLC

Minor Plumbing & Electric

Install Hot Water Tanks,

Dishwashers & Disposals

All Interior Remodels

Also Fencing &

Interior/Exterior Painting

Free Est. ~ 18 Yrs. Exp.

CDC/EPA Approved Guidelines

614-284-2100

SLAGLE

HOME REMODELING

Baths, Kitchen,

Plumbing and Electrical.

All your Handyman needs

No Job too Big or Small

Over 30 Yrs. Exp. Lic.-Bond-Ins.

Jerry

614-332-3320

11/6 A

11/20

SW/W

HOME

IMPROVEMENTS

KLAUSMAN HOME

IMPROVEMENT

Siding-Windows-

Doors-Roofing-Soffit-

Fascia-Gutters-Trim

Earn FREE Seamless

Gutters with Siding Over

1000 Sq. Ft.

FREE Shutters with

Soffit & Trim

EPA Certified

Member of BBB

Financing Available

Over 20 yrs exp. • Free Est.

Licensed-Bonded-Insured

Owner & Operator

James 614-419-7500

SINCE 1973

Phil Bolon Contr.

Windows & Siding

Decks, Kitchens, Baths

Room Additions,

Flooring, Roofing

Bsmt Waterproofing

Deal With Small Non-Pressure Co.

47 Yrs. Exp. - Refs. Avail.

Lic.-Bond-Ins.

Free Est. - Financing Avail.

Member BBB Of Cent. OH

O.C.I.E.B. ID #24273

614-419-3977

or 614-863-9912

HOME

MAINTENANCE

HOME

REMODELING

INFORMATION

LAWN CARE

LET US MAINTAIN

YOUR LAWN & GARDEN

FOR YOU

Summer, Spring,

Winter or Fall

WE DO IT ALL!!!!

Lawn Cuts, Edging,

Trees & Shrubs, Garden,

Mulching, Hauling,

Garden Pond &

Home Maint.

Free Ests. Low Rates

$20 & Up

Kevin - 614-905-3117

PAINTING

PLUMBING

All About Drains & Plumb.

Will snake any small drain

$145. 614-778-2584

CHRIS'

PLUMBING

"Plumbing & Drain Professional

That You Can Count On"

24 Hrs., 7 Days/Week

No Overtime Charges

24 Yrs. Exp. in Plumbing &

Drain Cleaning Field

Call For A Free Phone Estimate

$100.00 For Any Small Drain

614-622-4482

30% OFF with AD

Classified Services

11/6 A

11/20

A/M

HANDYMAN SERVICES

614-235-1819

Charlies Handyman

Service

Over 40 yrs. exp.

Hot Water Tanks

Door Locks

Kitchen/Bath Remodels

Roofmg * Siding

Porches & Decks

614-319-6010

blantoncharles894@gmail.com

MultiCraft Const.

& Handyman Services

All Types Handyman Services:

Decks, Fences

Kitchen/Baths

Window/doors installed

Interior Painting

Drywall Repairs

All Types of Flooring

Call/Text 614-774-2923

multicraftconstruction@gmail.com

ONLY

$50.00

For This Ad In Our

West & Grove City

For Info Call

272-5422

11/20 A

LANDSCAPING

ONYX

LANDSCAPING

614-407-5214

www.OnyxLandscapingllc.com

Full Service

Lawn Care

Start with Trust!!

SOWERS LAWN CARE

Mowing-mulching-trimming

FALL cleanup-614-397-0566

The Lawn Barber

Cut, Trim, Blow away

Hedge Trimming, Edging

614-935-1466

MOWER

REPAIR

Tremont

Mower Repair

Servicing

Lawn Mowers,

Weed Eaters &

Leaf/Snow Blowers

Pickup &

Delivery Available

614-357-6204

Painter Over 30 Yrs. Exp.

Free Est. Reas. Rates

Daniel - 614-226-4221

MYERS

PLUMBING

Exp. Expert Plumbing

New Const. & Fast Repairs

Lic. - Permit Available

Water • Sewer • Gas

614-633-9694

11/6 W/GC/M

11/20 w/gc

10/23 A&M

11/6 A

PLASTERING

Plaster & Stucco

NEW AND

REPAIR

Established 1917

Geo. F. Neff & Co.

614-274-5629

DRYW

YWALL &

PLASTER

11/20

A&M

REPAIR

Textured Ceilings

614-551-6963

Residential/Commercial

BIA

POOL/SPA

MAINTENANCE

K&L Spa Cleaning

Hot Tub Cleaning and

Weekly Maintenance

Keith 614-316-9809

POWER WASHING

Bates & Sons

Soft Wash & Powerwash

5 ★ Google Reviews

614-586-3417

MRS. POWERWASH

Any house wash $149+tax

Single deck $69+tax

2 Tier deck $99+tax

Best Wash in Town

Over 45,000 washes

Ashley 614-771-3892

ROOFING

RETIRED

ROOFER

BBB "A+" Rating

All Types of Roof Repairs

• New Roof Installation

• Flashing

• Chimneys Rebuilt

• Flat Roof Specialist

• Roof Replacement

avail. upon request

All Work Guaranteed

614-352-7057

Free Estimates

SEWING MACHINE

REPAIR

REPAIR all makes 24 hr.

service. Clean, oil, adjust

in your home. $49.95 all

work gtd. 614-890-5296

TREE SERVICES

BURNS TREE SERVICE

Trimming, Removal &

Stump Grinding.

614-584-2164

Warren Brewer Tree Service

• Tree Removal

• Tree Trimming 9/11

A&M

• Stump Grinding

• Bucket Truck Services

Best Prices • Same Day Service

614-878-2568

11/20 A&M

11/6 W/SW
---
PAGE 16 - GROVE CITY MESSENGER - October 30, 2022

www.columbusmessenger.com

Sweep your loved one off

their feet with Hearts On Fire's

scintillating Aerial Marquis Halo

Diamond Engagement Ring

Aerial Marquis

Halo Diamond

Engagement Ring

1494 Stringtown Rd,

Grove City, OH 43123

614-594-0230

www.meyersjewelers.com

Monday - Friday 10:30am-6:00pm

Saturday 10:00am-5:00pm

Sunday Closed

to be with our families

CD-32392576