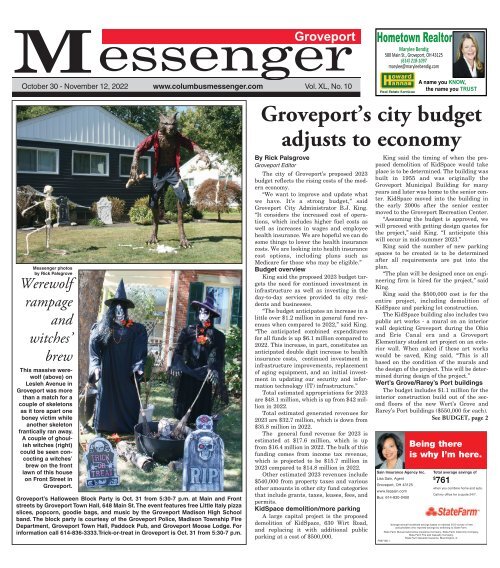 Groveport Messenger - October 30th, 2022
Create successful ePaper yourself
Turn your PDF publications into a flip-book with our unique Google optimized e-Paper software.
Messenger

Groveport

October 30 - November 12, 2022 www.columbusmessenger.com Vol. XL, No. 10

Hometown Realtor

Marylee Bendig

580 Main St., Groveport, OH 43125

(614) 218-1097

marylee@maryleebendig.com

A name you KNOW,

the name you TRUST

Messenger photos

by Rick Palsgrove

Werewolf

rampage

and

witches'

brew

This massive werewolf

(above) on

Lesleh Avenue in

Groveport was more

than a match for a

couple of skeletons

as it tore apart one

boney victim while

another skeleton

frantically ran away.

A couple of ghoulish

witches (right)

could be seen concocting

a witches'

brew on the front

lawn of this house

on Front Street in

Groveport.

Groveport's Halloween Block Party is Oct. 31 from 5:30-7 p.m. at Main and Front

streets by Groveport Town Hall, 648 Main St. The event features free Little Italy pizza

slices, popcorn, goodie bags, and music by the Groveport Madison High School

band. The block party is courtesy of the Groveport Police, Madison Township Fire

Department, Groveport Town Hall, Paddock Pub, and Groveport Moose Lodge. For

information call 614-836-3333.Trick-or-treat in Groveport is Oct. 31 from 5:30-7 p.m.

Groveport's city budget

adjusts to economy

By Rick Palsgrove

Groveport Editor

The city of Groveport's proposed 2023

budget reflects the rising costs of the modern

economy.

"We want to improve and update what

we have. It's a strong budget," said

Groveport City Administrator B.J. King.

"It considers the increased cost of operations,

which includes higher fuel costs as

well as increases in wages and employee

health insurance. We are hopeful we can do

some things to lower the health insurance

costs. We are looking into health insurance

cost options, including plans such as

Medicare for those who may be eligible."

Budget overview

King said the proposed 2023 budget targets

the need for continued investment in

infrastructure as well as investing in the

day-to-day services provided to city residents

and businesses.

"The budget anticipates an increase in a

little over $1.2 million in general fund revenues

when compared to 2022," said King.

"The anticipated combined expenditures

for all funds is up $6.1 million compared to

2022. This increase, in part, constitutes an

anticipated double digit increase to health

insurance costs, continued investment in

infrastructure improvements, replacement

of aging equipment, and an initial investment

in updating our security and information

technology (IT) infrastructure."

Total estimated appropriations for 2023

are $48.1 million, which is up from $42 million

in 2022.

Total estimated generated revenues for

2023 are $32.7 million, which is down from

$35.8 million in 2022.

The general fund revenue for 2023 is

estimated at $17.6 million, which is up

from $16.4 million in 2022. The bulk of this

funding comes from income tax revenue,

which is projected to be $15.7 million in

2023 compared to $14.8 million in 2022.

Other estimated 2023 revenues include

$540,000 from property taxes and various

other amounts in other city fund categories

that include grants, taxes, leases, fees, and

permits.

KidSpace demolition/more parking

A large capital project is the proposed

demolition of KidSpace, 630 Wirt Road,

and replacing it with additional public

parking at a cost of $500,000.

King said the timing of when the proposed

demolition of KidSpace would take

place is to be determined. The building was

built in 1955 and was originally the

Groveport Municipal Building for many

years and later was home to the senior center.

KidSpace moved into the building in

the early 2000s after the senior center

moved to the Groveport Recreation Center.

"Assuming the budget is approved, we

will proceed with getting design quotes for

the project," said King. "I anticipate this

will occur in mid-summer 2023."

King said the number of new parking

spaces to be created is to be determined

after all requirements are put into the

plan.

"The plan will be designed once an engineering

firm is hired for the project," said

King.

King said the $500,000 cost is for the

entire project, including demolition of

KidSpace and parking lot construction.

The KidSpace building also includes two

public art works - a mural on an interior

wall depicting Groveport during the Ohio

and Erie Canal era and a Groveport

Elementary student art project on an exterior

wall. When asked if these art works

would be saved, King said, "This is all

based on the condition of the murals and

the design of the project. This will be determined

during design of the project."

Wert's Grove/Rarey's Port buildings

The budget includes $1.1 million for the

interior construction build out of the second

floors of the new Wert's Grove and

Rarey's Port buildings ($550,000 for each).

See BUDGET, page 2

Sain Insurance Agency Inc.

Lisa Sain, Agent

Groveport, OH 43125

www.lisasain.com

Bus: 614-830-0450

Being there

is why I'm here.

Total average savings of

$

761

when you combine home and auto.

Call my office for a quote 24/7.

*average annual household savings based on national 2015 survey of new

policyholders who reported savings by switching to State Farm.

State Farm Murual Automotive Insurance Company, State Farm Indemnity Company,

State Farm Fire and Casualty Company,

State Farm General Insurance, Bloomington, IL

P097136.1
---
PAGE 2 - GROVEPORT MESSENGER - October 30, 2022

www.columbusmessenger.com

Fireworks issue launches itself back before council

By Rick Palsgrove

Groveport Editor

Groveport City Council is once again considering

expanding the use of personal fireworks within the city

limits.

On Oct. 24, council heard the first reading of legislation

that would be consistent with state law to allow the use of

personal fireworks on designated days during the year.

Previous attempts by council earlier this year to pass

similar legislation failed.

The legislation would allow individuals to possess consumer

grade fireworks and to discharge them on their own

property or on another person's property with permission

on the following days: New Year's Day; Chinese New Year;

Cinco de Mayo; Memorial Day weekend; Juneteenth; July

3, 4, and 5 and the Fridays, Saturdays, and Sundays preceding

and following; Labor Day weekend, Diwali; and

New Year's Eve.

State law permits local governments to restrict the

dates and times when individuals may discharge consumer

grade fireworks or to impose a complete ban on the

use of consumer grade fireworks.

The issue will be discussed further at council's committee

of the whole meeting on Nov. 21 at 5:30 p.m. in the

municipal building, 655 Blacklick St.

Groveport Police statistics

September crime statistics, according to the Groveport

Police: 12 arrests, 15 accidents, 5 assaults, 2 burglaries, 3

domestic disputes, 1 domestic violence, 2 OVI and alcohol,

12 thefts/robberies, 3 stolen/unauthorized use, 1 missing

persons, 1 weapon related call, 2 narcotic related offenses,

14 parking, 3 threats, 1 vandalism, 2 juvenile complaints,

31 traffic citations, 1 sex related crime, 13 school

related dispatched calls, 1 suicide/attempt.

Other news

•Council is considering donating the building at

595 Cherry St. to the Greater Groveport Food

Pantry. The food pantry is currently operating out

of the building.

•Groveport Madison Schools is requesting a zoning

variance for 4180 Bixby Road to allow the construction of

a school bus garage facility.

The planning and zoning commission will discuss the

request at its Nov. 7 meeting at 6 p.m. at the municipal

building, 655 Blacklick St.

•Council is considering a zoning variance request for

property at 0 Hendron Road (site of the former swimming

pool and now a vacant lot) to allow for the construction of

4,067 square foot veterinary clinic.

The planning and zoning commission will discuss the

request at its Nov. 7 meeting at 6 p.m. at the municipal

building, 655 Blacklick St.

•The city of Groveport's income tax revenue year-todate

as of Sept. 30 was $15.9 million, which is 21 percent

higher than the same time in 2021, according to Groveport

Finance Director Jason Carr.

Carr noted the general fund balance was $8.4 million as

of Sept. 30 or $2.2 million higher than the same time last

year.

Income tax revenues year-to-date comprise 55 percent

of all city revenues, the largest part of all the city's revenues.

Get the word out

FAST

Advertise your Craft Show

or Bazaar in the classifieds.

It's easy to do.

Just call or email Kathy at

614-272-5422

kathy@columbusmessenger.com

for all of the details

The Gilmore Group

Office: 614-834-HOME (4663)

Cell: 614-774-4416

www.GilmoreGroupHomes.com

PROVIDING MORE SINCE '94

614-836-9119

Give us a call

to schedule your

appointment today.

Service & Installation

Residential & Commercial

FRANKLINHEATING.COM

OH LICENSE #20692

BUDGET

Continued from page 1

"The second floors (of these buildings) were funded

by tax revenue (i.e. income tax)," said King "That being

the case, the spaces can't be directly leased to for profit

companies. The uses must be government (which is

non-profit) or other non-profit organizations. The first

floors were funded by non-tax revenue, so via the

Community Investment Corporation, the spaces could

be directly leased to for profit companies."

Construction is progressing on the 14,145 square

foot Rarey's Port (674 Main St.) and the 12,184 square

foot Wert's Grove (480 Main St.) buildings that are

part of the city of Groveport's 1847 Main Project.

The potential opening dates of the buildings' first

floor businesses is expected at the end of 2022 or early

2023.

Delaney's Diner — a breakfast, lunch, brunch

restaurant — will occupy space in the Rarey's Port

building. Little Italy Pizza, which has operated at 619

Main St. for 43 years, plans to move into the Wert's

Grove building.

Little Italy will occupy the entire first floor of the

Wert's Grove building. Delaney's Diner will occupy

4,958 square feet of the first floor of the Rarey's Port

building on the west end of the building, including the

patio. City officials are seeking tenants for the remaining

2,059 square feet of the Rarey's Port building's first

floor.

Other capital improvement projects

"The capital budget is one percent higher than last

year," said King.

Some significant capital projects and purchases proposed

for 2023 include:

•$550,000 for street maintenance;

"The streets to be included in the street maintenance

program will be determined in early 2023," said

King. "Our process is to have our engineer and Public

Works Department assess the conditions of roads and

determine costs."

•$110,000 for street maintenance/stormwater:

•$240,000 for police patrol vehicles and equipment;

•$220,000 for the west Bixby Road pavement rehabilitation;

•$80,000 for IT server upgrade; $50,000 for IT

switch upgrade; and $30,000 for IT firewall upgrade;

King said these information technology upgrades

are important, "To keep us protected from current

cyber threats that exist for all organizations today.

Additionally, to make sure that our systems are compliant,

secure, and seamlessly operational for day-today

business."

•$80,000 for fitness equipment at the recreation

center;

•$55,000 for Marketing Place reconstruction;

•$40,000 for Degenhart Park playground equipment;

$35,000 for Blacklick Park playground equipment;

and $20,000 for tennis court repairs;

•$225,000 for the golf course entrance driveway;

•$30,000 for sidewalk replacements;

•$63,000 for an all terrain vehicle/snow equipment;

•$62,000 for a utility truck;

•$210,000 for a two and a half ton truck;

•$155,000 for a roadside mowing tractor;

•$107,000 for a rough mower for the golf course;

•$84,000 for a triplex mower for the golf course; and

•$317,384 for recreation and aquatic center maintenance,

repairs, and upgrades.

Budgets in previous years mentioned the proposed

construction of a new additional water tower, but that

project is not included in the 2023 budget.

"The additional water tower, when listed with infrastructure

priorities, was determined to be a lower

need," said King. "We understand the importance of

redundancy for our water system, however, the system

we currently have in place is sufficient to meet our

needs."

Other proposed appropriations

The proposed 2023 general fund appropriations are

estimated at $21 million, which is up from $20.1 million

in 2022. Some other proposed 2023 appropriations:

•Revenue sharing with Groveport Madison Schools,

$1.3 million; and

•Funding for festivals including $59,450 for the

Fourth of July; $25,000 for Christmas - A Heritage

Holiday; $29,050 for Apple Butter Day; and $21,050

for the Farmers Market and First Thursdays.

Council will consider the 2023 budget and vote on it

at a future meeting.
---
www.columbusmessenger.com

October 30, 2022 - GROVEPORT MESSENGER - PAGE 3

Groveport Madison approves development agreement

By Rick Palsgrove

Groveport Editor

The Groveport Madison Board of

Education approved an agreement with a

developer that will bring the district about

$3 million in revenue over the next 15

years.

"Tax abatements are key economic tools

local governments use to add jobs and

value to their communities," said

Groveport Madison Schools Treasurer

Felicia Drummey. "When carefully constructed,

they can yield significant value

for the school district — without also

increasing student enrollment."

As an additional part of the deal the

developer, NorthPoint Development, will

also make a one time donation of $25,000 to

one of the district's schools.

"The district does not have a formal

'Adoptive School Program' for donations,"

said Groveport Madison Communications

Director Jeff Warner. "It's not yet been

determined which school will receive the

monetary donation, nor what it might be

used for."

About the development

NorthPoint Development plans to develop

about 70 acres located at Bixby Road

adjacent to U.S. Route 33 in Canal

Veterans Day in Groveport

The city of Groveport will hold its annual

Veterans Day ceremony on Nov. 11 at 11

a.m. in Veterans Park, located on Main

Street at Hilly Alley.

The guest speaker will be Groveport

resident Mary Miller, chief human

resource officer at the Ohio Department of

Veterans Services. Miller also served as a

sergeant/E5 in the U.S. Army during the

Gulf War.

The 2022 Veterans Brick honorees are:

U.S. Army - Lowell Mathews. James

McMahan, Robert Patrick; U.S. Marine

Corp - Jason Huston; U.S. Navy - William

Johnson, John Karlich, John Pellior; and

U.S. Air Force - Donald Grant.

Following the ceremony all are invited

to a reception at Motts Military Museum,

5075 S. Hamilton Road, Groveport.

Senior Services levy

Voters will decide on the proposed

Franklin County Senior Services levy

renewal on Nov. 8.

The proposed five year tax levy renewal

is for 1.75 mills, $0.175 per $100 of valuation,

commencing in 2022. Officials state it

is not a tax increase.

The levy provides funding for Franklin

County Senior Options and its services

designed to help seniors remain safely at

home. These services include meals-onwheels,

transportation to doctor appointments,

and emergency response buttons.

The existing senior services levy will

expire at the end of 2022. The senior levy is

the main funding source for Senior Options

programs.

Winchester. The land is split among the

Canal Winchester, Groveport Madison, and

Eastland-Fairfield school districts and is in

a Community Reinvestment Area that

allows for property tax abatements on

buildings. The developer is seeking a 15

year property tax abatement.

NorthPoint plans to build a 540,000

square foot industrial building and a

528,000 square foot industrial building on

the site.

"The buildings will be built on a speculative

basis and then offered for lease," City

of Canal Winchester Development Director

Lucas Haire told the Groveport Madison

Board of Education.

According to information provided by

NorthPoint, the buildings will be marketed

to distribution/warehouse and manufacturing

users. The buildings are expected to

generate 350 jobs and an estimated annual

payroll of $13.5 million. Haire said the

developer has three years to achieve full

occupancy for the buildings.

The numbers

Because the land is divided among different

school districts, the boundary lines

actually split the two proposed buildings.

"When you have parcel lines that split

buildings it's up to the county auditor to

Journey ends short of goal

According to the Ohio Division of

Wildlife, in August, State Wildlife Officer

Jeff Berry, assigned to Muskingum

County, was patrolling the Muskingum

River near Duncan Falls when he noticed

two boats and a kayak on the side of the

river. He stopped to talk to four individuals

who were there with one of the boats. They

were a family from Loudonville. They

explained that they had started on the

Mohican River in Loudonville and were

travelling to Baton Rouge, Louisiana,

1,500 miles away. They were 13 days into

their trip and had traveled approximately

110 miles. Officer Berry assisted the family

in shoving off from the shore as they

departed. He recently checked in with the

family on their adventure. They had traveled

850 miles in 36 days, but their journey

ended when they had boat motor issues.

The family shared that some of their highlights

were fishing, watching ospreys catch

softshell turtles, and hearing bald eagles

chattering at night.

GriefShare group

The GriefShare group will host a free

event on Nov. 19 from 1-3 p.m., at the

Groveport United Methodist Church, 512

Main St., Groveport. The Surviving the

Holidays video seminar is for people who

are grieving a loved one's death. The seminar

is combined with support group discussion

of the video. To register call the

church office at 614-836-5968 or sign up at

https://www.griefshare.org/leaderzone/my/

holiday_events/43294

determine the square footage in each district

and then allocate the taxes accordingly,"

said Haire.

Drummey said the agreement is good for

Groveport Madison Schools.

"School districts have little control over

abatements," said Drummey. "In fact, had

the developer pursued a 50 percent abatement

rather than 100 percent abatement,

we would have had no say in the approval

process — and the $5,230 that we're currently

receiving in property taxes would

have been cut in half to $2,615 annually.

The current taxable value at current agricultural

use value (CAUV) is just a fraction

of the market value of the land once developed."

Drummey said the district currently

receives approximately $5,230 in tax revenue

from the property.

"However, once it's developed (with the

new abatement in process), the district will

receive $74,297 in annual property taxes

alone," said Drummey. "By participating as

a partner in the negotiations process, we

will also enjoy a share of the city of Canal

Winchester's municipal income tax revenue

estimated at $22,335 annually over

15 years. School districts rarely receive

income taxes and cities are not obligated to

share their income tax with us."

Additionally, she said, Groveport

Madison will receive an annual payment in

lieu of taxes (PILOT) payment of $100,000

for 15 years.

"This abatement agreement is a win-win

partnership that will generate $196,632 for

the school district each year of the abatement,

compared to just $5,230 in current

taxes on the undeveloped land," said

Drummey.

Drummey said the agreement does not

"negate the need for the renewal of our levy

next year."

The district's most recent operating levy

was approved by voters in 2019 and it is set

to expire in 2024. The latest the levy

renewal could be approved to enable the

district to start collecting money in 2025

would be on the November 2024 ballot.

Website:Expert-hvac.com

Phone:614-946-8461

Experthvacllc@gmail.com

FREE ESTIMATES

on system installs

$100 Preventative Maintenance (tune up)

Expert service - affordable prices - Locally owned from Groveport

Mention this ad and get $20 off a $110 service call.
---
PAGE 4 - GROVEPORT MESSENGER - October 30, 2022

Groveport history films

Two documentary films on the history

of Groveport, produced by the Groveport

Heritage Society and Midnet Media, are

now available for viewing online on

YouTube. The films are: "Groveport: A

Town and Its People" and "The Story of

John S. Rarey and Cruiser."

Letters policy

The Groveport Messenger welcomes letters

to the editor. Letters cannot be libelous.

Letters that do not have a signature, address,

and telephone number, or are signed with a

pseudonym, will be rejected. PLEASE BE

BRIEF AND TO THE POINT. The

Messenger reserves the right to edit or

refuse publication of any letter for any reason.

Opinions expressed in the letters are not necessarily

the views of the Messenger. Mail letters

to: Groveport Messenger, 3500 Sullivant

Avenue, Columbus, OH 43204; or by email to

southeast@columbusmessenger.com.

Keep tabs on the latest news in

Groveport & Madison Township

Look for Groveport Messenger on

Become a fan!

southeast

Messenger

(Distribution: 8,000)

Rick Palsgrove ...................................Groveport Editor

southeast@columbusmessenger.com

Published every other Sunday by

The Columbus Messenger Co.

3500 Sullivant Ave., Columbus, Ohio 43204-1887

(614) 272-5422

The Columbus Messenger Co. reserves the right to edit, reject or cancel

any advertisement or editorial copy at any time. The company is not

responsible for checking accuracy of items submitted for publication.

Errors in advertising copy must be called to the attention of the company

after first insertion and prior to a second insertion of the same advertising

copy.

BIRTHDAY • ENGAGEMENT • WEDDING • ANNIVERSARY

• GRADUATION • RETIREMENT

IN MEMORIUM • ARMED FORCES

Say it with an announcement ad in

the Messenger and spread the word.

You can download the appropriate form from

our Web site or stop by our office

Monday-Thursday, 8:30 a.m.-5 p.m.

Friday, 8:30 a.m.-2 p.m.

Columbus Messenger

3500 Sullivant Ave.

614-272-5422

www.columbusmessenger.com

www.columbusmessenger.com

Taking note of what once was

Recently while driving along Groveport

Road from Groveport to Canal Winchester I

noticed a house that sat along the road was

just...gone.

Editor's Notebook

Rick

Palsgrove

It's a house I passed

by more times than I

can count as I've traveled

back and forth

between the two towns

on Groveport Road

throughout my life.

Now it was demolished,

gone without a

trace with only straw

and grass seed filling

the space where it once

was.

It puzzled me that,

though I drove by this

house many times and knew it was there, I

realized I could not now adequately describe

what it looked like. It existed but with no personal

meaning for me. But I was aware of it

A vital piece that has been missing in

the romantic comedies of late — besides a

truly original plot — is the lack of genuine

movie stars featured within.

To be fair and kind

to the up-and-coming

actors and the wellknown

faces who are

cast in their stead,

they do an admirable job of selling these

products of pure fluff to the masses, but it

is the presence of the movie star that can

make the most standard rom-com on the lot

pop off the screen.

"Ticket to Paradise", a romantic comedy

that was released solely into the theaters

on Oct. 21, understands the power that

they can hold and uses it to their advantage.

It doesn't have a great script, but it

doesn't have to have one because George

Clooney and Julia Roberts are speaking its

words. It's not even that romantic, but it

doesn't have to be because Clooney is smiling

his crinkly smile and Roberts is giving

her clarion call laugh. It's not even particularly

good, but it doesn't really have to be

because these beautiful people are throwing

their sparkle around in a movie whose

locale is as equally sparkling and beautiful.

This is a film that knows it is not a great

piece of cinematic art, but it effortlessly

wields the power of the movie star and

somehow manages to be something that is

light and fun and charming. With the

shininess of the stars and the magnificence

of its beachscapes, it lulls you into looking

past its general ho-hum-ness and asks that

enough to notice when it disappeared.

I think we do that sometimes in life. We

take for granted that something will always

be there and sometimes fail to properly take

note of its presence.

Other times there are things we know of

and appreciate that disappear, too. There

once was a tree at the corner of Cron Drive

and Wirt Road in Groveport that guarded an

opening in the fence leading to the Groveport

Elementary school yard. Throughout my life

I must have gone through that fence opening

and brushed up against that large, old tree

hundreds of times. It was there well into my

adult years. Then one day it was gone along

with the hole in the fence. Like it was never

there. A strong, tall tree - one does not think

about it disappearing. But it did. It was one

of many familiar old trees we get to know in

each of our lives that course through the cycle

of their leafy life and pass on like all living

things.

Buildings have their life spans, too. From

time to time I think about the old Groveport

Madison High School that once sat along

South Hamilton Road. Buildings like schools

and churches seem permanent because they

you bask in a world that you could never

dream of living — or afford to, for most of us.

In "Ticket to Paradise," Clooney plays

David Cotton who after nearly 20 years of

being divorced, still gripes about his exwife

to anyone willing to lend an ear.

Roberts plays Georgia Cotton, a gallerist

semi-living with her pilot boyfriend, still

gripes about her ex-husband to anyone.

Although they are bitter exes to the

core, they raised a nearly perfect daughter

Lily (Kaitlyn Dever) who has just graduated

from law school and is on her way to a

prestigious job at the top law-firm in

Illinois. To celebrate her accomplishments,

David and Georgia have paid to send her

and her best friend Wren (Billie Lourd) on

an all-expense paid vacation to Bali for two

months before they have to get used to the

soul-sucking grind of adulthood.

Feeling as if they did a good deed by

working together on this project, the (when

put together) demonic duo agree to never

see or speak to the other again — and they

do just that until Lily shoots off an email

saying she met a wonderful local man

named Gede (Maxime Bouttier) and they

plan to marry within a week's time.

Not wanting their daughter to make the

same mistake as they did — David and

Georgia married right out of college and

she put her career plans on hold to support

her family — they strike a rare truce and

agree to work together to sabotage their

impending nuptials from the inside. While

the film does not fully acknowledge how

awful their mission is and how off the deepend

they are, the genuine movie stars play

their parts so well that they manage to

infuse their characters with some pathetic

charm so you do not outright hate them for

play such a large role in many people's lives.

But they can disappear, too. That old high

school (since replaced by the new high school

at the site) fulfilled its role for more than 50

years before falling to the wrecking ball a few

years ago. Driving by I can still sense a shadow

of where the old high school sat. Looking

at the new parking lot and lawn of the new

high school that took its place, I still know

where the gym was, where the main front

hallway was, and so on. It is an odd feeling to

out live one's high school.

Buildings come and go. Trees and plants

bloom and eventually are spent. Animals and

favorite pets pass on. People fade out of our

lives or pass away.

It happens to all of us. Here one day, gone

tomorrow, and we leave a small void in the

spaces we once inhabited. A void to be filled

by something new. Change is constant and

permanence an illusion.

Past, present, and future are intertwined

and bonded by memory.

Rick Palsgrove is editor of the Groveport

Messenger.

Romantic comedy uses star power to shine

Dedra

Cordle

The Reel Deal

their occasional bouts of wretchedness.

This romantic comedy likes to split its

time between the two couples, one fresh in

the bloom of love and the other, well, decidedly

not — or so it seems. Over the course of

trying to crush their daughter's heart and

spirit, the latter pair can't help but get

swept up in the magic of the island and the

unresolved issues that have frayed their

once loving friendship and romance.

Although both of the couples could use a bit

more of a romantic chemistry, it's hard to

deny that the adults are the most interesting

pairing to watch, much of it due to the

fact they were given the most material to

work with and had the characters who

were the most developed. It doesn't hurt

that they are played by movie stars who

know how to chew the fat from any scene.

"Ticket to Paradise" is a movie where

you can see how much fun the actors had

filming it and that translates out of the

screen and with the audience. But with its

over-reliance on the star power of Clooney

and Roberts, some aspects of the film suffer

from a lack of attention paid to other

important elements, like the dialogue or

development of secondary characters you

are also supposed to care about.

This film isn't a bad one but if you are

able to withstand the presence of Clooney

and Roberts together again, you'll probably

notice the cracks in the foundation a bit

more. But if you want to turn off your brain

and watch beautiful people do ugly things

and then put in some work to beautify themselves

again in a majestic location, this

might be something you want to check out.

Grade: B-

Dedra Cordle is a Messenger staff writer

and columnist.
---
www.columbusmessenger.com

October 30, 2022 - GROVEPORT MESSENGER - PAGE 5

Cruiser Theatre Co. included in CAPA program

By Rick Palsgrove

Groveport Editor

Groveport Madison High School's

Cruiser Theatre Co. is one of 19 area high

schools selected to participate in the

Columbus Association for the Performing

Arts' 2022-23 CAPA Marquee Awards.

"It is a very exciting honor to have been

selected again," said Cruiser Theatre Co.

Director Kirkland Long. "The kids are really

excited about it and it is always nice to

have multiple motivation factors for them."

The Cruiser Theatre Co. also participated

in the program last year.

"Much like before, there are many workshops

they can attend and a lot of learning

material to be found on CAPA's website,"

said Long. "The students are always very

excited to have the opportunity to attend

workshops held by CAPA."

Presented by the American Electric

Power Foundation, the program is

designed to celebrate, support, and advocate

for high school musical theatre education.

The year-long educational program

offers students the opportunity to participate

in professional theatre education

activities throughout the school year

including master classes with Broadway

touring artists, skills-based workshops

with local artists, professional development

sessions for educators, and Dig

Deeper, a virtual tutorial series which covers

a range of topics to help students deepen

their study and practice of theatre from

wherever they can watch.

"The Marquee Awards program is starting

its fifth year by reaching more students

in more counties than ever before," said

CAPA Education Director Amy Handra.

"We are so excited for another big year of

supporting and celebrating the incredible

talent in central Ohio's high school musical

theatre scene."

Each participating school will have their

musical theatre production reviewed by

CAPA's team of professionals.

"Along with all the educational

resources, having the adjudication feedback

is really beneficial and is what draws

me the most towards what CAPA is doing,"

said Long. "Along with providing recognition

for outstanding performances, they

provide and unbiased perception of the performance,

allowing for a fresh set of eyes to

analyze where some more attention could

be placed. It is easy to become numb or

blind to certain aspects of a show when you

have been rehearsing it for two or three

months. So having someone who doesn't

have the performance as a part of their

Columbus Chorus performs

Rise and shine for brunch with the

Columbus Chorus Sweet Adelines at

Groveport Town Hall, 648 Main St., on

Nov. 19 from 10:30 a.m. to noon.

Admission is free.

RSVP by Nov. 16.

Call 614-836-3333.

Photo by Lydia Miller

One of the classes offered by CAPA for high school performing arts students.

daily routine describe what they experienced

in the form of feedback is a wonderful

thing, not only for me as a new director,

but for the students as young theatre

artists."

CAPA Marquee Awards

and Jimmy Awards

On May 25, the 2023 CAPA Marquee

Awards will feature a red-carpet ceremony

and student showcase at the Ohio Theatre

where winners in all categories will be

announced. Modeled after the Tony®

Awards, the CAPA Marquee Awards showcases

live performances from the nominees

for Best Musical Production, Best Actor

and Actress in a Leading Role, as well as

opening and closing numbers that incorporate

nominated students from all participating

high schools.

Students selected as Best Actor in a

Leading Role and Best Actress in a

Leading Role will be official Jimmy

Award® nominees for "Jimmys Week," a

week-long theatre intensive led by

Broadway professionals and industry

experts, and compete nationally for the

2023 Jimmy Awards® for Best

Performance by an Actor and Best

Performance by an Actress.

Nominees will spend one week in New

York City and their combined effort

throughout the week will lead to one talent

showcase performed live in front of an

audience on the Broadway stage at the

14th annual Jimmy Awards.

Groveport Heritage Museum

The Groveport Heritage Museum contains

photographs, artifacts, and documents

about Groveport's history. The

museum is located in Groveport Town

Hall, 648 Main St., and is open during

Groveport Town Hall's operating hours.

Call 614-836-3333.

DestinationOutlets.com

800-213-9083

8000 Factory Shops Blvd.

Jeffersonville, OH 43128

Visit www.JimmyAwards.com and

www.CAPAMarqueeAwards.com for information.

Upcoming Cruiser Theatre Co. shows

Groveport Madison High School's

Cruiser Theatre Co. will perform "Arsenic

and Old Lace" on Nov. 3-5 at 7 p.m. In person

audiences are allowed. Presale tickets

can be purchased at the OnTheStage website

for $5 for students and seniors and $7

for adults. At the door those prices will be

raised to $7 and $9 respectively.

Per gocruisers.org, the annual play in a

day will be replaced by an evening of

improv sometime near Valentine's Day.

The spring musical will be replaced with

spring plays, the first of which will be,

"Hammered: A Thor and Loki Play," by

Christian Borle. That show will likely be

performed the final weekend in March.

Another spring play, to be determined, may

be performed in May.

All performances will be in the

Groveport Madison High School auditorium,

4475 S. Hamilton Road.

AUTO HOME

Beplerinsurance.com

614.837.4379

staff@beplerinsurance.com

3246 Noe Bixby Rd., Columbus, Ohio 43232

DOWNLOAD OUR

MEMBERSHIP APP
---
PAGE 6 - GROVEPORT MESSENGER - October 30, 2022

School board meetings

The Groveport Madison Board of Education meets the second

and fourth Wednesday of the month at 7 p.m. at the District

Service Center, 4400 Marketing Place, Suite B, Groveport. The

board may also schedule special meetings, as needed.

Groveport

Messenger

BEST COMMUNITY NEWSPAPER in Groveport

Pick-Up At These

Locations:

Groveport Senior Village - 5124 Hendron

Madison Township Office - 4575 Madison Lane

Paddock Pub/Groveport Golf Ctr. - 1005 Richardson Rd.

Southeast Library - 3980 S. Hamilton Rd.

Asbury Methodist Church - 4760 Winchester Pike

Groveport Municipal Building - 655 Blacklick St.

Groveport Town Hall - 648 Main St.

Flyers PIzza/Groveport - 296 Main St.

Ace Hardware - 726 Main St.

Little Italy Pizza - 619 Main St.

Huntington Bank/Groveport - 556 Main St.

Groveport Recreation Center - 7370 Groveport Rd.

READ US ONLINE: www.columbusmessenger.com

Photo courtesy of the city of Groveport

Pedestrian safety

The city of Groveport Public Works crew recently installed

additional pavement markings on Wirt Road near its intersection

with Main Street in the Groveport Elementary

school zone. They also installed a replacement school zone

flasher by the school. The actions were taken to improve

safety for students and other pedestrians in the school

zone.

America'

ica's s Fa Fa

av av vorite Treasure ure e Hunts!

2022

columbusmessenger.com

Nov. 26 &

27

Dec. 17 & 18

Antiques, Collectibles,

Jewelry, Vintage,

Home Decor, Militaria

and more!

2023

Jan. 28 & 29

Feb. 25 & 26

Mar. 25 & 26

www.columbusmessenger.com

Golden Cruiser Club

Groveport Madison Schools invites senior

residents of the district to attend athletic

and performing arts programs showcasing

the talents of its students. The

Golden Cruiser Club is a free program for

residents of the Groveport Madison School

District who are age 60 and older. Club

membership provides free access to all

school and district sponsored athletic contests,

plays, concerts, and other events. To

become a member of the Golden Cruiser

Club, obtain an application at

www.gocruisers.org, at any of the school

offices, or call (614) 492-2520. The requirements

for membership are that applicants

be age 60 or older and be a resident of

Groveport Madison Schools

(verified by

the Franklin County Auditor's website).

Decline in home sales

New data from the Franklin County

Auditor's Real Estate Dashboard shows a

significant decline in the total number of

home sales and in the total sales amount

for the month of September, though the

median sale price still rose 6 percent.

The September total sales amount was

$412.6 million, a decline of 29 percent compared

to the same month last year.

Likewise, the total number of sales was

1,371, a decrease of 705 compared to

September 2021. The median sale price

increased slightly to $265,000, a 6 percent

increase compared to September 2021.

The numbers show an accelerating

trend of a cooling housing market: In

August, the total number of sales was

1,696, a decline of 390 compared to August

2021, and the total sales amount declined

13 percent, to $524.4 million.

"The Franklin County housing market

is still solid, though it is mirroring national

trends of a market cool-down," Franklin

County Auditor Michael Stinziano said.

"The median price did still rise, showing

the continued need for more affordable

housing in our community."

Most municipalities had similar numbers

to the county as a whole, but not all of

them. In Bexley, the total sales amount

increased 29 percent and the median sale

price rose 25 percent. In Canal

Winchester, the total sales amount

increased 69 percent and the median sale

price increased 11 percent.

The Real Estate Dashboard is updated

monthly and uses intuitive GIS mapping

to show sales activity and statistics for

homes across Franklin County. The tool

can break down sales data by municipality,

school district, or Columbus area commission,

giving homeowners a comprehensive

view of sales activity in their neighborhoods.

September 2022 Franklin County sales:

•1,371 total number of sales, a decrease

of 705 compared to September 2021;

•$265,000 median sale price, an

increase of 6 percent compared to

September 2021;

•$412.6 million in total sales, a

decrease of 29 percent compared to

September 2021.
---
www.columbusmessenger.com

October 30, 2022 - GROVEPORT MESSENGER - PAGE 7
---
PAGE 8 - GROVEPORT MESSENGER - October 30, 2022

www.columbusmessenger.com

Township reviews heating costs

By Linda Dillman

Staff Writer

With higher heating costs looming as temperatures

start to dip, Madison Township residents may–or may

not–see a little relief depending on the natural gas

market.

During the Oct. 20 Madison Township trustee meeting,

Scott Belcastro of Trebel, LLC presented an

update on current natural gas rates in the area.

"We got to get the volatility under control,"

Belcastro said. "It's been a heck of a ride."

A resolution approved by the trustees gives

Belcastro and Madison Township Administrator

Susan Brobst permission to enter into an aggregation

agreement when the prices become beneficial to township

residents.

Trustee Katherine Chipps said she paid as much for

gas in the middle of the summer this year for what she

usually pays in December or January when temperatures

are much lower.

"The guidelines of an acceptable agreement would

be a fixed rate at .75/ccf or lower, as the market would

allow," said township Communication Specialist Jessy

Woodworth. "An acceptable agreement would run from

January 2023 through April 2024. Budget billing

would be available through the provider. There will be

no fees to join, and no fees to leave the program.

Should these not be available, the program pause will

continue and Trebel LLC will continue to monitor for a

better opportunity."

Other Madison Township news

•Madison Township Police Chief Gary York said his

department was on the receiving end of a pair of

grants–a $364,995 Criminal Justice Service Grant for

staffing, recruitment, hiring and retention; and a

$125,000 Department of Justice COPS Grant for law

enforcement hiring.

"We're looking at adding staff to the department,"

York said.

•While the police were on the receiving end of additional

funding, supply shortages and escalating costs

of raw materials are contributing factors to a $46,507

rise in the price of a new medic for the fire department.

"We were notified Aug. 1 of the price increase," said

Madison Township Chief Derek Robinson.

"Magnesium went up 307 percent, aluminum went up

225 percent and steel went up 171 percent. These are

just some of the components that make up this vehicle."

The new total purchase price after an $8,500 intraagency

purchase discount and a $4,200 pre-payment

discount is $334,300.

Trustee John Pritchard said, if the township backed

out of the contract, it would cost the township substantially

more later on and would push out delivery

another 24 months.

"It really bothers me (the price increase), but we

have no other choice," said Pritchard. "I'm not happy at

all."

Our Pictorial Past by Rick Palsgrove

Painter's Motor Sales

Photo courtesy of the Groveport Heritage Museum

Painter's Motor Sales operated at 511 Main St., (located at the corner of College and Main streets) in

Groveport in the mid-20th century. This photo is from the mid-1960s. Note the gasoline pump which once

stood in front of the building.

Groveport Garden Club

The Groveport Garden Club meets the first

Tuesday each month (unless otherwise announced) at

Groveport Zion Lutheran Church, 6014 Groveport

Road. Call Marylee Bendig at (614) 218-1097.

Southeast Library

The Southeast Branch of the Columbus

Metropolitan Library is located at 3980 S. Hamilton

Road, Groveport. For information visit www.columbuslibrary.org

or call 614-645-2275.
---
www.columbusmessenger.com

October 30, 2022 - GROVEPORT MESSENGER - PAGE 9

CLASSIFIED ADS

Deadlines: Grove City, Groveport & All editions - Mondays at Noon.

West, Canal Winchester, South & Madison editions -Tuesdays at 5 p.m.

xCraft Shows

xAdult Care

New fence

Photo courtesy of the city of Groveport

City of Groveport workers recently installed a new wooden

fence in Heritage Park around the historic log house.

PAID ADVERTISING

Caring for the

Caregiver Expo

Spencer 4Higher Media LLC, in partnership with The Ohio Sickle Cell

and Health Association, announced the Franklin County Office on Aging

will present the third annual Caring for the Caregiver Expo on Nov. 5 in

Columbus at The Boat House at Confluence Park at 9 a.m.

The Caring for the Caregiver Expo is a free one-of-kind event that allows

caregivers, first responders, essential workers, parents, grandparents and

guardians a chance to enjoy pampering services like massages, reflexology,

mini-manicures and facials. Attendees can participate in health and fitness

activities, including yoga, aerobics and line dancing. Lunch and Learn sessions

with guest speakers and community resources and information from

health care organizations, businesses, and government agencies will be

available.

"The Caring for the Caregiver Expo kicks off National Caregivers

Month. We are happy to announce that Franklin County Office on Aging will

serve as our Presenting Sponsor," said Brenda Spencer, president of Spencer

4Higher Media LLC and Caring for the Caregiver Expo Creator and Event

Chair. "The Franklin County Office on Aging is a perfect partner and has

supported the Caring for the Caregiver Expo since its inaugural event in

2019."

The Franklin County Office on Aging provides centralized access toprograms

and individualized services for older adults, dependent adults, and

their families so they can preserve their independence and stay in their own

home. Franklin County residents aged 60 and older can access programs and

services through the agency, as well as support services for caregivers and

kinship families, including adult day services, durable medical equipment,

caregiver counseling and more.

"We are thrilled to be the presenting sponsor for the Caring for the

Caregiver Expo," said Interim Director Chanda Wingo. "Many caregivers

are taking care of a loved one while also working and being a parent. The

long hours and around the clock care can take a toll on their physical, mental

and emotional well-being. This event is a chance to relax, unwind and

recharge so they can continue providing quality care for those they love."

Call (614) 348-2667 or visit caringforthecaregiverexpo.com for information.

Craft Shows

INFORMATION

Have Something

To Sell?

Need To Rent

That Property?

Try The

Messenger!

For Info On Placing

An Ad Call

614-272-5422

ASSOCIATION ADS

Update your home with

beautiful new blinds &

shades. Free in-home

estimates make it

convenient to shop from

home. Professional

installation. Top quality -

Made in the USA. Free

consultation: 877-212-

7578. Ask about our

specials!

Don't let the stairs limit

your mobility! Discover

the ideal solution for

anyone who struggles on

the stairs, is concerned

about a fall or wants to

regain access to their

entire home. Call

AmeriGlide today! 1-844-

317-5246

Wesley Financial Group,

LLC Timeshare Cancellation

Experts Over

$50,000,000 in timeshare

debt & fees cancelled in

2019. Get free

informational package &

learn how to get rid of

your timeshare! Free

consultations. Over 450

positive reviews. 888-965-

0363

ASSOCIATION ADS

Donate Your Car To

Veterans Today! Help and

Support our Veterans.

Fast - FREE pick up.

100% tax deductible. Call

1-800-245-0398

!!OLD GUITARS WANT-

ED!! GIBSON, FENDER,

MARTIN, Etc. 1930's to

1980's. TOP DOLLAR

PAID. CALL TOLL FREE

1-866-433-8277

Vivint Smart Security.

Professionally installed.

One connected system for

total peace of mind. Free

professional installation!

Four free months of

monitoring! Call to

customize your system. 1-

833-841-0737

Are you receiving

SSDI/SSI Benefits? You

may be eligible for

additional benefits. CALL

US TODAY Citizen

Disability 1-888-490-6616

Switch and save up to

$250/yr on talk, text &

data. No contract or

hidden fees. Unlimited talk

& text with flexible data

plans.

Premium

nationwide coverage.

100% U.S. based

customer service. Limited

time get $50 off any new

account. Use code

GIFT50. 1-855-903-3048

Vivint Smart Security.

Professionally installed.

One connected system for

total peace of mind. FREE

professional installation!

Four FREE months of

monitoring! Call now to

customize your system. 1-

855-870-2073

Call us for an extra set

of hands with shopping,

cooking, chores,

laundry, gardening,

small repairs and so

much more.

ASSOCIATION ADS

IMPORTANT

NOTICE

The following states: CA,

CT, FL, IA, IL, IN, KY,

LA, MD, ME, MI, MN,

NE, NC, NH, OH, OK,

SC, SD, TX, VT and WA

requires seller of certain

business opportunities to

register with each state

before selling. Call to

verify lawful registration

before you buy.

Become a Published

Author. We want to Read

Your Book! Dorrance

Publishing Trusted Since

1920 Consultation,

Production, Promotion &

Distribution. Call for Free

Author's Guide 1-877-729-

4998 or visit

dorranceinfo.com/ads

Discount air travel! Call

Flight Services for best

pricing on domestic &

international flights inside

& from the US. Serving

United, Delta, American &

Southwest &many more.

Free quote! Have travel

dates ready! 844-951-

2014

Like getting

a little help

from your friends ®

advertise

Adult Care

ASSOCIATION ADS

The bathroom of your

dreams for as little as

$149/month! BCI Bath &

Shower. Many options

available. Quality

materials & professional

installation. Senior &

Military Discounts

Available. Limited Time

Offer - FREE virtual inhome

consultation now

and SAVE 15%! Call

Today! 1-877-540-2780

Stroke & Cardiovascular

disease are leading

causes of death according

the American Heart

Association. Screenings

can provide peace of mind

or early detection! Call

Life Line Screening to

schedule your screening.

Special offer - 5

screenings for $149. 1-

866-518-8391

Home & Heart

YOUR ADULT

CARE SERVICES

Call Kathy

at The Messenger

For More Info

272-5422

ASSOCIATION ADS

The Generac PWRcell

solar plus battery storage

system. Save money,

reduce reliance on

grid, prepare for outages

& power your home. Full

installation services. $0

down financing option.

Request free no obligation

quote. Call 1-877-

539-0299

Become a Published

Author. We want to Read

Your Book! Dorrance

Publishing-Trusted by

Authors Since 1920

Book manuscript submissions

currently being reviewed.

Comprehensive Services:

Consultation, Production,

Promotion and Distribution. Call

for Your Free Author's Guide 1-

866-482-1576 or visit

http://dorranceinfo.com/macnet

Aloe Care Health, medical

alert system. The most

advanced medical alert

product on the market.

Voice-activated! No wi-fi

needed! Special offer-call

and mention offer code

CARE20 to get $20 off

Mobile Companion. Call

today-1-877-728-4065
---
PAGE 10 - GROVEPORT MESSENGER - October 30, 2022

www.columbusmessenger.com

CLASSIFIED ADS

Deadlines: Grove City, Groveport & All editions - Mondays at Noon.

West, Canal Winchester, South & Madison editions -Tuesdays at 5 p.m.

xEmployment

DO YOU NEED

SEASONAL EMPLOYEES?

Call KATHY to ADVERTISE

and reach over 15,000 homes in the

South/Canal Winchester & Groveport Messengers

614-272-5422

kathy@columbusmessenger.com

ASSOCIATION ADS

Put on your TVEars &

hear TV w/unmatched

clarity. TVEars Originaloriginally

$129.95 - now

w/this special offer only

$59.95 w/code MCB59! 1-

888-805-0840

Internet &WIFI Starts at

$49 Call us Today to Get

Started. Find High-Speed

Internet with Fiber Optic

Technology No Credit

Check, No SSN Required.

Call us Today 866-396-

0515

Protect your home from

pests safely and

affordablly. Pest, rodent,

termite and mosquito

control. Call for a quote or

inspection today 844-394-

9278

Replace your roof with the

best lookng and longest

lasting material -- Steel

from Erie Metal Roofs!

Three styles and multiple

colors available.

Guaranteed to last a

lifetime! Limited Time

Offer - $500 Discount +

Additional 10% off install

(for military, health

workers & 1st responders)

Call Erie Metal Roofs: 1-

855-338-4807

ASSOCIATION ADS

Paying top cash for men's

sportwatches! Rolex,

Breitling, Omega, Patek

Pillippe, Heuer, Daytona,

GMT, Submariner and

Speedmaster. Call 833-

603-3236

BUYING CLASSIC CARS,

TRUCKS, SUVs

**American and Foreign**

Any Condition. Buying

entire car collections.

$$PAYING CA$H$$

Please call 717-577-8206

KRMiller1965@yahoo.com

Safe Step. North

America's #1 Walk-in Tub.

Compreshensive lifetime

warranty. Top-of-the-line

installation and service.

Now featuring our free

shower package & $1600

off - limited time!

Financing available. 1-

855-417-1306

GREENLAWN RV

Lockbourne, OH

RV TECHNICIAN NEEDED!

No Prior Experience Necessary

We Will Train!

Immediate Start - Full Time Position

Contact Toby Boetcher

at

(740) 983-0149

ASSOCIATION ADS

Aloe Care Health medical

alert system. Most

advanced medical alert

product on the market.

Voice-activated! No wi-fi

needed! Special offer

w/code CARE20 for $20

off Mobile Companion. 1-

855-341-5862

Safe Step. North

America's #1 Walk-in Tub.

Compreshensive lifetime

warranty. Top-of-the-line

installation and service.

Now featuring our FREE

shower package & $1600

off - limited time!Call

Today! Financing

available. Call Safe Step

1-833-356-1954

HughesNet - Finally, superfast

internet no matter

where you live. 25 Mbps

just $59.99/mo! Unlimited

Data is Here. Stream

Video. Bundle TV &

Internet. Free Installation.

Call 866-499-0141

Directv Stream - Carries

the Most Local MLB

Games! CHOICE

Package, $89.99/mo for

12 months. Stream on 20

devices in your home at

once. HBOMax included

for 3 mos (w/CHOICE

Package or higher.) No

annual contract, no hidden

fees! Some restrictions

apply. Call IVS 1-866-629-

6086

DENTAL INSURANCE

from Physicians Mutual

Insurance Company.

Coverage for 350 plus

procedures. Real dental

insurance - NOT just a

discount plan. Do not wait!

Call now! Get your FREE

Dental Information Kit with

all the details! 1-877-553-

1891

www.dental50plus.com/

macnet#6258

Employment

ASSOCIATION ADS

READER

ADVISORY

The National Trade Association

we belong to has

purchased the following

classifieds. Determining

the value of their service

or product is advised by

this publication. In order

to avoid misunderstandings,

some advertisers do

not offer "employment"

but rather supply the

readers with manuals, directories

and other materials

designed to help

their clients establish mail

order selling and other

businesses at home. Under

NO circumstance

should you send any

money in advance or give

the client your checking,

license ID or credit card

numbers. Also beware of

ads that claim to guarantee

loans regardless of

credit and note that if a

credit repair company

does business only over

the phone it's illegal to request

any money before

delivering its service. All

funds are based in US

dollars. Toll Free numbers

may or may not

reach Canada. Please

check with the Better

Business Bureau 614-

486-6336 or the Ohio Attorney

General's Consumer

Protection Section

614-466-4986 for more

information on the company

you are seeking to

do business with.

WANTED

SCHOOL BUS DRIVERS

The South-Western City School

District is currently hiring drivers

for the 2022-2023 school year

$18.80/hr Plus Bonuses

WE WILL TRAIN

Available positions are for substitute

drivers that can develop into

"Regular" positions with benefits.

Interested individuals can call

614-801-8550 to set up an interview.

Applicants should have an excellent

driving record and must submit to

drug, alcohol, and background

screening. A high school diploma or

equivalent is required. EOE

ASSOCIATION ADS

DIAGNOSED WITH

LUNG CANCER? You

may quliafy for a

substantial cash award -

even with smoking history.

NO obligation! We've

recovered millions. Let us

help!! Call 24/7, 1-888-

650-9135

WANTED!

MOTORCYCLES!

ANTIQUE AND CLASSIC.

Honda, Kawasaki, Suzuki,

Yamaha, Triumph, BSA

and other foreign models.

$$PAYING CA$H$$

717-577-8206

KRMiller1965@yahoo.com

Attention Viagra users:

Generic 100 mg blue pills

or generic 20 mg yellow

pills. Get 45 plus 5 free +

S/H. Call Today 1-877-

707-551

Prepare for power

outages today with a

GENERAC home standby

generator. $0 Down + Low

Monthly Pmt. Request a

free Quote. Call before the

next power outage: 1-855-

948-6176

Protect your home w/home

security monitored by

ADT. Starting at $27.99/

mo. Get free equipment

bundle including keypad,

motion sensor, wireless

door & windows sensors.

833-719-1073

ASSOCIATION ADS

Looking for auto insurance?

Find great deals

on the right auto insurance

to suit your needs.

Call today for a free

quote! 866-924-2397

Eliminate gutter cleaning

forever! LeafFilter, the

most advanced debrisblocking

gutter protection.

Schedule a FREE

LeafFilter estimate today.

20% off Entire Purchase.

Plus 10% Senior & Military

Discounts. Call 1-855-

791-1626

SELL YOUR ANTIQUE

OR CLASSIC CAR.

Advertise with us. You

choose where you want

to advertise. 800-450-

6631 visit macnetonline.

com for details.

The Generac PWRcell, a

solar plus battery storage

system. SAVE money,

reduce your reliance on

the grid, prepare for power

outages and power

your home. Full installation

services available. $0

Down Financing Option.

Request a FREE, no obligation,

quote today. Call

1-866-783-0292
---
www.colulmbusmessenger.com

xCome & Get It!

COME AND GET IT!

Need to Get Rid of Something Fast - Advertise It Here For FREE!

Deadlines are Mondays by Noon

Call For Publication Schedule 614-272-5422

FREE Garden Straw for gardens or bedding. Call for appointment for pickup.

Circle S Farms, 9015 London-Groveport Road, Grove City, 43123

Grove City - 614-878-7980

FREE - Metal from old camper frame, Need a truck to pickup..

CC - Obetz - 614-632-1013

FREE - Children's Wooden Play Set - Good Condition w/Sand Box under it, Step Ladder up

Slide to go down & a rope swing. Also separate Swing Set w/4 swings.

190 Inah Ave., Cols, 43228 near the Fire Dept.

West Columbus - 614-878-1930, ask for Linda

. Come and Get It! is a bi-weekly column that offers readers an opportunity to pass along

surplus building materials, furniture, electronic equipment, crafts, supplies, appliances,

plants or household goods to anybody who will come and get them - as long as they're

FREE. NO PETS! Just send us a brief note describing what you want to get rid of, along

with your name, address and phone number. Nonprofit organizations are welcome to

submit requests for donations of items.

Send information to The Columbus Messenger, Attention: Come and Get It, 3500

Sullivant Ave., Columbus, OH43204. Deadline is Mondays at NOON for following

Sunday's publication. Messenger Newspapers is not responsible for any complications

that may occur. Please contact us when items are gone. 272-5422

Come & Get It!

xFocus on Rentals

HAVE TO RENT THAT APARTMENT

BEFORE THE SNOW FLIES?

Advertise It!

CALL Kathy

For Rate Information

Columbus Messenger

272-5422

ASSOCIATION ADS

Rentals

DISH TV $64.99 for 190

Channels + $14.95 high

speed internet. FREE installation,

Smart HD DVR

included. Free Voice Remote.

Some Restrictions

apply. Promo Expires

1/21/23. 1-866-590-5561

AT&T Internet. Starting at

$40/month w/12-mo agmt.

1 TB of data/mo. Ask how

to bundle & SAVE! Geo &

svc restrictions apply. 1-

855-364-3948

READY TO BUY, SELL

OR RENT YOUR

VACATION HOME OR

HUNTING CAMP?

Advertise it here and in

neighboring publications.

We can help you. Contact

MACnet MEDIA @

800-450-6631 or visit our

site at MACnetOnline.

com

ASSOCIATION ADS

BATH & SHOWER UP-

DATES in as little as

ONE DAY! Affordable

prices - No payments for

18 months! Lifetime warranty

& professional installs.

Senior & Military

Discounts available. Call

855-761-1725

Prepare for power outages

today with a GENERAC

home standby generator.

$0 Money Down + Low

Monthly Payment Options.

Request a FREEQuote--

Call now before the next

power outage. 1-855-465-

7624

VIAGRA and CIALIS

USERS! 50 Generic pills

SPECIAL $99.00. 100%

guaranteed. 24/7 CALL

NOW! 888-445-5928

Hablamos Espanol

ASSOCIATION ADS

DISH TV $64.99 FOR 190

Channels + $14.95 High

Speed Internet. Free Installation,

Smart HD DVR

Included, Free Voice Remote.

Some restrictions

apply. Promo expires

1/21/23. 1-866-479-1516

Want Faster & Affordable

Internet? Get internet

service today with

Earthlink. Best internet &

WiFi Plans. Call us Today

to Get Started. Ask

about our specials! 866-

396-0515

NEED IRS RELIEF

$10K-$125K+ Get Fresh

Start or Forgiveness.

Call 1-877-705-1472

Monday through Friday

7am-5pm PST

Attention oxygen therapy

users! Inogen One G4 is

capable of full 24/7 oxygen

delivery. Only 2.8

pounds. Free info kit.

Call 877-929-9587

Dental Insurance -

Physicians Mutual Insurance

Comopany. Covers 350

procedures/ Real insurance -

not a discount plan. Get your

free dental info kit! 1-855-

.526-1060 www/dental50

plus.com/ads #6258

Thinking about installing

a new shower? American

Standard makes it

easy. FREE design consulation.

Enjoy your

shower again! Call 1-

833-769-0995 today to

see how you can save

$1,000 on installation, or

visit www.newshowerdeal.com/mac

INFORMATION

IN THE DARK

ABOUT

A

D

VERTISI

N

G?

Advertise in

the Messenger

& SCARE the

competition

away!

272-5422

ASSOCIATION ADS

Elminate gutter cleaning

forever! LeafFilter, the most

advanced debris-blockiing

gutter protection. Schedule

Free LeafFilter Estimate

today. 20% off Entire

Purchase. 10% Senior &

Military Discounts. Call 1-

833-610-1936

HELP WANTED

Car Wash

Superintendent Wanted

Looking for a reliable,

energetic retiree to work

as a caretaker for a Canal

Winchester self-service

car wash. Cleaning,

changing chemicals and

troubleshooting 4-6 hours

a day, 2-4days a week.

Flexible schedule. Will be

working with current

caretaker who has been

here for over 10 years.

$12/hour. If interested,

please call 740-527-1130.

Kings Kids Daycare

in Grove City is hiring Fun,

Loving Teachers for PT &

FT shifts. Please email

sarragc@outlook.com or

call 614-539-0349

WANT TO BUY

WE BUY JUNK CARS

Call anytime 614-774-6797

ANTIQUES

WANTED

Victrolas, Watches,

Clocks, Bookcases

Antiques, Furn.

Jeff 614-262-0676

or 614-783-2629

We Buy Cars & Trucks

$300-$3000.614-308-2626

We Buy Junk Cars &

Trucks. Highest Prices

Paid. 614-395-8775

BUSINESS

OPPORTUNITY

Snow Removal

Accounts Available

in Canal Winchester

Price Negotiable

email for more info

SYNeeds@mail.com

11/20 e/se

October 30, 2022 - GROVEPORT MESSENGER - PAGE 11

xClassified Services

BLACKTOP

BLACKTOP SEALING

Driveways & Parking Lots

614-875-7588

SANTIAGO'S

Sealcoating & Services LLC

Quality Materials Used

FALL IS HERE!

Driveway Seal & Repair!

Top Seal Cracks!

Residential & Commercial

Mulching, Edging & Clean-ups

"Ask for whatever you need."

BBB Accredited-Fully Insured

Call or text for Free Est.

614-649-1200

CARPET SALES

CARPET

Gray Saxony

270 sq.ft. w/6 lb Pad

$398.00

Other Carpet AvailableA

Phone or text Ray

740-927-3504

Delivery & Inst. avail.

CLEANING

11/6

A/M

Looking for Mrs. Clean?

For excellent cleaning serv

at reas. rates w/great refs,

dependable. 10% Seniorr

Disc. Also does Painting. Free

Est. Gwen 614-226-5229

DEEP CLEANING &

WALL WASHING

Call Judy 614-746-0273

CONCRETE

AJ's Concrete,

Masonry

Good Work - Fair Prices

Block Foundations

Driveways • Sidewalks

Epoxy/Overlay Floors

Bonded-Ins. • Free Ests.

614-419-9932

ALL-CITY CUSTOM

CONCRETE

All Types Concrete Work

New or Tear Out-Replace

40 Yrs. Exp.

(614) 207-5430

Owner is On The Job!

www.hastingsnsons.com

Driveways & Extensions

Patio & Walkways,

Porches & Steps,

Garage/Basement Floors

Hot Tub/Shed Pads,

Stamped/colored concrete

Sealing of new &

existing concrete.

FREE ESTIMATES

Contact Adam

614-756-1754

hastingsandsons.

columbus@gmail.com

EDDIE MOORE

CONSTRUCTION

Quality Concrete Work

Lt. Hauling & Room Add.,

Block Work & Excavation

Stamp Patios,

Bsmt. Wall Restoration

35 Yrs Exp - Lic & Ins.

Free Ests. 614-871-3834

11/20 e/se

11/20 A

GUTTERS

Bates & Sons

GUTTER CLEANING

5 ★ Google Reviews

614-586-3417

HEATING & COOLING

HVAC

HEATING & A/C

Fast Service - Licensed

614-633-9694

INFORMATION

FOR ONLY

$74.00

You Can Reach

Over 41,000 Homes

In

Groveport & South/

Canal Winchester

For Info Call

272-5422

HOME

IMPROVEMENTS

C&JHandyman

Services LLC

Minor Plumbing & Electric

Install Hot Water Tanks,

Dishwashers & Disposals

All Interior Remodels

Also Fencing &

Interior/Exterior Painting

Free Est. ~ 18 Yrs. Exp.

CDC/EPA Approved Guidelines

614-284-2100

KLAUSMAN HOME

IMPROVEMENT

Siding-Windows-

Doors-Roofing-Soffit-

Fascia-Gutters-Trim

Earn FREE Seamless

Gutters with Siding Over

1000 Sq. Ft.

FREE Shutters with

Soffit & Trim

EPA Certified

Member of BBB

Financing Available

Over 20 yrs exp. • Free Est.

Licensed-Bonded-Insured

Owner & Operator

James 614-419-7500

SINCE 1973

Phil Bolon Contr.

Windows & Siding

Decks, Kitchens, Baths

Room Additions,

Flooring, Roofing

Bsmt Waterproofing

Deal With Small Non-Pressure Co.

47 Yrs. Exp. - Refs. Avail.

Lic.-Bond-Ins.

11/20

A/M

Free Est. - Financing Avail.

Member BBB Of Cent. OH

O.C.I.E.B. ID #24273

614-419-3977

or 614-863-9912

11/6 A

11/6 A

HOME

MAINTENANCE

HANDYMAN SERVICES

614-235-1819

HOME

REMODELING

Charlies Handyman

Service

Over 40 yrs. exp.

Hot Water Tanks

Door Locks

Kitchen/Bath Remodels

Roofmg * Siding

Porches & Decks

614-319-6010

blantoncharles894@gmail.com

MultiCraft Const.

& Handyman Services

All Types Handyman Services:

Decks, Fences

Kitchen/Baths

Window/doors installed

Interior Painting

Drywall Repairs

All Types of Flooring

Call/Text 614-774-2923

multicraftconstruction@gmail.com

LANDSCAPING

A-1 QUALITY

TREE & LANDSCAPE

Family Owned

Serving Central Ohio

Since 2004

Bed & Yard Maint.

Weeding, Mulching, etc.

Hedge/Shrub Trimming

*Stump Removal

614-596-9504

Insured - Free Est.

LAWN CARE

The Lawn Barber

Cut, Trim, Blow away

Hedge Trimming, Edging

614-935-1466

LET US MAINTAIN

YOUR LAWN & GARDEN

FOR YOU

Summer, Spring,

Winter or Fall

WE DO IT ALL!!!!

Lawn Cuts, Edging,

Trees & Shrubs, Garden,

Mulching, Hauling,

Garden Pond &

Home Maint.

Free Ests. Low Rates

$20 & Up

Kevin - 614-905-3117

PLASTERING

DRYW

YWALL &

PLASTER

11/20

A&M

REPAIR

Textured Ceilings

614-551-6963

Residential/Commercial

BIA

Classified Services

11/20 A

PAINTING

Painter Over 30 Yrs. Exp.

Free Est. Reas. Rates

Daniel - 614-226-4221

PLUMBING

All About Drains & Plumb.

Will snake any small drain

$145. 614-778-2584

MYERS

PLUMBING

Exp. Expert Plumbing

New Const. & Fast Repairs

Lic. - Permit Available

Water • Sewer • Gas

614-633-9694

CHRIS'

PLUMBING

"Plumbing & Drain Professional

That You Can Count On"

24 Hrs., 7 Days/Week

No Overtime Charges

24 Yrs. Exp. in Plumbing &

Drain Cleaning Field

Call For A Free Phone Estimate

$100.00 For Any Small Drain

614-622-4482

30% OFF with AD

POOL/SPA

MAINTENANCE

K&L Spa Cleaning

Hot Tub Cleaning and

Weekly Maintenance

Keith 614-316-9809

POWER WASHING

Bates & Sons

Soft Wash & Powerwash

5 ★ Google Reviews

614-586-3417

MRS. POWERWASH

Any house wash $149+tax

Single deck $69+tax

2 Tier deck $99+tax

Best Wash in Town

Over 45,000 washes

Ashley 614-771-3892

SEWING MACHINE

REPAIR

REPAIR all makes 24 hr.

service. Clean, oil, adjust

in your home. $49.95 all

work gtd. 614-890-5296

TREE SERVICES

BURNS TREE SERVICE

Trimming, Removal &

Stump Grinding.

614-584-2164

Warren Brewer Tree Service

• Tree Removal

• Tree Trimming 9/11

A&M

• Stump Grinding

• Bucket Truck Services

Best Prices • Same Day Service

614-878-2568

A-1 QUALITY

TREE & LANDSCAPE

Family Owned

Serving Central Ohio

Since 2004

614-596-9504

Insured - Free Est.

11/6 A

11/20 A&M

10/23 A&M
---
PAGE 12 - GROVEPORT MESSENGER - October 30, 2022

"BEST NEW YEARS PARTY IN TOWN"

18 th Annual

MTFD open house

www.columbusmessenger.com

Mike Albert

and

The Big E. Band

Per Couple Prices

Overnight Package - $319

Party Only Packages - $250

Single Packages Available

Prices include

Dinner, Drinks, Room, Party favors,

Full Breakfast

Crowne Plaza • 6500 Doubletree Ave. (formerly Marriott North)

Photos courtesy of Madison Township

Madison Township firefighters demonstrated how an auto extrication is performed

- specifically a dashboard lift - at the Madison Township Fire Department open

house held Oct. 16 at Station 181 on South Hamilton Road. Firefighters, from left to

right, are: Firefighter Grant Ellis, Firefighter Owen Rodeniser, and Lt. Andrew

Slivka. The vehicle was donated by Long's Towing for the demonstration.

ASBURY

SOUTH UMC

4760 Winchester Pike

Columbus, Ohio 43232

Telephone: 614-837-4601

Rev. Sherri Upchurch Blackwell

Sunday Worship 10 a.m.

Inside and Parking Lot

Sunday School 9 a.m.

Be a Part of Our Local Worship Guide

Our Worship Guide is geared toward celebrating faith and helping readers

connect with religious resources in our community. Make sure these readers

know how you can help with a presence in this very special section distributed to

more than 19,000 households in the Groveport area.

Contact us today to secure your spot in our Worship Guide.

614.272.5422 • kathy@columbusmessenger.com

Groveport

Messenger

GROVEPORT ZION

LUTHERAN, NALC

Christ Centered, Mission Driven

Traditionally Grounded

6014 Groveport Rd., Groveport, OH 43125

(Across from Kroger, main parking in the back)

PHONE: 614-836-5611

PASTOR BRIAN MCGEE

Sunday Worship 11 A.M.

In person service in sanctuary, or in

parking lot via radio (92.7)

Madison Township Firefighter Michael Kipp shows some kids the inside of Fire

Engine 182 during the open house.

We are the BEST community newspaper!

Need advertising? Call 614-272-5422 today.