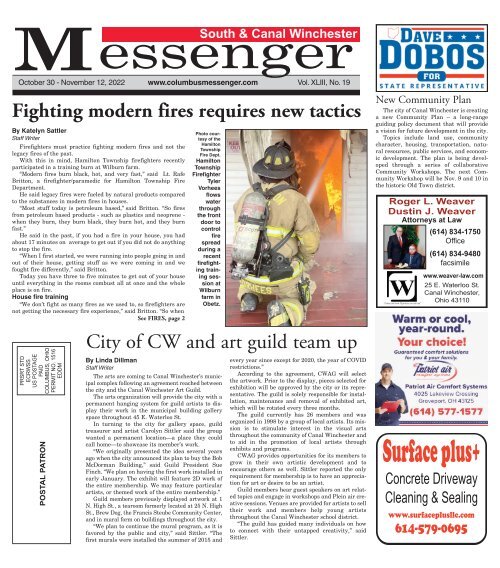 South & Canal Winchester Messenger - October 30th, 2022
You also want an ePaper? Increase the reach of your titles
YUMPU automatically turns print PDFs into web optimized ePapers that Google loves.
Messenger

South & Canal Winchester

October 30 - November 12, 2022 www.columbusmessenger.com Vol. XLIII, No. 19

Fighting modern fires requires new tactics

By Katelyn Sattler

Staff Writer

Firefighters must practice fighting modern fires and not the

legacy fires of the past.

With this in mind, Hamilton Township firefighters recently

participated in a training burn at Wilburn farm.

"Modern fires burn black, hot, and very fast," said Lt. Rafe

Britton, a firefighter/paramedic for Hamilton Township Fire

Department.

He said legacy fires were fueled by natural products compared

to the substances in modern fires in houses.

"Most stuff today is petroleum based," said Britton. "So fires

from petroleum based products - such as plastics and neoprene -

when they burn, they burn black, they burn hot, and they burn

fast."

He said in the past, if you had a fire in your house, you had

about 17 minutes on average to get out if you did not do anything

to stop the fire.

"When I first started, we were running into people going in and

out of their house, getting stuff as we were coming in and we

fought fire differently," said Britton.

Today you have three to five minutes to get out of your house

until everything in the rooms combust all at once and the whole

place is on fire.

House fire training

"We don't fight as many fires as we used to, so firefighters are

not getting the necessary fire experience," said Britton. "So when

See FIRES, page 2

Photo courtesy

of the

Hamilton

Township

Fire Dept.

Hamilton

Township

Firefighter

Tyler

Vorhees

flows

water

through

the front

door to

control

fire

spread

during a

recent

firefighting

training

session

at

Wilburn

farm in

Obetz.

New Community Plan

The city of Canal Winchester is creating

a new Community Plan — a long-range

guiding policy document that will provide

a vision for future development in the city.

Topics include land use, community

character, housing, transportation, natural

resources, public services, and economic

development. The plan is being developed

through a series of collaborative

Community Workshops. The next Community

Workshop will be Nov. 9 and 10 in

the historic Old Town district.

Roger L. Weaver

Dustin J. Weaver

Attorneys at Law

(614) 834-1750

Office

(614) 834-9480

facsimile

"A name you know, Experience you can trust"

www.weaver-law.com

25 E. Waterloo St.

Canal Winchester,

Ohio 43110

PRSRT STD

ECRWSS

US POSTAGE

PAID

COLUMBUS, OHIO

PERMIT NO. 1516

EDDM

POSTAL PATRON

City of CW and art guild team up

By Linda Dillman

Staff Writer

The arts are coming to Canal Winchester's municipal

complex following an agreement reached between

the city and the Canal Winchester Art Guild.

The arts organization will provide the city with a

permanent hanging system for guild artists to display

their work in the municipal building gallery

space throughout 45 E. Waterloo St.

In turning to the city for gallery space, guild

treasurer and artist Carolyn Sittler said the group

wanted a permanent location–a place they could

call home–to showcase its member's work.

"We originally presented the idea several years

ago when the city announced its plan to buy the Bob

McDorman Building," said Guild President Sue

Finch. "We plan on having the first work installed in

early January. The exhibit will feature 2D work of

the entire membership. We may feature particular

artists, or themed work of the entire membership."

Guild members previously displayed artwork at 1

N. High St., a tearoom formerly located at 25 N. High

St., Brew Dog, the Francis Steube Community Center,

and in mural form on buildings throughout the city.

"We plan to continue the mural program, as it is

favored by the public and city," said Sittler. "The

first murals were installed the summer of 2015 and

every year since except for 2020, the year of COVID

restrictions."

According to the agreement, CWAG will select

the artwork. Prior to the display, pieces selected for

exhibition will be approved by the city or its representative.

The guild is solely responsible for installation,

maintenance and removal of exhibited art,

which will be rotated every three months.

The guild currently has 26 members and was

organized in 1998 by a group of local artists. Its mission

is to stimulate interest in the visual arts

throughout the community of Canal Winchester and

to aid in the promotion of local artists through

exhibits and programs.

CWAG provides opportunities for its members to

grow in their own artistic development and to

encourage others as well. Sittler reported the only

requirement for membership is to have an appreciation

for art or desire to be an artist.

Guild members hear guest speakers on art related

topics and engage in workshops and Plein air creative

sessions. Venues are provided for artists to sell

their work and members help young artists

throughout the Canal Winchester school district.

"The guild has guided many individuals on how

to connect with their untapped creativity," said

Sittler.

Surface plus+

Concrete Driveway

Cleaning & Sealing

www.surfaceplusllc.com

614-579-0695
---
PAGE 2 - SOUTH & CANAL WINCHESTER MESSENGER - October 30, 2022

The Gilmore Group

Office: 614-834-HOME (4663)

Cell: 614-774-4416

www.GilmoreGroupHomes.com

FIRES

Continued from page 1

www.columbusmessenger.com

Get the word out

FAST

Advertise your Craft Show

or Bazaar in the classifieds.

It's easy to do.

Photo courtesy of the Hamilton Township Fire Dept.

Hamilton Township firefighters take a break after a busy morning filled with training under live fire conditions.

Just call or email Kathy at

614-272-5422

kathy@columbusmessenger.com

for all of the details

America'

ica's s Fa Fa

av av vorite Treasure ure e Hunts!

2022

Nov. 26 &

27

Dec. 17 & 18

Antiques, Collectibles,

Jewelry, Vintage,

Home Decor, Militaria

and more!

2023

Jan. 28 & 29

Feb. 25 & 26

Mar. 25 & 26

we get a structure like this (at Wilburn farm) for live

burns, we try to make the fires as close as possible to

real life because we want the younger guys to experience

the heat, the black smoke, and what it feels like

inside. Some of these guys have never seen fire.

There'll be a point where everything combusts at once.

That usually happens in three to five minutes. If you're

a firefighter, you need to recognize those conditions."

The firefighters' gear protects them up to about 500

degrees. The heat can get up to 1,100 degrees and hotter.

"That's why I always tell my guys, when in doubt,

flow water. I'm not worried about water damage. I'm

worried about your life," said Britton.

He said thermal imaging cameras help firefighters

"see" in a fire.

"You can't see anything in fires now," said Britton.

"We used to crawl in under the smoke on our backs

with the fire hose nozzle on our belts. We would push

ourselves with our feet back to the fire because those

fires didn't put out near as much smoke as modern

fires will. The TIC can look through the smoke. And

some TICs are made to where it changes color. We

want to see orange. Orange is fire, orange is bad. If I

see red, that's 800 to 1,000 degrees. If I see orange,

that's 500 to 800 degrees."

Fighting fire with foam

Fire trucks have 30 gallons of foam, which firefighters

call "wet water."

"It breaks down the surface tension of the water and

makes the water more effective. It makes it sticky,"

said Britton. "A lot of times fires like this (training

burn) don't need foam. Good old water's about the best

thing you can have because it takes the heat out, and

it'll create the steam."

He said 30 gallons of foam added to 750 gallons of

water and makes it 2,100 gallons of water.

"It makes the water more effective," said Britton. "I

have the same amount of water, but the foam is three

times more effective. I know a lot of times volunteer

departments don't have money to buy new trucks with

foam systems. So they do a poor man's foam by taking

five gallons of Dawn dishwashing liquid and pouring it

in the tank."

Tactics

"When you have fire blowing out a second floor window,

you've got to think to yourself what gets water on

the fire the fastest," said Britton "So when I get my

hose charged I take the front door, find the stairs, get

to the top of the stairs and make a turn into that room

faster than if I just hit it hard from outside and bounce

the water off the ceiling. This is a transitional attack."

This slows down the fire.

"So the transitional is you hit it, you get a change

with your smoke, shut it off," said Britton. "Go get it. If

I had fire coming out the front door, the fastest way to

that fire is hitting it right in the mouth. I'm going to

go right in, right where it's coming out. I'm going to go

get it cause that's where it's at. I'm going to hit it. Used

to be they taught you to fight fire from the unburnt

side. I don't care if it's burnt or unburnt, wherever the

fire's at, that's where I'm going."

He said you do not want the fire behind you, below

you, or above you. He said a fellow firefighter will

watch the conditions and let other firefighters know

where the fire is.

"We're brothers. I always say brothers above all others,"

said Britton. "When we're in there, it's about the

guy to my side, the guy at my back."

After the fire

Once the fire is out it's time to pack up equipment

and clean up.

"We'll get everything in order," said Britton.

"Everybody will take a 20 minute hot shower. The reason

we do that is it opens your pores up. So any of the

carcinogens we have on us, it'll open your pores up and

you wash it all off. Studies show about 20 minutes for

a good hot shower. Some departments that have a lot

of money, they bought saunas. And after the fires, the

guys will go into saunas. And it sweats it all out of

them."
---
www.columbusmessenger.com

CW Schools promote leadership program

By Linda Dillman

Staff Writer

Canal Winchester Middle School students

are on a path to leadership.

The Leader in Me program is an integrated

approach to education which teaches

leadership, creates a culture of student

empowerment and aligns systems to drive

academic results. It is based on the "7

Habits of Highly Effective People," written

by educator and author Stephen Covey.

Teachers completed training last year

and began implementing the program with

their students this year in 30 minute

Connections classes held every Tuesday. In

addition, students have weekly journals to

complete where they reflect on the seven

habits of highly effective people.

"Why bring this to our building?" asked

Principal Brian Moore during an Oct. 17

Canal Winchester Board of Education

meeting. "In looking at challenges and

information collected by our staff in 2018-

19, we were not seeing leadership qualities

in students. A lack of motivation, empathy–not

having those types of things. We

felt having this program would help bring

that to the forefront and help our students."

Moore said the goal this year in measuring

the impact of the program is to compare

office and bus discipline referral data from

2018-19 and 2019-20 with data collected in

spring 2023.

"We want to empower students

to be independent learners and

active members in their community."

- Brian Moore, principal

CW Middle School

"We want to empower students to be

independent learners and active members

in their community," he said. "We want to

help students prepare themselves for high

school and their futures. To create selfmotivated

learners who are empathetic to

others' differences. I think that last one is

the most important one we want to drive

home. We want to create a student-led culture

that helps teens help each other

through this process."

According to Moore, results are already

becoming apparent in the building and he

said Leader in Me aligns perfectly with the

district's Portrait of a Graduate. He also

reported the next initiative is to provide

parents and the community with ways to

have conversations at home with their children.

"We're very happy where we're at even

in the first months of school," said Moore.

"Students are starting to write some really

neat things about how they can change

their lives and make things better. We're

really excited."

Veterans Day in CW

The city of Canal Winchester, with VFW

Post 10523, will host a Veterans Day

Celebration on Nov. 12. The public is invited

to join veterans, local leaders, and distinguished

guests for this annual patriotic

event set in the heart of historic downtown

Canal Winchester.

The day begins with a Pancake

Breakfast from 8:30-10 a.m. for veterans

and their families at the CW Community

Center, 45 E. Waterloo St. The breakfast

will be served by volunteers from Canal

Winchester Senior Citizens Club, with food

arrangements by the family of the late

Fred Bivens, U.S. Air Force veteran and

long-time club member.

A Veterans March will begin at the

Community Center's Waterloo Street

entrance at 10 a.m. and make its way

through the city's flag-lined downtown

streets. Veterans will travel west along

East Waterloo Street, turn south onto

South High Street, fare right on to West

Columbus Street, and making another

right on to Warehouse Alley to end at the

greenspace of Stradley Place at 30 S. High

St., where a traditional Veterans Day ceremony

will be held. The ceremony will begin

immediately following the march.

Veterans marching through the city's

historic downtown will be joined by several

military vehicles provided by Motts

Military Museum from Groveport. The ceremony

will include remarks from Canal

Winchester Mayor Mike Ebert and VFW

October 30, 2022 - SOUTH & CANAL WINCHESTER MESSENGER - PAGE 3

Post 10523 Commander Rick Williams, as

well as a patriotic keynote address. Other

highlights will include a special performance

of the National Anthem by

Councilman Mike Walker, patriotic selections

by CWHS Select Vocal Ensemble, a

21 Gun Salute, and the playing of Taps.

Visit www.canalwinchesterohio.gov or

call 614-834-9915 for information.

Spaghetti dinner

David's United Church of Christ, 80 W.

Columbus St., Canal Winchester, is sponsoring

a fundraising silent auction and

spaghetti dinner on Nov. 12. Local residents

are invited to stop by for either or

both activities from 5:30-7:30 p.m. Cost of

the dinner is $10 for adults and $5 for children

under age 12. Items in the silent auction

will include original, one-of-a-kind

items from church members and donated

gift cards from local businesses. Proceeds

support the church.

Hopeful Hearts

Hope United Methodist Church, 83 E.

Columbus St., Canal Winchester, will hold

its monthly giveaway of clothing for children

in sizes infant to five. It is open the

third Saturday of each month. They also

accept donations of the same sizes and any

children's items in good repair. Donations

can be left at our side door beside the parking

For information call 614-837-7548 or

email us at hope.in.canal@gmail.com.
---
PAGE 4 - SOUTH & CANAL WINCHESTER MESSENGER - October 30, 2022

Obetz City Council

Obetz City Council meets the second

and fourth Mondays each month at 6 p.m.

in the Council Chambers at 4175 Alum

Creek Drive, Obetz.

If the meeting date occurs on a holiday,

the regular meeting is held on the next

Tuesday following the holiday. Call (614)

491-1080.

DestinationOutlets.com

800-213-9083

8000 Factory Shops Blvd.

Jeffersonville, OH 43128

Hamilton school board

Hamilton Local Board of Education

meetings are held at 6 p.m. at the

Hamilton Local Education Center, 775

Rathmell Road, Columbus.

For information on meeting dates visit

www.hamilton-local.k12.oh.us.

DOWNLOAD OUR

MEMBERSHIP APP

Water main break in Obetz

Plus planning & zoning news

By Katelyn Sattler

Staff Writer

There was a water main break along

Groveport Road near the west roundabout

near Alum Creek Drive that was slated for

repairs Oct. 24.

Obetz City Administrator Rod Davisson

said that, once water was restored in the

area, residents must boil their water before

using it. Affected areas will directly receive

a boil water advisory with more information.

Obetz City Council news

•Council approved the final plat for section

1 of the Buckstone Bend subdivision .

This means Pulte can sell the lots and start

building on the old Wilburn farm east of

Lockbourne Road and south of Rathmell

Road.

•Councilman Todd Gibbs said two

lights have been replace on Recreation

Trail and at Scioto Heights - the pole on

the roundabout on Alum Creek.

•Councilman Robert Kramer attended a

recent Hamilton Township trustees meeting

and learned the speed limit on Grebus

Road has been 50 mph, which Kramer said,

"Sounds insane." It has since been lowered

to 25 mph.

•In the last two weeks, the Obetz Police

Department took 703 calls for service,

patrolled 2,258 miles, issued one speeding

citation, issued 12 other moving violations,

took nine offense reports, and one crash

report.

•In September, the Hamilton Township

Fire Department went on 73 EMS runs

and 29 fire runs.

Planning and Zoning

Variances for Centerpoint 7 on Bixby

Road, which is the last developable parcel

in Centerpoint Business Park, were discussed

at the Oct. 12 Obetz Planning &

Zoning Commission meeting.

The first variance was a request to

approve a gravel fire lane, which is not on

the applicant's property. The applicant

must resolve the issue of the fire lane not

being on the property with the industrial

park association by executing an easement

to allow it, which they have not yet submitted.

Madison Township approved the gravel

fire lane.

Another variance was a request to

approve two dumpsters in the front of the

building.

The area is mixed residential and industrial.

Since there are residential property

nearby, the city of Obetz would like the

dumpsters to be screened and not visible

from Bixby Road.

The final variance requested was to

allow a rear yard set back of two feet.

While not in the variance request, the

development text shows stairs on the property

next to them.

The applicant must get permission to

have the stairs on the property next to

them.

www.columbusmessenger.com

Doug Kaiser with Exxcel Project

Management agreed to do those things.

Obetz City Councilman Derek Varney

requested the city have another chance to

review the final site plan.

The commission approved the request

for variances to allow the gravel fire lane,

to allow the two dumpsters on the front

yard with none visible from the front yard,

and also to approve the variance to allow a

two foot rear yard setback on the condition

that no part of the building, including

staircase, is on a parcel owned by another

entity.

Pulte Homes

Pulte Homes sought variances to allow

a temporary sign eight feet tall and 32

square feet in area for the new development,

Buckstone Bend.

The sign will sit at the southeast corner

of Lockbourne Road and Wilburn

Boulevard and remain until all lots are

sold.

Community Services Director Stacey

Boumis said, "The zoning code says the

maximum height is four feet. They're asking

for eight feet. The zoning code limits

signage to 90 day. Obviously, we want

them to sell lots and get this development

filled up. So, they want to keep the sign up

until all the lots are sold, which is a reasonable

request.

Boumis said there would be no lighting

on this sign.

The commission approved the variance

to install the sign and let it remain until all

lots are sold at the Pulte property.

Buckstone Bend

Boumis said, "It's exciting this

(Buckstone Bend Final Plat Section 1) is in

this phase already. They are requesting

final approval for 49 lots for section one of

their project. They are already in the

design phase of Section 2."

The only issue Boumis noted was that

lot 48 on the preliminary plat is not on the

final plat but does not pose any issues.

"It just means it's going to be platted at

an additional phase," said Boumis.

Commissioner Dan Raver had concerns

that the corner lots.

Boumis said, "Well, that's a corner lot,

so their fencing opportunities would be

extremely limited. Pulte will manage their

homeowners association for many years.

Pulte has the same fence restrictions as

Big Walnut Run, which is that all-aluminum

fence. And so it would be a quality

fence type, I believe, in this subdivision."

Raver still wasn't convinced the corner

lots met the frontage requirements.

Law Director Gene Hollins said, "It's a

little over 49 feet of frontage for those (corner)

lots."

Boumis said, "We would look at the rear

lot because of the curb because it's in the

right-of-way. These were the sizes that

were approved before. They haven't

changed anything from their original submittal."

The commission approved the Final

Plat Section 1 for Buckstone Bend.
---
www.columbusmessenger.com

October 30, 2022 - SOUTH & CANAL WINCHESTER MESSENGER - PAGE 5
---
PAGE 6 - SOUTH & CANAL WINCHESTER MESSENGER - October 30, 2022

Compost those pumpkins

Picking pumpkins and gourds to decorate

your yard and doorstep is part of

many families fall traditions. While it's

easy to toss old pumpkins and gourds into

the trash, doing so creates unnecessary

food waste and wastes natural resources.

There's a better way to use those pumpkins.

Below, the Solid Waste Authority of

Central Ohio (SWACO) is sharing simple

ways you can safely dispose of your old

pumpkins and gourds while doing your

part to care for the environment.

• Eat Your Pumpkins: When it comes to

preventing food waste, SWACO's Save

More Than Food campaign wants you to

know that eating food is best. You probably

can attest to how tasty roasted pumpkin

seeds can be, but did you know that uncarved,

fresh pumpkins can be used to make

pies, breads, soups and more.

• Feed Local Wildlife in the Winter:

Birds love to nosh on little pumpkin

snacks. Once you scrape out the flesh and

seeds and remove any paint or remnant

wax (in the case of a jack-o-lantern candle),

cut the pumpkin into small pieces that

could fit into a bird feeder or dish. Toss out

any pieces that are starting to grow mold,

as those are unsafe to consume. Be aware

that other critters may want a pumpkin

snack, so if you live in a more urban community

and want to avoid inviting more

squirrels, raccoons, deer or other pests in

your yard, this option may not be ideal for

you.

• Donate to Local Farms: Feeding farm

animals can be expensive, so donating

pumpkins and gourds to local farms is a

simple way to support local farmers. Plus,

common farm animals like cows and chickens

love to snack on them. Call your local

community farms to see who may be

accepting pumpkins or consider posting in

local Facebook or NextDoor groups to connect

with others who are collecting these

items for local farms.

• Compost at Home: Before you toss

your pumpkins in your backyard to decompose,

be sure to clean them thoroughly,

removing any seeds or any other non-compostable

materials (e.g., decorations, accessories,

stickers, etc.). Also, scrape the skin

off any pumpkin that has paint or marker.

Cut the pumpkins into pieces so it's easier

for them to break down in your compost

pile. Don't worry if it doesn't happen

overnight — it takes about 8 to 12 weeks for

pumpkin pieces to break down completely.

Drop Off Pumpkins at Local Collection

Sites: Make a difference this fall when you

drop off your harvest vegetables at one of

these participating pumpkin and gourd collection

locations:

•City of Columbus: Nov. 1 — 30 (Monday

— Friday) at the Division of Refuse

Collection, 2100 Alum Creek Drive,

between 8 a.m. and 3 p.m.

•Dublin: Oct. 17 — Dec. 9 at the Dublin

Service Center, 6555 Shier Rings Road

•Grandview: Oct. 29 - Nov. 11 at 1525

Goodale Boulevard (next to the food waste

drop-off)

•Grove City: Oct. 31 — Nov. 27 at Fryer

Park, 3899 Orders Road

www.columbusmessenger.com

•Hilliard: Oct. 28 — Dec. 2 at 3770

Municipal Way (next to the food waste

drop off)

•New Albany: Nov. 1 — Dec. 2 at New

Albany Public Service, 7800 Bevelhymer

Road

•Upper Arlington: Oct. 29 — Dec. 18

at Fancyburg Park, 3375 Kioka Avenue

Intact and decaying pumpkins, carved

jack-o'-lanterns and gourds are all accepted.

Please remove candles and avoid dropping

off pumpkins that have been painted

or drawn on with permanent markers.

Bed Tax Grant Program

The city of Canal Winchester is accepting

applications for its 2023 Transient

Occupancy Tax (Bed Tax) Grant Program.

The grant program is open to non-profits

or private organizations located within

the city of Canal Winchester to help fund

projects to enhance Canal Winchester for

residents and/or visitors to the community.

Grants are funded with the hotel/motel tax

revenue collected by the city of Canal

Winchester.

Canal Winchester has levied a 6 percent

transient occupancy tax (bed tax) that is

imposed when lodging is furnished to transient

guests by a hotel, motel, or similar

business. One half (3 percent) of this tax is

contributed to Destination: Canal

Winchester, the designated visitors and

convention bureau for Canal Winchester.

The second half of the tax is designated to

fund the annual Bed Tax Grant Program.

Grant applications are competitively

reviewed and awards will be made to those

projects meeting all requirements and the

intent of the program. Grant applications

are available on the city's website.

Completed applications must be submitted

by mail or email to the attention of the

finance director no later than Nov. 30.

Canal Winchester City Council will make

award determinations in December. Award

checks will be drawn in early 2023 and all

awards must be used within the 2023 calendar

year. Questions regarding the grant

program or application process should be

directed to Amanda Jackson, finance director,

city of Canal Winchester at 614-837-

6937 or

ajackson@canalwinchesterohio.gov.

Senior Services levy

Voters will decide on the proposed

Franklin County Senior Services levy

renewal on Nov. 8.

The proposed five year tax levy renewal

is for 1.75 mills, $0.175 per $100 of valuation,

commencing in 2022. Officials state it

is not a tax increase.

The levy provides funding for Franklin

County Senior Options and its services

designed to help seniors remain safely at

home. These services include meals-onwheels,

transportation to doctor appointments,

and emergency response buttons.

The existing senior services levy will

expire at the end of 2022. The senior levy is

the main funding source for Senior Options

programs.
---
www.columbusmessenger.com

MORPC regional goals

The Mid-Ohio Regional Planning

Commission (MORPC) is seeking comments

from the public on the proposed

regional goals for the 2024-2050

Metropolitan Transportation Plan (MTP)

for the Columbus Urbanized Area.

The MTP is a long-range planning document

that identifies transportation priorities,

strategies, and projects over the next

two decades. Updated on a four-year cycle,

MORPC coordinates the development of

the MTP with communities throughout

central Ohio and with other local, state,

and federal agencies.

The draft goals include:

•By guiding investment in transportation

and mobility infrastructure and services

in central Ohio, the MTP identifies

strategies to advance the following six

goals:

•Position central Ohio to attract and

retain economic opportunity to prosper as a

region and compete globally.

•Create sustainable neighborhoods to

improve all residents' quality of life.

•Provide transportation and mobility to

benefit the health, safety, and welfare of all

people.

•Reduce per capita energy consumption

and promote alternative fuel resources to

increase affordability and resilience of

regional energy supplies.

•Protect natural resources and mitigate

infrastructure vulnerabilities to maintain a

healthy ecosystem and community.

•Increase regional collaboration and

employ innovative transportation solutions

to maximize the return on public expenditures.

"Goal setting is step one in the planning

process," said MORPC Transportation

Study Director Nick Gill. "We invite the

public to weigh in on this milestone and

help set the direction of the plan."

The goals will direct actions and strategies

used to measure progress over time

with respect to transportation projects in

central Ohio. Next steps include defining

measurable outcomes with indicators to

track success. The plan is scheduled for

completion in 2024 and is being conducted

by MORPC in concert with other activities

in the region.

"These goals provide a shared vision for

our region to work toward as we develop

transportation projects and initiatives and

will help us to determine which projects to

advance based on their ability to advance

the goals," said MORPC Associate Director

of Transportation Planning Maria Schaper.

Presentations on the draft goals can be

requested by calling Maria Schaper at

(614) 233-4153 or by emailing

mschaper@morpc.org or mtp@morpc.org.

The draft goals can also be viewed on

MORPC's website.

The public is encouraged to provide comments

or additional information on the proposed

goals by 5 p.m. on Nov. 4 by email to

mtp@morpc.org or in writing to MORPC,

111 Liberty Street, Suite 100, Columbus,

Ohio 43215, Attn: MTP.

For more details, visit morpc.org/program-service/metropolitan-transportationplan.

Decline in home sales

New data from the Franklin County

Auditor's Real Estate Dashboard shows a

significant decline in the total number of

home sales and in the total sales amount

for the month of September, though the

median sale price still rose 6 percent.

The September total sales amount was

$412.6 million, a decline of 29 percent compared

to the same month last year.

Likewise, the total number of sales was

1,371, a decrease of 705 compared to

September 2021. The median sale price

increased slightly to $265,000, a 6 percent

increase compared to September 2021.

The numbers show an accelerating

trend of a cooling housing market: In

August, the total number of sales was

1,696, a decline of 390 compared to August

2021, and the total sales amount declined

13 percent, to $524.4 million.

"The Franklin County housing market

is still solid, though it is mirroring national

trends of a market cool-down," Franklin

County Auditor Michael Stinziano said.

"The median price did still rise, showing

the continued need for more affordable

housing in our community."

Most municipalities had similar numbers

to the county as a whole, but not all of

them. In Bexley, the total sales amount

increased 29 percent, and the median sale

October 30, 2022 - SOUTH & CANAL WINCHESTER MESSENGER - PAGE 7

price rose 25 percent. In Canal Winchester,

the total sales amount increased 69 percent,

and the median sale price increased

11 percent.

The Real Estate Dashboard is updated

monthly and uses intuitive GIS mapping to

show sales activity and statistics for homes

across Franklin County. The tool can break

down sales data by municipality, school

district, or Columbus area commission, giving

homeowners a comprehensive view of

sales activity in their neighborhoods.

September 2022 Franklin County sales

by the numbers:

•1,371 total number of sales, a decrease

of 705 compared to September 2021;

•$265,000 median sale price, an

increase of 6 percent compared to

September 2021;

•$412.6 million in total sales, a decrease

of 29 percent compared to September 2021.

Special Olympics

The mission of Special Olympics Ohio

and its Groveport and Canal Winchester

Special Olympics chapter is to provide year

round sports training and competition in a

variety of Olympic type sports for intellectually

disabled individuals. For information

contact Penny and Cassandra Hilty at

groveportspecialolympics@gmail.com or at

(614) 395-8992 or 395-6640. Donations may

be sent to Groveport Special Olympics, P.O.

Box 296, Groveport, OH 43125.

ME DICARE A NNUAL

ELECTION P

Oct.

15 th

PERIOD (AEP)

Dec 7 th

Call today $0 consultatio

n $0

fee, local agent!

Over 16 years experience

with Medicare options

Offer

different major

carriers i n the area

Year

ear- rou und support for my

clients

Call or text me today to

schedule yo

our appt.

Terri

Curcio

614-460-0601

in your area. Please contact Medicare

e.gov or 1-800-MEDICARE to get information on all of
---
PAGE 8 - SOUTH & CANAL WINCHESTER MESSENGER - October 30, 2022

www.columbusmessenger.com

PAID ADVERTISING

Dobos a Candidate

for the Ohio House

Dave Dobos, longtime west Columbus resident,

is a candidate for the Ohio House of

Representatives 10th District. He obtained the

Republican endorsement for the seat when threeterm

incumbent Laura Lanese opted not to run for

reelection in June. He will face off against his

Democratic opponent Russ Harris in the Nov. 8th

general election. The new 10th District encompasses

west and southwest Columbus (south of

Sullivant Avenue), Grove City, and parts of the

south side of Columbus.

If elected, he intends to focus on economic

development issues, education, workforce development,

and public safety and crime prevention.

With Intel building its massive new $20 billion

chip manufacturing facility in central Ohio, he

will work with the local business community to

encourage related enterprises that expand or

emerge here to locate on or near the west, southwest

or south portions of Columbus and Franklin

VOTE

DAVE

DOBOS

For

State Representative

County.

"We have a window of opportunity for Ohio to

become the high-tech manufacturing center for

the U.S.," says Dobos. "I want to help us grow the

economic pie and assure that all of us can share in

the benefits."

Long active in his community, Dobos has

assumed leadership roles at various times in several

west Columbus organizations, including the

Greater Hilltop Area Commission, Hilltop

Business Association, Hilltop Historical Society,

& West HS Alumni Association.

Dobos has developed a reputation for independent

thinking, an analytical, data-driven

approach to solving problems, and a collaborative

style when working with others to achieve group

objectives.

He has two adult special needs sons, both currently

living in group homes.

"I offer my common-sense values and solutions as your

candidate for the State Legislature. As your

Representative, I'll fight for our families so they can build a

better future for themselves. I will lead the way with

economic, educational, and workforce development

initiatives, and I'll work to keep our communities safe. I will

engage with both Republicans and Democrats to advance

the common good. I humbly ask for your vote."

"Dave's abilities will help us move

Ohio forward"

—Ohio Governor Mike Dewine

"Dave's work on the Columbus School Board and in our

community well suits him for our legislature."

—Ron O'Brien

former Franklin County Prosecutor

We need Dave Dobos FIGHTING FOR US.

DaveforUs.com

PAID FOR BY THE OHIO HOUSE REPUBLICAN ALLIANCE

PAID ADVERTISING

Michele Reynolds

for State Senate

Michele Reynolds is the true leader we need in

the Ohio Senate. Michele knows hard work.

Michele obtained a Bachelor of Science

degree in Criminal Justice from the University of

Cincinnati, Master of Arts in Public

Administration and Urban Studies from the

University of Akron, a Master of Law from

Thomas Jefferson School of Law, an Honorary

Doctor of Philosophy from CICA International

University and Seminary, and is All But

Dissertation for her Doctor of Business

Administration from North Central University.

Michele is a problem solver. She has housed

over 5,000 returning citizens in affordable housing

settings across Ohio.

Michele is an entrepreneur, who has created

over 200 jobs, and 8 successful businesses and

launched a business incubator to support the

PAID ADVERTISING

Caring for the

Caregiver Expo

Spencer 4Higher Media LLC, in partnership

with The Ohio Sickle Cell and Health

Association, announced the Franklin County

Office on Aging will present the third annual

Caring for the Caregiver Expo on Nov. 5 in

Columbus at The Boat House at Confluence Park

at 9 a.m.

The Caring for the Caregiver Expo is a free

one-of-kind event that allows caregivers, first

responders, essential workers, parents, grandparents

and guardians a chance to enjoy pampering

services like massages, reflexology, mini-manicures

and facials. Attendees can participate in

health and fitness activities, including yoga, aerobics

and line dancing. Lunch and Learn sessions

with guest speakers and community resources and

information from health care organizations, businesses,

and government agencies will be available.

"The Caring for the Caregiver Expo kicks off

National Caregivers Month. We are happy to

announce that Franklin County Office on Aging

will serve as our Presenting Sponsor," said

Brenda Spencer, president of Spencer 4Higher

Media LLC and Caring for the Caregiver Expo

Creator and Event Chair. "The Franklin County

needs of entrepreneurs and aspiring business

owners in Central Ohio.

Michele is experienced. She holds elected

office as the Chairwoman and Township Trustee

for Madison Township. In her tenure, she worked

with fellow trustees to help modernize Madison

Township; helped secure grant funding for the

local police department; improved community

engagement by creating a Citizens Advisory

Committee; implemented an At-Risk Resident

Registry, and worked collaboratively with other

local municipalities to increase public safety.

Michele is a faith leader. She's helped over

250 nonprofit organizations secure more than $40

million in state funding to help continue their

mission and build organizational capacity.

Vote Michele Reynolds for State Senate!

Office on Aging is a perfect partner and has supported

the Caring for the Caregiver Expo since its

inaugural event in 2019."

The Franklin County Office on Aging provides

centralized access toprograms and individualized

services for older adults, dependent

adults, and their families so they can preserve

their independence and stay in their own home.

Franklin County residents aged 60 and older can

access programs and services through the agency,

as well as support services for caregivers and kinship

families, including adult day services,

durable medical equipment, caregiver counseling

and more.

"We are thrilled to be the presenting sponsor

for the Caring for the Caregiver Expo," said

Interim Director Chanda Wingo. "Many caregivers

are taking care of a loved one while also

working and being a parent. The long hours and

around the clock care can take a toll on their

physical, mental and emotional well-being. This

event is a chance to relax, unwind and recharge so

they can continue providing quality care for those

they love."

Call (614) 348-2667 or visit caringforthecaregiverexpo.com

for information.
---
www.columbusmessenger.com

October 30, 2022 - SOUTH & CANAL WINCHESTER MESSENGER - PAGE 9
---
PAGE 10 - SOUTH & CANAL WINCHESTER MESSENGER - October 30, 2022

Letters policy

The Messenger welcomes letters to the

editor. Letters cannot be libelous. Letters that

do not have a signature, address, and telephone

number, or are signed with a pseudonym,

will be rejected. PLEASE BE BRIEF

AND TO THE POINT. The Messenger

reserves the right to edit or refuse publication

of any letter for any reason. Opinions

expressed in the letters are not necessarily

the views of the Messenger. Mail letters to:

South & Canal Winchester Messenger, 3500

Sullivant Avenue, Columbus, OH 43204; or

email southeast@columbusmessenger.com.

eastside

Messenger

(Distribution: 6,100)

Rick Palsgrove................................South & CW Editor

southeast@columbusmessenger.com

Published every other Sunday by

The Columbus Messenger Co.

3500 Sullivant Ave., Columbus, Ohio 43204-1887

(614) 272-5422

Keep tabs on the news in CW,

Obetz, and Hamilton Twp.

Look for South & CW Messenger

Become a fan!

"BEST NEW YEARS PARTY IN TOWN"

Obetz hydrant flushing

The Obetz Utilities Department will

conduct the annual fire hydrant flushing

from Nov. 7-11 between 9 a.m. and 4 p.m.

Fire hydrant flushing may cause temporary

inconveniences such as a reduction in

water pressure and discolored water.

Discolored water is not a threat to the public's

health, however, it will stain laundry

and if consumed may have an unpleasant

taste. To prevent this from happening, do

not wash laundry and have plenty of drinking

water on hand. Residents are asked to

ensure that their vehicles are away from

the hydrants.

GriefShare group

The GriefShare group will host a free

event on Nov. 19 from 1-3 p.m., at the

Groveport United Methodist Church, 512

Main St., Groveport. The Surviving the

Holidays video seminar is for people who

are grieving a loved one's death. The seminar

is combined with support group discussion

of the video. To register call the

church office at 614-836-5968 or sign up at

https://www.griefshare.org/leaderzone/my/

holiday_events/43294

Southeast Library

The Southeast Branch of the Columbus

Metropolitan Library is located at 3980 S.

Hamilton Road, Groveport. For information

visit www.columbuslibrary.org or call

614-645-2275.

18 th Annual

MTFD open house

www.columbusmessenger.com

Photos courtesy of Madison Township

Madison Township firefighters demonstrated how an auto extrication is performed

- specifically a dashboard lift - at the Madison Township Fire Department open

house held Oct. 16 at Station 181 on South Hamilton Road. Firefighters, from left to

right, are: Firefighter Grant Ellis, Firefighter Owen Rodeniser, and Lt. Andrew

Slivka. The vehicle was donated by Long's Towing for the demonstration.

Mike Albert

and

The Big E. Band

Per Couple Prices

Overnight Package - $319

Party Only Packages - $250

Single Packages Available

Prices include

Dinner, Drinks, Room, Party favors,

Full Breakfast

Crowne Plaza • 6500 Doubletree Ave. (formerly Marriott North)

Madison Township Firefighter Michael Kipp shows some kids the inside of Fire

Engine 182 during the open house.

We are the BEST community newspaper!

Need advertising? Call 614-272-5422 today.
---
www.columbusmessenger.com

Taking note of what once was

Recently while driving along Groveport Road from

Groveport to Canal Winchester I noticed a house that sat

along the road was just...gone.

It's a house I

Editor's Notebook

Rick

Palsgrove

passed by more

times than I can

count as I've

traveled back and forth between

the two towns on Groveport Road

throughout my life. Now it was

demolished, gone without a trace

with only straw and grass seed filling

the space where it once was.

It puzzled me that, though I drove by this house many

times and knew it was there, I realized I could not now

adequately describe what it looked like. It existed but

with no personal meaning for me. But I was aware of it

enough to notice when it disappeared.

I think we do that sometimes in life. We take for

granted that something will always be there and sometimes

fail to properly take note of its presence.

Other times there are things we know of and appreciate

that disappear, too. There once was a tree at the corner

of Cron Drive and Wirt Road in Groveport that

guarded an opening in the fence leading to the Groveport

Elementary school yard. Throughout my life I must have

gone through that fence opening and brushed up against

that large, old tree hundreds of times. It was there well

into my adult years. Then one day it was gone along with

the hole in the fence. Like it was never there. A strong,

tall tree - one does not think about it disappearing. But it

did. It was one of many familiar old trees we get to know

in each of our lives that course through the cycle of their

leafy life and pass on like all living things.

Buildings have their life spans, too. From time to time

I think about the old Groveport Madison High School

that once sat along South Hamilton Road. Buildings like

schools and churches seem permanent because they play

such a large role in many people's lives. But they can disappear,

too. That old high school (since replaced by the

new high school at the site) fulfilled its role for more than

50 years before falling to the wrecking ball a few years

ago. Driving by I can still sense a shadow of where the old

high school sat. Looking at the new parking lot and lawn

of the new high school that took its place, I still know

where the gym was, where the main front hallway was,

and so on. It is an odd feeling to out live one's high school.

Buildings come and go. Trees and plants bloom and

eventually are spent. Animals and favorite pets pass on.

People fade out of our lives or pass away.

It happens to all of us. Here one day, gone tomorrow,

and we leave a small void in the spaces we once inhabited.

A void to be filled by something new. Change is constant

and permanence an illusion.

Past, present, and future are intertwined and bonded

by memory.

Rick Palsgrove is managing editor of the Messenger.

Romantic comedy uses star power

A vital piece that has been missing in the romantic

comedies of late — besides a truly original plot — is the

lack of genuine movie stars featured within.

To be fair and kind

The Reel Deal

Dedra

Cordle

to the up-and-coming

actors who are cast in

their stead, they do an

admirable job of selling

these products of fluff to the

masses, but it is the presence of

the movie star that makes the

standard rom-com pop.

"Ticket to Paradise", a romantic comedy that understands

the power that stars can hold and uses it. It

doesn't have a great script, but it doesn't have to have

one because George Clooney and Julia Roberts are

speaking its words. It's not even that romantic, but

Clooney is smiling his crinkly smile and Roberts is giving

her clarion call laugh. It's not particularly good,

but it doesn't really have to be because these beautiful

people are throwing their sparkle around in a movie

whose locale is as equally sparkling and beautiful.

This is a film that knows it is not a great piece of

cinematic art, but it effortlessly wields the power of the

movie star and somehow manages to be something

that is light and fun and charming. With the shininess

of the stars and the magnificence of its beachscapes, it

lulls you into looking past its general ho-hum-ness and

asks that you bask in a world that you could never

dream of living — or afford to, for most of us.

In "Ticket to Paradise," Clooney plays David Cotton

still gripes about his ex-wife to anyone willing to lend

an ear. Roberts plays Georgia Cotton, a gallerist semiliving

with her pilot boyfriend, who still gripes about

her ex-husband to anyone.

The bitter exes raised a nearly perfect daughter Lily

(Kaitlyn Dever) who has just graduated from law

school and is on her way to a prestigious job at the top

law-firm in Illinois. To celebrate her accomplishments,

David and Georgia paid to send her on a paid vacation

to Bali before she has to get used to the soul-sucking

grind of adulthood. Then Lily meets a wonderful man

named Gede (Maxime Bouttier) and they plan to

marry within a week's time.

Not wanting their daughter to make the same mistake

they did — David and Georgia married right out of

college and she put her career plans on hold to support

her family — they strike a rare truce and agree to work

together to sabotage the impending nuptials. While

the film does not acknowledge how awful their mission

is and how off the deep-end they are, the movie stars

play their parts so well that they manage to infuse

their characters with pathetic charm so you do not

hate them for their occasional bouts of wretchedness.

This romantic comedy splits its time between the

two couples, one fresh in the bloom of love and the

other, well, decidedly not — or so it seems. Over the

course of trying to crush their daughter's heart and

spirit, the latter pair can't help but get swept up in the

magic of the island and the unresolved issues that

have frayed their once loving friendship and romance.

Although both couples could use more romantic chemistry,

it's hard to deny the adults are the most interesting

pairing to watch, much of it due to they were given

the most material to work with and had the characters

who were the most developed. "Ticket to Paradise" is a

movie where you see how much fun the actors had

filming it and that translates out of the screen and

with the audience. But with its over-reliance on the

star power of Clooney and Roberts, aspects of the film

suffer from a lack of attention paid to dialogue or

development of secondary characters.

If you want to turn off your brain and watch beautiful

people do ugly things and then beautify themselves

again in a majestic location, this might be something

you want to check out.

Grade: B-

Dedra Cordle is a Messenger staff writer and columnist.

October 30, 2022 - SOUTH & CANAL WINCHESTER MESSENGER - PAGE 11

Get the word out

FAST

Advertise your Craft Show

or Bazaar in the classifieds.

It's easy to do.

Just call or email Kathy at

614-272-5422

kathy@columbusmessenger.com

for all of the details

Dr. Hobbs

We are the BEST community

newspaper!

Need advertising?

Call 614-272-5422 today.

3700 Parsons Ave.

Columbus, OH 43207

New Patients & Emergencies Always Welcome

(614) 491-5511

www.ScottAKellyDDS.com

Dr. Kelly

BE PREPARED FOR EMERGENCY

If your child knocks out a tooth

and is hysterical and in pain, a

parent's main concern would

naturally be comforting the child,

but saving the tooth should also

be an important element in this

crisis.

First, try to find the tooth after it

has been dislodged. Do not to

touch the root area. This is the

living part of the tooth and can be

easily damaged. Time is essential.

A tooth's life span will probably

not last more than 30 minutes

unless it is properly handled.

If the tooth cannot be replanted

immediately, and the child is

composed, have him or her place

the tooth under the tongue. The

environment of the mouth will

protect the tooth and the chances

that replantation will be successful

are greater. If the child cannot

keep the tooth is his or her mouth,

place the tooth in fresh milk. If

milk is not available, wrap the

tooth in plastic or foil. Do not let it

dry out and do not put it in plain

water. Then get to the dentist as

quickly as possible.

Prepared as a public service

to promote better dental health.

From the office of:

SCOTT A. KELLY, D.D.S.

Phone 614-491-5511
---
PAGE 12 - SOUTH & CANAL WINCHESTER MESSENGER - October 30, 2022

Messenger

South & Canal Winchester

CW's Founders Day

www.columbusmessenger.com

Messenger photos by Rick Palsgrove

Artist Robert Warren worked on his latest painting, entitled, "Snowy Creek," at Canal Winchester's

Founders Day, held Oct. 15 in the historical complex at Oak and North High streets. Warren said the

painting depicts Walnut Creek near the Dietz-Bergstresser covered bridge in Canal Winchester.

Jeff Crook and Elizabeth Crook of Crook Family Enterprises, make a fresh batch of tasty kettle corn at

Canal Winchester's Founders Day.
---
www.columbusmessenger.com

Canal Winchester

Messenger

BEST COMMUNITY NEWSPAPER in Canal Winchester

Pick-Up At These

Locations:

Walgreen's - Gender & Winchester Blvd.

BP Gas Station - Gender Rd. & Freeway

Aldi - Gender Rd. & Freeway (behind BP Station)

Kroger - Winchester Square

The Wigwam Restaurant - 4 South High St.

Marie Scramblers - 6402 Winchester Blvd.

Shade on the Canal - 19 South High St.

Canal Winchester Library - 115 Franklin St.

CW City Hall and Community Center – 45 E. Waterloo St.

Harvest Moon - 7 N. High St.

Rex Barber Shop - 1 W. Waterloo

Sunoco Gas Station - 501 W. Waterloo St.

Panera - 685 W. Waterloo St.

READ US ONLINE: www.columbusmessenger.com

Messenger

South

BEST COMMUNITY NEWSPAPER

Pick-Up At These

Locations:

Ponderosa Steak House - 3875 S. High St.

Turkey Hill - 3900 S. High St.

Dollar Tree - 3754 S. High St.

Speedway Gas Stattion - 3860 S. High St.

Columbus Library - High St. & Highview

CVS Pharmacy - High St. & Williams Rd.

Walgreen's - High St. & Williams Rd.

Kelly's Market - 3453 Parsons Ave.

K & M Market - 4305 Andy Groom Blvd.

Stoney's Market - 3517 Lockbourne Rd.

Kroger - S. High St.

READ US ONLINE: www.columbusmessenger.com

October 30, 2022 - SOUTH & CANAL WINCHESTER MESSENGER - PAGE 13

CLASSIFIED ADS

Deadlines: Grove City, Groveport & All editions - Mondays at Noon.

West, Canal Winchester, South & Madison editions -Tuesdays at 5 p.m.

xCraft Shows

ADVERTISE

Your Holiday Craft Show

Bazaar or Bake Sale!

Call Kathy

272-5422

For More Info

Craft Shows

INFORMATION

Have Something

To Sell?

Need To Rent

That Property?

Try The

Messenger!

For Info On Placing

An Ad Call

614-272-5422

ASSOCIATION ADS

DENTAL INSURANCE

from Physicians Mutual

Insurance Company.

Coverage for 350 plus

procedures. Real dental

insurance - NOT just a

discount plan. Do not wait!

Call now! Get your FREE

Dental Information Kit with

all the details! 1-877-553-

1891

www.dental50plus.com/

macnet#6258

Update your home with

beautiful new blinds &

shades. Free in-home

estimates make it

convenient to shop from

home. Professional

installation. Top quality -

Made in the USA. Free

consultation: 877-212-

7578. Ask about our

specials!

Put on your TVEars &

hear TV w/unmatched

clarity. TVEars Originaloriginally

$129.95 - now

w/this special offer only

$59.95 w/code MCB59! 1-

888-805-0840

ASSOCIATION ADS

Aloe Care Health medical

alert system. Most

advanced medical alert

product on the market.

Voice-activated! No wi-fi

needed! Special offer

w/code CARE20 for $20

off Mobile Companion. 1-

855-341-5862

Donate Your Car To

Veterans Today! Help and

Support our Veterans.

Fast - FREE pick up.

100% tax deductible. Call

1-800-245-0398

!!OLD GUITARS WANT-

ED!! GIBSON, FENDER,

MARTIN, Etc. 1930's to

1980's. TOP DOLLAR

PAID. CALL TOLL FREE

1-866-433-8277

Aloe Care Health, medical

alert system. The most

advanced medical alert

product on the market.

Voice-activated! No wi-fi

needed! Special offer-call

and mention offer code

CARE20 to get $20 off

Mobile Companion. Call

today-1-877-728-4065

Safe Step. North

America's #1 Walk-in Tub.

Compreshensive lifetime

warranty. Top-of-the-line

installation and service.

Now featuring our FREE

shower package & $1600

off for a limited time! Call

today! Financing

available. Call Safe Step

1-833-356-1954

xAdult Care

ASSOCIATION ADS

Replace your roof with the

best lookng and longest

lasting material -- Steel

from Erie Metal Roofs!

Three styles and multiple

colors available.

Guaranteed to last a

lifetime! Limited Time

Offer - $500 Discount +

Additional 10% off install

(for military, health

workers & 1st responders)

Call Erie Metal Roofs: 1-

855-338-4807

Safe Step. North

America's #1 Walk-in Tub.

Compreshensive lifetime

warranty. Top-of-the-line

installation and service.

Now featuring our FREE

shower package & $1600

off for a limited time!

Financing available. 1-

855-417-1306

Vivint Smart Security.

Professionally installed.

One connected system for

total peace of mind. FREE

professional installation!

Four FREE months of

monitoring! Call now to

customize your system. 1-

855-870-2073

advertise

Adult Care

ASSOCIATION ADS

The bathroom of your

dreams for as little as

$149/month! BCI Bath &

Shower. Many options

available. Quality

materials & professional

installation. Senior &

Military Discounts

Available. Limited Time

Offer - FREE virtual inhome

consultation now

and SAVE 15%! Call

Today! 1-877-540-2780

Become a Published

Author. We want to Read

Your Book! Dorrance

Publishing - Trusted by

Authors Since 1920

Book manuscript submissions

currently being reviewed.

Comprehensive Services:

Consultation, Production,

Promotion and Distribution. Call

for Your Free Author's Guide 1-

866-482-1576 or visit

http://dorranceinfo.com/macnet

YOUR ADULT

CARE SERVICES

Call Kathy

at The Messenger

For More Info

272-5422

ASSOCIATION ADS

Directv Stream - Carries

the Most Local MLB

Games! CHOICE

Package, $89.99/mo for

12 months. Stream on 20

devices in your home at

once. HBOMax included

for 3 mos (w/CHOICE

Package or higher.) No

annual contract, no hidden

fees! Some restrictions

apply. Call IVS 1-866-629-

6086

Wesley Financial Group,

LLC Timeshare Cancellation

Experts Over

$50,000,000 in timeshare

debt & fees cancelled in

2019. Get free

informational package &

learn how to get rid of

your timeshare! Free

consultations. Over 450

positive reviews. 888-965-

0363

Internet &WIFI Starts at

$49 Call us Today to Get

Started. Find High-Speed

Internet with Fiber Optic

Technology No Credit

Check, No SSN Required.

Call us Today 866-396-

0515
---
PAGE 14 - SOUTH #& CANAL WINCHESGTER WINCHESTER MESSENGER - October 30, 2022

www.columbusmessenger.com

CLASSIFIED ADS

Deadlines: Grove City, Groveport & All editions - Mondays at Noon.

West, Canal Winchester, South & Madison editions -Tuesdays at 5 p.m.

xEmployment

DO YOU NEED

SEASONAL EMPLOYEES?

Call KATHY to ADVERTISE

and reach over 15,000 homes in the

South/Canal Winchester & Groveport Messengers

614-272-5422

kathy@columbusmessenger.com

ASSOCIATION ADS

BUYING CLASSIC CARS,

TRUCKS, SUVs

**American and Foreign**

Any Condition. Buying

entire car collections.

$$PAYING CA$H$$

Please call 717-577-8206

KRMiller1965@yahoo.com

Are you receiving

SSDI/SSI Benefits? You

may be eligible for

additional benefits. CALL

US TODAY Citizen

Disability 1-888-490-6616

WANTED!

MOTORCYCLES!

ANTIQUE AND CLASSIC.

Honda, Kawasaki, Suzuki,

Yamaha, Triumph, BSA

and other foreign models.

$$PAYING CA$H$$

717-577-8206

KRMiller1965@yahoo.com

Switch and save up to

$250/yr on talk, text &

data. No contract or

hidden fees. Unlimited talk

& text with flexible data

plans.

Premium

nationwide coverage.

100% U.S. based

customer service. Limited

time get $50 off any new

account. Use code

GIFT50. 1-855-903-3048

ASSOCIATION ADS

Don't let the stairs limit

your mobility! Discover

the ideal solution for

anyone who struggles on

the stairs, is concerned

about a fall or wants to

regain access to their

entire home. Call

AmeriGlide today! 1-844-

317-5246

Stroke & Cardiovascular

disease are leading

causes of death according

the American Heart

Association. Screenings

can provide peace of mind

or early detection! Call

Life Line Screening to

schedule your screening.

Special offer - 5

screenings for $149. 1-

866-518-8391

HughesNet - Finally, superfast

internet no matter

where you live. 25 Mbps

just $59.99/mo! Unlimited

Data is Here. Stream

Video. Bundle TV &

Internet. Free Installation.

Call 866-499-0141

Employment

GREENLAWN RV

Lockbourne, OH

RV TECHNICIAN NEEDED!

No Prior Experience Necessary

We Will Train!

Immediate Start - Full Time Position

Contact Toby Boetcher

at

(740) 983-0149

ASSOCIATION ADS

Become a Published

Author. We want to Read

Your Book! Dorrance

Publishing Trusted Since

1920 Consultation,

Production, Promotion &

Distribution. Call for Free

Author's Guide 1-877-729-

4998 or visit

dorranceinfo.com/ads

DIAGNOSED WITH

LUNG CANCER? You

may quliafy for a

substantial cash award -

even with smoking history.

NO obligation! We've

recovered millions. Let us

help!! Call 24/7, 1-888-

650-9135

The Generac PWRcell

solar plus battery storage

system. Save money,

reduce reliance on

grid, prepare for outages

& power your home. Full

installation services. $0

down financing option.

Request free no obligation

quote. Call 1-877-

539-0299

Vivint Smart Security.

Professionally installed.

One connected system for

total peace of mind. Free

professional installation!

Four free moNths of

monitoring! Call to

customize your system. 1-

833-841-0737

IMPORTANT

NOTICE

The following states: CA,

CT, FL, IA, IL, IN, KY,

LA, MD, ME, MI, MN,

NE, NC, NH, OH, OK,

SC, SD, TX, VT and WA

requires seller of certain

business opportunities to

register with each state

before selling. Call to

verify lawful registration

before you buy.

ASSOCIATION ADS

Protect your home from

pests safely and

affordablly. Pest, rodent,

termite and mosquito

control. Call for a quote or

inspection today 844-394-

9278

Discount air travel! Call

Flight Services for best

pricing on domestic &

international flights inside

& from the US. Serving

United, Delta, American &

Southwest &many more.

Free quote! Have travel

dates ready! 844-951-

2014

Prepare for power outages

today with a GENERAC

home standby generator.

$0 Money Down + Low

Monthly Payment Options.

Request a FREEQuote--

Call now before the next

power outage. 1-855-465-

7624

Elminate gutter cleaning

forever! LeafFilter, the most

advanced debris-blocking

gutter protection.

Schedule Free LeafFilter

Estimate today. 20% off

Entire Purchase. 10%

Senior & Military Discounts.

Call 1-833-610-1936

DISH TV $64.99 FOR 190

Channels + $14.95 High

Speed Internet. Free Installation,

Smart HD DVR

Included, Free Voice Remote.

Some restrictions

apply. Promo expires

1/21/23. 1-866-479-1516

WANTED

SCHOOL BUS DRIVERS

The South-Western City School

District is currently hiring drivers

for the 2022-2023 school year

$18.80/hr Plus Bonuses

WE WILL TRAIN

Available positions are for substitute

drivers that can develop into

"Regular" positions with benefits.

Interested individuals can call

614-801-8550 to set up an interview.

Applicants should have an excellent

driving record and must submit to

drug, alcohol, and background

screening. A high school diploma or

equivalent is required. EOE

ASSOCIATION ADS

AT&T Internet. Starting at

$40/month w/12-mo agmt.

1 TB of data/mo. Ask how

to bundle & SAVE! Geo &

svc restrictions apply. 1-

855-364-3948

SELL YOUR ANTIQUE

OR CLASSIC CAR.

Advertise with us. You

choose where you want

to advertise. 800-450-

6631 visit macnetonline.

com for details.

Eliminate gutter cleaning

forever! LeafFilter, the

most advanced debrisblocking

gutter protection.

Schedule a FREE

LeafFilter estimate today.

20% off Entire Purchase.

Plus 10% Senior & Military

Discounts. Call 1-855-

791-1626

VIAGRA and CIALIS

USERS! 50 Generic pills

SPECIAL $99.00. 100%

guaranteed. 24/7 CALL

NOW! 888-445-5928

Hablamos Espanol

Thinking about installing

a new shower? American

Standard makes it

easy. FREE design consulation.

Enjoy your

shower again! Call 1-

833-769-0995 today to

see how you can save

$1,000 on installation, or

visit www.newshowerdeal.com/mac

ASSOCIATION ADS

Dental Insurance -

Physicians Mutual Insurance

Comopany. Covers 350

procedures/ Real insurance -

not a discount plan. Get your

free dental info kit! 1-855-

.526-1060 www/dental50

plus.com/ads #6258

DISH TV $64.99 for 190

Channels + $14.95 high

speed internet. FREE installation,

Smart HD DVR

included. Free Voice Remote.

Some Restrictions

apply. Promo Expires

1/21/23. 1-866-590-5561

Attention oxygen therapy

users! Inogen One G4 is

capable of full 24/7 oxygen

delivery. Only 2.8

pounds. Free info kit.

Call 877-929-9587

Prepare for power

outages today with a

GENERAC home standby

generator. $0 Down + Low

Monthly Pmt. Request a

free Quote. Call before the

next power outage: 1-855-

948-6176

BATH & SHOWER UP-

DATES in as little as

ONE DAY! Affordable

prices - No payments for

18 months! Lifetime warranty

& professional installs.

Senior & Military

Discounts available. Call

855-761-1725
---
www.colulmbusmessenger.com

xCome & Get It!

INFORMATION

October 30, 2022 - SOUTH & CANAL WINCHESTER MESSENGER - PAGE 15

xClassified Services

COME AND GET IT!

Need to Get Rid of Something Fast - Advertise It Here For FREE!

Deadlines are Mondays by Noon

Call For Publication Schedule 614-272-5422

FREE Garden Straw for gardens or bedding. Call for appointment for pickup.

Circle S Farms, 9015 London-Groveport Road, Grove City, 43123

Grove City - 614-878-7980

FREE - Metal from old camper frame, Need a truck to pickup..

CC - Obetz - 614-632-1013

FREE - Children's Wooden Play Set - Good Condition w/Sand Box under it, Step Ladder up

Slide to go down & a rope swing. Also separate Swing Set w/4 swings.

190 Inah Ave., Cols, 43228 near the Fire Dept.

West Columbus - 614-878-1930, ask for Linda

. Come and Get It! is a bi-weekly column that offers readers an opportunity to pass along

surplus building materials, furniture, electronic equipment, crafts, supplies, appliances,

plants or household goods to anybody who will come and get them - as long as they're

FREE. NO PETS! Just send us a brief note describing what you want to get rid of, along

with your name, address and phone number. Nonprofit organizations are welcome to

submit requests for donations of items.

Send information to The Columbus Messenger, Attention: Come and Get It, 3500

Sullivant Ave., Columbus, OH43204. Deadline is Mondays at NOON for following

Sunday's publication. Messenger Newspapers is not responsible for any complications

that may occur. Please contact us when items are gone. 272-5422

Come & Get It!

xFocus on Rentals

HAVE TO RENT THAT APARTMENT

BEFORE THE SNOW FLIES?

Advertise It!

CALL Kathy

For Rate Information

Columbus Messenger

272-5422

ASSOCIATION ADS

Protect your home w/home

security monitored by

ADT. Starting at $27.99/

mo. Get free equipment

bundle including keypad,

motion sensor, wireless

door & windows sensors.

833-719-1073

Want Faster & Affordable

Internet? Get internet

service today with

Earthlink. Best internet &

WiFi Plans. Call us Today

to Get Started. Ask

about our specials! 866-

396-0515

Rentals

ASSOCIATION ADS

Looking for auto insurance?

Find great deals

on the right auto insurance

to suit your needs.

Call today for a free

quote! 866-924-2397

NEED IRS RELIEF

$10K-$125K+ Get Fresh

Start or Forgiveness.

Call 1-877-705-1472

Monday through Friday

7am-5pm PST

READY TO BUY, SELL

OR RENT YOUR

VACATION HOME OR

HUNTING CAMP?

Advertise it here and in

neighboring publications.

We can help you. Contact

MACnet MEDIA @

800-450-6631 or visit our

site at MACnetOnline.

com

ASSOCIATION ADS

The Generac PWRcell, a

solar plus battery storage

system. SAVE money,

reduce your reliance on

the grid, prepare for power

outages and power

your home. Full installation

services available. $0

Down Financing Option.

Request a FREE, no obligation,

quote today. Call

1-866-783-0292

READER

ADVISORY

The National Trade Association

we belong to has

purchased the following

classifieds. Determining

the value of their service

or product is advised by

this publication. In order

to avoid misunderstandings,

some advertisers do

not offer "employment"

but rather supply the

readers with manuals, directories

and other materials

designed to help

their clients establish mail

order selling and other

businesses at home. Under

NO circumstance

should you send any

money in advance or give

the client your checking,

license ID or credit card

numbers. Also beware of

ads that claim to guarantee

loans regardless of

credit and note that if a

credit repair company

does business only over

the phone it's illegal to request

any money before

delivering its service. All

funds are based in US

dollars. Toll Free numbers

may or may not

reach Canada. Please

check with the Better

Business Bureau 614-

486-6336 or the Ohio Attorney

General's Consumer

Protection Section

614-466-4986 for more

information on the company

you are seeking to

do business with.

See...

You Looked!

Newspaper

Ads Catch

The Eye!

Call

272-5422

For Info. &

Pricing

ASSOCIATION ADS

Attention Viagra users:

Generic 100 mg blue pills

or generic 20 mg yellow

pills. Get 45 plus 5 free +

S/H. Call Today 1-877-

707-5518

HELP WANTED

Car Wash

Superintendent Wanted

Looking for a reliable,

energetic retiree to work

as a caretaker for a Canal

Winchester self-service

car wash. Cleaning,

changing chemicals and

troubleshooting 4-6 hours

a day, 2-4days a week.

Flexible schedule. Will be

working with current

caretaker who has been

here for over 10 years.

$12/hour. If interested,

please call 740-527-1130.

Looking for a house

cleaner very soon.

Starting pay $15 per hour

and $16 per hour after 60

days. Must have own

transportation and a

background check

required. Contact Mendy

614-774-7529

Kings Kids Daycare

in Grove City is hiring Fun,

Loving Teachers for PT &

FT shifts. Please email

sarragc@outlook.com or

call 614-539-0349

WANT TO BUY

We Buy Cars & Trucks

$300-$3000.614-308-2626

ANTIQUES

WANTED

Victrolas, Watches,

Clocks, Bookcases

Antiques, Furn.

Jeff 614-262-0676

or 614-783-2629

WE BUY JUNK CARS

Call anytime 614-774-6797

We Buy Junk Cars &

Trucks. Highest Prices

Paid. 614-395-8775

BUSINESS

OPPORTUNITY

Snow Removal

Accounts Available

in Canal Winchester

Price Negotiable

email for more info

SYNeeds@mail.com

11/20 e/se

BLACKTOP

BLACKTOP SEALING

Driveways & Parking Lots

614-875-7588

SANTIAGO'S

Sealcoating & Services LLC

Quality Materials Used

FALL IS HERE!

Driveway Seal & Repair!

Top Seal Cracks!

Residential & Commercial

Mulching, Edging & Clean-ups

"Ask for whatever you need."

BBB Accredited-Fully Insured

Call or text for Free Est.

614-649-1200

CARPET SALES

CARPET

Gray Saxony

270 sq.ft. w/6 lb Pad

$398.00

Other Carpet AvailableA

Phone or text Ray

740-927-3504

Delivery & Inst. avail.

INFORMATION

CLEANING

Looking for Mrs. Clean?

For excellent cleaning serv

at reas. rates w/great refs,

dependable. 10% Seniorr

Disc. Also does Painting. Free

Est. Gwen 614-226-5229

CONCRETE

11/6

A/M

FOR ONLY

$74.00

You Can Reach

Over 41,000 Homes

In

Groveport & South/

Canal Winchester

For Info Call

272-5422

DEEP CLEANING &

WALL WASHING

Call Judy 614-746-0273

AJ's Concrete,

Masonry

Good Work - Fair Prices

Block Foundations

Driveways • Sidewalks

Epoxy/Overlay Floors

Bonded-Ins. • Free Ests.

614-419-9932

ALL-CITY CUSTOM

CONCRETE

All Types Concrete Work

New or Tear Out-Replace

40 Yrs. Exp.

(614) 207-5430

Owner is On The Job!

11/20 e/se

11/20 A

CONCRETE

www.hastingsnsons.com

Driveways & Extensions

Patio & Walkways,

Porches & Steps,

Garage/Basement Floors

Hot Tub/Shed Pads,

Stamped/colored concrete

Sealing of new &

existing concrete.

FREE ESTIMATES

Contact Adam

614-756-1754

hastingsandsons.

columbus@gmail.com

EDDIE MOORE

CONSTRUCTION

Quality Concrete Work

Lt. Hauling & Room Add.,

Block Work & Excavation

Stamp Patios,

Bsmt. Wall Restoration

36 Yrs Exp - Lic & Ins.

Free Ests. 614-871-3834

GUTTERS

Bates & Sons

GUTTER CLEANING

5 ★ Google Reviews

614-586-3417

HAULING

DEAN'S HAULING

614-276-1958

HEATING & COOLING

HVAC

HEATING & A/C

Fast Service - Licensed

614-633-9694

HOME

IMPROVEMENTS

C&JHandyman

Services LLC

Minor Plumbing & Electric

Install Hot Water Tanks,

Dishwashers & Disposals

All Interior Remodels

Also Fencing &

Interior/Exterior Painting

Free Est. ~ 18 Yrs. Exp.

CDC/EPA Approved Guidelines

614-284-2100

SINCE 1973

Phil Bolon Contr.

Windows & Siding

Decks, Kitchens, Baths

Room Additions,

Flooring, Roofing

Bsmt Waterproofing

Deal With Small Non-Pressure Co.

47 Yrs. Exp. - Refs. Avail.

Lic.-Bond-Ins.

11/20

A/M

Free Est. - Financing Avail.

Member BBB Of Cent. OH

O.C.I.E.B. ID #24273

614-419-3977

or 614-863-9912

11/6 A

HOME

IMPROVEMENTS

KLAUSMAN HOME

IMPROVEMENT

Siding-Windows-

Doors-Roofing-Soffit-

Fascia-Gutters-Trim

Earn FREE Seamless

Gutters with Siding Over

1000 Sq. Ft.

FREE Shutters with

Soffit & Trim

EPA Certified

Member of BBB

Financing Available

Over 20 yrs exp. • Free Est.

Licensed-Bonded-Insured

Owner & Operator

James 614-419-7500

HOME

MAINTENANCE

HANDYMAN SERVICES

614-235-1819

HOME

REMODELING

MultiCraft Const.

& Handyman Services

All Types Handyman Services:

Decks, Fences

Kitchen/Baths

Window/doors installed

Interior Painting

Drywall Repairs

All Types of Flooring

Call/Text 614-774-2923

multicraftconstruction@gmail.com

Charlies Handyman

Service

Over 40 yrs. exp.

Hot Water Tanks

Door Locks

Kitchen/Bath Remodels

Roofing * Siding

Porches & Decks

614-319-6010

blantoncharles894@gmail.com

LAWN CARE

The Lawn Barber

Cut, Trim, Blow away

Hedge Trimming, Edging

614-935-1466

LET US MAINTAIN

YOUR LAWN & GARDEN

FOR YOU

Summer, Spring,

Winter or Fall

WE DO IT ALL!!!!

Lawn Cuts, Edging,

Trees & Shrubs, Garden,

Mulching, Hauling,

Garden Pond &

Home Maint.

Free Ests. Low Rates

$20 & Up

Kevin - 614-905-3117

PAINTING

Painter Over 30 Yrs. Exp.

Free Est. Reas. Rates

Daniel - 614-226-4221

Classified Services

11/6 A

11/20 A

PLASTERING

DRYW

YWALL ALL &

PLASTER

11/20

A&M

REPAIR

Textured Ceilings

614-551-6963

Residential/Commercial

BIA

PLUMBING

All About Drains & Plumb.

Will snake any small drain

$145. 614-778-2584

MYERS

PLUMBING

Exp. Expert Plumbing

New Const. & Fast Repairs

Lic. - Permit Available

Water • Sewer • Gas

614-633-9694

CHRIS'

PLUMBING

"Plumbing & Drain Professional

That You Can Count On"

24 Hrs., 7 Days/Week

No Overtime Charges

24 Yrs. Exp. in Plumbing &

Drain Cleaning Field

Call For A Free Phone Estimate

$100.00 For Any Small Drain

614-622-4482

30% OFF with AD

POOL/SPA

MAINTENANCE

K&L Spa Cleaning

Hot Tub Cleaning and

Weekly Maintenance

Keith 614-316-9809

POWERWASHING

Bates & Sons

Soft Wash & Powerwash

5 ★ Google Reviews

614-586-3417

MRS. POWERWASH

Any house wash $149+tax

Single deck $69+tax

2 Tier deck $99+tax

Best Wash in Town

Over 45,000 washes

Ashley 614-771-3892

SEWING MACHINE

REPAIR

REPAIR all makes 24 hr.

service. Clean, oil, adjust

in your home. $49.95 all

work gtd. 614-890-5296

TREE SERVICES

BURNS TREE SERVICE

Trimming, Removal &

Stump Grinding.

614-584-2164

Warren Brewer Tree Service

• Tree Removal

• Tree Trimming 9/11

A&M

• Stump Grinding

• Bucket Truck Services

Best Prices • Same Day Service

614-878-2568

11/20 A&M

10/23 A&M

11/6 A
---
PAGE 16 - SOUTH & CANAL WINCHESTER MESSENGER - October 30, 2022

www.columbusmessenger.com