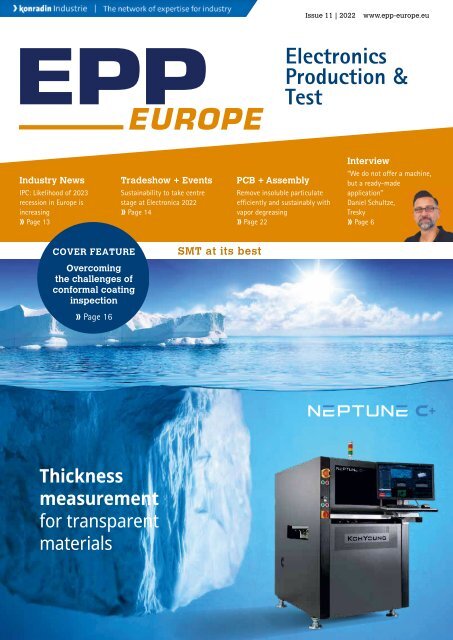 Create successful ePaper yourself
Turn your PDF publications into a flip-book with our unique Google optimized e-Paper software.
Issue 11 | 2022

www.epp-europe.eu

Electronics

Production &

Test

Industry News

IPC: Likelihood of 2023

recession in Europe is

increasing

» Page 13

Tradeshow + Events

Sustainability to take centre

stage at Electronica 2022

» Page 14

W

PCB + Assembly

Remove insoluble particulate

efficiently and sustainably with

vapor degreasing

» Page 22

Interview

"We do not offer a machine,

but a ready-made

application"

Daniel Schultze,

Tresky

» Page 6

COVER FEATURE

SMT at its best

Overcoming

the challenges of

conformal coating

inspection

» Page 16

Thickness

measurement

for transparent

materials
---
Led by experience. Driven by curiosity.

Cheetah EVO

The standard for X-ray inspections

in SMT, semiconductors and labs.

See you at electronica

Booth A3.462

yxlon.comet.tech
---
» EDITORIAL

» EDITORIAL

Dear readers,

Dear readers,

European semiconductors get a boost

The semiconductor shortage is not going away anytime soon – at least

European Seeing according with semiconductors new a eyes recent study get by a IPC boost (page 12). As one of the regions hit

The According semiconductor hardest Proust, by the shortage "the scarcity, real is voyage not the going EU of has, discovery away unsurprisingly, anytime consists soon not announced – in at seeking least plans to

according new landscapes boost to a its recent but microchip in study having by research new IPC (page eyes." and 12). The manufacturing articles As one of this the (page regions issue 6). explore Fitting, hit too,

hardest various new that by the ways one scarcity, of of the seeing the bloc's EU – from leading has, using unsurprisingly, semiconductor machines announced able producers to examine plans has hidden to just opened

boost solder its joints a microchip new (page high-tech 40), research or chip measure and factory manufacturing the depth Austria of (page transparent 6). 10). Fitting, materials too,

that (page one 16), of to the giving bloc's a leading familiar semiconductor component a new producers purpose has via just a simple opened

a change new high-tech Inspecting circuit chip design factory advanced (page in 46). Austria packaging (page 10).

It is crucial that inspection and quality assurance methods keep up with

Inspecting Securing the demands supply advanced of more packaging complex packages. Our cover story reveals how one

It Industry is crucial provider experts that inspection (IPC, of 3D page measurement-based and 13) and quality economists assurance inspection agree methods that equipment inflation keep up has with in Europe

demands is at range a record of of more new high. complex systems In such which, packages. a difficult it says, Our economic cover drastically story climate, minimize reveals it is how vital the one number of

developed a

the

provider that the unidentified industry of 3D measurement-based maintains defects close (page control 16). inspection of its equipment supply chains. has The developed article a

range on page of 8 new explores systems how which, increased it says, digitalisation drastically minimize could make the all number the difference.

Four defects heads (page are 16). better than one

of

unidentified

With consumers demanding ever more lightweight devices, manufacturers

Four Protective heads are always layers are looking better for than new one ways to create more compact electronic

With As conformal consumers circuits. coatings Could demanding become teamwork ever more more help widespread, the lightweight industry it devices, is achieve essential manufacturers

this to faster? ensure The article

are conformal always coating looking page 26 inspection for reveals new ways how (CCI) to four processes create companies more are compact reliable. worked together electronic Our cover to story develop an

circuits. (page 16) efficient Could examines teamwork method a new help of series solder the of industry paste systems printing achieve which, in this the faster? manufacturer cavities The of article LED says, leadframes.

on provide page accurate 26 reveals 2D how and four 3D inspection companies of worked transparent together materials. to develop an

efficient Productronica method of solder paste 2021printing in the cavities of LED leadframes.

"Driving The sustainable industry has welcomed progress" the in news Munich that the world's leading international

Productronica Highlighting trade both fair for the 2021 electronics role of electronics development as a driver and production of sustainable will technologies,

industry place and has the planned welcomed development from the 16 of news sustainable to 19 that November the automotive world's in Munich, leading technologies, international Germany (page 14).

be able to take

The

trade this year's fair for Electronica electronics event development EPP looks Europe set to and will live production of up course to its motto will be there be (page able – why to 14). take not drop by

place as planned from 16 to 19 at November Stand 281 in in Munich, Hall 2, Germany to say 'Servus'! (page 14).

EPP Europe will of course Don't forget be there to – visit why our not website drop by

Visit our (epp-europe.eu) website , to say (epp-europe.eu) 'Servus'! to stay up to stay date up to

date with industry the latest news industry and trends. news and

trends. (epp-europe.eu) to stay up to

See you in news Munich! and trends.

Industrie

BEYOND

BEYOND

The

network of

expertise

for industry

17 media brands for all major

sectors of industry

Information, inspiration and

We have been electrifying and fascinating

networking for professionals

customers for 100 years. We connect tech

and industry executives

We have been logies electrifying with people. and Are fascinating ready to go. our Searchi

customers Practical for for solutions. 100 knowledge years. Making We spanning connect complex technologies

all with media Together people. channels: Are with ready our Trade customers, go. journals, Searching we turn

matters sim

for solutions. websites, breakthroughs Making events, complex newsletters,

into megatrends. matters simple. Worldwide

Together whitepapers, with our customers, webinars we turn

And that is just the beginning:

breakthroughs into megatrends. Worldwide.

We are getting better, faster, smarter,

And that greener is just the every beginning: day. For simpler solutions

We are getting new markets, better, faster, tomorrow's smarter, customers an

greener every new standards day. For simpler in sustainable solutions, production

new markets, reliably tomorrow's and with foresight. customers and

new standards in sustainable production -

>> Yesterday, tomorrow and beyond.

reliably and with foresight.

>> Yesterday, tomorrow and beyond.

Sophie Siegmund

Sophie Online Siegmund Editor EPP Europe

Online Editor redaktion.eppe@konradin.de

EPP Europe

Online Editor EPP Europe

redaktion.eppe@konradin.de

redaktion.eppe@konradin.de

Follow us:

Follow us:

LinkedIn:

bit.ly/36aMJh1

LinkedIn:

bit.ly/36aMJh1 Twitter:

@EPPmagazine

Twitter:

@EPPmagazine

Further

information

online:

Further

information

online:

Discover the appropriate

media for your specific

industry sector:

konradin.de/industrie

Meet us at:

Meet us at:

16.-19.11.2021 | A4.171

16.-19.11.2021 | A4.171

GLOBAL. AHEAD. SUSTAINAB

EPP Europe » 11 | 2021

GLOBAL. media.industrie.de AHEAD. EPP Europe

SUSTAINABLE.

» 11 | 2022 2021 3
---
» CONTENTS 11 | 2022 28. YEAR OF PUBLICATION

COVER FEATURE

Overcoming

Koh Young explains

the challenges

how its new 3D inline

DPI equipment

of CCI

» Page 16

can conduct

2D and 3D inspection of

transparent materials.

Source: Koh Young

NEWS & HIGHLIGHTS

Interview

Daniel Schultze, Managing Director of Tresky

"We do not offer a machine, but a ready-made application" 6

Industry News

8 reasons to embrace supply chain digitalisation

Should you make your supply chain digital? (Rebound) 8

Biden signs US Chips and Science Act into law 11

Infineon signs supply agreement with II-VI for SiC wafers 12

ODU launches website for mass interconnect interfaces 12

IPC: Likelihood of 2023 recession increasing 13

TRADE SHOWS & EVENTS

Electronica 2022, 15-18 November

Sustainability to take centre stage at Munich expo 14

COVER FEATURE

Koh Young examines the future of dispensing inspection

Overcoming the challenges of CCI 16

PCB & ASSEMBLY

Product Updates – PCB + Assembly 21

Removing insoluble particulate from semiconductors

Vapor degreasing explained (MicroCare) 22

Product Updates – PCB + Assembly 25

Processing larger PCBs with precision

More flexibilty in solder paste printing (ASMPT) 26

Product Updates – PCB + Assembly 29

Case study: Soldering systems in practice

It all began with a coffee machine… (Kurtz Ersa) 30

Product Updates – PCB + Assembly 34

TEST & QUALITY ASSURANCE

Product Updates – Test + Quality Assurance 38

Automatic x-ray inspection (AXI)

What are AXI systems capable of in 2022? (Göpel) 40

Product Updates – Test + Quality Assurance 44

Solid-state modules for test applications

Lower leakage current with T-circuit MOSFETs (Omron) 46

COLUMNS

Editorial 3

Imprint/List of advertisers 50

4 EPP Europe » 11 | 2022
---
Vapor degreasing: almost all semiconductor

wafers require cleaning to remove contamination

caused by the manufacturing process

» Page 22

Source: Microcare

Advanced Tilt and

Rotate Dispensing

Technology that provides

reduced wet out areas,

improved capillary flow

for underfill and enables

dispensing on the side walls

or around tall components.

NEW!

Electronica

15 – 18 November,

Munich

Boasting a wide and varied programme

of supplementary conferences

and forums, this year's fair will

highlight today's most pressing topics:

from electromobility through smart

energy, to power electronics and

sensors.

Programmable articulation of both axes

in sub-degree increment for total flexibility

Together in Process Perfection

FOLLOW US:

LinkedIn:

bit.ly/36aMJh1

Twitter:

@EPPmagazine

Learn more at www.itweae.com

A division EPP Europe of Illinois » 11 Tools | 2022 Works 5
---
NEWS & HIGHLIGHTS » Interview

Interview with Daniel Schultze, Managing Director of Tresky

"We do not offer a machine,

but a ready-made application"

Tresky manufactures die bonding systems for high mix–low volume

production programmes. Managing Director Daniel Schultze explains

why the company places particular focus on the development and

production of fully-automatic machines.

EPP Europe: Tresky is one of about eight companies

in the world that offer fully automatic die

bonding machines for the electronics and semiconductor

industries. You specialise in high-precision

bonding of high mix–low volume production

programmes with emphasis on single laser, laser

bars and sensor technology. How did this corporate

focus come about?

Daniel Schultze: The initial impulse to begin this

work came through close cooperation with customers

such as Jenoptik, and regular contact with universities

and research institutes. It is an alliance

which benefits both parties. We had already built up

a knowledge of the area by developing appropriate

solutions for various tasks. This expertise enables us

to develop a custom-fit solution for almost any

problem a customer has. We start in CAD and can

react very flexibly to their requirements. All the

while, we maintain close ties with universities because

of their research capacities. If research and industrial

development work together from the outset,

something good usually comes out of it.

EPP Europe: Can you give an example of this

kind of collaboration?

Daniel Schultze: We are currently in the process

of evaluating a research project in collaboration with

Kiel University of Applied Sciences and other

partners to develop new modules for sintering highand

low-power components. These components are

used in the e-mobility sector, in e-cars, e-bikes and

e-motorbikes; but they can also be found in wind

turbines and high-voltage converter modules, in

smart refrigerators and military applications. Developments

in the field of autonomous vehicles, along

with the phasing out of fossil fuels, are driving the

development of this technology, as these sectors

require specific types of electronics.

Bild: Tresky

Daniel Schultze is the managing director of Tresky, a placement systems manufacturer

based in Hennigsdorf near Berlin, Germany

EPP Europe: You refer to your company as a

'total solution provider'. What do you mean by this?

Daniel Schultze: Companies based in Germany, a

high-wage paying country, cannot compete with

Asian manufacturers. The German market is therefore

not attractive to companies that want to pro-

6 EPP Europe » 11 | 2022
---
duce machines in high quantities with as few adjustments

as possible. We do not see ourselves merely as

machine builders, but as a solution-oriented partner

for our customers. After all, we can offer an extremely

broad field of knowledge and high level of

flexibility. We put the expertise of our engineers at

the disposal of our customers whenever they require

a customised system. We are able to take specific

requirements into account and, because we have a

thorough understanding of our customers' applications

and target markets, they really benefit from

our mechanical engineering and application experience.

We also attach great importance to service and

maintain close contact with our customers. This enables

us to upgrade the machines we develop, regardless

of their configuration, with a wide range of

options - even many years later. Since our machines

are flexible and modular in design, product or technology

changes can be made at any time using appropriate

applications and extensions. Our service

technicians are also available to provide assitance if

required. Satisfied customers who appreciate us and

recommend us to others are far more important to us

than a quick sale.

Widest selection

of electronic

components

In stock and ready to ship

"Satisfied customers who

appreciate us and recommend us

to others are far more important

than a quick sale"

Daniel Schultze, Managing Director of Tresky

EPP Europe: You believe in the maxim: 'it is not

the big that eat the small, but the fast that eat the

slow'. What is Tresky's vision for the future?

Daniel Schultze: It is clear that our die-bonders are

in demand. This was evident even during the recent

pandemic. Electronics continued to be produced during

this time despite fragile and expensive supply

chains. Our high level of flexibility enables us to continue

developing interesting technologies, and we

are expanding. We would like to move to larger

premises before the end of the year and hire more

people. It is, however, difficult to find qualified employees.

For this reason, we are in contact with various

universities and Fraunhofer Institutes, and offer

support to students with their undergraduate and

master's theses. Our goal is to connect potential employees

with Tresky at an early stage in their careers.

mouser.com

www.tresky.de

EPP Europe » 11 | 2022 7
---
» NEWS & HIGHLIGHTS

8 reasons to embrace supply chain digitalisation

Should you make your supply

chain digital?

While it is true that that industries across all sectors are embracing digitalisation, many

supply chains continue to be held back by their outdated approach. Here, Jeff Brind, Chief

Information Officer at independent electronic components distributor Rebound Electronics,

looks at some of the key reasons you should make your supply chain digital.

Source: Rebound Electronics

Rebound says its global team can offer real-time global market intelligence from a single

point of contact

In such uncertain times, any change that increases

the predictability, visibility and reliability of the

flow of goods and materials in the electronics manufacturing

supply chain can only be a positive one. If,

however, you are still unsure about whether acrossthe-board

digitalisation is really necessary, here is

some food for thought...

1. Digital supply chains are more

resilient

Digitalisation can increase visibility throughout

your entire supply chain, which makes it easier to

identify risk at every point of the supply chain and

respond before delays occur. Supply chains that invest

in automation and new technology are also

more resilient in times of disruption because they are

less reliant on physical labour and certain processes

can continue outside of working hours.

2.Digital means increased

visibility

Visibility is increased in a digital supply chain, and

this brings more than just increased resilience. Endto-end

visibility and transparency are increased

without the need for user input, instead using lowcode

automation platforms to provide access to realtime

information to all businesses involved. This information

can include manufacturing progress reports,

location of parts and delivery status, meaning

supply chains can work to more accurate timeframes.

The electronic components distributor also offers climate-controlled certified warehousing in Europe and Asia

Source: Rebound Electronics

8 EPP Europe » 11 | 2022
---
NEWS & HIGHLIGHTS «

3. Digital supply chains have a

competitive advantage

A digitalised supply chain can give manufacturers

an advantage over competitors because it enables

them to manufacture products more efficiently and

deliver a better service for the end user. Increased visibility,

traceability and communication throughout

the supply chain results in fewer supply issues, and

automated warehousing processes help to create

products much quicker and with a reduced risk of

error.

4. You can generate data-driven

plans

Digitalising your supply chain gives you access to

more data and more opportunities to put that data

to good use. For example, analytics and data visualisation

can benefit activities such as demand forecasting.

Combining intelligent algorithms and historical

data allows you to predict customer trends, giving

you more time to source the components to meet

All products are subject to the

same meticulous inspection

procedures underpinned by

industry-standard certification

Source: Rebound Electronics

The Gateway to

a Smart Factory

Solutions

‹ Process control by KY

realtime monitoring

‹ User-friendly library

manager for local

access to global

database

Koh Young Europe GmbH

Industriegebiet Süd E4

63755 Alzenau

Tel. +49 (0)6188 9935663

E-mail: europe@kohyoung.com

www.kohyoung.com

‹ Improvement of

processes through

verified measurement

data

EPP Europe » 11 | 2022 9
---
» NEWS & HIGHLIGHTS

Source: Rebound Electronics

"We owe our success to the drive and determination of our team which ensures we meet and exceed

the level of service our clients have expected of us for the past 19 years," says Rebound

Source: Rebound Electronics

Digitalisation can help prevent supply chain problems

About the author

Jeff Brind is the Chief

Information Officer at

Rebound Electronics,

a privately-owned

independent electronic

components distributor

experienced in supply

chain management.

that future demand. This is particularly useful for

orders that use hard-to-source components and

those that are currently experiencing a shortage.

5. Warehouses are more efficient

A digitalised warehouse is more operationally efficient

through the use of AI systems, automation and

improved access to data. AI systems can work out

the shortest, most efficient walking routes through

the warehouse and they can also be used to better

position the inventory for ease of access to the most

popular parts. Robotics can be used for loading and

unloading pallets, moving cargo and more, resulting

in a far more streamlined warehouse.

6. It is easier to manage

inventory

Digital stock management is more

efficient and less susceptible to human

error. Stock levels can be monitored remotely

and in real time, and parts or

compontents can be automatically ordered

once stock drops below a set

level.

With traditional ordering methods, it

is easy to underorder or miss a delivery

date, which could result in the loss of a

sale if a product is out of stock. On the

other hand, overordering can result in

excess stock that could become obsolete

and need offloading, and at the least

will result in additional storage costs.

7. Transit becomes more efficient

Cloud-based GPS and BLE asset tracking increases

the availability of data for supply chains, providing

real-time insights into the status and location of assets,

even when they are in transit. The efficiency of

the fleet can also be drastically improved by analysing

route efficiency and traffic conditions.

8. Labour can be used more

effectively

By investing in automation technology, employees

can be put to work more efficiently. Automation programs

can take over many menial and administrative

tasks (and even complete them outside of business

hours), while employees can focus on the more complex

tasks that only they can do, meaning that more

important work can be completed during a typical

shift.

Employees also won't have to work longer hours to

complete these routine tasks, where increased fatigue

could increase the occurrence of costly errors.

To sum up...

Digitalisation is essential for any manufacturing

business that wants to remain competitive in the

modern climate. As these benefits demonstrate, the

question is not 'should you make your supply chain

digital?', but 'how soon can you start?'.

reboundeu.com

10 EPP Europe » 11 | 2022
---
Boost for U.S. semiconductor industry

Biden signs U.S. Chips and Science Act into law

President Biden has signed an Executive Order to facilitate

the implementation of the bipartisan Chips

and Science Act. The long-awaited piece of legislation

which includes measures to provide USD 52

billion dollars to the country's semiconductor industry

to mitigate supply shortages and boost domestic

manufacturing of chips. Sometimes known just as

the Chips Act, the new policy is aimed at

strengthening U.S. science and technology innovation,

but also addresses concerns that the country

is too reliant on Asian manufacturers of chips. After

months of revisions, the bill passed the Senate on 27

July and was approved by the House of Representatives

on 28 July in a vote of 243-187. President

Biden signed it into law on 25 August 2022.

In addition to billons of dollars of subsidies, the

legislative measures include the provision of billions

of dollars worth of tax incentives to chipmakers to

encourage them to build semiconductor fabrication

plants or 'fabs' in the United States rather than elsewhere.

In January, Intel revealed plans to build $20

billion chip plant near Columbus, Ohio but postponed

its ceremonial address at the site in July while it

waited for Congress to pass the Chips Act.

The U.S. currently accounts for 12% of global semiconductor

manufacturing; in 1990, its share was

37%. Speaking on 26 July in a meeting with CEOs

and Labor Leaders on the importance of passing the

bill, President Biden said, "America invented the

semiconductor. It's time to bring it home."

Source: Pixabay

8 processes

with infinite

possibilities!

When soldering high-mass or large boards, a particularly

effective and easily controlled soldering process is

of great importance. With the vapour phase soldering

systems of the Condenso series, you will succeed in

achieving the best soldering results even with these

requirements – for a good take-off and a safe landing.

#VapourPhaseSoldering #Avionics

www.rehm-group.com

Anzeige_EPP_Condenso.indd 1 30.09.2022 10:56:53

30.09.2022 10:56:53

EPP Europe » 11 | 2022 11
---
» NEWS & HIGHLIGHTS

New strategic partnership for semiconductor material

Infineon signs supply agreement with II-VI for silicon carbide wafers

The skyrocketing growth of the electric vehicle (EV) market is driving demand for SiC-based power

electronics in EV drivetrains, onboard battery charging units, and charging infrastructure, explained II-

VI in a press release

Source: II-VI Incorporated

Angelique van der Burg, Chief Procurement

Officer at Infineon

Source: Infineon

Infineon Technologies AG has signed a

multi-year supply agreement with U.S.

optical materials and substrate manufacturer

II-VI Incorporated for 150 mm silicon

carbide (SiC) wafers. With the agreement,

the chipmaker secures further access

to the strategic semiconductor material

to meet the strong increase in customer

demand. As strategic partners, II-VI

and Infineon will also collaborate in the

transition to 200mm SiC diameter wafers.

"SiC compound semiconductors set new

standards in power density and efficiency.

We are leveraging them to deliver on our

strategy of decarbonization and digitalization,"

said Angelique van der Burg, Chief

Procurement Officer at Infineon. "Infineon

is increasing investments in its SiC

manufacturing capacity to meet the

rapidly growing demand from our customers.

We are pleased to add II-VI to our

strategic supplier base and grow our

business together."

"Infineon, as a market leader in power

semiconductors, is an important partner

for us," said Sohail Khan, Executive Vice

President, New Ventures & Wide-Bandgap

Electronics Technologies at II-VI. "Our

highly specialized products are now helping

Infineon provide innovative electronic

components to key customers worldwide."

Infineon expects its SiC semiconductor

sales to grow by more than 60

percent on average per year, reaching approximately

$1 billion by mid-decade.

www.infineon.com; ii-vi.com

New website for growing product segment

ODU launches online offering for mass interconnect interfaces

A leading suppliers of connector systems ODU has

launched a new website for its mass interconnect interfaces

product portfolio. These are now presented on

their own website www.odu-interconnect.com.

Just as in the development of its ODU-MAC Black-Line

mass interconnect interfaces, the company says it

wanted to make things as easy as possible for the user

with the new website. Thanks to its user friendly design,

the technology provider says, anyone who requires information

can get to it quickly and efficiently.

Contact technology

The company's mass interconnect systems are mainly

used for testing printed circuit boards and electronically

assembled components. "What is decisive in this regard?

Reliable measurements and great flexibility," the

company said in a statement. "Unsurprisingly, ODU's

contact technology is convincing … due to its high reliability.

Equally important is the individual configuration

of interfaces, for which the modular connectors

are ideally suited."

"It was the next logical step to offer our own mass interconnect

interface," said Tobias Eder, product manager

at ODU.

Continuous product enhancement

To meet the needs of as many applications as possible,

ODU says its portfolio is constantly being expanded. The

latest extension is a so-called electronics housing,

which can be used as an alternative to the adapter. It

allows connectors to be attached to the rear panel for

individual test requirements. At the same time, the

housing protects electronic components and cables.

www.odu-interconnect.com

12 EPP Europe » 11 | 2022
---
NEWS & HIGHLIGHTS «

QUALITY

PIEKTRAINING.COM

IPC September Economic Outlook Report

Likelihood of 2023 recession in U.S. and Europe is increasing

According to IPC's September 2022 economic outlook

report, the economic picture in the United

States continues to dim and the likelihood of a recession

next year continues to increase. The U.S.

economy is expected to expand just 1.6 percent in

2022, less than half as fast as the 3.9 percent growth

projected at the start of the year. Next year, the

economy is slated to expand just 0.6 percent, down

from an expected 2.6 percent growth. A recession in

the United States next year is not a foregone conclusion,

but the probability has increased.

Europe

The picture in Europe is decidedly dimmer, IPC continued.

The Russian invasion of ASSEMBLY Ukraine continues to

DESIGN

FABRICATION

PB

PB

PB

put tremendous pressure on the global economy, but

the impact is especially pronounced in Europe. Europe

reported annual inflation of 9.1 percent in August,

another new high for the continent. Moreover,

pressures continue to mount and Europe will see a

few more months of new inflationary highs.

REWORK

AND

REPAIR

PB FOR THE ELECTRONICS MANUFACTURING INDUSTRY

TRAINING COURSES

"Right now, all eyes

are on inflation," said

Shawn DuBravac IPC

chief economist and

report author. "Whereas

inflation has likely

peaked in the U.S.,

that is not the case in

Europe, and likelihood

of a recession in Europe

next year is high.

When the prospect for

growth is limited, it does not take much to push an

economy into recession."

PROGRAMS

TECHNIQUES

In addition TRAINING

to DuBravac's observations, the report

WIRING

AND

CABLE SPECIAL

also provides U.S. and European data on economic

growth, employment, consumer sentiment, manufacturers'

sentiment (PMI), manufacturing capacity utilization

and end markets for electronics.

ipc.org

INTERCONNECT INDUSTRY

IN THE ELECTRONIC

TO ANYONE WORKING

ACROSS THE WORLD

AND CERTIFICATIONS

IPC / PIEK COURSES

Europe reported annual

inflation of 9.1

percent in August, another

new high for the

continent. Moreover,

pressures continue to

mount and Europe will

see a few more months

of new inflationary

highs, IPC said

OFFERS TAILOR-MADE

Source: Pixabay

PB

DESIGN

PB

DESIGN

TRAINING COURSES

FOR THE ELECTRONICS MANUFACTURING INDUSTRY

TRAINING COURSES

FOR THE ELECTRONICS MANUFACTURING INDUSTRY

PB

PB

PB REPAIR

CABLE AND

FABRICATION

ASSEMBLY AND REWORK

WIRING

TECHNIQUES

PB

PB

PB REPAIR

CABLE AND

FABRICATION

ASSEMBLY AND REWORK

WIRING

TECHNIQUES

SPECIAL

TRAINING

PROGRAMS

SPECIAL

TRAINING

PROGRAMS

OFFERS TAILOR-MADE

OFFERS IPC / PIEK TAILOR-MADE

COURSES

AND IPC CERTIFICATIONS

/ PIEK COURSES

AND ACROSS CERTIFICATIONS

THE WORLD

TO ACROSS ANYONE THE WORKING

WORLD

TO IN ANYONE THE ELECTRONIC

WORKING

INTERCONNECT THE ELECTRONIC

INDUSTRY

INTERCONNECT INDUSTRY

©2022 PIEK INTERNATIONAL EDUCATION CENTRE (I.E.C.)

QUALITY

QUALITY

PIEKTRAINING.COM

PIEKTRAINING.COM

EPP Europe » 11 | 2022 13
---
Source: Messe München

Visitors will encounter smart energy everywhere at Electronica 2022, as electronics also has a key role to play in the energy transition

Electronica 2022, 15-18 November, Messe München

Sustainability to take centre

stage at Munich expo

In the four years since Electronica last took place in person, the industry (not to

mention the world) has undergone some seismic changes. Boasting a wide and

varied programme of supplementary conferences and forums, this year's fair

will highlight today's most pressing topics: from electromobility through smart

energy to power electronics and sensors.

Expectations are high for this year's Electronica

event. The last time the trade fair was held in

real life, it attracted a record 80,000 visitors from

over 80 countries. Skipping over the expo's purely virtual

outing at the height of the pandemic in November

2020 (which still managed to attract over 8200

participants), this year's edition looks set to be just as

popular. "Exhibitors, top decision makers and thought

leaders want to discuss innovations and trends in

person again at last and they're already looking

ahead to the Fall with confidence," said Dr. Reinhard

Pfeiffer, Deputy CEO of Messe München. "For them,

electronica is the world's most important industry

get-together and the only one this year that seamlessly

covers the complete spectrum of electronics."

Companies from over 40 countries, ranging from

start-ups to global corporations, will come together

across 13 halls to present products and solutions, and

exchange ideas about the future of the industry.

"Driving sustainable progress"

The motto for this year's event is cleverly worded.

In addition to a strong emphasis on electronics as a

driver of sustainable technologies, the development

of sustainable automotive (or 'driving') technologies

themselves will also be in focus. As well as electromobility,

key topics at the expo will include smart

energy, industrial electronics and sensors – many of

which will be discussed in depth at the supplementary

conferences and forums.

The issues and challenges in the field of microelectronics

will be addressed separately at the co-located

event Semicon Europa, recognized as one of

the largest international trade fairs for semiconductor

manufacturing in Europe.

Smart energy

Recent events mean that the question of how we

attain energy sustainably is perhaps more pressing

than ever before. The 2022 show will highlight the

vital role of electronics technologies in the transformation

of energy infrastructures.

Smart energy refers to intelligent technologies and

solutions aimed at achieving efficient production,

distribution, use and storing of energy, across the entire

value chain. According to a study by the IMARC

Group, the global market for smart energy is expected

to increase at a compound annual growth

rate (CAGR) of 9.82 percent from USD 138.8 billion

in 2021 to USD 247.8 billion by 2027. Analysts ident-

14 EPP Europe » 11 | 2022
---
TRADE SHOWS & EVENTS «

ified the growing demand for intelligent electricity

grids—"smart grids"—as a main driver of this growth.

Power electronics are also of high importance

when it comes to energy saving. According to a study

by the European Center for Power Electronics (ECPE),

more than a quarter of electrical energy could be

saved through the use of modern power electronics.

Visitors will encounter smart energy everywhere at

Electronica 2022. The Power Electronics and Embedded

Systems Forums, which runs across 4 days

(15–18 November) will cover the whole spectrum of

power electronics. Exhibitors in the field of electricity

supply, such as those providing transformers,

electricity supplies, supply units and batteries, will be

located in Hall A4.

Electromobility

Electronica 2022 will also shed light on the mega

trends that are transforming the automotive industry,

such as autonomous driving, connectivity, electrification

and digitalization.

Exhibitors in the field of car chips will include

Bosch, Infineon, NXP, Renesas, Samsung, STMicroelectronics

and Texas Instruments. NXP will present

its S32Z and S32E processors, an expansion of its

S32 automotive platform for real-time processing of

domain and zone controlling, security processing and

vehicle electrification. And fair visitors will also have

the chance to become acquainted with Infineon's

multi-core SoCs from its Tc4x family which covers a

broad spectrum of automotive applications, from

electric mobility, ADAS and connected cars to AI.

Industrial electronics

This year's event will also highlight the role of industrial

electronics as an enabler of digital transformation.

The goal of Industry 4.0 is to digitalize

and network production along the entire value chain

using intelligent industrial electronics and the most

up-to-date communication technologies.

Industrial semiconductors, IIoT sensors, smart sensors

and digital twins are just some of the technologies

that will be spotlighted by exhibitors this year.

The IIoT & Cyber Security Forum, held in Forum

Hall B4 on November 16–17, will illustrate how industrial

applications can be made even more intelligent

thanks to concepts like Industrial IoT (IIoT), artificial

intelligence (AI) and 5G.

Sensors

As the leading data supplier, sensors produce the

raw material used in digitalization systems throughout

the entire value chain in virtually all industrial

segments. They are indispensable components in

every smartphone as well as devices like fitness

trackers, drones, virtual-reality headsets, smartwatches

and smart sensor nodes for the Internet of

Things (IoT). Indeed, no matter if you are talking

about smart cities, smart energy, smart homes, smart

health or smart factories, you will always find sensors

hidden beneath the term 'smart'.

Manufacturers of all kinds of sensors from the ubiquitous

MEMS through sensors used specifically in

automotive and medical technology, to industrialgrade

sensors will attend Electronica 2022. Visitors

will also be able to see how smart sensors can optimize

their company value creation during the Embedded

Platforms Conference on November 16,

2022, as well as at the IIoT & Cyber Security Forum.

Hardware developers will not want to miss the Electrical

Connectors & Measurement Technology

Forum held in Hall 3 on 17 November, which will

cover technological highlights and trends in sensors

and measurement technology.

Supplementary event programme

Electronica is traditionally complemented by a

comprehensive array of conferences, forums and

special events. Organizers say this year's supporting

programme will focus on knowledge transfer and interpersonal

exchanges with experts.

The Automotive Conference on 14 November will

comprise around 18 presentations, and focus on the

transformation of cars into intelligent IoT devices

with electric drive systems.

On November 16, the Embedded Platforms Conference,

which will also last one day, will concentrate

on the challenges and solutions surrounding

the embedded systems of the future. Across around

35 presentations on three parallel stages, experts

will be addressing subjects ranging from power electronics

and supply, across AI and sensors, through to

communications and software.

Last of all to take place is the Wireless Congress

2022. Systems & Applications, organized by WEKA,

will be the meeting point for the international wireless

community from November 16 to 17. The event

will concentrate on the latest developments and the

practical application of wireless technology.

World Ethical Forum

New this year is the World Ethical Electronics

Forum (WEEF) taking place on 15 November. This

event will address questions including: what does

ethical conduct mean for electronics companies?

What guidelines, structures and concepts promote

fair play in our industry?

electronica.com/en/

EPP Europe » 11 | 2022 15
---
COVER STORY » CCI SOLUTIONS

Thickness

measurement

for transparent

materials

ANZ_KOHYOUNG_epp_europe_316x207_3__01_2209_4c.indd 1 20.09.22 12:52

Koh Young examines the future of dispensing inspection (DPI)

Overcoming the

challenges of CCI

16 EPP Europe » 11 | 2022
---
AT A GLANCE

In this article, Koh Young

details the importance of

accurate CCI and

measurement, and explains

how its new 3D in-line DPI

equipment can conduct

2D and 3D inspection of

transparent materials.

Conformal coatings protect electronics

from moisture, debris, and corrosion.

They also add mechanical stability to

help reduce failures and improve an

electronic device's reliability when it is

exposed to harsh environments. But

what happens if a coating is defective

or simply too thin? Koh Young discusses

the challenges of conformal coating

inspection (CCI) and how its latest

Neptune series can help.

A

conformal coating is a transparent protective

film with a thickness of around 50um applied

to a PCB to protect the board and its components

from corrosion (caused by vibration, temperature

changes, and so on) and from the environment. It is

used on parts that need to offer increased product

reliability via dustproofing and waterproofing. As

conformal coatings significantly reduce the chance

of circuit failure due to moisture, they are now being

increasingly applied to products which necessitate a

high level of reliability. There are various coating

methods used today including dipping, brushing, and

spraying. Selective spraying methods that only coat a

specific area are also being more widely used.

In addition to conformal coatings, various other

dispensing technologies such as underfill and overcoating

are emerging in the market. Underfill redistributes

the thermomechanical stress created by

the coefficient of thermal expansion mismatch between

the silicon chip and organic substrate and is

often applied to BGAs and CSPs in semiconductors

or during SMT processes. In some medical applications,

a droplet-shaped coating needs to be

placed on the pad, in a process known as overcoating,

and the height of this droplet needs to be

measured. Indeed, as this example makes clear,

some dispensing applications now also require specific

inspection processes.

EPP Europe » 11 | 2022 17
---
COVER STORY » CCI SOLUTIONS

The overlay of reference signal and measurement signal creates a convergence signal caused by reflections at the refraction lines.

The distance between the convergence peaks is the height of the material.

Source: Koh Young

3D inspection

Until recently, 2D inspection was all that was

required for conformal coating inspection; now however,

there is rising demand for 3D inspection. This

has come about because it is necessary to ensure the

coating attains a particular thickness. If the conformal

coating is applied too thinly, the parts that

require protection may not be sufficiently shielded.

If, on the other hand, the coating is applied too

thickly, the unnecessary stress this adds to the board

can cause side effects such as bubbles and cracks.

"Proper coating thickness is very

important to ensure the quality of a board

yet 3D thickness inspection is not easy

because the coating itself is transparent."

IPC recommends a thickness of between 30um and

130um depending on the type of conformal coating.

Proper coating thickness is very important to ensure

the quality of a board, yet 3D thickness inspection is

not easy because the coating itself is transparent.

Biggest inspection challenges

So, what are the biggest challenges when it

comes to coating inspection? Conformal coatings

are done using different materials meaning that, in

some cases, the coating thickness and UV color

may be different – even for the same type of board.

As conventional 2D CCI (conformal coating inspection)

systems inspect according to the UV color,

and are susceptible to the board environment, this

can lead to a high rate of 2D false calls. In order to

solve these problems, it is also necessary to continuously

draw and set the region of interest (ROI).

Finally, as explained above, because the conformal

coating is itself transparent, 3D thickness measurement

using existing inspection technology becomes

a challenge. In the case of IC components, for instance,

we find that, because the coating flows

down, it remains thin on top of the leads but

relatively thick in between them because it has gathered

here.

In the case of underfill, there is a need to check the

fillet height using 3D. Accurate measurement is difficult

due to the steep slope of the fillet. Although, it

looks black, underfill may, in some cases, have some

transparency. Before curing especially, it is even

18 EPP Europe » 11 | 2022
---
The LIFT measurement principle.

The sample is scanned by an IR

laser beam. The signal is split

into a reference signal and a

measurement signal (beam

splitter). The overlay of both

signals returns to the detector.

Source: Koh Young

more transparent. With a level of transparency like

this, there is no guarantee that the 3D shape is of the

correct height or not, as the light is slightly transmitted

when it is reflected. As such, it is difficult to

obtain reliable 3D data with existing CCI technology.

Currently, in order to ensure the reliability of 3D

measurements, some boards must be destroyed.

The Neptune series

To help overcome these challenges, Koh Young has

launched the Neptune series for conformal coating

inspection. The tabletop Neptune T and the inline

Neptune C+ machine. The tabletop machine is optimized

for thickness measurement, and the Neptune

C+ is the industry's first 3D in-line DPI, (Dispensing

Process Inspection) system, which is able to offer

both the 2D and 3D inspection of various transparent

materials.

In addition to 2D conformal coating inspection,

Neptune C+ also provides solutions for various areas

that undergo 3D inspection. As explained above, in

existing 2D CCI, defects are detected using only the

UV brightness color, leading to frequent false calls.

Bubble detection is, for instance, an area with a very

high false call rate.

In order to minimize this false call rate, Koh Young

employs an image-based machine learning-algorithm

for bubble detection. First, bubble images from

the field are collected, and classified by bubble shape

based on the collection of images, in order to continuously

enhance the bubble detection engine. The

"It is difficult to obtain reliable 3D data

with existing CCI technology."

Neptune C+ thus enables customized bubble detection

according to bubble classification. For example,

some customers may wish to class a bubble that occurs

far away from the lead as not defective, while

others prefer to classify any bubble – no matter

where it is detected – as a defect.

User-friendly software

Programming that was difficult with existing CCI

systems has also been made easier by our userfriendly

software. The user interface is very intuitive

and easy to use. Everything from recipe creation to

result review is possible in one piece of software.

EPP Europe » 11 | 2022 19
---
COVER STORY » CCI SOLUTIONS

Source: Koh Young

The Neptune C+ enables customized bubble detection according

to bubble classification

Source: Koh Young

Koh Young CCI systems deliver tomographic information by area inspection meaning

the image shown on the right in which multiple layers of fluid structure can be clearly

seen can be acquired

Zusammenfassung

Eine Beschichtung schützt Elektronik vor Feuchtigkeit,

Schmutz sowie Korrision und sorgt so für

zuverlässige Funktion der Baugruppen selbst in

rauen Umgebungen. Um eine einwandfreie

Beschichtung zu garantieren, sind innovative

Testsysteme zur Qualitätssicherung notwendig.

Résumé

Un revêtement protège l'électronique de l'humidité,

de la saleté ainsi que de la corrosion et assure de

cette façon un fonctionnement fiable des modules,

même dans des environnements difficiles. Afin de

garantir un revêtement parfait, des systèmes de

test innovants sont nécessaires pour assurer la

qualité.

Резюме

Покрытие защищает электронику от влаги,

грязи и коррозии и тем самым обеспечивает

надежную работу узлов даже в тяжелых

условиях окружающей среды. Для

обеспечения безупречного покрытия

необходимо использовать инновационные

испытательные системы для гарантии

качества.

Drawing the ROI is also very simple using a rectangle,

circle, polygon, and so on. After selecting a

type of inspection, the user need only to draw an

ROI, and the inspection process is ready to go.

Most importantly, Koh Young's systems provide the

most accurate and reliable 3D inspection regardless

of the surface condition of transparent materials.

Unlike other CCIs, the Neptune can inspect within 3

minutes without any damage to the board. Existing

CCI systems normally measure the height by adjusting

the position of this reference mirror, but our

technology does this by adjusting the frequency.

Also, instead of inspecting only one point, our CCI

systems deliver tomographic information by area inspection.

As such, the image shown above is acquired,

and as you can see, multiple layers of fluid

structure can be clearly seen.

DPI beyond CCI

Our Neptune C+ can perform 2D and 3D inspection

of conformal coatings, as well as 3D inspection of

underfills and overcoatings. Currently, it offers a

measurement range of 10 microns to 3.5 mm for

these transparent materials, in the absence of refraction.

Moreover, just to briefly explain the hardware,

it has a 12M pixel camera and 15um. There is not

much difference in size from the existing SPI and AOI

systems, but in the case of the Neptune C+ we also

have a flipper-type ready system so there may be

some differences in PCB thickness and machine

weight.

www.kohyoung.com

20 EPP Europe » 11 | 2022
---
MK Versuchsanlagen

PCB maker acquires Danish PCB solutions provider

Icape Group acquires Møn Print

Global technology distributor of printed circuit boards, Icape

Group, has acquired Møn Print, a major supplier of PCB solutions

in Denmark. The company, which has been active in the

industry for over 50 years, will be known as Icape Denmark.

According to a press release, the purchase price was €0.7 million,

although this may be subject to additional payments depending

on the company's 2022 and 2023 results. In 2021, the

Danish company generated annual net sales of DKK 9.4 million

(EUR 1.27 million) and EBIT of DKK 0.7 million. The Group expects

Møn Print's annual sales to grow by slightly more than

10% and its EBIT margin to significantly improve in 2022.

"We are thrilled to welcome within our Group such a renowned

player in Denmark and Northern Europe, strengthening our position

in this region," Cyril Calvignac, Icape Group's CEO, stated in

the release. "This acquisition is in line with our ambitious external

growth strategy, as announced during our IPO, in order to

consolidate our global leadership in the PCB distribution

through now 29 subsidiaries worldwide. This strategic operation

enables us to offer a close proximity to our industrial customers

by joining forces with a local player, guaranteeing a high quality

Your contribution to

climate protection!

Save up to 50%

on operating costs with

forward-looking energy

management.

Source: Icape Holding

"With Icape Group, we expect to be one of the leading PCB suppliers in

Denmark," said Tina Pedersen, CEO of Møn Print

of service. It is with enthusiasm that we will share our knowhow

with Møn Print which will benefit from the complete range

of high value-added services of [the] Group. We are confident to

complete several other acquisitions by the end of the year, with

the same objective of generating commercial and purchasing

synergies, in line with our profitable growth objectives."

"Icape Group is a great structure with local offices in many

countries, and with more than 600 employees around the world,"

said Tina Perdersen, CEO of Møn Print. "Thanks to its organization,

network, global strategy, and proven processes, [it] became

a major player in the PCB industry. We are happy to integrate

such a serious, dedicated, and successful company to look

ahead with confidence for our customers. With Icape Group, we

expect to be one of the leading PCB suppliers in Denmark,"

Icape Denmark will continue to operate from the Møn Print facility

in Stege with its current team, which will be reinforced by

the Icape Group's local sales engineers in the country.

www.icape-group.com

è minienvironments

(PP / VA Table)

è OPC UA

interface

è optional:

Spin Coater und

Quick Dump

Rinse (QDR-) Sink

MK Versuchsanlagen und Laborbedarf e.K.

Stueckweg 10 • 35325 Muecke-Merlau

Tel.: +49(0)6400 -9576030

Fax: +49(0)6400 -9576031

Metal-free

wet workbench

è highest product

protection with

simultaneous

personal

protection

è each plant is

adapted to

the individual

customer´s

request

info@mk-versuchsanlagen.de

EPP Europe » 11 | 2022 21

www.mk-versuchsanlagen.de
---
» PCB & ASSEMBLY

Removing insoluble particulate from semiconductors

Vapor degreasing explained

Vapor degreasing is an efficient and sustainable way of removing contaminants,

like insoluble particulate, from semiconductor wafers and components.

In so doing, it helps to ensure their later reliability and operability, as Senior

Chemist at MicroCare, Elizabeth Norwood, explains.

Semiconductor manufacturing typically

takes place in cleanrooms to protect the

complex chips from contamination. But

almost all semiconductor wafers need

some cleaning during manufacture to reticulate

accumulates on the wafer surface,

it can interfere with and degrade

deposited films that come later. It can

also cause shadowing during lithography,

reduce contact exposure resolution or

create an uneven surface that could result

in cracking during exposure.

Particulate is also a common contaminant

found on FOUPs (Front Opening Unified

Pods) used for wafer transferring. So,

the FOUPs should also be cleaned to prevent

FOUP-to-wafer contamination.

Particulate is not soluble in traditional

cleaning fluid, so it must be removed by

either chemical or mechanical means.

There are various ways to clean semiconductors

and FOUPs. One is via vapor degreasing

with specialty particulate displacement

fluids.

Source: Microcare

Vapor degreasing combines cleaning, rinsing and drying in one step to optimize throughput time

Demand for sophisticated, complex

electronics is rising. But the intricate

nature of these assemblies, which

include delicate semiconductor wafers,

can cause a reliability risk if post-etching

cleaning is not performed well. Contaminants

must be removed without damage

or alteration to the wafers. Failure to remove

these impurities could cause etching,

corrosion or pitting, resulting in poor

semiconductor operability and reliability,

Cleaning semiconductors

move contamination resulting from the

manufacturing process. Contaminants

come from many sources including chip

transport, handling, storage and manufacturing.

Soils vary and can include dust,

fingerprints, oils and water.

One of the most common semiconductor

contaminants is particulate. This comprises

dust particles, skin flakes, fibers

and other process contaminants. Particulate

contamination comes from the air,

from the abrasion of moving parts, from

clothing, or from dirty, unfiltered etching

fluids. These particles either electrostatically

bond to the substrate or they get

trapped in the wafer substrate geometry.

Particulate impacts wafer performance

in different ways. For example, as par-

What is vapor degreasing?

Vapor degreasing is a closed-loop system

with two components: a vapor degreaser

and particle displacement fluid.

Most vapor degreasing systems are toploading

batch-style cleaning machines

with two compartments: the boil sump

and the rinse sump. In the boil sump, a

batch of parts including FOUPs, MOSFETS

Almost all semiconductor wafers require cleaning

to remove contamination caused by the

manufacturing process

Source: Microcare

22 EPP Europe » 11 | 2022
---
Bild: Microcare

Particulate contamination comes from the air,

from the abrasion of moving parts, from clothing,

or from dirty, unfiltered etching fluids

(Metal Oxide Semiconductor Field-Effect

Transistors) or other semiconductor components

are immersed in the heated fluid

for cleaning. Often, agitation helps enhance

the cleaning fluid's effectiveness.

This is done by leveraging the boiling action

of the cleaning fluid, adding vibrating

ultrasonic energy or using a spray

wand to loosen the particulate off the

substrate. Once cleaned, the parts mechanically

transfer to the rinse sump. The

parts rinse in pure, uncontaminated fluid

or inside the fluid vapors themselves. The

components come out cool so they are

immediately ready for use or for the next

stage of processing. Unlike the commoner

aqueous cleaning, vapor degreasing combines

cleaning, rinsing and drying in one

step to maximize takt time. It takes as

little as 6–20 minutes per batch.

Moreover, vapor degreasers typically

have a smaller footprint than aqueous

cleaners. The systems take up less valuable

production space and, because vapor

degreasing cleaning is a simple, predictable

and repeatable process, it is easy to

qualify and validate for cleanroom use.

Good particle displacement

The displacement cleaning fluids used

inside vapor degreasers have chemical

and physical properties that are advantageous

to particle displacement and help

accelerate the cleaning process. Small

particles can be difficult to remove from

wafers since strong electrostatic forces

exist between the particles and the wafer

substrate. A particle adheres to the substrate

through adhesion forces, whether

it is an electrostatic charge or Van der

Waals force. This adhesion creates a friction

force parallel with the surface: static

friction if the particle is not moving, dynamic

friction if it is. To remove the contaminant,

the cleaning fluid must reduce

the thickness of the laminar boundary

layer, break the bond and allow the particles

to release from the substrate.

Some displacement fluids are a mixture

of hydrofluoro-olefin (HFO) and ethanol

that removes fine particulate down to the

micron or even sub-micron range. The alcohol

component forms hydrogen bonds

at the fluid-substrate interface, reducing

the intermolecular forces between the

particle and the substrate. This allows the

particulate to lift more easily from the

substrate.

Plus, the fluorocarbon-based fluids are

synthetically derived, allowing for a

higher purity level than traditional hydrocarbon-based

cleaning fluids. These

ultra-pure fluids dry quickly and completely

without leaving spots or residue

behind.

High density & low viscosity

Particulate displacement fluids are

dense: typically, 20–40% heavier than

water and 50% heavier than alcohol.

They also have a lower viscosity than IPA

(Isopropyl Alcohol), water or water with

surfactant additives. The combination of

the higher density and the lower viscosity

About the author

Elizabeth Norwood is a

Senior Chemist at MicroCare,

which offers precision cleaning

solutions. She has been in

the industry more than 25

years and has a BS in Chemistry

from the University of St.

Joseph. Norwood researches,

develops and tests cleaningrelated

products. She currently

has one patent issued

and two pending for her

work. For more information,

visit www.microcare.com.

THE FLEXIBILITY

FOR MASS

INTERCONNECT

ODU-MAC ®

GET YOUR

SOLUTION

NOW!

black-line@odu.de

Electromechanical version

Eight tensioning points

for equal connections

Flexible configuration with

ODU-MAC® modules

Including cable assembly

www.odu.de

EPP Europe » 11 | 2022 23
---
» PCB & ASSEMBLY

FOUPs and other storage facilities should

be cleaned to prevent cross-contamination

of the wafers

Source: Microcare

of the hydrofluoro-olefin fluids results in

greater drag forces acting on the particles.

This makes it easier to dislodge the

particulate from the substrate. The particles

push away from the substrate and

wash away, dispersing into the cleaning

fluid.

Low boiling point

Particle displacement fluids are lowboiling

with typical boiling points between

40˚C/105˚F and 65°C/165°F. This

minimizes the risk of damage to wafers

and other delicate components. Vaporization

displacement fluids (below 100°C)

are aggressive enough to remove the particles,

yet won't damage the substrate,

including composite materials. They are

compatible with most hard plastics, ceramic,

glass and metal.

Low boiling fluids also allow the vapor

degreaser to run more efficiently. And

since vapor degreasing cleans and dries in

one step, there is no need for blowers, air

knives or any other drying method that

uses power. This translates into less fossil

fuel consumption, lower carbon emission

and reduced greenhouse gas output. All

with the added benefit of energy cost

savings.

Environmentally friendly

Environmentally-friendly HFO-based

displacement fluids replace higher GWP

(Global Warming Potential) hydrofluorocarbon

(HFC) and hydrofluoroethers

(HFE)-based fluids. They also are better

for the environment than high ODP

(Ozone Depleting Potential) solvents like

CFC-113, HCFC-141b, HFC-225 and 1,1,1

trichloroethane. They meet strict regional

air quality regulations and many are not

considered HAPs (Hazardous Air Pollutants).

Many fluids are accepted by key

environmental and governmental regulatory

agencies in the United States and

most countries around the globe. They

meet global environmental directives including

the European F-Gas and REACH

(Registration, Evaluation, Authorisation

and Restriction of Chemicals) legislation.

Environmentally sustainable

Vapor degreasing with particle displacement

fluids uses no water, conserving

this precious non-renewable resource.

In addition, the process doesn't produce

wastewater that requires specialty filtration

or treatments before disposal.

Another environmental benefit of particle

displacement through vapor degreasing

is its suitability for recycling. The

displacement fluid is used for hundreds of

cycles before it requires refreshing or replacing.

Additionally, the vapor degreaser

concentrates the contaminants as it

works. This reduces waste generation and

lowers hazardous waste disposal costs.

Wrapping up

Particle contamination is detrimental

to intricate semiconductors and silicon

wafers. Removing contamination is essential

to ensuring their performance.

Vapor degreasing using particle displacement

fluid not only ensures semiconductor

cleanliness, it also addresses environmental

and regulatory concerns.

Companies looking for help with displacement

cleaning should partner with

an expert that has displacement fluid and

vapor degreasing expertise. They can conduct

on-site audits or perform in-lab

tests with sample wafers to ensure cleaning

success. Based on the wafer substrate

and the particulate, these specialists can

recommend, or engineer, the fluids and

processes that achieve the best results.

www.microcare.com

Zusammenfassung

Die Entfernung von Verunreinigungen bei komplexen Halbleitern

und Silizium-Wafern ist durch Dampfentfettung mit Partikelverdrängungsflüssigkeit

gewährleistet und berücksichtigt zudem Umweltaspekte

sowie gesetzliche Vorgaben.

Résumé

L'élimination des impuretés dans le cas de semi-conducteurs complexes

et de plaquettes de silicium est assurée par un dégraissage à

la vapeur avec un liquide de déplacement des particules. Elle tient

également compte des aspects environnementaux et des exigences

légales.

Резюме

Удаление загрязнений в случае сложных полупроводников и

кремниевых пластин осуществляется методом паровой

очистки с использованием вытесняющей жидкости, при этом

учитываются аспекты охраны окружающей среды и

требования законодательства.

24 EPP Europe » 11 | 2022
---
Rework technologies

PDR launches integrated solder

paste print part system

Source: PDR

The system mounts to

all Evolution Series

rework platforms for

vertical lift utilizing

the Integrated Vacuum

Pick Up Feature/

Gram Force placement

settings.

PDR, a manufacturer of BGA rework systems, test and X-ray inspection

systems, has introduced a new 'Integrated Solder Past

Print Part System' for rework. The company said the tools are

designed to work with all its Evolution Series rework systems.

"Treated with high durability carbon nanotube technology for

superior paste-to-component release, the new print part system

offers superior paste printing to component results with

minimal effort," the company said. "Key to the success of any

print part operation is the ability of the print part fixture to

supply correct and equal pressure to the component when

undergoing the pasting operation. [Our] exclusive design offers

a hands-free/tool-free calibrated pressure nest to ensure constant

and direct pressure is achieved, thus providing superior

paste application and deposition, virtually eliminating the need

for re-prints."

www.pdr-rework.com

Reflow oven technology

24-channel profiling option from KIC

The new option consists of two

12-channel SPS units, paired

together and run as a single

24-channel profiler inside of a

new thermal barrier.

Source: KIC

KIC has introduced a

new Dual Profiling option

for Profiling Software

2G and SPS

Smart Profilers, allowing

up to 24 thermocouple locations in a single profile run for

temperature profiling measurements. This added value is key

for customers who require more sample locations on some of

their products, but still want to use their profiler on smaller

boards requiring less. Dual profiling allows this flexibility. Using

the Profiling Software 2G application, a user can 'pair' two

standard 12-channel SPS Smart Profilers together, and they

will function as a single profiler.

www.kicthermal.com

EPP Europe » 11 | 2022 25
---
» PCB & ASSEMBLY

Processing larger PCBs with precision

More flexibility in solder

paste printing

The DEK TQ solder paste printer by ASMPT is known, even by the world's

most demanding electronics manufacturers, for its ability to deliver

maximum precision and speed within a compact footprint. The updated

DEK TQ L model adds flexibility into the mix. Able to process boards

of up to 600 mm x 510 mm, the new system fits seamlessly into the

company's non-proprietary Open Automation concept.

With an alignment accuracy of ±12.5 microns

@ 2 Cmk and a certified wet accuracy of

±17.0 microns @ 2 Cpk, the DEK TQ platform is one

of the most precise paste printers on the market, enabling

it to print pads for 0201 (metric) components

and other modern ultra-fine-pitch applications. Featuring

the same level of positioning accuracy and

process stability as its forerunner, the new DEK TQ L

delivers significantly enhanced performance within a

footprint that is only slightly larger (1.3m x 1.5m

rather than 1m x 1.3m). All DEK TQ printers can also

be combined to operate in tandem by positioning

two machines back-to-back: doubling the line's

printing capacity without increasing its length.

Source: ASMPT

The new printing platform from ASMPT

(right) offers more flexibility and is

able to process circuit boards measuring

up to 600mm x 510mm.

26 EPP » 11 | 2022
---
Versatile format

The biggest difference in the DEK TQ L compared to

the earlier model is the significant increase in the

size of the boards it is able to process. The new system

is suitable for PCBs measuring up to 600mm x

510mm (approx. 23.6" x 20") - a 90 percent increase

compared to the DEK TQ. At 560mm x 510mm (approx.

22" x 20"), the DEK TQ L's printable area has

also grown by more than 78 percent. This generous

production format offers electronics manufacturers

new degrees of freedom. Not only can they print

larger PCBs but, with the speedy three-stage conveyor,

they can also process three substrates with a

length of up to 345 millimetres in one pass.

Off-belt speed with linear drives

ASMPT has also employed linear motors throughout

the DEK TQ L. This off-belt concept improves not

only the machine's precision and repeat accuracy, it

also helps it deliver high processing speeds with a

core cycle time of 6.5 seconds or less with the threestage

conveyor. The innovative clamping system, a

more advanced printhead and the NuMotion controller

with fiberoptic cabling (developed by ASMPT)

further contribute to improvements in production

speed.

The high-speed understencil cleaning system also

operates with its own linear drives, which makes it

twice as fast as conventional systems. Additionally,

depending on the board size, the cleaning system

can be equipped with three different sizes of fabric

rolls that can be changed quickly and easily.

Zero-line-stop philosophy

The new platform's printers are designed to run for

more than eight hours without user intervention. For

normal cleaning cycles, a 22-meter fabric roll is long

enough for a whole shift, and the seven-litre cleaning

fluid tank requires a refill only after eight hours

or longer. The cleaning agent is applied (from above

via a dispenser) onto the board area being processed,

significantly reducing consumption. The pivot design

ensures coplanary contact with the stencil underside

for maximum cleaning quality.

To minimize manual assists, an optional paste

management system with automatic paste dispenser

and integrated paste height control with individually-configurable

warning and stop thresholds is

available. Also available to facilitate non-stop printing

is the optional Dual Access Cover, whose laterally

movable portion provides full access to the paste

cartridge so that it can be replaced while the main

cover stays closed and the printer keeps operating.

The three-stage transport system means that while a board is being printed, the one

previously processed is moved out and the following one is loaded

Needs-oriented automation

The DEK TQ L printer has been designed to fit in

with ASMPT's Open Automation approach. This costoptimized

alternative to the fully-automated shop

floor has proved successful in electronics production.

By allowing users to automate existing lines and

processes in stages according to their needs, the

company offers a variety of solutions for step-bystep

automation for the new platform (based on ROI

considerations). As Jens Katschke, Senior Process

Solutions Manager at ASMPT, explains, "the various

automation options for the latest generation of DEK

TQ printers enable SMT manufacturers to design an

Integrated Smart Factory in accordance with their

own ideas without having to depend on a specific

equipment manufacturer."

Customers who opt for the additional Smart Pin

Placement feature can also benefit from fewer manual

assists. The system operates with two pin sizes

(4mm and 12mm in diameter). In the DEK TQ L, the

magazine holds up to 60 pins and the system automatically

verifies the position and the height of each

pin after setting it. This prevents any single pin

which is perhaps minimally elevated by dirt on the

table from damaging the entire assembly.

Automation options for the Integrated Smart Factory

go even further. Together with the WORKS Process

Expert software, the Process Lens SPI system

partners with the DEK TQ L to form a system that is

as productive as it is functional. It provides the

printer with continuous feedback about the print

quality and can even modify settings on the system,

allowing the printing process control and optimization

functions to run autonomously. It can even

take process data from third-party systems into ac-

Source: ASMPT

EPP Europe » 11 | 2022 27
---
» PCB & ASSEMBLY

The Dual Access Cover option allows solder paste cartridges to be swapped out during operation, meaning fewer line stops

Source: ASMPT

count, for example from AOI systems at the end of

the line. The understencil cleaning process can also

be controlled automatically. It is no longer carried

out based on a rigid schedule, but only when the in-

Zusammenfassung

Für mehr Flexibilität in der Verarbeitung von großen

Leiterplatten wird ein neuer Lotpastendrucker vorgestellt,

der Boards von bis zu 600 mm x 510 mm mit

durchgängigem Automatisierungskonzept verarbeitet.

Résumé

Une nouvelle imprimante à pâte à braser est

présentée, pour plus de flexibilité dans le traitement

des grands circuits imprimés. Elle traite des cartes

allant jusqu'à 600 mm x 510 mm avec un concept

d'automatisation continu.

Резюме

Для обеспечения большей гибкости в обработке

больших печатных плат представлен новый

принтер для нанесения паяльной пасты,

позволяющий обрабатывать платы размером до

600 мм х 510 мм на основе концепции сплошной

автоматизации.

telligent quality management system recognizes,

based on measurements data, that a cleaning cycle is

needed.

Easy integration via open interfaces

Since open, non-proprietary and easily retrofittable

systems are major advantages of the Open

Automation concept, the new printer features

multiple interfaces and protocols. Examples include

the IPC-HERMES 9852 and IPC-CFX standards for

process data and ASMPT workflow solutions such as

the WORKS module Command Center, plant-wide

asset and maintenance management with Factory

Equipment Center, or the entire WORKS smart shop

floor management suite. Third-party systems and IT

systems such as MES or WMS solutions, extensive

remote support solutions, and many more are also

supported. With WORKS, for example, print jobs can

be programmed entirely offline.

Reference class

The precise printing, high process stability, small

footprint and flexible automation options of the new

solder paste printing platform have raised the bar.

Thanks to standardized, open interfaces, it is just as

easy to integrate the new high-speed printer into an

existing line as it is to combine it with machines

from other manufacturers or to automate the production

in stages. If you need to print large boards

with precision or want to make your production

more flexible, you should take a look at the DEK TQ L.

smt.asmpt.com

28 EPP Europe » 11 | 2022
---
Product Updates « PCB & ASSEMBLY

Integrated robotic solutions

Orbit One builds robot manufacturing cell

Swedish contract manufacturer of electronics

and electromechanics, Orbit One,

has announced that it has built a new

robot cell at its plant in Ronneby, Sweden.

The cell has been specially designed on

behalf of a large Swedish industrial company

in order to manufacture identification

and traceability solutions with builtin

analytical tools.

"We received an inquiry on whether we

could design an effective and sustainable

solution for their manufacturing.

Thanks to our fantastic cooperation with

the customer and the automation consultants

Spectrum Technology, we have

now built a unique solution, which is

fully operational," said Vice President &

Chief Operating Officer at the OEM, Ulf

Karlsson.

"The robot cell has a fascinating complexity

and is unbelievably space-efficient.

It is fitted with three robotic arms

and requires only one operator. The cell

manufactures the entire unit and the

robot handles all steps from depanelisation

with laser, laser soldering, printed

circuit board testing, battery assembly for

plastic encapsulation and laser marking

The robot handles all steps from depanelisation with laser, laser soldering, printed circuit board testing,

battery assembly for plastic encapsulation and laser marking of the finished product," explained Ulf

Karlsson, Vice President and COO at Orbit One

of the finished product. The quality

requirements are extremely high and

casting is done with the maximum possible

accuracy. The robot cell configuration

delivers one product every 30 seconds,"

continued Karlsson.

"It is also gratifying that with this deal

we show that we can compete with lowcost

countries like China, for example,

thanks to our high technical expertise.

Manufacturing is also brought closer to

the customer, which is of utmost importance

during the development of complex

products, when close collaboration is essential

for the final result. The project

has also strengthened and improved our

own competence and competitiveness in

a manner that will benefit all our customers."

www.orbitone.eu/news

Source: Orbit One

LPKF_RZ_LM_ANZ_Schneiden_188x88_EN.pdf - Oktober 6, 2022 x

Stress-free Cutting Services

Laser cutting of the smallest geometries with excellent

cutting quality and high flexibility of rigid and flexible PCBs.

Find out more: www.lasermicronics.com

electronica: November 15–18, Hall B1, Booth 219

LaserMicronics is a brand of LPKF Group:

LPKF Laser & Electronics AG Phone +49 (5131) 7095-0

EPP Europe » 11 | 2022 29
---
Source: ED&A

The ED&A site in

Kalmthout, Belgium

Case study: Ersa soldering systems in practice

It all began with a coffee machine…

Manufacturer of soldering systems Kurtz Ersa chronicles the history of its

customer ED&A, a Belgian developer and manufacturer of custom-made

electronic controllers, and explains how the company came to rely on Ersa

systems once it started its own manufacturing operations in 2012.

For over 40 years, ED&A has been developing and

producing customized electronic controllers for

consumer and industrial applications. The company,

based in Kalmthout, Belgium, is more than just a supplier,

describing itself as the "in-house electronics

department" for its customers. As part of a recent expansion

of its production capacity, the developer has

expanded its machinery portfolio with the addition of

an Ersa Versaflow 4/55 selective soldering system.

Source: ED&A

ED&A has been awarded a Factory of the Future

designation by Agoria/Sirris for the third time

Background

ED&A was founded in 1981 by

Agnes Francken and her husband

Flor D´Handschotter, who

was at that point working as a

teacher of electronics. The idea

to start a company was sparked

after a student's father asked

Flor to develop a controller for a

coffee machine. Not content

with simply saying, "yes, let's do

it", he seized the opportunity

and founded his own business. It

took four years before the enterprise

hired its first two employees

– and both are still

within the company. Fast forward 37 years and ED&A

employs 110 people (50 in production) and reported

a turnover of over 25 million Euros last year. 20% of

business takes place in Belgium, the rest is for export.

In 2009, Gert D´Handschotter took over management

of the business from his parents.

Centrally located in Kalmthout with a production

area totalling 5,000m 2 , the company's current focus

is on the development and production of custommade

electronics for innovative machine and appliance

manufacturers, such as makers of washing

machines, ventilation systems, heat pumps, coffee,

and baked goods machines.

In-house production

On 8 October 2012, ED&A took the groundbreaking

step of opening its own production facility with the

help of various systems, including a number of Ersa

soldering machines. Having previously outsourced all

its manufacturing, mainly to Belgium and Romania,

the decision to manufacture its own designs inhouse

was made after intensive evaluation and research.

The quality of the outsourced electronic assemblies

did not always meet requirements and an

increasing number of bottlenecks was affecting

production capacity.

30 EPP Europe » 11 | 2022
---
PCB & ASSEMBLY «

Source: ED&A

Source: ED&A

Part of the production opened in 2012: an Ersa stencil printer

View of the ED&A production – at the front: the Ersa Hotflow 3/14e reflow soldering system

One person was central to the transformation: Eric

Vets. Vets joined ED&A in November 2011, and

brought with him many years' experience of electronics

production working for a large mobile phone

manufacturer where he had become very familiar

with Ersa systems (provided via Belgian representative

Smans NV). After one day on board, Eric and

the ED&A team went to the Productronica trade

show in Munich to see the Ersa portfolio up close.

Shortly afterwards, they ordered a Hotflow 3/14e reflow

machine, a Versaflow 3/45 selective machine, a

Versaprint 2 stencil printer and an HR 600 Rework

System. Driven by Eric, ED&A went on to invest in a

top-class machine park with state-of-the-art soldering

systems, which, among other things, enabled full

inline X-ray inspection of every PCB and comprehensive

digitization of production with traceability down

to the component level.

"Of course, it was a big challenge to begin an electronics

manufacturing operation from scratch – we

actually had zero experience until we started production

in the fall of 2012," Gert D´Handschotter recalls.

"Eric and his extensive experience in electronics

manufacturing were worth their weight in

gold for ED&A, it was an absolute win-win situation

for everyone involved – otherwise it would have been

very difficult to get such a production up and running,"

says Tom Berx, Ersa Sales Manager responsible

for Belgium, the Netherlands and Luxembourg at the

time. Eric retired in 2017, but he, together with the

ED&A team, had initiated a development that allowed

the company to grow to its current size. "The local

support from the Smans team, who is not far away

with its headquarters in Turnhout, was invaluable,

especially at the beginning," says D´Handschotter.

For every machine ED&A has ordered, quality has always

been the most important factor. This is where

Eric´s expertise came in, as he had had the most experience

with high-quality machines. "Our goal with

our own production was to become the leader in

terms of production quality in Belgium. We succeeded

in this, and the Ersa systems we ordered initially

and subsequently have contributed significantly

to this," D´Handschotter adds.

More flexibility, more speed

Since starting its own production line, the company

has reduced lead times by more than 60%

while increasing product quality by a factor of 10

(compared to its previously outsourced manufacturing

model). A few years after starting, the selective

Versaflow 3 machine was exchanged for the larger

Versaflow 4 model with four solder pots and two flux

"After ten years, we have gotten to know

each other well, have a stable business

partnership and know what our teams

and systems are capable of – we are

looking forward to the next decade and a

strong continued cooperation."

Gert D´Handschotter, Managing Director, ED&A

heads (at that time, the first system of its kind in

Belgium). The highly modular character of the large

4/55 machine offers a great deal of freedom of configuration

and meets high process and qualitative

productivity standards. This results in reliably repeatable

solder joints, as well as complete documentation

of all individual process parameters.

EPP Europe » 11 | 2022 31
---
» PCB & ASSEMBLY

Another such system was installed at the end of

February. This time, the company invested in a

Versaflow 4/55 with six solder pots with y/z-variable

double crucible, power convection and automatic

nozzle activation for processing PCBs with a maximum

size of 508 x 508 mm. Just recently, a service

technician from Ersa was on site at the company for

three days to help to, as D´Handschotter put it,

"breathe even more flexibility and speed into the

machine – whether in soldering or through appropriate

programming." The machine operators, who are

up to date on selective soldering technologies, took a

lot away from this visit, learning from a technician

who has accompanied the machine since the start of

its development and knows it inside out, down to the

smallest screw. "The ED&A team is really fit [regarding]

the process and continuously wants to get even

more out of the machine, which of course benefits

the customer in the end," says D´Handschotter.

"Factory of the Future"

This is something that has also been recognized

externally by the "Factory of the Future" designation,

which ED&A received for the third time this year (as

Zusammenfassung

Ein belgischer Entwickler und Hersteller von

kundenspezifischen elektronischen Steuerungen hat

zur gezielten Erweiterung der Produktionskapazitäten

den Maschinenpark um eine Versaflow

Selektivlötanlage erweitert.

Résumé

Un concepteur et fabricant belge de commandes

électroniques sur mesure a ajouté une ligne de

brasage sélectif Versaflow à son parc de machines

afin d'augmenter ses capacités de production de

manière ciblée.

Резюме

Бельгийский разработчик и производитель

индивидуально разрабатываемых систем

электронного управления в рамках

целенаправленного увеличения своих

производственных мощностей расширил свой

станочный парк станком для селективной пайки

Versaflow.

Source: ED&A

Managing Director Gert D´Handschotter (right) with Aad

Vermaat from Smans (Ersa agent in the Benelux since 2001)

well as in 2016 and 2019). The award, which stems

from an initiative by the Belgian technology association

Agoria & Sirris, evaluates "seven pillars of

transformation" every three years.

"Of course, we make sure that our colleagues and

engineers leave the manufacturing site once in a

while in order to stay up to date, or to take a look at

other productions," says D´Handschotter. "For us, this

is a fundamental part of it. We cannot stand still if

we want to continue to be among the best in electronics

manufacturing in Belgium and beyond.

"A 'factory of the future' is not created by a great

machine park alone," he adds. "This can only be realized

with the outstanding commitment of highly

motivated employees – and in cooperation with our

business partners at home and abroad."

When ED&A now looks back, ten years later, to the

start of its own production, it is clear it has experienced

a massive surge in development. Whereas, at

that time, the company employed 25 to 30 people

and generated five million in sales, today's workforce

numbers 110 and sales recently reached five times

that amount. The fact that it manufacturers its own

products means the company can respond to

changes more quickly and flexibly from the development

stage onwards. In the future, when new demands

pop up and a renewed SMD line investment is

on the cards once again, Ersa soldering systems will

at the top of the list for ED&A decision-makers.

"After ten years, we have gotten to know each

other well, have a stable business partnership and

know what our teams and systems are capable of –

we are looking forward to the next decade and a

strong continued cooperation," says D´Handschotter.

www.edna.eu/en | www.kurtzersa.com

32 EPP Europe » 11 | 2022
---
Adhesives manufacturer strengthens position in Thermal Interface Material (TIM) market

Henkel acquires Thermexit business from Nanoramic

Leading adhesive technologies provider Henkel has

acquired the Thermal Management Materials business

of Nanoramic Laboratories (Nanoramic) headquartered

in Boston, MA, USA, and marketed under

the brand Thermexit.

Nanoramic, known until 2018 as FastCAP Systems

Corporation, is an R&D company focused on developing

high-end energy storage and thermal management

technologies based on carbon composites. The

acquisition strengthens the company's position in

the growing Thermal Interface Material (TIM) market

and expands its offerings for applications in highgrowing

market segments that require specialized

know-how with regards to heat management in

electronics, including 5G infrastructure, semiconductors,

and power conversion for industrial and

automotive electronics.

The Thermexit portfolio includes patented, high-performance

thermal interface gap pads based on an innovative

nano-filler technology. This technology provides

unique materials with extremely high thermal

conductivity and excellent stability.

"Thermal management solutions are an important

growth technology within our materials portfolio

and play a major role to further drive innovations

with regards to global megatrends such as connectivity,

mobility and sustainability," explained Jan-Dirk

Auris, Executive Vice President Henkel Adhesive

Technologies. "The acquisition of Thermexit complements

our existing portfolio with offerings in highgrowing

market segments to further create value for

our customers."

www.henkel.com

Source: Henkel

The acquisition of the

Thermexit business

strengthens Henkel´s

position in the

growing markets for

Thermal Interface

Materials by expanding

its capabilities in

high-performance

segments.

By far the best

3D AOI solution

‹ 3D measurement capability at

the highest state of the art

‹ Side-View camera solutions

for expanded inspection

capabilities

‹ Auto programming based on

artificial intelligence

Koh Young Europe GmbH

Industriegebiet Süd E4

63755 Alzenau

Tel. +49 (0)6188 9935663

E-mail: europe@kohyoung.com

www.kohyoung.com

EPP Europe » 11 | 2022 33
---
PCB & ASSEMBLY » Product Updates

New ventilation management system enables energy savings of up to 50%

MK Versuchsanlagen introduces further developed wet workbench

Source: MK Versuchsanlagen

Frontal view of two MK wet workbenches with

different internals and connections

German special equipment manufacturer, MK Versuchsanlagen und

Laborbedarf has announced it has further developed its wet workbench.

The company says the applications of the wet workbench,

which it newly introduced two years ago, are extremely diverse. The

metal-free system is particularly suitable for use in the semiconductor

industry: substrate cleaning; and pre- and post-treatment of silicon

wafers, glass substrates and all other start and end products in these

fields.

The manufacturer says it developers have paid particular attention to

the intelligent ventilation management system, which enables energy

savings of up to 50 percent. Continuous monitoring of the wet workbench

ensures that the volume flow of the air introduced is automatically

adjusted. The control variables are controlled via dedicated PLC

modules. Possible control loops such as activity or particle monitoring

are individually defined and implemented, depending on the application.

Energy improvements for existing laboratories are also possible

- in many cases in the form of a so called 'retrofit'.

mk-versuchsanlagen.de

Pressure-temperature sensor technology

ViscoTec debuts miniature flush pressure sensor

ViscoTec has announced the launch of the

world's smallest flush pressure sensor

with a chemical – largely inert – pressure

membrane made of FFKM. The company

says the miniature sensor known as flowplus-SPT

M6 is also currently the only

sensor that achieves both pressure and

temperature measurement with an M6

thread as process connection and a sensor

body that is only 15.3 mm short.

The new sensor is able to measure the

pressures of the material to be dispensed

up to 40 bar at a temperature range from

5 to 50°C. It fits into the material outlet

of the manufacturer's dispensing systems,

but can also be installed in other applications,

where its small design reduces

possible material losses due to dead

space-optimized components. Thanks to

its intuitive mechanics and short cable

length, integration into the company's

own dispensers is quick and easy, so that

the sensor is immediately ready for process

data acquisition.

According to the company, the integrated

electronics convert the recorded pressures

and temperatures into an analog

voltage signal, which enables uncomplicated

and fast integration into control

systems such as a PLC. The low measurement

tolerance of only 2 % and the resulting

high measurement accuracy ensure

precise and, at the same time, simple

processing of the recorded measurement

data. In addition, possible cable breaks

can be detected via a drop in the pressure-dependent

voltage signal below 0.1 V

using the master-level control system.

"Thanks to its dust- and splash-proof design

(protection class IP54), the new sensor

operates confidently and reliably in

industrial environments even without the

attachment of further housing components,

the company said. The sensor body

is made of stainless steel and is therefore

largely resistant to the effects of every

conceivable material. Furthermore, the

measuring membrane made of FFKM is

significantly more resistant than conventional

membranes, which is reflected in

noticeably reduced maintenance and

spare parts costs. By means of a chemical

resistant, drag chain suitable sensor connection

cable, the smooth coupling with

ViscoTec controllers via a 4-pole M8

standard connection is possible."

www.viscotec.de

The company says the miniature sensor known as flowplus-SPT M6 is also currently the only sensor

that achieves both pressure and temperature measurement with an M6 thread as process connection

and a sensor body that is only 15.3 mm short

Source: ViscoTec

34 EPP Europe » 11 | 2022
---
Dual-curing adhesive for medical device applications

Panacol develops first UV moisture-curing medical adhesive

the adhesive to cure while still in the dispensing needle. This offers the user

a wide process window. In addition, there are no blooming of frosting effects

on the plastics, which can occur when using cyanoacrylates.

Source: Panacol

The company says the UV acrylate is ideally suited for fixing

batteries on glucose sensors (corner bonding)

Industrial adhesives provider Panacol has developed

a new adhesive system certified for use in the medical

industry known as Vitralit UD 8050 MV F. The

company says that in addition to its primary curing –

UV crosslinking, the new adhesive also offers secondary

moisture post-curing. This means that components

in medical devices can be cured in a process-safe

manner and without thermal influence,

even if shadow zones are present in component cavities.

Two challenges commonly arise in medical applications

when bonding plastics or assembling PCBs

and FPCBs. Not every plastic is transparent, which

makes it difficult to cure UV adhesives in a processsafe

manner. In most cases, thermal post-curing is

relied upon. However, thermal curing often becomes

the second challenge. Not all electronic components

and plastics can be subjected to thermal stress. In

these cases, curing with heat is not a viable option.

Dual-curing

The primary curing of the new adhesive can be

carried out in seconds with UV or LED UV light. LED

curing units with a wavelength of 405 nm, such as

the LED Spot 100 IC from Hönle, are best suited here.

Secondary curing of the adhesive in the shadow

areas that are not reached by the UV/visible light

takes place through a moisture curing process.

Surface and atmospheric moisture react with the

adhesive to initiate a curing process. Unlike moisture

curing cyanoacrylates, the new adhesive can be processed

reliably because its primary curing is based on

UV crosslinking. Moisture in the air does not cause

Adhesion to different substrates

Vitralit 8050 MV F is certified according to ISO 10993–5/-10/-23 biocompatibility

testing. Since the dual-curing adhesive exhibits high adhesion to

many different substrates, it is the optimal solution for a wide variety of

bonding applications. The UV acrylate is ideally suited for fixing batteries

on glucose sensors (corner bonding). It can also be used as a glob top for

protecting SMD components. The adhesive will cure reliably and stress-free,

even in the shadow areas under the bonding wires. When used for structural

bonding, it can be applied between transparent and non-transparent

substrates. Bonding is accomplished in seconds with UV/visible light.

Shadowed areas will subsequently post-cure with moisture. Due to its high

ionic purity, the adhesive can be processed on metallized surfaces without

hesitation. For optical quality control of the bond, the material is additionally

equipped with fluorescent markers that can be excited with short-wave

light.

www.panacol.de

DISCOVER 1 STOP SMART SOLUTION

YSP10

Printer

YSi-SP

SPI

YRM20

Mounter

YRM20

Mounter

YRM20

Mounter

YRi-V

3D AOI

info-ymeim@yamaha-motor.de

+49 2131 20 13 520

smt.yamaha-motor-im.de

EPP Europe » 11 | 2022 35
---
PCB & ASSEMBLY » Product Updates

Benchtop solutions

Hot air rework system offers high thermal performance

The new system can

generate 900 watts of

heat with a maximum

temperature of 600 °C

Benchtop solutions provider and

member of the OK International

brand, Metcal, has announced

the launch of the new HCT-910

Hot Air Rework System. The

company says the system is accurate

and intuitive-to-use, with

high thermal performance capable

of meeting the full spectrum

of application requirements

needed for production

and rework in electronics manufacturing.

The new system can generate 900 watts of heat with

a maximum temperature of 600 °C, expanding the

capability of the HCT-910 beyond standard thermal

demand applications to higher thermal demanding

applications in military, defense, and aerospace,

using highly metalized circuit boards.

Source: Metcal

The system incorporates a novel control method

making it easy to quickly adjust the temperature and

airflow rates without looking away from the application.

In addition, a multi-color status light on the

hand-piece is a visual cue to the operator regarding

the "current status" of the unit.

"The hot air system improves the user experience significantly

by adding features such as 'On-the-fly'

manual control which utilizes a single push-button

knob to adjust, control, and quickly toggle between

temperature and airflow. This intuitive design, in

combination with accurate temperature, and the

performance of the 900-watt heater, will improve

throughput while controlling a tight quality process,"

said Curtis Yamauchi, Product Manager at the company.

According to the company, it can be configured for

any worldwide standard voltage and power outlets.

metcal.com

Advanced robotic technology

Altus partner Promation USA launches robotic soldering platform

Altus Group has announced that its

partner, soldering systems specialist Promation

USA has launched an intelligent

robotic soldering platform called the

Panda 500 Series.

"The Panda 500 Series Intelligent Robotic

Soldering Platform is designed for manufacturers

seeking a high performance PC

based in-line soldering system," the company

said. "Recently launched, the system

is already receiving attention from Altus'

customers and several early orders."

"The robotic soldering momentum has

been building here in the UK and Ireland,

with many successful installations since

we partnered with Promation USA several

years ago," said Joe Booth, Altus CEO.

"Things will be going up a notch with the

launch of the brand-new [soldering platform].

It is the most technologically advanced

robotic soldering system on the

market and incorporates much of the

customer feedback over the last years and

focuses on upcoming trends in electronics

manufacturing taking this proven production

process to a new level.

"This unit is PC based, with vision assisted

programming, barcode reading and automatic

barcode driven program selection.

It also includes fiducial recognition and

keymark capabilities to control production

risk and ensure the same high quality

Source: Altus

The company says the new platform is designed

for manufacturers seeking a high performance PC

based in-line soldering system

soldering every time. These new functionalities

come alongside the all-important

networkability and data export for

traceability which many customers in the

UK and Ireland have been requesting to

support their high-tech, high value production

requirements.

"The [new system] will be a game changer

for many of our customers and we are

looking forward to introducing it to our

network of clients in the coming months

as our first unit arrives soon."

Following two years of research, the robotic

soldering system has been designed

with a number of key features to assist

electronics manufacturers. It has a

500mm x 500mm working area and is

equipped with the same proven 180W

power supply and N2 at tip and range

feeding mechanisms. It also includes a

new robotic end-effector design that uses

dual articulating arms that mimic the

human hand's dexterity. This allows the

soldering iron or solder material to be removed

independently from each another.

www.altusgroup.co.uk

36 EPP Europe » 11 | 2022
---
Selective soldering systems

Sasinno debuts fully automatic screen printer

Provider of selective soldering and turkey THT line

solutions Sasinno has announced the introduction of

its new H Series fully automatic screen printer. By

separating the cleaning unit from the CCD camera,

the company says the new printer minimizes the

motor load and improves positioning precision and

speed. Additionally, the double sliders ensure that

the printer head is accurate and stable while the

scraper runs back and forth.

The programmable printing head and motor controls

ensure precise PCB control. Additionally, the new

screen printer offers automatic conveyor width adjustment,

auto stencil cleaning (dry/wet/vacuum)

and automatic 2D paste inspection. The Windows 10

interface is simple to learn and programme.

www.sasinno.com

Source: Sasinno

According to the

company, the new

printer minimizes

the motor load and

improves positioning

precision and speed

by separating the

cleaning unit from

the CCD camera

Innovaon Quality Customer Support

PRECISION ASSEMBLY SMT FINAL DEVICE CLEANROOM

Electronics

Manufacturing

Services

Assembly of rigid or flex PCBs • Reliable soldering with N2 and vacuum soldering • Selecve soldering of TH

components with N2 • Solder Paste Inspecon (SPI) • Applicaon of underfill materials • Ultrasonic welding

of plasc parts • Laser cung machine • Laser engraving machine • Electrical tesng and programming

Funconal tests • Precise assembly of complex & high density PCBs • Assembly of 0201 • Assembly of fine

BGA, µBGA • Flip Chip – down to 80µm ball size • Final assembly of OEM products • Small and midsize series

Automated Opcal Inspecon (AOI) • X-RAY inspecon • Thermal cycle tests • Pull and Shear Tests

ISO 14644: Class 6/7 (US1000) cerfied clean rooms with microbiological control • Engineering test lab

Full traceability in the producon processes • eDMS (Electronic Document Management System) • ERP&MES

ISO 13485:2016, ISO 9001:2015 and ISO 14001:2015 cerfied

CENTILLION LTD.

ILIYA BESHKOV STR. 6A

1592 Sofia, Bulgaria

+359 2 439 88 80

cenllion@cenllion.eu

www.cenllion.eu

MEDICINE

AEROSPACE AND AVIONIC

PRECISION EPP Europe INDUSTRIAL » 11 | 2022 EQUIPMENT 37
---
TEST & QUALITY ASSURANCE » Product Updates

Increased test efficiency for automotive radar test chamber

Antenna test system gets new features

Global provider of test and measurement software, instruments

and systems Rohde & Schwarz has augmented its R&S

ATS1500C antenna test system with a new temperature test option

and a new feed antenna. The company says these additional

features enable temperature-controlled measurements in a

wide temperature range as well as parallel access to both polarizations,

increasing test efficiency and flexibility.

The movable R&S ATS1500C is a compact antenna test range

(CATR)-based chamber. It is designed to eliminate ghost targets

within the chamber during target simulation tests and includes

a highly accurate positioner for angular measurements.

The new temperature test option creates a temperature-controlled

enviroment for the radar under test and supports a wide

range from –40 °C to +85 °C. The heated or cooled air is provided

by an external thermal air stream system that supplies the

air to the temperature bubble mounted on the positioner. This

changes the temperature without affecting the chamber's

measurement performance. This feature makes it possible to

automate measurements at different temperatures without a

separate climatic chamber, which increases radar testing speed.

In addition, the new universal feed antenna, which supports 60

GHz to 90 GHz, can be added to the test chamber. The antenna

includes an orthomode transducer, which enables parallel access

Source: Rohde & Schwarz

to vertical and horizontal polarizations.

With these new options, developers can efficiently characterize

RF transmitters, calibrate antenna manifolds, measure antenna

patterns, test robustness against interference, check compliance

with regulations such as ETSI and FCC as well as plan testing

and calibration procedures for later mass production. The test

system is is used as a reference environment before porting the

procedures to a production tester.

www.rohde-schwarz.com

The antenna test

system can be used

for automotive radar

module development,

validation, calibration

and compliance

testing

Boost for AI electronic component analytics software provider

Cybord enters OEM partnership with Siemens Digital Industries Software

Source: Cybord

"With this solution, our customers can gain increased transparency

over their components, enabling them to reduce risk

through more comprehensive validation," Izik Avidan, Analytics

Business Unit Manager, Digital Manufacturing, at Siemens

Digital Industries Software, said

Developer of an inline AI electronic component

analytics software solution, Cybord,

has announced that it has signed a new

Original Equipment Manufacturer (OEM)

partnership with Siemens Digital Industries

Software. The company's inline visual AI

solution will be offered as part of Siemens'

manufacturing analytics solutions for elec-

tronics manufacturers. It can

be integrated as part of a

Manufacturing Execution System

(MES) system or as a standalone

solution.

"Our strong partnership with

Siemens amplifies the value

of [our] platform and expands

our market reach," said Zeev

Efrat, CEO of Cybord. "We are

looking forward to working

with Siemens to bring the

power of our combined solution

to electronics manufacturers

across the industry."

"The Cybord SaaS solution helps fill a key

gap by providing electronics manufacturers

with an accurate and scalable way

to help confirm that all PCB components

are authentic and with satisfactory

quality," Izik Avidan, Analytics Business

Unit Manager, Digital Manufacturing, at

Siemens Digital Industries Software, said.

This is even more necessary today with

manufacturers being forced to source

components from new or less-familiar

suppliers due to supply chain disruption.

"With this solution, our customers can

gain increased transparency over their

components, enabling them to reduce risk

through more comprehensive validation."

About the solution

Cybord inline visual AI solution uses SMT

machines' component imaging for visual

verification and analyzes 100% of the

electronic components at production before

they are placed on the circuit board,

without changing SMT throughput. It is

available to production line operators and

electronics manufacturers, providing production

data analytics and verification to

all stakeholders.

www.cybord.ai

38 EPP Europe » 11 | 2022
---
New online offering for 4K digital inspection systems

Inspectis launches new website

Global manufacturer of 4K digital inspection

systems, Inspectis, has launched a

new website, www.inspect-is.com. The

new site includes all the company's 4K

digital inspection for electronics, medical,

and other critical inspection applications.

In making the announcement, Alistair

Gooch, Marketing Manager, said, "If you

haven't looked at the Inspect-is.com

website recently, please do so now! It has

been completely replaced by a fresh,

modern and more effective one that presents

the Inspectis product range in a crisp

and clean presentation, providing richer

content and more easily accessible information."

Much of the improvement, he adds, is

owed to the complete modernization and

revision of its structure behind the screen

that makes it more responsive and faster

The company says its new website is a complete 're-do'

for most users. "It also helps us create

greater visibility and improves traceability

of interest whilst complying to the latest

privacy rules," Gooch said.

www.inspect-is.com

Source: Inspectis

Discover our latest

innovations at

Besuchen Sie uns auf der electronica

Viscom präsentiert vom 15. bis 18. November 2022 seine

neuesten Inspektionslösungen auf der Weltleitmesse

electronica in München. An unserem Messestand A3-642

zeigen wir Ihnen, wie höchste Qualitätsanforderungen in

der Elektronikfertigung zielgenau erfüllt werden – schnell,

präzise und rundum vernetzt. Eins unserer Highlights, auf

das Sie sich freuen können: das leistungsstarke 3D-AXI-

System iX7059 PCB Inspection XL.

15. bis 18. Nov. 2022 Booth: A3-642

EPP Europe » 11 | 2022 39
---
» TEST & QUALITY ASSURANCE

Automatic x-ray inspection (AXI)

What are AXI systems

capable of in 2022?

In modern SMT production lines, AXI systems are mainly used for fully-automatic

inspection of hidden solder joints that are not visible to an AOI system. For anything

that requires close to one hundred percent optical inspection coverage,

there is no getting around the use of both an AOI and an AXI device, as the

authors of this article explain. So what exactly can modern AXI systems do?

And why are they so important?

Source: Göpel electronic

In modern SMT production lines, AXI systems are used for the fully-automatic inspection of hidden solder joints not visible to an AOI system

An AXI system is absolutely comparable

to an AOI system – only the

images are not as beautifully colourful,"

jokes Andreas Türk, product manager AXI at

Jena-based testing and inspections solutions

provider Göpel Electronic. The company's

most recent AXI systems offer a

wide array of features including fast-scanning

image acquisition; inspection programme

creation; industry 4.0 integration;

and, thanks to the digital predictive maintenance

concept, self-monitoring. In addition,

the systems are all connected within

one network. If an anomaly is found, data

from the SPI, AOI and AXI systems is displayed

together on the verification station.

This helps operators track down the source

of the fault (see image overleaf).

Image acquisition tech

The newest AXI systems are able not

only to scan assemblies vertically (socalled

2D) or at an oblique angle (socalled

2.5D) in order to inspect solder

joints, but also using a technique called

3D x-ray inspection. This technology

allows for the inspection of solder joints in

several layers and, as such, offers the hig-

hest degree of defect detection and coverage.

In part, it is the combination of all

three image acquisition technologies that

provides the best inspection result. Since

3D technology generates a synthetic 3D

image using several obliquely-captured

images (in a process known as image reconstruction),

the image acquisition time

is longer than when using conventional 2D

or 2.5D technologies. 3D systems with

flat-panel detectors struggle here because

the time for stop-and-go movement of

the axes is significantly longer than the

actual time required for image acquisition.

40 EPP Europe » 11 | 2022
---
Source: Göpel electronic

AXI text programme creationis similar to that of AOI. After the CAD data import, the image data sets required for tuning are recorded once. Further test

programme creation can then be carried out completely offline

"As a rule of thumb, when using eight oblique

images for a 3D image field, you can

expect an image acquisition time of about

3–5 seconds," explains Türk. Depending on

the image field size and the number of 3D

image fields required, this can add up, and

the acquisition time for a high-runner

product is too long. Göpel has come up

with a solution for this (see image below).

Cycle time reduction

The company's AXI system X Line 3D

relies on line detectors to keep image acquisition

time low. Several detectors take

2D, 2.5D and 3D X-ray images in parallel,

and in motion. This concept makes it

possible to inspect larger areas of the PCB

or complete multiple panels in 3D. In addition

to the image acquisition time, the

time for PCB handling, image processing

and optional MES export are included in

the total cycle time. For this reason, X

Line 3D systems have a three-chamber

principle. There are three PCBs in the system

at one time in inline mode. Once

image acquisition of the board has been

completed, it is immediately moved out

of the beam path into another chamber.

This is where post-processing takes place.

This reduces both total cycle time and

radiation exposure for the components

(see top two images overleaf).

Intelligent PCB handling

Over the years, the systems have also

become smarter in terms of PCB handling.

The PCBs that are inspected by AXI systems

vary in size, weight and friction coefficient,

among other things. In the past,

these differences were not taken into account

and PCBs were always transported

at the same belt speed. This can take up

valuable cycle time. For this reason, the X

Line 3D system belt transportation system

independently learns the optimal belt

speed by means of intelliFLOW. After an

automated teach-in process, the machine

stores the optimal transport parameters

specific to the inspection programme.

Usage-based maintenance

System downtime for maintenance

work is often problematic. At Göpel, systems

use a service & maintenance app

which creates usage-based maintenance

plans in advance and monitors the machine.

Self-diagnosis using predictive and

preventive maintenance management ensures

stable machine conditions and repeatable,

consistent performance. Every

key component of the machine is monitored

and a detailed maintenance summary

is generated. A preventive maintenance

plan reduces machine downtime

and therefore costs. On a practical level,

work no longer has to be carried out according

to scheduled maintenance cycles.

Instead, usage-related values (such as

kilometres travelled by the axes; pneumatic

strokes, and X-ray source radiation

hours) are monitored. These values are

given a warning and service threshold. If

the warning threshold is exceeded, preventive

maintenance can be initiated. The

app enables operators to simultaneously

monitor several machines. This makes

maintenance easier to plan and reduces

downtime.

Source: Göpel electronic

On the left, a 2D X-ray image of a BGA. Capacitors on the bottom

side reduce the inspection coverage. In the 3D slice image (right),

the capacitors are no longer visible. The BGA itself can be evaluated

in several layers

Matthias Müller is Public

Relations Manager

at Göpel electronic

Andreas Türk is

Product Manager AXI

at Göpel electronic

EPP Europe » 11 | 2022 41
---
» TEST & QUALITY ASSURANCE

The x-ray image chain

of the X Line 3D consists

of a maintenancefree

micro-focus X-ray

source and several line

detectors. Only the

printed circuit board is

moved in X and Y for

image acquisition.

The X-ray source is

mounted on a Z-axis.

The line detector

package is not moved

Source: Göpel electronic

Source: Göpel electronic

Three independent chambers in the system allow

image acquisition and post-processing (reconstruction,

saving measured values, MES and so on) to

take place in parallel- saving cycle time

Source: Göpel electronic

Human-machine interaction

Human operators will certainly continue

to be required in 2022, as the enhanced

human-machine concept demonstrates.

Consisting of light bars integrated

into the system's external design in the

corners of the exterior cladding, these enable

operators to check the statuses of

various systems easily and quickly and

even from a distance. This helps operators

to react quickly and avoid a line stoppage.

In basic operating modes, static colours

are used to indicate if machine is checking,

waiting, is in service mode or has a

fault. In the event of an error, a distinction

is also made between the left and

right sides of the machine. If there is a

problem with the PCB infeed on the lefthand

side, it lights up red. A lack of material

in the infeed or a PCB jam in the

outfeed is also signalled using coloured

lights. In addition to static colours, certain

functions are also represented by

animations. The x-ray source warm-up is

indicated by a progress bar, for example.

The results of the last ten inspected assemblies

can also, for instance, be displayed

in statistical form (see image to

the left).

Source: Göpel electronic

Time is money. The integrated light bars help to detect problems from a distance.

This helps to avoid downtime

The radiation dose

(kerma air) is calculated

in grays in the

offline programming

software Pilot AXI as

soon as the test

programme is created

Lower radiation exposure

Reducing the time that components are

exposed to radiation is becoming increasingly

important. The X Line 3D tries to

keep radiation exposure low in several

ways. Firstly, low-energy radiation components

that do not directly contribute to

imaging are reduced via filters in front of

the x-ray source. Secondly, the assembly

is transported out of the beam path onto

another belt module directly after the

image has been acquired in order to avoid

unnecessary radiation. Thirdly, the fact

that the image acquisition process has

very short exposure time minimises the

dwell time of the test specimen in the

beam path. This further reduces the components'

radiation dose. The offline programming

software Pilot AXI has an inte-

42 EPP Europe » 11 | 2022
---
Zusammenfassung

Röntgensysteme müssen an Bedingungen wie zunehmende Miniaturisierung,

hohe Durchsätze in Verbindung mit engeren Produktionsprozessen

angepasst werden, um auch in Zukunft eine große Rolle im Bereich

der Bauteilinspektion zu spielen

Résumé

Les systèmes à rayons X doivent être adaptés à des conditions telles

que la miniaturisation croissante, les débits élevés associés à des processus

de production plus serrés, afin de continuer à jouer un rôle majeur

dans le domaine de l'inspection des composants.

Резюме

Рентгеновские системы необходимо адаптировать к таким

условиям, как растущая миниатюризация и высокая

производительность в сочетании со сжатыми производственными

процессами, чтобы они и в будущем продолжали играть большую

роль в области проверки компонентов.

AXI systems are connected to MES by our

own software team during delivery (see

images below).

Conclusion

Since the first manual and automatic

X-ray systems found their way into electronics

manufacturing, the industry has

experienced enormous technological

leaps forward. While system performance

continues to improve, test specimens are

becoming ever more miniaturised and thus

more difficult to inspect using conventional

methods. Additionally, high

throughputs and more closely-timed production

processes call for a tighter framework.

X-ray systems such as the X Line 3D

have been specifically adapted to these

conditions and will play a major role in

component inspection in the future.

Electronica, Booth A3.351

www.goepel.com

grated calculation tool for calculating the

radiation dose (see lower image on p.50).

Common defect display

The test results and measured values

generated by the AXI are stored in a central

database. These can be used by humans

to classify the defect as well as to

help optimise the entire process. Göpel's

Pilot Connect software is at the heart of

the central data storage. Here, the date

from the SPI, AOI and AXI are merged together

and can be jointly displayed on the

verification station Pilot Verify. Devices

from other manufacturers can also be

connected. The evaluation of automatically

detected anomalies is taken into

account to avoid common error displays.

Source: Göpel electronic

Combined SPI, AOI, AXI fault representation of a

lean solder joint. Left: overview image of the PCB

with marking of the defect position by crosshairs;

middle: SPI, AOI, AXI image of the faulty component;

right: SPI, AOI, AXI detailed image of the

individual solder joint including good comparison

image, additionally, an AXI/AOI error image in

different oblique views

EPP Europe » 11 | 2022 43

1794036-3.indd 1 06.10.22 10:04
---
TEST & QUALITY ASSURANCE » Product Updates

BGA rework systems

PDR debuts new integrated reball system

Manufacturer of BGA rework systems,

test and X-ray inspection systems, PDR

Rework Systems, has released a new integrated

reballing system for all PDR Evolution

Series Rework Systems.

The company's latest reball system incorporates

both solder paste application and

reball sphere attach in one system, incorporating

advanced nano-technology for a

clean, high precision reball method for

rework.

The new system also incorporates an integrated

excess sphere recovery chamber

to capture excess spheres that can

easily be accessed on the reball

platform for later use, or to accelerate

the process when re-balling

multiple BGA's concurrently.

Although made specifically to integrate

into the company's own systems,

the new reball system can be used as

stand-alone device for any reballing application

where highly accurate reball applications

are required.

They are made of high-quality materials

and are manufactured with new, state-

The reball system incorporates both solder

paste application and reball sphere attach in

one system

of-the-art laser technology to ensure

highly accurate stencil fabrication and

ultra-smooth edge/bore finishes.

www.pdr-rework.com

Source: PDR Rework Systems

2.5 & 3D DFT automation solution software

Siemens introduces multi-die software for 2.5D and 3D IC

design-for-test tasks

Siemens Digital Industries Software has

introduced the Tessent multi-die software

solution to help customers dramatically

speed up and simplify critical design-fortest

(DFT) tasks for next-generation integrated

circuits (ICs) based on 2.5D and 3D

architectures. The company says the

technology paves the way for mainstream

adoption of 3D ICs.

As demand for smaller, more power efficient

and higher performing ICs continues

to challenge the global IC design community,

next-generation devices increasingly

feature complex 2.5D and 3D architectures

that connect dies vertically (3D IC)

or side-by-side (2.5D) so that they behave

as a single device. However, these approaches

can present significant challenges

for IC test, since most legacy IC

test approaches are based on conventional

two-dimensional processes.

The company says its multi-die software

is the industry's most comprehensive DFT

automation solution for highly complex

DFT tasks associated with 2.5D and 3D IC

designs. It works seamlessly with Tessent

TestKompress Streaming Scan Network

software and Tessent IJTAG software,

which optimize DFT test resources for

each block without concern for impacts

to the rest of the design, thereby stream-

lining DFT planning and implementation

for the 2.5D and 3D IC era. Using the new

software, IC design teams can rapidly

generate IEEE 1838 compliant hardware

featuring 2.5D and 3D IC architectures.

"IC design organizations are seeing dramatic

spikes in IC test complexity due to

the rapid adoption and deployment of designs

featuring densely packed dies in

2.5D and 3D devices," said Ankur Gupta,

vice president and general manager of

the Tessent business unit for Siemens

Digital Industries Software. "With

Source: Siemens Digital Industries Software

Using the new multi-die software, IC design

teams can rapidly generate IEEE 1838 compliant

hardware featuring 2.5D and 3D IC architectures,

the company explained

Siemens' new [m]ulti-die solution, our

customers can be ready for the designs of

tomorrow, while slashing test implementation

effort and simultaneously optimizing

manufacturing test cost today."

In addition to supporting comprehensive

test for 2.5D and 3D IC designs, the new

software solution can generate die-to-die

interconnect patterns and enable package

level test using the Boundary Scan

Description Language (BSDL).

"As the limits of traditional 2D IC design

approaches become increasingly clear

over time, more design teams are leveraging

the power, performance and form factor

advantages that 2.5D and 3D IC architectures

can deliver. But deploying these

advanced schemes in new design starts

without first establishing a DFT strategy

that acknowledges the inherent challenges

these architectures present can

raise costs and undermine aggressive

timelines," said Laurie Balch, president

and research director for Pedestal Research.

"However, by evolving DFT technology

to keep pace with the rapid adoption

of multi-dimensional designs, EDA

vendors can play a key role in further enabling

global, mainstream adoption of

2.5D and 3D architectures."

eda.sw.siemens.com/

44 EPP Europe » 11 | 2022
---
RF performance characterization

Test solution unveiled for on-wafer device characterization

Providers of test & measurement solutions, technology systems,

Rohde & Schwarz now offers a test solution for full RF performance

characterization of the DUT on-wafer. The solutions combines

its R&S ZNA vector network analyzer with engineering

probe systems from FormFactor. As a result, chipmakers can perform

reliable and repeatable on-wafer device characterization in

the development phase, during product qualification and in production,

the company explained.

The company supplies the ZNA vector network analyzer, which

characterizes all RF qualification

parameters at coaxial

and waveguide levels,

as well as frequency extenders

for application

ranges above 67 GHz.

FormFactor addresses the

wafer contact with manual,

semi-automated and fully

automated probe systems

including thermal control,

high-frequency probes,

probe positioners, and calibration

tools. The calibration

of the complete test

system, including the R&S

ZNA, is supported in the

FormFactor WinCal XE calibration

software.

In the test setup, the user

has access to all test capabilities

of the R&S ZNA

thanks to the fully calibrated

setup. Generic

S-parameter tests allow

characterization for filters

and active devices, but distortion,

gain and intermodulation

tests can also

be performed to qualify

power amplifiers. The fully

calibrated setups also allow

all results to be directly

taken from the VNA without

postprocessing as the

calibration data are applied

directly to the VNA. Frequency

extenders open up

sub-THz frequencies such

as Dband, currently in the

focus of 6G research.

www.rohde-schwarz.com

Source: Rohde & Schwarz

The company's ZNA

performing onwafer

measurements

together with

FormFactor

SUMMIT200 probe

system

EPP Europe » 11 | 2022 45
---
» TEST & QUALITY ASSURANCE

Source: Omron Electronic Components Europe

The company says its G3VM-MT MOSFET module offers maintenance-free operation and a simplified design that saves on board space

Solid-state modules for test applications

Minimizing leakage current with

T-circuit MOSFETs

There have long been concerns about the performance of solid-state relays – particularly

with regard to leakage current – when used in test applications. Gabriel Sikorjak, Technical

Sales Manager at Omron Electronic Components Europe explains how the newest solid-state

modules address these technical drawbacks, and advocates for their wider adoption.

MOSFETs are superior to reed relays in many respects.

Those continuing to use traditional relays

because of their low current leakage are missing the

benefits offered by alternative solid-state components.

Benefits of MOSFET relays

MOSFET relays deliver substantial benefits for test

equipment. They take up less space on boards, offer

faster switching times, and provide longer service life

than traditional reed relays. Many applications also

benefit from the lower power requirements, stable

on-resistance and better resistance to shock/vibration

they provide.

One of the key benefits of MOSFET relays is their

package size. Reed relay packages, placed in high

volumes on PCBs, require much more space. Increasing

demands from the semiconductor industry, test

equipment with a more advanced design, and higher

integration needs all affect the number of inspection

channels. All these extra requirements are transferred

into a larger number of switching components.

Using more compact MOSFET relays can thus

make a huge difference in terms of the amount of

board space utilised.

Then there is the question of reliability which, in

turn, translates into operating life. In test applications,

reed relays need to be regularly maintained.

Mechanical relays have generally been preferred in

the semiconductor industry (as well as for other test

equipment) – in part due to their isolation characteristics.

They do, however, have a shorter lifespan due

to abrasion of the contacts – which reduces equipment

durability over time. When used intensively,

mechanical relays need to be regularly replaced –

pushing up maintenance costs. Moreover, replacement

is necessary as soon as contact resistance goes

46 EPP Europe » 11 | 2022
---
G3VM-21MT reference design board testing result (DUT: FJH1100)

above a specified threshold, and this end-of-life moment

is not easy to predict or evaluate.

Alternative solid-state relays provide incomparable

electrical endurance and, when used with semiconductors,

do not suffer from mechanical contact wear.

There is thus no need for maintenance. Nonetheless,

there are still some performance trade-offs when

using these alternative relays. These are summarised

in the table on p. 56.

Leakage current – a barrier to

adoption?

Though used advantageously in many applications

in test equipment, MOSFET relays, like reed relays,

are stretched to their limits by increasingly demanding

test requirements. Despite boasting exceptional

reliability and tiny packages, to meet the needs of

the T&M industry, they must also deliver in terms of

performance. One of the most critical ratings for

semiconductor components is leakage current. During

DC parametric testing in automatic test equipment

(ATE), for example, minimizing leakage current

at the test line is a key factor to ensure accurate

measurement. Increasing drain-source voltage results

in increased leakage currents. This creates issues

with performance values. In circuit designs

where multiple lines are used, such as semiconductor

devices switching various DUTs and measurement

pins, MOSFET relays can reach their limit.

Are T-modules the solution?

Using T-circuit solid-state modules, however, it is

possible to address leakage current issues associated

with MOSFET relays. These modules are based on a

T-circuit built on three MOSFET pairs (as shown in

A T-circuit configuration

can dramatically

reduce leakage current

from MOSFET relays

Source: Omron Electronic Components Europe

Source: Omron Electronic Components Europe

EPP Europe » 11 | 2022 47
---
» TEST & QUALITY ASSURANCE

Source: Omron Electronic Components Europe

Isolation and insertion loss characteristics for G3VM-21MT

the diagram on p. 55). This design facilitates a higher

degree of control over leakage current. As shown in

the diagram, the leakage current flows to the ground

via a central joint when the relay is in the OFF position

and the primary line is open. The result is a substantially

lower level of leakage from the DUT than in

a standard circuit configuration.

The technical construction centres on MOSFET

pairs and enables effective control of the leakage

current, delivering minimal levels of pA or even fA.

The Omron G3VM-21MT module, for instance, specifies

a maximum leakage current less than 1pA at

V OFF

20V. Real-world values are usually lower by a

factor of ten. This indicates that T-circuit solid-state

modules represent a real alternative to conventional

solutions provided by reed relays in terms of

measurement performance.

Reference design is encouraging

A reference design is available to help design engineers

evaluate the impact of transitioning from

reed relays to these new T-circuit solid-state modules.

The aim of this is to show the value of MOSFET

relays in standard and T-circuit configurations and

reed relays on the same board under identical conditions.

Comparison of measurement accuracy can be

achieved across mature mechanical reed relays,

MOSFET relays and the MOSFET T-module.

The reference design highlights further differences

between these options and reveals the value of the

T-module. The results (shown in the graph on p.55)

prove that levels of leakage current from T-module

and reed relays are almost same as the reference

value from the DUT diode.

Gabriel Sikorjak is European Technical

Sales Manager at Omron Electronic

Components Europe. He is

responsible for managing its Technical

Competence Center in Bratislava,

Slovakia. He joined the company in

2005 and has a degree in control and

automation engineering from the

Technical University in Kosice.

Source: Omron Electronic Components Europe

Comparison of reed relay characteristics with those of a typical solid-state relay

48 EPP Europe » 11 | 2022
---
The range of T-circuit

MOSFET relay modules

currently available

Source: Omron Electronic Components Europe

One of the key attributes of G3VM-MT modules is

their performance at higher frequency levels. While

continuing to offer reliability and durability like

other MOSFET relays, these modules also deliver

further positive characteristics at higher frequencies.

As shown in the diagram, results from the G3VM-

21MT confirm that a device with a high reliability,

small size and extremely low leakage can offer outstanding

RF performance. Its isolation performance

is less than –30dB at 1 GHz and the insertion loss is

more than –3dB (see graphs on p. 56).

The combination of benefits offered by MOSET relays

and mechanical relays mean the G3VM-MT

series is suited not only to ATE solutions, but is also

worth considering in other applications.

More than a component

With their T- circuit structure, Omron's G3VM-MT

MOSFET modules demonstrate exceptionally low

leakage current, giving accurate measurements in all

types of test equipment. Their compact size (5mm x

3.75 mm x 2.7mm), achieved by incorporating the

MOSFETs into the module, allows for simpler PCB

board design owing to the elimination of crossovers

in PCB tracks and simplified wiring patterns. The device

is designed for surface mounting and offered in

SPST-NO form with ambient temperature ranges

above 100°C. New solutions include a high current

and high voltage model (as seen in the diagram and

graph above). Together, these specifications help

pave the way for wider use of T-circuit MOSFET relay

modules.

In summary, these modules offer maintenancefree

operation and a simplified design that saves

space on PCBs as well as great measurement performance:

contributing to industry progress and adding

value for the customer.

Electronica, Booth A3.538

components.omron.com

Zusammenfassung

Die Verwendung von MOSFET-Modulen bietet einen

wartungsfreien Betrieb zusammen mit einem vereinfachten

Design, welches Platz auf der Leiterplatte

spart bei gleichzeitig hervorragender Messleistung

zum Mehrwert für den Kunden.

Résumé

L'utilisation de modules MOSFET offre un fonctionnement

sans entretien ainsi qu'une conception

simplifiée qui permet d'économiser de l'espace sur

le circuit imprimé tout en fournissant d'excellentes

performances de mesure, ce qui constitue une valeur

ajoutée pour le client.

Резюме

Системы, работающие на основе модулей

MOSFET, не требуют обслуживания, имеют

упрощенную конструкцию, занимающую

меньше места на печатной плате, и

одновременно обеспечивают прекрасные

измерительные характеристики, что в

совокупности экономит время и средства

клиента.

EPP Europe » 11 | 2022 49
---
» ADVERTISERS

Altus Group 36

ASMPT 26

CENTILLON LTD 37

CyberOptics Corporation 52

Cybord 38

Göpel Electronic 40

Henkel 33

Infineon Technologies 12

Inspectis 39

IPC 13, 51

ITW EAE – Speedline World Headquarters 5

KIC 25

Koh Young Europe GmbH 1, 9, 33

Koh Young 16

Kurtz Ersa 30

LPKF Laser & Electronics AG 29

Messe München 14

Metcal 36

MK Versuchsanlagen

und Laborbedarf e. K. 21 , 34

Mouser Electronics 7

Nanoramic Laboratories 33

ODU GmbH & Co. KG 12, 23

Omron Electronic Components Europe 46

Panacol 35

PDR Rework Systems 44

PDR 25

PIEK International Education

Centre (I.E.C.)GmbH 13

Promation USA 36

Rebound Electronics 8

Rehm Thermal Systems GmbH 11

Rohde & Schwarz 38, 45

Sasinno 36

SEHO Systems GmbH 25

Siemens Digital Industries Software 38, 44

Speciality Coating Systems Inc. 45

Tresky GmbH 6

VISCOM AG 39

ViscoTec 34

Yamaha Motor Europe

N.V. Niederlassung Deutschland 35

YXLON International GmbH 2

ZEVATRON Löttechnik GmbH 43

ISSN 1618–5587

Trade journal for all fields of production in the

electronics industry, manufacturing equipment,

test and messurement, materials

Publisher:

Katja Kohlhammer

Publishing House:

Konradin-Verlag Robert Kohlhammer GmbH,

Ernst-Mey-Straße 8, 70771 Leinfelden-Echterdingen,

Germany

General Manager:

Peter Dilger

Editor-in-Chief:

Doris Jetter,

Ernst-Mey-Straße 8

70771 Leinfelden-Echterdingen, Germany

Phone +49 711 7594 -4658

E-Mail: doris.jetter@konradin.de

Online Editor:

Sophie Siegmund,

E-Mail: redaktion.eppe@konradin.de

Editorial Assistant: Carmelina Weber,

Phone +49 711 7594 -257, Fax -1257,

E-Mail: carmelina.weber@konradin.de

Layout:

Helga Nass,

Phone +49 711 7594 -278

Advertising Manager:

Andreas Hugel,

Phone +49 711 7594 - 472,

E-Mail: andreas.hugel@konradin.de

Order processing:

Christel Mayer,

Phone +49 711 7594 -481

E-Mail: christel.mayer@konradin.de

Reader Service:

EPP und EPP Europe

Phone +49 711 7252–209,

E-Mail: konradinversand@zenit-presse.de

IPC APEX EXPO 2023

The IPC Apex Expo 2023

will take place between

24-26 January 2023 at

the San Diego Convention

Center. Read all about the highlights

of the event in our next issue - out on 27

April 2023.

NEWSLETTER

Why not subscribe to our fortnightly

newsletter to receive industry news and

product updates in your inbox. Visit eppeurope-news.com/newsletter

to register.

STAY INFORMED

Stay up to date on all electronics

production industry news on our

website:

www.epp-europe.eu

EPP and EPP Europe are published nine times a year, and

will only be supplied free of charge to qualified subscribers.

Non-qualifying individuals place subscriptions via bookshops

or the publish ing house. Annual subscription price Germany

€ 85,40, abroad € 86,10 incl. post age.

Single copy: € 12,50 + post age. Unless ordered for a specific

period, a subscription continues until cancelled. You can

cancel your subscription for the first time by giving notice of

termination four weeks prior to the end of the subscription

year. After one year, the termination period is four weeks

prior to the end of each quarter. Prepaid subscription fees

will not be reimbursed for non-publication due to technical

reasons or force majeure. Reprint requires express previous

approval by the editor. Signed articles represent the views of

the author, not necessarily those of the editors. No responsibility

is accepted for unsolicited manuscripts and industry

reports.

Articles published in this magazine are protected by copyright.

All rights are expressly re served, in particular the right

of translation into foreign languages, and also of reproduction

in any form whatsoever, for example by photo copying,

microfilming or other processes, input to data proc essing

systems or dissemination by public speaking, radio or tel -

evision transmis sion, with the sole excep tion of the special

circum stances provided for in § 53 and 54 of the German

Copy right Act (UrhG).

All legal settlements in Stuttgart.

Print:

Konradin Druck GmbH

Kohlhammerstr. 1-15

70771 Leinfelden-Echterdingen

Printed in Germany

© 2022 by Konradin-Verlag Robert Kolhammer GmbH,

Leinfelden-Echterdingen

EPP Europe 04|2023 will be published 27. April 2023

50 EPP Europe » 11 | 2022
---
MEETINGS

& COURSES Jan. 21-26

CONFERENCE

& EXHIBITION Jan. 24-26

SAN DIEGO CONVENTION CENTER | CA

Advance in

A New Era

Advance your career in a new era of electronics manufacturing with networking at

IPC APEX EXPO 2023. Meet leading innovators and designers, connect with peers, and

create new business opportunities at North America's largest gathering of electronics

manufacturing professionals on our world class show floor.

IPCAPEXEXPO.ORG

#IPCAPEXEXPO

MEET AND GREET AT OUR SOCIAL RECEPTIONS INCLUDING THE NEW CAREER

CONNECTIONS NETWORKING EVENT WEDNESDAY, JANUARY 25!

EPP Europe » 11 | 2022 51
---
Think Fast. See Small.

Next-gen multi-process inspector for

paramount speed, accuracy and ease of use.

NEW

5 Micron

Ultra-High Res

MRS Sensor

AOI

SPI

Visit CyberOptics and

smartTec at electronica –

Booth #A3.542

CMM

SQ3000 + All-in-One Solution

For improved yields and processes.

NEW

With all-in-one functionality for AOI, SPI and CMM applications to attain in-line coordinate measurements

much faster than a traditional Coordinate Measurement Machine (CMM) – in seconds, not hours.

Powered by Multi-Reflection Suppression (MRS) sensor technology, the new 5 Micron Ultra-High

Resolution MRS sensor offers unmatched accuracy by meticulously identifying and rejecting reflection

based distortions caused by shiny components and surfaces. The result is ultra-high quality 3D images,

high-speed inspection and metrology, and improved yields and processes.

Count on the SQ3000+ for superior performance for advanced applications including advanced

packaging, mini LED, advanced SMT applications for medical, military, aerospace, electronics,

008004/0201 solder paste inspection, socket metrology and other high-end CMM applications.

52 EPP Europe » 11 | 2022

www.cyberoptics.com

Copyright © 2022. CyberOptics Corporation. All rights reserved.