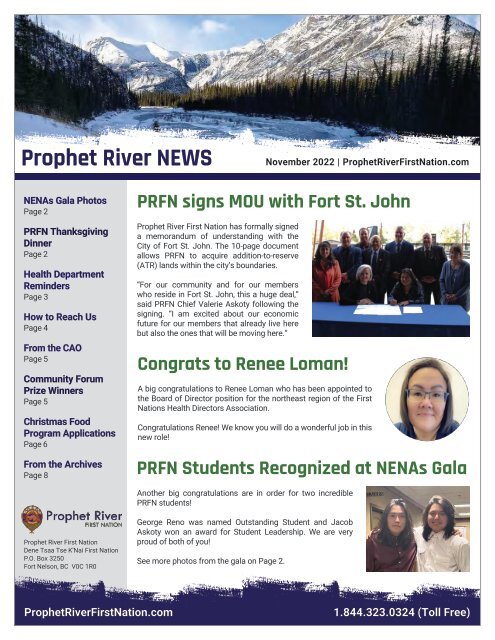 Prophet River First Nation News - November 2022
Prophet River First Nation News - November 2022
Prophet River First Nation News - November 2022
SHOW MORE
SHOW LESS
Create successful ePaper yourself
Turn your PDF publications into a flip-book with our unique Google optimized e-Paper software.
Prophet River NEWS

November 2022 | ProphetRiverFirstNation.com

NENAs Gala Photos

Page 2

PRFN Thanksgiving

Dinner

Page 2

Health Department

Reminders

Page 3

How to Reach Us

Page 4

From the CAO

Page 5

Community Forum

Prize Winners

Page 5

Christmas Food

Program Applications

Page 6

From the Archives

Page 8

PRFN signs MOU with Fort St. John

Prophet River First Nation has formally signed

a memorandum of understanding with the

City of Fort St. John. The 10-page document

allows PRFN to acquire addition-to-reserve

(ATR) lands within the city's boundaries.

"For our community and for our members

who reside in Fort St. John, this a huge deal,"

said PRFN Chief Valerie Askoty following the

signing. "I am excited about our economic

future for our members that already live here

but also the ones that will be moving here."

Congrats to Renee Loman!

A big congratulations to Renee Loman who has been appointed to

the Board of Director position for the northeast region of the First

Nations Health Directors Association.

Congratulations Renee! We know you will do a wonderful job in this

new role!

PRFN Students Recognized at NENAs Gala

Another big congratulations are in order for two incredible

PRFN students!

Prophet River First Nation

Dene Tsaa Tse K'Nai First Nation

P.O. Box 3250

Fort Nelson, BC V0C 1R0

George Reno was named Outstanding Student and Jacob

Askoty won an award for Student Leadership. We are very

proud of both of you!

See more photos from the gala on Page 2.

ProphetRiverFirstNation.com

1.844.323.0324 (Toll Free)
---
NENAs Gala 2022

PRFN Thanksgiving Dinner

2

November 2022 | ProphetRiverFirstNation.com
---
Important Health Dept. Reminders

Please note there have been positive cases of COVID reported in the

community. This is a reminder for all to ensure good hand-washing, wear an

appropriate mask and monitor cold-like symptoms (sore throat, runny nose,

cough, and temperature).

If you have questions, need a mask, or feel you need to be tested please contact the

Health Department.

Additionally, there was a recent Toxic Drug Alert Issued for Fort St. John.

There has been an increase in overdose events in the

community of Fort St John. Reported overdoses have been

associated with a white pill that is circulating and substances

sold as Meth. Overdoses occurring when substances are

smoked and injected.

Substances move throughout our region and may present

in your community so please share this alert widely and use

with caution following the harm reduction messages below.

• Get overdose prevention, recognition, and response

training; carry naloxone

• Don't use alone. Make a plan and tell a buddy who can call

for help if needed

• If you plan to use alone, use the Lifeguard or BeSafe app

available free on the app store or on Toward the Heart

website (https://towardtheheart.com)

• Know your tolerance. If you are sick or had a time of

abstinence or reduced use, use much less

• When possible, avoid mixing drugs or mixing drugs with

alcohol

• Test a small amount first and go slow

• Use in an OPS if possible (see Fort St John locations listed

below)

• Access fentanyl drug checking where available (OPS sites)

• Call 911 or your local emergency number right away if

someone overdoses

Don't Forget! We Need Your Input!

We need your input for the 2022 Prophet River Health and Wellness Survey! This survey will be used to support the

development of Prophet River's health and wellness services. Your truthful responses to the following questions will help us

develop services that best meet the needs of our community.

If you are uncomfortable responding to any question, please leave it blank and move on to the next question. To help

preserve your anonymity, please do not write your name on this survey or provide any identifiable information. Your

responses will be kept strictly confidential.

If you have any questions regarding this survey, please contact Renee Lomen at renee.lomen@prophetriverfn.ca

November 2022 | ProphetRiverFirstNation.com

3
---
How To Reach Us

We are always looking for ways to reach out to our members and help

you stay connected with our community. We have started several

initiatives that will help us stay connected.

Are you online?

Website:

We have moved several functions online including community notices, job

postings, access to council minutes, and community news. Be sure to go to

www.prophetriverfirstnation.com for regular updates and sign in to the Members Only section to view

communications that are private for our members only. This includes access to the AGM, Members Forum, Council

Minutes, Updates to the Trust and more.

Newsletter:

Don't forget to subscribe to updates so we can send you this newsletter by email as well as other PRFN updates. If you

want a printed copy we are happy to mail one or drop it off for you.

Social Media:

We are regularly posting to our Official PRFN Facebook page. Please follow our page and share it with other members so

we can all stay connected.

Member Forums:

We've been hosting regular online member forums every month for members to connect with each other and talk

to the Chief and Council. These forums will be recorded so you can view them online if you are unable to attend. If

you have a question for the Chief and Council and it will be answered in the monthly forum.

Please send it to: communications@prophetriverfirstnation.com.

Email:

Chief and Council, CAO and all department managers review their

email regularly. Please see list of emails and extensions here.

Phone:

We encourage you to call us anytime at 1.844.323.0324 and leave

a message with the department manager you wish to speak to.

Your message will be automatically sent as an email to the person

you have called.

Text:

We've upgraded our communications to include texting. If you can

receive text messages on your phone we encourage you to text us

at 1.888.710.2318 and let us know your name and your phone

number. We will keep you updated by text message. We will also

send out member surveys this way to make it easier for you to

participate.

Mail:

Printed copies of newsletters and announcements will be put in

community members' mailboxes. If you are an urban member and

would like us to mail you monthly updates and newsletters we are

happy to do that.

1.844.323.0324 (Toll Free)

Chief Valerie Askoty

valerie.askoty@prophetriverfn.ca

Councillor Beverly Stager

beverly.stager@prophetriverfn.ca

Councillor Deshanna Tsakoza

deshanna.tsakoza@prophetriverfn.ca

250.500.1285

x108

x107

Communications Department

x106

communications@prophetriverfirstnation.com

CAO Devin Bellerose

devin.bellerose@prophetriverfn.ca

Lands Department

Dene Tsaa School

Finance Department

Health Department

Housing Department

x109

x101

x102

x105

x104

x103

Prophet River Trust 1.833.396.1895

4

November 2022 | ProphetRiverFirstNation.com
---
From the CAO

It's been another whirlwind month for our executive team with many projects on the go.

We're proud to have signed our first Memorandum of Understanding (MOU) with the City of

Fort St. John outlining plans for an urban reserve for members of the nation living in the

city. The MOU signals movement forwards on the land that Prophet River First Nation

already owns in Fort St. John and plans to develop. This is a first for PRFN. I believe it's

important to make more initiatives like this on behalf of our community and take the lead to

ensure that PRFN needs are being addressed. Congratulations to the Chief and Council and

all of those involved in making this happen.

We recently returned from the FNHA meetings in Vancouver. Our Health Director, Renee

Loman has been appointed to the Board of Director Position for the northeast region of the

First Nations Health Directors Association. Congratulations to Renee!

Devin Bellerose, CAO

The community has been buzzing this month with work at the sawmill and the burn crew working in the community.

We're planning a recognition dinner for all the workers involved.

In addition, Dustin Twin, the Director, Lands, and Resources, has been busy filling new positions in the Lands dept and

is making great inroads on land issues and agreements. Finally, Leah Asher and her team are doing a wonderful job at

the Dene Tsaa School.

Finally, a reminder to all that COVID and flu season is here. We have had some outbreaks in the community in October

and need to remember that everyone should be taking precautions as we return to indoor activities.

For more updates, please attend our community forum will be Monday, November 7th at 5:00pm and stay updated online.

Community Forum Prize Winners!

A big congratulations to all of our prize winners from the October Community Forum! Make sure to join us on Monday,

November 7th for our next meeting and more chances to win!

OCTOBER PRIZE WINNERS!

Leon - Neck Massager

Laurette - Movie Pack

Sicily - Blush Poeny Silverware

Andy - Tools & Mug

Stella - Mobile Phone Stand & Humidifier

November 2022 | ProphetRiverFirstNation.com

5
---
​

Get Your Christmas Food Program

Application in Now!

Christmas Dinner is just around the corner! Don't forget that each household of PRFN member(s)

is eligible for ham, roast beef, or turkey for Christmas dinner.

Overall Process

1. Fill out the Christmas food application completely indicating your food choice.

2. All applications will be reviewed and are subject to available funds to cover the costs.

3. You will be contacted by PRFN on whether to pick up your food or if it will be delivered to you.

Eligible Expenditures

Note that you cannot purchase your own food and seek reimbursement, PRFN will purchase it for

you. Apply online or reach out to Lynette in the office.

Need help with your member login? Are you unsure how to access the trust portal? Book an appointment today. If you don't

have online access, call us and we will go over the programs and options with you. Call or text 1.833.396.1895 or

email Lynette Tsakoza at L.tsakoza@prophetriverfn.ca.

Check for updates on Trust Programs

Many of the PRFN Trust programs have been updated. You can visit our Member's Section to view the most

current programs available and to apply to the programs you qualify for. You can keep track of your application

and past applications here as well.

What do I do if I'm having trouble logging in to my member portal?

If you require any assistance with your login, we can set up an appointment to help. Call/text 1.833.396.1895 or

email trust@prophetriverfirstnation.com.

How do I request a new password?

You can visit the member's login page and click on 'Forgot

your password?' you will then be requested to enter your

email address, click on 'Request reset link', and then proceed

to the instructions in your email address inbox.

6

November 2022 | ProphetRiverFirstNation.com
---
New Homes in Community

The new homes in the community have been completed.

Shown in the photo is the back view of Lot #19-Residential-

Elder Maurice (Sandy) Wolf's new home.

Truth & Reconciliation Day

in Fort St. John

NLC 1st Intercollegiate

Rodeo for Students

November 2022 | ProphetRiverFirstNation.com

7
---
From the Archives

Ridington Dane-zaa Archives

The Ridington Dane-zaa Archives contain

hundreds of hours of historical audio

recordings and thousands of photographs.

Tonia and Liza Wolfe scraping moose hide.

Courtesy of Ridington Dane-zaa Archives, OSPRG63.

Sam, Jean, Katie St. Pierre and Antonia Mills.

Courtesy of Ridington Dane-zaa Archives, OSPRS23.

Prophet River Tonia, Sam St. Pierre, Jumbie, Sahweh having Thanksgiving dinner.

Courtesy of Ridington Dane-zaa Archives, P14F10.

Prophet River News is published monthly.

For past issues, visit: ProphetRiverFirstNation.com/newsletter

November 2022 | ProphetRiverFirstNation.com