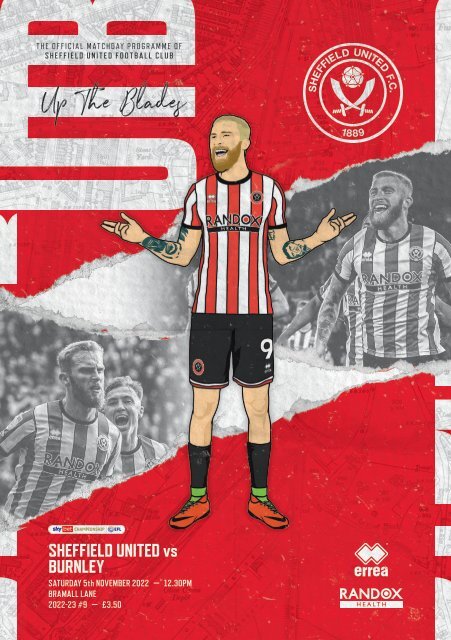 Sheffield United vs Burnley
UTB | Official Matchday Programme of Sheffield United | Issue 09 Sheffield United vs Burnley | Sky Bet Championship Saturday 5th November, 2021 | KO 12.30pm | Bramall Lane
UTB | Official Matchday Programme of Sheffield United | Issue 09
Sheffield United vs Burnley | Sky Bet Championship
Saturday 5th November, 2021 | KO 12.30pm | Bramall Lane
SHOW MORE
SHOW LESS
You also want an ePaper? Increase the reach of your titles
YUMPU automatically turns print PDFs into web optimized ePapers that Google loves.
THE OFFICIAL MATCHDAY PROGRAMME OF

SHEFFIELD UNITED FOOTBALL CLUB

SHEFFIELD UNITED vs

BURNLEY

SATURDAY 5th NOVEMBER 2022 — 12.30PM

BRAMALL LANE

2022-23 #9 — £3.50
---
Even the sharpest blades need testing.

Cover all bases with

our Full Body health

checks capable of

reporting on over 21

key health areas such

as heart, hormonal and

thyroid health

Choose from 8

at-home test kits

available to

order online at

randoxhealth.com

Personalised health

plan explaining results

and with advice from

our team of health

scientists

USE CODE RDX1889 AT CHECKOUT FOR 10% OFF

SCAN HERE

TO BOOK
---
UTB 03

CONTACT US

Main Switchboard

0114 253 7200

Email

info@sufc.co.uk

Website

www.sufc.co.uk

twitter.com/sheffieldunited

facebook.com/

sheffieldunited

instagram.com/

sheffieldunited

youtube.com/

sheffieldunited

DIRECTORY

CHAIRMAN

Yusuf Giansiracusa

BOARD OF DIRECTORS

Princess Reem Bint

Abdullah Al Saud

Abdullah Alghamdi

CHIEF EXECUTIVE OFFICER

Stephen Bettis

VICE PRESIDENTS

Graham Moore MBE

Martin Green

Darren Baker

Mark Ross

Steve Naylor

BLADES AMBASSADOR

Tony Currie

SUPPORTERS'

LIAISON OFFICER

Jon Helliwell

jon.helliwell@sufc.co.uk

UTB

PROGRAMME TEAM

Editor: Matthew Young

Photography by:

Sport Image, Shutterstock

Produced by:

Ignition Sports Media

Design: Alex Guildford

Printed by: S&G Group

Cover Illustration:

Nick Bianco

The views expressed by

individual contributors are

not necessarily the views of

Sheffield United FC or the Editor

SHEFFIELD UNITED vs

BURNLEY

KEY FEATURES…

10

29

60

89

Goalkeeper Adam Davies reflects on his recent

spell in the side and also chats about the prospect

of going to upcoming World Cup this month.

We look back over another major milestone

for Bramall Lane after the recent hosting

of the Rugby League World Cup.

This week former skipper Brian Gayle takes

on the Face to Face Revisited Q&A.

We look over a new book out in time for Christmas,

written by former Blades boss Danny Wilson

SHEFFIELD UNITED vs BURNLEY
---
04 UTB

SHEFFIELD UNITED vs BURNLEY
---
UTB 05

Paul Heckingbot tom

MANAGER'S NOTES

After the rigours and everything

associated with two victories in

the last week, we now face three

huge fixtures before we can take a

breath for the World Cup break.

Next weekend's trip to south Wales will

be tough and we've got a local derby in

midweek but first of all our attentions has

to be on Burnley – the start that they have

made to the season makes it one of the

stand out fixtures in the Championship

today, hence the Sky cameras being

with us.

Since returning from Bristol in midweek,

it has been a race against time to prepare

for one of the biggest games of the

season so far, it has not been easy as we

look to rest, recuperate and patch up a

squad that is literally limping to what will

be a welcome break.

The two recent victories have come

at a cost with more injuries to contend

with, but the drive and commitment of

the players cannot be questioned with

everyone playing their part. It's no secret

that one or two are carrying problems

but everyone is up for the fight and that is

great to see.

Tuesday night's victory felt good for a

number of reasons. I honestly think we

played better in the majority of the six

game winless run than we did at Ashton

Gate. I've never won like that at United,

one that we perhaps didn't deserve on

the balance of play. Experience came to

the fore in how we defended the box in

the second half, and it was good to bring

experience off the bench, but it shows

how crazy football at this level is. Nigel

Pearson will feel like I did after we got

beat by QPR at home, having dominated.

Margins are that fine, as I keep saying.

As well as all the preparation and hard

work that goes into all of the games, you

need decisions to go your way in the

big moments, nobody in this league will

achieve anything without things going

for them because if you don't you will

struggle to get results.

On Tuesday, they walked through us

at times in the first half and in the second

they pounded balls into our box. We

weren't at our best, but we were tougher,

resilient and made better decisions and

that is what pleases me – it's a different

way to win a game. We scored a good

goal, we had to adjust in the first half,

I wanted Iliman to play higher to be more

of a threat and fortunately he sniffed out

a chance.

It was different to West Brom when

two fantastic goals changed the nature

of the game and then we had to defend

very well.

In both games we've had to make

changes, play players out of position and

demand from them. It is clear that the

personality and the drive of the lads has

been excellent recently and we need

the same as we navigate these next

three games.

Hecky

SHEFFIELD UNITED vs BURNLEY
---
06 UTB

HARD WORK PAYING OFF FOR ILIMAN

Iliman Ndiaye

continues to be a

shining light for

United this season, with

the striker explaining his

continued development is

down to plenty of hard

work behind the scenes.

The Senegal international

enjoyed a breakthrough

campaign last season

and after building a solid

foundation in the senior

game, has pushed himself

on again this term with

eight goals already to

his name.

Iliman's consistent allround

displays have really

caught the eye, and he

PLAYER FOCUS

admits he's worked hard to

improve all aspects of his

game, starting by netting

on a more regular basis.

He told SUTV recently:

"I've worked really hard on

that (scoring) aspect. I've

had more finishing sessions

on the training ground. Jack

Lester has always spoken

to me about getting into

the box and things like that,

so hopefully I can score

even more.

"I think overall I've been

more professional. Last

year coming from the

Academy into the first

team, and seeing what the

professionals are doing

every day has helped.

This year, I've made sure

I've been working harder

and using the option of

having massages from the

physio, things like that, and

doing extra work. That's

helped a lot."

After making his

international debut for

Senegal back in June this

year, the 22-year-old has

a real opportunity to make

the squad for the upcoming

World Cup in Qatar.

But the likeable striker

admits his main focus

is on United, with three

games remaining until the

season breaks off for the

World Cup.

He explained: "While

I am playing club football,

all my focus is on Sheffield

United. Games are coming

quickly, and I have to be

ready. If I play well and do

my best then I think the rest

will take care of itself. I just

need to make sure I keep

performing.

"It's self-belief, I've

always believed in myself

and now I'm at a great

club in Sheffield United

and I'll keep pushing

myself to try and do better

and obviously help the

team win."

⊳ Iliman enjoys goal number

eight at Bristol City

SHEFFIELD UNITED vs BURNLEY
---
UTB 07

PARTNERSHIP PLEASES OLI

The Oli McBurnie

and Iliman Ndiaye

partnership

continues to flourish and

with the evidence clear

from the recent win at

West Bromwich Albion.

Both netted a seventh

goal of the season and

played a role in each

other's strike as United

downed the Baggies 2-0 at

The Hawthorns.

Oli continues to shine

after breaking his run

without a goal at Luton

earlier in the season, with

this latest strike his seventh

in his last 12 outings.

The former Swansea hitman

also hailed the work of

his strike partner Ndiaye,

as the pair continue to

prosper in attack together

with 15 goals between

them already this season.

Oli said: "He's a pleasure

to play with. I think we

played together for the first

time in a game earlier in

the season and after some

of my friends asked me if

we had played together

much. We'd never to be

honest, it is one of those

things sometimes with

players, you have an

instant connection, and

you know what each other

are going to do. I always

say, I just give him the ball

PLAYER FOCUS

and he always makes me

look good! He's a pleasure

to play with, and you

can see the ability, he's

unbelievable to play with."

Oli, who is booked in

for surgery on a hernia

during the World Cup

break, admits he's full of

confidence at present as

he continues to show the

goalscoring form at this

level which earned him

the move to the Premier

League when he joined the

Blades back in 2019.

He added: "It's what

I used to do before. A

couple of years ago, this

was normal for me. I know

I've had a tough couple of

seasons, but I've worked

hard in the summer and

made some changes

and now it is good to see

the results paying off

on the pitch. I feel full of

confidence and feel that

the boys trust me and give

me the ball, when I get

chances, I need to keep

taking them.

"Things are going well

for me. I need to get

through this period and

get this surgery out of the

way and crack on. Fingers

crossed I won't miss any

football, so it has come at a

good time."

▲ Another goal for Oli in the

recent win at West Brom

SHEFFIELD UNITED vs BURNLEY
---
08 UTB

SHEFFIELD UNITED vs BURNLEY
---
UTB 09

BLADES SHOWING HEART AND DESIRE

Chris Basham

epitomised

everything about

United's determination to

get three points on

Tuesday night as Paul

Heckingbottom's side dug

in to secure a 1-0 victory at

Bristol City.

The 34-year-old

produced a dogged display

before being withdrawn

late on as United fought

hard to preserve a second

consecutive clean sheet

to secure another three

points on the road.

The former Blackpool

ace admitted it wasn't

United's greatest display at

Ashton Gate, but he hailed

the Blades' determination

to get over the line

despite not being at their

fluent best.

He said: "It is a tough

place to come in bad

conditions, but it is three

points. We've played

loads better than that, the

manager won't be happy

at times when he analyses

the game, but it's three

points and two wins on

the bounce which is great

for us. We showed some

heart and desire to keep a

clean sheet.

"We had a lot of

experience out there

tonight and that's probably

PLAYER FOCUS

pulled us through the

game. We've played

better. QPR at home, we

played well and got beat

and it was sickening in

the dressing room. In our

dressing room tonight,

we've not played well,

but everyone is jumping

around, so we take

the result and another

clean sheet."

The Blades are having to

navigate through a difficult

period on the injury front,

with Heckingbottom unable

to call upon the services of

Tommy Doyle (calf), whilst

Chris himself admitted

he was playing through

a slight issue as United

had to stick together in

adversity to secure another

valuable three points.

He admitted: "It's

difficult. When you are

missing key players, the

standards in training can

dip sometimes. The lads

are having to dig deep.

"The lads are digging

deep, we have heart and

desire, and we want to do

well for the club. We have

dipped off a little recently,

but we have found some

form and aggression

again – the characteristics

you need to win away at

Bristol City."

▲ Chris produced a dogged

display at Ashton Gate

SHEFFIELD UNITED vs BURNLEY
---
10 UTB

SITTING DOWN WITH

A D A M Adam Davies

DAVIES

Having enjoyed his taste of first-team

football with the Blades, goalkeeper Adam

Davies is ready to fight for his place again,

following the return from suspension of Wes

Foderingham.

The experienced Wales international, who is also

looking forward to the World Cup which begins later

this month, recently started three games, keeping

a clean sheet in last week's success against West

Bromwich Albion at The Hawthorns.

Amongst the topics the 30-year-old openly

discussed with UTB were the patience he has had

to show as an understoody to Foderingham, the

bond within a goalkeeper's union and the ups and

downs of being a goalkeeper, following his error

and penalty save in the dramatic encounter against

Norwich City at the Lane.

Adam is happy with his role at S2, content to

share his apartment with a former Blades striker

now plying his trade in the National League, and

excited about what the future could hold for both

club and country.
---
UTB 11
---
UTB 13

UTB: It is something of a

cliché, but is patience literally

a virtue for a goalkeeper,

especially when you aren't in the

starting XI?

AD: "Absolutely, that hits the

nail on the head. As a goalkeeper

not in the team, you've got to be

patient and wait for your chance

to impress. I really enjoyed

my three games in the side,

particularly the win and clean

sheet at West Brom and I was

delighted when the lads managed

to back it up with another hardfought

three points in midweek

at Bristol City. At West Brom,

we got ourselves in a fantastic

position with two early goals and

we were excellent defensively

to see the game out without too

many scares. On Tuesday, the

conditions were awful, Bristol City

were right up for it and we were

poor first half, but we regrouped

at the break, managed to get an

early goal in the second half and

again defended our box well.

Patience and hardwork were key

in me trying to make the most of

the opportunity I had, now I have

to remain strong and resilient

mentality and be ready for the

next time I'm called into action."

UTB: The goalkeeper's union

is something that is often

spoken about in football, is

that genuine and how does the

dynamic work during the week?

AD: "It certainly is a genuine

bond. The goalkeepers and the

coach are always close because

you spend a lot of time together

away from the main group. We

have a healthy goalkeeping

department as has been proved

this season, with Wes, myself

and young Jordan and the

support we receive from Dukey is

fantastic, it is enjoyable to be part

of it. Wes has been unbelievable

since I arrived at the club in

January, he has been in amazing

form and for me personally

I've had to take something of a

back seat and keep plugging

away behind the scenes, doing

everything professionally

as I always have done away

from the games to make sure

I was ready when needed. It

was mad how my opportunity

came about, but I relished the

challenge of playing the three

games during Wes's suspension

and I respected the manager's

decision to put him back in the

team on Tuesday night."

"I'VE HAD TO TAKE

SOMETHING OF A BACK

SEAT AND KEEP PLUGGING

AWAY BEHIND THE SCENES,

DOING EVERYTHING

PROFESSIONALLY AS

I ALWAYS HAVE DONE"

UTB: You initially arrived on a

short-term deal until the end of

last season, was it always in your

mind to earn a longer deal at

Bramall Lane?

AD: "Definitely. I loved my

few months here last season,

especially having played against

United for Stoke under the

previous manager earlier in the

campaign. We achieved so much

in the second half of last term and

SHEFFIELD UNITED vs BURNLEY
---
14 UTB

arguably deserved promotion

via the play-offs on another day.

The togetherness and spirit

within this group of players and

staff is something else and it

was something I wanted to be

part of moving forward if given

the opportunity, so it was a no

brainer for me when I was offered

another deal in the summer.

I'd looked in on the team when

I was at Stoke and I knew it was a

decent group, but it is only when

you are inside the club that you

realise exactly what the manager

is doing here. I aimed to push

Wes last season and hopefully

played a small role in the success

we had, despite missing out on

promotion and obviously I did

enough to stick around for a lot

longer."

UTB: How important is

a positive mentality for a

footballer?

AD: "Football is a mad man's

sport in all honesty. Things

happen in the game that just

wouldn't happen in any other

sport or profession in my opinion

because circumstances can

change for the good or bad so

quickly and you can go from

being in or out favour in the blink

of an eye at any club. My situation

in the last few weeks is a perfect

example because before the

Blackpool game I'd have thought

I'd have no chance of playing

but you just can't think like that

as a footballer. I've been in the

team and given my all when the

manager needed to call on me

and now my challenge is to push

Wes again and fight for my place."

UTB: How different is it going

from a back-up goalkeeper

that is a regular on the bench

to being thrust into the team in

unexpected circumstances?

AD: "I'd been first choice at

Stoke for much of the first half

of last season, but my last game

for them was in early January, so

it was over 10 months from that

game against Preston to making

my debut for United at Coventry.

It was nice, it was great to be

back on the pitch obviously and

you feel like a footballer again

in all honesty. The pre-match

butterflies, you are preparing,

warming up with that extra edge

and there is a different feel, I'd

be lying if I said there wasn't,

it felt totally different because

you have to be in the right zone

to perform to the best of your

ability."

UTB: If the home game against

Blackpool had everything, the

last outing at Bramall Lane

against Norwich City wasn't far

behind. How much resilience

did you have to show after that

early slip?

AD: "That was the life

of a goalkeeper in

90 minutes! It was

eventful to say the

least and thankfully

both individually

and collectively it

finished much better

than it started.

I held my hands

up for my mistake

early on, but it felt good

to make a meaningful

contribution with the

SHEFFIELD UNITED vs BURNLEY
---
UTB 15

penalty save after the lads had

got us back into the game at 2-2.

We all showed resilience, but it

wasn't easy on my Bramall Lane

bow, making such a mistake

and costing us the opening

goal in front of the Kop, but I'd

like to think I bounced back

well. We conceded a second

pretty quickly, but having made

that save from Sargent I felt

I gradually grew into the game.

Mistakes happen, it happened

to me, but thankfully as a team

we still managed to get a result

against the odds."

UTB: How did you reflect on

the atmosphere on your home

debut for the Blades and do you

feel the Blades supporters have

a big role to play, particular at

Bramall Lane?

AD: "The second half was

incredible, the noise and

atmosphere was one of the best

I can remember and I relished

playing in front of that crowd,

despite the early setback.

I remember United coming from

behind to beat Stoke, kicking

towards the Kop and they are

quite literally the 12th man when

right behind the team. With

the squad and quality within it

and these fans behind us we

should have a terrific chance of

achieving something this season

if we continue to apply ourselves

every game. The lads fed off the

atmosphere, we had to show

character in the Norwich game,

but the noise from the stands was

phenomenal and it does make

such a difference when the game

is being played on the edge."

SHEFFIELD UNITED vs BURNLEY
---
16 UTB

UTB: You know the boss as

well as anyone else in the squad,

if not better having enjoyed

success under him at Barnsley,

what gives him that edge?

AD: "There are simply no grey

areas with the manager, you

know your job in the team, you

know exactly what is expected

and demanded from your role.

Hecky knows what he wants

and isn't afraid to let you know

if you aren't doing it right, but

he'll also put his arm around

a player if he feels they need

it. He has a brightness and

enthusiasm every day, he has

the willingness to go the extra

mile and make sure everything

is right for his players and

obviously he is a fantastic

coach and manager. Clarity is

a big word, everyone off the

field knows what he wants and

expects too, no stone is left

unturned and I came here to

hopefully share some more

success under him."

SHEFFIELD UNITED vs BURNLEY
---
UTB 17

UTB: You are no stranger to

the region, but who is the former

Blade who you are currently

sharing an apartment with in

Sheffield?

AD: "I commute when I can,

but I've also got a place in the

city for me to stay in a few nights

a week. Caolan Lavery is a mate

of mine and I'm still sharing

with him now, just like we did

when he was here and I was

at Barnsley when we shared

a house together. He recently

signed for Scunthorpe so it suits

us both and it is a friendship that

goes back quite a while. I've

known Caolan for a long time,

he has played for Wednesday,

United, Chesterfield and

Rotherham in the area. When

I was looking for something

having resigned in the summer,

he was a free agent but has

since moved to Scunthorpe, so it

is a perfect fit for us both."

UTB: Let's switch focuses from

club to country. How much are

you looking forward to the World

Cup in Qatar this winter?

AD: "It is something I'm really

excited about, and it will take

priority once we get the next

three games out of the way. It is

being talked about in the media

already and it will obviously be

a massive occasion for Welsh

football because it has been

such a long time (1958) since we

last reached the finals. It will be

such a memorable experience

to hopefully be part of the squad

and the opportunity of some

games that I've had recently

came at a really good time. We

have some good goalkeepers,

Wardy (Danny Ward) is playing at

Leicester and Wayne (Hennessy)

has won over 100 caps, so

the more of us that have been

playing the better it is for Rob

Page when it comes to having

options at the tournament and

we'll all be ready. We'll go there

full of confidence and belief

of progressing from the group

stages, we've got two massive

games against the USA and Iran,

before we face England."

UTB: Finally, whilst on the

subject of the World Cup and

your likely inclusion in the Wales

squad, it would be remiss not to

mention the unfortunate injury

picked up by Rhys Norrington-

Davies that has robbed him of

the chance to be involved. Have

you spoken to him recently?

AD: "When Rhys went down

like he did I feared the worst

for him because he isn't one

who stays down for nothing and

when he couldn't get back to

his feet you knew it was very

serious and it's awful to see.

I felt for him at the time because

he'll have known as he left

the field on a stretcher that his

World Cup dream was over.

I've spoken to him since and

I'm honestly devastated for him

personally because he has been

so good this season, one of the

most consistent performers and

that won't have gone unnoticed

by Pagey. He'll come back

stronger, and a better person

and I really hope for him that

the next opportunity is only four

years away."

SHEFFIELD UNITED vs BURNLEY
---
18 UTB

SHEFFIELD UNITED vs BURNLEY
---
UTB 19

25 YEARS OF UNITED'S DIGITAL ARCHIVE

To commemorate 25 years since the creation of the club's official digital

photo archive, UTB delves into the folders to celebrate some of the lesser

known and quirky images from our recent past.

HONOUR A LEGEND…

A brilliant image here from the late '90s of a gathering of United legends to

pay tribute to the great Jimmy Hagan.

The event, held at the Lane, saw former teammates and the then chairman

of United Derek Dooley pose for a photograph whist glancing at some photos

of Hagan in his prime. Hagan had passed away in February 1998, aged 80.

As well as Dooley, those in this photo include: Colin Collindridge, Tommy

Hoyland, Fred White, Fred Furniss, Joe Shaw and Cec Coldwell.

SHEFFIELD UNITED vs BURNLEY
---
20 UTB

SHEFFIELD UNITED vs BURNLEY
---
UTB 21

UNDER-21s UPDATE

United suffered a late scare but

picked up another three points to

extend the lead at the top of the

Professional Development League.

The Blades added some first team

experience to the starting 11 with the likes

of Reda Khadra and Jack Robinson both

getting some welcome minutes in the

tank. United started well with Louie Marsh

going close inside the opening 10 minutes.

It wasn't long before United hit the front

when a breakout from a Burnley corner

resulted in Khadra feeding Oliver Arblaster

who slotted in the opener.

Marsh and Khadra both went close

before United netted a second. Andre

Brooks provided a low cross where Marsh

freed himself to turn the ball into the net.

Marsh continued his free scoring run this

season by adding a second and United's

third when he converted Robinson's

low cross. Burnley made it a nervy finish

through goals from Marcel Lewis and Dara

Costelloe with Jordan Amissah making a

brilliant late save to ensure United held out.

TEAM (vs Burnley): Amissah, Sachdev, Buyabu,

Potter, Gordon, Robinson (Gomis 83), Marsh,

Arblaster, Khadra (T. Williams 65), Peck, Brooks

(Maguire 78). Unused: Hiddleston, Barratt.

AUG

SEP

OCT

NOV

DEC

JAN

DATE KO/F-A OPPOSITION VENUE/SCORER

TUE 9 u 2-0 READING McBURNIE, OSULA

MON 15 v 3-5 CHARLTON ATHLETIC SACHDEV, OSULA (2)

TUE 23 v 0-3 CARDIFF CITY –

TUE 30 u 2-0 QUEENS PARK RANGERS BROADBENT, MARSH

TUE 6 u 2-0 WATFORD PECK, MARSH

TUE 13 u 2-1 PETERBOROUGH UNITED BROADBENT, MARSH

WED 21 u 2-0 WIGAN ATHLETIC WILLIAMS 2

TUE 27 s 1-1 HULL CITY MARSH

MON 3 u 3-0 SHEFFIELD WEDNESDAY MARSH (2), BROOKS

TUE 11 u 3-0 COVENTRY CITY PECK, HAMPSON, WILLIAMS

MON 24 u 3-2 BURNLEY ARBLASTER, MARSH (2)

TUE 1 v 0-3 BARNSLEY –

FRI 4 2PM BIRMINGHAM CITY ST ANDREW'S

MON 14 7PM CRYSTAL PALACE (PLC) BRAMALL LANE

MON 21 2PM BRISTOL CITY (PLC) BRAMALL LANE

FRI 25 2PM CREWE ALEXANDRA

LNER COMMUNITY

STADIUM, YORK

MON 28 3PM NEWCASTLE UNITED (PLC) BRAMALL LANE

MON 5 7PM NEWCASTLE UNITED (PLC) WHITLEY PARK

FRI 9 7PM CRYSTAL PALACE (PLC) COPERS COPE ROAD

MON 19 1PM BRISTOL CITY (PLC)

TUE 10 5PM WIGAN ATHLETIC

ROBINS HIGH

PERFORMANCE CENTRE

LNER COMMUNITY

STADIUM, YORK

MON 16 7PM HULL CITY NORTH FERRIBY FC

TUE 24 5PM COVENTRY CITY

LNER COMMUNITY

STADIUM, YORK

TUE 31 2PM BIRMINGHAM CITY BRAMALL LANE

MON 13 1PM CREWE ALEXANDRA ALEXANDRA PARK

FEB

MON 20 7PM SHEFFIELD WEDNESDAY BRAMALL LANE

TUE 28 1.30PM PETERBOROUGH UNITED IDVERDE TRAINING GROUND

MAR

FRI 3 1PM BARNSLEY OAKWELL

TUE 21 2PM BURNLEY BRAMALL LANE

TUE 4 1PM BRISTOL CITY ASHTON GATE

APR

TUE 18 1PM MILLWALL

LNER COMMUNITY

STADIUM, YORK

MON 24 2PM SWANSEA CITY LANDORE ACADEMY

MAY

TUE 2 2PM COLCHESTER UNITED BRAMALL LANE

FRI 5 1PM IPSWICH TOWN PORTMAN ROAD

▲ Oliver Arblaster on target in the win over Burnley

HOME GAMES IN BOLD – PLC - PREMIER LEAGUE CUP

SHEFFIELD UNITED vs BURNLEY
---
22 UTB

SHEFFIELD UNITED vs BURNLEY
---
UTB 23

UNDER-18s UPDATE

After three defeats on the spin in

all competitions, United found

their winning touch again in

emphatic style after a 5-1 hammering of

Birmingham City.

The Blades opened the scoring early on

when Charlie Staniland's impressive half

volley from the edge of the area gave Paul

Quinn's side the lead.

Trevan Sanusi quickly levelled for Blues

but that was as good as it got for the away

side as United took full control.

Kylan Midwood made it 2-1 after picking

up Kurtis Havenhand's through ball and

10 minutes later it was 3-1 when Owen

Hampson maintained his recent scoring

streak to head home Jack Waldron's cross.

Birmingham then conceded a penalty

and had a man sent off in the same

incident allowing George Dickinson to

convert. Dickinson then rounded off the

scoring when he hammered in his second

and United's fifth following good work by

Ben Drake.

TEAM (vs Birmingham City): Yam, Waldron, Drake,

Staniland (Cummings 63), Pitan, Okyere (Clarke 59),

Midwood, Dickinson (Ly 71), Havenhand, Hampson,

Haughton-Parris. Unused: Hewitson, Etherington.

AUG

SEP

OCT

NOV

DEC

JAN

FEB

DATE KO/F-A OPPOSITION VENUE/SCORER

SAT 13 u 1-0 MILLWALL HAVENHAND

SAT 20 v 0-3 CHARLTON ATHLETIC –

SAT 27 u 2-0 READING BLACKER (2)

SAT 3 u 2-1 LEEDS UNITED (PLC) DICKINSON, BLACKER

SAT 17 s 0-0 COLCHESTER UNITED –

SAT 24 u 1-0 CREWE ALEXANDRA PITAN

SAT 1 v 1-3 WIGAN ATHLETIC DRAKE

SAT 8 v 1-2 CRYSTAL PALACE (PLC) HAMPSON

SAT 15 v 1-2 BARNSLEY WALDRON

SAT 22 u 5-1 BIRMINGHAM CITY

STANILAND, MIDWOOD,

HAMPSON, DICKINSON (2)

SAT 29 u 2-0 PETERBOROUGH UNITED HAMPSON, HAVENHAND

SAT 5 11AM BRIGHTON (PLC) RANDOX HEALTH ACADEMY

FRI 18 3PM SHEFFIELD WEDNESDAY MIDDLEWOOD ROAD

SAT 26 12PM BURNLEY RANDOX HEALTH ACADEMY

SAT 3 11AM COVENTRY CITY RANDOX HEALTH ACADEMY

SAT 10 11AM HULL CITY BISHOP BURTON COLLEGE

SAT 7 11AM SHEFFIELD WEDNESDAY RANDOX HEALTH ACADEMY

SAT 14 12PM WIGAN ATHLETIC

SAT 21 12PM BURNLEY

CHRISTOPHER PARK

TRAINING GROUND

BARNFIELD

TRAINING CENTRE

SAT 28 11AM HULL CITY RANDOX HEALTH ACADEMY

SAT 18 11AM CREWE ALEXANDRA RANDOX HEALTH ACADEMY

SAT 25 11AM BARNSLEY RANDOX HEALTH ACADEMY

SAT 4 11AM COVENTRY CITY ALAN HIGGS CENTRE

MAR

SAT 11 11AM PETERBOROUGH UNITED RANDOX HEALTH ACADEMY

SAT 18 11.30AM IPSWICH TOWN

IPSWICH TOWN

TRAINING GROUND

SAT 25 11AM BRISTOL CITY ROBINS TRAINING CENTRE

SAT 1 11AM CARDIFF CITY RANDOX HEALTH ACADEMY

APR

SAT 15 11AM SWANSEA CITY

LANDORE

TRAINING GROUND

SAT 22 11AM WATFORD RANDOX HEALTH ACADEMY

SAT 29 11AM QUEENS PARK RANGERS QPR TRAINING GROUND

▲ Charlie Staniland opened the scoring

in the 5-1 win over Birmingham

MAY

SAT 6 7PM BIRMINGHAM CITY ST ANDREW'S STADIUM

HOME GAMES IN BOLD – PLC - PREMIER LEAGUE CUP

SHEFFIELD UNITED vs BURNLEY
---
24 UTB

IS THERE

A BETTER

WAY TO

BUY YOUR

NEXT CAR?

CAZOO

YEAH!

Buy or finance a car online and we'll deliver it to

your door with a 7-Day Money Back Guarantee.

SHEFFIELD UNITED vs BURNLEY
---
UTB 25

United Women suffered a narrow

home defeat against

Southampton at Bramall Lane.

A close game was decided inside the

opening 10 minutes when Ella Pusey was

played through before rounding United

stopper Bethan Davies to net what would

be an early winning goal.

United had opportunities throughout

with Rhema Lord-Mears testing Kayla

Rendell with an effort from range.

Courtney Sweetman-Kirk sent an effort

wide, whilst Bex Rayner also forced a save

from Rendell with a long-range effort.

In the second half, sub Rachel Brown

was also denied by Rendell, whilst at the

other end Davies was also tested.

Late on United's Chene Muir was

denied what looked like a good shout for

a penalty as Southampton held out for all

three points.

TEAM (vs Southampton): Davies, E. Wilson (Brown

59), Newsham, Hartley, Riglar, Sweetman-Kirk

(Walters 59), Cusack, Rayner, Paul, Lord-Mears

(Wilcock 88), Enderby (Muir 68). Unused: N. Wilson,

Haywood, Docherty, Francis-Jones, Miller.

AUG

SEP

OCT

NOV

DEC

JAN

FEB

DATE KO/F-A OPPOSITION VENUE/SCORER

SUN 21 v 0-1 BLACKBURN ROVERS –

SAT 27 u 2-0 DURHAM SWEETMAN-KIRK (2)

SUN 11 P-P SUNDERLAND

SUN 18 u 8-0 COVENTRY UNITED

EPPLETON COLLIERY

WELFARE GROUND

RIGLAR, LORD-MEARS, CUSACK (2),

NEWSHAM, ENDERBY (2), RAYNER

SUN 25 s 2-2 LEWES OG, NEWSHAM

SUN 2 s 3-3* DURHAM (CC) WALTERS (2), RAYNER

SUN 16 v 1-3 BRISTOL CITY ENDERBY

SUN 23 v 0-1 SOUTHAMPTON –

SUN 30 v 1-2 BIRMINGHAM CITY SWEETMAN-KIRK

SUN 6 2PM CRYSTAL PALACE HAYES LANE

SUN 20 2PM LONDON CITY LIONESSES BRAMALL LANE

SAT 26 5PM EVERTON (CC) TBC

SUN 4 2PM CHARLTON ATHLETIC THE OAKWOOD

WED 7 7.30PM ASTON VILLA (CC) TBC

SUN 18 12PM MANCHESTER UNITED LEIGH SPORTS VILLAGE

SUN 15 2PM BIRMINGHAM CITY BRAMALL LANE

SUN 22 2PM BLACKBURN ROVERS BRAMALL LANE

SUN 5 12PM DURHAM MAIDEN CASTLE

SUN 12 2PM CHARLTON ATHLETIC BRAMALL LANE

SUN 5 2PM LONDON CITY LIONESSES PRINCES PARK

MAR

SUN 12 2PM CRYSTAL PALACE BRAMALL LANE

SUN 26 12OM LEWES BRAMALL LANE

SUN 2 3PM BRISTOL CITY

ROBINS HIGH

PERFORMANCE CENTRE

APR

SUN 16 2PM COVENTRY UNITED BUTTS PARK ARENA

SUN 23 2PM SUNDERLAND BRAMALL LANE

SUN 30 2PM SOUTHAMPTON TESTWOOD STADIUM

▲ Rhema Lord-Mears in action against Southampton

HOME GAMES IN BOLD CC CONTINENTAL CUP

**DURHAM WIN 5-4 ON PENALTIES

SHEFFIELD UNITED vs BURNLEY
---
26 UTB

L I V E N O W >>>>

NEXT-GEN

FANTASY

FOOTBALL

ULTIMATE CHAMPPIONS

HOME OF 10+ EFL CLUBS

NFT COLLECTIBLE

N O W >>>>>
---
28 UTB

We're a family

run business

undertaking both residential and commercial work.

BALFOUR CARPETS is a well-established

Carpet and Flooring business located in the Old Balfour Cinema

building on Staniforth Road, Darnall, Sheffield. Our large warehouse

is open to the public, whether you want to look at the huge stocks

available or browse the sample catalogues, you can be guaranteed

you'll find the perfect floor covering for you.

Supplier of:

• Carpets

• Cushion Floor

• Laminate

• Luxury Vinyl Tile (LVT)

• Commercial Flooring

• Artificial Grass

SHEFFIELD UNITED vs BURNLEY

505 Staniforth Road, Darnall, Sheffield S9 4RA

t 0114 244 8150

e sales@balfourcarpets.com

www.balfourcarpets.com
---
UTB 29

LANE HOSTS ANOTHER

MILESTONE MOMENT

England's recent Rugby League World

Cup showdown against Greece produced

a record breaking game on another

showpiece afternoon for Bramall Lane.

United's historic home saw England

defeat Greece 94-4, their biggest victory

in a World Cup match, as the Lane again

showed its ability to successfully stage

major sporting occasions.

A crowd in excess of 18,000, a record

attendance for a rugby league match in

Sheffield, saw England run in 17 tries, with

Dom Young going over four times for

Shaun Wane's side.

Dave McCarthy, United's head of

operations, said: "It was an amazing day

from start to finish. The work to first of all

secure Bramall Lane as a venue, started

way back in January 2018, so to see it all

to such a wonderful fruition in October

2022 was both satisfying and amazing in

equal measure.

"A record attendance for a rugby league

game in the steel city of Sheffield is all we

could have asked for. Bramall Lane looked

amazing, and it was great to have 18,000

plus enjoying the city and contributing to

the local economy."

SHEFFIELD UNITED vs BURNLEY
---
30 UTB

SHEFFIELD UNITED vs BURNLEY
---
UTB 31

Happy Birthdays

1⃞■ Happy Birthday

Susan Oxley. 100%

Blade. Love from all

your family x

2⃞■ Happy Birthday to

Henry Newlove who

is 10 years old today!

Favourite players are

Billy Sharp and Iliman

Ndiaye. Lots of love

from Mum, Dad and

your big sister Poppy.

3⃞■ 95 years a loyal

Blade! Happy Birthday

Gordon Lawrence.

From sneaking in via

the Players' Entrance

in the 40s (sshhh, don't

tell anyone) to watching

Jimmy Hagan and Jock

Dodds... to the modernday

comfort of the

South Stand, cheering

on Billy Sharp, Sander

Berge and the lads.

4⃞■ Happy 12th Birthday

Samuel Bannerjee.

Lots of love and best

wishes from Oscar,

Isaac, Lorraine, Uncle

David and Daddy.

5⃞■6⃞■ Happy Birthday

to Betsy who was

recently 5 and Arthur

who will be 9 on

November 12th. Love

Mum and Dad.

7⃞■ Happy 12th Birthday

Scarlett Winstanley.

Sander Berge's No.1

fan!! Have a fab

day. Lots of Love

from Mum, Dad and

Lewis xxx

8⃞■ Look who is

80!! Tony Topliss

- a lifelong Blade!

Lots of love all the

family xxx xxx

CONGRATULATIONS

9⃞■ Congratulations

on your wedding

Monique and Bradley

Lennon. All the best

from your friends

and family.

BIRTHDAY GREETINGS FROM TC

Tony Currie, our very own Blades ambassador,

has been giving out his own birthday wishes in the

lounges at some of our recent home games. TC

posed for snaps with fans Trevor Wombell, who

was 80, and also Kez Lax who was celebrating his

50th birthday.

SHEFFIELD UNITED vs BURNLEY
---
32 UTB

MATCH ACTION

3 - 3

M c ATEE 8, NDIAYE 23, NORWOOD 90

YATES 30, 42, DOUGALL 51

SATURDAY 15TH OCTOBER — SKY BET CHAMPIONSHIP — VENUE: BRAMALL LANE

BLADES: FODERINGHAM, BALDOCK (KHADRA 84), BASHAM, SHARP (BREWSTER 64),

EGAN, NORWOOD, DOYLE, OSBORN (AHMEDHODŽIĆ 64), Mc ATEE (McBURNIE 64),

NDIAYE, NORRINGTON-DAVIES. UNUSED: DAVIES, ROBINSON, ARBLASTER.

Celebrations for the Manchester City loanee

SHEFFIELD UNITED vs BURNLEY
---
UTB 33

Iliman Ndiaye heads in United's second

James McAtee nets his first senior goal

Iliman celebrates his sixth of the campaign

Rhian Brewster fights his way clear

SHEFFIELD UNITED vs BURNLEY
---
GAME

CHANGER

footballfoundation.org.uk

AD-105x148-FF-Game Changer.indd 1 01/08/2019 09:21
---
UTB 35

John Garrett's

FABLES & FOLKLORE

Blades historian JOHN GARRETT'S long-running inimitable

account of following the Blades always provides a talking point

as UTB again extends a platform for his popular article...

In Stiches...

I must admit that I never get over

excited at the launch of a

new shirt.

Not that I don't like to see a nice, sharp

new offering adorning the backs of our

players on the first day of the season,

far from it. I am also acutely aware of the

financial aspect of a new offering for the

club – it's huge and I also love to see kids

in the streets around the City playing in

them. It's noted that, certainly in the last

20 years or so, you seem to see far more

of the red and white variety than the other

colours from across the city, but then

I suppose that is the product of a couple

of spells in the Premier League, quite a

few Wembley visits and generally having

the upper hand on our neighbours in

terms of success (apart from a lifetime in

League One of course).

We also had a spell back in the

Warnock era when we ran a schools

project called 'For Schools' which looked

▲ Curtis Woodhouse in the infamous

gold shirt in a game at Forest

SHEFFIELD UNITED vs BURNLEY
---
36 UTB

at health, wellbeing, every child matters

and a host of other relevant topics tied

in with a visit to the ground and also the

chance to meet and interview a player

from the first team. We also organised

travel to and from school and every child

who attended got a home shirt and also

a ticket with a parent or guardian. The

owners and directors bankrolled it and it

cost a fortune as I am sure you can well

imagine. The upswing was seeing our

colours all over the place and loads of

▲ The 2015-16 home shirt worn here by Billy Sharp split opinion

emails from supporters of the other side

whose kids had taken part, had a great

time and were now resplendent in the

red, white and black. It's hard to gauge

now looking back how many new fans

it won us, but I would like to think that it

has also played a part in the continuously

incredible level of support that we enjoy

form the stands though thick and thin.

There have also been other times when

we have unwittingly got our shirts out on

the streets in pretty huge numbers.

If you remember the old cricket sheds

that once stood at the top of the Cherry

Street car park, you may recall that

they were, for many years, used as a

sports hall and for 5-a-side. They were

a remnant of the Bramall Lane of old

and once housed the nets where many

Yorkshire greats plied their trade when

we were still a cricket venue of some

repute. They also had a spell as water

tanks during the war, so we got more than

our money's worth out of them. Inevitably,

there came a time when the powers that

be said they couldn't be used anymore.

The roof had just about caved in at that

point in fairness, but it was another piece

of the old ground that was going, and that

in itself was a bit sad. For years, the late

and much missed Derek Newbould ruled

the bookings there with a rod of iron. Del

did most things around Bramall Lane, or

so it seemed. He finished off helping Carl

Hopwood as kit man and was as much a

feature behind the scenes at United as

the pitch itself!

When we couldn't hire it out anymore,

for its twilight years we started to store

stuff in there – paperwork, that kind of

thing. Now, you may recall the gold Midas

kit from way back - it would be fair to

say that it was a tad controversial and

featured in several 'worst ever' polls back

then, and that was before we had even

released it!

SHEFFIELD UNITED vs BURNLEY
---
UTB 37

▲ The much-missed Derek Newbould took

bookings for the old gym at Bramall Lane

Former director and voice of reason,

Bernard Proctor, had identified from

board meetings that we had, shall we

say, something of a surplus of these in

stock to say the least. He came up with

the idea, and I swear that this is true,

of sending me up on the South Stand

concourse to, and I quote: "Sell them out

of large suitcases like that Del Boy on

Only Fools and Horses."

I fell about laughing until the penny

dropped that Mr. Proctor was deadly

serious. He did, indeed, view me as

having the public persona of a fly pitch

trader with bants to match and thought it

would be a lighthearted way of knocking

some surplus out cheap to get some

dough back in the coffers.

Now Sheffield being Sheffield, we all

know that had this been allowed to pass,

I would still be being reminded about it

now on a fairly regular basis and in no

uncertain terms, so there was no way

it could happen. It wasn't until Derek

Dooley pointed out to his old friend that

there was a high chance that JG would

get lynched by the poor sods who had

paid full whack for the version in gold and

purple only a short time before.

Anyway, it was decided that they

should be stored in the sports hall until

such a time that it was viewed they were

safe to be seen in public again. After

a few weeks, everywhere you went in

S2 you saw adults and children alike

adorned in the creative Patrick garment,

and no-one could work out why until

one day one someone from accounts

went up to the hall to try and track down

some paperwork only to find most of the

kids from the local area in there helping

themselves to the kit. They were even

apparently delivering to size order like

an early version of Amazon. They were

gaining access via a whopping great

hole that had appeared in the roof and

by lowering themselves into the building

itself. You had to give them credit; it

was an ingenious system. They were

apparently going in when they had orders

come day or night! The same shirts have

now, incidentally, gained a cult following

and fetch a fair few quid when they come

up for sale.

The lead up to kits coming out always

fascinates, along with the debate and

opinions that you get all over social

media. People get to know what you do

for a living and, of course, where you

work. The knowledge that you work for

a club means that, from that moment

on, there is seldom anything like a quiet

drink or afternoon out with the missus.

Because you work for the club you are

generally deemed to do anything and

everything and also know all that goes

SHEFFIELD UNITED vs BURNLEY
---
*Effective against enveloped viruses **vs representative Gram-negative bacterium. Always practise good hand hygiene.

Use biocides safely. Always read the label and product information before use. 99.9% OF BACTERIA
---
UTB 39

on behind the scenes. The reality is

that most times, the staff are the last to

know, and I suppose it's because it is

far too easy in casual conversation to

compromise things. My ex-missus once

said that she didn't like going out for a

beer where we lived because everyone

knew who I was and what I did and, if

they nailed me in a pub, that was it for

the rest of the day and she may as well

have not been around.

"TALKING OF CONTROVERSIAL,

I WOULD HAVE PERSONALLY

HAD THE KIT WITH BLUE SHORTS

AND SOCKS, WHICH IS WHAT WE

PLAYED IN RIGHT UP TO JUST

BEFORE WWI, BUT I THINK THAT

MAY HAVE BEEN A STEP TOO FAR!"

The classic question is always, "Have

you seen the new kit? What's it like?"

After a number of years, I would beckon

and, in a hushed voice say, "Do you really

want to know?"

After letting the inquisitor nod and show

the same level of interest the answer

was always "It's red, white and black!"

– I mean, we are never going play in

anything else as a home kit, are we?

In that way you haven't lied, have

you? The reaction you get, however, is

sometimes unprintable!

I do get the interest - all want their

club to look the best it possibly can

when they hit the grass on the first day

of the season, but it will always polarise

opinion. I remember the Adidas debut in

the shape of the 125 kit that was actually

technically a year late, but that wasn't

by choice of the staff. I had been a big

supporter of the idea of playing in a shirt

and badge as near to the first one as was

reasonably possible without just turning

out in a plain white offering as the first

▲ This season's home shirt with the traditional popular features

United players would have done back

in 1889.

All was geared to go, but the CEO at

the time didn't act and the deadline was

missed. An irate chair was adamant that

it was going to happen, so we got it a bit

late. Talking of controversial, I would have

personally had the kit with blue shorts

and socks, which is what we played in

right up to just before WWI, but I think that

may have been a step too far!

Anyway, I hope that the current kit is

going down well. I must admit that, for

someone who isn't overly excited on the

appearance of a new look, I quite like it

and it stands out nicely.

Wonder what next season's will

be like?

SHEFFIELD UNITED vs BURNLEY
---
40 UTB

WHAT'S THE

STORY?

In every issue of UTB this season, our regular

contributor DAVE BURKINSHAW features a

Blades related photograph from his personal

archive and reveals the story behind it…

As the 1970s drew to a close,

the Blades were struggling in

the old Second Division (now

Championship).

A decade which had begun so

brightly for the club after its promotion

to the top flight in 1971 now threatened

to end with the club dropping into

the third tier for the first time in their

history.

Today's featured photograph was

taken during the Blades' away game at

Southampton on 25th February 1978.

The venue for the game was the Saints'

old compact Dell ground which they

used between 1898 and 2001.

Southampton were fighting for

promotion to the top flight whilst the

Blades were trying to arrest an alarming

slide in form which had seen them lose

three and draw one of their previous

four league games. Two of these losses

had been by 5-1 at home to Bolton

Wanderers and away at Sunderland.

United had appointed Luton Town

manager, Harry Haslam, as boss in

January and the long trip down to

the south coast was only his second

league game in charge. He had brought

Uruguayan born Danny Bergara with

him from Kenilworth Road as assistant

manager.

Southampton, under the management

of Lawrie McMenemy, had a potent

strike force in the ex-Bournemouth and

Norwich City pair Ted MacDougall and

Phil Boyer.

Both can be seen in this photograph

either side of United defender Colin

Franks, who has his eyes focused on the

ball. MacDougall with the darker hair is to

Franks' right and Boyer to his left.

SHEFFIELD UNITED vs BURNLEY
---
UTB 41

The other United players visible are as

follows:

1) Just behind Franks is teenage

midfielder Gary Hamson

2) Partially hidden by Boyer is

defender Andy Keeley

MacDougall had opened the scoring for

the Saints in the 31st minute but it was

Franks who had levelled the scoreline just

before half time. Just when it looked like

the Blades might gain a morale boosting

point, Boyer broke United hearts with an

87th minute winner.

The 2-1 win for the Saints was another

step on the road to their eventual

automatic promotion at the season's end.

The Blades managed to gain enough

points between their trip to The Dell and

the end of the season to avoid relegation.

However, United could not repeat the trick

at the end of the next season, 1978-79,

and were relegated to the third tier.

Franks left the Blades in February 1979

to join Toronto Blizzard, who played in

the North American Soccer League. His

sale along with that of a number of other

players who played at Southampton was

part of Haslam's massive turnover to try

and stop the club's slide.

SHEFFIELD UNITED vs BURNLEY
---
42 UTB

NZONE FAN

NE FANZONE FANZO

ANZONE FANZONE F

ONE FANZONE FANZ

FANZONE FANZONE

ZONE FANZONE FAN

E FANZONE FANZON

NZONE FANZONE FA

NE FANZONE FANZO

ANZONE FANZONE F

ZONE FANZ

NE

DESIGN

INSTALL

TEST

MAINTAIN

HE Barnes can provide customers with

'end to end' Mechanical and Electrical

services; consisting of pre-construction

estimations, design, installation and testing.

WHY CHOOSE US...

• Reliable, efficient and innovative

• Holistic service to match each individual client

• A long, rich heritage with over 90 years experience

www.hebarnes.com

t. 0114 275 1210 e. enquiries@hebarnes.com

SHEFFIELD UNITED vs BURNLEY

Unit 16, President Buildings, Savile Street East, Sheffield, S4 7UQ
---
N

ANZONE FAN

ONE FANZONE FAN

FANZONE FANZONE

ZONE FANZONE FAN

E FANZONE FANZON

NZONE FANZONE FA

NE FANZONE FANZO

ANZONE FANZONE

ONE FANZONE FANZ

FANZONE FANZONE

NZONE FAN

GUESS THE BLADE...

Can you name this current

hidden Blade?

FANZONE

Junior Blades

EMOJI ID…

Can you identify the name of these two

players from the above emojis?

FACE MASH…

Can you identify the three players

from this mixed up image?

ANSWERS: Guess the Blade – Tommy Doyle, Face Mash – Top – Daniel Jebbison, Middle – Rhian Brewster,

Bottom – Jayden Bogle. Emjoi ID – George Baldock and Jack Robinson.

UTB 43

SHEFFIELD UNITED vs BURNLEY
---
44 UTB

NZONE FAN

NE FANZONE FANZO

ANZONE FANZONE F

ONE FANZONE FANZ

FANZONE FANZONE

ZONE FANZONE FAN

E FANZONE FANZON

NZONE FANZONE FA

NE FANZONE FANZO

ANZONE FANZONE F

ZONE FANZ

NE

FANZONE

Matchday Activities

UNITED

CASHBACK

INITIATIVE

Today on our United

Cashback Initiative, we

would like to give a warm

welcome to Charnock

Ridgeway FC.

The club were formed

in 1984, offering football

across the S12 area.

Their female section was

established in 2016 and

now offers over 200 girls

CONTACT...

JON HELLIWELL, United's fan engagement

lead, keeps the supporters informed…

and women the chance

to play football on a

weekly basis. Their rapidly

expanding club now has

female teams playing from

U8s to open age.

Based at Springs

Academy, Charnock

Ridgeway Women & Girls

FC strongly believe that

football is a game to be

enjoyed by everyone and

the legacy created through

the women's Euros has put

the female game firmly on

the football map. Alongside

their grassroots teams,

they also run a range

of weekly recreational

sessions, open to all:

— Wildcats Development

Sessions (girls 4yrs+)

— Disability Wildcats

Sessions (girls 5-11yrs)

— Soccersize fitness classes

— England Football Squad

(girls 12-14yrs)

— Mixed Just Play Sessions (16yrs+)

— Over 30s Women's

Just Play sessions

Find out more about their

sessions by visiting; www.

charnockridgewaygirls.

co.uk or search for them at

find.englandfootball.com

As part of our United

Cashback Initiative,

Charnock Ridgeway can be

seen taking part in today's

pre-match flag waving

as the players come out

onto the pitch, and have

managed to raise funds

for their club to spend on

anything they wish, from

new kit to new sports

equipment. We hope you

all have a fantastic day

at Beautiful Downtown

Bramall Lane.

For further information regarding any of our matchday and non-matchday initiatives, you can keep

up to date at the below links:

TWITTER TWITTER: @SUFCServices FACEBOOK FACEBOOK: 'Sheffield United Fan Services' page

On our dedicated Fan Experience page at: www.sufc.co.uk/fans/families-juniors

On our dedicated Disabled Supporters page at:

www.sufc.co.uk/fans/disabled-supporters-information

Alternatively, you can contact our supporter liaison and disability access manager, Jon Helliwell,

at jon.helliwell@sufc.co.uk

SHEFFIELD UNITED vs BURNLEY
---
N

ANZONE FAN

ONE FANZONE FAN

FANZONE FANZONE

ZONE FANZONE FAN

E FANZONE FANZON

NZONE FANZONE FA

NE FANZONE FANZO

ANZONE FANZONE

ONE FANZONE FANZ

FANZONE FANZONE

NZONE FAN

BLADES MASCOTS...

Welcome to this afternoon's mascots…

TOBY

SALT

Age: 12

Favourite Player:

Iliman Ndiaye

DYLAN

WILKINSON

Age: 7

Favourite Player:

Iliman Ndiaye

BETHAN

MITCHELL

Age: 11

Favourite Players:

Wes Foderingham and

Iliman Ndiaye

KEIRON

TIMM

Age: 11

Favourite Player:

Wes Foderingham

THEO

OGUNBONA

Age: 7

Favourite Player:

Iliman Ndiaye

JUDD

EXTON

Age: 9

Favourite Player:

Billy Sharp

AWAY MASCOT

CHAYSE

SCHOFIELD

Age: 7

Favourite Player:

Josh Brownhill

CAPTAIN BLADE CLUB...

Today, on our ever-popular Captain

Blade Club, we have:

— Edan

BLADES FAMILY

GALLERY...

— Charlie

UTB 45

We hope you both have a fantastic

day and enjoy the lead up to kick-off

with Captain Blade himself!

If you've been part of our United

Cashback Initiative, Home Debut

Scheme, Captain Blade Club, visited

the Blades Family Hub or took part

in our John Street Family Stand

entertainment, see if you can spot

yourself in our Blades Family Gallery

each matchday on our Sheffield

United Fan Services Facebook page,

or by visiting www.sufc.co.uk/fans/

families-juniors

SHEFFIELD UNITED vs BURNLEY
---
46 UTB

T he Story So Far...

Catching up and recording events from Bramall Lane…

— TUESDAY 11th OCTOBER

United's U21s defeat Coventry City

3-0 with goals from Sydie Peck, Owen

Hampson and Theo Williams.

— SATURDAY 15th OCTOBER

United's U18s are beaten 2-1 in the

South Yorkshire derby against Barnsley.

Jack Waldron equalised for United, who

had Sam Aston sent off, with the Reds

winning the contest late on.

CHAMPIONSHIP

SHEFFIELD UNITED 3

McATEE 8, NDIAYE 23, NORWOOD 90

BLACKPOOL 3

YATES 30, 42, DOUGALL 51

RED CARD: FODERINGHAM 90; EKPITETA 78, THOMPSON 81, LAVERY 90

Blades: Foderingham, Baldock (Khadra 84), Basham,

Sharp (Brewster 64), Egan, Norwood, Doyle, Osborn

(Ahmedhodžić 64), McAtee (McBurnie 64), Ndiaye,

Norrington-Davies. Unused: Davies, Robinson,

Arblaster.

Blackpool: Maxwell, Connolly, Yates, Dougall,

Madine (Hamilton 85), Lavery (Williams 82), Ekpiteta,

Thompson, Patino, Thorniley, Bridcutt (Wright 75).

Unused: Carey, Corbeanu, Poveda, Grimshaw.

United and Blackpool shared the spoils

after a six-goal thriller at Bramall Lane.

United raced into a two-goal advantage

through James McAtee's first senior

strike and an Iliman Ndiaye header.

The Blades were pegged back though

before half time thanks to a Jerry Yates

brace, before Kenny Dougall put the

Tangerines in front just after the break.

Late on, Blackpool were reduced to nine

men, and Anel Ahmedhodžić had a goal

disallowed whilst Rhian Brewster missed

a penalty. Just when it looked like time

was running out, Ollie Norwood netted

in the 98th minute to earn United a point.

The drama continued after the whistle

with both Wes Foderingham and Shayne

Lavery sent off.

Referee: D. Webb — Attendance: 28,458

▲ Mia Enderby scores against Bristol City

— SUNDAY 16th OCTOBER

▲ Iliman Ndiaye celebrates United's second against Blackpool

United Women are defeated 3-1 by

leaders Bristol City at Bramall Lane. Mia

Enderby scored United's consolation,

her third of the season.

SHEFFIELD UNITED vs BURNLEY
---
UTB 47

▲ Oli McBurnie enjoys his goal against Norwich

— WEDNESDAY 19th OCTOBER

CHAMPIONSHIP

COVENTRY CITY 1

WAGHORN PEN 87

SHEFFIELD UNITED 0

–

Coventry City: Wilson, Panzo, Rose, McFadzean,

Allen (Palmer 65), Sheaf, Gyokeres, Dabo (Hamer 56),

Godden (Waghorn 65, Tavares 90), Bidwell, Eccles.

Unused: Moore, Doyle, Kane.

Blades: Davies, Baldock, Basham (Sharp 88),

McBurnie, Egan, Ahmedhodžić, Norwood, Doyle

(Fleck 79), Osborn, Ndiaye, Norrington-Davies

(McAtee 11). Unused: Amissah, Brewster, Khadra,

Robinson.

Referee: K. Stroud — Attendance: 17,913

A tight game at the CBS Arena was won

by the hosts three minutes from time

after Martyn Waghorn netted a first of

the season from the penalty spot. United

had come closest to scoring prior to this

with Ollie Norwood hitting the bar with a

free kick, whilst Oli McBurnie crashed an

effort off the post on a frustrating night

for the Blades.

— SATURDAY 22nd OCTOBER

United's U18s defeated Birmingham City

5-1 with goals from Charlie Staniland,

Kylan Midwood, Owen Hampson and

George Dickinson (2).

CHAMPIONSHIP

SHEFFIELD UNITED 2

OSBORN 62, McBURNIE 71

NORWICH CITY 2

PUKKI 3, 16

Blades: Davies, Baldock, Fleck (Doyle 57), Basham,

Brewster (McBurnie 64), Sharp (Khadra 80), Egan,

Ahmedhodzic, Norwood, Osborn, McAtee (Ndiaye

45). Unused: Amissah, Robinson, Buyabu.

Norwich City: Gunn, Aarons, Hanley, Gibson, Hayden

(Hernandez 75), Cantwell, Ramsey (Gibbs 75), Pukki,

Sargent, Nunez (Sinani 90), Giannoulis (Springett 71).

Unused: Krul, Hugill, Tomkinson.

Referee: J. Smith — Attendance: 30,035

The points are shared in another home

thriller as United come from two down to

draw 2-2 with Norwich. Teemu Pukki put

the Canaries 2-0 up at half time before

goals from Ben Osborn and Oli McBurnie

levelled. There was late drama as Pukki

then had a spot kick saved by Adam

Davies with two minutes remaining as the

points were shared.

SHEFFIELD UNITED vs BURNLEY
---
48 UTB

BLAST FROM THE PAST

Each week PAUL HOLLAND looks back on a prominent game

from the past between the Blades and our opponents…

BURNLEY 1-2 SHEFFIELD UNITED

SATURDAY 12th APRIL 2008

United had started to make a late

surge for a top six finish and

recently recorded a dramatic 2-2

draw in the Steel City derby against

Wednesday in the previous match.

In this contest, the Blades scored a goal

in each half to set themselves on their

way for maximum points, whilst the hosts

netted in the final 10 minutes to set up a

nervy finish.

United enjoyed the early possession

in what was overall a scrappy encounter.

Burnley 'keeper Brian Jensen was kept

busy and after nine minutes he kept out a

James Beattie header, whilst at the other

end Chris McCann's 25-yard effort worked

Paddy Kenny in the Blades' goal.

Kevin Blackwell's side took the lead on

33 minutes through a ferocious Beattie

free-kick with the striker netting from

fully 35-yards. The hosts responded

immediately, and Kyle Lafferty thought

he had equalised, but Kenny somehow

stuck his foot out on the line to prevent a

certain goal.

Burnley enjoyed much of the second

half and created several opportunities at

goal. On 50 minutes Robbie Blake struck

from inside the box but Kenny was well

placed to save.

The Blades doubled their advantage

eight minutes after the break when David

Cotterill got the better of Stephen Jordan

and his cross into the back post and was

coolly headed home by Billy Sharp.

On 75 minutes Lafferty's left-footed

effort flew over from distance as the hosts

made a vain attempt to claw their way

back into the game. With nine minutes

remaining they netted to set up a tense

finish as Joey Gudjonsson found veteran

Andy Cole who slotted home past Kenny

on the angle.

SHEFFIELD UNITED vs BURNLEY
---
UTB 49

United and Bury both earned

1949 a point in a eight goal thriller

at Bramall Lane. The draw extended

United's unbeaten run to six games

thanks to goals from Harold Brook, Joe

Shaw (2) and Fred Furniss.

Just out of the Premier

1994 League, Dave Bassett's United

languished in 18th after 15 games, but

this win over Bristol City sparked a major

upturn in fortunes. Charlie Hartfield

gave United the lead before Kevin Gage

crashed in an unstoppable effort from 35

yards to make it 2-0. Carl Veart added a

third in the second half as United began

a run of four wins from five to take them

within one point of the play-offs.

ON THIS DAY

UTB looks back into the archives to find out what

happened on this day in United's history…

2005

United maintained

a three-point lead

over Reading at

the summit of the

Championship

after a hard-fought

win over Crystal

Palace at Selhurst

Park. Steve Kabba

provided an assist

for Phil Jagielka

to give United

the lead before

Michael Hughes

equalised. Paul Ifill made it 2-1 before

ex-Eagle Neil Shipperley headed in for

3-1. Dougie Freedman made it 2-3, and

United were indebted to a goal-line

clearance in the final minute to hang on

to all three points.

1962

NOVEMBER

5

United made a mid-season

trip to Tynecastle for a benefit

match for Hearts striker Willie Bauld. A

former team-mate of United's boss John

Harris, the Blades made the long journey

despite having a Division One fixture at

Arsenal five days later. The match ended

2-2 and United's scorers were Dennis

Shiels and Keith Kettleborough.

SHEFFIELD UNITED vs BURNLEY
---
50 UTB

WHO WOULD BE

A MANAGER?

Our regular contributor DAVE BURKINSHAW casts a glance over former

United players who have tried their hand at management...

Gerry Summers...

Gerry Summers

was a wing half

who gave great

service to the Blades. He

was signed from West

Bromwich Albion in May

1957 by then manager, Joe

Mercer. He stayed with the

Blades until April 1964 and

during his stay he helped

win promotion to the top

flight at the end of the

1960-61 season. In the

same season as promotion

was achieved the team

also reached the FA Cup

semi-finals.

Gerry was a two footed

constructive midfield

player perfectly suited to

link defence and attack.

His form was sufficiently

impressive for him to be

selected for the 1961 FA

tour to the Far East, New

Zealand and the USA. By

the time he had departed

the Lane to join Hull City

in April 1964, he had made

260 league appearances

and scored four goals.

Having a long-term

interest in coaching, he

qualified as an FA coach

and following his move

to Walsall, initially as a

player in October 1965, he

was appointed first team

coach in February 1967.

This appointment saw him

retire from playing. He soon

moved to Wolves, also as

first team coach to work

with his ex-West Bromwich

Albion colleague, Ronnie

Allen, who was manager.

Whilst at Molineux he

experienced his first taste

of management, taking over

▲ Gerry was linked with the United job

in 1981 but it went to Ian Porterfield

temporarily when Allen was

sacked in November 1968.

Gerry's first full-time

managerial role was with

Second Division (now

Championship) Oxford

United. He started the job

in July 1969, and he guided

SHEFFIELD UNITED vs BURNLEY
---
UTB 51

▲ In the dugout for Oxford (second left) in 1973

Oxford to consecutive

mid-table finishes between

1969-70 and 1974-75.

However, his team's poor

start to the 1975-76 season,

when they lost six of their

first nine league games,

saw him dismissed in

September 1975.

Gerry soon found himself

back in management with

Third Division (now League

One) Gillingham. He was

appointed in October

1975, and he almost

succeeded in guiding the

Gills to promotion twice, in

1977-78 and 1978-79. His

final season at Priestfield,

1980-81, was a struggle. He

managed to guide his team

to safety with a late eight

game unbeaten run. The

Gills finished 15th two points

above the Blades who were

relegated to the fourth tier.

Although Gerry had done

well to rescue Gillingham's

season, the club sought a

new direction, and he was

sacked in May 1981. There

were rumours of him being

considered for the Blades

job as they contemplated

life in the Fourth Division

for the first time. However,

United went on to appoint

Ian Porterfield.

After doing some

scouting work for

Southampton, Gerry again

linked up with Ronnie Allen,

this time at their old club

West Bromwich Albion in

October 1981. Gerry was

chief coach and assistant

manager whilst Allen was

manager.

Another assistant

manager's role followed

at Leicester City between

1982 and 1986 before his

managerial career ended

with a spell as Derby

County youth development

coach from 1986 into the

1990s.

Gerry enjoyed a solid

managerial career but had

not won any promotions

or cups. His knowledge

and skill as a coach was

recognised by a number

of clubs and he did also

enjoy a spell as an FA staff

coach.

SHEFFIELD UNITED vs BURNLEY
---
52 UTB

AVAILABLE AT

SHEFFIELD UNITED vs BURNLEY
---
UTB 53

HOLIDAY SNAPS

UTB are once again calling on Blades fans to show your colours

around the world for our ever-popular feature…

▼

This image has been sent in

by Lee Boyes. Lee is enjoying

a recent break in Hurghada,

Egypt where his Blades related

headwear enjoyed an outing!

Would you like to see your snap in

an edition of UTB? Send your photo,

complete with a brief description

to matthew.young@sufc.co.uk

▲

These two images this week have

been sent in by supporter Trevor

Bishop. Enjoying a cruise through

Norway, Trevor, of course, didn't

leave without his Blades shirt

SHEFFIELD UNITED vs BURNLEY
---
HOLE NEW BALL GAME A WHOLE NEW BALL GAME A WHOLE NEW BALL GA

54 UTB

A WHOLE

NEW

BALL

GAME

After two games on the road, United were back on

home soil for this Premier League encounter against

Coventry City on Saturday 28th November 1992.

The Blades lost 3-0 at Anfield to go out of the League

Cup before a narrow 2-1 league defeat against Norwich.

Sat 16th coming into this game, the Blades held a threepoint

cushion ahead of the bottom three against a Coventry

side dropping towards mid-table after an impressive start.

This match ended 1-1 with Coventry taking the lead before

an Andy Pearce own goal ensured the points were shared. United

had to work hard with Carl Bradshaw sent off after 61 minutes.

SHEFFIELD UNITED vs BURNLEY

This year marks the 30th

anniversary of the inaugural

Premier League season.

To mark this milestone,

UTB delves into our

programme archive to

reminisce about United's

part in this historic

campaign, whilst also

talking to those who were

there at the start of what

has since grown into the

most talked about domestic

competition on the planet.

As well as looking back

on United's campaign, we

tell the full story of the 1992-

93 season and also test

your knowledge about how

much you remember three

decades on.

So, wind the clock back

30 years to relive this

special season throughout

each edition of UTB.
---
UTB 55

SHEFFIELD UNITED vs BURNLEY

HOLE NEW BALL GAME A WHOLE NEW BALL GAME A WHOLE NEW BALL GA
---
HOLE NEW BALL GAME A WHOLE NEW BALL GAME A WHOLE NEW BALL GA

56 UTB

A WHOLE NEW BALL GAME

INSIDE THE

PROGRAMME…

TOP OF THE POPS…

A full-page advert was taken out by

Virgin Megastores promoting the latest

music at the time with artists featured

including Madonna, Simple Minds and

Michael Bolton.

SHEFFIELD UNITED vs BURNLEY

KAMMY INCOMING…

More on United's new arrivals inside

the programme, with Chris Kamara

leaving David Pleat's Luton to sign. On

his arrival, Chris said: "I told Mr Pleat

I wanted to go to a club that I saw doing

things in the future, and I'd long fancied

playing for United under Dave Bassett."
---
UTB 57

DAVE BASSETT…

The manager spoke about the recent departures from his squad with Mike Lake joining

Wrexham on loan and Ashley Fickling singing on loan for Billy McEwan's Darlington.

There was also some incomings with Dave Bassett explaining he wanted experience

in midfield as Chris Kamara arrived on loan from Luton, whilst youngster Andy Scott

joined from non-league Sutton. Bassett explained he wasn't expecting Scott to play

straight away, he was an investment for the future.

SHEFFIELD UNITED vs BURNLEY

HOLE NEW BALL GAME A WHOLE NEW BALL GAME A WHOLE NEW BALL GA
---
HOLE NEW BALL GAME A WHOLE NEW BALL GAME A WHOLE NEW BALL GA

58 UTB

DICK WRAGG…

There was a full page, written by Star reporter Tony Pritchett, on the passing of former

chairman and president of the Blades, Dick Wragg.

SHEFFIELD UNITED vs BURNLEY
---
DUO UNDER THE KNIFE…

More bad news for injured 'keeper Simon

Tracey who was forced to have an operation

on his troublesome shoulder, whilst Brian

Gayle would also be out with a knee injury.

CAPTAIN'S NOTES…

Skipper Brian Gayle lifts the lid on his recent

knee injury which required a minor operation.

He talked at length about watching the game

against Norwich which he missed through the

problem.

BLADES TEAM…

United's team for this game was as follows…

Kelly, Bradshaw, Pemberton, Beesley, Cowan, Ward, Gannon,

Rogers, Hodges, Cork, Deane. Subs: Littlejohn, Kamara, Wainwright

UTB 59

SHEFFIELD UNITED vs BURNLEY

HOLE NEW BALL GAME A WHOLE NEW BALL GAME A WHOLE NEW BALL GA
---
HOLE NEW BALL GAME A WHOLE NEW BALL GAME A WHOLE NEW BALL GA

60 UTB

FACE TO FACE…

BRIAN GAYLE

UTB poses the same questions from 1992-93 to

the same players to see if they remember what

they said 30 years ago, and to see what their

2022-23 answers are…

— Which team did

you support as a boy

and who was your

favourite player?

— I reckon I'd have

said Man City. In terms

of a player, Dave

Watson or Franny Lee?

I mentioned West Ham,

did I? Well, I was from

London, but I loved

Francis Lee and that's

why I followed City.

— What is the best

match you have

played in?

— Well, this is pre-1993

isn't it? So, it has to be

the Steel City derby

at Hillsborough or a

Manchester derby

when I was at City? I

won't argue with the

Wednesday game. Now

I'd say the Wembley FA

Cup semi-final, even

though we lost, it was

some occasion.

— What is your

favourite record

and music?

— Maybe I said

something by Bob

Marley? I got the

SHEFFIELD UNITED vs BURNLEY

reggae bit then...I

forgot about the Luther

Vandross record; I

still have that on vinyl!

Difficult to say what

I'd go for now, there's

a number of them...

UB40 Red Red White,

something like that.

— What are your

hobbies outside of

football?

— Gardening or DIY?

Yeah, I'd still say that

now. My son Josh then

would have been about

1 think. I still enjoy

spending time with

the family.

— If you weren't

a footballer what

would you be?

— I would have said

something to do with

the building trade?

Yeah, I was, and still

am, very hands on.

It was always my

calling before being a

footballer.

— Which current player

do you most admire?

— So, thinking back

Revisited

to 1992...did I say

someone like Bryan

Robson? Des Walker,

was it? He was a top

player so that's a

good shout.

— What car do

you drive?

— Back in 1992, I'd say

it was a BMW? I think

in that same winter we

had bad snow, and it

was terrible in those

conditions. I got rid of it

and bought a 4x4, but

we didn't have snow for

about five years after!
---
UTB 61

SHEFFIELD UNITED vs BURNLEY

HOLE NEW BALL GAME A WHOLE NEW BALL GAME A WHOLE NEW BALL GA
---
HOLE NEW BALL GAME A WHOLE NEW BALL GAME A WHOLE NEW BALL GA

62 UTB

WHAT HAPPENED

ELSEWHERE

THE STATE OF PLAY…

Norwich continued to set the

pace holding a four-point lead

over Arsenal prior to this current

round of fixtures. Incredibly, the

likes of Liverpool and Leeds

were languishing in mid-table

whilst Manchester United

were nine points off the pace

in eighth. In what would turn

into the biggest transfer of the

season, Frenchman Eric Cantona

left reigning champions Leeds to

join Manchester United in a deal

worth just £1.2m. Elsewhere,

there was further transfer

activity with England midfielder

Neil Webb re-joining Nottingham

Forest in a £800,000 deal from

Manchester United.

THE GAMES…

With Manchester United

threatening to fall off the pace

entirely, they had just ended a

seven-match run without a win

coming into this round of games.

They then travelled to Highbury

to face an Arsenal side looking

most likely to chase down

Norwich, but the Gunners were

dealt a blow as Mark Hughes'

SHEFFIELD UNITED vs BURNLEY

1992-93

During this particular week back in 1992-93,

how did the rest of the Premier League get on?

We look back on what happened elsewhere…

— SATURDAY 28th NOVEMBER 1992 —

▲ Eric Cantona signs

for Manchester United

goal won the game for the

Red Devils. Blackburn stayed

in the hunt with a 1-0 win over

fellow high-flyers QPR thanks

to an Alan Shearer strike. At the

bottom it was starting to look

ominous for Nottingham Forest

and Crystal Palace who both

lost, with the latter thumped 5-0

by Liverpool.

HEADLINE ACT…

Norwich pulled five points clear

at the top after ending Aston

Villa's 12-match unbeaten run

in what was a five-goal thriller
---
PREMIER LEAGUE TABLE…

Here's how things stood…

UTB 63

POS TEAM PLD W D L GF GA GD PTS

1 NORWICH CITY 17 11 3 3 32 30 2 36

2 BLACKBURN ROVERS 17 8 7 2 26 12 14 31

3 ARSENAL 17 9 2 6 22 17 5 29

4 ASTON VILLA 17 7 7 3 26 18 8 28

5 CHELSEA 17 8 4 5 24 19 5 28

6 MANCHESTER UNITED 17 7 6 4 18 12 6 27

7 QUEENS PARK RANGERS 17 7 5 5 22 17 5 26

8 MANCHESTER CITY 17 7 4 6 24 17 7 25

9 LIVERPOOL 17 7 4 6 30 24 6 25

10 IPSWICH TOWN 17 5 10 2 22 19 3 25

11 COVENTRY CITY 17 6 6 5 21 22 -1 24

12 TOTTENHAM HOTSPUR 17 5 7 5 17 22 -5 22

13 LEEDS UNITED 17 5 6 6 28 28 0 21

14 MIDDLESBROUGH 17 5 6 6 27 27 0 21

15 SHEFFIELD WEDNESDAY 17 4 8 5 19 20 -1 20

16 SOUTHAMPTON 17 4 7 6 15 19 -4 19

17 OLDHAM ATHLETIC 17 4 6 7 27 30 -3 18

18 SHEFFIELD UNITED 17 4 6 7 17 23 -6 18

19 EVERTON 17 4 4 9 13 21 -8 16

20 WIMBLEDON 17 3 6 8 19 26 -7 15

21 CRYSTAL PALACE 17 1 9 7 20 32 -12 12

22 NOTTINGHAM FOREST 17 2 5 10 13 27 -14 11

at Villa Park. The Canaries

were sitting pretty with a twogoal

cushion thanks to goals

from David Phillips and Darren

Beckford but two quickfire

strikes just before and after the

interval from Ray Houghton and

Garry Parker pulled Villa level.

Three minutes later Daryl Sutch

gave Norwich the lead again,

and the visitors held out to pull

eight points clear of Villa.

ANY OTHER BUSINESS?

Just prior to this round of

fixtures, there was a Premier

League debut for future England

ace Nicky Butt who came off the

bench for Manchester United in

a 3-0 win over Oldham.

⊲ David Phillips netted for Norwich

in a 3-2 win over Aston Villa

SHEFFIELD UNITED vs BURNLEY

HOLE NEW BALL GAME A WHOLE NEW BALL GAME A WHOLE NEW BALL GA
---
HOLE NEW BALL GAME A WHOLE NEW BALL GAME A WHOLE NEW BALL GA

64 UTB

TEST YOUR MEMORY…

TAKE 5...

Each week, we put your memory to the test as we celebrate the

30th anniversary of the Premier League with a special quiz...

1. Eric Cantona's move to

Manchester United from Leeds

United would eventually prove

pivotal, but which French team

did he leave to move to English

shores in 1991?

2. With David James and Bruce

Grobbelaar unavailable,

Liverpool turned to this future

Newcastle United 'keeper

for their 5-0 win over Crystal

Palace. Who is he?

3. Nottingham Forest remained

rooted to the foot of the

table after a 2-1 defeat to

Southampton in this round

of fixtures. Who was their

goalscorer, who was an England

international, who would go

on to play for Liverpool and

Manchester City later in his

career?

4. Who was Coventry's goalscorer

against United in this 1-1 draw?

He had arrived at Highfield

Road in 1992 from second tier

Newcastle United…

5. Which Premier League club back

in 1992-93 was sponsored by

Tulip Computers?

ANSWERS: 1. Nimes, 2. Mike Hooper, 3.

Nigel Clough, 4. Micky Quinn, 5. Crystal

Palace, 6. Bobby Mimms, 7. John Jensen.

SHEFFIELD UNITED vs BURNLEY

1992-93

PICTURE ROUND...

Can you guess the names of these

players who graced the inaugural

season of the Premier League…

6. Who is this then Blackburn

Rovers custodian?

7. Can you identify this Arsenal

midfielder?
---
UTB 65

SHEFFIELD UNITED vs BURNLEY

HOLE NEW BALL GAME A WHOLE NEW BALL GAME A WHOLE NEW BALL GA
---
66 UTB

Your winning

local law

firm!

a trading name of SSB Group Limited

Supporting your claim for:

Personal Injury Data Breach Timeshare Mis-selling

Defective Cavity Wall Insulation Medical Negligence

SHEFFIELD UNITED vs BURNLEY

Plevin PPI Mortgage Mis-Selling And much more…
---
UTB 67

RAINBOW

BLADES

Over the past few

years, you may

have seen

different LGBTQ+

flags be

introduced, this

has been to show

the progress of inclusion. We all know the

original pride flag, but recently the progress

pride flag has become popular. The progress

pride flag is the one we and Sheffield United

use wherever possible.

The Pride flag was created by American

artist and gay rights activist Gilbert Baker, and

first displayed in 1978 to be a symbol for the

LGBT community.

40 years later the progress pride flag was

launched. It included black, brown, pink,

pale blue and white stripes, to represent

marginalised people of colour in the LGBTQ+

community, as well as the trans community.

"The arrow points to the right to show

forward movement, while being along the

left edge shows that progress still needs

to be made," explained progress pride flag

artist, Daniel Quasar.

The progress pride flag is a recognised

symbol of hope and inclusion for the LGBTQ+

community. A symbol we and Sheffield United

will continue to use to help make Bramall

Lane a welcoming place for all Blades.

If you would like to find out more and join Rainbow

Blades, please follow the links below...

FACEBOOK FACEBOOK: /BladesRainbow

TWITTER TWITTER: @rainbow_blades

INSTAGRA INSTAGRAM: @rainbowblades

Membership sign up: bit.ly/joinrainbowblades

Website: rainbowblades.com

AN UPDATE FROM OUR

SENIOR BLADES

CHRISTMAS LUNCH TICKETS

A last reminder for members

and guests to purchase their

tickets for our Christmas lunch.

This can be done at our lunch on

Thursday 10th November or by

emailing info@seniorblades.com

or phoning 07505 559678.

We are also hoping to have

the tickets on sale for our Annual

Charity Raffle. The charity

this year is Sheffield Autistic

Society, and the prize is the full

match worn kit of our 2021-

22 sponsored player Oliver

Norwood.

The draw will be made on

14th February 2023, so plenty

of time for everyone to get their

tickets. This is NOT restricted to

members only.

A mention for the Manor

Operatic Society Christmas

Pantomime which this year

is Cinderella. It will be at the

Sheffield City Hall from Tuesday

27th December 2022 to Sunday

8th January. Tickets can only be

obtained through the Box Office

07533 021407 or the website

www.ticketsource.co.uk/manoroperatic-society

www.seniorblades.co.uk

SHEFFIELD UNITED vs BURNLEY
---
68 UTB

Sheffield United Community Foundation is a charity working in the areas of education and training, health and

wellbeing and participation and inclusion. For more community news, follow us on social media @CommunitySUFC,

visit www.sufc-community.com, email enquiries@sufc-community.co.uk or call 0114 253 7200 (OPTION 6)...

MUMS & TODDLERS GROUP BRING WOMEN TOGETHER

Our Mums and Toddlers

Groups provide the

perfect combination of

support for both.

The mums get the

opportunity to socialise

and even exercise, whilst

the toddlers get to play in a

fun and safe environment.

We've found the sessions

have provided a boost for

many participants' mental

health as a lot of them had

their children during the

lockdowns.

Scan the QR code to

watch a video to see the

kind of impact this group

has had.

For more information,

contact shannon.wells@

sufc-community.co.uk.

The groups meet as

follows:

Mondays

10am-11am at Leisure

United Thorncliffe (St

Georges Park, Pack Horse

Lane, Sheffield, S35 3HY)

Thursdays

10am-12pm at Westfield

Community Centre

(32 Westfield Centre,

Sheffield, S20 8ND)

SHEFFIELD UNITED vs BURNLEY
---
UTB 69

THERAPY CLUB

We're pleased to announce a

new mental health initiative in

Therapy Club.

In partnership with Take Control

Therapy, we provide sessions with a

highly trained and qualified therapist

with over 15 years' experience

and training in psychology. Take

Control Therapy have developed

personalised therapy solutions with

great success for anxiety, stress,

depression, addictions, PTSD, eating

disorders and more.

Therapy Club runs every

Thursday, 6pm-8pm at the Blades

Family Hub (Red Door) on John

Street. For more information visit

takecontroltherapies.co.uk.

Sign up anonymously at bit.ly/

sucftherapyclub or contact health@

sufc-community.co.uk for further

information.

PREMIER

LEAGUE KICKS

OPPORTUNITIES

Using the reach and appeal of the

Premier League, our Premier League

Kicks sessions engage children and

young people of all backgrounds and

abilities in football, sport and personal

development.

PL Kicks is for children and young

people aged 8-18 years and is inclusive

and accessible to all. We also seek to

provide specific inclusive opportunities

for key priority groups including girls,

LGBT+ and children and young people

with disabilities.

We deliver weekly sports sessions

across the city, including football and

basketball, to provide opportunities for

young people. Our full PL Kicks timetable

is below.

For more information, contact rob.

jenkinson@sufc-community.co.uk

SAT

FRI THU TUE MON

SESSION TIME LOCATION

WESTFIELD GIRLS

WESTFIELD SCHOOL

FIR VALE SCHOOL

HEMSWORTH PLAYING FIELDS

(13-17 YEAR-OLDS)

THE U-MIX CENTRE

THE U-MIX CENTRE

LEISURE UNITED

WESTFIELD GIRLS

BASKETBALL

(11-18 YEAR-OLDS)

SHEFFIELD SPRINGS ACADEMY

PAN DISABILITY FOOTBALL

HIGH STORRS SCHOOL

5PM-7PM

6PM-8PM

4PM-6PM

6PM-7.30PM

7PM-9PM

6PM-8PM

4PM-6PM

5PM-6.30PM

7PM-9PM

10AM-12PM

12PM-2PM

COM.UNITY COMMUNITY CENTRE (32 WESTFIELD

CENTRE, WESTFIELD, SHEFFIELD, S20 8ND)

WESTFIELD SCHOOL (ECKINGTON ROAD,

BEIGHTON, SHEFFIELD, S20 1HQ)

FIR VALE SCHOOL (OWLER LANE,

SHEFFIELD, S4 8GB)

HEMSWORTH PLAYING FIELDS (BLACKSTOCK

ROAD, SHEFFIELD, S14 1BA)

THE U-MIX CENTRE (ASLINE ROAD,

LOWFIELD, SHEFFIELD, S2 4UJ)

THE U-MIX CENTRE (ASLINE ROAD,

LOWFIELD, SHEFFIELD, S2 4UJ)

LEISURE UNITED WESTFIELD (ISOBEL

BOWLER SPORTS GROUND, MOSS WAY,

WESTFIELD, SHEFFIELD, S20 8FA)

ALL SAINTS CATHOLIC HIGH SCHOOL

(GRANVILLE ROAD, SHEFFIELD, S2 2RJ)

SHEFFIELD SPRINGS ACADEMY (HURLFIELD

ROAD, SHEFFIELD, S12 2SF)

GOALS SHEFFIELD (95 NORFOLK PARK

ROAD, SHEFFIELD, S2 2RU)

HIGH STORRS SCHOOL (HIGH STORRS

ROAD, SHEFFIELD, S11 7LH)

SHEFFIELD UNITED vs BURNLEY
---
70 UTB

Y BURNLEY BURN

URNLEY BURNLEY B

EY BURNLEY BURN

BURNLEY BURNLEY

LEY BURNLEY BURN

BURNLEY BURNLE

NLEY BURNLEY BUR

Y BURNLEY BURNL

RNLEY BURNLEY BU

BURNLEY BURN

NLEY B

— OPPOSITION FOCUS

FOUNDED: 1882

NICKNAME: THE CLARETS

GROUND: TURF MOOR

CAPACITY: 21,944

CHAIRMAN: ALAN PACE

LAST FINISH: 18/20 PREMIER LEAGUE ↓

SHEFFIELD UNITED vs BURNLEY
---
URNLE

LEY BURNLEY BUR

BURNLEY BURNLEY

LEY BURNLEY BUR

Y BURNLEY BURNLE

NLEY BURNLEY BU

EY BURNLEY BURNL

RNLEY BURNLEY B

LEY BURNLEY BURN

URNLEY BURNLEY

Y BURNLEY BUR

RNLEY

The target was clear for Vincent

Kompany when he took over as

Burnley manager last summer and

the first phase of his project has served up

plenty of promise.

Kompany won four Premier League

titles during his time as an inspiring leader

at Manchester City, with his iconic goal

against Leicester in May 2019 swinging the

title race in his side's direction as Liverpool

were pipped to the big prize in the final

month of the season,

Yet Kompany admitted that legacy

counted for nothing when he returned to

English football to take over at Turf Moor,

with expectations high as he looked to

guide the Clarets back into the Premier

League after last season's relegation.

Ahead of their 20th Championship game

of the season today, Burnley are still in a

strong position in the Championship with

the World Cup break looming large and are

going in search of a fifth away win in the

league at Bramall Lane today.

UTB 71

SHEFFIELD UNITED vs BURNLEY
---
72 UTB

Y BURNLEY BURN

URNLEY BURNLEY B

EY BURNLEY BURN

BURNLEY BURNLEY

LEY BURNLEY BURN

BURNLEY BURNLE

NLEY BURNLEY BUR

Y BURNLEY BURNL

RNLEY BURNLEY BU

BURNLEY BURN

NLEY B

— OPPOSITION FOCUS

STAR MAN

Burnley manager Vincent

Kompany has suggested he

needs to be cautious as he

manages the workload of his leading

scorer Jay Rodriguez this season.

The former Southampton and

West Bromwich Albion striker is in his

second spell at Burnley after making

a return to the club in the summer of

2019, with his sparkling scoring form

this season confirming he still

has plenty to offer at the

age of 33.

Major injuries

have been a part of

Rodriguez's story over the

course of his goal-laden

career and Kompany is

keen to ensure he gets

the best out of

the striker this

season.

"Jay Rod

is a special

player," said

Kompany. "If

it wasn't for

his injuries,

there is no

doubt he

would have

played for a

top four or

top six club

in England.

SHEFFIELD UNITED vs BURNLEY

Jay RODRIGUEZ

9 PREVIOUS

DATE OF BIRTH: 29/01/89

POSITION: STRIKER

CLUB: WEST BROM

That quality never goes, and he is fit

so I think he is happy as well.

"He's got this real goal threat, but

also quality on the ball, and he seems

like he's really enjoying his game.

"At times, it's like having a

22-year-old player. You watch

him drinking in everything

you say, so it's easy for me to

coach him.

"The biggest thing now is for

everybody to understand we'll

need to manage him, and

if we keep him fit, he's

only going to get

better."

Rodriguez

earned a solitary

senior cap for

England in

February 2011,

but his injury

problems

affected his

hopes of an

extended

international

career.
---
URNLE

LEY BURNLEY BUR

BURNLEY BURNLEY

LEY BURNLEY BUR

Y BURNLEY BURNLE

NLEY BURNLEY BU

EY BURNLEY BURNL

RNLEY BURNLEY B

LEY BURNLEY BURN

URNLEY BURNLEY

Y BURNLEY BUR

RNLEY

Jack CORK

5

THE CAPTAIN...

Date of Birth: 25/06/89

Previous club: Swansea

The experienced

midfielder is a vital cog in

the Burnley line-up, with

this one-time Chelsea

graduate adding a touch of

class to the Clarets' team.

This is his second spell at

Burnley, with his first spell

starting in 2010 and his

second in 2017 after he

has spells at Southampton

and Swansea.

Anass ZAROURY

26

SHEFFIELD UNITED 1-0 BURNLEY

Sunday 23rd May 2021

YOUNG GUN...

Date of Birth: 07/11/00

Previous club: Charleroi

LAST TIME WE MET...

Nathan TELLA

24

Burnley made some

shrewd moves last summer

and this 21-year-old will

be keen to give himself

an extra present today

ahead of his 22nd birthday

on Monday. Zaroury

scored the late winner

that secured all three

points against Reading last

weekend, with that strike

his fifth goal since his

arrival at the club.

David McGoldrick was the Burnley

match-winner as he scored a goal that

ensured Sheffield United's two-year stay

in the Premier League ended on a high.

McGoldrick curled a shot past Will Norris

from 25 yards to delight the Blades fans

present at Bramall Lane for the first time since March 2020.

ONE TO WATCH...

Date of Birth: 05/07/99

Parent club: Southampton

UTB 73

This attacking star has

made a big impression

at Burnley after making a

season-long loan move

from Southampton. He

has added goals and

quality to the Clarets' side,

with Vincent Kompany

impressed by what he has

brought to his team. "He

was a player I liked and

followed for a long time,"

said Kompany.

SHEFFIELD UNITED vs BURNLEY
---
74 UTB

— OPPOSITION FOCUS

Y BURNLEY BURN

URNLEY BURNLEY B

EY BURNLEY BURN

BURNLEY BURNLEY

LEY BURNLEY BURN

BURNLEY BURNLE

NLEY BURNLEY BUR

Y BURNLEY BURNL

RNLEY BURNLEY BU

BURNLEY BURN

NLEY B

NUMBERS COUNT...

26

89

102

—

— The most wins

Burnley have

recorded in a

single season,

with this total

reached in

the 2013-14

and 2015-16

Championship

promotionwinning

campaigns.

— Burnley

manager Vincent

Kompany played

89 times for

Belgium at

international

level.

The highest

total of goals

Burnley have

recorded in a

single season,

but it was not

enough to win

569

—

Ben Mee

the old First

Division title as

Tottenham were

crowned as

champions.

Jerry Dawson

holds the

record for the

most Burnley

appearances,

playing 569

games for the

Clarets between

1907 and 1929.

BURNLEY LEGEND...

1960

—

A year

etched into the

Burnley record

books as this

was the last

time they were

crowned as

champions of

England.

While some of the greatest players to pull on a

Burnley shirt made their mark during the era when

the club were at the top of the game and winning

major trophies in the 1950s and 60s, Mee is a Clarets

great from the modern era. He played a key role in the

club's Premier League story, making 376 appearances

and taking centre stage in two promotion successes

prior to his move to Brentford last summer.
---
URNLE

LEY BURNLEY BUR

BURNLEY BURNLEY

LEY BURNLEY BUR

Y BURNLEY BURNLE

NLEY BURNLEY BU

EY BURNLEY BURNL

RNLEY BURNLEY B

LEY BURNLEY BURN

URNLEY BURNLEY

Y BURNLEY BUR

RNLEY

Vincent Kompany

FROM THE TOUCHLINE

Burnley manager Vincent "I was very clear about making

Kompany has been

sure we are in and amongst the top

downplaying expectations six by the time that the World Cup is

since his appointment as the club's on. I didn't know if we would be two

manager last summer, but the Clarets or three points inside the top six or

fans are starting to dream about a two or three points outside the top

return to the Premier League.

six. The main thing for me is to be in

The former Manchester City captain and amongst it.

took on his first coaching role in

"I feel the team still has lots of

English football when he accepted improvement ahead, but I think we

the chance to take over at Turf Moor are where we are now, and we just

and he has been keen to insist his try to win the next game and we'll

side's fast start to the season is only a see where we are then."

stepping stone to their ultimate target Kompany has been impressed by

of promotion.

the backing his side has received

"Managing expectations is always from their home fans this season,

about going back to, kind of what we with Turf Moor buzzing as they are

anticipated at the beginning of the seeing the team return to winning

season," states the former Belgium ways following on from the club's

international defender, who had relegation from the Premier League

a spell as Anderlecht head coach last season.

before taking on the challenge as "We just love playing at home," he

Clarets boss.

added after last weekend's 2-1 win

"It can't just change because you've against Reading.

had a good run of games, you always "It's special for us all, there is just a

have hope to win every game that's great feeling when we are at home.

ahead of you but at the start of the If we could play every game there,

season we were just looking to avoid then we would because it's a special

the worst-case scenario.

atmosphere."

"We were looking to avoid

The mid-season World Cup break

Sunderland and to rebuild in time and will add an unexpected ingredient

be consistent amongst the top six into this Championship season, but

teams, so the goal hasn't changed. Kompany and his Burnley players

"There is an ambition within the club look set to be in a strong position

to win every game and that makes it heading into the second half of

quite easy.

this season.

UTB 75

SHEFFIELD UNITED vs BURNLEY
---
76 UTB

— OPPOSITION FOCUS

Y BURNLEY BURN

URNLEY BURNLEY B

EY BURNLEY BURN

BURNLEY BURNLEY

LEY BURNLEY BURN

BURNLEY BURNLE

NLEY BURNLEY BUR

Y BURNLEY BURNL

RNLEY BURNLEY BU

BURNLEY BURN

NLEY B

Burnley's

NON-LEAGUE NUGGETS

Football historian LEIGH EDWARDS profiles six notable Burnley players signed from non-League clubs...

BRIAN PILKINGTON

England international

winger Brian Pilkington

missed just one match

during Burnley's 1959-60

League Championship

success. Initially with

hometown Leyland

Motors, he moved to

Burnley in April 1951

and was ever-present in

1957-58, netting 67 goals

in 300 League games

prior to joining Bolton

Wanderers for £25,000

in March 1961. He joined

Bury in February 1964

and moved to Barrow in

February 1965, helping

them to win promotion

in 1966-67. Later with

Chorley, he returned

to Leyland Motors and

became their manager.

He went into the housing

industry and ran an estate

agent business in his

native Leyland. He died in

February 2020.

SHEFFIELD UNITED vs BURNLEY

JOHN CONNELLY

England international

winger John Connelly was

top scorer in Burnley's

1959-60 League

Championship triumph.

Starting with hometown

St Helens, he joined

Burnley in November

1956 and also starred

as they were FA Cup

and League Cup semifinalists

in 1960-61, then

FA Cup finalists in 1962.

He netted 86 goals in

215 League games prior

to joining Manchester

United for £60,000 in

April 1964. Ever-present

in their 1964-65 League

Championship success,

he moved to Blackburn

Rovers in September

1966 and was leading

marksman in 1966-67,

then played for Bury. He

later ran a fish and chip

in Brierfield and died in

October 2012.

RAY POINTER

England international

centre-forward Ray

Pointer was ever-present

in Burnley's 1959-60

League Championship

success. Previously with

Cramlington Welfare and

Dudley Welfare, he joined

Burnley in August 1957

and was twice leading

scorer, starring as the

Clarets were FA Cup

and League Cup semifinalists

in 1960-61. He

was an FA Cup finalist

in 1962 and netted 118

goals in 223 League

games before joining

Bury in August 1965,

then moved via Coventry

City to Portsmouth in

January 1967. Later youth

team coach at Blackpool,

Burnley and Bury, he ran a

sandwich bar, then a subdepot

for home shopping

giant Grattan. He died in

January 2016.
---
URNLE

LEY BURNLEY BUR

BURNLEY BURNLEY

LEY BURNLEY BUR

Y BURNLEY BURNLE

NLEY BURNLEY BU

EY BURNLEY BURNL

RNLEY BURNLEY B

LEY BURNLEY BURN

URNLEY BURNLEY

Y BURNLEY BUR

RNLEY

Brian Pilkington &

Peter Mellor

GORDON HARRIS

England international

wing-half Gordon Harris

was an influential figure

as Burnley were FA Cup

finalists and League

Championship runnersup

in 1961-62. He was

a miner and played for

Firbeck Colliery prior

to joining Burnley in

January 1958. Scoring

on his League debut at

home to Leeds United

a year later, he featured

in the Clarets' 1959-60

League Championship

campaign and had a spell

as captain. He netted

69 goals in 258 League

games before sold to

Sunderland for £70,000

in January 1968. Later

playing for South Shields,

he settled back in his

native Nottinghamshire

and was a driver in the

coal industry. He died in

Langold in February 2014.

PETER MELLOR

Ex-England Youth

goalkeeper Peter

Mellor was ever-present

in the top-flight for

Burnley in 1969-70. A

former Manchester City

apprentice, he moved via

Witton Albion to Burnley

in April 1969 and helped

take Manchester United

to a League Cup fourth

round replay in 1969-70.

He made 69 League

appearances while at

Turf Moor prior to joining

Fulham in February 1972.

An FA Cup finalist in 1975,

he spent a season with

Hereford United before

moving to Portsmouth in

July 1978. He was everpresent

in 1978-79, then

starred in their 1979-80

promotion success and

emigrated to the United

States in January 1982,

becoming a businessman

in Miami.

WAYNE BIGGINS

UTB 77

Striker Wayne Biggins

was ever-present top

scorer for Burnley in

1984-85. He had spells

at Lincoln City, King's

Lynn and Matlock

before joining Burnley in

February 1984. Scoring

30 goals in 78 League

games, he moved to

Norwich City in October

1985 and helped win the

Second Division title. He

was a promotion winner

again with Manchester

City in 1988-89 and

joined Stoke in August

1989. Leading marksman

in three successive

seasons, he starred as

they reached the Third

Division play-offs and won

the Autoglass Trophy in

1992. He joined Barnsley

in October 1992 and later

played for Celtic, Stoke

again, Oxford United and

Wigan Athletic.

SHEFFIELD UNITED vs BURNLEY
---
Y BURNLEY BURN

URNLEY BURNLEY B

EY BURNLEY BURN

BURNLEY BURNLEY

LEY BURNLEY BURN

BURNLEY BURNLE

NLEY BURNLEY BUR

Y BURNLEY BURNL

SteelPhalt has been developing and manufacturing high

performance asphalt products for the UK roadmaking

industry since the 1960's.

Based in South Yorkshire, SteelPhalt is ideally located to source slag

cost-effectively from the surrounding steel industry - a sustainable

way of making asphalt since at least 95% of the product is recycled.

With a reputation for first class products matched by a commitment

to innovation and sustainability, SteelPhalt works in partnership with

councils, local authorities and contractors nationwide to deliver

durable roads for a sustainable world.

Within our 7 brands we have asphalt products for every situation

& application... from pot hole repairs to hazardous intersections!

RNLEY BURNLEY BU

BURNLEY BURN

NLEY B

SteelPhalt, Sheffield Road, The Ickles, Rotherham, South Yorkshire S60 1DR

Tel: +44 (0) 1709 300500 Email: info@steelphalt.com www.steelphalt.com
---
URNLE

LEY BURNLEY BUR

BURNLEY BURNLEY

LEY BURNLEY BUR

Y BURNLEY BURNLE

NLEY BURNLEY BU

EY BURNLEY BURNL

RNLEY BURNLEY B

LEY BURNLEY BURN

URNLEY BURNLEY

Y BURNLEY BUR

RNLEY

— OPPOSITION FOCUS

THE LOWDOWN...

...on Burnley

Each week UTB takes an alternative look over our opponents...

FOUNDING MEMBERS

Burnley were founded in

May of 1888 by members

of a local rugby team called

Burnley Rovers. They were

one of the first teams to

become professional and

also one of the 12 founding

members of the Football

League.

HOME SWEET HOME

Turf Moor has been

Burnley's home since 1883

and is one of the longestserving

football stadiums in

the EFL. In 1883, a cricket

club invited Burnley FC

to move from Calder Vale

to the pitch adjacent to

their cricket ground where

fans would congregate

around the pitch or stand

upon a nearby hill to see

the game.

JIMMY JIMMY

Lancashire and England

fast bowler Jimmy

Anderson is an avid

follower of the Clarets,

with England's all-time

leading wicket taker

affectionally known as the

Burnley Express. A couple

of famous faces from the

cobbles of Coronation

Street are also regarded

as Burnley followers, the

late Johnny Briggs who

played Mike Baldwin and

Sam Aston, who played

Chesney Brown.

RECORD BREAKING BOB

PRIDE OF LANCASHIRE

UTB 79

The Clarets have won the

Lancashire Senior Cup

on 10 occasions and have

also been champions of

England twice, winning

the 1914 FA Cup final too.

Burnley are also one of

only five sides to win all

four divisions of English

football.

When England international forward Bob Kelly made

the move from Burnley to Sunderland in 1921, he broke

the world transfer record with a fee of around £6,500.

Kelly scored eight times from 14 appearances for the

Three Lions.

SHEFFIELD UNITED vs BURNLEY
---
80 UTB

HOME

TICKETS &

TRAVEL

OPENING HOURS

Monday-Friday: 9am–5pm

Saturday (Non-Matchday): 9am–12noon

Saturday (Matchday): 9am–half time

Matchday (Evening): 9am–kick off

CONTACT DETAILS

Tel: 0114 253 7200 (option 1)

Visit: tickets.sufc.co.uk Email: boxoffice@sufc.co.uk

*A £1 booking fee applies to all telephone and online orders

AWAY BLADE

Coach Travel – Under-16s Policy

Sheffield United continue to ensure that the club

complies with safeguarding procedures and to

make sure that all young supporters travelling

on the official Away Blade transport are properly

supervised. Therefore, juniors, aged U16, will not

be allowed to travel on the Away Blade coaches

without a responsible adult, aged 25 or above.

A maximum of two juniors U16 may travel with a

responsible adult. For more information contact

0114 253 7200.

2022-23 MATCHDAY PRICES

STAND TYPE CAT. A* CAT. A CAT. B

KOP STAND

CHERRY STREET

SOUTH STAND

& JOHN STREET

FAMILY ENCLOSURE

& FAMILY CORNER

BRAMALL LANE

UPPER CORNER &

BRAMALL LANE

UPPER TIER

ADULT £35 £31 £26

OVER 60 / DISABLED £29 £24 £20

YA U22 / STUDENT £24 £20 £17

UNDER 18 £17 £14 £12

JUNIOR BLADES £15 £12 £10

ADULT £40 £35 £31

OVER 60 / DISABLED £32 £27 £23

YA U22 / STUDENT £26 £21 £20

UNDER 18 £21 £17 £14

JUNIOR BLADES £19 £15 £12

ADULT £37 £33 £29

OVER 60 / DISABLED £31 £26 £21

YA U22 / STUDENT £25 £21 £18

UNDER 18 £20 £16 £13

JUNIOR BLADES £18 £14 £11

vs ROTHERHAM UNITED

Tuesday 8th November

Sky Bet Championship

Bramall Lane

Kick Off 7.45pm

This match is a Category A

fixture. Tickets now on general

sale. Supporters purchasing

tickets will be allocated 100

loyalty points.

TICKETS ARE PRICED FROM:

Adults: ...................................... £31

Seniors: ....................................£24

Young Adults / Students: ...£20

Juniors: .....................................£14

Junior Blade Members: .......£12

AWAY

vs CARDIFF CITY

Saturday 12th November

Sky Bet Championship

Cardiff City Stadium

Kick Off 3pm

This match is ALL TICKET for

Blades supporters. We have

been allocated 2801 tickets.

TICKET PRICES:

Adults: ......................................£23

Seniors (60+): ......................... £18

Young Adult (16-21): .............£12

Under 16: ................................ £10

Q DISABLED TICKET INFORMATION

12 pairs of wheelchair/

personal assistant tickets

are available at £19 adults,

£15 seniors, £12 young adults

and £9 under 16s with the

personal assistant FOC.

Ambulant tickets are available

from the main allocation at

the age appropriate price

with the personal assistant

FOC (subject to qualification).

12 disabled parking spaces

are available directly from

Cardiff on a first come first

SHEFFIELD UNITED vs BURNLEY
---
UTB 81

served basis by contacting

ben.jones@cardiffcityfc.co.uk

IMPORTANT INFORMATION

Blocks 121 and 122 have safe

standing areas within them

(rail seats), these are clearly

marked on the plan and also

on your ticket – standing will

not be permitted in other

areas. These blocks also

have a small amount of nonstanding

tickets.

Under 14s will not be

permitted entry into the

stadium without an adult

aged 18+.

AWAY BLADES COACH TRAVEL

Price: £40

Departing Bramall Lane at

8:00am, prompt.

HOME

vs HUDDERSFIELD TOWN

Saturday 10th December

Sky Bet Championship

Bramall Lane

Kick Off 3pm

This match is a Category A

fixture. Tickets now on general

sale. Supporters will be

allocated 100 loyalty points.

TICKETS ARE PRICED FROM:

Adults: ...................................... £31

Seniors: ....................................£24

Young Adults / Students: ...£20

Juniors: .....................................£14

Junior Blade Members: .......£12

Tickets are on sale on from

9am Monday 7th November to

members only. One ticket per

customer number. Tickets go

on general sale on Thursday

10th November.

Information correct at the time

of going to print. Please check

www.sufc.co.uk for up-to-date

information.

SHEFFIELD UNITED vs BURNLEY
---
82 UTB

THE EX-FILES

David McGoldrick

EACH WEEK UTB CATCHES UP WITH THE PROGRESS OF SOME OF THE NAMES WHO ONCE

GRACED BRAMALL LANE, BUT ARE NOW CONTINUING THEIR CAREER ELSEWHERE…

David McGoldrick is off the mark

for his new club Derby County

after scoring a dramatic stoppage

time winner recently against

Peterborough United.

Trailing 1-0 and down to 10 men,

things looked bleak for the Rams

until an equaliser from Jason

Knight on 88 minutes was followed

up by McGoldrick's winner from

12 yards.

After missing the first four games

of the campaign through injury,

McGoldrick is now finding his

feet at Pride Park after his highly

successful stint at Bramall Lane

came to an end at the conclusion

of last season.

"As a striker you enjoy your

goals, and especially when

they come as a winner as well,"

McGoldrick said of his first strike.

"We hadn't scored for a few

games, so to get two right at the

end was nice. It was a pleasing day

all around and it's always special

to turn it around late on.

"We are all together as one in

the dressing room and it helps with

the team bonding too, celebrating

together at the end, especially

as quite a few of us have come

through the door this summer.

The changing room was very

happy after."

Grateful to be back fit again after

recovering from the injury which

curtailed his final season in S2, the

ex-Forest front man is now focused

on a strong run in the side.

He added: "I feel I am getting

fitter. I came here after a four or

five-month spell out, following an

operation. I've been building my

fitness up and I had a setback by

doing too much too soon, but now

I am building things up slowly."

▲ Didzy celebrates his first for Derby

against Peterborough

SHEFFIELD UNITED vs BURNLEY
---
UTB 83

PLAY YOUR

PART IN

HISTORY

We're looking to break

another record at Bramall

Lane, and you can help by

getting behind Sheffield

United Women this

November.

For the upcoming game

against London City

Lionesses on Sunday 20th

November (1pm), United

are setting the challenge

of breaking our own

attendance record for a

Women's Championship

fixture at Bramall Lane.

Last season we saw an

unbelievable response for

our home game against

Liverpool when 4,100 fans

attended our historic home,

and now we're looking to

go one better.

This season Sheffield

United Women are playing

all home fixtures in S2, with

four successive crowds in

excess of 1,000 already,

as interest in the women's

game continues to grow

following the successful

European Championships.

United Women boss Neil

Redfearn said: "Playing at

Bramall Lane this season

has been special for

everyone associated with

Sheffield United Women,

and now we have an

opportunity to once again

create some history.

"The response to our

fixture against Liverpool

last season was incredible,

and with the backing we

have had already this

season, we firmly believe

achieving another record

crowd is very possible.

"The girls have been

giving their all in a really

tough and competitive

Championship division

this season, and having a

strong home crowd behind

them at a top facility has

been a real boost.

"To have a bumper

crowd here at Bramall Lane

would be huge, the extra

support really does make a

difference."

The club are providing

tickets to local schools and

sports clubs to encourage

youngsters to get involved,

with a number of matchday

activities also being

planned in order to make it

a day to remember.

Zoe Johnson, United

Women's general manager,

added: "It has been a

phenomenal year for

women's football as we

continue to build on the

fantastic achievement of

the Lionesses this summer.

"Following the staging

of games at Bramall

Lane, including England's

victorious semi-final,

we've seen a real upturn in

interest in Sheffield United

Women, with significantly

increased attendances

here at Bramall Lane.

"With this in mind, we've

set a target of surpassing

our record attendance

against London City.

"We aim to attract more

supporters to our women's

team, and with the men's

side taking a break for

the World Cup, we urge

those who have yet to see

our women's team play to

come down and see what

we're all about."

For ticket information,

visit tickets.sufc.co.uk.

SHEFFIELD UNITED vs BURNLEY
---
KIT SPONSORS

Do you want to sponsor a player's kit? Contact us at 0114 253 7200 (option 2) or email commercial@sufc.co.uk.

A player kit sponsorship package is priced at £700 plus VAT per player and includes the following:

Match worn kit of your chosen player — Video message from your chosen player

Christmas card from your chosen player — Invitation to annual sponsor training event

Advertising on club website — Stadium big screen and within the matchday programme

DAVIES

DAVIES

BALDOCK

BALDOCK

STEVENS

STEVENS

FLECK

FLECK

S2S

GROUP

–

ARAGON LAND

& PLANNING

BALFOUR

CARPETS

BENGALINE

GROUP

TOTLEY

PHARMACY

H E

BARNES

PAUL

KEY

O'CONNELL

O'CONNELL

BASHAM

BASHAM

BREWSTER

BREWSTER

BERGE

BERGE

– –

SHEFFIELD

TRANSMISSION

SHEFFIELD

TRANSMISSION

KIED

CONSULTING

PARAMEDICAL

FIRST AID

VERTICAL

EDITIONS

BOOKS

YEC ASSET

MANAGEMENT

McBURNIE

McBURNIE

SHARP

SHARP

KHADRA

KHADRA

EGAN

EGAN

BLINKFIRE

ANALYTICS

SENIOR

BLADES

DOOR

MAINTENANCE

2003 LTD

SIMON

AVIS

PEXTON

FLEMING LTD

PARAMEDICAL

FIRST AID

H E

BARNES

VERTICAL

EDITIONS

BOOKS

LOWE

LOWE

AHMEDHODZIC

AHMEDHODZIC

NORWOOD

NORWOOD

COULIBALY

COULIBALY

– –

BALFOUR

CARPETS

KIED

CONSULTING

CLIVE EYRE

LIMITED

IPS

ELECTRICAL

– –

FODERINGHAM

FODERINGHAM

ROBINSON

ROBINSON

BOGLE

BOGLE

DOYLE

DOYLE

PETERMAN

FORKLIFT

TRUCKS

LANDIN

WILCOCK

& CO

LOUIS

NICHOLLS

–

B2W

NES

ASBESTOS

VALORUM

CARE GROUP

S2S

GROUP

OSBORN

OSBORN

CLARK

CLARK

McATEE

McATEE

NDIAYE

NDIAYE

ANDREW

TREHERNE

P.J.M LANDSCAPE

& CONSTRUCTION

LTD

HARVEY &

ROWAN FRASER

H E

BARNES

JPM FINANCIAL

MANAGEMENT

PEXTON

FLEMING LTD

SIMON

AVIS

PARAMEDICAL

FIRST AID

N'-DAVIES

N'-DAVIES

JEBBISON

JEBBISON

M

HECKINGBOTTOM

CJ SIGNS –

PAUL

KEY

SRH-EC

LTD

–
---
UTB 85

UNITED IN BUSINESS

Head of Commercial PAUL REEVES provides UTB with the latest

corporate news. To discuss how you could benefit from our opportunities

to develop your business, contact Paul on 07983 425066…

Good afternoon and welcome back to

Bramall Lane for today's fixture against

Burnley.

As always, it is a pleasure to introduce the

sponsors that join us to watch the Blades take

on the Clarets. Our first main match sponsor is

Presto International UK, a regular sponsor over

the past few seasons at Bramall Lane, they have

been providing a complete range of quality

tooling for drilling, reaming, threading and milling

since 1843. For further details visit www.prestotools.co.uk

Our second main match sponsor is The Health

Store Turkey. They are a UK based medical

tourism and health services company. Their

professional UK based team works directly with

a carefully selected group of Turkey's leading

hospitals to bring you world class medical care

at extremely affordable prices. They are there

to take away the stress or anxiety that their

clients might be feeling before taking advantage

of the market leading technology on offer by

their highly regarded experts. Whatever your

requirements, be it health problems or cosmetic

procedures their local agents are available to

help you every step of the way. For details, visit

www.thehealthstoreturkey.com

Today's programme sponsor is KR Fleet

Solutions. They are a fleet solution specialist

based in the UK. KR Fleet Solutions are an

independent, family-run company with over

20 years of experience in the motor industry.

They specialise in all aspects of vehicle leasing,

so no matter what your personal or business

circumstance or vehicle requirement they will

be able to tailor a fleet solution for you. Their

website has information on hundreds of vehicle

leases such as the Nissan Qashqai, Tesla Model

Y, Range Rover Sport, and the Hyundai Tucson.

For details, visit www.krfleetsolutions.co.uk

Finally, our match ball sponsors this afternoon

is HE Barnes, a long-standing sponsor of the

club. They are the Official UK Mechanical and

Electrical Partner of the Blades. They provide

efficient, innovative electrical and mechanical

services with both reliability and integrity. Based

in Sheffield, they undertake a multitude of

commercial projects throughout the UK, working

24 hours a day, seven days per week to the

highest standards. Having recently acquired

a commercial cleaning company HE Barnes

provide a division offering 360-degree facilities

management. HE Barnes are a strong supporter

of football and grassroots sport, sponsoring

several local professional and amateur clubs. For

details, visit www.hebarnes.com

We hope that you all enjoy your afternoon with

us. UTB!

Paul Reeves

Head of Commercial

⊳▲ Thanks

to our

sponsors

from the

game

against

Blackpool

SHEFFIELD UNITED vs BURNLEY
---
86 UTB

MATCH ACTION

1 - 0

WAGHORN 87

–

WEDNESDAY 19TH OCTOBER — SKY BET CHAMPIONSHIP — VENUE: CBS ARENA

BLADES:DAVIES, BALDOCK, BASHAM (SHARP 88), Mc BURNIE, EGAN,

AHMEDHODŽIĆ, NORWOOD, DOYLE (FLECK 79), OSBORN, NDIAYE, NORRINGTON-

DAVIES (Mc ATEE 11). UNUSED: AMISSAH, BREWSTER, KHADRA, ROBINSON.

Coventry 'keeper Ben Wilson tips over

SHEFFIELD UNITED vs BURNLEY
---
UTB 87

Anel Ahmedhodzic heads towards goal

Oli McBurnie takes aim

John Egan wins his header

John Fleck returns from injury

SHEFFIELD UNITED vs BURNLEY
---
88 UTB

ANYONE WHO ENTERS THE PITCH WITHOUT

PERMISSION AND THOSE CARRYING OR USING

SMOKE BOMBS OR PYROS WILL NOW RECEIVE

AN AUTOMATIC CLUB BAN.

'LOVE FOOTBALL. PROTECT THE GAME'

A message about anti-social and criminal behaviour

To mark the new season, we want to

make you aware of new measures

being taken across all of football

to ensure everyone can have a safe

and enjoyable experience. We are

supporting strong action from the

FA, Premier League and EFL to tackle

anti-social and criminal behaviours

that put all of us at risk.

This reflects the seriousness of

the risks to fans and staff – pyros

can burn at 2000 degrees Celsius

and cause lifechanging injuries,

while entering the pitch endangers

players, managers and match

officials.

We know those who commit these

illegal acts do not represent the

majority of supporters.

#LoveFootball #ProtectTheGame

SHEFFIELD UNITED vs BURNLEY
---
UTB 89

I GET

KNOCKED

DOWN

The 27th May 2011, one of the most

controversial days in the history of

Sheffield United.

As hundreds of Blades supporters

gathered to air their dissatisfaction at the

appointment of former Owl Danny Wilson,

little did they know he would become

one of a rare breed who would eventually

earn the full respect from both sides of the

Steel City.

Despite his Hillsborough connections,

Danny would endear himself to the fans of

S2 during his two years at the helm, with

supporters now able to read all about his

remarkable turnaround in fortunes in this

revealing autobiography.

Out in time for Christmas, I Get

Knocked Down lifts the lid over Danny's

appointment and his time in the Bramall

Lane hot seat during a dramatic 2011-

12 season which saw United push for

promotion from League One, and his

controversial departure despite the

Blades being well placed for another

promotion tilt.

The book details the career of one

of the most respected men in English

football, which started as a player with

Wigan in the mid-70s. Working his way

through the divisions, Danny also played

for Bury, Chesterfield, Nottingham Forest,

Scunthorpe, Brighton, Luton, Wednesday

and Barnsley. He won two League Cups in

his career whilst being capped 24 times by

Northern Ireland.

His 25-year managerial career started

at Barnsley who he guided to the Premier

League for the first time in their history.

Managing over 1,000 games, he also took

in spells at Wednesday, Bristol City, MK

Dons, Hartlepool United, Swindon Town,

United and Chesterfield.

Danny speaks candidly about his time

in management, including working with

Paolo Di Canio, being attacked in the

media by four MPs, managing MK Dons

during their inaugural season, helping

to turn a young Harry Maguire from a

midfielder to a defender and how he

managed the situation of being the

first boss to manage both teams in the

Steel City.

I Get Knocked Down is a truly

fascinating insight into the life of a true

football man and will be available in the

Blades Superstore soon.

SHEFFIELD UNITED vs BURNLEY
---
HERE'S

A ST AT

I BET

YOU

DIDN'T

KN

W
---
OVER HALF A MILLION

SKY BET CUSTOMERS USE DEPOSIT LIMITS

TO MANAGE THEIR BETTING BUDGET.

THAT'S ENOUGH TO FILL:

6 WEMBLEYS.

201 ALLY PALLYS.

OR 8 CHELTENHAM GOLD CUP DAYS.

(THAT'S A LOT OF TWEED)

ALL GOOD BOOKMAKERS

HAVE DEPOSIT LIMITS.

SO WHOEVER YOU BET WITH,

SET AN APPROPRIATE ONE FOR YOU

AND THEN ENJOY THE SPORT.

DEPOSIT LIMITS

THAT'S BETTING BETTER.
---
92 UTB

FACTS&FIGURES 2022-23

SHEFFIELD UNITED 2022-23 ROLLCALL

2022-23

LEAGUE

2022-23

CUP

UNITED

CAREER

2022-23

RECORD

Player DOB POB App Sub Gls App Sub Gls App Sub Gls Assists ■ ■

1 ADAM DAVIES 17.07.92 RINTEIN, GER 3 - - - - - 3 - - - - -

2 GEORGE BALDOCK 09.03.93 BUCKINGHAM 17 - - - - - 175 8 5 1 3 -

3 ENDA STEVENS 09.07.90 DUBLIN 1 2 - - - - 187 5 9 - - -

4 JOHN FLECK 24.08.91 GLASGOW 7 2 - 1 - - 236 19 15 2 2 -

5 JACK O'CONNELL 29.03.94 LIVERPOOL - - - - - - 172 5 9 - - -

6 CHRIS BASHAM 30.05.88 PETERBOROUGH 11 3 - - - - 343 21 14 - - -

7 RHIAN BREWSTER 01.04.00 CHADWELL HEATH 5 11 1 1 - - 31 32 5 1 1 -

8 SANDER BERGE 14.02.98 ASKER 12 - 3 - 1 - 64 15 11 3 1 -

9 OLI McBURNIE 04.06.96 LEEDS 10 5 7 - - - 59 51 15 - 5 -

10 BILLY SHARP 05.02.86 SHEFFIELD 4 8 - - 1 - 259 86 126 2 3 -

11 REDA KHADRA 04.07.01 BERLIN 4 7 1 1 - - 5 7 1 - - -

12 JOHN EGAN 22.10.92 CORK 18 - - 1 - - 184 1 5 2 3 -

13 MAX LOWE 11.05.97 SOUTH NORMANTON 6 1 1 1 - - 16 3 1 2 1 -

15 ANEL AHMEDHODŽIĆ 26.03.99 MALMO, SWE 11 2 3 1 - - 12 2 3 1 5 -

16 OLLIE NORWOOD 12.04.91 BURNLEY 18 - 2 1 - - 178 12 9 4 4 -

17 ISMAILA COULIBALY 25.12.00 MALI - - - - - - - - - - - -

18 WES FODERINGHAM 14.01.91 HAMMERSMITH 15 - - 1 - - 53 - - 1 - 1

19 JACK ROBINSON 01.09.93 WARRINGTON 1 1 - - - - 49 6 3 - - -

20 JAYDEN BOGLE 27.07.00 READING 1 1 - - - - 38 7 6 - 1 -

22 TOMMY DOYLE 17.10.01 MANCHESTER 9 4 - - 1 - 9 5 - 1 1 -

23 BEN OSBORN 05.08.94 DERBY 5 3 1 - 1 - 60 33 5 - - -

26 CIARAN CLARK 26.09.89 HARROW 2 1 - - 1 - 2 2 - - 3 -

28 JAMES McATEE 18.10.02 SALFORD 5 8 1 1 - - 6 8 1 2 4 -

29 ILIMAN NDIAYE 06.03.00 ROUEN, FRA 16 2 8 - - - 42 12 15 3 3 -

30 OLIVER ARBLASTER 08.01.04 SHEFFIELD - 2 - 1 - - 1 2 - - - -

32 WILL OSULA 04.08.03 COPENHAGEN - - - - - - - 5 - - - -

33 RHYS NORRINGTON-DAVIES 22.04.99 RIYADH, SAU 15 - - - - - 38 3 - - 3 -

34 KYRON GORDON 24.05.02 SHEFFIELD 1 - - 1 - - 9 1 - - - -

36 DANIEL JEBBISON 13.08.03 OAKVILLE, CAN 1 2 - - - - 6 12 1 - - -

37 JORDAN AMISSAH 02.08.01 HERNE - 1 - - - - - 1 - - - -

39 SAI SACHDEV 09.03.05 LEICESTER - 1 - - - - - 1 - - - -

OWN GOALS: 1

SHEFFIELD UNITED ON THE ROAD 2022-23

BIRMINGHAM CITY 2,714 - -

BLACKBURN ROVERS 1,536 - -

BLACKPOOL 1,499 - -

BRISTOL CITY - 781 356

BURNLEY - - -

CARDIFF CITY - - -

COVENTRY CITY - 1,857 168

HUDDERSFIELD TOWN - - -

HULL CITY - 2,288 132

LUTON TOWN - 1,032 258

NORWICH CITY 2,643 - -

MIDDLESBROUGH - 2,183 202

MILLWALL 1,270 - -

PRESTON NORTH END - 4,428 150

QUEENS PARK RANGERS 668 - -

READING 566 - -

ROTHERHAM UNITED - - -

STOKE CITY - 2,553 144

SUNDERLAND 2,572 - -

SWANSEA CITY - 560 462

WATFORD - 1,908 292

WEST BROMWICH ALBION - 1,936 180

WIGAN ATHLETIC - - -

CARABAO CUP

WEST BROMWICH ALBION - 739 174

● AWAY FANS AT THE LANE ● BLADES AWAY FANS

● ROUND TRIP (MILES)

GOAL TIMES

F A

0-15 5 4

16-30 5 2

31-45 3 2

46-60 4 4

61-75 8 1

76-90 4 3

EXTRA-TIME - -

GOALS THE BREAKDOWN

SHOTS 23

HEADERS 5

PENALTIES -

OWN GOALS 1

OTHERS -

LEAGUE RECORD

HOME AWAY TOTAL

P 2476 2478 4954

W 1317 677 1994

D 617 609 1226

L 542 1192 1734

F 4532 2988 7520

A 2706 4293 6999

STAT SNIPPET...

Iliman Ndiaye's goal

against Bristol City was

his eighth of the season,

taking him past last

season's overall tally.

SHEFFIELD UNITED vs BURNLEY
---
UTB 93

CHAMPIONSHIP TOP 5s 2022-23

GOALS

JERRY YATES

Blackpool 9

JAY RODRIGUEZ

Burnley 9

ILIMAN NDIAYE

Sheffield United 8

BEN BRERETON DIAZ

Blackburn Rovers 8

JOSH SARGENT

Norwich City 8

ASSISTS

DAN BARLASER

Rotherham United 6

SORBA THOMAS

Huddersfield Town 6

ILIAS CHAIR

Queens Park Rangers 6

JACK CLARKE

Sunderland 6

STEFAN JOHANSEN

Queens Park Rangers 6

CLEAN SHEETS

FREDDIE WOODMAN

Preston North End 11

WES FODERINGHAM

Sheffield United 7

BEN WILSON

Coventry City 7

ETHAN HORVATH

Luton Town 7

JOHN RUDDY

Birmingham City 7

YELLOW CARDS

JORDAN STOREY

Preston North End 7

ISAIAH JONES

Middlesbrough 7

ALEX SCOTT

Bristol City 7

REGAN SLATER

Hull City 6

BEN SHEAF

Coventry City 5

GOALS SCORED

BURNLEY

35

SHEFFIELD

UNITED 29

BRISTOL

CITY 26

WATFORD

26

NORWICH

CITY 26

AVERAGE ATTENDANCES

SUNDERLAND

37,905

SHEFFIELD

UNITED 28,331

NORWICH

CITY 26,993

MIDDLESBROUGH

24,669

WEST BROMWICH

ALBION 21,961

SHEFFIELD UNITED vs BURNLEY
---
94 UTB

SHEFFIELD UNITED vs BURNLEY
---
UTB 95

FACTS&FIGURES

HOME

AWAY

P TEAM P W D L F A W D L F A GD PTS

1 BURNLEY 19 6 4 0 20 10 4 4 1 15 8 +17 38

2 BLACKBURN ROVERS 19 7 0 2 16 7 4 0 6 7 12 +4 33

3 SHEFFIELD UNITED 18 4 3 1 17 8 5 2 3 12 8 +13 32

4 QUEENS PARK RANGERS 18 5 2 1 14 7 4 2 4 11 12 +6 31

5 NORWICH CITY 19 5 3 2 17 10 3 2 4 9 10 +6 29

6 WATFORD 18 5 1 2 15 9 3 4 3 11 12 +5 29

7 SWANSEA CITY 18 5 1 3 13 11 3 3 3 10 13 -1 28

8 PRESTON NORTH END 19 3 4 3 5 7 4 3 2 9 8 -1 28

9 MILLWALL 18 7 0 2 16 7 1 3 5 6 13 +2 27

10 LUTON TOWN 18 2 6 2 13 11 4 2 2 8 8 +2 26

11 READING 18 6 1 2 14 9 2 1 6 6 16 -5 26

12 SUNDERLAND 18 2 4 2 10 9 4 2 4 14 12 +3 24

13 BIRMINGHAM CITY 18 3 4 2 10 6 3 2 4 8 9 +3 24

14 ROTHERHAM UNITED 18 4 3 2 16 10 1 4 4 6 13 -1 22

15 BRISTOL CITY 19 4 2 4 13 10 2 2 5 13 18 -2 22

16 BLACKPOOL 18 3 1 4 12 12 3 3 4 11 15 -4 22

17 STOKE CITY 18 2 2 4 8 12 4 2 4 11 11 -4 22

18 CARDIFF CITY 18 4 2 3 7 6 2 1 6 7 15 -7 21

19 MIDDLESBROUGH 18 3 4 2 10 9 2 1 6 13 15 -1 20

20 COVENTRY CITY 16 3 1 3 6 6 2 4 3 10 12 -2 20

21 HULL CITY 18 4 0 6 10 18 2 2 4 11 17 -14 20

22 WIGAN ATHLETIC 18 1 3 6 6 17 4 1 3 11 9 -9 19

23 WEST BROMWICH ALBION 18 2 4 4 12 14 1 4 3 9 10 -3 17

24 HUDDERSFIELD TOWN 17 4 1 5 10 10 0 2 5 7 14 -7 15

FA WOMEN'S CHAMPIONSHIP 2022-23

P TEAM P W D L F A GD PTS

1 BRISTOL CITY WOMEN 7 6 1 0 13 2 11 19

2 LONDON CITY LIONESSES 7 4 2 1 14 4 10 14

3 SOUTHAMPTON 7 4 2 1 8 6 2 14

4 CRYSTAL PALACE 7 4 0 3 9 8 1 12

5 CHARLTON ATHLETIC 7 3 1 3 14 12 2 10

6 BIRMINGHAM CITY 6 3 1 2 9 7 2 10

7 LEWES 7 2 4 1 8 7 1 10

8 BLACKBURN ROVERS 7 2 2 3 8 12 -4 8

9 SHEFFIELD UNITED 7 2 1 4 14 9 5 7

10 DURHAM 6 2 1 3 6 9 -3 7

11 SUNDERLAND LADIES 7 1 1 5 5 12 -7 4

12 COVENTRY UNITED 7 0 0 7 4 24 -20 0

LEAGUE

TABLES

2022-23

U21 PROFESSIONAL DEVELOPMENT LEAGUE NORTH 2022-23*

P TEAM P W D L F A GD PTS

1 SHEFFIELD UNITED 12 8 1 3 23 15 8 25

2 WIGAN ATHLETIC 13 5 2 6 21 19 2 17

3 BURNLEY 12 5 2 5 20 25 -5 17

4 HULL CITY 12 5 1 6 30 23 7 16

5 BIRMINGHAM CITY 11 4 3 4 21 19 2 15

6 PETERBOROUGH UNITED 13 3 4 6 22 28 -6 13

7 COVENTRY CITY 11 3 2 6 17 21 -4 11

8 CREWE ALEXANDRA 9 2 4 3 11 14 -3 10

9 BARNSLEY 10 2 3 5 13 17 -4 9

10 SHEFFIELD WEDNESDAY 13 3 0 10 12 33 -21 9

U18 PROFESSIONAL DEVELOPMENT LEAGUE NORTH 2022-23*

P TEAM P W D L F A GD PTS

1 BARNSLEY 8 5 1 2 20 12 8 16

2 SHEFFIELD UNITED 9 5 1 3 13 9 4 16

3 BURNLEY 9 4 3 2 18 16 2 15

4 PETERBOROUGH UNITED 9 4 0 5 16 23 -7 12

5 WIGAN ATHLETIC 9 3 1 5 14 14 0 10

6 SHEFFIELD WEDNESDAY 8 2 3 3 8 8 0 9

7 CREWE ALEXANDRA 8 2 2 4 10 13 -3 8

8 COVENTRY CITY 7 2 1 4 11 13 -2 7

9 BIRMINGHAM CITY 8 2 1 5 16 20 -4 7

10 HULL CITY 8 1 1 6 10 28 -18 4

*PLEASE NOTE, GAMES AGAINST TEAMS FROM THE SOUTH LEAGUE CONTRIBUTE TOWARDS NORTH TABLE

UPDATED AS OF 02/11/22

SHEFFIELD UNITED vs BURNLEY
---
96 UTB

SEASON STATS

2022-23

M

APR

MAR

FEB

JAN

DEC

NOV

OCT

SEP

AUG

DATE KO OPPOSITION F-A ATT POS 1 2 3 4 5 6 7

MON 1 20:00 WATFORD 0-1 19,536 (1,908) 23 FOD'HAM BALDOCK CLARK EGAN N'-DAVIES STEVENS BERGE

SAT 6 15:00 MILLWALL 2-0 27,738 (1,270) 7 FOD'HAM BALDOCK AHMED'ZIC EGAN CLARK N'-DAVIES BERGE 1

THU 11 20:00 WEST BROM CC1 0-1 6,747 (739) – FOD'HAM GORDON AHMED'ZIC EGAN LOWE NORWOOD ARBLASTER

SUN 14 14:00 MIDDLESBROUGH 2-2 26,056 (2,183) 9 FOD'HAM BALDOCK AHMED'ZIC EGAN N'-DAVIES LOWE BERGE 1

WED 17 20:00 SUNDERLAND 2-1 28,597 (2,572) 4 FOD'HAM BALDOCK AHMED'ZIC 1 EGAN N'-DAVIES LOWE 1 BERGE

SAT 20 15:00 BLACKBURN ROVERS 3-0 27,859 (1,536) 1 FOD'HAM BALDOCK AHMED'ZIC EGAN N'-DAVIES LOWE BERGE

FRI 26 20:00 LUTON TOWN 1-1 9,882 (1,032) 2 FOD'HAM BALDOCK BASHAM EGAN N'-DAVIES LOWE BERGE

TUE 30 19:45 READING 4-0 27,810 (566) 1 FOD'HAM BALDOCK AHMED'ZIC 2 EGAN N'-DAVIES LOWE BERGE

SUN 4 15:00 HULL CITY 2-0 20,426 (2,288) 1 FOD'HAM BALDOCK AHMED'ZIC EGAN N'-DAVIES LOWE BERGE 1

TUE 13 19:45 SWANSEA CITY 1-0 15,458 (560) 1 FOD'HAM BALDOCK BASHAM EGAN AHMED'ZIC N'-DAVIES BERGE

SAT 17 15:00 PRESTON NORTH END 2-0 18,412 (4,428) 1 FOD'HAM BALDOCK AHMED'ZIC EGAN BASHAM N'-DAVIES BERGE

SAT 1 15:00 BIRMINGHAM CITY 1-1 29,927 (2,714) 1 FOD'HAM BALDOCK BASHAM EGAN N'-DAVIES KHADRA BERGE

TUE 4 19:45 QUEENS PARK RANGERS 0-1 26,666 (668) 1 FOD'HAM BALDOCK BASHAM EGAN N'-DAVIES BOGLE BERGE

SAT 8 15:00 STOKE CITY 1-3 22,008 (2,553) 1 FOD'HAM GORDON BASHAM EGAN N'-DAVIES DOYLE NORWOOD

SAT 15 15:00 BLACKPOOL 3-3 28,455 (1,499) 2 FOD'HAM BALDOCK BASHAM EGAN N'-DAVIES OSBORN DOYLE

WED 19 19:45 COVENTRY CITY 0-1 17,913 (1,857) 4 DAVIES BALDOCK AHMED'ZIC EGAN BASHAM N'-DAVIES OSBORN

SAT 22 15:00 NORWICH CITY 2-2 30,035 (2,643) 5 DAVIES BALDOCK AHMED'ZIC EGAN BASHAM OSBORN 1 FLECK

SAT 29 12:30 WEST BROMWICH ALBION 2-0 22,270 (1,936) 4 DAVIES BALDOCK AHMED'ZIC EGAN BASHAM OSBORN FLECK

TUE 1 20:00 BRISTOL CITY 1-0 17,437 (781) 3 FOD'HAM BALDOCK BASHAM EGAN ROBINSON OSBORN FLECK

SAT 5 12:30 BURNLEY

TUE 8 19:45 ROTHERHAM UNITED

SAT 12 15:00 CARDIFF CITY

SAT 10 15:00 HUDDERSFIELD TOWN

MON 19 20:00 WIGAN ATHLETIC

MON 26 15:00 COVENTRY CITY

THU 29 20:15 BLACKPOOL

MON 2 20:00 QUEENS PARK RANGERS

SAT 14 15:00 STOKE CITY

FRI 20 19:45 HULL CITY

SAT 28 15:00 READING

SAT 4 15:00 ROTHERHAM UNITED

SAT 11 15:00 SWANSEA CITY

WED 15 19:45 MIDDLESBROUGH

SAT 18 15:00 MILLWALL

SAT 25 15:00 WATFORD

SAT 4 15:00 BLACKBURN ROVERS

SAT 11 15:00 LUTON TOWN

WED 15 19:45 SUNDERLAND

SAT 18 15:00 WEST BROMWICH ALBION

SAT 1 15:00 NORWICH CITY

FRI 7 15:00 WIGAN ATHLETIC

MON 10 15:00 BURNLEY

SAT 15 15:00 CARDIFF CITY

TUE 18 19:45 BRISTOL CITY

SAT 22 15:00 HUDDERSFIELD TOWN

SAT 29 15:00 PRESTON NORTH END

SAT 6 15:00 BIRMINGHAM CITY

ANOTHER WIN ON THE ROAD… Iliman Ndiaye celebrates

his eighth of the season as United record back-to-back away wins

after a 1-0 success against Bristol City on Tuesday night.

SHEFFIELD UNITED vs BURNLEY
---
UTB 97

HOME GAMES IN BOLD

1 NUMBER SIGNIFIES GOALS SCORED

OG = INDICATES AN OWN GOAL – P = PENALTY

BOOKED – SENT-OFF

(9) = SUBSTITUTE USED (NUMBER DENOTES PLAYER REPLACED)

8 9 10 11 SUBSTITUTES REFEREE

NORWOOD FLECK JEBBISON NDIAYE LOWE (6), BREWSTER (10), KHADRA (3), OSBORN (8), SHARP (11), GORDON, AMISSAH J. SMITH

NORWOOD FLECK BREWSTER NIDAYE 1 SHARP (10), JEBBISON (11), OSBORN (9), LOWE, KHADRA, McATEE, AMISSAH D. COOTE

FLECK McATEE KHADRA BREWSTER OSBORN (8), CLARK (3), DOYLE (9), SHARP (10), BERGE (12), BALDOCK, N'-DAVIES, JEBBISON, AMISSAH D. WEBB

NORWOOD FLECK SHARP NDIAYE BREWSTER (10), McBURNIE (11), GORDON, DOYLE, KHADRA, McATEE, AMISSAH OG A. MARRINER

NORWOOD McATEE BREWSTER NDIAYE FLECK (9), KHADRA (10), McBURNIE (11), DOYLE, BASHAM, JEBBISON, AMISSAH J. LININGTON

NORWOOD 1 FLECK KHADRA McBURNIE NDIAYE (10) 2 , BASHAM (2), BREWSTER (11), DOYLE (7), McATEE, JEBBISON, AMISSAH L. DOUGHTY

NORWOOD McATEE McBURNIE 1 NDIAYE DOYLE (9), AMISSAH (1), AHMEDHODZIC (5), BREWSTER (11), ARBLASTER, OSULA, JEBBISON D. WEBB

NORWOOD DOYLE McBURNIE 1 NDIAYE 1 KHADRA (11), BREWSTER (10), BASHAM (2), McATEE (9), ARBLASTER, JEBBISON, AMISSAH G. WARD

NORWOOD DOYLE McBURNIE 1 NDIAYE BASHAM (6), BREWSTER (10) , McATEE (7), ARBLASTER (9), KHADRA, GORDON, AMISSAH M. DONOHUE

NORWOOD DOYLE McBURNIE NDIAYE McATEE (9), BREWSTER (10), KHADRA (11) 1, JEBBISON, BROOKS, GORDON, AMISSAH D. BOND

NORWOOD NDIAYE 1 McBURNIE 1 BREWSTER DOYLE (11), SHARP (10), McATEE (9), KHADRA, BROOKS, GORDON, AMISSAH J. SIMPSON

NORWOOD DOYLE McBURNIE 1 NDIAYE BOGLE (6), BREWSTER (9), SHARP (10), McATEE (11), ARBLASTER, GORDON, DAVIES D. BOND

NORWOOD DOYLE McBURNIE NDIAYE KHADRA (2), BREWSTER (9), SHARP (10), McATEE (6), ARBLASTER, GORDON, DAVIES J. LININGTON

McATEE NDIAYE KHADRA BREWSTER 1 SHARP (10), ARBLASTER (8), SACHDEV (2), JEBBISON (11), OSBORN (6), BROOKS, DAVIES P. BANKES

NORWOOD 1 McATEE 1 SHARP NDIAYE 1 BREWSTER (10), McBURNIE (6), AHMEDHODZIC (9), KHADRA (2), ARBLASTER, ROBINSON, DAVIES D. WEBB

NORWOOD DOYLE McBURNIE NIDAYE McATEE (6) Y, FLECK (9), SHARP (5), KHADRA, BREWSTER, ROBINSON, AMISSAH K. STROUD

NORWOOD McATEE SHARP BREWSTER NDIAYE (9), DOYLE (7), McBURNIE (11) 1, KHADRA (10), BUYABU, ROBINSON, AMISSAH J. SMITH

NORWOOD DOYLE McBURNIE 1 NDIAYE 1 BREWSTER (7), SHARP (12), ROBINSON (2), STEVENS (5), KHADRA, McATEE, AMISSAH D. WHITESTONE

NORWOOD NDIAYE 1 SHARP KHADRA McATEE (11), McBURNIE (10), STEVENS (7), CLARK (3), SACHDEV, BROOKS, DAVIES S. MARTIN

SHEFFIELD UNITED vs BURNLEY
---
98 UTB

BLADES STATISTICIAN ANDREW KIRKHAM DELVES INTO THE

ARCHIVES TO ENLIGHTEN UNITEDITES WITH TOPICAL FIGURES…

ABOUT TIME IT HAPPENED AGAIN...

What has happened 62 (or 61) times

in the Football League but not since

November 1987, never in the Premier

League, not at Bramall Lane since

January 1929 and not involving the

Blades since November 1933?

The answer: a side scoring 10 or more

goals in a league game.

Below are some facts and figures about

those 61/62 scores.

UNITED'S DOUBLE FIGURE

SCORELINES

Port Vale 0-10 United 10/12/1892 Div 2

United 11-2 Cardiff City 01/01/1926 Div 1

United 10-0 Burnley 19/01/1929 Div 1

Middlesbrough 10-3 United 18/11/1933 Div 1

Our 10-0 win at Port Vale remains the

only time an away side has scored double

figures in a league game

THE MOST RECENT

Man. City 10-7 Huddersfield T. 07/11/1987 Div 2

Gillingham 10-0 Chesterfield 05/09/1987 Div 3

Doncaster 10-0 Darlington 25/01/1964 Div 4

Fulham 10-1 Ipswich Town 26/12/1963 Div 1

The 23 year plus gap between Doncaster

and Gillingham scoring 10 was the longest

to that time. We have now waited 35 years

since Manchester City's 10 goals.

Oldham had beaten Tranmere 4-1 at home

on the previous day (games were played

on Christmas Day back then).

14 IN A GAME

Aston Villa 12-2 Accrington 12/03/1892 Div 1

Man. City 11-3 Lincoln City 23/03/1895 Div 2

Tottenham H. 10-4 Everton 11/10/1958 Div 1

DOES IT COUNT?

On 2 Sep 1939, in Division 3 (South),

Bournemouth beat Northampton Town 10-

0. The following day the war was declared

and the Football League was abandoned.

The three games that most clubs had

played are not included in their league

records.

When the Football League restarted in

1946-47 the same fixture list as in 1939-

40 was used and Bournemouth did beat

Northampton again but only 2-1.

▼ Harry Johnson scored four as United beat Burnley 10-0 in 1929

THE MOST GOALS IN A GAME

The biggest ever goals total is 17 in a

Division 3 (North) game:

Tranmere R. 13-4 Oldham A. 26/12/1935

SHEFFIELD UNITED vs BURNLEY
---
SHEFFIELD UNITED

1 O Adam DAVIES

2 O George BALDOCK

3 O Enda STEVENS

4 O John FLECK

5 O Jack O'CONNELL

6 O Chris BASHAM

7 O Rhian BREWSTER

8 O Sander BERGE

9 O Oli McBURNIE

10 O Billy SHARP

11 O Reda KHADRA

12 O John EGAN

13 O Max LOWE

15 O Anel AHMEDHODŽIĆ

16 O Ollie NORWOOD

17 O Ismaila COULIBALY

18 O Wes FODERINGHAM

19 O Jack ROBINSON

20 O Jayden BOGLE

22 O Tommy DOYLE

23 O Ben OSBORN

26 O Ciaran CLARK

28 O James McATEE

29 O Iliman NDIAYE

30 O Oliver ARBLASTER

33 O Rhys NORRINGTON-DAVIES

34 O Kyron GORDON

36 O Daniel JEBBISON

37 O Jordan AMISSAH

39 O Sai SACHDEV

BURNLEY

2 O Matthew LOWTON

3 O Charlie TAYLOR

4 O Jack CORK

5 O Taylor HARWOOD-BELLIS

6 O CJ EGAN-RILEY

7 O Jóhann Berg GUÐMUNDSSON

8 O Josh BROWNHILL

9 O Jay RODRIGUEZ

10 O Ashley BARNES

11 O Scott TWINE

14 O Connor ROBERTS

15 O Bailey PEACOCK-FARRELL

17 O Manuel BENSON

18 O Ashley WESTWOOD

19 O Anass ZAROURY

20 O Denis FRANCHI

21 O Luke McNALLY

22 O VITINHO

23 O Nathan TELLA

24 O Josh CULLEN

25 O Will NORRIS

26 O Samuel BASTIEN

27 O Darko CHURLINOV

28 O Kevin LONG

29 O Ian MAATSEN

30 O Halil DERVIŞOĞLU

36 O Jordan BEYER

44 O Dara COSTELLOE

49 O Arijanet MURIC

REFEREE

DARREN BOND

ASSISTANT REFEREE 1

PHILIP DERMOTT

ASSISTANT REFEREE 2

MARK STEVENS

FOURTH OFFICIAL

OLIVER LANGFORD

MAIN MATCH SPONSOR: PRESTO TOOLS — THE HEALTH STORE TURKEY — HE BARNES

PROGRAMME SPONSOR: KR FLEET SOLUTIONS

EMERGENCY PROCEDURE:

In the event of any emergency you will hear a safety

message over the PA system. Remain where you are

and listen carefully to the announcement. Comply

immediately if it affects your area. Stewards, Police

Officers and Officials will direct you to safe areas,

which may be through Exit Doors/Gates to the street

or on to the playing area. If you are disabled or

feel unsafe in a large crowd, remain where you are

until stewards assist you. Remain calm and do not

move unless the announcement affects your area.