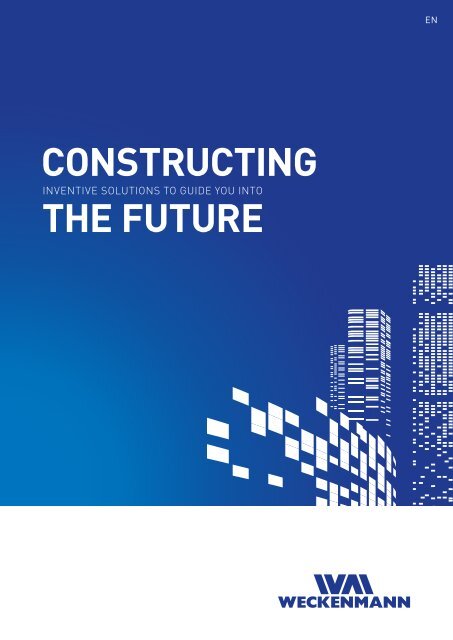 Weckenmann Product Brochure 2022 EN
You also want an ePaper? Increase the reach of your titles
YUMPU automatically turns print PDFs into web optimized ePapers that Google loves.
CONSTRUCTING

INVENTIVE SOLUTIONS TO GUIDE YOU INTO

THE FUTURE

EN
---
BEST CHANCES

WELCOME

TO THE FUTURE

The global demand for high-quality, energy-efficient and cost-effective

residential, commercial and industrial buildings is growing. Precast concrete

construction provides the solution. Affordable, fast and versatile in design,

high quality and sustainability also sets it apart from other building methods.

For the manufacturers who rely on it, it offers the best prospects for the future.

Whether as a company who is starting up or as an established producer:

we will provide you with advice and support to make the best of it.

Wolfgang Weckenmann

Martin Schatz

2
---
Worldwide experience and complete product range

Our product range extends from rugged, reliable production

units through fully automatic high-performance plants with

robot technology to single moulds, formwork profiles and

magnets. We already support and guide our customers on

the road to digitalisation.

New paths in research and development

Weckenmann has been introducing many unique innovations

and setting worldwide standards for the industry

for more than 60 years. For our customers, we continue

to develop proven products and services on an individual

basis, but we also take completely new paths in research

and development and are satisfied only when our solution

is perfect and sustainable for the future. This is driven

by the special ingenuity, the creative enthusiasm and

perseverance typical of our origins.

Talk to us about your objectives and we will join forces

with you to turn your dreams into successful reality.

WECKENMANN ANLAGENTECHNIK ......................... 2

BETTER SOLUTIONS .................................................. 4

CIRCULATION SYSTEMS ............................................ 8

SPECIAL PRODUCTION ............................................ 10

COMPONENTS OF A CIRCULATION SYSTEM ............. 12

STATIONARY PLANTS .............................................. 14

MOBILE PRODUCTION .............................................. 17

MACHINERY AND EQUIPMENT ................................ 18

TRANSPORTATION TECHNOLOGY ........................... 20

CLEANING AND CARE ............................................. 21

FORMWORK PROFILE SYSTEMS AND MAGNETS ..... 22
---
INDIVIDUALLY TAILORED SOLUTIONS

INGENUITY,

KNOW-HOW ...

Weckenmann is one of the most sought-after partners among precast concrete

manufacturers worldwide. We join forces with our customers to develop the best

possible individually tailored solutions for cost-efficient production processes as

well as efficient procedures and deliver the perfect machines, components and

complete systems.

AFTER-SALES

SERVICE

START OF

THE PROJECT

BUILDING &

BUSINESS PLAN

CONSTRUCTION SITE

MANAGEMENT

Spare parts service,

hotline, maintenance,

upgrade to new

technologies,

customer

support

Customer inquiry

Analysis of the

architectural plans

supplied by the

client, Feasibility

study

BUILDING SYSTEM

Final assembly of

the precast concrete

elements

Conversion of the

architectural plans

into a building system

concept

PRODUCTION

OF PRECAST

CONCRETE

ELEMENTS

Production assistance

and training

Plant design and factory layout

CREATING A LAYOUT

Assembling,

commissioning and

plant start-up

Detailing of planning,

preparation of quotations,

General contractor

TRANSPORT &

INSTALLATION

Supporting the

customer with site

preparation

Production

of the machine

and plant

components

Financing

consulting

PROJECT PLANNING

PRECAST

CONCRETE PLANT

CONTRACT

CLOSING

PRODUCTION OF

MACHINERY AND

EQUIPMENT

Full service from A to Z

Our experienced experts will assist you with literally

all questions concerning precast concrete construction:

from conception, plant planning, product and process

development to project management, financing, imple-

mentation and training right through to the finished

factory. As a long-term and reliable partner, we offer

you worldwide further services even after handing over

the keys.

4
---
... AND TECHNOLOGY

Ready for digitalisation with WAvisionplus

The future of manufacturing is automated. Especially

Weckenmann has developed a consistently structured,

modular control solution especially for precast concrete

production. The new generation of the master computer

system enables an automated display of all productionrelevant

information for a workstation, relieves the user

through a digital display and supports having complex

processes in view. In addition to the detailed information

display on production units and elements, WAvisionplus

offers various reporting options for monitoring and optimising

the circulation process. The modules can be

combined individually as required or used as a complete

package.

In this way, WAvisionplus enables consistent, efficient

production control, monitoring and process analysis.

ProductionManager

Efficient production planning and

order management

Automatic or manual occupancy

of the pallet by drag and drop

Automatic generation of

production-relevant working

papers, occupancy-specific data

sheet and labels

3D Viewer of the elements

ProductionControl

Visualization and monitoring of the

circulation stations

Occupancy overview curing chamber

A Trouble Shooting Assistant for

process monitoring, error analysis

and troubleshooting

Webflow offers visualization options

for process monitoring on all

common mobile devices

ProductionAnalyzer

Automated display of all

produc tion-relevant information

about the respective workplace

A detailed view of the production

units and / or elements via zoom

function

Real-time information sharing in

the production process

Reporting of production-relevant

key performance indicators

5
---
6
---
INTERCONNECTED

EXPERTISE AND WORLDWIDE EXPERIENCE

FOR TAILOR-MADE AND PERFECT

SOLUTIONS

We are in our element to do the thinking ahead for you to implement your projects successfully

and efficiently. We develop the plant solution that best meets your needs and activities, your

commercial and functional demands, your specific conditions and the respective market

requirements in cooperation with you.

7
---
DIVERSITY IN DESIGN AND USE

PALLET CIRCULATION

SYSTEMS

FOR A WIDE RANGE

OF APPLICATIONS

Pallet circulation systems allow production with optimal material flow. They are equipped

with the latest machine and control technology and ensure predictable, efficient and costefficient

processes as well as high productivity.

TILTING STATION

PALLET TURNING DEVICE

STORAGE AND RETRIEVAL SYSTEM

CURING CHAMBER

CONCRETE SPREADER

COMPACTION STATION

8
---
This concept is based on the principle of specialised

workstations, in which the shuttering pallets are moved

from one processing station to the next. This approach

provides a predictable and controlled workflow.

The circulation system offers all possibilities: from

purely manual operation to a high degree of automation

with fully automated robot technology.

CLEANER

OILER

SHUTTERING ROBOT

For DETAILS on the individual

components of a pallet circulation

system, please refer to pages 12

and 13.

FORMWORK PALLET

9
---
MAXIMUM FLEXIBILITY

CENTRAL TRANSFER

TABLE SYSTEMS

FLEXIBLE AND

INDIVIDUAL

Central transfer table systems for the production of solid and sandwich walls

that combine the strengths of a pallet circulation system with the flexibility of

production on individual formwork tables.

RUN-OFF TRUCK

TILTING STATION

CLEANER/OILER

10
---
This concept is ideally suited for the production

of complex precast concrete parts that require

a different amount of work. The system provides

the formwork tables to the workstations with

exact timing. The pallets are transported on a

mobile platform. The system can be controlled

both manually and in fully automated mode.

HELICOPTER TROWELLING MACHINE

CONCRETE SPREADER

CENTRAL TRANSFER TABLE

11
---
COMPREHENSIVE AND RELIABLE

COMPONENTS

OF A CIRCULATION

SYSTEM

Until the formwork pallets are filled with concrete to the desired form and

thickness, they have to go through various stations of a circulation system

until they are completed. This holistically controlled and precisely plannable

manufacturing system consists according to the needs and requirements in

terms of capacity and products of the following components.

CURING CHAMBER for heat-insulated, controlled and

space-saving curing of concrete elements. If necessary,

this process can also be accelerated by built-in air conditioning/heating.

STORAGE AND RETRIEVAL SYSTEM automatically

stores the formwork pallets in the curing chamber or

retrieve them again after curing.

12
---
TILTING STATION lifts and tilts formwork pallets

with finished wall or facade elements to a vertical

position for transportation.

TURNING DEVICES for the manufacture of double

walls with two shells. They are equipped with vacuumhandling

technology or pallet interlocking and are

characterised by high precision and a high level of

efficiency. The pallet turning devices are equipped with

vacuum-handling or pallet clamping technology. The

clamping arms remain on the device and this facilitates

the work of the operator considerably.

PALLET TRANSPORTATION to transport the

pallets within the circulation system, the transportation

technology at Weckenmann comprises the complete

range of individual handling technologies. Depending

on the design of the material flow concept, individual

workstations are networked through friction wheels,

cross lifting trucks, central transfer tables, central

sliding stages or by a combination of these components.

FORMWORK PALLET is used in conjunction with

circulation systems as movable moulds. The premiumquality

formwork surfaces guarantee high-quality final

products. Weckenmann supplies formwork pallets

including individually adjustable side rails.

13
---
ALWAYS PERFECTLY ADAPTED

STATIONARY

PRODUCTION

PROVEN, VERSATILE,

COST-EFFICIENT

Although stationary production plants have a lower output per hour than circulation

systems, they allow more flexible production schedules. This makes this adaptable

concept with its customisable manufacturing cells particularly suitable as an entry-level

solution for the production of precast concrete parts, but also for manufacturers who

produce a wide range of parts with different formwork concepts.

MAGAZINE TROLLEY

CONCRETE SPREADER

14
---
Production lines have proven themselves in the production of both reinforced

and prestressed flat precast elements such as floor slabs, facades or linear

elements. We also supply different side rail types, integrated heating and

high-frequency vibrators.

RUN-OFF TRUCK

STATIONARY PRODUCTION LINES

CLEANER/PLOTTER/OILER

BUCKET CONVEYOR

STRESSING WIRE SAW

STRESSING DEVICE

15
---
CASTING BEDS are perfectly suited to produce prestressed floor

slabs economically and efficiently. The consistent design and individual

optimisation of the production lines are the alpha and omega in this

regard. Our support for our customers already starts with the planning

stage to ensure efficient processes all the way from concrete supply to

loading for transport.

BATTERY MOULDS simplify the production process of vertically

fabricated wall and slab elements with smooth formwork surfaces on

both sides. This compact equipment is available for both stationary and

mobile use.

TILTING TABLES have a supporting function in the horizontal

manufacturing of walls, facades and special elements. The production

tables have premium-quality formwork surfaces and high-frequency

vibrators that compact the concrete perfectly. Again, the side rails

can be individually customised. As a result it ensures products of

exceptional quality which can be lifted using integrated tilt hydraulics

or with an overhead crane for transportation.

VOLUME MOULDS are recommended for the manufacture

of three-dimensional precast concrete parts such as lift shafts,

ventilation shafts or other modular products.

STAIRCASE FORMWORK is used for the production of stairs

in fair-faced concrete quality. They are produced horizontally in

an individual mould or pallet circulation system or vertically in an

individual mould or battery mould. Weckenmann produces staircase

moulds accurately and tailor-made to customer specification and

requirements of the respective application.

MOULDS FOR DRIVEN PILES can be used in circulation

systems or stationary production facilities for the production of topquality

reinforced or prestressed driven piles.

COLUMN/BEAM MOULDS with hydraulic and manual

adjustment. They were developed for the production of structural

precast concrete parts such as columns, beams and trusses.

COMBINED FORMWORK are hydraulically adjustable

moulds for the production of columns and beams. TT panels can be

manufactured using additional moulds.

16
---
THE OBVIOUS SOLUTION

MOBILE PRODUCTION

UNIQUE, INNOVATIVE,

SUSTAINABLE

Mobile manufacturing plants are compact, transportable precast concrete plants making them the

ideal solution for production near the construction site, for example, if the transport infrastructure

is not suitable or if the available production area does not permit the construction and operation

of a local production plant. This just-in-time production solution is innovative, energy-efficient

and particularly sustainable, as transport costs are drastically reduced.

MOBILE BATTERY MOLD: MBM ®

Mobile manufacturing plants are compact, transportable

precast concrete plants making them the ideal solution

for production near the construction site, for example,

if the transport infrastructure is not suitable or if the

available production area does not permit the construction

and operation of a local production plant. This just-intime

production solution is innovative, energy-efficient

and particularly sustainable, as transport costs are

drastically reduced.

17
---
WELL THOUGHT-OUT THROUGHOUT THE WHOLE PROCESS LINE

MACHINERY AND

EQUIPMENT

TECHNICAL

SOPHISTICATION,

COMPATIBLE, EFFICIENT

A product is only as good as the sum of its properties — and the technology

with which it is produced. Weckenmann develops and builds modern machines

and equipment for the production of precast concrete. All the equipment along

the entire process chain are manufactured using the latest technology and

are compatible with each other, so that the individual parts mesh perfectly.

The result of this sophisticated technology: efficient production of top-quality

products from A to Z.

Highest quality and dimensional accuracy

This principle to a large extent also applies to precast concrete parts. Therefore at the beginning

of a production programme it is crucial, that the geometrical data, in other words layout, is safely

transferred from the planning department to the performing machine. After the data transfer,

shuttering and reinforcement follow the concreting and curing.

18
---
PLOTTER transfer the CAD data at a 1:1 scale to the

formwork table in the shortest possible time and without

any errors. All production data is visible to position the

shuttering profiles. This allows measurement errors

and so production errors to be avoided.

SHUTTERING ROBOTS provide the automated

handling of formwork profiles and mounting parts.

In addition to shuttering, high-performance robots

also handle the storing and demoulding of shuttering

profiles, thereby guaranteeing a precise and errorfree

formwork process. As the inventor and supplier

of the world's first shuttering robot, Weckenmann

offers sophisticated technology and this already in the

third generation of robots.

CONCRETE SPREADERS are performanceenhancing

equipment for the quick and precise dosing

of different concrete qualities, whether in manual

or automatic mode. The concrete is discharged via

screw conveyors or spiked roller slide technology. Our

customers worldwide find the rugged and durable

technology convincing.

SURFACE TREATMENT

With the use of screeds and helicopter trowelling

machines, the best results are achieved depending on

the requirements of the concrete surfaces. Individually

adapted to the needs of the customer.

COMPACTION of concrete in the mould can be done

using different yet also combinable technologies as

needed. This high-frequency technology – permanently

installed or magnetically fixed with MagVib – provides

the energy required at an optimal level and at reduced

noise levels. Low-frequency compaction uses shaking

technology. This process produces high compaction

energy in virtual silence.

Both compaction techniques can also be combined

in one installation to always be able to use the most

suitable method for different concrete mix and the many

different types of precast concrete parts.

19
---
THE RIGHT SOLUTION FOR EVERY DEMAND

TRANSPORTATION

TECHNOLOGY

PERFECTLY ORGANISED

The smooth and rational material flow in the precast concrete

plant requires detailed tailor-made solutions. Only an optimally

organised transport chain can ensure that the entire production

process run efficiently, and that the quality of the results is

assured.

LIFTING DEVICES

allow floor slabs to be lifted quickly and

without damage and to be demoulded

carefully, and to safely turn the first

shells of the double wall on a vacuum

turning device or turning table.

RUN-OFF-TRUCKS

with or without transport frames take

care of the transportation of precast

concrete parts to the storage or

loading area.

BUCKET CONVEYORS

guarantee fast and automatic concrete

transport. They connect the mixing

plant and the concrete spreader and

reach almost every point in the precast

concrete plant by individually operating

on the production line with curves and

gradients.

20
---
COMPLETE CARE PROGRAMME

CLEANING AND CARE

SIMPLY CLEAN

are of the shuttering profiles and tables that maintains their quality

takes place at the end of the production chain. To keep them ready and

functioning over a long period of time, Weckenmann has developed

machines for cleaning:

CLEANERS AND OILERS

provide clean formwork surface and form oil application.

An important condition for the maintenance of product

quality during the entire operation time of the plant,

because dirt and soiling result in defective products.

They maintain the high quality of the formwork surfaces

and ensure consistent product quality for many years.

Supplemented by a plotter, space-saving combination

devices are created that automatically carry out the

successive work steps.

FORMWORK TRANSPORTATION AND CLEANING

Formwork profiles play an important role in the production

of precast concrete parts. They need to be well cared for

to ensure their proper functioning. This includes cleaning

and oiling after each use. This is done automatically with a

formwork cleaner/oiler in conjunction with a conveyor belt

that connects the demoulding station with the shuttering

area.

21
---
PERFECT FROM A TO Z

FORMWORK PROFILE

SYSTEMS AND MAGNETS

INDIVIDUAL, ROBUST,

DURABLE

Formwork systems play an essential role in the production of flat and structural concrete

elements. They provide the form, define the product quality and make production programs

flexible. Their adaptability is a key factor for the efficiency and profitability of production.

For this reason, the Weckenmann range includes a large number of sophisticated formwork

components that guarantee quality and cost-efficiency.

A-SERIES

M-SERIES

M-BASIS/M-TOP-SERIES

X-UNI-SERIES

Cost-efficient profiles of special

steel for the manufacturing of

floor slabs and double walls.

Formwork profiles for the

manufacturing solid elements

and sandwich panels, slabs and

facades in standard thicknesses.

Formwork profiles for the

manufacturing of solid and

sandwich elements, slabs and

facades in changing heights.

Magnetic system for wooden formwork

for the manufacturing of solid

elements, sandwich panels, slabs

and facades in variable dimensions.

X-MULTI

X-QUICK

MAGNETBOXES

ACCESSORIES

Modular system consisting of

magnet boxes, connecting rails

(X-MULTI Angles) and raising

elements (X-MULTI Risers). In

combination with wood planking,

X-MULTI enables to design a

magnetically fixable shuttering

system that is variable in length

and height.

For infinitely variable length

adaption of formwork profiles

in the production of floor slabs

and double walls with magnet

fastening as a replacement for

polystyrene profiles.

Supplementary components

for quick and secure fixing of

formwork profiles and built-in

sections.

Wide range of accessories

as variable solutions for

specific requirements in the

formwork sector.

22

Can be used

on both sides

Suitable for

robot handling

Magnetbox

attachment

Integrated

switchable magnets

Extension with

attachment profiles

Wooden planking
---
PALLET SIDE RAILS

The extensive range contains products for every application,

which can be individually adapted.

FLOOR SLAB / DOUBLE WALL

folded

Welded side rail made of folded special sheet metal. Optionally

with/without draught angle and bottom triangular chamfer.

solid

Welded, solid milled side rail profile. Optionally with/

without draught angle and bottom triangular chamfer.

SOLID WALL / SANDWICH WALL

with attachment formwork profile

Welded-on or bolted-on side rail as a rigid box profile. The

quick-to-install attachment formwork profile allows the

wall thickness to be individually adjusted. Profiling of the

longitudinal side as per customer requirements possible.

welded / bolted

Welded-on or bolted-on side rail as a rigid box profile.

Profiling of the longitudinal side as per customer requirements

possible.

height-adjustable side rail

Infinitely variable, vertically adjustable side rail system,

optionally with steel or wooden planking. The side form

can be fastened or opened using a screw connection.

hingeable side rail

Rigid side rail system as a rigid box profile in fold-down

design for trouble-free demoulding. Profiling of the longitudinal

side as per customer requirements possible.

23
---
EN 10 / 2022

Weckenmann

Anlagentechnik GmbH & Co. KG

Birkenstraße 1

72358 Dormettingen

Germany

www.weckenmann.com