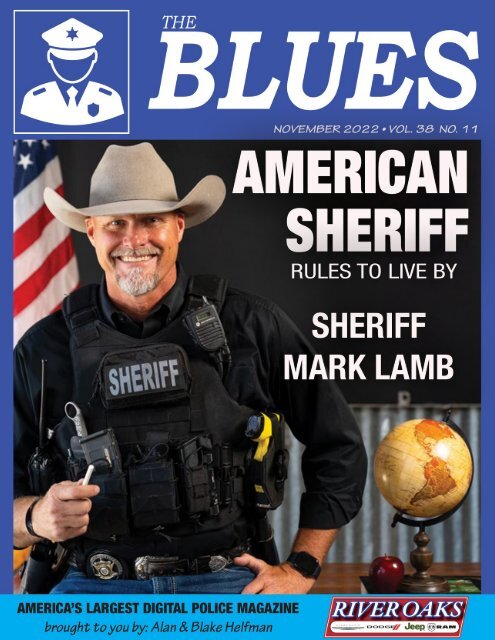 NOV 2022. Blues Vol 38 No. 11
FEATURES 48 AN AMERICAN SHERIFF SHERIFF MARK LAMB: FEAR NOT, DO RIGHT 62 THE EVOLUTION OF POLICE CARS PART III: THE FUTURE -POLICE CARS IN 2031 DEPARTMENTS 6 PUBLISHER'S THOUGHTS 8 EDITOR'S THOUGHTS 12 GUEST COMMENTARY - BILL KING 16 NEWS AROUND THE US 44 COP CAR NEWS 80 CALENDAR OF EVENTS 82 REMEMBERING OUR FALLEN HEROES 94 WAR STORIES 96 AFTERMATH 100 OPEN ROAD 104 CLASSIFIEDS - NEW 106 HEALING OUR HEROES 108 DARYL'S DELIBERATIONS 110 LIGHT BULB AWARD 112 RUNNING 4 HEROES 114 BLUE MENTAL HEALTH WITH DR. TINA JAECKLE 116 ADS BACK IN THE DAY 120 PARTING SHOTS 122 BUYERS GUIDE 142 NOW HIRING - L.E.O. POSITIONS OPEN IN TEXAS 194 BACK PAGE
FEATURES
48 AN AMERICAN SHERIFF
SHERIFF MARK LAMB: FEAR NOT, DO RIGHT
62 THE EVOLUTION OF POLICE CARS
PART III: THE FUTURE -POLICE CARS IN 2031

DEPARTMENTS
6 PUBLISHER'S THOUGHTS
8 EDITOR'S THOUGHTS
12 GUEST COMMENTARY - BILL KING
16 NEWS AROUND THE US
44 COP CAR NEWS
80 CALENDAR OF EVENTS
82 REMEMBERING OUR FALLEN HEROES
94 WAR STORIES
96 AFTERMATH
100 OPEN ROAD
104 CLASSIFIEDS - NEW
106 HEALING OUR HEROES
108 DARYL'S DELIBERATIONS
110 LIGHT BULB AWARD
112 RUNNING 4 HEROES
114 BLUE MENTAL HEALTH WITH DR. TINA JAECKLE
116 ADS BACK IN THE DAY
120 PARTING SHOTS
122 BUYERS GUIDE
142 NOW HIRING - L.E.O. POSITIONS OPEN IN TEXAS
194 BACK PAGE

SHOW MORE
SHOW LESS
You also want an ePaper? Increase the reach of your titles
YUMPU automatically turns print PDFs into web optimized ePapers that Google loves.
The BLUES 1
---
Firearms and Tactical Equipment for Law Enforcement Professionals

800-367-5855

Supplying Law Enforcement

Equipment for the State of TEXAS!

SPOTLIGHT ON

FOUNDED IN 1984

FEATURES

48 AN AMERICAN SHERIFF

SHERIFF MARK LAMB: FEAR NOT, DO RIGHT

62 THE EVOLUTION OF POLICE CARS

PART III: THE FUTURE -POLICE CARS IN 2031

NOVEMBER 2022

Designed, engineered, and manufactured in

America, and ready to perform whenever

and wherever the need arises. SIG SAUER

is combining industry-leading product

innovation with decades of battle-tested

experience to engineer the toughest,

and most accurate pistols, rifles, optics,

suppressors, and ammunition for the

military and federal agencies.

>> PRODUCTS & SERVICES
---
FOUNDED IN 1984

OUR TEAM

MICHAEL BARRON

founder & publisher

MICHAEL BARRON

editor-n-chief

REX EVANS

contributing editor

JESSICA JONES

creative editor

RUSTY BARRON

outdoor editor

DR. TINA JAECKLE

contributing editor

DARYL LOTT

contributing editor

SAM HORWITZ & JOHN SALERNO

contributing editors

DOUGLAS GRIFFITH

HPOU contributing editor

BILL KING

contributing editor

PAIGE FURST

PHIL PIERCE

BAILEY BARRON

sales team

OUR CONTRIBUTORS

BLUES STAFF WRITERS

light bulb

ELLIE RUSHING

contributing writer

JEREMY ROEBUCK

contributing writer

GREG FRIESE, MS NRP

contributing writer

RON ZAYAS

contributing writer

JT DAVIS

contributing writer

WARSTORY

ADRIAN HORTON, THE GUARDIAN

contributing writer

AFTERMATH

get your

FREE SUBSCRIPTION

to The BLUES, scan the

QR code or click here.

The BLUES is published monthly by Kress-Barr, LLC, PO Box 2733, League City Texas 77574. The opinions

expressed in some articles, op-eds, and editorials are those of the author and do not reflect the opinion

of The BLUES or its parent company. Rebuttals or submission of news articles and editorials may be

submitted to: The BLUES @ bluespdmag@gmail.com. The entire contents of The BLUES IS copyrighted©

and may not be reprinted without the express permission of the publisher.

4 The BLUES The BLUES 5
---
FROM THE PUBLISHER'S DESK

We Need to Act to Save LE

The profession of law enforcement is dying.

Both literally and figuratively.

There was a time when young

men and women dreamed about

graduating and becoming a doctor,

policemen or firemen.

Oh wait, this is 2022 and I have

to say police person, fire person

or medical professional. But that's

fodder for a whole other story.

But those dreams seem to have

disappeared just like the thousands

and thousands of cops

that used to patrol our streets

and protect the American people.

The truth is no one wants to be a

cop anymore. Not the young high

school or college graduate nor the

seasoned cop who has ten years

under his or her belt.

And why is that. Well first off, in

the past ten years or so, the far left

in this country has declared war

on cops. Their defund the police

movements, have resulted in more

police deaths than any other time

in our history. They tried to turn

the American people against cops.

Hate the cops. Hate what they

stand for. Fire them. We don't need

them. They are killing us because

we are black. (I'm sorry, because

we are people of color)

They believe no one should go

to jail. Everyone should be free to

do as they please. Until. It affects

them. Then, they call 911 and

demand help. Demand the police

protect THEM. But wait, you defunded

us. You did away with us.

Now you want our help? Screw

you.

As a result, the men and women

of law enforcement became

targets. Killed for just wearing the

uniform. Ambushed while sitting

in their patrol cars. Shot and killed

while trying to protect their fellow

citizens. Why do a job that people

don't want you to do?

Afterall, the citizens didn't want

you. Elected officials didn't want

you and wanted to defund you.

Hell, there was even a time when

a certain President of the United

States didn't respect you. So why

in the hell would anyone want to

become a cop?

Because despite all that, there

are those of us that still believe

in right and wrong. Believe in the

American Justice System. Run

towards danger when everyone

else is running away. Who'll jump

in front of people they don't even

know when the bullets start to

fly. Or risk their own life, to save

someone from a burning car.

It's something you are born with.

An instinct to protect and save

others before yourself. You either

have it or you don't.

So, what do we do to turn this

around and save our profession?

How can we fill the thousands

of open police positions in this

country? As a people, we have to

change our attitude towards law

enforcement. Yes, we've had bad

cops do bad things. But you can't

judge all cops by the actions of

a handful. As a country, we need

to raise our kids to respect those

in authority. Not just cops, but all

first responders. At some point in

their life, their very existence on

this planet may depend on these

SGT. MICHAEL BARRON RET

same people. Once they realize the

importance of what we do as a

profession, they may also realize

that's what they were meant to do.

As far as the gazillion openings

for cops around the country? Go

to the polls and elect people who

respect you and want you. Elect

judges who support what you

do and lock up the bad guys for

a long ass time. Elect DA's who'll

prosecute and put away the bad

guys. Elect mayors, governors, as

well as state and federal politicians

who believe in law and order

and not this WOKE shit. And finally

elect a President who has your

back.

In the meantime, watch your six

and protect your fellow officers.

We all have families to go home

to and EVERYONE needs to make

it home safe and sound. We are a

brotherhood like no other. If you

see your brother suffering, stop

and help them. Take the time to

listen and come to their aide. And

if you are suffering, go to your

brother officers and ask for help.

Let's all do our part to stop officer's

from taking their own lives.

Be safe, Be relentless.

6 The BLUES The BLUES 7
---
FROM THE GUEST EDITOR'S DESK

TCOLE 2022 Conference

So, about that Texas Commission on

Law Enforcement Conference.

This past October many

Trainers, Field Training Officers,

Supervisors and even a

few Chief's (like me) made the

trek down to Corpus Christi,

Texas to hear what TCOLE was

up to and maybe a hint or two

of where they were thinking

about going in the future. Especially

with the recent retirement

of Director Kim Vickers,

a lot of folks are wondering

"Well, now what?" when it

comes to TCOLE.

Someone once told me, to

know where we're going, just

look at where we have been,

and you'll get a good idea.

I looked back at TCOLE, and

you'd have to go all the way

back to 1968 to see where it

originated, where it went and

what it has evolved into today.

There are a few old relics

around who remember those

days. You weren't old enough

to buy your own bullets, but

you could be a cop. And then

it could be almost a year before

you'd even step foot into

an Academy. That's right. Folks

just figured you'd have enough

sense to go out there and do

the job, without getting yourself

killed. Well, that didn't go

as planned.

So, in the 80's, there began

a huge push to bring TCOLE

front and center for Law Enforcement

in Texas. Many

people found Chief's, Sheriff's

and Constable's weren't exactly

abiding by all the rules

set forth by the Board and the

Texas Legislature and that had

to change. People in charge of

their respective agencies had

to be held to a statewide standard

and that standard had to

be enforced for the good of

Law Enforcement and the good

of Texas.

I can see your blood pressure

is skyrocketing, so please let

me say I know. TCOLE hasn't

always and doesn't always get

it right. And we all know, the

Legislature sure as hell doesn't.

But I think we can agree, there

had to be a central location

for all Peace Officer Records,

Training, and Employment

Status. I think we can all agree,

while not every decision from

TCOLE has been the correct

one, the organization itself is

definitively necessary.

Fast forward to this year's

2022 TCOLE Conference. It was

cool to see a lot of old familiar

CHIEF REX EVANS

faces and of course it's always

cool to meet some new ones.

Such encounters lead to a time

whereby we can fellowship,

bond and most importantly

talk about what has and has

not been working for us over

the previous year. Hey, learning

from other people's trials and

errors is GOLDEN. Don't try to

figure it all out. Just listen to

them. Listen and learn.

Law Enforcement Conferences

are well, Law Enforcement

Conferences. They are,

what you make of them. Besides.

It's cool to get out of

our little proverbial box's and

see what is going on around

us. For example, the Vendor's

Arena! Hey, what better place

to visit and see all the things

you and your department

could never afford but, the rich

little City down the road well,

they can!!! And we all know

what that means, we can buy

their leftovers later at half the

cost, when the next newest toy

comes out!!

Finally, I met someone new at

this year's conference. A true,

real life Texas Law Enforcement

Legend!! Mr. John Steinsiek.

This gentleman is about

to turn 81 years old in November.

He's worn the badge of a

Texas Law Enforcement Officer

since 1963. He began his amazing

and storied career in Lufkin,

Texas as a Night Shift Patrolman.

It was the honor and privilege

of a lifetime to not only meet

this man. but to sit down and

listen to his many stories of

years gone by. It was an incredible

experience.

Sadly, I watched a whole lot

of younger people in law enforcement

walk right past him.

Like he didn't even exist. Folks,

let me tell you something, you

REALLY missed out. Old lawmen

like Mr. Steinsiek are far

and few in between. You'd all

be wise to pause a moment

from your cell phone, tablet

and laptop and just simply

listen to what this man has to

share.

His story of how TCOLE first

came about was hilarious!!!

Back then, folks didn't have a

problem walking out back to

the patrol parking lot, and "get

with it" over a disagreement.

Then, after the shift was done,

they'd have a beer or two or

ten together. And I guarantee

you, they'd have given their

lives for to protect one another.

A lot of folks say the old days

are gone for good. Lawyers

have utterly and completely

decimated American and Texas,

Law Enforcement. I don't about

that. I do believe they've tried

mighty hard. But one thing I

have found to be a Constant

Truth is eventually what is

right, is right. And what's right

is ultimately what gets done.

Well, that's my take on this

years TCOLE Conference. To

all those in attendance, great

to see ya. Good Lord willing,

we'll all come together again

next year. Till then, may God's

Grace, Mercy and Love be with

us all. We're going to need it.

8 The BLUES The BLUES 9
---
10 The BLUES The BLUES 11
---
READERS SPEAK OUT

Harris County Out $1.2 Million

Over $500,000 Paid to Democratic Campaign Data

Firms for a Vaccine Contract.

You may recall that earlier this

year, I wrote how the County had

rushed to pay out over $1.4 million

on the now infamous COVID

vaccine contract shortly after it

was awarded. When the contract

was abruptly terminated,

the County Attorney's Office told

Commissioners' Court it would

be working to recover the funds.

That was over a year ago.

Greg Groogan recently asked

the County Attorney's Office for

a progress report on the recovery

efforts. In an email response,

the County Attorney's Office

told Groogan that it had recovered

approximately $600,000.

Of the remaining $800,000, the

County Attorney said that about

$500,000 had been spent on

"nonrefundable, nontransferable

licenses" and that they were still

"communicating with Elevate's

lawyers to better understand

other amounts invoiced to the

county and to determine

In Elevate's Invoice No. 0126 it

charged the County $539,000

for software licenses from three

software companies, to wit:

Civis Analytics, Inc. - $365,093

Here is Politico's description of

Civis Analytics:

"Civis Analytics, a data analytics

firm that grew out of Barack

Obama's 2012 reelection campaign,

worked with Joe Biden's

campaign as well as most of

his major Democratic rivals in

the primary. One of the firm's top

offerings was . . . a central repository

for all the data campaigns

collect. The tool ported in information

. . . used by campaigns,

matched identifying information

in different formats into single

voter records." (Emphasis added.)

Axios wrote in a recent story

that "Civis Analytics, a startup

that could be key to next fall's

Democratic party campaigns . . ."

NGP VAN EveryAction & OutreachCircle

- $172,964

This is NGPVAN's description of

their company on their website:

"NGP VAN is the leading technology

provider to Democratic

and progressive campaigns and

organizations, as well as nonprofits,

municipalities, and other

groups, offering clients an

integrated platform of the best

fundraising, compliance, field,

organizing, digital, and social

networking products." (Emphasis

added.)

OutreachCircle was recently

acquired by another company,

Political Data, Inc. This is Political

Data's description of the acquisition

on their website:

"Political Data, Inc. (PDI) announced

today it has acquired

OutreachCircle, a leading supporter

management and relational

organizing platform. The

acquisition will offer . . . clients

an industry-leading product that

combines top-notch data, voter

BILL KING

file management and targeting

expertise with cutting edge

digital services and grassroots

organizing tools and platforms."

(Emphasis added.)

These are, presumably, the

"nonrefundable, nontransferable

licenses" to which the County Attorney's

Office was referring. I did

not find anything on any of these

firms' websites that indicated

they had any experience in public

health.

By the way, according to the

County Auditor's payment website,

Civis Analytics has also been

paid an additional $460,000 directly

by the County since Hidalgo

was elected.

So, to summarize, since Hidalgo

became County Judge, Harris

County taxpayers have paid,

either directly or indirectly, over

$1 million to firms that specialize

in providing data services to

Democratic campaigns. According

to the County Auditor's website

the County never did any business

with any of these firms before

VOTE LINA HIDAGO OUT

Hidalgo was elected.

Let me remind everyone of one

of the text messages obtained

by the Texas Rangers between

Hidalgo's staff members regarding

the award of this contract.

In responding to another staff

member questioning why Hidalgo

had changed the scope of work,

her chief of staff wrote:

"Probably good for campaign

purposes in her mind, but anyway,

if she has some intricate

picture in her head, I say F it and

let her define it . . ." (Emphasis

added.)

I'll let you draw your own

conclusions from all of this, but

it certainly helps explain why

Hidalgo is so concerned about

being indicted after the election.

VOTE ALEX MEALER IN

12 The BLUES The BLUES 13
---
AROUND THE COUNTRY

OKLAHOMA CITY

Hundreds gathered together to pay tribute to Sgt.

Meagan Burke, killed in a head on crash.

DANA SAFETY SUPPLY

Let us help your department with all your

vehicle equipment and upfitting needs.

OKLAHOMA CITY, OK – For

the third time in nearly as many

months, hundreds from the law

enforcement community gathered

to honor the life of a fallen

officer in the Oklahoma City

metro.

Burke, 31, was driving north

on Interstate 44 near SW 44 on

Sept. 29th when she was struck

head-on by a southbound vehicle

that had swerved left and

gone over the center guardrail,

according to a police statement.

Burke was pronounced dead at

the scene.

The driver of the southbound

vehicle sustained

non-life-threatening injuries,

and police said the investigation

was still underway.

"You being here gives this family

a tremendous boost because

at this point, they hurt," said

retired Oklahoma Police Department

chaplain Greg Giltner. "You

being here really helps."

On Thursday, Oct. 6th, hundreds

gathered at the Southern Hills

Baptist Church in south Oklahoma

City to remember Burke

alongside friends and members

of the family, who were led into

the sanctuary by bagpipers,

drummers and members of the

honor guard.

"She found her people. She

found her purpose," Giltner read

from a letter written by Burke's

aunt.

Burke was born in California,

raised in Colorado and made

her way to Oklahoma when she

joined the soccer team at the

University of Central Oklahoma,

where she was a goalie.

Burke, who had served with

the department since May 2016,

had been a patrol officer for

the Springlake Division before

transferring to the highway interdiction

unit and most recently

returned to patrol as a field

training officer for the Santa Fe

Division.

Members of department leadership

and Burke's academy class

shared praise, love and funny

memories of their time with

Burke, at times while struggling

through tears.

Lt. Chris Swanson, one of

Burke's superiors, recalled her

humility and unwillingness to

accept public acknowledgment

for a job well done. He joked that

her memorial gave the department

and her colleagues the last

laugh as they could finally praise

her openly.

SGT. MEAGAN BURKE

"If you know Meagan Burke,

Meagan Burke right now is flipping

every one of us off," Swanson

said, which garnered laughter

from the crowd. "This is not

what she wanted. This is what

she deserved."

"I firmly believe that Sgt. Meagan

Burke was given a servant's

heart, but she was a warrior,"

Giltner said.

Police confirmed that the driver

was in a Blackhawk Security

vehicle. The same driver was

also involved in a fatal accident

involving a bicyclist in the early

morning hours of June 8, while

driving a pickup truck, also registered

to Blackhawk Security.

Vehicle Equipment

Vehicle Armoring

National Reach.

Local Support.

America's largest source for upfitting,

installation, tactical gear and apparel.

Accessories & More!

31

LOCATIONS

DANASAFETYSUPPLY.COM

Keep your Officers safe!

Armored glass options available!

14 The BLUES The BLUES 15
---
AROUND THE COUNTRY

POLK COUNTY, FL.

Deputy Blane Lane, killed by friendly fire while serving a warrant, had

his lifetime dream fulfilled when Sheriff Judd promoted him to Sheriff.

POLK COUNTY, FL. – Deputy Blane hitting Lane in the shoulder. He died

Lee Lane, 21, achieved in death what at Lakeland Regional Medical Center

he had hoped to earn in a lifelong as a trauma team worked on him,

career with the Polk County Sheriff's

the bullet lodged in his chest.

Office: He was promoted to Judd told hundreds of uniformed

the rank of sheriff by his hero, Polk officers from throughout the state,

County Sheriff Grady Judd.

who gathered at the church, that the

Lane was killed in the line of duty blame for Lane's death was Williams'

on October 4th, accidentally shot by

alone and called her "an evil

a fellow deputy when four of them person filled with the devil.

went to a home in rural northern Elected officials lining a front

Polk County to arrest a woman pew included Florida Gov. Ron

wanted on a felony warrant for DeSantis, Attorney General Ashley

failure to appear in court on felony Moody, U.S. Rep. Scott Franklin, and

drug charges.

Florida Reps. Sam Killebrew and

"Let us not be a dark burden unto Josie Tomkow. School Board member-elect

Justin Sharpless, who

the next Grady Judd.

Lane graduated from Mulber-

the body is to be in the presence

Deputy Sheriff Lane's memory, but

rather a bright light in the morning knew Lane, also attended.

DEPUTY BLANE LANE

"When he was 2 years old, he ry High School in 2020 and Polk of God and we can't add a minute

sun, telling all that Deputy Sheriff Lane's family listened as Judd

wanted to be a bull rider. Of course, State College's dual law enforcement-detention

to our lives by worrying,'" Judd

Blane Lane lived his dream for his eulogized him and then several took

I was the bull. We spent so many

academy program said. "Preston said, 'I know where

entire life," Judd told about 1,000 turns sharing their happiest – and stop resisting," Judd said.

hours on my hands and knees and and was hired as a detention deputy

my soul is going. I don't see death.'

mourners at Lane's funeral at Victory

funniest — memories of him. Lane is Maddix Lane said she and her

him on my back. We would watch

in May 2021. He became a deputy And then Preston asked Blane,

Church. "Now to complete Deputy survived by his 3-year-old daugh-

brother didn't always see eye-to-

bull riding on TV and I knew what sheriff in January, right around the 'What about you?' And he got a

Sheriff Lane's faraway dream that ter, Kate Lane; a boy the family calls eye, mainly because he liked to be

followed — that I had to saddle up," time of his 21st birthday, and was high school kid's response – 'I'm not

Blane can't attain on his own, I am Lane's "son by love," Trace "Timmy" the boss of her. She said they used

Sodders said. "Then a few years assigned to Northwest District Patrol.

scared of nothing – I'm like Grady

going to promote Deputy Sheriff Wood; parents, Shellie and Wayne to use cardboard boxes to make

later, he met Sheriff Grady Judd.

He lived in Fort Meade. Judd.'"

Blane Lane to honorary sheriff for Lane; sister, Maddix Lane; grandparents,

garages for their cop cars.

That changed his mind of what he Judd said Deputy Preston Davis Sodders said Lane also dreamed

all eternity … Rest well, Sheriff

Darrel and Debbie Sodders, "One time, Blane was aggravating

wanted to become. He wanted to was Lane's school resource deputy, of driving one of the PCSO Dodge

Lane."

Kathy Stader, Elizabeth and Charlie me, trying to bite me, so the only

be a Polk County deputy. From then adding that Lane talked with Davis Chargers patrol vehicles, which

Judd said the wanted woman Jones; his cousin and best friend, black eye Blane ever had was from

until now, he had one goal and that every week about Judd and about came true earlier this year. But Judd

– 46-year-old Cheryl Williams — Brady Patisaul; and extended family me when I kicked him in the face.

was to be a Polk County deputy." the sheriff's office. One day, Blane said one rainy night, Lane wrecked

pointed a BB pistol, which looks and many friends.

He was so mad," Maddix recalled

The family told Judd this week asked Davis if he had ever been in a his patrol car. He thought for sure

identical to a 9 mm handgun, at Many in his family talked about to the chuckles of the crowd. "I am

that Lane studied him, listening to shooting, and if he was scared. he was going to get fired because

two deputies searching a mobile how, as a boy, Lane loved to play forever grateful that I got to be

his press conferences and quoting "He asked Blane, 'Do you believe he was a new deputy and still on

home for her. The deputies immediately

cops and robbers, including arrest-

his little sister. I love you always,

him. Lane even made his mother in God?' And Blane said, 'Absolutely.' probation. Instead, he was handed

shot her, and one of the ing, and handcuffing his little sister Blane."

drive by Judd's former home on And Preston told Blane, 'We know the keys to a beat-up Chevy Impala

approximately six bullets they fired and cousins. Once when his sister Darrel Sodders, his grandfather,

Harrell's Nursery Road "over and the dangers of this job going in. The and given the nickname "Hydroplane

pierced the mobile home's wall, told him it hurt, he said, "Well, then said Lane didn't always want to be

over and over."

apostle Paul said to be absent from

Lane."

16 The BLUES

.

The BLUES 17
---
AROUND THE COUNTRY

SEDGWICK CNTY, KN.

Deputy Sidnee Carter was killed in a traffic accident

while on duty in Sedgwick County Kansas.

SEDGWICK COUNTY, KN – A

deputy in Kansas was killed in

a car crash Friday October 7th

while on duty.

The Sedgwick County Sheriff's

Office confirmed that 22-yearold

Sidnee Carter died in the

crash.

She served at the Sedgwick

County Detention Facility for

more than a year before transferring

to the Law Enforcement

Bureau in February.

According to Kansas Highway

Patrol, 28-year-old Kelvin Burgett

from Arizona was driving

westbound on 29th Street North

when he failed to yield at a stop

sign and struck Carter's patrol

vehicle on the driver's side.

Sedgwick County is located in

central Kansas and encompasses

the city of Wichita.

The funeral for Sedgwick

County Sheriff's Deputy Sidnee

Carter was held Friday, Oct. 14.

at St. Francis of Assisi Catholic

Church.

Family, friends, deputies, and

Be sure and check out

our new

BUYERS GUIDE

on Page 122.

area law enforcement gathered

to pay their respects during the

hour-long service.

The Reverend David Voss said

she was remembered as someone

who had a caring heart for

everyone she met.

"She made everyone else

around her feel like they were

home. Whether it was home at

the bowling alley with all the

kids in the summers with dad,

whether it was at the dance studio

with their friends, whether it

was at a detention center, caring

for those who really didn't see

much kindness, but everybody

cared about her because she

showed that kindness to those

who don't see it," said Voss.

Carter was with the Sedgwick

County Sheriff's Office for a year

and a half in the Detention Facility

before transferring to the Law

Enforcement Bureau in February

2022.

Sedgwick County Sheriff Jeff

Easter remembered her as extremely

helpful and said she was

Sponsored by

DEPUTY SIDNEE CARTER

well-respected by her peers.

"She was only 22 years old.

She was young. She had her

whole life ahead of her," said

Easter. "She was somebody that

dreamed of law enforcement

from a very young age. And now

this has happened, which is

devastating to us here. I can't tell

you the impact this really has on

an organization, and it will impact

us for quite some time."

18 The BLUES The BLUES 19
---
AROUND THE COUNTRY

GREENVILLE, MS.

Greenville Police Detective Myiesha Stewart was shot and killed in a

shootout in the western Mississippi town of Greenville.

GREENVILLE, MS. – A western

Mississippi town is mourning the

loss of Greenville Police Detective

Myiesha Stewart after she

was shot and killed in the line of

duty on Tuesday, October 11th.

Stewart, 30, was killed Tuesday

afternoon while responding to a

shooting near the intersection of

U.S. Highway 82 and Mississippi

Highway 1. Few details have

been released about the incident,

but news outlets in the area said

the suspect who killed Stewart

also shot a man in the head and

a woman in the foot.

The suspect was also injured

during the incident and was

airlifted to a hospital in Jackson.

That person remains in the custody

of Mississippi authorities.

Greenville Mayor Errick Simmons

released the following

statement on the tragedy late

Tuesday night:

"I have learned of an officer-involved

shooting that

occurred this afternoon near

Reed and Rebecca Streets in

Greenville. Several people were

injured by gunshots, including

an investigator with the

Greenville Police Department

who has unfortunately passed

away as a result of the incident.

Department of Public Safety

Commissioner Sean Tindell has

been notified and the Mississippi

Bureau of Investigation will

conduct a thorough investigation

into this matter. Greenville Chief

of Police Marcus Turner, Sr. and

I have visited with family of the

deceased officer, and we asked

on behalf of the family for your

continued prayers, condolences,

and support during this very

difficult time."

On Facebook, police Chief

Marcus Turner stated the entire

community is mourning the loss

of Stewart, and said they must

stand together during these trying

times.

"Our hearts are heavy as we

remember the great times we've

shared with such an impressionable

and remarkable young

woman, who gave her all until

the end," Turner wrote in a

lengthy statement on social

media. "Our department is a

very close-knit, family-oriented

department that will continue to

hold strong together and for the

service of our community."

To honor Stewart, the city held

a prayer breakfast Wednesday

morning to pray for her family

and co-workers, other first responders,

and the community in

general.

OFFICER MYIESHA STEWART

"Myiesha Stewart was a true

definition of dedication, commitment

and resilience," the city

posted on Facebook. "We all

stand together to support the

family of our fallen officer."

Mississippi Gov. Tate Reeves

and Department of Public Safety

Commissioner Sean Tindell also

offered condolences to Stewart's

loved ones and the Greenville

Police Department.

Greenville police announced

funeral arrangements for their

"fallen hero" Friday on Facebook.

The funeral service was held

on Friday, Oct. 21, at 11 a.m

The fallen detective is survived

by her 3-year-old son and her

parents.

Welcome aboard

Jamaica Beach Police Department!

20 The BLUES The BLUES 21
---
AROUND THE COUNTRY

EAST HARTFORD, CT.

Bristol Officers shot and killed in a deliberate act to lure

them to a 911 call. Third officer takes out gunman.

EAST HARTFORD, CT. — Thousands

of people and first responders

from across the country

made their way to Rentschler

Field to say goodbye to fallen officers

Lt. Dustin DeMonte and Sgt.

Alex Hamzy.

DeMonte and Hamzy, who both

served with the Bristol Police

Department, were shot and killed

in the line of duty on Wednesday,

October 12th.

Hamzy, DeMonte and Officer

Alec Iurato, were responding to

a 911 call at a home on Redstone

Hill Road around 10:30 pm. The

call was supposedly a dispute

between two siblings at the location,

but according to detectives,

it appears the call was a "deliberate

act to lure law enforcement"

to the home.

When the three officers arrived

at the scene, they were confronted

by one of the suspects, later

identified as 35-year-old Nicholas

Brutcher, who was outside of

the home. Nicholas immediately

began firing, striking all three of

the officers, police said. Police

said that Iurato returned fire after

being struck, which killed Brutcher.

All three officers were taken to

a local hospital, but Hamzy and

DeMonte suffered fatal wounds.

Officer Alec Iurato was treated

and released.

LT. DUSTIN DEMONTE

A joint funeral for the two

officers was held inside the East

Hartford stadium due to the expected

crowd.

Loved ones of DeMonte and

Hamzy shared their love for them

through tears.

"He is my hero, my protection

and the love of my life," said Katie

Hamzy, the wife of Alex Hamzy.

"Dustin, my love. The kids and

I are honored to call you ours.

You loved us so hard," said Laura

DeMonte, Wife of Dustin DeMonte.

DeMonte and Hamzy were officially

posthumously promoted

during the service, with Dustin

DeMonte now a Lt. and Alex

Hamzy now a Sgt.

SGT. ALEX HAMZY

Officer Alec Iurato was also honored

at the service for saving more

lives from being lost after shooting

and killing the suspect that police

say ambushed the responding

police officers. Iurato even walked

without his crutches to deliver

what's known as the United States

honor flag onto Rentschler Field.

The honor flag is a traveling memorial

flag that's been to the battlefields

of conflict and to ground

zero on 9/11.

Honor guards from the state police,

Bristol police, and Bristol fire

department were on the field, as

Bristol officers serving as pallbearers,

carried their brothers in

blue onto the field.

22 The BLUES The BLUES 23
---
AROUND THE COUNTRY

LAS VEGAS, NV.

Las Vegas Metro Officer Truong Thai was shot and

killed while responding to a family disturbance.

Customized Security Solutions

Government

& Law Enforcement

Keeping the peace and serving the public is a vital job for the health of a community.

As your partner, we make technology your ally by providing you security solutions

that are completely customized for your unique needs and budget.

digiss.com

LAS VEGAS, NV. — Veteran rived shortly thereafter, Walsh

police officer Truong Thai was said, and approached Hampton,

shot within seconds of approaching

who was in the driver's seat of

a man accused of his car.

battering his wife on Thursday, Shining a flashlight into

October 13th, near the University

Hampton's car, Thai instructed

We offer TIPS State Contract and HGAC!

of Nevada, Las Vegas cam-

the suspect to place his hands

pus, according to the officer's on the steering wheel.

body camera footage.

"What's going on, man?" Thai

All-in-one solutions Digi knows law

"Digi knows what

According to Assistant Sheriff

Andy Walsh, the suspect, camera videos.

is heard saying in the body

they are doing.

VIDEO SURVEILLANCE

enforcement

... All of a sudden

ACCESS CONTROL

identified as 24-year-old Tyson The suspect did not respond.

Reduce city crime & enhance public safety we noticed an

BODY-WORN CAMERAS

Hampton, fired 18 rounds at Thai Instead, the videos showed,

immediate drop in

COVID-19 RESPONSE

Search hours of footage in seconds

and another officer, Ryan Gillihan.

the wheel before turning to the

Resolve incidents more quickly

he briefly placed his hands on

INTRUSION ALARM & MONITORING

altercations from

CLOUD-BASED SECURITY SYSTEMS

300 to 30.

One of the rounds pierced passenger seat and placing the OFFICER TRUONG THAI

JAIL CONTROL SYSTEMS

Monitor large crowds with analytics

Thai's ballistics vest, striking car in drive.

90%

LICENSE PLATE RECOGNITION

the 23-year veteran in the torso. As the suspect drove off, he bail, he is scheduled to be

ANALYTICS & AI

Gather real data for informed decisions

As he fell to the ground, the began shooting from the driver's

side window, prompting Las Vegas Justice Court.

CONSULTING & DESIGN

arraigned Tuesday morning in

MASS NOTIFICATION SYSTEMS

Integrate systems to better communicate of the violence

footage showed, Thai returned

was gone."

fire, shooting five rounds from both officers to open fire. At the Monday news conference,

LOCKSMITH & KEYS

Limit the number of hostile environments

Walsh described Thai's

SYSTEM INTEGRATION

his .45-caliber handgun. Later Hampton also shot his mother-in-law,

Walsh said. She is death as "a tough punch for

AND MORE

Captain David Baisden

that morning, he died at a local

digiss.com

Oklahoma County Sheriffs Office

hospital.

expected to survive.

our police department take."

Gillihan, 32, fired seven rounds After the shootout, Hampton "But we'll get back on our

from his handgun. He was not fled but was soon taken into feet," he said, "because that's

injured during the shootout. custody about 3 miles away by what he would want us to do."

According to Walsh, Hampton's

wife called 911 for help Court records show he faces scheduled for Friday, October

K-9 officers.

A funeral service was

around 1 a.m. last Thursday. charges of murder of a protected

21st in Henderson.

Experience the Digi Difference2

person, attempted murder He is survived by his for-

Schedule your

SECURITY SYSTEMS

Gillihan arrived in the area

first and spoke with Hampton's with a deadly weapon, battery mer wife and his 19-year-old

Call today! 1-888-970-3830

FREE Assessment,

wife and her mother. Thai ar-

and domestic battery. Denied daughter, Jada.

email contact@digiss.com

Demo & Quote

24 The BLUES The BLUES 25
---
AROUND THE COUNTRY

CARROLLTON, TX.

Carrollton Officer Steven Nothem killed when his patrol

car was struck by a vehicle on the Bush Turnpike.

CARROLLTON, TX — A Carrollton

police officer and another

driver were killed in a crash on

the President George Bush Turnpike

on Tuesday, October 18th.

Officer Steve Nothem II, was

assisting a drunk-driving investigation

when his squad car was

hit by a passing driver's vehicle.

Local TV Station WFAA's William

Joy spoke with the officer's

father and namesake, Steve

Nothem, on Wednesday, the day

after the crash. Steve Nothem

said before his son was a police

officer, he served as a U.S. Marine

and did two tours in Iraq.

"He did that because he wanted

to matter. He wanted ...," Nothem

said, as he choked up. "The

Iraq war was young and dangerous,

and he wanted to make his

mark."

Steve Nothem said his son "was

always the defender of the underdog"

in high school. He went

on to tell a story about how his

son had a friend named Sam Lee,

who had cystic fibrosis and was

picked on in high school. Steve

Nothem said his son would stand

up for Lee and defend him from

the bullies.

Steve Nothem II and Lee vowed

together that Nothem II would

fight for our country, while Lee

fought for his life.

"Steve got back from his first

tour of Iraq to learn that Sam

was pretty much on his death

bed," Steve Nothem told WFAA.

"Steve told Sam that he would

name his son Sam, after him,

and within an hour, his friend

Sam died. That's the kind of kid

[Steve] was."

Steve Nothem said his son decided

to become a police officer

after his military career because,

again, "he defends the underdog."

He said his son served for

about four years in Wisconsin

before moving to Texas.

"[Steve] chose Texas over the

other warmer climate states

because he felt that the police

departments in Texas were more

well-respected than other parts

of the country," Steve Nothem

said.

Steve Nothem said Carrollton

police notified the Kiel, Wisc. police,

who then sent two officers

to his house to deliver the heartbreaking

news.

"First thing I said was 'it's 4

a.m., who died' and they said it

was Steven."

Steve Nothem said, "if there's

anything that's sort of comforting,

it's that he wasn't killed by

another drunk driver." He said his

OFFICER STEVEN R. NOTHEM

Deputy Matthew Yates

son "had a thing about keeping

drunk drivers off the highway"

because his aunt was killed by

a drunk driver on Christmas Eve

nearly a decade ago.

The Carrollton Police Department

said Nothem II leaves

behind a 13-year-old son, twin

6-year-old sons and a 1-yearold

daughter.

"He really, really loved his wife

and kids. More than most husbands

do," Steve Nothem said.

"That was his whole life. That

and his service, his community

service. Those two things were

it."

2023 CHEVROLET TAHOE PPVs

ARE AVAILABLE THROUGH

OUR BAILMENT POOL!

CONTACT US FOR MORE

DETAILS ON HOW YOU CAN

GET YOUR FULLY UPFITTED

2023 TAHOE PPV THROUGH

CAP FLEET.

www.capfleet.com | sales@capfleet.com | 254-773-1959

26 The BLUES The BLUES 27
---
AROUND THE COUNTRY

MIAMI, FL.

Gun mix-up at a Miami-Dade Shooting Range cost US

Custom's Officer Jorge Arias his life.

MIAMI,FL. – A gun mix-up

led a U.S. Customs and Border

Protection Officer to accidentally

shoot and kill fellow

Officer Jorge Arias at a

west Miami-Dade gun range

Wednesday morning, according

to a US Customs official.

Arias, who was assigned to

the Miami International Airport

in his regular duties, was

working as a firearms instructor

at the time.

Law enforcement sources

said the shooting, which happened

at the county-owned

Trail Glades Range, near

Southwest Eighth Street and

Krome Avenue, took place

during a role-playing exercise.

During that exercise, each

person participating swapped

their real weapon for training

guns.

Sources say another U.S.

Customs and Border Protection

officer shot and killed

Officer Jorge Arias at a west

Miami-Dade shooting range

after forgetting to swap his

real gun for a training gun.

Sources said the officer

doing the exercise with Arias

briefly left the room and

switched back to his real gun,

but forgot to swap it back out

for the training weapon when

he came back, leading him to

accidentally shoot Arias in the

chest after the exercise began.

Officer Arias was a United

States Coast Guard Reserve

veteran and served with the

United States Department of

Homeland Security - Customs

and Border Protection - Office

OFFICER JORGE ARIAS

of Field Operations. He was a

Firearms Training Instructor

and was assigned to the Miami

International Airport. He is

survived by his wife and two

children.

Be sure and check out

our new

BUYERS GUIDE

on Page 122.

Sponsored by

28 The BLUES The BLUES 29
---
AROUND THE COUNTRY

LONDON, KY.

London Police Officer Logan Medlock was killed when a

suspected drunk driver's truck struck his patrol car.

LONDON, KY. – A Kentucky

police officer was killed Sunday

October 30th, when his patrol

vehicle was hit by a pickup truck

whose driver was suspected

of being under the influence of

alcohol, authorities said.

London Police Officer Logan K.

Medlock, 26, died in the crash,

which took place at about 12:50

a.m., according to a statement

released by the Kentucky State

Police Department.

Medlock was on duty and

driving through an intersection in

London when his Dodge Charger

police cruiser was struck by a

Dodge Ram pickup truck, police

said.

Medlock, of Keavy, died on the

scene of the crash. The driver of

the pickup truck, Casey P. Byrd,

36, was not injured, police said.

Alcohol is suspected to be a

factor in the crash, police said.

Byrd, of Oneida, Tennessee, was

charged with murder of a police

officer and using a motor vehicle

under the influence, police said.

Byrd was being held in the Laurel

County Correctional Center,

online records showed. Records

did not show if Byrd had a lawyer

to speak on his behalf about

the charges Sunday.

On Monday, October 31, It was

an emotionally charged night as

the London community showed

up in droves to honor London

Police Officer Logan Medlock.

Medlock's wife Courtney, five

year old son Brantley and father,

Assistant Police Chief Randy

Medlock, were at Monday's vigil

asking the community to continue

loving, hugging and praying

for them for a long time.

The family says while they're

heartbroken and devastated,

they find comfort in knowing

they will one day be reunited

with Medlock in heaven.

"I've got anger, a lot of anger.

Jesus forgave me and it may

not be soon but I have to forgive

that man that took my son from

me," says Randy Medlock. "But

I still hope he gets everything

that the judicial system can

hand down to him."

Police Chief Travis Dotson

urging his officers and the

community not to let Medlock's

legacy fade.

"Our duty now is to make sure

this young man never forgets

who his father really, really is

and will be," says Dotson. "Our

job is to make sure this, Logan's

legacy, goes on and on, past my

OFFICER LOGAN K. MEDLOCK

time, past our new officers' time

and beyond."

It was a night full of stories

and love. The crowd clearly

showing how deeply loved

Medlock is and how he will be

missed by many.

Medlock's visitation and funeral

will be held at Corinth Baptist

Church in London.

His visitation will be November

3rd starting at 5 P.M. His

funeral will be November 4th at

noon with the burial to follow at

Roark Cemetery in Keavy.

30 The BLUES The BLUES 31
---
AROUND THE COUNTRY

ACROSS THE US

Latest law enforcement news from across the country.

IL SERGEANT CRITICALLY IN-

JURED IN ASSAULT

EAST MOLINE, IL – A suspect has

been charged with attempted murder

after East Moline, IL, Police say

he assaulted and seriously injured

an East Moline police sergeant on

October 24TH.

Around 6:30 p.m., East Moline Police

Sergeant William Lind identified

arson suspect Adrian W. Rogers, 52,

in East Moline and made contact

with him.

Shortly after making contact,

police say body camera footage

shows, Rogers physically attacking

Lind and then fleeing the scene on

foot.

Arriving officers found Sergeant

Lind unconscious with injuries to

the head. He was transported to a

local hospital, WQAD reports.

Sergeant Lind is in critical condition

and his injuries have been

deemed life-threatening.

Around 10:50 p.m., Rogers was

taken into custody by the Colona

Police Department.

As reported by policemag.com.

RICHMOND VA CHIEF RESIGNS

RICHMOND, VA. – Richmond Police

Chief Gerald Smith resigned Tuesday

evening.

Smith served with Richmond Police

for two and a half years, NBC12

reports.

He was appointed by Mayor Levar

Stoney in June 2020.

The Richmond Coalition of Police

released a statement saying, "We

were made aware of Chief Gerald

M. Smith's resignation this afternoon.

We are now entering the next

chapter of the Richmond Police

Department. We look forward to

working with the administration,

city council and its citizens on the

future success and we would like to

thank all of them for listening to the

men and women of the Richmond

Police Department. We are embracing

moving forward with the New

Interim Chief and eager to have an

open dialogue with all stakeholders."

Major Richard Edwards has been

temporarily appointed as acting

police chief.

As reported by policemag.com.

OFF-DUTY CA OFFICER SHOOTS

SELF, KILLS BYSTANDER WHILE

CLEANING GUN

SANTA CRUZ, CA – An off-duty

Santa Cruz, CA, officer accidentally

shot through his own hand and then

hit and killed a 20-year-old man

last week, according to the Salinas

Police Department.

Officer Francisco Villicana was

cleaning his personal gun Friday

around 5:45 p.m. in Salinas when

he mistakenly fired the single round

that killed Luis Alfredo Ferro-Sanchez,

police said.

When officers arrived to the

scene they found Villicana with a

gunshot wound to his hand, and

Ferro-Sanchez with a wound to his

upper torso. Both were taken to the

hospital, where Ferro-Sanchez died,

KTVU reports.

Police did not say whether the

two men knew each other. They

said the incident appears to be

an accident, but the case will be

investigated by the Monterey County

District Attorney.

As reported by policemag.com

WASH. SHERIFF'S OFFICE AN-

NOUNCES PLAN TO ACQUIRE NEW

$350K ARMORED VEHICLE

By Phil Ferolito

YAKIMA, Wash. — The Yakima

County Sheriff's Office will get a

new armored vehicle to assist deputies

responding to violent crime.

During a Monday study session,

Yakima County commissioners

agreed to award the sheriff's office

$350,000 in American Rescue Plan

Act funds for the purchase.

Commissioners are expected to finalize

the award during next week's

regular business meeting.

Commissioner LaDon Linde, who

presented the request, said the

sheriff's office has two old Army

surplus armored vehicles; one is out

of service and the other experiences

frequent problems.

The sheriff's office responds to

its share of violent crime, and an

operable armored vehicle is needed

to help protect deputies, he said.

Linde highlighted three officer-involved

shootings on or near the

Yakama Reservation within the past

two months; two involved deputies

and one involved a Yakama Tribal

Police officer.

The Lion statue honoring Officer Jesse Madsen and other fallen Tampa officers incorporates parts of

Madsen's patrol vehicle. (Photo: Tampa PD/Screen Shot) -

HEROIC FL OFFICER HONORED

WITH MONUMENT MADE FROM

HIS CRASHED PATROL CAR

TAMPA, FL. – When Tampa Police

Officer Jesse Madsen steered

his police vehicle into the path of

a wrong-way driver last March, he

made a split-second decision that

cost him his life, but likely saved the

lives of other drivers on I-275.

Tuesday, his family and fellow

officers watched as a new law enforcement

memorial was unveiled

at District One headquarters, Fox 13

reports.

It's a metal sculpture made from

parts of Madsen's mangled patrol

car along with guns that were taken

off the street. The sculpture depicts

a majestic lion, six feet tall, ready

to pounce.

The Lion statue honoring Officer

Jesse Madsen and other fallen

Tampa officers incorporates parts

of Madsen's patrol vehicle.

"A lion was very much like how

Jesse (Madsen) was, fierce and

protective, but still family oriented,"

said Tampa Police Major Eric Defelice,

a co-worker and close friend.

"So, it really embodied what Jesse

meant to us."

The sculpture was created by

Tampa metal artist Dominique Martinez,

owner of Rustic SteeL.

MILWAUKEE PD REPLACES DUTY

FIREARMS

MILWAUKEE — Every Milwaukee

police officer will be trading in their

duty firearm for a new model after

three members of the police department

were wounded after their

current holstered service firearm

accidentally discharged.

According to WTMJ News, the Milwaukee

Police Department recently

announced it will transition from

its current Sig Sauer P320 pistol to

a Glock model. The shift will cost

roughly $450,000.

"These unexplained discharges

are a serious concern for our

members," Milwaukee Police Chief

Jeffrey Norman told WTMJ News.

The Milwaukee Police Association

previously filed a lawsuit against the

City of Milwaukee over the continued

use of the Sig Sauer P320

despite the technical difficulties the

weapon had been experiencing. The

president of the association announced

it would now be dropping

the lawsuit against the city due to

the discontinuation of use.

The entire implementation process

of the new duty firearms is

expected to take several months.

As reported by policemag.com.

32 The BLUES The BLUES 33
---
AROUND THE COUNTRY

PHILADELPHIA, PA.

Deputy arrested after reselling guns used in deadly school shooting.

By Ellie Rushing and

Jeremy Roebuck

The Philadelphia Inquirer

PHILADELPHIA, PA. — Two of

the guns used in the shooting

outside Roxborough High School

last month, which left a 14-yearold

dead and four teens injured,

later ended up in the hands of a

Philadelphia sheriff's deputy who

then illegally resold the weapons to

a federal informant, according to a

court filing unsealed Thursday.

Samir Ahmad, 29, a four-year

veteran of the department, was

arrested at work last week as

part of an FBI gun-trafficking

investigation, the records say.

In April, an informant set up a

controlled gun buy with Ahmad,

where he paid Ahmad $1,150 for

a Smith & Wesson .38 Special

revolver and bullets, according to

the records. Ahmad also offered

to sell the informant Percocet,

according to the court filing.

Investigators continued to monitor

Ahmad, and in October, set up

another undercover buy.

The informant, wearing a video

and audio recording device,

met Ahmad outside his North

Philadelphia home Oct. 13 with a

plan to buy $3,000 worth of guns,

according to the records.

Ahmad told the informant they

would have to wait for another

person to deliver the guns. As they

waited, the informant said he was

not a U.S. citizen, and was worried

he could be deported if caught with

a gun.

"You don't got to worry about

none of that," Ahmad said,

according to the records.

Eventually, a car pulled up, and

Ahmad approached it and retrieved

the guns, the records say.

Ahmad sold the informant two

Glock pistols for $3,000, the records

say, and also offered to sell him a

third.

The night before Ahmad

was arrested, he sold another

semiautomatic pistol and more than

50 grams of methamphetamine to

the informant, the records say.

After the sale, federal

investigators conducted a trace on

the weapons, a standard procedure

that determines where the gun was

originally bought and whether it is

linked to any crimes.

Roxborough shooter bought the

ammo despite his felony record—

and state law allowed it

The trace showed that the two

Glocks sold in October had been

used just two weeks earlier in the

shooting outside Roxborough High

School, according to the records,

where five shooters unleashed more

than 60 bullets at a group of teens

leaving a football scrimmage.

Four teens, ages 14 to 17, were

injured, and Nicolas Elizalde died.

The court records do not

explain how Ahmad came to be

in possession of the guns used in

the shooting — or accuse him of

having a direct link to that crime.

Prosecutors declined to comment,

as did his attorney.

Ahmad has been charged with

firearms trafficking and selling and

transferring a firearm to a non-

U.S. national or citizen.

During a brief hearing in federal

court Thursday, Ahmad agreed

through his attorney not to fight

government efforts to keep him

detained until trial.

He said nothing as he was

escorted into the courtroom in

an olive prison jumpsuit and

pressed his hands to his face as

defense lawyer Michael Parkinson

addressed the judge.

Parkinson declined to discuss

details of the case afterward.

Why the accused Roxborough

gunman was out on bail at the

time of the shooting, despite his

conviction for another crime

"It's way early in the process right

now," he said. "At this point we

have to look into our investigation

and think the government's going to

continue with theirs."

The Sheriff's Office, through a

spokesperson, said Ahmad was

served a 30-day notice of intent

to dismiss "for repeated violations

of the Philadelphia Sheriff Office

directives, policies and procedures.

As always, the Office of the Sheriff

will continue to cooperate with

local, state, and federal authorities."

The spokesperson did not

elaborate on the "repeated

violations" and directed additional

comments to the U.S. Attorney's

Office.

"As alleged, Samir Ahmad

abused his authority — to the

greatest extent possible — as

a sworn law enforcement

officer," U.S. Attorney Jacqueline

Romero said in a statement. "The

defendant allegedly illegally

sold firearms on the street, and

for the sake of putting money in

his pocket, was willing to put

deadly firearms into the hands of

someone he knew was prohibited

by law from possessing them."

Jacqueline Maguire, special

agent in charge of the FBI's

Philadelphia division, called the

actions reprehensible.

"Philadelphia is awash in illegal

guns, which are being used to

commit violent crimes, so every

weapon we can take off the street

and every trafficker we can lock up

makes a difference," Maguire said.

34 The BLUES The BLUES 35
---
AROUND THE COUNTRY

IACP 2022 DALLAS, TX.

Are officers really leaving in droves? New study shows

fewer than 20% of officers seeking work outside LE.

By Greg Freise, MS NRP

Editorial Director, POLICE1

DALLAS, TX — Researchers like

Charlie Scheer, PhD, want to

know why people are leaving

and why people are staying in

law enforcement careers.

During a presentation at the International

Association of Chiefs

of Police conference this week,

Scheer gave a rapid overview of

survey findings from the study

"Police Retention and Career

Perceptions," a year-long national

study of officer retention

trends that collected data from

sworn officers employed at eight

large and mid-size cities, broadly

representative of law enforcement

in the United States. Additionally,

representatives from

three of the eight departments

that participated in the study

discussed their department's

recruitment and retention challenges

and opportunities.

RESEARCH OVERVIEW

Detailing study demographics,

Scheer shared that just over half

(53%) of the respondents worked

at the patrol level and averaged

13 years of experience. Most

respondents (69%) work for only

one agency, and 82% were male.

The racial/ethnic demographics

of respondents were consistent

with nationwide representation

in law enforcement. The education

level of respondents was

high, with 44% having a bachelor's

degree.

One of the key findings highlighted

by Scheer is that just

under 20% of officers responding

to the survey are seeking work

outside of policing profession.

"We heard the narrative, 'police

are leaving in droves,'" Scheer

said. "We wanted to know if that

was happening."

KEY TAKEAWAYS ABOUT PO-

LICE OFFICER RECRUITMENT

AND RETENTION

Session attendees received

several actionable ideas and

encouragement from the presenters.

Deputy Chief Joe Hayer,

Frederick (Maryland) Police

Department, reminded everyone:

"Recruitment and retention go

hand in hand. What's working to

recruit people to our agencies is

what's working to retain people."

1. Recruitment and retention

processes must be dynamic.

Representatives from three

departments that participated

in the study shared that while

each department has to regularly

replace retiring officers, they

are not experiencing dramatic

losses of personnel or failing

recruitment efforts. Instead, they

recognize that recruitment and

retention processes are dynamic

and must be regularly updated.

For example, Deputy Chief Jerry

Peters of the Thornton (Colorado)

Police Department described

a new benefit to expand

medicare coverage for retiring

officers. Officers who retire with

30 years of service, between

the ages of 50 to 55, can now

receive department-provided

medical insurance until they are

65 years old.

The Frederick Police Department

now uses a two-page

pre-screening application early

in the process. They want to

eliminate applicants that will

not pass non-negotiable state

requirements for employment

early in the process, saving both

the department's and the applicant's

time.

2. Study why people are leaving

your agency.

The mantra that "people don't

quit bad jobs, they quit bad

bosses" is the guiding philosophy

of countless leadership and

supervisory development programs.

Poor leadership, as explored

in the 2022 Police1 What

Cops Want industry survey,

could be a key factor in losing

experienced cops, but it might

not be the only factor. Through

the research program, Thornton

found that 60% of respondents

from their department reported

being treated poorly by their

colleagues. Thus, his personnel

weren't at risk of quitting a bad

boss, they were more likely to

consider leaving their bad coworkers.

"The idea that officers are leaving

in droves nationwide is not

borne out in this study," Scheer

said. But the impact of resignations,

lateral departures, or early

retirements is relative to the size

of a department's sworn force.

Scheer also described retention

and recruitment as "a disorder

with no common symptom" to

emphasize the importance of

understanding what's happening

in each agency.

3. Meet recruits where they

are at.

The department representatives

highlighted the importance

of regular communication with

their applicants that starts with

first contact and continues until

the officer is on the job. Attendees

were encouraged to treat

a police recruit the same as a

college football coach treats and

messages a football recruit, as

well as their family.

In Thornton, every applicant

that passes the test is assigned

a mentor. The mentor calls their

recruit every week, conducts

home visits with the recruit and

gives a personal touch to the

process. "It's a coaching session

all the way through," Peters said.

Similarly, the Bryan (Texas)

Police Department goes out of

its way to sell recruits on the

intangibles of working for their

department. Department leadership

believes a family atmosphere

and a supportive community

are two of the department's

top traits: "When you graduate

from the academy you are welcome

into this family," Lt. Walt

Melnyk said. "There will never be

an issue of defunding the police

department in Bryan, Texas. The

officers feel that."

4. Reduce all causes of friction.

The three police department

panelists emphasized the importance

of competitive compensation

and benefits, especially

relative to neighboring departments.

If salaries are comparable,

departments need to do other

things to stand out and reduce

the time and complexity for a

recruit applying to an agency.

36 The BLUES The BLUES 37
---
For example, the Thornton

Police Department, situated in a

fast-growing community in the

Denver metro area, hires officers

every month and offers oral

boards every week to "expedite

our hiring process." Thornton

recruits are also able to start

working for the department,

earning salary and benefits, before

entering the academy.

Thornton also pays 100% of

college costs for cadets, and as

soon as someone is hired, the

department initiates a career

path. "We are trying to career

path and individualize everybody,

so they don't just feel like

a number," Peters said.

The Bryan Police Department

has updated its hiring process

to more regularly communicate

with applicants. Melnyk shared

how they help their recruits

mitigate scheduling conflicts

and keep them up to date on the

hiring process timeline.

Departments, like Thornton,

are also creating websites just

for recruiting. (Photo/Thornton

PD)

5. Social media is critical.

Nearly every police department

has a social media presence.

The panelists encouraged attendees

to consider social media

channels for recruiting. Some

departments, like Thornton, are

also creating websites just for

recruiting.

"The best thing we can do is

really go out there and market

ourselves as a police department

and a city," Melnyk said. "We've

got to find a way to push ourselves

into that arena."

At the Frederick Police Department,

Hayer said, everyone is a

recruiter. Collectively, department

personnel sends thousands

of emails every week. By including

a "we're hiring" with starting

salary and benefits in the signature

block of those emails, they

are regularly reaching potential

new recruits and lateral transfers.

Several departments were

spotlighted for their excellent

recruiting videos. One example:

Hayer mentioned the recent viral

video from the Fort Worth (Texas)

Police Department for clearly

communicating the department's

opportunities and culture.

LEARN MORE ABOUT POLICE

OFFICER RECRUITMENT AND

RETENTION

Police1 has dozens of articles,

videos and other resources on

police officer recruitment. You

can learn more from the panelist's

departments by connecting

with them on social media.

• Frederick Police Department

is on Twitter and Facebook.

• Thornton Police Department

is on Twitter and Facebook.

• Bryan Police Department is on

Twitter and Facebook.

• Read the full research report,

"Police retention and career perceptions:

findings from an eightcity

survey."

• Listen to Scheer discuss recruitment

and retention on the

Florida Sheriff's Association podcast.

Reprinted from Police1.

Help us reach our goal

of 100,000 subscribers.

Click BELOW for your

FREE SUBSCRIPTION.

CLICK OR SCAN HERE

38 The BLUES The BLUES 39
---
AROUND THE COUNTRY

When Information is

More Deadly Than a Gun

By Ron Zayas

Law enforcement officials are

trained to identify and neutralize

threats. Whether dealing

with a dubious individual or a

suspicious abandoned package,

trained professionals will assess

the situation and determine the

best course of action to keep the

public safe.

But how good are these pros

at assessing threats to their own

safety, and that of their families?

Today's society collects information

on a massive scale. Every

time you shop, purchase a home,

rent an apartment, receive an

email, or even park your car,

chances are information is being

collected on you and sold,

bartered, or just carelessly left

vulnerable to exposure.

Think about Amazon…the

company just bought iRobot, the

makers of Roomba vacuums. Did

they want to get into the cleaning

business? Maybe. But, considering

a Roomba has a camera

and is WiFi-enabled, this roving

vacuum can give Amazon more

than a peek inside your house

– it has the potential to identify

what you own, who else lives

there, and when you are home.

Scary? It should be. This is more

than Orwellian; it has real-world

consequences, especially for law

enforcement.

When companies collect

information on where you live,

what you buy, and where you

go (your phone tracks you everywhere),

they often sell it to

other companies. Or they get

hacked. Either way, that content

becomes accessible and allows

anyone to enter your name into

a search engine where they can

find your address, identify your

family members, and even discover

your schedule and know

when you are or aren't home.

And if someone is searching for

that kind of private data, can that

possibly be good? The answer is

a resounding 'no' for anyone, especially

law enforcement. In fact,

attacks on these public servants

— many times using information

readily available on the Internet

— have multiplied substantially

over the last five years.

What Can You Do?

While lax privacy laws in the

US make it difficult to control

who can find out what about you

online, it doesn't make it impossible,

nor should it lead you to

ignore the risk. Eight states —

California, Texas, Nevada, Idaho,

Utah, Colorado, Florida, and New

Jersey — have statutes protecting

law enforcement personnel's

private information from being

shared on the Internet. You just

have to find that information and

request its removal. But if you

live in other states, all is not lost.

You can often still have this content

removed.

Here are three steps to take

now to help ensure that you and

your family are protected:

1. Search yourself. Do an online

search for your name and

address and see what comes up.

Whatever sites appear, look for

an opt-out link (usually hidden

on the site) or contact the site

to request the information be

taken down. Tell them you are a

law enforcement officer and that

this content puts you at risk. If

they ignore this request, look for

their legal information or send

an email to legal@domainname

and ask again. Don't pay for your

information to be removed. The

information belongs to you.

2. Get your department and/or

union involved. There is strength

in numbers (that's why you

joined a union or POA in the first

place), and your department

should prioritize your safety.

Request that they investigate privacy

search and removal companies

that can do the heavy lifting

for you. Whether they pay for it

directly or secure a reduced rate

for you to sign up individually,

it can save you a great deal of

money and time if they make this

benefit available.

3. Stop giving out your information.

Just say no when

someone wants your cell phone,

private email, or home address.

For instances that request your

info (like ordering deliveries),

lie. Change your name. Look

into getting disposable email

addresses and a cheap VOIP

number that forwards to your

phone. Never, ever, give out your

mobile phone number, and remember

that when you give out

your personal information, you

are endangering your home and

family.

Providing your email address

to get a discount at the local

store may seem harmless, but

when you consider how much

information is collected and

sold, and how often that information

is used to harm law enforcement

officials, ask yourself:

is it worth it?

About the author: Ron Zayas is

an online privacy expert, speaker,

author, and CEO of 360Civic,

a provider of online protection

to law

enforcement,

social

workers,

and

judicial

officers.

For more

insight

into online

privacy

laws, proactive strategies,

and best online data practices,

download a free how-to guide on

protecting yourself at 360civic.

com/privacy-resources. Connect

with Ron at ron.z@360civic.com

or on LinkedIn.

40 The BLUES The BLUES 41
---
Street Racer's Seized 1080 HP

Dodge Challenger SRT Hellcat

Redeye Is Now Serving Texas

Patrolling a Texas Highway near you today. Come on, I dare you to run!

Troopers in Texas have a

potent new toy to catch criminals

with and it takes the

form of a Dodge Challenger

SRT Hellcat. However, this is

no standard Hellcat.

An entry-level Challenger

SRT Hellcat leaves the factory

with a 6.2-liter supercharged

V8 pumping out 707 hp. The

Texas Department of Public

Safety (DPS) – Southeast

Texas Region has revealed

that this Hellcat has been

upgraded to 1,080 hp and was

actually seized before being

awarded to the agency by a

judge.

The 2020 Dodge Challenger

SRT Hellcat Redeye was

seized by police in April 2021

after the driver engaged in

dangerous street racing and

fled from law enforcement

officers reaching speeds

of 160 mph (258 km/h) and

driving erratically, according

to Texas DPS. Police cheekily

noted that it "went from

evading law enforcement in

Harris Co. to now catching

criminals wherever it roams

in Texas."

Given its new role in serving

the community, the potent

Challenger has received

a black and white wrap from

Black Diamond Customs, and

tons of flashing LEDs.

More often than not,

high-performance vehicles

that join police fleets do

so largely for promotional

purposes, but it seems police

in Texas are serious about

putting the Dodge to work.

Could it be used to catch

street racers? That's certainly

something we'd love to see

but any officer who has the

chance to drive the Dodge

should probably undergo

some special training to ensure

they can handle all that

power.

No mention has been made

about what upgrades have

been made to the Challenger's

powertrain, but we

suspect it has benefited from

the fitment of an enlarged supercharger

and some internal

changes.

Look for this bad boy on a

Texas Highway near you today.

The BLUES editors would like a

test drive please.

42 The BLUES The BLUES 43
---
Converter Thieves Hit Cop Cars

Brazen Thieves Steal Catalytic Converters From Marked Police Cars

Outside SWAT Team HQ In San Francisco.

Regardless of economic conditions,

theft seems to be a scourge

that doesn't go away. Normally

though, the police come to the

aid of the victims. This time, the

police department itself is the

victim of catalytic converter theft

and it's asking for assistance to

catch the criminals.

Catalytic converters can be

worth more than $1,000 even

when used due to their internal

components, specifically, precious

metals that go for top dollar.

According to a new report from

MissionLocal, four marked SFPD

vehicles had their catalytic converters

stolen sometime before

September 12th at 1 p.m. That's

when an officer discovered that a

marked police truck was missing

the notoriously valuable emissions

control device.

"On September 12, 2022, at

approximately 1 p.m., a San Francisco

Police Officer discovered a

marked police truck parked in the

area of 16th Street and De Haro

Street had its catalytic converter

stolen," said the SFPD media relations

department. "The officer inspected

other police vehicles, and

discovered that another marked

police truck and two marked police

vans also had their catalytic

converters stolen."

Somewhat shockingly, the

building where the crime took

place is the Special Operations

Bureau building at 17th

and DeHaro in San Francisco.

That building is home to the

local SWAT Team and the Bomb

Squad. "The people engaging

in this activity really don't think

much of the police if they think

they can steal catalytic converters

from the best of us," said

an SFPD higher-up to Mission

Local.

Despite calls to the public to

help find the criminals, some at

the SFPD evidently don't sound

too positive about their apprehension.

No arrests have been

made and Mission Local reports

that one officer actually said

"They'll get away with it too…

And this is not the first incident."

Police Officers have had their

personal vehicles broken into at

the same location in the past.

According to local news station

KRON4, the regularity with

which catalytic converters are

being stolen is so bad that South

San Francisco has an ordinance

making it illegal to even have a

used catalytic converter in your

possession. One vehicle suspected

of being used by a catalytic

converter thief had no less than

14 of the used devices in it when

found.

Anyone with information is

asked to call the SFPD Tip Line at

1-415-575-4444 or Text a Tip to

TIP411 and begin the text message

with SFPD. You may remain

anonymous.

ALL FIRST RESPONDERS & VETERANS

10% OFF A NEW INTERIOR

FOR YOUR CAR,TRUCK OR SUV

12722 Hwy. 3 Webster, Texas • 281-486-9739

44 The BLUES The BLUES 45

CLICK HERE FOR WEBSITE
---
AN AMERICAN SHERIFF

FEAR NOT, DO RIGHT

BY DR. TINA JAECKLE

Complete with cowboy hat, this tall, larger-than-life lawman

has become known as the American Sheriff. Sheriff

Mark Lamb is undeniably a constitutional conservative, and

his values, beliefs, and focus have guided his leadership and

success throughout his career. It was truly a pleasure to interview

Sheriff Lamb for this article and have the unique opportunity

to take a closer look at his dedication to service in

his career, his personal life, and his hopes for the future of

our nation during extremely complicated times.

46 The BLUES The BLUES 47
---
BEGINNINGS & THE SPARK

Sheriff Mark Lamb was

born and raised in Hawaii,

but his original roots are

firmly planted in Chandler,

Arizona where he went to

Junior High and graduated

from Chandler High School

in 1990. Lamb started in law

enforcement later in life.

He was initially a business

owner and had no inclination

towards becoming a

law enforcement officer, but

at the urging of his friend

and neighbor, he went on

a graveyard shift ride along

at age 33 and by the end of

the night, he knew without

a doubt that he was going

to become a police officer.

Sheriff Lamb graduated

from the Maricopa County

(Arizona) Law Enforcement

Academy at age 34 and was

valedictorian of his class.

Sheriff Lamb began his career

with the Salt River Pima

Maricopa Indian Community

(SRPMIC) as an officer in

2007 and earned numerous

awards and achievements

for his work, including

rookie of the year, officer

of the year, and detective

of the year. As an officer

with SRPMIC he successfully

investigated and took down

a deadly gang in a Federal

RICO case, while working

collaboratively with Alcohol

Tobaccos and Firearms,

Mesa Police Department,

the Arizona Department of

Public Safety, and numerous

other agencies. Sheriff Lamb

was an instrumental member

on the SWAT team and

spent many years as a gang

and drug detective. In 2012,

Sheriff Lamb transferred to

the Pinal County Sheriff's

Office, Arizona. His love for

his country, the constitution,

and the people of Arizona

compelled him to run for

Sheriff. In 2016, he successfully

clinched the race and

became the 24th Sheriff of

Pinal County. He is currently

serving his second term in

this instrumental role. Sheriff

Lamb expressed to me

that his passion for the role

of sheriff and law enforcement

comes from my deep

love and belief in America,

and his ability to protect the

people in his county and

their God given liberties and

freedoms.

Lamb oversees a county

the size of Connecticut

and manages nearly 500

employees within the department.

The Sheriff's

Office operates with a 50

million dollar budget which

covers all aspects of the

Sheriff's Office to include

the Detention Center. The

Pinal County Sheriff's office

provides patrol support

throughout the county. The

PCSO Search and Rescue

team, along with the Aviation

unit, help with locating

anyone lost or stranded and

assist with border security

operations. The Office also

has specialized units, from

Narcotics to the Anti-Smuggling

Team, to work with

federal partners to combat

human and drug trafficking

coming through the county

from the southern border.

The Pinal County Detention

center houses on average

600 inmates a day. The Detention

Center participates

in the Federal Government's

287g program. Through this

program in the jail, there is

a 48 hour hold to allow ICE

agents to take custody of

those who have been identified

as being in the country

illegally. The Sheriff's Office

will continue to support the

federal partners in any way

to ensure the safety and security

of their communities

and our citizens.

48 The BLUES The BLUES 49
---
GREATEST PERSONAL & PROFESSIONAL

ACHIEVEMENTS

Sheriff Lamb's greatest

personal achievement has

been raising a family of five

wonderful children with

his wife of 28 years. He and

his wife, Janel, along with

their kids, have made San

Tan Valley home for several

years. As Sheriff, he has

focused a lot of time on

youths in the community

and supports activities that

help them grow into dedicated,

successful adults.

Spending time in schools,

successful jail programs for

veterans, a young offender's

program, and his Youth

Redirection Program are

just a few of the successful

missions under his leadership.

When the Sheriff has

some rare downtime, you

can find him enjoying football,

spending time with his

family, or planning a family

trip to a beach. He hopes to

inspire people to "Fear Not,

Do Right" and have love in

their heart for the United

States of America, as well

as bridge the gap between

law enforcement and the

community through service.

He shared that his greatest

professional achievements

have included running for

Sheriff as an underdog

candidate and winning with

a 64-36 vote percentage,

then leading his agency and

command staff in breaking

the traditional cop mentality

and embracing a customer

service and marketing

mindset to serve his county

residents to the highest

standard.

CHANGES IN SOCIETY AND SOCIAL MEDIA

Sheriff Lamb noted that

one of the biggest changes

that has occurred over

the last two decades has

been the rise of technology,

specifically social

media. This has greatly

impacted the mindset of

the public, and access to

information has changed

the public's perception of

law enforcement in gen-

eral. The key to hiring and

supporting new deputies is

learning how to use social

media and technology to

our benefit, to highlight the

good work our officers and

deputies do every day, as

well as make sure our law

enforcement family know

that command staff has

their back and will stand

with them.

50 The BLUES The BLUES 51
---
AUTHOR & PHILOSOPHER

Sheriff Lamb successfully

authored his first book in

2020 titled "American Sheriff:

Traditional Values in a

Modern World". An excerpt

of the book's introduction

beautifully offered "We

live in a crazy and uncertain

world. Many people are

struggling to accept who

they are and to find their

path in this life. The world

has sent so many mixed

signals as it relates to virtues

and ideals. We are

overloaded with information,

which is nearly impossible

to sift through. People

are hungrier now than ever

before for beacons of light,

strong and true leaders,

men, and women who stand

for something. This book

is a compilation of pithy

proverbs, quotes, anecdotes

and experiences from my

life and career in law enforcement

and leadership.

My goal with this book is to

hopefully touch your hearts

and lives with some of these

valuable lessons from life.

I have tried to be as real as

possible, which is never a

good idea as a politician,

so that you can get a better

glimpse into my life, my

experiences, the things that

have forged my ideals and

values, the pitfalls I have

encountered, the successes

I have enjoyed and the

takeaways from all of those

things. I pray that you will

not only enjoy this book, but

hopefully you will be able

to glean something from

what you read and be able

to apply it in your life. If

nothing else, take courage

or solace in the fact that

each and every one of us

is going through challenges

and trials—you are not

alone. I have found that the

best way to approach life is

with the singular authenticity

that only you can provide

to this world. Find the

confidence and develop the

love for yourself and who

you are, then share that

with the rest of us. This life

is designed to take the very

best we have. This is a piece

of my story, the American

Sheriff, and how traditional

values have helped me survive

and thrive in this modern

world".

Sheriff Lamb recently

published his second book

"American Sheriff's Rules to

Live By" in 2022. Based on

the Poem "If" by Rudyard

Kipling, the book offers his

valuable insights and experiences

on a more personal

part of his life, as a father.

Lamb shared the following

in this well written account

of his powerful journey,

"Any parent out there knows

just how difficult it is to

raise children in a perfect

world, let alone a crazy, unpredictable,

and turbulent

world like the one we are

currently living in. My heart

especially goes out to those

single mothers and fathers

who have raised or are currently

raising children, I can

only imagine what a heavy

load that is. I, thank goodness,

have been fortunate

to have an amazing spouse

and partner in my life. We

were also blessed with five

healthy children, four boys

and one girl. While none of

them are perfect, taking after

my wife and me, they are

great kids, and we feel so

grateful to be their parents.

However, parenting has

been anything but easy. As

parents we felt the immense

pressure of raising children

who would be good citizens

and hopefully, the best

versions of themselves. The

world we live in today is

not making parenting any

52 The BLUES The BLUES 53
---
easier. Our children are now

faced with challenges that

are foreign to many of us

parents. Not to mention the

world is sending increasingly

more mixed, unclear and,

frankly, disturbing messages

to parents and children.

I would have never thought

I would see the day when

even the very lines defining

a man and a woman would

be blurred the way they are

currently playing out before

our eyes. Though each generation

has its challenges to

face, many of our current

social issues seem to be

unprecedented".

Lamb further elaborated

"In my profession of law

enforcement and as a sheriff,

I have the opportunity of

working with many parents

and youth, and the confusion

and frustration of life,

for both the parents and

children, is real. My goal as

a father was to successfully

raise good children who

would be great adults. In

order to be successful parents,

my wife and I sought

good counsel, read good

books, learned from other

parents and family members

and much more. Several

years ago, while seeking

out more knowledge and

working toward being a

better father, I came across

a very wise and impactful

poem by Rudyard Kipling

entitled "If." This poem has

been a guide for me as a

father and it has helped

me be a better, stronger,

more successful man. It

has helped me understand

how life's twists, turns and

challenges can help define

and refine me as a man.

And more than anything, it

has proven to be a guide

for me as to how I should

raise my children to become

great men and women. I am

also extremely passionate

about America, freedom and

the men and women, especially

the Founding Fathers, who

built America. Their stories of

passion, bravery, sacrifice, determination,

and love of freedom

inspires me every day. I

have chosen a few stories that

I think embody the principles

of life and help give context

to the principles shared by

Kipling in his poem "If." I pray

this poem and book, just like

it has been for me, may be a

help and guide to all parents

out there. My hope is that

this book may also serve as

guide for all of you men and

women who could also use

some direction and counsel

in your lives. I truly believe

if you can master the principles

from this poem, the

Earth will be yours".

54 The BLUES The BLUES 55
---
FENTANYL & THE BORDER

MEDIA INVOLVEMENT

Beginning in 2019, Sheriff

Mark Lamb assisted as a

host along with Tom Morris

Jr., on the television show

"Live PD: Wanted" which

updated the stories of the

fugitives the "Live PD" audience

had already helped

capture while embedding

with task forces around

the country as they served

warrants in real time. The

producers, A&E, ultimately

cancelled the Wanted show

and ended their relationship

with Pinal County due to

national political pressure.

Sheriff Lamb viewed this as

an excellent opportunity to

promote his agency with

the hope it would assist

as a huge boost for hiring.

He also added. "It is completely

transparent; it is no

different than if our guys

had body cams on." Sheriff

Lamb is no stranger to media

interviews and regularly

appears on numerous major

news and social media outlets,

including The American

Sheriff Network.

MOST URGENT ISSUES

Sheriff Lamb, when asked

what he considers the most

urgent issues we are currently

facing in our society,

he stated, without a doubt,

drugs, especially fentanyl.

This is by far the biggest

scourge on our society

today and is the leading

cause of death of Americans

ages 18-45 and it is

only getting worse. Another

significant and connected

crisis is human smuggling.

Even in smaller communities

in Pinal County, there is

a surging drug crisis with

no end in sight. In addition,

there is also a battle with

effectively addressing a

serious mental health crisis,

which then contributes to

drug use, drug overdoses,

and suicide. Sheriff Lamb

is adamant that we must

"secure our southern border

and he is supportive of

programs that help individuals

with mental illness and

drug addiction, but the efficiency

of these programs is

seriously diminished when

we fail to stop the flow of

drugs in this country. It is

as if we are mopping up

the water on the bathroom

floor, but we aren't turning

off the overflowing bathtub.

We know where these

drugs and human smuggling

are originating, and

the federal government

refuses to acknowledge the

problem, let along attempt

to fix it. Sheriff Lamb further

asserted that we must

hold people accountable by

enforcing and upholding the

rule of law. Policies like bail

reform, reduced sentencing,

probation in lieu of jail time,

are adding to the increase in

crime across this country".

EFFECTIVE MANAGE-

MENT OF ACTIVE SHOOTER

EVENTS

Sheriff Lamb firmly believes

that the best way

to stop a bad guy with a

gun, is a good guy with a

gun. He explained that he

is perplexed by the notion

that people believe the false

narrative that a gun, an

inanimate object, has the

ability to harm people on

its own, it must be operated

by someone. People hurt

people. The way to protect

our children is make sure

our schools are secure, reinstituting

school resource

officers, equipping teachers

and administrators with the

necessary tools and training.

Taking guns out of the

hands of the average citizen

or controlling their consti-

56 The BLUES The BLUES 57
---
LOOKING AHEAD

tutional right to bear arms

is NOT the answer. Addressing

the mental health and

drug problem in this country

will have a major impact

on our school safety.

ADVICE FOR NEW DEPUTIES

Sheriff Lamb always tells

new deputies that the most

important thing they can do

to stay emotionally healthy

is to have empathy for the

situations they encounter

on a daily basis, as opposed

to sympathy. Learning the

difference between those

two emotions is very important.

You can have empathy

for someone's situation,

which will help you to

use clear judgement in how

to best help them, but not

get caught up in the often

very tough emotions of the

things we see every day. He

also emphasizes to them

to make certain to remain

grounded in a higher power

and to always be humble

to something bigger than

themselves in this life. The

job is to protect the constitutional

rights of every one

of our citizens, and he encourages

them to do their

job with the motto "Fear

Not, Do Right". Unfortunately,

sometimes we have to

hold people accountable,

but with the understanding

that we are peace officers

first and foremost.

FIVE YEARS IN THE FUTURE

Lamb absolutely loves

serving as the Sheriff and

he does not currently

have any higher aspirations

at this time. However,

he added that he will go

where his voice is loudest

for God, family, and freedom,

and right now that

is Sheriff of Pinal County.

Lamb loves having the

people who elected him

serve as his boss. As a constitutional

conservative,

Lamb has strong convictions

and is courageous in

fighting for the citizens he

serves. He believes wholeheartedly

in our Republic

and our Constitution, is a

strong supporter of our

2nd Amendment rights and

the enforcement of all of

our laws, including those

that pertain to fighting illegal

immigration, and he is

determined to protect the

rights and freedoms of the

people whom he serves.

This is his vow for as long

as God allows.

58 The BLUES The BLUES 59
---
The Evolution of

POLICE CARS: 2031

PART III: THE FUTURE

Over the years, I guess you could say just about every car manufactured

has been a police car at one time or another. The first "police

vehicle" was actually a wagon run by electricity on the streets of Akron,

Ohio in 1899.

In the 1920s the New York City Police Department has employed a

fleet of "Radio Motor Patrol" vehicles to aid in its fight against crime

within the city.

In the United States and Canada, police departments have historically

used standard-size, low-price line sedans since the days of the

Ford Model A.

In our 3rd and final segment, we look to the future and what officers

will be driving and or flying while on patrol. Hold on, this is going to

be a wild ride.

60 60 The The BLUES The The BLUES 61 61
---
PREPARING FOR THE FUTURE

The first question is – will cars/vehicles actually fly by

2031? The simple answer is yes. In fact, the technology

to build and operate a flying vehicle began in 2020 with

flight testing in 2022. By 2024 the first multi-verse vehicles

had been certified by the FAA's new FAVCA (Federal

Aviation Vehicle Control Admis ration) and by 2026 vehicles

had taken to the skies in record numbers. How did

this all begin? A multitude of issues had to be addressed

long before the first flight vehicle lifted off the ground.

Here are just a few of the many rules and regulations that

FAVCA enacted in the Airborne Vehicle Act of 2022.

First, here are just a few of the basic ACRONYMS you

need to know about ground based and air capable vehicles

manufactured by the China/American Manufacturing

Company (I know what you're thinking but 98% of

all drones made in 2022 were manufactured in China. A

partnership with American automakers was inevitable.).

AMV (autonomous motor vehicles)

UAM (urban air mobility vehicles)

PSAMV (piloted autonomous motor vehicle)

PSAMV / Patrol (piloted autonomous motor vehicle)

UAVs (unmanned aerial vehicles) i.e., airborne delivery

vehicles

UAV/Patrol (unmanned patrol aerial vehicles)

GBDs (ground-based drones)

GBDCs (ground-based drone cycles)

GBPD (ground-based patrol drones)

GBPCD (ground-based patrol drone cycles)

In order to make flying cars and patrol vehicles a

reality, the government and manufacturers had a lot of

work to do. But, like NASA and going to the moon, never

underestimate the ability of mankind when they set their

mind to something. Here is a brief recap of what it took

to make flying police cars a reality,

62 The BLUES The BLUES 63

62 The BLUES The BLUES 63
---
SAFETY CONCERNS

With the popularity of drones

and UAVs on the rise in the early

2020s, the demand for policies

to support commercial application

of flying cars became

an increasing reality. Critical

regulatory obstacles had to be

overcome if passenger drones

and flying cars were to be operational

within the decade.

Obviating safety concerns (both

human and autonomous) associated

with flying car technology

was of paramount importance.

As with autonomous ground

vehicles, any publicized adverse

safety incidents could have

tainted the public's perception

and limited the growth rate of

consumer acceptance.

The most challenging task

of flying cars involved suitable

procedures for getting airborne

(takeoffs) and returning to the

ground (landings), and the development

of a complex safety

system that was regulated by

the National Airspace System

(NAS), the governing entity for

United States airspace. From a

regulatory standpoint, a lot of

research was required to ensure

that autonomous systems could

operate, navigate, and control

flying cars equipped with redundancy

(backup systems), and

have "safe mode" capabilities

(i.e., "on-the-fly" decision-making)

if they encountered unusual

situations. Airspace logistics

further dictated that the primary

regulatory body (i.e., the FAA

and the FAVCA) assigned minimum

safety standards, and each

individual state then mandated

and provided its own private air

traffic controllers for the combined

land/air-based vehicles.

This system was independent of

current FAA operations as newly

created airships had to maintain

flight levels below 1500 feet or

be transferred to standard FAA

operations and become PSAMV

only.

To Ensure operational safety

during adverse weather conditions

(e.g., snowstorm, heavy

rain, high wind, fog etc.) onboard

computer systems had to

monitor the thresholds of safe

operational environments in

terms of visibility, wind speed,

precipitation intensity, etc. for

different flying car types and determines

safe operational limits.

PILOT TRAINING & CERTIFICATION

As flying cars evolved, airborne

egress was mandated by the

Federal Aviation Administration

(FAA) to govern and manage

effective risk controls. For traditional

aircraft, the FAA had a

successful regulatory system for

pilot licenses, aircraft certification

and registration, takeoff, and

landing sites (airports), and a

mechanism for air traffic control.

With the introduction of flying

cars, the FAVCA had to implement

traffic control systems to

accommodate the inclusion of

low altitude flight (below 1500ft

AGL) and High-Altitude Flight

(above 1501ft AGL) and develop a

program to integrate the two. As

far as licensing, a flying vehicle

operator was required to obtain

both a license to drive and fly

and was required to obtain the

appropriate vehicle registration

and Type Certification for the

vehicle. Flying vehicle technologies

were essentially large-scale

drones that became popular in

2013.

A wide range of flying car

types were eventually allowed

to operate within large, metropolitan

areas. As such, their

future was largely dependent on

certification procedures, which

dictated the urgency and tempo

of the emergent, and disruptive

technology as it evolved.

Initially, all versions of flying

cars had a driver/pilot on board

for the duration of the journey.

However, as technology advanced,

fully autonomous, and

automated flying models began

operations and were remotely

piloted and supervised either: (a)

by live humans on the ground,

or (b) by autonomous systems

in the air and/or on the ground.

To operate "urban air mobility

(UAM)" vehicles (either with or

without passengers) without a

pilot depended not only on the

certification of the vehicle, but

64 The BLUES The BLUES 65
---
likewise on the certification of

pilots and support systems on

the ground. The FAA created and

implemented advanced virtual

training scenarios for future

flying car operators—particularly

for handling complex ground-air

and air-ground transitions. Regulation

of air traffic issues across

all governing bodies was both a

unique and complex challenge,

but one that the FAA, FAVCA and

NAS all worked together to make

happen in a relatively short time.

INFRASTRUCTURE & NAVIGATION

The navigational benefits of

instituting a functional flying

car network were obvious—a

technology that allowed civilians

to transport from source to

destination at a fraction of the

overall time required to drive

the same distance. A typical 20

min drive is constrained by 2D

roads, ground congestion, and

the natural limitations of land

topography. On the airborne

flight path, these constraints are

reduced, and the point-to-point

straight path travel distance is

only 7 min. The first obstacles

that needed to be removed from

this new "airborne" highway,

were all electrical wiring, traffic

signs, traffic lights and traditional

street lighting. By the end of

2023, all street and traffic signs,

as well as all traffic direction

signals had been converted to

holographic systems. This allowed

a two-layered control

path for both ground based and

airborne traffic. In more simplistic

terms, the area above our

city streets and highways was

virtually clear of all intrusions.

The second most inclusive undertaking

was building infrastructures

that would permit

safe takeoffs and landings, as

well as infrastructure for vehicle

storage i.e., parking lots

for aircraft. Naturally, such a

vast network of vertical takeoff

and landing facilities, or "vertiports"

necessitated standards

and certifications for the infrastructure

(e.g., helipads installed

atop large public buildings; large

segments of flat land designated

for air-ground transitions)

The design, layout, and actually

building of such vertiports began

in 2023 and continued for the

next five years. To allow for the

smooth flow of airborne traffic,

authorities mandated that flying

car operators be constrained to

select flight corridors, such that

a direct route might not always

be an option. These corridors

were strategically located over

reduced-risk areas of land that

have minimal population. The

exception to these mandated

flight corridors was made for all

Law Enforcement and Delivery

vehicles, which could operate

independent of the standard airborne

traffic.

Other unique aspects of flying

were considered as this new

"airborne highway system" was

created. For example, it was

presumed that in standard operational

mode, the bottom of

the vehicle was oriented downward,

and it can traverse vertically

while having the capacity

to "hover," and likewise remain

stationary while airborne. Furthermore,

flying cars could also

travel longitudinally and laterally

without having to orient the

vehicle in that direction. Flying

cars, like aircraft, therefore

required rotational motion: to

bank (roll), to tilt (pitch), and to

revolve (yaw) to establish orientation

within a plane parallel

to the ground. Given the capabilities

and maneuverability of

these vehicles, extended horizontal

runways were not feasible

and all were required to utilize

vertical takeoff and landing

(VTOL) capabilities. Ridesharing

companies (e.g., Uber and Lyft)

began using VTOL vehicles with

"segregated airspace" dedicated

for and managed by the ridesharing

entities. As the low-altitude

airspace above cities and

towns grew more crowed, Federal

regulators began studying

long-term policies that involved

a holistic integrated airspace,

where everyone shares the skies.

The one futuristic vision that

never occurred was flying vehicles

that converted to drivable

cars. The technology existed, but

the public accepted the choice of

you either fly or you drive.

66 The BLUES The BLUES 67
---
VEHICLE DEVELOPMENT &

OPERATIONAL CAPABILITIES

In order to achieve the desired

airborne capabilities of

the vehicles, manufactures had

to overcome present-day battery

science in order to power

the vehicles for extended periods

of time. In the beginning,

vehicles had a brief 10–20 min

flight duration before requiring a

re-charge. In time, battery technology

advanced to an entire

Flying car operations rely

heavily upon computational

AI for Detect and Avoid (DAA)

technologies to recognize, distinguish,

and track other aircraft,

predict conflicts, and take

corrective action as required.

To realize such functionality

demanded cognitive systems

and computing; platforms that

encompassed machine learning/reasoning,

human-machine

interaction/automation, and

network sensors for seamless

and real-time vehicle to vehicle

and vehicle to infrastructure

communications. The prevailing

safety concern was a major

system malfunction while flying

over a densely populated area,

new level that increased the

energy density, cycle life, and

ultimate 2-hour flight time between

charges. Needless to say,

charging stations were placed

by the hundreds in the landing

areas, with touchless payment

systems provided by the vehicle's

internal computer links to

the owners banking information.

CYBERSECURITY & BRINGING

IT ALL TOGETHER

and how to protect the system

from hackers, terrorists, or other

cyber criminals. Ultimately,

the establishment of cybersecurity

policies, standards and

oversight became the primary

objective of the FAVCA in 2023.

There were, of course, thousands

of pieces to this complex

puzzle to make flying cars a

reality, but you get the picture.

Man can create and adapt virtually

any new technology with

enough time and money. So how

did this new technology affect

policing and what hot new vehicles

were available to officers

in 2031? Let's look at just a few

of these 'patrol vehicles' both

manned and un-manned.

68 The BLUES The BLUES 69

68 The BLUES The BLUES 69
---
2025 ePATROL SPEED INTERCEPTOR

BMW Group & DesignworksUSA introduce the ePatrol for 2025

LOS ANGELES/ MUNICH – Ten

years ago, the L.A. Autoshow was

not just the place to inspect new

models of automotive companies.

It was also the place where

the design teams of the top

automotive companies entered a

creative competition of the most

exciting kind when presenting visionary

concepts around the topic

of individual mobility. The year

was 2012 and the challenge for

the design teams was to create

the ultimate 2025 highway patrol

vehicle. The solution delivered

by BMW subsidiary DesignworksUSA

demonstrates that BMW´s

design think tank has more to

offer than a rich 40-year history

of product design. The visionary

concept ePatrol gives a glimpse

into the forceful power of innovation

and future thinking that

the mother company BMW Group

as well as external clients from

manifold industries may expect

from DesignworksUSA in the 40

years to come. Here is the fruits

of their work.

DESIGN CHALLENGE

The design teams were tasked

with exploring creative solutions

for futuristic patrol cars based

on a set of criteria which included:

future needs for advanced

technology; speed and agility on

future freeway systems; creativity

of the solution; and meeting a

specific region's emission standards

and environmental sen-

sibility (including maintenance

and recyclability). Furthermore,

the teams were challenged to

look into the future to envision

and create the trends and tools

that haven't been imagined with

the added complexity of a vehicle

fit for law enforcement.

Laurenz Schaffer, President of

DesignworksUSA comments the

solution delivered by the design

team: "DesignworksUSA`s role

as a think tank is to challenge

the status quo of existing product

solutions", he says. "We

wanted to present a visionary

impulse to the theme of highway

patrol. Hence our contribution

to the L.A. Design Challenge is a

vision concept with no links to

BMW´s future design strategy.

We took the liberty to think out

of the box. To emphasize the

conceptual approach our design

is independent from BMW design

70 The BLUES The BLUES 71
---
elements and known visual cues

but looks at new product typologies

and fresh ideas on shapes",

Schaffer continues.

EPATROL : A DREAM PROJ-

ECT FOR DESIGNERS.

The BMW Group DesignworksUSA

team began the challenge

by selecting Los Angeles as the

region to create a 2025 scenario.

Being aware that there will be

more traffic, faster vehicles, and

vehicles with alternative drive

trains the design team explored

how a patrol team functioned

today and in the future and

determined that teamwork and

accessibility were the two key

elements to a successful patrol

effort. For teamwork, the design

team was inspired by the partnership

between a patrol officer

and their canine. The clogged

highways today and in the future

inspired the design team to focus

on a solution to increase accessibility.

DESIGN SOLUTION.

The design of the ePatrol Vision

centers on a modular structure

and drone technology that

enhanced both teamwork and

accessibility. The main structure

can deploy three drones. The top

drone sits above the main structure

and is a flying drone, while

the other two are one-wheel

vehicles attached to the rear.

In the case of a pursuit during

heavy traffic areas, the patrol

officer sitting in the two passenger

main structure can deploy

either the flying drone or one of

the single wheel drones to chase

the suspect and report back data

to the main structure. When

all drones are deployed, the

main structure can continue to

function. All drones have added

protection benefits in that they

can send an impulse to another

vehicle and disable it. Throughout

the exterior design, the team

strived to create a powerful

stance with an aerodynamic

aesthetic and flowing lines.

The interior design was inspired

by a woven structure

made of aluminum wire inside

carbon fiber and polymer resin.

The seats form a significant

connection between driver and

architecture. From a manufacturing

standpoint, the 3D woven

carbon fiber structure has the

advantage that tooling is not

required. All interfaces within

the interior are touch screen. For

greater protection to the patrol

officers, windows are not included

in the vehicle. The windshield

is replaced with a large screen

that on the exterior can communicate

critical information

such as accidents or route information

to other drivers. On the

interior, the large screen acts as

a monitor on which data from

the drones can be displayed.

The ePatrol was just the beginning

of what was to come in

future years for law enforcement

both on the ground and in the

sky. Let's jump ahead six years

and see what Ford and The Interceptor

Drone Company offered

for 2031.

72 The BLUES The BLUES 73
---
2031 INTERCEPTOR PATROL DRONE

The INTERCEPTOR DRONE

Company, USA just released

Version 3.0 of its GBPD ground

based patrol drone, of which

LA County and LAPD purchased

25 each of the high speed

two- wheeled cycle drones.

LA County and LAPD operate a

joint command and operations

center that monitors and controls

over 100 GBPDs and 75

ABPRs (Airborne Based Patrol

Drones) in the greater LA area.

The GBPD cycle drones have

the ability to monitor traffic

patterns, warn drivers of impending

ground stops, record

various traffic infractions,

transmit both live and recorded

video directly to traffic

courts, issue virtual traffic

citations and in the case of a

dangerous vehicles, disable

both manned as well as autonomous

vehicles electronically.

The GBPD can then summon

an autonomous wrecker

and have the vehicle removed

from operational lanes of a

motorway. If citizens are to be

taken into custody or removed

for safety reasons, a Transport

Drone is dispatched to the

scene by the command center

and appropriate action taken.

In the first year that the GBPD

cycle drones began patrolling

LA Freeways and Motorways,

over 5,000 incidents and

accidents were handled and

cleared by the GBPDs with

patrol assistance.

Version 3.0 cycles have

a 100% carbon fiber body

frame, 2 gyroscopic rotors

powered by electric motors

and lithium-ion XX battery

packs capable of 4.5 hours of

nonstop patrol activities. The

cycles are powered by two

high performance electric engines

capable of speeds up to

150mph. They are completely

autonomous but have computer

overrides that allow the

Command Center to redirect

the vehicles in the event of a

catastrophic event.

Two 360º degree 20K cameras

are mounted on the top

of the drone that provide live

feeds to the Command Center

as well as directly to ground

and airborne, manned as well

as autonomous patrol vehicles.

To date, LA's GBPD cycle

drones have logged over

250,000 miles without a single

accident or emergency

event. Given the recent upgrades

to gyroscopic sensors

on the 3.0, the drones are

virtually impossible to upset

in the event they are accidently

or intentionally struck by

another vehicle.

The most significant improvement

to drones since

their introduction a few years

ago is the failsafe protection

system built into the electronics

of the drone's internal guidance

and video systems. If an intruder

attempts to disable or perform

some type of hack to the drone,

the security system alerts the

command center and then delivers

a 1-megawatt stun to the intruder.

This millisecond action will continue

until the intruder is taken into

custody.

The INTERCEPTOR DRONE has

become an invaluable tool to law

enforcement across the country

and most departments say they

have no idea how they survived

without them.

74 The BLUES The BLUES 75

74 The BLUES The BLUES 75
---
2031 FORD K-85 AIRBORNE POLICE INTERCEPTOR

It's hard to believe that for the

last 111 years, The FORD Motor

Company has provided law

enforcement in the United States

and Canadian Territories with

some type of Interceptor patrol

vehicle. In 2023, FORD partnered

with its Airborne Vehicle Development

Division to develop both

piloted as well as fully autonomous

vehicles designed to meet

the demands of modern-day law

enforcement.

With multi-levels of transportation

in effect at the same time,

as well as ingress and egress

with FAA controlled flight levels,

FORD knew its vehicles had

to be state of the art. The newest

version of the Interceptor is

beyond state of art. Powered by

no less than 20 electric 6-bladed

props all operating in lighting

fast sync, backed up by three

redundant power systems and an

emergency ballistic parachute

system, officers can focus on patrol

duties and not have to worry

about safety.

The new lithium-ion XX battery-packs,

provide over 8 hours

of system power and have the

ability to download additional

kilowatts while hovering over

key charging locations throughout

the patrol zones. FORD has

taken the lead with MAVs and

UAVs to provide a tri-battery

system to power the engines

separately from the onboard

avionics and electronic ballistic

NEW FOR '31 - K-85A

Fully Autonomous or Manual Flight

shield that protects the vehicle

from lasers as well as hits from

legacy firearms. Each battery

system has the ability to back up

the other two systems to ensure

that the vehicle is always powered,

protected and under complete

guidance.

While the K-85A & K-85M are

similar in a number of ways,

the K-85A is designed for autonomous

flight only and does

not allow for pilot interactions.

FORD has also introduced the

K1000 Transport Vehicle to move

prisoners autonomously as well.

The K1000 can accommodate 10

prisoners along with an armed

crew of 4.

Pilots and crew that have transitioned

into the K-85M Interceptor

from previous models, have

raved about its incredible speed

and maneuverability. Top speed

has been increased to 250 knots

true air speed above Flight Level

2000 and limited to 125 knots

below 2000 feet AGL. In the

event of sudden weather events

that reduce visibility or controllability

of the vehicle, the pilot

operator can instantly switch to

full autonomous mode and turn

navigation and operation over

to the on-board guidance system.

The K-85M Interceptor also

comes standard with a Garrett

MA9000 avionics suite as well

as fully automated FADEC and

DEFENSE Modes. The interior has

also been upgraded to ballistic

10G seating and features

50K video screens throughout.

The onboard video systems

also have the ability to upload

and down- load video at over

500,000 bits per second from

4-50K onboard cameras. Also

new to this model, is the ability

to broadcast both video and

audio to any onboard receiver

within a 10-mile radius.

In the event of a groundbased

emergency, airborne

units can provide direction

and guidance to civilians on

the ground.

Sleek, Fast and Unbelievable

Protection. That's the comment

from everyone who's flown the

K-85M Interceptor.

76 The BLUES The BLUES 77

76 The BLUES The BLUES 77
---
NOVEMBER

1-2 Internal Affairs Administrative Investigation By LLRMI Ft. Worth, TX

1-2 Managing the Property and Evidence Room *BY PATC Van Buren, AR

1-2 Search Warrant Major Case Investigation *BY PATC Plainfield, IN

3-4 Critical Task in Jail/Correction Operations By LLRMI Grapevine, TX

7-9 Human Trafficking *BY PATC Albuquerque, NM

7-9 Protests, Demonstrations and Civil Unrest Operations By LLRMI Las Vegas, NV

7-11 5 Day Homicide and Death Investigation By LLRMI Las Vegas, NV

7-11 Detective and New Criminal Investigator *BY PATC Lynchburg, VA

7-11 National Internal Affairs Training and Certification By LLRMI Las Vegas, NV

7-11 Use of Force Conference and Certification By LLRMI Las Vegas, NV

8-10 Jail/Corrections Risk Management, Liability Conference By LLRMI Las Vegas, NV

14-16 3-Day New Detective and New Criminal Investigator By LLRMI Surprise, AZ

14-17 NTOA's 22nd Annual Crisis Negotiations Conference Scottsdale, AZ

14-18 Detective and New Criminal Investigator *BY PATC San Antonio, TX

14-18 Field Training Officer Certification *BY PATC Allen, TX

15-17 Emerging Legal Trends & Liability Mgt. for SWAT By LLRMI Gatlinburg, TN

15-17 Sexual Deviant Offenders *BY PATC Normal, IL

18-22 California Narcotic Officers' Association Training Conference Indian Wells, CA

28-29 Search Warrant Major Case Investigation *BY PATC Chambersburg, PA

28-30 Human Trafficking *BY PATC Morgantown, PA

28-30 School Violence, Safety and Security Conference *BY PATC Las Vegas, NV

28-2 Detective and New Criminal Investigator *BY PATC Las Vegas, NV

28-2 Internal Affairs Conference and Certification *BY PATC Las Vegas, NV

28-2 New Fire and Arson Investigator Academy *BY PATC Las Vegas, NV

29-30 Mentoring the Underachieving Employee *BY PATC Plainfield, IN

DECEMBER

1-2 School Resource Officer Training *BY PATC Las Vegas, NV

5-6 Recruiting, Hiring, Background Investigations and Retention *BY PATCLas Vegas, NV

5-9 Detective and New Criminal Investigator *BY PATC Jeffersonville, IN

5-9 Field Training Officer Certification *BY PATC Las Vegas, NV

5-9 Hostage Negotiations Phase 1 By LLRMI Abington, PA

7-8 Courtroom Security and Threat Assessment *BY PATC Las Vegas, NV

7-9 The Essential Field Training Officer By LLRMI Urbana, IL

12-13 Advanced Internal Invest: Legal and Practical Issues *BY PATC Idaho Falls, ID

12-14 Ambush and Lethal Environment Recognition Training *BY PATC Albuquerque, NM

12-14 Investigating Basic Sex Crimes *BY PATC Ocala, FL

12-16 Field Training Officer Certification *BY PATC Waterville, OH

12-16 Train the Trainer Instructor Academy Las Vegas, NV

13-14 Managing the Property and Evidence Room *BY PATC Fort Myers , FL

20-21 Recruiting, Hiring, Background Investigations *BY PATC Greeley, CO

JANUARY

9-10 Courtroom Security and Threat Assessment *BY PATC West Monroe, LA

9-13 Detective and New Criminal Investigator *BY PATC Hayden, ID

9-13 Field Training Officer Certification *BY PATC Rock Hill , SC

9-13 Internal Affairs Conference and Certification *BY PATC Hoover, AL

10-11 Recruiting, Hiring, Background Investigations *BY PATC Austell, GA

10-12 Fire/Arson Investigation and Arson Case Management By LLRMI Upper Darby, PA

10-12 Responding to Veterans and Police Officers in Crisis *BY PATC Royal Oak, MI

11-12 Managing the Property and Evidence Room *BY PATC Abington, PA

16-20 New Fire and Arson Investigator Academy *BY PATC Wayne, NJ

JANUARY/cont.

16-20 Train the Trainer Instructor Academy Scott, LA

23-24 Search Warrant Major Case Investigation *BY PATC Hoover, AL

23-27 Fit-to-Enforce Fitness Instructor Course Huntsville, AL

23-27 Special Operations Supervisors Training Nashville, TN

26-27 Responding to Veterans and Police Officers in Crisis *BY PATC Jonesboro, GA

30-3 Detective and New Criminal Investigator *BY PATC Belfast , ME

31-1 Recruiting, Hiring, Background Investigations *BY PATC Beaumont, TX

FEBRUARY

6-8 The Essential Field Training Officer By LLRMI Abington, PA

6-10 Detective and New Criminal Investigator *BY PATC Pearland, TX

13-17 5 Day New Detective and New Criminal Investigator By LLRMI Abington, PA

14-15 Recruiting, Hiring, Background and Retention *BY PATC Easley, SC

21-22 Arrest, Search and Seizure - LE Best Practices *BY PATC Hoover, AL

21-23 Recruiting, Hiring, Background and Retention *BY PATC Colton, CA

27-28 Managing the Property and Evidence Room *BY PATC Myrtle Beach, SC

27-1 Responding to Veterans and Police Officers in Crisis *BY PATC Scotch Plains, NJ

27-3 Detective and New Criminal Investigator *BY PATC Myrtle Beach, SC

27-3 Internal Affairs Conference and Certification *BY PATC Myrtle Beach, SC

MARCH

2-3 Stress Management in Law Enforcement *BY PATC Myrtle Beach, SC

6-7 Recruiting, Hiring, Background and Retention *BY PATC Nampa, ID

14-16 Sexual Deviant Offenders *BY PATC League City, TX

20-23 Bravo-3 Law Enforcement Training Conference Daytona Beach, FL

27-31 Detective and New Criminal Investigator *BY PATC Charlotte, NC

APRIL

11-12 Managing the Property and Evidence Room *BY PATC Hoover, AL

17-21 Field Training Officer Certification *BY PATC Texas City, TX

18-19 Managing the Property and Evidence Room *BY PATC Texas City, TX

24-25 Advanced Internal Investigations: Legal & Practical Issues *BY PATC Las Vegas, NV

24-25 Arrest, Search and Seizure - LE Best Practices *BY PATC Las Vegas, NV

24-28 Detective and New Criminal Investigator *BY PATC Texas City, TX

25-27 Hands-On Vehicle Fire/Arson Investigation By LLRMI Upper Darby, PA

25-27 Violent Crime Symposium 2023 Wilmington, DE

26-28 Human Trafficking *BY PATC Las Vegas, NV

MAY

1-5 Detective and New Criminal Investigator *BY PATC Rio Rancho, NM

Send your calendar listings to:

bluespdmag@gmail.com

78 The BLUES The BLUES 79
---
HONORING OUR FALLEN HEROES

SERGEANT MEAGAN BURKE

MAJOR TERRY RANDALL "TURTLE" ARNOLD

OKLAHOMA CITY POLICE DEPARTMENT, OKLAHOMA

END OF WATCH THURSDAY, SEPTEMBER 29, 2022

AGE: 31 TOUR: 6 YEARS BADGE: 2052

Sergeant Meagan Burke was killed in an on-duty vehicle crash on I-44 at about 12:34 am.

She was traveling northbound when a southbound vehicle crossed the median and struck her vehicle head-on

in the area of SW 29th Street. She was killed instantly in the collision.

Sergeant Burke had served with the Oklahoma City Police Department for over six years. She is survived by

her mother, father, and sister.

COOK COUNTY SHERIFF'S OFFICE, GEORGIA

END OF WATCH MONDAY, OCTOBER 3, 2022

AGE: 59 TOUR: 35 YEARS BADGE: Cook 50

Major Terry Arnold suffered a fatal heart attack after responding to a fight between two students at Cook County

High School in Adel. While taking one of the juveniles into custody, Major Arnold collapsed. Medical personnel

rendered aid, and he was transported to South Georgia Medical Center, where he was unable to be revived. Major

Arnold had served with the Cook County Sheriff's Office for 28 years and previously served with the Remerton

Police Department for two years and the Adel Police Department for five years. He is survived by four daughters, a

son, ten grandchildren, four siblings, a longtime companion, and her son and daughter.

Major Arnold was posthumously promoted to Major.

80 The BLUES POLICE MAGAZINE The BLUES POLICE The MAGAZINE BLUES 81
---
HONORING OUR FALLEN HEROES

DEPUTY SHERIFF BLANE LANE

DEPUTY SHERIFF SIDNEE CARTER

POLK COUNTY SHERIFF'S OFFICE, FLORIDA

END OF WATCH TUESDAY, OCTOBER 4, 2022

AGE: 21 TOUR: 1 YEARS 4 MOS BADGE: 9228

Deputy Sheriff Blane Lane was shot and killed while serving a felony arrest warrant in Polk City at about 3:00

am. He and three other deputies were invited into the subject's trailer to serve the failure to appear warrant

for a previous narcotics charge. While Deputy Lane and three other deputies checked the mobile home the

wanted subject walked into the room and pointed a gun at them. The deputies immediately fired at the subject

but one of their rounds went through a wall and struck Deputy Lane in the shoulder. He was transported to

Lakeland Regional Health Medical Center where he succumbed to his wound.

Deputy Sheriff Lane had served with the Polk County Sheriff's Office for one year. He is survived by his 3-yearold

child.

SEDGWICK COUNTY SHERIFF'S OFFICE, KANSAS

END OF WATCH FRIDAY, OCTOBER 7, 2022

AGE: 22 TOUR: 2 YEARS BADGE: NA

Deputy Sheriff Sidnee Carter was killed in an automobile crash while responding to a disturbance call at about

9:30 pm. Another vehicle ran a stop sign and struck her patrol car at the intersection of 135th Street West and

29th Street North near Maize.

Deputy Carter had served with the Sedgwick County Sheriff's Office for two years. She had initially served as a jail

deputy for 18 months and had finished field training as a patrol deputy one week before the crash. She is survived

by her parents and siblings.

82 The BLUES POLICE MAGAZINE The BLUES POLICE The MAGAZINE BLUES 83
---
HONORING OUR FALLEN HEROES

INVESTIGATOR MYIESHA BREANNA STEWART

LIEUTENANT DUSTIN DEMONTE

GREENVILLE POLICE DEPARTMENT, MISSISSIPPI

END OF WATCH TUESDAY, OCTOBER 11, 2022

AGE: 30 TOUR: N/A BADGE: N/A

Investigator Myiesha Stewart was shot and killed near the intersection of Reed Road and Rebecca Street

during a vehicle pursuit at about 7:30 pm. Greenville officers and deputies with the Washington County Sheriff's

Office were pursuing a subject who had fled after shooting his girlfriend.

The subject was taken into custody following the pursuit.

Investigator Stewart is survived by her three-year-old son and parents.

BRISTOL POLICE DEPARTMENT, CONNECTICUT

END OF WATCH WEDNESDAY, OCTOBER 12, 2022

AGE: 35 TOUR: 10 YEARS BADGE: 221

Lieutenant Dustin Demonte and Sergeant Alex Hamzy were shot and killed in an ambush in front of a home on Redstone

Hill Road, near Birch Street, at about 11:00 pm. Officers had responded to a business earlier in the evening

in response to complaints about a disorderly patron. Officers who responded to the call issued the man a summons

and released him. The man then went home, armed himself with an AR-15 rifle, and made a fake 911 call reporting a

disturbance at his home. As officers arrived at the scene, the man opened fire on them from the front yard. Lieutenant

Demonte and Sergeant Hamzy were both fatally wounded, while a third officer suffered non-life-threatening wounds.

Lieutenant Demonte had served with the Bristol Police Department for 10 years. He is survived by his expectant wife

and two children. Lieutenant Demonte was posthumously promoted to Lieutenant.

84

84 The

The BLUES

BLUES POLICE MAGAZINE The BLUES POLICE

The

MAGAZINE BLUES 85

85
---
HONORING OUR FALLEN HEROES

SERGEANT ALEX HAMZY

POLICE OFFICER TRUONG THAI

BRISTOL POLICE DEPARTMENT, CONNECTICUT

END OF WATCH WEDNESDAY, OCTOBER 12, 2022

AGE: 34 TOUR: 8 YEARS BADGE: 245

Sergeant Alex Hamzy and Lieutenant Dustin Demonte were shot and killed in an ambush in front of a home

on Redstone Hill Road, near Birch Street, at about 11:00 pm. Officers had responded to a business earlier in

the evening in response to complaints about a disorderly patron. Officers who responded to the call issued the

man a summons and released him. The man then went home, armed himself with an AR-15 rifle, and made

a fake 911 call reporting a disturbance at his home. As officers arrived at the scene, the man opened fire on

them from the front yard. Sergeant Hamzy and Lieutenant Demonte were both fatally wounded, while a third

officer suffered non-life-threatening wounds. Sergeant Hamzy had served with the Bristol Police Department

for eight years. He is survived by his wife, parents, and two sisters. Sergeant Hamzy was posthumously promoted

to Sergeant.

LAS VEGAS METROPOLITAN POLICE DEPT, NEVADA

END OF WATCH THURSDAY, OCTOBER 13, 2022

AGE: 49 TOUR: 23 YEARS BADGE: N/A

Police Officer Truong Thai was shot and killed while responding to a domestic disturbance call in the 800 block

of East Flamingo Road at about 1:00 am. The subject opened fire from inside his vehicle as Officer Thai and his

partner attempted to make contact with him at the intersection of East Flamingo Road and South University Center

Drive. Officer Thai and a civilian were both struck by the subject's shots. Officer Thai succumbed to his wounds

while being transported to a local hospital. he man fled the scene but was apprehended by a police canine approximately

three miles away after refusing to exit his vehicle.

Officer Thai had served with the Las Vegas Metropolitan Police Department for 23 years and was assigned to the

South Central Area Command. He is survived by his daughter.

86

86 The

The BLUES

BLUES POLICE MAGAZINE The BLUES POLICE

The

MAGAZINE BLUES 87

87
---
HONORING OUR FALLEN HEROES

POLICE OFFICER STEVEN R. NOTHEM, II

OFFICER JORGE ARIAS

CARROLLTON POLICE DEPARTMENT, TEXAS

END OF WATCH TUESDAY, OCTOBER 18, 2022

AGE: N/A TOUR: 6 YEARS BADGE: 1070

Police Officer Steve Nothem was killed when his patrol car was struck by a vehicle while he was assisting another

officer conducting a DUI investigation in the westbound lanes of President George Bush Turnpike, near Josey Lane,

at about 10:25 pm. The driver of the vehicle that struck him was killed instantly in the crash. Officer Nothem was

transported to the Texas Health Presbyterian Hospital Plano where he succumbed to his injuries.

Officer Nothem was a United States Marine Corps veteran. He had served with the Carrollton Police Department for

two years and previously served with Grand Chute Police Department in Wisconsin for four years. He is survived by

his wife and four children.

US CUSTOMS AND BORDER PROTECTION

END OF WATCH WEDNESDAY, OCTOBER 19, 2022

AGE: 40 TOUR: 9 YEARS BADGE: N/A

Officer Jorge Arias was inadvertently shot and killed while training at the Trail Glades Range at 17601 SW 8th

Street just after 10 am.

Officer Arias was a United States Coast Guard Reserve veteran and served with the United States Department

of Homeland Security - Customs and Border Protection - Office of Field Operations. He was a Firearms Training

Instructor and was assigned to the Miami International Airport. He is survived by his wife and two children.

88 The BLUES POLICE MAGAZINE The BLUES POLICE The MAGAZINE BLUES 89
---
HONORING OUR FALLEN HEROES

POLICE OFFICER LOGAN K. MEDLOCK

"When a police officer is killed,

it's not an agency that loses an

officer, it's an entire nation."

Chris Cosgriff,

ODMP Founder

LONDON POLICE DEPARTMENT, KENTUCKY

END OF WATCH SUNDAY, OCTOBER 30, 2022

AGE: 26 TOUR: 4 YEARS BADGE: N/A

Police Officer Logan Medlock was killed when his patrol car was struck by a drunk driver at the intersection of KY

229 and South Main Street at 12:50 am. Officer Medlock was driving in southbound on South Main Street when

the pickup truck ran a stop light and struck the patrol car, pushing it into the adjacent cemetery. Officer Medlock

succumbed to his injuries at the scene. The driver was arrested and charged with the murder of a police officer and

driving under the influence.

Officer Medlock had served with the London Police Department for three years and had previously served with the

Laurel County Correctional Center for one year. He is survived by his wife and son.

90 The BLUES POLICE MAGAZINE The BLUES POLICE The MAGAZINE BLUES 91
---
WORDS BY JT DAVIS

Why not me?

I know a lot of my fellow officers

have had or continue to

have recurring PTSD episodes.

And I wonder sometimes why I

haven't had issues myself. God

knows I've seen my share of

horrors in some 20+ years on

the street. Sure, I used to have

the same recurring dream that I

was chasing a crook in an alley

at night and despite pulling the

trigger on an old Colt Python, all

it did was click. And click. And

click. No bullets were exiting the

gun, but a shitload was coming

my way. That dream or nightmare

lasted a few years and

eventually went away.

I guess the thing that always

bothered me the most were

injured children. The minute you

see a bleeding child, your mind

races to images of your own

kids. I remember the first fatality

accident scene I made that

literally ripped the top off an old

suburban. The driver, a woman

in her 20's, was killed instantly

but somehow remained fastened

in her seat. Given there was no

top on the vehicle, it appeared

that she was alone in the vehicle.

While we were waiting on

the ME to arrive, I helped the

wrecker driver collect all the

items that had been thrown

some 50 feet from crash site. As

we searched the wooded area, I

came across a diaper bag with

a cold bottle of baby formula. I

immediately yelled into the radio

we might have another victim…

possibly an infant.

Everyone converged on the

area and began looking for a

child, an infant, someone…anyone

that could have been throw

from the Suburban. With the

highway only yards away, the

noise from the traffic drowned

out any possibly we could hear

a baby crying. If they were still

alive that is.

In the area was a creek that

ran through the woods and the

level ground began a steep

descent towards a creek bed.

Just over this rise, some 40-50

feet from the where the victims'

car had landed, was a child's

car seat sitting upright in a pile

of leaves. To tell you the truth

I didn't want to look inside. I

knew that if there was a dead

baby belted in that seat, I would

never get that image out of head.

But I prayed to God to let him or

her be ok and sure enough, this

beautiful baby girl was dirty, and

bruised but by the grace of God

was OK. I carried her back to the

ambulance and rode with them

to the hospital. The entire way I

couldn't stop thinking she was

going to grow up without her

mom. That's this little girl would

never get to do all the things a

young girl does with her mother.

I stayed with her until a State

Trooper arrived with the dad. I

could see that he was relieved

his daughter was ok, but you

could see the hurt in his eyes

that he knew his wife was not

coming home with them.

A few months later, I made

another crash where a mini-van

was rear ended by an 18-wheeler

and burst into flames. A mom

and her two children ages 4 and

6 were all killed instantly. The

ME said they never knew what

happened. Thank God they didn't

burn alive. But that image stayed

with me for the longest time.

But I guess getting shot was by

far the worst thing that has happened

to me. Yes, it was excruciating

pain. Yes, they said had

the bullet been inches to the left

I would have been dead or paralyzed.

But in my mind, it was my

fault and had I been paying attention,

I could have taken cover

and not exposed myself like I did.

But in the heat of the moment,

when the suspect was firing at

me and other officers, my only

thought was I'm going to take

this SOB out no matter what. And

that's exactly what I did. I keep

running towards him, firing the

entire time. I emptied the clip in

my Glock and hit him four times.

He hit me once. Yes, I was wearing

a vest, but the round from his

30-06 hunting rifle went right

through like butter. The surgeon

said had it not been for the vest

slowing the round, I would have

died from internal injuries.

Again, I had some pretty intense

nightmares for some

time after that, but nothing that

stopped me from living a normal

life. So why then, did I seem

to get by unscathed when my

fellow officers were hurting so

much some took their own lives.

Was I somehow burying all this

deep in my subconscious to

someday rise-up and take me by

storm?

I was so worried that something

was wrong with me, I

went through months of therapy.

Finally, the Doc said look, there

is nothing wrong with not feeling

pain or having PTSD. Some people

have the ability to file away

the trauma they experience, and

it never rises to the surface no

matter what happens.

But I knew that I had to do

something to help others who

weren't so lucky. So, I became

involved with a number of organizations

in my state that assist

First Responders and Military

deal with PTSD. Even though I

can't explain to this day why I

am not a complete basket case,

I do know that I'm making a difference

in the lives of those who

aren't as lucky as me. God put

me here for a purpose and I now

know exactly what that purpose

is. Helping those not as fortunate

as me.

92 The BLUES The BLUES 93
---
WORDS BY ADRIAN HORTON, THE GUARDIAN

The Revival of LIVE PD as ON PATROL LIVE is

a Potentially Dangerous Reality TV Backslide.

According to The Guardian website!

EDITOR: Not everyone is a fan

of Live PD, COPS or the newest

reality series "On Patrol Live."

Adrian Horton is a journalist

with The Guardian website and

she expresses her opinion on

why cop shows are bad for the

American public.

We disagree, but everyone is

entitled to their opinion and The

BLUES believes in free speech.

The police-embedded reality

series, arguably one of the most

irresponsible on TV, will return

two years after it was cancelled

with a cloud of concern

There was a window in the

summer of 2020 for once unthinkable,

and unlikely, progress.

This included the cancellation

of Cops and Live PD, two reality

shows embedded with law enforcement

that sourced footage

of real people in real arrests to

valorize police and mock their

targets. In the wake of the police

killing of George Floyd and the

nationwide Black Lives Matter

protests, the shows' networks,

Paramount and A&E, responded

to pressure to reckon with

television's role in producing

so-called copaganda. It was a

long overdue move given that

Cops, the longest-running reality

show in history which could air

as many as 69 times a week in

syndication, cemented the influential

archetype of police as

hard-charging, swash-buckling,

ends-justify-the-means characters

and left a trail of off-camera

damage in its wake.

'The uprisings opened up the

door': the TV cop shows confronting

a harmful legacy

It would not last. Last September,

Cops moved to Fox News

Media's streaming platform,

Fox Nation, which aired its 34th

season the following month. And

on Wednesday, cable channel

Reelz announced it would revive

Live PD, arguably the more unscrupulous,

dishonest and dangerous

version of its progenitor.

The "live" version of Cops, Live

PD premiered on A&E in 2016

and quickly became the mostwatched

show in its time slot

with an average of 2.4m viewers.

It was more popular than Cops,

running in hour-long marathons,

with six spinoffs by 2020. The

return of Cops and Live PD is not

surprising – there was too much

money, too large a fandom, too

wide a cultural divide and too

little incentive for producers to

not capitalize on it all to keep

them off the air. But that does

not lessen the disappointment,

nor obviate restating what many

unwilling participants already

know: the revival of Live PD is a

backslide, and people will pay

for it.

The new Live PD has been

rebranded as On Patrol: Live, but

maintains the same production

company, Big Fish Entertainment,

as well as host Dan Abrams,

who also serves as a chief legal

analyst for ABC News. According

to Abrams in an interview

with the Hollywood Reporter,

On Patrol: Live is "going to be a

very similar type of show to the

one that existed previously". As

in, a show that applies the buzz

of a sports highlight roundup to

seemingly live police footage,

threaded with commentary by

analysts at a New York studio.

Think NFL Red Zone, but for

arrests of people not given the

chance to sign release forms

because the show bills itself as

live news. "Live PD follows news

gathering standards like any

news organization – your local

nightly news show or newspaper

– would in covering a story," an

A&E spokesperson told the New

York Times in 2020.

Abrams echoed this sentiment

– that Live PD is an information-gathering

tool – in the new

series' announcement. "I do think

the environment has changed

[since Live PD was canceled],"

he told the Hollywood Reporter.

"I think the more we talk about

policing, the more we should

want to watch police officers

doing what they do. There was

a conversation then about policing,

there is a conversation now

about policing, and as a result I

think it is a good thing to have a

lens on police departments."

To be clear: Live PD does not

act like a news organization. It

puts a "lens on police departments"

insomuch as it films hundreds

of hours of footage that

is then edited for entertainment

and, as multiple investigations

have found, with police input to

keep blatant misconduct offair.

(There is a 10- to 25-minute

delay allowing for producers to

make edits, and "earlier footage"

segments could be filmed weeks

in advance.) If the environment

has "changed," as Abrams

claims, it's because public pressure

has moved sufficiently

elsewhere for Live PD to make a

comeback; it's not that the show

intends to contribute to a more

nuanced, accurate, and critical

view of policing in the US.

Live PD is an even more deceptive

ploy than Cops, as it

over-emphasizes transparency

by suggesting the minutes-long

segments aired on TV are 1) live

2) accurate, despite being culled

from hours of footage and 3)

representative of real life and

real police work. That is not the

case, as Live PD is entertainment

in a symbiotic relationship

with law enforcement. A Mar-

94 The BLUES The BLUES 95
---
sobbing, not committing a crime,

and unable to give consent (not

that it would matter because,

again, this is supposedly live

news).

Her friend, the podcast found,

was sought out six times by

police with the Live PD crew,

hoping to catch her arrest for

missing an appointment with a

corrections officer on camera.

Another man in Tulsa, Oklahoma,

said he agreed to be on the

show after several visits from

police and camera crews and

a $40 payment. "They basically

kept coming after my house and I

finally realized that these people

won't go away," he told producers.

Live PD wouldn't confirm or

deny the payment, but the man

offered text messages with a

show producer supporting his

story.

It may return to television, but

Live PD won't be welcome everywhere;

in May last year, Texas

governor Greg Abbott signed

a law, named after Ambler,

that would ban reality TV from

partnering with state police.

Spokane passed a measure in

2018 requiring Cops and Live PD

to get consent from everyone

on the show as well as proper

insurance. Maybe the restrictions

and fears of liability will lead to

a Live PD with fewer glorified,

graphic uses of force.

Maybe the new departments

and civilian ride-alongs will, as

Abrams told the Hollywood Reporter,

"change the fabric of the

show". I doubt it. No change to a

program fundamentally intended

to translate policing into gotcha

entertainment would be enough.

click or scan here,

for your FREE BLUES

Subscription.

shall Project investigation found

through records requests from

47 agencies working with Live

PD that at least 13 departments

asked the show not to broadcast

certain unflattering encounters,

which ultimately did not make it

to air. This reportedly included

footage of an officer in Rhode Island

hitting a suspected shoplifter

on a skateboard with his car

door, video of officers grabbing

a possible domestic violence

victim and dragging her out of

her home in Washington, and a

Louisiana officer possibly calling

a black man "boy." (Live PD has

said the footage was not aired

for other reasons.)

District attorneys in Austin,

Texas, fought to get deleted

Live PD footage of the May

2019 arrest of Javier Ambler II,

a 40-year-old black man, after

a pursuit that began because

he failed to dim his headlights;

Ambler died after he was handcuffed,

tased and forced to the

ground. The case and the possible

loss of evidence were not

known publicly until the Austin

American-Statesman and KVUE-

TV reported it days before A&E

canceled Live PD. It's unclear

if Williamson county sheriffs

viewed the Live PD footage

before it was destroyed, though

according to email records obtained

by the Marshall Project,

Live PD producers regularly sent

footage to deputies for review in

2019. (In March 2021, Live PD sued

the Austin police department

and Williamson county sheriff's

office for seizing their footage

and wrongly blaming producers

for "stonewalling" the investigation.)

The Ambler case is perhaps the

most egregious example of the

show's loyalties and incredibly

murky ethics, but its mundane,

bread-and-butter segments do

their own harm. A 2020 Austin

American-Statesman investigation

found that uses of force

by Williamson county sheriff

deputies nearly doubled the year

after Live PD partnered with the

department, and that deputies

used significantly more force

during the weeks that Live PD

camera crews filmed. Even if a

case doesn't turn violent, there's

the humiliation factor.

"They have no problem belittling

you and humiliating you and

degrading you … some of them

calling you names and such," a

woman named Amy in Spokane,

Washington, told Running from

Cops, a six-part 2019 podcast

investigating Cops and Live PD.

Amy's Live PD arrest was filmed

when she was blackout drunk,

Tel: 800-367-5855

www.proforceonline.com

96 The BLUES The BLUES 97

96 The BLUES The BLUES 97

LE AGENCIES

CALL FOR

PRICING

Supplying Law Enforcement

Equipment for the State of TEXAS!

NEW!

13614

OPTIC READY

9MM

M&P 9

M2.0

SBR

AGENCY ONLY

DDM4 V7 S

AR15

PROMOTION ENDS 11/30/22

CALIBER: 9MM

CAPACITY: 17+1

SIGHTS: NIGHT SIGHTS

BARREL LENGTH: 4.25"

02-128-07344-047

CALIBER: 5.56 NATO

CAPACITY: 30+1

SIGHTS: SOLD SEPARATELY

BARREL LENGTH: 11.5"

STOCK: ADJUSTABLE

9MM

W320F-9-BXR3-PRO-RXP

P320

DDM4 V7 S

RXP PRO

Comes with

ROMEO 1PRO

CALIBER: 9MM

CAPACITY: 17+1

SIGHTS: XRAY3 | ROMEO 1PRO

BARREL LENGTH: 4.7"

AR15

M-LOK Capable

Handguard, QD Sling

Mounts In Buttstock

and Handguard

M4

ENHANCED

PATROL RIFLE

CR6920-EPR

CALIBER: 5.56 NATO

CAPACITY: 30+1

SIGHTS: MAGPUL FLIP UP

BARREL LENGTH: 16.1"

STOCK: ADJUSTABLE

XR920

ELITE

CALL OR EMAIL US FOR PRICING OR ASK US ABOUT DEMOS OR TRADE-INS

12GA

R24403

CALIBER: 12GA

870P

CAPACITY: 5+1

SIGHTS: BEAD

PUMP BARREL LENGTH: 18"

SHOTGUN STOCK: SYNTHETIC

SS-3012

OPTIC READY

9MM

CALIBER: 9MM

CAPACITY: 17+1

SIGHTS: NIGHT SIGHTS

BARREL LENGTH: 4"

Support Center: 2625 Stearman Road, Prescott AZ, 86301 Tel: (800) 367-5855

e-mail: sales@proforceonline.com | www.proforceonline.com

Gear & accessories for law

enforcement AGENCIES

CHECK OUT THESE GREAT

MANUFACTURERS

AIMPOINT • BERETTA • COLT

BIANCHI • TASER • BENELLI

SMITH & WESSON • CZ USA

H&K • DANIEL DEFENSE

SIG SAUER • SHADOW SYSTEMS

DEFENSE TECHNOLOGY • AGUILA

EOTECH • BURRIS • UTM

MOSSBERG • PROTECH • RUGER

STREAMLIGHT • MAGPUL

SAFARILAND • SPRINGFIELD

BLACKHAWK • OSS • HOLOSUN

TRIJICON • SUREFIRE • BOLA WRAP

US PEACEKEEPER • OTIS

NIGHTSTICK • FNH USA

NOTE: TERRITORY RESTRICTIONS MAY APPLY

Visit our website today for up to date

information, pricing and products!
---
THE OPEN ROAD

by Michael Barron

2023 Corvette Z06

Chevrolet places a 8500-rpm bet with the 2023

Z06 Convertible and its new LT6 V-8.

Reprinted from the November

2022 issue of Car and Driver.

Around here, we sit through

a lot of presentations about

automotive trends. Charts and

speeches detail the long-term

march to electrification and how

the move toward small-displacement,

turbocharged engines

is bridging the gap until

we get

there.

We hear

boasts

about platform

sharing

and

production

efficiencies

realized.

What no

company

ever says is,

"You know

what we

decided to do? Draw up a bigass

V-8 that revs to a million

and will only go in one version

of one model. We'll build it by

hand, and pretty much not a

single part will be compatible

with anything else. It'll have way

less torque than its predecessor,

and it'll get worse fuel economy.

But nobody will care because

it'll sound so righteous at 8500

rpm that you'll forget your own

name." We might be paraphrasing

a little, but that essentially is

Chevy's pitch for the 2023 Corvette

Z06 and its singular LT6

V-8. We can't believe General

Motors actually built this thing,

and maybe neither can GM.

Chevrolet could have powered

the new

Z06 with

an evolution

of

its supercharged

6.2-liter

V-8,

which

made as

much as

755 horsepower

in

the previous-gen-

eration Corvette. That would

have been easy and effective, the

obvious move. Instead, engineers

started from scratch on a naturally

aspirated 5.5-liter screamer

with a flat-plane crankshaft and

32 valves. At a heady 8400 rpm,

the LT6 generates 670 horsepower

the all-natural way, and

it makes its 460 pound-feet of

torque at 6300 rpm, nearly the

redline in a regular Stingray.

HIGHS: Sounds like the Monaco

Grand Prix all by itself,

deliciously linear power delivery,

flared fenders are always a

winner.

From the moment the engine

barks to life, it sounds impatient,

its ragged flat-plane idle suggesting

a pit stall at the Rolex

24 at Daytona or perhaps a pair

of Suzuki Hayabusas sitting at a

stoplight. While the Stingray's

pushrod LT2 V-8 uses bimodal

muffler valves—loud or quiet, a

binary decision—the Z06's muffler

valves can continually adjust

in two-degree increments,

fine-tuning the sound. Wide

open, it sounds like a Ferrari 458

Italia that hit puberty. An engineer

told us that during testing

at the Nürburgring, the Z06's

wail could be heard all the way

around its lap. The Nürburgring,

we should point out, is almost 13

miles long.

The LT6 was code-named

Gemini during development, but

not as an homage to the Chevy

Gemini sold in South America in

the 1980s and known hereabouts

as the Chevrolet/Geo Spectrum.

No, it's a reference to the moonshot

NASA program, because

that's what this engine represents

for the Corvette. There's

a steep learning curve when

your new V-8 is capable of 573

combustion events every second

at the 8600-rpm fuel cut. If

you're compiling a list of GM V-8

firsts, a lot of them from the past

30 years or so belong to the LT6.

Dual throttle bodies and intake

plenums. Fuel injectors on the

exhaust side of the cylinders to

aid high-speed air-fuel mixing.

An 8500-rpm redline. The LT6

revs so fast that Chevy built in a

mode to tranquilize the throttle

when you're selecting the rpm

for launch-control starts, lest

you blow past your intended target

by 1000 rpm. When we congratulated

one GM engineer on

the LT6, the response was, "Congratulate

me if it still runs after

150,000 miles." Nevertheless, this

engine has seen plenty of durability

testing while powering the

C8.R race car for two seasons.

We didn't put 150,000 miles

on it, but we ran this Z06 70th

Anniversary convertible plenty

hard with nary a hiccup, and

boy, did it put up some numbers.

Its 2.7-second 60-mph

time is a snapshot of a party

that's just getting started, as

evidenced by the Z06's 10.7-second

quarter-mile at 129 mph.

The Z06's short 5.56:1 final-drive

ratio helps fire it off the line,

but we'll be interested to see

whether a car with the standard

Aero package gets to, say,

160 mph quicker—this car wore

the $8495 Carbon Aero package

that helps generate 734 pounds

of downforce at 186 mph, and

those spoilers and underbody

strakes exact a toll in drag at

higher speeds. One clue on that

front: Standard Z06s get a $2600

gas-guzzler tax, while cars with

the Aero package are hit with a

$3000 penalty. We averaged 12

98 The BLUES The BLUES 99
---
mpg (the EPA city figure), making

the 19-mpg EPA highway rating

seem mighty optimistic.

LOWS: Gets 12 mpg, somehow

induces nostalgia for the present,

convertible hardware hides the

gol-dang engine.

Even though this particular car

embodies a historically mellow

Corvette spec—an automatic

convertible—the Z06 structure

is so stiff that the suspension

calibrations match the coupe's.

And on its Michelin Pilot Sport

4S ZP tires (275/30ZR-20 up

front and comically monstrous

345/25ZR-21 in back), the Z06

pulled 1.12 g's on the skidpad

and stopped from 70 mph in

144 feet. So go ahead and treat

yourself to the droptop. You're

not exactly trading performance

for style, although you do miss

out on gawking at the LT6. As

with the Stingray, Z06 coupes

display their engine under glass.

Convertibles have a cover for the

top mechanism that hides the

engine, even with the convertible

tonneau raised. As recompense,

you're treated to an extra-loud

serenade from the LT6 if you put

the top up or down while the car

is in motion (at up to 30 mph),

since you're essentially driving

with the hood open.

As with previous Z06s, this one

is a holistic track-attack special,

with plentiful chassis upgrades

to take advantage of the newfound

horsepower. The body is

3.6 inches wider than the Stingray's,

making room for those

huge tires and a wider track. The

cooling system is upgraded with

two extra heat exchangers, one

of which is front and center and

includes a removable grille panel

to maximize airflow during

track sessions. Six-piston brake

calipers squeeze Brembo 14.6-

inch rotors up front, and the rear

end gets 15.0-inch rotors. The

optional carbon-ceramic brakes

($8495) on our test car are even

bigger—15.7 inches in front and

15.4 out back—and thoroughly

indefatigable on a track. Put the

car in Tour mode with the top

down, gently blast some Gordon

Lightfoot with the seat heaters

blazing on a fresh fall evening,

and it's easy to forget you're at

the wheel of a hardcore track

maniac, a car that can turn unapologetically

sociopathic with

the change of a couple of settings.

It recalibrates your expectations,

the Z06. At first, 8500 rpm

seems nutty, but soon enough

you find yourself hitting the

8600-rpm rev limiter because

it's pulling hard all the way

there (the LT6 feels like it would

be happy to visit the far side

of 10,000 rpm, were it not for

warranty considerations). There's

so much lateral stick that you're

almost surprised when it turns

out to have limits, and the front

and rear ends begin a dance to

see who'll relinquish grip first.

It's like the Z06 channels the

high-winding spirit of the sixthgen

Z06, but with so much more

sophistication. This is the Ferrari

that Ferrari doesn't make anymore.

It's priced like it too, next to

its Bowling Green brethren. This

convertible carries a base price

of $116,795, and options brought

it to $162,510. The ceiling is

higher if you care to explore the

salutary effects of carbon-fiber

wheels or treat yourself to the

full Z07 Performance package.

But what's the competition? An

Audi R8 Spyder is probably the

closest thing, and that costs even

more and is down nearly 100

horsepower.

VERDICT: Best. Corvette. Ever.

Corvette engineers could have

built a forced-induction Z06

that was more powerful than

this. That would have been easy.

Instead, they chased a subjective

experience, the howling mid-engine

exotic fantasy we all carry

in our heads. Against all odds,

they made it real.

COUNTERPOINTS

Driving the new Z06 is a little

like the scene in Talladega

Nights when Will Ferrell shares

the cockpit of his '69 Chevelle

with a mountain lion. "If you're

scared, that beautiful death

machine will do what God made

it to do—namely, eat you with a

smile on its face." Leave the Z06

in Tour mode and it's almost as

if there isn't a mountain lion in

the car with you. Until you mash

the accelerator. Then there are

a dozen cougars roaring in the

cockpit. —Jack Fitzgerald

It should be the fastest thing

on earth, but it's only really,

really fast. Then there's the ride

quality: Do you need to pee?

It's worse now. And, as in all

eighth-gen Corvettes, the interior

seems designed for divorcing

couples—there's a wall between

us emotionally, and also in the

car. These days, most sports cars

are grand tourers, but not the

Z06. Wrestle it into submission.

Let 'em hear you with the roar

that precedes tornadoes. Every

shift is a whip crack, like you're

Indiana Jones. This is a bar fight

on wheels. Your life has been

too easy. Take on a challenge.

SPECIFICATIONS

2023 Chevrolet Corvette Z06

Vehicle Type: mid-engine, rearwheel-drive,

2-passenger, 2-door

convertible

PRICE

Base/As Tested:

$116,795/$162,510

Options: 3LZ equipment group

(leather-wrapped interior with microfiber

headliner, heated and ventilated

GT2 bucket seats, navigation,

wireless phone charging), $13,350;

carbon-ceramic rotors, $8495;

carbon-fiber aero package (includes

$400 gas-guzzler tax), $8895; 70th

Anniversary package, $5995; Level

2 carbon-fiber interior trim, $4995;

front-axle lift, $2595; black stripes,

$995; black exhaust tips, $395.

ENGINE

V-8, aluminum block and heads,

direct fuel injection

Displacement: 333 in3, 5463 cm3

Power: 670 hp @ 8400 rpm

Torque: 460 lb-ft @ 6300 rpm

TRANSMISSION

8-speed dual-clutch automatic

CHASSIS

Suspension, F: ind; unequal-length

control arms, coil springs, 3-position

electronically controlled

dampers, anti-roll bar

R: ind; unequal-length control

arms, coil springs, 3-position

electronically controlled dampers,

anti-roll bar

Brakes, F: 15.7 x 1.5-in vented,

cross-drilled carbon-ceramic disc;

6-piston fixed caliper R: 15.4 x 1.3-in

vented, cross-drilled carbon-ceramic

disc; 4-piston fixed caliper

Tires: Michelin Pilot Sport 4S ZP

F: 275/30ZR-20 (97Y) TPC

R: 345/25ZR-21 (104Y) TPC

DIMENSIONS

Wheelbase: 107.2 in

Length: 185.9 in

Width: 79.7 in

Height: 48.6 in

Passenger Volume: 51 ft3

Cargo Volume: 13 ft3

Curb Weight: 3799 lb

C/D TEST RESULTS

60 mph: 2.7 sec

100 mph: 6.1 sec

1/4-Mile: 10.7 sec @ 129 mph

150 mph: 16.3 sec

170 mph: 27.7 sec

Results above omit 1-ft rollout of 0.3 sec.

Rolling Start, 5–60 mph: 3.1 sec

Top Gear, 30–50 mph: 2.0 sec

Top Gear, 50–70 mph: 2.2 sec

Top Speed (mfr's claim): 189 mph

Braking, 70–0 mph: 144 ft

Braking, 100–0 mph: 282 ft

Roadholding, 300-ft Skidpad: 1.12 g

C/D FUEL ECONOMY

Observed: 12 mpg

EPA FUEL ECONOMY

Combined/City/Highway: 14/12/19

mpg

100 The BLUES The BLUES 101
---
102 The BLUES The BLUES 103
---
A BADGE OF HONOR

heal ing our heroes

Some Tough Love

SUPPORT THE OFFICER DOWN MEMORIAL PAGE

VIA THE 2022 COMBINED FEDERAL CAMPAIGN

For many of us Post Traumatic

Stress can become a way of life, it

normalizes our actions. Over time,

it changes our mental mindset and

our way of thinking.

It's like having chronic back pain

and learning to adjust your lifestyle

to live with the daily pain.

But the real issues are not so

much living with the pain of

post-Traumatic stress, it's the way

we approach it.

It doesn't have to be this way. If

we are suffering from an injury, we

seek the proper treatment. Proper

treatment is key, you wouldn't go

see a heart specialist for a knee

injury?

Many suffer, but few take the

steps to get treated. Many would

rather live with the pain, attempt to

hide it or drown it in alcohol, drugs,

porn or some self-destructive path.

Some even blame the stigma attached

to it. All excuses to deny the

fact we are suffering.

Post-Traumatic Stress is not curable,

but it is 100% manageable. It

does not have to control your life;

it can enrich your life in ways you

never thought of. It's acceptance is

what heals you.

When you're suffering from trauma,

your mind begins to close itself

off to new experiences. It stops you

from enjoying life's activities going

on around you. You find yourself

isolated, even if you do participate

in a function, you lack the emotion

to truly enjoy it.

We begin to push things off, making

excuses about why we cannot

participate. We use work, chores,

and other things to deflect the real

issue. If we fail to see the impact

it has, we fail to see the treatment

options that are available. We begin

to believe we are not fixable; we

feel we are just existing. It's what

Post Traumatic Stress does. It tricks

our mind into thinking negatively.

If we continue down this path,

eventually it will cause irreversible

harm to ourselves and others. Just

like a bucket slowly filling with

water or putting too much air into a

tire, it's only a matter of time before

it overfills or explodes.

Without acceptance, we can't

heal properly.

This leads me to what treatment

you need. It varies as each person

copes differently. Many factors go

into the whys. What affects one

person, does not necessarily affect

another. Sometimes it goes deeper

than the actual trauma itself, we

must look at all factors. Childhood,

relationships, financial issues. All

this impacts stress levels in our

brain.

In order to bring your mind back

into a healthy state, you have to

heal all traumas, past and present.

My PTS was elevated due to past

traumas which occurred in my own

childhood, causing unhealthy coping

skills placing me in denial.

I was sexually abused as a child,

keeping it bottled up for more than

4 decades. I was hiding and trying

to bury it deep inside, just stacking

my first responder trauma on top it.

This severely impacted my coping

mechanisms which led to anger issues,

alcohol, relationship problems

and more.

I share this for a reason. Being

transparent and open, I hope will

help others deal with their own

SAMANTHA HORWITZ &

JOHN SALERNO

hidden issues. We can't heal current

issues without healing some past

ones.

The uniforms we wear help

protect us, but what protects us

when the uniform comes off. We

must take the first steps to a healthy

mental mind set. We must dig deep

within ourselves and accept we may

have changed. We ourselves must

see this. As the Stigma goes, "Just

rub some dirt on it", well when will

we stop allowing the dirt to be rub

on us. Our lives depend on it.

When we stack work trauma on

top of personal trauma, we end

up striking a match which ignites

a fuse to disaster. I lit that match,

which almost cost me my life. I

tried many traditional couch therapies,

some of which failed me,

some I failed them. Feeling frustrated,

impatient and lost. Then I found

equine therapy. A program I would

have never approached, a program

I would have discarded if not for

some support from my peers and

colleagues.

Proper treatment can douse the

lite fuse. Find the treatment plan

which works for you. Giving up is

not an option, it's an excuse.

Stop making excuses. You are

worth it.

Ret. NYPD John Salerno

HOW TO PLEDGE TO SUPPORT THE OFFICER DOWN MEMORIAL PAGE:

1

2

3

The Officer Down Memorial Page is proud to announce our participation

in OPM's Combined Federal Campaign (CFC) program. If you are an

employee of the Federal Government (including postal, military, and federal/

military retirees), your pledge though the CFC supports our mission to:

• Honor and remember the nearly 26,000 law enforcement officers

who have been killed in the line of duty since our nation's founding

• Generate over 200,000 letters to parole boards across the country

to help deny parole to hundreds of convicted cop killers

• Provide funding for the creation, restoration, or repair of memorials and

grave markers honoring officers who have died in the line of duty

• Recognize the contributions and sacrifices of our loyal K9 companions

that serve on the front lines of our law enforcement efforts

• And so much more...

Go to the CFC website

(scan this QR code for quick access)

Search for the Officer Down

Memorial Page / CFC # 62937

Add us to your pledge basket – make sure to

make your commitment before January 2023!

Learn more at ODMP.org/cfc

104 The BLUES The BLUES 105
---
DARYL LOTT

daryl's deliberations

CHER AMI

As Father Time marches on, ed. The field radios of the day

we tend to lose stories that depended on wires that were

fade in our collective memories. fragile and hazardous to run

Sometimes we repeat mistakes while under relentless German

because we forgot why we machine gun fire. Therefore, the

don't do something a certain regiments were completely cut

way. For organizations, that is off from the rest of the army.

called "institutional knowledge" Five hundred and fifty men were

and remembering the past can ensnared in No Man's Land with

save any entity an incalculable little hope of coming back home.

amount of damage. Sometimes Soon the American artillery

simply remembering characters entered the fray and started

of the past will inspire us to be firing into the German lines with

better individuals or organizations.

a terrible ferocity. The weather

was overcast and stormy thus

Now that World War One is grounding the little biplanes of

over one hundred years old it the era that caused a loss of

would be easy to forget the eyes in the sky. The ground was

bitter lessons learned from the a muddy mess - mechanized vehicles

"war to end all wars" and its

were stopped. Long range

distinguished heroes that should artillery was the weapon of

still inspire us. One such hero is choice in such miserable conditions,

the subject of today's lesson in

and it was employed in a

courage and loyalty.

merciless manner.

In 1918, the 77th Infantry Division

The three Army regiments

of the U.S. Army Expedi-

were behind enemy lines. The

tionary Force was part of the first artillery barrage killed thirty

famous "Lost Battalion." The American dough boys as our

American Army served on the troops were then known. The

western front long known for American commanding officer

the virtual stalemate both sides was Major Charles Whittlesey

endured in France. The 77th Division

and he needed to get a message

pushed against the fortified back to his headquarters, but the

German Army positions in the unit was pinned down by heavy

Meuse-Argonne Offensive. Three German machine gun fire and

regiments fought through the our own artillery. He penned a

Argonne Forest until they were hasty note that read, "We are

actually behind enemy lines. along the road parallel to 276.4.

They found themselves cut off Our own artillery is dropping a

from food, ammo, and other barrage directly on us. For heaven's

supplies that were sorely need-

sake, stop it!"

DARYL LOTT

The chosen messenger went

straight into the German line of

fire. Dodging bullets that were

most intentionally aimed at him,

he continued on until he hit the

ground felled by a bullet through

the breast. The Americans

lost hope until they saw their

wounded comrade get up off the

ground and continue the course

all the way back to headquarters

some 25 miles away. By the

time he got to the post he was

heavily wounded. His right leg

was nearly shot off and he was

blind in one eye. Of the original

550 men, 194 made it back to the

American lines owing their very

lives to the courage and tenacity

of their comrade.

The French Army awarded

the soldier with the "Croix de

Guerre." The commanding officer

of the American Army, General

John Pershing recognized the

soldier's sacrifice and service.

The soldier was taken back

home to the United States accompanied

by an officer, Captain

John Carney (pictured). In spite

of the best efforts of the United

States Army to save him, he died

at Fort Monmouth, New Jersey

on June 13, 1919. Many men were

brought to tears thinking of the

soldier's sacrifice. The surviving

family members of the nearly

200 Americans who were saved

were the most grateful of all. It

is not clear how many people

are alive today over 100 years

later due to one soldier's attention

to duty; surely that number

is in the thousands.

If you would like to pay your

respects to this example of

American heroism, you will need

to visit the Smithsonian Institution.

The soldier's name is "Cher

Ami". The soldier was a brave

carrier pigeon whose sacrifice

is held in reverential honor at

the Museum of American History.

It's not always humans who

offer examples of selfless courage

and loyalty, but members of

the Animal Kingdom who have

aligned themselves with us that

provide inspiration.

I am continually amazed at the

feats displayed by horses, whales,

dolphins, primates, dogs, and,

yes, birds as they interact with

our species. They are the best of

friends neither passing judgements

nor questioning our methods.

Matthew Scully, an advocate

for the welfare of animals, says,

"Animals are more than ever a

test of our character, of mankind's

capacity for empathy and for decent

honorable conduct and faithful

stewardship." I am thankful

that God gave us such creatures

as "Cher Ami" for companionship,

fellowship, and to occasionally

save our lives.

106 The BLUES The BLUES 107
---
NOT SO BRIGHT AWARD

lig ht bul b award

FIREBALL GAYLORD

I swear LT no one was more surprised than me.

Tip to all morons who elect

to run from the PoPo. Leave

your spare can of gasoline at

home BEFORE you flee from

the police.

This month's LB Award

goes to Christopher Gaylor,

a 38-year-old suspect hailing

from the Great State of

Arkansas. Gaylor was spotted

by an Arkansas state trooper

driving his motorcycle

without a license plate in the

state capital of Little Rock in

the middle of the night.

No big deal, just pull over,

check for warrants, get a

ticket and you're on your way.

NOPE. Not Gaylor. Instead of

pulling over, he decided to

run.

Mistake #1.

So, the trooper gives

chase, calls for backup and

they chased the moron all

over Little Rock. Somehow

his piece of shit motorcycle

reaches speeds of 100+

although that was only confirmed

by the local news

outlets, and we all know how

they lie.

Mistake#2.

Gaylor bails off the bike and

a foot chase is underway. No

one, I mean no one, ever gets

away on foot. He should have

stayed on the bike. Especially

knowing that Mistake #3 is

about to take his ass down.

Mistake#3.

It's never a good idea to carry

a spare can of gas in your trunk.

Oh wait, he didn't have a trunk,

he was on a bike. I guess I'll just

carry it in my BACKPACK. Bad

idea cause Mistake#4 is coming.

Mistake#4.

If you know you have a bomb

strapped to your back and you

decide to run from the police,

ya gotta know they are going

to Tase you. It's a given. So, toss

the bomb. Did he? NOPE. They

fired. He exploded. At least the

backpack did anyway. Gaylor

was now a big ball of fire.

Cops get fire extinguishers, put

out the flames, call for an ambulance.

Oh, and a supervisor.

I swear Lieutenant, I had no

idea he was gonna explode like

that. No one was more surprised

than me.

Gaylor is still recovering in the

hospital with burns over 75%

of his body. Man that shit hurts.

Needless to say, he was charged

with felony fleeing, reckless

driving, failure to register a

vehicle, no liability insurance,

driving with a suspended license

and failure to register

a homemade gasoline bomb

backpack. I made up the last

part.

Of course, the WOKEs took

to social media proclaimed

the incident was evidence that

tasers pose a major threat to

the health and safety of the

public. The Independent, a

liberal online trash site, said

"That Mr. Gaylor's injuries came

in the aftermath of a traffic

stop should be noted. Police

have killed more than 600

people in the US during traffic

stops since 2017, with reform

advocates calling for police to

play less of a role or no role at

all in traffic law enforcement."

Someone at The Independent

must have just received a ticket.

Idiots.

108 The BLUES The BLUES 109
---
HONORING FALLEN HEREOS

"Honoring our fallen heroes

through running while providing

financial support to the families

of our fallen Heroes,

First Responders injured in the

Line of Duty and Safety

Equipment to K9s in need."

Zechariah

Cartledge:

a True American Hero

Total Grants Awarded to Injured First Responders: 39

Total Amount Awarded: $347,500

Total Funds Awarded to Families of Fallen Heroes: 29

Total Amount Awarded: $258,736

Funds/Equipment Awarded to K9 Officers: $22,593

Total Amount of Grants Given: $628,829

- - - -

2022 Run Tracker:

Total Miles Run in 2022: (as of 11/2/22): 259

- Zechariah - 230

- Jayden - 8

- Giuliana - 6

- Andrew - 6

- Anthony - 5

- Morgan - 3

- Theresa - 1 (57 for K9s)

Total Miles Run in 2021: 327

Total Miles Run in 2020: 401

Total Miles Run in 2019: 376

Overall Miles Run: 1,363

Over Miles Run (K9's): 57

- - - - - - - - - -

2022 Run Stats:

Total Miles Run for 2022 Fallen LEO's (Non COVID-19): 126

Total Miles Run for 2022 Fallen Firefighters (Non COVID-19): 75

Total Miles Run for 2022 Fallen Canada LEO's: 3

Total Miles Run in 2022 for Fallen COVID-19 Heroes: 18

Total Miles Run for 2021 Fallen LEO's: 21

Total Miles Run for 2021 Fallen Firefighters: 2

States/Cities Zechariah has run in:

Florida - Winter Springs, Lake Mary, Clearwater, Atlantic Beach, Neptune Beach, Orlando, Temple Terrace, Blountstown,

Cocoa, Lakeland, Daytona Beach, West Palm Beach, Starke, Melbourne

New York - New York City, Weedsport • Georgia - Cumming, Augusta, Savannah

South Carolina - North Myrtle Beach, Charleston, Sumter • Pennsylvania - Monaca

Illinois - Springfield, Naperville, Glen Ellyn • Texas - Houston (2), Fort Worth, Midland, New Braunfels, Freeport, Madisonville,

Irving, Sadler, San Antonio • Kentucky - Nicholasville • Arkansas - Bryant, Hot Springs, Springdale, Prairie Grove

Nevada - Henderson • Kansas - Overland Park • California - Mt. Vernon, La Jolla • Arizona - Mesa

North Carolina - Concord, Raleigh • Virginia - Norton, Richmond • Tennessee - Bristol, Bartlett

Oklahoma - Stilwell (2) • Delaware - Milford • Maryland - Towson • Minnesota - Arden Hills • Indiana - Sullivan, Spencer

Mississippi - Grenada, Olive Branch • Missouri - Springfield, Rolla, Joplin • Iowa - Independence, Des Moines, Cedar Rapids

District/Countries/Territories:

Washington D.C. • Puerto Rico - San Juan

110 The BLUES POLICE MAGAZINE

The BLUES 111
---
DR. TINA JAECKLE

blue mental health

Give Yourself the Gift of Hope

This Holiday Season.

Many of our nation's law enforcement

officers have had a

challenging year in countless

ways. The 2021 statistics for

line of duty deaths (especially

by gunfire) and suicides in this

field are staggering and can be

overwhelming. The holidays are

also often a difficult time for LEO

families due to work schedules,

family conflict, financial constraints,

and at times, a sense of

helplessness due to depression

and lack of hope. We also live in

a world in which comparison of

our lives to others is commonplace

and frequently perpetuated

by social media and high

expectations for the "perfect"

holiday experience. It can place

a great deal of unnecessary

pressure on an LE family during

an already stressful time of the

year.

Instead of this month's article

focusing solely on the negative, I

want to instead offer the gift of

hope through some basic approaches

that are designed to

reduce psychological stressors

and increase hope for the holiday

season. Amy Morgan, (Police1,

2019), offered the following

excellent suggestions and I encourage

to practice these often.

1. STOP COMPARING. If you find

yourself comparing your holiday

with others, stop and focus on

what matters to you, and then

DR. TINA JAECKLE

let that be enough. Be content

with where you are, who you are

and what you have. If you are

financially stressed, don't worsen

the situation by giving gifts

to try to match the actions of

others. Instead, give of yourself

and work with what you have,

but don't deplete yourself in the

process or let comparisons make

you feel unworthy.

2. SET REALISTIC EXPECTA-

TIONS. All the hype around the

holidays makes us feel like we

should ramp up our energy, our

home décor, our financial ability,

our time with friends and family,

and even our level of happiness.

Instead set your expectations

in line with the reality of your

own little piece of the world. If

you aren't a cook, don't expect

to present your family with a

golden holiday turkey and all the

fixings. Set realistic expectations

about how your own holiday

will, and should, look, for your

own life.

3. LET GO OF REGRET. Maybe

this wasn't your best year.

If there's something in your life

you wish was different, and you

still have the ability to change it,

start working on doing that. But

if you can't change something,

try letting go of the feeling of regret

that's eating away at you. If

you need to apologize to someone,

do it, genuinely and sincerely.

If you need to forgive someone,

do it, for your own sense of

peace. And then move on. Let go

of the regrets so you can start

the New Year free of stress and

anxiety.

4. ACCEPT YOUR STRUGGLES.

Life is hard sometimes, and

nobody is getting through it as

easily as they may make it seem.

Things may be hard for you for

many reasons – it is okay to

admit that things aren't great.

Accept that all of us struggle

at different points in life with

different things. Don't let the

season make you focus on the

struggles – remember that this

season and its challenges will

pass.

5. SET NEW YEAR GOALS.

Instead of pressure-filled resolutions,

set some goals. But don't

set your expectations so high

you'll never be able to follow

through. Name a few simple

things you'd like to be different

in your life – and then outline a

plan to achieve that change. This

year practice healthy approaches

and do what you need to do. If

you're feeling down, depressed,

or alone, please reach out to

any number of law enforcement

mental health resources and

you'll find a caring voice at the

other end of the line to help you

make it through the hard stuff.

The holiday season, just like your

life, is what you make it. Celebrate

the holiday for the reasons

you choose, in the way that fits

you and your life, and make the

very best of it that you can with

click or scan here,

for your FREE BLUES

Subscription.

whatever you have to work with.

6. TAKE THE TIME TO EXER-

CISE. You do not have to jump

right into CrossFit if you have

not exercised regularly but get

out for at least a brisk walk and

break a sweat. You will feel and

think better. You can also do this

a couple of times a week, and

invite your spouse, partner, and/

or children to walk with you to

enjoy family time.

7. GIVE BACK TO OTHERS. A

local FOP hosts an "adopt a LE

retiree or survivor" each holiday

and encourages others to take

them to lunch or provide a gift

card or simply give the gift of

"presence." There are numerous

charities and opportunities

available this time of year, including

for children. Giving to

others allows a mental shift of

perspective away from our own

struggles toward better understanding

and connecting with

others. Remember, we rise by

lifting others. Most importantly,

practice hope, even a little very

day. Happy holidays and Merry

Christmas to you all, blessings

always.

The Leader In Law Enforcement Recruitment

Delivering ZERO COST solutions to

Texas Public Safety Agencies.

112 The BLUES The BLUES 113
---
ADS BACK IN THE DAY

114 The BLUES The BLUES 115

114 The BLUES The BLUES 115
---
ADS BACK IN THE DAY

116 The BLUES The BLUES 117
---
THERE ARE NO WORDS

parting shots...

... pardon our humor

118 The BLUES The BLUES 119
---
Your Source for

Law Enforcement

Products &

Services

120 The BLUES The BLUES 121
---
Air Bear announces the arrival of

the DA62-MPP in North America

airbear

Air Bear Tactical Aircraft proudly

announces that the Diamond

DA62-MPP is now delivering to

Airborne Law Enforcement customers

in North America. The

shape of things to come, the

DA62-MPP (Multi-Purpose Platform)

is represented by Air Bear

Tactical Aircraft in the USA and

provides best in class capabilities,

performance, and economical

operation.

Recently concluding its first

ever North American visit with a

nationwide demo tour, the DA62-

MPP has received rave reviews

wherever it has visited. The "MPP"

provides a robust, multi-mission

surveillance platform which is

readily adaptable to many missions,

including patrol support, counter

narcotics, border patrol, littoral

maritime patrol, fire mapping and

control, aerial survey as well as

many other missions.

It's low cost of acquisition, utility,

and incredibly low operating costs

(using only 7.6 gallons per hour of

Jet-A, total!) provides an unbeatable

method to stretch your ever

tightening aviation budgets. Twin

engine reliability and a complete tip

to tail maintenance program rounds

out this game changing platform.

Learn more about the DA62-MPP

at www.airbear.aero, call us at

855-699-5489 or email us at bearsintheair@airbear.aero.

Air Bear Tactical Aircraft provides

complete, mission-ready surveillance

& survey aircraft to Federal,

State, Local and Commercial operators.

Learn more on our website

about our other products, including

our custom gimbal retraction system

for the DA62-MPP, C206H and

Turbine Commander 690A/B (more

to come!), and learn more about

our other product offerings as well.

The Shape of Things to Come has

arrived in North America!

The Shape of Things To Come Is Here!

The next generation airborne law enforcement surveillance

platform is now shipping to North American customers.

The highly capable, multi-role aircraft provides exceptionally low

DOC's (about $260.00/hour with Piston Power's complete aircraft

tip to tail maintenance program) while providing best in class

surveillance capabilities.

Air Bear is the exclusive DA62-MPP distributor for the USA.

Contact the Air Bear to learn how the MPP can increase your

efficiency while dramatically lowering your acquisition and

operating costs.

Learn more at: www.airbear.aero

Diamond DA62-MPP Now Delivering

to North America!

FULLY FAA CERTIFIED, THE MPP SETS

NEW STANDARDS IN EFFICIENCY

AND CAPABILITIES FOR AIRBORNE

LAW ENFORCEMENT

The MPP uses just 7.6 g/hr (total) of

Jet-A at loiter speed, capable of

sprinting at up to 192 kts.

Multi-role, multi-mission capable

Capable, Efficient & Cost Effective

Air Bear Tactical Aircraft | 19711 Campus Drive #150 Santa Ana, CA 92707 | 855-699-5489

www.airbear.aero | bearsintheair@airbear.aero

122 The BLUES The BLUES 123

122 The BLUES POLICE MAGAZINE The BLUES POLICE MAGAZINE 123
---
CAP Fleet is an emergency

vehicle upfitter and

authorized Chevrolet SVM

Bailment Pool provider

for Law Enforcement

Vehicles. We have a pool

of vehicles available to be

upfitted by CAP Fleet and

sold through any GM dealer

in the United States.

We also offer law enforcement

vehicles from

Chevrolet, Dodge, and

Ford through our dealership

network.

Since 2011, we have

combined the highest

quality products in the

industry with superior

craftsmanship, providing

customer service and installations

at a reasonable

price.

Our sales staff brings

over 100+ years of law enforcement

experience and

our installation team has

an equal number of years

in the emergency vehicle

upfitting industry. We

understand your needs

and strive to make your

experience at CAP Fleet

simple. All installations

are completed by our inhouse

technicians. Every

vehicle goes through an

extensive quality control

program supervised by

our shop managers. Our

technicians are constantly

focused on quality and

efficiency.

With locations in

Belton, Tx and Houston,

Tx, and a new state

of the art facility under

construction in Caldwell,

Tx, as well as mobile

technicians serving the

Dallas/Fort Worth and

Rio Grande Valley metro

areas, we have you

covered!

Whatever your needs

are, from turn-key police

vehicle builds, product

replacement and/or upgrades

to existing vehicles,

or building a complete

new fleet, CAP Fleet will

have your vehicles 10-8.

2023 CHEVROLET TAHOE PPVs

ARE AVAILABLE THROUGH

OUR BAILMENT POOL!

CONTACT US FOR MORE

DETAILS ON HOW YOU CAN

GET YOUR FULLY UPFITTED

2023 TAHOE PPV THROUGH

CAP FLEET.

www.capfleet.com | sales@capfleet.com | 254-773-1959

124 The BLUES The BLUES 125

124 The BLUES The BLUES 125
---
Starting in 2003, Cop Stop Inc. Opened with a vision and goal to service first responders; "Our everyday

heroes." Catering mainly to Police, Fire, Military and EMS, but also open to the public, Cop Stop

offers a variety of products, gear and apparel. Open and operated by Rick Fernandez, a former officer

of 10 years, he prides himself on maintaining the highest standards of customer service. Cop Stop understands

its our customers who drive our success, and we strive to offer the best service to everyone

who walks through our doors. At Cop Stop we offer quality products at great low prices. With access to

over hundreds of brands and products, and constantly adding more, we are confident we can fulfill your

needs.

"If you provide good service and a fair price, customers will talk about you and come back.

It's that simple!" Rick Fernandez

126 The BLUES The BLUES 127

126 The BLUES POLICE MAGAZINE The BLUES POLICE MAGAZINE 127
---
DANA SAFETY SUPPLY

Dana Safety Supply (DSS) is a major warehousing distributor,

seller, service provider, and installer of law enforcement

and public safety fleet vehicle equipment including emergency

lighting, and related law enforcement products that are typically

employed by public safety entities. In addition, DSS is a

major distributor of law enforcement, tactical supplies, duty

gear, firearms, ammunition, uniforms, and other public safety

products. DSS operates 30 locations located in Greensboro, NC

(2), Clinton, NC, Columbia, SC (2), Atlanta, GA, Marietta, GA,

Preston, GA, DeLand, FL, Jacksonville, FL, Orlando, FL, Tampa, FL,

Ft. Myers, FL, Ft. Walton Beach, FL, Miami, FL, Pompano Beach,

FL, Tallahassee, FL, Livingston, MT, Memphis, TN, Nashville, TN,

Little Rock, AR, Baton Rouge, LA, Alabaster, AL, Lorton, VA (also

covering the Metro Washington D.C. area), Los Angeles, CA,

Oklahoma City, OK, Houston, TX, La Feria, TX, Ft. Worth, TX and

Austin, TX.

DSS was founded in 2005 by a group of law enforcement and

fleet professionals and has grown to become one of the largest

companies of its type in the United States. DSS is a subsidiary

of Duval Motor Company and the Scott McRae Group, (SMAG), a

106 year old family company that has been in continuous operation,

and under the same ownership since 1916. SMAG employs

more than 700 people across multiple companies in the automotive,

finance, and service industries. Each company operates

independently, is its own legal entity, and is headed by its own

President and management team, but has the financial resources

and backing of SMAG at its disposal. DSS acquired Fleet

Safety Equipment in 2018. Fleet Safety Equipment was founded

in Memphis, TN in 1980 and is a wholly owned division of Dana

Safety Supply.

DSS regularly provides emergency vehicle equipment, installation

services, and public safety products to numerous state,

federal, and local public safety agencies, as well as to automotive

dealers who utilize our up-fitting services and products.

DSS holds and has successfully completed hundreds of large

volume contracts with major public safety agencies throughout

its territory to include Federal & State Agencies in CA, NC, SC,

GA, FL, AL, TN, AR, OK, MS, LA, AR, TX, VA, and MT. DSS is also

an approved contractor for the GSA and has a GSA contract for

numerous public safety products and also for installation and

upfitting services.

Let us help your department with all your

vehicle equipment and upfitting needs.

Vehicle Equipment

Vehicle Armoring

National Reach.

Local Support.

America's largest source for upfitting,

installation, tactical gear and apparel.

Accessories & More!

31

LOCATIONS

DANASAFETYSUPPLY.COM

Keep your Officers safe!

Armored glass options available!

128 The The BLUES POLICE MAGAZINE The BLUES POLICE MAGAZINE The BLUES 129
---
People are Your

Purpose, and Ours

In 2008, the Oklahoma County Sheriff's Office

was informed by the federal government that it

was violating inmates' civil rights because of its

indirect supervision policy. Part of the requirement

to remedy the violation was to hire 200 detention

officers in addition to the 450 they already

had.

Instead, Captain David Baisden turned to Digi

Security Systems for a technological solution. Together,

we designed a system that would provide

100 percent visibility in each of the 30 pods in the

jail. Digi installed the system, and the impact was

definitive.

"All of a sudden, we noticed an immediate drop

in altercations from 300 to 30," said Captain Baisden.

"Ninety percent of the violence was gone."

We have a saying around here that People Are

Our Purpose. As a security systems integrator,

the work we do is important: we design, install,

and service commercial security systems for all

kinds of organizations. Those very security systems

are the technology that keeps our children

safe in their classrooms, our police officers protected

from wrongdoers, our business' assets

secure, and our communities free from the worry

of violent threats. We design systems that maximize

safety and limit the number of personnel

and hours spent trying to identify and respond to

incidents.

It's important work. It's work that makes a real

difference. And that work is just part of the Digi

Difference that defines us. When an organization

decides to partner with us, we become an

extension of their team. Because we care deeply

about the safety and security of the very people

you care deeply about, we do whatever it takes to

help you meet your goals while providing you the

most exceptional experience possible.

We serve and support law enforcement agencies

across the region, including jails and city and

county governments. We understand the unique

needs you have in protecting your staff and the

public. Learn more at digiss.com/government.

Customized Security Solutions

Government

& Law Enforcement

Keeping the peace and serving the public is a vital job for the health of a community.

As your partner, we make technology your ally by providing you security solutions

that are completely customized for your unique needs and budget.

All-in-one solutions

VIDEO SURVEILLANCE

ACCESS CONTROL

BODY-WORN CAMERAS

COVID-19 RESPONSE

INTRUSION ALARM & MONITORING

CLOUD-BASED SECURITY SYSTEMS

JAIL CONTROL SYSTEMS

LICENSE PLATE RECOGNITION

ANALYTICS & AI

MASS NOTIFICATION SYSTEMS

CONSULTING & DESIGN

LOCKSMITH & KEYS

SYSTEM INTEGRATION

AND MORE

SECURITY SYSTEMS

Call today! 1-888-970-3830

email contact@digiss.com

We offer TIPS State Contract and HGAC!

Digi knows law

enforcement

Reduce city crime & enhance public safety

Search hours of footage in seconds

Resolve incidents more quickly

Monitor large crowds with analytics

Gather real data for informed decisions

Integrate systems to better communicate

Limit the number of hostile environments

digiss.com

"Digi knows what

they are doing.

... All of a sudden

we noticed an

immediate drop in

altercations from

300 to 30.

90%

of the violence

was gone."

Captain David Baisden

Oklahoma County Sheriffs Office

Experience the Digi Difference2

Schedule your

FREE Assessment,

Demo & Quote

digiss.com

130 The BLUES The BLUES 131
---
Key Management &

Key Control Products

All of our KeyWarden Security

products are reliable, easy to use

and expandable to meet your

growing needs.

Through seamless design,

manufacturing and support, we

have earned the reputation as

the world leaders in security

management products. We also

write our own software to ensure

system compatibility and performance.

Every Morse Watchman's

product and system is meticulously

designed and inspected to

offer the latest in security technology

and reliability.

KEYWATCHER TOUCH

KeyWatcher Touch brings one touch key

control to the KeyWatcher, one of our industry-leading

electronic key cabinets. Our

new big, bright 7″ touch screen key register

systems give you an easier-to-use interface.

KEYWATCHER FLEET

The industry's only key control system for

fleet management applications, KeyWatcher

Fleet puts you in command of vehicle

distribution, comprehensive utilization,

right-sizing of your fleet and much more.

THE KEYBANK

The KeyBank® key control system eliminates

outdated key boxes and the paper

chase created by outdated manual logs and

provides extensive protection from liability

issues.

KeyWatcher Illuminated

KeyWatcher Illuminated is a modular, scalable

integrated key control and management

solution that's designed for interoperability

with access control and other

systems.

KEYBANK TOUCH

Now get touchscreen convenience with

KeyBank key access control system, the

safer, more secure way to manage keys. The

bright 7 touchscreen key organizer system

gives you an easier-to-use interface.

KeyWarden is the Texas distributor of Morse Watchmans industry-leading key and asset management systems. We are actively involved

in the Texas Law Enforcement community as a founding member of the East Texas 100 club, and corporate members of the North Texas

Police Chiefs Association, the East Texas Police Chiefs Association, the High Plains Police Chiefs Association, and the Central Texas Police

Chiefs Association. We are proud to participate in the TEXAS SCHOOL DISTRICT POLICE CHIEFS ASSOCIATION CONFERENCE.

THE KEYWATCHER TOUCH SYSTEM is deployed in the law enforcement environment to:

• Securely dispense track and audit the use of keys to: vehicles, facilities, lockers and

other high-value assets.

• Prevent unauthorized staff from driving specialist vehicles, or racking up miles on the

newer fleet while older units sit idle.

• Allow management to compel the use of vehicle pools rather than staff controlling the

keys to particular units.

• Quicker and more efficient shift changes.

• Control the keys to facilities and mandate accountability.

• Managing and controlling access to assets stored in lockers.

As a Texas-based company, we provide on site evaluation, implementation, training and support of the

KeyWatcher System. We are also a member of BuyBoard and offer discounted pricing and ease of purchase.

19015 Gentle Knoll

San Antonio, Texas 78258

Office: 830-214-0867 Fax: 775-898-1807

www.keywarden.com - click here to email us

132 The BLUES The BLUES 133
---
PLANET FORD IN SPRING, 20403 I45 NORTH,

SPRING TEXAS

Planet Ford on I-45 in Spring, Texas has been

the No. 1 Ford Dealer in the greater-Houston area

for over 20 years.* Our Ford dealership earns

this distinction year after year because our team

makes our clients and their vehicle needs our top

priority. Planet Ford is part of the award-winning

World Class Automotive Group. The dealership

has earned many top honors, including multiple

Triple Crowns, which is bestowed upon only

the best. In order to be recognized, a dealership

must receive all of Ford's top awards, including

The President's Award for customer service. Planet

Ford has been redesigned from the ground up

to provide a superior customer experience. Planet

offers over 30 acres of new Ford inventory, Certified

Pre-Owned Fords, pre-owned vehicles of all

makes and models, as well as aftermarket and

performance parts, service, commercial truck

services, and collision repair. Beyond automotive

services, the Randall Reed family and Planet team

support and gives back to the community, from

local charity events to sponsoring schools and

veteran programs. Learn more at PlanetFord.com.

134 The BLUES The BLUES 135

134 The BLUES The BLUES 135
---
Supporting Law

Enforcement in

TEXAS

Inset: Dan Rooney ProForce President

Firearms and Tactical Equipment for Law Enforcement Professionals

800-367-5855

Supplying Law Enforcement

Equipment for the State of TEXAS!

SPOTLIGHT ON

ProForce's commitment to providing excellent customer

service is a key element in the company's success

throughout the western United States. As a relative newcomer

in the state of TEXAS ProForce has been welcomed with open

arms by the law enforcement community.

ProForce's relationships with top industry manufacturers

and vendors, as well as their sales volume, allows them

to negotiate better pricing to meet the budgetary needs

of law enforcement agencies. While some vendors may

not always have product availability in a timely manner.

ProForce's industry relationships and direct contact through

vendor representatives, the sales team is able to suggest

and provide alternatives to meet specific requirements of

agencies, ensuring that the agency's needs are always met.

"

Working with PROFORCE through the

bidding and purchasing of the M&P 2.0's was

very easy and simple. We added the ACRO red

dot along with the holster and the light. This

purchase was simple and easy.

The troops love the improvement to the 2.0

and the red dot.

Lt. Socha. Austin PD.

"

#X300U-A #13353 #200691

The company features an excellent selection of high demand

law enforcement firearms, equipment and accessories from

great manufacturers such as:

Axon/Taser, Aimpoint, Beretta, Colt, H&K, Bola Wrap,

Bianchi, Smith & Wesson, Eotech, Daniel Defense,

NightStick, Sig Sauer, Kimber, Otis, Defense Technology,

Shadow Systems, Magpul, L3 Harris, Burris, Mossberg,

Ruger, Streamlight, Safariland, Springfield, Blackhawk,

Holosun, Trijicon, Vortex, Surefire, Us Peacekeeper ,OSS,

Nightstick, FNH USA and UTM.

Proforce takes great pride in distributing high quality public

safety products from top tier manufacturers and this

transaction has set a trend for many other law enforcement

agencies in the State of Texas.

Agency demonstrations, test and evaluation

of products is available upon request. Ask us

about trade-ins! We will buy your agency duty or

confiscated firearms, any model and condition!

First class customer support and quality service

makes PROFORCE the number one choice for first

responder equipment and accessories!

Call (800) 367-5855

Email: sales@proforceonline.com or

visit our website

www.proforceonline.com

SEND US AN EMAIL

SCAN THE QR CODE

Designed, engineered, and manufactured in

America, and ready to perform whenever

and wherever the need arises. SIG SAUER

is combining industry-leading product

innovation with decades of battle-tested

experience to engineer the toughest,

and most accurate pistols, rifles, optics,

suppressors, and ammunition for the

military and federal agencies.

>> PRODUCTS & SERVICES
---
4807 KIRBY DRIVE • HOUSTON, TEXAS • 713-524-3801

12722 HWY. 3 • WEBSTER, TEXAS • 281-488-5934

AUTO FACELIFTS is located on the South Side of

Houston across from Ellington Airport. Auto Facelifts

is an industry leader in auto upholstery in the Houston,

TX area. We work on cars, trucks, and even boats,

so no matter what you're riding in, we can give it a

facelift! Whether you're looking for a new leather interior,

carpet replacement, or auto detailing, we've got

a package that will fit your needs. But we don't stop

there! We've also got an incredible selection of car and

truck accessories to really take your vehicle to the next

level. And, if that's not enough, we can also provide

you with premium car audio and car stereo equipment

that will make your vehicle the talk of the town. Stop

into Auto Facelifts and upgrade your ride today!

RIVER OAKS CHRYSLER, DODGE, JEEP & RAM

Alan & Blake Helfman are the named and primary

sponsor of The BLUES. For over 65 years the

Helfman's have supported local area law enforcement

and supported The BLUES since our first issue.

There is simply no better dealership in Houston

to purchase your Chrysler, Dodge, Jeep,

Ram or Ford product. The sales team provide

honest, no BS pricing and their service department

ranks among the top in the nation.

Call Alan or Blake Helfman at 713-524-3801 when

you are ready to purchase your next vehicle. It will

be the best car buying experience you've ever had.

CENTRAL POLICE SUPPLY is your source

for the best in police equipment. Based

in Houston, we supply law enforcement

with the equipment they need."

CENTRAL POLICE SUPPLY has been

serving Houston law enforcement for

nearly 50 years with the absolute best

customer service and quality products.

CENTRAL POLICE SUPPLY is

located at 1410 Washington Ave, near

downtown Houston, but you can

purchase everything you need online

at:https://www.centralpolice.com/

138 The BLUES The BLUES 139
---
NOW HIRING

LE job posit ions

City of Bulverde Police Get Info Police Officer 11/07/2022 - 5pm

Palo Pinto County Sheriff's Office Get Info Transport Deputy 12/01/2022 - 5pm

Austin Police Department Get Info Police Officer 11/11/2022 - 5pm

Port Houston Police Department Get Info Police Officer 12/01/2022 - 5pm

Bowie Police Dept. Get Info Police Officer 11/12/2022 - 5pm

Tx. Comptroller Criminal Investigation (Odessa) Get Info State Police Officer 12/13/2022 - 5pm

Tx. Comptroller Criminal Investigation (Austin) Get Info State Police Officer 12/13/2022 - 5pm

Tx. Comptroller (Abilene) - Criminal Investigations Get Info State Police Officer/ Investigator 12/13/2022 - 5pm

DeWitt Co. Sheriff's Office Get Info Patrol Deputy 11/16/2022 - 5pm

City of Tyler Get Info Deputy City Marshall II 11/19/2022 - 5pm

Ransom Canyon Police Department Get Info Peace Officer 11/18/2022 - 5pm

University of the Incarnate Word Police Get Info Patrol Officer 11/19/2022 - 5pm

TSTC Police Dept. Get Info Police Officer 11/25/2022 - 5pm

Italy Police Department Get Info Police Officer 11/18/2022 - 5pm

Burnet Police Dept. Get Info Police Officer 11/22/2022 - 5pm

Rio Grande City Police Dept. Get Info Peace Officer 11/22/2022 - 5pm

Tulia POlice Dept. Get Info POlice Officer 12/01/2022 - 5pm

Del Rio Police Department Get Info Certified (Lateral) Officers 11/28/2022 - 5pm

Tyler County Sheriff's Office Get Info Deputy 11/27/2022 - 5pm

Hutto Police Department Get Info Police Officer 11/27/2022 - 5pm

DeLeon Police Department Get Info Police Chief 11/27/2022 - 5pm

DeLeon Police Department Get Info Police Officer 11/27/2022 - 5pm

River Oaks Police Department Get Info Police Officer 12/01/2022 - 5pm

Venus ISD Police Department Get Info Police Sergeant 11/01/2022 - 5pm

Rusk Police Department Get Info Police Officer 11/24/2022 - 5pm

Lago Vista Police Department Get Info Patrol Officer 11/27/2022 - 5pm

Cross Roads Police Deparment Get Info Police Officer 11/27/2022 - 5pm

Portland Police Department Get Info Police Officer 11/27/2022 - 5pm

Katy Police Department Get Info Police Officer 11/23/2022 - 5pm

Abilene Christian University Police Department Get Info Police Officer 11/25/2022 - 5pm

San Antonio ISD Police Dept. Get Info Police Officers 11/28/2022 - 5pm

Hays County Sheriff's Office Get Info Mobile Crisis Liaison 11/29/2022 - 5pm

Brown County Sheriff's Office Get Info Patrol Deputy 11/29/2022 - 5pm

Josephine Police Department Get Info Police Officer 11/29/2022 - 5pm

Coleman Police Department Get Info Police Officer 11/26/2022 - 5pm

Leonard Police Department Get Info Police Officer 11/29/2022 - 5pm

Tom Green Co. Sheriff's Office Get Info Patrol Deputy 11/29/2022 - 5pm

Gillespie Co. Sheriff's Office Get Info Deputy Sheriff 11/30/2022 - 5pm

Austin College Police Dept. Get Info F/T Police Officer 12/01/2022 - 5pm

Austin College Police Dept. Get Info P/T Police Officer 12/01/2022 - 5pm

Garza Co. Sheriff's Office Get Info Deputy 11/15/2022 - 5pm

Tarrant County Sheriff's Office Get Info Deputy Sheriff 12/03/2022 - 5pm

Pflugerville Police Department Get Info Police Officer 12/03/2022 - 5pm

Milam County Sheriff's Office Get Info Patrol Deputy 12/04/2022 - 5pm

Milam County Sheriff's Office Get Info School Resource Officer 12/04/2022 - 5pm

Austin ISD Police Department Get Info Police Officer 12/04/2022 - 5pm

Klein ISD Police Department Get Info Police Officer 12/04/2022 - 5pm

Hays Co. Const. Pct. 3 Get Info Deputy Constable 11/07/2022 - 5pm

Hansford Co. Sheriff's Office Get Info Patrol Deputy 11/07/2022 - 5pm

Mesquite Police Dept. Get Info Police Officer 11/09/2022 - 5pm

Cass Co. Sheriff's Office Get Info Deputy Sheriff 11/07/2022 - 5pm

South West ISD Police Department Get Info Police Officer 12/11/2022 - 5pm

Somerville Police Department Get Info Police Officer 12/11/2022 - 5pm

Bruceville-Eddy Police Department Get Info Patrol Officer 12/02/2022 - 5pm

DFW Airport Police Department Get Info Police Officer 12/11/2022 - 5pm

Upton County Sheriff's Office Get Info Patrol Deputy 12/01/2022 - 5pm

Elm Ridge Police Department Get Info Police Officer 12/11/2022 - 5pm

Milford Police Department Get Info Police Officer 12/11/2022 - 5pm

Tyler Police Department Get Info Police Officer 11/07/2022 - 11pm

Anson Police Department Get Info Police Chief 11/11/2022 - 5pm

Colleyville Police Dept. Get Info Police Officers 12/02/2022 - 5pm

City of Fort Worth Get Info Deputy City Marshal II 11/13/2022 - 5pm

Karnes Co. Sheriff's Office Get Info Patrol Deputy 12/31/2022 - 5pm

Lexington POlice Dept. Get Info POlice Cadet 12/01/2022 - 5pm

Lexington Police Dept. Get Info Patrol Officer 12/01/2022 - 5pm

Hearne Police Dept. Get Info Police Officer 12/15/2022 - 5pm

City of Bastrop Police Get Info Patrol Officer 12/17/2022 - 5pm

Texas Department of Insurance Get Info Sergeant/Investigator (Lubbock) 12/17/2022 - 5pm

Texas Department of Insurance Get Info Sergeant/Investigator (Dallas) 12/17/2022 - 5pm

Texas Department of Insurance Get Info Sergeant/Investigator (Austin) 12/17/2022 - 5pm

Johnson City Police Department Get Info Patrol Officer 12/17/2022 - 5pm

City of Keller Get Info Police Officer 12/17/2022 - 5pm

Springtown Police Department Get Info Patrol Officer 11/17/2022 - 5pm

Crowley Police Dept Get Info Lateral Police Officer 11/18/2022 - 5pm

Alamo Colleges Police Department Get Info Bike Patrol 11/18/2022 - 5pm

Texas Woman's University DPS Get Info Police Officer 11/18/2022 - 5pm

Karnes City Police Dept. Get Info School Resource Officer 11/21/2022 - 5pm

The Leader In Law Enforcement Recruitment

Delivering ZERO COST solutions to

Texas Public Safety Agencies.

140 The BLUES The BLUES 141
---
Leon Co. Sheriff's Office Get Info Patrol Deputy 11/30/2022 - 5pm

Lindale Police Dept. Get Info Police Officer (3 positions) 12/19/2022 - 5pm

Cedar Hills Marshal Office Get Info Deputy Marshal 11/22/2022 - 5pm

Burleson Police Dept. Get Info Police Officers 11/22/2022 - 5pm

Oak Ridge North Police Dept. Get Info Patrol Officers 01/19/2023 - 5pm

Mart ISD Police Dept. Get Info District Safety Chief of Police 11/22/2022 - 5pm

Office of the Inspector General - TJJD Get Info Corporal 12/22/2022 - 5pm

Office if the Inspector General - TJJD Get Info Sergeant Investigator V 12/22/2022 - 5pm

TABC - Enforcement

Get Info Probationary Agent (CPO Position) 11/21/2022 - 5pm

Freestone Co. Attorney's Office Get Info Investigator 11/11/2022 - 5pm

Spearman Police Dept. Get Info Chief of Police 12/01/2022 - 5pm

Spearman Police Dept. Get Info Patrolman 12/01/2022 - 5pm

Travis Co. Sheriff's Office Get Info Law Enforcement Deputy 11/25/2022 - 5pm

Pleasanton Police Dept. Get Info Police Chief 11/18/2022 - 5pm

Hardeman Co. Sheriff's Office Get Info Deputy 12/16/2022 - 5pm

West Columbia Police Dept. Get Info Patrol Officer 12/01/2022 - 5pm

Bryan Police Dept. Get Info Police Officer 11/11/2022 - 5pm

Keller Police Dept. Get Info School Resource Officer 12/01/2022 - 5pm

Mineola Police Dept. Get Info Peace Officer (2 positions) 12/28/2022 - 5pm

Brownwood Police Dept. Get Info Patrol Officer Exam Notice 12/05/2022 - 5pm

Austin Community College District Police Dept. Get Info Patrol Officer 11/07/2022 - 5pm

West Lake Hills Police Dept. Get Info Police Officer 12/12/2022 - 5pm

Buna ISD Police Dept. Get Info Chief of Police 12/01/2022 - 5pm

Natalia Police Dept. Get Info F/T and Reserve Peace Officers 12/15/2022 - 5pm

Decatur Police Dept. Get Info Police Officer 11/25/2022 - 5pm

Sunset Valley Police Dept. Get Info Police Officer 01/01/2023 - 5pm

STATEWIDE VACANCIES FOR JAILERS

Gillespie Co. Sheriff's Office Get Info Detention Officer 11/30/2022 - 5pm

Tarrant County Sheriff's Office Get Info Detention Officer 12/03/2022 - 5pm

Milam County Sheriff's Office Get Info Jailer 12/04/2022 - 5pm

Lee County Sheriff's Office Get Info Jailer 12/05/2022 - 5pm

Smith County Sheriff's Office Get Info Detention Officer 12/17/2022 - 5pm

Rockwall Co. Sheriff's Office Get Info Detention Officer 11/22/2022 - 5pm

Travis Co. Sheriff's Office Get Info Corrections Officer 12/20/2022 - 5pm

Galveston Co. Sheriff's Office Get Info Corrections Deputy 12/31/2022 - 5pm

STATEWIDE VACANCIES TELECOMMUNICATION OPERATOR

Tarrant Regional Water District Get Info Public Safety Specialist 11/11/2022 - 5pm

DeWitt Co. Sheriff's Office Get Info Dispatcher 11/16/2022 - 5pm

Austin Police Department Get Info Telecommunicator 11/27/2022 - 5pm

Lago Vista Police Department Get Info Dispatcher 11/27/2022 - 5pm

Katy Police Department Get Info Telecommunicator/Dispatcher 11/23/2022 - 5pm

Hays County Sheriff's Office Get Info Telecommunicator 11/29/2022 - 5pm

Austin ISD Police Department Get Info Dispatcher 12/04/2022 - 5pm

Milam Co. Sheriff's Office Get Info Dispatcher (2 openings) 12/04/2022 - 5pm

Walker County Public Safety Communications Get Info Telecommunicator 12/02/2022 - 5pm

Hemphill County Sheriff's Office Get Info Telecommunicator/ Officer 12/09/2022 - 5pm

Mount Belvieu Police Department Get Info Dispatcher 12/11/2022 - 5pm

Collin Co. Sheriff's Office Get Info Dispatcher 04/11/2023 - 5pm

Springtown Police Department Get Info Communications Officer 11/17/2022 - 5pm

Texas Woman's University DPS Get Info Dispatcher 11/18/2022 - 5pm

Kyle Police Dept. Get Info Telecommunicator 11/23/2022 - 5pm

League City Police Dept. Get Info Telecommunicator 12/31/2022 - 5pm

Woodway Public Safety Dept.

Get Info Public Safety Telecommunicator 12/31/2022 - 5pm

Galveston Co. Sheriff's Office Get Info Telecommunicator 12/31/2022 - 5pm

142 The BLUES The BLUES 143
---
144 The BLUES The BLUES 145
---
146 The BLUES The BLUES 147
---
austin officers

austin dispatch

148 The BLUES The BLUES 149
---
EMPLOYMENT BENEFITS

• Paid Vacation

• Sick Leave

• Paid Holidays

• Personal Days

• Compensatory Days

• Certification Pay

ALDINE ISD POLICE DEPT.

now accepting applications for:

Dispatcher

Salary starting at $40,000,

no experience required.

TO APPLY VISIT

WWW.ALDINEISD.ORG

OR

Contact the Personnel

Department at

281-985-7571

OR

Contact Sergeant R. Hall at

281-442-4923

HIRING PROCESS

• Oral Board Panel Interview

• Complete Personal History Statement

• Psychological Evaluation

• Medical Examination

• Interview with the Chief of Police

150 The BLUES The BLUES 151
---
BECOME A BAYTOWN

PATROL OFFICER!

STARTING PAY:

$67,320/YEAR

$1,500 SIGNING

INCENTIVE!

SALARY

(YEARLY)

EMPLOYEE BENEFITS

PAID LEAVE

Probationary Patrol Officer $67,320

5 Year Patrol Officer $81,073

9 Year Patrol Officer $93,694

Annual salary increases up to a max of

$93,694 with longevity pay

Modified Lateral Pay Scale for Peace

Officers from time at immediately

preceding Law Enforcement Agency

CERTIFICATION PAY

Intermediate PO Certification $92.08

Advanced PO Certification $157.08

Master's PO Certification $212.33

RELOCATION

(MONTHLY)

Health Insurance

Dental Insurance

Vision Insurance

Life Insurance

Employee Wellness Center

Training and Fitness Facility

Retirement Plan (7% Mandatory with a

2:1 match; 20 year retirement)

457 Deferred Compensation Plan

Tuition Assistance and Academy Tuition

Reimbursement

City Vehicle Program

Uniforms/Equipment Provided with

Annual Allowances

15 Vacation days accrued per year

(civil Service Status)

10 City Holidays per year

1 Personal day per year

15 Sick days accrued per year

15 days of Military Leave per year

EDUCATION PAY

Associates $50

Bachelors $100

Master $125

SPECIALTY/ SKILL PAY

(MONTHLY)

(MONTHLY)

Relocation Expenses Reimbursed

Bilingual in Spanish $50

WWW.BPDCAREERS.ORG 281-420-5354 281-420-6660

152 The BLUES The BLUES 153

For additional information please scan the QR code to go to our recruiting website!
---
October 15

October 15

154 The BLUES The BLUES 155
---
Cuero Police Department

Now Hiring for Patrol Officer Position

Department Benefits

13 Paid Holidays

2 Weeks Paid Vacation

Certification Pay

100% Insurance Paid for Employees

Retirement 2 to 1 match (20yr Retirement)

FSA for Employees

Longevity Pay

Equipment & Uniforms Provided Including Duty Weapon w/ Red Dot Sight

Take Home Vehicle Within City Limits

10 Hour Work Shifts

Membership Paid to Local Gym

Department Provided Training

Off-duty Security Opportunities

Cell Phone Stipend

Starting Pay Depends on Qualifications

Requirements: Must be TCOLE Certified or currently enrolled in an accredited Police

Academy and pass a background investigation.

156 The BLUES The BLUES 157

Email TCOLE Personal History Statement to sellis@cityofcuero.com
---
DEER PARK POLICE

DEPARTMENT

Deer Park, Texas

WE ARE HIRING

www.deerparktx.gov

Police Officer

Dispatcher

Public Safety Attendant - Jailer

Animal Control Officer

Part time Crossing Guard

Officer Sam Jammas 281-930-2121 or sjammas@deerparktx.org

158 The BLUES The BLUES 159
---
Forney ISD

Police Department

NOW

HIRING

Police Officers

Description

School-based police officers work

with school administrators, security

staff, and faculty to ensure the safety

and well-being of students at various

campuses. This officer works as the

main security arm of a school.

Experience

SBLE Experience preferred

Demonstrate the ability to

teach & engage with youth

Requirements

U.S. Citizen

Accredited High School Diploma

or equivalent

Valid Texas Peace Officer License

Valid Texas Driver's License

Two or more years of college or

advanced training preferred

Positions starting

at $29.89/hr

Retention Stipends

Clothing Allowance

Health/Childcare Incentive

Paid Training

Lateral Entry

APPLY ONLINE TODAY!

www.forneyisd.net

160 The BLUES The BLUES 161
---
GALVESTON

COUNTY

SHERIFF'S OFFICE

Seeking Individuals Who Are Interested in a Rewarding Career in Corrections

Begin Your Career Today!

GALVESTON COUNTY SHERIFF'S OFFICE ESTABLISHMENT OF ELIGIBILITY

APPLY TODAY AND BECOME A GALVESTON POLICE OFFICER

Position: Corrections Deputy I

Bureau/Division: Corrections/Jail

Title/Rank: Corrections Deputy/Deputy I

Reports to: Sergeant - Corrections

Starting Salary: $47,715.20

JOB RESPONSIBILITIES

Maintains the security of the facility by conducting security checks, settling disputes, and performing cell searches and

inspections; conducts outside perimeter checks.

Preparation and proper completion in the documentation of inmate records.

Issues inmate meals, clothing, linens, and personal items.

Supervise inmate programs (recreational, legal, health care, visitation and religious services)

Prepares reports on jail and inmate activities, enforce inmate handbook rules.

Supervises inmates performing such assignments as cleaning and maintaining the jail facility and continuously observe

locations and activities of inmates.

MINIMUM QUALIFICATIONS

High School / GED Certificate and must be at least 18 years of age.

Must be a U.S. Citizen and resident of the contiguous United States for a period of time sufficient to conduct a

background investigation.

Must be able to work days, nights, weekends, holidays and mandatory shifts when needed.

Must be able to work during natural disasters and or under declarations.

Must possess a valid Texas driver's license and an acceptable driving record as determined by the Galveston County

Sheriff's Office in effect at the time of application.

Must have favorable employment history. All information given regarding past employment will be thoroughly checked

Must have a stable credit history.

Must possess good computer skills and demonstrate comprehensive reading and comprehension skills.

No conviction above a Class B Misdemeanor or a Class B misdemeanor within the last 10 years nor have been on or

currently on court-ordered community supervision or probation for any criminal offense and no Family Violence

convictions of any level.

Applicant must pass all phases of the required testing.

Must be eligible for licensing by the Texas Commission on Law Enforcement (TCOLE) for the position applied for, if not

presently licensed.

TO APPLY

An applicant interested in any of GCSO position shall first download, complete and return

the Application Packet, per the instructions on the downloadable form.

The Application Packet can be found at SHERIFF.GALVESTONCOUNTYTX.GOV

162 The BLUES The BLUES 163

JOIN US

VISIT SHERIFF.GALVESTONCOUNTYTX.GOV TO APPLY!

The Galveston County Sheriff's Office is an Equal Opportunity Employer

CONTACT US

409.763.7585 : SO.EMPLOYMENT@GALVESTONCOUNTYTX.GOV
---
164 The BLUES The BLUES 165
---
LATERAL DEPUTY

166 The BLUES The BLUES 167
---
WE ARE

HIRING!

BENEFITS

• Free basic Medical, Dental and Vision insurance for

employee

• Free basic Life insurance

• Long Term Disability (LTD)

• Affordable Medical, Dental and Vision benefits for

eligible family members

• Flexible Spending Accounts

• 10 paid holidays per year

• Generous Paid Time Off (PTO) including 10 vacation

days and 13 sick days per year accrued biweekly

RETIREMENT

• Harris County matches your investment at 225%

• 7% of your salary is invested pre-tax in your

retirement account

• Retirement Vesting after 8 years

• Eligible upon earning 75 points (age+years of service)

SALARY SCALE

INCENTIVE PAY

LATERAL DEPUTY

REQUIREMENTS

• Must be a licensed Peace Officer by the Texas Commission on Law

Enforcement (TCOLE) in good standing

• Must be currently employed as a first responder Peace Officer

(any break in service will be discussed on a case-by-case basis)

• Must have a minimum of 12 months of consecutive experience as

a first responder Peace Officer at any one agency

• Must successfully pass the Physical Abilities Test (PAT) obstacle

course

• Must pass a thorough background investigation (Criminal

background check, fingerprinting, personal interview, etc.) as

required by TCOLE

• Must pass a physical and psychological evaluation as required by

TCOLE

• Valid Driver's License (TX by start date)

• Eyesight must be correctable to 20/20, normal color and

peripheral vision

• Correctable normal audible range in both ears

• Firearms qualification

For additional information contact Harris County Sheriff's Office Recruitment Unit: (713) 877-5250

Now Hiring

OFFICERS

TCOLE Certified Peace Officers

Hutto ranked one of the

safest cities in Texas.

Our fast-growing City shows a trending decrease in crimes based

on four offenses from the FBI's Uniform Crime Reporting.

Additional Pay

+ Education Pay up to $175/month

+ Specialty/Certication up to $260/month

Highlights

Top-of-the-line Equipment

and Technology

Beards and Tattoos Allowed

No Written Test for Most Lateral Officers

Benets

Retirement

2-to-1 City match with TMRS

Take-home Patrol Car

For officers living within 25 miles

Starting Salary

$62K to $81K

Annual Leave Accruals

12 paid holidays, 80 hrs vacation, 96 hrs sick leave

Multiple Positions Available

A wide variety of units and assignments available

CLASSIFICATION SERVICE HOURLY ANNUAL TCOLE CERTIFICATION ANNUAL

DEPUTY I 0-47 $25.22 $52,458

Intermediate $1,560

Advanced $3,420

DEPUTY II 48-83 $26.99 $56,139

Master $6,000

EDUCATION

ANNUAL

DEPUTY III 84-119 $28.59 $59,467

Associate Degree $1,320

DEPUTY IV 120-155 $30.03 $62,462

Bachelor's Degree $3,180

Master/Doctorate $4,500

TO APPLY

DEPUTY V 156-191 $31.52 $65,562

Questions? Email: PDrecruiting@huttotx.gov

168 The BLUES

Bilingual Program $1,800

Harris County

The BLUES 169

Receive up to fourteen (14) years of credit for time served! (Restrictions apply)

@HCSOTexas

HCSOTexas HCSOTexas @HCSOTexas

Tenure agreement required.

SCAN THIS CODE

Sheriff's Office

To learn more or apply, visit or scan

https: //linktr. ee/huttopd

Sign On Bonus!

$5,000*
---
L A P O R T E

P O L I C E D E P A R T M E N T

Lateral Police Officer

Starting Pay $ 62,416. to $73,775.

Effective October 1, 2022

No prior experience required. High School diploma or GED required.

Possession of Class C Texas Driver License.

Must possess a TCOLE License or be enrolled in accredited Basic Peace Officer Academy.

Certification Pay (bi-weekly):

$46.15 - Intermediate Peace Officer

$69.23 - Advanced Peace Officer

$92.31 - Master Peace Officer

Education Pay (bi-weekly):

$46.15 - Associates Degree

$69.23 - Bachelors Degree

$92.31 - Masters Degree

Employee Benefits:

Medical / Dental / Vision Insurance

Longevity Pay

Tuition Reimbursement

TMRS Retirement (2 to 1 match)

ICMA Deferred Compensation/Roth IRA

$1,000 Physical Fitness Program

Weapon Purchase Program

Take-home Vehicles

Specialized Divisions:

SWAT / Bomb Squad

Bike Patrol

Criminal Investigative Division

Crime Scene Unit

Drone Pilots

School Resource Officers

Traffic/DOT Officers

Police Area Representatives

Apply online at

www.laportetx.gov/jobs

Paid Leave Benefits

15 days vacation (Civil Service)

15 days sick leave

Military Leave

9 observed holidays per year

2 employee holidays per year

Bereavement Leave

Comp Time

170 The BLUES The BLUES 171
---
172 The BLUES The BLUES 173
---
MANVEL POLICE DEPARTMENT

Patrol Officer

The City of Manvel Police Department is looking to find qualified candidates to fill the ranks of the patrol division.

The City of Manvel is a rapidly growing and diverse community. The current population is estimated at a little over 16000 and is located in the

northern part of Brazoria County along the State Highway 288 corridor approximately 4 miles South of the City of Houston.

The Manvel Police Department has a competitive pay structure for cities of the same size. Salary is based on experience and certification levels.

• The department currently has 32 sworn positions.

• 18 officers currently in patrol with 8 positions added in this fiscal budget year.

• Patrol Salary: $53,704.56 to $68,031.84. Salary is based off experience and certification.

• Certification pay

• 12-hour shifts / shifts rotate every four months. (Modified Dupont Schedule)

• Retirement through TMRS - 7% contribution with a 2:1 match

• Vested after 5 years with the city

• Employee health coverage paid 100% by the city, additional for family

• Health care for employee and eligible dependents through Prime Health Care.

• Personal Time off – Vacation and Holiday accruals

• Paid sick time

Minimum Requirements:

• High school diploma or GED

• Valid Texas Driver's License with good driving record

• TCOLE certified OR currently enrolled in Academy program

• Preference for LE experience

Hiring Process Includes:

• Written test*

• Physical test *

• Oral board interview*

• Thorough background investigation

• Modified Field Training Program for experienced officers

• One-year probationary period

For more information you can contact The City of Manvel Police Department at 281-489-1212 or email, rcarrlacy@manvelpd.org

174 The BLUES The BLUES 175
---
Memorial Villages Police Department

Bunker Hill • Piney Point• Hunters Creek

Police Officer

EOE/M/F/D

5+ Years Patrol Experience Required

The Memorial Villages Police Department (Located on the West Side of Houston) currently

looking for experienced officers who are self- motivated, innovative, and enthusiastic about

community policing.

Starting Salary Range

Effective Jan 2023

Hiring Bonus $1500

Night Shift Differential $3600

ECA $1300

Basic Peace Officer

Starting $83,459

Hiring Bonus $1500

Night Shift Differential $3600

Master Peace Officer

ECA $1300

Bi-Lingual 2.5% of base pay

College up to $3000 (Masters)

Up to $94,164

Healthcare Insurance, DHMO Dental, Vision – 100% paid for employee, 75% Paid for

spouse/dependents.

Paid long-term disability and life insurance for employee, with additional life insurance

available for spouse/dependents.

Health Savings Account with departmental contributions up to $4200 annually

TMRS Retirement 2 to 1 match, 7% Employee ,14% Employer Contribution, 20 Year Retirement

457 Plan with employer contribution of 2.5% of annual salary

Tuition reimbursement

Longevity Pay up to a max of $2400 annually at 10 years of service.

ECA (Emergency Care Assistant) $1300 Annually, training provided to each employee.

12 hour shifts with every other Friday, Saturday, and Sunday off.

To learn more or apply, visit our website at www.mvpdtx.org

Or contact Sgt. Owens 713-365-3711 or lowens@mvpdtx.org

Or Commander E. Jones 713-365-3706 ejones@mvpdtx.org

11981 Memorial Dr. Houston, Texas 77024

176 The BLUES The BLUES 177
---
178 The BLUES The BLUES 179
---
MAKE A

DIFFERENCE

IN YOUR

COMMUNITY

We are looking for outstanding individuals to

join our team! As a Pearland Police Officer your

mission will be to prevent crime and disorder, build

partnerships within the community, and positively

impact the quality of life for all our residents.

CITY OF PEARLAND, TEXAS

• Competitive Salary • Outstanding Training

• Career Advancement • Exceptional Benefits

The City of Pearland is one of the fastest growing

communities within the region. Pearland is located

approximately 20 minutes south of Downtown Houston

and the current population is approximately 130,000

residents.

JOIN OUR TEAM

HIRING POLICE OFFICERS AND CADETS

$5,000 Hiring Incentive for T.C.O.L.E Certified Police

Officers who qualify with at least 2 years of experience.

TEST DATE:

SATURDAY, APRIL 24, 8:30 A.M.

Register by: April 12.

WATCH FOR UPCOMING

Pearland Recreation Center & Natatorium

4141 Bailey TEST Road, DATES Pearland, TX IN 77584. 2022

Doors Open: 7:15 a.m. No admittance after 7:45 a.m.

Candidates must park in the north parking lot.

SOCIAL DISTANCING MEASURES WILL APPLY

• Attendance limited to first 150 arrivals

• Mandatory temperature checks

• Masks required, hand sanitizer available

• Candidates seated 6 feet apart

180 The BLUES For additional information and to register for an upcoming Civil Service Exam, The BLUES visit 181

pearlandtx.gov/PDCareers
---
pasadena

isd

182 The BLUES The BLUES 183
---
PORT HOUSTON

POLICE DEPARTMENT

WE ARE

HIRING

SIGN UP TODAY! www.porthouston.com/careers-2

BENEFITS:

• Medical, Dental, and Vision Insurance

eligible first day of employment

• Wellness Program

(can earn up to $600 credit per year if requirements met)

• Enrollment with Calm App for Wellbeing

• Defined contribution plan (401a)

– Employer Sponsored

• Deferred Compensation Plan (457 Plan)

– Employee Contributions

• Vacation

• Sick Leave

• Paid Holiday 12 days/year

• Life and Accidental Death and

Dismemberment Insurance

• Short Term and Long-Term Disability Benefits

• Flexible spending account (FSA)

• Employee Assistance Program (EAP)

• Pet Insurance

• Legal and Identity Theft Protection

• Tuition Reimbursement

Up to the IRS annual limit and a maximum lifetime

reimbursement of $25,000

• Onsite Credit Union – Port of Houston Credit Union

Are you looking for a career with meaning?

Do you want to make a difference in a highly

supportive community?

Join our team at Port Houston!

STARTING PAY*

$60,000 up to $71,000

REQUIREMENTS

• Must be 21 years old

• Must have 2+ years of police officer

experience

• Must have valid Texas Driver's License

• Must be a U.S. Citizen

• Must have an honorable discharge

from the military (if applicable)

• Must never have been convicted of a

Class A Misdemeanor or above

EMPLOYMENT

TESTING

Employment is contingent on passing

any post-offer pre-employment

screening as listed below:

• Criminal background check

• Motor Vehicle Record check

• Drug screening

• Physical exam

• Psychological exam

SCAN

QR CODE

TO APPLY

• Not been convicted of a Class B

• Additional as required

* Salary depends on experience

misdemeanor within the last 10 years

• Must have a GED or high school diploma

184 The BLUES The BLUES 185
---
186 The BLUES The BLUES 187
---
City of Wylie

Police Department

OFFICER SALARY RANGE: HIRING PROCESS: BENEFITS:

Non Certified Police Recruit Pay : $62, 370.00

YEARS OF SERVICE

ANNUAL SALARY

1 Year—Step 0 $66, 626.06

2 Years—Step 1 $68, 291.71

3 Years—Step 2 $69, 999.00

4 Years—Step 3 $71, 748.98

5 Years—Step 4 $73, 542.70

6 Years—Step 5 $75, 381.27

7 Years—Step 6 $77, 265.80

8 Years—Step 7 $79, 197.45

9 Years—Step 8 $81, 177.38

10+Years—Step 9 $83, 206.82

ADDITIONAL COMPENSATION:

Certification Pay: Up to $1,800 annually

Field Training Officer Pay: $2, 400 annually

Bilingual Pay: $1 ,200 annually

• Complete and submit a City of Wylie

job application: https://

www.governmentjobs.com/careers/

wylietexas

• Written Exam (exempt for Laterals)

• Physical Agility Test

• Complete and submit a Personal

History Statement

• Oral Board Panel Interview

• Background Investigation

• Police Chief Interview

• Polygraph Examination

• Psychological Evaluation

• Medical Examination

RECRUITING CONTACT:

Wylie Police Department

2000 North Hwy 78

Wylie, TX 75098

Sergeant Mark Johnson

mark.johnson@wylietexas.gov

972-429-8013

• City Paid Medical/Dental/Vision

• Texas Municipal Retirement System

(TMRS) 14% City Contribution

• Paid Time Off (Vacation and Sick Time)

• City Paid Uniforms

• City Paid Training

• Life Insurance and AD&D

• Long Term Disability Insurance

• Employee Assistance Program

• Longevity Pay

• Tuition Reimbursement

• Free Recreation Center Membership

• Deferred Compensation Plan

• Ancillary Benefits Available (Aflac,

Avesis, and More)

Thanks

Welcome Aboard

Hempstead Police Dept. &

Brenham Police Department

Humble ISD Police Dept.

for placing your and recruiting the ads

Washington The County BLUES. Sheriff's Office

Wylie Police Department Mission: Our mission is to impact the quality of life, by providing a professional

level of service that will foster, support, and build relationships with those we serve.

https://www.wylietexas.gov/police.php

188 The BLUES The BLUES 189
---
STARTING SALARY

$56,160 $57,824 $60,008 $62,400 $64,792 $67,184 $69,680 $72,384 $74,880 $77,480 $80,080

High School Diploma

or G.E.D.

Minimum age of 21

Must hold a valid

Texas Driver's License

Current valid TCOLE

certification

At Hire

At

6 mos.

end

year 1

end

year 2

end

year 3

end

year 4

end

year 5

end

year 6

end

year 7

end

year 8

end

year 9

GET STARTED

LOCATED 5 MILES WEST OF

DOWNTOWN AUSTIN

$3,000

190 The BLUES The BLUES 191
---
192 The BLUES