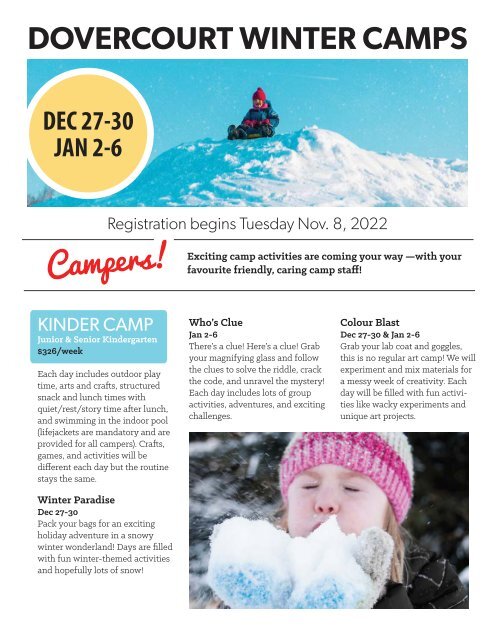 Dovercourt winter holiday camps 2022-23
Create successful ePaper yourself
Turn your PDF publications into a flip-book with our unique Google optimized e-Paper software.
DOVERCOURT WINTER CAMPS

DEC 27-30

JAN 2-6

Registration begins Tuesday Nov. 8, 2022

Exciting camp activities are coming your way —with your

favourite friendly, caring camp staff!

KINDER CAMP

Junior & Senior Kindergarten

$326/week

Each day includes outdoor play

time, arts and crafts, structured

snack and lunch times with

quiet/rest/story time after lunch,

and swimming in the indoor pool

(lifejackets are mandatory and are

provided for all campers). Crafts,

games, and activities will be

different each day but the routine

stays the same.

Winter Paradise

Dec 27-30

Pack your bags for an exciting

holiday adventure in a snowy

winter wonderland! Days are filled

with fun winter-themed activities

and hopefully lots of snow!

Who's Clue

Jan 2-6

There's a clue! Here's a clue! Grab

your magnifying glass and follow

the clues to solve the riddle, crack

the code, and unravel the mystery!

Each day includes lots of group

activities, adventures, and exciting

challenges.

Colour Blast

Dec 27-30 & Jan 2-6

Grab your lab coat and goggles,

this is no regular art camp! We will

experiment and mix materials for

a messy week of creativity. Each

day will be filled with fun activities

like wacky experiments and

unique art projects.
---
DOVERCOURT WINTER CAMPS

THEME CAMP

Grade 1-2 and 3-4

$340/week

Each day includes outdoor games,

arts and crafts, age-appropriate,

theme-related activities and

swimming in the indoor pool.

Theme camps may also include

out-trips and/or special guests

and events.

Snow Day

Dec 27-30

We've been snowed in at Dovercourt

and we're going to enjoy every

minute of it! The week will be filled

with all our favourite snow day

activities like tobogganing, crafts,

snow building challenges, and a

pajama day with hot chocolate.

Mystery Madness

Jan 2-6

Keep your eyes peeled, because

something strange has been going on

at Dovercourt. We'll be searching for

evidence this week to try and figure

out what all of this means. There will

be code-breaking challenges and

other group games that must be

complete before time runs out!

YOUTH ZONE

Grade 5-6

$336/week

Activities are planned specifically for

kids in grades 5 and 6 and include a

balance of age appropriate games,

swimming, sports, and crafts.

Chill & Thrill

Dec 27-30 & Jan 2-6

Enjoy a very full week of our favourite

chill activities, combined with our

favourite thrill activities. Exhilarating

group and individual challenges

meant to test your limits will be

balanced with more relaxed activities

like swimming and crafts.

SPECIALTY

CAMPS

Various ages; $348/week

Specialty camps offer fun and

focused instruction designed to

promote skill development and

learning in a safe and friendly

environment. At least half the day is

focused on learning while the other

half is balanced with swimming,

unstructured play, and/or other

camp activities.

Sport Mix

Dec 27-30 & Jan 2-6

Stay active over the holiday break

with a mix of your favourite indoor

sports, outdoor play, rock climbing,

swimming, and skating.

Art Mix

Dec 27-30 & Jan 2-6

Unleash your creative talents this

holiday while learning new skills like

painting, sculpting, drawing, and

cooking. Campers will get a taste of

everything from pottery to snow

painting, and cookie decorating.

Design & Technology

Jan 2-6

This unique program specifically for

kids in grades 5-7 offers the ultimate

opportunity to test creativity and

teamwork. Participants will enjoy

instruction in coding, robotics,

design, and building, with a variety of

hands-on projects.

EXTENDED

CARE

Pre-Camp offers an early start to the

camp day, starting at 7:30am, and

includes a variety of quiet individual

and group activities, like crafts and

colouring. $32.50/ week.

Post-Camp offers an extended

pick-up option until 6:00pm and

includes active play options like

sports in the gym, and quiet activities

like colouring and board games, as

well as a post-camp snack at 5:00pm.

$42.50/ week.

We gratefully acknowledge the financial

support of the City of Ottawa.

Recipient remercie sincèrement la Ville

d'Ottawa de son soutien financier.

DOVERCOURT

RECREATION

CENTRE
---
DOVERCOURT WINTER CAMPS

December 27-30

January 2-6

JK & SK

Winter Paradise

Colour Blast

HC1201

HC1202

Who's Clues

Colour Blast

HC101

HC102

Grade 1

Snow Day

Art Mix

Sport Mix

HC1205

HC1210

HC1208

Mystery Madness

At Mix

Sport Mix

HC103

HC107

HC105

Grade 2

Snow Day

Art Mix

Sport Mix

HC1205

HC1210

HC1208

Mystery Madness

Art Mix

Sport Mix

HC104

HC107

HC105

Grade 3

Snow Day

Art Mix

Sport Mix

HC1206

HC1210

HC1208

Mystery Madness

Art Mix

Sport Mix

HC104

HC108

HC106

Grade 4

Snow Day

Art Mix

Sport Mix

HC1206

HC1211

HC1209

Mystery Madness

Art Mix

Sport Mix

HC104

HC108

HC106

Grade 5

YZ Chill & Thrill

Art Mix

Sport Mix

HC1212

HC1211

HC1209

YZ Chill & Thrill

Design & Tech

Sport Mix

HC110

HC109

HC106

Grade 6+

YZ Chill & Thrill

Art Mix

Sport Mix

HC1212

HC1211

HC1209

YZ Chill & Thrill

Design & Tech

Sport Mix

HC110

HC109

HC106

All Pre-Camp 7:30-8:30am

Post-Camp 4:30-6:00pm

Pre-Camp

Post-Camp

7:30-8:30am

4:30-6:00pm

DOVERCOURT

RECREATION

CENTRE