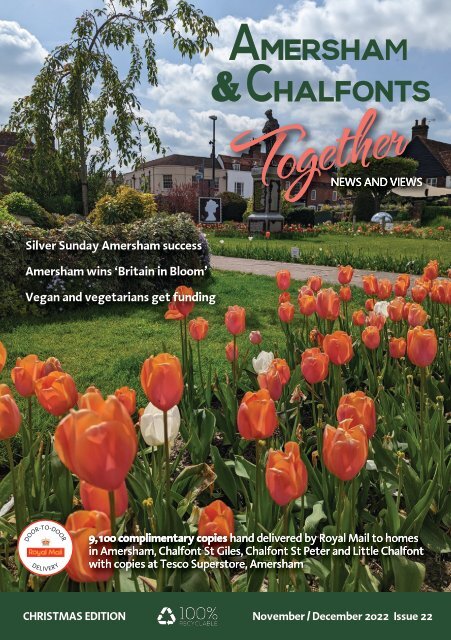 Amersham and Chalfonts Together November December 2022
#Community publication hand delivered to 9,000 homes and businesses via Royal Mail distribution in Amersham, Chalfont St Giles, Chalfont St Peter and Little Chalfont. News and views from non profit organisations, communities, charities, schools, with features on health, food, lifestyle, financial and much more. Please email us with latest news to: marketing@communitytogether.co.uk
#Community publication hand delivered to 9,000 homes and businesses via Royal Mail distribution in Amersham, Chalfont St Giles, Chalfont St Peter and Little Chalfont. News and views from non profit organisations, communities, charities, schools, with features on health, food, lifestyle, financial and much more. Please email us with latest news to: marketing@communitytogether.co.uk
SHOW MORE
SHOW LESS
You also want an ePaper? Increase the reach of your titles
YUMPU automatically turns print PDFs into web optimized ePapers that Google loves.
NEWS AND VIEWS

Silver Sunday Amersham success

Amersham wins 'Britain in Bloom'

Vegan and vegetarians get funding

DOOR-TO-DOOR

DELIVERY

9,100 complimentary copies hand delivered by Royal Mail to homes

in Amersham, Chalfont St Giles, Chalfont St Peter and Little Chalfont

with copies at Tesco Superstore, Amersham

CHRISTMAS EDITION November / December 2022 Issue 22
---
Bespoke Garden Rooms

www.jmgardenretreats.co.uk

A Space to Work, or a Place to Unwind

Home Office, Summer House, Art Studio, Gymnasium,

Music Room, Gaming Den... The Choice is Yours!

Whatever you require extra space for, we can help design and build a garden

room tailored to your needs. Functional as well as beautiful, your new retreat

will be fully insulated, double glazed and fitted with energy efficient heating and

lighting to ensure its suitability for use all year round.

Email: enquiries@jmgardenretreats.co.uk Tel: 07855 484 944
---
Lindengate's Winter

Emergency Appeal

Together, we can help change lives

Please support our appeal now.

In 2022, Lindengate Mental Health Charity has already supported over 1500

people, through visits to our gardens, volunteering and participation in our

programmes. We want to be able to continue to support people, but, in this

economic climate, need additional funding just to be able to maintain current levels

of service. 1 in 4 people experience mental ill health, which could be one of

your loved ones.

We are recognised as a flagship charity in Bucks, but this does not protect us from

the enormous pressure that is being put on all charities. We need £2,500 per day to

support the 2000 adults and young people who will benefit from being at

Lindengate each year. Despite diversifying our income streams and working

tirelessly, Lindengate needs an additional £80,000.

The need within the community is greater than ever and, with the cost of living

crisis continuing to rise, Lindengate can be a lifeline to so many.

www.lindengate.org.uk
---
Memorial Gardens Old Amersham - © Don Graham

Useful Numbers

Mental Help Helpline 24/7

t: 0800 783 0119 / 01865 904 997

National Domestic Abuse Helpline 24/7

t: 0808 2000 247

Chilterns Dial-a-ride for those with

mobility problems t: 01494 766 123

Alcoholics Anonymous

Call confidentially on: t: 0800 917 7650

Age UK's Befriending service matches older

people with volunteers who have similar interests.

t: 01296 431911 e: age@ageukbucks.org.uk

Be Amazing & Volunteer

Right at Home

Paid volunteer to support the elderly.

t: 01494 573 500

Connection Support

Require: Volunteer Befrienders or Family

Mentors. t: 01296 484 322

Meet the Team

Publisher, Editor & Sales

Therese Cooklin - 07786 735 711

Magazine Designer

Mathew Peet, Digital Bear Design - 01949 839 206

Content is accurate to the best of our knowledge, however Amersham &

Chalfonts Together part of Abstract Niche Ltd cannot be held liable for

loss or damage, caused by errors or omissions. Inclusion of advertisers

does not indicate our endorsement of their products or services.

The opinions and findings expressed in articles submitted to this

publication are solely those of the authors and should not be assumed

to be those of Amersham Together or its affiliates.

Hello & welcome!

Well done to Amersham for winning Britain in

Bloom! How amazing is that!! (see p16) To celebrate

their victory I took the decision to use this beautiful

photo of the Memorial Gardens as front cover - not

that christmassy, but nevertheless a beautiful scene!

It's also quite fitting that the Queen's head in the

shape of a stamp is in the background and we pay

tribute to her with some photos taken at Bekonscot

Model Village on a visit in the early 30's (p18).

As winter fast approaches, Lindengate ask for help

in their emergency appeal and also offer a wreath

making fundraiser to all. (see p23)

The Young Journalists write about Christmas

and what it means to them (p16 & 17) and finally

I would like to personally thank all my advertisers,

wonderful designer Mat from Digital Bear Design,

Tescos in Old Amersham, feature writers, and posties

for delivering this little community magazine to so

many homes. Also a special thank you to Jo Franks

from Amersham School for her tremendous help

and support.

I wish you all a peaceful and joyous Christmas and

see you in the New Year!

With love,

Therese

Next Copy Deadlines -

Jan / Feb 2023

Editorials: 29th Nov

Advertisers: 30th Nov

t: 07786 735 711

e: therese@amershamtogether.co.uk

w: www.amershamtogether.co.uk

Get your business noticed

for as little as £36

Royal Mail door-to-door delivery and

drop-off sites to over 17,000 homes in

Beaconsfield, Amersham & Chalfonts

e: sales@communitytogether.co.uk
---
To advertise please call 07786 735 711 or email marketing@amershamtogether.co.uk 5
---
COMMUNITY NEWS

Thank you for

listening

Thank you to everyone who attended the

Epilepsy Society's Public Exhibition from

29 September-1 October, when we shared

details of our planning proposal to develop

part of our land in Chalfont St Peter.

It was important to meet you and hear your

comments and concerns and to understand your

priorities as a community and as our neighbours.

We also hope it was a chance for you to

understand why, as a locally based national charity,

it is critical that we make best use of our assets to

improve the diagnosis and treatment of people

with epilepsy. We are working in a difficult funding

environment and have been making annual losses

that mean we are forecast to run out of cash by the

end of the decade.

Ground-breaking research at the Epilepsy Society.

By developing a section of our land, we can

safeguard the charity and ensure that it can continue

to deliver life-transforming epilepsy research.

Research that could stop 1,200 people with epilepsy

dying every year – often young people on the cusp

of university and an independent life. Research

that could mean a young mum with epilepsy could

hold her new-born baby without fear of dropping

them during a seizure. Research that could offer the

chance of seizure freedom to hundreds of thousands

of people across the country.

There are 600,000 people with epilepsy in the UK.

Our land in Chalfont St Peter is their greatest hope.

You can find out more here www.epilepsysociety.

org.uk/plan

Thank you. The Epilepsy Society.

Funding available for older

Vegans & Vegetarians

For people living independently, several

channels of support are available through

the charity VfL, such as The Vegan and

Vegetarian Fund.

Grants of up to £3,000 may be awarded to those

meeting the criteria, for one-off purchases that

will assist older veg*ns in maintaining their

independence. Recent grants have provided

mobility scooters, laptops and washing machines

that have dramatically improved the quality of life

for recipients.

VfL Chief Executive, Amanda Woodvine, said:

"The cost-of-living crisis is causing rocketing

household bills and putting a strain on muchneeded

support services. So it's more important

than ever that we seek help when necessary.

For veg*ns receiving care, perhaps living with

dementia or cognitive decline, relying on others

for a healthy diet in line with our ethical beliefs

might be an extra concern. VfL can help. We're

only a click or phone call away."

Their increasingly

popular veggie

pen- and phone-pal

scheme, aims to combat

loneliness and connect

people with shared

beliefs. The list of participants is always growing,

and lasting friendships have been established.

Sometimes, just chatting to a someone likeminded

can be a powerfully reassuring thing.

Those who wish to take part choose their contact

method – phone or letter, or both – which are

added to the scheme database and circulated to

other participants. In return, each participant

receives a list of others in the scheme and can

pick and choose who they get in touch with.

As the only charity in the world with this expertise, VfL

can offer a wealth of knowledge, from tasty recipes

and nutritional information, through to advice on how

to stand up for your rights as an older veg*n.

www.vegetarianforlife.org.uk | 0161 257 0887

info@vegetarianforlife.org.uk

6 Amersham & Chalfonts Together is part of Community Together
---
Counties Loft Ladders tradesmen, so our customers lead to more happy to pop round and

come in.

customers are assured happy customers is true give you a no obligation

of the best job.

and we work hard to quote BUSINESS so you NEWS too can

The company,

make that happen for make use of your loft!

based Home locally, offers Counties Integrity in that we Loft Ladders,

homeowners the will turn up at the time

Home Counties Loft

opportunity to maximise we say and make sure

their storage space Quality the house is spotless You Can Trust!

with

Ladders,

a loft ladder,

Quality when we leave, You and

These days most

watchwords are Quality, - that simply wouldn't every installation we

50sqft

homeowners

of boarding

suffer

and value in that we offer

from Integrity and Value. happen if we didn't carry out!'

a light Can

a lack - of all storage fully Trust! fitted space.

our

Quality

services

in the

at

materials

a price

adhere to our overriding

in So many precious items that we use for all our principles.

So, if you want to make

These

less than

days

a day

most

from people can afford.

homeowners suffer

just that £355! need But to be it's kept not installations and the fact

use of your loft space,

from a lack of storage space. So many

just – but the where affordability

Our business relies on

to store it that all our loft packages At the end of the day the call Jamie free on 0808

of all?

precious the That's package where

items that Home

that need referrals to be and kept we get a old adage that happy 301 9558 and he'll be

makes Counties – but Home where Loft Counties Ladders to store it huge

tradesmen, all? amount That's so where of our calls

our customers lead to more happy to pop round and

Loft come Home Ladders in. Counties stand

from

Loft Ladders customers

people

come are

who

assured

have

in.

happy customers is true give you a no obligation

out, as manager Jamie

been of the referred best job. to us by and leave, we and work value hard in to that we quote offer so our you services too can at a

The company, based locally, our offers existing homeowners customers

Oakley explains: 'Our

make price that people happen can afford. for Our make business use of your relies loft! on

based the opportunity locally, offers to maximise Integrity their storage in that space we referrals and we get a huge amount of our calls

homeowners with a loft ladder, the 50sqft of will boarding turn up and at the a light time - from people who have been referred to us by our

opportunity all fully fitted to in maximise less than a we day say from and just make £444! sure But existing customers - that simply wouldn't happen

their it's not storage just the space affordability the of the house package is spotless

Need more that if we didn't adhere to our overriding principles.

with makes a loft Home ladder, Counties Loft when Ladders we leave, stand and out, as

50sqft manager of boarding Jamie Oakley and explains: value in 'Our that watchwords

we offer At the end of the day the old adage that happy

are Quality, Integrity and Value. our services Quality at in a the price

storage in materials less than that a day we from use for all

people space?

customers lead to more happy customers is true

our installations

can afford.

and and we work hard to make that happen for every

just the fact £355! that But all it's our not loft packages

just the affordability

Our business are fitted relies by on time installation we carry out!'

served tradesmen, so our customers package that

referrals and are we assured get a

of INSTALL the best job. A LOFT LADDER

makes Home Counties

huge amount of our calls So, if you want to make use of your loft space,

Loft Ladders stand

from people who have call Jamie free on 0808 301 9558 and he'll be

Integrity in that we will turn

out, as manager Jamie

been up at referred the time to we us say by happy to pop round and give you a no obligation

and

AND

make sure

USE

the house is

YOUR

our spotless existing when customers we

LOFT!

quote so you too can make use of your loft!

Oakley explains: 'Our

STARTER PACKAGE: Aluminium loft

ladder, light plus 50 sqft boarding, fully

fitted in less than a day from £355

storage space?

• Loft Ladders • Hatches

• Boarding • Insulation

• Lights • Fully Guaranteed

CALL FREE: 0808 301 9558

: Aluminium loft

ladder, light plus 50 sqft boarding, fully

from £444

Loft Ladders Hatches

Boarding Insulation

Lights

CALL FREE: 0808 301 9558

To advertise please call 07786 735 711 or email marketing@amershamtogether.co.uk 7
---
HOW WILL YOUR FENCE LOOK AFTER ANOTHER UK WINTER?

COLOURFENCE - no painting or

†

repairs for 25 years!

Don't wait until your

timber fence breaks down.

Prevention is better than cure!

To see our wide choice

of sizes, mix and match

colours and designs

contact us today!

"

Despite many coats of

preservative, the

structure of the wooden

fence in our front garden

rotted, and a recent storm

sent it off down the road,

thankfully missing the

neighbour's car. However, every

"

Maintenance free

and great value too!

As autumn takes hold, we hear from customers who choose

ColourFence because their old fences have blown down or rotted

through, causing anxiety about pets escaping or even unwanted

intruders. This, paired with the fact that there is no need for ongoing

maintenance allows them to break the expensive, monotonous cycle of painting,

repairs and replacement. ColourFence is guaranteed not to warp, crack, shrink,

rot or peel for 25 years † . Making it one of the world's best maintenance-free fences.

And, unlike other fences, ColourFence can withstand gusts of wind up to 130mph.

There's a choice of colours to harmonise and enhance your garden's design. You'll

find our prices surprisingly competitive too. Why wait until an urgent replacement

is needed? To see the full product range, call us today and find out why it

makes sense to choose ColourFence.

Guaranteed † not to warp,

crack, shrink, rot or peel

Withstands wind gusts of

up to 130mph

No painting or repairs

for 25 years †

† Hose down several times a year – terms & conditions apply.

"

Create your look with a

choice of colours, designs

and sizes

No risk professional

installation

cloud has a silver lining, and we

couldn't be more pleased with

our new ColourFence. It looks

great, and we are looking

forward to years of summers

with no fence paint or algae

treatments.

Mr & Mrs P. Glamorgan

"

Brown

Cream

Blue

For a free, no-obligation quote, find out more via:

01494 711 400

colourfencebuckinghamshire.co.uk

25 YEAR

GUARANTEE
---
ADULT LEARNING

Buckinghamshire

Adult Learning

Inspiring learning, changing lives

It's never too late to learn

Our courses are available to anyone over the

age of 19 up to 100+. We offer something to suit

everyone including English and maths, digital

skills, free online distance learning, creative arts,

languages, home improvements and gardening

and health and fitness.

Get ready for Christmas and make your loved

ones special gifts on one of our festive craft

workshops or make a Christmas wreath to

decorate your home.

Our centres in Amersham, Chesham and

Beaconsfield are home to our part-time courses

in French, Polish, Italian, Tai Chi, Pilates, Flamenco

Dancing, Drawing and Painting, Digital

Photography, Crochet, Jewellery Making,

Practical Gardening, Bridge, Sewing, Indian

Cooking, Upcycling, Upholstery and Yoga.

Search for the full list of our courses and enrol at

www.adultlearningbc.ac.uk

It's never too

late to learn

• Languages

• Creative Arts

• Health and Fitness

• Home Improvements and Gardening

• English, maths and digital skills

• Community Engagement

• Distance Learning

• Family Learning

• Apprenticeships

Enrol today for new courses and workshops

01296 382403

www.adultlearningbc.ac.uk

To advertise CommunityTogetherNov-Dec22 please call 07786 - 130mm 735 711 x 90mm.indd or email 1marketing@amershamtogether.co.uk 06/10/2022 12:36:40 9
---
COMMUNITY NEWS

Outreach project

going strong

A Chalfont St Peter project started back in

May - to assist local families who had opened

their homes to Ukranians sheltering from the

war – has just finished its 6 months and it is still

going strong.

We have had fabulous support from

residents and the project has been so

successful that we have managed to run 2

containers throughout the summer, providing

items of clothing, toiletries and school

supplies that families needed. Surplus

donations have been sorted and packed, and

almost 100 boxes of clothing, toys, medical

supplies and mobility aids transported to a

logistics team in Amersham who get it straight

over to where it is most needed in Ukraine'.

Unfortunately, with the war worsening in the

Ukraine, and with local residents struggling

with the high cost of heating, volunteers are

hoping to keep the project running until early

December to supply (free) warm clothing to

those in need. Should parents need warm coats

or winter boots for their children, please make

Karen collecting mobility aids from the GX Jumble Sale, with the help

of Rotarians Geoff and Diane

contact via school heads and the team will do

their best to help.

A fun project to boost funds is being

organised on Saturday 19th November,

where a 'Pre-loved Evening Wear/ Party Frocks

Sale' is being held at CSP's Community Centre,

between 10am and 2pm.

An appeal for donations of smart, nearly

new evening wear has gone out, hopefully

for folks to buy in time for December

Christmas functions. More details of the

event, and how you can support the project

by donating, can be found on CSP Parish

Mutterings facebook page, or by emailing

kzdickson@thechalfonts.co.uk, or by visiting

either of the 2 containers at St Joseph's Church

and CSP's Community Centre.

10 Amersham & Chalfonts Together is part of Community Together
---
DOMESTIC & COMMERCIAL ELECTRICIANS

Family run business

Full and partial rewires

Safety electrical testing

Landlords reports (PRS)

Fuse board upgrades

Garden lighting

All electrical work undertaken

Adam: 077251 72878 Craig: 077305 75633

w: www.alconelectrical.co.uk

e: info@alconelectrical.co.uk

Find us on instagram: @alcon_electrical

To advertise please call 07786 735 711 or email marketing@amershamtogether.co.uk 11
---
COMMUNITY NEWS

One Can Trust

Food Bank:

together we can

The One Can Trust Foodbank help local

people to help local people. Through their

network of front line service providers and

distribution hubs they give out food aid to

adults and children across High Wycombe

and South Bucks.

Why the community needs us

In some areas of Buckinghamshire 1 in 3 children

live in poverty. Providing food to those who find

themselves in times of crisis brings hope and

relieves pressure on other services.

Our impact on the community

They currently distribute >275 food parcels a

month through a network of hubs. They give away

over £150,000 of food a year. A food parcel for a

family would cost £65 to buy, they deliver it at a

cost of approx £5.

Volunteers needed

Delivery drivers, pick n packers and fundraisers

If you need help or want to volunteer please

contact

t: 01494 512 277

e: office@onecantrust.org.uk

w: onecantrust.org.uk

What's on at Bekonscot Model Village

Saturday and Sundays

26th/27th November

3rd, 4th,10th and 11th December

Come and see Bekonscot illuminated.

See the village lit up with festive lights and special

scenes throughout the village. Spot the reindeer

and win a prize and enjoy festive refreshments from

the tearoom.

Saturday 10th and Sunday 11th

December

Visit Santa's Grotto!

Santa will be in his grotto

to welcome children.

Tickets must be

pre-booked via

our website.

www.bekonscot.co.uk

MODEL VILLAGE

Established 1929

12 Amersham & Chalfonts Together is part of Community Together
---
Made to conquer

From £23,610 ex VAT

ssangyonggb.co.uk/musso

With Low Rate Finance 6.5% APR Representative*

CSG MOTOR COMPANY CHALFONT ST GILES 01494 873045

www.csgmotorcompany.com

7 year warranty with all new SSANGYOUNG models

Fuel consumption figures in mpg: Combined 36.7 - 40.4; CO2 emissions in g/km 158-175. 6.5% APR representative HP & PCP finance available for all Musso models, at participating dealers until

*

30th September 2022. Finance by SsangYong Financial Services a trading name of Northridge Finance, BT1 5LR. Finance subject to status, availability and terms and conditions. Applicants must be 18 or over. Offer only

applies in the UK (excludes Channel Islands & I.O.M). Offer may be amended or withdrawn at any time. SsangYong Motors UK Ltd is a credit broker not lender. Commission may be received. Model features is a Musso Saracen

at £31,585 ex VAT including optional metallic paint priced at £575 ex. VAT. Musso is registered as an LCV and VAT may be recoverable depending upon the circumstances of the business concerned. Prices are correct at the

time of going to print, but may be modified or changed at any time. Warranty covers 7 years or 150,000 miles.

16825 SsangYong Advert Half Page Finance Musso_AW.indd 1 10/06/2022 10:22

www.re-cycle.org

Please support Re-Cycle Bikes to Africa Christmas

appeal, your donation will go towards sending

bicycles to children and adults living in rural

communities in Africa.

Ways to donate

Online visit re-cycle.org

Over the phone 01206 617865

Donate in lieu of a Christmas present for a

loved one visit re-cycle.org/xmasvoucher

Send a cheque made payable to Re-Cycle to this

address: Unit 8, The Grove Estate,Colchester Road,

Wormingford, Colchester, Essex CO6 3AJ

Follow us on:

@bicyclecharity

Working together to make a difference

Registered charity no 1063570

To advertise please call 07786 735 711 or email marketing@amershamtogether.co.uk 13
---
LOCAL BUSINESS

Product review –

recyclable brush

heads and ecofriendly

toothpaste

tabs

I love my electric toothbrush and know it's

better than the old fashioned manual version.

However, what happens to the used plastic

brush-heads - is there an eco friendly version?

Victoria from Eco-Homemaker offered me

the chance to try out the charcoal-bristled,

recyclable brush head and the toothpaste tabs

with fluoride they supply.

The little toothpaste

tabs are a novel idea.

You chew one tab for

five seconds, hydrate

the toothbrush and

brush teeth for two

minutes. My whole

mouth and teeth felt

super-clean with a

much cleaner and

mintier taste than the traditional tooth paste.

Using tabs, there is zero wastage and an option

to re-order a four months supply of new tabs,

which arrive in a compostable bag. The tabs are

plastic-free, have zero waste, involve no animal

cruelty, are gluten free, SLS and palm oil free.

They are vegan and made in the UK!

Charcoal brushes and

the soft bristles (in

packs of two) cost

£9.99 - same price

as Oral B ® brushes.

Parla tabs contain 62

Peppermint tabs

made of clean

ingredients, come

in a reusable jar: £6.95 for the jar, and £20 for

the refill tabs (four months supply) 248 tabs

which come in a compostable starch bag.

Go on, try them out, you may be surprised

and you'll be helping the environment too!

Compatible with:

- Any Oral-B* or Braun* electric toothbrush that is supplied with

a circular brush head excluding iO versions

- Any Superdrug/Asda/Aldi electric toothbrush that is supplied

with a circular brush head * Registered brand

Once you're done, send them back to Eco-Homemaker in the

enclosed envelope and we'll get them recycled by LiveCoco.

14 Amersham & Chalfonts Together is part of Community Together
---
Experienced, Friendly

& Professional Internal

& External Decorators.

We have been

working in & around

Beaconsfield,

Gerrards Cross,

Amersham &

surrounding areas

since 1993.

Please call to discuss

your requirements.

Call Nigel:

01494 681 794 or 07771 521 263

www.ngilliedecoratingservices.co.uk

RED KITE CRAFT MARKET

Saturday 12th November| 9am - 1pm

Saturday 10th December | 9am - 1pm

FREE ENTRY

www.facebook.com/redkitecraft

email : redkitemarket@gmail.com

Little Chalfont Village Hall, Little Chalfont,

HP8 4UD

Amersham & Chalfonts

Chimney Sweep

Manual and Power Chimney Sweeping

Open Fires, Stoves and Gas Fires

Certificates Issued

Professional and Reliable

Pay by Card

Chimney Caps and Cowls

Call JOSH: 07549 422 465

Or Book Online Today:

www.TheLocalChimneySweep.co.uk

Know where your

old stamps are?

Use them up by 31 January 2023 - all

stamps will have barcodes on them.

Go to: www.royalmail.com/

sending/barcoded-stamps

To advertise please call 07786 735 711 or email marketing@amershamtogether.co.uk 15
---
COMMUNITY NEWS

Bloomin'

marvellous

In October, Amersham received the

ultimate accolade of being crowned

the OVERALL winner of the 2022

Britain in Bloom competition.

Amersham was also named the winner of the

Children and Young People's Participation

Award and the RHS discretionary

Sustainable Gardening Award, as well as

one of two entrants to receive a Certificate

of Achievement for Innovation in Community

Engagement. This came after a gold award

at the regional competition for both the town

and the memorial gardens.

Over the past year, Amersham in Bloom's key

focus has been to increase biodiversity

and sustainability while improving the local

environmental quality of Amersham. A great

example of this is the introduction of more

sustainable planting, including a heavy

emphasis on bee-friendly pollinators and

wildflowers to create corridors of nectar-rich

flowers throughout the town. We have also

increased our engagement, most notably to

involve more community groups and work

with more young people.

These wonderful awards epitomise how

working as a community can positively impact

16 Amersham & Chalfonts Together is part of Community Together
---
COMMUNITY NEWS

our local environment.

Whilst we must not dismiss

or underestimate the

unwavering and dedicated

efforts of the Town Council

staff and Councillors, it is the

collaboration between

the Council, bloom volunteers,

1st Chesham Bois Scout

Leaders, businesses, schools

and community groups that,

through the bloom initiative,

enable our town to thrive!

[Editors comment: An

amazing number of accolades,

well done to Steve Catanach

(Town Clerk) who has

co-ordinated and steered

the numerous community

volunteers, groups and

organisations to winning

these awards. Well done to

everyone!]

To advertise please call 07786 735 711 or email marketing@amershamtogether.co.uk 17
---
A tribute to

HRH The Queen

Bekonscot Model Village remembers HRH

The Queen visiting a few times in this century.

Bekonscot Model Village remembers...

Brian Newman-Smith, MD said, "We feel privileged

and honoured that Her Majesty had visited Bekonscot

with her sister in the early thirties. We had harboured

hopes that Her Majesty might visit again but alas it was

not to be."

Royal Visits

© Jeff Krotz

1934/42: Several visits by Queen Mary, with one or

both of the young Princesses, Princess Elizabeth and

Princess Margaret Rose took place.

The first recorded visit was on Friday, 20 April l934,

the eve of Princess Elizabeth's 8th birthday.

1934: Her Royal Highness Queen Mary and Princess

Elizabeth

1936: Her Royal Highness Queen Mary, HRH Duke

& Duchess of York with Princesses Elizabeth and

Margaret

1939: Her Royal Highness Queen Mary, Princesses

Elizabeth and Margaret

Princesses Elizabeth

and Margaret in 1939

18
---
Paddy and Christine McGuinness: Separating

as parents of children with Autism

Earlier this year, TV personality Paddy McGuinness and

his wife Christine announced that they have separated

after 11 years of marriage. The couple revealed that

they are going to continue living together for the sake of

their three children, all of whom have Autism Spectrum

Disorder ( 'ASD').

Statistics have shown that there is a relatively higher risk

of divorce between parents of children with ASD, as the

challenges posed by ASD can take their toll on marriages.

For parents of children with ASD, the separation process can

be more complicated - autistic children may require more time

to adjust to the changes in their family dynamic. Family

solicitors are often asked to advise on arrangements for

children with additional needs and how best to navigate the

separation process. The timescales for one parent moving out

of the family home, or for changing the children's routine to

spend time with a non-residentparent, will need to reflect this.

Children with ASD often struggle with communication and

exhibit repetitive behaviours or interests, which means that

they benefit from having a specific routine. In order to provide

maximum continuity for the children, both parents could

remain living in the family home, but no matter how spacious

the family home, this will bring practical challenges for both

parents as they begin to establish their independent lives.

RS_BEACS_AM_CHAL_CMYK_130X90_OUT_1.pdf 1 04/10/2021 11:44

LEGAL ADVICE

Therefore, in such circumstances, where finances may allow for

the family home to be retained whilst each parent purchases a

new property, it might be that both parties consider a 'nesting

arrangement'. Under such an arrangement, the children would

remain living in the family home to ensure continuity, whilst the

parents rotate living with them.

If the latter option is not considered suitable in the long term,

perhaps because it is likely to cause further tension between

parents and to hinder effective co-parenting, it can be used

in the short term to smooth the transition to a shared care

arrangement, where the children spend time with each parent

in their respective homes.

It is impossible to completely avoid the effects of divorce on

children, but if you have a child with additional needs then

it is important to speak to a specialist family law solicitor with

experience in such matters to help minimise the impact

on them. Rayden Solicitors offer expert advice on divorce

involving children with additional needs. For a confidential

conversation, please do not hesitate to contact us.

Rayden Solicitors, Jessica Smith,

Solicitor Beaconsfield office

C

M

Y

CM

MY

CY

CMY

K

To advertise please call 07786 735 711 or email marketing@amershamtogether.co.uk 19
---
COMMUNITY NEWS

Silver Sunday in Amersham -

another success!

Silver Sunday Amersham held its first

event in October 2019 which celbrates

older people in our community.

The aim was to combat loneliness and isolation;

it has evolved into a National Celebration held

on the first Sunday in October. This year hosted

by Mimi Harker OBE, Neil Walker, Robin Harker

and a team of volunteers, the event was well

attended. Our special guests included HM

Lord Lieutenant for Buckinghamshire, Countess

Elizabeth Howe, and Mayor of Amersham, Cllr

Mark Roberts.

Entertainment was provided by the

Buckinghamshire Band of the Royal British

Legion, Gary Maillard - ("Elvis in the house")

- and the West End star: Rebecca Vere. This

event would not have happened without

volunteers setting up the hall, making

sandwiches, cakes and biscuits, serving tea

and coffee all afternoon - and clearing up after

them! Thank you very much!

We couldn't have hosted this event without

the financial support provided by the

Abbeyfield, Tesco and Rotary Clubs of

Amersham. Special thanks also go to The

Vintage Tea Company, who provided the

crockery, and to Amersham Common Village

Hall for providing the venue!

Finally, thank you to all our guests! They made

the atmosphere with smiles, singing and sheer

joy ! Silver Sunday was wonderful to see so

many enjoying the afternoon! Thank you for

coming along and celebrating with us! We are

looking forward to next year!

Mimi Harker OBE

Left to right: Countess Elizabeth Howe

and Mimi Harker OBE

20 Amersham & Chalfonts Together is part of Community Together
---
COMMUNITY NEWS

To advertise please call 07786 735 711 or email marketing@amershamtogether.co.uk 21
---
* When you buy frames and lenses. Excludes all in range Conditions apply. Ask for details.

* When you buy a frame for £18 or more. Excludes other offers. Assumes Free NHS eye test and NHS voucher subject to NHS guidelines. Ask for details.

EYE NEWS

Looking after

your eyes

Autumn and Winter can be tough on our eyes.

When it becomes colder outside many of us

spend more time on electronic devices inside.

The wind outside and heating inside can make eyes

feel gritty and dry. If you wear glasses you may notice

that reading isn't as easy when the light is poor. Ask

your optician about 'Blue control' lenses for those

electronic devices. These lenses can help with the

fatigue caused by the blue light that's emitted from

screens. Your optician should be your first call for

recommending the most suitable lubricating drops

for dry eyes. Avoid general eye drops as they can

contain whiteners and preservatives which can

aggravate already uncomfortable eyes.

What about driving at night? Higher vehicles like SUVs

and MPVs have higher dipping headlights. Great for the

driver but can be annoying to oncoming traffic and their

passengers. Consider lenses especially designed for

driving. Enroute lenses have a special glare filter and the

option of a contrast enhancing filter . They offer drivers

and passengers less glare and fewer reflections as well

as enhanced contrast in low light conditions and fog.

Available as single vision lenses or as varifocals

especially designed to give an enhanced wider view

for distance and the dashboard so they are great for

wearing in the car for driving.

If reading is problematic ensure you have a good source

of light. Reading lamps are especially good as they

have a bare bulb that can be angled over your shoulder

to shine directly at what you are reading. Whilst ready

readers work for a quick task like reading a menu in a

restaurant ensure you are using up to date prescription

glasses for reading and other close tasks. Above all, it

makes sense to eat a healthy diet and have your eyes

checked regularly and ask your optician about problems

you might have.

Helen Gilbert FBDO

Dispensing Optician

HARROLD HARROLDS OPTICIANS

opticians & audiologists Your vision...Our care

2 for 1

Kids & Teens

glasses

The driving lens

Less Glare... Less Dazzle... Less Eyestrain.

The Enroute driving lens has a special glare filter and an optional enhancing filter providing

less glare and reflections from oncoming traffic and better contrast in low light conditions.

Upgrade to Enroute Driving

Lenses from £75 extra

* Available as single vision and varifocals. Excludes other offers. Offer ends 31st January. Conditions apply.

Half price

2nd pair

Any frame. Any lens.

Eye tests are free for kids

With glare reducing lenses designed specifically for night driving , UV protection, blue control lenses,

photochromic lenses that darken when you drive and polarised lenses, our qualified opticians can advise

you on the best eyewear for your lifestyle.

For any advice please phone your local branch. We will be very happy to help.

Our eye test has retinal photography as standard and the option of OCT. Book your eye test online today.

3 Station Road Gerrards Cross 85-87 Sycamore Road Amersham

01753 886306 01494 721795

22 Amersham & Chalfonts Together is part of Community Together
---
Christmas Wreath Workshops

in our Yurt this December

Each 3 hour workshop takes place

10am-1pm on the following dates:

Saturday 3rd Dec

Sunday 4th Dec

Wednesday 7th Dec

Thursday 8th Dec

Friday 9th Dec

Saturday 10th Dec

£65 - includes:

Prosecco on arrival

Tea & Coffee

Mince Pies

Book Tickets at: www.lindengate.org.uk

To advertise please call 07786 735 711 or email marketing@amershamtogether.co.uk 23
---
REDUCE YOUR HEAT L

WHY THERMOGRAPHY IS OUR W

IMPROVE YOUR THERMAL ENVELOPE WITH THE 'FABRIC FIRST' APPROACH

TO RETAIN HEAT IN OLDER (PRE-1990S) AND LISTED BUILDINGS

by Robert Tiffin, Eco Tiffin Ltd

It might not seem entirely intuitive to consider

the use of modern technology when working

with traditional and ancient buildings. However,

building conservation should make use of all

the knowledge, skills and disciplines at its

disposal and it would be a big mistake to dismiss

thermography, especially now, with energy costs

predicted to be £3,800 a year for the average

home by Spring 2023.

Thermography is the use of thermal infrared

imaging to identify heat loss contributing to

building defects such as dampness and its

sources. It is a non-destructive technique that is

ideal when working with older, complex buildings

that have so many elements to them. Indeed,

it is impossible to make a full and accurate

assessment of their state of repair without

recourse to thermography in the hands of a

seasoned building professional.

A condition survey incorporating an analysis

of all heat loss areas, building defects and

draughts in relation to the current or proposed

use of any building is a prerequisite for the correct

identification and specification of any insulation

(retrofit) works needed, well before their approval

and commencement.

Identifying the exact type of structure and its fabric

enables us to determine its thermal envelope, how

good or bad it is at retaining the warm air that is so

expensive to heat, and therefore form a strategy on

how best to reduce heat loss.

The thermal images shown here reveal the

interplay of moisture, heat and ventilation

continuously taking place in any building. More

than any other technology, this allows us to see

and understand what is going on, explain it and

make better-informed decisions when prioritising

the allocation of ever-limited resources. Which

means we should be thinking of thermography as

a sixth sense that we are very lucky to have.

Because of the highly visual, immediate

Uninsulated light tube

Poorly installed cavity wall

insulation

Poorly fitted horizontal loft

insulation

Get in touch today to

book a consultation

and find out more

24 Amersham & Chalfonts Together is part of Community Together
---
OSS BY 50%+

EAPON OF CHOICE

nature of the thermal survey, it offers a relatively

inexpensive and non-invasive way of helping

clients and other stakeholders understand the

significance of heat loss and potential problems

that might otherwise be difficult to conceptualise.

Among many others, these can include:

Continuity and condition of insulation

Cold bridging

Structural defects

Hidden structures, services and past alterations

Air leakage/infiltration

Electrical, plumbing, heating, cooling and

ventilation systems

Damp and decay

Moisture and air circulation

Quality of workmanship and material

Having identified heat loss, bypass, draughts

and defects, thermography can then be used to

suggest solutions and highlight the advantages of

taking action, among them:

Demonstrating the improvements of a retrofit

programme

Substantiating insurance claims

Taking into account the full range of factors and

parameters while recording thermal images and

Poorly fitted or missing insulation to

sloping soffits of bedroom ceiling

07768 005885 | 01442 819332

enquiries@ecotiffin.co.uk

www.ecotiffin.co.uk

using other auxiliary data is obviously crucial

for correct interpretation. It is why we at Eco

Tiffin have been investing in thermal imaging

equipment and infrared training for all our staff.

This enhances our extensive CPD training in

retrofitting older buildings and has enabled us

to qualify as retrofit coordinators for more than

two decades now. We are firm believers in the

'fabric first' approach to building conservation

and have found thermal imaging to be an

invaluable tool for corroborating and sharing

How our understanding to of reduce buildings to determine heat the

best solution to reduce heat loss.

home How - 'the fabric reduce fi

Indeed, for more than 320 years now we have

been working with buildings to understand how

We

they

all

function,

know that

evolve

we

and

are

eventually

being asked

fail. While

to (the

the environment changes and specific problems

do

arise,

'our

we

bit'

continue home in being

to take

more

a - eco-friendly.

holistic 'the approach fab

new

to id

and can provide a 'one stop shop' for the most

How can we achieve We all this know in our that homes? we are A family hom

being aske

asked

economically

EcoTiffin

viable

to do just

solutions

that and

in

after

any

enlisting

building's buil

their heat help, retention, they do commented, improvement 'our bit' in "EcoTiffin and being maintenance. more saved us eco-frien goo

37% We in love energy to share bills whilst our knowledge increasing and our square always

footage happy to by answer 35%, How giving can any we us technical a achieve warm and questions this welcoming our homes? about A Rob fam

home." how to reduce asked your EcoTiffin heat loss, to do so just please that and get after in enlis and

touch if we can

their

be

help,

of any

they

assistance.

commented, "EcoTiffin saved

Sur

Moisture in brickwork 37% in energy is the bills worst whilst possible increasing our squ

fam

ingredient to footage have in your by 35%, property giving and us a every warm and welco

home."

effic

effort should be made to prevent the ingress of

the

moisture. Moisture in the brickwork reduces the

Moisture in brickwork is the worst possible to s

bricks thermal capacity to retain heat and it has

a chilling effect ingredient like a fridge to have on your in your home. property Solid and ever pro

brick walls are effort by far should the worst. be made Remember; to prevent wet the ingres eye

walls are cold moisture. walls! Moisture in the brickwork reduces ena

bricks thermal capacity to retain heat and forw it h

'The fabric first a chilling approach' effect is essential like a fridge when on your home. cos So

improving insulation brick walls to roofs, are by walls, far the floors worst. and Remember; heaw

windows which walls are are just cold some walls! of the ways of for

reducing heat-loss. The use of thermography the

'The fabric

Cold

first

bridging

approach'

to opening

is essential

reveals

when

creating excessive heat loss

improving insulation to roofs, walls, floors an

windows which are just some of the ways of

reducing heat-loss. The use of thermograph

Excessive heat loss to ground floor

and eaves details

Are you protecting your home?

To advertise please call 07786 735 711 or email marketing@amershamtogether.co.uk 25

• Climate change - how is my home coping?
---
ISSUE 11

THE YOUNG

What Christmas

means and how

it can make a

difference to others

Christmas (unlike Easter) is a religious

celebration of the Birth of Christ,

celebrated by believers and non-believers

alike.

Each year more than two billion people

from different creeds and cultures participate

in this annual event. It is a celebration of

virtues, such as humility compassion, empathy

and sacrifice which we recognise as the way

we ought to live rather the way we do. Such

evils as parsimony and greed are thrown

into the spotlight and exposed for what

they are. Everyone knows the difference

between right and wrong and at Christmas

it is difficult to ignore our shortcomings.

This is experienced by the religious and

non-religious. Charles Dicken's Scrooge

recognised his shortcomings and reformed to

a life style we admire. How many would argue

that Scrooge should not give up his miserly

life? Thus Christmas is not exclusively for

christians but for everybody and encompasses

all. A celebration that crosses barriers across

the globe and social divides within societies.

With such a powerful reach, it affects so many

people regardless of their cultural divisions.

It is a time of year with extremely important

emotional significance and symbolism.

Peoples; experiences of Christmas are

affected by their beliefs. Christians celebrate

the birth of Christ, (Jehovah's Witnesses do

not celebrate Christmas). Other religions

may allow their followers to celebrate out of

tradition, but otherwise we all go with the

experiences described above.

Christmas is a time when there is wonder

in the air, whether you celebrate it or not.

The decorations, songs, colours and

lights will follow you as you make your way

through the streets during the season. It

brings a positive light to everyone's year and

provides that cozy feeling before the New

Year.

People can affect each other and affect their

Christmas by making it more memorable:

giving presents, contributing a Christmas

dinner to the homeless, being considerate

and respectful, as well as being festive.

The extravagances during this time results

in consequences for the environment.

Everybody can make a positive difference,

not only to each other, but to nature itself,

by simply, for example, re-using wrapping

paper, reducing waste and purchasing

Christmas trees that can be replanted. In

doing so, we can rejoice one of the most

beautiful times of the year, where people

can let go and express themselves to their

heart's content.

26 Amersham & Chalfonts Giving Together our is future part of the Community freedom of Together speech
---
JOURNALIST

The fight against

fast fashion

Christmas is the time for exchanging presents,

cards to our co-workers and peers, gifts to

our friends and family - and charity. Whether

it be money or our precious time and care - to

those less-privileged. However, we can also

give back to our planet and people by making

a lifestyle change: fashion.

As temperatures drop, stores offer trendy

designs at low prices. Some of the produce

is made of poor-quality materials, and treat

their labour unethically. The term 'fast-fashion'

was first used in the 1990s when fashion

companies produced clothes in as little as

15 days - to-day, even faster! This sounds

tempting but it has created a dangerous cycle

of excessive consumption as people buy,

wear and dispose of the clothes unsustainably.

According to Earth.org, approximately 92

million tonnes of global textile waste ends up

in landfill every year. In the UK, we consume

more clothing per person than any other

country in Europe taking a devastating toll on

our environment.

A colossal 300 000 tonnes of clothing is either

incinerated or buried in landfill sites in the UK.

This pollutes our soil, water and air supporting

big fashion giants burning unused stock as

the most efficient way of getting rid of it. The

fashion industry emits 10% of global carbon

emissions - double the amount created by air

and maritime transport. Making clothes is an

energy and water-intensive process, with 20%

of global waste water produced by fashion..

The fast-fashion industry as a whole has an

appalling reputation for mistreating their

workers, often in low-wage countries. (poor

working conditions have been exposed in

a Leicester factory too). Unfair wages and

forcing workers to work overtime, even when

ill, are injustices that some fast-fashion

companies have been accused. Companies

such as Primark, Boohoo and Zara are

famous fashion brands which are responsible

for ensuring that their products have been

produced ethically. Often, the injustice behind

each piece of clothing are not always seen.

Not anymore.

Shopping selectively and ethically is better

for environmental, health and is cheaper

and perhaps more enjoyable! Many online

platforms such as Vinted sell second hand

clothing and charity shops also recycle

materials sustainably. Buying clothing made

of sustainable materials - such as wool and

organic cotton instead of polyester and

conventional cotton - reduces the waste

pollution created by our clothes which can

affect ecosystems around the world due to

microplastic pollution.

This Christmas let's buy sustainable fashion:

fashion should not be at the cost of our

environment or the lives of others. Let's fight

against this aspect of fast fashion.

Sanchi is a student in Little Chalfont.

The three things she loves most are

nature, people and writing. Uniting

these, she aims to create a brighter,

greener world!

Sanchi

To advertise please call 07786 735 711 or email marketing@amershamtogether.co.uk 27
---
Amersham & Chalfonts Together

Brain Matter

CHRISTMAS CRISS-CROSS

Can you fit all the listed

words into this grid?

Christmas Criss-cross

Can you fit all of the listed words into this grid?

ANGEL

APPLES

BABE

BAZAAR

BELLS

BOWS

CARDS

ELVES

dd One HAPPY Out

JINGLE

MERRY

OXEN

PRAYER

SACK

STABLE

WINE

WISE MEN

WREATH

hich one of these Christmas stockings is different from the rest?

A B C

D

E

F

ANGEL CARDS PRAYER

APPLES ODD ONE OUT ELVES SACK

BABE

HAPPY STABLE

BAZAAR Which one of these JINGLEChristmas WINE stockings is

BELLS different from the MERRY rest?

WISE MEN

Matching Pairs

BOWS OXEN WREATH

Can

Can

you

you

pair

pair

up

up

each

each

parcel

parcel

with

with a

letter

letter

with

with

its

its

twin

twin

which

which

has

has a

number?

number?

A

1

B

MATCHING PAIRS

2

C

3

Answer:

Can you pair up

each parcel with a

letter with its twin

which has a

number?

Answer:

D

D

5

4

F

E

6

(answers on p30)

28 Amersham & Chalfonts Together is part of Community Together
---
Safe & gentle ear wax

removal at a clinic

near you

What is ear wax?

What is it, why do we have it in our ears and why does it sometimes cause hearing loss. Earwax, also known

as cerumen, is produced inside your ears to keep them clean and free of germs. It usually passes out of the

ears harmlessly, but sometimes too much can build up and block the ears.

It protects the skin of the human ear canal, assists in cleaning and lubrication, and also provides

some protection from bacteria, fungi, insects and water. In other words, ear wax is a good thing!

The amount of ear wax that the body produces differs from person to person, the amount

that is retained within the ear also differs for each of us - these differences are for a number

of reasons; Age; Diet; Lifestyle; Personal anatomy; Genetics; Ethnicity.

Many people will produce a small amount of wax their whole lives, which leaves the ear

canal naturally, and never have any problem with it. For others, their ear will produce a larger

amount of wax, which will not fully leave the ear canal and will become blocked, which leads to

them having reduced hearing ability and also a blocked feeling in the ear.

25% off

latest tech

hearing aids

Are you experiencing any of the following?

• Pressure in the ears

• Blocked feeling in the ears

• Need to pop your ears but can't

• Sudden loss of hearing or muffles sound

• Hearing aids whistling

• Underperforming hearing aids

Call for more information on

Call: 07903 013 123 / 07535 603 744 or

01494 590 860

Email: hearwego.beaconsfield@gmail.com

Web: www.hearwegohearingsolutions.co.uk

The Studio, 37 Station Road, Beaconsfield HP9 1QG

To advertise please call 07786 735 711 or email marketing@amershamtogether.co.uk 29
---
grid?

Matching Pairs

Can you pair up each parcel with a letter with its twin which has a number?

Providing Outstanding

A

Home Care

Call for a friendly chat on 01494 917344

or visit ashridgehomecare.co.uk

2

1

C

Ashridge Home Care

specialises in providing highly

personalised one-to-one care

that enables people to remain

in the comfort B of their own

home. It is one of the few

care companies to offer both

around the clock live-in care

or visiting hourly care.

3

Odd One Out

D

Which one of these Christmas stockings is different from the rest?

4

E

CARDS

ELVES

HAPPY

JINGLE

MERRY

OXEN

5

A B C

PRAYER

From

SACK

all of us at Amersham &

STABLE

WINE

WISE MEN

wish

D E F

WREATH you a very Merry Christmas

Chalfonts Together we would like to

& Happy New Year!

F

6

CHRISTMAS Answer: CRISS-CROSS

ODD ONE OUT

MATCHING PAIRS

PUZZLE

SOLUTIONS

Answer:

30

Matching Pairs.indd 2 Amersham & Chalfonts Together is part of Community Together 07/10/2022 9:

D

Answer:

A and 5, B and 4, C and 1,

D and 6, E and 2, F and 3.
---
Tuesday November 22nd, December 13th and

January 10th, 24th 2023

The Epilepsy Society, Kent House,

Chesham Lane, Chalfont St Peter, SL9 0RJ

Time: 19.00 - 20.00 (everyone over age 18 welcome)

pranichealing.chalfont@gmail.com

To advertise please call 07786 735 711 or email marketing@amershamtogether.co.uk 31