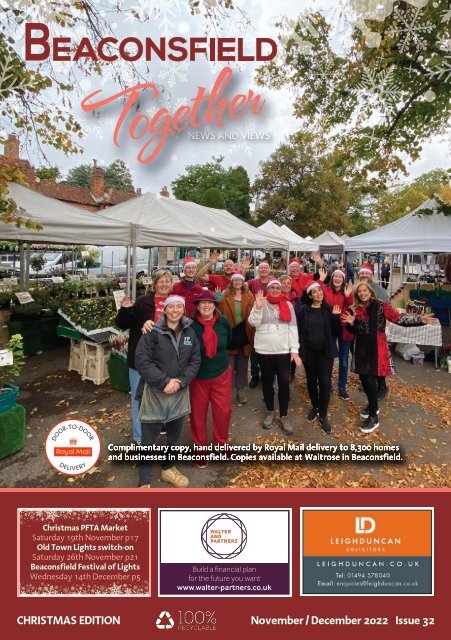 Beaconsfield Together November December issue 2022
A local #community magazine containing community, business and charitable editorial in the Beaconsfield, Knotty Green, Seer Green and Forty Green area. 8,300 copies printed and hand delivered by Royal Mail to residences and businesses in the HP9 -1 and HP9 -2 businesses in these areas. Copies available at Waitrose Supermarket in Beaconsfield
A local #community magazine containing community, business and charitable editorial in the Beaconsfield, Knotty Green, Seer Green and Forty Green area. 8,300 copies printed and hand delivered by Royal Mail to residences and businesses in the HP9 -1 and HP9 -2 businesses in these areas. Copies available at Waitrose Supermarket in Beaconsfield
SHOW MORE
SHOW LESS
You also want an ePaper? Increase the reach of your titles
YUMPU automatically turns print PDFs into web optimized ePapers that Google loves.
Together

NEWS AND VIEWS

DOOR-TO-DOOR

DELIVERY

Complimentary copy, hand delivered by Royal Mail delivery to 8,300 homes

and businesses in Beaconsfield. Copies available at Waitrose in Beaconsfield.

Christmas PFTA Market

Saturday 19th November p17

Old Town Lights switch-on

Saturday 26th November p21

Beaconsfield Festival of Lights

Wednesday 14th December p5

www.walter-partners.co.uk

CHRISTMAS EDITION November / December 2022 Issue 32
---
Visit us at

heybroadband.co.uk

Call free

0808 168 1616
---
*Average speed connected via cable not via WiFi

Order Today!

Don't miss out and take advantage of our special offer.

heybroadband.co.uk

or call free at 0808 168 1616
---
Useful Numbers

Age UK's Befriending Service

Matches older people with volunteers who

have similar interests. t: 01296 431911

e: age@ageukbucks.org.uk

Alcoholics Anonymous

Call confidentially on: 0800 917 7650

The Beaconsfield Advisory Centre

t: 01494 672987

e: contact@beaconsfieldadvisorycentre.org.uk

The Christian Eye Foundation

support@thechristianeye.co.uk

07568 135 308

Victim Support Line - help after a crime

t: 0808 168 911

www.victimsupport.org.uk

Be Amazing & Volunteer

Say hello to the Beaconsfield Market traders

Hello & welcome!

It's been quite a year! We pay tribute to Her Majesty

Queen Elizabeth II and wish King Charles every

success in his new role. Ann Tennant, well known to all

in Beaconsfield for her community spirit and service,

has been awarded for her distinguished service see p8

and Christmas will be upon us very soon! Join in the

celebrations, with the first event in Old Town with

the Christmas light switch-on (p21) and then the

wonderful Festival of Lights (p5) in December.

How can you not smile at the lovely market trader's

faces on the front cover of this issue? They work so

hard every Tuesday so please come and support by

shopping for your Christmas presents or household

essentials from them.

Have a thought to anyone who may be spending

Christmas on their own this year, find it in your heart

to help in some way, be it offering them a seat on

Christmas day, to giving them a gift or donating

to charity. Kindness, sharing and love is a free and

precious gift you can give to anyone.

Wishing you a peaceful and blessed Christmas,

Right at Home

Be a paid volunteer to support the elderly

t: 01494 573 500

Connection Support

Require: Volunteer Befrienders or Family

Mentors. t: 01296 484 322

With love,

Therese

Next Copy Deadlines -

January / February 2023

Editorials: 29th Nov

Advertisers: 30th Nov

Coroners' Courts Support Service

Court Support volunteers required (p22)

t: 07496 613 629

Meet the Team

Publisher, Editor & Sales

Therese Cooklin - 07786 735711

Magazine Designer

Mathew Peet, Digital Bear Design - 01949 839206

Content is accurate to the best of our knowledge, however Beaconsfield

Together part of Abstract Niche Ltd cannot be held liable for loss or

damage, caused by errors or omissions. Inclusion of advertisers does

not indicate our endorsement of their products or services.

t: 07786 735 711

e: therese@beaconsfieldtogether.co.uk

w: www.beaconsfieldtogether.co.uk

Get your business noticed

for as little as £36

Royal Mail door-to-door delivery to

over 23,000 homes in Beaconsfield,

Amersham & the Chalfonts.

e: sales@communitytogether.co.uk
---
COMMUNITY NEWS

Beaconsfield Festival of Lights

Wednesday 14th December 2022

Each year the Beaconsfield Festival of

Lights charity, together with the Rotary

Club of Beaconsfield, gather all local

retailers, entertainers, and residents of

Beaconsfield to celebrate the forthcoming

festive season.

The aim is to bring the Christmas spirit to

the streets of Beaconsfield and to enable the

Rotary Club and local charities to raise money

to support the local community in various

ways for the coming year.

other performers to entertain the visitors.

Food and drink concessions are also available

as well as a youth Enterprise Zone. The centre

piece of the evening is a lantern procession of

children preceded by a pipe band along with

carols on the council green.

Retailers remain open into the evening and

stalls selling festive goods are erected in the

town. Attractions are brought in to entertain

the children and this year three stages are

being built to allow local singers, dancers, and

Santa will also be visiting the town to bring joy

to the younger residents. So wrap up warm

and come and join the fun!

Please visit

www.beaconsfieldfestivaloflights.co.uk

for more information.

To advertise please call 07786 735 711 or email marketing@beaconsfieldtogether.co.uk

5
---
COMMUNITY NEWS

Wycombe

Homeless

Connection

Are you worried about losing your home?

There is hope. Wycombe Homeless

Connection offer free help and advice that

may help you keep your home.

Call their helpline which is open 10am -

4pm week days or get in touch by email or

website. Or drop in to their support centre

which is open weekday mornings 10am -

12.30pm in the centre of High Wycombe.

t: 01494 447699

e: contact@wyhoc.org.uk

web: www.wyhoc.org.uk/contact-us

www.re-cycle.org

Please support Re-Cycle Bikes to Africa Christmas

appeal, your donation will go towards sending

bicycles to children and adults living in rural

communities in Africa.

Ways to donate

Online visit re-cycle.org

Over the phone 01206 617865

Donate in lieu of a Christmas present for a

loved one visit re-cycle.org/xmasvoucher

Send a cheque made payable to Re-Cycle to this

address: Unit 8, The Grove Estate,Colchester Road,

Wormingford, Colchester, Essex CO6 3AJ

Follow us on:

@bicyclecharity

Working together to make a difference

Registered charity no 1063570

6 Beaconsfield Together is part of Community Together
---
Counties Loft Ladders tradesmen, so our customers lead to more happy to pop round and

come in.

customers are assured happy customers is true give you a no obligation

of the best job.

and we work hard to quote BUSINESS so you NEWS too can

The company,

make that happen for make use of your loft!

based Home locally, offers Counties Integrity in that we Loft Ladders,

homeowners the will turn up at the time

Home Counties Loft

opportunity to maximise we say and make sure

their storage space Quality the house is spotless You Can Trust!

with

Ladders,

a loft ladder,

Quality when we leave, You and

These days most

watchwords are Quality, - that simply wouldn't every installation we

50sqft

homeowners

of boarding

suffer

and value in that we offer

from Integrity and Value. happen if we didn't carry out!'

a light Can

a lack - of all storage fully Trust! fitted space.

our

Quality

services

in the

at

materials

a price

adhere to our overriding

in So many precious items that we use for all our principles.

So, if you want to make

These

less than

days

a day

most

from people can afford.

homeowners suffer

just that £355! need But to be it's kept not installations and the fact

use of your loft space,

from a lack of storage space. So many

just – but the where affordability

Our business relies on

to store it that all our loft packages At the end of the day the call Jamie free on 0808

of all?

precious the That's package where

items that Home

that need referrals to be and kept we get a old adage that happy 301 9558 and he'll be

makes Counties – but Home where Loft Counties Ladders to store it huge

tradesmen, all? amount That's so where of our calls

our customers lead to more happy to pop round and

Loft come Home Ladders in. Counties stand

from

Loft Ladders customers

people

come are

who

assured

have

in.

happy customers is true give you a no obligation

out, as manager Jamie

been of the referred best job. to us by and leave, we and work value hard in to that we quote offer so our you services too can at a

The company, based locally, our offers existing homeowners customers

Oakley explains: 'Our

make price that people happen can afford. for Our make business use of your relies loft! on

based the opportunity locally, offers to maximise Integrity their storage in that space we referrals and we get a huge amount of our calls

homeowners with a loft ladder, the 50sqft of will boarding turn up and at the a light time - from people who have been referred to us by our

opportunity all fully fitted to in maximise less than a we day say from and just make £444! sure But existing customers - that simply wouldn't happen

their it's not storage just the space affordability the of the house package is spotless

Need more that if we didn't adhere to our overriding principles.

with makes a loft Home ladder, Counties Loft when Ladders we leave, stand and out, as

50sqft manager of boarding Jamie Oakley and explains: value in 'Our that watchwords

we offer At the end of the day the old adage that happy

are Quality, Integrity and Value. our services Quality at in a the price

storage in materials less than that a day we from use for all

people space?

customers lead to more happy customers is true

our installations

can afford.

and and we work hard to make that happen for every

just the fact £355! that But all it's our not loft packages

just the affordability

Our business are fitted relies by on time installation we carry out!'

served tradesmen, so our customers package that

referrals and are we assured get a

of INSTALL the best job. A LOFT LADDER

makes Home Counties

huge amount of our calls So, if you want to make use of your loft space,

Loft Ladders stand

from people who have call Jamie free on 0808 301 9558 and he'll be

Integrity in that we will turn

out, as manager Jamie

been up at referred the time to we us say by happy to pop round and give you a no obligation

and

AND

make sure

USE

the house is

YOUR

our spotless existing when customers we

LOFT!

quote so you too can make use of your loft!

Oakley explains: 'Our

STARTER PACKAGE: Aluminium loft

ladder, light plus 50 sqft boarding, fully

fitted in less than a day from £355

storage space?

• Loft Ladders • Hatches

• Boarding • Insulation

• Lights • Fully Guaranteed

CALL FREE: 0808 301 9558

: Aluminium loft

ladder, light plus 50 sqft boarding, fully

from £444

Loft Ladders Hatches

Boarding Insulation

Lights

CALL FREE: 0808 301 9558

To advertise please call 07786 735 711 or email marketing@beaconsfieldtogether.co.uk

7
---
COMMUNITY NEWS

Ann Tennant

awarded for

distinguished

service

Saturday 17th September heralded a special

day of thanks and celebration for Ann

Tennant, whose incredible 50 years as

Akela of Davenies Cub Packs saw her

awarded with one of the Scout Association's

Good Service Awards.

Throughout her time as Pack leader of the

Davenies Cubs, hundreds of boys have

learned life skills including tying knots,

polishing shoes and how to make and put out

fires! Akela's boundless energy, caring approach

and sense of fun live long in the memories of her

Cubs and their parents, who came in their droves

to see and thank Ann at her celebratory event.

Celebrations began with a lunch for guests

who had helped Ann with Cubs, as well

as the Deputy Mayor, Cllr Jackson

Ng, Beaconsfield Town Crier, Dick

Smith, Cllr and Old Davenian, Alex Dunlop,

Peter Cathcart, County Chair of Buckinghamshire

Scout Council, Maureen Garner, Chair, Woodlands

District Scout Council, and Tim L'Angellier,

Woodlands District Scout Training Manager.

was read and a framed print presented to Ann as

thanks from the Cubs themselves. Peter

Cathcart, Buckinghamshire County Chair then

presented Ann with The Silver Acorn, a most

prestigious Scout Association award given

only after 20 plus years of specially distinguished

and outstanding service –particularly special given

there are very few Silver Acorn award holders in

Buckinghamshire. To show their appreciation and

in true Cub style, Ann led the boys in a rendition

of her unique Cub Howl.

Of Ann's dedication, Maureen Garner, Chair

of the Woodlands District Scout Council said:

'Ann has given 50 years service to 2nd

Davenies Cub Scouts within Woodlands District

in Buckinghamshire. Over these years Ann's

commitment to Scouting within this District

has been second to none and she has given

and continues to give service of a very high

standard, providing highly creative, adventurous,

interesting and exciting programmes together

with many camps and trips.'

After the delicious lunch, guests moved to

the Davenies Cub Hut where a poem "Meet

Akela", created from poems written by the Cubs,

8 Beaconsfield Together is part of Community Together
---
Celebrations continued with over 300 members

of the Davenies community including parents,

former parents, pupils and Old Boys, joining

for Tug of War and Welly Wanging. Mid-afternoon

saw further presentations by the Chair of Friends

of Davenies, a parent led charity established by

Ann over 20 years ago, and by the Headmaster,

Mr Rycroft. They both thanked Ann for all that

she has given to Davenies over 50 years, for

her commitment and dedication to Cubs, her

unwavering support of FoD and current parents,

and her cheery visits into School to help.

The event was a fitting tribute to a remarkable

lady, who to quote "does what she does because

she loves it."

Headmaster of Davenies, Carl Rycroft

comments: 'Ann is a keypillar of the Davenies

community. As one of very few people in

Buckinghamshire to have been recognised for

their dedication and service to others in such

a way is truly inspiring. Ann is a thoughtful

individual, with a strong sense of service,

responsibility and community and we are

immensely proud to call her our Akela.'

Deeply relaxing therapies

for the body and mind

clare reflexology

• Reflexology • Facial Reflexology

• Indian Head Massage • Zone Face Lift

07751 013698 clare@clarerefl exology.co.uk

www.clarerefl exology.co.uk

at Emile De-Londres, 35 Station Road, Beaconsfield, HP9 1QG

Mobile appointments are also available.

Shaun Guard

TV & WIFI SERVICES

■ Aerials - supplied & repaired also poor reception solved

■ Satellite - Sky Q dish upgrades, discreet dish installs

■ Internet / WiFi - blackspots cured, internal & external data cabling

■ TVs - wall mounted or set up & tuned

www.oxfordaerials.co.uk

shaun@oxfordaerials.co.uk

Call Beaconsfield 01628 439115

Experts in framing, memorabilia,

photographs, medals or special

achievements.

Established since 1982

Find us at Beaconsfield Market

Every Tuesday

Contact:

01869 323618

richgould@live.co.uk

To advertise please call 07786 735 711 or email marketing@beaconsfieldtogether.co.uk

9
---
ADULT LEARNING

Buckinghamshire

Adult Learning

Inspiring learning, changing lives

It's never too late to learn

Our courses are available to anyone over the

age of 19 up to 100+. We offer something to suit

everyone including English and maths, digital

skills, free online distance learning, creative arts,

languages, home improvements and gardening

and health and fitness.

Get ready for Christmas and make your loved

ones special gifts on one of our festive craft

workshops or make a Christmas wreath to

decorate your home.

Our centres in Amersham, Chesham and

Beaconsfield are home to our part-time courses

in French, Polish, Italian, Tai Chi, Pilates, Flamenco

Dancing, Drawing and Painting, Digital

Photography, Crochet, Jewellery Making,

Practical Gardening, Bridge, Sewing, Indian

Cooking, Upcycling, Upholstery and Yoga.

Search for the full list of our courses and enrol at

www.adultlearningbc.ac.uk

It's never too

late to learn

• Languages

• Creative Arts

• Health and Fitness

• Home Improvements and Gardening

• English, maths and digital skills

• Community Engagement

• Distance Learning

• Family Learning

• Apprenticeships

Enrol today for new courses and workshops

01296 382403

www.adultlearningbc.ac.uk

10 CommunityTogetherNov-Dec22 - 130mm x 90mm.indd 1 Beaconsfield Together is part of Community 06/10/2022 12:36:40 Together
---
February 2020 Screenings

Saturdays, November & December

NOVEMBER 12th

The Duke (12)

UK 2020

NOVEMBER 26 TH

Liquorice Pizza

(15) USA 2021

DECEMBER 10 TH

The Phantom

of the Open

(12A)USA 2021

DECEMBER 17th

West Side Story

(12A) USA 2021

Doors open 7:15pm • Film starts 8pm

Go online to view the full programme and details onhow to become

a member. Guests are welcome.

beaconsfieldfilmsociety.com

To advertise please call 07786 735 711 or email marketing@beaconsfieldtogether.co.uk

11
---
LOCAL BUSINESS

Product review –

recyclable brush

heads and ecofriendly

toothpaste

tabs

I love my electric toothbrush and know it's

better than the old fashioned manual version.

However, what happens to the used plastic

brush-heads - is there an eco friendly version?

Victoria from Eco-Homemaker offered me

the chance to try out the charcoal-bristled,

recyclable brush head and the toothpaste tabs

with fluoride they supply.

The little toothpaste

tabs are a novel idea.

You chew one tab for

five seconds, hydrate

the toothbrush and

brush teeth for two

minutes. My whole

mouth and teeth felt

super-clean with a

much cleaner and

mintier taste than the traditional tooth paste.

Using tabs, there is zero wastage and an option

to re-order a four months supply of new tabs,

which arrive in a compostable bag. The tabs are

plastic-free, have zero waste, involve no animal

cruelty, are gluten free, SLS and palm oil free.

They are vegan and made in the UK!

Charcoal brushes and

the soft bristles (in

packs of two) cost

£9.99 - same price

as Oral B ® brushes.

Parla tabs contain 62

Peppermint tabs

made of clean

ingredients, come

in a reusable jar: £6.95 for the jar, and £20 for

the refill tabs (four months supply) 248 tabs

which come in a compostable starch bag.

Go on, try them out, you may be surprised

and you'll be helping the environment too!

Compatible with:

- Any Oral-B* or Braun* electric toothbrush that is supplied with

a circular brush head excluding iO versions

- Any Superdrug/Asda/Aldi electric toothbrush that is supplied

with a circular brush head * Registered brand

Once you're done, send them back to Eco-Homemaker in the

enclosed envelope and we'll get them recycled by LiveCoco.

12 Beaconsfield Together is part of Community Together
---
Christmas Competition

Win a Christmas Hamper

courtesy of Waitrose in

Beaconsfield!

Answer this question: In the Christmas

rhyme - The Twelve Days of Christmas, how

many swans were swimming? was it:

a) 7 b) 8 c) 9 d) 10

Last date to enter is 29th November. Good luck!

Go online to enter:

www.beaconsfieldtogether.co.uk/competition

Greetings from Alison, Community

Matters, Waitrose in Beaconsfield.

Many of our customers will remember the

Community Matters scheme that was run

by Waitrose, where local charities and good

causes were supported by our branch,

voted for by customers using green tokens.

With the advent of Covid the green tokens had to

go, but we maintained charity payments throughout

the following months, and then launched a new

scheme, Give A Little Love, which follows the same

basic principles, but in a different format.

This scheme is run quarterly and we are given

guidelines as to which type of causes to support

for each quarter. As I write this article, our current

focus is 'Nature/Environment/Animals', and we

have supported Lindengate, The Horse Trust,

Tiggywinkles Wildlife Hospital and Bucks Pet Food

Bank. In previous quarters we have helped One

Can Trust, Rennie Grove, Scannappeal, Been There,

Wycombe Food Hub, Beechview Academy,

Better Connected and Young Carers, to name a few.

Although we have no formal channel for local good

causes to request help from us, I am willing to keep

contact details of any charities, based in this region,

that would be happy to benefit from our potential

support in the future.

Email Alison Lambert on:

communitymattersbeaconsfield@waitrose.co.uk

I look forward to hearing from you.

The Epilepsy Society is looking

for volunteers for its Phoenix Café

We need people who would enjoy chatting with our

vibrant community of residents as well as serving

refreshments. All volunteers welcome and ideal for

anyone doing their Duke of Edinburgh Award.

Contact kate.lamb@epilepsysociety.org.uk or

call 01494 601300.

Epilepsy Society | Registered charity number 206186

To advertise please call 07786 735 711 or email marketing@beaconsfieldtogether.co.uk

13
---
COMMUNITY NEWS

Clare Reflexology

Daily life can be hectic and demanding,

especially at this time of the year. If

you are thinking about changes you'd like to

make to improve your health and wellbeing,

then Reflexology is a great place to start!

What is Reflexology?

Reflexology is a super-relaxing treatment based

on the theory that all systems and organs of the

body are mirrored in the feet, hands, face and

ears. Each foot for example has over 7,000 nerve

endings – by using gentle pressure, the nervous

system can be directly affected in a positive

way. This is not ticklish or painful! When the body

is relaxed and the nervous system is stimulated,

healing can take place and balance can be

restored.

Benefits of Reflexology

The main benefits of reflexology are: Relaxation

(many people fall asleep during a treatment),

Stress Reduction, Circulation improvement,

Community sponsorship for

Beaconsfield Tuesday Market

The Estate Planning & Wealth Management

team at K J Smith Solicitors are excited to

announce that they will be sponsoring the

Beaconsfield Old Town Market in the build

up to Christmas and beyond.

The firm as a whole takes great pride in

supporting communities local to its offices and

this sponsorship represents the intention of the

Estate Planning team, located in the Old Town,

to support Beaconsfield in its own way.

Boosting energy, Boosting the immune system

and Improving sleep.

What can Reflexology help me with?

Many conditions today are exacerbated by

stress. By relaxing the body and relieving

stress, reflexology can help ease: Headaches

and Migraines, Sinus Problems, Fatigue,

Anxiety, Hormone-related issues, Insomnia,

IBS, Back pain, MS and more.

However, reflexologists do not claim to

diagnose or cure individual conditions but to work

holistically to help your body restore its natural

balance. The best way to see if reflexology will

help you is to give it a try! See p9 for details

Client team, comments: "Beaconsfield boasts a

variety of fantastic businesses that we have

enjoyed both personally and professionally.

The market provides a space for stall holders to

showcase themselves, particularly important to

businesses without a physical shop front. We

feel the Market provides an invaluable platform

for such businesses;

encouraging diversity

and entrepreneurial

spirit."

K J Smith understand the importance of a

thriving high street and the mutual benefit of

cooperation between businesses, the community

and initiatives like the Old Town Market' to

traditions like the Tuesday Market.

Johanna Jones, Associate Solicitor in the Private

The Estate Planning &

Wealth Management

team at K J Smith Solicitors

look forward to supporting

the Market into the New

Year.

14 Beaconsfield Together is part of Community Together
---
Sponsored by

To advertise please call 07786 735 711 or email marketing@beaconsfieldtogether.co.uk

15
---
Find us at Beaconsfield Market

every Tuesday 8am until 2pm

We stock shrubs, perennials, spring bulbs,

seasonal baskets and bedding plants

Follow us on Facebook and Instagram

finest_plants

16 Beaconsfield Together is part of Community Together
---
THE BEACONSFIELD SCHOOL PTFA

INVITES YOU TO ATTEND

Christmas Market

SATURDAY 19TH NOVEMBER

10AM - 4PM

AT THE BEACONSFIELD SCHOOL

£1

entry

Christmas Gifts

Local Handcrafted

Artisan Products

free

parking

Tombola & Raffle

Christmas Food & Refreshments

available throughout the day

To advertise please call 07786 735 711 or email marketing@beaconsfieldtogether.co.uk

Registered Charity no. 1047206

17
---
EYE NEWS

Looking after

your eyes

Autumn and Winter can be tough on our eyes.

When it becomes colder outside many of us

spend more time on electronic devices inside.

The wind outside and heating inside can make eyes

feel gritty and dry. If you wear glasses you may notice

that reading isn't as easy when the light is poor. Ask

your optician about 'Blue control' lenses for those

electronic devices. These lenses can help with the

fatigue caused by the blue light that's emitted from

screens. Your optician should be your first call for

recommending the most suitable lubricating drops

for dry eyes. Avoid general eye drops as they can

contain whiteners and preservatives which can

aggravate already uncomfortable eyes.

What about driving at night? Higher vehicles like SUVs

and MPVs have higher dipping headlights. Great for the

driver but can be annoying to oncoming traffic and their

passengers. Consider lenses especially designed for

driving. Enroute lenses have a special glare filter and the

option of a contrast enhancing filter . They offer drivers

and passengers less glare and fewer reflections as well

as enhanced contrast in low light conditions and fog.

Available as single vision lenses or as varifocals

especially designed to give an enhanced wider view

for distance and the dashboard so they are great for

wearing in the car for driving.

If reading is problematic ensure you have a good source

of light. Reading lamps are especially good as they

have a bare bulb that can be angled over your shoulder

to shine directly at what you are reading. Whilst ready

readers work for a quick task like reading a menu in a

restaurant ensure you are using up to date prescription

glasses for reading and other close tasks. Above all, it

makes sense to eat a healthy diet and have your eyes

checked regularly and ask your optician about problems

you might have.

Helen Gilbert FBDO

Dispensing Optician

HARROLDS

opticians & audiologists

2 for 1

Kids & Teens

glasses

Half price

2nd pair

Any frame. Any lens.

* When you buy frames and lenses. Excludes all in range Conditions apply. Ask for details.

Eye tests are free for kids

* When you buy a frame for £18 or more. Excludes other offers. Assumes Free NHS eye test and NHS voucher subject to NHS guidelines. Ask for details.

The driving lens

Less Glare... Less Dazzle... Less Eyestrain.

The Enroute driving lens has a special glare filter and an optional enhancing filter providing

less glare and reflections from oncoming traffic and better contrast in low light conditions.

Upgrade to Enroute Driving

Lenses from £75 extra

* Available as single vision and varifocals. Excludes other offers. Offer ends 31st January. Conditions apply.

The health of your eyes is as important as your vision. With renal photography as standard

and the opon of OCT , you can be assured you're doing the very best for your eyes. We have

office lenses to help with screens and tablets, lenses to protect from UV and lenses that reduce

glare when you drive. Nicole and her team are ready to help and advise.

To book an appointment call 01494 672193

www.harroldopticians.co.uk 26 Gregories Rd Beaconsfield HP9 1HQ

18 Beaconsfield Together is part of Community Together
---
Beaconsfield

Chimney Sweep

Manual and Power Chimney Sweeping

Open Fires, Stoves and Gas Fires

Certificates Issued

Professional and Reliable

Pay by Card

Chimney Caps and Cowls

Call JOSH: 07549 422 465

Or Book Online Today:

www.TheLocalChimneySweep.co.uk

Experienced, Friendly

& Professional Internal

& External Decorators.

We have been

working in & around

Beaconsfield,

Gerrards Cross,

Amersham &

surrounding areas

since 1993.

Please call to discuss

your requirements.

Call Nigel:

01494 681 794 or 07771 521 263

www.ngilliedecoratingservices.co.uk

Hector's House Charity

Mental Health & Crisis Support

t: 07397 155 562

w: hectorhouse.org.uk

To advertise please call 07786 735 711 or email marketing@beaconsfieldtogether.co.uk

19
---
What's been happening

at Beaconsfield Town

Council?

We were deeply saddened

at the Town Council when

we heard of the death of

Her Majesty Queen

Elizabeth II.

Beaconsfield's "Operation

London Bridge" plans had

been in place for a number

of years and all protocols

were followed.

As arranged, the Book

of Condolence was at St

Mary's and All Saints for

residents to record their

thoughts.

Our Mayor, Cllr Alastair

Pike was abroad at the time

and so our Deputy Mayor,

Cllr Jackson Ng stepped

in to lead proceedings,

attending the Proclamation

ceremony at Aylesbury on

the 11th September in the

morning to announce the

accession of King Charles

III. He received the scroll

from the High Sherriff

of Buckingham, Debbie

Brock DL, to bring back to

Beaconsfield to make the

local Proclamation in the

afternoon. A solemn event,

introduced by the Town

Crier, Richard Smith, and

which was well attended by

our residents, councillors

and local dignitaries.

On day to day business, it's

budget season at the Town

Hall and the committees

are busy putting together

their ideas for the coming

year and looking at ways

to improve our service

delivery.

And planning is underway

to switch on this year's

Christmas Lights. It's

always a fun event with our

Christmas Market in the

Old Town and we believe

that Father Christmas will

be visiting. The Mayor,

Cllr Alastair Pike will be

switching on the lights at

6pm. Do join us for the

countdown and a glass of

mulled wine.

For more information: www.beaconsfieldtowncouncil.gov.uk

20 Beaconsfield Together is part of Community Together
---
To advertise please call 07786 735 711 or email marketing@beaconsfieldtogether.co.uk

21
---
COMMUNITY NEWS

Volunteering opportunity with

Coroners' Courts Support Service

The Coroners' Courts Support Service

(CCSS) are recruiting volunteers to join our

amazing, friendly team in Beaconsfield.

Attending an inquest at the coroner's court can be

a bewildering and confusing experience. Many

bereaved families and witness have little to no

understanding of the processes and procedures

that occur and may not feel that they have been

fully able to participate in the proceedings.

The Court Support Volunteers are there to provide

families, witnesses and others attending the court

with practical guidance and emotional support.

a difficult day that little bit easier for those who are

bereaved.

If you are an empathetic, supportive person

with excellent communication skills and a calm

manner who would like a rewarding and varied

volunteer role, we would love to hear from

you. Full training and support is provided. For

more information and to apply please visit our

website www.coronerscourtssupportservice.

org.uk/get-involved/ or if you have any questions

please contact Clare Green, South Coordinator on

07496 613629 or clare.green@ccss.org.uk.

22

They explain the processes, procedures and remit

of an inquest and help those attending have a

better understanding of their role within this, often

frightening, environment. The volunteers work

closely with the court staff with the aim of making

Thank you for

listening

Thank you to everyone who attended the

Epilepsy Society's Public Exhibition from

29 September-1 October, when we shared

details of our planning proposal to develop

part of our land in Chalfont St Peter.

It was important to meet you and hear your

comments and concerns and to understand your

priorities as a community and as our neighbours.

We also hope it was a chance for you to understand

why, as a locally based national charity, it is critical

that we make best use of our assets to improve the

diagnosis and treatment of people with epilepsy. We

are working in a difficult funding environment and

have been making annual losses that mean we are

forecast to run out of cash by the end of the decade.

By developing a section of our land, we can

safeguard the charity and ensure that it can

Ground-breaking research at the Epilepsy Society.

continue to deliver life-transforming epilepsy

research. Research that could stop 1,200 people

with epilepsy dying every year – often young

people on the cusp of university and an

independent life. Research that could mean

a young mum with epilepsy could hold her

new-born baby without fear of dropping them

during a seizure. Research that could offer the

chance of seizure freedom to hundreds of

thousands of people across the country.

There are 600,000 people with epilepsy in

the UK. Our land in Chalfont St Peter is their

greatest hope. You can find out more here

www.epilepsysociety.org.uk/plan

Thank you. The Epilepsy Society.
---
Warm Spaces

created for those

in need of a wam

space to visit

With a cost of living & climate crisis,

many people are facing tough decisions.

Some have moved to working from home

following the pandemic and are facing a

winter with increased energy bills.

Others are facing even harder decisions about

whether to heat or eat.

Warm Spaces is designed to signpost anyone

in need of warmth, to a warm space to share

with others. If you have a business - coffee

shop, community hall, church ( not a residence )

you can offer up as a warm space for people to

go to, visit this web address and fill in the form:

www.warmspaces.org/register

Talking Cafe

Every Friday 9 -11am

At The Dove Cafe, Mayflower Way, Beaconsfield

A friendly chat and a

complimentary cuppa awaits all

those on their own who would

welcome some company

IN PARTNERSHIP WITH THE DOVE CAFE

To advertise please call 07786 735 711 or email marketing@beaconsfieldtogether.co.uk

23
---
COMMUNITY NEWS

One Can Trust

Food Bank:

together we can

The One Can Trust Foodbank help local

people to help local people. Through their

network of front line service providers and

distribution hubs they give out food aid to

adults and children across High Wycombe

and South Bucks.

Why the community needs us

In some areas of Buckinghamshire 1 in 3 children

live in poverty. Providing food to those who find

themselves in times of crisis brings hope and

relieves pressure on other services.

Our impact on the community

They currently distribute >275 food parcels a

month through a network of hubs. They give away

over £150,000 of food a year. A food parcel for a

family would cost £65 to buy, they deliver it at a

cost of approx £5.

Volunteers needed

Delivery drivers, pick n packers and fundraisers

If you need help or want to volunteer please

contact

t: 01494 512 277

e: office@onecantrust.org.uk

w: onecantrust.org.uk

What's on at Bekonscot Model Village

Saturday and Sundays

26th/27th November

3rd, 4th,10th and 11th December

Come and see Bekonscot illuminated.

See the village lit up with festive lights and special

scenes throughout the village. Spot the reindeer

and win a prize and enjoy festive refreshments from

the tearoom.

Saturday 10th and Sunday 11th

December

Visit Santa's Grotto!

Santa will be in his grotto

to welcome children.

Tickets must be

pre-booked via

our website.

www.bekonscot.co.uk

MODEL VILLAGE

Established 1929

24 Beaconsfield Together is part of Community Together
---
ENJOY OUR SPECIAL CHRISTMAS LUNCH

MENU AND LET US LOOK AFTER YOU

DURING THE FESTIVE SEASON

Using the best of local and seasonal produce, our chefs have developed

dishes that are made for a lunchtime celebration. You deserve it.

AVAILABLE FROM TH NOVEMBER TO ST DECEMBER,

COME AND ENJOY THE FESTIVE SEASON WITH US

2 COURSES £££ £ COURSES £££

BOOK NOW ON

0 4 4 OR VIA OUR WEBSITE

WWW.GREYHOUNDBEACONSFIELD.CO.UK

3 3 Wi nd s o r E nd , B e a c o n s fi el d , H P 9 2 J N

To advertise please call 07786 735 711 or email marketing@beaconsfieldtogether.co.uk

25
---
FINANCIAL NEWS

A case for natural

income

Whilst capital values have been bouncing

about in recent years, the natural income

distributions from FM's income portfolio have

stayed incredibly consistent.

'Natural Income' is the phrase we use to describe the

process of producing income without disturbing the

underlying investment holding. Many clients were

very surprised they didn't see a drop in income and

in fact the underlying income performance during

the worst COVID months, helped to encourage and

remind us that pure income funds do have their place

for those looking for regular investment earnings. The

chart on the right confirms this fact.

We review the portfolio quarterly to check that

it's doing what we expect it to and for five years or

so, we have not needed to make any significant

changes. In addition, we will periodically meet with

the fund management groups to get some deep

dive information from those who make day-to-day

investment decisions.

Our income portfolio is primarily used inside ISAs,

however it's also available as a General Investment

Account (GIA) and although any income generated,

isn't as tax efficient as an ISA, many clients still use

this route as a method to squeeze the maximise

returns from their savings. If you would like details on

the underlying funds or to discuss whether this is an

appropriate option for you, please do call us.

Philip Harper, Financial Planner

phil@fmifa.com | 01494 817151

www.fmifa.com

Independent Financial Advice

A case for natural income

30

YEARS

Contact us: 01494 817151 | advice@fmifa.com | www.fmifa.com

Penn Barn, By the Pond, Elm Road, Penn, HP10 8LB

Financial Management is a trading title of Philip Harper LLP which is

authorised and regulated by the Financial Conduct Authority

26 Beaconsfield Together is part of Community Together
---
FINANCIAL NEWS

WE WILL ALWAYS PUT YOU FIRST

LEIGHDUNCAN.CO.UK

Tel: 01494 578040

Email: enquiries@leighduncan.co.uk

FINANCIAL NEWS

School When can fees I

planning afford to retire?

You may have an idea about the type

With the new school year underway,

of lifestyle you want, but knowing if

parting money for school fees may be

your expenditure will be sustainable is

fresh on some people's minds.

not straightforward.

Paying In terms school of budgeting, fees out of inflation regular income is a big can factor

be over more 20 to costly 30 years, and pose and the it's risk easy of to being overlook

unsustainable capital expenses if something like replacing happens cars to or your home

earnings. refurbishments.

Ben The Walter investment at Walter strategies & Partners in our explains, pensions "Making are

early vital in provisions determining for school the potential fees can help sustainability to reduce

the of our cost income. and ensure Yet, continuous these are often education ignored for the by

child." many savers.

With The order tax-efficient in which investments we draw available from our for assets regular

savings retirement, or a lump and sum, the it's use worth of available reviewing tax your

options allowances, to see can if they also could play a help significant you. Please factor note

in our money's longevity, but these are not

simple matters.

that Ben investments Walter, CEO and at their Walter income & Partners, can go down

in comments, value. "Planning for retirement has never

been so important, with people living longer

Walter and more & Partners active work lives. with We families help our at clients all stages map

of out life their to plan retirement for their budgets, financial future. recommend They

fundamentally appropriate investment believe that strategies, your money and should advise

fit on around drawing what from you their want assets to achieve in a tax-efficient rather than

the way. other This way ongoing around. process provides clarity,

direction, and peace of mind when planning

You for, can and find living out in more retirement". about Walter & Partners

and get in touch at www.walter-partners.co.uk

You can find out more about Walter & Partners

and get in touch at www.walter-partners.co.uk

To advertise please call 07786 735 711 or email marketing@beaconsfieldtogether.co.uk

27
---
LEGAL ADVICE

Paddy and Christine McGuinness: Separating

as parents of children with Autism

Earlier this year, TV personality Paddy McGuinness and

his wife Christine announced that they have separated

after 11 years of marriage. The couple revealed that

they are going to continue living together for the sake of

their three children, all of whom have Autism Spectrum

Disorder ( 'ASD').

Statistics have shown that there is a relatively higher risk

of divorce between parents of children with ASD, as the

challenges posed by ASD can take their toll on marriages.

For parents of children with ASD, the separation process can

be more complicated - autistic children may require more time

to adjust to the changes in their family dynamic. Family

solicitors are often asked to advise on arrangements for

children with additional needs and how best to navigate the

separation process. The timescales for one parent moving out

of the family home, or for changing the children's routine to

spend time with a non-residentparent, will need to reflect this.

Children with ASD often struggle with communication and

exhibit repetitive behaviours or interests, which means that

they benefit from having a specific routine. In order to provide

maximum continuity for the children, both parents could

remain living in the family home, but no matter how spacious

the family home, this will bring practical challenges for both

parents as they begin to establish their independent lives.

RS_BEACS_AM_CHAL_CMYK_130X90_OUT_1.pdf 1 04/10/2021 11:44

Therefore, in such circumstances, where finances may allow for

the family home to be retained whilst each parent purchases a

new property, it might be that both parties consider a 'nesting

arrangement'. Under such an arrangement, the children would

remain living in the family home to ensure continuity, whilst the

parents rotate living with them.

If the latter option is not considered suitable in the long term,

perhaps because it is likely to cause further tension between

parents and to hinder effective co-parenting, it can be used

in the short term to smooth the transition to a shared care

arrangement, where the children spend time with each parent

in their respective homes.

It is impossible to completely avoid the effects of divorce on

children, but if you have a child with additional needs then

it is important to speak to a specialist family law solicitor with

experience in such matters to help minimise the impact

on them. Rayden Solicitors offer expert advice on divorce

involving children with additional needs. For a confidential

conversation, please do not hesitate to contact us.

Rayden Solicitors, Jessica Smith,

Solicitor Beaconsfield office

C

M

Y

CM

MY

CY

CMY

K

28 Beaconsfield Together is part of Community Together
---
HOW WILL YOUR FENCE LOOK AFTER ANOTHER UK WINTER?

COLOURFENCE - no painting or

†

repairs for 25 years!

Don't wait until your

timber fence breaks down.

Prevention is better than cure!

To see our wide choice

of sizes, mix and match

colours and designs

contact us today!

"

Despite many coats of

preservative, the

structure of the wooden

fence in our front garden

rotted, and a recent storm

sent it off down the road,

thankfully missing the

neighbour's car. However, every

"

Maintenance free

and great value too!

As autumn takes hold, we hear from customers who choose

ColourFence because their old fences have blown down or rotted

through, causing anxiety about pets escaping or even unwanted

intruders. This, paired with the fact that there is no need for ongoing

maintenance allows them to break the expensive, monotonous cycle of painting,

repairs and replacement. ColourFence is guaranteed not to warp, crack, shrink,

rot or peel for 25 years † . Making it one of the world's best maintenance-free fences.

And, unlike other fences, ColourFence can withstand gusts of wind up to 130mph.

There's a choice of colours to harmonise and enhance your garden's design. You'll

find our prices surprisingly competitive too. Why wait until an urgent replacement

is needed? To see the full product range, call us today and find out why it

makes sense to choose ColourFence.

Guaranteed † not to warp,

crack, shrink, rot or peel

Withstands wind gusts of

up to 130mph

No painting or repairs

for 25 years †

† Hose down several times a year – terms & conditions apply.

"

Create your look with a

choice of colours, designs

and sizes

No risk professional

installation

cloud has a silver lining, and we

couldn't be more pleased with

our new ColourFence. It looks

great, and we are looking

forward to years of summers

with no fence paint or algae

treatments.

Mr & Mrs P. Glamorgan

"

Brown

Cream

Blue

For a free, no-obligation quote, find out more via:

01494 711 400

colourfencebuckinghamshire.co.uk

25 YEAR

GUARANTEE
---
INTERIORS

How to get your

kitchen ready for

Christmas

Our kitchens are one of the busiest rooms in

our homes over Christmas where we spend

time cooking hearty meals, baking, spending

time with our family and friends, and enjoying

the festive atmosphere.

Giving your kitchen a festive makeover will make

your cooking space feel all that more cosy, warm

and festive and bring joy to not just you but the

entire family. We want to share with you a few tips

and ideas on how to get your kitchen Christmas

ready this year.

Deciding On a Christmas Colour Scheme

It can be tricky to choose a colour scheme, even at

Christmas. There is the traditional red and green that

you can't go wrong with, a modern black and silver

theme, a beautiful classy white and gold theme, or

a Scandinavian white, light wood and grey theme.

Consider the colour scheme that your kitchen has,

and what shades and tones would match well with

your kitchen. There is plenty of inspiration online to

take a look at.

Spruce Up Your Shelving and Introduce Scents

Pop some small Christmas accessories along your

shelves and worktops, adding some festive cheer to

the space. You can also add some foliage to

your kitchen, whether it be real or fake, and some

pinecones to give your space a woodland feel.

Another great way to bring your kitchen into the

Christmas season is with scent. Scents are an

amazing way to add atmosphere and cosiness

to your home, and with the addition of candles,

diffusers and potpourri you can completely

transform the feel of your kitchen. Think Cinnamon,

Gingerbread, Orange, and Cloves to add some

Wintery warmth.

Consider Textures and Layers

Consider adding different textures and layers to

your kitchen this Christmas to give it a cosy, warm

and lived-in feel. This could include dried flowers,

napkins, wooden ornaments, rugs and much more.

You can also hang wreaths over the back of your

chairs, and add Christmas-themed canvases to your

walls.

Add Centerpieces and Twinkling Lights

Centerpieces are a fantastic focal point for the

kitchen, especially if they are on your kitchen island

or breakfast table. Perhaps add a mini Christmas

tree to the space or to a worktop, and decorate

it with beautiful decorations and fairy lights. Or

hang a beautiful wreath in the center of your kitchen,

stunningly decorated to match the rest of your

kitchen. You can also add bows, Christmas-style

linens, baubles, and candy canes throughout the

kitchen to spread some more Christmas joy.

For more information:

www.ashfordkitchensandinteriors.co.uk

Izzy Shelley

30 Beaconsfield Together is part of Community Together
---
Local Specialists since 1984

Let us help you find your perfect kitchen, bedroom or home office.

www.ashfordkitchensandinteriors.co.uk

Farnham Common Showroom 1-2 The Parade, Farnham Common, Bucks SL2 3QJ 01753 642362

Ashford Showroom 85 Church Road, Ashford, Middlesex TW15 2PE 01784 245964

To advertise please call 07786 735 711 or email marketing@beaconsfieldtogether.co.uk

31
---
REDUCE YOUR HEAT L

WHY THERMOGRAPHY IS OUR W

IMPROVE YOUR THERMAL ENVELOPE WITH THE 'FABRIC FIRST' APPROACH

TO RETAIN HEAT IN OLDER (PRE-1990S) AND LISTED BUILDINGS

by Robert Tiffin, Eco Tiffin Ltd

It might not seem entirely intuitive to consider

the use of modern technology when working

with traditional and ancient buildings. However,

building conservation should make use of all

the knowledge, skills and disciplines at its

disposal and it would be a big mistake to dismiss

thermography, especially now, with energy costs

predicted to be £3,800 a year for the average

home by Spring 2023.

Thermography is the use of thermal infrared

imaging to identify heat loss contributing to

building defects such as dampness and its

sources. It is a non-destructive technique that is

ideal when working with older, complex buildings

that have so many elements to them. Indeed,

it is impossible to make a full and accurate

assessment of their state of repair without

recourse to thermography in the hands of a

seasoned building professional.

A condition survey incorporating an analysis

of all heat loss areas, building defects and

draughts in relation to the current or proposed

use of any building is a prerequisite for the correct

identification and specification of any insulation

(retrofit) works needed, well before their approval

and commencement.

Identifying the exact type of structure and its fabric

enables us to determine its thermal envelope, how

good or bad it is at retaining the warm air that is so

expensive to heat, and therefore form a strategy on

how best to reduce heat loss.

The thermal images shown here reveal the

interplay of moisture, heat and ventilation

continuously taking place in any building. More

than any other technology, this allows us to see

and understand what is going on, explain it and

make better-informed decisions when prioritising

the allocation of ever-limited resources. Which

means we should be thinking of thermography as

a sixth sense that we are very lucky to have.

Because of the highly visual, immediate

Uninsulated light tube

Poorly installed cavity wall

insulation

Poorly fitted horizontal loft

insulation

Get in touch today to

book a consultation

and find out more

32 Beaconsfield Together is part of Community Together
---
OSS BY 50%+

EAPON OF CHOICE

nature of the thermal survey, it offers a relatively

inexpensive and non-invasive way of helping

clients and other stakeholders understand the

significance of heat loss and potential problems

that might otherwise be difficult to conceptualise.

Among many others, these can include:

Continuity and condition of insulation

Cold bridging

Structural defects

Hidden structures, services and past alterations

Air leakage/infiltration

Electrical, plumbing, heating, cooling and

ventilation systems

Damp and decay

Moisture and air circulation

Quality of workmanship and material

Having identified heat loss, bypass, draughts

and defects, thermography can then be used to

suggest solutions and highlight the advantages of

taking action, among them:

Demonstrating the improvements of a retrofit

programme

Substantiating insurance claims

Taking into account the full range of factors and

parameters while recording thermal images and

Poorly fitted or missing insulation to

sloping soffits of bedroom ceiling

07768 005885 | 01442 819332

enquiries@ecotiffin.co.uk

www.ecotiffin.co.uk

using other auxiliary data is obviously crucial

for correct interpretation. It is why we at Eco

Tiffin have been investing in thermal imaging

equipment and infrared training for all our staff.

This enhances our extensive CPD training in

retrofitting older buildings and has enabled us

to qualify as retrofit coordinators for more than

two decades now. We are firm believers in the

'fabric first' approach to building conservation

and have found thermal imaging to be an

invaluable tool for corroborating and sharing

How our understanding to of reduce buildings to determine heat the

best solution to reduce heat loss.

home How - 'the fabric reduce fi

Indeed, for more than 320 years now we have

been working with buildings to understand how

We

they

all

function,

know that

evolve

we

and

are

eventually

being asked

fail. While

to (the

the environment changes and specific problems

do

arise,

'our

we

bit'

continue home in being

to take

more

a - eco-friendly.

holistic 'the approach fab

new

to id

and can provide a 'one stop shop' for the most

How can we achieve We all this know in our that homes? we are A family hom

being aske

asked

economically

EcoTiffin

viable

to do just

solutions

that and

in

after

any

enlisting

building's buil

their heat help, retention, they do commented, improvement 'our bit' in "EcoTiffin and being maintenance. more saved us eco-frien goo

37% We in love energy to share bills whilst our knowledge increasing and our square always

footage happy to by answer 35%, How giving can any we us technical a achieve warm and questions this welcoming our homes? about A Rob fam

home." how to reduce asked your EcoTiffin heat loss, to do so just please that and get after in enlis and

touch if we can

their

be

help,

of any

they

assistance.

commented, "EcoTiffin saved

Sur

Moisture in brickwork 37% in energy is the bills worst whilst possible increasing our squ

fam

ingredient to footage have in your by 35%, property giving and us a every warm and welco

home."

effic

effort should be made to prevent the ingress of

the

moisture. Moisture in the brickwork reduces the

Moisture in brickwork is the worst possible to s

bricks thermal capacity to retain heat and it has

a chilling effect ingredient like a fridge to have on your in your home. property Solid and ever pro

brick walls are effort by far should the worst. be made Remember; to prevent wet the ingres eye

walls are cold moisture. walls! Moisture in the brickwork reduces ena

bricks thermal capacity to retain heat and forw it h

'The fabric first a chilling approach' effect is essential like a fridge when on your home. cos So

improving insulation brick walls to roofs, are by walls, far the floors worst. and Remember; heaw

windows which walls are are just cold some walls! of the ways of for

reducing heat-loss. The use of thermography the

'The fabric

Cold

first

bridging

approach'

to opening

is essential

reveals

when

creating excessive heat loss

improving insulation to roofs, walls, floors an

windows which are just some of the ways of

reducing heat-loss. The use of thermograph

Excessive heat loss to ground floor

and eaves details

Are you protecting your home?

To advertise please call 07786 735 711 or email marketing@beaconsfieldtogether.co.uk

• Climate change - how is my home coping?

33
---
Beaconsfield Together

Brain Matter

CHRISTMAS CRISS-CROSS

Can you fit all the listed

words into this grid?

Christmas Criss-cross

Can you fit all of the listed words into this grid?

ANGEL

APPLES

BABE

BAZAAR

BELLS

BOWS

CARDS

ELVES

dd One HAPPY Out

JINGLE

MERRY

OXEN

PRAYER

SACK

STABLE

WINE

WISE MEN

WREATH

hich one of these Christmas stockings is different from the rest?

A B C

D

E

F

ANGEL CARDS PRAYER

APPLES ODD ONE OUT ELVES SACK

BABE

HAPPY STABLE

BAZAAR Which one of these JINGLEChristmas WINE stockings is

BELLS different from the MERRY rest?

WISE MEN

Matching Pairs

BOWS OXEN WREATH

Can

Can

you

you

pair

pair

up

up

each

each

parcel

parcel

with

with a

letter

letter

with

with

its

its

twin

twin

which

which

has

has a

number?

number?

A

1

B

MATCHING PAIRS

2

C

3

Answer:

Can you pair up

each parcel with a

letter with its twin

which has a

number?

Answer:

D

D

5

4

F

E

6

(answers on p38)

34 Beaconsfield Together is part of Community Together
---
Safe & gentle ear wax

removal at a clinic

near you

What is ear wax?

What is it, why do we have it in our ears and why does it sometimes cause hearing loss. Earwax, also known

as cerumen, is produced inside your ears to keep them clean and free of germs. It usually passes out of the

ears harmlessly, but sometimes too much can build up and block the ears.

It protects the skin of the human ear canal, assists in cleaning and lubrication, and also provides

some protection from bacteria, fungi, insects and water. In other words, ear wax is a good thing!

The amount of ear wax that the body produces differs from person to person, the amount

that is retained within the ear also differs for each of us - these differences are for a number

of reasons; Age; Diet; Lifestyle; Personal anatomy; Genetics; Ethnicity.

Many people will produce a small amount of wax their whole lives, which leaves the ear

canal naturally, and never have any problem with it. For others, their ear will produce a larger

amount of wax, which will not fully leave the ear canal and will become blocked, which leads to

them having reduced hearing ability and also a blocked feeling in the ear.

25% off

latest tech

hearing aids

Are you experiencing any of the following?

• Pressure in the ears

• Blocked feeling in the ears

• Need to pop your ears but can't

• Sudden loss of hearing or muffles sound

• Hearing aids whistling

• Underperforming hearing aids

Call for more information on

Call: 07903 013 123 / 07535 603 744 or

01494 590 860

Email: hearwego.beaconsfield@gmail.com

Web: www.hearwegohearingsolutions.co.uk

The Studio, 37 Station Road, Beaconsfield HP9 1QG

To advertise please call 07786 735 711 or email marketing@beaconsfieldtogether.co.uk

35
---
A tribute to

HRH The Queen

Beaconsfield Town was lucky to have HRH

The Queen visit a few times in this century.

Bekonscot Model Village remembers...

Brian Newman-Smith, MD said, "We feel privileged

and honoured that Her Majesty had visited Bekonscot

with her sister in the early thirties".

Royal Visits

© Jeff Krotz

1934/42: Several visits by Queen Mary, with one or

both of the young Princesses, Princess Elizabeth and

Princess Margaret Rose took place.

The first recorded visit was on Friday, 20 April l934,

the eve of Princess Elizabeth's 8th birthday.

1934: Her Royal Highness Queen Mary and Princess

Elizabeth

1936: Her Royal Highness Queen Mary, HRH Duke

& Duchess of York with Princesses Elizabeth and

Margaret

1939: Her Royal Highness Queen Mary, Princesses

Elizabeth and Margaret

We had harboured hopes that Her Majesty might visit

again but alas it was not to be.

© Jeff Krotz

Princesses Elizabeth

and Margaret in 1939

Beaconsfield's

Town Crier &

Deputy Mayor
---
Beaconsfield residents attend

the Proclamation at Beaconsfield

Town Council

© Jeff Krotz

A PROCLAMATION

Whereas it has pleased Almighty God to call to His Mercy our late

Sovereign Lady Queen Elizabeth the Second of Blessed and Glorious

Memory, by whose Decease the Crown of the United Kingdom of Great Britain

and Northern Ireland is solely and rightfully come to The Prince Charles Philip

Arthur George: We, therefore, the Lords Spiritual and Temporal of this Realm

and Members of the House of Commons, together with other members of Her

late Majesty's Privy Council and representatives of the Realms and

Territories, Aldermen and Citizens of London, and others, do now hereby with

one voice and Consent of Tongue and Heart publish and proclaim that The

Prince Charles Philip Arthur George is now, by the Death of our late Sovereign

of Happy Memory, become our only lawful and rightful Liege Lord Charles the

Third, by the Grace of God of the United Kingdom of Great Britain and

Northern Ireland and of His other Realms and Territories, King, Head of the

Commonwealth, Defender of the Faith, to whom we do acknowledge all Faith

and Obedience with humble Affection; beseeching God by whom Kings and

Queens do reign to bless His Majesty with long and happy Years to reign over

us.

Given at St. James's Palace this tenth day of September in the year of Our

Lord two thousand and twenty-two.

GOD SAVE THE KING

© Jeff Krotz
---
grid?

Matching Pairs

Christmas Can you pair up each parcel services with a letter with its twin & which events has a number? at

St. Michael's and A All Angels 1 Church, Beaconsfield

B

Sunday 27th November - 4pm

Christingle Family Service

Sunday 11th December - 4.30 pm

Carols at Bekonscot - a 'Churches 2 Together'

service at Bekonscot Model Village

Sunday 18th December - 3pm

Rhyming Christmas Time Family Carol Service

Odd One Out

D

Saturday 24th December - 3pm

Family Crib Service

Which one of these Christmas stockings is different from the rest?

C

4

3

E

Saturday 24th December - 11.15 pm

Midnight Mass

Sunday 25th ADecember - B10am

C

Christmas Morning Family Service

CARDS PRAYER

ELVES Sunday 8th SACK January - 10am

All-Age Service for Epiphany

HAPPY STABLE

JINGLE WINE

MERRY WISE MEN

D E

OXEN WREATH

5

From all of us at Beaconsfield F

Together

we would like to wish you a very

Merry Christmas & Happy New Year!

F

6

CHRISTMAS Answer: CRISS-CROSS

ODD ONE OUT

MATCHING PAIRS

PUZZLE

SOLUTIONS

Answer:

38

Matching Pairs.indd 2 Beaconsfield Together is part of Community Together 07/10/2022 9:

D

Answer:

A and 5, B and 4, C and 1,

D and 6, E and 2, F and 3.
---
Meditation on Twin Hearts

with

Healing Clinic

FOR BETTER PHYSICAL AND EMOTIONAL WELLBEING

Relax, sit comfortably and enjoy the this meditation to reduce

stress, increase happiness and leave you with a sense of inner calm.

Experience a Taster Pranic Therapy Treatment, one of the fastest

growing complementary therapies worldwide, effective for the

treatment of any physical or psychological conditions.

7:30-9pm

1st, 3rd and 4th Wednesdays of the Month

2nd.16th & 23rd November, 7th December,

4th, 18th & 25th January 2023

The Curzon Centre

Maxwell Road, Beaconsfield, HP9 1RG

£5 donation to

Reg: 1188773

Contact: Anita Baxter 07854 815525

www.ukpranichealing.co.uk

Institute of Pranic Healing

To advertise please call 07786 735 711 or email UK marketing@beaconsfieldtogether.co.uk

& Ireland

39