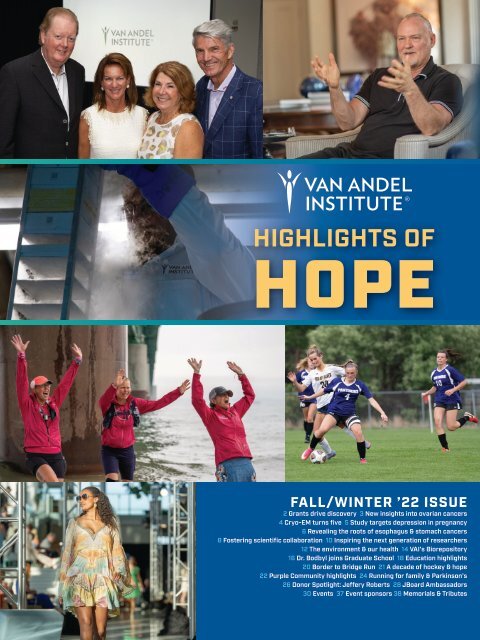 2022 Fall/Winter Highlights of Hope
This is the 2022 Fall/Winter edition of Van Andel Institute's Highlights of Hope donor publication.
This is the 2022 Fall/Winter edition of Van Andel Institute's Highlights of Hope donor publication.
SHOW MORE
SHOW LESS
Create successful ePaper yourself
Turn your PDF publications into a flip-book with our unique Google optimized e-Paper software.
HIGHLIGHTS OF

HOPE

FALL/WINTER '22 ISSUE

2 Grants drive discovery 3 New insights into ovarian cancers

4 Cryo-EM turns five 5 Study targets depression in pregnancy

6 Revealing the roots of esophagus & stomach cancers

8 Fostering scientific collaboration 10 Inspiring the next generation of researchers

12 The environment & our health 14 VAI's Biorepository

16 Dr. Bodbyl joins Graduate School 18 Education highlights

20 Border to Bridge Run 21 A decade of hockey & hope

22 Purple Community highlights 24 Running for family & Parkinson's

26 Donor Spotlight: Jeffery Roberts 28 JBoard Ambassadors

30 Events 37 Event sponsors 38 Memorials & Tributes
---
RESEARCH

Grants support innovation,

drive discovery

VAI is on track to have another exceptional year.

As of August, VAI is fourth in Michigan for 2022 National Institutes

of Health (NIH) funding — a remarkable achievement for an

independent research institute of our size. 1

Grants from federal agencies such as NIH are the main source of

funding for scientific research in the U.S. Because there is a limited

amount of these funds each year, the process for earning federal

grants is highly rigorous and competitive.

This crucial funding supports our innovative research and serves

as external validation of the world-class work happening in

our laboratories.

We couldn't do this without you. Our generous community of

supporters helps fuel promising research projects, enabling the

collection of data required to apply for federal grants. One example

is our Scored Grant Award Program, which provides philanthropic

funding to scientists whose federal grant applications scored very

highly but fell just below the threshold to receive funding. This

approach gives scientists with promising projects the extra boost

needed to put forth a revised, successful application in the next

round of grants.

Thanks to strong donor support, this program awarded $400,000

to VAI scientists in 2020 and 2021, an investment that in turn

resulted in nearly $8 million in grant funding. This is one way

VAI multiplies the impact of gifts and supports groundbreaking

research that aims to build a better, healthier future.

Interested in supporting the Scored Grant Award Program? Please

contact Philanthropy Director Steve Ozinga at steve.ozinga@vai.org or

Philanthropy Director Kate Frillmann at kate.frillmann@vai.org.

1

NIH Reporter. 18 August, 2022. Search: Active Projects, Michigan, fiscal year 2022. reporter.nih.gov/search

$400K

in donor gifts to

VAI scientists in

2020 and 2021

$8 million

in grant funding

The Scored Grant Award Program awarded $400,000 to

VAI scientists in 2020 and 2021, an investment that in turn

resulted in nearly $8 million in grant funding. This is one

way VAI multiplies the impact of gifts and supports

groundbreaking research that aims to build a better,

healthier future.

2 | VAN ANDEL INSTITUTE HIGHLIGHTS OF HOPE
---
'Cellular barcodes' could provide

crucial insights into ovarian cancer

Ovarian cancer has long been thought

of as one disease. Thanks to research

breakthroughs, we now know that there are

many subtypes, each with their own distinct

characteristics that impact their response

to treatment.

To better understand these differences,

Van Andel Institute Postdoctoral Fellow

Dr. Ben Johnson is pursuing a groundbreaking

strategy — adding "barcodes" to ovarian

cancer cells to study how these cancers

start, recur and resist treatment.

Dr. Johnson, who works in the lab of VAI

Associate Professor Dr. Hui Shen, also uses

other computational techniques to

better understand ovarian cancers and

how we might be able to treat them

more effectively.

His innovative approach earned him a

prestigious Mentored Investigator Grant

from Ovarian Cancer Research Alliance,

an achievement that supports his work

and underscores the importance of

his research.

"We hope to understand how and why

certain precursor cells can 'decide' to either

make more of themselves or produce the

cell types that make up an ovarian cancer

tumor," Dr. Johnson said. "The answer to

this mystery may reveal targets that we

can ultimately develop treatments against,

leading to better patient outcomes."

Research reported in this publication is

supported by Ovarian Cancer Research

Alliance [Mentored Investigator Grant,

no. 891749]. The content is solely the

responsibility of the authors and does not

necessarily represent the official views of

Ovarian Cancer Research Alliance.

Read more at bit.ly/johnson-ocra.

In 2022, nearly

20,000 women will

be diagnosed with

ovarian cancer. It

is the fifth leading

cause of cancer

death in women. 1

SOURCES

1

American Cancer Society. 2022. Key statistics for ovarian cancer.

cancer.org/cancer/ovarian-cancer/about/key-statistics.html

VAN ANDEL INSTITUTE HIGHLIGHTS OF HOPE | 3
---
RESEARCH

A half decade of discovery:

VAI's cryo-EM turns five

To understand life's building blocks — the

molecules that give structure to our cells,

fuel our bodies and play integral roles in

health and disease — we need powerful

technology that allows us to see them in

deep detail.

That's where cryo-EM comes in. Short

for cryo-electron microscopy, cryo-

EM is a special type of technique and

equipment that helps scientists zoom in

on molecules in their natural state. The

insights gleaned from these images tell

us how molecules work, how they interact

with other molecules and how they might

be leveraged to design treatments for

diseases like cancer, Parkinson's and

many others.

Five years ago, VAI established the

David Van Andel Advanced Cryo-Electron

Microscopy Suite. It includes three stateof-the-art

microscopes, two of which are

cryo-EM. Since then, our scientists have

made many important discoveries that are

reshaping our understanding of health and

disease. To date, discoveries include:

• New insights into how our genetic code

is repaired, a crucial process that keeps us

healthy and staves off disease.

• The first images of TRPM5, a tastesensing

molecule that may one day lead to

improved ways to treat diabetes and other

metabolic and immune disorders. To date,

the structures of three of the eight

proteins in this crucial molecular family

have been resolved at VAI.

• The most detailed "blueprints" to date

of the mechanisms used by tuberculosis

bacteria to survive attack by the immune

system.

• The first atomic-level images of a

"molecular machine" that installs proteins

on cell membranes, a crucial process

that has implications for a host of

diseases including Alzheimer's and

cystic fibrosis.

• The first images of a special type of

molecular "gate" that lets chemical

messages in and out of cells while also

helping them maintain pH balance — a

critical function that keeps cells alive

and helps prevent stroke and other

brain injuries.

• The first high-resolution images of a pair

of molecules, DNMT3A and DNMT3B, that

play important roles in cancer and that

may serve as powerful targets for anticancer

medications.

To learn more about cryo-EM and the

discoveries made by VAI scientists, please visit

bit.ly/Cryo-EM-VAI.

"Cryo-EM is one of the

most important tools

in modern science. It

is fueling discovery

here at VAI and around

the world by sparking

advances and laying

the foundations for new

frontiers in health."

— Dr. Peter A. Jones,

Chief Scientific Officer,

Van Andel Institute

4 | VAN ANDEL INSTITUTE HIGHLIGHTS OF HOPE
---
Study highlights potential new

way to detect severe depression

in pregnancy

Many people experience

depression during and after

pregnancy. Often, these

symptoms can be mistaken

for the "baby blues," a mix of

sadness and tiredness that

follows birth.

But for nearly one in five new

mothers, depression symptoms

can be severe. Diagnosing

and treating depression

early is critical for health and

quality of life, but there are

a host of challenges: How

can we objectively diagnose

depression? Can we measure it

to ensure treatment is effective?

And can we differentiate

between moderate and severe

cases to best guide care?

A team led by scientists at

Van Andel Institute and Pine

Rest Christian Mental Health

Services may have an answer

to these questions. They

have discovered that signs

of inflammation in the blood

may be used to predict and

identify severe depression in

pregnancy with 83% accuracy, a

potentially life-changing finding

that could help physicians

identify women who may be at

risk for depression and better

tailor their care throughout

pregnancy.

"Depression isn't just something

that happens in the brain — its

fingerprints are everywhere

in the body, including in our

blood," said VAI Professor

Dr. Lena Brundin, co-senior

author of the study. "The

ability to predict pregnancyrelated

depression and its

severity will be a gamechanger

for protecting the health of

mothers and their infants. Our

findings are an important leap

forward toward this goal."

Inflammation is a normal part

of the body's natural immune

defenses. It occurs when the

body deploys resources, such

as infection-fighting white blood

cells and chemical messengers,

to combat infection, counter

disease and promote healing,

among other important tasks.

Once its job is done, this army

of disease fighters and chemical

support staff recedes, allowing

the body to get back to normal.

Sometimes, however, too

much inflammation occurs or

it sticks around for too long.

If left unchecked, chronic

inflammation can disrupt

healthy function and contribute

to depression and many other

conditions. This is particularly

pronounced in pregnancy,

which itself is a major

inflammatory event and can

lead to the onset and worsening

of depressive symptoms.

The study, published in the

scientific journal Translational

Psychiatry, is among the first

of its kind and followed 114

volunteers from Spectrum

Health's Obstetrics and

Gynecology Clinics throughout

their pregnancies. Participants

provided blood samples and

underwent clinical evaluations

for depressive symptoms

in each trimester and the

postpartum period.

DR. QIONG SHA, DR. LENA BRUNDIN, DR. ERIC ACHTYES & LEANN SMART

"Having an objective and easily

accessible method associated

with depression risk, such as a

blood test, provides a unique

tool for helping identify women

who may develop depression

during pregnancy," said Dr. Eric

Achtyes, a research psychiatrist

at Pine Rest, a professor at

Michigan State University and

co-senior author of the study.

"Our findings are an exciting

development and an important

first step toward using these

types of methods more widely

to help patients."

Co-authors on the study include

Dr. Qiong Sha, Zach Madaj,

Dr. Sarah Keaton, Dr. Martha L.

Escobar Galvis, and Stanislaw

Krzyzanowski of VAI; LeAnn

Smart of Pine Rest; Dr. Asgerally

T. Fazleabas and Dr. Richard

Leach of Michigan State University

College of Human Medicine;

and Dr. Teodor T. Postolache of

University of Maryland School

of Medicine.

The authors would like to thank

the study participants, whose

selfless contributions made this

work — and these discoveries —

possible.

Research reported in this

publication was supported by

Van Andel Institute, Pine Rest

Christian Mental Health Services

and the National Institute of

Mental Health of the National

Institutes of Health under award

no. R01MH104622 (Brundin).

The clinical trial identifier is

NCT02566980. The content is

solely the responsibility of the

authors and does not necessarily

represent the official views of the

National Institutes of Health.

The confidential National Suicide

Prevention Lifeline is free and

available 24/7 at

1-800-273-TALK (8255).

VAN ANDEL INSTITUTE HIGHLIGHTS OF HOPE | 5
---
RESEARCH

Running circles around cancer:

Study reveals roots of esophagus

and stomach cancers

Rampant inflammation has long been linked to cancer, but

exactly how it pushes healthy cells to transform into malignant

ones has remained a mystery.

Now, scientists at Van Andel Institute have found one culprit

behind this connection: oxidative stress, a process that disrupts

the genetic code by damaging DNA. The findings, published in the

journal Science Advances, provide crucial new insights into the roles

of inflammation and oxidative stress in certain cancers and offers

new opportunities for potential prevention strategies.

"Our findings provide an important piece of evidence for how

inflammation and oxidative stress can cause cancer," said Dr. Gerd

Pfeifer, a professor in VAI's Department of Epigenetics and the

study's senior author. "The body has a good defense system that

repairs DNA damage and reduces oxidative stress, but nothing

is failsafe. The more we know about the precise links between

inflammation and cancer, the better equipped we are to design

more effective prevention strategies."

Inflammation is a normal part of the body's natural immune

defenses. When presented with a threat, such as an infection or

injury, the body rallies resources in the form of inflammation to

combat the problem and promote healing.

Part of this process is the production of reactive oxygen species

(ROS), unstable molecules that play important roles in normal

cellular function and communication. Occasionally, something

goes awry that causes the inflammatory response to continue

longer than it is needed. The results can be damaging, including a

buildup of excess ROS that can elevate oxidative stress.

Using a new technique developed by his lab called circle damage

sequencing, Dr. Pfeifer and his colleagues mapped two types of

DNA damage caused by oxidative stress. They then compared their

results to mutation signatures of cancer genomes housed in the

COSMIC Database, the world's largest database of somatic cancer

mutations. They found a match — the damage patterns identified

by the team matched the mutation signatures found in cancers of

the upper gastrointestinal (GI) tract, such as esophageal cancer and

stomach cancer.

Upper GI cancers frequently are preceded by inflammatory

precursor conditions. For example, infection with the bacterium

Heliobacter pylori can damage the lining of the stomach, causing

inflammation and ulcers. In the esophagus, severe acid reflux can

lead to a condition called Barrett's esophagus, in which the lining

of the esophagus becomes inflamed. In both cases, long-term

inflammation is associated with increased cancer risk.

Thanks to the team's findings, the reason for this elevated risk is

now clear. DNA comprises four chemical bases that exist in pairs

— adenine (A) and thymine (T), and cytosine (C) and guanine (G).

Different sequences of these pairs encode all the instructions

for life. The team's findings reveal that, in upper GI cancers, the

oxidative stress caused by inflammation damages specific parts

of the DNA, causing Gs to be replaced with oxidized Gs. These

errors prevent DNA from being copied accurately — a key hallmark

of cancer.

In 2022, an estimated 20,000 people will be diagnosed

with esophageal cancers and 26,000 will be diagnosed with

stomach cancers. 1,2

SOURCES

1

National Cancer Institute Surveillance, Epidemiology, and End Results Program. 2022. Cancer Stat Facts: Esophageal Cancer. seer.cancer.gov/statfacts/html/esoph.html

2

National Cancer Institute Surveillance, Epidemiology, and End Results Program. 2022. Cancer Stat Facts: Esophageal Cancer. seer.cancer.gov/statfacts/html/esoph.html

6 | VAN ANDEL INSTITUTE HIGHLIGHTS OF HOPE
---
"Our new circle

damage sequencing

technique is allowing

us to take a fresh

look at old problems.

I'm hopeful it will be

a game changer and

inform development

of new treatment

strategies."

— Dr. Gerd Pfeifer

"Our DNA is our genetic instruction manual. When the letters

get scrambled, the instructions can't be carried out properly and

the result can be cancer," Dr. Pfeifer said. "There has been a lot

of debate over the years about exactly how inflammation and

oxidative stress contribute to disease, but we didn't have the

right tools to study the link. Our new circle damage sequencing

technique is allowing us to take a fresh look at old problems. I'm

hopeful it will be a game changer and inform development of new

treatment strategies."

Authors include Seung-Gi Jin, Ph.D., Yingying Meng, Ph.D., Jennifer

Johnson, M.S., and Piroska E. Szabó, Ph.D., of VAI.

Research reported in this publication was supported by Van Andel

Institute and the National Cancer Institute of the National Institutes of

Health under award no. CA228089 (Pfeifer). The content is solely the

responsibility of the authors and does not necessarily represent the

official views of the National Institutes of Health.

VAN ANDEL INSTITUTE HIGHLIGHTS OF HOPE | 7
---
RESEARCH

New programs catalyze discovery

by fostering collaboration

In science, innovation and collaboration are a powerful

combination that fuel breakthroughs and drive discovery.

Van Andel Institute's West Michigan Neurodegenerative Diseases

(MiND) Program and Metabolism and Nutrition (MeNu) Program are

prime examples of what we can achieve when the brightest minds

combine their collective brainpower to tackle big questions.

Established in 2021, these programs are designed to accelerate our

understanding of neurodegenerative diseases such as Parkinson's

and Alzheimer's as well as the impact of diet and nutrition on

human health at a molecular level. The goal? To transform research

findings into much-needed prevention and treatment strategies

that improve and enhance lives.

The programs also provide crucial funding to Institute scientists

to explore unanswered questions and gather early data required

to apply for future grant funding — an important mechanism that

multiplies impact.

MiND Program

Since its inception, the MiND Program has developed and

implemented several projects to search for the origins of

neurodegenerative diseases.

One is West Michigan's first neurodegeneration-specific biobank,

which collects blood samples from people with Parkinson's disease.

These samples are analyzed and compared to samples from people

without the disease, which helps scientists identify the differences

that might contribute to disease onset and progression. To date,

more than 60 participants have donated blood to this

groundbreaking project.

Another project is the Brain Biobank, a first-of-its kind effort in

West Michigan. Located within VAI's accredited Biorepository, the

Brain Biobank drives insight and discovery by providing scientists

with the samples needed to investigate the underpinnings of

Parkinson's, Alzheimer's and other neurodegenerative diseases.

Both projects are possible thanks to the selfless donations of

volunteers in Grand Rapids and beyond.

MeNu Program

To date, the MeNu Program has funded seven projects designed to

reach new vistas in metabolism research. This catalytic pilot funding

fosters collaboration, fuels the development of new scientific tools,

kick-starts high-risk/high-reward research and generates early data

that can lead to additional grant funding.

The approach is already bearing fruit: a groundbreaking study

about how the immune system is fueled to fight infection was

published in the journal Cell Metabolism 1 and a new method

developed with MeNu funding was published in the prestigious

journal Nature Protocols and led to a $3.25 million federal grant to

explore the metabolism of immune cells. 2

MeNu also is home to a world-class mass spectrometry platform, a

suite of technology that allows scientists to investigate metabolism

in stunning molecular detail. Its installation in 2021 places VAI

among the best institutions for this platform in Michigan and in the

U.S. — a stunning achievement that will support discovery for years

to come.

Learn more about MiND by visiting vai.org/mind and MeNu by visiting

vai.org/menu.

Read more about VAI's Biorepository on page 14.

Research reported in this publication was supported by:

1

Van Andel Institute (Russell Jones), and an Allen Distinguished Investigator Award, a Paul G. Allen Frontiers Group advised grant of the Paul G. Allen Family Foundation (Russell Jones).

Jones is supported by the National Institute of Allergy and Infectious Diseases of the National Institutes of Health under award no. R01AI165722. Support for authors on this project

include a postdoctoral fellowship award from Fonds de la Recherche du Québec–Santé (FRQS) (Dahabieh); a VAI Metabolism and Nutrition (MeNu) Program Pathway-to-Independence

Award (Longo); National Cancer Institute award no. T32CA251066-01A1) (Watson) and award no. R35CA2202901 (DeBerardinis); and the Howard Hughes Medical Institute Investigator

Program (DeBerardinis).

2

The National Institute of Allergy and Infectious Diseases under award no. R01AI165722 (Russell Jones).

The content is solely the responsibility of the authors and does not necessarily represent the official views of the National Institutes of Health or other funders.

8 | VAN ANDEL INSTITUTE HIGHLIGHTS OF HOPE
---
VAN ANDEL INSTITUTE HIGHLIGHTS OF HOPE | 9
---
RESEARCH

Inspiring the next generation of

researchers through inclusive

postdoctoral training

Exceptional science benefits from exceptional diversity, and

Van Andel Institute is committed to increasing representation in

the biomedical research community through a variety of training

programs. One such opportunity is the VAI Inspire Fellowship

— a program built to support postdoctoral fellows who identify

as members of underrepresented racial and ethnic groups as

defined by the National Institutes of Health. The fellowship offers

exceptional research training, a suite of state-of-the-art scientific

resources and individualized professional development, all in the

name of building a professional foundation from which Inspire

Fellows can launch their independent research careers.

The Inspire Fellowship began in 2021, with two scientists joining

VAI: Dr. Anthony Otero and Dr. Alex Soto-Avellaneda, both of

whom were kind enough to share their inspiring stories with the

VAI community, revealing their distinct paths to becoming Inspire

Fellows. Dr. Otero works in the lab of Dr. Darren Moore, where he

investigates Parkinson's disease with a focus on how brain cells take

up information and then recycle or dispose of it. Dr. Soto-Avellaneda,

who works in the lab of Dr. Michael Henderson, researches how

Helicobacter pylori, a bacterium associated with stomach cancer,

might be involved in the development of Parkinson's.

"Science is powered by embracing the idea that innovation blooms

when everyone has a seat at the table," said VAI Chief Scientific

Officer Dr. Peter A. Jones. "VAI is deeply committed to fostering an

environment in which our exceptional postdoctoral fellows can

pursue research at the forefront of discovery. The Inspire Fellowship

is one way we support these remarkable early career scientists."

10 | VAN ANDEL INSTITUTE HIGHLIGHTS OF HOPE

DR. NAMAN VATSA, NOAH LUBBEN, DR. ALEX SOTO-AVELLANEDA & DR. MICHAEL HENDERSON
---
Elevating research through curiosity: The journey of

Dr. Alex Soto-Avellaneda

A few years removed from his undergraduate studies, Alex Soto-

Avellaneda was working in the restaurant industry. A Las Vegas

native, he knew the region's extensive dining and entertainment

locales provided plenty of opportunity — but the work was making

him miserable. His original plan, an undergraduate degree and

medical school, was shaken up when he realized his dreams lay

elsewhere: in the science underlying the medicine. In the arduous

long shifts of the restaurant world, Soto-Avellaneda was set on

becoming a scientist.

"Unfortunately, I didn't get into graduate school right away and

became a little discouraged," Soto-Avellaneda said. "Working

through that difficult time and planning for the future made me

realize that I belonged in science and I needed to work toward a

Ph.D."

After returning to his graduate studies at Boise State University,

Soto-Avellaneda presented a poster at his first research

conference: VAI's own Grand Challenges in Parkinson's Disease.

The Institute left a lasting impression, he said, and it was a

fortuitous relationship, as he received an invitation to apply for

VAI's Postdoc Preview near the end of his graduate career. This

event, which brings promising early career scientists to VAI to

explore our training offerings, was the perfect opportunity to build

relationships, and it led to a chance to apply for a position in

Dr. Henderson's lab.

Soto-Avellaneda's research focuses on how Helicobacter pylori, a

bacterium associated with stomach cancer, might be involved in

the development of Parkinson's. Curiosity powers his research.

Experiments may not always be breakthroughs, he said, but they

provide increasing insight into the roots of health and disease.

As an Inspire Fellow, he believes that research is empowered

by diversity. "Groups that are more diverse tend to have more

success," Soto-Avellaneda said. "On a personal level, and being

from Hispanic descent, it's always been a little difficult fitting in

with predominantly white communities. Having more people that

understand where you come from, understand your background

and your history, it makes you feel more welcome and more able

to contribute to the community."

Dr. Anthony Otero's lifelong focus on science and curiosity

Anthony Otero knew he wanted to be a scientist when he was 8

years old. He recalls looking at his aunt's puppy, the smallest of the

litter, and noticing it was aggressive. This was fascinating to Otero:

this animal of diminutive stature was acting in a paradoxical way,

completely opposite of its supposed behavior. It ignited a curiosity,

Otero said, and it was the seed for the rest of his career.

"I've had that curiosity since I was a kid," Otero said. "It's only

been further fueled by events that changed my perspective when

I got older."

One of those events was a distinctly personal challenge, and it still

influences Otero's work today. His grandmother had Parkinson's

disease, which developed into Parkinson's disease dementia. When

she passed, Otero could not be there, and it devastated him.

Research was his life, he said, but because of his work, he was not

able to be there for his grandmother. Even then, in his deepest

grief, Otero found inspiration.

"I was able to realize that I was exactly where I needed to be,

and that situation is the whole point of our research: working

so someone else does not lose their grandmother like I did,"

Otero said.

His passion brought him to a Gordon Research Conference,

where he met VAI faculty, including Dr. Moore. Those meetings

left a lasting impact, he said, and it inspired him to want to be a

part of the VAI team. As an Inspire Fellow, Otero finds his curiosity

validated and his research empowered. He said it's often difficult

to find mentorship like he has found at VAI, and the hands-on

approach of the Inspire Fellowship is a natural boon, one that is

also delivering the benefits of a diverse cohort.

"The more people we have from diverse backgrounds, the more

ideas we'll get, and that's exactly what we need," Otero said. "We

need more ideas, bigger ideas, and I'm proud to be part of building

that with the Inspire Fellowship."

To learn more about the Inspire Fellowship, or if you know someone

who may be interested in applying, visit vai.org/inspire-fellowship.

VAN ANDEL INSTITUTE HIGHLIGHTS OF HOPE | 11
---
RESEARCH

VAI scientists detangle the

environment's effects on our health

The foods we eat, the water we drink, the chemicals to which we

are exposed all impact our health in more ways than meet the eye.

A key example of this is epigenetics, the processes that govern when

and to what extent the instructions in our DNA are carried out.

Here's how it works: each of our more than 37 trillion cells contain

the same genetic instruction manual. But not all the instructions

are needed in the same cells at the same time. A heart muscle cell

only needs to know how to be a heart muscle cell and can skip

the chapters on how to be a skin cell or a bone cell. Epigenetics

helps ensure the right instructions are used at the right time by

annotating DNA with special chemical markers.

Now here's the trick: epigenetics is much more flexible than our

genetic code — and much more likely to be influenced by factors

we experience in the environment. Some of these influences are

problematic and can contribute to disease.

That's why understanding the complex relationship between

epigenetics and our environment is so crucial — it has the potential

to radically change how we treat and prevent diseases like cancer.

Unlike changes to the DNA itself, epigenetic changes, such as those

that cause sick cells to spread uncontrollably, can be reversed,

ushering in opportunities for powerful new prevention and

treatment strategies.

DR. NICK BURTON

DR. YVONNE FONDUFE-MITTENDORF

A Conversation About Health

& the Environment Hosted by

Carol Van Andel

November 16 — Learn more and register

at vai.org/health-environment-convo.

The environment in which we live, work and play

impacts our health in many different ways. From

the air we breathe to the water we drink, we are

exposed to a host of environmental chemicals,

some with the potential to contribute to diseases

like cancer — both now and in future generations.

12 | VAN ANDEL INSTITUTE HIGHLIGHTS OF HOPE
---
At VAI, we are fortunate to have an exceptional team of scientists

who are working hard to understand the nuts and bolts of

epigenetics and to translate these insights into a healthier future.

Dr. Nick Burton explores how our environment, especially microbes,

can impact our health and the health of our offspring — even

before they are born. His research has extensive implications for

understanding how epigenetics contributes to human disease and

how the environment we are exposed to today affects not only our

own health, but also our children's.

Dr. Yvonne Fondufe-Mittendorf investigates how environmental

factors, such as toxicants, impact our genetic code and contribute to

cancer. Her research is illuminating powerful new insights that could

influence our understanding of health and disease, providing a path

forward for new strategies for cancer prevention and treatment.

Dr. Heidi Lempradl is investigating how parents' dietary choices and

environmental exposures may impact the health of their offspring

in the hopes of translating her findings into new ways to prevent

disease and create a healthier future.

Dr. J. Andrew Pospisilik examines the role of chance and probability

in how our genes are turned on or off. These processes, surprisingly,

can unexpectedly trigger, or even protect us from, disease.

DR. HEIDI LEMPRADL

DR. J. ANDREW POSPISILIK

Join us for A Conversation About Health & the

Environment Hosted by Carol Van Andel, an event

that will highlight groundbreaking research into

the intricate connections between our health and

our environments — and how these connections

may be leveraged to prevent disease and build a

healthier future. You'll hear from VAI scientists

Dr. Yvonne Fondufe-Mittendorf, who studies the

link between cancer and toxicants like arsenic,

and Dr. Heidi Lempradl, who investigates how the

effects of certain chemical exposures could ripple

through the generations.

VAN ANDEL INSTITUTE HIGHLIGHTS OF HOPE | 13
---
RESEARCH

Supporting science, a sample at a time

Science can't happen without samples.

Tissue, blood, saliva and other materials are among the biological

specimens that allow scientists to investigate how our bodies

work when they're healthy, how they change when affected by

disease and how we can better prevent, predict, diagnose and treat

conditions such as cancer and Parkinson's.

That's one reason why it is incredibly important that biological

samples be treated with utmost care and consistency from start

to finish. It's a mammoth task, both in scope and complexity, that

requires specialized expertise in many different disciplines.

Enter biorepositories.

In a broad sense, biorepositories are storehouses for biological

samples (also called biospecimens). But they are so much more

than that. Biorepositories, and the dedicated scientists who staff

them, are responsible for collecting, processing, cataloging and

storing samples, and for ensuring that their use is in line with

ethical standards.

At Van Andel Institute, we're fortunate to have our own

Biorepository that houses more than 215,000 frozen specimens

and approximately 1,000,000 fixed specimens that have been

chemically preserved. It has a major impact on research in Grand

Rapids, as well as across the U.S. and abroad, thanks in part

to involvement with several large-scale, collaborative projects

spearheaded by the National Institutes of Health and other leading

research groups.

Samples housed at VAI have helped illuminate new insights into the

origins of cancer and rare diseases like tuberous sclerosis complex.

They help power clinical trials and reveal how new medications

work behind the scenes to combat disease. And they have revealed

breakthroughs in our understanding of the genetic code, the

instruction manual for life.

"Biospecimens are the bedrock of scientific research — without

them, we wouldn't be able to study cancer or develop new

treatments and diagnostics," said Dr. Scott Jewell, director of VAI's

Pathology and Biorepository Core. "Our Biorepository, right here in

Grand Rapids, powers breakthroughs across the U.S. by ensuring

our collaborators have the samples they need to do their lifechanging

work."

The Biorepository's commitment

to excellence is reflected in its

accreditation by the College of

American Pathologists (CAP) (no.

8017856), the world's largest

organization of board-certified

pathologists and leading provider

of laboratory accreditation and

proficiency testing programs.

Accreditation provides objective

assurance that VAI meets or exceeds

the high standards set by CAP.

14 | VAN ANDEL INSTITUTE HIGHLIGHTS OF HOPE
---
VAN ANDEL INSTITUTE HIGHLIGHTS OF HOPE | 15
---
RESEARCH

Dr. Sarah Bodbyl joins

Graduate School leadership

Van Andel Institute Graduate School

welcomed Dr. Sarah Bodbyl as Associate

Dean in July. In her new role, Bodbyl will

support Institute faculty in training the

next generation of scientific leaders

through curriculum and course design,

implementation and review. She also will

lead professional development courses

and support graduate students in applying

for predoctoral fellowships to fund

their research.

"My aim is to support and strengthen

the Graduate School in developing our

students into innovative and effective

biomedical researchers," said Dr. Bodbyl.

"I am excited to work with the research

faculty and the graduate program staff

to enhance the student experience

and expand VAI's profile as a leader in

biomedical doctoral education."

Dr. Bodbyl brings a wealth of experience

in scientific research and higher education

curriculum development. Prior to joining

the Institute, she was a faculty developer

for the Trefny Innovative Instruction Center

at the Colorado School of Mines, a public

research university in Golden, Colorado.

"Dr. Bodbyl has demonstrated a deep

commitment to training the next generation

of scientific leaders throughout her career,"

said Dr. Steven J. Triezenberg, president

and dean of the Graduate School. "We

are delighted that she is bringing her

professional development expertise to our

Graduate School, and we have no doubt she

will have a tangible, positive impact from

the outset."

The welcome addition of Dr. Bodbyl to

Graduate School leadership comes during

a sustained growth period. In the last

year, the Graduate School moved into

new classroom facilities at 234 Division

Ave. to accommodate its growing student

body. The accredited program offers

a rigorous, research-intensive Ph.D. in

molecular and cellular biology as well as

M.D./Ph.D. programs to train physicianscientists.

It also features a problem-based

curriculum enabling first-year students

to think and learn like research leaders

in pursuing important questions relevant

to human disease. Senior students

focus on dissertation research and

expanding leadership, grant-writing and

communication skills.

"I am excited to work

with the research

faculty and the

graduate program

staff to enhance the

student experience

and expand VAI's

profile as a leader in

biomedical doctoral

education."

— Dr. Sarah Bodbyl

She also is no stranger to Grand Rapids

and Michigan; Dr. Bodbyl earned her

undergraduate degree from Calvin

University and later held several positions

at Michigan State University and at

the W.K. Kellogg Biological Station.

Dr. Bodbyl earned her Ph.D. in ecology and

evolutionary biology from the University of

Kansas, where her dissertation explored

how plants evolve in response to the

presence and absence of pollinators.

16 | VAN ANDEL INSTITUTE HIGHLIGHTS OF HOPE
---
VAN ANDEL INSTITUTE HIGHLIGHTS OF HOPE | 17
---
EDUCATION

Building the future of education

Bringing science right to your community

Our intrepid team of expert educators hit

the road to bring inquiry-based science

education right into your community

with Curiosity on Wheels, a customizable

program that gets students thinking and

acting like scientists with hands-on, funfilled

STEM investigations.

We've welcomed thousands of students to

our downtown Grand Rapids classrooms

over the years, but Curiosity on Wheels lets

us take our popular science explorations

out to the greater West Michigan

community and beyond. We have reached

students as far out as Flint, with plans to

return for more camps there in the future.

VAI took Curiosity on Wheels on the road to

partner with Newaygo County Prevention

of Child Abuse and Neglect for a series of

summer camps in three West Michigan

locations: Fremont, Newaygo and White

Cloud. These summer camps were made

possible through generous donors.

Whether you're a school administrator

looking to inspire students, a camp director

in need of innovative programs or just

someone wanting to have fun, Curiosity on

Wheels can deliver.

Addressing today's project-based content

and professional development needs

VAI's project-based learning programs help

teachers bring this proven instructional

method to life in their own classrooms.

Many educators seek professional

development that will give them the tools

and strategies to make effective problembased

learning a reality for their students.

In the first six months of 2022, we saw

high demand for our extensive suite of

professional development programs with

Flex PD — a comprehensive, affordable

model that promotes tangible shifts in

instruction and is robustly supported by

research and teachers. Our Blue Apple

projects saw some of their most successful

months since inception in 2019.

Learning gaps caused by the COVID-19

pandemic also have been front and center,

bringing additional emphasis on summer

school. VAI rolled out Project-Based

Summer School, a program to help summer

school teachers accelerate learning.

Helping teachers and administrators,

wherever they are

As the world returns more fully to in-person

interaction, we haven't lost sight of the

power of the internet to close the distance

between teachers far and wide in the name

of networking and sharing best practices at

a time when both are sorely needed.

VAI works to meet teachers and

administrators wherever they are through

a range of online resources. Our Timely

Topics are a series of free, 15-minute

mini-lessons that have been downloaded

more than 3,500 times by educators in over

30 countries. Our free webinars provide

teachers strategies they can use from their

classroom right away and attract on average

STUDENTS PARTICIPATE IN HANDS-ON SCIENCE ACTIVITIES WITH VAN ANDEL INSTITUTE FOR EDUCATION

18 | VAN ANDEL INSTITUTE HIGHLIGHTS OF HOPE
---
100 teachers from all over the U.S.

every month.

Our Better Together virtual networking

events have brought together K–12

administrators to exchange ideas on how to

increase engagement, accelerate learning

and incorporate elements such as socialemotional

and project-based learning in

their schools. Similarly, VAI's Admin Guides

give administrators free, comprehensive

research and recommendations on

key topics such as school improvement

planning and teacher morale.

To access the resources listed here and learn

more about VAI's K–12 programs, visit

vai.org/k-12-education.

VAN ANDEL INSTITUTE HIGHLIGHTS OF HOPE | 19
---
PURPLE COMMUNITY

Border to Bridge Run: Charging across

Michigan for breast cancer research

Three hundred and thirty-five miles. That's how far three

Van Andel Institute Purple Community supporters ran in one

week in June. Their physical journey, from the Indiana-Michigan

border to the Mackinac Bridge, took only eight days, but it was the

culmination of years of effort, dedication and passion.

Becky Bravata, Lieschen Jacobs and Liz Burnis began brainstorming

ways to get involved during the height of the pandemic, looking to

merge their love of running with a meaningful cause. The result

was the Border to Bridge Run, an ambitious endeavor to test their

endurance and raise funds for breast cancer research.

Their training was grueling but worth it: 40 miles on Saturday and

another 40 miles on Sunday. The preparation matched the pace of

the event, where the three women ran 40 to 50 miles each day. It

was a physical challenge, overcome by determination and passion

for the cause.

"There was never a moment where we wanted to stop. We were on

a runner's high all week long," Bravata said. "We encouraged each

other, and we were cheered on by family members, friends and

total strangers who walked, ran or drove alongside us."

All three women have been impacted by cancer, knowing

friends and family members who have faced the disease. Their

experiences, combined with hundreds of stories on social

media, played a key role in inspiring the Border to Bridge Run. An

inspiration they relied on during the most challenging terrain: they

were doing this for those who are no longer here, Jacobs said, and

those who are living with cancer every day.

"This was an unforgettable adventure, but we did it to help address

breast cancer," Jacobs said. "There was always a vivid reminder that

we're doing it with a very specific purpose and with the hope that

we can make a difference."

20 | VAN ANDEL INSTITUTE HIGHLIGHTS OF HOPE
---
In addition to running, the trio took time to make dedications

to those who donated, sharing the names of survivors, donors

and those impacted by breast cancer at various mile markers

throughout their journey. It felt like they were running with

everyone who donated to their event, Burnis said, making every

stride just a bit lighter.

Bravata, Jacobs and Burnis completed their journey shortly after

7 p.m. on June 11. They were met by their families, who cheered

them along for the last few steps. After crossing the finish line,

they waded into the Straits of Mackinac and shared an emotional

moment together, their hands on the bridge. A few weeks later,

the trio visited the Institute to present their donation: more than

$30,000 raised for breast cancer research.

"Everything exceeded our expectations," Burnis said. "We are so

grateful to sponsors, those who donated and those who helped

us succeed. To beat our goal, and to be able to deliver it to the

Institute, it was an unforgettable experience."

To learn more about VAI Purple Community and how to start your own

event, visit vai.org.

A decade of

hockey and hope:

10th Annual

Griffins Purple

Community Game

Van Andel Institute's success depends on a vibrant community,

and the Grand Rapids Griffins continue to help elevate the

passion for Van Andel Institute Purple Community. For the last

10 years, thousands have gathered at Van Andel Arena to cheer

on the Griffins — all while benefiting the Institute's research and

educational programs.

First held in the 2011–2012 season, the Griffins Purple Community

Game aims to engage ardent hockey fans with VAI's mission while

raising awareness and creating connections with VAI Purple

Community. Fans have enjoyed a multitude of purple swag,

including limited-time purple concession items and special edition

purple jerseys.

The 2022 Griffins Purple Community Game raised almost $50,000,

bringing the total funds from this partnership to more than

$320,000, all of which supports research and education initiatives

at VAI.

Thank you to our Title Sponsor, Lake Michigan Credit Union.

(LEFT) LIZ BURNIS, LIESCHEN JACOBS & BECKY BRAVATA

CELEBRATE IN THE STRAITS OF MACKINAC

(ABOVE) BORDER TO BRIDGE RUNNERS CELEBRATE WITH

THEIR FAMILY & FRIENDS

(RIGHT) GEORGE SHARPE SR. PERFORMS THE PUCK DROP AT THE

GRIFFINS PURPLE COMMUNITY GAME, JOINED BY LINDA SHARPE,

GEORGE SHARPE JR. & ELLE SHARPE

VAN ANDEL INSTITUTE HIGHLIGHTS OF HOPE | 21
---
PURPLE COMMUNITY

VAI Purple Community: Local

passion for a worldwide impact

Passion plays a key role at Van Andel

Institute, inspiring scientists and staff to

stay focused on world-class research.

That passion also resonates within the

community, as partners host grassroots

fundraising programs through Van Andel

Institute Purple Community.

"The Batman" VAI Student Ambassador

Movie Event

Attendees were among the first to see the

highly anticipated film, all while supporting

research and educational programs at VAI.

David Wiersema Memorial Golf Outing

Coming together for the 11th year, this

golf event brought together family, friends

and community members to have fun and

support VAI.

These incredible community events are

integral in the fight against cancer and

Parkinson's. Here are a few highlights from

this year's VAI Purple Community events:

In 2021,

VAI Purple

Community

programs

raised more

than $300,000,

directly funding

research and

education

programs.

22 | VAN ANDEL INSTITUTE HIGHLIGHTS OF HOPE
---
Duncan Lake Middle School Cancer Walk

This annual event brings together a

dedicated group of students, staff and

faculty to get active and raise funds — all

of which go directly to funding cancer

research.

West Ottawa Purple Power

West Ottawa Public Schools are proud,

longtime supporters of VAI Purple

Community, holding events all year long to

support VAI's work. The girls' soccer team

held their annual Purple Power game,

scoring three goals on the field while raising

funds that will provide valuable assists in

VAI's research.

Larry B. DeSantis Memorial Golf Outing

The inaugural event of what will hopefully

become a VAI Purple Community staple,

this outing brought together community

members, volunteers and local businesses

to support VAI.

To learn more about VAI Purple Community

and how to start your own event,

visit vai.org.

VAN ANDEL INSTITUTE HIGHLIGHTS OF HOPE | 23
---
PHILANTHROPY

Running for family and

Parkinson's research

Dedication, prayer and meditation are the

key elements fueling Joy Kim's grueling

training efforts. In November, Kim and

her sisters will run from Staten Island

to Central Park during the TCS New York

City Marathon, an event that may be as

emotionally rewarding as it is physically

challenging: They'll be participating to

honor the memory of loved ones lost to

Parkinson's and cancer.

Kim's mother-in-law, Min Ja, had Parkinson's

disease and passed away in 2021. It

was a difficult time, and it elevated the

importance of biomedical research in the

eyes of the Kim family.

"My father-in-law lovingly took care of

Min Ja for six years, and we experienced

how terrible Parkinson's can be in the

terminal stages. There is so much pain and

suffering, not only for the affected person,

but for friends, family and caretakers,"

Kim said.

That suffering was top of mind after Min

Ja's death. The family looked to make a

generational impact and raised funds

for Parkinson's research. Kim wanted

those donations to have a local effect and

recommended Van Andel Institute — she

knew of VAI's work through Grand Rapids

connections and later saw the value

of her support firsthand during a tour of

the Institute.

"VAI's impact on Grand Rapids is wonderful,"

Kim said. "You see it in the first-rate facility,

the excellent researchers and the driven

individuals who work there — they are

actively pursuing the mission to help those

who face Parkinson's and cancer."

Following her family's donation in Min

Ja's memory, Kim remained interested in

supporting the Institute. She learned of

the VAI Marathon Team and saw it as the

perfect opportunity to run a world-famous

event while raising money for research.

She'll be joined by her sisters, who are

running in honor of their father who

died from kidney cancer. It's an uplifting

challenge, Kim said: whether she trains

for one or 10 miles a day, it does not

get easier, but knowing that her family is

involved elevates her commitment. And

when the training gets really challenging,

Min Ja always provides inspiration.

"She was a beautiful woman, wife, mother,

grandmother and friend," Kim said.

"The United States gave so many good

opportunities to her, and she always had

a desire to give back. I hope our support

of research can extend the positive

impact Min Ja had in our lives to future

generations."

24 | VAN ANDEL INSTITUTE HIGHLIGHTS OF HOPE
---
"VAI's impact

on Grand Rapids

is wonderful.

You see it in the

first-rate facility,

the excellent

researchers

and the driven

individuals that

work there —

they are actively

pursuing the

mission to help

those who face

Parkinson's and

cancer."

— Joy Kim

Experience world famous marathons — and raise

money while doing it

Every runner has dreams of tackling some of the world's most

famous routes, whether they're looking to cross the finish line

near Buckingham Palace or experience the streets of Chicago

alongside 40,000 other athletes. Now, you can run these historic

marathons while raising money for Van Andel Institute's research

and education initiatives.

The VAI Marathon Team, launched in 2017, secures complimentary,

guaranteed entries to marathons across the globe. More than

100 marathon runners have joined the team, running more than

3,000 miles to raise over $300,000. It's the perfect opportunity

to challenge yourself, experience historic routes and support the

Institute.

VAI Marathon Team members receive the following benefits:

• Complimentary registration to the BMW Berlin Marathon,

TCS London Marathon, Bank of America Chicago Marathon or

TCS New York City Marathon

• A welcome kit with VAI Marathon Team gear

• Exclusive activities before and after the race

• Contests for fabulous prizes, including complimentary hotel

rooms during race weekends

To learn more about the VAI Marathon Team and its benefits,

please contact McKenzie Hollern at mckenzie.hollern@vai.org

or 616.234.5598.

MIN JA & DR. CHUNGYUL KIM FAMILY

VAN ANDEL INSTITUTE HIGHLIGHTS OF HOPE | 25
---
PHILANTHROPY

A decade of support: Inside

Jeffery Roberts' passion for

biomedical research

Jeffery Roberts remembers saying

goodbye to Grand Rapids. As he prepared

to further his studies in Chicago, he

thought he was leaving a city that had

finished growing. Thirty-five years later, he

returned to a dramatically different place

— one thriving with educational, medical

and scientific discovery. The city had not

just reinvented itself, Roberts said, it had

refocused on helping humanity.

Classical training in the fine arts combined

with degrees in architecture, fashion and

interior design led him on a path to start his

own full-service design firm, Jeffery Roberts

Design. His return to Grand Rapids brought

new opportunities to engage with the city,

including a tour of Van Andel Institute.

"I was invited to the building to tour the labs

and get a feel for the Institute's work, when

all of a sudden, I just started thinking 'this is

a cause for me,'" Roberts said.

Roberts has directly supported that cause

for more than a decade, becoming a

fervent supporter of VAI through donations,

sponsorships, event organizing and

volunteering. His support extends beyond

donations, as he wants to be involved as

often as possible.

"I realize that my passion and talent can

be used to further support the Institute,

so I have to use that gift," Roberts said.

He's even helped organize events from

the ground up, playing a key role in

the development of Building Hope, an

architecture and design focused fundraising

event. Regardless of how busy he may be

in his professional life, Roberts always has

time for VAI.

"In our lives, we have to be aware of the

balance of our purpose within society and

our personal responsibility for well-being,"

Roberts said. "As I've gotten older, I've

learned to focus on using the talents I've

been given to make positive impacts on

the world."

So much involvement can be tiring but

rewarding. A self-described introverted

extrovert, Roberts needs time to recharge

after large events. He chooses to focus on

the value of VAI's work and the commitment

of other supporters, a combination that

always energizes him to stay involved.

That energy is also fueled by a personal

connection: when Roberts was a teenager,

his younger brother died from a rare form

of childhood cancer. A patient of St. Jude

Children's Research Hospital, his brother

participated in treatment research, which

developed into an approved protocol

for other patients. Seeing the direct

impact of cancer research fueled Roberts

into a lifelong commitment to support

similar causes.

"Everyone can make a choice as to how

they give back," Roberts said. "For me,

it's about supporting institutions like VAI,

places that are working on research that

can deliver a better future for everyone."

Roberts is committed to ensuring that

future by continuously looking for ways to

get involved with VAI. Although his personal

connection to cancer means it will always

remain a focus, he's recently shifted his

interest to VAI's metabolism research and

education initiatives. These are causes

that are becoming important in his own

life, Roberts said, and he's excited to learn

more about their development.

"Looking back at the happenings of the last

decade, you can see a clear acceleration

in terms of research and education,"

Roberts said. "You start to think 'what is

the next generation going to do, how will

this success continue?' You can't help but

get excited about it, and I hope to continue

playing a small part through my support."

"Everyone can make a choice as to how they give back. For me, it's

about supporting institutions like VAI, places that are working on

research that can deliver a better future for everyone."

— Jeffery Roberts

26 | VAN ANDEL INSTITUTE HIGHLIGHTS OF HOPE
---
VAN ANDEL INSTITUTE HIGHLIGHTS OF HOPE | 27
---
PHILANTHROPY

Powering the future of science

through a network of young

professionals — JBoard Ambassadors

Van Andel Institute was built on a foundation of collaboration,

innovation and inspiration — a place where scientists, educators

and staff share a passion to improve health and enhance the

lives of current and future generations. Our work is part of a

network that extends far beyond West Michigan, connecting

donors, business partners, supporters, volunteers and community

members across the globe, all in the name of supporting cancer

and Parkinson's disease research.

VAI's JBoard Ambassadors are young professionals who play a

key role in this network, bringing modern perspectives and an

ardent drive to improve the world around them. Ambassadors

have a unique desire to stay current with the Institute's work

while also attending events and designing ways to empower VAI's

future. JBoard members receive firsthand updates on world-class

research and education innovations, learning directly from those

who are making it happen.

JBoard Ambassadors receive the following perks:

• Connect with a diverse network of West Michigan young

professionals

• Learn more about groundbreaking biomedical research from

Institute scientists, allowing a sneak peek into the future

• Meet the next generation of scientists at VAI Graduate School

• Experience the future of K–12 education through VAI

for Education

• Receive exclusive invitations to health-science forums, luncheons

and events

• Earn recognition on the Institute's website and annual report

28 | VAN ANDEL INSTITUTE HIGHLIGHTS OF HOPE
---
"You get to connect to the

Institute, network with other

professionals and engage

with what's happening

in Grand Rapids and

West Michigan. There

are learning and growing

opportunities, and you get

to support the future of

biomedical research."

— Sydney Vucelich,

JBoard Ambassador since 2018

JBoard Ambassadors

get special access to the

following events:

Carol Van Andel Angel of Excellence Dinner &

Award Presentation

An exclusive invitation to this prestigious

evening, celebrating individuals who have

demonstrated a strong commitment to the

Institute's mission through volunteer service

and philanthropy

Behind the Scenes

Experience unique insights into the inner

workings of the Institute at this invite-only

event

Around the World

Grand Rapids' official kick off to summer,

featuring a tasting menu, wine selections

from artisan wineries, live entertainment and

exclusive networking opportunities

JBoard Member Mixer

Network with other young professionals at this

JBoard-only event

Public Lecture Series

Learn about the Institute's ongoing research

efforts from the scientists that are making it

happen

Purple Community Volunteering Events

Volunteer at grassroots community efforts,

leveraging the power of local communities to

elevate biomedical research

To learn more about JBoard or to

become a JBoard Ambassador, visit

bit.ly/JBoardRegistration.

GUESTS GATHER FOR AROUND THE WORLD, ONE OF THE

SIGNATURE EVENTS JBOARD AMBASSADORS CAN ATTEND

VAN ANDEL INSTITUTE HIGHLIGHTS OF HOPE | 29
---
EVENTS

Winterfest Celebration

Returning for its 17th year, Grand Rapids' winter extravaganza

featured culinary creations, delectable drinks and thrilling

entertainment, all with the goal of benefiting Parkinson's

disease research. Attendees gathered at Cascade Hills Country

Club to enjoy food and cocktails, live musical entertainment and

a paddle raise auction. Guests saw the direct impact of their

support as Parkinson's disease advocates shared their stories,

bringing a personal spotlight to the value of scientific exploration.

In its 16-year history, this signature event has raised more than

$2 million to benefit Parkinson's research at VAI.

Thank you to our Title Sponsor, Buist Electric.

(STARTING AT TOP RIGHT, GOING CLOCKWISE) CAROL VAN ANDEL TALKS WITH JACK ROMENCE;

GEORGE SHARPE JR. & DR. PETER A. JONES;

GEORGE SHARPE JR. & MISSY SHARPE; DAVID VAN ANDEL

30 | VAN ANDEL INSTITUTE HIGHLIGHTS OF HOPE
---
Van Andel Institute Forum on

Parkinson's Disease & Dementia

Seeking a brief respite from a frigid Michigan winter, the

Van Andel Institute Forum on Parkinson's Disease & Dementia

returned to Naples, Florida, in February. Kindly hosted by Mike and

Sue Jandernoa and Dr. Peter and Veronica Jones, guests were treated

to cocktails and a seated dinner while hearing from VAI scientists and

leaders on the Institute's latest research breakthroughs. Presenters

included Dr. Jones, VAI's chief scientific officer, and Assistant Professor

Dr. Michael Henderson, an expert in Parkinson's disease and dementia

with Lewy bodies. An intimate Q&A allowed attendees to further

explore the challenges of Parkinson's and dementia while shining

a spotlight on the ongoing development of diagnosis and

treatment strategies.

(STARTING AT TOP RIGHT, GOING CLOCKWISE) DR. PETER A. JONES & DR. MICHAEL HENDERSON; TIM & KIM LONG, ROBIN KOOP,

CAROL VAN ANDEL, DANA & CHRIS VINTON; BARB SHAW, MICHELE MALY-DYKEMA & THERESE ROWERDINK; MIKE JANDERNOA;

DAVID & CAROL VAN ANDEL, MIKE & SUE JANDERNOA

VAN ANDEL INSTITUTE HIGHLIGHTS OF HOPE | 31
---
EVENTS

Carol Van Andel Angel of

Excellence Dinner & Award

Presentation

For the last nine years, the annual Carol Van Andel Angel of

Excellence Dinner & Award Presentation has celebrated the

commitment and passion of VAI's most dedicated supporters,

highlighting their extraordinary efforts in the service of

research, discovery and hope. The 2022 award recipients were

Amway, Jill Bielema, Bluewater Technologies, Michael and Lynette

Ellis and Grand Rapids Griffins.

(STARTING AT TOP RIGHT, GOING CLOCKWISE) MICHAEL & LYNETTE ELLIS & CAROL VAN ANDEL; BRADEN GRAHAM FROM BLUEWATER

TECHNOLOGIES; TIM GORTSEMA FROM GRAND RAPIDS GRIFFINS & CAROL VAN ANDEL; VAI STUDENT AMBASSADORS;

MILIND PANT FROM AMWAY & CAROL VAN ANDEL; JILL BIELEMA & CAROL VAN ANDEL; CAROL VAN ANDEL DELIVERS REMARKS

32 | VAN ANDEL INSTITUTE HIGHLIGHTS OF HOPE
---
Board of Governors Dinner

This annual dinner gathers members of Van Andel Institute's

Board of Governors to learn of recent Institute achievements

and hear directly from VAI leadership. The event, hosted at the

Cascade Hills Country Club, featured remarks by Institute Chairman

and CEO David Van Andel, along with presentations from Chief

Education Officer Terra Tarango and Van Andel Institute Graduate

School President and Dean Dr. Steven J. Triezenberg.

If you are interested in joining the Board of Governors, please contact

Sarah Rollman at 616.234.5712.

(STARTING AT TOP RIGHT, GOING CLOCKWISE) CAROL VAN ANDEL; TERRA TARANGO;

VAI GRADUATE SCHOOL BOARD MEMBER DR. JUAN OLIVAREZ ASKS A QUESTION DURING A Q&A SESSION; DAVID VAN ANDEL

VAN ANDEL INSTITUTE HIGHLIGHTS OF HOPE | 33
---
EVENTS

Around the World

Hosted by Van Andel Institute JBoard Ambassadors, Around

the World invites Institute supporters, researchers and

educators to kick off their summer by enjoying fine wine and

meals from local food trucks. The event featured interactive

activities facilitated by Van Andel Institute for Education, igniting

the curiosity, critical thinking and creativity of attendees. All

proceeds support the Institute's K–12 education programs.

Thank you to our Title Sponsor, Lake Michigan Credit Union.

(STARTING AT TOP RIGHT, GOING CLOCKWISE) CAROL VAN ANDEL & VAN ANDEL INSTITUTE FOR EDUCATION GUESTS;

BEN TALSMA & TERRA TARANGO; GUESTS NETWORKING;

OMAR CUERVAS ENJOYS FOOD ENTREES FROM LOCAL FOOD TRUCKS; JBOARD CO-CHAIRS RACHEL MRAZ & BLAKE CRABB

34 | VAN ANDEL INSTITUTE HIGHLIGHTS OF HOPE
---
Design & Discovery

Merging the inspiration of modernist furniture design with

the elegant shapes and colors of contemporary fashion, this

event inspired imagination while supporting research. Held at

the legendary Haworth headquarters and showroom in Holland,

Michigan, guests were treated to a runway show by Leigh's

while enjoying delectable hors d'oeuvres, artisan cocktails and

complimentary swag bags. The event featured a silent auction

with a selection of quality products and experiences from

generous supporters, along with a stunning sculpture donated

by Paolo Nicolai.

Thank you to our Presenting Sponsors, Haworth and Leigh's.

(STARTING AT TOP RIGHT, GOING CLOCKWISE) REBECCA WIERDA & CAROL VAN ANDEL; LEIGH'S MODELS SHOWING OFF THE LATEST FASHION;

CAROL VAN ANDEL DELIVERING REMARKS; MILLER GANAPINI & PAOLO NICOLAI; VEHICLES ON DISPLAY AT HAWORTH HEADQUARTERS

VAN ANDEL INSTITUTE HIGHLIGHTS OF HOPE | 35
---
EVENTS

Curiosity Hour: Fairy Tales

gone STEM

Combining fairy tales, science, technology, engineering and

math, Curiosity Hour encouraged guests to immerse

themselves in fantasy and curiosity. Hosted by Van Andel

Institute for Education, this event featured coding challenges,

design workshops and interactive sessions with some of VAI's

beloved classroom animals: Cleopatra the bearded dragon,

Garrus the snake and a family of hissing cockroaches.

36 | VAN ANDEL INSTITUTE HIGHLIGHTS OF HOPE
---
PHILANTHROPY

Thank you to our generous

event sponsors

Winterfest Celebration

Rob & Dawn Arnoys

Barnes & Thornburg LLP

Buist Electric

Calamos Investments LLC

Jerry & Suzanne Callahan

Custer Inc.

Deloitte

Brian DeVries & Barbara Pugh

Ernst & Young

Grand Rapids Christian Schools

Jana Hall

Harvey Automotive

HB Wealth Management

Hines Corporation

Macatawa Bank

McShane & Bowie, PLC

MSU College of Human Medicine

Owen Ames Kimball Co.

Lee & Alexandra Perez

Pioneer Construction

P.L. Capital

Rycenga Building Group

Sharpe

University of Michigan Health —

West

Warner Norcross + Judd LLP

Robert & Karen Wiltz

Around the World

Accretive Company, Inc

Jerry & Suzanne Callahan

Blake Crabb

Brian DeVries & Barbara Pugh

Element Four

John Hancock Financial

Matt & Sarah Jones

KM Online Marketing

Lake Michigan Credit Union

Leigh's

Mercantile Bank

Mike & Rachel Mraz

NVINT

Lee & Alexandra Perez

Regal Financial Group

West Michigan Woman

Wicked Pro

To learn more about sponsoring an event, contact Sarah Rollman at

sarah.rollman@vai.org.

Design & Discovery

Alpine Events

John & Mary Amell

Autocam Medical

Bayside Capital

Franco & Alessandra Bianchi

Bluewater Technologies

Bradley Company/Brad & Katie

Toothaker/Chip Bowling

The Brooks Family

Buist Electric

Jerry & Suzanne Callahan

CWD Real Estate

David & Carol Van Andel

Family Foundation

Dominique & Julie DeNooyer/

DeNooyer Chevrolet/Bob &

Colette DeNooyer

Brian DeVries & Barbara Pugh

John Dykema & Michele Maly-

Dykema

The Edgar & Elsa Prince

Foundation

Eenhoorn

Ernst & Young LLP

First National Bank

The George & Evelyn on 8th

Jeff & Ann Harten

The Hilldore Group — Baird

Holland Hospital

Inontime

Patrick & Jasmine Irish

Jeffery Roberts Design

M&J Foundation & F45 Holland &

Grand Haven

Paul & Anne Nemschoff

Nicolai North America

Padnos

Paolo Nicolai

Plastic Surgery Associates

Priority Health

Schupan

SIBSCO

Trans-Matic Mfg. Co. Inc.

Visbeen Architects Inc.

Warner Norcross + Judd LLP

Vicky Weller

West Michigan Woman

Woodways International

Jim & Jane Zwiers

This list includes sponsors of signature events

through August 2022.

VAN ANDEL INSTITUTE HIGHLIGHTS OF HOPE | 37
---
PHILANTHROPY

MEMORIALS

We appreciate your trust in us to fight disease in memory or in honor of your family and friends — with hope for a healthier tomorrow.

To make a gift in memory or in honor of a loved one, please call 616.234.5392.

Jessica Berens

Bryan & Mary Jo Chisholm

Nicole Beuschel

James & Sue Baar

Caitlin Boudreau

Leigh Bryant

Lawrence & Geraldine Cushman

Anthony & Irene Gonzalez

Marion Gonzalez

Dawn Kickels

Jacqueline McGowen

Dan Norbeck & Colleen Carol

Lee Peterson

Samantha Raffee

Ted & Julie Rossman

Monica Serran

David & Cathryn Staley

Greg Tunnicliff

Bob & Sandy VanderZwaag

Sara VanderZwaag

Robert & Rori Wiesen

Anne Wise

Robert Bradford

Marvin & Ruth Bradford

Robert Bremer

Matthew & Rachael Bremer

Catherine "Dolly" Callahan

Mark & Nikki Bridges

Jeff Chamberlin

David & Carol Van Andel Family

Foundation

Scott & Ashley Delano

Richard McCarthy

Craig & Heather Meadows

Grant & Linda Sabo

Darren Schretter

Athi Toufexis

Marisa Urbina

Dave Cavera Sr.

Jennifer Israel

Matthew Douglas Christensen

Judi Christensen & Dennis Gries

Skip Coddaire

Katelyn Coddaire & Marcus

Bultman

Katelynn Conzelmann

Michael Randall

Jeff Duffield

Jennifer Finkbeiner

John Edison

Ronald & Jessie Dalman

Chuck Eich

Barbara J. Dixon

Steven & Anna Eich

EVC 14 National

EVC 17 Elite

Ryan & Megan Hall

Guy & Sharon Maniscalo

Eric Pittman

Katelyn Redlin

Larry & Lauren Zeller

Brian Gibson

Elhart GMC Nissan KIA

Anna Gove

Veronica Gove

Carol Ann Haarman

Stephen Haarman

Sue Hawkins

Alyn & Theresa Arkesteyn

Marsa Barclay

Everett Beemer

Thomas & Norma Boehm

Gene & Lila Bush

Peter & Mary Dunlap

Shane & Heather Groner

Susan Guikema

Marty Hardt

Gregory & Leslie Hawkins

John & Joan Nelson

Ken & Shirley Pierce

David & Linda Randall

Bill & Yolande Reynolds

John & Susan Scalabrino

Ronald & Marcia Schuur

Rosette Strubel

Roger & Sue Troost

Bea Idema

David & Carol Van Andel Family

Foundation

Mrs. Imhoff

Virginia Wiles

James Johnson

Laura Price

Dorothy Keen

Hannah Campbell

Teresa Conklin-Heilig

Pat McKenna

Kimberly Smith

Min Ja Kim

Andrew & Joy Kim

John F. Koehler

Shirley Koehler

Donald R. Kozal

Anne Kozal

Steve Kruithoff

Ed & Karen Bezilla

Dawn Krupp

Janice A. Brander

Peter & Susan Krupp

John & Bethal McCarthy

Universal Spiral Air

Kari Kytoma

Sanders Foundation

Allan C. Lowe, Jr.

Allan & Barbara Lowe

Gordon A. Ludema

David & Carol Van Andel Family

Foundation

Charles & Julie Frayer

Bernice Heys

Calvin Ludema

James Stull

Michel & Elisa ter Kuile

Edie Lutke

Katelyn Coddaire & Marcus

Bultman

Lena Meijer

David & Carol Van Andel Family

Foundation

Richard L. Miller

Barbara Haviland

Liz Pearson

Gerald Bach

Nicholas Elzinga

Mike Heavner

Andy Jensen

Ryan Kauffman

Charles Pearson

Jennifer Pearson

Mark Pearson

David Rawles

Frank Yancey

Richard Pullen

Ruth Kemp

Harvey Ringerwole

Joyce Ringerwole

Clementine Rogus

James Shim & Charlene Chen

David & Carol Van Andel Family

Foundation

Wayne & Maren Ehley

Rick & Deborah Nykamp

Jenny Reynolds

Matthew & Cheryl Wansten

Ernest Rutherford

Fiona McPherson Grant

Gerald R Schnurstein

Gail Schnurstein

38 | VAN ANDEL INSTITUTE HIGHLIGHTS OF HOPE
---
Mary J. Schut

Anonymous

Sharon Bajema

J.W. Sifferman

Karen Barden

Anita Sinke

Kelsey Smoker

Robert R. Solberg

John & Susan Morrison

Scott & Kara Sloniker

David Sowerby

Paul & Sara Feldpausch

Kristen Sensing

Joan Veronica Teeley O'Connor

Carl & Michelle Anderson

Tom Back & Barbara Lovinger

David & Ellen Gildea

Richard Griggs & Mary Ayres

Jim & Beth Kiers

Nancy Lewis

Jill Quillen

Ken & Sandra Robb

Brendan Ross

Connor Ross

Cullen Ross

Thomas Ross

Tom & Karen Ross

John Shelburne

Michael & Laura Sovel

Russell & Esther Spoelma

Chester & Julie Walawender

Rita Uecker

Aaron & Cristina Spiller

Lois Van Andel

Daniel & Debra Mellema

Willard & Arlene Van Essen

Douglas & Sandra Van Essen

John Van Regenmorter

James & Deanna Bossenbroek

Bill Van Regemorter

Bill & Rosemary Stevenson

Evert Vermeer

Steve & Kathryn Bandstra

Vicki Clark

Kenneth Lewis

Barbara Steiner-Zehender

U.P. Concrete Pipe Company

Rebecca Vogelsang

Stephen & Jennifer Czech

TRIBUTES

Janette Cochran

Mark & Anne Armstrong

Sally Kibler

Ms. Kimberly Bos

Jack Powell

Robert & Beth Spica

Kyle Van Andel

Aaron & Hailey Van Andel

Patty Copeland

Wally & Nina Gorak

Glennis Kirkey

Ms. Kimberly Bos

Peter & Jennie Scalabrino

Ms. Frances Scalabrino

Kimberly Van Stee

Alvin & Joyce Docter

Jamie DeFeyter

Daniel & Pam Haight

Lloyd Hansen

Jim & Marie Preston

Gretchen Kauth

Mrs. & Mr. Kristin DeMello

Patricia Knoll

Pamela Geiersbach

Brock Meader

Crystal Saidoo

Corinne Elizabeth Nordlund

Robert & Edie Nordlund

Carl Seymour

Mr. Edward Dempsey

Scott & Heather Nickelson

David & Carol Van Andel

Mr. Duwane Suwyn

Sierra Zylstra

Cody & Meghan Furney

These lists represent gifts made between Jan. 1, 2022, and June 20, 2022. The accuracy of these lists is very important to us. Please contact 616.234.5392 if an error has been made.

VAN ANDEL INSTITUTE HIGHLIGHTS OF HOPE | 39
---
Van Andel Institute

represents a family

legacy. Founded by

Join the Jay and Betty Van Andel

Circle of Hope

A significant and growing number of individuals and households have

remembered VAI in their estate plans. These planned giving intentions

will greatly benefit the Institute's research into diseases like cancer,

Parkinson's, and Alzheimer's and related dementias, as well as our work

to educate the next generation of scientific leaders and foster curiosity,

creativity and critical thinking in K–12 classrooms.

Jay and Betty

Van Andel, that

legacy is now

carried forward by

Chairman and CEO

VAI honors those who have included the Institute in their estate plans

through the Jay and Betty Van Andel Circle of Hope. When you notify us

of your intentions, you are invited to become a member.

We welcome a conversation about estate giving that

makes the most sense for you while also supporting

the mission of VAI. Additional information about

estate giving can be found at vai.giftlegacy.com.

Please contact:

Kate Frillmann, Philanthropy Director

616.234.5515

kate.frillmann@vai.org

David Van Andel

Steve Ozinga, Philanthropy Director

616.234.5040

steve.ozinga@vai.org

and his wife, Carol.

Highlights of Hope is supported through

Van Andel Institute operational funds,

ensuring 100% of donations go

toward the Institute's research and

educational efforts.

JAY VAN ANDEL

BETTY VAN ANDEL