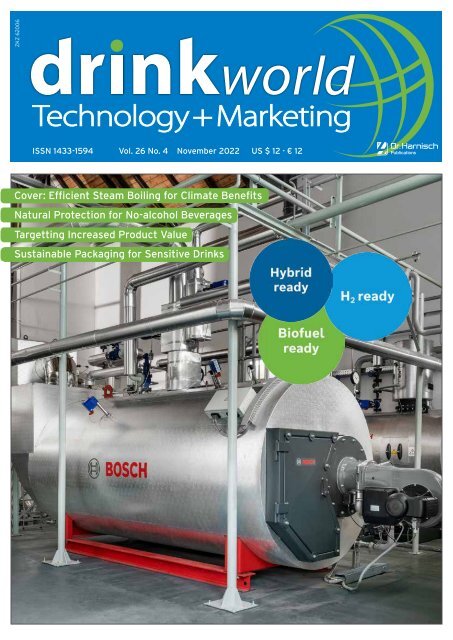 drinkworld Technology + Marketing 4/2022
drinkworld Technology + Marketing is the leading magazine for the entire drinks industry worldwide. Feature articles and short communications cover the whole spectrum of processing, bottling, raw materials, logistics, packaging and marketing of beverages. We also report on special topics of regional interest and the trends in the beverage industries worldwide. Readers are executives and decision-makers in the brewing, dairy and mineral water industries, manufacturers of non-alcoholic drinks, wine growers and bottlers.
drinkworld Technology + Marketing is the leading magazine for the entire drinks industry worldwide. Feature articles and short communications cover the whole spectrum of processing, bottling, raw materials, logistics, packaging and marketing of beverages. We also report on special topics of regional interest and the trends in the beverage industries worldwide. Readers are executives and decision-makers in the brewing, dairy and mineral water industries, manufacturers of non-alcoholic drinks, wine growers and bottlers.
SHOW MORE
SHOW LESS
Create successful ePaper yourself
Turn your PDF publications into a flip-book with our unique Google optimized e-Paper software.
ZKZ 62006

ISSN 1433-1594 Vol. 26 No. 4 November 2022 US $ 12 · € 12

Cover: Efficient Steam Boiling for Climate Benefits

Natural Protection for No-alcohol Beverages

Targetting Increased Product Value

Sustainable Packaging for Sensitive Drinks
---
INTERNATIONAL

ENOLOGICAL

AND BOTTLING

EQUIPMENT

EXHIBITION

LEADER IN WINE & BEVERAGE TECHNOLOGY

ORGANIZED BY

29 th EDITION

15 th -18 th November 2022

Fiera Milano (Rho)

info@simei.it / simei.it
---
Editorial

Beverages Beyond Boundaries

Who would have thought it? The

Football World Cup is almost here.

Leaving political topics aside, it is

different this year. The expectations

are muted, especially in some parts

of the beverage industry. In the

(European) summer, breweries and

soft drink specialists would be fully

occupied, getting everything ready

for street parties, public viewing and

the like. Nobody knows quite what

to expect in winter. Mulled wine and

cookies, instead of beer and pretzels?

Sponsorship is also different in a

country where alcohol is not consumed.

Thankfully the beverage industry has

many sides to it. There will always be

consumers who would rather drink

warm than cold drinks, and refreshing

rather than relaxing. They all need to

be pumped and processed, bottled

and filled, as well as packaged and

transported here and there. Athletes

will need isotonic drinks to help

recover and prepare for the next

game. Fans will need to celebrate and

commiserate and everybody is ready

to drink the same thing they see their

heroes have in their hands.

An international event like this is, of

course, still a boon for the beverage

industry. It is certainly a major event

for promotional and marketing

opportunities, but it is impossible to

predict how many extra portions of

juice, water, softs drinks, beer and

coffee or tea will be consumed. I

for one, will be on the edge of my

seat, kicking every ball and catching

every shot at goal. In fact I have been

practicing shooting penalty kicks, just

in case my country needs me.

No editorial about the World Cup

is complete of course, without my

personal tip. As always, almost my

Ian D. Healey

Editor-in-Chief

Photo: BK

whole life, I hope that England will be

top of the pile in mid December, but I

rather expect it will be Brazil, Belgium or

Germany, with Senegal or Denmark as a

dark horse. Let's hope that sport will once

again bring the world together. We can all

drink our own preferred beverage to that!

Cheers

drinkworld Technology + Marketing · November 2022 3
---
Contents

ZKZ 62006

ISSN 1433-1594 Vol. 26 No. 4 November 2022 US $ 12 · € 12

Cover: Efficient Steam Boiling for Climate Benefits

Natural Protection for No-alcohol Beverages

Targetting Increased Product Value

Sustainable Packaging for Sensitive Drinks

Issue 4 · November 2022

The need to consume produced beverages and processed foods is constantly

increasing. And so is the demand for steam, hot water and district

heating. In many areas of the beverage industry, process heat in the form

of steam is indispensable. In view of impending gas shortages, rising prices

and for reasons of climate policy, many large companies need to reduce

their energy consumption. Efficient boiler systems with optimally matched

components reduce emissions, fuel use, consumption of water, chemicals,

electrical power, and the cost of operation and monitoring.

Our cover story starts on page 6.

Cover: Bosch Industrial Boilers

Ingredients

10 Promises and Claims Beverages Make (and Break)

14 Natural Preservatives for Alcoholfree

Beverages

16 Innovative Product Concepts for Yoghurts, Ice

creams, Food services and Beverages

17 Fi Europe Preview

Processing

6 Efficient Boiler Systems for a Climate-Neutral

Future

20 Three Factors That Affect Production Value

Targets

25 Covert Detection Technology Helps Identify

Counterfeit Regional Wines

27 Oat Milk Manufacture using High Shear Mixers

28 Precise Results: New Analytical Instrument Unites

3 Measuring Tasks in 1 Instrument

30 Plant-based Drinks: Focussing on Oats

LANXESS has received the 2022 World Beverage

Innovation Award for its natural preservative Nagardo.

"Receiving this award shows that Nagardo has already

convinced beverage industry professionals. This reflects

the voices of customers who are already successfully

testing and using our new product," says Monika Ebener,

Global Marketing Director Natural Antimicrobials. The

full story is on page 14

The quality of a diet beverage is largely influenced

by three factors: process water, citric acid, and syrup

ingredients. A recent study showed that these three

factors have a negative impact on production target

values. Because of this, analyzing these during the whole

production process is best done with a system based on

density measurement. Full details and study results can

be found on page 20

4
---
Contents

Departments

3 Editorial

39 Fax

42 Supplier's Guide

Events

41 Calendar of Events

Packaging

31 Maximum Flexibility in Product Labelling

32 Cap Sterilization has Never Been Safer

33 Riedel Chooses Unique on-the-go Packaging

Innovation for Iconic Juice Brands

34 The Future of Sustainable Packaging for

Sensitive Drinks

37 New Global Digital Label Material Swatchbook

for Wine, Spirits and Beverage

40 Food-Grade PET with Integrated rPET Supports

Supply, Quality and Sustainability

The new 1SKIN bottle is made to stand out on shelves in

one of the fastest growing and most competitive beverage

segments. The bottle is designed to deliver an appealing

drinking experience, with an ergonomic grip for comfortable

pouring. It has a wide neck and a cap lock feature to keep

the open bottle top away from the consumer's face. The

surface is label-free but with texture options. See page 34

drinkworld Technology + Marketing · November 2022 5
---
Cover Story

Efficient Boiler Systems for a Climate-

Neutral Future

by SABINE STRAKA

The need to consume produced beverages

and processed foods is constantly

increasing. And so is the demand for

steam, hot water and district heating.

In many areas of the beverage industry,

process heat in the form of steam is

indispensable. In view of impending gas

shortages, rising prices and for reasons

of climate policy, many large companies

need to reduce their energy consumption.

Efficient boiler systems with optimally

matched components reduce emissions,

fuel use, consumption of water, chemicals,

electrical power, and the cost of operation

and monitoring. Intelligent controls can

also significantly increase efficiency,

availability and the service life of the

equipment. The use of modern industrial

boilers can thus permanently reduce

energy consumption and operating costs.

From a small workshop to

innovating an entire industry

For more than 150 years, Bosch Industrial

Boilers has been a leader in the field of

large-scale thermal plants and system

solutions. In 1865, the company was

founded in Germany by Philipp Loos

as a small boiler forge in Neustadt/

Weinstrasse, and a new production site

was established in Gunzenhausen in 1917.

Already then Loos was the market leader

for industrial boilers. In 1952 a patent was

filed for the horizontal 3-pass flame tube

smoke tube boiler with an internal watercooled

reversing chamber, that became

a global industry standard. Numerous

production and plant expansions

followed and the conventional boiler

design as used in old steam locomotives

was consistently replaced by innovative,

safe and efficient new designs. In

2009, Loos became part of the Bosch

Group. More than 120,000 industrial

boilers for steam generation have been

produced in Gunzenhausen, Germany,

and in Bischofshofen, Austria. In recent

years, the company has developed into

a leading global system supplier for

industrial boilers and specializes in the

customized development and equipment

of reliable and efficient boilers and plants,

of all sizes and performance classes

with up to 38 megawatts per boiler. The

technology is developed on customer

request and depends on which energy

source is available at the installation site.

Due to the modular design of the boiler

systems, individual components can be

easily retrofitted. Each system is unique;

it is configured according to customer

specifications. Bosch also fulfils tailormade

requests, the complete system

consisting of boiler, tubes and layout.

Depending on requirements, e.g. up to 7

million variants of one single boiler type

can be manufactured, differing from

each other in terms of emission, nozzle,

nominal value or position, depending

on where the boiler is to be installed

at the customer's site. The particular

strength of Bosch Industrial Boilers is to

manufacture individual products with the

efficiency and quality of a large series.

The Bosch group has been climateneutral

since 2020.

Manual work and precision

The boilers have a weight of up to 120

tons, even before they are filled with

water. The core component in the

production of boilers are flame tubes.

With the specially developed corrugated

tube machine, tubes up to 9 meters in

length can be produced in one piece

fully automatically. The corrugated

tubes are manufactured with millimeter

precision using laser technology. With

the specialized production equipment in

the factory sheets up to 3.5 meters wide

can be processed. As a result, large boilers

require fewer welds, which significantly

increases their service life. Welding is

performed horizontally using a modern,

uniform welding process, which enables a

homogeneous structure and high welding

quality. Depending on the individual

equipment of the boilers, the components

are also joined together manually using

a special welding process. Due to the

customer-individual design of each boiler,

large parts of the manufacturing process

are performed by hand. In addition, more

than a dozen semi- and fully automatic

welding robots ensure consistent quality

of safety relevant welds. An in-house

laboratory for weld seam testing and

material analysis ensures maximum

safety. In three X-ray chambers, up to

100 % of the weld seams are X-rayed and

6
---
Cover Story

evaluated. In the beverage industry, some

companies order an outer cladding of

stainless steel instead of aluminium.

Specific requirements in the

beverage industry

The various processes in the beverage

and brewing industries require high

temperatures and pressures, consistent

steam quality, reliability, energy efficiency,

and flexibility. Depending on the application,

boiler systems must easily cope not

only with linear but also discontinuous

production processes. Electric boilers can

follow such processes, in which sometimes

more and sometimes less steam is needed,

much faster and more dynamically. They

heat up faster and offer particularly

high flexibility. In the food and beverage

industry, steam quality is also especially

important. When a food or beverage comes

into contact with steam, culinary steam is

used, which is produced and filtered from

top quality drinking water. The residual

moisture from the steam and the dosing

agents in the boiler water must not contain

any steam-volatile chemicals that would

lead to contamination. Continuous and

reliable operation of the boiler systems is

also important. The redundancy of certain

components ensures availability even if a

component, such as a pump, fails once. The

Bosch delivered the boiler house technology for GATEWAY plant of INTERNATIONAL BREWERIES

PLC in Nigeria. The new boiler plant can generate 55 tons of steam per hour for the entire brewing

process.

power is then divided between two or more

boilers. Pumps that are urgently needed

are duplicated. One boiler runs, one can

take over if a pump fails, for example.

Multiple applications

The boilers are used for all products

produced with heat in various sectors: in

the pharmaceutical, textile and building

materials industries, for the production of

car tires or foams, in the chemical industry

and in the supply of district heating.

Nowadays the first industrial boilers are

operated with green hydrogen instead

of natural gas or oil. There has also been

an increase in demand for LNG (liquefied

natural gas) terminals recently. About half

to two thirds of the boilers are used in the

food and beverage industry as well as in

breweries. Thus, 8 out of 10 beers brewed

Example illustration: Environmentally friendly electricity and hydrogen from renewable energy sources are used to generate steam.

drinkworld Technology + Marketing · November 2022

7
---
Cover Story

in Germany come into contact with heat

from Bosch Industrial Boilers, for example

during mashing, lautering, wort boiling,

filtering, pasteurization, and CIP processes

for cleaning and sterilizing bottles and

kegs. In very large breweries, even doubleflame

tube boilers are used, which operate

with two burners. Two independent firings

and flue gas paths ensure particularly

high flexibility. In the beverage industry,

hot water and steam are required for

flash/tunnel pasteurization, distillation,

sterilization, bottling and cleaning. Dairies

use steam for ultra-high temperature

heating, pasteurization, sterilization,

thermalization, whey production, cheese

production, and milk powder drying,

as well as for cleaning and supplying

CIP equipment. For many energyintensive

processes involved in beverage

production, Bosch offers energy systems

that are particularly reliable, energyefficient,

and automated.

Flexible boiler technology

Boiler technology is not necessarily fossil,

but flexible as to which energy sources are

used. Especially for the beverage industry,

Bosch offers multivalent boiler systems

that can be operated with different types

of energy. The technology is customerspecific

configured and depends on

what type of energy is available at the

site. Bosch Industrial Boilers' focus is on

switching to green energy sources. In

the beverage sector, for example, biogas

has been used for steam/hot water

generation for many years, and now biooil

is also used. Bosch Industrial Boilers

is diversely positioned and has already

experimented in many pilot plants. Today,

operation boilers with nearly any liquid

or gaseous energy sources is possible.

Since this year, green power is also used.

"In recent years, climate neutrality has

become increasingly important. It is also

important to customers to have security

of supply independent of fossil fuels,"

explains Daniel Gosse, Head of Marketing

at Bosch Industrial Boilers. "Despite

external challenges many companies still

adhere to their CO 2

targets; for this green

technology is needed. Even large wellknown

retail brands are placing increasing

Bosch Industrial Boilers Headquarters in Gunzenhausen Germany

8
---
Cover Story

emphasis on climate neutrality along the

supply chain."

Highly efficient operation: 100 %

electric, 100 % climate-neutral

The boiler is the largest energy consumer

in many factories; in a dairy which includes

milk powder production, for example,

energy costs accounts up to 14 % of

the total costs of production. A modern

energy-saving boiler can make the

operation much more efficient. Since this

year, there has been strong demand for

electric boilers, even in Germany, where

electricity is relatively expensive. Here,

energy from green power surpluses can be

used by purchasing the electricity from the

power supplier at a favorable price through

flexible offtake. For energy-efficient

operation, Bosch offers the new electric

steam boiler ELSB. It has a capacity range

of 350 to 7500 kg/h, an efficiency of up to

99.6 % and produces no direct emissions.

When operated with green power, steam

generation with the new electric boiler

is completely CO 2

neutral. It can be

configured individually for each application

or integrated into existing boiler systems

and enables multivalent operation. The

new electric steam boiler responds

quickly and accurately to fluctuating load

reductions. It can be run at full load faster

and has a wider, steplessly variable control

range of 0 to 100 %. The ELSB delivers

high steam quality with low residual steam

moisture. Due to its continuously variable

power control, it has a high efficiency over

the entire power range. The power can be

automatically adjusted to the respective

demand. With the smart control system,

available green power surpluses from

energy suppliers or from the company's

own power generation can be used in

a targeted manner. With its high power

density, the electric boiler is also much

smaller than a steam boiler, and does not

require a chimney or flue gas pipe. This

reduces space requirements and costs.

If, for example, fuel consumption increases,

the digital assistant reports possible causes

and provides recommendations for action.

With predictive condition monitoring, it also

makes predictions about the remaining

service life of important components

and assists with maintenance planning.

Digital evaluation of the data enables

increased energy losses to be detected

and thus energy efficiency to be increased.

Forecasts of wear optimize maintenance

and thus the operational reliability and

service life of a plant.

In operation around the world

Two thirds of all Bosch industrial boilers

are exported to over 140 countries. For

example for the production of ice-cold

beers, INTERNATIONAL BREWERIES

PLC, the largest brewery in Sagamu,

Nigeria, and the second largest brewery

in Africa, also uses process heat from

Bosch. The new modern GATEWAY plant

of INTERNATIONAL BREWERIES PLC is

a model brewery of Anheuser-Bush, AB

InBev in Africa. In the search for a steam

generation system that could meet the

high energy requirements in the brewery

and for cleaning, the choice finally fell once

again on Bosch Industrial Boilers, because

of its product policy, its reliability, and the

presence of a service team on site. To

ensure that production does not come to

a standstill anywhere, Bosch offers 24/7

customer service with short response times

worldwide, including in Nigeria. As a result,

a new state-of-the-art multi-boiler system

was ordered, that can generate 55 tons

of steam per hour for the entire brewing

Daniel Gosse, Head of Marketing at Bosch Industrial Boilers

process. Bosch delivered the boiler house

technology including all components for

water treatment, degassing and energy

recovery.

The universal steam boilers supply

consistently high steam quality on a

high efficiency level of more than 95 %.

Thanks to its optimal matched burners

can use flexibly up to three different fuels

to combust in one single boiler. That also

increases operation reliability. In addition,

the six heat recovery boilers can produce

up to 20 % of the steam demand cost

effectively by simply using process related

waste heat. A variety of automation

devices complete the system and ensure

a highly reliable steam boiler operation.

"As a manufacturing company, Bosch itself

is also affected by rising energy prices or

security of supply. For these issues we will

need future-proof solutions in our more

than 400 Bosch production locations.

Therefore, we will continue to develop our

boiler systems accordingly," says Daniel

Gosse.

The Author

Sabine Straka is Assistant Editor at Dr. Harnisch

Publicatiions

Saving energy with smart boiler

systems

When operating industrial boilers intelligent

components can help to maintain the high

energy efficiency and to save energy costs.

For example, a digital efficiency assistant

can analyze boiler plant data and inform

personnel about unfavorable operating

conditions and ways to increase efficiency.

drinkworld Technology + Marketing · November 2022

9
---
Ingredients

Promises and Claims Beverages Make

(and Break)

by DONNA BERRY

There's a fine line separating a promise

and a claim in the world of food and

beverage marketing, and that fine

line varies among regulatory agencies

around the world. The USA has one

of the more strict set of laws in place

regarding statements on package

labels, and when a consumer feels like

it's deceitful, off to court they go.

That's what happened in mid-October

to Nestle USA Inc., a business unit of

Nestle SA. The company is being sued

for two claims printed on the packaging

of its Ovaltine brand of flavored drink

mix.

The lawsuit identifies the statement

"a good source of 12 vitamins and

minerals" as a nutrient content claim

under federal and state regulations.

This means the product should provide

between 10% and 19% of the daily

recommended value of no less than 12

vitamins and minerals. The problem

is that Ovaltine itself is not a "good"

source of 12 vitamins and minerals

without adding other ingredients as

specified in the directions. This matter

is discreetly indicated by a dagger

(†) accompanying the front label

statement. The meaning of that dagger

is identified in a smaller statement

several lines below and reads: Ҡ when

prepared as directed." Those directions,

as indicated in the third column of

the Nutrition Facts label, require the

consumer to "mix [it] with one cup lowfat

vitamin A and D milk." That promise

of being a "good" source is broken if

the consumer does not have the milk

for mixing.

The second item in dispute is the

statement "no artificials." The lawsuit

explains that "consumers seeing the

bigger font of 'no artificials' will expect

this means the product does not

contain artificial ingredients. However,

upon closer reading of the label, one

sees that the product contains artificial

and bioengineered ingredients. This

is disclosed a few lines beneath the

ingredient list. Again, a promise is

broken.

The plaintiff further alleged that

misleading symbols used on the front

of the package "took advantage of

consumers' cognitive shortcuts made

at the point-of-sale and their trust

in defendant." The one promise the

defendant did not have an issue with is

the phrase "supports immune health,"

which is center front in a bold font on

the package.

In the US, and many other countries,

there's a line separating claims or

promises that reference quantities of

nutrients, quality of ingredients and

direct health claims from suggestive

references to physiological benefits,

such as energizing, calming and antiaging,

as well as subjective promises,

like delicious, cooling and satiating.

Marketing claims are a tricky business.

New Joyba Bubble Tea, for example,

is a line of ready-to-drink, bobashop

inspired beverages. It makes

the promise of containing "delicious

popping boba." Delicious is a subjective

descriptor that could prove to be

disappointing to someone who does

not care for flavored and sweetened

gelatinized balls exploding in the

mouth.

Another new product sporting a

subjective claim is Juvee. Developed by

Matthew "Nadeshot" Haag, a superstar

gaming content creator and founder

and CEO of the global gaming lifestyle

brand 100 Thieves, Juvee is described as

a rejuvenating energy drink formulated

to boost your energy, increase your

focus and improve overall well-being so

you're inspired to add more play to your

every day.

Short for "rejuvenation," Juvee is

made with a blend of ingredients that

promises to provide invigorating and

mood-lifting effects for longer-lasting,

more sustainable energy. Each 12-

ounce can of Juvee contains B vitamins,

taurine and 128 milligrams of caffeine

for energy. The addition of L-theanine

10
---
Ingredients

Online & In-Person

28 Nov - 8 Dec 2022

From Anywhere

Online

6 - 8 Dec 2022

Paris, Expo Porte de Versailles

France

NEW

VENUE

Join

the biggest

EU ingredient event

this December

Learn

more at

bit.ly/fie-print

drinkworld Technology + Marketing · November 2022

11
---
Ingredients

is said to elevate mood, while the

panax ginseng is for sustained focus.

In addition, the drink has a boost of

vitamin C for health and well-being and

no sugar, with only 5 calories per can.

As with allow- and no-sugar energy

drinks, one may argue that this energy

drink does not provide physical energy,

which is also referred to as metabolic

energy, as this comes from calories. It is

produced via the Krebs cycle, a complex

pathway that converts ingested

carbohydrates, fats and proteins into

a slow, steady stream of energy –

adenosine triphosphate – during the

process of aerobic respiration. This

energy fuels the body's cells to keep the

body working, with the unit of energy

measured in calories. In general, simple

carbohydrates, namely refined sugars,

tend to be quickly absorbed by the

bloodstream after ingestion. They are

responsible for a true quick metabolic

energy boost.

Again, it's a fine line marketers walk

with such promises. Imagine a gamer

who drinks such an energy drink with

hopes to stay up all night competing

in a computer tournament, and then

doses off in front of the screen. That's

a broken promise. Lawsuit worthy?

Probably depends at how much was at

stake and how sly of a lawyer one can

retain to assist.

Such fears of not delivering on promises

have not stopped innovation in the

burgeoning energy drink segment. Nor

has it stopped the rollout of functional

beverages making a range of purported

benefits.

Mude, for example, is a new line of allnatural,

mood-supporting drinks. Mude

is low in sugar – less than 6 grams per

can – and only 40 calories. The brand

claims to be one of the first beverages

with vitamins and minerals that benefit

mood and is sustainably sourced and

packaged. One of the formulations

– Mude Work – promises to help you

focus and have mental clarity. It is

formulated with "deep ocean" mineral

salts, branched chain amino acids and

ashwagandha.

The deep ocean is generally defined

as the depth at which light begins to

dwindle, typically around 200 meters

(656 feet), by the National Oceanic

and Atmospheric administration of

the US Department of Commerce. A

quick internet search reveals that deep

ocean minerals are recognized as being

extracted from deep ocean water and

are associated with superior hydration

and recovery after a workout. When

making such a formulation claim, a

marketer should be well prepared to be

fully transparent regarding sourcing.

The brand also claims to be certified

Carbon Neutral to naturally support

mood without sacrificing health and

wellness goals. Such sustainabilitytype

claims are starting to gain

traction. These claims promise the

consumer that by choosing this

product over another not making

such a claim, they are supporting

the health of the planet. Again, full

12
---
Ingredients

transparency is paramount in fulfilling

this promise.

While what is healthy for the planet

remains subjective, in the US, the term

"healthy," as it relates to foods and

beverages for humans, will likely be

defined soon. In September, the US Food

and Drug Administration proposed that

manufacturers can label their products

"healthy" if they contain a meaningful

amount of food from at least one of

the food groups or subgroups (such, as

fruit, vegetable or dairy) recommended

by the dietary guidelines. They must

also adhere to specific limits for certain

nutrients, such as saturated fat, sodium

and added sugars.

Of course, there are ways around this.

One marketing term that suggests

healthfulness is "superfood." A new

player in this space is RDCL Superfoods

(pronounced radical). The brand

promises to give ordinary drinks new

"superpowers" with all plant-based

ingredients and zero added sugar, all

while making them healthier, tastier,

more ethical and sustainable. Super

Cocoa is a powder that can be mixed

into hot or cold water or blended into

a smoothie. Its rich chocolate-y taste

comes from two kinds of premium cacao,

according to the brand. It also contains

pea protein, ancient grains and seeds,

and greens. Radical Elements Superfood

Blends is a powdered boost that is simply

mixed into water, creating a functional

beverage with immunity support and

other benefits. The Passion Fruit variety

promises to help boost focus and energy

while Dragon Fruit Superberry helps

alleviate stress and anxiety.

Functional claims are often best alluded

to simply by flagging the inclusion of

the supposedly beneficial ingredient.

Let the consumer do the homework and

investigate what the promise may be.

The Author

Donna Berry is a food and beverage industry

consultant and editor with over 25 years experience

in tracking trends and advancements in

product development.

drinkworld Technology + Marketing · November 2022

13
---
Ingredients

Natural Preservatives for Alcoholfree

Beverages

• Natural glycolipids from LANXESS honored as "Best Beverage Ingredient"

• Innovative preservative for non-alcoholic beverages

• Expanded range opens up new preservation and energy-saving filling options for

manufacturers

LANXESS has received the 2022 World

Beverage Innovation Award in the "Best

Beverage Ingredient" category for

its natural preservative Nagardo. The

Awards honor innovation and excellence

across all categories in the global

beverage industry. The award ceremony

took place on September 13, 2022, during

the drinktec trade fair in Munich. The jury

had previously evaluated more than 150

entries from 17 countries in 22 categories.

Monika Ebener, Global Marketing

Director Natural Antimicrobials in

the Beverage Technology business

line at LANXESS, who accompanied

the natural preservative from

discovery to product launch, accepted

the award. "Receiving the World

Beverage Innovation Award shows

that Nagardo has already convinced

beverage industry professionals. This

reflects the voices of customers who

are already successfully testing and

using our new product," says Ebener.

The preservative is already in use in

the USA, Australia, New Zealand and

Canada. With the recent EU approval,

LANXESS is further expanding

Nagardo's global presence.

Monika Ebener with the Best Beverage Ingredient Award, flanked by Jeanmarc Heitmann, Head of

MPP's Beverage Technology business (left) and Dr. Matthias Hüttl, Global Marketing Director,

Beverage Technology

Active ingredient discovery by

screening process

Due to its high water content combined

with potential nutrients such as sugars

and fruit components, a beverage is an

extremely sensitive product that can

spoil within a few days if not treated

with physical or chemical methods.

Beverage-damaging microbes should

ideally be controlled by naturally

means. But natural ingredients, such as

essential oils or certain extracts based

on rosemary, cinnamon or onion, for

example, provide microbial protection

that is not nearly as effective as

conventional preservatives. In addition,

any influence on the taste of a beverage

should be avoided.

In its search for suitable products in the

biosphere, Dortmund-based start-up IMD

Natural Solutions GmbH (INS), which has

been part of LANXESS' Material Protection

Products (MPP) business unit since 2017,

has developed a program based on stateof-the-art

research processes and search

algorithms. One of the world's largest

screenable libraries of more than 100,000

natural molecules from plants, bacteria,

algae and fungi was searched for suitable

active ingredients.

In this extensive screening process,

the most interesting results came from

an edible fungus that had previously

received little attention: the Dacryopinax

spathularia, or commonly called "Sweet

Osmanthus Ear". This edible fungus is

native to tropical and subtropical areas

worldwide, is bright orange in color, and

grows in the form of small ear-shaped

spatulas similar to the osmanthus flower.

The active ingredient is obtained

fermentatively through a proprietary,

solvent-free, food-grade process. It is

composed of molecular congeners in a

14
---
Ingredients

specific ratio, all consisting of a sugar

and a lipid moiety. This class of surfaceactive

compounds that interfere with the

cell membranes of microbes is therefore

referred to as natural glycolipids.

Consumer-friendly marketing

options and reliable protection

against spoilage

Nagardo shows superior efficacy against

typical beverage spoilage organisms

compared to classical preservatives. In

most cases, a dosage many times lower

than that of conventional excipients is

sufficient. The broad spectrum of activity,

even at low application concentrations,

also shows excellent activity against heatresistant

spore-forming organisms such as

Alicyclobacillus species or representatives

of the genera Byssochlamys, Neosartorya

as well as Talaromyces. It is also

effective against organisms adapted

to conventional preservatives, such as

Zygosaccharomyces bailii.

In the recommended dosage, Nagardo

does not affect the sensory properties

of a beverage: color, odor and, above all,

taste are preserved as intended by the

manufacturer. Therefore, the natural

glycolipids can be used in a wide range

of beverages. Carbonated products in

particular benefit from Nagardo, as no

second preservative is usually required.

Special dosing technology is also not

required: the powder is pre-dissolved

in water and added to the beverage

formulation during product mixing.

Nagardo remains in the beverage and thus

protects it naturally even after opening.

Economical solution for filling

sensitive products

Nagardo natural preservative allows

manufacturers to adapt their portfolio

to changing consumer awareness

and growing demand for natural

ingredients. "Our expanded offering

opens up new possibilities for

preservation. We want to participate

even more in the global growth of

the beverage market in the future

with our brands Velcorin, which

is one of the top technologies for

antimicrobial beverage stabilization,

and our new Nagardo," emphasizes

Janmarc Heitmann, head of MPP's

Beverage Technology business.

"Individually or in combination, our

two technologies are an economical

solution for microbiologically safe

filling of sensitive products," Heitmann

emphasizes. All filling systems, from

glass/PET bottles to carton packs,

cans, KEGs, and bag-in-box can be

served with both technologies.

The use of Nagardo and Velcorin can

help achieve a company's sustainability

goals by reducing energy consumption

by switching from hot fill or tunnel

pasteurization to cold fill. Secondly,

due to lower wall thicknesses, less

PET is required for the beverage

bottles than with hot filling. When both

The Dacryopinax spathularia, or commonly

called "Sweet Osmanthus Ear"

Photo: AdobeStock_174797509

products are combined, depending on

the application, further microbiological

hurdles, such as energy-intensive

distribution and marketing in the cold

chain, can be dispensed with.

Criteria for selecting the

appropriate technology

In addition to the output efficiency,

a holistic cost consideration for

the producer is a decisive selection

criterion for the suitable production

platform. All costs incurred, i.e. one-off

costs as well as running costs, must be

taken into account. Cost drivers are,

for example, heavy PET bottles for the

hotfill process and rising energy prices.

Factors such as the positioning of a

brand, desired claims or the regulatory

situation also influence the selection of

a preservation technology.

The great advantage of both Nagardo

and Velcorin technology is that they

can be used without any problems in

new lines and also in combination with

existing filling machines that were not

originally intended for filling sensitive

beverages. These are, for example, fillers

for beer or classic soft drinks.

drinkworld Technology + Marketing · November 2022

15
---
Ingredients

Innovative Product Concepts for

Yoghurts, Ice creams, Food services

and Beverages

The GULFOOD Manufacturing event in Dubai , from 8 – 10 November, is yet again the

international venue for the food processing industry and the meeting point for experts,

particularly from the Middle East, North and Central Africa as well as Asia. The global

food industry player AGRANA will be presenting visitors from the dairy, bakery, ice cream

and beverages sectors a wide range of new fruit and flavoring products at GULFOOD

Manufacturing alongside AUSTRIA JUICE, a joint venture between AGRANA and Raiffeisen

Ware Austria.

Healthy and conscious nutrition is

becoming increasingly important.

Consumers are attaching greater

importance to the positive effects of

food on their own well-being and immune

systems. At the same time however

demands in terms of taste and enjoyment

remain high. "All-natural nutrition is a

trend which we are increasingly taking

into account through our innovative

product concepts for the downstream

food processing industry. That's why

AGRANA is focusing at the GULFOOD

Manufacturing fair on 'good-for-you'

products since this trend is also on the

rise in the Gulf Region", stresses AGRANA

CEO Markus Mühleisen.

AGRANA integrates these demands into

functional concepts such as yoghurts

based on various new taste combinations.

One of these novel drinkable yoghurts

is a kiwi-lime, immunity-boosting drink:

This concept is rich in Vitamin C and zinc,

both of which are known to support the

body's own immune system. The high

concentration of fiber, which is good

for the metabolism, makes this drink a

refreshing, all-round indulgence between

meals.

Another new product development from

AGRANA is a spoonable yoghurt with

large, firm-to-the-bite pieces of dates.

Dates are one of the most popular

fruits in Arabian countries and also

becoming more popular internationally.

Until now, however, there has not been

a spoonable yoghurt with firm pieces of

dates since the dates tend to dissolve

during pasteurisation due to their

innate properties. At the GULFOOD

Manufacturing fair, AGRANA is this

year presenting a dessert with a high

concentration of fruit which combines

the best properties of both yoghurt and

dates.

Proudly presenting the Watson

Says beverage brand created

specially for baristas

The Watson Says product brand from

AGRANA Fruit has been specially

developed as a product line of premium

syrups, sauces and fruit blends for use

in coffee creations, tea-based drinks,

cocktails, mocktails, frappes and numerous

other beverages. Smooth in texture, with a

natural taste and color, these products are

based on premium formulations so that

these are available ready-for-use in cafés,

fast-food restaurants and bars. These

attractively designed brand

16
---
Events

Leading ingredients trade show Fi & Hi

Europe all set to welcome more than

20,000 visitors from around the world

Fi & Hi Europe returns to France this year. From December 6 to 8, the leading ingredients

fair will be held for the first time at the Paris Expo Porte de Versailles exhibition centre.

More than 1,200 exhibitors – from leading ingredients manufacturers to highly specialized

startups – will present themselves in four halls. The face-to-face exhibition will be

complemented by a comprehensive online offering. A broad conference programme, as well

as the renowned Innovation Awards and Startup Innovation Challenge, will complete the

trade show experience.

In the heart of Paris, Fi & Hi Europe is set to attract exhibitors

and attendees from more than 135 countries around the

world. The new Paris Expo Porte de Versailles location is

within walking distance of many hotels, restaurants and bars,

making logistics easier and the event more visitor-friendly

than ever before. Many leading ingredient manufacturers

have already confirmed their participation in Paris, including

ADM, Beneo, Brenntag, Cargill, DSM and Ingredion. In addition

to well- established companies, many new players have also

announced their intention to present their solutions to the

industry. In addition, there will be more country pavilions this

year than ever before.

Digitally enabled event concept

This year, Informa Markets is focusing on a technologically

enhanced hybrid show concept. The combination of online

and face-to-face events offers participants the best of both

worlds, including a wide variety of live and on-demand

content as well as data-driven networking options. All

exhibiting companies have their own online profile, allowing

them to find relevant contacts, network and set up virtual or

face-to- face meetings before the event. A smartphone app

also facilitates on-site lead generation.

the conference programme includes more than 55 expert

sessions on-site and online, giving global audiences access

to invaluable knowledge.

The platform Fi Global insights provides a lot of additional

information as well as exclusive reports covering the

following topics:

• Protein

• Dairy and Dairy Alternatives

• Snacks, Backery and Confectionery

• Plant-based

• Sustainability

• Beverages

"We look forward to welcoming visitors and exhibitors from

around the world to an event that no one in the ingredients

industry should miss," says Julien Bonvallet, Group Brand

Director at Informa Markets. "After months of restriction and

uncertainty, many people have a great need for face-to-face

meetings. But even those who prefer to participate online

can do so easily thanks to our technical solutions. "

Multifaceted conference programme

The online event will begin on 28 November, the week

before doors open at Paris Expo Porte de Versailles. It

offers an extensive conference programme covering the

hottest topics in the industry, with a focus on plant-based

nutrition, health & wellness, and reformulation. In addition,

interested participants will find a wealth of information on

application areas that are currently trending – such as baked

goods, snacks, dairy products and dairy alternatives. Overall,

drinkworld Technology + Marketing · November 2022 17
---
Events

Market products in the spotlight

On-site, the New Product Zone in cooperation with Innova

Market Insights offers an extensive selection of the most

innovative products, showcased alongside insightful

information. It features product innovations from leading

industry players and provides the perfect opportunity to

give new ingredients the introduction to the market that

they deserve. A popular area for visitors and the press, this

feature has become a trendsetting spot for the nutrition

industry.

www.harnisch.com

Fi Europe Innovation Awards

The renowned Fi Europe Innovation Awards will once again be

adding extra value to the trade show. With one exception, the

awards will only be presented among Fi Europe exhibitors:

The new "Food Training & Education" category is also open

to non-exhibitors. This award is intended to recognise a

company, institution or organisation that contributes to

better consumer health, for example, through an educational

initiative or a pioneering approach. The "Sustainability

Innovation Award" recognises environmentally, economically

or socially sustainable approaches and practices in the food

and beverage industry.

Companies that create equal opportunities in the work

environment receive the "Diversity & Inclusion Innovation

Award". The "Plant-based Innovation Award" acknowledges

alternatives to animal products and is given for the best

ingredient or application. In the "Sensory Innovation"

category, the award is for an ingredient or process that

improves the overall sensory properties of foods or

beverages. The "Health Innovation Award" honours an

ingredient or process that provides a health benefit. The

"Food Tech Innovation Award" goes to companies that

have developed innovative processes, packaging or waste

reduction solutions.

The decision as to who receives awards is made by industry

experts from the fields of consulting, management, product

development and trade media. Prof. Colin Dennis, Chairman

of the Board of Trustees of the IFIS organization and member

of the Board of Trustees of the British Nutrition Foundation,

will again chair the jury this year. The winners of all categories

will be announced during Fi & Hi Europe at a ceremony on

December 6.

Award for innovative startups

The Fi Global Startup Innovation Challenge also enables

young companies to present their innovative concepts,

products and ideas to an international audience of experts,

major companies and sponsors. All companies founded no

more than five years ago are eligible to participate. They can

apply in one or more of the following categories:

• Most innovative ingredient for food or beverage

• Most innovative plant-based or alternative ingredient

• Most innovative processing technology

• Most innovative service, technology or digital solution for

the food and beverage industry

- Technology & Marketing -

18
---
Events

Finalists and winners will have access to the Startup Lounge,

where they can present their products and solutions on

the Innovation Hub stage, and network with industry

representatives. Both the pitches and the award ceremony

will also be streamed via the Fi Europe online platform and

remain permanently available. Winners will have a choice of

several attractive prizes: A fully equipped booth at Fi Europe

next year, a comprehensive online marketing package or an

individual mentoring programme. The latter can be coaching,

for example, or the implementation of a pilot project, or it

can include access to corporate collaborations and business

accelerator programmes.

Prebiotic Dietary Fiber Enrichment Range

Among the latest additions to Taiyo's product lines are special

Sunfiber® variants. They are suitable as prebiotic dietary

fiber enrichment for baby food, pet food and applications

such as fortified gummies or bakery products. Furthermore,

the expert for natural-based functional ingredients presents

health-promoting green tea catechins from the Sunphenon®

range.

In addition to the Innovation Hub, visitors will find the

new Sustainability Hub at the exhibition, which focuses on

sustainable food solutions along the entire value chain. Here

visitors will find information on food waste, circular economy,

regenerative agriculture and many other topics. Finally, the

Women's Networking Breakfast, sponsored by DSM, Lunch &

Learn and other events are perfect for building a professional

network.

Future-Focused Concepts and Solutions that

Meet Evolving Consumer Demands at Fi

Europe 2022

Today's consumers are increasingly looking for foods and

beverages that not only proactively support their personalized

wellness goals, but also support their communities and the

planet. This holistic evolution of conscientious shopping is driving

food and beverage innovation. At this year's Fi Europe, ADM will

take a deeper dive into what's motivating consumers' shopping

behaviors, showcasing full-service platforms and systems,

transparently sourced ingredients, cutting-edge solutions and

technical expertise that bring on-trend, consumer-preferred

concepts to life. Highlights include a variety of plant-based savory

and dairy alternative offerings, lifestyle beverages, baked goods

and snacks with gut microbiome-supporting solutions, as well as

interactive sensorial stations.

Sunfiber® is a soluble prebiotic dietary fiber produced from

the guar bean which promotes the acitivity and multiplication

of beneficial probiotics in the gastro-intestinal tract.

Sunfiber® VB can be utilized in baby food. Because of its

slow fermentation, Sunfiber® does not cause uncomfortable

bloating, cramps or other digestive discomfort. All variants

of Sunfiber® decrease the glycemic index of food products,

which helps to stabilize blood sugar levels. Furthermore, the

prebiotic dietary fiber supports the health and function of the

intestinal tract, and increases overall wellbeing. Sunfiber®

VC is characterized by its low viscosity which perfectly suits

technological requirements. It also dissolves well in fluids

such as milk beverages or supplements in the form of syrups

and shots.

Green tea catechins in the Sunphenon® range are innovative

ingredients. Their health-promoting properties differ

depending on the catechin: Sunphenon XLB can be used

in oral hygiene and disinfectant products to make it more

difficult for viruses to penetrate. Sunphenon® EC is a

myostatin blocker that can positively contribute to muscle

growth. In sufficient doses, it can also have beneficial effects

against diabetes and obesity. The Sunphenon® EGC variant

is an amylase and glucosidase blocker that can also have a

health-promoting effect in type 2 diabetes and obesity.

"Consumers are increasingly questioning a product's ingredients

and looking for natural and plant-based alternatives with added

health benefits," says Dr. Stefan Siebrecht, managing director

of Taiyo's German subsidiary. "Taiyo is therefore presenting

innovative solutions and products that enable the industry to

meet these demands."

drinkworld Technology + Marketing · November 2022 19
---
Processing

Three Factors That Affect Production

Value Targets

by CLEMENS PRÖBSTING

Diet soft drinks and other mid-calorie

alternatives make up a growing

segment of today's soft drink industry.

Along with ingredients like acids and

artificial flavors, typical diet soft drinks

also contain sweeteners. While other

ingredients cannot be overlooked, it is

mostly sugar that affects the density of

the soft drink. This effect is expressed

in sugar concentration (°Brix), which

can easily be analyzed by measuring

density.

To demonstrate the effectiveness

of this technology compared with

traditional methods, Anton Paar, along

with a selection of soft drink production

plants, carried out a comparative study

in which it conducted more than 1,800

measurements over several batches of

diet beverages with a PBA-SD analyzing

system from 2011 and a new PBA 5001

Soft Drink Diet system. The study

aimed to explore whether the PBA

Figure 1: Anton Paar's PBA 5001 Soft Drink

5001, a measuring system based only

on density, could out-perform Anton

Paar's older system, which was based

on density and color measurements,

in analyzing the most important

influencing factors for guaranteeing inspec

production of diet products and

%Diet.

Results showed that the new system

could indeed be used for this style of

measurement. Due to its new patented

measuring principle (an oscillating

U-tube principle called the Pulsed

Excitation Method) as well as continuous

technological improvements that have

been made over the years, the system

was effective.

Measuring density for %Diet

monitoring

Traditionally, the perfect diet drink has

been linked to a laboratory reference

method. For this, a lead substance

(e.g., phosphoric acid) is picked to

determine the concentration of a diet

drink, and the reference lab analysis

specifies if the target reference

value for the lead component can be

reached and how much it deviates.

A major disadvantage of reference

methods is that they are timeconsuming

procedures and require

skilled operators and chemicals.

20
---
Processing

Beverage Monitored substance Laboratory reference method

Cola diet beverage Phosphate Photometric method or ion chromatography

Cola diet beverage Caffeine HPLC

Most diet beverages Total acids Titration

Table 1: Overview of reference methods for different diet beverages

The influence of process water

Process water is the main ingredient

of a diet soft drink and is different

at every soft drink plant. Small

density variations during production

are possible, depending on the

pretreatment. The following table and

figure show measuring results from the

PBA 5001 Soft Drink Diet. A 500 mL

Analyzing the three factors

that negatively influence diet

concentration

All steps in this study were performed

with the PBA 5001 Soft Drink Diet from

Anton Paar, which measures %Diet

based on density with an accuracy of

0.5 %Diet.

Sample preparation procedure

The soft drink package (glass, can, or PET

bottle) was placed into a PFD Piercing

and Filling Device without any sample

preparation having occurred. The

package was then pierced by the device

and the sample directly transferred to

the measuring system.

Sample Measured diet conc. [%] Density [g/cm 3 ] Added water [mL]

Diet cola 1 100.00 1.00098 0

Diet cola 2 92.21 0.99919 50

Diet cola 3 84.92 0.99912 100

Diet cola 4 77.84 0.99904 150

Table 2: The influence of process water

diet cola was diluted with water. The

same water was used for the process

water adjustment.

Figure 2 shows that the low density

of process water changes the density

of the final beverage. Due the

influence of process water, the actual

measurement no longer agrees with

the adjustment and leads to a lower

diet concentration. Consequently,

it can be assumed that if the diet

concentration result is below the

reference value, there is too much

process water in the final beverage.

As a result, operators know that

they have to adapt their production

process.

The influence of citric acid

Density measurement is not a selective

measuring technique. Because diet syrup

has a lot of ingredients, it is difficult to

determine whether the syrup dosing is

wrong or if a specific syrup ingredient

causes the wrong diet concentration. In

the table and figure below, an example

is shown. Citric acid was added to a 500

mL diet orange beverage.

drinkworld Technology + Marketing · November 2022

21
---
Processing

Since citric acid has a very high density,

the density of the final beverage changes

drastically. Diet concentration increases

significantly (above 200% with 3g added

citric acid). Such a strong increase in diet

can usually only be triggered by an acid.

Sample Measured diet conc. [%] Density [g/cm 3 ] Added water [mL]

Diet orange 1 100.00 1.00066 0

Diet orange 2 109.92 1.00090 0.3

Diet orange 3 129.28 1.00137 1.0

Diet orange 4 169.65 1.00235 2.0

Diet orange 5 209.98 1.00333 3.0

Table 3: The influence of acids

The influence of syrup

ingredients

Syrup dosing is a critical taste and

cost factor. Syrup was added to 500

mL diet cola. The results are shown

below.

In this example, too much syrup was

added to the process water, which

led the density of the final beverage

to increase and no longer match the

adjustment. Since the density change

is not as strong as with citric acid, the

increase in diet concentration can easily

be related to syrup dosage.

One system covers it all

Since, as was shown above, a highly

accurate density measurement is the

most reliable way to monitor quality

in terms of diet concentration (%Diet,

mL NaOH, etc.) during the production

process for diet beverages, using one

system for all samples of a production

plant is beneficial.

A system for quality checks on

all products from a soft drink

factory

With its PBA 5001 Soft Drink Diet, Anton

Paar now offers an analyzing system

that is not only capable of measuring

diet soft drinks and energy drinks, but

also mid-calorie drinks, regular drinks,

and bottled water. Since the sample

is transferred directly from the final

package with the help of a special

filling device, no sample preparation is

required for analysis.

All key parameters analyzed in

one run

Besides density, the system simultaneously

selectively determines the pH value and

amount of dissolved O 2

and CO 2

in the

package. Analyzing all key parameters in

one run from a single sample helps soft

drink producers optimize their blending

process and ensure ideal carbonation

levels. PBA 5001 systems that are already

22
---
Processing

drinkworld Technology + Marketing · November 2022

23
---
Processing

Sample Measured diet conc. [%] Density [g/cm 3 ] Added water [mL]

Diet cola 1 100.00 0.99918 0

Diet cola 2 109.90 0.99929 2.0

Diet cola 3 119.70 0.99938 5.0

Diet cola 4 128.00 0.99947 7.5

Diet cola 5 135.94 0.99969 10.0

Table 4: The influence of syrup dosage

being used can easily be upgraded due

to their modular setup. Since there is

automatic filling error detection in the

density and CO 2

meters, users can be

confident that their sample filling has

been done correctly.

Less reference analysis in daily

work routines

For anyone still using the complex

molybdenum blue or titration methods

for diet drink analysis, Anton Paar's new

beverage analyzing system can help. It is

easily adjusted and operated. A reference

for %Diet measurements is only set

at the beginning of batch production,

which reduces the demand for reference

analysis by 75 % and saves users money

on costly chemicals and consumables.

Conclusion

The quality of a diet beverage is largely

influenced by three factors: process water,

citric acid, and syrup ingredients. This

study showed that these three factors

have a negative impact on production

target values. Because of this, analyzing

these during the whole production

process is best done with a system based

on density measurement.

24
---
Processing

Covert Detection

Technology Helps Identify

Counterfeit Regional Wines

The National Office of Vine and

Vitivinicultural Products (ONVPV) in

Romania, is using Eluceda's covert

taggant marker with a unique machinereadable

signature, to authenticate

the provenance of its regional wines

and protect drinkers from potential

counterfeits.

The ONVPV oversees national vineyard

management and winemaking in Romania

and supports the traditional production

of wine in this designated geographical

area. The security labels provide a clear

brand identity for the ONVPV, which is

easily recognizable on labelled bottles

and products within a retail environment.

Working closely with security label

manufacturer Eltronis, Eluceda provided

a tailored taggant to ensure that ONVPV

wine labels were protected by the latest

covert security technology, helping

producers to stay one step ahead of the

counterfeiters.

By adding authentication technology

to wine bottles, the ONVPV is helping

to counter this trend, promoting the

provenance of the region, and building

protection against potential counterfeit

through the ability to identify genuine

products.

Richard Burhouse, Commercial Director

for Eluceda, said: "We're seeing growth

in the use of our covert markers to

help protect products of geographic

importance, as they provide discrete and

instant verification of genuine goods for

enforcement officers working in the field.

"We are delighted to be involved in

this project and support progressive

organisations such as the ONVPV who

continue to invest in security technologies

in order to promote their wines and take

a clear stand against fraud."

The new labels build on ONVPV's

existing design and combine an overt

hologram with high-level covert security.

Eluceda's taggant marker with its unique

machine-readable signature provides an

instant unambiguous response to the

pocket-sized Reveal detectors used by

enforcement officers in the field.

The Reveal range of readers work in

hand in glove with Eluceda's MicroTagg

and Securitagg inorganic taggant

materials and are configured according

to the ONVPV's needs to identify genuine

wines quickly and securely.

Wine fraud is on the rise in all markets,

helped in part by the growth of

ecommerce. This poses significant

dangers to both consumers and

producers alike, as fraudsters will

sometimes include dangerous additives

and trust in a brand can often be broken

if customers fall foul of counterfeiters.

drinkworld Technology + Marketing · November 2022

25
---
Processing

State-of-the-Art Filtration Technologies

for a High-Quality and Efficient Wine

Production at SIMEI 2022

The Filtration Division of power

management company, Eaton, will present

an extensive range of filtration and

biotechnology products at the SIMEI trade

show in Milan, Italy, from November 15

to 18 (booth E29, hall 1). The exhibition

program includes various filter media

that reliably remove colloids, tannins,

yeasts and bacteria for excellent taste

of premium wines. Optimally combined,

they prevent early clogging of the end

filters that results in more efficient wine

production.

One highlight from Eaton's range

of filtration solutions is the BECO®

filter cartridge offering including filter

cartridges that are exactly tailored to

the specific requirement profiles of wine

filtration. Dependent on the focus –

whether performance, safety, economy,

flexibility or the preservation of individual

taste and color – Eaton application experts

will be available at the booth to discuss

optimum combinations of BECO PROTECT

FS FineStream pre-filter, BECO PROTECT

PP Pure pre-filter and new BECO

MEMBRAN PSplus membrane filter

cartridges for an effective pre-filtration

and final filtration of full-bodied, bright

and stable wines.

Also on display will be the three latest

product developments of Eaton stacked

disc cartridges. The BECODISC® R+ range

comprises of eight backflushable extra

robust variants. They are designed for a

minimum of 20 regeneration cycles and

can be flexibly reused in coarse, clarifying,

fine, microbial reduction and microbial

removal filtration.

In Eaton's double-layer stacked disc

cartridge range, BECODISC BXS, two

different depth filter sheets are used to

carry out pre-filtration and fine filtration

at specifically adapted retention rates in a

single housing. Its design helps guarantee

economic filtration, shorter process times

and simple handling while maintaining

maximum performance.

The stacked disc cartridge program

will be rounded-off by the new

activated carbon stacked disc

cartridge range, BECODISC BC. With

strong decolorization abilities and

adsorptive removal of undesired byproducts,

along with taste, odor and

color correction, this filter is ideal for

blended wine products low in alcohol.

All BECODISC stacked disc cartridges

can be used in a wide variety of

stacked disc cartridge housings

and filtration systems, including

BECO INTEGRA DISC housings and

Eaton's manual or fully automatic

StepFlow filtration systems.

In addition to the filter media and

systems portfolio, Eaton will also

be exhibiting its extensive beverage

treatment product range. On display

will be solutions for full and pure

alcoholic fermentation, including

active dry yeasts and associated yeast

nutrients. Pre-clarification to support

flavor release and improve filterability

enzymes for mash extraction and

grape must will also be presented.

26
---
Processing

Oat Milk Manufacture using

High Shear Mixers

Non-dairy or plant-based milks, such

as Oat milks, have become increasingly

popular over the past few years and as

a result Silverson has been seeing more

enquiries from manufacturers in the

beverage industry seeking guidance and

process solutions for this application. In

response, Silverson has released a new

'How to' video on the manufacture of Oat

Milks, showing how a Silverson mixer can

be beneficial in different stages of the

manufacturing process. The processes

shown in this video can be applied to the

manufacture of other plant based/nondairy

milks such as nut milks like almond

and hazlenut, legume milks such as soya

and coconut milks.

Oat milks can be manufactured in a

number of different ways, but the end goal

is the same. Whether the oat milk is to be

made from whole, cut or rolled oats, or

from oat flour, they all need to be reduced

down to a fine particle size in order to

achieve the correct mouthfeel and product

consistency. Many manufacturers also

require the oats to be ground as finely as

possible to minimize the amount of waste

generated and save on processing costs.

But equipment used for grinding may

not be suitable for creating emulsions or

dispersing gums and thickeners which

are often added at a later stage in the

manufacturing process.

The manufacture of Oat milks and other

types of non-dairy milks consists of lots

of different mixing processes. But rather

than using several pieces of processing

equipment, the disintegration of the oats,

dispersion of enzymes, incorporation

of gums and thickeners and in some

cases plant oils, can all be handled by

one Silverson High Shear mixer. The

interchangeable workheads available for

all Silverson rotor/stator mixers ensure

that full dispersion of all ingredients, is

possible. It also helps to future proof the

production process as raw materials can

be changed and blends of different plantbased

ingredients can be introduced.

Dairy/non-dairy blends can also easily be

produced with the mixer.

A shown in the 'How to' video, a Silverson

mixer is able to disperse any type of oats

into water while reducing the particles

down to a fine, uniform size. The highspeed

rotation of the rotor blades

within the workhead draws the oats and

surrounding liquid into the workhead.

Once in the workhead the oats are

subjected to a milling action between the

ends of the rotor blades and the inner wall

of the stator, reducing them down. The mix

is then forced, at high velocity, out through

the perforations in the stator, in this case

a fine stator screen, and back into the

body of the mix. This sets up a circulatory

pattern of mixing which ensures the oats

will pass through the workhead many

times, gradually reducing down until the

desired particle size is achieved.

The way in which a Silverson mixer works

allows the same machines to be used for

subsequent steps in the manufacturing

process, such as liquid/liquid blending

when enzymes are added to the liquified

oats, or when plant oils are added to the

aqueous phase.

The mixer can also be used for powder/

liquid mixing. As Oat milks are not

naturally shelf stable, many formulations

include stabilizers such as locust bean

gum to help improve stability. But these

powdered ingredients are difficult to

disperse and hydrate with conventional

mixing equipment such as stirrers and

agitators which do not create the shear

energy necessary to break agglomerates

down once they have formed. A Silverson

mixer can ensure an agglomerate-free

dispersion and maximized yield. The mixer

will rapidly incorporate the powder, with

the gums being drawn into the workhead

and hydrated before agglomerates are

able to form.

Once all of the ingredients have been

incorporated and the mixture has passed

through a filtration stage, the Oat Milk

may be fed through a High Pressure

Homogenizer. This is to ensure that the

fat droplets are finely dispersed so as to

be undetectable in the mouthfeel. Where

Photo: Silverson

a Silverson mixer is used as a preliminary

processing step, this ensures that particles

are uniformly and finely dispersed. This

will allow the mixture to pass through the

High Pressure Homogenizer at a much

faster rate, reducing processing times and

saving on costs.

There are a number of Silverson mixers

suitable for the manufacture of Oat

milks. The batch size, raw materials and

formulation dictate which would be most

suitable for each individual customer.

As shown in the 'How to' video a Batch

mixer can carry out all of the previously

mentioned mixing processes. But for

larger batches, an In-Line mixer may be

more suitable.

Silverson In-Line mixers can be used in

conjunction with Batch Mixers, Duplex

Disintegrators and Bottom Entry mixers

where whole nuts, seeds or oats are

used; the In-tank mixer provides the

initial particle size reduction and the In-

Line mixer further refines the product to

obtain the desired finished texture.

For even larger batches, the Silverson

Pilot Disintegrator Plant works in a

similar way and comprises a Bottom

Entry Disintegrator and an In-Line mixer/

homogenizer.

drinkworld Technology + Marketing · November 2022

27
---
Processing

Precise Results: New Analytical

Instrument Unites 3 Measuring Tasks

in 1 Instrument

The new instrument analyzes liquid, translucent samples for their optical spectrum, color,

and water parameters. Or any of the three. Operators speed up their processes and improve

the quality of the results using Easy VIS. They, therefore, save money, time, and space.

The instrument takes over the measuring

tasks of up to three instruments: a

colorimeter, a spectrophotometer, and

special measuring methods for water

testing, such as titration. All this power

rests in one instrument about the size of

a notebook. The results appear on screen

in trustworthy accuracy, precision, and

repeatability – within seconds. That

saves money, time, and space. The

instrument's name is Easy VIS, one

of the next-generation EasyPlus UV/

VIS spectrophotometers produced by

METTLER TOLEDO.

Manufacturers benefit in many

ways

A typical place for Easy VIS is the QC

lab at small manufacturers in the food

and beverage industry, environmental

testing labs, or any industry needing

quality control and supervising their

process- or wastewaters. The Easy VIS

is used during multiple steps of the

production process: For inspection of

raw materials, quality control of semifinished

and finished products, or

testing the water quality of wastewater.

This streamlines the production

processes considerably. Those who

used to send their samples to an

external laboratory profit even more,

as they can now analyze most samples

independently at an internal cost.

The visual user interface with workflow

guidance allows you to simply scan

and measure. Even untrained staff

can operate Easy VIS intuitively. This

increases the integrity and repeatability

of the analysis and saves training time.

Easy VIS operates within a wavelength

range of 330 to 1,000 nm. The light

source is an easy-to-replace tungsten

lamp, which any operator can replace

within no time.

The partner device, Easy UV, covers the

full UV/Vis spectrum with a wavelength

The PathDetectTM function of the compact Easy VIS spectrophotometer produced by METTLER

TOLEDO recognizes which path length is measured and reduces errors.

Ease of use in a new dimension: Closing the

lid of the Easy VIS spectrophotometer produced

by METTLER TOLEDO automatically

starts the measurement.

range from 190 to 1,000 nm to cover

additional applications in the UV range.

Plus: The Easy UV runs with a powersaving

and maintenance-free xenonflash

lamp.

Analytic precision in three

fields of expertise

25 standard-compliant color scales in

the visible range come pre-installed

and can easily be used. Some examples

The compact Easy VIS by METTLER TOLEDO efficiently

analyzes fluid and translucent samples.

As a true all-rounder, it covers three measuring

tasks in one instrument.

28
---
Processing

are ICUMSA TM for sugar color, ESBC for

beer quality analysis, or OIV CIELab for

wine color determination. The results

reveal the quality of the product within

seconds.

Water analysis shows, for example,

the concentration of Aluminum,

Ozone, Chlorine, or Polyphenol. This

reveals whether the water is fit for

human consumption or can be used in

further production. Is the wastewater

safe to release? With its numerous

built-in water testing methods, the

spectrophotometer can quickly provide

the answer.

For spectrophotometry, the sample is

analyzed at the wavelengths where the

sample has its characteristic absorption

of light. The Easy VIS measures the

transmitted or absorbed light and

the reading reveals the sample's

concentration or purity.

Evo- N

THE SMARTNESS WITHIN

Without data, your plant is silent.

It can't tell you where its weaknesses

or its potential for improvement lie.

Since 1996, we have been developing

digital solutions to make your lines

talk – an expertise that today

culminates in the Evo-ON

software suite.

Discover drinkworld more on

Technology + Marketing · November 2022

Sidel.com/evo-on

29
---
Processing

Plant-based Drinks: Focussing on Oats

Just ten years ago, plant-based drinks

were still a niche product found mostly

in organic grocery stores. Today, they've

made their way into every supermarket,

without exception – and they're filling

the shelves with an increasingly colorful

array of products. This sheer diversity is

also reflected in the processing methods

for the various raw materials used

because each one possesses certain

properties that must be taken into due

account in the production process.

Krones is focussing above all on the

production of oat drinks and can offer

three different process variants.

Variant 1 – Using a ready-made

oat base

Just like in soft-drinks production, the

oat base used in this process variant

comes in liquid form and can simply

be purchased from suppliers. It is then

blended with any additional ingredients

such as stabilizers, aromas, or fats to

achieve the desired consistency and

flavor nuances. Incidentally, this step

is common to all three options. The

blending itself is done in standard

process tanks which are already on hand

in the syrup rooms of many beverage

plants. That is precisely why this option

is ideal for companies wanting to quickly

give the production of oat drinks a

try without needing to invest in new

equipment.

Variant 2 – Using oat meal

This process variant based on oat meal

is also suitable for getting started

quickly since it likewise uses common

process tanks for blending. It does,

however, require a disperser (such as

a vacuum mixer) for dissolving the oat

meal in water. The difference between

this process and variant 1 is that the

first step requires the addition not

only of water but also of enzymes

that catalyse hydrolysis. After that,

the solids simply have to be separated

from the liquids in a decanter, which will

also need to be installed. The resulting

base can then be blended to create the

final product. The ideal target group

for this option is customers looking to

make a quick start in producing midrange

volumes of oat-based drinks with

little investment. Dairies and other

companies with production experience

can meet some of the equipment needs

with technology they already have on

hand.

Variant 3 – Using whole oat

kernels or oat flakes

Production in this variant is based on

oat kernels or oat flakes, which can

be freshly milled on site. Enzymes are

added in specially designed enzyme

tanks that are based on the mashing

technology used in brewing beer. It

is only logical to apply beer-making

expertise of brewery specialists to plantbased

drinks since both processes have

a lot in common. Like barley or wheat,

oats are grains that are milled and then

vigorously blended with water and, later,

with enzymes and other ingredients,

in a special enzyme tank to create a

homogeneous liquid. The pillow plates

and integrated vibration units in the

tank ensure that everything is heated

evenly and the soluble components of

the oats are extracted with the utmost

efficiency.

Besides high extract yields and product

quality, these enzyme tanks offer

great potential for energy savings. The

specially shaped interior heat exchanger

surface transfers the heat so efficiently

that the temperature of the heating

media can be reduced dramatically and

hot water can be used instead of steam.

As a result, the energy recovered during

the cooling process can be used for the

next heating cycle.

30
---
Packaging

Maximum Flexibility in Product Labelling

Gernep Presents New Pre-Modular Combined Machines

For 40 years, Gernep has been supporting

producers from the beverage, food,

consumer healthcare and non-food

industries with customized labellers for

high-quality product decoration. Its range

of services comprises self-adhesive, wetglue

and hotmelt labelling from the label

reel or label magazine, to ensure that each

individual product can have the right label.

The Bavarian labelling machine

manufacturer is setting new standards in

2022: to achieve maximum flexibility in

product labelling, Gernep has developed a

new generation of pre-modular combined

machines. GERNEP's combined machines

are unique in their ability to integrate

a variety of gluing systems on just one

machine. Depending on the customer's

requirements, they can be operated either

mechanically or with servo motors. With

the option of integrating special additional

equipment, such as seal labellers, control

technologies and visual or mechanical

equipment, each machine can be

individually adjusted to meet customer

demands.

One highlight of the new machine

generation is the flexible labelling station

suspension system which can be used to

easily combine different labelling station

types. They are also intuitive to use thanks

to an improved swivel-mounted operator

panel (HMI) including new features. To

ensure that the latest safety requirements

can also be met, the labelling machines are

equipped with a newly designed lift guard.

Gernep's pre-modular combined machines

are rounded off with a visually appealing,

sleek design which is distinguished by its

excellent accessibility, thus also making

machine maintenance and cleaning child's

play.

Gernep is driven by a desire to continue

developing its products in line with

changing market conditions and customer

demands. Even its conventional rotary

labelling machines – equipped with just

one type of glue – are state of the art and

can be individually adjusted to deliver

precisely what the customer needs.

The use of high-quality materials make

Gernep labelling machines particularly

durable. In line with their motto "More

than Labelling", this Bavarian engineering

company has invested a great deal in the

further development of its company and

machinery over the last few years, with

an aim to providing its customers with the

best possible assistance in their product

presentation.

drinkworld Technology + Marketing · November 2022

31
---
Packaging

Cap Sterilization has Never Been Safer

The French aseptic packaging specialist Serac offers a new sterilization technology,

combining the highest levels of efficiency and safety for consumers, operators, and the

environment. The BluStream cap decontamination module requires only 3 square meters

of floorspace and can be integrated on new Serac lines as well as on existing machines,

whatever their OEM. It is intended for high-acid as well as low-acid beverages and is able to

treat up to 600 caps per minute.

Physical, dry treatment carried

out at room temperature

Serac's BluStream module uses the lowenergy

e-beam technology. Electrons are

thrown all over the surface of the cap

and quickly destroy microorganisms by

breaking their DNA chains.

Electrons do not penetrate the treated

material and thus do not affect the

internal structure of the cap. As treatment

is carried out at room temperature, it

avoids risks of distortion that could alter

caps' behavior upon screwing.

BluStream treatment is, nevertheless,

highly efficient since it ensures a 6-Log

bacteriological reduction inside the cap

in only 0.3 to 0.5 second. This efficiency

level makes BluStream suitable for

aseptic packaging and high outputs.

Safer for consumers

Unlike APA and H 2

O 2

solutions, BluStream

uses no chemicals. It also makes

Inside the BluStream module for cap sterilization

BluStream module for caps at Sources Alma plant in France

sterilization easier to monitor with only

3 critical parameters: voltage, current

intensity, exposure time.

Bacteriological reduction is ensured as

soon as the cap has been exposed to

the necessary dose of electrons yet, this

dose depends on perfectly controllable

parameters and can be monitored in

line through a simple dosimetry test.

Sterilization is confirmed in real time,

which is not possible with chemical

laboratory tests.

Combined together, these 3 features

reduce the risk that a cap contains

chemical residues, receives insufficient

treatment and/or is not detected as

faulty.

Safer for operators

The BluStream module is quieter than

conventional sterilization units.

The operating environment is also

very comfortable due to the absence

of chemical odors. The BluStream

module only generates ozone, which

is extracted outside the factory

walls. Ozone is quickly and naturally

depleted in the environment and

leaves no trace.

Safer for the environment

The BluStream module also brings

environmental benefits. As a chemical

free treatment, it does not generate

toxic effluents. In addition, it requires

neither water nor heating or steam,

it has a lower demand in energy and

water than conventional sterilization

methods.

BluStream offers beverage manufacturers

a perfectly safe, real-time

monitored and environment-friendly

solution, for continuous cap sterilization

at high outputs.

BluStream treatment can be applied on

any type of cap (HDPE, LDPE, PET, PP,

aluminum), and whatever the bottle size.

32
---
Packaging

Riedel

Chooses

Unique

on-the-go

Packaging

Innovation

for Iconic

Juice

Brands

Dutch company Riedel, a leading

producer of NCSD products, is the

first in the Netherlands to offer its

famous juices in SIG's innovative

on-the-go combismile carton pack.

Riedel's iconic Appelsientje, CoolBest

and DubbelDrank juice brands will

benefit from the clever design of

combismile, which is also paired with

SIGNATURE FULL BARRIER packaging

material, where the small amount of

polymers used are linked to certified

forest-based renewable materials via

a mass-balance system.

SIG's combismile carton offers the

perfect lifestyle match for Riedel

juices and provides busy consumers

of all ages with ultimate on-the-go

convenience - easy to open, handle,

hold, close and store on the go. With a

curved, modern shape with easy grip

corners, combismile offers consumers

handy consumption straight from the

pack and is resealable thanks to its

innovative one-step closure.

Riedel has extensive expertise in

carton packaging, naturally evolving

over time in close partnership with

SIG. The new 330ml on-the-go

combismile carton pack is a logical

development, unifying Riedel's

carton packaging portfolio to offer

the most convenient and sustainable

choice for consumers.

THE

REVOLUTION

OF THE

Only from KHS: freshness protection

which is 100 % bottle-to-bottle recyclable.

PET BOTTLE.

IT DOESN'T COMPROMISE

ON RECYCLING EITHER.

With FreshSafe-PET ® we have combined the benefits of PET and glass bottles. Its wafer-thin

inside layer of glass keeps beverages fresh for longer – and maintains taste and vitamins.

The coating is also fully compatible with EPBP design guidelines for recycling and is

recognized by the APR. This is yet further proof of how we are constantly reinventing

the PET bottle. http://pet.khs.com/freshsafepet

33
---
Packaging

The Future of Sustainable Packaging for

Sensitive Drinks

Sidel has created 1SKIN, a unique label-less recycled PET bottle. Combining distinctive shelfappeal

with the highest eco credentials, it has been designed to help Sidel's customers achieve

their sustainability goals and drive sales of high-end products.

The one-liter bottle is destined for the

booming market in sensitive juices,

teas and flavored drinks. The new 1SKIN

concept represents a breakthrough both

in sustainability and in its streamlined

design.

Designed for easy recycling

Made with readily available 100%

recycled PET (r-PET), 1SKIN has been

designed by Sidel for easy recycling. The

label-free bottle with its tethered cap can

immediately enter the recycling stream

with no need to separate additional

raw materials such as ink, glue, labels

or sleeves. Customers choosing 1SKIN

will stay ahead of the main worldwide

regulations and market trends for

sustainable packaging.

Launched at the international beverages

trade fair, drinktec in Germany in

September, the bottle has attracted

interest from customers from all

over the world seeking to make their

packaging more sustainable. Many of

34
---
Axial split modular casing

on steel, stainless steel,

steel; others on request

Differenzdruck-Begrenzungsventil

Differential pressure limiting valve

Spalttopfausführungen:

E metallisch / nicht-metallisch

E einschalig / doppelschalig

Containment shell executions:

E metallic / non-metallic

E single / double shell

WANGEN_PuK_Titelseite_216x182.indd 1 24.01.2022 15:23:40

WANGEN_PuK_Titelseite_216x182.indd 1 24.01.2022 15:24:33

Packaging

GREEN EFFICIENT TECHNOLOGIES

The independent media platform for

energy supply, efficiency enhancement and

alternative energy sources and storage

gs GmbH

, Germany

11 2018-0

1 2018-100

nisch.com

nisch.com

SAFETY.

IBILITY.

ESIGN.

E TWIN SCREW PUMP

EIT. DRIVE

NDELPUMPE

m

PROZESSTECHNIK & KOMPONENTEN

2022

PROCESS TECHNOLOGY & COMPONENTS

Wasser Abwasser Umwelttechnik

Energie Öl Gas Wasserstoff

Fahrzeugbau Schiffbau Schwerindustrie

Chemie Pharma Biotechnik

Lebensmittel- und Getränkeindustrie

2022

Water Wastewater Environmental Technology

Energy Oil Gas Hydrogen

Automotive PROZESSTECHNIK Shipbuilding Heavy Industry & KOMPONENTEN

Chemistry Pharmaceutics Biotechnology

Food and Beverage Industry

The hygienic solution

WANGEN VarioTwin NG

Hygienisch fördern

Independent magazine for Pumps, Compressors and Process Components

WANGEN VarioTwin NG

Unabhängiges Fachmagazin für Pumpen, Kompressoren und prozesstechnische Komponenten

PROCESS TECHNOLOGY & COMPONENTS 2022

2022

H ENGLISH ENGLISH ENGLISH ENGLISH ENGLISH ENGLISH ENGLISH ENGLISH ENGLISH ENGLISH ENGLISH ENGLISH ENGLISH ENGLISH ENGLISH ENGLISH ENGLISH ENGLISH ENGLISH ENGLISH ENGLISH ENGLISH ENGLISH ENGLISH ENGLISH ENGLISH

GLISH ENGLISH ENGLISH ENGLISH ENGLISH ENGLISH ENGLISH ENGLISH ENGLISH ENGLISH ENGLISH ENGLISH ENGLISH ENGLISH ENGLISH ENGLISH ENGLISH ENGLISH ENGLISH ENGLISH ENGLISH ENGLISH ENGLISH ENGLISH ENGLISH ENGLISH

H ENGLISH ENGLISH ENGLISH ENGLISH ENGLISH ENGLISH ENGLISH ENGLISH ENGLISH ENGLISH ENGLISH ENGLISH ENGLISH ENGLISH ENGLISH ENGLISH ENGLISH ENGLISH ENGLISH ENGLISH ENGLISH ENGLISH ENGLISH ENGLISH ENGLISH ENGLISH

NGLISH ENGLISH ENGLISH ENGLISH ENGLISH ENGLISH ENGLISH ENGLISH ENGLISH ENGLISH ENGLISH ENGLISH ENGLISH ENGLISH ENGLISH ENGLISH ENGLISH ENGLISH ENGLISH ENGLISH ENGLISH ENGLISH ENGLISH ENGLISH ENGLISH ENGLISH

ISH ENGLISH ENGLISH ENGLISH ENGLISH ENGLISH ENGLISH ENGLISH ENGLISH ENGLISH ENGLISH ENGLISH ENGLISH ENGLISH ENGLISH ENGLISH ENGLISH ENGLISH ENGLISH ENGLISH ENGLISH ENGLISH ENGLISH ENGLISH ENGLISH ENGLISH ENGLISH

NGLISH ENGLISH ENGLISH ENGLISH ENGLISH ENGLISH ENGLISH ENGLISH ENGLISH ENGLISH ENGLISH ENGLISH ENGLISH ENGLISH ENGLISH ENGLISH ENGLISH ENGLISH ENGLISH ENGLISH ENGLISH ENGLISH ENGLISH ENGLISH ENGLISH ENGLISH

ISH ENGLISH ENGLISH ENGLISH ENGLISH ENGLISH ENGLISH ENGLISH ENGLISH ENGLISH ENGLISH ENGLISH ENGLISH ENGLISH ENGLISH ENGLISH ENGLISH ENGLISH ENGLISH ENGLISH ENGLISH ENGLISH ENGLISH ENGLISH ENGLISH ENGLISH ENGLISH

ENGLISH ENGLISH ENGLISH ENGLISH ENGLISH ENGLISH ENGLISH ENGLISH ENGLISH ENGLISH ENGLISH ENGLISH ENGLISH ENGLISH ENGLISH ENGLISH ENGLISH ENGLISH ENGLISH ENGLISH ENGLISH ENGLISH ENGLISH ENGLISH ENGLISH ENGLISH

LISH ENGLISH ENGLISH ENGLISH ENGLISH ENGLISH ENGLISH ENGLISH ENGLISH ENGLISH ENGLISH ENGLISH ENGLISH ENGLISH ENGLISH ENGLISH ENGLISH ENGLISH ENGLISH ENGLISH ENGLISH ENGLISH ENGLISH ENGLISH ENGLISH ENGLISH ENGLISH

ENGLISH ENGLISH ENGLISH ENGLISH ENGLISH ENGLISH ENGLISH ENGLISH ENGLISH ENGLISH ENGLISH ENGLISH ENGLISH ENGLISH ENGLISH ENGLISH ENGLISH ENGLISH ENGLISH ENGLISH ENGLISH ENGLISH ENGLISH ENGLISH ENGLISH ENGLISH

GLISH ENGLISH ENGLISH ENGLISH ENGLISH ENGLISH ENGLISH ENGLISH ENGLISH ENGLISH ENGLISH ENGLISH ENGLISH ENGLISH ENGLISH ENGLISH ENGLISH ENGLISH ENGLISH ENGLISH ENGLISH ENGLISH ENGLISH ENGLISH ENGLISH ENGLISH ENGLISH

ENGLISH ENGLISH ENGLISH ENGLISH ENGLISH ENGLISH ENGLISH ENGLISH ENGLISH ENGLISH ENGLISH ENGLISH ENGLISH ENGLISH ENGLISH ENGLISH ENGLISH ENGLISH ENGLISH ENGLISH ENGLISH ENGLISH ENGLISH ENGLISH ENGLISH ENGLISH

GLISH ENGLISH ENGLISH ENGLISH ENGLISH ENGLISH ENGLISH ENGLISH ENGLISH ENGLISH ENGLISH ENGLISH ENGLISH ENGLISH ENGLISH ENGLISH ENGLISH ENGLISH ENGLISH ENGLISH ENGLISH ENGLISH ENGLISH ENGLISH ENGLISH ENGLISH ENGLISH

SCH DEUTSCH DEUTSCH DEUTSCH DEUTSCH DEUTSCH DEUTSCH DEUTSCH DEUTSCH DEUTSCH DEUTSCH DEUTSCH

DEUTSCH DEUTSCH DEUTSCH DEUTSCH DEUTSCH DEUTSCH DEUTSCH DEUTSCH DEUTSCH DEUTSCH DEUTSCH DEUTSCH DEUTSCH DEUTSCH DEUTSCH DEUTSCH DEUTSCH DEUTSCH DEUTSCH

TSCH DEUTSCH DEUTSCH DEUTSCH DEUTSCH DEUTSCH DEUTSCH DEUTSCH DEUTSCH DEUTSCH DEUTSCH DEUTSCH

DEUTSCH DEUTSCH DEUTSCH DEUTSCH DEUTSCH DEUTSCH DEUTSCH DEUTSCH DEUTSCH DEUTSCH DEUTSCH DEUTSCH DEUTSCH DEUTSCH DEUTSCH DEUTSCH DEUTSCH DEUTSCH DEUTSCH

TSCH DEUTSCH DEUTSCH DEUTSCH DEUTSCH DEUTSCH DEUTSCH DEUTSCH DEUTSCH DEUTSCH DEUTSCH DEUTSCH DEUTSCH DEUTSCH DEUTSCH DEUTSCH DEUTSCH DEUTSCH DEUTSCH DEUTSCH

H DEUTSCH DEUTSCH DEUTSCH DEUTSCH DEUTSCH DEUTSCH DEUTSCH DEUTSCH DEUTSCH DEUTSCH DEUTSCH DEUTSCH DEUTSCH DEUTSCH DEUTSCH DEUTSCH DEUTSCH DEUTSCH DEUTSCH

DEUTSCH DEUTSCH DEUTSCH DEUTSCH DEUTSCH DEUTSCH DEUTSCH DEUTSCH

CH DEUTSCH DEUTSCH DEUTSCH DEUTSCH DEUTSCH DEUTSCH DEUTSCH DEUTSCH DEUTSCH DEUTSCH DEUTSCH DEUTSCH DEUTSCH DEUTSCH DEUTSCH DEUTSCH DEUTSCH DEUTSCH DEUTSCH

DEUTSCH DEUTSCH DEUTSCH DEUTSCH DEUTSCH DEUTSCH DEUTSCH DEUTSCH

SCH DEUTSCH DEUTSCH DEUTSCH DEUTSCH DEUTSCH DEUTSCH DEUTSCH DEUTSCH DEUTSCH DEUTSCH DEUTSCH DEUTSCH DEUTSCH DEUTSCH DEUTSCH DEUTSCH DEUTSCH DEUTSCH DEUTSCH

Sustainable opportunities in process

technology

Circular economy in the industrial

production process

Topics H 2

, Synthetic Fuels, Water,

Solar & Photovoltaics, Wind Power,

Bioenergy, Geothermal Energy, Battery

Technology, System Integration and

other alternative options

drinkworld Technology + Marketing · November 2022

Dr. Harnisch Verlags GmbH · Eschenstr. 25 · 90441 Nuremberg · Tel.: +49 (0) 911 - 2018 0 · info@harnisch.com · www.harnisch.com

35
---
Packaging

the major brands are embracing higher

sustainability standards, driven by

consumer influence as well as growing

legislation to encourage recycling.

"We are delighted with the positive

response to 1SKIN," says Vincent Le

Guen, Vice President - Packaging at

Sidel. "We have demonstrated that it is

possible to combine outstanding design

and strong sustainability credentials in

one affordable premium bottle."

Appealing looks and drinking

experience

1SKIN is made to stand out on shelves

in one of the fastest growing and

most competitive beverage segments.

The bottle is designed to deliver an

appealing drinking experience, with an

ergonomic grip for comfortable pouring.

It has a wide neck and a cap lock feature

to keep the open bottle top away from

the consumer's face. On the bottle's

label-free surface there are multiple

options to use differing fonts and

textures, with the transparency enabling

great opportunities for natural light and

shadow play. The ultra-precise graphic

elements are created using Sidel's most

advanced mould technologies combined

with its blow moulding expertise. QR

or bar codes can be printed on the

bottle closure to provide information

to consumers or enable individual unit

sales.

The bottle design guarantees safety

and protects the integrity of products

with a long shelf life. Sidel's patented

Starlite Sensitive base technology

combines a premium glass-like design

with optimised weight and performance

on high-speed lines.

Immediate availability on new

or existing lines

Sidel can include the 1SKIN solution in

new equipment, or add it to existing

lines using its dedicated line conversion

services. The line equipment is adapted

accordingly, ensuring a quick and

efficient start-up. The bottle's optimised

neck requires less raw materials and so

can also reduce production costs.

Inspired by healthy living

Sidel describes 1SKIN as being inspired

by nature and the importance of healthy

living, offering a bottle which protects

its contents with a minimalist approach

and premium shelf-appeal.

"It is an ideal design solution that

makes the packaging industry more

sustainable," concludes Vincent Le

Guen.

36
---
New Global Digital Label

Material Swatchbook

for Wine, Spirits and

Beverage

FILTECH

Packaging

February 14 – 16, 2023

Cologne – Germany

The Filtration Event

www.Filtech.de

UPM Raflatac, a global supplier of innovative and sustainable labeling materials,

is solving bottlenecks for designers with their recently published dynamic

digital label material swatchbook for wine, sprits and beverage (WSB). This

new tool allows designers to bring the designs to life by downloading highdefinition

images and utilizing the selected label material in their preferred

design software.

Platform

for your

success

"The digital swatchbook was created with designers in mind. There are plenty of

label materials available for wine, spirits and beverage, but the challenge is to

find the right match to the packaging and to find it easy and fast. As we now live

in a world with less face-to-face meetings, it is essential to have an efficient, userfriendly,

and innovative digital tool that can change the landscape of label and

packaging design," says Stefano Pistoni, Senior Manager, Business Development,

Wine, Spirits and Beverage, UPM Raflatac.

Targeted

Solutions

for the

Drinks

Industry

drinkworld Technology + Marketing · November 2022

Your Contact: Suzanne Abetz

E-mail: info@filtech.de

37

Phone: +49 (0)2132 93 57 60
---
Packaging

"For us at Advision, the UPM Raflatac

Digital Swatchbook is a new incredible

tool to support our creative and design

workflow. We have already tried the highresolution

textures download and just in

a few minutes we created mockups and

realistic renderings. This new tool has

two strengths: it greatly simplifies our

work and helps us to convey our idea

of the final result to clients in a realistic

way," stated Matteo Zantedeschi, Art

Director, Advision.

The digital swatchbook allows users

to search by visual appearance of

face material or by features and

functionalities of the material. As a

global tool, the swatchbook is segmented

by region to provide a highly customized

user experience.

38
---
ZKZ 62006

ISSN 1433-1594 Vol. 26 No. 4 November 2022 US $ 12 · € 12

Cover: Efficient Steam Boiling for Climate Benefits

Natural Protection for No-alcohol Beverages

Targetting Increased Product Value

Sustainable Packaging for Sensitive Drinks

+49 (0)911 2018-100

or mail us to: drink@harnisch.com

Issue 4/2022

Our service: If you would like to have more information on articles and/or

adverts please fax this form and quote the headline and page number.

All questions must be answered to process your inquiry!

1. Business Classification:

Type Product Function

Manufacturer Milling Dairy Products Administration/Management

Supplier Bakery Fruit + Vegetable Prod. Product Development

Distributor Confectionery Beverages, alcoholic Production

Import/Export Meat & Fish Beverages, non-alcoholic Packaging

Flavors & Spices other (please specify) Research & Development

2. Business Interests

We plan purchase Probable future purchase We need general information

3. How do you rate this publication?

excellent good fair poor

4. I wish to receive future issues of drinkworld

Yes No

5. Number of employees at this location

6. How many people in your company read your copy of drinkworld?

7. Headline and page no.

8. Please enter my subscription to drinkworld for one year

The subscription shall start immediately beginning of

Domestic Mail ( 84,– incl. p+h+VAT)

Surface Mail ( 102,– / US $ 132 ,– incl. p+h)

Air Mail ( 118,– / US $ 153,– incl. p+h)

Check enclosed

Bill me

Charge my credit card: Euro-Card Visa Amex

valid until:

9. I would like to advertise – please call me:

Company:

Name:

Position:

Address:

Country:

Phone:

Fax:

E-mail:

Date:

Signature:

The subscription is prolonged automatically for one year unless it is cancelled 6 weeks before expiry.
---
Packaging

Food-Grade PET with Integrated

rPET Supports Supply, Quality and

Sustainability

Local, national and multi-national

beverage brands are increasingly keen to

boost the sustainability of their packaging,

with vocal commitments driven by

ambitious targets for environmental and

economic performance.

With such a high demand for more

sustainable packaging solutions, the

challenge for converters and brands is

often reliability of supply; wanting to

do more of the right thing isn't always

possible if the product isn't available in

the first place.

'Closing the loop' is a phrase that

represents the scientific approach

to a circular economy for the plastic

packaging industry, with the focus on

making sure sustainable packaging

solutions are reliably available by cutting

waste, efficiently recycling, and effectively

reintegrating post-consumer waste,

particularly from single-use plastics.

Lithuania-based UAB NEO Group,

manufacturer of polyethylene

terephthalate (PET) resins, is one of

Europe's leading producers of highquality

PET resins and polyols, and part

of the multi-national plastic packaging

producing group's RETAL Industries Ltd.

NEO Group's most recent new product

development sees it harness many years

of expertise in glycolysis processes with

the production of aromatic polyester

polyols to create a future-focused solution

to this closing the loop conundrum.

Food grade and sustainable

NEOPET Cycle is food contact PET

with rPET flakes integrated directly

into the virgin resin material, offering

a transparent solution free from

contamination. Explained as 'a partial

replacement of fossil-based raw

materials with purified rPET flakes for

the production of NEOPET Cycle resins',

this easy-to-use product ticks many

sustainability boxes.

Ruslanas Radajevas, General Manager

at NEO Group, explains how the

product has been created, saying, "The

production of our NEOPET Cycle is

based on a chemical depolymerization

process using feedstock from postconsumer

PET food packaging

collections. This production uses two

different raw material streams, both

standard raw materials and rPET

flakes. After the paste preparation,

liquified rPET flakes are added into

the first stage esterification. Our fully

integrated process of adding flakes

directly into the polymerization stage

of virgin resin materials means that

NEOPET Cycle is in total compliance of

EU and FDA food contact requirements,

with no EFSA approval needed."

This extensive technical capability and

deep understanding of the need for a

sustainable food-contact raw material is

good news for NEO Group's customers,

which include sister company RETAL.

RETAL regularly uses NEOPET Cycle to

produce plastic packaging solutions for

its global beverage brand customers,

who appreciate the consistent quality

which is as a result of the extremely strict

filtration technology.

RETAL EU Purchase Director Arturas

Scerbakovas says that reliable quality is

the most important benefit of choosing

NEOPET Cycle. "Quality is the biggest

advantage as chemically recycled PET

is much more stable in terms of quality

than mechanically recycled. Chemical

recycling improves the clarity of resin,

plus the intrinsic viscosity is the same as

virgin PET."

RETAL's household name beverage brand

customers appreciate the reliability of

supply too, thanks to the preferential

supply offered thanks to be part of the

same holding group. RETAL EU Purchase

Director Arturas Scerbakovas says, "NEO

Group is a sister company to RETAL,

Ruslanas Radajevas, Neogroup CEO

so we are pleased to have preferential

supply; this is especially beneficial at

a time when continuity of supply of

raw materials is a challenge for some

converters. To be able to guarantee a

sustainable solution for our customers is

very welcome!"

Help close the loop

The ease in which NEOPET Cycle helps

close the loop is welcomed by every

stakeholder across the packaging

supply chain and throughout the

beverage industry as a whole, with

sustainable plastic packaging valuable

for the continued success of the

convenience sector, without unnecessary

environmental impact.

Radajevas shares how NEOPET Cycle

helps to close the loop, explaining,

"Integrating rPET supports closing

the loop and the circular economy by

creating less plastic pollution, fewer CO 2

emissions, and having less dependence

of oil reserves. NEOPET Cycle helps

converters to help their food and

beverage brand customers to meet their

sustainability targets too. It's a very

logical solution – it just needed expertise

to make it a reality!"

40
---
Events

8-10 November

Dubai, UAE

Gulfood Manufacturing

Dubai World Trade Centre,

PO Box 9292, Dubai,

United Arab Emirates

Tel: +971-4 308 6124

www.gulfoodmanufacturing.com

15-18 November

Milano Italy

SIMEI

Unione Italiana Vini soc. coop.

Via S. Vittore al Teatro 3,

20123 Milano

Tel: +39-02 7222 2825

Fax: +39-02 866 575

info@simei.it

www.simei.it

21-24 November

Paris, France

All4Pack

COMEXPO Paris – Filiale de COMEXPOSIUM

Immeuble Wilson,

70 Avenue du Général de Gaulle

92058 Paris la Défense Cedex, France

Tel.: +01-7677-1397

Fax: +01-5330-9562

www.sialparis.com

6-8 December

Paris, France

Food ingredients Europe

Informa Markets

PO Box 12740, de Entree 73,

Toren A, 1100 AS Amsterdam Zuid Oost,

The Netherlands

Tel.: +31-20-409 9544

Fax: +31-20-363 2616

www.figlobal.com

14-17 February

Nuremberg, Germany

Biofach

NürnbergMesse GmbH

Messezentrum,

90471 Nuremberg

Tel.: +49 911 86 06 49 09

Fax: +49 911 86 06 49 08

www.biofach.de

14-16 February

Cologne, Germany

FILTECH

Filtech Exhibitions Germany GmbH & Co. KG

PO Box 12 25

40637 Meerbusch – Germany

Phone: +49 (0)2132 93 57 60

Fax: +49 (0)2132 93 57 62

e-mail: info@filtech.de

web: www.filtech.de

4-10 May

Dusseldorf, Germany

interpack

Messe Düsseldorf GmbH

Postfach 10 10 06,

40001 Düsseldorf,

Germany

Tel.: +49 211 45 60 01

Fax: +49 211 45 60 6 68

www.messe-duesseldorf.de

16-19 July

Chicago, IL, USA

IFT Food Expo

Institute of Food Technologists

252 W. Van Buren,

Suite 1000, Chicago, IL 60607

Tel.: +1-312-782-8424

Fax: +1-312-782-8348

www.ift.org

* This list of events is accurate, to the best of our knowledge. However potential visitors are recommended to check with the organizer since

some details are subject to change. We make no claims to be complete and are grateful for any corrections or completions. Please contact:

drink@harnisch.com

drinkworld Technology + Marketing · November 2022

41
---
Suppliers' Guide

Air Conveyors & Silos

POSIMAT

P.O. Box 306, Av. Arraona, 23

08210 Barberà del Vallès/

Barcelona,Spain

Tel: +34-93-729-7616

E-Mail: sales@posimat.com

www.posimat.com

Aseptic & Hygienic Valve

Technology

Equipment

E-Mail:

machinery@drink-gmbh.com

www.drink-gmbh.com

CO 2 Testing,

Pilot Plant

CO 2 Testing & Pilot Plant

Individual extraordinary SERVICE for you

Focus is: Equipment to produce and mostly bottling / packaging

of beverages second hand + new

We have access to almost all used machines available on the

market.

WE ARE ABLE TO RATE IT for you

• consulting / planning

• organization / documentation

• relocation / modification

If you have already Krones / KHS / Sidel machines older than 5

years, or you are looking for second hand

WE WILL BE DEFINITELY YOUR PARTNER

Detergents & Disinfectants

Original valve solutions

since 1879

Phone +49 7361 5702-0

www.rr-rieger.com

beta-Glucan Analysis

Zahm & Nagel Company Inc.

210 Vermont Zahm & Street Nagel Company Inc.

PO Box 210400

Vermont Street

Holland, PO New Box 400 York 14080 USA

Tel: +1-716-537-2110

Holland, New York 14080 USA

Fax: +1-716-537-2106

www.zahmnagel.com

Tel: +1-716-537-2110

Fax: +1-716-537-2106

www.zahmnagel.com

Consultancy

Murphy & Son Ltd.

Alpine Street

Old Basford, Nottingham, NG6 0HQ

Sales: +44-115-978-0111

Technical enquiries: +44-115-978-2728

sales@murphyandson.co.uk

Exhibitions & Tradefairs

NovaBiotec® Dr. Fechter GmbH

Goerzallee 305 a

14167 Berlin, Germany

Tel: +49-30-84718-410

Fax: +49-30-84718-450

glucantest@novabiotec.de

www.novabiotec.de

Beverage and Packaging Experts

CAPE DECISION sprl

avenue de la Métairie, 9

Sept Fontaines

B-1420 Braine l'Alleud, Belgium

Tel/Fax : +32 (0)2 354 86 38

www.capedecision.com

Messe München GmbH

Messegelände

81823 München, Germany

Tel: +49-89-949-11318

Fax: +49-89-949-11319

www.drinktec.com

Fibers

ZKZ 62006

ISSN 1433-1594 Vol. 26 No. 4 November 2022 US $ 12 · € 12

Cover: Efficient Steam Boiling for Climate Benefits

Natural Protection for No-alcohol Beverages

Targetting Increased Product Value

Sustainable Packaging for Sensitive Drinks

drinkworld is the leading magazine for the

entire drinks industry worldwide. Feature

articles and short communications cover the

whole spectrum of :

• processing

• bottling

• ingredients

• logistics

• packaging

• marketing

We establish a longtime advertising effect for

your company or for your services by been

ever-present on the market.

Feel free to contact us for more information:

drink@harnisch.com

Gable Top & Aseptic Packaging

Evergreen Packaging Inc.

2400 6th St. SW

Cedar Rapids

IA 52404, USA

Tel: +1-319-399-3200

Fax: +1-319-399-3543

evergreen.packaging@everpack.com

www.evergreenpackaging.com

42
---
Suppliers' Guide

Gase

Process Aids

3300_ANZ_Logo_Adresse_Drink_RZ.qxd:Layout

Water Treatment

Freshline UK

Air Products PLC

2 Millennium Gate

Westmere Drive

Crewe

CW1 6AP

Phone: +44-800-389-0202

Fax: +44-1932-258502

freshli@airproducts.com

Pectins

Murphy & Son Ltd.

Alpine Street

Old Basford, Nottingham, NG6 0HQ

Sales: +44-115-978-0111

Technical enquiries: +44-115-978-2728

sales@murphyandson.co.uk

Steam Boilers

Grünbeck Wasseraufbereitung GmbH

Industriestr.1· 89420 Hoechstaedt ·GERMANY

Phone +49 9074 41-0 · Fax +49 9074 41-100

www.gruenbeck.de · info@gruenbeck.de

Clear Water = Clean Environment!

Experience of over 20 years in water management.

Clean. Safe. Sustainable!

AQUA TECHNOLOGIE NÖRPEL

ATN Aqua Technologie Nörpel

Langer Graben 34

D-71297 Mönsheim

Fon +49 7044 91584-0

Fax +49 7044 91584-99

wasser@atn-wasseraufbereitung.de

www.atn-wasseraufbereitung.de

Treatment

Conservation

Disinfection

Depolluting

Bezugsquellen_45x58_RZ_schatten.indd 1

01.03.2012 11:53:23 Uhr

Printing and Labelling

Turnkey lines for

concentrate production

Wort/Malt Quality

Labelling systems • Labelling software • Barcode

and Industrial printers for the beverage industry

Logopak Systeme GmbH & Co. KG

Dorfstraße 40 I 24628 Hartenholm

Telephone +49 (0) 41 95 99 75-0

po@Logopak.de I www.Logopak.com

High quality machines for production of juices

and concentrates

Company: B&P Engineering Sp. z o.o. s k

Country: Poland

www.engineering-bp.com/en

NovaBiotec® Dr. Fechter GmbH

Goerzallee 305 a

14167 Berlin, Germany

Phone: +49-30-84718-410

Fax: +49-30-84718-450

glucantest@novabiotec.de

www.novabiotec.de

20190503_RZ_Anzeige_Getraenke_Technologie&Marketing_60x40mm.indd 03.05.2019 09:29:58 1

ISSN 1433-1594

Publishing Company:

Dr. Harnisch Publications

Eschenstr. 25

D-90441 Nuremberg, Germany

Phone: +49 (0) 911 2018 - 0

Fax: +49 (0) 911 2018 - 100

drink@harnisch.com

www.drink-tm.com

Editor-in-Chief: Ian D. Healey

Phone: +49 (0) 911 2018 - 215

ihealey@harnisch.com

Publisher: Benno Keller

keller@harnisch.com

International Communications:

Gabriele Fahlbusch

fahlbusch@harnisch.com

Editorial team: Donna Berry,

Sebastian Martinek, Brigitte Haulena

Copy Editing: Nicholas Somers

Art Director:

Bruno Bozic

bozic@harnisch.com

Technical Manager: Armin König

Subscription: Marta Bletek-Gonzalez

Reader Service: Sabrina Maasberg

Media planning:

Steve Max (North America)

steve.max@harnisch.com

Thomas Mlynarik (Germany)

mlynarik@harnisch.com

Carola Weise (Western Europe)

weise.harnisch@web.de

Digital:

Britta Steinberg

steinberg@harnisch.com

Subscription Information: Qualified Readers,

executives in the drinks industry, are put on

the mailing list free of charge.

Regular delivery by subscription only.

Annual subscription (4 issues):

(for customers from Germany)

€ 57.– incl. p+h+VAT

(for customers from abroad)

surface mail: € 69.–/US $ 90.– incl. p+h

airmail: € 85.–/US $ 110.– incl. p+h

printed by Schleunungdruck GmbH

Eltertstraße 27, 97828 Marktheidenfeld

Copyright© 2022

Dr. Harnisch Verlags GmbH,

Nuremberg, Germany

43
---
made in the usa

ZAHM&NAGEL

producing the finest CO2 and air testing instrumentation since 1908

. . . currently used in the industry

in over 125 countries worldwide,

Zahm & Nagel is a trusted name in

the industry built on quality and

service for over 100years.

9 0 0 0 - R

C O2

P I L O T P L A N T

the fast, effective

and economical way

to carbonate, filter

and bottle beverages

■

■

■

Ideal for producing small quantities for

test, marketing and feasibility analysis

±1% accuracy in extremely rugged, all

stainless steel construction

Easy to clean and maintain, with several

filter and fittings options for ultimate

versatility

Zahm & Nagel 9000-R Pilot Plant is designed for

excellent and easy use in a laboratory setting with full

stainless steel construction and gauges and filter

cartridges that are easily disassembled for removal

and cleaning of the filter stone. Optional woven filter

cartridges are also available for easy disposal as well

as optional quick-connect fittings.

please visit our

website for product

demonstration videos

For over 100 years Zahm & Nagel has been a world

leader in the engineering, manufacture and service of

quality control, testing and carbonating equipment for

the beverage and brewing industries.

www.zahmnagel.com

e-mail: sales@zahmnagel.com / phone: 716.537.2110