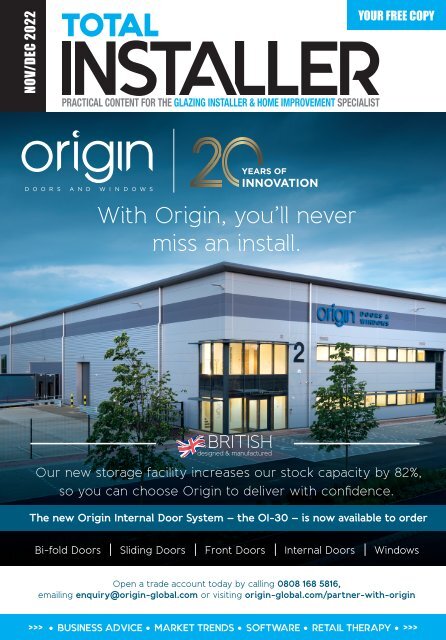 You also want an ePaper? Increase the reach of your titles
YUMPU automatically turns print PDFs into web optimized ePapers that Google loves.
NOV/DEC 2022

PRACTICAL CONTENT FOR THE GLAZING INSTALLER & HOME IMPROVEMENT SPECIALIST

With Origin, you'll never

miss an install.

BRITISH

designed & manufactured

Our new storage facility increases our stock capacity by 82%,

so you can choose Origin to deliver with confi dence.

The new Origin Internal Door System – the OI-30 – is now available to order

Bi-fold Doors Sliding Doors Front Doors Internal Doors Windows

Open a trade account today by calling 0808 168 5816,

emailing enquiry@origin-global.com or visiting origin-global.com/partner-with-origin

>>> • BUSINESS ADVICE • MARKET TRENDS • SOFTWARE • RETAIL THERAPY • >>>
---
Quality is at

Our Core

Get the EDGE with our expertly crafted,

ultra-modern aluminium sliding door.

Unbelievably Slim. Unexpectedly Strong.

Speak to an expert today, call 01923 803 923

www.arkaywindows.com

sales@arkaywindows.com
---
Loved by Installers

The EdgeGLIDE+ is a sleek and modern sliding door with an ultra slim 35mm interlock and spanning up to

2.2m x 2.6m per panel. The highly efficient design can achieve 1.4 W/m²K U-Value with our standard double

glazing and is ready for changes to Part L of the Building Regulations coming this June. Best of all, the lightweight

sashes come pre-glazed for ultra-fast installation.

35mm interlock

ULTRA

#SLIM

143 54

ENGINEERED

TO BE

COMPETITIVE

316 24

www.arkaywindows.com

sales@arkaywindows.com
---
217 113

U-Value

From 1.2 W/m²K

138 77

#STYLISH

Colour-Matched

Hardware

198 113

London's Favourite Window and Door Manufacturer

#ArkayWindows #Edgeglide+ #AluminiumWindows #SlimSlidingDoors #WindowInstallers

Speak to an expert today, call 01923 803 923

Scan and visit www.arkaywindows.com
---
Editor's Comment

GEORGE LEWIS

EDITOR

GEORGELEWIS@MEDIA-NOW.CO.UK

With Origin, you'll never

miss an install.

As the nights draw in and we approach the end of the year, it always

seems like a good time to reflect, plus look at what's in store for 2023.

This year has been tough, there's no doubt about it. With the cost of living

crisis seemingly only heading in one direction, I think we are all aware that

conditions will remain tricky for at least the first half of 2023 before we see

any sort of settling in the market. But I am trying to remain upbeat, and

we know there are still positives for our sector. The latest Business Pilot

Barometer shows sales were up 19% in October on September, and as Neil

Cooper-Smith points out on page 12, "one of the major driving forces of

inflation, the increased cost of energy, gives homeowners a tangible reason

to invest" in their properties, presenting a big opportunity for window and

door installers.

Elsewhere in the issue, Mark Haley of HWL, discusses whether potential

changes to Part Q will create a problem for the heritage market (page 20),

plus Roy Frost of Listers gives his thoughts on whether the industry really

has the products to meet the homeowner demand for more energy efficient

upgrades (page 58).

So read on for all this plus the usual thought-provoking columns from the

aforementioned Roy, who suggests independent retailers are now ready to

give national window and door retailers a run for their money (page 16);

Certass TA's Jon Vanstone discusses male suicide within construction

(page 36); and Ryan Bromley of Kubu suggests that installers need to

position themselves now to offer the right smart security solutions (page 66).

And to end on a positive note, the World Cup kicks off this month! So make

sure you track your team and play along with our free World Cup Wall

Planner and Sweepstake kit, sponsored by our friends at Dakea!

So enjoy the rest of 2022 and see you in 2023!

George

BRITISH

designed & manufactured

Our new storage facility increases our stock capacity by 82%,

so you can choose Origin to deliver with confi dence.

The new Origin Internal Door System – the OI-30 – is now available to order

Bi-fold Doors Sliding Doors Front Doors Internal Doors Windows

Open a trade account today by calling 0808 168 5816,

emailing enquiry@origin-global.com or visiting origin-global.com/partner-with-origin

Cover courtesy of Origin. Find out more about the company's

comprehensive range at: origin-global.com, and read more from Origin

Director Ben Brocklesby on page 72

FOLLOW US @INSTALLERTOTAL

SIGN UP FOR YOUR REGULAR E-BLAST AT

WWW.TOTAL-INSTALLER.CO.UK

Editorial Director: Matt Downs

DD: 01892 732047

Mob: 07963 330774

Email: mattdowns@media-now.co.uk

Advertising:

Publishing Director: Andy Dunn

DD: 01892 732047

Mob: 07963 330777

Email: andydunn@media-now.co.uk

The content of Total Installer magazine (and website) does not necessarily reflect the views of the editor or publishers and are

the views of its contributors and advertisers. The digital edition may include hyperlinks to third-party content, advertising, or

websites, provided for the sake of convenience and interest. The publishers accept no legal responsibility for loss arising from

information in this publication and do not endorse any advertising or products available from external sources. No part of this

publication may be reproduced or stored in a retrieval system without the written consent of the publishers. All rights reserved.

Registered office: 1 Forstal Road, Aylesford, Kent, ME20 7AU

Supported by:

Editor: George Lewis

DD: 01892 732047

Mob: 07715 550351

Email: georgelewis@media-now.co.uk

Commercial Manager: Jake Roxborough

DD: 01892 732047

Mob: 07956 133314

Email: jakeroxborough@media-now.co.uk
---
Contents

ISSUE HIGHLIGHTS

20

20 POTENTIAL PART Q PROBLEMS

Mark Haley, MD of specialist manufacturer HWL, asks

whether forecasted changes to Part Q could create a

problem for the heritage market

48 SELLING YOUR BUSINESS

Matthew Catterall of law firm Taylors Solicitors gives his

top tips to installers who are thinking about selling their

business

78 A 'LAYERED APPROACH'

Julian Free of DeterTech outlines the steps installers should

take to protect against tool theft

FEATURES

18 SUMMIT REACHES NEW

HEIGHTS

We hear what happened during a busy and informative

day of debate, discussion and networking at the

Glazing Summit 2022

28 SETTING THE STANDARD

A recent housing association refit in North Yorkshire has

highlighted the benefits of REHAU's TOTAL70C system

44 EXCEL-LENT OR NOT?

Elton Boocock, MD of Business Pilot, says if you

are using Excel as a CRM for your business, it's costing

you work

52 GOING ABOVE AND BEYOND

We hear the latest news from Made For Trade, who has

taken home a Manufacturing Award in recognition of its

recent expansion, capabilities and success...

28

58 BACK TO THE FUTURE

Listers MD Roy Frost asks if the industry is ready to win

more sales through selling energy efficient products

62 BOOSTING YOUR CASH

In the latest instalment of our regular business column,

the experts at Know-It advise how to boost your cashflow

without taking on new clients...

74 MAINTAINING THE RIGHT

ATTITUDE

Trevor Rabson of Werner explains why training is so

important when it comes to working at height safely

4 T I NOVEMBER / DECEMBER 2022 PRACTICAL CONTENT FOR THE GLAZING INSTALLER & HOME IMPROVEMENT SPECIALIST
---
REGULARS

16 RETAIL THERAPY

Listers Group MD Roy Frost asks if the

tide is turning for national window and door

retailers with the rise of the independent retailers

36 THE VIEW FROM CERTASS

TRADE ASSOCIATION

Jon Vanstone discusses male suicide within

the industry and his ambassadorial role with

construction charity Lighthouse Club

66 THE SMART COLUMN

06

Ryan Bromley, Co-Founder of Kubu Smart

Security, explains why 'protection' is an important

buzz word for installers and homeowners alike

SECTIONS:

WINDOWS

20

DOORS

38

GLAZED

EXTENSIONS

52

HOME

IMPROVEMENT

INDUSTRY NEWS

06 RECORD NUMBERS FOR GS22

Organisers of the Glazing Summit 2022 say it smashed its

attendance record for the fourth year in a row, bringing

together over 500 members of the industry

10 A SECURE ACCREDITATION

Sheerline's aluminium S1 roof lantern has achieved Secured

by Design accreditation

66

VEHICLES, TOOLS

& WORKWEAR

74

PRACTICAL CONTENT FOR THE GLAZING INSTALLER & HOME IMPROVEMENT SPECIALIST

NOVEMBER / DECEMBER 2022 T I 5
---
News Roundup

A GROWING DEMAND

RECORD NUMBERS ATTEND GLAZING SUMMIT

A record attendance of almost 500 delegates

returned to Edgbaston for this year's Glazing

Summit, bringing together the fenestration

industry for a day of debate, discussion and

networking.

Arched and angled frame supplier

Premier Arches has successfully kept up

with a growing demand for its specialist

products, despite market challenges.

The successful delivery is something Managing

Director Sean Greenall attributes to the

company's three core business principles of

outstanding quality, clear and honest customer

service, and a make life easier offering.

"Today's market certainly looks very different

to how it did two years ago, and as the

industry boom we all enjoyed slows down,

so has demand for home improvement

products," explained Sean.

"In general, consumers who previously had

more disposable income as a result of the

pandemic no longer have that extra cash to

hand and are therefore no longer spending on

improving their properties.

"At the same time, however, there will always

be higher earning households who still have

the money to spend, and generally, it's this

group that would rather invest in premium

products – such as arched and angled frames.

"This of course means that our customers

are experiencing a continuing demand, and

it's our aim at Premier Arches to supply them

with the quality products they need, on time,

every time.

"Keeping up with demand is something

we've always prided ourselves on at Premier

Arches, so while the market changes and

becomes more challenging, we're still here to

deliver the premium products our customers

need, and to remain the reliable supplier they

can trust, even when times are tough."

www.premierarches.co.uk

Organisers say the record numbers this year

means the Summit has smashed its attendance

record for the fourth year in a row.

Andrew Scott, Glazing Summit Founder and CEO

of organisers Purplex and Insight Data, said: "The

Glazing Summit has grown year on year and to

get our biggest ever turn out not only shows the

event's significance in the industry calendar, but

it also shows the desire as an industry to come

together to share ideas and tackle the issues we

are all facing."

"After the boom in home improvements through

the pandemic, we now face economic and global

uncertainty, so it was an important time to get

together and discuss where we're heading and

how we can best navigate our way through

the challenges ahead. Times are going to get

tougher, but rather than doom and gloom this

year's Glazing Summit showed there is plenty of

The Double Glazing & Conservatory

Ombudsman Scheme (DGCOS) has been

championing better mental health in the

fenestration industry, and has taken the first

proactive step in helping to relieve stress and

anxiety in the workplace, with the formation of

a self-care toolkit, designed to support those

working in the industry.

Faisal Hussain, DGCOS Chief Executive, said:

"The self-care toolkit is the first in a series

of proactive steps DGCOS is taking to try and

support those affected. One of the best things

we can do for ourselves is practice self-care.

Engaging in a self-care routine can reduce or

eliminate anxiety and depression, reduce stress,

increase happiness, and more.

"It can help you adapt to changes, build strong

relationships, and recover from setbacks.

opportunity out there for agile businesses, and I

hope those in attendance left as optimistic about

the future of the industry as I did."

Attendees enjoyed five debates and discussions

with a panel of industry experts on important

issues such as the current supply chain

challenges, people and skills, regulations,

innovation and mergers and acquisitions.

They were also complemented by keynote

speeches from Richard Harpin, CEO of Homeserve

PLC, who closed the event, while Barclays Chief

Economist William Hobbs and retail and customer

experience expert Peter Cross also delivered

presentations.

More on the Glazing Summit on page 18.

www.glazingsummit.co.uk

DGCOS DESIGNS INSTALLER SELF-CARE KIT

"The toolkit will provide installers with items to

help practice self-care in their day-to-day life.

"It includes specially selected items like

headphones so you can listen to music, podcasts,

audio books or even meditation guides to help you

relax during your break.

"We have also included therapeutic items to aid

exercise, relaxation and sleep at the end of a busy

day."

www.dgcos.org.uk

6 TI NOVEMBER / DECEMBER 2022 PRACTICAL CONTENT FOR THE GLAZING INSTALLER & HOME IMPROVEMENT SPECIALIST
---
For more news and the latest updates, visit www.total-installer.co.uk

RECORD HIGHS FOR MERCURY GLAZING

Specialist fabricator Mercury Glazing has

reported a year-on-year growth of 18%, with

the company saying it has achieved its highest

ever monthly sales figure in September.

Steve Cross, Mercury's Director, said: "We

are delighted to be reporting such strong sales

growth especially against the backdrop of so

much market uncertainty. The economic situation

is undoubtedly choppy so this is no time for

complacency, but it's important to observe these

figures."

Steve says the company's ongoing success is

down to three clear factors. The first he says is

its strong portfolio of specialist products across

PVC-U and aluminium. The second is the strict

manufacturing protocols the company has in

place. Steve says that high end products mean

you need to be laser-focused when it comes to

product quality.

A new report has revealed that an estimated

£2.8 billion worth of tools have been stolen from

UK tradespeople, with four in five (78%) UK

tradespeople experiencing tool theft.

The Tradespeople Against Tool Theft white paper,

from On The Tools, and Simply Business, alongside

sponsor Jewson was created to highlight and

explore the realities of UK tradespeople who have

experienced tool theft.

He expanded: "There's no room to cut corners and

we never forget this. "When you buy from Mercury

you're buying the reassurance of attention to

detail you can rely on."

And lastly, Steve says the ongoing success is

due to its investment in its plant and people. The

company is said to be committed to continuous

investment to ensure it has manufacturing

processes.

www.mercuryglazing.co.uk

TOOL THEFT COSTING TRADESPEOPLE £2.8 BILLION

The study found that tool theft costs tradespeople an average of £4,470 in equipment. One in

five (17%) tradespeople lose over £5,000 worth of tools to theft. Collectively across the UK, the

estimated cost of tool theft totals at £2.8 billion, most predominantly affecting the self-employed.

The study revealed that self-employed tradespeople are 38% more likely to be targeted than employed

tradespeople, with equipment most likely to be stolen from their van parked outside of their home

(39%). One in 10 (9%) have even experienced equipment being stolen from inside the home or

garage. Aside from the cost of replacing stolen tools, tool theft leaves tradespeople facing additional

costs in loss of earnings while equipment is being replaced. One in ten tradespeople (11%) had to

take time off work or decline new work while they sourced new equipment. Over a tenth (13%) of

respondents also had to pay to repair their vehicle, adding to the multiple other costs associated

with the crime. And worryingly, the report also showed that a third (32%) of tradespeople were not

financially compensated at all for tool theft.

The full white paper can be read at: https://bit.ly/tooltheftwp22

'AS POPULAR AS EVER'

Hardware manufacturer VBH has reported

that more customers than ever are using

the improved trade counter facility at the

company's Swansea site.

The counter is open during weekday working

hours and VBH says its offers a large selection

of hardware from VBH's own greenteQ brand,

as well as from other top marques including

Yale and AGB.

VBH says that fabricators, installers and

maintenance companies within a wide radius

of Swansea regularly call in to collect products

including profile cylinders, patio door gear,

resi-door and window hardware, vents and

construction chemicals among other items.

Dave Prout, Operations Manager at VBH

Swansea, said: "Often, customers can't wait

for a delivery so prefer to call in and pick up

what they need for the day.

"As well as the convenience of being local, we

cater for orders of all sizes, with no minimum

order value and no need to pre-order. Walkins

are welcome."

VBH (GB) says the trade counter has proven

so popular that it has been listed as a finalist

in this year's National Fenestration Awards in

the Trade Counter of the Year category.

Dave concluded: "We may not have the

biggest or most plush counter, but our

wide stock range and friendly, experienced

team make it an attractive option for local

businesses.

"Being named as a finalist is a massive pat on

the back for our hard-working team, and a win

would be the cherry on top!"

www.vbhgb.com

PRACTICAL CONTENT FOR THE GLAZING INSTALLER & HOME IMPROVEMENT SPECIALIST

NOVEMBER / DECEMBER 2022 TI 7
---
News Roundup

DOUBLE

CELEBRATIONS

Lincolnshire fabricator and installer

Tradeglaze has won two awards at the

2022 LincolnshireLive Business Awards,

which the company says is in recognition

of the manufacturer's growth and

investment in their people, their customer

service and in machinery.

The black-tie dinner event welcomed almost

300 guests to celebrate business and

individual achievements, with judges giving

out awards in 11 categories. Tradeglaze

earned the 'SME Business of the Year' award

and the 'Employee of the Year' award for

the company's marketing manager Katerina

Pickup.

Tradeglaze, with its retail company Jackson

Windows, have accelerated expansion

plans in the last year to support the rapidly

increasing demand for their double glazing

products.

Jeremy Wetherall, Tradeglaze MD, said: "We

are beyond proud to have earned the two

LincolnshireLive awards and delighted that

the hard work of the team and our persistent

commitment to high standards and exceptional

customer care has been recognised.

"We work on complex projects which require

high levels of expertise and our teams are

specialists in their areas, from our consultants,

surveyors, fabricators, installers, to our office

teams and our remedial engineers. The two

accolades are a much welcomed recognition

during testing times for our company and the

industry overall."

www.tradeglaze.co.uk

GGF IN DRIVING SEAT ON ROAD TO NET ZERO

In the continued drive to achieve net zero by

2050, the Glass and Glazing Federation (GGF)

has facilitated a meeting with its members

and representatives from the Department of

Levelling Up Housing and Communities (DLUHC)

to discuss the Future Homes Standard.

Kevin Jones, Senior Technical Officer at the GGF,

said: "The recent amendments to Parts F, L,

and the introduction of Part O, that had to be

implemented by 15th June 2022, were the first

stage of this project, but there is more to come.

This recent meeting was set up to deliberate a

roadmap for energy efficient windows and doors

both now and in the future. GGF members provided

real data for the meeting which enabled two-way

The energy crisis will 'significantly fuel'

growth for window and door foam sealant

tapes in 2023, according to Andy Swift, sales

and operations manager for ISO-Chemie.

He sees the UK market remaining robust over the

next 12 months with the need for more effective

insulation and sealing solutions of windows and

doors becoming a rapid priority in the design,

specification, new build housing and wider

commercial construction sectors.

Andy says that refurbishment of existing housing

stock is also expected to support growth in

discussions to take place ahead of the consultation

that is expected to launch in the spring of next year.

The initial modelling from Government will start

later this year and further meetings will likely take

place to discuss the important part glazing will play

in the whole house approach."

www.ggf.org.uk

FOAM SEALANTS GROWTH FOR 2023

Starglaze Windows and Conservatories –

Sternfenster's retail company – has won the

Family Business of the Year Award at this

year's LincolnshireLive Business Awards.

Managing Director Mike Parczuk said: "Winning

this award is testament to all the hard work

everyone at Starglaze has put in to achieving the

high standards we have set ourselves.

"To everyone working at our busy site in Lincoln

– and to all our customers – I would like to say

'thank you' and remind them that awards like these

For more company news visit www.total-installer.co.uk

2023. Andy added that with energy rated

and conservation products at the forefront of

design and building regulations, there has to be

'discernible' growth for air tightness and thermal

sealing products.

He said: "Millions of people will struggle to heat

their homes and stay warm, but through the use

of modern foam sealants to create a thermal and

airtight seal around the window, the amount of

heat loss around frames is significantly reduced,

helping to save energy costs."

www.iso-chemie.eu/en-GB/home

AWARD WIN FOR STERNFENSTER

prove that together we can achieve great things."

Recent investments at the company include a new

virtual showroom, which provides it greater control

of the sales process.

The virtual showroom is a multi-tiered platform

that includes elements such as CGI videos, 360º

product walkthroughs, sales videos, and a friendly

online tour. You can read more about Sternfenster's

online showroom on page 24.

www.sternfenster.com

Kevin Jones

8 T I NOVEMBER / DECEMBER 2022 PRACTICAL CONTENT FOR THE GLAZING INSTALLER & HOME IMPROVEMENT SPECIALIST
---
oof

lantern

10%

NEW TRADE

CUSTOMER

DISCOUNT

QUOTE CODE:

TIK01

glazed in

seconds

faster

to fit

Supply & install the multi-award-winning aluminium Korniche Roof Lantern.

Fitted in minutes, glazed in seconds. The strongest lantern in class, available

up to 3x2.5m in four glass panels and a maximum size of 6x4m

Delivering the best products, with the best

service, at the best price

Contact Made for Trade for a Kwikquote today

madefortrade.co | sales@madefortrade.co | 01642 610799

*Discount applies to all trade customers and applied to the first, single item purchase only of the Korniche Roof Lantern
---
News Roundup

For more company news visit www.total-installer.co.uk

VBH (GB) RECRUIT ROSS AND ROB TO EXPAND TECH SUPPORT

Ross Childs

Rob Norman

VBH has reported an expansion in the levels of

technical support that they offer customers.

Business Development Director Rob Norman

is responsible for both the New Product

Development team and Technical team.

Rob said: "The two teams share an office space

in Gillingham, working in tandem to develop our

new greenteQ products, and also collaborating

with our key third party suppliers to develop their

products for the UK market. The guys on the Tech

side offer support, both from the office and on

site, to our customers and partners. We currently

have seven members, with the recent addition of

Ross Childs, which we are very pleased about."

Ross Childs has 13 years hardware experience,

including 8 years involvement in product testing,

and will be heavily involved in VBH's Kitemark

test programme with BSi, as well as looking after

the facilities at VBH Gillingham, that include a

neutral salt spray booth.

Rob added: "The recent level of investment that

VBH has put into our department has been high,

but this will be recovered many times over as

we are able to bring products to market very

efficiently. Having local facilities, rather than

relying on our team in the Far East, means that

we retain control of the development process.

"In addition to the appointment of Ross, the

customer support side of our Technical team

is also being expanded further, as we are

seeking to recruit another External Technical

Support Engineer to support both our customers

and sales team with on-site hardware

demonstrations. It's a great time to take on the

management of the VBH Tech and NPD teams!"

www.vbhgb.com

Sheerline's aluminium S1 roof lantern is said

to have become one of the most secure roof

lanterns in the UK after achieving Secured by

Design (SBD) accreditation.

This optional security upgrade from Sheerline

ensures the S1 aluminium roof lantern is secure

enough to withstand opportunist criminals,

providing peace of mind to homeowners.

When Sheerline's expert design team was

developing the next generation S1 roof lantern,

security was a key consideration. The company

says this is because traditional lanterns have a

host of security flaws and weaknesses that can

be exploited.

SHEERLINE ROOF LANTERN ACHIEVES SBD ACCREDITATION

Sheerline says it has overcome these issues

through innovative design solutions. For instance,

the S1 already features high-performance glazing

tape that adds an invisible layer of security while

anti-tamper rafter fixings, plus high-security

radius fixings that are only accessible from the

inside, are supplied as standard. In addition,

glazing is held securely in position using a unique

patent-pending glass lock.

The optional SBD upgrade adds additional

security clamping plates, locking the SBD

lantern's laminated glass panels in place,

preventing them from being lifted and removed

by would-be intruders even if rafter top caps

have been removed. These stainless steel

components are held firmly in place by stainless

steel security screws for added strength.

This optional security upgrade is invisible

on finished roofs and doesn't compromise

the stylish contemporary design or thermal

performance that Sheerline is known for.

Customers also still benefit from exceptional

thermal efficiency because of Sheerline's

Thermlock technology, which supports 28mm

glazing and offers a centre pane U-value of 1.0.

Roger Hartshorn, Sheerline CEO, said: "The fact

that our award-winning S1 lantern has achieved

SBD accreditation is a significant achievement

for the team. We're delighted our lantern is

among the top rated for security in the UK as

very few systems have achieved this standard.

"This announcement is important because it

shows our commitment to security and signals

the fact that every product in the Sheerline range

is now SBD accredited.

"Since Sheerline's inception, we've been

committed to developing stylish yet secure

and sustainable products. We set out to

fundamentally change the aluminium window

and door landscape for installers and

fabricators, and this announcement highlights

our dedication to that pledge."

www.sheerline.com

10 T I NOVEMBER / DECEMBER 2022 PRACTICAL CONTENT FOR THE GLAZING INSTALLER & HOME IMPROVEMENT SPECIALIST
---
Join the fenestration

WORKING GROUP

We're launching a new working group to

help promote all the good things we do

as a sector to external stakeholders,

like government. Be part of shaping

how our industry is perceived and

make a real difference. It's open

to anyone operating within the

glass and glazing industry.

Find out more!

Let's have a conversation, email me at:

f.hussain@schemes.org.uk

DGCOS is a consumer protection

scheme for the installation of double

glazing products. Being a member of DGCOS

shows that as an installer you are committed to

complying with high standards of consumer protection.

Faisal

Faisal

Hussain

Hussain

CEO

CEO

Find out more: 0345 053 8975 | info@dgcos.org.uk | installers.dgcos.org.uk
---
The Business Pilot Barometer

A MUCH-NEEDED BOUNCE

Neil Cooper-Smith, Senior Analyst at Business Pilot, discusses the improved data for October

on September, but questions whether it will last...

October was another month of political and

economic change on an historic scale.

Despite it (or perhaps because of it?)

homeowners have continued to spend on home

improvements.

Leads and sales were up 19% in October on

September, reversing the falls recorded in

September on August, and more than offsetting a

small drop in average order values (8%) to £4,848.

The industry did good business in October, despite

double digit inflation, warnings of an impending

downturn in the economy and a projected fall in

property prices. So, what's driving sales, and

more importantly, will it continue?

The most important factor are house prices. We

know that if people have equity and are confident

in the housing market, they are more likely to

spend on improving their properties.

At present, and despite the warnings of a drop,

year-on-year growth stands at 8.1%. It should be

noted however, that this figure has been inflated

by high demand at the start of this year.

13% fewer homes came onto the market in

October compared to the five-year average,

compounding the imbalance in supply and

demand, and keeping house prices higher, even

though levels of activity are lower.

The longer-term outlook is that prices will fall, as

highlighted by Lloyds Banking Group's warning

last month that it expects a drop of around 8%

next year as the cost-of-living crisis hits.

The flip side of this, is that one of the major driving

forces of inflation, the increased cost of energy,

gives homeowners a tangible reason to invest.

Liz Truss had pledged to guarantee average

energy bills at £2,500 a year for two-years. One

of the first things her new Chancellor Jeremy Hunt

did last month, was to distance the Government

from this commitment, trimming the deal to sixmonths,

ahead of an ominous sounding review.

With average bills at £2,500, they remain at more

than £1,200 more than they were in March this

year. Energy market analysts warn a withdrawal

of Government funding could push bills as high

as £4,684 from April and at best to £3,923 – still

£1,423 more than under the current cap.

Tracking Google Trends evidences a very clear

correlation between Ofgem announcements on

energy costs and interest in new windows and

home energy efficiency improvements more

broadly.

With house prices still historically high,

homeowners will be more likely to have the

confidence to invest in improving the energy

efficiency of their properties in the run in to the

end of the year at least. Spiralling energy costs,

give them the incentive.

Against this backdrop, mining your data for

those projects that you didn't close or win, and

re-targeting them, could deliver big results. How

many leads went cold earlier in the year, last

year? Why? Business Pilot allows you to bring

this information to your fingertips in an instant,

helping you to target and re-target prospects, at

the same time controlling operational costs and

maximising profitability.

The decisions you make today will determine

where your business goes in the next 12 months,

so if you're still running your business on unlinked

spreadsheets and gut feeling, it's time to get in

touch.

The Business Pilot Barometer offers a monthly analysis of the key trends defining window and door

retail, drawing on real industry data collated by the Business Pilot customer relationship management

system (CRM). Business Pilot uses cloud-based technologies to give installers complete visibility of every

element of their operation from leads and conversions to job scheduling, cost of installation, service

calls, and financial reporting.

www.businesspilot.co.uk www.businesspilot.co.uk/barometer

12 T I NOVEMBER / DECEMBER 2022

PRACTICAL CONTENT FOR THE GLAZING INSTALLER & HOME IMPROVEMENT SPECIALIST
---
Lyon

Juliet Balcony System

Call Bohle

today on:

0800 616151

for further

information

Lyon is the latest Juliet balcony system from Bohle, with new slimmer sightlines,

spanning up to 4-metres and an innovative '1-2-3 click' glass mounting system.

Available in any RAL colour, Lyon requires just four fixings per side and no special tools.

Slim - Simple - Safe

www.bohle.com
---
i-folding

door

15%

INTRODUCTORY

DISCOUNT *

QUOTE DISCOUNT

CODE

TIK02

Delivering the best products,

with the best service, at the best price

Contact Made for Trade for a KwikQuote today

madefortrade.co | sales@madefortrade.co | 01642 610799

*Discount applies to all trade customers and applied to the first, single item purchase only of the Korniche Bi-folding Door | *Korniche Bi-folding door price is based on 7-7-0 configuration 5100 x 2000

stock colour, delivered. Unglazed. Price is correct at point of publishing. Delivery restrictions apply. Product specification and prices may be subject to change without prior notice.

*PAS24 as standard requires laminated glass installation
---
SAVE HOURS ON SITE

with the only clip-bead that delivers glazing

and de-glazing in seconds. The Korniche

Bi-Folding Door has more to offer..

As standard!

Competitive glass supply

Trickle vents positioned in outer frame (No frame

extenders required for PART F compliance)

PAS24 security as standard*

Korniche matching hardware, including brushed

stainless steel

EASY GLIDE

EVERY TIME

Precision

engineered

articulated axle

with fully bearinged

rollers

Enhanced thermal

performance

FREE nationwide

delivery

10 YEAR warranty

GLAZED IN

SECONDS

UNGLAZED, EXC VAT

Including FREE delivery

BEADED IN

SECONDS
---
Contract Retail Therapy Talk

FIT FOR THE FUTURE?

Roy Frost, Listers Group MD, discusses whether the time is running out for national

window and door retailers and where independent retailers place in a changing market...

It's a point which causes a little bit of an

internal struggle for me as someone who has

worked for a national retailer and probably the

biggest brand (and sorry in advance to everyone

I still know at Everest), but I really do think,

independent retailers are now in the ascendency.

It's something which in my view has been

happening for a while but has been accelerated

by COVID and will continue to accelerate going

forward.

There was a massive shift to buying local

even before lockdowns, furlough and the home

improvement boom that came with it, with a lot of

big brands falling by the wayside.

What the pandemic, however, showed was the

incredible agility of small, often family-owned

retail businesses, to adapt to change, manage

supply issues and keep the wheels turning – an

agility that sets them I believe, in good stead for

the future.

That's not because I necessarily believe that the

national sales model is now defunct. I'm certain

the big brands will be with us long term but I

believe that they have the same share of the

market that they have today.

Independent retailers are where the expertise is.

The fitters who have been with the company for

20-years, the salespeople who know the planning

requirements on each road. It adds up to a better

customer experience.

At Listers, we're here to support our customers,

help their customers meet and fulfil the

aspirations that they have for their home.

There's a flexibility that sort of runs up through

the supply chain from that initial consultation

in someone's front room, through to design and

manufacture.

Although national retailers may have the brand –

and don't get me wrong, I still believe that there is

a value in that – they can't match the service and

experience that smaller independent retailers –

our customers – can bring to the table.

Little trust in big brands

There are a multitude of studies across lots of

different sectors which show that homeowners

and consumers don't always get a good

experience from big companies, and have

lower levels of trust in them than independent

businesses.

If you have that as an independently-owned

business, you have an instant head start.

One of the things that was, however, picked up in

many of these polls was that smaller companies

aren't always as good at communicating their

offer as bigger brands, let down by their website,

brochures and other marketing collateral.

That's one area where we've invested

significant resource. Launched in May this year,

Easy Marketing is our online customer resource.

As a Listers customer it gives you instant

access to own-branded brochures, videos,

imagery, showroom collateral, as well as social

and digital tools.

Listers Group MD

Roy Frost

It's the area which many smaller businesses

struggle with and which the big retail brands

still excel at. We created Easy Marketing to flip

that around by giving our customers access

to national brand level marketing support but

making it bespoke to them.

If you're a regular Listers customer you'll get a

brochure that reflects your offer in full, not only

the windows but the handles, door furniture, so

that when you sit down with your customer, you

don't have to explain where what you're selling

them differs from the generic brochure in your

hand.

We've also evolved our product offer to give our

customers access to a broader range of products

but critically, those that are driving growth –

Residence Collection, our Timeless Flush Sash

window, our new aluminium range from Sheerline,

the colour match that we can offer between

aluminium and PVC-U. It creates an opportunity

to upsell.

National brands don't have that; you're more

limited in what you can sell. That makes the sale

a sale and less a design consultation, which is

what as a homeowner you actually want.

Despite the slight embarrassment it causes me

given my background, every time someone asks

me, I always say 'go independent' because the

service and product range of independents is so

much better, and that is why our customers are

better equipped than national competitors as we

move into the future market place.

View Roy's latest video at Glaze-Tube here:

https://glaze-tube.co.uk/fit-for-the-future/

Contact Listers:

01782 391900

www.listerwindows.co.uk/

@ListerTF

16 T I NOVEMBER / DECEMBER 2022 PRACTICAL CONTENT FOR THE GLAZING INSTALLER & HOME IMPROVEMENT SPECIALIST
---
ARCHITECTURAL ALUMINIUM FABRICATION SPECIALISTS

WE'RE ICB, SPECIALIST FABRICATORS AND SUPPLIERS OF

STUNNING ALUMINIUM ARCHITECTURAL PROFILES.

Our solutions offer exceptional outcomes in design accuracy &

minimalism, operational performance, installation ease & environmental

impact.

Discover more at icbfabrications.co.uk

01202 785200 enquiries@icbfabrications.co.uk www.icbfabrications.co.uk

UK Head Office Unit 9-11 Fleets Industrial Estate, Willis Way, Poole, Dorset BH15 3SU

Design / Bespoke Fabrication / Standard Profile Supply / Polyester Powder Coating / Installation
---
Glazing Summit 2022 Review

SUMMIT REACHES NEW HEIGHTS

Record numbers from across the supply chain gathered at Edgbaston in Birmingham for

this year's Glazing Summit. We hear what happened during a busy and informative day

of debate, discussion and networking.

Installers, fabricators, glass companies and

component suppliers came together to discuss

the biggest issues facing the fenestration

industry at the 2022 Glazing Summit.

In just its fourth year, almost 500 made the trip to

Edgbaston in Birmingham to share ideas and help

shape the future. And with 26 sponsors, including

headliners Yale, and 24 expert speakers from

across the whole supply chain, it proved to be a

success for the event organisers.

Dynamic debates

The industry's important issues were again in

the spotlight with five debates and some of the

industry's most experienced people on stage to

share their views after Insight Data CEO Andrew

Scott revealed the facts and figures on how the

industry has fared from Insight Data's 'State of

the Industry' report.

The supply chain crisis debate shone the spotlight

on price increases and whether companies can

absorb them, the problems with carrying higher

Many debates took place

throughout the day including one

on innovation in the industry

stock as orders start to slow, and a shortage of

labour contributing to quality levels dropping.

Attracting more young people, women and

diversity into fenestration, and the growing

concern around mental health in the industry took

centre stage in a debate on people and skills.

The regulation minefield debate discussed

whether the industry treats legislation as

seriously as it should and highlighted a lack of

knowledge and a lack of evidence of compliance.

Innovation, from products to processes, was

discussed after lunch, while the final debate

18 T I NOVEMBER / DECEMBER 2022 PRACTICAL CONTENT FOR THE GLAZING INSTALLER & HOME IMPROVEMENT SPECIALIST
---
of the day saw a discussion on how ambitious

businesses can take advantage of the market

opportunities that will present themselves in the

next 12 months.

Key keynotes

The organisers of the Glazing Summit say that

what also makes the Summit unmissable is

its mixture of keynote speakers to inspire and

educate delegates in equal measure when it

comes to all things business. And this year's

event was no exception.

Barclays Chief Economist William Hobbs shared

his economic outlook for the country, while retail

and customer experience expert Peter Cross,

a former director of John Lewis and Waitrose,

provided his insights and actionable strategies

on how to win and, more importantly, keep

customers.

And Richard Harpin, CEO of Homeserve PLC,

and reportedly one of the most successful

entrepreneurs in the UK, provided the final keynote

on how he built a multi-billion-pound company.

The day's event was followed by the Gala Dinner

in the evening, where attendees were treated to

a high-energy motivational after-dinner speech

from athlete and former Olympian Kriss Akabusi

MBE, said to be one of the most sought-after, and

inspirational business speakers in the country.

Glazing Summit Founder Andrew

Scott gave his 'State of the

Industry' report

"To get our biggest ever turn out shows the

event's importance to the industry and the

combined knowledge and experience in the room

was incredible"

A growing importance

Despite only launching in 2018, the Glazing

Summit has grown year on year and has

become one of the most important dates in the

fenestration calendar – and this year's outing

seems to have been another vital event.

Glazing Summit founder, and CEO of organisers

Purplex and Insight Data, Andrew Scott, said:

"After the boom in home improvements through

the pandemic, we now face economic and global

uncertainty so it was an important time to get

together and discuss where we're heading and

how we can best navigate our way through the

challenges ahead and continue to thrive.

"To get our biggest ever turn out shows the

event's importance to the industry and the

combined knowledge and experience in the room

was incredible. Despite the undoubted challenges

ahead, there is still plenty of opportunity out

there for ambitious and agile businesses to take

advantage of, and I hope everyone was able to

take at least one thing away for both them and

their business."

With the announcement that next year's Glazing

Summit will take place on Thursday, October 12th

at Edgbaston Stadium again, big-name sponsors

are already on board. Andrew added: "We look

forward to raising the bar again next year and to

another equally important Glazing Summit."

Contact Glazing Summit:

01934 808 293

www.glazingsummit.co.uk

@GlazingSummit

PRACTICAL CONTENT FOR THE GLAZING INSTALLER & HOME IMPROVEMENT SPECIALIST

NOVEMBER / DECEMBER 2022 TI 19
---
Heritage Windows

POTENTIAL PART Q PROBLEMS

Could potential changes to Part Q create a problem for the heritage market? Mark Haley,

Managing Director of specialist manufacturer HWL gives his thoughts...

The revision of Part Q is now majorly overdue.

With Parts F, L and O now out of the way

and the consultation on PAS24:2022 now

complete, consultation is expected to start later

this year or early next.

Depending on the direction of travel, that could,

according to Mark Haley, Managing Director of

specialist manufacturer HWL, create a crunch

point for fitters of some heritage systems.

"There's a requirement in PAS24:2016 to use

P1A laminate glass in all accessible windows

and doors", he says. "That's applied to new build

where access isn't an issue.

"I'm going to caveat this by saying absolutely

nothing is certain – that is yet – there is a strong

inference that when Part Q is reviewed either later

this year or early next, that the requirement to

supply laminate glass into accessible windows

and doors will be extended to home improvement.

"The Government clearly has a fair bit on its

plate but if things move forward as many in the

industry are forecasting, that could mean that

laminate glass becomes a default prerequisite

for accessible windows and doors as early as

summer 2023.

"If you're supplying windows into premium

heritage markets, for example R9, and you're

buying it with the IGU glass bonded, you're going

to be handling a lot of weight and with weight

comes cost."

Fabricating R9 since 2013, Mark argues that one

of the key barriers to mark entry for installers was

the belief among installers that its weight as a

glass-bonded product, made it difficult to fit.

"Don't forget, we were mechanically-jointing and

glass-bonding R9 the same as everyone else for

four years or more, so we know first-hand what

"If you're supplying windows into premium

heritage markets, for example, R9 and you're

buying it with the IGU glass bonded, you're going

to be handling a lot of weight and with weight

comes cost"

our customers liked about it and what they didn't

– and that was weight in handling", he continued.

"If the new build requirement for laminate is

extended into the replacement market as it is

with PAS24:2016 now in new build, you are by

definition introducing a lot more weight into the

product.

"Jobs that were a two-man fit become a threeman

fit."

Working in partnership with the Residence

Collection, the premise that weight was

artificially inhibiting R9's growth in the heritage

market drove its ground-breaking application of

Timberweld manufacturing technologies in R9

fabrication.

This makes it one of only a very few fabricators

in the UK to have the capability to butt weld R9

and R7 window sashes inside and out, replicating

the aesthetic delivered in a traditional 90°

mechanical joint.

"It's very simply about removing weight from

the install, making it easier for installers to fit

because it allows R9 to be glazed on-site in the

same way as any other PVC-U window. That

makes a two-man job a one-man job or avoids

stepping up to a three-man team on bigger

installs – it gives installers margin back."

Cost modelling by the trade fabricator suggests

that this could lead to approximate savings of as

much as £120 per day or £360 on an average

three-day install.

MD of HWL Mark Haley

Continued on page 22

20 T I NOVEMBER / DECEMBER 2022 PRACTICAL CONTENT FOR THE GLAZING INSTALLER & HOME IMPROVEMENT SPECIALIST
---
AS COMMITTED TO YOU,

AS YOU ARE TO THE TRADE.

DAKEA

ROOF WINDOWS

ARE BUILT

FOR THE TRADE.

At Dakea, we pride ourselves on delivering

high-quality, affordable roof windows that

are easy to install and backed with a 20-year

guarantee.

Find out more at dakea.co.uk

Or give us a call +44 20 3970 5080 to discuss your project.

DakeaChannel

@HiDakea

Dakea_UK
---
Heritage Windows

Continued from page 20

"If you're paying per window, say £50 per

opening, you could be looking at as much as £500

back on a three-day fit on an average property

with 10 windows and doors – that goes straight

back on to your bottom line", argued Mark.

"At a time when installers are seeing price

increase on top of price increase, and rising

energy and fuel costs, it's a rare opportunity to

lower overheads."

Mark warns that the next big price increase

heading in the direction of installers is on glass

supply. Energy prices and the increased cost of

labour have been pushing prices northwards since

2020 but have become far more acute this year

because of extreme volatility in the energy market.

"I don't think it's unreasonable to expect further

increases in the price of IGUs of up to 30%

between now and the start of 2023", Mark says.

"If you're buying glass-bonded product that's a

double whammy. Your fitting costs are higher (and

may go up further in the future) because of the

weight in the product, and you can't shop around

for glass or lower cost by buying it locally because

product is glass bonded."

Alongside flush casements, deep bottom rails and

period ironmongery, astragal bars are another

mainstay of the heritage market – and another

reason why glass costs are often higher for

installers.

The rules of astragal bar supply again don't apply

to HWL customers. Its Timberweld manufacturing

process frees up installers to source glass locally

and simplify handling by reducing weight, but

also allows it to adopt a new approach to astragal

bar supply.

HWL believes that laminate glass may become a

requirement for accessible windows and doors in

the replacement market sometime in 2023

"I don't think it's unreasonable to expect further

increases in the price of IGUs of up to 30%

between now and the start of 2023"

This is built around a kit form. Supplied with the

window, it includes cut-to-size bars and a special

cleaning wipe which allows installers to fit them

after the IGU is installed.

"The astragal bar comes with a self-adhesive

aluminium carrier. You line it up, de-tape and

apply it and then tap the astragal bar into place",

Mark explains.

"That means that if laminate glass does become

the standard specification in doors and windows

in replacement markets, our customers won't

face the same challenges as installers of product

made by other R9 fabricators.

"Standard product, astragal bars – everything is

fitted in the same way as any other system."

Contact HWL:

0113 2449006

www.hwlwindows.co.uk

@HWLWindows

22 TI NOVEMBER / DECEMBER 2022 PRACTICAL CONTENT FOR THE GLAZING INSTALLER & HOME IMPROVEMENT SPECIALIST
---
il

nate

opportunities

Luma aluminium flat rooflights…

Made-to-measure. Easy to install.

Luma flat rooflights are made to order

in our factory, then delivered straight to site.

They're easy to install, helping you complete

the job quickly, with no fuss and no mess.

Our service promise to you

We know how important it is to you to keep

your customers happy. That's why we

take great pride in consistently

providing a friendly, approachable

service to make finding and

getting what you and your

customers need quick

and easy.

Quotes in

under 1 hour

Lead times

to suit you

Order

checking

Technical

support line

There's no waiting around.

Just call, drop us an email

or fill in the contact form on

our website to request a

quote, and we'll respond

within an hour.

Tell us when you need the

products to be on site, and

we'll ensure they're there

at the right time.

Our orders are throughly

checked prior to delivery,

allowing you to get on with

installing Iuma right away.

Luma flat rooflights are easy

to install, but if you need help,

our expert technical team are

just a phone call away.

To find out more, ask our experts at your

local Eurocell branch.

Alternatively, simply call us on 0333 005 6525,

email us at enquiries@eurocell.co.uk

or visit: eurocell.co.uk/luma
---
Online Showrooms

TAP INTO THE ONLINE AUDIENCE

Sternfenster's Sales Director Nathan Court explains why the trade fabricator invested in

online marketing, and how its customers can benefi t from a suite of powerful tools.

During the pandemic, we saw an uptick in

the number of people looking online for

aspirational purchases, including highend

windows and doors, and because people's

movements were restricted, popping down to their

nearest showroom simply wasn't an option.

Creating an online showroom with powerful digital

assets soon became the natural thing to do

Nathan Court

because we needed to refresh our whole product

portfolio.

So, rather than send out physical product

samples to our customers, we could just point

them to our website where they could see full

digitised CGI images which they could zoom in on

and rotate 360º – like they physically had them

in their hand.

We then went one step further. We did some

research for some of our trade customers, and

built those CGI videos into a digital walk-through

showroom, where they sit alongside video content

of salesmen demo-ing each individual product.

So, it's gone from 'here's a sample' to 'here's a

full integrated CGI demo of our products'.

And this fits nicely within our whole suite of

digital products, which allows you to come online

as a homeowner, find the products that interest

you, have a play, get an indicative price, get a

virtual walk-through, and even ask for it to be put

into a proposal with a full quotation.

24 T I NOVEMBER / DECEMBER 2022 PRACTICAL CONTENT FOR THE GLAZING INSTALLER & HOME IMPROVEMENT SPECIALIST
---
The idea for an online showroom was thought of

before the Covid pandemic, but developed quicker

due to national lockdowns

For Sternfenster, this wasn't about finding a

digital strategy to fit the changing circumstances

we all found ourselves in back in 2020.

We started our digital journey way before

the pandemic, which means we were in an

advantageous position when people moved online

in greater numbers – even for big purchases –

which then benefited our customers.

We are seeing some people tentatively return

to physical showrooms, but there's no doubt

that people are doing more of their research

online before leaving their homes – especially

millennials – and those window companies with

a strong online presence are the ones that will

benefit from this change in behaviour.

If you haven't got a digital presence that attracts

younger homeowners, then your customer base

will start to shrink – you've got to have an online

presence to attract those online-native customers

in the future.

We have been building our online strategy so

our customers can have a strong digital brand

to capitalise on that inevitable migration to the

online space.

Physical showrooms still have their place,

"As the trend moves

away from high volume

products to high value

ones, homeowners

will want a buying

experience to match"

and we see our online showroom as being a

complementary experience for homeowners who

research online first before visiting a window

company in person.

But physical showrooms come with significant

overheads, and not every window company will

have a place where Mr and Mrs Jones can walk in

and have a look around.

And having an online showroom should not be an

inferior experience to having a physical space. We

can brand the online showroom and support our

customers in tailoring that experience so they can

take advantage of everything we've invested in.

Our online showroom – including CGI videos,

online demos, and brochures – sits within an

online platform that helps our customers sell

more and manage their business processes.

This offering includes:

Proposal Builder, which allows homeowners

to request a quote by submitting their own

dimensions and colour and hardware options;

EasyAdmin, which allows customers to track

leads, generate quotes and place orders online;

Sternfenster Plus, which gives our customers

full access to our productions schedule alongside

a complete package of downloadable marketing

and training material; and a website-building

service, provided in partnership with digital

agency Icaal, which incorporates all those

elements that provide our customers with the

online tools they need to position themselves

professionally online.

As the trend moves away from high volume

products to high value ones, homeowners will

want a buying experience to match.

Partnering with a supplier that can provide

that will help you take advantage of those

opportunities.

Contact Sternfenster:

01522 512525

www.sternfenster.com

@Sternfenster

PRACTICAL CONTENT FOR THE GLAZING INSTALLER & HOME IMPROVEMENT SPECIALIST

NOVEMBER / DECEMBER 2022 TI 25
---
Revo Kitchen & Terrace Restaurant. Folding Sliding Doors Fabricator & Installer WD Group, Tamworth.

Main Contractor AGM Services Ltd . Weston-Super-Mare

Maximise the view,

Maximise the space.
---
Weston-Super-Mare's Revo Kitchen & Terrace Restaurant has received glowing praise from customers for its alfresco dining.

The seafront cafe has been specified with high-quality Kestrel Aluminium Folding Sliding Doors that maximise the views and

bring the outdoors indoors.

System features include:

• Ideal for high traffic commercial locations

• Numerous design configurations

• Single or dual colour powder coated in a wide range of RAL colours

• Marine grade anodised finishes to combat severe atmospheric conditions

For further information, download a datasheet at www.kestrelaluminium.co.uk or call 0121 333 3575.
---
Contract Case Study Talk

Established in 1993, Broadacres Housing

Association (BHA) has a proven track record

of providing high quality homes. Since its

founding, the not-for-profit organisation has

grown significantly and now boasts a portfolio

of over 6,500 homes across Yorkshire and other

locations in the north of England. REHAU has

been a key partner of theirs, with the company's

windows having been installed in many of BHA's

longest-standing homes.

SETTING THE STANDARD

Total Installer hears about a recent housing association refit in Crakehall, North Yorkshire,

and the use of REHAU's TOTAL70C window system throughout the project.

Until recently, a small collection of bungalows in

St Gregorys Close, Crakehall, were no different.

Despite holding firm for more than three decades,

the older REHAU windows fitted in these homes

needed removing. After consultation, BHA decided

to replace them with the TOTAL70C – a newer,

more efficient REHAU design that's said to be

better suited for 21st century needs.

As James Marley, BHA's Construction Manager,

pointed out, the upgrades were partly driven by

the organisation's vision to be 'the best rural

housing association in the country'. However,

it was also practical for the association to keep

ahead of the regulatory curve by fitting homes

with high-performing materials that exceed

current standards. "Close attention is given to

the budget and how we can use it effectively,"

REHAU's TOTAL70C system was used throughout the project and is a trusted supplier for Broadacres Housing Association

said James. "Any investment needs to provide Lasting value

maximum return, both in terms of performance While upgrades are part of day-to-day work for

and durability. That way tenants get a better BHA, James believes it's still important to take a

home that will last, and the association saves longer-term view when upgrading homes.

more money over time."

"We seek quality products that not only adhere to

Improvements of this kind are in part driven the Decent Homes Standard, but also ones that

by the Decent Homes Standard, a technical will future-proof our properties against proposed

document first published in 1997. For a property changes to housing legislation.

to be deemed a 'decent home' it must meet

"Broadacres has used REHAU windows for many

certain criteria. This includes up-to-date facilities

years knowing they are resilient to the country's

and services, as well as windows and doors that

highly seasonal weather.

provide a good degree of thermal comfort through

efficient insulation.

"This is especially important for a site like St.

Gregorys where all the tenants will be living on

the ground floor.

"Without adequate windows and doors, cold

draughts and damp can create big problems later

on."

REHAU says its TOTAL70C system is ideal for

organisations seeking lasting performance.

Products in this range have exceptional thermal

properties, achieving A+ on the Window Energy

Rating system, while also surpassing the

requirements set out in Part L of the Building

Regulations.

28 T I NOVEMBER / DECEMBER 2022 PRACTICAL CONTENT FOR THE GLAZING INSTALLER & HOME IMPROVEMENT SPECIALIST
---
REHAU has made efforts to offer more

sustainable frames with significant investment in

its waste management and recycling machinery

For windows an overall U-value of 1.6 W/m 2 K is

needed; the TOTAL70C sits well underneath this

threshold at 1.31 W/m 2 K.

This level of performance, as James explained,

is an advantage when working across such

a large portfolio. "BHA's current major works

specification has been prepared with REHAU's

guidance. This new window makes it easier for

us to meet our carbon reduction targets, while

also laying the groundwork for future challenges

around thermal performance in homes.

"We know from customer surveys that window

replacement is a top priority, so it's vital to get it

right the first time, especially when you're dealing

with thousands of buildings."

Speed and security

BHA's decent homes replacement cycle sees it

budget and plan for windows to remain in-situ

for 30 years without premature failure. REHAU

has proven itself against this measure. However,

as Keith Hogan and Kevin Hudson, Directors at

Newlife Windows, BHA's preferred installer point

out there are other more practical benefits to

using a product like the TOTAL70C system.

"Newlife is REHAU approved, so our team is very

familiar with the company's profiles and what's

needed to fit them to a high standard," said Keith.

"This familiarity also means we can replace

and install the new products quickly, which is

not always the case for competitors' designs.

Knowing we can enter a person's home and be

confident we'll complete the job to schedule 99%

of the time is great for customer satisfaction and

our relationship with Broadacres."

Keith's final point, as James is keen to highlight,

is key for a housing association.

"No one wants to have their day disrupted

with building work, but we also need to make

improvements to our homes from time to time.

"Newlife Windows can give us a schedule

and we'll know that the work will be finished

according to the time-scales given.

"This is a big advantage when liaising with

tenants and is partly down to the good design and

functionality of REHAU's windows."

Beyond this, the TOTAL70C system also provides

customers with greater resistance to break-ins.

If required, the hardware used on all REHAU's

TOTAL70 range can be fixed into the steel

reinforcement on both the sash and frame,

increasing the security level for residents.

"This installation method is simple," said Kevin.

"Particularly if you're already removing existing

REHAU frames from the property.

"It's important to have this feature available for

properties like those at St. Gregorys."

Frames for the future

"REHAU is a natural partner for BHA when it

comes to sustainability," said James.

"We know the windows have excellent thermal

efficiency, and this helps our tenants to spend

less on their energy bills when the weather gets

cold. Knowing the new frames are made from

older recycled ones is an added bonus."

Sustainable suppliers, as James pointed out,

make it easier for an organisation like BHA to do

its job without losing track of the bigger picture.

He said: "We have our own set of CSR targets

that would be harder to achieve were it not for

companies like REHAU. In a market like housing,

where the focus is always shifting, having reliable

products made the right way is so valuable."

James concluded: "Long-standing relationships

like the one between REHAU and Broadacres

are ultimately based on trust. These windows

make our tenants' lives better, which is the most

important thing, but the fact we know they'll fit

without fuss and also look good once installed is

what really sets them apart. REHAU is specified

as standard across all our projects because we

know what we're getting, even if that means

looking further when a supplier isn't nearby."

Contact REHAU:

01989 762601

www.rehau.com/uk-en/casement-windows

@REHAUWindows

PRACTICAL CONTENT FOR THE GLAZING INSTALLER & HOME IMPROVEMENT SPECIALIST

NOVEMBER / DECEMBER 2022 TI 29
---
PVCu & ALUMINIU
---
CALL:

EMAIL:

VISIT:

M LEAD TIMES FROM JUST 5WORKINGDAYS!
---
Case Study

AN AFFORDABLE SOLUTION

Total Installer hears from Aberdeen-based Affordable Windows and Doors, who during

the Covid pandemic partnered with Liniar to fabricate the company's 70mm system.

Ryan Hunter, Affordable Windows and Doors' Managing Director discusses the process...

Affordable Windows and Doors moved into

window and door fabrication after starting

in kithcen and bathroom renovations

Originally formed as a small building

company, Affordable Windows and Doors

is a family-run business which moved into

kitchen and bathroom renovations, then added

home improvement and full build to its service

offer and now has complemented this with

window and door fabrication.

Ryan Hunter, Affordable Windows and Doors'

Managing Director explained why they moved into

fabricating their own fenestration products.

He said: "When we came out of the first Covid-19

lockdown in 2020, the demand from customers

for home renovation absolutely rocketed –

however, our fenestration supplier had gone bust,

and this was a serious issue for us.

"I quickly realised this had left a gap in the local

market for a PVC-U window fabricator. We'd

always used the highest rated energy efficient

windows, so I asked around for recommendations

for the best systems house with excellent

customer service."

Ryan continued: "Liniar was recommended to us

time and time again. They completely align with

our values, they are a breath of fresh air, with

fantastic product development – and they also

have the edge on environmental initiatives and

customer service."

Affordable Windows and Doors Aberdeen joined

Liniar during lockdown, so all the negotiations

and set up had to be done virtually.

Ryan said: "It was all a bit weird; we'd have liked

to do business like this face-to-face. It's a huge

investment for us and we wanted to be confident

we were going with the right system."

With new premises and machinery secured, the

set-up of Affordable Windows and Doors was

straightforward despite the pandemic.

Ryan added: "Fabricating windows and doors was

a brand-new venture for us and there was a lot

more to it than we realised.

"As a business we were on a steep learning

curve. We were lucky to secure a fantastic head

fabricator and we couldn't have chosen a better

systems house.

"Liniar has had our backs from the very start.

The whole team is open and honest and tell us

how it is.

"It's been tough out there, but they have always

told the truth about stock levels and what they

could do.

"There have been a couple of times that stock

levels may have been restricted due to raw

material shortages, but even though we were prewarned,

Liniar always sorted us out.

"We are currently manufacturing about 50 frames

per week but have plenty of capacity to increase

this to 150.

"Our factory consists of old barns that we've

converted, making sure that as a business, we

have room to grow.

"I'm sure that with Liniar as a key partner,

Affordable Windows and Doors will exceed all of

our expectations!"

Liniar's Regional Sales Director Mike Hobson,

concluded: "It's been fantastic to be on the

journey with Ryan and the team at Affordable

Windows and Doors.

"They are continuing to go from strength to strength

fabricating our 70mm system and I look forward to

seeing what their future plans will include!"

Contact Liniar:

www.liniar.co.uk

01332 883 900

@Liniarprofiles

32 T I NOVEMBER / DECEMBER 2022

PRACTICAL CONTENT FOR THE GLAZING INSTALLER & HOME IMPROVEMENT SPECIALIST
---
Innovation comes built-in

60

Quotes

available in

60 minutes

FIRE-RATED

INTEGRAL BLINDS

PRACTICAL

PRIVACY

PROTECTION

Fully accredited and independently tested

Manufactured in the UK using Pyroguard fire glass

Delivers 30 to 120 minutes integrity and insulation fire-resistance

Wide range of coloured slats

Choice of manual or motorised control systems

Ideal for hospital and healthcare environments

Morley Glass & Glazing Ltd

Unit 3

Leeds 27 Industrial Estate

Bruntcliffe Way

Leeds LS27 0HH

morleyglass.co.uk

0113 277 8722 sales@morleyglass.co.uk
---
Updates

For further windows updates visit www.total-installer.co.uk

AN A PLUS WEBSITE AIMS TO 'IMPROVE USER EXPERIENCE'

A Plus Aluminium has introduced its brand-new website at aplusaluminium.co.uk, which the

company says is responsive and faster to load with an improved user experience.

Highlights are said to include a book an appointment function for the company's new showroom and

better navigation for trade, residential and commercial website visitors.

The design is based on new corporate branding soft launched during the pandemic. The orange accent

colour is used for signposting and influencing the user.

"Our website is a central part of our sales and marketing," said Jon Palethorpe, Co-Director of A Plus

Aluminium. "Like many B2B businesses we use it as a hub – a go-to for product information and service

offerings. While our old website still served a purpose, it was dated and simply not cutting it in this instant access digital age. The new site is more responsive

and faster to load with a simplified user experience. Now it is live, the website will be populated with new information on products and services regularly,

including updates on lead times." www.aplusaluminium.co.uk

PREMIER ARCHES AIMS TO 'RESHAPE THE INDUSTRY'

With a fresh approach to fabrication, Premier Arches says it is 're-shaping the future of profile bending to

become the UK's number one supplier' by offering a wide choice of well-made products, reliable service, and

an easy process.

Managing Director Sean Greenall (left) maintains that first and foremost, it's a dedication to exceptional

manufacturing quality. One major way the company reportedly makes customers' lives easier is by supplying arched

and angled frames in a wide range of PVC systems, including REHAU, Eurocell, Liniar, Veka, Halo, Duraflex, and

Residence Collection. And thanks to a new account with the Epwin Group, Premier Arches has recently added Optima

from Profile 22 to its broad range of systems. The company also offers a full CAD service, allowing customers to see

beforehand exactly what they're getting. www.premierarches.co.uk

NEW BUILD PROJECT GETS THE SPECTUS TREATMENT

738 Spectus windows have been installed in the first phase of a new build housing development in

the village of Kirton near Boston, Lincolnshire.

The Spires development is an exclusive collection of two, three and four-bedroom homes designed and

built by Ashwood Homes. The new build development will provide a mixture of private homes with 21 of

the builds set to be affordable housing. The new 152 first-phase plots were manufactured in white on

both sides from the Spectus Bevelled 70mm System. In this project, all manufactured windows needed

to adhere to Document Q, Building Regulations and BSi Kitemark standards for the energy and security

performance. With the first phase now completed, the Highseal Manufacturing team are scheduling the

start of second phase of the development which will consist of 670 Spectus windows. www.epwinwindowsystems.co.uk

14TH BWF AWARDS SHORTLIST REVEALED

This year's shortlist for the British Woodworking Federation (BWF) Awards has been revealed.

This will be the 14th year of the BWF Awards, which celebrate the outstanding skills and talent in the woodworking

and joinery sector, and the milestone achievements of the past year.

Helen Hewitt, Chief Executive of the BWF, commented: "This year's shortlist demonstrates the breadth of the skills,

creativity and talent in the BWF membership and across our sector. This year we're introducing a brand new category

– the BWF Heritage Project of the Year Award. This new award celebrates the incredible skill and expertise that goes

into restoring and developing period properties. With a fantastic number of entries for this category alone, we're

Helen Hewitt

excited to showcase the skill and technical expertise involved in these projects." The winners will be announced at the

BWF's Annual Dinner which will take place at the Kimpton Fitzroy London Hotel, on Friday 25th November. www.bwf.org.uk

34 T I NOVEMBER / DECEMBER 2022

PRACTICAL CONTENT FOR THE GLAZING INSTALLER & HOME IMPROVEMENT SPECIALIST
---
Decalu – the multi-tool

for fabricators

Everything you need in an aluminium system

• Modular system

• Dual colour, textured and marine grade as standard

• U-values as low as 0.68W/m 2 K *

• Lower stock holding – cut manufacturing times by 30%

DUAL

COLOUR

AS STANDARD

FAST

FIT

PRE-INSERTED GASKET IN FRAME, VENT AND GLAZING BEADS

• Pre-inserted gasket in frame, vent and glazing beads

*

U-value calculated on the basis of a bi-fold door measuring 4000 x 3000mm (WxH) and featuring 4 sashes and triple-glazing

Add margin through manufacture

Deceuninck Aluminium

Stanier Road • Porte Marsh • Calne • Wiltshire SN11 9PX

T +44 (0)1249 816 969 • F +44 (0)1249 815 234

info@deceuninck.co.uk • www.deceuninck.com
---
Contract The View Talk from Certass TA

GETTING THE HELP YOU NEED

As the dark nights draw in and sector challenges continue to build, in his latest column, Jon

Vanstone, Chair of Certass Trade Association, discusses the latest findings around male suicide

The All-Party Parliamentary Group (APPG) on

Issues Affecting Men and Boys published

a report in late September called 'Tackling

male suicide: a whole 'new system' approach'.

It has taken evidence and studies from a range of

sources to deliver key recommendations on how

to reduce the male suicide rate in the UK.

Male suicide still claims 13 lives every day and

it is the biggest killer of men under 50. In the

construction sector, two workers die by suicide

every working day.

and explains where those struggling within construction can access free support.

The parliamentary group highlighted the findings

that male suicide is primarily a response to

external factors such as: "employment, workplace

culture, relationship breakdown, bereavement

and financial problems".

For a sector, where many of our workers are

self-employed or running their own businesses,

it comes as no surprise that the construction

industry is a high-risk occupation.

This latest APPG report has directly acknowledged

that. They have made 16 recommendations, based

on their findings and there are three key ones

which are focused directly on us as an industry:

• The Government to fund free training for

workers in high-risk sectors to look out for

colleagues at risk, such as in the building industry

or military. In addition, there should be support

for initiatives such as Mates in Mind, HiS Charity

and the Lions Barber Collective.

• Mandatory mental health sections on

procurement frameworks in the construction

industry. This could be rolled out into other highrisk

occupations.

• Suicides at work to be disclosed as a RIDDOR

(Reporting of Injuries, Diseases and Dangerous

Occurrences Regulations).

Jon Vanstone

Whilst these recommendations could have a

positive effect on the future of mental health

in our industry, in the here and now there are

organisations who are working tirelessly to

improve mental health and well-being in our

industry.

Guiding Light – support is available

I am proud to be the ambassador for Lighthouse

Club, the Construction Industry Charity – the only

one of its kind that provides emotional, physical

and financial well-being support to construction

workers and their families, helping those in need

when times are tough.

As well as supporting individuals, Lighthouse

Club supports organisations with a range of

online masterclasses and training courses so

that leaders can offer mental health support to

their team and build a positive workplace culture

without any stigma around mental health.

There are also courses for individuals to help

with budgeting, managing stress and anxiety and

getting a healthy work/life balance.

Many workshops are free and anyone in the

construction sector can register for them online

here: https://www.constructionindustryhelpline.

com/training.html.

Lighthouse Club receives no public funding and

relies entirely on the generosity of those within

the industry to help us continue our vital work.

Every penny raised means we can do more, so

if you would like to support the great work being

done, as an individual, or a business, please do

get in touch.

The Lighthouse construction industry helpline can

be called for free, 24 hours a day, seven days a

week, on 0345 605 1956 in the UK and 1800 939

122 in the Republic of Ireland.

Construction workers and their families and

friends in the UK can also text HARDHAT to

85258 to access anonymous and confidential

help immediately via text, and 50808 in the

Republic of Ireland.

Contact Certass Trade Association:

01292 292 095

certassta.co.uk

@CertassTa

36 T I NOVEMBER / DECEMBER 2022 PRACTICAL CONTENT FOR THE GLAZING INSTALLER & HOME IMPROVEMENT SPECIALIST
---
0345 672 9333

sales@apeer.co.uk

apeer.co.uk

The new Apeer44

range has a door

for every style,

taste and

personality.

Apeer44 is the coolest new

way to express a sense of style.

Choose from our collection of

designer doors, crafted glass and

uber-fashionable furniture to set

any house apart from the rest.
---
Door Hardware

GETTING A HANDLE ON THINGS

Andy Matthews, Head of Sales at HOPPE (UK), discusses the door hardware finishes that

work best on different types of residential and commercial buildings.

At HOPPE (UK), we pride ourselves in

designing and manufacturing hardware

that complies with the Building Regulations

requirements, while offering a product that is also

incredibly versatile from a design perspective. We

don't just focus on the aesthetic; our finishes also

offer a wide range of benefits making them ideal

for a range of projects. Below is a quick overview

of the finishes available from HOPPE (UK) and

ARRONE and the benefits they bring to different

projects.

Refurbishment works

During refurbishment programmes, it is not

always cost-effective to replace all of the

architectural ironmongery. Using a physical

vapour deposition (PVD) finish allows you to

coordinate new hardware with existing brass

handles by providing a similar finish but with the

added benefit of being more low-maintenance.

HOPPE (UK)'s ARRONE range

PVD is scratch and corrosion resistant making it a

wise choice for buildings where the door hardware

may be subject to significant use. The hardwearing

properties of PVD make it a more economical

choice long term as handles will not have to be

replaced as frequently.

Residential

Having accessories that coordinate with the handle

shows an extra level of attention to detail that can

take already great door designs to the next level.

The new suited range from ARRONE helps door

manufacturers to easily source high-quality

ironmongery in a range of finishes that complement

both contemporary and traditional door designs.

The suited collection is available in black; white;

anthracite grey; graphite; satin chrome effect;

polished chrome effect; and polished brass effect.

These seven new finishes are available across

selected handles, knockers, letters and numerals.

Offices and commercial spaces

Aluminium is flexible, strong and corrosion

resistant, making it the ideal building material.

However, aluminium can still tarnish and

oxidise over time if it does not receive additional

treatment. One of the best ways to protect

and enhance its appearance is by giving it an

anodised finish.

HOPPE has been using anodised finishes for its

aluminium door and window hardware for more

than 35 years. The hardwearing layer created

in the anodising process is fully integrated with

the metal substrate, increasing its abrasion

resistance and helping the product to retain its

appearance.

These qualities are particularly useful in high

traffic areas.

Continued on page 40

38 T I NOVEMBER / DECEMBER 2022 PRACTICAL CONTENT FOR THE GLAZING INSTALLER & HOME IMPROVEMENT SPECIALIST
---
ORION

WITH THE

proteQ10 £2000

GUARANTEE

proteQ10

FEATURES AND BENEFITS

10 year performance guarantee

Key/key & thumb-turn variants

PASSWORD

KEY SECURITY

PROTECTED

Brass & nickel finishes

5 Q-branded keys supplied as standard

Bespoke Keyed Alike service available

sales@vbhgb.com

www.vbhgb.com

01634 263 300

@vbhgb
---
Door Hardware

Continued from page 38

Coastal properties

Ironmongery on properties located on the coast

will be affected by marine corrosion. This

doesn't just affect the handle's appearance, it

can damage the internal workings of the handle

meaning the only option is to replace it which,

depending on the type of door, could be costly.

HOPPE's Atlanta handle range with the Resista

finish has been designed to ensure it can

withstand the effects of weathering. Made from

one of the only metals with a strong resistance to

corrosion, the new solid brass-based handles are

suitable for all residential properties, even those

in coastal areas. It's also minimal maintenance

as any dirt can be easily removed with just a

damp cloth.

Schools

An education setting is possibly the toughest

environment for door hardware. Handles need

to withstand frequent use (without a lot of care

being taken) and comply with accessibility

requirements, so while the mechanical

performance and design of hardware are the

primary ways to address this, the finish also

plays a key role from an accessibility perspective.

It is a requirement of Approved Document M that

door opening furniture on manually operated

doors should visually contrast with the surface of

the door.

HOPPE's Nylon range is available in all primary

colours as well as more traditional black and white

to provide a stark contrast against any door design.

Nylon has historically been a popular choice

with facilities managers. It has been in use for

more than 30 years, providing schools with costeffective

and reliable hardware.

It doesn't require any specialist cleaning and

because it has a smooth surface, it doesn't easily

harbour bacteria.

Nylon's wide-ranging colour palette can also be

used to help children find their way around school

and identify which areas they can or cannot

access.

"Nylon's wide-ranging colour palette can also

be used to help children find their way around

school and identify which areas they can or

cannot access"

Many schools use grey ironmongery for

unauthorised areas and brighter colours for

general access.

Sports and leisure

When specifying ironmongery for gyms, pools,

showers, changing rooms where there is likely

to be humidity and water, Nylon is also a great

choice as it doesn't corrode with chlorine.

HOPPE also produces coordinating accessories

– including signage, hooks, finger plates, back

plates, pull handles, interior handles set on roses

and escutcheons – making it easier for specifiers

and manufacturers to order everything required

for each door.

Hospitals and healthcare

Architectural ironmongery in the health sector

must fulfil several important needs.

Doors can receive very heavy use and all

ironmongery must be robust enough to withstand

this with minimal maintenance. Specifying

products which have undergone the appropriate

testing is vital to make sure they're up to the job.

Polished stainless steel is a good choice from a

hygiene perspective as this surface is smooth

and easy to clean. It's a sensible alternative to

brushed stainless steel which has minute ridges

that can harbour bugs. Specifiers might choose

satin anodised aluminium or Nylon as both are

also smooth.

For even more peace of mind, coatings such as

HOPPE's SecuSan, provide an antibacterial and

antimicrobial surface. When applied to hardware,

SecuSan helps to reduce the spread of bacteria.

While products such as these cannot eliminate

or kill all germs, they do provide an additional

level of protection and can help to maintain better

hygiene standards when people are present in

large numbers.

Contact Hoppe (UK):

01902 484 400

www.hoppe.co.uk

@HoppeUK

Schools are said to need strong

hardware for doors as it needs to

withstand frequent use every day

40 TI NOVEMBER / DECEMBER 2022 PRACTICAL CONTENT FOR THE GLAZING INSTALLER & HOME IMPROVEMENT SPECIALIST
---
Building for the future

on the strength of our past

• 43 Years of Trading

• Family - owned

• Single Source Supply for PVC-U and Aluminium

• Complete Customer Support Package

• Nationwide Deliveries

• 24/7 Online Ordering and Order Tracking

Award Winning Windows & Doors to the Trade

t. 01933 674880 e. info@emplas.co.uk www.emplas.co.uk
---
Updates

Broadstairs-based Rhino Aluminium started fabricating the Decalu88 Bi-Fold Door from Deceuninck

Aluminium in early 2022 when its existing systems struggled to comply with the revisions to Part L of the

Building Regulations. Since then, the company has discovered new efficiencies in manufacture, made

life easier for its customers with hassle-free installation, and opened new markets with Deceuninck

Aluminium's other product ranges.

The Decalu88 Bi-Folding Door achieves U-values of 1.2W/m 2 K with double glazed units. It also features a 7mm

fully adjustable jamb on each side, simplifying squaring and setting. With the knock-in glazing bead with preinserted

and co-extruded flush gasket, installers can glaze each sash in less than four minutes and fit a door in as little as an hour. Following the success

of the Decalu88 Bi-Folding Door, Rhino Aluminium has decided to start fabricating the Decalu88 Entrance Door. www.deceuninck.co.uk

A GLADIATORIAL OPENING FOR ENDURANCE DOORS

A SPLASH OF COLOUR FOR VBH

For further doors updates visit www.total-installer.co.uk

NEW RANGE OPENS DOORS FOR KENT FABRICATOR

With the help from James Crossley, formerly known as Hunter from 90's TV series Gladiators,

Endurance Doors has opened a new showroom in Brigg, North Lincolnshire, to help drive consumer

sales in the local market, formed as a basis for Installer Partner product training, whilst also

providing a physical platform for marketing launches and activities.

It features seven doors in total from across the Endurance range, along with wall mounted hardware

boards, colour swatches and even a super-sized interactive digital board. The doors include two from the

Classic, Country and Urban Collections, along with a new ultra-premium Avantal doorset. Consultations

can be booked online with a Design Consultant, whilst the virtual showroom also gives web visitors a taste of this new retail investment by Endurance. It

also fully reflects the consumer marketing strategy that underpins the strong Endurance Doors brand too. https://endurancedoors.co.uk

Hardware manufacturer VBH has recently added two new colours to its suited range of residential

door, patio door and window furniture.

In response to requests from customers, the popular Alpha resi-door handle set is now available in two

anodised aluminium finishes. This brings the number of available finishes to 12.

VBH describes greenteQ Alpha as a 'premium quality handle set for use with entrance doors and bi-fold

doors'. It features a number of benefits including sprung levers, thicker fixing bolts and a flange around

the cylinder profile cut out. As a part of the greenteQ Suite, it is matched in colour and lever style to Alpha

casement and tilt & turn handles, and Aspire lift/slide patio door handles. As components of the greenteQ Suite, the new anodised handles are covered

by the greenteQ 10-year performance and surface guarantee, and are approved for use on Q-secure guaranteed installations. These installations are

guaranteed against break-in, with up to £8000 available in compensation. www.vbhgb.com

£200K EXTENSION INVESTMENT KEY TO HURST GROWTH

Hurst Doors has invested £200K in a new 430sqm extension to its 50K sq ft manufacturing facility in

Hull to enable a greater consistency of service in its dispatch of PVC panels and composite doors.

The investment is in response to five years of growth that has seen the business almost double in size,

moving from manufacturing approximately 1700 panels per week to over 3500 and from around 200

composite doors to 500.

The new building, which will reduce the energy required for heating and lighting, will house the finished

goods storage and distribution area, providing up to 1000 panel spaces and 500 composite door spaces and

a dedicated loading area. The extension will also house the maintenance department and a small machining

area featuring two CNC routers for preparing MDF cores and PVC skins. Hurst's says its investment is set to

improve the service it provides to customers and the means for further growth. www.hurstdoors.co.uk

42 T I NOVEMBER / DECEMBER 2022

PRACTICAL CONTENT FOR THE GLAZING INSTALLER & HOME IMPROVEMENT SPECIALIST
---
ALUMINIUM PRODUCTS

IN A

5 DAY LEAD TIME!

Start Selling Sternfenster

Today To Benefit From

Industry-Leading Aluminium,

With Fast 5 Day Lead Times

On Standard Colours!

Any RAL from a 10 Day Lead Time

Dual Colours Available

Simple Installation

Secureplus Guarantee

Secured by Design

DON'T LET GENERIC HAND TOOLS HOLD YOU BACK

Choose quality glazing tools and consumables specifically designed for use in the window and door industry.

To find your local stockist

scan the QR code or visit

www.xperttools.co.uk/stores

DESIGNED BY XPERTS.

FOR EXPERTS.
---
Customer Management

EXCEL-LENT OR NOT?

Elton Boocock, MD of Business Pilot says Excel is a go-to tool for your business, but if you're

trying to use it as a Customer Relationship Management tool, it's costing you work.

The first thing I want to make clear, and

before I get served with a writ by Microsoft,

we think Excel is great.

It's a brilliant tool for cutting data, creating

graphs, working out forecasts and a lot more

besides, but what it is not, is a CRM (customer

relationship management tool) – and because

many installers use it as one, things can get

very messy.

This is why a customer relationship and

business management tool like Business Pilot is

worth the very small investment that it's going

to take to bring your business back into line and

under control.

1. Excel isn't a CRM, so why would you try

to use it like one?

Excel is great at 'holding' data. It's a depository

for information and allows you to sort and

manipulate it – but it requires your input to

make stuff happen.

A CRM gives you more data, more information,

but makes that data manageable by doing the

hard work for you in the background.

It captures everything you could possibly

capture in your spreadsheets but it slices and

dices it to make that information understandable

and usable. You can extract information on the

business that you won, the business that you

didn't and what it cost you, without having to lift

a finger.

That's important because if you or your team

members have to go through a process to

extract something meaningful from the data that

you hold about your prospects or customers,

you're going to be less inclined to do it so

opportunities go missing.

If it's there every morning when you log in, you

can make informed and strategic decisions

about your direction of travel.

2. Leads fall through the cracks

We're going into a much tougher set of trading

conditions. The Covid boom made effective lead

management less important; if you lost a lead

by failing to manage it properly it didn't matter

because another was on its way.

Leads now count again. Excel isn't designed to

be a lead management tool. It's not designed to

collect information about prospects, prompt your

team to follow up when they need to, support

the conversion process and understand what's

working and what isn't.

Business Pilot has developed a CRM being used by

installers associated with FENSA, Tommy Trinder and

many more

"The Covid boom made effective lead

management less important, if you lost a lead

by failing to manage it properly it didn't matter

because another was on its way. Leads now

count again"

Take Business Pilot in comparison. A lead

comes in either as walk-in, call or email and

the information is put in once and once only.

Every email relating to that lead is linked to

it, either internal emails or external emails to

the customer.

It can be assigned to a member of your team,

they're prompted to follow-up, standard

communications with the customer, for

example receipt of enquiry, can be automated.

You or any member of your team can see

the status of the lead and extract real-time

management information, for example

forecasts, instantly.

Continued on page 46

44 T I NOVEMBER / DECEMBER 2022 PRACTICAL CONTENT FOR THE GLAZING INSTALLER & HOME IMPROVEMENT SPECIALIST
---
Rio French Door

REHAU have expanded their Rio product range

to include the Flush Fit French Door. We have

taken the design elements of our Rio Flush Fit

Window and developed a complementary

French Door that allows you to apply its unique

clean aesthetic to every element at home.

Windows. Reinvented for modern life.

www.rehau.uk/rio

enquiries@rehau.com

Tel: 01989 762600
---
Customer Management

Continued from page 44

A CRM delivers a completely different customer

experience, making you more likely to win more

business. In fact, companies with CRMs win on

average 29% more business than those without

them!

3. Your team can collaborate and work

more effectively

It's not only about leads. If you're holding

operational data in your business on Excel or

other databases, you're putting a barrier in

place to how you use it.

With a CRM like Business Pilot everything is

visible – where a lead or job is, who's working

on it, are there any blockers, where your product

order is, when you'll invoice, if you've registered

the installation, to job profitability. Everything is

there at your fingertips.

Not everyone needs to know everything all of

the time, so CRMs including Business Pilot can

help make things simpler for your team by giving

them access to the areas that they need to know

about, not the ones that they don't – but still

keep everything connected in the background, so

as a business owner or manager, you can pull

whatever information you need when you need it

and still get a helicopter view of your business,

or an individual element of it, in real time.

Leading CRMs like Business Pilot have also

been designed to work natively with the

cloud, so that all your information is available

anywhere on any device through a secure login.

4. Excel won't stop you falling on the

wrong side of GDPR rules!

As businesses we have a responsibility to make

sure that we handle the data that we hold

on our customers securely – including home

improvement companies! GDPR (the General

Data Protection Regulation) applies to your

business as well as everyone else's, and there

are big penalties for breaches of data security.

If you're storing customer data on a spreadsheet

like Excel, their information is in one place

and accessible so if any of your systems are

breached everything is accessible.

Business Pilot can assign leads to a specific member of your team and offers many other benefits. Inset: Elton Boocock.

"A CRM delivers a

completely different

customer experience,

making you more

likely to win more

business"

As a CRM Business Pilot holds customer data

in multiple and secure silos and only brings it

'together' while you're accessing it.

It means if you were 'hacked', your customer

data is still secure because individual elements

are stored in lots of different 'containers', not

one, and can only be brought together and

accessed if you're an authorised user.

5. Excel (and other spreadsheets)

don't integrate with the other software

platforms that you use

As we've said, Excel is great in isolation but not

for use as a CRM. One of the biggest draw backs

is that it hasn't been designed to integrate with

other software platforms.

Our customers can use Business Pilot alongside

other industry software tools and partners.

For example, we have Affinity Partner status

with FENSA and a one-click integration which

allows installers to register their installations.

It saves them time, money, but also reduces the

risk of error because information doesn't have to

be input over and over again.

It also integrates with Tommy Trinder and Touch,

amongst others.

So, to reiterate, we're all for Excel. This is about

user-error.

There are too many installation businesses still

relying on spreadsheets and that is a massive

and unseen cost to their business.

Whether it's us or another provider, it's time to

bring in a CRM.

Contact Business Pilot:

0333 050 7560

www.businesspilot.co.uk

@BusinessPilotUK

46 TI NOVEMBER / DECEMBER 2022 PRACTICAL CONTENT FOR THE GLAZING INSTALLER & HOME IMPROVEMENT SPECIALIST
---
Easy to fit

SlimFold

bi-fold doors

DELIVERED IN 2 WEEKS

1.4

u-value

Easy-click beads 100mm sightlines Pre-fitted cill Part L compliant

SPEAK TO REBECCA ON: 07507 792532

CLAIM A FREE

PRODUCT

Claim a FREE Product with Selected

Promotional Machines and Kits

BL1850B

18V LXT 5.0Ah Battery

B-53811

100 Piece Bit Set

DMR110

DAB+ Site Radio

ADP05

18V / 14.4V LXT

USB Charger

FREE ADP50 or DML186: DHP482JX14, DHP484TJX9, DHP485TJX8. FREE DMR110 or BL1850B: DLX2202TJ1, DLX2134TJ.

FREE B-53811: DHP453F001, DHP485T001.

Claims can be registered on-line from 1st October 2022 and must be registered within 28 days of purchase for

qualifying models. Qualifying models must be purchased by 31st March 2023 to qualify and registered within 28 days.

makitauk.com/redemption

DML186

18V LXT LED Torch

Total Contractor.indd 1

03/10/2022 4:36 pm
---
Top Tips: Selling a Business

SELLING YOUR BUSINESS

Total Installer hears from Matthew Catterall of law firm Taylors Solicitors, who gives his top tips to

Selling your business, especially if you are

a 'first time' seller, can be a daunting

prospect. However, if you take the time to

assess and prepare you can reduce stress, time

and costs – think of it like fixing a roof in the

summer before a barrage of winter storms!

Sometimes there can be an unsolicited approach

to buy your company from out of the blue which

catches you flat-footed, but where you have time

to plan ahead I recommend you consider the

following:

installers who are thinking about selling their business...

Establish your objectives

You may think this is simple – I want to sell my

business!

However, do you know what your business is

worth? Will it be enough for you to retire on?

The market for businesses, just like the

products you sell, varies over time, so taking

early and specialist advice is important. An

independent accountant will provide specialist

advice, so beware of the 'business sales

agents' that will tie you into onerous sales

contracts, which can force you to not only

compromise on value (they are only interested

in getting a sale – any sale – over the line), but

can also leave you with a hefty commission fee

once you do so.

Do you want, or need, to sell quickly, or do you

have time to find the right purchaser? Quick sales

are possible, but generally involve compromising

on price and/or payment terms. If you know you

want to sell, then plan ahead 12 or 18 months

in advance. Starting the process early can help

maximise your gain.

Get your house in order

Once you get into the nitty-gritty of a sale to a

potential purchaser, the first major undertaking is

the 'due diligence' process. This is the process by

Matthew (below) says

preperation is key if you are

looking to sell your business

which the potential buyer and their accountants

will investigate every nook and cranny of your

business to identify any issues.

Issues can lead to price reductions, or to you

having to indemnify the buyer against any

identified issues getting worse or costing them

money. Early identification of any issues pre-sale,

and making good any that are identified (to the

extent possible) is therefore critical to a smooth

transaction. You don't want to incur significant

fees and then find the buyer pulls out because of

an issue.

Major areas that you need to consider include,

but are not limited to, the following:

"Taking steps to address any areas

of concern will allow you to present

a business that looks neat and

tidy and which is appealing to

prospective purchasers"

• Tax. Are all your tax returns and payments in

order? Do you have any ongoing disputes with

HMRC? Is all your tax paid up-to-date?

• Accounts. Organised sets of up-to-date

financial information will instil confidence in

a buyer, especially when it comes to agreeing

a price. If you don't prepare regular, detailed

management accounts, consider doing so,

especially where you have some time before

you want to sell.

• Contracts and terms of business. If your

business operates with fixed contractual

arrangements with other parties – think supply,

distribution or agency agreements – are they

up-to-date?

Continued on page 50

48 T I NOVEMBER / DECEMBER 2022 PRACTICAL CONTENT FOR THE GLAZING INSTALLER & HOME IMPROVEMENT SPECIALIST
---
" I save 30

hours a month

on quoting with

Framepoint"

Liam Best,

Kalico Home

Improvements

...and it's as simple as

sketching on a pad.

book a demo - www.tommytrinder.com
---
Top Tips: Selling a Business

Continued from page 48

Do you have signed copies of those contracts and

do they need extending? Are your purchase and

supply terms and conditions up-to-date? A buyer

will want to know that they have a solid base for

the business to continue operating once you have

sold.

Part of selling a business

inlcudes making sure tax

returns and payments in order

• Employees. Are your employment contracts

and HR records in order? Do you have appropriate

policies and procedures in place?

• Statutory records. These include your share

certificates and corporate records. Are they in your

possession (they could be with your accountant)? If

they cannot be located, get them written up.

• Insurance. Make sure that you are fully and

properly insured against all necessary risks, and

ensure that premiums are paid up-to-date. Can

any outstanding claims be resolved?

Taking steps to address any areas of concern

(whether big or small) will allow you to present

a business that looks neat and tidy and which is

appealing to prospective purchasers. If you have

any areas of concern that you are not confident

in dealing with, consider appointing professional

advisers early to assist with preparing your

business for sale.

Why not get their lawyers and accountants to

perform a 'health check' on the business so that

any issues can be dealt with?

Marketing

So now you have your house in order, how do you

find a buyer?

Generally, there are four main avenues to

consider:

• Sourcing a trade sale yourself from your

business contacts, say customers who may want

to secure their supply chain;

• Would an MBO by your other directors be

possible?

• Engaging with an experienced, independent

corporate finance adviser;

• Engaging a 'business sales agent'.

Finding a potential buyer yourself could potentially

"It is usual for sellers to engage lawyers at this

point to draft and agree the NDA as it's such an

important document"

save on commissions, but beware of confidentiality

issues slipping out into the market, which could

affect staff morale (See initial discussions with

prospective purchasers, below).

An independent corporate finance adviser will likely

take an 'up front' fee to work with you to value

the business and prepare marketing materials,

with a 'back end' commission based on the value

achieved. The adviser will then go to market on

a confidential basis, filtering the prospective

purchasers and working with you to achieve the

best result. Their in-depth knowledge of corporate

finance will assist you in maximising value.

The path with a business sales agent is similar

to that of a corporate finance adviser. However,

in our experience, many are less knowledgeable,

charge higher commissions and lock you into

significant exclusivity periods where a fee is

payable, even if they didn't find you a buyer.

Initial discussions with prospective

purchasers

Once you have found a prospective buyer (or

buyers), it's time to engage with them to further

the process. Often buyers will make indicative

offers based on limited information about your

business, but will need to firm up those offers

once they have had a chance to undertake their

due diligence exercise.

Beware that an indicative offer is there to get your

attention, to flatter you and hook you into a sale –

it does not mean that is the price you will receive

in cash on completion.

It is vitally important that, before disclosing

any information (including the identity of the

business), the prospective purchaser enters

into a non-disclosure agreement (an NDA) with

you that will protect you from an unscrupulous

buyer 'raiding' your company for confidential

information e.g. on pricing or poaching key

employees, customers or even suppliers.

It is usual for sellers to engage lawyers at this

point to draft and agree the NDA as it's such an

important document. Once that has been signed

off, the sale process can begin in earnest.

Next month, we will guide you through the next

steps towards completion once you have found

a buyer.

Contact Matthew at Taylors Solicitors:

07748 633149

www.taylors.co.uk/index.htm

@taylorslawfirm

50 TI NOVEMBER / DECEMBER 2022 PRACTICAL CONTENT FOR THE GLAZING INSTALLER & HOME IMPROVEMENT SPECIALIST
---
Design, configure, and purchase custom products with ease

FREE TO USE NEW & IMPROVED CONFIGURATORS FOR...

Balustrades

Stairways

Bespoke Glass

Decking

1. Design your build

• Real-time design •

• Completely customisable •

• Eliminate mistakes •

2. Receive a quote pack

• Receive your pack in minutes •

• Fully detailed drawings •

• Accurate 3D visuals •

3. Place your order

• Discuss with our experts •

• Nationwide distribution •

• No wastage •

It's FREE to use, so why not start designing your project now!

A division of F.H. Brundle, the UK's largest stockist of handrailing components and glass for immediate delivery.

A division of F.H. Brundle, the UK's largest stockist of handrailing components and glass for immediate delivery.

The online

rooflight shop

rooflights.com stocks a

comprehensive range of

rooflights, roof windows and

accessories from market leading

brands at trade prices.

0333 016 04275

Explore our products or find out

more at rooflights.com
---
Article Company Update: MFT

CONTINUED SUCCESS

Total Installer hears the latest news from Made For Trade, who has taken home a

Manufacturing Award in recognition of its recent expansion, capabilities and success...

Home improvement specialist Made

For Trade has been announced as the

winner of the overall Manufacturing

Award at the 2022 North East Business

Awards grand final; reflecting the company's

growth, investment and manufacturing

capabilities that have been so well

documented across the last 12 months.

The Manufacturing Award has a wideranging

scope, with the main aim being

to highlight those companies across

the North East of England that have impressed

the judging panel via their demonstration of

manufacturing excellence, alongside attributes

such as design and innovation, quality, efficiency

and sales flair.

Helping customers from start to finish

One factor that reportedly helped Made For Trade

stand out from the competition proved to be the

relatively unique position of being both a design

and fabrication outfit.

Made For Trade encompasses the full timeline,

from initial design through to in-house delivery –

all for the benefit of efficiency, improving quality

and reducing cost. Made For Trade says it stands

out from competitors thanks to its progression from

a small installer and fabricator, to a manufacturing

outfit bringing revolutionary techniques and

processes to the industry, helping to fuel growth

and invest in a well-trained local workforce.

The company is said to be proud of its history;

founded by Richard Gaunt in 1979 as Aanco and

gaining significant credibility in the area from

the outset thanks to its reputation for quality and

service, Made For Trade remains a family business

led by Richard's sons Bradley as Managing

Director, and Ashley as Technical Director.

Last year saw the business grow with a turnover

increase of 31%, and whilst Made For Trade

The Made for Trade team at the Manufacturing Awards

remains B2B, the drive to increase homeowner

interaction has seen Made For Trade's Korniche

brand become synonymous with desirable glazing

products – to the extent that it is now requested

by name to trade installers.

The drive to simplify production and reduce

inventory led to an investment of nearly £1M

back in 2019 and 2020 on machinery to support

the new product, whilst in-house software was

developed to improve CNC sequencing, reduce

waste and costly machine time.

The Korniche bi-folding door, for example, was

designed and developed completely by the inhouse

engineering team before being manufactured

alongside at the same Wynyard site, with a number

of features that is said to set it apart from the

competition. From the patented 'Speedbead' and

anti-backdrive handle, to the built-in ventilation

and sealed roller bearing guides, no rivals came

close for the same engineering focus that relies on

quality manufacture.

'Continuous improvement'

The judging panel also looked at future

manufacturing plans; a factor that differentiated

Made For Trade via continuous improvement plus

investment in new technology and people to push

the manufacturing process forward in the most

efficient manner. Made For Trade is set to grow to

a £45-50M turnover through commercial

focus and vertical integration, and in

excess of £1M is again being invested

in bespoke machinery for the production

line, whilst the team are exploring a future

that involves in-house glass manufacture

to create a true one-stop shop.

That investment is not just on the factory

floor though; in the office the company's

Kwikquote software is being further

developed to streamline the customer

experience and go hand-in-hand with

market-leading customer service, whilst an

increase in regional presence and branding

pushes the focus forwards. Sustainability is a

key watchword; Made For Trade says it is already

setting the standard against rivals via the use of

new packaging, whilst environmental and safety

standards are also set to be further improved via

gap analysis and investment. The company says

sustainability extends to supply chain excellence;

in-house glass delivery has disrupted the market

norm of separate frame and glass drops, adding a

unique selling point, reducing customer cost and

reducing carbon footprint as a result.

Finally, this year saw the culmination of years of

work pay off in terms of manufacturing excellence

for Made For Trade, with the company achieving

the hugely enviable ISO9001:2015 certification,

something that was a likely key point for judges.

Made For Trade says the recognition gained as

a North East Business Award winner truly goes

hand-in-hand with its continual improvement in

manufacturing excellence.

Contact Made for Trade:

01642 610 799

www.madefortrade.co

52 T I NOVEMBER / DECEMBER 2022 PRACTICAL CONTENT FOR THE GLAZING INSTALLER & HOME IMPROVEMENT SPECIALIST
---
Membership

just £24.95 +VAT

per month

Job registrations

from £1.50 +VAT

It's time to switch to

The certification body that's on your side

Direct line to our Chair through

Facebook forum

Heads-up on future regulation &

Government position

Free Certass Trade Association

membership

Free listing on our

"Find an Installer" search

Free unique company profile

page

Free customer ratings

Legal, Tax, HR & Health and

Safety advice

Technical & installation advice

Free Covid secure procedure pack

JOIN US

TODAY

Call

01292 502 398

Email

info@certass.co.uk
---
Rooflights

LUMA-NATING YOUR LIVING SPACE

Total Installer hears more about Luma, Eurocell's newly launched flat rooflight, which

the company says is ideal for any part of the home including garden rooms and

garage conversions...

Luma comes in a black and white powder coated finish as

standard but can be sprayed in any RAL colour

Eurocell has extended its range of design-led

rooflight solutions with the launch of LUMA

– a new flat rooflight that the company

says combines sleek and contemporary aesthetic

appeal with proven performance.

Eurocell says LUMA delivers a superior design

that not only looks good, but has been developed

for ease of installation.

It is said to offer installers further business

building opportunities as consumer demand

grows for striking flat lanterns to help illuminate

new extensions, or support the refurbishment of

favoured living spaces, garage conversions and

even garden rooms.

Allowing living spaces to be flooded with the

restorative powers of natural light, the LUMA

rooflight is said to be easy to install, provides

inside fixing specification for home security

assurance and excellent thermal efficiency with

a U-value of 0.9, as the cost of heating homes

continues to be a concern for many.

LUMA is also said to come with a full 10-year

guarantee, and features an integrated drainage

system that allows moisture to drain away outside.

The slim aluminium frame comes with a choice

of clear, neutral or blue tinted glass in double

or triple glazed units which also offers the time

saving convenience of self-clean glass, while the

quality internal finish adds clean sophistication to

any living space.

Living, working and relaxing

With an absence of glazing bars across the

glass that interrupt exterior views or cast

shadows, homeowners choosing LUMA can enjoy

the mental health benefits of living, relaxing,

and working within vibrant spaces filled with

maximised daylight.

LUMA is available in durable black and white

powder coated finishes as standard and can be

sprayed in any RAL colour.

Made to measure in both square and rectangular

options, it is UV-resistant to withstand challenging

weather. Widths range from 500mm to 1400mm

with a maximum projection of 3200mm and

maximum glass areas of 2.5m 2 for double glazed

units and 2m 2 for triple glazed units.

Sean Bunyan, Head of Operations & Roofing

Solutions for Eurocell, explained: "LUMA is a

significant addition to our range of innovative

solutions to enhance home spaces and create

increased business for installers.

"Over the last couple of years, the importance

of home spaces has really been understood

and the positive health impact of experiencing

living spaces that offer natural light cannot be

underestimated.

"LUMA is a high performing and design-led

solution and is also fully compliant with the

current building regulations that are supporting

the introduction of the low carbon Future Homes

Standard in 2025.

"Attractive to the eye, thermally efficient, highly

secure, and straightforward to install, we are

confident that the LUMA flat rooflight can help

transform existing or new home improvement

projects into vibrant and welcoming living

spaces."

Contact Eurocell:

03301 624 327

www.eurocell.co.uk/luma

@eurocellplc

54 T I NOVEMBER / DECEMBER 2022 PRACTICAL CONTENT FOR THE GLAZING INSTALLER & HOME IMPROVEMENT SPECIALIST
---
Recycled

Material

Lighter

Than

Steel

Cheaper

Than

STEEL

Improves

WER ratings

Reduces

U-values

Increases

Profile

Chambers

IMPROVED

SCREW

RETENTION

YOUR BEST FRIEND! VERY GENEROUS WALL

THICKNESS'S THAT ACHIEVE A SUPERIOR

SCREW RETENTION COMPARED TO OTHERS.

IT CAN ALSO ASSIST IN GAINING BETTER

WER & U-VALUES DUE TO IT'S THERMAL

ADVANTAGES OVER STEEL OR ALUMINIUM.

CHEAPER THAN STEEL OR ALUMINIUM, YOU

CAN ALSO USE PVC SCREWS, SAVING YOU

MONEY ON SCREWS TOO! IT'S LIGHTER TO

HANDLE AND CAN BE CUT ON A NORMAL

PVC SAW. MADE FROM RECYCLED

MATERIAL, IT'S DOING IT'S BIT FOR THE

ENVIRONMENT AND CAN ENHANCE YOUR

COMPANIES GREEN CREDENTIALS!

FOLLOW @windowwidgets

Window Widgets: Your Everyday Superhero!

01452 341 868 | sales@windowwidgets.co.uk | www.windowwidgets.co.uk
---
Updates

A WINDOW INTO

THE FUTURE

Windowlink has partnered with marketing

agency Purplex as part of a strategy to

strengthen its position in the industry.

The software supplier, which was

established in 1985, has reportedly made

significant improvements to its product

portfolio in recent years and Managing

Director Mark Dudley decided now was the

ideal time to appoint Purplex and step up the

company's marketing activity.

Mark commented: "Vector is our solution for

conservatory, glazed extension, and garden

room companies and Focus covers windows

and doors, and our team is constantly striving

to make the programmes more streamlined

and user-friendly for fabricators and installers.

We've made significant development strides

over the past few years – including recently

adding a new animation functionality – and

Purplex will play a vital part in how we

communicate this message to the market."

Purplex will be handling Windowlink's PR

activity, managing LinkedIn, Twitter, and

Facebook as well as implementing highly

targeted direct marketing campaigns using the

most reliable and up-to-date prospect data

– a strategy that Purplex CEO Andrew Scott

believes will yield excellent results.

Andrew commented: "Windowlink's software

is used by hundreds of fabricators and installers

but there's still plenty of scope to grow market

share. Our strategy has been carefully designed

to raise awareness, strengthen the brand, and

generate enquiries. We look forward to working

with Mark and the team to help Windowlink

achieve their sales targets."

www.windowlink.com/

56 T I NOVEMBER / DECEMBER 2022

Conservatory Outlet

has welcomed two new

companies to its retail

network.

The company, which

was formed in 2005,

has taken the number

of retailers it supplies

to 29, with the arrivals

of Ayrshire's RMC and

Dundee-based installer Ecofit, ensuring the

Wakefield-based company now has a presence

in every postcode in Scotland.

The formal announcement was made by CEO

Greg Kane during the firm's annual 'Network

Celebration' and marks what has been a

tough, but ultimately rewarding period for the

home improvement sector.

Held at the Esferic building in Barcelona's

Montjuic park, key stakeholders from the

businesses that form the network joined

together to celebrate their achievements of the

For further glazed extensions updates visit www.total-installer.co.uk

NEW ADDITIONS TO THE NETWORK

past year and discuss how

to manage further supply

chain pressures, energy

price rises and fluctuating

consumer demand.

They also discovered how

Conservatory Outlet has

invested £100,000 into a

new academy to support

staff with sales training

and a raft of new measures

being introduced to help facilitate growth,

along with other initiatives and a look ahead at

what's in store over the next twelve months.

Greg said: "I don't think we've ever had

two years like we've just seen, moving from

the issues surrounding COVID-19 to supply

chain disruption and, this year, massive price

rises. Throughout this, our focus has remained

on delivering new solutions, products and

initiatives to drive leads for our retailers."

www.conservatoryoutlet.co.uk

COMFORTABLY COMPLYING

The Guardian Warm Roof has reportedly

become one of only a handful of

conservatory roof replacement

systems to achieve the new insulation

requirements in Wales.

This performance not only helps to ensure

that conservatories are more affordable

to heat in the winter, but can also reduce

heat gains during the summer, keeping

conservatories at a more comfortable

temperature all year around. This new

enhanced Guardian Warm Roof is also available to homeowners in England, in addition to the

current design as independently tested by the BRE.

The Guardian Warm Roof is designed bespoke for each property and is available with a range

of tile and rooflight options. The roofs are installed by one of a network of expert Guardian

Certified Installers, ensuring a high quality finish, which is backed with a 10-year product and

workmanship Guarantee. The Certified Installers can handle all Building Control approvals, and in

many cases can complete the installation in just 2-3 days.

Ross Darcy, Director at Guardian Building Systems, said: "This new evolution in the Guardian

Warm Roof design keeps the system at the forefront of the market and ensures lasting peace of

mind and value for money for our customers." www.guardianbuildingsystems.co.uk

PRACTICAL CONTENT FOR THE GLAZING INSTALLER & HOME IMPROVEMENT SPECIALIST
---
Advertorial: Solidor

PUTTING SECURITY AT THE CORE OF

DOOR DESIGN

Solidor Sales Director Patrick Dean explains how the company can help installers to

reassure homeowners about the security performance of their exterior doors...

When you're installing a new front or back

door, do your customers ever ask you

questions about the security of the door?

They may ask how the handle works, if there

are any guarantees, or even if the product has

well-known symbols of quality like the Kite Mark.

We've created this quick guide to Solidor and its

security credentials to help prepare you for any

homeowner queries.

Door construction

A Solidor is made from a 48mm thick solid timber

core – 44mm timber core with 2mm ABS skins –

and a reinforced door frame to provide a strong

and secure option for homeowners.

The skins are made from the same durable

plastic as Lego and the entire skin is made from

a solid colour, meaning that any scratches or

knocks are more discreet. With a hidden edge

banding too, there are no gaps in colour, proving a

well-rounded and complete colour finish.

Solidor composite doors are manufactured to the

highest standards: BSI Kite Mark accreditation

BSI ISO 9001 for quality management and BSI

EN 1279 for insulating glass units. We are also

PAS24:2016 certified and hold CE Marking and

Secured by Design licences.

Tested against common methods of attack

Did you know that 85% of break-ins occur

through lock snapping? That's why both Solidor

cylinder options – Ultion and Avocet ABS – come

with anti-lock snapping features.

The Ultion cylinder has the hidden attack

lock which means it can detect an attack and

automatically activate lockdown mode. The ABS

master lock features a patent protected, snap

secure technology. It recognises when an attack

is taking place and the break secure technology

creates a barrier to access. This maintains the

lock's integrity so it can still be operated from the

inside.

Both Ultion and Avocet offer a separate £2,000

guarantee which covers break-ins where

intruders have gained entry by snapping their

brand of cylinder lock.

Solidors are fitted with an Avantis Secured

by Design locking system as standard but

homeowners can select which lock they would

like to use.

The options available to them are: the Avantis

multi-point lock; the standard slam shut auto

lock; the heritage slam shut lock; the key

operated multi lock; or the AV3 slam shut lock.

Combining performance and design

The range of lock options and positions available

means that homeowners can have the door

design they want without having to choose

between style or security.

If customers would like a more traditional style

of door, the heritage slam shut lock offers the

aesthetics of a rim latch but incorporates the

latest high security slam shut technology so the

lock automatically engages as the door closes.

For those who want a modern pull handle (rather

than an external lever handle) there is the option

to upgrade to a key operated multi-point lock.

Customers can also have complete control of

the hardware finishes by choosing handles from

Solidor's own Sweet Hardware range.

Solidor only supply the 2-star lever handle – the

highest possible Kitemark accreditation – with

the 3-star encased Ultion cylinder, making

the Sweet Hardware handle a 5-star rated

combination, the most secure rating on the

market.

All products in the Sweet Hardware range come

with a 20-year anti-corrosion guarantee for

added peace of mind.

Contact Solidor:

www.solidor.co.uk

PRACTICAL CONTENT FOR THE GLAZING INSTALLER & HOME IMPROVEMENT SPECIALIST

NOVEMBER / DECEMBER 2022 T I 57
---
Energy Efficiency

BACK TO THE FUTURE

We all know that we need to sell the energy efficiency of our products to win sales, says

Listers MD Roy Frost, but do we have the products to back it up? Total Installer hears more...

The energy efficiency of building products

has been high on the list of homeowners'

priorities for 20 years or more now, and

arguably more so (and for longer) for double

glazing and doors where eradicating draughts and

cold spots were key selling points.

Listers MD Roy Frost says that window companies

can once again use energy efficiency as a selling

feature for their products

"The fact that our industry has responded so

comprehensively to the task of meeting – and

exceeding – Part L of the Building Regulations,

almost worked against companies who wanted

to use energy efficiency as a key selling point to

homeowners," Roy Frost, Managing Director of

Listers argues.

He said: "When we introduced Window Energy

Ratings, it soon lost its strength as a selling

tool because nearly everyone designed A-rated

products that were attractive to homeowners."

So, while energy efficiency was a key feature of

windows and doors, homeowners could turn their

attention to other qualities, such as security,

colour, and character, because energy efficiency

was a given.

"But that is changing," Roy explained. "Following

on from the revisions to Part L of the Building

Regulations this summer, window companies can

once again drill down on energy efficiency as a

key selling feature."

From June this year, Part L of the Building

Regulations (Conservation of Fuel and Power)

required windows and doors (with a glazed area

of more than 60%) to achieve U-values as low as

1.4W/m 2 K – down from 1.6W/m 2 K.

"We are now reaching the design limit for many

products on the market," Roy said. "So, while

there is still breathing space for many companies,

the direction for travel is for tighter regulations

and more efficient products.

"And this is where the opportunity comes from a

"While there is still breathing space for many

companies, the direction for travel is for tighter

regulations and more efficient products"

sales point of view. Why say that your products

meet the current regulations when you can say

they are future-proofed?

"And it is likely that homeowners are bringing

forward planned refurbishment so they can

insulate their homes in time for when the

government's Energy Bills Support Scheme ends

in April 2023."

Range to meet demand

Listers' product ranges are said to contain some

of the most energy efficient windows and doors

on the market.

Its Residence 9 range, for example, can achieve

U-values as low as 1.23W/m 2 k with 28mm

double glazing, and 0.84W/m 2 k with 44mm triple

glazing. This comfortably meets the latest Part

L revisions, while giving plenty of headroom for

further tightening of the Building Regulations.

Residence 9 is also typically specified in higher

value properties where budgets haven't been

squeezed by the cost-of-living crisis.

But energy efficiency is still a key feature,

because the smart money is on improving the

thermal efficiency of homes to protect against

soaring costs in the future.

On the aluminium side, Sheerline's Prestige

windows achieve U-values as low as 0.9W/

m 2 k with triple glazing, giving homeowners the

confidence to improve their properties with the

latest modern designs, while improving their

thermal efficiency.

"Again, aluminium products are not typically

Continued on page 60

58 T I NOVEMBER / DECEMBER 2022 PRACTICAL CONTENT FOR THE GLAZING INSTALLER & HOME IMPROVEMENT SPECIALIST
---
Looking for

Commercial IBGs?

Fast forward to clear,

easy Commercial IBGs

from a broker who's on

your side.

installsure.co.uk/commercial Call 0800 123 4567
---
Energy Efficiency

Continued from page 58

Homeowners are becoming more conscious

about energy efficient products

chosen in a distress purchase scenario," Roy

explained. "So sales of high margin products are

driving the market right now, while underpinned

by improved thermal performance."

Listers underpins this supply of energy efficient

products with a commitment to providing the right

support to help window companies complete the

sale efficiently and profitably.

"Following on from the revisions to Part L of

the Building Regulations this summer, window

companies can once again drill down on energy

efficiency as a key selling feature"

Colour is a key offering for Listers, which is

compatible across all ranges and materials, and

in the same time-frame.

"The most popular colours

at Listers are available

from stock, whether that's

aluminium or PVC-U," Roy

said.

"This kind of detail is

important if you are buying

your aluminium and PVC-U

products from a single

source."

Lead times

Roy argues that while

installers can now buy PVC-U

products in Agate Grey in

Eurocell, HALO, or Residence

Flush on short lead-times –

the bi-fold at the back of the

house is typically aluminium.

"Agate grey on white isn't a stock colour in the

majority of aluminium systems," Roy said.

"But with Sheerline, it is on the same short lead

time, which means we can offer installers the

same lead time as our PVC-U products.

"The key point, I believe, is that energy efficiency

will be the underlying factor of most purchasing

decisions when it comes to home improvement.

"We saw, over the last ten years especially, low

U-values and WERs of A lose their importance as

people went for flush window and broader colour

choices.

"Now, they are back at the top of homeowners'

lists of importance, and choosing the right

supplier can help you capitalise on that demand."

Contact Listers:

0330 175 5790

www.listerwindows.co.uk

@ListerTF

60 TI NOVEMBER / DECEMBER 2022 PRACTICAL CONTENT FOR THE GLAZING INSTALLER & HOME IMPROVEMENT SPECIALIST
---
Business Advice

BOOSTING YOUR CASH

In the latest instalment of our regular business column, the experts at Know-It advise how to

boost your cashflow without taking on new clients...

Things are looking bleak as we head into the

winter months. UK company insolvencies

recently soared as high as 47%, the costof-living

crisis has a firm grip on businesses and

consumer confidence has sunk to record lows..

As customers are spending less, it's critical that

your cashflow is running as smoothly as possible

with no barriers.

So, if customers are spending less, how do we

boost our cashflow?

Get a firm grasp of your credit control

processes

The single biggest issue we have seen businesses

face this year is getting paid for the work they

have already carried out.

The key to getting your commercial invoices paid

on time every time you carry out some work is by

having a sound credit control process in place.

Credit control is often overlooked by businesses,

"Credit control is often overlooked by

businesses, and they don't realise how important

it is until they run into cashflow issues as a result

of not being paid"

and they don't realise how important it is until

they run into cashflow issues as a result of not

being paid.

The foundations of a watertight credit control

process are very simple to map out and follow, so

don't worry!

We've broken the credit control process into three

easy steps:

Company credit checking & monitoring

Knowing your customer is absolutely key when

doing any sort of business.

Company credit reports are such a useful

tool at your disposal as you can easily see

the creditworthiness of your customer which

essentially shows how likely they are to pay their

invoices on time.

It will look at their previous track record of

making credit payments and whether they made

them on time or defaulted as well as show any

CCJs, which are a major red flag!

As company credit scores can change due to

different circumstances it pays to be on the ball

and always refer to up to date credit data when

deciding whether to grant your customers credit.

A company credit check should always be the

first thing you do when taking a new order, even

from an existing client.

Continued on page 64

62 T I NOVEMBER / DECEMBER 2022 PRACTICAL CONTENT FOR THE GLAZING INSTALLER & HOME IMPROVEMENT SPECIALIST
---
THE

NATION'S

LEADING

SHOWCASE.

FOR THE WINDOWS, DOORS, GLAZING,

HARDWARE AND COMPONENTS INDUSTRY,

FOR 10 YEARS.

EVERYONE'S GOING.

NEC BIRMINGHAM | 23 - 25 MAY 2023

www.fitshow.co.uk/exhibit
---
Contract Business Talk Advice

Continued from page 62

You'll be alerted to any potential issues that could

crop up and impact your customer paying you

on time, so you can make contingency plans in

the event a payment isn't made on time or even

offer more affordable credit terms to your client to

reduce the risk of them defaulting on payment.

Chasing overdue invoices

Before a payment becomes overdue you should

have a series of payment chasers ready to send

in the event a payment becomes overdue.

You'll typically need four chasers; 1st chaser sent

24 hours after payment due date, 2nd chaser

sent 7 days after payment due date, 3rd chaser

sent 14 days after payment due date and a 4th

final demand chaser when a payment is more

than 30 days overdue.

Your tone should get stronger as you send each

chaser.

For example, your 1st chaser will be a polite

reminder that payment is overdue, whilst your

final demand will explain how late the invoice

is at this point and that if payment is not made

immediately then you'll have no choice but to

involve a debt recovery partner to recover the

money owed.

Having these pre-written as templates you'll be

able to send them promptly to encourage quicker

payment.

Just remember to always include the company

name, your contact at the company, invoice number

and bank details when you send your chasers.

Don't be so quick to write off bad debt

If you've had an outstanding invoice for a long

period of time it can be tempting to simply write

the debt off.

However, we'd recommend only doing this once

you've exhausted all options available to you.

Outsourcing the collection of your debt to a

commercial debt recovery specialist may be the

best way your debt will get paid, and of course

this is much better than losing out on what you're

owed by writing a debt off!

Mitigating credit risk, reducing debtor

days and boosting your cashflow

Following these three key steps for effective

credit management will ensure your commercial

invoices are paid on time and help you maintain

a healthy cashflow, much needed with the

economic uncertainty we're facing.

Know-it is the all-in-one credit control

solution that makes credit management

simple by automating the complete process.

Credit check and monitor, automatically

chase payments and collect overdue

invoices all in one place!

Try Know-it free for 12 months with our

extended free trial exclusively for Total

Fabricator/Total Installer readers! Plus

get two free company credit reports. Use

referral code TF12 when you sign up.

Contact Know-it

www.know-it.co.uk

@Knowitglobal

64 TI NOVEMBER / DECEMBER 2022 PRACTICAL CONTENT FOR THE GLAZING INSTALLER & HOME IMPROVEMENT SPECIALIST
---
DoorGlass Brochure 21/22 Total Fabricator Half Page.qxp_Layout 1 18/08/2021 14:01

Press play on

quality content

for your sector

NEW DEFINITIVE GUIDE TO

COMPOSITE DOOR GLASS

U P D A T E D F O R 2 0 2 1 / 2 0 2 2

Easily

accessible on

your desktop,

mobile or

any device

AVAILABLE TO

DOWNLOAD

NOW!

Free

content that

is constantly

updated

Subscribe

to channels

for your specific

areas of

interest and

expertise

The new platform for digital

content from the key players in

your sector, including: How-to's;

Projects and product focuses;

Installation advice; Training

and webinars; Interviews

and opinions.

www.glaze-tube.co.uk

In association with Total Installer &

Total Fabricator magazines.

To discuss showcasing your video content,

contact Andy or Jake on: 01892 732 047

or email andydunn@media-now.co.uk

jakeroxborough@media-now.co.uk

All designs are Document L & Q compliant

Available in any thickness up to 52mm

Call 0161 946 1164 to request your hard copy

RegaLead Limited | Columbus House | Altrincham Road

Sharston | Manchester | M22 9AF

Telephone: 0161 946 1164

Email: sales@regalead.co.uk | Web: www.regalead.co.uk
---
Article Smart Security

With the recent financial woes seeing

a sharp rise in crime, protection and

security has once again been thrust to

the forefront of everyone's mind.

Obviously, it's an horrendous state of affairs

for us all, and by no means want to make light

of the situation, but however you look at it, this

brings an odd benefit for everyone in the home

security industry – people want more protection.

I've been thinking a lot about the word

'protection' recently, and all of the different

ways it creeps into our vocabulary – not just

for our products, but for our business, our

customers, our family and ourselves.

PROTECTION IS KEY

Ryan Bromley, Co-Founder of Kubu Smart Security, explains how the current climate is

making homeowners think more about their home security, and says installers need to

position themselves to offer the right smart security solutions to meet demand...

It seems to me that as an installer, you can

gain a huge benefit over your competitors if

the product you sell is seen as being more

secure, or offering more protection than that

of your competitors.

Making sure you offer the latest and best in

cylinder and handle technology goes a long way

towards this goal.

Stand out from the crowd

But in my opinion, smart technology is definitely

where you will be able to stand out from the

crowd when talking about protection and security

in fenestration, which ultimately protects your

sales too.

The protection doesn't stop there though. With so

many smart options available, you need to know

that the product you are recommending is as

secure as you say, and is not going to break every

five minutes and cause you, the installer, yet

another headache!

business and reputation too.

We've all seen the fallout from

backing the wrong horse – VHS

vs Betamax, Netflix vs Blockbuster, Apple vs

Nokia…the list goes on. It's those that failed

to see where the market was going that lost the

race, and ultimately paid the price.

Looking at every angle and making sure you

are fully protected – whether it's sales, supply,

service or reputation – is the only way to trade

through turbulent times.

Take Kubu for example. Before we even whispered

about our product idea to anybody outside of the

company, we developed the product to a level

that we could apply for a number of patents

covering a wide range of applications to protect

ourselves from copycats.

Above: With the cost of living crisis hitting every household in the country, Kubu says now is the

time for installers to start thinking about smart security products. Left: Ryan Bromley.

vetting all of our suppliers; and introducing total

traceability throughout our factories.

For the long term...

Working closely with carefully selected key

partners in the industry, we've been able to make

sure that we have grown in a sustainable way

too – ensuring both hardware and smart sensors

orders are always available, on time and in full.

All of this means we can boast about being a

financially stable business, with a proven and

reliable (and protected) product, that is here for

the long term, providing total protection for your

business and your customers.

Make sure you make the Smart choice.

Contact Kubu:

It's never been more important to choose your

suppliers with care – not only protecting your

customers' investment, but protecting your

We protected our product development and

supply chain by having all manufacturing, design

and development in-house; comprehensively

0800 124 4308

kubu-home.com/

@GetKubu

66 T I NOVEMBER / DECEMBER 2022 PRACTICAL CONTENT FOR THE GLAZING INSTALLER & HOME IMPROVEMENT SPECIALIST
---
Introducing one of the strongest, most

thermally efficient and quickest to install

flat roof orangery systems on the market.

FAST INSTALLATION

Factory fabricated in the UK, designed for quick assembly

PEACE OF MIND

Building Regulation approved (JHAI)

STRENGTH

Incredibly strong with large unsupported spans

NEW BUILD OR RETRO FIT

Achieving a U-Value of 0.13 as standard

Interested? Get in touch with our sales team today - 01772 802009

www.supaliteroof.co.uk | sales@supaliteroof.co.uk
---
Juliet Balconies

KEEPING ON TREND

With Juliet Balconies reportedly on trend for homeowners, Bohle has released its new

Lyon Balcony. Managing Director of the company, Dave Broxton, explains its key benefits

for installers...

Bohle says its new Lyon Juliet Balcony offers

key benefits to window installers including

ease of fitting, minimal stock holding, and

an almost limitless colour range.

The popularity of Juliet Balconies has soared in

recent years, as building owners have sought to

maximise light throughout their properties, while

providing a sense of spaciousness.

Lyon can extend up to 4,000mm, allowing

installers to maximise that spaciousness, and is

straightforward to fit thanks to its '1-2-3 click'

system.

No special tools are required, and installation can

be carried out either from the front or inside the

soffit.

With just four fixing points on each side, Lyon

can be fixed directly onto the window frame, and

is suitable for installation onto concrete/stone,

plastic, wood or aluminium.

"Juliet Balconies are a fantastic upsell for window

installers, offering a great opportunity to add

extra margin with minimal additional overheads,"

Bohle's MD Dave Broxton said.

High-value, high-margin

"We already know that those homeowners who

are carrying out home improvements are looking

for high-value, high-margin products to improve

the quality of their properties, especially as

increasing numbers of people are spending more

time at home.

"With Lyon, installers can capitalise on that trend,

without having to invest in extra machinery or

equipment.

"And Lyon is quick to install, which means extra

time on site is limited, maximising profits in the

process.

"Since Lyon is powder-coated in the UK, colour

choice is virtually limitless, giving window

installers access to high-end jobs where colour

plays a major role in the decision-making

process."

Lyon is available in three heights (900mm,

1,000mm and 1,100mm), is compatible with all

the major window systems in the UK, and has

been tested and certified to BS6180:2011.

"With a maximum size of 4m, and available

in any colour, Lyon should be in every window

installer's product range," Dave said.

"And to make things easier, Lyon comes as a

complete kit, so there is no need to source fixings

from a third party.

"Available ex-stock, Lyon can easily be ordered to

fit in with your demanding installation schedule."

Contact Bohle:

0800 616151

www.bohle.com

@BohleLtd

68 T I NOVEMBER / DECEMBER 2022 PRACTICAL CONTENT FOR THE GLAZING INSTALLER & HOME IMPROVEMENT SPECIALIST
---
sales@britmet.co.uk | 01295 250998 | www.britmet.co.uk | #TheBritmethod

Liteslate

designed with the environment in mind

Lightweight Composite Slate | Lightweight Granulated Tile Panels | Lightweight Tile Effect Sheets | Flat-to-Pitch Roof Systems

Structural Liner Trays | Door Canopies | Decorative Exterior Paint

RAISING THE STANDARDS IN LIGHTWEIGHT ROOFING
---
Updates

A PRODUCT OF UPSTANDING STANDARD

A FORCE TO BE RECKONED WITH

For further home improvement updates visit www.total-installer.co.uk

Now that the Building Regulations require all rooflight upstands built on site to meet a 0.35W/

m 2 K U-value, Whitesales has launched an all-in-one proprietary solution that the company says

takes away hassle and makes it easy for builders to comply.

The company has developed a new pre-assembled timber sloping upstand to fit with its em.glaze fixed

and hinged aluminium rooflights, which means builders don't need to build anything separate on site and

don't need to worry about U-value calculations for Part L compliance. The Whitesales upstand also saves

time on site because it comes pre-assembled rather than in kit form like some other timber upstands,

and it can even be supplied to site ahead of the rooflight if needed to suit onsite timescales. With upstands now classified as part of the wall feature for the

purposes of Part B fire safety requirements, Whitesales has ensured that its version meets the EN13501-1 fire resistance standard, with pre fitted fire-rated

insulation sandwiched between the plywood elements and the addition of an A1 fire-rated plasterboard lining as standard. www.whitesales.co.uk

FREEFOAM INCREASES CAPACITY WITH NEW LINES

Freefoam Building Products has added two extrusion lines to its production plant in Northampton.

Supplied by Austrian company Greiner Extrusion, the new lines will increase production capacity by 12.5%. With

continued expansion, a growing customer base and increased turnover this significant investment further underpins

Freefoam's commitment to remain at the forefront of PVC extrusion capability in the UK.

"We've been planning this addition to our facility for many months and I'm very pleased to see our plans come to

fruition. These new lines will increase capacity of our production of PVC fascia, soffit and gutter products and allow

us to operate more efficiently" explained Geoff Barnett, General Manager.

"We have a long and successful relationship with Greiner and by choosing these new lines to work alongside our

existing extruders we can make significant efficiencies." https://freefoam.com/professional

No need to grapple with a set of keys, or try to remember a passcode, just let yourself in. TouchKey from

Force 8 is said to be the future of security within the door lock market.

Using fingerprint technology, all homeowners need to do is hold the handle and place their thumb on the

sensor, which is positioned where the thumb would normally go when opening a conventional door. Force 8

says it is the first to offer this system on any of their new doors, with a special introductory offer of only £495.

The system is self-contained within the door and no extra wiring is required, making installation easier. The

TouchKey App from ERA gives the homeowner full permission to control and monitor who has access to the property and track the activity of who has

entered and at what time. The system can store up to 50 profiles, and all the information is stored on ERA's cloud platform, and not stored on the

phone or handle, creating a two-factor authentication with ERA's server when anyone enters the property to prevent hacking. www.force8.uk

DEMAND FOR TRADITIONAL GROWS

Composite door supplier ODL Europe has reported a strong upturn in demand for traditional door designs

despite an ever-growing market backdrop for contemporary styling.

As evidence of the continuing popularity of traditional door designs, Suzanne Nicholl, ODL Europe's Head of

Sales and Customer Services, points to year-on-year sales increases of ODL Europe's Canning cottage door

collection which delivers traditional styling with a diamond panelling that makes a strong design statement. Also

seeing strong sales is the Hornby collection, which offers a fresh modern approach to the cottage door because it is available in both cottage and flush

variations, delivering the next level of flexibility. The composite door slabs are available in a wide range of pre-finished colour options and use a hardwearing

polyurethane paint system in a comprehensive choice of colours. They all feature Capstone's maintenance-free, hard-wearing 2mm thick GRP

door skin, which is available in a TrueGrain wood effect or a smooth finish. https://odleurope.com

70 T I NOVEMBER / DECEMBER 2022

PRACTICAL CONTENT FOR THE GLAZING INSTALLER & HOME IMPROVEMENT SPECIALIST
---
REQUEST INFO

YOUR PERFECT TRADE PARTNER

FOR WINDOWS, DOORS & ROOFS

01226 890 890 | WWW.SOLROOFS.CO.UK | QUOTES@SOLROOFS.CO.UK
---
Contract Advertorial Talk – Origin

THE SECRET BEHIND EVERY

SUCCESSFUL INSTALLER

Ben Brocklesby, Director at Origin, discusses the importance of service for installers.

At a time when most e-commerce

businesses can offer next day delivery at

the click of a button, there is no reason

why installers should struggle with complicated

ordering processes, extended lead times of up to

12 weeks, or a lack of product availability due to

stock shortages.

A high level of service and support from a

reputable manufacturing partner is vital to

success. Without this, installers can lose out

to the competition, suffer costly delays, and

waste precious time on simple admin tasks.

The Ark, Origin's new 55,000 sq. ft. warehouse. Inset: Ben Brocklesby.

'Your lead time, not ours'

Offering next day delivery is now the standard

for most items sold online, yet our industry's lead

times only seem to be extending. This can cause

serious problems for Partners and installers,

threatening project deadlines, disrupting cash

flow, and damaging reputation with customers

eagerly awaiting project completion.

We have removed lead times on our most popular

products. Offering a 'Your Lead Time, Not Ours'

promise, we give our Partners the power to

dictate when systems are delivered, even in as

little as 24 hours.

A guaranteed delivery date means installers can

specify with confidence; confidently agreeing to

take on more projects with closer deadlines, while

the zero-lead-time service helps cash flow as

systems can be ordered, delivered, and installed

within as little as one week.

Protecting the supply chain

Brexit, the global pandemic, stock shortages,

and a surge in demand have caused serious

problems for installers. Unfortunately, when stock

is unavailable, they can become the 'middleman',

desperately trying not to disappoint homeowners

or developers while

struggling to source systems

on time.

At Origin, we have taken control of our supply chain

to ensure we can guarantee our 'On Time, In Full'

promise. The Ark, a new 55,000 sq ft warehouse,

has increased our storage capacity by 82 percent

and has freed up space at our other sites to

boost manufacturing capacity. The facility is used

to stockpile materials and components, so our

Partners can always order products without delay

and be confident they'll be delivered.

One supplier for all systems

Since the launch of the iconic Origin Bi-fold Door

in 2002, Origin has significantly extended its

portfolio to offer a range of high quality internal

and external systems. Partners can source all

systems from one supplier, making things easier

when ordering for whole house projects.

'Just one click' ambition

Spending valuable time putting together

complicated quotes or using outdated systems

to place orders is a drain on time and resource,

especially for Partners with limited admin time

already.

Origin Sale Safe (OSS), our revolutionary online

ordering system, allows installers to quickly

and easily quote and order in minutes, reducing

the time spent on admin and giving them the

advantage over the competition by being able to

offer a quick and efficient customer service.

We have also synchronised our internal IT

infrastructure for maximum efficiency. Processes

across the business, from sales and procurement,

through to manufacturing, warehouse, and delivery,

can now all be controlled by the click of a button.

When an order is placed through OSS, production is

automatically triggered, and stock reordered, for a

seamless and linked-up approach.

The secret behind every successful installer is

a reliable and supportive supplier, which is why

it is so important for installers to partner with a

manufacturer that will never let them down.

At Origin, we are proud that by investing in

innovation and taking control of our supply chain,

we can continue to offer an exceptional level of

service to our partners.

Contact Origin Global:

0808 239 1984

www.origin-global.com

@Originbifolds

72 T I NOVEMBER / DECEMBER 2022 PRACTICAL CONTENT FOR THE GLAZING INSTALLER & HOME IMPROVEMENT SPECIALIST
---
Safety at Height

MAINTAINING THE RIGHT ATTITUDE

In the next part of this mini-series, Trevor Rabson, Training Manager at Werner, looks

at why training is so important when it comes to working at height safely, explains what

installers need to consider, and how best practice can make all the difference between safe

The Work at Height Regulations 2005 (WAHR)

apply to all work where there might be a

risk of a fall liable to cause personal injury.

Since the introduction of the regulations, the UK

has consistently had some of the lowest workplace

fatality and serious injury rates in Europe. However,

the issue is that they are consistent, not falling,

and it is this that needs addressing.

In January 2018, the All Party Parliamentary

Group (APPG) on Working at Height launched an

inquiry to look at why workers fall from height,

leading to death and serious injury, and to come

up with a set of recommendations to reduce the

overall number of falls.

One of the recommendations that came

from this research described how improving

communication could help to better poor working

at height procedures. So, could increased

working and potential injuries.

communication lead to less falls from height?

Cultural issues and attitudes within a business

can have a very real impact on these figures,

however, the lack of consistency in preventative

measures, training and education from one

organisation to another is quite frankly, alarming.

Understanding falls from height

The APPG spent a year investigating the

causes of falls from height to understand the

effect they have on workers' lives and to make

recommendations as to how best mitigate falls

in the future. The majority of responses to the

inquiry stated that culture, and in turn attitude,

plays a crucial role in whether a fall will occur.

It found that the stronger the safety culture within

a company, the safer the place of work and the

less likely it is that workers will experience a

fall from height. But what factors can influence

this culture and attitudes, and how can they be

upheld or changed?

Performance of a regular task – those carrying

out a regular task can become complacent and

oblivious to the risk and potential consequences

of a fall.

Users need to ensure they take a sensible

approach when considering precautions for

work at height and that no matter how small the

project, that these are carried out.

According to the WAHR, before working at height

you must work through these simple steps:

1. Avoid work at height where it is reasonably

practicable to do so.

2. Where work at height cannot be avoided,

prevent falls using either an existing place of work

that is already safe or the right type of equipment

3. Minimise the distance and consequences of a

Continued from page 76

This year Werner launched its Stepping

up to Safety campaign to help

professionals stay safe when at height

74 T I NOVEMBER / DECEMBER 2022

PRACTICAL CONTENT FOR THE GLAZING INSTALLER & HOME IMPROVEMENT SPECIALIST
---
QUITE SIMPLY, THE

UK'S MOST AUTHENTIC

TIMBER-ALTERNATIVE

SASH WINDOW

Seamless

run-through

horns

Seamless

no horn

option

True

mechanical

joints

Optional

deep

cill

01234 712 657

trade@roseview.co.uk

www.roseview.co.uk
---
Safety at Height

Continued from page 74

The UK reportedly has consistently some

of the lowest workplace fatality and

serious injury rates in Europe

3. Minimise the distance and consequences of a

fall, by using the right type of equipment where

the risk cannot be eliminated.

The adage 'familiarity breeds contempt' is

extremely true and the attitude of 'I'm only going

to be using a ladder for a minute', or 'It will never

happen to me', sadly does not make people

invincible.

A problematic 'culture'

Scared of reporting – it may be that workers

who know equipment isn't safe, or that they don't

have the correct equipment or training for a task

are scared to bring this up with their superiors.

Sadly, a culture of 'just get it done' means that

more and more accidents are still occurring when

they just don't have to.

Users need to be competent; they need to be

trained to use equipment, and they need to have

access to the correct equipment – this should

not be a luck of the draw situation; it is the basic

requirements of keeping users safe and ensuring

everyone goes home at the end of the working day

the way they started it.

Users shouldn't be afraid to demand the correct

equipment and training, and they shouldn't

have to ask. This should be a top-down culture

whereby owners and managers within a business

are ensuring that staff safety is a priority – not

money and/or time.

More often than not, it takes a near miss or a

fatal accident for leaders to sit up and take action

and this just shouldn't be the case.

Lack of project planning – Lack of planning

during all stages of a project is a significant

cause of falls from height. Insufficient planning

can impact in a number of ways: under-resourced

quotes being supplied at the tender stage to

ensure a contract win; reliance on generic risk

assessments and methods which lack details for

specific projects and poor design considerations

for construction, impacting on working practices.

All of these can have a knock-on effect on user

safety.

Lack of training – Alongside shortcomings in the

technical and regulatory training currently being

provided to managers, there is still a shocking

lack of training being undertaken by users of

working at height equipment across the board.

There are a variety of work at height training

courses available within the construction

industry, depending on what equipment users

utilise. Most of these courses can be completed

within one day and are a cost effective way of

ensuring that workers are safe and competent

when using equipment to work at height.

Training partner

Werner is proud to work as a partner with both

the Ladder Association and PASMA to offer ladder

safety and tower training courses to individuals

and businesses with a view to increasing the

safety of working at height.

Stepping up to Safety

For those who experience non-fatal accidents, a

fall can lead to life-changing injuries and affect

not just the victim but also their family, friends

and colleagues.

As part of its bid to help increase safety when

people are working at height, Werner has recently

launched its Stepping up to Safety campaign,

to help professionals stay safe when working at

height.

Working at height injuries and fatalities can be

reduced with the drive for change from industry

manufacturers and associations to lead the

way in safety when working at height, leaving

employers and employees feeling confident and

safe at work.

Contact Werner

www.wernerco.co.uk

@WernerLadderUK

76 TI NOVEMBER / DECEMBER 2022 PRACTICAL CONTENT FOR THE GLAZING INSTALLER & HOME IMPROVEMENT SPECIALIST
---
FUEL YOUR

GROWTH

Hungry for business growth? Team up with Purplex,

the marketing powerhouse.

Our unique blend of industry know-how and vast

marketing resources will give your business all the

essential nourishment it needs to gain some serious

mass, even during challenging times.

*Contains over 100% of your recommended daily marketing intake.

WANT TO BULK UP YOUR BUSINESS?

CONTACT PURPLEX TODAY ON

020 3137 9319 | grow@purplexmarketing.com

www.purplexmarketing.com

#FUELYOURGROWTH
---
Tool Safety

A 'LAYERED APPROACH'

Total Installer hears from Julian Free, National Accounts Manager, Site Security at DeterTech,

who gives his top tips to help prevent installers from becoming victims of tool theft...

The theft of tools and materials is a prevalent

problem for installers, including within the

glazing sector. In fact, new data reveals

that almost four in five (78%) tradespeople have

experienced tool theft, at an estimated £2.8

billion cost to the industry.

Site security professionals have a duty of care

to the people and property on the work sites for

which they are responsible.

That's particularly true outside of regular working

hours when sites are at their most vulnerable.

Equally, there's a lot that installers can do to

prevent themselves from becoming victims of

theft.

The below steps go a long way to ensuring

everybody is playing their part to mitigate the

risks;

Stay abreast of crime trends

Most criminals are predictable in their behaviour.

It is therefore helpful to keep an ear to the ground

for the types of sites that are being targeted in

the area and the items that are commonly being

pilfered.

Site security professionals can then begin to

allocate their resources more effectively in

recognition of these risks.

In most cases it's not about making a site

impenetrable.

It's about making a site secure enough that

an opportunist decides to go and seek out an

alternative target.

For example, if theft from work vehicles is a

known issue then adopting hardened security

measures in the parking area may be advisable.

Secure the surrounding environment

Physical deterrents such as gates and barriers

should be a no-brainer for those storing high

value materials or tools on a work site.

These act as an initial deterrent for thieves

looking for an easy win.

If high-value materials are due to be delivered

to the site before the day of installation, then

a secure storage area, with closely controlled

access, should be found for them.

Equally, if high-value items are kept in a vehicle it

should be securely locked and parked in a well-lit

location.

Deploy monitoring and surveillance

Just as criminals will monitor sites for a lack

of protection, tradespeople and glazers might

consider rapidly deployable self-monitored

camera systems and intrusion detection units for

24/7 site surveillance.

These systems should be placed clearly in

strategic locations, such as the entrance to a site

or property. Aside from their daunting physical

presence, these units provide vocal warning

systems that will scare off any criminal that

encroaches on site.

Continued on page 80

Continued on page 78

78 T I NOVEMBER / DECEMBER 2022

PRACTICAL CONTENT FOR THE GLAZING INSTALLER & HOME IMPROVEMENT SPECIALIST
---
Does your secondary glazing supplier

leave you in the dark?

Switch.

Secondary glazing is simplicity itself.

It's simple to sell, survey and install. It offers great acoustic and

thermal performance. It has great profit margins. And it gets you

into projects you couldn't normally get into.

So why make it more complicated? Call Roseview today and ask

about adding Incarnation secondary glazing to your range.

phone: 01234 712657 | email: hello@roseview.co.uk | web: roseview.co.uk
---
Tool Safety

Continued from page 78

Making sure a site is safe is imperative

to reducing the possibility of tools being

stolen

Intrusion detection and surveillance units can

be linked to an Alarm Receiving Centre (ARC), to

provide round the clock monitoring for a site and

rapid response to alarm activations.

In the case of a theft, ARCs provide fast on-site

action that can deter intruders and minimise the

damage of an attempted theft.

It's a far more cost-efficient solution than an

out-of-hours manned guarding operation and is

proven to be highly effective.

Mark your tools and materials

No matter how well you protect your tools you

still want to maximise the potential for them to be

returned if stolen.

Marking tools and materials with a forensic

marking solution makes it much easier for police

to recover property and secure a conviction.

For example, sprays such as SmartWater

need only be used in small quantities but can

conclusively link an individual back to the scene

of the crime.

The presence of SmartWater spray should also be

signalled with signs and labels in order to scare

off criminals who are familiar with the technology

and its 100% conviction rate.

Having tools or materials stolen is a significant

worry for many installers given the sites they

work on can never be considered secure until

their work is completed.

However, the chances of the worst happening can

be minimised by adopting a layered approach to

security that prioritises crime prevention.

In adopting such a strategy, those responsible for

site security can not only protect their business

interests, but additionally can provide added

peace of mind to installers working on their

properties.

As part of its arsenal to deter thiefs, Deter

Tech uses SmartWater for its PID system

to link an offender back to a crime scene

Contact Deter Tech:

www.detertech.com

@DeterTech_UK

80 TI NOVEMBER / DECEMBER 2022 PRACTICAL CONTENT FOR THE GLAZING INSTALLER & HOME IMPROVEMENT SPECIALIST
---
HOW DO |

FINd NEW

CUStOMERs

FASt?

Insight Data helps you pinpoint

your ideal trade and commercial

customers using our database of

60,000 prospects – with detailed

business and financial data not

available anywhere else.

• Local builders

• Construction companies

• Housebuilders

• Builders merchants

• Architects & specifiers

For more information

or your free demo, call

01934 808 293

Visit: www.insightdata.co.uk
---
Updates

For further vehicles, tools & workwear updates visit www.total-installer.co.uk

BE SEEN ON SITE THIS AUTUMN WITH SNICKERS

Snickers Workwear has unveiled its 'Head to Toe' layering system, which the company says will

deliver consistent comfort and protection in cold and wet weather.

Snickers says tradespeople will get 'head to toe' functionality and protection with Snickers

Workwear's ergonomic base layers, insulating mid layers and weather-protective outer layer clothing.

They not only allow craftsmen and craftswomen to quickly adjust to changing weather conditions, but

also give them the opportunity to make sustainable choices about the clothes they wear on site.

This winter's new jackets, trousers and top-wear feature high-tech, breathable fabrics that not

only deliver dryness and warmth but also advanced ventilation for controlling body heat – so you can

always work effectively, whatever the weather. Advanced fabrics like these are integral to every part of

Snickers Workwear's 'Head to Toe' layering system. They combine perfectly with the brand's hallmarks of best-in-class durability, comfort, ergonomics and

sustainability. www.snickersworkwear.co.uk

INCREASE YOUR SPEED WITH MAKITA

Makita has unveiled its new 40VMax XGT Brushless Router Trimmer (RT001G). With a 35% increase in

work speed (compared to predecessor model), Makita says this tool is a must for woodworkers.

The new model has been designed to achieve an even greater trimming speed than previous models – up

to 35% faster, at 10,000-31,000 rpm. It benefits from Makita's Auto-start Wireless System (AWS) which

connects the tool to a compatible dust extractor via Bluetooth, keeping dust to a minimum and protecting the

user when the machine is in use. Moreover, it is equipped with a number of features to provide precision and

prevent the work materials from damage, including soft start function that minimises start-up shock so that

the tool starts smoothly; soft brake and variable speed control, to match the cutting speed to the application.

Furthermore, constant speed control maintains consistent speed under load. www.makitauk.com

SCREWFIX HELPS DELIVER VALUE AT A TIME OF NEED

Screwfix has launched its Unbeatable Value commitment to help tradespeople remain competitive

and meet the needs of their customers.

The new campaign runs across many ranges including 1,000 prices cuts and more than 8,000 bulk

save options. In addition, Screwfix is locking hundreds of prices on essentials until the end of the year,

providing the certainty tradespeople need for quoting on jobs. Customers can rely on the great value and

high quality of a wide range of must-have products, including DeWalt Safety Boots, which have remained at the same low price for 6 years – locked

until at least at the end of 2022 – and the Makita 18V Brushless Cordless Combi Drill, at a breakthrough price to get the job done affordably and right

first time. What's more, with energy prices being crucial, Screwfix has exclusively secured Tado Smart Thermostat Starter Kit for under £100, allowing

customers to save up to 28% on their energy bills. www.screwfix.com

SUIT UP FOR WORK WITH SNICKERS

Snickers Workwear says its sustainable mid-layer clothing has excellent breathability for efficient bodytemperature

management when you're working hard.

The body-mapping designs and sustainable fabrics keep you ventilated as the heat from your body is regulated

to give you winter warmth and cooling comfort when you need it. The new autumn-winter styles include the

FlexiWork High-Vis hoodie which is stretchy, versatile and made from a two-layer mesh fabric and recycled

polyester fibres. This Class 1 hoodie comes with glow-in-the-dark and flashes and plenty of features to deliver comfort and functionality.

The FlexiWork jacket is made from a functional fabric with a high content of recycled polyester fibres and an ergonomic design for plenty of freedom of

movement. For comfort freedom of movement on chilly workdays, Snickers says the FlexiWork Fleece hoodie is ideal, with the recycled polyester fleece

fabric said to offer great insulation while long cuffs with thumb grip provide extra protection against cold air. www.snickersworkwear.co.uk

82 T I NOVEMBER / DECEMBER 2022

PRACTICAL CONTENT FOR THE GLAZING INSTALLER & HOME IMPROVEMENT SPECIALIST
---
STRICTLY TRADE ONLY

A+ RATED AUTHENTICITY

Authentic sash window aesthetics,

combined with outstanding energy

efficiency

With energy bills soaring, when it comes to home

improvements, consumers are looking for one thing

more than any other – energy efficiency.

ECOSlide has always led the way in sustainability –

but now, it's more energy efficient than ever.

A+ rated as standard, and delivering U Values of just

1.4, it's the perfect choice when your clients want

timeless style and twenty-first century performance.

Why ECOSlide?

Any size for

*

£249

Up to 1300mm x 2400mm

A+ rated energy efficiency

U Values of 1.4

Toughened glass as standard

Anti-jemmy bar

Part L & F compliant

Coloured foils and RAL available

Britain's biggest sash window manufacturer

Take the first step to make sales –

speak to Danny today.

Call 01269 846200 or visit

victoriansliders.co.uk

*Any size white PVC-U window to a maximum width

of 1300mm by a maximum height 2400mm. Includes

white hardware and trickle vents as standard.

Excludes curved, foiled or sprayed colours and

georgian bars/astragal bars. All prices exclude

VAT & delivery. Oversized windows are available

at extra cost. (Maximum size 1600mm x

3000mm) Subject to any surcharge at time

of sale. E&OE.
---
DELIVERED 6 DAYS FROM ORDER * FULLY FABRICATED AND READY TO FIT

Visofold 1000

Aluminium Bi-Fold

EMAIL YOUR QUOTE REQUESTS TODAY

If you are waiting more than 6 days for your

bi-folds, you need to talk to Garrard

Call us now for enquiries

01296 668899

sales@garrardwindows.co.uk

www.garrardwindows.co.uk

*

6 day delivery applies only to our standard stocked colours