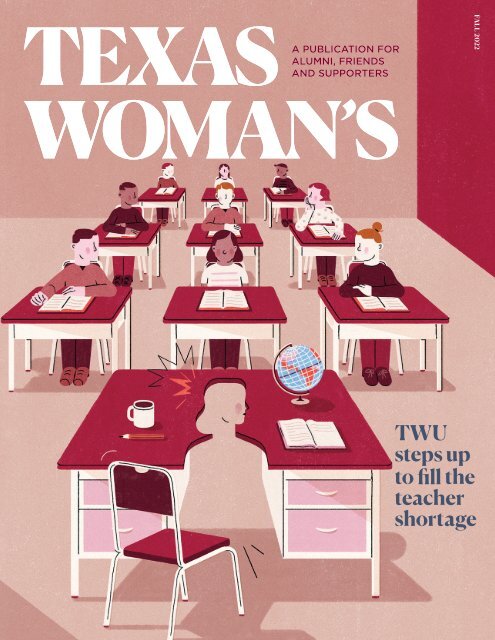 Texas Woman's Magazine - Fall 2022
You also want an ePaper? Increase the reach of your titles
YUMPU automatically turns print PDFs into web optimized ePapers that Google loves.
A PUBLICATION FOR

ALUMNI, FRIENDS

AND SUPPORTERS

FALL 2022

TWU

steps up

to fill the

teacher

shortage
---
A Higher

Calling

With teachers

in short supply

from coast to

coast — and

deep in the

heart of Texas —

TWU steps up

to increase

the pipeline
---
INSIDE

6

THE WOMAN

BEHIND ROE V. WADE

Legal trailblazer's collection

at TWU.

8

THE GIFT OF HEALTH

Dawn Chaney, Ph.D., '63,

'66, '70 promotes her

wellness philosophy by

funding scholarships.

24

TRUE GRIT

Gladys Acosta '18, '23

empowers multilingual children.

Texas

Woman's

FALL 2022

PUBLISHER: Kimberly A. Russell, Ed.D.,

Vice President, University Advancement

Executive Director, TWU Foundation

MANAGING EDITOR: Brittany A. Connolly

Director, Executive Communications

CONTRIBUTORS: Jasmine Carter,

Eveline Chao, Michelle Cummings,

Matthew Flores, Patrice Frisby, Shelby

Gould, Launey Patton Griffith, Christopher

Johnson, Kristina Kaskel-Ruiz, Carolee

Klimchock, Nelda Martinez, Chelsea Mullin,

Lisa Rampy, Renee Thompson

ART DIRECTION AND DESIGN: Zehno

ILLUSTRATORS: Davide Bonazzi, Gracia Lam,

Delphine Lee, Margie and the Moon,

Kayli Mato, Jeannie Phan, Lauren Sanders

PHOTOGRAPHERS: Jill Broussard, Heather Key

CHANCELLOR AND PRESIDENT:

Carine M. Feyten, Ph.D.

PRINT PRESS: Slate Group

©November 2022, Texas Woman's University

TEXAS WOMAN'S 1
---
What's the

latest victim of

supply-chain

scarcity?

American

schools.

NOWADAYS, THE national teacher

shortage is hitting close to home.

Currently, Texas has 40,000 fewer

teachers than needed in public K-12

schools. Some rural school districts

have even moved to a four-day school

week as a stop-gap measure until they

can hire more teachers.

Having gained a reputation for

training many of Texas' best

educators for over a century, TWU's

College of Professional Education

(COPE) has devised innovative

strategies to help curb the teacher

shortage — and address the larger

social implications underlying it.

"It's an ethical and a moral

obligation to support public educators,"

COPE Associate Dean Gina Anderson

noted. "But it's also absolutely critical

for the economic health of our state

and our nation."

Public-school leaders applaud

COPE's commitment. "TWU has a

long history of preparing outstanding

educators for the teaching profession,"

said Jamie Wilson, superintendent

of the Denton Independent School

District. "From its commitment to early

literacy to preparation for master'sdegree

special educators, TWU's

COPE prepares life-changing teachers

for our classrooms."

THE SOCIAL COST

Studies show that quality child care

and early-childhood education —

crucial to social and intellectual

development — have a lifelong impact.

In fact, youngsters receiving quality

early-childhood education and care

have better outcomes in adulthood,

including career and earning potential.

Yet many children are missing out.

In addition to the K-12 teacher

shortage, preschool and infant care

remain understaffed and prohibitively

costly. Nearly half of U.S. families

live in "child-care deserts," in which

one licensed child-care spot exists

for every three children needing

one, according to the Center for

American Progress.

And the numbers can be shocking:

The cost of infant child care in Texas

exceeds in-state college tuition, as it

does in 32 other states, according to

the Economic Policy Institute.

2 TEXAS WOMAN'S
---
These expenses, coupled with

the overall lack of regular childcare

access, don't just hold children

back but can also disrupt the

career trajectory of many parents,

particularly women.

INVESTING IN HUMAN CAPITAL

COPE's reputation for graduating

impactful future teachers is

acknowledged by many education

leaders, including Amarillo College

President Russell Lowery-Hart. "TWU

is a long-standing leader in preparing

some of Texas' most inspiring

educators," he said. "Amarillo College

and TWU share a strong history

of innovation, and I'm honored to

continue our partnership in changing

student lives."

Even the tenure of TWU's teachers

is noteworthy. Eighty percent of its

graduates remain in the teaching

profession after 10 years, exceeding

the national average of 55% and state

average of 50%.

"When you look at the data, our

candidates are hired, they're retained,

and they're more successful than other

candidates entering the profession,"

Anderson explained.

COPE also extends its reach

by training teachers across the

state through community college

collaborations, resulting in classroom

leaders with local ties that benefit

students and communities.

COPE's Educator Preparation

program attracts a diverse student

body of working professionals and

parents who return to gain degrees and

credentials. Professional development

workshops, hybrid advising and testpreparation

tools position these

students for success.

But other needs exist.

THE COSTLY ROAD AHEAD

Several significant costs of teacher

education arise when graduation is on

the horizon.

Unpaid student teaching assignments

required for state certification include

significant in-class time, resulting in

thousands of dollars in lost wages.

After student teaching comes the state

certification exam, costing another

$1,000 or more in fees.

Since many future teachers support

their own families, these financial

burdens may derail their progress.

What's a better alternative? Provide

a living wage for student teachers.

If nascent teachers were paid, more

could afford to complete their degrees

and become certified Texas educators.

It could be game changing, a remedy

for the dire teacher shortage in Texas.

Tackling the issue head on, COPE

Dean Lisa Huffman vows to reduce

the financial obstacles many student

teachers at TWU face.

Chancellor Carine Feyten and

Associate Dean Anderson applaud

Dean Huffman's — and COPE's —

commitment to public education as a

democratic ideal.

"Texas will benefit economically

from the investment in teachers,"

Anderson said. "There has never been

a more important time as a collective

community for us to uplift, recognize,

celebrate and invest in quality

educator preparation."

50 Years of Bilingual Education

TWU has boosted Spanish-language competencies for 50 years and counting

The brainchild of

leading educators,

TWU's bilingual

education programs

date back to 1969.

Then, as now, the

college's education

experts focused on

field experience and

small class sizes to

pioneer the best

teaching practices.

The former Bilingual

Education Centro

de Acción (BECA)

prepared students

for more than half a

century with native

Spanish-speaking

instructors and

experiential learning

opportunities.

The legacy

continues today.

TWU has forged

ahead for decades

to train teachers to

better reflect the

state as a whole.

Here's how:

The Reading Recovery

program, a part of

COPE's department of

Literacy and Learning,

began in 1989 to

promote early literacy

and prevent literacy

gaps among first

graders. This TWU

program is one of

two in the nation

for educators.

Descubriendo la

Lectura is the only

Reading Recovery

program in the world

that offers training

in Spanish. Since

1997, participating

students have

received intensive,

individualized

instruction in Spanish

from certified

bilingual teachers.

Project PIONERAS

is a $2.2 million

scholarship and

research project

that began in

2016. It enhances

Spanish-language

competencies, content

and pedagogical

knowledge, and familyengagement

skills for

undergraduates

and teachers in

bilingual classrooms.

Project HELP

(Hispanic Educators

Leading the

Profession), which

began in 2019,

provides scholarships

to help cover tuition

and fees for the

final four semesters

at TWU. Federal

funding enables

TWU to partner

with community

colleges statewide

so that Hispanic

future teachers

can transfer and

complete their

education degrees

at TWU.

Project LEAMOS,

which began in

2022, is a one-year

grant that enables

40 educators to

earn an M.A. in

multilingual and

multicultural studies.

Learn more

Contact Dean Lisa Huffman at

LHuffman1@twu.edu

TEXAS WOMAN'S 3
---
Voices from TWU grads

"The forward-thinking education

and cutting-edge curriculum at

TWU prepared me to become a

leader in the classroom. TWU was

affordable, the community was

welcoming, and I could not find

that combination elsewhere."

> DANIELLE "DANI" SANCHEZ '20

"Going to TWU

definitely opened

the door for my

career in special

education. I went

into teaching to

help kids, and

that's what I did."

> MIRIAM HONIG '89

"I'm a mom of five kids and

finished my TWU degree

while balancing my family

responsibilities and achieving my

goal to become a music teacher.

The faculty took the time to get

to know me. They understood

my situation and made my

educational experience realistic."

> NATALIE JOYNER '19

"Despite being a working mother and driving more than

50 miles each way [to class] after work, I did very well in my

courses. The master's degree was the final piece needed."

> YVONNE HANNON THOMPSON '96 How you can

get on board

Contact advancement@twu.edu

4 TEXAS WOMAN'S
---
QWorking for the

Super Win-win

What role does COPE play in the

broader community?

College of Professional Education

students are learning how to become

excellent educators and pillars of

their communities. We're working

to graduate more Texas teachers for

> LISA HUFFMAN, PH.D.,

College of Professional

Education Dean

COPE Dean Lisa Huffman aims to erase

Texas teacher shortages and child-care deserts

students ages 3-18. We're focused on

supporting our local families through

education, providing access to mental

health services, offering family

counseling services and developing

community leaders.

First, we lead an early STEAMthinking

camp (Science, Technology,

Engineering, Art, Mathematics) for

young children that reaches across

the state. We call it Digital Days

Summer Camp, and it's led by faculty

from the department of Literacy and

Learning and master's students in

early childhood education. They're

integrating learning, retention and

focused-based coursework with

STEAM applications for young children,

their parents and teachers.

We offer a mental-health clinic

that provides our communities with

affordable resources. Our Counseling

and Family Therapy Clinic, a part of

COPE's Human Development, Family

Studies, and Counseling department,

also provides our graduate students

with clinical opportunities.

And we work with rural libraries

across Texas to ensure equal access to

print and digital information. In many

rural communities, the library is the

only source of reliable internet.

What early-childhood education

challenges are we facing as a state?

As a state, we must invest in earlychildhood

education, which focuses on

preparing teachers for pre-kindergarten

through third-grade classrooms.

We have child-care deserts. We have

families and parents who can't find care.

At TWU we offer a number of programs

preparing the early-childhood-educator

workforce for every corner of society.

We offer a variety of flexible and fullyonline

undergraduate and graduate

degree programs.

We've all seen the dire headlines about

the K-12 teacher shortage. But what

can be done?

It costs a lot of money to become a

teacher. There are a number of broad

factors contributing to the teacher

shortage, and that's why we're working

to remove every obstacle to becoming

a teacher that we can.

Our students are often nontraditional,

and they're entering TWU

— or maybe returning to college — to

receive an education at an average age

of 28. They're typically parents; they

care for their children; and they may

be caring for other family members.

We find that a lot of students have

to step out of the program and save

money for their in-classroom student

teaching experience and certification

exams. Student teaching is required

by the state, along with mandatory

certification exams, which may total

thousands of dollars.

My goal is to find a way to cover

the costs associated with becoming a

certified teacher from coursework

to graduation.

What is your biggest "reach" goal

as dean of COPE?

Going back to early-childhood

education and child-care deserts, I'd

like to have early learning centers on

each of our campuses.

We're a woman-focused, Hispanic-

Serving Institution with the most

diverse student body in Texas and

the fourth-most diverse student

body in the nation, according to U.S.

News & World Report.

Early learning centers would provide

our students access to high-quality

teaching experience in the classroom.

So the children benefit, TWU

students benefit and the state benefits.

I call it a super win-win.

TEXAS WOMAN'S 5
---
DONOR IMPACT

The Woman Behind

Roe V. Wade

Legal trailblazer's

collection at TWU

will enhance research

and teaching

I

n 1973, Sarah Weddington,

a 26-year-old lawyer

from West Texas,

made history when she

successfully argued the

landmark Roe v. Wade

case before the U.S. Supreme Court.

When that case was overturned

earlier this year, it — and one of the

women behind it — once again became

relevant to another generation of

educators, students, journalists and

researchers.

Now TWU's Jane Nelson Institute

for Women's Leadership and the Mary

Evelyn Blagg-Huey Library will play a

central role in future research about

the historic case.

Before her passing in December 2021,

Weddington — a former TWU professor

— donated her papers, photographs,

books and other archival materials to

the university. For much of the year,

library staff have been busy organizing,

inventorying and digitizing the millionplus

documents that make up the Sarah

Weddington Collection. They aim to

Boldly go

Learn how you can

support TWU libraries at

advancement@twu.edu

make it navigable to students and

researchers for generations to come.

"Archivists have the gift of learning

people's stories and preserving them,"

says Director of Special Collections

Kimberly Johnson '93, '07. "That's what

we do every day and are working hard

to do with this collection."

A TRAILBLAZING FIRST

The collection paints a portrait

of a trailblazer who made history:

as the first woman from Travis

County to be elected to the Texas

House of Representatives, the first

woman general counsel for the U.S.

Department of Agriculture and as an

adviser on women's issues to President

Jimmy Carter.

"Women have an enormous power

to effect change, and Weddington's

collection is the preservation of her

activism," says Johnson. "Through the

collection, you get to know her as a

young girl growing up in West Texas, as

a student in law school at UT … you see

her at each stage in her life and career."

Weddington's commitment to

education and her belief that all people

should have equal access to education

are evident in the collection.

"She also mentored TWU

students, inspiring some to pursue

law careers," said the late Phyllis

Bridges, a TWU Cornaro Professor

of English, administrator and friend

of Weddington who helped bring the

collection to the university system.

"When it came time to decide where she

wanted to place her papers, Weddington

had many offers. She chose to donate

them to TWU."

A digital archive featuring selections

from the collection will be available

online next year. Special Collections

staff have given talks to TWU students

about the significance of the collection,

and they've received inquiries from

other universities about using the

materials in history, women's studies,

political science and health classes.

6 TEXAS WOMAN'S
---
"TWU will always have a special

place in my heart because of our

shared interest in promoting

leadership in women."

Sarah Weddington

TEXAS WOMAN'S 7
---
DONOR IMPACT

The Gift of Health:

Nurturing the Body

and Mind

Alumna promotes

wellness philosophy

by funding scholarships

for health and

kinesiology students

> DAWN CHANEY, Ph.D.,

'63, '66, '70

Stewarding one's health is the key

to helping others. That belief led

Dawn Chaney to create opportunities

for TWU students in fields ranging

from exercise science and physical

education to occupational therapy

and sport management.

The two Dawn S. Chaney

Undergraduate and Graduate

Scholarship Endowments totaling

$100,000 support students in the

School of Health Promotion and

Kinesiology. In recent years, students

in the school have conducted

research exploring equity issues in

COVID-19 health responses, circadian

desynchronization and much more.

"Whether it is developing NASA

award-winning devices that

improve space travel or analyzing

the biomechanics of elite PGA

golfers, our students are inspired

by unique learning opportunities

to make a difference in the world,"

said Christopher Ray, dean of the

College of Health Sciences. "With

philanthropic investments like the

Chaney endowments, we will continue

to forge bold new discoveries that not

only elevate our legacy of educating

outstanding health and wellness

professionals but also enhance the

human condition."

LEADING THE NATION

The School of Health Promotion

and Kinesiology is a national leader

ranking among the top 10 online

programs for bachelor's degrees in

the health sciences.

TWU kinesiology students also have

bested the competition two years in a

row at a NASA-sponsored design event.

The team's 2022 project was enhanced

by adding a red therapeutic light to

the device to further improve

astronauts' sleep quality.

Graduates of the school go on to

impressive careers. Bolstered by her

Ph.D. in kinesiology with a sport

management concentration, Lisa

Langston '10 said she is "a better

manager, a better leader and a better

critical thinker" thanks to her

TWU education.

"Every project I completed,

every research paper I submitted

was related to my role as an

interscholastic athletic administrator,"

said Langston, director of athletics

for the Fort Worth Independent

School District.

A VISION FOR BOLD WOMEN

At the heart of Chaney's decision

to endow the TWU scholarships is

her desire to expand educational

opportunities at the woman-focused

8 TEXAS WOMAN'S
---
institution. Women, she said, "have to

be able to hear and see the vision of

what they can become."

Although Chaney now focuses on

managing a portfolio of investment

properties — in addition to serving on

a variety of community organizations

in Greensboro, N.C., where she resides

— she spent most of her career in

higher education.

Chaney's gift to her alma mater is an

extension of her lifelong advocacy for

women's education and health science.

She earned her undergraduate and

graduate degrees in physical education

from TWU.

Her continuing affinity for TWU is

another impetus for the gift. When she

first visited the Denton campus more

than 60 years ago, she immediately fell

in love with the atmosphere. What

stands out to this three-time alumna

all these years later is the vibrant

intellectual exchanges "and the amount

of interaction with faculty and students

that was available for all of us."

Due to her generosity, a new

generation of TWU students will be

enriched by that same spirit of

collaboration and personal growth.

Boldly go

Learn how you can support

TWU colleges and programs

at advancement@twu.edu

1,500+

current TWU Health Sciences majors

TEXAS WOMAN'S 9
---
WHAT IF?

What if TWU launched

an aviation program?

Frequent flyers need some relief

IF YOU have flown on an airplane

recently, you probably realized that

the travel industry is changing. Flight

delays, cancellations and similar

frustrations have put a damper on

passengers' enthusiasm for air travel.

And recent studies corroborate

what many frequent fliers have

noticed: We need more pilots.

What if TWU was a part of

the solution in addressing aviation

industry challenges?

Because TWU is a woman-focused

university system, increasing female

representation in the workforce is

especially important. Is aviation the

next industry where we could make

an impact?

While women constitute 47% of the

total U.S. workforce, they represent

only 20% of the aviation industry,

according to the U.S. Bureau of Labor

Statistics. This gender gap is especially

visible among pilots, where women

comprise about 5% of the profession

and less than 2% of senior management,

as noted by the Pilot Institute.

Why so few? For many women, as

well as underrepresented populations,

flight school can be daunting.

Commercial pilots need at least

1,500 flight hours, in addition to other

requirements. Many pilots take classes in

mathematics, physics and meteorology as

well as aviation history, law and business.

Pilot preparation is expensive, and few

universities combine flight school with

four-year degrees.

But TWU could change that.

"I believe we have the unique

capacity to move into areas where we

see large gender gaps," said Chancellor

Carine Feyten.

FLYING HIGHER

Some students are already addressing

the challenges that plague the industry.

In 2022, TWU's Team Oneiroi —

comprised of five senior kinesiology

majors — was named Best Overall Team

at the NASA-sponsored Texas Space

Grant Consortium Design Challenge.

Their winning entry? They created and

submitted a wearable light-therapy

device that helps astronauts regulate

their sleep cycles.

History is filled with prominent women

figures in aviation. At TWU, the Woman's

Collection houses the Women Airforce

Service Pilots (WASP) archive. The

WASP archive includes over 1 million

wartime and postwar items and personal

collections of hundreds of the WASP.

That leads to a new question: As a

community, what better way to honor the

past, than to help lead the future?

Tell us what

you think

Send us a note at

advancement@twu.edu

10 TEXAS WOMAN'S
---
RESEARCH

THAT

MATTERS

Learn how you

can support

research at TWU

Send us a note at advancement@twu.edu

> GIOVANNI VALDERAS, MFA

Assistant Professor, Painting and

Drawing in the Division of Visual Arts

Taking it to

the streets

Community impact drives

assistant professor's art practice

GIOVANNI VALDERAS used

to think of art as something

created just for galleries.

But while teaching in Dallas

community colleges, he

realized his students often

found art inaccessible

and intimidating.

"I thought, 'I've been

doing this all wrong — my

work needs to be out in the

community,' " he explained.

So he began making

piñata-inspired houses and

installing them "guerillastyle"

around Dallas' Oak

Cliff neighborhood, drawing

attention to the affordable

housing crisis and its

impact on Black and

Latinx communities.

Teaching, too, is part

of his practice. Now an

assistant professor in

TWU's division of Visual

Arts, Valderas is thrilled

when students approach

him after his presentations

to share comments like,

"I feel like you're talking

directly to me."

He clearly is. That's why

he makes art that draws

from, and speaks to, his

culture and community.

"Artists," he emphasized,

"can be catalysts for

change."

TEXAS WOMAN'S 11
---
Healing through Music

Program's graduates speak the languages

of music and health care

RESEARCH

THAT

MATTERS

AS ANY seasoned musician

will tell you, music is both

an art and a science. It's

about the physics of sound

and the magic of rhythm.

TWU faculty are

uncovering music's

power to heal by training

accomplished musicians

to become compassionate

music therapists. As health

care practitioners, their

task is to help alleviate

pain, enhance memory

and improve cognitive

functions in stroke patients,

children and neurologically

diverse individuals.

TWU's undergraduate

music therapy program

is one of only five — and

the only master's program

— in Texas. Training in

piano, voice, guitar and

percussion, as well as

courses in the psychology

of music and anatomy and

physiology, prepares grads

for a national exam that

leads to board certification.

Preparation pays off, as

TWU's graduates have a

pass rate of 67% compared

to 51% nationally, according

to the Certification Board

for Music Therapists.

#

1

The only music therapy

master's program in Texas

> Music therapy

students BRANDON

CARRASCO '25 and

XITLALY LULE '26

12 TEXAS WOMAN'S
---
PLANNING TO MAKE

A DIFFERENCE

PAYING IT

FORWARD

EDUCATION IS empowering.

It can be a catalyst that lifts

people from all walks of life

to new levels of economic,

social and professional

opportunity. And it can echo

through future generations,

changing the trajectory of

a family for all time.

Planned giving is one way

to extend intergenerational

benefits. Such gifts to

TWU have the power to

sustain and shape the

institution. Planned gifts

create a flexible and

charitable legacy, enabling

donors to "pay it forward"

by acknowledging the role

TWU played in their lives.

MEETING CRITICAL NEEDS

Special education is a

critical area of need that

Alicia B. Quinn '94, a

librarian, plans to support

by dedicating a portion of

her estate to TWU. Her

planned gift will help prepare

teachers and researchers

to work with students with

exceptional needs.

Another alumna's passion

for literacy will live on

through her planned gift.

The late Distinguished

Alumna and Cornaro

Professor of Reading

Emerita Billie J. Askew '82

was an influential leader

and contributor to national

and international Reading

Recovery efforts, including

TWU's programs, which she

founded in 1989.

Student-athletes and

Pioneer Athletics have

inspired generous support

from Bettejoe "Smokey"

Rogers Pendleton '58

for nearly a decade. Not

only did she establish a

scholarship endowment,

she also gifted a portion

of her estate, leaving a

lasting legacy for TWU's

athletics program.

"It is an awesome and

rewarding responsibility

for us to know that

Bettejoe Rogers Pendleton

believes in our ability to

magnify the mission of

the university through

academics, athletics and

leadership development,"

said Sandee Mott, director

of athletics.

Quinn, Askew and

Pendleton are among the

many donors who've chosen

to be catalysts for change

— opening doors to a better

life and a better world for

future generations.

Learn more

about planned

gifts

Visit plannedgiving.twu.edu

TEXAS WOMAN'S 13
---
1979

TWU Softball won the

1979 AIAW Women's

College World Series

that was held in

Omaha, Neb., to

become National

Softball Champions.

Photo: TWU Special Collections

> 2017

Nicole Nordie '17 was

named to the 2017

D2CCA Softball All-

South Central Region

First Team. She was also

recognized as a NFCA

All-Region First Teamer

and was chosen as the

Lone Star Conference

Player of the Year and to

the All-LSC First Team.

THEN AND NOW

Seriously

Sporty Women

TWU reflects on

50 years of Title IX

NOT MANY universities

can claim two Olympic

medalists as coaches.

But at TWU, Sara Lilly, a

2004 bronze medalist in

synchronized swimming,

and Randi Miller, a 2008

bronze medalist in

wrestling, are two of

nine head coaches.

Fifty years ago, Title IX of

the Education Amendments

Act passed, affording

women equal opportunity

in athletics. At TWU, this

included the advent of

athletics scholarships,

championed by former

Athletics Director Jo Kuhn.

Since its inception in

1906, TWU Athletics has

prided itself on serving

women student-athletes.

In 1979, the university

named its athletic teams

the Pioneers, then adopted

a Minerva owl as its

mascot in 2017. In 1982,

TWU joined the National

Collegiate Athletic

Association (NCAA).

Today the university

competes in five

intercollegiate Division II

NCAA sports — basketball,

gymnastics, soccer, softball

and volleyball — and also

offers competition in artistic

swimming, dance, STUNT

and wrestling.

Thanks to Kuhn and other

visionaries, Texas Woman's

continues to empower

women through education,

competition and leadership

development.

14 TEXAS WOMAN'S
---
BOLDLY

GO

> A BRIGHT FUTURE

A graduate from the

class of 2020 savors

the moment at Dallas'

Reunion Tower

TEXAS WOMAN'S 15
---
SUPPORTING WOMEN VETERANS

The Jane Nelson Institute

for Women's Leadership

awarded grants, ranging

from $1,000 to $10,000,

to 33 women-veteranowned

businesses across

Texas in 2021 and 2022.

THE JANE NELSON

INSTITUTE FOR

WOMEN'S LEADERSHIP

(JNIWL) at TWU is

dedicated to preparing

more women to take

on successful roles in

business and public

service. Our three

specialized centers

provide women with

the education to

establish executive-level

careers, the skills for

building entrepreneurial

businesses and the

framework needed to

run for public office.

JNIWL features

three centers: Center

for Student Leadership,

Center for Women

Entrepreneurs, Center

for Women in Politics

& Public Policy.

Learn more

at twu.edu/lead

THE GOLD BEACON LLC

Navy veteran and social worker

Kimberly Henry's full-service nonprofit

agency provides sustainable tools

and services to organizations seeking

to address gaps and challenges. The

grant allowed her to create free content

including guides to help organizations

increase their capacity and become

champions for social change.

GRANT WINNER LOCATIONS

16 TEXAS WOMAN'S
---
THE U.S. DEPARTMENT OF

VETERAN'S AFFAIRS PROJECTS

THAT WOMEN WILL ACCOUNT

FOR 40% OF ALL VETERANS

IN THE NATION.

SAN ANGELO

GARLAND

HOUSTON ENGLISH

LANGUAGE SPECIALISTS LLC

Simone Brown was an English-language

instructor for 20 years and realized

there was a need for physician-specific

communication programs. Her organization

provides international physicians with the

communication skills needed to clearly and

effectively communicate across cultures

to improve patient outcomes. The grant

allowed Brown to add resources

to scale the business.

MILKSPACE LLC

Kelli Mumphrey's company specializes in

safe, clean spaces for nursing parents. The

Navy veteran's business addresses the

lack of outdoor breastfeeding spaces by

providing Texas public-space operators

and event organizers with on-demand

lactation spaces for venues and events.

The grant funded the purchase of

a sanitation tower.

HOUSTON

TEXAS WOMAN'S 17
---
NEWS ROUNDUP

Campus by Campus

Learn what's happening in Denton, Dallas and Houston

> LITTLE CHAPEL

VOTED THE BEST

TWU's Little Chapelin-the-Woods

was

recognized as the city's

top wedding venue by

Best of Denton 2022.

World-renowned

architect O'Neil Ford

designed the chapel,

which was built in 1939.

DENTON

TWU RANKS AT THE TOP

TWU is among the top

American universities for

social mobility, according

to U.S. News Best Colleges.

TWU ranked ninth in Texas

and within the top 15% of

universities nationally for

social mobility.

TWU HOSTS TWO-TIME

OLYMPIC GOLD MEDALIST

The Jane Nelson Institute

for Women's Leadership

(JNIWL) and the Nancy

P. and Thaddeus E. Paup

Lecture Series hosted

Olympic gold medalist

Brandi Chastain in October.

The moderated discussion

explored the connection

between women's

leadership and sports.

DALLAS

ANNUAL OT EVENT

CELEBRATES 30 YEARS

The Vanderkooi Endowed

Lectureship, established

in 1993, honors Fanny

B. Vanderkooi, TWU's

first program director of

Occupational Therapy. The

2023 Vanderkooi Endowed

Lectureship will mark the

30th anniversary of the

School of Occupational

Therapy's annual event.

DALLAS NURSING IN

THE COMMUNITY

The North Texas Food

Bank awarded its highest

honor, the Tom Black

Volunteer Award, to

Dallas nursing students

for their dedication to

community service.

HOUSTON

COB AND CWE PARTNERSHIPS

The TWU College of

Business and JNIWL

Center for Women

Entrepreneurs hosted the

annual Women's Business

Enterprise Alliance

conference, which awards

certification support,

educational programs and

scholarships to businesses

and employees.

NEW HOUSING

TWU has partnered with

Texas A&M University to

offer Houston campus

students a housing

opportunity at Life Tower.

WOMEN'S LEADERSHIP PROGRAM

The TWU Bold LeadHERship

Roundtable — sponsored

by the TWU College of

Business, JNIWL and the

Greater Houston Chamber

of Commerce — is a sixmonth

program for women

of color in senior-level

leadership positions.

18 TEXAS WOMAN'S
---
ALUMNI ENGAGEMENT

Alumni Global

Network

TAP INTO

THE POWER

TWU's global

network is more than

100,000 strong! The

Pioneer Network's

online community

of TWU alumni,

students, faculty,

staff and supporters

fosters connection

with fellow Pioneers.

For more information,

visit twupioneernetwork.com

10,000+

ALUMNI SHARED

STORIES

The Pioneer

Reflections oralhistory

project got

big-time buy-in from

alumni this spring

and summer. A digital

archive and print

book comprised of

thousands of stories

will be available.

For more information,

visit twu.edu/pioneerreflections

99 %

of storytellers recommended the

opportunity to fellow alumni

Submit news

Tell us what's happening

in your life and career

twu.edu/alumnews

CONNECT

WITH US

alumniengagement@twu.edu

940-898-2586

FOLLOW @TXWOMANSALUMNI ON

FACEBOOK, INSTAGRAM AND TWITTER

facebook.com/txwomansalumni

instagram.com/txwomansalumni

twitter.com/txwomansalumni

JOIN US AT AN

UPCOMING EVENT

twu.edu/alumevents

TEXAS WOMAN'S 19
---
Pioneers

> "MENTORING IQUAIL

over the past six years,

as he has grown into

a dance scholar, has

been one of the most

rewarding aspects of

my job," said Rosemary

Candelario, director of

TWU's dance program.

"Iquail's dissertation has

the potential to shift how

the field thinks about

Black men in American

concert dance."

> IQUAIL

SHAHEED '22

Dancer,

choreographer,

instructor

THE RIGHT MOVES

New Stage

Broadway dancer Iquail

Shaheed '22 adds Ph.D.

to his artistic accolades

BROADWAY DANCER,

choreographer, entrepreneur

and new TWU Ph.D. dance

grad Iquail Shaheed '22 has

studied at some of the most

illustrious dance programs

in the country including the

Alvin Ailey American Dance

Center, Philadanco and the

Juilliard School.

Today he's the founder and

artistic director of DANCE

IQUAIL!, which has earned

prestigious grants from the

National Endowment for

the Arts and other funding

agencies. He also starred in

Broadway productions of

The Lion King, Hot Feet and

Super Fly.

Shaheed's path to a

doctorate in dance was made

possible by TWU's lowresidency

program, which

enables mid-career students

to pursue a Ph.D. without

taking time off from work.

Celebrating its 65th

year in 2022, the TWU

Ph.D. dance program is

the longest running of its

kind and one of only five in

the country. Its flexibility

allowed Shaheed to maintain

his active schedule as a

professional performer and

dance instructor in Maryland

at Goucher College, a former

women's college.

Shaheed's Ph.D. is an

asset in many ways. It

denotes expertise in the

scholarship of dance, and it

sets the stage for becoming

a sought-after author and

thought leader.

"A lot of the work we do

is social-justice focused

and brings attention to

voices that often aren't

heard," he said. "The Ph.D.

gives me the tools to bring

those voices to light in my

instruction and practice."

20 TEXAS WOMAN'S
---
ASHLEY

DAME '12 AND

NATHAN DAME '11

Award-winning

choir directors

> KELLI

CONNELL '03

Photographer

and Guggenheim

honoree

EYE ON THE PRIZE

Guggenheim

awarded to alumna

WHEN ASHLEY DELANEY

visited TWU to check out its

music education programs,

she fell in love with the

graduate curriculum — and

eventually a student pianist

she met that day. There, in

the office of Professor and

Music Education Coordinator

Vicki Baker, she first met

Nathan Dame '11.

"He was sitting on

her piano bench as they

wrapped up his individual

instrument training,"

Ashley recalls.

She decided to enroll,

because the flexible course

options allowed her to

balance her day job with her

graduate preparation. "It's

an attractive program for

MUSIC EDUCATION

A DUET THAT WORKS

Ashley '12 and Nathan Dame '11 found

love and award-winning careers at TWU

practicing educators," she

says. But the best part was

the hands-on training with

real music teachers.

After Ashley graduated

in 2012, she and Nathan

stayed in touch, even as he

pursued a Ph.D. in Kansas.

"We love music, so we

mailed each other CD

mixes," Nathan said.

Today the two are not

only married, but also

fellow choir directors at

Wylie East High School in

Wylie, Texas.

Under the Dames' watch,

the school's choir program

has tripled in size to 320

students, and both directors

have won multiple awards.

Ashley won the 2021 Texas

Choral Directors Association

Innovative Programming

Award, and Nathan was

named one of Yamaha's

Top 40 Under 40 Music

Educators in the United

States in 2022.

Both credit TWU with

their success. "TWU's

program was so practical.

You could easily take what

you learned and apply it

in the classroom the next

day and witness a positive

impact on the kids,"

Nathan said.

"TWU wasn't just the

place that we met,"

says Ashley. "It was the

place that trained us to

be the music educators

we are today."

FOR THE last eight years, artist

Kelli Connell '03 has retraced the

life of Charis Wilson, best known

as a model and the former wife of

famed modernist photographer

Edward Weston. Connell explores

the artist-sitter relationship by

photographing her own partner

in the same locations where

Weston depicted his then-wife.

This year, Connell won

a prestigious Guggenheim

Fellowship for her project

"Pictures for Charis." She plans

to produce a book and three

museum exhibitions of her

work in 2024.

"Having work recognized by

the Guggenheim Foundation is

a tremendous honor," Connell

said. "I will use the 2022

fellowship year to continue

making work for the project

'Pictures for Charis.' I feel a

wealth of gratitude for this

opportunity, and for everyone

who has supported the project

along the way."

Connell credits TWU,

especially Susan kae Grant,

Cornaro Professor of Visual

Arts Emerita, with shaping

her career.

"Working with Susan was

such a gift," said Connell,

now a professor and graduate

program director of the

Photography department at

Columbia College Chicago.

"Susan organized her classes by

creating a sense of community

where everyone had an equal

voice, and she really influenced

how I teach my courses today."

"TWU is a place that

encourages students to work

diligently on their fine art

practices and to become

confident in who they are as

artists," Connell said.

TEXAS WOMAN'S 21
---
ALEXANDRA

WELKER '22,

NAIKE KASONGO

'22, SHAUNTA

ROCKMORE '22

Empowering

Women as Leaders

scholarship recipients

AS SHAUNTA ROCKMORE

'22 can attest, the value of

the Empowering Women as

Leaders (EWL) scholarship

goes far beyond the funding

it provides. A cum laude

graduate in criminal justice

and business and an EWL

scholarship recipient,

Rockmore said the EWL

experience "gave me hope

and opportunities."

EWL is a nonprofit

organization that supports

MY SCHOLARSHIP MATTERS

Empowering

Mentorship

Empowering Women as Leaders scholarship

contributes much more than dollars and cents

non-traditional women

students beginning or

returning to college. They

provide support through

scholarships, mentoring

and networking. Recipients

are awarded funds to offset

educational costs and are

paired with a mentor based

on their educational and

career goals. The mentoring

relationship spans their entire

college experience and two

years into their careers.

For Alexandra Welker '22,

the scholarship's mentoring

component provided muchneeded

support during her

undergraduate coursework.

Welker found someone with

whom she connected, and

she describes her new friend

as "a wonderful mentor in my

life, a person who challenges

me to meet my goals."

"This scholarship support

really changed my life," said

Welker, who graduated from

her Texarkana high school

20 years ago. She will

complete her TWU English

degree in December.

Inspiring students

and helping them

become leaders in their

fields and communities

has been EWL's intent

since 2005. When

awarding scholarships,

EWL prioritizes women

seeking their first

undergraduate degree.

Another EWL awardee,

Naike Kasongo '22, will

also finish her sociology

degree in December. A

non-traditional student

and parent, Kasongo works

full time while raising four

children and managing

her coursework. At times,

she finds this juggling act

"challenging physically

and financially."

"The EWL scholarship

definitely improved my

educational experience at

TWU," Kasongo said of the

combination of financial

assistance and active

mentoring. "It is refreshing

to know that help is a phone

call away," she said.

Rockmore describes

her EWL mentors as both

inspiring and encouraging.

She said, "They are some of

the greatest overcomers I've

ever met."

22 TEXAS WOMAN'S
---
THE BLOOMBERG

TRADING AND

ANALYTIC S LAB

was created with

the generous

support of Nancy P.

and Thaddeus E.

Paup and the Jane

Nelson Institute

for Women's

Leadership.

DID YOU KNOW?

A BOOST FROM

BLOOMBERG

New trading and analytics

lab prepares business

students for future careers

WATCH OUT, Wall Street!

TWU's newest business

grads will be ready to hit the

ground running, thanks to

their experience using the

same Bloomberg terminals

as the ones used by elite

business schools and top

financial firms.

The launch of the

Bloomberg Trading and

Analytics Lab this academic

year on the Denton

campus will enhance the

student experience and

make TWU grads stand

out from the crowd.

"This lab will prepare

our College of Business

(COB) students in finance

and business analytics

for the workplace," Dean

Rama Yelkur explained.

"Our finance students will

be trained and Wall Street

ready. They will hit the

ground running as they

begin their careers in the

financial sector."

In addition to providing

research and study space,

the lab will offer direct access

to a subscription-based

financial software known

as the Bloomberg Machine.

This platform, widely used

by global-finance firms,

will afford TWU students

experience in real-time

market data analysis.

The lab is just the latest

reason the COB is poised

to become one of the best

business schools with a

woman-focused mission.

With multiple undergraduate

and graduate degree

programs, including two

options for undergraduates

to earn their BBA and MBA

in five years, the COB is

reaching new heights.

Learn more

Contact Dean Rama Yelkur at

ryelkur@twu.edu to support the COB

TEXAS WOMAN'S 23
---
True Grit

Literacy

across Cultures

COPE alumna burnished her own bilingual

skills to empower multilingual children

What inspires you

to support TWU?

Send us a note at advancement@twu.edu

W

ith a political and

economic crisis

brewing in their home

country, Venezuela,

it was fortuitous

that an appealing

job brought Gladys Acosta '18, '23, her

husband and two children to Irving,

Texas, 14 years ago.

As husband Juan Carlos settled into

his new job in the technology sector,

Acosta cared for their growing family.

While volunteering at her eldest son's

school, she discovered the multilingual

classroom. "Watching the teacher

providing empowering instruction

to students learning English as their

second or third language was inspiring,"

Acosta said. "At that moment, I knew I

wanted to also inspire young students."

Acosta started from ground zero. She

began developing her English-language

skills at the local community college,

before progressing to more advanced

classes. "I was taking care of my [now]

three children and working hard to do

well in my courses. There were many

late nights of studying," she said.

Three years later, in 2016, Acosta

sought a program that would prepare

her to become a bilingual teacher. TWU

spoke to her because of its reputation

for training some of the best educators

in the state. She also experienced TWU's

strong sense of community when she

toured the Denton campus. "There

were so many women like me, around

the same age, with unique stories and

families. I felt at home," she said.

As a full-time student with three

young children, Acosta completed

her bachelor's in interdisciplinary

arts with a concentration in bilingual

education and was honored with

the 2017-2018 Outstanding Senior

award. She attributes much of her

success at TWU to Associate Professor

Mandy Stewart from the College of

Professional Education's Literacy

and Learning department. "Dr.

Stewart led our bilingual education

student organization. She was

always encouraging and supportive,

providing our cohort with community

engagement and professional

development opportunities," she said.

"She has been my mentor and someone

I now call a friend."

To further develop her skills and hone

her research interests, Acosta is now

pursuing a master's degree in TWU's

multilingual and multicultural studies

program. She's learning about new

concepts like the threshold hypothesis

and the common underlying proficiency

approach to literacy. These theories

hold that "bilingual students transfer

cognitive and literary skills from their

first language to the second language"

and that "children need to have a

strong foundation in their first language

to successfully acquire a second

language," she said.

Like so many TWU graduates, Acosta

is proud to help immigrant children

and first-generation Americans preserve

their heritage as they build a new life

in the United States. "Knowing more

than one language is an asset, not a

limitation," she said.

As she enters her fifth year of teaching

at Whitley Row Elementary in the Keller

Independent School District, Acosta

looks forward to completing her master's

and graduating in December 2023. She

plans to continue working with her

first-grade students. "Witnessing my

students grow into their language skills is

amazing," she said, "especially when they

move from struggling to succeeding."

24 TEXAS WOMAN'S
---
GLADYS

ACOSTA '18, '23

Bilingual teacher

TEXAS WOMAN'S 25
---
Texas Woman's University

Division of University Advancement

P.O. Box 425618

Denton, TX 76204

Scan with your smartphone

camera to view the digital edition.