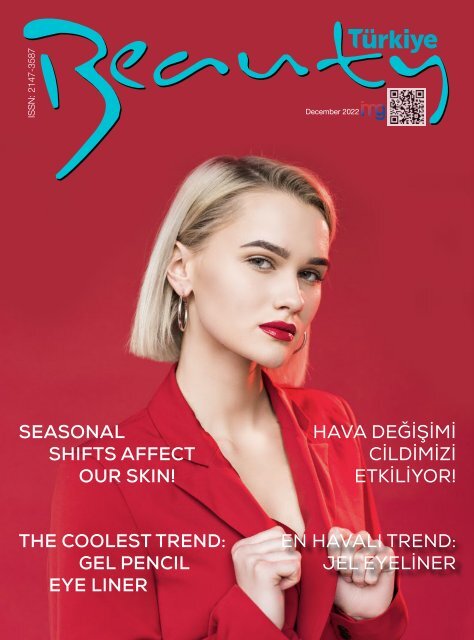 Beauty Türkiye December 2022
You also want an ePaper? Increase the reach of your titles
YUMPU automatically turns print PDFs into web optimized ePapers that Google loves.
ISSN: 2147-3587

December 2022

SEASONAL

SHIFTS AFFECT

OUR SKIN!

HAVA DEĞIŞIMI

CILDIMIZI

ETKILIYOR!

THE COOLEST TREND:

GEL PENCIL

EYE LINER

EN HAVALI TREND:

JEL EYELINER
---
Intense pigmentation,

vibrant colors

Yoğun pigmentasyon,

capcanlı renkler

Publisher

H. Ferruh IŞIK

on behalf of

İSTMAG Magazin Gazetecilik

İç ve Dış Tic. Ltd. Şti.

Managing Editor

(Responsible)

Mehmet SÖZTUTAN

mehmet.soztutan@img.com.tr

Editors

Dilara CICA

dilara.cica@img.com.tr

Recep ARSLANTAŞ

recep.arslantas@img.com.tr

Graphic & Design

Tayfun AYDIN

tayfun.aydin@img.com.tr

Advertising Coordinator

Recep ARSLANTAŞ

recep.arslantas@img.com.tr

Foreign Relations Manager

Ayça SARIOĞLU

ayca.sarioglu@img.com.tr

20

26

Let your skin breathe with

seasonal formulas

Mevsime uygun formüllerle

cildiniz nefes alsın

New General Manager

for Selen Kozmetik

Selen Kozmetik'e

yeni Genel Müdür

Web Developer

Emre YENER

emre.yener@img.com.tr

Accounting Manager

Cuma KARAMAN

cuma.karaman@img.com.tr

Finance Manager

Yusuf DEMIRKAZIK

yusuf.demirkazik@img.com.tr

Subscription

İsmail ÖZÇELİK

ismail.özcelik@img.com.tr

Head Office

İstanbul Magazin Grubu

İHLAS MEDIA CENTER

Merkez Mahallesi 29 Ekim Caddesi

No:11 Medya Blok Kat:1

34197 Yenibosna / İstanbul / Turkey

Tel: 0212 454 22 22

Faks: 0212 454 22 93

Printing

İhlas Gazetecilik A.Ş

Merkez Mahallesi 29 Ekim Cad.

İhlas Plaza NO: 11/A 41

Yenibosna / İstanbul / TURKEY

Tel: 0 212 454 30 00

72

88

62

Preferred country for hair transplantation:

Türkiye!

Saç ekimi için tercih edilen ülke: Türkiye!

Perfume preferences of

the season

Mevsimin parfüm

tercihleri
---
FOLLOW

THE FASHION OF

COLORS

www.pastelcosmetics.com
---
World brand in hair transplantation!

People who experience hair loss may experience thinning or baldness in the hair. This situation,

which can generate a negative feeling in physical appearance, can also affect the psychology of the

person. While people who want to prevent intense hair loss flock to hair transplant centers, it also

triggers the growth of the market.

Dilara CICA

from

the

editor

Increasing its share of health tourism with a big difference every day, Türkiye has become a world

brand in hair transplantation. The data of the Health Tourism Development Council indicate that

the number of people who came to our country for hair transplant in the first six months of 2022

exceeded 500 thousand, and this figure will rise to one million by the end of the year, breaking

a record. This shows that our country is at the top in health tourism. Although many general

techniques are used in hair transplantation, recently Dr. Levent Acar's invention of a revolutionary

device in hair transplantation, eyes turn to him. Acar, who gave information about the world's

first automatic and portable hair transplant incision device, Robopen, emphasizes that with this

method, doctors can perform thousands of hair incisions without getting tired and get much more

efficient results. Thus, with Robopen, more efficient results will be obtained in hair transplantation

applications, the recovery will be accelerated and the rate of wastage in the transplanted roots will

be reduced.

In our magazine this month, we covered our news about medical aesthetics, make-up materials

that will add a different touch to you, and care creams that will provide the effect you want. We

hope you enjoy reading our issue, where we discuss care tips that will add beauty to your beauty.

See you in the January issue of Beauty Türkiye… Stay with love!

Saç ekiminde dünya markası!

Saç kaybı yaşayan kişilerde, saçlarda seyrelme ya da kellik durumu oluşabiliyor. Görünümde

olumsuz his oluşturabilen bu durum kişinin psikolojisini de etkileyebiliyor. Yoğun saç kaybını

engellemek isteyen kişiler saç ekim merkezlerine akın ederken, pazarın büyümesini de tetikliyor.

Sağlık turizminden aldığı payı her geçen gün büyük bir farkla artıran Türkiye, saç ekiminde dünya

markası haline geldi. Sağlık Turizmini Geliştirme Konseyi'nin verileri 2022'nin ilk altı ayında saç

ektirmek için ülkemize gelenlerin sayısının 500 bini aştığını ve bu rakamın sene sonuna kadar bir

milyona çıkarak rekor kırılacağına işaret ediyor. Bu durum, sağlık turizminde ülkemizin zirveye

oynadığını gösteriyor. Saç ekiminde birçok genel teknik kullanılsa da, son zamanlarda Dr. Levent

Acar'ın saç ekiminde devrim yapan bir cihaz icat etmesiyle gözler ona çevriliyor. Dünyanın ilk

otomatik ve taşınabilir saç ekimi kesi cihazı Robopen hakkında bilgilendirmelerde bulunan

Acar, bu yöntem ile doktorların artık yorulmadan binlerce saç kesi işlemini daha uygun bir

şekilde gerçekleştirebileceklerini ve çok daha verimli sonuçlar alabileceklerinin üstünde duruyor.

Böylelikle, Robopen ile saç ekim uygulamalarında daha verimli sonuçlar elde edilerek iyileşme

hızlanacak ve ekilen köklerde fire oranı da azalmış olacak.

Bu ay dergimizde medikal estetiği baz aldığımız dosya haberimizi, size farklı bir dokunuş katacak

makyaj malzemelerini ve istediğiniz etkiyi sağlayacak bakım kremlerini işledik. Güzelliğinize

güzellik katacak bakım tüyolarını ele aldığımız sayımızı keyifle okumanızı diliyoruz. Beauty

Türkiye Ocak sayısında görüşmek üzere… Sevgiyle kalın!

My Favor ites

The coolest trend:

Gel pencil eye liner

The healing power of

the sea: La Mer

Strong and voluminous

hair with URBAN Care!
---
12 Beauty Güzellik

The century of Türkiye

Türkiye yüzyılı

RECEP ARSLANTAŞ

COORDINATOR

recep.arslantas@img.com.tr

My Favorites

The new variant of the

Precious Oils range:

Shea Butter

Değerli Yağlar serisinin

yeni varyantı: Shea Yağı

Türkiye's new century became a topic of

discussion at the summit reached by those who

consider "You can't dry today's laundry with

yesterday's sun". However, the 21st century

began to be experienced as a new century

22 years ago. Everything had the usual rules,

everything was traditional… Those who

wrote the scenario of the economy in various

geographies also determined the rules and

distributed the roles. No one could go beyond

the established rules. As the clock ticked from

October 2022 to November 2022, notes in gold

letters began to be written on the history of

the economy. Development change, change

began to bring victory. New centuries and

new rules began to be written in this paradise

land. An example in the financial sector tells

everything...

While many countries of the world are

increasing interest rates, does not decreasing

interest rates every month in our geography

mean something? Don't we get that courage

from the booming economy? We are in pretty

good times. Another dream has come true,

albeit late. Now we have a new generation,

environmentally friendly and smart device.

The name of our brand, our pride is TOGG.

The century that started to be talked about in

2022 will be the century of Türkiye.

Success in one sector is not enough, we must

win victories in many sectors. We're on our

way, no one can stop us. We expect outstanding

developments in the Turkish medical sector as

well. We wish success in other events to the

Turkish cosmetics industry, which achieved

significant results in Beauty Istanbul and

Beauty World Dubai fairs. Stay well until we

meet in the KUAD 6th Cosmetics congress

special issue of Beauty Türkiye magazine.

"Dünün güneşiyle, bugünün çamaşırını

kurutamazsınız" söylemini haykırarak yola

çıkanların ulaştığı zirvede, Türkiye'nin yeni

yüzyılı konuşulur oldu. Oysa 21. yüzyıl, 22 yıl

önce yeni yüzyıl olarak yaşanmaya başlanmıştı.

Her şeyin alışılagelen kuralları vardı, her

şey gelenekseldi… Çeşitli coğrafyalarda

ekonominin senaryosunu yazanlar kurallarını

da belirlemiş, rolleri de dağıtmışlardı. Kimse

çizilen kuralların dışına çıkamıyordu. Ekim

2022'den Kasım 2022'ye doğru saatler tık tık

ilerlerken, ekonomi tarihine altın harflerle

notlar düşülmeye başladı. Gelişim değişimi,

değişim de zaferi getirmeye başladı. Bu cennet

vatanda, yeni yüzyıllar, yeni kurallar yazılmaya

başlandı. Finans sektöründeki bir örnek her

şeyi anlatıyor aslında…

Dünyanın birçok ülkesi faiz artırırken, bizim

coğrafyamızda her ay faizlerin düşürülmesi

bir şeyler anlatmıyor mu? Bu cesareti gelişen

ekonomiden almıyor muyuz? Oldukça güzel

günlerdeyiz. Geç olsa da bir rüyamız daha

gerçekleşti. Artık hem yeni nesil hem çevreci

hem de akıllı bir cihazımız oldu. Markamızın,

gururumuzun adı TOGG. 2022'de

konuşulmaya başlanan yüzyıl, Türkiye'nin

yüzyılı olacak.

Bir sektörde elde edilen başarı yetmez,

birçok sektörde zaferler kazanmalıyız. Yola

çıktık, kimse durduramaz bizi. Türk medikal

sektöründe de üstün gelişmeler bekliyoruz.

Beauty İstanbul ve Beauty World Dubai

fuarlarında önemli neticeler elde eden Türk

kozmetik sektörüne başka etkinliklerde de

başarılar diliyoruz. Beauty Türkiye dergisinin

KUAD 6. Kozmetik kongre özel sayısında

görüşünceye kadar esen kalın.
---
SHOW

YOURSELF!

showbypastel showbypastel showbypastel showbypastel showbypastel

www.pastelcosmetics.com
---
WELCOME

to

the LAVIDOUX!

NATURAL HAIR CARE COSMETICS FROM EUROPE

We are delighted to introduce you to Lavidoux -

our elegant brand of natural hair care. All of our

products have been created with the utmost

care in mind, leaving out harmful ingredients and

strong fragrances, so they can be safely used by

the whole family.

As more and more people face sensitive skin

issues caused by the overuse of harmful

chemicals in their daily hair care routines, our

brand offers an alternative, more gentle

approach. Treat yourself to an all-natural hair

care journey that is Free of Sodium Chloride,

Parabens, Sulfates, and Colorants and will leave

your hair looking gorgeous and radiant after

wash.

Our priority is the unconditional quality of hair

cosmetics made in Europe, which are based

on proven recipes, using the best that can

give us nature. Natural Amber and Nordic

Cotton extracts are the key ingredients in the

Lavidoux treatment.

Our haircare products are more than 90%

naturally derived and cruelty-free.
---
16 Beauty Güzellik

New members of the iconic Powder Kiss family

İkonik Powder Kiss ailesinin yeni üyeleri

Powder Kiss Velvet Blur'un sonbahar için tasarlanan sütlü

tonları, güçlü kırmızıları, dut ve kehribarın kadifemsi

tonlarını içeren 12 yeni rengiyle tanışma zamanı!

Daha keskin, daha saf, daha güçlü örtücülük gücü olan pigment

seviyesiyle yeni Powder Kiss üyeleri, kadife yumuşaklığında

12 saat kalıcılığı, yeni trend ve cesur renklerle birlikte

ağırlık yapmayan formülüyle buluşturuyor. Ve Powder Kiss

hayranlarına imrendikleri ekstra örtücülüğü getiriyor.

Örtücü ve canlı

İpeksi, yumuşak formülü ile mat bir bitiş sunan Powder Kiss

ailesinin yeni üyeleri, daha güçlü kadife yapısıyla dudakları

anında nemlendirerek tam kapatıcılık sağlar. Ne kadar çok

Powder Kiss uygulaması yapılırsa, dudaklarınız o kadar

yumuşak ve pürüzsüz olur.

M•A•C İngiltere ve İrlanda'dan Carly Utting, "Dudak

şekillendirme trendleri, keskin ve ince işçilikli hatlardan eforsuz

dokunuşlarla renklenmiş bir dudak görünümüne doğru kayıyor.

Bu görünümü sağlayacak ürün ise Powder Kiss Velvet Blur Slim

Stick." diyor.

Bağımlılık oluşturan ve ağırlık yapmayan yapısıyla Powder

Kiss Velvet Blur, güçlü örtücülük ve konforu birleştiren

bir teknolojiye sahiptir. Geliştirilen yeni formülüyle ürünü

kullanırken gün boyu rahatlık ve esnek bir kullanım sağlar.

It's time to meet Powder Kiss Velvet Blur Slim Stick lineup

includes 12 mega-bold hues designed for autumn, including

milky tones, strong reds, velvety tones of mulberry and

amber!

With its sharper, purer, stronger covering power, the new

Powder Kiss members bring together the velvet-soft 12-hour

permanence with the new trend and bold colors with its

weightless formula. And Powder Kiss brings the extra coverage

fans envy.

Occult and lively

Offering a matte finish with its silky, soft formula, the new

members of the Powder Kiss family instantly moisturize the lips

with their stronger velvet structure and provide full coverage.

The more Powder Kiss applications, the softer and smoother

your lips will be.

Carly Utting from M•A•C UK and Ireland, said "Lip shaping

trends are shifting from sharp and finely crafted lines to a

colored lip look with effortless touches. The product that will

provide this look is Powder Kiss Velvet Blur Slim Stick."

Powder Kiss Velvet Blur, with its addictive and weightless

structure, has a technology that combines strong covering and

comfort. With its newly developed formula, it provides comfort

and flexible use throughout the day while using the product.
---
Güzellik

Beauty

17

Dominic Skinner, M•A•C Global Senior Artist said, "It gives

a refined look similar to the golden age of Hollywood, glides

on the lips like a lip balm and is strongly pigmented. It's a redcarpet

must-have."

Powder Kiss Velvet Blur Slim Stick

• Nice Spice

• Devoted To Chili

• Dubonnet Buzz

• Love Clove

• All-Star Anise

• Spice World

• Nutmeg Ganache

• Peppery Pink

• Rose Mary

• Wild Rebel

• Pumpkin Spiced

• Marrakesh-mere

Dominic Skinner, M•A•C Global Kıdemli Sanatçısı

"Hollywood'un altın çağına benzer rafine bir görünüm verirken

dudak nemlendiricisi gibi dudaklarda kayıyor ve güçlü bir

pigment yapısına sahip. Kırmızı halının sahip olması gereken

bir ürün." diyor.

Powder Kiss Velvet Blur Slim Stick

• Nice Spice

• Devoted To Chili

• Dubonnet Buzz

• Love Clove

• All-Star Anise

• Spice World

• Nutmeg Ganache

• Peppery Pink

• Rose Mary

• Wild Rebel

• Pumpkin Spiced

• Marrakesh-mere
---
20 Beauty Güzellik

Intense pigmentation, vibrant colors

Yoğun pigmentasyon, capcanlı renkler

Luxe Lipstick yenilenen formülü ile şimdi her zamankinden

daha güçlü! New York City'den ilham alınarak tasarlanan

Yeni Luxe Lipstick, tek sürüşte dudaklarınızda lüks tanımını

değiştirecek.

Göründüğü kadar lüks hissettiriyor

Luxe Lipstick'in kremsi formülü dudaklarınızı besleyip

pürüzsüz hale getirirken, aynı zamanda zengin pigmentasyonu

ile tek sürüşte çarpıcı dudak görünümüne ulaşmanızı sağlar.

Tüm gün süren kalıcılığı sayesinde gün içerisinde solma, akma

ya da bulaşma olmadan kalıcı ve kusursuz dudak görünümünün

keyfini çıkartın.

Bakım ile gelen konfor

Cilt dostu bileşenleriyle formüle edilen Luxe Lipstick

dudaklarınızı beslerken aynı zamanda 10 saat boyunca

nemlendirme sağlar. İçeriğindeki çiçek özleri ve balmumu

karışımı, dudaklarınızı beslemeye ve yumuşatmaya yardımcı

olur. Böylece dudak çizgilerinin görünümünü anında azaltarak

dudak görünümünü sadece 1 haftada iyileştirir.

Luxe Lipstick is now stronger than ever with its renewed

formula! Inspired by New York City, the New Luxe Lipstick

will change the definition of luxury on your lips in one swipe.

Feels as luxurious as it looks

While the creamy formula of Luxe Lipstick nourishes and

smoothes your lips, it also provides you with a striking lip look

in one swipe with its rich pigmentation. Enjoy a permanent and

flawless lip look without fading, bleeding or smearing during

the day thanks to its all-day permanence.

Her dudak tonuna uygun renk seçeneği

Luxe Lipstick ailesi her cilt tonuna uygun renk seçenekleri

ile dudaklarınızı pürüzsüzleştirmek ve göz alıcı bir

görünüm sunmak için tasarlandı. Koyu tonlardan, günlük

uygulayabileceğiniz kırmızı tonlarına, doğal pastel tonlarına

kadar geniş bir renk seçeneği sunuyor.

New York City'den ilham alınarak tasarlandı

Tıpkı New York City gibi, Yeni Luxe Lipstick'in enerjisi de hiçbir

zaman bitmez ve gün boyu kalıcılık sağlarken cesur görünümler

sunar.

Comfort with care

Formulated with skin-friendly ingredients, Luxe Lipstick

nourishes your lips and also provides hydration for 10 hours. A

blend of flower extracts and beeswax helps nourish and soften

your lips. Thus, it instantly reduces the appearance of lip lines

and improves lip appearance in just 1 week.

Color option suitable for every lip tone

Luxe Lipstick family is designed to smooth your lips and offer

an eye-catching look with color options suitable for every skin

tone. It offers a wide range of colors from dark tones to red tones

that you can apply daily, to natural pastel tones.

Inspired by New York City

Just like New York City, the energy of New Luxe Lipstick never

expires and offers bold looks while providing permanence all

day long.
---
22 Beauty Güzellik

The coolest trend: Gel pencil eye liner

En havalı trend: Jel Eyeliner

Color Excess Gel Pencil Eye Liner is here again with its bold

colors and formula that preserves its assertive look under all

conditions! This fall comes with eight stunning new shades.

Global Senior Artist Dominic Skinner said, "Eyeliner is one of

the most dominant trends this year. This fascinating product is

everywhere in our lives!" He adds: "Whether it is a monochrome

or a multi-coloured masterpiece, eyeliner gives confidence

to many. M•A•C Colour Excess Gel Pencil Eyeliner, with its

various shades, will give M•A•C lovers freedom to express their

unique style."

This eyeliner offers easy use with its rich formula gel structure.

While its water-resistant formula allows you to spend your

day as you wish without smearing and flowing; It provides

permanence for 12 hours on eyelashes and over 24 hours on

eyelids.

"This gel pencil eyeliner is the perfect companion for parties,"

says Skinner. "The intense color stays as vibrant as you do

throughout the day. It provides a seamless, mess-free, perfect

make-up experience."

Color Excess Jel Eyeliner, her koşulda iddialı görünümünü

koruyan formülü ve cesur renkleri ile yeniden karşımızda!

Bu sonbahar, birbirinden etkileyici sekiz yeni ton ile geliyor.

Global Senior Artist Dominic Skinner "Eyeliner bu yılın en

baskın trendlerinden biri. Bu büyüleyici ürün hayatımızın her

yerinde!" diyor ve ekliyor: "İster tek renkli, ister çok renkli bir

başyapıt olsun, eyeliner pek çok kişiye özgüven veriyor. M•A•C

Colour Excess Jel Eyeliner, birbirinden çeşitli tonlarıyla M•A•C

severlere benzersiz tarzlarını yansıtmaları konusunda özgürlük

sağlayacak."

Bu eyeliner, zengin formüllü jel yapısıyla kolay bir kullanım

sunuyor. Suya dayanıklı formülü bulaşmadan ve akmadan

gününüzü istediğiniz gibi geçirmenize izin verirken; kirpik

diplerinde 12 saat, göz kapaklarında 24 saatin üzerinde kalıcılık

sağlıyor.

Skinner, "Bu eyeliner, gideceğiniz partiler için mükemmel

bir arkadaştır" diyor ve ekliyor "Yoğun rengi, gün boyu senin

kadar canlı kalır. Sorunsuz, dağılmayan, mükemmel bir makyaj

deneyimi sağlar."
---
4 th International Exhibition for Cosmetics, Beauty, Hair

Home Care, Private Label, Packaging and Ingredients

September 27-29 , 2023

Istanbul Congress Center - Lutfi Kirdar Congress Center

Taksim - Istanbul - Turkey

www.beauty-istanbul.com

Tel: +90 212 2229060 |

+90 533 4843030 | info@beauty-istanbul.com
---
26 Beauty Güzellik

Let your skin breathe with seasonal formulas

Mevsime uygun formüllerle cildiniz nefes alsın

Deri kuruluğu ve egzaması olan kişilerin bazı mevsim

dönemlerinde daha dikkatli olması gerekiyor. Alınabilecek

basit önlemlerle sonbahar ve kış aylarının daha rahat

geçirilmesi sağlanabiliyor. Memorial Ataşehir ve Şişli

Hastaneleri Dermatoloji Bölümü'nden Prof. Dr. Ayşe Serap

Karadağ, sonbahar ve kış aşlarında egzama ve deri kuruluğu

için alınması gereken önlemler hakkında bilgi verdi.

Prof. Dr. Ayşe Serap Karadağ

People with dry skin and eczema need to be more careful

in some seasonal periods. With simple precautions that can

be taken, autumn and winter months can be spent more

comfortably. Prof. Dr. Ayşe Serap Karadağ, Department of

Dermatology from Memorial Ataşehir and Şişli Hospitals

gave information about the precautions to be taken for

eczema and skin dryness in autumn and winter.

Drink plenty of fluids for your skin

With the cooling of the weather, more drying of the skin and

eczema are triggered. Eczema begins as a result of weakening

of the skin barrier by losing the moisture of the skin. The skin,

whose barrier is weakened, becomes sensitive to all kinds of

external stimuli. All kinds of chemicals that come into contact

can further disrupt this barrier, causing redness, wounds,

discharge, crusting, dandruff, severe dryness and itching. In

summer, the frequency of eczema and skin dryness decrease

with the effect of humidity and sun. However, due to the

deterioration of the skin barrier in cold weather, the dryness

of the skin increases. Simple measures that can be taken can

help patients with eczema spend the winter months more

comfortably. It is recommended that patients with dry skin

consume plenty of fluids during this period. However, it is

the saturation of the skin with moisture with moisturizers and

appropriate oils that will give the skin its actual moisture.

Cildiniz için bol sıvı tüketin

Havaların soğumasıyla birlikte ciltte daha fazla kuruma ve

egzamalarda tetiklenme olmaktadır. Egzamalar derinin nemini

kaybederek cilt bariyerinin zayıflaması sonucu başlamaktadır.

Bariyeri zayıflamış cilt, her türlü dış uyarana hassas hale gelir.

Temas edilen her türlü kimyasal bu bariyeri daha da bozarak

kızarıklık, yara, akıntı, kabuklanma, kepeklenme, şiddetli

kuruluk ve kaşıntıya yol açabilmektedir. Yaz aylarında nem ve

güneşin etkisiyle egzama sıklığı ve deri kuruluğu azalmaktadır.

Ancak soğuk havalarda deri bariyerinin bozulması nedeniyle

ciltte kuruluklar artmaktadır. Alınabilecek basit önlemler

özellikle egzaması olan hastaların kış aylarını daha rahat

geçirmesini sağlayabilmektedir. Deri kuruluğu olan hastaların

bu dönemde bol sıvı tüketmeleri önerilmektedir. Ancak derinin

asıl nemini kazandıracak olan nemlendiriciler ve uygun yağlarla

cildin neme doyurulmasıdır.

Egzamanızı azaltacak 8 öneri

1. Soğuk havalarda eldiven ve atkı takılarak soğuk teması

azaltılmalıdır.

2. Eller her yıkamadan sonra nemlendirilmelidir.

3. Eller yıkanırken sabun kullanılmamalıdır. Sabunların PH'sı

8-9 arasında olup deri PH'sı 4.5-5.5 arasındadır. Bu durumda

derinin asidik koruyucu bariyeri sabunlarla yıkılmakta ve alkali

bir ortam oluşmaktadır. Bunun yerine deri PH'sına uygun

nemlendirici içeren temizleyiciler kullanılmalıdır.
---
Güzellik

Beauty

27

8 tips to reduce your eczema

1. Cold contact should be reduced by wearing gloves and scarf

in cold weather.

2. Hands should be moistened after each wash.

3. Soap should not be used while washing hands. The pH of

soaps is between 8-9 and the pH of the skin is between 4.5-5.5.

In this case, the acidic protective barrier of the skin is destroyed

by soaps and an alkaline environment is formed. Instead,

cleansers containing moisturizers suitable for skin PH should

be used.

4. The skin should not be dry.

5. The skin should be moistened 1-2 times a day.

6. All kinds of chemical / irritant contact should be discontinued.

7. Patients with eczema; During activities such as cleaning,

dishwashing, gardening, artistic hobbies, they should pay

attention to contact with chemical substances. During such

activities, care should be taken to use cotton, silk or nitrile

gloves suitable for allergic skin.

8. It is recommended that people working in jobs where volatile

or dusty substances are used should wear protective clothing

against airborne allergen contact.

Soothe your skin with Argan and St. John's Wort oil

Patients with dry skin can relax their skin by using natural

ingredients in autumn and winter. It can use moisturizers with

moisturizing properties such as vaseline (petrolatum), urea,

glycerin, ceramide, hyaluronic acid, panthenol, shea butter, oat

extract and vitamin E.

From natural aromatic oils; The use of oils such as argan oil,

centaury oil, almond oil, coconut oil, olive oil and lavender oil

on dry skin relaxes the skin.

Don't forget these while washing!

• Baths should be between 5-10 minutes and washed with warm

water.

• Soaps and shower gels should be avoided.

• Moisturizing cleaners should be used in the bathroom.

• Scrub should not be made, hard fibers should be avoided

• Moisturizers and oils should be applied immediately after the

bath (within the first 2 minutes). It should be noted that the

moisturizers used are suitable for the skin.

Don't neglect your doctor's checkups

Eczema is a disease caused by the structure of the skin that can

become chronic, some of which show genetic features. If there

is wound formation, severe itching and lesions do not regress

despite the moisturizers used and the precautions taken, a

dermatologist should be consulted for treatment. In addition,

eczema can mimic other diseases. For example, recurrent eczema

on the palms and psoriasis can be quite similar, and sometimes

a biopsy may be required for definitive differentiation.

4. Cilt kuru olmamalıdır.

5. Cilt günde 1-2 kez nemlendirilmelidir.

6. Her türlü kimyasal / irritan teması kesilmelidir.

7. Egzamalı hastaların; temizlik, bulaşık, bahçe işleri, sanatsal

hobiler gibi aktiviteler sırasında kimyasal maddelerle temasa

dikkat etmeleri gerekir. Bu tür aktiviteler sırasında alerjik ciltlere

uygun, içi pamuklu, ipek veya nitril eldivenlerin kullanılmasına

özen gösterilmelidir.

8. Uçucu veya tozlu maddelerin kullanıldığı işlerde çalışan

kişilerin havadan alerjen temasına karşı koruyucu elbiseler

giymesi önerilmektedir.

Argan ve kantoron yağı ile cildinizi rahatlatın

Kuru ciltli hastalar sonbahar ve kış aylarında doğal içerikler

kullanarak ciltlerini rahatlatabilir. Vazelin (petrolatum), üre,

gliserin, seramid, hyaluronik asit, pantenol, shea yağı, yulaf

ekstresi ve E vitamini gibi deriyi nemlendirme özelliği olan

nemlendiricileri kullanabilir.

Doğal aromatik yağlardan; argan yağı, kantaron yağı, badem

yağı, Hindistan cevizi yağı, zeytinyağı ve lavanta yağı gibi

yağların kuru ciltlerde kullanılması deriyi rahatlatır.

Yıkanırken bunları unutmayın!

• Banyolar 5-10 dakika arasında olmalı ve ılık suyla

yıkanılmalıdır

• Sabun ve duş jellerinden kaçınılmalıdır

• Banyoda nemlendiricili temizleyiciler kullanılmalıdır

• Kese yapılmamalı, sert liflerden kaçınılmalıdır

• Banyodan hemen sonra (İlk 2 dakika içinde) nemlendiriciler

ve yağlar sürülmelidir. Kullanılan nemlendiricilerin cilde uygun

olmasına dikkat edilmelidir.

Doktor kontrollerinizi ihmal etmeyin

Egzama; kronikleşebilen derinin yapısından kaynaklanan,

bazıları genetik özellikler gösteren bir hastalıktır. Kullanılan

nemlendiriciler ve alınan önlemlere rağmen yara oluşumu

varsa, şiddetli kaşıntı oluyorsa ve lezyonlar gerilemiyorsa

mutlaka tedavi için dermatoloğa başvurulmalıdır. Ayrıca

egzamalar başka hastalıkları taklit edebilmektedir. Örneğin

avuç içinde tekrarlayan egzamalarla sedef hastalığı oldukça

benzerlik gösterebilmekte, bazen kesin ayırım için biyopsi

almak gerekebilmektedir.
---
30 Beauty Güzellik

BEAUTYISTANBUL "Joins Top 5 Biggest Cosmetics

Exhibitionswith" 680 Exhibitors from 59 Countries!

BEAUTYISTANBUL 59 ülkeden 680 katılımcısıyla

"Dünyanın En Büyük 5 Kozmetik Fuarı" arasında yerini aldı!

The 3rd edition of BEAUTYISTANBUL Exhibition took

place on 13-15 October 2022 in Taksim-Istanbul-Turkey. It

connected 680 exhibitors from 59 countries and 14017 trade

visitors from 157 countries, making BEAUTYISTANBUL the

most international event by visiting countries and joining the

Top 5 biggest cosmetics exhibitions worldwide in just the 3rd

edition. The 2022 edition added 2 new halls and 320 more

exhibitors vs. the 2021 edition with a record 86% growth in

1 year.

The event not only featured buyers from regional markets like

the Middle East, Eastern Europe and CIS but also had the most

buyers visiting from Africa in any cosmetics event in the world.

Moreover, sponsoring buyers from Latin America and the

Far East with the Hosted Buyer Program and creating a truly

international event.

Compared to the 2021 edition, the 2022 edition attracted 51%

more trade visitors, proving that BEAUTYISTANBUL is the

fastest-growing event in the industry in terms of both exhibitor

and visitor attendance. Therefore, BEAUTYISTANBUL is the

key event to reach global buyers in a single event.

About BEAUTYISTANBUL:

BEAUTYISTANBUL trade visitors include buyers, importers,

distributors, wholesalers, cosmetics chain stores, retailers,

pharmacy chains, supermarkets, online stores, brands and

manufacturers interested in personal care, skin care, make-up,

hair care, perfume, natural & organic, home care & cleaning

products, dermocosmetics, OTC & Pharmaceuticals, baby

care, beauty accessories, professional beauty, private label,

ingredients, packaging and machinery categories.

3. BEAUTYISTANBUL Fuarı 13-15 Ekim 2022'de İstanbul

Kongre Merkezi ve Lütfi Kırdar Kongre Merkezi-Harbiye'de

gerçekleşerek 59 ülkeden 680 katılımcıyı 157 ülkeden 14017

ticari ziyaretçiyle buluşturdu. 157 ülkeden ziyaretçisiyle

dünyada uluslararası niteliği en yüksek kozmetik fuarı olan

BEAUTYISTANBUL, aynı zamanda 680 katılımcısı ile henüz

3. yılında "Dünyanın En Büyük 5 Kozmetik Fuarı" arasında

yerini aldı. 2021 fuarına göre 2 yeni salon ve 320 yeni katılımcı

ile genişleyen fuar, 1 yılda rekor %86 büyüme elde etti.

Yalnızca bölgesel pazarlar Orta Doğu, Doğu Avrupa, Batı

Avrupa, Orta Asya, BDT değil aynı zamanda dünyada Afrika'dan

en çok ziyaretçinin bulunduğu fuar konumunda. Ayrıca özel

olarak hedeflediği Latin Amerika ve Uzak Doğu bölgelerinden

Hosted Buyer Program kapsamında birçok nitelikli alıcının

seyahat masraflarını karşılayarak katılımcılarıyla buluşturdu.

2022 fuarı bir önceki yıla göre %51 daha fazla ticari ziyaretçiyi

ağırlayarak global kozmetik sektörünün en hızlı büyüyen fuarı

olduğunu hem ziyaretçi hem de katılımcı artışıyla kanıtladı.

Tüm bunlar BEAUTYISTANBUL fuarını ihracat hedefleyen

firmalar için global pazarlara ulaşmada dünyadaki 1 numaralı

etkinlik haline getiriyor.

BEAUTYISTANBUL hakkında:

BEAUTYISTANBUL yalnızca uluslararası bir ihracat fuarı değil,

çok yönlü ve geniş kapsamlı bir etkinliktir. Türkiye'den ve 157

ülkeden kozmetik, güzellik, kuaför, kişisel bakım, profesyonel

kozmetik, temizlik, private label, ambalaj ve hammadde

sektörlerinde üretim, ihracat, satış, dağıtım, ithalat, satın alma

yapan sektör profesyonelleri bir araya getiren uluslararası bir

ticaret platformudur.
---
Güzellik

Beauty

31

BEAUTYISTANBUL 2022 (3rd edition) Statistics

Exhibitors: 680 Total, 363 International and 317 Local Exhibitors

(54% International) from 59 countries

Country Pavilions: Italy (105 Exhibitors), Brazil, South Korea,

Poland, South Africa, Pakistan, Ukraine, Morocco, China,

Russia

Visitors: 14107 Total, 6709 International and 7398 Local Trade

Visitors (48% International) from 157 countries – a 51%

increase in total visitors vs. 2021 edition VIP Hosted Buyers:

606 top buyers from 113 countries are sponsored for travel

expenses including the biggest importers, distributors and retail

chains to guarantee business opportunities for exhibitors, with a

special focus on Africa, Latin America and the Far East, as part

of the biggest Hosted Buyer Program in the industry.

Online Business Platform and Mobile App: Exhibitors access

29.384 buyers from 189 countries and showcase products, access

the complete list of buyers and contact visitors directly with

messaging and live video meetings or set up meetings before the

exhibition. Check it out at: https://online.beauty-istanbul.com

BEAUTYISTANBUL 2023, the 4th International Exhibition for

Cosmetics, Beauty, Hair, Home Care, Private Label, Packaging

and Ingredients will be held on 27-29 September 2023 at

Istanbul Congress Center and Lutfi Kirdar Congress Center in

Taksim-Istanbul-Turkey.

BEAUTYISTANBUL 2022 (3. yıl) İstatistikleri

Katılımcılar: 680 Katılımcı, 59 ülkeden 363 Yabancı ve 317 Yerli

(54% Yabancı)

Ülke Pavilyonları: İtalya (105 Katılımcı), Brezilya, Güney Kore,

Polonya, Güney Afrika, Pakistan, Ukrayna, Fas, Çin, Rusya

Ziyaretçiler: 14107 Tekil Ziyaretçi, 157 ülkeden 6709 Yabancı

ve 7398 Yerli Ticari Ziyaretçi (48% Yabancı) – 2021 fuarına

göre ziyaretçi sayısında %51 artış Hosted Buyer Program:

113 ülkeden otel ve uçak masrafları karşılanarak getirilen 606

seçkin ithalatçı, distribütor ve perakende zinciri ile dünyanın

en büyük Alım Heyeti programı. Programın büyük bölümü

özel çalışmalarımız kapsamında Afrika, Latin Amerika ve Uzak

Doğu'dan alıcıları içerdi. Online Platform ve Mobil Uygulama:

Tamamen ücretsiz olarak 189 ülkeden 29384 alıcıyla mesaj

yoluyla direkt iletişime geçme veya toplantı talep etme fırsatı

ile aynı zamanda firma profilini bilgi, video, dosya ve ürünlerle

güncelleyip ziyaretçilerin ilgisini çekin.

4. BEAUTYISTANBUL Uluslararası Kozmetik, Güzellik, Kuaför,

Ev Bakım Ürünleri, Private Label, Ambalaj ve Ham Madde

Fuarı 27-29 Eylül 2023'te İstanbul-Harbiye'deki İstanbul Kongre

Merkezi ve Lütfi Kırdar Kongre Merkezi'nde düzenlenecek.
---
34 Beauty Güzellik

Are you ready to shine?

Işıldamaya hazır mısınız?

The Organic Pharmacy, which draws attention with its

intensely effective ingredients and up to 98 percent organic

products in the cosmetics industry, provides revitalization,

enlightenment and a smooth glow with its renewed texture

with its performance-enhanced Vitamin C Serum to the skin

that has lost vitamins and minerals during the summer, in

the new season when the sun's rays decrease.

The Organic Pharmacy, whose intense effect has been clinically

proven and which has been deemed worthy of prestigious awards

all over the world with its products in many fields, promises skin

renewal with the latest technology Vitamin C Stabilized these

days when we enter autumn. The Organic Pharmacy Vitamin C

serum, produced with smart technology, hangs on the skin just

like a cage and the skin takes as much as it needs during the day.

The antioxidants in the Stabilized Vitamin C Serum help you

fight post-sun damage and brighten your dull skin. The Organic

Pharmacy Stabilized Vitamin C Serum; It corrects uneven skin

tone, fights against blemishes and signs of aging, increases

aging-related tissue loss and collagen production. "Stabilized

Vitamin C Serum", which combines intense and powerful

vitamin C with smart cutting-edge technology; makes the skin

revitalized, illuminated and glowing, making it look healthy.

Stabilized Vitamin C serum can be applied morning and

evening to the face, neck and décolleté. Combining expertise,

formulation and science to deliver in-depth and lasting results,

The Organic Pharmacy continues to attract attention as the

favorite cosmetics brand of world-famous names such as Kylie

Minogue, Jordan Dunn, Lily Collins, Rosamund Pike, and Rita

Ora.

Kozmetik sektöründe yoğun etkili içerikleri ve yüzde

98'lere varan organik ürünleriyle dikkat çeken The Organic

Pharmacy, güneş ışınlarının azaldığı yeni sezonda, yaz ayı

boyunca vitamin ve mineral kaybeden ciltlere, performansı

güçlendirilmiş Vitamin C Serumu ile canlanma, aydınlanma

ve yenilenen dokusuyla pürüzsüz bir ışıldama sağlıyor.

Yoğun etkisi klinik olarak kanıtlanmış, birçok alanda

ürünleriyle tüm dünya çapında çok prestijli ödüllere layık

görülen The Organic Pharmacy, sonbahara girdiğimiz bu

günlerde en son teknoloji C Vitamini Stabilised ile ciltlerde

yenilenme vadediyor. Akıllı teknoloji ile üretilen The Organic

Pharmacy C Vitamini serumu, ciltte tıpkı bir kafes içerisinde

asılı kalıyor ve cilt gün içerisinde ihtiyacı olanı kadar alıyor.

Stabilised Vitamin C Serumu içerisindeki antioksidanlar ise,

cildin güneş sonrası hasarlarıyla savaşmanıza ve donuk cildinizi

parlatmaya yardımcı oluyor. The Organic Pharmacy Stabilised

Vitamin C Serumu; düzensiz cilt tonunu düzeltiyor, leke ve

yaşlanma belirtilerine savaş açıyor, yaşlanma ile ilgili doku

kaybını kolajen üretimini arttıyor. Yoğun ve güçlü C vitaminini

akıllı son teknoloji ile buluşturan "Stabilised Vitamin C Serum";

cildin canlanmasına, aydınlanmasına ve ışıldayarak sağlıklı

görünmesini sağlıyor.

Stabilised Vitamin C serumu sabah akşam yüz, boyun ve

dekolte bölgesine uygulanabiliyor. Derinlemesine ve kalıcı

sonuçlar sunmak için uzmanlık, formülasyon ve bilimi bir

araya getiren The Organic Pharmacy; Kylie Minogue, Jordan

Dunn, Lily Collins, Rosamund Pike, Rita Ora gibi dünyaca ünlü

isimlerin de favori kozmetik markası olarak dikkat çekmeye

devam ediyor.
---
More about

the show

ne

c l en T Te

e.tercharm.ru

Phone:+90 212 210 94 85

ml: none.com
---
36 Beauty Güzellik

Unfiltered radiance with Glow Tonic

Glow Tonik ile filtresiz ışıltı

Sinoz Kozmetik, AR-GE çalışmaları sonucunda

hayata geçirdiği yeni ürünü Glow Tonik ile

cildinizi anında peeling etkisiyle yenilerken, sizi

zahmetsiz cilt bakımına davet ediyor.

Yeni Sinoz Glow Tonik, cildinizi kurutmadan ve

soymadan, içeriğindeki yüzde 5 Glikolik asitle

peeling etkisi oluşturarak, derinlemesine temizliyor

ve cilt tonunuzu eşitlerken anında parlak bir cilt

görünümü sağlıyor. Sinoz Kozmetik tarafından

geliştirilen Glow Tonik, içerdiği Aloe Vera, Ginseng

ve Niasinamid gibi bileşenlerle cildinizi besliyor,

yeniliyor, ölü derilerden arındırıyor ve gözenek

görünümünü azaltmaya yardımcı oluyor.

Güçlü formülü ile cilt dokusuna pürüzsüz görünüm

kazandırmaya ve eşit bir cilt tonu sağlamaya

yardımcı olan tonik, gözenek görünümünü

azaltırken, sebumu dengeliyor ve akne oluşumunu

da önlüyor. Cilt bakım rutininin vazgeçilmezi

olan Sinoz Glow Tonik, uygulama sonrası cildi

canlandırarak, muhteşem bir ışıltı kazandırıyor.

Sinoz Cosmetics invites you to effortless skin care

while renewing your skin with its new product,

Glow Tonic, which has been brought to life as a

result of R&D studies, with an instant peeling effect.

The new Sinoz Glow Tonic, without drying or

peeling your skin, creates an exfoliating effect with

5 percent glycolic acid in its content, deeply cleanses

and provides an instant bright skin appearance while

evening your skin tone. Developed by Sinoz Cosmetics,

Glow Tonic nourishes, renews, purifies your skin from

dead skin and helps to reduce the appearance of pores

with components such as Aloe Vera, Ginseng and

Niacinamide.

Helping to give the skin a smooth appearance and an

even skin tone with its powerful formula, the tonic

reduces the appearance of pores, balances sebum and

prevents acne formation. Sinoz Glow Tonic, which is

indispensable for the skin care routine, revitalizes the

skin after application and gives it a magnificent glow.
---
38 Beauty Güzellik

Fall care for hair with QNET

QNET ile saçlara sonbahar bakımı

With its special formula, Naturtres' hair care range helps

your hair care its vitality in autumn-winter months.

QNET prepares your hair for the winter season with its Naturtres

hair care range. Naturtres products, which offer special care for

your hair that needs more moisture and protection with the

cooling of the weather, contain organic ingredients as well as

coconut and argan oil, which will support your autumn-winter

care with its scent and texture; Contains tea tree and lemon

extract.

Deep cleaning

Did you know that stress and fatigue also affect your hair? Our

hair and dry scalp, which are affected as much as we are, start

to produce more oil in order to protect themselves. Sometimes,

wrong product choices can cause oily hair. This situation, which

bothers many people in daily life, can actually be prevented.

Naturtres Tea Tree and Lemon Extract Shampoo, which deeply

cleans, revitalizes and purifies the hair from the bottom, makes

the hair look more well-groomed, shiny and voluminous.

Special formula for hair ends

Hair dryer, chemical processes, weather conditions and even

the use of the wrong hairbrush are just a few of the factors

that cause the hair to dry out... Naturtres Coconut – Argan

Shampoo, which penetrates the hair with the formula of Argan

oil combined with coconut oil, which meets the vitamin E need

of dry hair, while supporting the intensive care of healthy hair,

it helps to nourish and strengthen the hair ends thanks to its

special formula.

It provides extra care for dry and normal hair to make the hair

look lively and healthy.

*All products in the QNET Naturtres hair and body Care Range

does not contain SLS, SLES, Silicone, Paraben, Paraffin and Salt.

It has organic certified ingredients.

Naturtres'in saç bakım serisi, özel içeriğiyle saçlarınızın

sonbahar-kış aylarında canlılığını korumasına destek oluyor.

QNET, Naturtres saç bakım serisi ile saçlarınızı kış mevsimine

hazırlıyor. Havaların soğumasıyla birlikte daha fazla neme

ve korumaya ihtiyaç duyan saçınız için özel bakım sunan

Naturtres ürünleri, organik içeriklere sahip olmasının yanı sıra

kokusu ve dokusuyla sonbahar-kış bakımınızı zevkle yapmanızı

destekleyecek olan Hindistan cevizi ve argan yağı; çay ağacı ve

limon özü içeriğinden oluşuyor.

Derinlemesine temizlik

Stres ve yorgunluğun saçlarınızı da etkilediğini biliyor

muydunuz? En az bizim kadar etkilenen saçlarımız ve kuruyan

saç diplerimiz kendini korumak adına daha fazla yağ üretmeye

başlar. Bazen de yanlış ürün tercihleri yağlı saçlara neden

olabilir. Günlük hayatta birçok kişiyi rahatsız eden bu durum

aslında önlenebilir.

Saçı derinlemesine temizleyen, canlandıran ve dipten arındıran

Naturtres Çay Ağacı ve Limon Özlü Şampuan saçın daha

bakımlı, parlak ve hacimli görünmesini sağlar.

Saç uçlarına özel formül

Fön makinesi, kimyasal işlemler, hava koşulları ve hatta

yanlış saç fırçası kullanımı, saçların kurumasına neden olan

etkenlerden yalnızca birkaçı... Kuruyan saçların E vitamini

ihtiyacını karşılayan Argan yağının Hindistan cevizi yağı ile

birleşen formülü ile saça nüfuz eden Naturtres Hindistan Cevizi

– Argan Şampuan, sağlıklı saçın yoğun bakımını desteklerken,

özel formülü sayesinde saç uçlarını besleyip güçlenmesine

yardımcı oluyor.

Kuru ve normal saçlar için saçların canlı ve sağlıklı görünmesi

için ekstra bakım sağlıyor.

*QNET Naturtres saç ve vücut Bakım Serisi'ndeki tüm ürünler;

SLS, SLES, Silikon, Paraben, Parafin ve Tuz içermez. Organik

sertifikalı içeriklere sahiptir.
---
40 Beauty Güzellik

The healing power of the sea: La Mer

Denizin iyileştirici gücü: La Mer

İlhamını ve kreatifliğini her zaman denizin iyileştirici

gücünden alan lüks cilt bakım markası La Mer, yüz peelingini

yeniden oluşturuyor ve cilt bakım rutinine ekliyor. Güçlü

eksfoliasyon ve cilt güçlendirme faydalarını tek bir üründe

bir araya getiren yenilikçi bakım aşaması, güçlü ve nazik

Mikro Peel, her gece kullanıma uygun olarak tasarlanmıştır.

Cildi arındırır, yeniler ve yeniden yapılandırır.

La Mer, the luxury skin care brand that always draws its

inspiration and creativity from the healing power of the sea,

reinvents the facial peeling and adds it to its skincare routine.

Combining powerful exfoliation and skin-strengthening

benefits in one product, the innovative treatment step, the

powerful and gentle Micro Peel, is designed for every night

use. A potent yet gentle peel to refine, replenish and rebuild

skin.

Micro Peel, Macro Refinement

A potent, at-home treatment designed to work overnight, The

Micro Peel gently exfoliates to encourage cell turnover. Skin is

immediately resurfaced and replenished, and pores are clarified

for a more even and radiant look over time.

Miracle Elixir:

At the heart of every La Mer treatment, this cell-renewing elixir;

rejuvenates, regenerates and soothes the skin's look.

Miracle Elixir Oils: These regenerating oils nourish and relax

the skin's oil barrier.

Purifying Ferment: This concentrated powerhouse; activates

exfoliation to smooth the skin and regenerates for a clear and

vibrant transformation.

Purifying Moment: It removes the dullness of your skin with

its exfoliating effect designed to reveal a smooth and supple skin

with a gentle cleansing and renewing night routine.

Step 1: After cleansing your skin at night, gently shake the

product to activate Micro Peel's bi-phase formula.

Step 2: Apply the product in a thin and even layer with your

fingers. Avoid applying to lips, eyes and around the eyes. A

slight tingling sensation may occur during application. Allow

the treatment to dry. Do not rinse.

Step 3: Add Micro Peel to your nightly La Mer routine.

Mikro Peel, Makro Arındırma

Gece boyunca etkisini süren, evde uygulanabilen ve güçlü bir

bakım olan Micro Peel; cildi gece boyunca güçlendirirken

aynı zamanda arındırır, yapılandırır ve yeniler. Zamanla daha

sağlıklı ve daha eşit bir görünüm için gözenekleri temizler.

Mucize İksir:

Her La Mer tedavisinin kalbinde yer alan bu hücre yenileyici

iksir; cildin görünümünü canlandırır, yeniler ve yatıştırır.

Mucize İksir Yağları: Bu yenileyici yağlar, cildin yağ bariyerini

besler ve rahatlatır.

Arındırıcı Ferment: Bu konsantre güç merkezi; cildi

pürüzsüzleştirmek için eksfoliyasyonu harekete geçirir, berrak

ve canlı bir dönüşüm için yenilenme sağlar.

Arındırma Anı: Nazikçe arındıran ve yenileyen bir gece rutini

ile pürüzsüz ve esnek bir cilt ortaya çıkarmak için tasarlanan

peeling etkisiyle cildinizin matlığını giderir.

Adım 1: Geceleri cildinizi temizledikten sonra Micro Peel'in iki

fazlı formülü etkinleştirmek için ürünü hafifçe sallayın.

Adım 2: Ürünü, parmaklarınızla ince ve eşit bir tabaka halinde

uygulayın. Dudaklar, gözler ve göz çevrelerine uygulamaktan

kaçının. Uygulama sırasında hafif bir karıncalanma hissi

oluşabilir. Tedavinin kurumasına izin verin. Durulamayın.

Adım 3: Gece La Mer rutininize Mikro Peel'i ekleyin.
---
42 Beauty Güzellik

Beauty from nature with "Green Up"

"Green Up" ile doğadan gelen güzellik

Flormar carries its respectful stance towards nature and the

world with its experience in colored cosmetics to its Green

Up collection. Enjoy the beauty from nature with the Green

Up make-up collection, which consists of products made

with natural origin ingredients up to 97% and the Green Up

Nail Enamel line, which consists of up to 80% natural origin

ingredients!

The texture of each product in the Green Up collection carefully

reflects the inspiration from the beauty of nature. While the

colors created with naturally sourced ingredients reflect nature,

the Green Up collection offers a unique make-up experience in

every detail.

Flormar renkli kozmetikteki tecrübesi ile doğaya ve dünyaya

olan saygılı duruşunu Green Up koleksiyonuna taşıyor.

%97'ye varan oranda doğal kaynaklı içeriklerle elde edilmiş

ürünlerden oluşan Green Up makyaj koleksiyonu ve %80'e

varan oranda doğal kaynaklı içeriklerden oluşturulmuş

Green Up oje serisi ile doğadan gelen güzelliğin tadını

çıkarın!

Green Up koleksiyonundaki her bir ürünün dokusu doğanın

güzelliğinden alınan ilhamı özenle yansıtıyor. Doğal kaynaklı

içeriklerle oluşturulan renkler doğayı yansıtırken, Green Up

koleksiyonu her detayında eşsiz bir makyaj deneyimi sunuyor.

NATURAL, VEGAN NAIL ENAMEL RANGE: "FLORMAR

GREEN UP NAIL ENAMEL"

Flormar Green Up Nail Enamel range, which has 16 color

options, consists of up to 80% natural origin ingredients. Its

formula includes plant-based natural ingredients such as

beet, corn, rice and sugar cane and does not contain harmful

ingredients.

The nail enamel range, which is as effective in terms of

performance as it is natural, provides a flawless shine and lively

appearance on the nails. It gives your nails the brightness and

intensity you want in one coat. You can apply in 2 thin coats for

a more intense finish and long-lasting durability.

DOĞAL İÇERİKLİ, VEGAN OJE SERİSİ: "FLORMAR

GREEN UP OJE"

16 renk seçeneği bulunan Flormar Green Up oje serisi %80'e

varan oranda doğal kaynaklı içeriklerden oluşuyor. Formülünde

pancar, mısır, pirinç ve şeker kamışı gibi bitki bazlı doğal

bileşenler yer alıyor ve zararlı içerikler içermiyor.

Doğal olduğu kadar performans olarak da oldukça etkili olan

oje serisi, tırnaklarda kusursuz bir parlaklık ve canlı görünüm

sağlıyor. Tek katta tırnaklarına istediğin parlaklık ve yoğunlukta

renk veriyor. Daha yoğun bir bitiş ve uzun süre kalıcılık için 2

ince kat halinde uygulama yapabilirsin.
---
44 Beauty Güzellik

With Anew Sensitive + you don't have to try anymore!

Anew Sensitive + ile artık seçim yapmak zorunda değilsiniz!

Anew Sensitive+, the first anti-aging care line specially

developed for sensitive skin, has been developed to help

provide visible results even on the most sensitive skin.

Working with the vision of being the best beauty company in the

world, Avon's Anew Sensitive+ collection, the newest member

of the award-winning protinol technology that revolutionizes

skin care, will now enable consumers to use anti-aging care

products without having to make a choice. Anew Sensitive+ was

developed by combining revolutionary Avon-exclusive Patented

PROTINOL technology with skin-soothing ingredients to help

deliver maximum results even on the most sensitive skin*. This

technology helps to increase the production of baby collagen

and supports to strengthen the skin by providing Type 1 and

Type 3 collagen.

This line, which is dermatologically and allergic tested and

does not contain perfume, consists of effective care products

with Anew Sensitive + Cream Cleanser, Anew Sensitive + Dual

Collagen Eye Cream and Anew Sensitive + Dual Collagen Face

Cream. While it cares for the skin with soothing ingredients

that help reduce the redness of the skin in just 72 hours**, it

supports collagen production for a fuller and more flexible

appearance with the PROTINOL Technology it contains. It

alleviates the appearance of fine lines and wrinkles, prevents

dryness by renewing the skin's moisture barrier.***

Like reborn

Developed with Avon protinol technology, Anew Sensitive +

Cream Cleanser gently cleanses your skin while removing your

make-up. The cream cleanser that gives a feeling of freshness

helps to reduce the sensitivity of your skin with each use. Anew

Sensitive + Dual Collagen Eye Cream helps to alleviate the

appearance of crow's feet and fine lines, relieves and relieves

the swollen appearance in the under-eye area. Anew Sensitive

+ Dual Collagen Face Cream, which reduces the redness of the

skin within 72 hours and helps the skin relax, is the last member

of the line. It helps to reduce the appearance of fine lines and

wrinkles while providing a fuller, lively and bright appearance

to the skin within 2 weeks.

*The cleaning product does not contain protinol.

**Based on Clinical Studies with 10 participants, after continued

use.

***Based on in-vitro testing studies.

Hassas ciltlere özel olarak geliştirilen ilk yaşlanma karşıtı

bakım serimiz Anew Sensitive+ en hassas ciltlerde bile gözle

görülür sonuçlar sağlamaya yardımcı olarak geliştirildi.

Dünya için en iyi güzellik şirketi olma vizyonuyla çalışan

Avon'un, cilt bakımında devrim sağlayan ödüllü protinol

teknolojisinin en yeni üyesi Anew Sensitive+ koleksiyonu ile

tüketiciler artık seçim yapmak zorunda kalmadan yaşlanma

karşıtı bakım ürünlerini kullanabilecekler. Anew Sensitive+,

en hassas ciltlerde bile maksimum sonuçlar sağlamaya yardımcı

olmak için devrim sağlayan Avon'a özel Patentli PROTINOL

teknolojisi ile cildi rahatlatan içeriklerle birleştirilerek

geliştirildi*. Bu teknoloji, bebek kolajen üretimini arttırmaya

yardımcı oluyor ve Tip 1 ve Tip 3 kolajen sağlayarak cildi

güçlendirmeyi destekliyor.

Dermatolojik ve alerjik olarak test edilen ve parfüm içermeyen

bu seri; Anew Sensitive + Krem Temizleyici, Anew Sensitive +

İkili Kolajen Göz Kremi ve Anew Sensitive + İkili Kolajen Yüz

Kremi ile etkili bakım ürünlerinden oluşuyor. Sadece 72 saat

içerisinde** cildin kızarık görünümünü azaltmaya yardımcı

olan rahatlatıcı içeriklerle cilde bakım yaparken, içerdiği

PROTINOL Teknolojisi ile daha dolgun ve esnek bir görünüm

için kolajen üretimini destekliyor. İnce çizgi ve kırşıklık

görünümünü hafifletiyor, cildin nem bariyerini yenileyerek

kuruluğu engelliyor.***

Yeniden doğmuş gibi

Avon protinol teknolojiyle geliştirilen Anew Sensitive +

Krem Temizleyici, makyajınızı çıkarırken cildinizi nazikçe

temizler. Ferahlık hissi veren krem temizleyici her kullanımda

cildinizdeki hassasiyeti azaltmaya yardımcı olur. Anew Sensitive

+ İkili Kolajen Göz Kremi, kaz ayağı ve ince çizgi görünümünü

hafifletmeye yardımcı olur, gözaltı bölgesindeki şiş görünümü

hafifletir ve rahatlatır. 72 saat içinde ciltteki kızarık görünümü

azaltan ve cildin rahatlamasına yardımcı olan Anew Sensitive +

İkili Kolajen Yüz Kremi ise serinin son üyesi. 2 hafta içerisinde

cilde daha dolgun, canlı ve parlak bir görünüm sağlarken ince

çizgilerin ve kırışıklıkların görünümünü ise azaltmaya yardımcı

olur.

*Temizleyici ürün protinol içermez.

**Sürekli kullanımdan sonra, 10 katılımcıyla gerçekleştirilen

Klinik Çalışmalara dayanmaktadır.

***in-vitro test çalışmalarına dayanmaktadır.
---
46 Beauty Güzellik

The new variant of the Precious Oils range: Shea Butter

Değerli Yağlar serisinin yeni varyantı: Shea Yağı

Shea Butter has been added to the Valuable Oils range of Arko

Nem, one of the most popular products of Arko Nem, which

is chosen as the most loved, trusted and most innovative

cream brand by consumers in Türkiye.

Türkiye's leading personal care and cleaning company Evyap's

leading brand in the hand and body care category, Arko Nem

continues to develop its product portfolio. The Shea Butter

variant was added to the Arko Moisture Valuable Oils Range,

which was chosen as "Türkiye's most innovative product" in the

personal care category in 2018 by consumers.

Arko Moisture Valuable Oils Shea Butter hand and body

cream moisturizes your skin, softens it, helps to improve the

appearance of the skin. Rich in vitamins A and E, the cream

moisturizes your skin without leaving a feeling of oiliness

thanks to its fast-absorbing formula and provides moisture for

48 hours. Shea Butter, which has come to the fore in personal

care and cosmetics categories all over the world in recent years,

stands out as a trendy ingredient in Türkiye in the category of

valuable oils.

The Precious Oils Range, launched in 2018 with coconut,

avocado and olive oil variants, cemented Arko Nem's leadership

in the hand & body cream market. Arko Moisture Valuable Oils

Range, which protects the skin's moisture for 48 hours with its

paraben-free and fast-absorbing formula, moisturizes the skin

with its vegan formula; With its formula containing natural oils,

it does not leave the skin feeling greasy.

Türkiye'de tüketiciler tarafından en sevilen, en güvenilen ve

en yenilikçi krem markası seçilen Arko Nem'in, çok beğenilen

ürünlerinden Değerli Yağlar serisine, Shea Yağı eklendi.

Türkiye'nin lider kişisel bakım ve temizlik şirketi Evyap'ın el

ve vücut bakım kategorisindeki lider markası Arko Nem, ürün

portföyünü geliştirmeye devam ediyor. 2018 yılında tüketiciler

tarafından kişisel bakım kategorisinde "Türkiye'nin en yenilikçi

ürünü" seçilen Arko Nem Değerli Yağlar Serisi'ne son olarak

Shea Yağı varyantı eklendi.

Arko Nem Değerli Yağlar Shea Yağı içerikli el ve vücut kremi;

cildinizi nemlendirir, yumuşatır, cilt görünümünün iyileşmesine

yardımcı olur. A ve E vitaminleri açısından zengin krem, hızlı

emilen formülü sayesinde yağlılık hissi bırakmadan cildinizi

nemlendirir, 48 saat nem sağlar. Son yıllarda tüm dünyada

kişisel bakım, kozmetik kategorilerinde öne çıkan Shea Yağı,

değerli yağlar kategorisinde Türkiye'de de trend bir içerik olarak

öne çıkıyor.

2018 yılında Hindistan cevizi, avokado ve zeytinyağı varyantları

ile lansmanı yapılan Değerli Yağlar serisi, Arko Nem'in el &

vücut kremi pazarındaki liderliğini perçinlemişti. Paraben

içermeyen ve hızlı emilen formülü ile 48 saat boyunca cildin

nemini koruyan Arko Nem Değerli Yağlar Serisi, vegan formülü

ile cildi nemlendiriyor; doğal kaynaklı yağlar içeren formülü ile

ciltte yağlılık hissi bırakmıyor.
---
48 Beauty Güzellik

Cream which defies the winter season!

Kış mevsimine meydan okuyan krem!

Like the leaves which dry out with the arrival of cold weather,

our skin loses moisture quickly. A dehydrated skin dries

quickly, remains unprotected against external factors, and

as a result ages even faster. Sebamed Q10 Anti-Aging Cream

defies time while challenging the negative effects of winter

on the skin.

The most important step for the skin, which becomes sensitive

with the cold weather and accelerates the formation of wrinkles,

is moisturizing. Sebamed Q10 Anti-Aging Cream, which defies

both the negativities of winter and time, helps sensitive skin to

maintain its elasticity. Sebamed Q10 Anti-Aging Cream, which

keeps the skin's natural protective layer healthy with its pH value

of 5.5, softens the skin with its phytosterol-containing formula

obtained from rapeseed seeds, while increasing the moisture

holding capacity of the skin, providing intense moisturization.

Sebamed Q10 Anti-Aging Cream, which gives the skin a smooth

appearance with its care complex containing Q10, panthenol

and vitamin E, helps the skin to maintain its hydrolipid balance

with shea butter and sweet almond oil, while giving the skin a

tight look.

While Sebamed Q10 Anti-Aging Cream fights against the

negative effects of winter on the skin, it provides a visible

reduction in the appearance of wrinkles in 4 weeks*.

Soğuk havaların gelmesiyle beraber kuruyan yapraklar

gibi cildimiz de hızlıca nem kaybediyor. Nemsiz bir cilt

hızlıca kuruyor, dış etkenlere karşı korumasız kalıyor ve

bunun sonucunda daha da hızlı yaşlanıyor. Sebamed Q10

Yaşlanma Karşıtı Krem, kış mevsiminin ciltte oluşturduğu

olumsuzluklara meydan okurken zamana da meydan okuyor.

Soğuyan havalar ile hassaslaşan ve kırışıklık oluşumu hızlanan

cilt için en önemli adım nemlendirmekten geçiyor. Özellikle

hem kış mevsiminin olumsuzluklarına hem de zamana meydan

okuyan Sebamed Q10 Yaşlanma Karşıtı Krem, hassas cildin

elastikiyetini korumasına yardımcı oluyor. pH 5.5 değeri ile

cildin doğal koruyucu tabakasını da sağlıklı tutan Sebamed

Q10 Yaşlanma Karşıtı Krem, kolza tohumlarından elde edilen

fitosterol içeren formülü ile cildi yumuşatırken cildin nem

tutma kapasitesini artırarak yoğun nemlendirme sağlıyor.

Q10, panthenol ve E vitamini içeren bakım kompleksi ile cilde

pürüzsüz bir görünüm kazandıran Sebamed Q10 Yaşlanma

Karşıtı Krem, shea yağı ve tatlı badem yağı ile cildin hidrolipit

dengesini korumasında yardımcı olurken cilde sıkı bir görünüm

kazandırıyor.

Sebamed Q10 Yaşlanma Karşıtı Krem kış mevsiminin ciltte

oluşturduğu olumsuzluklarla savaşırken, 4 haftada* kırışıklık

görünümünde gözle görülür azalma sağlıyor.
---
50 Beauty Güzellik

The new name for the beauty supplement

Güzellik takviyesine yeni isim

Well-known as Türkiye's first and only clinic for hair health,

S'Clinic produces personalized solutions with the belief that

healthy beauty adds value to human life. S'Collagen, the

newest of these products developed by Sibel Ulutaş based on

the formula she generated for hair care, offers the pleasure of

renewal and timeless beauty from the inside out thanks to its

special and advanced formula.

Beyond a collagen supplement

S'Collagen, the newest product specially developed by S'Clinic,

which is beyond the collagen supplement, provides the skin,

hair, bones and nails with the effective care they need from the

inside. S'Collagen, which slows down the loss of collagen in our

body, contains 16 types of collagens. The formula developed

thanks to an effective mixture created from these collagens

acts as a complete building block for the care our body needs.

S'Collagen, which makes the skin look younger, tighter and

fuller, also regains the moisture and fullness lost over time with

the hyaluronic acid in the formula in addition to collagens.

S'Collagen, which also provides a smooth skin look, effectively

protects the skin against free radicals with its glutathione

content; It also provides a detox effect in the system. Magnesium,

Vitamin C, Vitamin B5, Zinc, Vitamin B3, Vitamin B6, Copper,

Biotin, Vitamin B12, Selenium extracts, which support the

collagen complex, are a very strong source for all the minerals

that the skin and bones lose over time. It eliminates joint pain,

makes hair grow strongly and without breakage, eliminates

stains from the inside, and supports the skin to look more lively

and more radiant. One of the most important features of this

collagen that distinguishes it from its counterparts is that when

used while doing sports, it tightens the connective tissue and

thus helps muscle gain and recovery of muscle tone.

Sadece saç sağlığı konusunda Türkiye'nin ilk ve tek kliniği

olarak tanınan S'Clinic, sağlıklı güzelliğin insan yaşamına

değer kattığı inancıyla kişiye özel çözümler üretiyor. Sibel

Ulutaş'ın, saç bakımı konusunda oluşturduğu formülden yola

çıkarak geliştirdiği bu ürünlerin en yenisi olan S'Collagen

özel ve gelişmiş formülü sayesinde içten dışa yenilenmenin

ve zamansız güzelliğin keyfini yaşatıyor.

Kolajen takviyesinin daha ötesi

S'Clinic'in özel olarak geliştirdiği en yeni ürünü olan S'Collagen,

cilde, saça, kemiklere ve tırnaklara ihtiyacı olan etkili bakımı

içeriden sağlıyor. Vücudumuzdaki kolajen kaybını yavaşlatan

S'Collagen, 16 çeşit kolajen içeriyor. Bu kolajenlerden oluşturulan

etkili bir karışım sayesinde geliştirilen formül bedenimizin

ihtiyaç duyduğu bakım için tam bir yapı taşı görevi görüyor.

Cildin daha genç, daha gergin ve daha dolgun görünmesini

sağlayan S'Collagen, kolajenlere ek olarak formülde yer alan

hyaluronik asit ile zamanla kaybolan nemi ve dolgunluğu da

yeniden kazandırıyor. Pürüzsüz bir cilt görünümü de sağlayan

S'Collagen, glutatyon içeriği ile cildi serbest radikallere karşı

etkili bir şekilde koruyor; sistemde de detoks etkisi sağlıyor.

Kolajen kompleksini destekleyen magnezyum, C vitamini,

B5 vitamini, Çinko, B3 vitamini, B6 vitamini, Bakır, Biotin,

B12 vitamini, Selenyum özleri cildin ve kemiklerin zamanla

kaybettiği tüm mineraller için oldukça güçlü bir kaynak

oluşturuyor. Eklem ağrılarını ortadan kaldırıyor, saçların

kırılmadan ve güçlü bir şekilde uzamasını sağlıyor, lekeleri

içten yok ediyor, cildin daha canlı ve daha ışıltılı görünmesini

destekliyor. Bu kolajeni diğer muadillerinden ayıran en önemli

özelliklerinden bir diğeri de spor yaparken kullanıldığında bağ

dokusunu sıkılaştırması ve bu şekilde de kas kazanımına ve kas

tonusunun iyileşmesine yardımcı olması…
---
52 Beauty Güzellik

FAQs about S'Clinic:

Why does hair get weaker?

Hair loss can have many physiological, genetic and psychological

reasons. When our poor quality of life, changing eating habits,

sleep disorders, dye, highlighting and heat treatments are added

to these reasons, almost one out of every two people has hair

problems today.

Who should get help when the hair starts to weaken?

Many people do not know who to consult for loss of quality,

thinning or shedding in their hair because shedding and

thinning hair is more about a decrease in quality than a

disease… S' Clinic comes into play at this stage. He listens to

the complaints, analyzes the hair and recommends the most

suitable application for the person.

What is difference of S' Clinic?

Established under the coordination of Pharmacist Sibel Ulutaş,

S' Clinic is a hair health center that offers scientific and proven

solutions… It applies the hair augmentation process as a

personalized protocol with the pharmacists and experts who

developed the formulation.

Should I have a hair transplant or a hair augmentation?

After the hair analysis at S'Clinic, it is determined which method

will get the best results. If there is a hair structure suitable for

hair growth, sessions are organized. If the hair is more suitable

for transplantation, it is recommended to apply a specialist in

hair transplantation or in a center.

S'Clinic ile ilgili merak edilenler:

Saçlar neden zayıflar?

Saç zayıflamasının fizyolojik, genetik, psikolojik birçok nedeni

olabilir. Bu nedenlere kalitesi düşen yaşam koşullarımız, değişen

beslenme alışkanlıklarımız, uyku düzensizliği, boya, röfle ve ısıl

işlemler de eklenince günümüzde neredeyse her iki kişiden biri

saç problemi yaşıyor.

Saçlar zayıflamaya başladığında kimden yardım alınmalı?

Birçok kişi saçlarındaki kalite kaybı, seyrelme veya dökülme

için kime danışacağını bilemiyor çünkü dökülen ve seyrelmiş

saçlar hastalıktan öte kalitenin azalması ile ilgili bir durum…

S' Clinic tam bu aşamada devreye giriyor. Şikâyetleri dinliyor,

saç analizi yapıyor ve kişiye özel en uygun uygulamayı öneriyor.

S' Clinic'in farkı nedir?

S' Clinic Eczacı Sibel Ulutaş koordinatörlüğünde kurulan;

bilimsel, etkisi kanıtlanmış çözümler sunan bir saç sağlığı

merkezi… Formülasyonu geliştiren eczacı ve uzmanlar ile saç

çoğaltma işlemini kişiye özel bir protokol halinde uyguluyor.

Saç ekimi mi saç çoğaltma mı yaptırılmalı?

S'Clinic'te yapılan saç analizinin ardından hangi yöntemden

en iyi sonuç alacağı belirlenir. Saç çoğaltmaya uygun bir saç

yapısı varsa seanslar düzenlenir. Saçlar ekime daha uygunsa saç

ekimi konusunda uzman bir hekim ya da merkezde uygulama

yapılması önerilir.
---
"The universe of Fragnance"

1985

eau de parfum

info@fonkozmetik.com
---
54 Beauty Güzellik

What is the difference between hair augmentation and hair

transplantation?

Hair augmentation is not an alternative to hair transplantation.

Hair transplantation is a surgical method. If the hair is in the

shape that it will fall out and the nape is strong, a transplant

done by giving the right direction can make the person very

happy. However, if hair loss is active and the amount of hair

to be taken from the nape is not sufficient for the area to be

transplanted, hair transplantation is not a complete solution.

Sometimes, the person may not prefer hair transplantation

because the transplantation is a situation that requires anesthesia

and rest. In summary, age, shedding status, hair structure, and

expectation determine which procedure will be performed.

Does hair augmentation support hair transplantation?

It is accepted as a new approach in the holistic repair and

structuring of the hair, to protect and strengthen the existing

one by having hair augmentation at certain intervals after hair

transplantation. Hair augmentation can be applied to strengthen

and increase the hair to be taken from the nape before hair

transplantation, to reduce the area to be covered, to close the

areas that are not fully closed after hair transplantation and to

facilitate the attachment of the transplanted hair, as well as to

make the transplant look more natural.

What to do after 12 sessions are over?

I had it done for hair, a magic application, treatment or care

that can be said to be finished, unfortunately, has not been

developed yet. After 12 sessions of hair augmentation, it may be

necessary to take a hair protection session at certain intervals. It

is essential to take good care of the hair, even if it is transplanted

or multiplied by such procedures, because hair weakening is a

lifelong process and it is not possible to stop it.

Saç çoğaltma ve saç ekimi arasında ne fark var?

Saç çoğaltma uygulaması saç ekimine alternatif değildir. Saç

ekimi cerrahi bir yöntemdir. Saç döküleceği şekli almışsa ve

ense güçlüyse, yönlerini doğru vererek yapılan bir ekim kişiyi

çok mutlu edebilir. Ancak saç dökülmesi aktifse, enseden

alınacak saç miktarı ekim yapılacak alan için yeterli değilse saç

ekimi tam çözüm olmaz. Bazen de ekimin anestezi ve istirahat

gerektiren bir durum olmasından dolayı kişi saç ekimini tercih

etmeyebilir. Özetle hangi işlemin yapılacağı konusunda yaş,

dökülme durumu, saç yapısı, beklenti belirleyici olur.

Saç çoğaltma saç ekimine destek olur mu?

Saç ekiminin ardından belli aralıklarla saç çoğaltma yaptırarak

mevcut olanı korumak ve güçlendirmek saçın bütünsel onarım

ve yapılanmasında yeni bir yaklaşım olarak kabul görüyor.

Saç ekiminden önce enseden alınacak saçları güçlendirmek ve

çoğaltmak, kapanacak alanı küçültmek; saç ekiminden sonra

ise tam kapanmamış bölgeleri kapatmak ve ekilen saçların

tutunmasını kolaylaştırmak için hem de ekimin daha doğal

görünmesini sağlamak için saç çoğaltma uygulanabilir.

12 seans bittikten sonra ne yapmalı?

Saçlar için yaptırdım, bitti denilebilecek sihirli bir uygulama,

tedavi veya bakım maalesef henüz geliştirilmedi. 12 seans saç

çoğaltmanın ardından belli aralıklarla saçlara koruma seansı

almak gerekebilir. Saç ekimi de yaptırılsa, bu tür işlemlerle de

çoğaltılsa saça iyi bakmak şart çünkü saç zayıflaması ömür boyu

devam eden bir süreç ve durdurmak mümkün değil.
---
56 Beauty Güzellik

Seasonal shifts affect our skin!

Hava değişimi cildimizi etkiliyor!

How to prevent skin irritation caused by seasonal shift?

How to relieve hand and face dryness? Emphasizing the

importance of skin care in seasonal shift, experts underlined

that it is essential to maintain the moisture content of the

skin, especially in harsh weather conditions, and made

recommendations to prevent moisture loss and wear of the

skin.

While the seasons change, our skin cannot be expected to

stay the same. With the effect of cold and dry weather on the

one hand and low humidity on the other, our skin may show

symptoms such as dryness and irritation. Emphasizing that the

number one care routine of the winter months is moisture, Skin

Care and Beauty expert Aylin Kutupyıldızı stated that the best

thing we can do for our skin is to saturate it with moisture.

"We should not use any product without cleansing our skin"

As the skin experiences more moisture loss due to harsh

weather conditions, the importance of regular moisturizer use

increases considerably as the winter season passes. Pointing out

what needs to be done to erase the negative effects of summer, to

spend the winter months well and to have a bright, smooth and

soft skin, Aylin Kutupyıldızı said, "The most important point

we should pay attention to in our skin health is keeping our skin

clean.

Hava değişiminin ciltte oluşturduğu tahriş nasıl önlenir?

El ve yüz kuruluğu nasıl giderilir? Mevsim geçişlerinde

cilt bakımının önemine değinen uzmanlar, özellikle sert

hava koşullarında cildin nem oranını korumanın elzem

olduğunun altını çizerek, cildin nem kaybetmesinin ve

yıpranmasının önüne geçilebilecek tavsiyelerde bulundu.

Mevsimler değişirken cildimizin de aynı kalması beklenemez.

Bir yandan soğuk ve kuru havalar, diğer yandan da düşük

nem oranı etkisiyle cildimiz, kuruluk ve tahriş gibi belirtiler

gösterebilir. Kış aylarının bir numaralı bakım rutininin nem

olduğunu vurgulayan Cilt Bakım ve Güzellik uzmanı Aylin

Kutupyıldızı, cildimize yapabileceğimiz en büyük iyiliğin onu

neme doyurmak olduğunu belirtti.

"Cildimizi temizlemeden hiçbir ürünü kullanmamalıyız"

Sert hava koşulları nedeniyle cilt daha fazla nem kaybı

yaşadığı için, kış mevsimlerine geçerken düzenli nemlendirici

kullanımının önemi oldukça artıyor. Yazın olumsuz etkilerini

silmek ve kış aylarını iyi geçirmek, parlak, pürüzsüz ve yumuşak

bir cilde kavuşmak için yapılması gerekenlere değinen Aylin

Kutupyıldızı, ''Cilt sağlığımızda dikkat etmemiz gereken

en önemli nokta, cildimizi temiz tutmaktan geçer. Cildin

üzerindeki ölü tabakanın temizlenmesi, bakteri oluşumunu

önleyerek, gözeneklerdeki atıkları cilt yüzeyinden uzaklaştırır.

Cildimizi temizlemeden hiçbir ürünü kullanmamalıyız.
---
Güzellik

Beauty

57

Cleaning the dead layer on the skin prevents the formation

of bacteria and removes the wastes in the pores from the skin

surface. We should not use any product without cleansing our

skin. In winter, our skin needs more moisture than in summer.

At this stage, we should pay attention to the fact that we should

use a suitable moisturizing product without lubricating our

skin. Your specialist will make the best decision for this. A

wrong procedure applied will clog the pores on our skin surface,

causing blackheads, acne and even blemishes."

How to take care of the skin during seasonal changes?

Dryness of the skin can reach its highest levels as it passes

from autumn to winter. Dry skin tries to explain that the body

needs more moisture. Declaring that you should use a good

moisturizing cream while doing skin care during these periods

and saturate not only the upper surface of the skin, but even the

lower layers of the skin with serums containing hyaluronic acid,

Kutupyıldızı said, "For a healthy skin, you need to renew the

skin cells. After cleansing your skin with cleansers that protect

the skin's natural moisture balance, you should apply a soothing

tonic. Turning to washing gels that gently cleanse your dry,

flaking and reddening skin and searching for ingredients that

refresh and calm the skin will help you relax your skin during

the seasons."

Sunscreen is a must

Using a moisturizing cream is very important for all skin types,

not just dry and sensitive skin. It is essential to use moisture

balance-focused creams to protect our skin from the wearing

effects of cold weather. Underlining that sunscreens are another

way to protect our skin during the winter seasons, Kutupyıldızı

said, "Sunscreens are important in all seasons, regardless of

summer or winter. Even if we do not feel the burning of the

sun in winter, it should not be forgotten that harmful UV rays

still reach our skin. For this reason, it is also useful to evaluate

sunscreen as an integral part of the winter care routine. After

applying the care it deserves to our skin, the last step of the

daytime routine should be sunscreen."

Kış aylarında cildimiz, neme yaz aylarından daha çok ihtiyaç

duymaktadır. Bu aşamada dikkat etmemiz gereken bir nokta,

cildimizi yağlandırmadan uygun olan bir nemlendirici ürünü

kullanmalıyız. Bununda en iyi kararını uzmanınız verecektir.

Uygulanan yanlış bir işlem cilt yüzeyimizdeki gözenekleri

tıkayarak, siyah nokta, akne ve hatta lekelenmelere yol

açacaktır.'' ifadelerini kullandı.

Mevsim geçişlerinde cilt bakımı nasıl yapılır?

Cilt kuruluğu sonbahardan kış mevsimine geçerken en yüksek

seviyelere çıkabilmektedir. Kuru ciltler, vücudun daha fazla

neme duyduğunu anlatmaya çalışır. Bu dönemlerde cilt bakımı

yaparken iyi bir nemlendirici krem kullanmalı ve hyaluronik

asit içeren serumlar ile yalnızca cildin üst yüzeyini değil, alt

tabakalarını bile neme doyurmalısın diyen Kutupyıldızı, ''Sağlıklı

bir cilt için cilt hücrelerini yenilemeniz gerekir. Cildin doğal

nem dengesini koruyan temizleyicilerle cildinizi temizledikten

sonra yatıştırıcı bir tonik uygulamalısınız. Kuruyan, pul pul

dökülen ve gerilip kızaran cildinizi nazikçe temizleyen yıkama

jellerine dönmen ve cildi yenileyip sakinleştiren içerikleri

araştırman, mevsim geçişlerinde cildinin rahatlaması için sana

yardımcı olacaktır.''

Güneş kremi şart

Nemlendirici krem kullanmak, sadece yalnızca kuru ve hassas

ciltler için değil, tüm cilt tipleri için büyük önem taşıyor.

Cildimizi soğuk havanın yıpratıcı etkilerinden korumak için

nem dengesi odaklı kremler kullanmak şart. Kış mevsimlerinde

cildimizi korumanın diğer bir yolunun güneş kremleri

olduğunun altını çizen Kutupyıldızı, ''Güneş kremleri yaz-kış

fark etmeksizin her mevsim önemlidir. Kışın güneşin yakıcılığını

hissetmesek bile, zararlı UV ışınlarının hala cildimize ulaştığını

unutmamak gerek. Bu sebeple kış bakım rutininin ayrılmaz bir

parçası olarak güneş kremini değerlendirmekte de fayda var.

Cildimize hak ettiği bakımı uyguladıktan sonra, gündüz rutinin

son aşaması mutlaka güneş kremi olmalıdır.'' dedi.
---
60 Beauty Güzellik

"First priority, trust and satisfaction"

"İlk öncelik, güven ve memnuniyet"

Smella Kozmetik, sürekli kendini yenileyen çalışmalarıyla

sektörün öncülerinden olmaya devam ediyor.

Kişisel parfüm, oda kokusu, body mist, kolonya, araç kokusu

gibi ürünleri GMP ve ISO şartlarında üreten Smella Kozmetik,

2017 yılında "her ev güzel kokar" temasıyla oda kokusu üretimi

yaparak ticari hayata ilk adımını attı. İlk üretim heyecanından

bugünlere gelinceye kadar geçen sürede değişmeyen tek şey

"üretimin her aşamasına gerekli özenin gösterilmesidir"

anlayışıyla hareket etti.

Smella Kozmetik Kurucusu

Sertan Kuybet

Smella Cosmetics continues to be one of the pioneers of the

sector with its constantly renewing works.

Manufacturing products such as personal perfume, room

fragrance, body mist, cologne, and vehicle fragrance under

GMP and ISO conditions, Smella Cosmetics took its first step

into commercial life in 2017 by producing room fragrances

with the theme of "every house smells good". The only thing that

has not changed in the period from the excitement of the first

production to the present day has acted with the understanding

that "the necessary attention is paid to every stage of production".

Şirketin stratejik başlıkları

Smella Kozmetik'te üretim, gerekli güvenlik ve hijyen

koşullarında tamamlanıyor ve uygun koşullarda depolanarak

müşteriye ulaştırılıyor. Üstelik, bu aşamaların tamamı müşteri

ile şeffaf bir şekilde paylaşılıyor. Hem kendi markalarıyla

hem de partner olduğu firmaların marka adına yapmış

olduğu çalışmalarda güven ortamının sağlanması ve firmaya

memnuniyet duyulması anlayışıyla hareket eden Smella,

kurulduğu ilk günden bu yana güven ve memnuniyeti şirketin

stratejik başlıkları olarak belirleyerek, emin adımlarla yoluna

devam ediyor.

Piyasadaki ihtiyaçlardan yola çıkan ve esas hedefi koku alma

duyusunu temel alarak, görme ve ten gibi duyu organlarına da

hitap eden ürünler tasarlamak olan başarılı kozmetik markası;

ürünü hayal etmenin, hikayesini yazmanın, tasarım süreçlerini

izlenebilir tutmanın ve sonucu satış ile bitirmenin başarılı

büyüme için önemli faktörler olduğunu vurguluyor.

Strategic topics of the company

At Smella Cosmetics, production is completed under the

necessary safety and hygiene conditions, and stored under

appropriate conditions and delivered to the customer.

Moreover, all of these stages are shared transparently with the

customer. Smella, acting with the understanding of ensuring

an environment of trust and making the company happy in the

works carried out on behalf of the brand of both its own brands

and the companies it partnered with, has been taking firm steps

forward by determining trust and satisfaction as the strategic

headings of the company since the first day it was founded.

The successful cosmetic brand, which is based on the needs in

the market and whose main goal is to design products that appeal

to the sense organs such as sight and skin, based on the sense

of smell; He emphasizes that imagining the product, writing its

story, keeping the design processes traceable and finalizing the

result with sales are important factors for successful growth.
---
Güzellik

Beauty

61

Supporting the youth

The brand, which attaches importance to the recyclability of the

raw materials used, the production methods and techniques

suitable for nature, the use of newly developed technology

and design models that are suitable for sustainability, makes

updates in accordance with GMP and ISO standards and new

internationally accepted standards. In addition, it does not

neglect to support our young people, to whom we will entrust

our future, to develop themselves, especially in the field of

technology.

Gençlere destek veriyor

Kullanılan hammaddelerin dönüştürülebilir olmasına, üretim

biçim ve tekniklerinin doğaya uygun olmasına, yeni gelişen

ve sürdürebilirlik açısından uygun olan teknoloji ve tasarım

modellerinin üretim alanında kullanılmasına önem veren

marka, GMP ve ISO standartlarında ve uluslararası kabul

görmüş yeni standartlara uygun olacak şekilde güncellemeler

yapıyor. Ayrıca, geleceğimizi emanet edeceğimiz gençlerimize

de özellikle teknoloji alanında kendilerini geliştirmeleri adına

destek vermeyi de ihmal etmiyor.
---
62 Beauty Güzellik

New General Manager for Selen Kozmetik

Selen Kozmetik'e yeni Genel Müdür

Gözde Dumarık, General Manager of Selen Kozmetik

Bringing innovative personal care products to

Turkish consumers in the cosmetics industry, Selen

Kozmetik continues to grow in its category and

strengthens its management staff.

Gözde Dumarık, one of the leading names in the

cosmetics industry with her experience of more

than 20 years, stepped into her professional life

after completing her education in the chemistry

department of Hacettepe University. Between 2008

and 2018, she worked in many different functions as

"Marketing Manager" and "Commercial Marketing

Manager" at Engin Group. After Engin Group,

she served as "Assistant General Manager" and

"Marketing Manager" at Beauty Care Group since

2019.

Continuing to strengthen its management team in

line with its vision of globalization, the new General

Manager seat of Selen Kozmetik is now entrusted to

Gözde Dumarık.

Kozmetik sektöründe yenilikçi kişisel bakım

ürünlerini Türk tüketicisiyle buluşturan Selen

Kozmetik, kategorisinde büyümesini devam

ettirirken yönetim kadrosunu da güçlendiriyor.

20 yılı aşan tecrübesi ile kozmetik sektörünün önde

gelen isimlerinden Gözde Dumarık, Hacettepe

Üniversitesi kimya bölümünde tamamladığı

eğitiminin ardından meslek hayatına adım attı. 2008-

2018 yılların arasında Engin Grup'ta "Pazarlama

Müdürü" ve "Ticari Pazarlama Müdürü" olarak

birçok farklı fonksiyonda görev aldı. Engin Grup

sonrasında 2019 yılından bu yana Beauty Care

Group'ta "Genel Müdür Yardımcısı" ve "Pazarlama

Müdürü" görevlerini yürüttü.

Globalleşme vizyonu doğrultusunda yönetim

kadrosunu güçlendirmeye devam eden Selen

Kozmetik'in yeni Genel Müdür koltuğu artık Gözde

Dumarık'a emanet.
---
For a Sustainable Trade:

EXPLORE ALL ASPECTS OF THE

GROWING GLOBAL HALAL INDUSTRY

E-INVITATION

24-27 November 2022

ISTANBUL EXPO CENTER

Supported by;

In association with;

Organizer;

www.helalexpo.com.tr - 444 82 75 - info@helalexpo.com.tr

The expo is organized under the authorization of TOBB according to the Law 5174.
---
64 Beauty Güzellik

Strong and voluminous hair with URBAN Care!

URBAN Care ile güçlü ve hacimli saçlar!

It's time to say goodbye to slow growing, weak and dehydrated

hair with the "SULFAT-FREE" Hyaluronic Acid & Collagen

line of the new generation hair care brand URBAN Care.

With the line consisting of complementary product options,

your slowly growing hair will be saturated with moisture, and

will gain an extra full, voluminous appearance by extending

healthily.

URBAN Care, which develops new generation solutions by

offering practical and effective treatments in hair care, offers a

solution to the dry and slow growing hair problem that women

often complain about, with its Hyaluronic Acid & Collagen line.

Hyaluronic Acid in its formula saturates dry and dehydrated

hair with moisture; it gives a more voluminous, extra fuller

appearance. With its nourishing properties from root to tip, it

helps hair to grow healthily and gives silky softness. Vegetarian

collagen, on the other hand, increases the elasticity of the hair

and prevents shedding and breakage by breaking off.

Hyaluronic Acid & Collagen Hair Care Shampoo

The SULPHATE-FREE Hair Care Shampoo in the line, with

its formula developed for dry and slow growing, lifeless hair,

saturates the hair with moisture, providing a fuller and stronger

appearance. It does not contain sulfates, parabens and silicones.

Yeni nesil saç bakım markası URBAN Care'ın ''SÜLFATSIZ''

Hyaluronik Asit & Kolajen serisi ile yavaş uzayan, güçsüz

ve nemsiz saçlara veda zamanı geldi. Birbirini tamamlayan

ürün seçeneklerinden oluşan seriyle yavaş uzayan saçlarınız

neme doyacak; sağlıkla uzayarak ekstra dolgun, hacimli bir

görünüm kazanacak.

Saç bakımında pratik ve etkili bakımlar sunarak yeni nesil

çözümler geliştiren URBAN Care, kadınların sıklıkla yakındığı

kuru ve yavaş uzayan saç sorununa, Hiyalüronik Asit & Kolajen

serisiyle çözüm sunuyor.

Formülünde yer alan Hiyalüronik Asit, kuru ve nemsiz saçları

neme doyuruyor; daha hacimli, ekstra dolgun görünüm

kazandırıyor. Kökten uca besleyici özelliğiyle saçların sağlıkla

uzamasına yardımcı oluyor ve ipeksi yumuşaklık veriyor.

Vejetaryen kolajen ise saçların elastikiyetini arttırarak, koparak

dökülmeleri ve kırılmaları önlüyor.

Hyaluronic Acid & Collagen Saç Bakım Şampuanı

Serideki SÜLFATSIZ Saç Bakım Şampuanı, kuru ve yavaş

uzayan, cansız saçlar için geliştirilmiş formülüyle saçları neme

doyuruyor, daha dolgun ve güçlü görünüm sağlıyor. Sülfat,

paraben ve silikon içermiyor.

Hyaluronic Acid & Collagen Saç Bakım Kremi

Saç Bakım Kremi ise güçlü ve dolgun görünümün yanı sıra

saçları neme doyurarak ipeksi yumuşaklık sağlıyor.

Hyaluronic Acid & Collagen Durulanmayan Bakım Kremi

Kökten uca besleyici & nemlendirici Durulanmayan Bakım

Kremi, elektriklenme ve kabarmayı önleyerek saçların kolay

şekil almasını sağlayarak ipeksi yumuşaklık veriyor.

Daha etkili sonuçlar için serideki ürünlerin birlikte kullanılması

tavsiye ediliyor.

Hyaluronic Acid & Collagen Hair Conditioner

Hair Care Cream, on the other hand, provides a silky softness

by saturating the hair with moisture as well as giving it a strong

and fuller appearance.

Hyaluronic Acid & Collagen Leave-In Conditioner

Nourishing & moisturizing from root to tip, the Leave-In

Conditioner prevents frizz and frizz, making the hair easy to

shape and giving it silky softness.

For more effective results, it is recommended to use the products

in the line together.
---
Our Services

• Prompt reply & instant communication available.

• Samples provided for free.

• Customized packaging bag and Any kind of logo printing or

design are available.

• Large stocking & lightning consignment.

• Photoes all-the-way for cargo tracing after order confirmation .

• Quality guaranteed by SGS inspection.

• A professional foreign team serve for you.

• Have many years experience for export .

• Competitive price .

• Prompt shipment .

• Arrange the orders According to the different countries export

policy provide complete customs clearance documents.

• Fast response, fast service .

Our Advantages

• We are a manufacturer of our productions.

• We can supply our cusotmer orders according to customer's

requirements.

• We closely cooperate with experienced transportation agents,

shipping companies.

• All inquiries and requests about our products will be answered

within 24 hours except weekends and public holidays.

• All problems faced by our customers will be treated seriously

and solved promptly.

• Prepare inspections for all orders by customers request.

• Professional R&D Team+ Adapt to all markets.

• Professional Warehousing And Logistics+ Fast delivery.

• Direct Agent→ Competitive price

• ISO 9001 is approval with high quality.

Contact Information

Halkalı Merkez Neighborhood , 1.İkitelli Street A Block No: 2/20

Küçükçekmece /İST. -TURKEY

(+90)532 515 63 88 - info@bhdtrade.com

www.bhdtrade.com
---
68 Beauty Güzellik

Innovation took center stage as 26th edition of

Beautyworld Middle East

Beautyworld Middle East'in

26'ncı edisyonunda inovasyon odak noktası oldu

The region's largest international trade fair for the beauty

industry, the 26th edition of Beautyworld Middle East

was held in Dubai World Trade Centre on 31 October to 2

November 2022

The 26th edition of Beautyworld Middle East – the region's

largest international trade fair for beauty, hair, fragrance, and

wellbeing – comes to a close after three action-packed days at

Dubai World Trade Centre.

The 26th edition of Beautyworld Middle East – the region's

largest international trade fair for beauty, hair, fragrance and

wellbeing – brought a three-day successful run at the Dubai

World Trade Centre, as the regional and international beauty

industry comes together to discover new trends, technologies

and business opportunities.

Inspiring and ever evolving content like the Next in Beauty

conference and Front Row by Nazih Group helped the 2022

event en route to incredible growth. This year's Beautyworld

Middle East featured products from 1430 exhibitors - a 60 per

cent increase from its 2021 edition.

Güzellik sektörü için bölgenin en büyük uluslararası fuarı

olan Beautyworld Middle East'in 26.'sı 31 Ekim - 2 Kasım

2022 tarihleri arasında Dubai Dünya Ticaret Merkezi'nde

gerçekleştirildi.

Güzellik, saç, koku ve sağlık alanında bölgenin en büyük

uluslararası fuarı olan Beautyworld Middle East, Dubai Dünya

Ticaret Merkezi'nde aksiyon dolu üç günün ardından sona erdi.

Güzellik, saç, koku ve sağlık için bölgenin en büyük uluslararası

ticaret fuarı olan Beautyworld Middle East'in 26.'sı, bölgesel ve

uluslararası güzellik sektöründe yeni trendleri keşfetmek için

bir araya gelirken Dubai Dünya Ticaret Merkezi'nde teknolojiler

ve iş fırsatları için üç günlük başarılı bir çalışma sundu.

Next in Beauty konferansı ve Front Row by Nazih Group

gibi ilham verici ve sürekli gelişen içerikler, 2022 etkinliğinin

inanılmaz bir büyüme yolunda olmasına yardımcı oldu. Bu yılki

Beautyworld Middle East, 2021 yılına göre yüzde 60 artışla 1430

katılımcının ürünlerini sergiledi.

Bölgenin özünden ilham aldı

Beautyworld'ün 25. yıldönümünü kutlamak için geçen

yıl başlatılan Signature Scent yarışması, 2022 için yeni bir

şampiyonu taçlandırdı. Bölgenin özünden esinlenerek, fuar

için en iyi 16 uluslararası koku evi, mükemmel bir imza kokusu

tasarlamaya ve oluşturmaya davet edildi.

Rastgele örnekleme formatında seçilen ziyaretçiler, Beautyworld

Middle East'in 2023 fuarı için resmi koku olarak seçilecek olan

kazananı belirlemek için son üç gün içinde binlerce oy kullandı.

Jean Niel Sas Parfümeri Müdürü Benoît Vittet'in Cyber Blend

kokusu, Fiery Saffron, Pink Pepper ve Oudh gibi notalarla

etkinliğin özünü mükemmel bir şekilde kapsadığı düşünülen

kokularıyla bu yılki baskı için gıpta edilen ödülü aldı.

Inspired by the essence of the region

Launched last year to mark Beautyworld's 25th anniversary,

the Signature Scent competition has crowned a new champion

for 2022. Inspired by the essence of the region, 16 of the top

international fragrance houses were challenged to design and

create their own interpretation of a bespoke signature scent for

the show.

Curated in a blind sampling format, visitors have been casting

their votes in the thousands over the past three days to decide

the winner, who will be selected as the official scent for the 2023

edition of Beautyworld Middle East.
---
www.naturelizkozmetik.com.tr
---
70 Beauty Güzellik

The Cyber Blend scent by Benoît Vittet, Head of Perfumery

at Jean Niel Sas, scooped the coveted award for this year's

edition courtesy of their scent, which was deemed to perfectly

encapsulate the essence of the event through notes such as Fiery

Saffron, Pink Pepper and Oudh. Commenting on the award,

Vittet said; "None of this would have been possible without my

team. We came in second place in 2021, and we were determined

to take home the award this year. We have used modern things

such as special pink pepper, orange blossom and other floral

essences to make the perfume unique. I did it with my heart,

and I hope that everyone gets to experience it."

"The UAE has a global reputation for fragrances, as it is integral

to local culture and traditions," said Flyn Roberts, Show Director

of Beautyworld Middle East. "With the continued growth of the

sector, we decided to place a special emphasis on fragrance at

this year's event. Although the competition was high, we are

delighted to confirm Jean Niel Sas as the very worthy winner."

The latest tech and new-to-market products

A number of regional and international beauty companies

have also been showcasing their latest tech and new-to-market

products over the past three days.

One of the exhibitors, MINE, which was founded as an

intentional cross-over between beauty and science, is the first

brand to have developed non-invasive face gym kits. Made

in Korea, the kits have cutting-edge technology that initiates

muscle stimulation and microcurrent pulses that go deep into

the epidermis. Designed to stimulate collagen production and

promote anti-aging, MINE kickstarts lymphatic drainage and

enables its users to tighten and lift their facial muscles.

"This is our first time exhibiting at Beautyworld Middle East

and over the past three days, we've received a positive response

from potential customers and business partners alike," said Mila

Kirke, CEO at MINE. "The technology that MINE uses is the

first of its kind and has been developed after extensive research

and development. We're thrilled to have brought it to a show

that brings everyone from the industry under one roof! I look

forward to returning to Beautyworld Middle East next year with

some new technologies to showcase."

Beautyworld Middle East will be returning to the Dubai World

Trade Centre from 30 October to 1 November 2023.

Ödül hakkında yorum yapan Vittet; "Ekibim olmadan bunların

hiçbiri mümkün olmazdı. 2021'de ikinci olduk ve bu yıl ödülü

eve götürmeye kararlıydık. Parfümün benzersiz olması için

özel pembe biber, portakal çiçeği ve diğer çiçek esansları gibi

modern şeyler kullandık. Bunu kalbimle yaptım ve umarım

herkes bunu deneyimler."

Beautyworld Middle East Direktörü Flyn Roberts, "BAE, yerel

kültür ve geleneklerin ayrılmaz bir parçası olduğu için kokular

konusunda küresel bir üne sahiptir." dedi. "Sektörün sürekli

büyümesiyle bu yılki etkinlikte kokuya özel bir önem vermeye

karar verdik. Rekabetin yüksek olmasına rağmen, Jean Niel Sas'ı

çok değerli kazanan olarak onaylamaktan mutluluk duyuyoruz"

dedi.

En son teknoloji ve pazara yeni sunulan ürünler

Bir dizi bölgesel ve uluslararası güzellik şirketi de üç gün içinde

en son teknolojilerini ve piyasaya yeni çıkan ürünlerini sergiledi.

Güzellik ve bilim arasında kasıtlı bir geçiş olarak kurulan

katılımcılardan biri olan MINE, invaziv olmayan yüz

jimnastiği kitleri geliştiren ilk markadır. Kore'de üretilen

kitler, kas stimülasyonunu ve epidermisin derinliklerine inen

mikro akım darbelerini başlatan en son teknolojiye sahiptir.

Kolajen üretimini teşvik etmek ve yaşlanmayı geciktirmek için

tasarlanan MINE, lenfatik drenajı başlatır ve kullanıcılarının

yüz kaslarını sıkılaştırmasını ve kaldırmasını sağlar.

MINE CEO'su Mila Kirke, "Beautyworld Middle East'te

ilk kez sergileniyoruz ve üç gün içinde hem potansiyel

müşterilerden hem de iş ortaklarından olumlu bir yanıt aldık"

dedi. "MINE'ın kullandığı teknoloji, türünün ilk örneğidir ve

kapsamlı araştırma ve geliştirmelerden sonra geliştirilmiştir.

Sektörden herkesi tek bir çatı altında toplayan bir gösteriye

getirdiğimiz için çok heyecanlıyız! Gelecek yıl, sergileyeceğim

bazı yeni teknolojilerle Beautyworld Middle East'e geri dönmeyi

sabırsızlıkla bekliyorum."

Beautyworld Middle East gelecek sene 30 Ekim – 1 Kasım 2023

tarihlerinde Dubai Dünya Ticaret Merkezi'ne düzenlenecek.
---
www.naturelizkozmetik.com.tr
---
72 Beauty Güzellik

Preferred country for hair transplantation: Türkiye!

Saç ekimi için tercih edilen ülke: Türkiye!

Ömer Uğur, Founder of

Ömer Uğur Hair Transplant

While many people who want to cover the appearance of

baldness caused by intense hair loss apply to hair transplant

centers, it also triggers the growth of the market.

According to the research of Market Research, the global hair

transplant market, which was worth 10.2 billion dollars in 2021,

is expected to reach 67.1 billion dollars in 2029. Increasing

its share of health tourism with each passing day, Türkiye is

turning into one of the world's leading centers in the field of hair

transplantation. The data of the Health Tourism Development

Council indicate that the number of people who came to our

country for hair transplant in the first six months of 2022

exceeded 500 thousand, and this figure will rise to one million

by the end of the year, breaking a record. While those who come

from Europe to have hair transplant take their breath away in

Istanbul, Batman stands out as the favorite of those who come

from the Middle East.

Ömer Uğur, Founder of Ömer Uğur Hair Transplant, noted that

our country is at the top in health tourism and evaluated the

issue with the following words, "In recent years, the demands

for hair transplantation have been increasing worldwide.

However, despite this picture, people from 165 countries prefer

Türkiye because of the treatment and customer experience

oriented approach of our hair transplant centers. While patients

from Europe prefer Istanbul, which is the most comfortable

city in terms of transportation, the first stop of patients in the

Middle East is Batman. Batman, which has become the center

of attention with its health services, especially transportation

and accommodation, hosts hair transplant clinics that promise

lasting results. As Ömer Uğur Hair Transplant Center, which

provides service within Batman Dünya Hospital, we provide a

comfortable experience by being with our patients at all stages

from the recovery process to the time they leave our city, in

Yoğun saç dökülmesiyle oluşan kellik görüntüsünü kapatmak

isteyen birçok kişi saç ekimi merkezlerine başvururken,

pazarın büyümesini de tetikliyor.

Market Research'ün araştırmasına göre 2021'de 10,2 milyar

dolar değerinde olan küresel saç ekimi pazarının 2029'da 67,1

milyar dolara ulaşması bekleniyor. Sağlık turizminden aldığı

payı her geçen gün artıran Türkiye, saç ekimi alanında dünyanın

önde gelen merkezlerinden birine dönüşüyor. Sağlık Turizmini

Geliştirme Konseyi'nin verileri 2022'nin ilk altı ayında saç

ektirmek için ülkemize gelenlerin sayısının 500 bini aştığını

ve bu rakamın sene sonuna kadar bir milyona çıkarak rekor

kırılacağına işaret ediyor. Saç ektirmek için Avrupa'dan gelenler

soluğu İstanbul'da alırken, Batman'da Ortadoğu'dan gelenlerin

gözdesi olarak öne çıkıyor.

Ülkemizin sağlık turizminde zirveye oynadığını kaydeden

Ömer Uğur Saç Ekim Merkezi Kurucusu Ömer Uğur, konuyu

şu sözlerle değerlendirdi: "Son yıllarda dünya genelinde saç

ekimine talepler artıyor. Ancak bu tabloya karşın 165 ülkeden

insanlar, saç ekimi merkezlerimizin gerek tedavi gerekse

müşteri deneyimi odaklı yaklaşımından dolayı Türkiye'yi tercih

ediyor. Avrupa'dan gelen hastalar ulaşım açısından en konforlu

şehir olan İstanbul'u tercih ederken, Ortadoğu'daki hastaların

ilk durağı da Batman oluyor. Ulaşım ve konaklama başta olmak

üzere sunulan sağlık hizmetleriyle de ilgi odağına dönüşen

Batman, kalıcı sonuç vaat eden saç ekim kliniklerine ev sahipliği

yapıyor. Batman Dünya Hastanesi bünyesinde hizmet veren

Ömer Uğur Saç Ekim Merkezi olarak biz de son teknolojiyle

geliştirdiğimiz tedavi yöntemlerimizin yanı sıra hastalarımızın
---
74 Beauty Güzellik

addition to our treatment methods developed with the latest

technology. In this way, we both generate a positive perception

in patients coming from abroad and contribute to the regional

economy."

Middle Eastern patients visit Batman for permanent and

restorative treatment in hair transplantation

Declaring that they brought Batman to the top in hair transplant

by adopting the principle of perfect customer experience and

quality treatment, Ömer Uğur shared the following information

about their center, "Since 2000, when we opened our doors, we

have been the first choice of patients from the Middle East with

our quality products, treatments and special services. Because

we always prioritize the expectations of our patients and create

a comfortable treatment process for them. With the awareness

that the head area is the first area that attracts people's attention,

we understand the sensitivity of our patients and empathize

with them. With the methods we apply, apart from the most

commonly used DHI and FUE techniques in hair transplant,

we ensure that our patients have a natural appearance, as well as

prevent the problems that occur as a result of intense hair loss

with permanent and restorative results."

Leading patients to permanent solutions

Ömer Uğur, Founder of Ömer Uğur Hair Transplant, who draws

attention to the fact that they provide services not only in hair

transplantation but also in many different areas in their centers,

said, "We do not only apply hair transplantation treatment

in our center in Batman, where we offer sterile, hygienic and

comfortable treatment to our patients, both from Türkiye and

abroad. We also provide beard and mustache transplantation,

laser hair removal, botox, skin care and mesotherapy services.

We know that both our city and our country will achieve new

successes in health tourism. Therefore, we do not hesitate to

invest in different areas in this sector. With our services, we not

only introduce the historical and natural beauties of Batman

to our patients, but also contribute to the growth of the sector

by increasing our market share. We aim to further expand our

service range in the coming period."

iyileşme sürecinden şehrimizden ayrılacağı vakte kadar tüm

aşamalarda yanlarında olarak konforlu bir deneyim sağlıyoruz.

Bu sayede hem yurt dışından gelen hastalarda olumlu bir algı

oluşturuyor hem de bölge ekonomisine katkıda bulunuyoruz."

Ortadoğulu hastalar saç ekiminde kalıcı ve onarıcı tedavi

için Batman'a geliyor

Kusursuz müşteri deneyimi ve kaliteli tedavi ilkesini

benimseyerek saç ekiminde Batman'ı üst sıralara taşıdıklarını

söyleyen Ömer Uğur, merkezleriyle ilgili şu bilgileri paylaştı:

"Kapılarımızı açtığımız 2000'den bu yana kaliteli ürün, tedavi

ve özel hizmetlerimizle Ortadoğu'dan gelen hastaların ilk tercihi

oluyoruz. Çünkü her zaman hastalarımızın beklentilerini

önceliklendiriyor ve onlar için konforlu bir tedavi süreci

oluşturuyoruz. Baş bölgesinin insanların dikkatini çeken ilk

bölge olduğunun bilinciyle hastalarımız hassasiyetini anlıyor ve

onlarla empati kuruyoruz. Saç ekiminde en çok kullanılan DHI

ve FUE tekniklerinin haricinde uyguladığımız yöntemlerle,

hastalarımızın doğal bir görünüme sahip olmalarını sağlamanın

yanı sıra, kalıcı ve onarıcı sonuçlarla yoğun saç dökülmesi

sonucunda oluşan problemlerin önüne geçiyoruz" dedi.

Hastaları kalıcı çözümlere ulaştırıyor

Merkezlerinde yalnızca saç ekimi değil birçok farklı alanda

hizmet verdiklerine dikkat çeken Ömer Uğur Saç Ekim

Merkezi Kurucusu Ömer Uğur, "Gerek yurt içinden gerekse

yurt dışından gelen hastalarımıza steril, hijyenik ve konforlu

bir tedavi olanağı sunduğumuz Batman'daki merkezimizde,

yalnızca saç ekimi tedavisi uygulamıyoruz. Sakal ve bıyık ekimi,

lazer epilasyon, botoks, cilt bakımı ve mezoterapi hizmetleri

de veriyoruz. Gerek şehrimizin gerekse ülkemizin sağlık

turizminde yeni başarılara imza atacağını biliyoruz. Dolayısıyla

bu sektörde farklı alanlarda yatırım yapmaktan çekinmiyoruz.

Hizmetlerimizle hem Batman'ın tarihi ve doğal güzelliklerini

hastalarımıza tanıtıyor, hem de pazardaki payımızı artırarak

sektörün büyümesine katkıda bulunuyoruz. Gelecek dönemde

de hizmet yelpazemizi daha da genişletmeyi hedefliyoruz"

ifadelerini kullandı.
---
76 Beauty Güzellik

It's time to beautify

Güzelleşmenin tam zamanı

Ashley Joy, which is the favorite of those who prefer

naturalness in their personal care, continues to attract

attention with its 100% domestic production care products

and innovations with special formulas containing herbal

ingredients, while giving the good news of advantageous

shopping up to 50% special for November!

Ashley Joy, which provides what is needed in the first use with

effective hair products and is known as the hero of healthy, wellgroomed,

eye-catching and full hair in regular use, enlarges

her beauty-filled world and reveals the skin care field, which

it enters, with the wonderful experiences of those who use its

expertise.

Including the Color Protector line newly added to the hair

category with the line developed for the needs of your hair,

from shampoo to conditioner, from hair care spray to masks,

hairstyling, hairbrush, dry shampoo in other words, whatever

comes to your mind about hair is waiting for you at Ashley Joy.

Eyebrow & eyelash serum, nail care brush, regenerating hand

cream, manicure and pedicure peeling are among the things

you should definitely check out and try for your beauty.

Kişisel bakımında tercihini doğallıktan yana kullananların

favorisi olan Ashley Joy, bitkisel içeriklerin yer aldığı özel

formüllü, %100 yerli üretim bakım ürünleri ve yenilikleri ile

ilgi görmeye devam ederken Kasım ayına özel %50'ye varan

avantajlı alışveriş müjdesini de veriyor!

Etkili saç ürünleri ile ihtiyaç duyulanı daha ilk kullanımda

sağlayan ve düzenli kullanımda sağlıklı, bakımlı, göz alıcı,

dolgun saçların kahramanı olarak nam salan Ashley Joy güzellik

dolu dünyasını daha da büyüterek girdiği cilt bakım tarafında

da uzmanlığını kullananların yaşadığı müthiş deneyimlerle

ortaya koyuyor.

Saç kategorisine yeni eklenen Boya Koruyucu serisi dahil

saçınızın ihtiyacına yönelik geliştirilen serilerle, şampuandan

kreme, saç bakım spreyinden maskelere, saç şekillendirme, saç

fırçası, kuru şampuan yani saça dair aklınıza gelen ne varsa her

biri Ashley Joy'da sizi bekliyor. Kaş & kirpik serumu, tırnak

bakım fırçası, yenileyici el kremi, manikür ve pedikür peelingi

güzelliğiniz için mutlaka göz atmanız ve denemeniz gerekenler

arasında yer alıyor.
---
78 Beauty Güzellik

Helpful straightener guide from Remington

Remington'dan imdada koşan düzleştirici rehberi

Straight hair attracts attention as a frequently preferred

hairstyle with its well-groomed and neat appearance.

Straight hair, which can be done at home without the need

to go to the hairdresser, is the most ideal... However, it can

be difficult to choose the right one among many brands and

models. Here is the straightener guide that makes it easy for

you to decide…

Remington, the world's leading brand of electric hair care

products, has prepared a guide that will facilitate the selection

of hair straighteners. According to the guide prepared by hair

experts, first of all, you should know your hair.

What does your hair want?

You can choose the latest model and the

most expensive, but the important thing

is which straightener your hair chooses!

It is extremely important for your hair

health to find the most suitable

one for your hair among

different products. If you have

thick, curly or long hair, you should

choose models with wide plates. If your

hair is of medium length and normal

thickness, medium-length plates are best.

Any model is suitable for fine hair.

Düz saçlar bakımlı ve düzgün görünümüyle sıkça tercih

edilen bir saç modeli olarak dikkat çekiyor. Kuaföre gitmeye

gerek kalmadan evde yapılabilen düz saçlarsa en ideali...

Ancak pek çok marka ve model arasından en doğrusunu

seçmek zor olabiliyor. İşte size karar vermeyi kolaylaştıran

düzleştirici rehberi…

Dünyanın lider elektrikli saç bakım ürünleri markası

Remington, saç düzleştirici seçimi konusunda kolaylık

sağlayacak bir rehber hazırladı. Saç uzmanları tarafından

hazırlanan rehbere göre, her şeyden önce saçınızı tanımalısınız.

Saçınız ne istiyor?

Siz en son modeli ve en pahalısını seçebilirsiniz ama önemli

olan saçınızın hangi düzleştiriciyi seçeceği! Farklı ürünler

arasından saçınıza en uygun olanı bulmanız saç

sağlığınız açısından son derece

önemli. Kalın telli, kıvırcık

veya uzun saçlarınız varsa

geniş plakalı modelleri

seçmelisiniz. Eğer

saçlarınız orta uzunluk ve

normal kalınlıkta ise orta

boy plakalılar en doğrusu.

İnce telli saçlara ise her

model uygun.
---
80 Beauty Güzellik

Does it have heat preservation technology?

It should not be forgotten that the hair has a very sensitive and

fragile structure. Excessive and direct heat can burn hair. For

this reason, it is necessary to prefer machines that provide equal

heat distribution on the plates and have gradual heat adjustment.

For example, the Remington Hydraluxe Pro Hair Straightener

model generates cold steam to provide full protection against

heat damage with Hydracare Technology. Thanks to the micromoisturizing

particles placed on the plates, it prevents the hair

from losing moisture due to excessive heat. Remington Shine

Therapy, on the other hand, minimizes heat damage to the hair

thanks to its superior microclimate technology. Keratin Protect

Smart Hair Straightener, on the other hand, has the ability to

measure the moisture content of the hair 8 times per second.

The straightener never rises to damaging temperatures.

What does it offer extra to protect my hair?

Keratin-doped ceramic plates are very popular lately. Keratininfused

ceramic plates allow the hair to straighten more easily

without losing its protein. However, developing technology is

not limited to keratin. Remington Keratin Protect Series has

coatings enriched with almond oil along with keratin. The

Remington Shine Therapy series contains extra argan oil and

vitamin E. Unlike the others, Remington PRO-Ion Straight,

thanks to its triple ionic technology, ensures that the hair

is wrapped with millions of negative ions from root to tip,

preventing electrification and frizz.

Isı koruma teknolojisine sahip mi?

Unutulmamalıdır ki saç, oldukça hassas ve kırılgan bir yapıya

sahiptir. Aşırı ve doğrudan uygulanan sıcaklık, saçları yakabilir.

Bu nedenle plakalarda eşit ısı dağılımı sağlayan, kademeli ısı

ayarı bulunan makineleri tercih etmek gerekiyor. Örneğin

Remington Hydraluxe Pro Saç Düzleştirici modeli, Hydracare

Teknolojisi ile ısı hasarına karşı tam koruma sağlamak adına

soğuk buhar oluşturuyor. Plakalar üzerine yerleştirilmiş mikro

nemlendirici tanecikler sayesinde ise, aşırı ısıdan dolayı saçların

nem kaybına uğramasını önlüyor. Remington Shine Therapy

ise, üstün mikro klima teknolojisi sayesinde yine saçların ısıdan

zarar görmesini en aza indiriyor. Keratin Protect Akıllı Saç

Düzleştirici ise, saçın nem oranını saniyede 8 kere ölçebilme

kabiliyetine sahip. Düzleştirici, hiçbir zaman saça zarar verecek

ısılara yükselmiyor.

Saçımı korumak için ekstra ne sunuyor?

Keratin katkılı seramik plakalar son dönemde oldukça

popüler. Keratin katkılı seramik plakalar saçın proteinini

kaybetmeden daha kolay düzelşmesini sağlıyor. Ancak gelişen

teknoloji keratinle sınırlı kalmıyor. Remington Keratin Protect

Serisi keratinle birlikte badem yağıyla da zenginleştirilmiş

kaplamalara sahip. Remington Shine Therapy serisinde ekstra

argan yağı ve E vitamini bulunuyor. Remington PRO-Ion

Straight ise diğerlerinden farklı olarak, sahip olduğu üçlü

iyonik teknoloji sayesinde saçın kökten uca milyonlarca negatif

iyonla sarılmasını sağlayarak, elektriklenmesini ve kabarmasını

önlüyor.
---
84 Beauty Güzellik

Dr. Levent Acar invented a revolutionary device

for hair transplantation

Dr. Levent Acar, saç ekiminde devrim yapan bir cihaz icat etti

Dr. Levent Acar

Invented by Dr. Levent Acar, Robopen, the incision (channel

opening) device for hair transplant surgery, is attracting

great interest from leading hair transplant doctors in the

USA, South America, Asia and all European countries.

Providing information about Robopen, the world's first

automatic and portable hair transplant incision device,

Dr. Acar emphasized that with this method, physicians can

now perform thousands of hair incision procedures more

conveniently and get much more efficient results without

getting tired.

According to the latest research of the International Society of

Hair Restoration Surgery (ISHRS), the size of the global hair

restoration industry was 4.5 billion dollars in 2021. According

to the same research, the number of people who had hair

restoration was 2.2 million worldwide, while 703 thousand

people had hair transplantation operations. According to

the Foreign Economic Relations Board of Turkey (DEIK),

the country has a volume of over 1 billion dollars in hair

transplantation.

Turkey's success can be attributed to the great efforts made in

the last 10 years, a large organization, talented physicians and

health personnel. The results obtained and the satisfaction of the

patients have also ranked Turkey to the first place in this field.

One of Turkey's achievements in this field was the introduction

of an innovative technology to the industry.

Doktor Levent Acar tarafından icat edilen, saç ekim cerrahisi

için kesi açma (kanal açma) cihazı Robopen; ABD, Güney

Amerika, Asya ve tüm Avrupa ülkelerinin önde gelen saç

ekimi doktorları tarafından büyük ilgi görüyor. Dünyanın

ilk otomatik ve taşınabilir saç ekimi kesi cihazı Robopen

hakkında bilgilendirmelerde bulunan Acar bu yöntem ile

doktorların artık yorulmadan binlerce saç kesi işlemini

daha uygun bir şekilde gerçekleştirebileceklerini ve çok daha

verimli sonuçlar alabileceklerini vurguladı.

Uluslararası Saç Restorasyon Cerrahisi Derneği'nin (ISHRS)

son araştırmasına göre 2021 yılında küresel saç restorasyonu

sektörünün büyüklüğü 4,5 milyar dolar oldu. Aynı araştırmaya

göre saç restorasyonu yaptıran kişi sayısı ise dünya genelinde 2,2

milyon kişi olurken 703 bin kişi saç ekimi operasyonu yaptırdı.

Türkiye Dış Ekonomik İlişkiler Kurulu (DEİK) açıklamasına

göre ise Türkiye saç ekiminde 1 milyar doların üzerinde bir

hacme sahip.

Türkiye'nin bu başarısının ardında son 10 yılda verilen

büyük emekler, geniş bir organizasyon, yetenekli doktorlar

ve sağlık personelleri bulunuyor. Elde edilen sonuçlar ve

hastaların memnuniyeti de Türkiye'yi bu alanda ilk sıraya

taşıdı. Türkiye'nin bu alanda imza attığı başarılardan birisi de

sektöre yenilikçi bir teknoloji kazandırması oldu. Dünyanın ilk

otomatik, avuç içi ve kablosuz taşınabilir saç ekimi kesi cihazı

Türk Doktor Levent Acar tarafından icat edildi. Tasarımı ve

icadı tamamen Dr. Levent Acar'a ait olan cihazın motor ve

kasa üretimi Almanya'da, yazılım ve elektronik parçaları ise

Türkiye'de üretildi. Cihaz ABD, Güney Amerika, Asya ve tüm

Avrupa ülkelerinin önde gelen saç ekimi doktorları tarafından

yoğun ilgi görüyor.
---
Güzellik

Beauty

85

The world's first automatic, handheld and wireless portable hair

transplant incision device was invented by Turkish Dr. Levent

Acar. The design and invention of the device belongs entirely

to Dr. Acar. The motor and case production of the device was

made in Germany, while the software and electronic parts were

produced in Turkey. The device attracts great interest from

leading hair transplant physicians in the USA, South America,

Asia and all European countries.

Thanks to this device, which has revolutionized the hair

restoration industry, physicians can now perform thousands of

hair incisions more accurately and conveniently without getting

tired. In hair transplantation, canalization is the process of

cutting the skin thousands of times with precise power and the

distance between the incisions is closer than 1 mm to each other.

Therefore, depth control is very important in this procedure. As

the human hand repeats this process thousands of times, it can

start to get tired and lose precise control. However, Robopen

makes it possible to make thousands of incisions at the desired

strength and depth without getting tired, enabling much more

organized operations. However, Robopen enables physicians to

make thousands of incisions at the desired strength and depth

without fatigue, and thus enabling much more streamlined

procedures.

"More efficient results can be achieved with Robopen"

Speaking about the benefits of Robopen, Dr. Levent Acar said,

"While thousands of incisions are made in the canal opening

process in traditional methods, the human hand naturally gets

tired. Accordingly, the incisions are not of equal depth, the

distance between the incisions cannot be maintained, and loss of

control may occur in the angles at critical points that determine

the aesthetic result. Unnatural results may occur in the front

hairline or problems such as the transplants in the temporal area

growing at vertical angles although they should be parallel to

the skin. Thanks to its sensitive micro motor, Robopen manages

to overcome many problems that may occur. In the procedures

performed with Robopen, it is ensured that the incisions are

of equal depth and parallel to each other. Especially under the

skin, the skin structure and blood circulation are less damaged

as the incisions are not too close to each other and do not

overlap. In other words, healing is accelerated and the rate

of waste in the transplanted roots is reduced and more

efficient results are obtained."

"It puts an end to the worry of whether my hair

will grow in wrong way"

"Since many stages of the canal opening

process, which is tiring and requires a lot

of attention, are left to a human-controlled

device, there is now a chance to spend

more time on the aesthetic part of the

procedure. One of the features of

Robopen is that the angle at which the

hair will grow can be controlled with a

practical method.

Saç restorasyonu sektöründe adeta devrim yapan bu cihaz

sayesinde artık doktorlar yorulmadan binlerce saç kesi işlemini

daha doğru ve uygun bir şekilde gerçekleştirebiliyor. Saç

ekiminde kanal açma işlemi, hassas güçle cildin binlerce kez

kesilmesi işlemi olup kesiler arası mesafe birbirine 1 mm'den

daha yakın oluyor. Bu nedenle bu işlemde derinlik kontrolu çok

önemli. İnsan eli bu işlemi binlerce kez tekrarlarken yorulmaya

ve hassas kontrolu kaybetmeye başlayabiliyor. Ancak Robopen

binlerce kesinin hiç yorulmadan, istenen güçte ve derinlikte

açılmasını mümkün kılarak çok daha nizami işlemler

yapılmasını sağlıyor.

"Robopen ile daha verimli sonuçlar elde edilebiliyor"

Robopen'in sağladığı faydalardan bahseden Dr. Levent Acar,

"Geleneksel yöntemlerde kanal açma işleminde binlerce

kesi yapılırken insan eli doğal olarak yoruluyor. Buna bağlı

olarak kesiler eşit derinlikte olmuyor, kesiler arası mesafe

korunamıyor ve estetik sonucu belirleyen

kritik noktalarda açılarda kontrol kaybı

oluşabiliyor. Ön saç çizgisinde doğal

olmayan sonuçlar oluşabiliyor veya

şakak bölgesindeki ekimler cilde

paralel olması gerekirken dik

açıda uzaması gibi sorunlar

ortaya çıkabiliyor.

Robopen

h a s s a s

mikro motoru

sayesinde,

oluşabilecek

birçok problemin

üstesinden gelmeyi

başarıyor. Robopen ile

yapılan işlemlerde kesilerin

eşit derinlikte ve birbirine

paralel olması sağlanıyor. Özellikle

cilt altında kesilerin birbirine çok

yaklaşmaması ve üst üste binmemesi

sayesinde cilt yapısına ve kan dolaşımına

daha az zarar veriliyor. Yani iyileşme hızlanıyor

ve ekilen köklerde fire oranı azalıyor, daha verimli

sonuçlar elde ediliyor." dedi.

"Saçlarım dik mi uzayacak endişesine son veriyor''

Dr. Acar açıklamasının devamında şunları söyledi: "Yorucu

ve çok dikkat gerektiren kanal açma işleminin birçok aşaması

insan kontrolündeki bir cihaza bırakıldığı için artık işlemin

estetik kısmına daha çok vakit ayırma şansı kalıyor.
---
86 Beauty Güzellik

Thanks to the device, this control can be done at any time and

the problem of angle shift that occurs in ongoing procedures

after thousands of incisions is eliminated in this way. Thus,

concerns such as whether my hair will grow vertically are also

put an end. One of the features of Robopen is that the incisions

are counted automatically. Thus, the skin is not traumatized

unnecessarily. In manual canalization methods, there may be

deviations in the numbers as the incisions are counted by other

personnel," said Dr. Acar.

Who is Dr. Levent Acar?

Levent Acar is a medical aesthetic doctor. After graduating from

Istanbul University Çapa Faculty of Medicine he participated

in Dr. Horst-Schmidt-Kliniken (HSK) Medical Training

Programs as well as FUE, Laser Therapy, Medical Aesthetics,

Mesotherapy, Filling and Cosmetic Gynecology Training

Programs. Dr. Acar started his career as the Medical Director

of the Medical Aesthetics Unit in an international hospital

in Istanbul and specialized in FUE and Sapphire DHI hair

transplantation techniques. Since 2011, Dr. Acar, who has been

providing hair transplantation services at Cosmedica Clinic,

closely follows the innovations and developments in the field of

hair transplantation and participates in all high-level congresses

and seminars worldwide. He was born in Germany in 1981 and

speaks German, Turkish and English.

Robopen'in özelliklerinden biri de pratik bir yöntemle saçların

hangi açıda uzayacağının kontrol edilebilmesidir. Cihaz

sayesinde bu kontrol her an yapılabiliyor ve binlerce kesi

sonrası devam eden işlemlerde oluşan açı kayması problemi

bu şekilde ortadan kaldırılmış oluyor. Böylece saçlarım dik

mi uzayacak gibi endişelere de son veriliyor. Robopen'in

özelliklerinden biri de açılan kesiler otomatik sayılıyor. Böylece

ciltte gereksiz anlamda travma oluşturulmuyor. Manuel kanal

açma yöntemlerinde ise kesiler başka personel tarafından

sayıldığından rakamlarda sapmalar olabiliyor."

Dr. Levent Acar Kimdir?

Medikal estetik doktoru Levent Acar, İstanbul Üniversitesi Çapa

Tıp Fakültesi'nden mezun olduktan sonra Dr. Horst-Schmidt-

Kliniken (HSK) Tıp Eğitim Programlarının yanı sıra FUE,

Lazer Terapi, Medikal Estetik, Mezoterapi, Dolgu ve Kozmetik

Jinekoloji Eğitim Programlarına katılmıştır. Kariyerine

İstanbul'da uluslararası bir hastanede Medikal Estetik Birimi

Medikal Direktörü olarak başlayan Dr. Acar; FUE ve Safir DHI

saç ekimi tekniklerinde uzmanlaşmıştır. 2011 yılından bu yana

Cosmedica Klinik'te saç ekimi hizmeti veren Dr. Acar, saç ekimi

alanındaki yenilikleri ve gelişmeleri yakından takip etmekte

olup dünya çapındaki tüm üst düzey kongre ve seminerlere

katılmaktadır. Kendisi 1981 yılında Almanya'da doğmuş olup

Almanca, Türkçe ve İngilizce dillerini bilmektedir.
---
88 Beauty Güzellik

Perfume preferences of the season

Mevsimin parfüm tercihleri

The most important factor that increases the permanence

of perfumes and makes them feel is air temperature. The

condensation and evaporation effects of heavy or relaxing

odors of heat are among the most important reasons for this

situation. For example, while spring expresses love and intense

emotions, autumn symbolizes romance and calmness. These

show the strong influence of the seasons on us when choosing

a fragrance. For example, scents such as mint, basil, and orange

blossom that make you feel fresh and happy in the spring come

to the fore, while in winter, exotic and oriental scents such as

vanilla, cinnamon, incense and spices stand out.

So how do we feel in autumn?

With the arrival of autumn, the weather begins to cool. After

the hot and hot days of summer, with a sharp difference, a

much calmer time for rest begins. As the trees say goodbye

Parfümlerin kalıcılığını artıran ve hissettiren en önemli

durum hava sıcaklığı. Sıcağın ağır veya rahatlatıcı kokuların

yoğunlaşma, buharlaşma etkileri bu durumun en önemli

nedenlerinden. Örneğin ilkbahar aşkı ve yoğun duyguları ifade

ederken sonbahar romantizmi ve sakinliği simgeliyor. Bunlar da

koku seçilirken mevsimlerin bizlerin üstündeki güçlü etkisini

gösteriyor. Mesela, ilkbaharda tazeliği ve mutluluğu hissettire

nane, fesleğen, portakal çiçeği gibi kokular ön sıralara çıkarken,

kış aylarında ise vanilya, tarçın, tütsü, baharat gibi egzotik ve

oryantal kokular kendini önde gösteriyor.

Peki sonbaharda nasıl hissediyoruz?

Sonbaharın gelişi ile havalar soğumaya başlıyor. Yazın sıcak

ve hararetli günlerden sonra keskin bir farklılıkla çok daha

sakin, dinlenmeye vakit ayrılan zamanlar başlıyor. Ağaçlar

dökülen yapraklarıyla vedalaşırken gri bulutlar gökyüzünün

hakimiyetine giriyor. Bu kadar özgün bir dönemde de odunsular

gibi eşsiz kokular tercih ediliyor. Nota olarak da paçuli, vetiver,

sandal ağacı, kehribar, meşe ön planda kendilerini gösteriyor.

Bu kokuları içeren dünyanın en büyük ve en kaliteli esanslarının

üreticisi, parfüm dehası Givaudan Paris imzası taşıyan

PELLINN PARIS No.14, No:15, No:24, No:26, No.27 ve No. 30

çarpıcı, yoğunlaştırılmış ve kalıcı imza kokulardır.

No.14: Üst notalarında; Şakayık Çiçeği, Frezya Çiçeği esansiyel

yağları ve Misk ile yoğun bir şekilde harmanlanmıştır. Orta

notalarda; Gül Ağacı, Manolya, Nilüfer Çiçeği esansiyel yağları,

alt notalarda ise; Amber, Sedir Ağacı esansiyel yağı ve Misk ile

buluşturulmuştur.

No.27: Üst notalarında; Bergamot esansiyel yağı ile özleri yoğun
---
Güzellik

Beauty

89

to their fallen leaves, gray clouds dominate the sky. In such a

unique period, unique scents such as woody are preferred. As

notes, patchouli, vetiver, sandalwood, amber and oak are in

the foreground. PELLINN PARIS No.14, No:15, No:24, No:26,

No.27 and No. 30 stunning, intensified and enduring signature

scents.

No.14: Peony Flower, Freesia Flower essential oils and Musk

are intensely blended on top notes. Rosewood, Magnolia, Lotus

Flower essential oils are combined with Amber in the middle

notes Cedarwood essential oil and Musk in the base notes.

Amber is combined with Cedarwood essential oil and Musk in

the bottom notes.

No.27: Intensely blended with bergamot essential oil and

extracts on top notes. Rose, Jasmine, Geranium, Freesia

essential oil in Middle notes. It is combined with Patchouli,

Amber, Vanilla essential oil in the bottom notes.

No.30: Intensely blended with Bergamot, Lemon, Mirabella

Plum essential oils in top notes. Jasmine, Oak Moss,

Sandalwood, Gardere Melon essential oil in Middle notes.

Amber, Sandalwood essential oil and Musk are combined in

base notes.

Luxurious fragrance experiences become accessible with

PELLIN perfume

PELLIN perfumes, which are distilled in titanium boilers by

passing through 24 separate filters for 48 hours at -4 degrees,

are released after resting in special tanks for at least 4 months.

Pellin perfume with original EDP guarantee, which makes

luxury perfume accessible with 77 different scent alternatives,

also offers many gift options for its users.

bir şekilde harmanlanmıştır. Orta notalarda; Gül, Yasemin,

Sardunya Çiçeği, Frezya çiçeği esansiyel yağı, alt notalarda ise;

Paçuli, Amber, Vanilya esansiyel yağı ile buluşturulmuştur.

No.30: Üst notalarında; Bergamot, Limon, Mirabella Eriği

esansiyel yağları ile yoğun bir şekilde harmanlanmıştır. Orta

notalarda; Yasemin, Meşe Yosunu, Sandal ağacı, Gardere

Kavunu esansiyel yağı, Alt notalarda ise; Amber, Sandal ağacı

esansiyel yağı ve Misk ile buluşturulmuştur.

Lüks koku deneyimleri PELLIN parfüm ile ulaşılabilir hale

geliyor

Titanyum kazanlarda, -4 derecede 48 saat boyunca 24 ayrı

filtreden geçirilerek damıtılan PELLIN parfümler, en az 4

ay boyunca özel tanklarda dinlendirildikten sonra piyasaya

sürülüyor. 77 çeşit koku alternatifi ile lüks parfümü ulaşılabilir

kılan orijinal EDP garantili Pellin parfüm, kullanıcıları için

birçok hediye seçeneği de sunuyor.
---
92 Beauty Güzellik

SARUHAN CHEMISTRY TAKES PLACE IN

BEAUTY ISTANBUL 2022

SARUHAN KİMYA, BEAUTY İSTANBUL 2022'DE YERİNİ ALDI

C

Saruhan Kimya ve Temizlik

Ürünleri A.Ş. Satış Müdürü

İbrahim Akyüz

M

Y

CM

Saruhan Chemistry and Cleaning Products Inc. participated

in the 3rd Beauty Istanbul Fair held at the Istanbul Congress

Center.

Saruhan Chemistry and Cleaning Products Inc., the leading

brand of the chemical industry in Turkey, participated in Beauty

Istanbul 2022 with its four brands, in which more than 400

companies participated. Fakir, Life by Fakir, Expert by Fakir,

Nilco and Alley brands took place at the Saruhan Chemistry

Booth. At the fair that brought together the manufacturers of

the cosmetics industry from Turkey and the world, cosmetics,

beauty, hairdressers, private label, packaging brands and raw

material manufacturers met with the visitors. Expressing that

they are pleased with the interest in Saruhan Chemistry at the

fair.

Saruhan Chemistry and Cleaning Products Inc. Sales Manager

İbrahim Akyüz said, "We were happy to take part in the Beauty

Istanbul 2022 fair, which hosted many domestic and foreign

industry professionals. I think it is a very important organization

in terms of promoting the Turkish cosmetics industry to both

the domestic market and the participants from abroad. It was an

efficient organization in order to expand our network by hosting

our guests at our booth and telling them about our brands. We

interacted with many companies to find business development

opportunities. We will continue to provide added value to our

brands by participating more in such organizations."

Saruhan Chemistry also took its place at SHK Rashid Hall,

stand RP-F6 at the Private Label & Licensing Middle East fair

held in Dubai on 8-10 November 2022.

Saruhan Kimya ve Temizlik Ürünleri A.Ş., İstanbul Kongre

Merkezi'nde düzenlenen 3. Beauty İstanbul Fuarı'na katıldı.

Kimya sektörünün Türkiye'deki öncü markası Saruhan Kimya ve

Temizlik Ürünleri A.Ş., 400'den fazla firmanın katılım sağladığı

Beauty İstanbul 2022'ye dört markası ile katıldı. Saruhan Kimya

standında Fakir, Life by Fakir, Expert by Fakir, Nilco ve Alley

markaları yer aldı. Türkiye ve dünyadan kozmetik sektörü

üreticilerini bir araya getiren fuarda kozmetik, güzellik, kuaför,

private label, ambalaj markaları ve hammadde üreticileri

ziyaretçilerle buluştu.

Fuarda Saruhan Kimya'ya olan ilgiden memnun olduklarını dile

getiren Saruhan Kimya ve Temizlik Ürünleri A.Ş. Satış Müdürü

İbrahim Akyüz, "Yerli-yabancı birçok sektör profesyonelini

ağırlayan Beauty İstanbul 2022 fuarında yer almaktan

mutluluk duyduk. Gerek iç pazar gerekse de yurtdışından gelen

katılımcılara Türkiye kozmetik sektörünün tanıtımı açısından

da çok önemli bir organizasyon olduğunu düşünüyorum.

Standımızda misafirlerimizi ağırlayıp, onlara markalarımızı

anlatarak network'ümüzü genişletmek adına verimli bir

organizasyon oldu. İş geliştirme fırsatları yakalamak için birçok

firma ile etkileşimde bulunduk. Bu tarz organizasyonlarda daha

çok yer alarak markalarımıza katma değer sağlamaya devam

edeceğiz" dedi.

Saruhan Kimya, a8-10 Kasım 2022 tarihlerinde Dubai'de

düzenlenen Private Label & Licensing Middle East fuarında da

SHK Rashid Hall, RP-F6 numaralı stantta yerini aldı.

Ayrıntılı Bilgi: https://www.saruhankimya.com.tr/tr/

MY

CY

CMY

K
---
94 Beauty Güzellik

"Customer Brand" award to Molped

Molped'e "Customer Brand" ödülü

C

M

Acting with the vision of being the best friend of all women,

Molped was granted an award of A.L.F.A. Awards. In the

organization where the brands that designed the best

customer experience were awarded as the 'Customer Brand',

Molped was selected as the 'Customer Brand' of the year in

the Personal Care Brand category.

In collaboration with Marketing Türkiye and AKADEMETRE

Research and Strategic Planning, A.L.F.A. Awards Award

Ceremony took place on October 26 at Hilton Istanbul Bomonti

Hotel & Conference Center. Molped Global Marketing Director,

Gülhan Cantürk, said the following about being chosen as

the 'Customer Brand' in one of the most important award

ceremonies held in Türkiye in the field of experience design:

"As Molped, we have always positioned ourselves as the best

friend of women for more than 20 years. We have always been a

cheerful, friendly, brave and confident brand. Our consumers,

seeing this, never stopped choosing us. This award has a special

importance as it is given as a result of the evaluation and

appreciation of the consumers. It is a great source of happiness

for us to win their appreciation and receive this award. As

Molped, we will continue to be the companion of all women."

In the research conducted by face-to-face interviews with 1,200

people in 12 provinces representing Türkiye, parameters such as

"Customers' desire to experience the brand", "Communication

dimension", "Relationship dimension" and "brand awareness in

the eyes of consumers" are measured. In the A.L.F.A Awards,

where the brands that provide the best customer experience are

awarded since 2015, the brands that provide the best experience

in 58 categories are selected as 'Customer Brand' by the public

jury.

Tüm kadınların en yakın arkadaşı olma vizyonuyla hareket

eden Molped, A.L.F.A. Awards'ta ödüle layık görüldü. En iyi

müşteri deneyimini tasarlayan markaların 'Customer Brand'

olarak ödüllendirildiği organizasyonda Molped, Kişisel

Bakım Markası kategorisinde yılın "Customer Brand"i

seçildi.

Marketing Türkiye ve AKADEMETRE Research and Strategic

Planning iş birliğiyle yapılan A.L.F.A. Awards Ödül Töreni,

26 Ekim'de Hilton İstanbul Bomonti Hotel & Conference

Center'da gerçekleşti. Molped Global Pazarlama Direktörü

Gülhan Cantürk, deneyim tasarımı alanında Türkiye'de yapılan

en önemli ödül törenlerinden birinde 'Customer Brand'

seçilmeleriyle ilgili olarak şunları söyledi: "Molped olarak, 20

yılı aşkın süredir kendimizi hep kadınların en yakın arkadaşı

olarak konumlandırdık. Her zaman neşeli, dost canlısı, cesur,

özgüvenli bir marka olduk. Tüketicilerimiz de bunu görerek

bizi tercih etmekten asla vazgeçmedi. Bu ödül, tüketicilerin

değerlendirmesi ve beğenisi sonucu verildiği için ayrı bir önem

taşıyor. Onların beğenisini kazanıp bu ödülü almış olmak bizim

için büyük bir mutluluk kaynağı. Molped olarak tüm kadınların

yol arkadaşı olmaya devam edeceğiz."

Türkiye temsili 12 ilde 1.200 kişiyle yüz yüze görüşülerek yapılan

araştırmada "Müşterilerin arzu boyutu", "Markayı deneyimleme

istekleri", "İletişim boyutu", "İlişki boyutu" ile "Markanın

tüketici nezdinde bilinirliği" gibi parametreler ölçümleniyor.

2015 yılından bu yana ise en iyi müşteri deneyimini sağlayan

markaların ödüllendirildiği A.L.F.A Awards'ta halk jürisi

tarafından 58 kategoride deneyimi en iyi yaşatan markalar

'Customer Brand' seçiliyor.

Y

CM

MY

CY

CMY

K
---
Meet the Beauty

where the continents meet!

Kıtaların buluştuğu yerde

güzellik ile buluşalım!

15-17 June / Haziran 2023

YESILKOY / Istanbul

HALL 9 - 10 - 11

Follow us / Bizi takip edin

Organiser / Organizatör