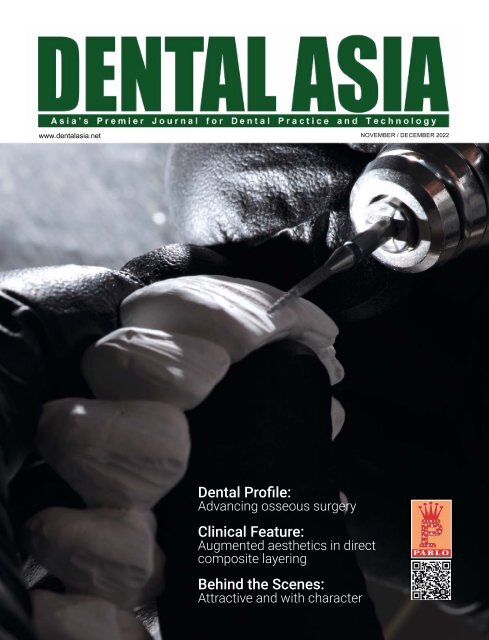 Dental Asia November/December 2022
For more than two decades, Dental Asia is the premium journal in linking dental innovators and manufacturers to its rightful audience. We devote ourselves in showcasing the latest dental technology and share evidence-based clinical philosophies to serve as an educational platform to dental professionals. Our combined portfolio of print and digital media also allows us to reach a wider market and secure our position as the leading dental media in the Asia Pacific region while facilitating global interactions among our readers.
For more than two decades, Dental Asia is the premium journal in linking dental innovators and manufacturers to its rightful audience. We devote ourselves in showcasing the latest dental technology and share evidence-based clinical philosophies to serve as an educational platform to dental professionals. Our combined portfolio of print and digital media also allows us to reach a wider market and secure our position as the leading dental media in the Asia Pacific region while facilitating global interactions among our readers.

SHOW MORE
SHOW LESS
You also want an ePaper? Increase the reach of your titles
YUMPU automatically turns print PDFs into web optimized ePapers that Google loves.
www.dentalasia.net

NOVEMBER / DECEMBER 2022

Dental Profile:

Advancing osseous surgery

Clinical Feature:

Augmented aesthetics in direct

composite layering

Behind the Scenes:

Attractive and with character
---
ANCHORING THE PRESENT,

ALIGNING FOR THE FUTURE

17-19 FEBRUARY 2023

Marina Bay Sands, Singapore

www.aoscongress.com

EARLY BIRD EXPIRES ON

30 NOVEMBER 2022!

SCAN TO

REGISTER

Organised By:

Held In:

Supported By:

Managed By:
---
Being 100% member owned means we put you first. We're always working

to enhance your support – protecting you for life, not for profit.

• A wide range of protection beyond claims

• Advice for any eventuality your career may face

• Fast to respond to unexpected situations

• Support today, tomorrow and yesterday

Always there for you

dentalprotection.org

Dental Protection Limited is registered in England (No. 2374160) and is a wholly owned subsidiary of The Medical Protection Society Limited ("MPS") which is registered in England (No. 00036142).

Both companies use 'Dental Protection' as a trading name and have their registered office at Level 19, The Shard, 32 London Bridge Street, London, SE1 9SG. Dental Protection Limited serves and

supports the dental members of MPS with access to the full range of benefits of membership, which are all discretionary, and set out in MPS's Memorandum and Articles of Association. MPS is not

an insurance company. Dental Protection® is a registered trademark of MPS.

2207044050 07/22
---
TRENDS

14 Top seven trends outlining the market growth of

dental practice management software

UNDER THE SPOTLIGHT

16 Encouraging, challenging and celebrating oral tissue

regeneration

18 Father and daughter, mentor and trainee —

two generations of dental expertise

20 Strength in unity

14

DENTAL PROFILE

24 Advancing osseous surgery

26 VITA Zahnfabrik: Quality that exceeds the norm

CLINICAL FEATURE

28 Augmented aesthetics in direct composite layering

34 Elevate patient experience with proactive dentistry

USER REPORT

38 All-ceramic restoration on discoloured teeth

40 GBR around implant using porcine-derived carbonate

apatite xenograft to optimise pink aesthetics

42 Morphology-focused direct composite restoration

BEHIND THE SCENES

44 Attractive and with character

48 Scanning spray for digital production

18

26

38

IN DEPTH WITH

50 Primescan Connect: Easy scan, seamless collaboration

51 Implant planning module from Carestream Dental

now accepts open files from intraoral scanners

52 Exceptional performance in a compact body

CONTENTS

SHOW PREVIEW

60 CDS 2022 and 24th CSA Annual Congress: The return

of much-awaited dental events in China

SHOW REVIEW

61 exocad Insights 2022: A highly anticipated digital

dentistry event

64 IDEM 2022 celebrates another great milestone

achieved

REGULARS

4 Editor's note

6 Dental Updates

53 Product Highlights

67 Events Calendar

68 Advertisers' Index

61

64

2

DENTAL ASIA NOVEMBER / DECEMBER 2022
---
STAY AHEAD

OF THE GAME.

+45

NEW FEATURES

DentalCAD 3.1 Rijeka

More than 45 new and over 85 enhanced features level up your journey to beautiful results. Faster

design of single-unit restorations, reuse of custom tooth setups, highly automated pre-op workflows,

a more intuitive Model Creator and more flexible denture design awaits you in DentalCAD 3.1 Rijeka.

Contact your reseller to upgrade.

Imagine the CADABILITIES
---
EDITOR'S NOTE

Save the best

for last

The success of the recently concluded

International Dental Exhibition and Meeting

(IDEM) signals that the dental field is on

its way to pre-pandemic normalcy (p.64).

Our team is ecstatic to be part of this event

and interact with exhibitors from different

parts of the world showcasing their

product portfolios.

It was a great and truly memorable

experience to meet colleagues in person

after a long time. In fact, we had an

opportunity to speak with Kelvin Liang,

sales area manager of Mectron in APAC,

to discuss their latest product launches

and strategies specific to the APAC

market as what he described as "very

versatile" (p.24).

We also met Emiliano Bini, regional

business manager of VITA, Australasia,

to learn more about how VITA Zahnfabrik

remained at the forefront of progress for

laboratory and practice since 1924, and

what more can the dental professionals

anticipate from the company in the next

five to 10 years (p.26).

And, of course, we did not miss the

opportunity to meet Dr Lawrence Yong,

president of the Singapore Dental

Association, to ask about his takeaways

from the pandemic, his thoughts on today's

dental landscape, and what he thinks the

future holds for the industry (p.20).

Moreover, we witnessed the latest

innovations launched at IDEM — such

as the TRIOS 5 intraoral scanner from

3Shape, featuring a compact body

redesigned for ergonomics, effortless

scanning, and improved hygiene (p.52); as

well as dental scanning spray for digital

production from Scantist 3D that forms a

fine, homogeneous matte coating on shiny,

reflective dental objects (p.48).

Though the road to recovery was bumpy,

the industry embodied resilience and

proved its commitment to uplifting patient

experience. Indeed, dental professionals

can look forward to faster, more efficient

workflows in the future that will redefine the

standard of today's dental care.

LET'S CONNECT!

Czarmaine Masigla

Assistant Editor

@dentalasia

PABLO SINGAPORE

Publisher

Assistant Editor

Graphic Designer

Circulation Manager

Media Representative

PABLO BEIJING

General Manager

PABLO SHANGHAI

Senior Editor

Cover credit

William Pang

williampang@pabloasia.com

Czarmaine Masigla

czarmaine@pabloasia.com

Cayla Ong

cayla@pabloasia.com

Shu Ai Ling

circulation@pabloasia.com

Jamie Tan

jamietan@pabloasia.com

Ellen Gao

pablobeijing@163.com

Daisy Wang

pabloshanghai@163.net

Amann Girrbach

HEAD OFFICE

PABLO PUBLISHING &

EXHIBITION PTE LTD

3 Ang Mo Kio Street 62 #01-23

Link@AMK, Singapore 569139

Tel: (65) 62665512

Email: info@pabloasia.com

Website: www.dentalasia.net

Company Registration No.: 200001473N

Singapore MICA (P) No. 104/12/2021

Malaysia KDN: PPS1528/07/2013 (022978)

REGIONAL OFFICES

PABLO BEIJING

Tel: +86-10-6509-7728

Email: pablobeijing@163.com

PABLO SHANGHAI

Tel: +86-21-52389737

Email: pabloshanghai@163.net

ADVISORY BOARD

Dr William Cheung

Dr Choo Teck Chuan

Dr Chung Kong Mun

Dr George Freedman

Dr Fay Goldstep

Dr Clarence Tam

Prof Nigel M. King

Dr Anand Narvekar

Dr Kevin Ng

Dr William O'Reilly

Dr Wong Li Beng

Dr Adrian U J Yap

Dr Christopher Ho

Dr How Kim Chuan

Dr Derek Mahony

Prof Alex Mersel
---
DENTAL UPDATES

New sustainable company headquarters for Amann Girrbach in Mäder, Austria

With its new, sustainability-oriented building,

which is to be constructed in just 15 months,

Amann Girrbach will be consolidating its sites

in Vorarlberg, Austria. All 350 employees

will be located in Mäder in the future, and

a further increase in personnel is planned

medium term. The intention of the new

building is to create a working environment

with added value for all employees and, at the

same time, to optimise all procedures and

processes. The investment costs amount to

€47m.

The new company headquarters in Mäder

are scheduled to be ready for occupancy at

the end of 2023. All Austrian facilities, from

manufacturing and warehousing to research

and development, administration and training,

will in future be located in the premises and

halls, covering a total of around 20,000sqm.

"With the new building in Mäder, we will be

implementing our own high standards when

it comes to creating an atmosphere for

our employees in which everyone can feel

comfortable and work productively. We are

pleased that in future we will be able to offer

a canteen as well as various recreational

lounges and green areas that meet the most

up-to-date and well-thought-out requirements,"

said Dr Wolfgang Reim, CEO of Amann

Girrbach, underlining the company's intention.

The rapid growth of Amann Girrbach has also

prompted the need to merge the individual

sites while expanding them at the same time.

"There has been an increasing lack of space

in recent years due to our very satisfying

corporate development, and we have had

to resort to external premises on several

occasions. At the new, central location, it will

now also be possible to optimise cooperation

between the individual departments, resulting

in improved processes and workflows, and

the entire logistic chains between the present

locations will be eliminated," added Dr Reim.

Another key brief in the planning of the

new headquarters was the commitment to

sustainably reduce the company's carbon

footprint. The building will be fitted with

one of Vorarlberg's largest photovoltaic

systems, with an output of up to 1.15MWp.

Amann Girrbach utilises heat from the

sintering furnaces to heat the building, and

the heat pumps operate with groundwater.

The planned green roof is also designed

to promote biodiversity. The cooperation

partner Garbe is a technical and structural

co-developer as well as being the owner of

the new building. DA

Carestream Dental partners with Overjet

Carestream Dental has partnered with

Overjet, the industry leader in dental

artificial intelligence. The partnership gives

Carestream Dental's customers access to

Overjet's AI-powered X-ray analysis tool that

detects decay, quantifies bone loss and

highlights other areas of concern.

Overjet's FDA-approved technology can also

analyse 18 months of prior radiographs and

cross-reference them with an office's practice

management system to identify potential

decay and periodontal disease that has not

been diagnosed.

Research shows that diseased teeth are

misdiagnosed nearly a quarter of the time

when using traditional methods*. However,

the AI technology eases the workload and

streamlines the diagnostic process for

practitioners, while building greater trust with

their patients.

"We're seeing an increase in AI in every part of

the industry, which is giving clinicians greater

confidence in their diagnosis and treatment

planning," said Jeremy Thomas, general

manager of the Americas for Carestream

Dental. "Now, Carestream Dental imaging

customers will experience a new level of

confidence and quantification with access to

Overjet's AI analysis tool."

"With this partnership, thousands of

more dentists will have AI technology at

their fingertips to help improve patient

care," said Wardah Inam, co-founder and

CEO of Overjet. "Overjet is committed to

improving oral health by creating a future

that is clinically-precise, efficient and patient

centric."

Carestream Dental is a catalyst for

technological innovation and continues

to expand its portfolio with ongoing

investments in solutions that drive practice

and partner value and differentiation. DA

*Ekert T, Krois J, Meinhold L, Elhennawy K, Emara

R, Golla T, Schwendicke F (2019) Deep Learning

for the Radiographic Detection of Apical Lesions.

J Endod. 2019 Jul;45(7):917-922.e5. doi: 10.1016/j.

joen.2019.03.016. Epub 2019 Jun 1.

6 DENTAL ASIA NOVEMBER / DECEMBER 2022
---
DENTAL UPDATES

Oracare Group-backed MOS Dental

unveils 28th clinic

PERFECTION IN

BONE SURGERY

MOS Dental, the market-leading chain of dental clinics in Thailand

under Oracare Group, has opened its 28th clinic in Bangkok. The new

clinic is strategically located in the residential district of Prawet, and

will unlock avenues for more dental patients to access quality dental

care backed by international dentistry standards, at accessible prices.

The launch is the latest addition to the MOS Dental network, furthering

the brand's 22-year commitment to bringing smiles to its customers.

It also confirms the dental group as one of the fastest growing in

Bangkok, expanding from 14 to 28 clinics since joining forces with

the Oracare Group. The newest location meets a growing demand for

dental care by volumes of satisfied patients, allowing more people to

gain access to certified dental professionals and specialists.

→ YOUR SURGICAL

APPROACH WILL CHANGE -

THE PIEZOSURGERY® touch

→ best cutting efficiency

→ optimal intraoperative control

→ perfect ergonomics

→ made in Italy

"MOS Dental and Oracare Group share the same belief that embracing

technology is key to enhancing the customer journey and experience.

I am proud to have partnered with Oracare Group to take MOS's

expansion to the next level whilst embracing digital technology and

dentistry, to make the 'Miracle of Smile' a reality for more patients

across Bangkok," said Dr Adisorn Hanworawong, founder and CEO

of MOS Dental Clinic. Dr Hanworawong brings over 21 years of

experience as a seasoned dental practitioner, dedicating his career to

building the MOS Dental brand shortly after graduating from dental

school in 1999.

The integration of Oracare Group's management systems and

standards into MOS Dental's workflows and processes have placed

the dental chain at the forefront of quality dental care. With access to

Oracare Group's hygiene standards and safety protocols, MOS Dental

was able to go above and beyond industry protocols for infection

control at the height of the COVID-19 outbreak in Thailand. MOS

Dental was recognised as a leader in implementing best practices for

infection control across their clinics and were subsequently invited to

support the formulation of industry-wide infection control policies for

private dental clinics across the country.

"Oracare Group is always looking for new ways to help our partners

grow in the industry, so we can better achieve shared goals and break

through glass ceilings to scale greater heights within the dentistry

space. MOS Dental's newest expansion is testament to the strength

of the strategy and support that we provide to our partners. We are

excited to continue this journey with MOS Dental to collectively bring

the next level of dental care to South East Asia," said Leon Luai, CEO of

Oracare Group. DA

→ www.mectron.com

DENTAL ASIA NOVEMBER/ DECEMBER 2022 7

ad_PStouch_dental_asia_95x250_en_211214.indd 1 14.12.21 15:38
---
DENTAL UPDATES

Neocis secures US$40m in additional funding to continue transforming dental

surgery with robotics

Neocis, manufacturer of Yomi and the global

leader in robot-assisted dental implant surgery,

has completed its latest round of financing.

The oversubscribed US$40m round was led by

one of the dental industry's largest specialist

investors. They were joined by Intuitive

Ventures, the independent VC arm of Intuitive

Surgical that is accelerating the future of

minimally invasive care. These new investors

were joined by Neocis' existing partners,

bringing total investment in the Miami-based

business to more than $160m since its

founding in 2009.

Started by Alon Mozes and Juan Salcedo,

Neocis manufactures and markets Yomi,

dentistry's first and only FDA-cleared robotic

surgical system. The innovative platform

assists clinicians during all phases of implant

placement via streamlined digital planning and

haptic guidance of surgical instrumentation

— so they can place implants with accuracy,

efficiency, and confidence. The Yomi system

is often used to perform flapless procedures,

a less invasive surgical approach with proven

patient benefits.

"Neocis shares Intuitive Ventures' commitment

to advancing positive patient outcomes in

minimally invasive care through innovative

technology and solutions," said Oliver Keown,

MD, managing director at Intuitive Ventures.

"We believe Neocis' deep commitment to

addressing customer and patient need through

a broadening robotic ecosystem and their

impressive technology platform that expands

access to high-quality dental care, makes them

a transformative force in this rapidly evolving

market."

This latest infusion of capital will allow Neocis,

which the South Florida Business Journal

recently named one of the fastest growing

companies in South Florida, to advance its

mission of transforming dental surgery through

advanced robotics. The company will use

these funds to continue accelerating research

and development efforts, bolstering marketing

and educational initiatives, and expanding

the footprint of its sales, clinical support, and

business optimisation teams.

"We are thrilled to be joined by discerning

investors aligned with Neocis' mission to

advance precision dentistry," said Ajay Royan,

managing general partner and founder of

Mithril Capital Management, an early investor

in Neocis. "The future of dental robotics is

limitless, and this latest round of capital will

help the Neocis team continue innovating at

the highest level."

"For a company in the dental robotics space,

I couldn't dream up a better syndicate

of investors than this," said Alon Mozes,

co-founder and CEO of Neocis. "This new

backing underscores Neocis' strong position

in a growing market and will help us further

our product development and commercial

efforts." DA

Planmeca launches new CAD/CAM module

Planmeca has introduced a new software

module for Planmeca Romexis, which makes

working with digital impressions easier

and faster than ever before. The Planmeca

Romexis CAD/CAM module streamlines

the scan-and-send workflow for capturing,

analysing and exporting digital impressions

and offers new intraoral scanner users a

smooth entry in the world of CAD/CAM

dentistry.

to enter the world of digital dentistry,"

explained Helianna Puhlin-Nurminen,

vice-president of Digital Imaging and

Applications at Planmeca. "Since intraoral

scans are stored and available in Romexis

along with patient photos as well as 2D

and 3D X-ray images, users can also

easily complete digital smile designs, plan

implant treatments and design surgical

guides in the same software. Romexis

simply makes your work flow."

Planmeca Romexis CAD/CAM software

module has been designed to make capturing

and working with digital impressions easier

than ever. The module is part of the Planmeca

Romexis all-in-one software, which ensures

seamless daily workflows at a dental practice

with all clinical patient data available in a

single system.

"With the new Romexis CAD/CAM module,

intraoral scanning is exceptionally easy for new

and more experienced users alike. We have

paid special attention to usability and made

collaborating with external partners extremely

simple. The new module is thus a great tool

for working with digital impressions and an

excellent choice for dental practices looking

The new Romexis CAD/CAM module is

currently available for scanning only, i.e., for

Planmeca Emerald intraoral scanner users

who do not design or mill restorations

in house. For now, the entire restorative

workflow from scanning to design and

manufacturing can be carried out using the

Planmeca PlanCAD Easy software. DA

8 DENTAL ASIA NOVEMBER / DECEMBER 2022
---
simply.TRIOS 5

Intraoral scanning that simply makes sense

Hygienic by design for minimal risk of

cross-contamination. Smaller and lighter

than ever for next-level ergonomics. And

a ScanAssist engine with intelligent-alignment

technology that makes precision scanning

effortless, every time.
---
DENTAL UPDATES

Dentsply Sirona will continue to support World Oral Health Day in 2023

Dentsply Sirona was the award sponsor for

this year's World Oral Health Day (WOHD) "Best

Branded Photo" award and has congratulated

the winners of the award — the Dental

Students Association from Etugen University in

Mongolia. The winning photo features teachers

and students posing with the WOHD 2022

#MouthProud frame and personalised posters

created by the group to teach kindergarten

children how to keep their teeth healthy.

"We have seen some great initiatives come

out of the 2022 campaign and we commend

the Etugen Dental Students Association for

their efforts to instill good oral health practices

in the next generation," said Erania Brackett,

senior vice-president and chief marketing

officer at Dentsply Sirona. "Oral health is such

a central part of a person's overall health and

wellbeing, and we are proud to once again

support World Oral Health Day in 2023."

The award-giving ceremony took place

during the FDI General Assembly in Geneva,

Switzerland, on 22 Sep 2022. At the same

event, key results from WOHD 2022 were

presented and the 2023 campaign's theme and

concept were disclosed. The 2023 campaign

focuses on the importance of maintaining lifelong

good oral health with its motto: "Be proud

of your mouth for a lifetime of smiles".

Dentsply Sirona partners with FDI World

Dental Federation for WOHD 2022 as part

of its sustainability strategy "Beyond: Taking

action for a brighter world". At its core is the

ambition to lead the transformation towards

a sustainable dentistry, increase quality of

and access to oral care globally and create 25

million smiles by 2025.

Brackett presented Dentsply Sirona's ongoing

activities in which the company partnered

with dental professionals to promote the

importance of oral health for overall health to

their patients at the event at the FDI General

Assembly. To continue the momentum of WOHD

throughout the year, Dentsply Sirona recently

ran a social media campaign that promoted

the WOHD themes of emotional, social and

physical wellbeing, with a mixture of culture and

information posts to highlight oral health issues

and ways to create healthy smiles. Meanwhile,

DS Women, an employee resource group at

Dentsply Sirona, organised an employee-led

initiative to further oral health by collecting and

donating more than 4000 toothbrushes and

oral hygiene products for community-based

organisations serving families and individuals in

need in the US and Canada. DA

Ivoclar and exocad extend the options for digital

dentures with integration in DentalCAD

By integrating the Ivotion Denture add-on

module in the DentalCAD software solution

from exocad, Ivoclar has expanded its

partnership with exocad in the area of digital

dental workflows.

As one of the manufacturers of dental

CAD/CAM software in the dental industry,

exocad has a large customer base as

well as comprehensive experience in

dental software products. Thanks to this

collaboration, customers of both companies

can now enjoy a seamless workflow for

rapid digital fabrication of removeable

dentures.

As part of this cooperation, the Ivotion

Denture add-on module will be integrated

with the exocad DentalCAD system so that

users of the software can design their digital

dentures in the environment to which they

are accustomed. The optimised workflow

enables custom fabrication and a result that

is adapted to the needs of the patient.

Moreover, the integration also provides users

with access to the popular Ivoclar tooth libraries

with full-arch setups, morphing tools, and setup

features. For even better offer customisation,

the third gingival shade that was introduced for

the first time last year can also be used.

The Ivotion Denture add-on module from

Ivoclar also contains all the features of

the oversize workflow in combination with

the proven Ivotion Base, Ivotion Dent, and

Ivotion Dent Multi discs. To round off the

range of applications, the features of the

monolithic workflow with Ivotion and Shell

Geometry are also on board. DA

10 DENTAL ASIA NOVEMBER / DECEMBER 2022
---
DENTAL UPDATES

W&H receives Environmental Management Award 2022 from BMK

W&H is pushing ahead with its environmental

management in all projects with full vigour

to achieve the company's ecological and

sustainable goals. This dedication has now

been recognised by the Federal Ministry for

Climate Protection, Environment, Energy,

Mobility, Innovation, and Technology (BMK)

with the Environmental Management Award in

the category "Best Measure — Environmental

and Climate Protection".

As an international manufacturer of medical

technology products, W&H has major

responsibility for a healthy society and a

healthy environment. With the expansion of

Plant II, the company actively promotes climate

and environmental protection through state-ofthe-art

processes, as well as resource-saving

production and manufacturing procedures.

"As a sustainable family business, W&H relies on

durable and environmentally friendly solutions

in order to make a positive contribution," said

Herbert Traschwandtner, managing director of

Operations.

Hundred percent of the metal shavings

produced at W&H are recycled after being

separated by type using an intelligent

collection system. The regenerative

system extends the resources' life cycle,

thus minimising waste. On the roof of

the production plant, more than 1800PV

modules with an output of 536kWp generate

climate-neutral electricity. In addition,

environmentally friendly temperature control

is ensured by establishing particularly

efficient heat/cold controls systems that

operate via heat pumps. Rejected thermal

energy is used to heat the production

and manufacturing halls. Cooling is

provided by concrete core activation.

Furthermore, shortened transport routes in

logistics ensure reduced energy and fuel

consumption.

"We are very pleased that our expansion

and the measures implemented by W&H

have been honoured and handed over

the Environmental Management Award.

This strengthens our efforts and gives

us momentum for future projects," said

Pamela Polanetz, sustainability manager,

on behalf of the entire W&H environmental

management team. DA

Zenyum expands oral care line with Invisible Whitening Strips

their application. This latest addition to the

Zenyum family aims to make teeth whitening

accessible for all, following through on the

brand's mission to make Asia smile more.

Zenyum continues its next phase of oral care

innovation with the launch of ZenyumBright

Invisible Whitening Strips — an on-the-go,

fast-dissolving whitening strip now available in

Singapore and Hong Kong. The new convenient

strips are a discreet whitening option for those

with demanding schedules, dissolving in just

15-20 minutes. The no-rinse formula allows

users to reduce teeth stains on-the-go.

Available in packs of 14 and 28, customers

can use the strips twice daily throughout

"Since the successful launch of the

ZenyumSonic Toothbrush in 2020, Zenyum

has continuously expanded its market share in

the fast-growing consumer dental segment in

South East Asia. Our range of innovative smile

cosmetics ranks from invisible braces that

straighten your teeth to all-natural ingredients

toothpastes and water flossers. Within the

last three months alone, we released three

new product lines, which will be available in

our retail partner stores as well as our digital

distribution channels across our nine markets

in Asia,'' said Julian Artopé, founder and CEO

of Zenyum. DA

12 DENTAL ASIA NOVEMBER / DECEMBER 2022
---
Torq Control®

Universal Torque

Wrench

Torq Control® is the Anthogyr universal

torque wrench offering the guarantee of

tightening precision, whatever the type

of implant connection or the difficulties of

access.

Precise tightening is a key factor to secure

implant treatment success. Torq Control®

has been specially designed by Anthogyr

to meet these requirements for all

prosthetic manipulations, in all safety

thanks to automatic declutching.

A must-have, especially for full-arch

restorations.
---
TRENDS

Top seven trends outlining

the market growth of dental

practice management software

This has paved the way for several

technological advancements across

the regional industry, which may further

stimulate the industry forecast.

According to a recent study from market

research firm Graphical Research, the global

dental practice management software

market size is set to register significant

growth during the forecast period due to

rising disposable incomes and growing

awareness about maintaining good oral

hygiene.

The trend can be observed across both

emerging and prosperous regions. Explained

below are some notable factors likely to

redefine the market growth between 2022

and 2030.

Trend #1: Patient communication

components to drive lucrative gains in

North America

The patient communication segment could

exceed US$456m by 2030 in North America.

Patient communication software offers a

plethora of benefits ranging from the proper

execution of regular repetitive tasks like

appointment reminders to driving better

patient outcomes and online engagement

and reviews.

Leading tech players have been focusing

on developing integrated dental practice

management software with phone system

connectivity. Such innovations may

significantly increase the productivity and

efficiency of front desk attendants, which,

in effect, may fuel patient communication

software adoption in the forthcoming years.

Trend #2: Rising prevalence of dental

disorders in the US

US dental practice management software

market share was worth more than

US$628m in 2021, attributed to the rapidly

growing geriatric population and supportive

government policies pertaining to patient

care. Ageing people are more prone to

periodontal disorders, requiring proper patient

care and medical attention.

According to the US Center for Disease

Control and Prevention, about 47.2% of the

adult population in the country equivalent to

or above 30 years of age, and nearly 70.1%

of adults aged 65 years and older have some

form of periodontal disease.

Trend #3: Surging demand for

invoice/billing components across

APAC

Asia-Pacific (APAC) dental practice

management software market share from

the invoice/billing component accounted

for US$52m in 2021. Concerning invoice/

billing, dental practice management

software offers a range of benefits in

dental clinics. The software utilises proper

integration and standardisation to manage

end-to-end billing comprising transactions

made through cards, cash payments,

online wallets, bank payments, etc.

There has been a considerable rise

in efforts to enhance this software to

increase the number of patient footfalls

and optimise the revenue streams.

Besides, their ability to support distinct

taxes and payment modes like cash, card,

and cheque will augment the market share.

Trend #4: Growing popularity of webbased

software

The web-based segment may exhibit

a CAGR of around 16% through the

assessment timeframe across the

APAC. Usually comprising features like

billing, appointment management, and

electronic health records, web-based

software facilitates the workflow in a

clinic. This is achieved by making errorfree

documentation, storing patients'

complete medical history, and efficiently

managing appointments. These

remarkable attributes, coupled with

recent advancements and improvements,

14 DENTAL ASIA NOVEMBER / DECEMBER 2022
---
TRENDS

have helped web-based dental practice

management software gain a strong foothold

in the APAC market.

Trend #5: Positive industry outlook in

Japan

Japan's dental practice management

software market is anticipated to emerge as

a prominent revenue pocket and will hold a

valuation worth more than US$315m by 2030.

The growing prominence of dental disorders

and the presence of robust healthcare

infrastructure are among the primary factors

leading to regional expansion.

The country is equipped with an optimum

dental workforce and several governmentbacked

reimbursement and healthcare

policies enabling low-cost dental treatment. In

addition, the increased penetration of several

health insurance providers will positively

impact the regional market.

Trend #6: Cloud-based software to

create new growth prospects across

Europe

The cloud-based model accounted for

over 32% of the Europe dental practice

management software market share in 2021.

The amalgamation of cloud-based components

with this software help provide a seamless,

cohesive, comprehensive, and engaging patient

experience in a relatively lesser time.

These attributes make them apt for delivering

everything ranging from imaging, charting,

and group practices to administrative duties,

which is likely to help them gain substantial

impetus in the years ahead.

Trend #7: UK to account for a

significant market share

UK dental practice management software

market is expected to grow at an annual growth

rate of about 14.3% through 2030. The country

has witnessed a prominent rise in dental

disease over recent years.

According to a recent University of Birminghamled

research, patients with GP-inputted medical

history of gum disease have an increased risk

of developing mental illness, ill health, and heart

conditions. Such studies have raised concerns

regarding better oral health and treatment

and encouraged the government to roll out

supportive initiatives focusing on spreading

awareness of oral hygiene. More policy rollouts

like these may transform the dental practice

management software market dynamics.

Dental practice management software has

significantly improved workplace efficiency,

which passively reduces clinical fees and

related costs and charges. This has, in turn,

resulted in increasing patient footfalls and

growing expenditure on dental services,

further supporting the market growth. DA

DENTAL ASIA NOVEMBER/ DECEMBER 2022 15
---
UNDER THE SPOTLIGHT

Encouraging,

challenging and

celebrating oral tissue

regeneration

"We Are Re:Generation" is the motto of the next

International Osteology Symposium in Barcelona, Spain,

reflecting not only the focus of the Osteology Foundation

on oral regeneration but also their mission to link science

with practice by gathering all the globally available

knowledge in one place, at the same time.

In past years, the International Osteology

Symposia were considered by many in

dentistry to be the most successful and

prestigious event held on oral tissue

regeneration. This is set to continue with

the 2023 Jubilee Edition to celebrate

the 20th anniversary of the Osteology

Foundation, a global organisation that

supports science, research training,

and education in the field of oral tissue

regeneration.

Happening on 27-29 Apr 2023, the

educational programme promise

to attract up to 3000 motivated

participants from all over the world. Dr

Pamela McClain and Dr Istvan Urban,

the 2023 symposium's scientific chairs,

share more about their role leading up

to this high-level scientific programme

and what participants can expect.

16 DENTAL ASIA NOVEMBER / DECEMBER 2022
---
UNDER THE SPOTLIGHT

What was the idea behind the

programme of the symposium?

Dr McClain: The focus of the Osteology

Foundation is on oral regeneration.

As a result, the programme for the

symposium will fully cover this field

which allows a more in-depth look at all

aspects involved with oral regeneration.

This all-around coverage is unique

and unlike other programmes. We are

looking at unique areas of regeneration,

for example, endodontic concerns,

orthodontic opportunities and aesthetic

surgical aspects.

Dr Urban: In addition to the clinical

aspects of oral regeneration, the

Osteology Foundation places equal

emphasis on education and research.

The programme perfectly reflects this

dual focus: we will see many exciting

contributions with high practical

relevance as presentations on the very

latest research.

In which way does the programme

attract both young, less experienced

clinicians and established oral

surgeons?

Dr Urban: Since its beginnings 20

years ago, the Osteology Foundation

has placed great emphasis not only

on working with well-known experts in

our field but also on being very active

in promoting young talents. This is still

very much the case today and therefore

we are in the fortunate position at the

International Osteology Symposium to

also offer young speakers from our own

training and research programmes the

opportunity to appear on the big stage.

Dr McClain: Incorporating these young

stars has always been a priority of

the foundation and allows them to

showcase their research and cases in

a world-class environment. To present

with individuals they have looked up to

is both exciting and motivating. This

headlining of young talent is also of

great interest to their peers as well as

their more experienced colleagues.

In which teaching formats do the

participants get to experience the

educational content?

Dr McClain: We are fortunate to offer

a wide range of formats from classic

lectures, numerous specific workshops,

moderated live surgeries, to the

interactive round table room, or the

new research networking day. There is

simply something for everyone.

Dr Urban: Therefore, the congress

participants actually have a luxury

problem. Their biggest challenge will

be to decide what they want to attend

from the whole programme and in what

order. But just as we offer both younger

and experienced participants content

tailored to them, everyone will find

their favourite learning format at this

symposium.

Do you have a personal programme

highlight?

Dr McClain: My personal highlight

is not a single programme item

— there are too many highly

attractive contributions — but the

list of speakers. Take a look at the

programme and see the global

scope of exceptional clinicians and

researchers presenting. With this

international gathering, it is impossible

to highlight a single course.

Dr Urban: Assuming an active interest

in the field of oral regeneration of the

participant, I would almost want to ask

the question the other way around:

How can one in good conscience

miss this truly unique concentration of

expertise and learning opportunities?

We will see an impressive density of

relevant information and a great quality

of human exchange in Barcelona, I'm

convinced, also from the experience

gained at previous IOS editions.

Final words: Why not miss the

International Osteology Symposium?

Dr Urban: I'm afraid I have to resort

to a commonplace argument — the

International Osteology Symposium

is simply the place to be in the field

of oral regeneration. Where else is

it possible to interact with so many

peers, meet world-renowned experts

face-to-face and be updated on the

latest knowledge in just three days?

And of course, the fact that this

symposium is taking place in one

of the most attractive cities is not a

disadvantage either.

Dr McClain: The value and rich depth

of the programme is not something

that you will find anywhere else, I

can't think of a better programme

in regeneration. This symposium is

the go-to place for education in oral

regeneration. DA

DENTAL ASIA NOVEMBER/ DECEMBER 2022 17
---
UNDER THE SPOTLIGHT

Father and

daughter,

mentor

and trainee

— two

generations

of dental

expertise

French dental surgeon

Dr Guillaume Reys knows

that dental professionals

need to constantly upskill

themselves to keep up with

the pace of change. But to

embrace new technologies,

they must be able to master

traditional skills first — and

that's precisely what he has

encouraged his daughter

Dr Rebecca Reys who works

alongside him to do.

Dental surgeon Guillaume Reys opened his practice in

Sélestat, France, in 2002. Besides running his clinic, he

teaches surgery to dental students at the Faculty of Dental

Surgery, University of Strasbourg.

As the son of a surgery professor, Dr Reys knew early on that

he would end up following the same path.

18 DENTAL ASIA NOVEMBER / DECEMBER 2022
---
UNDER THE SPOTLIGHT

In addition to the dental units, the clinic is

equipped with a Planmeca ProMax 3D Classic

imaging unit, two Planmeca ProX intraoral X-ray

units, a Planmeca Emerald S intraoral scanner,

and a Planmeca PlanMill 40 milling unit which

Dr Reys uses for making chairside crowns.

Moreover, Dr Reys performs all implant

planning with the Planmeca Romexis software.

He said: "I think it works very well. I can easily

merge a CBCT image, my implant plan and an

intraoral scan, and it's all just so easy. I use the

software every day."

"As a child, I had the chance to observe closely

what my father was doing. Growing up I knew

that surgery would be my choice too, but in

France, once you start studying medicine, you

don't necessarily know which speciality you'll

end up practising after finishing your studies

and internship. You don't always get to work in

the field of your choice, and I wanted to make

sure that I could do what I wanted, which is

to practice surgery. That's why I chose dental

surgery, and it has been exactly what I hoped

for," said Dr Reys.

The clinic employs two other dentists and five

dental assistants. One of the dentists is his

daughter Dr Rebecca Reys, who just graduated

from dental school last summer.

"I did not choose dentistry because my father

is a dentist, but because I knew the profession

thoroughly, I thought it might be a good choice

for me as well," explained Dr Rebecca. "I'm also

very interested in forensic medicine, and when I

learned that after dental school, it is possible to

pursue post-graduate training that could bring

me into the field, it sealed the deal for me."

She shared that working with her dad is like

having a mentor around all the time.

"When I was still a student, I used to work at

another clinic once a week and I was all alone

there. There were plenty of situations where I

would have liked to ask questions, but it wasn't

possible. In the beginning, you're not sure of

yourself and you need a lot of reassurance.

My dad lets me do my job freely, but it's

comfortable knowing that he is around should I

have any questions."

Dr Reys is happy to have his daughter around

too. The clinic has recently seen a marked

increase in the number of patients, and

without the help of his colleagues, he would

not have been able to welcome any new

patients.

A PLANMECA CUSTOMER SINCE 1995

Dr Reys is a long-time user of Planmeca

dental units — he has been using them since

1995 — and his clinic is currently equipped

with three of them. When he first discovered

the company's dental care units, he was

immediately impressed by their side-lifting

mechanism which provides plenty of

legroom.

"From an aesthetic point of view, their airy and

lightweight design appealed to me — they're

not heavy-looking at all. The assistant's side

is also very practical with easy access to all

essential functions, and of course, the units

are very comfortable. My patients always say

how they would love to have one at home. I

wouldn't mind having one either.

"I also discovered that the technology was

relatively simple. I like to do as much as

possible myself, so if something needs to

be repaired, I often just call my distributor

and ask him what to do. Us dentists are

sometimes like spoiled children, we want

everything to be fixed immediately — even half

an hour is too long a wait," he said laughing.

As for his daughter, Dr Rebecca had been

using Planmeca dental units already as a

dental student at the University of Strasbourg,

so she was well familiar with them.

Dr Rebecca is also planning to start using the

intraoral scanner and milling unit, but first, she

wants to master taking traditional impressions.

She shared: "My father encouraged me to learn

traditional working methods before moving to

digital ones. You must be able to do both since

you can't always rely on technology. I feel like

I'm learning new things every day and can't wait

to experience all the digital tools we have in our

clinic."

LOOKING FORWARD TO A DIGITAL

FUTURE

According to Dr Reys, patients today are looking

for a dentist for life, someone they can trust.

"It's not always easy to trust someone with your

teeth but once you find the right person, they

easily become your family dentist in a way."

The world of dentistry has already become

digital, but Dr Reys believes there is much more

to come.

He concluded: "I'm sure that we will continue

to be blown away by new innovations — we

can't even imagine all the things that will be

technologically possible in the years to come.

We can't rest on our laurels and stay content

with what we have learned so far — we have to

keep training, learning new skills and acquiring

new knowledge. We have to stay curious and

keep up with the pace of change. DA

DENTAL ASIA NOVEMBER/ DECEMBER 2022 19
---
Strength in unity

As the president of Singapore Dental

Association, Dr Lawrence Yong aims

to continue the successes of their

organisation. But how will he make that

possible in today's dental landscape?

Dental Asia finds out.

By Czarmaine Masigla

Founder of PKWY Dental Specialist Practice,

Dr Lawrence Yong is an orthodontist with 27

years of clinical experience under his belt.

With his success in practice, it became clearer

to him that as a member of the profession, it

is important for them to volunteer their time to

the association at some point in their career to

inject new ideas and direction. By doing so, he

emphasised, the Singapore Dental Association

(SDA) can continue to grow and be more

relevant over time.

Under his leadership, SDA is focused on

supporting the dental community in facing

the challenges of today's practice and

empowering the next generation of dentists.

Read on as Dr Yong shares more.
---
UNDER THE SPOTLIGHT

What are your takeaways from the

pandemic and how do they affect your

vision for SDA?

Dr Yong: I think the main takeaway from

the pandemic is that the profession is

intrinsically and extremely strong and

resilient. Mr Ong Ye Kung, the Minister

of Health, actually mentioned during the

opening ceremony of the International

Dental Exhibition and Meeting (IDEM)

that he was surprised that although

dentists were operating at a lower level,

the reality is that we still have to treat

patients without their masks on. And

despite those challenges, the profession

lived up to its name in terms of infection

control. There were no surprises. I think

that it is a collective responsibility that

has been shown by every member of the

profession. It is definitely not just 1% or

2%. It is a collective effort.

Can you enumerate and briefly discuss

some of SDA's ongoing projects?

Dr Yong: We are focusing on three

main areas in the near future in

concert with the government. The first

area would be in terms of how are

we going to support members during

the transition process of onboarding

clinics onto the national electronic

health records. The second one would

be in terms of the implementation

of the Health Care and Services Act

recently passed by the parliament.

These areas involve support in terms

of communicating with doctors to

ensure that they understand how

this new licensing affects them and

what they need to do. We are also

working with the Ministry of Health in

promoting public awareness about the

ills of illegal dentistry.

On the association's front, there is

a strong need to support the newly

registered doctors. This could be in

terms of providing relevant courses or

workshops, so that they can continue

to advance their learning, especially

in areas which are not covered

during their undergraduate days. The

second one is in terms of developing

the top and idea leaders of the next

generation. This will involve training

local speakers so that they feel

comfortable to sharing their thoughts

on the regional as well as on a global

platform.

Regarding the IDEM in-person

meeting, what is the significance of its

return for dentists in the APAC region?

Dr Yong: I think we have to look at

IDEM from two angles. The first is

from the angle of the organisers. The

in-person meeting is an extremely

important message to all our trade

partners — that IDEM will continue

to be the frontrunner in terms of

international dental exhibitions, at

least in this region, if not greater.

The second one would be from

the angle of the participants or the

attendees for the trade exhibition or

the scientific conferences. We want

them to feel that besides the trade

exhibition, we continue to have novel

ideas shared by people from different

parts of the world, and we hope

that this will actually inspire them

to continue to come to Singapore in

person simply for the fact that we offer

a superior range of topics or ideas.

How has digital dentistry impacted the

behaviour of patients regarding dental

care?

Dr Yong: From the patient's point

of view, I can tell you that patients

are extremely receptive to digital

dentistry. And the main reason is that

the patient of today is educated. They

understand that there is a science

behind everything that we do, and then

they can see it visually as we present

an image or analysis to them. This

helps doctors to create awareness on

behavioural changes that they need to

do for them to get a better outcome. It

also adds value in terms of presenting

treatment options and monitoring the

progress of the case.

What are your thoughts on dental

tourism?

Dr Yong: Dental tourism will always

be around and the main reason is that

patients would like to get the best

value for money. The issue with dental

tourism is probably in the types of

procedures which are suitable for such

approach. So, for example, it is unlikely

that we will go to a foreign country

for an invasive procedure, because

usually these procedures need a lot

of aftercare. We have to note that the

quality of care is not only in the ability

to do a particular procedure but also

in how well the patient is taken care

of and supported during the recovery

period.

Of course, there are non-invasive

procedures such as teeth whitening

that some people would like to do as

they are vacationing. I think those are

probably less scary, and something

that we should not think too much

about. But what we do not want is

to create the impression that dental

tourism is all about getting it cheap or

about convenience. It should not be

that. Dental tourism, just like normal

dental care, should always have a high

standard of care. That's the important

thing. Anything else is just value

added.

DENTAL ASIA NOVEMBER/ DECEMBER 2022 21
---
UNDER THE SPOTLIGHT

How do you envision the future of

dentistry?

Dr Yong: In the future, patients will

continue to demand more evidence in

terms of how the treatment should be.

And the main reason is because they

would want to exercise autonomy on

how their care should be. Patients have

move away from paternalistic medicine

whereby the doctor decides on what

should be done. Because why? They feel

that they are knowledgeable enough to

make that decision. So, patients need

evidence. And that actually strongly

supports the cause of digital dentistry.

The second one would be in terms of

the doctors that we have. In fact, they

are probably the most intelligent group

we have seen since the profession has

started. The main reason is because

we are very successful in education.

The new generation is extremely noble

hearted too. They feel a strong need to

make the world a better place. Yet, the

number of resources that is needed

to help them pursue their profession

or their education has also gotten to

be more expensive over time. And this

creates a slight tug-of-war whereby

doctors have to decide how they can

achieve the right work life balance. So,

I think the new doctors definitely face a

harder career scape compared to when

I started 27 years ago. Nonetheless,

young doctors themselves need to be

resilient enough in order to navigate this

so-called new landscape.

And the third one would be, in terms

of our collective responsibility

together with the Ministry of Health.

In Singapore itself, we have gotten

so good at treating patients that it

is no debate that the level of care

is extremely high. But the reality is

that it has also gotten extremely

expensive. There is no way we can

maintain this type of spending

pattern or treatment fee pattern. This

has to be looked at. And of course,

we are definitely supportive of

Singapore's Healthcare SG initiative

whereby we will start to shift our

focus to preventive care. I think that

dentistry have a head start on this

area but we need to continue to build

on that. DA

22 DENTAL ASIA NOVEMBER / DECEMBER 2022
---
REGISTER

NOW!

HIGHLIGHTS

Latest developments in

rege nerative therapies

Live surgeries

Hands-on workshops

Case session

Morning with master clinicians

Clinical round tables

Poster exhibition

Research networking day

Joint sessions with AAP and SEPA

SCIENTIFIC COMMITTEE

Pamela K. McClain, USA (Chair)

Istvan Urban, Hungary (Chair)

William V. Giannobile, USA

Franck Renouard, France

Frank Schwarz, Germany

Anton Sculean, Switzerland

osteology–barcelona.org

be part of #OsteologyBarcelona
---
DENTAL PROFILE

Advancing osseous

surgery

An Italian company established in 1979, Mectron is committed

to providing dental and medical professionals with innovative

clinical solutions. With the recent launch of Rex PiezoImplant,

the company is poised to remain the market leader of

Piezosurgery in the Asia-Pacific and beyond.

By Czarmaine Masigla

Mectron Medical Technologies, based

on the Ligurian Coast in Italy, was

founded over four decades ago by two

engineers, who today are still active

company owners.

With their dedication to product

development and innovation, Mectron

now has a sales network in over 80

countries offering products for preventive

and restorative dentistry, as well as for

oral surgery. These different treatment

fields are covered with the following

product ranges: the Piezosurgery line,

ultrasonic scalers, air polishers and

curing lights.

Mectron prides itself on introducing the

patented ultrasonic micro-vibrations of

the original PIEZOSURGERY ® technique

in the market. Providing micrometric

cuts for minimally invasive surgeries with

surgical precision and intra-operative

tactile sensation, it also selectively cuts

and protects any kind of soft tissue —

nerves, vessels and membranes will not

be injured while cutting bone.

Kelvin Liang, sales area manager of

Mectron in Asia-Pacific (APAC), is elated

to bring this Mectron's expertise to the

region, which enables surgeons to work

with more precision while at the same

time reducing postoperative discomfort

for the patients.

24 DENTAL ASIA NOVEMBER / DECEMBER 2022
---
DENTAL PROFILE

However, he noted that the APAC market

is very versatile and given its unique

demographics and socioeconomic

differences, the maturity of products

and technology highly differ from each

country.

EVOLVING DENTAL LANDSCAPE

As a company, Mectron has continuously

grown despite the challenges of COVID-19.

Liang shared that during this period,

Mectron focused on converting their license

to comply with European registration.

"In some countries, they've accepted

Piezosurgery many years ago; but some

of the countries here are still trying to

accept the concept. It is a good thing

that I am based in Singapore, hence,

I am able to travel across the region

without much hindrance and reach out

to our customers," he explained.

As a customer-centric company, Liang

added, it is vital for Mectron to attend

congresses like the recently concluded

International Dental Exhibition and

Meeting to connect and educate more

practitioners on the clinical advantages

of Piezosurgery. They also conduct

seminars with hands-on sessions to

help their clients to further leverage their

product solutions.

Liang elaborated: "We invite our key

opinion leaders from Europe to come

to APAC to give lessons. We are also

collaborating with countries like South

Korea to send their key opinion leaders

to give lectures in Europe. We do this to

have some sort of connection between

the lecturers in Europe and APAC. This

is something that we do to add value to

our customers and their patients."

"This saves time for both patients and

doctors because if they use bone

substitutes like in GBR, for example, they

will require a year before they place the

implant. So, with this, you can reduce it

by six months," explained Liang.

Rex PiezoImplants are designed for a

minimally invasive surgical treatment

on the patient. And to optimise every

clinical benefit of Piezosurgery, a

personalised range of specific inserts

for specific procedures was also

created.

Liang shared his excitement for this

line, as there is a pipeline of solutions

awaiting to be launched in the market in

the next years to come.

"This is what the rest of the European

countries are doing currently and we are

already 90% done with this," he shared.

To support their clients in these trying

times, Mectron pivoted to conducting online

seminars to continue to provide a learning

platform for practitioners. Liang said that

they liaised with their key opinion leaders to

plan out relevant topics to tackle.

As the dental industry embarks on the

recovery road from the pandemic, Liang

foresees that the dental trend will move

into preventive care in the next three to

five years.

Rest assured, he said, that Mectron will

continue to support dental professionals

in providing the best possible clinical

technology ranging from their ultrasonic

and prophylaxis range to conservative,

minimally invasive surgical solutions. DA

NARROW RIDGE? PROBLEM

SOLVED

Innovation never stops at Mectron

with the addition of Rex PiezoImplant

to their dental portfolio. Launched this

year and is now undergoing registration

in different countries, Liang highlighted

that this tissue-level implant offers a

revolutionary solution in the market.

"Rex PiezoImplant is our new

Piezosurgery implant that is used

with our Piezosurgery device. This

is a useful solution for our APAC

customers because this solves a very

interesting problem — which is the

narrow ridge.

DENTAL ASIA NOVEMBER/ DECEMBER 2022 25
---
DENTAL PROFILE

VITA Zahnfabrik: Quality

that exceeds the norm

From life-like denture teeth and

precise shade determination to a wide

range of CAD/CAM and veneering

materials — dental professionals

from over 150 countries benefit from

VITA Zahnfabrik's products and

technologies.

By Czarmaine Masigla

Driven by an innovative mindset, VITA

Zahnfabrik continues to thrive in the everevolving

field of dentistry. To learn more

about their success and strategies specific

to the Asia-Pacific region, Dental Asia

speaks with Emiliano Bini, VITA's regional

business manager, Australasia.

VITA Zahnfabrik has been at the forefront

of progress for laboratory and practice

since its establishment in 1924. What is

the recipe for this success?

Bini: "VITA — perfect match" is the tangible

benefit we offer our users and customers

for unrivalled patient treatment. Qualified

employees committed to the company

and the consistent expansion of core

competencies within the framework of

clearly defined business areas are part

of the secret to success. The perfect

combination of tradition and experience

with forward-looking vision and inspiring

dynamism forms the foundation of the

internationally active VITA Zahnfabrik.

In recent years, can you enumerate VITA's

top three best-selling products in the

Asia-Pacific (APAC) market and briefly

discuss the factors that swayed these

demands?

Bini: These reside within our veneering

materials, CAD/CAM and denture teeth

portfolio — although we had an important

spike in demand within our shade

guide range. Thanks to strong and

long-lasting relationships with our local

distribution network, we are sure to

deliver our products to local users in

the area.

Together with our internal training

team and leveraging our recently

build VITA Hybrid Studio, we

ensure to provide constant learning

opportunities. Partnering with VITAcertified

labs and milling centres, put

us in the position to provide the VITA

offering to local communities, yielding

particular success within the

veneering material range.

What is unique about

the APAC market,

and how does it

affect VITA's sales

and marketing

strategies?

Bini: Today,

dentists

and dental

technicians

in more

than 150

countries

work with

VITA's quality

26 DENTAL ASIA NOVEMBER / DECEMBER 2022
---
DENTAL PROFILE

products and restoration solutions.

The APAC market is a very important

one in the dental industry and for

VITA — although it needs special

catering due to its vastity, diversity

and dynamicity. An important shift

noticed is an exponential increase in

E-commerce environments, and we

will need to increase our investment

in social media platforms to expand

our audience on digital channels and

leverage new marketing tools such as

retargeting ads to convert the already

engaged customers.

" The perfect combination of tradition

and experience with forward-looking

vision and inspiring dynamism forms

the foundation of the internationally

active VITA Zahnfabrik."

How does VITA ensure that dental

practitioners can keep up with the

advancement of the field, and how do

you support your customers to further

leverage on VITA's product solutions?

Bini: Firstly, "VITA is characterised

by its closeness to the user". Being

closer to the user than anyone else is

the company's vision and therewith

a key element to support users

and customers worldwide. Shade

systems, CAD/CAM materials, press

and veneering materials as well as

ready-made teeth and materials for

the digital fabrication of dentures are

offered through an international sales

network that is very close to the users

and customers.

Secondly, "VITA is pioneering". Better

and better solutions for perfect

prosthetics, that is the "VITA — perfect

match" our qualified employees are

working for day by day. Moreover,

VITA can rely on its own very strong

research and development team,

based in the headquarter in Bad

Säckingen, Germany, with a clear focus

on the innovation fields of the future.

And for VITA, being close to the user

also means imparting knowledge.

The VITA Academy lives and breathes

advanced training and as a competent

knowledge partner for dental

laboratories and practices, offers

comprehensive, customised advanced

and further training formats.

Sustainability in dentistry has been a

hot topic recently — what are the steps

VITA has taken to support this cause?

Bini: VITA considers sustainability

as a top priority. Now more than

ever, manufacturers must consider

the sustainability of production

processes to guarantee that levels of

emissions, energy consumption and

waste be kept at a reasonable level.

We are undergoing a process of lean

transformation, intending to improve

our manufacturing processes, but also

the transactional everyday business

way of things. We are constantly

working to eliminate paper printouts,

these being in the financial sector, but

also in the commercial one. Drastic

reductions in brochure printing and the

introduction of QR codes support us

in this mission. Everything that can be

saved in the elimination of wastes and

inefficiencies, can and will be reinvested

in R&D and marketing activities to

support our customers.

What other developments from Vita

should the industry look forward to,

and how do you envision the company

in the next 5–10 years?

Bini: Our goal is to develop and

continuously improve our solutions

for ideal aesthetic and functional

restorations. By delivering continuous

improvements in safety, quality,

innovation, and manufacturing processes,

we hope to offer a key element for the

quality of life to people throughout the

world. Stay tuned for exciting news in the

digital denture offering! DA

DENTAL ASIA NOVEMBER/ DECEMBER 2022 27
---
CLINICAL FEATURE

Augmented aesthetics in direct

composite layering

Presenting a tedious but effective technique, Dr John Rundell Paredes details the

use of modifying stains in conjunction with a mono-shade composite system to

fabricate natural-looking restorations.

Translucency in composites and other

dental restoratives are ever present. The

effects of translucency largely affects the

final restoration, the thickness and type of

this layer will dictate corresponding optical

effects, especially on composites (Fig. 1).

Thickness of the translucency layer reduces

the chroma or the intensity of the shade (Figs.

2-3). It also reduces the value, or the overall

brightness of the shade. Differences in the

type of translucency layers is also important,

as higher value translucencies, in which being

a brighter, milky-white layer, increases the

value of the restoration while also decreasing

chroma in increasing its thickness (Fig. 4).

Lower value translucency layers in contrast,

darkens the restoration and produces an

amber shade to the restoration.

It is worth noting that some types of

translucencies vary in its translucency

itself. Translucency in general lessens

the definition of the layers and colours

underneath it, like stains for example, but

highly translucent, almost transparent/

achromatic composite variants also exist,

for those cases in which patterns and

shades on the underlying layer should be

better observed.

The knowledgeable use of these types

of layers can be an indispensable tool in

creating high level aesthetics in anterior

restorations. Typically found in multi shade

system composites, mono shade systems

can also have a translucency layer available

to it, typically labelled as Incisal.

CASE STUDY

A 30-year-old female patient has undergone

a class III non-extraction, compensated

orthodontic treatment; the previous situation

was a severe crowding on the anterior teeth with

crossbite. The orthodontic treatment was done

in the concept of using an accentuated curve

of Spee to accommodate the spacing needed

for the anterior teeth, without extraction of the

lower premolar teeth to avoid resulting in an

excessive retraction of the mandibular teeth.

A disadvantage of this technique is the overinclination

of the anterior teeth facially, but

with the advantage of being less invasive due

avoidance of extraction (Figs. 5-7)

The patient wanted a better smile, but is

not amenable to indirect restorations due

Fig. 1: One type of translucency layer; TN-

Translucent Neutral, Amaris, Voco

Figs. 2-3: Note the thickness differences and its

effect on the underlying layer

Fig. 4: TL-Translucent Light; Amaris, Voco

Figs. 5-7: Pre-operative pictures

28 DENTAL ASIA NOVEMBER / DECEMBER 2022
---
CLINICAL FEATURE

Figs. 8-9

Fig. 10

Figs. 11-12

Fig. 13

Figs. 14-15

Figs. 16-17

to the preference of minimising tooth

reduction. So, the treatment plan was

to first lengthen the anterior teeth in an

attempt to "test out" the function and

phonetics of the proposed new length

of the anterior teeth, keeping in mind

minimising or possibly avoiding tooth

reduction as per patient's request. The

patient also wanted to try out a brighter

shade during this phase. Harmony is not

yet a concern initially because of the

prevailing COVID-19 restrictions of using a

mask, the patient was more than willing to

do this phase.

Subsequent proposed procedures would

be an in-office bleaching appointment,

then a minimally invasive direct veneering

or bonding smile makeover to recreate

the smile with the least tooth reduction

possible. Direct composite restorations

also have the advantage of easy

adjustments, considering that the patient

had a crossbite and may not adjust to

the new anterior design easily, while also

enabling the us to layer a more natural

looking restoration, as compared to a

monolithic composite injection technique.

A final, more durable, indirect restoration

was also proposed, after a three-month

period following the final direct restoration,

if the patient would want to change it and

would be amenable to tooth reduction.

PRE-PROCEDURAL PREPARATION

Direct addition of composite material was

added to the tooth to simulate the new

length of the anterior teeth, using a direct

ormocer composite, Admira Fusion from

VOCO; shade B1 and Incisal are layered in

using a freehand technique. This phase

was supposedly only for two-three weeks,

but the patient wanted to delay the final

treatment (Figs. 8-9).

Patient came back for the definitive

treatment citing the different adjustments

she wanted for the teeth. The planned inoffice

bleaching was done after reduction of

the existing layered composite. Initial shade

was at VITA Classical A4 (Fig. 10), noting the

strong chroma and low value of the existing

natural teeth, the patient was made to

understand that a high value and target

shade of B1 may not be achieved. This was

understood and accepted by the patient

before we continued with our bleaching

procedure after impression and removal of

the existing composite material (Figs. 11-12).

A request of bonded temporaries was

made by the patient during this time, as

she is already accustomed to the new

shape of her teeth. It was planned that

we will be fabricating a direct temporary

and mock up of the planned makeover

for her to wear after a week from the

bleaching procedure, to minimise possible

discolouration of the natural teeth due to

the possible effects of the bonding agent.

A combination of A1 and B2 shades were

achieved after the bleaching procedure

(Figs.13-15), the patient was appointed a

week after for her bonded temporaries. An

appointment after two weeks was also set

for the definitive composite restorations.

The shade is still consistent after a week

the bleaching procedure (Figs. 16-17).

DENTAL ASIA NOVEMBER/ DECEMBER 2022 29
---
CLINICAL FEATURE

MOCK UP TRY-IN/TRANSFER

The mock up was done using the impression

from the first composite bonding. Specific

parts were built up by wax, but reductions

were also done for the planned smile. The

proclination of the anterior teeth were

considered and were mocked up with less

material on the facial side and more towards

the palatal area. The facial-incisal plane of

the mock up is now slightly accentuated

to give the effect of retroclination and to

approximate the overjet of the anterior teeth

to facilitate proper phonetics. A silicone

stent was prepared using putty-wash

technique, and then trimmed to the shape of

the cervical scalloping of the teeth (Fig. 18).

Transfer of the mock up was done by line

etching the teeth with 37% phosphoric acid

(Fig. 19), and then application of a bonding

agent (Futurabond U, VOCO: Fig. 20) to all

labial surfaces was done and cured after

evaporation of the solvent; this is to facilitate

good bonding to withstand some function for

a week, but reassuring the removal process

during the preparation phase will be easier as

compared to a fully etched tooth.

A self-curing, injectable temporisation material

(Structur 3, VOCO) was injected into the

silicone stent (Fig. 21) and then placed on

top of the natural dentition, excess removed

from the cervical area before removal of the

silicone stent after four minutes (Fig. 22),

then light-cured for bonding assurance. The

surface oxygen inhibited layer was wiped

off with alcohol and then the temporaries

were adjusted as per the patient's request.

Final minimal polishing for gloss was done

with a single-step polisher (Dimanto, VOCO)

with smooth strokes under low speed with

water cooling. Impression was taken after the

final polishing procedure for the basis of the

definitive composite restorations (Figs. 23-27).

GUIDED PREPARATION THROUGH THE

MOCK UP

Preparation of the teeth were done after

a week from temporisation. The plan was

for a minimally invasive reduction as per

patient's request, and the target shade

that the patient wanted was still B1 despite

final shade matching being stable at B2. A

reduction through the mock up was done at

1mm on the incisal and 0.5mm on the incisal

and middle facial thirds (Figs. 28-29), no

reduction was done on the cervical third.

Fig. 18

Fig. 19

Fig. 20

Fig. 21

Fig. 22 Fig. 23

Fig. 24

Fig. 25 Fig. 26

Fig. 27

Fig. 28 Fig. 29

30 DENTAL ASIA NOVEMBER / DECEMBER 2022
---
CLINICAL FEATURE

Fig. 30 Fig. 31

Fig. 32

Fig. 33

Fig. 34

Fig. 35

Fig. 36

Fig. 37

Fig. 38

Fig. 39 Fig. 40 Fig. 41

Reduction through the mock ups showed

that minimal to no reduction was done

on the natural teeth (Figs. 30-31), so the

surface enamel was only roughened with

fine grit diamonds and abrasive disks.

COMPOSITE BONDING TECHNIQUE

Rubberdam isolation was done for optimum

moisture control and bonding, the teeth

surfaces to be layered upon were fully

etched with 37% phosphoric acid (Fig. 32),

then bonding agent applied on all etched

areas (Futurabond U, VOCO) (Fig. 33). A

palatal stent that was fabricated from

the adjusted mock up impression used to

facilitate the buildup of the palatal shell

using a nano-hybrid pure-silicate based

direct composite, incisal translucent

shade (Admira Fusion, VOCO) (Fig. 34),

interproximal shells were also built up using

the same shade and material (Fig. 35), this

is to facilitate an easier layering of the body

shades.

Layering of the body shade was done using

B1 (Admira Fusion, VOCO) (Fig. 36), the

blending of the layered body shade to B2

shade tooth structure is crucial, the B1 body

shade should be tapered off properly and

equally on contralateral teeth for proper

cervical gradience and blending, the use

of a nylon brush (Anterior Composite

Brush, Smile Line) was used with a minimal

amount of modelling liquid (Ceramage

Modelling Liquid, Shofu), taking care not to

use an excessive amount of modelling liquid

as this can potentially create voids and

therefore compromise the strength of the

composite buildup.

The incisal internal mamelons were shaped,

leaving space for translucency and other

incisal effects for optimal aesthetics. A thin

layer of B1 shade was layered on the incisal

edge to imitate the incisal halo, small incisal

detailing was also layered using A2 shade

(Admira Fusion, VOCO), this will render

vertical lines inside the incisal translucency

(Figs. 37-38). Multiple stains were applied

to the various areas of the layered

restoration; Blue on incisal areas to simulate

incisal depth and translucency, blue on

developmental grooves/fossa to increase

the effect of depth in between the layered

lobes, a combination of yellow and white on

the mesial and distal lobes to increase value

on those areas, and a combination of yellow

and brown on some selected areas in the

incisal to simulate chromatic irregularities,

typically found on natural teeth (Final

Touch Stains, VOCO) (Fig. 39 and 40), a

cross-polarised photo shows the subtle

effects that the stains (Fig. 41).

DENTAL ASIA NOVEMBER/ DECEMBER 2022 31
---
CLINICAL FEATURE

Fig. 42 Fig. 43 Fig. 44

Fig. 45

Fig. 46

Fig. 47a

Fig. 47b

Fig. 48 Fig. 49

All layered and painted stains are overlaid

upon by a final Incisal shade, this will

guarantee that the painted stains will

not be erased due to abrasions of

normal wear and tear. The incisal shade

composite also tapers off to blend in with

the body shade on the middle third, this

will decrease the chroma of the layers on

the incisal area and gradually increasing

towards the middle to cervical (Fig 42). A

final curing of the composites was done

under block-out gel to cure any oxygeninhibited

layer present (Fig. 43).

Sculpting was commenced using as

low speed red band long flame bur,

minimal reduction is needed due to the

anatomical layering technique, thus

saving time (Figs. 44-45). Finishing and

polishing done with a combination

of abrasive discs (Soflex Discs, 3M),

finishing spirals (Soflex Spirals, 3M),

Silicone Polishers with different

pressures to achieve different results

(Dimanto Polishers, VOCO), and final

buffing of a fine aluminium oxide wax

(Ceramage Dura Dia, Shofu) using a

goat's hair brush at low speed under

isolation (Fig. 46).

Final smile photos render a naturalistic

design of the composite restorations

with subtle anatomical effects and

translucencies. (Figs. 47a-b: High

contrast photo) A before and after photo

with the pre-operative photo adjusted

to approximate the colours of the post

operative photos, as these were taken

with different camera systems and

lenses (Figs. 48-49). DA

ABOUT THE AUTHOR

Dr John Rundell

Paredes is the

head dentist

and owner of

Esthetique

Smiles Dental

(Philippines). He graduated from

Centro Escolar University with a

degree of Doctor of Dental Medicine

and has undergone intensive

orthodontics training under Center

for Orthodontic Training Seminars,

Inc. A key opinion leader of VOCO

Philippines and clinical advisor of

Shofu, he also conducts training

programmes and lectures with the

organisation PIPE (Perio, Implant,

Prostho, Esthetics).

32 DENTAL ASIA NOVEMBER / DECEMBER 2022
---
HyFlex EDM

STAYS ON TRACK

Æ Safer use

Æ Preparation following the anatomy

Æ Regeneration for reuse

006650 03.21

www.coltene.com

facebook.com/COLTENE.AsiaPacific/
---
CLINICAL FEATURE

Elevate patient experience

with proactive dentistry

With the advantage of data recording capability and visualisation of oral

conditions at the chairside for patient communication, Dr Tak-On Tse

Ryan explains why intraoral scanners (IOS) have become a substantial

instrument for oral health assessment and risk assessment of potential

oral diseases.

Balancing the quality of care and

practice efficiency becomes a question

for almost every dental professional.

Having a long-term relationship

with patients is ideal even for dental

professionals, but prolonged hours at

the clinic are exhaustive and it requires

additional resources and manpower.

Thankfully, digital technologies in

dentistry have evolved so that multiple

clinical conditions can be diagnosed

with efficiency. The perception that

oral health needs to be checked by

clinicians only when there are identified

symptoms makes it hard for patients to

develop a long-term relationship with

dental clinics, resulting in transactional

types of patients.

The problem with this approach is that

often patients wait until they develop

serious oral diseases which may require

restorative treatments and cause

anxiety about dental treatments and

clinic visits (Armfield and Heaton, 2013).

Personally, I categorise this practice

pattern as a "Hitman" approach which

is to find out the disease in a routine

dental appointment that was not

present six months ago, followed by

treating the problem.

However, the adoption of new

digital technology into practice

may result in practice style changes

and steep learning curves for dental

professionals, especially due to

digital literacy. Often, clinicians

find it difficult to develop new skills

or evolve their practice due to

time constraints and staff training,

resulting in limited benefits despite

significant investments (Mascitti

and Campisi, 2020).

In addition, patients in the digital

era prefer to have autonomy in the

dental treatment decision-making

with more understanding of their

oral health conditions to accept

any diagnosis or treatments and

manage their oral health (Benecke

et al., 2020).

HEALER APPROACH VS HITMAN

APPROACH

In contrast, there is another

practice style that implements

a risk assessment strategy to

provide proactive care and develop

a long-term relationship with

patients: a healer approach. The

latter method is through evidencebased

evaluation and made

recommendations based on diet,

homecare habits, and other preventive

measures and monitoring to minimise

the potential risk of dental problems.

Preventive dental care is indeed found

to be cost-saving and effective at

achieving better oral health conditions

overall (Pourat, Choi, and Chen, 2018).

The concept closely resembles

the periodic vehicle (automobile)

inspection or regular health

screening. Dental health also needs

to be checked on a regular basis so

that patients can take better care

of their oral health. Some common

problems that can be detected early

and prevented include the following:

periodontal, biomechanical,

functional, and dentofacial issues.

The concept of diagnostic options is

like the vehicle inspection categories.

ADVANTAGES OF IOS OVER

CONVENTIONAL TOOLS

Intraoral scanner (IOS) such as iTero

Element 5D scanners is an ideal

solution for preventive oral health

assessment and risk assessment. The

comprehensive diagnostics features

and data record capability of the

scanners for oral health assessment

streamline the subsequent dental

check-ups as well as the initial visit.

34 DENTAL ASIA NOVEMBER / DECEMBER 2022
---
CLINICAL FEATURE

In just one scan, multiple types of

information are captured within

minutes and visualised on-screen

for communication with patients:

iTero NIRI (Near Infra-Red Imaging)

technology for early enamel/dentinal

interproximal caries (Metzger, et al.,

2022); iTero Occlusogram for bite

force/malocclusion/arch contact

relationship; iTero TimeLapse

technology and integrated 3D intraoral

camera for teeth, tooth structures and

oral soft tissues (Figs. 1a-b).

These features can be used to

identify cracks and visualise trauma

as well. If needed, the scanned

results can be used to demonstrate

the needs of orthodontics

treatments to patients (in certain

versions of scanners) and the

expected treatment outcomes can

be visualised through an application

called Invisalign Outcome Simulation

(IOSim)/IOSim Pro at chairside.

The strength of iTero Element

scanners is the scan report feature,

which packages the oral health

condition pictures/data of a patient

into one document and is formulated

to be sent to the e-mail or mobile

device of a patient.

This is the reason why iTero Element

scanners could be advantageous over

mirrors and transilluminators which

are far more affordable. It is the

report and shared communication

with patients that help clinicians

build stronger relationships with

patients.

In addition, the record-sharing

practice is effective to raise

patient awareness of oral health

management as well as for patients

to take their time to understand and

appreciate the additional time and

resources spent on the assessment.

The visualisation and the handson

copy of oral conditions support

patients to comprehend their oral

conditions and accept diagnosis and

treatments. Moreover, it is a practice

to provide warnings for potential

dental problem risks, educate how

their oral conditions need to be

taken care of, and therefore reduce

the liability of dental professionals.

PRACTICE SHARING

To provide an example of how oral

health assessment is integrated into

my clinical practice, I will introduce

a workflow. Upon arrival at the

clinic, patients are asked to fill out

an initial visit survey (from Kois

Centre, Seattle) to assess their oral

health conditions and report their

daily oral management behaviours

while they are waiting. This is a

great gateway for patients to think

about their oral health and feel the

need for comprehensive check-ups.

The survey provides oral health

assessment recommendations based

on the number of answers requiring

the monitoring of oral health. Thus,

if patients are willing to assess their

oral health conditions or if a certain

number of answers are ticked, an

assessment is recommended.

Once patients are under the oral health

assessment, multiple diagnostics tools

including IOS are used to analyse the

oral conditions. The core value of IOS

such as iTero Element scanners is that

oral health conditions can be visualised

and communicated with patients at the

chairside concurrently. While scrolling

over different angles of oral health

components, dental professionals can

explain the current oral conditions to

patients, what oral problems are being

suspected, and possibly share the

treatment plans if needed.

Since the saying "seeing is believing"

is often a very fundamental belief

system in humans, patients tend to

trust and accept the diagnosis and

treatment plans more easily after the

visualised oral health assessment.

Additionally, patient's decision

to accept treatment is heavily

affected by their relationship with

their dentists which is the first and

foremost factor over cost and time

(Kalsi and Hemmings, 2013).

Figs. 1a-b: Clinical condition of attrition detected during oral health assessment which is difficult to detect without magnification

DENTAL ASIA NOVEMBER/ DECEMBER 2022 35
---
CLINICAL FEATURE

Figs. 2a-b: Oral health assessment summary shared with patients via email or mobile phones

Fig. 3: iTero TimeLapse technology image

The benefits of iTero Element scanners do

not end here. Even if patients do not accept

treatments onsite or do not possess any oral

health issues, the Scan Report feature of iTero

Element scanners can be used to provide a

summary of oral health conditions to patients

via mobile phone or e-mail (Figs. 2a-b).

It provides another opportunity for

patients to be reminded of their oral health

conditions and the importance of good

management of their oral hygiene. Over

multiple visits and several summary reports,

patients can track the changes of their oral

health over time and their awareness of oral

health management is likely to increase.

With the baseline record and additional

record over times, the clinician can use the

Timelapse function and monitor the oral

health of the patient (Fig. 3).

Furthermore, the summary is shared with a

risk assessment scoring I provide for patients

to be aware of potential oral health diseases.

Based on the risk assessment scoring, the

schedule for the next clinic visits could be

estimated for individual patients and be

arranged before they leave the clinic, which

contributes to the continuous relationship

with patients.

Besides, convenience is guaranteed for

patients and clinics from the long-term

relationship. The oral health history of

patients will be recorded in the database

after initial visits. The patient profiles and

records can be retracted at any time and

36 DENTAL ASIA NOVEMBER / DECEMBER 2022
---
CLINICAL FEATURE

Fig. 4: Flowchart of oral health assessment practice

compared with the most recent conditions

to examine any changes. This database will

build a foundation for patients to establish

their primary dental care and eventually lead

to a long-term relationship.

With the establishment of long-term

patients, the predictability of clinic

resource and manpower management

is achieved, resulting in efficiency

and effectiveness in clinic schedule

arrangement. The productive cycle of oral

health assessment practice is illustrated in

the flowchart (Fig. 4).

CONCLUSION

Collectively, the proactive oral health

assessment of patients using IOS provides

benefits to patient lifestyle and dental

professional clinic practice management in a

few ways including:

1. Efficiency of practice (reduced chairside

time from the use of iTero Element scanners

which feature comprehensive oral health

assessment diagnostics applications)

2. Effective patient communication and

education (visualisation and comparison of

oral health condition changes over time)

3. Increased volume of long-term patients

(with the practice of "seeing is believing"

to establish trust and the record-keeping

capability of IOS)

With the constant evolution of technology

in dentistry and the emergence of a new

generation of patients in the digital era, it

is critical to adapt versatile equipment to

promote efficiency and effectiveness of

clinical practice and enable a continuous

relationship with patients to maintain

good oral hygiene, which in turn returns

sustainable relationship with dental

professionals. DA

REFERENCES

• Armfield, J. M., & Heaton, L. J. (2013).

Management of fear and anxiety in the dental

clinic: a review. Australian dental journal, 58(4),

390–531. https://doi.org/10.1111/adj.12118

• Benecke, M., Kasper, J., Heesen, C., Schäffler,

N., & Reissmann, D. R. (2020). Patient autonomy

in dentistry: demonstrating the role for shared

decision making. BMC medical informatics and

ABOUT THE AUTHOR

Dr Tak-On Tse Ryan

graduated from the

University of Hong Kong,

and completed the

whole comprehensive

curriculum of Kois Centre

in Seattle, US, involving

aesthetic, occlusion and restorative dentistry.

He eventually became a mentor in 2021. A

fellow of International Dental College and

Pierre Fauchard Academy, Dr Tse was also

an instructor at the Implant and Aesthetic CE

decision making, 20(1), 318. https://doi.org/10.1186/

s12911-020-01317-5

• Kalsi, J. S., & Hemmings, K. (2013). The influence

of patients' decisions on treatment planning in

restorative dentistry. Dental update, 40(9), 698–

710. https://doi.org/10.12968/denu.2013.40.9.698

• Mascitti, M., & Campisi, G. (2020). Dental Public

Health Landscape: Challenges, Technological

Innovation and Opportunities in the 21st Century

and COVID-19 Pandemic. International journal of

environmental research and public health, 17(10),

3636. https://doi.org/10.3390/ijerph17103636

• Metzger, Z., Colson, D. G., Bown, P., Weihard, T.,

Baresel, I., & Nolting, T. (2022). Reflected nearinfrared

light versus bite-wing radiography for

the detection of proximal caries: A multicenter

prospective clinical study conducted in private

practices. Journal of dentistry, 116, 103861. https://

doi.org/10.1016/j.jdent.2021.103861

• Pourat, N., Choi, M. K., & Chen, X. (2018).

Evidence of effectiveness of preventive dental

care in reducing dental treatment use and related

expenditures. Journal of public health dentistry,

78(3), 203–213. https://doi.org/10.1111/jphd.12262

programme at the University of Southern

California Esthetic Dentistry. He was also

invited to be one of the experts in Dental

XP and is a Digital Smile Design Global

instructor. At present, Dr Tse is the vicepresident

of the Chinese Academy of

Esthetic Dentistry (CAED) and the chairman

of the Accreditation Board of CAED and is

recognised as an associate fellow member

of the American Academy of Esthetic

Dentistry for his contribution in aesthetic

dentistry.

DENTAL ASIA NOVEMBER/ DECEMBER 2022 37
---
USER REPORT

All-ceramic restoration

on discoloured teeth

Dr Christopher Ho outlines strategies to overcome the challenges

of restoring a severely discoloured tooth with high-aesthetic

requirements.

With the increasing use of all

ceramic restorations, clinicians

may encounter difficulty matching

shades on discoloured teeth. This

discolouration may be due to many

factors, including metallic post and

core, previous restoration, or other

extrinsic or intrinsic factors.

There is often a need to mask

discolouration. However, allceramic

restorations have inherent

translucency within the material.

It may be advantageous in most

situations but may allow shine

through of underlying dark stumps,

negatively impacting the final shade

match.

Several strategies can be adopted

to influence the final colour of the

restoration including:

• Choice of resin cement. Most

dental companies manufacture

shaded and opaque resin cement,

which may assist in blocking

discolouration. However, it should

be noted that with the cement film

thickness being 80-120 microns,

it may not assist sufficiently

in blocking the dark tooth. In

my experience, it improves the

situation by 10-15%.

• Selecting an opaque ceramic

material. The majority of materials

for indirect restorations are

available in different opacities

and translucencies. Advising

the ceramist that the tooth is

dark and taking photographs

of the stump shade may result

in the selection of an opaquer

ceramic material (e.g., Zirconia

first generation materials, lithium

disilicate – medium opacity ingot).

The opaque ceramic will block

the underlying dark tooth from

showing through.

• Thickness of material and

preparation depth. All-ceramic

restorations allow more

conservative preparation, but

with a dark tooth substrate,

there may be the need to prepare

deeper to allow greater material

thickness which will be better

at masking the dark tooth.

Duraes et al. (2022) reported

that the best thickness and

opacity combination for masking

discoloured dental substrates is

to use 1.2mm thickness and LT

(low translucency)/MO (medium

opacity) lithium disilicate

restorations.

38 DENTAL ASIA NOVEMBER / DECEMBER 2022
---
USER REPORT

Fig. 1: Patient wants to replace the crown on tooth 11 due to poor

marginal fit and discolouration of underlying stump

Fig. 2: Removal of old crown reveals dark tooth substrate

Fig. 3: Sub-opaquing the discoloured stump with opaque resin tints

e.g., Kerr Kolor Plus A1 opaque, GC masking liner, Cosmedent Pink

opaquer

Fig. 4: Final all-ceramic crown

• Porcelain fused to metal (PFM)

crown. A conventional PFM

restoration with a metallic coping

is blocked out with an opaquer

allowing the ceramist to start

the layering on a white canvas.

It should not be forgotten as

a possible option. Clinicians,

however, must remember that the

depth of preparation would need to

be at least 1.5mm with a shouldertype

margin to achieve adequate

thickness for the metal coping and

the overlying feldspathic porcelain.

• Sub-opaquing the stump. The final

technique is to sub-opaque the

stump with an opaque resin tint.

Several manufacturers provide

opaque resin tints that are thin

and possess titanium dioxide,

which effectively scatters light

providing white opacity to block

out discolouration. This opaquer

is like a flowable resin applied

by adhesive bonding and placed

precisely with a thin layer that

extends along the axial wall

extending sub-gingivally when

tissue biotype is thin (Figs. 1-4).

Matching discoloured teeth is

always a challenge; both the

clinician and laboratory team need

to work synergistically to achieve

an ideal outcome. Communication

is paramount to success with

clinicians providing detailed

instruction about the stump colour

as well as allowing sufficient

thickness and understanding the

selection of materials to effectively

block any dark stump colour.

Possessing other strategies such

as the sub-opaquing method may

reduce the difficulty in the shade

matching by having an idealcoloured

substrate and should be

part of your armamentarium in

tackling these tough cases. DA

ABOUT THE AUTHOR

Dr Christopher

Ho is a specialist

prosthodontist

who completed

postgraduate

studies in Masters

of Clinical

Dentistry in

Prosthodontics from the University

of London, and a Doctorate in Clinical

Dentistry in Prosthodontics from the

University of Sydney. He is a fellow

of the Pierre Fauchard Academy,

American College of Dentists, and

a special field member of the Royal

Australasian College of Dental

Surgeons in Prosthodontics. He is the

head of the School of Postgraduate

Dentistry, Australasian College of

Dental Practitioners, and a visiting

lecturer for the postgraduate oral

implant diploma and prosthodontic

programmes at the University of

Sydney, and Kings College London, UK.

DENTAL ASIA NOVEMBER/ DECEMBER 2022 39
---
USER REPORT

GBR around implant

using porcine-derived

carbonate apatite

xenograft to optimise

pink aesthetics

Dr Akshay Kumarswamy elaborates on the use of

RegenerOss resorbable xenograft for guided bone

regeneration (GBR) procedure.

A 40-year-old female presented to us

was unhappy about her longstanding

existing two-unit cantilever bridge

with tooth 25 being the abutment

tooth and tooth 24 as the pontic. She

wished to get rid of the pontic and

hoped for something more aesthetic.

Fig. 1

Fig. 2

After a thorough examination – the

crown on tooth 25 seemed to have

good margins and could be salvaged.

The initial picture (Fig. 1) was taken

after the pontic was cut off from

tooth 25. The pontic had created

an ideal soft tissue profile. A buccal

defect was noted in tooth 24 region.

Implant placement with guided

bone regeneration (GBR) followed

by a screw-retained restoration was

planned at that site.

TREATMENT PLAN

The initial plan consisted of placing

the implant in its most ideal position

Fig. 3 Fig. 4 Fig. 5

Fig. 1: Cantilever pontic cut from parent

prosthesis and soft tissue profile created

by it

Fig. 2: Buccal defect seen – 4.1x10mm

implant placed in ideal position keeping in

mind future screw-retained restoration

Fig. 3: Buccal view of the buccal defect and

thin bone around the implant

Fig. 4: RegenerOss resorbable xenograft

placed at the site

Fig. 5: Membrane cut to desired shape and

placed over the bone graft

40 DENTAL ASIA NOVEMBER / DECEMBER 2022
---
USER REPORT

Fig. 6a

Fig. 6b

Fig. 7a

Fig. 7b Fig. 8

Fig. 9a

ABOUT THE AUTHOR

Fig. 9b

Figs. 6a-b: Flap mobilised and sutures were

placed with no tension

Fig. 7a-b: Second stage surgery after four

months and placing of healing abutment

to facilitate a screw-retained

restoration. This would also involve

GBR with the help of a xenograft

material (RegenerOss, ZimVie) and a

collagen membrane to ensure that

the lost buccal bone was regenerated.

Since it was a premolar site, a

4.1x10mm implant was planned. The

ideal depth of placement was 3mm

below the buccal CEJ of the adjacent

tooth. This would help in an ideal

emergence profile of the future

restoration.

CONCLUSION

GBR with an implant can have

great results — both functional and

aesthetic. The following points need

to be kept in mind:

• Primary closure of the grafted site

is of prime importance

Fig. 10

Fig. 8: Emergence profile post healing

Figs. 9a-b: Screw retained crown placed

Fig. 10: Final restoration

• Placement of implant in the most

ideal position is paramount to

achieve a good aesthetic and

functional restoration. In case the

bone is absent, it needs to be built

before implant placement.

In the case above, the bone was

adequate enough to facilitate the

placement of an implant with good

primary stability which in turn helped

us to graft the buccal defect at the

same time as implant placement.

The handling properties of

RegenerOss Resorbable Xenograft are

excellent. I hydrate them in normal

saline for about 10 minutes before

placing them in the desired site. I have

had great results when I use them in

GBR procedures. DA

Dr Akshay

Kumarswamy is a

diplomate of the

American Board

of Periodontology

and is board

certified in

periodontics and implant surgery.

He completed his graduation from

the College of Dental Sciences,

Davangere, Karnataka. He pursued

Advanced Education in General

Dentistry (AEGD) from Boston

University Goldman School of Dental

Medicine, US, and completed his

Master of Science in Periodontics

from the University of North

Carolina at Chapel Hill School of

Dentistry, US. Dr Akshay is also

a fellow and diplomate of the

International Congress of Oral

Implantologists (ICOI) and was

awarded the American Academy

of Periodontology Educator

Award in 2016 and the American

Academy of Periodontology (AAP)

Foundation scholarship for the year

2012. Currently, he is a consultant

periodontist and implantologist

at Dr Kumarswamy's PerioFamily

Advanced Dentistry Clinic in Mumbai,

India.

DENTAL ASIA NOVEMBER/ DECEMBER 2022 41
---
USER REPORT

Morphologyfocused

direct

composite

restoration

By highlighting the distinct characteristics of a tooth,

clinicians can create natural-looking composite restoration

as Dr Nokame Yoshinori explains.

Dental resin composites (DRCs)

are widely used for restorative and

aesthetic repairs. To achieve clinical

success, the process of adhesion is

crucial. Hence after complete caries

removal, composite restoration

must be done with rubber dam

isolation to prevent contamination

of moisture and saliva.

The key to the aesthetic outcome

of direct molar restorations is the

understanding of the anatomical

characteristics of the teeth and

the techniques used to express

them. Commonly, shade is less

of an issue in direct restoration

of molars, particularly for new

generation composites that can

easily blend naturally with the

tooth.

Therefore, focusing on the

morphological characteristics of

the tooth is more important than

ever in doing direct restoration.

CASE STUDY

The first case is a Class 2 direct

restoration of a first and second

maxillary premolar. Even though they

are the same maxillary premolar,

each has unique characteristics.

For example, the first premolar

has larger crown than the second

premolar, a wider central groove,

and a less developed secondary

ridge. Without understanding these

characteristics, the restoration will

not look as natural as it does in this

case (Figs. 1-2).

The second case is a mandibular first

molar restored by direct restoration

on the same day after debridement

Fig. 1: Pre-treatment condition: The metal inlay of the maxillary second

premolar cuts into the distal side of the first premolar, taking up space

Fig. 2: Postoperative condition: Direct composite restorations captured

the characteristics of each tooth type

42 DENTAL ASIA NOVEMBER / DECEMBER 2022
---
USER REPORT

of the large cavity underneath the

metal inlay. Partial pulpotomy was

also performed using MTA cement

(Figs. 3-6).

Fig. 3

Fig. 4

At first glance, the restoration appears

to be typical of Class 2. But if you look

carefully, there is a nodule — a rare

mandibular first molar morphology

— on the centro-lateral side. Called

the "sixth cusp" in Japan, the nodule

occurs in 10-20% of mandibular first

molars.

Fig. 5

Fig. 6

When I treated this tooth, I determined

from preoperative observation of

the crown morphology that there

was originally a sixth cusp. This is

because the crown is wider toward the

centro-lingual side, and the centrolingual

occlusal head would have been

abnormally large if I had tried to create

the usual type of crown (Figs. 7-9).

Figs. 7a-c

If the sixth cusp was not restored,

the outcome would probably be

unacceptable. Hence, whether or not

the surgeon knows that a sixth cusp

can exist in this area can make all the

difference in the result.

Fig. 8 Fig. 9

Fig. 3: Pre-treatment condition: The

mandibular first molar with metal inlay

showing marginal leakage. There are no

spontaneous symptoms, but stimulated by

cold stimulator

Fig. 4: The old restoration was removed and

the tooth was isolated with rubber dam.

Large cavity was observed underneath the

metal inlay

Fig. 5: After removing the decay, a part of

the dental pulp was exposed. It was free

of abnormal finding in the preoperative

diagnosis with microscope. It was decided to

perform partial pulpotomy using MTA cement

Fig. 6: Completion of the partial pulpotomy

procedure and the removal of the

remaining infected dentin and beveling.

In this phase, I make the prediction of the

final morphology

Figs. 7a-c: If we simply think of the

mandibular first molars as five cusps and

place them in textbook form, the final

restorations would appear too large as

shown in Figs. 7a-b.

Fig. 8: Post operative condition: As shown

in Fig. 7c, the restoration settled into a

morphologically comfortable arrangement

Fig. 9: Post-treatment one year later

ABOUT THE AUTHOR

Dr Nokame Yoshinori graduated from Nihon University

School of Dentistry in Matsudo, Japan, in 2010. Since 2011,

he has served as the deputy director of Nokame Dental

Clinic. He is board certified by the Japanese Association of

Microscopic Dentistry (JAMD) and The Academy of Clinical

Dentistry.

CONCLUSION

Knowing the textbook morphology

of teeth is important, but merely

memorising them will not

automatically lead to aesthetic

results, as not all teeth have the same

shape. The teacher to learn from is

the natural teeth, and observation

teaches us that there are many

variations. That is the fun of direct

restorations. DA

DENTAL ASIA NOVEMBER/ DECEMBER 2022 43
---
BEHIND THE SCENES

Attractive and with character

With sophisticated techniques, DT Luís Manuel Rocha Saraiva presents a

step-by-step guide to high-aesthetic zirconia restorations.

This is my protocol about the correct

handling of zirconia materials such as Zolid

HT+ Preshades which can be applied to all

kind of aesthetic restorations starting with

single crowns up to implant-supported full

arch cases.

In this article, I will show how to individualise

and characterise high-aesthetic monolithic

zirconia restorations in a very efficient and

easy way. For this case, I have chosen two

cases. A monolithic tooth-supported fullarch

bridge which is only stained and an

implant-supported bridge with monolithic

teeth and a veneered gingiva (Fig. 1). Both

cases are made using Zolid HT+ Pre-shades.

DIGITAL DESIGN

For the design of the crowns, we usually

follow the digital workflow which is given

by our CAD Software. Because this article

relates more to the manual processing of

zirconia, we will go through it quickly. But

there are some very important rules you

should always consider in your design:

1. Use an Artex articulator before the

digital design for all preparations of the

models and use the digital articulator to

finalise the functional design.

2. Never start the digital workflow

without using an approved wax-up or

test model.

3. Use the approved wax-up or test model

as a pre-op scan (Fig. 2).

4. Always remember the basics of a dental

restoration: we are trying to imitate

nature, so never forget the importance of

shape and anatomy.

5. Always follow the manufacturer's

instructions and the given indications of

the material.

GREEN STATE CHARACTERISATION

To achieve an optimum aesthetic result,

we need to remember the basics of tooth:

anatomy and shape. In the second phase, it is

necessary to use our knowledge in anatomy

and dental morphology. For this we must

Fig. 1: High-aesthetic zirconia restorations with an individual character

Fig. 2: Pre-op scan

Fig. 3: Working model scan

Fig. 4: Matching process, pre-op scan and working model

Fig. 5: Final CAD design tooth-supported bridge

Fig. 6: Final CAD design implant-supported bridge

44 DENTAL ASIA NOVEMBER / DECEMBER 2022
---
BEHIND THE SCENES

prepare ourselves accordingly and I would

recommend the following actions:

1. Always use tools that are suitable for

zirconia finishing in the green state. I use

the Amann Girrbach Green State Finishing

Kit, it contains all the tools I need.

2. The speed specifications of the tools

should always be observed.

3. Zirconia in the green state is very

sensitive, never use too high pressure

and/or blunt tools.

4. Always keep in mind that the zirconia

shrinks by almost 20%. Due to that fact,

the surface characterisation should be

a bit deeper, but never make notches in

areas under tensile stress.

5. Use gloves and a mask and work cleanly,

milling dust must be completely removed

before sintering.

We should always should bear in mind that

although we infiltrate the zirconia with

liquids for shading, we still apply stains,

glazes and veneering ceramics later. Of

course, we want to keep the microstructure

even if these ceramic materials are applied.

We should also take this into account in

this phase, too. The microstructure we

create in the green state is later decisively

involved in the aesthetics and the natural

appearance of the restoration.

INFILTRATION

This stage has the least influence on the

final result, but it is the trickiest step. We

must improve the chroma and the effects

of the restoration without a real and

immediate visualisation of the colours we

use. The final colour becomes visible for

the first time after the sintering process.

To achieve aesthetic results, we must

understand the principle of the white and

porous zirconia foundation. I therefore

recommend to people who do not have a

lot of experience with the application of

colouring liquids to always start with tests

on blank leftovers or practice restorations,

to take photos of the last results and to

record everything you do.

If the principle is once understood, the

mental visualisation and implementation

works quite easy. For this process step, I

recommend the following preparation:

1. Prepare all the colours to be used and

follow the instructions for the materials.

2. Clean the zirconia surface with

compressed air, milling dust needs to be

fully removed.

3. Carefully start infiltration with small

brushstrokes and small amounts of liquid.

The zirconia in this stage has a high

absorption behaviour (Fig. 12).

4. Apply the chroma (dentin liquid) to the

intended areas, i.e., approximal, cervical

and occlusal. Due to the use of preshaded

zirconia, the colour only needs to

be reinforced in those areas.

5. Apply the effects e.g., in the incisal area.

SURFACE PREPARATION AND COLOUR

CUSTOMISATION

Figures 13-16 show the results after

sintering. Despite all the work, the excellent

quality of this material is evident. It is

only possible with a material like Zolid

HT+ Preshades to have such results after

sintering and to perceive the excellent

optical behaviour of zirconia. If the

restoration meets all requirements after

sintering, we can concentrate on the most

important aspect, the aesthetics.

In that case, I used the staining system

Ivocolor from Ivoclar Vivadent. This has

two reasons. The first is the wide range of

possible firing cycles, I am able to choose a

temperature between 700-890ºC without

harming its properties. The second reason

is its optical behaviour. This kit has three

unique colours on the market: Ivocolor E22,

Magenta Ivocolor E21 and Neutral Gray

Ivocolor E17. It also has three basic shades

SD0, SD1 and SD2, that form the base of

the chroma that we will need for this type

Figs. 7-8: Initial situation after milling

Fig. 9: Manual re-work of zirconia in the green state

Figs. 10-11: Final restoration after manual re-work, ready for sintering

Fig. 12: Application of the colouring liquid

DENTAL ASIA NOVEMBER/ DECEMBER 2022 45
---
BEHIND THE SCENES

Figs. 13-16: Final result after the sintering process

Figs. 17-20: First firing, only glaze and some chroma intensification

Figs. 21-22: Second stain firing with predictable results

Figs. 23-24: Applied stains in the monolithic areas and veneered gingiva

before the firing

of work. This system allows users to apply

smaller amounts of material, saving on

costs, reducing time and errors.

FIRST STAIN FIRING

For the first firing, I apply glaze as a base. At

this stage, it is possible to take advantage of

the great margin of fusion that these stains

have and also to apply a little chroma (SD2)

to the body of the teeth and to increase

depth in the approximal spaces (Ivocolor

E11 Mahogany).

The first bake is the most important to

prepare the surface for good aesthetic

results, facilitating the application of the

next layers, but also providing a good base

for the adhesion of the ceramics used.

To achieve high-aesthetic results, a lot of

attention must be paid to the consistency

of the glaze. Apply small amounts of stains

in each application, maintaining a smooth

and uniform colour. It is crucial to be

careful with this detail for every firing. Keep

in mind that in all firings, effects can be

added and chroma can be improved.

SECOND STAIN FIRING

With the next stain firing, we have the

opportunity to work very predictably. The

anatomy, the shape and the function are

done and now we can apply the necessary

colours to make the work look as natural

as possible. One of the great advantages of

using only stains for monolithic restorations

is the possibility of seeing the result of the

firing before going to the furnace.

The colours of the stains stay the same

before and after the firing, so besides

the form, we also achieve predictability

in colours and effects (Figs. 21-22). The

ceramic firing in this stage of the protocol,

we add veneering ceramics to the surface

of zirconia. Again, let's take the advantage

of all the firings to add more detail so that

we can finish the job as quickly and simply

as possible.

Ideally, we will try to make just one our

two ceramic firings. We apply the ceramic

materials in the desired places and in the

monolithic areas and, of course, we can

also add effects and improve the chroma

with stains. Thus, we reduce the thermal

stress of the zirconia and ceramic, and we

gain time. Remove the zirconia frames from

the furnace when the temperature reaches

250ºC, too high temperatures can lead to

thermal stress and fractures.

FINALISATION

In this case, I will not go into the surface

treatment any further. That would go

beyond the scope here and is also very

individual from technician to technician

and highly dependent on personal taste.

Although I would still like to give a hint.

Zirconia is characterised among other

things by its high biocompatibility, which

demonstrates very good behaviour on the

contact points with the tissue if properly

46 DENTAL ASIA NOVEMBER / DECEMBER 2022
---
BEHIND THE SCENES

processed. There are already

numerous studies that prove this.

When zirconia is high-gloss polished,

the material shows an extremely

smooth surface. This prevents the

excessive colonisation of bacteria

and significantly improves wearing

comfort for the patient. So, when

finishing the restoration, we have to

make sure that all contact points with

the gingiva are carefully polished.

Figs. 25-26: Applied stains in the monolithic areas and some small cutback for the incisals before firing

In addition, these areas should never

be stained or veneered, as this in

turn could lead to a deterioration

of wearing comfort and to plaque

adhesion. It is also essential to ensure

a clean and gap-free connection

between the titani-m base and

the zirconia frame. A gap can lead

to the colonisation of undesirable

bacteria (Figs. 27-29). For monolithic

zirconia restorations, the polishing

of the occlusal contact points is also

extremely important. Only a highgloss

polished surface prevents

abrasion of the antagonist.

CONCLUSION

With the arrival of CAD/CAM

technologies, the doors for zirconia

were opened. Nowadays, the great

evolution of this material allows us

to obtain highly aesthetic results in a

predictable way, by using only small

cut-backs or even full-contours.

Mechanically, we reduce the

possibility of fractures, and if we apply

this protocol to any ceramic system,

we should have a homogeneous

restoration with predictable results.

I believe that Zolid HT+ Preshade

changed the game in a lasting way.

This article is based on two cases,

where we show a characterisation

with a lot of effort and in the end,

with a high-aesthetic result in a

simple and fast way. This shows that

for daily work it will be even easier to

achieve the desired results. DA

This article was first published in March

2019 issue of "BYT- Another Dental

Magazine" by Amann Girrbach

Figs. 27-29: mechanical polished contact areas

Figs. 30-32: The final result — predictable aesthetics simple and fast

ABOUT THE AUTHOR

DT Luís Manuel Rocha Saraiva

his debut as a speaker at several

graduated from CESPU (Portugal) in conferences and as an instructor

2012 in dental prosthetics field. In of Amann Girrbach. In 2019,

the same year, he began his career at he joined the team of August

a laboratory in Matosinhos for fixed Bruguera in Barcelona, Spain.

denture where he worked with his

In 2020, he became one of the

mentor: Domingos America. Saraiva founders of the ClarityLab, a

also worked as the technical director laboratory and training centre, in

of the Dental Solutions Lab and made Porto, Portugal.

DENTAL ASIA NOVEMBER/ DECEMBER 2022 47
---
BEHIND THE SCENES

Scanning spray for

digital production

Scantist 3D spray forms a fine, homogeneous matte

coating on shiny, reflective dental objects. At Handrich

Dental Laboratory, this dental spray is used daily.

The Handrich Group, comprising five dental

laboratories and its production centre,

fabricates the entire spectrum of dental

restoration products. Handrich always

embraces the latest technology, so the

production of models is increasingly digital.

In fact, the group has been using digital

technology since the 1990s and was one of

the first laboratories with a 3D scanner.

Today, it has a good dozen scanners from

3Shape, and that number is likely to increase.

Around 80% of dental products are produced

digitally at Handrich. In the field of dental

implants, that figure rises to 95%. Quality

has always come first for Handrich. In 2001,

the company was certified under the Medical

Devices Act, making Handrich a forerunner

in manufacturing following the European

directive on implantable medical devices.

Handrich's recipe for success involves always

trying out materials as well as testing and

implementing new technologies.

"We are always looking for new ways to

optimise what we do," said Rolf Ebert,

managing director at Handrich.

That does not only apply to production

technologies and processes. Recently, the

entire company group changed to a new

dental spray for scanning objects.

MARKS AND PUDDLES

In recent years, Handrich has tried many

different scanning sprays. The biggest problem

in the past was that the sprays did not provide

reproducible results.

Uniform application of the spray coating was

seldom achieved, and each spraying process

would lead to a different result. Some sprays

would leave behind marks, while others

formed puddles. The coating was thick and

uneven, which affected the results.

Especially in telescopic technology, for which

every micrometre is vital for the accuracy of

fit, the quality of the scanning spray used can

have a significant impact. With conventional

sprays, a considerable amount of time was

required to obtain reliable data.

PIGMENT DUST SETTLES EVERYWHERE

With many conventional sprays, the objects

have to be cleaned again after the scan. The

spray coating often adheres stubbornly to

the surfaces. Since the pigment dust also

spreads to the surrounding area, the cleaning

process is very time-consuming.

Although the extraction system installed

in Handrich Dental Laboratory was able

to capture most of the pigment dust, the

white dust settled everywhere in the room.

If the dust is not removed, it "bakes" into all

surfaces, including printers, keyboards and

furnishings. The health aspect is also very

concerning. In particular, titanium dioxide,

which most conventional sprays contain, is

said to have carcinogenic effects.

Ebert shared: "With previous sprays, the work

was very complicated and time-consuming.

The captured scan data were not reliable.

There was no repeatability. A colleague told

me about the new dental spray, so I tested

Scantist 3D and was immediately impressed."

INNOVATIVE DENTAL SPRAY

Scantist 3D dental spray can be applied very

evenly. It forms a fine and homogeneous

layer that offers the best conditions

for scanning. The measurements are

reproducible. The repeat measurements

carried out by Handrich employees

yielded consistent results. After testing it

successfully, all five laboratories are now

using the new spray.

Scantist 3D was developed to make

transparent and reflective parts matte in

a few seconds. It has been on the market

since 2021 and has already become

established in many dental laboratories,

including at Handrich. The spray forms a

thin, homogeneous layer, so the scanners

can capture accurate surface data. The

reliable data quality enables the precise

fabrication of dental restorations. Moreover,

Scantist 3D adheres to all surfaces and is

dry to the touch, making it particularly easy

to use.

Another advantage is that the spray

evaporates by itself, so time-consuming

cleaning is eliminated. An entire work

step is saved. In addition, the fact that the

spray coating completely disappears after

approximately 20 minutes makes the whole

process very hygienic.

"We just feel better working with a spray

that is pigment-free and thus harmless to

health," explained Ebert. "We're pleased

that we discovered Scantist 3D, and we

immediately stocked up with a year's

supply." DA

48 DENTAL ASIA NOVEMBER / DECEMBER 2022
---
IN DEPTH WITH

Primescan Connect: Easy scan,

seamless collaboration

Achieve better

diagnostics, treatment

planning, and

accelerated financial

growth all while

improving the patient

experience.

Primescan Connect is Dentsply Sirona's highperforming

intraoral scanner now available

in a laptop configuration. Clinicians can

enjoy all the benefits of Primescan at a more

accessible price.

Primescan is an intraoral scanner that allows

clinicians to perform high-precision digital

impressions of the patient's mouth, without

the use of traditional impression material.

With simplified scanning and streamlined

workflows, Primescan Connect is a great

starting point to digital dentistry.

Primescan Connect features:

• Speed: Full arch scan possible in less than

a minute.

• Ease of use: Helps to simplify the scanning

process, so dentists can delegate the

impression taking process to their team

and spend more time with patients.

• Accuracy: Excellent scans no matter which

material or how difficult the area is to

capture.

• Flexibility: Takes up little space and is easy

to integrate into the practice workflows

and set-up.

FREEDOM TO CHOOSE PREFERRED

PARTNER

Connect Case Center, Dentsply Sirona's

digital ordering system, enables seamless

lab ordering from start to finish. Primescan

Connect is an open scanner, which means

users can send data to any lab of their choice,

and they'll receive the information exactly in

the format they need.

• Transfer digital orders to dental labs

within seconds — all compliant to HIPPA

and GDPR

• No license fees for dentists and their lab

partner

• Validated connectivity with major lab

software: 3Shape, exocad, etc.

• Access to validated workflows from

Dentsply Sirona: SureSmile aligners,

digital implant workflows via Simplant and

Atlantis

WORKFLOWS

From single unit procedures to more

challenging cases, Primescan Connect

provides seamless integration and expansion

into any workflow: restorative, implantology,

orthodontics and sleep appliance treatment. DA

50 DENTAL ASIA NOVEMBER / DECEMBER 2022
---
IN DEPTH WITH

Implant planning module from

Carestream Dental now accepts

open files from intraoral scanners

Carestream Dental's Prosthetic-

Driven Implant Planning (PDIP)

module can now accept scans from

intraoral scanners that generates

STL/PLY files, giving clinicians

greater flexibility when planning and

placing implants. The PDIP module

is the implant planning solution

that supports more confident

diagnoses, improves treatment

predictability, reduces the number

of visits and leads to better patient

communication and enhanced

collaboration.

"Opening up the module to accept

STL/PLY files gives practitioners

more options and helps them make

better decisions about optimal

crown and implant position, which

leads to more control over the final

clinical and aesthetic outcomes,"

said Stephane Varlet, global product

line manager for extraoral imaging,

Carestream Dental.

The PDIP module, which is an option

available with CS 3D Imaging, makes

it easy for doctors to ensure implants

are positioned according to the ideal

future restoration by letting them

virtually plan a crown and implant

on the same screen. The module

automatically aligns the STL/PLY

files from an intraoral scanner and

DICOM file from either the CS 8100

3D, CS 8200 3D or CS 9600 CBCT

systems to create a virtual set-up

with little to no manipulation from

the doctor.

Users then add a crown to the

combined scanner/CBCT datasets

and place the implant from a

library featuring more than 90

manufacturers. They can also

add abutments, create their own

implants and manage their own

library. Practitioners can also

generate an implant report to

order the components required

for surgery and to share with their

treatment network.

Because the PDIP module produces

files in an open format, implant

planning output can be easily

exported with a single click into

third-party software including

Swissmeda or BlueSky Bio for the

creation of surgical guides. DA

DENTAL ASIA NOVEMBER/ DECEMBER 2022 51
---
IN DEPTH WITH

Exceptional performance

in a compact body

3Shape introduces TRIOS 5 Wireless,

a completely new intraoral scanner

designed to make it easier than ever

for dentists to go digital with their

dentistry.

A breakthrough in intraoral scanners, TRIOS

5 Wireless makes scanning smoother and

faster with its all-new ScanAssist intelligent

alignment technology that comes housed

in a redesigned compact and hygienically

optimised scanner — to deliver the highest

standard in imaging performance and

infection control.

With over 50 improvements in ease of use

and design, TRIOS 5 Wireless is 3Shape's

smallest and lightest scanner to date and

is perfectly balanced to fit comfortably in

clinician's hand.

TRIOS 5 Wireless delivers an unprecedented

level of scanning simplicity. An LED ring and

haptic sensory feedback guide users while

they scan to make digital impression taking

smoother and faster than ever.

And now with ScanAssist technology, which

minimises misalignment and distortion in 3D

models, users can scan their patients in any

direction they want — just create the scan

path that works best for them.

TRIOS 5 Wireless features, an FDA cleared,

closed autoclavable scanner tip protected

by scratch-free sapphire glass to define a

new level of hygiene. And includes ultrathin,

snug, and near-invisible single-use

sleeves to cover the scanner body and

minimise risk for cross-contamination.

"At 3Shape, we have strived for perfection

through five generations of intraoral

scanner evolution. Using state-of-the-art

scan software and artificial intelligence to

deliver sharper colours, improved accuracy,

and increased efficiency, we believe TRIOS

5 surpasses all expectations. With its

ergonomic and well-balanced look inspired

by classic Danish design, TRIOS 5 Wireless

simply, makes sense," said Jakob Just-

Bomholt, CEO of 3Shape.

TRIOS 5 digital images are indicated for use

in restorations, orthodontics, implantology,

and assessment of dental status.

Specifications:

• 30% smaller and 20% lighter compared

to TRIOS 4

• ScanAssist provides clinicians with easier

scanning independent of scan strategy

• Improved battery technology, requiring

only one battery per day

• Calibration-free scanner

• LED ring and haptic feedback for better

user guidance

• Two-button design for improved software

navigation and scan analysis

• Autoclavable scan tips providing a

microbial barrier on the scan tip

• Body sleeves to significantly reduce risk

of cross contamination

• Closed tip design to avoid cross

contamination

• Scanner body has been designed for

cleaning and disinfection DA

52 DENTAL ASIA NOVEMBER / DECEMBER 2022
---
PRODUCT HIGHLIGHTS

GC Asia Dental

Simplifying all cementation

procedures

G-Cem One Paste Pak, the new self-adhesive resin cement

from GC simplifies all cementation procedures. G-Cem One

Paste Pak brings together high bond strength, effortless

clean-up and long-lasting aesthetics as well as an excellent

self-curing ability for a wide range of indications in one

product solution.

TITANUS ® LED

BRILLIANT

PERFORMANCE

A truly universal, non-technique sensitive, versatile and

reliable product, G-Cem One Paste Pak gives the flexibility

of being effective in all cementation procedures for any type

of restorations; from metal-based to resin and all-ceramic

inlays, onlays, crowns, bridges, and posts. It demonstrates

excellent bond strength to enamel, dentin and all indirect

restorations.

In addition, the optional Adhesive Enhancing Primer (AEP)

and its GC Touch Cure feature provides optimal bond

strength in challenging clinical situations, such as low

retentive surfaces.

The chemical initiator in the AEP accelerates the chemical

cure of the cement to ensure optimal bonding. The AEP is

easy to apply; no additional light-curing is needed — apply

and air-dry.

G-Cem One Paste Pak offers clinicians a reduced inventory

with less components for a reproducible workflow. Its

starter kit include G-Cem One Paste Pak A2 or Translucent

(7.6mL), Adhesive Enhancing Primer (2mL) and a mixing pad.

TITANUS ® ELED/SLED ULTRASONIC SCALERS

G-Cem One Paste Pak is simply the one for peace of mind

when it comes to clinicians adhesive requirements. DA

SIMPLIFYING DENTAL MOTION

info@teknedental.com

www.teknedental.com

DENTAL ASIA NOVEMBER/ DECEMBER 2022 53

Spazio pubblicitario 95x250_def.indd 1 27/10/22 14:43
---
PRODUCT HIGHLIGHTS

SprintRay

Best-in-class toughness

SprintRay has launched OnX Tough, a

next-generation hybrid ceramic resin

designed for 3D printing dental prosthetics.

Leveraging SprintRay's proprietary

NanoFusion technology, this new resin

delivers unparalleled durability and lifelike

translucency for high-quality, same-day

smiles.

"SprintRay was founded on the promise

of building carefully-curated 3D printing

solutions to enable dental providers to

deliver an exceptional patient experience,"

said Amir Mansouri, PhD, CEO and cofounder

of SprintRay. "This breakthrough

OnX Tough material represents a paradigm

shift for chairside dentistry, delivering

customised, beautiful and functional dental

prosthetics while the patient is in the chair."

The need for dental prosthetics is on the

rise, with the global market projected

to reach US$9.71bn by 2026. In the US

alone, approximately 178 million adults are

missing at least one tooth and 40 million

are edentulous. Conventional methods to

manufacture dental prosthetics involve

sending digital or analogue impressions to a

lab with turnaround times averaging three

to four weeks for some patients. With the

advent of digital dentistry and 3D printing,

first generation 3D printing technologies

have enabled in-office manufacturing of

dental prosthetics, but with significant

limitations.

"When creating OnX Tough, we set out

to design a next generation resin that

addressed a key limitation of 3D printed

prosthetics today — durability and

toughness," said Sumeet Jain, PhD, vicepresident,

Materials. "To address these

limitations, we developed NanoFusion

technology, a new approach to dental

chemistry. NanoFusion materials have

a novel composition and form dense

polymer chains to deliver dental

prostheses with best-in-class fracture

toughness, five times that of firstgeneration

technology. Furthermore, the

composition brings a perfect combination

of translucency and opacity to mimic that

of natural dentition." DA

3M Oral Care

Making restorative procedures more affordable for patients, more

predictable for dentists

Today's dental patients are looking for lessinvasive

options to improve their smile at

a price they can afford. That's why 3M has

introduced the 3M Filtek Matrix — a new

restorative solution that makes composite

placement less stressful and more

predictable for dentists, while making it

more affordable for their patients.

Dental composites can be a great choice

to restore or improve the aesthetics of a

patient's smile. However, the traditional

process can be long and complicated.

The Filtek Matrix procedure begins with

a digital restoration design. A patientspecific

matrix is created that helps

the clinician transfer the digital design

to the patient's teeth using 3M dental

composites.

Unlike more invasive ceramic procedures

which often require the removal of tooth

structure, the Filtek Matrix relies on

additive composite techniques where

little to no tooth reduction is required.

In a clinical evaluation, dentists reported

that using the matrix increased their

confidence, delivered predictable and

aesthetic results, and saved chair time.

"This product brings together leading

material science and digital innovation

to enable clinicians to predictably and

efficiently transform patient smiles," said

Andrew Milder, global portfolio director,

3M Oral Care. "It is exciting to see the

amazing results that clinicians have

delivered using the Filtek Matrix."

The Filtek Matrix is the latest innovation

in 3M's portfolio of restorative solutions.

Clinicians can pair the Filtek Matrix with

3M Filtek Dental Restoratives to deliver

excellent composite strength and wear

resistance for patients. DA

54 DENTAL ASIA NOVEMBER / DECEMBER 2022
---
PRODUCT HIGHLIGHTS

VOCO

Built to last

VOCO celebrates the 10-year anniversary of GrandioSO — a

universal, light-cured, 89% filled nano-hybrid composite for

anterior and posterior fillings of all classes.

→ DISCOVER PERFECTION

IN PROPHYLAXIS -

THE NEW COMBI touch

Formulated to match toothlike physical properties, GrandioSO

has the modulus of elasticity, thermocycling coefficient,

surface hardness, edge strength and several other properties

that individually and even more so collectively, closely mirror

that of natural dentition.

These unique toothlike qualities makes for long-lasting,

aesthetic and robust restorations. Practitioners for a decade

have enjoyed GrandioSO with its easy, non-stick consistency,

setting a new standard for composite handling and exceptional

aesthetics. It also provides instant and tangible results.

Additionally, its toothlike physical properties and high-fill rate

deliver proven superior quality and enhanced longevity that can

be trusted.

→ ultra-gentle prophylaxis

→ ergonomic handling

→ made in Italy

→ 40 years experience

GrandioSO is indicated for Class I-V restorations, reconstruction

of traumatically damaged anteriors, faceting of discoloured

anterior teeth, correction of shape and shade for improved

aesthetic appearance, locking, splinting of loosened teeth,

repairing veneers, restoration of deciduous teeth, core buildup

under crowns, and composite inlays.

Over the past 10 years, GrandioSO has been at the centre of

clinical successes in millions of restorations worldwide. As a

universal restorative and a perfect workhorse composite for

any practice, it has provided reliable results for practitioners

and patients alike. GrandioSO is one of Voco's most successful

products; built on high-quality chemistry that provides

reliable, long-term aesthetic restorations.

Specifications:

• 89% fillers by weight: Outstanding wear resistance, and

enhanced colour stability

• 30-50% less resin compared to classic hybrid and pseudo

nano composites: Low shrinkage of only 1.6 vol.%, nonsticky,

prolonged working time under ambient light DA

→ www.mectron.com

DENTAL ASIA NOVEMBER/ DECEMBER 2022 55
---
PRODUCT HIGHLIGHTS

W&H

More features, more innovation, more capacity

Lara XL steriliser from W&H is now breaking

the ground for even more innovation and

usability. It has been further developed by

providing a larger capacity and even more

useful features. In addition, the advanced

technology is geared to adapt to future

developments and ensure comprehensive

connectivity as well as upgradeability.

The patented Eco Dry+ technology

automatically adjusts drying times to the

mass of the load, thus reducing cycle times

and optimising energy consumption. A green

solution for sterilisation processes, that as

a side effect also extends the service life of

instruments by keeping heat exposure to a

necessary minimum.

In addition, Lara XL features a chamber

size of 28 litres. The higher volume allows

for up to 7kg of wrapped instruments to

be reprocessed in one go. A unique and

extremely flexible rack system with six large

trays makes clever use of the increased

capacity.

Based on a sophisticated and futureoriented

technical concept, Lara XL can be

easily connected to other devices in order

to simplify handling, documentation and

reporting. Innovations such as the ioDent

system or the W&H Steri App are forwardlooking

ways of integrating practical digital

tools into the workflow.

Moreover, Lara XL can be upgraded with two

W&H Activation Codes: EliTrace and Fast

Cycle. Traceability is a key feature for making

workflows efficient, safe, and transparent.

With its advanced documentation system,

EliTrace offers traceability down to the

single instrument. A barcode labels each

pouch and informs on when its content has

been successfully sterilised. Fast Cycle is an

additional function that allows sterilisation of

unwrapped items in just 20 minutes.

Intelligent menu structures enable intuitive

navigation through all functions of the Lara

XL steriliser. A wide range of options can

be operated via the colour touch display.

Manual filling of the water tank is facilitated

by an integrated funnel. Connection to a

demineralisation system is also possible,

which automates filling and draining. DA

Tekne Dental

Achieve high precision and scaling efficiency

TITANUS ELED and TITANUS SLED

ultrasonic scalers are Tekne Dental's new

piezoelectric ultrasonic scalers, equipped

with integrated LED light that ensures

natural bright light on the operating area.

The core of the scaler — its titanium

transducer — has been further improved to

get higher efficiency and reliability.

The scaler comes complete with three

inserts for general scaling and the handy

DYNO dynamometric wrench, useful for

precisely screwing the insert onto the

scaler and safeguarding the transducer

thread.

The ultrasonic inserts feature high precision,

high scaling efficiency and smooth surface,

thanks to their special polishing process.

The scaler, inserts and wrench can be fully

sterilised in autoclave and thermodisinfected.

The scaler kit comprises the USC60

ultrasounds generator which delivers gentle

yet powerful sinusoidal output signal and

combined with the linear oscillating action,

allows to achieve high precision and patient

comfort.

The generator produces optimum power

control for all applications: endodontics,

periodontics, scaling, restorative. DA

56 DENTAL ASIA NOVEMBER / DECEMBER 2022
---
PRODUCT HIGHLIGHTS

Kulzer

More gain, less pain

One for

All Ceramics

and More

Introduced by Kulzer, Gluma desensitiser is indicated for the

reduction or elimination of pain in exposed cervical areas that

do not require restoration and the reduction or elimination of

dentin sensitivity after preparation of teeth to receive a fixed

prosthesis.

One drop of Gluma desensitiser has been sufficient to reduce

and prevent hypersensitivity. The results are quick and effective,

without mixing, curing or multiple applications and patients feel

immediate relief.

Proven efficacy in over 50 million restorations, it can be used

with all common adhesives and restoration materials in every

treatment situation.

Moreover, Gluma is the only desensitiser that has been proven

to penetrate exposed dentinal tubules up to 200μm 1 . This leads

to the formation of multi-layered protein walls which prevent

an osmotic fluid exchange with the internal tubules.

It also forms a hermetic seal which traps the bacteria and

prevents bacterial growth 2 while reorganising collapsed

collagen fibres, improving the bond strength of several

adhesives.

Part of the Mitsui Chemicals Group, Kulzer has been a reliable

partner for all dental professionals for more than 80 years.

Whether analogue or digital dentistry, aesthetic or tooth

preservation, prosthetics or periodontology — as a polymer

specialist and digital solution provider, Kulzer stands for

trusted and innovative dental solutions. DA

1

Schüpbach P, Lutz F, Finger WJ: Closing of dentinal tubules by GLUMA

desensitizer. Eur J Oral Sci, 1997, 105 (5Pt): 414-21

2

Felton D, Bergenholtz G, Cox CF: Inhibition of bacterial growth under

composite restorations following GLUMA pretreatment. J Dent Res,

1989, 68: 491-5

VITA LUMEX® AC

• For all frameworks

made out of ceramic and titanium

• For all techniques

from micro veneering to refractory veneers

• For all precise effects

stable in layering and firing

Find out more here:

www.vita-zahnfabrik.com/LUMEX_AC

DENTAL ASIA NOVEMBER/ DECEMBER 2022 57

3610E_LUMEX Anzeige_95x250_V01.indd 1 27.10.2022 16:14:32
---
PRODUCT HIGHLIGHTS

Morita

Unsurpassed image clarity

3D Accuitomo 170 is Morita's most

advanced CBCT unit. Highly refined, it is

the fourth generation of the Accuitomo

product line. It offers a voxel size of just

80µm and displays even the most subtle

details of bone structure.

This super-fine voxel combined with the

unit's 14-bit grayscale capability creates a

wide dynamic range which produces many

grayscale values for visualising both hard

and soft tissue areas with a subtle spread of

contrast.

It enables a comprehensive examination for

diagnosing apical lesions, fractures, cysts,

tumours, TMJ problems, caries, and allows

for treatment planning for implants and

much more.

The 3D Accuitomo 170 offers unsurpassed

image clarity. With nine fields of view

and multiple acquisition modes, the

3D Accuitomo 170 can meet clinicians'

diagnostic needs with unparalleled quality.

Additionally, it is equipped with four imaging

modes that allow flexibility when scanning

patients with a variety of diagnostic needs

and clinical indications. Clinicians can

choose High Resolution and High Fidelity

modes for the best quality images, or High

Speed for patients that have difficulty

remaining still.

3D Accuitomo 170 comes with two PCs (i-Dixel

software pre-installed with VolR, Curved MPR,

One Data Viewer Plus and One Volume Viewer

functions) and one monitor. DA

COLTENE

Precise impression of details

With the Affinis product family from

COLTENE, clinicians will be well prepared

for any patient situation, no matter

how complicated. This reliable, precise

impression material is characterised not only

by its speed but also by its flowability and,

where necessary, by the required stability.

With the aid of its highly active surfactant

system and the resulting surface affinity,

Affinis captures even the smallest detail

under the most difficult conditions.

Even in a moist environment, it exhibits

outstanding flow behaviour.

Affinis impression material has become an

indispensable material in my daily dental

routine due to its good processing, high

precision and good patient compliance,"

shared Dr Sylvia Rahm (Germany).

Prof Dr Salomão Rocha (Portugal) added:

"The combination of heavy body and light

body provides an impression with excellent

detail reproduction. Even in situations

where it is difficult to control moisture.

The fast version is characterised by a short

working time and high impression quality,

and is therefore very comfortable for the

patient and effective for the dentist. To

prevent cross-infection, the option to

autoclave the impression when taken with a

heat resistant tray is definitely a plus." DA

The impressive flowability and self-levelling

of Affinis wash materials not only lead to

highly precise capture of details, but also

avoid air voids, flashes and imperfections.

"The reproducibility of work steps creates

safety, speed and reliability. COLTENE's

58 DENTAL ASIA NOVEMBER / DECEMBER 2022
---
PRODUCT HIGHLIGHTS

Dr Wolff

Mouthwash to protect teeth, prevent tooth sensitivity, gum problems and bad breath

Dr Wolff's Bioniq Repair Tooth-Milk has

all the characteristics of a conventional

mouthwash with the added benefits of

hydroxyapatite.

It has long-lasting antibacterial effect, cleans

the entire oral cavity, protects against bad

breath and gum problems, and prevents

cavities and tartar. With its artificial enamel

(hydroxyapatite) with valuable calcium, it

also protects natural enamel from wear.

Given its high degree of similarity to the

natural enamel structure, the artificial

enamel attaches to the surface of teeth

and seals microscopically small defects. A

protective layer is formed.

Thanks to its slightly gel-like consistency,

it sticks to the enamel very well and makes

the surface so smooth that it is extremely

hard for bacteria and stains build-up. This

can make the teeth appear whiter.

The Tooth-Milk contains two active

ingredients that protect healthy gums

against inflammation:

• Lactoferrin is a natural antimicrobial active

ingredient which is also present in saliva.

It removes the iron (lat. ferrum) which is

necessary for bacteria to survive.

• Hyaluronic acid supports the healthy moist

environment of the oral cavity. Medical

research has shown that human saliva is an

important barrier against bacteria. DA

DENTAL ASIA NOVEMBER/ DECEMBER 2022 59
---
SHOW PREVIEW

CDS 2022 and 24th CSA

Annual Congress: The return

of much-awaited dental

events in China

Together with the 24th China Stomatological Association Annual Congress,

China Dental Show 2022 will be held from 9-11 Dec 2022 in Suzhou, Jiangsu.

Held along with the China Stomatological

Association (CSA) Annual Meeting, China Dental

Show (CDS) is a leading trade show which

covers brand and product promotion, continuing

education, trade negotiation and equipment

procurement.

This year, they open the door in Suzhou, Jiangsu,

to the largest number of dentists from private

and public hospitals as well as clinics and

distributors in the Yangtze River Delta and China

overall, showcasing products and services from

the entire value chain of the dental field.

Through the CDS, new products and

technologies are presented by over 500

companies including leading international and

local brands to tens of thousands of industry

professionals who are there to learn, trade and

network at one of the most important dental

events of the year in China.

CDS has an exhibition area of more than 60,000

sqm. Exhibiting brands come from over 30

countries and regions, including China, Singapore,

Malaysia, Germany, the US, France, Italy, South

Korea, Japan, Switzerland, Finland, Denmark,

Israel, Brazil, Hong Kong, Taiwan and much more.

Every year, the Japan Dental Trade Association

(JDTA), Seoul Dental Association and Trade

Development Authority of Pakistan (TDAP)

send official delegates to CDS. They also obtain

strong support from USDOC/SIMAP/MEPRC

and so on.

Moreover, the CSA Annual Meeting, hosted

by CSA and undertaken by Reed Sinopharm

Exhibitions, is held at the same time as CDS

as usual in Suzhou this year. CSA altogether

held 400 academic seminar sessions,

operation and demonstration shows and

prize competitions. More than 350 leading

international and domestic experts attended

its Annual Meeting.

It is no surprise that CDS is witnessing

exponentially growing demands for exhibition

space in Suzhou Jinji Lake International

Convention Centre this year, which is equipped

with all the latest high-tech amenities to

facilitate a global dental show. The venue is

also planned in the most ergonomic fashion,

allowing exhibitors and visitors within the

same product portfolio to interact on the

same floor, thus obtaining great results within

the limited time. DA

60 DENTAL ASIA NOVEMBER / DECEMBER 2022
---
exocad Insights 2022:

A highly anticipated digital

dentistry event

Around 700 participants from more than 45 countries attended the full,

two-day programme.

Tillmann Steinbrecher, CEO of exocad

exocad, an Align Technology company

and dental CAD/CAM software provider,

successfully concluded Insights 2022, the third

edition of its global digital dentistry event, under

the motto "Learn. Connect. Enjoy." The biennial

meeting took place on 3-4 Oct 2022 in Palma

de Mallorca, Spain.

"Insights 2022 truly exceeded our expectations,"

said Tillmann Steinbrecher, CEO of exocad.

"International speakers and attendees from

around the world joined us to explore the future

of digital dentistry together and share best

practices."

Dentists, dental technicians and industry

partners from more than 45 countries attended

the educational CAD/CAM event. The full,

two-day programme included informative

presentations from top industry experts and indepth

learning sessions run by exocad software

experts for both clinical and lab communities.

Insights industry partners offered sessions as

well, rounding out the diverse agenda of tips,

tricks, and deep learning opportunities.

" exocad is our collaboration

partner on the CAD

software. Amann Girrbach

is still the largest distributor

of exocad software

worldwide, even though

we have our own branded

version. We're very happy

with our collaboration with

exocad. We can provide our

input, and this flows into

product development. So

that's really helpful."

Stephan Domschke,

director of Global Training and

Education, Amann Girrbach.

DENTAL ASIA NOVEMBER/ DECEMBER 2022 61
---
SHOW REVIEW

Novica Savic, CCO of exocad

"This event provided us all with a muchneeded

opportunity to connect face-toface,"

said Novica Savic, CCO of exocad.

"Being in one location for two days of

high-quality networking, learning and

hands-on demonstration provided us

all with great inspiration for the digital

dentistry era we are in."

New Rijeka 3.1 release series and

exocad software sessions

At Insights 2022, exocad's software

solutions DentalCAD, ChairsideCAD and

exoplan, and the new Rijeka 3.1 release

series took centre stage.

MDT Michael Kohnen, head of Global

Application Support and Education

at exocad, presented the 45 new

and over 85 enhanced features for

DentalCAD 3.1 Rijeka and provided

a first look at the Rijeka 3.1 version

of exoplan, exocad's open implant

planning software. In dedicated

software sessions, users were guided

through new software features and

demonstrated how to reap the full

benefits of seamless digital workflows

using exocad software.

International top speakers

Dental industry trailblazers ran

presentations on how to use digital

tools to achieve better aesthetic

treatment results for patients and to

work even more productively.

The speaker lineup covered all points

along the treatment spectrum. Dentist

and dental technician speaker duo,

Prof Dr Guilherme Saavedra from Brazil

and Spain's MDT Waldo Zarco Nosti

addressed the question of how digital

dentistry works, from virtual planning

to finished high-quality prosthetics.

US-based restorative dentist Dr Lori

Trost inspired participants on the topic

of dentures and presented her digital

treatment concept. UK lab owner CDT

Steven Campbell discussed how digital

workflows can help address looming

staff shortages for clinics and labs.

MDT Sascha Hein from Germany

offered valuable tips on how to reliably

determine the correct tooth shade for

aesthetically high-quality restorations in

the digital age.

"Dentist-lab synergy in the digital

era" was the focus of Smile Design

founder, Dr Christian Coachman,

from Brazil. His lecture provided

dentists and dental technicians

with inspiration on ways to produce

predictable high-quality aesthetic

restorations. UK's Dr Gulshan Murgai

presented his digital workflow based

on a patient case with a focus on

implant planning with exoplan. He

discussed the planning of singletooth

implants, also with immediate

restoration, and the restoration of

edentulous jaws. Dr Diana Tadros

from the US discussed aesthetics in

her clinical session, explaining her

digital treatment concept and how

exocad's Smile Creator can be used in

the patient journey to highly aesthetic

restorations.

Partner exhibition, partner sessions

and software integrations

More than 50 of the top companies in

dental materials, equipment and CAD/

CAM presented their latest innovations

as part of the Insights partner

exhibition. The Insights Diamond,

Platinum and Gold partners ran a total

of 14 special sessions to introduce

attendees to their products and shared

Press conference at exocad Insights

Dr Lori Trost on stage

62 DENTAL ASIA NOVEMBER / DECEMBER 2022
---
SHOW REVIEW

valuable ideas for the application

of exocad software solutions in

connection with digital hardware.

Three new DentalCAD Rijeka 3.1

features and modules were launched.

iTero NIRI technology and intraoral

camera images are now automatically

imported when designing restorations,

enabling technicians to visualise the

internal and external tooth structure

and optimise the process of margin

line tracing. The new xSnap module

is a model attachment for a printable

3D articulated system featuring a

spherical head, which allows a precisely

executed protrusion, laterotrusion and

mediotrusion. And Ivoclar's Ivotion

Denture System, a complete workflow

for the digital production of high-quality,

removable dentures is now available in

exocad.

Growth to meet demand

To provide space for its growing

workforce, exocad announced it will

open a new high-tech headquarters

in Darmstadt, Germany, this

November. exocad also opened a new

headquarters in South Korea this past

May. With the relocation of exocad's

Asia headquarters, the company said

it aims to be closer to its resellers and

users from South Korea and to provide

even more comprehensive services to

customers in Asia.

Community, collection, and

connection

Insights 2022 provided a welcome

opportunity to network in person with

exocad experts, strategic partners

and resellers. Following a rigorous

educational agenda, attendees had

the opportunity to unwind at the end

of day one with an evening dinner and

live music. exocad once again offered

attendees the chance to participate in

a charity drive by selling T-shirts. The

"We became partners with

exocad when we launched the

Freedom dental lab scanner.

The team is very friendly. This is

the third time we've participated

in exocad Insights and many

visitors of the show are

interested in our products."

Esther Son,

marketing manager, DOF

collected funds go toward supporting a

dental non-profit organisation.

The future is digital

At the press briefing, speakers agreed

that open software architecture is a key

to creating a comprehensive future in

digital dentistry. Insights partners also

reflected on the general direction of the

dental industry saying that all processes

are moving toward digital. They advised

labs and dentists to embrace this digital

transition and to discover what tools are

available to help them reach the ultimate

goal: better patient care. DA

DENTAL ASIA NOVEMBER/ DECEMBER 2022 63
---
SHOW REVIEW

IDEM 2022 celebrates

another great

milestone achieved

The in-person event exceeded expectations by over 30% and welcomed

6530 attendees, and marked a record number of represented countries.

The 12th edition of the International Dental

Exhibition and Meeting (IDEM), held from 7-9

Oct, has successfully concluded. Co-organised

by Koelnmesse and the Singapore Dental

Association, the first physical IDEM after the

pandemic hosted 6530 attendees from 67

countries, exceeding the record number of

attendee countries.

This edition featured a total of 46 scientific

conference sessions and workshops, covering

on the latest trends and innovations curated

for the dental community. The exhibition floor

hosted nine national pavilions and a total of

540 exhibiting brands from 37 countries of

which 90% were returning exhibitors and 10%

were exhibiting for the first time.

"Words cannot fully express my heartfelt

gratitude to our sponsors, speakers,

exhibitors, and delegates," said Mathias

Kuepper, managing director of Koelnmesse.

"This year, IDEM welcomed a strong number

of quality dental traders and distributors

from the region. In addition to the elevated

interaction from an in-person setting, the

number of quality leads that our exhibitors

have secured is also testament to the

success of IDEM 2022. With the support

of our stakeholders, we continue to strive

towards excellence at the next IDEM event."

Zaamigo, one of the exhibitors, took this

chance to showcase their latest dental camera

to the attendees of IDEM 2022. The sleek

and waterproof design of the dental camera

allows users to understand the situation of

their dental health at a glance with Zaamigo's

mobile application. The smart analytics are

the results of annotating thousands of images

together with dentists, allowing users to

understand their teeth brushing and flossing

patterns and keep their teeth in pristine

condition all the time.

Keni Kubo, country manager of Envista

Holdings, shared: "Nothing compares to inperson

conversations with like-minded dental

professionals and the brightest minds in the

industry. IDEM 2022 in person gave Envista

the opportunity to showcase and share about

our new products to the fullest, meet old and

64 DENTAL ASIA NOVEMBER / DECEMBER 2022
---
SHOW REVIEW

new connections, and explore new business

opportunities. We look forward to the next

IDEM edition in 2024."

Adrian Tan, dentist of Dent1st Limited from

New Zealand, added: "IDEM 2022 was an

opportunity for us to conveniently meet

all the major manufacturers and suppliers

in the world in one place. The scientific

conference was led by quality speakers who

presented niche and relevant topics that

practitioners can immediately apply as well."

Dr Jerry Lim, one of the speakers at IDEM

2022, conducted a conference on the topic:

Comprehensive Aesthetic Rehabilitation:

A Multidisciplinary Approach to a Complex

Problem. More than 750 delegates attended

the session to learn about the process of

treatment planning for complex aesthetics

rehabilitation. The conference aimed to

expose participants to digital smile design

and neuromuscular occlusion concepts

and to appreciate digital integration in

comprehensive aesthetic rehabilitation.

The digital community platform, IDEM360+,

specially created to supplement the

in-person event, recorded close to 4500

of new connections made. Exclusively

made available for attendees to explore

in-app business matching and networking

opportunities, and build wider customers

and partners database beyond the physical

conference. Of the new users onboarded,

half of these users connected with a fellow

delegate, speaker, or exhibitor, and about

40% engaged in online discussions via the

IDEM360+ app.

The platform continues to run post-show, with

32 of the scientific conferences made available

on-demand from 17 Oct–17 Nov 2022.

"IDEM continues to propel and invigorate

the dental industry with not only the inperson

event but also the IDEM360+ mobile

application which continues to run after

today," said Prof Patrick Tseng, scientific

chairperson of IDEM 2022. "Continued

learning is key for our industry, and we look

forward to the next edition of IDEM as we

aim to reach a wider audience and create a

more insightful event for our participants."

The next edition of IDEM will take place

on 19-21 Apr 2024 at Marina Bay Sands

Singapore. Attendees will be able to look

forward to the latest developments in

dental research and practice with more

intensive educational sessions, interactive

presentations, engaging meetings, and the

latest advancements in dentistry. DA

""IDEM 2022 was an

opportunity for us to

conveniently meet all

the major manufacturers

and suppliers in the

world in one place. The

scientific conference was

led by quality speakers

who presented niche

and relevant topics

that practitioners can

immediately apply as well."

Adrian Tan,

dentist of Dent1st Limited

from New Zealand

DENTAL ASIA NOVEMBER/ DECEMBER 2022 65
---
EVENTS CALENDAR

NOVEMBER

2 – 4 Phar-med Cambodia 2022

Phnom Penh, Cambodia

Venue: DIECC (KohPich)

25 – 30 Greater New York Dental Meeting 2022

DECEMBER

New York City, US

Venue: Jacob K. Javits Convention Center

1 – 3 The International Vietnam Dental Equipment and

Materials Exhibition

Hanoi City, Vietnam

Venue: ICE – 91 Tran Hung Dao Str., Dist Hoan Kiem

2 – 4 Hong Kong International Dental Expo and

Symposium

Hong Kong

Venue: Hong Kong Convention and Exhibition Centre

6 – 8 The 3rd Taiwan International Orthodontic Forum

Taipei, Taiwan

Venue: Taipei Nangang Exhibition Center

9 – 11 China Dental Show 2022 and

24th CSA Annual Congress

Suzhou, Jiangsu

Venue: Suzhou Jinji Lake International Convention Centre

12 – 13 Advanced Asian Dental Summit

Manila, Philippines

Venue: Philippine International Convention Center

2023

JANUARY

20 – 21 ITI Congress Switzerland

Engelberg, Switzerland

Venue: Kursaal Engelberg

26 – 28 Barcelona Dental Show 2023

FEBRUARY

Barcelona, Spain

Venue: Centro de Convenciones Internacional Barcelona

7 – 9 AEEDC Dubai 2023

Dubai, United Arab Emirates

Venue: Dubai World Trade Centre

17 – 19 Association of Orthodontists (Singapore)

Congress 2023

Singapore

Venue: Marina Bay Sands

23 – 26 Dental South China 2023

MARCH

Guangzhou, China

Venue: China Import and Export Fair Pazhou Complex

14 – 18 International Dental Show 2023

Cologne, Germany

Venue: Cologne Fair Grounds

14 – 17 DenTech China 2022

Shanghai, China

Venue: National Exhibition and Convention Center

With the evolving COVID-19 situation, kindly check with

organisers for updates on the related events. Please refer to the

local airports' websites for the latest travel advisories too.

DENTAL ASIA NOVEMBER / DECEMBER 2022 67
---
ADVERTISERS' INDEX

COMPANY

PAGE

3Shape A/S 9

Align Technology Inc.

OBC

Anthogyr France 13

Association of Orthodontists (Singapore)

Congress 2023

IFC

Carestream Dental 5

COLTENE 33

Dental Asia House Ad 68

Dental South China 2023 66

exocad GmbH 3

International Osteology Symposium 2023 23

Mectron S.p.A. 7, 55

Medical Protection Society Limited (MPS) 1

Rolence Enterprise Inc. 59

Shofu Inc. 11

Tekne Dental 53

For information, visit us at www.dentalasia.net or

contact us at sales@pabloasia.com

VITA Zahnfabrik 57

VOCO 49

@dentalasia

W&H

IBC

Company Registration No: 200001473N

All rights reserved. Views of writers do not necessarily reflect the views of the Publisher. No part of this publication may be reproduced in any form or by any means, without

prior permission in writing from the Publisher and copyright owner. Whilst every care is taken to ensure accuracy of the information in this publication, the Publisher accepts no

liability for damages caused by misinterpretation of information, expressed or implied, within the pages of the magazine. All advertisements are accepted on the understanding

that the Advertiser is authorised to publish the contents of the advertisements, and in this respect, the Advertiser shall indemnify the Publisher against all claims or suits for

libel, violation of right of privacy and copyright infringements. Dental Asia is a controlled-circulation bi-monthly magazine. It is mailed free-of-charge to readers who meet a set

of criteria. Paid subscription is available to those who do not fit our terms of control. Please refer to subscription form provided in the publication for more details.

Printed by Times Printers Pte Ltd

68 DENTAL ASIA NOVEMBER / DECEMBER 2022
---
#whdentalwerk

video.wh.com

Now at

your dealer

or wh.com

Perfect

Sterilization

with W&H

Lisa | Lara | Lina | Lyla

Interrupting the chain of infection.

Good hygiene management is an essential

part of everyday work in dental practices,

because it is all about the safety of your

patients, your staff and yourself.
---
invis is

comprehensive

care

reimagined.

Develop a comprehensive treatment experience that works for your patients

and your practice.

Integrate clear aligner therapy into your comprehensive treatment plans to meet the needs of your patients

and support a wide range of restorative treatments.

Learn more about how you can become an Invisalign ® trained doctor

today.

© 2022 Align Technology, Inc. All rights reserved. Invisalign, the Invisalign logo, among others, are trademarks and/or

service marks of Align Technology, Inc. or one of its subsidiaries or affiliated companies and may be registered in the U.S.

and/or other countries. | MKT-0005927 Rev B