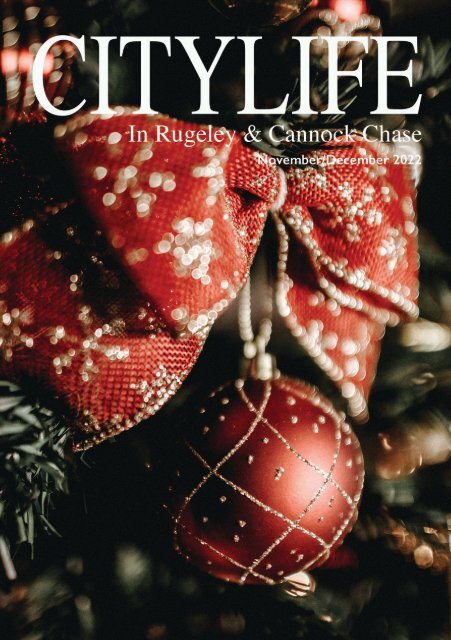 Citylife in Rugeley and Cannock Chase November and December 2022
Tis The Season! Our fun and festive November and December edition magazine is out now and is full of ideas on how you can enjoy the best family Christmas this year! With the perfect places to eat and drink, recipes to enjoy making at home, competitions, local news from every WI group in the region, history from the Landor Society and a feature from Jess Davanzo on how to enjoy a sustainable Christmas, our community magazine has something for everyone this Yuletide! Merry Christmas one and all!
Tis The Season! Our fun and festive November and December edition magazine is out now and is full of ideas on how you can enjoy the best family Christmas this year! With the perfect places to eat and drink, recipes to enjoy making at home, competitions, local news from every WI group in the region, history from the Landor Society and a feature from Jess Davanzo on how to enjoy a sustainable Christmas, our community magazine has something for everyone this Yuletide! Merry Christmas one and all!
SHOW MORE
SHOW LESS
Create successful ePaper yourself
Turn your PDF publications into a flip-book with our unique Google optimized e-Paper software.
3
---
Welcome to

CITYLIFE

Welcome to CITYLIFE in Rugeley & Cannock

Chase, a bi-monthly magazine bringing you our pick

of the area's news, events and stories. Every other

month CITYLIFE in Rugeley & Cannock Chase is

delivered to businesses and homes in Rugeley,

Cannock Chase, Shoal Hill, Ravenhill,

Etchinghill, Slitting Mill, Armitage, Brereton,

Handsacre, Colton, Hawkesyard, Draycott Park

completely free of charge; bringing you the best

that the area has to offer.

Each issue features heritage stories exploring the

rich history of our area, plus competitions,

interviews and the latest in fashion and style.

Got a story or charity event you want to share with

our readership? Think you've snapped an image that

captures the spirit of the region? We want to hear

from you!

CITYLIFE Contacts

Editor - Kristen Lackajis 07885 380632

kristencitylife@gmail.com

Features - Jono Oates 07785 757201

jonocitylife@gmail.com

Advertising -

Steve Brown 07740 166497

stevebrowncitylife@gmail.com

Rebecca Hill 07970 513144

rebeccahillcitylife@gmail.com

Mike James 07900 982456

mikejamescitylife@gmail.com

Design - Helen Smith 07967 154187

helencitylife@gmail.com

Citylife In Lichfield Ltd

PO Box 7126 LICHFIELD WS14 4JS

CITYLIFE in Lichfield and CITYLIFE in Rugeley and

Cannock Chase magazines are not connected to any

other publication or publisher, and are wholly owned

by CITYLIFE in Lichfield Ltd.

Inside...

6 Local News

What's been happening in and

around the area

14 Have a Sustainable

Christmas

Jess Davanzo shares her

top tips

16 Festive Gift Guide

Find the perfect pressie for

friends and family

Citylife's New Website!

We've launched our brand new website

recently to accompany your two

publications. On our site you can find

more information about the magazines,

plus a revamped blog full of local news,

features and competitions!

Designed by InLife Design, based in

Burntwood, we look forward to

welcoming you at

www.citylifeinlichfieldltd.co.uk very soon!

Citylife In Lichfield

@citylifelichfield

@lichfieldcity

www.citylifeinlichfieldltd.co.uk

Citylife in Lichfield Ltd does not endorse any

business or organisation appearing in these

pages, and the publication of any

advertisement, editorial, event listing or

advertising editorial does not constitute an

endorsement by Citylife in Lichfield Ltd.

4
---
5
---
LOCAL NEWS

Jack Savoretti at

Cannock Chase

Jack Savoretti is the first artist to

announce dates as part of Forest

Live 2023, the summer concert

series presented by Forestry

England.

Since his initial breakthrough

with BBC Radio 2 airplay in

2006, a succession of crafted

albums has built the Anglo-Italian

singer-songwriter an impressive

career. 'Written in Scars' (2014)

and 'Sleep No More' (2016)

confirmed his growing

popularity with gold-selling

status and these were

superseded by No 1 albums

'Singing To Strangers' (2019) and

'Europiana' (2021). A number of

his songs have featured in TV

and film such as 'Grey's

Anatomy', 'The Vampire Diaries'

and 'One Tree Hill'.

Forest Live is a major outdoor

live music series that introduces

forests to new audiences in

unique, natural woodland arenas

around the country. Going to a

concert helps Forestry England

create beautiful places for

people to enjoy, run important

conservation projects and keep

growing trees. Last year they

planted some 6.8 million trees,

caring for the nation's 1,500

woods and forests sustainably

and welcoming 363 million visits

annually.

6

Cost-of-Living

Help

Cannock Chase

Council has

partnered with

charity Beat the

Cold to help

residents during

the ongoing cost

of living crisis and soaring

energy bills.

The energy advice charity has

many support mechanisms to

help and offers energy saving

advice to keep your home

warmer for less. It also offers:

help with energy suppliers

regarding debt; assisting with

energy accounts; helping people

to access and apply for Priority

Services Register/Winter

Fuel/Cold

Weather

Payments/Fuel and Foodbank

vouchers; accessing local

authority and government

schemes for applicants to

improve their properties with

insulation, Air Source heat

pumps and Solar PV. Helping

bring down energy costs.

The council has a dedicated

webpage which gives advice, as

well as signposting to agencies

that can help, during this difficult

time. Find out more at

www.cannockchasedc.gov.uk/co

uncil/your-community/helpcost-living-crisis.

...........................................................

Wildlife Trust

to Protect

Badgers

Staffordshire Wildlife Trust

continues its badger vaccination

programme this year as an

alternative to culling these

native mammals.

The vaccination programme,

which originally started in 2013,

costs the wildlife charity about

£5,600 to run per year. The

charity is asking for help from

supporters to raise awareness

and funds to continue their

efforts to vaccinate badgers.

With 25 per cent of the

European badger population

being found in the UK, there is

an international responsibility to

conserve them. The badger

vaccinations reduce the risk of

badger to cattle transmission of

bovine tuberculosis (bTB),

protecting farmer's livestock and

reducing the need for culling

wildlife.

The Independent Scientific

Group research from the

Randomised Badger Culling Trial

(RBCT) showed that badger

culling can cause the disease to

spread more widely, as the

animals' territorial boundaries

are disturbed; leading to the

increased movement of badgers.

To support the Trust's

vaccination programme, visit

w w w . s t a f f s -

wildlife.org.uk/badger-appeal.
---
7
---
LOCAL NEWS

The District is

Blooming!

Cannock Chase District is

celebrating six Britain in Bloom

awards across its parks and

open spaces.

Britain in Bloom is Britain's

nationwide gardening

competition and a tool for

building communities and

tackling local issues together.

Gold awards were given to

Cannock and Hednesford Park,

Elmore Park won silver,

Cannock Stadium and Ravenhill

won silver gilt and Heath Hayes

Park won a bronze award.

The Britain in Bloom criteria

changed for 2022 to encourage

entries to have a positive impact

on the environment. Marks are

awarded for identifying local

environmental issues and ways

in which the issues are targeted

using plants. Judging criteria is

divided into 40% for

horticulture, 30% for

environment and 30% for

community involvement.

The award ceremony took place

on 22nd September and was

attended by Lynn Harley-Biggs,

President of The Friends of

Cannock Stadium Park

(pictured), and the Futures

group from South Staffordshire

College, Cannock Campus

(pictured), which has been

involved in a wide range of tasks

in the local parks.

8

Potato Comp

Winner

During National Allotment

Week in August, St Barbara's

House, sheltered housing

scheme in Rugeley, celebrated

with its annual potato growing

competition.

Each tenant had their own pot

to grow potatos and paid a

pound each week, with the

person with the heaviest crop

being the winner.

Wolseley Garden Centre

donated the compost for the

potatos and Plant Manager, Jack

Paterson, and Team Member,

Clare Wood, came along to

judge and weigh the potatos.

The winner was 81 year old

Charlie Keay (pictured), who has

lived at St Barbara's House for

the last three years. He is going

to put his winnings into the

social funds to help pay towards

entertainment this Christmas.

...........................................................

Annual

Christmas Toy

Appeal

The Rugeley & District Lions'

Annual Toy Appeal is operating

from 15th November to 16th

December and sees the

organisation collecting new and

unused toys to give to children

who would otherwise go

without at Christmas.

Last year the generous folk of

Rugeley donated 2,000 toys! As

usual, toys must be new or

unused. Drop off points are

Tesco Rugeley, Morrisons

Rugeley, Gymophobics Rugeley,

and Rugeley Community

Church.

Family Notices

From October, readers will be

able to place a notice in Citylife

magazine to let others know of

an important event, occasion or

celebration that is taking place.

If you would like to place details

of any births, deaths, marriages

or other occasions, please

contact Rebecca Hill at

rebeccahillcitylife@gmail.com

07970 513144 or

kristencitylife@gmail.com

07885 380632.

Notices will consist of a

maximum 50 words, plus an

image, at a cost of £25

(inclusive of VAT).
---
9
---
Local & Community Groups

Cannock &

District Men's

Probus

By Peter Arnold

Members were utterly

captivated by a brilliant talk given

by Darren Priday, Head of

Conservation at the RAF

Museum Cosford. Following 26

years as an RAF aircraft

mechanical engineer, he found his

dream job in 2005 at the Michael

Beetham Conservation Centre

with the task of continuing the

Handley Page Hampden

restoration project. From this, he

was promoted in 2009 to

Deputy Manager of the

Conservation Centre and in

2013 took over as Manager.

A world centre of excellence,

the MBCC's primary function

includes care, conservation and

restoration of the National

Collection along with the

movement or suspension of

aircraft or large exhibits.

A Fish & Chip Supper will be

held on Friday 18th November

starting at 7pm. For details of

meetings and events contact

Barry Dowell at 01543 503320

or email bg.dowell@icloud.com.

Rugeley WI

By Margaret Bennett

A very entertaining evening

was given to Rugeley WI

members in October by Chris

Austin entitled 'Into the

Shadows.'

Chris, who is a member of the

band Fuego, talked about the

popular group of the late 50s,

The Shadows, and members

were taken back in time with

guitar music from the band's hits.

During October, Rugeley WI

also visited the Rugeley Food

Bank with donations of food

given by members and helped by

dating food.

Rugeley WI meets every last

Wednesday in the month at St

Paul's Community Hall, Rugeley

at 7:30pm. If you would like to

join or want details, contact

either Barbara Johnson on 01889

586855 or Barbara Coppard on

01889 804889.

..........................

Etchinghill WI

By Kathy Baxter

For the October meeting

Margaret Devey welcomed Kath

Reynolds and her presentation

'Bringing Up Baby' exploring the

vast differences in child rearing

back in the 30s, 40s and 50s,

ranging form the help from Dr

Spock's baby bible through to

sterilisers, glass bottles and terry

cotton nappies. It was interesting

to see how equipment had

changed over the years and we

had many a chuckle over

methods used back in the day.

Kath Reynolds kindly judged

the competition which was

photographs of members when

they were babies. First place

went to Sue Evans, second place

was won by Chris Stinton and

third place went to Celia Wright.

The year will finish with a

Christmas meal at Beau Dessert

golf club on 14th December.

The group meets on the

second Wednesday of each

month at Etchinghill village hall.

To join, or find out more, email

etchinghillwistaffs@gmail.com.

..........................

SI Cannock &

District

By Trish Mellor

Since 2015, Cannock

Soroptimists have enjoyed a

friendship link with SI Port Talbot.

Recently, a special meeting saw

10 members of the Port Talbot

Club, led by their President

Helen, visiting Cannock for a

couple of days, giving members

the chance to meet and get to

know each other!

10
---
11
---
Local & Community Groups

Continued...

The two club's enjoyed a day

out at the National Memorial

Arboretum, arriving in time to

attend the service in the chapel.

A journey on the land train

followed, giving everyone the

chance to see far more than

would have been possible on

foot, along with an informative

commentary.

Further details about

Soroptimists, the work they do

and how you may be able to join

a meeting can be found on the

club's website at

www.sigbi.org/cannock-anddistrict

or Facebook page

www.facebook.com/SICannock.

..........................

Cannock &

District

Ladies'

Probus

By Alison Cardy

Annual 29th

Birthday

Celebrations,

including

guests from

other Probus

C l u b s ,

consisted of a

delicious

three-course meal, followed by

entertainment from a talented

artist and author, Geoff Tristram

'a lad from Quarry bank' in the

Black Country, who made his

own music with chuckles from

his audience.

Chairman Sheila Burrows

closed the meeting, giving warm

thanks and flowers.

12

Retired or semi-retired,

professional or business ladies

meet the first Thursday of each

month at Chase Golf Club at 12

noon. A meal and fellowship is

shared, with speakers on

interesting topics and

opportunities to take part in

outings and other activities. New

members are always welcome,

annual membership is £16 and a

two-course lunch £18.

For

further information contact

Barbara on 01889 882166 or

Sheila on 07814102767.

..........................

The

Ridwares

WI

By Kath Parsons

I was

honoured to

attend a very

s p e c i a l

presentation

event recently,

as we won not

one but two

awards this

year. The Press Report Shield

competition was won by myself,

and the second award was the

Freda Houldcroft Trophy for the

best WI programme.

There is much to look forward

to in our autumn/winter

programme. We have monthly

craft sessions and members are

currently busy knitting Santa's

and Snowmen for the trade tale

at the popular 'Tinsel &

Trimmings' evening on 2nd

December.

There is also an annual trip to

the Pantomime at The

Hippodrome, Afternoon Tea at

Hoar Cross Hall, trips to a

Christmas Market and our

Christmas Party to look forward

to.

Visitors and prospective

members will be given a very

warm welcome. For further

details

visit

http://theridwareswi.co.uk.

..........................

Cannock

WI

By Jill Gooch

T h e

members of

Cannock WI

were kept

very busy at

their last

meeting by

thoughts of

Christmas!

Not shopping

early, or decorating cakes, or

making puddings, but just as

important an ingredient of our

celebrations: we made our own

Christmas crackers!

The speaker at our meeting in

November will be from Silverline

who will explain to us the

importance of will making and

how to ensure that our wishes

for our heirs are properly

carried out after we have gone.

Our meetings are held on the

second Thursday of each month

at 10.30am at St Luke's Church

Centre. Visitors are always

welcome and details can be

found on our Facebook page at

www.facebook.com/oakleafstluk

es.
---
Here at Just Granite Ltd, we pride ourselves on being the experts for any worktop needs

you may have. Be it a beautiful bespoke and unique kitchen worktop, a bar, bathroom or

even a barbecue area, we have an extensive in-house range ready to be chosen by you! We

stock a varied range, in a variety of materials, such as our own competitively priced quartz,

granite, marble and porcelain, as well as all the top brands from around the world.

There really is no reason to go anywhere else!

Win a Granite Chopping Board

If you require our services please do not

hesitate to call us on 01785 711096 or email

your quote request to stef@justgranite.ltd.uk

With the largest variety of natural stones in

the Midlands, the solid slabs are kept on-site and

are available for a virtual viewing from 9am-5pm

on Monday to Friday. Located at The Stone

Works, Pillaton Hall Farm, Penkridge, ST19 5RZ.

We've got a bespoke Chopping Board (in

the colour of your choice) to give away!

To be in with a chance of winning this

magnificent prize, simply answer the

following question correctly:

Where does the supply

of granite come from?

a) Spain

b) Italy

c) Germany

To enter, just send your name, contact details and

answer to Just Granite Competition at

competitioncitylife@gmail.com or post your entry to

Citylife in Lichfield Ltd, PO Box 7126, Lichfield WS14

4JS by the closing date of 1st January 2022. One entry

per household. Multiple entries will be disqualified. No cash

equivalent. Please note you must be 18 or over to enter. All

entrants' information is processed in line with GDPR Data

Protection Regulations and our Privacy Policy (available at

citylifeinlichfieldltd.co.uk).

Full t&cs on page 34.

13
---
Have a

Sustainable

Christmas

By Jess Davanzo

'Tis the season of giving, but sometimes our

well-intentioned generosity has the opposite

effect on our resources. Unless you're living

under a rock, you have heard the buzz around

needing to live more sustainably. Whilst it can

feel overwhelming, there are a multitude of little

things we could all do that can collectively have

a big impact! Particularly at a time known for

excess, little tweaks can make huge difference.

This isn't to say you must go into Grinch

mode, on the contrary! Some of the best ways

to be "greener" can add to the holiday spirit, not

detract from it!

Wrapping Paper

Is it necessary? It looks beautiful, but millions

of rolls get thrown away every year and much of

it is non-recyclable (especially shiny/glittery

kinds!) For something that is torn and discarded

quickly there must be a better way and there is!

Why not use natural brown paper that is

recyclable? Or even newspaper? This can look

beautiful especially when tied with natural string

or biodegradable ribbon. You could even

incorporate nature, using holly leaves, to

decorate the packages. Another alternative is

old fabric or reusable bags. It might sound

strange, but it can truly look lovely and make a

big difference. Plus, it saves money!

Gifts

Give gifts that support a sustainable lifestyle

and you can encourage positive change. Think

reusable with things like lunch boxes, water

bottles and bags that are made in a conscious

way. Lots of sustainable gift companies give back

to earth friendly and ethical initiatives. I'm

pleased that we carry lots of ethical, cruelty free

and sustainable gifts at www.earthystuff.co.uk

that are not only eco themselves, but a portion

of the profit goes into investing in the planet

and people friendly projects. Also, trees are

planted with every order! So, for guilt free

giving, look for local sustainable companies that

truly care.

Decorations

They're an integral part of the festive season

but are often made from harmful materials! Be

more sustainable and turn your decorating into

a fun foraging exercise by getting out in the

fresh air and collecting holly or pinecones to

make features on the mantle or table, or make

your own ornaments - just avoid glitter and

tinsel! If you already have a plastic tree, keep

using it! It's better to keep using one you

already have than to buy a new one, even if the

new one is more eco!

Christmas Dinner

A simple thing to do is to buy local and

seasonally. This not only supports the earth but

helps your community and local businesses. If

you get your vegetables from a local farm shop

or market, not only are you supporting your

community and preventing unnecessary

transport, but you are going to get tastier more

nutritious vegetables!

You

Sure we want a more sustainable way of living

but that doesn't just mean the planet, we must

protect ourselves too! With the recent rises in

the cost of living, the pressure to overspend and

buy things for the sake of it doesn't help with

our personal sustainability either. The season of

giving often comes at a cost to our mental

health and it shouldn't! The most valuable thing

we have is our time, so let go of the pressures

of buying presents and focus on being present

with the ones you love!

14
---
15
---
Christmas Gifts

Jewellery With Life

This Textured Star Pendant is the perfect gift for

the super stars in your life. Made using recycled

silver, it comes in your choice of textures, finish

and length of silver chain. Priced at £26. You can

find more beautiful pieces made in Staffordshire by

Emily at www.jewellerywithlife.co.uk.

Mercia Spirits Lab

Treat your loved one to the perfect G&T this

Christmas! Gift hamper includes Mercia's

Signature Gin, a gin glass, and a choice of mixers!

Priced at £59 and available from Mercia Spirits Lab,

Bishton Hall, Bellamour Lane, Rugeley.

Tel: 01889 529291. www.merciawhisky.co

Earthy Stuff

Beautifully unique and sustainable, these elephant

dung notebooks are the perfect quirky gift! They

are Fair Trade and lovely for use as a journal or

everyday notebook. The elephant dung covers are

made from 25% recycled paper and 75% elephant

dung – yes really! The ultimate in recycling! Priced

at £11. Available online at Earthystuff.co.uk or

email: hello@earthystuff.co.uk.

S&P Watercolours

Based on an original watercolour painting by S&P

Watercolours, this Shugborough Hall 1,000-piece

jigsaw puzzle features a central 'boy and swan'

fountain and clipped golden yews. A fabulous gift

idea featuring an iconic Staffordshire landmark.

Priced at £18.99. Available from S&P Watercolours,

The Courtyard, Bishton Hall, Wolseley Bridge,

ST17 0XN. Email: spwatercolours@gmail.com.

16

MW Jewellery

A great range of gift ideas for Christmas, including

a wide range of watches, such as the one pictured

which has an RRP of £100, but is priced at only

£30 at MW Jewellery, based in Brewery Street

Shopping Centre, Rugeley.

Clive's Wines

It wouldn't be Christmas without a spot of fizz!

Why not try something different this year, like this

sparkling rhubarb wine, or rhubling, as it's known?

Made using the traditional method to create

natural bubbles, rhubling is the perfect, light fizz to

enjoy with a loved one. Available from Clive's

Wines of Burntwood. Tel: 07972 269 620.

www.cliveswines.co.uk

Use code CWCL10 to get 10%

off at Clive's Wines!
---
17
---
Christmas Gifts

Tippers

With the ability to drill through wood, steel and

masonry with ease, the Makita Rotary Cordless

Hammer Drill is perfect for those New Year DIY

projects that we're all itching to start. When in

rotation mode, the chisel can rotate an impressive

full 360 degrees, with 40 different lock positions.

Priced at £197.28 and available from Tippers.

Lichfield, Europa Way, WS14 9TZ

www.tippers.com

Nib Nabs

Check out the fabulous Christmas range in store

at Nib Nabs Menswear in Brewery Street

Shopping Centre, Rugeley. Gift ideas include

wallets, cufflinks, bank card holders and more, with

prices from just £6.99.

Paul Martyn

Novelty draught excluders, in different styles,

priced from £38 and available from Paul Martyn,

Heart of the Country Shopping Village, Swinfen.

Tel: 01543 481592.

www.paulmartynfurniture.co.uk

Allen Brown Jewellery

Silver earrings with black rhodium and 18ct yellow

gold plate. Priced at £157 and available from Allen

Brown Jewellery located at Heart of the Country

Shopping Village, Swinfen, Lichfield, WS14 9QR.

Tel: 01543 481 948.

www.allenbrownjewellery.co.uk

The Deer Park

Specialising in sustainably-sourced tea grown in Sri

Lanka, Doyen is a local company which aims to

minimise its carbon footprint throughout its

production processes. This tea advent calendar

features two teabags behind each door from the

range, which includes green teas, herbal and

fruit blends. Priced at £29.95 and available from The

Deer Park, Maker Lane, Hoar Cross, DE13 8QR.

18

Needwood Living

The true scent of Christmas! St Eval Christmas

Candles are available in Inspiritus, Orange &

Cinnamon, Winter Thyme. Priced at £13.45 and

available from Needwood Living, High Street,

Tutbury, or Main Street, Alrewas.

www.needwoodliving.co.uk
---
Brewery Street Shopping Centre, Brewery Street, Rugeley, WS15 2DY.

19
---
A Window on the Past

Rugeley Utilities

We are all conscious of the rising

cost of utility bills, so it seems

appropriate to look at gas,

electricity and water supply in Rugeley over

the next few issues of City Life. Services that

nowadays we all consider essential.

Older readers will remember growing up in

homes lit by oil lamps and candles. Heating was

by an open fire, which also heated the adjoining

oven, the kettle and the flat irons. Water for

laundry and baths was heated in the copper in

the scullery. If you were on mains water, there

was probably only one tap - over the sink also in

the scullery. The wireless (not radio) ran on dry

batteries or an accumulator, and the

gramophone was of the wind-up variety.

This issue we are looking at the gas industry.

Gas first came to Rugeley in 1827 when Thomas

Hatfield set up a small plant at his foundry, but it

was in 1847 the Rugeley Gas Company was

formed.

1. An early gas bill issued to the

Churchwardens, presumably for lighting St

Augustine's church.

2. A 1921 bill for an extra light fitting at

Churchdale Villa in Wolseley Road for Mr

George Playfer.

3. In 1929, Rugeley Gas Company reduced

their prices to "encourage extended use of gas

for domestic heating and cooking."

4. Rugeley gas works in Forge Road

photographed in august 1957.

5. Taken in February 2006 this photo shows

what was then one of the last surviving buildings

of the old gas works in Forge Road. It was

awaiting planning permission for demolition.

20

Please see the Landor (local history) Society

website www.landorsocietyrugeley.uk for our

autumn/ winter programme of events.

1

2

Continued on page 22
---
21
---
Continued

3

4

5

Buntings Ales

By Harry Thornton

"What happened to Buntings Ales, on sale here" is the question posed

alongside Mr Devall's photo (see picture) of Rugeley's old Pear Tree Inn in

the Mercury 22nd May 1997.

In 1926, its landlords were Mr Edwin and Mrs Margaret Devall. The

photograph shows them standing proudly outside the Pear Tree Inn.

In its heyday, the firm of "Charles Bunting Ltd, Brewers and Wine and

Spirit Merchants" of High Street, Uttoxeter, was supplying over 80 public

houses. In addition to having its products available at the Pear Tree Inn in

the 1920s, the firm was the tenant of the Ash Tree and the Red Lion at

Brereton at around that time – and possibly had connections with other

nearby pubs.

Buntings was founded in 1895 when it took over an already old

established Uttoxeter brewery. In 1929 it sold out to Parker's Brewery of

Burslem and brewing soon afterwards was stopped at Uttoxeter. Parkers

was taken over by Ind Coope in 1933 and the brewery buildings, which

dominated a central area of Uttoxeter, mostly became a Council Depot;

although premises, still trading under the name of Charles Bunting Ltd,

were retained on the site until at least 1940.

The brewery's huge malthouse was demolished in 1968 to be replaced

by The Maltings shopping precinct, a car park and Uttoxeter bus station.

22

The Pear Tree Inn, Rugeley 1926 - Landlords

Mr and Mrs Edwin Devall.

Rugeley's Pear Tree Inn

*The late Harry Thornton was a member

of the Landor (local history) Society.
---
23
---
Hats Off to the Chef!

By Kristen Lackajis

Standing on its own surrounded by stunning ancient

woodland, The Deer Park at Hoar Cross boasts a wellstocked

farm shop, on-site butcher, and a range of artisan

gifts. As well as this, there is The Linhay, the farm's very

own café-cum-restaurant which serves everything from a

hearty breakfast or a sophisticated luncheon, to an

afternoon tea or piece of homemade cake! We were,

therefore, delighted to be invited along to try the new

autumnal menu.

Designed by innovative Head Chef, Craig, the dishes on

The Linhay's new menu are anything but average! Classic

with a contemporary twist would be a fitting description

and one thing is for sure – Craig is an artist when it comes

to the kitchen! Capable of marrying flavours to create

something innovative, yet utterly delicious, Craig works

with local produce and the farm's own home-grown fruit

and veg, to bring a taste of the countryside to your plate.

I opted for the Twelve-Hour Braised Shin of English

Beef in a Cannelloni, and my goodness, what a feast for

both the tastebuds and the eyes! Served with creamy

spring onion mash, parsnip puree, wilted kale and a Blythe

Brewery Ruby Mild beer sauce, this dish ticked all of the

boxes. Meat that was juicy and literally melted in the

mouth was combined with the sweetness of the parsnips

and the slight bitter tang of the beer jus. Completely

divine with bursts of flavour in every

bite.

My guest chose the Fillet of Pan-

Fried Seabass with wild mushroom

and spinach sauce, served with

tagliatelle. The meaty fish was cooked

to perfection and the nutty mushroom

sauce combined the taste of the ocean with the deep,

earthy flavours of the countryside. Stunning! Despite

being quite full after substantial portions, we were

intrigued by Craig's incredible flavour combinations and,

eager for more, we decided to try a dessert! I went for a

Warm Chocolate Brownie with Nutella and Bluebells

Clotted Cream Ice Cream, and my guest ordered a

Blackberry, Vanilla and Ginger Cheesecake. Both delicious,

both unique and both incredibly beautiful, they were the

ideal sweet treat to round off what was an astonishing

meal.

The Linhay, whilst it may serve breakfasts and cake, is by

no means your standard farm shop 'café'. Instead, it is a

foodie's heaven, with modern British dishes, conjured up

by the magician that is Craig, served in a beautiful

countryside setting, and well worth a visit!

Find The Deer Park at Makers Lane, Hoar Cross,

Burton Upon Trent, DE13 8QR. www.deerpark.farm

24
---
25
---
What's On

Saturday 19th November

Christmas Oratorio – JS Bach

Every Monday

Beggar's Oak Clog Dancers

Bach's famous Christmas Oratorio was intended

for performance in church during the Christmas

season, and what better venue to hear this

masterpiece than the magnificent setting of

Lichfield Cathedral. A special concert to

celebrate Paul Spicer's 30 years as Music

Director of this renowned Choir. They are joined

by the fabulous baroque style orchestra and a

superb line up of soloists.

Venue: Lichfield Cathedral

Time: 7pm

Price: Tickets from £15, available from

www.birmingham.bachchoir.com, or from

B.Mus/THSH & Eventbrite.

Dancing traditional clog dances, mostly English.

Anyone is most welcome to join the group on

Monday evenings. The group welcomes those

willing to give dancing a try, and also those

interested in joining the band. No experience is

needed, help and support are freely given.

Venue: Armitage Village Hall

Time: 8pm-10pm

Please email contact-us@beggars-oak.org.uk.

Rugeley & District Lions Club and Rugeley Rotary Club - Christmas Float Route

Mon 5th Dec Start at Leyland Drive, Wolseley Road, Levett Grange, Old Eaton Road.

Tues 6th Dec Springfields starting at Park Hall Close, Springfields Road, Crabtree Way as far as

Green Lane.

Weds 7th Dec Millington Street, Vicars Croft, Chadsfield Estate, Station Road, St Anthonys Close,

Heron Street, Talbot Street.

Thurs 8th Dec Colton & Hill Ridware

Fri 9th Dec Little Haywood

Mon 12th Dec Chaseley Road, Peakes Road, Crabtree Way to Lansdowne Way, Woodcock Road to

Chase Pub, then Slitting Mill.

Tues 13th Dec Etchinghill – starting Stag Close, Penk Drive South, Penk Drive North, Bower Lane

down to Hathorn Grove finishing at The Beeches.

Weds 14th Dec Chase Side Road/Greenfields Drive/Green Lane from Crabtree Way to Plovers Rise.

Thurs 15th Dec Pear Tree Estate

Fri 16th Dec, Upper Birches, Draycott Estate, Burnthill Lane.

Supermarkets:

Aldi: 9th December | Tesco: 8th & 15th December | Morrisons: 16th December | Approx 12 noon– 4pm

hours subject to supermarket approval. *All routes are subject to weather, roadworks and timing. Finishing

at 9pm each evening.

Promote your event in our What's On guide and reach over 8,000 homes and businesses for

only £20 for businesses and £10 for charities. Entries must be 50 words maximum. To book

contact Rebecca Hill 07970 513144 rebeccahillcitylife@gmail.com

Please clearly mark your email 'What's On Rugeley and Cannock'.

26
---
27
---
Stir Up Sunday Christmas Pud!

By Ruth Redgate

It's simple to make your own Christmas Pudding, and they are lush! Just use whatever

dried fruit you enjoy! Check out our video to see more

(scan the QR code on the picture).

Ingredients

For a 1-pint pudding bowl

56g caster sugar

56g vegetarian suet

85g sultanas

85g raisins

56g currants

28g candied peel, chopped

28g plain flour

28g fresh white breadcrumbs

14g flaked almonds

1/4 lemon, zest only

1 egg, beaten

1/4 tsp ground cinnamon

1/4tsp mixed spice

1/4 tsp freshly grated nutmeg

Pinch of salt

38ml brandy, rum or sherry

Method

You can pre-soak your fruit in the

alcohol.

1) Add all your dry ingredients

(including the pre-soaked fruit) into

the bowl and mix. Then add the wet

ingredients and mix.

2) Grease your pudding bowl and

add the mix, cover in greaseproof

paper, and then foil, and secure with

string.

Cooking

1) Put the basin in a large steamer of

boiling water or use your slow

cooker and cover with a lid. Boil for

5-6 hours, topping the boiling water

up from time

to time, if

necessary.

2) Allow to

cool.

3) Change the greaseproof and foil

covers for fresh ones and tie up as

before. Store in a cool cupboard until

Christmas Day. You can feed with

alcohol on a weekly basis if you wish.

4) To serve, steam for 1 hour and

serve with brandy butter, rum sauce,

cream or homemade custard.

Ruth Redgate is the owner and chief

baker at Hunnypot Cottage Bakery.

Contact her on

loaf@hunnypotcottagebakery.co.uk.

28
---
29
---
Outdoor Treasure

Hunting in the Wild

By Dr Mark Knight

Photo by Dr Mark Knight

Geocaching is a treasure hunt for the

digital generation, where you can enjoy

the freedom of being outside and

discovering new places. Whether under tall

trees or on an expanse of beach, there are

geocaches hidden across the UK and this

global treasure hunt has come to the Trent

Valley!

One of my tasks as Cultural Heritage Officer of

the Transforming the Trent Valley (TTTV) scheme

has been to create geocache sites near pillboxes

and along the Trent Valley Way. So far, we have

installed seven caches - three at pillbox sites and

four along the route of the Trent Valley Way. One

at Wolseley Bridge and another at Shardlow mark

each end of the scheme area. One along the river

at Branston Leas takes the seeker to this beautiful

stretch of the Washlands, and one detours from

the Trent Valley Way to the Staffordshire Wildlife

Trust managed site at Croxall Lakes. We have

placed 200 wooden tokens in old ammo cans at

each site. Each token bears the Trent Valley Way

bat and salmon icon, our TTTV logo and a unique

reference code that can be logged at the

geocaching website. Once the 200 tokens (or

'woodies' as the geocachers call them) are gone,

they won't be replaced, so go forth now intrepid

treasure seekers before the treasure is gone for

good!

We now have funding for additional sites along

the River Dove (which includes two pillbox

caches) and we are planning to create further sites

along the River Tame too. Keep an eye on the

geocache apps to be ready when they appear.

If you would like to get involved, the geocaching

website is www.geocaching.com where you can

create your own login and join the fun.

30
---
31
---
How Does Your

Garden Grow?

By Piper Nurseries

The leaves are falling rapidly, and with

inclement weather on the increase, your

more tender plants will need protecting

from frost, wind and freezing rains. Move plants

into a greenhouse or sheltered spot, or wrap

your plants or pots.

Remember winter can be a tough time for birds

and wildlife in terms of finding food and water, so

keep supplies well topped up for them.

Here are a few jobs and tips to help your winter

garden flourish (or at least, survive!)

• Clear up fallen leaves, especially from ponds and

beds.

• Raise containers onto pot feet, or bricks, to help

prevent waterlogging during the rainy season.

• Insulate outdoor containers from frost – bubble

wrap works well to keep them warm.

• Plant out your winter bedding with bulbs and

hardy perennials, ready for the spring.

• Prune roses to prevent 'wind-rock.'

• Insulate outdoor taps and cover ponds to

prevent them from freezing. If your pond does

freeze over and it has fish in it, place a hot pan onto

the ice to allow it to gently melt.

• Check your winter protection structures are all

sound and still in place.

• Harvest winter veg, such as leeks, parsnips,

sprouts and root crops.

Visit www.pipernurseries.co.uk to find out more.

32
---
33
---
Competition & Prize Draw - Terms & Conditions

1.Entrant's details will be securely held and processed in line with Citylife in Lichfield Ltd's Privacy Policy, which

adheres to GDPR Data Protection legislation. For a copy, email kristencitylife@gmail.com.

2.By entering the competition, you agree to the terms and conditions stated.

3.The closing date is stated on each individual competition.

4.Entrants' details will never be shared with any third party. The exception is the name and address of winners

that will be communicated to the competition partner to allow winners to claim their prize. The initial and surname

of winners will be printed in our magazines.

6.By entering the competition, entrants agree to Citylife in Lichfield Ltd using or publishing materials provided in

any of their publications and online.

7.Citylife in Lichfield Ltd accepts no responsibility for any breach of copyright or breach of any other legislation

entailed by entrants in their creation or submission of materials.

8.Only one entry per prize competition, per reader. Open to UK residents aged 18 plus (unless otherwise stated).

No purchase necessary.

9.Except in the case of cash prizes, no cash equivalent will be offered and the prize is non-transferable.

10.All prizes are subject to availability and the prize suppliers' terms and conditions.

11.Competitions may not be entered by any employee, agent or third party of Citylife in Lichfield Ltd.

12.Winners will be selected at random, or by an independent judge in the case of photographic/art competitions,

from all entries received.

13.Winners will be notified up to 28 days after the closing date of the competition by the contact details provided.

Winners have 28 days to respond. If no response is forthcoming, Citylife in Lichfield reserves the right to redraw.

14.A list of the surnames of the winners will be available by writing to Citylife in Lichfield Ltd no earlier than six

weeks after the competition closing date.

15.Citylife in Lichfield Ltd's decision is final and no correspondence will be entered into.

16.Citylife in Lichfield Ltd accepts no responsibility for the prize being lost, damaged or delayed. When the prize

is provided by a third party, Citylife in Lichfield Ltd accepts no responsibility for any change to the prize, or for

quality of prize provided.

17.Competitions may be amended or withdrawn at any time.

18.By submitting entries you agree that you own these photos, text or artworks, that it is your original work to

which you own all rights, and that your entry is accurate and legal.

34