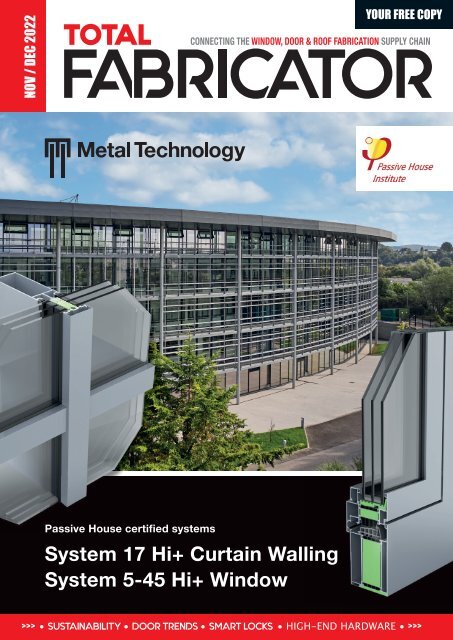 Create successful ePaper yourself
Turn your PDF publications into a flip-book with our unique Google optimized e-Paper software.
NOV / DEC 2022

CONNECTING THE WINDOW, DOOR & ROOF FABRICATION SUPPLY CHAIN

Passive House certified systems

System 17 Hi+ Curtain Walling

System 5-45 Hi+ Window

>>> • SUSTAINABILITY • DOOR TRENDS • SMART LOCKS • HIGH-END HARDWARE • >>>
---
Innovation comes built-in

60

Quotes

available in

60 minutes

FIRE-RATED

INTEGRAL BLINDS

PRACTICAL

PRIVACY

PROTECTION

Fully accredited and independently tested

Manufactured in the UK using Pyroguard fire glass

Delivers 30 to 120 minutes integrity and insulation fire-resistance

Wide range of coloured slats

Choice of manual or motorised control systems

Ideal for hospital and healthcare environments

Morley Glass & Glazing Ltd

Unit 3

Leeds 27 Industrial Estate

Bruntcliffe Way

Leeds LS27 0HH

morleyglass.co.uk

0113 277 8722 sales@morleyglass.co.uk
---
Editor's Comment

GEORGE LEWIS

EDITOR

GEORGELEWIS@MEDIA-NOW.CO.UK

WWW.TOTAL-FABRICATOR.CO.UK

In what has been another turbulent year for the industry, the final issue

of 2022 feels like a good time to take stock and look ahead to what lies

in store...

From what we can see in the Business Pilot Barometer on page 10, the

last month was pretty positive, with leads and sales up 19% in October on

September, reversing the falls recorded in September on August, however order

value was down. But we all know that the next 12-18 months will have its

challenges. However, could challenges like increasing energy bills and falling

house prices prompt homeowners to invest in energy efficient windows and

doors? Let's hope so. We know this sector has the innovative products to meet

this demand and as the saying goes, "fortune favours the brave".

CONNECTING THE WINDOW & DOOR FABRICATORS SUPPLY CHAIN

Passive House certified systems

System 17 Hi+ Curtain Walling

System 5-45 Hi+ Window

Cover courtesy of Metal Technology: Find out more about the

company's offering at www.metaltechnology.com, and read about

its aim for a sustainable future on page 14.

This idea of combining innovative products and sustainable goals is

backed-up by my recent trip to Deceuninck, where I was able to see first-hand

the steps the systems house is taking to meet its sustainable goals, take a

look at the company's fantastic recycling facility, and discuss the benefits of

recycled frames for all in the supply chain, as demand grows from customers

for recycled/sustainable products. You can read more about my trip including

the challenges around post-consumer frames on page 16.

Advertising:

Publishing Director: Andy Dunn

DD: 01892 732 047

Mob: 07963 330777

Email: andydunn@media-now.co.uk

Commercial Manager: Jake Roxborough

DD: 01892 732 047

Mob: 07956 133314

Email: jakeroxborough@media-now.co.uk

Editorial Director: Matt Downs

DD: 01892 732 047

Mob: 07963 330774

Email: mattdowns@media-now.co.uk

Editor: George Lewis

DD: 01892 732 047

Mob: 07715 550 351

Email: georgelewis@media-now.co.uk

Elsewhere in this issue, Doorco discusses the trends it has seen this year, and

what to look out for next year (page 28); UAP's David Jennings discusses the

company's ultra-secure electronic lock (page 40); and ERA's Sarah Knight

explores the latest high-end hardware options available to manufacturers

(page 48).

I want to wish everyone a great end to 2022, and I hope to see a lot of you in

2023. Enjoy the issue!

George

The content of Total Fabricator magazine (and website) does not necessarily reflect the views of the editor or publishers and

are the views of its contributors and advertisers. The digital edition may include hyperlinks to third-party content, advertising,

or websites, provided for the sake of convenience and interest. The publishers accept no legal responsibility for loss arising

from information in this publication and do not endorse any advertising or products available from external sources. No part

of this publication may be reproduced or stored in a retrieval system without the written consent of the publishers.

All rights reserved.

Registered office: 1 Forstal Road, Aylesford, Kent, ME20 7AU

GLAZE

TUBE

PRESS PLAY ON QUALITY

CONTENT FOR YOUR SECTOR

Head over to www.glaze-tube.co.uk for the latest video content

from the key players from throughout the supply chain.

Packed with how-to's, installation advice, interviews and opinions,

Glaze-Tube is an informative and entertaining platform keeping you

up to date with what's happening in your industry!

To showcase your video on Glaze-Tube contact Andy or Jake on 01892 732 047

INSTALLATION HOW TO'S:

ALUFOLD DIRECT XENLITE ROOF
---
Contents

ISSUE HIGHLIGHTS 16

16 OUT & ABOUT: DECEUNINCK

George Lewis recently visited Deceuninck's Belgian-based

recycling plant to discuss sustainability goals, recycling

within glazing, and support for the supply chain

30 INSPIRING THE HOMEOWNER

Bethaney Larkman of Distinction Doors discusses how the

company is working on a multi-faceted attack to make

sure its branding and support benefits all its customers

44 AN OPENING INTO THE HIGH END

Sarah Knight, Product Manager at ERA, explores the latest

hardware options available to manufacturers

FEATURES

24

22 TIME TO ACT

Reynaers Group has launched its sustainability strategy

report, setting some ambitious targets the Group

wants to achieve by its 60th anniversary in 2025...

24 SETTING THE STANDARD

We hear how REHAU's TOTAL70C window system has been used

throughout a housing association refit in Crakehall, North Yorkshire

34 GRAB IT WHILE YOU CAN

Now is the time to make use of the Government's super-deduction

scheme before it's too late, says Elumatec MD Neil Parton

38 AN AFFORDABLE SOLUTION

Ryan Hunter, Affordable Windows and Doors' MD, discusses how

an important partnership was formed with Liniar to fabricate the

company's 70mm system during the Covid pandemic

40 RESEARCH IS THE KEY

David Jennings of UAP explains how a focus on the

customer experience helped shape the development of

the company's new ultra-secure electronic lock

42 MAKING THE Q-SMART DECISION

Gary Gleeson, Marketing Manager at VBH, discusses the

increase in sales of its Q-Smart electronic door handle...

48 A SMASHING EXHIBITION

The Glasstec trade show returned in October to

Düsseldorf, Germany. Exhibitor Edgetech explains why the

show was such a success for the company

4 T F NOVEMBER / DECEMBER 2022 CONNECTING THE WINDOW, DOOR & ROOF FABRICATION SUPPLY CHAIN
---
REGULARS

18 BEHIND THE SCENES

The final 'Behind the Scenes' from Selecta

Systems looks at some of the staff who provide

an invaluable and vital customer service

28 THE DOORCO COLUMN

18

DoorCo's Ben Aspinall reviews another

rollercoaster year and looks ahead to 2023

SECTIONS:

SYSTEMS

16

DOORS

28

NEWS ROUNDUP

06 CONTINUED SUCCESS

Made For Trade has been announced as the winner

of the overall Manufacturing Award at the 2022 North

East Business Awards

10 A MUCH-NEEDED BOUNCE

In the latest Business Pilot Barometer, Neil Cooper-

Smith discusses the improved data for October on

September, but questions whether it will last...

AUTOMATION

34

HARDWARE &

ACCESSORIES

40

GLASS &

SEALED UNITS

06

48

CONNECTING THE WINDOW, DOOR & ROOF FABRICATION SUPPLY CHAIN

NOVEMBER / DECEMBER 2022 T F 5
---
News Roundup

A RECORD MONTH

Arched and angled frame supplier Premier

Arches has recently seen its second record

month in less than a year, with significant

investment and a commitment to quality

contributing to its growth.

Managing Director Sean Greenall said: "While

we've seen a small softening of volume from

our regular customers in line with the rest of

the industry quietening down, we have still

managed to achieve a record sales month.

This is due to an influx of new customers,

as well as some of our existing customers

widening the range of products they buy to

include glazed frames, fully manufactured

frames, and angled frames as well as the

usual arches."

Working from a 10,000 square foot

manufacturing facility in St Helens, Premier

Arches manufactures and supplies arched,

angled, gable, circular and entirely bespoke

windows and doors in a range of systems

including Residence 9 and Optima from Profile

22, offering a full service to fabricators, trade

counters, installers and local builders.

The company transforms the often daunting

procedure of profile bending into a simple and

pain-free process, saving fabricators time and

money, and helping them win more lucrative

projects which would otherwise be turned down.

Sean concluded: "I'm incredibly proud of the

business and all we've achieved – we've built

a culture of putting our customers first, being

honest and sending quality products out of the

door first time, core principles which I believe

have played a huge part in our success, and will

continue to do so as we grow even further."

www.premierarches.co.uk

CONTINUED SUCCESS FOR MADE FOR TRADE

Home improvement specialist Made For Trade

has been announced as the winner of the

overall Manufacturing Award at the 2022 North

East Business Awards grand final; reflecting

the company's growth, investment and

manufacturing capabilities that have been so

well documented across the last 12 months.

The Manufacturing Award has a wide-ranging

scope, with the main aim being to highlight those

companies across the North East of England

that have impressed the judging panel via their investment in new technology and people to push

demonstration of manufacturing excellence, the manufacturing process forward in the most

alongside attributes such as design and

efficient manner.

innovation, quality, efficiency and sales flair.

The company is set to grow to a £45-50M

One factor that reportedly helped Made For Trade turnover through commercial focus and vertical

stand out from the competition proved to be the integration, and in excess of £1M is again being

relatively unique position of being both a design invested in bespoke machinery for the production

and fabrication outfit.

line, whilst the team are exploring a future that

involves in-house glass manufacture to create a

Made For Trade encompasses the full timeline,

true one-stop-shop.

from initial design through to in-house delivery –

all for the benefit of efficiency, improving quality Made For Trade says the recognition gained as

and reducing cost.

a North East Business Award winner truly goes

hand-in-hand with its continual improvement in

The judging panel reportedly looked at future

manufacturing excellence.

manufacturing plans; a factor that differentiated

Made For Trade via continuous improvement plus www.madefortrade.co

LAYER UP THIS AUTUMN WITH SNICKERS

Snickers Workwear has unveiled its 'Head to

Toe' layering system, which the company says

will deliver consistent comfort and protection

in cold and wet weather.

Snickers says tradespeople will get 'head to

toe' functionality and protection with Snickers

Workwear's ergonomic base layers, insulating mid deliver dryness and warmth, but also advanced

layers and weather-protective outer layer clothing. ventilation for controlling body heat – so you can

always work effectively, whatever the weather.

They not only allow craftsmen and craftswomen to

Advanced fabrics like these are integral to every

quickly adjust to changing weather conditions, but

part of Snickers Workwear's 'Head to Toe' layering

also give them the opportunity to make sustainable

system. They combine perfectly with the brand's

choices about the clothes they wear on site. This

hallmarks of best-in-class durability, comfort,

winter's new jackets, trousers and top-wear

ergonomics and sustainability.

feature high-tech, breathable fabrics that not only

www.snickersworkwear.co.uk

6 TF NOVEMBER / DECEMBER 2022 CONNECTING THE WINDOW, DOOR & ROOF FABRICATION SUPPLY CHAIN
---
oof

lantern

10%

NEW TRADE

CUSTOMER

DISCOUNT

QUOTE CODE:

TFK01

glazed in

seconds

faster

to fit

Supply & install the multi-award-winning aluminium Korniche Roof Lantern.

Fitted in minutes, glazed in seconds. The strongest lantern in class, available

up to 3x2.5m in four glass panels and a maximum size of 6x4m

Delivering the best products, with the best

service, at the best price

Contact Made for Trade for a Kwikquote today

madefortrade.co | sales@madefortrade.co | 01642 610799

*Discount applies to all trade customers and applied to the first, single item purchase only of the Korniche Roof Lantern
---
News Roundup

FINALIST FEELING

AIMING TO BE NUMBER ONE

With a fresh approach to fabrication,

Premier Arches says it is re-shaping the

future of profile bending to become the UK's

number one supplier.

Arched and angled frame specialist

Premier Arches was named a finalist in

the prestigious Scale-Up Awards.

The St Helens-based company was

been nominated for the 'Manufacturing

Excellence' Award, a highly coveted category

that recognises businesses with a worldclass

manufacturing ethos, outstanding

productivity, and business performance to

match. The nomination followed a record

breaking year for Premier Arches, with

increasing demand across its entire product

range, which includes arched, angled, gable,

circular and entirely bespoke windows and

doors in a range of systems.

www.premierarches.co.uk

When it comes to what fabricators need – a

wide choice of well-made products, reliable

service, and an easy process – all combine to

create the perfect recipe for the ideal supplier.

And when it comes to meeting fabricators'

needs and making their lives easier, Premier

Arches says it certainly ticks all the boxes.

MD Sean Greenall explained: "The process

of profile bending can be complex and timeconsuming,

and something many fabricators

simply aren't equipped for, given their focus on

more streamlined manufacturing. As a result,

many have no choice but to turn down bespoke

and potentially very lucrative jobs because of the

headache they bring.

"At Premier Arches, we can help fabricators win

more of these types of jobs, as our speciality lies in

manufacturing the awkward products that others

don't want to make.

"The arched frame market has a reputation for

being unreliable, but at Premier Arches, we're

committed to changing that perception and reshaping

the future of the industry to become the

country's number one supplier."

www.premierarches.co.uk

UP FOR THE CHALLENGE

SUIT UP FOR WORK WITH SNICKERS

Premier Arches says it has successfully

kept up with a growing demand for its

specialist products, despite market

challenges.

The successful delivery is something

Managing Director Sean Greenall attributes

to the company's three core business

principles of outstanding quality, clear and

honest customer service, and a make life

easier offering. Sean said: "Keeping up with

demand is something we've always prided

ourselves on at Premier Arches, so while

the market changes and becomes more

challenging, we're still here to deliver the

premium products our customers need."

www.premierarches.co.uk

Snickers Workwear says its

sustainable mid-layer clothing has

excellent breathability for efficient

body-temperature management

when you're working hard.

The body-mapping designs and

sustainable fabrics keep you

ventilated as the heat from your body

is regulated to give you winter warmth

and cooling comfort when you need it.

The new autumn-winter styles include

the FlexiWork High-Vis hoodie which

is stretchy, versatile and made from a

two-layer mesh fabric and recycled polyester

fibres.

This Class 1 hoodie comes with glow-inthe-dark

and flashes and plenty of features to

deliver comfort and functionality.

The FlexiWork jacket is made from a

functional fabric with a high content of recycled

polyester fibres and an ergonomic design for

plenty of freedom of movement.

For comfortable freedom of movement on

chilly workdays, Snickers says the FlexiWork

Fleece hoodie is ideal, with the recycled

polyester fleece fabric said to offer great

insulation while long cuffs with thumb grip

provide extra protection against cold air.

www.snickersworkwear.co.uk

8 TF NOVEMBER / DECEMBER 2022 CONNECTING THE WINDOW, DOOR & ROOF FABRICATION SUPPLY CHAIN
---
Find more industry news at: www.total-fabricator.co.uk

VBH (GB) RECRUITS ROSS AND ROB TO EXPAND TECH SUPPORT

VBH has announced an expansion in the levels of looking after the facilities at VBH Gillingham,

Ross Childs

technical support that it offers its customers. that include a neutral salt spray booth.

Rob Norman

Business Development Director Rob Norman

is responsible for both the New Product

Development team and Technical team.

Rob said: "The two teams share an office space

in Gillingham, working in tandem to develop our

new greenteQ products, and also collaborating

with our key third party suppliers to develop their

products for the UK market. The guys on the Tech

side offer support, both from the office and on

site, to our customers and partners. We currently

have seven members, with the recent addition of

Ross Childs, which we are very pleased about."

Ross Childs has 13 years' hardware experience,

including 8 years of involvement in product

testing, and will be heavily involved in VBH's

Kitemark test programme with BSi, as well as

Rob added: "The recent level of investment that

VBH has put into our department has been high,

but this will be recovered many times over as

we are able to bring products to market very

efficiently. Having local facilities, rather than

relying on our team in the Far East, means that

we retain control of the development process.

"In addition to the appointment of Ross, the

customer support side of our Technical team

is also being expanded further, as we are

seeking to recruit another External Technical

Support Engineer to support both our customers

and sales team with on-site hardware

demonstrations. It's a great time to take on the

management of the VBH Tech and NPD teams!"

www.vbhgb.com

SHEERLINE ROOF LANTERN ACHIEVES SBD ACCREDITATION

Sheerline's aluminium S1 roof lantern is said

to have become one of the most secure roof

lanterns in the UK after achieving Secured by

Design (SBD) accreditation.

This optional security upgrade from Sheerline

ensures the S1 aluminium roof lantern is secure

enough to withstand opportunist criminals,

providing peace of mind to homeowners.

When Sheerline's expert design team was

developing the next generation S1 roof lantern,

security was a key consideration. The company

says this is because traditional lanterns have a

host of security flaws and weaknesses that can be

exploited.

Sheerline says it has overcome these issues

through innovative design solutions. For instance,

the S1 already features high-performance glazing

tape that adds an invisible layer of security while

anti-tamper rafter fixings, plus high-security radius

fixings that are only accessible from the inside, are

supplied as standard. In addition, glazing is held

securely in position using a unique patent-pending

glass lock.

The optional SBD upgrade adds additional

security clamping plates, locking the SBD

lantern's laminated glass panels in place,

preventing them from being lifted and removed by

would-be intruders even if rafter top caps have

been removed. These stainless steel components

are held firmly in place by stainless steel security

screws for added strength.

This optional security upgrade is invisible on

finished roofs and doesn't compromise the stylish

contemporary design or thermal performance

that Sheerline is known for. Customers also

still benefit from exceptional thermal efficiency

because of Sheerline's Thermlock technology,

which supports 28mm glazing and offers a centre

pane U-value of 1.0.

Roger Hartshorn, Sheerline CEO, said: "The fact

that our award-winning S1 lantern has achieved

SBD accreditation is a significant achievement for

the team. We're delighted our lantern is among

the top rated for security in the UK as very few

systems have achieved this standard.

"This announcement is important because it

shows our commitment to security and signals

the fact that every product in the Sheerline range

is now SBD accredited.

"Since Sheerline's inception, we've been

committed to developing stylish yet secure and

sustainable products.

"We set out to fundamentally change the

aluminium window and door landscape for

installers and fabricators, and this announcement

highlights our dedication to that pledge."

www.sheerline.com

CONNECTING THE WINDOW, DOOR & ROOF FABRICATION SUPPLY CHAIN

NOVEMBER / DECEMBER 2022 TF 9
---
The Business Pilot Barometer

A MUCH-NEEDED BOUNCE

Neil Cooper-Smith, Senior Analyst at Business Pilot, discusses the improved data for October

on September, but questions whether it will last...

October was another month of political and

economic change on an historic scale.

Despite it (or perhaps because of it?)

homeowners have continued to spend on home

improvements.

Leads and sales were up 19% in October on

September, reversing the falls recorded in

September on August, and more than offsetting a

small drop in average order values (8%) to £4,848.

The industry did good business in October, despite

double digit inflation, warnings of an impending

downturn in the economy and a projected fall in

property prices. So, what's driving sales, and

more importantly, will it continue?

The most important factor is house prices. We

know that if people have equity and are confident

in the housing market, they are more likely to

spend on improving their properties.

At present, and despite the warnings of a drop,

year-on-year growth stands at 8.1%. It should be

noted however, that this figure has been inflated

by high demand at the start of this year.

13% fewer homes came onto the market in

October compared to the five-year average,

compounding the imbalance in supply and

demand, and keeping house prices higher, even

though levels of activity are lower.

The longer-term outlook is that prices will fall, as

highlighted by Lloyds Banking Group's warning

last month that it expects a drop of around 8%

next year as the cost-of-living crisis hits.

The flip side of this is that one of the major driving

forces of inflation, the increased cost of energy,

gives homeowners a tangible reason to invest.

Liz Truss had pledged to guarantee average

energy bills at £2,500 a year for two years. One of

the first things her new Chancellor Jeremy Hunt

did last month was to distance the Government

from this commitment, trimming the deal to sixmonths

ahead of an ominous sounding review.

With average bills at £2,500, they remain at more

than £1,200 more than they were in March this

year. Energy market analysts warn a withdrawal

of Government funding could push bills as high

as £4,684 from April and at best to £3,923 – still

£1,423 more than under the current cap.

Tracking Google Trends evidences a very clear

correlation between Ofgem announcements on

energy costs and interest in new windows and

home energy efficiency improvements more

broadly.

With house prices still historically high,

homeowners will be more likely to have the

confidence to invest in improving the energy

efficiency of their properties in the run in to the

end of the year at least. Spiralling energy costs

give them the incentive.

Against this backdrop, mining your data for

those projects that you didn't close or win, and

re-targeting them, could deliver big results. How

many leads went cold earlier in the year, last

year? Why? Business Pilot allows you to bring

this information to your fingertips in an instant,

helping you to target and re-target prospects, at

the same time controlling operational costs and

maximising profitability.

The decisions you make today will determine

where your business goes in the next 12 months,

so if you're still running your business on unlinked

spreadsheets and gut feeling, it's time to get in

touch.

The Business Pilot Barometer offers a monthly analysis of the key trends defining window and door

retail, drawing on real industry data collated by the Business Pilot customer relationship management

system (CRM). Business Pilot uses cloud-based technologies to give installers complete visibility of every

element of their operation from leads and conversions to job scheduling, cost of installation, service

calls, and financial reporting.

www.businesspilot.co.uk www.businesspilot.co.uk/barometer

10 T F NOVEMBER / DECEMBER 2022

CONNECTING THE WINDOW, DOOR & ROOF FABRICATION SUPPLY CHAIN
---
il

nate

opportunities

Luma aluminium flat rooflights…

Made-to-measure. Easy to install.

Luma flat rooflights are made to order

in our factory, then delivered straight to site.

They're easy to install, helping you complete

the job quickly, with no fuss and no mess.

Our service promise to you

We know how important it is to you to keep

your customers happy. That's why we

take great pride in consistently

providing a friendly, approachable

service to make finding and

getting what you and your

customers need quick

and easy.

Quotes in

under 1 hour

Lead times

to suit you

Order

checking

Technical

support line

There's no waiting around.

Just call, drop us an email

or fill in the contact form on

our website to request a

quote, and we'll respond

within an hour.

Tell us when you need the

products to be on site, and

we'll ensure they're there

at the right time.

Our orders are throughly

checked prior to delivery,

allowing you to get on with

installing Iuma right away.

Luma flat rooflights are easy

to install, but if you need help,

our expert technical team are

just a phone call away.

To find out more, ask our experts at your

local Eurocell branch.

Alternatively, simply call us on 0333 005 6525,

email us at enquiries@eurocell.co.uk

or visit: eurocell.co.uk/luma
---
i-folding

door

15%

INTRODUCTORY

DISCOUNT *

QUOTE DISCOUNT

CODE

TFK02

Delivering the best products,

with the best service, at the best price

Contact Made for Trade for a KwikQuote today

madefortrade.co | sales@madefortrade.co | 01642 610799

*Discount applies to all trade customers and applied to the first, single item purchase only of the Korniche Bi-folding Door | *Korniche Bi-folding door price is based on 7-7-0 configuration 5100 x 2000

stock colour, delivered. Unglazed. Price is correct at point of publishing. Delivery restrictions apply. Product specification and prices may be subject to change without prior notice.

*PAS24 as standard requires laminated glass installation
---
SAVE HOURS ON SITE

with the only clip-bead that delivers glazing

and de-glazing in seconds. The Korniche

Bi-Folding Door has more to offer..

As standard!

Competitive glass supply

Trickle vents positioned in outer frame (No frame

extenders required for PART F compliance)

PAS24 security as standard*

Korniche matching hardware, including brushed

stainless steel

EASY GLIDE

EVERY TIME

Precision

engineered

articulated axle

with fully bearinged

rollers

Enhanced thermal

performance

FREE nationwide

delivery

10 YEAR warranty

GLAZED IN

SECONDS

UNGLAZED, EXC VAT

Including FREE delivery

BEADED IN

SECONDS
---
Front Cover Story

A SUSTAINABLE FUTURE

Total Fabricator hears from Metal Technology, who discusses its affiliation with the

Passivhaus Institute and why it is key to offering a sustainably-friendly future.

Established by the Passivhaus Institute in

Darmstadt, Germany in 1996, passive

house was one of the pioneering concepts

for the construction of low energy houses and

buildings.

The design is focused on making best use

of the passive influences in a building – e.g.

sunshine, shading and ventilation – rather

than active heating and cooling systems, such

as air conditioning and central heating. This,

coupled with very high levels of insulation and

airtightness, make it possible for a passive

building to use 90% less energy than those which

are traditionally constructed.

Passive buildings offer superior indoor comfort

due to consistent temperatures and good air

quality.

They also have the added benefit of reducing both

external and internal noise due to the high levels

of insulation.

Currently 35% of global energy consumption

stems from the building sector alone and the

operational stage is the largest contributor to

carbon emissions, the majority of which is from

heating and cooling demand. Passive house

buildings provide a transparent quality assured

approach to meeting our climate goals whilst also

creating a sustainable built environment.

How does Passive house work?

The standard is built on a set of 5 principles that

ensure stable temperatures, comfortable indoor

air, reduction of noise and minimal energy use

1. No thermal bridging – this means making sure

walls, floors and roofs are well insulated with

no gaps. This reduces the need for heating and

cooling to achieve a comfortable temperature.

2. High quality insulation – the quality of insulation

is key to the success of the building design. For

most cool temperate climates, this means a heat

transfer coefficient (U-value) of .15 W/(m 2 K).

The insulation serves to minimise the heat

exchange with the outside environment.

3. Superior high-performance windows – such

as Metal Technology's 545Hi+ ensure the

entire building envelope is well insulated with

exceptional low thermal conductivity. Frames

should be fitted with low E glazing units filled

with argon or Krypton to prevent heat transfer. For

most cool temperate climates this means a

U-value of .80W/(m 2 K) with g-values around 50%

(g value= total solar transmittance, proportion of

the solar energy available for the room).

4. Airtight construction – there should be no

uncontrolled airflow between internal and external

environments.

5. Mechanical ventilation and heat recovery – the

measures to insulate the building are combined

with high quality ventilation that recovers heat

(min 75%) from the used air and transfers it to

the fresh incoming air.

Artist's impression of

St Columba's RC High School +

Woodmill High School (Part of

the new Dunfermline Campus)

14 T F NOVEMBER / DECEMBER 2022 CONNECTING THE WINDOW, DOOR & ROOF FABRICATION SUPPLY CHAIN
---
This ensures a minimal loss of energy and good

indoor air quality

For a building to be considered Passive House, it

must meet the following criteria:

Space heating and demand – not to exceed

15kWh or 10W (peak demand) per square metre

of usable living space.

Space cooling demand – targets matching

the heat demand with an additional, climate

dependant allowance for dehumidification.

Renewable primary energy demand – not

to exceed 60kWh annually for all domestic

applications (heating, cooling, hot water, and

electricity) per square metre of usable living space.

Airtightness – maximum of .6 air changes per

hour at 50 pascals pressure (as verified with

onsite pressure testing both pressurised and

depressurised states).

Thermal comfort – thermal comfort must be

met for all living areas year-round with not more

than 10% of the hours in any given year over 25

degrees Celsius.

Metal Technology's System 17 Hi+ Curtain

Walling and System 5-45 Hi+ Windows have

been certified by the Passive House Institute,

recognising that our products meet the required

energy-efficiency criteria. Furthermore, System

17 Hi+ curtain walling has been awarded with

the highest ranking of A+.

Window System 5-45 Hi+

which has been certified by the

Passive House Institute

The PHI is an independent research institute

that has played an especially crucial role in the

development of the Passive House concept – the

only internationally recognised, performancebased

energy standard in construction.

Following an extensive R&D and technical

development process, these products can be

integrated into Passive House projects, to assist

in providing the overall requirement of Passive

House criteria.

Metal Technology has been appointed to supply

its 'next generation' Passive House systems for

one of the world's largest Passivhaus buildings,

at 26,666m 2 – St Columba's RC High School and

Woodmill High School. This is part of a 55 acre,

circa £220m development for the Dunfermline

Learning Campus, comprising these two high

schools and a new college for Fife Council, and

will accommodate up to 2,700 school pupils and

2,500 college students.

Metal Technology has also played an intrinsic role

in the design process of Scotland's first Passivhaus

Primary School, which is being built in North Perth

to replace the current North Muirton and Balhousie

Primary Schools and the £29m South West College

Erne campus in Enniskillen – which was the

world's first educational Passivhaus Premium

building, the first non-domestic Passivhaus

Premium in the UK, and has also achieved

BREEAM outstanding accreditation generating 4

times more energy than it uses.

Metal Technology's product system manuals and

Logikal estimating and production software are

available to allow pricing and manufacturing.

Please speak to one of our sales representatives

in relation to any current projects that require

design or pricing assistance.

Metal Technology's Curtain

Walling System 17 Hi+ which

has been awarded with the

highest ranking of A+ by the

Passive House Institute

Further Passive House products are under

development as we continue our drive to reduce

our carbon footprint on our road to Net Zero.

Contact Metal Technology:

Email:sales@metaltechnology.com

www.metaltechnology.com/passive-house

@MetalTechAlumin

CONNECTING THE WINDOW, DOOR & ROOF FABRICATION SUPPLY CHAIN

NOVEMBER / DECEMBER 2022 T F 15
---
Out & About – Deceuninck

SYSTEMS

'A DEFINING DECADE'

Total Installer recently visited Deceuninck's recycling plant in Diksmuide, along with its

HQ in Hooglede-Gits, Belgium, to gain a better understanding of what the systems house

is doing to become more sustainable, and in-turn support its customers in this goal...

Sustainability is a term that everyone in all

walks of life, is talking about right now.

Companies everywhere are looking at their

carbon emissions, and how to reduce them.

Deceuninck is no different, and in many respects,

as evidenced on our recent trip to its Belgium HQ, is

taking the lead on this issue. Whilst there, we heard

about how Deceuninck has signed up to the Science

Based Targets (SBT), which ultimately means

achieving climate neutrality by 2050 at the latest.

Rob McGlennon, Managing Director of

Deceuninck, feels that 'sustainability will define

the UK window and door industry in the next

decade', but questions whether the industry is

still dragging its heels in this area.

He explained: "Figures from Vinylplus showed that

collectively, the industry has recycled more than

6.5million tonnes of PVC-U since 2000. That's

roughly 27.5% of the PVC-U 'waste' material that

we could recycle, so we have more to do."

As Rob points out, there's capacity to do much

more, and as mentioned, Deceuninck has all the

tools in place to process and produce recycled

PVC-U material. Deceuninck's recycling facility

is centrally located to supply recycled PVC to its

extrusion plants. The PVC-U is recycled via an

automated, mechanical process, in which the

PVC-U waste is reduced into smaller particles and

reused as PVC resin to be utilised in the same

product from which it came: windows and doors.

Deceuninck explained that producing PVC-U

material using recycled content uses 90% less

energy versus virgin material – again a crucial

figure for the supply chain to focus on. Whilst

becoming more sustainable is of course important

to the future of the company, spiralling energy

prices are also a concern for all, in part due to the

war in Ukraine.

Changing trends

Deceuninck says its sustainability story is as

much about energy efficiency as it is about

carbon reduction and the recovery and recycling

of end-of-life material.

Along with a need to meet targets, it's clear

the demand for recycled products is there and

homeowners' feelings towards recycled content is,

according to Rob, driving change in the industry.

Rob points to an independent survey conducted

by YouGov during COP26 which showed that 68%

of those polled stated that they would choose

windows and doors with a higher recycled content

over and above products that don't contain

recycled content, or which did so at lower levels.

Deceuninck feels it is imperative to design windows

and doors that use more recycled material and to

use less energy and less carbon in manufacture.

Crucially, to achieve this, one barrier to overcome is

about making the process of collecting and collating

post-consumer windows and doors easier, which will

ultimately increase capacity of recycled material.

To increase the post-consumer recycling volumes,

Deceuninck aims to work closely with its partners,

such as waste management companies, demolition

companies and window fabricators, to ensure the

inflow of material and make the process easier,

thus 'closing the loop' of producing PVC and having

it sent back to be reused.

What happens next?

Rob expects the inflationary pressure that we're

now seeing on oil prices to drive higher rates of

recycling across Europe.

Deceuninck has already put measures in place to

be the sustainable product of choice for a better

educated homeowner, with the creation of the

Elegant window system, which can achieve U-values

as low as 0.88W/m 2 K, and Phoenix, Deceuninck's

100% recycled window, which are both already

available and being specified on projects.

Rob said: "Our homes account for around 14%

of the UK's CO 2 emissions. Cutting the amount of

energy that we use to keep them warm in winter

is now a key infrastructure priority, something only

reinforced by the current cost-of-living crisis.

"There is a driving a shift in expectation. The energy

efficiency of their homes has new resonance with

consumers, something which, despite the pressures

on household incomes, creates opportunity for the

window and door industry if we're effective in driving

the energy efficiency message."

This is a defining decade as Rob said, and the

ability to meet the increasing demand from

stakeholders and customers for more energy

efficient products and recycled materials is going

to be crucial. And following our trip to Belgium, it's

clear Deceuninck have the infrastructure in place

and knowledge within the team to support the

supply chain in meeting these goals.

Contact Deceuninck:

01249 816 969

www.deceuninck.com

@Deceuninck

16 T F NOVEMBER / DECEMBER 2022 CONNECTING THE WINDOW, DOOR & ROOF FABRICATION SUPPLY CHAIN
---
OPEN YOUR DOOR

WITH THE TOUCH

OF YOUR FINGER
---
Behind the Scenes

SYSTEMS

'A VITAL SERVICE'

In the last instalment of our 'Behind the Scenes' feature, Selecta Systems' Sales Director

Andy Green takes us through some key staff and areas within the business, ones that

continue to provide an invaluable and vital service to the business and customers...

Selecta has its own fleet of trucks and delivery

vehicles, which operate on a daily basis across the UK

Over the course of the last five issues,

we've provided you with a 'Behind the

Scenes' insight in to a PVC-U window and

door systems company.

We provided you with an in depth understanding

of the workings and complexities of an extrusion

company, from providing fabricators with a piece

of plastic to supporting the customer during their

journey with the business.

But it doesn't stop there, and so in this instalment

we look at some of the team behind the scenes.

As Sales Director, the customer-facing sales

development team report to myself, where I'm

responsible for looking after the growth of existing

and new business, providing support from within

the office and face-to-face.

With over 32 years of service at Selecta, I

have held a number of roles with different

responsibilities.

Andy Green

"The next time you

receive a six-metre

length of profile,

fabricate a beautiful

window or French door,

you can appreciate it

for exactly what it is"

I originally started life at Selecta as a field sales

representative before moving into the technical

department.

After becoming the technical manager, I was

then appointed UK business manager, before

finally being promoted to my current role as sales

director in 2016.

In fact, I was already part of the 'family' before I

joined Selecta, as I was a customer with Adapta

Windows.

Indeed, Adapta was also a family-run business,

which was owned by my father and so there has

always been this strong family connection with

myself.

Out on the road, we have three Sales

Representatives/Business Development

Managers, who have their dedicated postcode

areas across the country. Dave Nelson, who

previously worked for a customer of Selecta,

has been with us since 2016 and has a very

Continued on page 20

18 T F NOVEMBER / DECEMBER 2022

CONNECTING THE WINDOW, DOOR & ROOF FABRICATION SUPPLY CHAIN
---
Behind the Scenes

SYSTEMS

Continued from page 18

comprehensive range of

fabrication knowledge and

experience of our ADVANCE 70

System.

A popular character amongst

our customers, Dave mainly

covers the London, Midlands

and North West.

Richard Reeves joined

Selecta in 2018 from a

window and door machinery

and consumables supplier,

again bringing a wealth of

knowledge of customers

and the industry to Selecta.

Richard covers mainly Wales,

Midlands and the eastern side

of the UK.

New to the business is Matt

Blake, who joined the Selecta

family in the middle of this

year. Matt has previous

experience within

the industry and a

background in sales.

Matt not only covers

Scotland and the North

East, but also the South West

and South Coast.

Sales and accounts are managed by Maria

Lawrence, who is one of the longest serving

members of the team. Upon joining Selecta,

Maria was one of only seven or eight employees

at the time and has worked her way up from an

Order Processor and Accounts Manager to her

current role.

Long serving employees Marie Astley and Gayle

Stephens co-ordinate, manage and process all

customer orders, with Credit Control Manager

Lorraine Hammond, supported by Maureen Taylor,

managing customers' accounts.

Marie, Gayle and Lorraine all have 22+ years'

service each, gaining a wealth of experience and

knowledge of the business and our customers

during this time.

Transport and warehouse logistics are managed

by Lee Davey. Lee is in his second spell at

Selecta, after finding out that the grass wasn't

greener on the other side!

In the eleven years since his return to the

business Lee has managed the trade counter and

worked within purchasing, stock control, transport

and logistics.

Above: Gayle Stevens (left), Lorraine Hammond

(centre) and Marie Astley (right)

He was recently appointed Warehouse & Logistics

Manager and has already had a big influence on

the development of the department.

Lee's role sees him coordinating and managing

all processes relating to customer

order picking, packing and delivery.

Customer orders are meticulously

picked and packed by the

warehouse team, ready for

despatch across the length and

breadth of the UK.

Management of the delivery

vehicles and drivers is also

undertaken by Lee. Selecta own

their own fleet of trucks and

delivery vehicles, which operate on

a daily basis.

An in-house garage and repair

shop maintains the delivery

fleet, ensuring that they remain

in tip-top condition, serving our

customers during the working

week.

What these features have allowed

ourselves to do is open up

Selecta to you, the fabricator,

providing you with an

insight in to our window and

door system extrusion and

distribution operations.

We've had the satisfaction of

explaining how certain areas of the

business work, the intrinsic nature of extrusion

and product testing, whilst also having the

opportunity to introduce you to the strong team

that makes Selecta who we are today.

The next time you receive a six-metre length of

profile, fabricate a beautiful window or French

door, you can appreciate it for exactly what it is.

To some, it will just be another window or a door.

To a few, it will just be a piece of plastic.

To Selecta Systems, it will always be that

precision engineered product!

Contact Selecta Systems:

0121 325 2100

www.selectasystems.com/

@SelectaSystems

20 TF NOVEMBER / DECEMBER 2022 CONNECTING THE WINDOW, DOOR & ROOF FABRICATION SUPPLY CHAIN
---
UP

QUICKER5X

TO

Full software suite for use

across both Aluminium and PVCU

Supercharge Your Production

Give your aluminium window and door production an edge with Window Designer.

• Process designs up to five times quicker than some alternatives

• Single software package across PVC-U and aluminium

• Modular system grows as you do

• Further efficiencies with time-saving add-ons

Boost production. Reduce overheads. Make money.

www.firstdegreesystems.com

info@firstdegreesystems.com

01283 808042
---
Sustainability

TIME TO ACT

Reynaers Group has launched Reynaers Act, its sustainability strategy report, setting

itself a list of ambitious targets the Group wants to achieve by its 60th anniversary in

2025. Total Fabricator hears more...

Reynaers Group has introduced a set of

ambitious sustainability objectives for 2025.

The objectives contained in Reynaers Act

(the report's title) are said to be based on the fact

that Reynaers can make a substantial difference

by the way the company chooses to act.

Reyaners Group has launched

its set of sustainability

goals under the document

Reyaners Act

Reynaers Group says it has a long and

remarkable track record as an environmentally

conscious company that consistently improves on

its own achievements. This is demonstrated by

its largest subsidiary, Reynaers Aluminium, where

the company has been improving the insulation

levels of its products from 6.5W/m²K in 1965,

to 4W/m²K for its first insulated system, and

U-values of less than 0.8W/m²K in 2022.

Reynaers Group announced its intentions to

escalate its sustainability goals and actions

towards 2025, when the company will celebrate

its 60th anniversary. The objective: for Reynaers

Group to outperform internationally set

sustainability goals by chasing and aligning itself

to the Paris Climate Agreement's goal of limiting

global warming to hold the rise in global average

temperatures to 2°C above pre-industrial levels.

A Sustainability Board, assisted by a crossdepartmental

project team, will lead the project,

applying ambitious sustainability goals across

four key areas.

These areas are: Reynaers' sustainable

products; the buildings in which these products

perform; Reynaers Group and its people; and

the company's operations. The strategy behind

Reynaers Act has been translated into concrete

actions, as outlined below.

The aim is to achieve these targets by consciously

acting and living the goals and the spirit to attain

them.

"I believe in our sustainability strategy, Reynaers

Act. We as a company, our employees, and all our

stakeholders can and will change our behaviour in

line with these ambitious targets" – Dirk Bontridder

Building the sustainable way

As buildings account for 35% of the global use

of energy, Reynaers Group plans to reduce that

consumption level by developing innovative

products that allow customers to choose

sustainable, energy-efficient solutions for all

their building projects. To this end, the innovative

company is constantly expanding its range of

Passive House certified systems and achieving

other certifications on thermal performance, such

as Minergie, within its aluminium product range.

Next, by integrating sustainability data in its

digital tools, Reynaers Group will offer its business

partners easy access to all the information they

need to design sustainable buildings.

For example, the firm is expanding its cloudbased

Building Information Modelling (BIM)

software to introduce a Digital Passport which

will contain all the necessary sustainability

information of every product included in BIM.

In 2023, Reynaers Group plans to guide its

customers and partners towards holistic

22 T F NOVEMBER / DECEMBER 2022 CONNECTING THE WINDOW, DOOR & ROOF FABRICATION SUPPLY CHAIN
---
SYSTEMS

sustainability, every day. Detailed simulations will

help them quantify, calculate and demonstrate the

impact of Reynaers Aluminium products on the

energy efficiency of any building. By considering

parameters such as local climate, orientation,

or building type, trained staff will advise clients

on how to take optimal advantage of thermal

insulation, solar gains and natural ventilation.

Richard Hall, MD of

Reyaners Aluminium UK

A sustainable future

Reynaers Group says its ambition is to certify nine

more aluminium systems to Cradle to Cradle Bronze

Level certification by 2024, increasing its share of

certified circular products to 60% of its aluminium

product turnover. Also, by 2024, the company

expects to deliver product passports that contain all

relevant product information, such as (dis)assembly

and maintenance instructions, material composition

and sustainable system properties.

To maximise the volume of recyclable material

at the end of a building's lifetime, Reynaers

optimises the end-of-life processes by identifying

and avoiding components that have a negative

impact on those processes.

Together for better

In 2019, Reynaers Group activities generated an

ecological footprint of 280,000 tonnes of CO 2 .

Several actions have now been prioritised to

reduce this impact. The company plans to reduce

carbon emissions in its operations by shifting

its electricity consumption to renewable energy,

and by reviewing the designs of its company

buildings, its vehicle fleet and its production

processes. Its value chain accounts for 96.3%

of the 280,000 tonnes of CO 2 Reynaers Group

emits yearly. Updating parts of its processes,

the building company will reduce this factor

by 55%. In addition, it plans to invest more in

environmental management systems, several of

which are already improving Reynaers Group's

daily operations currently.

Reynaers Group has grown its staff complement

from around 100 employees in 1986 to over

2,650 in 2021, spread across more than 70

countries. Today, the company faces many

challenges that inspire it to constantly improve

its approach to human resources. To face everchanging

market developments, Reynaers Group

offers its employees various lifelong learning and

personal growth opportunities. In-depth product

training sessions as well as soft-skill courses

help people develop on a personal level.

Reynaers Group CEO Dirk Bontridder is said to

be excited about the future of the Group and its

commitments included in the Reynaers Act strategy.

He said: "I believe in our sustainability strategy,

Reynaers Act. We as a company, our employees,

and all our stakeholders can and will change our

behaviour in line with these ambitious targets.

"Speaking for our entire group, I commit to

positively contributing to our planet's health, by

limiting the increase in global average temperatures

to 2°C above pre-industrial levels by 2030.

"Together, we can achieve our objectives by

believing in ourselves and by acting decisively, day

after day, to live the goals we have set in Reynaers

Act."

Richard Hall, Managing Director at Reynaers

Aluminium UK, added: "The UK became the first

major economy in the world to pass laws to end

its contribution to global warming by 2050.

"The target requires that the UK brings all

greenhouse gas emissions to net zero by 2050.

"To this end, we are delighted that Reynaers

Group has signed up to the science-based target

initiative – SBTi – and will endeavour to continue

to do our part in the UK.

"We are already operating to ISO 14001

Environmental Standards as well as ISO 50001

Energy Management Standards at our UK site,

and signing up to these ambitious science-based

targets further demonstrates our commitment to

Act differently by looking at the decisions at every

level of the business.

"We will make a marked contribution to reduce the

environmental impact of the products we produce,

and of our operations.

"We aim to be very open about our steps towards

achieving these ambitious targets over the coming

months and years."

Contact Reyaners:

0121 421 1999

www.reynaers.co.uk

@ReynaersLimited

CONNECTING THE WINDOW, DOOR & ROOF FABRICATION SUPPLY CHAIN

NOVEMBER / DECEMBER 2022 T F 23
---
Case Study

SYSTEMS

Established in 1993, Broadacres Housing

Association (BHA) has a proven track record

of providing high quality homes. Since its

founding, the not-for-profit organisation has

grown significantly and now boasts a portfolio

of over 6,500 homes across Yorkshire and other

locations in the north of England. REHAU has

been a key partner of theirs, with the company's

windows having been installed in many of BHA's

longest-standing homes.

SETTING THE STANDARD

Total Installer hears about a recent housing association refit in Crakehall, North Yorkshire,

and the use of REHAU's TOTAL70C window system throughout the project.

Until recently, a small collection of bungalows in

St Gregorys Close, Crakehall, were no different.

Despite holding firm for more than three decades,

the older REHAU windows fitted in these homes

needed removing. After consultation, BHA decided

to replace them with the TOTAL70C – a newer,

more efficient REHAU design that's said to be

better suited for 21st century needs.

As James Marley, BHA's Construction Manager,

pointed out, the upgrades were partly driven by

the organisation's vision to be 'the best rural

housing association in the country'. However,

it was also practical for the association to keep

ahead of the regulatory curve by fitting homes

with high-performing materials that exceed

current standards. "Close attention is given to

the budget and how we can use it effectively,"

REHAU is a trusted supplier for Broadacres Housing Association and its TOTAL70C system was used throughout the project

said James. "Any investment needs to provide Lasting value

maximum return, both in terms of performance While upgrades are part of day-to-day work for

and durability. That way tenants get a better BHA, James believes it's still important to take a

home that will last, and the association saves longer-term view when upgrading homes.

more money over time."

"We seek quality products that not only adhere to

Improvements of this kind are in part driven the Decent Homes Standard, but also ones that

by the Decent Homes Standard, a technical will future-proof our properties against proposed

document first published in 1997. For a property changes to housing legislation.

to be deemed a 'decent home' it must meet

"Broadacres has used REHAU windows for many

certain criteria. This includes up-to-date facilities

years knowing they are resilient to the country's

and services, as well as windows and doors that

highly seasonal weather.

provide a good degree of thermal comfort through

efficient insulation.

"This is especially important for a site like St.

Gregorys where all the tenants will be living on

the ground floor.

"Without adequate windows and doors, cold

draughts and damp can create big problems later

on."

REHAU says its TOTAL70C system is ideal for

organisations seeking lasting performance.

Products in this range have exceptional thermal

properties, achieving A+ on the Window Energy

Rating system, while also surpassing the

requirements set out in Part L of the Building

Regulations.

Continued on page 26

24 T F NOVEMBER / DECEMBER 2022

CONNECTING THE WINDOW, DOOR & ROOF FABRICATION SUPPLY CHAIN
---
Experts in

Hardware

" Carl F Groupco's

hardware support

throughout PAS 24

testing has been

invaluable…"

John Mitchell

Technical Manager

Carl F Groupco

Get in touch

and speak to

one of our

experts today:

t. Peterborough:

01733 393330

t. Cumbernauld:

01236 721557

e. sales@carlfgroupco.co.uk

w. www.carlfgroupco.co.uk

Amanda Hale

Roundbrand

Smart-Slide. The next

generation patio door

Available in aludec and woodec

foils, the NEW premium

aluminium and natural timber

effect finishes from aluplast.

• 4.5m span in two panes!

• Locks on all four sides of

the sliding door. PAS24-2016.

• 'Part-open' sliding door locking.

aluplast PVC-U window

and door systems

Call 01684 273401 or

email info@aluplast.co.uk

to find out more.

www.aluplast.co.uk
---
Case Study

SYSTEMS

Continued from page 24

REHAU has made efforts to offer more

sustainable frames with significant investment in

its waste management and recycling machinery

For windows an overall U-value of 1.6 W/m 2 K is

needed; the TOTAL70C sits well underneath this

threshold at 1.31 W/m 2 K.

This level of performance, as James explained,

is an advantage when working across such

a large portfolio. "BHA's current major works

specification has been prepared with REHAU's

guidance.

"This new window makes it easier for us to meet

our carbon reduction targets, while also laying the

groundwork for future challenges around thermal

performance in homes.

"We know from customer surveys that window

replacement is a top priority, so it's vital to get it

right the first time, especially when you're dealing

with thousands of buildings."

Speed and security

BHA's decent homes replacement cycle sees it

budget and plan for windows to remain in-situ

for 30 years without premature failure. REHAU

has proven itself against this measure. However,

as Keith Hogan and Kevin Hudson, Directors at

Newlife Windows, BHA's preferred installer point

out, there are other more practical benefits to

using a product like the TOTAL70C system.

"Newlife is REHAU approved, so our team is very

familiar with the company's profiles and what's

needed to fit them to a high standard," said Keith.

"This familiarity also means we can replace

and install the new products quickly, which is

not always the case for competitors' designs.

Knowing we can enter a person's home and be

confident we'll complete the job to schedule 99%

of the time is great for customer satisfaction and

our relationship with Broadacres."

Keith's final point, as James is keen to highlight,

is key for a housing association.

"No one wants to have their day disrupted

with building work, but we also need to make

improvements to our homes from time to time.

"Newlife Windows can give us a schedule

and we'll know that the work will be finished

according to the time-scales given.

"This is a big advantage when liaising with

tenants and is partly down to the good design and

functionality of REHAU's windows."

Beyond this, the TOTAL70C system also provides

customers with greater resistance to break-ins.

If required, the hardware used on all REHAU's

TOTAL70 range can be fixed into the steel

reinforcement on both the sash and frame,

increasing the security level for residents.

"This installation method is simple," said Kevin.

"Particularly if you're already removing existing

REHAU frames from the property.

"It's important to have this feature available for

properties like those at St. Gregorys."

Frames for the future

"REHAU is a natural partner for BHA when it

comes to sustainability," said James.

"We know the windows have excellent thermal

efficiency, and this helps our tenants to spend

less on their energy bills when the weather gets

cold. Knowing the new frames are made from

older recycled ones is an added bonus."

Sustainable suppliers, as James pointed out,

make it easier for an organisation like BHA to do

its job without losing track of the bigger picture.

He said: "We have our own set of CSR targets

that would be harder to achieve were it not for

companies like REHAU. In a market like housing,

where the focus is always shifting, having reliable

products made the right way is so valuable."

James concluded: "Long-standing relationships

like the one between REHAU and Broadacres

are ultimately based on trust. These windows

make our tenants' lives better, which is the most

important thing, but the fact we know they'll fit

without fuss and also look good once installed is

what really sets them apart. REHAU is specified

as standard across all our projects because we

know what we're getting, even if that means

looking further when a supplier isn't nearby."

Contact REHAU:

01989 762601

www.rehau.com/uk-en/casement-windows

@REHAUWindows

26 TF NOVEMBER / DECEMBER 2022 CONNECTING THE WINDOW, DOOR & ROOF FABRICATION SUPPLY CHAIN
---
Updates

Thanks to a new account with the Epwin Group, arched and angled frame supplier Premier Arches has

added Optima from Profile 22 to its range of systems, widening its customer base and ensuring PVC

fabricators across the UK can benefit from its extensive product portfolio.

Managing Director Sean Greenall commented: "Since starting out, we've been supplying arched and angle

frames in a wide range of PVC systems, many of which have always been a part of our in-house stock.

"By investing in new formers and adding Optima from Profile 22 to this list, we've now opened the door to

fabricators and installers of this leading system, meaning they don't need to look any further than Premier

Arches when it comes to their arched and angle frame needs.

"With over 60 fabricators across the UK manufacturing Optima from Profile 22 products, this investment

has significantly increased our potential to grow our customer base, positioning Premier Arches as the

leading supplier of quality arched and angle frames." www.premierarches.co.uk

SYSTEMS

For further updates, visit www.total-fabricator.co.uk

AN EPWIN-WIN SITUATION FOR PREMIER ARCHES

A GREEN FUTURE IS HERE FOR PROFINE

profine has re-branded its Legend window and door system to become Greenline and it is now being

extruded with a recycled green core.

The Greenline platform is said to boast 5-chambered frames and mullions, whilst the energy efficiency

credentials are improved further through the adoption of 7-chambered sashes.

Kevin Warner, Sales and Marketing Director of profine UK said: "Greenline is now a sister brand of Kömmerling

for UK and international markets. We've new marketing materials to come and an investment programme of

development for this important product platform for profine.

"Like our Kömmerling 70 platform, Greenline can also achieve a U-value of 1.2 (W/m 2 K) as standard using a 28mm glass unit and there's even a

dedicated composite door outer frame." www.profine-uk.com

ANOTHER FAB PARTNERSHIP

Kurt Greatrex (pictured) founded

Premier Arches is said to have maintained a long list of fabricators wanting Dekko to Window benefit Systems from the with

company's product offering, one of which is Listers Essex, part of the GJB Group.

Listers MD Roy Frost commented: "Manufacturing quality arched and angle frames requires specific

technical expertise, and Premier Arches was the ideal supplier to help us meet increased customer demand

for these premium products. We partnered with them back in November 2019, and for nearly three years

they've delivered consistent quality, reliability, and service. Premier Arches has certainly made our lives easier, we're extremely happy with their service."

Premier Arches MD Sean Greenall added: "We're very proud of the partnership we have with Listers Essex, and to supply them with all their arch frame

requirements. The company has a reputation for quality and professionalism – we in turn are happy to deliver consistent and reliable service to them,

and very much look forward to growing this trusted relationship with them in the future." www.premierarches.co.uk

EPWIN PRODUCTS NOW QUALICOAT-APPROVED

Epwin Window Systems has announced it has received its QUALICOAT licence, which means all its

Stellar aluminium products are now QUALICOAT-approved.

Fewer than 25 businesses are QUALICOAT-licensed, which reflects the demanding nature of the specification. It is

more wide-ranging than BS EN 12206 (coating of aluminium and aluminium alloys for architectural purposes) and

requires twice yearly, unannounced, third party accreditation visits. The licence process took around 18 months to

achieve and was delayed by the COVID pandemic. The first audit was pre-arranged with the final unannounced audit

taking place in late September, after which the team found out they had passed. Angus Mackie, Chair of QUALICOAT

UK and Ireland, commented: "Gaining a QUALICOAT license shows a real commitment to powder coating to its highest

quality and ensuring that the most up to date coating technology is followed." www.epwinwindowsystems.co.uk

CONNECTING THE WINDOW, DOOR & ROOF FABRICATION SUPPLY CHAIN

NOVEMBER / DECEMBER 2022 T F 27
---
Door Trends

WHAT'S IN STORE FOR DOORS?

In his final column of 2022, Ben Aspinall, DoorCo's Head of Technology and Marketing

reviews another rollercoaster year, the emerging trends in the composite door market and

what 2023 might look like...

The final column of the year always

provides the opportunity to take

stock and look forward. We're

reviewing the trends and innovations

we've seen in the world of composite

doors this year, as well as discussing

what we think 2023 has in store.

A rollercoaster ride

The turbulence of the last few years

is not behind us yet. Stock and supply

issues are on a more even keel and

lead times are under better control, but

we're still dealing with the fallout of

cost increases and surcharges in most

areas.

For the majority of the year, we've still

been juggling increased sales levels

with an undercurrent of challenges.

Coherent communication and collaboration

have been the theme at DoorCo, while we've

been working hard behind the scenes to

deliver improvements across the board, from a

bolstered team to a host of product and service

innovations. It has certainly been another

rollercoaster year, but once again, we feel our

adaptability and flexibility has enabled us to grow

as a stronger, more robust business.

FIT Show success

One of the biggest highs in 2022 for DoorCo was

the FIT Show.

It was only the second time we've been an

exhibitor in our own right and as the show had

been delayed numerous times, we had a lot to

say when it finally went live! FIT Show gave us

the perfect platform to showcase what DoorCo

looks like in 2022 based on the growth we have

Doorco has seen the

trend for grey continue

with its TWiNTONE door

achieved in recent years. Bringing together our

House of Brands, new innovations, products

and technology which underpins everything we

do, visitors were able to gain an insight into the

world of DoorCo, as well as enjoy some authentic

Korean hospitality and live music, delivered on

the late night opening with Kubu.

Trends on display

GRiPCORE and FLiP generated a lot of interest at

the show, as well as the latest trends in design,

PAiNT colour and GLAZiNG. The Bright Magma

door was a real standout, not just because of the

shade but also thanks to the striking contrast of

the Black Inox cassette and matching hardware.

For those preferring something more subtle, the

grey door movement is still very much apparent,

and we supported this with the preview of the

TWiNTONE colour concept and METALLiC glazing

cassette.

Visitors to the stand were so impressed

with the innovation in design and

colour that both products were added

to our portfolio with immediate effect.

Created using our FLiP Flat Stipple

cassette, which features the unique

Foam In Place technology and simple

click together installation, METALLiC

offers a competitive alternative to the

popular metallic cassette designs and

TWiNTONE some serious contrasting

design choices.

A modern twist

DoorCo approved components very

much led the way when it came to

supporting different combinations

of door styles, colour and glass to

represent the big shift in adding a

modern twist to traditional door styles on the

stand. For example, a bright, bold PAiNT colour

like Tree Frog, contemporary etched GLAZiNG

design of Trinity and FLiP Flat Grained on a

Farmhouse door adds a totally new dimension to

the Traditional style.

GRiPCORE's 'immovable core'

2022 has been GRiPCORE's first year in circulation

and our customers are delighted that our

exceptional tolerance claims that its thermal door

movement will not exceed more than 3mm, are

true. The hybrid core of cross laminated engineered

hardwood, LVL timber and hardwood stiles & rails,

pressed with DoorCo's signature 4mm skins,

means that GRiPCORE's core is immoveable.

Both our distribution and prepping customers are

embracing GRiPCORE's competitive alternative

as it outperforms existing solid core doors on

the market. Plus, they are finding it particularly

28 T F NOVEMBER / DECEMBER 2022 CONNECTING THE WINDOW, DOOR & ROOF FABRICATION SUPPLY CHAIN
---
Part of Doorco's marketing strategy is

the creation of an Augmented Reality

visualiser

easy to adopt to their product portfolio as

manufacturing and handling requirements do not

differ from the ORiGINAL door slab.

A focus on marketing

GRiPCORE has also been our marketing focus

for the second half of the year as we continue to

build our portfolio and exclusive product offering.

We're working on a new brochure and one of the

features and our latest marketing innovation is an

Augmented Reality visualiser.

Augmented Reality (AR) is a system that

combines real and virtual worlds, using real time

interaction.

Activated using a QR code, the AR visualiser

overlays the property's existing door with the

DoorCo door of choice to show exactly what that

door will look like once it is installed, simply using

your mobile phone's camera.

It is currently being trialled with one hero door

ahead of release of the GRiPCORE brochure,

where all hero doors will be available with the

new AR feature.

We're particularly excited about this latest

marketing innovation that was developed inhouse

by our technology & marketing team, as

it's the first sales tool of its kind for our industry

and is proven to have an extremely positive effect

on the buying process, which should lead to

assisting our customers to sell the perfect door

more easily.

What's next?

As the close of 2022 fast approaches, it's fair to

say the rollercoaster continues.

The myriad of challenges UK businesses are

facing maybe different, but they are in no

way, less serious. Political unrest, an unstable

economy, the unrelenting war in Ukraine, the

resulting cost of living crisis and promises of

a recession on the horizon paint a pretty bleak

picture and none of us have a crystal ball to

understand how this will affect our industry.

There are plenty of questions looming: Will an

'improve not move mentality' emerge? Will

windows and doors be on the green agenda? Will

people even be able to afford to invest in home

improvements?

While there is much uncertainty, there are

glimmers of opportunity too. For DoorCo, we will

be focused on what we believe will be the key to

surviving 2023: offering innovation, differentiation

and collaboration.

Contact Doorco:

01625 428955

www.door-co.com

@DOORCO_Official

CONNECTING THE WINDOW, DOOR & ROOF FABRICATION SUPPLY CHAIN

NOVEMBER / DECEMBER 2022 T F 29
---
Brand awareness

INSPIRING THE HOMEOWNER

Bethaney Larkman, Marketing Manager at Distinction Doors, discusses how the company is

working on a multi-faceted attack to make sure its branding reaches its customers...

Earlier this summer, Google released exclusive

research and insight identifying key

consumer trends based on behaviour and

experience over the previous 12 months, and the

opportunities that they present.

Some Distinction Doors customers

suggested they mainly used the

website as an online brochure

The three key trends are: online window shopping;

consumers are increasingly open to new brands;

and omni-channel shopping is more common.

The research, released in partnership with Trinity

McQueen, helps to define the UK consumer postpandemic.

Online inspiration

Many consumers are going online to find

inspiration. They are no longer browsing with a

brand in mind. Searches are more generic and

use broad terms such as 'best front door UK',

rather than a specific brand.

In their quest for inspiration, consumers are also

turning to Google Images and the shopping tab for

visual inspiration. 62% of retail consumers who

use the shopping tab in Google Search do so to

compare similar products from different retailers.

YouTube is also helping consumers to make

purchasing decisions, with 88% of shoppers

agreeing that YouTube makes it easier to decide

what to buy.

30% of UK retail shoppers decided what they are

going to buy in-store by browsing online before

they even get to the shop. The research also

reveals that more shoppers find browsing for

products and the ability to compare better online

than in-store.

New website

As the UK's largest supplier of composite doors,

it is important that we respond to these changes

in consumer habits so we can best support our

customers and our customer's customers.

This is one of the reasons why we have chosen

to invest in a new website, which launches this

month.

During our premium brand project (earlier this

year, when the company revealed a new brand

identity), we discussed our online offering with a

selection of customers.

Their feedback revealed that the Distinction Doors

website is used mainly as an online brochure

offering; our customers ask their customers to

visit our website for more information; and the

asset library is used for image downloads.

"It's a challenge for many companies

in this sector – striking the right

balance between trade and

consumer in their marketing and

communication" – Bethaney Larkman

This, coupled with our strategic decision to appeal

to the consumer market and create consumer pull

for our customers, means that a new website is

critical if we are to impact this market.

'Be consumer-friendly'

We started with the basics, reviewing Google

Analytics and consolidating these findings with

our customer research. This revealed strengths

and weaknesses. Our product page, for example,

was highlighted as an important page by our

customers but was not performing as well as we

30 T F NOVEMBER / DECEMBER 2022 CONNECTING THE WINDOW, DOOR & ROOF FABRICATION SUPPLY CHAIN
---
would have liked. We needed to make significant

changes.

It's a challenge for many companies in this sector

– striking the right balance between trade and

consumer in their marketing and communication.

Our new website has a streamlined and simplified

message, with a consistent tone of voice.

The new site is designed for and

targets the consumer, while still

connecting with its trade customers

The homepage is dynamic and communicates our

key attributes. We have used a variety of messages

to welcome consumers in and trigger engagement

– view our range, browse our doors, and start

designing. We have also outlined the door journey

in three easy steps – find your door style, choose

your door colour, and pick your glass design.

Our products

We recognise that our product webpage is critical

for our customers, so we have made it clean,

clear and easy to use. Each door range – nxt-gen,

Signature, Contemporary and Fire Doors has its

own page section with a brief introduction, a

product and a lifestyle image, and a View Range

button. Once the visitor hits the button, a new

page opens revealing the features and benefits

associated with the range.

Below this is a gallery of the door styles, each one

is named and numbered with our reference code,

for ease. Within the product pages there is also a

filter option.

Then, perhaps our biggest change, we have linked

each door style to our door-designer tool. With

the click of a button, consumers can 'design this

door' and be directed to our online configurator

which opens in a new tab. This will be so useful

for our customers and their customers too. The

door-designer is linked in the header too.

Our fire doors and fire door system, fds, are listed

here too, for our trade and commercial customers.

While also linking to the dedicated fds website,

the product page delivers important information

associated with the system, including certification.

Inspired content

Knowing that consumers turn to the internet for

inspiration we have also boosted the volume and

quality of our content. The home page includes a

gallery feed to our social media – we are active

across Instagram, Facebook, LinkedIn and Twitter.

Our Instagram account is also signposted for

real-life influence.

Most exciting is our inspiration landing page.

Including hints and tips from our design experts,

this page encourages consumers to explore our

offering.

We deep-dive into colour, taking time to consider

how they influence our decision-making, impact

our senses and evoke memories.

Website visitors can then click between 'Ask the

Experts', 'Door Styles', 'Colour Range', 'Glass

Styles' and 'Tips & Tricks'.

These sections include long-form content so we

can provide valuable information to the reader.

Showroom locator

Always one of our highest-ranking web pages, our

showroom locator has been upgraded.

Signposted in the header, our showroom page

enables consumers to find a showroom local to

them using an address search bar.

Contact details, website link and view on

map function are available for each specialist

Distinction Doors retailer.

Our printed brochure also remains a vital sales

and decision-making tool and so, web visitors can

'Request our brochure' in the footer of any web

page by simply submitting their email address.

Trade customers

While the new site is designed for and targets the

consumer, we are still actively connecting with

our trade customers.

Accessed through the header bar and menu, our

Trade page provides important information for

new and potential trade customers.

Statistics underpin our number one status, while

product and service information outline the extent

of our customer support and our dedication to

helping our customers grow. Existing customers

can also click for the online ordering platform.

Our new website is one of the final building blocks

in establishing Distinction Doors as a premium

brand, and we are very proud to share this update

with our customers and end the year on such a

positive note.

Contact Distinction Doors:

0345 2000 816

www.distinctiondoors.co.uk

@DistinctionDrs

CONNECTING THE WINDOW, DOOR & ROOF FABRICATION SUPPLY CHAIN

NOVEMBER / DECEMBER 2022 T F 31
---
Updates

SBD ACCREDITATION MAKES SENS

For further updates, visit www.total-fabricator.co.uk

Yale has announced that another product from its portfolio has achieved the Secured by

Design (SBD) 'Secure Connected Device' accreditation, with its SensCheck Door and Window

Sensors achieving the required standard for both physical and cyber security attributes.

The SBD 'Secure Connected Device' accreditation guarantees that the Yale SensCheck Door and

Window Sensor range has achieved the highest level of security for internet-connected products as

well as meeting traditional physical security standards, providing users with a label of trust.

To achieve this the sensors underwent rigorous testing to ensure they function and communicate

as they should, and that the appropriate security controls are in place.

Paul Atkinson, Managing Director at Yale, commented: "Having recently achieved the 'Secure

Connected Device' accreditation for our Yale Conexis L1 Smart Lock. We were delighted that the

Yale SensCheck Door and Window Sensor range has now also received the same endorsement

from Secured by Design. The backing of this reputable, trusted independent initiative helps to reinforce to homeowners that our products have been tested to

highest standards. With more and more people starting to invest in smart home technology and creating smart ecosystems, the SensCheck range provides a

fresh competitive advantage for fabricators and installers." https://yalehome.co.uk

AN A-PLUS NEW FACILITY FOR TRADE FABRICATOR

Specialist trade fabricator A Plus Aluminium has opened a new facility in Sandy, Bedfordshire

in an investment initially creating 20 jobs with potential to double capacity.

The purchase of the new 20,000 sq.ft manufacturing and storage space, referred to as A

Plus Midlands, is part of a long-term, strategic investment plan. In boosting its manufacturing

capabilities, A Plus says it can capitalise on the growing interest in aluminium and manage

increased demand across the country. With its headquarters in Watford, the new premises provides

additional capacity for the existing customer base and important access to the northern home

counties and across the Midlands. A Plus Midlands is now operational, manufacturing bespoke

aluminium window and door products for trade residential customers, making use of modern production processes, including three CNC machines. The

site will also benefit from additional significant investment over the coming months and more jobs are planned across factory operations, including

fabrication. Jon Palethorpe, Joint MD of A Plus Aluminium, said: "The opening of A Plus Midlands represents a significant step forward. It is part of the

future of our company, a foundation for long-term growth and development. The past few years have been tough for everyone, but we are excited to be

moving into our new facility and proud to be creating jobs at what is an incredibly challenging time, economically. www.aplusaluminium.co.uk

NEW ADDITIONS ADD TO SHEERLINE GROWTH PLANS

Sheerline says its newest appointments will bolster the sales team and support its ambitious next

level expansion plans.

The newest member of the Sheerline sales team, George Esler, Area Sales Manager, joins to look after

customers based in the North. As part of his new role, he is supporting installers and fabricators who

are ready to switch to Sheerline's comprehensively Part L compliant and fully matched system.

In addition, Tony Basile has been promoted to Sheerline Sales Director. He has worked for Garnalex

CEO Roger Hartshorn since 1991 at Eurocell, Liniar, and now Sheerline. In his new role, Tony is

responsible for the sales team and spearheads growing the Sheerline brand.

Tony commented: "As we grow, the intention is to expand the team and make sure we continue to give

our fabricator network the continued high level of support and guidance they have become accustomed

Above: George Esler and Tony Basile

to. We want to make sure that all our fabricators feel wanted, needed, and respected."

Sheerline says putting new members of the sales team in place now will ensure it achieves its strategic growth targets without sacrificing the high

levels of customer service its customers value. www.sheerline.com

32 T F NOVEMBER / DECEMBER 2022 CONNECTING THE WINDOW, DOOR & ROOF FABRICATION SUPPLY CHAIN
---
TD68

The high security, high usage, high

efficiency commercial door system.

Ultra-Secure

TD68 has one of the top security

standards for glazed aluminium

doorsets. Tested to STS202-BR2

standard, plus PAS 24 and

Secured by Design accreditation.

Thermally Efficient

Designed with the environment in

mind, TD68 boasts low U-Values

and meets the standards required

of the industry for thermal

performance and sustainability.

Durable

A robust system, that's perfect

for heavy footfall buildings and is

available with remote access and

manual locking options across

single & double doorsets.

STS202

tested

PAS 24

accredited

Secured by

Design

Emergency exit

option

Remote access

option

Get In Touch | 024 7646 7449 | sales@jackaluminium.co.uk | www.jackaluminium.co.uk

Jack Aluminium | 5 Binns Close | Coventry | West Midlands | CV4 9TB
---
Super-Deduction Scheme

GRAB IT WHILE YOU CAN

AUTOMATION

Neil Parton, Managing Director of machinery expert Elumatec, tells us why now is the time to

make use of the Government's super-deduction scheme before the March 2023 deadline...

There is a deadline of 31st March 2023

until the end of the Government's

super-deduction scheme, which makes

investments that will make you more efficient

much more affordable. So if you're going to

take advantage of the scheme, you need to get

cracking.

If you're like a lot of people, and unsure how

this super-deduction scheme works, here's the

essentials you need to know.

What is super-deduction?

The Government recognises that many

manufacturing businesses in the UK are

held back by a lack of investment. The superdeduction

scheme aims to boost investment in

plant and machinery by using tax incentives.

While capital expenditure is not deductible in

arriving at your taxable profits, capital allowances

are. Imagine you spend £100,000 which qualifies

for 100% Annual Investment Allowance. At a

corporation Tax rate of 19%, you would be able to

deduct £19,000 from your tax bill.

However, under the super-deduction scheme you

can claim 130% first-year relief on qualifying

purchases – that's 19% of £130,000 or £24,700

instead of the normal £19,000.

Let's be clear, your investment outlay is the same

but if you buy before 31 March 2023, you'll save

a tidy sum in corporation tax.

That's the basic information. There are one or two

complications regarding what counts as qualifying

expenditure, but most plant and machinery

purchases fit the bill. It's also worth knowing that

the scheme only applies to corporations.

Partnerships and sole traders don't qualify. I'm

not a tax specialist, but I'd recommend talking to

yours – and doing that quickly because deadlines

have a habit of arriving much quicker than you'd

expect.

The increasing

importance of efficiency

Of course, the sooner you

acquire new plant and machinery,

the sooner you benefit from its use. And as we

all know, with costs of materials, consumables

and power all escalating, it's more important

than ever before to operate efficiently and cost

effectively. When you make sound decisions

about acquisitions, the payback can be

remarkably fast.

That's one of the reasons we are very excited about

the latest addition to the elumatec CNC range.

The SBZ 118 is an entry-level profile machining

centre that's very affordable – even more so with

the benefit of super-deduction – but which packs a

big punch in terms of its performance.

It's ideal if you're just moving up to CNC

production, if you're growing and need extra

capacity, or if you're adding another product line

to your offering. While it would be a genuine asset

in almost any operation, it's the perfect option for

the modestly sized business looking for speed,

accuracy and cost-effective machining.

A machine for the long term

Above: Elumatec's SBZ 118 machine.

Inset: Elumatec MD Neil Parton

Any investment needs consideration, even while

there's a generous tax break on offer, but we

know this machine will deliver satisfaction long

term. It's compact with a tidy footprint and a tidy

ergonomic design but has the capability, with

its 5Kw spindle to process profile lengths of up

to six metres. What's more, it's ideal for PVC or

aluminium. In other words, even in changing and

challenging times, it's a machine that will always

be an asset, long after it's paid for itself.

Super-deduction only applies to purchases of

new equipment and the SBZ 118 qualifies. I like

to think it's the kind of machine the Government

had in mind when it launched its £25bn

investment initiative. It's up-to-the-minute, highquality

engineering incorporating the best CNC

technology – just what UK industries need to thrive.

The deadline is looming

Now if I've whetted your appetite for new

machinery with a potted description of a superb

new machine, I would to urge you to act. Like

most schemes there are some crucial details.

For example, you must have purchased the

machine and have had it delivered by the deadline,

not just placed an order. Whether it's our machine,

a new saw, a new welder or any other item of

qualifying expenditure, please don't wait.

You'll be keen to check out all the features, pros

and cons of any item you're considering adding

to asset register but the next few months will fly

by. The time to make enquiries is now, not at the

end of February when the deadline is looming and

there's a scramble to buy.

We don't know if or when the Government will

offer further incentives. We do know this one

can make sound investment decisions more

affordable and businesses more profitable. The

clock's ticking. Don't miss that deadline.

Contact Elumatec:

01908 580 800

Email sales@elumatec.co.uk

@elumatecUK

34 T F NOVEMBER / DECEMBER 2022 CONNECTING THE WINDOW, DOOR & ROOF FABRICATION SUPPLY CHAIN
---
THE

NATION'S

LEADING

SHOWCASE.

FOR THE WINDOWS, DOORS, GLAZING,

HARDWARE AND COMPONENTS INDUSTRY,

FOR 10 YEARS.

EVERYONE'S GOING.

NEC BIRMINGHAM | 23 - 25 MAY 2023

www.fitshow.co.uk/exhibit
---
Updates

A ZANDI ADDITION TO FDS'S ORDER SYSTEM

Zandi, the comprehensive CRM system from First Degree Systems, is said to be so central to HWL Windows' operations

that the company has built its whole order processing function on it, which it says has helped to save time and money,

go paperless, and reduce errors.

"Zandi allows us to stay on top of our customer relationships," HWL Director Graham Howatson said. "You can follow an

order from a pre-quote stage all the way through to delivery without re-entering details. That way you are keeping on top of

your customers' requirements right from day one. Using Zandi has also meant we've been able to go paper free in our office.

All documents we receive are digital, and these are attached to the related job file in Zandi. We've saved a small fortune

on paper and ink, but it also means that people don't have trays on their desks. We have boxes on Zandi that people are

then assigned to." Zandi forms part of the Window Designer suite of design processing software from First Degree Systems.

Different elements help window fabricators optimise their work flow and create manufacturing efficiencies, which ultimately

result in greater profitability. www.firstdegreesystems.com

MACHINERY INVESTMENT FOR FENTRADE

AUTOMATION

For further updates, visit www.total-fabricator.co.uk

Aluminium fabricator Fentrade has recently invested in new manufacturing machinery to support its

continued growth.

The company has taken delivery of an Elumatec TS161/21 Table Saw, complete with roller conveyors. It has

also added another bead station, which will support fabrication of the newly introduced Reynaers CP130 sliding

patio range and the Jack Aluminium SD70 Heritage Door. The investment in new machinery is being coupled with

new staff to help handle the increased demand. Three new fabricators have been taken on in the factory and a

part time support role has been created in the office. Chris Reeks, Fentrade's Director, said: "The new machinery

enhances quality and production flow across the board. It also means we can cut a wider variety of shaped

profiles, which will help support the growth we're experiencing in shaped gable frames on residential extensions." www.fentradealuminium.co.uk

EMMEGI MACHINES NOT JUST FOR ALUMINIUM

Emmegi (UK), who has an extensive range of products specifically designed for machining in steel

has recently installed the Comet S4 4-axes electric head CNC machining centre at Cross-Guard in

Scunthorpe, used for fabricating the company's steel security grilles, bars and cages, and hot and

cold aisle containment solutions.

Emmegi recommended the Comet S4 with mobile worktable, which can accommodate steel elements up to 4m

in length to suit even the largest scale applications. The S4 comes with an 8.5kW electrospindle as standard, but

Cross-Guard was able to choose the higher performance 10kW electrospindle option with rigid tapping, which has

all the additional torque necessary for machining even in heavy duty steel. This rotates from -120° to +120° on

the horizontal X axis so that it can work on the top and sides of the profile with no need for repositioning, and has

a safe, twin tank lubrication system featuring minimal oil diffusion as well as an oil emulsion spray suitable for steel. www.emmegi.com/en/home

USING SOFTWARE TO STREAMLINE PROCESSES

Graham Howatson

Trade supplier Direct Trade Windows has invested in a software solution to help streamline its services.

Airtable is an exclusive business management software that allows clear visuals of ongoing factory processes

at any time, enabling Direct Trade Windows to provide exact and guaranteed delivery times to its trade

customers.

Director AJ Hassanali commented: "In today's market, automation is key to saving both time and money, which

is why we invested in Airtable, designed by our own developers to manage processes and flag up any issues such

as delivery delays, meaning our customers are always kept up to date with extremely accurate information. The

system is also accessible at all stages of the manufacturing process and is completely automated, eliminating the

need for reams of paperwork and further streamlining the entire process as a whole." www.directtradewindows.co.uk

AJ Hassanali

36 T F NOVEMBER / DECEMBER 2022 CONNECTING THE WINDOW, DOOR & ROOF FABRICATION SUPPLY CHAIN
---
DoorGlass Brochure 21/22 Total Fabricator Half Page.qxp_Layout 1 18/08/2021 14:01

Press play on

quality content

for your sector

NEW DEFINITIVE GUIDE TO

COMPOSITE DOOR GLASS

U P D A T E D F O R 2 0 2 1 / 2 0 2 2

Easily

accessible on

your desktop,

mobile or

any device

AVAILABLE TO

DOWNLOAD

NOW!

Free

content that

is constantly

updated

Subscribe

to channels

for your specific

areas of

interest and

expertise

The new platform for digital

content from the key players in

your sector, including: How-to's;

Projects and product focuses;

Installation advice; Training

and webinars; Interviews

and opinions.

www.glaze-tube.co.uk

In association with Total Installer &

Total Fabricator magazines.

To discuss showcasing your video content,

contact Andy or Jake on: 01892 732 047

or email andydunn@media-now.co.uk

jakeroxborough@media-now.co.uk

All designs are Document L & Q compliant

Available in any thickness up to 52mm

Call 0161 946 1164 to request your hard copy

RegaLead Limited | Columbus House | Altrincham Road

Sharston | Manchester | M22 9AF

Telephone: 0161 946 1164

Email: sales@regalead.co.uk | Web: www.regalead.co.uk
---
Case Study

AN AFFORDABLE SOLUTION

Total Fabricator hears from Aberdeen-based Affordable Windows and Doors, who during

the Covid pandemic partnered with Liniar to fabricate the company's 70mm system.

Ryan Hunter, Affordable Windows and Doors' MD, discusses the process...

Affordable Windows and Doors moved into

window and door fabrication after starting

in kithcen and bathroom renovations

Originally formed as a small building

company, Affordable Windows and Doors

is a family-run business which moved into

kitchen and bathroom renovations, then added

home improvement and full build to its service

offer, and now has complemented this with

window and door fabrication.

Ryan Hunter, Affordable Windows and Doors'

Managing Director, explained why they moved into

fabricating their own fenestration products.

He said: "When we came out of the first Covid-19

lockdown in 2020, the demand from customers

for home renovation absolutely rocketed –

however, our fenestration supplier had gone bust,

and this was a serious issue for us.

"I quickly realised this had left a gap in the local

market for a PVC-U window fabricator. We'd

always used the highest rated energy efficient

windows, so I asked around for recommendations

for the best systems house with excellent

customer service."

Ryan continued: "Liniar was recommended to us

time and time again. They completely align with

our values, they are a breath of fresh air, with

fantastic product development – and they also

have the edge on environmental initiatives and

customer service."

Affordable Windows and Doors Aberdeen joined

Liniar during lockdown, so all the negotiations

and set-up had to be done virtually.

Ryan said: "It was all a bit weird; we'd have liked

to do business like this face-to-face. It's a huge

investment for us and we wanted to be confident

we were going with the right system."

With new premises and machinery secured, the

set-up of Affordable Windows and Doors was

straightforward despite the pandemic.

Ryan added: "Fabricating windows and doors was

a brand-new venture for us and there was a lot

more to it than we realised.

"As a business we were on a steep learning

curve. We were lucky to secure a fantastic head

fabricator and we couldn't have chosen a better

systems house.

"Liniar has had our backs from the very start. The

whole team is open and honest and tell us how it

is. It's been tough out there, but they have always

told the truth about stock levels and what they

could do. There have been a couple of times that

stock levels may have been restricted due to raw

material shortages, but even though we were prewarned,

Liniar always sorted us out.

"We are currently manufacturing about 50 frames

per week but have plenty of capacity to increase

this to 150.

"Our factory consists of old barns that we've

converted, making sure that as a business, we

have room to grow.

"I'm sure that with Liniar as a key partner,

Affordable Windows and Doors will exceed all of

our expectations!"

Liniar's Regional Sales Director Mike Hobson,

concluded: "It's been fantastic to be on the

journey with Ryan and the team at Affordable

Windows and Doors.

"They are continuing to go from strength to strength

fabricating our 70mm system and I look forward to

seeing what their future plans will include!"

Contact Liniar:

www.liniar.co.uk

01332 883 900

@Liniarprofiles

38 T F NOVEMBER / DECEMBER 2022 CONNECTING THE WINDOW, DOOR & ROOF FABRICATION SUPPLY CHAIN
---
HOW DO |

FINd NEW

CUStOMERs

FASt?

Insight Data helps you pinpoint

your ideal trade and commercial

customers using our database of

60,000 prospects – with detailed

business and financial data not

available anywhere else.

• Local builders

• Construction companies

• Housebuilders

• Builders merchants

• Architects & specifiers

For more information

or your free demo, call

01934 808 293

Visit: www.insightdata.co.uk
---
Smart Locks

RESEARCH IS THE KEY

David Jennings, CEO of UAP, explains the drivers behind the launch of the company's new

ultra-secure electronic lock, and how a focus on the customer experience has shaped its

development...

Smart technology is rapidly filtering through

all our lives. From smart bulbs and speakers,

through to the with Internet of Things (IoT),

the technology is all around us.

People of all ages are now turning to smart home

tech, a trend largely being driven by the pandemic

which forced everyone to more actively engage

with online tools.

This shift in consumer behaviour has accelerated

the launch of smart door locks with consumers

now faced with a variety of options aimed at

improving convenience and security. UAP, like

many other manufacturers, has stepped into the

smart market but our journey began five years

ago. What followed was extensive research,

planning and testing, aimed at developing a

concept unlike any others.

Avoiding risks

We began by researching customers' priorities

and the factors needed to provide the best

The IONIC lock

possible experience. From the outset, this saw us

disregard biometrics such as fingerprint readers

as they could cause a host of problems. Say for

example, a homeowner was carrying a bag of

shopping on a cold and rainy day. Having to put

the bags down at their door, remove the gloves

and get a fingerprint reader to work spells hassle.

There is also a risk of the reader not recognising

the print or the technology shutting down if it gets

too hot.

The other major concern was security. It is a

fact that hackers have stolen, and will steal,

digital fingerprints and other biometric data.

You only need to do a Google search on hacking

of biometric data to see the real risks involved.

Once your biometric data is stolen then you can't

simply change it – it's lost forever and that

means your security is also jeopardised for the

long term.

Prioritising needs

We then sought to find out what features would

matter the most to customers. We learned that

security, ease of use, speed, reliability and

flexibility were all essential to improving their

experience.

People want to be able to shut their door and for

it to automatically lock, without having to lift a

lever and turn a key. They want a choice of tools

for locking, and the process needs to be audible,

so it is clear the door is secure. At the same time,

we learned that in some instances, the consumer

may want to reduce or extend the time it takes

40 T F NOVEMBER / DECEMBER 2022 CONNECTING THE WINDOW, DOOR & ROOF FABRICATION SUPPLY CHAIN
---
HARDWARE & ACCESSORIES

The IONIC lock can be controlled

via an app

the door to lock, if for example, they had forgotten

something in the house.

If the door lock is operated using a smartphone

app, that needs to be simple too. And the app

must offer functions that provide the flexibility

demanded by customers such as enabling friends

or family to operate the lock.

Regarding security, we recognised that some

people were worried about keyless car theft and

shared similar concerns about an electronic

door lock. To address this, we needed to develop

technology that would make the key fobs ultra

secure.

Meeting consumer demand

Armed with our research and a clear picture of

how we could improve the customer experience,

we spent five years developing the IONIC. The

electronic lock is the first in a series of 'smart'

products set to be launched under UAP's Fullex

Ai brand.

Simple to install and easy to use, the IONIC can

be operated using a smartphone app, a fob, push

button on the inside, or a thumb turn. When a

consumer gets to the door, they simply press the

handle down and walk in.

"People of all ages are now turning to smart

home tech, a trend largely being driven by the

pandemic "

The time it takes for the lock to activate can be

adjusted to suit the consumer.

The app can be used to set up new users and

time settings, allowing one-off access for

workmen or regular access for cleaners or carers

for example.

Security is enhanced through face recognition,

which builds additional authentication into the App.

The fobs have been manufactured in a way that

prevents them from being cloned and the lock

itself holds no data with the user's own phone

controlling the system rather than a server.

To make the IONIC as reliable as possible, we

based it on the Fullex Crimebeater lock which has

a proven track record.

The electronics have been developed by a

specialist manufacturer in Europe and every

printed circuit board is tested multiple times

before being shipped to the UK for assembly.

Setting the standard

The research and insights we have gained on the

customer experience have enabled us to develop

a unique, patented design.

We believe this could become a standard for all

electronic multipoint locks, ensuring we can meet

the changing needs of consumers today and in

the future.

Contact UAP:

0161 796 7268

https://uapcorporate.com

@UAP_Limited

CONNECTING THE WINDOW, DOOR & ROOF FABRICATION SUPPLY CHAIN

NOVEMBER / DECEMBER 2022 T F 41
---
Door Handles

HARDWARE & ACCESSORIES

MAKING THE Q-SMART DECISION

Gary Gleeson, Marketing Manager at hardware manufacturer VBH, discusses the

increase in sales of its Q-Smart electronic door handle...

"They are reporting that

Q-Smart really is an

attention grabber"

Hardware manufacturer VBH, the company

behind the greenteQ brand, has announced

that customers who have added the Q-Smart

electronic door handle to their door furniture

options have seen increased sales recently.

Q-Smart is a stand-alone product that enables the

user to gain entry to their home without the need

of a traditional key. Instead, they can use their

fingerprint, contact card or a phone app to gain

entry. Locking is carried out by simply lifting the

lever.

Temporary or permanent 'keys' can be sent to

anyone from anywhere via the smartphone app,

which is ideal for granting access to carers, or when

family members need to be let in unexpectedly.

Companies who buy Q-Smart have the option of

joining the Q-Smart Network, which is a list of

companies that end users are directed to if they

contact VBH for a Q-Smart quote or installation.

VBH says it has invested in direct marketing

of Q-Smart to help provide free leads to the

network's members.

Activities have included localised advertising and

telesales campaigns, advertising in well-known

national consumer titles, and even sponsorship in

the 2022 British Touring Car Championship.

Gary Gleeson, Marketing Manager at VBH,

said: "The vast majority of our products mean

absolutely nothing to the general public as

they are just components on a window or door.

Q-Smart is an exception though, as it is a standalone

item and anyone can easily see what it

does and what benefits it brings.

"With that in mind, we decided to support

our customer base by carrying out some B2C

marketing, in a similar way to what we do with

our Q-secure consumer security guarantee. We

have picked up quite a few sales as a result,

which is great for us and great for the members

of the Q-Smart Network.

"Many customers have built on the work that we

are doing and have installed a Q-Smart in their

own showroom.

"They are reporting that Q-Smart really is an

attention grabber. We would recommend to talk

to us about getting a sample in place as soon as

possible."

Contact VBH (GB):

www.vbhgb.com

Email: marketing@vbhgb.com

@vbhgb

42 T F NOVEMBER / DECEMBER 2022 CONNECTING THE WINDOW, DOOR & ROOF FABRICATION SUPPLY CHAIN
---
ORION

WITH THE

proteQ10 £2000

GUARANTEE

proteQ10

FEATURES AND BENEFITS

10 year performance guarantee

Key/key & thumb-turn variants

PASSWORD

KEY SECURITY

PROTECTED

Brass & nickel finishes

5 Q-branded keys supplied as standard

Bespoke Keyed Alike service available

sales@vbhgb.com

www.vbhgb.com

01634 263 300

@vbhgb
---
High-End Hardware

AN OPENING INTO THE HIGH END

Sarah Knight, Product Manager at ERA, explores the latest hardware options available to

manufacturers to help enhance the appearance, functionality and security of their products.

Timber windows and doors are continuing

to grow in popularity with owners of both

period and contemporary properties who

are investing in their home exterior to improve

thermal efficiency, reduce ongoing maintenance

and increase aesthetics.

By working with suppliers that offer a

comprehensive offering of suited hardware

in a diverse range of designs and finishes,

manufacturers can achieve a competitive edge

by giving their customers greater design freedom,

whilst simultaneously helping them improve their

property's protection.

Window of opportunity

Whether it's traditional casement, flush casement

or vertical sliding timber windows a homeowner

is after, window manufacturers can partner

with hardware providers to access an extensive

offering of high-performance hardware that's

compatible with a variety of window types.

A current example of this is the ability for timber

flush casement windows to feature the same

hardware as traditional casement windows,

providing the frame is fabricated with a 16mm

euro groove.

By working with suppliers that provide a complete

suite of window hardware and decorative

furniture in a range of classic and contemporary

designs, manufacturers can successfully meet

every customer's specific requirements.

For homeowners looking to achieve a classic

visual appeal, window handles in monkey tail and

tear drop designs are a popular choice for both

traditional and flush casement timber windows.

Modern manufacturing processes are utilised to

create interlaced patterns that deliver a tactile

surface finish, which when combined with

finishes such as antique black and hardex pewter,

create an eye-catching and authentic visual

appeal that is associated with classical styles

dating back to the 1800s.

By working with a hardware supplier that

provides matching casement pegs and working

or dummy stay bars in the same finishes and

designs, manufacturers can cross-sell additional

hardware options that provide customers with the

opportunity to personalise their windows to meet

their specific tastes.

From a sash window perspective, supplying

a comprehensive offering of balances for

timber and complementary furniture enables

manufacturers to meet the demands of both

traditional and contemporary homes.

For more modern properties, a sleek look can be

achieved, whilst still reflecting the established

elegance that sash windows are known for,

by supplying classically designed hardware

in brushed and gloss finishes such as hardex

bronze, chrome and graphite.

For period homes, cam locks can be paired with

complementary tilt knobs and cam lock levers

can be replicated on the bottom sash knob to

create a coordinated look with antique black and

pewter finishes.

Just some of the hardware finishes

available to door manufacturers

"For homeowners looking to achieve a classic

visual appeal, window handles in monkey tail and

tear drop designs are a popular choice for both

traditional and flush casement timber windows"

Adding sash eyes, bow handles and finger pulls

in corresponding designs and colours will also

create a fully suited finish, with smaller details

44 T F NOVEMBER / DECEMBER 2022 CONNECTING THE WINDOW, DOOR & ROOF FABRICATION SUPPLY CHAIN
---
HARDWARE & ACCESSORIES

like these appealing to

more discerning customers

who are willing to upgrade

for a perfectly matching

appearance to help achieve

a unified aesthetic.

Opening the door to

increased sales

By choosing a hardware

provider that also offers

matching door hardware and

furniture in the same styles

and finishes, manufacturers

can capitalise on additional

sales opportunities by

assisting homeowners in creating a cohesive

visual appeal across their entire property.

Whilst timber doors were historically fabricated

with single point locks and nightlatches,

continued industry advancements have facilitated

the transition to multi-point locks that compete

with PVC-U standards of security.

By machining a 16mm or 20mm euro groove

into the door at the point of fabrication, door

manufacturers have access to a complete range

of multi-point locks and cylinders, including

ERA's new high-security 3* euro profile cylinder,

which is supplied with a £2,000 anti-snap

guarantee, providing homeowners with that allimportant

peace of mind.

Available in four finishes; satin chrome, polished

chrome, satin brass and dual coloured, the

cylinder has been designed to complement

a diverse range of handle types to provide

customers with increased design freedom.

This includes on-trend door handle styles such

as the Architectural, Sculptured, Monkey Tail and

Noble, which not only provide an eye-catching

addition but deliver the highest standards of

functionality and security.

The addition of decorative

furniture such as door

knobs, knockers and

numerals that are available

in complementary designs

and finishes enables

manufacturers to not only

reflect the latest trends, but

also support homeowners in

effectively personalising the

exterior of their property.

By offering a diverse range

of suited window and door

ERA cylinders hardware in coordinating

designs and finishes from a

single supplier, manufacturers

can provide homeowners with an effective mix

and match service that allows them to create a

complementary, yet bespoke finish throughout all

aspects of their home.

However, with timber windows and doors

positioned at the premium end of the market,

every piece of hardware must deliver the highest

standards of finish and functionality.

The Fab&Fix Hardex range is a great example

of how to deliver on both fronts, with its unique

Hardex patented finish undergoing 480 hours of

prohesion testing.

As a result, all 200 products within the Fab&Fix

portfolio are supplied with a 10-year function and

finish guarantee.

As the demand for customisation continues, by

offering a broader range of perfectly matching

hardware products and finishes, timber window

and door manufacturers can establish a point

of differentiation and enable every homeowner

to personalise their doors and windows in line

with the latest industry trends – all without

compromising on quality and performance.

Contact ERA:

01922 490 000

www.eraeverywhere.com

@ERASecurity

CONNECTING THE WINDOW, DOOR & ROOF FABRICATION SUPPLY CHAIN

NOVEMBER / DECEMBER 2022 T F 45
---
Updates

HARDWARE & ACCESSORIES

For further updates, visit www.total-fabricator.co.uk

VBH SWANSEA 'AS POPULAR AS EVER'

Hardware manufacturer VBH has reported that more customers than ever are using the improved trade

counter facility at the company's Swansea site.

The counter is open during weekday working hours and VBH says its offers a large selection of hardware from

VBH's own greenteQ brand, as well as from other top marques including Yale and AGB. VBH says that fabricators,

installers and maintenance companies within a wide radius of Swansea regularly call in to collect products

including profile cylinders, patio door gear, resi-door and window hardware, vents and construction chemicals

among other items.

Dave Prout, Operations Manager at VBH Swansea, said: "Often, customers can't wait for a delivery so prefer to

call in and pick up what they need for the day. We may not have the biggest or most plush counter, but our wide

stock range and friendly, experienced team make it an attractive option for local businesses." www.vbhgb.com

KEEPING STOCK OF THINGS AT CARL F GROUPCO

Independent hardware distributor Carl F Groupco has said it is continuing to hold enhanced stock

levels to support its growing customer base.

MD John Crittenden said: "Despite market conditions, we are continuing to hold strong stock levels at

£5 million to support the market and remain a reliable partner to our customers during these turbulent

times. Our investment in stock inventory at our Peterborough and Cumbernauld distribution centres allows

us to offer short lead times and a high level of customer service." Carl F Groupco increased its stock levels

from £3.5 million to £5.5 million during the pandemic surge and recently made the decision to continue to

hold elevated levels. John added: "There is no doubt supply chain turbulence has settled down since the worst days of the pandemic. However, the world

is now facing a whole new set of challenges and economic pressures so we felt it was only right to use our scale." www.carlfgroupco.co.uk

NEW ANODISED FINISHES ADDED TO RANGE

VBH has added two new colours to its suited range of residential door, patio door and window

furniture.

In response to requests from customers, the popular Alpha resi-door handle set is now available in

two anodised aluminium finishes.This brings the number of available finishes to 12.

VBH describes greenteQ Alpha as a premium quality handle set for use with entrance doors and bifold

doors. It features a number of benefits including sprung levers, thicker fixing bolts and a flange

around the cylinder profile cut out.

As a part of the greenteQ Suite, it is matched in colour and lever style to Alpha casement and tilt &

turn handles, and Aspire lift/slide patio door handles. www.vbhgb.com

MAINTAINING A CYBER SECURE FUTURE

Carl F Groupco has announced it has achieved Cyber Essentials certification.

John Crittenden, Carl F Groupco's Managing Director, said: "Holding the Cyber Essentials certification helps

us guard our business against cyber attacks.

"It also gives our customers the reassurance that we have cyber safeguards in place to not only protect their

data but also ensure business continuity."

Cyber Essentials is said to be an effective, Government backed scheme that helps protect organisations,

whatever their size, against a whole range of the most common cyber attacks.

John added: "Every business takes steps to ensure the security of its physical premises. By seeking Cyber

Essentials accreditation we're taking the same approach to our virtual assets." www.carlfgroupco.co.uk

46 T F NOVEMBER / DECEMBER 2022 CONNECTING THE WINDOW, DOOR & ROOF FABRICATION SUPPLY CHAIN
---
FUEL YOUR

GROWTH

Hungry for business growth? Team up with Purplex,

the marketing powerhouse.

Our unique blend of industry know-how and vast

marketing resources will give your business all the

essential nourishment it needs to gain some serious

mass, even during challenging times.

*Contains over 100% of your recommended daily marketing intake.

WANT TO BULK UP YOUR BUSINESS?

CONTACT PURPLEX TODAY ON

020 3137 9319 | grow@purplexmarketing.com

www.purplexmarketing.com

#FUELYOURGROWTH
---
Glasstec 2022

GLASS PROCESSING & SEALED UNITS

A SMASHING EXHIBITION

The Glasstec trade show returned in October to Düsseldorf, Germany. We hear from

exhibitor Edgetech about whether the show was a success, and why it decided to exhibit at

one of the biggest shows in the industry...

Edgetech has returned from what it says

was a highly successful visit to Glasstec in

Düsseldorf, Germany – reportedly one of the

world's biggest glazing exhibitions.

The Edgetech team at

Glasstec 2022

The trade show is said to have drawn thousands

of exhibitors from 50 countries, and more than

40,000 visitors from 126 countries.

It gave the sector a chance to experience the

latest products and innovations on offer, and to

discuss the biggest challenges facing them.

For Edgetech, it was an opportunity to showcase

one of its own recent innovations, Super Spacer

T-Spacer SG.

The flexible T-shaped spacer made of silicone

foam enables highly efficient automated

processing and application, increasing

productivity for large format glass units.

Edgetech says the product also offers excellent

condensation resistance, shape retention

and colour stability, as well as the first-class

thermal conductivity that characterises all

Edgetech spacers.

It said that Glasstec provided the perfect venue to

promote T-Spacer SG, which is reportedly already

widely used on ambitious commercial glazing

projects throughout Europe.

Edgetech's Head of Marketing Charlotte Hawkes

commented: "It was a brilliant show – our stand

was genuinely busy from start to finish, and there

was standing room only a lot of the time.

"One theme that repeatedly came up was labour

shortages, and we spoke to a large number of IGU

manufacturers interested in adopting automation

as a way of tackling them.

"It was also the first opportunity we've had to

reveal our new branding to the European market

– given the global audience at the show. A part of

something bigger" felt especially fitting! In general,

there was a great atmosphere. You really got the

sense everyone was happy to be back together."

Contact Edgetech:

02476 639931

www.edgetechig.co.uk

@EdgetechUK

48 T F NOVEMBER / DECEMBER 2022 CONNECTING THE WINDOW, DOOR & ROOF FABRICATION SUPPLY CHAIN
---
This label is not a statutory requirement. It is a voluntary label provided as a customer service to allow consumers to make informed

decisions based on the noise reduction performance of competing products.

© Only to be reproduced by permission of British Fenestration Rating Council Ltd

This label is not a statutory requirement. It is a voluntary label provided as a customer service to allow consumers to make informed

decisions based on the noise reduction performance of competing products.

© Only to be reproduced by permission of British Fenestration Rating Council Ltd

Your customers deserve

a little peace and quiet

Noise Reduction

Noise Reduction

Window

Company Logo Ltd

PVC-U Casement Window

A Rated Windows

A++

A+

A

B

C

D

E

A ++

Noise Reduction (R w )

(In accordance with BS EN ISO 10140-2 or

BS EN 14351.) Actual acoustic performance for a

specific application depends on: the type and

location of the external noise, the location of the

window or door, and how the elements or fabric of

the building perform.

Correction for high frequency and low

frequency (C,C tr )

51

(-1,-4)

Licence No. 123456

Review Date: 03/08/2020

To verify this licence please contact

enquiries@bfrc.org

Noise Reduction

Door

Company Logo Ltd

Composite Door

A Rated Doors

A++

A+

A

B

C

D

E

A ++

Noise Reduction (R w )

(In accordance with BS EN ISO 10140-2 or BS EN 14351.)

43

Licence No. 123456

Review Date: 01/01/2019

To verify this licence: enquiries@bfrc.org

British Fenestration Rating Council

Prove acoustic performance with BFRC ratings

BFRC Noise Reduction Ratings let you prove the

acoustic performance of your window and door

products with our highly recognised 'rainbow'

rating label - independent, impartial, trusted.

Homeowners no longer select new windows and

doors simply based on price. They want to know

what they purchase will improve their home's

comfort, so product performance is now a priority.

Find out more at bfrc.org

By using the renowned BFRC rating scale to

demonstrate the noise reduction properties of your

windows or doors, you can show installers and

consumers the quality of your products.

Your products will stand out from your competitors'

and you'll be able to avoid a race to the bottom

on price. Sell using BFRC proven performance and

leave your customers in no doubt.
---
Updates

GLASS PROCESSING & SEALED UNITS

PROTECTING THE BIRDS WITH SPECIALISED GLASS

The Prime Minister of Poland, Mateusz Morawiecki, has hailed the opening of a new observation

tower and gondola lift in the Bieszczady Mountains as an investment that will strengthen the

magnetism of Solina, a major tourist hotspot.

Protecting Solina's bird population was a top priority for the two groups behind the tourist attraction, and

they turned to specialist glass from Pilkington for the gondola station and the observation tower to help

protect its feathered neighbours.

Pilkington AviSafe is a glass designed to protect birds, and was specified for the project's glazing. Its

patterned UV enhanced coating disrupts the reflection on the glass, helping birds to see a clear barrier.

Jason Eggerton, UK Specifications Manager at Pilkington United Kingdom, part of the NSG Group,

explained: "The gondola station and observation tower are surrounded by forests making bird collisions due to reflections of the trees a particular risk.

Ultimately, Pilkington AviSafe disrupts these reflections making the glass more visible." www.pilkington.com/en-gb/uk

'INSPIRATIONAL' GLASS PROCESSING STUDENT

Sarah

GQA Qualifications and its approved centre, Absolute Training Solutions, have described

Katherine Walton as 'inspirational' and a true 'rising star of the fenestration industry', after they

supported her in the achievement of a Level 3 NVQ Diploma in Glass Processing.

The 40 year-old Stained Glass Studio Manager at Recclesia Stained Glass is in the limelight, even

adding an appearance on Channel 4's Old House New Home series to her impressive CV after she

assisted presenter George Clarke to develop some bespoke windows for one of the show's projects.

Commenting on her NVQ achievement, Sean Monaghan of Absolute Training Solutions said:

"Katherine was the ideal candidate for the GQA Level 3 NVQ Diploma in Glass Processing. Her

passion and enthusiasm for glass and glazing was clear to see, and she produced an excellent

portfolio of evidence." www.gqaqualifications.com

CONFUSION STILL REIGNS FOR CORNWALL GLASS

Don't expect glass prices to tumble, or for stability to return to the market following

the government's recently announced energy support package for businesses, Mark

Mitchell, Chair of the Cornwall Group has warned.

According to Mark, energy surcharges imposed by the glass manufacturers will likely remain

in place for some time yet, and global pressures on gas supply will continue through the winter.

Mark said: "For example, our combined energy bill was approaching £250K per month, where

previously it was £60K per month. These costs have to be passed down the supply chain in the

form of price increases because they simply cannot be absorbed by us or our suppliers. And

it is important that our customers keep an eye on input costs from all suppliers because they

don't want to be left holding the can." www.cornwallglass.co.uk

Mark Mitchell

GLAZING REPAIR KIT NOW AVAILABLE

DOWSIL 993 Structural Glazing Repair Kit is now available from Sherwin-Williams.

With European Approval (ETAG 002), DOWSIL 993 Structural Glazing Sealant offers excellent adhesion to a

wide range of substrates including coated, enamelled and reflective glasses, anodised and polyester paint,

coated aluminium and stainless steel. It has an odourless and non-corrosive cure and provides excellent

stability through a wide range of temperatures from -500C to 1500C. It is also highly resistant to UV radiation

and humidity. Available in black and grey, the DOWSIL 993 Structural Glazing Repair Kit is compatible with all

DOWSIL Façade Silicones.

Laura Hettenbach, Senior Trade Brands Campaign Manager at Sherwin-Williams said: "Whilst the standard

DOWSIL 993 Structural Glazing Sealant is available in large containers, this product is small and compact meaning it can be easily used for quick, onsite

repairs – harnessing all the same benefits as the original product." www.geocel.co.uk/high-performance-construction-solutions/

50 T F NOVEMBER / DECEMBER 2022 CONNECTING THE WINDOW, DOOR & ROOF FABRICATION SUPPLY CHAIN
---
Fabricators

Grow Your Business!

01_TI0319.qxp_Layout 1 05/07/2019 10:47 Page 1

TI_FC0910.qxp_Layout 1 10/09/2019 16:09 Page 1

01_TI0519.qxp_Layout 1 29/04/2019 15:47 Page 1

MAY/JUNE 2019

PRACTICALCONTENTFORTHEGLAZINGINSTALLER & HOMEIMPROVEMENTSPECIALIST

JULY/AUG 2019

PRACTICAL CONTENT FOR THE GLAZING INSTALLER & HOME IMPROVEMENT SPECIALIST

SEPT/OCT 2019

PRACTICAL CONTENT FOR THE GLAZING INSTALLER & HOME IMPROVEMENT SPECIALIST

TI Talk: Pro-Fitter

Product Updates

Business Focus

Top Tips: Bi-folds

Total Talk Q&A

Step by Steps

Product Updates

Total Talk Q&A

Business Talk

FEATURES

• FIT & FOCUSSED: WHAT'S IN STORE

FOR INSTALLERS AT FIT SHOW 2019?

• AVOID THE PAY GAPS: TOP TIPS TO

OVERCOME CASH FLOW PROBLEMS

• SMART STUFF: MAKE SURE YOU'RE

READY TO SELL SMART

FEATURES

• MONEY TALKS: CERTASS' NEW

OFFERING MAKES FINANCIAL SENSE

• ON THE UP: UP-SELL WELL TO MAKE

THE MOST OF YOUR DOOR SALES

• HOT TOPIC: WARM WEATHER

WORKWEAR – STAY COMFY ON SITE

>>> • NEWS • ENTRANCEDOORS • HARDWARE • GARAGE AG

DOORS • WORKWEAR >>>

FEATURES

• COMPETENCY ENCY CLAIMS: SKILLS

AND THE FUTURE OF GLAZING

• COVER UP: INSURANCE ADVICE

FOR SELF-EMPLOYED INSTALLERS

• LIGHTING THE WAY: A GUIDE

TO INSTALLING LANTERNS

>>> • ROOFLINE • ENTRANCE DOORS • TOOLS & VEHICLES • WINDOW FIXINGS • >>>

>>> • WIDE EXPANSE DOORS • SMART HARDWARE • SOCIAL MEDIA ADVICE • >>>

Put your company in-front of over 7,000 Glazing Installers for as little as £250

Total Installer is read exclusively by glazing installers including:

All CERTASS

Approved Installers

+

The Leading FENSA

Approved Installers

Contact Andy or Jake on 01892 732 047

Email: andydunn@media-now.co.uk or jakeroxborough@media-now.co.uk

And they will advise you on the best marketing package for your budget.

www.total-installer.co.uk
---
Rio French Door

REHAU have expanded their Rio product range

to include the Flush Fit French Door. We have

taken the design elements of our Rio Flush Fit

Window and developed a complementary

French Door that allows you to apply its unique

clean aesthetic to every element at home.

Windows. Reinvented for modern life.

www.rehau.uk/rio

enquiries@rehau.com

Tel: 01989 762600