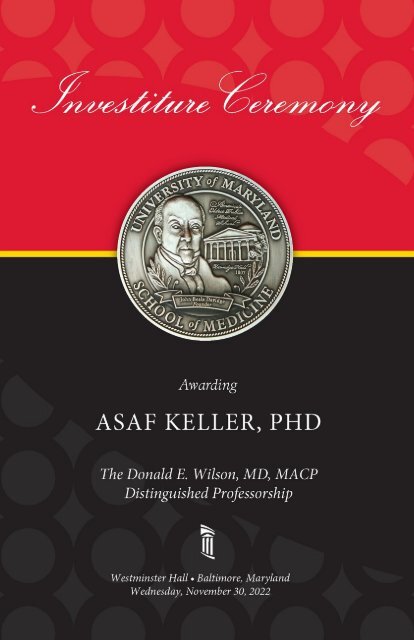 Asaf Keller, PhD Investiture Ceremony Program
Create successful ePaper yourself
Turn your PDF publications into a flip-book with our unique Google optimized e-Paper software.
ASAF KELLER, PHD

Asaf Keller, PhD was born in Israel but spent

most of the first 13 years of his life in West

Africa and Thailand, where his father worked

for a construction company. After graduating

from high school in Haifa, Israel, he completed a

mandatory, three year military service. Dr.

Keller joined the MD/PhD program at Ben

Gurion University in Beer Sheva, Israel. It was

there that he began his research in the

neurosciences with his mentor, Professor E.L.

White. His PhD dissertation research used

quantitative ultrastructural analyses to show

that—contrary to the prevailing dogma—brain

cells form highly specific connections with their

neighbors, and with cells in other brain regions.

Dr. Keller took an (indefinite) leave of absence from medical school to accept a

postdoctoral fellowship with Professor H. Asanuma at The Rockefeller University in

New York City. He received training in electrophysiology, which he combined with

his anatomical skills to show that learning of motor skills depends on strengthening

existing connections between brain cells, as well as the formation of specific, new

synapses.

Dr. Keller established an independent laboratory at the Uniformed Services Medical

School in Bethesda, MD where he continued his studies on learning-related changes

in connections and activity of specific brain cells. In 1995 he joined the Department

of Anatomy & Neurobiology at the University of Maryland School of Medicine. He

was promoted to full professor in 2001, became interim chair of the department in

2019, and permanent chair in 2021. He is also an Adjunct Professor of Mathematics

and Statistics at the University of Maryland, Baltimore County. His current research

program focuses on how brain circuits responsible for sensory perception are

affected by drug exposure and pain conditions. His team described changes in brain

circuits that lead to chronic pain, as well as brain circuits that can modulate the

perception of pain. Dr. Keller's team is working on harnessing this knowledge to

relieve chronic pain conditions. They also demonstrated that exposure to drugs, such

as marijuana or opioids, in the womb or in adolescence—both critical periods for

brain development—can lead to lasting, irreversible changes in brain function and

behavior. The work focuses on learning how to prevent these devastating, lasting

neurological and psychiatric deficits. Dr. Keller's research has been and continues to

be funded by the National Instituted of Health.

Dr. Keller is dedicated to mentoring young scientists at all levels of their career. To

date, he has trained 9 high-school students, 17 college undergraduates, 23 graduate

students, 15 postdoctoral fellows, and many new faculty members. He was the

director of graduate education for the Program in Neuroscience, and the director of

the program's NIH-funded Cellular and Integrative Neurosciences Training Program.

Dr. Keller is the recipient of the Dr. Patricia Sokolove Outstanding Mentor Award

from University of Maryland Graduate School, and several Best Mentor and Best

Lecturer Awards from the Program in Neuroscience.
---
WELCOME

Mary Pooton

Associate Dean for Development

University of Maryland School of Medicine

James Kaper, PhD

The James and Carolyn Frenkil Distinguished Dean's Professor

Vice Dean for Academic Affairs

Chair, Department of Microbiology & Immunology

University of Maryland School of Medicine

REMARKS

Mark T. Gladwin, MD

Vice President for Medical Affairs, UM Baltimore

John Z. and Akiko K. Bowers Distinguished Professor and

Dean, University of Maryland School of Medicine

DONOR RECOGNITION

Mark T. Gladwin, MD

SPEAKERS

Yavin Shaham, PhD

Chief, Behavioral Neuroscience Research Branch

National Institute on Drug Abuse

National Institute of Health

Margaret McCarthy, PhD

The James and Carolyn Frenkil Dean's Professor and Chair,

Department of Pharmacology

Director, Program in Neuroscience

University of Maryland School of Medicine

Jason Alipio, PhD

Postdoctoral Fellow, Harvard Medical School,

Massachusetts General Hospital Center for Regenerative Medicine

Michal Keller

Asaf Keller's Sister

MEDAL PRESENTATION

Mark T. Gladwin, MD

REMARKS

Asaf Keller, PhD

The Donald E. Wilson, MD, MACP Distinguished Professor

Chair of the Department of Anatomy & Neurobiology

University of Maryland School of Medicine

CLOSING REMARKS

James Kaper, PhD
---
T

he first endowed professorships were established more than

500 years ago with the creation of the Lady Margaret chairs

in divinity at Oxford and Cambridge Universities. The

original endowed chairs were sponsored by Lady Margaret,

countess of Richmond, and grandmother of Henry VIII in 1502.

Subsequently, private individuals began making financial contributions

to establish other endowed professorships and chairs such as the

Lucasian Chair of Mathematics, which Sir Isaac Newton held

beginning in 1669. Professor Stephen Hawking, the internationally

renowned physicist and recipient of the 2010 US Medal of Freedom,

was another prominent holder of this endowed chair.

The honor associated with appointment to an endowed position has

remained unchanged for the last 500 years and is recognized as one of

the highest tributes that an academic institution can bestow upon its

most distinguished faculty. These endowed professorships and chairs

continue to reward exceptional scholars uninterrupted to the present

time.

The Office of Development is charged with securing private gifts to

ensure the School's tradition of excellence is sustained through robust

research, clinical, and educational programs and initiatives. The

University of Maryland School of Medicine is fortunate to have nearly

85 endowed chairs & professorships in various stages of completion

and held by esteemed faculty members.
---
DONALD E. WILSON, MD, MACP

Donald E. Wilson, MD, MACP was Senior Vice

President for Health Sciences at Howard University from

August 2007 until December 2009 when he retired for the

second time. Dr. Wilson was dean of the University Of

Maryland School Of Medicine from September 1991 until

his retirement in September 2006. He was the nation's first

African-American dean of an accredited non-minority

medical school. In addition to serving as dean, Dr. Wilson

became the University of Maryland's first Vice-President

for Medical Affairs in 1999. During his tenure the student

body became more diverse, the number of minority faculty

nearly tripled and external research funding more than

quadrupled moving the medical school into the top 10%

nationally of public medical schools in research funding.

Dr. Wilson came to Maryland after 11 years as professor

and chairman of the department of medicine, State University of New York Health Science Center at

Brooklyn. He was physician-in-chief at the University Hospital and Kings County Hospital Center in

Brooklyn. He completed his undergraduate education at Harvard University, received his medical

degree from Tufts University, and has received Honorary Degrees of Doctor of Science from the

University of Maryland, Baltimore, Tufts University and SUNY Health Science Center in Brooklyn,

NY. He is board certified in gastroenterology and internal medicine.

Dr. Wilson has chaired several federal committees including, the National Institutes of Health's (NIH)

Digestive Diseases Advisory Board, the Food and Drug Administration's Gastroenterology Drugs

Advisory Committee, and the Agency for Health Care Policy and Research (DHHS) Advisory Council.

He is past chairman of the board of directors of the Association of American Medical Colleges

(AAMC) and the AAMC Council of Deans of US medical schools. He is the first African-American to

hold each of these positions. He is a member of several medical/research societies, including the

National Academy of Medicine (formerly the Institute of Medicine), the Association of American

Physicians and the American Clinical and Climatological Association. Dr. Wilson co-founded the

Association for Academic Minority Physicians in 1986- an organization dedicated to increasing he

diversity of our nation's biomedical and bio-scientific work forces.

He has received numerous awards and honors. He served on the medical honors society, Alpha Omega

Alpha's national board of directors 2002-2011, and was its vice-president 2004-2011. In 2000 Dr.

Wilson received the AAMC's first Herbert Nickens Award, promoting equality and justice in medicine.

Dr. Wilson continues to be engaged and currently has served as the principle investigator of a NIH P 20

award as well a sub-award through the National Research Mentoring Network- an award designed to

help increase the diversity of the nation's bio-scientific and biomedical workforces. In 2022 Dr. Wilson

received the American Heart Association's Watkins-Saunders Award. He also has over 200

publications in the fields of internal medicine, gastroenterology, health care and medical education.
---
The Donald E. Wilson, MD, MACP Distinguished Professorship

was made possible through the generosity of many friends,

colleagues, trainees, and organizations

in honor of Dr. Donald E. Wilson including:

Association of American Medical Colleges

Dr. Claudia R. Baquet

Dr. Stephen T. Bartlett

Mr. David M. Blanken and Mrs. Barbara Friedman

Dr. Meredith Bond

Dr. Luther T. Clark

Dr. Charles H. Epps, Jr. and Mrs. Roselyn P. Epps

Dr. David R. Gens

HSCB Foundation, Inc.

Mr. Gregory F. Handlir

Dr. L. Julian Haywood

Dr. Stephan L. Kamholz

Dr. Anthony F. Lehman

M & T Bank

Maryland Medical Center Insurance Program

Dr. James E. McNamee and Mrs. Susan O. McNamee

Dr. Vincent D. Pellegrini , Jr.

Dr. Mildred E. Phillips

Dr. Mary M. Rodgers, Professor Emerita

Dr. Thomas M. Scalea

Dr. David L. Stewart

Dr. Donald E. Wilson and Mrs. Patricia C. Wilson