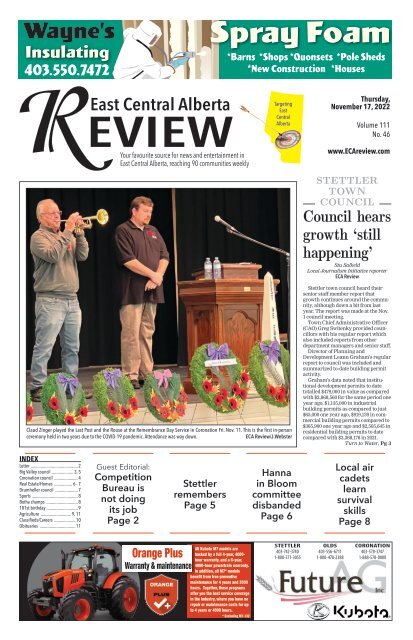 ECA Review - 2022-11-17
ECA Review - 2022-11-17
ECA Review - 2022-11-17
SHOW MORE
SHOW LESS
Create successful ePaper yourself
Turn your PDF publications into a flip-book with our unique Google optimized e-Paper software.
Wayne's

Insulating

403.550.7472

R

R

72 pt

East Central R Alberta

EVIEW

60 pt

R

48 pt

Your R

36 pt

favourite source for news and entertainment in

East Central Alberta, reaching 90 communities weekly

R

R

R

30 pt

24 pt

18 pt

Targeting

East

Central

Alberta

Claud Zinger played the Last Post and the Rouse at the Remembrance Day Service in Coronation Fri. Nov. 11. This is the first in-person

ceremony held in two years due to the COVID-19 pandemic. Attendance was way down. ECA Review/J.Webster

Spray Foam

*Barns *Shops *Quonsets *Pole Sheds

*New Construction *Houses

Thursday,

November 17, 2022

Volume 111

No. 46

www.ECAreview.com

STETTLER

TOWN

COUNCIL

Council hears

growth 'still

happening'

Stu Salkeld

Local Journalism Initiative reporter

ECA Review

Stettler town council heard their

senior staff member report that

growth continues around the community,

although down a bit from last

year. The report was made at the Nov.

1 council meeting.

Town Chief Administrative Officer

(CAO) Greg Switenky provided councillors

with his regular report which

also included reports from other

department managers and senior staff.

Director of Planning and

Development Leann Graham's regular

report to council was included and

summarized to-date building permit

activity.

Graham's data noted that institutional

development permits to date

totalled $479,000 in value as compared

with $2,868,560 for the same period one

year ago, $1,135,000 in industrial

building permits as compared to just

$65,000 one year ago, $919,139 in commercial

building permits compared to

$365,900 one year ago and $2,505,645 in

residential building permits to date

compared with $3,368,178 in 2021.

Turn to Water, Pg 3

INDEX

Letter .......................................... 2

Big Valley council ................... 3, 5

Coronation council ..................... 4

Real Estate/Homes ................ 6 - 7

Drumheller council .................... 7

Sports ......................................... 8

Botha champs ............................ 8

101st birthday ............................ 9

Agriculture ........................... 9, 11

Classifieds/Careers ................... 10

Guest Editorial:

Competition

Bureau is

not doing

its job

Stettler

remembers

Page 5

Page 2

M7 Obituaries Orange M7 ................................ Orange M7 11

Orange Maintenance Maintenance

Hanna

in Bloom

committee

disbanded

Page 6

Local air

cadets

learn

survival

skills

Page 8

Orange Plus

Warranty & maintenance

All Kubota M7 models are

backed by a full 4-year, 4000-

hour warranty, and a 6-year,

4000-hour powertrain warranty.

In addition, all M7* models

benefit from free preventive

maintenance for 4 years and 3500

hours. Together, these programs

offer you the best service coverage

in the industry, where you have no

repair or maintenance costs for up

to 4 years or 4000 hours.

* Excluding M7-132

STETTLER

403-742-3740

1-800-371-3055

OLDS

403-556-6711

1-800-470-2388

CORONATION

403-578-3747

1-888-578-0800
---
2 November 17'22 HANNA/CORONATION/STETTLER, AB. ECA REVIEW

OPINION

The opinions expressed are not necessarily

the opinions of this newspaper.

GUEST EDITORIAL

Competition Bureau is not doing its job

by Sylvain Charlebois

Canada's Competition Bureau has

decided to investigate the Canadian

food industry, specifically our grocery

sector. Better late than never, I

suppose.

For years, many called for such an

investigation while recognizing that

the Bureau has little authority or

power over anything. Even its new

director admitted to the problem of

powerlessness. For instance, the

Bureau can't force any company to

submit any body of evidence for the

upcoming study.

It's sad that the Bureau waited until

food inflation became a political hot

potato to call for an investigation.

But make no mistake: this study is

all about the Bureau, nothing more. It

needs a different approach and a new

perspective on things and clearly

requires more knowledge about the

food industry.

When evaluating

"

mergers and

acquisitions, the

food industry

deserves a longitudinal

analysis

– observing the

same participants

over a period of

time – to better

appreciate how

consolidation can

impact sectors

over time, as

we've seen in groceries

and

processing.

Limited competition

can work if

independents and

smaller players remain somewhat

sheltered from overbearing market

forces. Miscalculated compromises

can only lead to regulators overlooking

our market's most

fundamental element, the consumer.

Consumers in many cities now

have only one grocer, with fewer instore

choices due to the continuous

pressure imposed on food processors,

especially smaller operators. Many

have given up. Unlike other industries,

food manufacturers must pay

grocers to do business with them.

Listing fees, marketing costs, and the

list goes on – a foreign concept for

people who may not understand the

economics of food distribution.

Canadians should not expect significant

changes to the industry coming

from the study anytime soon. For

years, the Bureau has rubberstamped

deals and investigated

accusations of collusion countless

times, with limited success.

Chocolate, salmon, and of course,

bread are some examples. That needs

to change.

Consumers were insulted in 2017

when Canadians learned about

Loblaws' bread price-fixing scheme

– an ethical blunder by our country's

number one grocer. When it offered

$25 gift cards as compensation, everything

seemed forgotten and forgiven.

Not quite. With higher food prices, the

bread price-fixing scandal rapidly

became a moral issue for Canadians.

The bread price-fixing investigation

actually started in 2015 when Loblaws

admitted its wrongdoing. For 14 years,

from 2001 to 2015, it, along with

Weston Bakeries, owned by Weston

Companies at the time, admitted to

fixing bread prices in Canada. The

scheme allegedly included five more

companies; all denied involvement.

After seven years, we still haven't

seen anyone being accused or fined.

Competition laws prohibit collusion,

and companies can receive fines of up

to $25 million and 14 years in prison.

But without a watchdog watching, the

Bureau has a lot of unfinished

business.

Canadians

are violently

voicing their

frustration,

singling out

grocers,

mainly

Loblaws, as the

inflation

boogeymen.

The evidence

of profiteering

is weak at best,

but it doesn't

matter. Even

reporters from

other countries

couldn't

believe the

backlash

against Loblaws when it opted to

freeze prices last week for its No

Name products. Loblaws is arguably

the most hated grocer in the world.

This is no accident. Canadians have

an awkward relationship with grocers

for one simple reason – many feel

unprotected and left hanging high

and dry. Because the Bureau is idle on

so many fronts, Canadians have been

left to take matters into their own

hands, and who can blame them?

It's different in the United Sta; it can

take just a few months between lawmakers

accusing food companies and

getting them to write cheques to consumers.

This happened in the case of

JBS, the meat packer, which paid

US$52.5 million to settle a price-fixing

lawsuit. U.S. lawmakers are also

pushing back on the $24.6 billion U.S.

Kroger-Albertson deal, arguing it

would create a monster of a grocer

with a 15 per cent market share. The

new company may be forced to let go

of up to 375 stores and create a rival to

get regulatory approval.

This would never happen in Canada

under the current regime. And by the

way, both Loblaws and Empire/

Sobeys already have more than 15 per

Consumers in

many cities now have

only one grocer, with

fewer in-store choices

due to the continuous

pressure imposed on

food processors.

"

cent of the Canadian market. The

Bureau is sleepwalking through these

deals.

The report should be complete by

June 2023. Hopefully, the Bureau will

give itself a road map for fundamental

changes that will provide it with more

authority to apply more rigour to any

case presented before it. But before

MAIL BAG

that, the Bureau will need to do some

soul-searching.

Let's call it like it is. Canadians

deserve it.

Dr. Sylvain Charlebois is senior

director of the agri-food analytics lab

and a professor in food distribution and

policy at Dalhousie University.

Elder abuse? Yes.

Dear Editor,

In response to Oct. 19, 2022 Morrin

council meeting).

• Did council pass a resolution to

check 2nd Avenue North sewer laterals?

– YES

• Did the check (September 2020)

result in the camera not being able to

get through line [Village lateral from

Helton property] due to blockages?

– YES

• Did Village clear blockages, as per

Sewer Policy, to complete mission of

resolution – NO

• If the Village had cleared the

blockages, would Helton's have had a

sewerage backup? – NO

• If the Village had cleared the

blockages, would Helton's have had to

rent a portable toilet – NO

• Does the Village still need to repair

their 60+ year line due to the sag and

20 feet of water? - YES

• Did Village inform Helton's of

blockages? – NO

• After numerous requests by

Helton's for camera report, did Village

finally release result? – YES

• Did Village clear blockages as per

their responsibility under the MGA:

Municipal Public Utilities-Section:

35(2)? - NO

• Did Village clear blockages when

Helton's expressed concern that a

backup could occur? – NO

• Did the Village clear blockages

when a backup occurred? – NO

• Did Village clear blockages when

Helton's informed council that they

[Helton's] were afraid of another

backup and were hiring a portable

toilet? – NO

• Did Helton's get another camera of

line to confirm that there still were

significant blockages? – YES

• Did Village clear blockages when

sent camera report showing blockages?

– NO

• Did CAO lie to Village counsel

stating that Helton's were not using a

portable toilet? – YES

Turn to Council, Pg 3

R

R

R

R

R

Published by

Coronation

Review

Limited

Subscriptions:

$52.50 in Canada; $98.70 in US;

$183.75 Overseas.

72 pt

East Central Alberta

EVIEW

60 pt

48 pt

36 pt

Website ECAreview.com

Office Hours Mon. - Fri. 9 am - 5 pm

R

30 pt

4921 - Victoria Avenue

Tel. (403) 578-4111

R

24 pt

Mail: Box 70, Coronation, AB Canada, T0C 1C0

LETTERS POLICY • Letters to the Editor are welcomed •

Must be signed and a phone number included so the writer's

identity can be verified. • ECA Review reserves the right to edit

letters for legal considerations, taste and brevity. Letters and

columns submitted are not necessarily the opinion of this

newspaper.

MEMBER OF:

Local Journalism Initiative is funded

by the Government of Canada.

JOYCE WEBSTER

Publisher/Editor

publisher@ECAreview.com

YVONNE THULIEN

Marketing/Digital 403-575-9474

advertise@ECAreview.com

BRENDA SCHIMKE

Editorial Writer

JUDY WALGENBACH

Marketing 403-740-2492

marketing@ECAreview.com

STU SALKELD

LJI Reporter 403-741-2615

reporter@ECAreview.com

LISA MYERS-SORTLAND

Graphic Artist

R

18 pt
---
ECA REVIEW HANNA/CORONATION/STETTLER, AB November 17'22 3

BIG VALLEY COUNCIL

Council discusses plan for the future

Stu Salkeld

Local Journalism Initiative reporter

ECA Review

Big Valley village council discussed

their plans for the future and how the

existing strategic plan would be

involved. The issue was discussed at

the Nov. 10 regular meeting of council.

Essentially, a strategic plan is a document

some councils approve that lays

out the future priorities of the

municipality.

Coun. Clark German began the conversation

by noting he'd looked

through the village's existing strategic

plan, including the goal statements,

and they looked acceptable.

German voiced interest in looking at

what is included in the plan and "...

moving things forward."

Mayor Dan Houle stated that the village

is still waiting for an

infrastructure study which could play

a big part in the village's future plans.

Village Chief Administrative Officer

(CAO) Elaine Macdonald noted some

items identified as priorities in the

strategic plan, such as roads and

dealing with unsightly premises, are

handled on a regular basis by the village

staff.

Mayor Houle noted the village has

marked some big achievements but

added it would be beneficial to develop

a plan for the future and finish it.

During discussion the subject of discussing

the strategic plan, or parts of

it, at regular council meetings was discussed.

Macdonald stated many parts

of a strategic plan are connected to

other parts, and other factors, such as

public consultation, usually also

included in a strategic plan.

Councillors decided to table the discussion

on the strategic plan until the

entire council was present; Coun.

Amber Hoogenberg was absent from

the meeting.

Interim budget

Councillors unanimously

approved a timeline for the interim

2023 budget as presented by the CAO.

Macdonald noted the provincial

government requires municipalities

have an interim budget for next year

by Dec. 31 of the current year.

Looking ahead to the next budget

Macdonald noted it may not be possible

to go through the budget

process "unscathed" when it comes

to a property tax increase.

Macdonald added utilities will

likely be a challenge in 2023 as

municipalities have been told the federal

carbon tax will add another $5

to the price of each gigajoule of natural

gas, essentially doubling the

price.

It was noted the regional library

group was also planning a 20 cent

per capita increase as well.

Coun. German stated he hoped the

budget would be ready sooner than

last year, which was into April. He

also acknowledged the difficulty of

budgeting in the current economy.

Water plant staff busy with tours

Cont'd from Pg 1

Switenky noted numbers are down a

bit over 2021 but not noticeably so.

"It shows things are still happening,"

said the CAO.

He added that new housing developments

in Stettler are not included in

this report and probably wouldn't

show up until 2024.

Water plant report

Town of Stettler water plant staff

have been rather busy lately according

to a report filed by water plant supervisor

Chris Saunders.

"Nova Chemicals was out on Oct. 12

for a tour of our plant," stated

Saunders' report. "They came out to

see our operation and ask questions on

how we dealt with algae as they were

having problems at their facility and

hoping to get some ideas on how to

combat it. They enjoyed their visit and

offered a tour of their facility to our

staff also.

"Hwy. #12/21 Water Commission

was out to tour the plant on Oct. 14. It

was a large group of approximately 30

people. They all seemed to be enthusiastic

with their questions and seemed

to enjoy the tour.

"Many stragglers seemed to really

enjoy the tour, staying to continue

asking questions and needed to be

prodded to catch up with the rest of the

group that were gathering at the bus.

All in all, it was a good tour!

"Many of the communities being

served [by the Stettler plant] were

showing lower residual chlorine numbers.

The duty operator started to

lower the ammonia feed to combat

this. The numbers continued to drop

so further troubleshooting was

required.

"It was found that the ammonia

pumps capacities had increased quite

a bit, most likely due to the dropping

ambient temperatures. This increased

the ammonia dosage as well.

"The pumps were recalibrated to

adjust for the increased capacity.

"The residual chlorine numbers of

the communities all came back up

with a couple taking a little longer to

do so. All of the communities were in

compliance during this time. The

numbers leaving the plant were all in

compliance during this time.

Transportation report

Council also read a summary of

activities from Transportation department

staff member Sarah McCrindle.

McCrindle noted the following activities

that had been worked on or

addressed over the past few weeks:

Staff in the transportation dept. got

their hepatitis vaccinations for

working around the hydrovac, dug out

and re-landscaped an outdoor rink in

the Meadowlands Park between 66

Street and 68 Street, had the mechanic

go through the big sander for the

tandem truck and make sure all was

good for the winter, traffic light and

pedestrian crosswalk monthly inspection,

turned on the heaters at all the

boxes for the traffic lights, lined up

with a contractor to do the yearly

inspections on all the traffic lights,

picked up and placed cement blocks for

the Parks Dept. at the dog park, helped

Cont'd from Pg 2

• Did Village eventually clear blockages

[18 months after the report of

blockages]? – YES

• Did Village repair line that report

states 20 feet of sag full of water? – NO

• Did Village inform Helton's they

could just "FLUSH MORE OFTEN"?

– YES

• How many budgets have been set

since Village knew of blockages in

their [Village's] line – Two

• Did Village inform Helton's if and

when the Village's line would be

repaired? - NO

• Do Helton's put soiled paper into

sewer? – NO (soiled paper to receptacle

for external disposal)

• Do Helton's flush "poop"? – NOT

VERY OFTEN

• What do Helton's do with poop? –

THEY USE PUBLIC FACILITIES ON

A REGULAR BASIS AND ONLY

THEIR OWN TOILET IN AN

EMERGENCY

• Is the only way to know of a

blockage when sewerage enters

Helton's basement? - YES

• Would the Helton's have had to

rent a toilet and do their own camera

($1811.25 expense) if the Village had

fulfilled its obligation? – NO

• Does council and CAO have

respect for the MGA? - NO

• Should Helton's be upset with the

present council for not taking responsibility

and exhibiting the integrity

the Water Dept. on a water break and

picked the Christmas tree for Main

Street, among many other duties.

The Christmas tree for Main Street

would be the large tree placed by the

Town of Stettler and partners on the

annual Moonlight Madness event that

will be held Nov. 25 this year.

Emergency services summary

Regional Fire Chief Mark Dennis'

report included an incident summary

for the month of September 2022: five

motor vehicle incidents, three vehicle

fires, 10 alarm calls, nine medical first

responses, eight wildland fires and

three public services.

Council refuses to

dialogue with Helton's

expected of them by studying the file

so they would fully understand the history

and the Helton's position instead

of relying on the "sketchy" information

provided them by the CAO - YES

• Should the CAO be in a position to

judge the results of a camera inspection

when she states that the "photos

were not helpful and can't even see

what's in there"? – NO

• Would anyone who knows what

they were doing be able to interpret the

camera results? – YES

• Would the CAO have to be "frustrated

that the Village continues to

deal with this matter" if she and

council would do their "due diligence"

and study the file? – NO

• If council would take the time to

study the correspondence related to

this situation, would they have an

understanding of what has actually

transpired? – YES

• Has this council been willing to

engage in dialogue with the Helton's?

– NO

• Did the CAO and council already

set a precedent when they approved

$504 to the Hampton's without having

them [Hampton's] follow the Policy?

– YES

• Does the treatment of the Helton's

'smack' of PREJUDICE? – YES

• Does the treatment of the Helton's

constitute ELDER ABUSE? – YES

Howard Helton

Morrin, Alta.

"There's a lot of external pressures,"

said German.

Service line warranty

The Village of Big Valley continues

to investigate the possibility of

engaging a third party to offer warranty

coverage for utility lines on

resident's properties.

The CAO reported the services of a

company called Service Line

Warranties continues to be examined

by the village, with Macdonald noting

the village has been doing its own

research on the service which offers

coverage to property owners in the

event of a water or sewer line break.

Macdonald stated that the village

has found some "...favourable and not

so favourable" reviews about the service

and Big Valley staff are trying to

get ahold of elected councillors in

towns in Ontario which had agreed to

this service. Staff have not been able to

contact those councillors yet.

Snow removal

Coun. German requested council

discuss the village's snow removal

policy. The CAO began by stating the

policy had previously been changed by

council but the office copy was never

actually updated by the village staff.

German provided feedback he'd

heard within the community, with

people asking the village not "go hog

wild" with sand and gravel in intersections.

All that grit just requires more

clean up work in the spring, he added.

Mayor Houle responded there may

have been more sand placed last year

because of the amount of "freeze and

thaw" which occurred, with the village

wanting to address slippery

intersections and the threat of injuries

or property damage.

During discussion Macdonald made

the point that if councillors place certain

requirements in the policy, staff

have no choice but to drop whatever

job they're doing and begin snow

removal.

BYEMOOR COMMUNITY CLUB

Christmas Market Tables

& Santa Claus Day

Sat., Dec. 3, 2022

11 AM - 3 PM Byemoor Hall

2 PM – Pictures With Santa

SLEIGH RIDES AVAILABLE

Great gift ideas & Christmas baking.

Concession Booth Available.

Raffle draws.

Christmas MarketTables

available $10 each

To Book tables please call

Doreen at 403-579-2460

The Brownfield Recreation Center

Looks forward to welcoming you back in person for our

Annual

Turkey Supper

Sunday, Nov 27 th , 2022

5pm -7pm

$

15 Adult 12 & up

$

10 Child under 12

3 & under Free

This supper made

possible through:

Local businesses, community donations and

volunteers with a special thank you to the

County of Paintearth for purchasing the Turkeys!
---
4 N ovember 17'22 HANNA/CORONATION/STETTLER, AB. ECA REVIEW

CORONATION COUNCIL

Cost of living increase for town employees approved

Treena Mielke

ECA Review

Employees for the Town of

Coronation can look forward to a 3.5

per cent cost of living raise in 2023.

At its meeting, Nov. 7 council

approved the increase.

Council also agreed to re-write its

statutory holidays policy to include a

provision for a Truth and

Reconciliation Day as a statutory holiday

as proclaimed by the Federal

Government of Canada. Town office

staff may bank hours worked during

this period at the discretion of the chief

administrative officer.

Town council also agreed to offer a

vacation time of three weeks for the

first five years of employment and four

weeks vacation time for employees

who have worked six to 15 years.

Agriculture based courses

Discussions regarding bringing

agriculturally based courses to the

Town of Coronation through a partnership

with Olds College are

continuing.

Quinton Flint, chief administrative

officer (CAO) for the Town of

Coronation told council, at its Mon.,

Nov. 7 meeting, that "Olds is committed

to working with us."

Council hires MPE

Engineering for work on

affordable housing project

Treena Mielke

ECA Review

Coronation town council is being

proactive towards the possibility of

bringing affordable housing to the

municipality.

At its regular meeting, Mon. Nov. 7

council gave the go-ahead to Chief

Administrative Officer (CAO) Quinton

Flint to use Canada and Mortgage

Housing Corporation (CMHC) Seed

funding of $45,000 to hire MPE

Engineering to conduct a senior

housing project assessment and complete

pre-design work.

Flint said suitable locations for the

affordable housing units also need to

be established.

The funding was received from

CMHC several months ago to be used

for exploring the possibility of

bringing affordable housing to

Coronation.

The CAO said MPE's proposal has

met all criteria outlined in the request

for proposal.

The engineering company has also

been working with the municipality to

assist with the next steps on the CMHC

grant application for federal funding

and has also been working with the

town to ensure administration is

aware of new grants as they become

available so the application process

can be followed promptly.

The CAO told council that there has

been no announcement regarding

funding, but this information could be

available later this year or early next

year depending on when the Minister

of Seniors and Housing has established

a funding model.

However the CAO explained to

council that it is important to begin the

necessary steps towards making the

project a reality by completing the geo

tech studies and pre-designing buildings.

Being shovel ready would

expediate the funding process.

MPE Engineering Ltd. is an

employee-owned professional engineering

consulting firm with offices

located in Alberta, Saskatchewan,

Manitoba and British Columbia.

They offer a full-service, multi-disciplinary

engineering team in the

municipal, water resources and

building services sectors.

Council ready to go with

plan regarding streetlights

Treena Mielke

ECA Review

Council gave the nod to a

proposal by ATCO

regarding the streetlights at

their Oct. 24 council

meeting.

After the meeting, Chief

Administrative Officer

(CAO) Quinton Flint said

council agreed to go with

the plan introduced by

ATCO for the lights which

means that the electric company

will own the power

poles and the lights.

He said council agreed to

go with the plan as it could

be very costly to have halogen

lights replaced and

also that type of light is now

becoming difficult to obtain.

In an email, Mayor Ron

Checkel said selling the

streetlights to ATCO would

save the town money in the

future.

"If the town owns the

lights we would have to pay

for any replacement of poles

and or lights. So, the

majority decided to sell the

remaining lights to ATCO

and avert the future cost of

replacing them (estimated at

$612,000 in 2022 dollars).

"Also, there is a program

out there where ATCO

would convert the lights

over to LED lighting and

this would save the town

some on electricity costs,"

he said.

Due to the fact that there

are some unknowns

regarding the costs the town

would incur associated with

the ATCO conversion program

and also to ascertain

how much funding is available

through a federal grant,

council has requested a light

study be completed.

"There are quite a few

unknowns at this point,"

Flint said. "It could be up to

a year before the plan is put

in place."

There are 102

streetlights in

Coronation.

Currently, Olds College is requesting

an itemized list of assets available for

use as well as suitable locations to be

used for teaching.

Flint said the college is also interested

in obtaining a list of

partnerships within the community

such as the County of Paintearth Adult

Learning and Meridian Community

Futures.

Flint said more meetings are

planned and he is hopeful to bring

more players to the table.

"The next step would be conducting

an assessment to find the areas that

would be seeking more training or

education.

Moonlight

M A D N ES S

Fri., Nov. 25

Open 9 a.m. to 10 p.m.

5018 Main St. Stettler 403-742-8311

Think Local,

Shop Stettler

Mega Sale!

November 15 - December 21

Stettler

"I will be looking into further partnerships

with Clearview School

Division and possibly others to build a

strong educational aspect to the

project," Flint told council.

Olds College now has a partnership

with the Town of Drayton Valley and

Everest Educational Services.

Olds College was established in 1913

and offers regular programming, continued

education and online and

blended programming. They specialize

in agriculture, horticulture, land and

environmental stewardship, working

closely with industry to advance and

adapt their programming to meet the

needs of their students.

Progressive

SAVINGS

9:00 am - 7:00 pm

SAVE 10 %

7:00 pm - 8:00 pm

SAVE 15 %

8:00 pm - 9:00 pm

SAVE 20 %

9:00 pm - 10:00 pm

SAVE 25 %

$ 1,000

Heart of Alberta Dollars

and prizes

Enter often at particpating businesses or shopstettler.ca

An Honour Roll video

with Wilf Sieger

which was recorded

for the purpose of

the online services

held for the past

two years due to

COVID-19, was

played once more

honouring the late

Wilf Sieger who was

a constant in reading

the Honour Roll at

Remembrance Day

ceremonies in many

years past.

ECA Review/

J.Webster

Save on all in-stock regular

priced merchandise and

all red tag clearance items.

Some exclusions may apply.
---
ECA REVIEW HANNA/CORONATION/STETTLER, AB November 17'22 5

(Left) Piper Mike McLetchie performed

his duties brilliantly Nov. 11 at Stettler's

annual Remembrance Day ceremony.

ECA Review/S.Salkeld

(Above) The Royal Canadian Legion Stettler Branch #59 annual

Remembrance Day ceremony was a standing room only event as usual

including Legionnaires, RCMP, dignitaries and many other guests.

ECA Review/S.Salkeld

BIG VALLEY COUNCIL

Village supports school

group's grant application

Stu Salkeld

Local Journalism Initiative reporter

ECA Review

The Village of Big Valley agreed to

support the local school's efforts to

secure funding for playground

upgrades. The decision was made at

the Nov. 10 regular meeting of council.

Village Chief Administrative Officer

(CAO) Elaine Macdonald noted the village

had received a request from the

Big Valley school's parent council

asking for the municipality's moral

support for grant funding applications

"We have received a request from

Big Valley School to provide a letter of

support for their grant application for

playground equipment," stated

Macdonald's memo to council.

"Their project will include repairing

equipment that can be repaired and

replacing that which can't be repaired.

The new equipment will have accessibility

features making the playground

more inclusive."

In a draft letter provided by the

CAO, Mayor Dan Houle noted, "If they

are successful in their endeavours to

receive this funding, it will help the

Village of Big Valley become more

vibrant, attractive and healthy."

When asked about the old basketball

courts, Macdonald answered that

those courts are the school's property

and there's nothing the village can do.

Councillors unanimously agreed to

support the Big Valley School's efforts

to get playground grant funding.

Experience Quebec

Councillors unanimously agreed to

provide $3,000 in FCSS funding to the

Friends of Big Valley School and the

school itself for a student exchange

with a community in Quebec.

"An application was received for

FCSS funding from the Big Valley

School and Friends of Big Valley

School," stated Macdonald's memo to

council.

"This funding is for a student

exchange program where they have a

'twin' school in Quebec and students

will be moving from one location to the

other to learn about the culture and

lifestyle of their twin municipality."

An application form filled out by the

organizers noted the "Experience

Canada" exchange will involve about

60 Grade 7 to 9 participants from both

Big Valley and Byemoor Schools travelling

to Quebec from Oct. 24 of this

year to May of 2023. During that time

students from Quebec will travel to Big

Valley and Byemoor.

Macdonald noted the students may

have a chance to experience the

Quebec Winter Carnival.

"That's an awesome experience," she

said.

All students will learn about other

parts of Canada through the exchange.

Councillors unanimously agreed to

grant $3,000 in FCSS funds for the

program.

Kids Christmas

Big Valley kids may have a very

Merry Christmas this year after

council approved a request for $2,000

in FCSS funds for the annual "Kids

Christmas" event. "An application was

received for FCSS funding for the Kids

Christmas event being held December

18," stated Macdonald's memo to

council.

An application form filled out by

event organizers noted the annual

family-friendly event will feature a gift

for each child, a visit with Santa Claus

with the goal of

ensuring the community's

social

well-being and

bringing

Christmas sprit to

big Valley and

area families.

The CAO noted

a requirement of

the FCSS funding

is for participants

to fill out a survey

afterwards.

Organizers estimated

between

200 and 250 participants

at the

event. Councillors

unanimously

approved the

request.

Guidance. Support. Community.

Growing communities one idea at a time

Guidance. Support. Community.

Growing Community communities Spotlight one idea at a time

Small Business Spotlight

COULEE Tea House would like to welcome you with the aroma of delicious

baked goods, delightful lunches, and a most pleasant cup of tea, with many

Located: 404 Railway Avenue, Donalda

Open: Thursday– Monday Monday 11-4 11-4

Social: @Couleeteahouse

Call: (403) 883-2755

Guidance. Support. Community.

Growing communities one idea at a time

Small Business Spotlight

E-mail: couleeteahouse1@gmail.com

delectable flavours to choose from.

COULEE Tea House would like to welcome you with the aroma of delicious

baked goods, delightful lunches, and a most pleasant cup of tea, with many

delectable flavours to choose from.

Located: 404 Railway Avenue, Donalda

Social: @Couleeteahouse

Call: (403) 883-2755

E-mail: couleeteahouse1@gmail.com

Moonlight

Madness Madness

Moonlight

Madness

Friday,November 25

25

25

Friday,November 25

* *

Visits Visits with Santa

* Visits 6:00 with pm - Santa

7:00 pm at tree

6:00 * Visits pm with 7:00 Santa

pm at tree tree

7:00 pm - 8:30 pm at FCSS

7:00 6:00 pm pm - 8:30 - 7:00 pm at at pm FCSS at tree

* Think Local, Shop Stettler balloon drop

* Think 7:00 Local, pm Shop - 8:30 Stettler pm at FCSS balloon drop drop

* Warm goodies from ATCO Electric

* Warm * Think goodies Local, from Shop ATCO

ATCO Stettler Electric

Electric balloon drop

* Late night shopping at many local businesses

Late night shopping at many local businesses

* Late * Warm night goodies shopping from at many ATCO local Electric businesses

Road closures in effect see shopstettler.ca for details

Road closures in effect see shopstettler.ca for details

* Late night shopping at many local businesses

Road closures in effect see shopstettler.ca for details

Road closures in effect see shopstettler.ca for details

eastparkland.albertacf.com

eastparkland.albertacf.com

Moonlight Madness info:

Moonlight Madness info:

shopstettler.ca

shopstettler.ca

Moonlight Madness info:

shopstettler.ca

6:00pm

Main

6:00pm

Street

Main Street

Tree Lighting

Tree Lighting

Moonlight Madness info:

shopstettler.ca

6:00pm

Main 6:00pm Street

Tree Main Lighting Street

Tree Lighting
---
REAL ESTATE/HOMES

6 N ovember 17'22 HANNA/CORONATION/STETTLER, AB. ECA REVIEW

HANNA COUNCIL

Hanna in Bloom committee disbanded

Treena Mielke

ECA Review

Council, at its meeting Tues., Nov. 8

received notice in CAO Kim Neill's

report the funds of $837.38 left in the

Hanna in Bloom's bank account be disbursed

to the town.

The committee decided to disband as

several members have moved or indicated

they are no longer interested in

continuing on the committee.

There are no new volunteers who

have shown an interest in volunteering

on the committee at this time.

Funds from the committee which

have been disbursed to the town are to

be used for the purchase of three trees

and establishing a small pocket park at

Council financially

supports rodeo queen

Treena Mielke

ECA Review

Hanna town council unanimously

gave the thumbs up to financially supporting

Ainsley Zayac, Hanna's Rodeo

Queen for 2023 for $1,000.

At its Tues. Nov. 8 meeting council

agreed that Zayac was a good ambassador

for the town.

In her letter to council, Zayac specified

that funding for gas would be most

helpful.

"I am excited to attend more events

in the future including the CFR, local

Hanna Christmas markets, the Lodge,

Ponoka Stampede and more. I would

love the town's financial support in my

journey around Alberta with fuel

money of up to a thousand dollars."

However, council agreed that the

money allocated to the rodeo queen did

not need to be used specifically for

gasoline.

Zayac said she has made a SMART

SOLD

Call Dallas Ellerby

Your Farm & Ranch Specialist

403.578.8105

LAND FOR SALE

CROP LAND

4500 acres - Chinook area

6000 acres - Cereal area

2400 acres - south of Hanna

1 Quarter - south of Veteran

GRASS LAND

16 quarters - south of Veteran

90 quarters - Youngstown area

2 quarters - south of Veteran

the Triplex in recognition and memory

of John Henry, a long-time town

employee.

In his obituary it is noted that he

loved his job and took great pride in

the community he called home.

His creativity is obvious in his landscape

designs, interlock stone paths

and numerous trees planted over the

years.

He was a familiar face in town,

cheering on home teams, driving the

Zamboni or sharpening skates for

whoever needed them.

Staff changes

Logan Gutsche has submitted his

resignation as a public works operator

3 and his final day of employment will

goal for her year as rodeo queen to

show how she plans to represent this

community. SMART is an acronym for

specific, measurable, achievable, realistic

and timely.

Specifically, she wants to represent

Hanna for the 2023 year to the best of

her abilities.

Her measurable goal includes

attending at least two events per

month in Hanna in the winter and four

events per month in the summer.

Her achievable goal is to plan with

Jolene, her queen coordinator by

making a calendar listing all events.

Treating her title as a job and

wearing her crown with pride as she

represents Hanna is her realistic goal.

She will use the year to do the best

job possible and pave the way for the

new queen.

"I am grateful to have the experience

of being Miss Pro Rodeo Hanna and I

am enthusiastic to see what happens

throughout the year," she said.

Council approves rezoning

Treena Mielke

ECA Review

Hanna town council has given the

go-ahead to rezone a portion of 400

Pioneer Trail to 1-Industrial District

from urban reserve.

Council gave the rezoning third

reading following a public hearing

held Tues. Nov. 8 in the council

chambers.

During the public hearing, Tracey

Woitenko, senior planner for Palliser

Regional Municipal Services spoke to

council through Zoom.

The application is to rezone 0.677

hectare portion

of the trail to

1-Industrial

District, she

said. The subject

lands are

located to the

east of 5th Street

East, within the

industrial area.

The lands are

currently used

for industrial

purposes and

the landowner

would like to

subdivide and

sell this portion

of the parcel to

Oyen and

Hanna

Concrete.

Woitenko noted that the application

to rezone this portion of the parcel to

an industrial district is consistent with

the current use of the lands and the

surrounding lands.

Winona Gutsche, director of corporate

services for the Town of Hanna

said this parcel is on the east side of

town and does not affect any residential

properties.

"The neighbours on both sides got

letters regarding the rezoning," she

said. "The zoning is being changed for

future use," she added.

The bylaw received first reading

Oct. 11.

www.greaterpropertygroup.com

GREATER PROPERTY GROUP

1/4 section north of

Veteran - 90 acres

broke, home site,

16' x 76' mobile

home, 40' x 60'

SOLD

shop & working

corrals. Owner

willing to subdivide

acreage out.

cancow@

xplornet.com

be Nov. 18. Donna Brink, a casual staff

member working at Centennial Place

also resigned. Her resignation was

effective Oct. 29.

Newsletter statistics

An electronic newsletter is now

being used to inform the public of

events happening in the Town of

Hanna. In her report to council, Laurie

Armstrong, director of business &

communication noted that 55 per cent

of subscribers opened the newsletter

regarding information about snow

removal before 8 a.m. on Nov. 4.

The release was sent Nov. 3 at 3 p.m.

An electronic newsletter sent Nov. 1

informing the public about a Drive

Happiness promotion to receive a free

ride for a flu shot was opened by only

43 per cent of the subscribers.

The Oct. 27 electronic newsletter,

which was an update of the arena, notifying

users when it was scheduled to

open, education about ice making and

the schedule for Nov. 7 – 11 was opened

by 50 per cent of subscribers.

Community Services Board grant

Council approved the recommendation

of the Community Services Board

to award the 2022 Community Services

Board Grant in the amount of $3,000 to

the following groups: Legion Hanna

Branch - $1,000, (purchase of computer

equipment); Hanna Seals Swim Club -

$500; Hanna Lacross -- $1,000 (program

start up costs); Hanna Dance

Association -- $500 (purchase of ballet

barres).

FARMLAND FOR SALE BY TENDER

Tenders are invited for the purchase of the following properties located SE of

Forestburg in Flagstaff County. The properties are legally described as:

FIRST:

THE SOUTH EAST QUARTER OF SECTION THIRTY ONE (31)

TOWNSHIP FORTY (40)

RANGE FIFTEEN (15)

WEST OF THE FOURTH MERIDIAN

CONTAINING 64.7 HECTARES (160 ACRES) MORE OR LESS.

EXCEPTING THEREOUT: ALL THAT PORTION REQUIRED FOR RESERVOIR AS SHOWN

OUTLINED IN RED ON FILED PLAN 6049 H.W., CONTAINING FOURTEEN AND SIXTY

TWO HUNDREDTHS (14.62) ACRES MORE OR LESS

EXCEPTING THEREOUT ALL MINES AND MINERALS

Contains approximately 145.38 acres more or less of which 80 acres is cultivated crop

land 65.38 acres is native pasture. The crop land is fenced separate from the pasture

land. 2022 county taxes were $360.00. 2022 industrial lease income was $3844.05 (not

guaranteed).

SECOND:

MERIDIAN 4 RANGE 15 TOWNSHIP 40

SECTION 31

ALL THAT PORTION OF THE SOUTH WEST QUARTER

WHICH LIES TO THE NORTH EAST OF THE RESERVOIR AS SHOWN

OUTLINED RED ON RIGHT OF WAY PLAN 6049HW

CONTAINING 26.345 HECTARES (65.11 ACRES) MORE OR LESS

EXCEPTING THEREOUT ALL MINES AND MINERALS

AND THE RIGHT TO WORK THE SAME

Contains 65.11 acres all native pasture. 2022 county taxes were $94.07. 2022 industrial

lease income was $289.80 (not guaranteed).

INCLUDED ASSOCIATED LEASED PASTURE LANDS:

1. Alberta Power (2000) Ltd. pasture lease located above Battle River Reservoir

including the following lands in Flagstaff County:

SE 31-40-15 W4 16.01 acres

SW 31-40-15 W4 8.56 acres

NE 30-40-15 W4 5.39 acres

N ½ 29-40-15 W4 35.53 acres

Total leased area 65.49 acres

Present lease rate is $8.00 per acre.

2. Flagstaff County

Road Plan 882-2820 lease agreement dated October 24, 2007 with Flagstaff

County and Alberta Power (2000) Ltd. Approximate area of 7.403 acres pasture

fenced.

3. Private Lease Agreement with adjacent land owner - 7.8 acres of pasture located

in SW corner of SW 32-40-15 W4. Land is fenced in with existing pasture.

Total leased pasture land is approximately 80.693 acres more or less.

2023 property taxes will be paid in full by any successful purchaser without

adjustment. No adjustment for any lease/rental income received prior to closing

date. Any successful purchaser will receive any/all future surface lease payments after

closing date. Seller will assign the existing pasture leases to any successful purchaser.

Tenders must be for the purchase of both SE 31-40-15 W4 and Part SW 31-40-15 W4

and the existing pasture leases.

Tenders are to be submitted in sealed envelopes marked "Marcinkoski Tender", with

tenderer's GST number and accompanied by a certified cheque or bank draft made

payable to Andreassen Borth in trust for 5% of the amount of the tender and must be

delivered before 12:00 noon on December 21, 2022 to the offices of Andreassen Borth,

Barristers and Solicitors, 5014-50 Street, P.O. Box 727, Killam, Alberta, TOB 2LO.

The balance of the purchase price shall be paid to Andreassen Borth on or before

January 31, 2023. The seller and any successful purchaser will share the cost of title

insurance on the purchase. Tenders are irrevocable and shall remain open until dealt

with by the offices of Andreassen Borth. Tenders will not be opened in public. If a

successful tenderer does not complete the purchase after acceptance of that tender,

their deposit shall be forfeited to the owner. The highest or any tender will not

necessarily be accepted. The owner reserves the right to reject any and all tenders.

Deposits received from any unsuccessful tenderers will be returned to them by regular

mail.

For further information, or to arrange an appointment to view the subject property,

please call Bob at (780) 781-1432.
---
ECA REVIEW HANNA/CORONATION/STETTLER, AB November 17'22 7

REAL ESTATE/HOMES

PARLIAMENT

Changes in ways beyond words

by Damien C. Kurek,

M.P. Battle River—Crowfoot

As a Canadian and Member

of Parliament, I am frequently

reminded of the gravity of the

sacrifices of the men and

women of the Canadian Armed

Forces, past and present.

Freedom of expression, our

democracy and the ability to

disagree are a few of the many

freedoms that we enjoy because

CAF members stood up to tyranny

and evil.

This year, however, the

reality of what Remembrance

Day is has been made more real

as war once again touches the

western world.

The conflict in Ukraine has

called into question so many of

the things that we have taken

for granted over the last several

decades. We see what Ukraine

is up against, see the cost of

Serving

the east

central

Alberta

region

war, and hear of the heroic acts

and the perseverance of a

people facing such devastation

firsthand. We see how war

changes priorities.

Further, we can't

forget the open suggestions

of military action

against the democracy

in Taiwan by leaders of

the Communist Regime

in China, bringing the

threat of conflict in the

Pacific.

War often seems like

something that is far

Kurek

removed from Canada.

This past fall, Danielle

and I travelled to Poland where

we met with Polish political

leaders and bore witness to how

Poles have stepped up to help

Ukraine and the folks displaced

by war.

It was incredible to see how so

DRUMHELLER COUNCIL

Jeff & Alison Southworth,

bringing 20 years of experience

• Water well drilling & servicing

• Well pump installation and servicing

• Pressure systems

• Backhoe services for water lines

• Water well Chlorination

• Ritchie waterers • Pasture Wells

Emergency services • 24 hr on call

Legacy

Drilling Ltd

403-854-0172 • Hanna, AB

legacydrillingltd@outlook.com

403-396-2254 • Delburne, AB

many have sacrificed their comforts

and resources to ensure

that those who are in need have

at least their basic necessities

met.

In the midst of a

productive and busy

trip, we set aside time

to tour Auschwitz-

Birkenau, the

notorious Nazi concentration

camp, that

saw more than a million

lives destroyed,

including Jews,

minorities, the disabled

and political

dissidents, among

many others.

Seeing this site in person, and

some of the other memorials of

war, changes you in a way that

is beyond words. It makes one

realize just how fortunate we

are to have the freedoms we

Drumheller seeks feedback

At a regular City of Drumheller use, several potential and regulations for

council meeting on Oct. 24, administration

improvements were noted to Secondary Suites and

proposed 40 pages of proposed offer clarity and guidance to Garden Suites

revisions to the current Land Use its authority, the public and • Addition of definitions

Bylaw (LUB) and a few edits to the administration.

and regulations for Mobile

Municipal Development Plan (MDP). Key changes include: Home Parks

Council passed the first reading for • Removal of Land Use • Additional definitions

both proposed bylaws, with public Overview Maps and Flood and regulations for

hearings scheduled for Dec. 5, 2022. Hazard Overlay Maps Industrial Uses within the

An open house to capture resident • Land Use Zoning reclassification

Employment District

feedback is scheduled for Nov. 17. This

for properties • Addition of Murals

open house will not have formal presentations;

originally incorrectly zoned within the Downtown

however, a variety of and/or parcel boundaries District to provide regula-

information booths for the East being incorrect

tions as well as align with

Coulee, Hospital, Michichi Creek, and • Additional regulations Downtown Area

Downtown Berms will have a table set for Specific Use Standards Revitalization Plan 10.21.

up with information on their respective

• Removal of poorly

To offer feedback on the

projects, alongside the MDP and defined "Dwelling Unit" and proposed changes, residents

LUB.

"Dwelling Unit -

are encouraged to contact

Municipal Development Plan 17.20 Temporary" and redefine the Town of Drumheller's

was passed in December 2020. Like the all forms of Dwelling Unit, Development Office or development@drumheller.ca

Land Use Bylaw, the Municipal this will aid residents and

for

Development Plan is a statutory document.

developers in defining their more information, attend

The MDP provides citizens and residential developments the Open House and/or

businesses with information on how • Eases Signage permit attend the public hearing on

the municipality will address the current

process for new businesses Dec. 5.

and future needs of the

• Addition of definitions

community, including land use, transportation

systems, municipal services

and environmental considerations.

The Municipal Development Plan is

an ongoing document that may be

Dark Knight Electric

amended from time to time as the

Town's vision changes.

Electrical, Heating, Cooling, Sheet Metal and

"The key changes to the current

MDP include amendments to the berm

Plumbing Services

design top, references to freeboard and Box 996

DANE JACKSON

references to berm elevation to accurately

Castor, AB

Owner/Operator

reflect the province's 1850cms T0C 0X0

Master Electrician

flow rate," explains Darryl

403-882-3388

Drohomerski, CAO for the Town of

www.darkknightelectric.com

Drumheller.

"We have heard

some frustrations

from members of

the public that

our document

does not currently

match

what the

Government of

Alberta has outlined,

so we are

seeking to make

that adjustment."

The Land Use

Bylaw 16.20 took

effect on March 1,

2021, with some

amendments

passed in

September of last

year. With the

Bylaw already in

have and how attaining and

maintaining these freedoms

has a great cost.

Throughout my time in

Parliament, I have endeavoured

to remember the

memory of those who sacrificed

so much for our

freedom, their families who

face their own challenges at

home, and those who came

home with seen and unseen

injuries.

County of Stettler No. 6

6602 - 44 Ave., Box 1270

Phone: 403-742-4441 Fax: 403-742-1277

www.stettlercounty.ca

Public Notice

PUBLIC SALE OF LAND

Municipal Government Act

County of Stettler No. 6

Notice is hereby given that under the provisions of the Municipal

Government Act, the County of Stettler No. 6 will offer for sale,

by public auction in the County Administration Office Building,

6602 - 44th Avenue, Stettler, Alberta on Thursday December 1,

2022 at 9:00 a.m. the following lands:

Lot Block Plan Legal C of T or Roll No.

8 5 7822097 SW-33-38-18W4 152 104 910

13 1 8222364 NW-14-40-21W4 942 044 730

4, 5 3 171AE SE-19-40-18W4 142 101 740

1 1 1721400 NE-13-40-19W4 172 102 568

Each parcel will be offered for sale subject to a reserve bid and

to the reservations and conditions contained in the existing

certificate of title.

These properties are being offered for sale on an "as is, where is"

basis and the County of Stettler No. 6 makes no representation

and gives no warranty whatsoever as to the adequacy of

service, soil conditions, land use districting, building and

development conditions, absence or presence of environmental

contamination, or the development ability of the subject land

for any intended use by the Purchaser.

No bid will be accepted where the bidder attempts to attach

conditions precedent to the sale of any parcel. No terms and

conditions of sale will be considered other than those specified

by the County of Stettler No. 6. All bidders or their agents must

be present at the public auction.

The County of Stettler No. 6 may, after public auction, become

the owner of any parcel of land not sold at the public auction.

Terms: Cash

Redemption may be effected by payment of all arrears of taxes

and costs at any time prior to the sale.

Dated at Stettler, Alberta, November 17, 2022.

• Carpet • Area Rugs

• Linoleum • Tile

• Laminate • Hardwood

Yvette Cassidy, Chief Administrative Officer

Largest Selection of

This is an effort that I

believe we all need to undertake.

The brave men and

women who have stood up

for our freedoms need to be

remembered, not only

during Veterans Week but

every day. Lest we forget

should always be more than

a hashtag, and this year,

that need has once again

been made real.

(780) 753-2960

Provost, AB

Customer Satisfaction

is our business
---
8 N ovember 17'22 HANNA/CORONATION/STETTLER, AB. ECA REVIEW

SLAP

Shots

• Headline at

theonion.com: "Offensive

Coordinator

Draws Up Perfect

Play For Crushing

Defenceless Photographer

On Sideline"

• A tweet From

Edmonton Police:

"Your vehicle is not

as skilled on ice as

Connor McDavid.

Your tires are not

skates. You cannot

speed down a

wintry road and

expect your vehicle

to make a hockey

stop. Please drive

according to the

road conditions and

your comfort."

• Mike Bianchi

of the Orlando

Sentinel: "I just

re-watched the wallhugging,

pedal-tothe-metal

move

Ross Chastain made

to get the final spot

in NASCAR's championship

race. I

haven't seen a such

a daring manoeuvre

in a car since high

school when I put

the move on Becky

in the back seat

of Mom's Pontiac

Catalina."

Perseverance paying off for Comrie

by Bruce Penton

Hockey fans follow, read

about and watch video features

of some of the most

heralded players in the game

— McDavid, Ovechkin,

Crosby, McKinnon, etc. But

for every superstar, there's

about 30 grinders, and the

next 428 words is about one

of them.

Goaltender Eric Comrie

doesn't need a paycheque

from a hockey organization

to pay the bills or put food on

the table.

He comes from a wealthy

Edmonton family whose

patriarch is Bill Comrie,

founder of The Brick furniture

empire. It's quite

apparent that if and when

27-year-old Eric finally

hangs up his pads, he'll find

some sort of well-paying job

in the world of king-sized

beds, sofas, kitchen suites

and ottomans.

But it's obvious young

FROM THE BLEACHERS

Comrie is addicted to

playing professional hockey.

Many of his ilk would have

given up by now, realizing

the road to success was riddled

with potholes.

He has had a

taste of the NHL in

seven seasons, but

for most of his time

he bounced around

the American

Hockey League and

the waiver wire,

not to mention

being a hot name in

the trade market. Penton

Since No. 1 goaltenders

are a rare

breed, opportunities galore

exist for Comrie and others

who are of No. 2 or even No. 3

calibre.

This year, it appears,

Comrie may finally have

found a permanent home.

After five games over three

seasons (2017-19) with

Winnipeg Jets, three games

with Detroit in 2019-20, one

with New Jersey Devils in

2020-21 and another 19 last

season with the Jets, Comrie

has in the early going

seemed to have

found a home as

No. 1 goalie with

the Buffalo Sabres,

one of the feel-good

stories of the young

NHL season.

Perennially

bottom dwellers

over the last decade

or so, the Sabres

won seven of their

first 10 games,

including back-toback

Comrie-led road

victories in Edmonton and

Calgary. How sweet that win

in Edmonton must have

been, with dozens of family

and friends in Rogers Place

cheering him on.

Given his nomadic career

and continued dedication to

establishing himself as a

regular NHLer, it's no

surprise that Comrie has a

Bill Masterton award nomination

to his credit.

The Masterton is presented

annually to "the

player who best exemplifies

the qualities of perseverance,

sportsmanship, and

dedication to ice hockey."

He didn't win, but his

peers around the NHL have

obviously recognized his

dedication to his craft, and

his determination to make it.

Trades, waiver pickups,

demotions to the minors ….

Comrie has looked at his

variety of constant career

changes with optimism. "It's

always nice to be liked and

when you're picked up off

waivers, someone is liking

you," Comrie told fullpresshockey.com.

His early success this

season in Buffalo may be a

harbinger of great things to

come. Based on early results,

the Sabres and their fans are

definitely liking him, too.

SLAP

Shots

• Headline at

the Beaverton:

"Poll: Majority of

Canadians favour

making sports betting

illegal again

just to get rid of the

%&$##$ ads"

• Another one from

the TheBeaverton.

com: "Study: Every

child who cheated

at NHL 94 now a

hardened criminal."

• Astros ace Justin

Verlander, via Twitter,

on flipping off

taunting Phillies

fans upon arrival in

Philadelphia: "Just

saying hello in their

native tongue … all

in good fun."

Care to comment?

Email brucepenton

2003@yahoo.ca

• RJ Currie of

sportsdeke.

com: "Halloween

guidelines in many

elementary schools

call for outfits that

don't scare anybody.

So my niece

dressed her son as a

Detroit Lion."

• Headline at the

onion.com: "Luka

Doncic Spends

Offseason Adding

New Complaints to

Repertoire"

• Headline at fark.

com: "Canadian

Olympic bobsleigh

medallist suspended

for three years

when they found

out she has more

than maple syrup

running through

her veins"

• Dwight Perry of

the Seattle Times:

"Taylor Swift made

history as the first

musical artist to

claim all top 10

spots on the Billboard

Hot 100 list,

for the week of Nov.

5. Kind of like Nick

Saban on national

signing day."

• Another one from

Perry: "Former

NBA player Iman

Shumpert was arrested

for cannabis

possession when

he tried to pass

through airport security

for his flight

to Los Angeles.

Apparently he's no

longer immune to

travelling violations."

Cadets carry another cadet during a search and rescue simulation near

Stettler, Alta. on Oct. 22, 2022.

ECA Review/Civilian Instructor Scott Roespies

Local air cadets

learn survival skills

Submitted

Cadets from 572 Coyote,

Royal Canadian Air Cadet

Squadron, of Stettler, Alta.

participated in their first

Field Training Exercise in

two years near Stettler on

Oct. 21 to 23, 2022.

The weekend included

building lean-to shelters,

making simple snares,

learning to navigate with a

map and compass, participating

in a simulated search

and rescue and playing

Turn to Reunite, Pg 8

A screening mammogram is

the best way to find breast

cancer early.

And it can truly save your

life.

games. The overall theme of

the weekend was aircrew

survival.

"I had a great time this

year, it was my first year

leading the cadets through

all the activities," said Flight

Sergeant Gryphon Wagner.

"This was fun and a great

learning experience.

Building a fire to boil my

ration at the end of the day

was my favourite part of the

weekend," said Flight

Corporal Gabriel Trask.

The SCREEN TEST mobile mammography unit will be in

Three Hills

Nov. 28 to Dec. 3, 2022

Appointments are required. Please call

1-800-667-0604 (toll free)

screeningforlife.ca

Due to COVID-19, Screen Test is taking a number of

precautions to ensure the safety of our clients and staff.

Details will be shared when you call to book your

appointment.

Champs of the Botha Floor Curling Bonspiel held at the Botha Seniors Centre on Nov.

10 was a team from the Endiang floor curling club, from the left, Carol Stulberg,

Luann Buchwitz, Doreen Nixon and Doug Harrold. ECA Review/Submitted

22113ka1
---
AGRICULTURE

ECA REVIEW HANNA/CORONATION/STETTLER, AB November 17'22 9

Reunite

in person

Cont'd from Pg 8

"After two years of online training, it

was really great to reunite as a group,"

said Civilian Instructor Tanya

Wagner, "this weekend has increased

my motivation to make the Squadron

stronger and better."

A weekend of activities in the field

is one of many activities available to

youth at local, regional and national

levels in the Cadet Program

year-round.

The Cadet Program is open to all

youth between the ages of 12-18 years

old and develops confident,

self-sufficient leaders who form lasting

friendships and are engaged in their

communities. Air cadets also learn

about aviation technologies, air crew

survival, and how to fly.

Adults are also needed to help train,

administer and supervise the local

youth involved in the Cadet Program.

Becoming part of the Cadet Program is

easier than you may think, it's a lot of

fun and the skills you learn are

transferable to your regular employment.

No previous military or cadet

experience is needed.

Contact 572 Coyote, Royal Canadian

Air Cadet Squadron, at 403-412-4282 or

email 572air@cadets.gc.ca to find out

how to get in on the fun and learning.

Captain Lisa Long, Unit Public

Affairs Representative, Regional Cadet

Support Unit (Northwest)

Proud to be 100% Western Canadian owned and focused.

Information Meeting on:

Silage and Grazing

Corn Hybrids

Thurs. November 24

Alliance Rec Centre

12:00 to 3:00 pm

Lunch will be served

Wireless Camera Security For Your Livestock Barn

"Cow Cam"

• Monitor Livestock at Critical Times • Check on Sick Animals

• Monitor Tack Rooms • Observe Calving, Foaling, Farrowing & Lambing

The livestock Monitoring System (Cow Cam) comes

with a high quality HD color camera, which offers an

approximate 360° field of view - the best available

for this application. The camera has Infrared

lights (great for low light conditions) and gives an

awesome night time picture. It sees better than the

human eye and offers unparalleled picture quality.

The unit is encased in a durable weather resistant

metal housing with rubber gaskets to provide

protection from the elements of high moisture

or ammonia. The metal mounting bracket can be

manually positioned left, right and up or down.

Margaret Bossert marked her 101st

Oct. 29 birthday with over 100 people

attending her party at the Coronation

Community Centre on Sat. Oct. 29.

5004-48th ave

Stettler, AB

403-742-4320

Bred Cow & Heifer Sales

Tuesday, Nov. 29 -- 12 noon

Listed for Richard Bailey

25 hd - Black 2 nd calvers - Bred Charolais

Listed for Goodbrand Land & Cattle

150 hd - Black Bred Heifers - Bred Black Angus

Listed for John Golby

100 hd - Dispersal of 1 st - 5 th calvers - Bred

Gelbvieh

Listed for Lorne Holte

40 hd - Cows - Bred Charolais & Simmental

Listed for Teathills Farms Ltd

70 hd - Full herd dispersal of French Char cows

12 hd of 2 nd calvers, 7 hd of 3 rd calvers, 4 hd 4 th

calvers, rest are mature cows - Bred Black

Angus

Plus 4 young Black Angus herd Bulls

Listed for Saskalta Farms Ltd

50 hd - Black Cows (5 th & 6 th calvers) - Bred Red

Simmental

Tuesday, Dec. 6 -- 12 noon

Listed for Glen Martin

30 hd - Black Bred Heifers -Bred Black Angus

Plus 35 hd - Black 2 nd calvers

Listed for John Stewart

50 hd - Black Bred Heifers - Bred Black Angus

Listed for Letniak Farms

70 hd - Tan/Red CharX Bred Heifers

AI'd Heifers on June 26 clean up bulls were

pulled September 5; Easy calving Red Angus

Bulls and semen was from Terron Farms from

Forestburg

Listed for Gerald & Janice Elliott

70 hd - Red/RBF/Tan Bred Heifers - Bred Red

Angus

Listed for Jason & Correna Cooper

35 hd - Red/RBF/Tan Bred Heifers - Bred Red

Angus

Listed for Colton Battrum

30 hd - Home raised Red Simmental cross bred

Heifers - Bred Black Angus

Listed for Three Creeks Cattle

50 hd - 35 Red & 15 Black 2 nd calvers - Bred

Charolais

Listed for Brian Kreiser

Full Dispersal - 37 hd Red Cows (30 - 3 rd calvers,

7- 4 th calvers) - Bred Black & Red Angus

Listed for Goodbrand Enterprises

75 hd - Red/RBF 2 nd calvers - Bred Charolais

Listed for Calvin Sayer

100 hd - Red Bred Heifers - Bred Black & Red

Angus Bulls

Listed for Oasis Ranching

45 hd - Home-raised Red/RBF/Tan Bred

Heifers - Bred Red Angus

Listed for Calvin Powell

40 hd - Black Heifers - Bred Black Angus

40 hd - Cows 3 rd -6 th calvers - Bred Black Angus

Listed for Schetzsle Marketing Corp

Complete dispersal of 350 mostly Black, BBF

Cows, (1/2 the herd is 5 years and younger) -

Bred Charolais

Tuesday, Dec. 13 -- 12 noon

Listed for Robert Vigen

25 hd - Sim X Bred Heifers - Bred Red Angus

Listed for McNary Ranching

65 hd - Red Bred Heifers; all purchased

from Deagle Cattle Bull Sale - Bred Red Angus

Listed for Scott Proudfoot

40 hd - 2 nd Calvers (15 hd Black Bred Charolais,

25 hd Black & 5 hd Speckled Park) - Bred Black

Angus /Black Simmental

Listed for Henry Jackson

Full Dispersal of 115 hd (35 - 5yrs; 40 - 6 yrs;

40 - 7 yrs) - Bred Simmental

Listed for Settlement 06 Holdings

(Colin Wager)

80 hd - Complete Dispersal Red/RBF Cows -

Bred Black Angus and Red Gelbvieh

Listed for White Ranches Ltd

150 hd - Red, RWF, RBF Bred Heifers -Bred

Red Angus

Listed for Perry Farms

120 hd - 50% Herd Reduction Red/Black Cows

(2 nd calvers to mature Cows)- Bred Limo

Listed for Spring Hill Ranches (Lee Gustafson)

60 hd - Red and Black Limo Heifers - Bred Limo

Listed for Blaine Roth Farms Ltd.

20 hd - Home raised Tan & Black bred Heifers - Bred Red

Angus

Listed for BE Oilfield (Boyd English)

75 hd - Dispersal of Red & Black Cows - Bred Charolais

Listed for Darren Isaac

60 hd - Herd reduction of Red/RBF few Tan Cows -

Bred Charolais

Listed for Sautner Farms/ Six Pack Farms

60 hd - Red simmental cross Bred Heifers - Bred Red

Angus

Tuesday, Dec. 20 -- 12 noon

Listed for Goodbrand Land & Cattle

150 hd - Black Bred Heifers - Bred Black Angus

Listed for Troy Tattrie

35 hd - Black & Red 2 nd calvers - Bred Charolais

Listed for Proudfoot Land & Cattle (Eric Proudfoot)

75 hd - Black Bred Heifers - Bred Red Angus

DRYLAND

CATTLE TRADING CORP.

Phone 403-575-3772

Please check the website for all pictures & up to-date info:

www.drylandcattle.com

Darwin 403-575- 7567 Ian 780-753-1515

Justin 587-281-2527 Kurt 403- 575-5388

Curtis 403-578-8062

Regular Sales Every Thursday

Listings can change: Please check the

web site www.drylandcattle.com for all

pictures & up to-date info
---
10 N ovember 17'22 HANNA/CORONATION/STETTLER, AB. ECA REVIEW

Ph. 403-578-4111CLASSIFIEDS/CAREERSEmail: office@ECAreview.com

Classified Ad Rates

$13.85 + tax for 25

words or less + 20¢ a word

after 25 each week or 3

weeks for $38.55 + tax

(based on 25 words or less).

Reach 75,000 readers with

your classified. This

includes For Sale, For Rent,

Card of Thanks, Coming

Events, etc.

Payment Necessary

All Classified Ads are on a

Cash Only basis and must

be prepaid before running.

There will be a $5.00

service charge on every

classified not paid for prior

to publication.

We accept cash, cheque,

e-transfer, VISA or MC.

It is the responsibility of

the advertiser to check ad

the 1st week and call us if in

error. The Review is

responsible for their

mistakes the 1st week only.

Deadline For Ads

All classified ads must be

received by 5 pm on

Mondays preceding

publication. For Too Late To

Classifieds ad must be

received by 10 am Tuesday.

Ph. 578-4111. Mail to Box

70, Coronation, AB T0C

1C0.

REAL ESTATE

FARMLAND AND

Pasture Land by

Saskatchewan River.

160 acres. Best

hunting in

Saskatchewan.

Excellent fishing.

Thick pine & poplar

bluffs, by water coulee.

Old yard site

with power and

water. Revenue

Potential. East of

Prince Albert, SK.

$248,000. Call Doug

306-716-2671.

3 QUARTERS OF

Cropland South of

Weyburn, SK.

Distressed sale.

Priced below market

at 1.27 x assessment,

with a 4%

return with lease.

$594,800.00. Call

Doug at 306-716-

2671.

BUSINESS FOR SALE

THE AFFORDABLE

Business Partner:

Affordable & confidential

rural Alberta

family business selling

coaching, marketing

and business

selling solutions.

How can we help

you?

P:403.708.0903.

www.theaffordablebusinesspartner.com

FOR RENT

DESPERATE.

Retired couple desperately

seeking 2

bedroom rental property

in Camrose or

Stettler area. Cat

friendly. Ph. 403-

323-9500.

MISC.

INTEGRITY POST

FRAME Buildings

since 2008 Built

With Concrete

Posts. Barns, Shops,

Riding Arenas,

Machine Sheds and

more, sales@integritybuilt.com

1-866-

974-7678 www.

integritybuilt.com.

BLANKET THE

PROVINCE with a

classified ad. Only

$269 (based on 25

words or less).

Reach almost 90

weekly newspapers.

Call NOW for details.

1-800-282-6903 Ext

225; www.awna.

com.

FARM MACHINERY

WIRELESS

Driveway alarms,

one mile range,

motion sensor triggers

receiver in

house alerting you of

intruders. Pick up in

Hanna or Calgary or

we ship free. $249.

+ tax. Farm &

Acreage Security.

Text or call 403-616-

6610.

Classifieds work!

Call 403-578-4111

FEED AND SEED

WE BUY DAMAGED

Grain - Heated,

Mixed, Tough, Light,

Bugs, Spring

Thrashed....Barley,

Wheat, Oats, Peas,

Flax, Canola. "On

Farm Pickup".

Westcan Feed &

Grain 1-877-250-

5252.

ALBERTA FEED

Grain: Buying Oats,

Barley, Wheat,

Canola, Peas,

Screenings, Mixed

Grains. Dry, Wet,

Heated, or Spring

Thresh. Prompt

Payment. In House

Trucks, In House

Excreta Cleaning.

Vac Rental. 1-888-

483-8789.

LIVESTOCK

110 FANCY Char

cross and Red

Angus cross Heifers

bred to Red Angus

bulls, to be sold at

Stettler Auction Mart

on Fri. Nov. 25,

2022. Start calving

March 1. For more

info phone Deral

Lang 403-742-7870.

GET YOUR

MESSAGE see

across Alberta. The

Blanket Classifieds

or Value Ads reach

over 600,000 Alberta

readers weekly. Two

options starting at

$269 or $995 to get

your message out!

Business changes,

hiring, items for sale,

cancellations, tenders,

etc. People are

increasingly staying

home and rely on

their local newspapers

for information.

KEEP people in the

loop with our 90

Weekly Community

Newspapers. Call

this newspaper now

403-578-4111

or email classifieds@awna.com

for

details. 1-800-282-

6903, 780-434-8746

X225. www.awna.

com.

WANTED

WANTED

SASQUATCH Skull -

Also purchasing Silver

& Gold coins, bars,

jewelry, scrap, nuggets,

sterling, 999+

Bullion, maple leafs,

bulk silver, pre-1969

coins. Coin collector

Buying Entire Coin

Collections, old $ &

Royal Canadian Mint

coins. Todd 250-864-

3521.

HELP WANTED

REQUIRED, a caretaker

for the

Coronation

Community Centre.

Applicants please call

403-578-8857.

I am an

able-bodied

man looking

for a lady

companion

to live with me

and help with

odds and ends.

Call Vern Dodd

1-403-565-3863

CAREER TRAINING

LOOKING FOR A

Rewarding Career?

Massage Therapy

offers many options.

Study full time or in a

distance format.

Contact the Alberta

Institute of Massage

for details at www.

albertainstituteofmassage.com;

phone

403.346.1018.

HEALTH

HIP/KNEE

Replacement. Other

medical conditions

causing Trouble

Walking or Dressing?

The Disability Tax

Credit allows for

$3,000 yearly tax

credit and $30,000

lump sum refund.

Take advantage of this

offer. Apply NOW;

quickest refund

Nationwide: Expert

help. 1-844-453-5372.

TRAVEL

WARM UP and

Head West This

Winter: Osoyoos

BC is a haven for

snowbirds looking

to experience mild

winter weather

and an abundance

of activities! Hotel

suites start at just

$425/week with

more savings for

monthly stays.

Learn more at

www.osoyoossnowbirds.com,

or

request digital

information on

wintering in

Osoyoos by emailing:

visit@destinationosoyoos.

com or by calling

the Osoyoos

Visitor Centre at

1-888-OSOYOOS

(1-888-676-9667).

Three small

offices

available

FOR RENT

on Stettler

main street.

Call Rod

403-741-9355

Lawyer

E. Roger Spady

Professional Corporation

Barrister & Solicitor

Coronation Mall Coronation, AB

403-578-3131

Office Hours: Tuesday to Friday 9 a.m. to 5 p.m.

Dentist

Dr.McIver

SERVICES

GET BACK ON

TRACK! Bad credit?

Bills? Unemployed?

Need Money? We

Lend! If you own

your own home - you

qualify. Pioneer

Acceptance Corp.

Member BBB. 1-877-

987-1420. www.pioneerwest.com.

In Coronation (Located in Coronation Mall)

MONDAYS 9 a.m. - 5 p.m.

Call Anytime for Appointments

403-578-3811

CRIMINAL RECORD?

Why suffer employment/licensing

loss?

Travel/business

opportunities? Be

embarrassed? Think:

Criminal Pardon. US

entry waiver. Record

purge. File destruction.

Free consultation.

1-800-347-2540.

www.accesslegalmjf.

com.

OYEN GREENHOUSES LTD. is seeking a

SEED TECHNICIAN

to start December 1, 2022.

This position involves running various seeding machines

and keeping track of seed inventory.

Accuracy and dependability are a must.

Training will be provided for the right individual.

Salary $22 - $24/hour

This position runs December 1 through to June 1.

Please Employment send your resume Opportunity

to:

Oyen Greenhouses Ltd. PO Box 358 OYEN, AB T0J 2J0

Email: accounting@oyengreenhouses.ca

Drop off at: 201-1 Ave West Oyen, AB T0J 2J0

Employment Opportunity

Professional Directory

Optometrist

CORONATION VISION CLINIC

Dr. Ward ZoBell

Tues & Thurs 10 - 4

403-578-3221

HANNA VISION CENTRE

Eye Health, Glasses, Contacts

Dr. Dennis A. Heimdahl Dr. Ward ZoBell

Tues, Wed 9-4:30; Thurs, Fri 9-4

403-854-3003

Dentist

Our families serving yours!

Phone: 825-300-0049

check us out

online

www.ECAreview.com

Email: drballdental@gmail.com

Location: 4913 50 St, Killam AB, T0B 2L0

Mail: Box 389, Killam AB, T0B 2L0

Business

Directory

Cell 403.742.9442

Cell 403.742.9442

Cell Office Office 403.742.6747

| Ldelwo@remax.net

Box 1421, 4913-51 Street, Stettler, AB T0C 2L0

Office 403.742.6747 | Ldelwo@remax.net

Box 1421, 4913-51 Street, Stettler, AB T0C 2L0

Cell 403.742.9442 Ldelwo@remax.net

www.stettlerrealty.com

Office 403.742.6747 Box1421, | Ldelwo@remax.net 4913-51 St, Stettler, AB

Box 1421, 4913-51 Street, Stettler, www.stettlerrealty.com

AB T0C 2L01st CHOICE REALTY

Each office is independently owned and operated

www.stettlerrealty.com

1st CHOICE REALTY

Each office is independently owned and operated

www.stettlerrealty.com

1st CHOICE REALTY

Each office is independently owned and operated

Bill's Waterwell

Services Ltd.

Well Drilling

Pumps & Repairs

403-747-2120

drillerbill@xplornet.com

UNLIMITED

HIGH‐SPEED INTERNET

Now Serving:

Coronation, Veteran, Talbot, Brownfield,

Alliance, Fleet, Castor, Halkirk, Botha, &

Stettler areas. More to come!

Plans starting at $50/mo.

Packages from 7 to 50Mbps

403-578-4214

Toll Free 866.57.VITAL

53' Ground Load Services

Benson Van Hienen

403-741-5735

bvhtrucking@gmail.com

L. Strom

Custom Corral Cleaning

and Manure Spreading

• available for stock piling

• equipped for big/small jobs: low sheds, confined areas

General Contracting

• Track skid steer with high flow; available for all types

of services including mulching, landscaping etc.

403 574 2222 / 741 9974

CAN'T SEE OUT?

Option #1

Replace

the Foggy

Unit

Option #2

Replace

the

window

Financing Available

Anchor Glass

403-854-4414 • 1-800-463-3148

www.anchorglass.ab.ca

tim@anchorglass.ab.ca

Big Country Construction

& Building Supplies

2018 Ltd.

• Custom New Homes • All Farm Buildings

• Renovations • Windows and Doors

• Overhead Doors & Service • Retail Sales

Quality Customer Care

403-854-3585

Scott Lourance

403-916-4600 Cell

403-742-2551 Home

• Specializing in Repairs to

ALL Makes & Models of RVs & Trailers

• Full selection of RV Parts & Accessories

• RV Storage

53' Cattle Liner

53' Ground Load

Hay Trailer

403 742 5667 generationsrv@gmail.com
---
ECA REVIEW HANNA/CORONATION/STETTLER, AB November 17'22 11

AGRICULTURE

OBITUARIES

Always the adventurous sort

It is with great sadness that we say

goodbye to Richard Oliver Spence who

passed away on Nov. 3, 2022 in Brooks,

Alta. at the age of 71.

Richard was

born in Camrose,

Alta. on Nov. 27,

1950. The family

spent many years

in Sunnynook,

Alta. where most

of Richards's lifelong

friendships

began.

Always the

Spence

adventurous sort, Richard decided to

work in Libya when their oilfield was

booming. On his time off in the summers

Richard would saddle his horse

and ride from Brooks to the Circle S

Ranch to stay with Jim Solberg.

His stories from this time and his

travels about would always leave listeners

laughing. One of Richard's

favourite places to travel was Costa

Rica where his parents Tom and Win

Spence resided for many years.

In 1997, Richard became reacquainted

with Joan Horner and he

soon settled into ranching. It was easy

to see how happy this made Richard

and how he enjoyed becoming a grandfather

three times over.

He will always be remembered for

his easy smile and gentle demeanour.

Richard is predeceased by his

mother Win Spence and his niece

Leslie McLennan.

He is survived by his wife Joan

Horner; daughter Jamie Zabolotney

and her husband Ryan Zabolotney;

grandchildren Taryn, Ava and Davin

Zabolotney; father Thomas Spence; sisters

Cherry McLennan and Joy

Stevens; brothers, Terry Spence and

Gordon Spence along with many

nieces and nephews.

A Celebration of Life will be held at

Pollockville Hall on Nov. 26, 2022 at 2

p.m. Cremation is entrusted to and

conducted at Smith Funeral Home Ltd.

and Crematorium, Brooks.Funeral

arrangements entrusted to: Smith

Funeral Home Ltd. and Crematorium,

Borooks, Alta.

Condolences may be forwarded

through www.sfh.ca. Telephone 403-

362-4636 or toll free 866-362-4652.

"Our Families Serving Your Family

Since 1951"

Cattle breeder, beef exporter passes

Bob Prestage, 85, Camrose, Alta.,

passed away on April 22, 2022. The

long-time purebred Angus breeder had

been battling various ailments. We

offer our condolences to friends and

family.

Bob's love of cattle began with a good

showing of his high school 4-H beef

project at the Royal Winter Fair Queen

Guineas competition. In 1953, his

Angus calf placed as Reserve

Champion.

Born in London, Ont., he enrolled in

the Ontario Agricultural College in

Guelph, Ont. in 1955.

In 1963, Bob and wife Margaret

moved their family to a half-section

just southeast of Camrose. Bob had

accepted a managerial job with Byers

Flour Mill.

In 1974, Bob took on the general

manager position at Western Breeders

Service Ltd., Balzac, Alta. After a few

years, and a few more as the Canadian

Funeral services held in Castor

On Nov. 1, 2022 Elaine DeVloo passed

away in Our Lady of the Rosary

Hospital, Castor at the age of 72 years.

Elaine leaves to mourn her

passing her loving husband

Garry DeVloo; son Todd

DeVloo (Tanya Kenyon) and

children Chelsey and Justin

DeVloo, Brooke and Kyron

Kenyon; daughter Bonnie

(Luke) Elines and children

Andrew, Emily, Brandon, and

Thomas Elines.

Also siblings: Allan

(Theresa) McTavish, Bill DeVloo

(Jackie) McTavish, Jim (Rita)

McTavish and Ken McTavish

as well as numerous nieces, nephews,

other relatives, and many dear friends.

STETTLER AG SOCIETY

UFA's Rural Communities Foundation

grants funds to Stettler Ag Society

Stu Salkeld

Local Journalism Initiative reporter

ECA Review

A charitable organization associated

with the United Farmers of Alberta

(UFA) has granted funds to the Stettler

Ag Society and their large rodeo

grounds project.

The Rural Communities Foundation

(RCF) announced its annual $100,000

rural sustainability grant winners the

last week of October and the Stettler

Ag Society was one of four Alberta

organizations that will receive a share

of the funds.

"The Stettler District Agricultural

Society will receive $27,900 to renovate

washrooms and shower stalls," stated

a press release form RCF.

"In 2021, the agricultural society

undertook a legacy project to completely

rebuild, repaint and re-roof

their aging facilities. The facility is

used for programs throughout the year

including cattle shows, rodeos and

markets.

"With upgraded outdoor washrooms,

the facility will continue to be

home for community and regional

events for many years."

She was predeceased by her parents

Doris and Jack McTavish; siblings

Bonnie Lynn, Roger Joseph and Denise

Marie.

Funeral services in

memory of Elaine were held

on Wed. Nov. 9, 2022 at 1 p.m.

in the Castor Community

Hall, Castor, Alta. with

retired Pastor Marty Hays

officiating.

The interment followed in

the Castor Cemetery.

Should friends desire

memorial donations may be

made and sent directly to

the Our Lady of the Rosary

Hospital Auxiliary, Mail Bag 500,

Castor, Alta. T0C 0X0.

"There were many strong applicants

this year and the judges had a difficult

time narrowing the choices to just four

winners," said RCF board chair

Harvey Hagman in the press release.

"Through these applications we saw

the strength of rural communities and

the commitment by volunteers to keep

rural communities sustainable."

Stettler Ag Society Administrator

Marj Savage stated the organization

greatly appreciated the boost. "We're

thrilled to death," said Savage by

phone Nov. 9.

Savage noted the Stettler Ag

Society's been in existence since 1907

and keeping on top of every bit of maintenance

isn't easy.

She noted the ag society applied for

the RCF grant in the past and missed

out, but the group was extremely

appreciative of the RCF help. She added

the legacy project is improving and

updating the ag society facility which

draws many people to Stettler every

year.

Hagman explained RCF was set up

several years ago with archived funds

from which interest is returned to the

community in the form of grants;

$100,000 has been granted each year for

Family and friends may wish to

leave a condolence to Elaine's family

by visiting www.parkviewfuneralchapels.com

Garry, Todd, Bonnie and families

thank friends and family so much for

the meals, baking, flowers and memorial

contributions to the Hospital

Auxiliary.

In lieu of thank you cards, the family

will be making a contribution to the

Our Lady of the Rosary Hospital

Auxiliary.

Parkview Funeral Chapels of Castor,

Alta. were entrusted with the care and

funeral arrangements. For further

information please contact 403-882-3141

or 403-578-3777.

four years with 2023 being the fifth

year.

Hagman also confirmed UFA is

looking at investing more funds into

the RCF in order to increase community

support.

He said every year applications open

up in June and run for three months.

Afterwards, a committee sifts through

the applications and selects winners.

Three other organizations will also

benefit from the RCF grant in 2022.

The Grimshaw Curling Club will

receive $20,000 towards the $300,000

needed to replace its aging ice plant.

The Dunmore Equestrian Society will

receive $23,120 to build a warm up

arena next to their existing outdoor

riding arena. The Foremost and

District Agricultural Society will

receive $28,980 for overhead radiant

heaters, water cisterns and a septic

tank in their new $1.9 million arena.

According to RCF the mandate of the

foundation is to improve the sustainability

of farmers and ranchers in

Alberta by improving access to

funding for educational, recreational

and cultural facilities and programs in

Alberta.

Angus Association fieldman, he began

Wicklow Angus at Camrose.

He later became a beef cattle

exporter under

Canada Livestock

Services Ltd, with

Syd Palmer,

Marsden, Sask.,

and Perry Wilkes,

Cochrane, Alta.

The group shipped

livestock to places

like Japan, China,

Russia, Argentina

and Chile.

Bob involved

himself in the community

as a sports umpire and referee.

The citizens often recognized his

sports, community and agricultural

efforts. He shared his accolades and

expertise with family, friends and

mentors, said his daughter Colleen.

Bob's wife of 63 years, Margaret,

survives him, as do their children:

Colleen (the late Jim) Johnstone,

Wayne (Donna), and Kelly (Dale)

McIsaac, along with seven grandchildren

and two great grandchildren.

by Mark Kihn, Calgary

Notice of an

ANNUAL GENERAL MEETING

of the members of Bashaw Seed

Cleaning Co-op Association Ltd.

Notice is hereby given that an Annual

Meeting of the members of Bashaw

Seed Cleaning Co-op will be held at the

Seed Cleaning Plant in Bashaw, AB on

Thursday, November 24, 2022

at 1:00 pm for the following process:

1. To receive the financial statements for

the fiscal year end.

2. To elect directors of the association.

3. To appoint auditors of the association.

4. To transact such other business, if

any, as may properly come before the

meeting.

*Please assemble early - call to order 1:00 p.m. sharp

For more

info. call:

Prestage

Notice of Annual

General Meeting

Clearview

Cow Calf Co-op

Monday, November 21

7 pm at Linda Hall

Andrea Webster 403-876-2064

or Ross Martin 403-742-2444
---
12 N ovember 17'22 HANNA/CORONATION/STETTLER, AB. ECA REVIEW