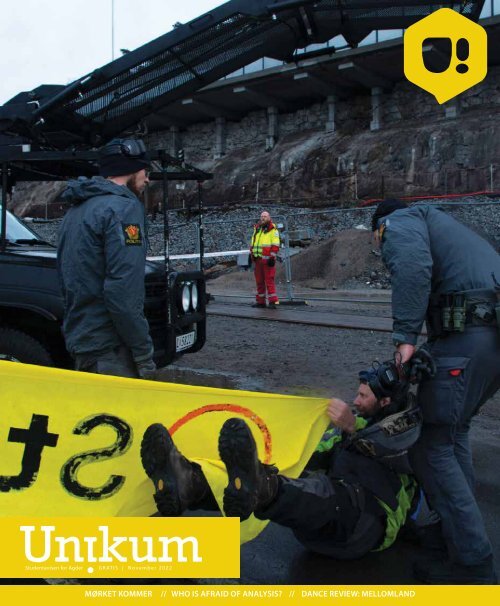 You also want an ePaper? Increase the reach of your titles
YUMPU automatically turns print PDFs into web optimized ePapers that Google loves.
Studentavisen for Agder GRATIS | November 2022

MØRKET KOMMER // WHO IS AFRAID OF ANALYSIS? // DANCE REVIEW: MELLOMLAND
---
Hvorfor

gråter jeg

så mye?

Er det viktig

å ha sex i

studietiden?

Hvordan

håndterer jeg

sjalusi?

Hvordan kan

jeg få mer

selvtillit?

Still anonyme spørsmål til leger, rådgivere,

psykologer, helsesykepleier og fysioterapeuter.

UANSETT HVA DU LURER PÅ...

Spør oss eller se hva andre spør om på sia.no/studenterspor

STUDENTENES

TRENINGSSENTER

50%

STUDENT

RABATT

*Les mer om gjesttrening på spicheren.no
---
LEDER

UNIKUM ER EN LÆRINGSPLATTFORM

En arena der studenter kan

utfordre og utfolde seg,

samt erfare hvordan det er

å publisere egne tekster.

Som lesere kanskje har merket så

har vi et bredt spann av sjangere.

Dette fordi jeg ønsker at avisen

skal preges av menneskene

som er i Unikum. Jeg ønsker

at skribenter skal jobbe med

skrivingen sin og lære underveis.

Igjennom studieløpet kommer vi

til å skrive utallige oppgaver og

fagtekster. Noen av oss vil kanskje

også fortsette med det videre i en

PhD. De fleste tekstene, om ikke

alle, vil aldri se dagens lys. Det er

utrolig dumt. Publiseringserfaring

er utrolig nyttig. Man lærer

mye av å publisere egne tekster.

Da jeg først begynte som ansvarlig

redaktør i Unikum hadde jeg

aldri publisert noe. Ikke en

kronikk eller et leserinnlegg

en gang. Så vidt postet egne

meninger på mine sosiale

plattformer. Jeg var stresset og

redd. Plutselig var det forventet

at jeg skulle skrive leder og

delta med redaksjonelt innhold.

Etter ett og et halvt år og 14

utgaver med Unikum i ryggen

har jeg lært en del. Jeg kan se

tilbake på egne artikler jeg har

publisert og ikke huske at det

var jeg som skrev de. Jeg har

blitt så mye tryggere. Det ser

jeg på som en kjemperessurs, en

ressurs som jeg kan ta med meg

inn i studiene og arbeidslivet.

Studentavisen er kanskje ikke

et anerkjent tidsskrift, men

det er faktisk skummelt å

publisere noe uansett, om man

aldri har gjort det før. Da er

dette et greit sted å begynne.

Vi i Unikum har startet opp en

fagspalte der alle studenter

kan sende inn bidrag.

Mer info på side 20.

INNHOLD

4 Den ulovlige ultimate skattejakten

7 Poem: [reading / un-reading]

8 Unikum prøver: 3 cafés/bakeries in Kristiansand

10 Creepy celebrations in Romania

13 Novelle: Exanimationes incidamus

14 Student's Q&A

16 Who is afraid of analysis?

21 Unikum's Talent Show (photo collage)

22 Poduniverset

25 Oppskrift: Søtpotet- og gulrotsuppe

28 Unikum: We are recruiting

26 Encounter at Jegersberg

32 Mørket kommer

34 Dance Review: Mellomland

36 Dikt: bølge mot kyst

37 Extinction Rebellion Sør:

Vi føler demokrativet er blitt svekket

Anja Kathrine Laland Gyberg

redaktor@unikumnett.no

922 944 57

UTGITT AV: Studentavisen Unikum, ved Universitetet i Agder

POSTADRESSE: Serviceboks 422, 4604 Kristiansand S

BESØKSADRESSE: Universitetsveien 24, 4630 Kristiansand S

ORG.NR.: 984 544 677

TELEFON: 911 45 962

EPOST: redaktor@unikumnett.no

NETTSIDE: unikumnett.no

TWITTER: twitter.com/unikumnett

FACEBOOK: facebook.com/studentavisenunikum

INSTAGRAM: instagram.com/unikumnett

Publisert November 2022

Utgave nummer 09

Unikum er studentavisen ved Universitetet i Agder og andre

institusjoner tilknyttet Studentsamskipnaden i Agder. Avisen er

politisk og religiøst uavhengig, og blir drevet på frivillig basis.

Unikum følger Vær Varsom-plakaten og redaktørplakaten. Føler

du deg urettferdig behandlet eller på noen måte uriktig fremstilt

av Unikum, ber vi deg kontakte redaksjonen.

Redaksjon:

ANSVARLIG REDAKTØR :

Anja Kathrine Laland Gyberg

REDAKTØRER:

Nettredaktør

Nyhetsredaktør

Kulturredaktør

Fotoredaktør

Debattansvarlig

GRAFISK ANSVARLIG:

Mariana Rodrigues Sena

FORSIDE:

Nora Leirvik

Anjali Mariampillai

Evgeniia Kadyrova

Johan Pedersen Betsi

JOURNALISTER/SKRIBENTER:

Anastasia David, Anjali Mariampillai, Anja Kathrine

Laland Gyberg, Embla Eskilt Hagalisletto, Ida Marie

Bruun, Ingrid Nordvik Krossbakken, José Antonio

Hererra, Johan Pedersen Betsi, Mattias Johannessen,

Malin Heggebø Rolfsen, Nora Leirvik, Paul-Daniel

Golban, Rahul Mitra, Vilde Hagen Svanberg

FOTOGRAFER:

Anastasia David, Anjali Mariampillai, Extinction Rebellion,

Ingrid Nordvik Krossbakken, Kilden teater og konserthus, Nora

Leirvik, Peder Kornelius Hatløy Øvereng Åshild Magnesen

DESKEN:

Anastasia David, Anjali Mariampillai, Anja Kathrine Laland

Gyberg, Alexander Horpestad, Halvor Nyhus Hagen, Johan

Pedersen Betsi, Mattias Johannessen, Mariana Rodrigues

Sena, Tobias Klausen, Vilde Hagen Svanberg, Åshild Magnesen

KORREKTUR:

Anjali Mariampillai, Anja Kathrine Laland Gyberg, Malin

Heggebø Rolfsen, Rahul Mitra, Vilde Hagen Svanberg

DAGLIG LEDER:

Halvor Nyhus Hagen

TRYKKING:

Bjorvand & Co

OPPLAG:

400

NOVEMBER 2022 UNIKUM NR 9 3
---
AK TUELT

Den ulovlige

ultimate skattejakten

Malin Heggebø Rolfsen

Skribent

Foto: Peder Kornelius Hatløy Øvereng

4
---
Det burde være ulovlig å kaste spiselig mat, sier

Morten Haldrup Jensen.

Dumpsterdiving har hatt sin storhetstid,

hvor plukking av mat fra søppelet går i

perioder. Flere startet med det som en

kamp mot matsvinn, andre for å forsørge

seg. Dumpsterdiving høres ut som en

vinn-vinn-situasjon for dagligvareeiere og

de som plukker brukbar søppel, men det er

ulovlig.

Hvorfor tror du dumpsterdiving er ulovlig?

Hva er dumpsterdiving?

Dumpsterdiving er et fenomen hvor

man dykker i søppelkasser for å finne

brukbar mat. Ofte til matbutikker som

kaster mat som har gått ut på dato,

men som fortsatt er spiselig

Dumpsterdiver-veteran Morten Haldrup Jensen

plukker søppel ukentlig på vinterhalvåret, men på

sommeren når varmen ødelegger maten, unngår han det.

Jensen har en klar formening om hvorfor han tror å plukke

brukbar mat fra søppelet er ulovlig.

– Jeg tror det er ulovlig fordi det sidestilles med vanlig søppel som

er eiers eiendom inntil det blir avhentet av renovasjonsselskapet,

sier han.

Han forteller at vanlig søppel generelt er ulovlig å ta da det ofte

inneholder personlig informasjon i form av bankopplysninger,

eller sykehistorikk osv.

I følge straffeloven i Norges lover står det skrevet:

§ 321.Tyveri

For tyveri straffes den som tar en gjenstand som tilhører en annen,

med forsett om å skaffe seg eller andre en uberettiget vinning ved å

selge, forbruke eller på annen måte tilegne seg den.

Straffen for tyveri er bot eller fengsel inntil 2 år.

Tilføyd ved lov 19 juni 2009 nr. 74

Selvom søppelet da er kastet i containere er det likevel tilhørende

dagligvarekjedene, og er fortsatt deres eiendom. Dumpsterdiving

regnes trolig som et mindre tyveri, hvor straffen ikke er spesielt

alvorlig. I følge Adger politi er strafferammen for tyveri alt fra bot til

fengsel, avhengig av omstendighetene og beløpet på gjenstandene

som stjeles. Dette håndheves ikke strengere enn loven mot å nyte

alkohol på offentlig sted - så lenge man oppførere seg, blander ikke

politiet seg, sier Eyvind Danielsen fra framtiden i våre hender.

Første gang han dumpsterdivet var i studietiden, trolig i 1999. På

denne tiden var det ikke i tankene å finne mat til seg selv i søppelet.

En dag kom de over en diger container utenfor en Meny, stappfull

av frossenpizza! Dette var midtvinters i Telemark og det var like

kaldt som i fryseren. Han husker de da serverte nystekt pizza på

studentkroa til sultne studenter.

Danielsen er usikker på hvordan jussen stiller seg i forhold til dette.

Han mener det er en del som sier det er ulovlig, men at når man

beveger seg inn i materien blir det ofte vrient å finne hjemmel for

å dømme folk for slike handlinger.

Jeg ville uansett ikke vært redd for å bli "tatt", sier Danielsen.

Han presiserer at det er viktig at man oppfører seg. Lager man rot,

ødelegger man for både butikken og andre dumpstere!

Hva synes du burde være et alternativ til den vedtatte loven?

Eyvind Danielsen viser stolt frem fangsten sin. Foto: Privat

Morten Haldrup Jensen synes ikke lovverket rundt søppel er feil

eller dårlig, men synes det generelt burde vært ulovlig å kaste

spiselig mat.

NOVEMBER 2022 UNIKUM NR 9 5
---
Konsekvenser

Nei, konsekvensene har bare vært mette mager og tjukk

lommebok. Og litt moro og spenning attåt! Mye gøyere

enn å gå i butikken, og det kjennes veldig meningsfylt,

forteller Danielsen engasjert

Larsen har derimot opplevd flere møter med politi,

Securitas og butikkpersonale.

Jeg har blitt bedt om å forlate området, men jeg har aldri

fått bot eller andre konsekvenser pga. dumpsterdiving,

sier han

Han avslutter med at gode kokker, som han selv er,

ofte kan utnytte matvarer selv etter utgått dato, da

mange matvarer har mange forskjellige former for

tilberedning.

Her ser vi Morten Haldrup Jensen som har fylt en boks med brukbar mat.

Foto: Peder Kornelius Hatløy Øvereng

Les mer på Framtiden i våre hender sin nettside: https://

bidra.framtiden.no/matkastelov

Butikkene burde ha lov til å selge eller gi bort

matvarer som har gått ut på dato, slik at bevisste

forbrukere kan utnytte varen selv etter utgått

dato, sier Jensen.

Framtiden i våre hender har lenge jobbet med en

matkastelov! Jeg vil oppmuntre alle til å skrive

under, forteller Danielsen fra organisasjonen.

Han sier at det da blir forbudt å kaste spiselig mat,

en slik lov har blitt vedtatt i Frankrike. Regjeringen

har lovet å utrede loven, men behøver et opplagt

press fra folket.

6

Foto: Peder Kornelius Hatløy Øvereng
---
POEM

Illustration: AdobeStock // Andrey Kuzmin

[reading / un-reading]

I read the poems written in the past years

citesc poemele scrise în anii trecuți

I reread them with a distorted attention

le recitesc cu o atenție distorsionată

I wish I had other words at hand

aș fi vrut alte cuvinte pe care să le am la îndemână

but, in truth, words are superfluous

dar, ce-i drept, cuvintele sunt de prisos

no matter how much poetry would like to prove otherwise

oricât ar vrea să demonstreze poezia contrariul

no matter how hard you try to prove otherwise

oricât ai încerca să demonstrezi contrariul

sometimes life happens at the speed of light

uneori viața se petrece cu viteza luminii

hard to realize

greu de conștientizat

if life is on the side of light

dacă viața e de partea luminii

NOVEMBER 2022 UNIKUM NR 9 7
---
UNIKUM PRØVER

3 cafés/bakeries in Kristiansand

Anjali Mariampillai

Web Editor

Photos: Anjali Mariampillai / Illustration: freepik // designsells

What's more perfect in this cold weather and fall season than to check out some

new cafés in town? These places offer a variety of atmospheres and treats, so

let's dive in!

Dreieskiva kafe og fritidshus

Dreieskiva café is located at Dronningens gate which is pretty

central, and is a café run by the church. This café is an open

space with lots of reading room for students. It has a very

warm atmosphere, and it's definitely the place to be on a

cold autumn day. The lovely thing about this place is that it's

voluntarily driven. The goal with this café is that it's supposed

to be a place where anyone can hang out, and where they can

create a community. The prices are low, so it's perfect for

students. The café is different from other cafés, in the sense

that they don't serve super fancy coffee drinks, which brings

a certain kind of charm. But if you're looking for a cheap and

good cup of coffee, and a good place to read – then this is the

place. The only thing I would suggest for this place is that

they could have music playing in the background in the café.

I experienced the vibe very much like a library, very quiet,

which failed a little to give the full café atmosphere feeling.

But other than that, there are no complaints about this place.

The girls who greeted me at the register when I bought my

cup of tea were really kind and welcoming. And this whole

space brings a lovely warmth to the cold days to come. It is

very nice to have a café that has the community of the city as

the purpose for running it.

8
---
worth checking out!

Ai Duo Musique Café

I went to this hidden little gem on a rainy Saturday afternoon, and

would you believe me if I said that I spent three hours talking to

the owner of this café? Owner Jenny Chang has run this cozy café

for about a month now, and it's going wonderfully. The café itself

is a small space, but it creates a very nice atmosphere. Not only is

this a café at opening hours, but after closing, Jenny teaches piano

lessons right there in the café, where she has a beautiful grand

piano and another piano by the wall. A good thing about this café

is that the owner makes all the drinks and bakes everything in the

shop, which many of the other cafés in Kristiansand do not do. I had

a cup of lemon tea and a Hong Kong egg tart which were absolutely

delicious. The prices are regular café prices, and students can sit

there and read or study. The only thing that is lacking, if I must

be honest, is power outlets for plugging in computers if you're

studying there. Other than that, this is a very beautiful and cozy

place to be at any time of the week. And if you're lucky, the owner

might just play a piece for you – being the amazing pianist that she

is. The café is located on Agder allé – so pop in for a visit, you won't

be sorry.

Nord Café – Bagels & Brew

The concept of bagels is still fresh here in Norway, so having an own place for

it here in Kristiansand is so great! I might be biased because I absolutely love

bagels, but this place was truly a lovely spot. The café is lit up with a bunch of

fairy lights, and it created a welcoming atmosphere. Nord Café serves bagels

and salads, a variety of warm drinks, and even alcohol. It is also connected

directly to the souvenir shop right next to it. The girl in the register was so

lovely and kind, it felt very good being there. I had the New York bagel and a

cup of hot chocolate, and I enjoyed it so much. The positve side of this place

is that there is a student discount of 15%, which is great! This place is great if

you want to treat yourself to a good lunch, or just to go and study for a while.

I had a lovely time there!

NOVEMBER 2022 UNIKUM NR 9 9
---
CULTURE

Anastasia David

Writer

in Romania

Photos: Anastasia David

In Romania, Halloween is not commonly celebrated, but there are a lot of other creepy celebrations. There are

many strange traditions and customs that are still preserved today. Most of the traditions are related to death,

and in each region of Romania there are various customs, so I decided to make a list of the scariest ones.

1. Dracula's Castle: Legends about ghosts and vampires are

stronger than history, and hundreds of thousands of foreigners

come to Bran every year to look for Dracula, who is known for his

immeasurable cruelty. The Irish author Bram Stoker was inspired

in writing his bestseller from the history of the Brașov area, along

myths and legends about vampires and the ruler Vlad Tepes.

The ruler was the cruelest ruler, impaling, burning, beheading

and killing people. There are many myths and superstitions that

appeared especially after the publication of Bram Stoker's book

about Dracula. The place is so well known that this year on

Halloween, the richest people on the planet and famous actors

chose to celebrate Halloween in a private party at the castle.

2. Coliva is a dessert that is prepared to be served on the day

of someone's funeral. The family of the deceased prepares

this dessert (made of gooseberries or wheat, water, sugar, salt,

walnuts and raisins) to serve at the funeral to the people who

came, in memory of the deceased person. The fun fact is that this

dessert is the favorite of Romanians, and many prepare it even if

they don't have a funeral.

3. The pig almsgiving: Throughout the year, Romanians raise

their pigs in order to kill them on Christmas Eve. It is a tradition

that still takes place nowadays. Parents even take pictures of their

children sitting on the slaughtered pork. After cutting the pig,

people select the meat to cook. Those who helped to kill the pig

will be served afterwards with food pieces of meat representing

all the parts of the slaughtered animal, fried in fat. People serve

the meal together in the place where the pig was slaughtered (of

course, after cleaning the place). Romanians also eat pork skin

grilled on embers/barbecue.

4. St. Andrew's Day: The day is celebrated on November 30th.

It is said that the wolves become much stronger on this day, and

that they go out to kill people and their cattle. No one works on

this day because it is said that they must stay at home to be safe.

In the past, people smeared the doors, windows, thresholds and

fountains with garlic. Also, cattle were smeared to keep wolves

away. In addition to this, on the same night, the spirits of the

dead who did not reach the world «beyond» would come out.

People also ate garlic to protect themselves from danger. In the

past, people smeared garlic all over their bodies. They smeared

absolutely everything with garlic to keep the undead from

entering their homes. At midnight on St. Andrew's Day, the girls

turn a clay jug upside down, put 3 hot coals on the bottom of the

vessel and say an incantation to win the heart of their beloved

boy. The housewives turn all the mugs and dishes in the house

upside down so that evil spirits do not enter the house.

10
---
5. Day of the Dead: The day is celebrated every year on November

2nd. Fresh water is taken to the graves until sunrise by children

because they are said to have clean souls. People light candles and

clean the graves of the dead. It is said that on this day, the gates of

Heaven are opened, and the souls of the dead come to visit people.

In some areas, the day of the dead is celebrated in the spring, and

the locals send their children to other houses with mugs filled with

water, milk or wine, which they give them to people in memory of

the dead.

6. On Easter, Romanians sacrifice a lamb to commemorate Jesus.

In the east, in Banat, the lamb's bones and other remains are

buried at the root of a healthy apple tree, so that the family will be

healthy all year round. The upper door frame is smeared with the

lamb's blood, so the people in the house will be spared from their

sins. Romanians cook and eat the lamb on Easter. They also boil

and bleach eggs in red. In other parts of the country, after eating

the eggs, people bury the red eggshells at the roots of trees or throw

them into rivers to announce the dead that they celebrate Easter.

of bells and the cracking of whips, along

with texts that are either sung or shouted

(young people also disguise themselves).

In the south of Romania, the star of the

custom is the Goat. Carolers dress in the

most colorful clothes imitating a goat's fur

and dance to the music sung/shouted by

them.

8. Sânzienele or the Midsummer's

Day: The day is celebrated on June 24th,

around the summer solstice. In many

areas of Romania, fires are lit on the hills

and people walk with lit torches. On the

night before the celebration, girls put basil

under their pillow to dream of their future

husbands. Sânzienele are fairies of love

and freshness.

7. New Year's Eve: In the Bucovina in the north, on the last day

of the year, there is a custom of The Bear. The ancestors of the

Romanians had a cult of the bear, which they revered. People dress

up as bears and dance to the music of drums or whistles. In other

cities in the north, young people also disguise themselves as various

characters, not only bears, but also goats, reindeer, deer, the ugly,

the beautiful, devils, doctors and different monsters (see photos).

The most famous custom in Transylvania is the Cracking the whips

(in romanian "Plugușorul"). It is a real show, with shouts, the sound

Romania has many scary traditions, myths,

legends and superstitions, these being just some

of them. Some of them are preserved even today,

especially in rural areas. They are passed down

from generation to generation and preserved

over time.

NOVEMBER 2022 UNIKUM NR 9 11
---
TILBUDSGUIDEN

AKTIVITETER

BRILLER

FYSIOTERAPI

TAXI

Brilleland Sandens senter

Tollbodgata 14

4611 Kristiansand

Kristiansand Osteopati & Fysioterapi

Kjøita 17 – Kjøita Park

4630 Kristiansand

Tlf: 38072430

www.brilleland.no

post@kristiansandosteopati.no

Tlf:404 71 462

kristiansandosteopati.no

AVIS

Fast studentpris på synsprøve, kun 550,-

• 50% på alle livsstilsglass ved kjøp av

komplett brille

• 15% på komplett brille

• 15% på alle solbriller

Start årsabonnement på Linser Alt

Inkludert - få brille/solbrille 1199,-

(12 mnd binding)

Rask hjelp når du trenger det.

Erfarne terapeuter – 5 minutter fra UiA

Velkommen til oss!

KJØRESKOLE

REISE

50 % studentrabatt på Morgenbladet

Bestill her:

www.morgenbladet.no/student

Kontakt oss:

abo@morgenbladet.no

23 36 05 00

www.morgenbladet.no

TILBUDSGUIDEN

–

FOR

STUDENTEN

DATA

Få 15% på Superpakken for bil hos

Wright Trafikkskole

avd. Kristiansand, Vennesla og Arendal!

Bruk kode sor15wri ved kjøp i vår

nettbutikk. Gjelder til 31.12 2022.

Info Kristiansand: Dronningens gate 46,

38 02 56 00, kristiansand@wright.no

30-dagersbillett kan kjøpes for barn,

ungdom, ung voksen, voksen, honnør og

student (student i Kristiansand eller

Grimstad).

Les mer på akt.no

BADELAND

Info Arendal: Munkegata 2, 46 44 93 74,

arendal@wright.no

5% studentrabatt på Mac

Infografikk AS - Apple Premium Reseller

Info Vennesla: Hunsfos Næringspark,

38 15 51 55, vennesla@wright.no

TRENING

Tangen 8

4608 Kristiansand

bad@aquarama.no

Tlf: 38 60 20 20

www.aquarama.no

Velkommen til Aquarama Bad & Spa.

Svømming er en god og variert

treningsform – bli medlem for kun 400,-

/mnd. Vi har mange gode

medlemsfordeler.

Hver onsdag* klokken 12.00-15.00 har

vi student spa. Unn deg selv litt luksus i

studietiden og ta turen innom våtspa.

Kun 100,- (ord. 170,-).

*Gjelder ikke ferier.

Kvadraturen

Henrik Wergelandsgate 16

4612 Kristiansand

Sørlandssenteret

Barstølveien 29

4635 Kristiansand

Sarpsborg

Hundskinnveien 94

1711 Sarpsborg

www.infografikk.no

hei@infografikk.no

Husk gyldig studentbevis!

FORENING

KULTUR

Cinemateket i Kristiansand

Adresse: Kongensgate 6

Filmprogram:

www.krscinematek.no

Helt nye kinofilmer og gamle favoritter

fra hele filmhistorien!

2-3 filmvisninger per uke i

vår/høst-sesongen.

Billett kr. 70,-

Husk gyldig studentbevis.

Tilbudsguiden

Gode tilbud

til studenter

i Agder

TILBUDSGUIDEN

–

FOR

STUDENTEN

12
---
Exanimationes

incidamus

NOVELLE

Embla Eskilt Hagalisletto

Skribent

«Vil du ikke være med å bade?»

«Nei, det gjør fremdeles vondt», sier hun.

«Er du sikker? Vannet er varmt.»

«Ja.»

Nei.

Så går venninnene hennes til vannet, mens hun blir sittende igjen

på en blanding av gress og tørt siv under et furutre. Hun liker

furuer, og vil ikke sitte på stranden, der sanden tåker seg oppover

så vidt man rører ved den. Våt sand som klistrer seg til sandalene

og skraper imellom tærne når man går. Da blir alt rot og hun

klarer ikke å rydde opp i slikt.

'Er det lopper i sanden? Havet slynger bølger inn mot stranden

og gjør den oversvømt om bølgene blir til en tsunami. Hvis sola

slutter å skinne fryser vi i hjel. Med hakkende tenner og blå

hud vil vi bli strøket av frost fra bølgetopper. Så stivner alt til

is og barn skøyter plutselig over oss. Isen spraker, barna styrter

igjennom og dør.'

Nå er det likevel sommer og ingen fare.

'Fare uansett. Om man bare tråkker feil så sklir man i såpetang.'

Eller så tråkker vi ikke i tang, kanskje bare i myk, fin sand.

'Jo, alltid tråkke feil, da på skjell som skjærer opp fot så kjøtt

splittes og blør, blør, blør til haien. Selv om havet er vått, brenner

det alltid. Små drager.'

Hun sitter på gresset, i skyggen av furua og gleder seg over at hun

hverken blir brent av sola eller av drager. Venninnene plasker

rundt i vannet med sprudlende armer og bein. De dukker som

dumme havfruer og smiler med saltvann i øynene til fiskebåter

i horisonten. Fiskere fanger sei, sei, seg. Båten damper som et

lokomotiv; så altfor fort, men kanskje ikke.

De blir aldri trøtte, tenker hun og lener seg mot trestammen.

Barken er myk, og hun tenker 'ja her kunne jeg blitt.'

Nei.

Solen brenner tærne hennes uten sand

imellom og hun trekker de tettere

til seg. Neglene er ikke sprukket.

Glasert er de riktignok og hun synes

det er fint, men kanskje ikke, og mener

at hun selv burde bestemme om de

skal være blanke.

Kvaen fester seg til hårrøttene

og hun rykker til, men kommer

ikke løs. Solen står høyt på himmelen.

Pulsen stiger. Hjertet dunker nesten

ut igjennom ribbeina

hennes fordi hun nøler,

og vil ha neglene glasert

likevel. Strekker beina lengre

ut, men de når ikke strålene.

Hun fryser og hakker tenner

fordi kvaen drar livet

ut av håret hennes og

hun klistres fast. Kongler

detter ned på henne og

hun vrir seg fortvilet

rundt. Et varselskrik

kommer fra en

måke som seiler

over treet

og så mot

havet.

Det går ikke

lang tid før

det røde monsteret

faller ned, ned, ned

på henne fra furugreinene og klistrer seg

til treet og kvaen. Brennende tråder skjærer seg ned i huden

på skulderbladene hennes og etterlater seg striper av

exanimationes incidamus. Hun kan ikke lage vinger

av skulderbladene når de blir brent opp. Om hun bare

hadde sett de forbipasserende barna som pekte mot den

store brennmaneten i furukrona.

NOVEMBER 2022 UNIKUM NR 9 13
---
Anja Kathrine Laland Gyberg

Ansvarlig redaktør

Does UiA have somewhere international students can go and

receive help, information and support with health-related

issues and services? How to get a GP, help with possible

language barriers etc. There have been instances where

students have been very confused about where they can go

for these kinds of questions.

International degree seeking students or students staying for

more than six months, will be assigned a General Practitioner

(Fastlege) once they have reported a move to Norway. Students

staying for only one semester, will not have access to a General

Practitioner and will need to seek help at the Accident and

Emergency room at the hospital, after making an initial phone

consultation. The same applies to International Degree seeking

students if they need to see a doctor before having been assigned

a Fastlege. Details can be found here https://www.uia.no/en/

studies/exchange-students/health-services

It is also possible to consult Dr. Pedro Sait who is a private

General Practitioner at https://saits.no/

Aase Galteland, head of

International Education Office

We asked students to send us questions about anything they

were wondering about. Then we sent their questions to the

different advisors at UiA to get them answered. Here we present

the Q&A´s.

If you have any more questions please contact us thorugh our

email redaktor@unikum.no or slide into our DM´s.

We receive a variety of different questions and issues to assist

in every week.

International students contact us regarding topics that are

difficult to know about for those who do not speak English.

We encourage students with such inquiries to contact us, we

make sure they receive the information they need to solve

their issue when possible.

The international office advisors can be contacted by email,

but work mobile numbers are also available on the website.

Global lounge is also open 9-15 on weekdays. The interns assist

students or put them in contact with the advisors if needed.

The topic of healthcare has been receiving more importance

recently. We are in contact with the local municipalities and SIA

health to work on improving the availability of mental health

support.

Seif Zakaria, Higher Executiver

International Education Office

14
---
Er det muligheter for å ta et masterløp

på deltid mens man jobber i et firma?

Er det vanskelig å legge opp til?

Det er muligheter for å ta masterløp på

deltid, men det varierer fra studium

til studium. Oppgavesamarbeid og

praksis kan være fine måter å starte på

så vet vi at det er en del studenter som

klarer å kombinere jobb og studier.

UiA har også et bredt utvalg av Etter og

videreutdanning (EVU) som er tilrettelagt

for å kunne kombinere med jobb. Blant

annet samlingsbasert Master i ledelse.

Lene Marie Tønnesen, Seniorrådgiver

Karriereveileder

God start mentor møtene er

på norsk, så engelskspråklige

studenter får ikke vært God start

mentor?

De som blir ansatt som God start

mentor går igjennom obligatorisk

opplæring for å få jobbe som

studentmentor. Opplæringen er et

eget mentoremne, TFL 129 som gir

5 studiepoeng, som per dags dato

dessverre kun tilbys på norsk. Vi

håper på sikt å kunne tilby dette på

engelsk også.

Sara W. Sørstrand, Prosjektleder

God Start

The God Start mentor meetings

are per today only in Norwegian,

is it impossible for Englishspeaking

student to participate

as a mentor?

The ones hired as God Startmentor

will have to go through

an obligatory training to be able

to work as a student mentor. The

training is part of a mentor course

TFL 129 that gives 5 credits, which

per today sadly is only available

in Norwegian. We are working on

opening up for an English version

of it too, long term.

Hvor lett er det å sette sammen en grad av løsemner og et fragmentert studieløp?

De fleste bachelorgrader består av en fordypningsenhet samt en såkalt breddeenhet. Når det gjelder breddeenheten kan du

ofte velge mellom flere forskjellige fag, som da kan være noe annet enn faget du har fordyping i.

Det finnes også noe som heter selvvalgt bachelorgrad. Her må du også ha en fordypningsenhet på minst 80 studiepoeng. I

tillegg er det krav om exphil og ex.fac og bacheloroppgave. Utover dette, kan du i en selvvalgt bachelorgrad velge emner

helt fritt.

Du kan lese mer om dette her: https://www.uia.no/student/hjelp-og-veiledning/selvvalgt-bachelor

Når det gjelder master må du som hovedregel følge et ordinært løp, men dersom du har tatt tilsvarende emner fra før, kan

du søke om å få disse godkjent. Det samme gjelder for alle bachelorgrader.

Is it possible to mix random courses and credits to put together a bachelors degree?

Most bachelor programs will include an immersion unit. When it comes to this part of your degree you can often choose

between different subjects, which can be different from what you study in your degree. (These units will be one or two

semesters in most cases.)

There is also something called a self-chosen degree. In this one you must have an immersion unit of minimum of 80 credits. In

addition, there is a requirement of Exphil and Ex.fac and a bachelor thesis. With this aside, you can choose whichever courses

you want to fill up the rest of your credits with for your degree.

You can read more about it here: https://www.uia.no/student/hjelp-og-veiledning/selvvalgt-bachelor

(The web page is in Norwegian, so please contact your advisor for questions)

When it comes to a masters degree, in most cases you´ll have to follow the regular course of the study program, but if you

have some of the specific credits already you can apply for these to be valid in your masters program. This is an option will

all bachelors degrees too.

NOVEMBER 2022 UNIKUM NR 9 15
---
SUBJECT

Who's afraid

In light of September's SHoT (student health and well-being)

survey release, one cannot but lose faith in what we as students,

academics, and society at large are doing, or not doing, when 1/3

students answer they have severe psychological problems and

that around 40% of students experience loneliness. What is going

on in the field of psychiatry/psychology? And not to mention

in our society? In this opinion piece, I try to highlight two of

the philosophical lacks of mainstream psychiatry/psychology,

and I argue that the fields and its practitioners should look

to Lacanian psychoanalysis and post-Lacanian philosophy

for guidance on how to better address these same lacks.

"

Johan Betsi

Debate editor

Illustration: AdobeStock // Panuwat

Psychoanalysis asks us to take a careful look at our past

precisely so as to empower us to construct a new fate out of the

elements of the old.

– Mari Ruti,

A World of Fragile Things: Psychoanalysis and the Art of Living

"

I express my concern to two specific audiences; the first one

I assume is given, while the second I include because of the

field's definitional power. It is this same definitional power

which I think can help psychology fill the lacks I mentioned in

the heading. The audiences I am trying to reach are psychology

professors, practitioners and the likes of them, and philosophers.

Given that this is written for a student newspaper, I am limited

to mostly scratching surfaces on what I'm trying to convey.

Philosophical lacks in mainstream psychology

I am not alone in my concern for the lack in the philosophical

foundation for psychiatry and psychology as a professional

field. In the book Psychiatry in Crisis (2021), authors Vincenzo

di Nicola and Drozdstoj Stoyanov, rightly criticize psychiatry

and mainstream psychology for lacking a philosophical base for

their theories. The scientific method and the neuro-cognitivist

approach – the philosophy that the fields today base their

theories on – are lacking. The authors propose that the lacks lie in

a crisis of knowledge and being. In others words: philosophical

problems.

We see this lack best at work for how mainstream psychology

tries to provide a "cure" for illnesses. As there is no doubt

that these "cures", usually involving either different types of

16
---
of analysis?

behavioral therapy or different kinds of "happy pills", definitely

help someone, there is also no doubt that these two alternatives

are not universal "cures".

The philosophical input or objection here would be to ask why

there is a need for a cure in the first place. Maybe the problem

does not lie in providing a cure. Because what this presuposes is

that we have those who are mentally sane and mentally insane;

those who are pure and those who sin. Is this not too strong of a

dichotomy, is it not too black and white?

But these are just symptoms of the lack. We can find more

philosophical explanations for this lack in something like the

replication crisis. This is an on-going crisis in every field that

has to do with human beings. This crisis tries to tell us that there

is no way to perfectly replicate any experiment with humans.

This has catastrophic consequences for fields that rely on the

scientific method (alone). The neuro-cognitivist approach is

problematized by the same crisis.

The same psychology practitioners who use this dichotomy,

use with a gigantic bible: the DSM (Diagnostic and Statistical

Manual of Mental Disorders), published by the church of APA,

which we students also must obey, through the constant torture

of having to cite every ounce of our being, just to make a single

argument. It is as if our thoughts don't matter. I believe we see

an allergy to philosophize/theorize here. The problem for DSM,

that Stoyanov problematizes in Psychiatry in Crisis, brings up

at least two questions: How can you so easily define and divide

humans into categories? In what way does it make sense to

reduce one human and another to a diagnosis? I am afraid there

is a lack of more nuance here. Or to put it in another way: a lack

of philosophizing/theorizing.

NOVEMBER 2022 UNIKUM NR 9 17
---
The questions/problems I brought up here are unfortunately not

too popular in the philosophical field either. Though there is a

slight growing interest in the problems I address, I would say

this still isn't enough. "Philosophers" today are too concerned,

in their ivory towers, looking after the truth value in a fortune

cookie, rather than to engage with more current issues. In

addition, of course, to the necessary work of philosophy. So, on

the one hand, we have psychologists who appear to act too naive

in their field, while on the other hand, we have philosophers

who act too little naïve in their field. We see the effects of this in

the SHoT survey.

Lacanian psychoanalysis

What can be done? In the heading, I mentioned Lacanian

psychoanalysis and post-Lacanian philosophy. I believe these

two subfields can help us think clearer when it comes to, not

just the mental health crisis, but also the political crises that

affect our mental health. Of course, this brings up a myriad of

problems, as (Lacanian) psychoanalysis does have a problematic

reputation, to put it mildly. I will try to scratch the surface on how

Lacanian psychoanalysis provides a more nuanced perspective

for psychiatry/psychology and try to respond to a usual criticism

of (Lacanian) psychoanalysis.

First, what is Lacanian psychoanalysis? "Lacanian" refers to the

French psychoanalyst Jacques Lacan. And here we are in the

intellectual heir of Sigmund Freud. What Lacan sought to do was

to rehabilitate Freud: to take him seriously, and pick the best

from him in order to develop a stronger clinic. Probably because

Lacan (and Freud) saw that the clinic at the time, did not match

up to expectations. Similar to how this text came about.

Before I argue that Lacanian psychoanalysis has a more nuanced

perspective, enriching psychiatry/psychology, I want to mention

a dimension of Lacanian psychoanalysis that is relevant to the

findings in the SHoT survey: the social dimension. In Lacanian

psychoanalysis this is often referred to as the symbolic (order).

I will not go into much detail as that is not the purpose of this

text. One way of thinking about the symbolic is that it is the

Illustration: Unikum // Natalia Bogdanova

18
---
social dimension of our lives: our customs, common rituals, etc..

Today, Lacanian psychoanalysts and post-Lacanian philosophers

claim that the symbolic is disintegrating. I don't think this is

an unreasonable claim, and I think we see the result of this in

widespread loneliness and the lack of customs and common

rituals. How do we respond to this? I think we should be wary

about being too hasty to conclude with action, but I do believe

that thinking about these problems will help.

Therapist "vs." patient

Why does Lacanian psychoanalysis bring a more nuanced

perspective for psychiatry/psychology? Because the subfield has

a more nuanced perspective on ontology; on the study of our

being; who we are as a species. In effect, Lacanian psychoanalysis

has a nuanced perspective on madness. I believe Lacanian

psychoanalysis does not have the same top-down, dichotomic

perspective that "those who are mad" are somehow some other

types of beings, like mainstream psychiatry and psychology can

seem to assume. According to Lacanian psychoanalysis, we are

all more or less mad. It is language that tries to bind this madness.

What this nuanced perspective on madness brings is a humbler

approach as a therapist. Like mental health professional Eliot

Rosenstock argues in Zizek in the Clinic (2019):

"

The therapist, therefore, is not a subject-supposed-to-know as

in the result, but instead is one who knows there is a process

of modification that the client seeks, that must be mutually

determined through the signifiers presented in the session.

(p. 28, emphasis added)

I emphasized the word that is important because I think this

one important aspect that separates Lacanian psychoanalysis

from psychiatry and psychology. Through avoiding the all too

"

top-down attitude of the therapist, and rather emphasizing

more mutual work, Lacanian psychoanalysis offers something

new in the field of the psychiatric/psychological clinic. Though

this doesn't mean that the therapist is entirely devoid of offering

help, like Rosenstock points at with the knowledge of the process

of modification. It points to the fact that the patient shouldn't

just be served knowledge/truth, but find it, with some guidance

from the therapist.

An allergy

There is one typical allergy to Lacanian psychoanalysis, and

the allergic reaction is usually that (Lacanian) psychoanalysis

is non-falsifiable. This means that it is not really possible to

critique the theories of psychoanalysis. And that is because the

theories are allegedly too "all-inclusive" and become, allegedly,

a theory of "everything". If one puts a little goodwill into it and

skips the hard skepticism, one will realize that this is not the

case. I will argue further than slight mockery.

What this critique assumes is that empiricism is the only way

to approach knowledge, truth and reality. Empiricism is the

philosophy of (sensual) experience; that we can only know

something, or declare something true or real, through our

experience. The usual "rationalist" objection is: "what about

our thoughts/cognition?". And it is this same objection that can

be raised against the critique of the alleged non-falsifiability

of (Lacanian) psychoanalysis. Because both empiricism and

rationalism rely on the same philosophical premise: that there

is a gap between our being and our thought, producing the

questions: how do we know things? How is something true? How

is something real?

The fact that we can ask these questions are a testament to

the fact that every approach to anything is philosophical/

theoretical. In effect, this means that the critique of (Lacanian)

psychoanalysis that it is non-falsifiable is false. Because it is

philosophically/theoretically falsifiable, but not empirically.

And as I tried to show, there is more to knowledge/truth/reality

than what empiricism can account for.

NOVEMBER 2022 UNIKUM NR 9 19
---
The conclusive questions

Before I conclude with anything, I want to make sure that I

am not trying to say that Lacanian psychoanalysis and post-

Lacanian philosophy should replace mainstream psychiatry

and psychology entirely, but I hope the subfields will be able to

enrich the main fields with nuanced perspectives.

My concern for philosophy is that Lacan's so called "antiphilosophy"

haunts the field, bringing the field into some kind of

crisis. Which I think is fair to say we see today; look at the state

of philosophy. To respond to this, I believe one must engage with

"

only those who have had the courage to work through

Lacan's anti-philosophy without faltering deserve to be called

'contemporary philosophers'. There are not many of them.

– Theoretical Writings, (emphasis added)

Lacanian psychoanalysis and post-Lacanian philosophy. Why

are not more philosophers doing that? It is only appropriate

of me to quote post-Lacanian philosopher Alain Badiou (2004)

here:

I hope practitioners in psychology, and philosophers, dare to

take Lacanian psychoanalysis and post-Lacanian philosophy

seriously today. Especially in light of the current predicament

in mental health and the (political) crises that affect our mental

health, which can be seen as at least two of the causes producing

the saddening results in the SHoT survey. Because I think the

subfields can help the same practitioners to think (critically)

about their positions and in addition, I think these two subfields

can help to explain the lack more clearly in the philosophical

foundation of mainstream psychiatry/psychology.

Though I acknowledge that mainstream psychology's approach

helps some, my concern for psychiatry/psychology is that there

is too little philosophizing and too little naivety. Why? Because

I believe we are more complex (but in some paradoxical sense,

simpler) than what mainstream psychology manages to account

for. The lack of philosophizing/thinking appears to be the result

of a lack of courage, curiosity, thinking and even some laziness.

Why is that?

"

Unikum is establishing a new "academic/

subject column". The idea is to have a

column where students can explore a subject

of interest, aside from or in addition to their

studies.

This article is the first kind for this column,

but do not feel limited by the genre of this

text. We welcome a variety of different

styles, academic writing, explorative articles,

debate articles, and much more.

In this column you are free to learn by

publishing. We want to encourage you to

push your boundaries and expose yourself to

potential feedback. It is a great opportunity

to try something new, and at the same time

get valuable experience for future studies

and work.

It is not a requirement to write in English,

you are free to choose between Norwegian

and English.

We hope to see everything from a simple text

to a larger essay!

If you want to publish your writing, please

contact us through our email:

redaktor@unikumnett.no

debatt@unikumnett.no

20
---
Unikum's

TALENT SHOW

A small photo collage from the grand evening

«Winning the talent show was very fun and

unexpected. I will use the money on food.»

- Joakim Amundsen

Illustration: AdobeStock // Ghen Photos: Unikum // Åshild Magnesen

NOVEMBER 2022 UNIKUM NR 9 21
---
KULTUR

PODUNIVERSET:

Vilde Hagen Svanberg

Skribent

Eksamensperioden er rett rundt hjørnet, og i den anledning vil jeg anbefale podcaster der du

kan koble av litt. Enten med meningsløs babling, eller med å prokrastinere ved å fylle hodet

med den kunnskapen du faktisk trenger til eksamen, med både nyttig og unyttig kunnskap om

absolutt alt annet. Husk å faktisk ta fri når du har tid, og la hjernen koble av med noe annet

enn pensum.

22

JEG SKULLE ØNSKE JEG VISSTE …

Selv har jeg tenkt mye på i det siste hvor mye jeg har

vokst og blitt kjent med meg selv de siste årene. Flere

ganger i uka tenker jeg at, jøss, denne situasjonen

hadde jeg taklet helt annerledes for 5-10 år siden, lurer

på hvordan livet mitt hadde vært om jeg visste det

jeg vet nå. Nettopp dette er temaet i podcasten «Jeg

skulle ønske jeg visste …». Vi lever forlengs, men lærer

baklengs. Gjestene i denne serien deler tanker og

erfaringer fra livene deres så langt. Du kan blant annet

høre om at Adam Schjølberg har lært at livet er det som

skjer mellom «fjelltoppene», Vinni har lært at det ikke

er farlig å be om hjelp, og Erna Solberg reflekterer over

sin rolle som kvinne i politikken. Kanskje du kan la deg

inspirere av deres erfaringer?

THE MISOPHONIA PODCAST

Misofoni, som det heter på norsk, er et fenomen som

har fått større og større oppmerksomhet de siste årene.

Det er en underart av nedsatt lydtoleranse og er

definert som en unormal sterk reaksjon på en eller flere

lyder, spesielt munnproduserte lyder som tygging,

smatting og kremting, men alt av små, repeterende lyder

kan være irriterende, som f.eks. klikking med en

kulepenn, biting av negler eller høy pusting. Selv kan

jeg til tider slite veldig med dette, spesielt når jeg er sliten,

og eksamensperioden er spesielt ille. Jeg liker best

å ha det stille rundt meg, eller rett og slett høre på podcast

for å drukne andre distraherende lyder. Derfor er

denne podcasten en god trøst. Ikke bare lærer du mer

om hva det vil si å ha misofoni, men det hjelper å høre

andre som sliter med dette og hvordan de takler misofoni-relaterte

problemer i hverdagen. Anbefales om

du er nysgjerrig på dette fenomenet eller tror du sliter

med det selv.
---
ABELS TÅRN

I en verden der færre og færre stoler på fakta, er Abels

tårn ditt fyrtårn i den postfaktuelle tåka. Podcasten er

en kilde til nyttig og unyttig kunnskap du kan briljere

med både på quiz og i vennegjengen. Hver uke samles

tre forskere for å svare på geniale spørsmål fra lytterne

i jakt på svar om hvordan verden fungerer. Blir det

tidevann i et melkeglass? Kan flått få flått? Hvor lavere

havnivå blir det om vi fjerner alle båtene? Hvor lang

blir jorda om den gjøres om til en agurk? Bare fantasien

setter grenser for hvilke spørsmål som blir besvart,

og jeg kan garantere at du lærer noe nytt i hver

eneste episode. Får du ikke svar på det du lurer på?

Send inn et spørsmål selv da vel!

MORTEN RAMM LAR KAKLA GÅ … TIL DU SOVNER

Dette tror jeg kanskje er den podcasten jeg har anbefalt

til flest venner det siste året. Sliter du med å sove

er dette podden for deg! Premisset er så absurd at det

ikke høres ekte ut, men podcasten inneholder rett og

slett kun Morten Ramm som nettopp lar skravla gå til

du sovner. Ofte har jeg fått responsen «jeg er skeptisk,

jeg kommer til å bli for engasjert i det han sier til å

kunne sove», men jeg kan si at de alle har tatt det tilbake

igjen dagen etter. Denne podcasten er så UTROLIG

kjedelig at det er umulig å følge med! Temaer varierer

mellom alt fra inneklima i barnehagen og Tesla til rutiner

på hytta og samlere. Jeg kan nesten garantere at

du kommer til å kjede deg i søvn. Veldig kjekt nå som

vi går inn i en stressende periode med eksamener der

det kan være vanskelig å koble av.

NOVEMBER OCTOBER 2022 UNIKUM NR 8 9 23
---
Vil du få relevant erfaring

mens du studerer?

Oppgavesamarbeid, deltidsjobb

og verv finner du på

UiA Kompetansetorget

uia.no/kompetansetorget

24
---
OPPSKRIFT KULTUR

Søtpotet- og

gulrotsuppe

Ingrid Nordvik Krossbakken

Skribent

Lite slår varm og god suppe på ein kald og våt haustdag. God fornøyelse!

Ingrediensar:

2 store gulrøter

2 middels store søtpoteter

1 gul løk

2 fedd kvitlauk

1 chilli

2 ss fersk ingefær

2 dl matfølte

Slik gjer du:

1. Kutt lauk, kvitlauk, chilli og ingefær i grove biter og

steik det i litt olje i ein kjele, til lauken er blank.

2. Skrell gulrøter og søtpotet, kutt dei i biter og ha dei over i kjelen.

3. Tilsett vatn og buljongterningane og la det heile småkoke til gulrøtene

og søtpotetene er møre, ca. 20 min (kjem an på kor store bitane er)

4. Stavmiks suppa, tilsett matfløte og rør om

5. Nyt gjerne med rundstykke eller godt brød

2 grønsaksbuljongterningar

9 dl vatn

Foto: Unikum // Ingrid Norvik Krossbakken

NOVEMBER 2022 UNIKUM NR 9 25
---
UTLYSNING

UNIKUM:

News Editor

As the news editor, you have to be up to speed with potential news at

UiA and the other universities and keep tabs on potential articles and

stories. You will be part of the Unikum team, participating in meetings

and contributing to the continued development of Unikum as well as

assisting our writers. As the cultural editor, you oversee the culture

articles published in the magazine and on the webpage. This may

include topics like theater, movies, arts and music. You should have a

good grasp of the many cultural events happening in Kristiansand. You

will also be in charge of directing our writers regarding culture articles

and assist with their writing.

Cultural Editor

As the cultural editor, you oversee the culture articles published in the

magazine and on the webpage. This may include topics like theater,

movies, arts and music. You should have a good grasp of the many

cultural events happening in Kristiansand. You will also be in charge

of directing our writers regarding culture articles and assist with their

writing.

Studio Manager

As the studio manager, you are responsible for the podcast studio at

Unikum. The studio is available for all students and it is the studio

manager's job to keep track of who is using it and when.

26 Illustration: AdobeStock // alex_bond
---
WE ARE RECRUITING

Ansvarlig redaktør

Som ansvarlig redaktør i Unikum får du muligheten til å sette ditt

helt eget preg på avisen. Du vil være øverste leder og ha ansvaret

for å engasjere frivillige studenter til å bidra både journalistisk,

med design, fotografi, og andre oppgaver.

Denne stillingen gjør deg attraktiv for fremtiden. Mange av våre

ansatte har fått jobber som følge av erfaring hos Unikum.

Vi overlapper ved ansettelse slik at ny redaktør får nødvendig

opplæring og oppfølging. Noen dager med i desember 2022 må

derfor påregnes.

- Du må være student i Agder

- Bakgrunn i kommunikasjon og mediefag er en fordel, men ikke

et krav.

- Kjennskap til adobe creative cloud program, spesielt InDesign og

Photoshop er en fordel, men ikke et krav.

- Kjennskap til bruk av speilreflekskamera er en fordel, men ikke

et krav.

Vi tilbyr:

-Månedlig honorar på 6000,-

-Ledererfaring

-Nettverk i studentmiljøet

-Kontor ved UiA

-Referanser til CV

-Sosialt arbeid med mange nye bekjentskap

Unikum is Sørlandet's student

newspaper with an audience

of over 13,000 students. The

editorial team consists of 20 to

40 volunteers on a regular basis.

Unikum publishes one physical

magazine each month, in

addition to running our own

website, with digital copies.

With us, you're able to work with

and learn about journalism,

photography, podcasts, video,

design, illustration, social media,

marketing and proofreading.

Join an encredible team,

that will provide you with

unique and valuable skills and

experiences!

SEPTEMBER NOVEMBER 2022 UNIKUM NR 97 27
---
Encounter

at Jegersberg

Rahul Mitra

Writer

28
---
SHORT SHORT STORY STORY

Everything that I am about to narrate

here is true. Yes, I could have mixed up

some of the finer details, for I was lost

and disoriented when it happened,

but overall, this is a true

story. Whether you believe

it or not, is up to you. My

only concern is to tell

you everything truthfully,

so that, you, too, may know the

forces that live amongst us.

This incident took place

sometime around the

third week of October,

perhaps at 17:00 or 17:30

in the evening. My mind was

not at ease, filled as it was

with worries and uncertainties. I

had many things to do and little

time to do them in. And yet, a

restless spirit was upon me. I

found that I could not focus

on any one task. So, instead of

wasting any more time, I threw on my jacket,

grabbed the backpack and headed out for a walk

in the Jegersberg forest.

This forest is just a year-long acquaintance, but it

feels like a trusted friend. There is comfort among

its well-trodden trails. A walk here never fails to

silence the chatter, remove extraneous thoughts

and make me feel at peace with the world. Not

just that, I firmly believe that if you want to be at

one with Norway, you must get on good terms with

its nature. For Norway is nothing but these forests

and lakes, these rolling hills and hidden valleys

and these sheer vertical cliffs that rise straight up

from the sea, overlooking miles of fjords sparkling

in the sun. There is something jagged and raw

about the nature here, but it is never brutal and

always accepting if you give it the respect that

it is due. The old gods, the trolls and spirits still

lurk in the deeper recesses of these places, and it

is only fitting that one should seek to propitiate

them when one is looking for answers. Thus, a

walk in Jegersberg is never just a walk, but a way

to call forth the blessings of the Universe.

And so it was that day. As I wound my way along

the trail that leads to the main Jegersberg lake,

the Øvre Jegersbergvann, my very heartbeats

started synchronizing with the rhythms of the

forest. The smell of wood and rain and wet

earth filled my nostrils and all around me was

Jegersberg, ablaze in the reds and oranges of late

autumn. Many of the trees had shed their leaves

and their trunks gleamed a ghostly white as bunches

of wet, decomposing leaves squished underfoot.

I walked deeper and deeper into the forest.

I had a need to get lost, and so a little way off

from Vafflebua and on the trail that leads towards

Gillsvannet, I decided to veer off the known path and

follow a small, barely visible trail that led up the side

of a low hill.

The forest was gloomy here. Bare, white trunks crowded

in on me from both sides as I clambered up the steep

slope. It was the magical hour of twilight, when the

sun hads already set, leaving behind some reflected

light that lights up the horizon. As I huffed and

puffed my way up, I could see the skyline through the

trees ahead and knew that I was coming to the crest

of the hill soon. When I got there, I found that it was

the top of a ravine. From here, the land sloped steeply

down. Odd-looking bushes and white tree trunks,

curved into the most fantastic shapes grew all along

this slope and the bottom was covered in deep shadow.

On the opposite side was an open, grass covered valley

with the treeline in the distance.

I made my way across the ravine and as I got to

the crest on the opposite side, the residual sunlight

disappeared from the sky almost as if some giant,

unseen hand had turned off a light switch somewhere.

Darkness came crashing, and with it came a wild

wind and big drops of rain. All of this happened in

an instant.

About 300 metres in front, I saw a huge ash tree

standing alone in the middle of the valley. It was

enormous, with branches spread out in every direction

and covered with dense, green leaves even in this late

season. I ran for the shelter of its branches, and stood

there shivering, as I waited for the rain to abate. What

I could not understand was where this rain had come

from, for there hadn't been a cloud in the sky when

I started out, nor any mention of it in the weather

forecasts.

The forecasters must have got it spectacularly wrong,

for I have never seen a storm like this in Kristiansand.

For the first time ever in Norway, I heard cracks of

thunder that made me jump and saw flashes of lighting

tearing up the sky, lighting up the inky curtain of

blackness that smothered everything around me. In

the intervals between the lightning bolts, I espied a

faint, flickering light far ahead. Hope grew within

me- perhaps there was a house or a village where I

could find shelter from the storm.

I started making my way there when the thunderstorm

NOVEMBER OCTOBER 2022 UNIKUM NR 89 29
---
had weakened a bit. However, as the rain calmed

down, the sound of the wind became overpowering.

It sounded like the howling of hundreds of huskies,

or perhaps wolves, and it had a rhythm of its own –

one moment the wind would be tearing through the

valley with this unearthly sound ringing in my ears,

and the very next instant it would die down, and the

sounds of howling would grow faint – like a whisper

coming from far away.

I was stumbling and slipping on the slushy ground. Up

ahead, I could make out the dark shadow of a long,

gigantic building from which the light was coming.

As I came up to it, the harsh, insistent cawing of a

crow cut through the wind and the rain and with

a start I realised that there was another shadow

moving about outside the building. The light, which

seemed to be coming through the chink of a massive

door, was momentarily blocked and I saw that there

was another shadowy figure at the door. This person

was knocking at the door and shouting to attract

attention.

I was about 100 meters away when I saw the door

open slightly. A hefty-looking woman wearing an oldfashioned

skirt and bodice. A sense of relief surged

over me. I decided to throw in my lot with this stranger

and started running, so that I could ask for shelter

together with him or her. However, as I got closer, I

realised things were not going according to plan. The

woman was gesticulating with rapid gestures and

saying something to him – she seemed angry.

Finally, she slammed the door quite violently just as

I got there. The stranger who had been looking for

shelter before me seemed to be in shock. Now in the

faint light coming from the home, I saw that he was

probably a tramp. He was wearing a loose cloak made

of some coarse material and carrying a crumpled bag

in one hand and a long, sturdy, walking stick in the

other. As he turned around to look at me, his face came

into the light- a gaunt, long-suffering countenance,

with a straggly white beard that was dripping with

water and wet hair that seemed plastered to his scalp.

At the spot where his left eye should have been was a

red, fleshy wound.

There was something both ravaged and terrifying

about him. He exuded the same energy – a mix

of madness, shrewdness, pain and world-weary

experience that I have seen in the faces of the

homeless and the drug addicts in big cities

all over the world. Perhaps he's one of those,

I thought to myself, one of this tribe that I

have seen hanging around on the benches

of the park next to the Kristiansand

cathedral. Rage bubbled up inside

me even as I thought this.

Did the woman shut the door

in his face just because he

looked homeless? How could

someone be so inhuman as to

refuse shelter in the middle

of a storm?

Fuelled by this rage, I started

beating on the door. Louder

and louder, I shouted till the

door suddenly opened and

out came the same woman. Up

close, she seemed even bigger,

with a face like Erling Haaland

and a physique to match. Faced

by this amazon, my anger suddenly

melted as she started shouting at me.

I could barely make out two or three phrases….'stikk

av', 'Elfablot', 'idiot', 'drit' and so on.

Anyway, long story short, this paragon of Norwegian

physicality basically shook a stick at us, shouted a

bundle of abuses and once again slammed the door

shut. This time though, there was no anger inside me.

Also, in trying to get away from her, I had basically

slipped and was now lying ass down in the mud as I

looked up at the old man. He offered me a hand and

started saying something as he helped me up.

Unfortunately, my Norwegian is really basic and it

looked like he couldn't understand my English. And

so we were at an impasse, as I racked my brain for all

the wonderful things I had learnt in Norwegian class.

Now let's see, I could fluently say things like 'han reiser

med tog fra Oslo til Trondheim', 'Tom og Lisa drikker

kaffe' and 'Det er Magnus. Han kommer fra Bergen'.

I could also count from zero to thirty in Norwegian

numerals and tell the time 'Klokka er fem over fem'

for instance. However, he hadn't asked me the time

and nor was he interested in that blasted Magnus

(or Tom og Lisa for that matter), so there was not

much that I could offer by way of conversation.

After some gesticulations on both sides, I pointed

him to the ash tree and we quickly hot-footed it

there. It must have had a really thick canopy

of leaves, for despite all the rain and wind, the

ground underneath was still remarkably dry. The

old man, started wringing the water out of his

beard and cloak, as I took off my backpack to check

how wet it had gotten. To my surprise, I found

three packets of McDonalds chicken McNuggets

that I had bought earlier and stuffed into the

backpack in the morning. This cheered me up

and led to a brainwave. I had finally thought of

something intelligent I could say in Norwegian to

30 30
---
my companion.

'Hi, Jeg heter Rahul, Hva

heter du?'

The old man perked up

on hearing this and let

loose with a whole torrent

of Norsk. It was as if I had

lobbed one small pebble

from a catapult and been

answered with a machine

gun volley. I did make out

that however, that he was

heter'ed Váfuðr and was myself

forced to admit that 'Beklager,

jeg snakker ikke Norsk.' At this the

old man looked visibly disappointed as he

peered at my face with his one remaining good eye.

For some reason, this intense stare made me really

uncomfortable, and so to ease the tension, I offered

him some chicken McNuggets with a cheery 'Jeg har

mat, ligger du chicken McNuggets?'

Judging from the resulting confusion, I realised

I had made some mistake and so pointing to the

mouth, I bade him understand that I was offering

him food and gave him one of the packets. He looked

extremely doubtful as he fished out one of those dry,

cold nuggets and hesitantly put it in his mouth. It

seemed as if he had never had a Chicken McNuggets

in his life.

Be that as it may, however, his reaction was both

instantaneous and joyful. A beatific smile lit up his

face, he tilted his head just like Mark Wiens does and

a very contented 'aaah…' escaped from his lips. He

followed this up with a very excited set of gesticulations

to let me know he loved it, and then in a matter of

seconds polished off the remaining nuggets. Then

with a big smile, he looked at me as if to ask, any

more? I handed him the second packet with the very

same result.

I couldn't believe that anyone could possibly like those

pieces of very, very dead, cold and dry chicken and so

I also had a bite to confirm that no one had switched

the chicken nuggets for something better. Nope, it was

the very same piece of completely flavourless, mystery

meat that I had always known. But I was intrigued –

how could a possibly homeless guy and an imbiber of

drugs not know about Chicken McNuggets?

Anyways, he gobbled up the second packet and so

with a sigh, I offered him the remaining packet. It

vanished in a trice, and now my friend let out a deep

sigh, closed his eyes and leaned back against the tree

trunk with a very contented air.

As Váfuðr ruminated about his latest gastronomical

experience, I was left to reflect upon my situation; I

had a thesis proposal and a Unikum article to submit,

I had to revise for a Norwegian mid-term exam AND

I had work over the next three days. I was lagging

behind in the Norwegian class, had no idea what

to write for the article and I was already behind on

the thesis proposal deadline. On top of all that, I was

caught here in the middle of this storm of the century.

Panic rose within me as I thought of all the hours I

had wasted and what would happen on the morrow.

Presently, as I was thinking these gloomy thoughts,

my companion stirred from his rest, opened his

bundle and took out an antique-looking earthen jar

along with two cups, and filling up a cup, he offered

it to me. I didn't much like the look of it, but he was

insistent and I felt scared to refuse, so I drank and

downed it all in one big gulp. It was warm and sweet

and honey-like, evidently alcoholic for it burned as

it went down.

Dear reader, I do not know what was in that drink,

but evidently it was just what I needed. As the drink

burned its way to my stomach, an incandescent white

flash went off in my brain and a burst of energy ran

through my veins. Such a feeling of energy and power

pulsated through my body that sitting still seemed

almost unbearable. I felt an almost uncontrollable

urge to move, to run and to shout. I felt like I could

do anything in the world, even fly. Whatever it was I

had just drunk, it had gone to my head.

I talked animatedly to my new friend, laughed loudly

and boisterously thumped him on his back, chided

him for being a sissy when he refused to join me in a

rain dance, and basically, made an ass of myself. I

do not remember much of what happened after that,

except a few scenes here and there. I remember a

flash of me hugging the tree as if my life depended

upon it and another of me lying in some bushes in

the rain and insisting to Váfuðr that I wanted to

sleep out there 'in the open'. I do not remember when

and how the storm abated, or where Váfuðr went or

how I found my way back home. All I know is that I

have been writing on this story since the moment I

got back home. It is now 3AM and I have many other

pressing deadlines, I am tired and hungry but I am

still writing like a madman, for I have tasted the

mead of poetry.

This short story is being republished

because of a technical error in the October

edition. We apologise to the writer.

NOVEMBER 2022 UNIKUM NR 9 31
---
AK TUELT

Ida Marie Bruun

Skribent

Illustrasjon: Adobestock // d1sk

Noen har gledet seg til høstfarger på trærne, varme skjerf og kakao. Høsten kan være en skikkelig fin tid, men den kommer også

med kulde, mørketid og eksamen. Denne tiden er utfordrende for mange. Noen kjenner kanskje at de har gruet seg.

Trærne slipper bladene sine, bjørnen går i dvale og fuglene drar på ferie til Syden. Og akkurat som naturen er ikke mennesker

maskiner, men levende organismer. Vi kan ikke effektiviseres og programmeres, i motsetning til hva enkelte selvhjelpsbøker vil

ha oss til å tro. Vi går gjennom ulike sesonger og tider.

Og noen ganger er det mørketid. Og da kan noen vennlige råd komme godt med:

Vær realistisk

Du kan bare møte deg selv der du faktisk er, ikke der

du føler at du burde være. Vær realistisk, og spør

deg selv hvordan denne tida - eller bare denne uka

- er for deg. Hva trenger du, hva kan du forvente av

deg selv? Finn ut hvor lista skal ligge, og i trå med

den: hva du kan og bør gjøre for å ta vare på deg

selv. Kanskje det er noen ting du trenger nå, for

å gjøre det så enkelt som mulig for deg selv å være

menneske. Vi skal ikke undervurdere hvor mye

det grunnleggende har å si: å få nok søvn, riktig

ernæring, bevegelse og frisk luft. Det er hvert fall ikke

realistisk å kunne fungere som en superstudent, når

selv ikke de grunnleggende behovene dine er dekket.

Vær raus

Der du «burde» være er uansett veldig oppskrytt! Det er

ingenting i veien med å ta ting sakte, trenge hvile, ikke få

til ting og å ha feil og mangler. Faktisk er det menneskelig,

og helt umulig å unngå! Det er også helt normalt å ha

det skikkelig dritt iblant, og at livet ikke alltid serverer

lykke og velstand på sølvfat (selv om det ser sånn ut på

32
---
Instagram). Rist det der «burde»-greiene av deg med en

gang, og vær heller tålmodig med deg selv. Husk TTT – Ting

Tar Tid.

Små gleder, stor forskjell

Vi er omringet av store, flyktige drømmer og perfekte

fasader – men det er overraskende helbredende å øve seg

opp i takknemlighet for det vi faktisk har i hendene her og

nå. Dette kan være så enkelt som å tenke på tre ting du er

takknemlig for hver kveld eller morgen, eller det kan se ut

som å prioritere kos og små gleder i hverdagen. Kanskje

du kan ringe noen du ikke har snakket med på en stund,

lage deg en god kveldsrutine eller se opp fra mobilen og

legge merke til den friske lufta når du går til bussen. Hvis

du ikke føler takknemlighet og glede for noe nå – øv deg

på å se hva du har likevel. En varm seng, hørsel eller syn

(og alt det tillater deg å glede deg over!), rent vann. Du

har mer enn du tror, overalt rundt deg, og mye av det tar

vi for gitt. Vi må bare øve oss på å legge merke til det!

Vær sammen med andre

Selv om det er helt greit å trenge alenetid og hvile, er det

også godt for oss å være sammen med andre. Prøv å finne

fellesskap hvor det er godt å være. Det har ingenting å si

om du foretrekker å delta i en studentforening og gå på

fest, eller se på serie og gå tur med en venn. Men du har

garantert mye å tilby til andre mennesker! Og de har mye

å tilby deg. Vi er flokkdyr som trenger hverandre.

Utnytt tiden du er i nå

Når du ikke kan stoppe høsten fra å komme, er det bare

en ting å gjøre – embrace it! Tenk på hvilke ting som

spesifikt hører til den tida du er i nå. Kanskje du kan

skrive en bucket-list med høst- og vinteraktiviteter du kan

gjøre på Sørlandet denne høsten. Hva med å investere i et

fint høstantrekk eller utnytte regnværet til å gå på kino,

game eller se på serie inne med god samvittighet? Eller

rett og slett tillate deg selv å gå litt i dvale. Kanskje du

og kollokvie-gruppa kan innføre kveldsmat og kakao som

fast avslutning på eksamenslesinga en gang i uken? Og det

er vel ingen annen tid på året hvor de selger flere billige

og superfine duftlys overalt? Uansett om din mørketid

sammenfaller med at det er kaldt og mørkt ute, eller om

din mørketid er at du er ufrivillig singel eller lei av å

studere – kanskje akkurat denne tiden av livet fører med

seg noen muligheter du ikke får igjen?

Husk at vinter alltid blir til vår! Like sikkert som at

mørketiden kommer, vet vi at månedsskiftene snart

fører med seg julelys og pepperkaker, som blir til vår

– og at vi igjen skal sitte i skjærgården en sommerdag

og kjenne solen varme.

This too shall pass.

NOVEMBER 2022 UNIKUM NR 9 33
---
CULTURE

DANCE REVIEW:

José Antonio Herrera

Writer

Photo: Kilden teater og konserthus

Imagine being seated in a darkened room. Your

chair is cushioned. Somewhere in the dark you can

hear the soft whine of a low powered motor and

the rumbling of four small tires as they randomly

maneuver around the elevated stage. The tires

belong to a small remote-controlled vehicle which

carries a small light. You watch the light slightly

illuminate the environs as the rolling device

continues its unpredictable itinerary. Sounds begin

to fill the spaces hidden from view. There is a lack of

pleasing melodies and soothing harmonies. Instead,

your brain begins to assemble the pulsing auditory

elements into something cohesive. Distorted bursts

of static, muffled gunfire and other sonic devices

were woven together despite the fragmented

nature of the amplified music: At times they seemed

to come from a far-off point in the distance and

suddenly would reemerge much more closely.

This is how we were introduced to the first part

of "Mellomland" at the Kilden Performing Arts

Centre last month. "Mellomland" is composed of

two dance performances. The first is called BUD,

choreographed by Roza Moshtaghi. Prior to the

show, my girlfriend told me we were going to see

modern dance. I made a supreme effort not to

think of an avant-garde Footloose or Dirty Dancing.

When the lights dimmed to signal the onset of

BUD, I couldn't help but feel the show had already

begun. As the minutes passed, we felt our eyes

struggle to adjust to the murk and shadow. Our

34
---
MELLOMLAND

ears attempted to find some meaning in the unusual and

discordant soundtrack. I wondered when or if something

would happen. But it was already occurring.

Part of the concept behind BUD is to explore the question

posed by the idea of waiting. Major parts of life are marked

by the periods in which nothing happens until… something

occurs. We seem to overlook these frequent temporal

spaces as less valuable or unworthy of examination.

Waiting is considered by many

to be boring or uninteresting.

An obstacle to a productive and

efficient life. And yet, would

we feel true satisfaction after

having met goals quickly? Would

parents want their children born

in a matter of hours? What is

happening while we wait? What

is the value in it?

The inquiry and its

contemplation were revealed

through the paced and

deliberate movements of the

stellar cast. One could focus

on any of the four artists and

watch a unique story unfold.

Their supreme physical exertions brought to mind the

rigid predictability of machine pistons but also the

spontaneity of a lightning bolt. We are more accustomed

to human behaviors and motions falling within a normal

range. Walking, running, sitting down, standing up;

these gestures rarely startle us or call our attention.

When we see humans throb, pulse, vibrate and elongate,

our gaze becomes transfixed. It was like bearing witness

to some hidden god manipulating his acolytes to bring

an esoteric ritual to completion. This may be the kind of

thing we long for. There is immense worth to moments

that break us free from the stupor of life on autopilot.

And BUD makes us reconsider what we are waiting for

and why.

Our ears attempted to find

some meaning in the unusual

and discordant soundtrack.

I wondered when or if

something would happen. But

it was already occurring.

The other part of "Mellomland" is called Sovaco de Cobra with

choreography by Lander Patrick. Sovaco de Cobra translates

to 'Armpit of the Cobra'. Undeniably, a cobra with arms

would be more formidable. The damp, hairy and warm pit of

a cobra's arm calls to mind the discomfort of being intimate

with someone's body. Is the show's title meant to camouflage

the intended effect on the viewer? As soon as the stage

lights came on, challenges were meted out to the audience.

An emcee began the proceedings by spitting out a rapid-fire

volley of nonsensical sounding

lyrics (that arguably make sense

if you look them up online). His

exaggerated macho posturing was

both parody and homage to hip

hop artists and rock stars alike. As

he performed, the other dancers

took turns engaging him verbally

or interrupting his movements

with their own.

Rhyming couplets weren't the only

things this troupe spit out. At one

point, several streams of water

were spewed in the direction

of the assembled throng. Was it

meant to show disdain for the

passivity of the crowd? What kind

of reaction, aside from visceral, did they hope to evoke in the

age of covid? Generally, Sovaco de Cobra made me feel like

I was watching an energy drink fueled wave of social media

darlings stomping their way through levels of a dichromatic,

postmodern art museum. A lot of spectacles. Random phrases

being repeated. Loudly. Twerking bodies. I wanted to log out.

But I couldn't look away. What were we being asked to

reassess? Throughout this showing, themes like gender roles,

oversaturation of media, the dynamic between parent/child

and society's expectations of art were touched upon. The

questions had been posed. I am curious to see what existing

interviews of the mind behind Sovaco de Cobra will reveal.

Hopefully, some insights will emerge to satisfy my curiosity.

NOVEMBER 2022 UNIKUM NR 9 35
---
Illustrasjon: freepik // pizzara

bølge mot kyst

du er slik bølgene

slår mot kysten

føttene mine graver seg ned i sanden

mens du drar meg inn sakte

bølge etter bølge

men ikke helt

jeg er aldri helt din

du er aldri helt min

vi er på kanten slik

bølge mot kyst

36
---
AK TUELT

Extinction Rebellion Sør:

Vi føler demokrativet er blitt svekket

Foto: Nora Leirvik

Nora Leirvik

Skribent

Mattias Johannessen

Skribent

Extinction Rebellion har skapt overskrifter ikke bare i Norge,

men over hele verden for deres inngripende aksjoner. Målet

til Extinction Rebellion er å bruke ikke-voldelig sivil ulydighet

for å presse regjeringen til handling. Dette for å unngå

vippepunkter i klimasystemet, tap av biologisk mangfold og

risikoen for sosial og økologisk kollaps.

Vi møter to sentrale medlemmer i XR Sør, i sentrum av

Kristiansand. Høstfargene har begynt å vise seg. Bladene som

for noen uker, eller bare dager siden hang på treet, har nå dekt

seg som et teppe over asfalten. Damene vi møter er ikke det

man nødvendigvis ser for seg når man tenker på XR. Mediene

har vist oss illsinte, redde og frustrert ungdom ikledd heldress

og hjemmestrikka luer. Lena Fatland og Annika Wattne

Rodriguez er kontrasten av dette. De er voksne damer, med

etablerte liv.

Unikum får forklart at lokallaget på Sørlandet er en liten aktiv

gruppe, som driver laget. De har en medlemsliste på omtrent

45-50 medlemmer. Her samles de så ofte de har mulighet, og

planlegger aksjoner og deltakelser i aksjoner i andre deler av

landet; ofte starter møtet med en sjekk på hvordan medlemmene

har det, hvor det blant annet snakkes om klimaangst.

På spørsmål til hva som er organisasjonens fanesaker, kan

Exctintion Rebellions representanter fortelle at organisasjonens

mål kan oppsummeres i deres tre krav;

1. Fortell sannheten

2. Handle nå

3. Styrk demokratiet

De endringer som skal til nå, er for store til at privatpersoners

innsats skal kunne være nok. De som har mest makt til å gjøre

NOVEMBER 2022 UNIKUM NR 9 37
---
seg i vårt lokallag, eller nasjonalt i de grupper som er der.

En kan jobbe enten lokalt, eller nasjonalt. Vi har valgt sivil

ulydighet som aksjonsform. For noen kan det se ut som vi går

ut i gatene bare for å lage bråk – og det er litt sant. Vi ønsker å

forstyrre «business as usual» sånn at både politikere og vanlige

folk stopper opp og tenker seg om. Vi mener situasjonen er

så alvorlig at det rettferdiggjør at vi tar i bruk det kraftigste

virkemiddelet vi har – sivil ulydighet. Studenter kan da velge

å engasjere seg i våre aksjoner, eller de kan jobbe med andre

deler av organisasjonen; sosiale medier, skrive, forme politisk

strategi, eller bidra med planlegging av aksjoner. Vi har også

mindre aksjoner som studenter kan engasjere seg i.

Det fremmes som en drømmesituasjon om det hadde vært et

eget lokallag på UiA, med studenter som engasjerer seg. – En

får veldig stor frihet i Extinction Rebellion til å organisere seg

selv slik en ønsker det; så lenge en er enig med våre mål og

krav, og en trenger ikke underlegge seg andre grupper.

Så en trenger ikke være så ekstrem for å være med i Extinction

Rebellion?

Foto: Nora Leirvik

Nei, det trenger en ikke være. En trenger heller ikke være

hverken veganer eller vegetarianer; vi har ikke krav til at en

skal være «hellig» som Paven; så lenge en ønsker et krav om

forandring.

de endringene som trengs, er politikere og myndighetene, og

derfor rettes våre krav til politikerne. De skal opplyse folket

om hvor ille det faktisk er. De må være ærlige om sin egen

politikk, og om hvor kort vi faktisk er kommet, og hvordan vi

kan snu i tide.

Enkelte medier har kanskje en tendens til å blåse opp

organisasjonen deres litt ut av proporsjoner; vil dere med dette

si at studenter har ingenting å være redd for ved å engasjere seg

hos dere?

Unikum blir fortalt at handlinger kreves nå; 2050 er for langt

frem i tid, det må skje noe NÅ.

Exctinction Rebellions representanter sier videre at tiden med

Covid-19, har vist hva som er mulig å få til; Myndighetene har

opplyst befolkningen om en krise, og gitt detaljinformasjon

på veien, og de hadde kjempekontroll på smittespredningen.

XR ønsker at myndighetene skal vise like stor handlekraft på

klima- og miljøfronten.

XR's representanter sier at de føler demokratiet er blitt svekket;

- Det er veldig mange tegn nå på at demokratiet er i fare, dette

er noe vi kan se i hele verden, også her i Norge. Vi mener at

deltakelse av vanlige folk er svært viktig; ansvarliggjøring og å

invitere folk med.

Hvordan mener dere studenter kan engasjere seg hos dere, og

hvordan føler dere studenter kan hjelpe Extinction Rebellion?

I Norge har vi flere lokallag, blant annet lokallaget i Kristiansand

som vi er en del av. Vi ønsker at studenter skal kunne engasjere

Foto: Nora Leirvik

38
---
Nei det har de ikke, men det kommer nok litt an på hvilken

medier det er snakk om. De mer hovedstrøms-mediene og mer

toneangivende alternative mediene gjør nok dette; men vi har

mye støtte hos andre medier. Vi tror ikke vi har alle løsninger;

vi anser som oss som en del av en større bevegelse, men velger

litt andre virkningsmidler enn det andre organisasjoner har.

Vi bruker sivil ulydighet som et virkemiddel; dette kan oppfattes

som en trussel, dette kommer en ikke utenom.

Det er ikke slik at bare en melder seg inn i Extinction Rebellion

så må en regne med å bli arrestert; og en trenger heller ikke

selv å engasjere seg på våre sivile ulydighetsaksjoner.

Hvis en ser bort fra å bidra med å bli medlem hos dere, hva kan vi

fattige studenter bidra med til at ting skal bli litt bedre? Hvordan

kan vi bidra til en grønnere hverdag?

Den grønne hverdagen til studentene er ikke noe vi engasjerer

oss direkte i. Vi ønsker at folk skal bli mer engasjerte, bli mer

aktive i miljøkampen generelt. Det koster heller ikke noe å

være medlem eller delta på våre aksjoner.

Det er viktig å stemme, og å bidra til sivilsamfunnet;

sivilsamfunnet legger premisser for den politikken som føres på

Stortinget. Det at vi sivile borgere stiller krav og forventninger

til politikerne, er en grunnleggende del av demokratiet.

Extinction Rebellions representanter viser også til studenters

egne fag, og at de kan brukes til å bidra til miljøsaken.

Det som kan påvirke studenter aller mest, er nok UiA selv. Har

dere noen oppfordring til UiA med tanke på hva universitetet

selv kan gjøre?

UiA må helt klart ta tak i den klima- og miljøkrisen konkret;

oppfordre til at studenter skal engasjere seg, og være en

pådriver for å skape et engasjement. Vi ser professorer i

andre land som oppfordrer studentene sine til å følge med på

tematikken.

Foto: Nora Leirvik

NOVEMBER OCTOBER 2022 UNIKUM NR 89 39
---
Studentprogram

For studenter, skoleelever, lærlinger og vernepliktige i

førstegangstjeneste, mellom 18–25 år.

• Ingen årspris på visakort

• Ingen gebyrer på varekjøp i Norge og i utlandet

• Beste sparerente med BSU

• Gratis innenlandsbetalinger og overføringer i mobil-/nettbanken

www.sor.no/student

www.sor.no | tlf.: 38 10 92 00

facebook.com/sparebankensor