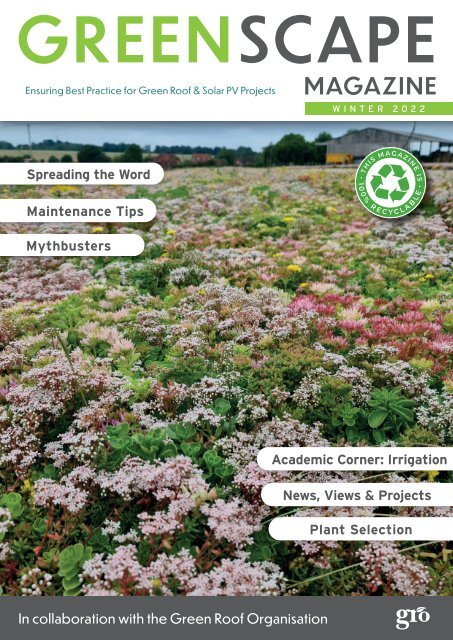 You also want an ePaper? Increase the reach of your titles
YUMPU automatically turns print PDFs into web optimized ePapers that Google loves.
GREENSCAPE

Ensuring Best Practice for Green Roof & Solar PV Projects MAGAZINE

WINTER 2022

Spreading the Word

Maintenance Tips

Fire Mythbusters

Performance

Academic Corner: Irrigation

News, Views & Projects

Plant Selection

In collaboration with the Green Roof Organisation
---
Part of the Langley Group

Bringing living

roofs back to life

Is your living roof getting the care it needs?

Welcome to Eco Green Roofs, the experts in designing, installing and maintaining

green roofs, to maximise the benefits for people, property and our planet.

Review, recover, maintain.

We can restore your living roof, achieving biodiversity

net gain while enhancing biodiversity on existing

sites, improving water capture, energy efficiency

and air quality. We can also provide guidance on Fire

Regulations and Health & Safety.

Following our detailed survey to assess your needs,

we'll recommend a bespoke maintenance programme

to protect and extend the life of your roof.

Opening up the green envelope.

Part of the Langley group, we are one of the UK leaders in

green roof technology and green infrastructure, providing

design, installation and maintenance services for:

Eco roofs Living walls Biodiverse roofs Blue roofs

Scan the QR code below to speak

to one of our eco experts.

Solar and

biosolar roofs

Podium and

Landscaping

Planting schemes

globe

envelope

phone

www.e-egr.co.uk/maintenance

maintenance@egr.co.uk

01277 355705

Part of the Langley Group
---
GREENSCAPE

IN THIS ISSUE...

Matt Downs

Editorial Director

mattdowns@media-now.co.uk

07963 330774

www.greenscapemag.co.uk

As we approach the end of another challenging year for construction, one

positive from 2022 is the increased focus on sustainability and the environment

from manufacturers of construction materials, the government, and end-users.

Don't get me wrong, there's a long way to go for construction and the built environment

in this area, but across all the construction titles we publish at Media Now, there's a clear

sense that many manufacturers are taking this more seriously and looking at their

internal processes and the products they produce, as they look to meet the demand of

their customers and end-users who are increasingly looking for 'green' solutions.

Readers of this magazine and contributors are already well aware of the many positive

impacts green roofs and associated systems can have on the built environment, but

it's clear the goal is to reaffirm this message and take it further afield. With this in

mind, Maggie Fennell of GRO and Boningale Group has been doing exactly that in

recent months, and on page 10 she discusses some events where she's been raising the

profile of GRO and green roofs to other stakeholders in the supply chain. Discussing the

importance of networking and creating new relationships, Maggie explains: "We need

to learn from each other's experience, otherwise the industry will not develop as fast or

as effectively as our planet needs it to."

But as we know, it's not just about promoting green roof systems; knowledge around

correct installation and maintenance is vital to maximise the many environmental

benefits. As such, this issue features articles on the key steps for maintaining your

green roof from the experts at Eco Green Roofs (page 20); the team at GRO dispel the

myth that deeper substrates mean more expense (page 22); plus we talk substrate

composition with Wallbarn and Sedum Growers (page 24). Enjoy the issue!

Front cover image courtesy of Wallbarn. Wallbarn discuss

substrate selection on page 24, and find out more about the

company at www.wallbarn.com

GREENSCAPE

www.greenscapemag.co.uk

Advertising:

Publishing Director: Andy Dunn

DD: 01892 732 047

Mob: 07963 330777

Email: andydunn@media-now.co.uk

Commercial Manager: Jake Roxborough

DD: 01892 732 047

Mob: 07956 133314

Email: jakeroxborough@media-now.co.uk

Brought to you by the publishers of Total Contractor, the content

of Greenscape magazine (and website) does not necessarily

reflect the views of the editor or publishers and are the views of

its contributors and advertisers. The digital edition may include

hyperlinks to third-party content, advertising, or websites,

provided for the sake of convenience and interest. The publishers

accept no legal responsibility for loss arising from information in

this publication and do not endorse any advertising or products

available from external sources. No part of this publication may

be reproduced or stored in a retrieval system without the written

consent of the publishers. All rights reserved.

Registered office:

1 Forstal Road, Aylesford,

Kent, ME20 7AU

Supported by:

CONTRIBUTORS TO THIS ISSUE...

This magazine and its packaging can

be recycled.

p 10

Spreading the

Word

Maggie Fennell,

Marketing Chair

at GRO.

p 14

Academic Corner

Dr Tom

Young of The

Environmental

Partnership.

p 28

Solar powers on in

2022

Stuart Nicholson,

Roof Systems

Director Marley.

Maggie reports back from recent

exhibitions which have seen the GRO

team networking and interacting with

the supply chain to raise the profile of

green roofs and associated systems for

projects.

P 10

In part two of his focus on drought

tolerance of green roofs in a changing

climate, Dr Tom focuses on the

importance of irrigation and getting it

right first time, plus looks at the different

techniques.

P 14

Stuart looks back on what has been a big

year for the solar PV sector, in no small

part thanks to the introduction of the

amendments to Part L, and explains why

he believes the specification of PV on

roofscapes will only increase.

P 28

www.greenscapemag.co.uk • GREENSCAPE WINTER 2022 3
---
Contents

NEWS

06 Well read: Find out more about

GRO's collaboration on Journey to

the Green Roof, a new book aimed

at educating children about green

roofs

08 Social gains: Sika has donated a

green roof and other materials to

a Salford project which is creating

a safe, indoor space to host events

and activities to tackle social

isolation in the area

GREEN ROOFS

18 Growing resilience: Dr Elisa Olivares

Esquivel discusses plant plasticity and

variation for climate-smart green roofs

20 Maximising performance: The

experts at Eco Green Roofs (EGR)

outline the key maintenance steps that

will help ensure the performance and

longevity of your green roof

24 What lies beneath?: We talk

substrate composition and

standards with Wallbarn and partner

company Sedum Growers

4 GREENSCAPE WINTER 2022 • www.greenscapemag.co.uk
---
GREENSCAPE

SOLAR PV

28 The year when Part L became

real!: Marley's Stuart Nicholson

looks back on a crucial year for the

solar PV sector, and outlines why

he feels this is just the beginning

for the specification of solar PV on

roofscapes...

REGULARS

10 Spreading the word: Maggie

Fennell of GRO and the Boningale

Group reports back from recent

exhibitions where she's been helping

raise the profile of green roofs and

GRO

14 Academic Corner: In the second

part of his focus on drought

tolerance of green roofs in a

changing climate, Dr Tom Young

focuses on irrigation techniques and

the importance of getting it right

22 Mythbusters: Our latest column

dispels the myth that deeper

substrates mean more expense

www.greenscapemag.co.uk • GREENSCAPE WINTER 2022 5
---
News

GREENSCAPE

GRO COLLABORATES ON NEW BOOK TO HELP INTRODUCE

TOMORROW'S CONSUMERS TO GREEN ROOFING

LIVING WALL AWARD

Biotecture is celebrating winning a

BALI National Landscape Award for

the Canary Wharf estate Greening

Phase One.

The extensive urban greening

project was selected as a winner in

the Exterior Living Wall Category

in what the judges said was a

'phenomenally' high standard of

entries in this year's award.

Biotecture delivered PlantBox living

walls in prominent locations across

the Canary Wharf estate in 2021.

They are now helping to enrich

the public realm and contribute

to Canary Wharf Group's (CWG)

ambitious sustainability goals.

The judges commended Biotecture for:

"A green initiative worthy of support.

A committed contractor coupled with

a client willing to experiment." They

go on to say: "The modular living wall

system has some science behind it and

fulfils the client's brief".

In a nod to the science, the BALI

judging panel recognised how the

Biotecture living walls are helping

to improve air quality, attenuate

rainwater and increase biodiversity

for residents, commuters, workers

and visitors to the area.

Richard Sabin, MD at Biotecture, said;

"Winning a National Landscape Award

is hugely significant because it helps

us highlight the benefits of adding

greenery and biodiversity into the

urban realm. These benefits are hugely

significant to people living and working

in the Canary Wharf area, although it is

the aesthetic appeal of the living walls

that people notice first!"

www.biotecture.uk.com

Angela Lambert, on behalf of GRO,

discusses Journey to the Green Roof,

a book for youngsters from GRO and

Tales from Mother Earth, written by

Jenny Bailey…

"The UK Government's Build Back

Greener Strategy sets out policies and

proposals for meeting the country's

target of being net zero in 2050.

I'm in my mid 50's and there's no

guarantee I'll be around to celebrate

the achievement. However, by then

my grandchildren will be in their 30's

and 40's and will likely be in a position

to not only benefit from the initiatives

but possibly to influence decisions

about the built environment.

"That's why, when the GRO Marketing

Team told me about their collaboration

with Tales from Mother Earth to publish

a children's book which highlights the

benefits of green roofing, I was instantly

keen to learn more. The new book

is titled Journey to the Green Roof

and highlights the benefits of green

roofing from the perspective of two

very characterful beneficial insects. I

won't give any more away, but I have

seen the first draft and I can confirm

that the story is very compelling, highly

empathetic and absolutely delightful.

The characterisation puts me in the

mind of Beatrix Potter – and we know

how evergreen her stories are.

"Author Jenny Bailey has successfully

published three other children's

audio story books in the same style

as Journey to the Green Roof.

Phoebe the Bee follows the plight

of a honeybee and helps children to

understand how crucial biodiversity

is to the survival of our planet.

Spike the Hedgehog is an enigmatic

little character who illustrates the

challenges for wildlife in gardens and

Stanley the Water Vole highlights the

consequences of allowing plastic to

pollute our environment.

"Each book includes an audio

recording, so that children can follow

the printed words to help develop

their reading skills. There are also

puzzles and activities within the book

to engage little ones further. And in

Journey to the Green Roof, Dusty

Gedge has contributed a series of 'fun

facts' to help educate children (and

adults!) on the practical benefits and

the charms of living roofs.

"I urge you to visit Jenny's website

to learn more about her books – and

perhaps purchase one or two for the

young people in your own life.

(www.talesfrommotherearth.co.uk)

"Journey to the Green Roof is on

track to be launched on World Green

Roof Day, 6th June 2023, and the

author, along with GRO, is offering a

unique opportunity for GRO members

to get involved. The hope is that

through members' sponsorship, GRO

will be able to offer the book as a free

giveaway to schools and community

groups. Participating members

will have their logo printed on the

sponsors page in the book and can

nominate a school or group in their

area to receive copies.

"I'm only a humble copywriter with

a keen interest in green roofing,

but I can picture myself now, sitting

with a group of children in my

granddaughter's primary school,

reading the story out loud and

showing the children some of the

plants that are mentioned in the

book. I'd tell them about the green

roofs to look for in our area, and I'd

like to think that the youngsters will

each take a copy of the book home

to read with family members. I'll be

sponsoring some books - will you?"

Contact Chris Bridgman or Maggie

Fennell from the GRO to find out how

to sponsor Journey to the Green Roof.

www.greenrooforganisation.org

6 GREENSCAPE WINTER 2022 • www.greenscapemag.co.uk
---
Proud to be

a member of

the GRO Code

The sky's the limit

With a Green Roof System from Green-tech

1

2

3

4

5

1. Choice of soft and hard landscaping

materials available, including:

• Sedum Matting

• gtSedum Cassettes

• John Chambers Wildflower Matting

• John Chambers Green Roof

Wildflower Mix

• Turf

• Planters

2. Intensive or Extensive Green-tree

Roof Garden Substrate

3. Drainage Board System, including:

• Filter Membrane

• Drainage Layer

• Rootbarrier

4. Waterproofing Layer

5. Roof Structure

This diagram of a typical green roof construction is for illustrative purposes only to demonstrate the range

and types of products available for a green roof installation.

Green-tech is a leading supplier

of landscaping and green roof

materials. Our products have been

used in many high profile and

award-winning green roof projects

throughout the UK.

We can provide everything you

need for a successful installation,

including technical advice, project

specifications, CAD drawings and

of course, a full range of Green

Roof products.

For more information, book a

free Green Roof System CPD

presentation, to be delivered

online or in your office.

T: 01423 332100

www.green-tech.co.uk

sales@green-tech.co.uk

@greentechltd

@greentechuk

green-tech-ltd
---
News

PV INSTALLS UP IN 2022

Data from MCS (Microgeneration

Certification Scheme) for solar panels

installed on UK homes shows that

new solar PV installations surpassed

the total for 2021 just eight months

into 2022.

MCS, which defines and maintains

standards for small-scale domestic

renewable energy and heating across

the UK, has recorded all certified

installations on its central database

since 2008.

Figures show that 79,560 solar PV

installations were completed from

January – August 2022, a 30% increase

on the 61,431 installed in the whole of

2021. There was a 144% increase of

solar PV installations registered with

MCS in August 2022 – 12,411, compared

with 5,082 in August 2021.

The data combats concerns in

the renewable energy sector that

domestic solar PV demand would

diminish after the Feed-in Tariff (FiT)

incentive ended in April 2019.

In all, solar PV installations comprise

more than 80% of the 1.4 million

renewable installations so far registered

with MCS. This takes the total number

of 'sunny roofed' residential properties

to more than one million.

In 2021, small-scale solar PV

installations produced a peak of

3GW of electricity for the UK grid for

the first time ever, around the same

amount of power as the Sizewell C

nuclear power plant (3.2GW).

Ian Rippin, CEO of MCS, explained:

"With UK homeowners quite rightly

worried about the cost of living amid

rising energy costs, we are pleased to

report the installation of solar PV is

powering on as homeowners look to

invest in home-grown energy. We are

seeing more installations registered

on the MCS database and our certified

contractor base also continues to grow."

www.mcscertified.com

SIKA DONATES GREEN ROOF TO

IMPORTANT LOCAL PROJECT

Leading roofing manufacturer, Sika,

has donated over £7,000 worth

of materials to a social enterprise

in Salford which is creating a safe,

indoor space to host events and

activities aimed at tackling

social isolation.

Created from two disused

shipping containers, the new

building is located at the Cleavley

Community Forest Garden in Winton,

which is run by Incredible Education

CIC, a social enterprise providing

nature-based services for local

communities through horticulture and

forest school activities.

Having access to the new covered

space will enable the garden to

host music events, health activities,

parent and toddler groups and

workshops all-year round; all with

the aim of improving community

connection.

The building will primarily provide a

secure indoor workshop to Salford

community group, Working in Wood,

which runs woodwork projects for

anyone over the age of 18 looking to

gain skills or meet new people. The

group, which helps to tackle social

isolation, has also been involved with

the construction of the new building,

having erected the timber frame

surrounding the containers.

The two shipping containers were

combined to form a 20ft x 30ft

room topped with a Sika Green Roof,

which blends in with the natural

surroundings and nods to the land's

former use as a plant nursery.

The system build-up included SikaBit

VB-724 Air and Vapour Control

Layer (AVCL) VCL, 100mm Foil-faced

AL Sikatherm insulation and the

new, sustainable roof membrane

Sarnafil Advanced Technology

(AT) - the UK's only Cradle to Cradle

Silver certified single ply

membrane. The membrane is

not only independently certified

in sustainability performance but

as it contains no plasticisers, oils,

chlorine or heavy metals it is ideal

for sustainable construction. Topping

this, the aluminium edge trim,

SikaRoof drainage layer, SikaRoof

Biodiverse substrate and a SikaRoof

Wildflower Blanket, created a natural

habitat for flora, fauna and wildlife.

The wildflower blanket was laid in

such a way to encourage the roof to

self-germinate with local seeds blown

by the wind onto the roof.

The install took four days and

was carried out by Sika-approved

installer, Chorley-based roofing

contractor, Enviroply Roofing Ltd,

who donated their time to the project

free of charge, alongside members

of the Sika roofing team.

Ian Bocock, Director and Education

Manager at Incredible Education

CIC, commented: "We're all about

promoting mental health and

wellbeing in a green space so to be

able to host activities year-round

which build skills and confidence

is huge. Having the roofing

materials and labour donated to

the project was massive because

our budget was used up on

groundworks, steelworks, cladding

and in purchasing the containers.

To receive those donations was

fantastic and we're thrilled with our

new green roof, which fits so well

within the garden."

www.sika.co.uk/roofing

8 GREENSCAPE WINTER 2022 • www.greenscapemag.co.uk
---
GREENSCAPE

Above: Alice, Georgia, Emily and Mark from

Green-tech Specifier

NEW WEBSITE LAUNCHED BY

GREEN-TECH SPECIFIER

Green-tech Specifier has launched its

new and improved website

www.gtspecifier.co.uk

Green-tech Specifier is the

specification team of leading

landscape supplier Green-tech. The

team was established to meet the

growing demand of Landscape

Architects, Garden Designers and

Contractors who required assistance

at the specification, estimating and

drawing stages of their projects.

The new and improved Green-tech

Specifier website addresses the needs

of Landscape Architects, Contractors,

and Garden Designers and showcases

the latest solutions and products for

urban regeneration and landscaping

projects, including a number of

solutions to address climate control,

flooding and biodiversity challenges.

Visitors will find a host of resources

to help support landscape design

projects, including:

• Resource library;

• Product calculators;

• Event calendar;

• Project assistance;

• CPD seminars;

• Past webinars;

• News articles & videos

Green-tech Specifier is a team of seven

that has the product knowledge and

technical expertise to provide advice,

guidance, and recommendations for

bringing landscape designs to fruition.

www.gtspecifier.co.uk

MCS PROVIDES ACCESS TO REAL-

TIME RENEWABLES DATA WITH NEW

DATA DASHBOARD ONLINE TOOL

MCS (Microgeneration Certification

Scheme), the standards organisation for

small-scale domestic renewable energy

and heating across the UK, has announced

the launch of its brand-new, interactive

online Data Dashboard to provide a

detailed analysis of the volume of domestic

renewable energy installations in the UK.

The MCS Installations Database (MID)

holds the details of every MCS certified,

small-scale renewable energy installation

in the UK since 2008, making it the most

comprehensive reference for small scale,

renewable energy installations in the UK.

The organisation says the abundance

of information in the MID puts MCS in a

unique position to share data-driven insights

to help manage the net zero transition.

MCS says Industry, Ofgem and BEIS (the

Department for Business, Energy and

Industrial Strategy) have long used the

MID as a single reference point to help

inform policy development, but this data

will now be made publicly available for the

first time. MCS says the new MCS Data

Dashboard will provide near-real-time

updates on MID data, tracking the adoption

of small-scale renewable installations across

the UK. Given the UK's legally binding netzero

targets, MCS says the platform will

monitor the current uptake of small-scale

renewables, highlight current and past

trends, and identify opportunities for further

development and growth. The organisation

points out already this year, it has recorded

continued growth in solar PV installations,

with the number of installations recorded in

the first eight months of this year exceeding

the total number of installations in 2021

(see page 8).

By creating dynamic visualisations, MCS

says users of the Data Dashboard will be

able to view the uptake and distribution

of small-scale renewable installations

across the UK in near-real-time. MCS

points out data is updated every 24 hours,

instantaneously providing the most

accurate picture of home-grown energy

available across the industry. The platform

is also said to provide insights into the MCS

certified contractor community, identifying

growth and opportunities in green jobs

as the volume of low carbon installations

continues t to increase.

The MCS Dashboard is said to be divided

into two sections: Installation Insights

and Scheme Insights; the Installation

Insights section showcases the uptake and

geographical distribution of renewables,

where they're used successfully and

where opportunities for growth are, whilst

Scheme Insights enables users to compare

the growth of different technology types

and shines a light on the contractor base

installing them. MCS says both can be

filtered by year, location, technology and

installation type, with image and data

exports available to download.

Ian Rippin, CEO of MCS, said: "Robust data is

the essence of strong decision-making. Our

Data Dashboard has been a long time in the

making and our efforts have paid off as we

roll out our invaluable data via a real-time

platform that will be a useful tool for several

audiences. We believe this data will be

important to people working on renewable

installations and those who influence the

policies for our low carbon future.

"This is why we believe it is important

to make our data freely available and

we encourage anyone in the domestic

renewable energy sector or working on

energy system modelling to use it to their

advantage. The MCS Data Dashboard will

continue to evolve, and as we look to build

its capabilities out even further we seek

honest and constructive feedback from

users."

mcscertified.com/about-the-mcs-datadashboard/

www.greenscapemag.co.uk • GREENSCAPE WINTER 2022 9
---
EXHIBITIONS & NETWORKING

RAISING AWARENESS & BUILDING

BUSINESSES THROUGH NETWORKING

Maggie Fennell, Marketing Chair for GRO and board member

representing Boningale Group, reports back from recent

exhibitions which have seen GRO interacting with the supply

chain and raising the profile of green roofs through interaction

with key stakeholders...

GRO members are making

the most of trade shows and

exhibitions in order to meet with

and create relationships with industry

experts, manufacturers, growers,

specifiers, planners and potential

clients.

Maggie Fennell, Marketing Chair for

GRO and board member representing

Boningale Group, recently represented

GRO at the Landscape Show, in

Birmingham, where she says she was

kept on her toes by a constant stream

of visitors wanting to learn about green

roofing. The audience consisted largely

of garden designers and landscapers

who wanted a greater understanding of

domestic green roofing.

Building on the success of the

Landscape Show, GRO says it is

planning to visit Futurebuild at London

ExCeL in March 2023. A very different

audience, but with a similar objective

– to create links within the industry

so that expertise can be shared and

opportunities created.

Here's Maggie's report from the

Landscape Show and her thoughts on

Networking:

"In an industry which relies on the

successful cooperation of many

disciplines, networking is key to growing

the marketplace and offering a wide

variety of green roofing solutions.

Although the word 'networking'

conjures up the worst kind of images

of 'beige' buffets and small talk, I am

Above: Maggie Fennell presenting on behalf of GRO at a recent industry trade show.

happy to report that this has not been

our experience at all.

"One of the core benefits the Green

Roof Organisation offers to members is

that kind of networking that builds trust

and confidence. We need to learn from

each other's experience, otherwise the

industry will not develop as fast or as

effectively as our planet needs it to.

"The Landscape Show in September

provided a great opportunity to connect

with domestic green roof installers and

designers and – just as importantly –

with many prospective and fledgling

green roofers who are at the very

beginning of their journey towards

including living roofs into landscaping

projects.

"In a targeted trade show like

Continued on page 12 >>>

10 GREENSCAPE WINTER 2022 • www.greenscapemag.co.uk
---
EXHIBITIONS & NETWORKING

See GRO at

Futurebuild

7-9th March 2023,

ExCeL London

Book tickets at:

www.futurebuild.co.uk

GRO has enjoyed success at recent exhibitions, creating good relationships and educating the supply chain on the benefits of green roofs

>>> Continued from page 10

Landscape, there are rarely huge

volumes of traffic, which means more

time to spend with individuals. In that

way, each conversation is more detailed,

more specific and more personal. GRO's

objective for this event was to reassure

new entrants to the industry that they

will be welcomed and supported at

every step of the way. I came away from

the two-day event feeling confident that

we had achieved just that.

"NEC Birmingham provided an ideal

venue for this show. Its central location

is easily accessible and we saw visitors

from all over the UK. The show

organisers did a fantastic job of turning

the cavernous, industrial hall into a light,

bright meeting space with four seminar

theatres, several demonstration areas

and a central cafe area with superb

flapjacks! The presence of plants on

every other stand certainly helped

create a good ambience too.

"On day one of the show I teamed up

with Kay Davies from Oxford Green

Roofs to give a presentation entitled

'How To Get Going In Green Roofing'.

The attendees responded well to our

mix of technical background, varied

case studies and signposting towards

resources that will help businesses take

the next step towards green roof design

and installation.

"Kay has been helping to advise GRO

on further support needed by domestic

green roofers. As a starting point, our

organisation has set up a Facebook

Group to encourage communication,

support and cross referrals. Join

'GreenRoofOrganisation GRO Official'

on Facebook to share your thoughts,

ask questions and tell us more about

your work in the green roof industry."

Looking ahead

"Looking ahead to next year, GRO has

been in talks with Futurebuild about

providing our members with the

opportunity to engage face to face

with policy makers, planners, landscape

architects and architects. Plans are

very much in their infancy but we

hope to provide GRO Members with

opportunities to come together with

stands and interactive demonstration

spaces that provide a great educational

experience for visitors.

"Green roofs lend themselves to visual,

practical, and tactile displays which can

include different plant types, colours

and textures. These conversation

starters are a great lead-in to explain

the benefits of green roofs and how

following the GRO Code of Best Practice

will optimise their performance.

"If you'd like to be involved, please get

in touch with one of the GRO board

members."

Sign up for GRO updates to keep in

touch with the organisation's news,

views and activities.

Simply email: membership@

greenrooforganisation.org and the

team will do the rest.

12 GREENSCAPE WINTER 2022 • www.greenscapemag.co.uk
---
SAVVY SHOPPER

THIS AWARD IS PRESENTED TO THE:

Laura Crombie

Brand Director

Real Homes

M-Tray®: modular, instant green roofs

EASY ON EASY OFF

The great outdoors

WALLBARN M-TRAY

M-Tray

installed by

YMCA

students on

the awardwinning

Green Roof

Project,

Milton

Keynes.

www.wallbarn.com 0208 916 2222

has your green roof been physically

FIRE TESTED?

M-Tray® has to B ROOF (t4)

British grown - quick delivery - easy installation - all-year vegetation
---
ACADEMIC CORNER

DROUGHT TOLERANCE FOR A CHANGING

CLIMATE – PART 2

By Dr Tom Young, Blue-Green Infrastructure Associate at TEP.

When I spoke about water

on green roofs in my last

article, I mentioned in passing

the role of irrigation on green roofs.

However, it really deserves a full article

to itself. Irrigation can be a contentious

issue on green roofs, but very often

it is not thought through properly.

In many situations irrigation may

not be appropriate for a green roof.

However, due to our changing climate

some form of irrigation, either as a

backup or an establishment method,

is recommended in some situations.

As a caveat, this article is designed to

speak to a UK design audience.

Other countries have much

more extreme climates than

us and therefore irrigation

requirements are very

different.

When and how to irrigate

You need to be very careful

when deciding to specify an

irrigation system on a green

roof. An irrigation system shouldn't

be used to make up for a poor or

inadequate design. It should be used as

a backup system to cope with extreme

events. With extreme events becoming

more common, the need for additional

irrigation is likely to increase in the

future. However, green roof design

should also adapt to changing climate

i.e. different plant species, landscape

design or substrate depth.

There should be a hierarchy of water

sources used for any irrigation system.

Potable mains water should always be

used as a last resort as there are plenty

of more sustainable – and cheaper in

the long term – sources of water. This

list provides a rough water source

hierarchy that should be followed:

Left: Dr Tom Young. Above: Figure 1 – Illustration shows a potential fog net and

solar panel dew harvesting green roof. See Fog water section on next page.

1. Rainwater direct or

reuse (this could also

include fog/dew water)

2. Recycled greywater or

air-conditioning condensate

3. Treated wastewater (hopefully to be

made more available in the UK in the

future)

4. Saline water (very much location

dependent)

5. Potable water.

Rainwater harvesting

The most obvious way of irrigating a

green roof is to collect all the water

that falls on it. A degree of water is

retained anyway but green roofs will

drain like a normal roof when at field

capacity. A variety of methods exist to

capture drainage water. These range

from large tanks at ground level, to

more innovative blue-green roofs which

store water on the roof (see subsurface

irrigation section). Water can then be

moved from these storage areas with

either pumps, or passively wicked into

the substrate on demand.

Air conditioning condensate

Air conditioning (AC) units produce

condensate water as part of their

mechanical process. In UK cities

the use of air conditioning units is

becoming much more prevalent. An

AC unit designed for a single room or

apartment on a green roof in Beirut

provided between 0.2-1.2 l hour -1

depending on the humidity

(Sisco et al. 2017).

This wouldn't be enough to support a

large green roof but could be used to

help supplement other water sources.

The advantage of this water source

is that as temperatures increase and

water demand rises, the amount of AC

water available is also likely to increase.

14 GREENSCAPE WINTER 2022 • www.greenscapemag.co.uk
---
Greywater

Greywater can be defined as

wastewater from domestic and

industrial uses. The easiest and safer

to use sources of greywater include

kitchen drains, hand washing from sinks

and domestic clothes washing. This can

be reused on green roofs with minimal

treatment, with the green roof actually

providing the treatment in some cases.

Due to its regular production, large

amounts of storage are not needed as it

is a very predictable supply

(Mahmoudi et al. 2021).

Fog water

In coastal or humid environments, a

surprising amount of water can be

collected from fog/dew. Fog collectors

can range from giant vertical mesh

nets which capture fog, to adapted

solar panels which collect dew. A study

of different warm climates found that

between 1.2-15.6 l m -2 day -1 could be

harvested from fog water and 0.2-

0.7 l m -2 day -1 from dew. This could

potentially supply 100% of the irrigation

need of green roofs in these climates

(Pirouz et al. 2021). Figure 1 (left)

shows a potential fog net and solar

panel dew harvesting green roof by

Pirouz et al. 2021.

Saline water

Saline water is another option to

use on green roofs. Saline water can

come directly from the sea, or even

from brackish groundwater or treated

wastewater. In an extreme example,

Ntoulas & Varsamos 2021 irrigated

warm season turfgrass in a green roof

setting with seawater from Athens's

harbour. The idea was to see if the

turfgrass could be kept alive under

extreme conditions i.e. during a long

summer drought when no other

water was available. They showed that

although turf quality declined during

the irrigation period, turf still survived.

An effective method was to over

irrigate with salty water in order to

Above: Figure 2 shows an inappropriate irrigation system on a green roof in the UK.

prevent salt build-up in the substrate.

The extra water, despite being salty

helped to keep salt in solution and

pass out of the substrate as the excess

drained (Ntoulas & Varsamos 2021).

Benefits of irrigation

It sounds obvious, but in the harsh

green roof environment a small

amount of extra water, specifically

during extended dry spells, can

significantly increase plant survival.

This is particularly true in the first few

establishment years of a green roof. It

also applies to green roofs that have a

wider range of plants other than very

hardy succulents. Irrigation provides

a greater amount of plant available

water which prevents plant death,

lowers substrate temperature, and

reduces stress on plants. A study in the

US showed that irrigating green roof

modules could reduce their average

summer substrate temperature by

between 2-4ºC, as well as reducing the

level of extreme substrate temperatures

(Guckenberger et al. 2011). This can

also then result in greater ecosystem

service benefits, for example a

greater cooling effect on the urban

environment (Van Mechelen 2015).

Reduced plant mortality also works out

to be much cheaper in the long term

as plants do not need to be regularly

replaced!

Negatives of irrigation

Irrigation, when used carefully, is very

effective at helping plants establish and

survive extended dry spells. However,

when used excessively, irrigation

can lead to poor quality green roofs.

Green roofs are designed to be harsh

environments to prevent excessive

plant growth and ingress of weed

species. Excessive irrigation leads to

certain plant species (grasses, tree

seedlings) dominating and pushing

other more desirable species out. See

Figure 2 (above) for an example of an

inappropriate irrigation system on a

green roof in the UK. This system was

too small to cover the whole roof and

was set on a regular timer, which had

over-irrigated the roof for a number

of months. Species diversity was

significantly less in this area and had

Continued on page 16 >>>

www.greenscapemag.co.uk • GREENSCAPE WINTER 2022 15
---
ACADEMIC CORNER

>>> Continued from page 15

promoted a much less species-diverse

habitat.

Another example is provided in Figure 3

(right) which shows the massive effect a

dripping pipe can have on vegetation. In

this instance a tap had been leaking for

a couple of years on an extensive roof,

leading to a very different vegetation

composition in this area.

Methods of irrigation

Water can be applied in a number of

ways to a green roof. A number of

these were compared in an excellent

trial by Rowe et al. 2014. The authors

compared overhead sprinklers, drip

lines and sub-surface emitters in a

variety of green roof settings. In this

trial, overhead irrigation seemed to be

the most effective at encouraging plant

growth. Due to the coarse nature of

green roof substrate, the wetting front

of sub-surface and surface drip lines

did not cover the whole green roof,

resulting in patchy growth. However,

the addition of a water retentive fabric

did help to improve the effectiveness of

both sub-surface and surface drip lines

by retaining more water and helping to

more evenly distribute it

(Rowe et al. 2014).

Blue-green roof subsurface

A more efficient sub-surface irrigation

method combines the drainage layer of

a green roof and the water storage of

a blue roof. This means that drainage

water from the green roof is retained

and can be easily reused. An additional

benefit is the much greater amount

of stormwater retention, reducing

potential flooding downstream.

Generally, this involves passive capillary

wicking of water from the storage tank

into the substrate via a water retentive

fabric which helps to evenly distribute

water. This type of system has been

shown to be very effective at irrigating

extensive green roofs, allowing a

reduced substrate depth and providing

Above: Figure 3 shows the huge impact a dripping pipe can have on vegetation.

large amounts of evapotranspiration,

without the need to use additional

water sources (Cirkel et al. 2018),

although this type of system can also be

topped up with other water sources if

captured rainwater runs out.

Smart systems

Irrigation controls are also becoming

much smarter. There are plenty of

systems now that irrigate according

to weather conditions, predicted

evapotranspiration and green roof

moisture levels (Bandara et al. 2016).

Care still needs to be taken when

using these to ensure they are set up

correctly and calibrated on a regular

basis. I have seen plenty of examples

where they have gone rogue and

irrigated nonstop for months on end!

Conclusions

• Irrigation is sometimes required on

green roofs in the UK.

• Requirement is likely to increase in

some areas due to climate change.

• Requirement can be reduced by good

green roof design (substrate depth,

type, drainage layer, moisture retention)

and appropriate plant selection.

• Irrigation system is important – some

are much more efficient at providing

irrigation direct to plant, reducing

losses.

• Water source should always be

considered. Use non potable, captured

or recycled water when possible.

• Excessive irrigation should be avoided

at all costs. Irrigation should be viewed

as a backup and only used to keep

roofs alive. This advice is specific to UK

climate.

• Irrigation system can be combined

with stormwater storage and passively

used to irrigate the roof.

• The green roof system needs to be

thought of carefully as a whole system.

Irrigation should not be considered at

the end as a passing thought to tack

onto the design.

Contact

Dr Tom Young

E: tomyoung@tep.uk.com

Tweet: @DrGreenRoof

16 GREENSCAPE WINTER 2022 • www.greenscapemag.co.uk
---
GUARANTEE

CREST NELSKAMP

PLANUM CONCRETE AND G10 CLAY

PV INTEGRATED SOLAR SYSTEMS

A quick & easy to fit system that works seamlessly with the Crest *Planum concrete

and G10 clay roof tiles offering a state of the art solution on the completed roof.

The Integrated solar panel roof tiles are both a

roof covering and electricity generating solution.

> Beautiful aesthetics

> No more 'Ugly' Solar Panels!

> Engineered to fit quickly and easily

> Modules interlock with Planum & G10 roof tiles

> Easy to connect MC4, simply plug and play

> Performance guarantee:

10 years 90% of rated performance

25 years 80% of rated performance

'ECO'

FRIENDLY

PRODUCT

QUICK

AND EASY

INSTALLATION

WITH 2-3

SCREWS.

Crest *Planum PV Solar

Tile Panel, with black

frame - black cells and

black backsheet

*As per European trademark Nr.7287956, filed on 2nd October 2008, the Trademark

PLANUM belongs to La Escandella. It is Dachziegelwerke Nelskamp as authorised

licensee of the owner allowed to use the mark PLANUM for its concrete product.

For more information on our roofing tiles and PV

integrated solar system contact the Crest team.

TECHNICAL

S U P P O R T

30

Y E A R

01430 432667 info@crest-bst.co.uk www.crest-bst.co.uk

ROOFING TILES
---
GREEN ROOFS PLANT SELECTION

GROWING RESILIENCE:

PLANT PLASTICITY AND VARIATION FOR

CLIMATE-SMART GREEN ROOFS

By Dr. Elisa Olivares Esquivel, Lecturer in Planting Design, Department of

Landscape Architecture, at the University of Sheffield.

In the autumn issue of Greenscape,

Dr. Tom Young wrote the first part of

a very insightful article about green

roof challenges in the face of climate

change and the different elements

that can be tuned to achieve resilient

systems.

Plant selection is one of these elements

that goes a long way to future-proofing

the roof and a critical process that is

worthy of far more research. There

are plenty of green roof mixes on the

market, with plants suitable for many

different types of roof. However, with

the impact of climate change, some of

the species that work today may not be

optimal in the future.

Broader plant palettes

These days we often hear that we

need to work not only with broader

plant palettes of species, but also more

diverse plant material with greater

plasticity. These sources of natural

variation (and artificial selection) could

be obtained either by responsibly

and sustainably collecting plant

material from the wild, especially from

distinct populations, or by breeding

drought resistant plants, for example.

Nevertheless, before starting with these

endeavours we need to understand

what these terms mean and their

implications for climate resilience and

adaptation. Plasticity can have different

meanings depending on the discipline

or the context in which we are studying

the plants, for example ecology or

molecular biology.

The concept of plasticity

To clarify the concept of plasticity, Rob

Brooker and his team (2022) explained

how the concept can be applied in crop

breeding. This can be applied to plant

breeding as a whole or plant hunting

and screening for green roofs and / or

green infrastructure.

Brooker explains that one of the most

often applied forms of the term is

phenotypic plasticity, which often refers

to "changes to phenotype in response

to changes in environmental conditions"

(2022). Phenotype, according to

Scitable by Nature Education (2022),

"refers to the observable physical

properties of an organism; these

include the organism's appearance,

development, and behaviour."

This means that a plant with a high

phenotypic plasticity could respond

to drought by changing the size of

its leaves, reducing the number of

stomata, and generating a greater

number of offshoots for vegetative

propagation, for example. The plant

can adapt appropriately for its survival.

Phenotypic plasticity can be expressed

in a lower or higher degree in traits,

i.e. "a morphological, physiological, or

phenological feature of an individual

plant that is measurable" (Brooker

et al. 2022) in plants from particular

locations.

In research exploring the plasticity of

Fragaria vesca to drought, clones of

material from different locations of

the French Pyrenees and Alps were

tested in different moisture regimes. It

was found that flowering and runner

production from plants from south

facing slopes were maintained in low

moisture conditions in comparison

with material from north facing slopes,

which had reduced or no capacity for

producing them (De Kort, 2020). This

is found in a higher degree according

to gradient and aspect, more than

to elevation. There is tremendous

variation within species dependent on

a plant's origins and this can be utilised

for resilient plant selection.

Building-in resilience

The take-home message here is that for

our urban green spaces to survive the

onslaughts of extreme weather events

brought about by the climate crisis, we

need to build-in resilience to our plant

selection now. That resilience comes

from diversity: in the number of plant

species and within-species varieties,

such as ecotype. As with our food

systems, reliance on the same small

number of species and cultivars makes

us increasingly vulnerable to the effects

of climate change and the pests and

diseases that come with it.

Contact Dr Elisa Olivares

Esquivel

Email:

elisa.olivares@sheffield.ac.uk

18 GREENSCAPE WINTER 2022 • www.greenscapemag.co.uk
---
Updated GRO Code

We'll bring your

roof to life!

GREENING

ROOFTOPS

ANY SIZE

ANY SYSTEM

ANYWHERE!

www.gardensinthesky.co.uk

GREENSCAPE

In collaboration with the

Green Roof Organisation.

MAGAZINE

If you supply green roofing products to

the green roof market, Greenscape is the

magazine for you!

GREENSCAPE

Ensuring Best Practice for Green Roof & Solar PV Projects

MAGAZINE

S P R I N G 2 0 2 1

Get your marketing message in front of over

5,000 professionals who specify/purchase

green roofing products

Green Roof Myths

Green Talk Q&A

For advertising opportunities contact

Andy Dunn 07963 330777

Jake Roxborough 07956 133314

#WGRD2021: Get involved!

News, views and projects

In collaboration with the Green Roof Organisation

01_GS0421 1 16/04/2021 17:07

From the publishers of
---
GREEN ROOFS MAINTENANCE

GAINING THROUGH

MAINTAINING

The experts at Eco Green Roofs (EGR) outline the important

maintenance steps you should take to maximise the

performance and ensure the longevity of your green roof.

To ensure their aesthetic

appearance, design

functionality and

environmental benefits are

maintained, it is important that

regular maintenance of green

roof systems is undertaken.

At Eco Green Roofs, we

recommend that regular

maintenance be carried out at

intervals appropriate for the

type of living roof; generally

twice per annum for sedum and

biodiverse roofs, and between

3 and 6 times per annum for

fully developed wildflower blankets.

Given the investment made in the

design and installation of a green

roof, it is important that the system

delivers its full life-cycle potential of

both commercial and environmental

benefits. A well-managed and regular

maintenance programme will ensure

longevity of performance and an

economic and environmental/social

return.

The main considerations to ensure the

ongoing performance of a living roof

are:

• Free flowing and unrestricted roof

drainage

Regular maintenance of roof outlets

and drainage inspection chambers will

ensure free flowing and unrestricted

roof drainage. It is vital that an excess

build-up of rainwater is not retained on

the roof to harm the living roof. Excess

water will weaken root systems and

allow invasive species to take over.

• An adequate amount of nutrients

The correct amount of nutrients in a

living roof is important to help maintain

strong and consistent vegetation

growth and coverage across the

whole roof area. A lack of nutrients

will eventually result in bare patches

across the roof and will limit the

species capable of living in the system.

Conversely, if it's too nutrient rich, it will

encourage excessive vegetation growth

which will require trimming and cutting

back to acceptable levels.

• Control of all spent vegetation, and

undesirable and potentially invasive

species

To maintain the balance of both species

and nutrients it is important to monitor

development of the plants. This involves

controlling excess growth and regularly

removing dead material and excess

vegetation to avoid impeding drainage

and leaving excess biomass on the roof

which can upset the nutrient levels in

the substrate and spoil the aesthetic

look and design performance.

At this time of year it's

particularly important to pay

attention to these elements.

Leaves are falling and although

some sedum and late flowering

wildflowers are still in bloom,

there will also be many deadheads.

All of this excess

vegetation should be removed

from the living roof areas. Any

spent vegetation left over the

winter can add unwanted biomass

to the roof as it rots down,

causing nutrient levels to become

too high. This is particularly

important to avoid on biodiverse roofs

which need low nutrient systems. If leaf

guards or inspection chambers are not

in place over outlets, these need to be

checked before the winter to make sure

they are not blocked with leaf litter,

which could cause leaks. It's also the

time of year when permanent irrigation

systems need to be drained down, so

that there is no water left in external

pipework over the winter – otherwise

this could freeze and burst.

If you don't already have a maintenance

contract in place, now is a perfect

time to have your green roof tidied

and its condition checked, and a plan

put in place for when the roof starts

its growth again in the spring. Regular

maintenance visits really can make a

difference to the year-round health and

appearance of your living roof.

Scan the QR code to speak

to one of our Eco experts

20 GREENSCAPE WINTER 2022 • www.greenscapemag.co.uk
---
TAKE YOUR

ROOFING BUSINESS

TO THE NEXT LEVEL WITH NFRC

Technical advice, the industry quality stamp and fantastic

profile-raising opportunities—for all roofing disciplines

NFRC sets the highest

standards for work across

all roofing and cladding

disciplines. But we're much

more than the industry's quality

assurance stamp. Membership

of the trade association offers

contractors and suppliers a

range of powerful technical

and commercial advantages.

These include a profile on our website

and directory listing, making your

business easier for clients to find. Plus

exclusive access to technical support and

updates, an exclusive health and safety

app, and advice on training provision.

For suppliers, key benefits include

numerous opportunities to engage with

roofing contractors all over the country.

And as the voice of the roofing sector,

NFRC makes our members' views

heard where it matters most. We work

with government, standards bodies

and training providers to promote the

interests of the industry, and of the

construction market as a whole.

3 | Working Towards Zero Avoidable Waste in the Roofing Sector

NFRC trade

membership benefits

WHAT BEING AN NFRC MEMBER MEANS FOR YOU

3 | Working Towards Zero Avoidable Waste in the Roofing Sector

NFRC supplier

membership benefits

EXCLUSIVE ACCESS TO OUR ROOFING

CONTRACTOR MEMBERS

Call 020 7638 7663 or visit

nfrc.co.uk/TCbenefits to request our

benefits brochure—and find out more

about what NFRC membership can do

for your business.

NFRC GROUP ALSO INCLUDES

Competent Person Scheme:

self-certify roof refurbishment

to Building Regs

Roofing operatives

competency accreditation

Promoting roofing as a

skilled profession and

offering career advice

UK's premier event for the

roofing industry

Recognising best roofing

training standards

Supporting hardship, training/

upskilling, volunteering

and environment

Contractors with knowledge,

skills and experience of

heritage roofing systems
---
MYTHBUSTERS

MYTH: DEEPER SUBSTRATE MEANS

MORE EXPENSE

Fact: Optimising substrate depth leads to enhanced benefits and greater sustainability. The experts

at GRO explain more...

When designing any structure,

build costs will always need

to be a consideration. But

rather than think in terms of initial

expenditure, think about lifetime value

for money. The purpose of this article

is to encourage you to think about

future proofing the green roofs you are

designing, installing and maintaining,

rather than viewing them as a boxticking

exercise.

Let's start by reviewing the functions of

the substrate layer on a green roof. The

most obvious is, of course, to sustain

life and give the plants somewhere to

grow whilst also providing a home for

nature. The substrate is also an intrinsic

factor in stormwater management,

thermal performance, protecting the

waterproofing from UV and mechanical

damage, fire protection and creating

wildlife habitat.

Substrate installation.

Image courtesy of

Bridgman & Bridgman

On a less positive note, some green roof

designers are tempted to skimp on the

substrate layer to reduce the loading

and cost. However, this is a mistake that

would be more difficult – and expensive

– to rectify once the structure is built

and the green roof installed.

The benefits of deeper substrates

include:

• Increased ability to retain water and

help mitigate the risk of flooding.

• More room for plant roots to develop,

therefore vegetative layer is more

robust.

• Allows a wider choice in the planting

pallet enabling facilities managers to

adapt the vegetative layer should local

conditions alter due to climate change.

• Happier plants lead to a self-sustaining

community which needs lower amounts

of irrigation and fertiliser applications,

saving on some maintenance costs.

• More effective at protecting the

waterproofing from daily variations in

temperature.

• Deeper substrate also helps moderate

temperatures within the building.

Deciding on substrate depth

The GRO Code recommends that

green roof substrate depth should be

a minimum of 80mm for a relatively

simple extensive sedum roof. However,

don't limit your planning to the plant

palette you intend to use at the point

of installation. Will the conditions on

this roof still be the same in a decade's

time? Maybe a bigger building will have

appeared next door making this space

too shaded for shallow rooted sedums.

What will the local climate be like?

Will 80mm depth of substrate still be

enough to absorb enough water from

a severe rainfall episode in a changing

climate? When planting needs to evolve

along with changes that are beyond

your control, a deeper substrate will

keep your options open.

When deciding substrate depth, try

22 GREENSCAPE WINTER 2022 • www.greenscapemag.co.uk
---
to consider all of the benefits

that the substrate offers.

Areas of deeper substrate

interspersed with areas of

shallower substrate will allow

you to not only spread costs by

concentrating the loading on

stronger areas of the building,

whilst creating different habitats;

Imagine a wealth of different

plant species enjoying different

conditions. You can create

berms, humps and hollows and

even engineer potential nesting

sites for bee species that like to

burrow. From an ecological point

of view, variable topography is a

wonderful thing.

Substrate depth and reducing

the cost of green roof

ownership

A good green roof is designed to

perform long after the installers have

left the building. And, in order for that

to happen, the vegetative layer of the

roof must be maintained – and this

must be budgeted for.

Plants with insufficient room for their

roots, too many or too few nutrients,

inadequate water or the wrong

amount of sunlight will not thrive

and environmental and aesthetic

performance will suffer. This is also

important on bio-solar green roofs

where the activity of healthy plants

helps to optimise the performance of

PV panels.

A deeper substrate layer has been

shown to help plants become more

resilient to frost and to drought. It also

allows a greater degree of biodiversity

so that if any species struggle with a

particular season, there are always

others that will thrive. In any wildflower

meadow at ground level, the plant

species mix will change every year

depending on weather conditions, and

the same effect can be seen on living

roofs, which are subject to even harsher

extremes.

Above: substrate depth recommendations.

Deeper substrate will retain more

water for longer which eases

pressure on drainage systems from

stormwater runoff and supports the

vegetative layer reducing plant losses.

Better plant health means stronger

evapotranspiration and cooling effects,

maintains a great aesthetic, and all

of the associated wellbeing benefits

for people overlooking the roof. It

also means that unwanted plants will

be hard pressed to find the space to

establish on the roof, thus lowering the

maintenance requirement.

Another aspect of green roof

maintenance that is costly for the

owners of shallow substrate sedum

roofs but free for owners of deep

substrate roofs is fertiliser. Because

green roof substrate is necessarily

low in organic matter, you need

enough substrate to get enough soil

microbes to fix nitrogen (plant food)

from the air. With a deep substrate,

plant nutrient levels are usually quite

self-sustaining and will prevent plants

from getting too large and sappy. On a

shallow substrate additional fertiliser

may be needed (this should only be

applied when downpipes are isolated

from the main sewage system -

(please refer to section 5.1.2 of

the GRO Code).

The cost of getting it wrong

Ultimately, the price you pay for

a green roof has to be in line

with your long-term objectives

for that project. If you are

designing a structure that is

to be sustainable, valuable to

the local environment, resilient

to climate change, offer great

PR and wellbeing benefits and

boost biodiversity, then a green

roof is a must. It is more costeffective

to build it properly

in the first place than to cut

initial installation costs and then

make changes ten years down

the line.

The singer Meatloaf sang that the two

saddest words in the English language

are "If Only". If you are designing or

installing green roofs, don't let that be

your legacy!

In summary

The deeper the substrate layer on your

green roof design, the stronger the

structure beneath it will need to be and

of course there are associated costs

with that.

However, with careful design and

installation, those costs will be offset

by more manageable maintenance,

enhanced benefits and a beautiful roof

that will go down in history as being an

asset to the environment.

Contact

GRO

www.greenrooforganisation.org

Tweet: @RoofGro

www.greenscapemag.co.uk • GREENSCAPE WINTER 2022 23
---
GREEN ROOF SUBSTRATES

WHAT LIES BENEATH?

We talk substrate composition with Wallbarn and partner

company Sedum Growers, and hear about the growing media

they've developed for the M-Tray system which encourages plant

growth and complies with all relevant standards...

A

farm tucked away

in the Hampshire

countryside has been

leading a quiet revolution

in the development of high

quality, low organic and peatfree

substrate that meets fire

ratings and follows GRO Code

guidance.

It could, perhaps, be

considered the holy grail of

green roof growing media,

delivering an optimum blend

and supply of slow release

nutrients coupled with great

moisture control qualities,

enabling plants to flourish

throughout the life of the

roof. The mix represents a

fine balancing act between

the basic elements of

the substrate – compost,

lightweight aggregate and coir

– and the need to achieve compliance

with BS 8616:2019, Approved Document

B, the GRO Code and the B ROOF t(4)

fire rating.

And it's only available with the awardwinning

M-Tray modular green roof

system from Wallbarn. The substrate

has been developed for the British

producer by partner company Sedum

Growers in conjunction with renowned

soil scientist Susie Holmes, a specialist

in horticultural growing media and soil

management.

Composting

Producing this BS-compliant substrate

relies heavily on the quality of the green

compost and it's here that the greatest

of care has been taken to ensure that

sedum and wildflower plants in M-Tray

are grown in the highest quality media,

as Sedum Growers' joint Managing

Directors David Holloway and Keith

Pegren know. David explained: "For us,

a lot of the commercially available Pas

100 compost is of unknown quality.

It might contain weeds or hormonal

herbicides which don't breakdown in

the composting process. We therefore

manufacture our own on site using

local, known sources of raw materials.

We control the whole process from start

to finish, which can take in excess of a

year and produces a very high quality

product."

So if you think your delivery of

M-Tray modular trays smells sweetly

fragrant and herby, then you may

well be right, for one ingredient used

Green roof substrate

components

in the compost is discarded

matter from a local business

producing chamomile and

other essential oils. This high

nutrient waste stream meets

David and Keith's exacting

standards because they know

its provenance and quality,

and it has already been heated

to high temperatures, killing

weeds etc.

Sourcing these raw materials

ultra-locally – usually within 20

miles – also means Wallbarn

minimises road miles.

Other carefully selected

agricultural waste is combined

into the mix, which is then

left to compost. "It's quite a

complex process," explained

Keith. "It has to be warm

enough to kill weeds etc.

so we continually check

the temperature, and the chemical

composition of the final compost is

key. Chemicals released during the

composting process create salts, which

can be harmful to plants so they have

to be allowed to leach out. We carry out

electro conductivity tests to measure

salts content and only release the

compost for use when it has physically

cooled down sufficiently, and salts are

at a safe level."

To complete the Wallbarn substrate, coir

and Lytag or Leca are combined with

the compost:

Coir: a lightweight, natural by-product

of the coconut industry used in

Continued on page 26 >>>

24 GREENSCAPE WINTER 2022 • www.greenscapemag.co.uk
---
GREEN ROOF

Above: Wallbarn's M-Trays filled with substrate (left of image) and waiting to be filled. Inset: Sedum trays. Below: The composting process.

>>> Continued from page 24

M-Trays to lighten the substrate

mix and introduce fibres that lock

in moisture and nutrients. In use,

interaction between the green

compost and the coir gives a

slow release of nutrients over an

extended period of time.

Lytag: a lightweight ballast which is

a waste product from power station

waste.

Leca: an expanded clay which

is also a waste product and super

lightweight/bulk forming. The roots

of sedum and wildflowers grip the

particles to bind into the substrate and

support the whole green roof.

The GRO Code advises 50% non-organic

content within the substrate and Wallbarn

achieves this by including Lytag/Leca

pellets, which it sources in the UK. That

both the coir and Lytag/Leca are waste

materials from other industries is no

coincidence; Wallbarn says it strives to

make its M-Tray system as environmentally

friendly as possible within the bounds of

performance and regulatory compliance.

The green red line

David and Keith are also very clear

that peat has no place in any compost

Sedum Growers produces: "It is a red

line for us and has been for the last 10

years. We were determined to phase

out peat rather than wait for the

legislation to change," Keith said.

The legislation he refers to is aimed

at protecting peatland habitats and

meeting net zero targets, with the

government set to ban the use of peat

in horticulture retail by 2024 and by

2028 for commercial growers.

Rigid adherence to high quality and

environmental responsibility is

an ethos driven by Wallbarn, as

Director Julian Thurbin explained:

"Wallbarn goes above and beyond

legislation and guidance relating

to green roofs. We've been at the

forefront of many industry changes

and always strive to physically test

ingredients to ensure they perform

as we wish, using Warringtonfire for

fire tests and STRI for growth tests.

"M-Tray exceeds all regulations by

a significant degree. Our ethos is

to provide customers with industryleading,

healthy green roofs that

thrive throughout their lifetime, meet

regulatory and industry standards and

are as eco-friendly as possible."

Contact

Wallbarn

www.wallbarn.com

Tweet: @wallbarn

26 GREENSCAPE WINTER 2022 • www.greenscapemag.co.uk
---
SIKA NOW OFFERS A COMPLETE

GREEN ROOFING SYSTEM

WITH ROOTS LIKE OURS, IT WAS

THE NEXT NATURAL STEP

Building on our reputation in roofing, Sika's complete

green roofing system provides many sustainable

benefits. And on one project, it has even provided

a grazing area for a flock of Dutch Spotted Sheep,

who help reduce maintenance costs.

Sika's complete green roofs help to manage storm

water, improve the building's thermal performance

and enhance biodiversity in nature.

SikaRoof ®

Wildflower

Blanket UK

SikaRoof ®

Substrate

Bio-diverse UK

SikaRoof ®

Rigid Drainage

Layer 20 UK

SikaRoof ®

Protection Fleece

P-225 UK

WOULD YOU LIKE TO KNOW MORE?

Email enquiries@uk.sika.com

Visit www.sika.co.uk/greenroof
---
SOLAR PV RESIDENTIAL PROJECTS

THE YEAR WHEN PART L

BECAME REAL!

By Stuart Nicholson, Roof Systems Director at Marley.

This year has been a pivotal

point in the nation's journey to

decarbonise and move towards

the net zero target set for the middle of

the century.

The summer months finally saw the

introduction of amendments to Part

L of the Building Regulations. The

changes have been implemented to

ensure newly built homes produce 31%

lower carbon emissions. With houses

creating 40% of the UK's greenhouse

gases according to the Climate Change

Committee, by tackling home-related

emissions in this way considerable

progress can be made.

Various sectors within the construction

industry are now grappling with the

implications of Part L and how they

will ensure compliance with the

requirements going forward. Many

are already looking at the benefits

that opting for renewable energy

solutions can deliver in the fight to

reduce household emissions and

tackle tangible consumer challenges

associated with energy consumption

and cost.

Experts have stated that improvements

to energy efficiency and lower

emissions levels simply can't be

achieved just by enhancing the building

fabric on its own. That is why an

innovative combination of renewable

technology is being favoured.

Over the short term, bringing

together solutions such as solar PV

on roofscapes is one of the easiest

and most cost-effective ways to

satisfy the Part L carbon reduction

targets. Not only does it make use

of currently available and proven

green technologies, but it also opens

a pathway for homeowners to access

dependable, sustainable, and costefficient

sources of energy.

Looking ahead to the future

The specification of solar PV on

roofscapes is now increasingly gaining

traction as an immediate and effective

answer. Aside from the obvious

Continued on page 30 >>>

Marley SolarTile is an

integrated PV roof solution

28 GREENSCAPE WINTER 2022 • www.greenscapemag.co.uk
---
Technical support

Roofing experts on-hand to offer help and advice

Assured standards

Meets all British Standards and regulations

High-quality components

Tested for maximum performance, meaning no call backs

Estimates & fixing specs on demand

We'll help you create them on site and on the go

Comprehensive roof solution

Easy installation with tried and tested compatible components

Need a complete

roof system?

We've got you covered.

With all elements brought together from a single

source, you can be confident that everything

will work together perfectly – and that high

performance is all backed up with a 15-year

system guarantee. Find your peace of mind.

marley.co.uk/roofsystem
---
SOLAR PV RESIDENTIAL PROJECTS

>>> Continued from page 28

attraction as a renewable energy

source, it can also add overall value to

properties. According to Solar Energy

UK, adding solar PV can increase the

market value of a house by around

£1,800.

In addition, awareness of solar is also

growing across the construction sector,

with 40% percent of housebuilders,

specifiers and architects recently polled

by Marley saying they are already aware

of the positive impact solar PV can have

as a sustainable technology within the

overall building fabric.

Whilst specifiers, housebuilders and

consumers may have concerns about

the appearance of bulky, on-roof solar

panels, the latest integrated PV roof

systems now offer a more visually

appealing, cost effective and easier to

install option.

Replacing a section of roof tiles, an

integrated PV solution such as Marley's

SolarTile provides a sleek aesthetic and

acts as a seamless part of the overall

roof. This type of solar panel can also

be installed at the same time as the

rest of the roof tiles, without a specialist

contractor.

Marley SolarTile can also come as a key

component of a fully integrated roof

system from a single source supply

with the substantial offer of a 15-year

guarantee providing peace of

mind to specifiers and home

purchasers.

With electric charging points on new

builds, and homeowners looking to

embrace green technologies such as

heat pumps and solar on the roofscape,

specifiers are responding and seeking

new solutions.

Doing so also helps safeguard people

against energy price concerns as

they use cleaner, greener, and

cheaper power.

For more information

about Marley SolarTile visit:

www.marley.co.uk/solar

Tweet: @MarleyLtd

30 GREENSCAPE WINTER 2022 • www.greenscapemag.co.uk
---
THE GRO GREEN ROOF CODE 1

Green Roof Code of Best Practice

incorporating Blue Roofs and

BioSolar Applications

Anniversary Edition 2021

Photo: ABG Limited

THE GREEN ROOF ORGANISATION

THE G

ROO

Green Roof

incorporatin

BioSolar Ap

Anniversary

Photo ©ABG Ltd

The Green Roof Organisation (GRO) represents companies, organisations and

people involved in, or interested in, nature-based roof solutions that help our

towns and cities mitigate and adapt to the effects of climate change whilst

making them nicer, healthier places to live.

GRO members positively contribute to the delivery of living green and blue roofs

that support nature, provide amenity, attenuate rainwater and generate solar

energy, helping ensure no roof goes unused.

Whether you are active in ecology, design, specification, installation or the

maintenance of green and blue roofs, join GRO and help make where we

live and work greener.

Further information:

E: membership@greenrooforganisation.org

COMING

SOON

THE GRO GREEN

ROOF CODE

W: www.greenrooforganisation.org :

GRO CODE

@ROOFGRO

@WGRD2021
---
WATERSHED

MOMENT.

Meeting Carbon Net Zero and

the wider challenges of climate

change needs innovation, vision

and a fundamental change to

urban development.

A breakthrough in water

management will help

unlock the solution - Green

Urbanisation.

Green Urbanisation

• Utilises surface water to introduce and sustain urban green assets

• Promotes biodiversity and ecological regeneration

• Reduces potable water demand and energy consumption

• Delivers multi-functional environmental, health and wellbeing benefits

• Enhances resilience to flooding, drought and population expansion

Unlock the future at polypipe.com/watershed

Civils & Green Urbanisation