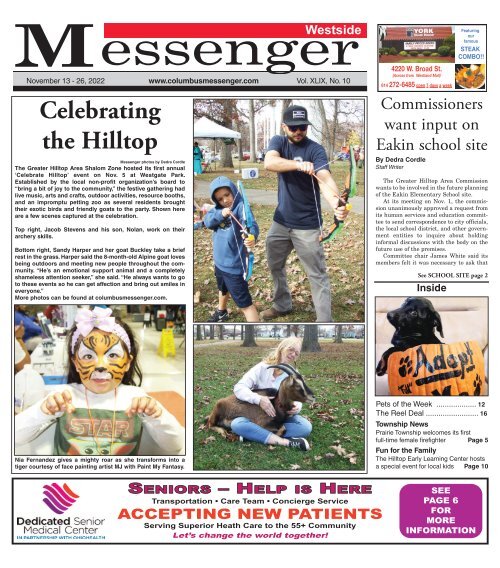 Westside Messenger - November 13th, 2022
Create successful ePaper yourself
Turn your PDF publications into a flip-book with our unique Google optimized e-Paper software.
Messenger

Westside

November 13 - 26, 2022 www.columbusmessenger.com Vol. XLIX, No. 10

4220 W. Broad St.

(Across from Westland Mall)

Featuring

our

famous

STEAK

COMBO!!

Celebrating

the Hilltop

Messenger photos by Dedra Cordle

The Greater Hilltop Area Shalom Zone hosted its first annual

'Celebrate Hilltop' event on Nov. 5 at Westgate Park.

Established by the local non-profit organization's board to

"bring a bit of joy to the community," the festive gathering had

live music, arts and crafts, outdoor activities, resource booths,

and an impromptu petting zoo as several residents brought

their exotic birds and friendly goats to the party. Shown here

are a few scenes captured at the celebration.

Top right, Jacob Stevens and his son, Nolan, work on their

archery skills.

Bottom right, Sandy Harper and her goat Buckley take a brief

rest in the grass. Harper said the 8-month-old Alpine goat loves

being outdoors and meeting new people throughout the community.

"He's an emotional support animal and a completely

shameless attention seeker," she said. "He always wants to go

to these events so he can get affection and bring out smiles in

everyone."

More photos can be found at columbusmessenger.com.

614 272-6485 open 7 days a week

Commissioners

want input on

Eakin school site

By Dedra Cordle

Staff Writer

The Greater Hilltop Area Commission

wants to be involved in the future planning

of the Eakin Elementary School site.

At its meeting on Nov. 1, the commission

unanimously approved a request from

its human services and education committee

to send correspondence to city officials,

the local school district, and other government

entities to inquire about holding

informal discussions with the body on the

future use of the premises.

Committee chair James White said its

members felt it was necessary to ask that

See SCHOOL SITE page 2

Inside

Nia Fernandez gives a mighty roar as she transforms into a

tiger courtesy of face painting artist MJ with Paint My Fantasy.

Pets of the Week ................... 12

The Reel Deal ......................... 16

Township News

Prairie Township welcomes its first

full-time female firefighter Page 5

Fun for the Family

The Hilltop Early Learning Center hosts

a special event for local kids Page 10

SENIORS – HELP IS HERE

Transportation • Care Team • Concierge Service

ACCEPTING NEW PATIENTS

Serving Superior Heath Care to the 55+ Community

Let's change the world together!

SEE

PAGE 6

FOR

MORE

INFORMATION
---
PAGE 2 - WESTSIDE MESSENGER - November 13, 2022

America'

ica's s Fa Fa

av av vorite Treasure ure e Hunts!

2022

Nov. 26 &

27

Dec. 17 &

18

Antiques, Collectibles,

Jewelry, Vintage,

Home Decor, Militaria

and more!

2023

Jan. 28 & 29

Feb. 25 & 26

Mar. 25 & 26

SCHOOL SITE

Continued from page 1

a series of meetings with community stakeholders be

established because they are concerned that the site

will sit barren if and when a new Eakin Elementary

School is constructed. He added that it was their belief

that the grounds could be used to build facilities that

would benefit the entire community.

"The Greater Hilltop Area Commission has identified

a lack of resources within our community west of

Demorest Road," said White. "That area (where Eakin

Elementary is currently located) is over two miles

away from the closest library, recreation center, and

community pool.

"The commission has also recognized that the police

substation for Precinct 10 is landlocked within Big

Run (Park) and removed from the community."

With these areas of concern in mind, the inquiry

GROOMING

$65 for full groom And $45 for puppy cut

1663 Georgesville Square Dr.

614-675-0241

Get the word out

FAST

Advertise your Craft Show

or Bazaar in the classifieds.

It's easy to do.

Just call or email Kathy at

614-272-5422

kathy@columbusmessenger.com

for all of the details

www.columbusmessenger.com

seeking to establish a series of meetings regarding the

feasibility of building such facilities was sent to the

city of Columbus, the recreation and parks department,

the city's division of police, the Columbus

Metropolitan Library, and Columbus City Schools.

White said they are not certain what will come out

of these discussions, but he felt it was time to start a

dialogue with them so their concerns and desires about

the future use of the site can be heard.

"The biggest thing we want is to get everybody to

come to the table and talk about what we could do

there," he said. "I have spoken to one (city official) and

they think it might be feasible to do something within

the school or create a mini-rec center or something of

that nature where they could still service the community

but in a joint partnership with the schools."

There is no current time-table for when

the discussions would be held, nor is there

a time-table for when a formal idea on the

future use of the site could be presented to

the community. The commission did state,

however, that they would like to start the

process sooner rather than later.

"We have to get a dialogue started

because this is important to all of us to be

heard in the process," said White. "I am not

certain what the schools' plans are but I

believe anything other than a vacant lot

would be ideal.

"Like I mentioned before, the whole community

west of Demorest is just lacking in

so many resources and they have to travel

so far just to get to a library or travel even

further away to get to a pool. And for an

area that has as many people living there

as they do, it is just not acceptable to not

have any plans for the site beyond a field.

The people who live west of Demorest

deserve to have the same access to the

same things that we do in the central

Hilltop area."

The urgency for the committee and the

commission to reach out to these local entities

came about due to the unveiling of the

Columbus City Schools Facilities Master

Plan (FMP).

In one of the first phases of its plan to

build new elementary, middle, and high

schools, it calls for the construction of a new

600-student capacity Eakin Elementary

School. The initial recommendation is for

the school to be relocated to the site of the

former Wedgewood Middle School.

The plans to construct a new Eakin

Elementary and additional schools

throughout the district's geographic boundary

were put on hold by the board of education

when they recently voted to remove a

$680-million maximum 35-year bond issue

and a 4.7-mil permanent improvement levy

on the Nov. 8 general election ballot.

Jacqueline Bryant, the district's director

of communications, acknowledged that

while there are no current plans for the current

elementary site once construction and

operating funding is secure, it is possible it

would be used in the short to medium term

as swing space to "allow other aspects of the

FMP to move forward."

She added that the long term disposition

of the site will require more discussion with

the community and potential partners.
---
www.columbusmessenger.com

SWCSEF benefit concert series

The South-Western City Schools

Educational Foundation will host a benefit

concert series. The first concert will feature

the district's honor choir and honor orchestra.

It will start at 7 p.m. Nov. 15 at

Central Crossing High School, 4500 Big

Run South Road in Grove City. The second

concert will feature the district's honor

band and the Grove City Community

Winds. It will begin at 7 p.m. Nov. 17 at

Central Crossing High School. Tickets are

$10 for adults and $5 for children and can

be purchased at the door. Funds raised will

be used for student scholarships and educational

grants. For more information, visit

swcsef.org or looks up the foundation's

Facebook page.

Library card discount at

National Veterans Memorial

Columbus Metropolitan Library has

partnered with the National Veterans

Memorial and Museum (NVMM) to offer

library cardholders up to four admission

tickets at a discounted rate of $11 each.

Regular price of admission at NVMM is

$18 for adults ages 18-64, $16 for seniors

ages 65 and older, $13 for college students

with ID, $11 for children ages 5-17 and free

for children under age 5. Those who present

their library cards (from any library

system) at the ticket counter are eligible

news and notes

for the discount. The promotion, in honor of

military veterans and Veterans Day, runs

Nov. 1 through Dec. 31.

The National Veterans Memorial and

Museum takes visitors on a narrative journey

telling individual stories and sharing

experiences of veterans from all military

branches throughout history. History is

presented through a dynamic, participatory

experience with photos, letters and personal

effects, multi-media presentations

and interactive exhibits. Learn more at

nationalvmm.org.

Chamber Singers perform

The Grove City Chamber Singers will

present a holiday concert "Wonderful

Peace," at 3:30 p.m. Nov. 20 at the Grove

City United Methodist Church, 2684

Columbus St. A variety of holiday music

will be performed, and they will be joined

by guest singers, the Reynoldsburg High

School Chamber Singers. Doors open at 3

p.m. and admission is free.

For more information, go to gcchambersingers.wixsite.com/gcchambersingers.

Blood Drive

The American Red Cross will host a

blood drive from 8:30 a.m. to 2:30 p.m. Nov.

21 at OhioHealth Doctors Hospital, 5131

Beacon Hill Road. To schedule an appointment,

call 1-800-448-3543 or visit

www.redcrossblood.org.

November 13, 2022 - WESTSIDE MESSENGER - PAGE 3

•Oysters Chesapeake Bay

•Assorted Beef Steaks

•Frozen Lobster Tails

•King Crab Legs

•Faroe Island Salmon

•Sea Scallops

SUPPORT YOUR LOCAL

SMALL BUSINESSES

•Chilean Seabass Fillets

•Halibut Fillets

•Snow Crab Clusters

•Orange Roughy

•Smoked Salmon

•Live Lobsters via Special Order Only!

Call & Order Your Oysters

for Thanksgiving Now!

WE ACCEPT

All Major Credit Cards

EBT Cards (SNAP)
---
PAGE 4 - WESTSIDE MESSENGER - November 13, 2022

Our Savings Rates

1.75 %

1

APY

2. 25 %

2

APY

s ar

e on the rise!

Contact me today for details!

Maggie Colombini

Br anch Manager, Wilson Road Office

(614) 351-2100

Maggie.Colombini@Heartland.Bank

www.columbusmessenger.com

Hilltop History & Heritage

Jerry Spears Funeral Home, 2693 West

Broad St., was started by Jerry Spears,

Sr. in 1928. It is a full-service funeral

home and crematory and the only such

business that originated in west

Columbus. This is a photo of Jerry

Spears, Sr. in the 1960s. Also pictured is

the Hilltop location, which in its first

years of operation, also housed the

Spears family. The company opened a

second location at 5471 Frazell Road in

Hilliard a few years ago. Jerry Spears,

Sr. passed away in 1972 and his grandsons

Bob Spears, Jr. and Steven Spears

are the third generation of family members

to operate the facilities. If you have

a photo to share, contact Stacy

Berndsen-Campbell at stacyberndsen12@gmail.com.

1

Annual Percentage Yield (APY). Minimum opening deposit is $1,000. Minimum balance to earn interest is $0.01. Minimum balance to earn promotional APY

is $50,000.00. This is a tiered rate account. The promotional APY of 1.75% is av ailable for the following tiers: $50,000 - $99,999 and $100,000 - $499,999.99. The

promotional AP Y for the tier of $25,000 - $49,999.99 is 1.25% APY. Regular rates apply to the followin ng tiers: $0.01 - $9,999.99 is 0.01% APY; $10,000.00 - $24,999.99

is 0.02% APY; and $500,000 + is 0.05% APY. The promotional rate to applicable tiers is guaranteed for 180 days from the day of account opening. After 180 days, the

rate may change at any time as the Heartland Bank Money Market Savings Account is a variable rate account. To qualify for the promotional rate, the opening deposit

must be from funds not currently on deposit with Heartland Bank. Limit it one (1) promotional Money Market Savings Account special per household per six (6) months.

APY accurate as of 08/01/2022. Fees may reduce earnings. Accounts closed less than 180 days from date opened will be charged an early close fee of $25.00. Personal

accounts only.

2

Annual Percentage Yield (APY). Minimum balance to open and maintain the advertised 12 month APY of 2.25% is $5,000. APY is accurate as of August 29, 2022.

Maximum deposit is $250,000. Please see your local branch office for disclosure information regarding terms and conditions. Penalty may be imposed for

early

withdrawal. Rates are subject to change at any time. No brokers please. Limit ed time offer. Limited to

one per household. Not valid with money currently on

deposit at Heartland Bank. Personal accounts only.

Monty M Chase, age 74, born on January 13,

1948 passed into the arms of his loving Lord at Kobacker

House on October 26, 2022 after a year long courageous

battle with cancer.

He was preceded in death by the love of his life, wife,

Margaret (2014) and parents Walla and Marylee Chase.

Survived by daughter, Stacey Chase Jividen,DVM (Shane)

and grandchildren Audrey and Owen Jividen, sister, Sandy

Doutt (John), brother Jeff Chase (Denise) and many loving

nieces and nephews.

Monty was a proud graduate of Columbus West High School and was vice-president

of his senior class, he was also voted the most reliable of the class of 1966. He also

was a graduate of Franklin University (1976).

He worked many years in the banking business where customers were his friends.

He served in the US Navy Reserve (1967-73) with Top Secret Clearance, CINCPAC. He

also served as President of Grove City Lions Club, Hilltop Business Assoc. and Hilltop

Historical Society. He was Vice Commander of SCV Camp 1535 and Master Mason at

Reynoldsburg Masonic Lodge.

Monty's life was centered around God, family, country, friends, animals and serving

others. He believed "If you like to see change in the world, be that change". He was

his family's historian and had a passion for American history. He also loved his cats

and enjoyed model trains. Monty was loved by many because he loved so many.

The Family received friends on Friday, November 4th, from 3:00- 7:00pm at JERRY

SPEARS FUNERAL HOME of HILLIARD, 5471 Frazell Rd., Hilliard, Ohio. A

"Celebration of Life" will be held at the funeral home on Saturday, November 5th at

10:00am. Interment to follow at Wesley Chapel.

Donations may be made in Monty's memory to Kobacker House, 800 McConnell Dr.,

Columbus, Ohio 43214.
---
Township Focus

www.columbusmessenger.com November 13, 2022 - WESTSIDE MESSENGER - PAGE 5

www.jpsbbq.com

2000 Norton Rd.

Phone: 614-878-7422 Fax: 614-878-7429

Hollyday Happiness

(Serves Approx. 4-7).......................................... $ 169.95

Order By 12/13/22

For Christmas Eve Pick-Up by 5 PM

Hot & Ready to Eat or Cold to Reheat

*INCLUDES*

Charicuterie Platter (Fancy Meats/Cheeses & Fruit Snacks)

3 Blend Salad

JP's Ribs * Or * 2# Prime Rib (Limited Supply So Order Early)

Italian Roasted Chicken Pieces

3 Side Selections:

Au Gratin Potatoes/Green Beans/ Baked Beans/Slaw

Mac & Cheese/Potato or Macaroni Salad/Chunky Applesauce

Rolls & Butter

Anastasia Toth is the first full-time female firefighter in Prairie Township. She is pictured

here with Prairie Township Fire Chief Allen Scott.

Prairie Township hires first

full-time female firefighter

By Christine Bryant

Staff Writer

The Prairie Township Fire Department

has hired its first full-time female firefighter/paramedic.

And Anastasia Toth is certain of one

thing - she won't be the last.

"I am honored and excited to be a part of

this department," she said. "I have amazing

mentors and a great crew to learn from.

I may be the first female here, but I certainly

won't be the last."

The 23-year-old Hilliard resident joined

the department part-time in December

2021 and has been a part-time firefighter

with the Jefferson Township Fire

Department since April 2020. She started

her full-time role with the Prairie

Township Fire Department on Oct. 1,

replacing a member who left to take a position

with the Columbus Division of Fire.

"Anastasia is a fantastic fit for our

organization," Prairie Township Fire Chief

Allen Scott said. "Her strong work ethic

and passion for the fire service is exactly

what every fire department is looking for."

He said the Prairie Township community

is lucky to have her on staff as a fulltime

member.

"Being the first female, full-time firefighter

in Prairie Township is a milestone

for her and sets a positive example for any

female who desires to become a firefighter,"

Scott said. "The fire service was a maledominated

profession for many years. That

ceiling was broken a long time ago in many

departments around the country and we're

so proud to be able to say it's happened

here, too."

Although Toth says she was initially

interested in becoming an engineer, one of

her high school teachers left a lasting

impression on her.

"My history teacher sophomore year,

Tim Cave, was a retired firefighter and had

a lot of fun stories about the firehouse,"

Toth said. "Initially what attracted me to

this career was the brotherhood and the

ability to give back to the community."

She enrolled in the Delaware Area

Career Center's high school program and

graduated in 2017.

"At DACC, Captain Jay Louks further

inspired me to become the best firefighter I

could be," Toth said. "Now I can't imagine

doing anything else. I love waking up in

the mornings and going to work."

Toth has two associate degrees in EMS

and Fire Science and began medic school in

2020.

In Toth's spare time, she says she likes

to enter competitions that test her skills

and endurance.

"This past year I've competed in a half-

Ironman, half-marathon and two Olympic

triathlons," she said. "Now that I'm out of

medic school, I am attempting to learn the

banjo as well."

She also enjoys traveling and camping.

While Toth says she is focused on

becoming a great paramedic and firefighter,

her goals are to help other firefighters

as they join the department. In fact, the

department is projected to grow by nine

positions at the beginning of 2023 thanks

to a $3 million Staffing For Adequate Fire

and Emergency Response (SAFER) grant

from the The Federal Emergency

Management Agency (FEMA).

"I'd like to help others accomplish their

goals and be someone that new recruits can

come to ask questions and learn from,"

Toth said. "This is a great department to be

a part of and I'm excited to see where my

career takes me."
---
PAGE 6 - WESTSIDE MESSENGER - November 13, 2022

City promotes resources for home repair

"BEST NEW YEARS PARTY IN TOWN"

Mike Albert

and

The Big E. Band

Per Couple Prices

Overnight Package - $319

Party Only Packages - $250

Single Packages Available

As part of a national lead poisoning prevention

effort, Mayor Andrew Ginther,

columbus city councilmember Shayla

Favor and other city and community leaders

gathered recently to promote several

home repair and lead remediation

resources available to Columbus residents.

All of the programs are designed to protect

vulnerable residents from housing-related

hazards while preserving housing affordability

in Columbus.

"The benefits of a safe and healthy home

cannot be overstated," said Ginther. "Our

Housing Strategy makes clear our commitment

to protecting our most vulnerable

neighbors by offering a range of resources

to keep them in their homes as our regional

population grows and the housing market

tightens. That is why these programs are

so important and why we are doing all we

can to empower more of our residents to

remain stably housed while reducing the

cost of homeownership."

Specifically, the Lead Safe Columbus

Program provides funding to property owners

for lead-based paint hazard control in

owner- or tenant-occupied units. To date,

this program has addressed health hazards

in more than 200 Columbus homes and

completed more than $460,000 in repairs.

The Healthy Homes Program, meanwhile,

offers families up to $7,500 to fix

health and safety concerns in households

in which children under the age of 6, seniors

and/or people with disabilities reside.

Estimates project this program will serve

more than 250 properties over the next

three years and educate 8,000 residents on

ways to keep their homes safe.

Additionally, the Columbus Emergency

Repair Program offers homeowners up to

$7,500 for essential repairs to abate certain

emergency conditions. Eligible repairs

include leaking, obstructed or clogged toilets,

sinks, tubs and sewer lines; loss of

heat; leaking or inoperable hot water

tanks; loss of electricity; and more.

Contractors who meet local, state and federal

requirements are assigned to perform

the work. To qualify, homeowners must

have owned and occupied the residence for

at least one year, and household earnings

must be 50 percent or less of the Area

Median Income.

"Housing-related environmental problems

are a significant cause of adult and

pediatric health conditions, from asthma to

lead poisoning. But it goes beyond just

health outcomes. Homeownership is the

greatest key to wealth building in the

United States. If we can support residents

to secure safe and healthy homes, we can

positively impact families for generations

to come," said Favor.

Applications are currently being accepted

for all three programs. For more information,

visit columbus.gov.

18 th Annual

Prices include

Dinner, Drinks, Room, Party favors,

Full Breakfast

Crowne Plaza • 6500 Doubletree Ave. (formerly Marriott North)

Active

Lifestyles

www.columbusmessenger.com

A bi-monthly feature celebrating the wisdom, experience

and contributions of our community's senior citizens

PAID ADVERTISING

Senior safety and the holidays

My grandparents are coming over for

Thanksgiving. Should we do anything different?

The simple answer is YES! Here are some tips for

hosting a senior over the Holidays:

• Enjoying the feast - Our taste buds and diets

change as we age so it's a good idea to take that

into consideration when planning your menu. Did

you know that we lose taste buds as we age, but

chewing can be more difficult? Try to find a dish

that has a little more flavoring but is easy to chew.

Sweet potatoes are a great choice. But remember,

be careful with the salt.

• Household safety - When you're having seniors

over, make sure your throw rugs are secure or

SENIORS — HELP IS HERE!

Your Doorstep to Your Doctor!

We provide:

• Transportation • Personal Coordinated Team Care

• Concierge Service • Convenience of all services under one roof

• Superior Healthcare • We serve to 55+ Medicare-eligible Community

Call for more information:

Trae White, COS - Community Outreach Specialist

614-551-5367

trae.white@dedicated.care

Let's change the world together!

NORTH

2260 Morse Rd

Partnership with

3 LOCATIONS:

WESTSIDE

50 N. Wilson Rd.

picked up. They look nice but are a fall hazard for

many seniors. Also, be sure outside walkways,

driveways, and stairways are well lit. Be sure to

watch for cords, tight spaces, and other things that

may be hard for a senior to navigate. With a

crowded house and too many crockpots with

extension cords, there is a tripping hazard for any

age.

Time spent with family is a great way to learn

more about how our senior relatives are getting

along while enjoying quality time with them.

Danbury Senior Living communities offer senior

friendly, delicious cuisine as well as a safe environment.

If you'd like to hear more about our holiday

traditions, give us a call at 614-957-0029.

WHITEHALL

5156 E. Main St.
---
www.columbusmessenger.com

Active Lifestyles

November 13, 2022 - WESTSIDE MESSENGER - PAGE 7

Thankf

fu

ul

We Care.

NOVEMBER 2022 FA

ALL SAVINGS

$

1,500 OFF

CALL TO SCHEDULE

YOUR TOUR

DanburySeniorLiving.com

AND

WELCOMING

RESIDENTS
---
PAGE 8 - WESTSIDE MESSENGER - November 13, 2022

Reduce food waste this Thanksgiving

As Thanksgiving approaches, the Solid

Waste Authority of Central Ohio (SWACO)

is encouraging families to reduce food

waste by offering tools for planning ahead

and repurposing leftovers.

"An inordinate amount of food is wasted

around the Thanksgiving holiday -- some

200 million pounds of turkey, 40 million

pounds of mashed potatoes and 30 million

pounds of stuffing will end up in trash cans

across the nation," said Joe Lombardi,

SWACO's executive director. "With a little

preparation and planning, this waste can

be drastically reduced."

In central Ohio, food waste accounts for

the single largest source of landfill material

(by weight) and is equivalent to residents

and businesses throwing away nearly

one million pounds of food daily.

"When the food from our dinner plates is

wasted, so are all of the resources that

went into producing it and the thousands

of dollars that families spend to purchase

food that is thrown away," said Lombardi.

SWACO's More Than Food website

(savemorethanfood.org) offered tips for citizens

this holiday season to help prevent

food waste, saving money and protecting

the environment:

•Plan your meal with the Guestimator,

a dinner party calculator that estimates

how much food you need to keep your

guests full and happy.

•Store food properly with the Storage

Guide. Learn how to properly store food so

it remains fresh for as long as possible.

•Reimagine holiday leftovers with

Organic Valley Recipes featuring tips and

creative recipes for making holiday leftovers

into new dishes.

•Donate leftovers to food rescue organizations,

restaurants, and other food donors

with soup kitchens and shelters to create

access to healthy, edible food for food insecure

residents.

"Our Save More Than Food website

offers a 'Holiday Hub' which provides our

residents with simple ideas to reduce food

waste throughout the holidays," said

Lombardi. "Our research shows that central

Ohioans are very concerned about food

waste. By simply tweaking a few things in

our routines, we can all work together to

make powerful progress in lessening food

waste in our homes this holiday season as

well as all year long."

Overall, the Save More Than Food campaign

is working toward a goal to reduce

food waste by 50 percent by 2030. In one of

its pilot program communities where food

waste drop-off sites and educational outreach

has been shared and waste generation

monitored, there has been a 20 percent

reduction in household food waste.

Residents and businesses can visit savemorethanfood.org

for information to help

reduce food waste on Thanksgiving and

throughout the holiday season.

Active Lifestyles

www.columbusmessenger.com

PAID ADVERTISING

I am here to help you

Hello, I'm here to help you Navigate the world

of Medicare.

Let me sit down with you and compare your

plan with Humana's plans and see what is best for

you.

Let's make sure you are getting everything

that is out there for you to get. Lots of new things

for 2023 across the world of Medicare Advantage,

I am here to help you with this.

PAID ADVERTISING

How to memorialize

a lost loved one

A memorial tells the story of your loved ones

to future generations. The experts at Hannigan

Memorials, part of the Modlich Monument

Company, have tips on choosing just the right

monument.

Plan ahead

Aim to purchase a memorial before the emotional

time of losing a loved one. Even with cremations,

there are memorial options, such as

burying cremains and erecting a monument; creating

a cut-out in a monument and sealing the cremains

inside; or using a decorative urn inside a

mausoleum.

"A memorial takes time to complete and place

in the cemetery," said Chad Sothard, branch manager

of Hannigan Memorials. "We deliver and

install every monument we build, making sure

There is no obligation for me to come out and

talk with you, give me a call and we will look at

it together.

Thank you for your time,

Cynthia Grotsky

Sales Representative | MarketPOINT

C 614.557.2054|F 513.362.2937

Email cgrotsky@humana.com

everything is just right for our customers."

Match the memorial to your lot

Some cemeteries restrict the size, shape or

material used for memorials. "We have experience

working with a variety of budgets and different

cemeteries to help ensure your final memorial

choice fits your personal taste, budget and cemetery

regulations," said Sothard.

Personalize your memorial

"We believe a memorial is as unique as the life

it commemorates," Sothard said. "Our craftsmen

can create any type of memorial, with stones in

any type, color, shape or size." Customers can

choose their engraving, from standard sandblasting

to hand diamond-etched portraits. Hannigan

also provides computer-generated scale drawings,

so customers can easily visualize their memorial.
---
www.columbusmessenger.com

Active Lifestyles

WESTSIDE MESSENGER - November 13, 2022 PAGE 9

Franklin County Board of Commissioners: President Erica C. Crawley • Commissioner John O'Grady, and Commissioner Kevin L. Boyce

The Franklin County Board of Commissioners and The Franklin County Office on Aging join with the Messenger Newspaper in providing this update on aging issues in Franklin County.

Franklin County Office on Aging

Free Home-Delivered Meals Program

Extended Through End of Year

The Franklin County Office on Aging has extended

its free Home-Delivered Meals program through the

end of the year. Franklin County residents aged 60

and older are eligible to receive free home-delivered

meals without income verification now through

Dec. 31, 2022.

A service offered through the Franklin County

Office on Aging Senior Options program, the

Home-Delivered Meals program paused any

income verification requirements in April 2020 due

to the onset of the COVID-19 pandemic. In Franklin

County, residents receiving home-delivered meals

has increased by nearly 48% since 2019, from 3,883

to 5,749.

"Early in the pandemic, especially during the

stay-at-home orders, seniors were significantly impacted,

some being fearful of leaving their homes

for any reason," said Interim Director Chanda

Wingo. "We understood how critically important it

was to remove barriers and expand access to

adequate nutrition needed to stay healthy."

The Franklin County Office on Aging Senior

Options program has been providing community-based

services to residents since 1993. Senior

Options empowers Franklin County residents aged

60 and older with the necessary tools needed to

maintain their independence. The program also

helps ease the minds of family members by connecting

them to support services so they can provide the

best care for their older parent, family member or

friend with limited abilities.

To learn more about the Franklin County Office on

Aging and the support services available, visit

officeonaging.org or call (614) 525-6200.
---
PAGE 10 - WESTSIDE MESSENGER - November 13, 2022

Police levy approved in Franklin Township

www.columbusmessenger.com

According to the unofficial results from

the Franklin County Board of Elections,

the Franklin Township police levy was

approved by voters with 987 (or 54.56 percent)

voting in favor of the levy and 822 (or

45.44 percent) voting against the measure.

The tax will be an additional 7.4 mills for a

continuing period of time. This was the

fourth time in two years that the township

has asked voters to approve a police levy.

61

YEARS

CELEBRATING

2000 Norton Rd.

614-878-7422

614-878-7429

www.jpsbbq.com

Open Tuesday-Sunday

Dine in - carry out - event space

Party trays - catering & meal package

WESTGATE UNITED

METHODIST CHURCH

61 S. Powell Ave., Columbus,OH 43204

Come - Let's Worship Together

and Meet our New Pastor

Nancy Day-Achauer!

Worship Service 9:00 a.m.

Sunday School 10:00 a.m.

westgateumc@sbcglobal.net

614-274-4271

GLENWOOD UM CHURCH

2833 Valleyview Dr.

(Corner of Valleyview & Hague Ave.)

(614) 274-8469

Pastor Leo A. Cunningham

Join us for In-Person

Sunday Worship at 10:45 a.m. or

Join us for Online Worship at

Glenwood UMC YouTube

http://tinyurl.com/GlenwoodUMC

HOGE MEMORIAL

PRESBYTERIAN CHURCH

2930 W. Broad St., Columbus, Ohio 43204

Sundays at 10:30 a.m.

In Person Worship

Live Streaming Sunday Worship Service

at 10:30 a.m. on Hoge Facebook Page

Worship & Free Meal

Saturdays at 5:00 p.m.

www.hogemempresby.org

Please visit the

Westside Church

of your choice.

List your Worship

Services here.

For info. call 614-272-5422

Be a Part of Our Local Worship Guide

Our upcoming Worship Guide is geared toward celebrating faith and helping readers connect with

religious resources in our community. Make sure these readers know how you can help with a presence in

this very special section distributed to more than 25,000 households in the Westside area.

Contact us today to secure your spot in our Worship Guide.

614.272.5422 • kathy@columbusmessenger.com

Messenger photos by Dedra Cordle

Family fun day at Early Learning Center

Although the Hilltop Early Learning Center may be months away from officially

opening its doors, prospective students and their parents and guardians were

able to get a sneak-peek of the facility and its amenities through a community outreach

program that aimed to bring "fun for all." On Oct. 29, dozens of families

across the region visited the future pre-kindergarten learning center at 45

Clarendon Ave. to participate in the first annual Family Fun Day. Sponsored by the

city of Columbus and its local early learning centers, attendees were able to walk

through the educational rooms and put their creative skills to use through a variety

of arts and crafts and activities. Shown here learning how to play the bucket

drums in one of the building's most unique spaces are siblings (from left) Future

and Isaac Price. Teaching the class of early music learners was Scott Wedell, an

instrumental music teacher at West High School. He said bucket drums are a great

way to introduce children to music because of their simplistic nature. "You communicate

with them on how to use the sticks on the buckets and then they just go

for it," he said. For more photos, visit columbusmessenger.com.

Messenger

Westside

Jocelyn Probasco, the director of

development at the Columbus Early

Learning Centers (pictured at the bottom),

and Paula Neal, the Hilltop

Partnership Director at the Columbus

Early Learning Centers, have a bit of

fun during the event. Neal said she cannot

wait for this center to officially open

early next year.

Four-year-old Egypt Barker works on

her artistic skills at a painting station.
---
www.columbusmessenger.com

City to file lawsuit against auto companies

Columbus City Attorney Zach Klein announced his

plans to file a lawsuit against automakers Kia and

Hyundai for their failure to include industry standard

anti-theft technology in vehicles that has led to soaring

levels of theft in Columbus. The city has seen a more

than 450 percent increase in the number of Kia and

Hyundai thefts over the past year, an average of 17

thefts each day this year. Kia and Hyundai models

account for nearly two-thirds of all vehicle theft

attempts in Columbus so far this year.

For years, Kia and Hyundai manufactured vehicles

without engine immobilizers or other alternative security

features, such as reinforced steering columns and

sensors designed to detect window glass breakage.

Many of these features come standard on nearly every

other consumer vehicle manufactured during the same

timeframe.

"For years, Kia and Hyundai cut corners and sold

vehicles they knew were so unsafe they could be stolen

with ease by a teenager with access to simple tools and

a TikTok account," said Columbus City Attorney Zach

Klein. "Kia and Hyundai's negligence in pursuit of corporate

profit is unconscionable. It's time we held these

automakers accountable for cheating consumers and

passing the buck and responsibility to clean up the

mess they made onto the rest of us."

These deficiencies have been highlighted on social

media platforms, where content creators describe how

to steal a vehicle in a matter of minutes by anyone

with a screwdriver and USB charger. The city alleges

that the bulk of thefts are being perpetrated by juveniles,

including a group known as the "Kia Boyz" who

steal Kia and Hyundai vehicles, post their exploits to

social media, and challenge others to do the same.

"In my 16 months as the chief of police, I have often

asked what more can we do as an agency to save our

children from themselves. We enforce the laws, are

engaged with parents, collaborate with our judicial

system, and are exploring programming in our

schools," said Columbus Chief of Police

Elaine Bryant. "And on this issue, we've

asked Kia and Hyundai for their assistance.

To date, we have received no meaningful

cooperation. These automakers

should be just as concerned as we are that

their products are so easily accessible and

are being used to commit felonious acts. As

a result, our children are putting not only

the community in harm's way, but themselves

as well. We owe it to our children

and our community to do all we can to prevent

these often tragic events from occurring."

The city of Columbus contends that the

rash of Kia and Hyundai thefts due to substandard

security features in their vehicles

have cost consumers, insurance companies,

local governments and law enforcement

millions of dollars over the past year alone.

Further, the deficiencies in these vehicles

have caused additional harms including a

number of juveniles being seriously injured

or killed during joyrides after easily stealing

the vehicles.

Despite knowing of the security deficiencies

of their vehicles, Kia and Hyundai

have refused to recall or repair vehicles to

better secure them from theft, instead

largely ignoring calls for action and placing

the burden to respond to the issue on consumers

whose cars were stolen as well as

local governments and law enforcement

departments.

"The victims of these thefts aren't CEOs and executives,

they're teachers and servers, retail workers and

nurses - people whose lives have been upended and

who've likely spent nights lying awake thinking about

how they're going to afford to buy a new car while putting

food on the table and making rent," said Klein.

"These victims had their cars stolen through no fault of

their own. They shouldn't have to bear the responsibility

to make this right. The corporations who put profit

above all else should be held accountable."

The auto companies have sold vehicles that lacked

sufficient, industry-standard security features, including

engine immobilizers and certain other safety and

anti-theft systems. The city has spent significant

resources investigating and responding to these thefts,

and the city's residents have to deal with the problems

of juveniles and others illegally joy riding on Columbus

streets and highways.

The city plans to ask the court to compel Kia and

Hyundai to abate the public nuisance caused by their

inaction that has led to the rise in thefts, and with it,

the substantial cost incurred by the city as it continues

to respond to the automakers' negligence. Additionally,

the city plans to seek injunctive relief to prohibit the

further sale of unsafe vehicles and require Kia and

Hyundai to recall, repair or replace the unsafe vehicles

currently on the road, as well as damages in excess of

$25,000, punitive damages, legal expenses, and preand

post-judgment interest in the case.

"Kia and Hyundai marketed and sold cars they

knew were unsafe and now refuse to take any responsibility

as others have to bear the consequences of their

decisions. That's not right," said Columbus Solicitor

General Rich Coglianese.

Klein said the he intends to file the lawsuit on

behalf of the city of Columbus in the Franklin County

Court of Common Pleas in the coming weeks.

LIST YOUR

CHRISTMAS WEEK SERVICES

ON OUR CHRISTMAS CHURCH PAGE

in The Westside or

Grove City Messengers

The page will print in

our December 11th issue.

The deadline for this year's Christmas Church Page

is Friday, December 2nd at 2:00 pm.

Call Kathy

for More

Information

614-272-5422

kathy@columbus

messenger.com

AREA

CHRISTMAS

WORSHIP

SERVICES

Groveport Zion Lutheran Church

6014 Groveport Rd., Groveport 43125

614-836-5611

Pastor Matthew Cox

SAMPLE

Christmas Eve Candlelight Service at 7:00 pm

Christmas Day Service at 10:00 am

Communion celebrated at both services

WESTSIDE MESSENGER - November 13, 2022 PAGE 11

Messenger

Westside

We are the

BEST COMMUNITY NEWSPAPER

on the Westside

Pick-Up

At These

Locations:

Hilltop Library - 511 S. Hague Ave.

United Dairy Farmers - Hague & Sullivant Ave.

Alex Carry-Out - Binns & Sullivant Ave.

Dollar General - Kingsford & Sullivant

Dollar General - Georgesville & Atlanta

M & S Carry-Out - Georgesville & Atlanta

United Dairy Farmers - Georgesville & Parwick by Freeway

Thorton's Gas Station - Georgesville & Norton Rd.

Shell Gas Station - Georgesville & Norton Rd.

Kroger - Georgesville Square

Turkey Hill - Georgesville & Clime Rd.

United Dairy Farmers - Clime & Demorest Rd.

Walgreens - Clime & Demorest Rd.

Certified Gas Station - Briggs & Demorest Rd.

Kroger - Eakin Rd. & Harrisburg Pike

Speedway Gas Station - Eakin Rd. & Harrisburg Pike

Heartland Bank - Great Western Shopping Center

Walgreens - Harrusburg & Hopkins

Certified Gas Station - Broad St. & Orel

Walgreens - Hague Ave. & Broad St.

Marathon Gas Station - Georgesville & Industrial Rd.

La Plaza Tapatta - Georgesville & Hollywood Rd.

BP Gas Station - Georgesville Rd. & Broad St.

Westland Library - Lincoln Village Plaza

Giant Eagle - Lincoln Village Plaza

Thorton's Gas Station - 4990 W. Broad St.

Walgreens - Broad St. & Galloway Rd.

Kroger - Broad St. & Galloway Rd.

CVS Pharmacy - Norton & Hall Rd.

United Dairy Farmers - Norton & Hall Rd.

Circle K Gas Station - Norton & Hall Rd.

Dollar General - Norton & Hall Rd.

Marathon Gas Station - Broad St. & Murray Hill Rd.

Speedway Gas Station - Broad St. & Murray Hill Rd.

Dollar Tree - Broad St. & Murray Hill Rd.

Speedway Gas Station - Broad St. 7 Freeway

Sheetz Gas Station - Westland Mall

Speedway Gas Station - Broad St. & Wilson Rd.

Kroger - Consumer Square Shopping Center

Franklin Township Business Office - 2193 Frank Rd.

READ US ONLINE: www.columbusmessenger.com
---
PAGE 12 - WESTSIDE MESSENGER - November 13, 13, 2022 www.columbusmessenger.com

w

around the westside

Free anksgiving dinner

The Hilltop Methodist Men will serve a

free Thanksgiving dinner from noon to 4

p.m. Nov. 24 at the Hilltop United

Methodist Church, 99 S. Highland Ave. in

Columbus. All are welcome.

Free lunch at Hilltop Methodist

The United Hilltop Methodist Church

will host a free community lunch every

Friday from 11 a.m. to 1 p.m. The church is

located at 99 S. Highland Ave.

Hilltop Legal Clinic

The Legal Aid Society of Columbus will

host a Hilltop Legal Clinic every Monday

from 4 to 6 p.m. at the Columbus

Metropolitan Library Hilltop Branch, 511

S. Hague Ave. in Columbus. A legal aid

attorney will be available to answer questions

regarding landlord and tenant issues,

public benefits, consumer debt, and family

law. To receive free advice, you must have

a gross household income below 200 percent

of the Federal Poverty Level. For more

information, call Legal Aid at 614-241-

2001.

Senior Christmas Party

Prairie Township invites its residents to

attend a Senior Christmas Party. This

event will be on Friday, Dec. 9 from 4:30 to

7 p.m. at the Community Center, 5955

West Broad St. The township will also be

accepting non-perishable food items for the

local food pantry. Attendees must be residents

of Prairie Township and must be 62

years or older. Call 614-982-2123 to RSVP

to this event by Nov. 14. You must RSVP in

order to attend.

A burger battle

South-Western Career Academy senior Natalie Faught and junior Emma Kirsh from

the Academy Grill finished second in the Cap City Burger Battle Championship. Want

to try their award-winning burger? The Belgium Sunrise will be a new addition to the

Academy Grill menu when they move to the winter menu soon. The Academy Grill is

open every Tuesday, Wednesday, Thursday, and Friday from 10:30 a.m. to 1 p.m.

Pets of the week

These furry friends are available

for adoption at local

rescues and shelters

CLASSIFIED ADS

Deadlines: Grove City, Groveport & All editions - Mondays at Noon.

West, Canal Winchester, South & Madison editions -Tuesdays at 5 p.m.

xCraft Shows

Emory is a 13-yearold

grand dame. She

is very shy but loves

to be sitting on her

favorite person. She

is fine with other cats

as long as they leave

her alone to do her

own thing. She has

never been around dogs. Emory is considered

a special needs cat as she has seasonal

asthma and gets steroid shots about every six

months. She would do best in a quiet home

where she can enjoy peaceful surroundings.

Adopt her from Friends for Life Animal Haven.

FYI: fflah.org

Dani is a 3-monthold

pup. She is a

shepherd mix with

possibly a dachshund

or bassett

hound due to her

short legs. She is a

very smart snuggle

bug. Dani loves to

play with other dogs

and is respectful of

cats. She is crate

trained and almost house trained. Adopt her

from Colony Cats and Dogs.

FYI: colonycats.org

Colette has been

through a lot in her

three years of living,

but that doesn't stop

her search for the

purrfect home.

Colette is shy and is

looking for someone

who is patient and

willing to gain her

trust. She does like soft pets on the head as

an introduction. With a little love, she has the

potential to be a great companion. Colette is

up for adoption through Colony Cats.

FYI: colonycats.org

Beatrice is a sweet,

silly, and gentle 3-

year-old searching for

her forever home.

This sweet girl just

adores people. She

has previously done

well in a home with

young kids and is

looking for a family

who will help her

reach her full potential.

Beatrice is up for adoption at the Franklin

County Dog Shelter.

FYI: franklincountydogs.com

SAVE THE DATE!!

Saturday, November 19, 9am-2pm

MISFITS CHRISTMAS &

CHILI COOKOFF

Come Shop for gently used Christmas

Decorations at bargain prices and enjoy a

variety of the Best Chili on the Hilltop.

Fresh Baked Goods & Homemade Crafts

St. John Lutheran Church

CEMETERY LOTS

Double Lot - Sunset

Cemetery, Section 6. Value

$5,190, asking $4,000

OBO. Text 614-361-3803

2745 W. Broad St.

Call Kathy

272-5422

For More Info

Craft Shows

INFORMATION

FALL INTO A

NEW HAIRSTYLE!

Come See Me At

My New Location!

Call Marilyn Weaver

For An Appt.

For a New Haircut/Color

614-348-6670

Relax Wellness

3663 Broadway, Grove City

ADVERTISE

Your Holiday Craft Show

Bazaar or Bake Sale!

ASSOCIATION ADS

Attention Homeowners! If

you have water damage

and need cleanup

services, call us! We'll get

in & work with your

insurance agency to get

your home repaired and

your life back to normwl

ASAP! 855-767-7031

ASSOCIATION ADS

DENTAL INSURANCE

from Physicians Mutual

Insurance Company.

Coverage for 350 plus

procedures. Real dental

insurance - NOT just a

discount plan. Do not wait!

Call now! Get your FREE

Dental Information Kit with

all the details! 1-877-553-

1891

www.dental50plus.com/

macnet#6258
---
www.columbusmessenger.com

November 13, 2022 - WESTSIDE MESSENGER - PAGE 13

CLASSIFIED ADS

Deadlines: Grove City, Groveport & All editions - Mondays at Noon.

West, Canal Winchester, South & Madison editions -Tuesdays at 5 p.m.

xEmployment

EARN EXTRA

$$ $$ WANTED

HOLIDAY MONEY

The Advertising Department at the

Columbus Messenger Newspapers

is seeking a

Helper for the Sales Department.

No Experience Necessary

Duties include: Set Appointments,

Make Calls, Run Errands, etc.

Salary plus auto allowance.

Seniors welcome to apply.

Please send your resume to:

Doug Henry, Advertising Manager

Columbus Messenger Newspapers

3500 Sullivant Ave.,Columbus, Ohio 43204

or e-mail to doughenry@columbusmessenger.com

GREENLAWN RV

Lockbourne, OH

RV TECHNICIAN NEEDED!

No Prior Experience Necessary

We Will Train!

Immediate Start - Full Time Position

Contact Toby Boetcher

at

(740) 983-0149

DO YOU NEED

SEASONAL EMPLOYEES?

Call KATHY to ADVERTISE!

and reach over 20,000 homes in the

West & Grove City Messengers

614-272-5422

kathy@columbusmessenger.com

ASSOCIATION ADS

The bathroom of your

dreams for as little as

$149/month! BCI Bath &

Shower. Many options

available. Quality

materials & professional

installation. Senior &

Military Discounts

Available. Limited Time

Offer - FREE virtual inhome

consultation now

and SAVE 15%! Call

Today! 1-877-540-2780

DISH TV $64.99 for 190

Channels + $14.95 high

speed internet. FREE installation,

Smart HD DVR

included. Free Voice Remote.

Some Restrictions

apply. Promo Expires

1/21/23. 1-866-590-5561

Become a Published

Author. We want to Read

Your Book! Dorrance

Publishing - Trusted by

Authors Since 1920

Book manuscript submissions

currently being reviewed.

Comprehensive Services:

Consultation, Production,

Promotion and Distribution. Call

for Your Free Author's Guide 1-

866-482-1576 or visit

dorranceinfo.com/macnet

Switch and save up to

$250/yr on talk, text &

data. No contract or

hidden fees. Unlimited talk

& text with flexible data

plans.

Premium

nationwide coverage.

100% U.S. based

customer service. Limited

time get $50 off any new

account. Use code

GIFT50. 1-855-903-3048

SCHOOL BUS DRIVERS

The South-Western City School

District is currently hiring drivers

for the 2022-2023 school year

$18.80/hr $18.25/hr Plus Bonuses

WE WILL TRAIN

Available positions are for substitute

drivers that can develop into

"Regular" positions with benefits.

Interested individuals can call

614-801-8550 to set up an interview.

Applicants should have an excellent

driving record and must submit to

drug, alcohol, and background

screening. A high school diploma or

equivalent is required.

EOE

ASSOCIATION ADS

WANTED!

MOTORCYCLES!

ANTIQUE AND CLASSIC.

Honda, Kawasaki, Suzuki,

Yamaha, Triumph, BSA

and other foreign models.

$$PAYING CA$H$$

717-577-8206

KRMiller1965@yahoo.com

Donate Your Car To

Veterans Today! Help and

Support our Veterans.

Fast - FREE pick up.

100% tax deductible. Call

1-800-245-0398

Update your home with

beautiful new blinds &

shades. Free in-home

estimates make it

convenient to shop from

home. Professional

installation. Top quality -

Made in the USA. Free

consultation: 877-212-

7578. Ask about our

specials!

Replace your roof with the

best lookng and longest

lasting material -- Steel

from Erie Metal Roofs!

Three styles and multiple

colors available.

Guaranteed to last a

lifetime! Limited Time

Offer - $500 Discount +

Additional 10% off install

(for military, health

workers & 1st responders)

Call Erie Metal Roofs: 1-

855-338-4807

ASSOCIATION ADS

DIAGNOSED WITH

LUNG CANCER? You

may quliafy for a

substantial cash award -

even with smoking history.

NO obligation! We've

recovered millions. Let us

help!! Call 24/7, 1-888-

650-9135

Directv Stream - Carries

the Most Local MLB

Games! CHOICE

Package, $89.99/mo for

12 months. Stream on 20

devices in your home at

once. HBOMax included

for 3 mos (w/CHOICE

Package or higher.) No

annual contract, no hidden

fees! Some restrictions

apply. Call IVS 1-866-629-

6086

!!OLD GUITARS WANT-

ED!! GIBSON, FENDER,

MARTIN, Etc. 1930's to

1980's. TOP DOLLAR

PAID. CALL TOLL FREE

1-866-433-8277

Stroke & Cardiovascular

disease are leading

causes of death according

the American Heart

Association. Screenings

can provide peace of mind

or early detection! Call

Life Line Screening to

schedule your screening.

Special offer - 5

screenings for $149. 1-

866-518-8391

Employment

HIRING WAREHOUSE

UP TO

$19/HR +

UP TO

$3K SIGN-ON

NO WEEKENDS • NO MANDATORY OT

OPEN INTERVIEWS

WEDNESDAY 10AM-1PM

1568 Georgesville Rd. Columbus, OH 43228

JOBS.MSCDIRECT.COM

Applicants must sucessfully pass a background check and drug screen.

Equal Opportunity Employer: Minority, female, veteran, individuals with disabilities, sexual orientation/gender identity.

ASSOCIATION ADS

Vivint Smart Security.

Professionally installed.

One connected system for

total peace of mind. Free

professional installation!

Four free months of

monitoring! Call to

customize your system. 1-

833-841-0737

Put on your TVEars &

hear TV w/unmatched

clarity. TVEars Originaloriginally

$129.95 - now

w/this special offer only

$59.95 w/code MCB59! 1-

888-805-0840

Are you receiving

SSDI/SSI Benefits? You

may be eligible for

additional benefits. CALL

US TODAY Citizen

Disability 1-888-490-6616

WANTED

Host/Hostess • Back-Up Cooks

Grill • Servers • Dishwashers

You Can Work 29+ Hrs. Based on

Your Availability & Performance

Immediate Full/Part-time Openings

We Offer:

• Weekly Pay

• Paid Training

• No Tip Sharing

• Paid Vacation

• Employee Meal Discount

• Position/Salary Advancement Plan

• Discount Purchase Plan

Apply online at crackerbarrel.com/careers for

Hilliard Location 614-878-2027
---
PAGE 14 - WESTSIDE MESSENGER - November 13, 2022

xAuctions

xPublic Notice

www.columbusmessenger.com

xCome & Get It!

PUBLIC AUCTION

OF REAL ESTATE

(3) BEDROOM HOME (1.2 +/- ACRES) IN THE COUNTRY

ON SATURDAY, NOV. 19

TH

BEGINNING AT 1:00 PM

LOCATED AT: 2963 U.S. 42 WEST JEFFERSON, OHIO 43162

REAL ESTATE CONSISTS OF: RANCH HOME WITH (3) BED RMS, (2) BATH,

FORMAL DINING AREA, LG LINING RM, LAUNDRY RM, FT. PORCH, AND

BACK DECK, DETACHED (2) CAR GARAGE, 24FT X 15FT STORAGE SHED,

HOME HAS GENERAC POWER SYSTEM. HANDICAP ACCESSIBLE. SITTING

ON 1.2 +/- ACRES IN THE COUNTRY W/ MATURE TREES AND MINUTES

FROM I-70 AND PLAIN CITY.

TERMS: $5,000.00 NON-REFUNDABLE DEPOSIT DAY OF AUCTION.

BALANCE DUE ON OR BEFORE DEC. 19, 2022. SOLD IN AS-IS (WHERE-IS)

CONDITION AND SOLD SUBJECT TO BOARD APPROVAL. 6% BUYERS

PREMIUM. INSPECTION OF REAL ESTATE: SUNDAY, NOV. 13,

2022, FROM 3-5 PM.

OWNER: MADISON COMMUNITY HOUSE INC.

AUCTION CONDUCTED BY:

GEOFF SMITH REALTOR/AUCTIONEER

LONDON, OH – (614) 204-1175

SALES AGENT FOR: SUPERIOR ONE REALTY

RON WINN, BROKER - 614-873-5008

GEOFFSMITHREALTORAUCTIONEER.COM / AUCTION ZIP#14712

Auctions

xPreschool/Daycare

advertise

YOUR DAY CARE OR PRESCHOOL

in the West and Grove City Messengers

and reach over 23,000 homes

Call Kathy For More Info

614-272-5422

Preschool/Daycare

PRAIRIE TOWNSHIP

BOARD

APPOINTMENTS

The Prairie Township Board of Trustees is

accepting letters of interest from residents for

board appointments on the Prairie Township

Board of Zoning Appeals and the Prairie

Township Zoning Commission. Volunteers

must live in the Township.

Submit letters of interested to:

Prairie Township Commercial Building

& Zoning Department

25 Maple Drive, Columbus, Ohio 43228

No later than December 5, 2022

Public Notice

ASSOCIATION ADS

Protect your home w/home

security monitored by

ADT. Starting at $27.99/

mo. Get free equipment

bundle including keypad,

motion sensor, wireless

door & windows sensors.

833-719-1073

SELL YOUR ANTIQUE

OR CLASSIC CAR.

Advertise with us. You

choose where you want

to advertise. 800-450-

6631 visit macnetonline.

com for details.

Internet &WIFI Starts at

$49 Call us Today to Get

Started. Find High-Speed

Internet with Fiber Optic

Technology No Credit

Check, No SSN Required.

Call us Today 866-396-

0515

HughesNet - Finally, superfast

internet no matter

where you live. 25 Mbps

just $59.99/mo! Unlimited

Data is Here. Stream

Video. Bundle TV &

Internet. Free Installation.

Call 866-499-0141

Don't let the stairs limit

your mobility! Discover

the ideal solution for

anyone who struggles on

the stairs, is concerned

about a fall or wants to

regain access to their

entire home. Call

AmeriGlide today! 1-844-

317-5246

MobileHelp, America's

premier mobile medical

alert system. Whether

you're home or away. For

safety & peace of mind.

No long term contracts!

Free brochure! 1-888-489-

3936

Vivint Smart Security.

Professionally installed.

One connected system for

total peace of mind. FREE

professional installation!

Four FREE months of

monitoring! Call now to

customize your system. 1-

855-870-2073

ASSOCIATION ADS

Safe Step. North

America's #1 Walk-in Tub.

Compreshensive lifetime

warranty. Top-of-the-line

installation and service.

Now featuring our free

shower package & $1600

off - limited time!

ASSOCIATION ADS

Financing available. 1-

855-417-1306 Safe Step. North

Wesley Financial Group, America's #1 Walk-in Tub.

LLC Timeshare Cancellation

Experts Over warranty. Top-of-the-line

Compreshensive lifetime

$50,000,000 in timeshare installation and service.

debt & fees cancelled in Now featuring our FREE

2019. Get free shower package & $1600

informational package &

learn how to get rid of

your timeshare! Free

consultations. Over 450

positive reviews. 888-965-

0363

Become a Published

Author. We want to Read

Your Book! Dorrance

Publishing Trusted Since

1920 Consultation,

Production, Promotion &

Distribution. Call for Free

Author's Guide 1-877-729-

4998 or visit

dorranceinfo.com/ads

Protect your home from

pests safely and

affordablly. Pest, rodent,

termite and mosquito

control. Call for a quote or

inspection today 844-394-

9278

BUYING CLASSIC CARS,

TRUCKS, SUVs

**American and Foreign**

Any Condition. Buying

entire car collections.

$$PAYING CA$H$$

Please call 717-577-8206

KRMiller1965@yahoo.com

Paying top cash for men's

sportwatches! Rolex,

Breitling, Omega, Patek

Pillippe, Heuer, Daytona,

GMT, Submariner and

Speedmaster. Call 833-

603-3236

Personal & Business

Loans. Up to $500,000

unsecured. Personal,

Emergency, Auto,

Business Startup, Debt

Consolidation, Home

Improvement, etc. Visit:

EasyLoanNetwork.com

COME AND GET IT!

Need to Get Rid of Something Fast - Advertise It Here For FREE!

Deadlines are Mondays by Noon

Call For Publication Schedule 614-272-5422

FREE Garden Straw for gardens or bedding. Call for appointment for pickup.

Circle S Farms, 9015 London-Groveport Road, Grove City, 43123

Grove City - 614-878-7980

FREE - Metal from old camper frame, Need a truck to pickup..

CC - Obetz - 614-632-1013

FREE - Children's Wooden Play Set - Good Condition w/Sand Box under it, Step Ladder up

Slide to go down & a rope swing. Also separate Swing Set w/4 swings.

190 Inah Ave., Cols, 43228 near the Fire Dept.

West Columbus - 614-878-1930, ask for Linda

FREE - Pipe for wood burning stove, appr. 20' plus misc. parts; 10 wood window

sashes, various sizes; Frames for real estate signs, varios sizes;

One gallon plastic gas containers.

West Columbus - 614-570-5372, ask for David

Come and Get It! is a bi-weekly column that offers readers an opportunity to pass

along surplus building materials, furniture, electronic equipment, crafts, supplies,

appliances, plants or household goods to anybody who will come and get them - as

long as they're FREE. NO PETS! Just send us a brief note describing what you want to

get rid of, along with your name, address and phone number. Nonprofit organizations

are welcome to submit requests for donations of items.

Send information to The Columbus Messenger, Attention: Come and Get It, 3500

Sullivant Ave., Columbus, OH43204. Deadline is Mondays at NOON for following

Sunday's publication. Messenger Newspapers is not responsible for any complications

that may occur. Please contact us when items are gone. 272-5422

off for a limited time! Call

today! Financing

available. Call Safe Step

1-833-356-1954

Discount air travel! Call

Flight Services for best

pricing on domestic &

international flights inside

& from the US. Serving

United, Delta, American &

Southwest &many more.

Free quote! Have travel

dates ready! 844-951-

2014

Switch and save up to

$250/yr on talk, text & data.

No contract or hidden fees.

Unlimited talk & text with

flexible data plans.

Premium nationwide

coverage. 100% U.S.

based customer service.

Limited time offer - get $50

off any new account. Use

code GIFT50. For more

information1-888-684-1169

The Generac PWRcell

solar plus battery storage

system. Save money,

reduce reliance on

grid, prepare for outages

& power your home. Full

installation services. $0

down financing option.

Request free no obligation

quote. Call 1-877-

539-0299

BATH & SHOWER UP-

DATES in as little as

ONE DAY! Affordable

prices - No payments for

18 months! Lifetime warranty

& professional installs.

Senior & Military

Discounts available. Call

855-761-1725

Come & Get It!

ASSOCIATION ADS

Want Faster & Affordable

Internet? Get internet

service today with

Earthlink. Best internet &

WiFi Plans. Call us Today

to Get Started. Ask ASSOCIATION ADS

about our specials! 866-

396-0515

Attention Viagra users:

Generic 100 mg blue pills

The Generac PWRcell, a

or generic 20 mg yellow

solar plus battery storage

pills. Get 45 plus 5 free

system. SAVE money,

$99 + S/H. Call Today 1-

reduce your reliance on

the grid, prepare for power

877-707-5518

outages and power Elminate gutter cleaning

your home. Full installation

forever! LeafFilter, the most

services available. $0 advanced debris-blocking

Down Financing Option. gutter protection. Schedule

Request a FREE, no obligation,

Free LeafFilter Estimate

quote today. Call today. 20% off Entire

1-866-783-0292

Purchase. 10% Senior &

Eliminate gutter cleaning

Military Discounts. Call 1-

forever! LeafFilter, the

833-610-1936

most advanced debrisblocking

DISH TV $64.99 FOR 190

gutter protection. Channels + $14.95 High

Schedule a FREE Speed Internet. Free Installation,

LeafFilter estimate today.

Smart HD DVR

20% off Entire Purchase. Included, Free Voice Remote.

Some restrictions

Plus 10% Senior & Military

Discounts. Call 1-855- apply. Promo expires

1/21/23. 1-866-479-1516

791-1626

Thinking about installing

Prepare for power a new shower? American

Standard makes it

outages today with a

GENERAC home standby easy. FREE design consulation.

Enjoy your

generator. $0 Down + Low

Monthly Pmt. Request a shower again! Call 1-

free Quote. Call before the 833-769-0995 today to

next power outage: 1-855- see how you can save

948-6176

$1,000 on installation, or

NEED IRS RELIEF visit www.newshowerdeal.com/mac

$10K-$125K+ Get Fresh

Start or Forgiveness. Attention oxygen therapy

Call 1-877-705-1472 users! Inogen One G4 is

Monday through Friday capable of full 24/7 oxygen

delivery. Only 2.8

7am-5pm PST

Dental Insurance - pounds. Free info kit.

Physicians Mutual Insurance Call 877-929-9587

Comopany. Covers 350 AT&T Internet. Starting at

procedures/ Real insurance - $40/month w/12-mo agmt.

not a discount plan. Get your 1 TB of data/mo. Ask how

free dental info kit! 1-855- to bundle & SAVE! Geo &

.526-1060 www/dental50 svc restrictions apply. 1-

plus.com/ads #6258

855-364-3948
---
www.colulmbusmessenger.com

xFocus on Rentals

November 13, 2022 - WESTSIDE MESSENGER - PAGE 15

xClassified Services

SETON WEST APARTMENTS

3999 CLIME ROAD, COLUMBUS, OH 43228

We are a Senior Housing Community...you must be 62 or better.

Rent is based on your income. We offer spacious 1 bedroom apartments

which include: utilities, refrigerator, range, central air, carpet, EMS monitor

pull cords & a limited access building entry system. Seton West is professionally

managed and has 24 hour emergency maintenance services.

Our residents enjoy: a community room for playing cards, potlucks, bingo

or visiting with neighbors. We have two laundry rooms & game room,

library, outdoor patios and an elevator for your convenience.

APPLICATIONS AVAILABLE IN OUR FRONT LOBBY OR CALL

614-274-8550 OR TTY-800-750-0750 FOR AN APPOINTMENT.

WEDGEWOOD

VILLAGE

1, 2 and 3 BR Apts.

Rent Based on Income.

Call 614-272-2800 or visit us

at 777 Wedgewood Dr.

TTY/TDD 711

EQUAL HOUSING OPPORTUNITIES

ASSOCIATION ADS

VIAGRA and CIALIS

USERS! 50 Generic pills

SPECIAL $99.00. 100%

guaranteed. 24/7 CALL

NOW! 888-445-5928

Hablamos Espanol

READER

ADVISORY

The National Trade Association

we belong to has

purchased the following

classifieds. Determining

the value of their service

or product is advised by

this publication. In order

to avoid misunderstandings,

some advertisers do

not offer "employment"

but rather supply the

readers with manuals, directories

and other materials

designed to help

their clients establish mail

order selling and other

businesses at home. Under

NO circumstance

should you send any

money in advance or give

the client your checking,

license ID or credit card

numbers. Also beware of

ads that claim to guarantee

loans regardless of

credit and note that if a

credit repair company

does business only over

the phone it's illegal to request

any money before

delivering its service. All

funds are based in US

dollars. Toll Free numbers

may or may not

reach Canada. Please

check with the Better

Business Bureau 614-

486-6336 or the Ohio Attorney

General's Consumer

Protection Section

614-466-4986 for more

information on the company

you are seeking to

do business with.

Rentals

ASSOCIATION ADS

Prepare for power outages

today with a GENERAC

home standby generator.

$0 Money Down + Low

Monthly Payment Options.

Request a FREEQuote--

Call now before the next

power outage. 1-855-465-

7624

Looking for auto insurance?

Find great deals

on the right auto insurance

to suit your needs.

Call today for a free

quote! 866-924-2397

IMPORTANT

NOTICE

The following states: CA,

CT, FL, IA, IL, IN, KY,

LA, MD, ME, MI, MN,

NE, NC, NH, OH, OK,

SC, SD, TX, VT and WA

requires seller of certain

business opportunities to

register with each state

before selling. Call to

verify lawful registration

before you buy.

CHILD CARE

OFFERED

Depend. Quality Child care

in loving hm. Exp. Mom, n-

smkr, hot meals, sncks,

playroom, fncd yd. Reas.

rates. Laurie at 853-2472

HELP WANTED

Kings Kids Daycare

in Grove City is hiring Fun,

Loving Teachers for PT &

FT shifts. Please email

sarragc@outlook.com or

call 614-539-0349

HELP WANTED

Looking for a house

cleaner very soon.

Starting pay $15 per hour

and $16 per hour after 60

days. Must have own

transportation and a

background check

required. Contact Mendy

614-774-7529

WANT TO BUY

We Buy Cars & Trucks

$300-$3000.614-308-2626

We Buy Junk Cars &

Trucks. Highest Prices

Paid. 614-395-8775

ANTIQUES

WANTED

Victrolas, Watches,

Clocks, Bookcases

Antiques, Furn.

Jeff 614-262-0676

or 614-783-2629

WE BUY JUNK CARS

Call anytime 614-774-6797

BUYING OSU & old sports

items, records, postcards,

old photos, jewelry & more

614-477-5590

RENTALS

Eakin-1 Br Apt, crpt, appls.

No Pets 614-560-3050

CONDO FOR RENT

Galloway Village - 3 BR,

2 BA, 2 car gar.

Beautiful neighborhood.

Rent $1500/mo + dep.

614-465-7763

2 BR HOMES

Bsmt. $1000/mo

614-530-8097

USED VEHICLES

1991 Cadillac - $1800 or

trade for smaller car

1-740-973-3206

CLEANING

DEEP CLEAING &

WALL WASHING

Call Judy 614-746-0273

CONCRETE

EDDIE MOORE

CONSTRUCTION

Quality Concrete Work

Lt. Hauling & Room Add.,

Block Work & Excavation

Stamp Patios,

Bsmt. Wall Restoration

36 Yrs Exp - Lic & Ins.

Free Ests. 614-871-3834

GALLION

CUSTOM CONCRETE LLC

Specializing in Custom Colors &

Custom Designs of Concrete.

Including Remove & Replace

44 yrs exp & Free Est.

Licensed & Insured

Reputation Built

On Quality

Ronnie

614-875-8364

See Us On Facebook

www.gallioncustom

concrete.com

ALL-CITY CUSTOM

CONCRETE

All Types Concrete Work

New or Tear Out-Replace

40 Yrs. Exp.

(614) 207-5430

Owner is On The Job!

AJ's Concrete,

Masonry

Good Work - Fair Prices

Block Foundations

Driveways • Sidewalks

Epoxy/Overlay Floors

Bonded-Ins. • Free Ests.

614-419-9932

INFORMATION

11/20 W/SW

11/20 A

CONCRETE

www.hastingsnsons.com

Driveways & Extensions

Patio & Walkways,

Porches & Steps,

Garage/Basement Floors

Hot Tub/Shed Pads,

Stamped/colored concrete

Sealing of new &

existing concrete.

FREE ESTIMATES

Contact Adam

614-756-1754

hastingsandsons.

columbus@gmail.com

INFORMATION

ONLY

$50.00

For This Ad In Our

West & Grove City

For Info Call

272-5422

GUTTERS

Bates & Sons

GUTTER CLEANING

5 ★ Google Reviews

614-586-3417

FENCING

EAZY FENCE

Chain Link - Wood

No Job Too Big or Small

All Repairs ~ Free Est.

Insured. 614-670-2292

HEATING & COOLING

HVAC

HEATING & A/C

Fast Service - Licensed

614-633-9694

INFORMATION

LOOK TO

THE PROFESSIONALS

IN OUR

SERVICE DIRECTORY

For Service

"That Is Out Of This World"

HAULING

DEAN'S HAULING

614-276-1958

LITTLE GIANT

Dumpsters & Hauling

Gravel, Mulch, Dirt, Junk

to the dump. 14 yard roll

offs. $240 for 2 day rental

or I can help load it up at

no extra charge.

MIKE 614-452-1689

DUMPSTER RENTAL

4 Days - $275 & Up

No Hazardous Materials

Tires - $10.00 each

Call 614-254-1131

HOME

IMPROVEMENTS

KLAUSMAN HOME

IMPROVEMENT

Siding-Windows-

Doors-Roofing-Soffit-

Fascia-Gutters-Trim

Earn FREE Seamless

Gutters with Siding Over

1000 Sq. Ft.

FREE Shutters with

Soffit & Trim

EPA Certified

Member of BBB

Financing Available

Over 20 yrs exp. • Free Est.

Licensed-Bonded-Insured

Owner & Operator

James 614-419-7500

C&JHandyman

Services LLC

Minor Plumbing & Electric

Install Hot Water Tanks,

Dishwashers & Disposals

All Interior Remodels

Also Fencing &

Interior/Exterior Painting

Free Est. ~ 18 Yrs. Exp.

CDC/EPA Approved Guidelines

614-284-2100

SLAGLE

HOME REMODELING

Baths, Kitchen,

Plumbing and Electrical.

All your Handyman needs

No Job too Big or Small

Over 30 Yrs. Exp. Lic.-Bond-Ins.

Jerry

614-332-3320

HOME

MAINTENANCE

HANDYMAN SERVICES

614-235-1819

HOME

REMODELING

LAWN CARE

LET US MAINTAIN

YOUR LAWN & GARDEN

FOR YOU

Summer, Spring,

Winter or Fall

WE DO IT ALL!!!!

Lawn Cuts, Edging,

Trees & Shrubs, Garden,

Mulching, Hauling,

Garden Pond &

Home Maint.

Free Ests. Low Rates

$20 & Up

Kevin - 614-905-3117

MOWER

REPAIR

Classified Services

12/4 A

12/4 A

11/20

SW/W

SINCE 1973

Phil Bolon Contr.

Windows & Siding

Decks, Kitchens, Baths

Room Additions,

Flooring, Roofing

Bsmt Waterproofing

Deal With Small Non-Pressure Co.

47 Yrs. Exp. - Refs. Avail.

Lic.-Bond-Ins.

11/20

A/M

Free Est. - Financing Avail.

Member BBB Of Cent. OH

O.C.I.E.B. ID #24273

614-419-3977

or 614-863-9912

Charlies Handyman

Service

Over 40 yrs. exp.

Hot Water Tanks

Door Locks

Kitchen/Bath Remodels

Roofmg * Siding

Porches & Decks

614-319-6010

blantoncharles894@gmail.com

MultiCraft Const.

& Handyman Services

All Types Handyman Services:

Decks, Fences

Kitchen/Baths

Window/doors installed

Interior Painting

Drywall Repairs

All Types of Flooring

Call/Text 614-774-2923

multicraftconstruction@gmail.com

LANDSCAPING

ONYX

LANDSCAPING

614-407-5214

www/Pmux:amdsca[omg;;c/cp,

Full Service Lawn Care

Start With Trust!!

The Lawn Barber

Cut, Trim, Blow away

Hedge Trimming, Edging

614-935-1466

Tremont

Mower Repair

Servicing

Lawn Mowers,

Weed Eaters &

Leaf/Snow Blowers

Pickup &

Delivery Available

614-357-6204

11/20 A

11/20 w/gc

PAINTING

Painter Over 30 Yrs. Exp.

Free Est. Reas. Rates

Daniel - 614-226-4221

PLASTERING

Plaster & Stucco

NEW AND

REPAIR

Established 1917

Geo. F. Neff & Co.

614-274-5629

DRYW

YWALL &

PLASTER

11/20

A&M

REPAIR

Textured Ceilings

614-551-6963

Residential/Commercial

BIA

PLUMBING

All About Drains & Plumb.

Will snake any small drain

$145. 614-778-2584

MYERS

PLUMBING

Exp. Expert Plumbing

New Const. & Fast Repairs

Lic. - Permit Available

Water • Sewer • Gas

614-633-9694

CHRIS'

PLUMBING

"Plumbing & Drain Professional

That You Can Count On"

24 Hrs., 7 Days/Week

No Overtime Charges

24 Yrs. Exp. in Plumbing &

Drain Cleaning Field

Call For A Free Phone Estimate

$100.00 For Any Small Drain

614-622-4482

30% OFF with AD

POOL/SPA

MAINTENANCE

K&L Spa Cleaning

Hot Tub Cleaning and

Weekly Maintenance

Keith 614-316-9809

POWER WASHING

Bates & Sons

Soft Wash & Powerwash

5 ★ Google Reviews

614-586-3417

SEWING MACHINE

REPAIR

REPAIR all makes 24 hr.

service. Clean, oil, adjust

in your home. $49.95 all

work gtd. 614-890-5296

TREE SERVICES

BURNS TREE SERVICE

Trimming, Removal &

Stump Grinding.

614-584-2164

Warren Brewer Tree Service

• Tree Removal

• Tree Trimming 9/11

A&M

• Stump Grinding

• Bucket Truck Services

Best Prices • Same Day Service

614-878-2568

12/4 A&M

12/4 A
---
PAGE 16 - GROVE CITY MESSENGER - November 13, 2022

The parodist songwriter Al Yankovic is

the subject of a new biopic. And yes, it is as

weird as you might imagine it to be.

Co-written by the loveable goof who rose

to fame in the late 1970s by turning pop

classics such as The Knacks' "My Sharona"

and Queen's "Another One Bites the Dust"

into comedic gold with an ode to questionable

lunch meat in "My Bologna" and a

lament on public transportation in

"Another One Rides the Bus," "Weird: The

Al Yankovic Story" is anything but a traditional

account of the life of the man who

only ever wanted to make up new words to

songs that already existed.

Taken at face value, Al Yankovic makes

a terrible subject for a biopic. By his own

admission, his parents were fully supportive

of his wild dreams, he abstained from

alcohol and drugs throughout his entire

career, and he did not engage in public

fisticuffs with artists who may have initially

been a little sore that he lovingly lampooned

their creations. But in this film

however, Al Yankovic does what Al

Yankovic does best: he turns his completely

normal and sweet and square life into

something entirely different, something

dark and gritty and, frankly, more befitting

of a traditional biopic of a creative genius.

The end result may be a little out there

for some, but "Weird: The Al Yankovic

Story" is a wonderful — and wonderfully

funny — homage to the man who has

brought so much joy to the world through

his creative stupidity.

Daniel Radcliffe stars as the man of the

decades, an aspiring parody songwriter

whose parents do not believe in him. His

mother (Julianne Nicholson) worries about

where he will go in life when she finds

Hawaiian shirts tucked away in his bed

like a naughty magazine, and his father

(Toby Huss) is too busy at his factory job to

pay attention to his son and his outlandish

dreams where he becomes not technically

the best but arguably the most famous

accordion player in an extremely specific

genre of music.

After years of hiding all of his musical

talents — both at the accordion and with

making up new lyrics to songs that already

exist — "Alfie" finally has enough of their

dream dampening behavior and sets off

with his glorious hair and his gloriously

colorful Hawaiian shirts to make a name

for himself in the music industry.

At first, the industry wants nothing to

do with him and his ability to create new

lyrics from songs that already exist. They

feel it is too unoriginal, too boring, too

niche, too reliant on the accordion. But

when the famed Dr. Demento (Rainn

Wilson) takes him under his wing, Al

Yankovic finally starts to fly high. And

then he starts to get high too, eventually

In Entertainment

www.columbusmessenger.com

"Weird: e Al Yankovic Story" is endlessly enjoyable

becoming addicted to drugs and alcohol at

the influence of pop sensation Madonna

(Evan Rachel Wood) who has her own ideas

for how his story should go. Shortly after

(very shortly after), he has a falling out

with his band — "you're all a bunch of normals,"

he shouts at them — gets into a public

spat with Michael Jackson who parodied

his hit single "Eat It," and runs afoul of the

leader of a notorious cartel.

Needless to say that there is a lot going

on in "Weird," but it completely works if

you allow yourself to succumb to the wackiness

within this "100 percent true, not at

all made-up movie" about Al Yankovic's

rapid rise to fame and equally fast downfall

and nearly instantaneous recovery and

immediate tragic ending.

Admittedly, it might be hard for some to

succumb to the wackiness that abounds

within this film, but what may help sell the

material is the fact that the cast takes it

seriously. Chances are if you liked "This is

Spinal Tap," "Zoolander," or "Wet Hot

American Summer," you will enjoy this

because it was filmed and acted in the

same vein as those comedy classics. It has

that same spirit and is delivered with the

same amount of love for these characters

by the actors, especially Radcliffe. He is

just a joy to behold in this film where he

alternates seamlessly between earnest

dreamer at the start of his career and

The Reel Deal

Dedra Cordle

vicious frontman a la Jim Morrison during

one of his most famed concert performances.

From start to finish, "Weird: The Al

Yankovic Story" is highly engaging and

entertaining. Jokes come hard and fast and

they range from silly slapstick gags to

pointed references with punchlines that

pay off down the line. It's the kind of film

that begs rewatching to catch all of the references

and sight gags, and to fully appreciate

the jokes that age with time.

Unfortunately, this film is currently

being streamed only on the Roku Channel

(it is also available on their website) and

unfortunately it will likely stay only on the

Roku Channel. But if you can find a way to

view this movie through that free ad-based

streaming service, I highly encourage you

to do so. Like the man and his work, it will

bring a smile to your face, warmth to your

soul, and a genuine sense of puzzlement for

finding something so absurd so endlessly

enjoyable.

Grade: A-

Dedra Cordle is a Messenger staff writer

and columnist.

FALL IN LOVE WITH

CHOICE

CHECKING

Telhio' elhio's Choice Checking featur

tures Early Deposit, along with:

• ID Theft Assistance

• Discounts at S

• Roadside Assistance • Cell Phone Prot

OPEN YOUR ACCOUNT TODAY AT TELHIO.

ORG $

Telhio is open to anyone who lives, w orks, worships, or goes to school in Central and Southwest Ohio. Federally Insured b y NCUA. EqualHousing Lender. Early Dir ect Deposit

is free to all members. Enrollment is automatic and is available only to personal checking accounts. You must contact us to opt out of this service. We cannot guarantee early

availability of any direct deposit you receive. Please see our Funds Availability Policy Disclosure for additional details. Membership eligibility requirements ements apply.

614-221-3233