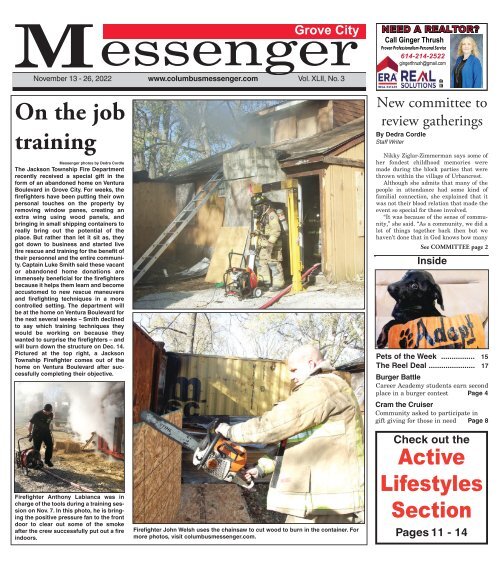 Grove City Messenger - November 13th, 2022
You also want an ePaper? Increase the reach of your titles
YUMPU automatically turns print PDFs into web optimized ePapers that Google loves.
Messenger

Grove City

November 13 - 26, 2022 www.columbusmessenger.com Vol. XLII, No. 3

NEED A REALTOR?

Call REALTOR? Ginger Thrush

Proven Professionalism-Personal Service

Call Ginger Thrush

614-214-2522

614-214-2522

gingerthrush@gmail.com

On the job

training

Messenger photos by Dedra Cordle

The Jackson Township Fire Department

recently received a special gift in the

form of an abandoned home on Ventura

Boulevard in Grove City. For weeks, the

firefighters have been putting their own

personal touches on the property by

removing window panes, creating an

extra wing using wood panels, and

bringing in small shipping containers to

really bring out the potential of the

place. But rather than let it sit as, they

got down to business and started live

fire rescue and training for the benefit of

their personnel and the entire community.

Captain Luke Smith said these vacant

or abandoned home donations are

immensely beneficial for the firefighters

because it helps them learn and become

accustomed to new rescue maneuvers

and firefighting techniques in a more

controlled setting. The department will

be at the home on Ventura Boulevard for

the next several weeks – Smith declined

to say which training techniques they

would be working on because they

wanted to surprise the firefighters – and

will burn down the structure on Dec. 14.

Pictured at the top right, a Jackson

Township Firefighter comes out of the

home on Ventura Boulevard after successfully

completing their objective.

New committee to

review gatherings

By Dedra Cordle

Staff Writer

Nikky Ziglar-Zimmerman says some of

her fondest childhood memories were

made during the block parties that were

thrown within the village of Urbancrest.

Although she admits that many of the

people in attendance had some kind of

familial connection, she explained that it

was not their blood relation that made the

event so special for those involved.

"It was because of the sense of community,"

she said. "As a community, we did a

lot of things together back then but we

haven't done that in God knows how many

See COMMITTEE page 2

Inside

Pets of the Week ................ 15

The Reel Deal ...................... 17

Burger Battle

Career Academy students earn second

place in a burger contest Page 4

Cram the Cruiser

Community asked to participate in

gift giving for those in need Page 8

Firefighter Anthony Labianca was in

charge of the tools during a training session

on Nov. 7. In this photo, he is bringing

the positive pressure fan to the front

door to clear out some of the smoke

after the crew successfully put out a fire

indoors.

Firefighter John Welsh uses the chainsaw to cut wood to burn in the container. For

more photos, visit columbusmessenger.com.

Check out the

Active

Lifestyles

Section

Pages 11 - 14
---
PAGE 2 - GROVE CITY MESSENGER - November 13, 2022

America'

ica's s Fa Fa

av av

vorite Treasure ure e Hunts!

2022

C.M.T

MOWER REPAIRS

614-875-5830

6446 HARRISBURG PIKE, ORIENT, OHIO 43146

Pick-up and Delivery

"We have the lowest price in town!"

Get the word out

FAST

Advertise your Craft Show

or Bazaar in the classifieds.

It's easy to do.

Just call or email Kathy at

614-272-5422

kathy@columbusmessenger.com

for all of the details

Nov. 26 & 27

Dec. 17 &

18

Antiques, Collectibles,

Jewelry, Vintage,

Home Decor, Militaria

and more!

2023

Jan. 28 & 29

Feb. 25 & 26

Mar. 25 & 26

Elks to host Hoop Shoot contest

Columbus-Grove City Elk Lodge #37 will hold its

annual Hoop Shoot free throw contest from 10 a.m. to

12 p.m. Nov. 19 at the Grove City Church of the

Nazarene on Hoover Road.

The contest is open to all girls and boys ages 8-13

(as of April 1, 2023). Winners in six divisions (girls 8-

9, girls 10-11, girls 12-13, boys 8-9, boys 10-11, boys 12-

13 ) will advance to the district contest in January that

will take place at the Jackson High School Field

House, in Jackson Ohio. Winners at the district level

COMMITTEE

Continued from page 1

community events

www.columbusmessenger.com

can advance to state, regional, and national competition.

For more information and application forms, contact

Bob Dardinger at 614-309-8176, or call the Elks

Lodge at 614-875-2375.

Free community meal

Bethel Lutheran Church, 4501 Hoover Road in

Grove City, will host a free community meal every

third Saturday of each month. The food will be served

from noon to 1 p.m. For more information, call the

church office at 614-875-0510.

years."

She said she would love to see the village host community

events and gatherings in the near future. Her

fellow members on the village council shared the same

desire when discussing a related topic at its regular

meeting on Oct. 11.

As a result, the local governing body has announced

designs to form a committee to study the feasibility of

hosting events and gatherings for the community. The

idea was initially sparked by a property owner who

says his request to rent a village amenity was denied.

According to Eric Evans, a former resident of the

village, he wanted to host a celebration at the pavilion

for family and friends and whoever else wanted to join

the festivities.

"I grew up in this community; I love this community,"

he said. "And I just wanted to give back in some

way."

He said he envisioned small carnival rides for children

and bringing in craft vendors for the adults. Food

trucks were also a possibility.

But he says his reservation request was not

approved because he does not currently reside in the

village. He said he is hoping the village council can

come together with the community to allow usage of

the facility to non-residents.

Councilwoman Deborah Larkins-Jackson said she

was surprised by the denial.

"I was under the impression the pavilion could be

rented out at a cost to anybody," she said.

Mayor Joseph Barnes Sr. said that is not the case

per the usage agreements that were signed into legislation

by the council years prior.

He said that the council could change the agreement

to allow non-residents to have the ability to rent

the facilities at a non-resident price like other municipalities

do, but he added there are still rules in place

regarding what events can be hosted within the village

facilities.

"There's nothing that says that the people in

Urbancrest can't gather at the park and celebrate each

other," said Barnes. "And I have spoken to (Mr. Evans)

about that over and over again. But we have rules on

the books that says you cannot bring vendors in. You

can't come in and use the park, call it a celebration and

sell food."

He said those same rules are in place to rent the

indoor pavilion as well.

"If his aunt (who lives the village) were to come and

rent the pavilion so they could have access to it, that

would be good," he said. "But it also states in the rules

that you cannot sell any product out of that pavilion."

Barnes also explained that having individuals or

outside groups try to set up carnival rides could put

the village in an uncomfortable spot regarding liability.

"It's an insurance issue and a safety issue," he said.

Ziglar-Zimmerman asked whether they could issue

permits like other cities or municipalities do when an

organization wants to host community events. Barnes

said they could but added that it was an issue that

needed more research by the council.

Larkins-Jackson suggested they reach out to the

Grove City Area Chamber of Commerce for guidance.

She said she sees no reason why the village could not

allow — or even set up their own — arts and music

events or other gatherings of that nature.

Law director Rodd Lawrence suggested the council

form a committee to brainstorm potential event

options and allowances.

"It would allow you to start to look at the different

options and decide what it is you want to allow, what

it is you want to do, and then we'll work to get it done,"

he said. "But you have to start out with a

vision of what your goals and objectives are

and then we can work backwards from

there and devise a plan to accomplish it."

Lawrence said he believes the village

having the ability to host community

events would be "a good thing" for all

involved.

"I think the reason all these communities

are doing events is two-fold," he said.

"Number one is they generate a lot of community

togetherness and neighborliness

and all of that, but secondly they make

money (for the city or municipality where

they are taking place).

"So whatever your motivation is, you

certainly can do it, and you've got the facilities,

and it looks like you've got interest so

I think it would be a great idea to explore

further."
---
www.columbusmessenger.com

community events

Chamber Singers perform

a holiday concert

The Grove City Chamber Singers will

present a holiday concert "Wonderful

Peace," at 3:30 p.m. Nov. 20 at the Grove

City United Methodist Church, 2684

Columbus St. A variety of holiday music

will be performed, and they will be joined

by guest singers, the Reynoldsburg High

School Chamber Singers. Doors open at 3

p.m. and admission is free.

For more information, go to gcchambersingers.wixsite.com/gcchambersingers.

anksgiving Wattle

The 11th annual Thanksgiving Wattle

will take place on Thursday, Nov. 24 at

1270 Lamplighter Drive in Grove City.

Participants can choose between a regular

5K walk/run that begins at 9 a.m., a 13.4-

mile bike ride that begins at 8:50 a.m., a

100-yard race for athletes with different

abilities that starts at 8:40 a.m, and a fun

run for children that begins at 8:30 a.m.

The cost to participate ranges from $15 to

$37. Proceeds benefit the Grove City Food

Pantry. For more information, visit

thanksgiving wattle.com.

November 13, 2022 - GROVE CITY MESSENGER - PAGE 3

Website:Expert-hvac.com

Phone:614-946-8461

Experthvacllc@gmail.com

FREE ESTIMATES

on system installs

$100 Preventative Maintenance (tune up)

Expert service - affordable prices - Locally owned from Groveport

Mention this ad and get $20 off a $110 service call.

•Oysters Chesapeake Bay

•Assorted Beef Steaks

•Frozen Lobster Tails

•King Crab Legs

•Faroe Island Salmon

•Sea Scallops

SUPPORT YOUR LOCAL

SMALL BUSINESSES

•Chilean Seabass Fillets

•Halibut Fillets

•Snow Crab Clusters

•Orange Roughy

•Smoked Salmon

•Live Lobsters via Special Order Only!

Call & Order Your Oysters

for Thanksgiving Now!

WE ACCEPT

All Major Credit Cards

EBT Cards (SNAP)
---
PAGE 4 - GROVE CITY MESSENGER - November 13, 2022

www.columbusmessenger.com

e best burgers

South-Western Career Academy senior Natalie Faught and junior Emma Kirsh from

the Academy Grill finished second in the Cap City Burger Battle Championship. Want

to try their award-winning burger? The Belgium Sunrise will be a new addition to the

Academy Grill menu when they move to the winter menu soon. The Academy Grill is

open every Tuesday, Wednesday, Thursday, and Friday from 10:30 a.m. to 1 p.m.

www.jpsbbq.com

2000 Norton Rd.

Phone: 614-878-7422 Fax: 614-878-7429

Hollyday Happiness

(Serves Approx. 4-7).......................................... $ 169.95

Order By 12/13/22

For Christmas Eve Pick-Up by 5 PM

Hot & Ready to Eat or Cold to Reheat

*INCLUDES*

Charicuterie Platter (Fancy Meats/Cheeses & Fruit Snacks)

3 Blend Salad

JP's Ribs * Or * 2# Prime Rib (Limited Supply So Order Early)

Italian Roasted Chicken Pieces

3 Side Selections:

Au Gratin Potatoes/Green Beans/ Baked Beans/Slaw

Mac & Cheese/Potato or Macaroni Salad/Chunky Applesauce

Rolls & Butter

DestinationOutlets.com

800-213-9083

8000 Factory Shops Blvd.

Jeffersonville, OH 43128

DOWNLOAD OUR

MEMBERSHIP APP
---
www.columbusmessenger.com

November 13, 2022 - GROVE CITY MESSENGER - PAGE 5

Government Focus

Township tries to secure funds for road projects

By Dedra Cordle

Staff Writer

The Ohio Public Works Commission will

soon announce which municipalities will

receive full to partial funding to make

infrastructure upgrades through its capital

improvement program and the local transportation

improvement program. Among

the hundreds of government entities who

are hoping to hear good news regarding

their road repair request is Jackson

Township.

At its meeting in late October, Township

Administrator Shane Farnsworth told the

board of trustees that the application to

repair two of its most well-traveled, and

well-worn, roads had officially been submitted

for review.

He said he feels confident that the township

will receive partial funding — if not full

Property Tax Assistance Program

The Franklin County Auditor's office is

now accepting applications for the Property

Tax Assistance Program (PTAP) from lowincome

older homeowners who need help

paying their 2022 first-half property taxes,

said Auditor Michael Stinziano.

funding — to make needed repairs to Brown

and Dyer roads.

"I believe that we have a real chance to

get some amount of dollars due to the scope

of the project," said Farnsworth. "It is a relatively

small project, about $350,000 in the

grand scheme of things, and I do not

believe it would take an excessively long

time to complete."

He said the township and the county did

a preliminary scoring account of the project

and found it to be "right on the edge" to

meet the parameters of project approval.

"Although I do feel good about it, there

is always that chance that other projects

will score and fare just a bit better," he

said. "But again, I believe we have a good

project here so we'll just keep our fingers

crossed and hope to hear good news (from

the state) within the next two months."

According to the application request, the

news and notes

township is seeking a full resurfacing of

Brown Road and Dyer Road, along with

improvements at the intersection.

Farnsworth said stormwater repairs were

also requested within the application

because the area tends to flood during

heavy rain events.

"Much of the stormwater infrastructure

on Brown and Dyer has been crushed from

all the dump trucks and other heavy-load

vehicles that travel through," he said. "So

what we have now are areas where the

water just lays there without draining and

it really affects the neighborhood homes."

He said infrastructure improvements

would allow that run-off to drain in a more

timely manner.

"The repairs would allow it to function

as it should," he said.

Improvements to Brown and Dyer Road

have been on the township's need-to-repair

The PTAP provides emergency one-time

property tax assistance to low-income

homeowners age 60 or older and is a nonprofit

entity. New this year, the PTAP

application can be submitted online.

PTAP applications are reviewed by a

board that includes the Franklin County

auditor's office, Franklin County treasurer's

office, Franklin County Office on

Aging, Central Ohio Area Agency on Aging,

and several other partner organizations.

"PTAP can help older residents on fixed

incomes keep their homes despite rising

home values," Stinziano said. "I encourage

anyone who needs assistance and qualifies

to apply to the program."

list for many years, said Farnsworth, but

he added the condition of the roads have

been further damaged due to the surrounding

roadway repairs.

"We all wanted repairs to be done to

Frank Road and State Route 104, but a lot

of those detours caused a lot of traffic to be

diverted to these roads because they were a

convenient cut-through," said Farnsworth.

"These roads, which are very narrow and

occasionally curvy, were not built for that

amount of traffic."

He said he hopes with the major thoroughfares

now being open, traffic will start

to recede from Brown and Dyer so the condition

of the roadway does not deteriorate

further.

"That is the ultimate goal of this project

— to repair and stabilize this area," he stated.

Applications are due by Nov. 18.

Information about the program and an

application can be found on the auditor's

office website, franklincountyauditor.com.

The PTAP was founded in 1987 and has

supported hundreds of qualifying homeowners

in Franklin County.

Monty M Chase, age 74, born on January 13,

1948 passed into the arms of his loving Lord at Kobacker

House on October 26, 2022 after a year long courageous

battle with cancer.

He was preceded in death by the love of his life, wife,

Margaret (2014) and parents Walla and Marylee Chase.

Survived by daughter, Stacey Chase Jividen,DVM (Shane)

and grandchildren Audrey and Owen Jividen, sister, Sandy

Doutt (John), brother Jeff Chase (Denise) and many loving

nieces and nephews.

Monty was a proud graduate of Columbus West High School and was vice-president

of his senior class, he was also voted the most reliable of the class of 1966. He also

was a graduate of Franklin University (1976).

He worked many years in the banking business where customers were his friends.

He served in the US Navy Reserve (1967-73) with Top Secret Clearance, CINCPAC. He

also served as President of Grove City Lions Club, Hilltop Business Assoc. and Hilltop

Historical Society. He was Vice Commander of SCV Camp 1535 and Master Mason at

Reynoldsburg Masonic Lodge.

Monty's life was centered around God, family, country, friends, animals and serving

others. He believed "If you like to see change in the world, be that change". He was

his family's historian and had a passion for American history. He also loved his cats

and enjoyed model trains. Monty was loved by many because he loved so many.

The Family received friends on Friday, November 4th, from 3:00- 7:00pm at JERRY

SPEARS FUNERAL HOME of HILLIARD, 5471 Frazell Rd., Hilliard, Ohio. A

"Celebration of Life" will be held at the funeral home on Saturday, November 5th at

10:00am. Interment to follow at Wesley Chapel.

Donations may be made in Monty's memory to Kobacker House, 800 McConnell Dr.,

Columbus, Ohio 43214.
---
PAGE 6 - GROVE CITY MESSENGER - November 13, 2022

Opinion Page

www.columbusmessenger.com

When "It's free" becomes costly

Achieving quality sleep becomes harder

for me with every passing year, especially

in the fall months when the sport's world is

abuzz and my mind spins all night, most

every night, trying to decide what players

to insert for my fantasy teams. It always

amounts to a fruitless effort, just a wasted

sleep opportunity, since no matter what

player choices I make, they always turn out

to be the wrong ones.

On top of that, we must also endure

those painful tacky political attack ads that

run well into the fall season and then start

anew for the next election the day following

Election Day. But worst of all, fall also

means it's that annoying annual Medicare

enrollment update period that will once

again test our already fragile and dwindling

sanity left from the prior year's

onslaught of brainwashing commercials.

One night I woke myself up shouting

out, "Dy-no-mite!" A few nights earlier it

was, "It's free!" Both times the dog went

scurrying down the stairs with his tail

between his legs to hide behind the chair.

The week before I had a nightmare and

awoke in a cold sweat with Joe Namath,

Jimmie 'JJ' Walker, William Shatner, Joe

Montana, and George Foreman chasing me

through a forest waving health insurance

forms for me to sign in one hand and a pen

in their other yelling, "get what you

deserve, get what you're entitled to, no premiums,

no copay, no deductibles, dental,

vision, prescriptions, meals, transportation,

home care and up to $1,700 added

back to your annual Social Security payments."

I always find myself wondering

what possesses those celebrities to lower

Going shopping

R

R

E

P

D

Y

J

G

A

Z

E

H

R

C

P

W

E

X

C

H

A

N

G

E

Z

I

S

A

Z

V

U

C

T

O

I

D

B

C

R

E

D

I

T

S

A

F

I

Z

U

Z

G

A

P

U

R

C

H

A

S

E

H

R

R

N

R

R

R

I

U

A

N

M

T

N

J

K

P

E

T

T

N

G

R

S

J

P

N

G

I

T

E

R

C

E

G

N

A

H

C

L

U

R

D

K

D

Q

O

E

R

B

D

I

D

E

O

E

O

C

I

K

L

M

I

U

U

E

N

C

C

G

U

A

S

N

I

X

O

P

R

R

A

E

S

G

K

R

P

T

A

G

Z

T

T

X

R

L

I

A

C

F

L

S

O

M

B

their standards so much to do those ads.

It's hard to believe they're that desperate to

make their personal financial ends meet.

The FTC should protect us and make

them put warning disclaimers at the beginning

of those totally abhorrent, almost nonstop,

Medicare commercial barrages we're

subjected to that are obviously designed to

lower our resistance and persuade us into

submission.

As much as I've tried to ignore those

obnoxious commercials, I haven't succeeded.

I've even tried hitting other stations on

the remote clicker to escape the mental

attacks and safeguard my waning sanity.

But their battle plan has anticipated that

evasive maneuver and no matter what

channel I end up on, they've taken control

of that station too and within seconds

there's someone yelling, "it's free." I've

yelled back more than once, "nothing is

free!"

It's always amusing when they say, "go

online and use our easy comparison tool to

pick out the plan that's right for you (it's

free)." I'd rather sit, read and try to comprehend

an integral calculus textbook than

try to get any worthwhile conclusions out of

most of those overly complicated tools.

Oh, I'm sure there are a few who might

qualify for the pie in the sky promises they

make on those commercials and that must

be what allows them to bypass any FTC

controls and continue to run the misleading

ads. But my life has taught me if I fell for

their ruse and pursued, I'd get the standard,

"Oh, I'm sorry sir, you do not qualify

for that plan. But we have some very

expensive other plans we can quickly set

I

I

L

B

Q

D

B

L

F

A

P

Q

W

N

K

P

O

S

Q

P

N

Y

E

Y

R

L

J

K

T

J

K

N

O

I

T

C

E

L

E

S

L

J

Z

I

G

W

Q

J

V

J

N

M

E

H

L

H

X

I

N

K

Messenger Word Search

AISLE

BAGGER

BARGAIN

BRAND

CART

CASHIER

CHANGE

COUNTER

COUPON

CREDIT

DEAL

DISCOUNT

DISPLAY

EXCHANGE

you up with. I'll connect you with one of our

friendly trained (to hook you) representatives."

For me, it's always been that old bait

and switch tactic. Yes, it may be free for a

few, but that's because I'm paying for them

with my high costs. You're welcome.

That "it's free" is a proven ploy to hook

us and reflects a mentality that now runs

rampant at every level these days. It's emanating

from the very top of our society and

permeating down to the local levels with a

steadily escalating trend. Our hard earned

taxes are helping to fund those goodies.

They've become an expensive way of luring

and convincing expectations, loyalties, getting

program buy-ins and votes, when they

might otherwise just fall upon deaf ears

and get disappointing responses.

Many of the goodies start out with

admirable intentions for a legitimate need

but go awry. I equate them to our going to

the grocery store. We need some milk. We

head off with intentions of picking up a gallon

and just a few other healthy items so

we can check out in the five or less item,

fast checkout aisle. But we lose control. By

the time we reach checkout, we're pushing

one over-flowing cart with pork products

and pulling another brimming with every

form of junk food imaginable, and it takes

forever to unload to ring up and then reload

our items in the other, slow moving aisle.

It's like that in Congress. A bill is structured

to put our taxes to a justified need.

Politics ensues and by the time the bill is

passed, it's overloaded with totally unrelated

goody pork and junk food items the enduser

sees as free goodies. They might even

claim the huge bill will cost the taxpayer

nothing. Then it

gets rammed

through using

FREEBEE

MANIKIN

PRICE

PROMOTION

PURCHASE

RACK

RECEIPT

RETURN

SALE

SAMPLE

SELECTION

SIZE

SPREE

TAG

See Puzzle Solution page 7

shady accounting

techniques any

Accounting 101

class would quickly

tear apart.

Inevitably a huge

portion of the funds

never end up where

intended, nobody

knows where they

went. Fraud, waste

and corruption run

rampant because

there's no oversight

or accountability (I

recently read criminals

have stolen

over $100 billion in

Covid relief funds).

Then Congress raises

the already astronomic

debt ceiling

again so they can

fund yet another

Guest Column

Dave Burton

massive, "it's free"

goody package.

As the 'It's free'

mentality escalates,

so too have the

expectations for

more. The costly

message is being

heard and perpetuated

at the expense

of the taxpayer. A local news article reflects

how far reaching it is.

The gist of the article was too many city

workers had not gotten the COVID-19 vaccine

and the resulting absentee rate was

causing havoc in our city workforce with a

high overtime rate and potential safety

issues resulting from not being able to service

city needs. It was determined to entice

each employee to get the vaccine by giving

them a goody incentive of $1,000 and anyone

who permanently lives with each

employee $100. $300,000 of federal pandemic

relief (taxpayer) funds would be utilized

to encourage employees to get already

free (taxpayer) funded vaccines.

As a career cost analyst at a large manufacturing

facility, where keeping production

lines up and running is of paramount

importance, I understand the many direct

and indirect costs and issues with a high

absentee rate. I appreciate the concerns

that went into the bonus payout decision.

But I fear it sent the wrong message and

set a potential costly precedent for the

future. Will more city employees opt for the

next inevitable booster or pandemic strain

vaccine, or now just stubbornly wait to be

enticed again? I must question why they

didn't get one in the first place if so easily

swayed by a reward.

More concerning was a statement by one

official: "If the city does not utilize the

relief funds the money would have to be

returned to the federal government." My

thoughts are, is that bad? Sounds like a

novel idea we could use more of in this

country. You basically have an official

implying, use it or lose it, "It's free." I'll

remember that when I do my taxes this

year. It kindles memories of my military

days that always saw a pre-budget time

surge in spending as each airbase function

made sure they spent their budget just to

insure it wouldn't get cut in the following

year's budget.

Dave Burton is a guest columnist for the

Columbus Messenger Newspapers. He

lives in Grove City.
---
www.columbusmessenger.com

November 13, 2022 - GROVE CITY MESSENGER - PAGE 7

Reduce food waste this holiday

As Thanksgiving approaches, the Solid

Waste Authority of Central Ohio (SWACO)

is encouraging families to reduce food

waste by offering tools for planning ahead

and repurposing leftovers.

"An inordinate amount of food is wasted

around the Thanksgiving holiday -- some

200 million pounds of turkey, 40 million

pounds of mashed potatoes and 30 million

pounds of stuffing will end up in trash cans

across the nation," said Joe Lombardi,

SWACO's executive director. "With a little

preparation and planning, this waste can

be drastically reduced."

In central Ohio, food waste accounts for

the single largest source of landfill material

(by weight) and is equivalent to residents

and businesses throwing away nearly

one million pounds of food daily.

SWACO's More Than Food website

(savemorethanfood.org) offered tips for citizens

this holiday season to help prevent

food waste, saving money and protecting

the environment:

•Plan your meal with the Guestimator,

a dinner party calculator that estimates

how much food you need to keep your

guests full and happy.

•Store food properly with the Storage

Guide. Learn how to properly store food so

it remains fresh for as long as possible.

•Reimagine holiday leftovers with

Organic Valley Recipes featuring tips and

creative recipes for making holiday leftovers

into new dishes.

•Donate leftovers to food rescue organizations,

restaurants, and other food donors

with soup kitchens and shelters to create

access to healthy, edible food for food insecure

residents.

Residents and businesses can visit savemorethanfood.org

for information to help

reduce food waste on Thanksgiving and

throughout the holiday season.

61

YEARS

CELEBRATING

2000 Norton Rd.

614-878-7422

614-878-7429

www.jpsbbq.com

Open Tuesday-Sunday

Dine in - carry out - event space

Party trays - catering & meal package

Photo courtesy of the city of Grove City

Ohio First Lady promotes reading in Grove City

Grove City welcomed Ohio First Lady Fran DeWine on Oct. 25 as she visited the

Grove City Library and read to children during noon storytime. Joined by State

Representative Laura Lanese, State Senator Stephanie Kunze and Grove City

Mayor Richard L. "Ike" Stage, the visit was a celebration of Dolly Parton's

Imagination Library of Ohio. All kids between birth and age 5 in Ohio are eligible

for a free monthly book through the program. Dolly Parton's Imagination Library of

Ohio has enrolled 358,550 kids, totaling nearly 50 percent of eligible children within

Ohio. Sign up at OhioImaginationLibrary.org.

Grove City

Messenger

community events

Volunteers sought

at food pantry

The Grove City Food Pantry is looking

for volunteers. The pantry is located at

2710 Columbus St. in Grove City. It serves

about 250 families each month in Grove

City, Orient, Harrisburg and Galloway.

Food donations are also needed. Those

interested in volunteering for the Grove

City Food Pantry or making a food or monetary

donation can email

managers@grovecityfoodpantry.org.

Puzzle solution

R

R

E

P

D

Y

J

G

A

Z

E

H

R

C

P

W

E

X

C

H

A

N

G

E

Z

I

S

A

Z

V

U

C

T

O

I

D

B

C

R

E

D

I

T

S

A

F

I

Z

U

Z

G

A

P

U

R

C

H

A

S

E

H

R

R

N

R

R

R

I

U

A

N

M

T

N

J

K

P

E

T

T

N

G

R

S

J

P

N

G

I

T

E

R

C

E

G

N

A

H

C

L

U

R

D

K

D

Q

O

E

R

B

D

I

D

E

O

E

O

C

I

K

L

M

I

U

U

E

N

C

C

G

U

A

S

N

I

X

O

P

R

R

A

E

S

G

K

R

P

T

A

G

Z

T

T

X

R

L

I

A

C

F

L

S

O

M

B

I

I

L

B

Q

D

B

L

F

A

P

Q

W

N

K

P

O

S

Q

P

N

Y

E

Y

R

L

J

K

T

J

K

N

O

I

T

C

E

L

E

S

L

J

Z

I

G

W

Q

J

V

J

N

M

E

H

L

H

X

I

N

K
---
PAGE 8 - GROVE CITY MESSENGER - November 13, 2022

Grove City Police News

On October 13, 2022, Grove City

Police were dispatched to the 3400

block of Gateway Lakes Dr on a theft

report. Upon arrival, officers spoke to

the victim who stated their vehicles

tires and rims were stolen and the

vehicle was left on blocks. The victim

stated their vehicle was parked in

the rear parking lot. There are no

leads currently on a suspect(s).

In other police news:

On October 13, 202, Grove City

Police were dispatched to the 1600

block of Stringtown Road on a report

of a female threated with a gun. The

female advised she honked at a vehicle

who cut her off as she was turning

onto Stringtown Road. The

female said the vehicle followed her

into a parking lot, pulled up to her

driver's side, pointed a gun at her,

said something to her, and then

drove off. There are no leads at this

time.

On October 17, 2022, Grove City

Police were dispatched to speak to a

victim in regards to theft from a

Looking for a small,

friendly church experience? Try

First Presbyterian Church

of Grove City

4227 Broadway, Grove City

Worship Service 10:00 a.m.

In-Person and live Facebook

www.fpcgc.org

Free Community Brown Bag Lunch Drive-through

Saturday, November October 22nd, 19th, 11:00 am- 1:00 pm pm

motor vehicle. The incident occurred

in the 4000 block of Gantz Road. The

victim stated he had two laptops

stolen from his work vehicle

overnight. The victim advised the vehicle

had no damage and the doors

may have been unlocked. There are

no leads at this time on the

suspect(s).

On October 20, 2022, Grove City

Police were dispatched to the 5400

block of Springhill Road on a report

of a theft from a motor vehicle

overnight. The victim stated her wallet

was taken and there was no damage

to her vehicle. She advised she

may have left her doors unlocked.

There are no leads currently on a

suspect(s).

On October 20, 2022, Grove City

Police were dispatched to the 2200

block of Sundew Avenue on the report

of a theft from a motor vehicle.

The victim stated his firearm was

taken and he did not see any damage

on his vehicle. There are no leads on

the suspect(s) currently.

Please visit the

Southwest Church

of your choice.

List your Worship

Services here.

For info. call 614-272-5422

Be a Part of Our Local Worship Guide

Our Worship Guide is geared toward celebrating faith and helping reader connect with religious

resources in our community. Make sure these readers know how you can help with a presence in

this very special section distributed to more than 22,000 households in the Southwest area.

Contact us today to secure your spot in our Worship Guide.

614.272.5422 • kathy@columbusmessenger.com

The City Beat

Cram the Cruiser Toy Drive from last year.

Cram the Cruiser

Continuing the tradition of bringing

added joy to children during Christmas,

the city of Grove City and Grove City

Division of Police launch the seventh annual

Cram the Cruiser holiday gift drive, benefitting

youth under the care of Franklin

County Children Services (FCCS). Drive

through to safely drop off your donated

items from 1 to 4 p.m., Sunday, Dec. 4, at

Grove City United Methodist Church, 2684

Columbus Street.

"Being involved in our community is an

important part of the Grove City Division

of Police core values," said Police Chief

Richard Fambro. "We look forward to the

Cram the Cruiser toy drive every year as

an opportunity to share joy with 6,000-plus

children under the care of FCCS while

interacting with Grove City residents."

FCCS requests donations of gift cards,

new books and toys. Donations are also

welcome directly to the Franklin County

Children Services website.

www.columbusmessenger.com

Youth under the care of FCCS often

experience abuse, neglect or other difficult

home situations, and the past two years

have been especially challenging for some.

The annual Cram the Cruiser gift drive

provides a joyful outlet and assurance to

the children that others care.

The 2022 drop-off locations:

•City Hall, 4035 Broadway

•Evans Center, 4330 Dudley Ave.

•Grove City Service Department, 3262

Ventura Blvd.

•Grove City Welcome Center &

Museum, 3378 Park Street

•Kingston Center, 3226 Kingston Ave.

•Safety Complex, 3360 Park St.

Since 2015, Grove City's Cram the

Cruiser toy drive collected in excess of

35,000 items and gift cards, and more than

$6,000 in monetary donations.

For more information, call 614-277-

1718.

community events

Project Heartstrings

Project Heartstrings is back for 2022.

This gift drive serves area homebound

seniors who may not have family to purchase

gifts for them. Celebrate the true

meaning of the holiday season by helping

others.

To participate as a gift provider, purchase

items that seniors need or would

enjoy, spending $20-$30. Suggested items

include comfortable clothing in a variety of

sizes including robes, slippers, socks,

sweatpants and sweatshirts; blankets and

throws; toiletries; non-perishable snacks;

as well as large-print books, jigsaw puzzles,

and books or magazines featuring

word or number puzzles or crosswords.

Monetary donations also are accepted.

Please bring all items unwrapped (so

they can be distributed accurately) to the

Evans Center, 4330 Dudley Ave., Grove

City, before 5 p.m., Friday, Dec. 2.

Presents will be wrapped and distributed

Friday, Dec. 9. Call the Evans Center

to donate your time and gift-wrapping

skills.

For additional information, contact the

Evans Center at 614-277-1060.

Letters to Santa

The delight of the holiday season

returns with this Grove City tradition, a

direct-mail route to Santa Claus. The

Parks and Recreation Department elves

make sure letters arrive safely to the

North Pole where Santa responds to each

before Christmas.

Drop letters into Santa's mailbox, located

in front of the Grove City Welcome

Center and Museum, 3378 Park St. from

Nov. 28 through Dec. 4. To receive a

response, include a self-addressed,

stamped envelope with every letter.

For additional information, call the

Grove City Parks and Recreation

Department at 614-277-3050.
---
www.columbusmessenger.com

November 13, 2022 - GROVE CITY MESSENGER - PAGE 9

Sweep your loved one off

their feet with Hearts On Fire's

scintillating Aerial Marquis Halo

Diamond Engagement Ring

Aerial Marquis

Halo Diamond

Engagement Ring

1494 Stringtown Rd,

Grove City, OH 43123

614-594-0230

www.meyersjewelers.com

Monday - Friday 10:30am-6:00pm

Saturday 10:00am-5:00pm

Sunday Closed

to be with our families

CD-32392576
---
PAGE 10 - GROVE CITY MESSENGER - November 13, 2022

www.columbusmessenger.com

Utility help available through Neighbor to Neighbor Program

The AEP Ohio Neighbor to Neighbor

Program is now accepting applications for

utility assistance grants for the 2022-23

winter heating season.

Through a partnership between AEP

Ohio and Dollar Energy Fund, the

Neighbor to Neighbor Program supports

families in need with a grant applied

directly to their AEP Ohio account to prevent

disconnection of, or to restore their

electric service. Heating assistance is available

once per program year on a first-come,

first-served basis. Eligible account holders

may apply through April 28, 2023, while

funds are available.

"We're committed to providing assistance

to those who may be struggling to

make ends meet whether it is due to job

loss or unexpected expenses," said Brian

Billing, energy efficiency consumer programs

manager for AEP Ohio. "Through

this heating program, we can help to

ensure our customers, especially the elderly

and those with health problems, can

maintain their electric service during the

cold winter months."

Since AEP Ohio and Dollar Energy

Fund launched the Neighbor to Neighbor

Program in May 2009, more than $16 million

in assistance has been granted to more

than 67,000 Ohio households.

To apply, customers may contact one of

the AEP Ohio Neighbor to Neighbor

Program's network of more than 120 Ohio

community-based organizations, or apply

online using the link available at Neighbor

to Neighbor (aepohio.com). To qualify, an

applicant's total gross household income

must be at or below 300 percent of the

Federal Poverty Income Guidelines.

For example, a family of four earning up

to $83,250 per year is income-eligible for

the program. Households must have an

outstanding balance on their bill of at least

$50 and behind on bill payment 30 days or

more. Full eligibility guidelines and application

instructions can be found at

AEPOhio.com/helpaneighbor.

"Dollar Energy Fund is proud to maintain

its support for AEP Ohio and its efforts

to serve families who find themselves in a

temporary financial crisis," said Chad

Quinn, chief executive officer of Dollar

Energy Fund. "The Neighbor to Neighbor

Program has become a very useful resource

for thousands of households across Ohio,

enabling them to maintain utility service

when blindsided by unexpected circumstances."

The AEP Ohio Neighbor to Neighbor

Program is funded by public contributions

that are matched dollar-for-dollar by AEP

Ohio. Utility customers may make a contribution

through their monthly AEP Ohio

bill. Donations also can be made online at

www.AEPOhio.com/N2N or by sending a

check directly to The AEP Ohio Neighbor to

Neighbor Program, Box 42329, Pittsburgh,

PA 15203.

Every donation to the Neighbor to

Neighbor Program is used to assist eligible

families residing in Ohio. Every dollar

donated to the Neighbor to Neighbor

Program will be matched by AEP Ohio.

These matching funds and 100 percent of

your donation will assist limited-income

families residing in Ohio to afford utility

service. With AEP Ohio's match, your taxdeductible

donation will have twice the

impact.

For more information about Dollar

Energy Fund and how to apply for the

Hardship Program or donate to the organization,

visit www.dollarenergy.org.

White Christmas food distribution program to assist families in need

Over 45 years ago, distribution of food

boxes at Christmas to local area residents

in need was begun. The program was called

"White Christmas."

Each box contains enough food to help

families make their Christmas season a little

brighter. Online registration begins

Nov. 28 and runs through Dec.3 at

www.cognitoforms.com/JacksonTownship2

/WhiteChristmasRegistration2022.

Registrants who do not have access to a

computer can come into the Jackson

Township Fire Station 202, 3650 Hoover

Road, south office, Nov. 28 through Dec. 2,

between 9 a.m. and 4 p.m., for in-person

registration.

The White Christmas food program is

open to any resident of 43119, 43123,

43126 and 43146 zip codes with a financial

need. Only one box per address.

Participating families must provide a valid

photo identification, proof of current residency,

phone number, names and ages of

residents, reason for request, and name of

church, if referred.

Distribution of food will be on Dec. 23

behind Our Lady of Perpetual Help School,

3752 Broadway in Grove City from 12 to 4

p.m.

For more information, call 614-875-3322

ext: 309.

Now in Grove

City

At Zangmeiste er Cancer Center we coll laborate with our

colleagues in radiation therapy, surgery, genetics, pathology

and

clinical researc ch to ensure each patien nt has a comprehensive ,

multidisciplinar ry plan of care. Support from our pharmacists,

social workers , nurse navigators, dietiti ians and financial

counselors min nimize the impact of can cer on daily life.

A DIVISION OF

AMERICAN ONCOLOGY PAR TNERS, P.A.

We del liver the most adv vanced and innova ative treatments fo ocused on each patient for

the best possible expe erience — becaus e each patient' 's cancer journey is unique.

5500 North Meado ows Dr., Suite 230, Grove City, OH 43123 | ZangCenter.

com
---
www.columbusmessenger.com

November 13, 2022 - GROVE CITY MESSENGER - PAGE 11

Active Lifestyles

A bi-monthly feature celebrating the

wisdom, experience and contributions of our community's senior citizens

PAID ADVERTISING

How to memorialize a lost loved one

A memorial tells the story of your loved ones

to future generations. The experts at Hannigan

Memorials, part of the Modlich Monument

Company, have tips on choosing just the right

monument.

Plan ahead

Aim to purchase a memorial before the emotional

time of losing a loved one. Even with cremations,

there are memorial options, such as

burying cremains and erecting a monument; creating

a cut-out in a monument and sealing the cremains

inside; or using a decorative urn inside a

mausoleum.

"A memorial takes time to complete and place

in the cemetery," said Chad Sothard, branch manager

of Hannigan Memorials. "We deliver and

install every monument we build, making sure

everything is just right for our customers."

Match the memorial to your lot

Some cemeteries restrict the size, shape or

material used for memorials. "We have experience

working with a variety of budgets and different

cemeteries to help ensure your final memorial

choice fits your personal taste, budget and cemetery

regulations," said Sothard.

Personalize your memorial

"We believe a memorial is as unique as the life

it commemorates," Sothard said. "Our craftsmen

can create any type of memorial, with stones in

any type, color, shape or size." Customers can

choose their engraving, from standard sandblasting

to hand diamond-etched portraits. Hannigan

also provides computer-generated scale drawings,

so customers can easily visualize their memorial.

Club meeting - Parkinson's support

The Grove City Parkinson's support

group meets the third Wednesday of each

month at StoryPoint Grove City, located at

3717 Orders Road at 1 p.m. The meetings

take place in the assisted living area of the

PAID ADVERTISING

I am here to help you

Hello, I'm here to help you Navigate the

world of Medicare.

Let me sit down with you and compare your

plan with Humana's plans and see what is best for

you.

Let's make sure you are getting everything

that is out there for you to get. Lots of new things

for 2023 across the world of Medicare

Advantage, I am here to help you with this.

community, which is located around the

back of the building. The meetings are

open to all who want to learn more about

Parkinson's disease. For more information,

call Kathy Hakes at 614-507-8458.

There is no obligation for me to come out and

talk with you, give me a call and we will look at

it together.

Thank you for your time,

Cynthia Grotsky

Sales Representative | MarketPOINT

C 614.557.2054|F 513.362.2937

Email cgrotsky@humana.com
---
PAGE 12 - GROVE CITY MESSENGER - November 13, 2022

SENIORS — HELP IS HERE!

Your Doorstep to Your Doctor!

We provide:

• Transportation • Personal Coordinated Team Care

• Concierge Service • Convenience of all services under one roof

• Superior Healthcare • We serve to 55+ Medicare-eligible Community

Call for more information:

Trae White, COS - Community Outreach Specialist

614-551-5367

trae.white@dedicated.care

Let's change the world together!

NORTH

2260 Morse Rd

Partnership with

3 LOCATIONS:

WESTSIDE

50 N. Wilson Rd.

WHITEHALL

5156 E. Main St.

Active Lifestyles

www.columbusmessenger.com

Prescription drug disposal

The National Association of Drug

Diversion Investigators (NADDI) launched

a program to significantly reduce easy

access to outdated or no longer needed prescriptions.

These drugs are the target of theft by

people who have access to the medicine

cabinets of family and friends. America's

12- to 17-year-olds have made prescription

drugs their number one substance of

abuse, and much of the supply is coming

from the medicine cabinets of their parents,

grandparents and friends.

The following Grove City pharmacies

accept anonymous disposal of medicines.

My grandparents are coming over for

Thanksgiving. Should we do anything different?

The simple answer is YES! Here are some tips for

hosting a senior over the Holidays:

• Enjoying the feast - Our taste buds and diets

change as we age so it's a good idea to take that

into consideration when planning your menu. Did

you know that we lose taste buds as we age, but

chewing can be more difficult? Try to find a dish

that has a little more flavoring but is easy to chew.

Sweet potatoes are a great choice. But remember,

be careful with the salt.

• Household safety - When you're having

seniors over, make sure your throw rugs are

•Meijer Pharmacy, 2811 London-

Groveport Road

•CVS, 2565 London-Groveport Road

•Wal-Mart Pharmacy, 1693 Stringtown

Road

Accepted items include prescription, pet

and over-the-counter drugs including capsules,

pills, powders, herbs and vitamins in

the original packaging or a clear, sealed

bag. Unaccepted items include needles,

lancets, syringes and other sharps;

aerosols, liquids, creams, pastes and other

non-solids; inhalers; mercury thermometers;

medications that contain iodine; and

illicit drugs.

PAID ADVERTISING

Senior safety and the holidays

secure or picked up. They look nice but are a fall

hazard for many seniors. Also, be sure outside

walkways, driveways, and stairways are well lit.

Be sure to watch for cords, tight spaces, and other

things that may be hard for a senior to navigate.

With a crowded house and too many crockpots

with extension cords, there is a tripping hazard for

any age.

Time spent with family is a great way to learn

more about how our senior relatives are getting

along while enjoying quality time with them.

Danbury Senior Living communities offer senior

friendly, delicious cuisine as well as a safe environment.

If you'd like to hear more about our holiday

traditions, give us a call at 614-957-0029.

ME DICARE A NNUAL

ELECTION P

Oct.

15 th

PERIOD (AEP)

Dec 7 th

Call today $0 consultatio

n $0

fee, local agent!

Over 16 years experience

with Medicare options

Offer

different major

carriers i n the area

Year- rou und support for my

clients

Call or text me today to

schedule yo

our appt.

Terri

Curcio

614-460-0601

in your area. Please contact Medicaree

.gov or 1-800-MEDICARE to get information on all of
---
Active Lifestyles

www.columbusmessenger.com November 13, 2022 - GROVE CITY MESSENGER - PAGE 13

Thankf

fu

ul

We Care.

NOVEMBER 2022 FA

ALL SAVINGS

$

1,500 OFF

CALL TO SCHEDULE

YOUR TOUR

DanburySeniorLiving.com

AND

WELCOMING

RESIDENTS
---
PAGE 14 - GROVE CITY MESSENGER - November 13, 2022

Active Lifestyles

www.columbusmessenger.com

Franklin County Board of Commissioners: President Erica C. Crawley • Commissioner John O'Grady, and Commissioner Kevin L. Boyce

The Franklin County Board of Commissioners and The Franklin County Office on Aging join with the Messenger Newspaper in providing this update on aging issues in Franklin County.

Franklin County Office on Aging

Free Home-Delivered Meals Program

Extended Through End of Year

The Franklin County Office on Aging has extended

its free Home-Delivered Meals program through the

end of the year. Franklin County residents aged 60

and older are eligible to receive free home-delivered

meals without income verification now through

Dec. 31, 2022.

A service offered through the Franklin County

Office on Aging Senior Options program, the

Home-Delivered Meals program paused any

income verification requirements in April 2020 due

to the onset of the COVID-19 pandemic. In Franklin

County, residents receiving home-delivered meals

has increased by nearly 48% since 2019, from 3,883

to 5,749.

"Early in the pandemic, especially during the

stay-at-home orders, seniors were significantly impacted,

some being fearful of leaving their homes

for any reason," said Interim Director Chanda

Wingo. "We understood how critically important it

was to remove barriers and expand access to

adequate nutrition needed to stay healthy."

The Franklin County Office on Aging Senior

Options program has been providing community-based

services to residents since 1993. Senior

Options empowers Franklin County residents aged

60 and older with the necessary tools needed to

maintain their independence. The program also

helps ease the minds of family members by connecting

them to support services so they can provide the

best care for their older parent, family member or

friend with limited abilities.

To learn more about the Franklin County Office on

Aging and the support services available, visit

officeonaging.org or call (614) 525-6200.
---
www.columbusmessenger.com November 13, 2022 - GROVE CITY MESSENGER - PAGE 15

Huntington Holiday Train

Columbus Metropolitan Library (CML)

is hosting a free holiday open house on

Wednesday, Nov. 30 at its Main Library,

96 S. Grant Ave. in Columbus. From 6 to 8

p.m., families can enjoy activities, singalong

carols and refreshments, plus a visit

from live reindeer and a very special guest.

But perhaps the biggest draws of the

evening will be the tree-lighting of Topiary

Park and the return of the Huntington

Holiday Train. A ceremonial switch will be

flipped on for the train, which will delight

library customers through Jan. 8, 2023.

Parking for the event in Main Library's

attached garage will be free.

The 600-square-foot Huntington

Holiday Train includes multiple miniature

trains running on more than 280 feet of

track surrounded by more than 50 pounds

of snowflakes. The miniature buildings —

which are all made from leaves, bark,

seeds, pinecones, fungus and moss — are

modeled after actual structures in

Germany.

This marks the 30th year of the holiday

attraction, which was built in 1992 by

Pumpkin collection at Fryer Park

Residents can drops off old pumpkins,

squash, and gourds in a collection bin at

news and notes

Applied Imagination founder Paul Busse.

The train was originally displayed in the

lobby of the historic Huntington building

at Broad and High streets. In 2009,

Huntington graciously loaned the train to

CML. This year will be its 12th on display

in Main Library's atrium.

Highlights include a six-foot-tall cathedral,

an eight-foot-tall castle and a waterfall

that pumps 600 gallons of water an

hour. Each building in the display took

between one and three weeks to create.

The castle and waterfall took more than

three months to complete; it took more

than 10 months to build the cathedral. The

entire display takes two days to set up.

The Huntington Holiday Train will be

on display Sunday, Nov. 20 through

Sunday, Jan. 8, 2023 during regular

library hours — Monday through Thursday

from 9 a.m. to 9 p.m., Friday and Saturday

from 9 a.m. to 6 p.m. and Sunday from 1 to

5 p.m. The first hour of parking in the

library garage is free.

For more information, visit columbuslibrary.org.

Fryer Park on Orders Road. The collection

bin will be available through Nov. 27. For

more information, call 614-277-3058.

Pets of the week

Emory is a 13-yearold

grand dame. She

is very shy but loves

to be sitting on her

favorite person. She

is fine with other cats

as long as they leave

her alone to do her

own thing. She has

never been around dogs. Emory is considered

a special needs cat as she has seasonal

asthma and gets steroid shots about every six

months. She would do best in a quiet home

where she can enjoy peaceful surroundings.

Adopt her from Friends for Life Animal Haven.

FYI: fflah.org

Dani is a 3-monthold

pup. She is a

shepherd mix with

possibly a dachshund

or bassett

hound due to her

short legs. She is a

very smart snuggle

bug. Dani loves to

play with other dogs

and is respectful of

cats. She is crate

trained and almost house trained. Adopt her

from Colony Cats and Dogs.

FYI: colonycats.org

These furry friends are available

for adoption at local

rescues and shelters

Colette has been

through a lot in her

three years of living,

but that doesn't stop

her search for the

purrfect home.

Colette is shy and is

looking for someone

who is patient and

willing to gain her

trust. She does like soft pets on the head as

an introduction. With a little love, she has the

potential to be a great companion. Colette is

up for adoption through Colony Cats.

FYI: colonycats.org

Beatrice is a sweet,

silly, and gentle 3-

year-old searching for

her forever home.

This sweet girl just

adores people. She

has previously done

well in a home with

young kids and is

looking for a family

who will help her

reach her full potential.

Beatrice is up for adoption at the Franklin

County Dog Shelter.

FYI: franklincountydogs.com

FALL IN LOV VE WITH

E

CHECK

KING

CHOI ICE

Telhio' elhio's Choic e Checking featur

es Early Deposit,

• ID Th heft Assistance

• Discounts at S

• Road dside Assistance • Cell Phone Pro

OPEN YOUR ACCOUNT TODAY AT TELHIO.

ORG $

Telhio is open to anyone who lives s, w orks, worships, or goes to school in Central and Southwest Ohio. Federally Insured

b y NCUA. EqualHousing Lender. Early Dir

ect Deposit

is free to all members. Enrollment is automatic and is available only to personal checking acc

ounts. You must contact us to opt out of this service. We cannot guarantee early

availability of any direct de posit you receive. Please see our Funds Availability Policy Disclosure for additional details. Membership eligibility requirements apply.

614-221-3233
---
PAGE 16 - GROVE CITY MESSENGER - November 13, 2022

www.columbusmessenger.com

Tots getting in touch with nature

Danielle and Lucian Davis enjoy the weather while building towers of Lego blocks at

the pavilion. Davis said she signed-up to participate in Nature Tots so her son could

meet other children his age. "It's so great to see these kids outside and interacting with

each other because we didn't get to experience it all that much due to Covid shutting

down so many programs for children," she said. "It's wonderful to be able to get out of

that isolation and enjoy these types of programs with his peers and their parents."

Messenger photos by Dedra Cordle

With Gantz Barn temporarily closed to

repair the damage done by a colony of

bats that had made the site their home,

officials at the Grove City Parks and

Recreation Department had to "think outside

the barn" when it came to providing

educational programming for the area's

early learners. While the programs that

they have created are not yet as intensive

or extensive as the popular RecSchool

that had been hosted at the location in

Gantz Park, they have recently begun to

offer a limited number of educational programs

for pre-kindergarteners at the

Eagle Pavilion in Fryer Park. According to

recreation supervisor Michele Demmy,

Nature Kids and Nature Tots provide early

learners with opportunities to experience

the "joy of nature and being outdoors"

while also allowing them to engage with

their peers through hands-on activities

and crafts. Shown here working on his

budding construction and pumpkin

demolition skills at a Nature Tots session

on Nov. 4 is Charlie Steines, 3, with his

mother, Melissa, supervising the action.

Nature Tots will be held on Friday Nov. 18

at 9:30 a.m. to 10:30 a.m. and 10:45 a.m. to

11:45 a.m. Nature Kids will be held on

most Tuesdays and Thursdays through

Dec. 1 from 9 a.m. to 11 a.m. For information

regarding fees and registration, contact

the Kingston Center at 614-277-3050

or visit the city's registration page at

recreation.grovecityohio.gov.

Lilian Greenwood, 3, (right) races to pick

up the pumpkin that she rolled down the

hill near the playground.
---
www.columbusmessenger.com November 13, 2022 - GROVE CITY MESSENGER - PAGE 17

In Entertainment

"Weird: e Al Yankovic Story" is endlessly enjoyable

The parodist songwriter Al Yankovic is

the subject of a new biopic. And yes, it is as

weird as you might imagine it to be.

Co-written by the loveable goof who rose

to fame in the late 1970s by turning pop

classics such as The Knacks' "My Sharona"

and Queen's "Another One Bites the Dust"

into comedic gold with an ode to questionable

lunch meat in "My Bologna" and a

lament on public transportation in

"Another One Rides the Bus," "Weird: The

Al Yankovic Story" is anything but a traditional

account of the life of the man who

only ever wanted to make up new words to

songs that already existed.

Taken at face value, Al Yankovic makes

a terrible subject for a biopic. By his own

admission, his parents were fully supportive

of his wild dreams, he abstained from

alcohol and drugs throughout his entire

career, and he did not engage in public

fisticuffs with artists who may have initially

been a little sore that he lovingly lampooned

their creations. But in this film

however, Al Yankovic does what Al

Yankovic does best: he turns his completely

normal and sweet and square life into

something entirely different, something

dark and gritty and, frankly, more befitting

of a traditional biopic of a creative

genius.

The end result may be a little out there

for some, but "Weird: The Al Yankovic

Story" is a wonderful — and wonderfully

funny — homage to the man who has

brought so much joy to the world through

his creative stupidity.

Daniel Radcliffe stars as the man of the

decades, an aspiring parody songwriter

news and notes

SWCSEF benefit concert series

The South-Western City Schools

Educational Foundation will host a benefit

concert series. The first concert will feature

the district's honor choir and honor orchestra.

It will start at 7 p.m. Nov. 15 at

Central Crossing High School, 4500 Big

Run South Road in Grove City. The second

concert will feature the district's honor

band and the Grove City Community

Winds. It will begin at 7 p.m. Nov. 17 at

Central Crossing High School. Tickets are

$10 for adults and $5 for children and can

be purchased at the door. Funds raised will

be used for student scholarships and educational

grants. For more information,

visit swcsef.org or looks up the foundation's

Facebook page.

Blood drives in Grove City

The American Red Cross will host several

blood drives in Grove City. It includes:

•Nov. 22 from 12 to 6 p.m. at St John's

Lutheran Church, 3220 Columbus Street

•Nov. 22 from 12 to 6 p.m. at First

Baptist Church, 3301 Orders Road

whose parents do not believe in him. His

mother (Julianne Nicholson) worries about

where he will go in life when she finds

Hawaiian shirts tucked away in his bed

like a naughty magazine, and his father

(Toby Huss) is too busy at his factory job to

pay attention to his son and his outlandish

dreams where he becomes not technically

the best but arguably the most famous

accordion player in an extremely specific

genre of music.

After years of hiding all of his musical

talents — both at the accordion and with

making up new lyrics to songs that already

exist — "Alfie" finally has enough of their

dream dampening behavior and sets off

with his glorious hair and his gloriously

colorful Hawaiian shirts to make a name

for himself in the music industry.

At first, the industry wants nothing to

do with him and his ability to create new

lyrics from songs that already exist. They

feel it is too unoriginal, too boring, too

niche, too reliant on the accordion. But

when the famed Dr. Demento (Rainn

Wilson) takes him under his wing, Al

Yankovic finally starts to fly high. And

then he starts to get high too, eventually

becoming addicted to drugs and alcohol at

the influence of pop sensation Madonna

(Evan Rachel Wood) who has her own ideas

for how his story should go. Shortly after

(very shortly after), he has a falling out

with his band — "you're all a bunch of normals,"

he shouts at them — gets into a public

spat with Michael Jackson who parodied

his hit single "Eat It," and runs afoul

of the leader of a notorious cartel.

Needless to say that there is a lot going

•Nov. 25 from 10 a.m. to 4 p.m. at Drury

Inn & Suites Grove City, 4109 Parkway

Centre Drive

• Nov. 26 from 8 a.m. to 1 p.m. at Mount

Carmel Grove City, 5300 North Meadows

Drive

•Nov. 28 from 10:30 a.m. to 3:30 p.m.,

Grove City Library, 3959 Broadway

To schedule an appointment, call 1-800-

448-3543 or visit www.redcrossblood.org.

Tax-Aide volunteers needed

AARP Foundation Tax-Aide, which had

to scale back operations at the Grove City

Church of the Nazarene because of the

pandemic, hopes to return to full strength

next tax season and is looking for volunteers.

Volunteers come from all walks of life,

from accountants to warehouse workers.

No experience is required. Tax-Aide provides

training, a computer to work on and

mentorship throughout the tax season.

For more information, go to aarpfoundation.org/taxaidevolunteer

or call 1-888-

227-7669.

on in "Weird," but it completely works if

you allow yourself to succumb to the wackiness

within this "100 percent true, not at

all made-up movie" about Al Yankovic's

rapid rise to fame and equally fast downfall

and nearly instantaneous recovery and

immediate tragic ending.

Admittedly, it might be hard for some to

succumb to the wackiness that abounds

within this film, but what may help sell the

material is the fact that the cast takes it

seriously. Chances are if you liked "This is

Spinal Tap," "Zoolander," or "Wet Hot

American Summer," you will enjoy this

because it was filmed and acted in the

same vein as those comedy classics. It has

that same spirit and is delivered with the

same amount of love for these characters

by the actors, especially Radcliffe. He is

just a joy to behold in this film where he

alternates seamlessly between earnest

dreamer at the start of his career and

vicious frontman a la Jim Morrison during

one of his most famed concert performances.

From start to finish, "Weird: The Al

Yankovic Story" is highly engaging and

entertaining. Jokes come hard and fast and

they range from silly slapstick gags to

pointed references with punchlines that

pay off down the line. It's the kind of film

that begs rewatching

to catch all of the

references and sight

gags, and to fully

appreciate the jokes

that age with time.

Unfortunately,

this film is currently

being streamed only on the Roku Channel

(it is also available on their website) and

unfortunately it will likely stay only on the

Roku Channel. But if you can find a way to

view this movie through that free ad-based

streaming service, I highly encourage you

to do so. Like the man and his work, it will

bring a smile to your face, warmth to your

soul, and a genuine sense of puzzlement for

finding something so absurd so endlessly

enjoyable.

Grade: A-

Dedra Cordle is a Messenger staff

writer and columnist.

"BEST NEW YEARS PARTY IN TOWN"

18 th Annual

Mike Albert

and

The Big E. Band

Per Couple Prices

Overnight Package - $319

Party Only Packages - $250

Single Packages Available

The Reel Deal

Dedra Cordle

Prices include

Dinner, Drinks, Room, Party favors,

Full Breakfast

Crowne Plaza • 6500 Doubletree Ave. (formerly Marriott North)
---
PAGE 18 - GROVE CITY MESSENGER - November 13, 2022

Grove City

Messenger

We are the

BEST COMMUNITY NEWSPAPER

in Grove City

Pick-Up At

These Locations:

Village Municipal Building

3492 1st Ave. Urbancrest

Sheetz Gas Station - Broadway & Centerpoint

Turkey Hill - Broadway & Centerpoint

Speedway Gas Stateion - Boardway & I-270

Shell Gas Station - Broadway & I-270

United Dairy Farmers - Broadway & Southwest

CVS Pharmacy - Broadway & Southwest

Speedway Gas Station - Broadway & Southwest

Grove City Library - 3959 Broadway

Planks on Broadway - Broadway & Park St.

Mobile Gas Station - Broadway & Paul St.

Ernies Carry-Out - Broadway & Paul St.

BP Gas Station - Stringtown & Hoover

Krogers - Stringtown & Hoover

Walgreen's - Stringtown & McDowell

CVS Pharmacy - Stringtown & McDowell

Drug Mart - Stringtown & McDowell

Speedway Gas Station - Stringtown & I-71

Dollar General - 3065 Broadway

Southwest Community Center

3500 1st Ave. Urbancrest

Kroger - Hoover & Route 665

Meijer - 665 & Hoover

Circle K - 665 & I-71

CVS Pharmacy - 665 & Hoover

Dollar General - 665 & Hoover

READ US ONLINE: www.columbusmessenger.com

www.columbusmessenger.com

Compost pumpkins

Picking pumpkins and gourds to decorate

your yard and doorstep is part of

many families fall traditions. While it's

easy to toss old pumpkins and gourds into

the trash, doing so creates unnecessary

food waste and wastes natural resources.

There's a better way to use those pumpkins.

Below, the Solid Waste Authority of

Central Ohio (SWACO) is sharing simple

ways you can safely dispose of your old

pumpkins and gourds while doing your

part to care for the environment.

• Eat Your Pumpkins: When it comes to

preventing food waste, SWACO's Save

More Than Food campaign wants you to

know that eating food is best. You probably

can attest to how tasty roasted pumpkin

seeds can be, but did you know that

uncarved, fresh pumpkins can be used to

make pies, breads, soups and more.

• Feed Local Wildlife in the Winter:

Birds love to nosh on little pumpkin

snacks. Once you scrape out the flesh and

seeds and remove any paint or remnant

wax (in the case of a jack-o-lantern candle),

cut the pumpkin into small pieces

that could fit into a bird feeder or dish.

Toss out any pieces that are starting to

grow mold, as those are unsafe to consume.

Be aware that other critters may

want a pumpkin snack, so if you live in a

more urban community and want to avoid

inviting more squirrels, raccoons, deer or

other pests in your yard, this option may

not be ideal for you.

• Donate to Local Farms: Feeding farm

animals can be expensive, so donating

pumpkins and gourds to local farms is a

simple way to support local farmers. Plus,

common farm animals like cows and chickens

love to snack on them. Call your local

community farms to see who may be

accepting pumpkins or consider posting in

local Facebook or NextDoor groups to connect

with others who are collecting these

items for local farms.

• Compost at Home: Before you toss

your pumpkins in your backyard to decompose,

be sure to clean them thoroughly,

removing any seeds or any other non-compostable

materials (e.g., decorations,

accessories, stickers, etc.). Also, scrape the

skin off any pumpkin that has paint or

marker. Cut the pumpkins into pieces so

it's easier for them to break down in your

compost pile.

Drop Off Pumpkins at Local Collection

Sites: Make a difference this fall when you

drop off your harvest vegetables at one of

these participating pumpkin and gourd

collection locations:

•City of Columbus: Nov. 1 — 30

(Monday — Friday) at the Division of

Refuse Collection, 2100 Alum Creek Drive,

between 8 a.m. and 3 p.m.

•Grove City: Oct. 31 — Nov. 27 at Fryer

Park, 3899 Orders Road

Intact and decaying pumpkins, carved

jack-o'-lanterns and gourds are all accepted.

Please remove candles and avoid dropping

off pumpkins that have been painted

or drawn on with permanent markers.
---
www.columbusmessenger.com November 13, 2022 - GROVE CITY MESSENGER - PAGE 19

A love

of space

Internet Purchase Exchange Zones

The city of Grove City's Division of Police in cooperation with

Jackson Township established two Internet Purchase Exchange

Zones in response to safety concerns during person-to-person

exchanges of sales arranged online. The zones are located at City

Hall, 4035 Broadway, and the Jackson Township Administration

Building, 3756 Hoover Road.

Exchange zones are identified by signage next to designated

parking spaces at each location with video surveillance 24 hours

a day, seven days a week. Residents can conduct transactions

knowing their interactions are recorded. For more information,

contact the Grove City Division of Police at 614-277-1710.

By Dedra Cordle

Staff Writer

On Sept. 3, Thomas Howard Smith sat

at his desk in his London home, perched on

the chair, staring intently at a large computer

monitor. A television screen in an

adjoining room could have offered him a

more expansive view, but his satellite signal

was not working well that day—a fact

that he found to be humorous and somewhat

ironic considering the technological

advances that were to occur before his

eyes.

Locked into a live stream via the

National Aeronautics and Space

Administration (NASA) web page, Smith

soaked in the sight of a 322-foot tall rocket

called the Space Launch System (SLS)

that was minutes away from blasting off

into the atmosphere. Ever since childhood,

he has had a passion for airplanes and

spacecraft (real and fictional), but looking

at this marvel of design, engineering, and

operation hit him a little differently.

"It was just parts being assembled

when I started working on the SLS and the

Artemis program with our [NASA] team,

and seeing it completed and ready to

launch was a real treat for me," he said.

Unlike most people who were watching

the feed through the web stream or live on

a cable news, Sith was familiar with the

verbiage from the mission control booth

and knew something was amiss during the

systems test prior to the scheduled launch.

Sure enough, the initial mission that

would take the uncrewed spacecraft Orion

into a month-long distant retrograde orbit

around the moon was postponed when a

liquid hydrogen leak was detected.

Retired from NASA for the past three

years and living more than a thousand

miles from the Kennedy Space Center in

Cape Canaveral, Fla., Smith said he was

ready to pack a bag, get in his car and

drive down I-71 to help the operations

crew find and fix the problem so they could

get the rocket and spacecraft into the sky

for exploration of the lunar surface.

"Lisa [his wife] told me to sit back

down," he said with a laugh. "I have the

utmost confidence that they can find and

fix the problem, but I just wanted to go

there and help."

Smith said he wasn't too disappointed

that the SLS did not launch initially

because "reality is, nothing new goes on

the first try." Even so, he could not quell

the buzzing sensations that were coursing

through his body from the experience.

"I am so excited about this program and

the implications it could have on our

Messenger photo by Dedra Cordle

Thomas Howard Smith's budding love for science and space

exploration was cemented when, at age 7, he watched the

Apollo 11 moon landing on the television set in his home in

London. He would later spend more than three decades working

for the National Aeronautics and Space Administration (NASA)

on the operations team for shuttle missions, the International

Space Station, and the Artemis program. Although the powerful

rocket, the Space Launch System, has yet to have a clear window

to blast off into space, the Artemis program will allow for

further exploration of the lunar surface with uncrewed and

crewed missions. The program's ultimate goal is to put humans

on Mars.

future, finding life outside of our planet and the possibilities of

new scientific breakthroughs and discovery," he said. "And to

know that I played a part—a very small part, mind you, but a part

nonetheless—in this new phase of space exploration that could

inspire a new generation of scientific minds and the science-curious

is still hard to wrap my head around."

Smith recalls liking science and "space stuff" as a young boy.

His dream to work at the space agency started to take root at the

age of 7 when, on July 20, 1969, he watched Apollo 11 Commander

Neil Armstrong and lunar module pilot Buzz Aldrin land and walk

on the moon from the television set in his home in London.

He said prior to that event, he really had no knowledge of

NASA and what it would come to mean to him and so many others.

"Watching the landings on the moon was just very exciting to

me, just from the point of view of people exploring a place no one

had been before," he said. "Added to that, I was then what would

be called a 'tech-nerd' now."

After the historic event took place, Smith went on something

akin to a personal mission as he attempted to get his hands on any

book or magazine or piece of literature on space and science fiction.

He started to build his own miniature rockets that he and his

See SPACE page 20

LIST YOUR

CHRISTMAS WEEK SERVICES

ON OUR CHRISTMAS CHURCH PAGE

in The Westside or

Grove City Messengers

The page will print in

our December 11th issue.

The deadline for this year's Christmas Church Page

is Friday, December 2nd at 2:00 pm.

Call Kathy

for More

Information

614-272-5422

kathy@columbus

messenger.com

AREA

CHRISTMAS

WORSHIP

SERVICES

Groveport Zion Lutheran Church

6014 Groveport Rd., Groveport 43125

614-836-5611

Pastor Matthew Cox

SAMPLE

Christmas Eve Candlelight Service at 7:00 pm

Christmas Day Service at 10:00 am

Communion celebrated at both services
---
PAGE 20 - GROVE CITY MESSENGER - November 13, 2022

SPACE

Continued from page 19

www.columbusmessenger.com

friends would try to launch. His father,

George, who would later retire as the

deputy warden of London Correctional

Institution, and his mother, Shirley, who

was a local sixth-grade teacher, encouraged

their son's interest but they were not

always amused by his antics.

"They were supportive of my interest,

but they didn't always appreciate the racket

we would make with our rocket launches,"

he quipped.

After graduating from London High

School in 1980, Smith attended Michigan

State University where he joined their Air

Force Reserve Officer Training Corps. Four

years later, equipped with a bachelor of science

in physics and astronomy, the second

lieutenant requested a transfer to the

Vandenberg Air Force Base in Santa

Barbara County, Calif., which was collaborating

with NASA on Space Shuttle missions.

"For the first half of my Air Force

career, I was working on planning and

hardware processing for the first shuttle

mission that was to have been launched

from Vandenberg, and I did some training

at the (Kennedy Space Center) in Florida,"

he said.

When the shuttle launch facilities at

Vandenberg closed shortly after the 1986

Challenger disaster, Smith transferred to a

program at the base in charge of Titan, a

heavy lift rocket that carried large intelligence

and reconnaissance satellites into

orbit. There, he provided engineering and

analysis assistance to get the program

back on its feet after it experienced an

uncrewed accident in a manner similar to

the crewed Challenger mission.

In 1988, a friend told Smith that NASA

was hiring for its operations staff and he

decided to apply. Having given up the

dream of being an astronaut at 10 due to

poor eyesight—"I knew it would disqualify

me for being any kind of military pilot,

which was the primary background for

most astronauts at that point"—he knew he

could process the data and set schedules

and help find a solution to any mechanical

issue that could arise. Still, he didn't think

he would be selected.

Then he was.

"I think I sat there [after the initial

interview when he was told he was unofficially,

but mostly officially, hired] for about

an hour just absorbing what had happened,"

he stated.

From 1988 to 1997, Smith worked operations

for the Space Shuttle processing, a

job he described as scheduling backwards

from a planned launch date to make sure

the right parts are getting ordered and the

right people are being called to fix problems

that occur to ensure the safety of the

missions, especially the manned crews.

He said one of the most difficult things

he had to do while working at NASA was to

find the mechanical parts of the manned

Columbia Space Shuttle that experienced a

catastrophic failure as it reentered the

atmosphere in 2003.

In 1997, Smith went to work in

International Space Station (ISS) processing,

which he said was interesting, albeit

frustrating, because the largest modular

space station was being constructed in

"chunks."

"Each chunk that went up—and we're

talking like 40 chunks—changed the configuration

of the station, and all of the configurations

had to work," he explained. "So, it

was like if you bought a car and you had

two tires and part of an engine and maybe

a seat, you had to find a way to make it

operate. And then later, you would bring

up maybe a couple more times, a bigger gas

tank and another seat, and you would have

to find a way to reconfigure the parts in

order to make it work because people are

[now] living on this station and they need

power, and electrical power, and their life

support units have to work."

Smith said those stressors were compounded

when the teams at their partner

agencies in Canada, Europe, Japan, and

Russia would have a different way of finding

solutions to problems.

"I loved working with the Italians, but

they had a very different way of doing

things, you might say," he laughed. "If you

were working on a [launch] problem in

August and tried to get ahold of one of their

operations team members, you wouldn't be

able to get ahold of them because August is

their vacation month.

"It was sometimes stressful, but always

interesting working with all of these different

agencies and all of these different personalities."

During his time in ISS processing,

Smith got involved with planning for Mars

missions and later came to work on operations

planning for the Ares I program

which later became the Artemis program.

Although the initial mission of the Artemis

program is to create a long-term human

presence on the lunar surface for further

exploration of the moon, its ultimate goal is

to send humans to Mars via a series of

experiments to determine how astronauts

could get to the Red Planet and live on it

for a duration of time.

"The moon will essentially be a testing

ground [for Mars expeditions]," Smith

explained. "The equipment wouldn't necessarily

be the same, but a lot of the concepts

of how the equipment is used—like the

space suits, the science equipment, the

vehicles that the astronauts roll around in

and go to different places—you can test that

stuff out on the moon where they're close to

Earth. If something goes wrong, you can

bail out and come to Earth within a few

days, but once they get to Mars, they're not

going to have that option.

"It takes months to get there, and you

can only return to Earth during a specific

window in our rotation."

Smith reiterated his excitement about

the potential of the Artemis program and

its implications for science, space exploration,

life on Earth, and life within the

universe.

"Carl Sagan, who is one of the people I

think had a pretty big clue about what was

going on, outside of his own personal life,

said, 'We are a way for the cosmos to know

itself', and I take that to heart," Smith said.

"If we are the only intelligent species

around, that means we have a responsibility

to try to keep understanding the universe.

We have a responsibility to try not to

let ourselves get wiped out in some way,

and we have a responsibility to keep trying

to understand the universe.

"And if there are other kinds of life, not

civilizations, but just life like amoebas or

bacteria, we have to try to understand how

it works, how they work, and add that to

❏ London

❏ Main St.

❏ Phone

❏ Walk In

❏ Sales/Mail

our library of what life looks like on another

planet, in another place, and compare it

to our extensive library of what life looks

like here on Earth."

Smith said it will be a great day for science,

a great day for space exploration,

when the Artemis I program officially

launches. The launch is now scheduled for

mid-November. He added that he hopes it

will inspire a new generation of explorers

who go out and discover, and build their

own backyard rockets, and dream.

Thomas Howard Smith holds master of

science degrees in engineering management

and space science. He teaches an introductory

astronomy course at Columbus State

Community College.

columbus

Me ssenger

Established in 1974

the Columbus Messenger Co.

3500 Sullivant Avenue

Columbus, Ohio 43204

614/272-5422

Telephone: ______________________________________________

Print your Name: __________________________________________

Last

First

Print your Address: ________________________________________

Print your City ____________________ State: ______ Zip: ________

Print Your Ad Below...

One word each space. BE SURE YOUR TELEPHONE NUMBER OR ADDRESS is included in your advertisement.

The lessor of 4 words or 22 characters per line. We reserve the right to use abbreviations when actual

space exceeds amount purchased.

1. __________

2. __________

3. __________

4. __________

5. __________

6. __________

7. __________

8. __________

9. __________

10. __________

__________

__________

__________

__________

__________

__________

__________

__________

__________

__________

Your Cost Per Line –– 2 Line Minimum

1 Paper ........$1.00 per line 3 Papers ......$2.55 per line

4 Papers ......$3.00 per line

2 Papers ......$2.00 per line

5 Papers ......$4.00 per line

$

Classification:

❏ Eastside Messenger

❏ Westside Messenger

❏ Southeast Messenger

❏ Southwest Messenger

❏ Madison Messenger

❏ All Newspapers

❏ Cash

❏ Check

❏ Money Order

❏ VISA ❏ MC

__________

__________

__________

__________

__________

__________

__________

__________

__________

__________

__________

__________

__________

__________

__________

__________

__________

__________

__________

__________

Credit Card Information

$12.50 Minimum by Phone

$5.00 Minimum by fax or e-mail

________________________

Credit Card Number

______________________

Exp. Date
---
www.columbusmessenger.com

November 13, 2022 - GROVE CITY MESSENGER - PAGE 21

CLASSIFIED ADS

Deadlines: Grove City, Groveport & All editions - Mondays at Noon.

West, Canal Winchester, South & Madison editions -Tuesdays at 5 p.m.

xCraft Shows

SAVE THE DATE!!

Saturday, November 19, 9am-2pm

MISFITS CHRISTMAS &

CHILI COOKOFF

Come Shop for gently used Christmas

Decorations at bargain prices and enjoy a

variety of the Best Chili on the Hilltop.

Fresh Baked Goods & Homemade Crafts

St. John Lutheran Church

CEMETERY LOTS

Double Lot - Sunset

Cemetery, Section 6. Value

$5,190, asking $4,000

OBO. Text 614-361-3803

INFORMATION

FALL INTO A

NEW HAIRSTYLE!

Come See Me At

My New Location!

Call Marilyn Weaver

For An Appt.

For a New Haircut/Color

614-348-6670

Relax Wellness

3663 Broadway,

Grove City

ASSOCIATION ADS

Safe Step. North

America's #1 Walk-in Tub.

Compreshensive lifetime

warranty. Top-of-the-line

installation and service.

Now featuring our FREE

shower package & $1600

off for a limited time! Call

today! Financing

available. Call Safe Step

1-833-356-1954

Update your home with

beautiful new blinds &

shades. Free in-home

estimates make it

convenient to shop from

home. Professional

installation. Top quality -

Made in the USA. Free

consultation: 877-212-

7578. Ask about our

specials!

2745 W. Broad St. Call Kathy

272-5422

For More Info

Craft Shows

ASSOCIATION ADS

Vivint Smart Security.

Professionally installed.

One connected system for

total peace of mind. Free

professional installation!

Four free months of

monitoring! Call to

customize your system. 1-

833-841-0737

Directv Stream - Carries

the Most Local MLB

Games! CHOICE

Package, $89.99/mo for

12 months. Stream on 20

devices in your home at

once. HBOMax included

for 3 mos (w/CHOICE

Package or higher.) No

annual contract, no hidden

fees! Some restrictions

apply. Call IVS 1-866-629-

6086

Replace your roof with the

best lookng and longest

lasting material -- Steel

from Erie Metal Roofs!

Three styles and multiple

colors available.

Guaranteed to last a

lifetime! Limited Time

Offer - $500 Discount +

Additional 10% off install

(for military, health

workers & 1st responders)

Call Erie Metal Roofs: 1-

855-338-4807

Become a Published

Author. We want to Read

Your Book! Dorrance

Publishing - Trusted by

Authors Since 1920

Book manuscript submissions

currently being reviewed.

Comprehensive Services:

Consultation, Production,

Promotion and Distribution. Call

for Your Free Author's Guide 1-

866-482-1576 or visit

dorranceinfo.com/macnet

ADVERTISE

Your Holiday Craft Show

Bazaar or Bake Sale!

ASSOCIATION ADS

Don't let the stairs limit

your mobility! Discover

the ideal solution for

anyone who struggles on

the stairs, is concerned

about a fall or wants to

regain access to their

entire home. Call

AmeriGlide today! 1-844-

317-5246

DENTAL INSURANCE

from Physicians Mutual

Insurance Company.

Coverage for 350 plus

procedures. Real dental

insurance - NOT just a

discount plan. Do not wait!

Call now! Get your FREE

Dental Information Kit with

all the details! 1-877-553-

1891

www.dental50plus.com/

macnet#6258

Discount air travel! Call

Flight Services for best

pricing on domestic &

international flights inside

& from the US. Serving

United, Delta, American &

Southwest &many more.

Free quote! Have travel

dates ready! 844-951-

2014

Internet &WIFI Starts at

$49 Call us Today to Get

Started. Find High-Speed

Internet with Fiber Optic

Technology No Credit

Check, No SSN Required.

Call us Today 866-396-

0515

ASSOCIATION ADS

WANTED!

MOTORCYCLES!

ANTIQUE AND CLASSIC.

Honda, Kawasaki, Suzuki,

Yamaha, Triumph, BSA

and other foreign models.

$$PAYING CA$H$$

717-577-8206

KRMiller1965@yahoo.com

!!OLD GUITARS WANT-

ED!! GIBSON, FENDER,

MARTIN, Etc. 1930's to

1980's. TOP DOLLAR

PAID. CALL TOLL FREE

1-866-433-8277

Are you receiving

SSDI/SSI Benefits? You

may be eligible for

additional benefits. CALL

US TODAY Citizen

Disability 1-888-490-6616

Vivint Smart Security.

Professionally installed.

One connected system for

total peace of mind. FREE

professional installation!

Four FREE months of

monitoring! Call now to

customize your system. 1-

855-870-2073

Safe Step. North

America's #1 Walk-in Tub.

Compreshensive lifetime

warranty. Top-of-the-line

installation and service.

Now featuring our FREE

shower package & $1600

off for a limited time!

Financing available. 1-

855-417-1306

Paying top cash for men's

sportwatches! Rolex,

Breitling, Omega, Patek

Pillippe, Heuer, Daytona,

GMT, Submariner and

Speedmaster. Call 833-

603-3236

xPreschool/Daycare

advertise

YOUR DAY CARE

OR PRESCHOOL

Call Kathy

at The Messenger

For More Info

272-5422

Preschool/Daycare

ASSOCIATION ADS

Stroke & Cardiovascular

disease are leading

causes of death according

the American Heart

Association. Screenings

can provide peace of mind

or early detection! Call

Life Line Screening to

schedule your screening.

Special offer - 5

screenings for $149. 1-

866-518-8391

Switch and save up to

$250/yr on talk, text &

data. No contract or

hidden fees. Unlimited talk

& text with flexible data

plans.

Premium

nationwide coverage.

100% U.S. based

customer service. Limited

time get $50 off any new

account. Use code

GIFT50. 1-855-903-3048

MobileHelp, America's

premier mobile medical

alert system. Whether

you're home or away. For

safety & peace of mind.

No long term contracts!

Free brochure! 1-888-489-

3936

Personal & Business

Loans. Up to $500,000

unsecured. Personal,

Emergency, Auto,

Business Startup, Debt

Consolidation, Home

Improvement, etc. Visit:

EasyLoanNetwork.com

Switch and save up to

$250/yr on talk, text & data.

No contract or hidden fees.

Unlimited talk & text with

flexible data plans.

Premium nationwide

coverage. 100% U.S.

based customer service.

Limited time offer - get $50

off any new account. Use

code GIFT50. For more

information1-888-684-1169

ASSOCIATION ADS

Protect your home from

pests safely and

affordablly. Pest, rodent,

termite and mosquito

control. Call for a quote or

inspection today 844-394-

9278

Wesley Financial Group,

LLC Timeshare Cancellation

Experts Over

$50,000,000 in timeshare

debt & fees cancelled in

2019. Get free

informational package &

learn how to get rid of

your timeshare! Free

consultations. Over 450

positive reviews. 888-965-

0363

DIAGNOSED WITH

LUNG CANCER? You

may quliafy for a

substantial cash award -

even with smoking history.

NO obligation! We've

recovered millions. Let us

help!! Call 24/7, 1-888-

650-9135

Attention Homeowners! If

you have water damage

and need cleanup

services, call us! We'll get

in & work with your

insurance agency to get

your home repaired and

your life back to normwl

ASAP! 855-767-7031

BUYING CLASSIC CARS,

TRUCKS, SUVs

**American and Foreign**

Any Condition. Buying

entire car collections.

$$PAYING CA$H$$

Please call 717-577-8206

KRMiller1965@yahoo.com

xPublic Notice

LEGAL NOTICE

The Grove City Police Department has recovered

numerous bicycles, tools, electronic equipment, clothing

and monies over the course of several months.

The bicycles are of various types and models, as are

the tools and electronic equipment. All properties are

held in a secured police facility at all times. If you

believe you have claim to any of the property and have

proof of ownership for the property, you may call the

Grove City Police Department Property Room at

614-277-1757. A review and release of any and all

property is by appointment only. All items not claimed

will be sold at public auction, turned over to the Law

Enforcement Fund, or destroyed according to Ohio

Law.

CHARITABLE DONATION

Qualified organizations may be eligible to receive

bicycles as charitable donations from the City of

Grove City. Qualified organizations must have a valid

ruling or determination letter recognizing the taxexempt

status of the organization, pursuant to Internal

Revenue Code Section 501(c)(3) or (c)(19).

Representatives may call the Grove City Police

Department Property Room at 614-277-1757 to

inquire about the donation process.

Public Notice

INFORMATION

ASSOCIATION ADS

Put on your TVEars &

hear TV w/unmatched

clarity. TVEars Originaloriginally

$129.95 - now

w/this special offer only

$59.95 w/code MCB59! 1-

888-805-0840

The bathroom of your

dreams for as little as

$149/month! BCI Bath &

Shower. Many options

available. Quality

materials & professional

installation. Senior &

Military Discounts

Available. Limited Time

Offer - FREE virtual inhome

consultation now

and SAVE 15%! Call

Today! 1-877-540-2780

INFORMATION

Want To Know The

Cost of Your Ad??

Email Us At:

classified@columbusmessenger.com

Include name & phone

number with ad

and we will call or email

you back!

ASSOCIATION ADS

Donate Your Car To

Veterans Today! Help and

Support our Veterans.

Fast - FREE pick up.

100% tax deductible. Call

1-800-245-0398

HughesNet - Finally, superfast

internet no matter

where you live. 25 Mbps

just $59.99/mo! Unlimited

Data is Here. Stream

Video. Bundle TV &

Internet. Free Installation.

Call 866-499-0141

Become a Published

Author. We want to Read

Your Book! Dorrance

Publishing Trusted Since

1920 Consultation,

Production, Promotion &

Distribution. Call for Free

Author's Guide 1-877-729-

4998 or visit

dorranceinfo.com/ads
---
PAGE 22 - GROVE CITY MESSENGER - November 13, 2022

www.columbusmessenger.com

xEmployment

HIRING WAREHOUSE

UP TO

$19/HR +

UP TO

$3K SIGN-ON

NO WEEKENDS • NO MANDATORY OT

OPEN INTERVIEWS

WEDNESDAY 10AM-1PM

1568 Georgesville Rd. Columbus, OH 43228

JOBS.MSCDIRECT.COM

Applicants must sucessfully pass a background check and drug screen.

Equal Opportunity Employer: Minority, female, veteran, individuals with disabilities, sexual orientation/gender identity.

EARN EXTRA

$$ $$

HOLIDAY MONEY

The Advertising Department at the

Columbus Messenger Newspapers

is seeking a

Helper for the Sales Department.

No Experience Necessary

Duties include: Set Appointments,

Make Calls, Run Errands, etc.

Salary plus auto allowance.

Seniors welcome to apply.

Please send your resume to:

Doug Henry, Advertising Manager

Columbus Messenger Newspapers

3500 Sullivant Ave.,Columbus, Ohio 43204

or e-mail to doughenry@columbusmessenger.com

WANTED

SCHOOL BUS DRIVERS

The South-Western City School

District is is currently hiring drivers

for the 2022-2023 school year

$18.80/hr $18.25/hr Plus Bonuses

WE WILL TRAIN

Available positions are for substitute

drivers that can develop into

"Regular" positions with benefits.

Interested individuals can call

614-801-8550 to to set up an interview.

Applicants should have an excellent

driving record and must submit to to

drug, alcohol, and background

screening. A high school diploma or or

equivalent is is required.

EOE

ASSOCIATION ADS

Want Faster & Affordable

Internet? Get internet

service today with

Earthlink. Best internet &

WiFi Plans. Call us Today

to Get Started. Ask

about our specials! 866-

396-0515

Dental Insurance -

Physicians Mutual Insurance

Comopany. Covers 350

procedures/ Real insurance -

not a discount plan. Get your

free dental info kit! 1-855-

.526-1060 www/dental50

plus.com/ads #6258

NEED IRS RELIEF

$10K-$125K+ Get Fresh

Start or Forgiveness.

Call 1-877-705-1472

Monday through Friday

7am-5pm PST

The Generac PWRcell

solar plus battery storage

system. Save money,

reduce reliance on

grid, prepare for outages

& power your home. Full

installation services. $0

down financing option.

Request free no obligation

quote. Call 1-877-

539-0299

Eliminate gutter cleaning

forever! LeafFilter, the

most advanced debrisblocking

gutter protection.

Schedule a FREE

LeafFilter estimate today.

20% off Entire Purchase.

Plus 10% Senior & Military

Discounts. Call 1-855-

791-1626

ASSOCIATION ADS

DISH TV $64.99 FOR 190

Channels + $14.95 High

Speed Internet. Free Installation,

Smart HD DVR

Included, Free Voice Remote.

Some restrictions

apply. Promo expires

1/21/23. 1-866-479-1516

Attention oxygen therapy

users! Inogen One G4 is

capable of full 24/7 oxygen

delivery. Only 2.8

pounds. Free info kit.

Call 877-929-9587

SELL YOUR ANTIQUE

OR CLASSIC CAR.

Advertise with us. You

choose where you want

to advertise. 800-450-

6631 visit macnetonline.

com for details.

Looking for auto insurance?

Find great deals

on the right auto insurance

to suit your needs.

Call today for a free

quote! 866-924-2397

READY TO BUY, SELL

OR RENT YOUR

VACATION HOME OR

HUNTING CAMP?

Advertise it here and in

neighboring publications.

We can help you. Contact

MACnet MEDIA @

800-450-6631 or visit our

site at MACnetOnline.

com

BATH & SHOWER UP-

DATES in as little as

ONE DAY! Affordable

prices - No payments for

18 months! Lifetime warranty

& professional installs.

Senior & Military

Discounts available. Call

855-761-1725

VIAGRA and CIALIS

USERS! 50 Generic pills

SPECIAL $99.00. 100%

guaranteed. 24/7 CALL

NOW! 888-445-5928

Hablamos Espanol

Employment

JOB OPPORTUNITY

London Metropolitan Housing Authority is currently looking for a

Full Time Maintenance Worker.

Job Specifications

The candidate must have completed secondary education or two (2) or more

years' experience in the semi-skilled maintenance of building and grounds, or

equivalent. Also must have current drivers license

Skills Required

* Ensure maintenance work areas remain organized

* Timely management of daily work orders

* General grounds maintenance including picking up trash around properties,

Pick up fallen debris on properties (branches, etc.), snow removal.

* Basic understanding in electrical, plumbing, HVAC, painting and

carpentry maintenance.

* Assists in exterior building maintenance as needed such as siding, soffit

and window repair.

Submit resume and salary requirements to:

London Metropolitan Housing Authority

ASSOCIATION ADS

Prepare for power

outages today with a

GENERAC home standby

generator. $0 Down + Low

Monthly Pmt. Request a

free Quote. Call before the

next power outage: 1-855-

948-6176

READER

ADVISORY

The National Trade Association

we belong to has

purchased the following

classifieds. Determining

the value of their service

or product is advised by

this publication. In order

to avoid misunderstandings,

some advertisers do

not offer "employment"

but rather supply the

readers with manuals, directories

and other materials

designed to help

their clients establish mail

order selling and other

businesses at home. Under

NO circumstance

should you send any

money in advance or give

the client your checking,

license ID or credit card

numbers. Also beware of

ads that claim to guarantee

loans regardless of

credit and note that if a

credit repair company

does business only over

the phone it's illegal to request

any money before

delivering its service. All

funds are based in US

dollars. Toll Free numbers

may or may not

reach Canada. Please

check with the Better

Business Bureau 614-

486-6336 or the Ohio Attorney

General's Consumer

Protection Section

614-466-4986 for more

information on the company

you are seeking to

do business with.

179 S. Main Street, London, OH 43140

Or email to: tsparks@londonmha.org

DO YOU NEED

SEASONAL EMPLOYEES?

Call KATHY to ADVERTISE!

and reach over 40,000 homes in the

West & Grove City Messengers

614-272-5422

kathy@columbusmessenger.com

ASSOCIATION ADS

Attention Viagra users:

Generic 100 mg blue pills

or generic 20 mg yellow

pills. Get 45 plus 5 free

$99 + S/H. Call Today 1-

877-707-5518

Elminate gutter cleaning

forever! LeafFilter, the most

advanced debris-blocking

gutter protection. Schedule

Free LeafFilter Estimate

today. 20% off Entire

Purchase. 10% Senior &

Military Discounts. Call 1-

833-610-1936

The Generac PWRcell, a

solar plus battery storage

system. SAVE money,

reduce your reliance on

the grid, prepare for power

outages and power

your home. Full installation

services available. $0

Down Financing Option.

Request a FREE, no obligation,

quote today. Call

1-866-783-0292

ASSOCIATION ADS

IMPORTANT

NOTICE

The following states: CA,

CT, FL, IA, IL, IN, KY,

LA, MD, ME, MI, MN,

NE, NC, NH, OH, OK,

SC, SD, TX, VT and WA

requires seller of certain

business opportunities to

register with each state

before selling. Call to

verify lawful registration

before you buy.

Protect your home w/home

security monitored by

ADT. Starting at $27.99/

mo. Get free equipment

bundle including keypad,

motion sensor, wireless

door & windows sensors.

833-719-1073

Prepare for power outages

today with a GENERAC

home standby generator.

$0 Money Down + Low

Monthly Payment Options.

Request a FREEQuote--

Call now before the next

power outage. 1-855-465-

7624
---
www.colulmbusmessenger.com

xCome & Get It!

November 13, 2022 - GROVE CITY MESSENGER - PAGE 23

xClassified Services

COME AND GET IT!

Need to Get Rid of Something Fast - Advertise It Here For FREE!

Deadlines are Mondays by Noon

Call For Publication Schedule 614-272-5422

FREE Garden Straw for gardens or bedding. Call for appointment for pickup.

Circle S Farms, 9015 London-Groveport Road, Grove City, 43123

Grove City - 614-878-7980

FREE - Metal from old camper frame, Need a truck to pickup..

CC - Obetz - 614-632-1013

FREE - Children's Wooden Play Set - Good Condition w/Sand Box under it, Step Ladder up

Slide to go down & a rope swing. Also separate Swing Set w/4 swings.

190 Inah Ave., Cols, 43228 near the Fire Dept.

West Columbus - 614-878-1930, ask for Linda

FREE - Pipe for wood burning stove, appr. 20' plus misc. parts; 10 wood window

sashes, various sizes; Frames for real estate signs, varios sizes;

One gallon plastic gas containers.

West Columbus - 614-570-5372, ask for David

Come and Get It! is a bi-weekly column that offers readers an opportunity to pass

along surplus building materials, furniture, electronic equipment, crafts, supplies,

appliances, plants or household goods to anybody who will come and get them - as

long as they're FREE. NO PETS! Just send us a brief note describing what you want to

get rid of, along with your name, address and phone number. Nonprofit organizations

are welcome to submit requests for donations of items.

Send information to The Columbus Messenger, Attention: Come and Get It, 3500

Sullivant Ave., Columbus, OH43204. Deadline is Mondays at NOON for following

Sunday's publication. Messenger Newspapers is not responsible for any complications

that may occur. Please contact us when items are gone. 272-5422

Come & Get It!

xFocus on Rentals

WEDGEWOOD

VILLAGE

1, 2 and 3 BR Apts.

Rent Based on Income.

Call 614-272-2800 or visit us

at 777 Wedgewood Dr.

TTY/TDD 711

EQUAL HOUSING OPPORTUNITIES

ASSOCIATION ADS

DISH TV $64.99 for 190

Channels + $14.95 high

speed internet. FREE installation,

Smart HD DVR

included. Free Voice Remote.

Some Restrictions

apply. Promo Expires

1/21/23. 1-866-590-5561

Thinking about installing

a new shower? American

Standard makes it

easy. FREE design consulation.

Enjoy your

shower again! Call 1-

833-769-0995 today to

see how you can save

$1,000 on installation, or

visit www.newshowerdeal.com/mac

Rentals

ASSOCIATION ADS

AT&T Internet. Starting at

$40/month w/12-mo agmt.

1 TB of data/mo. Ask how

to bundle & SAVE! Geo &

svc restrictions apply. 1-

855-364-3948

CHILD CARE

OFFERED

Depend. Quality Child care

in loving hm. Exp. Mom, n-

smkr, hot meals, sncks,

playroom, fncd yd. Reas.

rates. Laurie at 853-2472

HELP WANTED

Kings Kids Daycare

in Grove City is hiring Fun,

Loving Teachers for PT &

FT shifts. Please email

sarragc@outlook.com or

call 614-539-0349

Looking for a house

cleaner very soon.

Starting pay $15 per hour

and $16 per hour after 60

days. Must have own

transportation and a

background check

required. Contact Mendy

614-774-7529

WANT TO BUY

BUYING OSU & old sports

items, records, postcards,

old photos, jewelry & more

614-477-5590

We Buy Junk Cars &

Trucks. Highest Prices

Paid. 614-395-8775

We Buy Cars & Trucks

$300-$3000.614-308-2626

ANTIQUES

WANTED

Victrolas, Watches,

Clocks, Bookcases

Antiques, Furn.

Jeff 614-262-0676

or 614-783-2629

WE BUY JUNK CARS

Call anytime 614-774-6797

RENTALS

CONDO FOR RENT

Galloway Village - 3 BR,

2 BA, 2 car gar.

Beautiful neighborhood.

Rent $1500/mo + dep.

614-465-7763

USED VEHICLES

1991 Cadillac - $1800 or

trade for smaller car

1-740-973-3206

CLEANING

DEEP CLEANING &

WALL WASHING

Call Judy 614-746-0273

CONCRETE

EDDIE MOORE

CONSTRUCTION

Quality Concrete Work

Lt. Hauling & Room Add.,

Block Work & Excavation

Stamp Patios,

Bsmt. Wall Restoration

35 Yrs Exp - Lic & Ins.

Free Ests. 614-871-3834

GALLION

CUSTOM CONCRETE LLC

Specializing in Custom Colors &

Custom Designs of Concrete.

Including Remove & Replace

44 yrs exp & Free Est.

Licensed & Insured

Reputation Built

On Quality

Ronnie

614-875-8364

See Us On Facebook

www.gallioncustom

concrete.com

ALL-CITY CUSTOM

CONCRETE

All Types Concrete Work

New or Tear Out-Replace

40 Yrs. Exp.

(614) 207-5430

Owner is On The Job!

AJ's Concrete,

Masonry

Good Work - Fair Prices

Block Foundations

Driveways • Sidewalks

Epoxy/Overlay Floors

Bonded-Ins. • Free Ests.

614-419-9932

INFORMATION

11/20 W/SW

11/20 A

CONCRETE

www.hastingsnsons.com

Driveways & Extensions

Patio & Walkways,

Porches & Steps,

Garage/Basement Floors

Hot Tub/Shed Pads,

Stamped/colored concrete

Sealing of new &

existing concrete.

FREE ESTIMATES

Contact Adam

614-756-1754

hastingsandsons.

columbus@gmail.com

FENCING

EAZY FENCE

Chain Link - Wood

No Job Too Big or Small

All Repairs ~ Free Est.

Insured. 614-670-2292

GUTTERS

Bates & Sons

GUTTER CLEANING

5 ★ Google Reviews

614-586-3417

INFORMATION

ONLY

$50.00

For This Ad In Our

West & Grove City

For Info Call

272-5422

HAULING

DEAN'S HAULING

614-276-1958

LITTLE GIANT

Dumpsters & Hauling

Gravel, Mulch, Dirt, Junk

to the dump. 14 yard roll

offs. $240 for 2 day rental

or I can help load it up at

no extra charge.

MIKE 614-452-1689

DUMPSTER RENTAL

4 Days - $275 & Up

No Hazardous Materials

Tires - $10.00 each

Call 614-254-1131

INFORMATION

LOOK TO

THE PROFESSIONALS

IN OUR

SERVICE DIRECTORY

For Service

"That Is Out Of This World"

HEATING & COOLING

HVAC

HEATING & A/C

Fast Service - Licensed

614-633-9694

HOME

IMPROVEMENTS

KLAUSMAN HOME

IMPROVEMENT

Siding-Windows-

Doors-Roofing-Soffit-

Fascia-Gutters-Trim

Earn FREE Seamless

Gutters with Siding Over

1000 Sq. Ft.

FREE Shutters with

Soffit & Trim

EPA Certified

Member of BBB

Financing Available

Over 20 yrs exp. • Free Est.

Licensed-Bonded-Insured

Owner & Operator

James 614-419-7500

SLAGLE

HOME REMODELING

Baths, Kitchen,

Plumbing and Electrical.

All your Handyman needs

No Job too Big or Small

Over 30 Yrs. Exp. Lic.-Bond-Ins.

Jerry

614-332-3320

HOME

REMODELING

LET US MAINTAIN

YOUR LAWN & GARDEN

FOR YOU

Summer, Spring,

Winter or Fall

WE DO IT ALL!!!!

Lawn Cuts, Edging,

Trees & Shrubs, Garden,

Mulching, Hauling,

Garden Pond &

Home Maint.

Free Ests. Low Rates

$20 & Up

Kevin - 614-905-3117

Classified Services

12/4 A

11/20

SW/W

C&JHandyman

Services LLC

Minor Plumbing & Electric

Install Hot Water Tanks,

Dishwashers & Disposals

All Interior Remodels

Also Fencing &

Interior/Exterior Painting

Free Est. ~ 18 Yrs. Exp.

CDC/EPA Approved Guidelines

614-284-2100

SINCE 1973

Phil Bolon Contr.

Windows & Siding

Decks, Kitchens, Baths

Room Additions,

Flooring, Roofing

Bsmt Waterproofing

Deal With Small Non-Pressure Co.

47 Yrs. Exp. - Refs. Avail.

Lic.-Bond-Ins.

11/20

A/M

Free Est. - Financing Avail.

Member BBB Of Cent. OH

O.C.I.E.B. ID #24273

614-419-3977

or 614-863-9912

12/4 A

HOME

MAINTENANCE

HANDYMAN SERVICES

614-235-1819

MultiCraft Const.

& Handyman Services

All Types Handyman Services:

Decks, Fences

Kitchen/Baths

Window/doors installed

Interior Painting

Drywall Repairs

All Types of Flooring

Call/Text 614-774-2923

multicraftconstruction@gmail.com

Charlies Handyman

Service

Over 40 yrs. exp.

Hot Water Tanks

Door Locks

Kitchen/Bath Remodels

Roofmg * Siding

Porches & Decks

614-319-6010

blantoncharles894@gmail.com

LANDSCAPING

ONYX

LANDSCAPING

614-407-5214

www/Pmux:amdsca[omg;;c/cp,

Full Service Lawn Care

Start With Trust!!

LAWN CARE

The Lawn Barber

Cut, Trim, Blow away

Hedge Trimming, Edging

614-935-1466

MOWER

REPAIR

Tremont

Mower Repair

Servicing

Lawn Mowers,

Weed Eaters &

Leaf/Snow Blowers

Pickup &

Delivery Available

614-357-6204

11/20 A

11/20 w/gc

PAINTING

Painter Over 30 Yrs. Exp.

Free Est. Reas. Rates

Daniel - 614-226-4221

PLASTERING

DRYW

YWALL &

PLASTER

11/20

A&M

REPAIR

Textured Ceilings

614-551-6963

Residential/Commercial

BIA

POOL/SPA

MAINTENANCE

K&L Spa Cleaning

Hot Tub Cleaning and

Weekly Maintenance

Keith 614-316-9809

PLUMBING

All About Drains & Plumb.

Will snake any small drain

$145. 614-778-2584

MYERS

PLUMBING

Exp. Expert Plumbing

New Const. & Fast Repairs

Lic. - Permit Available

Water • Sewer • Gas

614-633-9694

CHRIS'

PLUMBING

"Plumbing & Drain Professional

That You Can Count On"

24 Hrs., 7 Days/Week

No Overtime Charges

24 Yrs. Exp. in Plumbing &

Drain Cleaning Field

Call For A Free Phone Estimate

$100.00 For Any Small Drain

614-622-4482

30% OFF with AD

POWER WASHING

Bates & Sons

Soft Wash & Powerwash

5 ★ Google Reviews

614-586-3417

SEWING MACHINE

REPAIR

REPAIR all makes 24 hr.

service. Clean, oil, adjust

in your home. $49.95 all

work gtd. 614-890-5296

TREE SERVICES

BURNS TREE SERVICE

Trimming, Removal &

Stump Grinding.

614-584-2164

Warren Brewer Tree Service

• Tree Removal

• Tree Trimming 9/11

A&M

• Stump Grinding

• Bucket Truck Services

Best Prices • Same Day Service

614-878-2568

12/4 A&M

12/4 A
---
PAGE 24 - GROVE CITY MESSENGER - November 13, 2022

www.columbusmessenger.com