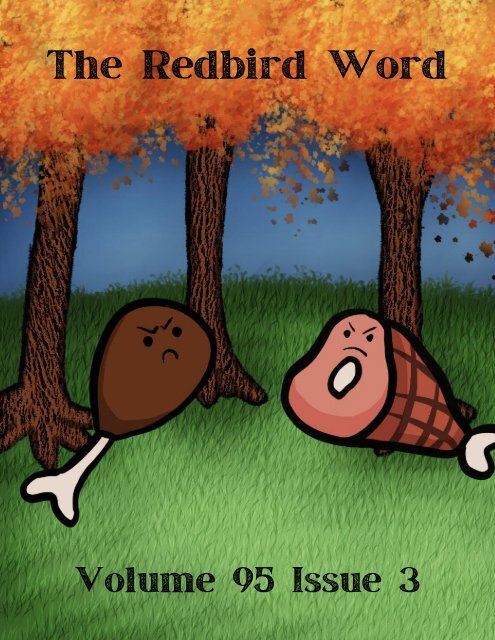 2022 November Issue
The Redbird Word is the monthly print edition of our student-led newspaper at Alton High.
The Redbird Word is the monthly print edition of our student-led newspaper at Alton High.
SHOW MORE
SHOW LESS
Create successful ePaper yourself
Turn your PDF publications into a flip-book with our unique Google optimized e-Paper software.
The Redbird Word

Volume 95 Issue 3
---
Are Finals Necessary?

By: Taylor Lawson

Since 1902, Alton High School has had a semester final exam. A

semester exam consists of a summary assessment of everything

students have learned throughout the semester.

The Editorial Staff feels that finals provide no benefit to student

learning and are a significant source of stress and anxiety for

many students. These feelings can even lead to larger issues like

insomnia, depression, and a fear of not succeeding.

Finals seem to be an inadequate measure of students' actual

learning. Many students cram with a teacher-provided study

guide the week of finals just to pass the exam, then don't retain

the knowledge once it's over.

The Editorial Staff feels that administrators should change the

finals policy to a less comprehensive test, making the end of the

semester less stressful for the students. Also, they should

consider no longer making finals worth 20% of students' overall

grades.

Reporters

Terrick Thorpe

Michael Fellion

Sha'nya Stennis

Caitlyn Neely

Chase Chilton

Katie Rich

Rhyann Reed

Editorial policy: The Redbird

Word and The Daily Bird

operate as a public forum of

expression. Readers can email

letters to the editor at

the.redbird.word@gmail.com.

Expressions made in these

student-led publications are

in no way an expression of the

district or the school board.

Editorial Staff

E d i t o r - In - C h i e f

T a y l o r L a w s o n

M a n a g i n g E d i t o r

A v e r y C l o s e

S o c i a l M e di a M a n a g e r

A l l i s o n C o o k e

A s s i s t a n t S o c i a l M e d i a M a n a g e r

A d r i a n na P a y n i c

B r o a d c a s

t E d i t o r

T y S u l l i v a n

A s s i s t a n t B r o a d c a s t E d i t o r

J a m e s H u l l

N e w s E

d i t o r

A u b r i e H

a n c o c k

A s s i s t a n t N e w s E d i t o r

K a t i e S t a r k

F e a t u r e s E d i t o r

L e l a H o w a r d

S p o r t s E d i t o r

E v a n D u g g e r

A s s i s t a n t S p o r t s E d i t o r

C h l o e P l o u g h

E n t e r t a i n m e n t E d i t o r

C o l e T a r r a n t

A s s i s t a n t E n t e r t a i n m e n t

A u d r e y W a t e r s

P h o t o / A r t E d i t o r

M i l e s W r i s c h n i k

D e s i g n E d i t o r

E d e n F i n g e r

A s s i s t a n t D e s i g n E d i t o r

G r a c e P h e l p s

A s s i s t a n t D e s i g n E d i t o r

C a l e i g h P l o u g h

C o p y E d i t o r

T a y l o r P r o u g h

W e b D e s i g n E d i t o r

P a r i s T h o m a s

B u s i n e s s M a n a g e r

B r a n d o n B r o w n

H o n o r a r y E d i t o r

B r a d e n L i t t l e

A d v i s e r

A p r i l G r a y

1
---
Students Prepare for State Testing

By: Rhyann Reed

As the fall semester comes to an end, 2023 comes right behind with end-of-the-year testing for Alton High

School. It has been almost three years since the pandemic outbreak not only created hazards and stops for

companies and businesses, but also for the school districts.

With all the changes, students may struggle with the new environments of school and different learning.

An article published on Chalkbeat Chicago by Samantha Smile gave students a short glimpse into the eyes

of other students that take Illinois state testing. Many schools were in the middle of learning new

information and getting prepared to take the PSAT, SAT and ACT. That all came to a stop in a matter of

hours when schools closed their doors in March of 2020.

In the article, Smiles said, "The state board of education says 20% fewer Illinois students met or exceeded

grade-level standards in reading and math in 2022 compared to 2019 before the pandemic shuttered schools

and suspended learning."

"...In my case, and as well as I think everybody else that has been a junior has said that PSATs are just

neutral because this was kind of our first time," junior Breanna Clay said. With the return to in-person

school last year, students also returned to taking the PSAT and SAT.

"I think that the pandemic impacted how we do state testing currently, and I think that the tests stressed me

out during Covid- but now I'm not so intimidated by them," Nadia Sakar said.

Here are some tips to prepare for SATs. First, don't stress before the test. Take moments in between your

free time and study. If you don't like to study, try to find ways to make it fun to learn. Second, keep calm

and don't worry about the test too much. You have time to prepare, no worries. Third, get sleep. It's always

important to sleep before a test, especially the PSAT or SAT.

Club Spotlight.... Physics Club

By: Terrick Thorpe

Physics Club is an after-school activity where students challenge themselves. Each project

is designed to be difficult enough to struggle with but easy enough to figure out on your

own.

AP Physics Teacher, Andrew Spainhour said, "Students should struggle for 10 minutes, but

never more than 20."

Students who already take physics as a class, are required to do at least one project per

semester. Just recently, the students built catapults and trebuchets to launch pumpkins as

far as possible across the practice football field. Next, they will be working on building cars

powered by mouse traps that have to move forwards and backward on their own. Come to

B351 after school for information. 2
---
Students Take Free Days to Explore Colleges

By: Michael Fellion

At Alton High School, students are able to use college days during junior and senior years in order to go

and check out colleges.

Junior Marvia Lawrence said he has known about being able to use a college day, but never planned on

using it this year. Lawrence said he thinks that if he did actually go on a college day, it would probably be at

the end of the year and far away from Alton. "I think college days are good because they give you a day off

school," Lawrence added.

Other students, such as Adam Hunter, Brianna Mitchell and Sarah Martin also have their takes on college

days and whether or not they are planning on using them. Amongst students, college days were common

knowledge and were probably going to be taken throughout the year.

In senior Adam Hunter's case, he said he knew about the college days he was able to take since junior year.

Hunter also said he doesn't plan on taking his college day this year just because he already knew where he

wanted to go instead. "I plan on going to a trade school over trying to go to a college, so I don't need any

college days," he added.

On the other hand, junior Sarah Martin said she has also known about being able to take a college day off

and thinks it would be something she may do this year. Martin said she also plans on going to a college

around the Illinois or Alton area for her college day.

Another junior, Kimberlynn Hicks, said she didn't know that juniors could take college days, but was

planning on taking a college day for herself whenever she got the chance. Hicks thinks that now that she is

able to go and do a college day during her junior year, she plans to check out a college that she heard about

in Oregon.

Overall, some students know, or at least have heard, that they are able to take college days while in their

junior and senior years. Whether or not the students take them is all up to them and if they actually want

to. In the end, taking a college day can be very useful to help students explore their after-high school

options.

3
---
Students Weigh in on Fall Fashions

By: Katie Rich

When fall arrives, many students and teachers adapt to the changing weather, expressing their style through

clothing choices. Two Alton High School students shared their similar opinions on the fall trends they have

witnessed in the hallways so far this year.

"I think the fall outfit trend I have seen students wearing the most around school are flannel shirts,"

freshman Nathanael Rich said. "I appreciate the way that different people layer flannel shirts. They have

always been a classic and I really enjoy them."

Freshman Josie Landuyt agreed with the flannel trend. "The most popular articles of clothing I have seen

are different colored sweaters and flannel shirts that girls have been wearing around our school," Landuyt

said. "They look really cute with almost anything paired with them," she added.

Although students tend to take after each other in their clothing choices, not all students believe that these

fashion trends are worth wearing. Each student has their favorite, go-to fall clothing.

"The first things I grab when I think of fall fashion are black socks and a pair of reliable Birkenstock

sandals. Not many people like the 'socks and stocks' look, but I will never stop wearing it," Rich said.

"I love a classic hoodie with a pair of jeans. You can never go wrong with a classic that has been in style for

so many years," Landuyt said. She believes that the basics of fall fashion will never go out of style.

With many popular and interesting fall clothing trends, there are just as many fashion trends that are not as

popular or appealing to students.

Rich believes that the worst part about fall fashion is, "The annoying people who make it their entire

personality for the duration of fall." He also said he that he "can't stand the people who come into school

everyday with overly scented pumpkin spice perfume."

"I agree with Nathanael," Landuyt said. "Too much of a good thing is never a good thing. Some of the

students here need to tone it down just a little bit."

sweater

hoodie & jeans

flannel

black socks & birks

4

flannel jacket
---
True Crime Spotlight.....

By: Cole Tarrant

Many Killers Born in November

November isn't only about Thanksgiving, but also the

birthdays of several serial killers. Up to 17 of the most

dangerous serial killers were born in November. Some of the

worst including Ted Bundy, Charles Manson, Dennis Nilson

and Rosemary West.

Ted Bundy was an American serial killer in the late 1970s and

early 80s. He was intelligent and very social allowing him to

have a successful college career. Through college, Bundy

developed many relationships with women.

Bundy was far from stable and assaulted and murdered at

least 28 young women across the United States. Due to his

crimes, Bundy was sentenced to death by the electric chair.

Some people, however, believe Bundy is guilty of hundreds

of murders. Bundy's case would draw national media

attention and inspire popular novels and films.

Dennis Nilson was a serial killer who murdered 12 people

during his 1978 to 1983 murder spree. Nilson would lure male

victims to his apartment and strangle or drown them. He

would then bathe the bodies, dressing them up in new

clothes.

Mugshot of Charles Manson

Mugshot of Dennis Nilson

Nilson kept the bodies around for some time before

chopping them up and discarding them in a bonfire and

flushing the small pieces down the toilet. Nilson was given

the nickname, "The British Jeffrey Dahmer," due to how he

discarded his victims.

Nilson was later caught due to complaints of plumbing

problems. A drain cover beside his house was opened up, and

the human flesh of his victims was found packed into it.

Rosemary West was a housewife who tortured and killed at

least ten women, including her 8-year-old stepdaughter

Charmaine West and her 16-year-old daughter Heather West.

Rosemary (Auntie Rose) West

Images courtesy of Google Images

West would be caught and sentenced to life in prison. While

awaiting trial in 1995, West's husband and partner in crime

would commit suicide. West is still locked up to this day.

"She should have gotten …… lethal injection or the death

penalty [for her crimes]" said Nicholas Dipaolo. "It is weird

that a serial killer .. [as] dangerous [as Rosemary West] is still

alive [to this day]."

5
---
'Bleach' Makes a Comeback after a 10-Year Hiatus

By: Braden Little

Finally, on Oct. 11, TV Tokyo released "Bleach: Thousand-Year Blood War" the sequel to the 18-year-old

anime that people have waited 10 years to see new episodes.

It has had its ups and downs throughout the years of its production. Most people love anime and everything

that comes along with it. The series "Bleach" has been a huge success as being known as one of the best and

one of the big three in Japan alongside "Naruto" and "One Piece".

Though it took 10 years to make new episodes, the ending of the "Bleach" arc is now coming to a close, but

there are some people who didn't mind how long it took to come out with the new episodes. "Ten years is an

eternity when it comes to artistic style and personality for a show. Bringing in a new team, who realistically

grew up watching the show, adds a whole new level of life to the show," English teacher Ian Martin said.

Even with the time it took, people still also love the new additions to the anime as well. The new arc along

with the same old characters also sit well with people as they did when the beginning episodes first aired. "I

love the animation and the story so far, but I love the older animation and story. Story and animation wise,

they both have their own qualities and traits," senior Nickoli Jarrett said.

But with every positive, there are still negatives, especially when it comes to the overall time length in how

long it took for the series. "I feel that it took way too long to make only two new episodes. In the time they

had, they could've almost created a whole new series," senior John Ditterline said.

6
---
Food Fanfare

Sharing food with friends and family during special holidays has been a long-standing tradition in American

culture. Our staff created a survey to see which Thanksgiving foods are the most popular with staff and

students. The survey was shared, and 216 people responded. Check out the results!

Pecan, Pumpkin, or Apple Pie?

Ham, Turkey, Other?

Sweet Treats

Design Editor Caleigh Plough shares a couple of

her favorite recipes to create tasty treats.

Ingredients:

(For the pie)

1 14-ounce package refrigerated

pie dough (2 crusts)

1 large apple, peeled and diced

2 tbsp. granulated sugar

1 tbsp. all-purpose flour

1 tbsp. honey

(For the topping)

1/4 c. all-purpose flour

2 tbsp. packed light brown sugar

1 tbsp. granulated sugar

1/2 tsp. ground cinnamon

2 tbsp. salted butter, cut into

small pieces

Mini Apple Pies

Directions:

1. Preheat the oven to 375˚. For the pies: Roll out 1 piece

of pie dough into a 12-inch round. Using a 3-inch

cutter, cut out 12 small rounds. Repeat with the other

piece of pie dough to make 12 more rounds. Press each

round into a hole of a 24-cup mini muffin tin, pressing

the dough evenly up the sides. Place in the refrigerator.

2. Toss the apple, granulated sugar, flour, and honey in a

medium bowl to combine.

3. For the topping: Whisk the flour, brown sugar,

granulated sugar, and cinnamon in a separate medium

bowl. Using a fork or pastry cutter, cut the butter into the

flour mixture, a few pieces at a time, until evenly mixed.

4. Place 1 teaspoon of the apple mixture in each muffin

cup; top with 1 teaspoon of the topping. Bake until golden,

about 20 minutes. Let cool for 10 minutes in the pan, then

remove to a rack to cool completely.

7
---
Foodie Facts

1. Americans buy 365 million pounds of turkey the week of

Thanksgiving, usually whole turkeys.

2. About 77 million pounds of ham are bought for

Thanksgiving.

3. About 250 million pounds of potatoes become a

Thanksgiving side dish.

4. Sweet potatoes aren't actually potatoes.

www.aghires.com

Sweet Potatoes or Mashed Potatoes?

Pumpkin Snickerdoodle

Directions:

1. For the cookie dough: In a medium bowl, whisk together

the butter, brown sugar, pumpkin puree, and vanilla

until well combined.

2. In a separate medium bowl, whisk together the flour,

pumpkin pie spice, cream of tartar, baking soda, salt, and

baking powder.

3. Add the flour mixture to the pumpkin mixture and stir

until all the dry ingredients are well mixed. Cover the bowl

and refrigerate until the dough is firm, at least 4 hours or

overnight.

4. Preheat the oven to 350°F. Line 2 cookie sheets with

parchment paper.

5. For the spiced sugar: Stir the granulated sugar and

pumpkin pie spice in a small bowl.

6. Scoop the dough into balls, about 2 tablespoons each. Roll

each ball in the spiced sugar until well coated and arrange at

least 2-inches apart on the prepared baking sheets.

7. Bake until the cookies are puffed, set around the edges

and begin to crack on top, 11 to 13 minutes. Let the cookies

cool on the baking sheets for 5 minutes. Transfer to a wire

rack to cool completely, about 30 minutes.

8

Ingredients:

(For the cookie dough)

1/2 c. unsalted butter, melted

3/4 c. light brown sugar

1/3 c. pumpkin puree

1 tsp. vanilla extract

1 1/2 c. all-purpose flour

2 tsp. pumpkin pie spice

1 tsp. cream of tartar

3/4 tsp. baking soda

1/2 tsp. kosher salt

1/4 tsp. baking powder

(For the spiced sugar)

3 tbsp. granulated sugar

1 1/2 tsp. pumpkin pie spice
---
Fall Sports Wrap-Up

Head Girls Tennis Coach Jesse Macias

discusses strategy with the number one

doubles team, Lydia Taul and Chloe Plough.

Photo by Caleigh Plough

Charlie Coy

takes a swing on

the golf course.

Photo courtesy

of The Tatler

Boys Cross Country bounce off the sound of

the gun.

Photo courtesy of The Tatler

Boys soccer lines up to take the field.

Photo by Caleigh Plough

Senior Keith Gilchrese dodges the opposing

team.

Photo courtesy of The Tatler

Varsity girls volleyball huddles for a game

plan.

Photo courtesy of The Tatler

9
---
Cheer Returns for the Next Sports' Season

By: Caitlyn Neely

Members of the competition cheer team pose during their routine.

Photo courtesy of Caitlyn Neely

The Alton High School cheerleading team has two different seasons - a football season where the

cheerleading team drills down on their skills and a competition season where the team works on their

routine and competes against other teams in their division. The varsity competition cheer team competes in

the co-ed division.

There are many different divisions throughout Illinois High School Association cheerleading. Some of these

divisions include small varsity, medium varsity, large varsity and co-ed. Throughout IHSA, all cheer teams

compete ranging from teams in Chicago to teams in Jonesboro and beyond.

All of these divisions are very hard in their ways, but one thing that makes the co-ed division stand out is the

boys. To qualify for this division, the team must have at least two boys on the team. As one can imagine, this

can be quite difficult sometimes to even have two boys tryout for the team.

Since the varsity cheer team is in this division, they need to work very hard to succeed. "I think the season

will go mostly well," Jada Bruce, a junior on the varsity team said. "But I think there will be struggles with

personal issues that will slow down our progress. As long as everyone pushes themselves and realizes cheer is

an all-team sport where if something happens to one person it affects everyone, then we should have a

successful season."

Cheerleading is a team sport that can be an even harder sport than others since everyone needs to work on

the same page.

The first day after the team is announced, these cheerleaders have practice and have to drill down on their

routine to make it the best that they can for competitions. The cheerleading team's first competition is being

held in the main gymnasium on Nov. 27.

10
---
Boys' Basketball Hopes for Successful Season

By: Sha'nya Stennis

Boys' basketball kicks off in November and some team members said it's going to be a much better season

than last year. "I think this year is going to be great," sophomore Kobe Taylor said. The boys have been

getting up and working out at about 6 a.m. every morning plus after-school practices.

The ones that don't get up and go to the early practices make sure they stay in the gym or do workouts on

their own. "I've done a lot of out-of-school training sessions with my overseas trainer, and I also have been

at every morning practice and haven't missed one yet," senior Tyrius Jones said. Everyone contributes and

tries to keep the team on track in and out of school.

Members of the team said that Byron Stampley is a very skilled player and he plays a good leadership role.

"Byron plays the leadership role well. He can create shots for himself, he knows how to create an offense

and has a great defense," sophomore Taylor said. "Stampley is a great student and has a great personality

overall," senior Jones said.

There are many things the boys do as a team inside and outside of school that bring them closer together

like a family. "We do more than just play basketball," sophomore Ka'Nye Lacey said. "We do team bonding

and community service activities," senior Jones said.

There are many really good teams in the division like East St. Louis, but members of the Alton team feel

they can do much better this year against them. "They have very good players. We lose to them in every

sport, but they are beatable," Lacey said. This year's boys' basketball team looks forward to a better outcome

than last year, and they're going to work as hard as they can to get it.

11

Members of the basketball team work

together and practice skills for their

upcoming season.

Photos by Miles Wrischnik
---
Alton's Hockey Team Kicks

off their Season

By: Caitlyn Neely

Alton's hockey team is a club sport run outside of school. Due to this team

being a club sport and not a high school sport, this team is self-funded, not

school funded. Marquette hockey players are on this team as well as the

youngest players on this team being only in seventh grade.

This team plays in the Mississippi Valley Club Hockey Association. The

hockey team plays teams as close as East Alton/Wood River and as far as St.

John Vianney High School in Missouri. The Alton High Schools hockey

team's home rink is the East Alton Ice Arena, located in East Alton, Illinois.

The Redbirds hockey season starts on the first of November, playing

Bellville, and playoffs begin in February. This team had an excellent season

last year and will continue to play their hardest throughout this new season.

The Alton Redbirds Hockey team's captain is Lawson Bell, and the two

assistant captains are Talan Neely and Colton Thompson.

Believe it or not, many goals are scored throughout the season with the

support and energy of the crowd. "I do believe that the student section and

crowd helps us win a lot of our games," assistant captain Talan Neely said.

"It makes our team play better since there is high energy and support behind

us." Talan plays forward left-wing and often plays defense when his team

needs it.

Not only does the crowd help win games, but it also helps calm down any

nervousness for some players. "When I go into a game, I am ready to get out

there and try my hardest," Talan said. "But sometimes it can be a little nerveracking,

especially in playoff games because you do not want to let your team

or the crowd down."

Members of the hockey team huddle for a game plan.

Photo of Chloe Plough

12

H

O

M

E

A

W

A

Y

H

O

M

E

H

O

M

E

A

W

A

Y

H

O

M

E

A

W

A

Y

A

W

A

Y

H

O

M

E

Upcoming Alton

Varsity Games

H

O

M

E

Monday

11/28/22

vs.Bethalto

7:30 PM

Thursday

12/1/22

vs.FBWTL

7:30 PM

Tuesday

12/6/22

vs.Highland

9:00 PM

Monday

12/12/22

vs.EAWR

7:35 PM

Tuesday

12/13/22

vs.O'Fallon

7:30 PM

Monday

12/19/22

vs.Edwardsville

7:35 PM

Tuesday

12/20/22

vs.Belleville

7:30 PM

Thursday

12/22/22

vs.Columbia

7:30 PM

Monday

12/26/22

vs.Collinsville

6:45 PM

Tuesday

12/27/22

vs.FBWTL

7:30 PM
---
Wrestling Gets Ready to Hit the Mat

By: Chase Chilton

October is winding down, and so are fall sports. As these sports are winding down, winter sports are kicking

off. Wrestling is starting back up and as a way of spreading the word about this upcoming season, many

signs have been put up around the school.

Shortly before the football season ended, the wrestling coaches spoke with the junior varsity players telling

them about the opportunities wrestling can offer. While many football players are disappointed with the way

the season went, many are also moving on to wrestling. An example of this is freshman Brayden Drew.

Drew had to miss some of the wrestling practices because football was still in season, but now he's all in for

the season. He mentioned that pre-season had begun with practices every Tuesday and Thursday. Soon

enough, there will be tough practices every day after school in preparation for the first match on Nov. 19.

Drew said that once the pre-season is over and the regular season begins, the toughest challenge is when you

feel weak and sore and don't want to go to practice, but have to persevere. Wrestling is a sport that

completely relies on the individual and their personal ability to win matches.

Drew thinks that more people should wrestle because, "It can get you in shape, you can meet new friends

and have a good friendly competition."

Drew is one of the many athletes who uses wrestling as a way to stay in shape. Be sure to check out this sport

at Alton High School if you love competition or to stay in peak condition for other sports.

William Harris watches his opponents movements.

Photo courtesy of William Harris

13
---
Dr. Lovebird Q&A

Have a question about love? Need relationship advice? Follow us on social media to

submit your questions for the December issue.

Follow us on IG @ the_dailybird

Add us on SnapChat the_dailybird

Q- My brother stole my girl and I found

out that we have the same grandpa.

Q- What do you do if your relationship

keeps going in the same cycle, and you are

being used, but you really love them?

Q- I'm tryna get this girl to even think

of me in a romantic light.

A- Well at least family reunions will be fun

and interesting! BTW I definitely cannot

help you.

A- At the end of the day, having a

conversation about it is great, but

sometimes problems like this are past

fixing. Recurring cycles aren't healthy for

your mental health, and your dependence

and trust gets ruined in the process. Either

have the conversation or end it now. It

takes strength to go through it, but it takes

way more to end it. You can do it, I

promise.

A- I'm guessing there's not a lot of

light in the friendzone.

Q- I've been in love with my best friend

for years now, but I know they're not

interested in me. Any advice on how to

heal and move on while still keeping a

friendship with them?

A- Sometimes distance can draw people

closer, and sometimes it tears people

apart. It may be hard to separate

yourself from your best friend, but to

completely move on, many people have

to shut themselves out of situations.

Take time away from your best friend,

and see if it makes any difference.

14
---
Hand Turkey Contest

For a chance to win a $20 Visa gift card, submit

your very own hand turkey. Get creative! Turn

in submissions to Ms. Gray in room B136 by

Wednesday, Nov. 30.