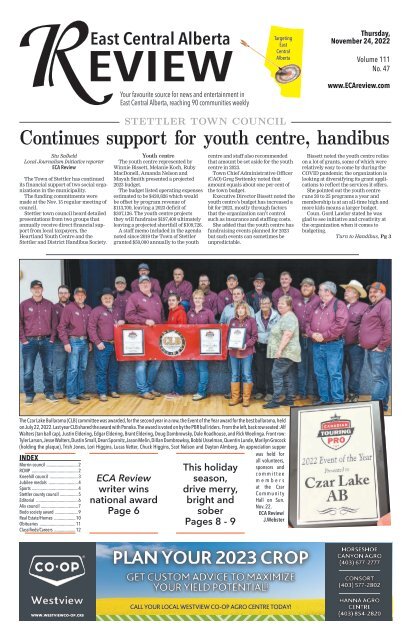 ECA Review - 2022-11-24
ECA Review - 2022-11-24
ECA Review - 2022-11-24
SHOW MORE
SHOW LESS
Create successful ePaper yourself
Turn your PDF publications into a flip-book with our unique Google optimized e-Paper software.
R

R

72 pt

East Central R Alberta

EVIEW

60 pt

R

48 pt

R

36 pt

Your favourite source for news and entertainment in

East R

30 pt

Central Alberta, reaching 90 communities weekly

Targeting

East

Central

Alberta

Thursday,

November 24, 2022

Volume 111

No. 47

www.ECAreview.com

R

24 pt

STETTLER TOWN COUNCIL

Continues support for youth centre, handibus

R

18 pt

Stu Salkeld

Local Journalism Initiative reporter

ECA Review

The Town of Stettler has continued

its financial support of two social organizations

in the municipality.

The funding commitments were

made at the Nov. 15 regular meeting of

council.

Stettler town council heard detailed

presentations from two groups that

annually receive direct financial support

from local taxpayers, the

Heartland Youth Centre and the

Stettler and District Handibus Society.

Youth centre

The youth centre represented by

Winnie Bissett, Melanie Koch, Ruby

MacDonell, Amanda Nelson and

Mayah Smith presented a projected

2023 budget.

The budget listed operating expenses

estimated to be $420,826 which would

be offset by program revenue of

$113,700, leaving a 2023 deficit of

$307,126. The youth centre projects

they will fundraise $197,400 ultimately

leaving a projected shortfall of $109,726.

A staff memo included in the agenda

noted since 2019 the Town of Stettler

granted $50,000 annually to the youth

centre and staff also recommended

that amount be set aside for the youth

centre in 2023.

Town Chief Administrative Officer

(CAO) Greg Switenky noted that

amount equals about one per cent of

the town budget.

Executive Director Bissett noted the

youth centre's budget has increased a

bit for 2023, mostly through factors

that the organization can't control

such as insurance and staffing costs.

She added that the youth centre has

fundraising events planned for 2023

but such events can sometimes be

unpredictable.

Bissett noted the youth centre relies

on a lot of grants, some of which were

relatively easy to come by during the

COVID pandemic; the organization is

looking at diversifying its grant applications

to reflect the services it offers.

She pointed out the youth centre

runs 20 to 25 programs a year and

membership is at an all-time high and

more kids means a larger budget.

Coun. Gord Lawlor stated he was

glad to see initiative and creativity at

the organization when it comes to

budgeting.

Turn to Handibus, Pg 3

The Czar Lake Bullarama (CLB) committee was awarded, for the second year in a row, the Event of the Year award for the best bullarama, held

on July 22, 2022. Last year CLB shared the award with Ponoka. The award is voted on by the PBR bull riders. From the left, back row seated: Alf

Walters (tan ball cap), Justin Eldering, Edgar Eldering, Brant Eldering, Doug Dambrowsky, Dale Roadhouse, and Rick Woelinga. Front row:

Tyler Larson, Jesse Walters, Dustin Small, Dean Spornitz, Jason Melin, Dillan Dambrowksy, Bobbi Usselman, Quentin Lunde, Marilyn Grocock

(holding the plaque), Trish Jones, Lori Higgins, Lucas Vetter, Chuck Higgins, Scot Nelson and Dayton Almberg. An appreciation supper

INDEX

Morrin council ............................ 2

RCMP ......................................... 2

Kneehill council ......................... 3

Jubilee medals .......................... 4

Sports ......................................... 4

Stettler county council ................ 5

Editorial ..................................... 6

Alix council ................................. 7

Bodo society award .................... 9

Real Estate/Homes ................... 10

Obituaries ................................ 11

Classifieds/Careers ................... 12

ECA Review

writer wins

national award

Page 6

This holiday

season,

drive merry,

bright and

sober

Pages 8 - 9

was held for

all volunteers,

sponsors and

committee

members

at the Czar

Community

Hall on Sun.

Nov. 22.

ECA Review/

J.Webster

WWW.WESTVIEWCO-OP.CRS

CALL YOUR LOCAL WESTVIEW CO-OP AGRO CENTRE TODAY!
---
For "Icons Information of Soul is a collection and Tickets of new soul classics composed with legendary writers

Call Lamont Sharon Dozier at 780-374-2403 (Holland-Dozier-Holland) or e-mail: Info@daysarts.ca

and Felix Cavaliere (The Rascals) plus fresh

covers of their chart toppers, performed with McMaster's unmistakably soulful tenor."

Wednesday November 9 at 7:30pm

www.palacetheatre-daysarts.ca

LUKE MCMASTER

"Icons of Soul is a

Lamont Dozier (Hol

covers of their chart

Concert Sponsors: Key Accounting & Dayslander Motel

2 N ovember 24'22 HANNA/CORONATION/STETTLER, AB. ECA REVIEW

For Information and Tickets

Call Sharon at 780-374-2403 or e-mail: Info@daysarts.ca

covers of their chart toppers, performed with McMaster's unmistakably soulful tenor."

Returning benefits removed from CAO years ago

Stu Salkeld

Local Journalism Initiative reporter

ECA Review

The Village of Morrin council

approved returning a number of

employment benefits removed from

their chief administrative officer

(CAO) several years ago after discussing

the issue in a closed session.

The resolution was passed at the

Nov. 16 regular meeting of council.

In a telephone interview Nov. 21

CAO Annette Plachner stated that

the meeting agenda included one personnel

issue to be discussed

privately, which was then followed by

a resolution of council after council

returned to the public portion of the

meeting.

Plachner noted that the council

resolution returned to her a number

of employment benefits that had been

removed by a previous council.

Some of the benefits that had been

"Icons of Concert Soul is a Sponsors: collection Key of Accounting new soul classics & Dayslander composed Motelwith legendary writers

Lamont Dozier (Holland-Dozier-Holland) and Felix Cavaliere (The Rascals) plus fresh

Wednesday November 9 at 7:30pm

"Icons of Soul is a collection of new soul classics composed with legendary writers

Lamont Dozier (Holland-Dozier-Holland) and Felix Cavaliere (The Rascals) plus fresh

covers of their chart toppers, performed with McMaster's unmistakably soulful tenor."

LUKE MCMASTER

LU

We

LU

We

LUKE MCMASTER

Wednesday November 9 at 7:30pm

PRESENTS

at the Daysland Palace Theatre

LUKE MCMASTER

Wednesday November 9 at 7:30pm

TICKETS

Available at the Door for $35

PRESENTS

at the Daysland Palace Theatre

LUKE MCMASTER

Lifting TICKETS

People's Spirits

Available at the Door for $35

Wednesday November 9 at 7:30pm

Christmas in in

Alix Arena

the Village

Saturday December 3 rd

the

Saturday Sunday

Village

December 1pm-2:15pm 10 th

December 1st -December 21 st

DECEMBER 1 - DECEMBER 21

Alix Dance Club Christmas Alix

Saturday

Agriculture Mini shinny December

Society every ALL WINTER is

10 th

Alix Chamber of Commerce Annual Turkey Draw.

Alix Chamber of Commerce

hosting a National Finals

Market – Alix Community Hall Saturday Sunday 2:15pm-3:30pm

Alix December Arena 10 th

Enter to win a turkey at participating

Annual Turkey Draw. Enter to

Viewing Party - Western Retro

10am – 3pm, 5008 49 th businesses.

Ave.

win a turkey at participating

theme. Watch for additional

Public skate every Sunday

FRIDAY DECEMBER 2

Alix Friday Agriculture night adult Society is

businesses.

details.

1pm-2:15pm shinny

Santa's Anonymous Fundraiser – Alix Hotel. hosting a National Finals

Alix Fire & Medical Department

Alix 7:30pm-9:00pm Agriculture

Friday December 2 nd

Mini shinny every

Society

Sunday

is

SATURDAY

All Winter

Annual DECEMBER Toy Run 3& Santa Viewing hosting Party a National 2:15pm-3:30pm - Western Finals Retro

Alix Dance Club Christmas Market – Alix Community

Santa's Anonymous

Alix

theme. Hall

Pictures 10am – 2pm. Toy Run Arena

Watch Friday for night additional

adult shinny

10am – 3pm, 5008 49th Ave.

Cross-country ski or snowshoe

Fundraiser donations – Alix accepted Hotel. until 4pm – details. 7:30pm-9:00pm

Alix Fire & Medical Department

Alix Fire Hall 4623 50 th Annual Toy Public Run & the Santa Alix Nature Trail

Ave. skate every

Pictures 10am – 2pm. Toy

Saturday December 3 rd Run donations accepted Sunday until 1pm-2:15pm 4pm Cross-country ski or snowshoe

All Winter

– Alix Fire Hall 4623 50th Ave.

details. Skating on Alix the Lake Alix Nature Trail

Alix Parade Dance

Alix Parade

of Club Lights Christmas

of Lights 7:00 pm Mini shinny every

Skating on Alix Lake

Market 7:00 line pm – up, Alix line 8 up, Community pm 8 pm start start from Hall

Alix Fire Hall. Sunday Alix Watch Tobogganing Arena 2:15pm-3:30pm

from All the Winter at the boat-launch

10am Hall. – 3pm, Watch 5008 from 49 th Tobogganing at the

comfort of your home, parade the Ave. comfort travels every of street in Alix.

Friday night adult shinny boat-launch

SATURDAY your home, DECEMBER parade 10 travels 7:30pm-9:00pm

Fire & Medical Department

Public Local skate shopping: every Giftware,

Alix Agriculture every Society street is in hosting Alix. a National Finals Alix pottery, Viewing Arena Local shopping: Giftware,

woodwork, antiques,

Annual Toy Run & Santa Sunday

boutiques

1pm-2:15pm pottery, woodwork, antiques,

Party - Western Retro theme. Watch for additional details. and more!

Pictures 10am – 2pm. Toy Run

boutiques and more!

Cross-country ski or snowshoe

donations accepted until 4pm – the Mini Public Alix shinny Nature skate Trail every every

Alix Fire Hall 4623 50 th Ave.

Skating Sunday

on Alix 2:15pm-3:30pm

Lake

1pm-2:15pm

Alix Parade of Lights 7:00 pm

line up, 8 pm start from Alix Fire Tobogganing Friday night at the adult boat-launch shinny

Hall. Watch from the comfort of Mini shinny every

your home, parade travels Local 7:30pm-9:00pm

Sunday shopping: 2:15pm-3:30pm

Giftware,

every street in Alix.

pottery, woodwork, antiques,

th

boutiques and more!

December 1st -December 21 st

Lifting People's Spirits

Alix Chamber TICKETS of Commerce

at the Door for

TICKETS

$35

Available Available at the at the Door Door for for $35 $35

Annual Turkey Draw. Enter to

Lifting People's Spirits

win a turkey at participating

TICKETS

Available at the Door for $35

businesses.

businesses.

Friday December 2 nd

with a Tenor

a little mistletoe! Friday Santa's December Anonymous 2 nd

LUKE featuring the music

Fundraiser – Alix Hotel.

LUKE

MCMASTER

of

Sir Wednesday Andrew Lloyd MCMASTER

November Webber9 at 7:30pm

Sir

Wednesday LUKE

Paul McCartney

MCMASTER

November Santa's &

9 at 7:30pmAnonymous

Wednesday November 9 at 7:30pm

Saturday December 3 rd

December 1st -December 21 st

Alix Chamber of Commerce

Annual Turkey Draw. Enter to

win a turkey at participating

businesses.

Friday December 2 nd

Santa's Anonymous

Fundraiser – Alix Hotel.

December 1st -December 21 st

Lifting People's Spirits

Tickets

Alix Chamber $ 35 at door

of Commerce

Annual Turkey Draw. Enter to

win a turkey at participating

Fundraiser – Alix Hotel.

"Icons of Soul is a collection of new soul classics composed with legendary writers

Lamont Dozier

"Icons of "Icons Soul of (Holland-Dozier-Holland)

is Soul a collection is a collection of of new soul and classics Felix Cavaliere composed with (The legendary Rascals)

with legendary writers plus fresh

writers

covers of Lamont their chart Dozier Monday toppers, (Holland-Dozier-Holland) performed November with and McMaster's Felix 28 Cavaliere at 7:30pm

unmistakably (The Rascals) plus soulful fresh tenor."

Lamont covers Dozier of their (Holland-Dozier-Holland) chart toppers, performed with and McMaster's Felix Cavaliere unmistakably (The soulful Rascals) tenor." plus fresh

covers of their chart toppers, performed with McMaster's The unmistakably Concert

Concert

Sponsors:

Sponsors: Zettel

Key Accounting

& Company &

The

Dayslander

Community

Motel

Press soulful tenor."

Call

For

Sharon

Information Concert 780-374-2403 Sponsors: and

or e-mail:

Tickets

For Information Key Info@daysarts.ca

Accounting & Dayslander Motel

For Information and and Tickets Tickets

Call Sharon Call Call at Sharon 780-374-2403 Sharon 780-374-2403 at 780-374-2403 or e-mail: or e-mail: or

www.palacetheatre-daysarts.ca

Info@daysarts.ca

e-mail: Info@daysarts.ca

For Information and Tickets

www.palacetheatre-daysarts.ca

Call Sharon at 780-374-2403 or e-mail: Info@daysarts.ca

Lifting People's Spirits

PRESENTS

at the Daysland Palace Theatre

TICKETS

Available at the Door for $35

PRESENTS

at the Daysland Palace Theatre

Lifting

TICKETS

People's Spirits

Available at the Door for $35

Lifting People's Spirits

PRESENTS

at the Daysland Palace Theatre

TICKETS

Available at the Door for $35

PRESENTS

at the Daysland Palace Theatre

KEN LAVIGNE

3 Knights

and

Days

Sir Elton John

& Traditional

Christmas Favourites!

rts

Lifting People's Spirits

TICKETS

Available at the Door for $35

Alix Dance Club Christmas

Market – Alix Community Hall

10am – 3pm, 5008 49 th Ave.

Lifting People's Spirits

Saturday December 3 rd

Concert Sponsors: Key Accounting & Dayslander Motel

PRESENTS

at the Daysland Pala

PRESENTS

at the Daysland Pala

Alix Dance Club Christmas

Market – Alix Community Hall

www.palacetheatre-daysarts.ca

Lifting People's Spirits

kenlavigne.com

Mon., November 28 at 7:30pm

MORRIN COUNCIL

removed included statutory holidays,

vacation pay and sick days.

Development letter

During the committee reports section

of the agenda Mayor Chris Hall

stated that Palliser Regional Municipal

Services informed members that a

"compliance letter" from the municipality

will now be required in certain

situations.

Apparently the compliance letter

will confirm that a transaction follows

the municipality's bylaws and includes

a real property report.

Plachner stated the Village of

Morrin will likely not include any real

property reports but rather will

include a letter based off a real property

report provided to the village by

developers or buyers.

Tax sale

Plachner confirmed that the property

tax sale scheduled for Nov. 17 at

RCMP

Three Hills nurse practitioner

charged with sexual assault

Three Hills RCMP received a complaint

and initiated an investigation

regarding an alleged sexual assault on

July 27, 2022.

The complainant reported that a

Three Hills nurse practitioner had

sexually assaulted her in exchange for

prescription medication and money.

On Nov. 19, 2022, Christopher Mah

(42), a resident of Red Deer, Alta., was

arrested and charged with sexual

assault, extortion and breach of trust.

Mah has been released from custody

and will be appearing in

Drumheller Provincial court on Dec.

9, 2022.

Three Hills RCMP seek public

assistance in identifying suspects

in break and enter

Three Hills RCMP is seeking the

public's help to identify two suspects

following a break and enter in

Delburne, Alta., as well as those in

possession of stolen property in Red

Deer, Alta.

On Oct. 28, 2022, at 12:15 a.m., suspects

broke into a grocery store

located on 20 Street in Delburne.

An individual broke the front

window of the business and departed

in what appears to be a Dodge Ram.

Later that day, a

male attended a

pawn shop in Red

Deer and

attempted to sell

what is believed

to be a stolen T.V.

PRESENTS PRESENTS at the

at the Palace Theatre

at the Daysland Palace Palace Theatre Palace Theatre

The pictured

Theatre

male departed in

a Black Dodge

PRESENTS

Ram, which is at the Daysland Palace presents Theatre

believed to be the

same truck used

in the break and

enter.

The male

described from

video as light

complexion, light

blue Bench

hoodie style

sweater, blue

jeans and black

baseball hat,

black runner

style shoes with

either red/pink

or orange colour

on the bottom.

The female described from the video

as light complexion, pink coloured

hair in a pony tail hair styling with a

pink hair tie, wearing pink and grey

camo style sweat shirt, black legging

style pants, white or grey sneakers.

Anyone who was in the area at the

time of the incident and witnessed suspicious

activity, or who has

information that could help further

the investigation, is asked to contact

the Three Hills RCMP Detachment at

403-443-5539.

Information can also be provided

anonymously through Crime Stoppers

by calling 1-800-222-TIPS (8477), by

downloading the secure P3 Mobile

App.

Semi-tractor

trailer collides

into home

Parkland

RCMP, Lac Ste

Anne Fire and

EMS responded to

a report of a semitractor

and trailer

unit colliding into

a home on Range

Road 23A, south of

Township Road

Lifting People's Spirits

Alix Fire & Medical Department

Annual Toy Run & Santa

the village office was unnecessary as

all overdue accounts were settled.

The CAO noted the village worked

with some property owners who were

in arrears on their tax bills with the

owners beginning to pay off the bills a

few weeks ago.

Plachner stated that the village

doesn't like to go through the tax

recovery process but sometimes there

is no other alternative.

Financial report

Councillors approved the October

2022 financial report which Plachner

noted reflected the village is doing

pretty well right now, pointing out the

municipality remains within budget

and has had no big expenditures this

year.

Interim audit

Plachner reported to the councillors

that Ascend Chartered Accountants

will attend at the village office Dec. 1

545, near the town of Onoway at

approximately 4:40 pm on Sun. Nov. 20,

2022.

The driver of the semi-tractor unit

identified to be a 49-year-old male resident

of Edgerton, Alta. was found

deceased inside the vehicle once emergency

crews were able to get to him.

The two occupants who were in the

home at the time of the collision were

not injured as they were in another

part of the home.

Initial indications show that the

driver may have suffered a medical

event which lead to the collision. The

RCMP collision analyst attended the

scene to assist with the investigation

which is still ongoing and police await

the results of an autopsy from the

medical examiner's office.

Christmas in

the Village

5pm -7pm

$

15 Adult 12 & up

$

10 Child under 12

Saturday December 10 th

3 & under Free

Alix Agriculture

possible through:

Society is

hosting a National Finals

Viewing Party - Western Retro

theme. Watch for additional

details.

All Winter

Christmas in

Public skate every

the Village

- 2 to perform an interim audit. She

noted this is an annual event that most

municipalities engage in.

Community support

Councillors unanimously approved

a $500 grant to the Morrin Community

Association after receiving the annual

request for support from the non-profit

society.

BYEMOOR COMMUNITY CLUB

Christmas Market Tables

& Santa Claus Day

Sat., Dec. 3, 2022

11 AM - 3 PM Byemoor Hall

2 PM – Pictures With Santa

SLEIGH RIDES AVAILABLE

Great gift ideas & Christmas baking.

Concession Booth Available.

Raffle draws.

Christmas MarketTables

available $10 each

To Book tables please call

Doreen at 403-579-2460

The Brownfield Recreation Center

Looks forward to welcoming you back in person for our

Annual

Turkey Supper

Sunday, Nov 27 th , 2022

This supper made

Local businesses, community donations and

volunteers with a special thank you to the

County of Paintearth for purchasing the Turkeys!

Viewing Party - Western Retro

theme. Watch for additional
---
#

ECA REVIEW HANNA/CORONATION/STETTLER, AB November 24'22 3

Parking report becomes Horseshoe Canyon debate

Stu Salkeld

Local Journalism Initiative reporter

ECA Review

A seasonal report on Kneehill

County's Horseshoe Canyon's parking

fee turned into a debate about deficits

and the recreational spot's future. The

lengthy discussion occurred at the

Nov. 15 regular meeting of council.

Readers should note Horseshoe

Canyon is a large badlands feature

located within and owned by Kneehill

County.

Shelby Sherwick, manager of parks

and agricultural services, provided

councillors with a report on the

Horseshoe Canyon parking fee program,

reporting that revenue

generated by the program was lower

than in 2021.

Sherwick stated it looks like the

amount of voluntary donations

dropped this year.

However, she noted the number of

vehicles on site was similar to 2021.

"The visitation numbers were comparable

again to what was observed in

2021 with 7,608 paid vehicles," stated

Sherwick in her report, adding that

there were 7,696 paid vehicles in 2021.

Sherwick noted while the 2022

budget forecast $30,000 in revenue to

balance a forecast $30,000 in expenses,

both numbers actually came in lower

this year: $15,943.13 in revenue and

$22,307.63 in expenses.

In 2021 the numbers were $17,492.26

and $20,392.42 respectively.

Sherwick reported that seven per

cent of visiting vehicle turned around

and left when asked for the $2 parking

fee. She added that 90 per cent of total

visitors were from Alberta, with the

other 10 per cent from other parts of

Canada and the United States.

Coun. Carrie Fobes asked what

duties the two full time county staff

perform at the canyon. Sherwick

responded they work full time from

Thursday to Monday during tourism

season collecting the parking fee,

checking for litter and answering questions.

She noted the staff received

formal tourism training.

Coun. Wade Christie noted 24 per

cent of people who paid the parking fee

were actually opposed to paying it.

KNEEHILL COUNCIL

Sherwick noted that number generally

didn't include the people who turned

around and left.

Fobes asked if the parking fee subject

should be moved to a committee of

the whole meeting as she had a lot of

questions about Horseshoe Canyon don't want to pay

that didn't necessarily involve the the parking fee

parking fee and she wasn't sure the can visit the

council meeting was the appropriate canyon on

place for them.

Tuesdays or

"It's the whole idea of Horseshoe Wednesdays

Canyon I want to have a discussion when staff have

about," said Fobes.

the days off.

However, the discussion continued. Fobes stated

Coun. Laura Lee Machell-

that ratepayers

Cunningham asked where the original have asked her if

$30,000 forecast came from to which monies are being

Sherwick answered the numbers were spent on

based on other tourism sites in the Horseshoe

region and adjusted year to year. Canyon and the

Machell-Cunningham asked

Strategic

if

Objectives

rest of Kneehill

Innovation Strategy

We will be leaders and partners acting as catalysts for transformation

in order to meet the needs of those we serve.

Catholic Leadership Strategy

We will leverage the legacy and strength of Catholic healthcare

nationally and internationally to be of greater service.

county staff at the canyon have first County is being

aid training, to which Sherwick ignored.

answered yes.

King

Coun. Debbie Penner asked if staff responded,

handled any emergencies last summer MISSION "We're not

to which Sherwick answered yes, We there are called to ignoring continue the rest

were three emergencies, one of

the

which

healing ministry

of the

of Jesus

county and

by serving with compassion,

was heat-related.

the rest of the

upholding the sacredness of

Fobes asked what caused the life larger in all stages, tourism and caring sites." He

2022 deficit. Sherwick noted increased for the whole also person pointed – out

staffing costs. Penner stated she saw body, mind and other soul. recreational

facilities,

benefits to having staff at the canyon

including crime prevention and such as Ron Gorr

keeping an eye on the washrooms. Memorial Arena

Fobes asked if wedding Strategic bookings Objectives at in Torrington,

the canyon have to pay for parking. receives far more

Acute Care Optimization and Expansion Strategy

Sherwick stated no, the wedding We will transform bookings

use the same area that

and expand Kneehill care and service County

in acute care to

respond

the

to

long

growing populations

funding

and changing

than

demographics.

table dinner uses.

Horseshoe

More questions were also asked

about the duties of the two staff members

and transportation, with

Sherwick stating during COVID staff

had to travel in separate vehicles

because of the pandemic rules, while

that has been relaxed now.

Deputy Reeve Ken King, who was

chairing the meeting, stated he felt the

lookout area is in much better condition

now that county staff are keeping

an eye on it.

Machell-Cunningham stated an idea

to change the "parking fee" to something

more akin to a "park fee" adding

that she would support extending the

parking fee program another year

while also stating councillors should

decide to what extent they will accept a

deficit from this program.

Coun. Faye

McGhee pointed

out people who

Community Care Integration and Expansion Strategy

We will expand our community care capacity to transform care

delivery, and address gaps in service, growing populations and

changing demographics.

Canyon does.

Councillors

unanimously

approved

extending the

Horseshoe

Canyon facility

fee program, formerly known as the

parking fee program, for another year.

WEEKEND

ON-CALL HOURS

For medical emergencies and life-threatening

conditions, call 911.

December 2022

November 26 & 27 ........ Coronation Hospital

Inspired by our mission of

service, we will be leaders

CONTRIBUTE and partners in transforming

For Urgent Medical Problems call:

We will leverage our

health care and creating

legacy to maximize the

• 811 for health advice vibrant communities

strategic contribution of

from a registered

Catholic health care.

of health and

nurse 24/7

healing.

For Routine or Ongoing Medical Issues:

• Schedule an appointment system with and grow your through

family physician

communities, especially those

Important: Patients are most vulnerable. advised to

telephone the hospital on-call prior to going

there.

Coronation (403) 578-3803

Castor (403) 882-3434

Visit ahs.ca/knowyouroptions

Sept 2019

TRANSFORM

AND GROW

We will transform the health

integration, innovation, and

shared learnings to respond to

the strengths and needs of our

#

December 3 & 4 ...................

SERVE

Castor Hospital

We will strengthen our mission and live our

values to meet the needs of those we serve

December 10 & 11 through ......... excellence Coronation in care, an engaged team, Hospital

and wise use of our resources.

December 17 & 18 ......... Coronation Hospital

December 24, 25, 26, 27 ....... Castor Hospital

VISION

December 31, January 1 & 2 ... Castor Hospital

Pe

W

em

in

Qu

W

ac

Re

W

an

S

S

Se

W

to

th

Ad

W

me

co

Pa

W

of

Handibus projected shortfall

Cont'd from Pg 1

Coun. Wayne Smith asked why

membership had climbed. The executive

director answered the youth

centre hired a part time staffer to work

to offer mental health services and this

staffer also has some marketing expertise

which may have translated into

more buzz, while programming may

have attracted new families.

Coun. Kurt Baker noted he was

happy to see an organization in Stettler

offering caring, nurturing programs.

Councillors unanimously approved

setting aside $50,000 in the 2023 town

budget for the Heartland Youth Centre.

Handibus

Councillors examined a projected

2023 budget from the handibus society

presented by Executive Director Judy

McKnight and Chair Bill Gerlock. The

budget projected 2023 expenditures of

$147,575 and total revenues of $75,743.

The breakdown also noted annual

grants from the Town of Stettler,

County of Stettler and Superfluity

Thrift Store would total $57,000 leaving

a projected shortfall of $14,832.

The budget also showed a substantial

number of grants the society

targets, including casino work.

CAO Switenky stated the town was

impressed by the great work the handibus

society does every year, and

added the 2023 town budget is going to

be "tough," while recommending a

$25,000 grant, the same as 2022.

Gerlock stated the society only

charges riders $6 per trip despite huge

operational increases, including fuel.

Mayor Sean Nolls responded that

handling those increased costs while

keeping the budget low was an impressive

feat.

Coun. Smith asked if fuel was the

only factor. Gerlock responded insurance

has also increased, adding he

hopes and assumes fuel will eventually

drop in price.

Both handibus representatives

agreed leasing the bus was a much

better idea than buying it.

Smith said he was amazed at the low

price charged for riders. "It's amazing

you can still do it for $6," said Smith.

Mayor Nolls noted the $25,000

annual grant hasn't changed since 2018

and the town may have to look at

boosting it next year if costs continue

to climb.

Councillors unanimously agreed to

set aside $25,000 in the 2023 town

budget for the Stettler and District

Handibus Society.

22114ka0
---
4 N ovember 24'22 HANNA/CORONATION/STETTLER, AB. ECA REVIEW

Two recipients from the ECA Review's coverage area received the Queen Elizabeth II Platinum Jubilee Medal, Nov.15, 2022 at Lougheed House

in Calgary. Rosalie Lammle of Three Hills and Robert Moffat of Drumheller were honoured along with eight other museum professionals

who were presented with the medals by The Alberta Museums Association (AMA). This medal was created to mark

the 70th anniversary of Her Majesty's Accession to the Throne of Canada. To celebrate this historic event, the Medal

program recognizes outstanding service from Albertans who, like the Queen, have dedicated themselves to family,

community, and country. From the left, back row: Tom Hunter (Mundare) , Edward van Vliet (Edmonton), Tracey Leavitt

(Millet), Rosalie Lammle (Three Hills) and Alexandra Hatcher (Calgary). Front row: Dr. Sarah Newstead President of

the AMA;, Lorna Johnson (Red Deer), Irene Kerr (High River), Wendy Aikens (Lethbridge), Jennifer Forsythe , Chief

Executive Officer of the AMA; and Robert Moffat (Drumheller).

ECA Review/Submitted

SLAP

Shots

• Humorist Eric

Stangel, on Twitter:

"Damn it. Got

in a line I thought

was for early voting.

It was the NYC

marathon. Just

walked 26.2 miles

FOR NOTHING."

• Eamon Lynch of

GolfWeek.com, on

rumours that Greg

Norman will be

replaced as head

of the LIV golf tour

by Mark King, currently

CEO of a fast

food company: "As

the current CEO of

Taco Bell, (King)

can certainly boast

relevant experience

in repackaging

the synthetic

and unpalatable

as authentic and

nourishing."

• From the Bea-

FROM THE BLEACHERS

Second-year Kraken

an early surprise

by Bruce Penton

Break up the Kraken!

In a fashion eerily similar to Vegas

Golden Knights' success in their inaugural

National Hockey League season,

the second-year Seattle Kraken are

playing not at all like a

typical 'expansion'

team.

At one point starting

in mid-October, the

Dave Hakstol-coached

Kraken rattled off five

victories in a row to

move into second place

in the Pacific Division,

and were proud owners

of the fourth-best

record in the entire

Western Conference.

Penton

Now, maintaining that elevated pace

will be the challenge for the Kraken,

who seem to have abandoned their

ultra-defensive style of play in favour

of a more open offensive concept, and

it's paying off.

Averaging more than 3.5 goals per

game, the Kraken in mid-November

were scoring at a pace exceeded only

by Boston, Edmonton and Buffalo.

So what's going on out there in the

Pacific Northwest?

Even the Kraken are somewhat surprised,

but a bit reserved. No one is yet

making plans for a Stanley Cup

parade.

"I think the biggest thing for us

right now is to not get too high,"

veteran Jordan Eberle told

Nashville's Tennessean after the

Kraken dumped the Predators 5 - 1

for their fifth straight win.

"I know we've won five in a row,

but we have a big homestand, some

really good teams that we're about

to play. A lot of times you get a little

bit lackadaisical and think things

are too easy, and that's when this

league gets you."

Seattle had only one player among

the top 100 point-getters in the NHL,

but they had a league-best 19 'unique'

goal-scorers as of Nov. 10.

Jaden Schwartz, rookie Matty

Beniers and Jared McCann were tied

for the team lead with five goals, but

two others had four (including the

pride of Strathclair, Man., Morgan

Geekie) and four players had three.

Turn to Polar, Pg 10

A screening mammogram is

the best way to find breast

cancer early.

And it can truly save your

life.

Big Valley Villa's

Senior Self Contained

HAS VACANCIES

Applications can be picked up

at Paragon Place lodge

5011 - 55 Street

Stettler, Alberta T0C 2L2

or obtained off of our website

www.stettlerhousing.com

For more information

Call Elaine at

403-742-6195

or email at

elaine.dumonthudye@

stettlerhousing.com

The SCREEN TEST mobile mammography unit will be in

Drumheller

December 5 to 21, 2022

Appointments are required. Please call

1-800-667-0604 (toll free)

screeningforlife.ca

Due to COVID-19, Screen Test is taking a number of

precautions to ensure the safety of our clients and staff.

Details will be shared when you call to book your

appointment.

Wireless Camera Security For Your Livestock Barn

"Cow Cam"

• Monitor Livestock at Critical Times • Check on Sick Animals

• Monitor Tack Rooms • Observe Calving, Foaling, Farrowing & Lambing

The livestock Monitoring System (Cow Cam) comes

with a high quality HD color camera, which offers an

approximate 360° field of view - the best available

for this application. The camera has Infrared

lights (great for low light conditions) and gives an

awesome night time picture. It sees better than the

human eye and offers unparalleled picture quality.

The unit is encased in a durable weather resistant

metal housing with rubber gaskets to provide

protection from the elements of high moisture

or ammonia. The metal mounting bracket can be

manually positioned left, right and up or down.

5004-48th ave

Stettler, AB

403-742-4320

• Hearing Tests

• Medical Referrals

• Hearing Aid Fittings & Ongoing Support

• No Obligation Hearing Aid Trials

• Custom Ear Plugs

• All makes and models of Hearing Aids

• Batteries and Accessories

• Vendor for AADL, DVA

• Vendor for WCB AB and SK,Work Safe BC

• L.A.C.E – (Listening & Communication

Enhancement) training

413 Main Street Three Hills, Alberta

119 2nd Ave. West, Hanna, Alberta

(403) 443-2288

1 (888) 536-MAXX (6299)

hello@maximumhearing.ca

Maxine Williams-Herbert,

Owner

Registered Hearing Aid Practitioner, BC HIS

HOURS:

THREE HILLS: M-W 9 am - 4:30 pm

HANNA: Th 9 am - 4:30 pm; F 9 am - 3 pm

www.maximumhearing.ca

Follow and like us on

Tinsel

'N TEARS 2022

Dean, Verna, Corinne, Shannon, Calvin, Makyla & Matthew

Would like to invite everyone to a

TINSEL 'N TEARS

CHRISTMAS EVENT 2022

Thursday December 8, 2022

2 PM at the Paintearth Lodge in Castor

as we host our annual event.

As in the past we always include all the families we have served from the past year in tribute to their

memory. We will include anyone you wish us to list so please give us a telephone call

@ 403-742-3422 (Stettler), 403-882-3141 (Castor)

or 403-578-3777 (Coronation) to add the names you wish.

Stettler Funeral Home & Crematorium Parkview Funeral Chapels

Dean Ross, Verna Rock, Corinne Adair, Shannon Shirley, Calvin Blauel,

Makyla Hiemstra, Matthew Kneeland

"Every Life Lived Is Worthy of a Celebration"
---
ECA REVIEW HANNA/CORONATION/STETTLER, AB November 24'22 5

STETTLER MOONLIGHT MADNESS

STETTLER COUNTY COUNCIL

Will re-tender Buffalo Lake septic

contract after contractor complaints

Stu Salkeld

Local Journalism Initiative reporter

ECA Review

The County of Stettler will re-tender

a contract to haul sewage in the

Buffalo Lake area after a lengthy

debate at the Nov. 15 regular council

meeting.

Councillors discussed the presentation

of Darren Sutton, owner/operator

of Sutton Septic Services, who

appeared before council in October to

explain how closure of some Stettler

County lagoons and Buffalo Lake road

bans drove his costs up.

At that appearance Sutton reminded

councillors he has a contract with

Stettler County to haul sewage for the

municipality from a tank in the

Buffalo Lake area but his expenses

increased due to Stettler County

change such as road bans.

County Chief Administrative Officer

(CAO) Yvette Cassidy and Director of

Municipal Services Andrew Brysiuk

presented councillors with

®

options,

including re-tendering the contract / for

septic haulage for Buffalo View Estates

and Buffalo Sands, and provide notice

of termination of the existing contract

to Sutton's Septic Service, renegotiating

Sutton's existing contract, or

simply leave the existing contract in

place until its 2024 expiration date.

Coun. Justin Stevens stated he was

"quite opposed" to renegotiating

Sutton's existing contract with one

factor being that he doesn't know

whether other companies who bid

against Sutton took things like road

bans into account in their higher bids.

Stevens stated that re-negotiating an

existing contract is "picking favourites

after the fact."

Stevens stated he would support retendering

the contract, and made the

motion to do so. Stevens also wondered

if Stettler County should explore a

grinder pump option which may allow

more sewage to be hauled on banned

roads.

Coun. Les Stulberg stated he agreed

re-tendering the contract was the

fairest option, as all players are on the

same page. "So I'd be more comfortable

with opening it up to everybody," said

Stulberg.

Coun. James Nibourg asked if any

re-tendered contract would be changed

in the future, for example, by road

bans? The CAO answered Bay Street,

an important route in the discussion,

will remain banned and needs to stay

that way.

Cassidy noted a new contract would

also allow Stettler County to identify a

specific route septic haulers must use

which Nibourg noted was a good idea.

However, the CAO added that the route

is always subject to change.

Nibourg suggested councillors stick

with Sutton's current contract and

while he noted he sympathized with

Sutton's problems sticking with the

current contract that Sutton agreed to

would give Stettler County time to

investigate grinder pumps and see if

Red Willow lagoon re-opens.

"We've got a contract to 2024," said

Nibourg. He added that the current

contractor is likely the most

economically prudent option and that

re-tendering could see "significant"

increases in this contract. If costs

increase significantly the county may

have to pass that along to the residents

who benefit from this service, Nibourg

stated.

Cassidy mused it may be prudent to

tender this contract annually until the

lagoon situation improves.

Cassidy stated the best way to gather

information on a tender is to re-tender

it.

Coun. Dave Grover stated it would

be nice to know what the grinder

pumps would costs and whether power

needs were already met.

Staff answered that they couldn't

answer the power needs question but

estimated the pumps at about $5,000

each.

Stulberg interjected that the history

of grinder pumps in the Endiang area

isn't great.

Stevens' motion

was amended to

include a one

Moonlight

Madness

Open

until 10

Check for

In-Store

Specials

Canad

6607 - 50

403.7

Canadian Tire

6607-50 Ave, Stettler 403.742.8319

Moonlight Madness MENU

Pasta Buffet

Moonlight Madness

hours: 5-8

Unless otherwise noted, all trademarks are owned by Canadian Tire Corporation, Limited and a

year term for the

new contract

which would

allow a possibly

re-opened Red

Willow lagoon to

become a factor

and also to see if

fuel prices

calmed.

The motion

was passed by a 4

to 3 vote, with

councillors Stulberg, Stevens, Paul

Mackay and Ernie Gendre in favour,

and Nibourg, Grover and Reeve Larry

Clarke opposed.

Check our facebook page

for more details

4913 - 50 th St.Stettler, AB

403-742-8166

Mon-Fri- 9-3; CLOSED Sat.&Sun.

Three Hills' Steve

Rendall travelled

to Langley, BC,

Sat. Nov. 19 to

receive a lifetime

achievement

award from

the Canadian

Gospel Music

Association. The

award recognizes

Rendall's more

than 40-year contribution to the music industry as a production manager, road manager

and sound engineer for more than 400 projects that range from bluegrass to rock. From

the left, Jaylene Johnson, CGMA Canada; Marika Siewert, presenter; Steve Rendall; Brian

Doerksen, former director of Prairie College's Music and Worship Arts program.

ECA Review/Submitted

Moonlight

M A DN E S S

Mega Sale!

Fri., Nov. 25

Open 9 a.m. to 10 p.m.

Stettler

5018 Main St. Stettler 403-742-8311

Progressive

SAVINGS

9:00 am - 7:00 pm

SAVE 10 %

7:00 pm - 8:00 pm

SAVE 15 %

8:00 pm - 9:00 pm

SAVE 20 %

9:00 pm - 10:00 pm

SAVE 25 %

Save on all in-stock regular

priced merchandise and

all red tag clearance items.

Some exclusions may apply.

Consignment

Closet

Consignment

TD

Closet

Canada

Trust

TD

Canada

Alley

Trust

2

Alley

Friday

Friday

Nov.

Nov.

25

25

6:00 pm

Main

6:00

Street

pm

Tree

Main

Lighting

Street

Tree Lighting

Consignment

Closet

TD

Canada

Trust

Alley

2

50 TH ST.

50 TH ST.

Friday Nov. 25

6:00 pm

Main Street

Tree Lighting

2

50 TH ST.

1

1

Home &

Hobby

1

Home &

Hobby

Alley

Heartland

Medical

Clinic

Home &

Hobby

Heartland

Medical

Clinic

Heartland

Medical

Clinic

Alley

Alley

49 TH AVE.

49 TH AVE.

49 TH AVE.

Road Closures

Road Closures

Road 1. Temporary Closures

1. Temporary

5:30 pm - 7:00 pm :

5:30 1. pm Temporary - :

North of crosswalk by

North 5:30 Consignment of pm crosswalk - 7:00 Closet pm : by to south

Consignment North of crosswalk of crosswalk by Closet Heartland by to south Medical Clinic

of crosswalk Consignment by Closet Heartland to south Medical Clinic

of 2. crosswalk Permanent by Heartland Medical Clinic

2.

3:00

2. Permanent

pm - 9:00 pm : alley to alley on 49th Avenue

(alley Permanent

behind TD Bank - alley behind Home and Hobby)

3:00 3:00 pm pm - - 9:00 pm :: alley alley to to alley alley on 49th on 49th Avenue Avenue

(alley (alley behind TD Bank - - alley behind behind Home Home and Hobby) and Hobby)

Visits with Santa

6:00 pm - 7:00 pm at tree

7:00 pm - 8:30 pm at FCSS

Visits with Santa

Visits with Santa

Think Local, Shop Stettle

balloon drop

6:00 pm - 7:00 pm at tree

7:00 6:00 pm - 8:30 7:00 pm at FCSS

tree

7:00 pm - 8:30 pm at FCSS

Think Local, Shop Stettler

Think Local, balloon Shop drop

Stettler

balloon drop

Warm goodies from

Warm ATCO goodies Electric

from

ATCO Electric

Late-night shopping at

Late-night many local shopping businesses

at

many local businesses

Warm goodies from

ATCO Electric

Late-night shopping at

many local businesses

Moonlight Madness info:

shopstettler.ca

shopstettler.ca

Moonlight Madness info:

Moonlight Madness info:

shopstettler.ca
---
6 November 24'22 HANNA/CORONATION/STETTLER, AB. ECA REVIEW

OPINION

The opinions expressed are not necessarily

the opinions of this newspaper.

EDITORIAL

No friend of rural municipalities

R

R

R

R

R

Published by

Coronation

Review

Limited

Brenda Schimke

ECA Review

Of the three levels of government,

federal, provincial and local, local

municipal governments are the closest

to the people and provide many of our

essential services. Municipal governments

don't need polls to tell them

what their constituents are feeling,

they hear it daily at the local coffee

shop, hockey arena or social event.

Under the constitution municipalities

are powerless—they are simply

creatures of the province. It's through

the Municipal Government Act (MGA)

that provinces designate some of their

responsibilities to local elected

officials.

Yet the UCP

"

government

seems unaware

of this fact and

have gone out of

their way to disregard

and

disrespect

locally elected

representatives

since winning

power. Even

rural municipalities,

no less, the

very citizens

they purport to

support!

Take for

example, just one

hour after the

Subscriptions:

$52.50 in Canada; $98.70 in US;

$183.75 Overseas.

They [rural

municipalities] are

Rural Municipalities of Alberta (RMA)

wrapped up their convention, Premier

Smith released mandate letters for two

of her ministers instructing them to

charge ahead with a provincial police

force. An issue that rural municipalities

have grave concerns about. Yet

rather than telling them directly, UCP

cabinet ministers, who were in attendance

at the convention, scurried off to

their Edmonton 'safe zone' and hid

behind a press release.

The UCP never consulted with rural

municipalities in 2020 before

announcing that rural ratepayers

would now be responsible to pick up 30

per cent of the increased costs for additions

to rural policing—a $200 million

dollar touch. Nor did they tell the electorate

while campaigning in 2019, that

their promise to increase rural

policing would come with a steep

annual invoice to rural municipalities.

The UCP government didn't consult

when they doubled their take from

traffic and parking ticket revenues (27

per cent to 40 per cent) collected by

municipalities.

The UCP government didn't consult

or listen to municipalities when it centralized

ambulance dispatch services.

They didn't consult when they

reduced payments to municipalities for

grants-in-lieu-of-taxes for government

owned properties within municipalities

(25 per cent in 2019/20 and 50 per

cent the following two years). Now, residential

property owners and small

businesses pay 100 per cent of municipal

costs, whereas our

'steal-from-Peter-to-pay-Paul' UCP government

decided they should pay only

50 per cent to use local municipal

services.

The UCP government didn't consult

when they reduced the Municipal

Sustainability Initiative (MSI) capital

funding by 40.6 per cent for 2022 and

2023.

The UCP government didn't consult

when they froze the MSI operating

funding for two years at the 2021 level.

Given high inflation numbers, that is

effectively a cut of seven per cent to

eight per cent per year.

Premier Smith's unilateral decision

to return to coal

mining in the

Rockies needlessly

threatens

the water source

for the southern

Alberta corridor

which is Alberta's

agricultural economic

powerhouse. Once

again showing an

unhealthy bias for

'Big Energy' over

'Big Agriculture'.

The UCP government

facilitated the oil

and gas industry's

ability to avoid

paying their outstanding

property taxes and made it

impossible for municipal governments

to have any chance of collecting

defaults through the courts. The Rural

Municipality Association (RMA) conducted

a member survey identifying,

as of December 31, 2021, approximately

$253 million in property taxes currently

owed to rural municipalities by

oil and gas companies has gone

unpaid. This was after rural municipalities

wrote off millions in unpaid oil

and gas taxes over the last couple of

years.

The UCP government recently gave

a three-year municipal property tax

holiday on newly drilled wells for three

years starting in 2022. Without consultation,

the UCP government just took

away multi-millions of property tax

dollars normally owing to rural

municipalities.

With a 135 per cent increase in new

wells this year, there will be added

stress on municipal roads, bridges and

other municipal infrastructure, yet

property taxes from these projects will

not be seen until 2025—where, if past

history prevails, by then most of these

companies will have filed for

bankruptcy!

Added together with the reductions

to MSI capital and operating grants,

rural elected leaders are completely

exposed and have little maneuvering

room to keep municipal infrastructure

maintained or replaced in the manner

ratepayers expect.

begging to once again be

treated as partners in

governance. Yet the UCP

government continues to

treat them like nuisance

'lobbyist'.

72 pt

East Central Alberta

EVIEW

60 pt

48 pt

36 pt

Website ECAreview.com

Office Hours Mon. - Fri. 9 am - 5 pm

R

30 pt

4921 - Victoria Avenue

Tel. (403) 578-4111

R

24 pt

Mail: Box 70, Coronation, AB Canada, T0C 1C0

"

LETTERS POLICY • Letters to the Editor are welcomed •

Must be signed and a phone number included so the writer's

identity can be verified. • ECA Review reserves the right to edit

letters for legal considerations, taste and brevity. Letters and

columns submitted are not necessarily the opinion of this

newspaper.

MEMBER OF:

The UCP party assumes that rural

Albertans are so loyal that they will

continue to vote for them, even as they

balance their provincial budget on the

backs of rural ratepayers and financially

squeeze local services.

Rural municipalities have said

clearly, they don't want to waste money

on a provincial police force. They have

said they need consistent funding to

provide consistent services. They are

begging to once again be treated as

partners in governance. Yet the UCP

government continues to treat them

like nuisance 'lobbyist'.

Rural municipalities have so little

financial room to manoeuvre. They

are stuck between existing financial

obligations, reduced revenues, and the

need to maintain and add new

services.

Perhaps it's time to shake off our

political loyalties and start selfishly

thinking about what's good for me, my

family and my community, not what's

Local Journalism Initiative is funded

by the Government of Canada.

JOYCE WEBSTER

Publisher/Editor

publisher@ECAreview.com

YVONNE THULIEN

Marketing/Digital 403-575-9474

advertise@ECAreview.com

good for the elites of the United

Conservative Party. When we do, it

becomes painfully obvious that it is

our very own UCP government that is

dishing out serious harm to rural

Alberta.

Essential services provided by

municipalities, and, of course, health

and education resources, are absolutely

necessary if rural Alberta is

going to keep and attract people, grow

its economic base and sustain business

viability in small town Alberta.

The UCP government has never

understood that there is only one taxpayer

and that municipal governments

are simply agents of the provincial government.

Robbing municipalities to

balance the province's budget is simply

're-arranging the deck chairs,

Unfortunately because of economies

of scale, these financial manipulations

harm rural Albertans far more than

those living in larger urban

communities.

ECA Review writer

wins national award

ECA Review editorial writer Brenda

Schimke takes second place in the

Canadian Community Newspaper

Awards 2021 Best National Editorial,

Circulation 10,000 and Over category,

for her editorial titled, Our Collective

Shame, published June 10, 2021.

The awards were announced Tues.

Nov. 15, 2022.

"This prestigious annual awards

program features 27 unique categories

honouring outstanding editorial, photography,

multimedia and overall

excellence in community newspaper

publishing," stated the news release

from NewsMedia Canada, the national

newspaper association .

The editorial can be found at https://

ecareview.com/our-collective-shame/

BRENDA SCHIMKE

Editorial Writer

JUDY WALGENBACH

Marketing 403-740-2492

marketing@ECAreview.com

STU SALKELD

LJI Reporter 403-741-2615

reporter@ECAreview.com

LISA MYERS-SORTLAND

Graphic Artist

SARAH BAKER

Reporter 780-907-0313

news1@ECAreview.com

R

18 pt
---
ECA REVIEW HANNA/CORONATION/STETTLER, AB November 24'22 7

ALIX COUNCIL

Water bills probably not going up as much as expected

Stu Salkeld

Local Journalism

Initiative reporter

ECA Review

Alix village council heard

that billing from the water

commission likely isn't

increasing as much as

expected. The revelation

came to light at the Nov. 16

regular council meeting.

Village Chief

Administrative Officer

(CAO) Michelle White stated

in a telephone interview Nov.

17 that while discussing the

2023 interim operating

budget it was reported that

the Hwy. #12/21 Water

Commission at their Nov. 4

budget meeting set an

increased per cube water

rate that was not as high as

previously anticipated.

Readers may remember

about one year ago the Hwy.

#12/21 Water Commission

issued their budget to

member municipalities, then

changed it a few weeks later.

Councillors unanimously

approved the 2023 interim

operating budget.

Request for Business Plan

White presented councillors

with the Hwy. #12/21

Water Commission's 2023

proposed budget.

Councillors approved the

budget, but also instructed

village staff to send the commission

a letter.

The letter will request the

commission include the

business plan updates along

with budget expenses.

The CAO stated the current

commission business

plan ran from 2015 to 2019

and came to fruition with

the completion of two final

community expansions. She

added that the update was

delayed because of the two

community projects.

Closed session

Councillors discussed two

issues in closed session, land

valuation and personnel

issues. Readers may know

that due to FOIP legislation

councillors may discuss certain

topics behind closed

doors; however, any resolutions

must be passed in the

public meeting.

The following resolution

was unanimously approved

regarding the land valuation

issue: Moved by Coun.

J. Besuijen that the Village

of Alix council hereby

agrees to sell that portion of

45th Street contiguous with

5303 47th Street for $15,000

plus GST and all other costs

of subdivision and transfer,

subject to a successful road

closure and Land Use Bylaw

amendment process.

The following resolution

was unanimously passed by

councillors related to the

personnel issue: Moved by

Coun. Ed Cole that the

Village of Alix council

hereby authorizes the use of

up to $10,000 of general

reserves for contracted

assistance with human

resources matters.

Waiving of taxes

Councillors unanimously

agreed to waive property

tax bills for all tenants of

village-owned Railway

House.

The CAO reported those

tenants are either non-profit

societies or commercial

enterprises that do not have

property taxes noted in their

leases.

Fish in Alix Lake?

The CAO noted councillors

discussed some

information provided by the

Alberta Conservation

Association regarding the

stocking of fish in Alix

Lake.

She noted councillors

agreed they would like to

invite a representative of the

association to speak to

council at one of their future

meetings about this idea.

White noted that councillors

aren't sure it's a viable

idea but are interested in

exploring it.

She also added that Alix

Lake has been rumoured to

have the occasional

pike

swimming

around, but that's

about it.

Capital budget

Councillors

examined the

interim 2023 capital

budget, and

White noted the

important lagoon

project remains

in the budget subject

to change

depending on the

engineer's final

recommendation.

Councillors

unanimously

approved the 2023

interim capital

budget.

911 evolution

Councillors

also approved signing a

"Next Generation" 911 contract

with Telus.

White noted that "Next

Generation" means people

will be able to report 911

Lawyer

E. Roger Spady

Professional Corporation

Barrister & Solicitor

Coronation Mall Coronation, AB

403-578-3131

Office Hours: Tuesday to Friday 9 a.m. to 5 p.m.

Dentist

Dr.McIver

In Coronation (Located in Coronation Mall)

MONDAYS 9 a.m. - 5 p.m.

Call Anytime for Appointments

403-578-3811

emergencies in ways other than a traditional

phone call.

She added that the village has not

received any information that suggests

Telus will be increasing 911 fees

for this program.

Professional Directory

Optometrist

CORONATION VISION CLINIC

Dr. Ward ZoBell

Tues & Thurs 10 - 4

403-578-3221

HANNA VISION CENTRE

Eye Health, Glasses, Contacts

Dr. Dennis A. Heimdahl Dr. Ward ZoBell

Tues, Wed 9-4:30; Thurs, Fri 9-4

403-854-3003

Dentist

Our families serving yours!

Phone: 825-300-0049

Email: drballdental@gmail.com

Location: 4913 50 St, Killam AB, T0B 2L0

Mail: Box 389, Killam AB, T0B 2L0

The Omega Circle would like to thank everyone who donated, helped and supported us

in making our bazaar a huge success once again!

PAIL DRAWS:

Dump Truck, Carol Muhlbach: Blake Smythe

Gnomes, Shane & Nadine Lang won by: Wayne Rushton

John Deere Creations, John & BettyAnn Cassidy: James Stadelmann

Hockey Set, Shane & Nadine Lang: Cindy Falkenberg

GIRLS POPCORN DRAWS:

Christmas Deco, Percy & Paulette Heer: Betty Lou Muhlbach Disney Golf, Lyle & BJ Goodkey won by: Kyla Lang

Pro Set tools, Vic & Barb Carey: Heather Lang

My Life Doll, Les & Linda Volker: Thea Bracken

Solar Globe, Myrt & Cindy: Sue Bauman

Lego "Friends", Jimaine Walgenbach: Anna McMillan

Hot/Cold Bag & ToweI, Reyna Olson: Dorenn Reynolds

Baby Alive Doll, Bill & Joyce Hansel: Tillie Duncan

Gym Rental, Christ King School: Leanne Walstrom

Cheerfully Chilly Doll, Shane & Nadine Lang: Dakoda Hawthorn

Motion Light, Harold & Deborah Hansel: Paul Kelm

Crystal & Disney Girls, Dale & Corina Derr: Emmie LaRose

Air Fryer, Viola Imrie: Joanne Hoopfer

DOOR PRIZES:

Shelf Sitters/Reindeer, Neal & Lorna Walgenbach: Alison Norman Bath & Beauty Set, Rosalind La Rose won by: Martha Rairdan

Scentsy Burner, Corina & Girls: Cindy Falkenberg

Childrens Candy, Joanne Hoopfer: James Stadelmann

Musical Christmas Deco, Ray & Rene Blackmore: Mary Ann Russell GUESSING GAME:

Tree & Gnomes, Jeanne Beisel: Viola Imrie

Picture, Scenic, Doug Baines family won by: Kalisa Long

$50 Cash, Verna Mailer: Betty Lou Muhlbach

Snowman Picture/Book, Joanne Hoopfer: Donna Boyd-Stadelmann

Amway Gift Basket, David Stadelmann: Mary Ann Russell

50/50:

Basketball Set, Carol Muhlbach: Sandra Rowland

won by Debbie Hansel

Christmas Window, Barb & Vic Carey: Gayle McMillan

MAIN RAFFLE:

Purse & Scarf, BettyAnn & John Cassidy: Maureen Mailer

Bed in Bag, The Charlie McKay Family won by: Morag Gallion

BOYS POPCORN DRAWS:

Blanket, Harold & Deborah Hansel: Heather Rowland

Thomas Train, Lyle & BJ Goodkey won by Colton Walstrom

Outdoor Deco, Carol Muhlbach, Wayne Rushton: Cindy Falkenberg

Phantom Truck, Max & Gayle McMillan: Jake Perkins

Towels, The Starling Girls: Marie Vance

Hot Wheels Kit, Percy & Paulette Heer: Mav Benson

Sheet Set, The Lloyd Hansel Family: Brenda Chapman

Hot Wheels & Puzzle, Bill & Joyce Hansel: Kaedon Bracken

Business

Directory

space available

for under $30

Ask us about available

discounts.

Big Country Construction

& Building Supplies

2018 Ltd.

• Custom New Homes • All Farm Buildings

• Renovations • Windows and Doors

• Overhead Doors & Service • Retail Sales

Quality Customer Care

403-854-3585

53' Ground Load Services

Benson Van Hienen

403-741-5735

bvhtrucking@gmail.com

Cell 403.742.9442

Cell 403.742.9442

Cell Office Office 403.742.6747

| Ldelwo@remax.net

Box 1421, 4913-51 Street, Stettler, AB T0C 2L0

Office 403.742.6747 | Ldelwo@remax.net

Box 1421, 4913-51 Street, Stettler, AB T0C 2L0

Cell 403.742.9442 Ldelwo@remax.net

www.stettlerrealty.com

ffice 403.742.6747 Box1421, | Ldelwo@remax.net 4913-51 St, Stettler, AB

x 1421, 4913-51 Street, Stettler, www.stettlerrealty.com

AB T0C 2L01st CHOICE REALTY

Each office is independently owned and operated

www.stettlerrealty.com

1st CHOICE REALTY

Each office is independently owned and operated

www.stettlerrealty.com

1st CHOICE REALTY

Each office is independently owned and operated

Bill's Waterwell

Services Ltd.

Well Drilling

Pumps & Repairs

403-747-2120

drillerbill@xplornet.com

UNLIMITED

HIGH‐SPEED INTERNET

Now Serving:

Coronation, Veteran, Talbot, Brownfield,

Alliance, Fleet, Castor, Halkirk, Botha, &

Stettler areas. More to come!

Plans starting at $50/mo.

Packages from 7 to 50Mbps

403-578-4214

Toll Free 866.57.VITAL

CAN'T SEE OUT?

Option #1

Replace

the Foggy

Unit

Option #2

Replace

the

window

Financing Available

Anchor Glass

403-854-4414 • 1-800-463-3148

www.anchorglass.ab.ca

tim@anchorglass.ab.ca

Scott Lourance

403-916-4600 Cell

403-742-2551 Home

• Specializing in Repairs to

ALL Makes & Models of RVs & Trailers

• Full selection of RV Parts & Accessories

• RV Storage

53' Cattle Liner

53' Ground Load

Hay Trailer

403 742 5667 generationsrv@gmail.com
---
REALTOR

REALTOR

4109 48 Ave. Stettler

8 N ovember 24'22 HANNA/CORONATION/STETTLER, AB. ECA REVIEW

Village of

Lougheed

5004 - 50 St • 780-386-3970

Dallas Ellerby

Your Farm & Ranch Specialist

403.578.8105

cancow@xplornet.com

www.greaterpropertygroup.com

Greater Property Group

4913 - 50 th St.

Stettler, AB

403-742-8166

M-F 9am-3pm;

Sat & Sun Closed

302 1 st Ave West

Hanna Ab

403-854-5956

Stettler I.D.A. Pharmacy

4934 - 50 St. ,Stettler, Ab • 403.743.0383

Automotive * Industrial * Heavy Duty * Agriculture * Hydraulics

Stettler, AB 403-742-8889

www.heartlandauto.ca

OK Tire Castor

5501 - 50 Ave.,

Castor, AB

403-882-4040

Stettler Building Supplies Ltd.

Stettler Building Supplies Ltd.

4201 - 49th Ave Stettler, AB www.stettlerbuildingsupplies.ca

403-743-0684 sales@stettlerbuildingsupplies.ca

4822 50th St

Stettler, AB

T0C 2L0

Stettler Medi-Aesthetics

Call or

Book Online

1-403-743-0500

stettlermedicalaesthetics.com

Driving under

the influence:

effects, detection

and consequences

The holiday

season is in full

swing, and celebrations

of all kinds

abound. However,

amidst the merriment

and festivities,

it's important to

remember you

should never get

behind the wheel if

you're intoxicated.

Here's what you

should know.

Effects

Many of the skills required for

safe driving, such as sound judgment,

acute concentration,

impeccable co-ordination, pronounced

visual acuity and quick

reflexes, are impacted by drug and

alcohol use. Consequently, being

under the influence can result in

speeding, driving off the road,

swerving into oncoming traffic

and dozing behind the wheel.

Detection

Police officers use their training

as well as what they see, hear and

smell to determine if a driver has

drugs or alcohol in their system.

Plus, they can take a breath

sample to determine a motorist's

blood alcohol level. Police may also

issue a standardized field sobriety

test (SFST), which typically

requires the driver to walk in a

straight line, stand and turn or

stand on one leg.

Village Office • 403-749-3606 • www.delburne.ca

Coutts Home Hardware - Forestburg

Call toll free 1-866-582-3556

Consequences

If you're caught driving under

the influence of drugs or alcohol,

you could have your licence suspended

following your arrest, even

before being convicted.

Once convicted, the severity of

your sentence will depend on your

background and the circumstances

surrounding your arrest.

For instance, you could receive a

hefty fine and jail time if you

injured or killed someone.

To avoid collisions and other

serious consequences of getting

behind the wheel while under the

influence, make sure you drive

responsibly.

5108 - 50 St. Clive 403.784.0421

100–19453 Hwy 12

STETTLER

403-740-1430

Castor

Box 179

Castor, AB

T0C 0X0

403-882-3055

fax 403-882-2349

780-372-3854

Bashaw, AB

Landmark Realty

Castor, AB

Gordon "HOSS" Nichols

403-882-HOSS (4677)

SUTTON

LANDMARK REALTY

Located beside

Battle River Credit Union

Main Street, Castor

www.bashawconcrete.com

Basil Nichols

403-323-0365

View all our listings on our website

www.hoss.pcspro.com or www.realtor.ca

Service, Repair and Tires

4920 50 Ave, Bashaw, Ab. • 780.372.2045

Please drive safely

this WINTER season.

SUTTON

Basil Nichols Please drive safely

LANDMARK 403-323-0365

REALTY

MLS REALTOR

www.sutton.com this WINTER season.

403-742-3555 • csnBRENNAN.com

INFO@CSNBRENNAN.COM

403-742-3555 • csnBRENNAN.com

INFO@CSNBRENNAN.COM

Located beside

Battle River Credit Union

Main Street, Castor 4109 48 Ave. Stettler

Winning Smiles START HERE

Your Full-Service Family Dentistry Team

| Preventative Care & Cleanings | Digital X-Rays

| Fillings & Crowns | Gum Disease Treatment

| Child Friendly | Wheelchair Access Available

| Direct Bill to Insurance | Financing Offered

Mon- Fri 8 am - 4 pm

Dr. Viral Patel,

General Dentist

4906-51 Street Stettler, Ab

t:403 742 6741 • f:403-742-2391

e: stettlerfamilydental@gmail.com

w: drpatelfamilydental.com

Accepting

New

Patients
---
To all of the dedicated farmers in our area, thank you for investing in and supporting our local communities throughout the years.

We're proud to work with farmers like you every day at Trochu Motors. You're always welcome to stop by and check out our latest

Massey Ferguson masseyferguson.us

® equipment and additional brands, stock up on parts from our large on-site inventory, or receive helpful service

from our knowledgeable staff. We'll be here to support you for years to come.

ECA REVIEW HANNA/CORONATION/STETTLER, AB November 24'22 9

masseyferguson.us

TROCHU, AB

STOP IN AND VISIT WITH OUR 102 Eckenfelder St.

TROCHU MOTORS TEAM TODAY. 403-442-3866

102 Eckenfelder St. TROCHU, AB 403-442-3866

. AGCO and Massey Ferguson are trademarks of AGCO. All rights reserved.

www.countypaintearth.ca • 403-882-3211

©2020 AGCO Corporation. Massey Ferguson is a worldwide brand of AGCO Corporation. AGCO and Massey Ferguson are trademarks of AGCO. All rights reserved.

TROCHU, AB

102 Eckenfelder St.

403-442-3866

T:3.2283"

Aug 28, 2017

M•A•C•H•I•N•E I•N•C

• Lathework • Drilling • Milling • Grinding • Welding

(403) 742-8822

Aug 28, 2017

785 4C

B

Another Way We Make You Feel Better.

A B C

FINANCE A NEW LENNOX 403-578-3299

® SYSTEM

for as $ per

low as 80 month*

C

T:4.2192"

6118 50th Ave.

Stettler, AB T0C 2L2

403-742-5208

info@burmacmechanical.com

www.burmacmechanical.com

6118 50th Ave., Stettler, AB T0C 2L2

6118 50th Ave., Stettler, AB T0C 2L2

403-742-5208

403-742-5208

info@burmacmechanical.com

info@burmacmechanical.com

www.burmacmechanical.com

www.burmacmechanical.com

403-742-5208

6118 50th Ave., Stettler, AB T0C 2L2

6118 50th Ave., Stettler, AB T0C 2L2

403-742-5208

403-742-5208 Fax: www.burmacmechanical.com

403-742-1609 info@burmacmechanical.com

6118-50 Avenue, Stettler, AB www.burmacmechanical.com

T0C 2L2

info@burmacmechanical.com www.burmacmechanical.com

www.burmacmechanical.com

OFFER EXPIRES 12/31/2019.

*Call Burmac Mechanical for details. Offer ends December 31, 2019. © 2019 Lennox Industries, Inc.

403-742-5208

Client:

Project:

Docket:

Client Code:

Built At:

Scale:

V.O.:

Safety:

LENNOX

2019 CAP SPRING CREATIVE

LEN 19706

NONE

100%

1" = 1"

3.2283" X 4.2192"

NONE

Output At: 100%

Trim:

Bleed:

3.2283" X 4.2192"

NONE

Art Director:

Copywriter:

Print Mgr:

Client Serv:

Colour:

Fonts:

LEN_M_19706_COM_H06785.indd 1

NONE

NONE

R. JUNKER/D. LEWIS

A. BUDACI/J. MCGINTY

4C

HELVETICA NEUE, TT SLUG OTF, ARIAL NARROW MT,

FRUTIGER LT STD

APPROVALS

Get

Copywriter

6118 50th Ave., Stettler, AB T0C 2L2 403-742-5208

Date: 4-11-2019 3:43 PM

Creative Dir.

Region/Layer Code:

Artist: PREPRESS

info@burmacmechanical.com www.burmacmechanical.com

Typesetting: Optic Nerve

Acct. Mgmt.

AD NUMBER/COMPONENT:

LASER%

This advertisement prepared by PUBLICIS

NONE

Client

LEN_M_19706_COM_H06785

CYAN, MAGENTA, YELLOW, BLACK

Jaime Martel

REVs

PDF

DUE 403-742-5208

home safe

6118 50th Ave., Stettler, AB T0C 2L2

Empowered Nail Technician & Hair Stylist DATE APRIL 17

0 1

319 Main

info@burmacmechanical.com

St., Trochu • 403-443-0635

www.burmacmechanical.com

Bodo Archaeological

WARNING: This proof is delivered on the condition that it be carefully inspected before going any

further in the production cycle. Optic Nerve's responsibility is limited to making corrections and/or

replacing defective files. This file may not be reduced, enlarged or changed in any manner without

Instead of obtaining driving written approval from The Publicis Group of Companies. [REF: PB-D]

Society honoured with

while impaired, do

NOTE: For emergency inquiries outside Board Meetings/Retreats •Group Accommodations

Proud

our

member

normal

of

business

the community.

hours, including statutory holidays

one of the following:

(M-F, 9:00am-8:00pm EST), please Booking: 780-469-0579 Lodge: 403-578-2910

Board Meetings/Retreats direct emails to optic911@optnerve.com

• Group Accommodations

www.battleriverlodge.com

Alberta Heritage award

Booking Office: 780-469-0579 Lodge: 403-578-2910

www.battleriverlodge.com

• Take public transit

• Call a cab

• Find a designated

driver

Valley

Green

LANDSCAPING

• RETAINING WALLS

• PAVING STONES

• IRRIGATION

• SNOW REMOVAL

• BOBCAT SERVICES

403.740.6739 • cblundon@xplornet.com

Jim Renschler

Construction Ltd.

Bagshaw Electric Ltd.

Bagshaw Bagshaw Electric Electric Ltd Ltd

"Electrifying since 1947" since 1947"

"Electrifying since 1947"

Your Baldor Motor Distributor

Stettler,

Your

AB

Baldor

403-742-2707

Motor Distributor

For All Your Building Needs!

bagshaw@telusplanet.net

Stettler, AB 403-742-2707

bagshaw@telusplanet.net

403-742-5034

Stay safe this holiday season—and always.

Stay safe this holiday season—and always.

LANDMARK

REALTY

An Independent member broker

4820-50 St, Stettler, AB

Norma Leslie 403.742.7815

Jessie Kumleben 403.741.5099

www.suttonstettler.com

Services & Repairs ALL makes & models

403-742-1209 www.heartlandmedic.com Heartland RV Medic

Lamontagne & Son Holdings Ltd.

Gravel hauling & Super B Grain Hauling

403-575-5468 • dlamontagne@telus.net

4109 Victoria Ave, Box 372, Coronation AB T0C 1C0

lewis@lmwaste.ca

Cell: 403-740-5726

Studio

Retoucher

Print Mgr.

Art Director

Fantasy Hair & Nail Care

6128-50 Ave Stettler 403-742-2707

irrom Wiring

and Electrical Services Ltd.

Matthew Morris

403-742-1676 • Stettler, AB • www.sirromwiring.com

Service with Integrity

BY

DATE

4/18/19 11:05 AM

IMAGES ARE HI-REZ

Title:

Pubs:

FINANCING

ECAREVIEW

PRODUCTION NOTES

Proofreader

H06785_BURMAC_TAG_4C.AI

Botha, AB Office: 403-742-5655

NAPA Auto Parts - Stettler

4902 - 43 Ave . Stettler , AB

Ph: 403-742-6272 Cell: 403-916-4412

dpetersen@napacanada.com www.napacanada.com

Owner: Don Petersen

Stettler, AB • 403 742 2212

Family Owned and Operated

4606-40 St, Stettler, AB 403.742.2869

www.jtautobody.ca Serving Stettler and Area since 1974

403-742-1065

NOW OPEN

4812-62 St. Stettler

PET WASH

AUTOMATIC & SELF-SERVE BAYS

The Bodo Archaeological Society

(BAS) was honoured to receive an

Outstanding Achievement Award at

the Alberta Heritage Awards presented

by Alberta Culture on Oct. 3,

2022.

For nearly 20 years, the society has

championed public archaeology and

preservation and protection of the

Bodo archaeology sites.

Executive members, Myron and

Irene Ganser, attended the awards ceremony

and accepted the award on

behalf of the BAS.

The Bodo Archaeological Society

had a busy and successful 2022. The

Bodo Archaeological Centre opened on

May 24th and closed on August 26th

and was open for a total of 14 weeks.

Over 500 visitors came to Bodo

between May 24th and August 27th

with numbers rebounding following

the covid pandemic. A big factor that

contributed to this rebound was that

schools were able to go on field trips

again. We had school groups from

Coronation, Macklin, Delia, Edgerton,

Hughenden, Provost, and a homeschool

group from Luseland, SK. Kids

Camp numbers were down compared

to 2021 which I believe was due to so

many other programs opening again

after a couple year hiatus. That being

said, we offered more Family Camp

programs this year that each spanned

two or three days. We had a total of 25

adult dig participants over three sessions

(June 8-11, July 4-8 and August

2-5).

An open house was held on July 1

with approximately 50 in attendance.

Other activities included visits from

other organizations, a speaker series,

and an Adult Dig Program where

three sessions for offered in 2022

focusing on three areas.

TP5 was started in 2019 and was a

concentrated area of heavily processed

bone, fire cracked rock, debitage, stone

tools, and some soil discolouration that

represents a hearth.

TP3 continued to yield bone, pottery

and stone tools but became less dense

as we went down. Eventually we

reached very compact clay in this unit

and after a few sterile levels we considered

it complete at 90 cmbs. We also

hope to submit samples for radiocarbon

dating from this unit.

The "big block" was reopened this

year for the first time since 2016. This

area is part of the bison pound and

contains a very dense bone bed and

lots of projectile points.

BERRY CREEK

AG

S O C I E T Y

ANNUAL

GENERAL

MEETING

Thursday, December 8

7 pm at the

Hardgrass Hub

in Pollockville, AB

Come check us out on the west end!

403-742-1065 Supersuds2012@telus.net
---
REAL ESTATE/HOMES

10 N ovember 24'22 HANNA/CORONATION/STETTLER, AB. ECA REVIEW

SLAP

Shots

verton: "Saskatchewan

newlyweds

fined for not

wearing Roughriders

jerseys in any

of their wedding

photos — fined

$500 each, but

with the option of

paying a portion

of it directly to

the Roughriders

by buying 15

tubs of officially

licensed Saskatchewan

Roughriders

windshield washer

fluid."

• Comedy writer

Brad Dickson of

Omaha, lamenting

the Nebraska

Cornhuskers' poor

season: "Nebraska

has a great punter.

I think it's time to

start punting on

second down."

• Comedy writer

Alex Kaseberg:

"Due to warm

weather in Austria,

the World Cup ski

races were cancelled

for the third

straight weekend.

Now if you want

to see people go

downhill you have

to watch the Green

Bay Packers."

• RJ Currie of

sportsdeke.

com: "Australian

jockey Blake

Shinn stood up in

a last-second bid

to overtake the

leader, and his

pants fell down.

Might be the

first time a horse

placed while its

rider showed."

• From fark.

com: "Attorney

representing one

of the Michigan

State football

players involved

in the tunnel fight

after the Michigan-

Michigan State

game releases a

statement that

raises serious

questions on how

the attorney was

able to pass the

bar exam."

• Dwight Perry

of the Seattle

Times: "A man

was arrested and

hauled away after

he threw eggs

at Britain's King

Charles last week.

Isn't a pitcher

supposed to get

a warning before

he's ejected?"

Care to comment? Email

brucepenton2003

@yahoo.ca

Polar opposite of Oilers

Cont'd from Pg 4

The Kraken are the polar opposite of

the Oilers, who live and die by the

offensive exploits of Connor McDavid

and Leon Draisaitl, one-two in the

scoring race.

After the Kraken's inaugural season

in 2021-22 resulted in a 27-49-6 record

(better than only Arizona and

Montreal), a big upgrade took place in

the offseason.

Seattle gave future star Beniers, the

team's first draft pick (No. 2 overall in

2021) a major offensive role and went

heavy into the free agent market,

County of Stettler No. 6

6602 - 44 Ave., Box 1270

Phone: 403-742-4441 Fax: 403-742-1277

www.stettlercounty.ca

Public Notice

PUBLIC SALE OF LAND

Municipal Government Act

County of Stettler No. 6

Notice is hereby given that under the provisions of the Municipal

Government Act, the County of Stettler No. 6 will offer for sale,

by public auction in the County Administration Office Building,

6602 - 44th Avenue, Stettler, Alberta on Thursday December 1,

2022 at 9:00 a.m. the following lands:

Lot Block Plan Legal C of T or Roll No.

8 5 7822097 SW-33-38-18W4 152 104 910

13 1 8222364 NW-14-40-21W4 942 044 730

4, 5 3 171AE SE-19-40-18W4 142 101 740

1 1 1721400 NE-13-40-19W4 172 102 568

Each parcel will be offered for sale subject to a reserve bid and

to the reservations and conditions contained in the existing

certificate of title.

These properties are being offered for sale on an "as is, where is"

basis and the County of Stettler No. 6 makes no representation

and gives no warranty whatsoever as to the adequacy of

service, soil conditions, land use districting, building and

development conditions, absence or presence of environmental

contamination, or the development ability of the subject land

for any intended use by the Purchaser.

No bid will be accepted where the bidder attempts to attach

conditions precedent to the sale of any parcel. No terms and

conditions of sale will be considered other than those specified

by the County of Stettler No. 6. All bidders or their agents must

be present at the public auction.

The County of Stettler No. 6 may, after public auction, become

the owner of any parcel of land not sold at the public auction.

Terms: Cash

SOLD

Call Dallas Ellerby

Your Farm & Ranch Specialist

403.578.8105

LAND FOR SALE

CROP LAND

4500 acres - Chinook area

6000 acres - Cereal area

2400 acres - south of Hanna

1 Quarter - south of Veteran

GRASS LAND

16 quarters - south of Veteran

90 quarters - Youngstown area

2 quarters - south of Veteran

www.greaterpropertygroup.com

GREATER PROPERTY GROUP

SOLD

cancow@

xplornet.com

Redemption may be effected by payment of all arrears of taxes

and costs at any time prior to the sale.

Dated at Stettler, Alberta, November 17, 2022.

Yvette Cassidy, Chief Administrative Officer

acquiring offensive stalwarts Andre

Burakovsky, Oliver Bjorkstrand and

defenceman Justin Schultz.

The upstart Kraken have such a

solid lineup that Shane Wright, projected

last year to be the best player

available in the draft (he ultimately

went fourth overall), can't secure a

spot in the lineup.

With the Seahawks having a great

NFL season, the baseball Mariners a

team on the rise and the Kraken a big

hockey surprise, it's a great time to be

a sports fan in the Emerald City.

1/4 section north of

Veteran - 90 acres

broke, home site,

16' x 76' mobile

home, 40' x 60'

shop & working

corrals. Owner

willing to subdivide

acreage out.

Real

Estate

FOR SALE BY TENDER

The following land within Wheatland County, near

Dalum, is offered for sale by tender, subject to the

owners reserving the right, after closing of the tender,

to negotiate the sale price and any other terms of

the sale, directly with any Tenderer or Tenderers. The

land will be subject to the restrictions in the existing

Certificates of Title:

PARCEL 1:

SW QUARTER-13-27-19 W4

PARCEL 2:

SE QUARTER-13-27-19 W4

Possession date: March 31, 2023.

Interested parties may receive a Tender package

from Kloot & Associates at 98-3rd Ave. West,

P.O. Box 970, Drumheller, Alberta T0J 0Y0,

email address: bill.herman@drumhellerlaw.

com which will detail terms of the sale and

requirements of Tenderer. Please request Tender

Package for File #22-21706 WAH. Tenders close

at 12:00 noon on December 16, 2022.

FARMLAND FOR SALE BY TENDER

Tenders are invited for the purchase of the following properties located SE of

Forestburg in Flagstaff County. The properties are legally described as:

FIRST:

THE SOUTH EAST QUARTER OF SECTION THIRTY ONE (31)

TOWNSHIP FORTY (40)

RANGE FIFTEEN (15)

WEST OF THE FOURTH MERIDIAN

CONTAINING 64.7 HECTARES (160 ACRES) MORE OR LESS.

EXCEPTING THEREOUT: ALL THAT PORTION REQUIRED FOR RESERVOIR AS SHOWN

OUTLINED IN RED ON FILED PLAN 6049 H.W., CONTAINING FOURTEEN AND SIXTY

TWO HUNDREDTHS (14.62) ACRES MORE OR LESS

EXCEPTING THEREOUT ALL MINES AND MINERALS

Contains approximately 145.38 acres more or less of which 80 acres is cultivated crop

land 65.38 acres is native pasture. The crop land is fenced separate from the pasture

land. 2022 county taxes were $360.00. 2022 industrial lease income was $3844.05 (not

guaranteed).

SECOND:

MERIDIAN 4 RANGE 15 TOWNSHIP 40

SECTION 31

ALL THAT PORTION OF THE SOUTH WEST QUARTER

WHICH LIES TO THE NORTH EAST OF THE RESERVOIR AS SHOWN

OUTLINED RED ON RIGHT OF WAY PLAN 6049HW

CONTAINING 26.345 HECTARES (65.11 ACRES) MORE OR LESS

EXCEPTING THEREOUT ALL MINES AND MINERALS

AND THE RIGHT TO WORK THE SAME

Contains 65.11 acres all native pasture. 2022 county taxes were $94.07. 2022 industrial

lease income was $289.80 (not guaranteed).

INCLUDED ASSOCIATED LEASED PASTURE LANDS:

1. Alberta Power (2000) Ltd. pasture lease located above Battle River Reservoir

including the following lands in Flagstaff County:

SE 31-40-15 W4 16.01 acres

SW 31-40-15 W4 8.56 acres

NE 30-40-15 W4 5.39 acres

N ½ 29-40-15 W4 35.53 acres

Total leased area 65.49 acres

Present lease rate is $8.00 per acre.

2. Flagstaff County

Road Plan 882-2820 lease agreement dated October 24, 2007 with Flagstaff

County and Alberta Power (2000) Ltd. Approximate area of 7.403 acres pasture

fenced.

3. Private Lease Agreement with adjacent land owner - 7.8 acres of pasture located

in SW corner of SW 32-40-15 W4. Land is fenced in with existing pasture.

Total leased pasture land is approximately 80.693 acres more or less.

2023 property taxes will be paid in full by any successful purchaser without

adjustment. No adjustment for any lease/rental income received prior to closing

date. Any successful purchaser will receive any/all future surface lease payments after

closing date. Seller will assign the existing pasture leases to any successful purchaser.

Tenders must be for the purchase of both SE 31-40-15 W4 and Part SW 31-40-15 W4

and the existing pasture leases.

Tenders are to be submitted in sealed envelopes marked "Marcinkoski Tender", with

tenderer's GST number and accompanied by a certified cheque or bank draft made

payable to Andreassen Borth in trust for 5% of the amount of the tender and must be

delivered before 12:00 noon on December 21, 2022 to the offices of Andreassen Borth,

Barristers and Solicitors, 5014-50 Street, P.O. Box 727, Killam, Alberta, TOB 2LO.

The balance of the purchase price shall be paid to Andreassen Borth on or before

January 31, 2023. The seller and any successful purchaser will share the cost of title

insurance on the purchase. Tenders are irrevocable and shall remain open until dealt

with by the offices of Andreassen Borth. Tenders will not be opened in public. If a

successful tenderer does not complete the purchase after acceptance of that tender,

their deposit shall be forfeited to the owner. The highest or any tender will not

necessarily be accepted. The owner reserves the right to reject any and all tenders.

Deposits received from any unsuccessful tenderers will be returned to them by regular

mail.

For further information, or to arrange an appointment to view the subject property,

please call Bob at (780) 781-1432.
---
ECA REVIEW HANNA/CORONATION/STETTLER, AB November 24'22 11

OBITUARIES

Family and sports a big source of enjoyment

In loving memory of Archibald

Malcolm Brown who passed away on

Nov. 11, 2022.

Archie was born in his grandparent's

log home in Brownfield on Jan. 2,

1929 to Mac and Lottie Brown, to the

delight of his big sister Frances.

Archie attended Minot School,

riding double with his sister

Frances on their horse Buck in

the winter months and in fairer

weather, they drove a cart with

Buck and picked up the Murphy

kids and the Williams' girls to get

everyone to school.

When Archie attended Rough

Meadows School, he met up with

his Lindmark cousins everyday

for the journey. Archie boarded

in Coronation to attend High

School, eventually leaving school

at 17 years old to take over the

family farm on the early death of

his father. Archie's cousin Billy

Lindmark spent many hours

working at the farm with Archie

and Lottie.

On Jan. 25, 1963 Archie married

Sheila Merchant of

Coronation. Archie and Sheila

were blessed with five children:

Darren, Craig, Jay, Laurie and

Cam.

Many happy years were spent on the

farm busy with children, work, sports,

family and friends.

Archie and Sheila had the opportunity

to travel from time to time,

visiting Hawaii, the Maritimes,

Alaska, Phoenix, and finally Cuba for

Jay and Sita's wedding.

In 2008 Archie was honoured to be

asked to throw out the ceremonial

pitch to start the Midget Provincial

Tournament finals at Burma Park.

Sports were always a big source of

enjoyment to Archie, who spent many

Loveable aunt, greatest fan, loyal friend passes

Charlene Denise Preston

Jan. 22, 1976 ~ Nov. 14, 2022

It is with the heaviest of hearts we

have to say goodbye to the light of a

thousand worlds. Charlene Preston

passed suddenly on Nov. 14, 2022 near

Hanna, Ata. at the age of 46.

The first born daughter to Richard

and Charlotte Preston

arrived Jan. 22, 1976 in

Hanna, Alta. She was blessed

with a sister Joleen in 1978.

In her youngest years, she

was involved in basketball,

the Ag Society and was the

communities highest in

demand babysitter.

If you were lucky enough to

have known Charlene, you'd

Preston

see how diverse her lifestyle

really was. She was an avid

4H member, achieving multiple awards

within the program and earning the

title of Ambassador for the East

Central region. She always had a passion

for 4H and recently came back to

the Hanna area as a leader and

member of the Board of Directors for

the province.

She produced priceless quilts and

sewing projects that have warmed the

souls of people around the world and

tempted the tastebuds of fellow pickle

lovers and canning buddies in several

communities.

She started travelling young with

her parents and caught the bug in 1983

on a trip to England, and to list all the

trips she took would fill a book itself.

Some of the most memorable adventures

took her to Vietnam, Japan,

eastern Europe, most every state in the

United States, all provinces in Canada

and every beach in Mexico. Travelling

hours watching his children and then

grandchildren curl and play baseball.

The Toronto Blue Jays were a favourite

of Archie's. Candy kindly made a

family calendar every year for Archie

full of pictures of all his kids and

grandkids complete with the entire

Blue Jays schedule on it.

Brown

In 2014 Archie was diagnosed with

cancer of his kidney and surgery was

scheduled to remove his kidney. About

a week before his surgery, Archie

decided he would take the quad on a

windy miserable day to check yearlings

on the Nelson Creek and ended

up rolling the quad on an embankment

and pinning himself beneath. The

broken taillight was stuck in his leg

and the muffler was burning him.

Realizing he had his cell phone with

him, he tried to get help…no service!

He said that he lay there contemplating

the world as a cast member of Up With

People solidified she was most at home

on a beach in the sand.

Her college career took Charlene to

Olds where she completed the

Commercial Floristry Certificate,

Greenhouse Management Diploma and

an Applied Degree in Horticulture.

It was here she fostered a

love of politics as president of

the Student Council and was

honoured with the national

award as the Association of

Community Colleges Student

Leader of the Year Award.

These accolades were just a

tip of the dedication she put

into everything she was a

part of - from volunteer

hours, community involvement

and impacts she made

in every part of her life.

Her experiences and absolute passion

for hockey started at a young age

cheering her cousins on from the

stands and continued into a marketing

career with the Olds Grizzlies AJHL

team. The community had become

home to Charlene, and she filled the

role with enthusiasm and professionalism

making contacts throughout the

hockey community all over the world.

As families grew, she was blessed

and gifted with two immediate

nephews, Chance and Colby Scott. By

this time, she already had many

adopted nieces and nephews, which

grew tenfold throughout the years with

dearest friends' kids.

She even travelled abroad to be the

nanny and second mom in a quest to

help as many people as she could.

This kind and compassionate side of

Charlene also saw her as a massage

the irony that he had thought the

cancer would be the end of him, not a

quad.

Then he remembered his trusty

pocketknife and used it to dig under

his hip and dig himself out from

beneath the quad. He crawled up the

bank and thankfully had cell service!

Once Archie reached Jill at the

farm, help came roaring from all

directions. Archie brushed off all

attempts at taking him to the doctor

and even tried to hide his injuries

and bruising at his pre-operation

appointment shortly thereafter.

He ultimately showed the doctor

his injuries; his kidney removal was

promptly postponed, and the surgical

team renamed him Clint

Eastwood. Archie eventually came

through the kidney removal with

flying colours!

Archie continued to live on the

farm and maintain a keen interest

in all that was happening. The last

few years he was very happy to get

to have lots of memorable rides in

Craig's covered wagon pulled by a

beautiful team of horses.

A couple years ago, he even got to

re-experience using the team and

sleigh with John Forrest, Wanda

and Archie Merchant, and Craig

and Jill to pick up square bales from a

field.

Archie lost the love of his life when

Sheila passed away Christmas 2018.

He continued to live at the farm until

his health declined to the point that he

needed to move into Coronation DSL in

February 2022. Archie was once again

living with his sister Frances!

He settled in quickly to life in DSL

and was always very happy to receive

visits from friends and family. He continued

to go out with family to watch

baseball and attend many family

therapist offering various energy

healing alternatives in the communities

of Delia, Drumheller and Hanna.

Entrepreneurship and love for

flowers, set her up to open her business

of Artisitic Petals and Scents in Hanna

where she designed amazing personalized

works of art for clients, family and

friends near and far.

A change in circumstance, allowed

for opportunities that brought her back

to politics on the provincial stage, as

administrative assistant for multiple

MLA's in Hanna, Innisfail and Sundre.

Anyone with the chance to have a

visit with Char, would soon hear of one

of the Auntie Day adventures she was

so incredibly proud of. Countless time

and effort went into planning special

trips that specifically suited Chance

and Colby perfectly, and if it didn't

involve dogsledding, knife making or

going to a Garth Brooks concert, she

knew it wouldn't be just for them.....so

that's what she did, and they cherished

those times.

Her wishes were always to return

home to Hanna, and be closer to the

"boys", Chance and Colby. The perfect

opportunity combining children and

her experience in horticulture and

administration, landed her a job at the

Youngstown Greenhouse School of

Excellence, where she was able to

share her extensive knowledge and

passion for the greenhouse industry

with youth.

An impressive achievement she was

proud to share, was her active participation

for all 13 years of the 100 km.

Kidney March always in flip flops

regardless of the conditions.

In the last six years, she's shared her

life and experiences with her faithful

get-togethers. He adapted easily to his

oxygen tanks and didn't let it stop him

from being with his family.

Archie enjoyed renewing old

acquaintances and making new

friends in DSL and was especially fond

of all the staff who took such kind care

of him and took an interest in him as

an individual.

Archie was predeceased by his

mother and father, Lottie and Mac

Brown, his brother-in-law Tom Forrest

and his wife Sheila Brown.

Archie is survived by his children:

Darren (Colleen) Brown, granddaughter

Amanda Brown and her sons

Kaiden, Tristan and Jaxon and

grandson Adam Brown and his

partner Ann-Marie and their son Luka

Brown; Craig (Jill) Brown, grandson

Brandon Brown and his fiancé Kalene

Gould, grandson Daniel Brown and his

fiancé Tanya Gilchrist; Jay (Sita)

Brown and grandsons Jessye and

Liam Brown; Laurie (Jim) Burchell

and grandsons Mack and Joel

Burchell; Cameron (Candy) Brown,

granddaughter Erin Brown (Mac

Brennan) and grandson Dylan Brown

(Morgyn Jordahl).

Also his sister Frances Forrest;

nephew John (Jeannette) Forrest and

many nieces, nephews and friends.

Those wishing to pay their respects

to Archie's family may do so by visiting

www.parkviewfuneralchapels.com.

At Archie's request, no funeral will

be held. If you wish, donations may be

made in Archie's name to Coronation

Hospital Foundation or a charity of

your choosing.

Parkview Funeral Chapels &

Crematorium of Coronation, Alta.

were entrusted with the care and

funeral arrangements. For further

information please call 403-578-3777.

companion who shared an extensive

love of travel, spas and even participated

alongside her walking every step

in the Kidney March. Grant has been

that steady relationship she had been

yearning for years to find, and it's been

cut short far too soon.

Charlene will be forever remembered

and missed as that lovable aunt,

biggest fan and most loyal friend of

everyone she came in contact with.

Her cheers could echo in a hockey

arena and light up a football field all on

her own.

All of her nieces and nephews, blood

related or not, were the lights in her

world, but none shone as bright as hers

did in ours.

She is survived by her parents

Richard and Charlotte Preston, sister

Joleen (Cody) Scott, nephews Chance

and Colby, partner Grant Minifie and

his daughter Aisleigh; grandmother

Violet Metzger numerous aunts, uncles

and cousins.

A Celebration of Charlene's life will

be on Mon. Nov. 28, 2022, at 12 noon at

the Hanna Hockey Rink. The family

encourages guests to dress warmly.

Condolences can be sent to the

family at www.hannafuneral.ca.

In lieu of flowers donations in

memory of Charlene can be made

directly to The Kidney Foundation of

Canada, 6007 1A Street SW, Calgary,

Alta. T2H 0G5, or www.kidney.ca, and/

or The Mountain Rose Woman's

Shelter, 4708 46 St, Rocky Mountain

House Alta. T4T 1C5.

Hanna Funeral Services Ltd. has

been entrusted with the care and

arrangements, 403-854-5956.
---
72 pt

60 pt

48 pt

36 pt

30 pt

24 pt

18 pt

12 N ovember 24'22 HANNA/CORONATION/STETTLER, AB. ECA REVIEW

Ph. 403-578-4111CLASSIFIEDS/CAREERSEmail: office@ECAreview.com

Classified Ad Rates

$13.85 + tax for 25

words or less + 20¢ a word

after 25 each week or 3

weeks for $38.55 + tax

(based on 25 words or less).

Reach 75,000 readers with

your classified. This

includes For Sale, For Rent,

Card of Thanks, Coming

Events, etc.

Payment Necessary

All Classified Ads are on a

Cash Only basis and must

be prepaid before running.

There will be a $5.00

service charge on every

classified not paid for prior

to publication.

We accept cash, cheque,

e-transfer, VISA or MC.

It is the responsibility of

the advertiser to check ad

the 1st week and call us if in

error. The Review is

responsible for their

mistakes the 1st week only.

Deadline For Ads

All classified ads must be

received by 5 pm on

Mondays preceding

publication. For Too Late To

Classifieds ad must be

received by 10 am Tuesday.

Ph. 578-4111. Mail to Box

70, Coronation, AB T0C

1C0.

REAL ESTATE

3 QUARTERS Of

Cropland South of

Weyburn, SK.

Distressed sale.

Priced below market

at 1.27 x assessment,

with a 4%

return with lease.

$594,800.00. Call

Doug at 306-716-

2671.

FARMLAND AND

Pasture Land by

Saskatchewan

River. 160 acres.

Best hunting in

Saskatchewan.

Excellent fishing.

Thick pine & poplar

bluffs, by water coulee.

Old yard site

with power and

water. Revenue

Potential. East of

Prince Albert, SK.

$248,000. Call Doug

306-716-2671.

BUSINESS FOR SALE

THE AFFORDABLE

Business Partner:

Affordable & confidential

rural Alberta

family business selling

coaching, marketing

and business

selling solutions.

How can we help

you?

P:403.708.0903.

www.theaffordablebusinesspartner.

com

FOR RENT

DESPERATE.

Retired couple desperately

seeking 2

bedroom rental

property in Camrose

or Stettler area. Cat

friendly. Ph. 403-

323-9500.

MISC.

TORRINGTON and/

or Wimborne

Community History

books for sale by

publisher $30 each,

hardcover, over 500

pages, over 700

photos. Call 403-

556-2497.

Classifieds

work!

Call 403-578-4111

LIVESTOCK

110 FANCY Char

cross and Red

Angus cross Bred

Heifers, bred to Red

Angus bulls, to be

sold at Stettler

Auction Mart on Fri.

Nov. 25, 2022. Start

calving March 1. For

more info phone

Deral Lang 403-742-

7870.

FEED AND SEED

ALBERTA FEED

Grain: Buying Oats,

Barley, Wheat,

Canola, Peas,

Screenings, Mixed

Grains. Dry, Wet,

Heated, or Spring

Thresh. Prompt

Payment. In House

Trucks, In House

Excreta Cleaning.

Vac Rental. 1-888-

483-8789.

WE BUY DAMAGED

Grain - Heated,

Mixed, Tough, Light,

Bugs, Spring

Thrashed....Barley,

Wheat, Oats, Peas,

Flax, Canola. "On

Farm Pickup".

Westcan Feed &

Grain 1-877-250-

5252.

FARM MACHINERY

WIRELESS

Driveway alarms,

one mile range,

motion sensor triggers

receiver in

house alerting you of

intruders. Pick up in

Hanna or Calgary or

we ship free. $249.

+ tax. Farm &

Acreage Security.

Text or call 403-616-

6610.

BLANKET THE

PROVINCE with a

classified ad. Only

$269 (based on 25

words or less).

Reach almost 90

weekly newspapers.

Call NOW for details.

1-800-282-6903 Ext

225; www.awna.

com.

WANTED

WANTED

SASQUATCH Skull -

Also purchasing

Silver & Gold coins,

bars, jewelry, scrap,

nuggets, sterling,

999+ Bullion, maple

leafs, bulk silver, pre-

1969 coins. Coin collector

Buying Entire

Coin Collections, old

$ & Royal Canadian

Mint coins. TODD

250-864-3521.

WANTED: Old advertising

dealership

signs, gas pumps,

globes, pop

machines, light ups.

White Rose, Red

Indian, Buffalo, North

Star, Case Eagles,

etc. Collector paying

Top Prices. 306-221-

5908.

I am an

able-bodied

man looking

for a lady

companion

to live with me

and help with

odds and ends.

Call Vern Dodd

1-403-565-3863

CAREER TRAINING

LOOKING FOR A

Rewarding Career?

Massage Therapy

offers many options.

Study full time or in a

distance format.

Contact the Alberta

Institute of Massage

for details at www.

albertainstituteofmassage.com;

phone

403.346.1018.

AUCTIONS

MEIER

UNRESERVED Gun

& Sportsman

Auction. Sat. Dec 17

- 10AM, 4740 57 St.

Wetaskiwin, AB.

Consign Now. Free

Pickup. Phone 780-

440-1860. Visit www.

meierauction.com for

more details.

22114bm1

COMING EVENTS

FIREARMS

WANTED For

December, 2022

Live & Online

Auction: Rifles,

Shotguns,

Handguns, Militaria.

Auction or Purchase:

Collections, Estates,

Individual items.

Contact Paul,

Switzer's Auction:

Toll-Free 1-800-694-

2609, sales@switzersauction.com

or

www.switzersauction.com.

HEALTH

HIP/KNEE

Replacement. Other

medical conditions

causing Trouble

Walking or

Dressing? The

Disability Tax Credit

allows for $3,000

yearly tax credit and

$30,000 lump sum

refund. Take advantage

of this offer.

Apply NOW; quickest

refund

Nationwide: Expert

help. 1-844-453-

5372.

TRAVEL

WARM UP and

Head West This

Winter: Osoyoos BC

is a haven for snowbirds

looking to

experience mild winter

weather and an

abundance of activities!

Hotel suites

start at just $425/

week with more savings

for monthly

stays. Learn more at

www.osoyoossnowbirds.com,

or

request digital information

on wintering

in Osoyoos by

emailing: visit@destinationosoyoos.com

or by calling the

Osoyoos Visitor

Centre at

1-888-OSOYOOS

(1-888-676-9667).

LEGACY DRILLING LTD.

Water Wells

Pasture Wells

Drilling and Servicing

Jeff Southworth

Phone: 403-854-0172 • Hanna, AB

Phone: 403-396-2254 • Delburne, AB

E-Mail: legacydrillingltd@outlook.com

Emergency 24/hr On Call

SERVICES

CRIMINAL

RECORD? Why suffer

employment/

licensing loss?

Travel/business

opportunities? Be

embarrassed? Think:

Criminal Pardon. US

entry waiver. Record

purge. File destruction.

Free consultation.

1-800-347-2540.

www.accesslegalmjf.

com.

GET BACK On

Track! Bad credit?

Bills? Unemployed?

Need Money? We

Lend! If you own

your own home - you

qualify. Pioneer

Acceptance Corp.

Member BBB. 1-877-

987-1420. www.pioneerwest.com.

GET YOUR

MESSAGE Seen

Across Alberta. The

Blanket Classifieds or

Value Ads reach over

600,000 Alberta readers

weekly. Two

options starting at

$269 or $995 to get

your message out!

Business changes, hiring,

items for sale,

cancellations, tenders,

etc. People are

increasingly staying

home and rely on their

local newspapers for

information. KEEP

people in the loop with

our 90 Weekly

Community

Newspapers. Call ECA

Review 403-578-4111

now or email classifieds@awna.com

for

details. 1-800-282-

6903, 780-434-8746

X225. www.awna.com.

Village of Alix - Employment Opportunity

Public Works

Full-Time Position

The Village of Alix Public Works Department has the following opportunity for a Full-Time position.

Reporting directly to the Public Works Foreman they will be responsible for general duties within

the public works department. Assisting in day-to-day operation and maintenance of the municipal

infrastructure including roads, water distribution, sanitary sewer collection system, storm drainage

facilities, municipal buildings, parks, cemeteries, vehicles, and equipment.

Duties:

• Equipment operation & other general

maintenance duties as assigned

• Water and Wastewater sampling and collection

• Park Maintenance

• Snow Removal

• Evening and weekend on-call duties

Candidates are invited

to submit their application in confidence by

Friday, December 16 by 4:00 P.M. to:

Get A Jump On Your

Christmas

Greeting

Season's Greetings

Season's Greetings

This holiday season is the perfect

time to thank all our friends and

clients for their continued support.

Merry Christmas & Happy New Year.

R

R

East Central Alberta

EVIEW

Qualifications:

• Valid Class 5 driver's license

• Grade 12 or equivalent

• Ability to work independently

• Must be physically able to perform the duties of

the position

• Alberta Environment Certification in; Water

Distribution and Treatment Operator Level 1

and Wastewater Distribution and Treatment

Operator Level 1 are considered an asset

Michelle White, Chief Administrative Officer

Village of Alix, Box 87, 4849 50 Street, Alix, Alberta T0C 0B0

Phone: 403-747-2495 Fax: 403-747-3663 Email: cao@villageofalix.ca

We thank all applicants for their interest, however, only those selected for an interview will be contacted.

Maintenance Worker, Full Time

The County of Stettler Housing Authority is a not-for-profit organization which operates

three Senior's Lodges and provides affordable housing for families in Stettler and the

surrounding area. We are seeking a full-time Maintenance Worker to work in our seniors'

lodges as well as Community and Affordable Housing. This position offers extended

health benefits including dental and Local Authorities Pension Plan or LAPP.

The successful candidate should have the following qualifications:

• Minimum of five years' proven commercial experience and proven commercial

knowledge in evaluation, repair and preventative maintenance of industrial and

domestic building carpentry, plumbing, electrical and HVAC systems.

• Experience in grounds keeping and small equipment operation

• Valid Class 5 driver's license, clean driver's abstract and own vehicle

• Physically and cognitively able to complete "Job Demands"

• Able to work independently in a safe and acceptable manner

• Current and satisfactory Criminal Record Check

• Valid Emergency First Aid/CPR Certification

• Current WHMIS Certificate

• Good computer, verbal and written communication skills

• Able to deal compassionately, patiently and effectively with vulnerable people

• Strong team participant with all departments

• Maintain adequate fitness level to work in a physically demanding job

• Flexible and able to work in fast paced changing environment

• Share in a 24/7 on call rotation with the other member of the maintenance team

We offer extended Health Benefits, Dental Plan and

Local Authorities Pension Plan (LAPP).

PLEASE SUBMIT YOUR RESUMES TO:

Sylvie Tremblay, Human Resources Manager

COUNTY OF STETTLER HOUSING AUTHORITY

6011-50 Avenue Stettler, Alberta T0C 2L1

Phone: (403) 742-9220 Fax: (403) 742-9221

Email: sylvie.tremblay@stettlerhousing.com

We sincerely thank everyone for your submissions, however only those

candidates selected for an interview will be contacted.

R

R

R

R

19th Annual

R

Photo Greeting Section

R

December 1 issue

Deadline: Monday, Nov. 28 4 pm

$

163 75 4 col. x 2.5"

Contact: • Judy cell 403-740-2492

marketing@ECAreview.com

• Yvonne 403-575-9474

advertise@ecareview.com