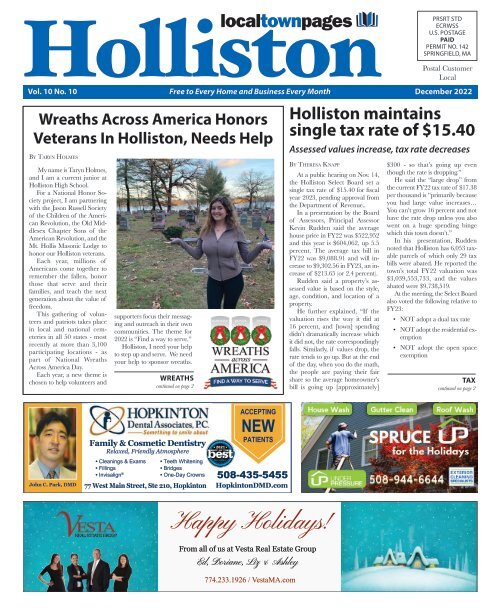 Holliston December 2022
Holliston December 2022
Holliston December 2022
SHOW MORE
SHOW LESS
You also want an ePaper? Increase the reach of your titles
YUMPU automatically turns print PDFs into web optimized ePapers that Google loves.
Holliston

PRSRT STD

localtownpages

ECRWSS

U.S. POSTAGE

PAID

PERMIT NO. 142

SPRINGFIELD, MA

Postal Customer

Local

Vol. 10 No. 10 Free to Every Home and Business Every Month December 2022

Wreaths Across America Honors

Veterans In Holliston, Needs Help

By Taryn Holmes

My name is Taryn Holmes,

and I am a current junior at

Holliston High School.

For a National Honor Society

project, I am partnering

with the Jason Russell Society

of the Children of the American

Revolution, the Old Middlesex

Chapter Sons of the

American Revolution, and the

Mt. Hollis Masonic Lodge to

honor our Holliston veterans.

Each year, millions of

Americans come together to

remember the fallen, honor

those that serve and their

families, and teach the next

generation about the value of

freedom.

This gathering of volunteers

and patriots takes place

in local and national cemeteries

in all 50 states - most

recently at more than 3,100

participating locations - as

part of National Wreaths

Across America Day.

Each year, a new theme is

chosen to help volunteers and

John C. Park, DMD

supporters focus their messaging

and outreach in their own

communities. The theme for

2022 is "Find a way to serve."

Holliston, I need your help

to step up and serve. We need

your help to sponsor wreaths.

WREATHS

continued on page 2

Family & Cosmetic Dentistry

Relaxed, Friendly Atmosphere

• Cleanings & Exams

• Fillings

• Invisalign ®

• Teeth Whitening

• Bridges

• One-Day Crowns

77 West Main Street, Ste 210, Hopkinton

Holliston maintains

single tax rate of $15.40

Assessed values increase, tax rate decreases

By Theresa Knapp

At a public hearing on Nov. 14,

the Holliston Select Board set a

single tax rate of $15.40 for fiscal

year 2023, pending approval from

the Department of Revenue..

In a presentation by the Board

of Assessors, Principal Assessor

Kevin Rudden said the average

house price in FY22 was $522,952

and this year is $604,062, up 5.5

percent. The average tax bill in

FY22 was $9,088.91 and will increase

to $9,302.56 in FY23, an increase

of $213.65 (or 2.4 percent).

Rudden said a property's assessed

value is based on the style,

age, condition, and location of a

property.

He further explained, "If the

valuation rises the way it did at

16 percent, and [town] spending

didn't dramatically increase which

it did not, the rate correspondingly

falls. Similarly, if values drop, the

rate tends to go up. But at the end

of the day, when you do the math,

the people are paying their fair

share so the average homeowner's

bill is going up [approximately]

April 21, 2018 9 am to Noon

At the Holliston high School parking lot

ACCEPTING

NEW

PATIENTS

508-435-5455

HopkintonDMD.com

$300 - so that's going up even

though the rate is dropping."

He said the "large drop" from

the current FY22 tax rate of $17.38

per thousand is "primarily because

you had large value increases…

You can't grow 16 percent and not

have the rate drop unless you also

went on a huge spending binge

which this town doesn't."

In his presentation, Rudden

noted that Holliston has 6,053 taxable

parcels of which only 29 tax

bills were abated. He reported the

town's total FY22 valuation was

$3,039,553,733, and the values

abated were $9,738,519.

At the meeting, the Select Board

also voted the following relative to

FY23:

• NOT adopt a dual tax rate

• NOT adopt the residential exemption

• NOT adopt the open space

exemption

TAX

continued on page 2

Happy Holidays!

From all of us at Vesta Real Estate Group

Ed, Doriane, Liz & Ashley

774.233.1926 / VestaMA.com
---
Page 2 Holliston Local Town Pages | www.hollistontownnews.com December 2022

WREATHS

continued from page 1

On Dec. 17, we will be holding

a Wreaths Across America event

right here in Holliston at the

Lake Grove Cemetery.

There are roughly 600 veteran

graves in this cemetery so

we need all the help we can get.

In 2021, more than 2.4 million

veterans' wreaths were placed

by volunteers on headstones at

3,137 participating locations

around the country in honor of

the service and sacrifices made

for our freedoms, with each

name said out loud.

I decided to get involved because

we have participated in

many Wreaths Across America

events in NH and in Worcester. I

am a member of called Children

of the American Revolution

which is a leadership and public

service organization that teaches

kids 0-22 these skills while tying

in patriotism and love of Country.

This event is important to me

because I know a lot of veterans

personally, some buried in Lake

localtownpages

Published Monthly

Mailed FREE to the

Community of Holliston

Circulation: 5,967

households & businesses

Publisher

Chuck Tashjian

Editor

Susan Manning

Send Editorial to:

editor@hollistontownnews.com

Advertising Sales

Susanne Odell Farber

508-954-8148

sue@sodellconsult.com

Advertising Sales Manager

Jen Schofield

508-570-6544

jenschofield@localtownpages.com

Creative Design & Layout

Michelle McSherry

Kim Vasseur

Ad Deadline is the

15th of each month.

Localtownpages assumes

no financial liability for errors

or omissions in printed

advertising and reserves the

right to reject/edit advertising

or editorial submissions.

© Copyright 2022 LocalTownPages

Grove Cemetery, so I thought

this event might be a good way

to honor them and all Holliston

Veterans.

Wreaths Across America

volunteers work year-round to

ensure military laid to rest are

remembered, their families and

living veterans are honored, and

the next generation is taught

about the value of freedom. Let's

bring it to Holliston.

What can you do to help?

First, you can sponsor wreaths by

going to wreathsacrossamerica.

org. Click on "Specific Cemetery"

under the Sponsor wreaths

tab. Click the number of wreaths

you would like to sponsor and

type in "Lake Grove Cemetery"

for the location. Second, join us

on Saturday, Dec. 17, at noon as

we have a ceremony to honor

our veterans and help us place

the sponsored wreaths. We can't

do this without your help!

This cause should matter to

Holliston residents because this

is a way for everyone to show respect

and appreciation for those

Holliston Veterans who have

passed on.

NOW

OPEN!

We are by appointment only.

Book your appointment at:

TAX

continued from page 1

• NOT adopt the small commercial

exemption

• Approve the excess levy capacity

of $791,770 subject to

DOR approval

HOLIDAY SPECIAL

10 free units of botox,

Jeauvue or Xeomin.

Minimum 30 units.

$100 OFF Filler

New clients only

expiration 1/31/2023

Services include:

• BOTOX Injections

• Dermal Fillers

• Chemical Peel

• Hair Restoration

• Microneedling

• Vitamin Injections

We love our customers, so feel free

to call, text or email us anytime.

Bella Bela Aesthetics

Main Street, Millis, MA

857-800-3597

bellabela617@hotmail.com

Holliston has most

marijuana cultivation

facilities in Mass.

Generated almost $1 million in tax revenue

By Theresa Knapp

At the annual tax classification

hearing in November, Principal

Assessor Kevin Rudden

told the Select Board that "the

Massachusetts Cannabis Control

Commission says Holliston has

the most marijuana cultivation

facilities of any community in

Massachusetts."

In his presentation to the

board, Rudden said "FY23 is the

Year of Marijuana Cultivation"

which brought in $56.4 million

of new revenue and almost $1

million in new tax revenue.

To view the entire presentation,

visit https://bit.

ly/3V1avDg

Fatima Shrine Festival Of Lights

Our Lady of Fatima Festival

of Lights 2022 will be open Dec.

8 to 27.

Join Our Lady of Fatima

Shrine in Holliston for the traditional

Christmas lights as they

prepare this Advent for the

Christmas season.

Hot chocolate, donuts, and

more will be available. The lights

are on from 5 to 9 PM every

night. The event is wheelchair

accessible, with a path that winds

throughout the exhibit.

Our Lady of Fatima Shrine is

located at 101 Summer St., Holliston.

There is no charge for this

event.

OPEN

24 Hours

Personal &

Group Training

Hydro Massage Bed

GIVE THE

GIFT OF

HEALTH!

$0 ENROLLMENT FEE | 2 FREE PERSONAL TRAINING SESSIONS

1 MONTH FREE HYDRO MASSAGE

JOIN

Shaws Plaza

TODAY!

309 Pond St • Ashland, MA

508-881-4900

Anytimefitnessashland@gmail.com
---
December 2022 Find us on Facebook | Holliston Town News Page 3

Police Department presents

5-year Strategic Plan

Voluntary endeavor takes inside look at department

By Theresa Knapp

At its meeting on Oct. 24, the

Holliston Select Board heard a

presentation from the police department,

and its consultant, on

the department's five-year strategic

plan.

Police Chief Matthew Stone

said, "This is a rather unique

time in law enforcement, in the

profession in general," adding

that embarking on this strategic

plan was completely voluntary.

Stone said, "The board didn't

request me to do it, didn't ask the

police department to do it, it's

something we took on ourselves;

and to go outside and to have an

outside view, and have somebody

really come in and really open

up the books internally and do

that confidential spot analysis…

We opened up our books and our

doors and our people to trusting

[consultant] John in finding

what's working and what's not

working. I think it's a good time

in our profession to do that and

to look inward and to have someone

else from the outside look at

our agency."

John Ostman of Ostman

Business Strategies explained

the strategic plan for FY2023 to

FY2027 includes one vision, six

goals, 25 objectives, 147 strategies,

and 152 action plans, noting

that some action plans are

already underway.

The plan's goals include

Organization, Culture and

Communication; Professional

Development and Training; Operations

Excellence; Community

Partnership and Engagement;

Resources and Technology; and

Enhance Facilities.

Holliston Newcomers &

Neighbors Thanks YOU!

The Holliston Newcomers &

Neighbors Thanksgiving Drive

and Meals for Seniors Committees

could not have done it without

you! We once again were

able to contribute to the Thanksgiving

efforts of the Holliston

Pantry Shelf 's gift cards to their

patrons, Head Start and Wayside

Youth who both support Holliston

youth. HNN was also able to

assemble and deliver a complete

Thanksgiving meal to over 50

Holliston Seniors identified by

the Holliston Senior Center, Mission

Springs and Cole Court.

HNN's efforts would not have

been possible without the support

from our local community

organizations, religious groups,

and businesses. Thanks to these

groups for spreading the word

and making so many Thanksgiving

cards especially Holliston

Girl Scouts and Holliston Cub

Scouts.

Our biggest thanks goes to all

the individuals and businesses

that donated to this effort including

the generous donations from

Applewood Survey, Holliston

Sewer Service, TLC Painting,

Stucchi Landscape & Design,

Barbara Preussner, DMD Aesthetic

& Family Dentistry,

Stumpy's Tree Service, Anastas

Lock & Safe Company, Holliston

Glass & Mirror and Yoga

Garden as well as donations from

Archambault Construction (an

HNN sponsor), BDR Automotive,

Century-TyWood Manufacturing,

Chesmore Funeral Home

and Cremation Services, Farrell

Pool Service, Meridian Financial

Advisors, Perkins Electrical

Looking to advertise your business?

Contact Susanne: 508-954-8148

sue@sodellconsult.com

Ostman explained "enhance

facilities" includes an evaluation

of the current police station (est.

2008) to include reassessing its

current layout to improve utilization,

plus make some technology

improvements. He said, "One of

the other objectives was to take a

look at the west sector substation.

I think there's a town-owned

property in the west sector that

might be usable as sort of a satellite

police station."

Select Board Chair Ben Sparrell

said the police department's

strategic plan is a "great plan"

and said he hopes the town can

bring together individual department

plans to find ways to work

in a holistic way to reach collective

goals while working on specific

goals.

The full presentation can be

found at https://bit.ly/3Ai1P39

Service, Prana Center (an HNN

sponsor), H.G. Cockrill Corp,

Hills Antique Clocks, Quality

Auto Body, Coffee Haven, Inspire

Dance Academy and Holliston

TV.

Holliston Newcomers &

Neighbors and the HNN

Thanksgiving Committees hope

that Thanksgiving Day was enjoyed

by all with family, food and

fun. We couldn't be more thankful

for the support we received

from the community on this project.

We are so proud that HNN

was able to be a part of making

Thanksgiving a great day for so

many of our neighbors.

Holliston Newcomers & Neighbors

- Building Friendships, Building

Community

RonsTire.com

635 Waverly Street, Rte 135

Framingham, MA 01702

Full Boneless

PRIME RIB

Feeds approx. 14 people

INCLUDES: Mashed potatoes,

au jus and dessert

$499.99

New England Steak and Seafood

11 UXBRIDGE ROAD, MENDON

ROAST PRIME RIB OF BEEF

CHOOSE COOKED FOR YOU ($10 UPCHARGE) OR READY TO COOK

REHEATING OR COOKING DIRECTIONS INCLUDED

Let Us Do The Work For You!

Half Boneless

PRIME RIB

Feeds approx. 7 people

INCLUDES: Mashed potatoes,

au jus and dessert

$259.99

Pumpkin Bread

$15.99 dz.

Cinnamon Rolls

$15.99 dz.

Onion Rolls

$15.99 dz.

PLEASE ORDER EARLY! CALL 508-478-0871

ALL ORDERS MUST BE IN BY DEC. 22 ND AND PICKED UP ON DEC. 24 TH BETWEEN 1 & 3 PM

12 Concord St Holliston

Pizza - Sandwiches - Burgers & More

www.CornerMarketHolliston.com

to Holliston, Hopkinton, Ashland

774-233-1966

Free Delivery

Ron Saponaro

Tel: 508-872-2266

Fax: 508-872-2011

Email: ronstire@rcn.com

Award

Winning

Food

The Best Little Restaurant with the Biggest Flavor!

The Corner Market
---
Page 4 Holliston Local Town Pages | www.hollistontownnews.com December 2022

Have you read the new

Town Administrator's

newsletter?

The Town Administrator Newsletter recently debuted under

the moniker, "Holliston Hometown Newsletter."

Town Administrator Travis Ahern told the Select Board at its

March 7 meeting that the quarterly newsletter already had 857

people subscribe as of that date.

The eight-page electronic document includes information for

town meeting, updates on town projects, important deadlines,

lists seasonal jobs, and much more. To subscribe, visit www.

townofholliston.us/subscribe

WE ARE HIRING!

¡estamos contratand

GREAT PAY & MEDICAL BENEFITS!

Milford, MA

¡estamos contratand

WE ARE HIRING!

GREAT PAY & MEDICAL BENEFITS!

Restaurant Depot

is Now Hiring!

NOW • Cashiers HIRING

• Receiving

• Stockers

• Hi-Lo Drivers

• Porters • Managers

• Receiving

• Hi-Lo Drivers

• Managers

• Cashiers

• Stockers

• Porters

Apply online @

Birkenstock

John's www.restaurantdepotcareers.com

repair center

Superior Shoe & Boot Repair

family or owned send and operated resume for 45 years to:

tliberatore@jetrord.com

21E CharlEs strEEt, holliston, Ma 01746

839a Main strEEt (rt. 20), WalthaM, Ma

CErtifiED in PEDorthiCs/orthoPEDiC shoE MoDs

sPECializing in laDiEs high hEEl tiP rEPlaCEMEnt

tall Horse riding Boot Zipper specialist

www.superiorshoerepair.com

John ElhiloW, C.PED, o.s.t. (508) 429-2038

HOLLISTON HOME IMPROVEMENT

• Kitchen and Bathroom Remodeling

• Basement Finished

• Window & Door Replacement

• Wood Flooring Installation & Refinishing

• Deck Replacement and Repair

• Siding - Roof

• Masonry – Walk Way & Patio

• Power Washing

• Painting • Carpentry

Detailed & Meticulous

Reasonable Rates

Milford, MA

100 Dear Street,

Milford, MA 01757

100 Deer Street

Milford, MA 01757

Apply Online @ www.restaurantdepotcareers.com

or send resume to: tliberatore@jetrord.com

Call Mauricio

508.202.8602 FULLY INSURED MA HIC.#169427

Holliston Historical Society

Holiday Open House

Join the Holliston Historical

Society on Dec. 4, for refreshments,

a tour of the Asa Whiting

House, and a chance to ask Town

Historian Joanne Hulbert all of

your Holliston history questions!

According to the Historical

Society website, Colonel Asa

Whiting built this Georgian Federal

home about 1812 quite near

the road in front of the present

barn, which was constructed in

1817. The house contained fifteen

rooms and seven fireplaces,

served by two massive chimneys.

Timbers are of hand hewn solid

oak, each timber still numbered

as it was on the day it was put in

place. The casings are sheathed

with white birch and the rooms

are wainscoted and paneled.

The fireplace mantels are hand

carved and the staircases hand

fashioned. Some of the old wide

floor boards can still be seen in

the upper rooms.

In the early 1930s, the house

was moved back away from the

road to its present location, set

on a new foundation, and the

porches at each end were added,

giving it its present exterior appearance.

Asa Whiting, who was born

in Holliston in 1782, lived here

until his death in 1858. He was

a member of the Massachusetts

Militia (4th Regiment 1st Brigade

3rd Division) and rose from

the rank of Sergeant in 1811 to

Colonel in 1820 before retiring

in 1822.

Colonel Whiting's grandson,

George Flagg, who occupied the

Italian Revival style house to the

south of this property, operated a

model dairy farm on the present

site of the Whiting House. During

the late 1800s, the unique

architectural style of the dairy

barn was well known throughout

the area. Tragically

in 1893 the dairy

barn was burned to

the ground.

The Holliston

Historical Society

purchased the

property consisting

of the hip-roofed

house and present

barn in 1967

from Mr. and Mrs.

Charles Cole, Mrs.

Cole being a direct

descendant of Colonel Asa

Whiting. Members of the Society

then undertook extensive redecoration,

including merging two

downstairs rooms into one large

meeting room.

The open house will feature

historical holiday decoration displays

and light refreshments. The

event will be from 1 to 4 PM, at

547 Washington St.

Exsultet! Celebrates the Holiday

Season

Hol Exsultet! invites you to

celebrate the festive sounds of

music during the upcoming holiday

season! Exsultet! will perform

a holiday concert entitled

"Brushed by an Angel's Wings"

on Saturday, Dec. 3, at 7pm at

First Congregational Church,

725 Washington St.,

Holliston, and on Sunday

Dec. 4. at 2pm at Allin Congregational

Church, 683 High St.,

Dedham.

This performance is a celebration

of sacred song, familiar jingles

and winter cheer. We invite

you to take a break from the hustle

and bustle of this busy time of

year to fill your soul with gladness

and find quiet moments for

contemplation. Old favorites like

Silent Night will resound with

upbeat classics like A Holiday

Road of Carols. Let the music

of the season fill your heart and

soothe your soul!

General admission tickets are

$20; students and seniors (65+)

are $15; and children 12 and

under are free. Performances are

not suitable for children under

age 5. Tickets can be purchased

/ at www.exsultet.us or by calling

Stacey Balardini at 508-395-

5600.

Founded in 2013, Exsultet!

A Celebration of Voices is an

auditioned women's chamber

ensemble combining great music

and poetry to inspire audiences

with adventurous and innovative

concerts.

Exsultet's mission is to give

women an opportunity to join

together to make music, to showcase

the works of up and coming

composers and arrangers, to feature

the talents of local musicians

and actors, and to combine performance

and advocacy by focusing

on important community

issues and partnering with other

local organizations. For more details,

please visit www.exsultet.us.
---
December 2022 Find us on Facebook | Holliston Town News Page 5

Family-run Affordable Junk Removal takes the stress

out of cleanups

By Christie Vogt

Contributing Writer

Whether it's one old fridge

in the garage or an entire home

of unwanted goods, the team

at Affordable Junk Removal offers

a cost-efficient, stress-free

approach to waste management.

"You don't lift a finger,"

says owner Jason Schadler, who

started the company along with

his wife Christine in 2005.

The business offers same-day

service for both residential and

commercial clients across eastern

and central Massachusetts and

northern Rhode Island. In addition

to junk removal, the company

rents 15-yard dumpsters.

As a family-owned and operated

company, Schadler says Affordable

Junk Removal has lower

overhead costs and is more accessible

than national competitors.

"I answer my phone 24 hours

a day," he says. "I was on vacation

in Italy and Portugal, and I

was still answering my phone on

the beach. When you call us, you

get me — not an automated machine!"

Schadler says the company

has an environmentally friendly

approach to disposal in which

it recycles items when possible,

properly disposes of non-recyclables

and resells many items at

the Schadlers' secondhand store,

Resellables. "We opened that

store in Bellingham because we

hated to see things thrown away,"

Schadler says. "We have four kids

and sustainability is extremely

important to us."

During the business's early

days, Schadler provided junk removal

on nights and weekends

when he wasn't busy working at

a machine shop. Eventually, the

business grew into a full-time

endeavor, and the Schadlers invested

back into the company

with new equipment and techniques.

"When I first started,

for example, we didn't have

any tarps. I'm driving around

and things are flying out of my

truck," Schadler laughs. "I'm

like, 'Oh my god, I need a tarp.'"

Schadler says his wife Christine

"was equally as involved"

in getting the business off the

ground. "She handled the backend

while I did the heavy lifting,

all while she was working at

EMC," he says. "Fast forward

17 years, and we both work full

time managing the company as

well as other endeavors. Business

is doing great; it has grown

tremendously to a fleet of trucks

and dumpsters, and we've also

been able to buy a pizza place in

Holliston, The Corner Market."

In addition to delivering an

in-demand service to the community,

Schadler is appreciative

that Affordable Junk Removal

has helped provide a work-life

balance that suits his family. "It

allows me to be able to do what

I like doing and spend time with

my kids," he says. "I'm home to

see my babies play softball and

do all that stuff. We are also able

to give back to the communities

we serve."

As for Holliston in particular,

Schadler says they are proud to

have many repeat customers and

friends in the area. "In addition

to our junk removal business,

Holliston residents have been so

important to The Corner Market,

especially during the pandemic,"

Schadler says. "We have

really appreciated their support."

The Schadlers have also sponsored

and hosted monthly fundraisers

for several sports teams

and organizations in Holliston.

One of the best parts of his

job, Schadler says, is meeting

and getting to know new people

and developing relationships

with returning customers. "We

are really grateful for the repeat

business and the chance to form

connections with residents across

the MetroWest area," he says.

To receive a free junk removal

estimate, call 774-287-1133 or

visit affordablejunkremoval.com.

PAID ADVERTISEMENT

Christine and Jason Schadler, shown here with their children and dog,

started Affordable Junk Removal in 2005.

INTEGRITY - QUALITY - CREATIVITY

RECYCLE THIS

NEWSPAPER

Call us today to schedule a consult!

WWW.AHRONIAN.COM

508.429.3844

MAINTENANCE - SEASONAL CONTAINERS -

NEW INSTALLATIONS
---
Page 6 Holliston Local Town Pages | www.hollistontownnews.com December 2022

Holliston Youth Cheer Saw Its Highest Enrollment In 2022

By Susan Manning

Staff writer

Holliston Youth Cheer League

President Hayley Fetrow said this

past year there were more cheerleaders

than ever in the past.

"We have four separate

squads this season mostly aligned

with our schools. We have an

8U Game Cheer squad with

Placentino-age cheerleaders, a

10U Large Squad with a combination

of Placentino/Miller-age

cheerleaders, a 10U Small Squad

with Miller-age cheerleaders and

a 14U Small Squad with RAMSage

cheerleaders," she explained.

HYC's 57 participants break

down like this:

8U Game Cheer squad has 8

athletes

10U Small has 9 athletes

10U Large has 23 athletes

14U Small has 17 athletes

And these 5- to 14-year-old

girls are not out there just for the

cute uniforms. They practice,

hard.

Fetrow said, "HYC Practices

are a combination of conditioning,

cheers and motions, dance

choreography and stunting. Our

youngest squad met once a week,

while our 10U squads both met

twice a week and the 14U met for

three practices weekly."

All that practice prepares him

for the competitions they attend.

This year the cheerleaders participated

in two invitational cheer

competitions and the EMASS

Local Cheer Competition.

"Our 14U is a nationally

tracked advancing team and has

competed in the Massachusetts

AYC State Cheer Championship

and is headed to Rhode Island to

participate in the New England

Regional AYC Cheer Championship.

The goal of advancing

to Nationals in Florida would

have our 14U squad competing

in a total of 6 competitions," said

Fetrow.

The kids involved in the program

are only half of the equation.

The parents who volunteer

their time are the ones who really

keep it going. Most of them

became involved when their own

children started in the league.

"For most of us, it was our

daughters that brought us to

cheer and a desire to improve

the program. For others, it's also

a love of dance and choreography,"

Fetrow said.

For her, seeing improvement

and excitement among the girls

is what makes all of the time and

effort worth it.

"The best part of coaching a

team is seeing the improvement

of the cheerleaders over the season

and seeing their confidence

build. The excitement on their

faces when they learn something

new is amazing," she said.

Fetrow said if anyone is interested

in joining the league, reach

out. She said

"Holliston Youth Cheer is

committed to growing in our

community and being inclusive

and accessible to cheerleaders of

any interest and skill set."

Courtesy photos by Anne McGrath

Join us for a HANUKKAH CELEBRATION!

Everyone is invited

Games • Music with the Rabbi

Make your own Menorah & Clay Dreidel

Best Latke Contest

Snacks & beverages served

Holliston Town News

now has its own

Facebook page!

December 18, 10-11:30 am - Ashland Middle School

K-5th Grade: $5/child by 12/16 or $7 at the door

FREE for pre-K

For details and payment contact Lisa Brown

school@shaareishalom.org

Holliston Town News

on Facebook

to keep up-to-date with

articles, events, giveaways and

contest announcements

for Holliston!

please join us for

High Holiday Services

th

– 19 th

shaareishalom.org
---
December 2022 Find us on Facebook | Holliston Town News Page 7

Your Money, Your Independence

Perfection is the Enemy of Good, Focus on Executing Improvements.

Glenn Brown

While 2022 has been a challenging

investment environment,

it has been a fantastic year to see

the benefits of executing financial

plans over the past few years.

Were all outcomes perfect?

No, and they never can be. See

by seeking the perfect opportunity

or waiting for the perfect

time, one prevents the implementation

of good improvements.

Consider the good done by executing

on a remodel or outdoor

project in 2017-19 or refinancing

your mortgage and/or auto loans

in 2020-21. More recently, how

about deleveraging variable debt,

establishing access to equity, raising

emergency funds availability,

modeling for variables such as

inflation on expenses as well as

remaining true to your risk tolerance.

Sure, it's easy to bemoan

things that's didn't go as planned

with investments, like bonds not

playing their role portfolio stability

in 2022. But this too shall pass

as Fed pivots away from their feverishly

raising of interest rates

next year. Can the same be said

next year about an opportunity

to lock in your mortgage under

3% or get your remodel done at

30-40% less?

There's still some good improvements

you can do by yearend,

if appropriate.

Roth Conversion. Have sizable

Traditional IRAs? Think taxes

are going up? You believe your

holdings will rebound? With a

strong handle on your sources

of income and capital gains for

2022, consider modeling tax liability

of different amounts converted

to a Roth IRA.

Remember, unlike a few years

ago, you can no longer undo a

conversion via "recharacterization",

so what's done is done.

Tax-Loss Harvesting. Sell investments

for large gains earlier

in the year? Sitting on sizable unrealized

losses? Consider selling

to realize tax-losses that can offset

current year gains or be carried

forward against future year gains

as well as write off up to $3,000

against ordinary income.

Recall the IRS wash-sale

rule prohibits selling an investment

for a loss and replacing it

with the same or a "substantially

identical" investment across all

household portfolios 30 days before

or after the sale. So if you

are going to sell and buy back,

verify it's clean 30 days prior and

then wait 31 days.

Last minute 401(k), 403(b) and

457 plan contributions. Ideally,

you'd be at $20,500 maximum

contributions limits ($27,00 if

50 or older). If not, many plans

allow online changes up to

50% of wages. Have a year-end

bonus? Can forgo a paycheck or

two? Act quickly as plans require

a pay cycle for updates to take effect.

And if you're late to impact

2022, then see how long you go

with higher contributions to front

load towards 2023 contributions

limits of $22,500 ($30,000 if 50

or older).

Still waiting for perfect, instead

of executing on the good? Ok,

there's this 30-year old "genius"

that founded a crypto exchange in

the Bahamas and issued their own

coin for trading. In 3 years, he's

worth $25 billion and his firm's

Marketing/PR includes Tom

Brady, Stephen Curry, MLB,

NBA, plus TV personalities call

him a modern-day J.P. Morgan

and has clout as 2nd largest US

political donor in 2022.

Perfect, right?

Please note the sarcasm, and

put the work in towards the good.

May you and those closest to

you enjoy a happy and safe holiday

season.

PREMIER IMAGE GALLERY

40% OFF

ENTIRE GIFT STORE!

The opinions voiced in this

material are for general information

only and are not intended to

provide specific advice or recommendations

for any individual.

Glenn Brown is a Holliston

resident and owner of PlanDynamic,

LLC, www.PlanDynamic.

com. Glenn is a fee-only Certified

Financial Planner helping

motivated people take control of

their planning and investing, so

they can balance kids, aging parents

and financial independence.

Sponsored articles are submitted by

our advertisers. The advertiser is solely

responsible for the content of this article.

Prints • Crafts • Boyds Bears

290 Eliot St., Ashland 508-881-4730 • OPEN Mon-Fri 9 am - noon

www.premierimage.com

Share the Joy

Want financial independence?

Are you building with:

■ Fee-only Certified Financial Planner

■ Strategies for budget, cash flow & debt

■ Low-cost investments ■ Growing income streams

■ Maximizing work, government & health benefits

■ Tax planning ■ Insurance analysis ■ Estate planning

■ College savings for kids ■ Care for elderly parents

with Chocolates from Mt. St. Mary's Abbey

We help you take control of planning and investing,

so you can balance kids, aging parents

and financial independence.

Our Abbey Candy Shop is now open from 10:00 am – 6:30 pm.

scan here to place

your order today!

Glenn Brown,

CFP®, CRPC

508-834-7733

www.PlanDynamic.com

PlanDynamic, LLC is a registered investment advisor. Please visit our website for important disclosures.

Mt. St. Mary's Abbey

300 Arnold St., Wrentham

http://www.trappistinecandy.com/
---
Page 8 Holliston Local Town Pages | www.hollistontownnews.com December 2022

HNN Gingerbread House Decorating Workshop is Back!

Reserve your spot now!

Holliston Newcomers &

Neighbors and co-hosts Mount

Hollis Lodge are happy to announce

that the Gingerbread

House Decorating Workshop is

back in person! Bring your family

or friends for a fun-filled decorating

party. The Gingerbread

Wishing You a Happy and

Safe Holiday Season!

Schedule your appointment

before your end-of-year benefits

and flex spending expire!

Adult & Pediatric Eye Exams

Contact Lens • Fittings

Medical Eye Conditions & Urgent Care

Dr. Lauren LaPaglia

Optometrist

contact@ashlandfamilyeye.com

25 West Union St., Ashland, MA

(508) 928-7300 ashlandfamilyeye.com

House and all the candy that you

can fit on your house are all included.

The Gingerbread House

Decorating event takes place on

December 10, 2022 from 9:30am

- 1:30PM at Mount Hollis Lodge,

657 Washington Street, Holliston

with 3 1-hour seatings - 9:30am,

11am and 12:30pm. Cost is $50

per house and multiple people

can work on one house. Can't

make the event but want to help

- donate a Gingerbread House to

the Holliston Pantry Shelf to add

some fun to a deserving family's

holiday.

To reserve your house, visit

our website at hollistonnewcomers.org

or visit our Facebook

page at www.facebook.com/HollistonNewcomersandNeighbors!

We hope to see you there!

Proceeds benefit the HNN Community

Grant Fund which gives back

to the community. These funds have

helped support the Holliston Parks &

Rec Summer Concerts, Holliston Public

Library Museum Passes, Holliston

Police & Fire Departments, Holliston

in Bloom, Holliston Community Farm

and many others.

Looking to advertise your business?

Contact Susanne: 508-954-8148

or sue@sodellconsult.com

Share the Warmth of

the Season with Our

Holiday Sharing Tree.

Take a mitten tag from our Sharing Tree.

Help bring some holiday cheer to a local child. Beginning

November 18th, just take a "mitten tag," listing age and gift

ideas for area children from the Sharing Tree in our lobby and

return all wrapped gifts to us by December 10th. Lobby

hours are Mon-Wed & Fri 8:30 to 4pm, Thurs 8:30 to 6pm

and Saturday 8:30 to 12:30pm. For more information call

Share the Warmth of

the Season with Our

Holiday Sharing Tree.

Take a mitten tag from our Sharing Tree.

781-762-1800 or email us at webmail@norwoodbank.com.

Help bring some holiday cheer to a local child.

11 Central Street Norwood, MA 02062

www.norwoodbank.com 781-762-1800

Member FDIC DIF

Beginning November 21st, just take a "mitten tag,"

listing age and gift ideas for area children from the

Sharing Tree in our lobby and return all wrapped gifts to

us by December 12th. Lobby hours are Mon- Fri 8:30 to

4pm and Saturday 8:30 to 12:30pm. For more

information call 781-762-1800 or email us at

webmail@norwoodbank.com.

Online Registration Now Open

Ninja Classes Starting at Age 4

Surge Ninja Team

Open Gyms & Birthday Parties

88C Elm St. Hopkinton

kkidsgymnastics.com • (508) 435-2400
---
December 2022 Find us on Facebook | Holliston Town News Page 9

The Latest Bathroom Trends

John Szolomayer

REAL ESTATE INSIGHTS

Are you thinking about updating

your bathroom? Or maybe

you're heading in the direction of

a new build and you need some

ideas about what to include in

your construction plans. No matter

what you're starting with,

modern-day bathroom trends

can be great sources of interior

design inspiration. Here are three

current bathroom trends worth

giving a try.

Stick with all matte black

fixtures

For a long time, brass and

gold were the go-to fixture styles

of choice. From the handles on

drawers and the knobs on cabinets

to faucets heads and sinks,

a lot of people opted for either

brass or gold because they have

been trendy for a while now.

However, it's time for brass and

gold to take a backseat as matte

black fixtures step into the spotlight.

Matte black fixtures add a certain

level of elegance and sophistication

to any bathroom, so if

you're looking to make a chic addition

to your bathroom, matte

black fixtures might just be the

answer. Even better, black pairs

beautifully with just about every

color, so you won't be limited

in terms of creativity when you

choose matte black bathroom

fixtures.

Whether you want to keep

things neutral by combining

matte black fixtures with neutral

colors or you're more inclined to

go the route of bold colors like

Holliston leaf

pickup

As leaves continue to fall, here are some great tips on

how to manage them and keep our stormwater system

clean:

1. Keep fallen leaves out of streets

2. Clear storm drains of debris

3. Don't dump in ditches or

streams

4. Compost leaves and yard

clippings

Also, this is a reminder that

Fall Curbside Leaf Pickup will

be the week of Nov. 28 to Dec. 2.

All leaves must be in compostable

bags or loose in trash barrels.

Plastic bags will not be accepted.

All leaves must be at the curb by

6 a.m. on your designated trash

pickup day that week.

Source: www.townofholliston.us

$1000FF

Any Flooring Purchase

Any of Flooring $1000 or Purchase

More!

of $1000 or More!

Offer cannot be combined with any others.

Offer cannot be combined with any others.

green and light purple, the versatility

of matte black fixtures

makes both options possible.

36 MONTHS NO INTEREST!

36 MONTHS NO INTEREST!

Home

36

36

MONTHS

MONTHS Holidays NO

NO

INTEREST!

INTEREST!

FOR

Event

THE

SHOP LOCAL FOR SMALL BEST BUSINESS VALUES

SHOP Let us LOCAL Make your FOR SMALL Home BEST BUSINESS

your VALUES

Home

SHOP LOCAL FOR BEST VALUES

own!

This Let us Make Season your Home is perfect your own!

FOR

time

This Let us to save Make on installation Season your Home is and perfect your own!

material...

time

Holidays Event

THE

This Let us to save Make

all on before installation Season your Home is Thanksgiving!

Christmas!

anda perfect your own!

material... time

to save all on before installation Thanksgiving!

Christmas! and material...

PLUS

all FREE

before Thanksgiving!

Room This SHOP Holiday Measure Estimate

Design Center SHOP LOCAL Season LVP FREE* Delivery

Carpet Pad Removal

"Your Resource for PLUSLOCAL FOR SMALL SMALL Room FOR a BEST perfect BUSINESS

BUSINESS

Measure BEST VALUES time to

SHOP LOCAL FOR BEST VALUES

VALUES

Estimate

Design Center

Let Beautiful Floors"

Carpet Pad Haul Away

LVP FREE* Delivery

Carpet Pad Removal

"Your Resource for PLUS us •

Room Measure & Estimate

Design Center

Make your Home your own!

Beautiful Floors"

This Let save us on Carpet Pad Haul Away

•

LVP Delivery

••

Carpet & Pad Removal

"Your Resource for Beautiful Floors"

Let us Holiday Make installation

Make Season your Home and material…

your Home is perfect your own!

your own!

time

This This to save Holiday Holiday Showrooms •

Carpet & Open Pad Haul to the Away

Public

FlooringAmerica1.com

on all

508-366-5087

950 Showrooms installation before Season Christmas!

Season anda perfect perfect material... time

to save time

to save Chestnut St.

Open 1276 to

Worcester the Public

St.

FlooringAmerica1.com

508-520-2658

on installation all on and material...

950 Showrooms all Franklin

Chestnut before before installation Thanksgiving!

Christmas! and material...

all before Thanksgiving!

St. Thanksgiving!

Christmas!

Open 1276 to (Rte. Worcester the Public

9) Natick

St.

FlooringAmerica1.com

950 Franklin Chestnut St.

1276 (Rte. Worcester 9) NatickSt.

*See store for details

Franklin

(Rte. 9) Natick

"Your Resource for PLUS Room Measure Estimate

Design Center

Beautiful Floors"

FREE* *See store PLUS •

Room Measure & LVP Delivery

Carpet Pad Removal

"Your Resource for PLUS FREE* •

Room Measure & Estimate

Design Center

Beautiful Floors"

Estimate

Design Center

for details

LVP Delivery

••

Carpet & Pad Carpet Pad Haul Away

•

LVP Delivery

••

Carpet & Pad Removal

"Your Resource for Beautiful Floors"

Removal

"Your Resource for Beautiful Floors"

•

Carpet & •

Carpet & Pad Haul Pad Haul Away

Away

508-366-5087

508-366-5087

Showrooms Open to the Public

FlooringAmerica1.com

508-520-2658

508-520-2658

508-655-1393

950 Showrooms Showrooms Chestnut St. Open Open 1276 to to Worcester the Public

the Public

St.

FlooringAmerica1.com

FlooringAmerica1.com

950 950 Chestnut Franklin Chestnut St.

1276 St.

1276 (Rte. Worcester Worcester 9) NatickSt.

St.

*See

*See

store

store

for

for

details

Franklin

(Rte. 9) Natick

details

Franklin

(Rte. 9) Natick

$1000FF

$1000FF

Any Flooring Purchase

Any of Flooring $1000 or Purchase

More!

of $1000 or More!

Any Flooring Purchase

Any Any of Flooring Flooring $1000 or Purchase

Purchase

More!

of $1000 or More!

of $1000 or More!

Offer cannot be combined with any others.

Offer cannot be combined with any others.

30 days only. See Store for details. See Stores for Select Styles

30 days only. See Store for details. See Stores for Select Styles

30 days only. See Store for details. See Stores for Select Styles

30 days only. See Store for details. See Stores for Select Styles

Offer cannot be combined with any others.

Offer cannot be combined with any others.

Offer cannot be combined with any others.

Offer cannot be combined with any others.

30 days only. See Store for details. 30 days only. See Store for details. See Stores for Select Styles

30 days only. See Store for details. See Stores for Select Styles

30 days only. See Store for details. See Stores for Select Styles

*See store for details

Embody the look and feel

of a spa at home

With the help off this bathroom

trend, you won't have to

seek out a professional spa or visit

a local salon when you want to

relax. Instead, give yourself the

luxury of unwinding at home by

following the trend of turning

your bathroom into an at-home

spa. There's something especially

calming about unwinding at

home rather than driving somewhere

else when you want to experience

spa-level tranquility.

There are so many ways to

create a spa-like experience for

yourself, but it all starts with the

ambiance. Put together an environment

that is centered around

relaxation by prioritizing dim

lighting, adding scented oil diffusers,

and making room for

candles galore. From there, add

features like a freestanding bathtub,

heated floors, and warm

towels to enhance this cuttingedge

bathroom trend in your

home.

Keep it classy with marble

accents

Marble exudes elegance.

While it's a timeless choice in

general, it tends to go in and out

of style as new patterns and styles

garner temporary attention. But

as we've seen many times, interior

design trends often circle

back to marble, and that's what's

currently happening today.

The best part about marble

is that it can be incorporated in

many different ways. Whether

you want marble flooring, a marble

countertop, marble walls, or

marble accents, the options are

seemingly endless. Plus, marble

looks good with nearly every

color.

Currently, many people are

choosing to combine marble

with brown, beige, and other

earth tones. That said, if you're

someone who loves a pop of

color, you can't go wrong with

the combination of marble and

teal or other hues of blue.

Information provided by John

Szolomayer, RE/MAX Executive

Realty. For more information

contact John Szolomayer at 508-

259-4788 or JohnSzolomayer.

com.

Sponsored articles are submitted by

our advertisers. The advertiser is solely

responsible for the content of this article.

Experienced. Professional. Trustworthy.

John Szolomayer ABR, CBR, AWREP, LMC

RE/MAX Executive Realty

508.259.4788

johnszolomayer@gmail.com

johnszolomayer.com

VETERINARY CARE

for your companion

Our veterinarians

provide

personalized,

compassionate care

PREVENTATIVE MEDICINE, VACCINATIONS,

SPAY & NEUTER, EXAMS AND CONSULTATIONS,

PUPPY AND KITTEN CARE, SURGICAL CARE

Call us today to schedule an appointment!

FREE First Visit

for Dogs and Cats

Dogs 12 months or older,

cats 6 months or older

New clients only with this ad.

Expires 12/31/22

508-231-1223

300 Eliot Street, Ashland

www.thefamilypethospital.com

Medicine • Surgery • Exotics • Retail • Cat Friendly Certified

Doggie Daycare • Dog Training • Grooming • Medical Boarding
---
Page 10 Holliston Local Town Pages | www.hollistontownnews.com December 2022

FREE!

$20 Towards Your

Next Delivery Order

($50 minimum)

Text 508-687-6138 to get started!

• Green Cleaner (hypoallergenic & biodegradable detergents)

• FREE Pickup & Delivery

• Barcodes - garment tracking

• Texting - text and communicate through text and receive a

text in real time when you're orders ready

• Concierge service

279 5-Star Google Reviews!

508 376 9100

Text us: 508-687-6138

969 Main Street, Unit 1 • Millis, MA

qualitycleanersmillis.com

HOURS

Monday: 8 am - 5 pm

Tuesday: (Delivery) 8 am - 5 pm

Wednesday - Thursday: 8 am - 5 pm

Friday: (Delivery) 8 am - 5 pm

Saturday: 8 am - 1 pm

Sunday: Closed
---
December 2022 Find us on Facebook | Holliston Town News Page 11

The b.LUXE beauty beat

GIFTING: 3 RULES TO SHOP BY

By Gina Woelfel

Good gift-giving is an art!

There's nothing like watching

someone light up with joy when

they open your gift! The perfect

present can lift your mood,

strengthen a relationship and

even leave you feeling happier

and healthier. Gift giving releases

the "feel good" chemicals in your

brain for an instantaneous moodboost.

Maybe that's why we feel

so good around the holidays?

A gift can be many things

and doesn't need to be big or

expensive to be amazing. Giving

with intent and keeping your gift

choices relevant says "I see you"

and "you're worth it". When we

take the time to emotionally customize

gift-giving it speaks volumes

to its recipient and makes

even the smallest gestures feel

incredibly thoughtful.

Themes are a wonderful way

to personalize a gift. A theme encourages

you to think about who

you're gifting and what they'd

love to receive. You can choose

a spa package and candle for a

friend who needs a little "metime"

or how about a gourmet

cooking basket of spices and specialty

foods for your sister who

loves to cook? There's a theme

for everyone on your list!

Let's face it, gone are the days

when Black Friday opened the

holiday shopping season. The retail

madness starts the day after

Halloween and it's easy to get lost

in the sea of holiday sales. With

a little planning, though, you can

manage this chaos like a boss and

curate some amazing gifts with

minimal (or at least enjoyable)

in-person and online shopping.

Gifting: 101

Make a list and check it twice!

Break it down by order of importance.

You'll have your first

tier recipients like family and

friends whose gifts you'll need

to give the most thought to. It's

important to consider their personalities,

hobbies, and pastimes

when choosing their gifts. Keeping

it personal and recipient specific

makes both you, the giver,

and the receiver very merry!

Your next tier of gifts will be for

the people in your life who support,

service, educate and soothe

you. Now, you probably don't

know your mailman or your kid's

teachers well enough to know

their hobbies, but the holidays

are an excellent opportunity to

show your appreciation and an

end-of-year gift certificate or tip

is the perfect way to say thank

you. Most of your favorite stores,

salons and restaurants now offer

gift cards online, so take advantage

of this convenience! Light

a fire, pour a glass of wine and

with just a few clicks, your gift

card shopping will be done and

you can enjoy some holiday

downtime!

Budget, budget, budget!

Nothing will ruin your holiday

spirit more than stressing

over your bank account! Keep

things simple, know what you

can spend and find ways to keep

your purchases within those parameters.

Sometimes, we may

feel pressured to splurge beyond

our means, forgetting that homemade

and smaller gifts are just

as special. Giving a $5 Starbucks

card might feel insignificant to

you, but the gift of an afternoon

coffee might be exactly the break

someone needs. No gift is EVER

too small when it's given with

gratitude. Even a small bobble or

stocking stuffer is a treasure when

paired with a thoughtful card.

And now in the time of texts and

tweets, your hand-written words

are more meaningful than ever.

Always remember to treat

yourself!

There's no one who works

harder than you to plan the perfect

holiday. You've got this! So,

stop, take a breath and give yourself

the gift of grace (and maybe

a spa facial package, too!)

b.LUXE is here to make your

holiday shopping easier than ever

with our huge selection of spa

and beauty gifts!

We've also put together two

specially priced spa packages that

can be purchased online and delivered

via email or purchased in

person at the studio.

• Scalp Spa Package $100 -

$120 value

• Facial Package only $150 -

$195 value

Both are relaxing and rejuvenating.

Want to give the gift of

healthy hair? Grab a b.LUXE

Holiday Hygge Box! It includes

our nourishing BEFORE Oil,

a super absorbent, eco-friendly

hair wrap, a scalp massaging

brush and a wide-toothed, staticfree

comb. It's only $100 and can

be shipped anywhere in the US

for $10.

If you're shopping on a budget,

remember, it's the thought

that counts! Our signature lip

gloss trios, hair accessories, Soi

brand soy candles and smaller

retail items make lovely gifts, too!

And if you're not sure what

to give, pick up a b.LUXE gift

card!!

As we close out 2022, The

b.LUXE family would like to

wish you all peace, love and so

much joy! We're truly blessed

with this amazing community

and hope the warmth of family,

friends and festivities brings you

all a well deserved and magical

holiday season.

PAID ADVERTISEMENT

Sponsored articles are submitted by

our advertisers. The advertiser is solely

responsible for the content of this article.

Wishing you Happy Holidays!

Roselyn Jeun O.D.

Comprehensive Eye Exams

Specialized Contact Lens Fitting

Shop

F O R T H E

HOLIDAYS

S P E C I A L L Y P R I C E D S P A P A C K A G E S

B U Y 3 G E T 1 F R E E R E T A I L S A L E

H O L I D A Y H Y G G E B O X

RECYCLE THIS NEWSPAPER

Orthokeratology & Myopia Progression Control

Fashion Eyewear and Safety Glasses

Schedule an appointment today

Holliston Vision Center

508-429.1330 • HollistonVisionCenter.com

841 Washington St., Holliston
---
Page 12 Holliston Local Town Pages | www.hollistontownnews.com December 2022

Holliston Youth Cheer Continues To Impress

Cheerleading states tournament

ended the season for U10

large and U10 small, but U14

placed third.

At the time of press, coach

Melissa Armento was looking

forward and hopeful for a positive

outcome at the regional tournament

in Providence, R.I.

"We now have another on

competition on Saturday, Nov.

19. We compete at Regionals in

Providence. If we place in the

top 3 again there, we will head

to Florida for the AYC National

Championship," she explained.

21 Main street, Suite 102, Milford MA 01757

(508)377-3743

milforddentalgroup.com

MINI DENTAL IMPLANTS

Dr. Peyman Beigi, DMD

General and Emergency Dentist

Dr. Beigi completed his undergraduate

studies in California and earned his

doctorate from Tufts University, School

of Dental Medicine . He completed his

residency at the New England Medical

Center. He is certified in Invisalign,

implant dentistry, and oral sedation. He

focuses on oral surgery, root canal

treatment, and gum surgeries. Dr. Beigi,

too, is an FBI-trained forensic dentist.

Dr. Peyman Beigi is a pioneer in the field of MINI IMPLANTS

New Patient Special

$125

Regularly priced at $437

Same day

dental service

Teeth Whitening

$320

Regularly priced at $599

Invisalign ® Consultation

FREE

General & Cosmetic Family

Dentistry

• Same day dental services

• New patients welcome

• 0% APR financing

• Most insurance plans accepted

It's possible to replace LOOSE dentures and MISSING teeth in just one visit!

MINI DENTAL IMPLANTS are a fast, affordable and permanent solutionto replace missing teeth or

stabilize dentures in just one visit, for half the cost (and size) of conventional implants!
---
December 2022 Find us on Facebook | Holliston Town News Page 13

Select Board makes

appointments, accepts

donation, approves First Night

Bonfire request

By Theresa Knapp

At its meeting on Nov. 14, the Holliston Select

Board made the following appointments to expire

June 30, 2023:

• Vladimir Nechev, Zoning Board of Appeals,

associate member

• Paul Jameson, Firefighter

• Nicholas Cutone, Firefighter/EMT

• Steven Garrett, Firefighter/EMT

• Brendan Malone, Firefighter/EMT

Town Administrator Travis Ahern noted the

firefighter/EMT appointments will fill open positions.

At that meeting, the board also:

- Accepted a donation of time and work in the

amount of $5,000 to the Holliston Community

Farm from Dellicker Excavating which

dug a trench to run power from the greenhouse

for the heater; and

- Approved a request for a First Night Bonfire

on Dec. 31, 2022, from 6pm to 10 p.m., at the

Holliston Community Farm.

Call for info on our Holiday Guide to be published in

the November paper

Contact Susanne: 508-954-8148

sue@sodellconsult.com

Holliston Pantry

Shelf offers food free

of charge

According to the Holliston

Pantry Shelf website, the group

offers food free of charge to Holliston

residents in need. In addition,

they:

• Offer a grocery store shopping

experience where

Holliston residents are able

to select from close to 500

quality food items, including:

milk, beef, chicken,

fish, pork, seasonal produce,

eggs, cheese, yogurt, canned

soups, beans, pastas, cereals,

coffee, snacks, and much

more. We also offer personal

care items like shampoo,

laundry detergent, soap and

toothpaste.

• Are open 5 days a week

including two evenings a

week.

• Offer complete privacy and

confidentiality for our neighbors

who need temporary

or longer term help meeting

their grocery needs. Shoppers

need to only obtain a

Pantry ID card through the

Town Clerk's office at the

Town Hall. Personal financial

information is not required.

Proof of residency

in Holliston is required.

In addition, they are a 501

(c) 3 non-profit corporation, and

receive no municipal, state or

federal funding, and is operated

by more than 120 unpaid volunteers.

All monetary donations to

Holliston Pantry Shelf go directly

toward the purchase of food or

maintaining our Pantry space.

Source: www.hollistonpantryshelf.org

Route 109

Medway Millis
---
Page 14 Holliston Local Town Pages | www.hollistontownnews.com December 2022

Santa makes many lists,

including his own Wish List!

New Roof Installation

Fascia, Soffit, Trim

Seamless Gutters

Chimney Re-Leading

Window Installation

Skylight Installation

Siding

PEACE OF MIND

Luckily for Santa, Robert Roofing & Gutters

can help with them all!

• Free Estimates

• Licensed & Insured

• Serving the North Pole,

South Shore &

Surrounding Areas

Robert Greene

857-247-8709

robertroofingandgutters.com

One Call Sends a Roofer, Not a Salesman
---
December 2022 Find us on Facebook | Holliston Town News Page 15

Legislature Passes Bill to Protect Open Spaces

Bill codifies 'no net loss' policy into law for

conservation areas in Massachusetts

The Massachusetts Legislature

passed legislation that

protects open and public spaces

throughout the Commonwealth

and ensures their conservation

for future generations. This legislation,

known as the Public

Land Preservation Act, permanently

preserves and protects the

amount of land designated as

open spaces and prevents it from

being used for other purposes.

"As we work to mitigate the

effects of climate change we see

and feel every day, it's important

that we do not allow the quality

and acreage of open lands

in Massachusetts to decrease,"

said Senate PresidentKaren E.

Spilka (D-Ashland). "Open lands

protect against floods, reduce

heat from man-made roads and

cities, increase carbon capture

from plants and soils, protect our

clean drinking water, and provide

residents with wonderful outdoor

recreational opportunities.

I want to thank all the conferees,

especially Senator DiDomenico

for his leadership and Senator

Eldridge for his years of attention

and perseverance in seeing

this legislation passed, as well as

Senator Rodrigues for his review

and support."

"I am thrilled that we have

reached an agreement on this

bill which will protect our public

land so our communities can

have parks, green spaces, and

clean water to enjoy throughout

the Commonwealth," said

Senator Sal N. DiDomenico

(D-Everett), Chair of the Senate

Committee on Bills in the Third

Reading. "Protecting our public

lands is so critically important in

our state because they also help

protect our residents from the effects

of climate change; our forests

keep our air clean, our trees

cool down our streets and communities,

and our wetlands mitigate

the effects of flooding and

storms. I am grateful for Senate

President Spilka's dedication to

getting this important bill passed,

Senator Eldridge and Representative

Balser for their years of

work on this issue, and all the

conference committee members

for their help getting this bill over

the finish line."

"I am extremely proud that

an agreement has been reached

between the House and Senate

on the landmark Public Land

Preservation Act (PLPA), which

will strengthen the state's commitment

to ensuring that there is

no net loss of open space in the

Commonwealth," saidSenator

Jamie Eldridge (D-Acton), Senate

Chair of the Joint Committee

on the Judiciary and the bill's

original sponsor. "I'm grateful to

Senate President Spilka's commitment

to passing this environmental

legislation, the work

of the conferees, and the persistent

advocacy by conservation

groups. I also want to acknowledge

the godfather of PLPA, Phil

Saunders, who dedicated his professional

life to passing this bill."

"With the passage of the

Public Lands Preservation Act

today, our public lands and open

spaces will be preserved and

protected for current and future

generations to come," said Senator

Michael J. Rodrigues (D-

Westport), Chair of the Senate

Committee on Ways and Means.

"Thank you to Senate President

Spilka for her leadership and

thank you to Senator Eldridge,

Senator DiDomenico, and others

for their leadership on this vital

issue as well. Ensuring the preservation

of our most important

public lands, farms, recreational

areas, drinking water supply

lands, sensitive wildlife habitats,

forests, and other conservation

and open space lands is critical

in our collective efforts to adapt

to and confront climate change,

while protecting the public health

of our communities, and passage

of this legislation is a testament

to the Senate's steadfast commitment

to protecting our environment

at all costs."

Since its passage as a ballot

initiative in 1972, Article 97 of

the Massachusetts Constitution

has recognized the importance

of public lands. Lands acquired

for conservation purposes under

Article 97 have protected status,

and such lands' sale or conversion

to other use must be approved

by a two-thirds vote of

each branch of the Legislature.

T R E E S C U S T O M W R E A T H S G I F T S

Weston Nurseries

Our Holiday Shop is Open!

Recognizing the importance of

maintaining public lands, the

Legislature, working with the

Administration, has for many

years ensured 'no net loss' of

open spaces by requiring equivalent

replacement land into open

space when disposing of Article

97 land.

The conference report passed

by the Legislature today codifies

a 'no net loss' policy into law,

making it legally binding. It ensures

a public process takes place

when a public entity considers

disposing of Article 97 land

and that replacement land is located

nearby and of comparable

acreage, fair market value, and

natural resource value. The legislation

includes a provision that

allows for a cash payment in lieu

of replacement land, provided

that the payment amount is no

less than 110 per cent of the

value of the land and the money

is used to purchase replacement

land within three years.

Having passed the Senate

and the House of Representatives,

the bill now goes before the

Governor for his consideration.

Preparing students for a lifetime

of learning since 2006

Reach Preschool strives to provide a variety of

opportunities to encourage cognitive, emotional,

physical and social development for each child.

Registration is now open for

the September 2023 - June 2024 school year

Contact us for a tour!

508.868.2330 info@reachpreschool.com

Laura Erwin, M.Ed. Marcy Klay, M.Ed.

reachpreschool.com

Licensed by the Commonwealth of Massachusetts

Department of Early Education and Care

C O M E V I S I T S A N T A O N

D E C E M B E R 1 0 T H & 1 1 T H

9 3 E A S T M A I N S T . , H O P K I N T O N 5 0 8 . 4 3 5 . 3 4 1 4
---
Page 16 Holliston Local Town Pages | www.hollistontownnews.com December 2022

Hey Ladies ...

looking for wide shoes?

Women's Fashion Shoes in

hard-to-find sizes

Sizes 6.5ww - 11ww, also 12m

Holiday Special

Trotters best selling Loafer

Now $49 !

Reg. $110

Mention or bring this ad

The Forgotten Foot

"It's Worth the Trip!"

WE'VE MOVED!

1255 Worcester Road, Framingham

Hours: Mon. - Sat. 11 a.m. - 6 p.m. • Sun. 12 - 4 p.m.

508-879-3290

Energy Assistance Available

The Massachusetts Department

of Housing and Community

Development (DHCD) is

now accepting applications as

Veterans Tax Work-Off Program

applications now available

Applications are now available for the Town of

Holliston's Veterans Tax Work-Off Program. For

the full guidelines, visit www.townofholliston.us.

To be eligible for the program, you must be a

veteran (as defined by state law); listed as the Holliston

property owner of record by July 1; a Holliston

resident for at least five years by the day the application

is filed; and must be listed as a veteran on the

town census. A veteran might also be requested to

show their most current income tax return and/or

discharge papers.

The town allows for a maximum of 10 volunteers

to be in the program per year, and the maximum

annual tax abatement is $1,000.

For more information, visit https://bit.

ly/3TK4RnI

Timothy Daniels House

Source: www.townofholliston.us

On-Street Parking Ban in Effect

The on-street parking ban is now in effect through March

31 from 1 a.m. to 5 a.m. Any vehicles in violation will be

ticketed and towed.

Source: www.townofholliston.us

part of the annual Low Income

Home Energy Assistance Program

(LIHEAP). Applications

are currently being accepted online,

and income-eligible households

may receive help from now

through April 28, 2023.

Households must meet specific

eligibility requirements to

qualify for aid, which will be paid

directly to their heating vendor.

With the cost of heating expected

to dramatically increase

this year, DHCD urges all eligible

residents to apply.

For more information, and the

application form, visit https://

bit.ly/3AMCZcj

Exceptional Short-Term Rehab & Skilled Nursing Care

Physician on Site

24 Hr Nursing Coverage

Short Term Rehab

Respite Stays Welcome

(508)429-4566

Physical Therapists On Site

Hospice Services

84 Elm Street, Holliston, MA

www.rehabassociates.com/timothydaniels

TO ADVERTISE

IN THIS PAPER

Call Susanne

at

508-954-8148

or email

sue@sodellconsult.com
---
December 2022 Find us on Facebook | Holliston Town News Page 17
---
Page 18 Holliston Local Town Pages | www.hollistontownnews.com December 2022

508-429-2535

Neil Lazzaro

ASE Technician

1292 Washington Street,

Holliston

Propane open Mon-Sat

Gas Grill Tanks Filled

Tires & Alignment

Suspension & Steering

Exhaust & Brake

Air Conditioning

Factory Scheduled Maintenance

Mass. State Inspection Station

Looking to advertise your business?

Contact Susanne: 508-954-8148

sue@sodellconsult.com

Solutions for Kitchens and Bathrooms

… from design to installation

Legislature Passes Bill to

Prevent Student Loan-related

License Revocation

Bill will prevent individuals with outstanding student loan debt from

having their professional licenses revoked

On Monday, Nov. 21, the

Massachusetts Legislature

passed legislation to prevent individuals

who default on their

student loans from having their

license or professional certification

revoked as a result. As of

Fall 2022, approximately one

million Massachusetts residents

hold a combined total of nearly

$31 billion dollars in federal student

loan debt, with an average

debt of $34,146 per borrower.

"Student loan debt disproportionately

affects young, lowincome

individuals who are

making the kinds of investments

in their future that we should

be encouraging," said Senate

President Karen E. Spilka (D-

Ashland). "Revoking professional

licenses that they obtained

with a student loan does nothing

to solve the problem of loan

defaults, and it actively makes

the problem worse by preventing

new professionals from having

the means to pay off their

loans. I want to thank Senator

Eldridge for his attention and

determination in seeing this

common-sense bill over the finish

line."

"I am proud to announce

that the Senate has passed the

license revocation ban bill,

known as an act prohibiting

license revocation for student

loan default. Nearly one million

Massachusetts residents are

struggling because of student

loans. As the federal moratorium

approaches its end, we

must recognize Covid-19's continuous

impact on employment

and borrowers' financial situations,"

said Senator Jamie Eldridge

(D-Acton), Senate Chair

of the Joint Committee on the

Judiciary. "The bill will ensure

that borrowers, who are heavily

burdened by student loans, can

still continue their career and

work towards repayments of

their educational loans. Thank

you to Representative Higgins

for her leadership on filing and

fighting for this legislation. Congratulations

to the hard-working

advocates, and staff."

Under current Massachusetts

law, residents can have their licenses

or professional certification

revoked, denied, or refused

for renewal as a result of defaulting

on their student loan

debt. Massachusetts is one of

only 14 states with such a law.

The bill does away with the law

and blocks any state agency or

board of registration from denying

or revoking any license

or professional or occupational

certificate or registration based

on an individual's default on an

educational loan.

The bill does not change the

state's ability to use traditional

loan collection tools.

Having previously passed

both the Senate and the House

of Representatives, the bill goes

to the Governor for his consideration.

Creating functional and stylish spaces since 2014

See us online at NortheastKandB.com

Fully licensed and insured

Call today! 617.650.8814

Washington Street Players

"It's A Wonderful Life"

Washington Street Players present "It's a Wonderful Life-Radio Play" Dec. 2, 3, 9, 10, at

8pm.

Performances will be at Holliston Town Hall.

Same Day Service Mon-Fri (In by 9:00 a.m.)

Medway Food

Pantry is in

need of Food!

Donate today at

our Drop Off !

lc

Gould's Plaza, 74 Main St., Rte. 109

Medway, MA 02053

508-533-6641

Mass Lottery Tickets sold here!

CLEANERS, INC.

Family-Owned since 1985

Eco-Friendly

www.tlcdrycleaners1.com

Warmest Wishes

for a Merry Christmas

& Happy New Year!

Offering secure package

pickup for Amazon

customers!

We are now an

$5 OFF

$30 or more Dry Cleaning

Laundered Shirts, Leather, Suede,

Furs & Alterations excluded.

Incoming Orders only

Expires 12/31/22

H

116 Main St, Medway

(508) 533-6655

32 Hasting St, Rte 16. Mendon

(508) 381-0249

H

Don't stand in line!

ONLINE ORDERING

NOW AVAILABLE!

Don't Wait! Order your Thanksgiving

Cakes, Pies and Desserts Early!

muffinhousecafe.com

Open Daily

Bakery with Fresh Muffins/Pastries

Receive 10% off any cake

with this coupon

All our cakes are made from scratch on the premises

Expires 12-31-2022

MUFFIN HOUSE

CAFE

Muffinhousecafe

NOW OPEN!

296 Washington St

Westwood, MA

43 Main St, Hopkinton

(508) 625-8100

325 N. Main St, Natick

(508) 647-0500

Breakfast and Lunch Sandwiches

Best Blueberry Muffins Since Jordan Marsh

FREE SMALL COFFEE

with a purchase of a muffin with this coupon

Expires 12-31-2022

H
---
December 2022 Find us on Facebook | Holliston Town News Page 19

GROW YOUR BUSINESS

with Local Town Pages!

Call Today! Susanne 508-954-8148

Sports

Vanesian Eager To Lead HHS Boys Basketball Team

By KEN HAMWEY

Staff Sports Writer

Chris Vanesian may be Holliston

High's new boys basketball

coach but he's no stranger

to the Panthers' program or to

other teams in the Tri Valley

League.

The 30-year-old Vanesian is a

Holliston native who graduated

in 2010 from Holliston High

where he played center back

in soccer and a combo guard

in basketball. During his senior

year, he was a TVL all-star in

soccer and a captain in basketball.

After majoring in math and

secondary education at Salve

Regina College in Newport,

R.I., Vanesian taught math in

West Bridgewater for a year

before returning to Holliston

where he's worked the last eight

years teaching seventh grade

math at the Adams Middle

School.

Vanesian's coaching experience

includes two years as the

Panthers' jayvee hoop coach,

one year coaching the Holliston

freshmen, four years as an assistant

at Lasell University in Newton

and last year as Medway's

junior varsity coach.

Now ready to begin his career

at the varsity level, Vanesian says

he's "excited about the opportunity

to coach players he's taught

in math classes and excited to be

coaching a team that has experience

and potential.''

Vanesian's style will be a

combination of up-tempo offense

with a relentless defensive

effort. "Our identity will be on

the defensive end but we'll go

with different looks,'' he said.

"We'll look to run in transition,

to be creative and to offer the

players some variety that'll allow

them to identify their strengths.''

As far as his team's overall

strengths go, the personable

Vanesian lists six that he firmly

believes will play a major role in

achieving his ultimate goals —

competing for the TVL Large

Division title and qualifying for

the state tourney.

"Our strengths are a high

basketball IQ, athleticism, team

chemistry, solid skills, experience

and depth,'' he emphasized.

"Besides competing for the division

title and qualifying for the

tourney, we want to compete

hard every day, improve every

day, win the day by taking steps

forward as a unit and to hit our

stride at mid-season.''

Vanesian, who experienced

tourney action twice as an assistant

to Jenna Galster at Holliston

and once last year with Medway,

is a proponent of building a program

by getting younger players

involved in the town's youth

program. "We want our varsity

players to be active role models

for kids at the youth level,'' he

noted. "We want them to be involved

in clinics and to give back

to the community.''

The Panthers, who have 10

returnees from last year's 2-18

squad, will be led by three senior

captains — Austin Mirken

(wing), Andrei Koev (point

guard), and Joey Gentile (power

forward).

"Austin leads by example and

has a high hoop IQ,'' Vanesian

said. "He facilitates the offense

and can create his own shot.

He sees the court well and has

a good work ethic. Andrei is a

fine ball-handler who can pass

effectively. He sees the court

well, works hard on both ends of

the court and is a vocal leader.

Joey is a three-sport captain

(football and baseball) who's a

great leader. He's respected on

and off the court and is a good

rebounder who gets extra possessions

by never giving up on a

play.''

Senior Dillon Foley is a talented

power forward around the

hoop. "Dillon plays defense very

well,'' Vanesian said. "He also

gets extra possessions and has

very good post moves.''

Chris Vanesian has been an assistant coach at both the high school and

college level.

Owen Baughn is a sophomore

guard-forward whose future

is bright. "Owen displayed

great shooting ability as a freshman,''

said Vanesian. "He had

some big games last year. He's

got a high basketball IQ, can get

to the hoop and finish, and can

also shoot threes.''

Two seniors who'll be part

of the Panthers' nucleus include

Michael Gonsalves at point

guard and Kaden Dumas at forward.

"Michael knows how to get

teammates in the right spots,''

Vanesian offered. "A good ballhandler,

he can facilitate the offense,

he passes effectively and

he's a three-point threat. Kaden

does the little things that win

games. He's a good shooter and

a solid rebounder who battles

down low.''

Vanesian will rely on a coaching

philosophy that'll emphasizes

work ethic, reaching one's

potential by giving 100 percent

and ensuring that his players

enjoy their athletic experience.

"If all those factors are in play,

then winning will be the end result,''

he said.

Valuable life lessons can be

learned in sports and Vanesian

hopes his players will learn their

share. "Some excellent lessons

NEW ENGLAND REGLAZE

Don't replace

your old tub, reglaze it!

Tubs, tile sinks and

much more

We do any TUB!

CALL US NOW

617-895-7771

www.newenglandreglaze.com

are how to overcome adversity,

to be resilient, and become quality

leaders,'' Vanesian noted.

"Other lessons are to be supportive

teammates, to set goals

and to manage time effectively.''

Vanesian met 30 prospective

players on sign-up day in June

when he was hired. He's optimistic

about how his transition

to varsity coaching will go. "It's

all about trust,'' he emphasized.

"It's all about getting to know

the players, to build trust and

help them achieve their goals. I

want them to enjoy playing basketball.''

The Panthers will open their

season on Dec. 13 at home

against Medfield.

Vanesian knows that Holliston's

basketball program enjoyed

a rich tradition, especially

when legendary coach Tom Keough

led the program.

"I knew Tom who was a

great mentor and a great person,''

Vanesian said. "I want to

build the tradition and the culture

again. The ultimate goal

is to finish in the top three in

the division and compete in the

state tourney. Our goals are realistic,

our drills in practice will

be competitive and we'll see how

they impact us.''

Vanesian's assistants are Joel

Bernstein, who'll coach the

jayvees, and Kevin LaMarque,

who'll direct the freshmen.

"Joel has lots of experience as

a teacher and coach and Kevin

and I were classmates in high

school,'' Vanesian said. "Kevin

is also a teacher who is an assistant

coach in football.''

Chris Vanesian is eager to

start the season and he's excited

about directing a varsity squad.

Reg. $ 399

Color, travel, may apply.

NOW $ 299. 00

SAVE

$100

WITH AD
---
www.junkitnow.u

www.junkitnow.u

Page 20 Holliston Local Town Pages | www.hollistontownnews.com December 2022

Holliston Senior Center News And Events

3 Great Ways to Meet Someone

New & Learn Something New!

1. "Select Chat" First Friday

every month from 9:30am to

10:30am

Have a cup of coffee with Select

Board Chair, Ben Sparrell

to share your thoughts

about Holliston.

Feel free to bring your ideas

and suggestions to the table!

2. "Veterans Coffee Hour"

Third Thursday every

month from 9:30 to 10:30am

MetroWest Director of Veterans

Services, Sarah Bateman,

will be hosting a Coffee

Hour where you can ask

questions, learn about new

programs and share stories.

All are welcome!

3. "Coffee with the Holliston

Police"

First Tuesday of the month

from 2 to 3pm

Sergeant Remkus and Officer

Ciavarra are here to

answer your questions and

Hot Gifts for the Holidays!

CBD

Trusted Brands

Local Sources

Free Samples

Brochures

VAPORIZERS

Devices, Juice

Disposables

FINE CIGARS

Cutters

Torches • Ashtrays

Humidors

fill you in on the current happenings

around town! Please

bring a topic you would like

to discuss.

Call the Senior Center to

sign up for any of these activities

at 508-429-0622.

Colorings

Mondays, 9:30-11 am Join us

for relaxing adult coloring. This

is a great way to unwind. All supplies

are provided.

Game Day

Mondays, 1:30-4 pm Join us

for a fun time playing cribbage,

dominoes and more! No experience

required.

Monthly Breakfast

Second Tuesday of the Month

9am

($3 Donation Requested)

VETERANS EAT FREE

Start your day with a smile

and a hot cup of coffee while enjoying

classic breakfast favorites.

You must sign up 2 business days

in advance by calling the Center.

Candles, Art, Tapestries

Backpacks, Seeds

Exotic Snacks

1,000s of

Smoking

Accessories

www.mycornernews.com

Writers' Group

First Tuesday of the Month

10:00 am—12:00 pm Instructor:

Lois Hosmer

All pieces are welcome. Enjoy

a morning of listening, writing,

and camaraderie. Hope to see

you there.

Monthly Programs

Watercolor

Thursdays, 2:00-4:00 pm ($4

Donation Requested) Instructor:

Brenda Goldman, BFA Each

week, paint along with your instructor,

Brenda, as she guides

you through your watercolor

painting experience. Experience

live demonstrations and lots of

individual instruction. Bringing

your own supplies recommended.

Friday Crafters

Fridays 9:30-12:00 pm Open

to all types of sewing, knitting

and crafts! Our craft group is

happy to help you with your

personal projects. They will also

teach you a new craft project

once a month. A great time to

chat and learn from each other.

DISC GOLF

Disc • Bags

(Home of the Dacey)

Lost & Found

Sneakers

Hats

Apparel

PIPES

Handblown Glass

Handpipes &

Waterpipes

20% OFF ANY ONE ITEM (SOME EXCLUSIONS APPLY)

191 MECHANIC ST. #2

BELLINGHAM

508.657.0960

Book Club

Second Friday of the Month

1:30 pm

Join for great books and

thought- provoking conversation!

Books are listed on the next page.

The Holliston Public Library can

assist with getting books and can

be reached at 508-429-0617.

New members are always welcome.

Tune Timers Band

Fridays, 1:00-4:00 pm Come

to the Center every Friday to

***We ***We now now empty empty your your (3 cubic (3 cubic yards) yards)

junk junk bags bags and and leave leave for for your your next next

cleanout. Call Call for for pricing.***

TOM TOM CASSIDY CASSIDY

***We now empty your (3 cubic yards)

***We We now now empty empty your (3 your cubic (3 yards) cubic yards)

OWNER OWNER

junk junk bags and bags leave for and your next leave

cleanout. Call for pricing.***

junk bags and for leave your for next your next cleanout. Call for Pricing!

cleanout. Call for pricing.***

COUPONS COUPONS FOR FOR CLEANOUTS ONLY. ONLY. INSIDE/OUTSIDE YOUR YOUR HOME. HOME.

Coupons for cleanouts only. Inside/Outside

JUNK JUNK BAGS BAGS REMOVAL REMOVAL FEE SEPARATE. FEE CALL CALL FOR FOR PRICING. PRICING.

your home. Junk bags

PLEASE PLEASE

removal

GIVE GIVE ONE

fee

ONE TO

separate.

A TO FRIEND A FRIEND

Call for Pricing. Please give one to a friend. TOM CASSIDY

TOM CASSIDY

OWNER

COUPONS FOR CLEANOUTS ONLY. INSIDE/OUTSIDE YOUR HOME.

JUNK BAGS REMOVAL FEE SEPARATE. CALL FOR PRICING.

PLEASE GIVE ONE TO A FRIEND

www.junkitnow.us

www.junkitnow.us

listen to the Tune Timers Band.

There is plenty of room for dancing

and singing. A fun-filled afternoon

is guaranteed.

Veterans Coffee Hour

Third Thursday at 9:30 am

MetroWest Director of Veterans

Services, Sarah Bateman, will be

hosting a Coffee Hour the 3rd

Thursday every month at the Senior

Center. All are welcome!

Would you like to

receive your Holliston

Senior Center

newsletter digitally?

The Senior Center is happy to

send you our newsletter to your

email inbox, if you prefer. It is

good for the environment and

you will receive it sooner since

you do not need to wait on the

mail!

If you would like to join our

email list, please email our Assistant

Director, Amanda at boralessaa@holliston.k12.ma.us

or

call us at 508-429-0622

www.junkitnow.us

www.junkitnow.us

OWNER

***We now empty yo

junk bags and leav

cleanout. Call for p

TOM CAS

OWNER

Tom Cassidy

COUPONS Owner FOR CLEANOU

JUNK BAGS REMOVA

PLEASE

COUPONS FOR CLEANOUTS ONLY. INSIDE/OUTSIDE YOUR HOME.

JUNK BAGS REMOVAL FEE SEPARATE. CALL FOR PRICING.

PLEASE GIVE ONE TO A FRIEND

www.junkitnow.us

www.junkitnow.us

www.junkitnow.us
---
December 2022 Find us on Facebook | Holliston Town News Page 21

Senior Center News

Pearl Harbor program

Dr. Gary Hylander presents...

"Pearl Harbor"

Dec. 8

We are pleased to invite Dr.

Gary Hylander back to our Center

in December for another dive

into US history.

For December, he will be

speaking about Pearl Harbor, the

day after Pearl Harbor Remembrance

Day.

Presentation kindly sponsored

by Timothy Daniels House. Sign

up by calling the receptionist at

508-429-0622.

Lunch Menu

Monday, Dec. 5

Chicken Broccoli Ziti, Carrots,

Garlic Bread, Pudding

Wednesday, Dec. 7

Meatloaf, Tomato Soup,

Mashed Potato, Peas and Mushrooms,

Cookies

Monday, Dec. 12

Holiday Luncheon

A Variety of Italian Dishes

with Fresh Pastries for Dessert

(Suggested Donation: $6.00)

Wednesday, Dec. 14

Beef Stew, Fruit Salad, Biscuit,

Carrots, Cupcakes

Monday, Dec. 19

Stuffed Shells with Meat

Sauce, Caesar Salad, Garlic

Bread, Green Beans, Banana

Bread

Wednesday, Dec. 21

Baked Ham, Mashed Sweet

Potato, Corn Chowder, Assorted

Pastries

—NO LUNCHES Dec. 26-Jan. 2

UP TO

$ 10,000 OFF

In rebates available for

NEW HEATING & A/C SYSTEMS

per home for eligible customers

PLUMBING • HEATING • A/C

ELECTRIC • REMODELING

RODENHISER.COM • 508-306-4698

CALL or BOOK ONLINE for a free

in home or virtual consultation!

WE WANT TO HEAR FROM YOU!

Have an upcoming event? Do you have a concern about

things happening around town? Email us at

editor@hollistontownnews.com and let us know!

Holliston's Arvanitis

had 88 yards with 11

carries for Stonehill

Stonehill College saw five different

players reach the end zone

and racked up almost 400-yards

rushing in returning to the win

column with a 50-10 triumph

over Wagner College in a Northeast

Conference (NEC) football

matchup on Timothy J. Coughlin,

'80 Memorial Field at W.B.

Mason Stadium last month.

Junior running back Jermaine

Corbett (Long Branch, New

Jersey/Long Branch) paced the

Stonehill rushing attack with a

season-high 227 yards on 16 carries

with three touchdowns as he

averaged 14.2 yards per carry for

the game. He posted the second

200-yard rushing game of his career

and surpassed 100-yards for

the third time this season (fourth

career), scoring on touchdown

runs of 32, 59 and 74 yards on

the day.

Junior Matt Arvanitis from

Holliston, added 88 yards on 11

carries with a score, while classmate

Tom Comella (Johnston,

Rhode Island/Bishop Hendricken)reached

the end zone

twice on six touches as Stonehill

finished the day with 399 rushing

yards, averaging 9.5 yards

on its rushing plays, of the 617

yards of total offense it recorded

for the afternoon, marking the

Skyhawks first 600-yard day

since posting a program-record

662 against MIT on October 2,

1994.

New England

Inc.

Ballistic Services

Instant cash paid for

your valuable firearms.

Call today for a confidential consultation

508-381-0230 • www.neballistic.com

SHINE – Serving the Health

Needs for Everyone

With Medicare Plans, does it matter which

pharmacy you use?

YES, the pharmacy you use

could make a big difference!

All Medicare drug plans

and Medicare Advantage plans

(HMOs, PPOs) have network

pharmacies. Most pharmacies

accept most plans. However,

if you go to a pharmacy that is

not in your plan's network, your

drugs will not be covered, and

you will pay full retail price.

Keeping families comfortably cozy in their homes year-round for over 76 Years!

Happy Holidays from

For 2022, all the 21 Medicare

drug plans have preferred pharmacies

as do several Medicare

Advantage plans. You should

check that the pharmacy you

currently use is the best one to

use with your plan; plans can

change their preferred pharmacies

from year to year. By using

a preferred pharmacy, you may

save money!

HEATING & AIR CONDITIONING

Specialists in Home Comfort

& Energy Conservation

Trained SHINE volunteers

offer free, confidential counseling

on all aspects of Medicare

and related health insurance

programs. To schedule a SHINE

appointment, call our Senior

Center at 508-429-0622. For

other SHINE related matters,

call 1-800-243-4636. Once you

get the SHINE answering machine,

leave your name, number

and town. A volunteer will call

you back, as soon as possible.

HEATING • AIR CONDITIONING • HOT WATER • INDOOR AIR QUALITY

Heating Service Plans, Heating Install and Repairs & More!

Coan Bioheat® Fuel Delivery

With significantly reduced greenhouse gas emissions &

lower carbon footprint, it's the most environmental friendly heat fuel, and the safest.

196 West Central St., Natick • 508-653-5050 • 800-262-6462 • coanoil.com
---
Page 22 Holliston Local Town Pages | www.hollistontownnews.com December 2022

24 Persis Place in Holliston recently sold for $650,000

Image credit: www.zillow.com

NOW OPEN

Shiplap & Chandeliers is creating an experience for all shoppers –

focusing on handmade and unique gifts, refinished furniture, home

décor & accessories. With more than 50 vendors & small businesses

in 6,000 sq. ft. in the historic Winsmith Mill Market – Shiplap &

Chandeliers is more than a shopping venue, it's a destination!

expanded holiday hours!

Friday & Saturday 9 am to 6pm; Sundays 10am to 7pm

Recent Home Sales

Date Holliston Amount

11/16/2022 15 Johnson Drive $855,000

11/15/2022 528 Norfolk Street $589,900

11/15/2022 49 Exchange Street $465,000

11/08/2022 22 Piedmont Drive $653,000

11/04/2022 39 Pond View Road $1.14 mil

11/01/2022 52 Bittersweet Circle #30 $903,000

11/01/2022 24 Persis Place $650,000

10/31/2022 138 Holly Lane $575,000

10/28/2022 14 Noel Drive $1 mil

10/27/2022 66 Fairview Street $1.06 mil

10/27/2022 44 Gregory Road $530,000

10/27/2022 22 Regal Street $440,000

10/27/2022 368 Ashland Street $460,000

10/26/2022 0 Lake Shore Drive

(4,792 sq ft lot) $37,500

10/24/2022 48 Bittersweet Circle #31 $775,000

10/21/2022 39 Underwood Street $475,000

10/20/2022 2 Rebeca Lane $1.25 mil

10/18/2022 152 Turner Road #38 $105,000

Source: www.zillow.com / Compiled by Local Town Pages

winsmith mill market • 61 Endicott St. - norwood

shiplap-chandeliers.com

Call Susanne at

508-954-8148

to run in our

Real Estate Corner
---
December 2022 Find us on Facebook | Holliston Town News Page 23

Happy Holidays!

Lynn Rossini

508-259-2100

lynnrossini18@gmail.com

TEAM RICE - Carl, Kristen, Ellie, Adam

508-330-0281

teamrice@remaxexec.com

Lydia Rajunas

617-901-1275

thedeeve@remaxexec.com

Melissa Kaspern

508-333-4670

melissaKaspern@gmail.com

Katie McBride

508-277-9600

katemcbride@remaxexec.com

Kerry Peterson

508-380-3595

kerry@remaxexec.com

178 Holliston Street

Medway

13 Fern Crossing

Ashland

4 Treasure Island Road

Plainville

76 Regal Street

Holliston

$699,000

COMING SOON

UAG

$449,000

TEAM RICE

KERRY PETERSON

KATIE MCBRIDE

KERRY PETERSON

104 Summer Street

Medway

1 John Drive

Grafton

17 Brigham Farm Lane

Bolton

204 Central Street

Holliston

CTG

UAG

UAG

UAG

TEAM RICE

LYDIA RAJUNAS

KATIE MCBRIDE

LYNN ROSSINI

50 Stark Road

Worcester

16 Riverview

Ashland

15 Nicholas Avenue

Hopkinton

29 Addington Road

Boston

44 Gregory Road

Holliston

SOLD

SOLD

Buyer Agent

SOLD

SOLD

Buyer Agent

SOLD

LYDIA RAJUNAS

MELISSA KASPERN

KATIE MCBRIDE

LYDIA RAJUNAS

LYNN ROSSINI

Call one of our award winning realtors today for a

complimentary market analysis!

404 WASHINGTON STREET, HOLLISTON, MA 01746 | 508-429-6767
---
Page 24 Holliston Local Town Pages | www.hollistontownnews.com December 2022

One tasteful gift.

Give a $100 Gift Card,

Get a $20 Gift Card Free.

®

onebistro.com

From 12/1 to 12/26

Smile

Invisalign (clear braces)

20% OFF

Adult New Patient

$ 95

Does not include periodontal gum disease treatment.

Not to be combined with insurance coverage.

• Full set of X-rays

• Professional cleaning & polishing

• Comprehensive dental exam

• Personal consultation $ 337 .00 Value

Holliston Dental

Associates

859 Washington St. • Holliston

Dental Care for a Beautiful & Bright...

• Family & Cosmetic Dentistry

• Ceramic Veneers

• Complete Smile Makeovers for All Ages

• Removable Dentures (Partial & Complete)

• Implants & Root Canals

• Evening Appointments

• Same Day Emergency Care

• Most Insurances Accepted

• Senior Discounts

• Sedation Dentistry

Zoom Whitening $150.00 OFF! (Reg $500.00)

GENTLE. COMFORTABLE. AFFORDABLE

508-429-4445

www.hollistondentalassociates.com