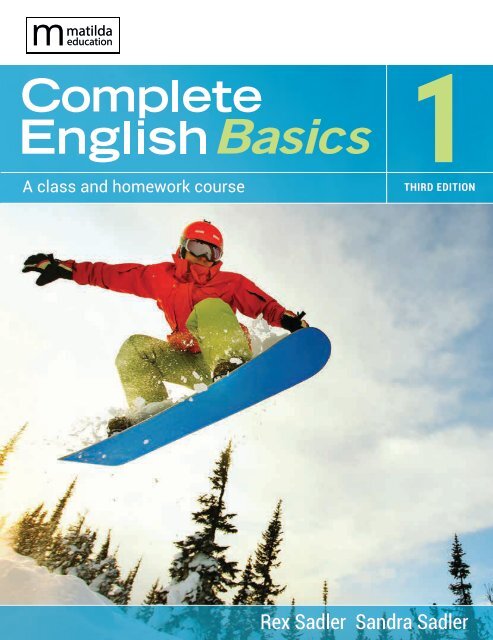 Complete English Basics 1 student book sample/look inside
Create successful ePaper yourself
Turn your PDF publications into a flip-book with our unique Google optimized e-Paper software.
1

A class and homework course

THIRD EDITION

Rex Sadler Sandra Sadler
---
This edition published in 2021 by

Matilda Education Australia, an imprint

of Meanwhile Education Pty Ltd

Level 1/274 Brunswick St

Fitzroy, Victoria Australia 3065

T: 1300 277 235

E: customersupport@matildaed.com.au

www.matildaeducation.com.au

First edition published in 2007 by

Macmillan Science and Education Australia Pty Ltd

Copyright © Rex Sadler and Sandra Sadler 2007, 2010, 2017

The moral rights of the author have been asserted.

All rights reserved.

Except under the conditions described in the

Copyright Act 1968 of Australia (the Act) and subsequent amendments,

no part of this publication may be reproduced,

stored in a retrieval system, or transmitted in any form or by any means,

electronic, mechanical, photocopying, recording or otherwise,

without the prior written permission of the copyright owner.

Educational institutions copying any part of this book

for educational purposes under the Act must be covered by a

Copyright Agency Limited (CAL) licence for educational institutions

and must have given a remuneration notice to CAL.

Licence restrictions must be adhered to. For details of the CAL licence, contact:

Copyright Agency Limited, Level 11, 66 Goulburn Street, Sydney, NSW 2000.

Telephone: (02) 9394 7600. Facsimile: (02) 9394 7601. Email: memberservices@copyright.com.au

Publication data

Authors: Rex Sadler and Sandra Sadler

Title: Complete English Basics 1: A Class and Homework Course

ISBN: 978 1 4202 3709 2

Publisher: Emma Cooper

Project editor: Barbara Delissen

Cover and text designer: Dimitrios Frangoulis

Production control: Janine Biderman

Photo research and permissions clearance: Vanessa Roberts

Typeset in Heuristica Regular 10.5/12pt by Dim Frangoulis

Cover image: Shutterstock/Ipatov

Printed in Malaysia by Vivar Printing Pdt Ltd

1 2 3 4 5 6 7 25 24 23 22 21 20

Warning: It is recommended that Aboriginal and Torres Strait Islander peoples exercise caution

when viewing this publication as it may contain images of deceased persons.
---
Contents

Preface

Acknowledgements

vii

viii

1 Enjoying texts 1

Comprehension Film review 1

Poem 3

Information report 4

Spelling and vocabulary Texts 6

Language Sentences 7

Phrases 9

Punctuation Why do we use punctuation marks? 10

The craft of writing Becoming a better writer 11

2 Ancient times 12

Comprehension Gladiators 12

Spelling and vocabulary Ancient worlds 14

Language Nouns 15

Punctuation Starting and finishing sentences 17

The craft of writing People from other times 18

3 Around the world 19

Comprehension Expedition to the jungles of Borneo 19

Spelling and vocabulary Getaway 21

Language Common and proper nouns 22

Punctuation Making sense with sentences 24

The craft of writing Life experiences 25

4 People26

Comprehension Mrs Pratchett 26

Spelling and vocabulary Occupations 28

Language Nouns—gender 29

Punctuation Capital letters and full stops 30

The craft of writing People 32

5 Climb every mountain 33

Comprehension Cliffhanger 33

Spelling and vocabulary On the mountain 35

Language Collective nouns 37

Punctuation Statements and questions 38

The craft of writing Overcoming adversity 39

978 1 4202 3709 2

iii
---
iv Contents

978 1 4202 3709 2

6 Feelings and emotions 40

Comprehension What it feels like to survive a volcanic eruption 40

Spelling and vocabulary That's life! 42

Language Abstract nouns 43

Punctuation Types of sentences 44

The craft of writing What it feels like to … 46

7 Drive47

Comprehension Car accident 47

Spelling and vocabulary On the road 49

Language Revision—nouns 51

Punctuation Using capital letters for proper nouns 52

The craft of writing An accident 53

8 Marooned!54

Comprehension The blue dolphins 54

Spelling and vocabulary Survival 56

Language Synonyms 58

Punctuation Commas 59

The craft of writing Castaway 60

9 Food, glorious food! 61

Comprehension The pizza 61

Spelling and vocabulary Food, food, food! 63

Language Antonyms 64

Punctuation Apostrophes—abbreviating words 65

The craft of writing Food, glorious food 67

10 Cities68

Comprehension A city under siege 68

Spelling and vocabulary Cityscape 70

Language Homonyms 71

Punctuation Apostrophes—avoiding confusion 73

The craft of writing Cities, towns and other places 74

11 Fantasy75

Comprehension The Grand High Witch 75

Spelling and vocabulary The world of fantasy 77

Language Adjectives 79

Punctuation Apostrophes—ownership 80

The craft of writing Villains 81

12 Alien worlds 82

Comprehension The Tripod 82

Spelling and vocabulary Space mission 84

Language Verbs 85

Punctuation Capital letters 86

The craft of writing The time machine 88
---
978 1 4202 3709 2 Contents

v

13 The animal kingdom 89

Comprehension Skunks 89

Spelling and vocabulary Creatures great and small 91

Language Idioms 92

Punctuation Uses of the comma 94

The craft of writing Animal experiences 95

14 Fashion96

Comprehension Jeans 96

Spelling and vocabulary Glitz and glamour 98

Language Adverbs 100

Punctuation Abbreviations 101

The craft of writing Clothes and fashions 102

15 Speaking personally 103

Comprehension Chased by a boar 103

Spelling and vocabulary Describing people 105

Language Word families 107

Punctuation Paragraphs 108

The craft of writing Eyewitness accounts 109

16 The long arm of the law 110

Comprehension The worst bank robbers 110

The noisiest burglar 111

Spelling and vocabulary Law and order 112

Language Prefixes 113

Punctuation Quotation marks for speech 115

The craft of writing A crime scene 116

17 The world of computers 117

Comprehension Space demons 117

Spelling and vocabulary Computers 119

Language Suffixes 120

Punctuation More about quotation marks 121

The craft of writing Inventions 123

18 House and home 124

Comprehension Bilbo Baggins's house and home 124

Spelling and vocabulary Home, sweet home 126

Language Making comparisons using similes 127

Punctuation Direct and indirect speech 129

The craft of writing Houses and homes 130

19 Wildfire131

Comprehension Firestorm 131

Spelling and vocabulary Fire 133

Language Making comparisons—similes and metaphors 134

Punctuation Using quotation marks for titles 136

The craft of writing Disaster 137
---
vi Contents

978 1 4202 3709 2

20 Family and friends 138

Comprehension A friend in need 138

Spelling and vocabulary Family and friends 140

Language Using better words 141

Punctuation Punctuating lists 143

The craft of writing Family and friends 144

21 Sun, surf and sand 145

Comprehension A shark tried to eat me 145

Spelling and vocabulary The beach 147

Language Shades of meaning 148

Punctuation Revision—punctuating sentences 149

The craft of writing The sea 150

22 Just in time 151

Comprehension The land that time forgot 151

Spelling and vocabulary Words in time 153

Language Prefixes and suffixes 154

Punctuation Revision—sentences 155

The craft of writing Long, long ago 156

Back-of-the-book dictionary 157
---
Preface

Complete English Basics 1 sets out to present essential English skills in an interesting and

meaningful way for junior secondary students.

This third edition covers essential language and literacy skills underpinning the Australian

Curriculum. It incorporates a wide range of comprehension texts, spelling and vocabulary

development, as well as language work on sentences, phrases, parts of speech, word families

and paragraphing. It is important to note that 22 creative writing tasks—linked to the ideas and

techniques contained in the Literature section—have now been added.

The workbook can be used as a class or homework text. One approach would be to have

students complete each unit over a two-week period.

The stimulus materials and exercises are designed to improve comprehension and

vocabulary skills as well as language usage and spelling. A special feature is the back-of-the-book

dictionary, which encourages students to expand their vocabulary by looking up the meanings of

unfamiliar words.

Correct spelling is essential for good communication. Research has shown that in those

classrooms where teachers are concerned about correct spelling and vocabulary enrichment,

the students' spelling level improves significantly. It is a good idea, if time allows, to have a brief

spelling test at the end of each unit using the words from the spelling and vocabulary list.

The extracts are engaging and cover a diverse range of topics—from shark attacks to

gladiators. A range of genres is represented, including biography, crime, fiction and adventure.

Above all, we hope that students will enjoy their English studies as they gain basic English

skills.

Rex and Sandra Sadler

978 1 4202 3709 2

vii
---
Acknowledgements

The author and publisher are grateful to the following for permission to reproduce copyright material:

Photographs

Alamy/A.F. ARCHIVE, 60, 102, /cbstockfoto, 4, /Pictorial Press,

116; Getty Images, 56, /Jetta Productions, 3, /Popperfoto,

109; iStockphoto.com/AlexRaths, 32, /Joel Carillet, 39, /

CoreyFord, 156, /Derek Dammann, 19, /DarthArt, 133, /

demaerre, 119, /Jacques van Dinteren, 54, /Emilie Duchesne,

67, /duncan1890, 74, /marta maria fontana, 96, /Georgijevic,

70, /Global_Pics, 145, /Karim Hesham, 14, /Imgorthand, 18,

/Kenishirotie, 123, /Iryna Kurhan, 75, /Catherine Lane, 98,

/Tina Lorien, 68, /Franklin Lugenbeel, 47, /Lysogor, 137, /

mandygodbehear, 82, /Mike Morley, 138, /Karen Mower, 53,

/Barış Muratoğlu, 153, /OJO_Images, 140, /Onfokus, 112, /

photocritical, 117, /RapidEye, 26, / John Sommer, 42, / Dieter

Spears, 84, / tirc83, 110, /Rex_Wholster, 77, /XiXinXing, 126;

THE KOBAL COLLECTION/DREAMWORKS/UNIVERSAL/

BUITENDIJK, JAAP, 12; Shutterstock/ Algol, 88, /Big Pants

Production, 89, // DM7, 151, /Alex Hinds, 15, /Brent Hofacker,

61, / JAZZDOG, 124, /K Jensen, 25, /Iakov Kalinin, 21, 147, /

Elena Kalistratova, 40, /Kencana Studio, 49, /Longjourneys,

46, /Lucky Business, 63, /mervas, 11, /NarongchaiHlaw, 105, /

Sean Pavone, 130, 131, /Dasha Petrenko, 95, /Pressmaster, 28,

/sivanadar, 91, /Vixit, 33, 35.

Other material

Extract from The Zoo Expeditions by David Attenborough,

Penguin UK, p191, © David Attenborough Productions

Ltd 1980, reproduced with permission of The Lutterworth

Press, 20; Account of Titanic sinking by George Brayton, 109;

Excerpt from Adrift by Steve Callahan. Copyright © 1986

by Steven Callahan. Reprinted by permission of Houghton

Mifflin Harcourt Publishing Company. All rights reserved, 150;

Extract from The Boy Who Was Afraid by Armstrong Sperry,

Heinemann Educational Publishers, 1969, 8; Cover of Adrift

by Steve Callahan. Copyright © 1986 by Steven Callahan.

Reprinted by permission of Houghton Mifflin Harcourt

Publishing Company. All rights reserved, 150; Extract from

Firestorm! by Roger Vaughan Carr, Thomas Nelson Australia,

reproduced with permission by Penguin Group (Australia)

and Roger Vaughan Carr, 131–2; Extract from The Witches

by Roald Dahl, Jonathan Cape Ltd. & Penguin Books Ltd, ©

Roald Dahl, reproduced with permission of David Higham

Associates, 75-6; Extract from Boy by Roald Dahl, Puffin Books,

UK, © Roald Dahl 1984, reproduced with permission of David

Higham Associates, 26; 47–8; Extract from The Story Makers:

A collection of interviews with Australian and New Zealand

Authors and Illustrators for Young People, edited by Margaret

Dunkle. Oxford University Press, 1987, 11; Extract and cover

from A Fortunate Life by AB Facey, Puffin, 1985, Reproduced

with permission by Penguin Group (Australia), 103–4; Extract

from Fear No Boundary by Lincoln Hall and Sue Fear, Hachette

Australia, 2005, 33; Extract from Collision Course by Nigel

Hinton, Oxford University Press, 1976, 53; Extract from Boy

Overboard by Morris Gleitzman, Puffin, 2002, 39; Extract from

The Rocks of Honey by Patricia Wrightson, Puffin, 1960, 8;

Extract from What it feels like ... by AJ Jacobs, HarperCollins,

UK, © Esquire Magazine (US) 2003, reprinted by permission

of HarperCollins Publishers Ltd, 40; Extract from I Can Jump

Puddles by Alan Marshall, Longman Cheshire, 1955, reprinted

by permission of Penguin Group Australia Ltd, 138–7; Extracts,

The Book of Heroic Failures by Stephen Pile, © 1979 Stephen

Pile. Reproduced by permission of the author c/o Rogers,

Coleridge & White Ltd, 20 Powis Mews, London W11 1JN, 110,

111; Extract from Zlata's Diary: A Child's Life in Sarajevo by

Zlata Filipovic, translated by Christina Pribichevich-Zoric,

Viking 1994, first published in France as 'Le Journal de Zlata'

by Fixot et editions Robert Laffont 1993, © Fixot et editions

Robert Laffont 1993, reproduced by permission of Penguin

Books Ltd, 68–9; Extract from Space Demons by Gillian

Rubenstein. © Gillian Rubenstein, 1986. First published by

Omnibus Books, a division of Scholastic Australia, 1986.

Reproduced with permission of Scholastic Australia Pty

Limited, 117–18; Extract from Cannery Row by John Steinbeck,

Viking Press, 1945, 8; Extract from The Light beyond the Forest

by Rosemary Sutcliff, The Bodley Head, 1979, 74; 'How to

Train Your Dragon 3D' by Andrew L Urban, The Sun-Herald,

23 March 2010 (Based on the original review published on

www.urbancinefile.com.au, March 23, 2010), 1; Quote from

Rosemary Sutcliff, 74; Extract from Blue Fin by Colin Thiele,

HarperCollins, 1974, 7; Extract from February Dragon by Colin

Thiele, HarperCollins 1965, 7; Extract from Blueback by Tim

Winton, Pan Macmillan Australia, 1987, 46; Book cover of

Lockie Leonard by Tim Winton, Penguin Books Australia, 2007,

144; Extract from Lockie Leonard Human Torpedo by Tim

Winton, Jenny Darling and Associates, 144; Extract from Time

and Tide by Tim Winton, 25.

The author and publisher would like to acknowledge the

following:

'Our new teacher' by David Bateson, 3; Extract from The

White Mountains by John Christopher, Penguin Books Ltd,

reproduced with permission of John Christopher, 82-3;

Extract, 'A shark tried to eat me' by Brian Rodger in Shark

Hunters by Ben Cropp, Rigby Ltd, 1964, 145. Extract from

Island of the Blue Dolphins by Scott O'Dell, Copyright © 1960

by Scott O'Dell, renewed 1988 by Scott O'Dell, reprinted with

permission of McIntosh & Otis, Inc, 54–5; Extract from The

Hobbit by JRR Tolkien, Harper Collins, 1937, 81, 124–5.

While every care has been taken to trace and acknowledge

copyright, the publisher tenders their apologies for any

accidental infringement where copyright has proved

untraceable. They would be pleased to come to a suitable

arrangement with the rightful owner in each case.

viii 978 1 4202 3709 2
---
Enjoying texts

1

Comprehension

Read the following texts and answer the questions for each one.

Film review

How to Train Your Dragon 3D

CRITICS RATING 8/10

Rated PG

WHAT if your dad was the strong, not-so-silent

type, the leader of the Viking tribe, going about

his daily business of slaying dragons ... and you

were a spindly-legged weakling teenager?

You'd probably feel like Hiccup (voiced by Jay

Baruchel), a spindly-legged weakling teenager

who doesn't fit his family's long line of dragon

slayers in the land of Berk. It's a constant source

of shame for his father, Stoick (voiced by Gerard

Butler), a big, burly Viking (with a big Scottish

burr).

But when Hiccup comes face to snout with

one of the most feared of the dragons, he

inadvertently discovers a more positive and

powerful way of dealing with the Viking's 'dragon

problem' than using a sword or a sledgehammer

and goes on to change the lives of his entire

tribe—and that of the dragons. That's the

essential moral of the story, that problems can be

solved without violence. Not a bad message. The

film also covers the father–son relationship with

an equally positive message.

Talk to the animals …

Viking teenager Hiccup befriends

Toothless the dragon

Magnificent 3D animation brings this family

movie to life. The screenplay is smart, funny and

has something to say. But perhaps the target

audience of 10- to 14-year-olds will be even more

impressed with the spectacular flying sequences,

with Hiccup riding bareback through the air—or

the mass fly-past by a dozen different types of

dragons.

The production elements all contribute to the

immersive experience of an adventure in which

humour plays a key role and the main characters

quickly become familiar and real.

There is a hint of romance as Hiccup and the

feisty Astrid (voiced by Ferrera) find common

ground and the charmingly fearsome, felineinspired

dragon, Toothless, makes an indelible

impression.

The screenplay is based on Cressida Cowell's

popular book, which could become as hot as a

dragon's breath.

Andrew L Urban

978 1 4202 3709 2

1
---
2 Complete English Basics 1

978 1 4202 3709 2

Reading for understanding

1 How do you know from the first paragraph that the movie is a fantasy?

2 What evidence can you find in the first paragraph to show that Hiccup is not a character

you would expect to be the hero?

3 In what ways is Hiccup's father different to him?

4 Where do Hiccup and his father live?

5 What is the essential moral of the story?

6 Give an example of an equally positive message in the film.

7 Who, according to the reviewer, is the target audience of the film?

8 What flying sequences did the reviewer feel would be likely to impress younger viewers?

9 Identify the reviewer's simile that predicts an increase in popularity of the book on

which the film is based.

10 Using the back-of-the-book dictionary, give the meaning of:

a burr:

b inadvertently:

c fearsome:

d feline:

e indelible:

10 marks
---
978 1 4202 3709 2

1 Enjoying texts 3

Poem

Our new teacher

This teacher has such scary teeth,

they look just like a shark's;

His eyes gleam in the sunlight

like a pair of purple sparks.

His voice is just as booming

as the roar from some big gun;

He can imitate a thunderstorm

for a gruesome bit of fun.

And now Billy who was silly

almost every other day

Does his tables, writes his spellings,

hides his comic book away.

Every lesson lasts a lifetime ...

with our noses to each page,

We imagine bars on windows

and the classroom seems a cage.

So, please come back, Miss Fothergill:

though you won't believe it's true,

We all loved you as our teacher;

we were oh, so fond of you!

David Bateson

Reading for understanding

1 Who seems to be the narrator of this poem?

2 What does the simile 'like a shark's' suggest about the new teacher's teeth?

3 Identify the simile that describes the gleaming of the new teacher's eyes.

4 What is the sound of the new teacher's voice similar to?

5 How has Billy's behaviour changed?

6 Explain the meaning of 'with our noses to each page'.

7 Why do you think the narrator says, 'We imagine bars on windows'?
---
4 Complete English Basics 1

978 1 4202 3709 2

8 What is the narrator's plea in the final stanza?

9 What contrast do you think there would be between Miss Fothergill and the new

teacher?

10 Write down words that rhyme with each of the following:

a

b

c

shark's

page

true

10 marks

Information report

The taipan—the world's deadliest snake

AUSTRALIA is home to two different types of

taipan—the inland taipan and the coastal taipan.

The inland taipan (Oxyuranus microlepidotus),

which grows up to 2.5 m, produces the deadliest

venom of any snake in the world, but luckily

it only lives in the deserts of central eastern

Australia, where few humans visit. No human

deaths caused by the inland taipan have been

recorded, because an effective antivenom has

been produced.

Inland taipans live in deep cracks in the soil

to escape the extreme heat of summer. During

summer their scales are a light straw colour to

reflect the heat, whereas in winter their scales

change to a dark brown in order to absorb the

sun's rays.

The inland taipan's favourite food is native

rats. When the rats are plentiful, the population

of the snakes rises dramatically—female taipans

lay between 12 and 20 eggs in the soil or in

abandoned animal burrows. In extremely dry

years, however, the rat population decreases

through starvation, so there is little food for the

snakes and their death rate rises.

The longest recorded coastal taipan was

3.35 m. Coastal taipans (Oxyuranus scutellatus)

live in northern Queensland and in the Northern

Territory. They are often seen in sugar-growing

areas and on grassy sand dunes. Their favourite

foods are small, warm-blooded mammals such as

rats, lizards, quolls and bandicoots.

Coastal taipans are very aggressive and

Coastal taipan

have large fangs through which they inject a

very potent venom. The venom is capable of

paralysing small marsupials in a very short time.

One strike could potentially deliver enough toxin

to kill several humans. Coastal taipans have been

responsible for many human deaths. The toxins

in the venom cause communication between the

body's muscles and the brain to shut down. Once

bitten, the taipan's prey convulses and suffers

from internal bleeding and the taipan waits for its

prey to die before devouring it.
---
978 1 4202 3709 2

1 Enjoying texts 5

Reading for understanding

1 'No human deaths caused by the inland taipan have been recorded.' Why?

2 Which type of taipan is the longer?

3 How does the inland taipan escape from the extreme heat of summer?

4 What is the reason for the difference in the colour of the inland taipan's scales between

summer and winter?

5 What causes the death rate of the inland taipan to rise?

6 Why is the coastal taipan more likely to kill a human than the inland taipan?

7 What are the coastal taipan's favourite foods?

8 Why is the taipan's bite extremely dangerous for humans?

9 What effect does the toxin in the taipan's venom have on an animal's nervous system?

10 Using the back-of-the-book dictionary, write down the meaning of these words:

a dunes:

b potent:

c toxin:

10 marks
---
6 Complete English Basics 1

978 1 4202 3709 2

Spelling and vocabulary

Texts

Spelling tests can be created

from the word list in each unit.

myth documentary advertisement poem magazine

legend autobiography interview ballad newspaper

recipe cartoon fantasy novel epitaph

drama narrative fiction symbol menu

comedy tragedy letter haiku atlas

diary speech dictionary elegy biography

What text am I?

Use the following clues to identify the texts from the list.

1 I enable people to read the news each day

2 I give people the meanings and spellings of words

3 I am a book of maps

4 I am a list of dishes served in a restaurant

5 I am a funny drawing or animated film

6 I am a three-line poem of 17 syllables

7 I am a story of a person's life written by somebody else

8 I am a simple poem with short verses that tells a story

9 I am the words written on a tombstone

10 I am a list of ingredients in cooking instructions

11 I am a written message often sent by post

12 I am a record of daily happenings

13 I am a notice about something for sale

14 I am a story about imaginary worlds and creatures

15 I am a meeting in which someone is asked questions

16 I am a mournful poem ending in 'y'

16 marks

Word skills

1 Write down the following words in alphabetical order.

haiku newspaper fantasy fiction documentary letter dictionary
---
978 1 4202 3709 2

1 Enjoying texts 7

2 By adding the suffixes –ist or –er, write down the name of the person derived from each

of these words:

a diary c interview

b novel d biography

Back-of-the-book dictionary

The word 'advertisement' is derived from the Latin words ad and verto.

Ad means 'towards' and verto (versus) means 'I turn'. The advertiser sets

out to sell a particular product by 'turning' the desire of the audience

'towards' it. Use the back-of-the-book dictionary to write down the

meanings of the following words derived from verto.

5 marks

divert:

reverse:

vertigo:

convert:

invert:

5 marks

Language

Sentences

A sentence is a group of words that makes complete sense by itself. A sentence is usually made up

of two parts. The part that tells us who or what does the action is called the subject. The number

of words in the subject varies. The subject can be a noun or pronoun or a group of words. The rest

of the sentence is called the predicate. The predicate always includes the verb. The subject in the

following sentences is in italics. The remainder in normal type is the predicate.

Gigantic updrafts and downdrafts of air swept through the vortex above them.

from Blue Fin by Colin Thiele

The whole crest of the slope above them suddenly boiled over with flame.

from February Dragon by Colin Thiele

Identifying the subject and predicate

To find the subject of a sentence, ask 'Who?' or 'What?' before the verb. Write down the subjects

of these well-crafted sentences.

1 A great column of water rose up out of the sea. (from Blue Fin by Colin Thiele)

Subject:

Predicate:
---
8 Complete English Basics 1

978 1 4202 3709 2

2 Hundreds of tons of water seemed to crash down on the ship. (from Blue Fin by Colin

Thiele)

Subject:

Predicate:

3 A burst of lightning lit up the sea with supernatural brilliance. (from The Boy Who Was

Afraid by Armstrong Sperry)

Subject:

Predicate:

4 An instantaneous crack of thunder shattered the world. (from The Boy Who Was Afraid

by Armstrong Sperry)

Subject:

Predicate:

5 The anemones expand like soft and brilliant flowers. (from Cannery Row by John

Steinbeck)

Subject:

Predicate:

6 The greenish purple cloud was looming heavily over and along the opposite hills. (from

The Rocks of Honey by Patricia Wrightson)

Subject:

Predicate:

12 marks

Missing subjects

Complete the following sentences by adding a subject from the box.

Tokyo Joan of Arc The Nile Ned Kelly

Michelangelo Harry Potter Shakespeare Greenland

Mt Everest The Pacific Mercedes Alfred Nobel

1 is the least densely populated country in the world.

2 wrote the tragedy Romeo and Juliet.

3 painted the ceiling of the Sistine Chapel.

4 is a famous character in a series of novels.

5 is a very high mountain.

6 was an Australian bushranger.

7 is the world's largest ocean.

8 is the longest river in the world.

9 invented dynamite in 1866.

10 is a French heroine.

11 is the make of a famous car.

12 is the capital city of Japan.

12 marks
---
978 1 4202 3709 2

1 Enjoying texts 9

Phrases

A phrase is a group of words that does not make sense on its own. Unlike a sentence, a phrase does

not have a finite (or complete) verb.

at the zoo an elephant in the shower flying dragons

Identifying sentences and phrases

Write the word 'phrase' or 'sentence' next to each of the following examples.

1 At midday 7 She visited the zoo

2 By the river 8 Going away

3 He watched the movie 9 I've been to school

4 They went home 10 A few days ago

5 I love cooking 11 Over the rainbow

6 Inside the cave 12 The computer crashed

12 marks

Completing phrases

Complete each of the following phrases by inserting the name of the missing object.

e.g. the pendulum of a

the pendulum of a clock

1 the radius of a 6 the yolk of an

2 the spokes of a 7 the lens of a

3 the fuselage of an 8 the kernel of a

4 the rungs of a 9 the summit of a

5 the hilt of a 10 the chapter of a

10 marks

Missing phrases

Phrases often give sentences greater vitality. In the following passage, Obie has fallen head over

heels in love with Laurie. The writer uses both phrases and sentences to communicate Obie's

feelings. Correctly insert the phrases from the box that are missing from the passage.

in a rosy haze in love in the movies at the sight of her into the earth on his face

Obie in love

Obie was

. Wildly, improbably and wonderfully in love. The kind of thing he thought

happened only

. Her name was Laurie Gundarson and she was beautiful.

Obie's legs dissolved

, and he felt as though he would sink

and disappear. He had never known such happiness or such sweet torture. He

lived his days and nights

and went around with a stunned and radiant

expression .

from Beyond the Chocolate War by Robert Cormier

6 marks
---
10 Complete English Basics 1

978 1 4202 3709 2

Punctuation

Why do we use punctuation marks?

When we are speaking, we naturally stop at the end of a sentence. We also use pauses to help our

listeners follow our meaning. We can even indicate a question or exclamation by changing the

pitch of our voice.

In our writing, we use punctuation marks to indicate these pauses and changes of expression.

Can you imagine how confusing it would be to read and write without punctuation? The purpose

of punctuation marks is to clarify written language. It is possible for one punctuation mark to

alter the whole meaning of a sentence. Look at the difference a mere comma makes in these two

sentences:

Let's eat Grandma!

Let's eat, Grandma!

Using punctuation to change the meaning

Rewrite the following sentences, changing the punctuation in each sentence to produce a more

accurate meaning. Hints are given in brackets.

1 Has the doctor rung Elizabeth? (Add a comma.)

2 Have you eaten Father? (Add a comma.)

3 The visitors ate ice-cream cheese chocolate pizza and meat pies. (Insert three

commas.)

4 The huskies, having eaten the explorers, moved on. (Remove the two existing commas

and add a new comma.)

5 Caesar entered on his head

A helmet on each foot

A sandal in his hand he had

His trusty sword to boot.

(Add full stops and capital letters.)

6 Emily gets enjoyment from cooking her family and her dog. (Add a comma.)

7 The amazing giant panda eats, shoots and leaves. (Remove comma.)

7 marks
---
978 1 4202 3709 2

1 Enjoying texts 11

The craft of writing

Becoming a better writer

From time to time, successful writers give practical

advice on what techniques have helped them in their

writing careers. Here is a very important hint from author

Christobel Mattingley:

When you write about something you know, the words

come more easily. It may be real—a place, a person or a

happening. Or it may be something in your own mind,

that you've made up. It has to be so real to you that your

words make it live for other people. Then it is true to

itself. And you are true to yourself.

Here is an opportunity to write about something you know. Write 200 words on one of the

following:

• Recount some of your earliest childhood memories. Begin 'I remember when …'

• Describe your first days at high school.

• Write a description titled 'My bedroom'.
---
2 Ancient times

Comprehension

Read the following passage and answer the questions that follow.

Gladiators

ROMAN gladiators were typically

slaves, prisoners of war or convicted

criminals. There were differ ent types

of gladiators. As the Roman Empire

expanded, many of the prisoners

of war who became gladiators wore

the clothes and weapons associated

with their conquered country. For

example, Samnites carried oblong

shields and short swords and

wore plumed helmets with visors.

Thracians used small, round shields

and fought with curved daggers.

The 'net men' carried large nets to

entwine their opponent and then

killed them with a trident, a threepronged

weapon.

Some gladiators, called bestiarii,

were trained to fight wild animals.

The number of animals killed in any

one day was astonishing. During the

special games, which Trajan held

when he became Emperor, 9000

animals were slaughtered.

Strangely enough, a number of free citizens

chose to become gladiators and to renounce

their rights as citizens. These were mainly poorer

people who chose this life because gladiators, on

the whole, were well fed and were given proper

medical care. Even members of higher social

status sometimes chose to enter a gladiator

school if their family had financial problems.

Most owners and trainers regarded their

gladiators as an investment and ensured they

were well looked after.

If a gladiator was wounded and unable to fight

on, he gave the sign for mercy. It was up to the

crowd to either give the thumbs-up sign to say

they wanted him to be spared or the thumbsdown

sign to say they wished to see him die.

Usually gladiators fought four or five matches

a year and could win their freedom by showing

bravery or becoming popular with the crowd.

If a gladiator survived, he could be granted his

freedom and may even be given a monetary

reward. Gladiators could never become Roman

citizens, but they could marry citizens and their

children could become citizens.

12 978 1 4202 3709 2
---
978 1 4202 3709 2

2 Ancient times 13

Reading for understanding

1 What people were more likely to become gladiators?

2 Explain how gladiators came to dress differently and use different weapons.

3 What weapons did the Samnites carry?

4 What protective equipment for the head did the Samnites wear?

5 What weapons did the Thracian gladiators use?

6 Why were the bestiarii different from other gladiators?

7 What event took place when Trajan was Emperor?

8 Why did some free citizens decide to become gladiators?

9 Why did most owners ensure that their gladiators were well looked after?

10 What did a gladiator do if he was wounded or unable to fight on?

11 How did the crowd indicate that the gladiator should live or die?

12 How could gladiators win their freedom?

12 marks
---
14 Complete English Basics 1

978 1 4202 3709 2

Spelling and vocabulary

Ancient worlds

pharaoh weapon burial gladiator

pyramid shield conqueror centurion

tomb sword dungeon powerful

papyrus dagger heroes guard

treasure soldier emperor cavalry

chariot warriors sphinx military

Words and meanings

Write down a word from the spelling list for each of these meanings.

1 an Egyptian ruler

2 a group of soldiers riding horses

3 paper made from a tall water plant

4 a two-wheeled carriage

5 a huge Egyptian tomb

6 a dark underground prison

7 men or women admired for brave deeds

8 soldiers or fighting men

9 a person who fought at the Colosseum

10 a person who rules an empire

10 marks

Missing words

Insert appropriate words from the spelling list in the spaces below. The first letters are given to

help you. Each word should be used once only.

1 Sometimes gladiators were armed with a s and s .

2 A Roman c was a s in charge of a hundred men.

3 A Roman e was so p he could have any of his

subjects imprisoned in a d under g .

4 In Egypt, tourists can see a s and a pyramid of a famous

p .

5 T raiders broke into the b chamber of a p

in search of t .

6 Egyptian tombs sometimes contain a c , a w such as

a d and remnants of p .
---
978 1 4202 3709 2

2 Ancient times 15

7 In ancient times, stories would be told of h and w .

8 The Egyptians were a m nation and had their own c .

Back-of-the-book dictionary

The Latin word centum means 'one hundred'. A centurion commanded

a hundred men. With the help of the back-of-the-book dictionary,

write down words beginning with cent- for each of these meanings.

a period of one hundred years:

one-hundredth part of one dollar:

one-hundredth part of one metre:

a small invertebrate animal with many ('a hundred') legs:

a temperature scale in which there are 100 degrees between freezing (0°C) and

boiling point (100°C):

22 marks

Language

5 marks

Nouns

Nouns are naming words. They are used to name:

people: gladiator mother teacher Roald Dahl Cate Blanchett

places: harbour school hospital Egypt Colosseum

things: sword apple chair car road

qualities: honour sadness love happiness bravery

Missing nouns

An analogy is a form of comparison; for example: Soldier is to army as sailor is to navy.

Complete the following analogies by supplying the missing nouns.

1 Day is to week as month is to .

2 Wing is to as fin is to fish.

3 is to son as mother is to daughter.

4 Cat is to as dog is to puppy.

5 Aunt is to niece as uncle is to .

6 North is to as east is to west.

7 Car is to as bicycle is to cyclist.

8 Tongue is to taste as is to smell.

9 Hearing is to ear as sight is to .

10 Food is to as water is to thirst.

10 marks
---
16 Complete English Basics 1

978 1 4202 3709 2

Nouns in everyday life

Choose nouns from the list and insert them in the spaces below in their correct categories.

eagle Nile yacht mosquito peach Amazon

soccer bee Paris cherry anger golf

fear London cicada joy tennis Murray

canoe hawk banana Cairo dove catamaran

fruits cities boats birds

rivers sports feelings insects

24 marks

Noun pyramid

Find the words from the box hidden in the word pyramid. They may be horizontal or vertical,

or written forwards or backwards.

pyramid soldier burial shield

dagger tomb guard military

P

R Y E

D E R L Y

E L I A B D O

S B E D M A R T A

T O M I L I T A R Y N

H O H O H O D B U R I A L

G L O O T S S R E G G A D X H

8 marks
---
978 1 4202 3709 2

2 Ancient times 17

Punctuation

Starting and finishing sentences

We write in sentences so that our words will be easier to read and understand. A sentence that

makes a statement begins with a capital letter and ends with a full stop. For example:

Roman gladiators were typically slaves, prisoners of war or convicted criminals.

Punctuating sentences

Rewrite these statements, using capital letters and full stops.

1 the ancient Egyptian civilisation began more than 5000 years ago

2 tomb robbers broke into the pyramids to steal the treasures inside

3 water was lifted from the Nile using a device called a shaduf

4 the rulers of ancient Egypt were called pharaohs

5 the ancient Egyptians worshipped more than 1000 different gods and goddesses

6 the three pyramids at the town of Giza are more than 4500 years old

7 as god of the dead, Osiris was in charge of the underworld

8 each block used to build the Great Pyramid weighed as much as two-and-a-half

elephants

9 the Egyptians invented a form of picture writing called hieroglyphics

10 without the Nile, Egypt would be all desert

10 marks
---
18 Complete English Basics 1

978 1 4202 3709 2

The craft of writing

People from other times

Select one of the following people from a bygone age and write a description of about 200 words.

Give details of your character's physical appearance, clothing, behaviour etc. Arthur Conan Doyle's

description of an archer from the Middle Ages will give you some ideas.

• gladiator • slave • centurion • warrior • explorer

• queen • king • monk • peasant • maid

• pharaoh • artist • pirate • sultan • duchess

The archer

He was a middle-sized man, of massive build. His shaven face was as

brown as a hazel-nut, tanned and dried by the weather, with harsh,

well-marked features, which were not improved by a long white scar

which stretched from the corner of his left nostril to the angle of the

jaw. His eyes were bright and searching, with something of menace

and of authority in their quick glitter, and his mouth was firm-set

and hard. A straight sword by his side and a painted long-bow jutting

over his shoulder proclaimed his profession, while his scarred chainmail

and his dinted steel cap showed that he was even now fresh

from the wars.

from The White Company by Arthur Conan Doyle