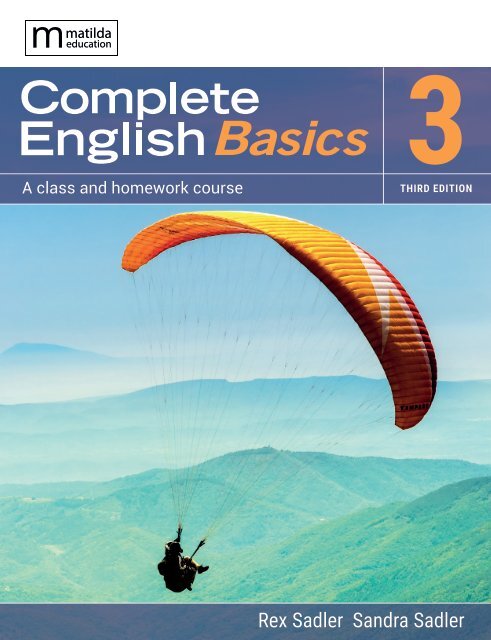 Complete English Basics 3 student book sample/look inside
Create successful ePaper yourself
Turn your PDF publications into a flip-book with our unique Google optimized e-Paper software.
A class and homework course

3

THIRD EDITION

Rex Sadler Sandra Sadler
---
This edition published in 2021 by

Matilda Education Australia, an imprint

of Meanwhile Education Pty Ltd

Level 1/274 Brunswick St

Fitzroy, Victoria Australia 3065

T: 1300 277 235

E: customersupport@matildaed.com.au

www.matildaeducation.com.au

First edition published in 2008 by

Macmillan Science and Education Australia Pty Ltd

Copyright © Rex Sadler and Sandra Sadler 2008, 2011, 2017

The moral rights of the author have been asserted.

All rights reserved.

Except under the conditions described in the

Copyright Act 1968 of Australia (the Act) and subsequent amendments,

no part of this publication may be reproduced,

stored in a retrieval system, or transmitted in any form or by any means,

electronic, mechanical, photocopying, recording or otherwise,

without the prior written permission of the copyright owner.

Educational institutions copying any part of this book

for educational purposes under the Act must be covered by a

Copyright Agency Limited (CAL) licence for educational institutions

and must have given a remuneration notice to CAL.

Licence restrictions must be adhered to. For details of the CAL licence contact:

Copyright Agency Limited, Level 11, 66 Goulburn Street, Sydney, NSW 2000.

Telephone: (02) 9394 7600. Facsimile: (02) 9394 7601. Email: memberservices@copyright.com.au

Publication data

Authors: Rex Sadler and Sandra Sadler

Title: Complete English Basics 3: A Class and Homework Course

ISBN: 978 1 4202 3710 8

Publisher: Emma Cooper

Project editor: Barbara Delissen

Cover and text designer: Dim Frangoulis

Production control: Janine Biderman and Katherine Fullagar

Photo research and permissions clearance: Vanessa Roberts

Typeset in Heuristica Regular 10.5/12pt by DiZign Pty Ltd

Cover image: Shutterstock/Aurelien Laforet

Printed in Malaysia by Vivar Printing Pdt Ltd

1 2 3 4 5 6 7 25 24 23 22 21 20

Warning: It is recommended that Aboriginal and Torres Strait Islander peoples exercise caution

when viewing this publication as it may contain images of deceased persons.
---
Contents

Prefacevii

Acknowledgementsviii

1 It's my life 1

Comprehension Lone sailor 1

Head honcho school captain 3

Spelling and vocabulary Being human 5

Language Texts 6

Texts and their purposes 7

The craft of writing Personal experiences 8

2 Intertextuality9

Comprehension Novel 9

Cartoon 11

Movie still 12

Spelling and vocabulary Confusing pairs 13

Language Active and passive voice 14

The craft of writing Creating imaginary characters 16

3 Future shock 17

Comprehension Holocaust 17

Spelling and vocabulary The world at war 19

Language Tone 20

Purpose and tone 21

The craft of writing Making the beginning interesting 22

4 Aboriginal voices 23

Comprehension Trails 23

Son of mine 24

Spelling and vocabulary Culture and country 25

Language Relative pronouns 27

Adjectival clauses 27

The craft of writing Writing persuasive arguments 30

5 Journeys in time 31

Comprehension The last days of Pompeii 31

Spelling and vocabulary Through the ages 34

Language Nouns 36

Common and proper nouns 36

The craft of writing Writing a biography of an interesting person 38

978 1 4202 3710 8

iii
---
iv Contents

978 1 4202 3710 8

6 Dear Diary 39

Comprehension The diary of a young girl 39

Spelling and vocabulary The eye of the beholder 41

Language Collective nouns 43

The craft of writing Writing fictional diaries 44

7 Passport to adventure 45

Comprehension Encounter with a python 45

Spelling and vocabulary Survival 47

Language Abstract nouns 48

The craft of writing Characters in conflict 49

8 Interesting people 51

Comprehension Atticus Finch 51

The Murdstones 52

Miss Honey vs. Miss Trunchbull 53

My da's hands 54

Spelling and vocabulary Human nature 55

Language Adjectives 56

The craft of writing Being a good observer 57

9 Oh! Horror! 59

Comprehension A meeting with Count Dracula 59

Spelling and vocabulary Creature features 61

Language Using adjectives 62

The craft of writing Using the setting to build suspense 64

10 Survival65

Comprehension Alone in the wilderness 65

Spelling and vocabulary Keeping fit 67

Language Verbs 68

The craft of writing Using verbs to create action 70

11 Relationships71

Comprehension A surfing encounter 71

Spelling and vocabulary Views of life 73

Language Jargon 74

Clichés 75

The craft of writing Dialogue 76

12 On the job 77

Comprehension Dangerous work 77

Spelling and vocabulary Getting a job 79

Language Adverbs 80

The craft of writing Variety in sentence length 82
---
978 1 4202 3710 8 Contents

v

13 Poetry in action 83

Comprehension The last tiger 83

The shark 85

The eagle 86

Spelling and vocabulary Appreciating poetry 87

Language Poetic techniques 88

The craft of writing Personas and monologues 90

14 Science fiction 91

Comprehension The war of the worlds 91

Spelling and vocabulary In a galaxy far away 93

Language Personal pronouns 95

The craft of writing First person narrative 96

15 Making a living 97

Comprehension The great pearl 97

Spelling and vocabulary If I were a millionaire 99

Language Prepositions 100

The craft of writing Setting 102

16 Media 103

Comprehension Advertising 103

Spelling and vocabulary Media matters 105

Language Persuasive advertising 107

Imperatives in advertising 108

Adjectives in advertising 108

The craft of writing Creating your own advertisement 110

17 Saving the planet 111

Comprehension Endangered species 111

Spelling and vocabulary The environment 113

Language Words and meanings 115

The craft of writing Features of an exposition 117

18 In the laboratory 119

Comprehension The discovery of penicillin 119

Spelling and vocabulary Scientifically speaking 121

Language Synonyms 122

The craft of writing Writing an information report 124

19 I spy 125

Comprehension James Bond 007 125

Spelling and vocabulary All about spies 127

Language Antonyms 128

The craft of writing Naming characters 129
---
vi Contents

978 1 4202 3710 8

20 Speaking out 131

Comprehension The power of speech 131

Spelling and vocabulary Speakers and listeners 133

Language Word choice 134

Euphemism 135

The craft of writing Writing and presenting a speech 135

21 This land 137

Comprehension Water skier 137

Spelling and vocabulary My country 139

Language Communication breakdown 140

Ambiguity 140

Circumlocution and verbosity 141

The craft of writing Stream of consciousness 142

22 The five senses 143

Comprehension The great tide pool 143

Spelling and vocabulary Sight Sound Taste Smell Touch 145

Language Revision 147

The craft of writing Using the senses 148

Back-of-the-book dictionary 149
---
Preface

Complete English Basics 3 sets out to present essential English skills in an interesting and

meaningful way for middle secondary students.

This third edition covers essential language and literacy skills underpinning the new

Australian Curriculum. New literature texts and language exercises have been included to provide

a wider range of comprehension texts and to augment language development.

The workbook can be used as a class or homework text. One approach would be to have

students complete each unit over a two-week period.

The stimulus materials and exercises are designed to improve comprehension and vocabulary

skills, as well as language usage and spelling. A special feature is the back-of-the-book dictionary, which

encourages students to expand their vocabulary by looking up the meanings of unfamiliar words.

Correct spelling is essential for good communication. Research has shown that in those

classrooms where teachers are concerned about correct spelling and vocabulary enrichment, the

students' spelling level improves significantly. It is a good idea, if time allows, to have a brief spelling

test at the end of each unit using the words from the spelling and vocabulary list.

The extracts are engaging and cover a diverse range of topics—from surfing to the

holocaust. A range of genres is represented, including biography, crime, poetry and adventure.

Above all, we hope that students will enjoy their studies as they gain basic English skills.

Rex and Sandra Sadler

978 1 4202 3710 8

vii
---
Acknowledgements

The author and publisher are grateful to the following for permission to reproduce copyright material:

Photographs

Alamy Stock Photo/AF ARCHIVE, 12, 16, 34, 51, 76, 91, /

Atlaspix, 61, /Heritage Image Partnership Ltd, 39, /ITAR-TASS

Photo Agency, 129, /KPA Honorar & Belege, 9, /Moviestore

Collection, 53 (right); A-list Entertainment Pty Ltd, 3; Getty

Images/John W Banagan, 23, /J Countess, 133, /Universal

History Archive, 96; iStock/william87, 5, /aluxum, 30, /Robert

Bergeron, 137, /Ranjan Chari, 136, /Valerie Crafter, 111, /

cre8tive_studios, 99, /Andrey Danilovich, 19, /DonKurto, 131,

/Karen Givens, 83, /Tom Grill, 121, /Ray Hems, 13, /Brett

Hillyard, 71, /Sander Huiberts, 124, /Eric Isselée, 25, 65, /

jgroup, 90, /Shaun Lowe, 64, /Christian Miller, 93, /malivoja,

22, /med_ved, 82, /mountainberryphoto, 47, /mtcurado, 139,

/oneinchpunch, 110, /parfyonov, 45, /PeopleImages, 49, /

Shelly Perry, 41, /Philartphace, 77, /pixdeluxe, 102, /kevinruss,

125, /Jose Antonio Santiso Fernandez, 142, /renaschild, 143,

/Skystorm, 97, /Sufi70, 31, /t-lorien, 105, /alexei_tm, 44, /

Nikolay Titov, 127, /tunart, 8, /uschools, 135, /ZambeziShark,

118, /zanskar, 113; Newspix/News Ltd, 1; Cover image of

Children of the Dust by Louise Lawrence, Random House,

1985, reproduced with permission of Penguin Random House,

17; Shutterstock/calvin au, 24, /Alan Bailey, 55, /baranq,

67, /bikeriderlondon, 73, /cosma, 87, /creativemarc, 57, /

Everett Collection, 38, /GGRIGOROV, 117, /Gyrohype, 59, /

HomeArt, 89 (top), /IM_Photo, 70, /Katrina Leigh, 89 (bottom),

/Matt9122, 85, /Alexander Raths, 119, /REX/Tri Star, 53 (left), /

rokopix, 86, /RossHelen, 79, /sumire8, 145, /Stephen VanHorn,

148.

Other Material

Extract from Lionheart by Jesse Martin, Allen & Unwin, 2000,

reproduced with permission of Allen & Unwin Pty Ltd, 1;

Extract from The Happiest Refugee by Anh Do, Allen & Unwin,

2010, reproduced with permission of Allen & Unwin Pty Ltd,

3; Extract from Whatever You Do, Don't Run—my adventures

as a Botswana guide by Peter Allison, Allen & Unwin, 2007,

reproduced with permission of Allen & Unwin Pty Ltd, 45-

6; Extract from The Secret Diary of Adrian Mole aged 13 ¾

by Sue Townsend, Curtis Brown UK, 1982, reproduced with

permission of Curtis Brown, 44; Extracts from Dr No by Ian

Fleming, Curtis Brown, 1957, reproduced with permission

of Curtis Brown, 125-6, 130; Extract from The Light Beyond

the Forest by Rosemary Sutcliff, 1980, reproduced with

permission of David Higham and Associates, 16; Extract from

Matilda by Roald Dahl, Penguin Books Ltd, 1988, reproduced

with permission of David Higham and Associates, 53;

Advertisement used with permission from Energy Australia,

103; Extract from King Arthur and the Knights of the Round

Table by Antonia Fraser, first published in the UK by Orion

Children's Books, an imprint of Hachette Children's Books,

Carmelite House, 50 Victoria Embankment, London EC4Y 0DZ,

9-10; Poem 'Trails' by Eva Johnson, reproduced by permission

of the author, 23; Extract from Lockie Leonard: Scumbuster by

Tim Winton, reproduced with permission by Jenny Darling &

Associates, 71-2; Extract from Everything I Know About Writing

by John Marsden, Pan Macmillan Australia, 1993. Copyright

John Marsden 1993. Reproduced with permission of John

Marsden and Pan Macmillan Australia Pty Ltd, 16; Extract

from Children of the Dust by Louise Lawrence, Random House,

1985, reproduced with permission of Penguin Random House,

17-8; Extract from Looking for Alibrandi by Melina Marchetta,

Penguin Books Australia, 1992, reproduced with permission

by Penguin Australia Pty Ltd, 50; Extract from To Kill a

Mockingbird by Harper Lee. Published by William Heinemann.

Reprinted by permission of The Random House Group Ltd,

51; Extract from Forrest Gump by Winston Groom, 1986 by

Perch Creek Realty & Investment Corp. Used by permission

of Doubleday, an imprint of the Knopf Doubleday Publishing

Group, a division of Penguin Random House LLC. All rights

reserved, 96; Extract from Cider with Rosie by Laurie Lee, 1959.

Published by Chatto & Windus. Reprinted with permission of

The Random House Group Limited, 148; Poem 'The last tiger'

from Collected Poems for Children by Gareth Owen. Published

by Macmillan, 2000. Copyright Gareth Owen. Reproduced by

permission of the author c/o Rogers, Coleridge & White Ltd.,

20 Powis Mews, London W11 1JN, 83; Cartoon 'On the Town

with King Arthur' by Tony Lopes, reproduced with permission

of Stoneytoons.com, 11; Poem 'Son of mine' from My People

by Oodgeroo Noonuccal, Wiley UK, 1990. Reproduced with

permission of John Wiley & Sons Ltd, 24.

The author and publisher would like to acknowledge the

following:

Extract from The Kon-Tiki Expedition by Thor Heyerdahl, 1993,

Gyldendal Norsk Forlag, 102; Extract from What it Feels Like,

by Lester Morlang, edited by AJ Jacobs, Harper Collins, 2003,

77; Extract from Hatchet by Gary Paulsen, Macmillan Children's

Books, 1989, 55-6; Extract from The Pearl by John Steinbeck,

Mandarin Paperbacks, 1948, 97; Poem 'The shark' by Edwin

John Pratt, from The Oxford Book of Animal Poems, by Michel

Harrison and Christopher Stuart-Clark. Oxford University

Press, 1992, 83; Extract from Of Mice and Men by John

Steinbeck, Penguin, 1937, 76; Extract from Cannery Row by

John Steinbeck, Penguin, 2000, 143-4; Extract from The Diary of

a Young Girl by Anne Frank, edited by Otto H Frank and Mirjam

Pressler, translated by Susan Massotty, Puffin Books, 39; Poem

'Water skier' by Thomas W Shapcott, University of Queensland

Press, 137.

While every care has been taken to trace and acknowledge

copyright, the publisher tenders their apologies for any

accidental infringement where copyright has proved

untraceable. They would be pleased to come to a suitable

arrangement with the rightful owner in each case.

viii 978 1 4202 3710 8
---
It's my life

1

Comprehension

Read the following passage and answer the questions.

Lone sailor

THE marine life seemed to be a lot more active

in this part of the world. I soon found my first

flying fish lying on deck. I was familiar with these

strange creatures from the trip with Dave and

there I was, on my own, with the small flying fish.

It marked the beginning of the tropics for me.

From then on they got bigger and bigger and the

schools would sense the presence of Lionheart

and take to the air in great numbers. At night I'd

hear a thud followed by a few flickers to indicate

one of the fish had landed on board and was

stranded.

They were cute little fish but I soon came to

hate the noise of one landing on board, for they

played heavily on my conscience. I'd be woken

by the thud of one ramming head-first into the

boat then I'd try to get back to sleep. It just wasn't

possible. The noise of them flipping about the

deck screamed out to me to get up and throw

them back overboard. It would have been easier

if they died quickly but they flip-flopped away

until the flips became less and less frequent, like

the last gasps of a dying person. I'd fall asleep for

a minute to be woken by another flicker of life. I

couldn't bear lying there while I knew a fish was

suffering. I usually couldn't get back to sleep until

I'd got out of bed and thrown it overboard. It got

pretty annoying when it happened three or four

times a night.

Not only could I hear them land, but I could

also smell them. The fresh smell of broken scales

wafted down into the cabin where I could tell if

there was one on board even if it made no noise.

They could be a real problem. One morning I

came out on deck and counted fifteen dead fish

lying about the place: in the reefs of the sails,

jammed beside the life raft and the wall, and

even mixed in with the ropes in the rope bags.

Some were quite large, up to 30 centimetres long.

I tried to cook one once but there were too many

bones and scales. At least I knew it was possible

to eat them in an emergency.

from Lionheart by Jesse Martin

978 1 4202 3710 8

1
---
2 Complete English Basics 3

978 1 4202 3710 8

Reading for understanding

1 What indication did the narrator have that the marine life was a lot more active in the

part of the world where he was now sailing his yacht Lionheart ?

2 'they got bigger and bigger …' What evidence does the narrator give in the final

paragraph to show this to be true?

3 How did the schools of flying fish react to the presence of Lionheart ?

4 At night, how did the narrator know that a flying fish had landed on his yacht?

5 In the second paragraph, the writer uses sound words (onomatopoeia) to convey the

sound of the movements of the fish. Write down three examples.

6 'I'd try to get back to sleep.' Why was this not possible?

7 Identify a simile in the second paragraph and explain what comparison is being made.

8 How did the narrator become aware of the presence of a flying fish on the deck even

when it made no noise?

9 'They could be a real problem.' Why was this so?

10 Why was the narrator not keen to eat the flying fish?

11 What did you learn about the character of the narrator from this passage?

11 marks
---
978 1 4202 3710 8

1 It's my life 3

Head honcho school captain

ALL through my primary school years I had a

thick Vietnamese accent: 'Fipteen minat twell

equal tree'. Even though my English was getting

better year by year, it was still definitely not as

good as an Aussie kid's. It didn't seem to matter

too much as I did well enough academically and

socially, becoming a candidate for school captain

at the end of Year 5.

There were four class captains in the running

to become the big head honcho school captain.

It was a very big deal, and the four of us were to

make a speech in front of the whole school at the

next assembly, to tell everyone why we were the

best candidate for the job. The teacher pulled us

aside and told us that it was okay to get help from

our parents to write this speech, as it was such a

big deal. I went home and said to Mum and Dad,

'You have to help me write a speech to become

school captain'.

'Six! Anh needs your help to write his speech.'

Uncle Six had done a couple of years of school

in Australia, and at the time he was the best at

English in our whole household, but this didn't

mean he was any good. Together we wrote my

speech and on the day of the assembly I was

ready to wow the school armed with a migrant's

second-year English speech.

That morning I was first to speak.

'Hello School Peoples. I am Anh.'

I could hear a few sniggers from the other

classes, but I was determined to go on.

'I will try for my hardest to be very friendly boy,

and I will always saysing hello to all you school

peoples ...'

Everyone started laughing. The worst thing

was when I looked down, I even saw teachers

laughing. I looked across at my own teacher and

she wasn't laughing, but I could see her trying not

to laugh!

I was so mad at her. I froze. I didn't know what

to do. It was almost like time stood still. In that

moment I just totally blanked out and forgot

what to say next.

The only people who weren't laughing were my

little classmates. They were on my side. Just then

I heard a tiny girl's voice:

'C'mon, Anh.'

I looked down and there was Karen, an

11-year-old face full of support. A few of her

friends joined in.

'Keep going, Anh.'

'I ... I ... should be school captains because I

want to helping the students ...'

I stood as still as I could, just blanking out

everyone, every noise, every snigger and laugh,

and saying everything that I had to say like a

monotone robot. Soon it was over. Thank God.

My first ever public speaking experience.

I look back on it now and I can't even blame

people for laughing. Bloody Uncle Six must've

skipped the classes where they taught plurals and

adjectives.

from The Happiest Refugee by Anh Do

Reading for understanding

1 What problem did the narrator have because he was a refugee?
---
4 Complete English Basics 3

978 1 4202 3710 8

2 'Fipteen minat twell equal tree.' What was Anh trying to say in English?

3 Why did Anh feel he could become a candidate for school captain?

4 What did Anh have to do before he could be chosen for school captain?

5 What help was each candidate allowed to have in preparing their speech?

6 Why was Anh's uncle given the job of helping him prepare his speech?

7 How did Anh feel before he was to give his speech?

8 'Hello School Peoples.' Why did Anh's first three words cause sniggers from the other

classes?

9 Why was Anh mad at his teacher?

10 How did Anh's classmates encourage him to continue his speech?

11 What caused Anh to speak 'like a monotone robot?'

12 What explanation does Anh give for his use of incorrect English in his speech?

13 What does this incident reveal about Anh's personality?

13 marks
---
978 1 4202 3710 8

1 It's my life 5

Spelling and vocabulary

Being human

optimistic energetic embarrass agreeable loyalty

cautious responsible violent criticise considerate

dependable fortunate friendly sympathetic tolerant

conscious mischievous anxious conceited prejudice

patient impetuous impulse ignorant deceitful

satisfied vitality personal stubborn claustrophobia

Finding opposites

Find words in the spelling list that are opposite in meaning to the following.

The first letters are given to help you.

1 reckless c 6 lazy e

2 pessimistic o 7 betrayal l

3 humble c 8 unreliable d

4 praise c 9 educated i

5 trustworthy d 10 hostile f

10 marks

Word forms

Complete the sentences by using the correct form of the words in brackets.

1 The demonstrators acted (impetuous), but

(fortunate) they took

(responsible) for their actions.

2 When the child had regained (conscious), the doctor advised the

parents to treat the injury

(cautious).

3 The evidence was (prejudice) to the case and the

defendant stated that his

(impulse) behaviour had been

an

(embarrass) to his family.

4 All were in (agreeable) that our grandmother had a wonderful

(personal) and always

(patient) listened to the

problems of others.

5 The principal would not (tolerant) any

(violent) or

(deceitful) from the students.

14 marks
---
6 Complete English Basics 3

978 1 4202 3710 8

Back-of-the-book dictionary

Claustrophobia is defined as 'the fear of enclosed spaces'. It is derived

from the Latin word claustrum (enclosed space) and the Greek word

phobos (fear). There are many phobias that humans may suffer from.

Use the back-of-the-book dictionary to write the meanings of these

common phobias.

claustrophobia:

hydrophobia:

noctiphobia:

arachnophobia:

xenophobia:

acrophobia:

Language

Texts

A text is a spoken, written or visual communication used to convey meaning. Five main categories

of texts can be identified: factual texts, literary texts, visual texts, media texts and everyday texts.

Well-known texts include novels, poems, newspaper articles, films, reviews, jokes, cartoons, comic

strips, advertisements, scripts, diaries, letters, paintings, posters, photographs, brochures and

autobiographies.

Identifying the text

Below are definitions of texts that we come across in our daily lives. Use the list to find the name

that goes with each definition.

autobiography biography atlas newspaper dictionary

thesaurus menu recipe novel film script

email portrait photograph cartoon encyclopaedia

prescription fairytale magazine obituary limerick

epitaph journal review legend street directory

Text

Definition

1 a book of maps

2 electronic mail

3 an alphabetical list of words and their meanings

4 a five-line, amusing poem

5 a paper printed daily or weekly containing news, etc.

6 marks

6 a long prose narrative about imaginary people and events
---
978 1 4202 3710 8

1 It's my life 7

7 a picture taken by a camera

8 a story about fairies or magical events

9 a painting, drawing or photograph of a person

10 a list of dishes served at a restaurant

11 the words written on a gravestone

12 a story written by someone about his or her life

13 a book of information arranged alphabetically

14 an article giving an opinion about a film, book, etc.

Texts and their purposes

Creators of a text use language for a purpose. This purpose is the reason why they write.

There are many purposes for writing that you will need to be able to identify. Here are some

of the important ones.

inform persuade entertain record report

clarify evaluate describe criticise change

invite compare reflect respond complain

recount explain thank request enthuse

advertise argue review instruct command

14 marks

Identifying the purpose

Read the following texts. In one sentence, write each writer's purpose.

1 Come away to sunny Queensland and enjoy the wonders of the Great Barrier Reef.

(advertisement)

Purpose:

2 September 25

Dear Diary,

I haven't written for about a week because nothing of interest has happened.

The same old dumb teachers teaching the same old dumb subjects in the same old dumb

school. At first I thought high school would be fun, but it's just dull.

Purpose:

(student diary; from Go Ask Alice, anonymous)

3 She was unbelievably old and so thin that she was more like a skeleton than a living being:

her wrinkled skin hanging from her bones; her face a gleaming skull.

Purpose:

(novel; from The Red King, Victor Kelleher)

3 marks
---
8 Complete English Basics 3

978 1 4202 3710 8

The craft of writing

Personal experiences

Writing is a special craft and it takes hard work—very few gifted

writers claim that writing is easy. Frank McCourt, famous bestselling

author of Angela's Ashes, 'Tis and Teacher Man, gives the

following advice to budding authors who are trying to improve

their writing techniques.

Write about what you know with conviction from the heart. Dig deep. Find your own voice

and dance your own dance.

In the following extract, famous author and journalist Phillip Adams takes this advice as he gives us

a moving description of his grandfather from his childhood memories.

WHEN I think of my grandfather, I see his hands.

In my memory they're as gnarled as the mallee

roots he'd carry from the wood-heap to the open

fire where he'd have me make toast with a long

fork of plaited wire. Big hands, capable of acts

of extraordinary sensitivity, as when he'd use his

huge forefingers to make holes in his seed beds,

deftly planting the most fragile green filaments.

I can also remember the kindness in those

hands when they'd tousle my hair, or hand me a

crudely made sandwich.

from 'Grandpa: the gentle giant of my childhood'

by Phillip Adams

Write a one-paragraph description of one of the following people in your life.

• mother • father • brother • sister • enemy

• grandfather • grandmother • friend • bully • dentist
---
Intertextuality

2

Comprehension

Intertextuality is the connection that some texts have with each other. Texts make connections

through their storylines, settings, themes, contexts, characters and language. A whole text may be

transformed into a modern text, or a text may borrow from or refer to another text. For example,

the teenage romance film 10 Things I Hate About You borrows heavily from Shakespeare's The

Taming of the Shrew.

A famous story such as the legend of King Arthur may exist in various forms—a movie, poem,

novel, comic strip, cartoon or biography. The three texts that follow are all derived from the

original legend of King Arthur. Read them and answer the questions.

Novel

King Arthur and the Knights of the

Round Table

'THAT is the strangest sight in the world!'

exclaimed Arthur to Merlin. They were sitting in

a deep embrasure in the castle walls, gazing at

the road which wound up to the castle from the

town. Four ox-carts were struggling along the

road, weighed down by an enormous burden.

'A Round Table,' continued the king. 'Yes, it's a

huge Round Table.'

Merlin sprang up from his chair and stared out

of the window in great excitement. 'It must be

the famous Round Table of King Leodegrance!'

he said. 'This famous table was specially made

to the king's requirements to hold two hundred

and fifty knights, the flower of Welsh knighthood.

I never thought to see the day when Leodegrance

parted with the Round Table.' But after a great

deal of reflection, the King of Cameliard had

decided to send the Round Table to Camelot, as

a token of his loyalty to Arthur, and as a wedding

present for his daughter. The days in which

Leodegrance could summon up two hundred and

fifty knights were long since past; the effects of

numerous wars with pagans and chieftains had

been to reduce his chivalry to nearer fifty than

two hundred and fifty. The empty seats at the

table mocked him. He decided to pass the table

on to a younger man.

Arthur received the gift with joy.

'This table is an inspiration to me,' he told

Gwenevere and Merlin. 'You know that it is my

dearest wish to drive the invaders back into the

sea, and extend my kingdom from shore to shore.

I shall found the Fellowship of the Round Table.

Every knight who takes the oath of the Round

Table shall be pledged to dedicate his life to the

service of God, the hammering of his enemies

and the protection of the weak.'

978 1 4202 3710 8

9
---
10 Complete English Basics 3

978 1 4202 3710 8

Merlin nodded in agreement.

'The Round Table should stand for all that is

best in chivalry,' he answered. 'In the days of

Leodegrance's prime it stood for high adventure.

There are still many adventures to be had in

Britain today, and many battles to be fought

before the pagans are routed and the evil witches

cast down.'

Between them Arthur and Merlin planned a

triple oath for the Knights of the Round Table.

First to step forward to swear the oath of the

Round Table was Sir Lancelot. As he did so a clap

of thunder resounded through the castle hall,

and the room was plunged in darkness. When

the gloom cleared it could be seen that above

each seat of the Round Table a name was written

in letters of gold. Many of the names were still

unknown to Arthur. Merlin solved the mystery.

'This miracle shows that God's blessing is

upon the Round Table,' explained the wizard. 'It

will be many years before every place is filled at

the table, for as yet your knighthood does not

number anything like two hundred and fifty. But

in time every place shall be filled.' Then Merlin

pointed to one seat, above which no name was

written. As he pointed, letters of fire formed over

the seat:

'No one shall sit here, unless he be the best

knight in all the world.'

'What can this mean?' exclaimed the king,

crossing himself.

'That is the Seat Perilous,' said the wizard.

'Even Sir Lancelot may not sit in that seat.' For

the time being he refused to say more.

Then all the king's knights took their appointed

places, and swore the triple oath of the Round

Table. Following Sir Lancelot, there was Sir Kay

and Sir Bedevere, Sir Gawaine, Arthur's proud

nephew, Sir Egremont, Sir Walter, and many

others.

from King Arthur and the Knights of the Round Table

by Antonia Fraser

Reading for understanding

1 What is the novelist's purpose in the passage?

2 As the action begins, what are Merlin and King Arthur doing?

3 What evidence can you find to show that the table was very large and heavy?

4 Why had the table been specially made?

5 What was Arthur's 'dearest wish'?

6 What pledge would each knight, who took the oath of the Round Table, have to make?
---
978 1 4202 3710 8

2 Intertextuality 11

7 What happened as Sir Lancelot stepped forward to swear the oath of the Round Table?

8 What could be seen when the gloom cleared?

9 What explanation did Merlin give for the miracle that had occurred?

10 Why were many of the names above the seats at the Round Table unknown to Arthur?

11 Use the back-of-the-book dictionary to find the meanings of these words:

a embrasure:

b pagans:

c chivalry:

Cartoon

13 marks

Reading for understanding

1 The cartoonist has based the cartoon on the legend of King Arthur. How has he indicated

that the speaker is King Arthur?

2 What important feature of the Arthurian legend have both the cartoonist and the

novelist focused on?

3 What is the cartoonist's purpose?
---
12 Complete English Basics 3

978 1 4202 3710 8

4 How has the cartoonist given the legend a modern setting?

5 What impression has the cartoonist given of King Arthur's knights?

6 What techniques are used to make fun of King Arthur and his knights?

Movie still

6 marks

Reading for understanding

1 What is the setting?

2 How are King Arthur and his knights different from those in the cartoon?

3 Why do you think this would be a good still to promote the movie?
---
978 1 4202 3710 8

2 Intertextuality 13

4 What use is made of light and dark in this shot?

5 Where is King Arthur positioned in this shot? Why has this been done by the director?

6 Where is the viewer positioned?

Spelling and vocabulary

6 marks

Confusing pairs

guerilla desert formerly allowed alley

gorilla dessert formally aloud ally

serial incite gait lute feat

cereal insight gate loot feet

rein illicit vacation loose confident

reign elicit vocation lose confidant

A word for a phrase

Find words in the spelling list that match each of the following definitions. Some letters are

given to help you.

1 the largest type of ape _ _ _ _ l l _

2 permitted _ l l _ _ _ _

3 illegal _ l l _ _ _ _

4 in a proper manner _ _ _ _ _ l l _

5 a narrow street _ l l _ _

6 a person someone trusts _ _ _ _ i _ _ _ _

7 a manner of walking _ _ i _

8 an understanding _ _ _ i _ _ _

9 to draw out information _ _ i _ _ _

10 a profession _ _ _ _ _ i _ _

11 to mislay _ _ _ e

12 in earlier times _ _ _ _ e _ _ _

13 an old stringed instrument _ _ _ e
---
14 Complete English Basics 3

978 1 4202 3710 8

14 a sandy area of barren country _ _ _ e _ _

15 not tight _ _ _ _ e

16 parts of the legs _ _ e _

16 marks

Missing words

Use words from the spelling list to complete the following phrases. The first letters are given to

help you.

1 g warfare 9 breakfast c

2 amazing i 10 stolen l

3 down a back a 11 annual v

4 two left f 12 a queen's r

5 a l tooth 13 an impressive f

6 i drugs 14 chocolate d

7 to i a riot 15 a horse's r

8 a c student 16 a d island

Back-of-the-book dictionary

16 marks

The word 'vacation' comes from the Latin word vaco (vacatum), which

means 'to be empty, vacant, unoccupied'. If you are on vacation, you are

having a rest from work or school. Use the back-of-the-book dictionary

to write the meanings of these words that are derived from vaco.

evacuate:

vacuum:

vacant:

vacuous:

vacate:

5 marks

Language

Active and passive voice

When the subject of a sentence is doing the action, the verb is said to be in the active voice.

King Arthur ruled Britain wisely. (active)

However, when the action is done to the subject, the verb is said to be in the passive voice.

King Arthur was always helped by the wizard Merlin. (passive)

Both the active and passive forms of verbs are used in English. Usually, the active voice is

more direct and personal than the passive voice.
---
978 1 4202 3710 8

2 Intertextuality 15

Changing the subject—active to passive

Rewrite each sentence in the passive voice. The first one is done to help you. Some of the

sentences may have more than one correct answer.

1 Arthur pulled the sword from the stone.

The sword was pulled from the stone by Arthur.

2 The wizard Merlin loved the Lady of the Lake.

3 Merlin took Arthur to a magical lake.

4 The Lady of the Lake gave Arthur a magic sword called 'Excalibur'.

5 Wearing the scabbard of 'Excalibur' protected Arthur from being hurt.

6 Arthur instructed Sir Bedevere to throw 'Excalibur' into the magic lake.

7 Sir Bedevere threw the sword into the lake.

8 The hand of the Lady of the Lake caught the sword.

7 marks

Changing the subject—passive to active

Rewrite each sentence in the active voice. The first one is done to help you.

1 Sir Lancelot was loved by Queen Gwenevere.

Queen Gwenevere loved Sir Lancelot.

2 'Excalibur's' scabbard had been stolen from Arthur by Morgan Le Fay.

3 The royal palace was established by Arthur at Camelot.

4 Arthur and Gwenevere were given a huge round table as a wedding present by King

Leodegrance.

5 The Saxons were defeated by the Knights of the Round Table at Mount Badon.

6 The princess in the tower was rescued by one of the knights.

7 Arthur's kingdom was destroyed by the treachery of Mordred.

6 marks
---
16 Complete English Basics 3

978 1 4202 3710 8

The craft of writing

Creating imaginary characters

Successful novelist John Marsden has the following advice for writers who want to create

memorable characters.

To make your major characters come to life you must endow them with unique details.

Something about the way they dress, for example? The jewellery they wear? Do they have

tattoos, braces, glasses, facial hair, make-up, painted nails? Is there something odd about

them? Perhaps they wear two watches, or carry a spare pair of socks in their pocket, or wear

a badge with a picture of Big Bird.

Of course it's in their attitudes, opinions, thoughts, personalities that your characters

will truly express their uniqueness, but the little details of dress and appearance help.

Think about behaviour too. Perhaps you could have a character chewing the back

of their hand whenever they listen to someone, or refusing to speak when they drive, or

irritatingly humming the same tune for weeks on end. These mannerisms are all important

to help the reader think of people as individuals.

from Everything I Know About Writing by John Marsden

In the following detailed description of Sir Lancelot, from her novel The Light beyond the Forest,

writer Rosemary Sutcliff uses techniques that John Marsden advocates.

Now Sir Lancelot of the Lake was an ugly man, with

an ugliness such as women love. His dark face under

the thick badger-streaked hair looked as though it had

been put together in haste, so that the two sides of it

did not match. One side of his mouth was grave with

heavy thought, while the other lifted in joy; one eyebrow

was level as a falcon's wing and the other flew wild

like a mongrel's ear. He had lived forty-five summers

and winters in the world, and loved and sorrowed and

triumphed and fought to the utmost, and every joy and

sorrow and striving had set its mark on him.

from The Light Beyond the Forest by Rosemary Sutcliff

Now try to create a fictional character of your own from one of these genres:

• fantasy • science fiction • historical fiction • horror
---
Future shock

3

Comprehension

Read the following passage and answer the

questions.

Holocaust

SARAH'S whole body was tense and listening.

It was very dark in the room but a faint line

of sunlight showed through the weave of the

blanket at the top of the window. She heard a

rumble in the distance, a great wave of sound

that came sweeping towards her, engulfing

everything in its path, drowning Catherine's cries.

Sarah blundered towards the fragile edge of light

as the blast struck the house.

Roof tiles smashed and the windows were

blown inward. Books and ornaments and light

fittings crashed and fell in the upstairs rooms. In

the howling darkness the mattress sagged and

the bookcase started to topple. The black human

shape that was Veronica screamed at her to

help. But Sarah was already there, moved by her

instinct, exerting force against force. The blanket

tore at its nails, came loose at one corner. Heat

screamed through the crack. Sarah had one brief

glimpse of devastation, a hurricane of tearing

trees and whirling leaves, the sky gone dark and

lurid with fire, before the wind passed over them

and things sank back into stillness.

Catherine was sobbing beneath the table.

Fragments of glass slipped and fell.

The air was stifling.

'Is it over?' Sarah asked.

'That was just the beginning,' Veronica said

brutally.

'We don't stand a chance!' Sarah cried.

'There's a torch on the mantelpiece!' Veronica

told her. 'And the hammer is beside it. I'll need

some nails too. Hurry up!'

Veronica removed the bookcase and nailed

the blanket back into place. They had to have

something heavier, she said, and between them

they managed to lift the settee on top of the

sideboard. It was made of leather and horsehair

and its carved legs hooked over the back. Sheets

and blankets were jammed into the space

along the top as the next wave of sound came

screaming towards them.

They applied their shoulders, all the strength

they had, to hold the settee in place as the

bombs fell over Bristol and Cardiff, Cheltenham

and Gloucester, and the great winds followed, a

roaring tide of heat and darkness that smashed

like a gigantic fist against the house. Even

through the thickness of the walls Sarah seemed

to see it … hell-bright hues, impressions of

colours that flashed and pulsed, rose and gold

and red-vermilion, impaled on her eyes as the

978 1 4202 3710 8

17
---
18 Complete English Basics 3

978 1 4202 3710 8

wind screamed through the broken upstairs

window and the barricade shuddered. Wave after

wave of thundering sound beat at the doors and

walls of their sanctuary, until it faded away into

silence.

They listened and waited. Buster was howling

outside in the hall and the grandfather clock

struck four, a silly incongruous sound. It had

been a very short war, and they heard nothing

more.

'I guess it's over,' Veronica said.

'Bristol?' asked Sarah.

'Everything,' Veronica replied.

from Children of the Dust

by Louise Lawrence

Reading for understanding

1 At the beginning of the passage, how do we know that Sarah was expecting something?

2 Was it day or night outside? How do we know?

3 What indication did Sarah have that the holocaust was approaching?

4 In the first paragraph, the sound of the holocaust is compared to the movements of

the sea.

Write down three action words that continue this comparison.

5 What happened to the roof and windows of the house?

6 What did Sarah see outside in her 'brief glimpse of devastation'?

7 Why did they have to replace the bookcase with the settee?

8 What was the purpose of blocking out all they can?

9 Use the back-of-the-book dictionary to find the meanings of these words:

a blundered:

b lurid:

c sanctuary:

d incongruous:

12 marks
---
978 1 4202 3710 8

3 Future shock 19

Spelling and vocabulary

The world at war

missile terrorist hostage suffering panic

nuclear assassin chaos grief siege

explode target negotiate explanation contaminate

dilemma conspiracy anxiety suspicion annihilate

destroy desperation worrying alliance dictator

retaliate predicament simultaneous tyranny persecution

A word for a phrase

Find words in the spelling list whose meanings match the phrases below. The first letters are

given to help you.

1 a ruler with unlimited power d

2 the surrounding of a place with troops s

3 complete disorder or confusion c

4 to make something dirty or impure c

5 something aimed at t

6 a person who uses methods to induce terror t

7 the rule of a cruel or unjust person t

8 to burst suddenly with a loud noise e

9 to ruin or put an end to something d

10 great sorrow or unhappiness g

11 sudden, uncontrollable fear p

11 marks

Word forms

Fill the gaps by adding the correct form of the words in brackets.

1 He waited . (anxiety)

2 The governor was a . (tyranny)

3 The ransom money is . (negotiate)

4 Both bombs exploded . (simultaneous)

5 That country is a . (dictator)

6 The refugees as they fled across the border. (panic)

7 The water is . (contaminate)

8 The of the president created fear. (assassin)

8 marks
---
20 Complete English Basics 3

978 1 4202 3710 8

Back-of-the-book dictionary

The word 'dictator' is defined as 'one who commands' or 'an absolute

ruler'. Dico (dictus) is the Latin word for 'I speak'. Use the back-of-thebook

dictionary to write the meanings of these dico words.

contradict:

edict:

diction:

dictionary:

indict:

Language

5 marks

Tone

The choice of words in a written text enables the writer to introduce certain attitudes and feelings.

It is through the tone the writer adopts that the emotional message is communicated to the

audience. The purpose of the writing and the specific audience the writing is aimed at will have a

considerable effect on the writer's tone.

Identifying tone

The following list shows examples of tones that may occur in texts. Your task is to match each

tone to its appropriate text below.

despairing determined threatening gloomy

1 We shall fight on the beaches, we shall fight on the landing grounds, we shall fight in the

fields and in the streets, we shall fight in the hills; we shall never surrender.

(speech by Winston Churchill, 4 June 1940)

2 Stop or I'll shoot! (command)

3 Water, water, everywhere

And all the boards did shrink;

Water, water, everywhere

Nor any drop to drink.

(poem; from The Rime of the Ancient Mariner by Samuel Taylor Coleridge)

4 The castle walls stood grim, dark and cheerless. (novel)

4 marks
---
978 1 4202 3710 8

3 Future shock 21

Purpose and tone

Through careful choice of words, writers can help create vivid images of life's experiences and

convey the tone or emotional meaning of what is written. Words are able to make us laugh or cry—

they are a means of communicating all kinds of emotions, such as anger, fear, hope, contempt,

contentment, hatred, sadness and joy.

Recognising purpose and tone

Read each of the following texts and identify the writer's purpose as well as the tone that is

expressed through the writer's choice of words.

1 Nothing is so beautiful as spring—

When weeds, in wheels, shoot long and lovely and lush;

Thrush's eggs look like little low heavens ...

(poem; from Spring by Gerard Manley Hopkins)

Purpose:

Tone:

2 Scrooge! a squeezing, wrenching, grasping, scraping, clutching, covetous old sinner!

Hard and sharp as flint ...

(novel; from A Christmas Carol by Charles Dickens)

Purpose:

Tone:

3 Only when the last tree has died and the last river has been poisoned and the last fish has

been caught will we realise we cannot eat money. (Cree Indian saying)

Purpose:

Tone:

4 A wonderful bird is the pelican,

His beak can hold more than his belican.

He can take in his beak,

Enough food for a week—

I'm blowed if I know how the helican. (limerick; anonymous)

Purpose:

Tone: .

5 I have seen war. I have seen war on land and sea. I have seen blood running from the

wounded. I have seen men coughing out their gassed lungs. I have seen the dead in the

mud. I have seen cities destroyed. I have seen children starving. I have seen the agony of

mothers and wives. I hate war.

(speech by Franklin Roosevelt, 14 August 1936)

Purpose:

Tone:

10 marks
---
22 Complete English Basics 3

978 1 4202 3710 8

The craft of writing

Making the beginning interesting

One of the most important things you, as writer, need to do is to

make the beginning of your story as interesting as possible. You

need to engage your readers so they will want to keep reading. It is

a good idea to read the introduction of some popular novels, such

as those in the Harry Potter series. You will soon come to see how

important the first few paragraphs are.

Read the first three short paragraphs of Brother in the Land, a

best-selling novel about the destruction of the world. Notice how

the author gains your attention and makes you want to read on.

East is East and West is West, and maybe it

was a difference of opinion or just a computer

malfunction. Either way, it set off a chain of

events that nobody but a madman could

have wanted and which nobody, not even the

madmen, could stop.

There were missiles.

Under the earth.

In the sky.

Beneath the waves.

Missiles with thermo-nuclear warheads,

enough to kill everybody on earth.

Three times over.

And something set them off; sent them flying,

West to East and East to West, crossing in the

middle like cars on a cable-railway.

from Brother in the Land by Robert Swindells

Now try your hand at writing the first paragraph for one of the following topics.

• The day the Earth stood still

• The quiet after the storm

• The last survivors

• All alone

• The holocaust