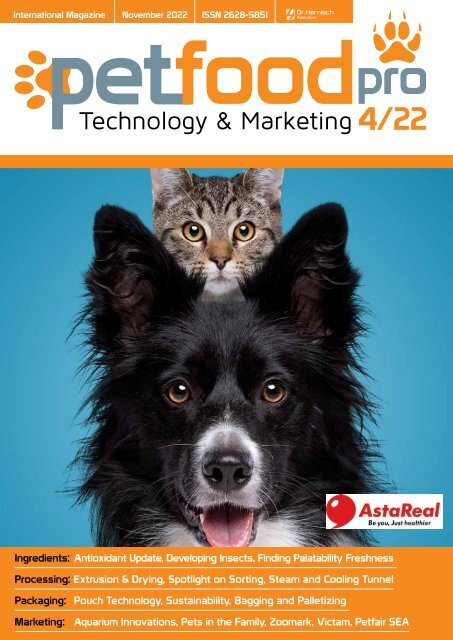 petfood pro 4/2022
PetFood PRO is the international magazine for executives and specialists in the manufacture of food for domestic animals – the pet food industry. The magazine focuses on food and delicacies for dogs, cats and other small animals, ornamental birds and fish, as well as animals kept in terrariums. We publish feature articles, reports and announcements about new ingredients, technology, equipment and processes, packaging machinery and materials as well as marketing trends and developments. Readers are executives, product developers and specialists in the pet food industry, including process and packaging engineers. PetFood PRO will be published in English. Circulation is worldwide, with an emphasis on important growth markets.
PetFood PRO is the international magazine for executives and specialists in the manufacture of food for domestic animals – the pet food industry. The magazine focuses on food and delicacies for dogs, cats and other small animals, ornamental birds and fish, as well as animals kept in terrariums.

We publish feature articles, reports and announcements about new ingredients, technology, equipment and processes, packaging machinery and materials as well as marketing trends and developments. Readers are executives, product developers and specialists in the pet food industry, including process and packaging engineers. PetFood PRO will be published in English. Circulation is worldwide, with an emphasis on important growth markets.
SHOW MORE
SHOW LESS
You also want an ePaper? Increase the reach of your titles
YUMPU automatically turns print PDFs into web optimized ePapers that Google loves.
International Magazine November 2022 ISSN 2628-5851

Technology & Marketing 4/22

Ingredients: Antioxidant Update, Developing Insects, Finding Palatability Freshness

Processing: Extrusion & Drying, Spotlight on Sorting, Steam and Cooling Tunnel

Packaging: Pouch Technology, Sustainability, Bagging and Palletizing

Marketing: Aquarium Innovations, Pets in the Family, Zoomark, Victam, Petfair SEA
---
Meet the All-in-One

Cutting Solution

The Affinity® Dicer with built-in

precutter is specially designed to

process formed meat logs.

The dicer reduces processing time

and increases labor cost-savings

by eliminating the need to precut

logs before entering the machine.

Contact Urschel to learn more.

#1 Best selling provider of

industrial cutting machinery

throughout the world.

The Global Leader in Food Cutting Technology

Set up a free test-cut of your product.

www.urschel.com

® Urschel, Urschel logo symbol, and The Global Leader in Food Cutting Technology are registered trademarks of Urschel Laboratories, Inc. U.S.A.
---
EDITORIAL

Toothcare is Petcare

The more I learn about pet food, the more

fascinating I find some topics. For example,

toothcare is something I wouldn't have

thought much about before; discovering

dental sticks was an eye-opener for me,

this is such a relatively simple, yet totally

practical invention. Many of us who love

dogs have got too close when the meat or

bone wasn't quite finished and probably

still remember the respective smells.

There are many products which do indeed

support pet tooth care.

The teeth of our pets are sometimes a

challenge. Dogs, especially, explore with

their mouths. They often chew to reduce

stress and satisfy their instincts and as a

natural way of reducing plaque. A recent

study from the University of Pennsylvania,

supported by Mars Petcare, has shown

that dogs' teeth often break or get

damaged when they bite or chew on very

hard things, sometimes found in their

own snack boxes.

This concern has been passed on to the

pet food manufacturing industry to be

aware of the problem and to find suitable

solutions. Vets are also underlining the

topic in discussions with their clients,

since it is relatively low down on the

priority list of pet parents, even though

almost all vets examine teeth as a routine.

The study has shown that dogs' jaws are

actually stronger than their teeth when it

comes to biting things which are too hard.

Every fourth dog examined had damaged

teeth. This results in pain, inflammation

and loss of appetite.

Céline Levointurier, General Manager of

Mars Pet Nutrition in Germany, said to

the topic: "For us, the health and wellbeing

of pets is the top priority. In safety

and quality there can be no compromises.

Thanks to over 50 years of scientific

research in petcare we know, better than

anyone else, which products are suitable

for our four-legged friends - and which are

not. This research helps us to produce and

deliver safe snacks; this includes creating

a baseline for legal standards regarding

the maximum degree of hardness for dog

chews, which we actively pursue."

There are plenty of products available

which help to clean teeth, reduce stress

and are also gentle for pets' mouths and

which are certified by, for example, the

European Veterinary Dental Society. The

European Pet Food Association have also

followed up by publishing a guide to

responsible snack products.

The market for snacks just for dogs has

grown by over 20% since the start of

Ian D. Healey, Editor-in-Chief

the pandemic, but sometimes meeting

market needs is more a priority than

taking that extra bit of care. One result of

the study was to encourage pet parents

to take advice on snacks and toys from

vets, to find the best products for the size

and age of the animal. We know from our

people-children how important toothcare

is; with the pet-children it is no different.

Sincerely

If you like it subscribe!

Issue 4 2022

3
---
CONTENTS

International Magazine November 2022 ISSN 2628-5851

Technology & Marketing 4/22

Ingredients: Antioxidant Update, Developing Insects, Finding Palatability Freshness,

Processing: Extrusion & Drying, Spotlight on Sorting, Steam and Cooling Tunnel

Packaging: Pouch Technology, Sustainability, Bagging and Palletizing,

Marketing: Aquarium Innovations, Pets in the Family, Zoomark, Victam, Petfair SEA

Issue 4 November 2022

AstaReal, global pioneer in astaxanthin production and related research, has

announced a new strategic partnership with IQI Trusted Pet Food Ingredients, a

supplier of premium inclusions. This means its recently launched science-based pet

food formula NOVASTA® EB15 will be more easily available on the European market

for the enhancement of health in pets and other animals. See the article on page 6

Cover: © AstaReal

Ingredients

Processing

6 New Collaboration in international Pet Food Market

8 Pet Food Safety and Freshness Concerns: Origins and

Consequences

14 Asia's First Industrial Insect Company Closes US$20m Equity

Round to Launch New and Expand Into New Markets

18 EuroTier Innovation Prize 2022: Dosing Station Wins DLG

Innovation Award in Silver

19 Twin Screw Extruder ZSK Mv PLUS Ideal for Pet Food

Processing

20 Dry Petfood Processing

24 Spotlight on Sorting: Why the PetFood Industry Needs to

Think About Sustainability

27 Steam and Cooling Tunnel for Wet Pet Food Processing

The insect sector has gathered increasing attention over the past

few years, with the global insect protein market alone estimated

to be worth US$343 million in 2021, and expected to grow to

reach US$1.3 billion by 2027. As a sustainable solution to help

minimize multiple unsustainable practices, the sector as a whole

has seen investments totalling nearly US$1 billion but with

multiple technological hurdles, few companies are yet to reach

industrial scale, let alone profitability. See the story on page 14.

Far from being a fad, sustainability is here to stay and increasing

in importance, especially in industries like pet food, which sell

directly to consumers. Because consumers are increasingly

concerned about topics such as sustainability, the environment,

and fair treatment for workers, they expect food brands to handle

these issues responsibly and ethically - and brands expect the

same of their suppliers. One solution is introduced in this story.

Take a look at the article on page 24.

4

Technology & Marketing
---
Departments

3 Editorial

42 Upcoming Events

42 Impressum

Marketing

Come and see for yourse

www.harnisch.com

Perfectly positioned.

Come and see for yourself:

International Magazine March 2022 ISSN 2628-5851

www.harnisch.com

The international specialist magazines from Dr. Harnisch Publications

You can now explore our newly designed website, with a

Technology & Marketing

clear focus on responsive design and easily usable applications. general information on all our magazines. Take a look at

Come and see f

Alongside the free-to-use digital magazine editions, you will www.harnisch.com for all relevant content.

www.harnisc

Perfec

www.harnis

34 Living Water - Creating the Right Flow

Our publications include:

36 Tradition meets Innovation

- Technology & Marketing -

38 Zoomark is Getting Even Bigger

40 Victam LatAm 2023 can count on many exhibitors

Perfectly

41 Pet Fair South East Asia

Perfectly

positioned.

Perfectly

Packaging

positioned.

positioned.

Perfectly positioned.

30 25 Years of Partnership Between SSB and Payper

31 FFS Pouch Packaging Machines

32 Flexible Packaging Solutions for Petfood: The Transition to

The

The magazines from Dr. Harnisch Publica

The international specialist magazines magazines from Dr. from Harnisch Dr. Pub Ha

Environmental Sustainability

The international specialist magazin

You can now explore our newly designed fi nd bonus news coverage, events, subscr

The international specialist magazines from Dr. Harnisch You can now explore Publications

our newly designed fi nd bonus news coverage, events, sub

You website, can now with a explore clear focus our on newly responsive designed

and general information fi nd bonus news all our magazin cover

website, with a clear focus on responsive design and general information on all our mag

and easily usable applications. Alongside the Take a look at www.harnisch.com a

positioned.

website, and with easily a usable clear applications. focus on Alongside responsive the design Take a look and at general www.harnisch.com information

free-to-use digital magazine editions, you will relevant content.

You can now explore our newly designed fi nd bonus news

You

coverage,

and easily can free-to-use events,

usable now digital applications. explore magazine subscription editions, our Alongside you newly will the designed

relevant Take content. a look at www.h fi n

website, with a clear focus on responsive design and general information on all our magazines.

free-to-use digital magazine editions, you will relevant content.

website, with a clear focus on responsive design an

and easily usable applications. Alongside the Take a look at www.harnisch.com Our publications include: for all

Our publications include:

The free-to-use international digital magazine editions, specialist you will magazines The international

relevant content. and easily from usable Dr. applications. Harnisch specialist

Alongside Publications

magazines

the Ta

- Technology & Marketing -

- Technology & Marketing -

free-to-use Our publications include: digital magazine editions, you will re

Insect Proteins, More Sustainable BARF, Pet Nutrition, Plant-Based Food

Healthy Kibbles, Hygienic Cooking, Modular and Flexible Solutions

Recyclable Packaging and Bags, Inline Tray Sealer

1/22

find bonus news coverage, events, subscription and

Come and see for yourself:

Vet's Corner, Pet Food Competence Network, Anuga FoodTec, IFFA, Interzoo

Come

www

Come and see for

You can Our publications now explore include: our newly designed

You

You

fi

can

can

nd bonus

now

now

explore

explore

news coverage,

our

our

newly

newly

events,

designed

designed

subscription

fi

fi

nd

nd b

- Technology & Marketing -

website, with a clear focus on responsive design

website,

website,

and general

with

with a

clear

clear

information

focus

focus

on

on

on

responsive

responsive

all our magazines.

design

design

and

and g

- Technology & Marketing -

and easily usable applications. Alongside the

and

and

Take

easily

easily

Our publications a

usable

usable

look include: at

applications.

applications.

www.harnisch.com

Alongside

Alongside

the

the

for all

Take

Take

a

free-to-use digital magazine editions, you will

free-to-use

free-to-use

relevant

digital

digital

content.

magazine

magazine

editions,

editions,

you

you

will

will

releva

releva

The international specialist magazines from Dr. Harnisch Publications

Come and see for yourself:

www.harnisch.com

You can now explore our newly designed

Our publications include:

website, with a clear focus on responsive design

and easily usable applications. Alongside the

free-to-use digital magazine editions, you will

Pouch packaging machines are used in almost every

industry, including petfood. The company SN Maschinenbau

offers highly innovative technology for almost all filling

materials, bag shapes and output quantities. From low

Our output publications rates include:

the start segment to several hundred

pouches per minute in the top segment, many different

machine models are available. The machines are

characterized by a long service life. See page 31.

fi nd bonus news coverage, events, subscription

Our publications include:

Our publications include:

and general information on all our magazines.

Take a look at www.harnisch.com for all

relevant content.

- Technology & Marketing -

- Technology & Marketing -

Issue 4 2022

5
---
INGREDIENTS

New Collaboration in international

Pet Food Market

Supplier IQI Trusted Pet Food Ingredients optimizes access to AstaReal's astaxanthin product NOVASTA® EB15 for the

European industry

AstaReal, the global pioneer in astaxanthin production and related research, announces a new strategic partnership with

IQI Trusted Pet Food Ingredients, a supplier of premium inclusions. Thus, its recently launched science-based pet food

formula NOVASTA® EB15 will be available more easily on the European market for the enhancement of animal health.

pet food industry is a huge growth

hub for us." Before expanding into the

European market together, AstaReal and

IQI previously worked on a successful

collaboration in the US.

Photos: AstaReal

The partnership will

combine and maximize

the strengths of both

companies. AstaReal

will provide its healthpromoting

astaxanthin

product NOVASTA®

EB15, while IQI Trusted

Pet Food Ingredients will

act as a growth engine for

European sales. IQI is based in

the Netherlands with a European

storage location and sales offices

in other countries, and thus can easily

deliver to pet food manufacturers all

over Europe.

NOVASTA® EB15 is AstaReal's latest

offering for feed and pet food. Its healthenhancing

effects are derived from

natural astaxanthin – one of nature's

most powerful antioxidants obtained

from microalgae Haematococcus

pluvialis. Multiple scientific studies show

its various benefits for animals, where it

improves, for example, endurance and

attentiveness, and supports eye health

and immune response. In NOVASTA®

EB15, astaxanthin is encapsulated

to maintain its antioxidant power,

particularly in challenging formulations.

Technology & Marketing

For more information

www.astareal.se/astaxanthin-forpets/#astra-block_600059cb76a01

"We are very happy to work with IQI

Trusted Pet Food Ingredients, as their

team has a large amount of market and

customer information, and strategic

insight, which enables us to respond

quickly to potential customers in this

industry," says Peter Ahlm, Marketing

& Sales Manager at AstaReal AB. "The

6

Technology & Marketing
---
WE MAKE

PET FOOD

TASTE GREAT. TM

PALATANT SOLUTIONS AND SERVICES

In an increasingly competitive marketplace, palatability is a critical component of pet nutrition

and a key driver of brand loyalty. Ensuring product performance and repeat purchases for pet

food manufacturers – and their customers – is our business. Whether in a kibble, can, pouch or

cup, our palatants make pet food more appealing to pets and pet parents.

PALATANTS

We develop and produce a

full range of liquid and dry

palatability enhancers proven

to optimize pet enjoyment and

consumption.

SERVICES

In addition to palatant expertise,

AFB supports our customers with

additional services. Technical

palatability trials, behavior trials

and an in-house pilot plant are

just some of the benefits we offer

our customers.

TECHNICAL PALATABILITY

Palatability trials to

measure a pet's food

acceptance or preference

BEHAVIOR

Performance Beyond

Consumption SM

PILOT PLANT

Process research lab

producing palatants

and protypes

AFB International

Global Headquarters

St. Charles, Missouri USA

afbinternational.com

GLOBAL CUSTOMER SERVICE

1-800-218-5607

©2022 AFB International
---
INGREDIENTS

Pet Food Safety and Freshness

Concerns: Origins and

Consequences

by Cristina Murcia García, Ph.D., Elena Fraccaroli, DVM, Bartosz Lebida Msc Eng

Photos: sarahb-fotos.de

1. Pet food industry quality

expectations and risks in

matter of safety

Today, pet owners have at their disposal

a wide range of high-quality pet food

products to provide their pets with

nutrient-rich foods appropriate to

their lifestyle, pet's activity, and their

purchasing preferences. ⅰ Increasingly

advanced knowledge of pet nutrition and

pet food technology means that more and

more ingredients are being incorporated

into pet food formulations, and therefore

increasingly pet food ingredients ⅱ are

being protected at each stage of the

production process. Food safety in the

pet food industry refers to ensuring that,

the feed does not cause harm to the

pets and possibly to the consumer, such

as kids being able to grab it in the bowls

when prepared and/or consumed as

intended. Food safety is a multi-faceted

and multi-stage activity, starting with the

origin of the animal by-products at the

slaughtering and rendering processes,

through the transport of ingredients

used in petfood production, including

the production process itself including

product formulation, and ending with the

delivery of the product to the customer

and post-delivery activities. Actions are

needed to protect against the risks of

contamination and fraud at every stage

of the food production process, as each

of these elements may have an impact on

food safety.

The mission and responsibility of pet

food companies and their owners is to

provide safe and balanced food. This

mission, along with their vision, are often

included in the company's strategy and

marketing activities to convince the Client

that, the safety of their family members is

a priority in their operation. Food safety

in the pet food industry is now a shared

responsibility of all actors involved in the

production of the product, including the

pet owner.

Existing legislation on animal byproducts,

ⅲ additives authorized in animal

feed, presence of undesirable substances

in feed, labelling rules combined with

appropriate preventive actions consisting

in the application of good hygiene and

production practices (GHP, GMP), risk

analysis of critical control points (HACCP)

and other standards contribute to the

achievement of safe food standards. Such

a broad perspective allows for proper

management and monitoring of the entire

production process, as well as continuous

control of the ingredients used in the

feed recipe, including essential nutrients,

such as minerals, vitamins, flavors, and

stabilizers. Each of the ingredients has a

strictly defined specification, not only in

terms of nutritional value, but also for the

parameters responsible for freshness and

organoleptic characteristics.

When analyzing what pet food safety is

and how to achieve it, the primary focus

should be on the slaughterhouse raw

material (RM) as one of the primary food

ingredients. It is the quality of the RM that

further translates into the properties of

the food in terms of safety, palatability,

nutritional value, and shelf life. Proper

handling of a given type of RM in the

initial phase at the slaughterhouse or

processing plant stage, translates further

into processes related to oxidation

(formation of toxic compounds),

freshness (the level of free fatty acids),

appearance of meat structure (biogenic

amines, odor of toxic gases), microbiology

(formation of bacteria, moulds, yeasts),

and aspects related to oxidation because

of further RM processing. It is precisely the

determination of the place of formation of

factors that determine a given RM activity,

such as enzymatic reactions (temperature,

pH, time, presence of metal ions, water

activity, light), as well as the method of

their monitoring and prevention, that

determines an effective approach in

the field of food safety. Bacteria growth

generates more enzymatic activity and

increases the amount of free fatty acids

and the initiates formation of biogenic

amines.

The safety of pet food, irrespective of

the production technology used (dry,

wet, or fresh products) ⅳ , is a priority

that must be observed in relation to the

regulations in force in this area. Today, the

available portfolio of antioxidants and

preservatives, such as anti-bacterial, antisalmonella,

anti-moulding agents, allows

the use of high-quality, safe solutions

which are appropriate to the product

(dry, wet, fresh food ingredients) and the

customer's preferences.

In most countries pet food is regulated

at every stage, from the ingredients

used, through the production process, to

marketing and sales. However, pet food

safety presents significant challenges

compared to traditional food safety

issues, as hazards have the potential

to directly affect the pet and indirectly

affect the humans around it. Pet food can

serve as a carrier for infectious disease

agents, as well as naturally occurring

and inadvertently added undesirable

8

Technology & Marketing
---
INGREDIENTS

substances. The update of the legislation

on food production requirements

introduces additional protection in this

aspect, especially in these times when

attempts are being made to introduce

alternative sources of protein (insects).

2. Main freshness loss

consequences: Biogenic Amines

and Free fatty Acids

As we have explained above, the loss

of freshness and bacterial growth leads

to the formation of free fatty acids and

biogenic amines. These are the main

consequences that affect food safety

and have an impact into the freshness

of raw materials and finished products.

Here below you can see a description of

both parameters: formation, chemical

background and characteristics and

current regulatory information available.

Biogenic Amines

The main consequence of freshness decay

in protein rich raw materials, such as

meat and meat products, is the formation

of biogenic amines. They are formed

as by-products of microbial spoilage

due to decarboxylation of free amino

acids catalysed by the corresponding

Figure 1: Decarboxylation of the amino acid histidine to form the biogenic amine histamine

decarboxylase enzyme. ⅴ Each amino acid

will lead to the formation of a different

biogenic amine upon microbiological

spoilage. The main biogenic amines on

which the pet food industry is focusing

are histamine, cadaverine, tyramine and

putrescine, and they come from the

degradation of the amino acid histidine,

lysine, and arginine, respectively, see

Table 1. The most well-known health

impact of biogenic amines is histamine

poisoning, which occurs a few minutes

to several hours following the ingestion

of foods, like fish, with a high content of

histamine.

Unfortunately, in the European Union there

are still no maximum limits established for

the concentration of biogenic amines in

pet food. For the moment there is only

legislation for histamine related to fish

ingredients but only for humans. ⅵ ⅶ

Table 1:Amino acid precursor and its

corresponding biogenic amine.

Parent Amino Acid

Precursor

Histamine

Lysine

Arginine

Tyrosine

Biogenic Amine

Histamine

Cadaverine

Putrescine/Agmatine

Tyramine

Issue 4 2022

9
---
INGREDIENTS

Other biogenic amines mentioned before

like cadaverine and putrescine are known

to have an impact on the palatability of

finished pet food, but this topic will be

discussed deeper in the next section of

this article.

To avoid these consequences, it is important

to maintain the freshness and quality of

meat and meat products by avoiding

microbiological growth, thus protecting

materials as soon as possible from

evisceration, transport, and processing.

Biogenic amines are heat resistant and

acid resistant molecules, this means, that

once they are formed in the fresh crude

raw materials they will survive and stay

present in the final product produced with

those raw materials. ⅷ ⅸ In the Figure 2

below you can see a graphic representing

biogenic amine concentration (histamine,

putrescine, cadaverine and tyramine)

before and after autoclaving (elevated

temperature and high-pressure process).

As you can see the concentrations before

and after are quite comparable.

Figure 2: Biogenic amines concentration

before and after autoclaving.

Ideally, to control biogenic amines

growth it is necessary to inhibit the

microbial growth and the decarboxylase

activity of microbes. These are some

suggestions on how to do it:

• Use cold storage

• Frequent collection of raw materials

and limitation of storage time during

warm seasons

• Process the materials as soon as

possible

• Good hygiene practice. Ensure that

transport and processing equipment

are kept sanitized to reduce

microbial load

• Use freshness treatments with the

right organic acids' combination

able to: not affect palatability, not

increase ash content, control a

broad range of biogenic amines, not

causing pro-oxidation

Free Fatty Acids

Another consequence associated with

freshness decay is the increase of acidity,

or the formation of free fatty acids. In

this case, the origin is the hydrolyzation

of triglycerides by the action of the

enzyme lipase. ⅹ This process occurs in

fresh raw materials containing fats and

the formation of free fatty acids (FFA)

increases systematically in the crude raw

materials as the environment temperature

rises. Once the crude raw materials are

processed, to produce processed animal

protein (PAP) and fat, the FFA level should

not increase anymore over time.

Usually, FFAs are used as an indicator

of the freshness of a fat, oil, or PAP. The

higher the FFA level, the less fresh the

product is. Both parameters, FFA and

biogenic amines are also indicators of

quality of the supply chain and give

information about how the crude raw

materials are handled. There is still a lack

of knowledge regarding the potential

negative effects of elevated levels of FFAs

regarding the health of pets or impact on

the palatability and shelf life of finished

pet food products.

Kemin is currently developing a set

of trials to answer these questions,

especially the one related to high FFAs

and their impact on palatability and shelf

life of final pet food products. We hope to

share the outcome of these trials soon.

To the best of our knowledge there are,

at the moment, no legislation related to

maximum FFA levels allowed in pet food

or pet food raw materials. What we have

observed in the market is that pet food

producers tend to require and set their

own maximums limit towards their raw

materials suppliers. This is often based on

their own research/experience.

To control FFA formation, the same

suggestions as for biogenic amines

control mentioned before also apply

here since both freshness parameters

are caused by the same phenomenon,

microbial growth.

By experience we suggest treating as soon

as possible sensitive raw materials inside

the slaughterhouses with preservatives

like ALLINSUR or RENTERRA Kemin

product lines.

3. Factors impacting pet food

palatability with focus on

Biogenic amines

Loss of freshness can be initiated by

microbial degradation in the pet food

or in their initial crude raw materials

Figure 3 (below): Hydrolysis of triglycerides

to form free fatty acids.

Photos: sarahb-fotos.de

10

Technology & Marketing
---
Only INGREDIENTS the best for

our loved ones!

Figure 4: Water activity and microbial growth. ⅺ

used. It can cause two problems. Spoilage

and decomposition of pet food, with

consequential loss of organoleptic

features and loss of nutrients, not only

micro-nutrients, such as vitamins, but

also macro-nutrients, such as proteins

and lipids. The decomposition process

leads to the formation of some noxious

substances, such as biogenic amines.

The second potential consequence of

microbial spoilage is food poisoning,

from the growth of pathogenic microbes,

such as Salmonella spp., Listeria

monocytogenes, various Bacillus species,

and many other bacteria.

Water activity plays a crucial role in

the physical, chemical, and biological

stability of foodstuff. It is the ratio

between the vapor pressure of water in

a certain material and the vapor pressure

of pure water, at the same temperature.

In simpler terms, it is an index referred

to in food that is used to express the

availability of water free from bonds

with other components and which can

be used for chemical and biological

reactions. The index is expressed as an

absolute number between zero and

one: the higher the value, the higher

the availability of water for microbial

growth and therefore the easier that

spoilage can occur. Water activity is not

to be confused with moisture content.

Moisture is the total amount of free and

bound water. The relationship between

moisture and water activity depends on

the specific material: there are specific

molecules and substances, that can

absorb or bind water and lower water

activity, even if the moisture level is not

affected. A water activity index below 0.6

is considered as safe because it allows

no mould, yeast or bacterial growth, and

enzymatic reactions are well restrained.

So, water activity index defines if a food is

perishable or stable. That is why it is used

as key point of quality control programs.

When we refer to dry pet foods, we are

speaking of foods that are typically stable

thanks to their production processes, that

involves heat treatment, and potentially

the use of water-binding substances. The

challenge to the pet food industry is to

find the right combination of ingredients,

processing, and packaging to create

products that meet safety, quality, and

cost parameters, and to satisfy consumers.

Therefore, water activity could be used not

only as a quality parameter, but also as an

active development tool.

It is possible to intervene against microbial

development by lowering water activity

as much as possible. In many cases, it

is not possible to lower it below the

safe value of 0.6, therefore it is essential

to act in other ways, such as by using

specific substances called preservatives.

These kinds of additives intervene by

altering the pH inside the microbial cell,

interrupting its cellular functions to

destroy the cell. Organic acids are widely

used as preservatives. They are defined as

weak acids, because they release only part

of their hydrogen atoms when put in a

solution and depending on the pH of that

solution, forming a balance between the

whole molecule and the ion forms (called

dissociated forms). In fact, this process is

called dissociation. So, weak acids can be

found in undissociated form or at various

level of partial dissociation. Strong acids,

on the contrary, release all hydrogen atoms

and therefore are totally dissociated when

in solution. The active form of the organic

acid, that can penetrate the microbial cell,

is the undissociated form. The lower the

pH of the solution, the more undissociated

the acid is, and therefore the more effective

it will be. The pH at which organic acids are

totally undissociated varies for each acid,

but is relatively low which, is unlikely to be

suitable for a pet food matrix. Therefore,

generally, the reference used instead

is the pKa which is the pH at which the

Real brewers' yeast!

Really effective!

Leiber YeaFi ®

| unique synergy of brewers' yeast

and functional fibres

CeFi ® pro

| best values in bioavailability

Biolex ® MB40

| prebiotic. gut health. MOS

Leiber ® Beta-S

| pure beta-glucans for strong

immune defence

Leiber NuTaste ®

| Natural. Pure. Delicious.

For further information

just get in touch with us!

Visit our new website:

leibergmbh.de

Issue 4 2022

11

Leiber GmbH | Hafenstraße 24 | 49565 Bramsche

Germany | info@leibergmbh.de
---
INGREDIENTS

Photos: sarahb-fotos.de

acid is fifty percent undissociated, which

provides good efficacy as a preservative.

As already mentioned, microbes can

cause food spoilage, with consequent

loss of nutrients because molecules are

altered and modified. This is precisely

what happens when microbes alter

the structure of amino acids, forming

biogenic amines. That is why biogenic

amines are considered an index of

freshness: the more biogenic amines, the

lower the freshness of products.

Another important thing to highlight

about biogenic amines is that they

have a typical rotting smell, that

humans can perceive when food

decline is quite advanced. But animals,

with an extremely developed sense of

smell, can perceive biogenic amines at

low concentrations and this can have

an important influence on palatability.

For all the reasons discussed above, it

is especially important to have good

control over microbial growth.

To assess the impact of biogenic

amines on palatability, a study ⅻ

has been designed involving super

premium commercial dry diets for

dogs and for cats, formulated for

optimal palatability performance. The

diets were bought at a pet store and

tested for biogenic amine levels, with

the intention of using the food only if it

contained very low levels. The chosen

products were then coated with a 2%

water solution containing individual

biogenic amines and two mixtures at

different concentrations.

In both dog and cat foods, the first

round of trial included the following trial

samples:

- Histamine alone (50 ppm)

- Putrescine alone (150 ppm)

- Cadaverine alone (250 ppm)

- Biogenic amines mix 1: sum of the

previous amounts (450 ppm)

For the second round of experimentation,

it was decided not to increase the amount

of histamine to protect the pets involved

in the palatability trials, as 50 ppm is

usually referred as the maximum safe

amount by scientific literature. So, the

trial samples for both dog and cat diets

were:

- Putrescine alone (300 ppm)

- Cadaverine alone (500 ppm)

- Biogenic amines mix 2: sum of the

previous amounts + histamine 50

ppm (850ppm)

All samples were tested for biogenic

amines after the experimental coating,

Table 2: First round of palatability trials on dog kibbles coated with solutions of biogenic amines

Table 3: First round of palatability trials on cat kibbles coated with solutions of biogenic amines

Table 4: Second round of palatability trials on dog kibbles coated with solutions of biogenic amines

12

Technology & Marketing
---
INGREDIENTS

Table 5: Second round of palatability trials on cat kibbles coated with solutions of biogenic amines

to confirm the effectiveness of biogenic

amine addition and the process. The

samples were then all tested for palatability

versus a control sample, consisting of the

same diet coated with 2% water only, to

balance its moisture level as it is a factor

known to impact overall palatability.

As can be seen in tables 2 and 3, all the

first-round palatability trials did not show

a statistically significant difference in

performance. It is for this reason that the

second evaluation step has been inserted

in the study, doubling biogenic amines

dosages (except histamine), as already

indicated above.

D6 and D7 trials in table 4 show a

statistically significant preference for the

control sample over the trial sample. The

intake ratio (IR) of the A sample (the trial

sample), is 0.27 with a low p-value. Also,

the first choice (FC) of the A sample is low.

These findings seem to suggest that the

threshold of dog's sensitiveness toward

biogenic amine mix could be in between

450 and 850 ppm. Furthermore, it seems

quite clear from the outcome of the

study that dogs have a specific sensitivity

against some biogenic amines more

than others. For example, at 400 ppm

cadaverine has been found to be enough

to statistically decrease palatability of

the trial sample over the control. This

might imply some biological defence

mechanism of the animal, aimed at

avoiding potentially harmful food.

Regarding results of cat trials reported

in 5 table, the outcome was not totally

aligned with that of dogs. In fact, mixed

biogenic amines, even at the higher

amount of 850 ppm, did not show

any statistically significant effect on

palatability performance. In the trials

performed with the food spiked with

individual biogenic amines, however, cats

have been found to specifically dislike

putrescine. In fact, 300 ppm were enough

to considerably decrease palatability as

Issue 4 2022

two thirds of cats preferred the control

sample.

This study highlighted how biogenic

amines can influence palatability.

Their impact differs according to the

target species, given that dogs and

cats have shown specific sensitivities

for distinct types of biogenic amines

and at different amounts. However,

it is fair to acknowledge that, among

various limitations of the study, the

main one could be to the fact that

biogenic amines were artificially added

to otherwise completely healthy foods.

This is a relevant factor, as the presence

of biogenic amines was not linked with

an actual degradation of the nutritional

value or other organoleptic features

of the food, and it was therefore not

possible to assess whether this difference

with the normal biological food spoilage

could have had an impact on palatability

preference of dogs and cats. In other

words, are only these 3 biogenic amines

themselves affecting the palatability of a

food, or are the others biogenic amines

as well in combination or not, or is it the

other flavoring molecules related with

decayed raw materials or is the loss of

nutritional factors also involved?

4. Ongoing Kemin research on

freshness impact on palatability

For a better understanding about how

freshness decreases palatability and

especially how Kemin's preservative

solutions can assure healthy pets, the

safety of pet food and ensure highly

palatable pet foods, we are conducting

this summer some specific study. We will

be exploring the PAP and Fat freshness

impact on dogs and cats' dry kibbles

palatability. This exclusive global study

will be published in the coming months.

For more information

www.kemin.com

Technology & Marketing

References:

ⅰ Schleicher M, Cash SB, Freeman LM. Determinants

of pet food purchasing decisions. Can Vet J. 2019

Jun;60(6):644-650. PMID: 31156266; PMCID:

PMC6515811

ⅱ Craig, J.M. (2019). Raw feeding in dogs and cats.

Companion Animal

ⅲ REGULATION (EC) No 1069/2009 OF THE

EUROPEAN PARLIAMENT AND OF THE COUNCIL

of 21 October 2009 and Regulation (EC) No

1774/2002 (Animal by-products Regulation) (OJ L

300, 14.11.2009, p. 1)

ⅳ Morelli G, Bastianello S, Catellani P, Ricci R. Raw

meat-based diets for dogs: survey of owners'

motivations, attitudes and practices. BMC Vet Res.

2019 Mar 4;15(1):74. doi: 10.1186/s12917-019-

1824-x. PMID: 30832667; PMCID: PMC6399943

ⅴ Y. Özogul and Fatih Özogul, Biogenic Amines

Formation, Toxicity, Regulations in Food , in

Biogenic Amines in Food: Analysis, Occurrence

and Toxicity, 2019, pp. 1-17

ⅵ European Food Safety Authority – EFSA (2011).

Scientific opinion on risk-based control of

biogenic amine formation in fermented foods.

EFSA Journal. 9: 1-93

ⅶ Food and Drug Administration – FDA (2011).

Fish and fishery products hazards and controls

guidance. 468p

ⅷ Lahsen et al, "Production of biogenic amines",

Assessment and Management of Seafood Safety

and Quality, online FAO Document Repository,

www.fao.org/docrep/006/y4743e/y4743e0a.htm

ⅸ Data from Min et al. (2007) Poultry Sci. 86: 2034-

2041

ⅹ R. A. Cox and M. R. García-Palmieri, Cholesterol,

Triglycerides, and Associated Lipoproteins, 3rd

edition. Boston: Butterworths; 1990. Chapter 31

ⅺ Sources: Beuchat, L.R. 1983., Sperber, W.H., 1983.

Lenovich, L.M., 1987.

ⅻ Kemin Internl Data

13
---
INGREDIENTS

Asia's First Industrial Insect

Company Closes US$20m Equity

Round to Launch New and

Expand Into New Markets

Executive Summary

Nutrition Technologies closed a US$20m

equity venture round led by PTT Ventures

Insect protein market due to be worth

US$1.3 billion by 2027

• Nutrition Technologies

manufactures sustainable animal

feed ingredients and biofertilisers,

using a unique combination of

microbes and black soldier fly

larvae to recycle nutrients from

agricultural and food processing

by- products.

• Insect solutions show great

potential to help contribute to

reaching global greenhouse gas

emissions targets, improve food

security and reduce waste streams

in a low-energy environment

• Nutrition Technologies to use funds

to increase IP portfolio, launch new

products and expand into new

markets

• Nutrition Technologies is planning a

new joint-venture facility elsewhere

in Southeast Asia

Equity Round

On 19th September 2022 Nutrition

Technologies completed an equity

venture round of US$ 20m. The round was

led by PTT Ventures and supported by

Sumitomo Corporation, ING Sustainable

Investments, Mandala Capital, as well as

continued participation from existing

investors: Openspace Ventures, SEEDs

Capital and Hera Capital. The round

was advised by ING Corporate Finance.

The proceeds will be used to fund an

expansion into new markets; launch new

products; accelerate R&D; and create new

strategic partnerships.

"Aside from growth in clean-energy,

PTT is expanding its portfolio into

new businesses corresponding to

global trends, sustainability, and social

responsibility. We look forward to

partnering with Nutrition Technologies

to support their next phase of growth.

Commercial insect protein production is

one of the most important innovations

of the past few years, with the potential

to disrupt the animal feed and fertiliser

sectors and solve multiple issues the

world is currently facing. Furthermore,

we expect this partnership will provide

customers with innovative solutions to

revolutionize the agriculture sector as

well as improve people's quality of life"

said Dr. Buranin Rattanasombat, Senior

Executive Vice President, Innovation

and New Ventures, PTT Public Company

Limited.

"We are very excited to partner with

Nutrition Technologies, an innovative

company that has superior technology

to produce sustainable protein. We

believe insect protein is one of the

most important recent solutions to

protein production, contributing to

solving various environmental issues

and addressing several Sustainable

Development Goals (SDGs). We will utilize

our business platform and customer

network to promote and expand the BSF

derived products" said Masahito Uno,

GM Life Science Division, Sumitomo

Corporation.

"Nutrition Technologies fits well in the

investment strategy and portfolio of ING

Sustainable Investments, as we seek to

assist sustainable companies in scaling

their operations. Together with our

consortium partners we are also keen

to support the company in capitalising

on various opportunities in the fastgrowing

European and Asian markets of

alternative proteins" said Mark Weustink,

Head of ING Sustainable Investments.

"Nutrition Technologies has led the way

in delivering black soldier fly solutions

at scale and at a price that is competitive

on the global markets. It means they are

already providing a viable alternative

to existing and less sustainable feed

options. In achieving that, the team has

demonstrated exceptional executional

capabilities. Going forward, we have high

conviction in their expansion plans" said

Hian Goh, Founding Partner, Openspace

Ventures.

"It is great to welcome our new investors,

who collectively bring vast expertise and

experience to help us realise our vision.

We are also humbled by the continued

support provided from our existing

shareholders." said Tom Berry, Co-CEO

and Co-founder, Nutrition Technologies.

The insect sector has gathered increasing

attention over the past few years, with

the global insect protein market alone

estimated to be worth US$343 million

in 2021, and expected to grow with a

CAGR of 26.49% to reach US$1.3 billion

by 2027. As a sustainable solution to

help minimize multiple unsustainable

practices, the sector as a whole has seen

investments totalling nearly US$1 billion,

14

Technology & Marketing
---
INGREDIENTS

Tom Berry and Nick Piggott, Founder & Co-CEO,

Nutritions Technologies

but with multiple technological hurdles,

few companies are yet to reach industrial

scale, let alone profitability.

Background

Global food security has steadily

declined for the past few decades and

has been significantly tested in recent

years through extreme weather events

and war. Population growth has fuelled

the current 1.2 billion tonnes demand

for animal feed ingredients, which has

severe environmental consequences

both for land and sea. There is a growing

protein deficit, with supplies of traditional

proteins for animal feed, such as fishmeal

and soybean meal, stagnating due to

overfishing and deforestation. Meanwhile,

organic matter and food waste in landfills

are significant contributors of greenhouse

gas emissions, and the overuse of

chemical fertilisers is severely reducing

the productivity and resilience of crucial

agricultural soil. "Insects represent

a virtually unlimited and untapped

pool of biological assets, with huge

opportunities for value creation. Tackling

food security is only the tip of the iceberg

and with our strengthened balance

sheet, great partners and best in class IP,

we are strategically positioned to lead the

next agricultural revolution." said Richard

Hayler, CFO, Nutrition Technologies.

Always a better solution

Plant-based

proteins

Antioxidants

Colors

Barentz Animal Nutrition is a global distributor of technical and nutritional ingredients

for the pet food industry. We have several solutions for clean label, hypoallergenic,

sustainable, vegetarian and organic concepts. We are your one-stop-shop.

Issue 4 2022

www.barentz.com/animal-nutrition

Hydrocolloids

15
---
INGREDIENTS

Since 2015, Singaporean agri-biotech

company, Nutrition Technologies, has

been creating a commercial replica of

the natural decomposition process, using

their proprietary growth inoculants and

black soldier flies (Hermetia illucens)

to turn low-grade crop & food waste

into highly sought after animal feed

ingredients and biofertilisers. Their two

hectare production facility in Johor,

Malaysia, bioconverts several hundreds of

tonnes of organic waste every week. The

facility produces functional proteins and

oils, which have bioactive compounds

that efficiently improve animal growth

performance and health outcomes. Over

the past few years Nutrition Technologies

has conducted multiple trials of their

products on fish, shrimp, poultry, piglets

and pets, with significant results. Their

novel biofertiliser products improve

soil health while naturally increasing

plant resistance to disease, reducing

the need for chemical pesticides. The

165-strong team has been scaling

up their operations and selling their

products into both domestic and regional

markets. "We are increasing production

to meet market demand and providing

essential ingredients to the domestic

agricultural sector as well as boosting

exports through shipping our products

to Korea, Japan, Indonesia, Thailand,

Vietnam, Philippines and Chile. We will

also commence shipments to the UK and

EU very soon." said Nick Piggott, Co-CEO

and Co-founder, Nutrition Technologies.

Nutrition Technologies' production

facilities are a result of over seven years

of R&D and their strategic location in the

tropics helps to optimize productivity

and lower costs. Their proprietary

technologies and vertical insect

production system are designed to

capitalise on the low-energy benefits

and suitability of a tropical climate. Their

team developed the entire production

system, which uses some bespoke

automated equipment to ensure strict

biosafety, zero-waste and strong unit

economics. Through avoided emissions,

their products have great potential to

help meet global climate change targets.

Nutrition Technologies has been doubling

down on its success in commercialising

insect-microbe systems and their

approach to protecting that intellectual

property has been lauded by IP experts

and publications. "We have had some

incredibly exciting breakthroughs over

the past two years. Following successful

additions to our patent portfolio, we will

launch two new revolutionary biological

products to the fertiliser market that will

address some of the region's greatest

challenges in crop productivity." said

Martin Zorrilla, Nutrition Technologies.

Next Steps

Nutrition Technologies will use these

funds to further expand production

capacity both at its current operating

plant in Malaysia as well as through a

new joint-venture project in a soonto-be-announced

second country in

Southeast Asia. The Company also

intends to expand its R&D capabilities

in Singapore; commence commercial

activities in the UK and EU; and add

several new patents to its existing IP

portfolio. "We believe our technological

developments can help address some

of the world's most critical problems

and are highly motivated to accelerate

expansion as quickly as possible. Our

novel microbiology solution to insect

production allows us to use a wide pool

of raw materials which negates the most

significant barrier to scaling." said Charlie

Carter, COO, Nutrition Technologies.

Technology & Marketing

For more information

www.nutrition-technologies.com

16

Technology & Marketing
---
INGREDIENTS

Online & In-Person

28 Nov - 8 Dec 2022

From Anywhere

Online

6 - 8 Dec 2022

Paris, Expo Porte de Versailles

France

NEW

VENUE

Join

the biggest

EU ingredient event

this December

Learn

more at

bit.ly/fie-print

Issue 4 2022

17
---
PROCESSING

EuroTier Innovation Prize 2022:

Dosing Station Wins DLG

Innovation Award in Silver

Precise post-dosing of dry substrate in the production of insects

Great joy at WEDA Dammann & Westerkamp GmbH in Lutten, Lower Saxony: The specialist for pig husbandry,

stable equipment, feeding and air conditioning technology has been awarded with the DLG Innovation

Award in silver for its Dry.Sec dosing station among the approved exhibitors at EuroTier 2022. According to

the German Agricultural Society, the economic significance for the practice, the work performance, the work

quality as well as the functional safety are decisive for the award. Furthermore, positive effects on animal

welfare as well as the environmental and energy situation are taken into account.

When feeding the black soldier fly (BSF),

young larvae can drown in the substrate if

the dosage is incorrect and the substrate is

too liquid. With the newly developed Dry.

Sec dosing station, a fully automatic and

precise subsequent dosing of dry, organic

material is possible.

second step, the dry material is added

to the liquid mass.

Precise dosing

In production plants for insect larvae,

incorrect dosing can occur, for example,

when feeding the black soldier fly

(BSF), as a result of which the young

larvae drown in the substrate if it is too

liquid. With the newly developed Dry.

Sec dosing station, a fully automatic,

rapid and precise re-dosing of the dry,

organic material is possible. An island

of this material is formed on which

the young larvae are placed in the

following step.

Processing feed into pulp

In the process sequence of a black

soldier fly feeding, the feed is processed

into a mush and filled into boxes. Young

larvae are placed on top, which then

eat the food. Here it is important that

by-products such as different types

of vegetables and fruits are chopped

down to below 3 millime- tres in size,

processed and mixed.

High dry matter content and

still flowable

The substrate should have a high

dry matter content and still remain

flowable so that it can be dosed out

precisely and quickly and the soldier

flies can eat it well. However, if the

liquid content is too high, the young

larvae may drown in the substrate.

Dry material is added to the

liquid mass

The newly developed Dry.Sec dosing

station precisely refeeds dry organic

material. The novelty is that in this

Losses of young larvae reduced

The advantages of this solution are

obvious: If a higher dry substance

is required in the feed, this can be

achieved exactly to the gram thanks to

the Dry.Sec. By adding a small amount

of dry feed, any required dry matter

content can be fed. Another advantage

is that with a higher dry matter

content of the feed, less moisture has

to be evaporated in the final fattening

process. This saves energy. The Dry.Sec

thus leads to a safe fattening of the

young larvae and a safe management,

as it reduces the losses of young larvae

enormously.

Technology & Marketing

For more information

www.insect.weda.de/en

18

Technology & Marketing
---
Twin Screw Extruder ZSK

Mv PLUS Ideal for Pet Food

Processing

PROCESSING

The Coperion line of ZSK Mv high

efficiency extruders have been upgraded

to include options for easier clean design

in order to meet the highest standards of

hygiene, ideal for the processing of both

pet food and pet treats.The core feature of

this redesign is the twin screw extruder's

open base frame, made of stainless steel

and has only smooth surfaces, offering

users numerous advantages . Its excellent

accessability markedly reduces the

downtime needed for cleaning.

The use of Coperion high efficiency

Mega Volume PLUS extruders ensures

maximum material loading combined with

a completely modular barrel and screw

design for increased versatility. These

engineered features ensure the maximum

Coperion ZSK54Mv

allowable free volume and throughput

with highest machine efficiencies.

The complete extrusion system for both

pet treats and kibble can be provided with

integrated controls and equipped with

Coperion K-Tron's line of both ingredient

and liquid feeders to ensure optimal

accuracy and extruder performance .

Technology & Marketing

For more information

www.coperion.com

Issue 4 2022

19
---
PROCESSING

Dry Petfood Processing

Complete processing lines for extruded pet food

Photos: GEA

Petfood as never before

Many years of experience in the food

sector, customer-tailored development

and a constant focus on innovation

makes it possible to create a new

generation of pet food.

Experience in the food industryOn a

market where customers increasingly

demand products as similar as possible

to ones for humans from a nutritional

and production quality point of view

and for the variety of formats, our many

years of experience in developing food

processing technologies allow us to

offer futuristic solutions able to set new

standards on the market.

Our experience in the food industry and

the humanization trend in pet food,

as well as the legendary flexibility of

our extrusion and drying processing

solutions, allow us to offer a pet food

product with a leader's capacity and

awareness.

Tailor-made philosophy

Our philosophy leads us to work

alongside our customers, supporting

them in creating and developing

innovative products, helping them

define the formulations, forms,

consistencies, weights, flavors and

colors that best satisfy the demands of

the final consumer. We share their goal

of obtaining an innovative and highquality

industrial production based on

collaboration that starts with research

and is embodied in the provision of the

most advanced processing technologies.

R&D and pilot plant

We feed our success through constant

and thoroughly organized Research &

Development activities performed by a

team of 30 people that includes process

technicians, analysts and mechanics.

They have at their disposal 2000 sq. m

of facilities equipped with a completely

new pilot plant capable of developing

new products in all respects and a

laboratory equipped with all types of

instruments for chemical, chemicalphysical

and rheological analysis and

nutritional/organoleptic testing.

Dry Petfood Applications

The possibility of creating any format

to meet the needs of pets of any size,

whether complete meals or snacks.

Pillows

These are intended as snacks whose main

purpose is to be tasty and reward the

pet for positive behavior. Through our

extrusion technology, we can combine

grains with a flavorful and nutritious

filling according to requirements.

Kibbles

Thanks to a detailed study of the

formulations and formats that both

satisfy energy and nutritional needs

and whet the pet's imagination, kibble

is considered the basic food in pet diets.

The ingredients and format can vary

according to the animal's size, age and

state of health.

Dental sticks

Designed and developed specifically for

use in cleaning dogs' teeth. Their unique

star shape gets into hard-to-reach areas

to clean teeth, protecting the animal's

health while also providing it with the

nutrients it needs.

Dry Pet food Processing

The technologies and processes

developed for the manufacture of

products for human consumption are

now being applied to the world of pet

food.

Ingredient Preparation

The solid raw material composed primarily

of grain flours, meat flours and nutritional

ingredients, is mixed and perfectly dosed

in the optimal recipe to meet the quality

needs of any type of product.

Cooking Extrusion

Our cooking-extruders are the result

of our experience in human food and

combine the gentle of cooking in the

steaming tank with the power and

sanitization of heat extrusion to obtain a

highly digestible and nutritious product.

Product Processing

Thanks to our technological experience

and know-how, we can offer solutions for

any type of format, recipe or product, from

kibble to various kinds of treats. From

the cooking technology and integration

of ingredients to cutting, transport and

drying to cooling and packaging, we can

transfer all our experience to bring your

projects to fruition.

Raw Meat Cooked Meat Kibble

20

Technology & Marketing
---
PROCESSING

Drying and Cooling

We examine every aspect to ensure

the final product has the desired

characteristics. Our dryers are designed

to reach very high temperatures while

allowing multiple format changes with

insignificant or even zero contamination

between products. Our coolers are

developed to gently moderate product

temperature for uniform cooling without

impacting the flavor, aroma and quality of

the food.

Kibbles processing

Any kind of shapes for pets basic diet.

A High-Quality product from any

raw material

Thanks to our ability to customize

the extruder's modular screw

configuration along with our

technicians' experience, we can adapt

the line characteristics based on

the raw materials selected and thus

provide a high quality product.

through experience and technological

knowledge.

Our lines can boast:

• fixed-pitch rollers to ensure constant

size;

• very high-speed machinery to

guarantee high performance and

capacity;

• specially designed dedicated pumps

for continuous and precise dosing of

fillings.

Dental sticks processing

Technologies and processes developed

for the well-being of pets.

Perfection right from the extrusion

phase

Perfect flow management at the cylinder

head, based on our experience and

technology developed for long pasta

lines, means we can distribute the

product rows in the cutter in an orderly

manner, thus improving cutting and final

quality.

A solution for any format

Our dies are designed, engineered

and built in house so we can provide a

solution to any customer requirement

in terms of product shape.

Durability and ease of maintenance

Our in-depth knowledge of the

processes (use of multi-blade cutters)

and use of top-quality construction

materials (dies made of high tensile

steel) allow us to guarantee a long

life and operability of the processing

lines.

Pillows Processing

An explosion of flavors for a snack

created for humans and perfected for

pets.

Our tradition applied to Pet Food

Thanks to years of experience

in developing and perfecting

technologies for the production of

snacks for human consumption, we

now have high-quality and reliable

snack production lines dedicated to

pets.

Precision and high performance

The ability to guarantee the

repeatability of a high-precision

product in large quantities is a path

and an objective that we have reached

Highest precision through state-ofthe-art

processing technology

With over 100 years of industry experience

in the food industry, Biosteril has revolutionised

the purification of raw materials.

Our state-of-the-art sterilisation equipment

offers industry-leading benefits to ensure

maximum safety for you and your customers

at all times.

Find out more at: www.kuendig.com

Issue 4 2022

21
---
PROCESSING

Cutting precision and uniformity

Our cutter was specially designed and

developed for dental stick lines to ensure

maximum weight and length consistency

in the single pieces, thus guaranteeing

extreme consistency of the product that

will then be packaged.

The cooling phase

Developed and specially designed for

dental sticks, the cooler gently lowers the

temperature of the product, bringing it as

close as possible to room temperature and

thus avoiding unpleasant condensates

and deterioration of the finished product.

Ingredient preparation

We develop the best technologies to

enhance ingredients and satisfy any

requirement for the finished product.

Grain handling

Thanks to our experience and technology

developed in the milling world, our flour

plants allow optimal high-precision care

and management of raw materials.

From automated systems for mixing the

raw material, to cleaning and selection

machinery, to precise dosing devices for

recipes, every step is studied and designed

to produce products of the desired quality.

Through extreme consistency in dosing

grain size (even starting from different

raw materials) and constant micrometric

control after the mixing stage, our lines

create a very homogeneous product right

from the extrusion phase.

Raw Materials Handling System

Installed on a multipurpose line for

extruded dry pet foods.

Meat slurry

Synergy and collaboration between the

technologies of GEA's world allow us

to use well-tested machines to prepare

meat-based ingredients that are then

paired with extrusion technologies.

The reference machine in the industry

is the GEA CutMaster: it cuts, mixes and

emulsifies all different kinds of meat

products from coarse to very fine. All

processes take place within the same

machine and are, therefore, independent

from peripheral equipment. The slurry

that result from the GEA CutMaster could

be injected in the cooking extruder

trough a meat slurry pump: This pump is

equipped with specially shaped lobes to

avoid surging and is fully washable and

inspectable to guarantee the highest

hygiene standard.

Extrusion technology

The heart of our manufacturing process:

flexibility, speed and solidity, serving any

product and format.

Pioneers of extrusion technology: The

cooking extruder

Based on our extensive knowledge of

technologies and processes in the food

world, our technicians have created

extruders able to produce highly

digestible and nutritious products.

The steaming tank positioned before

the extrusion process precooks the

ingredients, thus triggering starch

gelatinization and protein denaturation

to guarantee digestibility and avoid antinutritional

factors.

The combination of the gentle of steaming

in the tank followed

by heat treatment during the extrusion

phase guarantees a

sanitized product with a high degree of

gelatinization.

Technical Characteristics

• Steaming tank for ingredient

precooking;

• Double screw made of the highest

quality materials for durability and

strength;

• Automation system for constant and

customized control of all values and

processes;

• Solid and quality construction

means the system can run for a

long time with no need for frequent

maintenance;

• Can be equipped with one or two

interchangeable heads.

Cooking Extruders The TT series

The TT cooking extruder continuously

and automatically gelatinizes flours and

starches.

After dosing the raw materials, the mixing

phase begins, which can be adjusted

according to product needs. Then comes

extrusion.

The TT extruder is a modular machine

with segmented barrels available with

different heating and cooling systems.

They can be equipped with a feeding port,

steam/liquid injection port or venting

port (atmospheric and under vacuum

according to specific needs).

Technical characteristics

The co-rotating, fully intermeshing

screws assembly is composed of sectional

modules with the following functions:

forward and backward transport, mixing,

feeding of additives, injection of liquids,

de-gassing, cooking and forming.

The screw profile ensures high

mechanical working capacity and high

torque transmission. The driving system is

composed of an AC variable speed drive,

a safety clutch and a double cascade

gearbox for correct reduction. The thrust

bearing system integrating the gear box

and with a forced lubrication circuit is

composed of a large thrust bearing on

one shaft and a multiple thrust bearing

series on the other shaft, for a compact

and robust construction.

The extruder can be equipped with a

head unit with independent temperature

control, product pressure device and

interchangeable dies with a series of

different cutting units selected based

on the different production needs of the

finished product.

Control system

The typical control system of the TT

extruder features a supervising unit

monitoring all extruder functions from

dosing to the cutting unit, allowing easy

recipe management and displaying

22

Technology & Marketing
---
PROCESSING

all process variables, such as raw

materials flows, extrusion torque,

specific mechanical energy value,

barrel temperatures and die

pressure. The supervising system

stores the values and allows data

export and management with the

most commonly used spreadsheet

software.

Storage and handling

Good quality raw materials and

finished products need to be

protected and stored with utmost

care and efficiency

Complete systems for Raw Material

and Finished Product care

We offer complete systems or single

machines to transport, dose, clean,

rework and store raw materials, pet

food and small items. Advanced

technology applied to design and

production makes it possible to finetune

a sophisticated production

chain which results in higher quality

standards.

This leads to an extremely reliable plant

with consistent, high performance. The

design and engineering of the systems were

developed by highly qualified professionals

using the most advanced technologies. The

solution and final layout are designed in

cooperation with the customer to optimise

existing resources, equipment and facilities.

Recipe control and optimization

Thanks to our PLC equipped plants, the

entire process can be managed from a

single control point. The recipe for every

production line can be programmed, the

filling level in the silos monitored, every

production batch tracked and every

production chain fine-tuned. In addition

to complete automated control of the

equipment, the automation tools provide

the client with critical information to reduce

waste and downtime, thereby optimizing

resources.

Start to finish solutions for pet

food from GEA

GEA has developed a comprehensive

range of technologies, equipment and

know-how to configure and install

solutions for pet food manufacturing

plants.

Technology & Marketing

Photos: GEA

For more information

www.gea.com

> extruders > feeders > components > pneumatic conveying > complete systems

COPERION'S ZSK Mv PLUS.

LEADING-EDGE TECHNOLOGY

FOR PET FOOD EXTRUSION.

+ Very gentle product handling for maximum quality

+ Hygienic design: open base frame, stainless steel

+ Less downtimes due to fast, efficient cleaning

+ Optimal accessibility

+ Screw speed up to 1800 rpm

Coperion's ZSK pet food extruder is a top-quality product at the highest technical level. It is known for very gentle

product handling at maximum throughput rates. For further information about Coperion's ZSK Mv PLUS please

visit Issue our website 4 2022 at www.coperion.com/petfood-extruders

23
---
PROCESSING

Spotlight on Sorting: Why the

PetFood Industry Needs to Think

About Sustainability

When businesses behave with sustainability, it's not only society that benefits – this can also help bring in new

business. Stefaan Kennis, Director of Strategy, Market Intelligence and Sustainability at TOMRA Food, explains

why - and how technologies can make this easy.

Farmers, growers, food processors, packers

and retailers might not think sustainability

has anything to do with them. That it

matters only to large corporations, or that

it's merely a fashionable buzzword. But

dismissing sustainability as irrelevant can

be a costly mistake.

Far from being a fad, sustainability is here

to stay and increasing in importance,

especially in industries which sell to

consumers. Because consumers are

increasingly concerned about topics such

as sustainability, the environment, and fair

treatment for workers, they expect food

brands to handle these issues responsibly

and ethically - and brands expect the

same of their suppliers.

This might sound like an unwelcome

burden to some businesses, but with

responsibility comes rewards. Consumerfacing

businesses can win customer loyalty

and market share by taking corporate

sustainability seriously. And the food

industry can compete more effectively

for contracts from those consumerfacing

businesses by understanding how

their own behaviors can also incorporate

sustainability.

So let's see how, in addition to benefiting

society, sustainability can be good for

commerce. How it can be integrated into

the food industry, and what business

activities it can be applied to.

Customers expect it

More and more of today's consumers

think twice before making a purchase,

asking themselves if what they are about

to buy was produced with a responsible

approach to the environment and

sustainability. Attitudes vary across

nations, generations and industries, but

as a brief overview, sustainability is rated

as an important purchase criterion by 60%

of consumers. This was one of the findings

of the Global Sustainability Study 2021

(conducted by global strategy and pricing

consultancy Simon-Kucher & Partners),

which also found that more than a third

of consumers globally are willing to pay

more for sustainability and in recent

years 85% have become "greener" in their

purchasing.

This study, like others before it, identified

that consumers below the age of 40 are

more mindful of such issues than those

who are older. The younger consumers

are, the greater their awareness of how

24

Technology & Marketing
---
PROCESSING

purchasing decisions impact the world,

and the more likely they are to buy

from brands whose social causes they

believe in. This is important now, and

will be even more important in the

near future: year by year, the younger

generations (known by marketeers as

Millennials and Gen Z) will represent

an ever-greater share of the consumer

demographic.

It's not only public opinion or the

dangers of climate change that propel

sustainability up business agendas.

Another significant factor is social

media. Because online platforms give

angry people the power to shout

loudly and widely, commercial success

today depends not only on winning

consumers' hearts and minds, but also

on not disappointing or offending

them. Any company that conspicuously

fails to respect sustainability issues - by

being careless about the environment,

perhaps, or by being wasteful of finite

resources - can quickly fall out of favor

with the buyers it depends on.

Making it easier for the food

industry

The good news is that it's easy for

the food and agro-industry to take

sustainability seriously. This is made

possible by the technologies offered

by TOMRA Food, the world's leading

manufacturer of sensor-based sorting

solutions and integrated post-harvest

solutions for the food industry.

Because TOMRA's sorters can detect

and eject unwanted materials from

manufacturing and processing lines

according to their color, shape, size,

structure, and even their biological

characteristics, they are famous for

setting high standards in food safety

and product quality. Less well-known,

however, is the fact that TOMRA's

solutions also help achieve ecoefficiency.

What's more, TOMRA's

solution platforms can be tailored to

almost every kind of food: potatoes,

vegetables, fresh and processed

fruits, berries, dried fruit, nuts, seeds

and grains, proteins, pet food and

confectionery.

Reducing food loss and waste is critical

to reduce production costs and increase

the efficiency of the food system,

improve food security and nutrition,

Photos: TOMRA

and contribute to environmental

sustainability. Food loss occurs along

the food supply chain starting from

post-harvest losses on the farm up to

but not including the retail stage. Food

waste refers to food that is discarded

at the level of retailers, food service

providers and consumers.

It is by reducing food loss that today's

sorting and grading solutions also

enhance yields and profits. The

United Nations Food and Agriculture

Organization (FAO) warns that by 2050

global food demand will increase by

about 50%, yet only 20% more land can

be brought into productive use. This

means existing resources must be used

much more effectively. Sustainability

and survival are inextricably linked.

TOMRA Bones & Meat Sorting

Issue 4 2022

25
---
PROCESSING

Again, answers can be found in

technology. A recent European

Parliament report - 'Technology options

for feeding 10 billion people' - pointed

out that sustainability can be improved

in many ways by automating food

manufacturing and processing lines.

The benefits of automation, the report

observed, include "optimizing product

quality" and "reducing quality losses and

defects."

This is certainly true in TOMRA's

experience. TOMRA's sorters and

graders are designed and developed

(and fine-tuned on site) to remove

unwanted materials and imperfect

products without throwing away good

products. TOMRA's solutions achieve

an exceptionally low good-in-bad

reject ratio - and if some good product

is ejected from the line, it can often be

recovered by running it through a sorter

for a second time, or recuperated for sale

at a lower grade. As a result, TOMRA's

sorting and grading solutions increase

the yield of produce, put a big tick in

the box labeled 'sustainability', and give

users a competitive advantage.

Further improvement is

possible

Future reductions in food losses will

be better still, not least because we are

entering the era of digitalization.

A good example is how all

TOMRA's sorting platforms are

connectable to the TOMRA

Insight data platform, which

gathers data in near real-time

and stores this securely in the

cloud. Live data can be reacted

to immediately (and remotely) to

optimize machine settings; historical

About TOMRA Food

TOMRA Food designs and manufactures

sensor-based sorting machines and

integrated post-harvest solutions for the

food industry. We innovate the world's

most advanced analytical technology and

apply it to grading, sorting, and peeling.

Over 12,800 units are installed at food

growers, packers, and processors

worldwide for confectionery, fruit, dried

fruit, grains and seeds, potato products,

proteins, nuts, and vegetables.

The company's mission is to enable

its customers to improve returns, gain

operational efficiencies, and ensure a

safe food supply via innovative, useable

technologies. To achieve this, TOMRA Food

operates centers of excellence, regional

offices, and manufacturing locations

within the United States, Europe, South

America, Asia, Africa and Australasia.

TOMRA Food is a member of the TOMRA

Group that was founded on an innovation

in 1972 that began with the design,

manufacturing and sale of reverse

vending machines (RVMs) for automated

collection of used beverage containers.

Today TOMRA provides technologyled

solutions that enable the circular

economy with advanced collection and

sorting systems that optimize resource

recovery and minimize waste in the food,

recycling and, mining industries and is

committed to building a more sustainable

future.

TOMRA has ~100,000 installations in

over 80 markets worldwide and had total

revenues of ~10.9 billion NOK in 2021.

The Group employs ~4,600 globally and is

publicly listed on the Oslo Stock Exchange

(OSE: TOM).

data can be processed into actionable

information to unlock improvements

in machine performance. Such data

analysis will become increasingly

valuable as we move into a digitized

future, transforming sorting and grading

from an operational process into a

strategic management tool.

And making the effort to adopt

sustainable business practices is not

so different from investing in TOMRA

solutions: as well as being good for the

planet, it helps protect that most valuable

of business assets, brand reputation.

Technology & Marketing

For more information

www.tomra.com

26

Technology & Marketing
---
Steam and Cooling Tunnel for

Wet Pet Food Processing

PROCESSING

Evaporative Cooler

Cooling of the product takes place by

ultrafast evaporate air cooling, which will

remove the surface water at the same

time, thus simplifying the following filling

by reducing the product sticking together.

The Evaporative cooling sequence by air

will reduce the effluent to the environment.

Dana Rotor Cutter

New designed rotary cutter equipped with

Servo-Drive Motor enabling operation

with variable cut (length dimension)

every single cut.

To prevent sticking of product rope at the

transfer between cooling belt and Rotary

cutter, the machine is equipped with a

number of rotating square rods placed

into a plastic transfer section.

ADVANTAGES ROTOR CUTTER

• Microprocessor controlled variable

length dimension during operation

• Standard from 500 kg/h to 2.000 kg/h

- or customized

• Easy to clean

• Built-in infeed transfer section

Extruder – Duplex Extruder

DANA extruder is designed to process a

wide range of meat recipes into different

sizes/weights of "chunk". The extruders

will transfer the emulsified meat into

endless string/rope according to pre-set

dimension of exchangeable matrix.

Standard widths in 400 mm 500 and 750

mm to cover standard cooking belts as

well as customized units. Exchangeable

matrix with possibility of different

dimensions e.g. 8 mm, 10 mm, 12 mm and

larger in square or round shape.

Duplex extruder installation makes it

possible for two different products/colors

to be processed at the same time for

automatic mixing before filling.

Extruder Advantages:

• Fast and easy exchange of matrix

• No waste/product drip on cooking

belt due to extruder pull back system

• Easy assembly and cleaning

• Robust construction, secure

operation, resistance against bonesplitters

DANA Steam Tunnel

The extruded endless string/rope product

enter the steam tunnel on a Teflon

conveyor belt. There, the product is

cooked with steam obtaining an excellent

product quality.

Photos: Dana Technology

Issue 4 2022

27
---
PROCESSING

Steam Tunnel Charactersitics

Due to the use of the NON-STICKING

Teflon belt material, the extruded endless

strings/ropes of product in different

diameters can be made of very juicy raw

material with no risk of burning/sticking

to the belt.

To ensure a straight run of Teflon Belt, the

machine is equipped with electronic line

control, eliminating belt crashes.

Steady Temperature by steam injection

in tunnel through distribution pipe all

along the tunnel via central electronic

controlled steam valve with necessary

condensate removal valve.

Temperature measuring inside the stainless

steel steam tunnel by a PT 100 sensor

placed strategically.

Advantage & Benefits

Different sizes and capacities:

• Standard: 500 up to 4.000 kg/hr.

• Possible to customize

• Teflon Belting in Steam Tunnel

• Automatic cover lifting system

• Build in CIP system

• Control cooking time and

temperature – fully adjustable

Technology & Marketing

About DANA TECHNOLOGY

DANA-Technology is a technologically

innovative company focusing

on developing machinery and

equipment within FOOD AND PET

FOOD INDUSTRY. Specialized in

the development of innovative

technologies by offering standard and

customized machinery and equipment.

Our goal is to contribute to your

business's continued success, if

you are small, medium or large, we

will make your business valuable.

DANA is the perfect partner for the design,

engineering, supply, and construc- tion

of your pet food process line and offers

upgrades for existing facilities and

solutions to help increase productivity

and efficiency, which are handled either

in cooperation with regional suppliers

or contractors as turnkey solutions.

The company's experienced project

managers, process engineers, and experts

from specialized functions ensure

that the performance will come up to your

expectations.

We believe in personal relations and know

that our team of skilled professionals is the

key to success and trust when cooperating

with you as a customer.

When you place an order with us, you

become a part of a dedicated company

that will strive to make your production

and business successful.

For more information

www.dana-technology.com

28

Technology & Marketing
---
PACKAGING

25 Years of Partnership

Between SSB and Payper

Together we develop packaging solutions for your industry.

Sales advice, technical service, spare parts, commissioning,

training, preventive maintenance and machine upgrades.

Our common goal is to achieve optimum customer

satisfaction with the solutions we offer.

Complete solutions

Complete solutions from dosing to packed pallet. We focus

our experience, technology and know-how to find the right

solution for you. We serve the following industries:

The bagging and palletizing specialists SSB Wägetechnik

GmbH and the Spanish partner Payper have been

cooperating for 25 years.

• Building

• petrochemical industry

• human food

• pet food, animal feed

• mining

• chemical industry

• industrial products

• fertilizer industry

Technology & Marketing

Projects are closely managed by SSB and Payper together

to ensure that the customer receives targeted and

personalized support.

For more information

www.ssb-waagen.de/en/25-years-partnersghip/

30

Technology & Marketing
---
PACKAGING

FFS Pouch Packaging Machines

Large production, or just-in-time production runs ...

SN Maschinenbau GmbH is a leading

global manufacturer of horizontal

pouch packaging machines. From

over half a century of experience,

SN develops technology at the very

highest level. Whenever it comes

to economical pouch packaging,

SN is the right place. At the

location in Wipperfürth, Germany,

SN currently employs about 300

people on an operating area of over

7,500 m². Their machines are used

worldwide by almost all well-known

manufacturers.

SN pouch packaging machines

are used in almost every industry,

including petfood. The company

offers highly innovative technology

for almost all filling materials, bag

shapes and output quantities. From

low output rates in the start segment

to several hundred pouches per minute

in the top segment, SN offers many

different machine models. Whether

food, beverage, pet food, seed,

household, cosmetic or pharmaceutical

products, SN Maschinenbau always

delivers the right solution. A flexibility

in terms of machine design, from roll

producing pouches (FFS) to processing

pre-made pouches (FS) to pouch

production without filling (PM), pays

All dimensions in mm

off. The machines are particularly

characterized by a long service life and

maximum machine availability, thus

ensuring a fast return on investment.

The company's specialists and

engineers are constantly developing

the machines further, thus ensuring

a constantly high level of innovation.

This is why even today new packaging

materials, such as mono-materials, can

be processed on SN pouch packaging

machines without any loss of speed

or quality. Furthermore, set-up times

Photos: SN Maschinenbau

Rotary Form, Fill and Seal Machine FME 50

are constantly being shortened and

set-up processes further automated.

This makes format changeovers

easier, faster and more reproducible.

SN pouch packaging machines can

be easily integrated into production

lines and their production data

visualized. By remote maintenance

and fast service, also in maintenance

and emergency situations, customers

are helped quickly, effectively and

solution-oriented.

In addition, at SN Maschinenbau, we

have an ultra-clean pouch packaging

machine that adheres to international

hygiene standards, and allows the

pouch-filling of dairy products that

can have a shelf life of more than

60 days. SN Maschinenbau's FFS

machines are computer controlled and

allow for rapid switchover from one

packaging specification to a different

packaging specification.

FME 50 (Rotary Form-, Fill- and

Seal Machine)

The FME 50 is an intermittent operating

rotary machine to manufacture various

types of pouches: 3-sides or 4-sides

sealed pouches, stand-up pouches

and bottom fold type pouches.

Issue 4 2022

31
---
PACKAGING

Flexible applications

• Interface for multihead scale

or auger doserSingle sealing

frames with quick and simple

format changeoverFolding wedge

adjustment for bottom fold width

(manual execution)

• Exemption of the sealing tools

during machine stops

• Format changeover in less than

15 minutes

• Central gripper adjustment for

pouch width (manual execution)

• Quick commissioning – plug &

play

• Simple machine operating - short

training

• Compact machine measures -

less production space required

Technology & Marketing

For more information

www.sn-maschinenbau.de

Flexible Packaging Solutions

for Petfood: The Transition to

Environmental Sustainability

Velvet Packaging & Equipment

Solutions is an Italian specialist with

25 years of experience in flexible

packaging for petfood. The company

is based in northern Italy and supplies

the global industry.

As a global distributor of flexible

packaging, Velvet helps food producers

overcome territorial borders while

supplying strategic products and

supports them in the transition to

more sustainable solutions. The

most sustainable solution is always

recommended. Eco-friendly solutions

reduce the carbon footprint and are

better for the environment. They also

deliver a positive image to customers,

which improve brand image.

Flat Bottom Bags

Flat bottom bags offer a perfect shelf

presence, retort pouches for products

to be sterilized, doypacks and other

types of bags with different options

and finishes. This is a very innovative

type of stand up pouch. Thanks to its

distinctive flat bottom gusset, this bag

stands effectively in vertical position

even with light filling inside, becoming

more noticeable when placed on a

shelf.

Photos: Velvet

32

Products include pre-made bags

for automatic filling, rollstock for

automated packaging machines and

packaging and food processing plant

options.

• The bottom and side gussets

provide even more space for

branding

• Available in both standard and

sustainable materials

Technology & Marketing
---
PACKAGING

• Flexo and rotogravure printing

• Matt or gloss lamination

• Available optional: zipper to

guarantee freshness of the product

after opening

Folded Bottom Bags

Side gusseted bags and four corner seal

bags, with uninterrupted front and back

graphics guaranteed by the absence of

a back seal. Available in both standard

and sustainable materials.

• Flexo and rotogravure printing

• Matt or gloss lamination

• Wide range of optionals such as

zipper, transparent window and

handle

Retort Pouches

Stand up pouches made of heat

resistant plastics that make suitable

for processing at a temperature of 120°

C (normally encountered in thermal

sterilization of food).They are safer

than aluminum cans, because they

are easier to open and they prevent

the risk of cuts. Empty retort pouches

need less storage space and have lower

materials and transportation costs.

• They are self-stable, so they don't

require refrigeration.

• Rotogravure printing

• Matt or gloss lamination

• Available optional: tear notch for

an easier and faster opening

Doypack

Traditional stand-up pouches with a

round bottom gusset that folds flat

when empty. More functional than

rigid packaging, they reduce the

cost of materials, transportation and

distribution.

• Very versatile and durable

• Available in both standard and

sustainable materials

• Flexo and rotogravure printing

• Matt or gloss lamination

• Wide range of optionals such as

zipper, transparent window and

handle

Rollstock

Both standard and customized

rollstocks. High-performing custom

barrier and non-barrier films that can

meet any requirements for sealability,

oxygen and moisture barriers and that

can efficiently run on all different types

of packing equipment.

• Extensive range of widths and roll

diameters

• Available in both standard and

sustainable materials

• Flexo and rotogravure printing

• Matt or gloss lamination

Available optional: transparent window

to see the product stored inside the

bag

Sustainable materials

Eco-friendly solutions deliver a positive

image to customers and improves your

brand image.

Sustainable materials that reduce the

carbon footprint and are generally

better for the environment.

• 100% recyclable plastic film with

barrier

• Paper based products

• Industrial and home compostable

solutions

• Biopolymer based products with

or without paper

Summary

Velvet Packaging & Equipment

Solutions is a food industry supplier

who have specialized in finding and

consulting in the transition to the

most sustainable option possible

in packaging requirements. The

company has built up a global

network of partners and supports

the management of the entire value

chain, including graphic processing,

printing, logistics and even custom

procedures, leading to a stress-free

decision-making process.

For more information

www.velvetpack.com

Issue 4 2022

33
---
MARKETING

Living Water -

Creating the Right Flow

interaction between our products and

enables people to bring a fascinating

piece of nature home with them."

OASE can present both easy-to-use

entry-level solutions and fascinating

aquariums for users with the highest

demands on design and technology.

Complete product solutions are

available for all levels, from aquariums

and aquarium technology to care

products and fish food, right through

to the smart new OASE Control app.

The innovative ORGANIX fish food

from OASE is a natural, healthy basis

for every day: ORGANIX basic food

provides a large variety of species in

the aquarium with everything that

healthy fish need. The high-quality

flakes and granules are ideal as staple

food in community tanks and promote

growth and vitality of the aquarium

inhabitants.

The OASE Group is one of the global

leaders in creating extraordinary

water scenes and treating water in

both private and public settings.

The company has its headquarters

in Hörstel, Germany. It supplies

garden water systems, aquariums,

and fountain and water technology,

offering the industry's largest product

portfolio for all types of water. Fish

food in a wide range is also part of

their program.

Visitors to Interzoo in May enjoyed the

opportunity to experience innovative

new products and existing solutions

for living spaces styled with water in

inspiring applications. This showcased

the design and technology expertise

of market leader OASE to make it

tangible at product and end-use level.

"We create the right flow" is the

vision. Styling living spaces with water

sustainably is one of OASE's primary

goals. Following a comprehensive

brand overhaul in autumn 2021, the

OASE lifestyle has been translated

into a physical brand experience.

The global player from North Rhine-

Westphalia offers a full range of

aquarium solutions and services,

including the biOrb range and

numerous new products.

CEO Thorsten Muck underlines

the key milestones on the OASE

roadmap:

"We have consciously grown to

become a full-service provider in

the field of aquaristics. The intensive

and consistent development work we

have undertaken in recent years is

paying off. It can be seen at all levels

of the company: New technologies,

innovative products and the

brand's emotional impact make

our considerable efforts in recent

years clear to see. We are pursuing

an integrated system concept that

can be experienced in the smart

DYNAMIX Flakes are soft and easily

digested and are all that young fish

need for a healthy development.

They contain salmon oil for energy

and vitality and are rich in essential

omega-3 fatty acids. These increase

the temperature tolerance of the fish,

help to build up their bodies' defences

and promote even growth. Even the

mouths of small fish will find this

food easy to eat. Of course, flakes

also have the concentrated power of

the DYNAMIX triple effect. It ensures

that pond inhabitants have natural

growth, a strong immune system and

a balanced metabolism. This means

the pond water remains clear.

All pond fish enjoy the rich nutrient

supply which includes important

vitamins and minerals. These can be

absorbed by the fish efficiently thanks

to the addition of pepper. Of course,

Sticks Vital also has the concentrated

power of the DYNAMIX triple effect. It

supports even growth, brilliant colors,

a strong immune system and the

vitality of the pond inhabitants.

34

Technology & Marketing
---
MARKETING

Koi keeping is more than a hobby.

Many say it's a way of life. Together

with internationally renowned koi

experts OASE have developed ideal

products to allow you to create the

optimal environment for a dream koi

pond. DYNAMIX Koi Pellets is the

koi food with a superfood recipe:

Spirulina, soybean meal and fermented

red rice are the ingredients that make

these pellets an excellent choice. Due

to their fascinating patterns, dazzling

colors and dynamic movements, koi

are often used as a symbol of harmony.

Therefore, a balanced diet is essential

for achieving these effects. The koi

pellets help larger koi over 20 cm in

body length to grow elegantly shaped

bodies and develop brilliant, intensely

bright colors and patterns. A version

for smaller fish is aso available.

Other foods include Power Flakes, a

natural power boost for all freshwater

and saltwater fish that need lots of

energy: Floating species such as

discus or cockatoo dwarf cichlids

get their energy kick from the gentle

manufacturing process of this food:

Power Flakes contain plenty of

Omega-3 and Omega-6 fatty acids as

well as vitamins for active aquarium

fish. Also an ideal food for when fish

are acclimatizing to the aquarium.

Snacks for fish include a healthy

luxury containing Arctic shrimp: These

treats have a perfect protein-to-fat

ratio to keep your fish in excellent

condition. The sticks swell at a very

slow speed, preventing the aquarium

water from becoming turbid. A delight

for all aquarium inhabitants!

Head of Marketing Matthias Oetting:

"We want to satisfy the innately

human search for unique experiences

and moments in and with nature.

We bring the fascination of real

experiences into people's homes. The

aim is to make the clever combination

of smart technical solutions with

innovative design and natural-looking

installations take center stage."

For more information

www.oase.com

Photos: Oase

Technology & Marketing

Issue 4 2022

35
---
MARKETING

Tradition meets Innovation

German Pet Food Family business in the third generation

and based on the latest scientific

findings. We choose our suppliers with

the utmost care. All ingredients are

always carefully checked and tested

by the supplier and tested."

The company MERA is a family

business in the 3rd generation.

Founded in 1949, they stand for

quality pet food, and since 1997 also

for the best dog and cat food.

The focus is on people and their

animals and everything is given, every

day to make our common future

colorful and worth living. In their

recipes, MERA combines proven and

traditional recipes with innovative,

modern production processes - while

always looking to on the future.

Vision and mission

MERA has set their vision to contribute

to more successful relationships

between humans, animals and the

environment - full of happiness,

liveliness and joy of life! The company

not only develops species-appropriate

and sustainable pet food - they

want to be a partner in all matters

concerning dogs and cats.

Since the beginnings MERA stands for

high quality pet food and since 1979

also for best dog and cat food. This

is developed through a great love for

animals and a keen awareness of their

own actions. As a family business, all

planning and thinking is long-term.

Therefore MERA pursues sustainable

success - economically, ecologically

and socially. In this way the jobs of

the valued and committed employees

are secure.

Sustainability is part of the

DNA

The company has been committed to

a sustainability-oriented philosophy

with the highest quality for many

years. Ecologically, economically and

socially. That is why they are proud

of their sustainability certification

according to the ZNU standard as the

first company in the pet food industry.

Premium dog and cat food

MERA produces more than 70,000

tons of dog and cat food each

year and exports to more than 40

countries in Europe, Asia and and

North America. This makes them

one of the most successful premium

manufacturers in the dog and cat

food sector. Production is 100% food

standard, scientifically based, pet food

in cooperation with veterinarians and

are certified according to IFS and BRC.

All products are manufactured at the

company headquarters in Kevelaer,

Germany, in one of the most

innovative production facilities for

animal pet food in Europe.

"Since the company was founded in

1949, we have been committed to

the best dog and cat food with full

conviction." In 2015, Felix Vos took

over as managing director of the

company in its third generation. "We

produce 100% of our pet food in

accordance with the food standards

essential: The right food for

every dog

The long-established German brand

for pet-friendly and tasty food without

frills, the essential range is made of

tried-and-tested traditional recipes

with an excellent tolerability. With

the protection complex, every single

essential product offers a package of

active ingredients tailored precisely to

the respective needs - the right food

for every dog in every phase of life

and with different needs.

pure sensitive range

For a carefree and long dog's life

full of joy, pure sensitive is designed

based on the LID principle (limited

ingredient diet), which uses only a

few but high-quality ingredients and

only one protein and carbohydrate

source, which leads to particularly

good tolerability and reduces allergy

potential. In addition, all products in

the pure sensitive range include the

MERA immune and cell protection,

which supports the natural immune

system, as well as protecting the cells

from free radicals that are responsible

for ageing. pure sensitive offers the

right food for every phase of life –

from puppies to senior dogs.

Selected ingredients for happy

cats

Dr. Anika Thyrock is a biologist and

respected MERA nutritional advisor.

"Our passion is to give cats a

completely happy and healthy life.

Our nutritionally valuable ingredients

are completely tailored to the natural

nutritional requirements of our fourlegged

friends. We deliberately avoid

using sugar, colorants flavorings and

conservatives as well as genetically

modified ingredients and soya. Thanks

36

Technology & Marketing
---
MARKETING

to a lot of fresh meat, which contains

the taurine that is essential for cats,

the nutritional benefits are excellent.

An extra portion of vitamin C and E

strengthens the immune system and

promotes vitality. The environment

is also grateful because we use

organically grown meat, have climate

neutral production processes and pack

our dry food in recyclable pouches."

Pet-friendly, tasty and

sustainable food

A cat's life is very exciting! A good

cat food must therefore be able to

do much more than just taste good

and make your cat feel full. It's the

content that is important. With the

CATS brand, your cat benefits from

a balanced diet, always optimally

tailored to the special requirements

at different phases of its life. And

because our feline friends are true

gourmets, CATS is available as wet and

dry food in various popular flavors.

Numerous tests carried out by the pet

quality assurance team demonstrate

its high level of acceptance. And best

of all: You can buy CATS with a clear

conscience because sustainability is as

important to everyone.

Nutritional concepts for cats

with special needs

The finest fit range has been developed

by channeling years of experience, but

above all with care and love. So you

can be sure that your cat receives

good comprehensive care. finest fit

means individual recipes for every

phase of life – from kittens to older

cats, for intolerances or coat and skin

problems.

Your cat is unique. Their requirements

in terms of pet-friendly nutrition are

equally unique. They deserve the best

care especially when health problems

or special needs arise.

Technology & Marketing

For more information

www.mera-petfood.com

Dr. Anika Thyrock Nutrition Expert

7 Feeding tips for dogs

1. Many dogs really love "green stuff" and like to eat

an apple or carrot as a snack in between meals.

Some types of vegetables, such as carrots, can be

fed raw as well as cooked.

2. The opposite can also apply: In contrast to carrots,

potatoes should not be fed raw. The cooking

process makes the starch contained in them easier

to digest.

3. Make sure that you serve nuts and seeds that

are freshly crushed – otherwise the healthy fats

contained in them can quickly become rancid.

4. For apples, cherries, peaches and other stone fruit,

you should remove the seeds and stones and

make sure that they are ripe before offering them

to your dog.

5. To ensure good absorption of all the important

nutrients, you can also add some oil to the food.

This not only helps to utilize the fat-soluble

vitamins, but also makes the meal even more tasty

for your beloved dog.

6. If you are not sure if your dog can tolerate certain

foods, try it out in small quantities. By the way, if

your dog soon has larger poos than usual, this is

completely normal and not a reason to worry –

this is due to the fiber contained in the fruit and

vegetables.

7. Don't be afraid of discoloration! Some food, such

as beetroot or spinach, can stain the fur around

the nose or discolor the poo. This is not a problem

for your dog and will go back to normal again

soon.

Photos: MERA

Issue 4 2022

37
---
EVENTS

Zoomark is Getting Even Bigger

Zoomark is gearing up for its 20th edition with a whole new hall and an increasingly international line-up

The international pet industry trade show,

which will be on in BolognaFiere from

15th to 17th May 2023, already looks set

to be the biggest yet!

More exhibition space

With the show still seven months away,

exhibition space is rapidly selling out, and

as companies are still rushing to register,

the display area has been enlarged,

taking over hall 21 – a seamless addition

to the layout – which joins the others that

are now sold out.

Compared to previous years, Zoomark

2023 already looks set to be the biggest

edition yet, occupying a surface area of

60,000 square metres in six halls (21, 25,

26, 28, 29 and 30, plus the Mall Area).

An increasingly international

event

The show also boasts an increasingly

international outlook, as shown by the

high number of companies from all over

the world that have chosen Zoomark as

their official showcase. As the promotional

campaign picks up speed, at present

over 60% of

exhibitors are

from different

countries and

that figure

keeps growing,

confirming

Zoomark as

the leading pet

industry event

in Europe in

2023.

This huge success, which comes also

thanks to the numerous partnerships

with prestigious international bodies,

such as the US Department of Commerce,

and the leading trade shows all over

the world, is boosted by the work of

Zoomark's network of agents in a host of

countries.

Zoomark 2023 sees the involvement

of new delegations from Greece,

Thailand, Iran and Mexico, along with the

established ones from the US, Canada,

Great Britain, China, India, the Czech

Republic and Brazil.

Looking forward to the

Zoomark show experience

Zoomark has always been an opportunity

for companies to grow their business, and

for the main players in our industry to

interact and engage.

One of the key features is the Pet Vision

area, which showcases a selection of

brand-new products to give buyers

insight into the mega trends that will

shape the market in the coming years,

and helps generate highvalue contacts

between exhibitors and distributors.

In conjunction with this area, the 2023

event sees a new competition devoted

Photos: Zoomark

38

Technology & Marketing
---
EVENTS

to the best products launched during

the show, throwing the focus firmly on

innovation, new technology, creativity

and sustainability.

As well as the very encouraging results

in terms of sales - even more so at such

a complex, challenging international

juncture - the 2023 edition of Zoomark

promises to be an extra-special one,

celebrating the event's twentieth

birthday with a unique show experience.

Technology & Marketing

For more information

www.zoomark.it

NEW!

SÃO PAULO

BRAZIL

LATIN AMERICA'S LARGEST

DEDICATED EVENT FOR THE

ANIMAL FEED AND GRAIN

PROCESSING INDUSTRIES

• Animal feed

• Aqua feed

• Pet food

• Poultry feed

• Flour milling

• Grain processing,

handling & storage

3-5 OCTOBER 2023

MORE INFORMATION

Scan the QR code or visit victamlatam.com

Issue 4 2022

FOUNDING

COMPANIES

MORE INFORMATION

NICKMOUTHAAN@VICTAM.COM +31 6 2126 4398 WWW.VICTAMLATAM.COM

LatAm-184x244.indd 1 22-11-22 17:01

39
---
EVENTS

Victam LatAm 2023 can count

on many Exhibitors

In September, at Victam Asia, Victam

Corporation announced that it will

expand its business to Latin America.

Victam LatAm, worlds leading event for

the animal feed and pet food producing

industries will be organized from

October 3 – 5, 2023 at Expo Center Norte

in São Paulo, Brazil. VICTAM LatAm is colocated

with GEAPS and GRAPAS LatAm,

the events for the grain milling and

processing industries!

Since the launch in September the event

already welcomed over 50 companies,

what is far over the expectations

and ahead of schedule to attract 200

exhibitors as targeted.

Why expanding to Latin

America?

General Manager of the Victam

Corporation, Sebas van den Ende

says: "We currently organize events in

Europe, Asia and EMEA so expanding

to Latin America was the next logical

step. Countries like Brazil, Colombia,

Peru, Mexico and Argentina offer a

huge potential for the animal feed and

grain processing market for exhibitors

and visitors alike. We got requests

from many companies to organize an

exhibition in this continent to make it

easier for them to explore these markets.

There is a lack of one complete event

in the Latin America market and with

the confirmation of participation of the

Founding Companies Andritz, Buhler,

CPM, Famsun, Wenger and Zheng

Chang, we decided to take the jump

and organize the first edition of VICTAM

LatAm."

Van den Ende continues: "Although Latin

America is not an easy market, and a

successful market entrance takes time

and effort, the great potential makes it

worth this investment. For example with

1.600 feed mills and a production of 90

million tons per year, Brazil is the third

producer of animal feed in the world.

Also it is the largest producer of soy, and

belong to the biggest producers of grain

and corn in the world what makes it a

giant for our industry".

Also the market for pet food is enormous,

not only in Brazil but also in countries

like Argentina and Colombia, what

makes VICTAM LatAm an important tool

for companies to enter the market or to

exceed their current business.

Mr. Stefan de Roo, Global MarCom

Manager at ANDRITZ Feed & Biofuel

said about their decision to become a

Founding company: "The importance of

the LATAM Region for our business and

our wish to be as close to the market

as possible, makes our decision to

participate in Victam LATAM an obvious

one". Mr. Jesse Mitchell of Founding

Company Wenger added: "Wenger is

pleased to be a founding member of

VICTAM LatAm, and happy to host it in

our Brazilian home state of São Paulo.

The development of pet food and aqua

feed in Latin America will no doubt

place this region at the top of the world

within the next decade. VICTAM LatAm is

an example of the importance of these

markets on the world stage."

New partnership

The Victam Corporation is also excited

to announce a new partnership with the

Grain Elevator and (GEAPS). GEAPS is an

international professional association of

individuals that work in the grain handling

and processing industry.

Steve Records, Executive Director of

GEAPS, explains: 'Our mission at GEAPS

is to advance industry knowledge and

information through our global network

of agricultural professionals. We see our

mission come to life each year at our GEAPS

Exchange but realize that many outside

of North America cannot take advantage

of this event. We believe that partnering

with VICTAM to launch an expo in South

America will leverage the strength of both

organizations and bring immense value

to GEAPS members and the industry as a

whole in a new geography."

Conferences

In parallel to the event, an interesting

conference program will be organized

with among others an Extrusion

Conference and seminars and

workshops for the pert food industries.

The international character of the

conferences makes it even more

interesting for visitors to attend the event

and to travel to the event. Topics will

include aquafeed, petfood, packaging,

animal nutrition, feed technology, grain

handling and storage and many more.

About Victam

The VICTAM events, held in Utrecht,

Istanbul, Bangkok and now in Sao

Paulo, are the worlds' largest and

leading international exhibitions and

conferences for the animal feed, pet food

and aqua feed industries. It is also home

to GRAPAS, the event for grain, rice and

flour milling technology.

The Victam events are owned by

Victam Foundation, which is a Dutch

non for profit organization dated from

1964. The Foundation's objective is to

provide financial support for innovative

projects to non-profit applicants, such

as institutes, universities and colleges.

Beside this the providing of individual

scholarships. The Foundation strives

for positive contributions to the

technological development of industrial

sectors in the grinding of grains and

other raw materials in the broadest sense

of the word and in the production of

animal feed and foodstuffs for humans.

In 1965 the first Victam exhibition was

organized in Utrecht, the Netherlands.

The first event in Bangkok, Thailand was

launched in 1994, and in Istanbul, Turkey

in 2021.

Technology & Marketing

For more information

www.victam-latam.com

40

Technology & Marketing
---
EVENTS

Pet Fair South East Asia

Photos: Pet Fair

After three long years, the power of

face-to-face tradeshows in Asia is finally

back, as Pet Fair South East Asia has just

finished bringing back the international

pet industry together. This time, in the

exciting city of Bangkok, Thailand, 300

international brands and more than 5,000

visitors met up to talk business, network,

and celebrate at 'ASEAN's B2B Partnership

Hub for Distribution, Retail, and Sourcing'

in Bangkok.

About pet fair south east Asia

Organized by the international VNU

Group, Pet Fair South East Asia provides

the international pet industry with

a strategic market entry and market

expansion platform for Asia's high-growth

pet markets. With Thailand being the

4th largest pet food exporting country

worldwide, the show furthermore

functions as a Global Sourcing Hub

for Private Label Petfood, Treats and

Ingredient Solutions.

The fully B2B show is a sister event of Pet

Fair Asia in Shanghai, the world's largest

pet industry tradeshow platform. With

the ongoing travel restrictions in China,

however, the Bangkok Pet Fair Edition was

destined to be the only internationally

accessible B2B pet industry tradeshow in

Asia in 2022.

Visitor registrations from 45

countries

In the weeks before the fair, pet industry

stakeholders from 45 different countries

were registered for Pet Fair South East Asia.

"We are very pleased with the early preregistration

numbers", states Johannes C.

Kraus, Project Manager of Pet Fair South

East Asia. "We give a warm welcome to

pet industry suppliers and buyers from all

over the world in Bangkok. From Brazil to

Korea so to speak."

Pet Fair South East Asia took place at Hall

103 - 104 at the well-known Bangkok

International Trade & Exhibition Centre

(BITEC) from October 26-28, 2022. Invited

visitor groups to Pet Fair South East Asia

were Private Label Pet Food Procurers,

Distributors, Traders, Wholesalers,

Pet Shops, Online Retailer, Pet Clinics,

Veterinarians, Pet Food Manufacturer,

Nutritionists, Associations, Media and

everyone else professionally interested in

the pet industry.

Miguel Deleaere, Area Sales Manager of

Versele-Laga states: "Pet Fair South East

Asia in October gave me the perfect

opportunity to finally meet my distributor

network from all over Asia face-to-face

again after these challenging times. I was

more than excited to join the event and

get in touch with the novelties in the pet

food market."

International country pavilions

Pet Fair South East Asia featured

exhibitors from 25 different countries. In

addition to that, country pavilions from

North America, Europe, South Korea, as

well as India. Visitors to the show met

a wide variety of brands and suppliers

from these markets seeking for new

win-win distribution, retail and sourcing

partnerships.

International conference

program

Pet Fair South East Asia featured a

comprehensive international conference

program for visitors of the show.

Conference Highlights at the public Pet

Square Stage included:

• Press Conference – Thai Pet Food

Trade Association (TPFA)

• Pet Food Registration in Thailand

- The Department of Livestock

Development (DLD)

• Overview of the Indian Pet Market

- India International Pet Trade Fair

(IIPTF)

• Avian Clinical Nutrition - Versele-

Laga & Pamornchai Supply

• Avian Breeding Management –

Versele-Laga & Parmonchai Supply

In addition to conference sessions at

the center public stage, Pet Fair South

East Asia furthermore featured a wide

array of product seminars by Exhibitors

and Association in the setting of private

conference rooms.

The power of face-to-face is finally back

to the pet industry in Asia! The next show

is planned for 25-27 October 2023 in

Bangkok.

Technology & Marketing

For more information

www.petfair-sea.com

Issue 4 2022

41
---
LAST PAGE

Upcoming Events

December 3-4, 2022

12th India International Pet Trade Fair 2022

Bombay, India

www.iiptf.in

October 3-5, 2023

VICTAM LatAm 2023

Sao Paulo, Brasil

www.victamlatam.com

December 6-8, 2022

FI Food ingredients Europe 2022

Paris, France

www.foodingredientsfirst.com

March 18-19, 2023

Expozoo 2023

Paris, France

www.parisanimalshow.fr

May, 2023

Zoomark International 2023

Bologna, Italy

www.zoomark.it

March, 2024

Anuga FoodTec 2024

Cologne, Germany

www.anugafoodtec.com

May, 2024

Interzoo 2024

Nuremberg, Germany

www.interzoo.com

May, 2025

IFFA Frankfurt

Frankfurt, Germany

www.iffa.messefrankfurt.com

International Magazine March 2023 ISSN 2628-5851

Technology & Marketing

1/23

Preview March 2023

Vitamins, Proteins, Plant Extracts

Mixing & Weighing, Cooking

Pouches, Labelling, Trays

… and lots more!

Ingredients: Plant-Based Food, Black Soldier Flies, Fibers and Cellulose, Grain Acceptability

Processing: Wet Petfood Processing, Quality Control, Heat Exchangers, Mixing

Packaging: Pouches and Alutrays, No Waste, Weighing Investment

Marketing: Vet's Corner, Pet Food Competence Network, Anuga FoodTec, IFFA, Interzoo

Impressum

ISSN 2628-5851

Technology & Marketing

Publishing Company:

Dr. Harnisch Publications

Eschenstraße 25

90441 Nuremberg, Germany

Tel: +49-(0)-911-2018-0

Fax: +49-(0)-911-2018-100

E-mail: food@harnisch.com

Internet: www.petfoodpro-mag.com

www.harnisch.com

Editor-in-Chief: Ian Healey

Tel: +49-(0)-911-2018-215

E-mail: ihealey@harnisch.com

Publisher: Benno Keller

International Communications:

Edouard Costemend, Gabriele Fahlbusch,

Steve Max, Britta Steinberg

Editorial Team:

Editorial Team:

Pamela Almenara Cabrera, Sabine Straka,

Axinja Peine , Sabine Straka, Britta Göpfert, Bruno Bozic

Bruno Bozic, Sabrina Maasberg

Digital: Britta Steinberg

Digital: Britta Steinberg

Graphic Designer: Sabine Krauss

Graphic Designer: Pamela Almenara Cabrera, Sabine Krauss

Technical Manager: Armin König

Technical Manager: Armin König

Advertising: Sabrina Maasberg

Tel: +49-(0)-911-2018-245

Advertising: Sabrina Maasberg

E-mail: maasberg@harnisch.com

Tel: +49-(0)-911-2018-245

Subscriptions: Marta Bletek-Gonzalez

E-mail: maasberg@harnisch.com

Subscriptions: Marta Bletek-Gonzalez

Subscription Information:

Qualified Readers, executives in the food industry, are put on the

Subscription Information:

mailing list free of charge. Regular delivery by subscription only.

Qualified Readers, executives in the food industry, are put on the

Annual subscription 2020 (4 issues) – € 44 (Domestic)/€ 52

mailing list free of charge. Regular delivery by subscription only.

(Abroad)

Annual subscription 2022 (4 issues) – € 44 (Domestic)/€ 52

(Abroad)

Printed by:

Printed by Schleunungdruck GmbH, Marktheidenfeld, Germany

Printed by:

Printed by Schleunungdruck GmbH , Marktheidenfeld, Germany

Copyright © 2022

by Dr. Harnisch Verlag, Nuremberg, Germany

Adobe # 97945952

42

Technology & Marketing
---
International Magazine November 2022 ISSN 2628-5851

LAST PAGE

Technology & Marketing 4/22

Fax-Inquiry

+49 (0) 911 2018 - 100

or E-mail: food@harnisch.com

Ingredients: Antioxidant Update, Developing Insects, Finding Palatability Freshness,

Processing: Extrusion & Drying, Spotlight on Sorting, Steam and Cooling Tunnel

Packaging: Pouch Technology, Sustainability, Bagging and Palletizing,

Marketing: Aquarium Innovations, Pets in the Family, Zoomark, Victam, Petfair SEA

Issue 4/22

Our service: If you like to have more information on articles

and/or advertisements please fax this form.

1. Additional questions

1.1. Business Classification:

1.2. Number of employees at this location:

1.3. How do you rate this publication? excellent good fair poor

1.4. I wish to receive future issues of PetFoodPRO: Yes No

2. I would like to obtain more information

2.1. Regarding following articles/editorials (Title and page N o. ):

2.2. Regarding following advertisements (Title and page N o. ):

3. Please enter my subscription to PetFoodPRO for one year (4 issues)

The subscription shall start immediately beginning of

It is prolonged automatically for one year unless it is cancelled 6 weeks before expiry.

Surface Mail (US $ 50,–/Euro 44,–) Air Mail (US $ 60,–/Euro 52,–)

Check enclosed

Bill me

Charge my credit card: Euro-Card Visa AMEX

valid until:

4. Address

Company:

Name:

Address:

Address:

Country:

Position:

Phone:

Email:

Date:

Signature:

Issue 4 2022

3
---
The Future Awaits

Built on partnership and innovation,

Wenger is providing more opportunities

for client success.

For almost a century, Wenger has delivered extrusionbased

innovations to our partners. We've worked

alongside you to develop new processing solutions

and better products, providing our industry-leading

expertise and ongoing support every step of the way.

We don't plan on stopping any time soon.

Wenger's global food processing family is growing,

and we look forward to the exciting opportunities

that lie ahead. We will continue to deliver even more

innovations and technologies to benefit companies

that share our vision of tomorrow.

Wenger.com