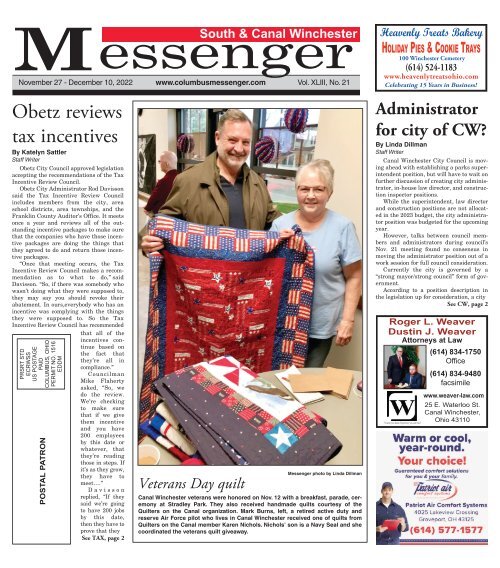 South & Canal Winchester - November 27th, 2022
You also want an ePaper? Increase the reach of your titles
YUMPU automatically turns print PDFs into web optimized ePapers that Google loves.
Messenger

South & Canal Winchester

November 27 - December 10, 2022 www.columbusmessenger.com Vol. XLIII, No. 21

Obetz reviews

tax incentives

By Katelyn Sattler

Staff Writer

Obetz City Council approved legislation

accepting the recommendations of the Tax

Incentive Review Council.

Obetz City Administrator Rod Davisson

said the Tax Incentive Review Council

includes members from the city, area

school districts, area townships, and the

Franklin County Auditor's Office. It meets

once a year and reviews all of the outstanding

incentive packages to make sure

that the companies who have those incentive

packages are doing the things that

they agreed to do and return those incentive

packages.

"Once that meeting occurs, the Tax

Incentive Review Council makes a recommendation

as to what to do," said

Davisson. "So, if there was somebody who

wasn't doing what they were supposed to,

they may say you should revoke their

abatement. In ours,everybody who has an

incentive was complying with the things

they were supposed to. So the Tax

Incentive Review Council has recommended

that all of the

incentives continue

based on

the fact that

PRSRT STD

ECRWSS

US POSTAGE

PAID

COLUMBUS, OHIO

PERMIT NO. 1516

EDDM

POSTAL PATRON

they're all in

compliance."

Councilman

Mike Flaherty

asked, "So, we

do the review.

We're checking

to make sure

that if we give

them incentive

and you have

200 employees

by this date or

whatever, that

they're reading

those in steps. If

it's as they grow,

they have to

meet…."

D a v i s s o n

replied, "If they

said we're going

to have 200 jobs

by this date,

then they have to

prove that they

See TAX, page 2

Veterans Day quilt

Messenger photo by Linda Dillman

Canal Winchester veterans were honored on Nov. 12 with a breakfast, parade, ceremony

at Stradley Park. They also received handmade quilts courtesy of the

Quilters on the Canal organization. Mark Burns, left, a retired active duty and

reserve Air Force pilot who lives in Canal Winchester received one of quilts from

Quilters on the Canal member Karen Nichols. Nichols' son is a Navy Seal and she

coordinated the veterans quilt giveaway.

Heavenly Treats Bakery

HOLIDAY PIES & COOKIE TRAYS

100 Winchester Cemetery

(614) 524-1183

www.heavenlytreatsohio.com

Celebrating 15 Years in Business!

Administrator

for city of CW?

By Linda Dillman

Staff Writer

Canal Winchester City Council is moving

ahead with establishing a parks superintendent

position, but will have to wait on

further discussion of creating city administrator,

in-house law director, and construction

inspector positions.

While the superintendent, law director

and construction positions are not allocated

in the 2023 budget, the city administrator

position was budgeted for the upcoming

year.

However, talks between council members

and administrators during council's

Nov. 21 meeting found no consensus in

moving the administrator position out of a

work session for full council consideration.

Currently the city is governed by a

"strong mayor/strong council" form of government.

According to a position description in

the legislation up for consideration, a city

See CW, page 2

Roger L. Weaver

Dustin J. Weaver

Attorneys at Law

(614) 834-1750

Office

(614) 834-9480

facsimile

"A name you know, Experience you can trust"

www.weaver-law.com

25 E. Waterloo St.

Canal Winchester,

Ohio 43110
---
PAGE 2 - SOUTH & CANAL WINCHESTER MESSENGER - November 27, 2022

We are the BEST community newspaper!

Need advertising?

Call 614-272-5422 today.

Dr. Hobbs

The Gilmore Group

Office: 614-834-HOME (4663)

Cell: 614-774-4416

www.GilmoreGroupHomes.com

3700 Parsons Ave.

Columbus, OH 43207

New Patients & Emergencies Always Welcome

(614) 491-5511

www.ScottAKellyDDS.com

Dr. Kelly

BE PREPARED FOR EMERGENCY

If your child knocks out a tooth

and is hysterical and in pain, a

parent's main concern would

naturally be comforting the child,

but saving the tooth should also

be an important element in this

crisis.

First, try to find the tooth after it

has been dislodged. Do not to

touch the root area. This is the

living part of the tooth and can be

easily damaged. Time is essential.

A tooth's life span will probably

not last more than 30 minutes

unless it is properly handled.

If the tooth cannot be replanted

immediately, and the child is

composed, have him or her place

the tooth under the tongue. The

environment of the mouth will

protect the tooth and the chances

that replantation will be successful

are greater. If the child cannot

keep the tooth is his or her mouth,

place the tooth in fresh milk. If

milk is not available, wrap the

tooth in plastic or foil. Do not let it

dry out and do not put it in plain

water. Then get to the dentist as

quickly as possible.

Prepared as a public service

to promote better dental health.

From the office of:

SCOTT A. KELLY, D.D.S.

Phone 614-491-5511

Holiday Train display

Columbus Metropolitan Library is hosting a free holiday open

house on Nov. 30 at its Main Library, 96 S. Grant Ave. in

Columbus. From 6-8 p.m., families can enjoy activities, sing-along

carols and refreshments, plus a visit from live reindeer and a very

special guest. The biggest draw of the evening will be the treelighting

of Topiary Park and the return of the Huntington Holiday

Train. A ceremonial switch will be flipped on for the train, which

will delight library customers through Jan. 8. Parking for the

event in Main Library's attached garage will be free.

The 600-square-foot Huntington Holiday Train includes multiple

miniature trains running on more than 280 feet of track surrounded

by more than 50 pounds of snowflakes.

This marks the 30th year of the holiday attraction, which was

built in 1992 by Applied Imagination founder Paul Busse. The

train was originally displayed in the lobby of the historic

Huntington building at Broad and High streets. In 2009,

Huntington graciously loaned the train to CML.

The Huntington Holiday Train is on display through Jan. 8 —

Monday-Thursday from 9 a.m. to 9 p.m., Friday-Saturday from 9

a.m. to 6 p.m. and Sunday from 1-5 p.m. The first hour of parking

in the library garage is free. Visit columbuslibrary.org.

TAX

Continued from page 1

have 200 jobs. We have to make sure that their buildings are in

decent shape and they don't have any code violations. If they guaranteed

an investment, like if they say we're going to build a $6

million building by this year, then you go make sure they build a

$6 million building by that year. Whatever the agreement

requires that they said they're going to get money to the school

district to make sure they do. That's why the economic development

director goes through and checks all that stuff to make sure

it's all on par when we go to report that to the TIRC and everybody

was good to go."

Other Obetz news

•Council approved legislation to approve changes to the 2022

appropriations for the current expenses and other expenditures of

the city.

"Essentially, we have a bunch of cleanups related to the folks

who took the buyouts, new employees that may have come in since

then, and the intern program," said Davisson. "So you got that

through different levels of benefits, payroll, those kinds of things.

And then one addition for extra overtime for Finance Assistant

Jessica Williams, presuming we may need to use that to process

the FOP collective bargaining agreement between now and the

end of the year."

•Council approved an opt-in to the Ohio Department of

Transportation's municipal bridge inspection program services.

ODOT's bridge inspection program is free to municipalities and it

also gives ODOT permission to be on Obetz's bridge.

•Council approved canceling the regularly scheduled council

meetings of Nov. 28 and Dec. 27.

Hopeful Hearts

CW

www.columbusmessenger.com

Hope United Methodist Church, 83 E.

Columbus St., Canal Winchester, holds its

monthly giveaway of clothing for children

in sizes infant to five the third Saturday of

each month. They also accept donations of

the same sizes and any children's items in

good repair. Donations can be left at our

side door beside the parking For information

call 614-837-7548 or email us at

hope.in.canal@gmail.com.

Continued from page 1

administrator provides for the day-to-day

management of the city, including directing

and coordination of all city departments.

The city administrator is responsible

for multiple city programs and activities

in accordance with city codes, ordinances

and statutory requirements.

"The mayor is still the leader, but it's

becoming apparent over time the city

needs that go-to person, like these guys sitting

at this table," said Mayor Mike Ebert.

Councilwoman Jill Amos said she does

not have a problem with an administrator,

but does have a problem with a full time

mayor and a full time administrator for a

city the size of Canal Winchester.

"Fiscally, I don't think it's responsible,"

said Amos. "We go the route of a full time

administrator, we need a part time mayor.

The charter has to be reviewed prior to

that decision being made."

The salary range for the administrator

position is a minimum hourly rate of

$48.30 and maximum hourly rate of

$70.46. While funds were budgeted for the

position, they cannot be expended until the

city administration position is approved by

council.

Impacting the discussions were concerns

about the mayor's salary if an

administrator is hired and job duties if the

mayor becomes a part time position.

"If we're paying this person (mayor)

$20,000 to $30,000 a year, what are the

expectations?" asked Councilwoman

Laurie Amick, who asked for job descriptions

for both part time and full time

mayor positions.

When it came time to vote on moving

the three ordinances on to full council for

first readings, all three were tabled.

Cemetery news

Council is considering accepting a quitclaim

deed at 300 Winchester Road, which

is the site of the Field of Honor Cemetery.

"The current owner/operator wants to

cease operations," said Public Service

Director Matt Peoples. "By state law, we

have to acquire that property because it's

in the corporation limits. There are four

parcels out there–the Union Grove

Cemetery, which we already own; the Field

of Honor, which is the cemetery out front;

the mausoleum is its own separate parcel

and they're still working through ownership."

Peoples expects a similar ordinance for

the mausoleum in a future meeting. The

remaining parcel was given by the owners

to a Vietnam Veterans organization that

maintains the property.
---
www.columbusmessenger.com

Clubs expand students' horizons

November 27, 2022 - SOUTH & CANAL WINCHESTER MESSENGER - PAGE 3

columbusmessenger.com

By Linda Dillman

Staff Writer

Students at Winchester Trail Elementary School

have many opportunities to go beyond the classroom in

working on Leader in Me skills, including using a pole

and fishing line.

Third grade teacher Stephen Lemieux updated the

Canal Winchester Board of Education during its Nov.

21 meeting about club and opportunities available to

3rd to 5th grade students, including a fishing club, student

council, math club, news crew, yearbook club, café

recycling, and lunch with leaders.

"There are many more in the works," said Lemieux.

"We started student council this year (and) everyone in

the building has the opportunity to be a morning

announcement reader."

Members of the fishing club–who were nominated

by their teachers–honed their fishing skills this past

spring for eight weeks and then celebrated with a May

14 event at ponds where bass, blue gills and other

native Ohio fish were plentiful.

"Students took the skills they learned in the club

and caught hundreds of fish," said Lemieux. "A lot of

great memories were made. It offered them an opportunity

to connect with younger and older peers across

the building. Fishing is a unique activity in how it can

provide a release for people in many ways."

Lemieux said the club had two goals–to provide

students with an opportunity to learn alongside peers

of different ages and afford them the skills to fish on

their own.

"After our culminating event, the students got to

take home all of the equipment," Lemieux said. "This

is just one of the awesome clubs at Winchester Trail."

Board member Monika Talley said she loves how

Winchester Trail's clubs and activities have gotten off

the ground. She said with such organizations, there is

no excuse for students to "not find a variety of things

they're interested in."

Antiques, Collectibles,

Jewelry, Vintage,

Home Decor, Militaria

and more!

America'

ica's s Fa

Fa

av av

vorite Treasure ure e Hunts!

CW City Council meetings

Canal Winchester City Council meetings are held

on the first and third Monday of every month.

Meetings begin at 7 p.m. The meetings are open to the

public. Council meets in work session at 6 p.m. prior to

each city council meeting to discuss legislative items

and other issues of the city prior to being included on

a city council agenda. The first work session of the

month focuses on finance/economic development items

and the second monthly work session focuses on service/safety

items. While each work session includes specific

areas of focus, other items may be brought before

council as needed.

CW school board meetings

The Canal Winchester Board of Education meets on

the third Monday of each month at 7 p.m. in the Canal

Winchester Education Center, 100 Washington St. on

the second floor in room 204/206. The public is welcome

to attend.

2022

Nov. 26 & 27

Dec. 17 & 18

2023

Jan. 28 & 29

Feb. 25 & 26

Mar. 25 & 26
---
PAGE 4 - SOUTH & CANAL WINCHESTER MESSENGER - November 27, 2022

Obetz City Council

The Obetz Council meets the second

and fourth Mondays of each month at 6

p.m. in the Council Chambers at 4175

Alum Creek Drive, Obetz, to review and

pass legislation and hear concerns from

the residents. If the meeting date occurs on

a holiday, the regular meeting is held on

the next Tuesday following the holiday.

Call (614) 491-1080.

BIRTHDAY • ENGAGEMENT • WEDDING • ANNIVERSARY

• GRADUATION • RETIREMENT

IN MEMORIUM • ARMED FORCES

Say it with an announcement ad in

the Messenger and spread the word.

You can download the appropriate form from

our Web site or stop by our office

Monday-Thursday, 8:30 a.m.-5 p.m.

Friday, 8:30 a.m.-2 p.m.

Columbus Messenger

3500 Sullivant Ave.

614-272-5422

www.columbusmessenger.com

Letters policy

The Messenger welcomes letters to the

editor. Letters cannot be libelous. Letters that

do not have a signature, address, and telephone

number, or are signed with a pseudonym,

will be rejected. PLEASE BE BRIEF

AND TO THE POINT. The Messenger

reserves the right to edit or refuse publication

of any letter for any reason. Opinions

expressed in the letters are not necessarily

the views of the Messenger. Mail letters to:

South & Canal Winchester Messenger, 3500

Sullivant Avenue, Columbus, OH 43204; or

email southeast@columbusmessenger.com.

eastside

Messenger

(Distribution: 6,100)

Rick Palsgrove................................South & CW Editor

southeast@columbusmessenger.com

Published every other Sunday by

The Columbus Messenger Co.

3500 Sullivant Ave., Columbus, Ohio 43204-1887

(614) 272-5422

Keep tabs on the news in CW,

Obetz, and Hamilton Twp.

Look for South & CW Messenger on

Become a fan!

www.columbusmessenger.com

Actors save this mediocre film

The potential to be entertained abounds

when there are impending nuptials, especially

when the life milestone is explored

through the lens of books, cinema, or on the

small screen.

The Reel Deal

For centuries, these

matrimonial events

have showcased genuine

and heartfelt

expressions of love,

mined the dynamics of

a dysfunctional family,

and have descended

Dedra into the realm of

absurdity with

Cordle bizarre plots that

revolve around

romantic rivals stealing the faces or bodies

of the bride as they prepare for their big

day. However the topic of a wedding is chosen

to be explored, chances are they are

going to be quite fun to witness through

this fictional lens and the latest film to

delve into the creatively inspiring world is

no exception.

In Prime Video's new original movie,

"The People We Hate at the Wedding," the

exploration of the event leans heavily on

the comedic side of the aisle but there is a

strong focus on the dynamics of a dysfunctional

family. What results is a mostly

humorous and occasionally charming look

at some unlikeable characters doing

unlikeable things as they try to resolve

their differences as the wedding of a once

dearly loved sister approaches.

At the center of this saga is the relationship

between siblings Alice (Kristen Bell),

Paul (Ben Platt) and their half-sister Eloise

(Cynthia Addai-Robinson). Sharing the

same mother, Donna (Allison Janney), the

trio had a tight bond throughout childhood

— this is despite the fact that Eloise spends

half the year in England with her father,

Henrique (Isaach De Bankole) — but it

slowly started to unravel when Alice and

Paul started to notice the wealth disparity

between their respective families.

Although they have always tried to maintain

some warmth toward their half-sister,

Alice and Paul eventually grew to resent

Eloise for her "ostentatious displays of

wealth, her haughty manner, and her meddling

in their lackluster jobs and lives."

Like most mothers, all Donna wants is

for her children to get along, which is why

she is beyond ecstatic when she learns

Eloise is getting married. "It will be a

chance for all of my kids to come together

and repair their relationship," she says.

For her part, Eloise feels the same way,

hoping this event will be a catalyst for

reconnection. For their part, Alice and Paul

want nothing to do with this wedding, with

their sister, and frankly, with their mother

who they feel has moved on too fast from

the death of their father. Naturally, the

duo end up going, mostly because it is an

all-expense paid trip to London. But that

does not mean they are going to like it, nor

does it mean they are going to be wellbehaved

on their travels abroad.

It is a good thing that almost all of the

actors in "The People We Hate at the

Wedding" are so charismatic because the

characters they play are often unlikeable

and they act out in ways that are hard to

sympathize with. Now, that is not to say

that every book or film or television show

has to have likeable characters at its center,

but it sometimes makes for a harder

read or watch when you are squirming

with second hand embarrassment over the

things they do or the things they say.

The very fact that the audience can, at

times, feel sorry for the characters is

another testament to the skill and charm of

the actors, but it does bring up some issues

with the script. Although wickedly sharp at

times, the story that was adapted by Lizzy

Molyneux-Logelin and Wendy Molyneux by

a novel from Grant Ginder does not delve

too deeply into the motivations of the characters

so we cannot fully embrace their acts

of rebellion. At times, it just feels too bratty

and unjustified — which I suppose can be a

form of entertainment if the mood hits just

right.

Not everyone can enjoy watching films

that are filled with awkward moments —

director Claire Scanlon has a true talent

for staging the most cringe-worthy scenes —

but I think those who can tolerate it will

find some form of enjoyment from "The

People We Hate at the Wedding." Not

everything they do hits, and some of the

more sincere and dramatic moments feel

out of place, but it will make you laugh,

and smile, and thank a deity that your

immediate family is not like theirs. And if

it is, well, try to turn that dynamic into a

book or a script because some people would

really enjoy it.

Grade: C+

Dedra Cordle is a Messenger staff writer

and columnist.

A short history of the Madison Township Police

This is the 50th year of the Madison

Township Police Department serving and

protecting the community. To celebrate,

here's a look back on the last five decades

on the strides made in police work.

The Madison Township Trustees

approved the creation of the police department

on Nov. 9, 1971. Soon after the resolution

passed, the department was established

and put into service in January 1972 and

operated out of the old Madison Township

Fire Station on College Street in Groveport.

The first operating budget of the

Madison Township Police Department was

$130,000 per year. This covered salaries,

cruiser maintenance, equipment, training,

and the daily operations of the force. The

department began with nine full-time officers

and 13 reserve officers – three of

whom were women.

In 1995 the department moved its headquarters

from the College Street fire station

to the Madison Township complex on

Hamilton Road. Throughout the last 50

years the department has had a DARE officer,

a K-9 unit, and a detective bureau,

among other programs.

There are now 17 sworn officers on the

Madison Township Police

force who have committed

to serve and protect

the community like their

predecessors before

them. Today's officers

are equipped with ballistic

vests and helmets,

tasers, new duty

weapons, rigorous training,

body-worn and cruiser-mounted

cameras, and updated vehicles.

The Madison Township Police

Department has placed two School

Resource Officers (SRO) in local school districts.

Since 2019 one officer has been dedicated

to the Groveport Madison School

District, and is working closely with the

Groveport Police Department.

A new SRO position was established in the

Canal Winchester Local School District

where a Madison Township officer will work

in tandem with the Fairfield County Sheriff's

Deputy currently serving there. These officers

are specially trained and chosen for service

in school buildings. They facilitate student

and staff safety and investigations, and

provide security for those on the campuses.

Photo courtesy of Ernie Bell

A Madison Township police cruiser from around 1985.

"I feel honored to be the Madison

Township police chief during this milestone

of 50 years of service to Madison

Township," said Madison Township Police

Chief Gary York. "I'm hopeful that our core

values and commitment to service will lead

the next generation of officers for another

50 years, and beyond."

"We are excited about the future of the

Madison Township Police Department," said

Madison Township Trustee Michele Reynolds.

"As the community continues to grow, so does

the need for quality policing and enhanced

public safety. The Madison Township Police

Department is committed to innovating and

expanding to meet our residents' needs in this

ever changing environment."
---
www.columbusmessenger.com

November 27, 2022 - SOUTH & CANAL WINCHESTER MESSENGER - PAGE 5

Messenger photo by Theresa Garee

The Obetz Church of the Nazarene choir sang songs of the holiday season at last

year's Obetz Christmas Kickoff event in Lancaster Park.

Obetz celebrates the season

The city of Obetz will hold its annual

Christmas Kickoff on Dec. 9 in Lancaster

Park beginning at 6 p.m. The event

includes the tree lighting ceremony, photos

with Santa, ice skating, plus hot chocolate

and cookies.

Other Obetz Christmas events

•Santa's Neighborhood Drive will be

Dec. 17 at 5 p.m. Santa, Mrs. Claus, and

their reindeer will visit every residential

street in Obetz.

•The light display in downtown Obetz

will begin in December and remain up

through the holidays.

CW Breakfast with Santa

On Dec. 10, Canal Winchester hosts its

Breakfast with Santa at the Community

Center, 45 E. Waterloo St., Canal

Winchester.

Two breakfast sessions will be offered.

The first session will take place from 8:30-

10 a.m.; the second session will run from

10:30 a.m. to noon.

Each $5 ticket admits one adult or child

for breakfast (children under one year old

are free but still require a ticket). Children

will also receive a gift bag and visit with

Santa. Bring a camera for pictures.

Tickets may be purchased on the city of

Canal Winchester website while supplies

last. Only 100 tickets are available for each

session. Create your online account in

advance to expedite the checkout process.

All proceeds from Breakfast with Santa

benefit Canal Winchester Human Services'

Adopt-A-Family program. Thank you to

•Lighted Christmas figures and other

decorations will be on display throughout

Lancaster Park and Veterans Park.

•The Historic Church Light Display will

begin in December and remain up through

the holidays.

•Holiday Lights Contest - Mayor

Angela Kirk and Obetz City Council will

visit every street in Obetz so make sure

your lights are on all evening. No registration

is required. Every decorated home in

Obetz is eligible. There will be multiple

winners in several categories.

Olivia Hammond of ERA Real Solutions

Realty and Diley Ridge Medical Center for

supporting this event. Visit canalwinchesterohio.gov

for information.

Heritage Holiday

Groveport hosts its Heritage Holiday on

Dec. 4 from 3-6 p.m. in Heritage Park, 551

Wirt Road in Groveport. Santa Claus will

arrive with Mayor Lance Westcamp on a

Madison Township fire truck at 3 p.m.

There will be musical performances by

Wade & Darr from 3-4:15 p.m. and Mora &

Dalton from 4:30-5:30 p.m. The Groveport

Madison Area Community Choir will perform

from 5:30-6 p.m. and the annual tree

lighting will be at 6 p.m.

There will also be hayrides around Palm

Pond, face painting, iceless skating rink,

ice carvings, kids' crafts, food trucks, free

beverages and cookies from The Paddock

Pub, and kids can visit with Santa Claus

in the log house.
---
PAGE 6 - SOUTH & CANAL WINCHESTER MESSENGER - November 27, 2022

"BEST NEW YEARS PARTY IN TOWN"

18 th Annual

Mike Albert

and

The Big E. Band

Per Couple Prices

Overnight Package - $319

Party Only Packages - $250

Single Packages Available

Prices include

Dinner, Drinks, Room, Party favors,

Full Breakfast

Crowne Plaza • 6500 Doubletree Ave. (formerly Marriott North)

www.columbusmessenger.com

It's that most wonderful

By Linda Dillman

Staff Writer

time of the year!

CW's Christmas in the

Village and Lockbourne's

Christmas Hop

The first weekend of December is a busy

time for Santa, his elves and residents in

Lockbourne and Canal Winchester as

Christmas arrives and celebrations begin.

Lockbourne's Christmas Hop

On Dec. 4, Lockbourne rings in the holidays

with a Christmas Hop from 4-7 p.m.

"Our village is going to have a busy holiday

season this year," said Lockbourne

Deputy Administrator Kendall Collins.

"We are kicking off the event with a horse

drawn carriage ride for only $5. The carriage

will tour our beautifully decorated

village streets. We are also offering a complimentary

hot chocolate bar with all the

fixings–marshmallows, caramel, candy

canes, everything."

Santa is handing out gifts to children in

the village's Historical Hall, 206 Vause St.,

and three churches are opening their doors

to visitors with free snacks or something

unique to their space.

"We will have live music for the

Spiritual Echoes, who will be performing

during the event and helping with carols

during the village Christmas Tree

Lighting, which ends the night," said

Collins. "Kid's crafts and other activities

will also be available at no charge."

Collins said the Christmas Hop is an

annual event that brings the community

together during the holiday season, along

with improving the morale of residents and

bringing new guests to Lockbourne.

The event is funded through donations

from Rediscover Lockbourne and is held

rain or shine. The only activity impacted

by the weather is the wagon ride in the

event of a heavy snow, which could injure

the animals.

CW's Christmas in the Village

In Canal Winchester, a new iceless

skating rink greets visitors to Christmas in

the Village on Dec. 2-3 from 6-9 p.m.

According to city spokesperson Hannah

Woodruff, the rink will be located in the

parking lot behind Canal Winchester City

Hall and Shade's. Skates will be provided

and it is free to participate.

"Also new this year is Santa's location —

after lighting the tree each night, Santa

will move into the Interurban Depot (16

Towing Path) to visit with kids," said

Woodruff. "Visitors can line up on the sidewalk

that extends behind Barrel & Boar."

The new community center is hosting

an annual holiday bazaar and model train

display that was previously located in the

Frances Steube Community Center.

Santa's reindeer are temporarily taking

up residence in the green space while live

ice sculpting sparkles in Stradley Park.

Children are invited to ride the holiday

trolley from the community center to

downtown and the Historical Complex

located at Oak and North High streets.

"The Brockstrong Light Up The Night

Holiday Lights Parade will be Saturday

evening," said Woodruff. "Neighborhood

floats, businesses, families, and even Santa

will all make appearances. The parade

departs at approximately 5:30 p.m. from X

Church and will follow the same route as

last year, passing through Cherry

Landing, Winchester Village, and arriving

downtown for the tree lighting at 6 p.m."

Santa will also follow a short route

Friday evening before arriving downtown

to light the tree.

South High Street will be closed

between Waterloo and Columbus streets

during Christmas in the Village. Towing

Path and Warehouse Alley will also be

closed for safety reasons. Additional roadways

will be closed temporarily during the

parade.

Public parking lots are available near

Stradley Park, the municipal pool, and

behind city hall. Street parking is available

throughout the downtown area.

The North Pole does not close when it

snows and Woodruff pointed out neither

does Christmas in the Village, which takes

place rain, shine, or snow.

Lights will be glowing at the Canal

Winchester Historical Complex as a

Storybook Christmas is celebrated with a

Polar Express theme.

"Each year we choose a different storybook

theme, eventually rotating through

then again," said event organizer Jill

Amos. "Polar Express allowed us to utilize

the train and embrace that magic of believing."

Forty volunteers help bring the theme

to life with activities including a train display,

hot chocolate bar, dance on the train,

crafts at the schoolhouse, and an interactive

photo booth.

Food and market vendors, tree presale

and live wreath sale are also part of the

holiday celebration. Society members gain

early access at 5 p.m. to historical complex

activities.

"Christmas in the Village has become a

family tradition for so many visitors," said

Woodruff. "Although several of the activities

can be found year after year, the city is

excited to offer new attractions to keep visitors

coming back for more. It is also a

great opportunity for us to partner with

other groups and organizations to provide

a free, fun activity for the community. It's

not often you can do so much without paying

a dollar, and we are happy to provide

that to our residents."
---
www.columbusmessenger.com

November 27, 2022 - SOUTH & CANAL WINCHESTER MESSENGER - PAGE 7

Shelling corn

Messenger photo by Rick Palsgrove

On a recent beautiful autumn day, Kerry Sherrill, a 27-year volunteer farmer at

Slate Run Living Historical Farm, 1375 State Route 674 North near Canal

Winchester, demonstrated how to shell harvested corn by using an 1880s era

hand held metal Decker Corn Sheller, made in Keokuk, Iowa. The ear of corn is

inserted into the corn sheller and then the corn sheller is twisted back and forth

manually to remove the corn kernels from the cob.

DestinationOutlets.com

800-213-9083

8000 Factory Shops Blvd.

Jeffersonville, OH 43128

DOWNLOAD OUR

MEMBERSHIP APP

GOOD is

saving time

on a haircut.

Looking great has never

be een so convenient.

317

Gro oveport Rd Main St

Kroger

Tallman St

GROVEPORT

Groveport Plaza

6021 Groveport Rd

(Near Kroger) r

614-350-8280

GREAT is

saving

money,

too.

$1

OFFER EXPIRES: 1/13/23

ANY HAIRCUT

11 99

Not valid with any other

offer s. Limit one coupon per

customer.

No copies. Taxes may apply. Valid at Groveport Plaza.

greatclips.com | jobs.greatclips.com | greatclipsfranchise.com
---
PAGE 8 - SOUTH & CANAL WINCHESTER MESSENGER - November 27, 2022

www.columbusmessenger.com

Obetz zoning issues

Our Family Caring For Yours

Dr. Sacheen Garrison

5055 S. Hamilton Road

Groveport, OH 43125 614-836-0500

www.groveportsmiles.com

By Katelyn Sattler

Staff Writer

The Obetz Planning and Zoning

Commission discussed parcels at Alum

Creek Drive and Lindsay Road on Nov. 9.

The parcels are the southern part of the

Sheetz development. Currently, the majority

of the sites are zoned planned commercial

and are part of the Walnut Creek

Center. The southern part of the site is

divided into two different zoning districts.

The low density residential district, which

includes two parcels on Lindsay Road. The

car wash is zoned general commercial district.

The engineering has been updated, completed,

and approved by City Engineer

Mike Corbitt and Utilities Engineer Todd

Garwick. Looking at the site plan, the car

wash has been removed to make room for a

stormwater basin to the south. Skilken-

Gold has done all the traffic controls,

requested the extra outdoor seating, and

the additional landscaping.

The original site plan that was

approved remains in effect. The rezoning of

these parcels to Planned Commercial

District, which is the same district to the

north, is all that needs to happen now.

4129 Orchard Lane variance

A variance request has been applied for

a lot at the corner of Orchard Lane and

Recreation Trail. The landowner wants to

extend fencing past the corner of the

house. The owner wants the fence "to be

able to let my dog out to run around the

yard." She doesn't want a privacy fence

"because that's the reason I have the trees

and the bushes there."

1652 Lisle Avenue

compliance extension request

Property owner Josh Brown has applied

for a variance for 1652 Lisle Avenue to be

able to keep his graveled driveway. The

existing gravel driveway was expanded

Eastland-Fairfield open house

Students interested in attending or

learning more about the programs offered

at Eastland-Fairfield Career & Technical

Schools are invited to the district's annual

open house on Dec. 1 from 6-8 p.m.

Eastland Career Center and Fairfield

Career Center will open their doors to

prospective students and their families,

and anyone interested in enrolling in the

Eastland-Fairfield school district through

its programs. All programs at Eastland or

Fairfield Career Center will have their labs

open for tours and staff will answer questions.

Plan to visit the career center that is

the home of your programs of interest.

These satellite programs will be on hand

at Eastland Career Center for those interested

in applying: Marketing & Logistics

Management, Teaching Professions, and

Multimedia. Open House is open to students

of all ages, though it is highly

encouraged for high school students in

their freshman, sophomore, or junior years.

without a permit, encompassing a large

portion of the backyard and is used for

parking vehicles. City officials said he

either needed to blacktop or concrete it.

Brown said he's willing to work with the

city to figure out what he has versus what

is allowed.

Mayor Angela Kirk said, "There hasn't

been anything done on the property.

There's not been any gravel moved, there

hasn't been anything planted. There's not

been anything done at all."

Community Services Director Stacey

Boumis said, "He doesn't want to do anything

until spring. But, we have written

him up for code violations. He applied for a

variance to keep the gravel. The Planning

and Zoning Commission said, "no." My

opinion is the planning commission was

generous with giving him an extension. If

you don't give any additional extension,

because really it's starting to cross over.

What is the role of the planning commission

versus the role of code enforcement? It

will get back to code enforcement and then

we'll handle it through the code enforcement

route. You won't have to worry about

it coming back again for a possible extension

because I can tell you if it goes to

court, it's going to get plenty of extensions

on its own. So, if we take this to enforcement

in a couple of weeks, they're going to

get it until spring anyway. At this point, if

you give it until spring and nothing happens,

at least we get it into the court system,

so then there is that court order compelling

an action."

Kirk said, "If we give him until spring

and he doesn't do it in the spring, then we

are starting back over at square one. And

at six four-month extensions because of the

court process."

The Planning and Zoning Commission

voted against giving an extension.

Adult education options will be on display

at both campuses, courtesy of EFCTS

Adult Workforce Development. If high

school seniors or other family members are

interested in adult programming, visit our

staff on site for information. Visit

www.EastlandFairfield.com/OpenHouse

for information.

Library School Help Centers

The Columbus Metropolitan Library's

School Help Centers for grades K-12 open

Aug. 22 with staff and volunteers ready to

help. These after-school spaces give your

students access to technology, resources and

the library's catalog of books and materials.

Visit columbuslibrary.org/school-help.

Library School Help Centers are:

•Canal Winchester Branch, 115

Franklin St., Canal Winchester. Monday-

Thursday from 3:30-6:30 p.m. and Friday

from 3-6 p.m.

•South High Branch, 3540 S. High St.,

Columbus. Monday-Thursday from 3:30-

6:30 p.m. and Friday from 3-6 p.m.
---
www.columbusmessenger.com

November 27, 2022 - SOUTH & CANAL WINCHESTER MESSENGER - PAGE 9
---
PAGE 10 - SOUTH & CANAL WINCHESTER MESSENGER - November 27, 2022

CW gets $2 million grant

The city of Canal Winchester received a

$2 million traffic safety grant towards the

construction of Gender Road Phase VI.

Safety improvements include installing

a sidewalk and reconfiguring the U.S. 33

ramp to facilitate pedestrian travel across

the interchange. The complete project is

estimated to cost $3.4 million.

This grant comes as Governor Mike

DeWine and Ohio Department of

Transportation Director Dr. Jack

Marchbanks announced details on $121

million in new traffic safety projects

planned for Ohio. The grants, awarded

through ODOT's Highway Safety

Improvement Program, will support 50

projects in 32 counties across the state.

"This is just the next step towards

enhancing the Gender Road corridor," said

Canal Winchester Mayor Mike Ebert. "We

have spent years reconfiguring the area to

match the city's growing needs. Previous

phases improved pedestrian safety on the

south end of Gender Road with new multiuse

paths. Now we will be able to extend

that across Route 33."

City administration, with the assistance

of contracted engineer firm EMH&T,

applied for the grant in August. In addition

to the safety improvements, construction

plans also call for the addition of a dedicated

turn lane from northbound Gender

Road to the eastbound U.S. 33 ramp, and a

dedicated turn lane from northbound

Gender Road to a reconfigured westbound

U.S. 33 ramp.

"This project will not only improve

pedestrian safety for those crossing over

U.S. 33 but will also improve traffic flow on

northbound Gender Road with the addition

of the turn lanes," said Canal Winchester

Public Service Director Matt Peoples.

Gender Road Phase VI design work will

begin in 2023 with construction beginning

in 2024.

CW snow removal

The city of Canal Winchester is committed

to providing safe, accessible streets

during inclement weather and encourages

residents and businesses to do their part by

clearing sidewalks.

The city's street department works to

keep local streets clear and passable

before, during, and after a snow event by

using a brine solution, salting, and plowing.

During a season, crews have applied

upwards of 8,000 gallons of brine solution

and as many as 750 tons of salt.

The city's policy for snow and ice

removal begins with arterial streets such

as Gender Road, Columbus Street, High

Street, Washington Street, and Waterloo

Street. Removal of snow and ice from arterial

streets is followed by major streets

within subdivisions, secondary streets

within subdivisions, cul-de-sacs, alleys,

and then parking lots. Streets are cleared

curb-to-curb to provide easier access for

emergency vehicles and to prevent icedamming,

as well as to allow for proper

gutter drainage.

Removal of plowed snow in the downtown

area occurs when snowfall exceeds

eight inches and only after all other

removal activities are complete.

During a snow event, a bulk of Canal

Winchester streets are maintained by

street department staff, often working 12-

hour shifts until snow and ice removal is

complete.

Some local roadways, however, may fall

within the jurisdiction of county or township

service and engineering departments.

For questions regarding which jurisdiction

plows and maintains your road, contact the

Street Department at 614-524-0163.

Keeping sidewalks clear of snow and ice

is the responsibility of property owners.

Help make sidewalks around your residence

or business safer by shoveling a path

around your property in a timely manner

each time there is snow accumulation.

Cleared sidewalks also assist our local

police, fire, and EMS during emergencies.

Additional ways residents can help in

the snow removal process include:

•Do not shovel snow onto streets, alleys,

or bike paths.

•Shovel snow into small piles instead of

large piles. Small piles will melt quicker

and are less likely to develop into dangerous

ice banks.

•Clear snow around mailboxes, fire

hydrants, and dumpsters.

•Do not crowd the plow or get between

plow trucks when crews are tandem plowing.

www.columbusmessenger.com

Avoid parking on streets or blocking the

end of driveways during snowy or icy conditions.

•Help neighbors in need who may be

elderly, sick, disabled, or unable to shovel

for any reason.

Visit www.canalwinchesterohio.gov for

the city's full snow removal policy.

Lockbourne Council

Lockbourne Village Council meets the

second and fourth Mondays of each month

at 7 p.m. at the Lockbourne Municipal

Building, 85 Commerce St., Lockbourne.

Hamilton school board

Hamilton Local Board of Education

meetings are held at 6 p.m. at the

Hamilton Local Education Center, 775

Rathmell Road, Columbus. For information

on meeting dates visit www.hamiltonlocal.k12.oh.us.

Barber Museum

The National Barber Museum in Canal

Winchester is located at 135 Franklin St.

(behind the former CW High School building).

The museum, housed in approximately

5,000 square feet, showcases art, artifacts,

and memorabilia from decades of the barbering

profession.

For information call (614) 837-8400.

ME DICARE A NNUAL

ELECTION P

Oct.

15 th

PERIOD (AEP)

Dec 7 th

Call today $0 consultatio

n $0

fee, local agent!

Over 16 years experience

with Medicare options

Offer

different major

carriers i n the area

Year- rou und support for my

clients

Call or text me today to

schedule yo

our appt.

Terri

Curcio

614-460-0601

in your area. Please contact Medicare

e.gov or 1-800-MEDICARE to get information on all of
---
www.columbusmessenger.com

pets of the week

November 27, 2022 - SOUTH & CANAL WINCHESTER MESSENGER - PAGE 11

Stache, 1, got his

name because he has

half a mustache. He is

friendly and loves to be

with other cats. He does

not like to be alone. He

enjoys hanging out with

the other cats in his foster

home. He will eat

treats from your hand.

Will your home be Stache's furever home?

Adopt this handsome guy from Friends for

Life Animal Haven.

FYI: fflah.org

Brutus was adopted

at 8 years old a year

ago from a shelter. He

had a great life this

past year but then his

owner suddenly died.

He is doing OK in his

foster home but he

really needs a permanent

home to live out his golden years. He is

healthy and happy, has some grey on his

muzzle, and still has spring in his step. Will

this handsome guy be your best buddy?

Brutus is neutered, microchipped, up to date

on vaccines, and housebroken. Adopt Brutus

from Colony Cats and Dogs.

FYI: colonycats.org

Audrey is a sweet 1-year-old tabby who

loves playing with other cats, people watching,

and twirling toys.

She is a little shy at first

and takes a bit to warm

up. She is looking for

someone who realizes

she is something special.

Come meet

Audrey at the Colony

Cats cage-free

Adoption Center.

FYI: colonycats.org

Persephone is a 5-

year-old cutie who

loves kisses, cuddles,

and playing with her

toys. She will greet

you with a toy in her

mouth and a wiggly

bum when you come

home. This smart girl

is crate trained, clicker

trained, and knows

many commands like sit, stay, down, dance,

and crawl. Persephone has been waiting a

year to find her forever family at the Franklin

County Dog Shelter and Adoption Center.

FYI: franklincountydogs.com

These furry friends are available

for adoption at local rescues and

shelters.

No matter where you are on life's journey,

you're welcome at

DAVID'S UNITED CHURCH OF CHRIST

80 W. Columbus St., Canal Winchester

614-837-7734 www.davidsucc.net

10 a.m.-Worship Service

10:15 a.m. - Sunday School

Dec. 2 & 3 - 6:00 to 9:00 p.m.

Join David's UCC during

CW Christmas in the Village

Free cookies and hot chocolate

Christmas Market - Sat. Only

Be a Part of Our Local Worship Guide

Our Worship Guide is geared toward celebrating faith and helping readers

connect with religious resources in our community. Make sure these readers

know how you can help with a presence in this very special section distributed to

more than 19,000 households in the South/Canal Winchester area.

Contact us today to secure your spot in our Worship Guide.

614.272.5422 • kathy@columbusmessenger.com

Canal Winchester

Messenger

Please visit a

Canal Winchester

Church of your choice.

List your Worship

Services here.

For info. call 614-272-5422

FALL IN LOV VE WITH

E

CHECK

KING

CHOI ICE

Telhio' elhio's Choic e Checking featur

es Early Deposit,

• ID Th heft Assistance

• Discounts at S

• Road dside Assistance • Cell Phone Pro

OPEN YOUR ACCOUNT TODAY AT TELHIO.

ORG $

Telhio is open to anyone who lives s, w orks, worships, or goes to school in Central and Southwest Ohio. Federally Insured b

y NCUA. EqualHousing Lender. Early Dir

ect Deposit

is free to all members. Enrollment is automatic and is available only to personal checking acc

ounts. You must contact us to opt out of this service. We cannot guarantee early

availability of any direct de posit you receive. Please see our Funds Availability Policy Disclosure for additional details. Membership eligibility requirements apply.

614-221-3233
---
PAGE 12 - SOUTH & CANAL WINCHESTER MESSENGER - November 27, 2022

Messenger

South & Canal Winchester

Canal Winchester

Messenger

BEST COMMUNITY NEWSPAPER in Canal Winchester

Pick-Up At These

Locations:

Walgreen's - Gender & Winchester Blvd.

BP Gas Station - Gender Rd. & Freeway

Aldi - Gender Rd. & Freeway (behind BP Station)

Kroger - Winchester Square

The Wigwam Restaurant - 4 South High St.

Marie Scramblers - 6402 Winchester Blvd.

Shade on the Canal - 19 South High St.

Canal Winchester Library - 115 Franklin St.

CW City Hall and Community Center – 45 E. Waterloo St.

Harvest Moon - 7 N. High St.

Rex Barber Shop - 1 W. Waterloo

Sunoco Gas Station - 501 W. Waterloo St.

Panera - 685 W. Waterloo St.

READ US ONLINE: www.columbusmessenger.com

Messenger

South

BEST COMMUNITY NEWSPAPER

Pick-Up At These

Locations:

Ponderosa Steak House - 3875 S. High St.

Turkey Hill - 3900 S. High St.

Dollar Tree - 3754 S. High St.

Speedway Gas Stattion - 3860 S. High St.

Columbus Library - High St. & Highview

CVS Pharmacy - High St. & Williams Rd.

Walgreen's - High St. & Williams Rd.

Kelly's Market - 3453 Parsons Ave.

K & M Market - 4305 Andy Groom Blvd.

Stoney's Market - 3517 Lockbourne Rd.

Kroger - S. High St.

READ US ONLINE: www.columbusmessenger.com

www.columbusmessenger.com

Dave Dobos

STATE REPRESENTATIVE

WE

WON!

That—and a healthy dose of disbelief—were

my initial exhilarating thoughts as the vote totals

became final on Election Night when you

selected me to be your choice for the Ohio

House of Representatives 10th District! The

20,000+ doors we knocked, the 500+ yard

signs placed in front of voters' homes, the

countless time spent at public events, parades,

and candidates' forums all contributed

to, what for me appeared to be, a stunning

victory.

To each of you who answered a door, who allowed

me or a campaign volunteer to interrupt

your day, I thank you! To each of you who

voted—whether for me or my opponent—I

say thank you! This entire process is distinctly

American and, win or lose, emphasizes the

blessings we all enjoy here in the United

States.

Now…the real work begins. During the campaign,

I promised to concentrate on the quality-of-life

issues about which we all care:

economic growth, workforce development,

and excellent academic education for our children.

In the weeks since, I have begun preparing

for the tasks ahead. I have (and will

continue to) meet with community leaders

and members to help me understand issues

and priorities. I have attended the new Ohio

House member orientation to help me begin

to learn systems, processes, and supports that

exist within our legislative organizational

structure. I have met with House leadership

to communicate how my experiences can

translate into committee assignments that

emphasize my strengths. And I am hiring a

legislative aide who will help me be as responsive

as possible to constituent requests and

get prepared for the daily work required. I

want to hit the ground running—to the degree

it is possible—when I am sworn in on

January 3rd.

I will report to you regularly via this column

about the work my colleagues and I do in the

legislature. I will write about the legislative

process and my experiences inside it. My intent

here is to be informative and helpful, not

partisan. When I am sworn in, I will publish

my office contact information. I invite you to

reach out anytime to me about any concern,

point of view, or request.

It is an awesome responsibility with which

you have entrusted me. It is a privilege to

serve you in this capacity and to be in a position

to make a difference for each of us. I

promise to do my best to represent our communities

in a responsible, responsive, and effective

manner and to advocate for all of us in

the Ohio House of Representatives.

Paid Advertisement
---
www.columbusmessenger.com

November 27, 2022 - SOUTH/CANAL WINCHESTER MESSENGER - PAGE 13

CLASSIFIED ADS

Deadlines: Grove City, Groveport & All editions - Mondays at Noon.

West, Canal Winchester, South & Madison editions -Tuesdays at 5 p.m.

xCraft Shows

HTHS Rangers Marching Band

Jack Frost Winter Bazaar

"One Stop Christmas Shopping"

"One Stop Christmas Shopping"

Saturday, Dec. 3rd 9am-3pm

Dec 4th

Hamilton Intermediate School

Hamilton Intermediate School

765 Rathmell Rd., Columbus, 43207

765 Rathmell Rd., Columbus 43207

Over 80 Vendors & Several Community Partners

Over Food, 60 Raffle vendors, & Music Mr. provided & Mrs. by Claus, HTHS Band Food,

Raffle and multiple Community Partners.

Admission: $1 Per Adult FREE - Students/Children

ASSOCIATION ADS

Attention Homeowners! If

you have water damage

and need cleanup

services, call us! We'll get

in & work with your

insurance agency to get

your home repaired and

your life back to normwl

ASAP! 855-767-7031

Safe Step. North

America's #1 Walk-in Tub.

Compreshensive lifetime

warranty. Top-of-the-line

installation and service.

Now featuring our FREE

shower package & $1600

off for a limited time!

Financing available. 1-

855-417-1306

Stroke & Cardiovascular

disease are leading

causes of death according

the American Heart

Association. Screenings

can provide peace of mind

or early detection! Call

Life Line Screening to

schedule your screening.

Special offer - 5

screenings for $149. 1-

866-518-8391

Become a Published

Author. We want to Read

Your Book! Dorrance

Publishing - Trusted by

Authors Since 1920

Book manuscript submissions

currently being reviewed.

Comprehensive Services:

Consultation, Production,

Promotion and Distribution. Call

for Your Free Author's Guide 1-

866-482-1576 or visit

dorranceinfo.com/macnet

ASSOCIATION ADS

Wesley Financial Group,

LLC Timeshare Cancellation

Experts Over

$50,000,000 in timeshare

debt & fees cancelled in

2019. Get free

informational package &

learn how to get rid of

your timeshare! Free

consultations. Over 450

positive reviews. 888-965-

0363

Replace your roof with the

best lookng and longest

lasting material -- Steel

from Erie Metal Roofs!

Three styles and multiple

colors available.

Guaranteed to last a

lifetime! Limited Time

Offer - $500 Discount +

Additional 10% off install

(for military, health

workers & 1st responders)

Call Erie Metal Roofs: 1-

855-338-4807

The bathroom of your

dreams for as little as

$149/month! BCI Bath &

Shower. Many options

available. Quality

materials & professional

installation. Senior &

Military Discounts

Available. Limited Time

Offer - FREE virtual inhome

consultation now

and SAVE 15%! Call

Today! 1-877-540-2780

DENTAL INSURANCE

from Physicians Mutual

Insurance Company.

Coverage for 350 plus

procedures. Real dental

insurance - NOT just a

discount plan. Do not wait!

Call now! Get your FREE

Dental Information Kit with

all the details! 1-877-553-

1891

www.dental50plus.com/

macnet#6258

CRAFT SHOWS

ANNUAL CRAFT BAZAAR

Asbury UM Church South

4760 Winchester Pike

Columbus, OH 43232

Dec. 3, 2022

9:00 am - 3:00 pm

Craft Shows

ASSOCIATION ADS

Become a Published

Author. We want to Read

Your Book! Dorrance

Publishing Trusted Since

1920 Consultation,

Production, Promotion &

Distribution. Call for Free

Author's Guide 1-877-729-

4998 or visit

dorranceinfo.com/ads

VIAGRA and CIALIS

USERS! 50 Generic pills

SPECIAL $99.00. 100%

guaranteed. 24/7 CALL

NOW! 888-445-5928

Hablamos Espanol

Directv Stream - Carries

the Most Local MLB

Games! CHOICE

Package, $89.99/mo for

12 months. Stream on 20

devices in your home at

once. HBOMax included

for 3 mos (w/CHOICE

Package or higher.) No

annual contract, no hidden

fees! Some restrictions

apply. Call IVS 1-866-629-

6086

FREE $10 Cash App

Everyone! Yes It's Real.

Very Limited supply until

we run out! Text "Real

Cash" to 706-761-1745

WANTED!

MOTORCYCLES!

ANTIQUE AND CLASSIC.

Honda, Kawasaki, Suzuki,

Yamaha, Triumph, BSA

and other foreign models.

$$PAYING CA$H$$

717-577-8206

KRMiller1965@yahoo.com

ADVERTISE

Your Holiday Craft Show

Bazaar or Bake Sale!

ASSOCIATION ADS

BUYING CLASSIC CARS,

TRUCKS, SUVs

**American and Foreign**

Any Condition. Buying

entire car collections.

$$PAYING CA$H$$

Please call 717-577-8206

KRMiller1965@yahoo.com

Put on your TVEars &

hear TV w/unmatched

clarity. TVEars Originaloriginally

$129.95 - now

w/this special offer only

$59.95 w/code MCB59! 1-

888-805-0840

MobileHelp, America's

premier mobile medical

alert system. Whether

you're home or away. For

safety & peace of mind.

No long term contracts!

Free brochure! 1-888-489-

3936

HughesNet - Finally, superfast

internet no matter

where you live. 25 Mbps

just $59.99/mo! Unlimited

Data is Here. Stream

Video. Bundle TV &

Internet. Free Installation.

Call 866-499-0141

Don't let the stairs limit

your mobility! Discover

the ideal solution for

anyone who struggles on

the stairs, is concerned

about a fall or wants to

regain access to their

entire home. Call

AmeriGlide today! 1-844-

317-5246

Safe Step. North

America's #1 Walk-in Tub.

Compreshensive lifetime

warranty. Top-of-the-line

installation and service.

Now featuring our FREE

shower package & $1600

off for a limited time! Call

today! Financing

available. Call Safe Step

1-833-356-1954

Call Kathy

272-5422

For More Info

ASSOCIATION ADS

Prepare for power outages

today with a GENERAC

home standby generator.

$0 Money Down + Low

Monthly Payment Options.

Request a FREEQuote--

Call now before the next

power outage. 1-855-465-

7624

MILITARY FAMILIES:

WERE YOU AT CAMP

LEGEUNE between 1953

and 1987? You may have

been exposed to

contanminated drinking

water causing cancer and

death. Call 1-800-535-5727

Internet &WIFI Starts at

$49 Call us Today to Get

Started. Find High-Speed

Internet with Fiber Optic

Technology No Credit

Check, No SSN Required.

Call us Today 866-396-

0515

Free high speed internet if

qualified. Govt. pgm for

recipients of select pgms

incl. Medicaid, SNAP

Housing Assistance, WIC,

Veterans Pension,

Survivor Benefits, Lifeline,

Tribal. 15 GB Internet.

Android tablet free w/onetime

$20 copay. Free

shipping. Call Maxsip

Telecom! 1-833-758-3892

Protect your home from

pests safely and

affordablly. Pest, rodent,

termite and mosquito

control. Call for a quote or

inspection today 844-394-

9278

Paying top cash for men's

sportwatches! Rolex,

Breitling, Omega, Patek

Pillippe, Heuer, Daytona,

GMT, Submariner and

Speedmaster. Call 833-

603-3236

xLegal Notice

PUBLISHED LEGAL NOTICE TO CHASKA STEWART

State of Indiana, In the Noble County Superior Court 1

In Re: The Marriage of Tracy Stewart and Chaska Stewart

Case No. 57D01-2207-DC-32

Chaska Stewart is hereby notified that July 1, 2022, Petitioner-Tracy

Stewart filed a Petition for Dissolution of her Marriage from Chaska

Stewart in the office of the Clerk of Noble County, 1, located 101 N. Orange

Street, Albion, IN 46701.

Petitioner has also filed a praecipe for summons and service by publication

along with supporting affidavit showing that diligent search has

been made and that Chaska Stewart cannot be located.

A written answer or response to the petition must be served by you or

your attorney within thirty (30 days after the last date of publication of

this notice, or a judgment by default may be entered against you for

what has been demanded in the petition.

If Chaska Stewart does not file a response to the petition within (30 days

after the last date of publication of this notice, then the above-named

court will hear and determine the petition for dissolution of marriage

and the relief for which the petitioner has prayed will be granted.

Nothing anyone says to Chaska Stewart relieves him of his obligations

under this notice.

This notice does not exhaustively set for the legal obligations under the

Indiana statues. A person being served with this notice of publication

should consult the Indiana statues.

Clerk of the Superior Court 1, Noble County, IN

By: /s/ Dana M. Smith

Dana M. Smith, Atty #22583-44

Attorney for Petitioner

Emerick, Diggins & Zabona

208 S. Main Street, Kendallville, IN 46755

Ph: 260-347-1050

ASSOCIATION ADS

Vivint Smart Security.

Professionally installed.

One connected system for

total peace of mind. FREE

professional installation!

Four FREE months of

monitoring! Call now to

customize your system. 1-

855-870-2073

Switch and save up to

$250/yr on talk, text &

data. No contract or

hidden fees. Unlimited talk

& text with flexible data

plans.

Premium

nationwide coverage.

100% U.S. based

customer service. Limited

time get $50 off any new

account. Use code

GIFT50. 1-855-903-3048

Legal Notice

ASSOCIATION ADS

Donate Your Car To

Veterans Today! Help and

Support our Veterans.

Fast - FREE pick up.

100% tax deductible. Call

1-800-245-0398

!!OLD GUITARS WANT-

ED!! GIBSON, FENDER,

MARTIN, Etc. 1930's to

1980's. TOP DOLLAR

PAID. CALL TOLL FREE

1-866-433-8277

ASSOCIATION ADS

Are you receiving

SSDI/SSI Benefits? You

may be eligible for

additional benefits. CALL

US TODAY Citizen

Disability 1-888-490-6616

NEED IRS RELIEF

$10K-$125K+ Get Fresh

Start or Forgiveness.

Call 1-877-705-1472

Monday through Friday

7am-5pm PST

Elminate gutter cleaning

forever! LeafFilter, the most

advanced debris-blocking

gutter protection.

Schedule Free LeafFilter

Estimate today. 20% off

Entire Purchase. 10%

Senior & Military Discounts.

Call 1-833-610-1936
---
PAGE 14 - SOUTH/CANAL WINCHESTER MESSENGER - November 27, 2022

www.colulmbusmessenger.com

xEmployment

ASSOCIATION ADS

GREENLAWN RV

Lockbourne, OH

RV TECHNICIAN NEEDED!

No Prior Experience Necessary

We Will Train!

Immediate Start - Full Time Position

Contact Toby Boetcher

at

(740) 983-0149

ASSOCIATION ADS

Switch and save up to

$250/yr on talk, text & data.

No contract or hidden fees.

Unlimited talk & text with

flexible data plans.

Premium nationwide

coverage. 100% U.S.

based customer service.

Limited time offer - get $50

off any new account. Use

code GIFT50. For more

information1-888-684-1169

DIAGNOSED WITH

LUNG CANCER? You

may quliafy for a

substantial cash award -

even with smoking history.

NO obligation! We've

recovered millions. Let us

help!! Call 24/7, 1-888-

650-9135

ASSOCIATION ADS

Vivint Smart Security.

Professionally installed.

One connected system for

total peace of mind. Free

professional installation!

Four free moNths of

monitoring! Call to

customize your system. 1-

833-841-0737

Eliminate gutter cleaning

forever! LeafFilter, the

most advanced debrisblocking

gutter protection.

Schedule a FREE

LeafFilter estimate today.

20% off Entire Purchase.

Plus 10% Senior & Military

Discounts. Call 1-855-

791-1626

IMPORTANT

NOTICE

The following states: CA,

CT, FL, IA, IL, IN, KY,

LA, MD, ME, MI, MN,

NE, NC, NH, OH, OK,

SC, SD, TX, VT and WA

requires seller of certain

business opportunities to

register with each state

before selling. Call to

verify lawful registration

before you buy.

AT&T Internet. Starting at

$40/month w/12-mo agmt.

1 TB of data/mo. Ask how

to bundle & SAVE! Geo &

svc restrictions apply. 1-

855-364-3948

SELL YOUR ANTIQUE

OR CLASSIC CAR.

Advertise with us. You

choose where you want

to advertise. 800-450-

6631 visit macnetonline.

com for details.

The Generac PWRcell, a

solar plus battery storage

system. SAVE money,

reduce your reliance on

the grid, prepare for power

outages and power

your home. Full installation

services available. $0

Down Financing Option.

Request a FREE, no obligation,

quote today. Call

1-866-783-0292

DISH TV $64.99 FOR 190

Channels + $14.95 High

Speed Internet. Free Installation,

Smart HD DVR

Included, Free Voice Remote.

Some restrictions

apply. Promo expires

1/21/23. 1-866-479-1516

Thinking about installing

a new shower? American

Standard makes it

easy. FREE design consulation.

Enjoy your

shower again! Call 1-

833-769-0995 today to

see how you can save

$1,000 on installation, or

visit www.newshowerdeal.com/mac

Attention oxygen therapy

users! Inogen One G4 is

capable of full 24/7 oxygen

delivery. Only 2.8

pounds. Free info kit.

Call 877-929-9587

Dental Insurance -

Physicians Mutual Insurance

Comopany. Covers 350

procedures/ Real insurance -

not a discount plan. Get your

free dental info kit! 1-855-

.526-1060 www/dental50

plus.com/ads #6258

Looking for auto insurance?

Find great deals

on the right auto insurance

to suit your needs.

Call today for a free

quote! 866-924-2397

Employment

ASSOCIATION ADS

Prepare for power

outages today with a

GENERAC home standby

generator. $0 Down + Low

Monthly Pmt. Request a

free Quote. Call before the

next power outage: 1-855-

948-6176

BATH & SHOWER UP-

DATES in as little as

ONE DAY! Affordable

prices - No payments for

18 months! Lifetime warranty

& professional installs.

Senior & Military

Discounts available. Call

855-761-1725

READY TO BUY, SELL

OR RENT YOUR

VACATION HOME OR

HUNTING CAMP?

Advertise it here and in

neighboring publications.

We can help you. Contact

MACnet MEDIA @

800-450-6631 or visit our

site at MACnetOnline.

com

EARN EXTRA

$$ $$

HOLIDAY MONEY

The Advertising Department at the

Columbus Messenger Newspapers

is seeking a

Helper for the Sales Department.

No Experience Necessary

Duties include: Set Appointments,

Make Calls, Run Errands, etc.

Salary plus auto allowance.

Seniors welcome to apply.

Please send your resume to:

Doug Henry, Advertising Manager

Columbus Messenger Newspapers

3500 Sullivant Ave.,Columbus, Ohio 43204

or e-mail to doughenry@columbusmessenger.com

ASSOCIATION ADS

DISH TV $64.99 for 190

Channels + $14.95 high

speed internet. FREE installation,

Smart HD DVR

included. Free Voice Remote.

Some Restrictions

apply. Promo Expires

1/21/23. 1-866-590-5561

ASSOCIATION ADS

Want Faster & Affordable

Internet? Get internet

service today with

Earthlink. Best internet &

WiFi Plans. Call us Today

to Get Started. Ask

about our specials! 866-

396-0515
---
www.columbusmessenger.com

xCome & Get It!

INFORMATION

November 27, 2022 - SOUTH/CANAL WINCHESTER MESSENGER - PAGE 15

xClassified Services

COME AND GET IT!

Need to Get Rid of Something Fast - Advertise It Here For FREE!

Deadlines are Mondays by Noon

Call For Publication Schedule 614-272-5422

FREE Garden Straw for gardens or bedding. Call for appointment for pickup.

Circle S Farms, 9015 London-Groveport Road, Grove City, 43123

Grove City - 614-878-7980

FREE - Metal from old camper frame, Need a truck to pickup..

CC - Obetz - 614-632-1013

FREE - Children's Wooden Play Set - Good Condition w/Sand Box under it, Step Ladder up

Slide to go down & a rope swing. Also separate Swing Set w/4 swings.

190 Inah Ave., Cols, 43228 near the Fire Dept.

West Columbus - 614-878-1930, ask for Linda

FREE - Pipe for wood burning stove, appr. 20' plus misc. parts; 10 wood window

sashes, various sizes; Frames for real estate signs, varios sizes;

One gallon plastic gas containers.

West Columbus - 614-570-5372, ask for David

FREE - Firewood - All you want! U cut U Haul. Text me if you want it.

Obetz - 614-519-7986

Come and Get It! is a bi-weekly column that offers readers an opportunity to pass

along surplus building materials, furniture, electronic equipment, crafts, supplies,

appliances, plants or household goods to anybody who will come and get them - as

long as they're FREE. NO PETS! Just send us a brief note describing what you want to

get rid of, along with your name, address and phone number. Nonprofit organizations

are welcome to submit requests for donations of items.

Send information to The Columbus Messenger, Attention: Come and Get It, 3500

Sullivant Ave., Columbus, OH43204. Deadline is Mondays at NOON for following

Sunday's publication. Messenger Newspapers is not responsible for any complications

that may occur. Please contact us when items are gone. 272-5422

Come & Get It!

xFocus on Rentals

WANT TO RENT THAT APARTMENT

BEFORE THE SNOW FLIES?

Advertise It!!

CALL KATHY

For Rate Information

at the Columbus Messenger

614-272-5422

ASSOCIATION ADS

Protect your home w/home

security monitored by

ADT. Starting at $27.99/

mo. Get free equipment

bundle including keypad,

motion sensor, wireless

door & windows sensors.

833-719-1073

Attention Viagra users:

Generic 100 mg blue pills

or generic 20 mg yellow

pills. Get 45 plus 5 free +

S/H. Call Today 1-877-

707-5518

Rentals

ASSOCIATION ADS

The Generac PWRcell

solar plus battery storage

system. Save money,

reduce reliance on

grid, prepare for outages

& power your home. Full

installation services. $0

down financing option.

Request free no obligation

quote. Call 1-877-

539-0299

ASSOCIATION ADS

NEED IRS RELIEF

$10K-$125K+ Get Fresh

Start or Forgiveness.

Call 1-844-431-4716

Monday through Friday

7am-5pm PST

READER

ADVISORY

The National Trade Association

we belong to has

purchased the following

classifieds. Determining

the value of their service

or product is advised by

this publication. In order

to avoid misunderstandings,

some advertisers do

not offer "employment"

but rather supply the

readers with manuals, directories

and other materials

designed to help

their clients establish mail

order selling and other

businesses at home. Under

NO circumstance

should you send any

money in advance or give

the client your checking,

license ID or credit card

numbers. Also beware of

ads that claim to guarantee

loans regardless of

credit and note that if a

credit repair company

does business only over

the phone it's illegal to request

any money before

delivering its service. All

funds are based in US

dollars. Toll Free numbers

may or may not

reach Canada. Please

check with the Better

Business Bureau 614-

486-6336 or the Ohio Attorney

General's Consumer

Protection Section

614-466-4986 for more

information on the company

you are seeking to

do business with.

See...

You Looked!

Newspaper

Ads Catch

The Eye!

Call

272-5422

For Info. &

Pricing

INSURANCE

Medicare New Benefit

Medicare-Zero Premium

Free Doctor visit, free ride,

free food card, free

prescrptions.614-805-1084

HELP WANTED

Licensed Barber Needed

to take over for retiring

barber. Full or Parttime.

located in Great Southern

Shopping Center. Call

Cindy for more info

614-239-1976

Kings Kids Daycare

in Grove City is hiring Fun,

Loving Teachers for PT &

FT shifts. Please email

sarragc@outlook.com or

call 614-539-0349

WANT TO BUY

We Buy Cars & Trucks

$300-$3000.614-308-2626

ANTIQUES

WANTED

Victrolas, Watches,

Clocks, Bookcases

Antiques, Furn.

Jeff 614-262-0676

or 614-783-2629

WE BUY JUNK CARS

Call anytime 614-774-6797

We Buy Junk Cars &

Trucks. Highest Prices

Paid. 614-395-8775

MISC. FOR

SALE

HP PRINTER

CARTRIDGES FOR SALE

HP 901 Color Cartridges (3);

HP 901XL and 901 Color

Multi Pack (1);

HP 901XL Black(1).

$15.00 each.

Columbus Messenger,

3500 Sullivant Ave.

Call Office 614-272-5422

BUSINESS

OPPORTUNITY

Snow Removal

Accounts Available

in Canal Winchester

Price Negotiable

email for more info

SYNeeds@mail.com

11/20 e/se

CARPET CLEANING

CARPET CLEANING

Any 5 areas ONLY $75

614-805-1084

Specializing in Pet Odors

CARPET SALES

CARPET

Gray Saxony

270 sq.ft. w/6 lb Pad

$398.00

Other Carpet AvailableA

Phone or text Ray

740-927-3504

Delivery & Inst. avail.

CLEANING

Looking for Mrs. Clean?

For excellent cleaning serv

at reas. rates w/great refs,

dependable. 10% Seniorr

Disc. Also does Painting. Free

Est. Gwen 614-226-5229

DEEP CLEANING &

WALL WASHING

Call Judy 614-746-0273

CONCRETE

ALL-CITY CUSTOM

CONCRETE

All Types Concrete Work

New or Tear Out-Replace

40 Yrs. Exp.

(614) 207-5430

Owner is On The Job!

AJ's Concrete,

Masonry

Good Work - Fair Prices

Block Foundations

Driveways • Sidewalks

Epoxy/Overlay Floors

Bonded-Ins. • Free Ests.

614-419-9932

www.hastingsnsons.com

Driveways & Extensions

Patio & Walkways,

Porches & Steps,

Garage/Basement Floors

Hot Tub/Shed Pads,

Stamped/colored concrete

Sealing of new &

existing concrete.

FREE ESTIMATES

Contact Adam

614-756-1754

hastingsandsons.

columbus@gmail.com

INFORMATION

11/20 e/se

12/18 A

GUTTERS

Bates & Sons

GUTTER CLEANING

5 ★ Google Reviews

614-586-3417

HEATING & COOLING

HVAC

HEATING & A/C

Fast Service - Licensed

614-633-9694

HOME

IMPROVEMENT

CandC

Handyman Services LLC

"See The Difference"

l

614-378-7469

12/18

Remodels, A

Water Heaters,

Plumbing, Fence,

Sidewalks, Decks

& Electrical Work

SINCE 1973

Phil Bolon Contr.

Windows & Siding

Decks, Kitchens, Baths

Room Additions,

Flooring, Roofing

Bsmt Waterproofing

Deal With Small Non-Pressure Co.

47 Yrs. Exp. - Refs. Avail.

Lic.-Bond-Ins.

Free Est. - Financing Avail.

Member BBB Of Cent. OH

O.C.I.E.B. ID #24273

614-419-3977

or 614-863-9912

INFORMATION

12/18

A/M

C&JHandyman

Services LLC

Minor Plumbing & Electric

Install Hot Water Tanks,

Dishwashers & Disposals

All Interior Remodels

Also Fencing &

Interior/Exterior Painting

Free Est. ~ 18 Yrs. Exp.

CDC/EPA Approved Guidelines

614-284-2100

LOOK TO

THE PROFESSIONALS

IN OUR

SERVICE DIRECTORY

For Service

"That Is Out Of This World"

12/4 A

HOME

IMPROVEMENTS

KLAUSMAN HOME

IMPROVEMENT

Siding-Windows-

Doors-Roofing-Soffit-

Fascia-Gutters-Trim

Earn FREE Seamless

Gutters with Siding Over

1000 Sq. Ft.

FREE Shutters with

Soffit & Trim

EPA Certified

Member of BBB

Financing Available

Over 20 yrs exp. • Free Est.

Licensed-Bonded-Insured

Owner & Operator

James 614-419-7500

HOME

MAINTENANCE

HANDYMAN SERVICES

614-235-1819

HOME

REMODELING

Charlies Handyman

Service

Over 40 yrs. exp.

Hot Water Tanks

Door Locks

Kitchen/Bath Remodels

Roofmg * Siding

Porches & Decks

614-319-6010

blantoncharles894@gmail.com

MultiCraft Const.

& Handyman Services

All Types Handyman Services:

Decks, Fences

Kitchen/Baths

Window/doors installed

Interior Painting

Drywall Repairs

All Types of Flooring

Call/Text 614-774-2923

multicraftconstruction@gmail.com

LAWN CARE

LET US MAINTAIN

YOUR LAWN & GARDEN

FOR YOU

Summer, Spring,

Winter or Fall

WE DO IT ALL!!!!

Lawn Cuts, Edging,

Trees & Shrubs, Garden,

Mulching, Hauling,

Garden Pond &

Home Maint.

Free Ests. Low Rates

$20 & Up

Kevin - 614-905-3117

PLASTERING

DRYW

YWALL &

PLASTER

12/18

A&M

REPAIR

Textured Ceilings

614-551-6963

Residential/Commercial

BIA

Classified Services

12/4 A

12/18 A

PAINTING

Painter Over 30 Yrs. Exp.

Free Est. Reas. Rates

Daniel - 614-226-4221

PLUMBING

MYERS

PLUMBING

Exp. Expert Plumbing

New Const. & Fast Repairs

Lic. - Permit Available

Water • Sewer • Gas

614-633-9694

All About Drains & Plumb.

Will snake any small drain

$145. 614-778-2584

CHRIS'

PLUMBING

"Plumbing & Drain Professional

That You Can Count On"

24 Hrs., 7 Days/Week

No Overtime Charges

24 Yrs. Exp. in Plumbing &

Drain Cleaning Field

Call For A Free Phone Estimate

$100.00 For Any Small Drain

614-622-4482

30% OFF with AD

POOL/SPA

MAINTENANCE

K&L Spa Cleaning

Hot Tub Cleaning and

Weekly Maintenance

Keith 614-316-9809

POWER WASHING

Bates & Sons

Soft Wash & Powerwash

5 ★ Google Reviews

614-586-3417

SEWING MACHINE

REPAIR

REPAIR all makes 24 hr.

service. Clean, oil, adjust

in your home. $49.95 all

work gtd. 614-890-5296

SNOW REMOVAL

GOOD NEIGHBORS

SNOW REMOVAL

SNOW & SALT SERVICE

PLOWING

• Driveways

• Sidewalks

• Parking Lots

WE ALSO DO CHURCHES

Cell-614-937-0658

614-238-9237

Ask For Bob 12/18

E/SE

TREE SERVICES

Warren Brewer Tree Service

• Tree Removal

• Tree Trimming 9/11

A&M

• Stump Grinding

• Bucket Truck Services

Best Prices • Same Day Service

614-878-2568

BURNS TREE SERVICE

Trimming, Removal &

Stump Grinding.

614-584-2164

12/4 A&M

12/4 A
---
Kelly'sMarket11.28.22.qxp_Layout 1 11/22/22 17:28 Page 1

PAGE 16 - SOUTH & CANAL WINCHESTER MESSENGER - November 27, 2022

FRES RESH

LESSER QUANTITIES

QUALITY ME

EATS ATS...

ONL

NLY!

LB.

$ 3 49

CENTER CUT BONE-IN N

PORK CHOPS

3453 Parsons Av

ve

614-491-4221

Open Daily 8:30 am – 9:00 pm

ONL NLY!

$

3 99

LB.

LESSER QUANTITIES

U.S.D.A.

CHOICE

Top

Qual

lity

O

C

FOR

ER OCE

HOOD GR

ORH

R

EIGHB

ONLY NLY!

I

YE

YEA

Y

YOUR

NE

N

ARS •

R

LIKE US ON

FACEBOOK AT

"KELLY LYS MARKET

"

$

4 99

LB.

YOU UR

NEIGHBORHOO

HOOD

GROCE ER

SERVIN

NG

THE

SOUTH HS

SID

DE

FOR

78

YEARS

S!

LESSER QUANTITIES

Alway

ys Av

vailable:

Check Cas

shing

Food Stamps • WIC • Money Orders

All Ohio Lottery Games

Utility Payments •

Post

tage Stamps

ONLY NLY!

LB.

$

2 99

LESSER QUANTITIES

www.columbusmessenger.com

ONLY NLY!

$ 99

LB. 3

10 0-

-LB.

PA

ACK

KA

AGE

G FRES

ROUND

H

BEEF

$

29 90

EA.

10-LB.

PA

ACK

KAGE

$ A FRES

SSORT

H

TED

PORK CHO

PS

$ 27 90

EA.

$ 44 90

10-LB.

PA

ACK

KA

AGE

10-

-L

LB.

PA

ACK

KAGE

USD DA

CHOI

ICE

BEE

EF

SL

ICE ED

POR

RK

STE

EAKS

OR

BONELESS

ENGLIS SH ROAST

EA.

P WI WESTERN STYLE

ORK RIBS

$ 26 90

EA.

5-LB.

PA

ACK

KAGE

CENTER CUT

BONELESS

PORK CHOPS

$ 14 95

EA.

U.S.D.A.

CHOICE

Top

Quali

ity

USD DA

CHO OICE

BEEF

BONELESS

NEW YORK $

11 99

1

B 2-OZ

AR-S

.

STRIP STEAK

LB.

$

3 99

SLICED BACON

EA.

GROCE ROCER ERY SPECIALS

S...

S

5

H -LB.

BAG

UDSON C REAM

FLOUR

HALF LITER BTLS.

24-PA

SUGARDALE

HAM

STEAK

DRINKING

P ACK N

WA

IAGAR

AT

E

A

2 7

$ 3 99 2

/$

7

16-OZ.

ZESTA

TA SA

ALT

TINES

2

/ $ 6

7 .25-OZ.

ORIGIN

INAL ONLY

KRAFT MAC N' C

H EESE

2/ $ 3

10.5-OZ. CHICKEN OR MUSHROOM

CAMPBELL' L'S

CREAM SOUPS

2/ $ 3 4

H 8-OZ

Y-

-TOP .

VEGETA

ABLE OIL

FR

RESH

HPROD DU

UCE.

..

Y 5-LB.

ED

O

BA

R

G

RE

UKON

P

G

YUKO

OTA

OLD

AT

TOES

P FRESH

ERUVIAN

SW

WEET

ONIONS

$ 399

9

EA.

9

$

3 99 9

P

9 REMI

U

IFORNIA

M

O N CA

R

AV

LIFORNI

A E

NGES

L

9 ¢

LB.

P

B I

LUE

NT

B

6

B

-OZ.

$ 3 99

LB.

CENTER CU

K 5-

-L

R T LB . B.

B

ROL

L

6-OZ. CHICKEN

ST

TUFFIN

G MIX

5

OR TURKEY LIF FE

EVE

ERYD

DAY GOODODDS

/ $

5

14.5-15.25-OZ.

. COR

RN

OR GREE EN

BEANS

HY-

-TOP

VEGETA

ABLES

2 89 ¢

U

ERRIES OR

OR LA

RA

CKBERRIES

ASPBERRIES

79 ¢

EA.

$

2 99

BO

LOGNA

.

2

H 24-OZ.

CHOCOLAT

TE

2S ERSHEY'S SYRUP

2/ $ 6

9T S 5-OZ.

ALT

HY-

-TO

& OP

PEPPER SHAKERS

$ 9 99

9

EA.

$

5 2-LB.

VERNON PA

ACKAGE

MANOR 99

PEPPERONI

EA.

E

7.5-8-OZ.

ALL FLAV

VORS

P

CONN'

OTAT

S

TO CH I P S

2 /$

6

N7 6

/8

DEL

ELI LIFR F

RE ESH SH.

H ..

ALL MEAT OR GA

ARL

LIC

DELI

FRESH

ECKRICH

BOLOGNA

COLBY OR

COLBY JACK

CHEESE

99 ¢

$ 5 99

LB.

$ 699

LB.

8.4-OZ. CANS

RED BUL

L

2/ $ 4

64-OZ.

ORIGIN

INAL OR SMOOTH

SUNNY D CITRUS PUNCH

2/ $ 3

$ 6 99

DELI

FRESH

CAR

ARO

LINA

TURKE

BREAS

Y

T

LB.

DELI

LK STYL

M

UL

FRES

Y P

H

BU

R E EMIER

Prices Effectivee

Monday, November 28 thru Saturday, December 10, 2022 • Quantity Rights Reserved

• We Reserve the

Right to Correct Pricing Errors.

D ELI FRESH

SA

P

ALA

OTA

AD

AT

O

$

2 99

LB.