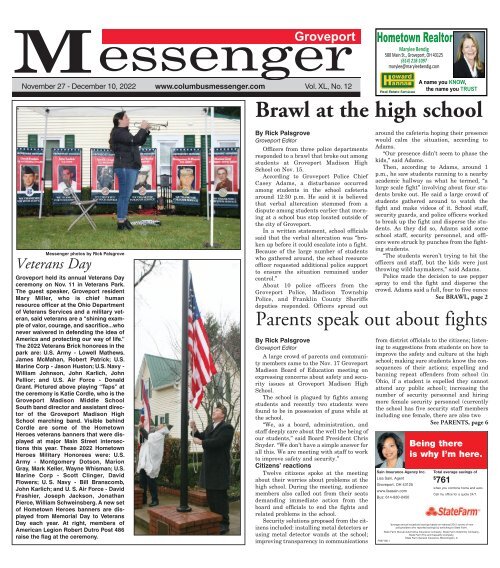 Groveport Messenger - November 27th, 2022
You also want an ePaper? Increase the reach of your titles
YUMPU automatically turns print PDFs into web optimized ePapers that Google loves.
Messenger

Groveport

November 27 - December 10, 2022 www.columbusmessenger.com Vol. XL, No. 12

Hometown Realtor

Marylee Bendig

580 Main St., Groveport, OH 43125

(614) 218-1097

marylee@maryleebendig.com

A name you KNOW,

the name you TRUST

Brawl at the high school

Messenger photos by Rick Palsgrove

Veterans Day

Groveport held its annual Veterans Day

ceremony on Nov. 11 in Veterans Park.

The guest speaker, Groveport resident

Mary Miller, who is chief human

resource officer at the Ohio Department

of Veterans Services and a military veteran,

said veterans are a "shining example

of valor, courage, and sacrifice...who

never waivered in defending the idea of

America and protecting our way of life."

The 2022 Veterans Brick honorees in the

park are: U.S. Army - Lowell Mathews.

James McMahan, Robert Patrick; U.S.

Marine Corp - Jason Huston; U.S. Navy -

William Johnson, John Karlich, John

Pellior; and U.S. Air Force - Donald

Grant. Pictured above playing "Taps" at

the ceremony is Katie Cordle, who is the

Groveport Madison Middle School

South band director and assistant director

of the Groveport Madison High

School marching band. Visible behind

Cordle are some of the Hometown

Heroes veterans banners that were displayed

at major Main Street intersections

this year. These 2022 Hometown

Heroes Military Honorees were: U.S.

Army - Montgomery Dotson, Marion

Gray, Mark Keller, Wayne Whisman; U.S.

Marine Corp - Scott Clinger, David

Flowers; U. S. Navy - Bill Branscomb,

John Karlich; and U. S. Air Force - David

Frashier, Joseph Jackson, Jonathan

Pierce, William Schweinsberg. A new set

of Hometown Heroes banners are displayed

from Memorial Day to Veterans

Day each year. At right, members of

American Legion Robert Dutro Post 486

raise the flag at the ceremony.

By Rick Palsgrove

Groveport Editor

Officers from three police departments

responded to a brawl that broke out among

students at Groveport Madison High

School on Nov. 15.

According to Groveport Police Chief

Casey Adams, a disturbance occurred

among students in the school cafeteria

around 12:30 p.m. He said it is believed

that verbal altercation stemmed from a

dispute among students earlier that morning

at a school bus stop located outside of

the city of Groveport.

In a written statement, school officials

said that the verbal altercation was "broken

up before it could escalate into a fight.

Because of the large number of students

who gathered around, the school resource

officer requested additional police support

to ensure the situation remained under

control."

About 10 police officers from the

Groveport Police, Madison Township

Police, and Franklin County Sheriffs

deputies responded. Officers spread out

around the cafeteria hoping their presence

would calm the situation, according to

Adams.

"Our presence didn't seem to phase the

kids," said Adams.

Then, according to Adams, around 1

p.m., he saw students running to a nearby

academic hallway as what he termed, "a

large scale fight" involving about four students

broke out. He said a large crowd of

students gathered around to watch the

fight and make videos of it. School staff,

security guards, and police officers worked

to break up the fight and disperse the students.

As they did so, Adams said some

school staff, security personnel, and officers

were struck by punches from the fighting

students.

"The students weren't trying to hit the

officers and staff, but the kids were just

throwing wild haymakers," said Adams.

Police made the decision to use pepper

spray to end the fight and disperse the

crowd. Adams said a full, four to five ounce

See BRAWL, page 2

Parents speak out about fights

By Rick Palsgrove

Groveport Editor

A large crowd of parents and community

members came to the Nov. 17 Groveport

Madison Board of Education meeting on

expressing concerns about safety and security

issues at Groveport Madison High

School.

The school is plagued by fights among

students and recently two students were

found to be in possession of guns while at

the school.

"We, as a board, administration, and

staff deeply care about the well the being of

our students," said Board President Chris

Snyder. "We don't have a simple answer for

all this. We are meeting with staff to work

to improve safety and security."

Citizens' reactions

Twelve citizens spoke at the meeting

about their worries about problems at the

high school. During the meeting, audience

members also called out from their seats

demanding immediate action from the

board and officials to end the fights and

related problems in the school.

Security solutions proposed from the citizens

included: installing metal detectors or

using metal detector wands at the school;

improving transparency in communications

from district officials to the citizens; listening

to suggestions from students on how to

improve the safety and culture at the high

school; making sure students know the consequences

of their actions; expelling and

banning repeat offenders from school (in

Ohio, if a student is expelled they cannot

attend any public school); increasing the

number of security personnel and hiring

more female security personnel (currently

the school has five security staff members

including one female, there are also two

See PARENTS, page 6

Sain Insurance Agency Inc.

Lisa Sain, Agent

Groveport, OH 43125

www.lisasain.com

Bus: 614-830-0450

Being there

is why I'm here.

Total average savings of

$

761

when you combine home and auto.

Call my office for a quote 24/7.

*average annual household savings based on national 2015 survey of new

policyholders who reported savings by switching to State Farm.

State Farm Murual Automotive Insurance Company, State Farm Indemnity Company,

State Farm Fire and Casualty Company,

State Farm General Insurance, Bloomington, IL

P097136.1
---
PAGE 2 - GROVEPORT MESSENGER - November 27, 2022

America'

ica's s Fa Fa

av av vorite Treasure ure e Hunts!

2022

Nov. 26 &

27

Dec. 17 &

18

The Gilmore Group

Office: 614-834-HOME (4663)

Cell: 614-774-4416

www.GilmoreGroupHomes.com

Antiques, Collectibles,

Jewelry, Vintage,

Home Decor, Militaria

and more!

2023

Jan. 28 & 29

Feb. 25 & 26

Mar. 25 & 26

Another gun found at high school

BRAWL

Continued from page 1

bottle of pepper spray was emptied on to the crowd.

"The decision is use pepper spray was made after

verbal and physical efforts to stop the fight and disperse

the crowd failed," said Adams. "The use of pepper spray

prevented major injuries from occurring and stopped

the incident from getting further out of control."

He said after the pepper spray was deployed the

crowd of students rushed out of the hallway.

Adams said there were no reported injuries from the

fights and those hit with pepper spray were treated.

When asked why the fights occurred, Adams said police

www.columbusmessenger.com

By Rick Palsgrove

Groveport Editor

For the second time in less than a month, a gun was

found on a student at Groveport Madison High School.

According to Groveport Police Lt. Josh Short, on Nov.

9 officers arrested an 18-year-old male student who was

in possession of a loaded SCCY 9mm hand gun.

Earlier, on Oct. 24, a 16-year-old male student was

found in possession of a loaded Glock 19 - 9mm handgun

at the school. That student was charged with illegal

weapon or dangerous ordnance in a school safety

zone, a fifth degree felony, and he was transported to

Franklin County Juvenile Detention, according to the

Groveport Police.

Regarding the Nov. 9 arrest, Short said school officials

had received a tip that the 18-year-old suspect

was in possession of a gun at school and the school

resource officer went with school security and administrative

staff to remove the suspect from class.

"At that time the suspect refused to listen to staff or

the officer and quickly walked from the building and

out to the front driveway," said Short. "School

Resource Officer Boso called for assistance from patrol

officers and continued to follow suspect out toward

Hamilton Road. As the suspect reached the south

driveway, patrol officers arrived and approached suspect

who immediately dropped his backpack and complied

with officers' orders. The gun was found in suspect's

backpack."

When asked why did the suspect brought the gun to

school, Short replied, "During his interview he told

officers he brought the gun to school for protection."

Short said the 18-year-old suspect was charged and

jailed for illegal conveyance of a deadly weapon or dangerous

ordnance in a school safety zone, a fifth degree felony.

Short said, for the most part, issues like this incident

start at home.

"If parents/guardians are engaged with their children

they can better monitor their activity and help

them find safer and more appropriate ways to handle

neighborhood problems," said Short. "When young people

have no parental over site or mature adult guidance

they often become societal problems."

Short said when such issues are communicated to

Groveport Madison school staff they do their best to

navigate through the situation and maintain a safe

school environment.

"Over the past decade I have personally seen a

switch for school administrators working on educational

issues to dealing almost exclusively with discipline

and safety problems," said Short. "We want to encourage

our community to continue letting school staff or

law enforcement know when there is credible information

about guns at our schools or and other school safety

concerns. Our last two gun arrests at the high school

have come from information received from concerned

district residents. We could not do this without the

community support."

Short added the Groveport Police will meet with

officials from Madison Township Police and Fire and

the Groveport Madison school district to discuss the

recent gun issues at the school as well as other school

safety topics.

"Local law enforcement has a great relationship

with Groveport Madison Schools and we are in regular

communication about improving school safety," said

Short. "The district regularly asks for our input on how

to improve and aggressively encourages officer presence

on campuses as a regular daily activity. Public

safety is a shared responsibility. This isn't a just a

school district or law enforcement job - it takes a family,

a neighborhood, a community."

"are not getting a lot of cooperation" from those involved.

No arrests were made yet, but Adams added, "We'll

look at the security video to see who the instigators

were and pursue criminal charges. We are not going to

tolerate it."

Recently two students were found in possession of

hand guns at the high school, but Adams said there

were no weapons involved or reported in the Nov. 15

altercations.

"My big fear is if one day weapons were to get

involved with fights. Weapons would make a situation

10 times worse," said Adams. "We are

aggressive whenever there are reports of

weapons at the school and we take immediate

action."

Adams said representatives from the

Groveport Police, Madison Township Police,

and Madison Township Fire Department

will meet with Groveport Madison Schools

officials on Nov. 17 to discuss safety issues.

In a letter sent to parents, students, and

staff, Groveport Madison High School

Principal Duane Bland wrote, "While fights

of any kind are unacceptable and remain a

serious concern, it's important to keep in

mind that the vast majority of our students

behave themselves as expected and consistently

follow the instructions of school personnel.

When students refuse to follow the

rules and cause disruptions for everyone

else, we will take firm action(s) to address

their behaviors."
---
www.columbusmessenger.com

A Heritage Holiday

By Rick Palsgrove

Groveport Editor

Santa Claus is coming to

Groveport!

The city of Groveport will host its

Heritage Holiday on Dec. 4 from 3-6

p.m. in Heritage Park, 551 Wirt Road

in Groveport.

Santa Claus, along with Mayor

Lance Westcamp, will make a grand

entrance to the event on a Madison

Township fire truck at 3 p.m. Kids

can visit with Santa Claus in the log

house from 3-6 p.m.

"The festival promotes community

pride. Heritage Holiday brings the

community together to participate in

holiday-themed activities, to view the

city's tree lighting, and make memories,"

said Kristiauna Trelay,

Groveport Community Affairs executive

assistant.

Trelay said that new to the event

this year is the addition of two live

music performances - by Wade & Darr

from 3-4:15 p.m. and Mora & Dalton from

4:30-5:30 p.m. - on Heritage Park's main

stage.

"Also new will be an iceless skating rink

in the Heritage Park parking lot," said

Trelay. "We are also excited to welcome the

Paddock Pub to the event. They will be providing

free beverages and cookies at the

park's shelter house."

Messenger photo by Rick Palsgrove

Groveport Mayor Lance Westcamp, Santa

Claus, Mrs. Claus, and a group of happy elves

lighting the city's Christmas tree, as well as

many more lights strung throughout Heritage

Park, at a past Christmas celebration in

Groveport.

The Groveport Madison Area

Community Choir will perform carols in

front of the Christmas tree in Heritage

Park from 5:30-6 p.m. and Santa and the

mayor will conduct the annual tree lighting

at 6 p.m.

Heritage Holiday also features hayrides

around Palm Pond, face painting, ice carvings,

kids' crafts, and food trucks.

For information call 614-836-3333.

Cookies and candy

Groveport United Methodist Church,

512 Main St., Groveport, will host a

Christmas Cookie and Candy Sale on Dec.

10 from 9 a.m. - noon. Homemade holiday

cookies and candy (fudge) will be available

for purchase.

Township's Santa parade

Madison Township will hold its annual

Santa Parade on Dec. 3 at 1 p.m. The

parade travels through the streets of

Blacklick Estates. The route can be found

on the Madison Township Facebook page.

Our Family Caring For Yours

2022

November 27, 2022 - GROVEPORT MESSENGER - PAGE 3

AUTO HOME

Beplerinsurance.com

614.837.4379

staff@beplerinsurance.com

3246 Noe Bixby Rd., Columbus, Ohio 43232

Dr. Sacheen Garrison

5055 S. Hamilton Road

Groveport, OH 43125 614-836-0500

www.groveportsmiles.com

Heritag eritage Holida oliday

Sunday, December 4, 2022

3:00pm

- 6:00pm

Herita

age Park

551 Wirt Rd. Groveport,

OH 43125

Tree Lighting

at 6:00pm

-

-

-
---
PAGE 4 - GROVEPORT MESSENGER - November 27, 2022

www.columbusmessenger.com

Groveport City Council to reconsider fireworks ban

By Rick Palsgrove

Groveport Editor

On Nov. 28, Groveport City Council will

vote on legislation to expand the use of personal

fireworks within the city limits.

The city's existing law bans the use of

personal fireworks within city limits.

If approved, the proposed legislation

would make the city consistent with state

law to allow the use of personal fireworks

on designated days during the year.

The legislation would allow individuals

to possess consumer grade fireworks and to

discharge them on their own property or on

another person's property with permission

on the following days: New Year's Day;

Chinese New Year; Cinco de Mayo;

Memorial Day weekend; Juneteenth; July

BUY ONE! RENT ONE!

3, 4, and 5 and the Fridays, Saturdays, and

Sundays preceding and following; Labor

Day weekend, Diwali; and New Year's Eve.

State law permits local governments to

restrict the dates and times when individuals

may discharge consumer grade fireworks

or to impose a complete ban on the

use of consumer grade fireworks.

A previous attempt to enact the legislation

failed earlier this year. Councilman

Scott Lockett brought it back before council

because he said all the council members

were not present at the prior vote.

At council's Nov. 21 committee meeting,

resident Greg Keller recommended council

limit the use of personal fireworks to only

the Fourth of July holiday instead of the

full slate of holidays listed in the state law.

370 Main Street & 370 Rear • Groveport, OH 43125

"It's a very fine line between consumer

vs. commercial fireworks," said Keller.

"Either kind can kill or maim. It's a hazard

in an urban setting because there's not

enough room to ensure safety."

Keller also said the loud noise of fireworks

is harmful to military veterans suffering

from post traumatic stress syndrome

and to people's pets.

"Protecting the safety of the citizens is

job one for council," said Keller.

Council will vote on the fireworks issue

at its Nov. 28 meeting at 6:30 p.m. in the

municipal building, 655 Blacklick St.

Other news

•Bruce Smith, one of the organizers of

the Blacklick Haunted Park held in

October, said the event drew about 1,800

visitors this year and raised $8,608 that

will be split between the Groveport Food

Pantry and Groveport Madison Human

Needs.

"You've created an amazing event for

the city," said Councilwoman Jean Ann

Hilbert.

•Groveport Madison Schools is requesting

a zoning variance for 4180 Bixby Road

from Groveport City Council to allow the

construction of a school bus garage facility.

The school district wants to build a new

$4.5 million transportation center that

would include a 9,900 square foot bus compound

building, along with the accompanying

bus lot and parking lot, at 4180 Bixby

Road. Because the 129 acre site is zoned as

rural, it needs council to approve a variance

for it. T

he site is located on school districtowned

land at the northeast corner of

Bixby and Hendron roads abutting Three

Creeks Metro Park.

"Basically, we're out of space (at the

existing bus garage located behind the

District Service Center, 4400 Marketing

Place, Groveport), said Groveport Madison

Communications Director Jeff Warner earlier

this year.

Buses will continue to be parked at the

District Service Center, 4400 Marketing

Place, Groveport, while the district's new

transportation center is under construction.

Warner said earlier this year that, if all

goes well, the district hopes to open the

new bus facility in the summer of 2023.

•Council is also considering a zoning

variance request for property at "0"

Hendron Road (site of the former

Groveport Madison Recreation Club swimming

pool site, which is now a vacant lot) to

allow for the construction of 4,067 square

foot veterinary clinic.

The site is currently zoned for suburban

office, which does not include veterinary

offices as a permitted use.

Original Hardwood Floors

3-4 Bedroom 2-Story

2 Bedroom Ranch

Marylee Bendig

580 Main St., Groveport

Marylee Bendig Team

(614) 218-1097

marylee@maryleebendig.com

www.maryleebendig.com

ASBURY

SOUTH UMC

4760 Winchester Pike

Columbus, Ohio 43232

Telephone: 614-837-4601

Rev. Sherri Upchurch Blackwell

Sunday Worship 10 a.m.

Inside and Parking Lot

Sunday School 9 a.m.

Be a Part of Our Local Worship Guide

Our Worship Guide is geared toward celebrating faith and helping readers

connect with religious resources in our community. Make sure these readers

know how you can help with a presence in this very special section distributed to

more than 19,000 households in the Groveport area.

Contact us today to secure your spot in our Worship Guide.

614.272.5422 • kathy@columbusmessenger.com

Groveport

Messenger

GROVEPORT ZION

LUTHERAN, NALC

Christ Centered, Mission Driven

Traditionally Grounded

6014 Groveport Rd., Groveport, OH 43125

PHONE: 614-836-5611

PASTOR BRIAN MCGEE

Sunday Worship 11 A.M.

Christmas Concert - Sun. Dec. 11, 7:00 pm

Celebrate the Christmas Season with an

evening of beautiful music.

Cookie Reception Following
---
www.columbusmessenger.com

Groveport Madison gets

updated enrollment estimates

By Rick Palsgrove

Groveport Editor

Groveport Madison Schools officials

recently received updated student enrollment

projections and will use the information

to determine how to address overcrowding

issues in the district.

One issue is determining the cost and

finding funds to create more space at the

high school.

The numbers

Earlier this year the district contracted

with Cropper GIS Consulting for a school

capacity study and an enrollment demographic

study at a cost of $35,500. Also, as

part of the Master Facilities Plan process,

the board also approved contracting with

SHP Architects for $77,000 for facility planning

regarding the potential renovation,

expansion, or replacement of the district's

existing elementary and middle schools.

The district's current student enrollment

is 6,351, according to district officials.

As of October 2021, the district had

6,271 students. Enrollment was 5,569 in

2015-16. Total enrollment is expected to

rise to 6,652 by 2029-30.

According to district officials, here is the

current, updated enrollment per school

building (building classroom capacity is in

parentheses): Asbury Elementary: 488

(385); Dunloe Elementary: 492 (444);

Glendening Elementary: 477 (480);

Groveport Elementary: 464 (408); Madison

Elementary: 354 (359); Sedalia

Elementary: 629 (456); Middle School

Central: 467 (463); Middle School North:

510 (583); Middle School South: 467 (485);

High School: 1,889 (1,500).

Making space at the high school

According to district officials, the original

design capacity for the new high school

was set at 1,500, based on the Ohio School

Facilities Construction Commission's

Facilities Master Plan (which included

OSFCC enrollment projections). When the

OSFCC shared its enrollment projections,

the board and the district's administration

disagreed with the OSFCC, believing their

projections to be substantially low, especially

at the high school.

"Despite the districts objections, the

high school was constructed for 1,500 students,"

said Groveport Madison

Superintendent James Grube in an interview.

"Knowing there were already 1,900

plus high school schools enrolled before its

opening, the district spent a portion of its

local share of the project's budget on

upgrading the foundation and HVAC components

of the building to accommodate a

future addition to the front of the southeast

wing of the school."

Grube said discussion centers on building

out classrooms in some of the extended

learning areas at the end of each of the

school's wings. He said there is space to

construct 12 classrooms within the existing

footprint of the high school building.

Groveport Madison Communications

Director Jeff Warner said there is almost

$5 million in funds left over from the high

school construction project. Of this amount

$2.4 million is the district's local share and

$2.6 million is the state's share.

"We believe we should have those

funds," said Warner.

However, the OFCC considers the project

closed and rejected releasing the

remaining state funds to the school district.

Warner said the district also has about

$1 million in its permanent improvement

fund available.

The Groveport Madison Board of

Education approved obtaining estimates

for potentially constructing more space at

the high school.

Warner said the project to create additional

space at the high school would entail

converting existing space within the building's

wings. He said the work could be done

this summer.

Modular classrooms

Regarding the elementary and middle

schools, it is not yet determined how many

additional modular classrooms will be

needed. Currently the district has 24 modular

classrooms in use, including a single

quad-classroom unit at Groveport

Elementary, two double-classroom units at

Asbury Elementary and Dunloe

Elementary, and six double-classroom

units at Sedalia Elementary.

The cost of additional modular classrooms

is still to be determined. Warner

said the modulars would most likely be

leased and that the northern part of the

district is in the most need of space.

Ballot issues

A potential bond issue to fund new

buildings could appear on the November

2023, May 2024, or August 2024 ballot. A

bond issue must pass by August 2024 or

else the district would have to reapply for

OFCC funding.

The district's five year renewal general

operating levy is tentatively scheduled for

the November 2024 ballot as that is latest

date it can be approved for the district to

start collecting money in 2025.

DestinationOutlets.com

800-213-9083

8000 Factory Shops Blvd.

Jeffersonville, OH 43128

November 27, 2022 - GROVEPORT MESSENGER - PAGE 5

We are the BEST community newspaper!

Need advertising?

Call Doug Henry at

614-272-5422.

DOWNLOAD OUR

MEMBERSHIP APP
---
PAGE 6 - GROVEPORT MESSENGER - November 27, 2022

"BEST NEW YEARS PARTY IN TOWN"

18 th Annual

Mike Albert

and

The Big E. Band

Per Couple Prices

Overnight Package - $319

Party Only Packages - $250

Single Packages Available

Prices include

Dinner, Drinks, Room, Party favors,

Full Breakfast

Crowne Plaza • 6500 Doubletree Ave. (formerly Marriott North)

Groveport Police statistics

October crime statistics, according to

the Groveport Police: 2 arrests, 24 accidents,

4 assaults, 1 burglary, 13 domestic

disputes, 1 domestic violence, 1 OVI and

alcohol, 17 thefts/robberies, 3 stolen/unauthorized

use, 6 missing persons, 5 weapon

related calls, 0 narcotic related offenses, 8

threats, 5 vandalism, 14 juvenile complaints,

81 traffic citations, 2 sex related

crimes, 23 school related calls, 8 suicide

attempts/mental health.

Income tax revenue

PARENTS

Continued from page 1

school resource police officers - one each

from the Groveport and Madison Township

police departments); providing more mental

health counseling; eliminating the use

of backpacks; reducing overcrowding in the

high school; and creating a long term safety

and security plan.

Several parents said their kids are

scared to attend the high school, including

John Weston who said his son is afraid to

go to the school. Weston said fights happen,

but the real threat is weapons in backpacks.

"There are more weapons there than

anyone knows," said Weston. "A culture of

disrespect exists at the school. Give the

students clear rules and let them know the

ramifications of what they do."

Citing the dangers, Mechelle Raine said

there is "no way her child" will attend the

high school.

Added Jocelyn Houck, "Transparency is

an issue from the top down at Groveport

Madison. Everyone needs to know the consequences

of their actions."

Jennifer Silva noted her son said kids at

the school are angry and every day there

are fights, especially in the restrooms.

"Every child deserves to be safe," said

Thomas Ridenour.

Kathryn McCormick said she cannot

believe what is happening at the school.

"This is not Groveport. It's ruining

pride. It's ruining property values. It's

infecting the kids' mental health. There's

no reason for kids to go to school scared.

Please help us!" McCormick told the board.

Harold MacHarrie believes school officials

have "lost control of the school's environment."

"These are not typical schoolyard

fights," said MacHarrie. "Heads are getting

stomped on. It's become a failing

school district because kids are not safe."

Brandie Walton said the problems at

the school are conditioning kids to feel that

trauma is normal.

"We need an actionable plan," she said.

Anthony Murphy of Lead The Way

Learning Academy said the district must

give students a voice.

S. Brad Wilson said he was "disgusted

by the school system" and plans to send his

kids to school elsewhere.

Shaun Raleigh said, "All Groveport

Madison students deserve better. Put student

www.columbusmessenger.com

The city of Groveport's income tax revenue

year-to-date as of Oct. 31 was $18.3

million, which is 22 percent higher than

the same time in 2021, according to

Groveport Finance Director Jason Carr.

Carr noted the general fund balance was

$9 million as of Oct. 31 or $2.1 million

higher than the same time last year.

Income tax revenues year-to-date comprise

55 percent of all city revenues, the largest

part of all the city's revenues.

Groveport Garden Club

The Groveport Garden Club meets the

first Tuesday each month at Groveport

Zion Lutheran Church, 6014 Groveport

Road. Call (614) 218-1097.

and staff safety above ineffective policies."

Board and administration reactions

Board member Libby Gray said her

heart goes out to the parents and the community.

"We need a safety plan," said Gray. "We

can't wait. We have to do something. Kids

cannot be educated if they are scared."

Board member Seth Bower said the

board has heard the community "loud and

clear" and the district "needs to do something

now."

Board member Kathy Walsh said safety

policies must be reviewed, student offenders

must be expelled, community roundtable

discussions about the high school

should be held, and more social workers

and security personnel should be hired.

Board member LaToya Dowdell-Burger

said she heard the sentiments of the public

about safety. She suggested students using

clear backpacks so no weapons could be

hidden in them and establishing a student

advisory council to the board.

Snyder said district is working on the

problems.

"We want to make sure everyone is

safe," said Snyder. "We're all in this together."

Audience members called out during the

board's comments stating, "There's no time

to wait for research," "We need action and

we need it now," "Protect our kids,"

"Enough is enough," and "Groveport is better

than this." Audience members also

offered to personally pay for metal detector

wands.

Superintendent James Grube said officials

are "actively working" on changes and

improvements to how the high school operates,

security, and discipline.

Deputy Superintendent Paul Smathers

said, "We care so much. We are worried.

There are so many talented kids that are

being overshadowed by all this."

Safety hotline

Students and adults can anonymously

share information with school officials and

law enforcement about threats to student

safety by calling or texting to 844-SaferOH

(844-723-3764). Calls are answered by the

Ohio Homeland Security's Threat

Assessment and Prevention Unit. When

action is needed, the TAP Unit immediately

notifies school officials, law enforcement

agencies and others, if necessary.
---
www.columbusmessenger.com

Our Pictorial Past by Rick Palsgrove

School buses bought

The Groveport Madison Board of

Education approved the purchase of four

Cummins 72 passenger school buses from

Rush Truck Centers at a cost of $119,311

each (for a total expenditure of $477,244).

Keep tabs on the latest news in

Groveport & Madison Township

Look for Groveport Messenger on

Become a fan!

November 27, 2022 - GROVEPORT MESSENGER - PAGE 7

columbusmessenger.com

southeast

Messenger

(Distribution: 8,000)

Rick Palsgrove ...................................Groveport Editor

southeast@columbusmessenger.com

Published every other Sunday by

The Columbus Messenger Co.

3500 Sullivant Ave., Columbus, Ohio 43204-1887

(614) 272-5422

The Columbus Messenger Co. reserves the right to edit, reject or cancel

any advertisement or editorial copy at any time. The company is not

responsible for checking accuracy of items submitted for publication.

Errors in advertising copy must be called to the attention of the company

after first insertion and prior to a second insertion of the same advertising

copy.

Interurban depot

GOOD is

saving time

on a haircut.

Photo courtesy of the Groveport Heritage Museum

Pictured is an early 20th century photo of the Scioto Valley Traction Line depot in

Groveport, which was located on th northwest corner of Blacklick Street and Brook

Alley. The SVTL was an electric railway that operated through Groveport and around

Central Ohio from 1904 until about 1930. The interurban rails are still visible embedded

in Blacklick Street. The interurban was powered by electricity. A "third rail" carried

a 600 volt electric current that propelled railway cars along standard rails.

Looking great has never

be een so convenient.

317

Gro oveport Rd Main St

Kroger

Tallman St

Website:Expert-hvac.com

Phone:614-946-8461

Experthvacllc@gmail.com

FREE ESTIMATES

on system installs

$100 Preventative Maintenance (tune up)

Expert service - affordable prices - Locally owned from Groveport

Mention this ad and get $20 off a $110 service call.

GROVEPORT

Groveport Plaza

6021 Groveport Rd

(Near Kroger) r

614-350-8280

GREAT is

saving

money,

too.

$1

OFFER EXPIRES: 1/13/23

ANY HAIRCUT

11 99

Not valid with any other

offer s. Limit one coupon per

customer.

No copies. Taxes may apply. Valid at Groveport Plaza.

greatclips.com | jobs.greatclips.com | greatclipsfranchise.com
---
PAGE 8 - GROVEPORT MESSENGER - November 27, 2022

www.columbusmessenger.com

Historic gymnasium turns 70 years old

The cavernous historic gymnasium at

Groveport Madison Middle School Central is

now 70-years-old.

Editor's Notebook

Rick

Palsgrove

Built as part of a

then new Groveport

Madison High School

in 1952, this gym was

the third home for

Cruiser winter athletes.

The first Groveport Madison gym was not

a gym at all, but the second floor ballroom of

Groveport Town Hall where the boys and

girls basketball teams played from the early

1900s to 1922. In 1923 the basketball teams

played in the gym in Groveport School.

In 1952 a new gym was built beside

Groveport School (now Groveport

Elementary). It was the first phase constructed

in what would become Groveport Madison

High School (and later Middle School

Central) on Main Street. When it was built,

this gym was the largest high school gym in

Franklin County. Its features included spacious

balconies, a linoleum tile playing floor,

and a large theatrical stage at its south end.

The gym served as the Cruisers' home court

until 1971 when the teams moved into a then

Groveport

Messenger

BEST COMMUNITY NEWSPAPER in Groveport

READ US ONLINE: www.columbusmessenger.com

new high school gym on South Hamilton

Road — which itself was replaced when the

new high school was built in 2018.

The 1952 gym looks much different now

than it did in its glory years when it was

home to teams like the 1963-64 Mid-Eight

League boys basketball champions.

The 1952 gym today has fewer bleachers,

but still has its sprawling balconies and huge

stage which afford great viewpoints for

games. The linoleum tile floor of its early

years was later covered with carpeting, but

thankfully the tile and carpeting were

replaced years ago by a nicer wood floor.

In its heyday, large, enthusiastic crowds

filled the massive old gym in the 1950s,

1960s, and early 1970s.

In an interview six years ago, former

Cruiser basketball player and 1971

Groveport Madison graduate Buddy Waters

said of the 1952 gym, "It was very loud. With

the pep band playing and people yelling you

could hardly hear. What a great gym!"

Waters said he has great memories of the

gym besides the basketball games, including

homecoming dances, proms, concerts, and

other events.

"The class of 1971 was the last varsity

team to play there," said Waters. "I remember

the balcony was always full as were the

bleachers. Mr. Neil Stevenson worked the

Pick-Up At These

Locations:

Groveport Senior Village - 5124 Hendron

Madison Township Office - 4575 Madison Lane

Paddock Pub/Groveport Golf Ctr. - 1005 Richardson Rd.

Southeast Library - 3980 S. Hamilton Rd.

Asbury Methodist Church - 4760 Winchester Pike

Groveport Municipal Building - 655 Blacklick St.

Groveport Town Hall - 648 Main St.

Flyers PIzza/Groveport - 296 Main St.

Ace Hardware - 726 Main St.

Little Italy Pizza - 619 Main St.

Huntington Bank/Groveport - 556 Main St.

Groveport Recreation Center - 7370 Groveport Rd.

popcorn machine

located in the lobby as

you came in from the

outside. The gym

doors from the lobby

we're always open

and I can remember

the smell of fresh popcorn

and Mr.

Stevenson looking in

and cheering."

The old gym, now

seven decades old,

still sees a lot of

action as Middle

School Central teams

and fans keep the

place alive.

One may say,

"Well, it's just an old

gymnasium." But, it

is our shared public

places - like gyms,

parks, churches,

schools, downtowns,

and even our neighborhood

streets and

sidewalks - that

spark memories,

create immersive

experiences, and

maintain a connection

to our past,

present and future.

Such places link a

community together.

Rick Palsgrove is

editor of the Groveport

Messenger.

Photo from the 1965 Madisonian

A jump ball in the former Groveport Madison High School gym on Main Street in 1965.

Messenger photo by Rick Palsgrove

A jump ball in the same gym from the same perspective in 2016. The Groveport Madison

Cruisers varsity basketball team (white uniforms) played a one time home game in the old

gym against Hamilton Township on Dec. 3. 2016. The Cruisers shone bright in their former

home with an 80-34 victory.

Photo courtesy of the Groveport Heritage Museum

The former Groveport Madison High School gym on Main Street as it looked when it was

new in 1952. The gym originally was a free standing, independent building until the classroom

and cafeteria wings of the high school were built. The school was built in stages

from 1952-56 and is now Middle School Central.
---
www.columbusmessenger.com

November 27, 2022 - GROVEPORT MESSENGER - PAGE 9

CLASSIFIED ADS

Deadlines: Grove City, Groveport & All editions - Mondays at Noon.

West, Canal Winchester, South & Madison editions -Tuesdays at 5 p.m.

Photo courtesy of the city of Groveport

Brunch and song

The Columbus Chorus Sweet Adelines performed musical

selections at a brunch held at Groveport Town Hall on Nov. 19.

Eastland-Fairfield open house

Students interested in attending or learning more about the

programs offered at Eastland-Fairfield Career & Technical

Schools are invited to the district's open house Dec. 1 from 6-8 p.m.

Eastland Career Center and Fairfield Career Center will open

their doors to prospective students and their families, and anyone

interested in enrolling in the Eastland-Fairfield school district

through its programs.

All programs at Eastland or Fairfield

Career Center will have their labs open for tours and staff will

answer questions. Plan to visit the career center that is the home of

your programs of interest.These satellite programs will be on hand

at Eastland Career Center for those interested in applying:

Marketing & Logistics Management, Teaching Professions, and

Multimedia.

Open House is open to students of all ages, though it is highly

encouraged for high school students in their freshman, sophomore,

or junior years. Adult education options will be on display

at both campuses, courtesy of EFCTS Adult Workforce

Development. If high school seniors or other family members are

interested in adult programming, visit our staff on site for information.Visit

EastlandFairfield.com/OpenHouse for information.

Holiday Train display

Columbus Metropolitan Library is hosting a free holiday open

house on Nov. 30 at its Main Library, 96 S. Grant Ave. in

Columbus. From 6-8 p.m., families can enjoy activities, sing-along

carols and refreshments, plus a visit from live reindeer and a very

special guest. The biggest draws will be the tree-lighting of

Topiary Park and the return of the Huntington Holiday Train. A

ceremonial switch will be flipped on for the train, which will

delight library customers through Jan. 8, 2023. Parking for the

event in Main Library's attached garage will be free.

The 600-square-foot Huntington Holiday Train includes multiple

miniature trains running on more than 280 feet of track surrounded

by more than 50 pounds of snowflakes. The miniature

buildings are modeled after actual structures in Germany.

This marks the 30th year of the holiday attraction, which was

built in 1992 by Applied Imagination founder Paul Busse. The

train was originally displayed in the lobby of the historic

Huntington building at Broad and High streets. In 2009,

Huntington loaned the train to CML.

Highlights include a six-foot-tall cathedral, an eight-foot-tall

castle and a waterfall that pumps 600 gallons of water an hour.

Each building in the display took between one and three weeks to

create. The entire display takes two days to set up.

The Huntington Holiday Train will be on display through Jan.

8 during regular library hours — Monday through Thursday from

9 a.m. to 9 p.m., Friday and Saturday from 9 a.m. to 6 p.m. and

Sunday from 1 to 5 p.m. The first hour of parking in the library

garage is free.

For information, visit columbuslibrary.org.

xCraft Shows

HTHS Rangers Marching Band

Jack Frost Winter Bazaar

"One Stop Christmas Shopping"

"One Stop Christmas Shopping"

Saturday, Dec. 3rd 9am-3pm

Dec 4th

Hamilton Intermediate School

Hamilton Intermediate School

765 Rathmell Rd., Columbus, 43207

765 Rathmell Rd., Columbus 43207

Over 80 Vendors & Several Community Partners

Over Food, 60 Raffle vendors, & Music Mr. provided & Mrs. by Claus, HTHS Band Food,

Raffle and multiple Community Partners.

Admission: $1 Per Adult FREE - Students/Children

ASSOCIATION ADS

CHRISTMAS

CONCERT

Sunday, Dec. 11, 7:00pm

All are Welcome!

Come celebrate the

Christmas season with an

evening of beautiful music!

Cookie Receptrion

following!

Groveport Zion

Lutheran Church

6014 Groveport Rd.

ASSOCIATION ADS

Don't let the stairs limit

your mobility! Discover

the ideal solution for

anyone who struggles on

the stairs, is concerned

about a fall or wants to

regain access to their

entire home. Call

AmeriGlide today! 1-844-

317-5246

Safe Step. North

America's #1 Walk-in Tub.

Compreshensive lifetime

warranty. Top-of-the-line

installation and service.

Now featuring our free

shower package & $1600

off - limited time!

Financing available. 1-

855-417-1306

Internet &WIFI Starts at

$49 Call us Today to Get

Started. Find High-Speed

Internet with Fiber Optic

Technology No Credit

Check, No SSN Required.

Call us Today 866-396-

0515

FREE $10 Cash App

Everyone! Yes It's Real.

Very Limited supply until

we run out! Text "Real

Cash" to 706-761-1745

ASSOCIATION ADS

The bathroom of your

dreams for as little as

$149/month! BCI Bath &

Shower. Many options

available. Quality

materials & professional

installation. Senior &

Military Discounts

Available. Limited Time

Offer - FREE virtual inhome

consultation now

and SAVE 15%! Call

Today! 1-877-540-2780

Wesley Financial Group,

LLC Timeshare Cancellation

Experts Over

$50,000,000 in timeshare

debt & fees cancelled in

2019. Get free

informational package &

learn how to get rid of

your timeshare! Free

consultations. Over 450

positive reviews. 888-965-

0363

Stroke & Cardiovascular

disease are leading

causes of death according

the American Heart

Association. Screenings

can provide peace of mind

or early detection! Call

Life Line Screening to

schedule your screening.

Special offer - 5

screenings for $149. 1-

866-518-8391

Want Faster & Affordable

Internet? Get internet

service today with

Earthlink. Best internet &

WiFi Plans. Call us Today

to Get Started. Ask

about our specials! 866-

396-0515

Paying top cash for men's

sportwatches! Rolex,

Breitling, Omega, Patek

Pillippe, Heuer, Daytona,

GMT, Submariner and

Speedmaster. Call 833-

603-3236

Craft Shows

ASSOCIATION ADS

Attention Viagra users:

Generic 100 mg blue pills

or generic 20 mg yellow

pills. Get 45 plus 5 free +

S/H. Call Today 1-877-

707-5518

Directv Stream - Carries

the Most Local MLB

Games! CHOICE

Package, $89.99/mo for

12 months. Stream on 20

devices in your home at

once. HBOMax included

for 3 mos (w/CHOICE

Package or higher.) No

annual contract, no hidden

fees! Some restrictions

apply. Call IVS 1-866-629-

6086

Become a Published

Author. We want to Read

Your Book! Dorrance

Publishing-Trusted by

Authors Since 1920

Book manuscript submissions

currently being reviewed.

Comprehensive Services:

Consultation, Production,

Promotion and Distribution. Call

for Your Free Author's Guide 1-

866-482-1576 or visit

dorranceinfo.com/macnet

HughesNet - Finally, superfast

internet no matter

where you live. 25 Mbps

just $59.99/mo! Unlimited

Data is Here. Stream

Video. Bundle TV &

Internet. Free Installation.

Call 866-499-0141

Replace your roof with the

best lookng and longest

lasting material -- Steel

from Erie Metal Roofs!

Three styles and multiple

colors available.

Guaranteed to last a

lifetime! Limited Time

Offer - $500 Discount +

Additional 10% off install

(for military, health

workers & 1st responders)

Call Erie Metal Roofs: 1-

855-338-4807

ANNUAL

CHRISTMAS BAZAAR

Asbury UM Church South

4760 Winchester Pike

Columbus, OH 43232

December 3, 2022

9:00 a.m. to 3:00 p.m.

xPublic Notices

PLANNING AND

ZONING COMMISSION

***NOTICE OF MEETING***

MONDAY, DECEMBER 5, 2022 - 6:00 P.M.

GROVEPORT MUNICIPAL BUILDING

COUNCIL CHAMBERS—2ND FLOOR

#2022-05 A request by Jim Voorhis representing

Groveport Madison School District for a Use

Variance at 4180 Bixby Road, Parcel #185-

000901 (tabled from the November 7, 2022

meeting).

The public is invited to attend and participate.

Public Notices

ASSOCIATION ADS

DENTAL INSURANCE

from Physicians Mutual

Insurance Company.

Coverage for 350 plus

procedures. Real dental

insurance - NOT just a

discount plan. Do not wait!

Call now! Get your FREE

Dental Information Kit with

all the details! 1-877-553-

1891

www.dental50plus.com/

macnet#6258

Donate Your Car To

Veterans Today! Help and

Support our Veterans.

Fast - FREE pick up.

100% tax deductible. Call

1-800-245-0398

ASSOCIATION ADS

MobileHelp, America's

premier mobile medical

alert system. Whether

you're home or away. For

safety & peace of mind.

No long term contracts!

Free brochure! 1-888-489-

3936
---
PAGE 10 - GROVEPORT MESSENGER - November 27, 2022

www.columbusmessenger.com

CLASSIFIED ADS

Deadlines: Grove City, Groveport & All editions - Mondays at Noon.

West, Canal Winchester, South & Madison editions -Tuesdays at 5 p.m.

xEmployment

ASSOCIATION ADS

ASSOCIATION ADS

WANTED!

MOTORCYCLES!

ANTIQUE AND CLASSIC.

Honda, Kawasaki, Suzuki,

Yamaha, Triumph, BSA

and other foreign models.

$$PAYING CA$H$$

717-577-8206

KRMiller1965@yahoo.com

ASSOCIATION ADS

Dental Insurance -

Physicians Mutual Insurance

Comopany. Covers 350

procedures/ Real insurance -

not a discount plan. Get your

free dental info kit! 1-855-

.526-1060 www/dental50

plus.com/ads #6258

ASSOCIATION ADS

DIAGNOSED WITH

LUNG CANCER? You

may quliafy for a

substantial cash award -

even with smoking history.

NO obligation! We've

recovered millions. Let us

help!! Call 24/7, 1-888-

650-9135

ASSOCIATION ADS

BUYING CLASSIC CARS,

TRUCKS, SUVs

**American and Foreign**

Any Condition. Buying

entire car collections.

$$PAYING CA$H$$

Please call 717-577-8206

KRMiller1965@yahoo.com

Free high speed internet if

qualified. Govt. pgm for

recipients of select pgms

incl. Medicaid, SNAP

Housing Assistance, WIC,

Veterans Pension,

Survivor Benefits, Lifeline,

Tribal. 15 GB Internet.

Android tablet free w/onetime

$20 copay. Free

shipping. Call Maxsip

Telecom! 1-833-758-3892

SELL YOUR ANTIQUE

OR CLASSIC CAR.

Advertise with us. You

choose where you want

to advertise. 800-450-

6631 visit macnetonline.

com for details.

DISH TV $64.99 for 190

Channels + $14.95 high

speed internet. FREE installation,

Smart HD DVR

included. Free Voice Remote.

Some Restrictions

apply. Promo Expires

1/21/23. 1-866-590-5561

Prepare for power outages

today with a GENERAC

home standby generator.

$0 Money Down + Low

Monthly Payment Options.

Request a FREEQuote--

Call now before the next

power outage. 1-855-465-

7624

The Generac PWRcell

solar plus battery storage

system. Save money,

reduce reliance on

grid, prepare for outages

& power your home. Full

installation services. $0

down financing option.

Request free no obligation

quote. Call 1-877-

539-0299

Eliminate gutter cleaning

forever! LeafFilter, the

most advanced debrisblocking

gutter protection.

Schedule a FREE

LeafFilter estimate today.

20% off Entire Purchase.

Plus 10% Senior & Military

Discounts. Call 1-855-

791-1626

BATH & SHOWER UP-

DATES in as little as

ONE DAY! Affordable

prices - No payments for

18 months! Lifetime warranty

& professional installs.

Senior & Military

Discounts available. Call

855-761-1725

Safe Step. North

America's #1 Walk-in Tub.

Compreshensive lifetime

warranty. Top-of-the-line

installation and service.

Now featuring our FREE

shower package & $1600

off - limited time!Call

Today! Financing

available. Call Safe Step

1-833-356-1954

Employment

ASSOCIATION ADS

Elminate gutter cleaning

forever! LeafFilter, the most

advanced debris-blockiing

gutter protection. Schedule

Free LeafFilter Estimate

today. 20% off Entire

Purchase. 10% Senior &

Military Discounts. Call 1-

833-610-1936

NEED IRS RELIEF

$10K-$125K+ Get Fresh

Start or Forgiveness.

Call 1-877-705-1472

Monday through Friday

7am-5pm PST

AT&T Internet. Starting at

$40/month w/12-mo agmt.

1 TB of data/mo. Ask how

to bundle & SAVE! Geo &

svc restrictions apply. 1-

855-364-3948

GREENLAWN RV

Lockbourne, OH

RV TECHNICIAN NEEDED!

No Prior Experience Necessary

We Will Train!

Immediate Start - Full Time Position

Contact Toby Boetcher

at

(740) 983-0149
---
www.colulmbusmessenger.com

xCome & Get It!

INFORMATION

November 27, 2022 - GROVEPORT MESSENGER - PAGE 11

xClassified Services

COME AND GET IT!

Need to Get Rid of Something Fast - Advertise It Here For FREE!

Deadlines are Mondays by Noon

Call For Publication Schedule 614-272-5422

FREE Garden Straw for gardens or bedding. Call for appointment for pickup.

Circle S Farms, 9015 London-Groveport Road, Grove City, 43123

Grove City - 614-878-7980

FREE - Metal from old camper frame, Need a truck to pickup..

CC - Obetz - 614-632-1013

FREE - Children's Wooden Play Set - Good Condition w/Sand Box under it, Step Ladder up

Slide to go down & a rope swing. Also separate Swing Set w/4 swings.

190 Inah Ave., Cols, 43228 near the Fire Dept.

West Columbus - 614-878-1930, ask for Linda

FREE - Pipe for wood burning stove, appr. 20' plus misc. parts; 10 wood window

sashes, various sizes; Frames for real estate signs, varios sizes;

One gallon plastic gas containers.

West Columbus - 614-570-5372, ask for David

FREE - Firewood - All you want! U cut U Haul. Text me if you want it.

Obetz - 614-519-7986

Come and Get It! is a bi-weekly column that offers readers an opportunity to pass

along surplus building materials, furniture, electronic equipment, crafts, supplies,

appliances, plants or household goods to anybody who will come and get them - as

long as they're FREE. NO PETS! Just send us a brief note describing what you want to

get rid of, along with your name, address and phone number. Nonprofit organizations

are welcome to submit requests for donations of items.

Send information to The Columbus Messenger, Attention: Come and Get It, 3500

Sullivant Ave., Columbus, OH43204. Deadline is Mondays at NOON for following

Sunday's publication. Messenger Newspapers is not responsible for any complications

that may occur. Please contact us when items are gone. 272-5422

ASSOCIATION ADS

Protect your home from

pests safely and

affordablly. Pest, rodent,

termite and mosquito

control. Call for a quote or

inspection today 844-394-

9278

Become a Published

Author. We want to Read

Your Book! Dorrance

Publishing Trusted Since

1920 Consultation,

Production, Promotion &

Distribution. Call for Free

Author's Guide 1-877-729-

4998 or visit

dorranceinfo.com/ads

Are you receiving

SSDI/SSI Benefits? You

may be eligible for

additional benefits. CALL

US TODAY Citizen

Disability 1-888-490-6616

Vivint Smart Security.

Professionally installed.

One connected system for

total peace of mind. Free

professional installation!

Four free months of

monitoring! Call to

customize your system. 1-

833-841-0737

Put on your TVEars &

hear TV w/unmatched

clarity. TVEars Originaloriginally

$129.95 - now

w/this special offer only

$59.95 w/code MCB59! 1-

888-805-0840

Vivint Smart Security.

Professionally installed.

One connected system for

total peace of mind. FREE

professional installation!

Four FREE months of

monitoring! Call now to

customize your system. 1-

855-870-2073

Come & Get It!

ASSOCIATION ADS

Switch and save up to

$250/yr on talk, text &

data. No contract or

hidden fees. Unlimited talk

& text with flexible data

plans.

Premium

nationwide coverage.

100% U.S. based

customer service. Limited

time get $50 off any new

account. Use code

GIFT50. 1-855-903-3048

The Generac PWRcell, a

solar plus battery storage

system. SAVE money,

reduce your reliance on

the grid, prepare for power

outages and power

your home. Full installation

services available. $0

Down Financing Option.

Request a FREE, no obligation,

quote today. Call

1-866-783-0292

Prepare for power

outages today with a

GENERAC home standby

generator. $0 Down + Low

Monthly Pmt. Request a

free Quote. Call before the

next power outage: 1-855-

948-6176

Switch and save up to

$250/yr on talk, text & data.

No contract or hidden fees.

Unlimited talk & text with

flexible data plans.

Premium nationwide

coverage. 100% U.S.

based customer service.

Limited time offer - get $50

off any new account. Use

code GIFT50. For more

information1-888-684-1169

DISH TV $64.99 FOR 190

Channels + $14.95 High

Speed Internet. Free Installation,

Smart HD DVR

Included, Free Voice Remote.

Some restrictions

apply. Promo expires

1/21/23. 1-866-479-1516

ASSOCIATION ADS

Looking for auto insurance?

Find great deals

on the right auto insurance

to suit your needs.

Call today for a free

quote! 866-924-2397

VIAGRA and CIALIS

USERS! 50 Generic pills

SPECIAL $99.00. 100%

guaranteed. 24/7 CALL

NOW! 888-445-5928

Hablamos Espanol

Attention oxygen therapy

users! Inogen One G4 is

capable of full 24/7 oxygen

delivery. Only 2.8

pounds. Free info kit.

Call 877-929-9587

!!OLD GUITARS WANT-

ED!! GIBSON, FENDER,

MARTIN, Etc. 1930's to

1980's. TOP DOLLAR

PAID. CALL TOLL FREE

1-866-433-8277

Thinking about installing

a new shower? American

Standard makes it

easy. FREE design consulation.

Enjoy your

shower again! Call 1-

833-769-0995 today to

see how you can save

$1,000 on installation, or

visit www.newshowerdeal.com/mac

Protect your home w/home

security monitored by

ADT. Starting at $27.99/

mo. Get free equipment

bundle including keypad,

motion sensor, wireless

door & windows sensors.

833-719-1073

See...

You Looked!

Newspaper

Ads Catch

The Eye!

Call

272-5422

For Info. &

Pricing

HELP WANTED

Licensed Barber Needed

to take over for retiring

barber. Full or Parttime.

located in Great Southern

Shopping Center. Call

Cindy for more info

614-239-1976

Kings Kids Daycare

in Grove City is hiring Fun,

Loving Teachers for PT &

FT shifts. Please email

sarragc@outlook.com or

call 614-539-0349

INSURANCE

Medicare New Benefit

Medicare-Zero Premium

Free Doctor visit, free ride,

free food card, free

prescrptions.614-805-1084

WANT TO BUY

WE BUY JUNK CARS

Call anytime 614-774-6797

ANTIQUES

WANTED

Victrolas, Watches,

Clocks, Bookcases

Antiques, Furn.

Jeff 614-262-0676

or 614-783-2629

We Buy Cars & Trucks

$300-$3000.614-308-2626

We Buy Junk Cars &

Trucks. Highest Prices

Paid. 614-395-8775

MISC. FOR

SALE

HP PRINTER

CARTRIDGES FOR SALE

HP 901 Color Cartridges (3);

HP 901XL and 901 Color

Multi Pack (1);

HP 901XL Black(1).

$15.00 each.

Columbus Messenger,

3500 Sullivant Ave.

Call Office 614-272-5422

BUSINESS

OPPORTUNITY

Snow Removal

Accounts Available

in Canal Winchester

Price Negotiable

email for more info

SYNeeds@mail.com

11/20 e/se

CARPET CLEANING

CARPET CLEANING

Any 5 areas ONLY $75

614-805-1084

Specializing in Pet Odors

CARPET SALES

CARPET

Gray Saxony

270 sq.ft. w/6 lb Pad

$398.00

Other Carpet AvailableA

Phone or text Ray

740-927-3504

Delivery & Inst. avail.

CLEANING

Looking for Mrs. Clean?

For excellent cleaning serv

at reas. rates w/great refs,

dependable. 10% Seniorr

Disc. Also does Painting. Free

Est. Gwen 614-226-5229

DEEP CLEANING &

WALL WASHING

Call Judy 614-746-0273

CONCRETE

AJ's Concrete,

Masonry

Good Work - Fair Prices

Block Foundations

Driveways • Sidewalks

Epoxy/Overlay Floors

Bonded-Ins. • Free Ests.

614-419-9932

ALL-CITY CUSTOM

CONCRETE

All Types Concrete Work

New or Tear Out-Replace

40 Yrs. Exp.

(614) 207-5430

Owner is On The Job!

www.hastingsnsons.com

Driveways & Extensions

Patio & Walkways,

Porches & Steps,

Garage/Basement Floors

Hot Tub/Shed Pads,

Stamped/colored concrete

Sealing of new &

existing concrete.

FREE ESTIMATES

Contact Adam

614-756-1754

hastingsandsons.

columbus@gmail.com

INFORMATION

NEED SOMETHING

DONE THIS FALL? F

CHECK OUT OUR

CLASSIFIED SERVICES!

FOR ADVERTISING

INFO. CALL

614-272-5422

THE COLUMBUS

MESSENGER

11/20 e/se

12/18 A

GUTTERS

Bates & Sons

GUTTER CLEANING

5 ★ Google Reviews

614-586-3417

HEATING & COOLING

HVAC

HEATING & A/C

Fast Service - Licensed

614-633-9694

HOME

IMPROVEMENTS

SINCE 1973

Phil Bolon Contr.

Windows & Siding

Decks, Kitchens, Baths

Room Additions,

Flooring, Roofing

Bsmt Waterproofing

Deal With Small Non-Pressure Co.

47 Yrs. Exp. - Refs. Avail.

Lic.-Bond-Ins.

12/18

A/M

Free Est. - Financing Avail.

Member BBB Of Cent. OH

O.C.I.E.B. ID #24273

614-419-3977

or 614-863-9912

CandC

Handyman Services LLC

"See The Difference"

l

614-378-7469

12/18

Remodels, A

Water Heaters,

Plumbing, Fence,

Sidewalks, Decks

& Electrical Work

KLAUSMAN HOME

IMPROVEMENT

Siding-Windows-

Doors-Roofing-Soffit-

Fascia-Gutters-Trim

Earn FREE Seamless

Gutters with Siding Over

1000 Sq. Ft.

FREE Shutters with

Soffit & Trim

EPA Certified

Member of BBB

Financing Available

Over 20 yrs exp. • Free Est.

Licensed-Bonded-Insured

Owner & Operator

James 614-419-7500

C&JHandyman

Services LLC

Minor Plumbing & Electric

Install Hot Water Tanks,

Dishwashers & Disposals

All Interior Remodels

Also Fencing &

Interior/Exterior Painting

Free Est. ~ 18 Yrs. Exp.

CDC/EPA Approved Guidelines

614-284-2100

12/4 A

12/4 A

HOME

MAINTENANCE

HANDYMAN SERVICES

614-235-1819

HOME

REMODELING

MultiCraft Const.

& Handyman Services

All Types Handyman Services:

Decks, Fences

Kitchen/Baths

Window/doors installed

Interior Painting

Drywall Repairs

All Types of Flooring

Call/Text 614-774-2923

multicraftconstruction@gmail.com

Charlies Handyman

Service

Over 40 yrs. exp.

Hot Water Tanks

Door Locks

Kitchen/Bath Remodels

Roofmg * Siding

Porches & Decks

614-319-6010

blantoncharles894@gmail.com

INFORMATION

FOR ONLY

$74.00

You Can Reach

Over 41,000 Homes

In

Groveport & South/

Canal Winchester

For Info Call

272-5422

LAWN CARE

LET US MAINTAIN

YOUR LAWN & GARDEN

FOR YOU

Summer, Spring,

Winter or Fall

WE DO IT ALL!!!!

Lawn Cuts, Edging,

Trees & Shrubs, Garden,

Mulching, Hauling,

Garden Pond &

Home Maint.

Free Ests. Low Rates

$20 & Up

Kevin - 614-905-3117

PAINTING

Painter Over 30 Yrs. Exp.

Free Est. Reas. Rates

Daniel - 614-226-4221

PLASTERING

DRYW

YWALL &

PLASTER

12/18

A&M

REPAIR

Textured Ceilings

614-551-6963

Residential/Commercial

BIA

Classified Services

12/18 A

PLUMBING

MYERS

PLUMBING

Exp. Expert Plumbing

New Const. & Fast Repairs

Lic. - Permit Available

Water • Sewer • Gas

614-633-9694

All About Drains & Plumb.

Will snake any small drain

$145. 614-778-2584

CHRIS'

PLUMBING

"Plumbing & Drain Professional

That You Can Count On"

24 Hrs., 7 Days/Week

No Overtime Charges

24 Yrs. Exp. in Plumbing &

Drain Cleaning Field

Call For A Free Phone Estimate

$100.00 For Any Small Drain

614-622-4482

30% OFF with AD

POOL/SPA

MAINTENANCE

K&L Spa Cleaning

Hot Tub Cleaning and

Weekly Maintenance

Keith 614-316-9809

POWER WASHING

Bates & Sons

Soft Wash & Powerwash

5 ★ Google Reviews

614-586-3417

SEWING MACHINE

REPAIR

REPAIR all makes 24 hr.

service. Clean, oil, adjust

in your home. $49.95 all

work gtd. 614-890-5296

SNOW REMOVAL

GOOD NEIGHBORS

SNOW REMOVAL

SNOW & SALT SERVICE

PLOWING

• Driveways

• Sidewalks

• Parking Lots

WE ALSO DO CHURCHES

Cell-614-937-0658

614-238-9237

Ask For Bob 12/18

E/SE

TREE SERVICES

Warren Brewer Tree Service

• Tree Removal

• Tree Trimming 9/11

A&M

• Stump Grinding

• Bucket Truck Services

Best Prices • Same Day Service

614-878-2568

BURNS TREE SERVICE

Trimming, Removal &

Stump Grinding.

614-584-2164

12/4 A&M

12/4 A
---
PAGE 12 - GROVEPORT MESSENGER - November 27, 2022

www.columbusmessenger.com

Financial forecast indicates more revenue needed for Groveport Madison Schools

By Rick Palsgrove

Groveport Editor

Groveport Madison Schools are expected

to face a revenue shortfall of $3 million by

the end of fiscal year 2023.

According to the latest five year financial

forecast, the district's expenses are

projected to exceed the district's revenues

by $18 million by fiscal year 2027 if additional

revenue is not generated, according

to the district's latest five year forecast.

"The district would need to cut its fiscal

year 2027 projected expenses by 16 percent

"A worsening cash balance can erode

the district's financial stability over time.

A positive cash balance and having

cash on hand gives us time to plan."

- Felicia Drummey, treasurer

Groveport Madison Schools

in order to balance its budget without additional

revenue," said Groveport Madison

Treasurer Felicia Drummey.

She added that the district's cash balance

is positive by the end of fiscal year

2023, but is expected to worsen by fiscal

year 2027.

"A worsening cash balance can erode the

district's financial stability over time," said

Drummey. "A positive cash balance and

having cash on hand gives us time to plan."

According to the forecast, the district

receives 42 percent of its revenue from

property taxes, 40 percent from state funding,

and 18 percent from other sources.

One reason for a decrease in revenue,

according to Drummey, is because a change

in state funding which distributes money

where students attend school, not where

they live. Also, even though property valuations

are growing at almost 5 percent

annually, revenue is at only 1.22 percent

annually because a recent state law

reduces millage to offset inflationary

growth.

Salaries make up 52 percent of expenditures,

benefits are23 percent, and services

are15 percent.

According to Drummey, salary expenses

increase an average of 7 percent annually.

Benefits' costs are also rising an average of

8.5 percent.

She noted spending has decreased annually

overall since 2018 with one of the reasons

for it being the effect of COVID closures

reducing operating costs.

The district's most recent operating levy

was renewed by voters in 2019 and it is set

to expire in 2024. That five-year levy was a

"no new taxes" levy and it was the renewal

of an existing levy.

The earliest the district's existing five

year renewal general operating levy can be

placed on the ballot is November 2023. It is

tentatively scheduled for the November

2024 ballot as that is latest date it can be

approved for the district to start collecting

money in 2025. Drummey noted the levy is

collecting almost 2 mills less than when it

was first approved in 2014 due to changes

in state law.

"We have maintained control of our

spending, but now are seeing the resumption

of normal inflationary trends due to

universal rising costs," said Drummey. "We

can use the winter months for strategic

planning to determine action steps. Budget

reductions are likely necessary as well as

seeking additional levy revenue. We need

to plan for how best to address overcrowding

and modernization with our facilities."

FALL IN LOVE WITH

CHOICE

CHECKING

Telhio' elhio's Choice Checking featur

tures Early Deposit, along with:

• ID Theft Assistance

• Discounts at S

• Roadside Assistance • Cell Phone Prot

OPEN YOUR ACCOUNT TODAY AT TELHIO.

ORG $

Telhio is open to anyone who lives, w orks, worships, or goes to school in Central and Southwest Ohio. Federally Insured b y NCUA. EqualHousing Lender. Early Dir ect Deposit

is free to all members. Enrollment is automatic and is available only to personal checking accounts. You must contact us to opt out of this service. We cannot guarantee early

availability of any direct deposit you receive. Please see our Funds Availability Policy Disclosure for additional details. Membership eligibility requirements ements apply.

614-221-3233