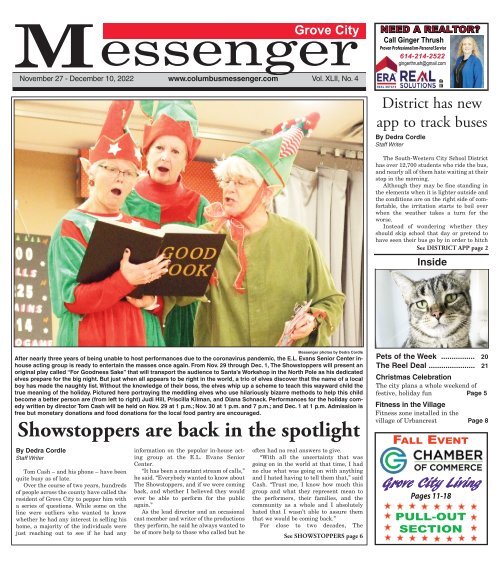 Grove City Messenger - November 27th, 2022
Create successful ePaper yourself
Turn your PDF publications into a flip-book with our unique Google optimized e-Paper software.
Messenger

Grove City

November 27 - December 10, 2022 www.columbusmessenger.com Vol. XLII, No. 4

NEED A REALTOR?

Call REALTOR? Ginger Thrush

Proven Professionalism-Personal Service

Call Ginger Thrush

614-214-2522

614-214-2522

gingerthrush@gmail.com

District has new

app to track buses

By Dedra Cordle

Staff Writer

The South-Western City School District

has over 12,700 students who ride the bus,

and nearly all of them hate waiting at their

stop in the morning.

Although they may be fine standing in

the elements when it is lighter outside and

the conditions are on the right side of comfortable,

the irritation starts to boil over

when the weather takes a turn for the

worse.

Instead of wondering whether they

should skip school that day or pretend to

have seen their bus go by in order to hitch

See DISTRICT APP page 2

Inside

Messenger photos by Dedra Cordle

After nearly three years of being unable to host performances due to the coronavirus pandemic, the E.L. Evans Senior Center inhouse

acting group is ready to entertain the masses once again. From Nov. 29 through Dec. 1, The Showstoppers will present an

original play called "For Goodness Sake" that will transport the audience to Santa's Workshop in the North Pole as his dedicated

elves prepare for the big night. But just when all appears to be right in the world, a trio of elves discover that the name of a local

boy has made the naughty list. Without the knowledge of their boss, the elves whip up a scheme to teach this wayward child the

true meaning of the holiday. Pictured here portraying the meddling elves who use hilariously bizarre methods to help this child

become a better person are (from left to right) Judi Hill, Priscilla Kilman, and Diana Schnack. Performances for the holiday comedy

written by director Tom Cash will be held on Nov. 29 at 1 p.m.; Nov. 30 at 1 p.m. and 7 p.m.; and Dec. 1 at 1 p.m. Admission is

free but monetary donations and food donations for the local food pantry are encouraged.

Showstoppers are back in the spotlight

By Dedra Cordle

Staff Writer

Tom Cash — and his phone — have been

quite busy as of late.

Over the course of two years, hundreds

of people across the county have called the

resident of Grove City to pepper him with

a series of questions. While some on the

line were outliers who wanted to know

whether he had any interest in selling his

home, a majority of the individuals were

just reaching out to see if he had any

information on the popular in-house acting

group at the E.L. Evans Senior

Center.

"It has been a constant stream of calls,"

he said. "Everybody wanted to know about

The Showstoppers, and if we were coming

back, and whether I believed they would

ever be able to perform for the public

again."

As the lead director and an occasional

cast member and writer of the productions

they perform, he said he always wanted to

be of more help to those who called but he

often had no real answers to give.

"With all the uncertainty that was

going on in the world at that time, I had

no clue what was going on with anything

and I hated having to tell them that," said

Cash. "Trust me, I know how much this

group and what they represent mean to

the performers, their families, and the

community as a whole and I absolutely

hated that I wasn't able to assure them

that we would be coming back."

For close to two decades, The

See SHOWSTOPPERS page 6

Pets of the Week ................ 20

The Reel Deal ...................... 21

Christmas Celebration

The city plans a whole weekend of

festive, holiday fun Page 5

Fitness in the Village

Fitness zone installed in the

village of Urbancrest Page 8

FALL EVENT

Grove City Living

Pages 11-18

PULL-OUT

SECTION
---
PAGE 2 - GROVE CITY MESSENGER - November 27, 2022

America'

ica's s Fa Fa

av av

vorite Treasure ure e Hunts!

2022

C.M.T

MOWER REPAIRS

614-875-5830

6446 HARRISBURG PIKE, ORIENT, OHIO 43146

Pick-up and Delivery

"We have the lowest price in town!"

Nov. 26 &

27

Dec. 17 & 18

Antiques, Collectibles,

Jewelry, Vintage,

Home Decor, Militaria

and more!

2023

Jan. 28 & 29

Feb. 25 & 26

Mar. 25 & 26

Chicken noodle dinner

The Grove City Community Club will host a homemade

chicken noodle dinner from 4 to 7 p.m. Friday,

Dec. 2 at 3397 Civic Place in Grove City. The cost is

$18 for adults and $10 for children under the age of 10.

Dine-in and carryout will be available. Proceeds benefit

the community. For additional information, visit

grovecitycommunityclub.org.

Lions Club pancake breakfast

The Grove City Lions Club will hold its annual pancake

and sausage breakfast from 7 a.m. to 12 p.m. Dec.

10 at the Grove City United Methodist Church, 2684

DISTRICT APP

Continued from page 1

a ride with members of their family, they will now be

able to access an app that sends notifications to their

smart devices when their transport has pulled into a

specified area.

community events

www.columbusmessenger.com

Columbus St. Photos with Santa will be taken for $10

from 8:30 a.m. to 11:30 a.m. and free vision and diabetes

screening will be available. Donations will be

accepted at the door and all proceeds will benefit Pilot

Dogs and Grove City Lions sight saving programs.

Contact Duane Shaul at 614-875-0708 or email

duane.shaul@gmail.com for additional information.

Blood drive in Grove City

The American Red Cross will host a blood drive

from 10:30 a.m. to 3:30 p.m. Nov. 28 at the Grove City

Library, 3959 Broadway. To schedule an appointment,

call 1-800-448-3543 or visit www.redcrossblood.org.

On Nov. 28, the district will launch a new planning

tool called StopFinder which will allow parents and

guardians to receive real-time information on where

their child's school bus is in proximity to their home

address.

According to Evan Debo, the district's

executive director of communications, this

app has the capability to reduce the time

spent out in the harsh elements, thus making

the student's life and the lives of their

family members run a bit more smoothly in

the hectic morning hours.

The district has started to send out

emails regarding the new software tool to

families through the most current address

provided in the Infinite Campus Parent

Portal. The invitation to the registered

users will give directions on how parents

and guardians can download the secure

app, and it will show them how the app

works so they can curate the bus tracking

notifications to their specificity.

Another key feature of the StopFinder

App is that it allows parents and guardians

to be able to share the child's bus tracking

data with other trusted adults, such as

providers of care after school.

Through the official app, additional

information will be displayed on how parents

and guardians can set up the route

sharing feature. It will also show how to

rescind that access if necessary. Debo said

the district will leave that decision on

whether other adults should have access to

a student's bus location to the parents and

guardians.

Not everyone who has a smartphone, a

smartwatch, or a table has to opt-in as this

new planning tool is voluntary. And those

who may be interested in the app but would

like to take a "wait and see" approach can

still download the app after the initial

launch on Nov. 28.

As it stands right now, the app will not

be able to notify parents and guardians on

whether the bus is running late — the district

will continue to provide that information

as it is currently performed — but Debo

hopes that will be a feature on a future version

of the app.

The district has created a frequently

asked questions page on its blog at swinsider.com

for more information and troubleshooting

solutions.
---
www.columbusmessenger.com

The City Beat

November 27, 2022 - GROVE CITY MESSENGER - PAGE 3

Plum Run plan postponed by Grove City council

By Andrea Cordle

Grove City Editor

Grove City Council has postponed legislation

pertaining to a large housing development.

After much discussion at a recent meeting,

the council delayed a vote on the rezoning

of 144 acres located north of State

Route 665 and east of State Route 104. The

petitioner, Pulte Homes, has requested a

zoning change from single family to

planned unit development. The development

plan for the project, Communities at

Plum Run, was also postponed.

According to Jim Hilz, who was on hand

representing Pulte Homes, the plan is to

build a residential subdivision consisting of

266 single-family lots and 94 condominiums.

There would also be a multi-use path,

a playground, and open space.

Several community members spoke at

the meeting and encouraged council to vote

against the housing development.

John Riley, who lives near the proposed

development, said he enjoys the wildlife

surrounding his property and believes the

subdivision would severely disturb those

animals. He said that property should be

kept as green space or expanded as a part

of Scioto Grove Metro Park.

"I urge you to protect this special piece

of land and all the wildlife that lives among

the stream and rolling hills," said Riley.

Eric Jackson said he lives 700 meters

from the proposed development.

"People feel like you guys are shoehorning

more and more people in every chance

you get," he told council members.

Jackson and another resident David Ott

believe there are safety concerns regarding

more traffic along the roadways. Ott presented

council with a petition including signatures

of more than 100 people who

oppose the development.

Hilz said Pulte Homes completed a traffic

study.

"Our traffic study was approved by

Grove City and ODOT (Ohio Department of

Transportation). The traffic will increase,

with or without Plum Run, due to growth,"

said Hilz.

Based on the traffic study and requirements

by city officials, Pulte agreed to contribute

funds to an ODOT speed study of

State Route 665. They have also been

required to install seven turn lanes near

the development.

"All of these off-site road improvements

will cost about $3 million," said Hilz.

"We've met all of council's requirements.

We will be meeting with the city and ODOT

to discuss road improvements. We want to

be part of the traffic solution."

Council president Ted Berry said the

only way the traffic issues along the state

routes will be addressed is with funding

help from private developers and government

agencies.

Most of the citizens who spoke against

the project at the meeting were not Grove

City residents; they live in Jackson

Township. Councilman Roby Schottke

urged those residents to contact the township

trustees so they could work with the

state to help address the traffic issues

along 104 and 665.

"The state has allowed 665 and 104 to

languish, "said Schottke. "The state of Ohio

is negligent in what they're doing to you

folks in Jackson Township and the city of

Grove City by not lowering the speed

limit."

He added to the crowd, "I understand

where you are coming from. You bought out

in the country. You wanted country and

now the city is coming to you."

The rezoning and development plan

were postponed so the developers, along

with city staff, could meeting with ODOT

and discuss the infrastructure. City leaders

also would like to meet with township officials

regarding the issues.

Councilwoman Christine Houk said this

is a multi-jurisdictional conversation and

they need to bring ODOT to the table. She

said she would like answers regarding the

infrastructure before moving forward.

Councilman Mark Sigrist agreed.

"I find it troubling to move forward if the

infrastructure can't handle it," he said. "We

don't have the answers right now."

The vote on the two pieces of legislation

were delayed until the Dec. 5 meeting or

later if the developer requests more time.

southwest

Messenger

(Distribution: 12,000)

Andrea Cordle...................................Grove City Editor

southwest@ columbusmessenger.com

Published every other Sunday by the

The Columbus Messenger Co.

3500 Sullivant Ave., Columbus, Ohio 43204

(614) 272-5422

The Columbus Messenger Co. reserves the right to edit, reject or cancel

any advertisement or editorial copy at any time. The company is not

responsible for checking accuracy of items submitted for publication.

Errors in advertising copy must be called to the attention of the company

after first insertion and prior to a second insertion of the same advertising

copy.

CHECK OUT THESE PROPERTIES!

WALK TO TOWN CENTER! JUST LISTED! NEW LISTING! JUST SOLD!!!

3563 GRANT AVE.

Desirable Beulah home on low traffic

Grant St. has 3 bedrooms, 1.5 baths

with original woodwork preserved. Enclosed

porch, large dining room & eat in

kitchen. Large lot is partially fenced,

oversized garage & plenty of parking

area. $250,000.

Brick ranch in Brookshire South features

3 bedrooms, 2 full baths with a full basement.

Hardwood floors in large living rm.

Kitchen has solid wood cabinets, big

pantry, brand new countertops/sinks &

is open to family room w/ fireplace.

Enjoy outdoors from screened porch or

wood deck. $247,000.

2353 HARDESTY DRIVE

Hardesty Village condo- Largest square

footage in the area with 3 bedrooms, 1

full & 2 half baths. Home has tasteful

decor throughout, fully applianced

kitchen w/ handy pantry, all replacement

windows, enclosed patio & covered

parking. Full basement too! $150,000.

5625 GROVE CITY RD.

Three bedroom ranch sitting on nearly a

half acre of outdoor beauty featured

beautiful hardwood floors, 3 season

room and a partially finished basement.

Oversized 2 car garage too. Sold for

$270,000.

COMING SOON - Circleville ranch on 2 acres - contact Ginger for details!

"Top 5% of agents in Ohio"

I Sell Homes in Your Neighborhood!

Thinking of taking advantages of the sellers market?

Call me for no obiligation market value report.

Ginger Thrush, Realtor

Call Ginger Thrush

Proven Professionalism - Personal Service

614-214-2522

gingerthrush@gmail.com
---
PAGE 4 - GROVE CITY MESSENGER - November 27, 2022

www.columbusmessenger.com
---
www.columbusmessenger.com

Community Focus

City welcomes the community for

its annual Christmas Celebration

The Grove City community is invited to

celebrate an entire weekend of holiday fun

at the Grove City Christmas Celebration,

Heart of Grove City Mistletoe Market and

more. The event will be held from 5 to 9

p.m. Friday, Dec. 2 and from 9 a.m. to 7

p.m. Saturday, Dec. 3 in the Town Center.

Kicking off the celebration is the Heart

of Grove City Christmas parade, which

steps off at 7 p.m., Friday, Dec. 2 and winds

through the Town Center. Following the

parade, Santa joins Mayor Richard "Ike"

Stage and city council members as they

lead the annual countdown to light the

Hometown Christmas Tree at Broadway

and Park Street.

"We look forward to welcoming the community

in celebration of the holidays as we

light the Town Center Christmas trees,"

said Stage. "Two days of family fun and festive

activities, including a Community

Winds concert, bring seasonal joy to our

community."

More holiday activities throughout the

weekend include:

•Photos with Santa, 4 from 6:45 p.m.,

Friday, Dec. 2 and 9 a.m. to 4 p.m.,

Saturday, Dec. 3 - Parents can take their

own photo or receive a print for a $5 donation,

benefiting Nationwide Children's

Hospital, in the Mistletoe Market tent.

•"Reindeer" Rides, 5 to 9 p.m., Friday,

Dec. 2 and 9 a.m. to 4 p.m., Saturday, Dec.

3, in the green space at Arbutus Avenue

and Park Street.

•Breakfast with Santa, 7:30 to 10:30

a.m., Saturday, Dec. 3, Grove City Masonic

Letters to Santa

The delight of the holiday season

returns with this Grove City tradition, a

direct-mail route to Santa Claus. The

Parks and Recreation Department elves

make sure letters arrive safely to the North

Pole where Santa responds to each before

Christmas.

Drop letters into Santa's mailbox, located

in front of the Grove City Welcome

Center and Museum, 3378 Park St. from

Nov. 28 through Dec. 4. To receive a

response, include a self-addressed,

stamped envelope with every letter.

For additional information, call the

Grove City Parks and Recreation

Department at 614-277-3050.

Cram the Cruiser

The city of Grove City and Grove City

Division of Police will host the annual

Cram the Cruiser holiday gift drive, benefitting

youth under the care of Franklin

County Children Services (FCCS). Drive

through to safely drop off your donated

news and notes

Lodge 689, 3558 Park St.

•Maker's Market, 9 a.m. to 2 p.m.,

Saturday, Dec. 3, Visit Grove City, 3995

Broadway.

•Grove City Community Winds and

Chamber Singers Concert, 11 a.m.,

Saturday, Dec. 3, Grove City High School,

4665 Hoover Road.

•Christmas in the Village, hosted by the

Southwest Franklin County Historical

Society, noon to 4 p.m., Saturday, Dec.3,

Century Village, 4185 Orders Road.

Throughout December, residents and

visitors are invited to enjoy a variety of fun

activities:

•The Nutcracker Hunt, Friday, Dec. 2

through Tuesday, Jan. 3, in historic Town

Center.

•"Treats for Wildlife," Gardens at Gantz

Farms holiday display at Gantz Park, 2255

Home Road.

•Share your festively decorated home on

the 2022 Grove City Christmas Lights Tour

map. Include your home on the tour map

for others to drive by and enjoy your holiday

display.

•Various holiday activities are hosted at

the Grove City Library, 3959 Broadway,

and Little Theatre Off Broadway, 3891

Broadway.

•Christmas photo stops. Take holiday

selfies or family photos and tag us in your

social media post using hashtag

#GroveCityChristmas.

Visit GroveCityOhio.gov for all activities

or call the Grove City Parks and

Recreation Department at 614-277-3050.

items from 1 to 4 p.m., Sunday, Dec. 4, at

Grove City United Methodist Church, 2684

Columbus Street. FCCS requests donations

of gift cards, new books and toys. For

more information, call 614-277-1718.

Firefighters for Kids registration

The Jackson Township Firefighters for

Kids registration is for children 12 and

younger who live in Jackson Township.

Registration runs through Dec. 2.

Registration is available online at cognitoforms.com/JacksonTownship2/Firefigh

tersForKidsRegistration2022. Registrants

without a computer can register in person

at the Jackson Township Fire Station 202,

3650 Hoover Road, south office, 9 a.m. to 4

p.m., through Friday, Dec. 2. In-person

required documentation includes a current

photo ID for parent or custodial caregiver,

birth certificate for each child (12 and

under only), documentation of custody if

the caregiver is not listed on the child's

birth certificate and current proof of residency

in Jackson Township.

Looking for a small,

friendly church experience? Try

First Presbyterian Church

of Grove City

4227 Broadway, Grove City

Worship Service 10:00 a.m.

In-Person and live Facebook

www.fpcgc.org

www.jpsbbq.com

November 27, 2022 - GROVE CITY MESSENGER - PAGE 5

2000 Norton Rd.

Phone: 614-878-7422 Fax: 614-878-7429

Hollyday Happiness

(Serves Approx. 4-7).......................................... $ 169.95

Order By 12/13/22

For Christmas Eve Pick-Up by 5 PM

Hot & Ready to Eat or Cold to Reheat

*INCLUDES*

Charicuterie Platter (Fancy Meats/Cheeses & Fruit Snacks)

3 Blend Salad

JP's Ribs * Or * 2# Prime Rib (Limited Supply So Order Early)

Italian Roasted Chicken Pieces

3 Side Selections:

Au Gratin Potatoes/Green Beans/ Baked Beans/Slaw

Mac & Cheese/Potato or Macaroni Salad/Chunky Applesauce

Rolls & Butter

Please visit the

Southwest Church

of your choice.

List your Worship

Services here.

For info. call 614-272-5422

Be a Part of Our Local Worship Guide

Our Worship Guide is geared toward celebrating faith and helping reader connect with religious

resources in our community. Make sure these readers know how you can help with a presence in

this very special section distributed to more than 22,000 households in the Southwest area.

Contact us today to secure your spot in our Worship Guide.

614.272.5422 • kathy@columbusmessenger.com
---
PAGE 6 - GROVE CITY MESSENGER - November 27, 2022

Dave Dobos

STATE REPRESENTATIVE

WE

WON!

That—and a healthy dose of disbelief—were

my initial exhilarating thoughts as the vote totals

became final on Election Night when you

selected me to be your choice for the Ohio

House of Representatives 10th District! The

20,000+ doors we knocked, the 500+ yard

signs placed in front of voters' homes, the

countless time spent at public events, parades,

and candidates' forums all contributed

to, what for me appeared to be, a stunning

victory.

To each of you who answered a door, who allowed

me or a campaign volunteer to interrupt

your day, I thank you! To each of you who

voted—whether for me or my opponent—I

say thank you! This entire process is distinctly

American and, win or lose, emphasizes the

blessings we all enjoy here in the United

States.

Now…the real work begins. During the campaign,

I promised to concentrate on the quality-of-life

issues about which we all care:

economic growth, workforce development,

and excellent academic education for our children.

In the weeks since, I have begun preparing

for the tasks ahead. I have (and will

continue to) meet with community leaders

and members to help me understand issues

and priorities. I have attended the new Ohio

House member orientation to help me begin

to learn systems, processes, and supports that

exist within our legislative organizational

structure. I have met with House leadership

to communicate how my experiences can

translate into committee assignments that

emphasize my strengths. And I am hiring a

legislative aide who will help me be as responsive

as possible to constituent requests and

get prepared for the daily work required. I

want to hit the ground running—to the degree

it is possible—when I am sworn in on

January 3rd.

I will report to you regularly via this column

about the work my colleagues and I do in the

legislature. I will write about the legislative

process and my experiences inside it. My intent

here is to be informative and helpful, not

partisan. When I am sworn in, I will publish

my office contact information. I invite you to

reach out anytime to me about any concern,

point of view, or request.

It is an awesome responsibility with which

you have entrusted me. It is a privilege to

serve you in this capacity and to be in a position

to make a difference for each of us. I

promise to do my best to represent our communities

in a responsible, responsive, and effective

manner and to advocate for all of us in

the Ohio House of Representatives.

Paid Advertisement

SHOWSTOPPERS

Continued from page 1

Showstoppers have been delighting the masses with their annual

performances in the spring and fall — the latter production mostly

mining holiday content that is both comedic and spiritual. With a

strong track record of pleasing the crowd, some come from away

places to catch a performance. Rarely is there an empty seat in the

house.

Since their last production in December of 2019, however, the

stage where the actors rehearse and perform and those seats in

the auditorium where the crowd sat in delighted awe have

remained empty due to the Covid-19 pandemic.

In early 2020, the center was closed by order of the state to slow

the spread of the novel coronavirus. At the time, officials believed

public spaces, especially those for seniors, could be safely reopened

within a few months but that turned out to not be the case.

"For more than a year, this center and its activities were closed

to our seniors," he said. "And the biggest crime with Covid is that

it robbed them of the place where they went for recreation, for connection,

and for fellowship.

"Every day this center was opened, they had that and then it

was gone. And then most of them were alone at home talking to

the cat or having to talk to their families through the window

because they could get really sick if they caught Covid."

With so much going on, Cash said he was never surprised when

cast members, their families, or ardent fans would reach out to

talk about The Showstoppers or reminisce about favorite past productions.

"The Showstoppers are a vital piece of the community because

they represent so many things," he said. "This (these productions)

is about giving opportunity to people, it's about making people feel

good about themselves, it's about investing in people and allowing

them to be a part of a team because, frankly, seniors do not often

get to be involved in those things, they do not often get to do those

things, and they do not often get to see themselves in these

things."

Cash said it came to a point where he did not even want to pick

up his phone because he was always the bearer of bad news. But

then one day he did answer a call from the center's administrative

team who gave him the greenlight to host a new production.

"I was so happy to — finally — be able to tell people that it was

back," he said with a big laugh. "Now my phone is ringing off the

hook with people asking questions about when it is taking place

and what the play is about, and if I'm sure it is going to go on."

Cash gave reassurance that the show definitely would go on —

and quite soon at that.

From Nov. 29 through Dec. 1, The Showstoppers will present

an original play called "For Goodness Sake." Written by Cash, the

production will transport the audience to Santa's Workshop in the

North Pole where the reindeers are fighting, the elves are scheming,

and the jolly old man is quickly running out of patience.

Although comedic in nature, the play also has a spiritual element

which revolves around a temperamental young child named

Billy who finds himself sitting atop the naughty list in The Good

Book. When the scheming elves pay him a little visit a la Ebenezer

Scrooge in "A Christmas Carol," he begins to discover the true

meaning of the holiday and atone for his past behavior.

"At its heart, this play is a celebration of the Christmas spirit,"

said Cash. "It celebrates the love that Santa Claus was born of, of

the giving and the sharing, and for the children, the getting, but

we all grow up in that regard. And this play is also about what

Christmas represents, and that is the great gift of forgiveness and

the fact that anybody can turn it around.

"Let's face it, anybody can be bad — we all have our moments —

but if you understand that all you have to do is give your trust to

Jesus, then he will give you that gift of forgiveness."

Cash said while he didn't want to "get too heavy" with the religious

overtones in the play, he did want to feature aspects of it as

the productions coincide so closely with the holiday season.

"It still has plenty of jokes and gags about reindeer farts, but it

has that comforting piece with a redemptive arc that I think some

people still need to see — especially with everything that has been

going on in the world lately."

Cash said he is so excited for the public to see this play, but

www.columbusmessenger.com

Naughty boy Billy (played by Don Murnane) gets ready to smash

this guitar over the head of a visiting Easter Bunny (Ed Hawkins)

who tries to talk some sense into his old foe. Although the

Easter Bunny was without his usual fur during this scene at

rehearsal on Nov. 15, all actors will be outfitted accordingly during

the live performances.

even more so for the dedicated members of the acting group who

have been waiting so long for another chance to perform for the

masses.

"We have had a lot of ups and downs since we began our

rehearsals this summer and we have had to face down a lot of

challenges recently as some of our cast fell ill," he said. "So we

don't exactly know what it is going to look like opening night, but

I do know that all of our cast is dedicated to this play, to their performance,

and to putting on a great show for the public."

Among those who will be seated in the audience for the first

time is Jean Slussar, a long-time member of The Showstoppers

Acting Group. Since its inception, Slussar has performed in

almost every production but "For Goodness Sake" will mark her

last appearance in one of their plays.

"It is my swan song," she said.

Health issues have prevented the actress from taking on a

more demanding role this year, but she will still be able to get in

a few planned lines during scene change-overs — most of which

come at the expense of the director.

She said every barbed quip is all in good fun.

"I think he did a wonderful job with the script," she said. "It's

very funny, very good, and I am pleased that I was able to work

with him and spend time with him.

"It is not often that someone will give those my age an opportunity

to do something fun and different, but he wants everyone

to have a time to shine, to be a star."

She said she is excited to see her friends be those stars, and for

the audience to fall in love with them again and with the story

they are telling.

"I think we can all relate to being the little bad boy," she said.

"I, myself, probably could have been better. But we can all work to

be better, and I think that's why this play will resonate so much

with the audience when they get to see it."

Performances for "For Goodness Sake" will be held at 1 p.m. on

Nov. 29; at 1 p.m. and 7 p.m. on Nov. 30; and at 1 p.m. on Dec. 1

at the E.L. Evans Senior Center, 4430 Dudley Ave. in Grove City.

Admission is free but monetary donations and canned goods for

the local food pantry are welcome. The audience can drop-in at the

time of the scheduled performance but large groups are encouraged

to call the center at 614-277-1060 in advance.
---
www.columbusmessenger.com

The City Beat

November 27, 2022 - GROVE CITY MESSENGER - PAGE 7

Council approves plan for performing arts stage

By Andrea Cordle

Grove City Editor

The stage has been set for a centerpiece

at the Town Center Park.

At a recent meeting, Grove City Council

approved a resolution of support for the

installation of a permanent performing

arts stage at the old library site. A temporary

stage has been at that location for the

past two years.

"We have all kinds of events being held

in this space," said Grove City Parks and

Recreation Director Kim Conrad.

Conrad said the city parks staff already

has plans for events held at that location

for 2023 including Friday night concerts,

food truck weekends, Arts in the Alley, and

the Wine and Arts Festival to name a few.

The Central Ohio Brass Band is also scheduled

to take the stage.

According to Conrad, residents completed

a survey last year that asked what people

wanted to see at the old library site,

located along Park Street. She said an

improved and expanded stage was a common

answer.

The city received a $200,000 state capital

grant that was originally to be used to

help fund an amphitheater at Beulah Park.

Kelly Sutherland, the city's recreation

superintendent, said they were able to shift

those grant dollars to cover the purchase of

the stage for the Town Center Park. Once

the stage has been delivered, the city will

seek bids for the installation.

Even though the council signed off on

the resolution, there was some hesitation

as well as added amendments.

Council president Ted Berry said council

was supposed to see an overall plan for

that space and the city was supposed to

host public meetings on the matter. Berry

said this has not happened.

"I understand we have this money that

we have to spend, but I'm not even sure

this is where this pavilion should go," he

said.

According to Berry, the council is

expected to discuss the purchase of two

additional parcels in that area that could

affect the layout of the space.

"Do I want a stage? Oh yes, I want a

stage there," said Berry. "I just don't know

how this all clicks together."

Councilwoman Christine Houk said the

temporary stage has been working, not just

for performances, but for many purposes,

like story time events from the Grove City

Library and fitness classes.

"Nestling it in the center allows us maximum

flexibility," said Houk in response to

Berry's concerns of not knowing the whole

layout of the space. "That, to me, is the key

to this."

Berry proposed an amendment to the

resolution that requests the city's administration

submit plans for an overall park.

The amendment passed with a majority

vote.

"I support the need for an overall park

plan, but I don't want to delay the grant

funding we have in place," said councilman

Randy Holt.

Grove City Mayor Richard "Ike" Stage

said previous legislation asked the administration

to develop plans for this park with

the space boundaries of Park Street on the

north, Arbutus Avenue on the east, Civic

Place on the south, and First Avenue on

the west.

"Based on those boundaries, we did

(develop plans for the park), and council

took no action," said Stage.

Stage said they held an open forum

meeting that went nowhere. He said they

tried out a temporary stage at that location

and it has been successful.

"We have this experiment that worked,"

said the mayor. "Now, we want to make it

permanent."

Before council voted on the resolution,

councilman Roby Schottke proposed another

amendment to the plan that would

include building a playground like the play

structure at Gantz Park. He said there is

an absence of amenities for children in the

downtown area.

The resolution was approved, with the

amendments.

The Grove City Community Winds is

scheduled to kick off the annual summer

concert series with a performance for

Memorial Day weekend. City officials hope

to have the performing arts stage ready

before that concert.

news and notes

S.A.L.T. at Evans Center

The Grove City Division of Police host

Seniors and Law Enforcement Together

(S.A.L.T.) meetings at 1 p.m. the second

Tuesday of each month at the Evans

Center, 4330 Dudley Ave. Adults of all

ages are welcome to attend. If you would

like additional information on other crime

prevention programs visit police.grovecityohio.gov

or call 614-277-1765.

Now in Grove

City

At Zangmeiste er Cancer Center we coll laborate with our

colleagues in radiation therapy, surgery, genetics, pathology

and

clinical researc ch to ensure each patien nt has a comprehensive

,

multidisciplinar ry plan of care. Support from our pharmacists,

social workers , nurse navigators, dietiti ians and financial

counselors min nimize the impact of cancer cer on daily life.

A DIVISION OF

AMERICAN ONCOLOGY PAR TNERS, P.A.

We del liver the most adv vanced and innova ative treatments fo ocused on each patient for

the best possible expe erience — becaus e each patient' 's cancer journey is unique.

5500 North Meado ows Dr., Suite 230, Grove City, OH 43123 | ZangCenter.

com
---
PAGE 8 - GROVE CITY MESSENGER - November 27, 2022

Grove City Police News

On November 9, 2022, Grove City

Police were dispatched to the 2600

block of Eugene Ave on a report of

Identity Fraud. The victim stated

that upon checking their bank account

they noticed transactions that

were not theirs. The victim contacted

the bank and discovered that

two checks sent to pay bills had the

pay to name and dollar amount

changed to $981 and $1800, and another

check had been forged.

In other police news:

On November 9, 2022, Grove City

Police were dispatched to the 1100

block of London Groveport Rd on a

report of a theft. The victim stated

they had received numerous fines

from the state of Illinois iPass for toll

booth violations. The fines started

on July 30, 2022. The victim stated

he discovered his front license plate

had been stolen.

On November 3, 2022, it was reported

to Grove City Police by the

victim in the 4700 block of Hunting

Creek Dr. that their check that was

sent to pay a bill was stolen. The

check had the dollar amount

changed to $4800.77 and the pay to

name changed.

On November 5, 2022, Grove City

Police were dispatched to the 3200

block of Urbancrest Industrial Dr. on

a report of a theft from a trailer. The

victim stated a trailer was broken

into, causing $2000 in damage, and

several tools totaling $8000 were

stolen. The tools merchandise was

tracked to Motel 6 where a check of

the security video revealed the room

a suspect took the merchandise to. A

search warrant was obtained for the

room and the merchandise was located

and returned to the owner.

The suspect was charged with a

felony of receiving stolen property.

On November 8, 2022, Grove City

Police were dispatched to the 2300

block of Stringtown Rd on a report of

a theft of a wallet from a locker. The

five credit cards had been used at

various locations in Grove City. The

business where the theft occurred

would not provide security video

without a subpoena.

www.columbusmessenger.com

Lunch Specials Mon.-Sat. 11 - 3:30 pm

Save time--order online!

614-276-4395 • 614-272-9234

120 PHILLIPI ROAD • www.dingho.net

GIFT CERTIFICATES

In Any Amount Of Your Choice

Each Gift Purchase Over $50.00

And You Get

$

10.00 FREE

Messenger photos by Dedra Cordle

The village of Urbancrest's Martin Luther King Park has a new amenity: an outdoor fitness

zone. Featuring nearly a dozen stations, most of which are accessible for those

with physical limitations, the outdoor fitness zone provides the public with a way to

work on their strength and conditioning without the fees that would normally come

attached with similar equipment at a gym. Among the stations that will likely see a lot

of use is the adjustable butterfly station, which works all of the muscles within the

upper body. Mayor Joseph Barnes Sr. (pictured here at the station) joked that while he

does not feel that is an area of concern for him, he is excited that the village will now

be able to offer such a unique spot to work on one's fitness goals to the community.

Fitness zone in Urbancrest

By Dedra Cordle

Staff Writer

The sight of a concrete slab does not

often cause an individual to go into a frenzied

state, but some who live in the village

of Urbancrest could barely contain their

excitement when they discovered that a

section had recently been poured in a local

park.

The buzz surrounding this area in question

began to quietly hum when the village

installed a new playground for the local

children nearly six years ago. Although

some of the older youths within the community

were pleased to see this new

amenity being created, they asked when

the village would build something to

accommodate their interests as well.

Upon hearing their pleas, Mayor Joseph

Barnes Sr. reached out to these pre-teens,

teenagers, and other young adults and

offered a compromise.

"I told them that if they would keep an

eye out on this new playground, if they

would help maintain it and make sure that

it wasn't being abused, that I would work

to get an outdoor fitness area that was

filled with equipment that they would be

See URBANCREST page 9
---
www.columbusmessenger.com

URBANCREST

Continued from page 8

able to use."

He said when he made this suggestion,

their faces lit up like "little lightbulbs."

"They asked if I was serious, if I was

pulling their leg, if we could really do something

like that," said Barnes. "And I told

them it was absolutely something we could

do — just as long as they keep their end of

the bargain and watch this playground (in

Martin Luther King Park)."

In late 2019, the village council unanimously

approved a resolution that would

establish an outdoor fitness park for the

community. They had hoped it would be

built the following summer.

And then came the coronavirus pandemic.

In the early months of 2020, most play

areas throughout the country were closed

to slow the spread of the respiratory illness.

Then came a slew of disruptions to

the global supply chain, some of which are

still affecting the world to this day.

When public play areas began to open

up once again, village officials started to

hear from these young adults who were

still holding them to the promise of creating

an outdoor fitness park for them to use.

They said they were not sure what to

tell them — until recently, that is.

Last month, a small construction crew

came out to Martin Luther King Park and

cordoned off a section of land adjacent to

the playground structure. Inquiring minds

wanted to know what was being built, but

village officials just told them to wait and

see.

In early November, the digging of the

ground commenced, as did the construction

of the concrete slab. Eagle eyed youths kept

accosting Barnes and street commissioner

Jerome Johnson, demanding to know what

was being installed.

They said when they were informed that

a new outdoor fitness park was being created,

shrieks could be heard throughout the

community.

"It has been a long time coming, and it's

been full of delays and things that were out

of our control, but I am so pleased to be

able to say that the outdoor fitness park is

finally here in the village of Urbancrest,"

said Barnes.

The Fitness Zone at Martin Luther King

Park has 11 workout stations set up for

individual strength and conditioning

needs. Some of the equipment can be used

solo, while some are designed to be used

with a buddy, or multiple buddies. They

include a squat press, a chest press, a sit up

bench and abdominal toner, shoulder

wheel, and another abdominal and dip station.

A majority of the equipment within

the Fitness Zone meets federal guidelines

through the Americans with Disabilities

Act.

The use of the Fitness Zone equipment

is free to the public, and individuals are

encouraged to bring their own towels and

disinfectant wipes to clean the machinery

as they will not be provided. Although the

fitness park was created in part for the

Mayor Joseph Barnes and Street

Commission Jerome Johnson hoist the

fitness zone sign. The $90,000 project to

bring the fitness zone to the community

was funded by the village, the Central

Ohio Community Improvement

Corporation, Rudy Construction,

WoodSpring Suites, and other in-kind

donations.

young adults in the community, it is open

to all ages but children under the age of 14

need to be accompanied by an adult.

With the creation of the outdoor fitness

park, Barnes said he is excited about the

future of the community and the health of

those who reside in the area.

"I know there are many people out there

who want to work on their fitness but

maybe they can't afford to go to the gym,"

he said. "But here in this park, we have a

track to work on your cardio and we now

have equipment at the fitness zone where

you can work on your strength and conditioning."

He said he hopes that this new amenity

will help Martin Luther King Park become

even more of a destination hub for the local

community and the greater region as a

whole.

"A park should be a place of community,

a place where everyone has something to

do, and a place where people can get to

know each other," he said. "And I do believe

that all of that can be found here within

this village park."

The Martin Luther King Park Fitness

Zone will be open from dusk to dawn. It is

located adjacent to the Vaughn E. Hairston

Southwest Community Center, 3500 First

Ave., and the Village Administration

Building, 3492 First Ave.

Our Savings Rates

1.75 %

1

APY

2. 25 %

2

APY

November 27, 2022 - GROVE CITY MESSENGER - PAGE 9

s ar

e on the rise!

Contact me today for details!

Josh McKee

Br anch Manager, Grove City Office

(614) 875-1884

Josh.McKee@Heartland.Bank

1

Annual Percentage Yield (APY). Minimum opening deposit is $1,000. Minimum balance to earn interest is $0.01. Minimum balance to earn promotional APY

is $50,000.00. This is a tiered rate account. The promotional APY of 1.75% is av ailable for the following tiers: $50,000 - $99,999 and $100,000 - $499,999.99. The

promotional AP Y for the tier of $25,000 - $49,999.99 is 1.25% APY. Regular rates apply to the followin ng tiers: $0.01 - $9,999.99 is 0.01% APY; $10,000.00 - $24,999.99

is 0.02% APY; and $500,000 + is 0.05% APY. The promotional rate to applicable tiers is guaranteed for 180 days from the day of account opening. After 180 days, the

rate may change at any time as the Heartland Bank Money Market Savings Account is a variable rate account. To qualify for the promotional rate, the opening deposit

must be from funds not currently on deposit with Heartland Bank. Limit it one (1) promotional Money Market Savings Account special per household per six (6) months.

APY accurate as of 08/01/2022. Fees may reduce earnings. Accounts closed less than 180 days from date opened will be charged an early close fee of $25.00. Personal

accounts only.

2

Annual Percentage Yield (APY). Minimum balance to open and maintain the advertised 12 month APY of 2.25% is $5,000. APY is accurate as of August 29, 2022.

Maximum deposit is $250,000. Please see your local branch office for disclosure information regarding terms and conditions. Penalty may be imposed for

early

withdrawal. Rates are subject to change at any time. No brokers please. Limit ed time offer. Limited to

one per household. Not valid with money currently on

deposit at Heartland Bank. Personal accounts only.
---
PAGE 10 - GROVE CITY MESSENGER - November 27, 2022

"BEST NEW YEARS PARTY IN TOWN"

Mike Albert

and

The Big E. Band

www.columbusmessenger.com

In Education

Start Talking teaches parents the signs of drug use

By Hannah Poling

Staff Writer

Start Talking Grove City held a community

information meeting for parents of

students in the South-Western City

Schools District on Nov. 15 at Amazing

Grace Christian Church.

The organization is a non-profit working

to decrease the illegal use of tobacco, alcohol,

and other drugs, and to cut down on

crime in the city.

Start Talking Grove City partnered

with Health Awareness and Recovery

Together (HART) and local first responders

to give a compelling message about the

warning signs of drug, alcohol, and tobacco

misuse as well as how to identify and counteract

an overdose.

"If an addicted person is not ready then

they are not ready. But it's important you

get the information from tonight to guide

the person down the right path," said Brian

Kitko, vice president of Start Talking

Grove City.

In July, Grove City council voted to

accept a plan developed by the Substance

Addiction and Mental Health Action Plan

Committee. The plan identifies four main

priorities: collaboration, education, prevention,

and treatment/hard reduction/support

with a series of goals and objectives set for

various focus areas.

"This is affecting everyone in your community.

We offer online resources for parents,

teachers, and families. Simply having

a conversation is the start of prevention,"

Kitko said.

HART gave a presentation directed at

having conversations with children of all

ages. They discussed topics such as caffeine

addiction, pills, vaping, marijuana, and

common places where kids are known to

hide different contraband from their parents.

"Be aware of what you put in your body

and what it does to your body. One of the

things more people are learning about is

that your brain is still developing until you

are 25 years old. The last part to form is

the frontal lobe which makes the decisions.

If they start using too many substances too

early it can cause that to slow down," a

HART spokesperson said.

HART expressed that the conversation

is about being aware. Some kids are taking

drugs because they want to experiment

and some are taking them because they are

uninformed.

"I went to a party freshman year of college.

I thought it was normal candy in a

18 th Annual

bowl on the table but it was edibles. I

ended up having to go to the hospital

because I thought I was dying," an

attendee interjected.

HART also informed parents to pay

attention if their kids have a sudden

change in friends, clothes, reading materials,

or music or if they see any out-of-theordinary

behaviors.

First responder Greg Tussing from the

Jackson Township Fire Department also

spoke about opioids, drugs, and how to

counteract a suspected overdose.

"Opioids are a class of drugs. These

drugs work on your central nervous system.

An overdose of any type of medication

is when you take more than you are supposed

to or if you take the right amount

mixed with something. It can be worse if

combined with another medication,"

Tussing said.

Tussing said that potential signs of an

overdose are unconsciousness, pinpoint

pupils, slow shallow breathing, faint heartbeat,

limp arms and legs, pale skin, vomiting,

and purple lips and nail beds.

The best way to counteract an overdose

is by using Narcan, a medicine that rapidly

reverses an opioid overdose. Tussing

demonstrated how to use Narcan nasal

spray and it was available for the attendees

to take home with them for free after

the event.

Tussing stressed that although using

Narcan is great, it does not replace calling

911 or doing CPR if necessary. Narcan

should be used to counteract an overdose

until help arrives.

The event was well attended by members

of the city council, community members,

and the Grove City Mayor Richard

"Ike" Stage.

Per Couple Prices

Overnight Package - $319

Party Only Packages - $250

Single Packages Available

Prices include

Dinner, Drinks, Room, Party favors,

Full Breakfast

Crowne Plaza • 6500 Doubletree Ave. (formerly Marriott North)

Chef for a day

Last month, Brady Ramos-Parades, a first grader at Bolton Crossing Elementary

School, wrote a book about his aspirations of becoming a chef one day for a writing

assignment. Fast forward a few weeks, Ramos-Parades got to become the

guest chef for the day at the student-led Academy Grill. Accompanied by his principal,

Abby Miller, Chef Brady worked with Chef Wright and South-Western Career

Academy culinary arts students. From an omelet to hamburgers, Chef Brady

cooked up a storm in the kitchen.
---
www.columbusmessenger.com November 27, 2022 - GROVE CITY LIVING - PAGE 11

Grove City Area Chamber of Commerce

To create a positive environment for the development and success of business

Chamber recognizes winners of Arts in the Alley

With many shows and categories also means many

winners to recognize! The five shows held were: Fine

Art, Quilt, Craft, Photography, and Youth Art.

The Grove City Area Chamber of Commerce congratulates

all winners and thanks all participants for sharing

their various works of art with the community.

•Grove City Easel Award & People's Choice Award:

David Lane.

David's work depicts the Grove City Public Library.

This three-dimensional piece includes old book spines

as the frame. His goal was to capture the building's

unique architecture and hometown collection.

The Grove City Easel Award is sponsored by the City

of Grove City and each year's winning piece is entered

into the City's permanent art collection. The collection,

including David's piece, can be viewed at City Hall

(4035 Broadway) during office hours.

•Heartland Bank Helena McComb Award: Brittany

Cosgrove.

Brittany's piece features a violin surrounded by flowers.

The Heartland Bank Helena McComb Award was established

in memory of Helena McComb, who was instrumental

in founding Arts in the Alley. Helena's

appreciation and love of flowers is remembered as well

as pieces considered for the award must include flowers.

Fine Art Show winners

(Sponsored by Zangmeister Cancer Center)

2-D Professional Division: 1st Place: Suzanne Gallagher

"Ana Bliss"; 2nd Place: Josh Arnold "The Rug";

3rd Place: Scott Creed "Blue Wood Mosaic."

2-D Amateur Division: 1st Place: Mike Moore "Arnie";

2nd Place: MJ Byler "Helena"; 3rd Place: Beth Reece

"Garden Visitors."

3-D Division: 1st Place: Andy Deshong "Show Me the

Money"; 2nd Place: Benjamin Lamb "The Ballad of

Frank Hayes"; 3rd Place: Teresa Arrasmith "Depth of

Beauty."

Best of Show: Chelsea Cross "When Life Give You

Lemons."

Helena McComb Award Nominee: Brittany Cosgrove

"Cello."

Quilt Show winners

Best of Show: Amy Swanson.

People's Choice: Debbie Yontz.

Helena McComb Award Nominee: Marsha Beane.

Duet (2 or more people):

•Small: 1st Place: Anna Louise Beaver; 2nd Place:

Joann Head; 3rd Place: Patti Morlock; Honorable Mention:

Patti Morlock.

•Medium: 1st Place: Gail Sech; 2nd Place: Janice

Evans; 3rd Place: Barbara Waller; Honorable Mention:

Debbie Arms.

•Large: 1st Place: Marsha Beane; 2nd Place: Vicki

Burns; 3rd Place: Marsha Beane; Honorable Mention:

Gloria Warren.

•Extra Large: 1st Place: Jo Ann Newsome; 2nd Place:

Jo Ann Newsome; 3rd Place: Vicki Buns; Honorable

Mention: Shirley Allen.

Solo Hand Quilted:

•Large: 1st Place: Mary Lockwood; 2nd Place: Mary

Lockwood; 3rd Place: Mary Lockwood; Honorable Mention:

Joann Head.

•First Time Entry in Any Quilt Show: 1st Place: Tami

Pfeil; 2nd Place: Tamah Clark; 3rd Place: Heather Jacobsen;

Honorable Mention: Kris Sander.

Solo Mixed Techniques:

•Small: 1st Place: Karen Lane; 2nd Place: Patty Estadt;

3rd Place: Bernadette Demos; Honorable Mention:

Lori Codling.

•Large: 1st Place: Karen Lane; 2nd Place: Tami Pfeil:

3rd Place: Mary Lou Paoletti; Honorable Mention: Judy

Moser.

Solo Machine Quilted:

•Small: 1st Place: Amy Swanson; 2nd Place: Patty

Estadt; 3rd Place: Brenda Mocarski; Honorable Mention:

Sally Sisson.

•Large: 1st Place: Brenda Mocarski; 2nd Place: Debbie

Yontz; 3rd Place: Michelle Demmy; Honorable Mention:

Joann Head, Patty Estadt, Patty Estadt.

•Youth: 1st Place: Ellie Yates; 2nd Place: Thadeus

Logan; 3rd Place: Samantha Logan; Honorable Mention:

Adelaine Warren.

Craft Show winners

Best of Show: James Rogers.

Helena McComb Award Nominee: Patricia Morlock,

Quilling.

People's Choice: Gary Gardner.

Wood-Small: 1st Place: Gary Gardner; 2nd Place:

Robbie Hay; 3rd Place: Mary Ann Winfield.

Wood-Large: 1st Place: James Rogers; 2nd Place:

James Rogers.

Decorating: 1st Place: Sally Sisson; 2nd Place: Helen

Gilliam; 3rd Place: Mary Ann Winfield.

Needle Art: 1st Place: Sally Sisson; 2nd Place: Bonnie

Smith; 3rd Place: Kay Roberts.

Tole Painting: 1st Place: Karen Roth; 2nd Place: Mary

Ann Winfield.

Other Crafts: 1st Place: Patricia Morlock; 2nd Place:

Kaitlyn Silva; 3rd Place: Amy Hipple.

Photography Show winners

(Sponsored by Byers Chevrolet.)

Best of Show: Danica Barreau.

Helena McComb Award Nominee: Earl English.

Professional: 1st Place: Earl English; 2nd Place: Danica

Barreau; 3rd Place: Robert Formentelli; Honorable

Mention: Robert Formentelli.

Amateur: 1st Place: Larry Powell; 2nd Place: Megan

Patrick; 3rd Place: Larry Powerll; Honorable Mention:

Nick Marchese, Angela Multhup.

Mobile Phone: 1st Place: Barbara Bell; 2nd Place:

Ryan Mayle; 3rd Place: Josh Arnold; Honorable Mention:

Megin Cress, Barbara Bell.

See ARTS page 12

Helena McComb Award winner Brittany Cosgrove is joined by

Grove City Major Richard Stage with her winning piece. The Helena

McComb Award celebrates the legacy and memory of Helena

McComb by recognizing pieces featuring flowers, a favorite of Helena.

Entries for the Fine Arts show on display at the 2022 Arts in the

Alley festival. Fine Art was one of five shows showcasing a variety

of creative talents.
---
PAGE 12 - GROVE CITY LIVING - November 27, 2022

www.columbusmessenger.com

A recap of this year's Arts in the Alley

Family Owned and Operated Since 1963

For Pizza Perfection

"Old world cooking with

new world service"

Great art, great music, great people,

great weather…it all made for an outstanding

weekend for the 43rd annual Arts in the

Alley, which ran from Sept. 16-18.

Vendors came from near and far to showcase

and sell their artistic creations and

share about the creative process behind the

items. Food vendors enjoyed similar success

in selling their treats and dishes to raise

money for their dedicated non-profit or similar

charitable function. In some cases, both

artist and food vendors were able to enjoy

the satisfaction of a sellout!

Show displays were filled with visual creative

talent, while the sounds of vocal talent

filled the air from the Voice of Grove City's

multi-day competition. Visual and musical

creativity came together for the annual community

parade which included local marching

bands, dance groups, and of course the

floats!

It truly takes the entire community, and

beyond, to hold Arts in the Alley. The Grove

City Area Chamber of Commerce would like

to thank everyone who attended, volunteered,

or completed a 'behind the scenes'

job to help the show run smoothly.

There are many sponsors the GCACC

4011 Front Street

Grove City, Ohio 43123

875-2700

www.zamarellispizzapalace.com

Tues.-Wed.-Thurs_______4:00 to 12:00

Fri. -Sat._______________4:00 to 1:00

Sunday_______________4:30 to 10:30

CATERING

AVAILABLE

Quick Repsonse Code

would like to thank. They are: Heartland

Bank (presenting sponsor), OhioHealth,

Mount Carmel, Wright Patt Credit Union,

Greenbaum Stiers Strategic Marketing

Group, Byers Chevrolet of Grove City, The

Goddard School, Zangmeister Cancer Center,

Performance CDJP, Hirth Norris Garrison,

Jackson Township, Jolly Pirate

Donuts, Telhio, Wesbanco, Beautiful Savior

Lutheran Church, Stepping Stone Child

Care Center, Columbus Prime Realty, Creative

Mobile Interiors, Cruise Planners-

David Todd, Fairy Tails Pet Salon, Houk

CPA, Leavitt Group Midwest-Scott Molino,

Men's Refinery, Orange Theory Fitness, TC

Knives, Treplus Communities/Sugar Maple

Commons, Shepherd Insurance Partners,

BeLocal Grove City, Broadway Fireplace &

Décor, and Rise Yoga.

Get ready for the 2023 Arts in the Alley

today by marking your calendars with next

year's dates of Friday, Sept. 15- Sunday,

Sept. 17.

Jack and Tina Mittendorf were the parade marshals for the 2022 Arts in the Alley Community

Parade. Long-time familiar faces to Grove City, the Mittendorf family owns and

operates Zamarelli's Pizza Palace.

ARTS

Continued from page 11

We Can Print:

∙ Business Cards∙ Greeting Cards∙ Announcements

∙ Flyers ∙ Envelopes ∙ Rack Cards

Our Services Include:

∙ Creative Design∙ Promitional Products∙ Custom Apparel

∙ Window Tinting ∙ Signs ∙ Banners ∙Brochures ∙Window Graphics

We Offer Online Design and Ordering

15% OFF

Your Order

(Use Code "94WF4Q" Online)

Good only at 1677 Holt Rd.

FREE Pick Up & Drop Off

Youth Art Show winners

(Sponsored by The Goddard School)

Best of Show: Brant Bliss "Teddy Roosevelt."

People's Choice: Grace Kingsbury "Bee

Hive Reps & Cloud Mug."

Helena McComb Award Nominee: Cordelia

Watkins "Hand with Flowers."

Primary (K-2) Media 2D: 1st Place: Giana

Zito "Fish Painting"; 2nd Place: Phalika Lee

"Pumpkin Patch"; 3rd Place: Max Gates

"Rainbow Tiger."

Intermediate (3-5) Media 2D: 1st Place:

Camden Sengkeophainh "Animae Drawing";

2nd Place: Kamryn Ebner "Animals

Under a Bridge"; 3rd Place: Logan Snyder

"Watercolor Fish."

Middle School (6-8) Media 2D: 1st Place:

Reese Meindl "Hands"; 2nd Place: Ven

Kendall "Jack Skellington Painting"; 3rd

Place: Elizabeth Abalo "Painting of Fall

Tree."

Primary (K-2) Photography: 1st Place:

Charles Chaffin "Yellowstone Geyser"; 2nd

Place: Charles Chaffin "Yellowstone Bison."

Intermediate (3-5) Photography: 1st Place:

Bryson Kale "Blue Raindrops"; 2nd Place:

Carina Chaffins "Waterfall at Old Mans

Cave"; 3rd Place: Ian Worthington "Orchid."

Middle School (6-8) Photography: 1st

Place: Amara Young "Flowers at the Market";

2nd Place: Brooklyn Cress "Brown

Frog"; 3rd Place: James Waldo "Rooster Up

Close."

High School (9-12) Media 2D: 1st Place:

Catherine Dorrian "Goose & Flowers"; 2nd

Place: Laura Togni "Pink Controller"; 3rd

Place: Kailee Dunn "Zombies."

High School (9-12) Media 3D: 1st Place:

Anubruti Shah "Ceramic Bottles"; 2nd

Place: Isabella DeLaCera "Ceramic Vases";

3rd Place: Noah Martin "Acrylic Model."

High School (9-12) Color Photography: 1st

Place: Sharline Perez "Self Portrait"; 2nd

Place: Ross Hoydash "Boys Head with Traffic";

3rd Pace: Jaide Harrah "Spider."

High School (9-12) Black & White Photography:

1st Place: Natalie Carter "Teen in

Leave"; 2nd Place: Kristen Needles "Flowers

in Vase"; 3rd Place: Kristen Needles "Drumline."
---
Boo Off Broadway

was another success

www.columbusmessenger.com November 27, 2022 - GROVE CITY LIVING - PAGE 13

Another fun-filled Boo off Broadway

was held on Halloween weekend

with record-breaking crowds

enjoying the festivities and the favorable

weather.

In the second year of being

hosted by the Grove City Area

Chamber of Commerce, the event

grew from its 2021 successes and

was even bigger than before. This

year saw the event move to the

'footprint' of Arts in the Alley and

other city festivals providing more

space for more fun.

Over 55 business vendors

were in attendance at this

year's Boo off Broadway.

Kids and kids-at-heart showed off their costumes while enjoying

carnival-style games, trick or treating with over 55 business vendors,

and meeting some of their favorite costumed characters courtesy

of Magical Adventures Parties and Columbus Ghostbusters.

Boo off Broadway has quickly become a well-loved GCACC event

and the Chamber appreciates the support and enthusiasm from the

community.

The Grove City Area Chamber of Commerce would like to thank

the sponsors of this year's Boo off Broadway.

They are as follows:

•Presenting: The Antry Issacs Team at Saxton Real Estate and

Shepherd Insurance Partners

•Trick or Treat Street sponsor: Fraternal Order of Eagles

•Hocus Pocus: Creative Mobile Interiors, OrangeTheory Fitness

Grove City and, Wright Patt Credit Union

•Parade: Cutler Realty

The Grove City community dressed and showed up by the hundreds for this year's Boo off Broadway Halloween

celebration, which took place on October 29.

FALL IN LOV

VE WITH

E

CHECK

KING

CHOI ICE

Telhio's Choic

e Checking featur

es Early Deposit,

• ID Th heft Assistance

• Discounts at S

• Road dside Assistance • Cell Phone Pro

OPEN YOUR ACCOUNT TODAY AT TELHIO.

ORG $

Telhio is open to anyone who lives s, w orks, worships, or goes to school in Central and Southwest Ohio. Federally Insured b

y NCUA. EqualHousing Lender. Early Dir

ect Deposit

is free to all members. Enrollment is automatic and is available only to personal checking acc

ounts. You must contact us to opt out of this service. We cannot guarantee early

availability of any direct de posit you receive. Please see our Funds Availability Policy Disclosure for additional details. Membership eligibility requirements apply.

614-221-3233
---
www.columbusmessenger.com

PAGE 14 - GROVE CITY LIVING - November 27, 2022

Chiefs Challenge helps wrap up Farmers Market season

In the final weeks of the 2022 Farmers'

Market season, a community favorite made

its awaited return to the Saturday market.

For the first time since 2019, the Chiefs

Challenge was held. This cooking 'showdown'

between Jackson Township Fire Department's

chief and Grove City Division of

Police chief provides opportunity for some

friendly, and tasty competition.

Having held the trophy since 2019, Jackson

Township Chief Randy Little and his

fire department team were ready to defend

the title. But, incoming police chief Rick

Fambro came ready to lead his new police

Pam Brown

614-975-9462

team to a victory–which he did! For the

first time in many years, the Chiefs Challenge

cup will reside with the Division of Police.

The Challenge highlighted the late-summer

return of live cooking demonstrations

at the Market, one of the final pieces of the

"pre-pandemic" version of the Market to return.

Community members could also meet

their local first responders and gather over

the universal language that is good food.

Following the Division of Police victory,

Chief Fambro graciously shared a couple of

his winning recipes so that others could

Thinking about

selling your home?

Call An Experienced Realtor!

42 Years of "Service with a Smile"

GREAT SELLING MARKET!

3656 Broadway Grove City, OH 43123

614.871.1000 www.era.com

replicate them in their home kitchens.

Those can be found within the photo section

of the Farmers' Market Facebook page:

https://www.facebook.com/grovecityfarmersmarket

The Grove City Area Chamber of Commerce

would like to thank everyone who

made the 2022 Farmers' Market a success

from start to finish! The many vendors, volunteers,

shoppers, and others continue to

make the Grove City Farmers Market a favorite

not just in Grove City, but across

Central Ohio. Additionally, there isn't a

Market without sponsors, so one more big

thank you goes to: Mount Carmel Grove

City, Performance Georgesville, Zangmeister

Cancer Center, Auto Service Experts OH

by Sanderson Automotive, Cruise Planners-

David Todd, Hirth Norris & Garrison, Mid-

Ohio Food Collective, WesBanco, Shepherd

Insurance, Coldwell Banker Realty-Kay

Koho, Leavitt Group Midwest- Smith,

Molino & Sichko Insurance Agency, Heritage

Cycles, Morley Parren Bright Insurance,

and Edward Jones- Chris Gourley.

The Market will return in late-spring of

2023. In addition to following along on Facebook,

visit the Grove City Farmers' Market

website for the latest updates and even in-

formation on vendors: https://www.gcchamber.org/farmers-market/

Chamber Foundation fundraiser a success

The Grove City Chamber Foundation

hosted another successful fundraiser in support

of their yearly scholarship efforts.

Community members and other supporters

of the Chamber Foundation gathered together

at the Aladdin Shrine Center on Oct.

21 for a night of food, fellowship and entertainment.

Attendance was up from 2021

making for greater support for the Foundation,

and more fellowship amongst attendees.

Guests were treated to a delicious dinner

catered by L A Catering and many musical

and entertainment acts, including Tracy

Carter Music, comedians Travis

Hoewwisher and Shaena Rabbani, and

piano by students from Central East Ohio

Music Teachers Association from their Out

& About program.

Many silent auctions were up for bid

making for additional funds raised and as

always a little friendly competition in trying

to win much-wanted items. All funds raised

from the evening will go directly toward the

Foundation's 2023 scholarship efforts. 2023

scholarships will include opportunities for

local high school students and Chamber

members and their employees all seek postsecondary

degree and certificate opportunities.

The Foundation's fundraiser and yearround

scholarships wouldn't be possible

without the many sponsors who make it

possible. As 2022 comes to a close, the Grove

City Chamber Foundation would like to recognize

the following sponsors:

•Platinum Sponsor: Eldorado Gaming

Scioto Downs

•Gold Sponsors: Franklin County Banking

Center, Myers Jewelers, Credit Union of

Grove City Mayor Richard Stage (center)

gives the "thumbs up" for the Chief's Challenge

cook-off between Jackson Township

Fire Department Chief Randy Little (left)

and Grove City Division of Police Chief

Richard Fambro.

Local students showcased their piano

talents as guests arrived at the 2022

Grove City Chamber Foundation

Fundraiser, held on Oct. 21 at the Aladdin

Shrine Center.

Ohio, Telhio Credit Union.

•Silver Sponsors: OhioHealth, WesBanco

•Bronze Sponsors: Kemba Financial

Credit Union, Newcomer, Capital City Mechanical.

•Copper Sponsors: Danbury Senior Living,

Byers Chevrolet, Elford, Columbus

See FOUNDATION, page 16
---
www.columbusmessenger.com November 27, 2022 - GROVE CITY LIVING - PAGE 15

Thankf

fu

ul

We Care.

NOVEMBER 2022 FA

ALL SAVINGS

$

1,500 OFF

CALL TO SCHEDULE

YOUR TOUR

DanburySeniorLiving.com

AND

WELCOMING

RESIDENTS
---
PAGE 16 - GROVE CITY LIVING - November 27, 2022

FOUNDATION

Continued from page 14

Prime Realty, BeLocal Grove City, Al

Washington Insurance, Grove City Family

Dentistry, Cruise Planners-David Todd,

Shelley Davis.

•Friends of the Foundation: Blu-Willy's,

The Howard Family, Morley Parren Bright

Insurance, Moses Mouser & Associates,

MKOB Properties LLC, Pinnacle Pets Play

& Stay, Precision Jewelers, Treplus Communities.

Attendees, and those who would like to

attend next year, can go ahead and mark

their calendars for Oct. 20, 2023 for next

year's Foundation fundraiser.

To learn more about the Grove City

Chamber Foundation, including scholarship

opportunities and how to support the Foundation

year-round, visit the website:

https://gcchamberfoundation.org/

Grove City Area Chamber of Commerce

(614) 875-9762

4069 Broadway, Grove City OH 43123

www.gcchamber.org

www.columbusmessenger.com

HR Essentials: Quiet Quitting

By Rachel Kutay

My Business Resource

About Rachel: Rachel Kutay is a leading

voice and professional in human resources.

Her HR agency, My Business Resource, is

based here in Grove City and will be celebrating

its third anniversary soon. In this installment

of the column, she covers "quiet quitting" which

has gained attention across many media platforms

and caught the attention of those outside

of human resources.

"Quiet Quitting" has recently taken social

media by storm. What is it? Can companies

do anything about it?

Quiet Quitting is a new label to an old

problem — where people don't outright quit

their jobs, but they quit the idea of going

above and beyond. They do the bare minimum,

just enough to keep up at work.

You might be wondering if this is really

a new phenomenon. Employee satisfaction

has been measured and studied for a long

time. Data indicates that there is a significant

difference now. A 2022 global Gallup

survey that measures employee engagement

showed disengagement at work is the

lowest it has been in a decade. Employee engagement

is the measure of how motivated

a person is at work. It's a significant problem

with implications to the bottom line —

most jobs require extra effort to collaborate

with co-workers and meet customer needs.

Why is this a viral trend now? Disengagement

has increased significantly in the

last two years, which has been largely attributed

to the pandemic. Younger workers

are especially disengaged, feeling that there

isn't anyone at work who cares about them

or providing them the opportunities they

seek to learn and grow.

How can you improve employee engagement?

This isn't about adding ping pong tables

to your office. There are four main

drivers of employee engagement, and

they're all about fit: job fit, manager fit,

team fit and organizational fit. Regular conversations

with your employees to discuss

their career paths, recognizing people for a

job well done, and compensating people

competitively so they feel valued for the

work they're doing are important strategies

to keep your employees engaged.

If you're taking steps to improve employee

satisfaction, your customers will feel

it too. According to Gallup, organizations

that have high levels of engagement also

enjoy the following: Higher productivit;

Greater profitability; Lower employee

turnover; Fewer safety incidents; Stronger

customer loyalty; and Lower employee absenteeism.

Employees do a great job when they have

a great job — make sure the lines of communication

are open and you actively solicit

and consider all forms of feedback and make

changes accordingly. Respect your team for

what they do, and quiet quitting won't be an

issue in your organization.

L & V

BOOKEEPING

LLC

Lisa Vivens, EA, MBA, NTPI Fellow

Tax Services • Bookkeeping • Payroll Services

Phone: (614) 754-0673 • Cell Phone: (614) 214-2357

Fax: (614) 443-2059 lvbook.tax@gmail.com

Proud Member of NAEA & OSSEA

2647 Clime Road, Columbus, OH 43223 Authorized Provider
---
www.columbusmessenger.com November 27, 2022 - GROVE CITY LIVING - PAGE 17

Voice of Grove City competition hits the right notes

It's a hit–again!

Arts in the Alley attendees were treated

to another successful and talent-filled Voice

of Grove City competition during the Sept.

16-18 festival.

The weekend began with 24 performers

on Friday evening and was eventually narrowed

down to three finalists, and ultimately

one winner on Sunday afternoon.

•Winner: Cara Custer

•2nd Place, and People's Choice Winner:

Allison Remick

•3rd Place: J'Von Jones

Both Allison and J'Von competed in the

2021 Voice of Grove City competition and

placed in the top five, so both improved upon

their placings by moving into the top three.

While Cara was in attendance at the 2021

competition, this was her first year competing

in the Voice of Grove City. Don't miss

the Q&A with Cara later in this article.

Similar to the TV competition version,

feedback from coaches and judges are important

to create an overall learning experience

for performers. Competitors, including

Allison, noted they studied up on the judges

notes and used them for this year and would

continue to consult the feedback whether for

the 2023 competition or other performances.

The Voice of Grove City is made successful

by many sponsors, volunteers, and other

helping hands behind the scenes. This

year's sponsors included: Broadway Fireplace

& Décor (People's Choice Award Sponsor),

BeLocal Grove City (People's Choice

Voting & Hospitality Sponsor), Rise Yoga

(Hospitality Sponsor).

Meet Cara—

the 2022 Voice of Grove City Winner!

After the competition, we were able to

catch up with this year's winner Cara

Custer and learn a little more about her

music and performing background. She is

married and a mom of four, and this year's

Voice of Grove City was the first time she

had done a singing competition of this sort.

How many years have you been

singing/performing? Tell us about your background

in vocal performance.

I began singing at the age of four in

church. My mom quickly noticed my musical

ability and got me involved in different local

performing arts groups. I was always very

involved in music in school and started taking

private voice lessons in eighth grade.

From there, I went on to high school to perform

in the most advanced choir and perform

leading roles in the school musicals

each year. After graduation, I went to the

University of Tennessee where I received a

Bachelor of Music in Vocal Performance. I

was very involved in the choral and opera

theatre programs. The summer after my

senior year of college, I studied at the Manhattan

School of Music where I was able to

continue my vocal instruction, as well as

gain more experience in the world of musical

theatre. After completing that program, I

considered getting my Masters in Music, but

life went a different direction and I started

working full time. For several years, I sang

lead in a band, Cumberland Station, where

we performed at local venues and at private

events. I was involved in community theatre

for many years, and had the opportunity to

play lead roles in shows such as "West Side

Story," "Fiddler on the Roof," and "Les Misérables"

in Tennessee where I resided at the

time. While my musical opportunities have

slowed a bit the last few years, while settling

down and having children, I've still been

able to actively sing and lead worship at my

church on our praise team.

What prompted you to compete in The

Voice of Grove City this year?

I attended the performances last year

while I was at the Arts in the Alley and it

intrigued me to want to get involved. I have

missed singing on a regular basis, like I

used to do, and when I heard they were

doing the competition again, I was very excited

to give it a try.

For those who haven't gotten to hear you

yet, how would you describe your style and the

genre(s) you sing?

I have always been a very eclectic artist

and I love all styles and genres, especially

musical theatre, pop, country and classical.

However, where I feel the most at home is

singing praise and worship music. There is

nothing that compares to singing to the

Lord and being used as His instrument to

bring Him glory and help bring people closer

to Him.

Who or what inspires you?

I've had a lot of people inspire me

throughout the years, whether it be past

vocal instructors, choir directors, or artists

I admire. However, the people that inspire

me the most are my husband and children.

They make me want to be a better person

and to never give up on the things I love or

am passionate about.

You're a mom of four kids, how do you hope

to inspire them (and others!) by pursuing and

using your gifts and talents?

I want to make them proud. I want them

to see their mom take chances. Even if

things don't work out, I would rather them

see me fail, than to witness their mom never

trying at all. I want them to always know

that no matter their age or what season in

life they are currently in, they can always

chase their dreams and pursue the things

they love.

How do you see yourself continuing to perform

in the future?

I will continue to take every opportunity

I can to grow as an artist. I would love to

focus on performing again on a regular basis

and also, collaborating with other artists on

musical projects. I hope to get more involved

in local theatre productions again and use

this experience to enthusiastically propel

me towards my next project.

Anything else you'd like to share?

I would love to thank the Chamber of

Commerce & the Soles' family for this amazing

opportunity. It was such an incredible

learning experience to hear the judge's feedback

and interact with the other contestants.

I'm beyond thankful for being named the

2022 Voice of Grove City and I look forward

to what's to come next! To God be the Glory!

Voice of Grove City winner Cara Custer performs after being announced the winner of

the competition.

"BEST NEW YEARS PARTY IN TOWN"

18 th Annual

Mike Albert

and

The Big E. Band

Per Couple Prices

Overnight Package - $319

Party Only Packages - $250

Single Packages Available

Prices include

Dinner, Drinks, Room, Party favors,

Full Breakfast

Crowne Plaza • 6500 Doubletree Ave. (formerly Marriott North)
---
PAGE 18 - GROVE CITY LIVING - November 27, 2022

www.columbusmessenger.com

24/ 7

EMERGEN

CY

CARE

Str ingtow

n Roa

d a

t 10

4

GROVE

CITY

METHODIST

HOSP

ITAL

Trusted care that's close to home and focused on safety.

When you have a life-threatening condition, every second counts.

That's why OhioHealth offers 24/7 emergency care right in Grove City.

We've taken great measures to make our care sites safe, so you and your

family can feel secure getting the emergency medical attention you need.

Learn more at OhioHealth.com/G

GroveCity.

.

71

Stringtown Rd

270 20

Jackson Pike

Download the OhioHealth app to locate our

closest emergency department or urgent care.

Always call 911 for life-threatening emergencies.

Parkway Centre Dr

Buckeye Pkwy

Target

H

© OhioHealth Inc. 2020. All rights reserved. FY21-484876. 11/20.
---
Initiative aims to brighten the holiday for Ohio inmates

www.columbusmessenger.com November 27, 2022 - GROVE CITY MESSENGER - PAGE 19

Although Christmas is supposed to be a

festive time of joy and hope spent with

loved ones, for tens of thousands of prison

inmates in Ohio, Christmas is just is

another day behind bars. One central Ohio

group believes it doesn't have to be that

way.

A local non-profit movement continues

to make a positive impact on the lives of

Ohio's prison inmate population each year

by sending them personalized, handwritten

Christmas cards that encourage them

to "Continue the Story."

Over the past several years, central

Ohio's "Continue the Story" movement has

personally reached more than 64,700

inmates incarcerated in Ohio's prison system

at Christmastime, one inmate at a

time, in hopes of brightening their lives by

spreading the Christmas spirit, which is

one of joy and hope.

Although it is rapidly growing with hundreds

of volunteers throughout the

Columbus area, "Continue the Story" was

created six years ago after members of the

organization became aware of some of the

horrors of the modern criminal justice system.

Organizers believe a lot of the people

who are incarcerated today are essentially

good people who have made mistakes

"I believe every single person is worthy

of hope and encouragement - no matter

their past, no matter their story," said Jess

Kimmel, executive director of the non-profit

organization, Continue the Story. "I participate

because I've seen firsthand what

that love and support can do. Ohio inmates

often feel isolated and unsupported as they

work through their sentence toward reformation."

Of the estimated 45,000 to 43,000

inmates in Ohio's prison system, some

studies suggest up to 6 percent of them are

actually wrongly accused or falsely convicted.

Other studies say at least two thirds of

today's prison inmate population are people

behind bars because of substance use

disorders.

This year, organizers of the movement

plan to send out more than 22,000 personalized

cards, which is nearly half of Ohio's

prison inmate population. To pay for the

cards, however, fundraisers are currently

under way and they are taking donations.

"Receiving a Christmas card from 'The

Drop' with a prayer, some scripture, words

of hope or even a silly joke helps to brighten

the inmate's day and shape a new perspective

about how their story doesn't have

to end in a prison cell," Kimmel said.

"Regardless of our past, we all have the

ability to write a future that can change

the world," said Mic Mohler one of the

movement's organizers. "Yes, they made

mistakes. We all make mistakes. However,

we believe everyone deserves love and

Christmas joy, and we are dedicated to

sending out cards every year to express

that."

Each year heading into the holiday season,

organizers start another drive to raise

the money necessary to send out all those

Christmas cards with words of encouragement

and inspiration written by hand for

each inmate with their name on the card.

Last year, they sent out 21,000 cards. The

cost for postage and material exceeded

$15,000 last year – all of which came from

Pleasant Township considers

purchasing additional recycling carts

generous donations from area churches

and members of the community, as more

and more people learn about the mass

mailing and the impact it has on the

inmates.

Mohler said that getting personalized

mail in places like that is a big deal for

inmates, especially during the holidays.

Unlike typical mass mailings, in which

every card is the same, each Christmas

card they send has the inmate's name and

number handwritten on the card with

unique and personal messages of hope

written by one of the volunteers.

Because each card is personally mailed

out the week before Christmas, more than

1,000 area residents and community leaders

volunteer their time to participate in

the event. Some members of the group help

raise money, others fill out the handwritten

cards, and others help coordinate the

actual mailing, which everyone notoriously

refers to simply as, "the Drop."

One day, organizers say, they hope to

send cards to 100 percent of the inmates in

Ohio's prison system because they believe

no one should be left out for Christmas. To

make this possible, nevertheless, organizers

hope to continue getting the word out

as they believe even the harshest convict

deserves to hear their messages of hope,

which is the true reason for the holiday

season.

Mic Mohler, a Grove City native, is one of

the people who started Continue the

Story, an effort to send holiday cheer to

those in prison. The Grove City United

Methodist Church, known as the Purple

Door Church, is also part of the initiative.

For more information on Continue the

Story, to donate, or to participate in this

year's drop on Dec. 16, go to continuethestory.org.

By Hannah Poling

Staff Writer

The Pleasant Township trustees are

looking to purchase more recycling carts

due to new residents' complaints that their

homes do not have them.

This issue was discussed at Nov. 8 board

of trustees meeting.

According to officials from the Pleasant

Township road department, the township

is down to only 9 or 10 of the recycle carts

that they purchased in 2020 from the Solid

Waste Authority of Central Ohio

(SWACO).

Each household that takes regular trash

collection through Local Waste received a

65-gallon roll-out recycle cart last year,

which was purchased with grant funding

from the township. The trustees had also

purchased additional carts.

At one time, there were approximately

30 or 40 carts in storage. Township officials

believe that when people move, they just

think that the cart is theirs and take it.

Chairwoman Nancy Hunter said she had

also received a few calls from people who

originally said they did not want a cart, but

have changed their minds.

In addition, road department officials

told the trustees that when a cart needs a

new axel or tires, they have to pull parts

from the cans in storage. They recommend

the township purchase approximately 20

additional carts.

Hunter said the trustees would look into

purchasing additional carts.

In other news, the Pleasant Township

Fire Department received a $5,000 donation

from a Mr. Cox with the Sherman

Lodge in Harrisburg. The lodge has existed

since the late 1800s, but was recently sold.

Fire Chief David Whiting plans to use the

donation to build a small training simulator

on fire station property.

"We are going to put it to good use; build

a little training simulator out back to train

our guys and guys around. It will go a long

way to get more training for the guys and

make the community safer," Whiting said.
---
PAGE 20 - GROVE CITY MESSENGER - November 27, 2022

Pet Corner

Pets of the week

www.columbusmessenger.com

These furry friends are available

for adoption at local

rescues and shelters

Messenger photo by Rick Palsgrove

Shelling corn at Slate Run Farm

On a recent autumn day, Kerry Sherrill, a volunteer farmer at Slate Run Living

Historical Farm, 1375 State Route 674 North near Canal Winchester, demonstrated

how to shell harvested corn by using an 1880s era hand held metal Decker Corn

Sheller. The ear of corn is inserted into the corn sheller and then the corn sheller is

twisted back and forth manually to remove the corn kernels from the cob.

Stache, 1, got his

name because he

has half a mustache.

He is friendly and

loves to be with other

cats. He does not like

to be alone. He

enjoys hanging out

with the other cats in

his foster home. He

will eat treats from

your hand. Will your

home be Stache's furever home? Adopt this

handsome guy from Friends for Life Animal

Haven.

FYI: fflah.org

Brutus was adopted

at 8 years old a year

ago from a shelter.

He had a great life

this past year but

then his owner suddenly

died. He is

doing OK in his foster

home but he really

needs a permanent

home to live out his

golden years. He is

healthy and happy, has some grey on his

muzzle, and still has spring in his step. Will

this handsome guy be your best buddy?

Brutus is neutered, microchipped, up to date

on vaccines, and housebroken. Adopt Brutus

from Colony Cats and Dogs.

FYI: colonycats.org

Audrey is a sweet 1-

year-old tabby who

loves playing with

other cats, people

watching, and twirling

toys. She is a little shy

at first and takes a bit

to warm up. She is

looking for someone

who realizes she is

something special.

Come meet Audrey at the Colony Cats cagefree

Adoption Center.

FYI: colonycats.org

Persephone is a 5-

year-old cutie who

loves kisses, cuddles,

and playing with her

toys. She will greet

you with a toy in her

mouth and a wiggly

bum when you come

home. This smart girl

is crate trained, clicker

trained, and knows

many commands like

sit, stay, down,

dance, and crawl.

Persephone has been waiting a year to find

her forever family at the Franklin County Dog

Shelter and Adoption Center.

FYI: franklincountydogs.com

Grove City

Messenger

Champion canine

Photo courtesy of Deborah Franks

Professional Canine Trainer Deborah Franks of Groveport and her canine partner,

Onree, a miniature poodle, won High in Standard at the 2022 CPE (Canine

Performance Events) National Agility event held at the Champions Center in

Springfield, Ohio. Franks said agility handlers and their canine partners from all over

the United States and Canada came to compete in this national event. The qualifying

period for this event was Jan. 1, 2019 through Dec. 31, 2021. "It was an extra special

win since Onree is also a rescue dog," said Franks. "From a dog that no one wanted

to a national agility winner."
---
www.columbusmessenger.com November 27, 2022 - GROVE CITY MESSENGER - PAGE 21

In Entertainment

Actors save "e People We Hate at the Wedding"

The potential to be entertained abounds

when there are impending nuptials, especially

when the life milestone is explored

through the lens of books, cinema, or on the

small screen. For centuries, these matrimonial

events have showcased genuine and

heartfelt expressions of love, mined the

dynamics of a dysfunctional family, and

have descended into the realm of absurdity

with bizarre plots that revolve around

romantic rivals stealing the faces or bodies

of the bride as they prepare for their big

day. However the topic of a wedding is chosen

to be explored, chances are they are

going to be quite fun to witness through

this fictional lens and the latest film to

delve into the creatively inspiring world is

no exception.

In Prime Video's new original movie,

"The People We Hate at the Wedding," the

exploration of the event leans heavily on

the comedic side of the aisle but there is a

strong focus on the dynamics of a dysfunctional

family. What results is a mostly

humorous and occasionally charming look

at some unlikeable characters doing

unlikeable things as they try to resolve

their differences as the wedding of a once

dearly loved sister approaches.

At the center of this saga is the relationship

between siblings Alice (Kristen Bell),

Paul (Ben Platt) and their half-sister

Eloise (Cynthia Addai-Robinson). Sharing

the same mother, Donna (Allison Janney),

the trio had a tight bond throughout childhood

— this is despite the fact that Eloise

spends half the year in England with her

father, Henrique (Isaach De Bankole) — but

it slowly started to unravel when Alice and

Paul started to notice the wealth disparity

between their respective families.

Although they have always tried to maintain

some warmth toward their half-sister,

Alice and Paul eventually grew to resent

Eloise for her "ostentatious displays of

wealth, her haughty manner, and her meddling

in their lackluster jobs and lives."

Like most mothers, all Donna wants is

for her children to get along, which is why

she is beyond ecstatic when she learns

Eloise is getting married. "It will be a

chance for all of my kids to come together

and repair their relationship," she says.

For her part, Eloise feels the same way,

hoping this event will be a catalyst for

reconnection. For their part, Alice and Paul

want nothing to do with this wedding, with

their sister, and frankly, with their mother

who they feel has moved on too fast from

the death of their father. Naturally, the

duo end up going, mostly because it is an

all-expense paid trip to London. But that

does not mean they are going to like it, nor

does it mean they are going to be wellbehaved

on their travels abroad.

It is a good thing that almost all of the

actors in "The People We Hate at the

Wedding" are so charismatic because the

characters they play are often unlikeable

and they act out in ways that are hard to

sympathize with. Now, that is not to say

that every book or film or television show

has to have likeable characters at its center,

but it sometimes makes for a harder

read or watch when you are squirming

with second hand embarrassment over the

things they do or the things they say.

The very fact that the audience can, at

times, feel sorry for the characters is

another testament to the skill and charm of

the actors, but it does bring up some issues

with the script. Although wickedly sharp at

times, the story that was adapted by Lizzy

Molyneux-Logelin and Wendy Molyneux by

a novel from Grant Ginder does not delve

too deeply into the motivations of the characters

so we cannot fully embrace their

acts of rebellion. At times, it just feels too

bratty and unjustified — which I suppose

can be a form of entertainment if the mood

The Reel Deal

Dedra Cordle

hits just right.

Not everyone can

enjoy watching films

that are filled with

awkward moments —

director Claire

Scanlon has a true

talent for staging

the most cringe-worthy scenes — but I think

those who can tolerate it will find some

form of enjoyment from "The People We

Hate at the Wedding." Not everything they

do hits, and some of the more sincere and

dramatic moments feel out of place, but it

will make you laugh, and smile, and thank

a deity that your immediate family is not

like theirs. And if it is, well, try to turn that

dynamic into a book or a script because

some people would really enjoy it.

Grade: C+

Dedra Cordle is a Messenger staff

writer and columnist.

ME DICARE A NNUAL

ELECTION P

Oct.

15 th

PERIOD (AEP)

Dec 7 th

Call today $0 consultatio

n $0

fee, local agent!

Over 16 years experience

with Medicare options

Offer

different major

carriers i n the area

Year

ear- rou und support for my

clients

Call or text me today to

schedule yo

our appt.

Terri

Curcio

614-460-0601

in your area. Please contact Medicaree

.gov or 1-800-MEDICARE to get information on all of
---
PAGE 22 - GROVE CITY MESSENGER - November 27, 2022

www.columbusmessenger.com

Learning from history

Photo courtesy of Art Short

The cannon in action on the battlefield in Gettysburg, July 2021.

SENIORS — HELP IS HERE!

Your Doorstep to Your Doctor!

We provide:

• Transportation • Personal Coordinated Team Care

• Concierge Service • Convenience of all services under one roof

• Superior Healthcare • We serve to 55+ Medicare-eligible Community

Call for more information:

Trae White, COS - Community Outreach Specialist

614-551-5367

trae.white@dedicated.care

Let's change the world together!

NORTH

2260 Morse Rd

Partnership with

3 LOCATIONS:

WESTSIDE

50 N. Wilson Rd.

WHITEHALL

5156 E. Main St.

By Linda Dillman

Staff Writer

Battle scars on cannons that served in

the Civil War can be found in national

parks and museums, but ones cast after

the end of the war, like the three-inch ordnance

rifle cared for by Art Short, are experiencing

a living legacy in modern times.

The big cannon now lobs volleys across

fields where Civil War re-enactors don uniforms

similar to those worn by their 1860s

counterparts in recreating skirmishes that

once took actual lives.

"This cannon has been maintained and

handed down through families since it was

built," said Short. "It has been in many

movies such as 'Glory,' 'Gettysburg,' and

'Gods & Generals.' It was the utmost in

technology when it first came into being in

1861 and was the most used and feared

weapon in the Civil War. As in all military,

the artillery is the backbone and power of

any army. We have involved and evolved

the artillery into the 40th Ohio through

much time and diligence in maintaining

and transporting the cannon and keeping

it in full working order."

The ordnance is set on an oak carriage

from an original 1861 design and must be

maintained and repaired due to its use at

events throughout the year. It is housed

and transported on a custom-built trailer.

"This is a very dangerous cannon and

we are fully trained professional Civil War

preservationists," Short said. "This is a

true working, firing weapon with one

pound of gunpowder per shot. It is used

and fired today in the same manner as it

was originally designed. We follow all the

original rules of ordnance when in events

and demonstrations. We uniform up, drill,

and practice and perfect the form of the

steps in the loading and discharge of the

cannon as the original 1861 U.S. Artillery

manual states."

Short emphasized that, as Civil War

preservationists, the 40th Ohio re-enactors

do not glorify guns or war.

"We want to teach people, children, students

that they need to learn from history–good

or bad–or we will be doomed to

repeat it. That is why we do everything we

do," said Short.

Short was first bitten by the Civil War

bug when he saw the movie "Glory," starring

Morgan Freeman, Matthew Broderick

and Denzel Washington. He said he found

the story moving and called it a "must

watch" for anyone interested in Civil War

preservation.

One thing led to another and in 2010,

the Lockbourne resident and his family

became involved with historical re-enactment

after meeting Capt. Andrew Mott of

the 40th Ohio Voluntary Infantry.

Participants in historical re-enactments

recreate specific moments of a historical

period or a particular battle like

Gettysburg by following a formalized plan

and wearing period clothing. Re-enactments

can last for multiple days and participants

eat and sleep like their 1860s

counterparts in tents ringing the battlefield.

The tradition dates back to Roman

times when battles were staged for the

entertainment and education of an audience

seated in an amphitheater. Today, reenactments

can draw large crowds as well.

"We decided to join and have grown in

knowledge and friendship in Civil War

preservation ever since," said Short. "We

participate in school teachings in the first

half of the year and then larger re-enactment

events and living history events

throughout the year. Large events such as

Gettysburg take a lot of planning and it

still works much like the original Civil War

army involvement. High ranking officers

pass down orders and then they are followed

throughout the event."

According to Short, smaller living history

and school presentations are done in

cooperation with principals, history teachers,

and owners of historical villages where

living history events take place. He is

hopeful his group is able to partner with

Obetz and Mayor Angie Kirk in conducting

an event later this year.

For information, visit the 40th Ohio

Volunteer Infantry USA Facebook page.

news and notes

Library card discount at

National Veterans Memorial

and Museum

Columbus Metropolitan Library has

partnered with the National Veterans

Memorial and Museum (NVMM) to offer

library cardholders up to four admission

tickets at a discounted rate of $11 each.

Regular price of admission at NVMM is

$18 for adults ages 18-64, $16 for seniors

ages 65 and older, $13 for college students

with ID, $11 for children ages 5-17 and free

for children under age 5. Those who present

their library cards (from any library

system) at the ticket counter are eligible

for the discount. The promotion runs

through Dec. 31.

The National Veterans Memorial and

Museum takes visitors on a narrative journey

telling individual stories and sharing

experiences of veterans from all military

branches throughout history. History is

presented through a dynamic, participatory

experience with photos, letters and personal

effects, multi-media presentations

and interactive exhibits. Learn more at

nationalvmm.org.
---
www.columbusmessenger.com November 27, 2022 - GROVE CITY MESSENGER - PAGE 23

New services offered for veterans and military spouses

Ohio Governor Mike DeWine and Ohio

Department of Job and Family Services

(ODJFS) Director Matt Damschroder

announced two new services for veterans

and military spouses on

OhioMeansJobs.com.

Veterans registered on the website are

now prompted to complete a brief questionnaire

asking if they would like to receive

one-on-one help with their job searches. In

addition, the resumes of military spouses

are now designated with a red and blue "S"

to make them stand out to military-friendly

employers — much like veterans'

resumes that are flagged with a "V."

"We are proud that Ohio is home to the

fifth-largest veteran population in the

nation and we are always looking for ways

to support our military members and their

families," said DeWine. "By offering individualized

assistance to veterans and military

spouses during their job search, we

are creating another way to say 'thank you'

to our servicemen and women and continuing

our commitment to making Ohio the

most military-friendly state in the country."

Veterans who indicate they would like

one-on-one assistance with their job

searches are contacted by an employment

specialist at their local OhioMeansJobs

Center. Ohio has the centers in every county.

Veterans and their spouses can visit the

centers for help writing their resumes,

practicing interviewing, and applying for

jobs in their area. They also can attend

employment workshops, get career coaching,

and get referrals to local training program

service providers. All veterans in

Ohio are given priority of service in referrals

to job openings and other services.

"Ohio's 700,000-plus servicemen and

women served our nation honorably, and

their spouses have made sacrifices as well,"

said Damschroder. "These are just two

additional ways we can repay them, by

helping connect them to meaningful civilian

employment with employers who value

and honor them."

At OhioMeansJobs.com, veterans can

get help translating their military job experience

into civilian experience, post their

resumes, and find hiring events in their

area. They also can view a military-friendly

employer registry which lists employers

who are looking to recruit and hire veterans.

To date, more than 7,400 Ohio employers

have designated themselves as military-friendly.

This means they are interested

in employing and supporting members

of the military, veterans, and their

spouses.

For additional information, visit governor.ohio.gov.

Website:Expert-hvac.com

Phone:614-946-8461

Experthvacllc@gmail.com

FREE ESTIMATES

on system installs

$100 Preventative Maintenance (tune up)

Expert service - affordable prices - Locally owned from Groveport

Mention this ad and get $20 off a $110 service call.

Damage control drill

U.S. Navy Boatswain's Mate 3rd Class Elijah Butsko, from Grove City, fights a simulated

fire during a damage control drill on the Ticonderoga-class guided-missile

cruiser USS Bunker Hill. Bunker Hill is currently operating with the Nimitz Carrier

Strike Group in preparation for an upcoming deployment.

DestinationOutlets.com

800-213-9083

8000 Factory Shops Blvd.

Jeffersonville, OH 43128

DOWNLOAD OUR

MEMBERSHIP APP
---
PAGE 24 - GROVE CITY MESSENGER - November 27, 2022

Grove City

Messenger

We are the

BEST COMMUNITY NEWSPAPER

in Grove City

Pick-Up At

These Locations:

Village Municipal Building

3492 1st Ave. Urbancrest

Sheetz Gas Station - Broadway & Centerpoint

Turkey Hill - Broadway & Centerpoint

Speedway Gas Stateion - Boardway & I-270

Shell Gas Station - Broadway & I-270

United Dairy Farmers - Broadway & Southwest

CVS Pharmacy - Broadway & Southwest

Speedway Gas Station - Broadway & Southwest

Grove City Library - 3959 Broadway

Planks on Broadway - Broadway & Park St.

Mobile Gas Station - Broadway & Paul St.

Ernies Carry-Out - Broadway & Paul St.

BP Gas Station - Stringtown & Hoover

Krogers - Stringtown & Hoover

Walgreen's - Stringtown & McDowell

CVS Pharmacy - Stringtown & McDowell

Drug Mart - Stringtown & McDowell

Speedway Gas Station - Stringtown & I-71

Dollar General - 3065 Broadway

Southwest Community Center

3500 1st Ave. Urbancrest

Kroger - Hoover & Route 665

Meijer - 665 & Hoover

Circle K - 665 & I-71

CVS Pharmacy - 665 & Hoover

Dollar General - 665 & Hoover

READ US ONLINE: www.columbusmessenger.com

www.columbusmessenger.com

news and notes

White Christmas

registration open

Online registration for the White

Christmas Food Program runs through

Dec. 2. The program is open to any resident

of 43119, 43123, 43126 and 43146 zip

codes with a financial need.

Registration is available at cognitoforms.com/JacksonTownship2/WhiteChris

tmasRegistration2022. Registrants who do

not have access to a computer can register

in person at the Jackson Township Fire

Station 202, 3650 Hoover Road, south

office, 9 a.m. to 4 p.m., through Dec. 2.

Participating families must provide at registration

a valid photo ID, proof of current

residency, phone number, names and ages

of residents, reason for the request, name

of the church, if referred.

Food distribution is from noon to 4 p.m.,

Dec. 23 behind Our Lady of Perpetual Help

School, 3752 Broadway in Grove City. For

more information, call 614-875-3322, ext:

309.

Tax-Aide volunteers needed

AARP Foundation Tax-Aide, which had

to scale back operations at the Grove City

Church of the Nazarene because of the

pandemic, hopes to return to full strength

next tax season and is looking for volunteers.

Volunteers come from all walks of life,

from accountants to warehouse workers.

No experience is required. Tax-Aide provides

training, a computer to work on and

mentorship throughout the tax season.

For more information, go to aarpfoundation.org/taxaidevolunteer

or call 1-888-

227-7669.

Leaf Collection

The city of Grove City residential leaf

collection runs through Dec. 16. The city is

divided into four areas, each assigned two

collection weeks and crews service each

street once during the designated week(s).

Rake leaves to the curb by 7 a.m.,

Monday of the assigned collection week.

Place leaves only in the grassy area

between the street and sidewalk or to the

edge of the lawn for areas without a sidewalk.

Do not block storm sewers with

leaves placed in the street. Do not park

vehicles in front or on top of leaves 7 a.m.

to 4 p.m., so workers can maneuver leaf

collection machinery.

Collection is limited to leaves only as

equipment is damaged by branches, twigs,

rocks and other debris. Place leaves in

yard waste bags/containers, year-round as

part of regular trash pickup. Leaf piles do

not kill grass but may lead to temporary

discoloration. Rake leaves a day or two

prior to your collection week to prevent

grass discoloration and raked leaf piles

from blowing.

For more information, visit

GroveCityOhio.gov or call the Grove City

Service Department at 614-277-1100.
---
www.columbusmessenger.com

November 27, 2022 - GROVE CITY MESSENGER - PAGE 25

CLASSIFIED ADS

Deadlines: Grove City, Groveport & All editions - Mondays at Noon.

West, Canal Winchester, South & Madison editions -Tuesdays at 5 p.m.

xPreschool/Daycare

advertise

YOUR DAY CARE

OR PRESCHOOL

Call Kathy at the

The Columbus Messenger

For More Info

614-272-5422

Preschool/Daycare

xCraft Shows

ADVERTISE

Your Holiday Craft Show

Bazaar or Bake Sale!

Call Kathy

272-5422

For More Info

CRAFT SHOWS

Canaan Land Church

Craft Show -Gantz Rd.

Dec. 3, 9am-3pm

Craft Shows

CEMETERY LOTS

Double Lot - Sunset

Cemetery, Section 6. Value

$5,190, asking $4,000

OBO. Text 614-361-3803

INFORMATION

GET READY

FOR THE HOLIDAYS!

Come See Me At

My New Location!

Call Marilyn Weaver

For An Appt.

For a New Haircut/Color

614-348-6670

Relax Wellness

3663 Broadway, Grove City

ASSOCIATION ADS

HughesNet - Finally, superfast

internet no matter

where you live. 25 Mbps

just $59.99/mo! Unlimited

Data is Here. Stream

Video. Bundle TV &

Internet. Free Installation.

Call 866-499-0141

Don't let the stairs limit

your mobility! Discover

the ideal solution for

anyone who struggles on

the stairs, is concerned

about a fall or wants to

regain access to their

entire home. Call

AmeriGlide today! 1-844-

317-5246

ASSOCIATION ADS

Switch and save up to

$250/yr on talk, text & data.

No contract or hidden fees.

Unlimited talk & text with

flexible data plans.

Premium nationwide

coverage. 100% U.S.

based customer service.

Limited time offer - get $50

off any new account. Use

code GIFT50. For more

information1-888-684-1169

The bathroom of your

dreams for as little as

$149/month! BCI Bath &

Shower. Many options

available. Quality

materials & professional

installation. Senior &

Military Discounts

Available. Limited Time

Offer - FREE virtual inhome

consultation now

and SAVE 15%! Call

Today! 1-877-540-2780

Stroke & Cardiovascular

disease are leading

causes of death according

the American Heart

Association. Screenings

can provide peace of mind

or early detection! Call

Life Line Screening to

schedule your screening.

Special offer - 5

screenings for $149. 1-

866-518-8391

ASSOCIATION ADS

MILITARY FAMILIES:

WERE YOU AT CAMP

LEGEUNE between 1953

and 1987? You may have

been exposed to

contanminated drinking

water causing cancer and

death. Call 1-800-535-5727

Protect your home from

pests safely and

affordablly. Pest, rodent,

termite and mosquito

control. Call for a quote or

inspection today 844-394-

9278

Paying top cash for men's

sportwatches! Rolex,

Breitling, Omega, Patek

Pillippe, Heuer, Daytona,

GMT, Submariner and

Speedmaster. Call 833-

603-3236

!!OLD GUITARS WANT-

ED!! GIBSON, FENDER,

MARTIN, Etc. 1930's to

1980's. TOP DOLLAR

PAID. CALL TOLL FREE

1-866-433-8277

Replace your roof with the

best lookng and longest

lasting material -- Steel

from Erie Metal Roofs!

Three styles and multiple

colors available.

Guaranteed to last a

lifetime! Limited Time

Offer - $500 Discount +

Additional 10% off install

(for military, health

workers & 1st responders)

Call Erie Metal Roofs: 1-

855-338-4807

ASSOCIATION ADS

Become a Published

Author. We want to Read

Your Book! Dorrance

Publishing Trusted Since

1920 Consultation,

Production, Promotion &

Distribution. Call for Free

Author's Guide 1-877-729-

4998 or visit

dorranceinfo.com/ads

WANTED!

MOTORCYCLES!

ANTIQUE AND CLASSIC.

Honda, Kawasaki, Suzuki,

Yamaha, Triumph, BSA

and other foreign models.

$$PAYING CA$H$$

717-577-8206

KRMiller1965@yahoo.com

Donate Your Car To

Veterans Today! Help and

Support our Veterans.

Fast - FREE pick up.

100% tax deductible. Call

1-800-245-0398

DENTAL INSURANCE

from Physicians Mutual

Insurance Company.

Coverage for 350 plus

procedures. Real dental

insurance - NOT just a

discount plan. Do not wait!

Call now! Get your FREE

Dental Information Kit with

all the details! 1-877-553-

1891

www.dental50plus.com/

macnet#6258

ASSOCIATION ADS

Are you receiving

SSDI/SSI Benefits? You

may be eligible for

additional benefits. CALL

US TODAY Citizen

Disability 1-888-490-6616

Directv Stream - Carries

the Most Local MLB

Games! CHOICE

Package, $89.99/mo for

12 months. Stream on 20

devices in your home at

once. HBOMax included

for 3 mos (w/CHOICE

Package or higher.) No

annual contract, no hidden

fees! Some restrictions

apply. Call IVS 1-866-629-

6086

MobileHelp, America's

premier mobile medical

alert system. Whether

you're home or away. For

safety & peace of mind.

No long term contracts!

Free brochure! 1-888-489-

3936

Put on your TVEars &

hear TV w/unmatched

clarity. TVEars Originaloriginally

$129.95 - now

w/this special offer only

$59.95 w/code MCB59! 1-

888-805-0840

Vivint Smart Security.

Professionally installed.

One connected system for

total peace of mind. Free

professional installation!

Four free months of

monitoring! Call to

customize your system. 1-

833-841-0737

❏ London

❏ Main St.

❏ Phone

❏ Walk In

❏ Sales/Mail

Classification:

columbus

Me ssenger

Established in 1974

the Columbus Messenger Co.

3500 Sullivant Avenue

Columbus, Ohio 43204

614-272-5422

Telephone: ______________________________________________

Print your Name: __________________________________________

Last

First

Print your Address: ________________________________________

Print your City ____________________ State: ______ Zip: ________

Print Your Ad Below...

One word each space. BE SURE YOUR TELEPHONE NUMBER OR ADDRESS is

included in your advertisement. The lessor of 4 words or 22 characters per line. We

reserve the right to use abbreviations when actual space exceeds amount purchased.

1. __________

2. __________

3. __________

4. __________

5. __________

6. __________

7. __________

8. __________

9. __________

10. __________

__________

__________

__________

__________

__________

__________

__________

__________

__________

__________

Your Cost Per Line –– 2 Line Minimum

1 Paper ........$1.00 per line 3 Papers ......$2.55 per line

4 Papers ......$3.00 per line

2 Papers ......$2.00 per line

5 Papers ......$4.00 per line

$

❏ Eastside Messenger

❏ Westside Messenger

❏ Southeast Messenger

❏ Southwest Messenger

❏ Madison Messenger

❏ All Newspapers

❏ Cash

❏ Check

❏ Money Order

❏ VISA ❏ MC

__________

__________

__________

__________

__________

__________

__________

__________

__________

__________

__________

__________

__________

__________

__________

__________

__________

__________

Credit Card Information

$5.00 Minimum by fax or

email or $12.50 by phone

________________________

Credit Card Number

______________________

Exp. Date
---
PAGE 26 - GROVE CITY MESSENGER - November 27, 2022

www.columbusmessenger.com

xEmployment

GREENLAWN RV

Lockbourne, OH

RV TECHNICIAN NEEDED!

No Prior Experience Necessary

We Will Train!

Immediate Start - Full Time Position

Contact Toby Boetcher

at

(740) 983-0149

ASSOCIATION ADS

HIRING WAREHOUSE

UP TO

$19/HR +

UP TO

$3K SIGN-ON

NO WEEKENDS • NO MANDATORY OT

OPEN INTERVIEWS

WEDNESDAY 10AM-1PM

1568 Georgesville Rd. Columbus, OH 43228

JOBS.MSCDIRECT.COM

Applicants must sucessfully pass a background check and drug screen.

Equal Opportunity Employer: Minority, female, veteran, individuals with disabilities, sexual orientation/gender identity.

ASSOCIATION ADS

Attention Homeowners! If

you have water damage

and need cleanup

services, call us! We'll get

in & work with your

insurance agency to get

your home repaired and

your life back to normwl

ASAP! 855-767-7031

ASSOCIATION ADS

Free high speed internet if

qualified. Govt. pgm for

recipients of select pgms

incl. Medicaid, SNAP

Housing Assistance, WIC,

Veterans Pension,

Survivor Benefits, Lifeline,

Tribal. 15 GB Internet.

Android tablet free w/onetime

$20 copay. Free

shipping. Call Maxsip

Telecom! 1-833-758-3892

ASSOCIATION ADS

Become a Published

Author. We want to Read

Your Book! Dorrance

Publishing - Trusted by

Authors Since 1920

Book manuscript submissions

currently being reviewed.

Comprehensive Services:

Consultation, Production,

Promotion and Distribution. Call

for Your Free Author's Guide 1-

866-482-1576 or visit

dorranceinfo.com/macnet

ASSOCIATION ADS

Attention Viagra users:

Generic 100 mg blue pills

or generic 20 mg yellow

pills. Get 45 plus 5 free

$99 + S/H. Call Today 1-

877-707-5518

Switch and save up to

$250/yr on talk, text &

data. No contract or

hidden fees. Unlimited talk

& text with flexible data

plans.

Premium

nationwide coverage.

100% U.S. based

customer service. Limited

time get $50 off any new

account. Use code

GIFT50. 1-855-903-3048

Wesley Financial Group,

LLC Timeshare Cancellation

Experts Over

$50,000,000 in timeshare

debt & fees cancelled in

2019. Get free

informational package &

learn how to get rid of

your timeshare! Free

consultations. Over 450

positive reviews. 888-965-

0363

DIAGNOSED WITH

LUNG CANCER? You

may quliafy for a

substantial cash award -

even with smoking history.

NO obligation! We've

recovered millions. Let us

help!! Call 24/7, 1-888-

650-9135

Safe Step. North

America's #1 Walk-in Tub.

Compreshensive lifetime

warranty. Top-of-the-line

installation and service.

Now featuring our FREE

shower package & $1600

off for a limited time!

Financing available. 1-

855-417-1306

The Generac PWRcell

solar plus battery storage

system. Save money,

reduce reliance on

grid, prepare for outages

& power your home. Full

installation services. $0

down financing option.

Request free no obligation

quote. Call 1-877-

539-0299

Vivint Smart Security.

Professionally installed.

One connected system for

total peace of mind. FREE

professional installation!

Four FREE months of

monitoring! Call now to

customize your system. 1-

855-870-2073

AT&T Internet. Starting at

$40/month w/12-mo agmt.

1 TB of data/mo. Ask how

to bundle & SAVE! Geo &

svc restrictions apply. 1-

855-364-3948

Attention oxygen therapy

users! Inogen One G4 is

capable of full 24/7 oxygen

delivery. Only 2.8

pounds. Free info kit.

Call 877-929-9587

Dental Insurance -

Physicians Mutual Insurance

Comopany. Covers 350

procedures/ Real insurance -

not a discount plan. Get your

free dental info kit! 1-855-

.526-1060 www/dental50

plus.com/ads #6258

SELL YOUR ANTIQUE

OR CLASSIC CAR.

Advertise with us. You

choose where you want

to advertise. 800-450-

6631 visit macnetonline.

com for details.

BATH & SHOWER UP-

DATES in as little as

ONE DAY! Affordable

prices - No payments for

18 months! Lifetime warranty

& professional installs.

Senior & Military

Discounts available. Call

855-761-1725

DISH TV $64.99 FOR 190

Channels + $14.95 High

Speed Internet. Free Installation,

Smart HD DVR

Included, Free Voice Remote.

Some restrictions

apply. Promo expires

1/21/23. 1-866-479-1516

Looking for auto insurance?

Find great deals

on the right auto insurance

to suit your needs.

Call today for a free

quote! 866-924-2397

VIAGRA and CIALIS

USERS! 50 Generic pills

SPECIAL $99.00. 100%

guaranteed. 24/7 CALL

NOW! 888-445-5928

Hablamos Espanol

Employment

ASSOCIATION ADS

Elminate gutter cleaning

forever! LeafFilter, the most

advanced debris-blocking

gutter protection. Schedule

Free LeafFilter Estimate

today. 20% off Entire

Purchase. 10% Senior &

Military Discounts. Call 1-

833-610-1936

READY TO BUY, SELL

OR RENT YOUR

VACATION HOME OR

HUNTING CAMP?

Advertise it here and in

neighboring publications.

We can help you. Contact

MACnet MEDIA @

800-450-6631 or visit our

site at MACnetOnline.

com

Internet &WIFI Starts at

$49 Call us Today to Get

Started. Find High-Speed

Internet with Fiber Optic

Technology No Credit

Check, No SSN Required.

Call us Today 866-396-

0515

ASSOCIATION ADS

FREE $10 Cash App

Everyone! Yes It's Real.

Very Limited supply until

we run out! Text "Real

Cash" to 706-761-1745

BUYING CLASSIC CARS,

TRUCKS, SUVs

**American and Foreign**

Any Condition. Buying

entire car collections.

$$PAYING CA$H$$

Please call 717-577-8206

KRMiller1965@yahoo.com

Safe Step. North

America's #1 Walk-in Tub.

Compreshensive lifetime

warranty. Top-of-the-line

installation and service.

Now featuring our FREE

shower package & $1600

off for a limited time! Call

today! Financing

available. Call Safe Step

1-833-356-1954

Eliminate gutter cleaning

forever! LeafFilter, the

most advanced debrisblocking

gutter protection.

Schedule a FREE

LeafFilter estimate today.

20% off Entire Purchase.

Plus 10% Senior & Military

Discounts. Call 1-855-

791-1626

ASSOCIATION ADS

The Generac PWRcell, a

solar plus battery storage

system. SAVE money,

reduce your reliance on

the grid, prepare for power

outages and power

your home. Full installation

services available. $0

Down Financing Option.

Request a FREE, no obligation,

quote today. Call

1-866-783-0292

Prepare for power

outages today with a

GENERAC home standby

generator. $0 Down + Low

Monthly Pmt. Request a

free Quote. Call before the

next power outage: 1-855-

948-6176

IMPORTANT

NOTICE

The following states: CA,

CT, FL, IA, IL, IN, KY,

LA, MD, ME, MI, MN,

NE, NC, NH, OH, OK,

SC, SD, TX, VT and WA

requires seller of certain

business opportunities to

register with each state

before selling. Call to

verify lawful registration

before you buy.
---
www.colulmbusmessenger.com

xCome & Get It!

INFORMATION

November 27, 2022 - GROVE CITY MESSENGER - PAGE 27

xClassified Services

COME AND GET IT!

Need to Get Rid of Something Fast - Advertise It Here For FREE!

Deadlines are Mondays by Noon

Call For Publication Schedule 614-272-5422

FREE Garden Straw for gardens or bedding. Call for appointment for pickup.

Circle S Farms, 9015 London-Groveport Road, Grove City, 43123

Grove City - 614-878-7980

FREE - Metal from old camper frame, Need a truck to pickup..

CC - Obetz - 614-632-1013

FREE - Children's Wooden Play Set - Good Condition w/Sand Box under it, Step Ladder up

Slide to go down & a rope swing. Also separate Swing Set w/4 swings.

190 Inah Ave., Cols, 43228 near the Fire Dept.

West Columbus - 614-878-1930, ask for Linda

FREE - Pipe for wood burning stove, appr. 20' plus misc. parts; 10 wood window

sashes, various sizes; Frames for real estate signs, varios sizes;

One gallon plastic gas containers.

West Columbus - 614-570-5372, ask for David

FREE - Firewood - All you want! U cut U Haul. Text me if you want it.

Obetz - 614-519-7986

Come and Get It! is a bi-weekly column that offers readers an opportunity to pass

along surplus building materials, furniture, electronic equipment, crafts, supplies,

appliances, plants or household goods to anybody who will come and get them - as

long as they're FREE. NO PETS! Just send us a brief note describing what you want to

get rid of, along with your name, address and phone number. Nonprofit organizations

are welcome to submit requests for donations of items.

Send information to The Columbus Messenger, Attention: Come and Get It, 3500

Sullivant Ave., Columbus, OH43204. Deadline is Mondays at NOON for following

Sunday's publication. Messenger Newspapers is not responsible for any complications

that may occur. Please contact us when items are gone. 272-5422

Come & Get It!

xFocus on Rentals

WEDGEWOOD

VILLAGE

1, 2 and 3 BR Apts.

Rent Based on Income.

Call 614-272-2800 or visit us

at 777 Wedgewood Dr.

TTY/TDD 711

EQUAL HOUSING OPPORTUNITIES

APARTMENT MANAGERS!

Did This Catch Your Eye?

ADVERTISE YOUR APARTMENT

COMPLEX IN THIS SPACE

And Get Results!

Call Kathy For More Info & Rates

The Columbus Messenger

614-272-5422

Rentals

ASSOCIATION ADS

NEED IRS RELIEF

$10K-$125K+ Get Fresh

Start or Forgiveness.

Call 1-877-705-1472

Monday through Friday

7am-5pm PST

Protect your home w/home

security monitored by

ADT. Starting at $27.99/

mo. Get free equipment

bundle including keypad,

motion sensor, wireless

door & windows sensors.

833-719-1073

Prepare for power outages

today with a GENERAC

home standby generator.

$0 Money Down + Low

Monthly Payment Options.

Request a FREEQuote--

Call now before the next

power outage. 1-855-465-

7624

DISH TV $64.99 for 190

Channels + $14.95 high

speed internet. FREE installation,

Smart HD DVR

included. Free Voice Remote.

Some Restrictions

apply. Promo Expires

1/21/23. 1-866-590-5561

Thinking about installing

a new shower? American

Standard makes it

easy. FREE design consulation.

Enjoy your

shower again! Call 1-

833-769-0995 today to

see how you can save

$1,000 on installation, or

visit www.newshowerdeal.com/mac

INSURANCE

Medicare New Benefit

Medicare-Zero Premium

Free Doctor visit, free ride,

free food card, free

prescrptions.614-805-1084

See...

You Looked!

Newspaper

Ads Catch

The Eye!

Call

272-5422

For Info. &

Pricing

CHILD CARE

OFFERED

Depend. Quality Child care

in loving hm. Exp. Mom, n-

smkr, hot meals, sncks,

playroom, fncd yd. Reas.

rates. Laurie at 853-2472

HELP WANTED

Licensed Barber Needed

to take over for retiring

barber. Full or Parttime.

located in Great Southern

Shopping Center. Call

Cindy for more info

614-239-1976

Kings Kids Daycare

in Grove City is hiring Fun,

Loving Teachers for PT &

FT shifts. Please email

sarragc@outlook.com or

call 614-539-0349

WANT TO BUY

WE BUY JUNK CARS

Call anytime 614-774-6797

ANTIQUES

WANTED

Victrolas, Watches,

Clocks, Bookcases

Antiques, Furn.

Jeff 614-262-0676

or 614-783-2629

We Buy Cars & Trucks

$300-$3000.614-308-2626

BUYING OSU & old sports

items, records, postcards,

old photos, jewelry & more

614-477-5590

We Buy Junk Cars &

Trucks. Highest Prices

Paid. 614-395-8775

MISCELLANEOUS

FOR SALE

HP PRINTER

CARTRIDGES FOR SALE

HP 901 Color Cartridges (3);

HP 901XL and 901 Color

Multi Pack (1);

HP 901XL Black(1).

$15.00 each.

Columbus Messenger,

3500 Sullivant Ave.

Call Office 614-272-5422

RENTALS

CONDO FOR RENT

Galloway Village - 3 BR,

2 BA, 2 car gar.

Beautiful neighborhood.

Rent $1500/mo + dep.

614-465-7763

CARPET CLEANING

CARPET CLEANING

Any 5 areas ONLY $75

614-805-1084

Specializing in Pet Odors

CLEANING

DEEP CLEANING &

WALL WASHING

Call Judy 614-746-0273

CONCRETE

ALL-CITY CUSTOM

CONCRETE

All Types Concrete Work

New or Tear Out-Replace

40 Yrs. Exp.

(614) 207-5430

Owner is On The Job!

AJ's Concrete,

Masonry

Good Work - Fair Prices

Block Foundations

Driveways • Sidewalks

Epoxy/Overlay Floors

Bonded-Ins. • Free Ests.

614-419-9932

www.hastingsnsons.com

Driveways & Extensions

Patio & Walkways,

Porches & Steps,

Garage/Basement Floors

Hot Tub/Shed Pads,

Stamped/colored concrete

Sealing of new &

existing concrete.

FREE ESTIMATES

Contact Adam

614-756-1754

hastingsandsons.

columbus@gmail.com

IINFORMATION

FOR ONLY

$74.00

You Can Reach

Over 42,000 Homes

In Our

West & Grove City

Areas

For Info Call

272-5422

FENCING

EAZY FENCE

Chain Link - Wood

No Job Too Big or Small

All Repairs ~ Free Est.

Insured. 614-670-2292

GUTTERS

Bates & Sons

GUTTER CLEANING

5 ★ Google Reviews

614-586-3417

12/18 A

HAULING

DEAN'S HAULING

614-276-1958

DUMPSTER RENTAL

4 Days - $275 & Up

No Hazardous Materials

Tires - $10.00 each

Call 614-254-1131

HEATING & COOLING

HVAC

HEATING & A/C

Fast Service - Licensed

614-633-9694

HOME

IMPROVEMENTS

CandC

Handyman Services LLC

"See The Difference"

l

614-378-7469

12/18

Remodels, A

Water Heaters,

Plumbing, Fence,

Sidewalks, Decks

& Electrical Work

KLAUSMAN HOME

IMPROVEMENT

Siding-Windows-

Doors-Roofing-Soffit-

Fascia-Gutters-Trim

Earn FREE Seamless

Gutters with Siding Over

1000 Sq. Ft.

FREE Shutters with

Soffit & Trim

EPA Certified

Member of BBB

Financing Available

Over 20 yrs exp. • Free Est.

Licensed-Bonded-Insured

Owner & Operator

James 614-419-7500

SLAGLE

HOME REMODELING

Baths, Kitchen,

Plumbing and Electrical.

All your Handyman needs

No Job too Big or Small

Over 30 Yrs. Exp. Lic.-Bond-Ins.

Jerry

11/20

SW/W

614-332-3320

C&JHandyman

Services LLC

Minor Plumbing & Electric

Install Hot Water Tanks,

Dishwashers & Disposals

All Interior Remodels

Also Fencing &

Interior/Exterior Painting

Free Est. ~ 18 Yrs. Exp.

CDC/EPA Approved Guidelines

614-284-2100

12/4 A

12/4 A

HOME

IMPROVEMENTS

SINCE 1973

Phil Bolon Contr.

Windows & Siding

Decks, Kitchens, Baths

Room Additions,

Flooring, Roofing

Bsmt Waterproofing

Deal With Small Non-Pressure Co.

47 Yrs. Exp. - Refs. Avail.

Lic.-Bond-Ins.

Free Est. - Financing Avail.

Member BBB Of Cent. OH

O.C.I.E.B. ID #24273

614-419-3977

or 614-863-9912

HOME

MAINTENANCE

HOME

REMODELING

LANDSCAPING

ONYX

LANDSCAPING

614-407-5214

www/Pmux:amdsca[omg;;c/cp,

Full Service Lawn Care

Start With Trust!!

LAWN CARE

LET US MAINTAIN

YOUR LAWN & GARDEN

FOR YOU

Summer, Spring,

Winter or Fall

WE DO IT ALL!!!!

Lawn Cuts, Edging,

Trees & Shrubs, Garden,

Mulching, Hauling,

Garden Pond &

Home Maint.

Free Ests. Low Rates

$20 & Up

Kevin - 614-905-3117

Classified Services

12/18

A/M

HANDYMAN SERVICES

614-235-1819

Charlies Handyman

Service

Over 40 yrs. exp.

Hot Water Tanks

Door Locks

Kitchen/Bath Remodels

Roofmg * Siding

Porches & Decks

614-319-6010

blantoncharles894@gmail.com

MultiCraft Const.

& Handyman Services

All Types Handyman Services:

Decks, Fences

Kitchen/Baths

Window/doors installed

Interior Painting

Drywall Repairs

All Types of Flooring

Call/Text 614-774-2923

multicraftconstruction@gmail.com

12/18 A

PAINTING

Painter Over 30 Yrs. Exp.

Free Est. Reas. Rates

Daniel - 614-226-4221

PLASTERING

DRYW

YWALL &

PLASTER

12/18

A&M

REPAIR

Textured Ceilings

614-551-6963

Residential/Commercial

BIA

PLUMBING

All About Drains & Plumb.

Will snake any small drain

$145. 614-778-2584

MYERS

PLUMBING

Exp. Expert Plumbing

New Const. & Fast Repairs

Lic. - Permit Available

Water • Sewer • Gas

614-633-9694

CHRIS'

PLUMBING

"Plumbing & Drain Professional

That You Can Count On"

24 Hrs., 7 Days/Week

No Overtime Charges

24 Yrs. Exp. in Plumbing &

Drain Cleaning Field

Call For A Free Phone Estimate

$100.00 For Any Small Drain

614-622-4482

30% OFF with AD

POOL/SPA

MAINTENANCE

K&L Spa Cleaning

Hot Tub Cleaning and

Weekly Maintenance

Keith 614-316-9809

POWER WASHING

Bates & Sons

Soft Wash & Powerwash

5 ★ Google Reviews

614-586-3417

SEWING MACHINE

REPAIR

REPAIR all makes 24 hr.

service. Clean, oil, adjust

in your home. $49.95 all

work gtd. 614-890-5296

TREE SERVICES

BURNS TREE SERVICE

Trimming, Removal &

Stump Grinding.

614-584-2164

Warren Brewer Tree Service

• Tree Removal

• Tree Trimming 9/11

A&M

• Stump Grinding

• Bucket Truck Services

Best Prices • Same Day Service

614-878-2568

12/4 A&M

12/4 A
---
PAGE 28 - GROVE CITY MESSENGER - November 27, 2022

www.columbusmessenger.com