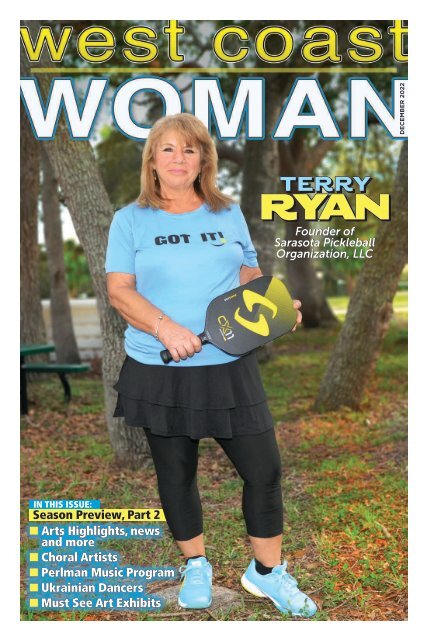 Create successful ePaper yourself
Turn your PDF publications into a flip-book with our unique Google optimized e-Paper software.
DECEMBER 2022

TERRY

RYAN

Founder of

Sarasota Pickleball

Organization, LLC

IN THIS ISSUE:

Season Preview, Part 2

■ Arts Highlights, news

and more

■ Choral Artists

■ Perlman Music Program

■ Ukrainian Dancers

■ Must See Art Exhibits
---
GIVE YOURSELF THE GIFT OF A NEW KITCHEN

This Holiday Season!

$50/SF INSTALLED

SELECT QUARTZ COLORS *

(941) 212-3037 | PlanetStone.com

*While supply lasts. See showroom for details.

Visit us at our Design Center at 601 6th Avenue West • Bradenton, Florida

2 WEST COAST WOMAN DECEMBER 2022
---
DECEMBER 2022

contents

Editor and Publisher

Louise M. Bruderle

Email: westcoastwoman@comcast.net

Contributing Writer

Carol Darling

Contributing Photographer

Evelyn England

Art Director/Graphic Designer

Kimberly Carmell

Assistant to the Publisher

Mimi Gato

season highlights

We've got even more events we think

you'll find interesting or unique from Artist

Series, La Musica, Key Chorale, Venice

Theatre, ArtCenter Manatee, Sarasota

Opera and lots more.

p18

West Coast Woman is published

monthly (12 times annually) by

LMB Media, Inc., Louise Bruderle,

President. All contents of this

publication are copyrighted and

may not be reproduced. No part

may be reproduced without the

written permission of the publisher.

Unsolicited manuscripts, photographs

and artwork are welcome, but return

cannot be guaranteed.

HOW TO REACH US:

Email: westcoastwoman@comcast.net

season preview

Here's a look at Choral Artists of

Sarasota's 2022-2023 Season -

their 44th entitled "United in Song"

p23

Here are our columns:

n Out & About: includes

fundraisers, concerts, art exhibits,

lectures, dance, poetry, shows &

performances, theatre, film,

seasonal events and more.

n You're News: job announcements,

appointments and promotions,

board news, business news and

real estate news.

FOLLOW US AT:

Facebook: https://www.facebook.com/

WCWmedia

season preview

The Perlman Music Program

Suncoast Presents "An Evening

with Violinist Randall Goosby" with

pianist Zhu Wang on Dec. 8.

p21

WCW

34

YEARS

WCW Mailing Address:

P.O. Box 819

Sarasota, FL 34230

email:

westcoastwoman@comcast.net

website:

www.westcoastwoman.com

also in this issue

Just what is pickleball and why is

it so popular? Fun, friendly and a

decent workout

p14

west coast

WOMAN

departments

4 editor's letter

7 Out & About: listings for things to do

9 healthier you: how to quit tobacco

11 happening this month: Kolo: The

Dance Show from Ukraine

13 healthier you: Sunshine from Darkness

14 feature: the pickleball craze —

what's it all about?

16 west coast woman: Terry Ryan

18 season preview: Season Highlights

21 season preview: Perlman Suncoast

23 season preview: Choral Artists

24 season preview: ArtCenter Sarasota

25 What is Craniosacral Therapy?

26 season preview: Major exhibits to see

30 dining in: Just don't tell them it's vegan

■ on the cover: West Coast Woman Terry Ryan.

■ Photo by Evelyn England

DECEMBER 2022 WEST COAST WOMAN 3
---
just some

thoughts

Louise Bruderle

Editor and Publisher

West Coast Woman Terry Ryan

Terry Ryan

Photo by Evelyn England

I'll say up front, I'm a tennis person - been

playing since high school and always felt it

was "my" game - meaning it fit me well athletically

and was enjoyable. But I was curious

and all those articles about the sport made

me say, hey, let's check it out. It is also near

impossible to find a tennis buddy and a court,

most of them have been repurposed as, you

guessed it, pickleball courts.

So with all this in mind, I went to CoreSRQ

(the former YMCA) where I've had a membership

since I first arrived in Sarasota back

in the eighties. They have a really nice, large

and bright auditorium-like room where all

the exercise classes are and where pickleball takes place.

Right away I felt tremendous positive energy and saw some matches

going on - men and women. But I immediately have to add, they were

serious about their game, but smiling and congratulating each other

between points.

The pickleball leader of the group is Terry Ryan and she's our WCW

this month. Terry does it all - organize locations and schedules, coach,

compete and keep everyone'e spirits running high and enjoying the

game of pickleball - the fastest growing sport in U.S.

Venice Theatre Update

Venice Theatre isn't letting Hurricane Ian stop them from getting back

on the stage. While their main theater was completely destroyed, they

are constructing a temporary stage at their education building. And

they're putting on The Christmas Carol in December!

"There were about 15 minutes that day looking at the building the

day after the

storm where we

were all kind of

numb, and then

within just a

few minutes, we

started making

plans and saying

here's what's

next. Here's

what we can

do," said Murray

Chase, the Producing

Executive

Director at

Venice Theatre.

"A tremendous amount of work has gone into figuring out a way to

present as many shows from our original 2022-23 season as possible.

Losing our main 432-seat theatre will not stop us from sharing these

great stories with our community. We are excited that we can still present

Up On the Roof, The Cemetery Club, Gypsy, Arabian Nights, Xanadu,

The Silver Foxes, and Pinky's Players and we've changed a couple of

titles," says Chase.

Coming up, A Christmas Carol runs December 2-19. While their mainstage

Jervey Theatre is undergoing major repairs, the show will be performed

on the temporary stage in the Raymond Center directly behind

their main building. Tickets: https://venicetheatre.org/tickets/.

December Season Preview

We need the arts now more than ever - a hurricane, a near hurricane, a

difficult economy and acrimony in many places in our lives - all can be

soothed through the arts whether it's a musical at the Van Wezel, a play

at one of the many theaters in our area or viewing art at a museum. And

there's no shortage of events, venues or artforms to choose from - choral

music, classical music, drama, musicals, comedy, classical ballet or contemporary

dance, classes of all types as well as informative lectures - and

so much more.

And somehow we managed to squeeze in tons of events in over 10 pages

in this issue - from calendars to features. Enjoy!

Comings and Goings

Our WCW from a few months ago, the amazing Luz

Corcuera has announced she will be stepping down as

the executive director of UnidosNow at the end of 2022.

Luz wants to devote her full attention to her family.

Kelly Kirschner, UnidosNow's co-founder and current

board chair, describes Corcuera as a transformational

leader. "Luz has ushered in an era of remarkable growth

for the organization," he says. "It's rare to find a leader

with vision, integrity and the ability to inspire others.

Leaders who combine all of these qualities, as Luz does,

are unicorns. Luz poured her talent, love, and passion

into UnidosNow and made a significant impact on the

region. It is with good reason, as a result, that Luz has

Luz Corcuera

been recognized nationally for her work. She will be deeply missed by all

of us, particularly by the families and students our organization serves."

During her seven-year tenure at UnidosNow Luz strengthened and

expanded UnidosNow's educational programs designed to put predominantly

low-income, first-generation Latinx students on a path to

a post-secondary education. Corcuera' s transformation of these programs

has empowered more than 3,000 high school graduates to build

a post-secondary path, securing over $14 million in scholarships and

grants, the great bulk of dollars coming from outside the southwest Florida

region to support these local students.

Additionally, Corcuera expanded the reach of the organization,

launching new intergenerational programs including the Future Leaders

Academy for Girls (FLAG) for elementary students, Future Leaders Academy

for Middle Schoolers (FLAM), and the Parenting Leadership program.

During the pandemic, Luz led the organization in establishing key partnerships

to provide emergency assistance, health education/vaccine and

treatment access to hundreds of Hispanic families in the region.

"It has been an honor and a privilege to have joined the UnidosNow

family," says Luz. "I'm deeply grateful for a visionary board, a talented and

passionate team, amazing community partners, and generous friends and

donors who believe in our mission and life-transforming work. I have no

doubt that UnidosNow will continue its success and impact in our region."

The board has selected Cintia Elenstar as the new executive director to

start in January 2023. For more information, visit UnidosNow.org for more

information. We wish you well, Luz, and thank you for all that you have

done for our community.

Also on the move is Susie Bowie. The William G. and Marie Selby Foundation's

Board of Directors has announced that Susie,

currently Executive Director of the Manatee Community

Foundation, will become its next CEO effective

March 1, 2023. As previously announced, Carol Butera,

the Foundation's current CEO, will retire in April 2023.

Board Chair and lead in the search effort, Barbara

Zdravecky, noted "Susie's demonstrated leadership in

the local Foundation arena compliments the values

of our founders, Bill and Marie Selby. The attributes

of humility, collaboration, stewardship, innovation

and social responsibility match well with her style and

accomplishments."

Butera added that she has worked closely and collaboratively

with Bowie for many years. She added "Bowie's deep experi-

Susie Bowie

ence in working with our region's nonprofits and developing grants and

scholarship programs will be a huge asset for our Foundation."

"I have been privileged to spend the past 17 years in philanthropy

at community foundations, immersed in the work of supporting donor

aspirations, building strong nonprofits, and bringing people together to

contribute their lived experiences to address the challenges of our time.

For me, leading this work has been a function of recognizing the strength

and leadership of others, understanding the gifts every community member

brings to their rightful seat at the table, " says Susie

Bowie has served as Executive Director of the Manatee Community

Foundation (MCF) since April 2016 where she has led all aspects of MCF

under the direction of a board of directors.

Photo by Karen Arango

Louise Bruderle | Editor and Publisher |

westcoastwoman@comcast.net

We welcome your thoughts and comments on this column and on other columns and features in this issue.

You can reach us at westcoastwoman@comcast.net. We're on the web at www.WestCoastWoman.com.

4 WEST COAST WOMAN DECEMBER 2022
---
TRY A THERAPY

THAT WORKS!

Merry Christmas

Immediate Relief Beginning

with the First Session:

Chronic Pain: Sciatic, Back, Neck and TMJ

Migraines, Foggy Brain and

Lack of Concentration

Sight and Eye Problems

Asthma, Bronchitis, COPD, Shallow Breathing

Digestive and Constipation Issues

Leaky gut and Autoimmune problems

Chronic Fatigue, Fibromyalgia and Depression

Concussions, Brain and Spinal Cord Health

Mobility and Energy Issues for Seniors

T. Grywinski specializes in difficult issues with great success

How Craniosacral Therapy Can Be Life Changing

"Doctors, physical therapists, massage therapists and chiros

gave me little relief. Terry relieved my pain, after all these years!

He has also helped four of my other friends. The man is an angel,

with a gift from God....thank you Terry!!"

"After 3 sessions, I had more range of motion and mobility in my

neck, shoulders and hips. I was getting to the point where walking

and moving was difficult. It feels like a weight has been lifted off my

shoulders, my voice is stronger and my energy is greatly increased.

I feel much calmer and more grounded!!"

"I no longer feel physically sick each morning. No gastroenterologist

or physician has ever properly diagnosed my mucus build up until

now. As well as bringing about healing in my gut, he released an

incredible amount of tension in my upper body."

"The question is where has he been all my life? Terry is a true healer

and if you are serious about being well, you are in luck.

He is effective and lovely."

advanced craniosacral therapy

Terrence B. Grywinski

B.A., B.Ed., LMT MA6049

25 Years of Experience

advcst.com

See full page explanation of Craniosacral Therapy and

how it can help you in another section of this issue

Downtown Sarasota • 941-321-8757

Google "Advanced Craniosacral Therapy Sarasota" for more info

4420 South Tamiami Trail, Sarasota

941.260.8905

www.shellysgiftandchristmasboutique.com

Open 7 Days A Week Until Christmas

DECEMBER 2022 WEST COAST WOMAN 5
---
FRIDAY, JAN. 13, 2023

6:30 - 9:30 P.M. • RITZ-CARLTON, SARASOTA

KEYNOTE SPEAKER & PERFORMER

JENNIFER HOLLIDAY

LEE AND BOB PETERSON LEGACY LEGACY AWARD RECIPIENTS

JOAN AND BOB GEYER, ACADEMY AT GLENGARY

The Inspiring Hope Dinner is presented by Sunshine from Darkness, a subsidiary of the Lee and Bob Peterson Foundation.

Proceeds will benefit local mental health services provided by Harvest House and Teen Court of Sarasota,

and cutting-edge research funded by the Brain & Behavior Research Foundation.

THANKS TO

MEDIA SPONSOR

Tickets and information: SunshineFromDarkness.org

6 WEST COAST WOMAN DECEMBER 2022
---
out &about

Holiday Events

The Sarasota Ballet School in

partnership with The Venice Symphony

will present a new version of

The Nutcracker December 9-10 at the

Venice Performing Arts Center, One

Indian Ave., Venice.

The production will be performed

by all sections of The Sarasota Ballet's

education programs; The Sarasota

Ballet Studio Company, students

from The Sarasota Ballet School, the

Margaret Barbieri Conservatory, and

Dance – The Next Generation. The

ballet will be accompanied by the

Venice Symphony orchestra playing

Tchaikovsky's score and led by Conductor

Joseph Caulkins.

The production will feature sets

and costumes created by internationally

renowned ballet designer Peter

Farmer. Tickets are available at the

VPAC Box Office and at veniceperformingartscenter.com.

t

Ring Sarasota is making music

throughout the Gulf Coast. As the

area's premier handbell ensemble,

these musicians offer a unique combination

of entertainment, education,

and community engagement.

In December, they'll be performing

at Historic Spanish Point in

Osprey. Enjoy holiday favorites, carriage

rides, tasty treats, and much

more throughout the weekend. Ring

Sarasota will perform on December

3 at 12:30 and 2:30 p.m. and December

4 at 1:30 p.m.

On December 17 at 6 p.m. they'll

perform at Lights in Bloom: An

Open-air Holiday Light Show at Selby

Gardens in Sarasota. Lights in Bloom

features more than two million lights

illuminating the gardens and walkways.

They'll also be children's arts

and crafts, activities, and entertainment.

Info: www.ringsarasota.org/.

t

Manatee Village Historical Park

will host "An Old Florida Christmas."

Experience an old-fashioned

Florida holiday celebration with vendors

selling handmade goods, food,

and offering free make and take seasonal

crafts. The buildings of Manatee

Village Historical Park will be

dressed with splendid Victorian and

Florida pioneer inspired décor. While

on the museum grounds, explore

landmarks like the "Old Cabbage

Head" locomotive, Junior Junction

playground, museum exhibits, and

the Whistle Stop Gift Shop.

The festival is on December 10,

from 11 am to 4 pm at Manatee Village

Historical Park, 1404 Manatee Avenue

East, (State Road 64), Bradenton. Free.

For information call (941) 749-7165

or visit www.manateevillage.org.

t

Special Events

This year's Sunshine From Darkness

Inspiring Hope Dinner, themed

"Shining a Light on Mental Illness,"

will be held on Friday, January 13,

2023 at the Ritz-Carlton, Sarasota.

Grammy and Tony Award-winning

actress – and the original star

of "Dreamgirls" – Jennifer Holliday

will be the keynote speaker and will

perform at the event. The gala will

also feature dancing to the music of

Quintessence, and a performance by

the Westcoast Black Theatre Troupe

Young Artists Ensemble. During the

festivities, the Lee and Bob Peterson

Legacy Award will be presented to

t

Joan and Bob Geyer of the Academy

at Glengary.

Proceeds will benefit Harvest House

and Teen Court of Sarasota, and the

mental health research funded by the

Brain & Behavior Research Foundation.

For more information, contact

Marlene Hauck (941-504-6717 or marlene@sunshinefromdarkness.org)

or

visit sunshinefromdarkness.org.

t

LuLus Lifelines invites you to join

in a raw and honest group discussion

about the challenges a woman faces in

these times regarding relationships of

all kinds. LuLusLifelines.com encourages

women to share their voice on all

the topics important to navigate this

life with grace and healing.

Join in for a short and sweet evening

book reading, "LuLus Life A Testimony

To Divine Intervention" and share

your opinions. Champagne, sparkling

water and munchies will be offered.

Held on December 6, 4:30-6 p.m.

at Osteostrong, 1702 Ringling Blvd.,

December 15, 5:30-7 p.m. at Mindful

Medicinals, 5483 Fruitville Rd.

and Fem City group at Art Ovation on

December 17 at noon. RSVP to LuLu

at 941-914-6594.

Artist Series

Concerts of

Sarasota

Next up is in their Lunch & Listen

Series: Vision Duo: Ariel Horowitz,

violin and Britton-René Collins,

marimba, on December 15 at the

Sarasota Yacht Club this. Concert is at

11 a.m. followed by lunch at 12:15 p.m.

Double Feature: Blake Pouliot and

Simone Porter, violins, with Hsin-I

Huang, piano is on December 6 at

the Sarasota Opera House. This program

features two young artists. Blake

Pouliot and Simone Porter who have

electrified audiences worldwide with

their virtuosity and musicality. Sparks

will fly when they come together for an

evening of duo magic, including works

by Strauss, Beethoven, and Chausson.

The 442s: Adam Maness, multi-instrumentalist/composer;

Shawn

Weil, violin; Michael Casimir, viola;

Bjorn Ranheim, cello; Bob DeBoo,

bass, will perform on December 13 at

the Historic Asolo Theater.

t

Celebrate an Old Florida Christmas at Manatee Village Historical Park on Dec. 11

Combining three members of the St.

Louis Symphony Orchestra and two of

the St. Louis region's finest jazz musicians,

The 442s are an acoustic quintet

named for the modern standard tuning

of 442 Hz. This ensemble blends virtuosic

musicianship, group singing, and

improvisation, and breaks down barriers

between jazz, classical, folk, and pop

music. They present a program of holiday

favorites and original compositions.

Dover Quartet: Joel Link, violin;

Bryan Lee, violin; Milena Pajaro-van

de Stadt, viola; Camden Shaw, cello,

perform on January 10, 2023, at the

Historic Asolo Theater. Named one of

the greatest string quartets of the last

100 years by BBC Music Magazine, the

Grammy-nominated Dover Quartet

has quickly become one of the most

in-demand chamber ensembles in the

world. Their performance includes

works by Beethoven and Mendelssohn.

For more information, visit

ArtistSeriesConcerts.org or call 941-

306-1202.

Meetings

The Manatee Genealogical Society

will host a hybrid meeting and

program on December 6, 10 am to

noon. The program speaker is Peggy

Jude who will present "All About Your

Name." This program is a broad look

at surnames. Topics covered include:

the history of surnames, ways to learn

more about yours, and those who

share your name. Get tips on places

to research your name, DNA options,

and groups you can join.

Jude has been conducting genealogical

research for her family and

clients for over 40 years and specializes

and teaches in five areas of

genealogical interest: DNA, Preserving

Family History and Heirlooms,

Genealogical Methods and

Records, Genealogical Technology

and Swedish Genealogy.

Members of the public are welcome

to attend. Meetings are held at

the Manatee Central Library, Main

Auditorium, located at 1301 Barcarrota

Blvd West, Bradenton. Guests

attending via Zoom must register at

least one day in advance by emailing:

info@mgsfl.org. For more information,

visit mgsfl.org.

t

Choral Artists

The Choral Artists of Sarasota

present: Peace on Earth. The holidays

will ring with traditional holiday

carols resounding with themes

of peace that are interspersed with

"In Terra Pax," a work of childlike

serenity that is both intimate and

universal by British composer Gerald

Finzi. Guest artists: Danielle Talamantes,

soprano, and Kerry Wilkerson,

baritone. Held December 11, 7

p.m., at Church of the Redeemer, 222

S. Palm Avenue, Sarasota.

To purchase tickets, visit www.

ChoralArtistsSarasota.org or call

941-387-4900.

t

The Sarasota

Orchestra

Masterworks: Luminous Colors

is on December 2-4 at the Van Wezel

with Lina González-Granados, conductor,

Bomsori Kim, violin. Performing

Nina Shekhar – Lumina; Bruch

– Violin Concerto No. 1 and Dvo˘rák –

Symphony No. 7.

• January 5, 6, 7, 8: Mahler: View

of Heaven – James Ehnes, violin

| Laquita Mitchell, soprano performing

Sibelius – Violin Concerto;

Mahler – Symphony No. 4.

• Great Escapes: December 7-11

Great Escapes: Seasonal Gifts is

on in Holley Hall with Steven Jarvi,

conductor

• The Discoveries: Discoveries

performances will take place at the

Sarasota Opera House.

• December 21: The French Influencers

–Sarah Ioannides, conductor.

They're performing Farrenc – Overture

No. 1, Liszt – "Pastoral Music at

the Manger" from Christus and Bizet

– Symphony in C Major.

For information, visit www.SarasotaOrchestra.org.

t

At The Hermitage

On December 9 on the Hermitage

Great Lawn: "Angélica Negron:

Playing a Plant." Hermitage Greenfield

Prize Winner Angélica Negrón is

inspired by nature and the music all

around her.

Her wide-ranging performance and

t

compositional practice extends beyond

the traditional repertoire to include

unconventional instruments such as

plants and found objects, often layering

in vocals and other electronics.

On December 15 on the Hermitage

Beach: "Notes: On Writing and Music"

with Hermitage Fellows Chigozie

Obioma and Levy Lorenzo. These

two artists both bring an international

perspective and the program

spans literature and music. Nigerian-born

Chigozie Obioma, whose two

novels The Fisherman and An Orchestra

of Minorities were both shortlisted

for the Booker Prize in Fiction, reads

selections of his work and discusses

his creative process. He is joined by

Filipino-American musician, instrument

designer, and returning Hermitage

Fellow Levy Lorenzo.

Hermitage Artist Retreat, 6630

Manasota Key Road, Englewood. Register

at: HermitageArtistRetreat.org

Venice Symphony

A Holiday Season Spectacular

runs December 16-17. The concert

includes classic carols, music

from the films such as A Nightmare

Before Christmas and How the

Grinch Stole Christmas and timeless

works from The Nutcracker

Suite and Babes in Toyland. They're

joined by Sarasota's Key Chorale for a

traditional sing-a-long.

• Night at the Museum is on January

6-7, 2023. The Venice Symphony will

transport you to your favorite museum

with music from Indiana Jones and the

Raiders of the Lost Ark, The Mummy,

Night at the Museum and The Da Vinci

Code. Concertmaster Marcus Ratzenboeck

dazzles with his violin solo on

Camille Saint Saens' Danse Macabre.

Then music and art meet in fashion in

Modest Mussorgsky's Pictures at an

Exhibition, orchestrated by Maurice

Ravel and performed by The Venice

Symphony at full strength.

Tickets: www.thevenicesymphony.org/

t

Galleries

Art Uptown Gallery will exhibit

"Joan Libby Hawk's Ceramics/On

& Off the Wall." Hawk exploits clay's

shape-shifting nature and technical

versatility to reveal inventive

contemporary forms with plenty of

attitude. Whether viewed on a pedestal

or wall, the artmaker treats each

piece as a distinct named individual,

melding her palette of studio-mixed

personal glazes to vessels and sculpture.

Runs through December 30.

Art Uptown Gallery: 1367 Main Street

gallery. Info: www.artuptown.com.

t

Ringling College Galleries presents

Lost Summer; a collection

of landscape paintings created by

Ringling College Alumna, Lee Mayer

(Commercial Art 72'). For thousands

of years, the human race has been

hooked by landscape art whatever

the medium, although it only become

a recognized genre of art in the late

15th century. As nineteenth century

Swiss essayist, Henri Frederic Amiel,

wrote, "Landscape is a state of mind".

In this collection of small and midscale

paintings, Mayer explores the

light, nature, harmony, and color of

the natural beauty of Canadian summers.

Runs to March 17, 2023.

Ringling College of Art + Design,

Patricia Thompson Gallery is located

on the first floor of the Keating Center,

2700 N. Tamiami Trail, Sarasota.

t

continued on page 8

DECEMBER 2022 WEST COAST WOMAN 7
---
out and about continued

Art Center Sarasota has three solo

exhibitions:

"Alexandra Hammond" revolves

around the artist's "Quantum Blue"

series of acrylic paintings. According

to the artist, they invite the viewer to

enter "a zone of pure possibility—a

field of active emptiness from which

all forms arise out of formlessness."

Runs December 8-January 21.

They also have "Jason Hackenwerth"

which reveals the painter's latest

body of work — abstract paintings,

bursting with dynamic scenarios.

According to the artist, they're his

way of working through his emotions

under the constant bombardment of

media and life drama.

There's also a juried show: "Black

& White" which showcases monochromatic

works created in a range

of artistic mediums. Elana Rubinfeld,

the founder of the New Art Agency

and former director at Yossi Milo Gallery

in NYC, will jury this exhibition.

Opening reception for all exhibits:

December 8, 6-8 p.m. Art Center

Sarasota, 707 N. Tamiami Trail, Sarasota.

www.artsarasota.org.

t

Sarasota Orchestra's Harmony

Gallery has Jim Stewart. His exhibition

is titled: Minor Passages.

Stewart's drawings and paintings are

influenced by his career as a graphic

designer. Fine arts and photographic

experiences also inspire him to find a

balance of impact and legibility with

these abstractions: possibilities for

describing nature. Stewart's drawings

are created using waterproof, lightfast

India Inks. Runs to December 12.

Claire Desjardins Exhibition,

Living in Color, runs December

16-January 23. Desjardins is an

award-winning abstract painter based

in Quebec and Sarasota. She exhibits

her paintings in galleries across North

America and her work can be found in

both private and corporate collections

worldwide. Desjardins' paintings,

though abstract, take their visual cues

from forms, colors, textures and patterns

in nature. Beyond the canvas,

Claire's art transforms commercial

and residential interiors, urban exteriors,

housewares, furniture, package

design and women's apparel. Her work

has appeared in major motion pictures

and popular television shows.

The Harmony Gallery is at Beatrice

Friedman Symphony Center at 709

North Tamiami Trail, Sarasota. Exhibitions

are free and open to the public.

For information visit www.sarasota

orchestra.org.

t

ArtCenter Manatee has the 11th

annual exhibit of the International

Society of Scratchboard Artists

(ISSA) in their galleries. The "drawings

in reverse" will be on display

through December 30 with an opening

reception on December 1, 5-7 p.m.

In 2021, artists from the USA, China,

Canada and Australia were represented.

ArtCenter Manatee, 209 9th Street

West, Bradenton.

t

Elling Eide Center

November 10 at 11am (free to

attend in person or online via ZOOM)

they have "The Meaning(s) of Birds

on Spirit Jars (Hunping): The Religious

Imagination of Second to

Fourth Century Southeastern

China" This lecture will discuss the

more than 200 heavily decorated

jars with five mouths that have been

t

excavated from

tombs in Southeastern

China.

One of their

most notable

features is

that they are

adorned with

figurines of

many birds. Although

several

analysts believe

the birds represent

the souls

of the departed

flying to the

heavens, that

does not explain

why there

are so many.

This lecture

will discuss

these Spirit Jars

and explain

the presence

of these birds

in terms of the local legend that sparrows

stole rice from Heaven and introduced

its cultivation to humans. Birds

thereby were seen as grain and fertility

gods and thus emblems of good fortune

for both the dead and the living.

Tickets: www.eventbrite.com .

Elling Eide Center, 8000 South Tamiami

Trail, Sarasota.

Perlman Music

A evening with Randall Goosby is

on December 8 at The Sarasota Opera

House. It's a rare special performance

by internationally acclaimed violinist

and PMP Alum, Randall Goosby and

pianist Zhu Wang.

The PMP Winter Residency returns

once again in December. They are

looking forward to seeing everyone in

the tent at USF Sarasota-Manatee to

watch and hear the new and returning

"Littles" as they train with the esteemed

faculty led by Itzhak Perlman.

The PMP Winter Residency runs

December 28-January 7 and offers

unparalleled musical training for

gifted students ages 12-18 who play

the violin, viola, cello and bass. PMP's

world-class faculty, led by Itzhak Perlman,

oversees a curriculum of solo,

chamber music, and orchestral repertoire

at the highest level. The public is

invited to watch these orchestra and

chorus rehearsals and works-in-progress

recitals in a performance tent on

the USF Sarasota-Manatee campus.

• Tent Rehearsals, Works in Progress,

and Recitals: December 29-January

7 on the USF Sarasota-Manatee

campus. Non-reserved seats are free to

the public; reserved and VIP seats are

also available. The Winter Residency's

daily schedule will be available at www.

PerlmanSuncoast.org in November.

• Celebration Concert: January 5

at the Sarasota Opera House. Tickets:

call Sarasota Opera House's box office

at 941-328-1300 or at www.sarasotaopera.org.

• Celebration Gala is on January 5

in the tent on the USF Sarasota-Manatee

campus. The evening includes

dinner and entertainment with PMP

students, faculty and the Perlmans.

Tickets are $250 and are available at

www.PerlmanSuncoast.org.

t

The Chamber

Orchestra of

Sarasota

t

The Chamber Orchestra of

Sarasota has launched its sixth

season featuring Baroque, Classical,

Romantic, contemporary and

popular music performed by a string

orchestra under the direction of

Music Director Robert Vodnoy.

The season opens on December 1

at 7:30 pm with Happy Holidays, featuring

Corelli's "Christmas Concerto",

Vaughan Williams' "Five Variants of

Dives and Lazarus", Grieg's "Holberg

Suite", Holcombe's "Christmas Wishes,"

and more. Soloists are Giuseppina

Ciarla, harpist, and Scott Kluksdahl,

cellist. The concert will be performed

at First Presbyterian Church of Sarasota,

the orchestra's first performance

in this venue.

The Chamber Orchestra of Sarasota

will join forces with the Venice High

School Orchestra, Christopher Riley,

conductor, to present a free concert titled

Making Music Together on January

13, 2023 at the Venice Performing

Arts Center.

For information and to order tickets,

visit chamberorchestrasarasota.

org/ or call 219-928-8665.

At The Ringling

Running through February 12,

2023, is Highlights from the Stanton

B. and Nancy W. Kaplan Collection

of Photography—a selection

of works donated to The Ringling in

2019, includes over 1000 photographic

objects and images, representing

some of the most important photo-based

artists of the nineteenth and

twentieth centuries.

The Kaplan Collection includes

works by Berenice Abbott, Manuel

Álvarez Bravo, Eugène Atget, Ruth

Bernhard, Margaret Bourke-White,

Brassaï, Henri Cartier-Bresson, Lewis

W. Hine, André Kertész, Robert

Mapplethorpe, Edward Weston, and

James Van Der Zee to name but a few.

The John and Mable Ringling

Museum of Art, 5401 Bay Shore Rd.,

Sarasota. Info: www.ringling.org.

t

Theatre

Sarasota Players has Miracle On

34th Street, A Live Musical Radio

Play, running through December

11. Adapted from the 1947 Lux Radio

BroadcastWhen a department store

Santa claims he's the real Kris Kringle,

his case gets taken all the way to the

Supreme Court, and a little girl's belief

makes the difference in the 'miracle.'

With live Foley effects and a score of

t

holiday carols,

Miracle on

34th Street is a

beloved musical

radio version

of the classic

film that

will melt even

the most cynical

of hearts.

Held at Studio

1130, The

Crossings at

Siesta Key, 3501

S. Tamiami

Trail, Sarasota.

Visit www.theplayers.org.

Manatee

Performing

Arts Center

has The Music

Man, December

1-18. In

River City, Illinois,

the town was promised a marching

band by a salesman named Harold

Hill. What they don't know is that he is

a con man who has no understanding

of music. He plans to skip town after

receiving money to buy the instruments,

but the plan doesn't go exactly

as he expected when he meets the

town's librarian, Marian. As he falls in

love with her, and starts to see things

differently, is it enough for him to

change? Watch as in The Music Man we

learn that Harold either becomes the

biggest con of the town, or the man

who brought music to it.

Information: www.manateeperformingartscenter.com.

On December 9 on the Hermitage Great Lawn: "Angélica Negron: Playing a

Plant." Hermitage Greenfield Prize Winner Negrón is inspired by nature and the music

all around her.

t

t

Westcoast Black Theatre Troupe

During the holiday season—back by

popular demand—WBTT presents

Langston Hughes' "Black Nativity."

This production is a celebration of the

Nativity story with gospel, blues, spiritual,

and Christmas music, paired

with the poetry of Langston Hughes

and the creativity of WBTT. Children

and adults alike will be enthralled

by this high-energy, inspiring show.

Jacobs will direct. Show runs through

December 23.

Call the Box Office at 941-366-1505

or visit westcoastblacktheatre.org.

Asolo Rep has Cabaret running

through December 31. Willkommen

to Kander and Ebb's iconic CABARET,

which transports us to 1939 Berlin and

the dynamic and pleasure-filled Kit

Kat Klub. As a dark shadow falls over

the city and the power of the Third

Reich begins to mount, the Klub's

performers and patrons must decide

if they'll wake up to the evil on their

doorsteps or continue to escape to the

alluring fantasy world of the cabaret.

Since its debut in 1967, this classic

musical has won countless awards,

including the Tony Awards® for Best

Musical, Best Score and Best Revival

of a Musical. Packed with vibrant and

beloved songs like "Willkommen,"

"Maybe This Time," "Money," "Don't

Tell Mama" and "Cabaret."

Tickets: asolorep.org.

t

At Venice Theatre: A Christmas

Carol. Venice Theatre is delighted to

announce that its original musical

version of A Christmas Carol will go

on, despite major damage to the theatre's

main performance space. The

21st annual Christmas Carol will be

performed in The Raymond Center

from December 2-19. Tickets: www.

t

venicetheatre.org.

The Raymond Center is the new

name for the former Hamilton Building

which had most recently served as

the temporary Venice Public Library.

Situated on the north end of the theatre's

three-building campus at 140

Tampa Ave. W., the building is slated

to serve as the theatre's Arts Education

Center, but for now it will house a

temporary 128-seat thrust theatre.

Venice Theatre's team is putting the

final touches on a plan to use its other

spaces on campus for presenting a

variety of shows. The 90-seat Pinkerton

Theatre on the west side of the

main building is expected to be ready

for use in January 2023.

Community members are encouraged

to donate to the theatre's hurricane

recovery at www.venicetheatre.

org/donate.

FST's Mainstage Series has Something

Rotten! Book by Karey Kirkpatrick

and John O'Farrell; music and

lyrics by Wayne Kirkpatrick and Karey

Kirkpatrick. Runs through January 1,

2023, in FST's Gompertz Theatre.

• What the Constitution Means to

Me by Heidi Schreck runs December

7 - February 26, 2023, in FST's Keating

Theatre.

• The FST cabaret series has The

'70s: More Than a Decade by Rebecca

Hopkins, Richard Hopkins and Sarah

Durham. Musical arrangements by

Jim Prosser. Runs through February

12, 2023 in FST's Court Cabaret

An original Florida Studio Theatre

musical revue

• A Place in the Sun: A Tribute to

Stevie Wonder by Jason Cannon,

Richard Hopkins, and Sarah Durham.

Runs through March 26, 2023

in FST's Goldstein Cabaret

Visit www.floridastudiotheatre.org/

t

At The Van Wezel

A sampling of upcoming shows:

• Million Dollar Quartet Christmas

on December 7

• The Hip Hop Nutcracker on December

10

• Cirque Música: Holiday Wonderland

on December 17

• A Christmas Carol on December 18

• Jim Brickman: A Very Merry Christmas

on December 22

• The Nutcracker presented by

International Ballet of Florida on

December 23

Pre-show dining is available

through Mattison's at the Van Wezel

which is located inside the theatre.

Reservations can be made on Van-

Wezel.org or through the box office.

Information: www.VanWezel.org.

t

Concerts /

Live Music

WMNF presents "An Evening with

Keller Williams" on December 9 at

Skipper's Smokehouse, 910 Skipper

Rd, Tampa. Unbeholden to conventionalism,

Williams seamlessly crosses

genre boundaries. The end product

is music that encompasses rock,

jazz, funk, and bluegrass, and always

keeps the audience on their feet.

Williams built his reputation initially

on his engaging live performances, no

two of which are ever alike. His stage

shows are rooted around Williams

singing his compositions and choice

cover songs, while accompanying

himself on acoustic guitar, bass, guitar

synthesizer, and drum samples; a

t

continued on page 10

8 WEST COAST WOMAN DECEMBER 2022
---
healthier you

SAVE $2 W/CODE WCW

DAILY TROLLEY TOURS

ENTERTAINING • INFORMATIVE

Staying Smokefree

During the Holidays

W

hile the holidays

are an exciting

time of the year,

they can also be

a stressful time of the year.

With get-togethers to attend, food

items to bake, gifts to shop for, and

parties to host, the holidays can be

quite overwhelming, especially for

someone who has recently quit or is

working to quit smoking.

If you have committed to smokefree

living, managing that extra holiday

stress can be a challenge; however,

these helpful tips will help you

manage the stress and remain

smokefree:

1

2

3

Get enough sleep. When we

are tired or run-down, cravings

feel stronger while we feel less

able to manage them. Be sure to

get plenty of sleep at night or,

if possible, carve out some time

during the day for power nap. 1

Replace caffeine with more

water. Many times, when we

are feeling tired, we run to another

cup of coffee for a quick

energy boost. While this may

help you to stay awake, too

much caffeine can make you

feel jittery and more stressed.

Instead of reaching for another

cup of coffee, grab a glass of water!

Drinking water is great for

lessening cravings and staying

well-hydrated will make you

feel better in general which will,

in turn, help you manage the

holiday stress more easily. 1

Go for a walk. Walking not

only reduces stress, but it

also improves circulation and

releases endorphins, the "feel

4

good" hormones. Take a quick

walk whenever you feel stressed;

instead of caving in to the urge

to smoke, you'll come back

feeling energized, refreshed, and

relaxed. 1

Breathe deeply. Deep breathing

is a quick way to reduce

stress and release tension in

your body. 1 Take a few moments

to slowly inhale through your

nose, then exhale through your

mouth. You will start to feel the

stress melt away after repeating

this process just a few times.

If you or someone you know needs

extra support to quit smoking for

good, help is free! Gulfcoast South

Area Health Education Center

(GSAHEC), as part of the Group Quit

option of Tobacco Free Florida's

Quit Your Way program—offers free

group quit sessions to help someone

quit all forms of tobacco. These

group sessions, held virtually and inperson,

provide information about

the benefits of quitting, managing

stress and triggers, and will assist

you with developing your own

customized quit plan. Free nicotine

replacement therapy in the form of

patches, gum or lozenges (if medically

appropriate and while supplies last) are

provided with the session. Attendees

will also receive a participant

workbook, quit kit materials, and

follow up support from a trained

tobacco treatment specialist. Contact

us today at 866-534-7909 or visit

www.tobaccofreeflorida.com/

groupquitcalendar to schedule a

class or learn more about the program!

References:

1 https://www.verywellmind.com/smokefree-holiday-tips-2824909

SIGHTSEEING TOURS

Running Daily In Our Air-Conditioned Trolley Or Van

• Amish Experience

• Art Crawl

• Architecture Tours

• Christmas Carol Trolley

• Circus Secrets

• City Tour

QUIT TOBACCO

with GROUP QUIT

There's never been a more important time to quit.

Free expert-led sessions to help you quit all forms of tobacco.

2 . 6 LO G O LOCKUP S

1 .

2 .

Develop your

personalized

quit plan.

*(If medically 3 . appropriate for those 18 years of age or older)

CALL TODAY:

4 .

Gift

CARD

DiscoverSarasotaTours.com

941-260-9818

Visit The Trolley Cottage Gift Shop | 1826 4th Street, Sarasota | FREE Parking!

FREE nicotine

replacement patches,

gum, or lozenges. *

Learn more about all of Tobacco Free Florida's tools and services at

X

TFF.COM / FDOH LOCKUP

Virtual Group Sessions -OR- In-Person Group Sessions

Pre-registration is required.

• Dine Along Trolley

• Haunted Sarasota

• Leading Ladies of Sarasota

• Murder Mystery Trolley

Who Killed The Circus Queen?

• Public Art

Gift Cards Make

PERFECT Gifts!

The logo lockups were designed to contain both logos,

separated by a bar that is the same thickness as our

of our logo. We will maintain the clear space

established on page 6 between the bar and both logos.

Depending on the type of materials, we could use one

of the following lockups.

1. Full color Logo Lockup

More than

DOUBLES your

chances of success!

preferred, but it can ONLY be used in full color and

only against a white background. It cannot be placed

in a white box.

2. One-Color Logotype Lockup

The One-Color Logotype Lockup is the most commonly

used version. It can only be used against a white

background or as a Reverse White Logotype.

Sponsored by:

866-534-7909 AHEC

GULFCOAST SOUTH

AREA HEALTH

EDUCATION CENTER

3. Black and White Logotype Lockup

4. Reversed Logotype Lockup

The reversed logotype lockup can be used against a

black bacground or against the NEW TFF ADA BLUE

(HEX: #1074BB)

T F F

BRAND G U I D E

PAID ADVERTORIAL

DECEMBER 2022 WEST COAST WOMAN 9
---
out and about continued

technique called live phrase sampling

or "looping". The end result often leans

toward a hybrid of alternative folk and

groovy electronica, a genre he jokingly

calls "acoustic dance music" or ADM.

For information, call the station

at 813-238-8001 or visit www.wmnf.

org/wmnf.

Lectures

TOWN HALL's 42nd season kicks

off on January 17, 2023 with Maria

Ressa. Maria is the co-founder, CEO,

and executive editor of Rappler.com,

an online news organization in the

Philippines.

Maria, one of TIME'S "Person of the

Year" for 2018 and TIME's "100 Most

Influential People" in 2019, has been

honored around the world for her courageous

and bold work in fighting disinformation,

fake news, and attempts

to silence the free press.

In 2021, she was awarded the Nobel

Peace Prize for her work in exposing

abuses of power and growing authoritarianism

under the Philippine president.

She is the first journalist, since 1935, to

win the Nobel Peace Prize for her efforts

to safeguard freedom of expression.

All lectures will be presented at Van

Wezel. Morning lectures begin at 10:30

a.m. and evening talks begin at 7:30

p.m. Call 941-309-5100 to subscribe:

www.rclassociation.org

t

Key Chorale

On December 16 and 17 they have

"A Holiday Season Spectacular"

with the Venice Symphony. This

festive concert includes classic carols,

music from the films A Nightmare

Before Christmas and How the Grinch

Stole Christmas and timeless works

from The Nutcracker Suite and Babes

in Toyland.

Information: keychorale.org.

t

Art Classes

Registration is now open for

Art Center Sarasota's 2022-2023

adult education season, which runs

through April and features more

than 100 classes, workshops, and

open studio sessions.

Classes are offered Monday through

Saturday and cover a rich diversity of

topics, including painting, photography,

sculpture, mixed-media, drawing,

and pastel and taught by more

than 25 esteemed art instructors.

Course highlights include "Happy

Accidents: Beginning Abstract Watercolor

Florals," "Freedom in Landscapes,"

"Party Time Chix," "Gelli

Printing," and a "Mindfulness Workshop

Series." To register and for more

information, visit www.artsarasota.

org or call 941-365-2032.

Here's a sample: January 6, 13, 20,

27, February 3. Discover the whimsical

world of papier-mâché with

mixed-media artist Kathy Carrier as

she hosts a five-week workshop exploring

this creative medium with a fanciful

twist. More than a hen party, the

class starts with balloons and birthday

hats and covers the entire process of

creating a papier-mâché chicken.

Information: www.artsarasota.org.

t

Art Around

the State

At The Baker Museum: Recent

Acquisitions: 2019 – Present. The

Baker Museum's permanent collection

has grown steadily over the past

t

two decades in both

breadth and quality

within the museum's

clearly defined scope,

which encompasses

American, Latin

American and European

art from the 1880s

to the present day. This

exhibition presents

over 50 works that

have been added to

the permanent collection

since 2019. Runs

through January 8.

The Baker Museum:

https://artisnaples.

org/baker-museum.

Artis—Naples is at

5833 Pelican Bay

Blvd, Naples, FL.

artisnaples.org

At The Dali: Paul

Éluard: Poetry, Politics,

Love is on display

through Jan. 8, 2023.

Paul Éluard: Poetry,

Politics, Love explores

the world of one of the

most celebrated and

idealistic surrealist poets. Éluard, the

ex-husband of Dalí's wife Gala, helped

found Surrealism, the French art movement

whose poetry celebrated dreams,

love and freedom. The exhibition presents

selections of Éluard's poetry in

context with photographs and selected

books, giving visitors a glimpse into the

life of the man who became known as

"the Poet of Freedom."

During his lifetime, Éluard published

more than 70 books dedicated

to two main themes: the rejection of

tyranny and the search for happiness.

The exhibition examines the poet's

beginnings, passionate relationships

and important publications. In

addition, the exhibition delves into

Éluard's connection to the origins of

Surrealism and André Breton as well

as his later communications with Pablo

Picasso. Located on the first floor

of the Museum, access to this community

exhibition is free by reserving

Ground Floor tickets at https://thedali.org/exhibits/current/

t

The Museum of Fine Arts has

Multiple: Prince Twins Seven-Seven

through January 15, 2023. This exhibition

highlights the visionary work of

Prince Twins Seven-Seven, who was

the only surviving child out of seven

pairs of twins born to his mother.

Because of this, and the associated

traditional religious beliefs of the

Yorùbá people of Nigeria, he held that

he possessed unique spiritual insight

and power. His perceptions in turn

had a profound impact on his artistic

expression as a printmaker, painter,

and sculptor. Blending abstracted

images of the physical world and evocations

of the spirit world, Prince Twins

Seven-Seven created a unique, powerful,

and international style that bridges

traditional and contemporary arts.

Multiple: Prince Twins Seven-Seven

features 14 total pieces, including 10

works on paper by Prince Twins Seven-Seven

and four other Yorùbá works

of art from the MFA's collection. The

MFA is at 255 Beach Dr NE, St. Petersburg.

Visit https://mfastpete.org/

t

Classical Dance

t

Sunshine From Darkness

Inspiring Hope Dinner

will be on January 13,

2023 at the Ritz-

Carlton, Sarasota.

Grammy and Tony

Award-winning

actress Jennifer

Holliday will be

the keynote

speaker and

will perform

at the event.

The Sarasota Ballet's winter season

begins at the Sarasota Opera

House December 16-17 with Program

3. Opening with the return of a

Sarasota Ballet classic, Ashton's Les

Patineurs depicts a Victorian skating

party that takes place on a frozen

pond during a winter's eve.

Continuing on from his recent critically

acclaimed World Premiere, A

Comedy of Errors, Sir David Bintley

returns to The Sarasota Ballet for the

long-awaited premiere of The Spider's

Feast. Bintley's original iteration of

the ballet was created in 1997 for The

Royal Ballet School's Golden Jubilee

celebrations; returning to the ballet

over 20 years later, and complete with

extravagant new designs by Dick Bird,

Bintley aims to re-choreograph this

entertaining and humorous work for

The Sarasota Ballet. Set to the music of

Albert Roussel's 1913 "ballet-pantomine"

Le Festin de l'araignée, audiences

are whimsically transported to a bustling

garden of wasps, caterpillars, and

their fellow insectoids, while a menacing

spider surreptitiously stalks its

prey. www.sarasotaballet.org

Selby Library

On December 14, 6-7:30 p.m.:

Steve Kramer Presents: Rachmaninoff

String Quartet 6 p.m. The

internationally acclaimed ensemble:

'Rachmaninoff String Quartet' was

established by award winning international

concert cellist, music pedagogue

and entertainer, Steve Kramer.

Kramer is the award-winning recipient

of the internationally prestigious

Jacob Gade Foundation's 36th Grand

Prize. The prize supports an outstanding

musician who possesses progressive

and penetrating musicality and

pizzazz and who desires to have a lifelong

career as a major international

artist and performer.

Since receiving the award in 1998,

Steve Kramer has collaborated with

composers from all over the world. He

has performed contemporary music

by composers Jennifer Higdon, David

Finko, Ben Steinberg, Nimrod Borenstein,

Daniel Dorff, Sidney Grolnic,

Eleonor Sigal, Andrea Clearfield,

Cynthia Folio, Eugene Magalif, Victor

Frost and Ib Nørholm, as well as compositions

by Scandinavian composers

and composers who lost their lives in

World Wars I & II.

t

In addition, he was

awarded the Talent

Prize and Gold Medal

at the national music

competition, the Berlingske

Music Competition,

in Copenhagen,

Denmark, and garnered

an Artist Prize

given by Pope John

Paul II in Orvieto at the

Orvieto Musica festival

in Italy. Numerous

Danish foundations,

including the Jacob

Gade Foundation,

Augustinus Foundation,

the Royal Danish

family and English

benefactors, generously

subsidized Steve

Kramer's early education.

Registration

required. scgovlibrary.

librarymarket.com/

event/steve-kramer.

Selby

Gardens

Marie Selby Botanical

Gardens will host Seeing the

Invisible at its Historic Spanish Point

campus. The most ambitious and

expansive show to date of contemporary

artworks created with augmented-reality

(AR) technology, the exhibition

launched last year at 12 botanical

gardens around the world. Selby

Gardens is one of four inaugural sites

that will continue to host the show for

a second year, through September

2023. Six new garden and museum

sites will join the global exhibition in

October.

Seeing the Invisible features works

by more than a dozen internationally

acclaimed artists, including Ai Weiwei

of China, El Anatsui of Ghana, Isaac

Julien CBE RA of the United Kingdom,

and Sarah Meyohas of the United

States. At Selby Gardens' Historic

Spanish Point campus, the show's 13

AR works are installed in carefully curated

locations throughout the 30-acre

preserve. Visitors engage with the art

through an app that can be downloaded

to a smartphone or tablet.

Seeing the Invisible is the first exhibition

of its kind to be developed

as a collaboration among botanical

gardens around the world. The same

commissioned artworks are placed in

outdoor settings at the participating

institutions, creating parallels and

contrasts between them. The AR nature

of the exhibition has allowed for

the creation of expansive, immersive

works that engage with existing features

of the natural landscape, going

beyond the limitations of what is possible

with physical artworks.

For more information visit www.

selby.org.

t

UF/IFAS Extension

Sarasota County

On December 14, 9-10 a.m.:

EcoWalk: Holiday Meditation in the

Parks - Red Bug Slough. Join in for

an exploration of finding peace within

nature during the holiday season.

They'll draw upon many traditions

and cultures for a non-denominational

approach to connecting with

ourselves and nature and get healthier

along the way. Register at ufsarasotaext.eventbrite.com.

Many traditions use some form of

t

meditation, focus, contemplation,

reflection, or breath work to quiet the

mind and center the body and spirit.

Recent scientific research has shown

that Shinrin yoku (a form of "forest

bathing" practiced in Japan) decreases

levels of cortisol - a stress hormone,

lowers pulse rate and blood pressure,

and decreases sympathetic nerve activity

(our fight or flight response). Research

also indicates being in nature

increases brain alpha waves (relaxed

awareness), improves concentration

and problem-solving ability, improves

self-esteem, and has immune system

benefits that may decrease our risk for

developing disease.

No prior experience needed. Recommended

to wear comfortable, loose

clothing and bring water and a portable

chair or blanket to sit upon as

they'll stop to sit along the trail

For questions or information, call

941-861-5000 or email sarasota@ifas.

ufl.edu. du. Register: www.eventbrite.

com/e/ecowalk.

Contemporary

Dance

Sarasota Contemporary Dance is

prioritizing diversity through collaboration

with local musicians, reviving

acclaimed SCD repertory, and presenting

nationally acclaimed guest choreographers

by bringing their never-before-seen

original works to Sarasota.

All performances will be held at the

Jane B. Cook Theater at the FSU Center

for Performing Arts.

Next up: SCD +enSRQ on December

1-4. This season, SCD will

collaborate with Samantha Bennett

and George Nickson of enSRQ on a

program exploring rhythms, dance,

and song from around the world. SCD

+ enSRQ also features scenic design

by St. Petersburg-based multidisciplinary

artist Sharon McCaman.

For more information, visit www.

sarasotacontemporarydance.org.

t

Save The Date

The 25th Annual Thunder By The

Bay Music & Motorcycle Festival has

two two headline acts performing

live on stage at next year's Festival –

38 Special (February 18) and Colt

Ford (February 19. The iconic threeday

Festival, organized by and benefitting

Suncoast Charities for Children,

is scheduled for February 17-19

at the Sarasota Fairgrounds.

Continuous live music will be featured

throughout the weekend, and attendees

are encouraged to bring lawn

chairs and blankets for outdoor seating

in front of the stage. Support acts include

Nuthin Fancy (Lynyrd Skynyrd

Tribute), H2H (AC/DC Tribute), Bobby

Friss, Maiden Cane, Nobody's Fool,

and Twinkle and Rock Soul Radio.

The Festival plans to feature over 100

vendors, a 17-class bike show, a motorcycle

stereo sound off competition,

motorcycle freestyle demonstrations, a

tented full bar area with seating, a "little

riders" kid zone, a food court, "Thunder

Alley" inside Robarts Arena and so

much more. On February 19, a "United

We Ride – America Strong" charity motorcycle

ride will once again take place

honoring veterans, active duty military,

and first responders. The ride will begin

at Adrenaline Harley-Davidson and end

at the Sarasota Fairgrounds.

For tickets, vendor information,

sponsorship opportunities, and a

complete listing of all Festival events

visit: THUNDERBYTHEBAY.ORG.

t

10 WEST COAST WOMAN DECEMBER 2022
---
happening this month

Join us for Listening to Women

January 26-March 2, 2023

Thursdays 1-2:30 pm

Kolo: The Dance Show

Celebrating

The Artistic

and Cultural

Heritage of

Ukraine

"Listening to Women" is a sixsession

series that features

women whose innovations and

accomplishments, locally and

globally, are having an impact

and influencing lives. Each week

we will meet women who are

driven by a cause and who have

the passion and determination

to have achieved outstanding

success in a variety of fields.

KOLO is a brand-new theatrical

dance show and immersive

visual experience

celebrating the dance, visual

and musical heritage of

Ukrainian culture. KOLO will make its

North American premiere at the Van

Wezel on December 26.

KOLO is the brainchild of award-winning,

Ukrainian-bred competitive ballroom

dancers and partners, Iaroslav

and Liliia Bieliei, both natives of Kyiv,

Ukraine, who now call Los Angeles

home. Serving as executive producers

of KOLO, Iaroslav and Liliia are well

known in the dance sport community

with over 25 years of experience. Both

Liliia and Iaroslav are US National Champions,

US Open Champions and World

Show Dance Vice-Champions.

Iaroslav began his dance career at

six years of age and has been named

Ukrainian National Champion, US National

Professional Rising Stars Champion,

as well as winner of the prestigious

UK Open Championship in England.

Liliia began her ballroom dance career

at just four years old and has racked up

prestigious awards including Ukrainian

National Champion, European Championship

finalist, famous International

Championship winner in London, UK.

Additionally, many of the day-today

KOLO staff are based in Ukraine –

bridging the connection between the

world, a country amid turmoil. "We are

deeply honored to present the KOLO

Dance Show to the world," shares Iaroslav

and Liliia Bieliei. "The upcoming North

American Tour has been our dream ever

since we began to dance in our home

country of Ukraine. Ballroom dancing is

such a beautiful form of Art and we have

produced this performance to showcase

the artform, the music and the extraordinary

visuals that truly have never

been presented. This show will allow

audiences not only to be immersed in a

once in a lifetime experience into our rich

and diverse culture, but also witness the

Ukrainian pursuit of freedom in the cycle

of modern history."

Executive Producers

Liliia and Iaroslav Bieliei

KOLO is a collaboration celebrating

the arts and culture of Ukraine during

one of the most crucial and determining

moments in history.

The American people have commiserated

with the Ukrainian people and

from that, a bond between the countries

has formed. Bringing KOLO to the United

States will deepen that connection,

allowing the Ukrainian story to be told

through music and dance.

Featuring U.S. and World Professional

Theatre Arts and Ballroom Champions,

KOLO brings a message of strength,

courage, unity, and the journey to freedom

representative of the Ukrainian

people to highlight to the world.

Performed to contemporary settings

of authentic music and celebrating

the rich musical heritage of

Ukraine. KOLO strives to share the true

meaning of the Ukrainian spirit.

KOLO will also perform at the Mahaffey

Theater in St. Petersburg on December

29. In 2023, KOLO will continue its

multi-city tour in the U.S. with stops at Los

Angeles, New York, Dallas, Houston, Las

Vegas, and several other cities to be announced.

For tickets and information, visit www.

koloshow.com.

For information or to register, call 941-309-5111 or visit

www.OLLIAtRinglingCollege.org

Listening to Women six-session series fees:

Gold Member: $81; Silver Member and General Admission: $90

Registration opens Tuesday, Nov. 29

January 26: "Optics of

Storytelling When Told by

Women Journalists

of Color" with Renée James

Gilmore and Mercedes Soler

February 2: "Cracking the

Code: Robotics, Programming

& Loving I.T." with Neirda

Thompson-Pemberton,

Deshjuana Bagley, and Jane

February 9: "When Vision Meets

Reality: Strength, Leadership,

Tenacity" with Sandra Frank,

Jennifer Rominiecki, Virginia

Shearer, and Felice Schulaner

OLLI is located at Sarasota Art Museum

on the Ringling College Museum Campus

]1001 S. Tamiami Trail, Sarasota

941-309-5111

OLLIatRinglingCollege.org

February 16: "Confronting the

Issues of the Day: The Art of

Patricia Anderson Turner"

with Patricia Anderson Turner

and Nanette Crist

February 23: "From Adversity to

Advocacy: Changing the Mental

Health Landscape" with Carrie

Seidman, Erika Quartermaine,

Helen Neal, and Sarah Miller

March 2: "From Coal Miner's

Daughter to the Boardroom"

with Michele J. Hooper

Listening to Women is made possible, in part, with support from

THE SCHWARZTBAUM UFER UFER GROUP GROUP

AT MORGAN STANLEY

Harms Family

Foundation

DECEMBER 2022 WEST COAST WOMAN 11
---
EMBRACE

THE NATURAL

YOU

(with a little help.)

Implant Removal — Breast Lift — Fat Grafting

Breast Augmentation

Tummy Tucks — Liposuction — Body Sculpting

Arm & Thigh Lifts — Coolsculpting

Sovereign Plastic Surgery

Alissa M. Shulman, M.D., F.A.C.S.

Board Certified Plastic Surgeon

1950 Arlington Street • Suite 112 • Sarasota

941- 366-LIPO (5476)

www.sovereignps.com

12 WEST COAST WOMAN DECEMBER 2022
---
healthier you

AN EVENING WITH

RANDALL GOOSBY

WITH PIANIST ZHU WANG

Sunshine From Darkness:

Shining a Light on

Mental Illness

DECEMBER 8, 2022 7:30 PM THE SARASOTA OPERA HOUSE

Violinist Randall Goosby, an alum of The Perlman Music Program, is

acclaimed world-wide for the sensitivity and intensity of his

musicianship alongside his determination to make music more

inclusive and accessible. Don't miss this special performance when

Randall returns to Sarasota with pianist Zhu Wang!

Tickets on sale now at SarasotaOpera.org

Savc the Date!

PMP WINTER RESIDENCY

TENT PERFORMANCES

December 29, 2022 - January 7, 2023 USF Sarasota Manatee

CELEBRATION CONCERT

January 5, 2023 5pm Sarasota Opera House

Tickets can be purchased at sarasotaopera.org

CELEBRATION DINNER

January 5, 2023 The Tent at USF Sarasota Manatee

FOR MORE INFO AND TICKETS

VISIT PERLMANSUNCOAST.ORG

A

ccording to the Sarasota

County Mental Health

Needs Assessment Task

Force, the behavioral

health system in Sarasota

County is in danger of becoming a

system in crisis unless steps are taken

soon to shore up the system.

Indeed, Florida currently ranks 49th in

the nation for access to mental health care,

according to Mental Health America. This

ranking is based on nine measures, ranging

from adults and youth who did not get

treatment, to those who are uninsured or

unable to afford care, to the availability of

and access to mental health workers.

As noted in recent studies:

• In the U.S., of the 8.9 million young

adults who reported having a mental

illness in 2018, more than two in five

went untreated.

• And, of the 5.1 million with a substance

use disorder, nearly nine in 10

did not get treatment.

• Sarasota County has far fewer mental

health providers than other top-performing

counties nationally, with one

provider for every 570 residents, compared

to one for every 270 nationally.

• The rate of opioid overdoses in Sarasota

is among the highest in the state.

According to Andrea Blanch, Ph.D.,

consultant, Here4Youth, "The Sarasota

mental health system is blessed

with some really exceptional providers

and leaders. However, decades of under-funding

have left major gaps

that make it hard to maximize

outcomes. Recent efforts to address

these gaps and to focus

on systemic issues are a major

step in the right direction," she

said. "Sunshine From Darkness

is raising public awareness that

mental health issues do not just

affect a small minority of people

- they impact every person and every

business and every institution in

the county."

Mental health disorders - disorders that

affect your mood, thinking and behavior

– include depression, anxiety disorders,

schizophrenia, eating disorders and addictive

behaviors, among many others.

Those suffering with mental health

issues range from young children to the

elderly. No one is immune. Last year,

31.6 percent of adults in Florida reported

symptoms of either anxiety or depressive

disorder. And those are only the reported

cases. Because of the stigma that goes

along with mental health issues, many

people suffer in silence, never seeking

help for this insidious disease.

Help is available. Sunshine from Darkness

is a nonprofit organization dedicated

to raising funds for local charities that

provide mental health and addiction disorder

services in the Sarasota community

and support for cutting-edge research.

Founded as a subsidiary of the Lee and

Bob Peterson Foundation, Sunshine from

Darkness hosts events throughout the

year that serve to bring mental health

and addiction awareness and education

to the community and provide local

professionals and philanthropists the

opportunity to engage with the broader

mental health community. Dedicated to

raising awareness of mental health and

addiction disorders and erasing the stigma

of both, Sunshine from Darkness is

committed to providing resources, education,

and advocacy for those facing

these challenges.

On Friday, Jan. 13, Sunshine

from Darkness will host its Inspiring

Hope Dinner from 6:30-10 p.m.

at the Ritz-Carlton, Sarasota.

Keynote speaker

and performer will be

Tony- and Grammy-award-winning

actress and singer,

Jennifer Holliday.

Proceeds from the

event will benefit

mental health services

provided by

Harvest House and

Teen Court of Sarasota,

and cutting-edge

research funded by the

Jennifer Holliday Brain & Behavior Research

Foundation. Tickets are available

at sunshinefromdarkness.org.

OUR 2022-2023 SEASON IS SPONSORED IN PART BY:

Richard Orenstein, Trustee, The Daniel E. Offutt, III Charitable Trust

AASECT sex therapist (American Association of Sexuality Educators,

Counselors

In the Senior Years – The Joys and Challenges!

SEX, SEXUALITY, AND INTIMACY

THURSDAY, JANUARY 5, 2023 - 11-12:30pm

IN PERSON

& ZOOM

AVAILABLE

Please join the Education Center at Temple Beth Israel for a FREE

informational workshop about sex & intimacy in the senior years.

Sex does not have an expiration date, so why is this topic so taboo? This workshop

will explore what sexuality looks like in late adulthood (70+), how to continue an active

satisfying sex life regardless of physical health and other challenges, maintaining

emotional intimacy, and addressing your expectations. Whether you're a widow,

divorced, or in a relationship, we encourage you to attend. This workshop promises

to be stimulating, supportive, and very helpful!

Registrants are invited to email questions beforehand that will be read anonymously

by our guest panel of health experts. They will address your questions, offer tips,

suggestions, and new approaches for finding the secret to gratifying sexual intimacy

after 70! Pre-register for this FREE workshop – edcenter@longboatkeytemple.org

Our panel of presenters includes Peggy Albano, psychotherapist and founder of the Florida

Center for Healthy Sexuality and a specially trained and board-certified AASECT sex

therapist (American Association of Sexuality Educators, Counselors and Therapists); Mary

Davenport, Ph.D, licensed marriage and family therapist and a certified AASECT sex

therapist in private practice since 1974, specializing in both individual and couples therapy;

Ike Koziol, M.D., retired urologist in practice from 1978-2012 as director of men's health in

a large clinical practice, treating many men with sexual issues; Robert Rosenbluth, M.D.,

retired obstetrics and gynecology physician in private practice from 1970-1999, mostly in

Sarasota, providing comprehensive health care for women at all stages of their lives.

567 BAY ISLES RD, LBK, FL 34228 WWW.TBIEDUCATIONCENTER.ORG 941.383.8222

This free-to-the-public workshop is generously sponsored by a grant

from the Jewish Federation of Sarasota-Manatee.

PAID ADVERTORIAL

DECEMBER 2022 WEST COAST WOMAN 13
---
feature

Fun, friendly

and a decent workout

Pickleball is going strong in Sarasota

Pickleball is

everywhere

it seems and

has become

very popular

as a way to get

some exercise that won't

blow out your joints (depending

on how you

play, of course). The rules

are simple and the game

is easy for beginners to

learn, but can develop

into a quick, fast-paced,

competitive game for experienced

players.

The basics: it's a fun sport

that combines many elements

of tennis, badminton

and ping-pong.

It's played both indoors

or outdoors on a badminton-sized

court and

a slightly modified tennis

net.

Equipment needed?

A paddle and a plastic

ball with holes. It can be

played as doubles or singles,

can be enjoyed by all

ages and skill levels and no, it isn't that game

you played on the beach with the round paddles

and plastic ball.

Pickleball was invented in 1965 on Bainbridge

Island, a short ferry ride from Seattle,

Washington. Three dads – Joel Pritchard, Bill

Bell, and Barney McCallum — whose kids

were bored with their usual summertime activities

— are credited for creating game. In

2022, pickleball was adopted as the official

state sport of Washington.

Pickleball has evolved from original handmade

equipment and simple rules into a

popular sport throughout the US and Canada.

The game is growing internationally as

well, with many European and Asian countries

adding courts.

Everyone and their mother seems to be playing

(wait, isn't that your mom on the court?). There

are some 4.8 million pickleball players, or "picklers,"

in the United States, according to a 2022 report from

the Sports & Fitness Industry Association. Pickleball

grew nearly 40 percent between 2019 and 2021, making

it America's fastest-growing sport.

The sport has trended older in the past — half of all

serious pickleball players (those who play eight or

more times a year) in 2021 were 55 and older, according

to USA Pickleball. But the vast majority of casual

players are under 55, and the fastest-growing segment

of all pickleball players are under 24. So don't

go thinking this is "your parents' thing."

Shown are this month's WCW, Terry Ryan (center and in front of the net) and some of her many players

at Sarasota's CoreSRQ. Do they look like they're having fun or what?

IMAGE: Evelyn England

Growing interest in the sport is attributed to a number

of factors including a short learning curve, appeal

to a wide range of ages and fitness levels, and

low startup costs. There are now thousands of pickleball

tournaments throughout the US, including

the US National Championships and the U.S. Open

Tournament, along with two professional tours and

one professional league.

Besides being easier to learn than tennis, pickleball

is also slower paced and there's less ground to cover;

you could almost fit four pickleball courts onto one

tennis court, and most picklers play doubles.

Pickleball involves two players (singles), or four players

(doubles) who hit a perforated hollow polymer

ball over a 36-inch-high net using solid faced paddles.

The two sides hit the ball back and forth over

the net until one side commits a rule infraction.

The appearance of a pickleball court, and the manner

of play, resemble tennis, but the court is the size of a

doubles badminton court, less than a third the size

of a tennis court. Court lines and rules are specific

to pickleball and include

two 7-foot-areas on either

side of the net known

as the non-volley zones,

where the ball cannot be

hit with the paddle unless

the ball bounces first.

All serves are made with

an underhand stroke, so

don't get any ideas about

serving like Nadal.

That's the overview of the

sport and the local scene

is hot with lots of opportunities

to play. Our West

Coast Woman this month

runs Sarasota Pickleball,

LLC. Her name is Terry

Ryan and she sends out a

weekly schedule with updates,

so to know about

availability, sign up at her

website https://sarasotapickleball.com/home/.

Terry now has more than

1000 subscribers to her

conversational and informative

newsletter that offers

tips on playing as well

as where to find a place

to play. You can play beginner, intermediate

or advanced or just come by and sample it -

they're a friendly bunch, happy to offer tips

and show you the ropes.

Terry, who is an accomplished player, explains

why she enjoys pickleball, "The wonderful

fellow players, the drop-in play, the fun

of starting your day off with a great sport, the

ability to meet new people and to make new

friends, and a fantastic way to get some exercise.

Plus, I can go anywhere and look up on

Google PICKLEBALL COURTS NEAR ME and

pick up a game of pickleball with strangers.

What other sport can you do that? None that

I can think of." Indeed, a visit to Core SRQ on

Bahia Vista (the former Sarasota Y) shows a

group of men and women playing hard, but

also having lots of fun. That's also Terry's vision

- keep it fun.

A sign of the game's popularity can be seen in the

fact that Sarasota County has seven air-conditioned,

recreational facilities that offer a wide variety of play

times. For outdoor play, there are currently 54-lined

pickleball courts available on a first-come, first-serve

basis year-round. You could never say that about

tennis courts, past or present.

Finally, with the holidays upon us, ask Santa for a

pickleball set and in January, resolve to get in shape

trying this sport - oh yeah, and you'll also add more

fun to your life.

STORY: Louise Bruderle

with information from USA Pickleball

(https://usapickleball.org/what-is-pickleball).

For more information visit Terry's site:

https://sarasotapickleball.com/home/

14 WEST COAST WOMAN DECEMBER 2022
---
Enjoy Service

with Stellar Results

Cosmetic • Regenerative

& Restorative Gynecology

Painless In-Office Labiaplasty

BioTe® Hormone Pellet Therapy

O-Shot® & Ouchless PRP

Laser Vaginal Rejuvenation®

Clitoral Hood Reduction

Majoraplasty | Mons Lipo

ThermiVa® (non-surgical rejuvenation)

Effective treatments for:

Low Libido

Menopause Symptoms

Lichen Sclerosus

Urinary Incontinence

Personalized GYN Care

Our patients. Our reviews.

"Well cared for" | "Positive experience" | "Warm & friendly staff " | "Exceeded expectations"

"Really felt cared for" | "I can wear anything now" | "Listens closely" | "Expert in her field"

"No more discomfort" | "Restored to brand new"| "Thank you for giving me our love life back"

"I feel like I'm on my second honeymoon" | "Gifted, perfectionist, confidence"

"Results better than I even imagined" | "I am ready to start dating again"

"No longer self-conscious" | "Wonderful experience"

"Your work is a work of art" | "I enjoy sex more"

See Our Before & After Gallery at VisionaryCentreForWomen.com

Dr. Jennifer S. Hayes, DO, FACOOG

Board Certified in Gynecology | Specializing in Cosmetic Gynecology

25+ years vaginal surgery experience

Beverly Hills trademarked techniques

727.403.0573

MMunro@drjenniferhayes.com

941-373-6300

Sarasota Downtown

1751 Mound St, Suite #207,

Sarasota

941-739-2400

Lakewood Ranch

8614 St. Rd 70E, Suite 102,

Bradenton

TimeSaverFitness.com

Offering a super-slow high intensity

strength training program twice a week,

20 minutes, amazing results!

Schedule your Complimentary

Introduction Session TODAY!

KEEP YOUR BODY FIT & STRONG

Eunice Okun

"93 Years Young and Feeling My Best"

"Within a few months of starting my two weekly twenty-minute

workouts, I could feel the difference. Each session gave me

a sense of true accomplishment. And, my trainers are always

encouraging, answering my questions and addressing areas of

concern. After three years at Time Saver Fitness, I've regained

strength, increased my coordination and am more toned than

I have been in years. And, now, at the age of 93, I'm enjoying a

healthy, active, independent lifestyle!"

— Eunice Okun

DECEMBER 2022 WEST COAST WOMAN 15
---
TERRY

RYAN She

and her enthusiastic

"picklers" are enjoying the

fastest growing sport in the U.S.

today: Pickleball. Terry knows

the game very well and is a USA

Ambassador of pickleball

through the USA Pickleball

Association and is a

certified PPR instructor.

Locally, she keeps

picklers informed,

organized and always

having fun.

16 WEST COAST WOMAN DECEMBER 2022
---
My notes

had her as

"pickleball

Terry" for

the longest time because it was the name

I always saw on the Sarasota Pickleball

website (https://sarasotapickleball.

com/home/). But of course she has a

last name and it's on her informative

and chatty e-blasts that are all about the

sport known as pickleball.

Pickleball is the uber popular sport

with the paddles and wiffle ball that you

play on a shrunken tennis court and everyone

says it can be tougher than tennis

while offering a super workout.

And, great fun. Don't forget the fun I'm

told as I walk on the edges of the pickleball

playing area inside CoreSRQ on

Bahia Vista Street in Sarasota. Men and

women, let's say over 40, are on the court

mostly playing mixed doubles and oblivious

to anything but the game.

The center of the Sarasota pickleball

universe is Terry Ryan, CEO and Founder

of Sarasota Pickleball Organization, LLC.

She's the energy behind the organization

which means keeping members informed

about court availability and tips

to improve your game delivered with a

sprinkle of humor to keep things light.

Terry knows the game very well and is

a USA Ambassador of pickleball through

USAPA (USA Pickleball Association) and

is a certified PPR instructor. She also give

clinics and host tournaments.

There's debate about how much of a

workout pickleball is - but then, there are

always people who question the merits

of things, it seems. One thing I found

by chatting with Terry and some of the

women awaiting their next game, is that

the social aspect of the sport is amazing.

One after another told me how much it

meant to them - the camaraderie, the

socializing and yeah, that great feeling

when you smack that ball right down

the middle or deep in the corner for that

awesome killer shot.

There are 4.8 million pickleball players,

or "picklers," in the United States,

according to a 2022 report from the

Sports & Fitness Industry Association.

Pickleball, often described as a combination

of tennis, Ping-Pong and badminton,

grew nearly 40 percent between 2019 and

2021, making it America's fastest-growing

sport.

Terry kind of fell in to the game. "I was

at the [then] YMCA and out of the corner

of my eye were a group of seniors playing

a game with paddles and a whiffle ball,

and they all had smiles on their faces. I

went over to check it out and was handed

a paddle and started to play. Haven't

stopped since. That was around four

years ago. I caught the fever, the pickleball

fever. It took me awhile to figure out

all the rules…I was just thrilled that I was

able to get up to hit the ball over the net.

But, I persisted."

That persistence paid off and now

games are played at dozens of locations

in Sarasota County and she knows every

one of them. Terry is from Lake George,

New York, and for a time, she worked in

New York City. "My previous career of

working for an investment group located

on 57th Ave. in Manhattan is what honed

my marketing and teaching skills," she

says. And she is a good teacher — patient

and knowledgeable, a bit tough (she says)

but no yelling.

Terry took over from a volunteer who

was the de facto leader at the time. "She

wanted to give it up and I stepped in. I

was going to sophisticate the system with

signup forms and blogs so I needed a domain

name. SarasotaPickleball.com was

available. Since then, there have been

other Sarasota somethings showing up,

but I am the original. Officially Sarasota

Pickleball Organization LLC."

Taking in the job, she found there

were lots of places to play, "but it was a

bit confusing- where and what level" so

she organized things. She once called for

information on a place and was told to

"Call Terry, " she says with a laugh.

Terry gives clinics and competes in

tournaments. She has her own Youtube

channel, Instagram page, blog and

TikTok account that are informative, but

again, fun. People started to ask where to

get paddles so she became a dealer.

As for the sport of pickleball, people

tend to stick with it. While 50 percent of

people quit exercising six months after

starting, research shows that picklers

keep coming back to the court again and

again, in good part because the game is

so social.

Her picklers socialize with each other.

"We have lunch together, celebrate

birthdays," she explains. And her newsletter

has readers who have never even

been to Sarasota.

Terry's days managing property in

New York City gave her the right skillset

for managing a growing organization

and keeping her picklers happy. "They

expected nothing but the best efforts. I

bring that to my loyal subscribers and

students." It all entails managing all

these locations with different environments,

some have nets, some don't, some

are indoors and some outdoors which

means watching the weather.

"Besides keeping my subscribers informed

and coaching, I am busy promoting

pickleball in Sarasota and helping

it grow and grow. My ultimate goal is to

make Sarasota a pickleball destination

by seeing through a complex like Pickleplex

in Punta Gorda or Pictona in Holly

Hill, all built with private funds."

"And right now, Sarasota County is an

excellent place to play pickleball indoors

or outside. We have many locations and

players at all skill levels. Whether you

are a beginner looking to learn, or an

advanced player who wants a competitive

game, Sarasota can offer all of the

above." Sounds like fun. (https://sarasotapickleball.com/home)

STORY: Louise Bruderle

IMAGES: Evelyn England

Gratitude

Season of

Thank you and best wishes for

a spectacular holiday season.

Warm, personal regards for being

our valued clients.

Amanda E. Stiff, MBA

Financial Advisor

AccessAdvisorsLLC.com 941 914-1560 Astiff@AccessAdvisorsLLC.com

1800 Second Street Suite 895 Sarasota, FL 34236 1305 Langhorne Road Lynchburg, VA 24503

Securities are offered through Level Four Financial, LLC a registered broker dealer and member of FINRA/SIPC. Advisory Services are offered through Level

Four Advisory Services, LLC, an SEC-registered investment advisor. Level Four Financial, LLC, Level Four Advisory Services, LLC and Access Advisors, LLC

are independent entities. Neither Level Four Financial, LLC, Level Four Advisory Services, LLC nor Access Advisors, LLC offer tax or legal advice.

DECEMBER 2022 WEST COAST WOMAN 17
---
Season Highlights:

events we think you'll find interesting or unique

La Musica's New Artistic Director

La Musica has a new Artistic Director,

Wu Han – a pianist, educator and cultural

entrepreneur. She replaces Bruno Giuranna,

artistic director and co-founder, who

was recently named Artistic Director

Emeritus.

A recipient of Musical America's Musician

of the Year Award, one of the highest

honors granted to artists by the music

industry in the United States, Wu Han

enjoys a multi-faceted musical life that

encompasses performing, recording and

artistic direction at the highest levels.

Currently artistic co-director of the

Chamber Music Society of Lincoln Center

and Music@Menlo, she also serves as

artistic director for Wolf Trap's Chamber

Music in the Barn series and for Palm

Chamber Orchestra

Chamber Orchestra

Sarasota's final concert

of the season, will be

performed on March 23,

2023 at First Presbyterian

Church in Sarasota.

The program includes

music by five Jewish

composers in celebration

of the 75th Anniversary

of the founding of the

State of Israel. Levenberg's

"Hasidic Scene"

features concertmaster

Christina Adams.

Aslanyan's "Trumpet

Concertino" features

trumpeter Robert Smith.

Levenberg and Aslanyan are living Israeli

composers. The program opens with Mendelssohn's

youthful String Sinfonia No. 10.

Gershwin's "Lullaby" rounds out the

program. Bloch's "Concerto Grosso for

String Orchestra and Piano Obbligato"

with Ann Stephenson-Moe concludes the

concert and the season.

La Musica has a new

Artistic Director,

Wu Han

Beach's Society of the Four Arts. she is

the founder and artistic director of ArtistLed,

classical music's first artist-directed,

internet-based recording label, which

has released her performances of the

staples of the cello-piano duo repertoire

with cellist and husband, David Finckel.

During this past season, Han designed

and produced more than 200 digital

media projects, including concerts and

innovative educational programs, which

have sustained the art or chamber music

in dozens of communities across the

United States.

La Musica's 37th Festival program, now

with two additional concerts starts in

February and March.Visit www.lamusicafestival.org/

Concertmaster

Christina

Adams

The Chamber Orchestra of Sarasota

features Baroque, Classical, Romantic,

contemporary and popular music performed

by a professional string orchestra

under the direction of Music Director

Robert Vodnoy.

Tickets: chamberorchestrasarasota.

org/ or call 219-928-8665.

Sarasota's own

Broadway star

Maria Wirries

Artist Series' Lighter Fare

Series offers classic jazz and

musical theater favorites outdoors

at Marie Selby Botanical Gardens

Downtown Campus and indoors

at Plantation Golf & Country Club

in Venice.

Sarasota's own Broadway

star Maria Wirries (Dear Evan

Hansen) presents a homecoming

concert on February 23.

For more information, visit

ArtistSeriesConcerts.org or call

(941) 306-1202.

A place of sound and movement

experimentation

For one evening, The Palladium is

transformed into a place of sound and

movement experimentation designed

by new renaissance artist The Honourable

Elizabeth A. Baker and

interdisciplinary artist Jinghong

Zhang, alongside local Tampa Bay and

Sarasota artists John C. O'Leary,

III, Tihda Vongkoth, Melanie Lavender,

and Kristopher James - all

blending poetry and music.

Incorporating one-of-a-kind musical

instruments such as the "Heaven and

Earth" designed and played by Jinghong

Zhang as well as "Black Moon

Lilith" a double-sided non-resonant

amplified zither designed by John C. L.

Jansen and played by The Honourable

Elizabeth A. Baker. Elizabeth pairs

her unique instrument with a veritable

spaceship incorporating multiple

computers and semi-modular analog

synths. Jinghong pairs his instrument

with movement and interactive technologies.

The power of language with collaborative

influence as a thread in the sonic

world takes stage with original poetry by

Melanie Lavender and Kristopher James,

alongside music by Yamaha Artist John

Maria

Wirries

The Honourable

Elizabeth A. Baker

C. O. Leary, III (piano/synth) of La Lucha

and Tihda Vongkoth (percussion) of Modern

Marimba.

Held at the Palladium Theater in

downtown St. Petersburg on January 25

in Hough Hall. Tickets: mypalladium.org/

events/

Famed Conductor Muti's Final Season

Music Director,

Riccardo Muti

The Chicago Symphony

Orchestra with Riccardo

Muti will perform

on March 1, 7:30 pm at

the Van Wezel. In his

final season as Music

Director, Riccardo Muti

leads the internationally-acclaimed

Chicago

Symphony in Beethoven's

Symphony No. 8 and

Prokofiev's Pictures at an

Exhibition. Visit https://

scasarasota.org/greatperformers/

18 WEST COAST WOMAN DECEMBER 2022

continued on page 20
---
941-306-1202

ArtistSeriesConcerts.org

Ever Onward Season 27

Susan Goldfarb

PROGRAM DIRECTOR

2022-2023

LECTURE SERIES ✱ PAINTING

PHOTOGRAPHY ✱ QIGONG

YOGA ✱ MEDITATION ✱ BRIDGE

MAH JONGG ✱ CANASTA

SUPREME COURT ✱ THEOLOGY

WELLNESS ✱ AMERICAN HISTORY

LITERATURE & POETRY

MOVIE & BOOK GROUPS

MUSIC & DANCE APPRECIATION

DOUBLE FEATURE

BLAKE POULIOT and SIMONE PORTER, violins

December 6, 7:30 pm • Sarasota Opera House

Marking its Southeastern premiere, Pouliot will perform Derrick Skye's

"god of the gaps," an Isabelle Stewart Gardner Museum commission

which premiered in Boston on November 6, 2022. Pouliot and Porter,

joined by Hsin-I Huang on piano, will perform works by Strauss,

Beethoven, Chausson, Bach, and more!

THE 442s

December 13, 7:30 pm

Historic Asolo Theater

A holiday concert

for the whole family!

A genre-defying acoustic quintet, this unique ensemble blends virtuosic

musicianship, group singing and inventive improvisation, all while

breaking down barriers between jazz, classical, folk, and pop music.

These St. Louis-based musicians will present a program of holiday

favorites and original compositions.

This project is supported in part by the Community Foundation of Sarasota County; Department of State, Division of Cultural Affairs,

the Florida Council of Arts and Culture and the State of Florida (Section 286.25 Florida Statutes); The Exchange; Gulf Coast Community Foundation;

National Endowment for the Arts; the Sarasota County Tourist Development Tax Revenues; and the Virginia B. Toulmin Foundation.

MORNING FORUMS

WORLD POLITICS

FILM FESTIVALS ✱ JAZZ NIGHTS

WRITING WORKSHOPS

iPHONE & iPAD ✱ NATURE WALKS

BIRDING ✱ PERFORMING ARTS

SATURDAY WORKSHOPS

BROADWAY BIOS ✱ CONCERTS

SPECIAL ONE-TIME EVENTS

& MUCH MORE!

Programs Available In Person and on Zoom

567 Bay Isles Road, Longboat Key, FL

VISIT OUR WEBSITE AT

www.TBIeducationcenter.org

For a brochure call: (941) 383-8222

DECEMBER 2022 WEST COAST WOMAN 19
---
season highlights continued

Nepal —

NB Gurung

— Portrait of

an Old Man

A Play about a Remarkable Woman

ArtCenter Manatee's Aqueous Exhibit

In February/March ArtCenter Manatee

will have the International Society of

Watercolor Artists Florida USA and

the Florida Suncoast Watercolor Society

Annual Aqueous Exhibit. Two

Venice Theatre Update

December

2-19

don't miss watercolor exhibits. On

display February 28-March 21. Opening

reception Thursday, March 2, 5-7 p.m.

For information, visit ArtCenter

Manatee.org.

"A tremendous amount of work has gone

into figuring out a way to present as

many shows from our original 2022-23

season as possible. Losing our main

432-seat theatre will not stop us from

sharing these great stories with our

community. We are excited that we can

still present Up On the Roof, The Cemetery

Club, Gypsy, Arabian Nights, Xanadu,

The Silver Foxes, and Pinky's

Players…we've changed a couple of

titles," says Murray Chase, Producing

Executive Director.

"We suffered significant damage from

Hurricane Ian. Together, sooner rather

than later, and stronger than ever, "we

will find a way." The Venice Theatre

board will match all gifts to the theatre

– up to $500,000 – through Dec. 31, 2022,"

he adds.

Their box office is working to exchange

and reschedule tickets for all

subscribers and single ticket holders.

Coming up, A Christmas Carol runs

December 2-19. While their mainstage

Jervey Theatre is undergoing major repairs,

the show will be performed on the

temporary stage in the Raymond Center

directly behind their main building.

• Here are their upcoming concerts:

• Up On the Roof, The Songs of Carole

King and James Taylor: Jan. 10

– 29, Raymond Center

• The Cemetery Club: Jan. 20 – Feb. 12,

Pinkerton Theatre

• Gypsy, A Musical Fable: Feb. 17 –

March 19, Raymond Center

• Arabian Nights: Feb. 24 – March 5,

Pinkerton Theatre

• Xanadu: March 24 – April 16, Pinkerton

Theatre

• The Silver Foxes: March 28 – April 2,

Raymond Center

• Graceland: April 21 – May 7, Raymond

Center

• Teen Improv: April 30, Raymond

Center

• The Complete Works of William

Shakespeare (abridged): May 5 – 21,

Pinkerton Theatre

• Adult Improv: May 14, Raymond

Center

• Pinky's Players:

May 19 – 21,

Raymond Center

• Kinky

Boots has

been moved

to the 2023-24

Season and will

be performed

Jan. 12 - Feb. 11,

2024

Tickets: https://

venicetheatre.

org/tickets/

SILENT SKY is the true story of Henrietta

Leavitt, one of the pioneering

women astronomers working at Harvard

Observatory in the early 1900s who took

on the astronomy establishment in order

to discover the mysteries embedded in

the sky.

Henrietta transcended the odds while

navigating love, family, and the universe,

A Sarasota Opera Debut

Sarasota Opera

has Thérèse by

Jules Massenet. It's

the story of a love

triangle during the

French Revolution.

In this rarely heard

work, Thérèse is torn

between love for her

former lover and her

affection and duty

towards her husband.

Moments of lyrical

beauty are punctuated

by the drama of

the "Reign of Terror"

in this opera, which will be receiving its

U.S. professional premiere. Thérèse will

be sung by Lisa Chavez.

going on to make a world-altering advancement

to the field of astronomy that

forever changed our view of the cosmos.

Written by Lauren Gunderson, this

drama is directed by Seema Sueko, who

recently brought this work to life at Washington

D.C.'s Ford's Theatre. Runs January

19 to March 5. Tickets: https://www.

asolorep.org/events/detail/silent-sky.

A Sea Symphony by Vaughan Williams

Chorus, orchestra and soloists sing of

ships and their captains, wind and waves,

the voyage of every human soul, and

music so vivid you can almost taste the

sea spray in the air. Vaughan Williams'

setting of Walt Whitman's sea texts elicit

thrilling viscerality in its climactic vision

of the individual soul sailing forth 'for the

Five performances: March 17, 19, 21, 23,

and 25, 2023. It's a Sarasota Opera debut.

Tickets: SarasotaOpera.org.

deep waters only, where mariner has not

yet dared to go.'

This large-scale symphony was one of

the first to incorporate choir throughout

the work and is considered one of the

mightiest first symphonies ever composed.

Baritone Jamal Sarikoki and soprano

Suzanne Karpov add their stunning

virtuosity

English

composer,

Vaughan

Williams

Thérèse

will be

sung by

Lisa Chavez

to this epic

masterwork.

Held

February

10-11 at

Church of

the Palms

on Bee

Ridge Road

in Sarasota.

Tickets:

https://keychorale.org/

concerts/

20 WEST COAST WOMAN DECEMBER 2022
---
The Perlman Music Program

Suncoast Presents

An Evening with Violinist Randall

Goosby with Pianist Zhu Wang Dec. 8

"

For me, personally, music

has been a way to inspire

others," says 26-year-old violinist

and Perlman Music Program

alum, Randall Goosby.

Regional audiences

will have the rare

opportunity to

see this highly acclaimed

performer,

accompanied by

pianist Zhu Wang,

as part of The Perlman

Music Program

Suncoast's

"An Evening with

Randall Goosby,"

Thursday, December

8, 7:30 p.m.,

at the Sarasota Opera

House.

The concert's

program features

Deux Morceaux

pour Violin et Piano

by Lili Boulanger;

Randall Goosby

Maurice Ravel's

Violin Sonata No. 2;

Suite for Violin and Piano

by William Grant Still; and

Beethoven's Violin Sonata

No. 9. The program is

subject to change.

Randall Goosby joined

The Perlman Music Program

(PMP) at the age of

15. Before this, he made

his debut with the Jacksonville

Symphony at age

Zhu Wang

nine, and at 13 became the youngest recipient

ever to win the Sphinx Concerto

Competition.

Goosby has since performed with the

New York Philharmonic, Cleveland Orchestra,

and New World Symphony. He is

acclaimed for the sensitivity and intensity

of his musicianship alongside his determination

to make music more inclusive

and accessible, and to bring the music of

under-represented composers to light.

Goosby's 2021 critically acclaimed

debut album, "Roots," explores the evolution

of African American music—from

the spiritual through to present-day

composition—paying homage to the

pioneering artists that paved the way for

him and other artists of color. Goosby

earned both undergraduate and graduate

degrees at The Juilliard School, and recently

received an Artist Diploma there,

studying under Itzhak Perlman and Catherine

Cho. Visit RandallGoosby.com.

Praised by The New York Times as

"a superb pianist," Zhu Wang's engaging

performances exhibit a remarkable

depth of lyricism and poise. His 2021

Carnegie Hall debut recital was named

"Best of 2021" by Anthony Tommasini in

The New York Times.

As the Winner of 2020 Young Concert

Artists International Audition, he was

awarded the Stern Young Artist Development

Award and continues to show

his artistry as a charismatic soloist and

an exceptional chamber musician. Wang

holds a Bachelor of Music degree from

The Juilliard School and is

pursuing his Artist Diploma

at Curtis Institute of Music.

Visit ZhuWangPiano.com.

"We are thrilled to welcome

Randall back to Sarasota,"

says Lisa Berger, executive

director of Perlman Suncoast.

"Many of us remember this

extraordinary young man

during his years attending

the PMP Winter Residency.

Seeing him now as an accomplished

and recognized artist

is a testament to The Perlman

Music Program and a joyful

reunion for local audiences."

• Perlman Suncoast's

2022-2023 Season

at a Glance •

• PMP Winter Residency:

December 28-January

7 The PMP Winter Residency

offers unparalleled musical

training for gifted students

ages 12-18 who play the violin,

viola, cello and bass.

PMP's world-class faculty, led

by Itzhak Perlman, oversees a

curriculum of solo, chamber

music, and orchestral repertoire

at the highest level.

The public is invited to watch

these orchestra and chorus rehearsals

and works-in-progress recitals in a

performance tent on the USF Sarasota-Manatee

campus.

• Tent Rehearsals, Works in

Progress, and Recitals:

December 29-January 7 on the USF

Sarasota-Manatee campus. Non-reserved

seats are free to the public; reserved and

VIP seats are also available. The Winter

Residency's daily schedule will be available

at www.PerlmanSuncoast.org in

November.

• Celebration Concert:

January 5 at the Sarasota Opera House.

Tickets are $40 to $80 and will be available

for purchase starting October 20

by calling Sarasota Opera House's box

office at 941-328-1300 or at www.sarasotaopera.org.

• Celebration Gala:

January 5 in the tent on the USF Sarasota-Manatee

campus. The evening

includes dinner and entertainment with

PMP students, faculty and the Perlmans.

Tickets are $250 per person and will be

available for purchase starting October

20 at www.PerlmanSuncoast.org.

• For tickets, visit https://tickets.

sarasotaopera.org/6059/6060.

DECEMBER 2022 WEST COAST WOMAN 21
---
Is independence in your own home your goal?

Choose a trusted, professional nursing team to ensure the years ahead and your health

care path align with your wishes.

Take Care provides all levels of care—from

skilled nursing to helping with groceries

and companionship—for clients in any

home setting. We remain dedicated to

helping you and your loved ones.

Take Care is locally nurse and familyowned

with 27 years of experience meeting

your health care needs, from one hour of

care as needed up to around-the-clock

support, 24 hours a day, 7 days a week.

Personalized care in your own home has

never been more important.

Our Registered Nurse New Services team

is ready for your call.

Erika Wise Borland, MA, Vice President

Susanne S. Wise, RN, MBA, CEO & Owner

Courtney Wise Snyder, MSG, CMC, President

Celebrating Years of Caring

www.TakeCareHomeHealth.com

(941) 927-2292

info@takecarehomehealth.com

Lic. # HHA 21657096 | 299991405

27

Community Voted Best Home Health since 2012

22 WEST COAST WOMAN DECEMBER 2022
---
Choral Artists of Sarasota's 2022-2023 Season

The ensemble's 44th season is entitled "United in Song"

Artistic

Director

Joseph

Holt

Choral Artists of Sarasota's

44th season, entitled

"United in Song,"

continues with four concerts

in December, March,

April, and July. A season highlight

includes the Florida premiere of "The

Children's March," a moving oratorio by

composer Andrew Bleckner that takes

audiences on a journey to an historical

event during the Civil Rights Era of the

1960s, with Charlayne Hunter-Gault as

narrator.

Other performances include "Say a

Little Prayer," featuring spiritual songs

from different cultures and faiths;

"Peace on Earth," a holiday concert

with traditional holiday carols that are

interspersed with "In Terra Pax," a work

of childlike serenity by British composer

Gerald Finzi; and an April concert

featuring Bach's pastoral setting of the

Twenty-third Psalm paired with Mozart's

Requiem, a poignant contemplation of

eternity. The group's July 4th concert,

"American Fanfare," will be performed

at the Sarasota Opera House with the

Lakewood Ranch Wind Ensemble.

Artistic Director Joseph Holt says,

"These performances speak to our common

humanity as people of faith, people

yearning for peace in a discordant

world, people seeking justice, people

finding consolation in music, and people

enjoying the freedoms afforded us by

our American principles. Five performances

that bring us together through

song, a symphony of vocal sound that

expresses our inner thoughts and emotions.

'United in Song' takes us on a journey

of renewal, with hope for a brighter

future for all."

Holt will also illuminate the creative

process, presenting "Meet the Music"

prior to each concert throughout the

season. Each will focus on the upcoming

concert with a special guest joining the

conversation and performance. "Meet

the Music" programs are held at Art to

Charlayne Hunter-Gault

Walk On at 16 South Palm Avenue in

downtown Sarasota, 5:30-7 p.m., with a

wine and hors d'oeuvre reception.

Planned dates are December 1, February

23, April 13 and June 22. Guest

artists for the performance season include

sopranos Adelaide Boedecker and

Danielle Talamantes; Laurel Semerdjian,

alto; tenors John Kaneklides and J. Warren

Mitchell; and baritones Kerry Wilkerson

and William Socolof.

For more information and to purchase

tickets, visit www.ChoralArtists

Sarasota.org or call 941-387-4900.

The Choral Artists of Sarasota's

2022-2023 season schedule:

• Peace on Earth: The holidays will

ring with traditional holiday carols

resounding with themes of peace that

are interspersed with "In Terra Pax," a

work of childlike serenity that is both

intimate and universal by British composer

Gerald Finzi. Guest artists: Danielle

Talamantes, soprano, and Kerry

Wilkerson, baritone. Sunday, December

11, 7 p.m., at Church of the Redeemer,

222 S. Palm Avenue, Sarasota.

• The Children's March: A moving

and dramatic oratorio by Philadelphia

Adelaide Boedecker

composer Andrew Bleckner, which

takes us on a journey to an historical

event during the Civil Rights Era of

the 1960s. Incorporating traditional

African-American styles and spirituals,

the work shows the incivility of

segregation through the innocence

and optimistic spirit of children.

Guest artist: J. Warren Mitchell,

tenor and Choral Artists soloists

Maiya Stevenson, soprano; Amy Jo

Connours, alto; Krista Laskowski,

mezzo-soprano; Baron Garriott, tenor;

John Whittlesey, baritone and Jesse

Martin, baritone. Narrated by Charlayne

Hunter-Gault. Sunday, March 5,

7 p.m., at Church of the Palms, 3224

Bee Ridge Road, Sarasota.

• Bach Du Hirte Israel, höre

(Shepherd of Israel, hear us)

Cantata, BWV 104 and Mozart

Requiem, K.626: Passages of life

expressed through the beauty of majestic

choral music: Bach's pastoral

setting of the Twenty-third Psalm

paired with Mozart's Requiem, a poignant

and dramatic contemplation of

eternity. Guest artists: Adelaide Boedecker,

soprano; Laurel Semerdjian,

alto; John Kaneklides, tenor; William

Socolof, bass. Sunday, April 16, 7

p.m., at Church of the Redeemer, 222

S. Palm Avenue, Sarasota.

• American Fanfare: Celebrate

America with choral fireworks, rousing

marches and patriotic fervor. Old

Glory and Uncle Sam are feted in this

annual performance featuring the

Lakewood Ranch Wind Ensemble and

Choral Artists of Sarasota. Musical

fireworks abound in this annual salute

to America. July 4, 4:30 p.m., at

Sarasota Opera House, 61 North Palm

Avenue, Sarasota.

The Choral Artists of Sarasota comprises

32 regional professional singers.

Eight young singers, ages 16 to 22, are

also invited to join the group each year,

as part of the organization's educational

outreach. One of these singers will be

awarded the new Ann Stephenson Moe

Apprentice Scholarship, a funding program

to support either private lessons or

vocal training at an institution of higher

learning. "Ensuring the future of choral

music means investing in the next generation

of music lovers," says Susan Burke,

executive director of Choral Artists of

Sarasota. "That means engaging young

people on their own terms."

The group celebrates the rich, artistic

expressiveness of choral music through

innovative repertoire, performances and

educational outreach under the artistic

direction of Dr. Joseph Holt. Their repertoire

spans four centuries, and includes

symphonic choral works, intimate madrigals,

folk songs, close-harmony jazz,

and Broadway show music.

The ensemble also specializes in premiere

performances of lesser-known

choral works—particularly music by living

American composers. Choral Artists

of Sarasota has performed premieres

by René Clausen, Dick Hyman, Robert

Levin, Gwyneth Walker and James

Grant. For more information, visit www.

ChoralArtistsSarasota.org.

DECEMBER 2022 WEST COAST WOMAN 23
---
Art Center Sarasota's New Exhibitions:

Their season continues with four exhibits running Dec. 8-Jan. 21

Alexandra

Hammond's

exhibit "Atmospheric

River"

centers around the artist's

"Quantum Blue" oil

paintings. According to

Hammond, they invite the

viewer to enter a zone of

pure possibility — a field

of active emptiness from

which all forms arise out

of formlessness. In her

paintings, a vibrant sky is

the common background

to a select group of objects

that become

frames for witnessing

the ground of

being itself.

Hammond's exhibit

"Atmospheric

River" centers

around the artist's

"Quantum Blue" oil

paintings. According

to Hammond,

they invite the

viewer to enter a

zone of pure possibility

— a field of

active emptiness

from which all

Alexandra Hammond The Fraying Edge by Alexandra Hammond

forms arise out of

formlessness. In

her paintings, a

Fools Bargain by Jason Hackenwerth

The Aristocrat by Jason Hackenwerth

vibrant sky is the common background

to a select group of objects that become

frames for witnessing the ground of being

itself.

Hammond's work investigates symbolic

possibility. As opposed to uncovering

the root meaning of symbols, she invites

us to experience how symbols shift,

play and influence us on an individual

and collective basis. With 18 paintings

on display, "Atmospheric River" is set to

provoke introspection and reflections on

the nature of consciousness. Hammond's

projects have been shown nationally and

internationally.

According to the artist, these flights

of imagination are his way of working

through the constant bombardment of

media and life drama. Hackenwerth's

work has been exhibited in galleries and

museums around the world. His work

has been mentioned in a number of magazines,

including Creative Review UK,

American Craft, Design Journal, Art In

America, Sculpture Magazine, The New

York Times, Creative Review, and London

Metro. Hackenwerth lives and works

in St Petersburg.

"Black & White" showcases this

beauty in an all-media, juried exhibit. The

juror, Elana Rubinfeld, is a certified art

including the Orlando Museum of

Art, Tel Aviv Museum of Art, Sundance

Institute, Lever House and SOCO

Gallery.

The opening reception for

all four exhibits is Thursday,

December 8, 6-8 p.m. They also

have Artist Talks! With Alexandra

Hammond on Wednesday,

December 7, 5:30 - 7 p.m. and

with Jason Hackenwerth on

Thursday, December 15,

5:30 – 7 p.m.

Jason Hackenwerth is a multidisciplinary

artist who responds to social,

political and personal issues with spontaneous

creativity. "Empire" reveals the

artist's most recent body of work — abstract

paintings, bursting with dynamic

scenarios and enigmatic messages.

"Fool's Bargain" shows the censored

smear of a message in a bright field of

yellow. Below it, the word "Faust" in

graffiti-like cursive — a nod to the tragic

the Dr. Faustus who sold his soul in a

fool's bargain with Mephistopheles.

appraiser with the Appraisers Association

of America and is the founder of New

Art Agency, an art advisory and appraisal

firm based in Sarasota. Since 2003 she

has worked as an artist, publicist, gallery

director, curator, researcher, artist liaison

and, primarily, an art advisor.

She has more than 20 years of experience

working at galleries and institutions,

including the Museum of Modern Art,

Yossi Milo Gallery and P.S.1 Contemporary

Art Center and has curated numerous

exhibitions at various institutions,

by Claire McCauley

Still Dreaming by Alexandra Hammond

Thieves And Liars by Jason Hackenwerth

Also at ArtCenter Sarasota and just

in time for any art lover's holiday gift list,

the Holiday Shop offers original works

of art by locally based artists for purchase.

Everything is priced at $200 and

under, including small paintings and

prints, functional and decorative ceramic

art and hand-crafted jewelry

by seven artists—Nika Zusin,

Claire McCauley, Alissa Silvers,

Ry McCullough, Jen Kroeger,

Brenden Deasy, and

Jason Hackenwerth.

by

Nika

Zusin

Art Center Sarasota

is located at

707 N. Tamiami Trail, Sarasota.

For information, visit

www.artsarasota.org

or call 941-365-2032

24 WEST COAST WOMAN DECEMBER 2022
---
your healthier health you

Craniosacral Therapy Can Be Life Changing

CST treats the whole body physically, physiologically, mentally, emotionally and energetically

Clients come to me because they are in physical

pain such as neck, back, pain and TMJ as well as

for chronic headaches and migraines.

Pain and stress caused by

shortened Fascia

Fascia (strong connective tissue) encases all

our muscles, organs, brain and spinal cord.

Whenever fascia shortens any place in the

body, the entire network of fascia creates an

increased tension affecting the functioning

of our physical body as well as our organs,

our brain and spinal cord.

Our body is the history of every major

trauma we have experienced physically and

emotionally beginning with birth issues, falls,

head trauma, car accidents, childhood abuse

issues, death, divorce and other emotional

issues. Our body tries to minimize each trauma

by shortening fascia to isolate the energy

coming into the body from that trauma.

Shortened fascia results in pain, loss of mobility

and range of motion, organs becoming

less efficient and with parts of the brain and

spinal cord becoming stressed.

To keep the brain functioning, the body

transfers some of your functional work play

energy (7:00 AM-10:00 PM) to the brain resulting

in less energy to make it through each

day. As we age, the accumulation of all the

tightened fascia, from every major trauma

in life, begins to restrict every aspect of our

body's functions resulting in pain, loss of mobility,

mis-functioning organs, loss of energy,

as well as our brain losing some its sharpness.

How Craniosacral

Therapy Works

The Craniosacral Therapist creates a safe

place, with gentle holding techniques, that

engages your body's ability to self correct,

reorganize and heal itself with the release

of some of that tightened fascia during

each session. As the Craniosacral Therapist

engages your body, you will feel fascia releasing.

As the fascia releases, pain begins to

decrease, range of motion and mobility improve,

organs begin functioning better and

with less stress on the brain feels, it returns

the energy it borrowed at the time of each

trauma resulting in an immediate increase in

your energy levels. Rarely does anyone leave

from my first session not feeling better.

Short Leg Syndrome

Eighty-five percent of my clients have one

of their legs pulled up 1/2 to 1 by shortened

fascia. The tension from short leg syndrome

on the sacrum (5 fused vertebrae at bottom

of the spine) is transferred up the dural tube

that encases the spinal cord into the lower

and upper back, the neck, the cranium and

The physical stress in bodies caused by shortened

fascia (connective tissue) shuts down

energy flows to certain organs. Short leg syndrome

by ½ to 1 in (where one leg is pulled up

by shortened fascia) shuts down energy flow to

the spleen (an important part of your immune

system) and the small and large intestine. With

the release of that shortened fascia, energy returns

to these organs.

the brain. Headaches, migraines, TMJ and

neck problems can originate from the fascial

stress in the sacrum.

Releasing this sacral stress increases energy

in the bladder, sex organs, kidneys and

the chakras as well as releasing major stress

in the upper part of the body.

Cause of Shallow Breathing

A great majority of the clients who come to

me for various problems are also shallow

breathers. Fascial stress in the diaphragm

restricts the depth of breathing by restricting

energy flow to the lungs, the pericardium

and the heart. With the release of fascial diaphragm

restriction, the client immediately

starts breathing deeply and energy is restored

to the pericardium and the heart.

Shoulder blades that are cemented to the

body also restricts how much the rib cage can

open and thereby also restricting depth of

breath. Without proper breathing, your cells

do not get enough oxygen. Everyone, especially

people suffering from bronchitis, asthma

and COPD as well as shallow breathing can

benefit when the fascial stress is released.

Specialized Training

to work with Brain

Dysfunctions

Just as the body physically gets stressed from

physical and emotional trauma, the functioning

of the brain is also affected by fascial stress. For

our brains to remain healthy, we need dynamic

production of craniosacral fluid which performs

the important function of bringing nourishment

to all the cells in the brain and spinal

cord as well as cleansing all the metabolic

wastes given off by those same cells.

Once the craniosacral fluid cleanses these

metabolic wastes, efficient drainage of these

metabolic wastes into the lymph system is

absolutely necessary. Research has shown,

that at night, craniosacral fluid cleanses amyloid

plaques from the brain. If the drainage

is inefficient, then the brain is being bathed

in a toxic slurry. How does 15 or 20 years of

your brain being bathed in a toxic slurry

affect you: senile dementia, Parkinson's,

Alzheimer's and other brain dysfunctions?

A Craniosacral Therapist, who has received

training in working with the brain, can reverse

that stress on the brain that eventually can

result in those brain dysfunctions. As we all

know, the proper functioning of the body is

dependent on a healthy functioning brain.

Babies and Children can benefit

■ Our little boy Leo, four years of age, had a

difficult birth and at 7 months was put on antibiotics

for an ear infection and as a result developed

c-diff. His development came to a stop.

At 3 years, with the help of an OT, he started

to walk and talk. In spite of the improvements,

he was unable to answer questions and his

communication skills were very poor. Leo

had very poor muscle tone, a lot of stress in

his body and physical activities such walking,

jumping and climbing were difficult for him.

Beginning with the first session with Terry,

he began showing improvement and with each

following session. Everyone from his teachers

to his grandparents noticed an increase in his

■ "I was in awful pain and the

MRI showed 2 pinched nerves

and stenosis. I scheduled surgery.

My daughter suggested Craniosacral therapy.

After only 2 visits the pain was reduced to

advanced craniosacral about 80% and therapy I canceled the surgery. I went

for a 3rd visit and I am about 90% better."

■ "Simply Amazing! One visit was all it took for

Terry to relieve 85% of my year long, nagging

(sometimes severe) neck/shoulder tightness/

pain!! My breathing improved tremendously."

physical strength, as well as improvements in

comprehension, speech and communication

skills. For the first time, he started participating

in class lessons and interacting with his

classmates. Terry has made a huge impact on

getting Leo to a place a little boy should be at

age four. We cannot thank Terry enough.

■ Terry's treatment helped our 6 week old

baby boy from recent hospitalization into

the first series of healthy bowel movements

when seemingly nothing could help. Our son

was able to latch onto the breast and for the

first time completed his feeding. He was much

calmer after working with Terry.

■ "He was able to relieve tension that I have

been carrying around for 15 years or more.

I left his office table with more energy than I

have had in years."

■ "I began working with him because I was

dealing with anxieties, depression and lots of

emotional pain inside and out. You don't realized

how much stress can cause damage to

your body, mind and soul. I can say Terry was

a big help."

Terrence Grywinski

of Advanced

Craniosacral Therapy,

B.A., B.ED., LMT #MA 6049

Testimonials from Clients

SOURCE:

■ Terrence Grywinski of Advanced Craniosacral Therapy,

B.A., B.ED., LMT #MA 6049. Terry has specialized in Craniosacral

Therapy since 1994 when he began his training at the Upledger

Institute. Described by his teachers, clients and colleagues

as a "gifted healer", Terry's intuitive sense and healing energy

provides immediate and lasting relief from injury, pain, mobility

issues as well as dysfunctions of the body and the brain. Part

of Terry's ongoing education, he has completed 4 craniosacral

brain and peripheral nervous system classes which enables him

to work at a cellular

level and with brain

dysfunctions.

Call 941-321-8757

for more information,

Google Advanced

Craniosacral

Therapy.

■ "On a recent vacation to Siesta Key, I re-injured

my back. I found Terry online. I can say

with complete joy that was the best decision

I made in the history of my back pain. I have

sought many modalities and visit a CST regularly

and never have I had such a healing in

my entire body.

After 3 sessions, I made a 16-hour drive

home with no pain or discomfort in my entire

body. Unbelievable. My body has a sense of

moving freely and that is completely new. I'm

advanced craniosacral therapy

so grateful to Terry for his knowledge, for his

sensitivity to my needs and his kind generosity

in healing my body. I will see him when I return

next year."

■ "I am a snowbird who spends 7 months

in Sarasota. I have had back problems for 25

years. Terry's techniques have led to a great

deal of release and relief in areas that have

been problematic. I have been seeing him over

the years when my body says "it's time". Usually

after a few sessions, I can tell a huge difference."

PAID ADVERTORIAL

DECEMBER 2022 WEST COAST WOMAN 25
---
Some Major Art Exhibits to Experience

The New Season includes Matisse, Modigliani, Cubism, Ruscha, Hopper and more

• The Philadelphia

Museum of Art

does Matisse

The Philadelphia Museum of Art, in

collaboration with the Musée de

l'Orangerie in Paris and the Musée

Matisse Nice, will present the first exhibition

ever dedicated to the pivotal

decade of the 1930s in the art of Henri

Matisse (1869–1954).

Opening first in Philadelphia, the only

U.S. venue, the exhibition Matisse in

the 1930s has more than 100 works,

ranging from both renowned and rarely

seen paintings and sculptures, to drawings

and prints, to illustrated books. It

also features documentary photographs

and films.

Because this transformative decade in

Matisse's career has never been treated

in a standalone exhibition before, visitors

have a rare opportunity to immerse

themselves in the very process through

which Matisse generated a new creative

approach and outlook in the later part

of his career, while also witnessing the

dramatically revitalized production that

followed from his eventful visit to Philadelphia

in 1930.

Between works on view at the Philadelphia

Museum of Art and complementary

holdings down the street at

the Barnes Foundation, Philadelphia is

an exciting city in which to experience

Matisse's art.

Matisse spent most of his life in Nice,

and Mediterranean splendor permeates

his work. He came back from the U.S. to

France with a broadened vision of the

world that had long-lasting effects, as

the '30s were rejuvenating for this pioneer

of modernity. The Musée Matisse

in Nice, whose collection is rich in art

linked to this period of creation, has collaborated

with the Philadelphia Museum

of Art and the Musée de l'Orangerie to

demonstrate the renewal in the artist's

work during this period.

The Dance (1931–33), Matisse's decoration

for the Barnes Foundation, is

closely linked to the artist's return to a

modernist style in the 1930s. In 1930,

Matisse had achieved significant international

renown, and yet he found himself

in a deep creative slump.

A dozen years before, he had switched

his base of operations from Paris to

Nice. There he had focused

on the theme of

female models in elaborately

decorated studio

setups bathed in the crystalline

light of the Mediterranean.

Some critics

wondered whether Matisse,

who had been such

a radical force in modern

painting, had lost his experimental

edge. By the

later 1920s, Matisse himself

had developed second

thoughts, and for a

couple years he produced

nearly no new paintings.

The turning point came in

the fall of 1930, when the

artist visited the Barnes

Foundation in the suburbs

of Philadelphia, and

received the commission

for a three-part mural,

The Dance. Matisse

used this commission to

turn his work around.

Afterward, he returned to easel painting

with new procedures and a new

approach. He started using photography

systematically to document the cumulative

process of building his motifs and to

test his own reactions as he went along.

He also began using pre-colored cut papers

to plan his compositions; this procedure

led him away from the illusion of

modeling and deep space and toward a

style of flat tones and bold shapes that

gave his compositions of the 1930s a

new impact.

Matisse in the 1930s has an array of

works from public and private collections

in the U.S. and Europe. It explores

the changes in style that followed as Matisse

discovered different ways of working

across the mediums of easel and decorative

painting, sculpture, printmaking,

drawing, and the illustrated book. The

exhibition will demonstrate that what he

achieved during the 1930s represented a

total revitalization of his artistic vision.

In 1941, Matisse underwent a risky

operation for abdominal cancer; after

this brush with death, he spoke of embarking

on a second artistic life. At first,

he painted little, but instead focused

on a major effort in drawing: a corpus

of 158 drawings of models in the studio

and fruit and floral still lifes known

as Themes and Variations.

ITINERARY

• Philadelphia Museum of Art, through

January 29, 2023

• Paris, Musée de l'Orangerie, February

27, 2023–May 29, 2023

• Musée Matisse Nice, June 23, 2023–

September 24, 2023

The Philadelphia Museum of Art:

philamuseum.org

• The Barnes

Foundation Presents

Modigliani Up Close

The first exhibition to spotlight

conservation research exploring

Modigliani's working methods and

materials runs to January 29, 2023 at

the Barnes Foundation in Philadelphia

(a short distance from the Philadelphia

Art Museum).

The Barnes Foundation has Modigliani

Up Close, that offers new insights

into his working methods and materials

that's on view through January 29, 2023.

Amedeo Modigliani (1884–1920)

is among the most celebrated artists

of the 20th century. While

many exhibitions have

endeavored to reunite his

paintings, sculptures, and

drawings, Modigliani Up

Close offers an opportunity

to examine their production

and explore how Modigliani

constructed and composed

his signature works.

Featuring new scholarship

that builds on research that

began in 2017 with the major

Modigliani retrospective at

Tate Modern, this single-venue

exhibition is the culmination

of years of research by

conservators and curators

across Europe and the Americas.

Modigliani Up Close furthers

understanding of

Modigliani's approach to his

art, refines a chronology of

his paintings and sculptures,

and helps to establish the

locations and circumstances

of where he worked.

Featuring nearly 50 works

from major collections, and

organized into thematic sections,

the exhibition presents

paintings and sculptures alongside new

findings that have resulted from the

technical research of collaborating conservators,

conservation scientists, and

curators. Using analytical techniques,

including X-radiography, infrared reflectography,

and X-ray fluorescence

spectroscopy (XRF), conservators and

conservation scientists reveal previously

unknown aspects of Modigliani's work.

Visitors will feel closer to Modigliani as

an artist, seeing his work through the

eyes of the experts, catching glimpses

of the artist's hand hidden beneath the

surfaces of his work.

This exhibition holds a special significance

at the Barnes, as Dr. Albert C.

Barnes was one of Modigliani's earliest

collectors in the U.S. and helped shape the

artist's critical reception in this country. In

addition to works on paper, there are 12

paintings and one carved stone sculpture

by Modigliani in the Barnes collection.

With 12 paintings each, the Barnes and

the National Gallery of Art in Washington,

DC, have the largest collections of

Modigliani paintings in the world.

Visitors can use Barnes Focus, a

mobile guide that works on any smartphone

with a web browser. This is the

first occasion Barnes Focus can be

used to explore loaned works in an

exhibition. Visitors simply open the

guide by navigating to barnesfoc.us

on a mobile browser and focus on a

work of art; the guide recognizes the

work and delivers information about

it. Barnes Focus also leverages the

Google Translate API, so you can automatically

translate the guide into a

variety of languages.

The Barnes Foundation:

barnesfoundation.org.

continued on page 28

26 WEST COAST WOMAN DECEMBER 2022
---
Presented by

PEOPLE OF THE BOOK

PEOPLE OF THE BOOK

2021-22 2022-23 Author Author Lecture Series

October Wednesday, 12, 2021 December – May 3, 2022 14

at 7pm 21 Authors at Temple • 20 Events Emanu-El

10 "in-person" events (also available on Zoom)

Steve and 10 Katz Zoom-only events

Blood, Sweat, and

My Rock 'n' Roll Years

Steve Katz was a founding member of the legendary Blues

Project and Blood, Sweat & Tears. He played the Monterey

Pop Festival and Woodstock. His blues-folk-rock memoir

is an honest and personal account of

a life at the edge of the spotlight – a

privileged vantage point that earned him a bit more objectivity

and earnest outrage than many of his colleagues, who were too

far into the scene to lay any honest witness to it. Set during the

Greenwich Village folk/rock scene, the '60s most celebrated

venues and concerts, and behind closed doors on international

tours and grueling studio sessions, this is the unlikely story of a

rock star as nerd, nerd as rock star, a nice Jewish boy who got to

sit at the cool kids' table and score the hot chicks.

In addition to his presentation, Steve will perform a mini-concert!

Tickets are $25 in advance

and $30 at the door

Temple Emanu-El is located at 151 McIntosh Road, Sarasota

For tickets and more information,

visit jfedsrq.org/books

2022-2023 SEASON

AT THE VENICE PERFORMING ARTS CENTER

Night at the Museum

January 6-7, 2023

VENICE PREMIERE OF MUSSORGSKY'S

PICTURES AT AN EXHIBITION

Conductor Troy Quinn shares music and stories

from his work in film.

more than

a circus for

25 Years!

the circus arts make great gifts!

gift certificates available now

sailor circus

holidaY sPecial

Wed dec 28 - SaT dec 31, 2022

Sailor CirCuS arena

2075 Bahia ViSta St., SaraSota, Fl

Do reindeer really fly? how much

do elves help Santa? Find out, as

america's longest-running youth

circus celebrates the holidays and

takes a peek into Santa's actionpacked

circus sack of wonders.

circus sarasota

25th anniversarY

show: legacY

fri feb 10 - Sun Mar 5, 2023

unDer Big top at

nathan BenDerSon park

experience Circus as it's meant

to be seen — award-winning

international artists in one

ring, under the big top. a

spectacle that takes place only

in Sarasota - Circus Capital of

the World.

BUY TICKETS

941-207-8822 • thevenicesymphony.org

CONCERT SPONSOR:

Sean and

Esther Kelly

Scan code for TickeTS or:

circusarts.org

941.355.9805

John and Mary Doherty

Charitable Fund

DECEMBER 2022 WEST COAST WOMAN 27
---
major art exhibits continued

• Cubism and the

Trompe l'Oeil at

The Metropolitan

Museum of Art

At The Metropolitan Museum of

Art, Cubism and the Trompe

l'Oeil Tradition are presented in

an entirely new understanding of Cubism

by connecting it to the strategies, motifs,

and playful provocation of trompe l'oeil

("deceive the eye") illusionism.

This transhistorical, international loan

exhibition brings together more than 100

objects, the majority being by the three

Cubists who addressed the practice of

trompe l'oeil in the years 1909-1915:

Georges Braque, Juan Gris, and Pablo

Picasso. Their paintings and collages

(and, in the case of Picasso, sculptures)

are paired with works by European and

American artists from the 17th through

the 19th century—from Samuel van

Hoogstraten and Cornelius Norbertus

Gijsbrechts, to Louis Léopold Boilly and

William Harnett.

Though these trompe l'oeil painters

were often disparaged for merely copying

nature, they filled their pictures with

ingenious tricks and allusions, elevating

the seemingly humble genre of still life.

As the exhibit reveals, the Cubists both

parodied and paid homage to classic

trompe l'oeil devices, while inventing

new ways of confounding the eye and the

mind. Despite vast differences in overall

appearance, both art forms interrogated

the nature of representation, raising philosophical

questions about the real and

the fake, and the ephemeral and the enduring,

that resonate powerfully today.

Cubism and the Trompe l'Oeil Tradition

unfolds across ten thematic rooms,

charting the dialogue between Cubism

and the past and the three-way competition

between Braque, Gris, and Picasso.

The exhibition includes an ensemble of

collages and papiers collés (paper collage)

by Braque, Gris, and Picasso, most

of them rarely seen. Picasso's Still Life

with Chair Caning (1912)—the first Cubist

collage—is displayed in the United

States for the first time in 30 years.

Information: www.metmuseum.org/.

• Edward Hopper

at The Whitney

Edward Hopper's New York runs

through Mar 5, 2023 at The Whitney.

The city of New York was

Edward Hopper's home for nearly six decades

(1908–67), a period that spans his

entire mature career and coincides with

a historic time of urban development.

Edward Hopper's New York is the

first exhibition of its kind to focus on

the artist's rich and sustained

relationship with the city that

served as the subject, setting,

and inspiration for so many of

his most celebrated pictures.

The survey takes a comprehensive

look at Hopper's life

and work through his depictions

of the city—from his early impressions

in sketches, prints,

and illustrations, to his late

paintings, in which New York

served as a backdrop for his

evocative distillations of urban

experience.

Drawing from the Whitney's

extensive holdings by the artist

and amplified by key loans, the

exhibition brings together many

of Hopper's iconic city pictures

such as Automat (1927), Early

Sunday Morning (1930), Room

in New York (1932), New York

Movie (1939), and Morning

Sun (1952), as well as several

lesser-known yet critically important

examples including the

artist's watercolors of downtown New

York and his painting November, Washington

Square (1932/1958).

The presentation also includes a variety

of materials from the Museum's

recently acquired Sanborn Hopper

Archive—printed ephemera, correspondence,

photographs, and journals

that together offer new insights into

Hopper's life. whitney.org/exhibitions/edward-hopper-new-york.

• Looking Ahead…

MoMA has Ed

Ruscha/Now Then

The Museum of Modern Art has

ED RUSCHA / NOW THEN, the

most comprehensive presentation

of the artist's work, and his first

solo exhibition at the Museum, September

23, 2023 through January 6, 2024.

This is great timing for a fall 2023 visit in

New York so you can plan ahead.

Spanning 65 years of Ed Ruscha's

career and mirroring his own cross-disciplinary

approach, the exhibition

features over 250 works, produced

from 1958 to the present, in various

mediums—including painting, drawing,

prints, film, photography, artist's books,

and installation—displayed according to

a loose chronology.

Alongside the artist's most acclaimed

works, the exhibition highlights lesser-known

aspects of his practice, offering

new perspectives on one of the most

influential figures in postwar American

art and stressing Ruscha's role as a keen

observer of a rapidly changing world.

Raised in Oklahoma City, Ed Ruscha

(American, born 1937) moved

to Los Angeles in 1956 to

study commercial art at the

Chouinard Art Institute (now

CalArts). Beginning with these

formative years, the exhibition

includes rarely seen paintings

and works on paper made

during, or in reference to, his

extensive travels throughout

the United States and Europe,

revealing the artist's keen

attention to everyday sights—

including vernacular architecture,

consumer items, and

public signage.

The exhibition also reunites

a number of breakthrough

paintings, which Ruscha made

shortly after graduating from

Chouinard, in order to demonstrate

his foundational and enduring

interest in language for its plastic and

sonic qualities. For instance, OOF (1962,

reworked 1963), a painting in MoMA's

collection, depicts a one-syllable word

with a bold shape and guttural sound

that not only recalls the dynamic exclamations

found in comic strips, but also

highlights Ruscha's acute understanding

of design and typography. https://www.

moma.org/artists/5086.

Cross-media installations throughout

the retrospective offer insight into Ruscha's

working methods. Viewers have

the opportunity to trace the migration

of subjects across mediums—following,

for example, an image of a Standard

gasoline station from its small blackand-white

reproduction in his self-published

artist's book, Twentysix Gasoline

Stations (1963) to the

monumental, brightly

rendered oil paintings

made shortly

after, which remain

as some of Ruscha's

most recognizable

works.

These displays

will also highlight

the artist's continual

experimentation with

unconventional materials

and techniques,

including drawings

made with gunpowder,

airbrushed paintings

of enigmatic

silhouettes, and vintage

drum skins emblazoned

with double

negatives. https://

www.moma.org/.

28 WEST COAST WOMAN DECEMBER 2022
---
Veronica Brandon Miller

Exceeding Your Expectations

Veronica Brandon Miller

941.807.7321

veronica@yourfloridahometeam.com

www.yourfloridahometeam.com

Lori Sax Lori Photography Sax Photography

The The area's area's ONLY ONLY BBQ BBQ restaurant restaurant with with

CATERING CATERING in in our our DNA. DNA.

OLKS STILL aSK ME: "do you cater?" That's how I first offered my BBQ to the public starting in 2004!

FToday, OLKS STILL Nancy's aSK Bar-B-Q ME: "do is the you leading cater?" local That's independent how I first BBQ offered restaurant/caterer my BBQ to the in public Sarasota starting and Manatee in 2004! counties.

Whether Today, catering Nancy's your Bar-B-Q intimate is the gathering leading local independent BBQ restaurant/caterer in Sarasota and Manatee counties.

at Whether home ... catering or an office your intimate lunch ... or gathering meals

for at home 500 through ... or an World office Central lunch ... Kitchen or meals for

hurricane Ian victims ... for a 500 corporate through or World church Central appreciation Kitchen for

event hurricane for 1,100: Ian victims Choosing ... or a us corporate as your caterer or church needs appreciation no

explanation. event for 1,100: And Choosing your guests us as will your thank caterer you. needs no

explanation. O nOT HESITaTE And your to guests ask for will me thank if you you. are in the

d

restaurant, O nOT HESITaTE or call to me ask at for 941-955-3400 me if you are or in email the to

NancysBarBQ@verizon.net. restaurant, or call me at n941-955-3400 or email to

NancysBarBQ@verizon.net. n

nancy's

BAR-B-QTM BAR-B-QTM

Voted BEST BBQ

11th

Voted Consecutive BEST BBQ

Year 11th

Consecutive

Year

14475 SR 70 E at Lorraine Rd LWR 34202 • 941-999-2390 • OpEn 7 dayS 11aM • FULL BaR • Happy HOUR MOn-FRI • nFL SUnday TICKET

14475 SR 70 E at Lorraine Rd LWR 34202 Find • 941-999-2390 restaurant and • OpEn catering 7 dayS menus 11aM at • nancysBarBQ.COM

FULL BaR • Happy HOUR MOn-FRI • nFL SUnday TICKET

Find restaurant and catering menus at nancysBarBQ.COM

#1 Local Genuine BBQ since 2004 SM

#1 Local Genuine BBQ since 2004 SM

DECEMBER 2022 WEST COAST WOMAN 29
---
dining in

Shhhhh… just don't tell them it's vegan…

Comfort food recipes can be reinvented for the holiday meal

F Mushroom Wellington T

The holiday dinner table is a place for laughs, good cheer, and

home cooking. Most traditional holiday recipes can be reinvented

without animal products.

F Candied Ginger Sweet Potato Muffins

Candied Ginger Sweet Potato Muffins T

Bursting with flavor, these muffins are perfect for family brunches or for post-meal

noshing. Barley and rice flours, along with flax meal, add a special texture and feel

to the muffins, while the sweet potato and pumpkin purees and candied ginger

contribute a spicy sweetness.

These sweet potato muffins are a creative way to use up sweet potatoes leftover from

your holiday gatherings. Candied ginger tops each muffin for a crunchy, spicy addition

to these sweetly spiced treats.

1 cup barley flour*

1 cup brown rice flour*

1 tablespoon baking powder

1 teaspoon baking soda

1/4 teaspoon salt

1 teaspoon pumpkin pie spice

mix**

1 tablespoon flax meal*

1 tablespoon arrowroot

or

1 tablespoon cornstarch

1 banana

1/2 cup sweet potato puree***

or

1/2 cup pumpkin puree***

1/2 cup maple syrup

2 tablespoon molasses

3 tablespoons brown sugar

1 cup candied ginger, chopped

Preheat an oven to 350 degrees. Prepare a muffin tin with a light layer of grease or

nonstick cooking spray.

Whisk the barley flour, brown rice flour, baking powder, baking soda, salt and pumpkin

pie spice together in a medium bowl.

Whisk flax meal and arrowroot or cornstarch together in a small bowl. Add 3 tablespoons

of water and mix well.

Add mashed banana, sweet potato or pumpkin puree, maple syrup and brown sugar to

the small bowl with the flax meal mixture. Whisk until thoroughly combined, taking care

not to leave any chunks.

Slowly add the wet ingredients to the dry ingredients, mixing until well combined. Spoon

the batter into the muffin tins until they are 3/4 of the way full. Press the candied ginger

onto the tops of each muffin. Bake for 18-22 minutes, or until toothpick comes out dry.

2 lb. large head cauliflower

– broken into florets

1 Tbsp. coconut oil

1 large sweet onion, diced

2-3 garlic cloves, pressed or

minced

2 tsp. turmeric powder

1 Tbsp. curry blend

1 piece of ginger, 2inch

long, peeled and chopped

2 Tbsp. Thai red curry paste

or harissa paste

3 cups low sodium veggie broth

1 can (14oz) coconut milk

Serves 6

Melt coconut oil in a large stockpot over medium-high heat. Add onion and sauté until

softened, about 4-5 minutes. Add in garlic, ginger, turmeric powder, curry, and harissa/

curry paste, then cook for 1 minute, until fragrant.

Add in the cauliflower and broth, and bring to a simmer.

*Found at health food stores or the health

section of some grocery stores.

**Premade pumpkin pie mix is sold in stores

***Use up leftover cooked sweet potatoes

or pumpkins. If starting from scratch,

try this sweet potato puree or pumpkin

puree method.

F Curried Cauliflower Soup

Curried Cauliflower Soup T

This soup is made creamy thanks to coconut milk and cauliflower and it takes just

30 minutes to make.

Sea salt and pepper, to taste

2 Tbsp. fresh chopped cilantro

1 red chili, sliced to garnish

Cover with a lid and cook, stirring occasionally, for about 15-20 minutes, or until

cauliflower is tender.

Stir in coconut milk, then remove from heat. Using a hand blender, process until it

reaches a thick creamy consistency. Season with salt and pepper to your taste.

Ladle soup into bowls, sprinkle chili, fresh chopped cilantro and garnish with lime slices.

Best served hot.

Ambitious, but worth the effort.

FOR THE PASTRY:

One and a third

cups pastry flour

1/2 tsp fine sea

salt

5.6 ounces vegan

butter

1/3 cup plus 1

tbsp cold water

PASTRY

INSTRUCTIONS:

Place flour in a

medium bowl and

add salt and mix

well to combine.

Break the butter

into chunks and

add to the flour

and rub it into the

flour. Don't rub the

butter in too much.

You want to see

chunks of butter

as this is will make

your pastry flaky.

Add the water little

by little and mix

until you have a dough. Cover and refrigerate 30 minutes.

Form the dough into a rectangle and roll it out until it is 3 times its original length.

Fold the top third of the dough onto the middle of the dough and the bottom third

on top of that.

Give the dough a quarter turn and roll it out again until it is 3 times its original length.

Again fold the top third to the middle and the bottom third on top of that. Wrap in plastic

wrap and refrigerate for 30 minutes. Repeat another 2 times and pastry is ready to use.

INGREDIENTS:

4 large portobello mushrooms stalks

trimmed and cleaned

3 large onions peeled and chopped

3 tbs olive oil

10.5 ounces baby spinach

4 sprigs of thyme leaves picked

1 vegan puff pastry

INSTRUCTIONS

1 tbs dijon mustard

salt and pepper to taste

VEGAN EGG WASH:

1 tbs chickpea water

1 tbs almond or cashew milk

1 tsp neutral flavored oil

1/2 tsp maple syrup or brown rice syrup

Place a large frying pan over a low to medium-low heat. Add the 1 /2 tbs of olive oil

followed by onion and reduce heat to low. Season with salt and pepper and cook,

stirring occasionally 15-20 minutes, until the onions are golden brown.

Remove onions from the pan and return the pan to the heat. Add baby spinach and

cook until wilted. Remove baby spinach from the pan and leave to cool.

Increase heat to medium/high and return pan to the heat. Add remaining olive oil and

place mushrooms, top side down. Cook until lightly golden (about 5 minutes) before

turning over and cooking for 5 minutes more or until golden.

Remove from heat, and drain on paper towel top side up as they will release a lot of

liquid as they cool. Transfer onions, spinach and mushrooms to the refrigerator and

cool completely.

Preheat oven to 390. Place a sheet of baking paper on the baking tray and then place

puff pastry sheet on top. Spread half the caramelized onions over the middle third of

the pastry, making sure to leave an extra ¾ inch, border at the edge of the pastry. Top

with half of the baby spinach. Spread Dijon mustard over the mushrooms and season

well with salt and pepper. Place mushrooms on top of the spinach. Top mushrooms

with thyme and the remaining baby spinach and onions.

Carefully roll pastry over the top of mushroom mixture until you have a log. Press down

to seal the edges. Roll over the log so that the seam is facing the bottom.

To make the vegan egg wash whisk all of ingredients together in a bowl. Lightly coat

with the vegan egg wash. Place the pastry in the freezer for 10 minutes before repeating

with another layer of vegan egg wash and freezing the pastry for a further 10 minutes.

Place pastry back on the baking sheet and tray and place in the oven for 30 to 35

minutes, or until golden and flakey.

30 WEST COAST WOMAN DECEMBER 2022
---
DENTAL

INSURANCE

Get the dental care you deserve.

If you've put off dental care, it's easy to get back on track. Call

Physicians Mutual Insurance Company now for inexpensive

dental insurance. Get help paying for the dental care you need.

Don't wait.

Helps cover

over 350

procedures

Preventive

care benefits

right away

Go to any

dentist, but save

more with one in

our network

No deductible,

no annual

maximum

Getting back to the dentist couldn't be easier!

CALL TODAY

1-855-637-6404

Dental50Plus.com/westcoast

Get your

FREE

Information Kit

Product not available in all states. Includes the Participating (in GA: Designated) Providers and Preventive Benefits Rider. Acceptance guaranteed for one

insurance policy/certificate of this type. Contact us for complete details about this insurance solicitation. This specific offer is not available in CO, NY; call

1-800-969-4781 or respond for similar offer. Certificate C250A (ID: C250E; PA: C250Q); Insurance Policy P150 (GA: P150GA; NY: P150NY; OK: P150OK; TN: P150TN).

Rider kinds: B438, B439 (GA: B439B).

6208-0721

DECEMBER 2022 WEST COAST WOMAN 31
---
32 WEST COAST WOMAN DECEMBER 2022