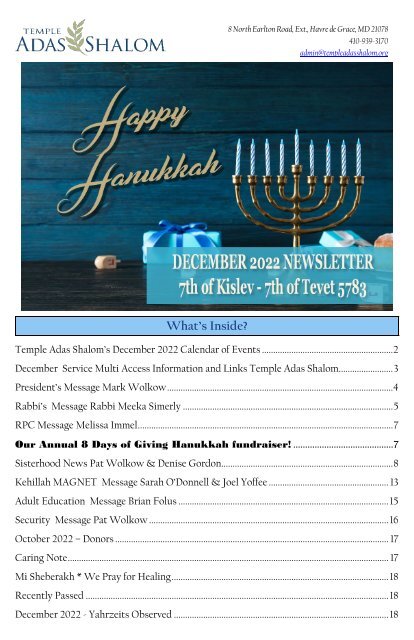 Create successful ePaper yourself
Turn your PDF publications into a flip-book with our unique Google optimized e-Paper software.
8 North Earlton Road, Ext., Havre de Grace, MD 21078

410-939-3170

admin@templeadasshalom.org

What's Inside?

Temple Adas Shalom's December 2022 Calendar of Events .......................................................... 2

December Service Multi Access Information and Links Temple Adas Shalom ........................ 3

President's Message Mark Wolkow ....................................................................................................4

Rabbi's Message Rabbi Meeka Simerly ............................................................................................. 5

RPC Message Melissa Immel ................................................................................................................. 7

Our Annual 8 Days of Giving Hanukkah fundraiser! .......................................... 7

Sisterhood News Pat Wolkow & Denise Gordon............................................................................ 8

Kehillah MAGNET Message Sarah O'Donnell & Joel Yoffee ..................................................... 13

Adult Education Message Brian Folus ............................................................................................. 15

Security Message Pat Wolkow .......................................................................................................... 16

October 2022 – Donors ......................................................................................................................... 17

Caring Note .............................................................................................................................................. 17

Mi Sheberakh * We Pray for Healing ................................................................................................ 18

Recently Passed ...................................................................................................................................... 18

December 2022 - Yahrzeits Observed ............................................................................................... 18
---
Temple Adas Shalom's December 2022

2 | P age
---
December Service Multi Access Information

and Links

3 | P age

FRIDAY NIGHT SHABBAT SERVICE

Friday, December 2nd

Live Streaming starts at 6:45 pm; In-Person service starts at 7:00 pm

https://zoom.us/j/85758681892 * Meeting ID: 857 5868 1892

Password: Shabbat22

FRIDAY NIGHT SHABBAT SERVICE

Friday, December 9th

Live Streaming starts at 6:45 pm; In-Person service starts at 7:00 pm

https://zoom.us/j/85758681892 * Meeting ID: 857 5868 1892

Password: Shabbat22

FRIDAY NIGHT SHABBAT SERVICE

Friday, December 16th

Live Streaming starts at 6:45 pm; In-Person service starts at 7:00 pm

https://zoom.us/j/85758681892 * Meeting ID: 857 5868 1892

Password: Shabbat22

HANUKKAH 8 DAYS OF CANDLE LIGHTING

Sunday, December 18 th – Sunday, December 25th

Live Streaming starts at 6:30 pm; In-Person service starts at 6:45 pm

https://zoom.us/j/85758681892 * Meeting ID: 857 5868 1892

Password: Shabbat22

FRIDAY NIGHT SHABBAT SERVICE

Friday, December 23rd

Live Streaming starts at 6:45 pm; In-Person service starts at 7:00 pm

https://zoom.us/j/85758681892 * Meeting ID: 857 5868 1892

Password: Shabbat22

DO YOU KNOW? SECURITY FEATURES

Monday, December 19th

Live Streaming starts at 7:30 pm; In-Person session starts at 7:30pm

https://zoom.us/j/89045106405 * Meeting ID: 890 4510 6405

Password: 603082

DAVEN & DINE SERVICE

Friday, December 30th

Live Streaming starts at 5:30 pm; In-Person service starts at 615pm

https://zoom.us/j/85758681892 * Meeting ID: 857 5868 1892

Password: Shabbat22

Did you miss a Shabbat? Visit our Virtual Experience page to view our recording archive.
---
President's Message

Mark Wolkow

Hanukkah in Havre de Grace

What a whirlwind of activities at the Shul. A New financial system; babies

being born right and left; Rabbi Meeka getting to know members, friends,

neighbors (and their pets), and public officials; a new Communication

Team; a new Philanthropy team; a soon-to-be new Investment Committee; a

leadership group formed to re-start a Men's Club; half a dozen new member

families; a growing Religious School; an Early Learning Center at virtual

capacity; and Hanukkah (and the 8 Days of Giving) right around the corner.

And much more, if you happened to catch the congregational meeting.

If you haven't been around the Temple lately; and if you've been just a little

too busy; or too caught up in daily life to browse the monthly newsletter or

weekly bulletins … take a quick peek. You might find Shabbat services with

music that will get you moving; book discussions, films, and a wide variety

of adult learning opportunities; social events for folks aged (roughly) 5

through 95; and about 25 children ages 0-5… with more on the way.

And you will definitely find a caring community… helping one another when

we are sick or injured; checking up on one another when we are down and

celebrating our individual and group successes.

How can you be a part of all this? One: Pick up the phone and call a Temple

Board Member, a Temple friend, or the Rabbi, and just say you'd like to get

involved. We'll figure out together where it makes sense to plug in. Two:

look closely at your Annual Pledge and consider what it will mean to our

community by going up to the next level, regardless of your current

contribution. What a difference each of us can make. Happy Hanukkah!

Shalom,

Mark

Temple Adas Shalom President

4 | P age
---
Rabbi's Message

Rabbi Meeka Simerly

May we continue to Be, and say our Blessings, Daily

If you look carefully on page 33 in our Siddur, Mishkan Tefila, you'll find in

tiny letters a wonderful short explanation about a great concept. Rabbi

Samuel E Karff (Z"L) wrote: "Why is it important to pause and count our

blessings? Because of the human temptations to pray only prayers of asking

for something at those times when we are aware of the pain and the

unfulfilled yearnings in our life. We can only begin to accept all of life, and

affirm that life is worth its price if we lift to consciousness all the good in our

lives."

Throughout the entire Siddur there are numerous prayers and blessings that

help us connect deeply with God's "godliness," through the mindset of

gratefulness and gratitude. Blessings that acknowledge our gratitude for our

bodies, and our souls' return first thing in the morning (p. 32-40); Psalms of

gratitude (pp. 50-55); blessings of gratitude to God for creating our world

with Light and Darkness as its constants; blessings to God for seeing to our

national and personal deliverance from slavery in Mitzrayim, narrow places,

to freedom and wellbeing (pp. 70-73), and so on.

But the Thanksgiving Holiday that we just had, allows us to truly focus on

our families, friends, and the abundance of food we enjoy, each in our own

special and unique unit: whether with friends, our spouse, our pets, our

larger families or community setting, and the list goes on.

What would happen if we could all each implement an "attitude of

gratitude" and turn it into daily practice? This practice does not require us

to spend an hour each day reviewing the goodness in our lives. We don't

have to sing, read out loud, or even share our innermost private thoughts. It

is so easy to do: we can simply pause for a moment, every day, at some point,

inhale deeply and review in our minds the blessings in our lives. And again,

each of us is so unique, and our life is experienced through our own unique

filters. And if we are ever "stuck," and aren't able to remember what we can

be thankful for – our magnificent Siddur, Mishkan Tefila, can help us with a

multitude of ways and reasons to feel grateful.

5 | P age
---
Allow me to end here with a beautiful poem that captures some of the many

reasons for gratitude, each day. And, we don't really have to wait for next

year's Thanksgiving to read and appreciate it:

A Thanksgiving Prayer, by Rabbi Naomi Levy

For the laughter of the children,

For my own life breath,

For the abundance of food on this table,

For the ones who prepared this sumptuous feast,

For the roof over our heads,

The clothes on our backs,

For our health,

And our wealth of blessings,

For this opportunity to celebrate with family and friends,

For the freedom to pray these words

Without fear,

In any language,

In any faith,

In this great country,

Whose landscape is as vast and beautiful as her inhabitants.

Thank You, God, for giving us all these. Amen.

(From Talking to God: Personal Prayers for Times of Joy, Sadness, Struggle, and

Celebration)

With love and appreciation,

Rabbi Meeka

6 | P age
---
RPC Message

Melissa Immel

Happy Chanukah from the Religious Practices Committee!

Chanukah is coming, and the latkes are frying! The RPC will be

sponsoring a 'Vodka & Latkes' oneg, following our Friday night service

on December 23rd. No RSVP is required! Come to worship at 7pm, and

stay for an enhanced oneg with fun, food, music, and cocktails! Maybe

even a door prize or two! You won't want to miss it!

Mazel Tov to Michele and Mike Mullis on their son Seth becoming a Bar

Mitzvah. All congregants are invited to attend services on December

16th and 17th to help celebrate this milestone event! Please join the

congregation in welcoming Seth into our community as a Jewish adult.

We finish the month with a 'Daven & Dine' service on December 30th,

which begins at 6:15 pm, ends at 7:00 pm, and is followed by dinner out

with friends and family!

B'Shalom,

Melissa Immel

RPC Chair

Our Annual 8 Days of Giving Hanukkah fundraiser!

Help us end the year in the black - all donations will be matched dollar

for dollar up to $10,000 by a generous donor. Let's make sure we take

advantage of this opportunity! And an added bonus - All donors of

$1000 or more during the fundraiser will be invited to a dinner

with the Rabbi Meeka!

More information to follow.

7 | P age
---
Sisterhood News

Pat Wolkow & Denise Gordon

NEWS:

It was a dark and rainy night... and Wow! What a turnout for the Sisterhood Paid Up

Dinner!!! We met at Lin's Hibachi Grill for one of the best get-togethers in a long time! We

sat around the Hibachi Grill, sipping miso soup, and watched the Chef work his knife magic

on our dinners. The food was great and the company even better. We were happy to meet

new Sisters and Sisters that only occasionally come to our meetings. Also, a big thank you

to Rabbi Meeka for joining us. It was a wonderful opportunity to get to know her better. A

HUGE thank you to Pat Wolkow for organizing this.

EVENTS:

All our Sisterhood dates have been posted on the Temple Calendar and appear in bright

pink.

Our next big holiday is Hanukkah, and we are planning big things, and big things need lots

of help, so, here goes: the Gift Shop has scheduled its annual Hanukkah sale for the religious

school. They are full of wonderful potential Hanukkah gifts, decorations, cards, and Judaica

of all sorts. The first day of the Hanukkah sale is Sunday, Dec. 4th and 11th at 9:15 am.

We need lots of help setting up the tables in the Social Hall, helping the students shop, and

taking down the tables afterward. It is always fun to see how excited the kids are and well

worth a few hours of your time. Call Denise Gordon for more information and volunteer on

Sign-up Genius - https://www.signupgenius.com/go/10C0E49A8A92CAAFFC16-hanukkah

On December 11th is the Sisterhood Hanukkah party, which is always fun. See our flyer

in this NL.

December 18 will be the first night to light the Hanukkah candles. Think of your family and

friends as we celebrate this holiday.

Jan. 22nd /12:30 pm – Community Reach-out Event – Girl Scout Gold Award/Women's

Issues Project.

Sisterhood Cards Are Back!

Sisterhood is bringing back the Sisterhood greeting cards. Sisterhood will send out a

greeting card to anyone for virtually anything - Simchas or Sorrows, sisterhood has you covered.

Let Pam know at samuelmeyer@comcast.netor by mail at 17 N Earlton Rd Ext, Havre de Grace

MD 21078, with the occasion, the individual's name and address, and your card will be processed.

The price is only $5.00 a card, and you can either pay by each card or ask to run an annual

account through Sisterhood for billing. Your caring will be reinforced by a mention in the HJC

monthly bulletin. If you are forgetful, you can even write out an annual list of birthdays,

anniversaries, yahrzeits, and your cards will be sent out in a timely fashion. Imagine- helping

your sisterhood and getting your cards out timely at once!

We are BUSY, but not too busy to chat with you! Please email us at: Sisterhood@templeadasshalom.org

MEMBERSHIP:

Dues are $42 and $36 for new members. Pay via check, made out to TAS Sisterhood and

mailed to Denise Gordon or via PayPal (using Family & Friends) to: "Ladies Auxiliary Harford

Jewish CTR."

We are members of WRJ; check out the regional activities they offer:

https://wrj.org/our-community/wrj-districts/mid-atlantic

GIFT SHOP - Denise & Pat - giftshop@templeadasshalom.org

Dates Open | Sunday – December 4th, December 11th , December 18 th |

Friday's - After Services: By request.

8 | P age
---
9 | P age
---
10 | P age
---
11 | P age
---
12 | P age
---
Kehillah MAGNET Message

Sarah O'Donnell & Joel Yoffee

Thank you to everyone who has helped to make the beginning of this

school year a major success!

Kehillah MAGNET continues to grow! If you have a child or know of a

family with children who would be interested in knowing more about

their Jewish heritage, Kehillah MAGNET might be the learning

environment for them! Contact our principal, Sarah O'Donnell, at

principal@templeadasshalom.org to discuss upcoming events and visit our

school.

FAMILY-FRIENDLY EVENTS & INFORMATION:

FAMILY SHABBAT SERVICE: Each month, Rabbi Meeka and

Mike Mullis, choir director and music teacher, lead one Friday

night service that is designed with families in mind. Family

Shabbat nights begin at 5:30 pm with a child-friendly meal, and the

service runs from 6:15 – 7:00 pm. Meals cost $5 per person or $15 for

member families who RSVP through their ShulCloud Account.

Attending Family Shabbat is a great way to enjoy the company of

friends, relax after a long week, and provide further understanding

of Hebrew learning! Our next Family Shabbat Dinner and Service

will be on Friday, January 20, 2023. All are welcome!

TOT SHIRA: Each month, Kehillah MAGNET welcomes families with

children 5 and under to attend the Pre-K/K music class at our religious

school. "Tot Shira" is a wonderful way to introduce little ones to our

dedicated teachers and fantastic students. Our upcoming Tot Shira will

be held at the synagogue on Sunday, December 11, from 11:15 to 11:45 am.

Sisterhood Hanukkah Gift Shop: Sunday, December 4 and Sunday,

December 11 (during religious school)

Hanukkah Dinner: Sunday, December 18, 2022 (5:30 -7:00 pm)

We can't wait to see you there!

Joel Yoffee, Kehillah MAGNET Religious School Committee Chair

Sarah O'Donnell, Kehillah MAGNET Principal

13 | P age
---
14 | P age
---
Adult Education Message

Brian Folus

Shalom Fellow Congregants,

We would like to congratulate Mrs. Roz Spergel, for leading an excellent pre

and post first Film Night Discussion. The movie "Saved by Deportation" was

well received by the members who joined us at Temple. We hope more

members will join us in the future for our Film Nights at TAS.

We have slightly revised our offerings to mostly one event each month either on

Zoom or in person at the Temple. Starting off January 21 at 10:00 am on Zoom,

we will have our next Book Discussion. The book is Unorthodox and the

discussion will be led by Roz Spergel. Unorthodox: The Scandalous Rejection

of My Hasidic Roots is a 2012 memoir by Deborah Feldman. In the book, she

documents her life in an ultra-religious Jewish community in Brooklyn, New

York. The Netflix miniseries Unorthodox is loosely based on the book.

Then on February 21 at noon, also on Zoom will be our first Lunch & Learn of

2023, topic and speaker to be determined soon. In March, in preparation for

Passover, we are hoping to offer our first evening presentation Dessert &

Discuss with Diana Wolkow who will share her baking skills showing us how

to make some tasty Pesach desserts. We will post last year's video to put you in

the mood for this event. April 22 will be our next in-person event with an

Adult Ed. Film Night. The film title to be announced soon.

We truly hope you will join us for these upcoming events and send us

suggestions and requests for topics or movies or programs you would like the

Adult Ed. Committee to provide for you.

As always feel free to sit in on a meeting, just click on the link in the Shul Cloud

Calendar.

Looking forward to hearing from you!

Happy Hannukah to all!

Shalom,

Brian Folus

Adult Education Chair

15 | P age
---
Security Message

Pat Wolkow

Upcoming Security Activities:

• Evacuation walkthrough Postponed until January

• "Did You Know?" - a short virtual program, along with security

updates, done the THIRD Monday of each month from my

home (you are welcome to come by, and it will be Zoomed as

well!) https://zoom.us/j/89045106405

The next session will take place December 19th at 7:30 pm.

LOOK for a very short security survey coming to you soon – ONE

Question!

We have provided some basic information and specific safety & security

procedures in the sanctuary prayer book racks. Please review them

regularly.

We are looking for additional help on our team to fine-tune policy and

procedures as well as carry our new initiatives on the drawing board.

Meetings are mostly via Zoom!

SEE SOMETHING? SAY SOMETHING! SO, WE CAN DO

SOMETHING!

security@templeadasshalom.org

16 | P age
---
October 2022 – Donors

Kevin & Lisa Bress

Julie Sang

BUILDING FUND

Jill & Brian Schorr

Elise & Michael Woods

BUILDING FUND L'DOR V'DOR

Melissa Immel

Rayna & David Richardson

Andrew & Marianne Fridberg

Mark & Patricia Wolkow

Linda & Stuart Needel

Brett & Deborah Temple

Jill & Daniel Young

Ellen & Ken Farkas

Andrew & Marianne Fridberg

Jayne Klein

Jayne Klein

Jayne Klein

Mark & Barbara Schirloff

Mark & Patricia Wolkow

Mark & Patricia Wolkow

Harvey & Marion Yurow

Harvey & Marion Yurow

Harvey & Marion Yurow

Linda Bernsohn

Anna Darargeh

Ellen & Ken Farkas

BOOK OF REMEMBERANCE

Paula Mullis

Linda Samuels

HJC GENERAL FUND

in memory of Lawrence Kravitz

in memory of Shirley Zion

in memory of Kurt Zion

in honor of Darien's birthday

In memory of Kathyln Getz

In memory of Stanley Getz

in memory of Esther Finkelstein

in memory of Anne Maxwell

in memory of Aaron Kaplan

HIGH HOLIDAY DONATIONS

Joanne Kassimir & Andrew Goldberg

Alfred Mendelsohn & Nancy Goldberg

KEHILLAH MAGNET RELIGIOUS SCHOOL FUND

Jessica & Daniel Hurst

Sarah & Niall O'Donnell

Brett & Deborah Temple

RABBIS DISCRETIONARY FUND

In appreciation of Rabbi Meeka for Nick and

Kristen's beautiful Aufruf.

Caring Note

Caring is about both the simchas and healing through support and community. Is there

a moment you would like to share, privately or publicly?

We want to be there for you so please let us know. Email caring@templeadasshalom.org

17 | P age
---
Mi Sheberakh * We Pray for Healing

Annette Dirlam

Barbara Chancey

Fred Belkin

Gerry Murphy

Glen McCain

Gloria Joslin

Harriet Colman

Jordan Rice

Marsha Robinson

Natalie Litofsky

Philip Chancey

Recently Passed

Michael Clancy

Beloved husband of Janet Clancy, stepfather to Robin & Mark Way, grandfather to Melissa Way and Mathew Way.

Elizabeth Oberdorfer Meyer

Beloved mother of Samuel Meyer, mother-in-law to Pam Gwaltney, and grandmother to Michael Meyer.

December 2022 - Yahrzeits Observed

Irving Shur Dec-02 Wendy Ann Zion Dec-20

Benjamin Hirsch Dec-04 Joseph Braverman Dec-20

Morris Weinstein Dec-04 Howard Levy Dec-21

Clara Schneck Dec-05 Joanne Levine Dec-21

Dr. Anthony Ruffino Dec-05 Irving Albert Passe Dec-22

Cheryl Miller Shimp Dec-06 Dr. David Rosenblatt Dec-22

Jacob Feinberg Dec-07 Gladys Ertwine Dec-23

Morris Apple Dec-07 Michael Spring Dec-23

Lillian Ribyat Braverman Dec-07 Sylvia Hoffman Dec-24

Katherine Hamburger Dec-09 Marlene Minkoff Dec-24

Selma Weinstein Dec-09 Miriam Sandow Dec-25

Irwin Goldstein Dec-09 Helen Ross Dec-25

Joseph Oliner Dec-10 Miriam Cogan Dec-25

Marcia Scheiner Dec-10 Daniel Schwartz Dec-26

Randy Bress Dec-11 Daniel Newman Dec-27

Lucille Josephs Cohen Dec-11 David Ford Dec-27

Melvin Chayt Dec-11 Joseph Smuckler Dec-28

Gerald Litwak Dec-13 Patty Brill Dec-28

Joseph Laskowski Dec-13 Bill Irgang Dec-28

Yetta Belitzky Dec-13 John Larry Baer Dec-29

Robert Samuel Halprin Dec-14 Beatrice Shuman Sadowsky Dec-29

Kate Getz Dec-14 Etta Alk Dec-29

Adolph Nord Dec-15 Dr. John D. Rosin Dec-30

Nathan Sachs Dec-16 William Keene Dec-30

Toby Needel Dec-16 Michael Goldstein Dec-30

Leon "Lee" Greene Dec-16 Siegel Solomon Dec-30

Aaron Baumgarten Dec-17 Barry Gomborov Dec-31

18 | P age
---
19 | P age
---
20 | P age