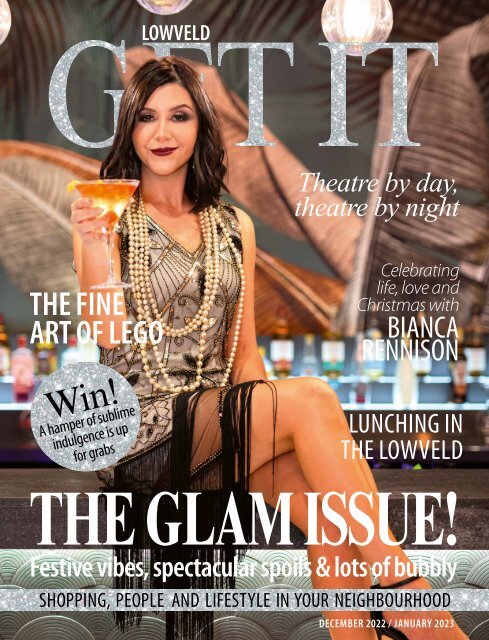 Dec 22 Lowveld
It's the festive season, and the GLAM issue!
It's the festive season, and the GLAM issue!
SHOW MORE
SHOW LESS
Create successful ePaper yourself
Turn your PDF publications into a flip-book with our unique Google optimized e-Paper software.
Theatre by day,

theatre by night

The fine

art of LEGO

Win!

A hamper of sublime

indulgence is up

for grabs

Celebrating

life, love and

Christmas with

Bianca

Rennison

Lunching in

the Lowveld

The Glam Issue!

Festive vibes, spectacular spoils & lots of bubbly

SHOPPING, PEOPLE AND LIFESTYLE IN YOUR NEIGHBOURHOOD

december 2022 / january 2023
---
contents

GET IT Why don't you ...

Editorial

Phone 013 754 1600

Lowveld Media

12 Stinkhout Crescent, Mbombela

Facebook Get It Lowveld

Instagram Get It Lowveld

Website getitmagazine.co.za/lowveld/

Editor

Mellissa Bushby

mellissa@getitlowveld.co.za 084 319 2101

Photographers

Tanya Erasmus 083 778 7725

Belinda Erasmus 082 567 0596

Layout

Wessel Cöhrs

Subeditors

Jess Steyn • Wahl Lessing

Sales

Colletha Noppé Rattray

colletha@lowvelder.co.za 082 745 2387

Charledene Kotze

charledene@lowvelder.co.za 079 403 8049

GET IT NATIONAL

National Group Editor and

National Sales

Kym Argo

kyma@caxton.co.za 082 785 9230

Facebook and Instagram:

Get It National Magazines

Distribution

Get It Lowveld is distributed free of charge.

For a full list of where to find a copy,

phone Monya Burger on 083 555 4992

Published by CTP Limited

Competition rules

The judges' decision is final. Prizes cannot be

transferred or redeemed for cash. Competitions

are not open to the sponsors or Caxton

employees or their families. Get It Magazine

reserves the right to publish the names of

winners, who will be contacted telephonically

and need to collect their prizes from Get It

Lowveld within 10 days or they will be forfeited.

Prizewinners names are published on our

Facebook page monthly.

04 Get lost in a good book, give a foodie friend the perfect gift,

or celebrate the season of joy with Vin de Joie wine

WISH LIST

06 The excitement is real. From glam scent to scrummy bubbly and

everything in between, we are in a festive mood!

SOCIALS

08 Timelessly stylish with the Weylandts Summer Collection

09 Going walkies for charity

09 Prost! Having a blast at this year's Oktoberfest

people

10 Bianca Rennison chats to us about Christmas, being

a mum, and spending time with yourself

14 Theatre lights by day, theatre lights by night with

Andries du Preez

16 Elizabeth Tristram explains why she believes

art is life

BEAUTY

18 Red lips and shimmering highlights and slides that switch

from plain to party ... it's all frosting on the festive cake

FOOD

24 It's the season to eat, drink and be very, very merry! Indulge

in delish local fare and celebrate friends and family

Win

06 A case of sublime L'Ormarins Brut Classique Rosé NV,

perfect for toasting the festive season

32 A marvellous celebration of all things sweet with a

hatbox hamper of Sally Williams treats

COVER LOOK

Bianca Rennison.

Make-up: Elsabé Steyn - Elsabé Steyn Styling Studio.

Photographer: Tanya Erasmus - Something Timeless Photography.

Venue: Bel Ombre Restaurant, Mbombela.

dec 2022 / jan 2023

Dec 2022 / Jan 2023 Get It Lowveld 03
---
Book club

Books for the hols, gifts for foodie friends, Vin de Joie wine ... it's the season of joy.

La Motte's

Vin de Joie 2022 Rosé

is a salmon pink wine ... all melon

and grapefruit, nectarine and hint

of sweet candyfloss. Drink it with

a simple salad, charcuterie,

salmon or crayfish. R99 from

your local wine boutique or

online from la-motte.com

Would you think of taking left over lemon rind, baking at high heat until dry and

charred, then grinding what are, to be completely honest here, the now shrivelled

pieces of burnt rind, and using as a condiment with sweet and savoury dishes?

Nope. Us neither. But we're not Yotam (obvs). In Ottolenghi Test Kitchen – Extra

Good Things, it's suggested Ottolenghify should be a verb ('I Ottolenghified my

roasted aubergine with some feta') … and this sensationally delicious book is just

full of twists, flavour surprises, and flair. We're going to Ottolenghify our foodie

friends' Christmas with copies of this, with best wishes for a year full of sauces,

sprinkles, pickles and flavour. Ebury Press, R595

Ottolenghi and Prue ... happy days

We've all got that one friend. The one who loves food, but is a disaster in the

kitchen. And Yotam Ottolenghi may say "There's an art to making toast, and Prue

Leith knows it.'' But ... it's toast. And Prue says the recipes in Bliss On Toast are easy,

and most home cooks will be able to make them. The collection was compiled by

Prue to celebrate her 30-odd year habit of eating something on toast on Sunday

nights in front of the telly - like the rest of us, yes? But while we're making avo and

tomato toast and pâté on crisp bread (both of which are in the book, Prue's no

snob), she ups the game a little. Think duck egg with rainbow chard and Dijon

butter, or figs with blue cheese, thyme and honey. Her beans on toast may use a

can of white cannellini beans and store-bought white bread, but there's chorizo

and smoked paprika and softened cherry tomatoes. For keen cooks, there's also

a chapter with recipes to make sauces and breads from scratch. There are sweet

options ... like fried Christmas pudding, brandy cream and blackberries, and

because Christmas means leftovers ... we'll be making her bubble and squeak with

hollandaise on Boxing Day. Bloomsbury Publishing, R362

04 Get It Lowveld Dec 2022 / Jan 2023
---
A few of our holiday reads ...

Whatever your taste in holiday reads, there's a wonderful selection this month.

We've put these aside to take with us these hols. Santa Montefiore's Flappy

Investigates is light and rather silly, so perfect for a day on the lounger. All

snobbery and gossip, ardent admirers and parties and small village life. Simon and

Schuster • The Boy in the Striped Pyjamas broke our hearts. And we've a feeling John

Boyne's just released All The Broken Places is going to do it again. It's the story

of Gretel, sister of Bruno (the protagonist in the first novel), who was 12 when her

brother disappeared, and is now 91, living in London and who has, when a young

family move into the apartment below hers, the chance to expiate her guilt, grief

and remorse and act to save a young boy. Certainly not an easy holiday read, but

quite possibly the one we're looking forward to the most. Penguin, an Exclusive

Books Festive Favourites read • An Angel's Demise is Sue Nyathi's epic saga of love,

war, bloody massacre and betrayal, as well as the cruel caprice of politics, genderbased

violence and what happens when ordinary people get caught up in lies.

Pan Macmillan • It's 1561 and when sixteen-year-old Lucrezia, Duchess of Ferrara,

is taken to a country villa by her husband, it occurs to her that he's taken her there

to kill her. Maggie O'Farrell's The Marriage Portrait shows the beauty and brutality

of Renaissance Italy, and of a young woman whose proximity to power places

her in mortal danger. Tinder Press • Jodi Picoult. A proper holiday read, since once

you start you struggle to put her books down. In Mad Honey, she co-authors

with Jennifer Finney Boylan, the two alternating chapters in this book that doesn't

shy away from difficult subjects, exploring identity and self-acceptance, abuse

and toxic relationships, domestic violence and trust. Hodder and Stoughton,

an Exclusive Books Festive Favourites read • When Tanz discovers the voices she

hears in her head are not, actually, her imagination working overtime, but rather

messages from beyond the grave, a whole new way of life opens for her. And

not a moment too soon, since all has not gone according to plan on the career

side. Tracy Whitwell's The Accidental Medium is perfect for beach or long plane

journey. Macmillan • And what, we ask, would a holiday be without a thriller?

Peter James' Picture You Dead is a Detective Superintendent Roy Grace novel

... in which he's plunged into the unfamiliar world of fine art - a world which

appears to be respectable, gentlemanly and above reproach, but which in fact is

all greed, deception and violence. Macmillan

Traditional

CHRISTMAS

BUFFET AT THE ARENA

with live entertainment

25 DEC 2022

12H00 TO 16H00

Enjoy a scrumptious

traditional Christmas

buffet with family

and friends

ONLY R350 PP

PP

PENSIONERS R250

CHILDREN U/12 R175 PP

Bookings and

pre-payments essential

Emnotweni.Arena@tsogosun.com

013 757 4455

Compiled by: KYM ARGO

www. emnotweni.co.za
---
Wish list

The excitement is real!

Designed in France, made in Brazil ...

these Cacatoès sandals are made

from recycled PVC, have a candy

scent and come in amazing designs

and shades. We, obviously, are

wearing the gold ones all season,

from beach to cocktail party to

dinner. R840 from stylista-brands.co.za

06 Get It Lowveld Dec 2022 / Jan 2023

There's no debate about what we're

(very gently) popping open this

December. We're celebrating with this

L'Ormarins Brut Classique Rosé

NV ... coral pink, with a vigorous

stream of fine bubbles, it's all

bold strawberry, red berry fruit

and cherry, with hints of fresh,

zesty lemon and citrus for a

zip of acidity. Exactly what

we want when we're toasting

the festive season, best

friends, a new year. You'll

find it for R180 a bottle on

shop.rupertwines.com.

And we're about to make

someone's festive season

jolly special indeed. Pop over

to @getitnationalmagazines

on Instagram or Facebook

where you'll find out how to

win a case for Christmas.

Carolina Herrera's CH ... elegant and

glamorous, R1 775 from Woolworths
---
These beautiful, large,

custom handmade wooden

Christmas plaques by

Anlea Custom Creations

are available in different

sizes and designs. Prices

on request - depending

on size. Contact

060 333 6406

Three-and-a-half metre long

gold foil star garland. R120

from mustloveparty.co.za

Pop under the tree, or use on the

table for a wonderfully luxurious

setting ... these Cape Island

Christmas crackers have a

choice of a mini scented candle,

a mini diffuser, a hand cream or

a sanitiser. All festively scented

with cinnamon and clove,

caramel and vanilla, they're ecofriendly

and luxurious. From R200

from capeisland.co.za

N E W STO R E

Now open!!!

Shop LG 13, i'langa Mall,

Corner Betterbessie &

Flamboyant Street, Nelspruit.
---
Mapule Molehele and Alsi Modiga

Thando Moyo and Marnie Pieterse

Judith and Wes Mommsen

Timelessly stylish

The recent launch of the Weylandts New Summer Collection in

Mbombela was an extension of the elegance and avant-gard chic we

have come to know and love from this iconic brand.

Wanda Zonke

Johan and Markie Shultz

Nicholas Els and Ansje Serfontein

Marvelous Moyo

08 Get It Lowveld Dec 2022 / Jan 2023
---
Going walkies

A pawsomely good time was recently had by all at the

Absolute Pets Walk for Paws fun walk at Friends Café in

Mbombela to raise funds for the SPCA.

Stolla Tocknell, Henri Gouws and Coco Monica Fourie and Rex Zante, Pierre and Lego Botes

Prost!

This year's Oktoberfest, held at

Mbombela Stadium, was a roaring

success with amazing beer, great food

and an awesome atmosphere.

Natalie and Jurie Grobler Sousaphonics Oompah Band Naranda and Christo Leeuwner
---
Bianca Rennison
---
SPARKLE

& SHINE

The mum of two Bianca Rennison spent her formative

years in the picturesque little town of Sabie, revelling in

the idyllic laid-back lifestyle that comes from village life.

Nowadays Bianca calls Mbombela

home, and she is quick to say she

absolutely loves it. After having

worked in recruitment for a few years,

she currently works as an executive

assistant.

Keeping busy is clearly her thing;

she has just completed her NQF4

and has also recently completed a

microblading course, which she says is

something she has always wanted to

do. And if that's not enough, keeping

fit and healthy are also high on Bianca's

list of priorities, and she tries to fit in

three to four gym sessions a week.

Growing up, she always thought that

someday she would study law, get

her degree and specialise in family

law. "I am passionate about youth

empowerment, and I love working

with children," she says. "Giving back my

time to make a difference is something

that is very important to me." She adds

that she also enjoys being around

people, and being part of a team. With

the festive season upon us, Bianca is

looking forward to indulging her love

of family time, spending the holiday

Text: MELLISSA BUSHBY. Photographer: TANYA ERASMUS

Bianca with her husband, Richard
---
Bianca, Melinda Cloete, Karen Marais, Savannah Nel and Keshia Nicole

at home with all the family members

together. "On Christmas Eve, we start

prepping the food, and at 12pm we

wake the kids up and start exchanging

gifts and giving thanks for another

year together. Then, on Christmas Day,

we do a big brunch. We also always

go for a festive drive around the town,

and then end the day with a good old

classic Christmas movie," she smiles.

As a highly motivated and driven

individual, Bianca laughingly says that

she is constantly challenging herself to

be a better person, making a positive

change wherever she goes. "I strive

to laugh often and win the respect of

intelligent people and the affection of

children. I always look for the best in

others, and hope to leave the world

a little better for having been in it,

whether it's by means of a healthy,

happy child or a thriving garden patch.

'I strive to laugh

often and win the

respect of intelligent

people and the

affection of children'

To know that even one person has

breathed easier because of something

I have done, is what drives me the

most," she says. Bianca is involved in

a charity organisation called Arms of

Hope, in collaboration with Pro Gratia

School, which she hopes will someday

be successful enough to be able to

branch out to other provinces as well

as Mpumalanga.

Bianca's love for children is obvious in

the way she relates to her own 10-yearold

Charmonique and three-year-old

Levi. She lovingly describes their antics,

saying that Levi is a typical little boy

who loves playing outside. "He takes

after his grandfather, always trying to

help him fix his cars! Charmonique, on

the other hand, is a total girly girl. She

loves to dance, do gymnastics, and

when she thinks no one is around, is a

total drama queen!"

Charmonique has the perfect role

model when it comes to dressing

up. Bianca recently took part in the

Mrs Globe South Africa pageant, and

loved every single moment of it. She

explains that she never viewed it as a

competition, but rather as a learning

experience, one she will never forget.

"There are a million reasons why

you should enter a pageant like this,"

she says. "During my journey I have

built up self-confidence and forged

new friendships. I have found that

opportunities open up once you have

a platform, and you discover why

you have a voice and are given that

platform to make a difference."

Bianca adds that there are so

many things you learn, not only

about yourself, but also about

communication and leadership skills,

and how to participate in interviews

Little Levi

12 Get It Lowveld Dec 2022 / Jan 2023
---
Bianca with her daughter, Charmonique

and discussions with confidence. "And the all-important

poise! I see pageantry as a doorway for those who want

to give back, to learn more about themselves, but also to

be in the limelight." She is quick to add that as women,

we so often unfairly put ourselves down, sometimes

without even realising it. "For example, when someone

says, 'Wow, that's a beautiful dress!' how often do we

say, 'What, this old thing?' instead of graciously smiling

and accepting the compliment? We need to build one

another up and make ourselves and others feel good

about who we are."

While staying on her toes is important for this young

mum, she admits that finding a balance between

home, work and herself can be tricky. Though she says

it is never easy, she tries to prioritise her days to ensure

that she can attend to everyone's needs. "During the

day, work comes first," she says, "but the evenings and

weekends are all about slowing down and spending

time with my family. They are the most important thing

in my life." When at home, Bianca loves to do DIY, and

spending time on long nature walks in her home town

of Sabie with the kids and hubby Richard, reliving happy

memories, is a favourite pastime.

Bianca's ideal family getaway is Langebaan, where she

loves to lounge on the beach with the kids, without any

distractions from technology. While she loves travelling

- and laughs that she would be packed and ready

within five minutes given the chance - she also loves

the Lowveld, adding that we stay in one of the most

beautiful provinces in South Africa. "I love the small city

vibes, the friendly community, the mountains, the nature

that surrounds us … The Lowveld is very close to my

heart," she smiles.

Inspired by success stories, Bianca loves to watch

inspirational videos, especially those of Steve Jobs, and

she says that the best place to find peace is to travel

somewhere quiet. We have no doubt that with her

easy smile and gentle nature, she is well on her way to

creating a success story of her very own.
---
Text: MELLISSA BUSHBY

life

Star-studded

When it comes to festive (and other!) glam, medical

professional and patient liaison officer Andries du Preez

knows just how to sparkle.

Growing up on a farm in Kiepersol, life

was idyllic for Andries. His parents had

two trading posts, named Running

Waters and Nola, and Andries and his

little sister, Yolandi, spent their days

playing among the banana, litchi, avo,

macadamia and mango trees. "We

would freely help ourselves to fruits

and nuts, enjoying long, balmy days of

sunshine, swimming in the farm dam,

always cautious of the hippos and

crocodiles! Those were such carefree,

happy barefoot days, everything was

an adventure."

Andries completed his primary school

years at Numbi Primary, moving on

to Rob Ferreira High School in White

River, where he took part in a number

of revue and school operettas, fuelling

a lifelong passion for the stage. "Ever

since I can remember, it has been

my dream to perform under bright

lights. Just the thought of performing

each night for a different audience

excites and thrills me," says Andries, "the

costumes, rehearsals, make-up, the

props - now that is what dreams are

made of!"

Because singing, dancing and

modelling were not especially big in

the Lowveld, his mum would take him

to Witbank, Newcastle and Pretoria

for his training. Having a supportive

family and partner is tremendously

important to Andries. "My dad wasn't

overly keen on my chosen sports

activity," he says. "He was hoping for a

rugby or cricket player, and instead got

a son who enjoyed ballet, tap, acting

and modelling. He was, however, my

biggest supporter and critic when

14 Get It Lowveld Dec 2022 / Jan 2023

Andries du Preez

it came to the stage. Nothing was

ever too much for my parents; they

sacrificed so much for my training,

always making sure I got to auditions

and pageants on time and today I

proudly look back on a successful

career. My father sadly passed away a

few years ago due to lung cancer, but I

have a very understanding life partner

who does everything with me."

His father would certainly have

been exceptionally proud. Andries

represented South Africa at this year's

MMI/MWI (Magnificent Men Icon and

Magnificent Women Icon) pageant,

recently held in Cape Town, and

was crowned Mr MMI International.

"I was so disappointed when the

2020 pageant, meant to take place

in Las Vegas, was cancelled due to

Covid," says Andries. "The MMI/MWI/

PHENOMENAL pageant is a little

different from the norm," he explains.

"They do not look for the most

beautiful face or the most perfect

body - instead they look beyond the

outer facade. The pageant also has

a division for delegates with special

needs, defined as having a condition

that markedly restricts their ability

to function physically, mentally or

socially. So MMI gives everybody the

opportunity to compete. It's all about

having confidence in yourself. I was

very fortunate to be awarded the

South African title, serving not only

my community, but my country."

Having a theatre-by-day and

theatre-by-night persona is quite

a juggling act, but one at which

Andries is quite adept. As a medical

professional, he spends an average

of four to eight hours in a medical

theatre from Mondays to Fridays,

assisting specialists. At night he

loves nothing more than to attend

theatre productions. Being trained in

theatrical Broadway means Andries

has played leading roles in Burlesque,

High School Musical, Joseph and his

Amazing Technicolor Dreamcoat, and

The Song, to mention but a few. Apart

from performing locally, he also loves

supporting local talent, often making

himself available to present workshops,

teaching others the joy of performing.

Andries will soon be travelling overseas

to fulfil responsibilities associated

with his title, while still keeping

future plans firmly in mind. "Being a

healthcare worker means maintaining

a careful balance between career and

title-holder. Both have obligations

that need to be fulfilled and require

dedication," he says, adding that there

is still the importance of remembering

to spend time with loved ones and

family. "But most of all it's about

creating memories. This is a once-in-alifetime

opportunity." The carefree child

running through the orchards has

found his bright lights.

Revelling in the glitz and glam of the

stage, Andries brings delight to all

who wants a little magic in their life.

He mentions there are a few stage

productions making their way to South

Africa, and he might just decide to do

an audition or two. Someday he'd also

love to have his own playhouse. But

for now, there's no business like show

business.
---
Dec 2022 / Jan 2023 Get It Lowveld 15
---
Text: MELLISSA BUSHBY. Photographer: MIA LOUW

Elizabeth grew up in a family of

creatives, and art was an inevitable

destination for her. She started using

oils as early as 12, and soon knew

that all she wanted to study was art.

However, it took a serious health scare

in her late 20s for her to realise that

pursuing art as a business was the only

option for her.

"Creating was a huge part of my

childhood," Elizabeth says, "which

continued well after my graduation

from Rhodes University, where I

16 Get It Lowveld Dec 2022 / Jan 2023

Down to a

completed my master of arts degree.

However, I did not immediately start

painting as a career. I veered from

illustrator to instructional and graphic

designer, and in 2017, I realised, for

me, not painting was the equivalent of

being a starving artist - starving myself

of an extremely important part of my

life, that is. So in 2018, I made artist my

official job title."

Elizabeth's art style has always leant

towards realism, even when she

was painting in high school. During

A full-time painter and

printmaker, Elizabeth

Tristram, has a somewhat

extraordinary talent. She

creates hyperrealistic

artworks of objects that

are so lifelike, you feel as if

you can reach out and pick

them up.

lockdown, she started oil painting

again after almost six years of not

using the medium, and she had no

idea where to start. She eventually

decided that she would simply just

start. "I painted the first object I could

find - my paint tubes," she says. "Then

I painted the next object I could

find - my shoes. It escalated from

there, even including used Nespresso

pods at one stage! I realised just how

significant these seemingly mundane

objects were, especially when

everyone was trapped in their own

homes. These objects gained a lot

more importance and meaning for

people during the pandemic - they

were the stage props in our isolation."

Elizabeth's realism soon morphed

into one of 3D illusions and a

recognisable Trompe-l'œil style. At

her exhibitions, she would often see

people trying to reconcile what their

eyes and brain were telling them.

"This style developed after years of

observation and study. It was a style

change that felt rather sudden, but

was a direct result of my background

in colour and form," she says. Centred

predominantly around colour,

nostalgia and story-telling, Elizabeth's

work evokes memory in a style that

draws from realism and pop art.

The past five years have seen

her grow, both as an artist and a

businesswoman. She started her

art career as a watercolourist who

painted miniatures and food-themed

artwork, and has explored many more

mediums since then. She gained an

invaluable network of fellow artists,

art supporters and collectors in those

years. Her work has evolved into a

place where she is able to express her
---
Elizabeth Tristram

sense of humour and her personality

through a painting. Her career has

slowly become sustainable through

the sale of original artwork, the sale

of prints as well as her teaching

workshops in different mediums.

It's not all plain sailing, though. Some

of the challenges involved in creating

art for a living have been learning

to see it as a business. Elizabeth's

entrepreneurial background meant

that she could apply a lot of what

she already knew about running a

business to an art career. It was a

challenge to be able to market herself

and be comfortable enough to have

a sales mindset about her own art. "I

did a lot of research into the different

ways I could achieve this, educating

myself about successful business

practices. I swear by - and am

addicted to - self-help books, both

general and art specific," she smiles.

In 2021, while on the lookout for

everyday items to paint, Elizabeth

discovered one of her husband's

childhood LEGO pieces, sparking

a (successful) love affair with these

iconic characters. "This was my firstever

LEGO painting, and it made me

realise the incredible storytelling

potential within a single piece of

LEGO," she smiles. "I started sculpting

narratives in my paintings, through

the simple rearrangement of these

tiny colourful pieces of plastic. LEGO

was not a huge part of my childhood,

but it has definitely become an

intrinsic part of my life as an adult.

Most of my clients buy these works

for themselves. It's reclaiming a sense

of play and wonder as an adult,

sometimes with an edge of dark

humour."

It's not only LEGO that excites this

talented artist; she finds inspiration

in many different places. Apart from

the typically overlooked mundane

objects all around us and their quiet

beauty - the colour of a coffee pod,

the texture of a BIC pen lid, the

lines of a pencil - there's so much

splendour all around us that no one

bothers to see. She's also inspired

by nostalgia and the idea of finding

safety and comfort in the previously

known. "Art is an incredibly important

aspect of life. It is everywhere you

look, and behind this art that fills our

world is an artist," she says. "Without

artists, there would be less beauty

and magic. I believe that art is an

important career in today's society,

and I feel there has never been a

better time to be an artist, despite

the bleak economic outlook. It is a lot

easier to get people's attention on

your work, simply with a few clicks of

a button. Artists have the traditional

route of working with galleries as well

as newer technological strategies

available to them; it's an amazing

time to explore art."

Elizabeth said the best advice she

received when she was starting out

was to remember that it takes time,

and it will look different for everyone.

Persistence and the ability to market

yourself are crucial. No one else will

unless you do it first. "Remember,

no two art journeys are identical.

Everyone does this on their own

timeline. It will take as long as it takes,

and it will be worth it."

Dec 2022 / Jan 2023 Get It Lowveld 17
---
To start your regime with

a fresh canvas, Bespoke

by Aniska's Black Bar

with activated charcoal is

a meticulous formulation

that lathers into a satisfying

foam, combining dirteliminating,

make-up-melting,

pore-unclogging activities

with impressive softening

hydration. The result is a

fresh, supple and glowing

complexion, turning an

everyday chore into a treat for

face and body. R105 (small)

and R255 (large), from Aniska

Skin and Art, 013 753 3257

We always pack too many pairs of shoes. Far too many.

Different vibes for the beach, shopping, a party. Half our

suitcase ... no exaggeration! So massive joy when we

discovered The Switch. One pair of slides - black, tan or ivory

- and then more than a dozen straps to clip on ... so you kick

off with a classic plain slide, then a quick change to snow

leopard or mustard ostrich or Nguni. Silver. Pewter. Raspberry.

Be still our beating hearts. All leather and locally made. R1250

for a pair of slides with three straps, additional straps R100

each. From zaluki.co.za

Frosting

Red lips and shimmering highlights

and slides that switch from plain to

party ... it's all frosting on the festive cake

A little festive frosting. Essence Make

Me Glow baked highlighter in It's

glow Time (R89.90) and Extreme Care

hydrating glossy lip balm in Milky

Cocoa (R81.90) from Mopani.

18 Get It Lowveld Dec 2022 / Jan 2023

Party make up .... Bobbi Brown Luxe Lipstick in Metro

Red (R720), and Longwear Cream Shadow in Soft

Bronze (R520). And a gift for your wish list ... a Dolce

& Gabbana The One gift box, with a fragrance, body

lotion and travel spray. All from Edgars.
---
Bling bling ... sensational

range of costume

jewellery from R49.95

PROMOTION

Dazzling!

If ever there was a time to shine, it's now.

Belle of the ball. Giver of most dazzling gifts.

If it's golden and precious ... you want it.

And you'll find it at Edgars this festive season.

The scent of luxury ...

Paco Rabanne Fame from R1950 and

Dior J'Adore Parfum d'eau from R 2195

Perspex

block heels, R299,95

Nite Out eveningwear

dresses from R799.99
---
Text: MELLISSA BUSHBY

Lunch is a rather broad term

that could mean a long, lazy

affair that starts early and ends

late or a romantic tête-à-tête

at a little trattoria somewhere.

It's the midway point between

breakfast and dinner and can

be as glam or as unpretentious

as you like. The most important

thing is that the snacks are

sublime and the drinks are

served ice-cold, and packing a

punch. A gin punch, that is.
---
Bella Italia!

In Italian culture, there is no

other way to celebrate than with

delectable food! This is exactly what

you'll find at Lupa Osteria Nelspruit

Crossing. Whether you want a

fantastic year-end function or to

celebrate a special occasion, look no

further than Lupa. The Italian menu

paired with masterfully selected

wines and laid-back atmosphere are

the perfect combination.

Done just right

"Meat up" at Turn 'n Tender in

Mbombela for the juiciest, most

tender steaks in town. Awaiting you

is a stylish setting and a warm and

welcoming atmosphere. The menu is

extensive and apart from serving only

the very best meat cuts, which include

Wagyu beef, along with a variety of

sides, there is also a range of burgers,

seafood specialities, and oxtail.

Lowveld lunches are the best. Long, scrumptious affairs spent enjoying

the balmy heat our area is so well known for. Fresh and crisp salads

such as feta and biltong, Caesar, Niçoise or pomegranate and avo grace

Lowveld menus alongside pesto pasta, delicious sushi and towering

burgers to satisfy the hungriest stomachs.
---
Appetisers

The Italian word for appetiser is stuzzichini (tapas in

Spanish), which comes from "stuzzicare", to whet. It also

has another meaning, which is "to prod or poke at", exactly

what you would do with a toothpick when picking up

your garlic and olive oil-infused mozzarella balls, reclining

on a sun lounger with an ice-cold G & T at your side.

Living the wonderful alfresco lifestyle that we do,

Lowvelders love to serve tasty bite-sized snacks while

watching the game or just before a braai. These light,

savoury appetisers are typically served with drinks in

the late afternoon (any leftovers make fab snacks for

lunchboxes or afterschool nibbles), and are also a

favourite at family gatherings and special occasions

such as Christmas.

Examples range from breads and cheese to marinated

veggies and cured meats. Think olives, artichokes, sundried

tomatoes, pickles, capers, crackers or bruschetta with

guacamole (a perennial favourite), or hummus, focaccia,

salami, prosciutto, ham, mozzarella, figs and a variety of

salads, and remember the olive oil and balsamic vinegar

for dipping or drizzling. Add a local splash to your array

of finger foods with biltong, samosas, mini bunny chows,

spinach and feta tartlets, chunks of grilled corn, finger-sized

slivers of avo wrapped in smoked salmon, and an array of

nuts or tortilla chips to nibble on.

Perfect for late lunches by the pool, cheering on the Bokke,

or watching the ellies amble down to the waterhole to

cool off, try our gauc recipe to get the party started.

The perfect slice

Did you know that a Panarottis pizza

is made from 100% Italian pizza

flour, slowly proofed for 24 hours

and hand-pressed for a lighter and

crunchier base? Panarottis uses an

authentic wood-fired pizza oven

to cook their pizzas and pastas to

perfection. Spice up the festive

season nicely with the new three

cheese, caramelised onions and

sticky BBQ rib pizza when visiting

Panarottis i'langa Mall again.

Best guacamole ever, with garlic

bruschetta

Ingredients:

• 3 ripe avocados, depitted and mashed • The

juice of a large lime • A handful of coriander,

diced, plus extra to scatter over the top

• A small red onion, finely diced • 1-2 small

chillies, deseed and finely diced (optional and

to taste) • 1 loaf of ciabatta

Method:

Preheat the oven to 180°C. Slice up a ciabatta

loaf and put the slices onto a baking tray and

toast till golden brown, about 10-15 minutes.

Meanwhile, mix all ingredients together and

season well with salt and pepper. Remove the

toast from the oven and rub a peeled garlic

clove over each one. You'll find it melts into

the toast easily. Put the guacamole into a bowl

scatter the remaining coriander over the top.

Serve with the bruschetta, with cracked black

pepper and sea salt.
---
Easy-peasy pretty punch

Our festive punch recipe uses very few

basic ingredients, is delicious and oh-so

versatile. You can change or add fruit such

as pineapple, apple, or watermelon and

for kids and teetotallers, simply omit the

alcohol.

Ingredients

• 1½ cups gin • 2 litres of chilled fresh orange

or ruby grapefruit juice • 1/2 cup mint leaves

• 1 cup strawberries, blueberries or both

• 2 limes, sliced • Sparkling wine and soda

water or lemonade • Ice

Method:

Add all ingredients to a punch bowl or large

jug and stir. Scoop up a cup of punch into

your tumbler, add ice, top up with bubbly,

lemonade or sparkling water and serve with

a few sprigs of fresh mint.

Festive fun!

Whoop whoop! It's that time of the year again, when Christmas lights twinkle

and the stress of the year slowly starts to lift in anticipation of the festive season

and all its frivolities.

Of course, Christmas isn't all about fun and games and raspberry-coloured

martinis. It can also mean a lot of hard work, especially if you are playing hostess,

big spending, and over-indulging. This year, why not take the heat off a bit and

outsource? The Lowveld is choc-a-block with fab eateries and pubs where you

can pop in for a sundowner or sit down to a long, leisurely meal.

While on home turf, take the edge off with a delish festive punch that mirrors

the colours and mood of the season. Have a few bottles of bubbly on hand and

voila! It's the perfect thirst quencher to set the holiday mood and what can be

easier? You also get the added benefit of eating fresh, seasonal fruit.

Keep calm and drink a cocktail

Celebrate Summer at Salsa Mexican Grill with a delicious range

of cocktails, including margaritas, tequilas, gins and loads more,

amigos! The Pink Passion Fruit Piña Colada is a crowd favourite,

and we can understand why. With tequila, Malibu, Passoã,

coconut flakes, lime, granadilla and pineapple, this cocktail is a

fiesta in a glass.
---
GET IT DIRECTORY
---
GET IT DIRECTORY
---
free

roadside

assistance

ALONG THE MAPUTO CORRIDOR

This service is available 24-hours a day to assist with any emergency, accident or incident on

the TRAC N4 Route. Call us toll-free and one of our roadside assistance teams

will be dispatched immediately and come to your aid.

0800 87 22 64 (SA)

800 9022 (MOZ)

@TRACN4
---
The TRAC N4 Route was designed to world class

standards with a focus on safety, convenience, ease of

travel and peace of mind.

Safety is one of our priorities and for this reason we

put immense effort into ensuring a safe road for all N4

road users. We monitor our road closely and take

corrective action to improve road safety at prominent

accident spots, working hand-in-hand with law

enforcement authorities and Emergency Services

personnel.

We believe in being proactive, rather than reactive,

and therefore daily route patrols are conducted by

TRACAssist which, together with the TRAC Helpdesk

(Linha do Cliente in Mozambique), is available 24 hours

a day, 365 days a year to assist road users with

emergencies, incidents or queries.

The TRAC Helpdesk is a core element of our

operations as it is the link between the road users and

the different departments of the company. It also

facilitates communication between TRACAssist, state

and private emergency assistance stakeholders and

road users.

TRACAssist is our emergency roadside and accident

response unit.

trac

with you every

kilometre of the way

TRACAssist teams are stationed along the TRAC N4

Route and are on call 24/7 to assist with any road

related emergency, incident and situation (including

breakdowns).

The TRAC Helpdesk is the mediator between the road

users and TRACAssist meaning that assistance on the

TRAC N4 Route is simply a phone call away.

TRACAssists' roadside assistance service is free of

charge, meaning that there is no call-out fee! Road

users will only have to pay for the additional

services/items that are required to solve their

emergency (e.g petrol, tow truck or a new tyre),

however our TRACAssist teams can facilitate the

acquisition of these for road users at no extra cost.

Furthermore, they offer road users the peace of mind,

and comfort, of 'never being alone' in any situation on

the TRAC N4 road as all TRACAssist officers are

trained to secure accident and incident scenes to

ensure the safety of all road users.

TRACAssist and the TRAC Helpdesk is available in

both South Africa and Mozambique and can be

reached on the following numbers:

0800 87 22 64 (SA)

800 9022 (MOZ)

@TRACN4
---
Festive

Luxurious Celebrate

Spoiltreats from Sally Williams

The Sally Williams Celebrate range is just that, a marvellous celebration of

all things sweet and delicious for the season. Forget the obvious crackers ...

each of our dinner guests will have a Celebrate Chocolate and Nougat Cracker

(with a dozen pieces of indulgent treats inside) or a Christmas Star (also filled

with choc and nougat treats). For gifts there's a magnificent pack with two

nougat variations and a jar of pure honey, there are little boxes of dark and

milk chocolate treats, and boxes of pretty Turkish Delight. Perfect presents

... and if you're struggling to find an unusual dessert for Christmas Day, pop

over to the website and have a look at the tempting (and jolly easy) recipes.

Details: sallywilliamsfinefoods.com

A DELICIOUS

WIN ...

We've a hatbox hamper of

Sally Williams Celebrate treats to give away

... just in time for Christmas Day. To enter,

pop over to Instagram or Facebook

@getitnationalmagazines and follow

the prompts. Competition ends

December 10.

32 Get It Lowveld Dec 2022 / Jan 2023
---
LODGE

12h00 | *Bookings Essential

Adult

395

kids

195

Complementary

wine bottle

per table

Kids under 5 @ R50 |

prices includes kiddies christmas party packs

+27 (0)82 898 9533 | bookings@ebundu.co.za | +27 (0)13 758 4023