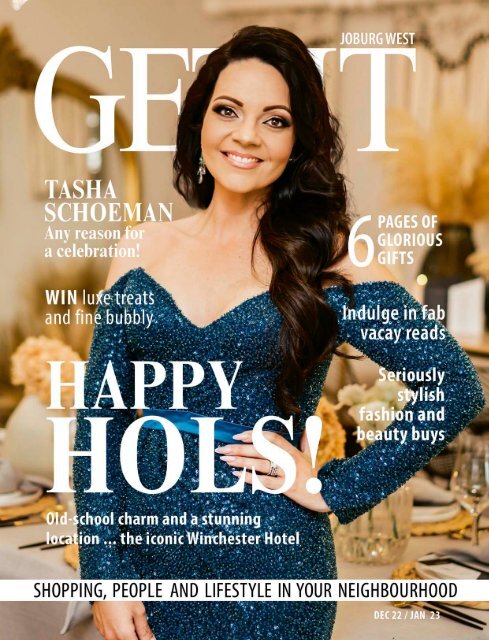 JHB West - Dec 22 / Jan 23
Create successful ePaper yourself
Turn your PDF publications into a flip-book with our unique Google optimized e-Paper software.
HAVE YOU HEARD?

GUARANTEED

IMPROVED

HEARING!

*T&C apply.

EAR INSTITUTE NOW OPEN IN ROODEPOORT

The Ear Institute, a family-owned business with 27 branches throughout South Africa and

Namibia, now has a branch in Roodepoort.

We have world-class facilities and adhere to international best practice protocols to help

you or your loved one to make an informed decision about your hearing. In fact, we

guarantee your hearing will improve or we will gladly refund your money.*

At the Ear Institute, we offer:

Hearing Tests | Hearing Aids | Hearing Aid Batteries & Accessories | Hearing Protection

Our business hours are:

Weekdays: 08:00 to 16:30

Closed on Weekends & Public Holidays

www.earinstitute.co.za

Contact us at:

(011) 746-0100

roodepoort.reception@earinstitute.co.za

297 Ontdekkers Rd, Carenvale, Roodepoort, 1724

SCAN FOR YOUR

FREE GUIDE
---
CONTENTS

GET IT

Editorial

Instagram: @getitjoburgwest

Facebook: Get It Joburg West

Website: getitmagazine.co.za/joburg-west

National Group Editor and National Sales

Kym Argo

kyma@caxton.co.za

Facebook and Instagram:

Get It National Magazines

Website: getitmagazine.co.za

Workflow & Studio Manager Megan Brett

Contributor Rialien Furstenberg

Head of sales

Debbie Pienaar

debbiep@caxton.co.za

062-633-7652

Distribution

15 000 copies monthly

Get It Joburg West is distributed

free of charge. For a full list contact

011 955 1130.

Competition rules

The judges' decision is final. Prizes cannot be

transferred or redeemed for cash. Competitions

are not open to the sponsors or Caxton

employees or their families. Get It Magazine

reserves the right to publish the names of

winners, who will be contacted telephonically

and need to collect their prizes from Caxton

Western branch within 10 days or they will be

forfeited. Prizewinners names are published on

our Facebook page monthly.

COVER LOOK

Personality: Tasha Schoeman

Photographer: Celeste Cilliers

Details: celestecilliers.com

Make-up & hair artist: Antoinette

de Beer

Details: Facebook -

@EAMakeupandHairstylists

Dress: Shené Vyver Couture

Details: Facebook -

@SheneVyverCouture

BOOK CLUB

06 Books for the hols, gifts for foodie friends, Vin de Joie wine ...

WISH LIST

08 Our favourite, festive and stylish picks this month

PEOPLE

10 Tasha Schoeman chats about loving to create memorable

experiences and offers tips on setting the ultimate festive table

BEAUTY

14 Red lips and shimmering highlights and slides that switch from

plain to party

FESTIVE GIFT GUIDE

18 Glam it up

20 Babes for Christmas

22 Feel good goodies

FOOD & DRINK

24 It's the season to eat, drink and be very, very merry!

TRAVEL

32 Glamorous doesn't come close to describing The Winchester Hotel

WIN

08 A case of L'Ormarins Brut Classique Rosé NV

23 Bottle of Rhino Whisky

34 A hatbox hamper of Sally Williams Celebrate treats

32

Dec 22 / Jan 23 Get It Magazine 03
---
A hot date!

'Tis the season to be jolly ... Fa-la-la-la-la, la-la-la-la!

09

Got some last-minute

Christmas shopping to

do? Then get to the Cedar Tree Craft

Market for their fun-filled Friday night

market from 5pm to 9pm or join

the Sunday market on December

18 from 10am to 3pm. There will be

live entertainment and an array of

excellent stalls selling high-quality

products, crafts, mouth-watering

foods and something to sip on. Free

entrance. Khosa Sports Club, corner of

Shannon Road and Frederick Cooper

Drive, Krugersdorp. Pets welcome.

Details: Chanelle on 081 500 6884.

04 Get It Magazine Dec 22 / Jan 23

10

It's that time of year! Time to

embrace all the festivities, so

be sure to visit The Honeydew Urban

Market for a festive pop-up market.

Alongside their permanent vendors,

they will have a variety of new vendors

with unique offerings. Plus there is a

lovely on-site bakery - Not Bread Alone

with freshly baked goods and kids'

activities like decorating Christmas

biscuits, painting and face painting.

9am to 3pm. Salvage Venue, 2 Johan

Road, Honeydew. Follow

@honeydewurbanmarket

on Facebook and Insta.

02

Christmas

Wonderland

Market at Casalinga

from December 2,

3 and 4. Gather your family and

friends for a fun-filled and festive

weekend filled with gourmet

food, artisanal gifts, wine, gin,

live music and kid's activities.

The Friday market will be from

5pm to 10pm, Saturday from 12

noon to 10pm and Sunday from

9am to 3pm. R20, all proceeds

go to charity. Free for kids under

12. years. Dogs on a leash are

welcome. Details: 010-595-4563,

restaurant@casalinga.co.za

14

Head to the Real Life Church for

the ultimate family festive fun

on December 14, 15 and 16. Expect to

see spectacular lights, browse through

a variety of stalls, indulge in yummy

food or shop for some crafts. There

will also kids' fun, carols and all things

Christmas. 6pm to10pm. R20 for

adults, free for kids under 12 years.

86 Viljoen Street, Krugersdorp North.

Details: reallifechurch.org.za

16

Grab your baddest and boujiest

crew, because Trouvé is hosting

the ultimate drag brunch with Betty

Bangles and Riri Rouge with their

brand new act The Scintillating Sinners.

1Watch these queens lipsync their

way through hits from Liza to Gaga!

12 noon. To book, WhatsApp the word

Drag Brunch to 081-547-3652. Tickets:

R300 per person - includes quiche and

salad as well as a waffle and ice cream

for dessert. Own drinks are welcome.

16

Don't miss out

on the cheerific

Christmas spirit

at Key West Shopping Centre from

December 16 to 24 at entrance

6. Kids can look forward to

treemendous fun activities and a

DIY decor workshop line-up that

will include: can upcycling, living

ornaments, play and colouring and

selfies with Santa. 12pm to 2pm.

Limited space, so be there early.

Details: keywest.co.za
---
The hottest date was the Cuppa

for Cansa lunch

We were invited to a delightful Cuppa for Cansa event

at Glenburn Lodge and Spa. Let's just say ... it was a

marvellous event all in aid of a good cause! A glorious

harvest table loaded with delish eats and treat, an

inspirational cancer survivor story, a highly spirited

and very entertaining charity auction and live music

made it an afternoon well spent.

Juanita Pitout, Cherize

Fillmore, Lelanie Tester

Estelle de Jager, Ester Pretorius

Monica Nyenge

Anais van der Westhuizen,

Linda de Reuck
---
Book club

Books for the hols, gifts for foodie friends, Vin de Joie wine ... it's the season of joy.

La Motte's

Vin de Joie 2022 Rosé

is a salmon pink wine ... all melon

and grapefruit, nectarine and a hint

of sweet candyfloss. Drink it with

a simple salad, charcuterie,

salmon or crayfish. R99 from

your local wine boutique or

online from la-motte.com

Would you think of taking leftover lemon rind, baking at high heat until dry and

charred, then grinding what are, to be completely honest here, the now shrivelled

pieces of burnt rind, and using as a condiment with sweet and savoury dishes?

Nope. Us neither. But we're not Yotam (obvs). In Ottolenghi Test Kitchen – Extra

Good Things, it's suggested Ottolenghify should be a verb ('I Ottolenghified my

roasted aubergine with some feta') … and this sensationally delicious book is just

full of twists, flavour surprises, and flair. We're going to Ottolenghify our foodie

friends' Christmas with copies of this, with best wishes for a year full of sauces,

sprinkles, pickles and flavour. Ebury Press, R595

Ottolenghi and Prue ... happy days

We've all got that one friend. The one who loves food, but is a disaster in the

kitchen. And Yotam Ottolenghi may say "There's an art to making toast, and Prue

Leith knows it.'' But ... it's toast. And Prue says the recipes in Bliss On Toast are easy,

and most home cooks will be able to make them. The collection was compiled by

Prue to celebrate her 30-odd-year habit of eating something on toast on Sunday

nights in front of the telly - like the rest of us, yes? But while we're making avo and

tomato toast and pâté on crisp bread (both of which are in the book, Prue's no

snob), she ups the game a little. Think duck egg with rainbow chard and Dijon

butter, or figs with blue cheese, thyme and honey. Her beans on toast may use a

can of white cannellini beans and store-bought white bread, but there's chorizo

and smoked paprika and softened cherry tomatoes. For keen cooks, there's also

a chapter with recipes to make sauces and breads from scratch. There are sweet

options ... like fried Christmas pudding, brandy cream and blackberries, and

because Christmas means leftovers ... we'll be making her bubble and squeak with

hollandaise on Boxing Day. Bloomsbury Publishing, R362

06 Get It Magazine Dec 22 / Jan 23
---
A few of our holiday reads ...

Whatever your taste in holiday reads, there's a wonderful selection this month.

We've put these aside to take with us these hols. Santa Montefiore's Flappy

Investigates is light and rather silly, so perfect for a day on the lounger. All

snobbery and gossip, ardent admirers and parties and small village life. Simon and

Schuster • The Boy in the Striped Pyjamas broke our hearts. And we've a feeling John

Boyne's just released All The Broken Places is going to do it again. It's the story

of Gretel, sister of Bruno (the protagonist in the first novel), who was 12 when her

brother disappeared, and is now 91, living in London and who has, when a young

family move into the apartment below hers, the chance to expiate her guilt, grief

and remorse and act to save a young boy. Certainly not an easy holiday read, but

quite possibly the one we're looking forward to the most. Penguin, an Exclusive

Books Festive Favourites read • An Angel's Demise is Sue Nyathi's epic saga of love,

war, bloody massacre and betrayal, as well as the cruel caprice of politics, genderbased

violence and what happens when ordinary people get caught up in lies.

Pan Macmillan • It's 1561 and when sixteen-year-old Lucrezia, Duchess of Ferrara,

is taken to a country villa by her husband, it occurs to her that he's taken her there

to kill her. Maggie O'Farrell's The Marriage Portrait shows the beauty and brutality

of Renaissance Italy, and of a young woman whose proximity to power places

her in mortal danger. Tinder Press • Jodi Picoult. A proper holiday read, since once

you start you struggle to put her books down. In Mad Honey, she co-authors

with Jennifer Finney Boylan, the two alternating chapters in this book that don't

shy away from difficult subjects, exploring identity and self-acceptance, abuse

and toxic relationships, domestic violence and trust. Hodder and Stoughton,

an Exclusive Books Festive Favourites read • When Tanz discovers the voices she

hears in her head are not, actually, her imagination working overtime, but rather

messages from beyond the grave, a whole new way of life opens for her. And not

a moment too soon, since all has not gone according to plan on the career side.

Tracy Whitwell's The Accidental Medium is perfect for the beach or long plane

journeys. Macmillan • And what, we ask, would a holiday be without a thriller?

Peter James' Picture You Dead is a Detective Superintendent Roy Grace novel

... in which he's plunged into the unfamiliar world of fine art - a world which

appears to be respectable, gentlemanly and above reproach, but which in fact is

all greed, deception and violence. Macmillan

Book notes

The Sex, Lies & Stellenbosch saga

continues in Sex, Lies & Alibis, which

boasts it's the hottest book in town.

Steamy and scandalous, this is the

third in Eva Mazza's sexy and risqué

trilogy. Melinda Ferguson Books.

Staying in the winelands ... in

Stellenbosch: Murder Town,

Julian Jansen shares the behind

the headlines details about the

dozen murders that have taken

place in this town over the past two

decades. Tafelberg

Making movies can be murder!

When strange goings on happen in

the script and then on the set of the

psychological horror movie too ... it

appears the real horror lies off the

page. Run Time by Catherine Ryan

Howard's a scare a page. Corvus

John Grisham ... another great holiday

read. The Boys from the Bronx sees

two boys growing up as friends. Both

sons of immigrant families, they end

up on opposite sides of the law, and

ultimately in a courtroom showdown.

Hodder and Stoughton

Cult Classic by Sloane Crosley is a

brilliantly written, sharp and incredibly

witty rom-com ... a tale of love, luck,

and the ghosts of heartbreaks past.

Bloomsbury Circus

It's 1926 in Kate Atkinson's Shrines of

Gaiety, and in a country recovering

from the Great War, Soho is the

glittering centre of nightlife and

gaiety. But beneath the dazzle, there's

a dark underbelly, and not everything

is as it seems. Penguin

Oh gosh .. if your holiday's a good

few weeks long and you're a royalist,

you're in for a treat with Queen of

our Times - The Life of Elizabeth II.

A whopping 624 pages, it's said to

be the definitive biography by one

of Britain's leading royal authorities,

Robert Hardman. You'll be quite

the authority yourself once you've

finished this study of dynastic survival

and renewal, spanning abdication,

war, romance, danger, tragedy and

triumph. Macmillan

Compiled by: KYM ARGO

Dec 22 / Jan 23 Get It Magazine 07
---
Wish list

The excitement is real!

Designed in France, made in Brazil ...

these Cacatoès sandals are made

from recycled PVC, have a candy

scent and come in amazing designs

and shades. We, obviously, are

wearing the gold ones all season,

from beach to cocktail party to

dinner. R840 from stylista-brands.co.za

There's no debate about what we're

(very gently) popping open this

December. We're celebrating with this

L'Ormarins Brut Classique Rosé

NV ... coral pink, with a vigorous

stream of fine bubbles, it's all

bold strawberry, red berry fruit

and cherry, with hints of fresh,

zesty lemon and citrus for a

zip of acidity. Exactly what

we want when we're toasting

the festive season, best

friends, a new year. You'll

find it for R180 a bottle on

shop.rupertwines.com.

And we're about to make

someone's festive season

jolly special indeed. Pop

over to @getitjoburgwest on

Instagram or Facebook where

you'll find out how to win a

case for Christmas.

Carolina Herrera's CH ... elegant and

glamorous, R1775 from Woolworths

08 Get It Magazine Dec 22 / Jan 23
---
Pop under the tree, or use on

the table for a wonderfully

luxurious setting ... these Cape

Island Christmas Crackers have a

choice of a mini scented candle,

a mini diffuser, a hand cream or

a sanitiser. All festively scented

with cinnamon and clove,

caramel and vanilla, they're ecofriendly

and luxurious. From R200

from capeisland.co.za

Three-and-a-half metre long

gold foil star garland. R120

from mustloveparty.co.za

Donna Hay's recipes are always

spot on ... and The Fast Five

is the ultimate bible of fast,

family-friendly recipes. It's a

brilliant book to take away

with you these hols, when you

want delicious meals without

spending a second longer than

necessary in the kitchen. R649

from Exclusive Books.

Every year, Woolworths brings out a Christmas

coffee mug collection. And every year we buy two.

So Christmas morning's coffee and mince pies are

not only festive and fun, but also have memories

of past Christmas mornings, and who we shared

them with. This year's mugs are star-sprinkled

.. the perfect addition to the collection. Star

Celebration Mug, R89.95 from woolworths.co.za

Dec 22 / Jan 23 Get It Magazine 09

Compiled by: KYM ARGO
---
Ready, set, celebrate

Almost two decades and thousands of

events later, Tasha Schoeman still does a

jolly jive when she has to plan a special

occasion. She chats about loving to create

memorable experiences and offers a few

fab tips on setting the ultimate, budgetfriendly

festive table.

It's the adrenaline rush, making lists of lists and having a

plan b, C and D that makes businesswoman and all-round

event planner extraordinaire Tasha Schoeman tick – all the

boxes – quite literally.

"Event planning is a wonderful, wild ride. It can take you

to beautiful places you never thought you'd be. You get

to meet people you wouldn't ordinarily get to meet. Yes,

it's stressful and takes some juggling to create a close-toperfect

balance between work and life but you get to be

part of people's most memorable moments. I find making

something from nothing so rewarding."

Tasha originally studied theology part-time and admits

she never for a moment thought planning weddings and

events would become her bread and butter.

It started with a phone call from a flower farm. To be their

shop assistant. Many flower-arranging masterpieces later

and Tasha worked her way up to handling their marketing.

Then finally stepped foot in the no-day-is-the-same world

of event planning.

It was while assisting the popular local wedding venue

Avianto with designing a floral stand for an expo – which

ended up winning the best stand award – that they

decided to team up and start Event Inspirations. Tasha fell

hook, line and sinker in love with event planning and her

studies became something of the past.

Today and some 3000 odd events later – she stopped

counting after that – handles all aspects of an event from

start to finish, including decor, lights, stationary, planning,

coordination, production, and everything in between.

"Creating celebrations is not a job to me, it's my passion

… I simply love what I do! People often mistake an event

planner's work for simply playing around with flowers, or

believe it must be fun making money from your 'hobby'.

Let me tell you, it is hard work and very deadline driven.

Weekends … What weekends? Oh, and did I mention

having serious organisation skills? But when the entire

event comes together exactly as you envisioned it, and

you see your client's smiling face – it makes you want to

do it all over again!"

What about when things go wrong? "Yes, it happens. So

I just breathe, analyse the situation, take action and stay

calm. It sounds like simple advice but if you're able to stay

calm—even when the kitchen has been accidentally set

ablaze by the caterer—then your client will feel calm and

reassured, too."

Tasha noted that since Covid, they've experienced a spike

in events. Not only because people were in lockdown for

so long and were yearning for some social interaction,

but perhaps also realising that within the blink of an eye

things can change. "That's why I say any occasion should

be a reason for a celebration – not just the occasion, but

celebrating life itself!"

10 Get It Magazine Dec 22 / Jan 23
---
Birthdays are the celebration of another year and lessons

learned. A baby born is a brand new life. Entrepreneurs

should celebrate when their business has survived another

year. Wedding anniversaries offer the chance for those in

love to commemorate milestones in their marriage … We

may be loosely interpreting here, but 'let's pop the bubbly

more often ' is what we think she means.

When Tasha is not planning the next whimsical wedding or

event, you'll find her at her other business venture, Hoppy

Hearts & Hartz-verloren situated on the picturesque Viljoen

Street in Krugersdorp. What started as a small French gift

shop, has now expanded to a venue for intimate events,

a coffee shop and a boutique. Stocking gorg locally and

imported clothes, jewellery and a variety of décor items.

While effortlessly forging the next great event and running

Hoppy Hearts, Tasha manages to go all out for not only

her clients, but also those closest to her. Whether it is an

impromptu dinner or entertaining friends and family,

spoiling people and making them feel special is what she's

all about.

Details: info@eventinspirations.co.za, follow @eventinspirations

and @Hoppyhearts&hartz-verloren on Facebook.

Set the table

• In the room where you set the table, let that area and

colours be your inspo. It gives background to the table and

makes it looks fuller.

• Setting the table should be an expression of your personal

style. My style is a combination of classic and modern.

Nothing wrong with mixing the two. I like to put my classic

glass vases and wine glasses together with a modern

dining set and candle holders.

• Make your guests feel extra special with name cards and

the menu - it shows that extra time and effort went into

the planning.

• Tablecloths suit formal and casual meals, but the

fabric will change the style completely — crushed linen

creates a relaxed look while crisp cotton is more formal.

Alfresco dining calls for a bare table with a table runner

or placemats.

• Candles, always, even if you're hosting during the day. It

just gives a lovely glow and ambience.

• Use plants and flowers from your garden as centrepieces.

Keep it simple. Make sure the stems are clean or keep some

foliage if it's part of your theme. Cut the stems at an angle

so the flowers can drink more water to stay fresh for longer.

Create a mix of complementary colours and varieties or

choose one shade or variety. Remember bleached, whitewashed,

preserved, dried flowers and leaves - like Pampas

- are now trending.

• Create a variety of heights on the table using flowers

and candles, but be sure that guests can talk over

your arrangements.

• Think outside the box when it comes to placemats – opt

for natural materials such as rattan, raffia or bamboo. Or go

for fabric, cotton or linen. Use in contrasting colours or the

same shade but with a pattern that stands out from the

background of the tablecloth.

• For the food table – stack the bowls of food in tiers – I've

used big glassware, turned it upside down and placed the

bowl of food on top. And pair your foods together. This

makes the food table look fuller.

Cloth napkins are a simple way to elevate

dining at home - indoors or outdoors - and

whatever your tablescaping vibe. And no

need to go OTT with the folding, a simple

knot looks ultra-mod.

Dec 22 / Jan 23 Get It Magazine 11
---
Marinated feta, olive and tomato salad

Sweet, tangy and juicy tomatoes ... Savoury olives

and creamy feta - this vibrant salad has it all.

Ingredients: 1 handful of fresh basil; 80ml olive oil;

30ml balsamic vinegar; 6 feta wheels; 500g mixed

olives; 1kg exotic mixed tomatoes, halved; salt and

freshly ground black pepper

Method: Combine the olives, feta, tomatoes, olive

oil and balsamic vinegar. Toss gently to coat the

ingredients in the vinegar and oil. Leave to stand

to allow the flavours to infuse, about ten minutes.

On a platter, add the fresh basil and top with the

marinated feta, olives and tomatoes. Drizzle the

olive oil and balsamic vinegar over the salad and

toss to coat. Season with salt and pepper to taste.

Orange and strawberry Pimm's

Pimms, a gin-based liqueur can be enjoyed on the rocks or mixed

in cocktails.

Serves 6

Ingredients: 6 orange, sliced; punnet of strawberries, sliced; 1kg

crushed ice; 2 liters of apple juice; 250ml Pimm's; 750ml ginger

ale; mint mixed berries for garnish

Method: Place half of the ice in a large jug. Add the orange and

strawberry slices and pour in the Pimms, followed by the apple

juice and ginger ale. Stir with a swizzle stick to combine.

Divide the remaining ice among six gin glasses. glasses. Fill with

the cocktail and garnish with mint leaves and mixed berries.

For starters - baby cabbage, apple, nuts

and raisins salad

A light and fresh starter to kick off the main course. Super quick

and easy to make and actually quite healthy by the way!

Ingredients: 250ml good quality mayonnaise; 125ml Greek

yoghurt; juice of 2 lemons; salt and freshly ground black

pepper; 4 red apples, thinly sliced; 3 heads of baby green

cabbage, sliced; 200g raisins; 100g pecans nuts, roughly

chopped; 100g raw Brazil nuts; petite herbs for garnish

Method: Put the cabbage, apple, pecan nuts, Brazil nuts and

raisins into a medium-sized salad bowl and mix well.

In a small bowl, mix together the mayonnaise, yoghurt and

lemon juice. Season the salad with salt and pepper. Top with

petite herbs and serve with the creamy dressing.

12 Get It Magazine Dec 22 / Jan 23
---
Juicy roast chicken

This is a super-reliable roast chicken recipe to give you juicy meat and

crispy skin, every time. Plus, it is so easy to make!

Serves 8

Ingredients: 2 large chickens; 2 onions, coarsely chopped; 4 garlic

cloves, chopped; 4 lemons, sliced in half; 2 handfuls of fresh herbs -

thyme, rosemary and oregano, chopped; 80ml wholegrain mustard;

salt and freshly ground black pepper; 250ml white wine; 250ml chicken

stock

Method: Preheat the oven to 180°C. Spatchcock the chicken by cutting

the backbone out of the chicken. Flatten each chicken with the palm

of your hand on a wooden board. Put the onions, lemons and garlic

in an ovenproof pan. Sprinkle the herbs on top. Place the chicken on

top of the herbs and season with salt and pepper. Pour over the wine

and stock. Cover the pan with tin foil and roast for ± an hour and a half,

depending on the weight of the chicken. Remove the tin foil and roast

for another 10 minutes or until golden brown. When the chicken is

done, remove it from the oven and cover loosely with the tin foil.

Allow it to rest for about 10 minutes before carving to allow the juices

to settle. Serve with the marinated feta, olive and tomato salad, oven

roasted corn on the cob with parsley butter, sautéed green beans with

garlic, a creamy potato salad and roasted sweet potatoes and

red onions.

Waffle stack

These homemade waffles are perfectly golden, crispy

on the outside and fluffy in the middle. They are

also so simple to make with ingredients that you

probably already have in your kitchen.

Ingredients: 2 cups all-purpose flour; 1 teaspoon

salt; 4 teaspoons baking powder; 2 tablespoons

white sugar; 2 eggs; 1 ½ cups warm milk; 1/3 cup

butter, melted; 1 teaspoon vanilla extract; 100g

good quality chocolate, finely chopped and

melted (keep some chopped chocolate aside

for garnish); vanilla ice cream for serving; 175g of

fresh berries of your choice for garnish

Method: In a large bowl, mix together flour, salt,

baking powder and sugar - set aside. Preheat

a waffle pan and spray it well with non-stick

cooking spray. In a separate bowl, beat the eggs.

Stir in the milk, butter and vanilla. Pour the milk

mixture into the flour mixture; beat until blended.

Ladle the batter into a preheated waffle iron. Cook

the waffles until golden and crisp. Stack, drizzle

with melted chocolate, add a scoop of ice cream

and add some berries. Enjoy!

The do's and don'ts when entertaining

• Invite people that gives joy and meaning to your life and that you feel relaxed with. • Plan the menu and decor according

to the type of people you are inviting. You want them to feel comfortable and enjoy the evening. • Ensure you have

non-alcoholic drink options. • Create a playlist that aligns with the ambience you want to achieve. • A party memento is

optional but a nice touch. • Don't make too much food - rather have a variety of dishes. And consider foods that can be

made (or at least prepped) in advance. • Don't make the background music too loud. No one wants to shout over the

music. • Don't forget to consider your guests' dietary restrictions. • Don't start the gathering too early if your entertainment

area doesn't have enough shade. • Once people arrive, just enjoy the party. No one wants to feel like the party/ dinner or

event is stressing you out. Make people feel like you're glad to have them there.

Dec 22 / Jan 23 Get It Magazine 13

Text: RIALIEN FURSTENBERG. • Photographer: CELESTE CILLIERS. • Make-up & hair: ANTOINETTE DE BEER. • Dress: SHENÉ VYVER COUTURE.
---
For charming, classic tree

decorations, pop over to

leroymerlin.co.za ... festive

delivered to your door!

We always pack too many pairs of shoes. Far too

many. Different vibes for the beach, shopping,

a party. Half our suitcase ... no exaggeration! So

massive joy when we discovered The Switch. One

pair of slides - black, tan or ivory - and then more

than a dozen straps to clip on ... so you kick off with

a classic plain slide, then a quick change to snow

leopard or mustard ostrich or Nguni. Silver. Pewter.

Raspberry. Be still our beating hearts. All leather and

locally made. R1250 for a pair of slides with three

straps, additional straps R100 each. From zaluki.co.za

Frosting

Red lips and shimmering highlights

and slides that switch from plain to

party ... it's all frosting on the festive cake

A little festive frosting. Essence Make

Me Glow baked highlighter in It's

glow Time (R84.95) and Extreme Care

hydrating glossy lip balm in Milky

Cocoa (R77.95) from Dis-Chem.

Party make-up .... Bobbi Brown Luxe Lipstick in Metro

Red (R720), and Longwear Cream Shadow in Soft

Bronze (R520). And a gift for your wish list ... a Dolce

& Gabbana The One gift box, with a fragrance, body

lotion and travel spray. All from Edgars.

14 Get It Magazine Dec 22 / Jan 23
---
Bling bling ... sensational

range of costume

jewellery from R49.95

Dazzling!

If ever there was a time to shine, it's now.

If ever there was a time to shine, it's now.

Belle of the ball. Giver of most dazzling gifts.

If it's golden and precious ... you want it.

And you'll find it at Edgars this festive season.

PROMOTION

The scent of luxury ...

Paco Rabanne Fame from R1950 and

Dior J'Adore Parfum d'eau from R 2195

Perspex

block heels, R299,95

Nite Out eveningwear

dresses from R799.99
---
Glam it up

Laines London silver crab and coral faux fur

slippers decorated with a handmade artisan

brooch ... all crystals, pearls and beads. Plus, you

can take them off the slippers and use them to

zoosch up any outfit. R850 from www.excluso.co.za

Jacques Bogart Silver Scent

Infinite Silver ... a highly

concentrated, alluring fragrance

for men, with notes of violet leaf,

lemon and cinnamon, orange

blossom, geranium, and vanilla.

R699 from clicks.co.za

Compiled by: KYM ARGO

Give each of the family their own bauble for the

tree. So special. R40 each from annasoodesign.com

18 Get It Magazine Dec 22 / Jan 23

Little Book of Chanel by Lagerfeld

- the story of the iconic fashion

designer. His designs were full of wit

and humour, he reinvented classics

(and dare we say improved them),

and he had a vision that would turn

Chanel into a global phenomenon. He

turned catwalk shows into fantasy extravaganzas

of epic proportions, was

undisputed king of exquisitely crafted

couture, and he was never afraid to

make fun of himself. This glam book

by Emma Baxter-Wright joins the others

in the Little Books of Fashion series,

and would make the perfect stocking

filler (maybe with a bottle of Chanel

fragrance, hint hint). Welbeck Publishing,

R315.
---
Makeup by Ryno Iconic Foundation

is a hot favourite, with good reason.

Flawless! Also ... local, cruelty-free,

vegan, with anti-ageing sunflower

extract and a highlighter to add

glow. Bonus is the SPF50. R495 from

burstmakeupbrushes.co.za

Celebrate the holidays in a swirl of stars. All shadow and

light, simple rubbing elegant shoulders with opulent,

a flash of light and a celestial shimmer. That's what's

promised in the 2023 Chanel make-up collection.

Illuminating powder with a pearlescent glow,

mesmerising four-palette eye shades, highintensity

lipsticks ... it's the season to shine. At

Chanel Fragrance and Beauty Boutiques or online.

This Glo Box-Marble Skincare Fridge

is perfect to store your sheet masks or jade rollers,

and has a heating function for wet towels, wax and

massage oils. R1599 from globox.co.za • Metallic

wreath, R349 from Woolworths.

Dec 22 / Jan 23 Get It Magazine 19
---
Babes first

Christmas

Count down the days ... we love

this personalised reusable advent

calendar ... a piece you can

bring out year after year, with

pockets filled with simple age

appropriate gifts. Handmade in Paarl.

R320. And for Christmas morning ... a

massive personalised pompom Santa

Sack. There are around half a dozen

designs to choose from ... each one as

lovely as the other. R200. Both from

annasoodesign.com

Personalised reindeer first

Christmas 100% cotton

onesie, R145 from

www.littlewildflower.co.za

Soft to the touch and

perfectly sized for babe

gifts ... crocheted Christmas

stocking with tassels. R260

from mustloveparty.co.za

Babes first Christmas. Babes first book. Nancy Tillman's

On The Night You Were Born really is a special gift for

a newborn. R180 from Exclusive Books.

20 Get It Magazine Dec 22 / Jan 23
---
'twas the night before

Christmas ...

... And (let's be honest, here) all through the house was

mayhem. So we love the trend of a Christmas Eve box for

tots and tweens. A pair of new festive pyjamas or slippers, a

story book, a sweet and mug of warm chocolate, given an hour

or so before bedtime. Which gives you time to read them a

story, for some special quiet family time, and then ... sleep tight ...

time for Santa to do his thing!

Reindeer

novelty

slippers,

R199.99, and

young girls'

festive pj's, R229

for the set, from

Woolies.

Oh no. Two horrid men are planning on stealing the

children's Christmas pressies. Can the ladybird, with the

help of her friend the spider, stop this devious plan? Julia

Donaldson's What the Ladybird Heard at Christmas is

a lively rhyming adventure. R275 from Exclusive Books •

What's better than Where's Wally? Six classic Where's Wally

books, PLUS a jigsaw puzzle. Where's Wally? Wow is all

this packed up into one slipcase. Hours of fun for Christmas

Eve and then for days afterwards, too. R695 from

Exclusive Books. And for a Christmas Eve treat, a Woolies

Candy Cane. R17.99

Compiled by: KYM ARGO

Dec 22 / Jan 23 Get It Magazine 21
---
A dog's not just

for Christmas. But

Christmas is for

dogs. Pooch is going

to love this Gingerbread Man

soft dog toy. R149.99

from Woolworths.

Complicated, messy feelings don't go

away just because it's the festive season.

Ruby Warner's Little Moments of Light is

filled with heart-warming illustrations and

messages. It's not a self-help book, there

is no 10-point plan ... but it is encouraging

and thoughtful and would be a perfect

gift for a teen or young adult who needs

to know things will be okay. Also, follow

on @worrywellbeing. Welbeck, R317 from

Exclusive Books.

If you've a child

who's fascinated

by insects and

the outdoors,

this luxury wood

and leather

bug box would

be massively

appreciated.

R390 from

envirokid.co.za

Compiled by: KYM ARGO

22 Get It Magazine Dec 22 / Jan 23

How cute is this Forest Friends advent calendar? Fill

the pockets with sweets, clues or small gifts for your

little ones to enjoy while they countdown the days until

Christmas. You can also have it personalised with their

name. From R695 from envirokid.co.za
---
This new whisky, distilled in

Scotland but with an African

heart, was born under a setting

African sun by two friends, Gerrit

Wagener and Brin Kushner,

debating the Rhino Poaching

crisis. As the campfire crackled,

an idea was sparked to create

a whisky that would not only

highlight the plight of the

rhino, but also give back

to rhino conservation.

A warm welcome,

then, to Rhino Whisky

- premium but easydrinking,

and with

20 per cent of profits

pledged to the

rehabilitation of baby

rhinos orphaned due

to their mothers being

killed for their horns,

a really well-thoughtout

Christmas drink.

You'll find it for around

R590 and is available

online on Takealot and

a few select retailers.

To win a bottle, pop

over to Get It Joburg

West on Instgram

before Dec 10.

Feel good

Christmas

Pour yourself a glass of The Royal

Rhino and toast to This is Africa ... while

knowing you're also helping the fight

against the poaching of Black and

White Rhino. A blend of rich, bold

Arabica coffee and vanilla combined

with milk, this luxurious cream

liqueur is packaged in a bottle

shaped like a rhino horn, and is

brilliant served over ice in a short

glass, in cocktails and drizzled

over ice-cream for a quick-butdecadent

dessert. And every

time you buy a bottle (and

another, and another)

a percentage of the

proceeds go to the

anti-poaching fight. So

basically you're saving

the rhino, one sip at

a time. We'll drink

to that. R159.99

a bottle at most

bottle stores or at

royalrhino.co.za

If we're talking North Pole, we're talking Polar Bears. Which are

one of the eight species of bear ... all of which are featured

in the magnificent Remembering Bears - the latest in the

Remembering Wildlife series of fundraising photo books which

has already raised an impressive R18 491 947 for conservation

projects. For armchair travellers, and those who like to support

conservation, this coffee table book has splendid images of polar

as well as American black bears, Andean bears, Asiatic black bears,

brown bears, giant pandas, sloth bears and sun bears ... images

donated by 85 of the world's leading wildlife photographers (think

Marsel van Oosten, Art Wolfe, Frans Lanting, Greg du Toit, Daisy

Gilardini and Morten Jørgensen, who took the cover image), with

11 of the stunning images taken by South Africans. One hundred

per cent of the sales of the book go to conservation ... much

needed since the IUCN (International Union for Conservation and

Nature) lists six of the bears as vulnerable or endangered due to

pressures ranging from climate change to human-wildlife conflict

and even those bears of least concern, such as brown bears, are

at risk of being lost forever in certain countries. There's also the

horrors of dancing bears, illegally trafficked bears as pets or those

used for medicine. To find out more about Remembering Wildlife,

visit rememberingwildlife.com, and support them by giving a

copy of the book to a wildlife enthusiast for Christmas. R895,

HPH Publishing

Dec 22 / Jan 23 Get It Magazine 23
---
Editor's Choice ...

YOU'RE INVITED ...

It's the season to eat, drink and be very, very merry!

Can you have an NYE party without tequila? You can. But would you want to?

Making it's debut into SA this month is Mijenta, the award-winning, additive-free

and sustainable tequila from the highlands of Jalisco. There's Mijenta Blanco

- aromatic and elegant, with notes of cantaloupe, honey and cinnamon, and

Mijenta Reposado, all vanilla and bergamot, honey and preserved

fruits as well as orange blossom flowers and cacao nibs. Watch out too

for Mijenta Añejo, the most exclusive version which will be landing

here early next year. You'll find it a premium liquor stores

(including Woolworths, PickNPay, Checkers Liquorshop,

Norman Goodfellows, Whiskey Brothers) and online retailers

for R999 and R1390 respectively.

Can you drink it? Nope. But you can certainly light

it and pop it onto your holiday brunch table. Earl

Grey Scented Candle - so all bergamot and

lemon. R350 from thepiebald.com

Cheese & wine parties

back in fashion (yay)!

Let's talk cheese and wine parties.

Massively fashionable in the late

sixties and throughout the seventies,

they then became totally uncool.

But they're back in (retro) style. And

our ed's thrilled! Glammest cheese

serving platter she could find ... this

oversized, marble dual-colour option.

With marble sourced from Rajasthan

(the marble mecca of India), hand

cut by artisans in Jodhpur, it's an

impressively solid piece, and massive.

R999. She also fancies these ivory

cups with 24-carat gold petals.

Sold as tea cups, but here used

instead for Bloody Marys, and to hold

breadsticks. R720 for a pair. All from

thepiebald.com (order online right

now for Christmas deliveries).

24 Get It Magazine Dec 22 / Jan 23
---
Clink. Sip. Summer!

Do you hear that? Clinking

ice as it hits the bottom

of a highball glass. That's

the sound of South Africa's

ultimate summer drink being

prepared… the Angostura

Rock Shandy! It's one we

sometimes forget about

... but shouldn't. It's delish,

and so easy. Simply a glass

filled with ice, then pour in

equal parts soda water and

lemonade, shake in around

five to ten drops Angostura

aromatic bitters (to taste),

and garnish with a slice of

lemon. For more recipes, pop

over to angosturabitters.com

Making merry without the

hangover. Free Spirit Cocktails

by Camille Wilson is a collection

of wonderful cocktails - some

sparkling, some sophisticated,

some with just three ingredients,

and some for the hols. Try A

Berry Good Time ... muddle five

blackberries (or berries of your

choice) with five or so mint

leaves, three lemon wedges,

and 22.5ml simple syrup in

a cocktail shaker. Add ice

and shake until chilled.

Pour into a glass, top with

sparkling water and serve.

There's a Gingerbread

Martini recipe that we're

planning on making at

every opportunity, too.

Chronicle Books, R415

Raise your glass ... to a rosé new year

Whether you're throwing a cocktail party, or have been invited to one

and need to take a gift, here's the perfect pair ... Blaauwklippen's Brut

Cap Classique and Blush Rosé. Both have soft tones of pale salmon

and tick all the balmy summer boxes. The 2020 Brut Cap Classique

is a delicate and fresh wine with floral hints and a creamy core, and is

the only Cap Classique made 100 per cent from Zinfandel grapes – it's

perfect for toasting (and making) memorable moments, or to set the

tone for a romantic dinner. The 2022 Blush Rosé is sophisticated but

light, with the crispness of a dry white and the fruity richness of a red

- so the best of both worlds. It pairs well with Mediterranean-inspired

summer dishes. R200 for the cap classique, R150 for the rosé at your

local wine boutique.

Compiled by: KYM ARGO

Dec 22 / Jan 23 Get It Magazine 25
---
GET IT DIRECTORY

To advertise here call 011 955 1130

2023 Applications now open AT GUVON ACADEMY
---
GET IT DIRECTORY

To advertise here call 011 955 1130

Sparkle this holiday with

Smink Shimmers!

Pop over to

sminkemporium.com

for a variety of

products or place your

order at

EA Academy Westrand

• Elaine 082 885 3577

• Antoinette 073 681 9516

EA.indd 1 2022/11/24 14:38:51
---
GET IT DIRECTORY

To advertise here call 011 955 1130

Established 1904

ST URSULA'S

SCHOOL

Established 1904

EVERY DAY IS OPEN DAY!

Grade RRR to Grade 12 | Boys and Girls

OUR MISSION

ST URSULA'S SCHOOL BELIEVES:

• In creating a Christian atmosphere in which principles of truth, love, justice and reverence become the criteria for life's decisions.

• In working to achieve academic excellence and the development of the whole person in all facets of his/ her potential.

• In high standards of behaviour and discipline.

• In the importance of the individual and in his/ her creative self-expression.

• In the dignity of all persons and in respecting the rights of others.

• In an open environment where all persons of our richly diverse society may grow in mutual understanding and acceptance.

LOCATION: Cnr First & Premier Street, Krugersdorp North

FOR MORE INFORMATION: Contact admissions@stursulas.co.za or 011 953 1078
---
GET IT DIRECTORY

To advertise here call 011 955 1130

Dry Eye and Blepharitis

Introducing The Latest Technology

Watery eye

Tightening of the upper eyelids

Wrinkles and fine lines

Dry Eye and Skin Rejuvenation

Sun damaged skin

Scarring

Skin discolouration

Pigmentation

WEST RAND EYE CENTRE

Cnr. Christiaan de Wet Rd &

Beverley Dr, Constantia Kloof,

Roodepoort, 1709

011 201 4625

appointments@visusense.com

www.visusense.com

011 675 1747 | info@drkatie.co.za

www.drkatie.co.za
---
GET IT DIRECTORY

To advertise here call 011 955 1130
---
GET IT DIRECTORY

To advertise here call 011 955 1130

Adriaan Art Gallery UNCOATED USE.pdf 1 2022/11/24 11:40:28

ADRIAAN'S ART GALLERY

Viewing by appointment

18 Thrush Street, Rant & Dal

Adriaan - 082 373 5442
---
Old-school CHARM

Glamorous doesn't come close to describing The Winchester Hotel ... the iconic hotel

with the most desirable location on Cape Town's Sea Point Promenade.

Built a century ago as a residential

property, The Winchester Hotel,

managed by Newmark, really is

the grande dame of the Sea Point

Promenade ... a three-storey gabled

building which was converted into a

hotel in the late 1950s.

And despite having a revamp recently,

it still retains its classic attractions ...

it's all elegant and well-bred and old

money. So it oozes glamour ... but

quietly. There'll be no crass showing

off here, thank you.

The 1920s Cape Dutch-style hotel

dominates its location, sitting right

on the edge of the Atlantic Seaboard,

overlooking the ocean and the

pedestrian promenade which is the

heart of the city's social hub.

It's all old-school charm, from the tiny

parking lot hidden around the corner,

past the pool which could be straight

out of a golden age Hollywood movie,

to the quiet lobby, from where you're

ushered off to your room. Just six

dozen or so - with lofts and suites and

a couple of family-friendly options,

with no rooms identically decorated,

but all with views over the sea or

that mountain!

Sticking with the less-is-more policy,

the hotel offers just the pool (with a

spa on the cards), a top-notch bar and

an amiable restaurant.

Harvey's Bar, all midnight black and

light wood, is well-frequented by

locals (always a good sign), and serves

up creative cocktails and fine liqueurs,

as well as a small but well-thoughtout

menu for those who simply can't

tear themselves away from the view.

A stone's throw away is Shoreditch,

the hotel's restaurant which has the

same restraint shown throughout the

venue. It's quiet, refined, and quite

lovely, with a menu that offers sharing

dishes like marinated olives and fresh

oysters, linefish ceviche and wagyu

sliders, unpretentious steak rolls and

mushroom risotto and Caesar salad.

Breakfast, should the Cape weather

be generous, is served out in the

central courtyard ... black and white

tiles and a cascade of bougainvillaea

along with your muesli and yoghurt ...

marvellous.

As is, really, the whole Winchester

affair. A gorgeous hotel, with

everything you need for a quiet,

luxurious stay ... and with everything

else you may want - nightlife and

clubs and walks and swimming and

shopping and people watching

- literally on your doorstep.

Details: 221 Beach Road, Western Cape.

021-434-2351. newmarkhotels.com

32 Get It Magazine Dec 22 / Jan 23
---
Could you get closer to the beach?

Text: KYM ARGO

Dec 22 / Jan 23 Get It Joburg West 33
---
Festive

Luxurious Celebrate

Spoiltreats from Sally Williams

The Sally Williams Celebrate range is just that, a marvellous celebration of

all things sweet and delicious for the season. Forget the obvious crackers ...

each of our dinner guests will have a Celebrate Chocolate and Nougat Cracker

(with a dozen pieces of indulgent treats inside) or a Christmas Star (also filled

with choc and nougat treats). For gifts there's a magnificent pack with two

nougat variations and a jar of pure honey, there are little boxes of dark and

milk chocolate treats, and boxes of pretty Turkish Delight. Perfect presents

... and if you're struggling to find an unusual dessert for Christmas Day, pop

over to the website and have a look at the tempting (and jolly easy) recipes.

Details: sallywilliamsfinefoods.com

A DELICIOUS

WIN ...

We've a hatbox hamper of

Sally Williams Celebrate treats to give away

... just in time for Christmas Day. To enter,

pop over to Instagram or Facebook

@getitjoburgwest and follow the

prompts. Competition ends

December 10.

34 Get It Magazine Dec 22 / Jan 23
---
FOCUS

ON

YOUR

SIGHT

217 Ontdekkers Rd

Horison, Roodepoort

010 595 9811

082 576 9471

info@annerieerasmus.co.za

www.annerieerasmus.co.za