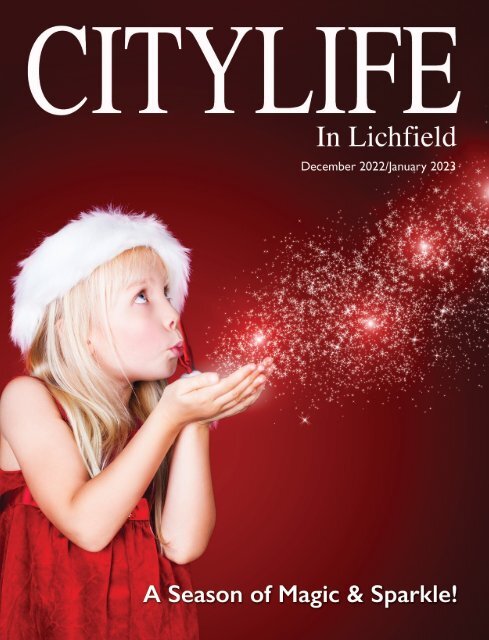 Citylife in Lichfield December 2022 January 2023
Tis the Season To Be Jolly! Our December, and January 2023, issue is full of festive fun and cheer as we come to the end of one year and enter the next. We have, of course, all of our usual features including competitions, local news, What's On events and local history features. Discover the history of Lichfield Traditions from the past, how to make some Christmas Chelsea Buns and we let you know the best places to buy your loved ones the finest Christmas presents, and also where to Eat, Drink and Be Merry this Christmas and New Year! Enjoy reading our combined December and January magazine over a glass of mulled wine and a mince pie - and have a wonderful Christmas and a Happy New Year from all of the team at Citylife in Lichfield magazine!
Tis the Season To Be Jolly! Our December, and January 2023, issue is full of festive fun and cheer as we come to the end of one year and enter the next. We have, of course, all of our usual features including competitions, local news, What's On events and local history features. Discover the history of Lichfield Traditions from the past, how to make some Christmas Chelsea Buns and we let you know the best places to buy your loved ones the finest Christmas presents, and also where to Eat, Drink and Be Merry this Christmas and New Year! Enjoy reading our combined December and January magazine over a glass of mulled wine and a mince pie - and have a wonderful Christmas and a Happy New Year from all of the team at Citylife in Lichfield magazine!
SHOW MORE
SHOW LESS
You also want an ePaper? Increase the reach of your titles
YUMPU automatically turns print PDFs into web optimized ePapers that Google loves.
3
---
Welcome to

CITYLIFE

Welcome to CITYLIFE in Lichfield, a monthly magazine

bringing you our pick of the city's news, events and stories.

Each month CITYLIFE in Lichfield is delivered to

businesses and homes in Lichfield, Kings Bromley, Fradley,

Alrewas, Hill Ridware, Whittington, Stonnall, Shenstone,

Hammerwich, Burntwood and Longdon, completely free

of charge; bringing you the best that the city has to offer.

Each issue features heritage stories exploring the rich

history of our area, plus competitions, interviews and the

latest in fashion and style.

Got a story or charity event you want to share with our

readership? Think you've snapped an image that captures

the spirit of the city? We want to hear from you!

Our business is bringing you Lichfield's city life.

CITYLIFE Contacts

Editor - Kristen Lackajis 07885 380632

kristencitylife@gmail.com

Features - Jono Oates 07785 757201 jonocitylife@gmail.com

Advertising -

Steve Brown 07740 166497 stevebrowncitylife@gmail.com

Rebecca Hill 07970 513144 rebeccahillcitylife@gmail.com

Mike James 07900 982456 mikejamescitylife@gmail.com

Design - Helen Smith 07967 154187 helencitylife@gmail.com

Citylife In Lichfield Ltd

PO Box 7126 LICHFIELD WS14 4JS

CITYLIFE in Lichfield and CITYLIFE in Rugeley and Cannock Chase

magazines are not connected to any other publication or publisher, and

are wholly owned by CITYLIFE in Lichfield Ltd.

Citylife In Lichfield

@citylifelichfield

@lichfieldcity

www.citylifeinlichfieldltd.co.uk

Citylife in Lichfield Ltd does not endorse any business or organisation

appearing in these pages, and the publication of any advertisement,

editorial, event listing or advertising editorial does not constitute an

endorsement by Citylife in Lichfield Ltd.

Your Local

Magazine

Inside...

6 Local News

What's been happening in Lichfield

14 Christmas Messages

City councillors' messages of goodwill

20 The City House

Historian Jono Oates takes us into the past!

42 Sustainable Christmas

Jess Davanzo shows us how to enjoy an eco-

Christmas

..................................

..................................

From the Editor…

Tis the season of peace on earth and goodwill to all men…

Whilst there is so much unrest and uncertainty going on in the

world, take this festive season to be thankful for the little things

in life… your family, friends and loved ones. Spend time with

them, enjoy their presence, and make memories that will last a

lifetime.

Here at Citylife, we'd like to thank all our loyal readers,

contributors, and customers for their continued support, and we

wish you all a very peaceful Christmas and, hopefully, a

prosperous New Year.

Krissy

November Winners

E Harriman wins two weeks of yoga classes for two people at The

Wellbeing and Wellness Coach, Burntwood; E Leys wins a granite

chopping board courtesy of Just Granite, Penkridge; L Tipper receives

Bubble Tea for Two at JSK in Lichfield; M Wright is the lucky recipient of

a bottle of Rhubling fizz from Burntwood-based Clive's Wines! Well done

to all who entered!
---
5
---
LOCAL NEWS

6

Camera Club

Presentation Evening

Douglas Armour & Ann Wright

Lichfield Camera Club welcomed Douglas

Armour, the Gallery co-ordinator at The Hub,

to present the awards at its annual Presentation

Evening. A keen amateur photographer himself,

Douglas gave members a short biography of his

personal photographic journey which was

followed by a slideshow of all the images of

award winners.

Sandra Morgan was particularly successful

winning both Colour and Mono Print the

Beginners/Intermediate section with Ivan shaw

winning the Project Digital image competition

in this section. The Advanced colour Print

competition was won by Joe Anderson with Sue

Freeman winning the Mono Print competition

and Darron Matthews the Projected Digital

Image competition. The open Three of a Kind

competition was won by Anne Anderson.

Special Awards went to Ann Wright for being

the most improved photographer, and Graham

Slight for the most creative image. The

Chairman's Award went to Sue Freeman for her

service to the club as External Exhibitions

Secretary.

Visit www.lichfieldcameraclub.org for more

information.

......................................................................................

Head Appointed for

New School

Tapping into the Lichfield

community to enhance

opportunities for pupils is

at the forefront of the

thinking of Anna Seward

Primary School's new head

of school.

Richard Storer (pictured) Richard Storer

was officially unveiled as the

new head at a recent open evening for the free

school, which opens in September 2023, and is

thrilled at the prospect of leading the school as

it begins to establish relationships in the city.

Mr Storer has a wealth of senior leadership

experience having spent a combined seven

years as assistant headteacher and deputy

headteacher at Greysbrooke Primary School,

also in Lichfield.

As well as the school offering the very best

opportunities for children to thrive in the

classroom, Mr Storer believes the vibrant

Lichfield community provides the ideal chance

for the school to form partnerships which will

enhance experiences and life skills for its pupils.

Applications for places at Anna Seward have

opened and more information can be found at

https://annaseward.atlp.org.uk.

.......................................................................................

Century Celebrations

for Care Resident

Celebrations have been in full swing at the

Spires Care Home, as one of its residents

reaches her centenary in style.

Helen Turner was joined by staff, relatives,

friends and other residents as she received a

telegram from the King in recognition of her

landmark birthday. A champagne reception was

held with all of Helens family at the home and

guests enjoyed a special birthday cake made by

the home's chef Polly Holmes.

Among those relatives attending was Helen's

sons Geoff, Keith and Peter who played hosts

for the afternoon to lots of guests.

The Spires care home is run by Barchester

Healthcare, one of the UK's largest care

providers, which is committed to delivering

personalised care across its care homes and

hospitals. The Spires provides residential care

and dementia care for 70 residents from respite

care to long term stays.

New Car Park

Payment Machines

New payment machines at The Friary Car Park

in Lichfield are being installed to make parking

more convenient for customers.

The facility on The Friary, which is currently pay

and display, is being changed to a pay on exit

system with the help of ANPR (Automatic

Number Plate Recognition) technology.

As customers drive into the car park the ANPR

camera will pick up the Vehicle Registration

Number and begin recording the duration of

the vehicle's stay. When returning to the car

park to leave customers will simply enter their

registration number in the payment machine

which will charge them the correct tariff for the

period they have been parked. Customers will

be able to pay by cash, credit and debit card or

use smart devices such as Apple Pay and Google

Pay. Once payment has been received the

barrier will rise as they drive up to exit.

.......................................................................................

Got a story or charity event you

want to share with our

readership? Think you've snapped

an image that captures the spirit

of the region? We want to hear

from you!

Contact Citylife at

kristencitylife@gmail.com

To Advertise call:-

Steve Brown 07740 166497

stevebrowncitylife@gmail.com

Rebecca Hill 07970 513144

rebeccahillcitylife@gmail.com

Mike James 07900 982456

mikejamescitylife@gmail.com
---
Advertising Feature

Financial Advice will cost you money, but I aim to

show you the value of good quality Financial Advice.

Have you got cash sitting in the Bank or Building Society earning you very little interest?

Are you concerned about inflation eroding the value of your savings?

We could discuss setting up a well-diversified investment portfolio for you.

What do you know about your pensions and your pension options?

Would you like a free one-hour initial chat with an experienced local Financial Adviser?

Our first meeting will be at no cost to you, without any obligation to proceed any further. If you do decide to

proceed then the fees for initial and ongoing advice will be clearly explained and agreed with you before any further

work is done. Financial Advice will

cost money, which can come from

the investment, but I hope to be

able to demonstrate to you the

benefit of good quality professional

advice.

If you do decide to become a

client then you will get a

personalised service that matches

your needs, whatever they may be,

as we are all individuals. I will carry

out a full fact find of your

circumstances, look at your current

plans and policies and discuss with

you your priorities, where you want

to be financially in the future and

how I may be able to help you get

there. I will speak in clear terms and

do my best to try and help you

achieve your goals.

As an experienced local Financial

Adviser I work with clients at all

stages of their life to help them

achieve their financial goals,

whatever they may be.

You can find me on the

Independent rating sites Unbiased

and Vouchedfor, via my website -

www.financialadviser.me.uk or the

Four Oaks website –

www.fouroaksfs.com

I hope to hear from you soon.

Robin Place DipFA, CeLTCI, MLIBF

Financial Adviser

0121 323 2070, 07968 504805

robin@fouroaksfs.com

7
---
LOCAL NEWS

8

Local Artist's

Fundraising Drawing

Local Lichfield artist Jackie Roberts, Owner of

Love2dream, drew a picture of Buckingham

Palace as her way of commemorating the

passing of Her Majesty Queen Elizabeth II. The

drawing, featuring a line drawing of Buckingham

Palace, showed a rainbow appearing as it did on

the day of The Queen's death and a lone Corgi

looking back at the Palace. Initially drawn as a

mark of respect at a sad time for the Nation,

Jackie posted the drawing on her social media

and it was only when people started asking if

prints were available that Jackie decided to use

her drawing to raise money.

The drawing has already raised £500 for

charities, including St Giles Hospice in

Whittington and Tamworth Wellbeing & Cancer

Support Centre.

The drawing is available to buy as a 10 x 8-inch

limited edition, signed print for £12.50, including

postage, from www.love2dream.co.uk. At least

£10 per print will be split between the charities.

A maximum of 200 will be printed.

......................................................................................

Design Agency's

Silver Success!

A graphic design agency based in Lichfield has

been rated in the top 100 of all creative

agencies in the UK.

PHd Design, located in Riley Hill, won the silver

award for their recent rebrand of Titanic

Brewery at the NY Product Design Awards. For

its 2022 competitive year, the NY Product

Design Awards took in over 800 entries from

24 countries. Individuals and companies put

their design prowess on full display as they

sought to snag a victory in the competition,

which in recent years had taken a name for

itself as one of the leading design awards

internationally.

Visit www.phddesign.co.uk to find out more.

......................................................................................

Celebration of

Independent

Businesses

Adam & Tracey Lumb with Lichfield dignitaries

Specialists in footwear, Friary Shoes, hosted a

special evening recently to celebrate some of

the fantastic independent high street businesses

that are based in Lichfield's city centre.

Friary Shoes, now situated on Baker's Lane, is

one of the longest established retailers in the

city, having opened its first Lichfield store in

1904 more than 118 years ago.

The Lichfield business owners, Adam and Tracey

Lumb, were joined by members of the council

and other local dignitaries, including the

President of Lichfield Chamber of Trade and

Commerce, the Mayor and the Sheriff of

Lichfield.

Local historian, Jonathan Oates, opened the

evening with a short talk celebrating those

Lichfield independent retailers, like Friary Shoes,

who have been trading in the city for many

years. Other independent businesses who

joined in the celebration included Citylife in

Lichfield, The Kitchen Shop, and The Fabric

Vault.

......................................................................................

Gift Wrapping Galore!

On Tuesday 15th November, local Burntwood

business Cost Cutters UK wrapped 500

selection boxes that it has purchased which

were given away to children at the Burntwood

Christmas Festival on Saturday 26th November

at Sankey's Corner.

The entire team, along with visitors including

Citylife Editor, Krissy; local Councillor, Darren

Ennis; and Lichfield-based events and

entertainment company, A Bag O Fun, all joined

in the festivities by dressing up and helping to

wrap the gifts to give out.

Cost Cutters UK is an online furniture

specialist and operates within the following

industries: Education, Workplace and

Hospitality. As a company, it prides itself on

supporting fellow local businesses and has

worked alongside charities and other

community initiatives in recent years.

......................................................................................

Family

Notices

Readers are now able to place

a notice in Citylife in Lichfield

magazine to let others know

of an important event,

occasion or celebration that is

taking place. If you would like

to place details of any births,

deaths, marriages or other

occasions, please contact

Rebecca Hill at

rebeccahillcitylife@gmail.com

or on telephone

07970 513144.

Notices will consist of a

maximum 50 words, plus an

image, at a cost of £24

(inclusive of VAT).
---
9
---
LOCAL NEWS

Winter Car Checks

for £10

Football Academy

Announces Sponsor

the tough target of being trained and qualified

within two years and then owning his own salon

after a further two years, he has now realised

his dream and become an award-winning salon!

Founded in 2017, the Salon Awards provide an

impartial platform giving all types of salon

hairdressers and barbers the opportunity to

gain recognition for their skills.

.......................................................................................

Funding for Canal

Restoration

T Turner Autos Ltd, a garage based in Lichfield,

is offering Winter Car Checks for just £10 with

all money going to We Love Lichfield.

This includes checking oil, antifreeze, fan belt

tension, lights, brake fluid, battery and charging,

tyres and pressure, brake rolling road test,

wipers and screen wash, and an emissions

computer check – everything you need to

ensure your car is winter road worthy!

Last year, the garage raised £530 for We Love

Lichfield!

To book in for your £10 Winter Car Check,

contact T Turner Autos on 01543 418896.

......................................................................................

Arthur Price

Anniversary Winners

Winners of our October Arthur Price

competition were presented with their prizes

by Simon Price and Citylife Editor, Krissy

Lackajis, in the Arthur Price Factory Shop.

They received a Highgrove 42 piece set plus

they were presented with a voucher for use in

the shop which, during the year 2022,

celebrated 40 years in Lichfield! It is the UK's

largest cutlery shop, is open six days a week, but

also sells gifts including crystal glassware and

other tableware. It's special Christmas has

already started with up to 70% off!

Adam Rhodes & Imran Kalam of Rhodes Wealth

Management with Lichfield City Football Academy.

Financial Advisers, Rhodes Wealth Management

have been unveiled as the Lichfield City Football

Academy Sponsor for the incoming season.

The sponsorship agreement will include Rhodes

Wealth Management as the main sponsor for 19

matches this season, with their logo advertised

on football shirts and banners, as well as across

Lichfield's social media platforms.

Rhodes Wealth Management will also be given

the opportunity to present to all players and

parents about the importance of financial

planning and management, a topic that is

prevalent to young people.

Lichfield City Football Academy, who were the

2019 and 2020 league champions and Midland

cup winners, offer full time education to

support talented football players aged 16-21

years, offering outstanding support, expertise

and guidance.

Rhodes Wealth Management is an Appointed

Representative of St. James' Place founded in

2007 by Adam Rhodes.

.......................................................................................

Award for

Lichfield Salon

Peter Buck & Carole Mills at Darnford Moors

The Lichfield Canal will move a step closer to

restoration, with funding of £116,200 secured

for work at the Darnford Moors section of the

canal.

Lichfield and Hatherton Canals Restoration

Trust (LHCRT) has been awarded £116,200 to

create an ecology park at Darnford Moors. The

European Regional Development Fund [ERDF]

is providing £41,200 of the grant, with match

funding of £75,000 from HS2's Community and

Environment Fund [CEF].

This will enable LHCRT to make habitat

improvements to the Darnford Brook wetlands,

existing woodland and hedgerows from

Darnford Lane to past the lift bridge. It will also

enable the Trust to put the canal channel into

water to the east of the liftbridge.

LHCRT's volunteers have been preparing the

site and Bluetech Waterfront Solutions Ltd has

been commissioned to engage specialist

contractors to put the canal channel in water,

and become an aquatic habitat, by February

2023.

This part of the Lichfield Canal is close to the

new section being constructed as part of the

HS2 Cappers Lane diversion. Applications are

also underway for further funding to put the

canal in water to Darnford Lane.

To Advertise call:-

Pictured left to right: Krissy Lackajis, Susan Cross, Claire

Shelley & Simon Price.

10

The Style Hut, a salon based on Upper St John

Street in Lichfield, is celebrating after being

awarded the title of Best Salon in Staffordshire

in the Hair 2022 Salon Awards.

Owner, Craig Joiner, has run the salon for eight

years following his training at Bad Apple Hair

Salon in Sutton Coldfield. Initially setting himself

Steve Brown 07740 166497

stevebrowncitylife@gmail.com

Rebecca Hill 07970 513144

rebeccahillcitylife@gmail.com

Mike James 07900 982456

mikejamescitylife@gmail.com
---
11
---
LOCAL NEWS

TV Chef Helps

Students

Local chef Liam Dillon has partnered with his

old school to create a hospitality training

programme for local sixth formers.

Five chosen students from King Edward VI

School Lichfield will spend a year at Liam's

restaurant, The Boat, across different

departments and roles, graduating with a

certificate of merit. The paid placement will help

the students either gain entry into the

hospitality industry or support them in

applications for jobs and higher education.

This is the second initiative Liam has created for

his old school. During Covid Liam prepared

Heat At Home meals for staff at King Edward VI.

For three months during lockdown Liam

delivered meals every week to help keep staff

motivated.

......................................................................................

Park All Day for £2

Swim School

Offers Support

A swimming school in

its 40th year of

operation is offering a

free course of lessons

to anyone that has lost

money due to the

closure of Lichfieldbased

company, Swim

House.

Sue's Swim School,

which is in no way

affiliated with Swim

House, was started by Sue Gumbley in 1982

and is now operated by sons Matt and Andy and

supported with a team of more than 20

instructors and assistants. Although there is

very limited availability across Sue's Swim

School's five pools, the family-run firm is keen

to help where it can to support the local

community.

Matt and Andy are keen to point out that there

absolutely no commitment, catch or

expectation of future payment, they just want

to support those who have been

inconvenienced.

Swimmers can contact the team at

newswimmer@suesswimschool.co.uk.

.......................................................................................

New Members Wanted

Got a story or charity event you

want to share with our

readership? Think you've snapped

an image that captures the spirit

of the region? We want to hear

from you!

Contact Citylife at

kristencitylife@gmail.com

A festive special offer is available to anyone who

parks at The Friary Multi Storey Car Park in

Lichfield throughout December.

Visitors to the facility on The Friary (WS13

6QE) can park all day for £2 until Saturday 31st

December.

The Friary Car Park is among the largest in the

city with 367 standard spaces, 21 spaces

reserved for Blue Badge holders, eight spaces

for motorbikes and ten for bicycles (on the

lower ground level) and two electric charging

points.

12

Lichfield Trefoil Guild celebrated its 50th

birthday this year and, among other activities, it

attended the Court of St. George at the

Guildhall, visited a Trefoil Guild in Banbury, and

learned about a development project in Ruanda.

Trefoil Guild is a branch of Girlguiding for

adults, who meet socially and also support the

work of Girlguiding in the area. It is open to all,

though members tend to have had a connection

with Girlguiding either as children or as adult

leaders.

Lichfield Trefoil meets at St. Chad's Church Hall,

The Leasowe, Lichfield WS13 7HD on the third

Monday afternoon in the month. It is a very

friendly welcoming group and anyone

interested in joining can contact Guild

Secretary Pauline Cox on 01543 263973.

Correction

In our November issue, we incorrectly

attributed this image to Tuppenhurst Barn and

B&B. This photograph was in fact taken from

an afternoon tea at Pretty Pots Ceramics in

Milford, Stafford.
---
13
---
Christmas Messages

"Merry Christmas to you all. It is truly a privilege for us

to be Mayor and Sheriff of Lichfield. A city built on its

traditions, such as the Greenhill Bower, the Dr Johnson's

Birthday celebrations, its rich history preserved through

its listed buildings, the Guildhall, Donegal House, Dr

Johnson's Birthplace, the Cathedral and many others.

These provide the backdrop to our varied and vibrant

City life.

"A City of festivals, there is rarely a weekend goes by

where you cannot find an event to attend, however

diverse. These are organised by the multitude of

wonderful organisations and they thrive here. If you have

an interest, then we urge you to find a group to share that

pleasure. Living here we fully understand why people

travel in to join us and we thank you all for making that

the case.

"Our eyes have been opened to just how many people

are doing their best to make better lives for others,

selfless service with no thought for recognition. Thank

you.

"This year we are supporting The Sebbie Hall Kindness

Foundation (enabling disabled young people to live) and

The Pathway Project (supporting the victims of Domestic

Violence), both excellent causes and we would like to

thank everyone who organises or supports, not just our

causes but the many charities that exist across our area.

It is the volunteers who make Lichfield such a great place

to live. If you can help, please do. If you need help, please

ask. Whoever you are. We hope that whatever challenges

you are facing you can have a Happy New Year and the

fellowship of those around you."

Cllr Jamie Checkland, Mayor of Lichfield & Cllr

Janice Greaves, Sheriff of Lichfield.

"Christmas can be a

wonderful season for

many of us across the

District; a time for us to

slow down, celebrate and

spend quality time with

our families and loved

ones.

"Most years, once the

stresses of attempting to

get a picture-perfect

Christmas dinner table ready, finding last minute presents,

wrapping endless presents for children, cousins, nieces

and nephews and untangling the Christmas lights is all

over, I tell myself that "next year" will be different – that

we'll focus on quality time with family, enjoying the simple

pleasures of a warm home, serving others and enjoying

the oasis of the Christmas break. Perhaps this year will

finally be that year… although I suspect not!

"For those of us with young (or young at heart!)

families, the magic of Christmas is truly special – but I am

sure that not everyone finds this time of year easy. I know

that there will be many of you working this Christmas

period to ensure no-one spends Christmas alone or

hungry, while thousands more continue to work over the

holidays delivering essential services and support in our

community. Thank you to all those who support others in

their community and seek out others who might not find

this time of year easy.

"For our Ukrainian guests in Lichfield, this will be your

first Christmas in Lichfield District. I'm immensely proud

that so many families across the District have opened up

their homes to support those who have travelled

hundreds of miles to find safety, warmth and new lives; I

hope you enjoy the Christmas season - З прийдешніми

святами!

"One final plea from me, for those of you who still have

presents to buy please consider buying some gifts locally

from independent retailers – you're much more likely to

find a unique gift, and your money tends to stay local too!

"I hope you have a wonderful Christmas season; stay

safe and take care of each other.

Doug Pullen, Leader of Lichfield District

Council

14
---
15
---
Sing Choirs of Angels

Lichfield Cathedral is putting on a light show with

difference for Christmas 2022. This year they have

teamed up with acclaimed animation team, Illuminos, to

bring visitors a joyful experience to help soak up the festive

atmosphere.

'Sing Choirs of Angels' is the title of the light show, which will see

a number of installations in Lichfield Cathedral grounds and inside

the Cathedral itself. The show will take visitors through the joyful

story of the Nativity and the popular carol 'O Come All Ye Faithful',

exploring the carol's links to Lichfield.

The evening includes access to the Cathedral and Cathedral

Close from a ticketed time for as long as visitors wish to stay.

There are no times showings for the light shows this year so

visitors can stay and view them as many times as they like, even

circle back around and view them all again, if they wish.

Alongside the light shows, visitors will be able to purchase

refreshments and gifts, soak up the atmosphere inside the

Cathedral, visit the famous Christmas Tree Festival, explore the

story of the Nativity more closely, and take time to reflect, pray or

light a candle.

Tickets are available to purchase now from the Cathedral's

website: www.lichfield-cathedral.org/angels and are priced £10 for

adults, £7.50 for children, £30 for a family (2 adults, 2 children),

with under 3s free.

This event is kindly sponsored by Richard Winterton

Auctioneers Ltd.

Got a story or charity

event you want to share

with our readership? Think

you've snapped an image

that captures the spirit of

the region? We want to

hear from you!

Contact Citylife at

kristencitylife@gmail.com

16
---
17
---
Your Garden in December

By Byron Lewis

We're at the end of yet another year – I'm sure it's going faster the

older I get! Christmas is well and truly upon us and you may be

looking for a real Christmas Tree… every year between 6 and 8

MILLION cut Christmas Trees are sold in the UK* and here in

Lichfield we sell around 500 of these here at the Garden Centre!

For many, Christmas starts with putting up and decorating a tree –

so how do you buy and how do you care for your tree? Firstly, buy

early so you get the best selection – don't be the person who's left

it until Christmas Eve or you might be out of luck! Even if you don't

put the tree up straight away, as long as it is kept outside in the cool

and sat in some water it will be fine until later in December.

You'll need a stand for your Christmas Tree – make sure it has a

reservoir which will hold water. A medium sized tree can drink a

couple of pints of water each day so make sure the stand is regularly

topped up or the tree may start to droop. If you already have a stand,

bring it with you when picking your tree – you can then check that

the trunk fits (otherwise be prepared to trim it to fit with a saw

when you get it home)!

Choose Nordman or Frazer Firs for the best needle retention –

these are the most popular types available. Norway Spruce can be

cheaper but are better in much colder positions like a porch or

outside your front door – in heat, they can quickly lose many of their

needles. Alternatively, pick a pot grown tree – with the right

treatment these can last for many years, just be sure that you leave

plenty of room for it to grow if you're planting it in your garden after

Christmas!

Finally, after Christmas when your tree is taken down, why not take

part in the St Giles 'Treecycle' scheme, where in return for a

donation to the Whittington-based charity, your tree will be

collected and shredded saving you time and effort too! Visit St Giles

website for more details.

Lichfield Garden Centre's Christmas Shop is now open, with a huge

range of new and unusual Christmas Decorations, lights and

Christmas Gifts.

Byron Lewis runs Lichfield Garden Centre at

Curborough Countryside Centre,

Lichfield. Tel: 01543 254306. Visit

www.lichfieldgardencentre.co.uk or find the centre on

Facebook, Instagram and Twitter.

18

*Source: British Christmas Tree Growers' Association
---
10% Off

Made to

Measure

19
---
The City House

of Lichfield

By Jono Oates

Numbers 2, 2a and 4 on Lichfield's Dam Street, next to Lloyds Bank, is one of

those classic buildings that is best viewed from a distance. The best viewing

spot is to stand in the Market Square, close to the statue of James Boswell,

and just gaze at the scope and height of this wonderful building to truly appreciate it.

A Grade II listed building, it was built around 1800 and has a typical Georgian building

design, with alterations to the shop fronts made at the end of the 19th century.

The building was known, for many decades, as City House, although that title is no longer

used. There used to be a large sign, placed just above the second-floor windows at the front

of the building, with the name City House on it. The sign can be seen on the vintage advert

for Francis Young Draper's, taken in 1914.

Over the years, the three properties comprising City House have had a number of private

owners and shop businesses, but one of the most popular trades, from the middle of the 19th

century to the 1930s, was as a drapers. Mr J G peace ran a draper's business from number 4

City House in the 1860s, and in April 1964 he was looking to recruit a draper's assistant via

the Staffordshire Advertiser newspaper, appealing to 'Parents and Guardians and looking for

a strong, active youth, about 14 years of age, as an apprentice for the Drapery trade, for a

term of four years. He will be treated in every respect as one of the family.'

William Norman, originally an upholsterer and cabinet maker from Leicester, took over at

number 4 as a draper in the 1870s and in 1880 he held his Annual Sale of Linen and Drapery

goods, with surplus stock from all departments offered at a 'great reduction.' Norman was

succeeded by two drapers in the early 1880s as business partners, Messrs Alfred Smyrk and

Alfred Bradbury who announced, in June 1883, that they had a large assortment of 'the

newest and most fashionable goods'. As well as drapery and household items they could also

provide all furnishings for funerals, as well as being agents for sewing machines, with a 5%

discount offered for cash sales. In 1891 Alfred Smryk, then aged 53, was living, and working,

at number 4 along with his wife, Elizabeth, their son, a draper's assistant, a cashier, a cook, a

housemaid and two draper's apprentices, one of whom was 18-year-old Charles Hayes.

By the end of the 19th century Smyrk and Bradbury became Bradbury and Hayes, with

Bradbury now living at number 4 and his younger partner, Charles Hayes, now a qualified

draper, living at number 2. In 1901, Hayes' next-door-neighbour was a certain William

Wordsworth… however not the noted poet, but the Scottish bank manager at Lloyds Bank!

Bradbury and Hayes proudly announced in May 1905 that they had secured the services of

an expert cutter and fitter for their Ladies' Tailoring Section, that he had unique experience

of London and Continental tailoring, and that he had come direct from the well-known firm

of Debenham and Freebody, Wigmore Street, London. The store later became part of the

Debenhams chain. They also announced their 'specialité' for Summer 1905, the Soap-Shrunk

Flannel Suit, tailor-built and fitted for just 50 shillings complete – just £2.50 in today's money.

Mr Francis Young, another draper, took over from Bradbury and Hayes in 1907 at numbers

2 and 4 City House. As previous drapers had done, Francis Young sold sewing machines, as

well as ladies' fashions and in 1908 he could supply Frister and Rossmann's 'celebrated'

sewing machines, which claimed to be 'the best value in the world at the lowest prices.' In

June 1913 Winterton and Son offered City House up for auction, describing it as a freehold

property in a prominent position, and realising £130 per annum under lease. The auction

commenced with a bid of £1,500 for the whole of the City House building, but it was later

withdrawn, when it had reached £1,800.

Wilding and Co took over City House in the early 1920, selling a range of household and

fashion items, and in December 1926 they were offering 'choice and distinctive' Christmas

gifts, including handkerchiefs, gloves, hosiery, ties, men's half-hose, motor muffs, motor rugs

and cushions etc.

Today number 2,2a and 4 Dam Street is occupied by ABD Carpets, the Courtyard Fine Art

Gallery and also by Fortescues ladies' fashion shop, continuing the long-standing tradition of

ladies' fashion, drapers and milliners at one of Lichfield' grandest Georgian buildings – City

House.

Workshop, Chamberlin and Hill, 1950s

Tuke and Bell Workers, 1970

Lichfield Foundry, Sandford Street, 1967

*Vintage photographs courtesy of the St Mary's

Photographic Collection

Sources: The British Newspaper Archive;

Ancestry.co.uk; www.tukeandbell.co.uk.

20
---
21
---
Christmas Traditions

By Charlotte Benton

As the countdown to Christmas begins and advent calendars

are opened, the traditions of the festive period are well

underway. From hanging stockings, to kissing under the

mistletoe, there are numerous annual traditions that we take part

in at this time of year, but where do they originate from?

Since us British are sticklers for tradition, it is time to add a little extra

meaning to your festivities this year and learn how we have come to

celebrate the festive period as we do today. Of course, you're bound to

impress your family and friends with this insight too!

Christmas Trees

The pinnacle of Christmas arriving in households across not only the

UK, but around the world, is marked by the decoration of an evergreen

tree. This holiday tradition dates back to 16th century Germany, when

devout Christians first brought decorated trees with lit candles into their

homes. This scene has since been recaptured in families' homes every

year.

Boxing Day

One day that is particularly ambiguous is Boxing Day. Each year we

continue to enjoy the festivities and celebrate this day, but have you ever

wondered why? This is a British tradition that dates back to the 1800s,

when the wealthiest of society received their Christmas gifts in a box.

The following day the box would be refilled with small gifts and given to

their staff, the servants, who also got to enjoy the day off work.

The Gift of Coal

Now for a tradition that isn't as exciting as an extra day off work, or

as aesthetically pleasing as a gleaming Christmas tree, nonetheless the

giving of coal as a Christmas gift is a tradition that holds both positive

and negative connotations. Today, the tradition of a child receiving coal in

their stocking suggests that they are indeed on the naughty list! However,

this centuries old tradition was once welcomed by children in the 1800s

when burning coal was the only way to stay warm, thus a gift of coal was

essentially, the gift of warmth!

Wassailing

As one of the oldest festive traditions, the term wassail is derived from

the Anglo-Saxon 'waes hael' meaning good health. This ancient custom

previously took place on New Year's Eve during which wassail, which was

a mulled punch, was drunk from a wassail bowl whilst singing. This

tradition continues today in southern England's cider-producing regions,

where singing and incantations take place to encourage a good harvest

for the following autumn.

Christmas Jumpers

Now for a more modern Christmas tradition. This recent addition to

our festive calendars involves an annual fundraising campaign in which

people across the UK and Ireland wear their brightest and cheesiest

festive jumpers to support and celebrate the charity, Save the Children.

This year it is Thursday 8th December which has been set aside as the

day to dig out your favourite Christmas attire and donate to this worthy

cause.

Food Glorious Food

Finally, and what some may consider the main event at Christmas,

comes the food! So why is it that we enjoy turkey and mince pies at this

time of year? Historically, pheasant, swan or goose were the typical

choice of Christmas dinner. It is only more recently that turkey has

become the bird of choice as previously households simply did not have

the money or space to refrigerate such a large bird. Mince pies however

were first enjoyed in the Middle Ages! Although today's recipes share

little resemblance to the sweet treat's original version which sought to

preserve meat, mince pies continue to be a festive favourite.

Christmas would not be the same without the traditions that

we adhere to each year. After all, they are what create that

magical festive spirit and,, of course there is nothing better than

an embarrassing Christmas jumper and some leftover turkey!

22
---
Based in the heart of Lichfield is an

award-winning Corporate Wellbeing

service that works with some of the city's

biggest businesses and organisations.

Here founder Sharon McCormick explains

why Lichfield is the perfect base for The

Listening Centre.

The Listening Centre – our name says it all.

We have spent the last 20 years working with businesses across the

Midlands, listening to employees and helping them improve their health

and well-being. Based in Lichfield, we are the Employee Assistance

Programme (EAP) provider for some prominent local organisations

and businesses – Lichfield District Council, West Midlands Ambulance

Service and Lichfield Garrick Theatre to name a few.

Each company we work with has the same thing in common – they

ensure that employees can access the best local support possible. The

feedback we've had from these organisations over the last two decades

has been excellent:

"The Listening Centre is a valued part of our well-being provision. A

reliable, flexible and proactive provider, always keen to work in

partnership and genuinely invested in the quality of care they deliver."

– Sarah Greswolde, mental well-being practitioner at West Midlands

Ambulance Service.

"Lichfield District Council are proud to collaborate with The Listening

Centre, who have been providing first-class, seamless welfare support

solutions to our workforce since 2003." – Mandy Linthwaite, HR

Business Partner at Lichfield District Council.

We were thrilled when, during our 20th anniversary year, we were

named Lichfield Small Business of the Year at the Sutton, Lichfield and

Tamworth Chamber of Commerce Annual Awards. We are proud to be

based in Lichfield, and its excellent transport links and road network

mean we can easily reach out to our clients that are spread across the

Midlands. Our team of practitioners provide a broad range of services

including talking therapy, such as CBT and EMDR, and trauma support,

which is vital if there has been a critical incident at work. We also offer

mediation to settle workplace disputes, well-being assessments and

corporate training on a range of topics.

Our figures speak for themselves - 98% of our clients are seen within

five miles of their home or work location, while the average time to

wait for a first appointment is just seven days. Our fees are fair and

transparent and we're proud of the good relationship we have with

managers and directors. These are just some of the reasons why we

are now firmly established as the region's leading EAP provider.

For more information visit our website

thelisteningcentre.co.uk. Get in touch by emailing

enquiry@thelisteningcentre.co.uk or call 01543 300068.

23
---
Here at Just Granite Ltd, we pride ourselves on being the experts for any worktop needs you may have.

Be it a beautiful bespoke and unique kitchen worktop, a bar, bathroom or even a barbecue area, we have

an extensive in-house range ready to be chosen by you! We stock a varied range, in a variety of materials,

such as our own competitively priced quartz, granite, marble and porcelain, as well as all the top brands

from around the world.

There really is no reason to go anywhere else!

Win a Granite Chopping Board

If you require our services please do not hesitate

to call us on 01785 711096 or email your quote

request to stef@justgranite.ltd.uk

With the largest variety of natural stones in the Midlands, the

solid slabs are kept on-site and are available for a virtual viewing

from 9am-5pm on Monday to Friday. Located at The Stone

Works, Pillaton Hall Farm, Penkridge, ST19 5RZ.

We've got a bespoke Chopping Board (in the

colour of your choice) to give away! To be in

with a chance of winning this magnificent prize,

simply answer the following question correctly:

Where does the supply

of granite come from?

a) Spain

b) Italy

c) Germany

To enter, just send your name, contact details and answer to Just

Granite Competition at competitioncitylife@gmail.com or post your

entry to Citylife in Lichfield Ltd, PO Box 7126, Lichfield WS14 4JS by

the closing date of 25th January 2023 One entry per household.

Multiple entries will be disqualified. No cash equivalent. Please note

you must be 18 or over to enter. All entrants' information is

processed in line with GDPR Data Protection Regulations and our

Privacy Policy (available at citylifeinlichfieldltd.co.uk).

Full t&cs on page 50.

24
---
Win a Festive

Hamper from

MERKUR Slots

Visit MERKUR Slots and

warm up with a fluffy

cappuccino and a mince pie

or a cob and let us introduce

you to our luxurious venue,

the latest digital slot

machines, Sky Sports and a

friendly team to welcome

you!

MERKUR Slots operates the very best slot gaming

experience on the UK high street, with modern venues

designed to provide that casino feel right on your doorstep

and the added benefit of bingo games. MERKUR Slots has

an emphasis on low stake gaming with payouts ranging

from £5 to £500 and prides itself on providing top quality

customer service to every visitor. New to slot gaming?

Don't worry! The well trained, friendly team are more than

happy to show you the ropes and get you started. On top

of this everyone who plays in our venue is entitled to

unlimited free refreshments!

Why not experience the

magic of MERKUR Slots

today?

We've teamed up with

MERKUR Slots to

giveaway a fantastic

Festive Hamper! To be

in with a chance of

winning this delicious prize, simply answer the

following question correctly and send your

answer along with your details:

Where is MERKUR Slots located?

a) Market Street

b) Bore Street

c) Bird Street

Must be over 18 to enter and available 15th Dec to collect

instore.

To enter, just send your name, contact details and answer to MERKUR

Slots Competition at competitioncitylife@gmail.com or post your entry

to Citylife in Lichfield Ltd, PO Box 7126, Lichfield WS14 4JS by the closing

date of 13th December 2022. One entry per household. Multiple entries

will be disqualified. No cash equivalent. Please note you must be 18 or

over to enter. All entrants' information is processed in line with GDPR

Data Protection Regulations and our Privacy Policy (available at

citylifeinlichfieldltd.co.uk). Full t&cs on page 42.

25
---
To charities fighting furniture poverty, please

write us a 'shopping list'

By Richard Winterton, Richard Winterton Auctioneers

An issue sadly faced by many throughout the year

and magnified by Christmastime is that of furniture

poverty.

Reports show an increasing number of families are

going without essential furniture or spiralling into debt

by buying on credit – especially as the cost of

purchasing from new has risen by more than 30 per

cent in the past decade.

Yet The Lichfield Auction Centre could provide

charities with items including three-piece suites,

armchairs, recliners, tables and chairs, sideboards,

bookcases, wall units, wardrobes and beds – all

completely free of charge.

We carry out a large number of house clearances

every week and inevitably encounter much unwanted

furniture and other practical household appliances.

Not everything will sell at auction but that doesn't

mean it's useless. We can access plenty of good quality

items which can help those who are desperately in

need.

So if there are any charities, refuges or organisations

out there who think we can help them with regards to

unsold furniture, please do get in touch.

From vintage, retro and Victoriana to mid-20th

century teak, we handle a huge amount of all different

types of furniture and other household items such as

pots and pans, knives and forks and even stairlifts.

And if there are specific items which are regularly

needed, we can store them and always have a container

of items ready.

It's that simple – just write us a shopping list.

So many people are struggling, making do or going

without altogether and this doesn't have to be the

case.

Plus, it's not just about fighting poverty – it also helps

reuse the planet's resources by recycling, upcycling and

preventing waste.

Charities and organisations requiring furniture

should email our furniture saleroom manager Scott

Walker at scott@richardwinterton.co.uk.

We close for Christmas at 5pm on Wednesday,

December 21, reopening at 9am on Tuesday, January 3.

Either side of then, free quotations for house

clearances, probate services and in-person valuations

of any item at The Lichfield Auction Centre, Wood End

Lane, Fradley Park, can be booked on 01543 251081 or

by email to office@richardwinterton.co.uk.

Home visits for bulky items or large collections and

appointments to view pre-sale are available to arrange

too and online catalogues for upcoming sales can be

Furniture saleroom manager Scott Walker at The

Lichfield Auction Centre, Fradley Park.

Charities and organisations requiring furniture should

contact Scott Walker at Richard Winterton Auctioneers.

browsed via www.richardwinterton.co.uk/

auction-dates.

Merry Christmas and Happy New Year!
---
There are a tremendous number of

medieval traditions and superstitions

relating to the Christmas period with

one, more relevant than others to those living

in Cathedral cities such as ours, and that is the

tradition of the boy bishops.

It sounds an unlikely title but absolutely true and

can be found all over Europe in many societies.

How it started, like many of these ideas, are lost in

the mists of time but are recorded as a very real

part of Christmas in cathedrals prevailing throughout the 13th and 14th

centuries. If a chosen child died in office he received a full bishop's funeral

and was buried in his robes. Salisbury Cathedral has one such tomb of a

youngster, with mitre, crozier and robes carved into a stone top for the

tomb. It's a sad memorial of course, as it always is for a child, but also a

reminder of how terribly seriously the tradition was taken.

The procedure was that each year the boy bishop was chosen from

amongst the choristers of the cathedral, no doubt having some qualities

fit for the task, and there would be considerable family rivalry for this

honour. He would be given full episcopal vestments made specially for

him at considerable cost topped with a mitre and crozier, and his term of

office would start on 6th December, which is the feast of St. Nicholas the

patron saint of children (he is a busy saint, as amongst others, he is also

patron saint of sailors, pawnbrokers and wolves!) running until the end of

his duration on 28th December, which is the feast of the Holy Innocents.

He performed all the usual tasks of a Bishop except for Mass although I

have not been able to ascertain if indeed all the sacraments were

excluded from his duties – it seems likely. The youngster was attended by

The Boy Bishops

By Lesley Smith, Curator of Tutbury Castle

a group of canons also taken from the choir and there was a great parade

on All Innocents Eve to signal the ending of his time. This procession

wound around the streets surrounding the Cathedral and must have

been quite a sight with candles and the choir singing all dressed

beautifully.

Adults were involved, no doubt as guidance, as by the early 13th

century it is recorded that dignitaries from the cathedral assisted their

young bishop with duties such as taper bearers but the resistance to this

became strong and it banned from 1263 - one role reversal too far

apparently. Kings could get involved and they did such as king Edward 1st

who had a vespers sung to him by the boy bishop and his canons in 1299

rewarding them with the vast amount of 40 shillings (that was a lot of

money then). Over the years the role started to be subject to abuse as

the boy bishop and his canons might tour the local houses demanding

money, not for alms which would be appropriate, but for their own use

by right of their ranks. I wonder if the parents had anything to do with

these begging sessions?

There is no doubt some of these youngsters became over egotistical

with regard to their rank and formed what sounded remarkably like

gangs causing disruption in services and, in time, the public turned the

tables by insulting the youngsters and throwing things at them,

sometimes in services! This became so serious that a statute was passed

that stated that anyone throwing things at, or causing disruption to, the

boy bishop could be punished.

It is hardly a surprise with this development to see that the tradition

was starting to descend into a farce and therefore King Henry VIII banned

the tradition, albeit not very successfully, whilst his daughter, Queen

Elizabeth I, got a firm grip on it and it finally died out within these isles.

Spend Winter in the Trent Valley

By Louise Morris

As part of the

Transforming

the Trent Valley

scheme there are a

number of activities

you can enjoy from the

comfort of your own

home or by venturing

outdoors this winter.

Perhaps you could take

a tour of the Trent Valley

Robin_credit Brian Triptree

from you armchair using

the interactive virtual

tours and video walks on our website. Make a cup of tea, press play and

discover the beauty of places like Tucklesholme and Fradley Junction. Set

to relaxing music, you can explore the areas with added information and

pictures, or watch a History Walk to learn about the heritage of Burton

with Burton Conservation Volunteer Lawrence Oates.

www.thetrentvalley.org.uk/take-part/virtual-tours

We also have a number of winter workshops for all ages this

December, including Wooden Reindeer and Christmas Wreath

workshops. Using a range of tools we will put together a unique, wooden

reindeer. Come along and learn how to make a beautiful, festive winter

wreath, with a seasonal hot drink and Christmas sweet treat included. We

28

will assemble wreath rings and decorate using natural materials. These

events are taking place in different locations, including Burton library,

Branston and Sinai Park House. Book your space using this link

www.thetrentvalley.org.uk/take-part/events

Take time to remember. We are interested in your personal connection

to the landscape, and you can contribute your stories of the Trent Valley

through our Tales of the Riverbank page

www.thetrentvalley.org.uk/projects/tales-from-the-river-bank This

creative oral history project aims to reignite people's enthusiasm for, and

connection with rivers. We

are gathering people's

recollections and thoughts

about the past, present and

future of the Trent Valley.

Wrap up warm and get

out in the fresh air to

discover our geocaching

sites in the Trent Valley

(www.geocaching.com) or

do some wildlife spotting,

look for waders and winter

migrants at Tucklesholme

and Croxall Lakes.

Trent Valley Way_credit David Cowper
---
29
---
Christmas

Chelsea Buns

By Ruth Redgate

Well, you know we don't do normal and like

to mix things up over at Hunnypot Cottage

so here's something a little bit different for

you this Christmas!

Don't dismiss the idea if you don't like

marzipan as this flexible recipe means you

can leave that out. We have also given vegan

options so there's plenty of choice for

everyone.

As with most recipes you can switch around

your fruit and nuts to suit your preferences

and, of course, change or omit the alcohol as

you see fit.

Ingredients

Juice ½ orange and the zest of a whole

orange

4 tbsp Cointreau

85g dried cranberries

85g mixed dried fruit

550g strong white bread flour

15g easy dried yeast or 30 g of fresh yeast

85g caster sugar

Pinch of nutmeg

85g butter (dairy free spread or grated

coconut oil)

1 large egg or one flax egg (1tbsp ground

flaxseed, 3 tbsp water – mix together at least

5 mins before using)

250ml milk (dairy or plant)

25g pistachios chopped

300g marzipan

To decorate

Icing sugar or icing sugar mixed with a little

water, plus some additional chopped

pistachios.

Method

Stir together the juice, zest, Cointreau, and

dried fruit in a bowl and leave to soak.

Meanwhile, mix the flour, dried yeast, caster

sugar and nutmeg in a bowl. Add ½ tsp salt

and rub in the butter. Beat the egg with the

milk, then pour onto the flour mix. Stir with

a round-bladed knife, then use your hands to

bring the mixture together as a soft dough. If

using fresh yeast dissolve this in the milk

before adding to the dry ingredients.

Tip onto a work surface and knead for a

couple of mins, adding a little flour only if you

need to stop it sticking. Return the dough to

the bowl and cover with cling film. Leave to

rise for 45 mins - 1hr in a warm place until

doubled in size.

Line a large tin approximately 36 x 26 cm (a

large roasting tin can be used or you can use

2 smaller ones) with baking parchment. Roll

the risen dough out firmly to a long strip

about 70 x 18cm. Scatter the soaked fruit

along the dough then sprinkle on the

pistachios to the soaked fruit.

Roll the marzipan into a sausage the same

length as the longest side of the dough (if

you struggle to do this on one go don't fret

you can do it in smaller amounts), then place

it down the centre of the dough and roll up

together firmly, a bit like making a sausage

roll with the marzipan in place of the

sausage. Trim the ends, then cut the rest into

12 even lengths and arrange, cut side up, in

the tin. Cover with cling film and leave to rise

for 45 mins – 1hr until really well risen.

Heat oven to 190C/170C fan/gas 5. Bake for

15-20 mins until golden. Can be frozen for up

to 6 weeks.

When ready to eat, whether freshly baked or

defrosted, brush with melted butter/coconut

oil and dredge with icing sugar or mix a little

water into the icing sugar, drizzle over the

buns and scatter over the nuts. Eat within 2

days.

Check out our You Tube Channel to watch

the video – just scan the QR code!

Ruth Redgate is the owner and chief baker at

Hunnypot Cottage Bakery. Contact her on

loaf@hunnypotcottagebakery.co.uk.

Dining Out - A City of Flavours
---
Win a 'Date Night'

Sharing Box

Experience the taste of Italy as Venice comes to Barton

Marina! Step inside Indulgence, the Italian style coffee, wine

and cicchetti bar, where the vibrant atmosphere mimics

that of Italian life and you'll find authentic Italian produce,

such as chocolates, cakes and gelato, along with all day light

savoury bites, for you to enjoy on the water's edge.

We've teamed up with Indulgence to offer one lucky

reader the chance to win a 'Date Night' box to share with

that special someone in their life! Comprising of a bottle of

Italian Prosecco or Rose Vino Spumante, along with a

presentation box containing 16 handmade luxury Italian

chocolates, this is a treat not to be missed!

To be in with your chance of winning this

fantastic prize, simply answer the following

question correctly and send it along with your

details to the email or postal address below.

Where is Indulgence located?

a) Curborough Countryside Centre

b) Heart of the Country Shopping Village

c) Barton Marina

To enter, just send your name, contact details and answer to

Indulgence Competition at competitioncitylife@gmail.com or post your

entry to Citylife in Lichfield Ltd, PO Box 7126, Lichfield WS14 4JS by the

closing date of 17th December 2022. One entry per household. Multiple

entries will be disqualified. No cash equivalent. Please note you must be 18

or over to enter. All entrants' information is processed in line with GDPR

Data Protection Regulations and our Privacy Policy (available at

citylifeinlichfieldltd.co.uk). Full t&cs on page 42.

Dining Out - A City of Flavours
---
Supper Club at The Deer Park

By Kristen Lackajis

It was a celebration of local Staffordshire producer Packington Free Range

at November's Supper Club - and boy what a celebration it was!

Envisioned and then lovingly created by talented Head Chef, Craig Malone,

the three-course set menu boasted dishes designed to highlight all that

Packington Free Range, located at nearby Barton-Under-Needwood, had to

offer.

On arrival, we were greeted with a seasonal welcome drink of mulled

spiced cider and shown to our seats in the beautifully styled Linhay

Restaurant, which was all decked out for the Festive Season. A waitress

brought round delicious nibbles of pork belly cubes and crispy chicken skin

(quite literally, a melt in the mouth experience!) which was followed by a trio

of mini freshly baked bread loaves, dipping oils courtesy of Just Oils and an

incredibly moreish smoked bacon butter. We tucked in, savouring the different

flavours and textures, whilst one of the owners of Packington Free Range gave

a brief address to tell us a little more about the farm and its produce.

Next came the star of the show… the cockerel! A braised leg meat

cannelloni and a roasted breast were accompanied by sauteed wild

mushrooms, roast onion, bok choy, truffle juice and a roast carrot, with a

velvety Yoxall cider cream sauce to pour over. Juicy, succulent and with a depth

of flavour that I've never experienced before with chicken, this dish was, quite

simply, exquisite! Combining flavour with texture is a definite skill that Craig

possesses and there was certainly no skimping on the big and bold flavours

that adorned this plate of food!

To finish what was already an incredible meal, the dessert was something

completely unique once again that really shows off Craig's individuality and

creativity as a chef. Served in a Packington egg box, were three porcelain white

egg shells that had been hollowed out and filled with smooth vanilla crème

brulee with a glassy caramelised sugar top, Bluebells' Cherry Cheesecake ice

cream, and a chocolate popping candy and cherry pudding, accompanied by a

shortbread biscuit and a cherry chocolate éclair for good measure!

To say this was a feast fit for a King would be an understatement and, whilst

the outstanding food quite obviously draws diners time and again to The

Linhay for its monthly Supper Club events, the venue also benefits from being

able to provide a delightful, one-of-a-kind experience. The intimate setting,

with a limited number of places available and attentive staff, gives an exclusive

feel to the whole evening, which boasts the informal atmosphere of a family

and friends gathering rather than the anonymity of a large, busy establishment.

It is also a lovely touch to have the month's 'featured producer' as a dining

guest, making the Supper Club feel like a very special treat to attend!

Each Supper Club features a different local producer each month. For

information about future Supper Club events, visit www.deerpark.farm or

follow it on Facebook.

Dining Out - A City of Flavours
---
Make money by

delivering magazines in

your local area!

Citylife is looking for

distributors to deliver its

high quality

magazines in and around

Lichfield and our sister

publication in Rugeley &

Cannock. Applicants must

be aged 16 or over.

Bookings being taken for Christmas and New Year's Eve

If you're interested in

finding out more, please call

Rebecca on

07970 513144.

Dining Out - A City of Flavours
---
Buzzards Valley, Shirrall Drive, Tamworth, B78 3EQ

Christmas

Sunday

Market

11th Dec

Dining Out - A City of Flavours
---
35
---
36
---
Feet Glorious

Feet!

By Kristen Lackajis

There is a

certain part of

my body that I

never allow anyone

to see (let alone

touch!) and that, is

my feet!

Being an avid

runner, and having

endured a few

operations over the

years, my feet are a

little worse for wear, and that's putting it politely!

Whether it's the calluses and hard skin that adorn my

heels and toes, or the patchwork of scars from

procedures past that make me want to hide my

trotters from the world, I can't exactly say, but they're

certainly not a pretty sight. So, when I visited Alison

Loverock at The Foot Retreat in Lichfield, I was more

than a little anxious about what to expect.

As a fully qualified, registered and insured foot health

practitioner, Alison's work concentrates on ensuring

that feet not only look good, but are healthy. She

specialises in aesthetic foot treatments which include

nail reconstruction, correcting ingrown toenails,

medical pedicures, removing corns and calluses,

treating warts, verrucae and fungal nail infections, as

well as a whole host of other treatments.

Situated in a beautiful home studio, The Foot Retreat

is a light and airy space, with skylights above and with

a roaring fire in the stylish log burner, it created a very

relaxing atmosphere. Alison put me completely at ease

with her friendly, effervescent manner and suddenly the

thought of getting my feet out in front of a total

stranger didn't seem quite as horrific anymore!

After an initial consultation, Alison got to work,

lightly massaging my feet with professional lotions,

gently using a scalpel to deal with my hard skin, and

trimming back and filing my nails with fabulous high

tech equipment made from ceramic material which is

designed to be kind to the skin. The whole process

took 45 minutes and, I have to say, I rather enjoyed it!

Not only that, but my feet felt soft, smooth and

revitalised, and that's after just one treatment!

Alison also explained the benefit of regular foot care

and why it was so important, after all, we spend a

majority of our time on our feet and a lifetime of

squeezing them in and out of restrictive footwear.

Needless to say, I'm most definitely converted and will

definitely be back to help keep my feet in tip-top

condition!

37
---
Christmas Gifts from

Lichfield's Past

By Jono Oates

Today many of the Christmas gifts we buy for our friends, work colleagues and

family, tend to be high technology and at times highly expensive! But the gifts

that Lichfeldians bought in the past tended to be simpler, cheaper and much

more practical.

In December 1889, shoppers could go to Eggington and Brown, the printers and

booksellers on Bird Street, and buy pipe racks, letter racks, purses, handbags and chatelaines

(a belt hook worn at the waist, with chains on to which household items were attached) as

well as Christmas and New Year's Day greeting cards. Messrs Phillips and Parkes, fishmongers

and poulterers, also on Bird Street, were offering over 500 turkeys and geese for the

Christmas dining table, as well as fish of 'every description' and barrels of oysters. Another

fishmonger and poulterer, Henry Welch Junior of Tamworth Street, was also selling oysters

of the finest American quality at 1 shilling per score, and also pheasants, hares, venison,

rabbits, pigeons and wild birds of every description. J Worthington, watchmaker and jeweller,

on the junction of Bird Street and Market Street, could provide watches and jewellery to suit

every budget and were also proud to announce that they were the sole agents for John

Royle's Self-Pouring teapots. To wash down all of that fine food, Henry Mounsdon, wine

merchants at 33 Market Street, was selling bottles of wine at 1 shilling and bottles of spirits

for 1 shilling and sixpence – about 8 pence in today's money. For a more unusual gift,

Lichfeldians could head to Frederick Harper, at the County Music Warehouse on Bore Street,

and purchase the 'new musical novelty' the Bigotphone, which 'no Christmas Party would be

complete without'. The Bigotphone was the invention of a Frenchman, Mr Bigot, and was a

type of mirliton, or kazoo, which mimicked the sound of brass instruments and was very

popular in the 1890s.

By 1926 festive shoppers in Lichfield could go to Averill's Chemists on Conduit Street and

buy bottles of perfumes for just one shilling, hot-water bottles, safety razors and hairbrushes

while they also had a beautiful range of British-made leather goods. Meanwhile, just around

the corner at 37 Market Street, Frisby's, part of the national chain of shoe shops, declared

that 'Christmas was Slipper Time' with the slogan 'What More Welcome Gift than a Warm

and Cosy Pair of Slippers.'

The Radiospeed TV and radio shop at 21 Tamworth Street was offering a special Christmas

allowance for customers' old TVs in December 1955. The best 14 and 17-inch screen models

were all ready to accept the new TV channel, ITV, which was due to be launched the following

spring. This included the wonderful PYE VT4, which Radiospeed claimed was 'undoubtedly the

world's most reliable television' and was priced at 87 guineas – just over £91 today.

Lucille, ladies' hairdressers at 26 Bird Street, had a large selection of gifts from City, Revlon,

Goya, Yardley and Norman Hartnell for Christmas in 1958, as well as delightful French

perfumes by Lucien Lelong and was the only shop across the Lichfield district that supplied

toiletries and perfumes by Worth. In the same year, Worsey's newsagents at 11 Tamworth

Street had lots of Christmas toys for sale including cowboy and cowgirl outfits, bows and

arrows, boxing gloves, Bagatelle, train sets and dolls' houses.

Toys for the children were also available at Larkin's Model Shop at 9 St John Street in

December 1968. Brands included Meccano, Pelham Puppets, Spirograph, Scalextric, Subbuteo,

Triang and Airfix.

Another shop selling toys was the Toybox store at the Bakers Lane Precinct at Christmas

1988. The store manager reported that the Ghostbuster range of toys was popular with the

boys, while the Keypers animal toys from Tonka were proving a hit with the girls, especially

the Pony. For the slightly older generation, Christophers, also in the Precinct, had the latest

technology in stock, including personal stereos, video camcorders, Casio keyboards and

electronic chess games. If you preferred to rent, not buy, then the Multi Broadcast shop could

offer the latest microwave for just £1.50 per week, and you could rent Sanyo audio hi-fi units

from £19 a month.

Today our Christmas shopping lists are very different to those from Lichfield's past, but one

thing has remained intact over the decades – the spirt of the festive season is still alive and

well in the olde Citye of Lichfield – Merry Christmas One and All!

Sources: The British Newspaper Archive; Trades of a City by J.P. Gallagher.

Vintage photographs courtesy of the St Mary's Photographic Collection

38

Arhur Worsey Newsagents, 11 Tamworth Street

Lucille Hairdressers 26 Bird Street

Larkin's Model Shop, 9 St John Street

Larkin's Model Shop, 9 St JoBT Sadlers, Drapers,

41-43 Market Street
---
39
---
Remembrance

Events

WThe annual Remembrance service was held

in Lichfield Cathedral on Sunday 13th

November. Following the Cathedral service,

Vice Lord Lieutenant of Staffordshire, James

Leavesley DL accompanied by the Mayor, Councillor Jamie

Checkland, led the civic party into the Remembrance

Gardens to observe the national two minutes silence and

then perform the wreath laying ceremony, after which the

Dean of Lichfield, the Very Reverend Adrian Dorber gave

the blessing.

In Burntwood, wreaths were laid at a ceremony in

Chasetown at the war memorial, as well as a display of

poppies in both red, and also purple (to remember the

animals which lost their lives) at Prince's Park.

The War Memorial in Chasetown

The beautiful display at Prince's Park, Burntwood,

which pays homage to all those who lost their lives,

animals included.

40

The procession from the Cathedral (photo by Robert Yardley).

Help a Dog this

Christmas

By Lauren Hirst

This year has been a mixed year for everyone and 2023 is

certain to bring some challenges. On a positive note, it was

lovely to be able to get out and about again with our

greyhounds to get them used to the big wide world outside of

kennel life, and ready for their forever homes.

We were, once again, able to go out on awareness roadshows and

events to let people know what fantastic pets retired racing greyhounds

make and bust a few myths like they need lots of exercise (they don't -

only two half hour walks a day in between snoozes). Like many other

animal rehoming centres, the number of dogs we've been able to find

homes for in 2022 is waaaay down on previous years due to the

economic climate and we're not sure there will be any improvement in

2023.

Several of hounds have been waiting months for someone to visit and

take them home. Flash, Archie, Ricky and Tommy are just a few.

However, if you aren't able to adopt a dog there are several ways you

can help the greyhounds in our care. Perhaps you could sponsor a dog

or a kennel for £36 and £72 a year respectively. It's the perfect gift for

an animal lover in your life and you can arrange to visit our chosen

hound(s).

Many people will do their Christmas shopping online. If you join

The wreath laying ceremony in Lichfield's Remebrance Gardens

(photo by Robert Yardley).

Easyfundraising, each time you shop online the vendor will give you a

cash reward which you can donate to us. It's simple and doesn't cost you

anything but really helps us.

Another way to help is by buying some supplies for our kennels (and

if you buy online through Easyfundraising, you help twice!) Have a look

at our Amazon Wishlist on our website!

Visit our website at www.greyhoundtrusthallgreen.org.uk/ and click

on the "support" tab for all the ways to help. But if you ARE thinking

about adopting a dog in 2023, please consider a greyhound… adopting

one dog might not change the world, but the world will change for that

one greyhound. They've given their all during their racing careers, now

it's our time to given them our 'all' in return.
---
J HOWELL &

DAUGHTERS

FUNERAL DIRECTORS LICHFIELD

LICHFIELD'S LONGEST ESTABLISHED INDEPENDENT,

FAMILY RUN FUNERAL DIRECTORS.

SECOND GENERATION BUSINESS HERE TO ASSIST YOU

AND YOUR FAMILY.

24 hours a day

We are proud to be Lichfield's longest established family run funeral directors offering a wide range of

choices to suit all requirements. Horse drawn hearse, non religious ceremonies, floral tributes and

memorials are but a few of the services we offer.

Pre-paid funeral plans are also available.

For a truly personal service please call

01543 255776

Private Chapel of Rest 116 Netherstowe,

Lichfield, Staffs. WS13 6TS

41
---
Have Yourself a

Sustainable Christmas

By Jess Davanzo

'Tis the season of giving, but sometimes our well-intentioned

generosity has the opposite effect on our resources. Unless you're living

under a rock, you have heard the buzz around needing to live more

sustainably. It can feel overwhelming at times, but in truth there are a

multitude of little things we could all do that can collectively have a big

impact! Particularly at a time known for excess, little tweaks can make

huge difference.

This isn't to say you must go into Grinch mode! On the contrary!

Some of the best ways to be "greener" are more meaningful practices

that add to the holiday spirit, not detract from it!

Here's some quick sustainable holiday tips…

Wrapping paper

Is it necessary? It looks

beautiful, but millions of rolls get

thrown away every year and

much of it is non-recyclable

(especially shiny/glittery kinds!)

For something that is torn and

discarded quickly there must be

a better way - and there is! If

wrapping presents the old

fashioned way is important to

you, why not use natural brown

paper that is recyclable? Or even

newspaper? This can look

beautiful especially when tied

with natural string or

biodegradable ribbon. You could even use some of nature's offerings like

holly leaves to decorate the packages. Another alternative is old fabric or

reusable bags. It might sound strange, but it can truly look lovely and

make a big difference. Plus, it saves you money!

Gifts

Give gifts that support a sustainable lifestyle and you can encourage

positive change whilst giving a wonderful present. Think reusable and

purchase things like lunch boxes, water bottles and bags that are made in

a conscious way and also promote a better way of living. Lots of

sustainable gift companies give back to earth friendly and ethical

initiatives, and I'm pleased to say that we carry lots of ethical, cruelty free

and sustainable gifts at www.earthystuff.co.uk that are not only eco

themselves, but a portion of the profit goes back into investing into

planet and people friendly projects. Also, trees are planted with every

order! So, for guilt-free giving, look for local sustainable companies that

truly care. Another idea is to make your own gifts or baked goods or

better yet, give the gift or your time and plan a lovely day out in nature!

Decorations

These are an integral part of the festive season, but often made from

harmful materials. A fun way to be more sustainable is to turn your

decorating into a foraging

exercise, get out in fresh air

and collect some beautiful

holly or pinecones and

make some lovely features

on the mantle or the table.

Make your own ornaments,

but remember to avoid

glitter & tinsel! And if you

already have a plastic tree,

keep using it! It's better to

maintain and keep using

one you already have then

to opt for a new one, even

if the new one is more eco!

You can also rent trees

(seriously)!

Jess Davanzo is the Founder of Earthy Stuff, an online

store selling a range of eco-friendly, sustainable gift and

home items. Passionate about promoting cruelty-free ad

ethical lifestyle choices, Jess is on a mission to help make

the world a greener and kinder place.

www.earthystuff.co.uk

Christmas Dinner

This is often the pinnacle

of the day and a simple

thing to do is to buy locally

and seasonally. This not only

supports the earth but

helps your community and

local businesses too. If you

get your vegetables from a

local farm shop or farmers

market, not only are

supporting your

community and preventing

unnecessary transport, but

you are going to get a much tastier and more nutritious vegetables

grown down the road than ones that have been flown from far away.

You

Sure, we want a more sustainable way of living but that doesn't just

mean the planet, we must protect ourselves too! The recent rises in the

cost of living, coupled with the pressure to overspend and buy things for

the sake of it, doesn't help with our personal sustainability either. The

season of giving often comes at a cost to our mental health and it

shouldn't! The most valuable thing we have is our time, so why not let go

of the pressures of buying presents and focus instead on being present

with the ones you love?

42
---
Christmas Gifts

Gifts

Galore!

Tis the season to be jolly and here at

Citylife we've put together a guide to

highlight just a few of the fantastic

local and independent companies in

the area and their products. This year,

it's not about how much you spend,

it's where you spend that's important...

keep the community thriving and buy

local wherever possible!

Keeren's Kardz & Gifts

from the Heart

Keep your feet warm with Snoozies Men's and

Ladies Slippers, in various styles and sizes. Priced at

£11.99 each or £20 for two pairs! Available from

Keeren's Kardz & Gifts from the Heart, Brewery

Street Shopping Centre, Rugeley. Search for

Keeren's Kardz on Facebook.

Needwood Living

The true scent of Christmas! St Eval Christmas

Candles are available in Inspiritus, Orange &

Cinnamon, Winter Thyme. Priced at £13.45 and

available from Needwood Living, High Street,

Tutbury, or Main Street, Alrewas.

www.needwoodliving.co.uk

Earthy Stuff

Beautifully unique and sustainable, these elephant

dung notebooks are the perfect quirky gift! They

are Fair Trade and lovely for use as a journal or

everyday notebook. The elephant dung covers are

made from 25% recycled paper and 75% elephant

dung – yes really! The ultimate in recycling! Priced

at £11. Available online at Earthystuff.co.uk or

email: hello@earthystuff.co.uk.

43
---
Christmas Gifts

Jewellery With Life

This Textured Star Pendant is the perfect gift for

the super stars in your life. Made using recycled

silver, it comes in your choice of textures, finish

and length of silver chain. Priced at £26. You can

find more beautiful pieces made in Staffordshire by

Emily at www.jewellerywithlife.co.uk.

Eden Gallery

Curious Collie framed limited edition by Nicky

Litchfield. Framed size 46cm x 69cm. Price: £205 and

available from Eden Gallery, The Hexagon Centre,

Curborough Countryside Centre, WS13 8ES. Tel:

01543 268393. Opening hours: Wed-Sun 10am-4pm

(Tues by appointment only).

www.edenartandframing.co.uk

Indulgence

Italian Prosecco or Rose Vino Spumante in a

presentation bag with a choice of 4, 8, 12 or 16

chocolates. Prices for the chocolates start from

£3.99. Other Italian wine selections are available.

Indulgence, Barton Marina, Barton-under-

Needwood.

Michael's Menswear

Coming from a well known company in the trade

Pringle socks offer great comfort with great style.

Perfect for the Christmas season these cotton

socks are a perfect gift this season coming in

packs of 3 with a variety of pre picked patterns

and colours for only £17.95. See our range in

store now. 01543 262264. Available from Michael's

Menswear, Market Street, Lichfield.

Artisan Upcyclers

Artisan Upcyclers hosts a stunning array of

handmade items from the creative talents of local

and UK-based artists. Recycling, reclaiming and

upcycling the discarded into the marvellous! These

gorgeous lamps are priced at £45 each and

available from Artisan Upcyclers,

12 Tudor Row, Lichfield.

Earthy Stuff

These coconut bowl sets are hand crafted from a

real coconut and accompanied by a reclaimed

wooden spoon. These beautiful bowls make a

lovely gift and are organic, vegan and eco-friendly.

Perfect for making healthy acai bowls, delicious

smoothie bowls and scrumptious ramen bowls!

Priced at £10 and available online at

www.earthystuff.co.uk.

44

Paul Martyn

Novelty draught excluders, in different styles,

priced at £38 and available from Paul Martyn,

Heart of the Country Shopping Village, Swinfen. Tel:

01543 481592. www.paulmartynfurniture.co.uk

Clive's Wines

It wouldn't be Christmas without a spot of fizz!

Why not try something different this year, like this

sparkling rhubarb wine, or rhubling, as it's known?

Made using the traditional method to create

natural bubbles, rhubling is the perfect, light fizz to

enjoy with a loved one. Available from Clive's

Wines of Burntwood. Tel: 07972 269 620.

www.cliveswines.co.uk

Use code CWCL10 to get 10%

off at Clive's Wines!

Allen Brown Jewellery

Silver triple disc earrings with 18ct yellow and

black rhodium detail. Priced at £176 and available

from Allen Brown Jewellery, Heart of the Country

Shopping Village, Swinfen, Lichfield, WS14 9QR.

Tel: 01543 481 948.

www.allenbrownjewellery.co.uk
---
Christmas Gifts

Tippers

The most popular of our charcoal grills, Kamado

Joe's Classic Joe II is perfect for cooking all year

round, you can even cook your Christmas dinner

with it! With a mould and water resistant control

vent, why not start practising for those summer

evenings now? Priced at £1,999.

www.tippers.com

Victoria Lowe

A brand new interiors, lifestyle and gift shop in the

centre of Lichfield. Victoria Lowe features an array

of beautiful gift ideas, as well as home, clothing,

accessories, lighting, clocks artwork and much,

more. Victoria Lowe, 15 Dam Street, Lichfield.

Tel: 01543 262581.

Instagram: @ victorialowe_lichfield

The Deer Park

Specialising in sustainably-sourced tea grown in Sri

Lanka, Doyen is a local company which aims to

minimise its carbon footprint throughout its

production processes. This tea advent calendar

features two teabags behind each door from the

range, which includes green teas, herbal and

fruit blends.

Priced at £29.95 and available from The Deer Park,

Maker Lane, Hoar Cross, DE13 8QR.

City Jewellers

Treat that special someone in your life to

something a little more luxurious this Christmas,

such as this stunning Hamilton PSR Watch,

stainless steel £675 and available from City

Jewellers, Bore Street, Lichfield.

S&P Watercolours

Based on an original watercolour painting by S&P

Watercolours, this Shugborough Hall 1,000-piece

jigsaw puzzle features a central 'boy and swan'

fountain and clipped golden yews. A fabulous gift

idea featuring an iconic Staffordshire landmark.

Priced at £18.99. Available from S&P Watercolours,

The Courtyard, Bishton Hall, Wolseley Bridge,

ST17 0XN. Email: spwatercolours@gmail.com.

Arthur Price

Make sure your Christmas table looks its best

this year with the Sophie Conran Rivelin 52-

piece cutlery set. Priced at £350 and available

from Arthur Price Factory Shop, Britannia Way,

Lichfield, WS14 9UY. Tel: 01543 267324.

The Christmas Barn

The most beautiful large diamanté and bead

encrusted baubles are a real statement piece to

hang on your tree to impress this year, or even in

the window for extra glamour! Measuring

approx. 12cm. Priced at £9 and available from

The Christmas Barn, Heart of the Country

Shopping Village, Swinfen.

Framework

This spectacular, imposing Highland Cow bust by

Matt Buckley, from the EDGE contemporary

sculpture collection, perfectly captures the noble

character of the Highland Cow - a striking

centrepiece for any room. Priced at £345 and

available from Framework, Tamworth Street,

Lichfield.

Mercia Spirits Lab

Treat your loved one to the perfect G&T this

Christmas! Gift hamper includes Mercia's

Signature Gin, a gin glass, and a choice of mixers!

Priced at £59 and available from Mercia Spirits

Lab, Bishton Hall, Bellamour Lane, Rugeley.

Tel: 01889 529291. www.merciawhisky.co

45
---
The Month in

Pictures

We take a look at the events and

activities over the last month, bringing

you a round-up of the city in

pictures...

Jeremy Sassoon Ray Charles tribute, Hub at

St Mary's

Erasmus Darwin House Jigsaw Sale

Food is handed out at the Tippers Christmas BBQ event

The Witches of Tudor Row Shops at

Halloween!

Santa prepares to give out gifts donated by

Cost Cutters UK at Burntwood Christmas

Fair & Market

Camels, bearing wise people, parade through Chasetown, Burntwood

Official opening of the Boat House,

Barton Marina

Lichfield Screendance Festival, Hub at St

Mary's

46

Christmas Lighs Switch On, Market Square

Lichfield Chamber of Trade and Commerce

Christmas Fayre

Christmas Tree Festival, Lichfield Cathedral
---
Free Festive

Smartphone

Storytrail

Anew augmented reality storytrail, which is

accessed via a smartphone, sees players

guided by a group of superheroes as they

progress their search for missing Christmas presents

and release cheeky Christmas imps that burst into

life on the screen in AR.

Hunt For The Lost Toys, which runs until the New

Year, is located at 10 stops around the city centre with

players choosing what happens in their story

experience and has been produced by Visit Lichfield in

collaboration with High Street Safari.

The trail works on any smart device without the

need for download. Visit https://highstreetsafari.com for

more.

47
---
What's On

Promote your event in our What's On guide and reach over

16,000 homes and businesses for only £20 for businesses and £10

for charities. Entries must be 50 words maximum. To book contact

Rebecca Hill 07970 513144 rebeccahillcitylife@gmail.com

Please clearly mark your email 'What's On Lichfield'.

Sunday 4th December

A Johnson Family Christmas

Come and enjoy the Birthplace Museum

decorated in its finery for Christmas, with free

performances and events throughout the day,

including Lichfield Singers at 11am, Traditional

Storytelling with Christine Genders from

12pm-2pm, and readings from the Lichfield

Poets at 2pm. Hands-on free family activities all

day, plus mulled wine and refreshments along

with mince pies available.

Venue: Samuel Johnson Birthplace Museum,

Market Square

Time: 1.30pm-3.30pm

Price: Free

Tuesday 6th December

Lichfield Ladies' & Men's Probus

'Singing for Joy' from Sharon Burns. New

members always made welcome. Members of

the Club meet on the first Tuesday of the

month for an optional buffet lunch followed by

a talk.

Venue: St Matthew's Social Club, Burntwood,

WS7 9EP.

Time: 12.30pm

Contact: peter.hitchman44@gmail.com, tel:

07971 113505/jenny_hodgkins@yahoo.co.uk,

tel: 01543 305522.

Wednesday 7th December

Seniors' Festive Lunch

Enjoy a festive three-course lunch with live

entertainment, with a glass of sherry on arrival

plus crackers and novelties to add to the party

atmosphere in the stunning Garrick suite.

Venue: The George Hotel, Lichfield

Time:12.15pm

Price: £27 per person

Please call 01543 414822 or email

events@thegeorgelichfield.co.uk to book.

48

Thursday 8th December

Late Night Shopping & Steak Night

Enjoy a late night shopping experience, with

20% off when you spend £70 or more. Plus a

delicious sirloin steak meal for two people!

Venue: Bradshaws Farm Shop, Burntwood, WS7

1YL.

Time: Until 9pm

Price: £28 for two (deposit required).

Call 01543 279437. Advanced booking

required.

Thursday 8th December

Christmas Secrets & Scandal

Enjoy a walk, talk and afternoon tea at The

Barn with Local Lichfield historian, Jono Oates.

Venue: The Barn at Swinfen, Heart of the

Country Shopping Centre, WS14 9QR

Time: 3pm

Price: £30 per person

Visit www.jonotourism.co.uk to book.

Saturday 10th December

Shenstone Village Christmas Fayre

The popular Shenstone Christmas Fayre is

back this year.! Includes stalls, kiddies rides,

xmas lighting, music, mulled wine, ale, gin, fresh

crepes and more! (Main Street is closed to

traffic).

Venue: Main Street, Shenstone

Time: 3pm-7pm

Saturday 10th December

Makers Christmas Market

Local crafters and makers with a great

selection of items, including drawings, prints

and photographs of local landmarks, ceramics,

jewellery, Christmas decorations and cards,

plus much more!

Venue: The Hub at St Marys, Market Square

Time: 10am-3pm

Free entry.

Thurs 15th & Thurs 22nd December

Late Night Christmas Shopping

The fully licensed Café-Bar will be tempting

you with festive goodies such as mulled wine,

mince pies and hot chocolate and there's some

great Christmassy live-music lined up too. The

Hub Little Shop will be open and you'll be able

to meet local makers and artists whose work

is on sale.

Venue: The Hub at St Marys, Market Square

Time: 5pm-8.30pm

Free entry.

Wednesday 21st December

Christmas By Candlelight

Lichfield Cathedral Choir presents an evening

of Christmas music with this classic carol

concert – music and readings old and new to

reflect on the meaning of Christmas and fill

you with festive cheer!

Venue: Lichfield Cathedral

Time: 7.30pm

Price: £15

Book online at www.lichfield-cathedral.org.

Throughout December

A Georgian Christmas

Discover the traditions that Samuel Johnson

would have known in a display about the

history of the 18th century festive season,

including a free family 'Christmas Treasure Trail'

activity for families, plus visit the historic book

and gift shop.

Venue: Samuel Johnson Birthplace Museum,

Market Square.

Time: 11.30am-3pm.

Price: Free

Until 2nd January

The Christmas Tree Festival

Come and see a wonderful festive array of real

Christmas trees decorated by local businesses,

schools and charities.

Venue: Lichfield Cathedral

Time: During visiting hours

Price: Free

Until 8th January

Snow White & The Seven Dwarfs

Sam Rabone is back in this year's hilarious funfilled,

brand new, family Panto Snow White and

the Seven Dwarfs! Once again, this fabulous

production will be written by Paul Hendy and

co-produced by the award-winning Evolution

Productions.

Venue: Lichfield Garrick Theatre

Time: Afternoon and evening performances

Price: From £15
---
Advertising Feature

Best Ever Christmas

Sale Celebrates

40 Years!

This December, the

Arthur Price Factory

Shop has some of its

best ever offers as it

celebrates 40 years of its

now famous Christmas Sale.

Starting Saturday 3rd

December and running until the 17th, there will be

offers across all cutlery and homewares of up to 70%

off.

There are offers to suit all budgets and stockings,

including the Sahara 32-piece box set down from £199 to

£59. The large 76-piece 8 person Willow box set was £430,

now £129. Perfect as a kitchen gift, the marble six-piece

knife block is now only £39, normally £159. There's also

cutlery sets for children priced at only £6.75.

Simon Price, CEO of Arthur Price, said: "We all know the

cost-of-living crisis is going to make Christmas difficult this

year for many. It's that one time of the year when we don't

want to worry about things. Hopefully, our sale this year

offers something for everyone, and we can still eat, drink

and be merry this Christmas!"

For more information call the Factory Shop on 01543

267324, email factory.shop@arthurprice.com or drop into

the shop on Britannia Way.

49
---
CLASSIFIED

Competition and Prize Draw Terms and Conditions

1.Entrants' details will be held and processed in line with Citylife in Lichfield

Ltd's Privacy Policy, which in turn adheres to GDPR Data Protection

legislation. For a copy of our Privacy Policy please email

kristencitylife@gmail.com

2.By entering the prize draw/competition, you agree to the terms and

conditions stated.

3.The closing date is stated on each individual prize draw or competition.

4.Entrants' details will be securely held by Citylife in Lichfield Ltd in

accordance with our Privacy Policy. Details will be held only until the closing

date of the competition. After this date entrants' details will be securely

destroyed/deleted. Winners' contact details will be securely stored only until

the winner has been informed of their win/prize. After this details will be

securely deleted/destroyed.

5.Entrants' details will never be shared with any third party. The only exception

to this is the name (and if the prize is to be posted) address of

Competition/Prize Draw winners that will be communicated to the competition

partner to allow winners to securely claim their prize, after which all details will

be securely destroyed. The initial and surname of winners will be printed in

our magazines – no other details will be published.

6.By entering the competition/prize draw, entrants agree to Citylife in Lichfield

Ltd using or publishing materials provided by the entrants (but not address or

contact details apart from initial and surname) in any of their publications and

online.

50

MAGAZINE

DISTRIBUTORS

WANTED

Earn extra money delivering

Citylife magazines. Must be over

16 and reliable,

call Rebecca

07970 513144

7.Citylife in Lichfield Ltd accepts no responsibility for any breach of copyright

or breach of any other legislation entailed by entrants in their creation or

submission of materials.

8.Only one entry per prize draw/competition, per reader.

9.Except in the case of cash prizes, no cash equivalent will be offered and the

prize is non-transferable.

10.All prizes are subject to availability and the prize suppliers' terms and

conditions.

11.No purchase necessary.

12.Prize draws and competitions are only open to UK residents aged 18 years

or over (unless otherwise stated).

13.Competitions and prize draws may not be entered by any employee of

individual associated with any employee, agent or third party of Citylife in

Lichfield Ltd.

14.Winners will be selected at random in the case of applicable prize draws

and competitions, or by an independent judge in the case of photographic/art

competitions from all entries received.

15.Winners will be notified by Citylife in Lichfield up to 28 days after the

closing date of the competition/prize draw by the contact details provided by

the entrant. Winners have 28 days to respond if contact cannot be made

initially. If no response is forthcoming after 28 days, Citylife in Lichfield

reserves the right to redraw the competition and select a new winner.

16.A list of the surnames and county of residence of the winners will be

available by writing to Citylife in Lichfield Ltd no earlier than six weeks after

the competition closing date.

17.When the prize draw/competition winner has been selected, this decision is

final and no correspondence will be entered into.

18.Citylife in Lichfield Ltd accepts no responsibility for the prize being lost,

damaged or delayed in transit. When the prize is provided by a third party,

Citylife in Lichfield Ltd accepts no responsibility for any change to the prize, or

for the quality of the prize provided.

19.Competitions may be amended or withdrawn at any time.

20.By entering the competition or prize draw, you agree to having your name,

(photograph, where stated) and city or county of residence published in any of

Citylife in Lichfield's publications and online.

21.Unless otherwise stated, the promoter is Citylife in Lichfield Ltd, PO Box

7126, Lichfield, WS14 4JS.

22. Citylife in Lichfield Ltd do not express any warranty or endorsement of any

competition prize, information, service or product provided in connection with

a competition by printing or otherwise publicising any competition.

23.To the full extent of the law, Citylife in Lichfield Ltd shall not be liable for

any loss, claim, punitive, indirect, incidental or consequential damages of any

kind incurred as a result of entering this prize draw or competition.

24.By submitting photos, text or artworks as part of competition/prize draw

entries you agree that you own these photos text or artworks, that it is your

original work to which you own all rights to distribute, and that your entry is

accurate, moral and legal.
---
51