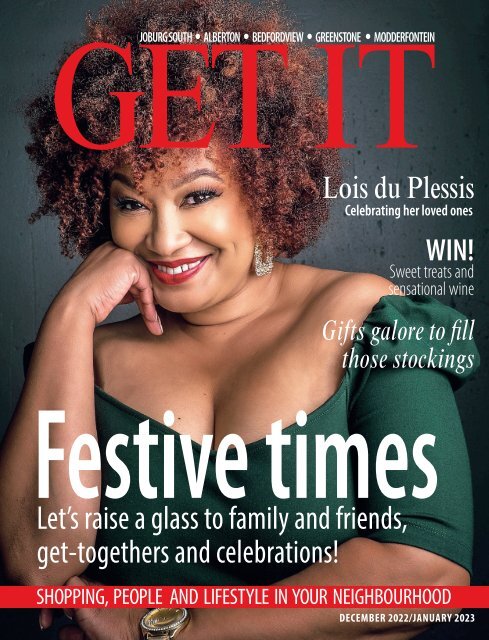 JHB South East - Dec 22 / Jan 23
Create successful ePaper yourself
Turn your PDF publications into a flip-book with our unique Google optimized e-Paper software.
JOBURG SOUTH • ALBERTON • Bedfordview • Greenstone • Modderfontein

Lois du Plessis

Celebrating her loved ones

WIN!

Sweet treats and

sensational wine

Gifts galore to fill

those stockings

Festive times

Let's raise a glass to family and friends,

get-togethers and celebrations!

SHOPPING, PEOPLE AND LIFESTYLE IN YOUR NEIGHBOURHOOD

December 2022/January 2023

GIS1202_001_438035619.indd 1 2022/11/23 10:21:51
---
ADVERT GIS1202_002_463517396.indd Jimmy Choo.indd 2 2 2022/11/14 2022/11/23 12:09:28 10:22:36
---
GET IT

Editorial

Instagram: @getitjoburgsoutheast

Facebook: @getitjoburgsoutheast

Website: getitmagazine.co.za/joburg-south

Pinterest: Get It

National Group Editor and National Sales

Kym Argo

kyma@caxton.co.za

Facebook and Instagram:

Get It National Magazines

Website: getitmagazine.co.za

Editor Carina van der Walt

albertongetit1@caxton.co.za

083 411 7146

Sub-editor Riaan Engelbrecht

Contributors Rialien Furstenberg,

Alice Coetzee

Workflow & Studio Manager Megan Brett

Layout Artist

Shanet Moodley

Design Studio

JP Du Preez

Sales Manager

Roxanne Cooper 072 821 0910

roxannec@caxton.co.za

Distribution

15 000 copies monthly

Get It JHB SouthEast is distributed free

of charge. For a full list contact

charmaine@caxton.co.za

Competition rules

The judges' decision is final. Prizes cannot be

transferred or redeemed for cash. Competitions

are not open to the sponsors or Caxton

employees or their families. Get It Magazine

reserves the right to publish the names of

winners, who will be contacted telephonically

and need to collect their prizes from Caxton

Joburg SouthEast branch within 10 days or

they will be forfeited. Prizewinners names are

published on our Facebook page monthly.

contents

WHY DON'T YOU

4 Book your tickets for an entertaining day at the theatre or get

outdoors for a walk in nature

6 Make the most of your days with these holiday reads

WISH LIST

8 Gifts to make someone's festive season pretty jolly special

SOCIALS

10 Party time with Ekurhuleni's best

PEOPLE

12 Lois du Plessis chats about family, friends and all things dear

14 For 2002 Bali Bombing survivor Morné Viljoen life is about

making new memories

BEAUTY

16 Switch from plain to party

FESTIVE SEASON

20 Glam things up this festive season

22 Let's not forget about babe's first Christmas

24 Pay it forward with these feel good gifts

EDITOR'S CHOICE

26 Raise your glass to a very merry time

TRAVEL

32 Old school charm awaits you at Cape Town's Sea Point Prominade

SPOIL

34 A hamper filled with Sally Williams treats can be yours. Enter now.

COVER

Lois du Plessis; wears - Bianca George.

Make-up by - Tracey-Lee Oliver.

Photographed by - Brendon Koeberg at the George residence.

December 2022/

January 2023

December 2022/January 2023 Get It Joburg South • Alberton • Bedfordview • Greenstone • Modderfontein 3

GIS1202_003_468684799.indd 3 2022/11/24 14:11:45
---
A hot date!

The perfect way to end the year on a high note

If you have a date for the Get It diary page, email the info at least one month in advance to albertongetit1@caxton.co.za

04

One of the first stories that comes to

mind when we think of magic is Aladdin

and his Wonderful Lamp. Aladdin is

a classic rags-to-riches story about a

young hero, a beautiful princess, and

an evil villain, complete with genies,

wishes, and magic. In the history of fairy

tales, this is one of the most popular

and retold tales. Astrid Productions is

bringing a revitalised and epic telling

of this classic, until December 4, to the

Theatre of Marcellus at Emperors Palace.

Aladdin and His Wonderful Lamp is set

to be a unique production of size and

quality rarely seen in South Africa. With

the inclusion of an original score, riveting

choreography and a script that is fun,

witty, and heartfelt, it will be a production

that no child, adult, or theatre lover

will want to miss. Tickets are available

from R243 with different show times on

different days. Details: Ticketpro

The Balwin Charity Hat Walk

042022 will take place at Thaba

Eco Village. To participate, purchase a

T-shirt at R100 for adults and R80 for

children. All proceeds will be donated

to this year's participating charities,

which include Little Eden, Endangered

Wildlife Trust, Theo Jackson

Fund, SPCA, SOJO, United Cerebral

Palsy Association of SA, Salvation

Army and Recycle 4 Rescue. Details:

www.balwin.co.za

Make your way with your furry friend to Rietvlei Zoo Farm for the Christmas

Dog Walk. You can choose between the 5km or 10km trail and walk

11

anytime from 8am to 12:00. Dress in red and bring your dogs on leads. Entrance

fee is R40 per person. Show support and donate dog food, beds, leads and

unwanted items to Cause4Paws. Details: www.rietvleifarm.co.za

Entries for the 21st Dis-Chem Half-Marathon and Centrum 5km fun

15 run are open and close on December 15. The event will take place on

January 15, 2023 in Bedfordview. The route remains unchanged, winding its

way through the hills of Bedfordview, Morninghill and Primrose, providing

runners with a challenging route and spectacular views. There are 6500 entries

available for the 21km race and all entrants will receive a race T-shirt. Entries

close on 15 December or once the 6500 available entries are sold. The Centrum

5km fun run will be back and the first 600 entries will get a branded T-shirt. The

race starts in Riley Road at 6am on January 15. Details: Go to https://dischem21.

co.za or WhatsApp 083 287 6792.

21

The Benoni Museum is hosting an exhibition to honour the life and legacy of

the late anti-apartheid activist Helen Suzman, aimed to highlight her immense

contributions to the democracy of this country. Public and exclusive photos

of Suzman are on exhibition thanks to Suzman's daughter, Frances. The exhibition

will run at the Benoni Museum, 60 Elston Avenue, until January. Schools

and residents are urged to visit the exhibit from Monday to Friday from 9am

to 4pm. Details: 011 999 6838.

4 Get It Joburg South • Alberton • Bedfordview • Greenstone • Modderfontein December 2022/January 2023

GIS1202_004_468131200.indd 4 2022/11/24 14:12:34
---
08

Enjoy a morning running or

24 walking with family and friends

at this year's Christmas parkrun on

December 24 at Rietvlei at 8am. It is

fun, it is free and for all ages. Dogs on

leads welcome and children under the

age of 12 need to be accompanied by

an adult. Register, download your barcode

and make your way to Rietvlei.

Details: www.parkrun.co.za

The Christmas Village at

13 Emperors Palace is bringing

back the magic of the Christmas

holidays in a big way. The villages is a

Bavarian-themed holiday experience

with a dedicated Winter wonderland

spanning approximately two rugby

fields. Stroll through an authentic

Christmas wonderland, perfect for the

whole family which will fill you with

the festive spirit. Featuring a tunnel of

lights, bustling village square, Snow

Town with over 40 stalls and a dazzling

Winter Wonderland. The experience will

delight both young and old. Book now

and bring your family and friends along.

The village will be open until January 2,

2023 from 6pm to 10pm in hourly slots

(weather permitting). Details: TicketPro

or christmasvillage.co.za

Disney's The Little Mermaid Jr will be on stage, ensuring the ideal

family entertainment to enjoy this festive season and to end the year

on a high note, until December 24 at the Peoples Theatre. The Little

Mermaid is jam-packed with instantly recognisable songs including Part

of your World, She's in Love and the Oscar–winning Under the Sea. This

production flows seamlessly between land and sea, ensuring a visual,

musical treat that will be lavish, exciting and allow the imaginations of

young and old to run wild. It promises to bring all of these well-loved

characters to life in a spectacular end of year production. Show times

for schools are Monday to Friday at 9am and 11am. Show times for public

are 10.30am and 2.30pm weekends and school holidays. Tickets sell

at R160 per person for members of the public, R120 if you are a member

of the Peoples Theatre Kids Club and R130 for public accompanying

members. Details: 011 877 6841 or email info@peoplestheatre.co.za or go to

www.joburgtheatre.com or www.peoplestheatre.co.za

Funny man Skhumba is

back with a bigger and better

brand new one man show on

December 10 at Big Top Arena,

Carnival City. This is his fifth

one man show after taking a

three-year gap. His show will

focus more on what has been

happening in the country and

the world at large, how he

has dealt with Covid-19 and

of course turning the BIG 4-0.

Doors open at 7pm and show

starts at 8pm. Please note no

under 18s. Tickets start at R225.

Details: Computicket

10

December 2022/January 2023 Get It Joburg South • Alberton • Bedfordview • Greenstone • Modderfontein 5

GIS1202_004_468131200.indd 5 2022/11/24 14:12:43
---
Book club

Books for the hols, gifts for foodie friends, Vin de Joie wine ... it's the season of joy.

La Motte's

Vin de Joie 2022 Rosé

is a salmon pink wine ... all melon

and grapefruit, nectarine and hint

of sweet candyfloss. Drink it with

a simple salad, charcuterie,

salmon or crayfish. R99 from

your local wine boutique or

online from la-motte.com

Would you think of taking left over lemon rind, baking at high heat until dry and

charred, then grinding what are, to be completely honest here, the now shrivelled

pieces of burnt rind, and using as a condiment with sweet and savoury dishes?

Nope. Us neither. But we're not Yotam (obvs). In Ottolenghi Test Kitchen – Extra

Good Things, it's suggested Ottolenghify should be a verb ('I Ottolenghified my

roasted aubergine with some feta') … and this sensationally delicious book is just

full of twists, flavour surprises, and flair. We're going to Ottolenghify our foodie

friends' Christmas with copies of this, with best wishes for a year full of sauces,

sprinkles, pickles and flavour. Ebury Press, R595

Ottolenghi and Prue ... happy days

6 Get It Joburg South • Alberton • Bedfordview • Greenstone • Modderfontein December 2022/January 2023

We've all got that one friend. The one who loves food, but is a disaster in the

kitchen. And Yotam Ottolenghi may say "There's an art to making toast, and Prue

Leith knows it.'' But ... it's toast. And Prue says the recipes in Bliss On Toast are easy,

and most home cooks will be able to make them. The collection was compiled by

Prue to celebrate her 30-odd year habit of eating something on toast on Sunday

nights in front of the telly - like the rest of us, yes? But while we're making avo and

tomato toast and pâté on crisp bread (both of which are in the book, Prue's no

snob), she ups the game a little. Think duck egg with rainbow chard and Dijon

butter, or figs with blue cheese, thyme and honey. Her beans on toast may use a

can of white cannellini beans and store-bought white bread, but there's chorizo

and smoked paprika and softened cherry tomatoes. For keen cooks, there's also

a chapter with recipes to make sauces and breads from scratch. There are sweet

options ... like fried Christmas pudding, brandy cream and blackberries, and

because Christmas means leftovers ... we'll be making her bubble and squeak with

hollandaise on Boxing Day. Bloomsbury Publishing, R362

GIS1202_006_437977359.indd 6 2022/11/24 14:13:32
---
A few of our holiday reads ...

Whatever your taste in holiday reads, there's a wonderful selection this month.

We've put these aside to take with us these hols. Santa Montefiore's Flappy

Investigates is light and rather silly, so perfect for a day on the lounger. All

snobbery and gossip, ardent admirers and parties and small village life. Simon and

Schuster • The Boy in the Striped Pyjamas broke our hearts. And we've a feeling John

Boyne's just released All The Broken Places is going to do it again. It's the story

of Gretel, sister of Bruno (the protagonist in the first novel), who was 12 when her

brother disappeared, and is now 91, living in London and who has, when a young

family move into the apartment below hers, the chance to expiate her guilt, grief

and remorse and act to save a young boy. Certainly not an easy holiday read, but

quite possibly the one we're looking forward to the most. Penguin, an Exclusive

Books Festive Favourites read • An Angel's Demise is Sue Nyathi's epic saga of love,

war, bloody massacre and betrayal, as well as the cruel caprice of politics, genderbased

violence and what happens when ordinary people get caught up in lies.

Pan Macmillan • It's 1561 and when sixteen-year-old Lucrezia, Duchess of Ferrara,

is taken to a country villa by her husband, it occurs to her that he's taken her there

to kill her. Maggie O'Farrell's The Marriage Portrait shows the beauty and brutality

of Renaissance Italy, and of a young woman whose proximity to power places

her in mortal danger. Tinder Press • Jodi Picoult. A proper holiday read, since once

you start you struggle to put her books down. In Mad Honey, she co-authors

with Jennifer Finney Boylan, the two alternating chapters in this book that doesn't

shy away from difficult subjects, exploring identity and self-acceptance, abuse

and toxic relationships, domestic violence and trust. Hodder and Stoughton,

an Exclusive Books Festive Favourites read • When Tanz discovers the voices she

hears in her head are not, actually, her imagination working overtime, but rather

messages from beyond the grave, a whole new way of life opens for her. And

not a moment too soon, since all has not gone according to plan on the career

side. Tracy Whitwell's The Accidental Medium is perfect for beach or long plane

journey. Macmillan • And what, we ask, would a holiday be without a thriller?

Peter James' Picture You Dead is a Detective Superintendent Roy Grace novel

... in which he's plunged into the unfamiliar world of fine art - a world which

appears to be respectable, gentlemanly and above reproach, but which in fact is

all greed, deception and violence. Macmillan

Book notes

The Sex, Lies & Stellenbosch saga

continues in Sex, Lies & Alibis, which

boasts it's the hottest book in town.

Steamy and scandalous, this is the

third in Eva Mazza's sexy and risqué

trilogy. Melinda Ferguson Books.

Staying in the winelands ... in

Stellenbosch: Murder Town,

Julian Jansen shares the behind

the headlines details about the

dozen murders that have taken

place in this town over the past two

decades. Tafelberg

Making movies can be murder!

When strange goings on happen in

the script and then on the set of the

psychological horror movie too ... it

appears the real horror lies off the

page. Run Time by Catherine Ryan

Howard's a scare a page. Corvus

John Grisham ... another great holiday

read. The Boys from the Bronx sees

two boys growing up as friends. Both

sons of immigrant familes, they end

up on opposite sides of the law, and

ultimately in a courtroom showdown.

Hodder and Stoughton

Cult Classic by Sloane Crosley is a

brilliantly written, sharp and incredibly

witty rom-com ... a tale of love, luck,

and the ghosts of heartbreaks past.

Bloomsbury Circus

It's 1926 in Kate Atkinson's Shrines of

Gaiety, and in a country recovering

from the Great War, Soho is the

glittering centre of nightlife and

gaiety. But beneath the dazzle, there's

a dark underbelly, and not everything

is as it seems. Penguin

Oh gosh .. if your holiday's a good

few weeks long and you're a royalist,

you're in for a treat with Queen of

our Times - The Life of Elizabeth II.

A whopping 624 pages, it's said to

be the definitive biography by one

of Britain's leading royal authorities,

Robert Hardman. You'll be quite

the authority yourself once you've

finished this study of dynastic survival

and renewal, spanning abdication,

war, romance, danger, tragedy and

triumph. Macmillan

Compiled by: KYM ARGO

December 2022/January 2023 Get It Joburg South • Alberton • Bedfordview • Greenstone • Modderfontein 7

GIS1202_006_437977359.indd 7 2022/11/24 14:13:40
---
Wish list

The excitement is real!

Designed in France, made in Brazil ...

these Cacatoès sandals are made

from recycled PVC, have a candy

scent and come in amazing designs

and shades. We, obviously, are

wearing the gold ones all season,

from beach to cocktail party to

dinner. R840 from stylista-brands.co.za

There's no debate about what we're

(very gently) popping open this

December. We're celebrating with this

L'Ormarins Brut Classique Rosé

NV ... coral pink, with a vigorous

stream of fine bubbles, it's all

bold strawberry, red berry fruit

and cherry, with hints of fresh,

zesty lemon and citrus for a

zip of acidity. Exactly what

we want when we're toasting

the festive season, best

friends, a new year. You'll

find it for R180 a bottle on

shop.rupertwines.com.

And we're about to make

someone's festive season

jolly special indeed. Pop over

to @getitnationalmagazines

on Instagram or Facebook

where you'll find out how to

win a case for Christmas.

Carolina Herrera's CH ... elegant and

glamorous, R1775 from Woolworths

8 Get It Joburg South • Alberton • Bedfordview • Greenstone • Modderfontein

December 2022/January 2023

GIS1202_008_437930106.indd 8 2022/11/24 14:14:51
---
Pop under the tree, or use on

the table for a wonderfully

luxurious setting ... these Cape

Island Christmas Crackers have a

choice of a mini scented candle,

a mini diffuser, a hand cream or

a sanitiser. All festively scented

with cinnamon and clove,

caramel and vanilla, they're ecofriendly

and luxurious. From R200

from capeisland.co.za

Three-and-a-half metre long

gold foil star garland. R120

from mustloveparty.co.za

Donna Hay's recipes are always

spot on ... and The Fast Five

is the ultimate bible of fast,

family-friendly recipes. It's a

brilliant book to take away

with you these hols, when you

want delicious meals without

spending a second longer than

necessary in the kitchen. R649

from Exclusive Books.

Every year, Woolworths brings out a Christmas

coffee mug collection. And every year we buy two.

So Christmas morning's coffee and mince pies is

not only festive and fun, but also has memories

of past Christmas mornings, and who we shared

them with. This years mugs are star-sprinkled

.. the perfect addition to the collection. Star

Celebration Mug, R89.95 from woolworths.co.za

December 2022/January 2023 Get It Joburg South • Alberton • Bedfordview • Greenstone • Modderfontein 9

Compiled by: KYM ARGO

GIS1202_008_437930106.indd 9 2022/11/24 14:15:08
---
Yvonne

Mwiinga,

Verona

Dharman,

Leadri Behrens,

Colin Nkabinda

Partying

with the best ...

It was a flurry of certificates, bubbles and sweet treats at

the annual Best of Ekurhuleni Readers' Choice Awards ...

an event that sees the winners of the massively successful

competition celebrate their (well deserved) wins. For all the

winners, pop over to bestofekurhuleni.co.za

Sian Melville , Anneke Wagner

Charlene Jacobson, Michelle van Scheltema

Lucy Ntuli, Michele Olivier, Nomsa Masina

10 Get It Joburg South • Alberton • Bedfordview • Greenstone • Modderfontein December 2022/January 2023

GIS1202_010_437934692.indd 10 2022/11/24 14:16:01
---
George and Karolina Kounelakis

Wilmarie Nienaber, Paul Ballen, Courtney Glajchen

Refilwe Sepeko, Tashatha Majaye

Jaqui Bloom, Esta Stieler

Samantha Britz, Penelope Ntuli, Elani Page

December 2022/January 2023 Get It Joburg South • Alberton • Bedfordview • Greenstone • Modderfontein 11

GIS1202_010_437934692.indd 11 2022/11/24 14:16:11
---
&

Live, laugh

love

Chatting to Lois du Plessis it is clear that she is somebody who has reflected on many a

thing in life and today, she celebrates the gift of life with those she holds close and dear.

There may not ever have been a more perfect time to get

to know singer and actor Lois du Plessis a little better than

just now when most of us will reflect on a year gone by

and those things that matter in life.

Some of the first things she mentions are her beautiful

childhood that mostly centred around their schedule for

church, the fact she is blessed with many wonderful girlfriends

whom she grew up with and who are still friends

today, and most definitely not least, that she is surrounded

by family on both her mum and dad's side.

Up close and personal

When we rewind to those childhood years she tells you

that her journey began in the then Coronation Hospital

where she was born and that she spent her entire childhood

in Middelburg, Mpumalanga.

'That is where I was raised and completed my schooling. I

started school at Witbank Convent and then when Model

C schools opened up I moved to Middelburg Primary

School and matriculated from Steelcrest High School. I am

the baby of five with two older sisters and two older brothers.

My father was a smelter and my mom a teacher.'

Some of her fondest childhood memories are those of her

and her friends. 'My girlfriends and I would do each other's

hair, rolling each other's hair for Sunday service. These are

some of my fondest memories as those girls and I are still

friends to this day.'

As mentioned she counts one of her many blessings as the

fact that she is surrounded by family and that she is part

of a 'circle of incredible women, friends who have become

sisters whom I love dearly and learn so much from'.

Lois lives in Crown Gardens, south of Johannesburg, and

her weekends are not quite her own. She spends these

catching up on scripts but when the time avails itself she

enjoys gardening, hiking, spending time with close friends

and family and 'of course sometimes a good Netflix and

chill session is needed'.

Considering that she loves the outdoors and rain and

sunshine equally, it comes as no surprise that her favourite

spots are Thaba Echo Hotel and Rietvlei hiking trails.

Lois describes herself as an introverted extrovert who 'may

be a little shy when it comes to certain things (he-he).'

Her ultimate spoil is a good massage and she is all for her

12 Get It Joburg South • Alberton • Bedfordview • Greenstone • Modderfontein December 2022/January 2023

favourite chocolates as a guilty pleasure, oh and please do

not chew with an open mouth in her company.

Dressing up or down there will always be those wardrobe

must-haves and for Lois, it is comfortable sneakers, cute

heels and oversized coats.

GIS1202_012_441819251.indd 12 2022/11/24 14:16:55
---
And as a little side hustle, she makes and sells handmade

jewellery. 'Although I've taken a bit of a break from it over

the last year, I find it rewarding and will start back up in the

new year.'

Her motto in life? 'Be present here.'

If there was one thing she could do before she dies it

would be a visit to Bali.

The actor and singer

Her day job is actor and singer and 'sometimes MC'. To this,

you can also add motivational talks at schools and invitations

to churches to lead worship.

'I'm also a daughter and caregiver. I have a very colourful

calendar filled with stickies (LOL) and by the grace of God,

I manage everything to get it done. But I've also learnt the

importance of asking for help when needed.'

Lois started signing professionally in high school. 'One of my

friend's dads, Uncle Steve, was a DJ and would take me along

to sing at various events. I knew then that entertainment

would be my life.

'I started taking drama lessons with Sonja Myburgh in Standard

Eight or Nine (Grade 10 or 11) and she then entered me

for various competitions. I won a bursary through Dalro to

study drama at Pretoria Tech, now known as TUT and went on

to study and complete my diploma.

'In my final year, I entered a singing competition with a friend

of mine who asked me to go with her and ended up making

it to the top 10 of Coca-Cola Popstars. From there it has been

a surreal journey. I feel blessed.'

She feels that she has been gifted the privilege to be able

to travel.

'Travelling is the best part of my journey as an actor and

singer. Going to different countries, whether with a musical

or on a tour, has opened my eyes to view life and the world

differently. It allowed me to learn about various cultures and

pick up different languages along the way. It has taught me

the importance of appreciating different people as they are.

'The worst but also a necessary part of this journey has been

saying goodbye. Whether it's to seasons or people, goodbyes

are never easy but sometimes necessary.

She quotes Dr Henry Cloud who said: 'Getting to the next

level always requires ending something, leaving it behind and

moving on. Growth itself demands that we move on. Without

the ability to end things, people stay stuck, never becoming

who they are meant to be, never accomplishing all that their

talents and abilities should afford them.'

Facing challenges

'Coming back to South Africa after living overseas for 12 years

was challenging at first and a huge adjustment. However, I've

always been of the mindset that it is important to try your

best to be present, where you are, and that helped me tremendously

when my mother fell ill. I was able to stand in the

gap as her caregiver, a role I still occupy now just with added

assistance.

'I believe that overcoming obstacles requires a daily dose of

step by step. Be gentle with oneself through uncertainty and

maintain unwavering faith that there is something better on

the other side of this.

'Watching my mother's road to recovery has been a testament

that if you just believe and continually have faith, anything

is possible and that we should never stop trying even if

we fall or fail many times. Always get back up.'

The will to always get up is also the message she wants to

leave for young hopefuls.

'Get to know yourself. Love yourself and be certain that this

is the line of work you want to do. Develop a thick skin and

never quit!'

A new single

From the get-go it was evident that faith plays a tremendous

role in Lois' life and one cannot not ask about the release of

her new single 'Same God'.'

The message behind the song is that no matter where you

are in life, no matter the trials or changes you face, and no

matter where you come from, God is the same good God

and will be there for you through everything you face.

Family festivities

When asked whether the festive season holds any special

meaning for her, you find that family and life hold a special

meaning for her.

'The festive season is a time for family, loved ones, rest and

peace. A time to celebrate the gift of life. I think after Covid

we should be celebrating that gift daily. I will be spending

time enjoying my family and resting as much as possible.

'We will go to church on Christmas Eve or Christmas Day and

spend the day together as a family celebrating food, family

and the Christmas spirit.'

Text: CARINA VAN DER WALT. Photo: Brendon Koeberg. Make-up: Mina Shembe. Location: Du Plessis residence.

December 2022/January 2023 Get It Joburg South • Alberton • Bedfordview • Greenstone • Modderfontein 13

GIS1202_012_441819251.indd 13 2022/11/24 14:17:06
---
Live in the

moment

He is one of the 2002 Bali

bombing survivors and

calls himself a changed

man - someone with a

new perspective on life.

We catch up with Morné

Viljoen and his family

to find out how they

will celebrate the festive

season.

In the midst of the festive season most

of us gear up for the celebrations

ahead, get our shopping lists ready

and are in the middle of all our holiday

preparations. For many this is also a

time to not only unwind, but also to

reflect and make new memories with

their loved ones.

The Viljoen's from Alberton live for the

festive season and can't wait to get

comfortable and into the festive mood.

Life has many twists and turns

Many would know Morné Viljoen as

one of the survivors of the terrible Bali

bombings in 2002. He was 24 years old

and working abroad at the time.

He and his longtime friend, Gerrit

Nieuwoudt, decided to take a gap year

14 Get It Joburg South • Alberton • Bedfordview • Greenstone • Modderfontein December 2022/January 2023

GIS1202_014_468230941.indd 14 2022/11/24 14:20:36
---
after completing his degree in human resources at the University of Stellenbosch.

The two friends saw posters about teaching English as a foreign language in the

Republic of China, Taiwan and they decided to apply.

'We applied and the next thing we know we were on a plane to Taiwan.'

There he and Gerhard joined the Taipei Baboons Rugby Club, which consisted of

players from all around the world.

The team was invited to a popular weekend rugby tournament held in Bali in

Indonesia in October 2002. Twenty members of the Taipei team arrived in Bali and

played three games on October 12 and visited the local hangouts, the Sari Club

and nearby Paddy's where later that evening the bombings took place killing a

number of people.

'October 12, 2002, was a terrible day, but I still had a blast in Bali,' he said.

'Seeing my scars in the mirror every day brings back memories of the bombing.

The best therapy, aside from enjoying a glass of good wine (LOL), was talking and

not keeping everything hidden.

'I am changed after the Bali bombings and have also gained a better perspective.

For instance, I am firm in my belief that our souls are immortal and indestructible.'

Today, Morné, is a wine-fanatic who is the proud owner of Wine Unlimited, a wine

Bistro in Alberante. In 2009, his love for good wine drew him and his wife, Janine,

together. Janine practices law as a sole practitioner under the firm name JB Attorneys,

Notaries & Conveyancers. The entertainer is Morné, while the problem-solver

is Janine. The couple have been married since 2013. They are the proud parents of

Zoë (8) and Rilee (5), and Christmas is a favourite season for their family.

Morné cherishes his family and spends as much time as he can with them.

Who is most like to:

• finish eating first?

Harvey our the black Labrador (23

seconds)

• talk in their sleep?

Zoë

• have a messy room?

Rilee

• become a vegetarian?

Morné

• cheer another person up?

All of us.

• eat with their hands?

Rilee

• take forever to make a decision?

Zoë

• be picky about their food?

Zoë

• not know what day it is?

Janine

• wear their shirt backwards?

Janine

• eavesdrop on a conversation?

Zoë

• build an epic fort?

Janine

• ask to stop the car on a road trip

to go to the restroom?

Rilee

• get the whole family in trouble?

Morné

• eat food off the floor?

Harvey – the Labrador will eat

anything

• sing along to car music?

Rilee and Zoë

• want to pet a dog walking by?

All of us

• make a mess?

Zoë and Rilee

• talk someone's ear off?

Zoë

• have 10 dirty cups in their

room?

Zoë

• save their money?

Zoë

• wear shorts on a freezing day?

Rilee

• stay up all night?

Morné

• be up first on Christmas morning?

Janine

• be president one day?

Zoë

• become a professional athlete?

Rilee

• become a comedian?

Rilee

• lead a protest?

Zoë

• win a Grammy?

Rilee and Zoë

The true meaning of Christmas is

love

In their house, Christmas has always

been a time for celebration. 'As a

family, we enjoy celebrating Jesus

Christ's birthday, spending extra time

together, and watching the children's

facial expressions when they open

their presents,' said Morné and Janine.

A fond memory of Morné's childhood

is watching his mom at work preparing

the delicious Christmas meal for

the family.

'My favourite part of Christmas is

spending time with family filled with

laughter and love,' Janine said.

'Decorating the Christmas tree and

putting up the decorations involves

the whole family. While we as a

family decorate the tree and house,

Christmas music will play in the

background.

'Staying home is part of the family's

plans this year. We will celebrate Christmas

evening with a family dinner at our

house, and we will attend church on

Christmas morning. After church we

will then spend the rest of our day with

our extended family at Wine Unlimited

as we will be open,' said Morné.

'The place we spend it doesn't really

matter as long as our family is around,'

he said.

'The children are not holding back

their wish lists when it comes to

Christmas shopping. It ranges from

Spiderman suits to a web shooter to a

Jacuzzi to a hoverboard. There are still

a few things Father Christmas needs

to do.'

Christmas dinner for the Viljoens

involves gammon with pineapple,

mashed potatoes, mustard, and

red wine.

'While celebrating and making new

memories, we also take time to reflect

on the past year. We are so grateful for

our health as well as for our family and

friends,' said Janine.

Morné on the other hand thanks God

for allowing Wine Unlimited to operate

without interruption in normal circumstances.

'Christmas is most of all a time to say 'I

love you' to those we care about.

'Whether you're opening presents or

eating a delicious meal, love is always

present,' said Janine and Morné.

Morné recommends living in the

moment and, of course, drinking

good wine.

Text: ELZAAN PIENAAR. Photo: ELZAAN PIENAAR.

December 2022/January 2023 Get It Joburg South • Alberton • Bedfordview • Greenstone • Modderfontein 15

GIS1202_014_468230941.indd 15 2022/11/24 14:20:44
---
For charming, classic tree

decorations, pop over to

leroymerlin.co.za ... festive

delivered to your door!

We always pack too many pairs of shoes. Far too

many. Different vibes for the beach, shopping,

a party. Half our suitcase ... no exaggeration! So

massive joy when we discovered The Switch. One

pair of slides - black, tan or ivory - and then more

than a dozen straps to clip on ... so you kick off with

a classic plain slide, then a quick change to snow

leopard or mustard ostrich or Nguni. Silver. Pewter.

Raspberry. Be still our beating hearts. All leather and

locally made. R1250 for a pair of slides with three

straps, additional straps R100 each. From zaluki.co.za

Frosting

Red lips and shimmering highlights

and slides that switch from plain to

party ... it's all frosting on the festive cake

A little festive frosting. Essence Make

Me Glow baked highlighter in It's

glow Time (R84.95) and Extreme Care

hydrating glossy lip balm in Milky

Cocoa (R77.95) from DisChem.

Party make up .... Bobbi Brown Luxe Lipstick in Metro

Red (R720), and Longwear Cream Shadow in Soft

Bronze (R520). And a gift for your wish list ... a Dolce

& Gabbana The One gift box, with a fragrance, body

lotion and travel spray. All from Edgars.

16 Get It Joburg South • Alberton • Bedfordview • Greenstone • Modderfontein

December 2022/January 2023

GIS1202_016_468560459.indd 16 2022/11/24 14:21:18
---
Bling bling ... sensational

range of costume

jewellery from R49.95

Dazzling!

If ever there was a time to shine, it's now.

If ever there was a time to shine, it's now.

Belle of the ball. Giver of most dazzling gifts.

If it's golden and precious ... you want it.

And you'll find it at Edgars this festive season.

PROMOTION

The scent of luxury ...

Paco Rabanne Fame from R1950 and

Dior J'Adore Parfum d'eau from R 2195

Perspex

block heels, R299,95

Nite Out eveningwear

dresses from R799.99

December 2022/January 2023 Get It Joburg South • Alberton • Bedfordview • Greenstone • Modderfontein 17

GIS1202_017_437985005.indd 17 2022/11/24 14:22:01
---
GIS1202_018_476680213.indd 18 2022/11/24 14:22:56
---
GIS1202_018_476680213.indd 19 2022/11/24 14:23:28
---
Glam it up

Laines London silver crab and coral faux fur

slippers decorated with a handmade artisan

brooch ... all crystals, pearls and beads. Plus, you

can take them off the slippers and use them to

zoosch up any outfit. R850 from www.excluso.co.za

Jacques Bogart Silver Scent

Infinite Silver ... a highly

concentrated, alluring fragrance

for men, with notes of violet leaf,

lemon and cinnamon, orange

blossom, geranium, and vanilla.

R699 from clicks.co.za

Compiled by: KYM ARGO

Give each of the family their own bauble for the

tree. So special. R40 each from annasoodesign.com

20 Get It Joburg South • Alberton • Bedfordview • Greenstone • Modderfontein December 2022/January 2023

Little Book of Chanel by Lagerfeld

- the story of the iconic fashion

designer. His designs were full of wit

and humour, he reinvented classics

(and dare we say improved them),

and he had a vision that would turn

Chanel into a global phenomenon. He

turned catwalk shows into fantasy extravaganzas

of epic proportions, was

undisputed king of exquisitely crafted

couture, and he was never afraid to

make fun of himself. This glam book

by Emma Baxter-Wright joins the

others in the Little Books of Fashion

series, and would make the perfect

stocking filler (maybe with a bottle of

Chanel fragrance, hint hint). Welbeck

Publishing, R315.

GIS1202_020_437994328.indd 20 2022/11/24 14:24:21
---
Makeup by Ryno Iconic Foundation

is a hot favourite, with good reason.

Flawless! Also ... local, cruelty-free,

vegan, with anti-ageing sunflower

extract and a highlighter to add

glow. Bonus is the SPF50. R495 from

burstmakeupbrushes.co.za

Celebrate the holidays in a swirl of stars. All shadow and

light, simple rubbing elegant shoulders with opulent,

a flash of light and a celestial shimmer. That's what's

promised in the 2023 Chanel make up collection.

Illuminating powder with a pearlescent glow,

mesmerising four-palette eye shades, high

intensity lipsticks ... it's the season to shine. At

Chanel Fragrance and Beauty Boutiques or online.

This Glo Box-Marble Skincare Fridge

is perfect to store your sheet masks or jade rollers,

and has a heating function for wet towels, wax and

massage oils. R1599 from globox.co.za • Metallic

wreath, R349 from Woolworths.

December 2022/January 2023 Get It Joburg South • Alberton • Bedfordview • Greenstone • Modderfontein 21

GIS1202_020_437994328.indd 21 2022/11/24 14:24:31
---
Babes first

Christmas

Count down the days ... we love

this personalised reusable advent

calendar ... a piece you can

bring out year after year, with

the pockets filled with simple

age appropriate gifts. Handmade in

Paarl. R320. And for Christmas morning

... a massive personalised pompom

Santa Sack. There are around half a

dozen designs to choose from ... each

one as lovely as the other. R200. Both

from annasoodesign.com

Personalised reindeer first

Christmas 100% cotton

onesie, R145 from

www.littlewildflower.co.za

Soft to the touch and

perfectly sized for babe

gifts ... crocheted Christmas

stocking with tassels. R260

from mustloveparty.co.za

Babes first Christmas. Babes first book. Nancy Tillman's

On The Night You Were Born really is a special gift for

a newborn. R180 from Exclusive Books.

22 Get It Joburg South • Alberton • Bedfordview • Greenstone • Modderfontein December 2022/January 2023

GIS1202_022_438001496.indd 22 2022/11/24 14:25:21
---
'twas the night before

Christmas ...

... And (let's be honest, here) all through the house was

mayhem. So we love the trend of a Christmas Eve box for

tots and tweens. A pair of new festive pyjamas or slippers,

a story book, a sweet and mug of warm chocolate, given an

hour or so before bedtime. Which gives you time to read them a

story, for some special quiet family time, and then ... sleep tight ...

time for Santa to do his thing!

Reindeer

novelty

slippers,

R199.99, and

young girls'

festive pj's, R229

for the set, from

Woolies.

Oh no. Two horrid men are planning on stealing the

children's Christmas pressies. Can the ladybird, with the

help of her friend the spider, stop this devious plan? Julia

Donaldson's What the Ladybird Heard at Christmas is

a lively rhyming adventure. R275 from Exclusive Books •

What's better than Where's Wally? Six classic Where's Wally

books, PLUS a jigsaw puzzle. Where's Wally? Wow is all

this packed up into one slipcase. Hours of fun for Christmas

Eve and then for days afterwards, too. R695 from

Exclusive Books. And for a Christmas Eve treat, a Woolies

Candy Cane. R17.99

Compiled by: KYM ARGO

December 2022/January 2023 Get It Joburg South • Alberton • Bedfordview • Greenstone • Modderfontein 23

GIS1202_022_438001496.indd 23 2022/11/24 14:25:31
---
A dog's not just

for Christmas. But

Christmas is for

dogs. Pooch is going

to love this Gingerbread Man

soft dog's toy. R149.99

from Woolworths.

Complicated, messy feelings don't go

away just because it's the festive season.

Ruby Warner's Little Moments of Light is

filled with heart-warming illustrations and

messages. It's not a self-help book, there

is no 10-point plan ... but it is encouraging

and thoughtful and would be a perfect

gift for a teen or young adult who needs

to know things will be okay. Also follow

on @worrywellbeing. Welbeck, R317 from

Exclusive Books.

If you've a child

who's fascinated

by insects and

the outdoors,

this luxury wood

and leather

bug box would

be massively

appreciated.

R390 from

envirokid.co.za

Compiled by: KYM ARGO

24 Get It Joburg South • Alberton • Bedfordview • Greenstone • Modderfontein December 2022/January 2023

How cute is this Forest Friends advent calendar? Fill

the pockets with sweets, clues or small gifts for your

little ones to enjoy while they countdown the days until

Christmas. You can also have it personalised with their

name. From R695 from envirokid.co.za

GIS1202_024_438006886.indd 24 2022/11/24 14:26:17
---
This new whisky, distilled in

Scotland but with an African

heart, was born under a setting

African sun by two friends, Gerrit

Wagener and Brin Kushner,

debating the Rhino Poaching

crisis. As the campfire crackled,

an idea was sparked to create

a whisky that would not only

highlight the plight of the

rhino, but also give back

to rhino conservation.

A warm welcome,

then, to Rhino Whisky

- premium but easydrinking,

and with

20 per cent of profits

pledged to the

rehabilitation of baby

rhinos orphaned due

to their mothers being

killed for their horns,

a really well-thought

out Christmas drink.

You'll find it for around

R590 and is available

online on Takealot

and a few select

retailers. To win a

bottle, pop over to Get

It National Magazines

on Instgram before

Dec 10.

Feel good

Christmas

Pour yourself a glass of The Royal

Rhino and toast to This is Africa ... while

knowing you're also helping the fight

against the poaching of Black and

White Rhino. A blend of rich, bold

Arabica coffee and vanilla combined

with milk, this luxurious cream

liqueur is packaged in a bottle

shaped like a rhino horn, and is

brilliant served over ice in a short

glass, in cocktails and drizzled

over ice-cream for a quick-butdecadent

dessert. And every

time you buy a bottle (and

another, and another)

a percentage of the

proceeds go to the

anti-poaching fight. So

basically you're saving

the rhino, one sip at

a time. We'll drink

to that. R159.99

a bottle at most

bottle stores or at

royalrhino.co.za

If we're talking North Pole, we're talking Polar Bears. Which are

one of the eight species of bear ... all of which are featured

in the magnificent Remembering Bears - the latest in the

Remembering Wildlife series of fundraising photo books which

has already raised an impressive R18 491 947 for conservation

projects. For armchair travellers, and those who like to support

conservation, this coffee table book has splendid images of polars

as well as American black bears, Andean bears, Asiatic black bears,

brown bears, giant pandas, sloth bears and sun bears ... images

donated by 85 of the world's leading wildlife photographers (think

Marsel van Oosten, Art Wolfe, Frans Lanting, Greg du Toit, Daisy

Gilardini and Morten Jørgensen, who took the cover image), with

11 of the stunning images taken by South Africans. One hundred

per cent of the sales of the book go to conservation ... much

needed since the IUCN (International Union for Conservation and

Nature) lists six of the bears as vulnerable or endangered due to

pressures ranging from climate change to human-wildlife conflict

and even those bears of least concern, such as brown bears, are

at risk of being lost forever in certain countries. There's also the

horrors of dancing bears, illegally trafficked bears as pets or those

used for medicine. To find out more about Remembering Wildlife,

visit rememberingwildlife.com, and support them by giving a

copy of the book to a wildlife enthusiast for Christmas. R895,

HPH Publishing

December 2022/January 2023 Get It Joburg South • Alberton • Bedfordview • Greenstone • Modderfontein 25

GIS1202_024_438006886.indd 25 2022/11/24 14:26:23
---
Editor's Choice ...

YOU'RE INVITED ...

It's the season to eat, drink and be very, very merry!

Rare, limited and massively desirable

This XO Rosso Brandy is all dark fruit, rich spices, chocolate and French oak - so

Christmas in a bottle, really. Our ed's not sure if she's going to give bottles away

as a gift to a best friend, or keep them for herself. Maybe both. It's one

of two potstill XO brandies just released by Johan Venter, one of SA's

most accomplished brandy masters, under his The Inventer label.

Limited editions (less than a thousand of each), they each

come with a certificate of authenticity, were traditionally

made with double distillation in copper pot stills and aged

for at least ten years in French oak barrels. Neat, with just a

splash of water or an ice block ... happy Christmas indeed!

R1250 a bottle, only from the inventer.co.za

Can you drink it? Nope. But you can certainly light

it and pop it on to your holiday brunch table. Earl

Grey Scented Candle - so all bergamot and

lemon. R350 from thepiebald.com

Cheese & wine parties

back in fashion (yay)!

Let's talk cheese and wine parties.

Massively fashionable in the late

sixties and throughout the seventies,

they then became totally uncool.

But they're back in (retro) style. And

our ed's thrilled! Glammest cheese

serving platter she could find ... this

oversized, marble dual-colour option.

With marble sourced from Rajasthan

(the marble mecca of India), hand

cut by artisans in Jodhpur, it's an

impressively solid piece, and massive.

R999. She also fancies these ivory

cups with 24-carat gold petals.

Sold as tea cups, but here used

instead for Bloody Marys, and to hold

breadsticks. R720 for a pair. All from

thepiebald.com (order online right

now for Christmas deliveries).

26 Get It Joburg South • Alberton • Bedfordview • Greenstone • Modderfontein December 2022/January 2023

GIS1202_026_442933135.indd 26 2022/11/24 14:27:12
---
Kaapse Vonkel Satin Nectar Rosé ...

a delicate string of fine bubbles, a

gorgeous coral pink hue, decadent

aromas of red apples, wild strawberries

and cherriesare followed by flavours of

sun-ripe peaches and fresh melon. And

the packaging is the glorious cherry

on the top. Drink this alone or with a

decadent dessert, equally lovely with

Chinese and Thai dishes, lightly dressed

seafood salads, fruit salads with red fruits

and berries, Japanese sushi or crayfish

thermidor. R190 from simonsig.co.za and

at most leading retailers.

Making merry without the

hangover. Free Spirit Cocktails

by Camille Wilson is a collection

of wonderful cocktails - some

sparkling, some sophisticated,

some with just three ingredients,

and some for the hols. Try A

Berry Good Time ... muddle five

blackberries (or berries of your

choice) with five or so mint

leaves, three lemon wedges,

and 22.5ml simple syrup in

a cocktail shaker. Add ice

and shake until chilled.

Pour into a glass, top with

sparkling water and serve.

There's a Gingerbread

Martini recipe that we're

planning on making at

every opportunity, too.

Chronicle Books, R415

Raise your glass ... to a rosé new year

Whether you're throwing a cocktail party, or have been invited to one

and need to take a gift, here's the perfect pair ... Blaauwklippen's Brut

Cap Classique and Blush Rosé. Both have soft tones of pale salmon

and tick all the balmy summer boxes. The 2020 Brut Cap Classique

is a delicate and fresh wine with floral hints and a creamy core, and is

the only Cap Classique made 100 per cent from Zinfandel grapes – it's

perfect for toasting (and making) memorable moments, or to set the

tone for a romantic dinner. The 2022 Blush Rosé is sophisticated but

light, with the crispness of a dry white and the fruity richness of a red

- so the best of both worlds. It pairs well with Mediterranean-inspired

summer dishes. R200 for the cap classique, R150 for the rosé at your

local wine boutique.

Compiled by: KYM ARGO

December 2022/January 2023 Get It Joburg South • Alberton • Bedfordview • Greenstone • Modderfontein 27

GIS1202_026_442933135.indd 27 2022/11/24 14:27:24
---
ADVERT GIS1202_028_463515661.indd Walkerson.indd 2 28 2022/11/14 2022/11/24 12:12:09 14:28:08
---
PROMOTION

HELLO SUMMER!

Holiday season will be here before you can say 'exfoliate.'

Tans, facials, body scrubs, highlights ... salon bookings now open!

Had the exfoliation? SOiL Shea Butters spreads

smoothly and easily, can be used on skin, hair and nails,

nourishes and enriches. Each has different oils that can

help with scarring, eczema, psoriasis, burns, rashes, acne

and stretch marks, to tone or detox, and they'll all pure

enough to use on babies too. Buy online from soil.co.za.

You'll dazzle your way through Summer with the amazing,

pampering hair, body and beauty products you'll find at

MY LITTLE SHOP. Stock up for yourself, and then spoil

someone special in your life with a hamper of Avon or Justine

products … it's a great time to do so, as there are loads of items

on special … we're talking Avon Senses products from only

R169. Bonus … free delivery in Alberton area.

Details: Chantell 072 256 6789.

Let your natural beauty shine these Summer

holidays. Have a look at CASSANDRA JADE'S

BEAUTY BOUTIQUE AND TATTOO BAR where there

are a variety of treatments … you're certainly spoilt

for choice. Step confidently into your Summer break

and book now for one, or two (or more … they're

worth it) of the special offers available … think lash

lifts and microneedling, dermaplaning facials and

eyelash extensions and, of course, tattoos.

Details: 072 783 8874 or IG and Facebook

@cassandrajadebeautyboutique

@cassandrajadestatoobar

You've had the whole

salon a caboodle.

Now keep your hair

in mint condition

with these great

Redken products.. If

you've demanding,

processed hair, this

Acidic Bonding

Concentrate range

– with salon expert

concentration – is

exceptional. There's a

shampoo, conditioner

and leave-in

treatment for intense

conditioning. And if

you find you have to

wash your hair too

often because of

an oily scalp, try the

Amino-Mint shampoo

… works like a bomb.

Available at good

hair salons.

GIS1202_029_438265145.indd 29 2022/11/24 14:29:13
---
GET IT DIRECTORY

WHERE

TO

At any one of our selected coffee shops, restaurants, shopping centres

and supermarkets across JHB East and South

15 000 Copies Distributed Monthly

Bedfordview/Edenvale

• Ryan Nurseries • Simply Asia Eastgate • Eastgate Shopping Mall

• Life Bedford Garden Hospital • Neighbourhood Square Linksfield

• Karaglen Superspar • De Backery • Er Buco Italian Restaurant

• Greenstone Shopping Centre • Red Door Café

• Stoneridge Centre • Medicross Edenvale Dental Centre

• Creama Nail & Beauty Lounge Flamingo Shopping Centre

• Modderfontein Farmers Market

Johannesburg South

• Tulip Garden Centre • Thaba Ya Batswana Restaurant Coffee Shop

• The Glen Shopping Centre Info Desk • Pick n Pay Steeledale

• Queenshaven Retirement Village • Columbine Square Shopping Centre

• Southgate Mall Info Centre • Superspar The Market Kenilworth

• Netcare Mulbarton Hospital Coffee Shop • Aspen Hill Nature Estate

• Mall of the South Reception • MultiFlora Flower Market

Alberton

• Dischem Bracken Gardens • Rietvlei Farm Zoo • Superspar Meyersdal

• Apple Tree Coffee Shop Alberton Lifestyle Centre

• Netcare Clinton Hospital Coffee Shop • Terrace Building Bottom Entrance

• Alberton City Next to Game • Alberton City Shopping Centre Info Centre

• Royal Coffee Roasters Meyersdale Square

• Café 65 Restaurant Coffee Shop Randhart • OK Grocer Jacquline Mall

• Checkers Hyper Newmarket • Pick n Pay Lemon Tree Shopping Centre

Primrose

• Ackermans Pharmacy

JOBURG SOUTH • ALBERTON • BEDFORDVIEW • GREENSTONE • MODDERFONTEIN

Shopping, People & Lifestyle in your

neighbourhood

www.facebook.com/GetItJoburgSouthEast/

getitjoburgsoutheast

@GetItSouthEast

GDS21202_030_463529753.indd 30 2022/11/24 15:06:17
---
GET IT DIRECTORY

GDS21202_031_463526477.indd 31 2022/11/24 14:36:27
---
Old school CHARM

Glamorous doesn't come close to describing The Winchester Hotel ... the iconic hotel

with the most desirable location on Cape Town's Sea Point Promenade.

Built a century ago as a residential

property, The Winchester Hotel,

managed by Newmark, really is

the grande dame of the Sea Point

Promenade ... a three-storey gabled

building which was converted into a

hotel in the late 1950s.

And despite having a revamp recently,

it still retains its classic attractions ...

it's all elegant and well-bred and old

money. So it oozes glamour ... but

quietly. There'll be no crass showing

off here, thank you.

The 1920s Cape Dutch-style hotel

dominates its location, sitting right

on the edge of the Atlantic Seaboard,

overlooking the ocean and the

pedestrian promenade which is the

heart of the city's social hub.

It's all old-school charm, from the tiny

parking lot hidden around the corner,

past the pool which could be straight

out of a golden age Hollywood movie,

to the quiet lobby, from where you're

ushered off to your room. Just six

dozen or so - with lofts and suites and

a couple of family-friendly options,

with no rooms identically decorated,

but all with views over the sea or

that mountain!

Sticking with the less-is-more policy,

the hotel offers just the pool (with a

spa on the cards), a top-notch bar and

an amiable restaurant.

Harvey's Bar, all midnight black and

light wood, is well-frequented by

locals (always a good sign), and serves

up creative cocktails and fine liqueurs,

as well as a small but well-thought

out menu for those who simply can't

tear themselves away from the view.

A stone's throw away is Shoreditch,

the hotel's restaurant which has the

same restraint shown throughout

the venue. It's quiet, and refined, and

quite lovely, with a menu that offers

sharing dishes like marinated olives

and fresh oysters, linefish ceviche

and wagyu sliders, unpretentious

steak rolls and mushroom risotto and

Caesar salad.

Breakfast, should the Cape weather be

generous, is served out in the central

courtyard ... black and white tiles and

a cascade of bougainvillea along with

your muesli and yoghurt ... marvellous.

As is, really, the whole Winchester

affair. A gorgeous hotel, with

everything you need for a quiet,

luxurious stay ... and with everything

else you may want - nightlife and

clubs and walks and swimming and

shopping and people watching

- literally on your doorstep.

Details: 221 Beach Road, Western Cape.

021-434-2351. newmarkhotels.com

32 Get It Joburg South • Alberton • Bedfordview • Greenstone • Modderfontein December 2022/January 2023

GIS1202_032_442949051.indd 32 2022/11/24 14:29:57
---
Could you get closer to the beach?

Text: KYM ARGO

December 2022/January 2023 Get It Joburg South • Alberton • Bedfordview • Greenstone • Modderfontein 33

GIS1202_032_442949051.indd 33 2022/11/24 14:30:10
---
Festive

Luxurious Celebrate

Spoiltreats from Sally Williams

The Sally Williams Celebrate range is just that, a marvellous celebration of

all things sweet and delicious for the season. Forget the obvious crackers ...

each of our dinner guests will have a Celebrate Chocolate and Nougat Cracker

(with a dozen pieces of indulgent treats inside) or a Christmas Star (also filled

with choc and nougat treats). For gifts there's a magnificent pack with two

nougat variations and a jar of pure honey, there are little boxes of dark and

milk chocolate treats, and boxes of pretty Turkish Delight. Perfect presents

... and if you're struggling to find an unusual dessert for Christmas Day, pop

over to the website and have a look at the tempting (and jolly easy) recipes.

Details: sallywilliamsfinefoods.com

A DELICIOUS

WIN ...

We've a hatbox hamper of

Sally Williams Celebrate treats to give away

... just in time for Christmas Day. To enter,

pop over to Instagram or Facebook

@getitnationalmagazines and follow

the prompts. Competition ends

December 10.

34 Get It Joburg South • Alberton • Bedfordview • Greenstone • Modderfontein December 2022/January 2023

GIS1202_034_437989370.indd 34 2022/11/24 14:31:03
---
GIS1202_035_471949239.indd 35 2022/11/23 10:23:18
---
ADVERT GIS1202_036_463510938.indd Weltervrede.indd 2 36 2022/11/14 2022/11/23 12:09:59 10:23:57