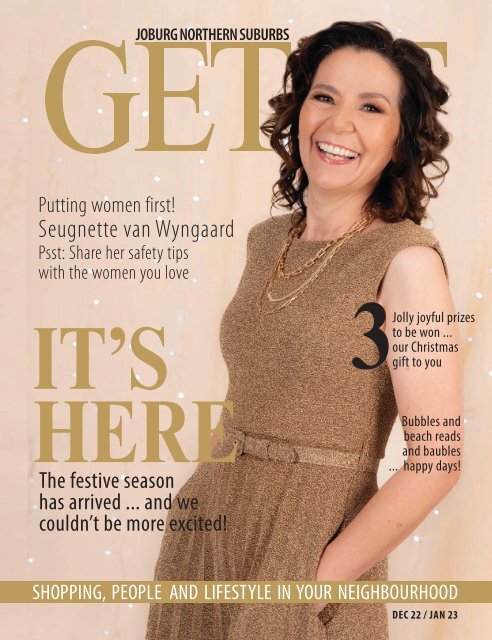 Dec 22 / Jan 23 - JHB North
The festive season is here
The festive season is here
SHOW MORE
SHOW LESS
Create successful ePaper yourself
Turn your PDF publications into a flip-book with our unique Google optimized e-Paper software.
JOBURG NORTHERN SUBURBS

Putting women first!

Seugnette van Wyngaard

Psst: Share her safety tips

with the women you love

IT'S

HERE

The festive season

has arrived ... and we

couldn't be more excited!

Jolly joyful prizes

to be won ...

our Christmas

3gift to you

Bubbles and

beach reads

and baubles

... happy days!

SHOPPING, PEOPLE AND LIFESTYLE IN YOUR NEIGHBOURHOOD

DEC 22 / JAN 23
---
CONTENTS

BOOK CLUB

04 A wonderful selection of holiday reads

GET IT

Editorial

Phone 010-971-3600

Caxton House • 368 Jan Smuts Avenue

Craighall, Joburg

Instagram @get_it_joburg_north

Facebook Get It Joburg North Magazine

Website getitmagazine.co.za/

joburg-north

National Group Editor & National Sales

Kym Argo

kyma@caxton.co.za

Facebook and Instagram:

Get It National Magazines

Website: getitmagazine.co.za

Workflow & Studio Manager Megan Brett

Contributor: Lisa Witepski

Joburg Hub Sales

Norman Dawe 010-971-3601

Distribution 010-971-3605

Get It Joburg Northern Suburbs is

distributed free of charge. For a full list of

where it is available phone 010-971-3605

Published by CTP Limited

Competition rules

The judges' decision is final. Prizes cannot be

transferred or redeemed for cash. Competitions

are not open to the sponsors or Caxton

employees or their families. Get It Magazine

reserves the right to publish the names of

winners, who will be contacted telephonically

and need to collect their prizes from Caxton

Northern branch within 10 days or they will be

forfeited. Prizewinners' names are published on

our social media pages monthly.

WISH LIST

06 Slip on a pair of gold sandals and toast to the most exciting time of the year

SOCIAL & PEOPLE

08 A glam party for the best businesses in Joburg

10 Seugnette van Wyngaard shares tips to keep you safe this festive season

14 Claudine Ullman shares why laughter is more than just the best medicine

BEAUTY

16 We're going for a party look ... red lips, shimmering highlights and slides

FESTIVITY

20 If it's glamorous, it's on our shopping list

22 Make your little ones Christmas a memorable one

24 Nature-loving, feel good gifts this festive season

FOOD & DRINK

28 Meet the two ambitious girls behind Parktown North's latest hotspot, Acid

30 Christmas on a plate

32 Editor's Choice ... It's the season to eat, drink and be merry!

GARDENING

34 Jolly outdoor planting

TRAVEL

39 Four wild reads that make great gifts

40 The iconic Winchester Hotel ... old school glam

WIN

06 A case of L'Ormarins Private Cuvée

42 A hamper of Sally Williams Celebrate treats

COVER PHOTO

Photographer: Nicole Moore.

Details: nicolemoorephotography

Make-up: Makeup by Ryno,

Details: 071-688-0242

DEC 22 / JAN 23

30

Dec

22 / Jan 23 Get It Magazine 03
---
Book club

Books for the hols, gifts for foodie friends, Vin de Joie wine ... it's the season of joy.

La Motte's

Vin de Joie 2022 Rosé

is a salmon pink wine ... all melon

and grapefruit, nectarine and hint

of sweet candyfloss. Drink it with

a simple salad, charcuterie,

salmon or crayfish. R99 from

your local wine boutique or

online from la-motte.com

Would you think of taking left over lemon rind, baking at high heat until dry and

charred, then grinding what are, to be completely honest here, the now shrivelled

pieces of burnt rind, and using as a condiment with sweet and savoury dishes?

Nope. Us neither. But we're not Yotam (obvs). In Ottolenghi Test Kitchen – Extra

Good Things, it's suggested Ottolenghify should be a verb ('I Ottolenghified my

roasted aubergine with some feta') … and this sensationally delicious book is just

full of twists, flavour surprises, and flair. We're going to Ottolenghify our foodie

friends' Christmas with copies of this, with best wishes for a year full of sauces,

sprinkles, pickles and flavour. Ebury Press, R595

Ottolenghi and Prue ... happy days

We've all got that one friend. The one who loves food, but is a disaster in the

kitchen. And Yotam Ottolenghi may say "There's an art to making toast, and Prue

Leith knows it.'' But ... it's toast. And Prue says the recipes in Bliss On Toast are easy,

and most home cooks will be able to make them. The collection was compiled by

Prue to celebrate her 30-odd year habit of eating something on toast on Sunday

nights in front of the telly - like the rest of us, yes? But while we're making avo and

tomato toast and pâté on crisp bread (both of which are in the book, Prue's no

snob), she ups the game a little. Think duck egg with rainbow chard and Dijon

butter, or figs with blue cheese, thyme and honey. Her beans on toast may use a

can of white cannellini beans and store-bought white bread, but there's chorizo

and smoked paprika and softened cherry tomatoes. For keen cooks, there's also

a chapter with recipes to make sauces and breads from scratch. There are sweet

options ... like fried Christmas pudding, brandy cream and blackberries, and

because Christmas means leftovers ... we'll be making her bubble and squeak with

hollandaise on Boxing Day. Bloomsbury Publishing, R362

04 Get It Magazine Dec 22 / Jan 23
---
A few of our holiday reads ...

Whatever your taste in holiday reads, there's a wonderful selection this month.

We've put these aside to take with us these hols. Santa Montefiore's Flappy

Investigates is light and rather silly, so perfect for a day on the lounger. All

snobbery and gossip, ardent admirers and parties and small village life. Simon and

Schuster • The Boy in the Striped Pyjamas broke our hearts. And we've a feeling John

Boyne's just released All The Broken Places is going to do it again. It's the story

of Gretel, sister of Bruno (the protagonist in the first novel), who was 12 when her

brother disappeared, and is now 91, living in London and who has, when a young

family move into the apartment below hers, the chance to expiate her guilt, grief

and remorse and act to save a young boy. Certainly not an easy holiday read, but

quite possibly the one we're looking forward to the most. Penguin, an Exclusive

Books Festive Favourites read • An Angel's Demise is Sue Nyathi's epic saga of love,

war, bloody massacre and betrayal, as well as the cruel caprice of politics, genderbased

violence and what happens when ordinary people get caught up in lies.

Pan Macmillan • It's 1561 and when sixteen-year-old Lucrezia, Duchess of Ferrara,

is taken to a country villa by her husband, it occurs to her that he's taken her there

to kill her. Maggie O'Farrell's The Marriage Portrait shows the beauty and brutality

of Renaissance Italy, and of a young woman whose proximity to power places

her in mortal danger. Tinder Press • Jodi Picoult. A proper holiday read, since once

you start you struggle to put her books down. In Mad Honey, she co-authors

with Jennifer Finney Boylan, the two alternating chapters in this book that doesn't

shy away from difficult subjects, exploring identity and self-acceptance, abuse

and toxic relationships, domestic violence and trust. Hodder and Stoughton,

an Exclusive Books Festive Favourites read • When Tanz discovers the voices she

hears in her head are not, actually, her imagination working overtime, but rather

messages from beyond the grave, a whole new way of life opens for her. And

not a moment too soon, since all has not gone according to plan on the career

side. Tracy Whitwell's The Accidental Medium is perfect for beach or long plane

journey. Macmillan • And what, we ask, would a holiday be without a thriller?

Peter James' Picture You Dead is a Detective Superintendent Roy Grace novel

... in which he's plunged into the unfamiliar world of fine art - a world which

appears to be respectable, gentlemanly and above reproach, but which in fact is

all greed, deception and violence. Macmillan

Book notes

The Sex, Lies & Stellenbosch saga

continues in Sex, Lies & Alibis, which

boasts it's the hottest book in town.

Steamy and scandalous, this is the

third in Eva Mazza's sexy and risqué

trilogy. Melinda Ferguson Books.

Staying in the winelands ... in

Stellenbosch: Murder Town,

Julian Jansen shares the behind

the headlines details about the

dozen murders that have taken

place in this town over the past two

decades. Tafelberg

Making movies can be murder!

When strange goings on happen in

the script and then on the set of the

psychological horror movie too ... it

appears the real horror lies off the

page. Run Time by Catherine Ryan

Howard's a scare a page. Corvus

John Grisham ... another great holiday

read. The Boys from the Bronx sees

two boys growing up as friends. Both

sons of immigrant familes, they end

up on opposite sides of the law, and

ultimately in a courtroom showdown.

Hodder and Stoughton

Cult Classic by Sloane Crosley is a

brilliantly written, sharp and incredibly

witty rom-com ... a tale of love, luck,

and the ghosts of heartbreaks past.

Bloomsbury Circus

It's 1926 in Kate Atkinson's Shrines of

Gaiety, and in a country recovering

from the Great War, Soho is the

glittering centre of nightlife and

gaiety. But beneath the dazzle, there's

a dark underbelly, and not everything

is as it seems. Penguin

Oh gosh .. if your holiday's a good

few weeks long and you're a royalist,

you're in for a treat with Queen of

our Times - The Life of Elizabeth II.

A whopping 624 pages, it's said to

be the definitive biography by one

of Britain's leading royal authorities,

Robert Hardman. You'll be quite

the authority yourself once you've

finished this study of dynastic survival

and renewal, spanning abdication,

war, romance, danger, tragedy and

triumph. Macmillan

Compiled by: KYM ARGO

Dec 22 / Jan 23 Get It Magazine 05
---
Wish list

The excitement is real!

Designed in France, made in Brazil ...

these Cacatoès sandals are made from

recycled PVC, have a candy scent and

come in amazing designs and shades.

We, obviously, are wearing the gold

ones all season, from beach to cocktail

party to dinner. R840 from stylistabrands.co.za

There's no debate about what we're (very

gently) popping open this December.

We're celebrating with this L'Ormarins

Private Cuvée ... a sumptuous, elegant,

vibrant blend of Chardonnay and Pinot

Noir. Creamy, rich and statuesque, it's

all toasty sourdough, vivid lemon and

marmalade, and has a vigorous bead

of fine, pristine bubbles ... exactly

what we want when we're

toasting the festive season,

best friends, a new year. You'll

find it for R470 a bottle on

shop.rupertwines.com.

And we're about to

make someone's festive

season jolly special

indeed. Pop over to

@getitjoburgnorthmagazine

on Instagram or Facebook

where you'll find out how to

win a case for Christmas.

Glasshouse The Night Before Christmas

candle, limited edition from Woolworths

06 Get It Magazine Dec 22 / Jan 23
---
Pop under the tree, or use on

the table for a wonderfully

luxurious setting ... these Cape

Island Christmas Crackers have a

choice of a mini scented candle,

a mini diffuser, a hand cream or

a sanitiser. All festively scented

with cinnamon and clove,

caramel and vanilla, they're ecofriendly

and luxurious. From R200

from capeisland.co.za

Three-and-a-half metre long

gold foil star garland. R120

from mustloveparty.co.za

Donna Hay's recipes are always

spot on ... and The Fast Five

is the ultimate bible of fast,

family-friendly recipes. It's a

brilliant book to take away

with you these hols, when you

want delicious meals without

spending a second longer than

necessary in the kitchen. R649

from Exclusive Books.

Every year, Woolworths brings out a Christmas

coffee mug collection. And every year we buy two.

So Christmas morning's coffee and mince pies is

not only festive and fun, but also has memories

of past Christmas mornings, and who we shared

them with. This years mugs are star-sprinkled

.. the perfect addition to the collection. Star

Celebration Mug, R89.95 from woolworths.co.za

Compiled by: KYM ARGO

Dec 22 / Jan 23 Get It Magazine 07
---
Casa Das Natas won. And (literally) came to the party!

Thandi Mparutsa

Partying

with the best

The annual Best of Joburg Readers' Choice Awards

event is always a glam affair ... and doubly so this

year, when guests swooped into the magnificent

Villa Moji at The Fairlawns Boutique Hotel and

Spa (deservedly, and unsurprisingly, winner of the

awards' Best Boutique Hotel category). A flurry of

certificates, bubbles, sweet treats and prizes ... it's

always the party that kicks off the festive season and

an extremely jolly time was had by all. For all the

winners, pop over to bestofjoburg.co.za

Beyers chocolate cigars. Big hit!

Tarryn Palmer

Reader winners Halle Robinson,

Nicci Grant and Megan Wessels

08 Get It Magazine Dec 22 / Jan 23
---
Kaylyn Kruger, Cindy Harrison

Erica Schalkwyk and Anushce Saunders

Refilwe Sepeko and Tashatha Majaye

Sarah Mbotshwa and

Cerys Bullock-Pharoah

Karen Short

Natasia Cook

Dec 22 / Jan 23 Get It Magazine 09
---
Live fearlessly

Tips to keep you safe this festive season

Live fearlessly, says Seugnette van Wyngaard,

who's job it is, quite literally, to keep women safe.

What you would

do if you were

fearless? This is a

question that

Fourways-resident

Seugnette van

Wyngaard asks herself

every morning at around

5am, during what she

calls, her sacred time.

She knows being fearless

doesn't mean living a life

devoid of fear, but rather

living a life in which fear

doesn't hold her back. "Being

fearless is both a decision and

an action. It's the audacity to be

unhindered by failure or judgement, and to walk with freedom,

strength and hope in the face of things unknown," she says.

Cultivating and maintaining this fearless attitude and mindset

is crucial for Seugnette, as she heads up South Africa's only

insurer dedicated to putting women's safety first - 1st for Women

Insurance. "We believe that if woman feel safe, they'll be able to

live more fearlessly. When sunsets are not curfews and when

their favourite skirt isn't seen as an invitation for trouble, they'll be

able to do more, be more and achieve more."

Seugnette is the mother of two. Her 23-year-old son Kyle is in the

Legion in Corsica, France, her 17-year-old daughter Seunique in

high school in the Western Cape. Seugnette knows what it is like

to see a missed call from her daughter - immediately, her heart

sinks. "Never mind those blue ticks – I wait for them to appear to

know she's reading my WhatsApp message and that she's OK. If

I am feeling this way, how many other women are? If I can help

other woman feel safer and have peace of mind live fearlessly, I've

done what I set out to do."

On that note and ahead of the festive season, there are a couple

of safety tips Seugnette and the 1st for Women team want all

women to know.

"It's meant to be a time of giving, but our claims statistics show

that the festive period is prime time for criminal activity – and car

accidents notoriously spike during this period too."

So they've put together a jolly useful list of tips for you to read

(and share with your women friends).

10 Get It Magazine Dec 22 / Jan 23

At home ...

• Use every security measure available to you every

time, even when you're home. Leaving an alarm

unarmed, a second door unlocked or a window

open – even if you go out very briefly – creates the

perfect opportunity for a criminal to strike.

• Look out for suspicious vehicles or individuals

when travelling leaving and entering your

property, especially when you return from a festive

shopping spree. Shoppers perceived to be high

value targets are often followed home. Know your

neighbours' routines so that you can better identify

suspicious activity.

• Don't pile up empty gift boxes where they

are easily visible to criminals peeking into your

property. Instead, tear up the boxes and hide them

in bins or bags.

• Don't tempt criminals by leaving new items in

plain sight. Draw the curtains at night to keep

them from seeing what's inside and monitoring

your movement.

• Notify your security company when you won't

be at home for extended periods of time. Also ask

someone you trust to check on your home, collect

your mail and switch on different lights to create

the impression that somebody is home.

On the road...

• Use a GPS to avoid getting lost and becoming an

easy target.

• Inform someone at your destination about your

estimated time of arrival.

• Always be aware of your surroundings and look

out for anything suspicious.

• Limit distractions when walking to or from your

car, as well as when driving.

• Avoid driving with windows wide open, keep the

doors locked and valuables out of sight.

• If you suspect you are being followed, make a

couple of false turns. If someone is still following

you, drive to the nearest police station.

• Leave enough room between you and the car in

front of you to avoid being boxed in.

• Always park in a safe, well-lit area.

• Make sure your cellphone is always charged or

keep a charger so that you can call for help/request

emergency services if needed.
---
'We believe that if woman

feel safe, they'll be able to live

more fearlessly. When sunsets

are not curfews and when their

favourite skirt isn't seen as an

invitation for trouble, they'll

be able to do more, be more

and achieve more.'

Text: KYM ARGO • Photographer: NICOLE MOORE. Details: nicolemoorephotography.co.za

• Make-up: MAKEUP BY RYNO, 071-688-0242.

Dec 22 / Jan 23 Get It Magazine 11
---
If your car breaks down ...

• Switch on your hazard lights and, if possible, pull

into the emergency lane.

• Make sure that your vehicle remains visible –

make use of your emergency triangle.

• If you get stuck in a dangerous spot, get out

of your vehicle when it is safe to do so and walk

carefully to the side of the road. Ideally, you should

remain in your car with the doors locked.

• Immediately call your insurer for assistance.

At shopping malls

• Stay alert. Always be aware of what is going

on around you, particularly if you're in a place

that could potentially be held up - a bank or a

small store.

• Avoid high-target stores around opening and

closing times.

• Decide how and where you and your friends

or family will reunite in the event of a robbery –

remember that you may not have your cellphone.

• Avoid withdrawing large sums of money in a

bank and carry little cash on you.

• If you notice suspicious activity don't go near

it. Report it discreetly to the management, the

information desk or security staff and then

calmly leave.

While exercising ...

• Headphones are great for playing tunes that help

motivate you while running but they can also

block out surrounding sound that could alert you

to danger. Try to keep your headphone volume

low if you feel you must use them.

• Let someone know when you are going to be

running and what route you will be following. You

can also check in with them at the end of your run

with a simple text message.

• Attacks while you are running are often

spontaneous attacks when a perpetrator spots an

opportunity. However, predictable patterns are

also a safety concern. Try to have some variation

in the timing of your runs and avoid running

when it is dark or in isolated areas. You could

run an hour earlier or later and change up your

routine when it comes to the days of the week

when you choose to run.

• There are various mobile or app-based

panic buttons available, including the 1st

for Women panic button, which you can

use in any emergency situation where you

feel unsafe.

• Run in a group. There's safety

in numbers.

With some good proactive planning

and all these precautions in place,

you have a much better chance of being

fearless this festive season.

Thinking about safetly. Constantly!

Women think about safety a lot. All the time in fact. They think

about safety when their phones ring, when a dog barks in the middle

of the night, when getting dressed in the morning, when they are

in their driveways, on the road, stopped at traffic lights, at home,

at petrol stations, in traffic, at shopping malls, restaurants, while

commuting, walking, jogging or running. It's a constant.

Now, just imagine what women could do, would do, if they just felt

safer. They would live more. Fearlessly.

1st for Women builds policies that come equipped with ...

Guardian Angels on Call This dedicated fleet of Guardian Angels

keep you safe on the roads 24/7. A Guardian Angel will be dispatched

to either assist with a mechanical breakdown, a flat battery

or flat tyre, or to guard the customer until help arrives with their

Stand by Me service.

Free and Unlimited Trip Monitoring With this benefit, customers

will be contacted every 30 minutes to check that they are still safely

en route to their destination. If that contact is interrupted, a loved one

will be informed, and the time and location of their last communication

will be shared with them.

Panic Button Available through the 1st for Women app, it assists

with alerting external help during any emergency. Help is available

24/7 and it can be used from anywhere in SA. Plus you can share it

with five loved ones, at no extra cost.

This is just the beginning. 1st for Women think about safety as much

as you do and puts it first in everything it does. Because, a safer you is

a fearless you. Details: ffw.co.za

12 Get It Magazine Dec 22 / Jan 23
---
unny

haha

Claudine Ullman is out to prove that laughter isn't just the

best medicine – it's also a number one empowerment tool,

beauty aid, confidence booster … and the list goes on

Claudine says

she knew from

early on that she

was hilarious. The

uncontested class

clown, entertaining

her friends was

effortless – "so, the

question was, how do I get

to be my silly, playful, hilarious

self all the time? And the answer

was: comedy!"

Not just any comedy, though:

Claudine found that without the

bonds imposed by a script, left to

think on her feet, she was in her

element. And so her love of improv

began. "There is something incredibly

special about being able to blow the

audience away in a moment that's

gone forever as soon as it's over. It

makes me feel like I'm in heaven."

Since Chicago is the home of improv

theatre, Claudine headed there as soon

as she'd finished her studies in drama

at WITS, including the States' Second

City as part of a tour that also saw her

stopping off in New York and LA. And in

each city, she was astounded: comedy

wasn't only for silver screens and stages;

it was also used as a phenomenally

powerful tool in corporates, where it

was used to teach everything from life

skills to creativity.

This was a first for her: no one was

doing anything similar in South

Africa. "So I thought: why not me? I'll

bring it to South Africa and become

the expert!"

As an improv comedy facilitator,

Claudine says that she gets to live

her purpose every day. Plus, she does

it so well that she's won recognition

from the likes of M&G, which named

her one of the top 200 Young South

Africans, and even graced the cover of

Kulula's inflight magazine.

There is something

incredibly special about

being able to blow

the audience away in

a moment that's gone

forever as soon as it's over.

But, if she makes achievement sound

easy, she's the first to point out that

it's not. Before Claudine returned from

her overseas stint, she spent two very

dark years in London, trying to get on

top of a debilitating thyroid condition

while honing her craft through any

medium she could, from physical

theatre to radio shows, film and TV.

When she left the Big Smoke, it was

with a thorough appreciation of how

laughter can make you feel more

yourself – or rather, the person you

would be if you were given all you

needed to shine. She established

her company, Jittery Citizens, on this

understanding and although she says

that South African companies still

take some persuading when it comes

to comedy, she has hundreds of

testimonials from people who thank

her for changing their lives. That's

the power of comedy, she insists:

whether you're an introvert or a born

performer, when someone gives you

the chance to express yourself, to

stand in your light and show everyone

what a creative genius you are, it's

truly liberating.

Just because South African

companies aren't ready to embrace

comedy doesn't mean that South

Africans themselves are reticent.

"We're absolutely hilarious!" Claudine

says. Our comedians are world

class – probably because, with fewer

platforms, they are forced to grow and

develop quickly. It's not unusual for a

complete newbie to share the stage

with a Loyiso Gola, for example.

14 Get It Magazine Dec 22 / Jan 23
---
Female comedians have it hardest

of all – "all three and a half of us!"

Claudine quips. On the flipside,

they've become a tightly knit bunch,

eager to support each other and

share opportunities where they can.

"I think we have a duty to each other

in this regard," Claudine says, adding

that the first thing she does when

she gets a lineup is find women to

go on stage with her.

Clearly, female empowerment is big

in her books – which is one of the

reasons this self-professed former

pageant hater decided to enter Mrs

South Africa. "It just came to me one

night – I literally woke up and told

my husband I was going to enter.

I thought it was going to be great

for content creation, but instead it

became a journey of self-love and

development." One of the reasons

for this, Claudine says, is she never

believed she could be a beauty

queen – but her experience has

taught her that every single woman

is unique, special and gorgeous,

and "it made me fall in deep love

with every inch of my body. It's

the coolest thing I've ever done.

And it's changed me – from being

someone who didn't dress up, I now

go buy bread at Woolies in my heels.

Why? Because I want to be the best

version of myself - that's when the

magic happens."

One of the reasons she braved

strutting the catwalk in swimwear

was to show her 18-month son ("the

love of my life and my soulmate")

that you can do anything you set

your mind to, no matter how much

it scares you. As she says, "I've walked

on hot coals, I've appeared on

Netflix, I've hosted a TedX Talk – and

now I've become a beauty queen.

What can't I do?"

Pretty much nothing, it would seem

– which is why she says that world

domination is next on her "to do" list!

On a serious note, she adds, she's

keen to find new ways of using her

superpower – bringing light and

laughter to everyone. "That's my

advice to everyone: Discover your

superpower and then live it! Show up

like that every day, for your colleagues,

your husband, your friends, your

children, your dogs – because that's

what the world deserves!"

How to make humour your superpower

Your sense of humour isn't only there to keep your

friends giggling – it can also be an amazing tool

for business. "Use it to showcase your vulnerability

and relate to your audience – it keeps us open and

receptive, and makes your audience more engaged

and interested so they keep listening."

Text: Lisa Witepski.

Dec 22 / Jan 23 Get It Magazine 15
---
For charming, classic tree

decorations, pop over to

leroymerlin.co.za ... festive

delivered to your door!

We always pack too many pairs of shoes. Far too

many. Different vibes for the beach, shopping,

a party. Half our suitcase ... no exaggeration! So

massive joy when we discovered The Switch. One

pair of slides - black, tan or ivory - and then more

than a dozen straps to clip on ... so you kick off with

a classic plain slide, then a quick change to snow

leopard or mustard ostrich or Nguni. Silver. Pewter.

Raspberry. Be still our beating hearts. All leather and

locally made. R1250 for a pair of slides with three

straps, additional straps R100 each. From zaluki.co.za

Frosting

Red lips and shimmering highlights

and slides that switch from plain to

party ... it's all frosting on the festive cake

A little festive frosting. Essence Make

Me Glow baked highlighter in It's

glow Time (R84.95) and Extreme Care

hydrating glossy lip balm in Milky

Cocoa (R77.95) from DisChem.

Party make up .... Bobbi Brown Luxe Lipstick in Metro

Red (R720), and Longwear Cream Shadow in Soft

Bronze (R520). And a gift for your wish list ... a Dolce

& Gabbana The One gift box, with a fragrance, body

lotion and travel spray. All from Edgars.

16 Get It Magazine Dec 22 / Jan 23
---
Bling bling ... sensational

range of costume

jewellery from R49.95

Dazzling!

If ever there was a time to shine, it's now.

If ever there was a time to shine, it's now.

Belle of the ball. Giver of most dazzling gifts.

If it's golden and precious ... you want it.

And you'll find it at Edgars this festive season.

PROMOTION

The scent of luxury ...

Paco Rabanne Fame from R1950 and

Dior J'Adore Parfum d'eau from R 2195

Perspex

block heels, R299,95

Nite Out eveningwear

dresses from R799.99

Dec 22 / Jan 23 Get It Magazine 17
---
Glam it up

Laines London silver crab and coral faux fur

slippers decorated with a handmade artisan

brooch ... all crystals, pearls and beads. Plus, you

can take them off the slippers and use them to

zoosch up any outfit. R850 from www.excluso.co.za

Jacques Bogart Silver Scent

Infinite Silver ... a highly

concentrated, alluring fragrance

for men, with notes of violet leaf,

lemon and cinnamon, orange

blossom, geranium, and vanilla.

R699 from clicks.co.za

Compiled by: KYM ARGO

Give each of the family their own bauble for the

tree. So special. R40 each from annasoodesign.com

Little Book of Chanel by Lagerfeld

- the story of the iconic fashion

designer. His designs were full of wit

and humour, he reinvented classics

(and dare we say improved them),

and he had a vision that would turn

Chanel into a global phenomenon. He

turned catwalk shows into fantasy extravaganzas

of epic proportions, was

undisputed king of exquisitely crafted

couture, and he was never afraid to

make fun of himself. This glam book

by Emma Baxter-Wright joins the

others in the Little Books of Fashion

series, and would make the perfect

stocking filler (maybe with a bottle of

Chanel fragrance, hint hint). Welbeck

Publishing, R315.

20 Get It Magazine Dec 22 / Jan 23
---
Makeup by Ryno Iconic Foundation

is a hot favourite, with good reason.

Flawless! Also ... local, cruelty-free,

vegan, with anti-ageing sunflower

extract and a highlighter to add

glow. Bonus is the SPF50. R495 from

burstmakeupbrushes.co.za

Celebrate the holidays in a swirl of stars. All shadow and

light, simple rubbing elegant shoulders with opulent,

a flash of light and a celestial shimmer. That's what's

promised in the 2023 Chanel make up collection.

Illuminating powder with a pearlescent glow,

mesmerising four-palette eye shades, high

intensity lipsticks ... it's the season to shine. At

Chanel Fragrance and Beauty Boutiques or online.

This Glo Box-Marble Skincare Fridge

is perfect to store your sheet masks or jade rollers,

and has a heating function for wet towels, wax and

massage oils. R1599 from globox.co.za • Metallic

wreath, R349 from Woolworths.

Dec 22 / Jan 23 Get It Magazine 21
---
Babes first

Christmas

Count down the days ... we love

this personalised reusable advent

calendar ... a piece you can bring

out year after year, with the

pockets filled with simple age

appropriate gifts. Handmade in Paarl.

R320. And for Christmas morning ... a

massive personalised pompom Santa

Sack. There are around half a dozen

designs to choose from ... each one

as lovely as the other. R200. Both from

annasoodesign.com

Personalised reindeer first

Christmas 100% cotton

onesie, R145 from

www.littlewildflower.co.za

Soft to the touch and

perfectly sized for babe

gifts ... crocheted Christmas

stocking with tassels. R260

from mustloveparty.co.za

Babes first Christmas. Babes first book. Nancy Tillman's

On The Night You Were Born really is a special gift for

a newborn. R180 from Exclusive Books.

22 Get It Magazine Dec 22 / Jan 23
---
'twas the night before

Christmas ...

... And (let's be honest, here) all through the house was

mayhem. So we love the trend of a Christmas Eve box for

tots and tweens. A pair of new festive pyjamas or slippers, a

story book, a sweet and mug of warm chocolate, given an hour

or so before bedtime. Which gives you time to read them a

story, for some special quiet family time, and then ... sleep tight ...

time for Santa to do his thing!

Reindeer

novelty

slippers,

R199.99, and

young girls'

festive pj's, R229

for the set, from

Woolies.

Oh no. Two horrid men are planning on stealing the

children's Christmas pressies. Can the ladybird, with the

help of her friend the spider, stop this devious plan? Julia

Donaldson's What the Ladybird Heard at Christmas is

a lively rhyming adventure. R275 from Exclusive Books •

What's better than Where's Wally? Six classic Where's Wally

books, PLUS a jigsaw puzzle. Where's Wally? Wow is all

this packed up into one slipcase. Hours of fun for Christmas

Eve and then for days afterwards, too. R695 from

Exclusive Books. And for a Christmas Eve treat, a Woolies

Candy Cane. R17.99

Compiled by: KYM ARGO

Dec 22 / Jan 23 Get It Magazine 23
---
A dog's not just

for Christmas. But

Christmas is for

dogs. Pooch is going

to love this Gingerbread Man

soft dog's toy. R149.99

from Woolworths.

Complicated, messy feelings don't go

away just because it's the festive season.

Ruby Warner's Little Moments of Light is

filled with heart-warming illustrations and

messages. It's not a self-help book, there

is no 10-point plan ... but it is encouraging

and thoughtful and would be a perfect

gift for a teen or young adult who needs

to know things will be okay. Also follow

on @worrywellbeing. Welbeck, R317 from

Exclusive Books.

If you've a child

who's fascinated

by insects and

the outdoors,

this luxury wood

and leather

bug box would

be massively

appreciated.

R390 from

envirokid.co.za

Compiled by: KYM ARGO

How cute is this Forest Friends advent calendar? Fill

the pockets with sweets, clues or small gifts for your

little ones to enjoy while they countdown the days until

Christmas. You can also have it personalised with their

name. From R695 from envirokid.co.za

24 Get It Magazine Dec 22 / Jan 23
---
This new whisky, distilled in

Scotland but with an African

heart, was born under a setting

African sun by two friends, Gerrit

Wagener and Brin Kushner,

debating the Rhino Poaching

crisis. As the campfire crackled,

an idea was sparked to create

a whisky that would not only

highlight the plight of the

rhino, but also give back

to rhino conservation.

A warm welcome,

then, to Rhino Whisky

- premium but easydrinking,

and with

20 per cent of profits

pledged to the

rehabilitation of baby

rhinos orphaned due

to their mothers being

killed for their horns,

a really well-thought

out Christmas drink.

You'll find it for around

R590 and is available

online on Takealot

and a few select

retailers. To win a

bottle, pop over to Get

It National Magazines

on Instgram before

Dec 10.

Feel good

Christmas

Pour yourself a glass of The Royal

Rhino and toast to This is Africa ... while

knowing you're also helping the fight

against the poaching of Black and

White Rhino. A blend of rich, bold

Arabica coffee and vanilla combined

with milk, this luxurious cream

liqueur is packaged in a bottle

shaped like a rhino horn, and is

brilliant served over ice in a short

glass, in cocktails and drizzled

over ice-cream for a quick-butdecadent

dessert. And every

time you buy a bottle (and

another, and another)

a percentage of the

proceeds go to the

anti-poaching fight. So

basically you're saving

the rhino, one sip at

a time. We'll drink

to that. R159.99

a bottle at most

bottle stores or at

royalrhino.co.za

If we're talking North Pole, we're talking Polar Bears. Which are

one of the eight species of bear ... all of which are featured

in the magnificent Remembering Bears - the latest in the

Remembering Wildlife series of fundraising photo books which

has already raised an impressive R18 491 947 for conservation

projects. For armchair travellers, and those who like to support

conservation, this coffee table book has splendid images of polars

as well as American black bears, Andean bears, Asiatic black bears,

brown bears, giant pandas, sloth bears and sun bears ... images

donated by 85 of the world's leading wildlife photographers (think

Marsel van Oosten, Art Wolfe, Frans Lanting, Greg du Toit, Daisy

Gilardini and Morten Jørgensen, who took the cover image), with

11 of the stunning images taken by South Africans. One hundred

per cent of the sales of the book go to conservation ... much

needed since the IUCN (International Union for Conservation and

Nature) lists six of the bears as vulnerable or endangered due to

pressures ranging from climate change to human-wildlife conflict

and even those bears of least concern, such as brown bears, are

at risk of being lost forever in certain countries. There's also the

horrors of dancing bears, illegally trafficked bears as pets or those

used for medicine. To find out more about Remembering Wildlife,

visit rememberingwildlife.com, and support them by giving a

copy of the book to a wildlife enthusiast for Christmas. R895,

HPH Publishing

Dec 22 / Jan 23 Get It Magazine 25
---
Two girls + loads of ambition = Parktown North's latest hotspot

ACID TEST

Text: LISA WITEPSKI.

What do you do if you're fed up with

the way your industry works? Well, if

you're anything like Jes Doveton and

Jemma Styer, you set out to change it.

How? By opening up the kind of

food and wine bar they wish they'd

been able to train in while they were

working their way up the restaurant

industry ladder. "We reached a point

where we just got tired of hitting

that glass ceiling, which is very low

in this field," explains Jemma. That's

why at Acid, the Parktown North

hotspot which opened its doors in

October, the emphasis is firmly on

empowering everyone who enters

the space – whether it's a member of

staff who wishes to hone their skills

or a guest who wants to broaden

their culinary horizons.

Jes and Jemma are exceptionally

well placed to do this ... even though

they're both just 27 years old, they

already have CVs that draw admiration

from even the biggest names on

Joburg's restaurant scene.

Take Jes, for example. Since her mother

is a Thai chef, it's not surprising that she

began drawing on South East Asian

influences when her own cheffing

career started. That was while she

was working on a yacht, where she'd

originally been employed as a chef

and stewardess – until it became clear

that, while it would be easy to hire

another stewardess, Jes's kitchen skills

were irreplaceable. "I was able to throw

myself into it, learning everything I

could about cooking from YouTube

channels, cookbooks, and my favourite

chef influences like Andy Ricker, David

Chang and David Thompson. It also

helped that we were sailing in the

Mediterranean, so I was able to explore

fresh food markets and experiment

with ingredients," she recalls. After a

little more travelling, she returned to

South Africa in 2019, developing her

creativity further by private cheffing.

Then, just as she was preparing to

embark on a new venture, Covid hit.

She launched a takeaway service,

which kept her afloat during the

months of lockdown, until regulations

relaxed and she was once more able to

offer private catering again.

Jemma, meanwhile, had begun to

distinguish herself as one of South

Africa's handful of female sommeliers.

Not that she had intended on

following a wine route. Her education

started when, fresh out of law school,

she took on a job at one of Joburg's

much-loved eateries and was invited

It's a place that

does things

differently

to embark on a wine tasting course

so that she would be able to give

guests informed answers when they

asked about different vintages. While

developing her knowledge, she also

finetuned her management skills by

moving between outlets owned by

the same restaurateur. "I often felt

like I had been thrown in the deep

end, but it meant that I gained a lot

of experience very quickly and that

made me very adaptable," she says

– a trait that's exceptionally valuable

in the fast-paced and dynamic world

of restaurants. Armed with these

insights, she took on management of

The Factory on Grant before moving

to Saint, where she completed her

sommelier training. She had left

to join a start-up just before Covid

struck, putting paid to her plans,

until she was invited to help develop

Coalition's wine programme, and

from there went on to manage Flor, a

boutique wine bar.

Jes had turned her hand to menu

development and consulting to a

couple of restaurants when she met

Jemma at Flor. The two got chatting

about their vision for a new way of

restauranting, and what started as

a rant about the way the industry

treats women gradually evolved into

a fully fledged business plan. Then, in

a perfect illustration of synchronicity,

Jemma was approached by an investor

who shared the duo's passion for

female empowerment, and wanted to

start a wine bar. As Jes says, "It all feels

like it just fell into place."

Like Jemma, she sees Acid as a place

that "does things differently". "This

industry takes itself very seriously and

that creates certain expectations. If we

start having fun doing what we do, our

customers will share our attitude."

That said, her attitude towards

food is anything but frivolous. At

Acid, she's putting her own Thai

background and global experiences

on a plate, serving dishes with bold,

accessible flavours. Accessibility is, in

fact, a defining feature at Acid, says

Jemma. The idea is to invite people

into a space where they feel free to

experiment with tastes, whether on

the plate or in the glass – which also

means that there's no reason to feel

as though you don't fit in if you don't

know your malbec from your merlot.

"A lot of people like wine but they

don't know much about it, and they

feel intimidated to ask. Acid wants to

bridge that gap. In Joburg, there are

a lot of fine dining establishments

and plenty of cheaper places, but

nothing in between. Until now."

As for that name: yes, it is a little

different – as befits a venue that

wants to push boundaries. "But we

also chose it because we thought

about wine, food and coffee, and the

element that links and balances them

both – and that's acid."

28 Get It Magazine Dec 22 / Jan 23
---
This is just the beginning, the pair insist. Once Acid has

gained a regular customer base, it will extend its offering

to include a coffee bar. And then, from Parktown North,

it's on to the world. Jemma and Jes ultimately see

themselves setting up a similar venture overseas and,

once they've brought the taste of South Africa to the

world, they'd like to bring the international skills they've

acquired back here. Watch this space!

Find them at 19 4th Ave Parktown North or follow them

on Insta @acid_thebar

Perfect summer sipping

Jemma says that Acid's wine menu will feature plenty

of wines that typically have little exposure – varietals,

makers and styles that you may not be familiar with

and with an emphasis on female winemakers.

Processus is a case in point. Jemma recommends

Maria Gomez (made from Portuguese grapes called

Fernão Pires) from this woman-owned winery as a

great accompaniment to your favourite hot-weather

meal, but adds that it works equally well if you're

simply looking for something refreshing to sip

poolside. And to eat with it? "A laab salad, light and

umami with a dried chili kick and plenty of fresh

mint," Jes suggests.

Jes Doveton and Jemma Styer
---
Compiled by: KYM ARGO

Give each of the family their own bauble for the

tree. So special. R40 each from annasoodesign.com

Sense of Place wines are

available at selected leading

wine specialists as well as online

from stellenbosch-hills.co.za

30 Get It Magazine Dec 22 / Jan 23
---
This Sense of Place pavlova wreath is an

impressive sweet ending to your festive lunch

Sense of Place's 2020 Anna Christina Cap Classique,

made entirely from Chardonnay, is enticingly elegant,

with a delicate mousse which delivers a satisfying,

mouth-filling explosion of bubbles with every sip. Just

3 000 bottles were made, so a special indeed. It was

the inspiration behind this pavlova wreath, created

by celebrated foodie Ilse van der Merwe aka The Food

Fox, who tells us she drives past the Anna Christina

vineyards almost every day on her way to town. "The

wines are absolutely representative of the best of the

area – top quality, balanced and outstanding."

The property from which the fruit for the Anna

Christina bubbly is sourced also farms berries,

which makes the use of berries in this festive season

pavlova recipe most appropriate. Serve it along

with a glass of Anna Christina MCC. This serves six to

eight (it's heavenly ... we're leaning strongly towards

the six portions).

You'll need: 5 XL egg whites, a pinch of salt, 300 g

caster sugar, 10 ml lemon juice, 15 ml corn flour, 5 ml

vanilla extract, 3 tablespoons icing sugar, for dusting

(optional), 250 ml fresh cream, whipped to mediumstiff

peaks, a selection of fresh seasonal berries (two

to three cups), a few tablespoons of passion fruit pulp

(fresh or canned)

To make: Preheat oven to 150°C (regular convection)

with a rack on the middle shelf. Using an electric

whisk or stand mixer with a balloon whisk, whisk

the egg whites in a big, clean bowl until soft peaks

form. Gradually add the castor sugar to egg whites

while whisking, a tablespoon at a time, until fully

incorporated and the mixture is stiff and glossy. Add

the lemon juice, and corn flour.

Draw a circle on the back of a piece of baking paper

– about 23cm in diameter. Draw another circle in the

middle, about 10 cm in diameter. Turn the paper over

and stick it to a baking sheet using small amounts of

pavlova mixture, then use two large spoons to spoon

the mixture into a wreath shape on the paper. Transfer

it to the oven, immediately turning down the heat to

110°C, then bake for 1 hour and 15 minutes. Turn off

the oven and leave the pavlova to cool completely,

without opening the door (about 2 hours).

Remove pavlova from the oven and keep in an airtight

container until ready to use (keep it on the baking

paper as long as you can). When ready to serve,

carefully remove the baking paper from the bottom

of the pavlova and carefully put it on a serving dish – if

it cracks here and there, don't worry, you can patch it

with the whipped cream.

Dust lightly with icing sugar (optional), then top with

whipped cream, fresh berries and a few drizzles of

passion fruit pulp. Serve at once.

Note: The pavlova can be made a day ahead

(undecorated), if kept in an airtight container. Once

decorated, it must be served immediately.

Christmas

on a plate

Christmas Treats is exactly

that, a book crammed with

page after page of the

sweetest spoils imaginable.

From the really easy –

Christmas truffles and

shortbread stars, to ones

that require a little more

time and skill – soft nougat,

a fir tree, a triple chocolate

log … but each of the 55

more delicious than the

other. A few drinks, too …

a Christmas punch.

Wellbeck, R225

We're rather hoping someone sends us one of these ...

a Boschendal bespoke hamper, which they've launched just

in time for the season. There are few options ...

the extravagant Live Our Farm (and if Christmas isn't

the time to be OTT ...), as well as a Tea Time Treats, a Biltong

Box and a whole heap more. They deliver ... so lovely for

family and friends who you can't be with this season.

Pop over to boschendal.com to order.

Dec 22 / Jan 23 Get It Magazine 31
---
Editor's Choice ...

YOU'RE INVITED ...

It's the season to eat, drink and be very, very merry!

Rare, limited and massively desirable

This XO Rosso Brandy is all dark fruit, rich spices, chocolate and French oak - so

Christmas in a bottle, really. Our ed's not sure if she's going to give bottles away

as a gift to a best friend, or keep them for herself. Maybe both. It's one

of two potstill XO brandies just released by Johan Venter, one of SA's

most accomplished brandy masters, under his The Inventer label.

Limited editions (less than a thousand of each), they each

come with a certificate of authenticity, were traditionally

made with double distillation in copper pot stills and aged

for at least ten years in French oak barrels. Neat, with just a

splash of water or an ice block ... happy Christmas indeed!

R1250 a bottle, only from the inventer.co.za

Can you drink it? Nope. But you can certainly light

it and pop it on to your holiday brunch table. Earl

Grey Scented Candle - so all bergamot and

lemon. R350 from thepiebald.com

Cheese & wine parties

back in fashion (yay)!

Let's talk cheese and wine parties.

Massively fashionable in the late

sixties and throughout the seventies,

they then became totally uncool.

But they're back in (retro) style. And

our ed's thrilled! Glammest cheese

serving platter she could find ... this

oversized, marble dual-colour option.

With marble sourced from Rajasthan

(the marble mecca of India), hand

cut by artisans in Jodhpur, it's an

impressively solid piece, and massive.

R999. She also fancies these ivory

cups with 24-carat gold petals.

Sold as tea cups, but here used

instead for Bloody Marys, and to hold

breadsticks. R720 for a pair. All from

thepiebald.com (order online right

now for Christmas deliveries).

32 Get It Magazine Dec 22 / Jan 23
---
Kaapse Vonkel Satin Nectar Rosé ...

a delicate string of fine bubbles, a

gorgeous coral pink hue, decadent

aromas of red apples, wild strawberries

and cherriesare followed by flavours of

sun-ripe peaches and fresh melon. And

the packaging is the glorious cherry

on the top. Drink this alone or with a

decadent dessert, equally lovely with

Chinese and Thai dishes, lightly dressed

seafood salads, fruit salads with red fruits

and berries, Japanese sushi or crayfish

thermidor. R190 from simonsig.co.za and

at most leading retailers.

Making merry without the

hangover. Free Spirit Cocktails

by Camille Wilson is a collection

of wonderful cocktails - some

sparkling, some sophisticated,

some with just three ingredients,

and some for the hols. Try A

Berry Good Time ... muddle five

blackberries (or berries of your

choice) with five or so mint

leaves, three lemon wedges,

and 22.5ml simple syrup in

a cocktail shaker. Add ice

and shake until chilled.

Pour into a glass, top with

sparkling water and serve.

There's a Gingerbread

Martini recipe that we're

planning on making at

every opportunity, too.

Chronicle Books, R415

Raise your glass ... to a rosé new year

Whether you're throwing a cocktail party, or have been invited to one

and need to take a gift, here's the perfect pair ... Blaauwklippen's Brut

Cap Classique and Blush Rosé. Both have soft tones of pale salmon

and tick all the balmy summer boxes. The 2020 Brut Cap Classique

is a delicate and fresh wine with floral hints and a creamy core, and is

the only Cap Classique made 100 per cent from Zinfandel grapes – it's

perfect for toasting (and making) memorable moments, or to set the

tone for a romantic dinner. The 2022 Blush Rosé is sophisticated but

light, with the crispness of a dry white and the fruity richness of a red

- so the best of both worlds. It pairs well with Mediterranean-inspired

summer dishes. R200 for the cap classique, R150 for the rosé at your

local wine boutique.

Compiled by: KYM ARGO

Dec 22 / Jan 23 Get It Magazine 33
---
Jolly outdoors

It's the season to enjoy the garden (and rhubarb!)

Indoor plant of the month

If it's December it has to be poinsettia! This

year's new variety is Kayla Red, with multicoloured

oak-shaped leaves, both bright and

dark red, black and bright green. It's a compact,

heat tolerant, long lasting plant ... this Christmas

flower will look good for two to three months

or more if displayed in a warm room that

receives bright, direct light. Keep the soil moist

but don't over water as the roots may rot. After

flowering, cut it back down to 10cm and repot

into a larger pot (if you want it for the patio) or

plant it in the garden in a position

that gets plenty of sun. Details: lvgplant.co.za

Text: ALICE COETZEE

Veggie of the month

You may think rhubarb is a fruit, but it is actually a

vegetable, belonging to the sorrel family. Only the stalks

are eaten. The red stemmed Victoria is the most popular

variety for its spicy, rich flavour. Thanks to MasterChef and

the cookery channel, rhubarb has become a lot sexier

than the usual rhubarb and apple crumble. Although

there's nothing wrong with that either. Think rhubarb gin,

rhubarb fizz, rhubarb cheesecake with ginger, and even with

pork (BBC Food). Rhubarb is a perennial that can be sown

from spring to autumn. It needs deep, well composted soil that

drains well and plenty of sun. Space plants 1m apart. Although

the stems are best harvested after two or three years, a rhubarb

plant will reward with juicy stems for many years. Do not eat the

leaves as they are poisonous. Details: kirchhoffs.co.za

We're planting ...

Zinnia Zahara Double Salmon Rose

- because its blooms stay bright, fresh

and pickable during the hottest months of

the year. Vintage zinnias are durable garden

flowers and Zahara even more so because it

has outstanding disease tolerance and low water

needs. This zinnia variety doesn't get sick like the

older varieties did. It sails through heat, rain and

humidity. Plants do just fine in ordinary garden

soil and flower well with regular watering

through to autumn. It also has a great colour

range: orange, cherry, raspberry ripple,

fire, yellow, salmon rose, white and

two brilliant mixes. Details:

ballstraathof.co.za

34 Get It Magazine Dec 22 / Jan 23
---
GET IT DIRECTORY

2023 Applications now open AT GUVON ACADEMY
---
GET IT DIRECTORY
---
GET IT DIRECTORY
---
WILD

READS

Pennygum and Flower

half wreath, R450 from

topiary.co.za

Four books for those who're passionate about the

wild … they'd make great gifts, too

The Soul of a Lion – Reflections on a life lived

with animals is Willie Labuschagne's memoir – a

story filled with everything from his research on

the desert cheetah's behaviour to potentially lifethreatening

encounters with wild animals, from

sleeping under the stars, the bushmen in the desert

to being director at the Joburg Zoo, where he handraised

a newborn lion cub that had been rejected

by his mother. Tracey McDonald Publishers

The Elephants of Thula Thula – Finding Peace and

Happiness with the Herd by Francois Malby-Anthony

(author of An Elephant in my Kitchen) is the story of

the joys of a life dedicated to conservation. The story

of Frankie, the feisty matriarch of the herd of ellies

at Thula Thula, of finding a girlfriend for orphaned

rhino Thabo (and then, when he gets too big for his

boots, a big brother to teach him some manners),

of rescuing meerkats that have been kept as pets.

Of surviving the pandemic, an invasion of poachers,

of a mining company wanting the land. The story of

how, with wisdom, resilience and communal bonds,

the elephants have much to teach us. Macmillan

At 18, Greg du Toit left Pretoria Boys High and

followed his dream. Straight into the African bush.

Qualifying as a safari guide, surviving a buffalo

charge while seeking out a reclusive forest bird,

spending 270 hours at a waterhole in Kenya to

get a cover story for Africa Geographic magazine

… his work received the highest accolade in

world wildlife photography when he won the BBC

Wildlife Photographer of the Year. It's been shown

in natural history museums around the world and

hung in the National Geographic Store galleries

in London and Singapore, and he has a couple of

bestselling photographic books under his (lens) belt.

Now, he conducts photographic safaris in some

of Africa's wildest places, and is well known for his

conservation work. Wilderness Dreaming is his

memoir. And for those of us who love the bush, it's

the most magnificent read. HPH Publishing.

Return to the Wild is the fictious tale of Angus

and Hugh MacNaughton (last seen in A Year in the

Wild and Back to the Bush) … written by James

Hendry who's spent two decades working in and

around exclusive lodges, and whose stories of close

encounters with wild life, a motley group of wouldbe

game rangers, and the brothers misadventures

make for a massively entertaining read. Macmillan

Compiled by: KYM ARGO

Dec 22 / Jan 23 Get It Magazine 39
---
OLD SCHOOL CHARM

Glamorous doesn't come close to describing The Winchester Hotel ... the iconic hotel

with the most desirable location on Cape Town's Sea Point Promenade.

Built a century ago as a residential

property, The Winchester Hotel,

managed by Newmark, really is

the grande dame of the Sea Point

Promenade ... a three-storey gabled

building which was converted into a

hotel in the late 1950s.

And despite having a revamp recently,

it still retains its classic attractions ...

it's all elegant and well-bred and old

money. So it oozes glamour ... but

quietly. There'll be no crass showing

off here, thank you.

The 1920s Cape Dutch-style hotel

dominates its location, sitting right

on the edge of the Atlantic Seaboard,

overlooking the ocean and the

pedestrian promenade which is the

heart of the city's social hub.

It's all old-school charm, from the tiny

parking lot hidden around the corner,

past the pool which could be straight

out of a golden age Hollywood movie,

to the quiet lobby, from where you're

ushered off to your room. Just six

dozen or so - with lofts and suites and

a couple of family-friendly options,

with no rooms identically decorated,

but all with views over the sea or

that mountain!

Sticking with the less-is-more policy,

the hotel offers just the pool (with a

spa on the cards), a top-notch bar and

an amiable restaurant.

Harvey's Bar, all midnight black and

light wood, is well-frequented by

locals (always a good sign), and serves

up creative cocktails and fine liqueurs,

as well as a small but well-thought

out menu for those who simply can't

tear themselves away from the view.

A stone's throw away is Shoreditch,

the hotel's restaurant which has the

same restraint shown throughout

the venue. It's quiet, and refined, and

quite lovely, with a menu that offers

sharing dishes like marinated olives

and fresh oysters, linefish ceviche

and wagyu sliders, unpretentious

steak rolls and mushroom risotto and

Caesar salad.

Breakfast, should the Cape weather be

generous, is served out in the central

courtyard ... black and white tiles and

a cascade of bougainvillea along with

your muesli and yoghurt ... marvellous.

As is, really, the whole Winchester

affair. A gorgeous hotel, with

everything you need for a quiet,

luxurious stay ... and with everything

else you may want - nightlife and

clubs and walks and swimming and

shopping and people watching

- literally on your doorstep.

Details: 221 Beach Road, Western Cape.

021-434-2351. newmarkhotels.com

40 Get It Magazine Dec 22 / Jan 23
---
Could you get closer to the beach?

Text: KYM ARGO

Dec 22 / Jan 23 Get It Magazine 41
---
Festive

Luxurious Celebrate

Spoiltreats from Sally Williams

The Sally Williams Celebrate range is just that, a marvellous celebration of

all things sweet and delicious for the season. Forget the obvious crackers ...

each of our dinner guests will have a Celebrate Chocolate and Nougat Cracker

(with a dozen pieces of indulgent treats inside) or a Christmas Star (also filled

with choc and nougat treats). For gifts there's a magnificent pack with two

nougat variations and a jar of pure honey, there are little boxes of dark and

milk chocolate treats, and boxes of pretty Turkish Delight. Perfect presents

... and if you're struggling to find an unusual dessert for Christmas Day, pop

over to the website and have a look at the tempting (and jolly easy) recipes.

Details: sallywilliamsfinefoods.com

A DELICIOUS

WIN ...

We've a hatbox hamper of

Sally Williams Celebrate treats to give away

... just in time for Christmas Day. To enter, pop

over to Instagram or Facebook

@getitjoburgnorthmagazine and follow

the prompts. Competition ends

December 10.

42 Get It Magazine Dec 22 / Jan 23