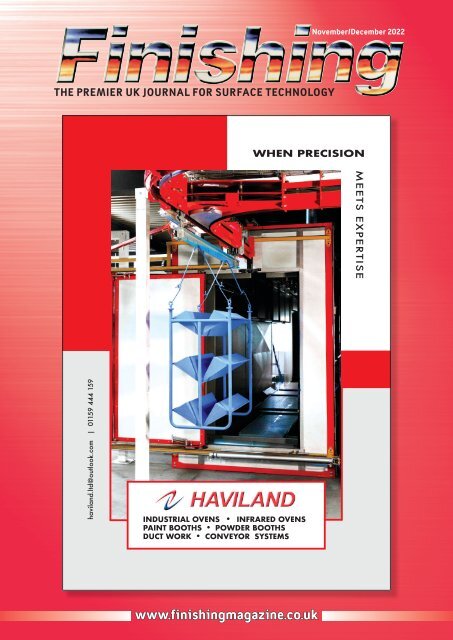 Finishing - November-December 2022
It's been difficult to keep up with the government at the moment, and hopefully by the time you read this we will have the same prime minister in position! The prime minister finally decided to go to COP 27 and it really does feel that governments around the world have to take climate change seriously. Investment in green infrastructure is vital to create a future for the generations to come and should be at the top of the agenda for any incoming government. Funny thing is, it's not and maybe it won't be until it's too late. In the news we have investment from BASF in Germany and China. Let's hope some of this comes to the UK. Also, there are the winners of the BCF Awards, plus news of some interesting projects from around the UK. Finally, I'd like to wish you all a merry Christmas and happy new year.
It's been difficult to keep up with the government at the moment, and hopefully by the time you read this we will have the same prime minister in position!
The prime minister finally decided to go to COP 27 and it really does feel that governments around the world have to take climate change seriously. Investment in green infrastructure is vital to create a future for the generations to come and should be at the top of the agenda for any incoming government. Funny thing is, it's not and maybe it won't be until it's too late.
In the news we have investment from BASF in Germany and China. Let's hope some of this comes to the UK. Also, there are the winners of the BCF Awards, plus news of some interesting projects from around the UK. Finally, I'd like to wish you all a merry Christmas and happy new year.
SHOW MORE
SHOW LESS
Create successful ePaper yourself
Turn your PDF publications into a flip-book with our unique Google optimized e-Paper software.
November/December 2022

THE PREMIER UK JOURNAL FOR SURFACE TECHNOLOGY

www.finishingmagazine.co.uk
---
THE POWER OF

MEMBERSHIP

CELEBRATING THE SEA

AWARDS AND THE

CHTA 50TH ANNIVERSARY

GALA DINNER 2023

The eagerly anticipated Surface Engineering Association

Awards and CHTA 50th Anniversary Gala Dinner will

be held at the The Grand Hotel, Birmingham, on

Friday 20th October 2023.

From acknowledging high achievements in areas such

as quality, environmental, marketing and product

innovation, to recognising those companies who have

excelled in the industry, both at home and abroad. The

event aims to bring together major players in the entire

surface engineering industry, including customers,

suppliers and members of the SEA.

This is a must-not-miss event for anyone who has a

vested interest in this important sector, where we will

be continuing on our mission of pushing the importance

of surface engineering to manufacturing.

This year is particularly special as we also celebrate the

Contract Heat Treatment Association's 50th anniversary.

JOINING THE SEA

WILL HELP YOU...

Save money

Save time

Keep a step ahead with

industry updates

Enhance your reputation

Gain political clout and expertise

To register your interest and take full advantage of the

pre-show publicity, discuss any questions, enquire about

sponsorship or find out more, contact:

Michaella Mais

Business Development & Membership Manager

0121 237 1123

or email michaella.mais@sea.org.uk

www.sea.org.uk

Visit the members' directory

today to find a supplier or

get help with your surface

treatment requirements:

https://www.sea.org.uk/

member-directory/
---
www.finishingmagazine.co.uk CONTENTS 3

Editor

John Hatcher

Tel: 01923 432705

E.mail: j.hatcher@turretgroup.com

Display Advertising

Stewart Freshwater

Mobile: 07746 373 545

Tel: 01923 432705

E.mail: s.freshwater@turretgroup.com

Classified Advertising

Stewart Freshwater

Mobile: 07746 373 545

Tel: 01923 432705

E.mail: s.freshwater@turretgroup.com

Production Manager

Carol Baird

Tel: 01923 432705

E.mail: c.baird@turretgroup.com

Managing Director

Ian Garmeson

Circulation

Tel: 0141 370 3883

circulation@dimensionsmail.co.uk

Published by

Turret Group Ltd

Cardinal Point

Park Road

Rickmansworth,

WD3 1RE

Tel: +44 (0) 1923 432705

Web: www.turretgroup.com

Annual Subscription Rates

United Kingdom: £144.00

Overseas: £168.00 (Airmail)

Printed by Stephens & George

All members of the SEA

automatically receive Finishing Magazine

© Copyright Turret Group Ltd 2022

All Rights Reserved

All rights reserved. No part of this publication

may be produced in any material form (including

photocopying it or storing it in any medium by

electronic means and whether or not transiently

or incidentally to some other use of this

publication) without the written permission of

the copyright owner except in accordance with

the provisions of the Copyright, Designs and

Patents Act 1988. Applications for the copyright

owner's written permission to reproduce any

part of this publication should be addressed to

the info@turretgroup.com

November/December 2022 – Volume 46 Number 6 – ISSN no. 0264 2506

In this issue...

It's been difficult to keep up with the government at the moment, and hopefully by the

time you read this we will have the same prime minister in position!

The prime minister finally decided to go to COP 27 and it really does feel that

governments around the world have to take climate change seriously. Investment in

green infrastructure is vital to create a future for the generations to come and should be

at the top of the agenda for any incoming government. Funny thing is, it's not and

maybe it won't be until it's too late.

In the news we have investment from BASF in Germany and China. Let's hope some

of this comes to the UK. Also, there are the winners of the BCF Awards, plus news of

some interesting projects from around the UK. Finally, I'd like to

wish you all a merry christmas and happy new year.

News

Newsdesk . . . . . . . . . . . . . . . . . . . . . . . . . . . . . . . . . . 4

Features

Sustainable titanium . . . . . . . . . . . . . . . . . . . . . . . . . .10

Optimal efficiency . . . . . . . . . . . . . . . . . . . . . . . . . . . .12

Innovation driven by legislation . . . . . . . . . . . . . . . . .16

Slimline tonic . . . . . . . . . . . . . . . . . . . . . . . . . . . . . . .18

Twin time is here . . . . . . . . . . . . . . . . . . . . . . . . . . . .20

Contamination prevention . . . . . . . . . . . . . . . . . . . . .22

Giving support . . . . . . . . . . . . . . . . . . . . . . . . . . . . . .28

Paint partnership . . . . . . . . . . . . . . . . . . . . . . . . . . . .32

Lightning clean up . . . . . . . . . . . . . . . . . . . . . . . . . . .34

Regulars

Installations . . . . . . . . . . . . . . . . . . . . . . . . . . . . . . . . 26

Workshop . . . . . . . . . . . . . . . . . . . . . . . . . . . . . . . . . 46

Classified listings . . . . . . . . . . . . . . . . . . . . . . . . . . . . 47

Finishing (formerly Finishing Industries) was established in 1947 and incorporates Metal

Finishing journal, Electroplating & Metal Finishing, The Plant Journal, Surface Coatings, and

Industrial Finishing & Surface Coatings. Finishing is a member of the Metal Finishing

Association, a sustaining member of the Institute of Metal Finishing and the UK representative

of the Groupement International des Revues de Traitements de Surfaces.

Finishing – November/December 2022
---
4 NEWS www.finishingmagazine.co.uk

New China office opens

The Surface Treatment global

business unit of BASF's Coatings

division, operating under the

Chemetall brand, opened its first

regional innovation and

technology center for applied

surface treatment technology in

Shanghai, China. The new 2,600

square meter centre will focus

on developing advanced surface

treatment solutions and product

innovations for a wide range of

industries and market segments

in Asia, for Asia.

"The opening of this

Innovation and Technology

Centre is an important pillar of

our growth strategy and

strengthens our technical and

innovation capabilities in Asia

Pacific. It shows our commitment

to further contribute to and

support the long-term success of

our customers in the fastestgrowing

region," said Christophe

Cazabeau, senior vice president,

surface treatment, coatings

division, BASF.

"Innovation is key to powering

growth for BASF. This new

center's ability to develop

customized surface treatment

solutions closer to the market

will further underpin our

technology leadership and our

customers' success," said Dr.

Jeffrey Lou, president and

chairman, BASF Greater China.

Equipped with multiple

technical capabilities and

operated by a highly

experienced technology team,

the new laboratories can provide

a comprehensive range of tests

and services including analytical,

application, salt spray and

climate testing as well as

development work on a range of

applied surface treatment

technologies and applications for

various market segments

including but not limited to

automotive OEM and

components, coil, general

industry, cold forming,

aerospace, aluminum finishing

and glass.

Net zero report launched

The UK Aluminium Federation

(ALFED) has announced the

release of its Net Zero Report,

which supports the need for

decarbonisation, sustainable

sourcing, and transition to a

circular economy.

These actions were previously

outlined in ALFED's early

Roadmap and while they

remain crucial, the new report

includes contributions and

challenge from members,

stakeholders, and industry

representatives to present a

bolder and braver vision for

greater collaboration and

increased action.

ALFED's members ambition

clearly identifies that the work

towards Net Zero is not just a

positive opportunity for change,

but a direction that enables the

UK industry to deliver on a

vision which is in our best

interests.

In compiling the report, all

responses from across industry

were included and the

overwhelming theme focused

on collaboration and taking a

systematic approach to solution

development to realise greater

opportunities for intervention

and investment in the UK.

The sector objectives are

detailed throughout, with an

emerging action plan to support

a Net Zero transformation by

2050, to drive innovation and

develop a Sustain Aluminium

centre in the UK, affiliated with

many UK and Global Academic

institutions.

"This document vision and

outlined action plan represents

the best thinking of the

stakeholders and knowledge

partners involved to date. It is

not the whole story, and we

may not have all the right first

steps, but the possibilities are

endless; from more regular

updates on a particular subject,

through bid development, to

involvement or leadership of an

initiative or project.

"Collaboration is going to be

key within our sector and across

others. We have more in

common with our industry and

manufacturing neighbours than

we have differences, and we will

need to work together to build

bigger conversations and bigger

opportunities for change and

resilience in the UK.

"To achieve this vision, ALFED

will work collaboratively to

maximise the contribution of

the UK aluminium sector in

achieving the transformation,

such that all aluminium

production and recycling will be

Net Zero by 2050," says

Nadine Bloxsome, membership

& sustainability manager,

ALFED.

New

two at

the

CBA

The Chemical Business

Association (CBA has

announced the recent

appointment of two key team

members.

Douglas Leech, who was the

CBA's technical director, has

been appointed to the newly

created role of special projects

director, whilst Elaine McGavin

has expanded her remit and is

now the association's regulatory

and responsible care lead.

Both positions have been

created in response to

membership of the CBA

growing to record levels, with

the appointments being part of

an ongoing structural

reorganisation to ensure

members receive the best

possible value from their

membership. In addition, to

ensure that the CBA can best

deal with current and future

challenges, not to mention

opportunities in the chemical

supply chain.

Leech joined the CBA in

2003 following a 20-year tenure

in the product formulation

sector, where he worked in both

research & development and

health & safety.

As special projects director,

Leech's focus will also involve

overall strategy and objectives,

and close collaboration with key

stakeholders and organisations.

In particular, he will focus on

working towards an alternative

UK REACH model.

McGavin has been with the

CBA since 2019 and boasts

more than 20 years' experience

in various sectors, including

research & development, supply

chain and catalysis. In her new

role, her core objectives will

include supporting members

with regulatory and sustainability

issues. McGavin is also a

Dangerous Goods Safety

Advisor (DGSA).

Finishing – November/December 2022
---
gemapowdercoating.com

High-quality solutions

for powder coating

Gema Europe Srl | Via Goldoni, 29

20090 Trezzano s/N | Italy

T +39 02 48 400 486

Gema Europe Srl – UK Branch

Tel: 0044 1202 763 942

Email: uk.sales@gema.eu.com
---
6 NEWS www.finishingmagazine.co.uk

The winners of the BCF Awards were announced in a

ceremony last month.

Colour of the year

Colour, performance and protection for the Wild at heart. That's the

inspiration behind Wild Wonder, the Interpon Colour of the Year for

2023, a colour imagined by an international team of colour experts

and inspired by the rhythms of nature around us.

Wild Wonder is one of a palette of eight new colours influenced by

nature, its shapes, structures and colours. By learning from nature

architects and designers can create even more comfortable, beautiful

spaces in which to live and work.

The unique colours in the palette are intended to help people reflect

and reconsider their relationship with earth's natural resources, with

the warm, golden tones of the harvest, and the positivity and energy

that flows from the happy promise of a new season and a world

sustained.

Expert colour scientist from around the world and within

AkzoNobel's Global Aesthetics Centre have accessed more than three

decades of colour research and analysis to ensure the colours are ontrend.

Each of the shades is also available digitally in the AkzoNobel

Design App and the AkzoNobel Connecting Colors App.

Bob Dirks, global segment manager, architecture at AkzoNobel

Powder Coatings, says: "Everyone needs colour. Colours that dazzle

and colours that hide, colours that stand out or blend in, in both 2D

and 3D. Colours you can see and colours you can't. Colours that

enhance the buildings in which we work and live; the furniture on

which we sit and relax; the everyday household products that integrate

effortlessly and harmoniously with our everyday lives."

New chairman at the GA

With nearly four decades of galvanizing industry experience,

Galvanizers Association has decided that David Watkins, the current

managing director of Hereford Galvanizers, has the vision to lead their

membership through the current economic environment and help

position galvanized steel as a core material within circular construction.

The new Chairman is also CEO of Zinco International, a global leader

in technical services and products to the galvanizing industry.

Galvanizers Association recently that David Watkins will replace Ed

Byrne, MD Galco Steel, as Chairman of the Board. Mr Watkins began

working for Hereford Galvanizers in 1986 and after a variety of roles

in galvanizing sales, marketing and operations, he became managing

director in 2005. He takes up his position with GA as the industry

faces difficult decisions around energy, inflation, and rising costs.

Speaking recently Mr. Watkins said: "I am honoured to become

chairman of our trade body and would like to give credit to the former

chair for six years of hard work, helping the industry through Brexit

and multiple Covid lockdowns. The challenges facing me today are

somewhat different but by no means less, as we continue operating at

a time of high inflation and amid unprecedented concerns around

rising energy costs."

The winners of the British Coatings Federation (BCF) Awards 2022

were announced on 13th October at the Forest of Arden Marriott

Hotel & Country Club. Over 150 delegates were there to watch Paul

Sinha (Sinnerman from ITV's the Chase) hand out the awards over

10 categories.

Tom Bowtell, BCF chief executive said "Given the hugely

challenging times our industry is facing, it was great to come

together face to face and celebrate the many achievements of our

member companies over the last 12 months. It is also exciting to see

so much young talent in our sector, demonstrated particularly in our

Apprentice of the Year and Young Leader of the Year categories.

Many congratulations to all those who were shortlisted, but

especially to the winners".

The evening opened with the Sustainable Innovation Awards,

split into Manufacturer and Supplier categories due to the record

number of entries. The Sustainable Innovation Manufacturer Award

was won by BASF for AGILIS, and the Sustainable Innovation

Supplier Award was presented to Hexigone Inhibitors for Intelli-ion.

The sustainability theme carried on through the evening with the

Coatings Care Progress Award, and the Coatings Care Overall Best

Performer Award. The Progress Award was given to joint winners

Steyport and PPG Industrial Coatings, and Overall Best Performer

was awarded to Farrow & Ball. The Corporate Social Responsibility

Award was taken home by AkzoNobel for their True Colours

Community Fund initiative.

The Customer Service Award was presented to Sherwin Williams

Consumer Brands Group. For Marketing Campaign of the Year, it

was the 'Dulux Simply Refresh, with Changing Rooms' campaign

that took home the award for AkzoNobel.

The evening concluded by celebrating outstanding individual

talent in the industry, recognised in the Apprentice of the Year

Award, won by Andrew Roser from AkzoNobel; Young Leader of

the Year Award, won by Emma Porter from hubergroup UK and

Student of the Year Award, which saw Sam Gumbley from Belzona

win.

Finishing – November/December 2022
---
RELIABLE RESULTS

FOR MULTI-COLOR

COATINGS.

2K Smart

Mixing & dosing unit

• Consistent mixing ratios

• Homogeneous coating results

• High process reliability

wagner-group.com

Contact

Wagner Spraytech (UK) Ltd

a Member of WAGNER GROUP

Telephone: 01327 368410

enquiries@wagner-group.com
---
8 NEWS www.finishingmagazine.co.uk

'Specify BS EN 12206 or QUALICOAT?' asks Angus Mackie -

QUALICOAT UK & Ireland Chair

German research centre

BASF Coatings has inaugurated a new research centre for

electrophoretic dip coating at its headquarters in Münster-Hiltrup,

Germany. The electrophoretic or cathodic dip coat (e-coat) protects the

surfaces, edges and cavities of a car body against corrosion, and evens

out the roughness of the pre-treated metal surfaces, thus providing the

optimum basis for the application of the subsequent paint layers.

"We invested 15 million euros in the new building at the Münster

site," said Mathias Schöttke, managing director BASF Coatings GmbH.

"The health and safety of our colleagues is particularly important to us

at BASF. This is why, during the planning stage, we have not only

given high priority to the quality and efficiency of the coating process,

but also to ergonomics and occupational safety right from the start."

Frank Naber, head of the Automotive OEM Coatings Solutions

EMEA business unit at BASF Coatings emphasized: "In our new e-coat

research centre we can simulate our customers' processes and paint

systems. We can coat pre-treated original parts of our customers under

the conditions of their individual paint lines in a 2,000-liter dip tank

and bake them in a chamber oven. These parts can be doors, fenders

or hoods." In addition, the research centre has two ultra-filtration and

filtration stands with which the quality and stability of new e-coats can

be tested under the conditions of the customers already before the

tank is being filled for the first time. "In this way, we can ensure that

the coating quality is at a very high level immediately after having

changed over to a new e-coat material, and that it meets the

customer's specification. Thanks to these technical conditions, we are

making another significant contribution to the success of our

customers," said Naber.

Perstop acquired by Petronas

Perstorp has been acquired by

PETRONAS Chemicals Group

Berhad (PCG), Malaysia s leading

integrated chemicals provider

and part of PETRONAS Group.

In May this year, PCG signed

a Securities Purchase Agreement

with Financière Forêt S.à.r.l, a

company under PAI Partners, a

European private equity firm, to

acquire the entire equity interest

in Perstorp, a leading

sustainability-driven global

specialty chemicals company

based in Sweden. With the

completion of the acquisition,

Perstorp is now PCG's whollyowned

subsidiary.

"This day marks a new

beginning and exciting future for

Perstorp as part of the PCG

family. We are thrilled to explore

the opportunities that can be

unlocked by working closely with

PCG. This will accelerate the next

phase of growth and further

strengthen us as a leading

specialty chemicals company.

Perstorp and PCG form a

stronger business together," said

Perstorp's President and CEO Jan

Secher.

During the recent QUALICOAT UK & Ireland conference held at

the Building Centre in London, Chris Mansfield Commercial

Director of Tomburn and licensed QUALICOAT Applicator, offered

delegates an insight into the recently released BS EN 12206 for

coated architectural aluminium having sat on the working group

dealing with the revision.

In the UK we generally specify British Standards or a Euro

Standard (EN) as a minimum requirement for many of our

construction contracts often to the exclusion of lengthy written

specifications. Even though we are out of the EU, the UK remain

members of CEN/CENELEC and has an obligation to implement an

EN Standard as an identical national Standard and withdraw any

conflicting national Standards. These Standards are based on a 'fit

for purpose' minimum requirement and form a benchmark to

qualify products and services. Standards are 'self policed' in other

words, claimed as meeting the Standard by a producer who supplies

a product.

The revised Standard also expands on the Florida testing for

'super durable' and 'hyper durable' powder formulations where

coatings are less flexible ensuring that these high-performance

products now fall within the Standard. Other changes to the

Standard include testing that is required on a finished coated

sample, rather than just referring to a metal Standard. On packaging

the Standard now requires that boxes containing coating powders

are clearly labeled with full details of their contents to further help in

reducing failures.

Current confusion regarding coating thicknesses has now been

taken out of the Standard by removing the 'average minimum

thickness' of 50 microns and just stating that the minimum thickness

of coating should be 40 microns. Viewing distances for quality

inspection has also been reduced to 1m from 3m in the previous

Standard. This reduced distance allows for visual inspection to

inclusions and scratches, however, for colour matching this distance

can be increased as required. Furthermore on colour matching the

new Standard also offers the option to use colour metric equipment

to identify colour and variance.

Basically the new BS EN 12206-1:2021 now more closely aligned

to the current QUALICOAT Specification which is constantly being

updated with new methodology and developments, so which should

you specify? There is no reason why you can't specify both together

if you wish to cover all bases, however should you do so, you could

lose out on what benefit a QUALICOAT specification can bring to

architectural finishes. There are three things that clearly differentiate

a QUALICOAT Specification:

1. BS EN 12206 does offer a testing methodology, but does

not state a frequency of production testing, QUALICOAT specifies

both methodology and frequency of testing.

2. BS EN 12206 is self policing, relying on a suppliers word

that they meet the Standard. QUALICOAT licensed applicators are

subject to twice yearly unannounced inspections by an independent

test house to ensure the QUALICOAT Specification is being

followed. A coater failing an inspection can mean an Applicator

member losing their status as a licence holder.

3. For those companies who work worldwide, BS EN 12206

covers just Europe, QUALICOAT is a worldwide, third party

inspected Specification.

Finishing – November/December 2022
---
SERFILCO INTERNATIONAL

Global Products, Local Service & Advice You Can Rely On

Manual Ion Exchange Treatment &

Regeneration Systems for Trivalent

Chrome Plating

For successful trivalent chromium plating bath

operation, SERFILCO provides simple, cost-effective

equipment to remove copper, nickel and zinc from

the bath without interrupting bath operation. The

benefits gained include the following:

• Copper, zinc and nickel ions are all removed

from the bath smultaneously.

• Treatment can be done during bath operation

(no shutdown time required).

• Treatment can be done continuously or

intermittently depending on need.

• The treatment units are small and usually can

be located right at the plating tank.

• Treatment is simple, consisting of pumping

solution from the tank, through the treatment

unit and back to the tank.

• Regeneration of the ion exchange resin takes

about two hours and occurs about every week

to two weeks for a properly sized treatment

unit.

• Options exist for acid, alkaline and de-min water

feeds for regeneration.

For more information on our complete range of equipment & our competitive service rates,

or to talk to an engineer about your application contact Serfilco International:

+44 (0) 161 775 1910 global@serfilco.com www.serfilco.co.uk
---
10 COATINGS

Sustainable

titanium

Singulus Technologies has developed a

new layer system with titanium for the

sustainable coating with the Decoline II

production line. The innovative coating

process reduces the necessary production

steps and is therefore significantly more

economical. Substrates made of glass no

longer need to be lacquered with this process

using titanium, as the coloring takes place

during metallization. The coating process

offers a choice of six basic metallic colors and

mixed variants thereof: silver, bronze, gold,

violet, blue and green. These colors can be

individually selected by different parameters

during metallization. Even on plastic

substrates, one of the two coating steps

normally required can be omitted. This

reduces the number of layers and significantly

simplifies the process. Components with a

diameter of up to 68 or 90 mm and a length

of 130 mm can be coated with the Decoline

II.

The process is particularly sustainable,

environmentally friendly, and economical. No

solvents, chemicals or organic coatings are

required for most substrates. The energy

required for the coating process is significantly

lower than for anodizing, painting, or

electroplating. Complex and cost-intensive

painting steps can be completely or partially

eliminated.

The Decoline II by Singulus Technologies

Integrates the vacuum metallization (cathode

sputtering) as well as all lacquering and preprocessing

steps in a single production run.

Due to its high degree of automation a single

employee can operate the system. Not only

components made of plastics, but also glass

and metal can be coated. For the product

design, the clean vacuum coating offers

attractive combination possibilities. The process

of 3D-coating is completely chrome (IV)-free

and energy-efficient. Due its flexibility the

Decoline II offers the opportunity to finish

diverse products made from plastics and glass

with a wide range of different colors to the

cosmetics sector. The DECOLINE II also

provides sustainable coating of 3D parts for

automotive as well as further consumer

applications.

The inline sputtering system Polycoater

works as a central component of the entire

line and is also offered to the market as a

stand-alone product. In comparison to the

production this solution automates the

production process and significantly reduces

production costs with the short cycle times of

around 6 seconds per substrate carrier.

Depending on the product size, a substrate

carrier can transport up to eighteen parts

through all the processing stations at the same

time.

Finishing - November/December 2022
---
Bathing in

non-reflective glory

When you are looking to push the boundaries of light, color and design,

especially with an ultra matt surface, our Précis Ultra Matt range has

the answers. With a finer mica effect that enables an ultra matt surface to

change appearance depending on the way the light reflects on it, you can

create a finish that not only looks amazing, but also offers stunning levels

of superdurability.

With innovative solutions that push the boundaries of what's possible,

a vast range of sustainable products backed by industry leading

certifications, and the best performing powder coatings on the market

used and respected by architects around the world, your imagination

starts with our finish.

architectural.interpon.com
---
12 CLEANING

Optimal efficiency

The surfaces of parts that are coated or

measured after machining must be

exceptionally clean. To ensure that even

small workpieces such as valve components

and indexable inserts are cleaned reliably,

more and more manufacturers are turning to

the quattroClean snow-jet technology. This

cleans single parts effectively and efficiently in

a fully automated and integrated process.

The demand for precision, process reliability

and high efficiency is causing many

companies to put the processes and

technologies they use to the test and parts

cleaning is no exception. This involves

achieving the necessary level of cleanliness for

the next production step, such as coating or

measuring, reliably yet at reduced operating

costs. At the same time, the trend towards

automating and digitizing processes is playing

an ever-more important role. Consequently,

even where it concerns smaller components,

manufacturers prefer a dry and fully

automated cleaning solution such as the

quattroClean snow-jet technology from acp

systems AG.

Partial cleaning to remove dried

impurities before PVD process

This was also the case with a valve

manufacturer. The valve in question is a

rotationally symmetrical part made of steel

with a diameter of approximately five

millimeters and a length of around five

millimeters, which is partially coated in a PVD

process. After machining, which generates

heat, the surface is soiled with a mixture of

dried-on machining medium (oil) and particles

that is difficult to clean off. Although the

amount of dirt is comparatively small, it is

essential that it is removed from certain areas

Finishing - November/December 2022

continues on page 14
---
SMART SOLUTION FOR

POWDER COATING.

NOW EVEN MORE POWERFUL.

E-Line Plus

• Economical entry into automatic coating

• Optimised powder recovery with Energy Efficiency Package (EEP)

• Easy and fast colour change

• Combination with PXM powder centre: Automatic fresh powder

supply and integrated system control via 15.6 inch touchscreen

wagner-group.com

Contact

Wagner Spraytech (UK) Ltd

a Member of WAGNER GROUP

Telephone: 01327 368410

enquiries@wagner-group.com
---
14 CORROSION PROTECTION

150 parts to be met.

To optimally integrate the cleaning system

into the existing workflow, buffer that holds

five workpiece carriers is located on the input

and on the output side. The carriers, which are

marked with a digital matrix code to ensure

seamless documentation of the cleaning

process, are fed one at a time into the

cleaning cabin via an appropriately-sized lock.

As soon as the lock is closed, the cleaning

process starts. Using a specific motion

sequence, a robot moves the cleaning unit

with jet nozzle over the valve components at a

defined distance. A sensor system

continuously monitors the consistency of the

jet. Once all parts have been cleaned, the lock

on the output side opens and the workpiece

carrier is advanced to the encapsulated

unloading area.

in order to ensure optimum adhesion and a

long-lasting coating. A wet-chemical cleaning

process was ruled out because of the high

effort, space requirements and energy

consumption associated with drying.

CO2 snow process optimally

prepares surfaces for coating

Extensive cleaning tests in the acp systems

technical center demonstrated that partial

cleaning with the quattroClean snow jet

technology achieves the cleanliness needed to

obtain an optimal coating result. The process

uses liquid carbon dioxide as a medium. CO2

is a by-product of chemical manufacturing

processes and biogas energy generation, thus

making it climate neutral.

In the cleaning process, liquid carbon

dioxide is passed through the inner ring of a

wear-free, two-component ring nozzle and

expands on exiting to form fine CO2 crystals.

This jet of snow is then bundled by a separate

jacket jet of compressed air (outer ring) and

accelerated to supersonic speed. The easy-tofocus

jet of snow and compressed air impacts

on the surface to be cleaned at a temperature

of minus 78.5°C, triggering a combination of

thermal, mechanical, sublimation and solvent

effects. The cleaning action brought about by

the interaction of these four effects removes

the dried-on mixture of machining oil and

particles in a dependable and reproducible

manner. The detached impurities are carried

away by the aerodynamic force of the jet of

compressed air and eliminated from the

cleaning cell together with the sublimated

CO2 in the gaseous phase. This reliably

prevents parts from becoming

recontaminated.

Tailored fully-automated

process

To clean the valve components, acp built the

fully-automated Jetcell cleaning system using

standardized modules, tailoring it to the

application and to the manufacturer's

production conditions. The workpiece carriers

are used both for the cleaning step and for

the partial PVD coating process. Process

parameters, such as the volume flows for

compressed air and carbon dioxide, type of jet

nozzle, distance of jet away from the part,

cleaning time, as well as the motion sequence,

are appropriately adapted. This enables the

required cycle time of six minutes for cleaning

a fully-loaded workpiece carrier with around

CO2 cleaning process integrated

into measuring cell

Indexable inserts, which are manufactured

in small quantities with individual geometries

and dimensions varying between ten and

twenty five millimeters, have extremely tight

tolerances that may not exceed one to two

micrometers. To ensure this high accuracy, the

entire contour of the carbide parts is

measured at the manufacturer's after grinding.

Since impurities on the surface from

machining residues and grinding dust can

cause measurement errors, in the past the

inserts were cleaned manually at great

expense. The manufacturer wanted to

integrate this process into the automated

production line. Here, again, after cleaning

trials and defining process parameters, the

decision was made in favor of the

quattroClean technology.

In this case, a cleaning module was

integrated into the measuring cell, which is

docked directly to the grinding machine. This

solution allows the existing robot to remove

the inserts from the grinding machine via a

lock, move them in a defined short motion

sequence under the snow jet and then set

them down neatly in the measuring area. The

motion sequences, jet-cleaning times and

respective volume flows for the various

indexable inserts are all stored in the control

system as part-specific programs.

By precisely tailoring the cleaning step to

the application and cycle time specifications, as

well as being able to operate the system as a

stand-alone unit, inline and in interlinked

manufacturing environments, the Industry 4.0-

capable quattroClean snow jet technology can

play a major role when it comes to automating

and digitizing production processes. Thanks to

standardized interfaces, it is no problem to

integrate the cleaning system into higher-level

host computers and control it via these. To

ensure seamless documentation and

traceability, all process parameters are

automatically recorded and transmitted to the

host computer.

Finishing - November/December 2022
---
PosiTector ® Inspection

Unrivaled probe interchangeability

for all of your inspection needs.

Coating Thickness Probes

n Ferrous n Non-Ferrous n Combination n Ultrasonic

Surface Profile Probes

n Depth Micrometer n Replica Tape Reader

Environmental Conditions Probes

n Integral n Cabled Magnetic Probe n Anemometer Probe

n 1/2" NPT n Infrared

Hardness Probes

n Shore n Barcol

Salt Contamination Probe

n Bresle Method

Ultrasonic Wall Thickness Probes

n Corrosion n Multiple Echo Thru-Paint n Precision

n Low Frequency n Xtreme

NEW

Design and Features

Design and Features

NEW

Customized Inspection Kits...

Build your own kit from a selection of gauge

bodies and probes to suit your needs.

Coating

Thickness

Surface

Profile

Environmental

Conditions

Hardness

Salt

Contamination

Ultrasonic

Wall Thickness

Backwards Compatibility! The redesigned PosiTector gauge body accepts ALL coating thickness

(6000/200), environmental (DPM), surface profile (SPG/RTR), salt contamination (SST), hardness

(SHD/BHI), and ultrasonic wall thickness (UTG) probes manufactured since 2012.

DFT DFT Instruments UK UK LTD LTD

16A 16A Long Long Drive, Meadway, Berkhamsted, Herts HP4 HP4 2PN 2PN

t: t: 01442 879494 f: f: 01442 879595

www.dftinstruments.co.uk e: e: sales@dftinstruments.co.uk

Proud supplier of of DeFelsko Inspection Instruments
---
16 CLEANING

Innovation driven

by legislation

Vapour degreasing, with or with-out

ultrasonics, is the oldest, simplest and

most effective solvent degreasing and

metal cleaning process used today. It has, until

recently, been subject to little change since it

was first invented in the early part of the last

century. In the UK, Europe, United States and

other advanced industrialized economies

increasingly stringent legislation to control

emissions of V02, Global Warming

Compounds, Ozone Depleting Compounds,

and those compounds associated with human

health concerns has led to new formulations

for precision cleaning solvents.

Halogenated hydrocarbons are the solvents

of choice for vapour degreasing and cleaning.

The process is essentially simple. A tank with a

sump to contain the solvent, heaters at the

base and condensation coils around the top

section to control the height of the vapour is

all that is needed. When heated in the sump

halogenated solvents produce, in most cases,

a saturated vapour between 3 and 4 times

heavier than air at a temperature greater than

the ambient temperature of the parts to be

cleaned. This allows the solvent vapour to

condense on the surface of the parts. The

condensate dissolves the contaminants such as

oil, greases, flux, and soils returning the used

solvent into the sump of the machine for

recycling into vapour which continuously

condenses onto the parts until they have

achieved vapour temperature when, with no

further condensation, the process is complete.

Parts removed from the cleaning machines are

very clean, warm and dry.

The most common halogenated solvents, in

use for commercial purposes, are nonflammable

so present no risk in this process.

Perchloroethylene, used mainly for dry

cleaning, methylene chloride previously used

widely in paint strippers, 1,1,1- trichloroethane

and trichloroethylene used for vapour

degreasing were the original materials used

based on chlorine chemistry. However

continuing concern about the environmental

impact and danger to operators by exposure

to chlorine-based solvents, especially

trichloroethylene, has led to a continuing

search for safer alternatives, such as ProSolv

5408e, a trans-1,2-Dichloroethylene based

solvent mixture that is non-flammable.

The ProSolv 5408e vapour degreasing

process gives the highest levels of economical

cleaning with minimum energy usage, low

footprint on the factory floor, safety for the

operator, and high production rates with low

solvent usage or environmental impact. With

the new generation of sealed cleaning

machines its future as the process of choice is

assured.

Finishing - November/December 2022
---
18 CLEANING

Slimline tonic

Fraser Technologies is now offering the

SlimLine PLW 6011 & PLW 6111 aqueous

cleaning systems from Miele Professional.

The exclusive supplier of this equipment in

the UK, Fraser Technologies works with

customers to create a bespoke cleaning

system and process to meet their individual

needs and standards. These machines are

single chamber aqueous cleaning systems

offering time, energy and cost-saving

efficiencies, and can meet the stringent

cleaning requirements for high-reliability

industrial sectors.

At only 65cm wide, the footprint is very

compact, whilst still providing a large and

flexible internal chamber space. This size,

flexibility and smart load system allows a

variety of components to be cleaned highly

efficiently all at once, whilst utilising much less

space compared with a standard sized

machine.

Suitable for a wide variety of components

and specialist electronics cleaning applications

in the automotive, medical devices and

aerospace industries, the Miele SlimLine PLW

6011 & PLW 6111, combined with the right

chemical combination, are especially effective

for flux removal and for other parts cleaning

and degreasing applications.

Aqueous chemical cleaning solutions,

which can be used in this system, can be

applied to a variety of metals such as copper,

stainless steel, and brass to remove grease,

cutting fluids and general particulate.

Graham Fraser, Managing Director of

Fraser Technologies, said: "The equipment

offers a high level of flexibility with intelligent

controls, including a wide range of load

carriers and accessories. And with the added

value of our custom made chemical isolation

tank, this system can recirculate and reuse the

chemistry, further reducing costs and

environmental impact.

"We have already completed a number of

successful customer trials with the system and

have a fast-growing customer base. This

includes a specialist in the assembly of PCBs,

who were so impressed by the results of the

Miele system in their trials that they placed an

order immediately. We also switched a leading

defence systems manufacturer from an inline

batch cleaning system to the new Miele

system, saving time and space, reducing

energy costs, and increasing efficiency.

"We have a strong relationship with Miele

after years of collaboration, and very much

share their values for high quality, sustainable

and innovative cleaning systems. As the only

UK distributor of this equipment, we have

been really pleased with the results our

customers have seen to date. We're looking

forward to rolling the system out to more

manufacturers across the country."

Finishing - November/December 2022
---
Specialists In Surface Treatment Solutions

CELEBRATING 75 YEARS OF SERVICE

1947-2022

CELEBRATING 75 YEARS OF SERVICE

1947-2022

CELEBRATING 75 YEARS OF SERVICE

1947-2022

CELEBRATING 75 YEARS OF SERVICE

1947-2022

Renowned in multiple specialised processes including:

• Non Destructive Testing

Fluorescent Penetrant Inspect,

Magnetic Particle Inspect.

• Etch Inspection

Titanium Etch, Steel components,

Nickel alloys, Nital etch.

• Conversion coatings

Alocrom 1200, SurTec 650

& many more.

• Anodising

Including Chromic anodise,

Sulphuric anodise, Hard anodise &

Tartaric Sulphuric Anodise processes.

Please call us on 01455 637 284

Or email us at Quotes@amfin.co.uk & see how we can help you

www.amfin.co.uk

• Electroplating

Silver plate, Copper plate

• Plasma

Amfin holds many accreditations for

plasma, get in touch to find out more.

• Painting

Dry Film Lubricants, Epoxy coating systems,

Polyurethane systems, Sermetel & many more

• Bonding

Extensive knowledge of many products

including attrition coatings, silicon bonds

& many more.

Did you know Amfin is a PRI qualification approved training provider?

Get in touch to find out how we can help you with your training needs.

DISPLAYING THE MARK OF

CONFORMITY

CERTIFIED

When using the Mark of

Conformity (Mark), it shall appear

only as shown.

1. Do not change the font of the

Mark

2. Do not change the size of the

globe or descriptor

Beneath the line, insert the applicable process(es). It is recommended to use Arial font.

PROCESS TITLES

NonDestructiveTesting

Chemical Processing

Coatings
---
20 CLEANING

Twin time is here

Guyson International, the UK's leading

manufacturer of industrial finishing

equipment has recently manufactured

and installed into a UK manufacturing

company an automated Multiblast RSB twin

spindle blast system for externally blast

etching various sizes of tubular components.

This new blast system incorporates two

rotating blast stations with matching top

clamps, to hold the product securely, whilst

two vertically traversing blast guns produce a

uniform blast etch finish over the length of the

components.

The twin spindle and top clamp design

provide optimum manual process capacity

with an operator being able to easily load and

unload two components simultaneously. Once

the safety interlocked front door is opened the

operator simply centres the components

between two pairs of conical spring-loaded

clamps for processing with one of the stored

pre-programmed recipes for the appropriate

component size. An optional bar-code

scanner can be specified for recipe /

programme selection.

A roof-mounted servo drive vertically raises

and lowers the twin Guyson Model 900 blast

guns, with blasting taking place on the

upwards vertical traverse and a compressed

airwash to remove any residual surface dust or

blast media on the downwards stroke. The

servo drive allows for different speeds to be

programmed for the blast and airwash phases

of the programme, delivering greater

productivity and shorter cycle times.

The blast system is fitted with a large front

opening door allowing easy parts loading and

a side door provides further access for

maintenance and adjustment purposes.

Interior lighting permits a clear view of the

blast etching operation.

After blasting, the used blast media is

extracted via a Guyson CY600/12 cyclone

reclamator. This separates the reusable blast

media from the dust, blast debris and

undersized media, thus reducing the

possibility of contamination in the blast media

which could reduce the consistency of the

surface finish. A media storage hopper (with a

level sensor), for storing the reusable blast

media, is fitted to the bottom of the cyclone

cone and is also the pickup point for the blast

media to be fed into the two blast guns.

The system is completed with a Guyson

model C800 twin cartridge dust collector for

filtering out and collecting the dust-laden air

drawn from the cyclone reclamator. A

Magnehelic differential pressure gauge is

fitted to the C800 to monitor the filter

cartridge condition and indicate when

replacement is required.

Control of the entire blast system is

achieved via a Mitsubishi PLC/ 'Graphic

Operator Terminal' (GOT), with a full-colour

display screen, which facilitates repeatable

blast settings to be easily stored and retrieved

in quick access menu systems. The panel also

display control settings, production data and

system feedback such as sensor and fault

indications or maintenance prompts.

Prospective users of Guyson automated

blast systems are encouraged to submit

sample components for free feasibility testing

to the manufacturer's extensive development

workshop situated in Skipton, England.

Finishing - November/December 2022
---
Gloss Meter

Portable gloss measurement for all surface finishes

n

n

n

n

n

Select from 3 probe models;

60°, 20°/60°, 20°/60°/85°

2 Powerful Scan modes for quantifying

large surfaces (Advanced models only)

Automatic Diagnosis and Auto Calibration performed

upon power-on using the protective base plate

with integrated calibration standard (tile)

Compatible with PosiSoft Software Solutions for

managing measurement data and creating

professional custom reports

Conforms to national and international standards

including ISO and ASTM

Award Winning Compatibility!

PosiTector gauge accepts ALL coating thickness (6000/200), environmental (DPM), surface

profile (SPG/RTR), salt contamination (SST), hardness (SHD/BHI), gloss (GLS),

and ultrasonic wall thickness (UTG) probes manufactured since 2012.

t: 01442 879494

n www.dftinstruments.co.uk

n e: sales@dftinstruments.co.uk
---
22 CLEANING

Contamination

prevention

Due to their chemical properties,

refractory metals have unique

performance characteristics which allow

their use under extreme conditions, for

instance in heat exchangers or other chemical

apparatus engineering. Their material

characteristics make refractory metals essential

for electronic industry applications as well.

However, only limited melting processes are

suitable for the refining of such materials. The

high melting point and chemical reactivity

excludes utilizing ceramic crucibles,

atmospheric melting conditions as well as

most melting techniques. Electron Beam

Melting (EBM), meets the higher temperature

requirements as well as providing inert

melting conditions. Nevertheless, furnace

design and process need to be adapted for

such dedicated requirements to match

material purity and economical requirements.

ALD Vacuum Technologies provides a

specialized EBM service with its own electron

beam gun design that allows for precise

power distribution, process-optimized material

feeding and refining, as well as selected

superheating above 3.500 °C. Thanks to an

independent parameter control including

power profile, melt rate or vacuum level, the

process is highly flexible and cost-efficient. All

parts of the plant in contact with the melt

itself are removable or easy to reach, so

cleaning can be carried out quickly during

material changes. In addition, the company

operates two furnaces for melting refractory

metals for customers who do not have

internal capacity available.

Despite their rarity, refractory metals are

key materials for innovative high-tech

industries that require chemical resistant and

highly conductive parts. "However, such

Finishing - November/December 2022

continues on page 24
---
24 CLEANING

metals like hafnium, niobium and tantalum

have very high melting points of even over

3.000 °C and therefore require

correspondingly high temperatures, which

many conventional induction furnaces and

refractory crucibles cannot provide," Jochen

Flinspach, operational manager electron beam

melting service at ALD Vacuum Technologies,

explains. "Reaction of the melt pool with the

crucible made of refractory material like

Zirconium oxide can lead to inclusions of

foreign particles in the melt, which can have

problematic consequences for subsequent

processing, like worse conductive properties or

lower resistance of the fabricated parts."

Furthermore, these metals are reactive in a

higher temperature range, i.e. above liquidus

temperature. Therefore, even minimal oxygen

input leads to a severe impairment of the

material quality and melting under vacuum or

inert gas conditions is required. In addition,

with conventional melting methods, the gas

value inside the melting chamber can often be

too high, causing the material to become

brittle.

With Electron Beam Melting, not only

required temperatures for the melting process

are achievable. The flexible power distribution

and high vacuum conditions feature unique

refining capabilities. Typically, one or multiple

electron beam guns are connected to the melt

chamber, depending on required power level

and melt surface area to be scanned. ALD

Vacuum Technologies features in-house

process expertise, furnace design and own

gun development resulting in a furnace design

matching the requirements of this specific

industry. The gun control is fully integrated in

the furnace control concept and not an add-on

function as offered by other vendors. Thus,

interactions between individual furnace

functions and implementation of process

related logic is ensured. Modern melting

furnaces offer semi-automated operation

where human interaction is requested for

corrective functions only. High reproducibility

on process results as well as reliable furnace

operation are the benefits of such a

development.

ALD Technologies GmbH has developed

unique EBM plants for various applications

over the years with their own gun and furnace

design. Thanks to their expertise and R&Dcapabilities,

the plant types are suitable for

processing high purity, chemical or thermal

resistant metals. As specific application, the

refining of tantalum or other reactive

refractory metals as alloying agents for

superalloys may be mentioned. "The EBmelting

has been established as a variable

process capable of producing material with

highest purity and gas contents lower than 10

ppm. It is also suitable for mass production of

reactive metals or alloys required for

aerospace or chemical applications," Flinspach

adds.

Special electron gun allows

precise melting and power

distribution

ALD offers complete EBM solutions for a

wide range of plant configurations, which

differ primarily in terms of customer-specific

material feed or process implementation.

Thanks to decades of know-how, assembly

and operation can be guaranteed by process

support and production assistance from ALD's

specialized engineers. "The heart of every

system is our electron beam gun, a highperformance

heat source that can reach

temperatures above the melting or even

vaporization point of all materials at the

beam's point of impact," Flinspach explains.

Magnetic deflection and fast, high-frequency

scanning processes allow the electron beam to

be precisely directed to work areas of different

shapes while maintaining a strong and

uniform power distribution. The gun and its

operation are tailored to the specific plant

concept. This allows the user to adjust

parameters like the shape of the beam pattern

and dwell-time or the positioning to their

liking, thus avoiding shadow effects that could

negatively impact material quality. In addition,

the plant runs in vacuum conditions typically

below 10-4 mbar down to even 10-6 mbar. In

combination with the deliberate superheating

of the melt through the strong beam, refining

the metal to the highest purity and lowest gas

content is feasible, which facilitates the further

processing of the material.

For maximum beam efficiency, ALD offers

the automated beam control system ECOSYS,

which ensures optimal energy distribution. The

handling is practice-oriented, processes are

largely automated and the operator only

performs a corrective task. Process

visualization provides relevant data clearly

arranged on a screen, while details can be

called up on corresponding pages if required.

"Furthermore, simple and safe cleaning of the

equipment is as important as flexible control,

since the metal to be melted can change

frequently during production schedule," adds

Ulrich Biebricher, remelting & melting

specialist at ALD Vacuum Technologies.

Therefore, particular attention is paid to easy

maintenance of the equipment. Robust design,

good accessibility and quick replacement of

components in touch with the melt are

features of the plant design. Thus,

maintenance of equipment and EB guns can

be carried out by the operator alone.

Test melts and recovery of

metals from used parts

ALD offers more than just customized EBM

systems to interested parties. In addition, the

company operates two EBM furnaces of

different sizes at their headquarter and can

therefore optimally adapt to customers who do

not have sufficient capacities for processing

refractory metals at their disposal. "Our 60 kW

EB plant is suitable for ingots up to 100 mm

in diameter and 500 mm in length. It is used

for smaller material quantities or laboratory

and research applications as well as precious

metals melting," Biebricher explains. "Our 600

kW plant was designed for ingots starting at

42 mm up to 300 mm in diameter and 2,000

mm in length." The range of melting materials

at ALD includes refining high-purity metals for

the electronics industry, preparing refractory or

reactive metals for chemical usage, as well as

consolidating return material from a wide

variety of applications. Test melts for customers

to qualify new process steps are also part of

the portfolio, as is the preparation of metal

samples. "In a recent project, tantalum was

recovered from used capacitors. We processed

it from the scraps into a semi-finished product

and conditioned it further for the customer. In

the end, the product quality was good enough

for reuse in further processing or selling it as

precursor," Flinspach sums up.

Finishing - November/December 2022
---
26 INSTALLATIONS

Agreement signed

Daimler Truck and Gehring Technologies have signed an agreement

on a strategic partnership focusing on building up expertise in process

development and prototype construction of commercial vehicle specific

electric motors. The strategic partnership with Gehring covers the

prototypical construction of so-called "truck-e-fied" e-motors as well as

the further development and testing of innovative production

processes.

Gehring will also supply equipment for the technical centre, which is

being set up at the Gaggenau plant, Daimler Truck's competence

centre for electric drive components.

Bernd Nagel, partner and CEO of the Gehring Group: "For a long

time, we have experienced that coordinated development of products

and manufacturing processes at an early stage leads to highperformance

production systems. We are therefore all the more

pleased to be able to work together with Daimler Truck to deepen our

hairpin technologies specifically for the electric powertrain of trucks and

buses. We are convinced that this strategic cooperation will enable us

to significantly advance e-mobility in the heavy-duty vehicle sector."

Slovakian supplies

SECO/WARWICK will supply a heat exchanger manufacturer with a

continuous CAB line for aluminum brazing scheduled to be delivered

to their plant in Slovakia.

The client is a European manufacturer specializing in modern and

efficient heat exchanger production. The solution chosen by the Partner

will meet the production challenges associated with the brazing process

and will enable the company to increase its overall production.

The continuous line for Controlled Atmosphere Brazing (CAB) is the

first SECO/WARWICK system purchased by this client. The CAB

solution will be used for the mass production of various heat

exchangers. The new CAB line is designed with modern technology,

providing both reliability and energy savings, while meeting

environmental requirements. The project is a solution that is

distinguished by full automation and production reliability within a

continuous system. The furnace will be delivered with a gas heating

system; however, the design is flexible and can be adapted to a future

modification to fully electric heating.

"This is another partner from the automotive sector who decided to

purchase our continuous aluminum brazing line. When it comes to

CAB lines for heat exchanger production, we are definitely the

company of the first choice due to our extensive experience as well as

our reputation for performance. CAB lines "made by

SECO/WARWICK" operate on five continents in the most famous

automotive plants. Our cooperation with the largest brands, dynamic

market development, as well as meeting the challenges of future

technologies demonstrate how we remain actively engaged in this

sector growth," said Piotr Skarb, SECO/WARWICK Group.

Coating locked down

Staff Ironmongery's hugely

popular National Key Scheme

lockset is now even better, with a

new BARY Bac coating. BARY

Bac is a form of nanotechnology

which helps reduce the spread of

bacteria and viruses on any

surface it is applied to.

The new BARY Bac National

Key Scheme (NKS) provides

maintenance free anti-bacterial

protection to door handles

without compromising on

security. BARY Bac works by

killing bacteria immediately and

is proven to prevent the

spreading of COVID-19, MRSA,

and E Coli.

BARY Bac acts as an antibacterial

coating for NKS locks

and is immediately effective on

millions of harmful bacteria. The

handle itself is made of stainless

steel and is designed to last in

Forging ahead

high usage environments such as

public toilets.

Toby Staff, MD for Staff

Ironmongery says "BARY Bac is a

game changer, which renders a

crucial contact point for the

spread of viruses and disease to

be neutralised. After washing

their hands, people are still

susceptible to passing on

bacteria. BARY Bac eliminates

risk without the need for

additional cleaning."

American titanium producer Perryman Company has placed an order

with SMS group for the supply of two new forging machines. The

order comprises a 40/45 MN high-speed open-die forging press in the

pull-down design and an SMX 500/15 MN hydraulic radial forging

machine with two forging manipulators as well as the order and

production control system for the entire forging line.

The open-die forging press will be used to forge cast titanium billets

first to the required size so that, in the next step, they can be finishforged

in the radial forging machine to produce bars – round, square

or flat – up to a maximum length of 14,000 millimeters.

By making this investment, Perryman is able to expand its own

holistically integrated production processes and extend the forged

product portfolio based on its expertise in titanium.

"We supply customers in a wide range of industries. We see strong

growth in the aerospace industry and medical sector in particular. With

this new forging line, we are ideally equipped to meet the growing

demand. This enables us to produce forgings for turbines and safetyrelevant

structures that comply with our high quality standards. What

convinced us was SMS' technological know-how and the impressive

plant concept with fully integrated process and production control

system that is all supplied from a single source," emphasizes Frank

Perryman, president and CEO of Perryman Company.

Finishing – November/December 2022
---
28 PROFILE

Giving support

As part of its culture of Continuous

Improvement, Fischer Instrumentation

(GB), part of the global Helmut Fischer

Group, set a plan to be more easily accessible

for its customers and more centrally based in

the UK, after being sited previously in the

south of the country, in Hampshire.

The company has now completed a

successful relocation to a new Customer

Applications and Support Centre in Pershore,

Worcestershire.

Darin Enefer, Fischer GB general manager,

explained more:

"We took the opportunity during the

pandemic lockdown to step back from the

business and make decisions that would help

provide optimised customer service, whilst

supporting our business growth ambitions.

We are pleased with our Pershore facility

and welcome new and existing customers to

discuss their measuring requirements and

challenges, evaluate their materials and

samples, try our range of measuring

equipment, and participate in useful 'handson'

learning workshops.''

The relocation has helped the company

grow sales and this has been achieved

through supporting clients in Aerospace,

Automotive, Engineering, Electronics and

Precious Metals sectors, with high quality

measuring solutions, supported by pro-active

service and maintenance plans.

''We know from survey feedback how much

our customers like collaborating with a

supplier that has UK based service personnel,

available parts, and country wide support.

Customers can be supported on site or

alternatively use our fully equipped Service

Centre at Pershore.

We hope our new location will help to

continue to support our customers and enable

us to continue our current business uplift''

As a full-service supplier in the field of

surface testing, Fischer has been developing

instruments for non-destructive material

analysis, coating thickness measurement and

material testing since 1953.

Fischer offer a wide range of measuring

devices for different industries: from simple

handheld devices for quick testing on the go

to fully integrated, high-end systems that

automatically monitor your production.

Darin believes that the company is leading

the way in terms of product quality and

customer service.

"We have a high customer service

orientation and a passion for helping the

customer measure more accurately, more

reliably, and efficiently.

Our core values include Expertise and

Passion, along with Trust and Commitment.

These values help drive our behaviours and

activities.

The whole aim is to make our customer's

lives easier, underpinned by our Fischer

mantra ''Measuring Made Easy!''

Finishing - November/December 2022
---
PYROLYSIS &

BURN OFF OVENS

UK'S LEADING MANUFACTURER

Our Pyrolysis ovens provide you with a quick and highly effective

process for the removal of plastic, paints and resins

Longworth's pyrolysis & burn off ovens are second to none in design and build quality, built to last and have the latest

in technological features. Our ovens provide a quick and highly effective process for the removal of plastics, paints

and resins from jigs, filters, shelving, food trays, motors, automotive parts and a multitude of other components.

Accreditations

BS EN ISO 9001:2008

Call Longworth today for a no obligation meeting on how we can help you and your business

call

01254 680501

email

enquiries@bmlongworth.com

visit

www.bmlongworth.com
---
30 PROFILE

Sport support

As part of its environmental, social and

corporate governance (ESG) agenda, Hiline

Industries, a UK-based leader in the

design, manufacture and installation of

energy-efficient compressed air purification

equipment, provides extensive support for the

sporting community in the Burton upon Trent

area. The company is a main sponsor at both

Burton Albion Football Club and Burton

Rugby Football Club.

Hi-line Industries, which has its

headquarters in Burton's Green Street, is a

member of the British Compressed Air Society

and also supports the 'Made in Britain'

campaign, highlighting the passion around

British brands and UK manufacturing. The

company's broad range of energy-efficient

compressed air equipment includes air dryers,

nitrogen/oxygen generators and filtration

equipment.

A local and national success story, Hi-line

showed 27% growth in like-for-like sales at its

recent year-end (31 July 2022), underpinned

by a record 12 months for the company's N2

nitrogen generator systems and HPSA

desiccant dryers. Hi line feels it has a

responsibility to return some of its profits to

the local community, and what brings people

together more than sport?

At Burton Albion Football Club, Hi-line is

currently sponsoring defender Tom Hamer,

the club's highly popular 22-year-old right

back, for the second season in a row. The

company also provides match sponsorships at

Burton Albion, which was formed in 1950 and

currently plays in League One of the Football

League. In addition, Hi-line regularly sponsors

the 'man of the match' and takes an executive

hospitality box at the club's Pirelli Stadium,

providing yet more income for the club.

Hi-line's extensive sponsorship and support

programme is similar for Burton Rugby

Football Club, which has origins dating back

to 1870 and is currently Staffordshire and

Derbyshire's highest ranked senior rugby club,

playing in the Midlands Premier division. The

company is the main shirt sponsor for the first

team, a Patron member and has an

advertising board at the club's Battlestead

Croft ground.

"We take our corporate and social

responsibilities very seriously at Hi-line," states

Managing Director Steve Smith. "The

company is very proud to be based here in

Burton, which has been the perfect location to

grow our flourishing business. It's only right,

therefore, to show our gratitude and

commitment to the town by supporting some

of its community treasures. The town's football

and rugby clubs provide pleasure to

thousands of local people on a weekly basis,

but they need funds. Hopefully our support

goes some way to ensuring that our local

sporting heritage is maintained for many years

to come."

To keep pace with growing order levels, Hiline

is currently in the process of expanding its

Burton production facility with a new building

extension. The company has several six-figure

projects to complete before year-end. They

also participate in the BCAS apprenticeship

scheme and are currently looking to take on

more apprentices from the local area, with

positions available immediately.

Finishing - November/December 2022
---
High voltage Holiday Detector

Detects holidays, pinholes, and other discontinuities using pulse DC

n Lightweight, ergonomic design reduces operator fatigue

n Regulated pulse DC voltage output— ±5% accuracy

n Industry-standard connectors and adaptors for compatibility

with nearly all existing electrodes

n Voltage calculator feature—choose one of 11 international

standards and input the coating thickness to automatically

calculate the required test voltage

n Removable lithium-ion batteries provide long-lasting power

SPECIAL DISCOUNTED RATE

PosiTest HHD Basic Kit (HHDKITB)

£1950+VAT

save over £400

Limited time only

In stock

Choose from a wide range of rolling

spring and wire brush electrodes —

custom sizes available

t: 01442 879494

www.dftinstruments.co.uk

t: 01442 879494

n www.dftinstruments.co.uk

n e: sales@dftinstruments.co.uk

Proud supplier of DeFelsko Inspection Instruments
---
32 PROFILE

Paint partnership

HMG Paints has announced a new

distribution partnership with fellow

family run business Rabart Decorators

Merchants. The partnership will see Rabart

distribute the HMG range across South Wales

and the South West of England. This includes

HMG's most popular products from 2K

Industrial coatings to specialist UPVC coatings,

C71 and QAD Enamels.

Rabart is an independent family run

merchant, that has been supplying and

distributing paints for over 30 years. This new

partnership will see them expand their

offering with HMG's market leading industrial

portfolio, including PVC Pro the company's

popular product for uPVC Windows and

Doors.

"We are looking forward to opening up

new market places for both Rabart and HMG

across South Wales and the South West"

commented Richard Thomas, Rabart Group

Sales and Operations Manager. "HMG have

been very welcoming, and are a key part of

our industrial division plan."

The partnership launch coincides with the

opening of Rabarts new branch in Plymouth.

Where customers will be able to order and

collect HMG products. A key to this new

partnership is HMG's UNIT Tinting System

which will allow Rabart customers access to a

library of over 95,000 colour formulations.

Colours available in HMG's UNIT Tinting

system include RAL, BS, Pantone, Industrial,

OEM, commercial fleet, agricultural machinery

and more.

"We're really pleased to welcome Rabart to

the HMG family and we look forward to

working with their customers and supporting

their business growth in the South West of

England and South Wales" added Anthony

Beard, HMG Key Account Manager. "We have

already started to build up a strong

relationship with the Rabart team having

visited HMG for product training. Both

companies are focused on providing

customers with the products, support and

service to get the job done."

HMG products, such as its EP2 Epoxy

Primer, Monothane and Multi-Surface Topcoat

will be stocked at Rabart branches in

Plymouth, Cwmbran and Stroud. They, and

other products from HMG's extensive

portfolio of paints will also be available for

order and next day collection at Merthyr,

Cardiff, Swansea, Pembroke, Bath, Warminster,

Torquay and Redruth.

In 2021, Rabart acquired S.G Bailey Paints

Ltd, a paint manufacturer and distributor

based in Stroud, Gloucestershire. Bailey Paints

has sold HMG products for over 15 years, and

can provide all HMG single pack synthetic

and cellulose paints in aerosols – now

available to the entire Rabart Group.

Finishing - November/December 2022
---
actongate - address alts.qxp_Layout 1 20/05/2022 12:06 Page 1

Acton Gate Systems Limited - Tel: 01902 249299

1 Nightingale Place, Pendeford Business Park, Wolverhampton WV9 5HF

web: www.actongate.co.uk - email: enquiries@actongate.co.uk
---
34 COATINGS

Lighting clean up

Adistinctive, English Electric (Lightning)

P1 Fighter has been returned to its

former glory and is now a shining star

in the Boscombe Down Aviation Collection in

Wiltshire. The English Electric Lightning,

which served as an interceptor for the RAF

and other national forces, remains the only

UK-designed-and-built fighter capable of

Mach 2.

Boscombe Down Aviation Collection's

aircraft – the second prototype of the English

Electric Lightning that first flew from

Boscombe Down – was in a sorry state after

sitting on display as a guest at another

museum for several years. The Collection's

team of volunteers, who are dedicated to

restoring the past and educating the future,

turned to surface coatings company,

Indestructible Paint, for support. Armed with a

supply of Wadpol – a trusted solution for

cleaning and polishing weathered or corroded

aluminium and painted surfaces – the team

soon had the aircraft gleaming.

Wadpol's impregnated wadding is

renowned for creating a 'super shine' finish

and is so effective that it is still used on aircraft

and helicopters flying around the world today.

The solution is often used for polishing wing

leading edges and removing stains and

exhaust deposits from engine cowlings. It is

also used on aircraft flown by the Red Arrows

aerobatic team and remains popular due to

the long-lasting protection offered by in-built

corrosion inhibitors.

Indestructible's experts are renowned for

being pioneers of high-performance surface

coatings, providing not just traditional

solutions like Wadpol but developing the

sustainable solutions of tomorrow.

"We're very grateful for the supply of

Wadpol donated by Indestructible Paint," said

Graham Horner, Visits Manager, Boscombe

Down Aviation Collection. "One of our

volunteers — who was once an RAF Airframe

Technician (Rigger) — said this would be the

best solution for brightening up our English

Electric Lightning and we're delighted to

return it to display with such a brilliant result

for visitors to enjoy."

Visitors wishing to see the aircraft on

display at Boscombe Down Aviation

Collection, based at Old Sarum Airfield, can

find out more at

boscombedownaviationcollection.co.uk

Finishing - November/December 2022
---
ai165666334911_FNG Advert July2022.pdf 1 01/07/2022 09:15:53

PROTECT

YOUR VALUABLE

SURFACES.

Industrial Ultrasonic Cleaners

Effective cleaning results for all manufacturing,

processing and maintenance applications.

Automated protection tape application for all kind

of profiles or flats in different materials. Single-sided,

double-sided, four-sided, flat or round surfaces

– our machines match all your requirements.

32 - 155 Litre

Capacity

Quickly and effectively

remove contaminants

from crevices and other

hard to reach areas.

The innovative integrated

SWISS MADE

T +41 44 926 44 88

sales@muller.ch

www.muller.ch

C

M

Y

CM

MY

CY

filtration and recirculation

system of both the Neon and

Argon Series minimises fluid

contamination after cleaning,

reducing running costs and

improving component

cleanliness.

CMY

K

ADAPTABLE SOLUTION CHEMISTRY

Spray ! Immersion

! Cascade !

Anodising

Aerospace " Automotive ! Architectural

35 -125 Litre

Capacity

Consultancy

! Advice ! Service

QUALICOAT APPROVED CHROME FREE AND PHOSPHATE FREE TECHNOLOGIES

The Neon Series offers multi-stage compatibility

to incorporate wash, rinse and dry.

SurePrep ® SureBond ®

Sure ® Fast

The Argon Series delivers outstanding cleaning performance

with cost saving and environmental benefits for processing

large components or multiple batches.

Providing quality formulations at low cost

SURFACE PREPARATION ! PASSIVATION ! PROTECTION

DEGREASING ! ETCHING ! DEOXIDISING ! ANODISING

250 -1000

Litre

Capacity

+44 (0) 1978 660297!info@almetron.co.uk!almetron.co.uk

Low Energy costs maximum product efficiency.

All manufactured in the UK.

sales@ultrawave.co.uk +44 (0)2920 837337

www.ultrawave.co.uk
---
36 HOISTS

Raising the bar

Supplying, installing, load testing and

LOLER certifying a wide range of

manual and powered hoist units, Hoist &

Winch Ltd has extensive experience and

expertise in all kinds of industrial lifting

operations. However, certain projects require

special know-how, such as the installation of

large-capacity, electric-powered wire-rope

hoists in challenging and restricted access

applications. And yet even in these situations,

Hoist & Winch has a proven methodology to

ensure a high-performance, efficient, safetycertified

outcome for customers.

Every hoist installation is different, and most

generally present some level of challenge to

overcome, typically relating to the dimensional

clearances of the hoist unit or the logistics of

general access conditions.

When the hoist unit's dimensional

clearances are particularly critical, Hoist &

Winch Ltd carries out a detailed survey prior

to manufacture, ensuring that the complete

installation can perform the required tasks

with sufficient operating clearance.

On some occasions, a pre-installation

survey is required to check site/work area

access conditions. Hoist & Winch Ltd will

subsequently submit its Risk Assessment and

Method Statement (RAMS) for approval by

the customer prior to starting work. These

documents detail the installation procedure,

the equipment intended for use, and the

hazards and risks associated with the various

tasks. In addition, the documents will set out

how it is possible to minimise or negate these

risks.

A recent cement plant project involving

challenging installation access conditions

highlights how the capability and knowledge

of Hoist & Winch Ltd proves extremely useful

in delivering a successful outcome for

customers.

This complex project involved replacing an

obsolete, 10-tonne SWL (safe working load),

electric-powered wire-rope hoist unit with

60m lifting height. The task was required

ahead of the cement production facility

carrying out extensive modification work to its

pre-heater tower. The pre-heater tower is

100m high and the existing hoist unit was

located at the 60m level on a monorail beam

that cantilevers out of the building for

approximately 8m. Both the obsolete hoist

unit and monorail beam had been dormant

for many years, which meant that Hoist &

Winch Ltd's scope of supply included the load

testing and thorough examination of not just

the new wire-rope hoist unit, but also the

monorail beam.

Among the first tasks was to remove the

existing wire-rope hoist unit, which weighed 3

tonnes. Hoist & Winch Ltd decided to cut this

down in sections using gas-burning

Finishing - November/December 2022

continues on page 38
---
NEW

Oven Temperature Logger

Measures and records oven

temperature profiles

• 6 K-type thermocouple ports

• High temperature stainless steel barrier box for

long run times

• Download, view, and analyze data using PosiSoft Desktop Software

or export to .CSV

Prices starting at:

Oven Temperature

Logger..........£1895

Temperature

Probes............£100

Wide variety of spring clamp and

magnetic temperature probes available

Customizable PDF Reports

16A Long Drive, Meadway, Berkhamsted, Herts HP4 2PN

t: 01442 879494 • www.dftinstruments.co.uk • e: sales@dftinstruments.co.uk

Automated Water & Effluent Ltd have been supplying process control equipment

to the metal finishing and surface finishing industry.

We have an in-house team of qualified engineers able to design and build

control panels and process equipment specific to fit your requirements.

A wide range of our control instrumentation, dosing pumps and chemical process

equipment is available on short delivery.

CALL

TODAY ON

01785 254 597

• Custom Designed & Built Control Panels

• pH & Redox Controllers & Electrodes

• Conductivity Controllers

• Liquid Level Controllers

• Open Chanel & Magnetic Flow Meters

• Data Loggers

• Dosing Pumps & Tanks

Automated Water

& Effluent Ltd

Get in touch for a quote today!

AWE House, Antom Court, Tollgate

Industrial Estate, Stafford, ST16 3AF

awe-ltd.co.uk 01785 254 597
---
38 HOISTS

equipment as many of the hoist parts were

badly seized and not easy to dismantle in the

conventional way. Initially, the company

removed these sections to a specially

constructed scaffold work platform located

below the hoist installation area. Each piece of

the obsolete hoist was then lowered further to

the nearest adjacent floor level 16m below

using manual chain blocks for movement to

the goods lift access located at that level.

Next, Hoist & Winch Ltd had to install the

new hoist (weighing 2.2 tonnes) in part

dismantled form. The company eased the

difficulty of this task by installing a temporary

3-tonne SWL motor trolley mounted, airpowered

chain-hoist unit on the monorail

beam and raising the new hoist unit the

required 60 m from the outdoor ground-floor

work area. Hoist & Winch Ltd took great care

with the preparation of the chain-hoist unit to

ensure reliability during operation as any

breakdown during the critical 60m lifting

operation would require special access

equipment to help resolve any issues. Hoist &

Winch Ltd also carried out meticulous checks

on the quality, volume and pressure of the air

supply.

The next task was to raise the complete

new hoist unit to the 60m installation level.

From there, Hoist & Winch Ltd used the 3-

tonne SWL motor trolley mounted, airpowered

chain-hoist unit to transport the new

hoist unit into the building and over the

temporary scaffold work platform.…

From this position - after first opening up

the hoist unit trolley wheels wider than the

monorail beam width – the company lifted the

wire-rope hoist unit into position. To facilitate

this task, Hoist & Winch Ltd deployed four 1-

tonne SWL manual chain blocks suspended

from each end of two specially fabricated

lifting frames clipped into position on the top

flange of the monorail beam.

The final tasks included electrical

commissioning, assembling the hoist on to the

monorail beam and the removal of all

temporary lifting equipment. Hoist & Winch

Ltd could then perform dynamic load testing

of the new wire-rope hoist unit and monorail

beam using a skid-mounted, certified 10-tonne

test load prior to issue with a LOLER

Thorough Examination report. As part of the

dynamic load testing procedure, the outdoor

cantilever section of the monorail beam was

deflection-tested in accordance with BS2853

using a special long-range, outdoor-operation

Leica laser mounted to a stable yet precisely

adjustable tripod.

"Manufacturing and process plants tend to

evolve over time, often compromising general

access to existing hoist installations," explains

Andy Allen, Director of Hoist & Winch Ltd. "In

other instances, legacy hoists fall into disuse

and become obsolete. We've seen this on

many occasions over the years, but with our

in-house design, engineering and

manufacturing skills, there is nothing we

cannot overcome. If you are in this situation

and could benefit from the input of an expert

partner, please call for a no-obligation

discussion about the potential solutions."

Finishing - November/December 2022
---
COMPLETE RANGE OF INDUSTRIAL COATINGS

• Waterborne • Solventborne • High Solid

• Powder • E-Coat

SERVING A RANGE OF MARKETS

• General Finishes • Heavy Equipment • Design

• Architectural • Transportation • Energy • Rail

• Furniture • Electronics • Military

Inver® and Syntha Pulvin®

are brands of

The Sherwin-Williams Company

CONTACT

The Sherwin-Williams Company, Goodlass Road, Speke,

Liverpool, L24 9HJ, United Kingdom

T: +44 (0)151 486 0486 | liverpool.sales@sherwin.com

oem.sherwin-williams.com | www.synthapulvin.co.uk
---
40 DEPOSITION

Material gains

Ponticon has introduced its new pE3D

system for Dynamic Material Deposition

(DMD), a process developed for additive

manufacturing, coating and repairing

complex-shaped metallic workpieces. The new

system combines high process speed with

utmost precision and high flexibility in terms

of the choice of alloying elements.

With the Dynamic Material Deposition

process developed by Ponticon alloys of any

elemental compositions can be deposited on

metallic and ceramic components. In contrast

to conventional laser deposition methods, in

the DMD process the metallic powder is

already molten when it reaches the surface of

the substrate which it is deposited on in

successive layers.

Ponticon will showcase a pE3D system of

five-axis design. Its high-speed parallel

kinematic system is equipped with an

additional turning and tilting device to be able

to deal with the most complex of geometries.

In its standard design, the machine can handle

component weights of up to 500 kg.

High-performance components

manufactured at high speed

In additive manufacturing, the DMD

process excels in terms of versatility of

materials it can process and the outstandingly

high feeding rates it achieves. The benefits for

the user: time-saving, high-precision

manufacturing of components for the most

demanding of uses. By flexibly combining the

various materials and alloying elements, the

system ensures that the components produced

or coated have exactly the properties required

for their specific use.

Highly resistant coatings for surfaces of

virtually any shape

The process can also be used to cover

surfaces of metallic components with

metallurgically bonded coatings. Apart from

the great versatility of alloys and elements that

can be used in these applications, the process

provides the benefit that the coatings are

extremely firmly bonded with the substrate

material. Thus, they can fulfill the most

exacting demands in terms of wear, corrosion

and high-temperature resistance.

Back in shape for extreme use

When the system is used for pinpoint

repairs of components damaged as a result of

broken-off metal or worn metallic surfaces, the

sensors initially capture the as-is component

geometry. Based on these data, the CAM

software plans the path for the repair process

that requires the nozzle and the workpiece

carrier to be precisely aligned to one another.

Once in the aligned position, the system starts

to apply the new material onto the workpiece.

The material is specifically adjusted to the

properties of the substrate material. As the

heat transfer into the base material is minimal,

the material properties of the repaired

components are not affected during the

process.

Ponticon will supply the system shown at

the trade fair to the wbk Institute of

Production Science at the Karlsruher Institute

of Technology (KIT). One of the Institute's

focus is remanufacturing, i.e. reconditioning

high-grade components subjected to extreme

in-service stresses as, for example, in

turbomachinery industry or renewable energy

systems. The entire, fully automatic

manufacturing cell consists of the five-axis

pE3D system complete with comprehensive

sensor equipment, a turning lathe and a

handling robot.

According to Dr. Tobias Stittgen, Managing

Director of ponticon GmbH, the system is

ready for use in industrial series production:

"Our pE3D machines have passed the acid

test in various near-industry-scale projects

performed by several renowned research

institutions. 2023 will see the first machines

go into operation in industry."

Finishing - November/December 2022
---
• Dedicated stand-alone unit is ready to measure right out of the box

• Fast measurement speed—ideal for moving lines and swinging parts

• Scan Mode continuously takes measurements—ideal for

analyzing large areas

Powder Checker

Non-contact Uncured Powder Thickness Gauge

Affordably measures uncured powder coatings using

non-contact ultrasonic technology to predict

a cured thickness

• Storage of 999 readings with onscreen averaging. Stored readings

can be downloaded to PosiSoft Desktop Software

Powder Inspection Kits

Complete solutions for measuring

powder coating before and

after cure are available

£1950.00

16A Long Drive, Meadway, Berkhamsted, Herts HP4 2PN

t: 01442 879494 • www.dftinstruments.co.uk • e: sales@dftinstruments.co.uk

Leaders in surface engineering

Increasing the performance and life of critical components

SERVICES:

l Controlled Shot Peening

l Laser Shock Peening

l Thermal Spray Coatings

l Dry Film Lubricants

l Organic and Inorganic Coatings

l Parylene Ultra-thin Conformal

Coatings

l Superfinishing

l On-site Processing

l Material Testing and Analysis

APPROVALS:

l NADCAP

l ISO 9001:2008

l ISO 13485

l AS9100 Rev D

www.cwst.co.uk | eurosales@cwst.com | 01635 279621
---
42 QUALICOAT

Home comforts

Over the last decade members of the

Association have seen a huge rise in

QUALICOAT specifications for powder

coating on a wide range of bespoke

installations across the UK and Ireland. More

wide ranging than BS EN 12206, the

QUALICOAT Specification differs from the

recently updated British Standard, requiring

twice yearly, unannounced, third party

accreditation visits for all its licensed members

which ensures that the latest QUALICOAT

specification is being followed. Any member

failing an inspection will be given a short time

to comply, failure to comply will result in the

coating company losing its QUALICOAT

licence.

A QUALICOAT specification is not just

aimed at commercial projects, the specification

is relevant to all architectural aluminium

powder coating requirements, commercial and

residential. It is crucial therefore that

aluminium used in residential installations

receives the same care when choosing and

specifying its surface treatment. Members now

report that they are coating a growing

number of residential aluminium systems for

home improvement, as the demand for

aluminium windows and doors continues

apace.

Whilst systems companies products will

generally carry a QUALICOAT approved

powder coating applied by a licensed coater,

the Association recommends that if in doubt,

all home improvement companies should seek

confirmation that they are receiving a

QUALICOAT powder coated product. In fact,

the specification should appear in all home

improvement contracts with homeowners,

which it turn, will offer purchasers further

peace of mind when choosing aluminium. It is

important to note here that a QUALICOAT

specification should be no more expensive

that a BS EN 12206 powder coating

specification.

Whilst supplying a standard QUALICOAT

approved coating is suitable for most

residential applications in the UK there are

some some options which we should be

aware of. It is obvious that a colour reference

is required, but there is also gloss levels to

consider, the range reference is generally as

follows:

• 'Matt Powders' are usually between 20%

and 30% gloss level

• 'Semi-gloss Powders' are usually around

60 to 65% gloss level

• 'Gloss Powders' at least 80% but can be

up to 85% gloss level

• Gloss levels are easily checked using a

hand held 'Gloss Level Meter', colour can be

measured using a hand held 'Colour Meter'.

On more complex home improvement

projects it may be necessary to colour/gloss

match different products such as pressed cills,

column casings and spandrel panels. A close

match can be obtained by careful

specification, but any QUALICOAT powder

coater should be able to take a range of

unfinished profiles and pressings from various

providers and powder coat the complete

project in one batch, which ensures a high

quality colour and gloss consistency.

Finally, one important area which has

caught out many a home improvement

installer, is obtaining the correct specification

when powder coated products are installed

close to the coast. Contrary to popular belief, a

powder coating finish is microporous, so if the

pretreatment is not properly applied, corrosion

under the surface can occur which will lead to

premature surface coating failure. A

QUALICOAT Seaside Class of coating ensures

that the pretreatment system is applied in a

more robust way and offers a better adhesion

and life expectancy in these harsh

environments. A quick call to your local

QUALICOAT powder coater, given the

location of the installation, will offer advise and

if needed offer the home improvement

installer a more robust 'Seaside Class' coating

specification and warranty for the

homeowners and installers peace of mind.

Finishing - November/December 2022
---
EFFICIENT - ROBUST - RELIABLE

• SMALL BATCH WASHING TO CONVEYORISED SYSTEMS

• SPRAY, SOAK , ULTRASONIC OR COMBINATION MACHINES.

• FULL AFTER SALES SUPPORT

• IN HOUSE TEST FACILITY

• EUROPEAN WIDE CUSTOMER BASE

• STANDARD AND BESPOKE SYSTEMS AVAILABLE

• COMPLIMENTARY CHEMICAL RANGE AVAILABLE

INNOVATION FOR ALL YOUR WASHING NEEDS

Call 01543 675800 or visit our website www.unitechwashers.uk.com

unitech washing systems ltd_half page.indd 1 10/09/2021 11:39

Hi-Tek

PRODUCTS LIMITED

2a Dawkins Road Industrial Estate, Hamworthy, Poole, Dorset BH15 4JP

Telephone : 01202 661300

www.hitekproducts.com

jane@hitekproducts.com or kirsty@hitekproducts.com

We are suppliers of masking products across a multitude of industries working closely with metal finishing

and powder coating companies. Established over 50 years ago, we bring a wealth of experience from our

family run firm. No order is too small and samples are available on request. All stocked sizes of tapes,

caps, plugs, bungs and pull throughs can be seen on www.hitekproducts.com. If you have a bespoke size

request, please e-mail kirsty@hitekproducts.com or jane@hitekproducts.com or ring our professional

team on 01202 661300.

We are the sole UK distributor for the Tolber range of masking

lacquers. We also stock PTFE lubricant.

Samples of all lacquers are available on request.
---
44 EXHIBITIONS

Back for the future

By the end of the third and final day of

the 19th parts2clean, it was abundantly

clear that the requirements for cleaning

industrial parts are becoming increasingly

diverse and demanding, with no end in sight.

One major indicator consisted of the tasks and

projects which some 2,300 visitors (up by

around 15% from 2021) brought with them to

Stuttgart. The share of trade fair attendees

from outside Germany was 25 percent, with

the strongest nations (apart from Germany)

being Switzerland, Austria, the Netherlands,

the Czech Republic and Poland. "We are

satisfied with the course of this year's

parts2clean in the face of the prevailing

conditions," says Hendrik Engelking, Global

Director at Deutsche Messe. "More important

for us, however, is that participating in the

tradeshow was worth it for our exhibitors."

And indeed it was, as most of the 140

exhibitors from 16 countries who presented

their new, enhanced and established products

and services for industrial parts and surface

cleaning on over 4,300 square meters of

display space, were able to hold highly

detailed discussions. This was confirmed by

Michael Höckh, Managing Director of Höckh

Metall-Reinigungsanlagen GmbH: "For us it

was an acutely interesting trade fair. Our

visitors here were overwhelmingly devoted to

finding solutions to projects they are planning

to implement in the near future. Often, this

involves making replacement investments in

order to meet higher cleanliness

requirements."

Trade audience with high level of decisionmaking

authority and readiness to invest The

fact that things were so concrete at

parts2clean was due to the exceptionally high

percentage of trade visitors (99%), over 95%

of whom are involved in operational

procurement decisions. Another value that

ensured exhibitor satisfaction at this year's

parts2clean consisted of investment plans,

which were the decisive factor for around

85% of all attendees. This facilitated a high

number of promising leads, as Dr.-Ing.

Günther Schmauz, CEO of acp systems AG,

reports: "Even though we still have quite a

ways to go to reach the visitor numbers of the

pre-Corona events, this year's parts2clean

went better than expected for us. This year we

were able to observe shifts in our attendees'

industries. For example, more than 80% of

the discussions at our booth revolved around

tasks from the so-called high-purity area, for

example in the semiconductor supplier

industry, electronics, optics, medical, defense

and sensor technology, as well as high-tech

measurement technology. We were able to

make some really interesting contacts with

domestic and foreign companies here." Ronald

Holzleitner, Head of New Business at the

Austrian Fronius International GmbH, also

achieved his company's trade fair goals: "We

met up with a highly qualified trade audience

from different industries here, were able to

optimally present our technologies and

products and, after some excellent discussions,

have already scheduled subsequent talks." For

Stefanie Borst from the management of BO-

INNO GmbH, parts2clean 2022 also went

well: "We were very satisfied with our

participation at the trade fair and had the

impression that the discussions were even

more concrete and intensive than in years

past. It became clear that many companies

need to meet higher cleanliness requirements.

This enabled us to make many new contacts,

but we also used the tradeshow to intensify

our cooperation with our partners." This

networking aspect was also appreciated by

Chuck Sexton, Global Product Line Manager,

Industrial at the US cleaning media

manufacturer Kyzen: "We can always generate

first-rate leads at parts2clean. But the

tradeshow is also an excellent opportunity for

us to establish new contacts with partners and

intensify existing ones."

Finishing - November/December 2022
---
Reach the UK's metal

finishing market

Finishing magazine is a specialist

bi-monthly for the UK's metal

finishing community.

Read by decision makers in features

technical papers, news, views and

debate on all aspects of metal

finishing and surface coating.

To subscribe call the

Circulation Department on

T. +44(0) 141 370 3883

DALIC SELECTIVE

ELECTROPLATING

ADDEV MATERIALS IS THE UK OUTLET

FOR ALL DALIC ELECTROPLATING

MATERIALS AND SERVICES

All the required consumables including

anodes and bonnets plus training courses and

technical services. Dalic's unrivalled application

systems including rectifiers and the patented

"closed loop" Dalistick Station for full control

of the application and no exposure to

hazardous metals.

BRUSH PLATING SOLUTIONS

Anodising

Cadmium, Cobalt,Zinc, Nickel

Copper, Tin, Gold, Silver

Turret Group Ltd, Cardinal Point, Park Road,

Rickmansworth, Herts, WD3 1RE, UK.

T. +44 (0)1923 432705

E. info@turretgroup.com

ADDEV MATERIALS AEROSPACE

2 Bordon Trading Estate Old Station Way, Bordon, Hampshire GU35 9HH

T. +44 (0) 1428 651246 F. +44 (0)1428 661471

aerospace.emea@addevmaterials.com

www.finishingmagazine.co.uk

www.addevmaterials-aerospace.com

pexa_quarter page.indd 1 05/11/2020 11:23
---
46 WORKSHOP

Next generation

Powder perfect

Interpon is helping ESSE to become even more sustainable by

switching from an enamel coating process to a powder coating for its

new range of electric powered cookers.

Finding an alternative to enamel was a challenge and not only driven

with sustainability in mind. The powder coating still had to perform and

protect the cooker at very high temperatures and deliver the same

quality 'feel' in line with a premium-priced product.

"The Interpon team excelled," says ESSE's production manager,

Andy Pilkington. "Enamel has a reflective quality, and it was important

in switching to a powder coating that it retained the aesthetic

appearance. It was also important that our partner could replicate

existing colours in our range since they prove extremely popular and

have the stand-out appeal people are looking for."

Mark Blewitt, sales director at ESSE says colour is very important:

"Our products are high value items and are an important part of

kitchen and interior design. The colours, therefore, have to be on-trend

to meet our customers' expectations."

On the can

AkzoNobel Packaging Coating's non-BPA beverage can coating –

Aqualure G1 50 - is now listed as an Evaluated Alternative by

Chemsec on their global online Marketplace. The designation identifies

this coating as a safer alternative which does not contain any materials

on the ChemSec SIN list. In addition, Aqualure G1 50 has already

been approved by the US Food and Drug Administration (FDA), EU

regulators and other local and regional legislation for use anywhere in

the world based on its established safety profile.

Aqualure G1 50 is a high-performance acrylic-based coating suitable

for use on any beverage can and for most drink types including water,

juice, carbonated soft drinks, beer and energy drinks. Aqualure G1 50

is applied like traditional epoxy coatings, allowing for easy and efficient

transitions between coating technologies.

Aqualure G1 50 offers more choice to can makers and brand

owners who are ready to transition away from traditional bisphenolbased

technologies without sacrificing performance. Customers can

easily comply with changing global food packaging regulations in

response to increased concern surrounding BPA and bisphenol-based

coatings. Ultimately Aqualure G1 50 will protect the current food

supply and the long-term interests of can makers and food

manufacturers.

Phoseon Technology has introduced a new generation of UV LED

curing systems designed primarily for fiber and wire coating

applications, including optical fiber, electrical and structural wire, and

threads for smart fabrics. Phoseon offers complete UV LED systems

that bring many advantages such as fast and more consistent results

around the full diameter of the fiber and wire, reduced operation costs,

higher yields, and energy savings up to 70% compared to traditional

mercury-based UV curing. Both air-cooled and water-cooled lights

sources are available depending on the application requirement.

Both air-cooled and water-cooled lights sources are available

depending on the application requirement

Phoseon's Fiber Curing System consists of a high intensity UV LED

light source, which cures the coatings protecting the glass fibers, along

with a Fiber Reflector Unit (FRU) to direct the UV energy around the

circumference of the fiber.

Processing productivity

As demand for additive manufacturing processes continues to grow,

BOFA's filtration technology is now in demand to support the post

processing environment that is key to productivity.

Post-processing in the world of 3D printing is an important step in

the production chain and is vital to transforming the commercial

potential of additive manufacturing into high-quality finished products.

As Luke Ziolkowski, international business development manager,

BOFA International explains: "Post-processing is a catch-all term and

means different things to different manufacturers – but the ultimate

aim is the same… to create a product ready for market. This typically

includes curing, polishing, deburring, mechanical cleaning or air

blasting – all of which emit particles or gases that require BOFA

filtration to help maintain a healthy working environment and to

contribute to a high-quality end product."

BOFA is responding to demand with a number of 3D print filtrations

systems that are suitable for post processing environments. These

include the FumeCAB enclosure technology which is ideally suited to a

stereolithography system where the off-gassing from the print gets

extracted. It can also help with the off-gassing from a washing station

and contribute to filtration for most other post-processing applications.

Finishing – November/December 2022
---
Products & Services

Stewart Freshwater

mobile: 07746 373 545

email: s.freshwater@turretgroup.com • web: www.turretgroup.com

Leading manufacturers of

Jigs, Racking systems, Baskets, Heaters, Coils and many other

products for the Anodising & Electroplating industry

T: 01283 529314 • E: Sales@Supreme-Eng.com • W: www.supreme-eng.com

abrasive blast cleaning equipment

coating applications

computer systems

HODGE CLEMCO LTD

Abrasives

Blast Rooms

Blast Cabinets

Portable Blast Machines

Paint Spray Equipment

Abrasive Recovery

Safety Equipment

Dust Collection

Spray Booths

Servicing

Training

Tel: 0114 254 8811

36 Orgreave Drive, Sheffield, S13 9NR

www.hodgeclemco.co.uk

Supplier and manufacturer of

abrasive blast cleaning and surface

treatment equipment since 1959

abrasive blast cleaning equipment

HEAVY DUTY

SHOTBLAST MACHINES

LARGEST UK STOCKS

NEW MACHINES

PLATE & SECTION CLEANERS

TABLE & SPECIFIC MACHINES

HOOK / HANGER MACHINES

BARREL & TUMBLER MACHINES

AIR BLAST ROOMS & CABINETS

EXTRACTION / DUCTWORK SYSTEMS

OVER 60 MACHINES IN STOCK

DOUG BOOTH UK LTD

(Est 1971)

SPECIALIST ENGINEERS

Tel: 01924 274887

Fax: 01924 262219

M/C Sales 07850 744377 Txt/WhatsApp 24hr

Email: paul@dougbooth.co.uk (machines)

jonny@dougbooth.co.uk (parts & service)

Website: www.dougbooth.co.uk

SURPLUS & TRADE IN MACHINES WANTED

AGENTS/FINDERS REQUIRED

abrasives

coatings

Delivering highly

engineered, critical

function products

and services to

the commercial,

industrial, defense

and energy markets

n Shot Peening

n Laser Peening

n Coating Services

n Analytical Services

Please contact us on:

01635 279621

www.cwst.co.uk

Engineered coating solutions:

● High lubricity/low friction

●

●

●

Anti-corrosion

E/M Coating Services

Resistance to erosion/galling

Chemical/environmental

protection

Do you know what your production

line is doing? ORPHEUS DOES!

ORPHEUS... Proven Production

control software

Barcode technology provides

TOTAL ORDER TRACKING and

TRACEABILITY

Interested?

Why not give us a call for a

demonstration.

Mark Dimmock

Acton Gate Systems Ltd,

Wolverhampton, WV9 5HF

01902 249299 actongate

www.actongate.co.uk • enquiries@actongate.co.uk

To advertise please call

Stewart Freshwater

on 07746 373 545 or email

s.freshwater@turretgroup.com

conveyor systems

Overhead Conveyors

& Lifting

Equipment

●

EM/RF shielding

A business unit of Curtiss-Wright Surface Technologies

Please contact us on:

01386 421444

www.emcoatingsuk.co.uk

T. 01926 813111

sales@niko.co.uk

www.niko.co.uk

rdm_4x1_FNGCLASS 15/7/14 14:06 Page 1

complete finishing plant

(paint or powder coatings)

abrasives

boilers

R.D.M. Engineering Ltd, Est. 1951

Stakehill Lane, Stakehill,

Middleton,

Manchester M24 2RW

Tel: 0161 643 9333

Fax: 0161 655 3467

Web: www.rdmengineering.co.uk

E-mail: sales@rdmengineering.co.uk

Contact: Mr R. Horwich

spraybooths • rooms • ovens •

conveyors • pretreatment • powder

plant • air replacement units

CALDAN Conveyor Ltd.

Kirkleatham Business Park

Redcar • TS10 5SH

Tel. +44 1642 271118

salesuk@caldan.dk

www.caldan.dk

Caldan Conveyor Solutions -

simply perfect.

High Carbon Steel Shot and Grit.

Medium Carbon Steel Shot and Metal

Bead. Stainless Steel Cr and Cr/Ni.

High Chrome Grit.

Aluminium Oxide.

Full Technical Support.

Tel: 01952 299777 Fax: 01952 299008

Email: sales@pometon.co.uk

Modern Coil Type Steam

Generators & Fire Tube Boilers

• 100Kg/h – 25,000Kg/h

• High efficiency – up to 96%

• Low overall emissions

• Improved safety

• Simplicity of control

• Quiet, clean & cool in operation

Tel: 020 8953 7111

info@babcock-wanson.com

www.babcock-wanson.com

To advertise

please call

Stewart Freshwater

on 07746 373 545 or email

s.freshwater@turretgroup.com

FM_PSA_2016.indd 1 14/04/16 12.43

November/December 2022 - Finishing
---
48 for all your classified needs call Stewart Freshwater on: 07746 373 545

drying racks & spray tables

effluent treatment plants

laquers

MOBILE DRYING RACKS

EXPANDING

MOBILE DRYING RACKS

MOBILE

SPRAY TABLES

hooks & jigs

SPRAY SHOP

FILTERS

...PLUS MUCH MORE!

WWW.SPRAY-SHOP-SUPPLIES.CO.UK

01920 822 404

www.neutralac.co.uk

TENNANTS

TENNANTS DISTRIBUTION LIMITED

electrophoretic coatings supplier and applicator

Polypropylene Tanks

PVC Tanks

PVC/GRP Tanks

Bund Tanks

Tank Linings

Rubber Linings

HDPE Tanks

Established 1976

Fume Scrubbers

Fume extraction

Pipework

Ducting

Repairs & Refurbishment

Flexible PVC Linings

Guards in all materials

One off Fabrications and installation

Tel: 01543 462 802

Email: plasbrun.plastics@outlook.com

Web: www.plasbrunplastics.co.uk

MANUFACTURERS AND

APPLICATORS OF SPECIALIST

ELECTROPHORETIC COATINGS

• A TRULY UNIQUE FINISHING SERVICE

• SIMULATED BRUSHED NICKEL, CHROME AND STAINLESS STEEL

EFFECTS APPLIED DIRECTLY ONTO BASE METAL SUBSTRATES.

• BESPOKE COLOURS AND EFFECTS TO CUSTOMER SPECIFICATIONS

• ALL FINISHES AVAILABLE WITH ANTI-BACTERIAL CAPABILITY

Hawking Electrotechnology Ltd

T: +44 (0) 1384 483019

E: sales@hawking.co.uk • W: www.hawking.co.uk

electroplaters

COPPER n CHROME n POLISHING n IRIDITE NCP n GOLD and SILVER

BRIGHT ACID TIN n MANGANESE PHOSPHATE

n CHEMI BLACK COLD and HOT n ZINC and CLEAR/COLOUR/BLACK

NICKEL BRIGHT/DULL n ANODISING CLEAR/COLOUR/BLACK/HARD

Units 1 & 2, Dawkins Road Industrial Estate, Hamworthy, Poole, Dorset BH15 4JP

Tel: 01202 677939

jane@dorsetware.com

T: 01202 661300 jane@hitekproducts.com

www.hitekproducts.com

Hi-Tek stocks not only an extensive range of

masking products including plugs, tapes, caps and

discs, but also has the distinction of being the

European distributor for the US based TOLBER

range of lacquers and

associated products. Hi-Tek

imports bulk supplies from

Tolber and converts or

decants into commercially

usable volumes for the UK,

and European trade. The

association with Tolber has

evolved over many years.

masking

Hi-Tek Products Ltd

2A Dawkins Road Industrial Estate

Hamworthy, Poole,

Dorset BH15 4JP

Tel: 01202 661300

E-mail: jane@hitekproducts.com

Web Site: www.hitekproducts.com

Contact: Jane McMullen

Masking Caps • Tapes/Discs • Tapered

Plugs • Tubing • Pull-Through Plugs

• Custom Design • Stopping-Off

Lacquers • PTFE Lubricant

To advertise

please call

Stewart Freshwater

on 07746 373545

or email

s.freshwater

@turretgroup.com

finishing systems

jigs & baskets

Masking • Hooks • Jigs

HangOn Ltd

Leintwardine, Craven Arms,

Shropshire, SY7 0NB, UK

Tel. +44 (0) 1547 540 573

Fax. +44 (0 1547 540 412

Email. sales@hangon.co.uk

Web. www.hangon.co.uk

• Water wash spraybooths

• Water treatment chemical additives

• Paint separation solids removal systems

• Dry filter spraybooths

• Fixed or portable spraybooths

• Sprayroom enclosures

• Air replacement systems

• Full installation and commissioning

• After-sales service and maintenance

• Spray process engineering

Product complies fully with current environmental

protection and health and safety legislation

Unit 4 Brook Road Industrial Estate,

Wimborne, Dorset, BH21 2BH

T: 01202 840900 • F: 01202 889477

www.dynaclean.co.uk • sales@dynaclean.co.uk

• Automotive • Aerospace

• Oil & Gas

• Petrochemical

• Defence • Medical

• Precision Engineering

Specialist manufacturers in:

Jigs • Baskets

Coils • Heaters

Fasteners • Tanks

0121 622 3887

info@saltandsadler.co.uk

www.saltandsadler.co.uk

Leading manufacturer of Jigs,

Racking systems, Baskets, Heaters,

Coils and many other products for the

Anodising & Electroplating industry

www.Supreme-Eng.com

Tel: 01283 529314

Fax: 01283 529316

Sales@Supreme-Eng.com

Finishing - November/December 2022
---
for all your classified needs call Stewart Freshwater on: 07746 373 545

metal plating and polishing

oven stoving & curing

R.D.M. Engineering Ltd, Est. 1951

Stakehill Lane, Stakehill,

Middleton,

Manchester M24 2RW

Tel: 0161 643 9333

Fax: 0161 655 3467

Web: www.rdmengineering.co.uk

E-mail: sales@rdmengineering.co.uk

Contact: Mr R. Horwich

spraybooths • rooms • ovens •

conveyors • pretreatment • powder

plant • air replacement units

nylon colours_3x2_FNGCLASS 17/5/11 16:29 Page 1

nylon coating powders

Tel: +44 12 96 43 37 54

Fax: +44 12 96 39 22 85

Email: sales@nyloncolours.co.uk

precision cleaning & degreasing

rdm_4x1_FNGCLASS 15/7/14 14:06 Page 1

NYLON

A TOUGHER COATING

Nylon Colours Ltd manufactures

Nylon Coating Powders for

Electrostatic or Fluid Bed.

A wide range of colours including

metallics is available.

Nylon Colours is also the UK distributor

for RILSAN range of Nylon Powders.

ptr treatment

Aqueous Cleaners/Degreasers

Metal Brightening Solutions

Alkaline and Acid Etches

Desmuts/Deoxidisers

Chrome passivates and treatments

Qualicoat Approved Non-Chrome

treatments

Phosphates and Non-phosphate

treatments

Pickling Solutions

Paint Strippers

Special Formulations

and Approved Systems

Supplied with technical support

and advice

Tel: + 44 (0) 1978 660 297

Fax: + 44 (0) 1978 661 104

E-mail: info@almetron.com

Web: www.almetron.co.uk

rectifier equipment

almetron ltd-5x1_FIN_CLAS (v2).i1 1 16/3/12 13:09:20

salt spray environmental

cabinets

49

UKAS/NADCAP CERTIFIED SALT

FOR SALT SPRAY TESTING

Supplied in 5Kg and 25Kg Packs

To meet the requirements of:

ASTM B117 • ISO 9227 • DIN 50 021

and all other standards.

Full traceability guaranteed.

SPECIALIST LAB SALT LTD

Paytoe Lane . Leintwardine . Craven Arms.

Shropshire . SY7 0NB

Telephone: 01547 540573

Email: sales@specialistlabsalt.com

Website: www.specialistlabsalt.com

To advertise email

Stewart Freshwater

s.freshwater@turretgroup.com

spray nozzles

To advertise

please call

Stewart Freshwater

on 07746 373545

or email

s.freshwater

@turretgroup.com

pumps & filters

Switchmode and SCR DC Power Supplies

for any metal finishing process.

Options include:

Local / Remote control.

Constant Current / Constant Voltage.

PLC controllable. Touchscreen control.

Process timer. Ampere hour / minute meter.

Digital meters. Outputs fully recordable.

Outputs from 10 Amp x 6 V to 6000 Amp x 200 V.

Prices available on request

For more information please contact us on:

Tel: +44 (0) 121 526 6847

Fax: +44 (0) 121 568 8161

e-mail: sales@britishelectrical.co.uk

Website: www.britishelectrical.co.uk

powder coating manufacturers

To advertise please call

Stewart Freshwater on

07746 373545 or email

s.freshwater@turretgroup.com

uni-spray_5x2_FNGCLASS 18/1/10 15:22 Page 1

serfilco_5x1_FNGCLASS 18/11/13 12:25 Page 1

spray nozzles

pump & filtration specialists

The Sherwin-Williams Company

●

●

●

●

SERFILCO

Pumps, Filters

and Agitation

Systems

TITAN Auto Backwash Filter

Carbon Purification & Cartridges

Premier Washed & Pleated Reusable

Drum and Air Diaphragm Pumps

● Electric Immersion Heaters

Tel: 0161 775 1910

Fax: 0161 775 3696

SERFILCO delivers

clear solutions

E: sales@serfilco-international.com

www.serfilco.co.uk

SPRAY NOZZLE PRODUCTS FOR PRE-TREATMENT

• Quick Release Nozzles

• Quick Release Stand pipe couplers

• Eductors

• Air Knives

• Pipe Supports

• Complete Pipe Systems

Tel No. 01273 400092 • Fax No. 01273 401220

E-mail. info@beteuk.com

BETE Ltd, PO Box 2748, Lewes, East Sussex, BN8 4HZ

November/December 2022 - Finishing
---
50 for all your classified needs call Stewart Freshwater on: 07746 373 545

spray booths

thermal fluid

Thermal Fluid

Heating

Technology now

for the future

Excellent surfaces

WAGNER offers a wide range

of systems and products for

perfect coating solutions in

liquid and powder.

Applying

• Up to 50% energy savings

• Compact size

• Easy & safe to use

• Works up to 350°C

• Low exhaust emissions

• High efficiency

• Requires no specialist

knowledge

Tel: 020 8953 7111

info@babcock-wanson.com

www.babcock-wanson.com

tanks & protective linings

Established 1976

Feeding

Mixing

Polypropylene Tanks

PVC Tanks

PVC/GRP Tanks

Bund Tanks

Tank Linings

Rubber Linings

HDPE Tanks

Fume Scrubbers

Fume extraction

Pipework

Ducting

Repairs & Refurbishment

Flexible PVC Linings

Guards in all materials

One off Fabrications and installation

Tel: 01543 462 802

Email: plasbrun.plastics@outlook.com

Web: www.plasbrunplastics.co.uk

Editorial Calendar

Each issue of Finishing Magazine includes the following regular columns:

4 News and views 4 Products 4 A-Z company shorts

4 Business and technical issues 4 Personnel changes 4 Company focuses

Controlling

Booths & Systems

4 Questions and answers 4 Special reports 4 Company forecasts 4 Industry comment

4 Plus monthly special features

JANUARY/FEBRUARY 2023:

n Solvent Recovery n Pre-Treatment Chemicals n Conveyors n Mechanical Handling and Jigs n European Legislation

MARCH/APRIL 2023:

n Pre-Treatment n Test and Measurement Equipment n Laboratory Equipment

MARCH/APRIL 2023:

n Powder Coating n Ovens and Curing Equipment n Dust and Fume Extraction

For Editorial enquiries please contact: John Hatcher, EDITOR • E: j.hatcher@turretgroup.com

Find Finishing magazine online at finishingmagazine.co.uk

Wagner Spraytech (UK) Ltd.

Tel. 01327 368410

enquiries@wagner-group.com

www.wagner-group.com

Finishing - November/December 2022

The most important guide to the UK surface treatment industry, the Finishing Industries

Yearbook 2023 is now published. Now in its 45th year of publication, the Finishing

Industries Yearbook has evolved to be the comprehensive reference source to this ever

changing market.

For further information on how to obtain your copy, please email

b.williams@turretgroup.com
---
THIS IS HANGON

HangOn is a partner who helps customers to find smart solutions to increase

the efficiency in their coating process and improve their profitability.

We develop and produce in own factories. Our products are distributed from

our warehouses into more than 40 countries.

WEB www.hangon.co.uk EMAIL sales@hangon.co.uk TELEPHONE 01547 540 573

HangOn Ltd. Leintwardine, Craven Arms, Shropshire, SY7 0NB
---
Poison under control.

SLOTOLOY ZN "Generation VX"

The alkaline zinc-nickel processes SLOTOLOY ZN "Generation VX" are operated with an anode (special anode VX 1)

specially adapted to the process and respective additives. Because of this, the formation of breakdown products and cyanide

on the anode is inhibited. The practical application at customers showed in converted electrolytes that even the cyanide

content is reduced actively.

Advantages of the zinc-nickel

processes "Generation VX"

· No cost-intensive membrane technology necessary.

· Improvement of current efficiency and appearance.

· Simple conversion of existing electrolytes.

· Low additive consumption.

· The formation of cyanide is significantly reduced and

may falls below the detection limit.

· Since there's less non-active tetracyanonickelate there's

a lower demand of nickel.

Decrease of the cyanide content after the conversion to

SLOTOLOY ZN "Generation VX"

cyanide content [mg/L]

500

400

300

200

100

0

0 500 1000 1500 2000

bath throughput [Ah/L]

Schloetter Co. Ltd.

Abbey Works

New Road, Pershore

Worcestershire WR10 1BY

United Kingdom

T +44 (0)1386 552 331

info@schloetter.co.uk

www.schloetter.co.uk