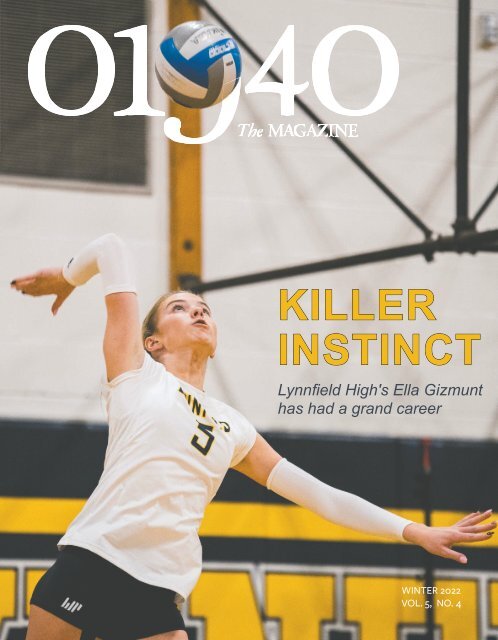 Create successful ePaper yourself
Turn your PDF publications into a flip-book with our unique Google optimized e-Paper software.
KILLER

INSTINCT

Lynnfi eld High's Ella Gizmunt

has had a grand career

WINTER 2022

VOL. 5, NO. 4
---
The NEW TEAM IN TOWN!

Coldwell Banker Global

Luxury Presents

Louise Touchette Team

Louise Touchette is the

#1 agent in Lynnfield.

with Kerry Connelly, Lori

Kramich, and Christine

Carpenter the team

combines 45 years

of experience

There has never been a

more obvious choice to

help buyers and sellers

navigate the ups and

downs of the real

estate market.

We are growing

and are excited to welcome

Christine Carpenter as an

addition to to our team !!
---
OUR SHELF PRICE IS OUR WEB PRICE! No additional web fees on items

Same day delivery with orders by 5pm. Delivering until 7pm

WINTER 2022 | 1

Shop us at Vinnin Liquors.com for
---
2 | 01940

A publication of Essex Media Group

Publisher

Edward M. Grant

Chief Executive Officer

Michael H. Shanahan

Directors

Edward L. Cahill

John M. Gilberg

Edward M. Grant

Gordon R. Hall

Monica Connell Healey

J. Patrick Norton

Michael H. Shanahan

Chief Financial Officer

William J. Kraft

Chief Operating Officer

James N. Wilson

Controller

Susan Conti

Editor

Thor Jourgensen

Writers

Rachel Barber

Joey Barrett

Anthony Cammalleri

Sylvia Chen

Charlie McKenna

Alexandra Rodriguez

Anne Marie Tobin

Ryan Vermette

Photographers

Spenser Hasak

Libby O'Neill

Advertising Sales

Ernie Carpenter

Ralph Mitchell

Patricia Whalen

Design

Sam Deeb

INSIDE

4 What's up

6 Marengi method

10 1000-aire

12 House Money

16 Safe house

20 Nose for names

22 Porter power

25 Candle crew

28 La Delicious

33 Crusader

34 Adam art

ESSEX MEDIA GROUP

85 Exchange St.,

Lynn, MA 01901

781-593-7700

Subscriptions:

781-214-8237

01940themagazine.com

LETTER FROM THE PUBLISHER

Purple

reign

TED GRANT

If you ever watch the Yankees and pay attention to uniform numbers – OK, close

attention —you won't find anyone wearing a single digit. They're all retired. In fact, the

Yankees have retired 22 numbers, including No. 8 twice (Bill Dickey and Yogi Berra).

The Celtics have 23 retired numbers and one name (extra credit if you got "Loscy") and

the Montreal Canadiens 14.

You get the point. It's a big deal to have your number hanging in the rafters of any arena

or stadium.

At Holy Cross, which once had a storied men's basketball program, there are only six

numbers enshrined. You may have heard of two of them: Bob Cousy and Tom Heinsohn,

whose jerseys can also be found in the Garden.

The Holy Cross women's program has been pretty solid for 40 years; in 1985, before

anyone heard of UConn, the Crusaders became the first New England women's team to

make the NCAA Div. 1 tournament.

Holy Cross has never retired a women's basketball number. That will change this year

and one of the best to ever play in 01940 will have her No. 4 hanging at the Hart Center.

Her name is Lauren Maney George, Lynnfield High Class of 1992, Holy Cross Class of

1996. Those who have followed the Pioneers will tell you she is arguably the best player ever

to put on a Lynnfield uniform. She was even better at Holy Cross, scoring 1,721 points and

twice being named Patriot League Player of the Year.

As a senior she was the league Scholar-Athlete of the Year, which came as no surprise

to the folks at Moynihan Lumber, who named her the inaugural North Shore Female

Student-Athlete of the Year in 1992. The male winner, Teddy Bettencourt, also played hoop

at HC and is the popular mayor of Peabody.

In September, George received a call from Holy Cross athletic director Kit Hughes,

who told her she would be one of the five women's basketball players to have their number

retired. The ceremony will be on Jan. 28.

Typical of George, her first reaction, as told to Joey Barrett for a story in this edition of

01940, was that receiving the honor was "something that immediately made me think of

my teammates."

A selfless team player is how they remember her in Lynnfield, the rare roll-up-hersleeves

star. It's clear that nothing has changed. She showed that four years ago when she

and other Lynnfield parents were frozen out of the leadership of the youth football program

in example No. 992,137 of how parents can ruin youth sports. George and other parents

solved the problem, starting their own league, and she was named Lynnfield's Person of the

Year by Essex Media Group.

The hometown-kid-makes-good story never gets old, especially when a generational

talent returns to her hometown to make a positive impact on future generations.

Take a bow, Lauren Maney George. You've earned it. Hey, I'm a BC guy and even I

acknowledge this is a big deal.

Also profiled in this edition of 01940, Clayton Marengi and Ella Gizmunt, too, have

made their marks in their sports. Coaching helped make Marengi a leader on the football

field, but he insists spending time with his Endicott College teammates is the key to his

success. And Gizmunt is a grand killer on the volleyball team – literally. She recorded her

1,000th kill last month.

Check out Essex Media Group Sports Editor Barrett's stories.

There's plenty more to read in this edition, so I'll stop so you can begin.

COVER It's 1000 career kills and counting for Ella Gizmunt. PHOTO BY Spenser Hasak

02 | 01940
---
WINTER 2022 | 3

Wishing You and Yours Happy Holidays and a

Healthy, Happy & Prosperous 2023!

19 Arrowhead Drive, Saugus

Sale Price: $850,000

2 Yale Street, Peabody

Sale Price: $615,000

5 Mulberry Drive, Peabody

Sale Price: $716,000

126 Jersey Street Unit 201, Boston

Sale Price: $750,000

1 Victor Circle, Peabody

Sale Price: $687,500

14 Grove Street, Salem

Sale Price: $620,000

30 Union Park Unit 404, Boston

Sale Price: $1,300,000

Sale Price: $748,575

8 Styles Drive, Peabody

Sale Price: $590,000

Sale Price: $700,000

LAND

LUXURY HOME SPECIALIST

Coldwell Banker Realty

Evelyn Rockas

617-256-8500

NEW ENGLAND! Evelyn.Rockas@NEMoves.com
---
4 | 01940

WHAT'S UP

Uncork Italy

What: Davio's Northern Italian

Steakhouse spotlights the best

wines from Italy through the fall into

the holidays with guest sommeliers

and Italian winemakers on hand

each week.

Where: MarketStreet Lynnfield,

1250 Market St. For full schedule,

visit https://davios.com/

news/2022/05/wine-journeythrough-italy

When: 2020 Antinoris head up wine

selections featured from Nov. 15

through Dec. 13 with a 2018 Zenato

is featured into Christmas week.

Get your schuss on

What: Lynnfield Recreation offers

ski and snowboard outings for third

and fourth grade and middle school

students with lessons and afterouting

supervision.

Where: Bradford Mountain is 25

miles (33 minutes on Google maps)

from Lynnfield with students leaving

from Summer and Huckleberry

Schools and the middle school.

When: Outings start Jan. 6 and run

through Feb. 10 with buses leaving

schools at 3:30 p.m. and returning

by 7:30 p.m. See lynnfieldma.myrec.

com for schedules and registration

information.

Meeting time

A new public safety building

dominates the fall Town Meeting

warrant with approval subject to

a special election. Visit the town

website — town.lynnfield.ma.us —

to read the warrant.

Where: Middle School, 505 Main St.

When: Monday, Nov. 14, 7 p.m., with

the election scheduled for Dec. 6.
---
WINTER 2022 | 5

Ellen Rubbbico Crawford | Premier Realtor

ellen.crawford@raveis.com Call/text: 617-599-8090

DESIGNATIONS:

SELLER REPRESENTATIVE SPECIALIST (SRS)

SENIOR REAL ESTATE SPECIALIST (SRES)

CERTIFIED LUXURY HOME MARKETING SPECIALIST (CHLMS)

MASSACHUSETTS ASSOCIATION OF REALTORS (MAR)

NATIONAL ASSOCIATION OF REALTORS (NAR)

CHAIRMAN'S ELITE , 100% CLUB

GOVERNOR'S BOARD FOR MASS. HOMEOWNERS ASSOCIATION

The realtor that gives back. A percentage of every transaction is donated back to the community.

Planning your next move? Call 617-599-8090

Recognized Top Luxury Brokerage by

Leading Real Estate Co. of the world
---
6 | 01940

Soaring and scoring

BY JOEY BARRETT

Clayton Marengi fell

in love with football in

second grade. Following

in his brother's footsteps,

and wanting to become a

part of a tight-knit culture,

the former Lynnfield

Pioneer couldn't have

imagined what was in

store for him.

The 195 pound, 6'3"

quarterback now wears

the blue and green of

Endicott College. This

season, he's thrown for

922 yards and six touchdowns

in just six games

– also adding five rushing

touchdowns.

But it was Lynnfield

High where Marengi

grew as a football player.

Like most wide-eyed

freshmen, he didn't know

many people and admits

his confidence wasn't

where it is today. His

approach was just to be a

high school student-athlete,

and stresses that a

particular comfort level

comes with time.

"As the years go on, you

become more and more

comfortable with yourself,

more confident. For me

at least, it affects the way

I play and how I am as a

person," Marengi said.

After he put the

graduation cap on, it

was time for college ball.

He wound up just a few

towns over in Beverly,

suiting up for Endicott.

Three years after his decision,

he sighted the team's

contagious,

MARENGI, continued on page 8

Clayton Marengi leaps

over the opposition at

Hempstead Stadium in

Beverly.

PHOTO: DEMETRIUS KAZANAS
---
Clayton Marengi has thrown

for 900-plus yards for the

Endicott Gulls.

MARENGI, continued from page 6

uplifting culture as the reason why he

loves sporting the Gull logo.

"I feel like the coaching staff has created

an amazing culture for us, and I'm not

just saying that to pat them on the back,

or sound cliche, but I'm just saying that

the proof of our culture is on the field –

and I think it speaks for itself," Marengi

said. "Endicott, I feel like, was the perfect

spot for me, and I'm so glad I chose this."

His favorite part about football, however,

are the off-the-field moments he

can cherish with his teammates.

"I think it's very, very important in

the game of football, or just any game in

general, to spend time with your teammates

off the field," Marengi said. "It

builds so many bonds."

Outside of Hempstead Stadium,

PHOTO: CHRIS LYONS

Marengi is a business management major.

He's interned with Impact Sports Lab

and has taken courses from the likes of

marketing, business analytics, and finance

– or, what Marengi refers to as "all that

good stuff."

This season, Endicott's football team

was ranked for the first time in program

history. A big reason for that: the kid

40

from Lynnfield, Clayton Marengi.

The First Friday of every month, Everett Bank is participating in Hygiene for

Blue Jeans Day to support Portal To Hope - a community based, non-profit

helping victims of domestic violence, sexual assault and stalking crimes.

Everett Bank employees donate a woman's hygiene product so they can

wear blue jeans to work. A casual way to support a great cause.

8 | 01940
---
WINTER 2022 | 9

WE

SPECIALIZE

IN SENIOR

MOVES

Contact Us:

781.580.9357

marjorie.youngren@raveis.com

www.marjoriesells.com

Ask us about

our downsizing seminars.

Are you thinking

about moving?

Don't worry or stress.

With our extensive resources,

guidance and team of trusted

service providers, you will be

fully prepared for your move.

Call and let us help you.

Senior Real Estate Specialist Designation

Experts

in

Downsizing

Reliable

Respected

Recommended
---
10 | 01940

Killer

Queen

BY RYAN VERMETTE

PHOTOS BY SPENSER HASAK

The Lynnfield Pioneers had just

tied the second set at 4 against North

Reading at Lynnfield High Oct. 11

when coaches, players, and fans erupted

as they cheered and clapped for Ella

Gizmunt.

The senior had just recorded her

1,000th kill as a four-year member of

the Lynnfield volleyball team.

When she reached the milestone,

Head Coach Brent Ashley called a timeout

to stop the game – the achievement

was announced in front of the

roaring home crowd. Gizmunt entered

the contest against North Reading

six kills away from the mark and her

teammates, as well as the home crowd,

were anxiously waiting for the moment

to happen.

"She is the type of athlete you get

once in a lifetime," Ashley said. "I don't

know what I'm going to do without

her, to be honest. I got to see her as a

freshman and I put her on the varsity

team as a freshman – and I got to see

her grow up. She was this quiet, shy,

reserved freshman, and she's grown up

measurably."

Fittingly, Gizmunt recorded both the

first and last points of the match and

started the first set with four kills right

off the bat. A countdown to Gizmunt's

historic mark was taped to the gym

wall with papers that were marked with

the number of kills she had remaining

– each one

being torn off as she got closer.

Gizmunt got another kill in the first

set to get within one of the milestone.

Ironically, the senior unintentionally

kept herself from accomplishing the

feat due to her stellar serving towards

the end of the set. She aced North

Reading five times in a row to put her

team up 23-14.

A few points later, Lynnfield won

the set 25-16 and Gizmunt had to wait

until the second set to get the kill. Gizmunt

noted that while she was aware of

how close she was to the milestone, she

was more concerned with being a team

player.

"I knew I only had six to go, it was

like any other game," she said. "We're

here to win it, we're here to work as a

team. There's always pressure around

that stuff, but the goal is always to win

and play our best. Iit wasn't really about

me, it was about the team."

While Gizmunt says it was all about

the team, her teammates couldn't have

been happier for her – none more so

than fellow senior Celia Carbone, who

assisted Gizmunt on the kill.

"I was so happy, I turned around and

I screamed. I'm just so proud of her,"

said Carbone. "That's really cool, that's

not an everyday thing you see and

being able to be a part of that moment

was really special to me because I'm in

the presence of such a great athlete."

Carbone was right when she said the

accomplishment is a rarity. Gizmunt is

the fifth player in Massachusetts high

school history, and first at Lynnfield

High, to reach the mark. She is also the

only active player in the state who has

1000, continued on page 14

Lynnfield's Ella Gizmunt

bumps the ball back

over the net.
---
WINTER 2022 | 11

Lynnfield's Ella Gizmunt

celebrates with her

teammates after

scoring her 1,000th kill.

Brooksby Village

EVERYTHING YOU NEED FOR A VIBRANT RETIREMENT

Discover the North Shore's premier

senior living community.

Get your FREE brochure!

Call 1-888-246-6824 or visit BrooksbyVillage.com.

North Shore

BrooksbyVillage.com

134094
---
12 | 01940

HOUSE MONEY

PHOTOS COURTESY OF CLAUDIA S. TABAR-CONWAY
---
A peek inside

29 North Hill Drive

SALE PRICE: $1,700,000

SALE DATE: Sept. 29, 2022

LIST PRICE: $1,389,900

TIME ON MARKET: 35 days

(to closing)

LISTING BROKER:

Marjorie Youngren with William

Raveis R.E. & Home Services

SELLING BROKER:

Stephen Conroy with

Boardwalk Real Estate Corp.

LATEST ASSESSED

VALUE: $1,092,200

PREVIOUS SALE PRICE:

$700,000 (2002)

PROPERTY TAXES: $13,095

WINTER 2022 | 13

YEAR BUILT: 1973

LOT SIZE: 1.38 acres (60,113 sq ft)

LIVING AREA: 5,397 sq ft

ROOMS: 14

BEDROOMS: 5

BATHROOMS: 4.5

SPECIAL FEATURES:

Custom home nestled on more than an

acre in one of the top neighborhoods.

Fireplaced formal living room, private

study, and dining room adjacent to a

white open concept eat-in-kitchen.

Large family room overlooks very

private back yard with two patios and

a generous back deck. Second floor

features spacious primary and three

bedrooms. Lower level includes a media

room and access to a three-car garage.

Separate entrance leads to a complete

in-law apartment with another kitchen,

bedroom, bath, private family room,

and another two-car garage.
---
Ella Gizmunt is the fifth player in Massachusetts

high school volleyball history to score 1000 kills.

1000, continued from page 10

over 1,000 kills in her career.

Gizmunt wasn't anticipating

being close enough to get

to 1,000 for this game until

her eye-popping performance

against Masconomet last

Friday where she recorded

31 kills. That game-breaking

total got her down to just six

kills to go, and after the Masconomet

game, she knew it

was within reach.

"He (Coach Ashley)

mentioned it to me a couple

weeks ago that I was pretty

close," Gizmunt said. I

didn't think that I would be

hitting it at a home game just

because last week I still had

around 40 to go, but in our

five-set match against Masco,

I had 31, so, it kind of set me

up."

After reaching the milestone,

Gizmunt added another

six kills to bring her total

to 12. As if that feat wasn't

enough for the star senior,

she also collected 10 aces to

go along with 10 digs to help

her team beat North Reading

in straight set scores of 25-

16, 25-21, and 25-14.

The win completed a

season sweep against the

Hornets. Grace Davie had a

solid performance with nine

kills, seven aces, and three

blocks. Celia Carbone had a

big day in the assists column

with 18, and also had six digs

on the defensive side.

While she is happy that

she reached such an amazing

milestone, Gizmunt is ready

to move on and keep playing

with the focus and energy

that she and the team have

been playing with all year.

"We're a different team

now. We've grown so much.

Working on new things,

spreading people around. I

think we're going to do really

well coming up," Gizmunt

said.

40

Pionarch Design and Construction

Residential and Commercial Services

Architecture | Interior Design | Residential Construction

Serving Boston and the North Shore

"Design your vision .... Build with precision"

501 Cabot Street,

Suite 8C, Beverly, MA 01915

Modern house coming soon to Lynnfield

(978) 887-2900

www.pionarch.com

info@pionarch.com

14 | 01940
---
A FOREVER BRAND

WITH YOUR FOREVER AGENTS

WINTER 2022 | 15

SM

What are your future real estate and lifestyle plans?

SM

As Forever Agents we help our Forever Clients plan their ideal real estate lifestyle.

Ask about receiving a "Real Estate and Lifestyle Planning Guide."

Richard Tisei

Broker Associate

Richard.Tisei@commonmoves.com

Cell: 781-254-3137

Bernie Starr

Broker Associate

Bernie.Starr@commonmoves.com

Cell: 617-791-2922

Ron Supino

Realtor®

7% of Top Agents Nationwide

Ron.Supino@commonmoves.com

Cell: 978-590-1628

Rayshawna Battlle

Realtor®

Quality Performance &

Client Satisfaction Guaranteed.

Rayshawna.Battle@commonmoves.com

Cell: 617-230-8777

Dorothy Petrella

Realtor®

CBR, CSP, GREEN, SRES, SRS

Dorothy.Petrella@commonmoves.com

Cell: 781-257-7200

www.commonmoves.com

26 Main Street, Lynnfield, MA 01940

(781) 246-2100

Judy Mason

Realtor®

Judy.Mason@commonmoves.com

Cell: 617-710-5597

Jane Rizzo

Realtor®

Raking in the Business

Jane.Rizzo@commonmoves.com

Cell: 617-791-4242

Joe Fiorello

Realtor®

Joe.Fiorello@commonmoves.com

Cell: 781-572-4189

Scan to access our Real Estate &

Lifestyle Planning Guide

©2022 BHH Affiliates, LLC. An independently owned and operated franchisee of BHH Affiliates, LLC. Berkshire Hathaway HomeServices and the Berkshire Hathaway HomeServices symbol are

registered service marks of Columbia Insurance Company, a Berkshire Hathaway affiliate. Equal Housing Opportunity.
---
A home

for the

free

The road to freedom from the enslaved South crossed the

Lynnfield-Peabody line to the King Estate.

BY CHARLIE MCKENNA

PHOTOS BY JOYCE CUCCHIARA

As a child, Lynnfield Historical Commission

Chair Kirk Mansfield heard the

rumors: A cluster of properties along

Main Street had underground tunnels and

hidden rooms.

The properties were said to be linked

to a network of safe houses that served as

"stations" on the Underground Railroad

providing a way to freedom for people of

color enslaved in the Civil War-era South.

"I grew up in this town and I heard

different stories about a section of home

along Main Street, right off route 128 that

were believed to have had hidden rooms

and underground tunnels and things like

that, but nobody's really ever been able to

prove it to the best of my knowledge," said

Mansfield.

Lynnfield's connection to the Underground

Railroad "were never confirmed,"

said the town's preeminent historian.

But residents in a home over the Peabody-Lynnfield

line said their property

has confirmed connections to the freedom

highway.

Steve Pelletrino and his wife have long

been history buffs. So, when a centuries-old,

4600 square foot home on Lowell

Street, which was owned by the wealthy

King family for generations, came up for

xxxxxxx

16 | 01940
---
WINTER 2022 | 17

sale, the Pelletrinos, who had six children,

knew that they had to jump at the chance

to inhabit a home with so much history.

When the Pelletrinos began researching

the home, they realized that not only was

the spacious property the perfect place to

raise their big family but it also had many

layers of history.

Built in 1846, the home, constructed

from red oak and maple trees on the

property, was used as a hideout for slaves

on the Underground Railroad. Slaves were

hidden in secret rooms in the home's attic,

which Pelletrino explains is the size of a

"big apartment."

"There were two bedrooms and then they

were two smaller rooms. One was used as a

kitchen and one was almost like a storage

area and if you go into that one it was

going along the eave of the house. If you

go into that one … there was a panel that

was on top, it looked like just the regular

wall. But if you pulled it out, there was the

hidden room and it was big enough for a

couple of people to be sleeping in there,"

said Pelletrino. "When we were buying

the house, the real estate agent said when

they first opened that up, there was a straw

mattress in there."

Pelletrino and his family owned the

home for more than two decades, beginning

in 1998. He and his wife sold the

historic residence in 2020 after all of their

kids had grown up and left, leaving the

couple with a need to downsize.

Pelletrino said living in a home possessing

an intricate history is a rich experience.

At one time, one could walk from the

home to the cemetery down the street

without ever going above ground, courtesy

of a number of underground tunnels.

As Pelletrino tells it, the tunnels were

sealed by police in the 1970s in an effort to

quell juvenile delinquency.

"Our house there was a driveway next

to it from another house that our tunnel

connected up to so the tunnel from there to

the cemetery was blocked off because kids

were getting in there and they'd go up in

the crypts, and be smoking and drinking so

the police decided for safety purposes they

better just close down the tunnel so they

filled them all in but there was in the basement

… one small room that was a root

cellar," says Pelletrino. "You had a dirt floor

and in the corner of that there was this

built in Cabinet and the walls were granite

stones. So if you look at the cabinet, a great

amount of care was taken into taking wood

and cutting it to the contour of the granite

so there would be no openings behind the

KING, continued on page 18

Financial planning for your family, schedule your complimentary consultation online now: www.mytrueviews.com

James DesRocher: 259 S. Main Street, Middleton, MA 01949, Tel. 978-972-5114

James is a Registered Representative and Financial Advisor of Park Avenue Securities LLC (PAS), OSI: 800 Westchester Avenue, Suite N-409, Rye Brook, NY 10573, 914.288.8800.

Securities products and advisory services offered through PAS, member FINRA, SIPC. Financial Representative of The Guardian Life Insurance Company of American® (Guardian), New

York, NY. PAS is a wholly owned subsidiary of Guardian. TrueView Financial LLC is not an affiliate of PAS or Guardian. The Five Star award is not issued

or endorsed by Guardian or its subsidiaries. CA Insurance License Number - 0M83430. 2022-132075 Exp. 01/2024
---
We hear with our brain.

Treating hearing loss gives you more than

better hearing and better relationships…

Using well fit hearing aids is the single

most effective action you can take to

reduce your risk of memory problems.

Choosing the right provider is very important.

The experts at Atlantic Hearing Care provide

a complete assessment of your hearing to

come up with a personalized solution. We

make better hearing easy and enjoyable with

a Free FIVE-YEAR SERVICE PLAN that

includes batteries and supplies. We accept

most insurance and offer financing and

leasing programs.

Call today for a FREE two-week trial with hearing aids

2022 CELEBRATING

of

Years

Better Hearing

www.AtlanticHearingCare.com

990 Paradise Rd, Suite 3A

Swampscott, MA

781-581-1500

2 First Ave, Suite 127-1

Peabody, MA

978-717-5370

KING, continued from page 1 7

cabinet."

"That's where I'm pretty positive that

the tunnels were," he continues, though he

notes that he never opened the cabinet for

fear of potentially allowing animals into the

home. "I figured well, I don't want to touch

Pandora's Box, so I just left that alone."

The origins of the home's role as a

location on the Underground Railroad are

unclear, as Pelletrino says he isn't sure how

exactly the Kings, who were wealthy hog

farmers, came to harbor escaped slaves. But,

he theorizes, they certainly had the means

and the connections to do so.

"I'm assuming they were more sympathetic

to what was going on plus they lived

in in the North so there were a lot more

people that were sympathetic to what was

going on and the plight of the slaves who

were trying to run away and make a life for

themselves and they had the wealth to do

it," Pelletrino explains. "They had obviously

the house, which was a good hiding place

for them, also they had a lot of connections.

All those added up would probably make it

so that they could do something like that."

Pelletrino says that as fans of history, he

and his wife never considered undertaking a

18 | 01940
---
WINTER 2022 | 19

A modern kitchen in a historic house: The

King Estate was a stop on the Underground

Railroad.

massive renovation of the property, preferring

instead to make minor improvements

over the decades. He explains that many of

the historical quirks of the home were what

drew him to it in the first place.

"There was a big room that was used as

a dining room. There was a button on the

floor, that if you pressed down on it, there

was a bell that rang up in the attic where

the servants were. They were eating along

the table so if they wanted something

from the servants they just stepped on

the button and down the servants came,"

Pelletrino says. "They had a big pantry and

it was floor-to-ceiling cabinets that were all

made from red oak trees that were on the

land itself and also next to the pantry was

a washroom, which had three limestones

sinks.

"A lot of that stuff. Did we need it?

Should we have gotten rid of it? No we

couldn't do that because it just showed the

flavor of the house and you go into a house

like that you're not saying to yourself 'well,

I'm the owner.' You say to yourself, 'well, I'm

the caretaker for now. The house is gonna

outlive me.' So you're trying to take care

of it. You're trying to do your upgrades but

you're extra sensitive towards the history of

the house," Pelletrino explains.

40

Quality Foods, Reasonable Prices

and Great Service Since 1978

Meat & Seafood Delivered Daily • Fruit Baskets For Any Occasion

Deli & Specialty Sandwiches Made To Order Fresh Daily

Catering For All Party Needs • Custom Cakes • Italian Specialties,

Bakery Cookies, Pastries & Breads Made Fresh Daily

415 MAIN STREET • WAKEFIELD • (781) 245 • 9797

TheFarmland.com
---
20 | 01940

What's in

a name?

Just ask

Alma

Barozzi

BY SYLVIA CHEN

PHOTOS BY LIBBY O'NEILL

Alma Barozzi had a map over her

bed, it was her toy of choice. Barozzi

had a strong interest in the world and

love of geography.

Barozzi is the author of the book

What kind of name is that? The book

is an atlas of European Surnames,

including the roots and traditions of

surnames. However, Barozzi doesn't

consider herself as a writer, she would

think of herself more as a researcher.

"When I look back, my whole life

kind of led me to this (study of surnames)

because as I was growing up, I

was always interested in other cultures,"

said Barozzi.

Barozzi's journey through surnames

begins in southern Europe with Italy

and moves through Western Europe,

then from the British Isles eastward

through Scandinavia, the Baltic States,

and finally southward through Eastern

Europe and the Balkan Peninsula.

It begins and ends on the shores of

the Mediterranean, making stops in

countries whose peoples speak a variety

of mostly Indo-European languages

(Romance, Germanic, Slavic, Greek)

sprinkled with several non-Indo-European

tongues. She plans to follow up

with books about surnames in other

parts of the world.

It should be a destiny to write

the book, since Barozzi was always

interested in linguistics. She was born

in Romania, a country in Europe, and

immigrated to the United States when

she was 14. Barozzi was originally an

Italian name from the area of Venice.

When she went to Venice, she saw a

house with her name on it. Her surname

traveled from Italy to Romania

where she was born.

She attended the State University

of New York at Stony Brook, then she

went to graduate school at University

of California San Diego. Barozzi

studied applied linguistics during her

higher education.

Her journey of linguistics didn't end

at graduate school, Barozzi then earned

a master's degree in linguistics from

the University of the Andes in Bogotá,

Colombia, and a master's and doctorate

in applied linguistics from Nebrija

University in Madrid, Spain.

After her children graduated from

college, she decided to join a doctoral

program and obtained her PhD in applied

linguistics. She currently chairs

the Department of Foreign Languages

at The Academy at Penguin Hall in

Lynnfield's Dr.

Alma Barozzi is the

author of "What

kind of name is that?

European Surnames:

Meanings and

Traditions."

Wenham, where she teaches Spanish

and Oral History.

Before Barozzi became interested in

onomastics – a study of the history and

origin of proper personal names – she

was fascinated with toponymics. Toponymics

is a study of proper names of

places or geographic names. She loved

to look at maps and learn about every

country and capital and every mountain

and river.

A few years ago, before the pandemic,

Barozzi was not planning to write a

book on surnames. She was looking for

some information about last names but

could not find much.

"For as long as I can recall," Barozzi

says, "I've been drawn to the diversity

and mysterious origins of family names.

Where are you from? Where is your

family from? Your grandparents? Your

roots? I asked these questions with

curiosity and some trepidation, not

wanting to make anyone feel uncomfortable,"

she said.

She needed information of English

names and Italian names; it would be

even better if there was an atlas of last

names. Since there was no such information

out there, she decided to write
---
WINTER 2022 | 21

something herself.

Europe was the first stop in her journey

in writing the book because she was

familiar with European names. Barozzi

concluded information she gathered

over the internet into many files, categorized

country by country.

"A very funny page in this book is

that I found something really interesting

on the Dutch names," said Barozzi.

In her book at the end of the session

of Dutch names, a page of funny

Netherlands history showed that it was

widely believed that when Napoleon's

army occupied the Netherlands, they

forced Dutch people to adopt surnames

to register Dutch people for tax collecting

purposes.

The Dutch protested this by choosing

hilarious names and believed this

surnames adoption to be temporary.

The hilarious names include Aarsman

(assman), Doodeman (dead man),

Onderbroek (underpants), Pannenkoek

(pancake) etc. However, the names

stuck with Dutch people, and they

began to ignore the meaning.

Her interest in onomastics has grown

to the East part of the globe. Barozzi's

next book will be focusing on the history

of Asian surnames.

Over the years, her interest expanded

to the bearers of any unusual last name,

whether she knew them or not. She

was fascinated by surname patterns in

different cultures and often searched for

sources that might satisfy her curiosity.

She found multiple books and articles

on surnames specific to certain countries,

but what she really wanted was

an atlas of surnames. So, she decided to

create one.

Barozzi hopes her book will be informative

as well as entertaining, a guide

as much for onomastics professionals

and genealogists, as for casual readers

and those curious to learn if their

names may harken back to an ancestor

known as a "clay marble baker," "wise

one" or "rooster," or perhaps to a tree or

blackberry grove inhabited by the family

centuries ago. Thanks for the author,

genealogy fans now have a new rabbit

hole to scurry down in their quest to

seek their origins and past.

"What Kind of Name is That? European

Surnames: Meanings and Traditions"

is available in paperback and on Kindle

from Amazon. 40

CANADA GOOSE

FOR HIM + HER

GIBLEES HAS OVER 11,000 SQUARE FEET

OF WORLD FAMOUS BRANDS

85 Andover Street, Route 114, Danvers

978-774-4080 giblees.com

COME IN ONCE, YOU'LL BE A CUSTOMER FOR LIFE!
---
Shelves

and stacks

are her

speciality

BY ANTHONY CAMALLERRI

PHOTO BY SPENSER HASAK

Abigail Porter is

the director of the

Lynnfield Public

Library.

Lynnfield's new library director Abigaile

Porter, who spent the decade working

in libraries, wears round, tortoise shell

frame glasses, and can identify almost

any book based off of just a few basic plot

points, exudes almost every positive quirk

associated with her field, while seeming to

embody none of her profession's negative

stereotypes.

"I want the space to be as welcoming

as possible," Porter said. "I want teens to

come in here and feel like they can be

a little noisy and talk to each other and

work on their projects and those kinds of

Boston Fence and Vinyl

Professional & Customer Focused Fencing Services Since 1989

Experienced • Service • Value • Free Estimates

1 800 585 7753

"We're in your neighborhood ... please check out our work!"

Get on the list NOW for fence work in 2023!!!

Custom Newport on Wall Michigan and Daytona Vinyl Black Aluminum Duxbury Lattice with Arbor

We are a full-service fence contractor that specializes in producing beautifully designed, long-lasting custom fences. When you

knowledgeable and helpful service, and always have a live representative available to answer your calls during business hours.

• We offer SAFE distance FREE consultations • Cash 'N' Carry available at our location

Answer Calls 24 Hours • 110 Park St. Beverly, MA • Bostonfenceandvinyl.com

22 | 01940
---
WINTER 2022 | 23

things. And, you know, storytime is always

loud. It's great."

Before her appointment to the role of

library director in June, Porter, who earned

a master's degree in library sciences and

children's literature at Simmons University,

spent a year as acting library director

in the wake of former Library Director

Jennifer Inglis' resignation last August.

After a committee searched for Inglis'

permanent replacement, Porter ended up

assuming the role. As permanent director,

she said that she hopes to expand accessibility

and service to the community, part

of which includes a string of initiatives,

from electronic readers, to captioning for

online meetings.

"We purchased some imaging equipment

that will allow people to enlarge

whatever they need to look at," Porter

said. "We're working on making sure

that captioning is on for all of our virtual

events, not that we're having too many of

those anymore. Obviously, we're Americans

with Disabilities Act compliant, but

we're always thinking about becoming

more dementia friendly, and more sensory

friendly for anybody with those issues.

We're just making sure that the library is

for everybody, as it's supposed to be."

Porter took over as director while the

library was in the midst of planning a

relocation. The Lynnfield Public Library

plans to secure, within the year, $8 million

in grants from the state Board of Library

Commissioners to build a new library.

Porter said that the prospective site will

be located at Reedy Meadows, where

members can enjoy more sunlight and

outdoor space during events and community

gatherings.

"This building hasn't been updated

since 1967. So there's a lot of issues that

are happening with it, you know, leaks

and all of those kinds of things. More

than that, we don't have the parking, we

don't have the space for people, especially

during the pandemic, we were realizing

all of the things we could have been doing

if we had a meeting room, or if we had

more outside space," Porter said. "People

are still using libraries for a lot of other

things, even just study space, and we don't

have space for storytime right now. We're

always borrowing from the meeting house

and they're busy. It's hard to fight for that

space."

During the pandemic's height, when

businesses and organizations nationwide

struggled to bring in new faces, Porter

said that the library saw a massive

PORTER, continued on page 24

OVER 100

A Family Tradition Since 1914

YEARS & STILL THE BEST...

Specials 10/11/22 thru 5/12/23. Prices and specials subject to change.

OPEN DAILY at 11:00 a.m. 119 Main Street, Essex, MA

AUTO | HOME | BUSINESS | LIFE

Let us help you with all your insurance needs.

We have multiple carriers and offer

a variety of discounts including:

MOTOR CLUB

ALARM

PAN MASS CHALLENGE

GOOD STUDENT

LOW MILAGE

HOME AND AUTO

WITH THE SAME CARRIER

and MANY MORE ...

Supino Insurance Agency

Your local agency since 1980

www.supinoinsurance.com

781-334-4888

550 Summer Street

Lynnfield, MA 01940

VOTED

Most Iconic Restaurant

in the Boston Area—Boston.com

MONDAY $21.99

Lobster Roll w/Fries

TUESDAY $13.99

Fish Fry–All You Can Eat!

WEDNESDAY $6.99

Fish Chowder–Bowl

THURSDAY $13.99

Clam Boat w/Fries

FRIDAY $8.99

Fish Sandwich w/Fries

1012 Eastern Ave

Malden, MA 02148
---
24 | 01940

PORTER, continued from page 23

influx of community members seeking

audiobooks and Ebooks. She said that

these products' popularity persisted after

COVID-19 stabilized, as a younger generation

found out that they could use the

library for more than just books.

"Our numbers are actually higher than

they were pre-pandemic, which was exciting.

Our ebook use skyrocketed, because

people discovered it during the pandemic,

when they couldn't come in, especially

audio books, people, I think, realized that

they could just download an audiobook

on their phone," Porter said. "It's free and

wonderful, and you don't have to give any

money to Audible."

"We had I think 80,000 people come

through the door in August. [...] We're

rebounding really fast, and studies are

showing that millennials and Gen Z are

using the library more than ever, I think,

because it's free. You know, it's not another

streaming service you have to pay for,"

Porter added.

In the near future, Porter said that she

would like to start hosting community

classes in the library, so that Lynnfield

residents can learn new skills and engage

in new hobbies without paying a penny.

She said that she often starts hobbies,

pays money for training and equipment,

and then abandons them.

"I'm the queen of starting a hobby, and

then I go all in for like, $250. And then

I think 'wait, I don't actually love this

that much,' so I'd love a free place where

you can try something out, and see if you

really enjoy it before you actually have to

make any sort of investment."

Porter prides herself on her ability

to help pretty much anyone who walks

through Lynnfield Public Library doors,

to locate, essentially, any book. If the library

does not have a requested book, Porter,

librarian-in-chief, can get it. Besides a

general love for reading, Porter said that

her attraction to her new role is also based

in appreciation for the community.

"It's really nice to be entrenched in the

Lynnfield community and get to know

everybody," Porter said. "I worked in

Haverhill before this, and it was a much

bigger library, it was harder to get to know

the regulars there, just because there were

so many. Here, I know most of the people

who come through the door pretty regularly;

we have our good regulars and a lot

of the same people come to the programs,

they get to really know Lynnfield a lot

40

more."

Lynnfield Public Library Director

Abigail Porter knows every

stack and shelf in 18 Summer St.
---
WINTER 2022 | 25

Let there be light

BY ALEXANDRA RODRIGUEZ

PHOTOS BY LIBBY O'NEILL

Alexa and Topher Gale launched their

candles in March 2021 with an online

website six months after concocting their

initial plan to craft candles during the

COVID-19 pandemic.

Alexa was an actress in California

meanwhile Topher was a musician. When

the pandemic hit, they decided to move

to the East Coast with family. Living in a

one-bedroom apartment, the pair started

creating candles as a creative outlet

bringing with them the holistic approach

the West Coast is known for when it

comes to adding a luxury aesthetic.

They banked on their candles appealing

to everyone.

"We started just because we burned so

LIGHT, continued on page 26

Co-owners of Light

& Gale Topher and

Alexa Gale prepare

candles in their

home in Lynnfield.
---
LIGHT, continued from page 25

many candles. We started making them

as a creative outlet and then it kind of

blossomed into being obsessed with making

them and sharing them with people,"

said Topher Gale.

"From being in Los Angeles where

everyone is so health conscious, we

really learned how natural products are

so important and that having candles

and cleaning supplies that aren't clean

will affect your mood, will affect your

hormones, will give you a headache, etc.,"

said Alexa Gale.

When getting the Limited Liability

Company (LLC) documents, the Gales

knew they had to remain serious and

continue to grow their candle company.

"We got to make this work!" said Topher

Gale with certainty.

After starting the candle company

six months after crafting their initial

plan, the pair knew the most important

thing they had in common was growing

a product brand to to reach as many

people as possible. But they had different

perspectives on the best approach to

accomplishing their goals.

"We are both completely opposite.

A Light & Gale's

candle features

fall scents.

Design-build Remodeling & Construction Services

978.539.5739 | WorksbyJD.com

26 | 01940
---
He's from Minnesota, he is very Midwest and

I'm from the East Coast, Boston. I feel like we

both bring different ideas to the table. He's very

much a perfectionist. He does all the making,

from pouring the wax into the candles to

putting the wick into the wick clip. He excels at

that. Meanwhile, I do social media and connecting

with people and getting all the marketing

and getting us into festivals and getting us into

shows," said Alexa Gale.

To create a most productive process, the pair

stays where they perform the best. "We both

know our lanes and after a year of doing it, we

realized it's best to leave each other in those

lanes, but then combine for the creative part of

it," said Alexa Gale.

Creatively, they combine ideas with the vessels

and scents they plan to use to craft a limited-edition

candle. When it comes to scents, the

couple has different ideas. Topher's scent profile

gravitates towards sweater, fruity, richer scents

meanwhile Alexa leans towards scents that are

fresher, brighter, and musky.

The Gales stray true to having scents that are

clean for the environment.

"No matter what season it is or what candle

it is we need them to be phthalate free, paraben

free, and non-toxic," said Alexa Gale.

When it comes to spending time together, the

Gales cherish it. Not only do they work together

on their small business, but they work together

in the same complex, Alexa is the property manager,

and Topher is maintenance manager.

When it comes to candle making, the

couple works out the kinks and quarrels.

"We don't fight but we are both very passionate

about this. We both have strong

ideas. But it works because it's good to

have two completely different views and

come to a great compromise," said Alexa

Gale.

"At the end of the day, this is still fun

for us. We don't really see it as a job so

it's still fun to share a job we both enjoy

doing together with each other. I think

that's the most rewarding part of working

with your spouse," added Topher Gale.

The pair's ultimate goal is to sell their

candles at a small boutique and home

décor stores.

Currently, Light & Gale Candles can

be found at outdoor shows, pop-up shops,

and craft fairs throughout the months

and on their social media where they

keep their active followers updated with

current events and engaged in what scents

they would like to see next.

Light & Gale has an online store

offering seasonal, classic, and limited-edition

candles that range from $18-$34. To

learn more about Light & Gale Candles

please visit https://lightandgalecandleco.

40

com.

NOW OPEN!

OUR NEWEST LOCATION IN

MIDDLETON, MA. 189 South Main Street

Your local pet store for raw & cooked

diets, supplements, CBD, toys,

treats and so much more!

Visit us at our other locations

155 State Street, #5, Newburyport, MA 01950

22 Railroad Avenue, Hamilton, MA 01936

Co-owner of Light

& Gale Alexa pours

100 percent soy

wax chips into a

wax melter.

WINTER 2022 | 27
---
Bringing the

Mediterranean

to MarketStreet

28 | 01940

Matthias Kiehm brings a

taste of the Mediterranean

to MarketStreet Lynnfield.

BY ANNE MARIE TOBIN

PHOTOS BY SPENSER HASAK

The brainchild of global hospitality

industry veterans Matthias Kiehm, a

former resident of Lynnfield, and James

Wierzelweski, La Gallina is Market-

Street's latest palate pleaser with fresh

takes on classic and innovative dishes

from Spain, Greece, Turkey, Italy and

Lebanon. The menu invites guests to

tour the Mediterranean coast without

ever leaving their chairs.

"I am a firm believer that when you

walk into a space, it has to resemble the

food you serve," said Kiehm. "I have a

love affair with Italy and a Mediterranean

farmhouse there was my inspiration

for this space. It's my happy place

with a feeling of family from a beautiful

part of the world. Our goal was to create

a comfortable place and that's what

I think we have done at La Gallina. I

wanted to bring a little magic of the

Mediterranean to the Greater Boston

area with La Gallina."

The restaurant has seating for 260

guests. It features an open kitchen, spacious

dining room, wraparound bar and

indoor and outdoor patios. Currently

serving only dinner, the restaurant will

also serve lunch with weekend brunch

coming sometime in November. Private

dining will also be available.

Kiehm and Wierzelweski have

nearly 60 combined years of experience

overseeing some of the world's most

celebrated properties.

Kiehm was affiliated with Four

Seasons Hotels and Resorts In Los

Angeles, Boston, Chicago and Sharm

El Sheikh (an Egyptian resort) through

2006 when he left the company as

general manager. He moved on to serve

as business director of food at Harrods

in London, where he opened 12

restaurants in a span of three and half

years and was responsible for catering

operations for the English Premier

League's Fulham Football Club while
---
WINTER 2022 | 29

serving as vice president of the Ritz

Hotel in Paris.

It was at Harrods where Kiehm met

his current partner, Wierzelewski, who

was Harrods' director of culinary.

Wierzelewski will lead all culinary

and beverage elements for La Gallina.

With more than 30 years in the

business, he has worked at several elite

hospitality management companies,

heading food and beverage operations at

Four Seasons, Shangri La, Hyatt, Fairmont,

and Rotana, Norwegian Cruise

Lines and Disney as well as directing

operations for other establishments in

North America, Europe, the Middle

East, Asia. In the last decade alone, he

was instrumental in directing food and

beverage operations at 34 new hotels.

Randy Hill is general manager, previously

the area manager of Wagamama

USA for the greater Boston area.

For Kiehm, it's all about family. He

has local ties in Lynnfield dating back

to 1974. Kiehm said his wife, Felicia

(Stephan) grew up in Lynnfield about

five minutes away from MarketStreet.

His father-in-law Stephan Captain

owned and operated as many as 25

Captain's Pizza shops, which were located

all across the North Shore. Kiehm

and his wife lived in Lynnfield from

GALLINA , continued on page 30

Spanish Fideuà, a Valencia

Seafood Dish – fideo noodle

paella, seafood broth,

shrimp, mussels, salmon,

calamari.

LUXURY APPLIANCES

Acclaimed for its exquisite design

and advanced technology, the

Monogram Professional Range is

redefining luxury appliances one

detail at a time.

Elevate Everything.

Discover the Difference at Tri-City Sales!

Three Generations & Family Owned

Serving the North Shore for Over 60 Years

Tri-City Sales

262 Highland Avenue

Salem, MA 01970

Tri-City Sales

95 Turnpike Road

Ipswich, MA 01938

15424242
---
30 | 01940

GALLINA, continued from page 29

1999-2002 before relocating to Chicago

when Kiehm accepted a job at the Four

Seasons.

The expansive menu is overseen

by chef Daniel Xavier, who was most

recently sous chef at the award-winning

Boston Seaport based restaurant,

Chickadee.

The menu features everything from

Charcuterie & Cheese boards, Hummus

Dips & Spreads, to succulent Grilled

Skewered Meats. Several tapas are on

the menu, including Spanish Croquetas

with serrano ham and manchego cheese

and Pan-Seared Grecian Meatballs with

kefalotyri cheese, tzatziki, mint, and

pita chips.

Other items include a variety of oven-baked

pizzas all lovingly "hen-crafted"

with a sourdough starter recipe

that's over 125 years old. Main dishes

include Pan-Roasted Chicken with pan

drippings, rosemary, and grapes and

the Spanish Fideuà, a Valencia Seafood

Dish.

A selection of vegetable-centric dishes

populate the menu, including Roasted

Cauliflower + Whipped Feta with

carrot-raisin quinoa salad and pumpkin

seed dressing, Moroccan Tomato Soup

with roasted onion and touch of yogurt,

and Grilled Romesco + Asparagus.

Hand-crafted cocktails, zero-percent

cocktails, sangrias, spritzes, regional

brews and ciders, and a thoughtfully

sourced list of affordable wines from

around the Mediterranean and beyond,

all available by the glass and bottle.

When asked what his favorite menu

item is at La Gallina, Kiehm did not

hesitate.

"It's my mother-in-law's Greek

meatballs," said Kiehm. "I have to keep

her happy."

Kiehm said the Mediterranean region

has always meant a lot to him.

"My wife's family is from Sparta and

the island of Lesvos in Greece," he said.

"My son spoke his first words in Sardinia.

I consider the island of Mallorca

my second home. I have dear friends

who live in Italy on top of a hillside.

James and I lived and worked in the

region for many years and we fell in

love with the people, their culture, their

history–and of course–their food."

La Gallina is open six days a week.

For hours, call 781-776-7600 or visit

www.lagallina-lynnfield.com.

40
---
WINTER 2022 | 31

La Gallina co-owners James Wierzelewski, left, and

Matthias Kiehm stand in the dining room of the new

Mediterranean-inspired restaurant at MarketStreet

Lynnfield.
---
32 | 01940

A real estate

experience that's

more than just a

transaction.

You can count on us to be your trusted

guide throughout and after your sale.

We'll ensure that you feel protected and

supported from the moment we connect,

and continue to feel our value as a

resource for all your home needs and

questions. Here's how we will provide you

a better search or sell experience.

Personalized real-time data.

We'll pair our know-how with market

metrics to help you achieve your home

goals. You can go beyond standard home

market metrics with a neighborhood

evaluation that is specific to you.

Insight-driven decision making.

For sellers, our powerful valuation tool

informed by live market data, will ensure

you set your list price with confidence to

sell fast and for a maximum value.

Customization and collaboration.

For buyers, we can curate a Collection

based on your home buying needs and

wants, bringing together a set of homes in

a visual workspace picked just for you.

Contact us to get a custom market

report and evaluation today!

Debra Papadinoff

REALTOR®

M: 781.486.4434

debra.papadinoff@compass.com

Scan Me

Compass is a licensed real estate broker, licensed to do business as Compass RE in

Delaware, Idaho, New Jersey, Pennsylvania and Tennessee, Compass Realty Group in Kansas

and Missouri, Compass South Carolina, LLC in South Carolina, and Compass Real Estate in

Washington, DC., Idaho and Wyoming and abides by Equal Housing Opportunity laws.
---
WINTER 2022 | 33

2002 College of the Holy

Cross Hall of Fame inductee

Lauren Maney George.

Banner bound

BY JOEY BARRETT

The summer of 1990: a Lynnfield native

intentionally attended a College of

the Holy Cross basketball clinic to impress

the coaching staff. Looking back,

Lauren Maney George could have never

imagined she'd have her jersey dangling

over the Crusaders' court one day.

As a freshman at the college in 1993,

it was initially just excitement to be

there. But once she stepped foot inside

of the Hart Center Arena, it was more

than just excitement – rather, the beginning

of a legacy.

George, a former shooting guard,

scored a total of 1,721 points in her

career. For that reason, the number four

will never be worn by a Crusader again.

Despite her individual prowess, it

wasn't herself she was thinking of when

first hearing the news.

"It was a very big surprise," George

said. "Something that immediately made

me think of my teammates."

One of her teammates, Christine

Porath, said she remembers working at

the summer camp the wide-eyed high

schooler was attending. Years later, they

wound up being travel roommates. Despite

George's competitive nature – even

in the world of card games – Porath said

she doesn't have enough good things to

say about her former road partner.

"She was a lot of fun, of course," Porath

said. "She's the first person to show

up for you when you have a personal

crisis or challenge."

With all of the 6 a.m. practices,

hardwood battles, and off-the-court

memories, she has one remembrance

that always sticks out in her mind: the

Fordham game.

A hard-fought battle resulted in Holy

Cross defeating Fordham after losing to

them earlier in the season – winning the

Patriot league for the Crusaders in what

George described as "extra sweet."

"It's funny, just this summer, several

of us got together at our coach's lake

house in New Hampshire and somebody

asked that question," George said. "I

immediately said the Fordham game."

George said she learned so much from

her time in the purple and white, but

that her biggest takeaway was how an

individual can love working hard for the

people around them.

"We're in this together," George said.

"That's obviously something that helps

in life after college and after sports, is

that mentality of doing your best and

working together as a team. That's true

in the workplace, it's true in your family,

it's true everywhere."

Her number will be placed in the rafters

on Jan. 28, 2023 at the Hart Center

Arena in Worcester, where George's

legacy will live on forever.

"I loved Holy Cross. I loved playing

basketball. I just couldn't get enough of

40

it," George said.
---
34 | 01940

Adam Adkison

lets sounds, smells

guide his art

BY RACHEL BARBER

PHOTOS BY PAM KRINSKY/LYNNFIELD ART GUILD

Adam Adkison is an artist and teacher celebrated last month by the

Lynnfield Art Guild for his work in oil botanicals.

"Working from life gives energy and immediacy to my art. The sun

moving across the sky, the smell of autumn leaves, water lapping, the

laugh of children playing nearby, all these elements add to the work.

I work from life as much as possible. The ability to incorporate the

Adam Adkison paints in oil

and water color.

"Working from life gives

energy and immediacy to my

art," said Adkison.
---
WINTER 2022 | 35

energy of my surroundings into art also

energizes me. When looking at my work

it's my hope that these traces of life shine

through the paint," Adkison said.

He works in oil paint and watercolor, but

also in almost every medium from charcoal

to pastel. Switching mediums can help

"shake things up," Adkison said, with each

medium bringing new ways of working to

each other.

He primes his own canvases, using high

quality ingredients, ensuring the process is

done properly. Applying the paint in brushstrokes

allows him to "show the creator's

touch in the work."

"It's my hope that my art makes others

excited about art. I want them to be

inspired and carry this excitement into creative

projects of their own, into their own

life. In my own life I've been influenced by

the art, music, and writing of others. To be

part of this flow of creativity is one of the

most humbling experiences of my life and I

am ever grateful," he said.

The Guild's Fall Art Show and Sale Nov.

5 and 6 turned Lynnfield Common and the

Meeting House into a temporary art gallery.

Membership in the Lynnfield Art Guild

is open to artisans, photographers and

artists of all levels, with student, supporting

and family memberships available.

This demonstration is open to all members

via invitation; prospective members

are encouraged to join the Guild at www.

lynnfieldarts.org to take advantage of this

and upcoming special artistic opportunities,

including free attendance at all live and

virtual demonstrations and the ability to

display art, network with other artists and

show pieces in our popular exhibits.

Visit the Guild's website www.lynnfieldarts.org

and check out Lynnfield Arts

"It's my hope that my art

makes others excited about Facebook (Lynnfield Arts) and Instagram

art." (@lynnfieldartguild) pages. 40
---
36 | 01940

Your skin is your

most valuable asset...

PRESERVE IT.

NOW ACCEPTING NEW PATIENTS!

Independently owned practice

offering the latest in:

MEDICAL — SURGICAL + COSMETIC TREATMET
---
Design. Build. Maintain.

Landscape | Hardscape| Irrigation

Maintenance | Lighting

56 Sanderson Avenue | Lynn, MA |

781.581.3489 | www.LeahyLandscaping.com
---
Coming to the... Lynn Auditorium

NOVEMBER 26

LynnAuditorium.com 781-599-SHOW