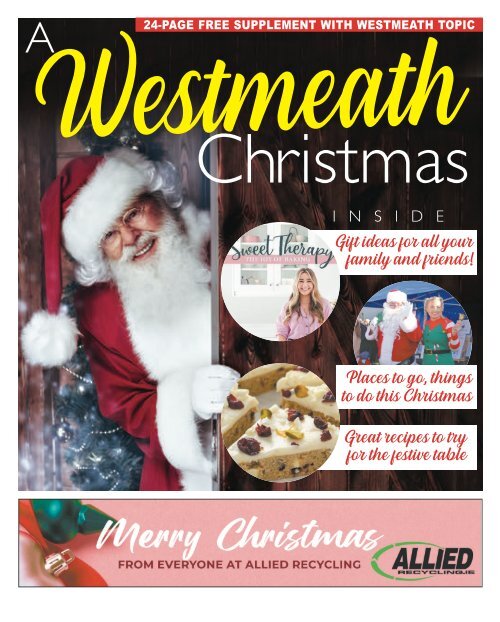 A Westmeath Christmas (2022)
Create successful ePaper yourself
Turn your PDF publications into a flip-book with our unique Google optimized e-Paper software.
A

24-PAGE FREE SUPPLEMENT WITH WESTMEATH TOPIC

Westmeath

Christmas

I N S I D E

Gift ideas for all your

family and friends!

Places to go, things

to do this Christmas

Great recipes to try

for the festive table
---
TOPIC • December 8, 2022

2 A Westmeath Christmas

A

Westmeath

Wishing all our customers and

friends a very happy Christmas

Daly's Barbers

3 Generations of Barbers

• After Hours Call out Service Available •

• All Kids Catered For •

Austin Friar Street,

Mullingar, Co. Westmeath

Martin 087 996 5823 • Nikki 085 103 0030

MULLINGAR BUSINESS PARK

Stocking leading brands

of tyres for private,

commercial, agricultural

and construction vehicles.

T: 044 9349600

Christmas Greetings to all

our Customers

Christmas

Shop, sparkle and shine in your local

town this Christmas .....................................3

Fly high and Mullingar, the home of family

businesses........................................................4

Some Christmas gift ideas...........................5

Christmas puzzles .........................................6

How to keep Christmas trees alive for

longer this year..............................................7

A book for Christmas – that's

just perfect!.....................................................8

Shop local and reduce your carbon

footprint when Christmas shopping.......10

What's on in Mullingar over the

Christmas season........................................11

It's Christmas from the Mill to the

Bridge to the Castle...................................12

Balance out your eating – some festive

recipes for you to try ................................14

Christmas in Castlepollard, Collinstown,

Fore and Drumcree....................................16

Some gifts you can make yourself...........16

Christmas Experience at Dún na Sí

Amenity and Heritage Park......................17

Castletown-Geoghegan this Christmas.18

What's on in Streete..................................18

Christmas puzzles.......................................19

Celebrate, Ballynacargy! ............................20

The Market brings Clonmellon

alive every fortnight ...................................20

Festive cheer in Delvin and

Clonmellon underway................................21

Kinnegad at Christmas ..............................22

Coming home for Christmas ...................23

Not forgetting the new year!...................23

Mullingar Gift Vouchers.............................24

The Greenway is your day out................24

OPEN 24/7

Ph: 044 9371621

Tel: 044 93 716 28

O'Reilly Commercials

Tel: (044) 9371360

Ballinalack, Mullingar, Co. Westmeath
---
TOPIC • December 8, 2022

A Westmeath Christmas

3

Shop, sparkle and

shine in your local

town this Christmas

It's almost Christmas time ...

yaayyy! No matter how much you

love or despair this time of year,

you can't escape the cheer it

brings. Everyone is happier in anticipation

of something to look forward to.

Whether it's a child that is looking forward

to the visit of the Santa Claus or adults

looking forward to a few days off work, giving

you time to relax with family and friends,

there's no denying that it is a very special

time of the year.

Rumour has it that we're going to have snow

this Christmas, a small dusting of which will

be really atmospheric for the season that's in

it. We haven't had a white Christmas for some

time now and it's about time our children

experience the magic it brings. Above all, we

all should definitely take a few moments to

remember the real reason we celebrate

Christmas and the birth of Jesus Christ, as

this has a grounding effect and keeps things

real throughout the season.

SHOP LOCAL IS THE ETHICAL CHOICE

You don't need to have a degree to

understand why shopping local at Christmas

or any other time of the year is an ethical

choice and one we all should make as a matter

of principle.

Spending money in your local town =

keeping money in your local town = more

investment in your local town = more jobs for

you and your family in your local town.

It's as simple as that!

PERSONALISED SERVICE

This supplement is full of local advertisers

who would be delighted to welcome you and

your business throughout the year. You will

be offered a personalised service and value

that is unmatchable in any part of the

country.

Take some time out and read through what

your local shops have on offer for you this

Christmas. You won't be disappointed.

● We will use this opportunity to remind you

As Christmas Day falls

on a Sunday this year,

regular Mass times

apply to most places.

Below are the Mass

timings for the

churches in Mullingar

parish.

The Cathedral of

Christ The King

Christmas Eve,

December 24 – Vigil

Masses at 6pm and

10pm

Christmas Day,

December 25 –

08.30am, 11am and

12.30pm

St Paul's Church

Christmas Eve,

December 24 – 6pm

and 9pm

Christmas Day,

December 25 –

10.30am and 12 noon

Walshestown

Christmas Day,

December 25 – 09am

Brodenstown

Christmas Day,

December 25 – 10am

Jamestown

Christmas Day,

December 25 – 11am

Christmas shopping doesn't have to be a dread.

Get your thinking cap on and make your

Christmas shopping day one filled with

interesting and fun moments.

Plan it out by the hour so that you get to shop,

socialise, meet a friend for lunch, and perhaps

even take in one of the many great plays that

the Mullingar Arts Centre hosts over the festive

season.

Your day out also doesn't have to cost the earth

if you plan properly. Here are a few tips to keep

your budget on track:

(i) Plan your shopping trip on one of the free

parking in town days so you don't have to pay

for parking. The free parking dates for Christmas

2022 in Mullingar are Saturday December 10,

Friday December 16, Saturday December 17,

Thursday December 22, Friday December 23 and

Christmas Eve, December 24.

(ii) Shopping on a weekday first thing in the

that a subscription to Topic newspapers or

Ireland's Eye would also make a great gift for

that special someone – feel free to get in touch

with us to organise your subscription.

All that is left for us to do is to thank you for

your custom throughout the year and extend

greetings for the season. Fifty-one years and

Wishing all our

customers and friends

a very Happy Christmas

Lakeland Plumbing

& Heating Ltd.

FRANK DARBY

Woodlands, Mullingar

Tel: 044 9343497

Mob: 086 2519253

E: frankdarby28@gmail.com

morning (when children are in school) is always

advisable as it's usually quieter and you're more

likely to stick to your budget, whereas when the

children are with you, you'll be tempted to spend

more to calm temper tantrums that will likely

take place on the day.

(iii) Make use of any vouchers you have lying

around and use them all up to lighten your

expenses this Christmas.

(iv) Avail of 'real' Christmas special offers, buying

two for one when it really is a bargain and

availing of money off your bill when you spend a

certain amount.

(v) Avail of free delivery services that may be on

offer from local shops to save on fuel / parking

costs – plan the delivery for when the children

are away so that you can hide away what needs

to be hidden for Christmas day.

counting...we could not do it without you!

Topic Management and Staff wish you and

your family, your near and dear ones a very

healthy, happy and special Christmastime,

and we wish you all the very best for 2023 and

the years to come.

Wishing all our customers a Happy

Christmas and Peaceful New Year

Peter Moore & Co. Ltd

(P.E. MOORE, B. Agr. Sc. & F.A.I.A.)

Accountants, Taxation and

Agricultural Consultants

Over 40 years experience in Farm Accounts

6 Patrick St., Mullingar

T: 044 9341577 • M: 087 9875156

Croghan Demense, Tullamore, Co. Offaly

Tel: 046 9737146

Busy during Fleadh week,

Mullingar is a shopper's Mecca.

Wishing all our customers a very

happy Christmas and best wishes for 2023

MULLINGAR BUSINESS PARK, MULLINGAR

Tel: 044 9343557

Tyres Sales & Repair • Wheel Balancing

Wheel/Lights Alignment • Oil/Bulb Change

Breaks - Exhausts - Shocks Alloy Rim Repairs

Servicing • 24HR Breakdown Service

Wishing our customers and

friends a happy Christmas
---
4

A Westmeath Christmas

Take to the

sky with

Funfly

Aerosports

Flying Club!

Happy Christmas and best wishes

for 2023 from

DAMIEN

DUNLEAVY

HEATING & PLUMBING CONTRACTOR

Funfly

Aerosports

Flying Club

is a flying

club based in Clonbullogue,

Co. Offaly,

that provides members

with safe and

affordable sport aviation

activities.

We are approved by

the Irish Aviation

Authority as a

National Flight

Training

Organisation and

Designated Training

Organisation. This

allows us to train our

members to achieve

the EASA PPL, the

European Pilots Licence.

Our activities include

flight and ground-based

training for the EASA

Private Pilots Licence,

aircraft and engine

maintenance courses and

aircraft building courses.

Members that hold pilot

licences have costeffective

access to the

club aircraft.

Friendly

Funfly Aerosports

Flying Club has developed

a reputation as being one

of the friendliest,

inclusive flying clubs in

Ireland. We have club

members from all walks

of life, who are achieving

a life ambition of

learning to fly.

Moreover, we have a topclass

instructional team

within our club

membership that between

them have more than

50,000 hours of flying

experience on a wide

range of aircraft types

and environments. Our

instructional team are

passionate about teaching

club members safely and

efficiently. This

experience ensures that

we give the best possible

training that is also

tailored to the individual

member's needs.

Effectively, we teach

private pilots using the

most current training

methods employed in

commercial pilot training

operations, but at a

fraction of the cost.

Our members consist of

people from all walks of

life and all age groups.

Why not treat someone

to the perfect present this

year with a one hour

flight voucher from

Funfly Aerosports Flying

Club. Visit our website

www.funfly.ie or call Mark

087 661 7115, or scan the

QR code.

TOPIC • December 8, 2022

Mullingar has a huge number

of local, family owned

businesses that have been in

town for many years.

Chances are your parents,

and grandparents would

have shopped in some of the

excellent shops and

businesses we are fortunate

to still have in our town, and

they would have done

business with parents and

grandparents and maybe

even great-grandparents of

the current shopkeepers. You

would have seen some of the

'Keeping it in the family'

features in the past two

years in Topic Newspaper,

which convey a sense of how

closely knit the community is,

supporting family businesses

and the local economy for so

long. We can only hope that

the upcoming generation is

taught and made understand

the benefits of visiting and

spending money in local

shops. While it may seem

that nowadays everything

can be acquired at the click of

a button, nothing can ever

replace the value of walking

into a local family run shop in

your local town, where

everyone knows you by

name; they know your

families' names, they enquire

after them and their health,

they banter with you and

give you discounts and they

offer first class after-sales

service and the best smiles

and laughs, when you need

them most, that money just

can't buy online.

You know what you have to

do this Christmas – stick to

shopping local.

All the Lenders under one roof…

OIL • GAS • SOLID FUEL

SOLAR PANELS

RENEWABLE ENERGY

INSTALLATION & REPAIRS

DOMESTIC & COMMERCIAL

Tristernagh, Ballynacarrigy

T: 087 9376156

Now Located on the

2nd Floor Blackhall St, Mullingar

Tel: 044 933 5443

E-mail: tara@newstarfm.ie

Website: www.newstarfm.ie

PLANNING A NEW

HOME THIS YEAR?

If so, Contact Tara

Wylie @ New Star

today to help you

get your mortgage

sorted!
---
TOPIC • December 8, 2022

A Westmeath Christmas 5

Christmas gift ideas

This is a dangerous subject as

we could quite easily fill a

book, let alone a few pages

with ideas for Christmas gifts.

The main message remains though - make it

a point to stay in town and shop local this

Christmas.

GIFTING

Perhaps you need some fresh ideas about what

to get for that special someone this year.

Remember old can sometimes be gold, so

consider gifting things that might be considered

old-fashioned – things like books, perfumes,

jewellery, clothes, concert tickets, something

practical for your home, garden or car ... the list

is endless.

You also can't go wrong with practical gifts,

especially at a time when money is scarce for

everyone. Maybe there's someone you know who

could benefit from a bit of pampering, in which

case you'd organise a gift from Beauty Box

(Page 10 of this supplement), or something rich

and delicious from Kilbeggan Chocolate (Page

17).

Perhaps there's a family member or friend

who would benefit from a few litres of home

heating oil, in which case you'd call up Klass Oil

(Page 24), or perhaps some fuel vouchers for

diesel or petrol from Geerah's Daybreak (Page

8), Amber Filling Station (Page 12), M6 Service

Station (Page 17) or Rathconnell Service Station

(Page 21).

Other practical gift ideas would be to gift

someone a set of new tyres for their car from

Newbrook Tyres who are advertised on Page 2

or Mileage Tyres (Page 3) of this supplement, or

how about treating a special someone to new

tiles from Total Tiles (Page 4) or making a

contribution towards a new or upgrade to a

bathroom using Lakeshore Bathrooms (Page 5).

Every farmer out there would probably benefit

from a bit of a fashion injection and that's why

a call to Farm Wardrobe in Delvin (Page 21)

would make an excellent gift for the special

farmer in your life.

How about offering someone special a gift

voucher for Mullingar Arts Centre. Vouchers

are available in various denominations and

would be put to great use by the arts lover in the

family. It's also a great gift for an older person,

who may enjoy the social aspect of attending

plays and the wide range of events hosted by

Mullingar Arts Centre every day of the year.

Call into the Arts Centre to buy your gift

voucher today or you can also purchase the

vouchers online.

A very practical gift for a younger person

could be some driving lessons from the wellknown

Eugene's School of Motoring (Page 10) or

a week's worth of lunches at the one and only

Spiced Bean Cafe in Mullingar (Page 3).

Fun (free) gift ideas for teenagers to gift are

things like handmade vouchers offering the

bearer of the voucher to avail of a free night's

babysitting, a free home cooked meal, a free

window clean, a free car wash, etc. Ensure they

are aware of the importance of delivering when

the voucher is redeemed and they will likely

really enjoy the whole experience. It will also

teach them the value of all these redeemable

actions and give them a sense of purpose,

having delivered as required.

MULLINGAR GIFT VOUCHERS

Mullingar Gift Vouchers make an ideal

Christmas present and are win-win presents for

the giver, the receiver and the town, as the

money spent goes back into the town,

supporting local all the way. You can purchase

Mullingar gift vouchers at the Mullingar Credit

Union, or in the Mullingar Chamber Office on

the Market Square or order your vouchers

online via the Mullingar Chamber website

(https://mullingarchamber.ie/buy-giftvouchers).

You've heard it here first – whatever

it was, we're sure you must

have read it in Topic Newspaper!

Topic has been in Mullingar since

1971 and is the only newspaper in

the country that still has a

newsroom and printing press onsite.

Nothing needs to be outsourced,

apart from the paper and ink. Topic

is a family run business that keeps

all things local as much as possible,

from our reporting to our staffing.

Many people may not realise but

Topic prints much more than just

the weekly newspaper; we print

books, posters, visiting cards,

magazines, calendars...you name it,

we'll print it!

Call in to us in Topic today and

discuss your printing requirements

for your local business.

We're open five days a week, from

9am to 5pm.

We do close for lunch between

1pm and 2pm but you can always

email us also on printing@topic.ie

or sales@topic.ie. You are also

welcome to give us a call anytime

on 044 938 1205.

BACK IN ACTION

Physiotherapy &

Sports Injury Clinic

Prop. Jeanette McDonnell M.I.S.C.P.

plus team of 3 physiotherapists

TREATMENT FOR PAIN, STIFFNESS

AND SPORTS INJURIES

Merry Christmas

to all our Customers

PILATES RUNNING WEEKLY AGAIN

Instructed by Chartered Physiotherapist

Phone: (044) 93 42476 • Mob: 085 7086977

Email: info@backinaction.ie

Address: Unit 12a, Market Point Medical Park,

Mullingar, Co. Westmeath
---
6

A Westmeath Christmas

TOPIC • December 8, 2022

SOLUTIONS: PAGE 23
---
TOPIC • December 8, 2022

A Westmeath Christmas 7

How to keep Christmas trees

alive for longer this year

Have you got your tree up

yet? If you have a real tree,

you're probably dreading

the needles and pins that

fall off when the tree starts to age and dry

out.

The subject of keeping a Christmas tree

alive for longer is an age old subject that

everyone will have different advice on, but

we will use the information provided to

us by Brosnan Property Solutions, which

we received during the week, just in time

for this supplement, offering their best

advice on how to keep Christmas trees

alive for longer over the festive period.

WHEN TO BUY?

First things first; when is the optimum

time to buy? It all depends on when you

take your tree down, according to Des

Brosnan, resident gardening expert at

Brosnan's.

"If you only plan on having your tree up

until January 1 or thereabouts, now is the

right time to buy - any time between

November 28 and December 1. If you want

to leave the tree up until the traditional

twelfth night, around January 5, you

should be looking at buying the tree

around December 5.

"Most Christmas trees last a solid 5-6

weeks, if they're looked after properly, so

if you pick up your tree now, you're going

to have a pretty picturesque scene come

Christmas morning!"

HOW TO CHOOSE THE RIGHT TREE

"You need to know exactly what you're

looking for, know how much space you

have at home for the tree, ensuring to

leave at least 6-7 inches between the top of

the tree and the ceiling – if you place a

star or an angel on top of your tree, you'll

want to be leaving around 14 inches if

possible. Most homes feature 8ft ceilings,

so a 7ft tree would be perfect."

When it comes to choosing the tree itself,

Des says it's all about the density –

"The tree should be quite dense and

have that healthy, bushy shape. You

shouldn't be able to see the trunk through

the branches of the tree – if you can see

the trunk, avoid at all costs! That's an

unhealthy tree and it won't last. You can

also test the tree's general health by very

gently grabbing one of the inside

branches and pulling your hand back out

Which kind of tree should you buy? Ask the salesperson!

towards you, the needles should stay on

the tree. If they fall off, pick another tree.

Generally speaking, always look for the

greenest tree available – this is a good

indicator of tree health. The trees usually

tend to transition into a dull grayishgreen

type colour, if they lose a lot of

moisture and dry out."

TRANSPORTING THE TREE

Once you have your tree selected, you'll

need to get it home. According to Des, this

is when the biggest mistakes start to

happen –

"Once the tree is cut, you've got to start

thinking of it like a cut flower. It's

delicate, it needs water and it needs to be

protected! Most people strap the tree on

top of their car when transporting it. If

you're doing this, make sure the tree is

covered – if you don't, the wind the tree is

exposed to on top of the car will dry it

out, shortening the lifespan."

WATER, WATER & MORE WATER

At last, the tree is back at the house, but

now the real work begins –

"If the seller of your tree hasn't already

done so, make a one inch cut off the

bottom of the tree – this ensures the tree

can properly absorb moisture and isn't

clogged up with dried resin from its

initial felling. If your seller has cut your

tree onsite, wrap a damp cloth around the

base of the trunk in order to keep it moist

on your journey home. Your tree stand

should be capable of holding around 4 and

a half litres of water. Keep the base

constantly topped up with water.

Otherwise resin will begin to form on the

Distance is no issue when sending something

sweet and delicious this year to your

colleagues or loved one/s in other parts of the

country. Sugar Plum Sweetery, located at 19

Dominick Street in Mullingar, makes the most

delicious fresh handmade chocolate, sweets

and gifting products and delivers them all

across Ireland.

Their in-house Master Chocolatiers make all

of the chocolate and fresh products by hand

in the Sugar Plum Sweetery Chocolate

Factory in Mullingar.

They offer premium pick and mix sweets,

handmade chocolate and tasty bakery

products. You can create your own hampers

and sweet boxes and have them delivered

anywhere in Ireland, or to your office, to a

special event, or to valued clients. Check out

the Sugar Plum website

on sugarplumsweetery.ie or call in and sample

some of the tasty treats on offer.

You can also telephone them on 087 165 7967.

base of the tree, which will cause it to dry

out."

DO YOU NEED TO ADD ANYTHING TO THE

WATER TO KEEP THE TREE FRESHER FOR

LONGER?

"Forget whatever you may have heard

about adding stuff to the water – regular

tap water provides exactly what the tree

needs. Just keep things fresh! We've seen

and heard of people adding bits of bleach

to the water, lemon juice, sugar and other

sorts of nonsense. Avoid this; you're just

making more work for yourself."

WHERE SHOULD I PLACE MY TREE?

Location is key when it comes to tree

survival –

"As we've mentioned before, it's

important to keep the tree from drying

out, so keep it away from things like

fireplaces, log burners, stoves, radiators –

just any heat source in general. You need

to keep the tree moist. Keep it protected

and out of a draught. If your home or the

area around your tree is particularly dry,

introduce a humidifier into the area. This

should aid the tree."

OTHER ADVICE – LED LIGHTS, TREE REMOVAL

AND BRANCH CLIPPING

LED Lights – "The type of lights you put

on your tree can actually seriously affect

the overall health of the tree! The older

string of incandescent bulbs create a lot

of heat, which can dry out the tree, so try

and avoid these if possible and stick to

LEDs. They're more energy efficient,

create less heat and are less of a fire

hazard."

Tree Removal – "Some tree sellers may

organise to collect your tree in January or

create a drop off point for you to dump

your tree – this isn't the only option

available to you however. You can allow

the tree to dry out and then chop the

branches into small pieces which can be

added to a compost pile."

Branch Clipping – "Over the weeks,

some branches on the tree may dry up,

leading to brown needles. Give these a

trim. We always compare it to deadheading

a plant. When you cut off the

dead leaves or stems, you're just

funnelling energy into the still living

sections of the plant. The effects are not

as dramatic on a Christmas tree but it's

still very beneficial to do so."
---
8

A Westmeath Christmas

TOPIC • December 8, 2022

A book for Christmas

www.powerwashingireland.com

www.lifthireireland.com

044 939 0890

Thank you to all of our customers.

Wishing you a very Happy Christmas

and all the best for 2023.

Abook is a gift you can open

again and again, and in

these days of digital and online

everything, the joy of

taking a physical book in your hand and

making time to read the written word and

immerse yourself in that world, if even

for half an hour, is therapy at its best.

Youngsters of today are slowly losing

out on the joy of reading a real book.

Even in school, almost everything is

online and focused on the world of digital

entertainment. While our libraries are

still a place of joy to visit, it is most

important that the love of books and

reading is cultivated at home.

Christmas is always a great time to zone

out of what's on the TV and do something

different, like read a book, or two. Lock

the mobile phones away for a few hours,

disconnect the wifi and go back to the

basics of reading. Involve the whole

family and have a family book club, so you

can enjoy discussing what you read

around Christmas meetings and perhaps

the odd Christmas treat. Even after

Christmas, set aside one evening every

week as Book Night. It can be so much fun

and reading a real book really gets your

mind active in a way that online books

don't.

JUST BOOKS, MULLINGAR

We're blessed to have the cosy, unique

Just Books on Pearse Street in the town of

Mullingar, where you can drop in, browse,

read and order your book of choice in

case it's not readily available on the

shelves. Proprietor Stella Lynch is a mine

of information and offers fantastic

personalised book advice when requested.

Stella has very kindly come up with a

great list of books to consider buying for

yourself or gifting this Christmas.

1. Sweet Therapy: The

Joy of Baking

Mullingar baker Una Leonard is best

known for her bakery 2210 Patisserie and

Happy Christmas from all at

MULLINGAR

ND CLEANING

Tel: 044 9342199

Mob: 087 2453534

noel@ndcleaning.com

A PROFESSIONAL

CLEANING COMPANY

ALL TYPES OF FLOORS,

WINDOW CLEANING,

GUTTERS, POWER WASHING, CARPET,

UPHOLSTERY,

OFFICES, DOMESTIC CLEANS

BUILDERS CLEANS,

BEFORE AND AFTER TENANT CLEANING

the

bestselling

brownies,

blondies,

dotie bars,

cookies and

cakes in

town.

In her first ever book Sweet Therapy:

The Joy of Baking, Una shares her unique

story of how baking transformed her life

and, for the first time ever, the mouthwatering

recipes that have turned her

bakery into a popular destination and her

thriving online business into the

phenomenal word-of-mouth success it has

become.

While packed with amazing recipes, this

book also touches upon topics concerning

mental health. Definitely a sweet gift for

the whole family to enjoy.

Lenehan Motor Factors

Car Parts • Accessories • Batteries

Zone A,

Mullingar

Business Park,

Mullingar

(Previously located in

Millmount S.C.)

Ph: (044) 934 2415 or (044) 933 3660

email: lenehanmotorfactors@gmail.com

Wishing all our customers a very Happy

Christmas and a wonderful New Year
---
TOPIC • December 8, 2022

A Westmeath Christmas 9

– that's just perfect!

2. A Guest at the Feast by

Colm Tóibín

This book uncovers the places where

politics and poetics meet, where life and

fiction overlap, where one can be inside

writing and also outside of it.

From the melancholy and amusement

within the work of the writer John

McGahern to an extraordinary essay on

his own cancer diagnosis, Tóibín

delineates the bleakness and strangeness

of life and also its richness and its

complexity. The imprint of the written

word on the private self, as Tóibín himself

remarks, is extraordinarily powerful. In

this collection, that power is gloriously

alive, illuminating history and literature,

politics and power, family and the self.

3. Nonfiction: What We

Owe the Future by

William MacAskill

A guide for making the future go better.

Humanity's written history spans only

five thousand years. Our yet-unwritten

future could last for millions more; or it

could end tomorrow. Staggering numbers

of people will lead fluorishing lives or

lives of misery, or never live at all,

depending on what we do today.

4. International History:

The World by

Simon Sebag

Montefiore

In this epic, eversurprising

book,

Montefiore chronicles the

world's great dynasties

across human history

through palace intrigues,

love affairs, and family

lives, linking grand

themes of war, migration,

plague, religion, and

technology to the people

at the heart of the human

drama. A dazzling

achievement as

spellbinding as

fiction, this

book captures the whole

human story in a single,

masterful narrative.

5. Irish History:

The Irish Civil War in

Colour by Michael B.

Barry and John O'Byrne

Here is the story of Ireland's Civil War

in colour – a defining moment in Irish

history brought to life for the first time in

hand-coloured photographs. The events of

1922–1923 are revealed using photographs

painstakingly hand-coloured by John

O'Byrne. Many of these photographs,

carefully selected from archives and

private collections, have never been

published before. If you want a better

understanding of the story of the Irish

Civil War, this is the book for you.

6. Ideal Interest: Listen to

the Land Speak by

Manchán Magan

Another Westmeath resident makes it to

our Top 10 list as Collinstown

resident

Manchán

Magan writes

about our

ancestors who

lived in a

unique and

complex

society,

inspired by

nature and

centred upon

esteemed

poets, seers,

monks, healers

and wise

women, all of

whom were

deeply

connected to

the land around

them. With

infectious joy and wonder, Manchán

Magan roams through Ireland's ancient

bogs, rivers, mountains and shorelines,

tracing our ancestors' footsteps. A

magical and

reinvigorating

exploration into the

wisdom that lies

beneath us, Listen to the

Land Speak casts the

world in a new light.

7. Sport: Kellie

by Kellie

Harrington

with Roddy

Doyle

Kellie Harrington

grew up in Dublin's

north inner city and

was in danger of going

down the wrong path in

life before she

discovered boxing. Her

development into an

elite boxer was confirmed with medals at

the 2016 and 2018 world championships,

and crowned with a gold medal at the

Tokyo Olympics in 2021. Working with

Booker Prize-winning author Roddy

Doyle, Kellie tells the story of her

sometimes troubled childhood, her

unlikely rise to greatness, and her

continuing commitment to living a

normal life.

8. Children's

Gift (0-6):

What the

Ladybird

Heard at

Christmas by

Julia

Donaldson

and Lydia

Monks

Packed full of fun,

this lovely children's

book is a

fantastically lively

rhyming adventure

from the bestselling picture book

partnership of Julia Donaldson and Lydia

Monks.

9. Children's Gift (7-12):

Girls Who Slay Monsters

by Ellen Ryan and Shona

Shirley MacDonald

This book highlights unsung stories

from ancient Irish myths re-imagined for

Just Books

Fantastic selection to suit

all ages and interests

Book tokens and gift

vouchers available

nine to twelve-year olds. From mermaids

and fashionistas to athletes and farmers,

meet goddesses of all shapes and sizes

from Ireland's ancient myths. Stand by

their sides as they wield magic, fight

monsters, and protect the powerless – and

you might discover that you, too, are a

force of nature.

10. Children's Gift (7-12):

What Makes Us Human

by Luke O'Neill

What do you have in common with the

7.75 billion other people on the planet?

This is the question that Professor Luke

O'Neill attempts to answer in this exciting

new book for young readers. Starting with

the origin of life, Professor Luke explores

what makes us interesting as a species,

why we sleep, laugh and enjoy music, and

our efforts to stop disease. What Makes Us

Human is the perfect book for curious

minds.

Pearse Street, Mullingar

044 933 2969

Email: justbooksmullingar12@gmail.com

www.justbooksmullingar.com
---
10

A Westmeath Christmas

TOPIC • December 8, 2022

Reduce your carbon footprint when

shopping for presents this Christmas

We can plan far in advance

for Christmas

Day and make lists of

what to get as presents

and what food shopping we might

need (keep Topic's editorial from a few

weeks back in mind, about food waste).

You may be tempted to head for the

bright lights of the capital city or further

afield for your shopping, when in fact the

shops in your own town have everything

you could possibly need.

Stop for a few minutes and calculate how

much savings you're really making, if

any, travelling distances to purchase

something you could easily purchase in

your local town. In these days of the

'green' revolution, think about your

carbon footprint and how much you're

unnecessarily spending on fuel to get

things that you can get right here in your

own town.

Don't be shy to ask your local

shopkeeper to order whatever it is you are

looking for, in case they do not readily

stock it. First class customer service is a

given when you shop local, so asking them

to order something is usually a pleasure

they will happily assist you with, knowing

they have your custom and knowing you'll

likely spread the word about their great

service.

Also, remember that if something goes

wrong with the product you have bought,

you don't have to send it off and wait for

months to have it repaired; shopping local

means you give it back to where you

bought it and more than likely, get an

immediate replacement.

While it's nice to sometimes get out and

go somewhere different, you can still do

that, but commit to spending the bulk of

your Christmas budget locally.

Take a few minutes to go through this

Topic Christmas Supplement and review

the advertisers. Guaranteed, whatever list

you have for presents, you'll be able to

source them all in your local town.

Castle St., Mullingar

Ph: 044 934 4122

Spray Tan Thursdays - €15

Late Opening Thursdays &

Fridays and selected days over

the Christmas - Phone for info

Gift Vouchers available

Wishing all our lovely customers and

friends a happy Christmas!

Brosna Art Group donation: The kind hearted members of the Brosna Art group recently

held an art exhibition in the Greville Arms Hotel in Mullingar and raised the grand sum of

€645 from a raffle they had at the exhibition. Pictured making the presentation of the

proceeds to Ken Smollen for the Ken Smollen Food Appeal are Mary Curran, Patricia

Leogue, Kai Keegan, Ken Smollen and Mary Murtagh.

Conor Tulley and Rebecca McGlynn are

planning to do some Christmas shopping in

Mullingar this year.
---
TOPIC • December 8, 2022

A Westmeath Christmas 11

Land of Light

The Jealous Wall at Belvedere House and

Gardens is magically lit up every Friday,

Saturday and Sunday night at 8.30pm,

with bright lights illuminating the dark

winter sky every weekend. The Land of

Lights programme runs until Friday,

December 23 at 8.30pm – finishing just

before Santa Claus makes his way across

the sky on the night of December 24.

Railway Christmas

Markets

The 2022 Christmas Markets and Santa

Grotto are being held in association with

the Railway Market Team and Mullingar

Chamber. The markets run on Saturday,

December 3, 10 and 17 from 11am to 6pm

and on Sunday, December 4, 11 and 18

from 11am to 3pm in the Band Hall

(Eircode N91 YY96). There will be a huge

variety of stalls and entertainment,

including Christmas food and baked

goods, Christmas crafts and handmade

gifts, Christmas trees, plus music, song

and dance. For enquiries on market stalls

please email Patricia at

marketmullingar@gmail.com .

Drive-in Cinema

Mullingar Chamber and Lis Café/Apache

Pizza Mullingar will be hosting a Drive-In

Cinema at Tudenham, Lough Ennell, on

December 3, 4, 9, 10, 16 and 17. Movies

being screened include Home Alone 1 and

2, Jack Frost, Bing Crosby's White

Christmas, The Polar Express and The

What's on in

Mullingar over

this Christmas

season

Santa Clause.

This is the perfect opportunity for the

whole family to spend fun evenings

together; you will even be able to preorder

your Apache Pizza right to your car!

There is a minimum capacity available,

so book early.

Booking (online only), will be opened in

the coming days on Mullingar.ie through

EventBrite.

Beauty & The Beast in

Mullingar Arts Centre

Pantomime season is back and Mullingar

Pantomime Group are proud to present

this year's production of 'Beauty and the

Beast'. The panto runs from Thursday,

December 8 until Friday, December 30, on

various dates and times, including

matinee shows.

The 'Beauty and the Beast' panto' story

follows Belle and her hilarious comrades,

Strudel and Minnie, as they battle against

the mean-spirited Dick Dastardly (and

crew) and curse of the evil witch. Are the

Beast and his comrades to be loved by all?

Oh yes they are! Watch as true love and

magic conquers all, and be amazed by the

wonderful transformations.

Full of song, dance, costume and

comedy, panto' this year will have singing

from the rooftops.

Tickets are extremely limited, with the

majority of shows already sold out, so call

the Box Office today on 044 934 7777 to

book your seats.

Women's Community

Project Centre –

Christmas Markets

Join the Women's Community Project

Centre, Mullingar, for their first ever

Christmas Markets on Tuesday, December

15 from 1pm to 5pm in the Parish

Community Centre on Bishopsgate Street,

Mullingar.

Teenkix Christmas tour

2022 – Mullingar

Ireland's biggest under 18 nightclub disco

takes place in The Greville Arms Hotel on

Thursday, December 22 from 8pm to 11pm.

The disco is strictly for first and second

year students. ID is mandatory and there

is a strict no alcohol policy in place. Time

for the teenagers to have fun in safe

surroundings.

Foster & Allen

Join the local lad, Mick Foster, and the

almost local lad, Tony Allen, at home in

The Greville Arms Hotel on Tuesday,

December 27 from 7pm to 11.30pm. The

duo are on home territory over the festive

period as they continue their Irish tour.

Contact The Greville Arms for more

details.
---
12

A Westmeath Christmas

TOPIC • December 8, 2022

It's Christmas from

Bridge to the Castle

Tyrrellspass, Co. Westmeath

Tel: 087 9938753 • 044 922 3931

info@sheridanwindows.ie • www.sheridanwindows.ie

Christmas greetings to all our

customers and best wishes for 2023

www.newforest.ie

TYRRELLSPASS, CO. WESTMEATH

Telephone: 044 9221100

Wishing all our customers, neighbours and

friends a very happy and healthy Christmas

Thank you for your support in 2022

and wishing you all the best for 2023

Bethlehem

PIZZA & PASTA

Restaurant & Takeaway

Main St., Tyrrellspass

044 9221840

Wishing all of our customers a

very Happy Christmas

Rahugh Christmas

Tractor Run

Rahugh Hall Development Association are

holding a novel Tractor Run with a

Christmas theme on Saturday, December

17. There will be a prize for the best

dressed seasonally decorated vehicle (i.e.

streamers, lights, etc).

That should be a great attraction. So lads

and lassies, clean up and smarten up

those machines and you could be on a

winner. Registration starts at 4pm. The

entry fee is €25. The tractor run starts at

5pm. A cabaret and raffle will be held afterwards

in The Hazel, with a special appearance

by 'The

Sailors' who reform

for the night.

They should bring

back nostalgic

memories to so

many people. Enquiries

to 086 6022

731.

Christmas Greetings from

Jamie Farrell

Amber Filling Station

Open 6am - 11pm

Keenest Fuel Prices

Great Value

Grocery Offers

Dublin Road, Tyrrellspass

Mob: 087 055 3334

Children's Disco

St Mary's GAA, Rochfortbridge, are

holding a children's disco in St Joseph's

Community Centre on December 16,

between 7pm and 9pm. Admission is €5.

Christmas Tractor Run

from Corrigan's

Corrigan's Bar in Rochfortbridge are

hosting a Christmas Tractor Run on

Saturday, December 10, in aid of Motor

Neurone Disease. Registration starts at

3.30pm in the old compound, followed by

the Tractor Run. There will be live music

afterwards and a raffle in Corrigan's

Lounge.

Christmas Crib and Choir

in Gibbonstown

Gibbonstown Community will have a

special event for the festive season. It

Seasons Greetings

to all our customers and friends

starts at 2pm with the arrival of Santa on

December 11 at Gibbonstown, where a

crib will be on site and all the trimmings

of Christmas presents.

This will be followed by the blessing of

the crib, and Santa will have little

surprises for all the children.

Milltownpass Choir will be singing hymns

for the occasion and there will also be a

Craft Fair and a raffle. All proceeds of

this fundraising event will go towards

Ben's Lifeline, who have very generously

given a defibrillator to the community.

The chief organisers are Ceppie Keogh,

Mary Cleary, Mary Wynne and Ciara

Dolan.

Local Entertainment

Peter Newman in Bagnall's has a full

schedule over the festive period with top

entertainment. On December 16 – Ruaile

Buaile, December 23 – Blessed, December

26 – Gavin Cribben, December 31 – Chris

Loughrey. It's the same story in Lyster's,

with plenty of good music. The usual

'Joker Poker' takes place every Saturday

night, then music on December 17 by Alan

Lalor, music on December 26 – Just Davy,

December 31 – Kitty Bo and January 1

(2023) – Crúiscín.

Duck Race in

Milltownpass

Milltownpass GAA are holding a very

novel event during the festive holidays.

It's a Duck Race on the Milltown river!

The ducks are made of plastic and

numbered. You select the duck you want

and if your number is on the duck that

crosses the finish line first, then you're on

a winner. The final decision on the date is

still unknown but it is worth keeping an

eye out for. This will be a fun event for all

the family to enjoy.

Willie's and the

Village Barn

Would like to wish each

and every customer

all the best for

Christmas and 2023

For enquiries call

David at 087 2709646

or visit

www.thevillagebarn.ie
---
TOPIC • December 8, 2022

A Westmeath Christmas 13

the Mill to the

Milltownpass Community

Action Group Cake Sale

Milltownpass Community Action Group

continue their activities with a Cake sale

on Saturday, December 10 in the

Community Centre between 10.30am and

12.30pm.

Also on show that day will be Sewing

Craft products produced by those who

took part in the sewing classes during the

past couple of months. All proceeds will

go towards the upkeep of the centre.

St Anne's National School

(Famous) Cake Sale

On Friday, December 9, St Anne's

National School are holding a Cake Sale

from 1.30pm to 2.30pm. This is a repeat of

last year's very successful Cake Sale – so

bakers, get baking!

Christmas Lights in

Tyrrellspass

Tyrrellspass Tidy Towns are turning on

the Christmas lights on December 3 on

The Green. Attendees will be treated to

mulled wine, mince pies and other

seasonal refreshments. There will also be

carol singing and a special appearance by

Santa Claus. The festivities start at 5pm

and go on until around 6.30pm.

Christmas Lights in

Milltownpass

The turning on of the Christmas lights in

Milltownpass is set to be another success

this year. The Tidy Towns team are

gearing up to making this special event an

evening of community and student

engagement, an evening to meet old and

new friends and of course an evening

where the younger members of the

community get to meet Santa Claus in

person!

The lights will be switched on at 4.30pm

on Saturday, December 10, by a local

student, in the centre of Milltownpass

village, at the T-Junction outside Skyclad

and next to Grennan's Bar, where light

seasonal refreshments will be served

afterwards. Come along and join in the

festivities.

Merry Christmas from Milltownpass! The

kindness of everyone in Milltownpass

village and beyond made it possible for the

children in the local St. Joseph's Primary

School in Milltownpass to enjoy having

their own Christmas Tree outside their

school last year (2021).

Happy Christmas from

Kids Kottage

Main Street, Tyrrellspass

FULL & PART TIME DAY CARE

FROM 8.00am to 5.30pm

MORNING PRESCHOOL SESSION

9:00am to 12:00pm MONDAY to FRIDAY

TYRRELLSPASS

ECCE 2 Free Preschool Years

After School Care and Pick up from

Tyrrellspass Schools.

Contact Deirdre on 086 0212100

Christmas greetings from

John Healy Coaches

John Healy

Funeral Director & Chapel of Rest

Dublin Road, Rochfortbridge

Tel: 044 9222 187 / 087 8951937

E-mail: lolhealy74@gmail.com

Happy Christmas from all at

GRENNAN'S BAR

Christmas quackers: go to the Duck Race in Milltownpass this Christmas!

Wishing everyone a

Happy Christmas & Happy New Year

HAPPY CHRISTMAS, FROM

Rochfortbridge

FARM LAND

FOR SALE AND

FOR LETTINGS

BUILDING SITES FOR SALE

HOUSES URGENTLY

REQUIRED FOR SALE

Mobile: 087 2508626

www.gavinauctioneer.com

The specialists in precision sheet and

plate metalwork in Stainless Steel,

Mild steel & Aluminium

T: 044 922 2208

M: 086 819 9650

E: colearc.hd@gmail.com

Intelligence in Design, Excellence

in Engineering since 1989

Milltownpass, Co. Westmeath

shaygrennan@gmail.com
---
14

A Westmeath Christmas

TOPIC • December 8, 2022

Balance out your

eating!

Only

89c

EACH

Only

49c c

EACH

Christmas Dinner is something we all look forward to

every year and something we all end up complaining

about afterwards, with moans and groans of "oh, I've

eaten too much turkey" or "I shouldn't have had the trifle

and the Christmas pudding and custard". . .

This year, why not balance

out your eating pattern a bit

and make the food go that

little bit further. At a time

when some grocery items have

become almost double the

price since last year, dividing

small and serving all is the

order of the day.

MEAL PLANNING

Take five minutes and sit

down with a pen and paper

and make a list of the meals

you'll likely cook over the few

days of Christmas, and from

there, check what ingredients

you have in your cupboards

and make a list of those you

might need to make the meals

you want. Making a grocery

shopping list is key to

controlling your expenses and

compulsive buying.

Ideally, it's best to get all

your Christmas grocery

shopping under one roof, and

there's no better place in

Mullingar to get your

shopping than Hughes

Eurospar Supermarket on the

Green Road. Hughes Eurospar

is buzzing every minute of the

day, from when it opens at 8am

until it closes at 9pm.

The added bonus in Hughes

Eurospar is that they have

household items, an offlicense,

an in-house butcher

and bakery as well as a large

section of chilled food items

and general everyday

groceries.

RECIPES

We're not going to bore you

with recipes on how to cook a

turkey or a roast beef or ham,

but rather how to make an

edible Christmas gift,

something nice to cook for the

vegans or vegetarians in your

household, how to use up

leftovers, and a nice light old

fashioned porter cake recipe.

Drop into Hughes Eurospar

today on the Green Road,

Mullingar and shop for all the

items to give these recipes a

try over the Christmas

holidays.

u p

re as

eb e

ra y

Only

€12

SAVE

€4

Only

€1 15. .99

Independently

audited

by the EIQA

Offers available 1st December to 28th December 2022, unless otherwise stated.

Prices correct at time of going to print. In participating stores only, while stocks last. Customer quotas may apply.

All savings shown are versus recommended retail price. *Programme applicable at participating ting EUROSPAR

Stores only. See eurospar.ie for full T&Cs.

www.eurospar.ie

@eurosparireland

@eurospar_ireland

The fantastic baking products section in Hughes Eurospar on The

Green Road, Mullingar.
---
TOPIC • December 8, 2022

This is a beautiful no bake tiffin recipe

that is seasonal, colourful and very tasty.

They are very easy to make; something

the teenagers in the household might

enjoy making with you.

These christmassy looking tiffins make

a perfect edible gift for any age – place

them on a nice plate or in a hand

decorated airtight container, wrap with a

pretty ribbon and gift to your loved ones.

INGREDIENTS

● 250g shortcake/digestive or ginger nut

biscuits (or a mix of all three), crushed

● 125g butter (melted)

● 1 tbsp golden syrup

● 50g weight of mixed nuts/raisins (use

pistachios/pecans/raisins)

● 50g cranberries (or orange infused ones

if you wish)

● 2 tablespoons of grated orange rind

● 200g white chocolate, melted

● To decorate – handful of chopped

cranberries, pistachios and a teaspoon of

grated orange rind

METHOD

1. Crush the biscuits into crumbs and

A Westmeath Christmas 15

You can't have a celebration of

any type without cake. Well, we

think so anyhow!

While a traditional Christmas

cake used to be something we

all looked forward to,

nowadays, many people are a

bit more health conscious and

opt for something different or

something lighter. Here's a nice

traditional Porter Cake recipe

that we came across a few years

back and have tried and tested

it and confirm it tastes great.

Porter cake is very easy to

make and while it has plenty of

fruit in it, it is much lighter

than your average Christmas

Cake recipe. Porter cakes don't

require icing, which is a bonus

as you're eating less sugar! Give

this a try and enjoy something

old, yet perhaps new for you.

INGREDIENTS

● 450g plain flour

● 1 teaspoon grated nutmeg

● 1 teaspoon mixed spice

● 340g brown sugar

● 225g butter

● 150ml approx. porter

(Guinness)

● 1/4 teaspoon bread (baking)

soda

● 450g currants

● 450g sultanas

● 110g mixed peel

● Grated lemon rind from one

lemon

● 4 eggs, lightly beaten

METHOD

1. Prepare your ingredients –

weighing and leaving them

ready to use. Keep your wooden

spoon handy to mix your

ingredients.

2. Preheat the oven to 170c; line

an 9 inch cake tin with baking

parchment.

3. Sieve flour into a bowl and

add nutmeg, mixed spice and

stir in the sugar.

4. Using your fingertips, lightly

work in the butter until the

mixture resembles dry

breadcrumbs.

5. Heat the porter a little and

stir in the bread soda – stir this

mix to the flour mixture.

6. Mix in the dried fruit, mixed

peel, grated lemon rind and the

lightly beaten eggs, mixing

gently but thoroughly until

everything is combined.

7. Transfer the mixture to the

cake tin and bake for about 2

hours or until nicely browned

and a clean knife inserted into

the centre comes out clean.

8. Cool the cake completely in

the tin.

9. When the cake is cool, wrap

it in greaseproof paper and

store it in a cool dry place.

Note: This cake will keep for

two to three weeks, properly

wrapped.

This is almost a no cook soup as

you simply gather all the

leftover vegetables from the

Christmas dinner to a pan, add a

stock cube, bring gently to the

boil and blitz!

There you have it, a simple,

tasty, super quick soup that will

take care of any small hunger

pangs that may occur after

feasting the day before. Spice up

the soup with a spoonful of

curry powder/paste if you wish

and keep a tub of natural

yoghurt or crème fraîche nearby

to top it off. Serve with melba

toasts for crunch!

INGREDIENTS (SERVES 4)

● 1 teaspoon butter

● 1 tablespoon olive or

sunflower oil

● 1 medium onion, chopped

● 2 celery sticks, washed and

diced

● 2 medium potatoes, peeled and

cut into small chunks

● 1 tablespoon curry paste

(optional)

● 1 litre vegetable stock, (fresh

stock or made with a stock cube)

● Approx 500g leftover (roasted

or boiled) vegetables, roughly

chopped (use Brussels sprout,

carrots, parsnips, beans, etc.)

● Salt & pepper, to taste

● Natural yogurt or crème

fraîche (optional), to serve

METHOD

1. Heat the butter and oil in a

large saucepan on a medium

heat. Fry the onion for about

five to seven minutes until

golden colour.

2. Stir in the celery and sauté for

about five minutes.

3. Add the potatoes and fry for a

further two minutes, stirring

often.

4. Stir in the curry paste or

powder (if using). Let it cook for

a minute or so, then pour in the

stock. Bring to the boil and stir

place in a large bowl

2. Melt the butter and syrup together in a

large bowl, mixing often until well

combined.

3. Pour the melted butter mixture onto the

biscuit crumbs and combine thoroughly.

4. Add the mixed nuts, raisins,

cranberries and orange rind and mix

well.

5. Line a 6 inch square tin with strong

cling film or greaseproof paper.

6. Tip the mixture into the tin and press

down well with the back of a spoon or the

base of a glass. Put into the fridge to set.

7. Once set, melt the white chocolate and

pour evenly over the biscuit base.

8. Scatter with a handful of chopped

cranberries, pistachios and orange rind as

you wish.

9. Refrigerate once more until the

chocolate is set. Cut into squares,

rectangular bars or triangular wedges to

serve. (or wrap/pack to make the perfect

edible gift).

Note: This is best served from the fridge

as it is only the cold that holds it together.

well.

5. Lower the heat, cover and

simmer for 15-20 minutes until

the potatoes are tender.

6. Add the leftover vegetables to

the pan and warm through for

about five or six minutes.

7. Pour the soup into a food

processor or blender and blitz to

a smooth purée. Thin down to

the consistency you like with hot

water or stock, then add salt and

pepper to taste.

8. Serve in bowls with spoonfuls

of natural yogurt or crème

fraîche swirled on top.
---
16

A Westmeath Christmas

Castlepollard

CHRISTMAS MARKET AND CRAFT FAIR

The Christmas Fair usually held at

Tullynally is being held at Castlepollard

Hurling Club on the Pakenham Hall road

on Saturday, December 10 and Sunday

December 11 this year, from 11am to 5pm.

There will be lots of stalls with jewellery,

wood crafts, candles, home baking and

much more on offer.

SEASON'S GREETINGS FROM

Creates beautiful images for all your

Business and Personal needs

GIFT VOUCHERS AVAILABLE

CALL ME NOW ON

087 298 2443

People, Places, Product

and Food Photography

Wishing all our clients and friends a Merry

Christmas and Happy New year from

ANTONE BRIODY

CONSTRUCTION

Finea, Co. Westmeath

P: 087 275 7230 / 043 668 1914

E: briodyantone@gmail.com

W: antonebriodyconstruction.ie

• New House Construction

• Renovations, Extensions and Refurbishment

JOHNNY GUIRKE

E-mail: Johnny.Guirke@oireachtas.ie

Navan Office Ph: 087 3370308

Trim Office Ph: 046 9481402

Castlepollard Ph: 044 9662688

FATHER CHRISTMAS FOR FORE

We hear that Father Christmas, also

known as Santa Claus, will take time

away from his busy schedule to pay a very

important visit to Fore's Abbey House

Public House (Coffey's) on Sunday,

December 11. Proceeds from this event are

in aid of Ballycomoyle GFC. We're not

exactly sure of the time yet but keep an

ear out in your area for news of Santa's

arrival.

Wishing all our customers and friends a

Happy Christmas and Peaceful New Year

O'Reilly & Son

Painting &

Decorating

Contractors

- Commercial

- Industrial - Domestic

- Interior - Exterior

Phone: 087 968 2428

Merseydale, Townparks, Castlepollard, Co. Westmeath

City & Guild Qualified

Over 35 years experience

TOPIC • December 8, 2022

Christmas in Castlepollard, Fore,

Collinstown and Drumcree

Fore

CHRISTMAS POKER CLASSIC

A Christmas Poker Classic will be held in

The Seven Wonders Bar, Fore, in aid of

the Jack & Jill Foundation on Sunday,

December 11 at 5pm. Refreshments served

and raffle on the night. Tickets available

from the Seven Wonders Bar.

TRACTOR RUN

A Tractor Run, which will start from, and

conclude at, Doyne's Public House,

Glenidan, takes place on Monday,

December 26, St Stephen's Day. This event

will take place in honour of the memory

of Martin Doyne (1977 – 2022).

Registrations for the Tractor Run will be

accepted at Doyne's from 10.30am

onwards on St Stephen's Day. The Tractor

Run starts at 12 noon. Proceeds from the

Tractor Run will be donated to Good2Talk.

CHRISTMAS DRAW

Collinstown Pitch and Putt Club now has

cards for its 2022 Christmas Draw. Lines

are €2 each or €5 for three lines purchased

together. There are very good prizes to be

won. Prizewinners will be drawn at

Collinstown's Lough Lene Inn on Friday

night, December 23.

Finances are tight for everyone this

year and as a result, the thought of

buying Christmas presents for

friends and family members may

be a worry for many. Don't let the thought

of not being able to gift get you down.

With these few helpful suggestions, you

can make your own presents to gift. They

may not be huge gifts, but keep in mind

that 'small is beautiful' and the more

practical the gift, the more it will be

treasured, and used for years to come. So,

invest in a glue gun and get your

creativity flowing to make the perfect

present for your special someone this

Christmas. You'll find the majority of

crafting items (like glue guns, notepaper)

available in your local hobby/toy shop.

TWINE TOPPERS

These little cookie cutter toppers make

perfect gifts by themselves if you

tie a bunch of them together,

or to finish off your

already wrapped gift.

They are inexpensive to

buy and make great

gifts for children and

adults.

These wrapped cookie

cutters also make nice

tree decorations and can

be used afterwards for the

purpose they were intended!

To make, simply wrap a cookie

cutter with baker's twine (if your twine is

COLLINSTOWN CHRISTMAS MARKET

A wonderful Christmas festive family day

out is promised at Collinstown market on

Sunday, December 11 from 11am to 6pm.

Come along and enjoy the beautiful stalls

featuring food and crafts that would make

fantastic Christmas presents for family

and friends.

Santa Claus will be visiting on the day,

and there will be great music and lots

more.

thin, wrap two strands at a time) and

secure it to the package with extra twine.

Gift a whole bunch of these by tying five

or six of them together with a colourful

ribbon, finished off with a large bow.

COOKIE CUTTER CONTAINERS

Gift a box of colourful sweets or biscuits

and individually wrapped chocolates in

your favourite cookie cutter shapes. All

you need is a small empty box, some

parchment paper, a cookie cutter, small

biscuits or sweets and some nice ribbon.

To make, line the box with parchment

paper, place the cookie cutter/s inside and

fill them with small biscuits andor

individually wrapped sweets, to make a

sweet gift for someone you love this

Christmas. Make the box even nicer by

applying some colourful fabric or paper

on the flaps and wrapping with a simple

colourful ribbon.

GIFT A BOX OF BELLS

It might seem small but gifting

Christmas bells or ornaments are

guaranteed to have you

remembered every Christmas

from this year onwards!

To make, you only need to make/

use a 9 x 9 inch cardboard

(colourfully decorated with paper or

fabric inside and outside) or metal

box – insert separators if you wish. Fill

the box with different Christmas bells/

baubles or ornaments (make sure to

attach some gold hanging thread to each

one), and gift this classic present to be

remembered forever.

CLOTHES-PEG TREE ORNAMENT

Gather up all your old wooden/regular

hooped clothes-pegs and make this

beautiful Christmas tree ornament in

your favourite colours. This

gift would make a nice

teacher gift; they are

easy enough for

children to make and

help with.

To make, remove

the metal hoops from

14 mini-clothespins.

Turn each clothes-peg

back to back and glue

them. Using one of the

hoops as a guide, glue the

pins together onto and around the hoop to

create a circular shape. Glue a piece of

thick gold twine to one clothes-peg for

hanging.
---
TOPIC • December 8, 2022

KILBEGGAN DISTILLERY OPEN DAY

The Kilbeggan

Distillery held an

Open Day on

Saturday,

November 19 in

Kilbeggan

Distillery and

welcomed local

crafters, who

were given the

opportunity to

display their

products on the

day. The event

attracted visitors

from the local

area and

surrounding

towns.

Left: Donal

Murray with

Sinead and Shane

Murray pictured

at the Refill

Mullingar stall

with Sharon

Devine and Evelyn

Fitzpatrick.

A Westmeath Christmas 17

Christmas Experience

at Dún na Sí Amenity

and Heritage Park

●Dún na Sí Heritage Park are delighted to announce 'Christmas Experience 2022',

which will take place on Saturday, December 10 from 12.30pm to 7.30pm.

Enjoy a tour around the park and meet the naughty elves, see the live crib, and join

Mrs. Claus in her kitchen, where she will be cooking up some food for the reindeers.

There will be a few more surprises along the way. Last but definitely not least, meet

the main man himself, Santa Claus. This is Santa's busiest time of the year but he

has kindly agreed to visit Dún na Sí for one day only, on December 10.

Just in case the weather outside is frightful, there will be non-alcoholic mulled

wine and hot chocolate served before you exit the park.

Kilbeggan N91 WF61

Tel: 087 742 8948

TO ALL OUR

CUSTOMERS

Merry Christmas

and Happy New Year

We would like to thank you for

your continued support this year -

it is very much appreciated!

Below left:

Diarmuid Mollin

chats with Teresa

Doyle about her

unique bespoke

dolls, at the

recent Open Day

markets.

Breakdown Recovery

Pre NCT Tests

Car Servicing

Much More!!

Wishing all of our customers a

Happy Christmas

From all of us at

The Hair Gallery

Kilbeggan

057 9333693

KILBEGGAN

CHOCOLATE

AND

COFFEE BAR

Bridge Street,

Kilbeggan, Co. Westmeath

Contact: 086 1913980
---
18

A Westmeath Christmas

TOPIC • December 8, 2022

Castletown-Geoghegan this Christmas

Get your best tractor decorated for the

Castletown-Geoghegan Christmas Tractor

Run, which is set to take place on Sunday,

December 18 at 12.30pm. All funds raised

on the day will go towards helping with

Streete at

Christmas

FAIRY LIGHT TRACTOR RUN

Tractor Runs are great fun and those

taking part and observing get a great

buzz from joining these community

events. Join the fun in Streete after

Christmas on Wednesday, December 28,

when a Fairy Light Tractor Run will

take place.

The convoy will set off from Streete

Parish Park around 6pm and

participants will follow a speedcontrolled

management vehicle, which

sets the pace along the well-organised

10km route, before the incredible sight

will make its way back to Streete Parish

Park. The run was a fantastic success

last year. Please spread the word. For

information call Declan on 086 812 3514

or Kevin on 087 137 5222.

WALKING TRACK MEMBERSHIP

Membership for Streete Parish Park

walking track is due for renewal in

January. This might solve a Christmas

present idea for someone you know who

enjoys walking on the track, or perhaps

someone you know who might like to

start walking.

New member application forms can be

found in the entrance hall of the Parish

Park or by calling into the office

upstairs on Tuesday, Wednesday or

Thursday from 10am until 1.30pm.

Single membership is €20 and a family

is €30.

Gift vouchers are available from the

office. Please ask any of the committee

or call Kevin 087 137 5222. All cheques

should be made payable to Streete

Parish Park.

Ballinafid

Multyfarnham

Bunbrosna

★ There's always plenty to do in the

Multyfarnham area and Christmas is

no different. Read on and get involved

in what's happening in your area this

Christmas.

Christmas Wreath

Crafting

★ Christmas wreath making activities

with BMB ACTIVE takes place on

Tuesday, December 13 in

Multyfarnham Community Centre

from 10am to 12.30pm. It should be

enjoyable, and all you need to bring is

your scissors. Text 'Wreath' to 087 172

3256 to book your place.

Christmas Dinner

★ There will be Christmas Dinner and

music in the Annebrook Hotel with

increased church heating expenses in St.

Michael's Church, Castletown-Geoghegan.

This festive tractor run was proposed by a

very alert parishioner, who suggested it

might be a good idea.

BMB ACTIVE on Tuesday, December

13 at 3pm. To join in the fun, please

text 'Christmas Dinner' to 087 173 2356

and let us know if you have any

specific dietary requirements.

Carols by Candlelight

★ Join us for Carols by Candlelight at

the National Concert Hall on

Wednesday, December 19 at 3pm. This

is a lovely way to spend an evening

during the festive period. If you're

interested in joining us, please text

'NCH' to 087 172 3256 and book your

ticket and place on the bus to the

venue and home again, safe and

sound!

Abbey Blooms

★ Something exciting is coming to

Abbey Blooms this December. Come

along on Thursday, December 15 from

11am to 5pm and experience

Christmas at Abbey Blooms with

Santa, a magical Christmas garden,

music, market stalls and much more.

Your support in any way would be most

welcome. Be sure and tell as many people

as possible (with tractors) and make this a

real fun event and a great day out.

Refreshments will be provided after the

Sandra and Carmel McGivney with Harry McCormack

pictured with some of the great handicrafts at the

Clonkill Christmas Market on Sunday, November 20

at Clonkill GAA club.

event in St. Michael's Hall, Castletown-

Geoghegan, and a cake sale will also take

place in the hall afterwards.

There will be a prize for the Best Festive

Tractor.

FELT WREATH

There are many types of wreaths to make

at Christmastime. This is an easy,

evergreen wreath that won't dry out so

you can use it every year. Using a few

variations of green coloured felt and

small red baubles, adds a festive look to

your creation.

To make, take one wreath foam

(available in hobby shops / florists) and

cut your different coloured felt into strips

different shades of green felt – cut long

enough to ensure you have at least 3

inches hanging after you tie the strips in

a knot around the foam.

Tie the strips (in alternate colours)

around a wreath form. Attach small red

baubles / ornaments throughout the

wreath with hot glue. Loop a length of

wide ribbon around the wreath to hang.

Gift as it is or in a colourfully decorated

box.

WOOD PALLET CHRISTMAS TREE

Avoid the fuss of Christmas trees this

year and paint your own! Go one step

further and decorate it with small lights,

and set a few presents outside. This might

be a nice gift for your grandparents for

outside their door so they don't have to

fuss with Christmas trees inside.

To make, simply paint a tree on a

shipping crate and embellish the slats

with coloured pom-poms and small lights.

THUMBPRINT CHRISTMAS CARDS

Get 'all thumbs – big and small' on board

to make (and gift) these unique Christmas

cards, which start with plain white

notecards. Make postcard type cards or

proper cards to use or gift in packs of 5/

10. These make a fantastic family 'from

our home to yours' cards.

To make, organise an evening around

the kitchen table with all the family.

Agree on some prints and proceed to get

stuck in! Use festive ink or paint colours,

such as greens, reds, browns, but use

whatever colours you wish to create your

masterpiece.

For a card with greenery, use green ink

to stamp thumbs and press onto card to

make leaves. Add berries and bow with a

red marker and stems with green watercolour

paint.

For a card with a string of lights, stamp

thumbs in your selection of coloured ink

shades. Use a black fine-tip marker to

draw a string connecting the lights and

write your greeting on the card.

For a reindeer herd card, simply stamp

thumbs in brown ink and press onto

blank card. Use fine-tip black/brown

markers to draw antlers, eyes, and noses,

making sure you add at least one red nose

(for Rudolph!).
---
TOPIC • December 8, 2022

A Westmeath Christmas 19

SOLUTIONS: PAGE 23
---
20

A Westmeath Christmas

TOPIC • December 8, 2022

Seasons Greetings to

all our customers and

friends from

MUNNELLYS

BAR & LOUNGE

Ballynacargy

MUNNELLYS

SCRAP METAL

Scrap Grab Lorries

&

MUNNELLYS

SKIP HIRE

Celebrate, Ballynacargy!

Ballynacargy Comhaltas

Christmas Concert

Ballynacargy Comhaltas are holding a

Christmas concert on Friday, December 9

at 7.30pm in the Church of the Nativity in

the village. This concert showcases the

best of local talent, and special guests

including the multi award-winning

Ademar O'Connor.

Admission is €5 and there will be a raffle

on the evening.

Drop in and experience a true Christmas

concert for yourself.

SKY TV • Saorview • Free to Air

Murtagh's Organic Farm Christmas Wonderland

Murtaghs Organic Farm are hosting their first ever Christmas Wonderland at the farm

in Castlegaddery, Ballynacargy, N91KW82. They will have a real live crib, with the

friendly animals from the farm taking position to transport you back to the time when

Jesus was born. Murtagh's Organic Farm will have ten stalls per day for their market,

a Santa's Grotto, magical lights and a tree of remembrance. The Christmas Wonderland

runs every Friday in December from 4pm to 8pm and every Saturday in December from

1pm to 7pm.

044 9373000

044 9373288

Ballynacargy,

Co Westmeath

Rural Broadband Solutions

086 609 7271

Ballynacargy, Co. Westmeath

Wishing all our customers a very

Happy Christmas and all the best for 2022

All the animals are friendly and

looking forward to welcoming

everyone to the Christmas

Wonderland at Murtagh's Organic

Farm.

Multi-award-winning Ademar O'Connor is set for a

concert in Ballynacargy.

The Market brings Clonmellon alive every fortnight

Killua Castle Farm

Manager Anthony

Gilsenan at

Clonmellon Market.

Borora Bakery is a

bit hit at

Clonmellon Market.

The market in Clonmellon started during

the pandemic in 2020 and has become an

established and well attended bi-monthly

food and craft market in Co. Westmeath.

Every fortnight, the village comes alive

with the hustle and bustle of pedestrians

and vehicles turning up at the market for

their favourite bake or their favourite

honey, or some just come along to browse.

The market offers a wide variety of food

stall holders, many of them awardwinning,

selling organic vegetables,

sustainable meats, pasture fed eggs,

homemade jams, chutneys, honey, breads,

cakes, Spanish olive oil, selections of

cheeses, tapas and sushi.

A unique selection of crafts are also

available at each market, and it is also a

place to relax and enjoy a coffee and chat

with friends.

The market is run on a totally voluntary

basis by Clonmellon Community Council.

Joan and Paula are the main organisers

and they are supported by a group of

volunteers who assist at each Market with

setting it up.

The last Market of the year will take

place on Sunday, December 18 from 11 am

to 1.30pm. Make a note of the the date and

time in your diary and drop in. This is an

ideal opportunity to buy all you need for

Christmas dinner as well as that last

minute gift from our crafters.

SEE YOU ALL NEXT YEAR

The committee will be taking a well

earned break in the New Year, so there

will be no market in January and

February 2023.

For updated details check The Market

Clonmellon Facebook and Instagram

pages.

The Market Clonmellon would like to

take this opportunity to thank everyone

who has participated in and supported it

throughout the year and to wish everyone

a very Merry Christmas and Happy New

Year.

Happy Christmas

from

Our Next Market will be on

Sunday 18th December 2022,

from 11.00 am to 1.30pm
---
TOPIC • December 8, 2022

Festive cheer in Delvin and

Clonmellon underway

A Westmeath Christmas 21

Similar to so many other rural

locations, it has been mainly a

year in pandemic recovery

mode for both the villages of

Delvin and Clonmellon. But although the

pandemic has been mainly responsible for

so many changes in community and village

life, the onset of Christmas is always

something that everyone looks forward to

celebrating, albeit in a more restricted

way in these inflationary times.

Similar to many other tightly-knit local

communities, Delvin and Clonmellon have

remained defiant and responded

heroically throughout all the lockdowns

and the current cost of living crisis.

Despite all the changes, there is still

plenty of scope for Christmas shopping in

the local shops and especially annual giftbuying

in the festive season.

On the social and spiritual scene, there

has been plenty of scope for shopping

since the start of November. After a

hugely successful return of the Clonkill

Christmas Market which also coincided

with the first of the annual Christmas

Fairs/Farmers Markets in the Square in

November (followed by two more in

December), the festive season in the north

Westmeath region got off to the best

possible start. The annual formal

Christmas lights 'switch-on' in

Clonmellon took place on Friday,

December 2, but there were no such plans

in Delvin this year.

YULETIDE IN DELVIN AND

CLONMELLON

Meanwhile, Clonmellon's Leonard's and

Daybreak are local village shops that

deserve your support, especially over the

Christmas period. Leonard's have been in

Clonmellon for the over 40 years since the

late Noel Leonard and his wife Ann

settled there. Their son Kieran now

manages the shop with the support of

family members, including his mother.

Not too far from Clonmellon, on the way

to Athboy, the Mellowes Family Fun and

Childcare Centre has once again been

transformed into a Santa Wonderland at

Wishing all our valued customers a

happy and peaceful Christmas

RATHCONNELL

SERVICE STATION

Delvin Road, Mullingar,

Co. Westmeath, N91 E6RT

Moygrehan and is a must-see for all local

children.

When it comes to Christmas shopping in

Delvin, there is no doubt that

McCormack's offer the best range in

terms of Christmas-related merchandise

and general household hardware and

consumer durable goods. Situated on the

corner of Ballyhealy Road, McCormack's

offer good competitive prices for solid

fuels, including wood pellets.

Across the main street (N52) from

McCormack's is Barry's Pharmacy, which

has been part of Delvin for more than

three decades. This company, who also has

a branch in Castlepollard, have a wide

range of gift ideas at affordable prices and

friendly staff to serve their customers.

The Headquarters hairdressing salon,

adjacent to Carmel Gaffney's pub, was

established in Delvin almost sixteen years

ago. It is owned by Lindsay Jordan and is

open every Thursday, Friday and

Saturday. Also on the Mullingar road end

of the village, opposite the castle, is the

For Fade Sake Barber Shop (formerly

Castle Barbers) run by Ricky Bastos

since September.

LARGEST HUB

Almost adjacent to the Castle, the

popular Nearby store, formerly owned by

Michael Leonard, and now run by popular

Delvin couple, David and Sharon Leavy,

for the past couple of years, still remains

the largest hub and meeting place for

many Delvin shoppers. Sharon plays a key

role in the successful running of both the

shop and adjoining Post Office and along

with her team have done a marvellous job

since filling the large shoes of their

predecessor. Always assured of the best of

personal service and hospitality, there is

plenty to see in this well-stocked store

adjacent to the village's iconic Castle.

Another well-known Delvin business

couple are Seamus and Louise Gaffney,

based on the Mullingar Road approaching

Delvin opposite Delvin GAA grounds.

Seamus, through his Gaffney Car Sales

business, has been involved in the motor

trade for more than twenty years and

offers a wide range of the usual services

associated with motor vehicle

maintenance as well as being a used car

dealer, including sourcing vehicles to

order. His wife Louise also runs a

Wishing all our customers and friends

a happy Christmas from

Martin Lynch

Dardistown Construction

Building & Plastering Contractors

successful hairdressing salon.

Delvin also boasts one of the few

remaining craft butchers in the county,

Lenihan's family butchers, now owned

and run by John Coll. As well as offering

a wide range of ready-to-cook foods, it

also offers locally sourced beef and lamb

and it is also a very well presented shop.

It is also possible to have a drink at

Carmel Gaffney's and O'Shaugh nessy's,

run by Tom Farrelly, and Brinsley's

(formerly The Blue Hackle) run by Frank

Quinn. Just out the Collinstown Road in

Drumcree village is Bartley's Bar.

Delvin also has two take-way food outlets

serving Chinese cuisine in The Million

Dollar and fast-food in the Roma cafe

opposite the Castle.

A mile outside Delvin is the Williams

Daybreak Supermarket and Filling

Station franchise run by Paul Williams

and Sarah Orme since 2006. They also

have their own bakery and off-licence on

the premises.

GALLERY

Down the N51 from Delvin on the road to

Athboy is Crowenstown, where artist

Hazel Revington-Cross runs her

successful Purple Raven Gallery and

Crafts Centre. Opening hours are from

11am on Thursdays, Fridays and

Saturdays.

Also nearby is Clonmellon mechanic

Tommy Quaid, who has been in business

in Crowenstown for well over a decade.

HO

HO

★They came from near and far, including

the North Pole, from before the 11am

starting time until well after the finishing

time of 3pm to the Clonkill Christmas

Market held in Clonkill GAA Hall on

Sunday, November 20.

A very rainy Sunday morning gave way to

a dry, chilly, sunny afternoon which

brought people out in their droves to one

of the first Christmas markets of 2022 in

Westmeath.

There was a record number of stalls

(almost 90) and a record number of

attendees this year. Even Santa made an

appearance! Everyone went home happy

as the market had something for everyone.

Seasons Greetings from

COLIN WALSH

ELECTRICAL Ltd.

CLONARNEY • DELVIN, Co. WESTMEATH

Registered Electrical Contractor

Domestic - Commercial - Industrial

We specialise in domestic and agricultural

installations and office & retail fit-outs

Mob: 087 614 3687

Tel: 044 966 8576

Email: colinwalshelectrical@gmail.com

Wishing all our friends and customers a Happy Christmas!

See in store for regular special

offers and Christmas ideas

Extensions - Renovations

087 261 7210

mlynchplasetering@gmail.com

HO

BALLIN FARM | DELVIN |

Co. Westmeath | Ireland | N91 N9WC

044 9664 755

www.farm-wardrobe.com
---
22

A Westmeath Christmas

TOPIC • December 8, 2022

Kinnegad ICA Christmas Market & Raffle

It's all hands on deck at the Kinnegad ICA

as they make final preparations for the

annual Christmas Market, which takes

place in the assembly hall at St Etchen's

National School, Kinnegad, on Saturday,

December 17 and Sunday, December 18,

from 10am to 5pm both days.

There is a very keen interest in the

market from many traders, which

promises a wide variety for you to choose

from. The very best in delicious home

baking, lots of Christmas decorations and

goodies, lovely household items, there's

something for everyone and great value.

Don't forget the raffle with some lovely

prizes to be won. If you wish to book a

stall for the market, please contact 087 221

4627 without delay. Your full support for

the market would be greatly appreciated.

Thank you.

READY FOR CHRISTMAS...

Open Fun Day at

St Finian's National

School in Clonard

St. Finian's National School, in

association with Clonard Vintage and

Heritage Club, invites everyone to their

Christmas Open Fun Day on Saturday,

December 10, from 3pm to 5pm.

All are welcome to this free event, where

you can meet Santa, listen to a choral

performance, have fun with the children's

entertainer, see the vintage cars and get

some nice presents at the stalls of local

craft vendors and much more.

Put the date, time and place in your

diary – Saturday, December 10 from 3pm

to 5pm in St Finian's National School,

Clonard.

Read About Raharney

★ The Raharney History Group are

proud to announce the launching of

their compelling history book,

'Raharney Rath Airne A History'. The

launch will take place on Saturday,

December 10, from 7pm to 9pm in the

Third Place, next to St. Brigid's Church

in Raharney. There are history books

published every day, so why does this

book deserve to grab your attention?

It's local, about locals, about local

achievements, and published locally by

Aisling and Colm Kerr at Arc studios. It

is a book that will engage you

emotionally, as it's genuinely

informative and easy to digest, with lots

of super cool photographs. It's being

launched before Christmas, so it will be

hitting the shops soon.

This book will make a perfect gift for

the Christmas stocking. All proceeds

will go towards our local St. Vincent de

Paul. Your support will be greatly

appreciated and you will be supporting

a very local worthy cause.

Mass will be celebrated at the Church Of The Assumption, Kinnegad, throughout

Christmas.

Main Street, Kinnegad, will be buzzing with Christmas cheer this year.
---
TOPIC • December 8, 2022

A Westmeath Christmas 23

Coming home

PUZZLE

SOLUTIONS

for Christmas

SUDOKU

Christmas greetings from

Joe O'Keeffe

VETERINARY

SURGEON

Opening Hours:

Mon to Sat 9.00am - 6pm

Closed Sundays

Clinic by Appointment

044 93 75434

Trim Road, Kinnegad

Co. Westmeath

Tel: 044 937 5434

Kinnegad Veterinary Clinic

Serving

Breakfast,

Lunch and

Evening

Meals

SHOWING ALL SKY SPORTS

Wishing all of our customers

and friends a very

happy Christmas

James Reddiough

takes a nostalgic

look-back at

Ireland in the 1950s

In this area here in the

west of Ireland (north

Mayo) where this scribe

was raised, there was a

tradition of the men and boys

going to work on the hay and

harvest in England. The men

from the area laboured mostly in

the shires of northern England,

namely Yorkshire, Lancashire

and Lincolnshire.

The men and boys would either

take the bus or train, or else

employ a taxi to take them to the

boat, the Princess Maude. They

left around mid-summer,

anytime between the 20 and 24

June, and this would be to arrive

in England for the hay-making

season.

When the hay crop was saved,

it would be time to start cutting

the oats and making them into

stooks for the thresher to thresh

them, and this would require a

good deal of labour to complete

successfully. After the oats, it

would be time to pick the beet in

Lincolnshire and this would take

a few weeks to complete. After

this, they would start the

scratting or picking of the

potatoes. This would be the final

job of the season and would be

over in October, and then they

would go into the towns looking

for a little work before it was

time to head back home via the

train from Leeds or Manchester

to Holyhead or Liverpool, where

they would take the boat for the

North Wall at Dublin Port, or to

Dún Laoghaire, where they

would make their way west by

train, bus or hackney car, to rest

and attend to matters in the

west.

The people at home would

await their arrival with eager

anticipation. There would be the

wait for the lights of the

hackney car around the hills and

villages, and then the people of

the humble home would know

they were not far away. They

would have a nice fire down for

them and a meal to welcome

them. The men would be well

dressed with new suits and

shoes, finished off with overcoat

and hat or cap.

BLAZING FIRE

They would have the money

they had earned on the farms

and they would have presents for

the women and children. There

was an air of festivity about

their return, and the candle and

the oil lamp would glisten

brightly to welcome them, and

with a blazing fire in the hearth,

the scene was set for a joyous

greeting.

During the winter, they would

attend to their farm tasks and

when the spring came, they

would sow the seed and cut the

turf for the year. They were a

robust and hardworking people,

and there was a time and tide for

everything. They were glad to be

home for Christmas and to be

able to celebrate the festive

season with their families, and

there would be parties to

welcome them back to the area.

The farm labourers who went

to England were called the

spalpeens, from the Gaelic word

for labourer or travelling

labourer, of the nineteenth

century, and they began to die

out in the 1950s as things began

to improve in Ireland in the

1960s and 1970s. There is little

spoken of them now among the

people from where they came in

the 1930s and 1940s, when times

were extremely tough and there

was very little to live on, but

through their hard work and

sweat, they managed to rear

their families and make a

valuable contribution to their

local areas. Ní bheidh a leithéidí

ann arís.

New Year's Eve has become in modern times a

night for celebration and revelry. It is a time to

shed the disappointments of the Old Year and to

welcome the bright and promising New Year, a

fresh start where everything is possible. Here we

take a look at some fabulous facts from around the

world.

■ ■ ■ ■ ■ ■

On January 9, 1814, Ulster suffered an extremely

heavy snowfall. Stagecoaches were unable to travel

because of the snow, which began falling on

Christmas Day.

■ ■ ■ ■ ■ ■

In Ireland one of the names for New Year is Oiche

na Coda Moire, (the night of the big portion).

Eating a big meal on New Year's Eve was believed

to ensure that there would be plenty of food in the

house throughout the coming year.

■ ■ ■ ■ ■ ■

On New Year's Eve 1929, Michael Kavanagh shot

three geese on the South Wexford Sloblands with

one shot.

■ ■ ■ ■ ■ ■

In Scotland, New Year's Eve, which they call

Hogmanay, is the biggest festival of the year with

lots of eating and drinking. During these

celebrations, the practice of 'First footing' was

common, when good luck for the coming year

depended on the appearance of the first person to

enter the house after midnight. It was believed

that the best first footer was a tall, dark-haired

man. If there wasn't a dark haired man, then a

dark haired boy would do, or even a black cat, but

the worse possible luck was associated with a redhaired

woman.

■ ■ ■ ■ ■ ■

The most traditional of all Scottish dishes is

haggis, which is eaten at Hogmanay and on Burns

Night (January 25, birthday of the much loved

poet). It is a dish made of the heart, lungs and

liver of a sheep, chopped up with suet, onions and

oatmeal, and traditionally boiled in a sheep's

stomach bag). Once cooked it was served with

tatties and neeps (potatoes and mashed swede).

■ ■ ■ ■ ■ ■

Before the Haggis is served, the 'Selkirk Grace', a

short rhyme, is recited; 'Some hae meat and canna

eat/And some wad eat that want it/But we hae

meat and we can eat/And sae the Lord be

thankful'. Those sitting around the table then

stand 'to receive the Haggis' as it is ceremoniously

piped into the room. In Scotland it is considered a

discourtesy to send a New Year card to someone

who has suffered a bereavement during the old

year.

CHRISTMASWORD

Across: 1. Turkey and

ham 7. Arc 9. Star 10.

Nation 11. Era 12.Tsar

14. Eels 15. Roll 17.

Tame 18. Bari 19. Ibis

21. Agog 22. Hose 26.

Jar 28. Stable 29. Orbs

31. Sad 32. Advent

wreath.

Down: 1. Tot 2. Rare 3.

Etna 4. Ante 5. Door 6.

Mass 8. Carol singers 9.

Street lights 12. Tar 13.

Alumni 16. Orange 20.

Sue 23. Soda 24. Stye

25. Abet 26. Jeer 27.

Rota 30. Bah. Word:

BETHLEHEM.

WORD BUILDER

Answer, Beaten, Candid,

Detour, Eras-ed

Factor,Golden, Hoards,

Iguana, Jester. SANTA

CLAUS.

WORD ON THE TOWN

Across: 1. Competitor 6.

Scum 10. Siren Slumbered

12. Conifer 15.

Otter 17. Earl 18. Raft

19. Valet 21. Mediate

23. Extra 24. Undo 25.

Lean 26. Hovel 28.

Started 33. Uncertain

34. Maids 35. Easy 36.

Caravaggio.

Down: 1. Cash 2. Marrowfat

3. Ennui 4. Issue

5. Onus 7. Carat 8. Moderation

9. Absolve 13.

Fare 14. Regions 16.

Greenhouse 20. Lingering

21. Mallard 22. Tuba

27. Vices 29. Tonga 30.

Rumba 31. Gala 32.

Oslo. Town: CASTLE-

BAR

FIVE-A-SIDE

1. Babel 2. Slide 3.

Cured 4. Jetty 5. Ashes.

E, S, U, J, S = JESUS.

CHRISTMAS TREE
---
24

A Westmeath Christmas

Don't forget – you can

choose to give someone

Mullingar Gift Vouchers

Mullingar Gift Vouchers are the perfect

all year-round gift idea. The Mullingar

Gift Voucher is an opportunity for local

people and employers to back local

businesses, which in turn boosts the local

economy and helps sustain local

jobs. Every €10 spent locally is worth €24

to the local economy.

Mullingar Gift Vouchers come in

denominations of €50, €20, €10 and €5 and

are redeemable in over 100 outlets in

Mullingar, with more being added every

day. Vouchers can be used in a multiple of

various retail outlets, petrol stations,

restaurants and take aways, hotels, toy

shops, electrical stores, beauticians, hair

salons and much more.

You can purchase Mullingar Gift

Vouchers at the Mullingar Credit Union,

or in the Mullingar Chamber Office on

the Market Square or order your vouchers

online via the Mullingar Chamber

website

(https://mullingarchamber.ie/buy-giftvouchers).

TAX BREAKS

Don't forget that employers, employees,

retailers, the local economy and jobs all

benefit when bonuses of up to €500 are

paid using Mullingar Chamber Shopping

Vouchers rather than payment through

regular salaries. Under the Revenue

Commissioners' approved 'Small Benefit

Exemption' scheme, up to €500 (annually)

of bonuses could be paid in vouchers and

therefore be totally exempt from PAYE

tax, USC and PRSI.

TOPIC • December 8, 2022

Mullingar Community College teachers, Marie Louise Naughton and Christina Wall, were

spotted at the Christmas Carol Service in Enfield on Friday, November 27.

The Greenway is your day out!

★ The enchanting Royal Canal Greenway

is 130km of level towpath, ideal for

walkers, runners and cyclists of all ages

and stages.

There's enough mileage in this to keep

you going for a few days! Aim to complete

the full distance throughout the holidays,

doing a few kilometres every day. Bring

the bikes on the train or car and cycle (or

walk) a bit every day. Consider the

excitement of exploring a different stage

of the Greenway every day. You can get a

map of the Greenway and learn more

about it on the Waterways Ireland

website. The Royal Canal Greenway

starts in cosmopolitan Maynooth, and

follows the 200-year-old canal through

Enfield, Mullingar and Cloondara in

Longford, with cafés, picnic spots and

attractions along the way, as well as

rustic landscapes, working canal locks

and historic landmarks.

This is a great way to get outside, get

exercise, learn about your surroundings

and history and enjoy phone and laptop

free time with the family.