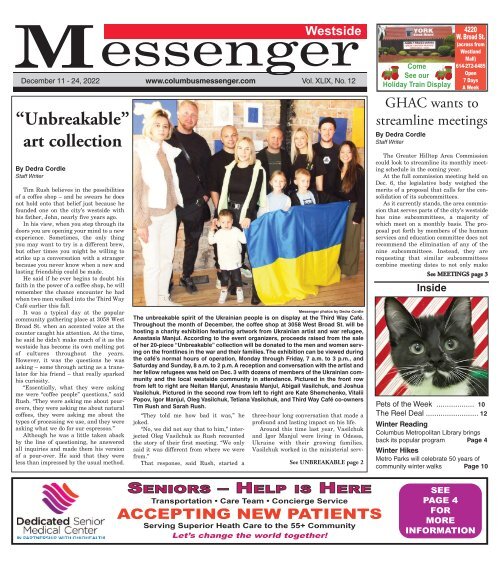 Westside Messenger - December 11th, 2022
You also want an ePaper? Increase the reach of your titles
YUMPU automatically turns print PDFs into web optimized ePapers that Google loves.
Messenger

Westside

December 11 - 24, 2022 www.columbusmessenger.com Vol. XLIX, No. 12

"Unbreakable"

art collection

By Dedra Cordle

Staff Writer

Tim Rush believes in the possibilities

of a coffee shop — and he swears he does

not hold onto that belief just because he

founded one on the city's westside with

his father, John, nearly five years ago.

In his view, when you step through its

doors you are opening your mind to a new

experience. Sometimes, the only thing

you may want to try is a different brew,

but other times you might be willing to

strike up a conversation with a stranger

because you never know when a new and

lasting friendship could be made.

He said if he ever begins to doubt his

faith in the power of a coffee shop, he will

remember the chance encounter he had

when two men walked into the Third Way

Café earlier this fall.

It was a typical day at the popular

community gathering place at 3058 West

Broad St. when an accented voice at the

counter caught his attention. At the time,

he said he didn't make much of it as the

westside has become its own melting pot

of cultures throughout the years.

However, it was the questions he was

asking — some through acting as a translator

for his friend — that really sparked

his curiosity.

"Essentially, what they were asking

me were "coffee people" questions," said

Rush. "They were asking me about pourovers,

they were asking me about natural

coffees, they were asking me about the

types of processing we use, and they were

asking what we do for our espressos."

Although he was a little taken aback

by the line of questioning, he answered

all inquiries and made them his version

of a pour-over. He said that they were

less than impressed by the usual method.

Messenger photos by Dedra Cordle

The unbreakable spirit of the Ukrainian people is on display at the Third Way Café.

Throughout the month of December, the coffee shop at 3058 West Broad St. will be

hosting a charity exhibition featuring artwork from Ukrainian artist and war refugee,

Anastasia Manjul. According to the event organizers, proceeds raised from the sale

of her 20-piece "Unbreakable" collection will be donated to the men and women serving

on the frontlines in the war and their families. The exhibition can be viewed during

the café's normal hours of operation, Monday through Friday, 7 a.m. to 3 p.m., and

Saturday and Sunday, 8 a.m. to 2 p.m. A reception and conversation with the artist and

her fellow refugees was held on Dec. 3 with dozens of members of the Ukrainian community

and the local westside community in attendance. Pictured in the front row

from left to right are Neitan Manjul, Anastasia Manjul, Abigail Vasilchuk, and Joshua

Vasilchuk. Pictured in the second row from left to right are Kate Shemchenko, Vitalii

Popov, Igor Manjul, Oleg Vasilchuk, Tetiana Vasilchuk, and Third Way Café co-owners

Tim Rush and Sarah Rush.

"They told me how bad it was," he

joked.

"No, we did not say that to him," interjected

Oleg Vasilchuk as Rush recounted

the story of their first meeting. "We only

said it was different from where we were

from."

That response, said Rush, started a

three-hour long conversation that made a

profound and lasting impact on his life.

Around this time last year, Vasilchuk

and Igor Manjul were living in Odessa,

Ukraine with their growing families.

Vasilchuk worked in the ministerial serv-

See UNBREAKABLE page 2

Come

See our

Holiday Train Display

Inside

4220

W. Broad St.

(across from

Westland

Mall)

614-272-6485

Open

7 Days

A Week

GHAC wants to

streamline meetings

By Dedra Cordle

Staff Writer

The Greater Hilltop Area Commission

could look to streamline its monthly meeting

schedule in the coming year.

At the full commission meeting held on

Dec. 6, the legislative body weighed the

merits of a proposal that calls for the consolidation

of its subcommittees.

As it currently stands, the area commission

that serves parts of the city's westside

has nine subcommittees, a majority of

which meet on a monthly basis. The proposal

put forth by members of the human

services and education committee does not

recommend the elimination of any of the

nine subcommittees. Instead, they are

requesting that similar subcommittees

combine meeting dates to not only make

See MEETINGS page 3

Pets of the Week .................. 10

The Reel Deal ......................... 12

Winter Reading

Columbus Metropolitan Library brings

back its popular program Page 4

Winter Hikes

Metro Parks will celebrate 50 years of

community winter walks Page 10

SENIORS – HELP IS HERE

Transportation • Care Team • Concierge Service

ACCEPTING NEW PATIENTS

Serving Superior Heath Care to the 55+ Community

Let's change the world together!

SEE

PAGE 4

FOR

MORE

INFORMATION
---
PAGE 2 - WESTSIDE MESSENGER - December 11, 2022

UNBREAKABLE

Continued from page 1

www.columbusmessenger.com

Bob's

America's Fa Fa

av av

vorite Treasure ure e Hunts!

2022

!"#$!"%%Tours%

!"#$%&'#$(%')%

='(74+&)"+%8')4"+'5(-%

8*%*'+,$$(%:%

?"()"+%.$/%0"1>

Dec. 17 & 18

!"#$%&'#$(%')%*'+,$$(-%

.$/%0"1-%234"5$(-%674554$(-%

8')4"+'5(-%9$)(%:%;4))5$

;$'&
---
www.columbusmessenger.com

MEETINGS

Continued from page 1

December 11, 2022 - WESTSIDE MESSENGER - PAGE 3

business run more smoothly, but also to

reduce the number of meetings commissioners

are required to attend each month.

"The Greater Hilltop Area Commission

is one of the larger legislative bodies and so

we have a lot of subcommittees and they all

meet individually," said commissioner

James White in an interview after the

meeting. "Because we all serve on at least

two subcommittees, we are attending a lot

of meetings where there can be a lot of

overlap in what is discussed.

"This proposal would combine several of

these subcommittees so our commissioners

could have the time to attend the committee

meetings they are not on so we can all

have a better understanding of what is taking

place in the community and be more

proactive and do our jobs more efficiently

(when we meet as a full commission).

Under the proposal, the nine subcommittees

would be split into five groups. The

subcommittees that would be paired

together under this proposal would be community

relations and government and legislation;

public safety and liquor permit;

and human services and education and

planning and economic development. The

subcommittees that would still be held by

themselves are finance, recreation and

parks, and zoning.

White explained that the former meets

on an ad hoc basis to discuss the budget,

while the latter two subcommittees need to

be held on their own due to the logistics of

what they do. White also serves on the

recreation and parks committee and said

he did not feel it was "fair" to ask other

committees to come out to their meetings

as they are held in the parks where they

often clean up the grounds.

Several of the commissioners said that

while they were in favor of the consolidation

request, they did question whether the

committees should be paired differently.

For instance, members of the public safety

committee said they felt it would make

more sense to be paired at meetings with

members of the economic development and

planning committee or the human services

and education committee rather than the

liquor permit committee.

White said the rationale behind pairing

the public safety committee with the liquor

permit committee is because of the overlap

when discussing whether businesses

should be given the clearance to serve alcohol

on their premises.

"A lot of times, (the issue of safety)

comes into it because that establishment in

the past could have had violations so it

made sense to lump it into public safety

because it can become a public safety nuisance,"

he said.

Commissioner Patrick Barnacle said

while he did agree with that reasoning, he

Schuman's Meats

1440 Harrisburg Pike • Columbus, OH 43223

614.274.2161 • www.schumansmeats.com

Hours: Tues.-Fri. 9 AM - 5 PM • Saturday 9 AM - 4 PM

USDA Choice Beef Ohio Grown.

Naturally Dry Aged For Your Satisfaction. Cut Fresh Daily!

All Ground Meats and Patties are Ground Fresh Daily

(No added Antibiotics or Steroids)

"Ohio Choice Grade Beef" Taste the difference!

OPEN SATURDAY, DECEMBER 24 - 9 AM - 3 PM

LET SCHUMAN'S MEATS BE A PART OF YOUR CHRISTMAS!

MERRY CHRISTMAS

Holiday Specials

• Beef Rib Roast 1st cut $15.99 lb. - (oven ready)

• Boneless Beef Sirloin Tip Roast $6.49 lb.

(oven ready)

• Whole Beef Tenderloin $20.99lb.

• Whole Beef NY Strip $9.49 lb.

• Falters Old Fashion Hams $3.69 lb.

• Spiral Hams $3.99 lb.

felt the liquor permit committee should be

kept on an ad hoc basis and that public

safety should be paired with another committee

such as human services and education.

"I would also note that some of the public

safety concerns do come from the youth

who are school age, so there is a lot of overlap

between those groups," he said.

Although most of the commission did

seem in favor of making adjustments to the

subcommittee meeting schedule, they did

not vote upon the presented proposal at the

meeting. They said they will continue to

discuss which subcommittees should be

paired together — or whether to make any

changes to the monthly meeting schedule

at all.

"This is not set in stone," said Victoria

Bates-Frye. "We have options to switch it

up as we see fit."

In other news, the commission pushed

back its nominations to appoint an individual

to serve via appointment at the meeting.

Instead, the vote will take place at the

full commission meeting on Jan. 3, 2023.

However, commissioner Rachel Wenning

did formally nominate James White for

consideration during the meeting. White

has been serving on the commission as an

appointed member for the past three years.

She said she nominated White because of

his commitment to the community, to the

• Pork Crown Roast $5.19 lb.

• Fresh Hams $2.29 lb.

• Meat and Cheese Party Trays

• Steak Gift Boxes (makes for a great gift!)

or make your own gift box

• Gift Certificates - Any denomination

• Der-Dutchman and Stevens

• Bakery Products

commission, and to the work they do.

Community liaison Olabisi Eddy

announced at the meeting that the

Columbus City Attorney's Office and MY

Project USA will be hosting a resource fair

on Dec. 15 from 3:30 to 4:30 p.m. at 3275

Sullivant Ave.

community events

Wreath laying service

at Camp Chase Cemetery

At noon on Dec. 17, Christmas wreaths

will be laid on graves in Camp Chase

Confederate Cemetery, located at 2900

Sullivant Ave. in Columbus. Community

members are asked to attend and help

spread more than 335 wreaths across the

cemetery. This location is one of over 3,400

other locations that will also be laying

wreaths on veterans graves around the

world at the same time. For more information

about Wreaths across America, visit

wreathsacrossamerica.org.

Free lunch at Hilltop Methodist

The United Hilltop Methodist Church

will host a free community lunch every

Friday from 11 a.m. to 1 p.m. The church is

located at 99 S. Highland Ave.

Good thru

Jan. 5 th
---
PAGE 4 - WESTSIDE MESSENGER - December 11, 2022

Community Focus

www.columbusmessenger.com

Winter Reading Challenge

back at Columbus Library

Columbus Metropolitan Library is

bringing back for a fifth year its Winter

Reading Challenge, in which students can

earn prizes by reading over break. A twist

on CML's Summer Reading Challenge,

Winter Reading Challenge aims to keep

reading skills strong when students are out

of school over the holidays. From the beginning

of December through Jan. 31, K-12

students can pick up a game board at

CML's 23 locations throughout Franklin

County.

The annual program challenges students

to track their progress as they read

for 20 days and complete five activities on

their game boards. Examples of game

board activities include "Read a book about

science," "Read a book in a series," "Read a

book about a holiday" and many more. Just

for signing up, students can select a prize

from the library's Treasure Box. Students

who complete the program will earn a book

to keep, as well as a drawstring bag.

Last winter, approximately 3,800 students

participated in the program.

Studies show that kids who read during

out-of-school time maintain reading skills

that are critical to future school success.

The Third Grade Reading Guarantee in

Ohio means many central Ohio third

graders could repeat the grade if they don't

pass state proficiency testing. This year's

Winter Reading Challenge is supported by

Altrusa International of Columbus and

Battelle.

For more information, visit columbuslibrary.org.

SENIORS — HELP IS HERE!

Your Doorstep to Your Doctor!

We provide:

• Transportation • Personal Coordinated Team Care

• Concierge Service • Convenience of all services under one roof

• Superior Healthcare • We serve to 55+ Medicare-eligible Community

Call for more information:

Trae White, COS - Community Outreach Specialist

614-551-5367

trae.white@dedicated.care

Let's change the world together!

NORTH

2260 Morse Rd

Partnership with

3 LOCATIONS:

WESTSIDE

50 N. Wilson Rd.

WHITEHALL

5156 E. Main St.

Messenger photo by Dedra Cordle

Wrapping up holiday cheer

Westside resident – and noted gift wrapping ace – Jenny Coss helps Zayden

Meyers, 4, put the finishing touches on a few presents he picked out in the gift

shop at the Trinity United Methodist Church's Breakfast with Santa event on Dec.

3. Coss is a member of the church in Lilly Chapel and volunteered to help the

youngsters wrap their gifts. All of the items within the gift shop were purchased by

members of the congregation and the greater community so the children could

pick out presents for their loved ones at no cost to them.
---
www.columbusmessenger.com December 11, 2022 - WESTSIDE MESSENGER - PAGE 5

Grant awarded to fund public health programs

The Franklin County Commissioners

continued the ongoing investment in public

health initiatives for residents by providing

a more-than $1.7 million grant to Franklin

County Public Health (FCPH).

The grant will support FCPH's

Community Health Improvement Plan,

which is a collective impact strategy to

identify core health priority areas that

impact the health and wellbeing of

Franklin County residents and to develop

plans to address those community-wide. In

addition, the funding will provide for training

for FCPH staff, strategic planning,

upgraded data and technology infrastructure,

and additional resources to bring the

agency's services into the community to

meet residents where they are.

"We've seen over the past three years

how important it is to have a strong public

health infrastructure," said board of commissioners

president Erica Crawley. "The

pandemic has been difficult for all of us,

but it's also exacerbated health disparities

that already existed in that communities

that were already struggling are in even

worse shape today. Franklin County Public

Health is working to identify those residents

and the challenges they face, and put

interventions in place to help them get

back on track for better health and success

in the community."

Over the course of the pandemic, the

commissioners have increased funding of

public health initiatives to unprecedented

levels, from funding the 1,000-bed overflow

surge hospital at the convention center to

providing additional space for residents in

homeless shelters to quarantine, and from

purchasing and distributing hundreds of

thousands of pieces of PPE to funding community-wide

educational campaigns

around masking and vaccinations. In 2020,

the commissioners also provided funding

when they and the health department

declared racism to be a public health crisis

in order to support a new associate director

for diversity, equity, and inclusion at

Franklin County Public Health.

"Franklin County has become a leader

in the public health space in Ohio, and

we're not going to slow down now," said

commissioner John O'Grady. "Too often

over the past three years, we've seen people

here and around the country trying to curtail

strong, science-based public health policy

and some Americans have suffered

because they're getting bad advice or their

local public health agencies aren't funded

well. Here in Franklin County, we're fortunate

enough to have the resources to invest

in our residents in this way, and it's not

hard to see the benefits they reap from it."

The new grant funding is made available

via the American Rescue Plan, and

will fund additional diversity, equity, and

inclusion training for FCPH staff as well as

other ongoing professional development. In

addition, it will help the agency upgrade its

data collection and analytics capabilities

and support ongoing strategic planning

efforts, fund Stop The Bleed trainings, and

provide grants to support the use of ACEs,

the Adverse Childhood Experiences assessment.

"There are so many barriers already

standing in the way of success for many of

our neighbors, and a lack of basic health

information and access to basic care

shouldn't be one of them," said commissioner

Kevin Boyce. "Those are problems for

which we have solutions, and we're excited

to be able to partner with Franklin County

Public Health in their ongoing mission to

address inequities in healthcare and to

plan for future public health needs."

The commissioners' grant will also allow

Franklin County Public Health to procure

a mobile vaccination vehicle, an emergency

preparedness vehicle, and vehicles for community

health experts to use throughout

the community as well as supplies for the

distribution of Naloxone.

"This investment from the board of commissioners

will enhance critical public

health capabilities such as increased datasharing,

communications, and organizational

competencies," said Franklin County

Public Health Commissioner Joe Mazzola.

"The funding will also improve program

accessibility, transparency, and efficiency.

We are grateful for the continued support

of our county commissioners and county

administration as we collectively work to

improve the health of our community."

You can learn more about Franklin

County Public Health and its mission and

initiatives at MyFCPH.org. To see how

else the commissioners are using the

American Rescue Plan to help the community

recover from the pandemic, visit

Recovery.FranklinCountyOhio.gov.

around the westside

Blood Drives

The American Red Cross will host a

blood drive from 12 to 6 p.m. Dec. 21 at

Columbia Heights United Methodist

Church, 775 Galloway Road in Galloway

and from 8:30 a.m. to 2:30 p.m. Dec. 23 at

OhioHealth Doctors Hospital, 5131 Beacon

Hill Road in Columbus. To schedule an

appointment, call 1-800-448-3543 or visit

www.redcrossblood.org.

NO MATTER THE

SEASON

NO MATTER THE

REASON

We have the personal loan for you.

Rates as low as 6.99% APY (7.759% APR).

Need to make a large purchase or consolidate your debt?

Get the cash you need now with a personal loan from

Telhio, with rates lower than most credit cards!

LEARN MORE TODAY AT TELHIO.ORG

A $150 doc prep fee applies. Rates are subject to change without notice. All rates and terms subject to credit approval. Additional discounts may be availableailable

.

APR = Annual Percentage Rate. Example: A $10,000 personal loan would have a payment of $243.01 for 48 months with disclosed APR. Telhio is open to anyone

who lives, works, worships or goes to school in Central and Southwest Ohio. This credit union is federally insured by the National Credit Union Administration.

614-221-3233
---
PAGE 6 - WESTSIDE MESSENGER - December 11, 2022

Follow us on Facebook

www.columbusmessenger.com

Columbus recognized for climate action plan

As the city of Columbus approaches the one-year

anniversary of its Climate Action Plan, the Carbon

Disclosure Project (CDP) — a global environmental

nonprofit dedicated to supporting and advancing local

climate action efforts — has recognized Columbus as

one of 122 "A List" cities and counties for taking bold

leadership on environmental action and transparency,

despite various economic challenges occurring around

the world.

"Climate change is real, and its effects are already

impacting our neighborhoods," said Columbus Mayor

Andrew Ginther. "That is why we launched the

Climate Action Plan and are working to bolster our

resiliency while creating a cleaner, healthier

Columbus for our children and grandchildren. It is

incumbent upon us to act while we can still make a difference

and share our progress with the community in

a transparent and proactive fashion."

CDP rankings are based on environmental data disclosed

by local governments to the CDP-ICLEI Track

platform. To score an A, local governments must disclose

their data, maintain a community-wide emissions

inventory, and have published a climate action

plan. A List governments must also complete a climate

risk and vulnerability assessment, as well as possess a

climate adaptation plan to demonstrate how they will

tackle climate-related hazards. Nearly 20,000 organizations

disclosed data to CDP-ICLEI Track in 2022,

including more than 18,700 companies comprising 50

percent of global market capitalization, and over 1,100

cities, states, and regions.

"Congratulations to Columbus for earning a spot on

the CDP Cities A List – one of 49 cities and counties

in North America to make the list in 2022," said Katie

Walsh, head of cities, states, regions and public

authorities, CDP North America. "Columbus is in the

vanguard of cities and counties leading the way toward

a climate-safe future."

Over the past year, the city of Columbus has also

made significant progress toward meeting goals and

targets within its Climate Action Plan — which aims to

achieve carbon neutrality by 2050 and a 45 percent

reduction in emissions by 2030 while imparting equity

and environmental justice.

Accomplishments from 2022 include:

•Passage of an equitable EV Readiness Ordinance

to support the transition to zero-emission vehicles.

•Launched the Empowered! clean-energy jobs program

in partnership with IMPACT Community Action,

focusing on communities of color, women and opportunity

neighborhoods.

•Announced weekly residential recycling pickup to

begin in 2023.

•Funded a Solar Co-Op campaign in partnership

with Solar United Neighbors to support residential

onsite solar, with over 260 Columbus-area residents

joining the co-op.

•Participated in a national Urban Heat Island mapping

campaign to engage residents in how heat

impacts the community.

•Partnered with IMPACT to receive a $2 million

Department of Energy grant for deep energy retrofits

for the American Addition net-zero neighborhood

effort.

Through its Sustainable Columbus initiative, the

city is working with residents and community partners

to build on these achievements. Expanded staffing

capacity, equitable engagement and transparent,

accessible goal-tracking will further advance the

Climate Action Plan in 2023 and beyond.

•Oysters Chesapeake Bay

•Assorted Beef Steaks

•Frozen Lobster Tails

•King Crab Legs

•Faroe Island Salmon

•Sea Scallops

SUPPORT YOUR LOCAL

SMALL BUSINESSES

BY: CASEY P. O'BRIEN [#0072378]

IBOLD & O'BRIEN

401 South Street

Chardon, OH 44024

(440) 285-3511

casey@iboldobrien.com

Attorney for Plaintiff

•Chilean Seabass Fillets

•Halibut Fillets

•Snow Crab Clusters

•Orange Roughy

•Smoked Salmon

•Live Lobsters via Special Order Only!

HOURS:

Saturday, Dec. 24th - 8 to 5

Monday thru Friday 8 to 6

Saturday, December 31st - 8 to 5

Closed December 25th & 31st

Now taking

Christmas Orders

WE ACCEPT All Major Credit

Cards - EBT Cards (SNAP)
---
www.columbusmessenger.com

December 11, 2022 - WESTSIDE MESSENGER - PAGE 7

SAVINGS RATES

Hid

ay

a y

for the

Season

Money Market Special

3.65 %

1

APY

een

.6een on balances betw

$25,000 and $499,999

12 Month CD Special

4.00 %

2

APY

e

4with minimum balanc of $5,000

Contact me today for details!

Josh McKee

Branch Manager, Grove City Office

(614) 875-1884

Josh.McKee@Heartland.Bank

1

Annual Percentage Yield (APY). Minimum opening deposit is $1,000. Minimum balance to earn interest is $0.01. Minimum balance to earn promotional APY is

$25,000.00. This is a tiered rate account. The promotional APY of 3.65% is available for the following tiers: $25,000 - $49,999.99, $50,000 - $99,999 and $100,000

- $499,999.99. Regular rates apply to the follo

ollowing tiers: $0.01 - $9,999.99 is 0.03% APY; $10,000.00 - $24,999.99 is 0.08% APY; and $500,000 + is 0.12% APY. The

promotional rate to applicable tiers is guaranteed for 180 days from the day of account opening. After 180 days, the rate may change at any time as the Heartland Bank

Money Market Savings Account is a variable

rate account. To qualify for the promotional rate, the opening deposit must be from funds not currently on deposit with

Heartland Bank. Limit one (1) promotional Money Market Savings Account special per household. APY accurate as of 11/07/2022. Fees may reduce earnings. Accounts

closed less than 180 days from date opened will be charged an early close fee of $25.00. Personal accounts only.

2

Annual Percentage Yield (APY). Minimum balance to open and maintain the advertised 12 month APY of 4.00% is $5,000. APY is accurate as of 12/05/2022. Maximum

deposit is $250,000. Please see your local branch office for disclosure information regarding terms and conditions. Penalty may be imposed for early withdrawal. Rates

are subject to change at any time. No brokers please. Limited time offer. Limited to one per household. Not valid with money currently on deposit at Heartland

Bank. Personal accounts only.

Messenger photos by Dedra Cordle

Reaching the finish line

Westside Messenger Ad

Heartland Bank

December 7, 2022 10:45 AM

1/6 Vertic

CMYK

x 5.75"

gin

Contact

Jonathan Heberline

(614) 392-5156

Before millions of people across the country gobbled up a variety of calorie-filled

dishes on Thanksgiving Day, thousands of people throughout the region came to

the city of Grove City to pound the pavement for the 11th annual Thanksgiving

Wattle. According to event organizer Mark Sigrist, more than 1,700 cyclists, runners,

walkers, and wheelchair users signed up for this year's 5K race, the most they

have ever had throughout its history. "Unfortunately, we had to turn some people

away because it was so packed," he said. Although the organizers were saddened

to have denied entry to dozens of would-be participants, they were ultimately

pleased with the results of the day as more than $30,000 was raised for the local

food pantry. "It's always a good day when we can give back to the community in

some way," said Sigrist. Here, Galloway resident Kelsey Cook takes part in the event

and prepares to cross the finish line with Biscuit Cassner leading the charge.

Biscuit's humans were also participating in the race but Cook said that the Golden

retriever wanted to run with her.

Jeff

Decker, of

Hilliard,

proudly

displays

his decked

out bicycle

after finishing

the

13.4 mile

Rotisserie

Roll Bike

Ride.
---
PAGE 8 - WESTSIDE MESSENGER - December 11, 2022

www.columbusmessenger.com

Holiday Gift Ideas

Holiday Gift Ideas

GROOMING

$65 for full groom

And $45 for puppy cut

1663 Georgesville Square Dr.

614-675-0241

Lunch Specials Mon.-Sat. 11 - 3:30 pm

Save time--order online!

614-276-4395 • 614-272-9234

120 PHILLIPI ROAD • www.dingho.net

GIFT CERTIFICATES

In Any Amount Of Your Choice

Each Gift Purchase Over $50.00

And You Get

$

10.00 FREE

Messenger photo by Dedra Cordle

The Christmas tree in Grove City made for a great photo opportunity for families.

Christmas tree tips

Christmas trees are an iconic symbol of

the holiday season. Whether they are personal

trees nestled in the corner of a living

room for families to enjoy or towering evergreens

serving as the focal point of a town

square, Christmas trees are a wonder to

behold.

Many people have fond memories of

time spent around the Christmas tree

sharing gifts and family traditions. Live

trees and their pine-like aroma can be

especially nostalgic trees to include in holiday

plans. The National Christmas Tree

Association says that approximately 25 to

30 million real Christmas trees are sold in

the United States every year. North

American trees hail from all 50 states and

areas of Canada.

While freshly cut trees can be particularly

beautiful and aromatic additions to

the season, they require a bit more work

than artificial trees in order to remain

beautiful and thrive throughout the holiday

season. Maintenance can help keep

Christmas trees as perfect as possible.

• Even though it is tempting to buy a

real tree as early as possible, their shelf life

is limited even with the best care. Dural

Christmas Tree Farm advises that, under

the best conditions, a real tree should last

up to four weeks before drying out.

• Consider the needles when looking for

a real tree. Pull your hand toward your

body along the branches. If many needles

fall off, the tree is past its peak.

• Think about the room in which the

tree will be located. Leave at least six inches

between the tip of the tree and the ceiling,

accounting for the height of the tree

stand as well.

• If needle retention is a goal, the Scotch

pine variety has the best needle retention

and a high survival rate, lending to its popularity,

offers Precision Tree and

Landscape. Douglas fir and balsam fir are

other durable trees.

• If possible, buy a freshly cut tree from

a reputable nursery or tree farm, advises

The Old Farmer's Almanac. Many pre-cut

trees sold elsewhere were likely cut weeks

before and may not be fresh.

• Cut the bottom of the tree trunk

before bringing it home to facilitate the

uptake of fresh water daily. Trees can

absorb as much as a gallon of water in a

day, so make sure the tree gets fresh water

every day.

• Keep trees away from as many heat

sources as possible and away from direct

sunlight to prolong longevity.

• According to Karabin Farms in

Connecticut, to make a Christmas tree last

longer, boil a gallon of water and then dissolve

one cup of sugar in the water. Allow

to cool. After freshly cutting the trunk,

pour in the warm sugar water. Continue to

add fresh, cool, plain water to the tree

stand afterward.
---
www.columbusmessenger.com

Holiday Gift Ideas

Holiday Gift Ideas

Gifts ideas for your furry friends

Holiday shoppers who are busy making

lists and checking them twice should make

sure they don't overlook the family pet.

Christmas has gone to the cats and dogs, as

a greater number of people include their

companion animals when selecting gifts

each year.

A study by OnePoll conducted by

Rover.com, the nation's largest network of

dog sitters and walkers, found that 95 percent

of pet owners have bought holiday

gifts for their pets. Gifts can range from

everyday needs, like food and treats, to

more lavish extravagances like spa treatments.

Pet owners who plan to get their pets

gifts this year may want to consider some

of the emerging pet trends as they browse

wares and services. The Balance, a business,

career and industry information site,

says pet industry trends point toward

these segments seeing growth.

Natural pet products

Just as people are interested in protecting

the health of the planet and their own

personal health, so, too, are they extending

this concern to companion animals.

Natural pet products, which can include

natural flea and tick remedies, holistic

foods, organic items, and all-natural

grooming products, can make great gifts.

Specialty pet services

The American Pet Products Association

says the demand for high-end pet grooming

and other services is substantial. In addition,

personalized training, behavioral consulting,

portrait photography, dog sitting,

and upscale spa treatments like pet Reiki

and massage are booming.

Mobile pet grooming

Mobile pet grooming has become the

norm in many areas. Mobile pet grooming

can reduce the potential stress on animals,

and tends to be very convenient for customers,

particularly seniors and others

Get out of the house and ring in 2023 at a New

Year's Eve party that is rated one of the best in

Columbus.

The Crowne Plaza Hotel, 6500 Doubletree

Ave., will host Mike Albert and The Big "E" Band

at this 16th annual New Year's Eve bash.

Albert is an award winning "Elvis Presley

impersonator." His wardrobe, voice and amazing

wit makes for a wonderful show.

You can get a full service dinner, drinks, room,

hats and horns, champaign toast at midnight along

with a full breakfast New Year's Day for only

who have mobility issues.

Beyond these growing trends, pet owners

have a bevy of other ideas from which

to choose. Here are just a few different suggestions:

• tests to detect pets' DNA and trace

breed and ancestry,

• interactive puzzles to keep pets

engaged and banish boredom,

• stylish storage baskets for pet toys,

• hidden cat litter or dog crate items

that camouflage commonly used pet items,

• heated pet bed for cozy nights and

mornings, and

• signature vests, coats and sweaters to

look good and remain comfortable.

PAID ADVERTISING

Ring in the new year with Mike

Albert's Elvis tribute show

$319 per couple. There is also a party package for

$250 per couple or $150 per single. Tickets are

limited. For reservations, call (614) 792-3135.

Early check in is at 1 p.m., ballroom doors

open at 7 p.m. Draft beer and wine, included in

the price, will be available until midnight, with

dinner at 7 p.m. The show kicks off at 9 p.m.

There will be two televisions in the ballroom to

keep up with the Ohio State football game.

"Mike's New Year's Eve show is like no

other," said promoter Doug Henry. "He interacts

with the crowd, which makes for a fun time."

www.jpsbbq.com

WESTSIDE MESSENGER - December 11, 2022 PAGE 9

Celebrate New Year's Eve

Starring

with ELVIS

Mike Albert

Prices Per Couple

Overnight Package - $319

Party Only Packages - $250

Single Overnight - $219

Prices include

Dinner, Drinks, Room,

Party favors, Full Breakfast

Make Your Plans NOW!

614-792-3135

The Big "E " Band

Crowne Plaza • 6500 Doubletree Ave. (formerly Marriott North)

2000 Norton Rd.

Phone: 614-878-7422 Fax: 614-878-7429

Hollyday Happiness

(Serves Approx. 4-7).......................................... $ 169.95

Order By 12/13/22

For Christmas Eve Pick-Up by 5 PM

Hot & Ready to Eat or Cold to Reheat

*INCLUDES*

Charicuterie Platter (Fancy Meats/Cheeses & Fruit Snacks)

3 Blend Salad

JP's Ribs * Or * 2# Prime Rib (Limited Supply So Order Early)

Italian Roasted Chicken Pieces

3 Side Selections:

Au Gratin Potatoes/Green Beans/ Baked Beans/Slaw

Mac & Cheese/Potato or Macaroni Salad/Chunky Applesauce

Rolls & Butter
---
PAGE 10 - WESTSIDE MESSENGER - December 11, 2022

Metro Parks celebrate

50 years of Winter Hikes

In Ohio, people often assume that the

winter means a time to cuddle up inside

and avoid the outdoors.

Fifty years ago, Metro Parks challenged

central Ohioans to bundle up and enjoy the

parks throughout the winter by creating

the Winter Hikes series. The hikes were

originally set up with a naturalist and volunteers

leading visitors along a different

trail each Saturday from January to

February. Hikers could enjoy soup and

camaraderie after the hikes. A crowd of 75

hikers was a very good day in the parks

during those early years.

About 10 years ago, winter hike crowds

began to surge and it was no longer shocking

to see 1,000 hikers on a Saturday

morning. Hikers were encouraged to go on

their own self-guided walk as the naturalists

and volunteers could no longer lead a

walk for that many visitors at once. Soup

and fun was still a major part of the hike

series, although some decided to avoid the

crowd and eat elsewhere after their hikes.

As with all things, the pandemic forced the

hike series to change and it shifted to a

self-guided, avoid the crowds, concept.

This year, for the 50th anniversary of

the Winter Hikes series, Metro Parks are

bringing back some of the tradition while

still keeping things flexible. Visitors can

hike any trail, any time from December to

February as part of the series. Each month

will feature different parks where you can

take a walk, get your hike card stamped

and maybe join a group for a walk. Hike

under the Twinkling Lights in December

and in January and February enjoy hot

drinks and treats or search for a collectible

winter hike wooden medallion along the

trail.

Participants can:

•Visit the parks highlighted each

month and hike any trail during the designated

month.

•Have a staff member stamp your

Winter Hikes card.

•Hike seven parks to earn a Metro Park

Winter Hikes patch.

•Visit Friends of Metro Parks to find

out how to earn hike medallions and additional

swag.

For more information on Winter Hikes,

visit metroparks.net/winter-hikes.

- Jill Snyder, Metro Parks visitor and

engagement manager

Chex is a 5-monthold

who is eager to

find her forever family.

She is a sweet and

playful girl who is

sure to steal your

heart. Chex is

spayed, microchipped,

and up to

date on vaccines.

Stop by and meet her

at the Colony Cats

cage-free Adoption Center.

FYI: colonycats.org

Pets of the week

Martha is a very

sweet but shy girl.

Martha and her littermates

were found in

a laundry room with

no windows or toys to

play with. They were

in that room for nine

months. Now that

Martha has been rescued,

she would love

a window to watch the outside world. A quiet

home would be best for her. She gets along

with other cats but has never been around a

dog. Adopt Martha from Friends for Life

Animal Haven

FYI: fflah.org

www.columbusmessenger.com

These furry friends are available

for adoption at local

rescues and shelters

Buckeye is a 10-

year-old mixed

breed. This sweetheart

loves to give

kisses, cuddle, and

sleep on the sofa. He

also loves a good

game of tug of war.

Buckeye is housebroken

and will proudly sit for a soft treat. He is

playful with the resident dog in his foster

home, and is friendly with people he meets.

Buckeye's holiday wish is that he finds a very

loving and cozy forever home.

FYI: franklincountydogs.com

Almond Joy is so

much fun to have

around. She is excited

about walks, toys,

and treats. She loves

everyone and makes

friends everywhere

she goes. Almond

Joy loves kids as

much as she loves any other human. She is

not a huge fan of other dogs, but she walks

politely past them in public. She can be active

one moment and then lazy on the couch the

next. Overall, this girl would be a perfect pal

for anyone who gives her pets and attention.

FYI: franklincountydogs.com

Messenger

Westside

Hilltop Library - 511 S. Hague Ave.

United Dairy Farmers - Hague & Sullivant Ave.

Alex Carry-Out - Binns & Sullivant Ave.

Dollar General - Kingsford & Sullivant

Dollar General - Georgesville & Atlanta

M & S Carry-Out - Georgesville & Atlanta

United Dairy Farmers - Georgesville & Parwick by Freeway

Thorton's Gas Station - Georgesville & Norton Rd.

Shell Gas Station - Georgesville & Norton Rd.

Kroger - Georgesville Square

Turkey Hill - Georgesville & Clime Rd.

United Dairy Farmers - Clime & Demorest Rd.

Walgreens - Clime & Demorest Rd.

Certified Gas Station - Briggs & Demorest Rd.

Starting November 28, 2021

Pick-Up At These Locations:

Kroger - Eakin Rd. & Harrisburg Pike

Speedway Gas Station - Eakin Rd. & Harrisburg Pike

Heartland Bank - Great Western Shopping Center

Walgreens - Harrusburg & Hopkins

Certified Gas Station - Broad St. & Orel

Walgreens - Hague Ave. & Broad St.

Marathon Gas Station - Georgesville & Industrial Rd.

La Plaza Tapatta - Georgesville & Hollywood Rd.

BP Gas Station - Georgesville Rd. & Broad St.

Westland Library - Lincoln Village Plaza

Giant Eagle - Lincoln Village Plaza

Thorton's Gas Station - 4990 W. Broad St.

Walgreens - Broad St. & Galloway Rd.

Kroger - Broad St. & Galloway Rd.

READ US ONLINE: www.columbusmessenger.com

CVS Pharmacy - Norton & Hall Rd.

United Dairy Farmers - Norton & Hall Rd.

Circle K Gas Station - Norton & Hall Rd.

Dollar General - Norton & Hall Rd.

Marathon Gas Station - Broad St. & Murray Hill Rd.

Speedway Gas Station - Broad St. & Murray Hill Rd.

Dollar Tree - Broad St. & Murray Hill Rd.

Speedway Gas Station - Broad St. 7 Freeway

Sheetz Gas Station - Westland Mall

Speedway Gas Station - Broad St. & Wilson Rd.

Kroger - Consumer Square Shopping Center

Franklin Township Business Office - 2193 Frank Rd.
---
www.columbusmessenger.com

Community Focus

Ambassadors are helping students grow

More than 100 different languages are spoken in Columbus

City Schools, and the district is always looking for ways to engage

with non-English speaking families. One essential part of these

connections is the family engagement staff.

Student with family ambassador The Department of

Engagement works alongside CCS families to maximize student

achievement and growth. As part of this mission, family ambassadors

are placed in schools where they work to connect with families.

In addition, CCS employs several bilingual family ambassadors

across the district to expand its outreach. For some families,

having a bilingual ambassador is crucial.

"Being able to speak two languages is a gift," said Valleyview

Elementary School family ambassador Maria Alcauter. "It's amazing

what a language can do for somebody else."

Alcauter speaks both English and Spanish. Before becoming a

family ambassador, she saw a need in the community for additional

Spanish-speaking resources. She has been working with

Valleyview for a month. Still, she was attending events and aiding

families before she began officially working in the role.

"Before even starting, I was ready to go. I was eager to understand

what a family ambassador did," she said. "I wanted to connect

with families and have a bond with my colleagues when I

started."

Alcauter is working with a student who recently moved to the

United States from Ecuador. While the student initially hesitated

to engage with staff, Alcauter said working with him in Spanish

has made him feel more comfortable.

"I was able to connect with him because of the language. Being

able to speak with him is something special to me. It makes me

smile," she said.

Alcauter said families sometimes miss out on information

because of the language barrier, and she is proud of the work the

family ambassadors do to bring those resources to them.

"Being a family ambassador has given me a purpose," she said.

"This role has given me the satisfaction of knowing that I can help

people by just passing on information in the language I know. I

really do love it."

WESTSIDE MESSENGER - December 11, 2022 PAGE 11

Dave Dobos

STATE REPRESENTATIVE

The

work

begins…

By the time you see this, it will be fewer than

30 days before I am sworn in to the Ohio

House of Representatives, serving the new

10th District. As you probably know, Ohio has

a bicameral legislature, which includes a 33-

member Senate whose members serve fouryear

terms and a 99-member House of

Representatives whose members serve twoyear

terms. House districts currently comprise

about 120,000 people. Senate districts include

three House districts, encompassing a

population of approximately 360,000 people.

Our House District consists roughly of west

and southwest Columbus, south of Sullivant

Avenue and east of I-270; portions of the

south side of Columbus; Grove City and Urbancrest;

and most of Franklin Township and

part of Jackson Township.

I am trying to prepare myself to hit the ground

running. Although there is a lot to learn, I

have attended an initial three-day new-member

orientation and am meeting with House

leadership, community leaders, former legislators,

and constituents in the coming weeks

to get as familiar as possible with the different

corners of our district and priorities of various

communities. I will or already have met with

the mayors of Columbus, Grove City, and Urbancrest;

the superintendents of the Columbus

and South-Western City Schools; Franklin

and Jackson Township trustees; The Ohio

State University President Kristina Johnson;

City Council members and Board of Education

members; and community leaders from the

Greater Hilltop Area Commission and the Far

South Columbus Area Commission, among

others. I'll also meet with former House members

who can provide helpful insights into

how I can be the most effective.

Spreading smiles and merriment

Messenger photo by Dedra Cordle

The city of London's main thoroughfare was transformed into a magical winter wonderland – albeit with rain and wind instead

of snow – when the 1811 Downtown District hosted its annual Old Fashioned Christmas on Nov. 27. Among the number of entertainers

who were in charge of eliciting smiles and merriment from the visitors was the Lee, Ryan and Sintz families from the

city's westside. Adorned in Victorian-era clothing (and pictured from left to right in this photo), Christina Sintz, Lydia Lee, Stacy

Lee, Tim Lee, Susie Ryan, Mike Ryan, Max Lee, Braden Lee, and Josh Lee, welcomed guests throughout the four hour event

and posed for many photos in their period costumes. Tim Lee, who is the senior pastor at the Hillcrest Baptist Church, said

they volunteered as a favor to their friend who was the event organizer.

I will concentrate on quality-of-life issues:

economic growth, workforce development,

and excellent academic education for our children.

House members typically serve on

three of the 23 standing committees. To this

end, I have identified three House committees

that I feel will enable me to contribute the

most: Finance, Technology & Innovation, and

Primary & Secondary Education. Alternatively,

there are three additional committees with

which I feel I can be helpful: Economic &

Workforce Development, Higher Education &

Career Readiness, and Ways & Means. As I

meet with the new House leadership, I will

communicate my interests, priorities, experiences,

and skill sets so that I can be matched

with the committees where I can be the most

effective for the House and for our District.

I wish you and those you love the best for

Christmas and the coming Holidays!

Paid Advertisement
---
PAGE 12 - WESTSIDE MESSENGER - December 11, 2022

www.columbusmessenger.com

In Entertainment

Santa and a sledgehammer

'Tis the season when people all across the world

gather in front of their television sets, computer monitors,

and smartphone screens to usher in a bit of

Christmas cheer through a variety of entertainment

offerings that aim to elicit the soothing sensation of the

warm fuzzies for their audience. Although there is a

certain segment of the population who likes to watch

this type of programming throughout the year, most

only care to view the festive fare within a three-week

window as it provides a nice distraction from the

mountain of debt you are incurring from buying gifts

for those who do not deserve them or for those who can

frankly afford to purchase the items for themselves.

For those in the latter category who find a certain

kind of solace in the holiday flick, there is a new

Christmas movie that was released into the theaters

this past weekend called "Violent Night" that offers

both a heart-warming nod to the spirit of the season

and a good spot of bloody viciousness thanks to a

sledgehammer-wielding Santa who is spoiling to

smash in the faces of those who made it onto his very

naughty list.

In this acerbic home-invasion comedy thriller from

director Tommy Wirkola, "Stranger Things" star David

Harbour plays the barbaric Kris Kringle who has just

about had it with this whole delivering-present-to-children

gig. When the film opens, he is nearly slumped

over the counter of a pub in England on Christmas

Eve, bemoaning the fact that the alcoholic beverages

being served are still rendering him "upright." During

a slurred conversation with a small Santa Claus, he

lets loose on having to serve at the whim of children

who just "want, crave, and consume."

In this amusing scene between the holiday icons of

good cheer, the real Santa admits his duties are a

curse — a backstory scene posits that it just might be

one as a form of punishment for his past deeds — and

laments that all he wants to do is to be done with the

whole thing. Alas, he must fulfill his duties and he

goes about it begrudgingly, haphazardly tossing presents

to the ground, viciously biting the heads off of

cookies left out for him and raiding the booze cabinets

of the wealthier homes.

When he visits the Lightstone resident, where powerful

matriarch Gertrude (Beverly D'Angelo) hosts her

daughter Alva (Edi Patterson), son Jason (Alex

Hassell), and their immediate family members, he is in

for a violent surprise. Although the compound is heavily

fortified, a team of mercenaries led by "Mr. Scrooge"

(John Leguizamo) have broken into the estate seeking

Santa's Mailbox

The Prairie Township Community Center is helping

local kids hand deliver their letters to Santa. A mailbox

will be at the entrance of the community center,

5955 West Broad St., from Nov. 25 through Dec. 15. To

guarantee delivery, include the child's full name, complete

address, and postage. For more information or to

register, visit prairietownship.org.

Hall of Fame nominations sought

Mayor Andrew Ginther is asking residents to nominate

new candidates for the Columbus Hall of Fame.

For years, the Columbus Hall of Fame has honored

outstanding individuals who, through exemplary

accomplishments, have gained national recognition for

around the westside

The Reel Deal

Dedra Cordle

the $300 million that are

believed to be in a vault downstairs.

Because Santa Claus sees

the sniping Lightstone family

as greedy (they very much are,

hilariously so and most proud of

the fact) he thinks nothing of

leaving them to the whims of the violent team that all

sport cheeky holiday codenames. But when he gets a

whispered plea for help from Jason's very good daughter

Trudy (Leah Brady), he does the two things he

swore he would never do again: get involved in real-life

situations and pick up his beloved sledgehammer and

smash his enemies to smithereens.

Despite the over-the-top violence that is found within

this film — and no, that is not an understatement as

Santa gets down and bloody with tree-toppers, string

lights, and candy canes, along with his trusty hammer

— it actually has a beating heart to it, especially with

the budding friendship between Santa and Trudy, one

of the last individuals on Earth who genuinely believe

in him and his innate goodness. Although they do not

spend too much time together on screen — Santa is

busy roughing up the bad guys while Trudy has her

own subplot where she does her best Kevin

McCallister impression — their bonding sessions come

via walkie-talkie where they open up about their lives

and their vulnerabilities. It's such a sweet thing to witness,

even with all the bloodshed that is happening

throughout the movie, and sometimes during their oldschool

chat sessions.

Due to its premise and the violent action that takes

place within, "Violent Night" will not be looked upon

fondly by those who enjoy the more traditional holiday

flick but for those who would like to see something a

bit different this holiday season might want to take a

peek at this one. It has a certain kind of magic to it,

magic largely produced by Harbour who is having a

good time playing this version of the bearded icon, and

it manages to serve up all the hallmarks of a classic

holiday movie people love so much at this time of the

year — just with a bit more blood and gore. Grade: B

Dedra Cordle is a Messenger staff writer and columnist.

themselves and have brought credit to this city.

Those nominating individuals for the Columbus

Hall of Fame are asked to provide as much biographical

information about the nominee as possible, including

biographies, resumes, articles and letters. Please

complete a separate nomination form for each individual

if nominating more than one person.

Nominations for the 2022 induction will be accepted

through Jan. 3, 2023. For more information, visit

columbus.gov/halloffame/nominate.

Produce giveaway at YMCA

The Hilltop YMCA hosts a fresh produce giveaway

the third Wednesday of each month from 4 to 6 p.m. at

2879 Valleyite Drive in Columbus. For more information,

call the YMCA at 614-276-8224.
---
www.columbusmessenger.com

Dec ember 11, 2022 - WESTSIDE MESSENGER - PAGE 13

CLASSIFIED ADS

Deadlines: Grove City, Groveport & All editions - Mondays at Noon.

West, Canal Winchester, South & Madison editions -Tuesdays at 5 p.m.

xPreschool/Daycare

xInformation

xCome & Get It!

advertise

YOUR DAY CARE OR PRESCHOOL

in the West and Grove City Messengers

and reach over 23,000 homes

Call Kathy For More Info

614-272-5422

Preschool/Daycare

INFORMATION

GET READY

FOR THE HOLIDAYS !

Come See Me At

My New Location!

Call Marilyn Weaver

For An Appt.

For a New Haircut/Color

614-348-6670

Relax Wellness

3663 Broadway,

Grove City

NEED SOMETHING

DONE THIS WINTER?

CHECK OUT OUR

CLASSIFIED SERVICES!

FOR

ADVERTISING

INFO. CALL

614-272-5422

THE COLUMBUS

MESSENGER

ASSOCIATION ADS

Free high speed internet if

qualified. Govt. pgm for

recipients of select pgms

incl. Medicaid, SNAP

Housing Assistance, WIC,

Veterans Pension,

Survivor Benefits, Lifeline,

Tribal. 15 GB Internet.

Android tablet free w/onetime

$20 copay. Free

shipping. Call Maxsip

Telecom! 1-833-758-3892

Directv Stream - Carries

the Most Local MLB

Games!

CHOICE

Package, $89.99/mo for

12 months. Stream on 20

devices in your home at

once. HBOMax included

for 3 mos (w/CHOICE

Package or higher.) No

annual contract, no hidden

fees! Some restrictions

apply. Call IVS 1-866-629-

6086

!!OLD GUITARS WANT-

ED!! GIBSON, FENDER,

MARTIN, Etc. 1930's to

1980's. TOP DOLLAR

PAID. CALL TOLL FREE

1-866-433-8277

The bathroom of your

dreams for as little as

$149/month! BCI Bath &

Shower. Many options

available. Quality

materials & professional

installation. Senior &

Military Discounts

Available. Limited Time

Offer - FREE virtual inhome

consultation now

and SAVE 15%! Call

Today! 1-877-540-2780

Donate your car, truck,

boat, RV and more to

support our veterans!

Schedule a FAST, FREE

vehicle pickup and receive

a top tax deduction! Call

Veteran Car Donations at

1-877-327-0686 today!

Donate Your Car To

Veterans Today! Help and

Support our Veterans.

Fast - FREE pick up.

100% tax deductible. Call

1-800-245-0398

Want To Know The

Cost of Your Ad??

Email Us At:

classified@columbusmessenger.com

Include name & phone

number with ad

and we will call or email

you back!

Information

ASSOCIATION ADS

Association. Screenings

can provide peace of mind

or early detection! Call

Life Line Screening to

schedule your screening.

Special offer - 5

screenings for $149. 1-

866-518-8391

Become a Published

Author. We want to Read

Your Book! Dorrance

Publishing - Trusted by

Authors Since 1920

Book manuscript submissions

currently being reviewed.

Comprehensive Services:

Consultation, Production,

Promotion and Distribution. Call

for Your Free Author's Guide 1-

866-482-1576 or visit

dorranceinfo.com/macnet

ASSOCIATION ADS

Replace your roof with the

best lookng and longest

lasting material -- Steel

from Erie Metal Roofs!

Three styles and multiple

your mobility! Discover colors available.

ASSOCIATION ADS the ideal solution for Guaranteed to last a

anyone who struggles on lifetime! Limited Time

BUYING CLASSIC CARS,

the stairs, is concerned Offer - $500 Discount +

TRUCKS, SUVs

about a fall or wants to Additional 10% off install

**American and Foreign**

regain access to their (for military, health

Any Condition. Buying

entire home. Call workers & 1st responders)

entire car collections.

AmeriGlide today! 1-844- Call Erie Metal Roofs: 1-

$$PAYING CA$H$$

317-5246

855-338-4807

Please call 717-577-8206

KRMiller1965@yahoo.com Stroke & Cardiovascular

Safe Step. North

MobileHelp, America's

premier mobile medical

alert system. Whether

you're home or away. For

safety & peace of mind.

No long term contracts!

Free brochure! 1-888-489-

3936

Wesley Financial Group,

LLC Timeshare Cancellation

Experts Over

$50,000,000 in timeshare

debt & fees cancelled in

2019. Get free

informational package &

learn how to get rid of

your timeshare! Free

consultations. Over 450

positive reviews. 888-965-

0363

Put on your TVEars &

hear TV w/unmatched

clarity. TVEars Originaloriginally

$129.95 - now

w/this special offer only

$59.95 w/code MCB59! 1-

888-805-0840

Don't let the stairs limit

disease are leading

causes of death according

the American Heart

America's #1 Walk-in Tub.

Compreshensive lifetime

warranty. Top-of-the-line

installation and service.

Now featuring our FREE

shower package & $1600

off for a limited time! Call

today! Financing

available. Call Safe Step

1-833-356-1954

Switch and save up to

$250/yr on talk, text &

data. No contract or

hidden fees. Unlimited talk

& text with flexible data

plans.

Premium

nationwide coverage.

100% U.S. based

customer service. Limited

time get $50 off any new

account. Use code

GIFT50. 1-855-903-3048

COME AND GET IT!

Need to Get Rid of Something Fast - Advertise It Here For FREE!

Deadlines are Mondays by Noon

Call For Publication Schedule 614-272-5422

FREE Garden Straw for gardens or bedding. Call for appointment for pickup.

Circle S Farms, 9015 London-Groveport Road, Grove City, 43123

Grove City - 614-878-7980

FREE - Metal from old camper frame, Need a truck to pickup..

CC - Obetz - 614-632-1013

FREE - Children's Wooden Play Set - Good Condition w/Sand Box under it, Step Ladder up

Slide to go down & a rope swing. Also separate Swing Set w/4 swings.

190 Inah Ave., Cols, 43228 near the Fire Dept.

West Columbus - 614-878-1930, ask for Linda

FREE - Pipe for wood burning stove, appr. 20' plus misc. parts; 10 wood window

sashes, various sizes; Frames for real estate signs, varios sizes;

One gallon plastic gas containers.

West Columbus - 614-570-5372, ask for David

FREE - Firewood - All you want! U cut U Haul. Text me if you want it.

Obetz - 614-519-7986

Come and Get It! is a bi-weekly column that offers readers an opportunity to pass

along surplus building materials, furniture, electronic equipment, crafts, supplies,

appliances, plants or household goods to anybody who will come and get them - as

long as they're FREE. NO PETS! Just send us a brief note describing what you want to

get rid of, along with your name, address and phone number. Nonprofit organizations

are welcome to submit requests for donations of items.

Send information to The Columbus Messenger, Attention: Come and Get It, 3500

Sullivant Ave., Columbus, OH43204. Deadline is Mondays at NOON for following

Sunday's publication. Messenger Newspapers is not responsible for any complications

that may occur. Please contact us when items are gone. 272-5422

ASSOCIATION ADS

Attention Homeowners! If

you have water damage

and need cleanup

services, call us! We'll get

in & work with your

insurance agency to get

your home repaired and

your life back to normwl

ASAP! 855-767-7031

Dental Insurance -

Physicians Mutual Insurance

Comopany. Covers 350

procedures/ Real insurance -

not a discount plan. Get your

free dental info kit! 1-855-

.526-1060 www/dental50

plus.com/ads #6258

DIAGNOSED WITH

LUNG CANCER? You

may quliafy for a

substantial cash award -

even with smoking history.

NO obligation! We've

recovered millions. Let us

help!! Call 24/7, 1-888-

650-9135

Safe Step. North

America's #1 Walk-in Tub.

Compreshensive lifetime

warranty. Top-of-the-line

installation and service.

Now featuring our free

shower package & $1600

off - limited time!

Financing available. 1-

855-417-1306

Come & Get It!

ASSOCIATION ADS

HughesNet - Finally, superfast

internet no matter

where you live. 25 Mbps

just $59.99/mo! Unlimited

Data is Here. Stream

Video. Bundle TV &

Internet. Free Installation.

Call 866-499-0141

Internet &WIFI Starts at

$49 Call us Today to Get

Started. Find High-Speed

Internet with Fiber Optic

Technology No Credit

Check, No SSN Required.

Call us Today 866-396-

0515

Are you receiving

SSDI/SSI Benefits? You

may be eligible for

additional benefits. CALL

US TODAY Citizen

Disability 1-888-490-6616

ASSOCIATION ADS

FREE $10 Cash App

Everyone! Yes It's Real.

Very Limited supply until

we run out! Text "Real

Cash" to 706-761-1745

Attention Viagra users:

Generic 100 mg blue pills

or generic 20 mg yellow

pills. Get 45 plus 5 free

$99 + S/H. Call Today 1-

877-707-5518

Thinking about installing

a new shower? American

Standard makes it

easy. FREE design consulation.

Enjoy your

shower again! Call 1-

833-769-0995 today to

see how you can save

$1,000 on installation, or

visit www.newshowerdeal.com/mac

DISH TV $64.99 FOR 190

Channels + $14.95 High

Speed Internet. Free Installation,

Smart HD DVR

Included, Free Voice Remote.

Some restrictions

apply. Promo expires

1/21/23. 1-866-479-1516

Protect your home from

pests safely and

affordablly. Pest, rodent,

termite and mosquito

control. Call for a quote or

inspection today 844-394-

9278
---
PAGE 14 - WESTSIDE MESSENGER - December 11, 2022

www.colulmbusmessenger.com

xEmployment

HIRING WAREHOUSE

WANTED

Host/Hostess • Back-Up Cooks

Grill • Servers • Dishwashers

You Can Work 29+ Hrs. Based on

Your Availability & Performance

Immediate Full/Part-time Openings

We Offer:

• Weekly Pay

• Paid Training

• No Tip Sharing

• Paid Vacation

• Employee Meal Discount

• Position/Salary Advancement Plan

• Discount Purchase Plan

Apply online at crackerbarrel.com/careers for

Hilliard Location 614-878-2027

UP TO

$19/HR +

UP TO

$3K SIGN-ON

NO WEEKENDS • NO MANDATORY OT

OPEN INTERVIEWS

WEDNESDAY 10AM-1PM

1568 Georgesville Rd. Columbus, OH 43228

JOBS.MSCDIRECT.COM

Applicants must sucessfully pass a background check and drug screen.

Equal Opportunity Employer: Minority, female, veteran, individuals with disabilities, sexual orientation/gender identity.

LOVE WHAT

YOU DO

JOB TITLE:

School Support

BENEFITS:

$1,000 Sign On Bonus!

Free Family Membership

Discount Child Care & more

SCAN HERE

TO APPLY

Y!

JOB

FAIR

OR OPEN

INTERVIEWS?

CALL KATHY

TO ADVERTISE

614-272-5422

HOU $14- 15

R

HOURS:

MONDAY/

FRIDAY

Specialists/A

Assistant Te

eachers

ASSOCIATION ADS

Switch and save up to

$250/yr on talk, text & data.

No contract or hidden fees.

Unlimited talk & text with

flexible data plans.

Premium nationwide

coverage. 100% U.S.

based customer service.

Limited time offer - get $50

off any new account. Use

code GIFT50. For more

information1-888-684-1169

The Generac PWRcell, a

solar plus battery storage

system. SAVE money,

reduce your reliance on

the grid, prepare for power

outages and power

your home. Full installation

services available. $0

Down Financing Option.

Request a FREE, no obligation,

quote today. Call

1-866-783-0292

Become a Published

Author. We want to Read

Your Book! Dorrance

Publishing Trusted Since

1920 Consultation,

Production, Promotion &

Distribution. Call for Free

Author's Guide 1-877-729-

4998 or visit

dorranceinfo.com/ads

The Generac PWRcell

solar plus battery storage

system. Save money,

reduce reliance on

grid, prepare for outages

& power your home. Full

installation services. $0

down financing option.

Request free no obligation

quote. Call 1-877-

539-0299

DENTAL INSURANCE

from Physicians Mutual

Insurance Company.

Coverage for 350 plus

procedures. Real dental

insurance - NOT just a

discount plan. Do not wait!

Call now! Get your FREE

Dental Information Kit with

all the details! 1-877-553-

1891

www.dental50plus.com/

macnet#6258

ASSOCIATION ADS

READER

ADVISORY

The National Trade Association

we belong to has

purchased the following

classifieds. Determining

the value of their service

or product is advised by

this publication. In order

to avoid misunderstandings,

some advertisers do

not offer "employment"

but rather supply the

readers with manuals, directories

and other materials

designed to help

their clients establish mail

order selling and other

businesses at home. Under

NO circumstance

should you send any

money in advance or give

the client your checking,

license ID or credit card

numbers. Also beware of

ads that claim to guarantee

loans regardless of

credit and note that if a

credit repair company

does business only over

the phone it's illegal to request

any money before

delivering its service. All

funds are based in US

dollars. Toll Free numbers

may or may not

reach Canada. Please

check with the Better

Business Bureau 614-

486-6336 or the Ohio Attorney

General's Consumer

Protection Section

614-466-4986 for more

information on the company

you are seeking to

do business with.

Employment

ASSOCIATION ADS

Want Faster & Affordable

Internet? Get internet

service today with

Earthlink. Best internet &

WiFi Plans. Call us Today

to Get Started. Ask

about our specials! 866-

396-0515

Elminate gutter cleaning

forever! LeafFilter, the most

advanced debris-blocking

gutter protection. Schedule

Free LeafFilter Estimate

today. 20% off Entire

Purchase. 10% Senior &

Military Discounts. Call 1-

833-610-1936

BATH & SHOWER UP-

DATES in as little as

ONE DAY! Affordable

prices - No payments for

18 months! Lifetime warranty

& professional installs.

Senior & Military

Discounts available. Call

855-761-1725

Prepare for power

outages today with a

GENERAC home standby

generator. $0 Down + Low

Monthly Pmt. Request a

free Quote. Call before the

next power outage: 1-855-

948-6176

"HELP WANTED"

SIGN

NOT WORKING?

TO ADVER

VERTISE

Call Kathy at

The Columbus Messenger

272-5422

For More Info
---
www.columbusmessenger.com

xFocus on Rentals

INFORMATION

December 11, 2022 - WESTSIDE MESSENGER - PAGE 15

xClassified Services

SETON WEST APARTMENTS

3999 CLIME ROAD, COLUMBUS, OH 43228

We are a Senior Housing Community...you must be 62 or better.

Rent is based on your income. We offer spacious 1 bedroom apartments

which include: utilities, refrigerator, range, central air, carpet, EMS monitor

pull cords & a limited access building entry system. Seton West is professionally

managed and has 24 hour emergency maintenance services.

Our residents enjoy: a community room for playing cards, potlucks, bingo

or visiting with neighbors. We have two laundry rooms & game room,

library, outdoor patios and an elevator for your convenience.

APPLICATIONS AVAILABLE IN OUR FRONT LOBBY OR CALL

614-274-8550 OR TTY-800-750-0750 FOR AN APPOINTMENT.

WEDGEWOOD

VILLAGE

1, 2 and 3 BR Apts.

Rent Based on Income.

Call 614-272-2800 or visit us

at 777 Wedgewood Dr.

TTY/TDD 711

EQUAL HOUSING OPPORTUNITIES

Classified Services

ASSOCIATION ADS

Protect your home w/home

security monitored by

ADT. Starting at $27.99/

mo. Get free equipment

bundle including keypad,

motion sensor, wireless

door & windows sensors.

833-719-1073

AT&T Internet. Starting at

$40/month w/12-mo agmt.

1 TB of data/mo. Ask how

to bundle & SAVE! Geo &

svc restrictions apply. 1-

855-364-3948

Attention oxygen therapy

users! Inogen One G4 is

capable of full 24/7 oxygen

delivery. Only 2.8

pounds. Free info kit.

Call 877-929-9587

NEED IRS RELIEF

$10K-$125K+ Get Fresh

Start or Forgiveness.

Call 1-877-705-1472

Monday through Friday

7am-5pm PST

VIAGRA and CIALIS

USERS! 50 Generic pills

SPECIAL $99.00. 100%

guaranteed. 24/7 CALL

NOW! 888-445-5928

Hablamos Espanol

Vivint Smart Security.

Professionally installed.

One connected system for

total peace of mind. Free

professional installation!

Four free months of

monitoring! Call to

customize your system. 1-

833-841-0737

ASSOCIATION ADS

Eliminate gutter cleaning

forever! LeafFilter, the

most advanced debrisblocking

gutter protection.

Schedule a FREE

LeafFilter estimate today.

20% off Entire Purchase.

Plus 10% Senior & Military

Discounts. Call 1-855-

791-1626

Vivint Smart Security.

Professionally installed.

One connected system for

total peace of mind. FREE

professional installation!

Four FREE months of

monitoring! Call now to

customize your system. 1-

855-870-2073

DISH TV $64.99 for 190

Channels + $14.95 high

speed internet. FREE installation,

Smart HD DVR

included. Free Voice Remote.

Some Restrictions

apply. Promo Expires

1/21/23. 1-866-590-5561

SELL YOUR ANTIQUE

OR CLASSIC CAR.

Advertise with us. You

choose where you want

to advertise. 800-450-

6631 visit macnetonline.

com for details.

DO YOU NEED

TO RENT THAT

APAR

ARTMENT?

Call Kathy

At The

Messenger

To Advertise

Your

Apartment

Community

272-5422

ASSOCIATION ADS

Looking for auto insurance?

Find great deals

on the right auto insurance

to suit your needs.

Call today for a free

quote! 866-924-2397

READY TO BUY, SELL

OR RENT YOUR

VACATION HOME OR

HUNTING CAMP?

Advertise it here and in

neighboring publications.

We can help you. Contact

MACnet MEDIA @

800-450-6631 or visit our

site at MACnetOnline.

com

Prepare for power outages

today with a GENERAC

home standby generator.

$0 Money Down + Low

Monthly Payment Options.

Request a FREEQuote--

Call now before the next

power outage. 1-855-465-

7624

IMPORTANT

NOTICE

The following states: CA,

CT, FL, IA, IL, IN, KY,

LA, MD, ME, MI, MN,

NE, NC, NH, OH, OK,

SC, SD, TX, VT and WA

requires seller of certain

business opportunities to

register with each state

before selling. Call to

verify lawful registration

before you buy.

See...

You Looked!

Newspaper

Ads Catch

The Eye!

Call

272-5422

For Info. &

Pricing

CHILD CARE

OFFERED

Depend. Quality Child care

in loving hm. Exp. Mom, n-

smkr, hot meals, sncks,

playroom, fncd yd. Reas.

rates. Laurie at 853-2472

HELP WANTED

Kings Kids Daycare

in Grove City is hiring Fun,

Loving Teachers for PT &

FT shifts. Please email

sarragc@outlook.com or

call 614-539-0349

INSURANCE

Medicare New Benefit

Medicare-Zero Premium

Free Doctor visit, free ride,

free food card, free

prescrptions.614-805-1084

WANT TO BUY

BUYING OSU & old sports

items, records, postcards,

old photos, jewelry & more

614-477-5590

WE BUY JUNK CARS

Call anytime 614-774-6797

ANTIQUES

WANTED

Victrolas, Watches,

Clocks, Bookcases

Antiques, Furn.

Jeff 614-262-0676

or 614-783-2629

We Buy Junk Cars &

Trucks. Highest Prices

Paid. 614-395-8775

We Buy Cars & Trucks

$300-$3000.614-308-2626

MISCELLANEOUS

FOR SALE

Bedroom Suite - Bed frame,

dresser w/attached mirror.

All wood. Good cond.

$1900 OBO. 614-571-1997

HP PRINTER

CARTRIDGES FOR SALE

HP 901 Color Cartridges (3);

HP 901XL and 901 Color

Multi Pack (1);

HP 901XL Black(1).

$15.00 each.

Columbus Messenger,

3500 Sullivant Ave.

Call Office 614-272-5422

RENTALS

Eakin-1 Br Apt, crpt, appls.

No Pets 614-560-3050

4 BR 2 STORY

Fenced Yard - West

614-530-8097

CARPET CLEANING

CARPET CLEANING

Any 5 areas ONLY $75

614-805-1084

Specializing in Pet Odors

CLEANING

DEEP CLEAING &

WALL WASHING

Call Judy 614-746-0273

CONCRETE

www.hastingsnsons.com

Driveways & Extensions

Patio & Walkways,

Porches & Steps,

Garage/Basement Floors

Hot Tub/Shed Pads,

Stamped/colored concrete

Sealing of new &

existing concrete.

FREE ESTIMATES

Contact Adam

614-756-1754

hastingsandsons.

columbus@gmail.com

AJ's Concrete,

Masonry

Good Work - Fair Prices

Block Foundations

Driveways • Sidewalks

Epoxy/Overlay Floors

Bonded-Ins. • Free Ests.

614-419-9932

INFORMATION

ONLY

$50.00

For This Ad In Our

West & Grove City

For Info Call

272-5422

FENCING

EAZY FENCE

Chain Link - Wood

No Job Too Big or Small

All Repairs ~ Free Est.

Insured. 614-670-2292

HAULING

DEAN'S HAULING

614-276-1958

JUNK REMOVAL

AND MORE LLC

• Junk Removal

• Demolition

• Hoarding

614-352-0442

10% OFF FOR

SENIORS & VETERANS

DUMPSTER RENTAL

4 Days - $275 & Up

No Hazardous Materials

Tires - $10.00 each

Call 614-254-1131

HEATING & COOLING

HVAC

HEATING & A/C

Fast Service - Licensed

614-633-9694

12/18 A

1/8 W

HOME

IMPROVEMENTS

CandC

Handyman Services LLC

"See The Difference"

l

614-378-7469

Remodels,

12/18

A

Water Heaters,

Plumbing, Fence,

Sidewalks, Decks,

Int./Ext. Paintng

& Electrical Work

KLAUSMAN HOME

IMPROVEMENT

Siding-Windows-

Doors-Roofing-Soffit-

Fascia-Gutters-Trim

Earn FREE Seamless

Gutters with Siding Over

1000 Sq. Ft.

FREE Shutters with

Soffit & Trim

EPA Certified

Member of BBB

Financing Available

Over 20 yrs exp. • Free Est.

Licensed-Bonded-Insured

Owner & Operator

James 614-419-7500

SLAGLE

HOME REMODELING

Baths, Kitchen,

Plumbing and Electrical.

All your Handyman needs

No Job too Big or Small

Over 30 Yrs. Exp. Lic.-Bond-Ins.

Jerry

614-332-3320

C&JHandyman

Services LLC

Minor Plumbing & Electric

Install Hot Water Tanks,

Dishwashers & Disposals

All Interior Remodels

Also Fencing &

Interior/Exterior Painting

Free Est. ~ 18 Yrs. Exp.

CDC/EPA Approved Guidelines

614-284-2100

1/8 A

12*18

SW/W

Handyman - Outdoor &

Indoor. Reasonable Rates

614-634-2244

SINCE 1973

Phil Bolon Contr.

Windows & Siding

Decks, Kitchens, Baths

Room Additions,

Flooring, Roofing

Bsmt Waterproofing

Deal With Small Non-Pressure Co.

47 Yrs. Exp. - Refs. Avail.

Lic.-Bond-Ins.

12/18

A/M

Free Est. - Financing Avail.

Member BBB Of Cent. OH

O.C.I.E.B. ID #24273

614-419-3977

or 614-863-9912

12/4 A

HOME

MAINTENANCE

HANDYMAN SERVICES

614-235-1819

HOME

REMODELING

Charlies Handyman

Service

Over 40 yrs. exp.

Hot Water Tanks

Door Locks

Kitchen/Bath Remodels

Roofmg * Siding

Porches & Decks

614-319-6010

blantoncharles894@gmail.com

MultiCraft Const.

& Handyman Services

All Types Handyman Services:

Decks, Fences

Kitchen/Baths

Window/doors installed

Interior Painting

Drywall Repairs

All Types of Flooring

Call/Text 614-774-2923

multicraftconstruction@gmail.com

LANDSCAPING

ONYX

LANDSCAPING

614-407-5214

www/Pmux:amdsca[omg;;c/cp,

Full Service Lawn Care

Start With Trust!!

LAWN CARE

LET US MAINTAIN

YOUR LAWN & GARDEN

FOR YOU

Summer, Spring,

Winter or Fall

WE DO IT ALL!!!!

Lawn Cuts, Edging,

Trees & Shrubs, Garden,

Mulching, Hauling,

Garden Pond &

Home Maint.

Free Ests. Low Rates

$20 & Up

Kevin - 614-905-3117

PLASTERING

Plaster & Stucco

NEW AND

REPAIR

Established 1917

Geo. F. Neff & Co.

614-274-5629

DRYW

YWALL &

PLASTER

12/18

A&M

REPAIR

Textured Ceilings

614-551-6963

Residential/Commercial

BIA

Classified Services

12/18 A

PAINTING

Painter Over 30 Yrs. Exp.

Free Est. Reas. Rates

Daniel - 614-226-4221

PLUMBING

MYERS

PLUMBING

Exp Expert Plumbing

New Const. & Fast Repairs

Lic. - Permit AVailable

Water * Sewer * Gas

614-633-9694

CHRIS'

PLUMBING

"Plumbing & Drain Professional

That You Can Count On"

24 Hrs., 7 Days/Week

No Overtime Charges

24 Yrs. Exp. in Plumbing &

Drain Cleaning Field

Call For A Free Phone Estimate

$100.00 For Any Small Drain

614-622-4482

30% OFF with AD

All About Drains & Plumb.

Will snake any small drain

$145. 614-778-2584

POOL/SPA

MAINTENANCE

K&L Spa Cleaning

Hot Tub Cleaning and

Weekly Maintenance

Keith 614-316-9809

ROOFING

RETIRED

ROOFER

BBB "A+" Rating

All Types of Roof Repairs

• New Roof Installation

• Flashing

• Chimneys Rebuilt

• Flat Roof Specialist

• Roof Replacement

avail. upon request

All Work Guaranteed

614-352-7057

Free Estimates

SEWING MACHINE

REPAIR

REPAIR all makes 24 hr.

service. Clean, oil, adjust

in your home. $49.95 all

work gtd. 614-890-5296

TREE SERVICES

BURNS TREE SERVICE

Trimming, Removal &

Stump Grinding.

614-584-2164

Warren Brewer Tree Service

• Tree Removal

• Tree Trimming

• Stump Grinding

1/8

A&M

• Bucket Truck Services

Best Prices • Same Day Service

614-878-2568

1/8 A

1.07 W/SW
---
PAGE 16 - GROVE CITY MESSENGER - December 11, 2022

www.columbusmessenger.com

Westside Christmas

Church Services

Westminster Presbyterian

Church, PC(USA)

222 Schoolhouse Lane (in Lincoln Village)

614-878-4623

www.westminstercolumbus.org

Christmas Eve - 4:30pm

Candlelight Service: Light & Glory

Christmas Day - 10:30am Service:

Tell of the Light!

We'd Love to see you!

St. John's Evangelical

Lutheran Church

2745 W. Broad St., Columbus, OH

Saturday, December 24th - 4:00 pm

Christmas Eve - Candelight Service with Communion

Sunday, December 25th

9:00 a.m. Sunday School

& 10:00 a.m. for Worship

Hillcrest

Baptist

Church

2480 West Broad St.

Columbus, OH 43204

614-274-4333| www.hillcrest-baptist.com

http://www.facebook.com/hillcrest.baptist

Our Sunday Worship Time

at HBC is 10:15 am.

December 24th, 2022

Christmas Eve Candlelight

Service - 6:30 pm

Come and celebrate the season

with us as we share Christmas Music

and the Christmas Message.

St. James

Lutheran Church

5660 Trabue Rd., Columbus 43228

614-878-5158

www.stjameslutherancolumbus.com

Rev. Marc Schroeder, Vacancy Pastor

December 24th - Christmas Eve

5 pm - Youth led Candlelight & Communion Services;

7:30 & 11:00 pm - Candlelight & Communion Services

Westgate United

Methodist Church

61 South Powell Ave., Columbus, OH

Pastor Nancy Day-Achauer | 614-274-4271

Combined Christmas Eve Service with Parkview UMC

Saturday, December 24th at Westgate UMC

Service Begins at 6:30 p.m.

Combined Christmas Morning Service at Parkview UMC

344 South Algonquin Ave.

Service Begins at 10:15 a.m.

Hoge Memorial

Presbyterian Church

2930 W. Broad St.

614-276-5433

Christmas Eve/Candlelight Service

December 24th 7:00 p.m.

HM3 5:00 p.m. with a meal included

December 25th Christmas Day

Worship Service 10:30 a.m.

REFUGE OF HOPE FAMILY

WORSHIP CENTER

179 N. Huron Ave.

(Corner of Steele Ave. & Huron)

614-732-5517

10:00 a.m. Sunday School

11:00 a.m. Sunday Worship

Pastor Leanne Parden

https://www.facebook.com/pages/Refuge-of-

Hope-Family-Worship-Center/132801330244329

All are Welcome

CHRISTMAS EVE E MASSES

4 pm, 7 pm, 9 pm, midnight

CHRISTMAS DA

Y MASS

9 am

3730 Broadway, Grove City

614.875.3322 | www.ourladygc.org

United Methodist Church

775 Galloway Rd.,

Galloway, OH 43119

614-878-4530

Rev. Dwayne Shugert

Christmas Eve

Candlelight Services:

Saturday, Dec. 24 - 5:30 pm

For children and families

in the Family Life Center

Saturday, Dec. 24 - 7:30 pm

Traditional Service in our Sanctuary

Christmas Day Worship Time:

Sunday, Dec. 25 at 10:30 am

Sanctuary

www.WhereFriendsAreMade.org

2833 Valleyview Dr.(corner of Valleyview & Hague Ave.)

(614) 274-8469

Pastor Leo A. Cunningham

Celebrate Christmas Eve Early - December 24th

Gathering/Prelude Music at 4:30 p.m.

Christmas Eve Service with Candlelight at 5:00 p.m.

Christmas Day Worship Service - December 25th

Online Available on our YouTube 10:45 a.m.

Join Us on Sunday Mornings

In-Person or YouTube 10:45a.m. Blended Worship

(Blended Worship is a Worship Service with a variety of music in one

Service: Classical - Contemporary - Gospel & Other Styles

Worship as Diverse and Eclectic as the Westside.)

Connect with us on

YouTube, Facebook, Instagram & www.thegumc.org