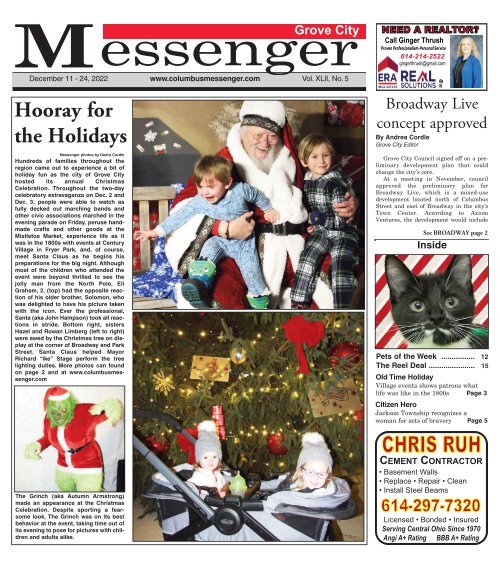 Grove City Messenger - December 11th, 2022
Create successful ePaper yourself
Turn your PDF publications into a flip-book with our unique Google optimized e-Paper software.
Messenger

Grove City

December 11 - 24, 2022 www.columbusmessenger.com Vol. XLII, No. 5

NEED A REALTOR?

Call REALTOR? Ginger Thrush

Proven Professionalism-Personal Service

Call Ginger Thrush

614-214-2522

614-214-2522

gingerthrush@gmail.com

Hooray for

the Holidays

Messenger photos by Dedra Cordle

Hundreds of families throughout the

region came out to experience a bit of

holiday fun as the city of Grove City

hosted its annual Christmas

Celebration. Throughout the two-day

celebratory extravaganza on Dec. 2 and

Dec. 3, people were able to watch as

fully decked out marching bands and

other civic associations marched in the

evening parade on Friday, peruse handmade

crafts and other goods at the

Mistletoe Market, experience life as it

was in the 1800s with events at Century

Village in Fryer Park, and, of course,

meet Santa Claus as he begins his

preparations for the big night. Although

most of the children who attended the

event were beyond thrilled to see the

jolly man from the North Pole, Eli

Graham, 2, (top) had the opposite reaction

of his older brother, Solomon, who

was delighted to have his picture taken

with the icon. Ever the professional,

Santa (aka John Hampson) took all reactions

in stride. Bottom right, sisters

Hazel and Rowan Limberg (left to right)

were awed by the Christmas tree on display

at the corner of Broadway and Park

Street. Santa Claus helped Mayor

Richard "Ike" Stage perform the tree

lighting duties. More photos can found

on page 2 and at www.columbusmessenger.com

The Grinch (aka Autumn Armstrong)

made an appearance at the Christmas

Celebration. Despite sporting a fearsome

look, The Grinch was on its best

behavior at the event, taking time out of

its evening to pose for pictures with children

and adults alike.

Broadway Live

concept approved

By Andrea Cordle

Grove City Editor

Grove City Council signed off on a preliminary

development plan that could

change the city's core.

At a meeting in November, council

approved the preliminary plan for

Broadway Live, which is a mixed-use

development located north of Columbus

Street and east of Broadway in the city's

Town Center. According to Axiom

Ventures, the development would include

See BROADWAY page 2

Inside

Pets of the Week ................ 12

The Reel Deal ...................... 15

Old Time Holiday

Village events shows patrons what

life was like in the 1800s Page 3

Citizen Hero

Jackson Township recognizes a

woman for acts of bravery Page 5

CHRIS RUH

CEMENT CONTRACTOR

• Basement Walls

• Replace • Repair • Clean

• Install Steel Beams

614-297-7320

Licensed • Bonded • Insured

Serving Central Ohio Since 1970

Angi A+ Rating BBB A+ Rating
---
PAGE 2 - GROVE CITY MESSENGER - December 11, 2022

HOLIDAY PHOTOS

Continued from page 1

www.columbusmessenger.com

SENIORS — HELP IS HERE!

Your Doorstep to Your Doctor!

We provide:

• Transportation • Personal Coordinated Team Care

• Concierge Service • Convenience of all services under one roof

• Superior Healthcare • We serve to 55+ Medicare-eligible Community

Call for more information:

Trae White, COS - Community Outreach Specialist

614-551-5367

trae.white@dedicated.care

Let's change the world together!

NORTH

2260 Morse Rd

Partnership with

3 LOCATIONS:

WESTSIDE

50 N. Wilson Rd.

WHITEHALL

5156 E. Main St.

Many in attendance came dressed for

the holidays. Here, Andrew Gibson

shows off his festive hat alongside his

children, Sophia and Connor McNeal.

The trio recently moved to Grove City

and wanted to experience the merriment

in their new hometown.

BROADWAY

Continued from page 1

about 200 apartments, along with a dining

and entertainment district. It would

include a public plaza, a 40,000 square foot

food hall and event center, as well as

restaurant, retail, and office space. This

would be built on 4.36 acres of land.

"We have the opportunity to create

something special in the Town Center that

residents will enjoy for decades to come,"

said Ethan Temianka, a partner with

Axiom Ventures. "We are excited to bring

this transformative project before you."

According to Axiom, the project would

include about an acre of open or green

space. It also includes two pedestrian connections

to other areas in the Town Center

- the old library site with a proposed First

Street promenade, and a connection to

Beulah Park via the Columbus Street

extension.

Temianka said he plans to work with

city staff on issues like parking, traffic, and

site circulation.

"We share those concerns, and we look

forward to working through those issues,"

he said.

Temianka also noted that the development

incorporates sound buffering to

accommodate the nearby residents.

According to the development company,

the mixed-use plan would be a catalyst for

continued growth in the city and would

Liam Johnston-Pickens admires the

Leg Lamp ice sculpture that was on display

on Friday evening.

support existing small businesses in the

Town Center.

Councilman Mark Sigrist called the preliminary

plan "eye popping and exciting."

Councilman Randy Holt said, "I am a

fan of this plan. It fits with the architecture

of the (Grove City) library."

Holt said he wanted the project to pay

homage to the history of the area.

According to Temianka, the plan will

provide dramatic architectural features

that highlight the history of Grove City

and will preserve and enhance the character

of the Town Center. He said Axiom

Ventures will meet with members of the

Southwest Franklin County Historical

Society in mid-December to get a better

feel of the architecture and history of the

downtown area.

Temianka also agreed to take part in

public meetings regarding the project moving

forward.

Kyle Rauch, the development director

for the city of Grove City, said, "This is a

preliminary plan. It is very much conceptual."

Rauch said he would take the feedback

from council and the city's administration

to the developer before taking the next

step.

Broadway Live is estimated to be a $75

million to $85 million development project.
---
www.columbusmessenger.com

December 11, 2022 - GROVE CITY MESSENGER - PAGE 3

Christmas in the Village

Messenger photos by Andrea Cordle

The Southwest Franklin County Historical Society hosted Christmas in the Village on

Dec. 3 at Century Village in Grove City. This event, that shows visitors what life was

like in the 1800s, was part of the city of Grove City's weekend of holiday events. Here,

historical society volunteers (left to right) Norma Manby, Janet Shailer, and Linda

Crews run the general store.

www.jpsbbq.com

2000 Norton Rd.

Phone: 614-878-7422 Fax: 614-878-7429

Hollyday Happiness

(Serves Approx. 4-7).......................................... $ 169.95

Order By 12/13/22

For Christmas Eve Pick-Up by 5 PM

Hot & Ready to Eat or Cold to Reheat

*INCLUDES*

Charicuterie Platter (Fancy Meats/Cheeses & Fruit Snacks)

3 Blend Salad

JP's Ribs * Or * 2# Prime Rib (Limited Supply So Order Early)

Italian Roasted Chicken Pieces

3 Side Selections:

Au Gratin Potatoes/Green Beans/ Baked Beans/Slaw

Mac & Cheese/Potato or Macaroni Salad/Chunky Applesauce

Rolls & Butter

Historical re-enactors took part in Christmas in the Village. Here, Rick Hahn (left) is

dressed as a militia member from War of 1812 and Craig Charon is a soldier from the

War of 1812. Both historical volunteers are from Columbus. More photos can be

found at columbusmessenger.com.
---
PAGE 4 - GROVE CITY MESSENGER - December 11, 2022

Community Focus

www.columbusmessenger.com

Wattle raises funds for food pantry

Messenger photos by Dedra Cordle

Before millions of people across the

country gobbled up a variety of caloriefilled

dishes on Thanksgiving Day, thousands

of people throughout the region

came to the city of Grove City to pound

the pavement for the 11th annual

Thanksgiving Wattle. According to

event organizer Mark Sigrist, more than

1,700 cyclists, runners, walkers, and

wheelchair users signed up for this

year's 5K race, the most they have ever

had throughout its history.

"Unfortunately, we had to turn some

people away because it was so

packed," he said. Although the organizers

were saddened to have denied

entry to dozens of would-be participants,

they were ultimately pleased

with the results of the day as more than

$30,000 was raised for the local food

pantry. "It's always a good day when we

can give back to the community in

some way," said Sigrist. Shown here are

some of the scenes captured during the

5K walk/run and the 13.4-mile cycling

event on Nov. 24.

Grove City High School students Steven Jordan, Gracie Smith,

and Alivia Beiriger volunteered to be mascots for the event. In

addition to cheering the crowd on, they also participated in the

children's races to provide further encouragement.

Antiques, Collectibles,

Jewelry, Vintage,

Home Decor, Militaria

and more!

America's Fa Fa

av av vorite Treasure ure e Hunts!

2022

Dec. 17 & 18

2023

Jan. 28 & 29

Feb. 25 & 26

Mar. 25 & 26

Many racers and walkers came dressed

for the occasion. Here, friends Mary

Frea and Rachel Thompson showcase

their festive leggings and turkey suit

after completing the race. Thompson

said she believes she would have

clocked in earlier had the suit not been

such a hindrance. "I think it slowed me

down a bit," she said. To see more photos,

visit columbusmessenger.com.

The Freetage family compete in the Turkey Leg 100 race.

Pictured from left are Dave Freetage and his sons, Evan and

Tyler.
---
www.columbusmessenger.com

In Achievement

December 11, 2022 - GROVE CITY MESSENGER - PAGE 5

Dave Dobos

STATE REPRESENTATIVE

The

work

begins…

By the time you see this, it will be fewer than

30 days before I am sworn in to the Ohio

House of Representatives, serving the new

10th District. As you probably know, Ohio has

a bicameral legislature, which includes a 33-

member Senate whose members serve fouryear

terms and a 99-member House of

Representatives whose members serve twoyear

terms. House districts currently comprise

about 120,000 people. Senate districts include

three House districts, encompassing a

population of approximately 360,000 people.

Our House District consists roughly of west

and southwest Columbus, south of Sullivant

Avenue and east of I-270; portions of the

south side of Columbus; Grove City and Urbancrest;

and most of Franklin Township and

part of Jackson Township.

Messenger photo by Dedra Cordle

On Nov. 22, the Jackson Township Board of Trustees and the Jackson Township Fire Department recognized Stacey Dirosario-

Holmes for a live-saving act of heroism that occurred earlier this month. According to Fire Chief Randy Little, the medical assistant

with Comfort Keepers helped contain the spread of a bedroom fire in the Grove City condominium of her elderly patient and pulled

him and his dog out of the smoke-filled complex at a great personal risk to herself. The board presented the resident of

Reynoldsburg with a proclamation that declares Nov. 22, 2022, as "Stacey Dirosario-Holmes Day" and the fire department presented

her with its Citizen Heroism Award. Pictured from left to right are trustees Dave Burris and Jim Rauck, Deputy Fire Chief Shawn

Quincel, Stacey Dirosario-Holmes, Fire Chief Randy Little, and trustee Ron McClure.

Jackson Township recognizes a citizen hero

By Dedra Cordle

Staff Writer

Stacey Dirosario-Holmes says she does

not necessarily buy into the philosophy

that everything happens for a reason, but

she does believe that lessons can be

learned through the obstacles that are

placed onto our path.

It was the fall of 2020 and the Dirosario-

Holmes family was left reeling after a fire

destroyed their Reynoldsburg home.

Despite being devastated by the event, she

was determined to learn what steps, if any,

could have been taken in order to prevent

this personal tragedy.

After picking up some of the pieces of

their lives, Dirosario-Holmes reached out

to the local firefighters who responded to

the scene to get their thoughts on what had

happened to her home and why nearly all

of it was burned to the ground.

"I remember them telling me that if

some of the doors had been closed at the

time when the fire had started, it could

have made a real difference in terms of

slowing the spread of the flames," she

recalled.

In hindsight, she said it made perfect

sense.

"I didn't think of this until they told me

that bit of information, but our garage was

largely untouched by the fire compared to

the rest of our home," she said. "And that

was because all of the doors leading to that

portion of our home were closed."

Although she wished she could go back

in time with that knowledge in mind to

save her home, the only thing she could

actually do was move forward and file that

information away as a "lesson learned."

She hoped that there would never come

a time when she would have to put that

knowledge to use.

Unfortunately for Dirosario-Holmes,

she did have to put that lesson to use

recently but she knew exactly what to do

when she saw flames spreading through a

home she was visiting. Her actions that

day have her being hailed as a hero by a

local township's governing body and its fire

department personnel.

"She put her life on the line to save

another," said Jackson Township Fire

Chief Randy Little at last month's board of

trustees meeting where she was honored

for her bravery.

November 1 was a typical day on the job

for Dirosario-Holmes, a medical assistant

who is employed with the in-house senior

care organization, Comfort Keepers. Her

main task that morning was to "keep an

eye" on one of her patients, Grove City resident

Arley Nelson, and remind him to take

it easy as he recovered from a recent medical

issue.

"His wife, Ms. Pearl, and their daughter

had a few personal errands to tend to, so I

had to make sure Mr. Arley was getting his

rest," she said. "Sometimes patients who

are in recovery don't want to spend as

much time as they should be recovering, so

I had to make sure he was resting up — or

doing as much of it as I could get him to

do."

Comforted by the fact that he had settled

into his favorite recliner, Dirosario-

Holmes went to check on the status of the

laundry and heard a "really loud pop" com-

See CITIZEN HERO page 6

I am trying to prepare myself to hit the ground

running. Although there is a lot to learn, I

have attended an initial three-day new-member

orientation and am meeting with House

leadership, community leaders, former legislators,

and constituents in the coming weeks

to get as familiar as possible with the different

corners of our district and priorities of various

communities. I will or already have met with

the mayors of Columbus, Grove City, and Urbancrest;

the superintendents of the Columbus

and South-Western City Schools; Franklin

and Jackson Township trustees; The Ohio

State University President Kristina Johnson;

City Council members and Board of Education

members; and community leaders from the

Greater Hilltop Area Commission and the Far

South Columbus Area Commission, among

others. I'll also meet with former House members

who can provide helpful insights into

how I can be the most effective.

I will concentrate on quality-of-life issues:

economic growth, workforce development,

and excellent academic education for our children.

House members typically serve on

three of the 23 standing committees. To this

end, I have identified three House committees

that I feel will enable me to contribute the

most: Finance, Technology & Innovation, and

Primary & Secondary Education. Alternatively,

there are three additional committees with

which I feel I can be helpful: Economic &

Workforce Development, Higher Education &

Career Readiness, and Ways & Means. As I

meet with the new House leadership, I will

communicate my interests, priorities, experiences,

and skill sets so that I can be matched

with the committees where I can be the most

effective for the House and for our District.

I wish you and those you love the best for

Christmas and the coming Holidays!

Paid Advertisement
---
PAGE 6 - GROVE CITY MESSENGER - December 11, 2022

By Andrea Cordle

Grove City Editor

Last month, Grove City Council

approved legislation to install a permanent

performing arts stage at the old library

site, along Park Street. Now, the city is

purchasing additional property in that

area for public use.

At a recent meeting, the council

approved a purchase agreement with the

Virginia S. Cotton Trust and set aside

$588,500 for the structures at 4107

Arbutus Ave. and 3378 Voeller Ave. The

city is buying the properties for less than

the appraised value, which is listed as

$597,500, per the Horner Appraisal Group.

According to Stephen Smith, the city's

law director, these two parcels border city

properties in the Town Center.

"This is a key purchase for how the city

is compiling land in the Town Center," said

Smith.

City Administrator Chuck Boso said the

city, as well as other entities, have been

hosting events and programs in that area

because they are not having as many

events on Broadway. He said buying the

two parcels of land gives the city opportunity.

"The need for increased space has

become evident," said Boso.

The city just received a $200,000 state

capital grant that will be used to construct

a performing arts stage. A temporary stage

has been at the old library location for the

past two years.

According to Kim Conrad, the city's

parks and recreation director, there are

already plans to host events at that location

in 2023. Some of those events include

Friday night concerts, Arts in the Alley,

and the Wine and Arts Festival.

It remains to be seen what the city will

do with the two parcels it purchased.

Councilman Roby Schottke suggested a

skating rink.

"I would gladly support that," said

Schottke.

Council has asked the city's administration

to prepare an overall plan for the Town

Center Park area.

Council also approved a purchase and

donation agreement with Berkley and

Joanne Roach. The city has been negotiating

with the Roach family to acquire public

park land on Holton Road. As part of the

agreement, the city will buy just over four

acres on Holton Road for $400,000 and the

Roach family will donate an additional 4.9

acres to the city. Based on the city's

appraisal, the value of the purchased land

and the donated land total $1.4 million.

The city will appropriate the $400,000

purchase from the Pinnacle Tax Increment

Financing Fund.

City leaders thanked the family for the

land donation and suggested building a

water feature in the Roach's name.

In other news, the council approved a

development plan for an addition at the

Buckeye Ranch, located at 5665 Hoover

Road. The plan is to construct a new

administration and residence building at

the site.

The facility, formerly called the Buckeye

Boys Ranch, opened in 1961 as a treatment

center for 10 young men. Over the years, it

has transitioned into a provider of emotional,

behavioral, and mental health services

for children and their families.

Councilman Randy Holt asked if there

were any safety concerns about the

Buckeye Ranch or its patients. Kevin

Teaford, the city's safety director, said they

www.columbusmessenger.com

City purchases property to expand Town Center Park

Grove City Police News

On November 22, 2022, Grove City

Police were dispatched to the 1900

block of Sunny Creek Ct. on a report

of a Burglary. The victim stated a

male suspect entered his home

through his unlocked front door. The

homeowner confronted the suspect

who left. Police located the suspect

trying to get into a neighbor's home,

he was arrested for the Burglary.

#50918

In other police news:

On November 23, 2022, Grove City

Police were dispatched to the 5100

block of Collins Way on a report of a

stolen package. The victim stated

she received an alert from UPS that

their package was delivered at 12:30

pm. When they went to the porch to

retrieve the package at 1:00 pm it

was no longer there. #51208

On November 25, 2022, Grove City

Police were notified of a Burglary in

the 4700 block of Dunmann Way.

The homeowner left the house

around noon and when they returned

around 1pm they discovered

the back window screen had been cut

out and the window was open. The

family dog was inside the house,

nothing was identified as missing at

time of report. #51454

On November 26, 2022, Grove City

Police were dispatched to the 2600

block of Woods Crescent on a report

of a Burglary. The homeowner reported

their checks and some cash

had been stolen from the kitchen

area. Officers discovered a cut window

screen and an open window at

the rear of the house. #51609

On November 28, 2022, Grove City

Police were dispatched to the 3000

block of Broadway on a report of a

robbery. Officers were told that a

customer had ordered food and after

eating started to walk out. The employee

asked if the suspect was going

to pay for his food. The male suspect

pulled a knife and told the employee

to get back. The male was latter located

and arrested by Grove City

Police. #51993

CITIZEN HERO

Continued from page 5

ing from somewhere in the condominium.

"It was like a glass shattering kind of

pop," she said. "I wasn't really sure where

it had come from, I wasn't sure what it was

that had made that noise, but I was really

scared because the sound was just so violent."

She said she went around the kitchen

island and asked Arley if he knew what

had happened. He did not, but the realization

that something serious, something

dangerous, had occurred had started to

reach their senses.

"I started to smell that awful acrid smell

and then before I knew it a bunch of smoke,

really thick, black smoke was everywhere."

Spotting the flames licking through the

bedroom, she quickly shut the door to buy

some time as she alerted 911 of the situation

and worked to get her patient out of

his home. She ran over to Arley to set up

the Hurley lift so he could be safely

removed from the area, but the electrical

lift-system decided it would be a good time

to stop working.

"It just died right there, half-way inbetween

lifting him, and then I had to

make a choice."

Knowing that she could not leave Arley

there to fend for himself as the smoke grew

heavier — "I never would have been able to

live with myself if I had," she said — she

started dragging him and that Hoyer lift

through the condominium to the front door.

As smoke "as thick as water" filled her

lungs, she ran out of the front door to get a

breath of fresh air so she did not pass out.

She then returned to the smoke-filled living

room and continued to drag Arley to

safety. When they reached the outdoors,

she took another deep breath to go back

inside for the Nelson's puppy and his

wheelchair.

"And that's when I saw (Jackson

Township firefighter) Greg Tussing and I

have had no issues and have a great relationship

with the ranch.

"We have no concerns from a safety

standpoint," said Teaford.

Council members also heard a preliminary

development plan for the Harris

Property, located north of State Route 665

and west or Borror Road. The concept was

to build more than 100 free-standing condominiums,

76 town homes, and nearly 150

ranch-style apartments on the land over

several phases.

The city's planning commission voted

against this plan due to traffic and density

concerns.

The developer has come up with a new

plan that will be resubmitted to the planning

commission before coming back before

city council.

thought he was just an angel sent from

heaven," she said. "He honestly could not

have come at a better time and I knew that

by seeing them here that everything would

be OK."

The fire department personnel and the

board of trustees were quick to point out

that it was her swift actions that led to

"things turning out OK" for all of the people

involved.

"This lady is a hero," said Little. "She

saved someone's life and she didn't have to

— and that's the part that I think is so

amazing.

"It is hard enough to do the job these

gentlemen do here with an air bottle and

gear on because of the heat and the smoke.

But she didn't have an air bottle on or any

gear and for her to go in and do that and

then enter again is nothing short of amazing."

During their meeting last month, the

board of trustees presented Dirosario-

Holmes with a proclamation of gratitude

for her actions that saved the life of Arley

Nelson and those within the surrounding

units. They decreed Nov. 22, 2022 as

"Stacey Dirosario Holmes Day" in the

township. The fire department also presented

Dirosario-Holmes with its Citizen

Heroism Award for her life-saving efforts.

She said she was overwhelmed by the

recognition of her actions that day but

believes that "anyone would have done

what I did." She added that she was just

glad that she was there to be able to help

out when someone was in need — and that

she was able to put her newfound knowledge

on how to contain the spread of fire to

use.

"Knowing what to do definitely helped

with that aspect," she said, "but I think I

have had enough fire experiences to last a

lifetime."
---
www.columbusmessenger.com

Blood drive in Grove City

The American Red Cross will host a

blood drive from 12 to 6 p.m. Dec. 15 at

Vineyard Christian Fellowship, 3005 Holt

Road in Grove City. To schedule an

appointment, call 1-800-448-3543 or visit

www.redcrossblood.org.

Free community meal

Bethel Lutheran Church, 4501 Hoover

Road in Grove City, will host a free community

meal every third Saturday of each

month. The food will be served from noon

to 1 p.m. For more information, call the

church office at 614-875-0510.

S.A.L.T. at Evans Center

The Grove City Division of Police host

Seniors and Law Enforcement Together

(S.A.L.T.) meetings at 1 p.m. the second

Tuesday of each month at the Evans

Center, 4330 Dudley Ave. Adults of all ages

are welcome to attend. If you would like

news and notes

additional information on other crime prevention

programs visit police.grovecityohio.gov

or call 614-277-1765.

Internet Purchase Zones

The city of Grove City's Division of

Police in cooperation with Jackson

Township established two Internet

Purchase Exchange Zones in response to

safety concerns during person-to-person

exchanges of sales arranged online. The

zones are located at City Hall, 4035

Broadway, and the Jackson Township

Administration Building, 3756 Hoover

Road. Exchange zones are identified by signage

next to designated parking spaces at

each location with video surveillance 24

hours a day, seven days a week. Residents

can conduct transactions knowing their

interactions are recorded. In cases of emergency,

site users should dial 911 for assistance.

For more information, contact the

Grove City Division of Police at 614-277-

1710.

December 11, 2022 - GROVE CITY MESSENGER - PAGE 7

Happy Holidays

FROM

Messenger photo by Dedra Cordle

Largest donation in history!

On Dec. 5, the Grove City Cancer Thrift Shop presented a check to Lifecare

Alliance's Columbus Cancer Clinic in the amount of $73,000 – the most that has

ever been donated to the organization in the history of the non-profit shop.

Because of the efforts of the volunteers and the community who purchases items

at the store at 3684 Garden Court, hundreds of low-income individuals or those

who have no or limited insurance will be able to access cancer screenings, some

treatment, prosthetics, wigs, and other support services at virtually no cost. Chuck

Gehring, the president and chief executive officer at Lifecare Alliance, said all of

the volunteers should be proud of their efforts as they have helped "save many

lives." Pictured here from left to right at the volunteer banquet are the shop's treasurer

Gwen Miller, Lifecare Alliance CEO Chuck Gehring, the shop's president

Betty Lewis, and the shop's assistant treasurer Patti Hines. The volunteers said it

is their goal to raise even more money for the Columbus Cancer Clinic next year.

The store is open from 12 p.m. to 4 p.m. on Thursdays and Fridays and from 11 a.m.

to 3 p.m. on Saturdays. Special hours will be held from 11 a.m. to 4 p.m. on Dec. 15,

16, and 17 as part of a holiday promotion sale. For more information, visit their webpage

at grovecitycancerthriftshop.com, their social media pages, or call the store

at 614-871-1126.

SHOP OUR SPECIAL HOLIDAY HOURS

Monday-Saturday 10:30-7PM

Sunday 12-5pm

1494 Stringtown Rd, Grove City, OH 43123

meyersjewelers.com

(614) 594-0230
---
PAGE 8 - GROVE CITY MESSENGER - December 11, 2022

www.columbusmessenger.com

Holiday safety tips from the Grove City Division of Police

As the holiday season approaches, many

become wrapped up in festivities, making it

easy to overlook simple safety precautions.

The Grove City Division of Police offers

a few holiday safety tips to help ensure

that citizens have a safe holiday season.

While shopping…

•Be aware of your surroundings. Look

around.

•Park in a well-lit area and be sure to

lock your vehicle. Be certain shopping bags

or purses are not visible in your vehicle.

Place items in the trunk when possible.

•Do not approach your car alone when

you are apprehensive about those around

your vehicle.

•Avoid carrying large amounts of cash.

Pay with a check or credit card when possible.

•Never provide credit card numbers

unless you initiate the purchase.

•Carry your purse close to your body

and not across your body; keep purses on

one shoulder. Place wallets in an inside or

front pants pocket.

•Teach your children to go to a store

clerk or security guard if they become lost

or separated.

Website:Expert-hvac.com

Phone:614-946-8461

Experthvacllc@gmail.com

FREE ESTIMATES

on system installs

$100 Preventative Maintenance (tune up)

Expert service - affordable prices - Locally owned from Groveport

Mention this ad and get $20 off a $110 service call.

•Be aware of strangers approaching you

for any reason. Con-artists take advantage

of holiday generosity to distract you with

the intention of theft. It is not uncommon

for criminals to solicit door-to-door, asking

for donations to sham charitable causes.

While shopping online…

•Be wary of emails from unfamiliar

sources. Unrealistic discounts may be

phishing schemes used to get your personal

information.

•Know who you're buying from. Stick to

well-known companies and search for

reviews from customers before ordering.

•Stay aware of expected packages being

delivered, be on the lookout for porch

pirates. Consider getting a home camera

system or taking advantage of a package

delivery locker (such as one through

Amazon or UPS). You can also ask for

delivery drivers to place packages out of

sight when they make deliveries.

•If making a purchase online from websites

such as Craigslist or Facebook

Marketplace, consider using one of Grove

City's Internet Purchase Exchange Zones.

While out for the evening…

•Turn on lights and a radio or TV so it

appears someone is home.

•Be diligent about locking your doors

and windows, even when you're gone for a

short time.

•Do not display gifts or high-priced

items in your home where they can be seen

from the outside.

When going out of town…

•Fill out a Request for Home Security

Check form online or visit the Safety

Complex, 3360 Park St.; forms are available

in the lobby. Your home will be

checked by the Grove City Division of

Police while you are away.

•Stop your mail and newspaper or ask a

neighbor to collect for you.

•Advise a trusted neighbor you will be

out of town. Ask them to report any suspicious

activity to the police immediately.

After the holidays…

It's fun to share your joy, but be cautious.

Do not advertise gifts received during

the holidays; this includes sharing on

social media sites. Avoid setting boxes at

the curb from high-priced items on trash

day by placing them in a recycle bin. If you

must place boxes at the curb, break them

down and turn labels inside so passersby

cannot identify the contents.

Many programs are available to educate

and deter unlawful activity. Visit the Grove

City Division of Police website, grovecityohio.gov/division-of-police,

for crime alerts,

trends and tips. For additional information

on crime prevention programs, call 614-

277-1765.

NO MATTER THE

SEASON

NO MATTER THE

REASON

We have the personal loan for you.

Rates as low as 6.99% APY (7.759% APR).

Need to make a large purchase or consolidate your debt?

Get the cash you need now with a personal loan from

Telhio, with rates lower than most credit cards!

LEARN MORE TODAY AT TELHIO.ORG

A $150 doc prep fee applies. Rates are subject to change without notice. All rates and terms subject to credit approval. Additional discounts may be availableailable

.

APR = Annual Percentage Rate. Example: A $10,000 personal loan would have a payment of $243.01 for 48 months with disclosed APR. Telhio is open to anyone

who lives, works, worships or goes to school in Central and Southwest Ohio. This credit union is federally insured by the National Credit Union Administration.

614-221-3233
---
www.columbusmessenger.com

Schuman's Meats

1440 Harrisburg Pike • Columbus, OH 43223

614.274.2161 • www.schumansmeats.com

Hours: Tues.-Fri. 9 AM - 5 PM • Saturday 9 AM - 4 PM

December 11, 2022 - GROVE CITY MESSENGER - PAGE 9

USDA Choice Beef Ohio Grown.

Naturally Dry Aged For Your Satisfaction. Cut Fresh Daily!

All Ground Meats and Patties are Ground Fresh Daily

(No added Antibiotics or Steroids)

"Ohio Choice Grade Beef" Taste the difference!

OPEN SATURDAY, DECEMBER 24 - 9 AM - 3 PM

LET SCHUMAN'S MEATS BE A PART OF YOUR CHRISTMAS!

MERRY CHRISTMAS

Holiday Specials

• Beef Rib Roast 1st cut $15.99 lb. - (oven ready)

• Boneless Beef Sirloin Tip Roast $6.49 lb.

(oven ready)

• Whole Beef Tenderloin $20.99lb.

• Whole Beef NY Strip $9.49 lb.

• Falters Old Fashion Hams $3.69 lb.

• Spiral Hams $3.99 lb.

• Pork Crown Roast $5.19 lb.

• Fresh Hams $2.29 lb.

• Meat and Cheese Party Trays

• Steak Gift Boxes (makes for a great gift!)

or make your own gift box

• Gift Certificates - Any denomination

• Der-Dutchman and Stevens

• Bakery Products

Good thru

Jan. 5 th

•Oysters Chesapeake Bay

•Assorted Beef Steaks

•Frozen Lobster Tails

•King Crab Legs

•Faroe Island Salmon

•Sea Scallops

SUPPORT YOUR LOCAL

SMALL BUSINESSES

BY: CASEY P. O'BRIEN [#0072378]

IBOLD & O'BRIEN

401 South Street

Chardon, OH 44024

(440) 285-3511

casey@iboldobrien.com

Attorney for Plaintiff

•Chilean Seabass Fillets

•Halibut Fillets

•Snow Crab Clusters

•Orange Roughy

•Smoked Salmon

•Live Lobsters via Special Order Only!

HOURS:

Saturday, Dec. 24th - 8 to 5

Monday thru Friday 8 to 6

Saturday, December 31st - 8 to 5

Closed December 25th & 31st

Now taking

Christmas Orders

WE ACCEPT All Major Credit

Cards - EBT Cards (SNAP)
---
PAGE 10 - GROVE CITY MESSENGER - December 11, 2022

www.columbusmessenger.com

Holiday Gift Ideas

Holiday Gift Ideas

GROOMING

$65 for full groom

And $45 for puppy cut

1663 Georgesville Square Dr.

614-675-0241

Wreath laying service

at Camp Chase Cemetery

At noon on Dec. 17, Christmas wreaths

will be laid on graves in Camp Chase

Confederate Cemetery, located at 2900

Sullivant Ave. in Columbus. Community

members are asked to attend and help

Jeffersonville, Ohio, Dec. 2, 2022 -

Destination Outlets, in Jeffersonville, Ohio

announces holiday hours and Photos with Santa.

Destination Outlets will be extending shopping

hours on Fridays and Saturdays leading up to

Christmas.

The mall will be hosting Photos with Santa

inside Pottery Barn Outlet on Dec. 10 from noon

– 3 p.m.

Woof Gang Bakery & Grooming with be hosting

Photos with Santa on Dec. 3 from 3–5 p.m.

and Dec. 10 from 10 a.m. – noon.

community events

spread more than 335 wreaths across the

cemetery. This location is one of over 3,400

other locations that will also be laying

wreaths on veterans graves around the

world at the same time. For more information

about Wreaths across America, visit

wreathsacrossamerica.org.

PAID ADVERTISING

Celebrate the holiday spirit at

Destination Outlets

Bring the whole family, including your pups

to shop, eat and play!

Dec. 2: 10 a.m. – 8 p.m.

Dec. 3: 10 a.m. – 8 p.m.

Dec. 9: 10 a.m. – 8 p.m.

Dec. 10: 10 a.m. – 8 p.m.

Dec. 16: 10 a.m. – 8 p.m.

Dec. 17: 10 a.m. – 8 p.m.

Dec. 23: 10 a.m. – 8 p.m.

Dec. 24 (Christmas Eve): 10 a.m. – 5 p.m.

Dec. 25 (Christmas Day): CLOSED

Lunch Specials Mon.-Sat. 11 - 3:30 pm

Save time--order online!

614-276-4395 • 614-272-9234

120 PHILLIPI ROAD • www.dingho.net

GIFT CERTIFICATES

In Any Amount Of Your Choice

Each Gift Purchase Over $50.00

And You Get

$

10.00 FREE

DestinationOutlets.com

800-213-9083

8000 Factory Shops Blvd.

Jeffersonville, OH 43128

DOWNLOAD OUR

MEMBERSHIP APP
---
www.columbusmessenger.com

December 11, 2022 - GROVE CITY MESSENGER - PAGE 11

Holiday Gift Ideas

Holiday Gift Ideas

Holiday hours at Cancer Thrift Shop

The Grove City Cancer Thrift Shop,

3684 Garden Court, will be open an extra

hour from 11 a.m to 4 p.m. Dec. 15-17.

There is a large supply of Christmas items,

as well as gifts at bargain prices.

Consignments will not be taken that week.

The thrift shop will close Dec. 17 and

reopen on Jan. 5, 2023. The thrift shop is a

non-profit organization that benefits the

Columbus Cancer Clinic.

For more information, visit grovecitycancerthriftshop.com.

PAID ADVERTISING

Ring in the new year with Mike

Albert's Elvis tribute show

Get out of the house and ring in 2023 at a New

Year's Eve party that is rated one of the best in

Columbus.

The Crowne Plaza Hotel, 6500 Doubletree

Ave., will host Mike Albert and The Big "E"

Band at this 16th annual New Year's Eve bash.

Albert is an award winning "Elvis Presley

impersonator." His wardrobe, voice and amazing

wit makes for a wonderful show.

You can get a full service dinner, drinks,

room, hats and horns, champaign toast at midnight

along with a full breakfast New Year's Day

for only $319 per couple. There is also a party

package for $250 per couple or $150 per single.

Tickets are limited. For reservations, call (614)

792-3135.

Early check in is at 1 p.m., ballroom doors

open at 7 p.m. Draft beer and wine, included in

the price, will be available until midnight, with

dinner at 7 p.m. The show kicks off at 9 p.m.

There will be two televisions in the ballroom to

keep up with the Ohio State football game.

"Mike's New Year's Eve show is like no

other," said promoter Doug Henry. "He interacts

with the crowd, which makes for a fun time."

Celebrate New Year's Eve

Starring

with ELVIS

Mike Albert

Prices Per Couple

Overnight Package - $319

Party Only Packages - $250

Single Overnight - $219

The Big "E " Band

Prices include

Dinner, Drinks, Room,

Party favors, Full Breakfast

Make Your Plans NOW!

614-792-3135

Crowne Plaza • 6500 Doubletree Ave. (formerly Marriott North)

2752 London Groveport Rd, Grove City, OH 43123

Holiday Hours: Mon.-Fri. 10am-7pm

Sat. 10am-5pm Sun. 12pm-5pm

(614) 317-7755
---
PAGE 12 - GROVE CITY MESSENGER - December 11, 2022

Metro Parks celebrate

50 years of Winter Hikes

In Ohio, people often assume that the

winter means a time to cuddle up inside

and avoid the outdoors.

Fifty years ago, Metro Parks challenged

central Ohioans to bundle up and enjoy the

parks throughout the winter by creating

the Winter Hikes series. The hikes were

originally set up with a naturalist and volunteers

leading visitors along a different

trail each Saturday from January to

February. Hikers could enjoy soup and

camaraderie after the hikes. A crowd of 75

hikers was a very good day in the parks

during those early years.

About 10 years ago, winter hike crowds

began to surge and it was no longer shocking

to see 1,000 hikers on a Saturday

morning. Hikers were encouraged to go on

their own self-guided walk as the naturalists

and volunteers could no longer lead a

walk for that many visitors at once. Soup

and fun was still a major part of the hike

series, although some decided to avoid the

crowd and eat elsewhere after their hikes.

As with all things, the pandemic forced the

hike series to change and it shifted to a

self-guided, avoid the crowds, concept.

This year, for the 50th anniversary of

the Winter Hikes series, Metro Parks are

bringing back some of the tradition while

still keeping things flexible. Visitors can

hike any trail, any time from December to

February as part of the series. Each month

will feature different parks where you can

take a walk, get your hike card stamped

and maybe join a group for a walk. Hike

under the Twinkling Lights in December

and in January and February enjoy hot

drinks and treats or search for a collectible

winter hike wooden medallion along the

trail.

Participants can:

•Visit the parks highlighted each

month and hike any trail during the designated

month.

•Have a staff member stamp your

Winter Hikes card.

•Hike seven parks to earn a Metro Park

Winter Hikes patch.

•Visit Friends of Metro Parks to find

out how to earn hike medallions and additional

swag.

For more information on Winter Hikes,

visit metroparks.net/winter-hikes.

- Jill Snyder, Metro Parks visitor and

engagement manager

Chex is a 5-monthold

who is eager to

find her forever family.

She is a sweet and

playful girl who is

sure to steal your

heart. Chex is

spayed, microchipped,

and up to

date on vaccines.

Stop by and meet her

at the Colony Cats

cage-free Adoption Center.

FYI: colonycats.org

Pets of the week

Martha is a very

sweet but shy girl.

Martha and her littermates

were found in

a laundry room with

no windows or toys to

play with. They were

in that room for nine

months. Now that

Martha has been rescued,

she would love

a window to watch the outside world. A quiet

home would be best for her. She gets along

with other cats but has never been around a

dog. Adopt Martha from Friends for Life

Animal Haven

FYI: fflah.org

www.columbusmessenger.com

These furry friends are available

for adoption at local

rescues and shelters

Buckeye is a 10-

year-old mixed

breed. This sweetheart

loves to give

kisses, cuddle, and

sleep on the sofa. He

also loves a good

game of tug of war.

Buckeye is housebroken

and will proudly sit for a soft treat. He is

playful with the resident dog in his foster

home, and is friendly with people he meets.

Buckeye's holiday wish is that he finds a very

loving and cozy forever home.

FYI: franklincountydogs.com

Almond Joy is so

much fun to have

around. She is excited

about walks, toys,

and treats. She loves

everyone and makes

friends everywhere

she goes. Almond

Joy loves kids as

much as she loves any other human. She is

not a huge fan of other dogs, but she walks

politely past them in public. She can be active

one moment and then lazy on the couch the

next. Overall, this girl would be a perfect pal

for anyone who gives her pets and attention.

FYI: franklincountydogs.com

Now in Grove City

At

Zangmeister Cancer Center

we collaborate with our

colleagues in radiation therapy, surgery, genetics, pathology and

clinical research to ensure each patient has a comprehensive ,

multidisciplinary plan of care. Support from our pharmacists,

social workers, nurse navigators, dietitians and financial

counselors minimize the impact of cancer on daily life.

A DIVISION OF AMERICAN ONCOLOGY PAR TNERS, P.A.

W

e deliver the most advanced and innovative treatments focused on each patient for

the best possible experience — because each patient's cancer journey is unique.

5500 North Meadows Dr., Suite 230, Grove City

, OH 43123 | ZangCenter.

com
---
www.columbusmessenger.com December 11, 2022 - GROVE CITY MESSENGER - PAGE 13

May all that brings

you joy be yours this

holiday season and throughout t

the coming

year!

From your friends at Danbury Grove

City,

LISA GRAVES

Executive

Director

KATIE BROADRIGHT

Director of

Sales

& Marketing

Villas las | Independent Living | Assisted Living | Memory Care

614.9

957.0029

3615 Glacial Lane

, Grove City , Ohio 43123

Danbury takes your health h and wellness lness seriously.

While many other senior living facilities offer fer on-call

nurses, we are proud to continually of

fer nurses on-site, twenty-four hours a day

, seven days a week.

DanburySeniorLiving.com
---
PAGE 14 - GROVE CITY MESSENGER - December 11, 2022

www.columbusmessenger.com

The fun of playing football in the snow

I was never much of a football player as a

kid, but I do know one thing about the sport

- it's a lot more fun played in the snow.

Back in my days of youth, my older brother

organized regular pick-up football, baseball,

and basketball games among all the

neighborhood kids. At first we used our backyard

for these contests. In fact, we played so

much baseball there that we wore out the

grass in the yard to the point that it looked

like a real baseball diamond with patches of

dirt at home plate, the pitcher's "mound," and

the bases. I remember my dad being unconcerned

about the worn out turf. He said of the

grass, "It'll grow back."

As we kids all grew a bit older, we moved

our football and baseball games from our

backyard to a nearby larger vacant lot. The

ground on this lot was lumpy, but no matter.

Whenever a fresh snowfall blanketed our

playing fields, the football came out, no matter

the day of the week or low temperature.

We would all gather at the field, pristine with

fresh snow, and then proceed to track it up

with action.

Football in the snow meant one could slide

several feet in the snow when hitting the

ground. It meant bundling up in warm coats

or sweatshirts that served as extra padding

to absorb hits when tackled. It meant getting

cold snow down your back and in your face,

which actually cooled you off as you worked

up a sweat playing. It meant hearing the

crunch of snow under your feet and also

when a ball carrier and tacklers mushed to

the ground in a pile. It meant going out for a

Opinion

pass and faking out a defender then watching

them slip and slide in the snow. It meant precision

was meaningless. It meant showing

the cold weather that it could not stop you

from playing ball. It meant you were alive. It

meant having fun!

I think that memories like this pop up for

people whenever they see a rare college or

NFL game being played in the snow. It

prompts folks to remember playing in the

snow themselves and how much fun it was.

It also makes the usual machine-like

nature of college and pro football games,

mostly played on sterile looking fields, revert

back to the game's roots of playing in the

snow and mud when everyone was on equal

footing. I bet the pro and college players like

playing in the snow, too.

Editor's Notebook

Rick Palsgrove

Those snowy football games we played in

our youth ended when we either finally got

too cold, the sun set, or it was time for dinner.

I don't see kids out in their yards much

these days playing football in the snow or

making snowmen or having snowball fights

or cracking the thin ice on mud puddles just

to feel it and hear it give way under our feet.

They don't know what they are missing.

Rick Palsgrove is the managing editor of the

Columbus Messenger Newspapers.

Jackson Chapel

United Methodist Church

Christmas Eve Candlelight Service

Saturday, December 24, 7:00-8:00

We conclude our service with

singing the closing song with

lighted candles held by congreation.

4473 Jackson Pike

(coner of White Road & Jackson Pike)

CHRISTMAS EVE E MASSES

4 pm, 7 pm, 9 pm, midnight

CHRISTMAS DA

Y MASS

9 am

3730 Broadway, Grove City

614.875.3322 | www.ourladygc.org

Grove City Christmas

Church Services

Christmas at First Presbyterian

Church of Grove City:

All Are Always Welcome!

In-Person or on Facebook!

4227 Broadway, Grove City

www.fpcgc.org

Saturday, December 17th

11:00 a.m.-1:00 p.m.

Free Community Brown Bag Lunch Drive Thru

Sunday, December 18th

10:00 a.m. Worship Service

Saturday, December 24th

7:00 p.m. Christmas Eve Candlelight Service

Sunday, December 25th

10:00 a.m. Christmas Worship Service

EMMANUEL LUTHERAN

CHURCH

80 E. Markison Ave., Columbus, OH 43207

elclife.org

Saturday, December 24th

Christmas Eve Services 3 & 7 pm

Sunday, December 25th

Christmas Day Service 8:30am & 11:00 am

Saturday, Dec. 31 - New Year's Eve Service 3 & 7 pm

St. John Lutheran Church

3220 Columbus St., Grove City, OH 43123

Christmas Eve Worship

4:00, 6:00 & 8:00 p.m.

Christmas Day Service 10 a.m.

Traditional Services

Sat. 4 p.m., Sun. 8:15 a.m. & 11 a.m.

Contemporary Service Sun. 11 a.m.

Sunday's at 11:00 am in person and online.

Bible Study online Wednesday's @ 6:30 pm.

www.covenantbelievers.com @Covenantbcc

December 31, 2022 @ 11:00 pm online

Pastor Keia Holt

Covenant Believers Community Church

99 Commerce St. , Lockbourne, OH 43137

614‐500‐7651
---
www.columbusmessenger.com December 11, 2022 - GROVE CITY MESSENGER - PAGE 15

In Entertainment

Santa wields a sledgehammer in "Violent Night"

The Reel Deal

Dedra Cordle

'Tis the season when people all

across the world gather in front of

their television sets, computer monitors,

and smartphone screens to

usher in a bit of Christmas cheer

through a variety of entertainment

offerings that aim to elicit the soothing

sensation of the warm fuzzies for their audience.

Although there is a certain segment of the population who

likes to watch this type of programming throughout the

year, most only care to view the festive fare within a threeweek

window as it provides a nice distraction from the

mountain of debt you are incurring from buying gifts for

those who do not deserve them or for those who can frankly

afford to purchase the items for themselves.

For those in the latter category who find a certain kind

of solace in the holiday flick, there is a new Christmas

movie that was released into the theaters this past weekend

called "Violent Night" that offers both a heart-warming

nod to the spirit of the season and a good spot of bloody

viciousness thanks to a sledgehammer-wielding Santa who

is spoiling to smash in the faces of those who made it onto

his very naughty list.

In this acerbic home-invasion comedy thriller from

director Tommy Wirkola, "Stranger Things" star David

Harbour plays the barbaric Kris Kringle who has just

about had it with this whole delivering-present-to-children

gig. When the film opens, he is nearly slumped over the

counter of a pub in England on Christmas Eve, bemoaning

the fact that the alcoholic beverages being served are still

rendering him "upright." During a slurred conversation

with a small Santa Claus, he lets loose on having to serve

at the whim of children who just "want, crave, and consume."

In this amusing scene between the holiday icons of good

cheer, the real Santa admits his duties are a curse — a

Government Focus

backstory scene posits that it just might be one as a form

of punishment for his past deeds — and laments that all he

wants to do is to be done with the whole thing. Alas, he

must fulfill his duties and he goes about it begrudgingly,

haphazardly tossing presents to the ground, viciously biting

the heads off of cookies left out for him and raiding the

booze cabinets of the wealthier homes.

When he visits the Lightstone resident, where powerful

matriarch Gertrude (Beverly D'Angelo) hosts her daughter

Alva (Edi Patterson), son Jason (Alex Hassell), and their

immediate family members, he is in for a violent surprise.

Although the compound is heavily fortified, a team of mercenaries

led by "Mr. Scrooge" (John Leguizamo) have broken

into the estate seeking the $300 million that are

believed to be in a vault downstairs.

Because Santa Claus sees the sniping Lightstone family

as greedy (they very much are, hilariously so and most

proud of the fact) he thinks nothing of leaving them to the

whims of the violent team that all sport cheeky holiday

codenames. But when he gets a whispered plea

for help from Jason's very good daughter Trudy

(Leah Brady), he does the two things he swore he

would never do again: get involved in real-life situations

and pick up his beloved sledgehammer and

smash his enemies to smithereens.

Despite the over-the-top violence that is found

within this film — and no, that is not an understatement

as Santa gets down and bloody with tree-toppers,

string lights, and candy canes, along with his

trusty hammer — it actually has a beating heart to

it, especially with the budding friendship between

Santa and Trudy, one of the last individuals on

Earth who genuinely believe in him and his innate

goodness. Although they do not spend too much

time together on screen — Santa is busy roughing

up the bad guys while Trudy has her own subplot

where she does her best Kevin McCallister impression

— their bonding sessions come via walkie-talkie

where they open up about their lives and their vulnerabilities.

It's such a sweet thing to witness, even

CARES website helps with recovery

Franklin County Public Health has launched

Franklin County CARES, a one-stop addiction, recovery,

and health data website.

Funded by the CDC Overdose Data to Action Grant,

the Franklin County Comprehensive Addiction and

Recovery Evaluation System (Franklin County

CARES) provides a one-stop resource for comprehensive

data on addiction, recovery, and health for

Franklin County residents and communities.

The user-friendly website was built with a diverse

array of Franklin County community members in

mind. Franklin County CARES will allow residents to

learn more about their neighborhoods and surrounding

communities, while agencies addressing the overdose

epidemic can access the data they need to plan and

implement their programs.

The website features dashboards showcasing local

data on the overdose epidemic, including emergency

department admissions, deaths, 911 calls, and justice

system interactions, as well as resources and data-driven

strategies to address substance use and abuse. It

also provides access to a database of funding opportunities,

promising practices, and community health

resources to assist Franklin County Public Health,

community partners and community members in finding

the resources needed to address substance use disorder

and other health-related issues.

Demographic data and mapping features on

Franklin County CARES offer opportunities to identify

populations and locations that have experienced and

are experiencing disparities in health. The Health

Equity Index allows for more explicit identification of

these areas. By breaking out all available data into

subgroups, community members and agencies can

identify groups that are suffering from disparities and

identify opportunities to close these gaps.

Franklin County Public Health was awarded a

three-year CDC Overdose Data to Action Grant, which

has brought an estimated $3.9 million dollars a year to

the community to fight the opiate crisis. The purpose of

the funding is to obtain high quality, more comprehensive,

and timelier data on overdose morbidity and mortality,

and use the data to inform prevention and

response efforts.

Visit franklincocares.org for more information.

with all the bloodshed that is happening throughout the

movie, and sometimes during their old-school chat sessions.

Due to its premise and the violent action that takes

place within, "Violent Night" will not be looked upon fondly

by those who enjoy the more traditional holiday flick but

for those who would like to see something a bit different

this holiday season might want to take a peek at this one.

It has a certain kind of magic to it, magic largely produced

by Harbour who is having a good time playing this version

of the bearded icon, and it manages to serve up all the hallmarks

of a classic holiday movie people love so much at

this time of the year — just with a bit more blood and gore.

Bob's

Grade: B

Dedra Cordle is a Messenger staff writer and columnist.

C.M.T

MOWER REPAIRS

614-875-5830

6446 HARRISBURG PIKE, ORIENT, OHIO 43146

Pick-up and Delivery

"We have the lowest price in town!"

!"#$!"%%Tours%

!"#$%&'#$(%')%

='(74+&)"+%8')4"+'5(-%

8*%*'+,$$(%:%

?"()"+%.$/%0"1>

!"#$%&'#$(%')%*'+,$$(-%

.$/%0"1-%234"5$(-%674554$(-%

8')4"+'5(-%9$)(%:%;4))5$

;$'&
---
PAGE 16 - GROVE CITY MESSENGER - December 11, 2022

Grove City

Messenger

We are the

BEST COMMUNITY NEWSPAPER

in Grove City

Pick-Up At

These Locations:

Village Municipal Building

3492 1st Ave. Urbancrest

Sheetz Gas Station - Broadway & Centerpoint

Turkey Hill - Broadway & Centerpoint

Speedway Gas Stateion - Boardway & I-270

Shell Gas Station - Broadway & I-270

United Dairy Farmers - Broadway & Southwest

CVS Pharmacy - Broadway & Southwest

Speedway Gas Station - Broadway & Southwest

Grove City Library - 3959 Broadway

Planks on Broadway - Broadway & Park St.

Mobile Gas Station - Broadway & Paul St.

Ernies Carry-Out - Broadway & Paul St.

BP Gas Station - Stringtown & Hoover

Krogers - Stringtown & Hoover

Walgreen's - Stringtown & McDowell

CVS Pharmacy - Stringtown & McDowell

Drug Mart - Stringtown & McDowell

Speedway Gas Station - Stringtown & I-71

Dollar General - 3065 Broadway

Southwest Community Center

3500 1st Ave. Urbancrest

Kroger - Hoover & Route 665

Meijer - 665 & Hoover

Circle K - 665 & I-71

CVS Pharmacy - 665 & Hoover

Dollar General - 665 & Hoover

READ US ONLINE: www.columbusmessenger.com

www.columbusmessenger.com

Small business

funding available

The Ohio Department of Development

announced that up to $182 million will be

available to support small businesses in

Ohio.

"There is no better place to live, work,

and raise a family than in Ohio, and our

small businesses are a major reason why,"

said Governor Mike DeWine. "My administration

is dedicated to supporting the

small businesses that are so integral to our

state, especially those that need extra support

to get off the ground and become a

success."

The funds are being awarded to Ohio as

part of the federal State Small Business

Credit Initiative (SSBCI). Ohio will initially

receive approximately $52.4 million to

support socially and economically disadvantaged

individuals, very small businesses,

and early-stage, technology-based companies.

The remaining funds will be made

available through multiple allocations as

the state meets expected performance targets.

The Department of Development will

administer the SSBCI program in Ohio

through the Minority Business

Development Division and the Ohio Third

Frontier, splitting the funding among four

programs that are expected to be available

by the end of 2022:

• The Community Development

Financial Institutions (CDFI) Loan

Participation Program will provide loans

to socially and economically disadvantaged

individuals, very small businesses, and

businesses located in CDFI tracts.

• The Ohio Collateral Enhancement

Program will provide collateral on small

business loans made by financial institutions

to allow small businesses to access

loans that otherwise would have been

denied.

• The Ohio Venture Fund will provide

capital to investment funds to invest in

early-stage, tech-based companies.

• The Early-Stage Focus Fund will complement

the existing Ohio Third Frontier

Pre-Seed Fund to support funds that target

investments to early-stage, tech-based

companies in underserved communities

and populations.

"Small businesses are the backbone of

the Ohio economy, and this money will

help ensure they are positioned to grow

and create good jobs across Ohio,"

Development Director Lydia Mihalik said.

"Our staff is working hard to stand up

these programs so the funding can flow to

businesses as soon as possible."

The American Rescue Plan reauthorized

and expanded SSBCI, which was

originally established in 2010 to increase

access to capital for traditionally underserved

small businesses and entrepreneurs.

Additional details about the programs

are available at Development.Ohio.gov.
---
www.columbusmessenger.com

December 11, 2022 - GROVE CITY MESSENGER - PAGE 17

CLASSIFIED ADS

Deadlines: Grove City, Groveport & All editions - Mondays at Noon.

West, Canal Winchester, South & Madison editions -Tuesdays at 5 p.m.

xAdult Care

xPublic Notices

Give us a call today for a free

in-home assessment or

visit our website at

www.windsongseniorcare.com

614-820-5000

Merry Christmas

from all of us at

Windsong Senior Home Care

advertise

Adult Care

YOUR ADULT

CARE SERVICES

Call Kathy

at The Messenger

For More Info

272-5422

TO

ADVERTISE

YOUR

LEGAL/

PUBLIC

NOTICES

CALL

THE

COLUMBUS

MESSENGER

NEWSPAPERS

614-272-5422

LEGAL NOTICE

The Grove City Police Department has recovered

numerous bicycles, tools, electronic equipment, clothing

and monies over the course of several months.

The bicycles are of various types and models, as are

the tools and electronic equipment. All properties are

held in a secured police facility at all times. If you

believe you have claim to any of the property and have

proof of ownership for the property, you may call the

Grove City Police Department Property Room at

614-277-1757. A review and release of any and all

property is by appointment only. All items not claimed

will be sold at public auction, turned over to the Law

Enforcement Fund, or destroyed according to Ohio

Law.

CHARITABLE DONATION

Qualified organizations may be eligible to receive

bicycles as charitable donations from the City of

Grove City. Qualified organizations must have a valid

ruling or determination letter recognizing the taxexempt

status of the organization, pursuant to Internal

Revenue Code Section 501(c)(3) or (c)(19).

Representatives may call the Grove City Police

Department Property Room at 614-277-1757 to

inquire about the donation process.

INFORMATION

GET READY

FOR THE HOLIDAYS!

Come See Me At

My New Location!

Call Marilyn Weaver

For An Appt.

For a New Haircut/Color

614-348-6670

Relax Wellness

3663 Broadway,

Grove City

ASSOCIATION ADS

FREE $10 Cash App

Everyone! Yes It's Real.

Very Limited supply until

we run out! Text "Real

Cash" to 706-761-1745

Free high speed internet if

qualified. Govt. pgm for

recipients of select pgms

incl. Medicaid, SNAP

Housing Assistance, WIC,

Veterans Pension,

Survivor Benefits, Lifeline,

Tribal. 15 GB Internet.

Android tablet free w/onetime

$20 copay. Free

shipping. Call Maxsip

Telecom! 1-833-758-3892

Donate Your Car To

Veterans Today! Help and

Support our Veterans.

Fast - FREE pick up.

100% tax deductible. Call

1-800-245-0398

!!OLD GUITARS WANT-

ED!! GIBSON, FENDER,

MARTIN, Etc. 1930's to

1980's. TOP DOLLAR

PAID. CALL TOLL FREE

1-866-433-8277

ASSOCIATION ADS

Protect your home from

pests safely and

affordablly. Pest, rodent,

termite and mosquito

control. Call for a quote or

inspection today 844-394-

9278

Directv Stream - Carries

the Most Local MLB

Games! CHOICE

Package, $89.99/mo for

12 months. Stream on 20

devices in your home at

once. HBOMax included

for 3 mos (w/CHOICE

Package or higher.) No

annual contract, no hidden

fees! Some restrictions

apply. Call IVS 1-866-629-

6086

Replace your roof with the

best lookng and longest

lasting material -- Steel

from Erie Metal Roofs!

Three styles and multiple

colors available.

Guaranteed to last a

lifetime! Limited Time

Offer - $500 Discount +

Additional 10% off install

(for military, health

workers & 1st responders)

Call Erie Metal Roofs: 1-

855-338-4807

Caring for an aging loved

one? Wondering about

options like senior-living

communities and in-home

care? Caring.com's

Family Advisors help take

the guesswork for your

family. Free, no-obligation

consult: 1-855-759-1407

ASSOCIATION ADS

The bathroom of your

dreams for as little as

$149/month! BCI Bath &

Shower. Many options

available. Quality

materials & professional

installation. Senior &

Military Discounts

Available. Limited Time

Offer - FREE virtual inhome

consultation now

and SAVE 15%! Call

Today! 1-877-540-2780

DENTAL INSURANCE

from Physicians Mutual

Insurance Company.

Coverage for 350 plus

procedures. Real dental

insurance - NOT just a

discount plan. Do not wait!

Call now! Get your FREE

Dental Information Kit with

all the details! 1-877-553-

1891

www.dental50plus.com/

macnet#6258

Wesley Financial Group,

LLC Timeshare Cancellation

Experts Over

$50,000,000 in timeshare

debt & fees cancelled in

2019. Get free

informational package &

learn how to get rid of

your timeshare! Free

consultations. Over 450

positive reviews. 888-965-

0363

Are you receiving

SSDI/SSI Benefits? You

may be eligible for

additional benefits. CALL

US TODAY Citizen

Disability 1-888-490-6616

ASSOCIATION ADS

DISH TV $64.99 FOR 190

Channels + $14.95 High

Speed Internet. Free Installation,

Smart HD DVR

Included, Free Voice Remote.

Some restrictions

apply. Promo expires

1/21/23. 1-866-479-1516

WANTED!

MOTORCYCLES!

ANTIQUE AND CLASSIC.

Honda, Kawasaki, Suzuki,

Yamaha, Triumph, BSA

and other foreign models.

$$PAYING CA$H$$

717-577-8206

KRMiller1965@yahoo.com

Vivint Smart Security.

Professionally installed.

One connected system for

total peace of mind. Free

professional

installation!

Four free months of

monitoring! Call to

customize your system. 1-

833-841-0737

BUYING CLASSIC CARS,

TRUCKS, SUVs

**American and Foreign**

Any Condition. Buying

entire car collections.

$$PAYING CA$H$$

Please call 717-577-8206

KRMiller1965@yahoo.com

Safe Step. North

America's #1 Walk-in Tub.

Compreshensive lifetime

warranty. Top-of-the-line

installation and service.

Now featuring our FREE

shower package & $1600

off for a limited time!

Financing available. 1-

855-417-1306

ASSOCIATION ADS

Safe Step. North

America's #1 Walk-in Tub.

Compreshensive lifetime

warranty. Top-of-the-line

installation and service.

Now featuring our FREE

shower package & $1600

off for a limited time! Call

today! Financing

available. Call Safe Step

1-833-356-1954

The Generac PWRcell, a

solar plus battery storage

system. SAVE money,

reduce your reliance on

the grid, prepare for power

outages and power

your home. Full installation

services available. $0

Down Financing Option.

Request a FREE, no obligation,

quote today. Call

1-866-783-0292

IMPORTANT

NOTICE

The following states: CA,

CT, FL, IA, IL, IN, KY,

LA, MD, ME, MI, MN,

NE, NC, NH, OH, OK,

SC, SD, TX, VT and WA

requires seller of certain

business opportunities to

register with each state

before selling. Call to

verify lawful registration

before you buy.

Best satellite TV with 2

year price guarantee!

$59.99/mo with 190

channels and 3 months

free premium, movie

channels! Free next day

installation! Call 844-842-

4469

ASSOCIATION ADS

Don't let the stairs limit

your mobility! Discover

the ideal solution for

anyone who struggles on

the stairs, is concerned

about a fall or wants to

regain access to their

entire home. Call

AmeriGlide today! 1-844-

317-5246

Internet &WIFI Starts at

$49 Call us Today to Get

Started. Find High-Speed

Internet with Fiber Optic

Technology No Credit

Check, No SSN Required.

Call us Today 866-396-

0515

Become a Published

Author. We want to Read

Your Book! Dorrance

Publishing - Trusted by

Authors Since 1920

Book manuscript submissions

currently being reviewed.

Comprehensive Services:

Consultation,

Promotion and Distribution. Call

for Your Free Author's Guide 1-

866-482-1576 or visit

dorranceinfo.com/macnet

Donate your car, truck,

boat, RV and more to

support our veterans!

Schedule a FAST, FREE

vehicle pickup and receive

a top tax deduction! Call

Veteran Car Donations at

1-877-327-0686 today!

Public Notices

Production,

xPreschool/Daycare

advertise

YOUR DAY CARE

OR PRESCHOOL

Call Kathy at the

The Columbus Messenger

For More Info

614-272-5422

Preschool/Daycare
---
PAGE 18 - GROVE CITY MESSENGER - December 11, 2022

www.colulmbusmessenger.com

xEmployment

GREENLAWN RV

Lockbourne, OH

RV TECHNICIAN NEEDED!

No Prior Experience Necessary

We Will Train!

Immediate Start - Full Time Position

Contact Toby Boetcher

at

(740) 983-0149

HIRING WAREHOUSE

UP TO

$19/HR +

UP TO

$3K SIGN-ON

NO WEEKENDS • NO MANDATORY OT

OPEN INTERVIEWS

WEDNESDAY 10AM-1PM

1568 Georgesville Rd. Columbus, OH 43228

JOBS.MSCDIRECT.COM

Applicants must sucessfully pass a background check and drug screen.

Equal Opportunity Employer: Minority, female, veteran, individuals with disabilities, sexual orientation/gender identity.

"HELP WANTED"

SIGN

NOT WORKING?

TO ADVER

VERTISE

Call Kathy at

The Columbus Messenger

614-272-5422

ASSOCIATION ADS

DIAGNOSED WITH

LUNG CANCER? You

may quliafy for a

substantial cash award -

even with smoking history.

NO obligation! We've

recovered millions. Let us

help!! Call 24/7, 1-888-

650-9135

Become a Published

Author. We want to Read

Your Book! Dorrance

Publishing Trusted Since

1920 Consultation,

Production, Promotion &

Distribution. Call for Free

Author's Guide 1-877-729-

4998 or visit

dorranceinfo.com/ads

Stroke & Cardiovascular

disease are leading

causes of death according

the American Heart

Association. Screenings

can provide peace of mind

or early detection! Call

Life Line Screening to

schedule your screening.

Special offer - 5

screenings for $149. 1-

866-518-8391

HughesNet - Finally, superfast

internet no matter

where you live. 25 Mbps

just $59.99/mo! Unlimited

Data is Here. Stream

Video. Bundle TV &

Internet. Free Installation.

Call 866-499-0141

AT&T Internet. Starting at

$40/month w/12-mo agmt.

1 TB of data/mo. Ask how

to bundle & SAVE! Geo &

svc restrictions apply. 1-

855-364-3948

Want Faster & Affordable

Internet? Get internet

service today with

Earthlink. Best internet &

WiFi Plans. Call us Today

to Get Started. Ask

about our specials! 866-

396-0515

MobileHelp, America's

premier mobile medical

alert system. Whether

you're home or away. For

safety & peace of mind.

No long term contracts!

Free brochure! 1-888-489-

3936

Attention oxygen therapy

users! Inogen One G4 is

capable of full 24/7 oxygen

delivery. Only 2.8

pounds. Free info kit.

Call 877-929-9587

ASSOCIATION ADS

Attention Viagra users:

Generic 100 mg blue pills

or generic 20 mg yellow

pills. Get 45 plus 5 free

$99 + S/H. Call Today 1-

877-707-5518

Attention Homeowners! If

you have water damage

and need cleanup

services, call us! We'll get

in & work with your

insurance agency to get

your home repaired and

your life back to normwl

ASAP! 855-767-7031

Looking for auto insurance?

Find great deals

on the right auto insurance

to suit your needs.

Call today for a free

quote! 866-924-2397

READER

ADVISORY

The National Trade Association

we belong to has

purchased the following

classifieds. Determining

the value of their service

or product is advised by

this publication. In order

to avoid misunderstandings,

some advertisers do

not offer "employment"

but rather supply the

readers with manuals, directories

and other materials

designed to help

their clients establish mail

order selling and other

businesses at home. Under

NO circumstance

should you send any

money in advance or give

the client your checking,

license ID or credit card

numbers. Also beware of

ads that claim to guarantee

loans regardless of

credit and note that if a

credit repair company

does business only over

the phone it's illegal to request

any money before

delivering its service. All

funds are based in US

dollars. Toll Free numbers

may or may not

reach Canada. Please

check with the Better

Business Bureau 614-

486-6336 or the Ohio Attorney

General's Consumer

Protection Section

614-466-4986 for more

information on the company

you are seeking to

do business with.

Employment

ASSOCIATION ADS

Switch and save up to

$250/yr on talk, text &

data. No contract or

hidden fees. Unlimited talk

& text with flexible data

plans.

Premium

nationwide coverage.

100% U.S. based

customer service. Limited

time get $50 off any new

account. Use code

GIFT50. 1-855-903-3048

SELL YOUR ANTIQUE

OR CLASSIC CAR.

Advertise with us. You

choose where you want

to advertise. 800-450-

6631 visit macnetonline.

com for details.

Switch and save up to

$250/yr on talk, text & data.

No contract or hidden fees.

Unlimited talk & text with

flexible data plans.

Premium nationwide

coverage. 100% U.S.

based customer service.

Limited time offer - get $50

off any new account. Use

code GIFT50. For more

information1-888-684-1169

ASSOCIATION ADS

Put on your TVEars &

hear TV w/unmatched

clarity. TVEars Originaloriginally

$129.95 - now

w/this special offer only

$59.95 w/code MCB59! 1-

888-805-0840

The Generac PWRcell

solar plus battery storage

system. Save money,

reduce reliance on

grid, prepare for outages

& power your home. Full

installation services. $0

down financing option.

Request free no obligation

quote. Call 1-877-

539-0299

Elminate gutter cleaning

forever! LeafFilter, the most

advanced debris-blocking

gutter protection. Schedule

Free LeafFilter Estimate

today. 20% off Entire

Purchase. 10% Senior &

Military Discounts. Call 1-

833-610-1936

Dental Insurance -

Physicians Mutual Insurance

Comopany. Covers 350

procedures/ Real insurance -

not a discount plan. Get your

free dental info kit! 1-855-

.526-1060 www/dental50

plus.com/ads #6258

ASSOCIATION ADS

BATH & SHOWER UP-

DATES in as little as

ONE DAY! Affordable

prices - No payments for

18 months! Lifetime warranty

& professional installs.

Senior & Military

Discounts available. Call

855-761-1725

VIAGRA and CIALIS

USERS! 50 Generic pills

SPECIAL $99.00. 100%

guaranteed. 24/7 CALL

NOW! 888-445-5928

Hablamos Espanol

Prepare for power

outages today with a

GENERAC home standby

generator. $0 Down + Low

Monthly Pmt. Request a

free Quote. Call before the

next power outage: 1-855-

948-6176

READY TO BUY, SELL

OR RENT YOUR

VACATION HOME OR

HUNTING CAMP?

Advertise it here and in

neighboring publications.

We can help you. Contact

MACnet MEDIA @

800-450-6631 or visit our

site at MACnetOnline.

com
---
www.columbusmessenger.com

xCome & Get It!

INFORMATION

December 11, 2022 - GROVE CITY MESSENGER - PAGE 19

xClassified Services

COME AND GET IT!

Need to Get Rid of Something Fast - Advertise It Here For FREE!

Deadlines are Mondays by Noon

Call For Publication Schedule 614-272-5422

FREE Garden Straw for gardens or bedding. Call for appointment for pickup.

Circle S Farms, 9015 London-Groveport Road, Grove City, 43123

Grove City - 614-878-7980

FREE - Metal from old camper frame, Need a truck to pickup..

CC - Obetz - 614-632-1013

FREE - Children's Wooden Play Set - Good Condition w/Sand Box under it, Step Ladder up

Slide to go down & a rope swing. Also separate Swing Set w/4 swings.

190 Inah Ave., Cols, 43228 near the Fire Dept.

West Columbus - 614-878-1930, ask for Linda

FREE - Pipe for wood burning stove, appr. 20' plus misc. parts; 10 wood window

sashes, various sizes; Frames for real estate signs, varios sizes;

One gallon plastic gas containers.

West Columbus - 614-570-5372, ask for David

FREE - Firewood - All you want! U cut U Haul. Text me if you want it.

Obetz - 614-519-7986

Come and Get It! is a bi-weekly column that offers readers an opportunity to pass

along surplus building materials, furniture, electronic equipment, crafts, supplies,

appliances, plants or household goods to anybody who will come and get them - as

long as they're FREE. NO PETS! Just send us a brief note describing what you want to

get rid of, along with your name, address and phone number. Nonprofit organizations

are welcome to submit requests for donations of items.

Send information to The Columbus Messenger, Attention: Come and Get It, 3500

Sullivant Ave., Columbus, OH43204. Deadline is Mondays at NOON for following

Sunday's publication. Messenger Newspapers is not responsible for any complications

that may occur. Please contact us when items are gone. 272-5422

Come & Get It!

xFocus on Rentals

WEDGEWOOD

VILLAGE

1, 2 and 3 BR Apts.

Rent Based on Income.

Call 614-272-2800 or visit us

at 777 Wedgewood Dr.

TTY/TDD 711

EQUAL HOUSING OPPORTUNITIES

HAVE TO RENT THAT APARTMENT

BEFORE THE SNOW FLIES?

Advertise It!

CALL Kathy

For Rate Information

Columbus Messenger

272-5422

Rentals

ASSOCIATION ADS

Eliminate gutter cleaning

forever! LeafFilter, the

most advanced debrisblocking

gutter protection.

Schedule a FREE

LeafFilter estimate today.

20% off Entire Purchase.

Plus 10% Senior & Military

Discounts. Call 1-855-

791-1626

NEED IRS RELIEF

$10K-$125K+ Get Fresh

Start or Forgiveness.

Call 1-877-705-1472

Monday through Friday

7am-5pm PST

Protect your home w/home

security monitored by

ADT. Starting at $27.99/

mo. Get free equipment

bundle including keypad,

motion sensor, wireless

door & windows sensors.

833-719-1073

Prepare for power outages

today with a GENERAC

home standby generator.

$0 Money Down + Low

Monthly Payment Options.

Request a FREEQuote--

Call now before the next

power outage. 1-855-465-

7624

DISH TV $64.99 for 190

Channels + $14.95 high

speed internet. FREE installation,

Smart HD DVR

included. Free Voice Remote.

Some Restrictions

apply. Promo Expires

1/21/23. 1-866-590-5561

Thinking about installing

a new shower? American

Standard makes it

easy. FREE design consulation.

Enjoy your

shower again! Call 1-

833-769-0995 today to

see how you can save

$1,000 on installation, or

visit www.newshowerdeal.com/mac

See...

You Looked!

Newspaper

Ads Catch

The Eye!

Call

272-5422

For Info. &

Pricing

CHILD CARE

OFFERED

Depend. Quality Child care

in loving hm. Exp. Mom, n-

smkr, hot meals, sncks,

playroom, fncd yd. Reas.

rates. Laurie at 853-2472

HELP WANTED

Kings Kids Daycare

in Grove City is hiring Fun,

Loving Teachers for PT &

FT shifts. Please email

sarragc@outlook.com or

call 614-539-0349

Licensed Barber Needed

to take over for retiring

barber. Full or Parttime.

located in Great Southern

Shopping Center. Call

Cindy for more info

614-239-1976

INSURANCE

Medicare New Benefit

Medicare-Zero Premium

Free Doctor visit, free ride,

free food card, free

prescrptions.614-805-1084

WANT TO BUY

WE BUY JUNK CARS

Call anytime 614-774-6797

BUYING OSU & old sports

items, records, postcards,

old photos, jewelry & more

614-477-5590

ANTIQUES

WANTED

Victrolas, Watches,

Clocks, Bookcases

Antiques, Furn.

Jeff 614-262-0676

or 614-783-2629

We Buy Cars & Trucks

$300-$3000.614-308-2626

We Buy Junk Cars &

Trucks. Highest Prices

Paid. 614-395-8775

MISCELLANEOUS

FOR SALE

HP PRINTER

CARTRIDGES FOR SALE

HP 901 Color Cartridges (3);

HP 901XL and 901 Color

Multi Pack (1);

HP 901XL Black(1).

$15.00 each.

Columbus Messenger,

3500 Sullivant Ave.

Call Office 614-272-5422

CARPET CLEANING

CARPET CLEANING

Any 5 areas ONLY $75

614-805-1084

Specializing in Pet Odors

CLEANING

DEEP CLEANING &

WALL WASHING

Call Judy 614-746-0273

CONCRETE

AJ's Concrete,

Masonry

Good Work - Fair Prices

Block Foundations

Driveways • Sidewalks

Epoxy/Overlay Floors

Bonded-Ins. • Free Ests.

614-419-9932

www.hastingsnsons.com

Driveways & Extensions

Patio & Walkways,

Porches & Steps,

Garage/Basement Floors

Hot Tub/Shed Pads,

Stamped/colored concrete

Sealing of new &

existing concrete.

FREE ESTIMATES

Contact Adam

614-756-1754

hastingsandsons.

columbus@gmail.com

INFORMATION

ONLY

$50.00

For This Ad In Our

West & Grove City

For Info Call

272-5422

FENCING

EAZY FENCE

Chain Link - Wood

No Job Too Big or Small

All Repairs ~ Free Est.

Insured. 614-670-2292

HAULING

DEAN'S HAULING

614-276-1958

DUMPSTER RENTAL

4 Days - $275 & Up

No Hazardous Materials

Tires - $10.00 each

Call 614-254-1131

JUNK REMOVAL

AND MORE LLC

• Junk Removal

• Demolition

• Hoarding

614-352-0442

10% OFF FOR

SENIORS & VETERANS

12/18 A

1/8 W

HEATING & COOLING

HVAC

HEATING & A/C

Fast Service - Licensed

614-633-9694

HOME

IMPROVEMENTS

KLAUSMAN HOME

IMPROVEMENT

Siding-Windows-

Doors-Roofing-Soffit-

Fascia-Gutters-Trim

Earn FREE Seamless

Gutters with Siding Over

1000 Sq. Ft.

FREE Shutters with

Soffit & Trim

EPA Certified

Member of BBB

Financing Available

Over 20 yrs exp. • Free Est.

Licensed-Bonded-Insured

Owner & Operator

James 614-419-7500

SLAGLE

HOME REMODELING

Baths, Kitchen,

Plumbing and Electrical.

All your Handyman needs

No Job too Big or Small

Over 30 Yrs. Exp. Lic.-Bond-Ins.

Jerry

12*18

SW/W

614-332-3320

CandC

Handyman Services LLC

"See The Difference"

l

614-378-7469

Remodels,

12/18

A

Water Heaters,

Plumbing, Fence,

Sidewalks, Decks,

Int./Ext. Paintng

& Electrical Work

Handyman - Outdoor &

Indoor. Reasonable Rates

614-634-2244

SINCE 1973

Phil Bolon Contr.

Windows & Siding

Decks, Kitchens, Baths

Room Additions,

Flooring, Roofing

Bsmt Waterproofing

Deal With Small Non-Pressure Co.

47 Yrs. Exp. - Refs. Avail.

Lic.-Bond-Ins.

Free Est. - Financing Avail.

Member BBB Of Cent. OH

O.C.I.E.B. ID #24273

614-419-3977

or 614-863-9912

1/8 A

12/18

A/M

HOME

IMPROVEMENTS

C&JHandyman

Services LLC

Minor Plumbing & Electric

Install Hot Water Tanks,

Dishwashers & Disposals

All Interior Remodels

Also Fencing &

Interior/Exterior Painting

Free Est. ~ 18 Yrs. Exp.

CDC/EPA Approved Guidelines

614-284-2100

HOME

MAINTENANCE

HANDYMAN SERVICES

614-235-1819

HOME

REMODELING

MultiCraft Const.

& Handyman Services

All Types Handyman Services:

Decks, Fences

Kitchen/Baths

Window/doors installed

Interior Painting

Drywall Repairs

All Types of Flooring

Call/Text 614-774-2923

multicraftconstruction@gmail.com

Charlies Handyman

Service

Over 40 yrs. exp.

Hot Water Tanks

Door Locks

Kitchen/Bath Remodels

Roofmg * Siding

Porches & Decks

614-319-6010

blantoncharles894@gmail.com

LANDSCAPING

ONYX

LANDSCAPING

614-407-5214

www/Pmux:amdsca[omg;;c/cp,

Full Service Lawn Care

Start With Trust!!

LAWN CARE

LET US MAINTAIN

YOUR LAWN & GARDEN

FOR YOU

Summer, Spring,

Winter or Fall

WE DO IT ALL!!!!

Lawn Cuts, Edging,

Trees & Shrubs, Garden,

Mulching, Hauling,

Garden Pond &

Home Maint.

Free Ests. Low Rates

$20 & Up

Kevin - 614-905-3117

PLASTERING

DRYW

YWALL &

PLASTER

12/18

A&M

REPAIR

Textured Ceilings

614-551-6963

Residential/Commercial

BIA

Classified Services

12/4 A

12/18 A

PAINTING

Painter Over 30 Yrs. Exp.

Free Est. Reas. Rates

Daniel - 614-226-4221

PLUMBING

All About Drains & Plumb.

Will snake any small drain

$145. 614-778-2584

MYERS

PLUMBING

Exp Expert Plumbing

New Const. & Fast Repairs

Lic. - Permit AVailable

Water * Sewer * Gas

614-633-9694

CHRIS'

PLUMBING

"Plumbing & Drain Professional

That You Can Count On"

24 Hrs., 7 Days/Week

No Overtime Charges

24 Yrs. Exp. in Plumbing &

Drain Cleaning Field

Call For A Free Phone Estimate

$100.00 For Any Small Drain

614-622-4482

30% OFF with AD

POOL/SPA

MAINTENANCE

K&L Spa Cleaning

Hot Tub Cleaning and

Weekly Maintenance

Keith 614-316-9809

ROOFING

RETIRED

ROOFER

BBB "A+" Rating

All Types of Roof Repairs

• New Roof Installation

• Flashing

• Chimneys Rebuilt

• Flat Roof Specialist

• Roof Replacement

avail. upon request

All Work Guaranteed

614-352-7057

Free Estimates

SEWING MACHINE

REPAIR

REPAIR all makes 24 hr.

service. Clean, oil, adjust

in your home. $49.95 all

work gtd. 614-890-5296

TREE SERVICES

BURNS TREE SERVICE

Trimming, Removal &

Stump Grinding.

614-584-2164

Warren Brewer Tree Service

• Tree Removal

• Tree Trimming

• Stump Grinding

1/8

A&M

• Bucket Truck Services

Best Prices • Same Day Service

614-878-2568

1/8 A

1.07 W/SW
---
PAGE 20 - GROVE CITY MESSENGER - December 11, 2022

www.columbusmessenger.com