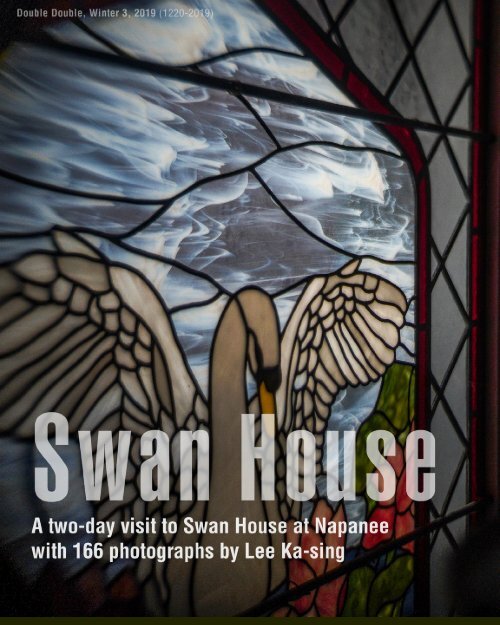 Create successful ePaper yourself
Turn your PDF publications into a flip-book with our unique Google optimized e-Paper software.
for Gary and Malgorzata
---
Double Double Winter 3, 2019

Swan House

A two-day visit to Swan House at Napanee

Photographs by Lee Ka-sing

Words by Holly Lee

Contents based on the

Double Double electronic magazine

Issue 1220-2019 with additional materials

First edition

December, 2021

Library and Archives Canada Cataloguing in

Publication

Photography, Poetry

ISBN: 978-1-989845-19-6

Design by DOUBLE DOUBLE studio

Swan House

Copyright © Lee Ka-sing 2021

All Rights Reserved

Lee Ka-sing's official website:

www.leekasing.com

For information about permission to reproduce

material from this book

write to mail@oceanpounds.com

Published by OCEAN POUNDS

50 Gladstone Avenue, Toronto,

Ontario, Canada M6J 3K6

www.oceanpounds.com
---
a suite of 166 photographs

taken at Swan House

from December 11 to 13, 2019

by Lee Ka-sing
---
G and M live in a paranoid small town where they avoid the

community and prefer the warmth, beauty and tranquility inside

their lovely Victorian home with a legion of eight cats: Orlando,

G's favourite rescued cat, Emily (Dickinson), Teapot or Teepee, who

appears in one of his drawings, Grigio (the colour of the cat), Lew

(Lewis Carroll), Melville (Herman), Vita (Sackville-West), and Amber,

who loathes visitors and hides in the poetry room on the second floor

as long as the guests are inside the house - which by all means is a

small paradise, and from the nearby farmers market M would bring

back all sorts of Winter squash: acorn, buttercup butternut, dumpling,

hubbard, pumpkin, kabocha and spaghetti, stacking them up on the

tables in such ways that they look like pieces of art. Now the aromatic

smells of scones and coffee permeate the kitchen, suggesting that

M is preparing for today's special cooking - a day-long feast for G's

birthday, and as a reminder, a hand-written note is taped on the door

of the kitchen cabinet: Breakfast - banana rose-water-scented scones

with cardamon-scented coffee; Lunch - toasted bagels with cream

cheese, adding wild smoked salmon, rounds of red onion, cucumber

slices and capers; Dinner - squash gnocchi in mushroom cream

sauce, warm red cabbage salad; Desert: poached pears in spiced

pomegranate juice, and at the bottom of the paper, M also reminds

herself in red the bottle of rose wine in the refrigerator, a sparkling

wine she hand-picked to celebrate G's 81st birthday. Deep down she

believes G's unspoken love and admiration of every single meal she

has cooked, a blessed life together, endowed with good, healthy

food year-long, so much and so run-over that he can easily do away

with his birthday as the reason for the all-day feast, and proudly

proclaim, EVERYDAY IS A FEAST. (Holly Lee)
---
Lee Ka-sing, a photo-based artist grew up in Hong Kong and resides in Toronto, Canada

since 1997. He was awarded "Artist of the Year" (1989) by the Hong Kong Artists'

Guild, and the Fellowship for Artistic Development (1999) presented by Hong Kong Arts

Development Council. Selected monographs include Thirty-one Photographs, Forty Poems

- photographs 1995-98, The Language of Fruits and Vegetables, De ci de là des choses.

Lee Ka-sing's work is in private and public institutions and museum collections such as the

Tokyo Metropolitan Museum of Photography, M+ Museum and the Hong Kong Heritage

Museum.

Holly Lee is from Hong Kong, lives and works in Toronto since 1997. From the early

eighties she worked as a professional photographer and continuing a career for almost

twenty years. In Toronto she spent close to two decades managing galleries, before

retreating from gallery administration to focus on writing in 2019. She has two poetry

books published: Nine Years 九 年 (2020) and The Air is like a Butterfly (2021).