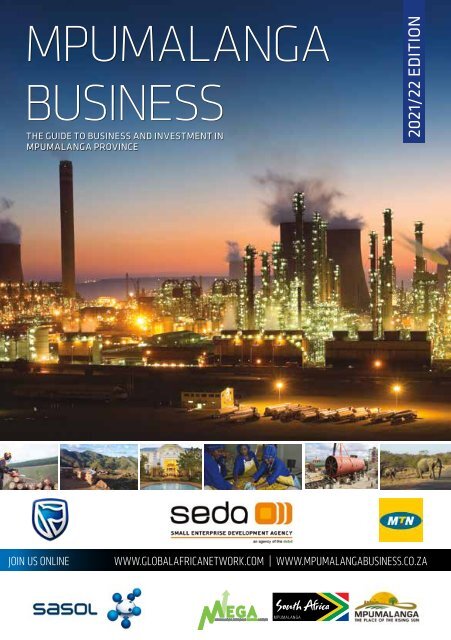 Mpumalanga Business 2021-22
You also want an ePaper? Increase the reach of your titles
YUMPU automatically turns print PDFs into web optimized ePapers that Google loves.
MPUMALANGA

BUSINESS

THE GUIDE TO BUSINESS AND INVESTMENT IN

MPUMALANGA PROVINCE

2021/22 EDITION

MPUMALANGA BUSINESS THE GUIDE TO BUSINESS AND INVESTMENT IN MPUMALANGA

MPUMALANGA

BUSINESS

THE GUIDE TO BUSINESS AND INVESTMENT

IN MPUMALANGA PROVINCE

2018/19 EDITION

JOIN US ONLINE

WWW.GLOBALAFRICANETWORK.COM | WWW.MPUMALANGABUSINESS.CO.ZA

JOIN JOIN US ONLINE US ONLINE

WWW.GLOBALAFRICANETWORK.COM | WWW.MPUMALANGABUSINESS.CO.ZA

| WWW.LIMPOPOBUSINESS.CO.ZA

2018/19

MPUMALANGA
---
A NEW NORMAL HAS EMERGED

Sasol has partnered with the government of Mpumalanga in

a massive vaccination drive.

Since the start of 2020, Sasol, together with many other companies, sectors and

communities across the world, has been facing the countless challenges of the Covid-19

pandemic. This global pandemic continues to have a profound impact on our businesses,

lives and livelihoods. From school disruptions to devastated industries and millions of

jobs losses, the social and economic costs of the pandemic are many and varied.

Since the arrival of the pandemic in late 2019, society as we know it not only had to make

major adjustments in the manner in which business is conducted, a complete change in

the way we interacted with one another also had to take place. Stay home, work from

home and don't gather with loved ones or others, are all methods of social distancing,

which has become the main tool in reducing transmission of the Covid-19 virus. As an

example, workspaces had to be rearranged according to specific requirements in order

to ensure minimal contact between people. As far as practicable, there must be a

minimum of one and a half metres between individuals at their workstations. Digital

conferencing, virtual meetings and online sessions are now the norm.

At the end of March 2020, when our country went into an alert level 5 national lockdown

due to the pandemic, we at Sasol quickly realised that events, conferences and meetings

had to be executed very differently than before. Physical meetings shifted to digital

platforms, face-to-face discussions became screen-to-screen camera discussions and

conferencing moved to online and pre-recorded sessions.

The remainder of 2021, and a good part of 2022, will be a critical time worldwide. It is a

test of our resolve to curb the spread of Covid-19 and our commitment to addressing its

long-term impact. One of the biggest challenges we face as we continue to battle with

this pandemic is to acknowledge and understand that Covid-19 is not only a threat to

people's health and livelihoods today. For many years to come, even possibly decades,

Covid-19 will continue to threaten society's way of operating, especially in the world's

most vulnerable communities.

At Sasol, we have proved that we do not simply fold our arms and tiptoe around the

pandemic. All required preventative measures have been taken very seriously since the

start of this pandemic.

Response

For more information visit

www.sasol.com

Simon Baloyi (Senior Vice-President: Regional Operations and

Asset Services) leads by example and takes the covid-19 vaccine

Mpumalanga Premier Refilwe Mtsweni-Tsipane addresses those

who turned up for the vaccine
---
Sasol leadersip with Government officials during the Sasol Shutdown 2021 Vaccination Drive Launch

Our role in society

To this end, Sasol, in a significant partnership with the government of Mpumalanga,

launched a massive Covid-19 vaccination drive in July 2021 for our employees and service

providers. This is a partnership that has allowed the Provincial Government of

Mpumalanga, through its Health Department, to make available important resources

such as professionally-trained personnel and more than enough vaccines to support this

large-scale vaccination drive.

This means that going into 2022, while focusing our efforts on meeting our strategic

corporate objectives, we shall equally illustrate as a company with our heritage firmly

established in South Africa, our commitment to curbing the spread of the coronavirus.

This is due to the fact that we believe that government and corporate business jointly

strengthen our role in society as well as assist us to continue playing a critical role in

protecting livelihoods, fuelling the sustainability of the vast sector we serve and

ultimately reviving the South African economy.

It is clear that out of this pandemic a new normal has emerged, one with a strong

emphasis on social responsibility. We should not underestimate the power of social

responsibility in drastically reducing the spread of the virus and we need everyone

on-board for it to work. Therefore, Sasol urges everyone to mask up, wash up and sign

up to get vaccinated. Be part of the solution and of a global community that is actively

curbing the spread of the coronavirus.

Item

Amount

Sanitiser Distribution

Personal Protective Equipment (PPE)

Community Education and Awareness

Equipment (mobile units and cold storage elements)

Vaccination Drive (employees and service providers)

R 11,185,908

R 650,000

R 235,021.71

R 4,534,111

R 3,500,000

Quarantine facilities for employees

Learner Support (e-learning programmes, catch-up classes and

extra tuition)

Other (incl SANDF and SAPS support, community testing

campaign, etc)

TOTAL

*Data is an estimation of Sasol's contribution between March 2020 - August 2021

R 1,122,282.06

R 1,600,000

R 350,442.12

R23 177 764,89
---
MPlJM/\1 /\

PLACE OF

THE lIN

GA

SUN

iJ @mega_mpumalanga

rJ @MEGAMpumalanga

IJ Mpumalanga Economic Growth Agency

Tel: +27 (0) 13 755 6328

Tel: +27 (0) 13 755 6328

Fax: 013 755 1756

E-mail: eMail: info@mega.gov.za

trade-invest@mega.gov.za

www.mega.gov.za

MPUMALANGA BUSINESS 2018/19
---
MPUMALANGA OPEN FOR BUSINESS

The Mpumalanga Economic Growth Agency (MEGA), is the official Economic Development Agency for

the Mpumalanga The provincial Provincial economy Government. is highly MEGA diverse strives with to foster signicant the sustainable activity growth in mining, and development

of Mpumalanga's agriculture, stainless-steel economy through production, the operational petrochemicals, activities of pulp Trade and and paper, Investment Promotion,

Development manufacturing Funding, and Equity tourism. Investments Mpumalanga's and Property position and Infrastructure and resources Development. make it a

The valuable Mpumalanga transport provincial and logistics economy is hub. highly diverse, with significant activity in mining, agriculture,

stainless-steel production, petrochemicals, pulp and paper, manufacturing and tourism. Mpumalanga's

position and resources make it a valuable transport and logistics hub. The Maputo Development Corridor

In addition to good infrastructure, abundant natural resources and fertile soils, the

(MDC) is South Africa's leading Spatial Development Initiative (SDI) linking Mpumalanga Province, Gauteng

province also boasts great scenic beauty, making it a desirable place in which to live

Province and the Nkomazi Special Economic Zone with the deep-water Port of Maputo in Mozambique. In

addition and to work. good The infrastructure, Mpumalanga abundant Economic natural Growth resources Agency and fertile (MEGA) soils, the facilitates province investment

also boasts great

scenic in beauty, the province making it and a desirable is always place keen in to which talk to to live potential and work. investors.

The Mpumalanga Economic Growth

Agency (MEGA) facilitates investment in the province and is always keen to talk to potential investors.

Maputo Development Corridor

Special Economic Zone

Investment Opportunities

The recently designated Nkomazi Special Economic Zone (SEZ) is the first SEZ to be established in

Mpumalanga The Maputo Province. Development Strategically Corridor positioned (MDC) is in a the border The town Nkomazi of Komatipoort Special Economic the SEZ Zone offers (SEZ) a is multisector

Spatial base of Development operations along Initiative the linking Maputo Gauteng, Development positioned Corridor on which the Maputo provides Development

exporters with good

access Mpumalanga, through Maputo the Nkomazi Port to the SEZ export and the markets Port of South Corridor East Africa, in the the border Indian town Ocean of Komatipoort Rim and Far East

Asia. The of Maputo Nkomazi in SEZ Mozambique. will target The investment MDC incorporates

as road, well rail, as a the strong SEZ, focus border on posts, logistics port and trade Mozambique).

services.

from the agriculture, (which straddles agro-processing, Mpumalanga nutraceuticals, Province and fertilizer

production

The and Mpumalanga terminal facilities International along one Fresh of the Produce most Market (MIFPM), a modern fresh produce market and agroprocessing

industrialised site, is currently strips in being Southern establishmed Africa. by MEGA. The

The

MIFPM's

SEZ covers

location

numerous

will attract

opportunities

international

for

as well

those with export-oriented businesses -

as the large domestic food retailers as a key processing and distribution point for Mpumalanga, Swaziland and

The longest part of the corridor runs through bonded warehouse, distribution centre,

Mozambique and secures Mpumalanga's position in the regional export market for fresh produce.

Mpumalanga Province. Infrastructure along the container yard, truck stop and petrol depot.

Mpumalanga Province is one of South Africa's most productive and important agricultural regions and

corridor has been upgraded and it provides

plays a key role in the export profile of South African. The MIFPM therefore offers excellent investment

investors and exporters with good access to Other identified opportunities in the SEZ

opportunities for international companies in the food industry.

the markets of East Africa, the Indian Ocean rim include mining services, mineral beneficiation,

and East Asia. The MDC forms part of a greater agro-processing (which could leverage the

MEGA services

transport axis that seeks to link the Atlantic provincial citrus and sugar industries) and

We welcome

and Indian

potential

oceans

investors

via Southern

in our

Africa

province

and a

and go out activities of our relating way to to make import, the distribution process of and starting a

business network easy. of MEGA corridors offers exists services in the in: region.

local manufacture of automobiles. SEZs are a

• Foreign trade promotion | Investment promotion | key Funding initiative | Property of the South management African government and infrastructure

development. | MEGA is focussed on customer and the needs Department and provides of Trade innovative and Industry solutions

with a high level of service. We look (the dti) forward is making to meeting a package you. of tax incentives

available to qualifying companies located in

approved SEZs.

SOUTH AFRICA

MIDDELBURG

LYDENBU

ll

KOMATIPOORT /

RESSANO GARCIA

NKO AZI SEZ

I • : I

GSABIE MOZAMBIQUE

.

BEtfAST MBOMBELA

u

- EMALAHLENI r"'\

JOH A NNESBURG

CAROLINA

-

M A PUTO
---
CONTENTS

Mpumalanga Business 2021/22 Edition

Introduction

Foreword 7

Mpumalanga's unique guide to business and investment.

Special features

A regional overview of Mpumalanga 8

Mining and timber are attracting large investments as provincial

planners aim for diversification. A future beyond coal is now being

contemplated by the country's prime producer of the mineral.

What are the implications of changing

from coal? 20

The so-called "just transition" in energy is going to require creative

thinking.

Economic sectors

Agriculture and agro-processing 28

Barberton has a new and unusual blueberry farm.

Mining 32

The revival of Matla coal mine will cost R3.3-billion.

Forestry and paper 38

PB Bison will spend R560-million at its Mkhondo plant.

Oil and gas 40

Permits to explore for natural gas have been awarded.

MPUMALANGA BUSINESS 2021/22

4
---
It's official.

We're honoured.

Ready to serve.

We are genuinely honoured by the confidence that the RT15-2021 Bid

Committee has shown in MTN. Government employees will now have

access to:

South Africa's best network *

• 98% 4G/LTE coverage

• The benefits of the R50 billion invested in our network infrastructure

over the past five years

Unrivalled customer experience infrastructure

• 10 000+ distribution centres, including stores, call centres and online channels

People and services

• Over 20 000 committed frontline workers, including service agents,

installers, network engineers and many others

For more information, please visit: www.treasury.gov.za

TBWA\HUNT\LASCARIS 929333

mtnbusiness.co.za

*Based on umlaut Best in Test Certification Feb 2020.

everywhere you go

OFFICIAL MOBILE

PROVIDER TO

SA GOVERNMENT
---
CONTENTS

Transport and logistics 41

The N4 Toll Route will receive a R1.5-billion upgrade.

Tourism 42

Tsogo Sun Hotels has taken over the Protea Hotel Hazyview.

Manufacturing 44

Furniture is in the spotlight.

Water 45

Several plants are being upgraded in the province.

Development finance and SMME support 48

Companies are supporting training and start-ups.

Banking and financial services 54

New banks are entering the market.

References

Key sector contents 26

Overviews of the main economic sectors of Mpumalanga.

Index 56

Mpumalanga Local Government

A guide to Mpumalanga's district and local municipalities.

IBC

ABOUT THE COVER:

Credit: Sasol. Sasol is an international

integrated chemicals and energy

company whose Secunda site

forms a vital part of Mpumalanga's

manufacturing economy. The site is

host to the following entities: Sasol

Mining, Secunda Synfuels Operations,

Secunda Chemicals Operations, Sasol

Energy and Group Technology.

MPUMALANGA BUSINESS 2021/22

6
---
Mpumalanga Business

A unique guide to business and investment in Mpumalanga.

FOREWORD

Credits

Publishing director:

Chris Whales

Editor: John Young

Managing director: Clive During

Online editor: Christoff Scholtz

Designer: Tyra Martin

Production: Aneeqah Solomon

Ad sales:

Gavin van der Merwe

Sam Oliver

Jeremy Petersen

Gabriel Venter

Vanessa Wallace

Shiko Diala

Administration & accounts:

Charlene Steynberg

Kathy Wootton

Printing: FA Print

The 2021/22 edition of Mpumalanga Business is the 12th

issue of this successful publication that since its launch

in 2008 has established itself as the premier business

and investment guide for the province.

Updated overviews of each of the key economic sectors of the province

are included, with references to the latest investments by companies

across multiple sectors. The question of a just transition away from

coal as an energy source is one that is starting to be addressed, and an

article references the beginning of a national debate that will have a

big impact on Mpumalanga.

Several big investments are being made in the mining and forestry

sectors, major components of the regional economy. Exxaro is engaged

in life-of-mine extensions and PG Bison is upgrading and building new

capacity in Mkhondo. Mpumalanga has several investment and business

opportunities in a wide range of sectors.

To complement the extensive local, national and international

distribution of the print edition, the full content can also be viewed

online at www.globalafricanetwork.com. Updated information on

Mpumalanga is also available through our monthly e-newsletter,

which you can subscribe to online at www.gan.co.za, in addition to our

complementary business-to-business titles that cover all nine provinces,

our flagship South African Business title and the new addition our list of

publications, African Business, which was launched in 2020. ■

Chris Whales

Publisher, Global Africa Network Media | Email: chris@gan.co.za

DISTRIBUTION

Mpumalanga Business is distributed internationally on

outgoing and incoming trade missions, through trade and

investment agencies; to foreign offices in South Africa's

main trading partners around the world; at top national

and international events; through the offices of foreign

representatives in South Africa; as well as nationally and

regionally via chambers of commerce, tourism offices, airport

lounges, provincial government departments, municipalities

and companies.

Member of the Audit Bureau

of Circulations

COPYRIGHT | Mpumalanga Business is an independent publication

published by Global Africa Network Media (Pty) Ltd. Full copyright

to the publication vests with Global Africa Network Media (Pty) Ltd.

No part of the publication may be reproduced in any form without

the written permission of Global Africa Network Media (Pty) Ltd.

PHOTO CREDITS | Buckler's African Lodge, Caspar Camille Rubin on

Unsplash, Chris Kirchoff/Brand SA, Columbus Stainless, Exxaro, Furntech

White River, Implats, Ludwig Sevenster/Sawmilling SA, Nelson Gono

on Unsplash, Petroleum Agency SA, Primocane Capital, Rand Water,

PUBLISHED BY

Global Africa Network Media (Pty) Ltd

Company Registration No: 2004/004982/07

Directors: Clive During, Chris Whales

Physical address: 28 Main Road, Rondebosch 7700

Tel: +27 21 657 6200 | Fax: +27 21 674 6943

Email: info@gan.co.za | Website: www.gan.co.za

ISSN 2222-3274

Raubex, Sasol, Senso/Brand SA, Tony Ferrar/UNESCO, Tsogo Sun Hotels,

Vladimir Patkachakov on Unsplash.

DISCLAIMER | While the publisher, Global Africa Network Media (Pty)

Ltd, has used all reasonable efforts to ensure that the information

contained in Mpumalanga Business is accurate and up-to-date, the

publishers make no representations as to the accuracy, quality,

timeliness, or completeness of the information. Global Africa Network

will not accept responsibility for any loss or damage suffered as a result

of the use of or any reliance placed on such information.

7 MPUMALANGA BUSINESS 2021/22
---
A REGIONAL OVERVIEW OF

MPUMALANGA

PROVINCE

Blueberries are a popular fruit in supermarkets and farming them provides many employment opportunities. Pan African

Resources has invested in a farm near Barberton as part of its community programme. The farm is managed by Primocane

Capital. Credit: Primocane Capital

Mining and timber are attracting large investments as provincial

planners aim for diversification. A future beyond coal is being

contemplated by the country's prime producer of the mineral.

By John Young

National utility Eskom has put a

date to the closure of several of

Mpumalanga's coal-fired power

stations. Coal will remain part of the

province's economy for some time to come,

but Eskom's announcement – and the creation

of a Presidential Climate Change Coordinating

Commission – is a significant milestone on the

path to a different future.

Ten coal plants are due to be closed by 2040,

with four Mpumalanga plants (Hendrina, Grootvlei,

Camden and Komati) first in line. Eskom is

undertaking studies to assess the potential impact

on local communities of these closures. Options to

get these plants producing energy again include

gas, biomass and hydrogen but it is possible they

might be used for something quite different. Eskom

wants to be a net-zero company by 2050.

Lessons on repurposing could be learnt from the

case of the steel-producing facility that has become

an industrial park. The Highveld Industrial Park

(pictured) is now a fully-serviced 650ha rental space

for warehousing and manufacturing in Emalahleni.

More than 80% of South Africa's coal is currently

sourced in Mpumalanga, and it is the third-largest

coal-producing region in the world.

The most popular renewable energy

technologies, wind and solar, have little purchase in

Mpumalanga but a game-changer could come to

the provincial economy in the form of gas. This would

allow the province to retain its position as an energy

provider and to start moving away from coal.

Vast new fields of natural gas have been found

off the coast of Mozambique and the large and

sophisticated infrastructure that Sasol has built

up over the years make it well-placed to fire up a

gas-based economy. However, violent uprisings in

the Cabo Delgado province have caused French

company Total to suspend work on its massive

$20-billion LNG project and to evacuate all its staff.

Eni is continuing operations and there is a hope that

the huge resource will prove a boon to all African

economies, including Mpumalanga's, but it is clearly

not going to be an easy road.

MPUMALANGA BUSINESS 2021/22

8
---
SPECIAL FEATURE

Sasol, an integrated oil, gas and chemicals company

with more than 30 000 employees and operations

in 31 countries, runs several plants at Secunda.

Products manufactured at the complex include

synthetic fuel, petroleum, paraffin, jet fuel, creosote,

bitumen, diesel and lubricants. The primary

feedstock for synthetic-fuel production is coal, and

the plant is in the heart of Mpumalanga's coalfields.

Sasol regularly spends tens of millions on

upgrades and improvements at the Secunda

complex. The Sasol Synfuels refinery is the only

commercial coal-to-liquid fuel plant in the world

and constitutes a key component in South Africa's

oil and gas sector.

On a smaller scale, the provincial government is

looking beyond coal towards a renewable energy

future, especially where projects can be tackled by

small businesses. There might be opportunities in

micro-hydro or rooftop solar projects that will help

to reduce dependence on the national grid while

simultaneously promoting SMMEs.

The town of eMalahleni (Witbank) is the centre

of the coal industry. Other minerals found in the

province include gold, platinum-group minerals,

chromite, zinc, cobalt, copper, iron and manganese.

Spending for the future

Emalahleni is getting new infrastructure in the form

of a new tertiary hospital. The local municipality

has made land available for the construction of

the facility. Another development in the Nkangala

District Municipality is the public-private partnership

that is due to deliver a hotel and conference

centre in the neighbouring Steve Tshwete Local

Municipality, in the town of Middelburg.

It may seem ironic that R350-million is to be

spent on a Radisson-branded hotel in the time of

Covid-19 but conferences and tourism will return.

Middelburg is home to Columbus Stainless, South

Africa's only producer of stainless steel, and several

big engineering works. It is about 130km from

Pretoria and less than three hours' drive from the

Malelane Gate of the Kruger National Park.

The effect of the Covid-19 epidemic is likely

to be keenly felt by the hotels, lodges and game

reserves of Mpumalanga. Visits to game reserves

and nature reserves have shown signs of recovery

but the turnover from restaurants will be absent for

some considerable time and in a province where 7%

of GDP is derived from tourism, this is bad news.

In 2018, tourists spent R13.1-billion in the

province. Numbers were rising for both international

tourist arrivals and domestic tourists as a result of a

strong marketing campaign by the Mpumalanga

Tourism and Parks Agency (MTPA).

The Kruger National Park remains the province's

most visited asset but the decision by UNESCO to

afford World Heritage Site status to the Makhonjwa

Mountains near Barberton will boost geological

tourism to the province and supports the efforts of

the province to diversify its offering. Major projects

to improve tourist experiences are underway at

the Graskop Gorge (where a transparent lift takes

tourists into the depths of the gorge), a skywalk is to

be built at God's Window and a cable car is planned

for Three Rondavels.

The international body's decision has also

had the effect of expanding the curriculum at the

relatively new University of Mpumalanga. On the

basis of the UNESCO ruling, UMP is offering geology

as part of a BSc degree, to supplement existing

courses in education, agriculture and hospitality.

Several infrastructure investment projects in

the tourism sector have been put forward by the

Mpumalanga Economic Growth Agency (MEGA).

There is a special focus on BRICS countries and

provincial authorities are investigating a tourism

airlift route between Moscow and Mpumalanga. The

TRILAND partnership with Eswatini and Mozambique

is another avenue, as is the collaboration with

KwaZulu-Natal, Eswatini, Mozambique and the

Seychelles. The latter project is called east3ROUTE

9 MPUMALANGA BUSINESS 2021/22
---
vanadium in this area are the basis of the ferro-alloy

complex in Witbank-Middelburg and Lydenburg.

Credit: Buckler's African Lodge

Tourism Initiative and proclaims "Experience,

Adventure, Scenery and Trade" between the

participating provinces and countries.

Elsewhere mining and timber companies are

making large investments in increased production

or in extending the life of mines.

A major concern for provincial planners

is to diversify the economy and to grow the

manufacturing sector. The Mpumalanga Economic

Growth and Development Path (MEGDP)

identifies beneficiation, agro-processing and the

development of value chains as priorities. Various

industrial parks are planned which will focus on

agriculture and forestry, mining and metals and

petrochemicals. An International Fresh Produce

Market in Nelspruit and the planned Nkomazi SEZ

(Special Economic Zone) are other priorities.

Steel and associated manufacturing remains one

of the province's strong suits and Mpumalanga has

rich and varied mineral resources and fertile soil that

support diverse farming operations, agro-processing

and forestry. The province also hosts large companies

in the manufacturing sector such as Middelburg

Ferrochrome and the Manganese Metal Company.

The province's rich agricultural produce is used

by companies such as McCain, Nestlé and PepsiCo

and there are also pulp and paper plants (Sappi

and Mondi), with PG Bison set to start producing

more than 1000m³/d per annum at its Mkhondo

particleboard plant after two investment injections

of R600-million (on a press and forming line) and

R560-million (this year; on a front-end dryer).

York Timbers is another forestry company and

the sugar mills and refinery of RCL Foods (formerly

TSB Sugar) along with fertiliser facilities and textile

manufacturing concerns are all contributors to the

provincial economy.

The southern half of the eastern limb of the

platinum-rich Bushveld Igneous Complex runs

south towards the towns of Lydenburg and

Machadodorp. Deposits of chromite, magnetite and

Geography

The Drakensberg escarpment sharply divides the

western grasslands at high altitude (Highveld) and

the subtropical component to the east, the Lowveld.

The central region of the province is mountainous,

with dramatic landscapes presenting exciting vistas

for visitors. The Lebombo Mountains rise in the east.

The southern and northern Highveld regions

produce large quantities of field crops such as

barley, soybeans, maize, grain and sorghum.

Potatoes also flourish in this area.

Most of the province receives summer rainfall,

often via thunderstorms. Frost is common on the

Highveld but is almost absent in the subtropical

regions where fruit, nuts and citrus thrive.

Differences in temperature and rainfall between

the Highveld and Lowveld can be considerable.

One of the fastest-growing agricultural sectors

is macadamia nuts. These are cultivated in the

Lowveld and are exported in ever-growing volumes.

The Nelspruit district in the Lowveld is South Africa's

second-biggest producer of citrus fruit, while

vegetables of all sorts do well in this area too.

Large parts of the province are in the so-called

Middleveld comprising high-plateau grasslands.

Forestry operations are found in central and

south-eastern Mpumalanga, but the heart of this

important industry is around Sabie in the east. The

Mpumalanga forestry sector is one of the most

important in the country: 11% of the total land area

of Mpumalanga is covered either by plantations or

natural forests. Large sugar operations are found in

the south-east of the province.

The province has excellent roads and railway

connections and is well served by airports,

airstrips and heliports. The Kruger Mpumalanga

International Airport and Hoedspruit Airport are

the province's two main airports. The Maputo

Development Corridor is a transportation

corridor comprising road, rail, border posts, port

and terminal facilities, running from Pretoria in

Gauteng through Mpumalanga to the Port of

Maputo in Mozambique. This international initiative

emphasises Mpumalanga's excellent location as a

logistics and transport hub. ■

MPUMALANGA BUSINESS 2021/22

10
---
Unique solutions.

Massive cost savings.

Exclusive perks.

With MTN as the official mobile communication provider,

Government employees can now enjoy:

Uncapped data with no Fair Usage Policy (FUP)

Uncapped Closed User Group (CUG) minutes

Uncapped Closed User Group (CUG) SMSs

Voice minutes to call other networks

Variety of smartphones

Get in touch:

Email

mbali.mhlanga@mtn.com

Call

083 200 6830

Click

mtnbusiness.co.za

For more information, please visit: www.treasury.gov.za

Exclusive to Government departments

that opt in to RT15-2021

TBWA\HUNT\LASCARIS 930450

Terms and Conditions apply. For full Terms and Conditions, visit mtn.co.za. E&OE.

OFFICIAL MOBILE

PROVIDER TO

SA GOVERNMENT
---
FOCUS

MTN drives digital growth

and improved access

R350-million invested in network for Limpopo,

Mpumalanga and North West.

Kagiso Moncho, General Manager,

MTN Limpopo and Mpumalanga

MTN is making significant

headway in ensuring

more people in South

Africa benefit from

the modern, connected world.

The planned network investment

in Limpopo, Mpumalanga, and

North West for the 2021 financial

year of R350-million is aimed at

modernising, upgrading, building

new sites and transmission links.

"We want to bridge the

digital divide and create exciting

opportunities for communities,

businesses and individual users.

Our investment is therefore far

more than achieving market-share

growth in the region – it is about

bringing the benefits of the digital

world to more people through

a stable, secure and innovative

network experience," says Kagiso Moncho, MTN General

Manager for the Northern Region.

"We are already seeing active data users and traffic

increase as more consumers seek affordable, innovative and

reliable digital services and solutions. The key for us is to

deliver network excellence and an enterprise turnaround.

This will be underpinned by modernisation and rollout of 5G,

together with price competitiveness," says Moncho.

Maintaining network quality remains the key objective

despite challenges like battery theft.

MTN is making strides with its fifth-generation (5G)

technology rollout strategy. We have already activated 5G in

greater Polokwane and Witbank, and intend to expand the 5G

coverage footprint further across the region, into areas such as

Nelspruit and Middelburg. Added to this is that 93% of towers

in the Northern Region have LTE.

"We are committed to ensuring our network coverage

and quality is maintained and expanded so our customers

stay connected. This is even more critical in the face of the

pandemic and subsequent lockdown: connectivity is essential

for medical emergencies as well as for learners and individuals

working from home," says Moncho.

While battery theft and vandalism remain a challenge, MTN

has earmarked part of the investment for battery replacement

and security programmes in the Northern Region.

"Vandalism of the network infrastructure remains a pain

point and hinders the great progress we have made in

stabilising and improving

network availability. These

vandalism incidents affect

the economy negatively

and the interruptions due

to network outages hinder

emergency and security

services. Unfortunately,

Limpopo province is one

of the hotspots. "We plead

with the members of the

MPUMALANGA BUSINESS 2021/22
---
FOCUS

community to report any vandalism incidents

that they might witness to the nearest

SAPS branches. Our efforts are directed

towards building and maintaining a resilient

infrastructure amidst adversities. We remain

committed to proving a modern connected

digital life for all," says Moncho.

MTN's work

in these provinces

also includes

programmes to help

the most vulnerable

particularly in the

deep rural villages.

Key stakeholder

partnerships with

government and

municipalities will see ongoing support for learners

and education facilities. Food parcel support is also

a key part of the initiatives being rolled out by MTN

Foundation as Covid-19 hit lives and livelihoods.

The strides being made to help people

and communities on the ground across

South Africa is also reflected in recent

network successes achieved by MTN,

which has been named South Africa's

best network for three years in succession

based on P3 Communications (2019-2021).

The benchmarking Network Quality score

results are indicative that MTN provides its

customers with optimum upload and super

faster download speeds as well as uninterrupted

streaming, surfing and the best in voice calling

when compared to other mobile operators.

"We are working tirelessly to ensure our

customers enjoy their experience on our Bozza

network, and our commitment to serving our

customers with distinction will always be at the

core of what we do," concludes Moncho.

MTN strives to ensure customers remain

connected to the digital world and also have the

delight of sharing moments and memories with

friends and family through their social platforms. ■

About the MTN Group

Launched in 1994, the MTN Group is a leading

emerging-market operator with a clear vision

to lead the delivery of a bold new digital world

to our customers. We are inspired by our belief

that everyone deserves the benefits of a modern

connected life. The MTN Group is listed on the

JSE Securities Exchange in South Africa under the

share code "MTN". Our strategy, Ambition 2025, is

anchored on building the largest and most valuable

platform business, with a clear focus on Africa.

Twitter: Twitter @MTNza

Website: www.mtn.com or www.mtn.co.za

MPUMALANGA BUSINESS 2021/22
---
SPECIAL FEATURE

South African

investment incentives

The South African government, particularly the Department of Trade, Industry

and Competition, has a range of incentives available to investors, existing

companies, entrepreneurs and co-operatives across many sectors.

Zindoga Trading and Projects.

Image: Seda

Credit: Roger Bosch/Brand SA

South Africa wishes to diversify its economy

and incentives are an important part

of the strategy to attract investors to

the country.

The Department of Trade, Industry and Competition

(the dtic) is the lead agency in the

incentives programme, which aims to encourage

local and foreign investment into targeted

economic sectors, but the Industrial Development

Corporation (IDC) is the most influential funder of

projects across South Africa.

There a variety of incentives available and

these incentives can broadly be categorised

according to the stage of project development:

• Conceptualisation of the project – including

feasibility studies and research and develop-

ment (grants for R&D and feasibility studies,

THRIP, Stp, etc)

• Capital expenditure – involving the creation

or expansion of the productive capacity of

businesses (MCEP, EIP, CIP, FIG, etc)

• Competitiveness enhancement – involving the

introduction of efficiencies and whetting the

competitive edge of established companies and

commercial or industrial sectors (BBSDP, EMIA,

CTCIP, etc)

• Some of the incentives are sector-specific, for

example the Aquaculture Development and

Enhancement Programme (ADEP), Clothing

and Textile Competitiveness Improvement

Programme (CTCIP) and the Tourism Support

Programme (TSP).

MPUMALANGA BUSINESS 2021/22 2020/21

14 10
---
Manufacturing

Key components of the incentive programme are

the Manufacturing Incentive Programme (MIP) and

the Manufacturing Competitiveness Enhancement

Programme (MCEP). The initial MCEP, launched in

2012, was so successful that it was oversubscribed

with almost 890 businesses receiving funding.

A second phase of the programme was launched

in 2016. The grants are not handouts as the

funding covers a maximum of 50% of the cost

of the investment, with the remainder to be

sourced elsewhere.

The Enterprise Investment Programme (EIP)

makes targeted grants to stimulate and promote

investment, BEE and employment creation in the

manufacturing and tourism sectors. Aimed at

smaller companies, the maximum grant is R30-

million. Specific tax deductions are permissible for

larger companies investing in the manufacturing

sector under Section 12i of the Income Tax Act.

Other incentives

Other incentives available to investors and existing

businesses in more than one sector include the:

• Technology and Human Resources for Industry

Programme (THRIP)

• Support Programme for Industrial Innovation (SPII)

• Black Business Supplier Development Programme

(BBSDP), which is a cost-sharing grant offered to

black-owned small enterprises

• Critical Infrastructure Programme (CIP) that covers

between 10% and 30% of the total development

costs of qualifying infrastructure

• Co-operative Incentive Scheme, which is a

90:10 matching cash grant for registered primary

co-operatives

• Sector Specific Assistance Scheme, which is a

reimbursable 80:20 cost-sharing grant that can be

applied for by export councils, joint action groups

and industry associations.

Incentives for SMMEs

A lot of emphasis is placed on the potential role

of small, medium and micro enterprises in job

creation and a number of incentives are design-

PG Bison are investing heavily in expanding manufacturing

Gladtidings capacity. Credit: Interiors PG Bison CC. Image: Seda

ed to promote the growth of these businesses.

These include:

• Small Medium Enterprise Development

Programme (SMEDP)

• Isivande Women's Fund

• Seda Technology Programme (Stp).

• Seda is the Small Enterprise Development Agency,

an agency of the Department of Small Business

Development that exists to promote SMMEs.

Trade-related incentives

The Export Marketing and Investment Assistance

(EMIA) Scheme includes support for local

businesses that wish to market their businesses

internationally to potential importers and

investors. The scheme offers financial assistance

to South Africans travelling or exhibiting abroad

as well as for inbound potential buyers of South

African goods. ■

Online Resources

Department of Trade, Industry and Competition:

www.thedtic.gov.za

Industrial Development Corporation:

www.idc.co.za

Mpumalanga Economic Growth Agency:

www.mega.gov.za

Official South African government incentive

schemes: www.investmentincentives.co.za

11 15 MPUMALANGA BUSINESS BUSINESS 2020/21 2021/22
---
Standard Bank helps

Mpumalanga realise dreams

Africa is our home, we drive her growth.

Blessed with an abundance of minerals and natural resources,

Mpumalanga is a nature-lover's dream. The province also

holds the promise of strong economic growth thanks to a

burgeoning agriculture sector and a well-established mining

sector. This, together with the opportunities that exist here,

fuel many of our people's dreams.

At Standard Bank we are in the business of making

dreams come true. We have a long and storied history

in the province which dates to the late 1870s.

Today, Standard Bank continues to serve the people of

Mpumalanga by providing comprehensive business

and personal banking services.

A vision for the future

Our vision is to be the leading financial services

organisation in, for and across Africa, delivering

exceptional client experiences and superior value.

Africa is our home, we drive her growth, and

we do this by being a catalyst for inclusive and

sustainable economic growth, and by making

life better for our fellow Africans by doing

business the right way.

We have set some significant goals. We are

courageously organising our business into

the new world thinking of one group, one

Business Leadership Team, Mpumalanga

Julian Felix

Head Sector Specialist,

Mpumalanga

Fuad Choonara

Provincial Manager, Enterprise

Direct, Mpumalanga

Morgan Mbhele

Head Business Clients,

Highveld North

Image by Caspar Camille Ruben on Unsplash
---
aspiration, one purpose

and one vision, all centred

around our clients.

Technology has changed

clients' expectations of

financial services. They're

not just looking for a

single product or service,

but for a complete

solution. We want to fulfil

dreams, help people take

steps in life and organise

and execute our strategies

at the right time, on the

right channels, making our

contribution to humanity.

This means evolving to

being a platform business.

We don't only want to be the shop; we want to

be the mall.

Client centricity places our clients at the centre of

everything we do and reinforces the competitive

advantages of our scale, scope and expertise.

Standard Bank's business activities have social,

economic and environmental (SEE) impact in

the economies and communities in which we

operate. There are seven specific areas in which we

can best drive Africa's growth: Financial inclusion;

Job creation and enterprise development;

Infrastructure; Africa trade and investment; Climate

change and sustainable finance; Education and

skills development; Health.

Dreams matter

We are in the business of inspiring hope

and enabling dreams. We believe that

dreams matter because they fuel our

growth. This belief, encapsulated in our

tagline 'It Can Be', has shaped our approach

to meeting the rapidly changing needs of

our customers and clients in a new digitally

enabled world.

We are well on our way to being the most

successful banking, insurance and asset

management business on the continent.

Soon we will be the most truly digital, the

most truly human, the most competitive, the

most profitable, and the most purpose-driven

services group in the history of Africa.

Standard Bank is highly invested in

Mpumalanga and committed to driving her

growth. We strive to create value for our clients

through our regional knowledge and industry

expertise. It's about more than just banking. It's

about being a trusted partner, understanding

your business and creating value.

We have been here for over 150 years and we

look forward to being here for many more

years to come – helping our clients realise

their dreams. ■

Business Leadership Team, Mpumalanga

Yaseen Guman

Head Client Coverage,

Mpumalanga Business

Busisiwe Sithole

Head Business Clients,

Lowveld

Anton Janse van Rensburg

Head Business Clients,

Highveld South
---
REALISING DREAMS

THROUGH QUALITY EDUCATION

Standard Bank is helping teachers and care-givers learn new skills.

In Mpumalanga we express our commitment

to the people of the province through our

corporate social investment work.

The power of education to drive change in

South Africa remains undeniable. Unfortunately,

many in our country, because of their personal

circumstances, still struggle to access a quality

education. Standard Bank takes an active role in

helping these young people realise their dreams

through financial support and training initiatives.

We believe that all South Africans deserve a quality

education and as such Standard Bank invests

in improved educational outcomes and skills

development in multiple ways.

We prioritise education in our corporate social

investment (CSI) programmes and invest in work

readiness programmes, through our internal

learnership and graduate programmes.

In 2019, following an in-depth review of our impact

and effectiveness over a five-year period, we

developed a refreshed CSI strategy, which focuses

specifically on Early Childhood Development (ECD)

and Foundation Phase education.

This is based on extensive empirical research which

demonstrates that developmental stimulation during

the early years of childhood, well before a child enters

the formal schooling system, are critical to future

intellectual, emotional and physical wellbeing. We

have seen the positive impacts of such interventions

first-hand, through Standard Bank-sponsored ECD

and Foundation Phase programmes.

The aim of our ECD strategy is to contribute to

social and economic transformation in South Africa,

through supporting the development of future-fit

children who are ready for a new world of work. We

do this through the upskilling of ECD practitioners

and Foundation Phase teachers, empowering primary

care-givers to play an active role in early learning, and

by supporting programmes to incorporate future

skills in ECD and Foundation Phase curricula. In this

way, we hope to help mitigate the risk of the fourth

industrial revolution further exacerbating the extreme

inequality that characterises South African society.

MPUMALANGA BUSINESS 2021/22 18
---
FOCUS

In 2020 in the wake of the Covid-19 pandemic

we supported our existing ECD partners, helping

them to adapt to the lockdown ECD eco-system

through the supplying of educational materials and

child nutritional support and we worked closely

with NGO partners identified by the National

Department of Basic Education to support moves

to a blended platform of learning.

Training educators and revamping libraries

In the last five years we have donated

R11.6-million to Ntataise Lowveld to train

300 ECD students and practitioners from

rural communities across the province. The

practitioners undergo an 18-month training

programme. The programme is accredited by

the Sector and Education Training Authority

(SETA) and carries a National Qualifications

Framework level four. By supporting this

programme, we are helping to make more

people in the province employable and laying

the foundation for better and more fulfilling

lives for children by stimulating them from an

early age.

In 2016 we were responsible for the revamp

of libraries at Lamile Primary School and

Bongumkhwanazi Primary School. In 2018 we

revamped the libraries at Davel Combined Primary

School, Matsamo Primary School and Khangela

Primary School. In 2019 the list of libraries which

were refurbished included Magashule Primary

School and Warburton Primary School. In 2020 we

revamped libraries at Hendrina Primary School and

Schulzendal Primary School.

As part of the library programme Standard Bank

employees volunteer their time to refurbish libraries

at various primary schools around the province. This

includes repairing walls, ceilings and roofs as well

as painting walls, installing carpets, and repairing

damaged shelves. ■
---
SPECIAL FEATURE

What are the

implications of

changing from coal?

The so-called "just transition" in energy

is going to require creative thinking.

Former cabinet minister Valli Moosa is

Deputy Chairperson of South Africa's

Presidential Climate Change Coordinating

Commission (PCCCC). President Ramaphosa

is the Chairperson but much of the work will fall

to the man whose ministerial responsibilities in

the early days of South Africa's transition from

apartheid to democracy included constitutional

development and the environment.

The commission wants to create a framework

within which sensible policy decisions that

promote a just transition can be made. This will

go beyond simply looking after workers who

lose jobs and will look at the implications of

climate change on populated areas.

As the country tries to wean itself off coal,

making the transition to cleaner energy in an

equitable way will be complicated and creative

thinking will be needed. Simply stating that

renewable energy will provide jobs is not going

to be enough. The debate in Mpumalanga, a

province that derives a massive percentage of

its economic activity from the mining, transport

and burning of coal, has begun.

Minister of Mineral and Energy Resources

Gwede Mantashe worked at a colliery in

Emalahleni (formerly Witbank) when he chaired

the local branch of the National Union of Mine

Workers (NUM). He has been resistant to moves

to allow private companies to generate more

power from renewable sources but President

Ramaphosa declared in 2021 that companies

would be allowed to generate up to 100MW

without going through restrictive licensing

procedures.

Credit: Chris Kirchoff/Brand SA

Pan African Resources is making a start in

Mpumalanga with the building of a 10MW solar

photovoltaic plant at its Evander mine. Expected

to cost R140-million and come on stream in the

second half of 2021, the plant will provide about

30% of the power needed at the company's

tailings retreatment plant.

Two embedded 10MW solar PV facilities are

to be constructed by private operators at Sasol's

Secunda and Sasolburg operations as part of the

eventual procurement of 600MW of renewable

energy by the energy giant.

The idea of eight Renewable Energy

Development Zones (REDZ) was first gazetted

by national government in 2018. Others have

since been added, with the CSIR noting that

renewable energy projects that could be

developed in these REDZ have the potential

to make significant contributions to mine

rehabilitation and to support a just energy

transition in the specified areas, including

where 12GW of existing coal power stations are

planned to be decommissioned by 2030.

Exxaro CEO Mxolisi Mgojo, who has served

as president of the Minerals Council SA, has

long argued that land around mines should be

utilised for agriculture.

Potassium nitrate has value and its extraction

from acid coal mine water might help to pay for

the process of cleaning the water. There is a

technique to convert by-products such as this

into material used in fertiliser. ■

MPUMALANGA BUSINESS 2021/22

20
---
Expanding local value chains

and increasing opportunities

for skills transfer

Mercia Grimbeek, ENERTRAG South Africa's Director of Project Development,

evaluates the prospects for renewable energy in Mpumalanga.

INTERVIEW

What is ENERTRAG'S involvement in Mpumalanga?

ENERTRAG is a developer of wind, solar and hybrid renewable energy projects

actively pursuing opportunities in Mpumalanga province.

What are the key challenges and opportunities?

Regulatory hurdles are still one of the key challenges facing renewable

energy deployment. A close working synergy between the renewable and

mining sectors is crucial to maximising opportunities in Mpumalanga. A more

streamlined permitting process would encourage the increase of renewable

deployment. Many opportunities are available to develop renewable facilities

with the added advantage of already existing grid infrastructure.

Mercia Grimbeek

BIOGRAPHY

Mercia has worked in the renewable

energy industry since 2010 and

recently joined ENERTRAG South

Africa as the Director of Project

Development. She has extensive

experience developing projects

from greenfield to constructionready

status and has consulted

to various Independent Power

Producers on socio-economic

and economic development

projects. Mercia is the chairperson

of the South African Wind Energy

Association (SAWEA) and has been

a board member since 2018.

Does ENERTRAG have a role in creating a just transition from the fossilfuel

economy?

Absolutely. ENERTRAG is fully committed to a just energy transition. Through

the development, construction and operation of renewable facilities we

remain supportive of all efforts to expand local value chains and increase

opportunities for skills transfer and training initiatives, thereby creating

meaningful job opportunities.

Please explain renewable energy development zones (REDZs).

REDZs were designed to not only fast-track the deployment of renewable

technologies but also to align the location of these technologies to areas

where grid infrastructure is available. ENERTRAG has tried to locate as many

of its developments in REDZs and is looking forward to further REDZs being

gazetted or the expansion of REDZs to include wind technology.

What experience does the company have in working with partners in

coal-producing regions?

The company draws off experiences from its offices in Germany where such

collaborations are further advanced. Here ENERTRAG takes learnings from

initiatives that have been successful and investigates how it can be adapted

to local conditions. This synergy extends also to industries that are large

carbon emitters.

Please detail the company's involvement with hydrogen-based

power plants.

ENERTRAG has been generating green hydrogen from renewable sources

at its Head Office in Dauerthal in Germany since 2011. The company has a

deep understanding of the engineering and optimisation of these plants,

which can provide solutions such as clean fuel for the transport industry

and heating solutions, enabling a move away from fossil-based fuels and

enhancing a reduction in carbon emissions. ■
---
INTERVIEW

Helping small business become

viable and more competitive

Seda Mpumalanga Provincial Manager Mashiba Kgole explains how targeted

interventions and specific support programmes help SMMEs grow.

Provincial Manager

Mashiba Kgole

BIOGRAPHY

Mashiba Kgole has more than 17 years

experience in the SMME development

sector. He holds a National Diploma

and BTech Degree in Chemical

Engineering, certificates in Change

Leadership Management, Outcomes

Based and Performance Monitoring

and Evaluation, as well as an

international best-practice exposure

programme on SMME development

from SMEA in Taiwan.

Please tell us about the Seda Mpumalanga network.

Seda Mpumalanga is one of the nine provincial structures that are

responsible for the delivery of Seda programmes, products and

services. The provincial network is made up of a Provincial Office and

five branches. The Provincial Office has the responsibility to manage,

coordinate and support the entire network in the province and the

branches are the delivery points where small enterprises can access

Seda's services.

In addition to the branches, Seda is co-locating with partners

in those areas where we currently do not have offices. The

establishment of co-location points ensures that Seda has a presence

in all the municipalities in the province. Currently, the province has

13 sites with various partners in different local municipalities. These

points improve service provision in townships and rural areas where

we have no offices.

How is Seda improving SMME and co-operative growth in

Mpumalanga?

Seda supports the development and growth of SMMEs and cooperatives

through an assortment of business development services

(BDS). These services aim to provide solutions related to various

business functions. We provide small businesses with the following

services: business-related information, advice, consultancy, training

and mentorship support.

Through the Seda Technology Programme, Seda provides

technology transfer, business and technology incubation services, as

well as incentives for management systems implementation (such as

ISO9001, ISO14001, OHSAS 18001), product testing and certification.

What is Seda's role in ensuring business competitiveness and

viability?

Seda is playing a key role in the delivery of business development

interventions to support small businesses to improve their

competitiveness and viability.

Seda aims to establish a long-term relationship with clients.

Prior to embarking on any intervention, a Seda practitioner assesses

the needs of the client. Based on the assessment results the client,

together with the Seda practitioner, drafts a development plan with

specific development interventions. These services are delivered to

MPUMALANGA BUSINESS 2021/22

22
---
INTERVIEW

the client either by Seda's practitioner(s) or through

business development service providers.

Some of Seda interventions involve assisting

SMMEs with business and financial management

training, legal compliance, bookkeeping support,

mentorship support, implementation of quality

management systems, product development and

certification, to name a few.

How is Seda Mpumalanga facilitating business

development through ecosystem support?

Seda supports a "team" approach to entrepreneurship

promotion and development, which involves

working with other stakeholders in the business

development services ecosystem.

We agree to be part of a team approach and play

a specific role to contribute to the improvement of

small businesses in the province.

Our role is to develop, support and promote

small businesses and co-operatives, ensuring their

growth and sustainability in co-ordination and

partnership with various other public and private

entities to advance more support to small businesses

with additional resources from our partners.

How does the Seda District Ecosystem

Facilitation (DEF) model fit into the government

District Delivery Model with respect to

facilitating BDS?

The District Delivery Model, approved by the

government, seeks to improve the planning and

accelerate the implementation of service delivery

programmes to communities,

including the development

of SMMEs through ensuring

that all the three spheres of

government work together.

Through the DDM, Seda

will ensure that development

needs and opportunities for

SMMEs and co-operatives

within each district are taken

into account. Seda will work

closely with municipalities

through the Local Economic

Development (LED) offices to deliver services to

SMMEs at a local and district level.

This will result in more competitive and sustainable

businesses that contribute to the economic growth of

the district and the country.

Are there any programmes which promote

township and rural economies?

The Department of Small Business Development

(dsbd) together with its agencies, Seda and Sefa,

continues implementing Township and Rural

Entrepreneurship Programme (TREP). This is a

dedicated programme to provide financial and/

or non-financial support to the township and

rural enterprises with an emphasis on enterprises

owned and managed by designated groups,

women, youth and persons with disabilities,

in order to increase their capacity to access

economic opportunities and enhance their

competitiveness.

The following are some of the programmes:

• Spaza shop support programme

• Automotive aftermarket support programme

(panel-beaters, motor mechanics, auto spares

and auto fitment)

• Clothing, leather and textile support programme

• Bakeries and confectionaries support programme

• Personal care programme (hair and beauty salons,

barber shops, massage parlours)

• Butcheries support programme

• Tshisanyama and cooked food support programme

• Fruit and vegetable vendors support programme.

Seda Client in the Automotive aftermarket support programme

(panel-beaters, motor mechanics, auto spares and auto fitment)

23 MPUMALANGA BUSINESS 2021/22
---
FOCUS

Supporting communities and

customers through tough times

The Provincial General Manager for Old Mutual (Retail Mass Market) Limpopo and

Mpumalanga, Thabane Thuso Maja, reflects on the impact of Covid-19 in the province.

How many branches do you have in Mpumalanga?

We have 18, comprising 16 field branches and two in-house branches.

How can customers stay in touch with Old Mutual in the time of Covid?

We can now engage with our customers remotely through MS Teams,

Zoom and via mobile. We also have the capability to process our claims

through digital platforms, WhatsApp and via USSD.

Thabane Thuso Maja

BIOGRAPHY

Thabane Thuso Maja has extensive

experience in financial services, having

previously worked at Old Mutual

Personal Finance, Capitec, Old Mutual

Finance and Metropolitan, where he

was a Provincial General Manager.

He has extensive industry skills and

knowledge in stakeholder relationships

and management and channel strategy

execution. Throughout his career, he has

demonstrated true leadership qualities

and has experience in developing and

turning businesses around to perform at

the highest levels.

How has business been affected by Covid-19?

Some of our key stakeholders have been significantly affected and

have had to retrench many of their employees. This has resulted in a

number of cancelled or lapsed policy payments and increased the

unemployment rate in the province, which has reduced household

incomes. As Old Mutual, we have been supporting the companies

we serve with the rollout of financial education workshops, helping

companies and customers cope with financial challenges.

What are your main offerings to customers?

We offer an integrated financial services basket to meet our customers'

broad needs - including: Life Cover, Illness and Disability Cover, Funeral Cover,

retirement annunities, savings and education plans and investments. The

Old Mutual Money Account is an affordable transactional product with a

linked unit trust. The Old Mutual Rewards programme is also available for

free (no membership fees) to anyone, not just Old Mutual customers.

Please describe some of the CSI projects of Old Mutual Mpumalanga.

We support our communities through staff community builder projects

and initiatives, where our provincial sales staff members are encouraged

to participate in projects while contributing to improving and growing

small businesses in Mpumalanga.

We have sponsored schools with borehole installations and have

invested in improving building structures in early childhood development

schools. We continue to support small businesses through various channels.

We have collaborated with the Department of Education in running sanitary

towel drives, delivered school shoes to schools located in impoverished

areas and supported pupils from 28 schools with hygiene packs. We also

partnered with the Department of Education to donate water tanks to

schools to assist in tackling Covid-19. ■

MPUMALANGA BUSINESS 2021/22

24
---
Thuso Maja

Provincial Manager, Mpumalanga | Email: TMaja@oldmutual.com

In-House Branch Staff: Maditaba Mofokeng and Happy Rakoma

Sbongile Mkhonto

Area Manager, Mpumalanga lowveld area

Email: Smhlanga@oldmutual.com

Maxwell Dhlamini

Area Manager, Mpumalanga highveld area

Email: Mdhlamini@oldmutual.com

Branch Managers,

Mpumalanga lowveld area

Gracious Chavane

Branch Managers,

Mpumalanga highveld area

Sokesimbone Methula

Jabulani Msiza

Sifiso Sukazi

Nomthandazo Lubisi

Mandla Mtshweni

Nkosinathi Njaphaa

Nurse Thomo

Jennifer Wankya

Nelisiwe Mnisi

Mpumalanga Province branches

Shop 33, Acornhoek Mall,

Acornhoek 1360

Shop 26, Bushbuckridge

Twin City Complex, Bushbuckridge 1280

Shop 19, 50A De Jager Street,

Ermelo Mall, Ermelo 2351

Shop 306, Lowveld Mall, Hazyview 1242

Shop 1, Erf 15, Lorenco Street,

Malelane 1320

Shop 12, 25 Church Street,

Pick n Pay Centre, Middelburg 1055

Riverside Office Park, 1 Aqua Street,

Block1, 2nd Floor, Nelspruit 1200

Old Mutual Finance, Site 2, Main Road,

Nhlazatshe, Elukwatini 1192

Shop 21B, Moloto Road, Kwaggafontein

Mall, Nkangala 0458

Shop 12, Mkhondo Mall, Piet Retief 2380

Office E, 1st Floor, Secunda Town Centre,

Secunda 2302

19C Kerk Street, Ground Floor,

OM Building, Standerton 2430

Office 2, River Crescent, Mandela Drive,

Witbank 1035

Mpote Moretsele

Vezinhlanhla Mahlobo

Provincial Office

Riverside Office Park, 1 Aqua Street, Block 1,

2nd Floor, Nelspruit 1200

Mobile: 082 497 2483

Area offices

Mpumalanga lowveld area: Shop 306,

Lowveld Mall, Hazyview 1242

Tel: 079 506 2288

Mpumalanga highveld area: Office E, 1st

Floor, Secunda Town Centre, Secunda 2302

Tel: 072 577 1062
---
KEY SECTORS

Overviews of the main economic

sectors of Mpumalanga

Agriculture 28

Mining 32

Forestry and paper 38

Oil and gas 40

Transport and logistics 41

Tourism 42

Manufacturing 44

Water 45

Development finance and SMME support 48

Banking and financial services 54

A new front-end dryer is being installed at PG Bison's plant in Mkhondo (Piet Retief ). Other investments at the plant

will take the total spent on increasing capacity beyond R2-billion. To date, 500 tons of fabrication and the subsequent

installation has been done in-house. PG Bison is a Proudly South African business, with operations in four

provinces, ranging from forestry to the manufacturing of sophisticated, world-class medium-density fibreboard

(MDF), particleboard and value-added products. Credit: PG Bison
---
OVERVIEW

Agriculture and agro-processing

Barberton has a new and unusual blueberry farm.

Credit: Primocane Capital

Mining company Pan African Resources is getting into

the blueberry business in an effort to help uplift the

community in which it operates near Barberton. The

15ha farm (pictured) has created 80 jobs with a further

400 seasonal jobs expected for a five-month period. In the second

phase of the project, which is being run by Primocane Capital,

about 1 000 jobs are expected. The first harvest is expected

in 2022. According to a report in Business Times, the miner's

investment into the first phase has so far amounted to R40-million.

A provincial government assistance programme called

Phezukomkhono Mlimi is providing mechanisation and input

support to small-scale and new farmers. Those who receive help

are also offered training courses offered by the AgriSETA.

An agro-processing facility is planned for the area near the Kruger

Mpumalanga International Airport (KMIA) and private investors are

being approached. Progress has been made in the construction of

the Mpumalanga International Fresh Produce Market and the main

market is expected to be ready in the course of 2021.

With several coal mines reaching the end of their lives, steps are

being taken to convert the land to useful agricultural land. Safety and

health concerns will have to be addressed, but there is potential to

improve food security for poorer families in the province.

The Fortune 40 programme has a specific focus on developing

young entrepreneurs in farming. Twelve of the Fortune 40 farms have

been linked to retailers such as Spar, Shoprite and Boxer and with

wholesalers and agro-hubs.

SECTOR INSIGHT

Subsistence farmers are

getting assistance.

The goal is to have an agrohub

in each of the province's

three districts. Small-scale farmers

and co-operatives are being

given a chance to connect to

the formal economy via the hubs

which will also provide advice

and equipment. The Mkhuhlu

agro-hub in Bushbuckridge,

which forms part of the

Provincial Government Nutrition

Programme, is operational. The

Mkhondo agro-hub in Gert

Sibande District is completed and

partially operational. A feasibility

study is underway relating to the

establishment of a hub in the

Nkomazi Municipality. A budget

of R15-million has been agreed for

the first phase and the creation of

a pack-house. Other interventions

MPUMALANGA BUSINESS 2021/22

28
---
OVERVIEW

include the re-commissioning of the Bushbuckridge poultry abattoir

and support for soya and maize farmers to supply the Lekwa Oilseed

Crushing Plant in Standerton.

Agriculture is responsible for about 3.4% of Mpumalanga's Gross

Domestic Product (GDP).

Crops

Mpumalanga accounts for about 21% of South Africa's citrus

production and a third of its export volumes, with Valencias being

the province's most popular varietal and Nelspruit being the

centre of the sector.

Avocados, litchis, mangoes and bananas thrive in the province.

Hazyview is an important source of bananas, with 20% of South

Africa's production originating there.

Deciduous fruits are cultivated in smaller quantities. About

15 000 tons of table grapes are produced in the province

annually and Mpumalanga produces its own wine.

A specialist fruit that does well in the province is the marula. The

marula fruit makes a popular beer and is used in the production of an

internationally-known liqueur.

Macadamia nuts have grown in popularity. About 4 000 hectares

of new trees is added each year across South Africa, with most of

that in Mpumalanga and neighbouring Limpopo. The vast majority

of the nuts are exported, with about 40% going to China.

There are about 450 farmers growing the nuts and there are 14

cracking factories in South Africa. The sector employs about 4 500

people, of which 1 500 are permanent employees. Barberton and

Hazyview are two prime areas for the nut.

Mpumalanga produces one-million tons of maize from

291 788ha. About 53 000 tons of wheat and 33 000 tons of

sorghum are produced annually. Soya bean is another major

crop: more than half of South Africa's soya bean crop is

produced in Mpumalanga's Highveld areas.

Cotton is grown mostly under dryland conditions in Marble

Hall. The province has 1 500ha of dryland under cotton. Much

of South Africa's total annual production of about 34-million

kilograms of tobacco, especially Virginia tobacco, takes place in

the north-western parts of Mpumalanga, and in neighbouring

Limpopo. Other crops produced for export in Mpumalanga

ONLINE RESOURCES

Citrus Growers Association: www.cga.co.za

Macadamias South Africa: www.samac.org.za

South African Cane Growers' Association: www.sacanegrowers.co.za

South African Subtropical Growers' Association: www.subtrop.net

include cut flowers, pot plants

and nursery plants.

Mpumalanga has the

second-biggest sugar industry

in South Africa, after KwaZulu-

Natal. TSB Sugar runs three

mills in the Lowveld region,

two of which have refining

capacity, and employs about

4 700 people. More than 1 400

farmers (commercial and smallscale)

deliver sugar cane to the

company. TSB brands are Selati

(sugar) and Molatek (animal feed).

Companies

Astral Foods runs a poultry

processing plant in Standerton

which has 2 425 employees.

Fresh fruit and nut supplier

Halls cultivates 375ha of its own

land and has another 1 400ha

under management. Its crops

include avocados and litchis.

Westfalia is a diversified

agricultural group which runs

extensive operations in the

province. Umbhaba Estates

is one of the biggest banana

growers in the province.

The drier Highveld region

with its cold winters supports

crops such as cereals, legumes

and nuts. There is extensive

irrigation in the Loskop Dam

area. Ermelo is one of South

Africa's main centres of sheep

farming and wool production.

Subtropical fruit flourishes

in the Lowveld with the town

of Nelspruit being a major citrus

producer. Mixed farming and

potatoes, sweet potatoes and

beans are mostly found in the

southern and western parts of

the province. ■

29

MPUMALANGA BUSINESS 2021/22
---
Agriculture and mining drive

growth in Mpumalanga

Standard Bank offers specific banking solutions in specialised sectors.

Standard Bank Mpumalanga has invested

deeply in expertise, knowledge and

infrastructure in various sectors within

the province.

Mining is a significant contributor to the growth

of Mpumalanga. There are 127 mining projects

owned by 47 mining companies in the region, and

both international and local mining houses have an

established footprint here.

We understand that mining is a specialised sector

that needs specific banking solutions. We have

the expertise to cater for banking needs across

the mining value chain, whether your business is a

producer, minerals processor or service provider to

the mining industry.

Our Johannesburg-based team of sector specialists

provides support and in-depth mining sector

insight to our dedicated Relationship Managers

across the country, including Mpumalanga.

From securing asset finance for mine development

to managing your daily working capital needs – with

us as your financial partner, you are assured that you

are engaging with experts who have insight into

what matters most.

Food production

As one of the most productive agricultural regions

in South Africa, Mpumalanga plays a key role in food

production for consumption and in the country's

agricultural export industry.

We deliver financial solutions for the varied needs of

individuals and businesses along the agribusiness

supply chain through the experience and deeprooted

expertise of our teams.

Agriculture is a specialised sector with more than

30 sub-sectors requiring vast knowledge, skill

and experience for in depth understanding of its

complexities and integrated cycles. The industry

is highly dependent on us understanding the

agribusiness value chain and providing appropriate

solutions to ensure the success of our clients.

The funding required in agribusiness includes

property finance to fund land acquisition, production

finance for planting and growing annual and longterm

crops and working capital for financing vehicles

and equipment, irrigation systems and packing

facilities for fruit.

Many agri sub-sectors, like the nut industry, export

products overseas and require the correct Foreign

Exchange and International Payment solutions. This

includes the ability to guarantee payments and

hedge foreign exchange variances.

We don't believe in simply selling a product to our

clients. What is important for us is to understand the

unique business needs and match the appropriate

solution so as to create value for our clients. ■

Photo by Vladimir Patkachakov on Unsplash
---
OVERVIEW

Mining

The revival of Matla coal mine will cost R3.3-billion.

Mining contributes 25.9% of the province's gross

domestic product and employs more than 53 000

people. Expansion projects by several miners are

underway, including South32, Exxaro Resources,

Pan African Resources and Canyon Coal.

Mpumalanga accounts for 83% of South Africa's coal production

and is the third-largest coal-exporting region in the world.

Although renewable energy is catching on in South Africa, there

is no prospect of Mpumalanga's coal-fired power stations being

mothballed soon.

National utility Eskom will spend R3.3-billion on the revival of

the Matla coal mine. The mine was put on care and maintenance

in 2016 but expectations are that it should be able to produce

more than 10-million tons per annum by the second half of 2024.

Exxaro Resources will manage the project and do the mining

while major companies such as DRA, Worley, Sandvik and WBHO

will also be involved.

Other companies engaged in expansion of life-of-mine

projects are Pan African Resources and Evander (Elikhulu tailings),

Exxaro Resources (Leeuwpan) and South32, which is spending

about R4.3-billion at Klipspruit.

Menar, which has several operations in Mpumalanga via Canyon

Coal and Kangra, will spend about R600-million the first phase of

its De Wittekrans asset near Hendrina, the open-cast operation.

The second phase would entail going underground to dig for coal.

Kangra intends reopening the Savmore/Maquasa coal mine which

was closed because of the global lockdown in 2020.

The sod-turning ceremony of another new mine at Mabola

in the Wakkerstroom area was supposed to happen in March

SECTOR INSIGHT

Credit: Implats

A court order has stopped a

proposed new coal mine in the

Wakkerstroom area.

2021, but an urgent court order

put a stop to Uthaka Energy's

plans. Environmentalists have

argued that the province should

not have revoked the area's

protected status as important

wetlands stand to be affected.

The multi-year legal battle looks

set to contiue. Uthaka Energy

was previously known as Atha-

Africa Ventures, a local subsidiary

of the India-based Atha Group.

Arnot coal mine has signed

a contract for underground

mining services with Boipelo

Mining Contractors worth

R3.2-billion. Boipelo comprises

Middelburg-based Amandla

TM (51%) and Murray & Roberts

Cementation (49%).

South32 sold its South

African Energy Coal (SAEC)

business to black-owned Seriti

MPUMALANGA BUSINESS 2021/22

32
---
OVERVIEW

Resources in 2019 but in 2021 also agreed to make $250-million

available to enable Seriti to restructure some of the coal assets and

to rehabilitate others.

Afrimat is listed on the JSE in the "Construction and Building

Materials" section, but the company has shown an appetite for

acquiring mines in order to diversify.

In May 2020 Afrimat made a bid for control of Unicorn Capital

Partners (previously Sentula Mining) which controls the Nkomati

Anthracite mine in Mpumalanga. The mine, which is in the southeastern

corner of the province, has proven resources of 8.7-million

tons and upwards of 400 jobs were created over the last two years.

Local communities have a 16.1% stake in the re-launched mine and

the Mpumalanga Economic Growth Agency (MEGA) holds 34%.

Platinum

Platinum is an important mineral for the modern economy. Two

Rivers is a joint venture between Implats (46%) and African Rainbow

Minerals which is located on the southern part of the eastern limb

of the Bushveld Igneous Complex, 35km south-west of Burgersfort

in Mpumalanga.

Northam Platinum, which has assets on both limbs of the

Bushveld Igneous Complex, has purchased the Everest mine

from Aquarius Platinum. Everest is adjacent to Northam's existing

Booysendal mine.

Jubilee Platinum has sold its Smelting and Refining business

in Middelburg to Siyanda Resources. Sylvania Platinum now has

seven PGM recovery plants that extract chrome from tailings on

both sides of the Bushveld Igneous Complex.

Lydenburg is home to the Lion ferrochrome smelter that is a

joint venture between Glencore and Merafe Resources. Assmang,

the joint venture between ARM Ferrous and the JSE-listed Assore,

operates a chrome mine (Dwarsrivier) and a ferrochrome plant

where chrome alloys are made.

Training

Most of the province's mining companies are involved in training.

The Colliery Training College (CTC) in Emalahleni is owned by

ONLINE RESOURCES

Colliery Training College: www.ctctraining.org

Minerals Council South Africa: www.mineralscouncil.org.za

National Department of Mineral Resources: www.dmr.gov.za

South African Institute of Mining and Metallurgy: www.saimm.co.za

a consortium of companies:

Exxaro, Glencore, Kangra Coal,

South32 and Izimbiwa Coal. The

centre offers a broad range of

artisan training, including auto

electrician, fitting and turning

and millwrights. CTC has been

recognised as a leader in artisan

training by the National Skills

Authority.

Coal giant Exxaro, which

runs five mines in the province,

has committed R3.8-billion to

its Belfast project, an investment

that will create 1 160 jobs and

have an impact on the GDP (over

the life of the mine) of R39-billion.

After Exxaro Coal

Mpumalanga's transfer of its

50% stake in the Arnot coal

mine to mineworkers at no cost,

the workers received a further

5% "free-carry" because of the

specifications of Mining Charter

III. The mine thus becomes South

Africa's first majority workerowned

mine. Wescoal is the

other shareholder and operator

of the mine.

The opening in April 2019

of Sasol's Impumelelo Colliery

south-west of Secunda was the

final phase of an investment in

new coal mines to replace three

coal mines that had reached the

end of their lives. Sasol produces

40-million tons of coal annually.

Impumelelo, which will produce

8.5-million tons per year, cost

R5.6-billion to build.

State coal company AEMFC

(African Exploration Mining &

Finance Corporation) runs a

colliery at Vlakfontein near Ogies

and is planning to develop

other projects. South32 has four

collieries and three processing

plants in the province. ■

33 MPUMALANGA BUSINESS 2021/22
---
INTERVIEW

Finding new ways of

reducing and reusing carbon

Council for Geoscience CEO, Mosa Mabuza, is excited about new research on

carbon capture and is intent on expanding his organisation's relevance to the

South African economy.

Mosa Mabuza, CEO

BIOGRAPHY

After qualifying as a geologist from Wits

University, Mosa held various positions

at De Beers and Anglo American and

worked in jurisdictions as varied as

West Africa and Canada. From his

appointment as the Director of Mineral

Economics in the former Department

of Minerals and Energy, he was

promoted to Deputy Director-General

of Mineral Policies and (Investment)

Promotion in 2012. He has been CEO of

CGS since 2017.

How will the Council for Geoscience (CGS) carbon capture and the

storage project in Mpumalanga expand South Africa's energy mix and

decrease the country's carbon footprint?

We abbreviated the project to CCUS: Carbon Capture for the two Cs, U

for utilisation, storage as the last stage. Once the carbon is captured it has

numerous applications. Not only would you be able to reduce the carbon

content that is emitted into our climate, but you can also apply it in fertiliser

manufacturing and in a number of other applications.

We see it as a scientific intervention that gets us as a country to breathe

life into the climate mitigation measures, in terms of the international

climate protocol that we have committed to. If the science is proven,

not only will South Africa meet but it will go far beyond the minimum

commitments that we have made as a country.

But we've got to let the science take place, we've got to let the pilot

project prove that indeed, it is a sensible scientific intervention, that the

economics make sense, that science and the intentions are met. Only

once we have proven all of those three attributes, would we be confident

enough to say that, indeed, we can continue. We think that, if it is proven,

then coal can continue to play a critical role in our energy mix.

Is this pilot at one site or is it multiple sites?

The first one is on one site. We have chosen a pilot very close to the major

emission sites in Mpumalanga where there is a higher concentration of

power stations, as well as the Sasol plant. If we get that right we can

have our contribution to carbon pollution reduced by between 60%

and 80%.

What are the other priorities of the CGS in Mpumalanga?

The CGS mandate is that we are the custodians of geoscientific information

and knowledge in the country so we have quite a number of programmes in

Mpumalanga. One of them which is really very exciting and is at an advanced

stage of development is the passive treatment of polluted water. This is getting

groundwater that has been polluted to be cleaned up using natural processes

without using any chemicals. We are piloting this exercise at a site in Middelburg.

The early results are indicating that the ranges of acidity are being

drastically reduced. At level one, water is very acidic and if you get to a pH

of seven, then that's normal water and if you go beyond seven then it's

MPUMALANGA BUSINESS 2021/22

34
---
ecoming too alkaline for consumption or industrial

use. This passive treatment has increased the pH level

from 2.8, which could not be consumed by human

beings, to around 6.8.

That is exciting. That is almost getting to a

textbook measure of pH. The water coming out

of our taps is not anywhere close to 6.8. If we can

replicate that, imagine all of that water that has been

contaminated by coal mining over the years in the

Mpumalanga area that could be sorted out?

We haven't done the economic studies yet

but if we get it right, it should be highly costefficient.

The cost should not be an issue if and

when we get it right.

What other priority projects are you pursuing?

We are looking at mineral development projects

in Mpumalanga and others. We are excited about

the prospects that lie ahead. We are confirming the

extension of the Wits Basin beyond the previously

known areas. The result is that – over and above

coal mining – we think that gold mining in

Mpumalanga may just have a much longer future

than we thought before.

CGS passive mine water remediation pilot plant, Carolina.

What role is the CGS playing in the debate over

the just transition?

We will not be driving the whole debate but

the carbon capture utilisation and storage

is a scientific intervention that asks the

fundamental question – does transition

necessarily mean transition from coal or

does the transition mean we are making a

commitment to transition from high carbon to

low carbon?

Over many years we have developed the

capacity to generate our baseload from coal. We

still have huge resources of coal in South Africa

and we have installed generation infrastructure.

On the other hand, we have correctly made

commitments to be part of climate change

protocols.

There is no debate on the contribution of

carbon in accelerating the climate change, there's

absolutely no debate there. But if there are scientific

interventions that can allow for that transition to

enable us to move from high to low carbon and

continue to burn the coal, then that is something

worth considering.

If human beings could send a man to

the moon in the 1960s, I don't see why we

cannot find the appropriate technology

to use so that coal is part of our just

transitioning journey.

As the Council for Geoscience, our

contribution in the main is limited to the

science. We must also play a prominent

and critical role as a leader in mobilising

society around a particular position that

takes into account South Africa's specific

societal circumstances.

35 MPUMALANGA BUSINESS 2021/22
---
INTERVIEW

Are you working on better ways of mining?

Our contribution to better mining can only be

limited to characterising the rocks that will be mined.

In the debate around data mining technology, there

have been three primary questions that have been

asked. The first one is, how can we mine more with

less energy? How can we mine with less or no water

as we are a water-scarce country? The third one is

how do we minimise the environmental footprint?

Our contribution lies in characterising those

rocks where mining will take place, allowing

mining professionals to be very clear of that

distinction and they can then design the

appropriate technology that takes into account

the types of rocks that they have.

There was a time some years ago when a lot of

noise was created in South Africa about acid-mine

water. Part of the reason for that noise dissipating

is because of the work that we have been doing

behind the scenes, and we continue to do that

work. It is a huge task with limited resources but our

scientists have really done a sterling job and they

continue to do so. I have every confidence that in

the next couple of years we will be making major

announcements.

What role does the CGS play in assisting with

land-use planning?

In early August a tremor was felt between

Johannesburg and Alberton. These seismic events

are sometimes due to mining and some are natural

seismic events. It is the responsibility of the Council

for Geoscience to record those events, to study

them, communicate them to the public, to indicate

the risks and also to work closely with the National

Disaster Management Committee. Areas which have a

proliferation of dolomite rocks have a direct bearing on

infrastructure and our role is to advise the state on risks.

Certain areas in Mpumalanga have large areas

of subsidence. Now that the state has adopted the

District Development Model, they are placing us at

the centre of working with the District Municipalities

in assisting them with the optimisation of land use.

Was the International Conference on Acid Rock

Drainage productive?

This is something that is very, very important in

the South African context. We know that there are

many nations, including developed nations, that are

battling with the acid mine water drainage problem,

particularly those countries that have a long history

of mining. We have found common space with the

Americans, the Germans, the Polish and the British and

realised that what we thought was a major problem

for us is actually very small relative to those countries.

The size of the problem is irrelevant; however, what

is important is that we have to find solutions to this

problem to the greater benefit of humanity.

A sealed ownerless mine entrance, near Sabie.

MPUMALANGA BUSINESS 2021/22

36
---
INTERVIEW

Please describe any staff development

programmes.

Our biggest competitive advantage is our human

capital. We intend to create at least 10 A-rated

geoscientists on the global scale in the next five to

10 years because once you have created a capable

institution then all these other things become very

easy. Anything and everything is possible when

you have competent, agile, committed world-class

rated scientists.

Do you have a bursary programme?

We do. We have just concluded collaborations with

many of our universities that have geosciences units.

We want to expand that. We have collaborations

with the United States geological survey and we are

looking at the BRGM of the French and the Swedish

and at some of the institutions in the East as well as

on the African continent. These things create room

beyond the bursary programmes for those who

are upcoming and for those who are already in the

system to have much greater exposure.

One of the things that looks impossible in the

world right now is to predict earthquakes. We have

been collecting a lot of data and there are huge

amounts of data from countries that are prone

to earthquakes. We are marrying data that we

have collected with multi-disciplinary geoscience

functions and subjecting it to big-data processing.

The ultimate goal is to try to develop the capability

to predict earthquakes, not only for us in South Africa

but for greater applications in humanity. Imagine

if we crack that as the geoscientific community

working together?

It is my deep conviction that our world-class rated

geoscientists will arise from those kinds of platforms.

What are your targets in terms of staff

development?

Currently, 37% of our scientific staff has Master's

degrees and doctorates. We have a very ambitious

target of 60%. If you have quality staff you will have a

quality institution.

Do you have mining-specific research projects?

We have in the past year been asked to refocus on

research related to derelict and ownerless mines. In

relation to asbestos and its product, our scientists

have installed equipment that detects and quantifies

articulate substance in the air. In some areas we have

been able to correlate the abundance of asbestos

particulate matter in the air with a particular type of

sickness within that community. We continue to track

the closure procedures of mines.

There has been a substantial decline in the

amount of fibre in the air and we have seen how

that has reduced a particular type of sickness in that

community and enhanced general health. Those are

some of the results that get us very, very excited: we

scientists are just too modest! ■

CGS geologists undertaking integrated mapping, Makhonjwa Mountains.
---
OVERVIEW

Forestry and paper

PB Bison will spend R560-million at its Mkhondo plant.

Credit: Ludwig Sevenster

PG Bison, a subsidiary of KAP Industrial Holdings, is

investing R560-million in a new front-end dryer for

its particleboard plant in Mkhondo (Piet Retief ). The

company is also building a new medium-density

fibreboard (MDF) plant at its Mpumalanga plant, to complement

its existing factory at Boksburg in Gauteng. The latter facility will

start producing board in 2023.

Mpumalanga has the ideal climate and topography for

forests. Sabie and Graskop represent the hub of the industry, but

commercial forests are also found to the east and south along the

Swaziland border. About 11% of the land mass is forested, with 4%

of that being natural forest. The province is the national leader in

total hectares under forest (514 000ha) and in export earnings.

Forestry accounts for about 8% of Mpumalanga's gross domestic

product. The sector comprises logging, saw-milling, wood product

and pulp and paper manufacture. Pulp and paper are the main

exports, along with sawn lumber, wood chips and wattle extract.

Most sawn timber in South Africa is used in the construction sector.

Many in the timber industry are advocating for timber to be

used much more in construction, arguing that it is a sustainable

and renewable resource. The Forest Stewardship Council (FSC)

certifies forests to ensure that they are sustainable. The average

felled tree is replaced by two saplings and only 6% of South Africa's

current plantation area is harvested in a year.

SECTOR INSIGHT

York Timbers has started

growing citrus trees.

York Timbers, which has 60 470

hectares of plantation, has planted

out 40ha in high-value crops as

the first phase of a diversification

strategy. The company expects its

soft citrus investment to turn to

profit by 2024.

Sales of lumber suffered

because of the Covid-19

lockdown and the accompanying

slowdown in the construction

industry but plywood sales rose

and full production was resumed

in July 2020. York sells solid wood

and products such as doors.

Forestry South Africa (FSA)

and national government are

engaged in a court action about

the desirability of switching from

MPUMALANGA BUSINESS 2021/22

38
---
OVERVIEW

plantations of pine to eucalyptus. FSA says that the calculations

about how much extra water will be needed by the latter type of

tree are incorrect, and that if government regulations about the

reduced size of plantations is implemented, it will have a negative

impact on the sector.

Sawmilling South Africa (SSA) and the Institute for Timber

Construction South Africa (ITC-SA) made an offer during the

Covid-19 lockdown to share with the South African Government

their skills and expertise. Sawmilling South Africa is an industry

association which represents the majority of sawmillers in South

Africa. By building alternative housing (with wood), it was felt that

this could contribute to thinning out densely populated informal

settlements to slow the spread of the virus.

The Provincial Government of Mpumalanga plans to develop

an Agriculture and Forestry Technology Park. The Mpumalanga

Economic Growth and Development Path (MEGDP) intends to

expand the industrial base of the provincial economy with a

focus on beneficiation, agro-processing and the development

of value chains.

Companies

Sustainability is the modern watchword but finding a way to use

resources for people is also popular. The MTO Group, which has

39 900ha of plantation under management in the Lowveld, has

teamed up with mountain-bike enthusiasts of White River and

Nelspruit to develop a set of trails through the hilly landscape of

the area.

One of the biggest operations in the forestry and paper

sector in Mpumalanga is Sappi's Ngodwana mill. The mill

produces 320 000 tons of paper pulp for its own consumption,

255 000 tons of dissolving pulp and 380 000 tons of paper

(newsprint and kraft linerboard used for packaging) annually.

Exports account for 70% of the mill's product.

Ongoing investment at Ngodwana Mill will contribute

R13-billion to the provincial economy over 20 years. Sappi's

other large facility in the province, the Lomati Sawmill in

Barberton, produces kiln-dried Southern African pine lumber

from sawlogs supplied by Sappi Forests.

ONLINE RESOURCES

Forestry South Africa: www.forestry.co.za

Institute for Timber Construction South Africa: www. itc-sa.org

Sawmilling South Africa: www.timber.co.za

Technical Association of the Pulp and Paper Industry of

South Africa: www.tappi.org

Forestry companies

are looking into energy

generation, including Sappi

and AFCOL. Mpumalanga has

40% of South Africa's forestry

resources. This fact presents

an opportunity to exploit the

sector's byproducts in the

biomass-to-energy field.

The Industrial Development

Corporation (IDC) has a stake in

York Timbers and a 42.6% share

in Hans Merensky Holdings,

a company with timber

and processing interests in

three provinces. Merensky is

responsible for 20% of South

Africa's sawn pine lumber. The

Mondi Group has extensive

forestry holdings in the

province and has been working

on introducing a higher

degree of mechanisation

in its operations. Mondi has

also instituted an ecosystem

management plan throughout

its forestry operations with the

intention of better managing

the impact its work has on the

environment.

Although local demand

is dwindling, the export

market for pulp and paper

is strong. Pulp production

figures have been on the

rise for several years and

companies like Mondi are

increasingly focusing on

pulp export because of

better margins.

Komatiland Forests, a

100% owned subsidiary of

state company SAFCOL, has

big plantations in several

districts. TWK is a R6-billion

agricultural company with its

headquarters in Mkhondo. ■

39 MPUMALANGA BUSINESS 2021/22
---
OVERVIEW

Oil and gas

Permits to explore for natural gas have been awarded.

SECTOR INSIGHT

Sasol has sold some of its

share in the Romco pipeline.

Sasol announced in 2021 that it was to sell 30% of its stake in

the Romco natural gas pipeline that links Mozambique and

South Africa. As part of a global sell-off of assets to reduce

debt, Sasol expects to earn more than R5-billion from the

transaction. The company will continue to be the pipeline's operator

and maintains a 20% stake in the venture.

The Romco pipeline could carry far more gas in the future as

there have been big finds of new gas off the coast off Mozambique

which could be shipped as liquefied natural gas (LNG) to Maputo and

continue from there to the Sasol plant at Secunda.

The province is already equipped with energy and fuel

infrastructure and expertise.

The Liquefied Natural Gas Independent Power Producer

Procurement Programme (LNG IPPPP) is part of the broader programme

of the National Department of Mineral Resources and Energy which

encourages private investment in renewable energy, namely the

Renewable Energy Independent Power Producer Procurement

Programme (REIPPPP). The total allocated to gas-to-power in the

national power plan is 3 726MW, of which 3 000MW is for LNG.

Three natural gas exploration permits have been awarded to Tosaco

Energy for the sandstone-rich area between Amersfoort and Balfour in the

western part of the province by Petroleum Agency South Africa (PASA).

PASA regulates exploration and production activities, and acts as the

custodian of the national petroleum exploration and production database.

Tosaco Holdings has a 25% stake in Total SA. Two methane-gas

exploration rights have been granted to Highland Exploration in

the Evander area.

ONLINE RESOURCES

Credit: PASA

Independent Power Producers Programme: www.ipp-projects.co.za

Petroleum Agency SA: www.petroleumagency.co.za

PetroSA: www.petrosa.co.za

The promoters of the

Nkomazi Special Economic

Zone believe that the fact that

the pipeline passes through the

SEZ is a big selling point. An

alternative would be for the LNG

to be shipped to Richards Bay

before being piped north.

Many of the big mining and

manufacturing concerns in

Mpumalanga have long-term

contracts for the supply of gas

with big gas companies. Afrox

and Air Liquide are two of the

biggest, with the latter having

3 500 national customers,

including Sappi and Sasol.

International chemicals and

energy company Sasol has several

large plants in Mpumalanga. Sasol

Gas is one of the four operations

at Secunda, supplying natural

gas to Sasol Synfuels and buying

Sasol Synfuels' methane-rich

pipeline gas to sell to customers in

Mpumalanga and KwaZulu-Natal.

Sasol will be a key player

when national government

finalises policy on biofuels. Sasol

is already making 285 000kl of

absolute alcohol in ethanol from

sugar fermentation annually.

About 60-million litres of liquid

fuel is produced each day at

the coal-to-liquid plant run at

Secunda. Sasol has finished its

mine replacement programme

and feedstock is secure until the

year 2050. ■

MPUMALANGA BUSINESS 2021/22

40
---
Transport and logistics

The N4 Toll Route will receive a R1.5-billion upgrade.

OVERVIEW

SECTOR INSIGHT

A three-year road

scheme will benefit small

contractors in Nelspruit.

The N4 Toll Road began its life in 2000 as a 30-year

concession to be run by Trans African Concessions

(TRAC) in a private-public partnership with the

governments of South Africa and Mozambique.

The next three years will see about R1.5-billion spent on

the route, which provides a vital link between the landlocked

provinces of Gauteng, Limpopo and Mpumalanga with the Port of

Maputo, with new interchanges, road repairs and road widening

forming part of the brief.

The South African National Roads Agency (Sanral) has

announced a three-year project which will provide work for

small contractors in and around the City of Mbombela. More

than R26-million has been allocated to subcontracting which

will cover things like litter and minor works, minor maintenance,

vegetation and bush clearing.

Road improvements which have boosted the transport

infrastructure of Mpumalanga include the upgrades to the R570

(linking Malelane on the N4 to Swaziland), the N11 (Hendrina–

Middelburg) and part of the vital R573 Moloto Road, which carries

huge volumes of traffic to Gauteng and Limpopo.

A clause in Sanral's contract ensures that small companies are

involved. Raubex Construction has formed a joint venture with Biz

Afrika, Khuluphala Tradings and Themolo Business Enterprise.

There is more freight rail traffic in Mpumalanga than in any

other province. This is principally because of the transport of coal,

but there are also large volumes of chrome, ferrochrome, forestry

products, chemicals, liquid fuels and general freight.

ONLINE RESOURCES

Kruger Mpumalanga International Airport: www.kmiairport.co.za

Maputo Corridor Logistics Initiative: www.mcli.co.za

Railroad Association of South Africa: www.rra.co.za

South African National Roads Agency Ltd: www.sanral.co.za

The Balfour North to

Volksrust section of the

Gauteng to Durban mainline

carries the largest volumes,

most of which is long-haul

freight passing through the

province. Despite these high

rail volumes, a huge amount of

mineral product is transported

by truck around and out of the

province. This puts immense

pressure on Mpumalanga's

roads network, particularly in

the Gert Sibande District and

the Nkangala District.

The statistics relating to

coal haulage in Mpumalanga

are stupendous. In one 12-

hour period, 34 198 tons of

general freight were recorded

for the section of the N4

highway between Nelspruit

and Komatipoort.

Mactransco's website

states that its trucks serving

Tshikondeni Coal Mine travel

3.7-million kilometres per year,

working all day for six days a

week. The fleet of ABF Legend

Logistics, a Super Group

company, contains more than

200 super-link coal haulage

trucks while another company

in the group, SG Coal, claims

to have one of the biggest

fleets of coal haulage trucks in

Africa. Coal Tipper Resources

operates out of Bethal. ■

41 MPUMALANGA BUSINESS 2021/22
---
OVERVIEW

Tourism

Tsogo Sun Hotels has taken over the Protea Hotel Hazyview.

SECTOR INSIGHT

A new hotel and conference is

going up in Middelburg.

The announcement by Marriott International that it was

closing some South African hotels in June 2020 was

quickly followed by another statement, this time by

Tsogo Sun Hotels, that it would be taking them over.

Among these properties is what is now the Hazyview Sun.

Tsogo Sun Hotels owned a controlling stake in all three hotels

through its subsidiary, Hospitality Property Fund, and stated that it

believed in the future of the Hazyview property, which is close to the

Kruger National Park.

A R350-million four-star hotel and conference centre is to be built

in Middelburg in the Steve Tshwete Local Municipality. A publicprivate

partnership began with a call for bids, which was won by Akani

Properties, a black-owned property development company which

will partner with the Raddison Hotel Group to deliver a 150-bed hotel

and a convention centre.

The Provincial Government of Mpumalanga is looking for more

private partners to invest in a range of ambitious projects to boost an

already active sector that has several superb tourism assets, ranging

from about 70 parks and reserves to bird-watching, music festivals, car

rallies and casinos.

The Kruger National Park is Mpumalanga's most famous tourism

asset and it falls under South African National Parks (SANParks). Other

notable landmarks include God's Window and the Blyde River Canyon

and the Makhonjwa Mountains, which have been declared a World

Heritage Site by the United Nations Educational' Scientific and Cultural

Organisation (UNESCO).

ONLINE RESOURCES

Credit: Tsogo Sun Hotels

Mpumalanga Gaming Board: www.mgb.org.za

Mpumalanga Tourism and Parks Agency: www.mtpa.co.za

South African National Parks: www.sanparks.co.za

South African Tourism Services Association: www.satsa.com

Although the province already

caters for motor-rally enthusiasts,

cyclists, runners, walkers, fishers,

horse-riders, tree-gliders, abseilers,

white-water rafters and rock

climbers, there is still potential for

more investment in the ecotourism

and adventure tourism subsectors.

Tsogo Sun has nine properties

in the province, ranging from two

StayEasys to Southern Sun The

Ridge, which is attached to the Ridge

Casino in Witbank (eMalahleni)

and the Southern Sun Emnotweni

in Nelspruit. Tsogo runs the Pine

Lake Resort in White River and a

further two resorts in Hazyview, the

newly acquired Hazyview Sun and

the Sabi River Sun Resort, which

is undergoing refurbishments

to its chalets and golf course in

anticipation of the return of local

and international travellers.

Protea Hotels by Marriott has

two properties in Mpumalanga,

Protea Hotel Kruger Gate and

Nelspruit. At White River, Premier

Hotel The Winkler is 20 minutes'

drive from the Numbi Gate of the

Kruger National Park.

Forever Resorts has a big

presence in the province, catering

to caravanners, campers and

holiday-makers wanting to stay

in chalets. There is also a four-star

Forever Resorts Mount Sheba.

The Graceland Hotel Casino and

Country Club is a Peermont resort

in Secunda. ■

MPUMALANGA BUSINESS 2021/22

42
---
Out with the

archaic, in with the

innovative

In a watershed decision, National Treasury has opened

RT15 2021 up to the four primary telco service providers,

ending five years of exclusivity for the telco awarded

RT15 2016. This now offers the public sector and stateowned

enterprises a choice in terms of where they want

to spend their communication and data budgets.

his new RT15 2021 transversal

contract now brings with it

Tcompetition and the expectation

of service delivery.

"The responsibility now rests on the

service provider, organs of the state

and state-owned enterprises," says Nic

Chauke, MTN's head of Sales and RT15.

"The directive from National Treasury

to the public sector is that when they

engage with service providers, delivery

is vital.

"Appointment of a service provider is

now entirely left to the individual organ

of state, which can select the provider

based on merit, such as the support

structure to execute well. A state entity

that wants to secure services has to visit

the National Treasury website and opt

in, indicating their intention to procure

the services through this transversal.

A letter will be issued by Treasury

indicating that they have opted in."

While RT15 2021 is a five-year term,

there is flexibility for organs of state to

take contracts out for periods that suit

them. This means that only if service

providers do a `phenomenal job' by

having the quality and scale of network

and a dedicated team focused on the

execution of service, will contracts be

renewed.

"It also means that we need to

keep moving on infrastructure

issues, especially power, alternative

power, roads and addressing theft of

equipment," continues Chauke.

"Covid-19 has highlighted some of

the limitations of broadband, such

as the cost of data. In education, for

example, this is inhibited by the lack of

devices and steep data prices. This is

one of the areas we need to align our

offering to.

"Last year started a huge drive

for us in universities and there were

instances where we provided reverse

bill apps and helped institutions, such

as Unisa, to foot the bill.

"Covid-19 meant the industry had to

work hard to introduce innovation, but

this has been a fantastic thing."

MTN Business takes its hat off to

National Treasury for what it has

crafted to provide competition and

enable government to have access

to uncapped data. This means that

state employees can have unlimited

access to work apps without incurring

personal costs. The biggest factor to

Nic Chauke, Head of Sales and

RT15 at MTN Business

mention is the cost containment, which

means that government spend can be

deployed elsewhere such as healthcare

and infrastructure. By implication,

these benefits filter directly through to

citizens.

"The value proposition now

moves away from the archaic way

communications was offered in the

past. National Treasury has driven

the industry to become even more

innovative and flexible. We can now

offer uncapped data, voice and closed

user group minutes, SMS and closed

user group SMS at the aggressively

competitive rates government has

negotiated with us.

"The public sector has responded

so positively to this and it is really

encouraging to see the channels of

communication opening up.

"Since this contract became

effective, we have been engaging with

a number of government departments

on a daily basis. It has also opened up

the horizon to engage with government

to work closely with rural communities

and partner with small entities,

something we are very excited about,"

he concludes.

Email – mbali.mhlanga@mtn.com

Call – 083 200 6830

Click – mtnbusiness.co.za

For more information, please visit:

www.treasury.gov.za

Exclusive to Government departments

that opt in to RT15-2021
---
OVERVIEW

Manufacturing

Furniture is in the spotlight.

With timber being one of Mpumalanga's primary

products, any initiative to boost the furniture

sector must be welcomed by manufacturers. A

first national Furniture Sector Forum has been

held, where government incentives and ideas about how to

reduce the cost of expensive machinery through co-ownership

and partnerships were shared.

The forum was co-hosted by the South African Furniture Initiative

(SAFI), Proudly South African, PG Bison and the Department of Trade,

Industry and Competition (dtic).

The dtic's Agro Processing Support Scheme (APSS) includes

furniture manufacture as a core sector for future growth and

support. Other efforts to get government departments to buy

locally were explained. Average employment per manufacturer is 13

people per facility.

Furntech White River is a part of the Seda Technology

Programme of the Small Enterprise Development Agency (Seda).

Among the goals of the programme are to develop business

and production skills through skills development and the

demonstration of technology.

A key objective of the provincial government's Mpumalanga

Economic Growth and Development Path (MEGDP) is to expand the

industrial base of the provincial economy. To do this, policy-makers

are focusing on beneficiation, agro-processing and value-chain

development.

From steel to chemicals, petroleum and stainless steel to paper

and fruit juice, Mpumalanga makes a wide variety of products. There

is a distinct geographical divide. Fuel, petroleum and chemical

production occurs in the southern Highveld region clustered around

Sasol's plants. The Sasol chemicals and liquid fluids complex at

Secunda is a vital component of Mpumalanga's manufacturing sector.

The company has two propylene manufacturing plants and recently

completed two major investments aimed at improving flows and

expanding production.

The northern Highveld area, including Middleburg and eMalahleni

(Witbank), is home to ferro alloy, steel and stainless-steel concerns.

In the Lowveld, agricultural and forestry products are processed

ONLINE RESOURCES

Highveld Industrial Park: www.highveldindustrialpark.co.za

Mpumalanga Economic Growth Agency: www.mega.gov.za

South African Iron and Steel Institute: www.saisi.co.za

SECTOR INSIGHT

The province wants to

expand its industrial base.

Credit: Furntech White River/Seda

while Sappi's giant mill is close to

the company's forests south-west

of the provincial capital, Mbombela.

TSB Sugar runs two large mills

and produces fruit juices through

a subsidiary company. Nelspruit is

the centre of the province's foodprocessing

cluster.

Approximately 70% of jobs in

the manufacturing sector are in

food and forestry.

Steelmaking is a key strategic

industry for South Africa, representing

1.5% of the country's GDP and

accounting for about 190 000 jobs.

According to the South African Iron and

Steel Institute (SAISI), the South African

steel industry value chain multiplies the

value of local iron ore by a factor of four.

The country produces about six-million

tons annually, but costs are high and

domestic demand is low.

Middelburg-based Columbus

Stainless is South Africa's only

producer of stainless-steel

products. A significant portion

of sales are domestic and export

volumes are flexible, depending

on local demand. ■

MPUMALANGA BUSINESS 2021/22

44
---
Water

Several plants are being upgraded in the province.

OVERVIEW

SECTOR INSIGHT

The treatment of acid-mine

water is a vital capability.

The Malvajan wastewater treatment works is underway,

with the support of the National Department of

Water and Sanitation. The Regional Bulk Infrastructure

Grant is being used to fix the Embalenhle Bulk Sewer

line. The grant will be used to supply the treatment plant at

Weltevreden and to accelerate the link from the Loskop Dam to

the communities living in Thembisile Hani Local Municipality.

Progress towards the selection of a site for a City of Mbombela

Dam is being made. In response to the Covid-19 crisis, the National

Department of Water and Sanitation (DWS) delivered 500 water tanks

and 56 water trucks to several Mpumalanga municipalities. This was

to ensure that residents had a reliable supply of water to wash their

hands and for drinking.

The Operations and Maintenance Division of Nafasi Water is

responsible for large water treatments plants at Middelburg and

eMalahleni. Nafasi is a rebranding of Aveng Water which was purchased

by Infinity Partners for R95-million in 2019. Infinity is owned by the

former Aveng Water CEO Suzie Nkambule and E-Squared Investments.

The Middelburg Water Reclamation Plant (MWRP) produces no

brine and avoids energy-intensive methods, a world first for a mine

water treatment plant. Phase 2 of the eMalahleni project produces

drinking water after treating mine water from one of the collieries of

Anglo American Thermal Coal.

Acting on a disturbing report published by the Centre for

Environmental Rights on the way some mining companies are using

water, a provincial Environmental Management Committee has been

appointed to conduct environmental impact analysis and assess

climate change threats.

ONLINE RESOURCES

Credit: Rand Water

Inkomati-Usuthu Catchment Management Agency: www.iucma.co.za

Komati Basin Water Authority: www.kobwa.co.za

National Department of Water and Sanitation: www.dwa.gov.za

Water Research Commission: www.wrc.org.za

NuWater was contracted

to reduce waste at the water

treatment plant for Emalahleni

Municipality. An ultra-filtration

technology was used to reduce

waste from 20Ml/day.

A total of 327 water

infrastructure projects benefiting

350 259 households have been

completed, with a further 165

sanitation projects finalised. A bulk

water supply system connecting

villages within the Bushbuckridge

area has been completed. Rand

Water is responsible for water

provision in the area.

A joint project with Eskom

related to rain-water harvesting will

also create jobs. The Siyasebenza

Job Creation Initiative is intended

to create 900 jobs in the Nkangala

District Municipality.

The Imkomati-Usuthu

Catchment Management Agency

covers Mpumalanga, parts of

Limpopo and part of the Kingdom

of Swaziland and is responsible for

water usage issues relating to the

following river catchment areas:

Sabie-Sand, Crocodile, Komati,

Nwaswitsontso and Nwanedzi.

The Komati Basin Water

Authority (KOBWA) is an important

agency in controlling water

resources in the region. Formed

out of a cooperation agreement

between South African and

Swaziland, the agency has built two

large dams and is responsible for

their upkeep. ■

45 MPUMALANGA BUSINESS 2021/22
---
FOCUS

a (1993 to 1998) and Maguga

in Eswatini (1998 to 2003).

wo dams were constructed

ly to provide assurance of

r supply to the irrigators in

member states.

urism is one of the spinof

the development of the

oppies and Maguga dams.

has been an increase in

ational activities in both dams.

Driekoppies Dam offers tranquillity

and wide-open spaces

The FOCUS Komati Basin Water Authority has upgraded facilities at the dam to make it the

perfect venue for anything from picnics to events.

Driekoppies Dam is the

perfect event venue

As tourism slowly opens up from

the massive and profound impact

of the Covid-19 pandemic which

imposes some unique and harsh

sports tournaments and recreational use.

effects on mankind, the Driekoppies Dam in

Schoemansdal, Mpumalanga, managed by the

Komati Basin Water Authority (KOBWA) offers

some tranquillity through its stunning beauty.

KOBWA has converted the dam into a suitable

site for commercial and private recreational use

where the public can explore and discover the

scenic beauty and entertainment attractions of the

Driekoppies Dam at very low cost.

The Driekoppies Dam is a popular venue

for music shows and private events such as

picnics, braais, family fun days, baby showers

The Komati Basin Water Authority makes the dam available for events,

ALANGA BUSINESS 2019/20

The stunning beauty of the Driekoppies Dam and its Here, people can be educated

surrounds has made it possible for the Komati Basin about KOBWA in a relaxed,

MPUMALANGA Water Authority BUSINESS (KOBWA) 2021/22 to convert the dam into a 46enabling environment and

suitable site for commercial and private recreational this is accommodated at the

use. This means that at a very low fee, the public can explore Driekoppies Dam.

and discover the scenic beauty and entertainment attractions The Driekoppies Dam is a

of the Driekoppies Dam.

popular venue for music shows

and weddings. This is because of its spacious

entertainment area which overlooks the exquisite

dam. A boat cruise has now been added to the

entertainment experience the venue offers.

Regulars are young entrepreneurs from areas

surrounding the dam who host Sunday Sessions

and the Food Market.

The venue also offers the perfect setup for

traditional authorities wishing to host cultural

activities and traditional meetings. Bike rallies and

fishing tournaments by various associations are also

held at the dam.

As a trans-boundary organisation, KOBWA uses

the edutainment approach by hosting educational

tours around the dam and sports tournaments. In

that way, people are educated about KOBWA in a

relaxed, enabling environment.

More so now during the Covid-19 pandemic,

KOBWA puts safety at the forefront of all

planning. There is an implementable Emergency

Preparedness Plan involving every relevant

aspect of safety put in place for all segments of

society from government agencies to traditional

authorities at community level. This ensures that
---
FOCUS

FOCUS

Driekoppies Dam is the

entertainment and all activities at the dam are safe

and risk-free.

perfect event venue

The Driekoppies Dam is readily available to

young people who live in the Nkomazi area as a way

to promote entrepreneurship among the youth.

With

sports

so

tournaments

many interesting

and recreational

things

use.

to do, especially

on weekends, the Driekoppies Dam is the perfect

destination for any event.

The Komati Basin Water Authority makes the dam available for events,

CONTACT DETAILS

Physical address: Komati Basin Water Authority, Driekoppies Dam

Tel: +27 13 591 2633

Email: driekoppies.office@kobwa.co.za

Website: www.kobwa.co.za

The stunning beauty of the Driekoppies Dam and its

surrounds has made it possible for the Komati Basin

Water Authority (KOBWA) to convert the dam into a

suitable site for commercial and private recreational

use. This means that at a very low fee, the public can explore

About KOBWA

The Komati Basin Water Authority (KOBWA) is a

bi-national company formed in 1992 through

the Treaty of the Development and Utilisation of

the Water Resources of the Komati River Basin.

The treaty was signed by the Government of

the Kingdom of Eswatini and the Government of

the Republic of South Africa. The authority was

tasked with designing, constructing, operating

and maintaining two dams and associated

infrastructure. This resulted in the construction

of Driekoppies Dam in Schoemansdal South

Africa (1993 to 1998) and Maguga Dam in Eswatini

(1998 to 2003). The two dams were constructed

mainly to provide assurance of water supply to

the irrigators in both member states. Tourism is

one of the spin-offs of the development of the

Driekoppies and Maguga dams. There has been

an increase in recreational activities in both dams.

Here, 47 people can be educated MPUMALANGA BUSINESS 2021/22

about KOBWA in a relaxed,

enabling environment and

this is accommodated at the

Driekoppies Dam.
---
OVERVIEW

Development finance and

SMME support

Companies are supporting training and start-ups.

SECTOR INSIGHT

The African Development Bank is

funding entrepreneurship.

Equipment purchased by Stenda Trading. Credit: Exxaro

The Gert Sibande Centre for Entrepreneurship in

Evander hosts a Rapid Incubator in partnership with

the Small Enterprise Development Agency (Seda). The

aim is to promote and develop young entrepreneurs

in the province.

The Incubator offers a variety of services, including mentorship

and coaching, training, advice on business compliance, network

and linkages as well as facilitating access to marketing and funding

opportunities. Infrastructure support is available in terms of office

space and boardroom, telephone and Internet connections and

printing services.

The Centre was established in 2015 through a partnership between

the Gert Sibande TVET College and National Department of Small

Business Development (DSBD) and the University of Johannesburg.

The college has five other campuses across the Gert Sibande

District Municipality.

A new national programme to boost employment has received

a funding boost from the African Development Bank (AfDB). The

dtic has received a R23.6-million grant to pursue four programmes,

one of which is focussed on encouraging enterprise development

in technical and vocational education and training (TVET) colleges.

The hope is that graduates will leave colleges with qualifications

and fully-functioning businesses that can start employing staff. The

college's workshops will be open to local entrepreneurs to develop and

produce products that can be sold.

Entrepreneurship Development is one of the subjects on offer at 90

Youth Development Centres which are being established throughout

Mpumalanga. Other courses

include accredited training in

computer skills and life skills, with

workshops on job preparedness

and career guidance. The centres

are part of Mpumalanga's

response to the Presidential

Youth Employment Intervention

Programme.

The Mpumalanga Economic

Growth Agency (MEGA) is the

implementing agent of the

provincial government's SMME

support policy. An agreement has

been signed by Standard Bank and

MEGA to launch an SME Fund with a

capitalisation of R500-million. MEGA

has also overseen the rehabilitation

of industrial premises in former

homelands and formed partnerships

with financial institutions for funding.

Examples of township

businesses supported by the

Department of Economic

Development and Tourism

(DEDET) are an agreement with

Sumitomo Rubber SA to promote

local tyre enterprises and financial

support for the commissioning

of a sanitary towel plant by the

Ntirhisano Sanitary Worker Cooperative

in Bushbuckridge (and

support for business development

and access to market).

MPUMALANGA BUSINESS 2021/22 48
---
FOCUS

MTN drives diversity and

transformation

Previously disadvantaged individuals are taking

charge of their own stores.

Simphiwe Mdlalose

MTN's transformation

and optimisation of its

retail store footprint is

creating jobs, growth

and driving gender diversity. In

a major development, more and

more previously disadvantaged

individuals are now the proud

owner-operators of stores

nationwide.

MTN continues the journey

of repositioning and creating

more opportunities to transform

its retail channel. "Parallel to this,

we have selected new dealers

who represent the aspirations

of this transformation and have

proven themselves to be astute

owner-operators who understand

our brand and are committed to

the business values we hold," says Kagiso Moncho, General

Manager, MTN Limpopo and Mpumalanga.

In Limpopo, Simphiwe Mdlalose joins a group who

recently made the move to being fully-fledged MTN store

owners. The appointment follows a successful application

through MTN's transformative Branded Retail Channel

programme, which was initiated in 2019. Mdlalose will take

over two stores based in Polokwane.

Owner, self-starter, leader and marketer of note,

Simphiwe is a familiar face and an admired and respected

entrepreneur, author, inspirational speaker and strategist

who has been in the media, marketing and communications

space for over 23 years.

Over the years he has kept an eye on mobile and digital

telephony and identified gaps in key areas. These include

government sales, business to business and strategic

partnerships within the industry. These gaps were tackled by

his company, Conecta Mobile.

MTN's phased transformation strategy is intended

to transform the channel by driving BBBEE in the

telecommunications industry. This is to be done by lowering

the barrier to entry and placing more stores in the hands of

black owners and women, thus repositioning MTN's portfolio

and delivering on the goals of national government.

"Economic opportunity and digital transformation are

key to our belief that everyone deserves the benefits of the

modern, connected life and our retail store transformation

programme achieves this by not only driving inclusion,

but also enhancing and regionalising our national store

footprint," explains Kagiso.

"MTN looks forward to working with Simphiwe

Mdlalose in support of his ventures and is encouraged to

continue building on this ownership model that speaks

to the demographics of our country and bettering lives

while providing an exciting employee value proposition,"

concludes Kagiso.

49

MPUMALANGA BUSINESS 2021/22
---
OVERVIEW

Research done by Seda shows that a high

percentage of SMMEs in Mpumalanga are in the

trade and accommodation sector. Whereas the

national figure is about 43%, in Mpumalanga it is

closer to 50%.

Seda is a subsidiary of the National Department

of Small Business Development. Seda is not a

financial agency, focussing rather on training and

administrative support, although the agency will

help SMMEs get in touch with financial bodies.

Seda supports several incubators in the

province: Furntech, furniture manufacturing,

White River; Mobile Agro-Skills Development &

Training (MASDT), agricultural training, Nelspruit;

Mpumalanga Stainless Initiative (MSI), stainlesssteel

processing, Middelburg (with Columbus

Stainless); Timbali floriculture, Nelspruit;

Ehlanzeni TVET College Rapid Incubator

Renewable Technologies, Nelspruit.

Private companies

In her 2021 State of the Province address, Premier

Refilwe Mtshweni-Tsipane paid tribute to private companies for

providing employment opportunities to local people and for

continuing to support small and emerging businesses. Bursary

programmes and training programmes were also acknowledged. The

companies mentioned were Sasol, Exxaro, Eskom, Sappi, Columbus

Stainless, South32, Samancor, RCL foods, Mondi, Safcol, Glencore,

Standard Bank, Absa Bank, Nedbank and First National Bank.

At Exxaro's Matla Mine, a black– and woman-owned business

has grown in leaps and bounds with support from the mining

company's Enterprise and Supplier Development unit. Stenda

Trading won contracts to do underground civil and underground

cleaning services at the mine. This included building containment

and explosion-proof walls, installing black brattices, reinforced

brattices and air crossings, building refuge bays, concrete work and

installing specialised doors. Exxaro extended a R9.2-million interestfree

loan to the enterprise to purchase equipment, vehicles and a

mobile office.

ONLINE RESOURCES

Gert Sibande TVET College: www.gscollege.edu.za

Mpumalanga Economic Growth Agency: www.mega.gov.za

Mpumalanga Stainless Initiative: www.mpstainless.co.za

Small Enterprise Development Agency: www.seda.org.za

The Mpumalanga Stainless Initiative helps SMMEs

develop products. Credit: MSI

Sappi's long-term Ngodwana

mill project will spend more than

R600-million on procuring goods

and supplies from broad-basedblack-economic-empowered

companies, of which R51-million

will go to SMMEs.

Other companies supporting

SMMEs through their buying

chain include Woolworths and

Anglo American. Woolworths

funds TechnoServe to ensure

that small tomato growers can

grow produce that will meet

the demanding standards of

the retailer, and to help them

expand production.

Anglo American's Zimele runs

four enterprise development and

investment funds. Zimele runs

hubs related to the supply chains

of platinum, thermal coal and,

with Mondi, forestry. ■

MPUMALANGA BUSINESS 2021/22

50
---
Kruger Lowveld Chamber

of Business and Tourism

The voice of business in Ehlanzeni.

As the official representative body of business and tourism in

the Kruger Lowveld (Ehlanzeni District), our main mandates

are to promote the region as a tourism and investment destination,

to provide a diverse suite of networking and marketing

opportunities for our members, and to represent and speak

on behalf of the business and tourism community of our area. We do

this by building and maintaining meaningful relationships with all

spheres of government as well as like-minded organisations, and by

acting as liaison between these entities and the business community.

KLCBT's president is Ms Sandra Jacobs (pictured).

Area of operation

The Kruger Lowveld covers the Ehlanzeni District of Mpumalanga,

including the following local municipalities: City of Mbombela, Thaba

Chweu, Nkomazi and Bushbuckridge, as well as the southern part

of Kruger National Park and the surrounding private nature reserves.

Member benefits

Listing on website, Pay-to-Play participation in various marketing

services and projects, weekly newsletter, invitations to all KLCBT

events, advocacy and representations made by KLCBT on behalf of

members, access to preferential arrangements negotiated by KLCBT

with service providers, brochure display at Crossing Centre office,

various sponsorship options, access to tender information. We are

actively involved in the following advocacy campaigns:

Service delivery:

Public participation in various forums where government engages

with stakeholders regarding budgets, planning and legislation.

Promote home-grown businesses through education processes,

research, maintaining a database, lobbying for stricter regulations

Contact details

Physical address: KLCBT House, Crossing Centre, Nelspruit

Postal address: Private Bag X 11326, Nelspruit 1200

Tel: +27 13 755 1988. Fax: +27 13 753 2986

Email: business@klcbt.co.za and tourism@klcbt.co.za

Website: www.klcbt.co.za

Sandra Jacobs

on large shopping chains,

engaging large chains to buy

local and to spend their CSI

budgets locally.

Local Economic Development:

We are assisting with

incubation in seven main

corridors, mainly adding additional

tourism products.

Anti-corruption: Several

successful initiatives reduced

roadside corruption.

Water: Bulk-water supply faces

a future crisis and lobbying for

the increase of storage capacity

is beginning to show success.

Roads and public attractions:

Require upgrades and

investment.

Safety and security: A concern

for all regions in SA. ■

51

MPUMALANGA BUSINESS 2021/22
---
FOCUS

Steel products company

powers ahead after Seda boost

Mboshini Engineering has gained new markets and

is making new products as a result of partnering with Seda.

Sbusiso Sibuyi started Mboshini

Engineering Steel (Pty) Ltd in 2016

after the company he worked for in

Lillydale closed its doors. The company

belonged to his father and manufactured

trailers, dumpers and burglar gates. Sbusiso

bought the company from his father and

hired him as a manager. With the skills he had

acquired, he started manufacturing burglar

doors and gates for the local community and

the Kruger National Park.

When the demand for burglar doors and

gates increased, Sbusiso expanded his product

range to steel window frames, door frames,

trailers, steel structures, bull bars, aluminium

frames and palisades. Few businesses were

offering these products at that time in the

local community and neighbouring villages.

The business has increased its business assets

by buying a tipper truck and a tracker-loaderbackhoe

(TLB).

Mboshini Engineering Steel operates from a

warehouse in Lillydale in the Ehlanzeni District

Municipality and employs three people (the

owner included).

Challenges

• Lack of funding to develop the business

• No business plan to access finance

• Lack of marketing tools

• The business lacked adequate business

management skills or systems

Interventions and solutions

The client started working with Seda in

September 2017 and the following interventions

were commissioned:

• Business management skills training

• A bankable business plan was developed to

enable the business to gain access to funding

• Financial management training was facilitated

by First National Bank

• Seda facilitated the development of signage to

advertise, promote and increase business visibility

• Referral to ABSA Bank for funding

• Advised to use digital marketing to market the

company's products and services

• The client attended a five-day Empretec

training course.

Seda's interventions benefited the client in

the following ways:

• The business created one permanent job,

leading to a staff complement of four and

sustained three jobs.

• Turnover increased by 55%.

• The business secured sub-tenders from the

Department of Education.

• Increase in client number and sales to such an

extent that the company has had to open a

business bank account and hire an accountant.

• Submitted a business plan to ABSA Bank and

received significant funding. The money was

used to buy a TLB.

• Accessed funding from the NYDA.

• Received a sub-tender from the Bushbuckridge

Local Municipality for the leasing of a watertank

truck.

Sbusiso Sibuyi says of the work done by Seda

Mpumalanga in assisting him gain access to

funding and to create the conditions for the

growth of his business, "Seda is doing wonderful

work in assisting even rural entrepreneurs."

MPUMALANGA BUSINESS 2021/22

52
---
SEDA

Seda offices

Seda contacts

Provincial Office

MPUMALANGA MANAGEMENT

Koenie Seda Slabbert Limpopo - Provincial Provincial Manager Mopani Branch

Tel: Office +27 15 287 2940

(located in Tzaneen)

Fax: +27 15 297 4022

Email: Provincial Mr kslabbert@seda.org.za

Koenie Manager: Slabbert: Provincial Mr Mashiba Kgole Ms Maseje Nchabeleng: Branch

2nd Physical Manager Floor Suite address: 6, Maneo 16 Building, Brander 73 Street, Biccard Bi-Water Street, Manager Polokwane 0700

Postnet Building, Tel: Suite +27 Suite 15 32287 Private 102, 2940 Bag Nelspruit X 93071200

Polokwane 0700 Tel: +27 15 306 6400

Tel: Fax: (013) +27 755 15 297 8730 4022

Fax: +27 15 307 2233

Seda Email: Vhembe mkgole@seda.org.za

kslabbert@seda.org.za

Branch

Email:

Mr Marcus Physical Mukumela address: - Branch 2nd Floor Manager mnchabeleng@seda.org.za

Mr Kgole

Tel: Branch +27 15 960 8700

Nictus Manager: Building Carol Matsheka Physical address: 2nd Floor

Fax: 086 634 8964

Physical 68 Hans van address: Rensburg Shop Street 21, Simunye ABSA Building

Email: mmukumela@seda.org.za

Shopping

Old Polokwane Centre, 1263 Arend Street,

Mutual Building, Old Group Scheme Offices, Mphephu 13 Danie Road, Joubert Thohoyandou Street 7950

Hazyview 0699 1242

Tzaneen

Seda Tel: Capricorn (013) 799 Branch 5340

0850

Mr Email: Peter Capricorn Maredi cmatsheka@seda.org.za

- Branch

Ms Matsheka

Manager

Tel: (located +27 15 290 8720 in Polokwane) Waterberg Branch

Fax: Branch Mr.

+27

Peter

15 Manager: 290

Maredi:

8736

Branch Florence Manager Mathebula(located in Mokopane)

Email: Physical pmaredi@seda.org.za

Tel: +27

address:

15 290 8720

South Wing, Govan Mbeki

Mr Steve Botha: Branch Manager

1st Building, Floor Pharmarama Building, 68 Hans van Rensburg Street, Polokwane 0699

Fax: +27

Lurgi

15 290

Square,

8736

Secunda 2302

Tel: +27 15 492 9600

Tel: (017) 634 4339

Seda Email: Waterberg pmaredi@seda.org.za

Branch

Fax: +27 15 491 7361

Email: FMathebula@seda.org.za

Ms Mathebula

Mr Steve Physical Botha address: - Branch 1st Manager Floor

Email: sbotha@seda.org.za

Tel: Nictus +27 15 Building 492 9600

Physical address: Old Nedbank

Branch Manager: Ishmael Mmabadi

Fax: 68 +27 Hans 15 491 van 7361 Rensburg Street Building

Email:

Physical

Polokwane sbotha@seda.org.za

address: 16 Brander Street, Bi-Water

40 Retief Street

Old Building,

0699

Nedbank Suite Building, 103, 40 Nelspruit Retief Street, 1200 Mokopane

Mokopane

Tel: (013) 754 4380

0600

Seda Email: Mopani immabadi@seda.org.za

Branch

Mr Mmbadi

Vhembe Branch

Martin Rafferty - Acting Branch Manager

(located in Thohoyandou) Sekhukhune Branch

Tel: Branch +27 15 Manager: 306 6400 Manase Netshisaulu

Fax: Mr +27 Marcus 15 307 Mukumela: 2233 Branch (located in Groblersdal)

Physical address: 156 Lorenco

Email: Street, Manager mrafferty@seda.org.za

Rotunda Circle, Malelane 1320 Mr Sabelo Ntshangase

27

Tel:

Peace Tel: (013) +27 Street,

790 15 960 1st

1183

Floor, 8700Prosperitas Building, Tzaneen Tel: +27 0850 13 262 9430

Email: Fax: +27 mnetshisaulu@seda.org.za

15 962 4285

Fax: +27 13 262 Mr Netshisaulu

Seda Sekhukhune Branch

Email: mmukumela@seda.org.za Email: sntshangase@seda.org.za

Mr Sabelo Ntshangase - Branch Manager

Physical address: Bindulavhathu Physical address:

Tel: Branch +27 13 Manager: 262 9430 Philiswa Mnguni

Email: Physical Office sntshangase@seda.org.za

Building address: 1st floor, Level 2–1A, Mutual Building

Bareki Saveways 3rd Mall, Floor Shop Shopping No. 20B, Centre, Cnr Chris Corner Wild and Mandela Van Shop Riebeek 4 and Street, Office Groblersdal 10, 12 0407

Road Thohoyandou

OR Tambo Street, Witbank 1035 Hereford Street

Tel: 0950 (013) 655 6970

Groblersdal Mr Mnguni

Email: pmnguni@seda.org.za 0470

We have built a strong team in the province made up of 16 Business

Advisors, two Regional Facilitators and five Information Officers who have

the responsibility of making measurable differences in the businesses that

they assist. This team of Business Advisors works closely with a team of

carefully selected service providers who possesses expert knowledge in

different functional areas of business and industry sectors.

For more information contact us us at: at: 015 013287 7552940 8730 or or visit our website: www.seda.org.za

TOGETHER ADVANCING SMALL ENTERPRISE DEVELOPMENT
---
OVERVIEW

Banking and finance

New banks are entering the market.

SECTOR INSIGHT

Agricultural companies

offer financing.

Tyme Digital went from acquiring a licence to running

TymeBank with services available in more than 500 Pick n Pay

and Boxer stores in less than two years.

Tyme reported in October 2020 that it had 2.4-million

customers, up from 1.4-million at the end of March. A 400% increase

in the use of services such as airtime and electricity purchases was

also noted.

Second to market among the country's new banks was Discovery

Bank, which officially launched in 2019 and is experiencing rapid

growth with retail deposits at the end of 2020 of R5.7-billion.

Discovery Bank is applying the behavioural model it uses in its health

business to reward good financial behaviour. The Discovery group

is already a giant on the JSE with a market value of R83-billion and

access to millions of customers.

The appetite for mutual banks is strong, given the nature of

the South African market. The Young Women in Business Network

(YWBN) intends applying for a mutual bank licence and Bank Zero

will use the mutual model.

South Africa's four big retail banks (Nedbank, Absa, Standard Bank

and First National Bank) have a solid presence in the major towns in

the province. Standard Bank's agricultural specialists cater to all aspects

of the value chain and make facilities available to exporters, including

ONLINE RESOURCES

Financial Sector Conduct Authority: www.fsca.co.za

Public Investment Corporation: www.pic.gov.za

South African Reserve Bank: www.resbank.co.za

foreign exchange and hedging

fluctuating foreign currencies.

Capitec is rapidly moving

towards being part of a Big Five

and it has announced that it will

partner with Centriq Life to enter

the insurance market. Agriculture

is an important focus area for

banks, and most have specialised

divisions. Piet Retief-based TWK

Agri offers financing and insurance

together with the usual suite of

agricultural services. Afgri, one of

the country's biggest agricultural

companies, offers financial services

(financing and insurance) under

the brand Unigro.

Another source of funding

for farmers is the Land and

Agricultural Development

Bank of South Africa (Land

Bank), a development-finance

institution that falls under the

Ministry of Finance.

African Bank has created

an account that allows up to

five additional accounts to be

created in the name of the main

account. Fees are only charged for

drawing cash or at the time of a

transaction. There are no monthly

fees for any of the accounts

which can be either for saving or

transactional. Each user has his or

her own card and monies can be

moved between accounts, ideal

for families. ■

MPUMALANGA BUSINESS 2021/22 54
---
INDEX

INDEX

Council for Geoscience ................................................................................................................................... 34-37

Enertrag ............................................................................................................................................................................21

Komati Basin Water Authority (KOBWA) ............................................................................................... 46-47

Komati Lowveld Chamber of Business and Tourism (KLCBT)..........................................................51

Mpumalanga Economic Growth Agency (MEGA)....................................................................2-3, OBC

MTN..................................................................................................................................................5, 11, 12-13, 43, 49

Old Mutual .............................................................................................................................................................. 24-25

Sasol ..................................................................................................................................................................................IFC

Small Enterprise Development Agency (Seda) ................................................................22-23, 52-53

Standard Bank................................................................................................................................. 16-19, 30-31, 55

MPUMALANGA BUSINESS 2021/22

56
---
Mpumalanga Local

Government

A guide to district and local municipalities in Mpumalanga.

EHLANZENI DISTRICT MUNICIPALITY

Physical address: 8 Van Niekerk Street,

Nelspruit 1201

Postal address: PO Box 3333, Nelspruit 1200

Tel: +27 13 759 8500 | Fax: +27 13 759 8539

Website: www.ehlanzeni.gov.za

Bushbuckridge Local Municipality

Tel: +27 13 004 0291 | Fax: +27 13 799 1865

Website: www.bushbuckridge.gov.za

City of Mbombela Local Municipality

Tel: +27 13 759 9111 | Fax: +27 13 759 2070

Website: www.mbombela.gov.za

Nkomazi Local Municipality

Tel: +27 13 790 0245 | Fax: +27 13 790 0886

Website: www.nkomazi.gov.za

Thaba Chweu Local Municipality

Tel: +27 13 235 7300 | Fax: +27 13 235 1108

Website: www.tclm.co.za

GERT SIBANDE DISTRICT MUNICIPALITY

Physical address: Cnr Joubert and Oosthuise

streets, Ermelo 2350

Postal address: PO Box 1748, Ermelo 2350

Tel: +27 17 801 7000 | Fax: +27 17 811 1207

Website: www.gsibande.gov.za

Chief Albert Luthuli Local Municipality

Tel: +27 17 843 4000 | Fax: +27 17 843 4001

Website: www.albertluthuli.gov.za

Dipaleseng Local Municipality

Tel: +27 17 773 0055 | Fax: +27 17 773 0169

Website: www.dipaleseng.gov.za

Govan Mbeki Local Municipality

Tel: +27 17 620 6000 | Fax: +27 17 634 8019

Website: www.govanmbeki.gov.za

Lekwa Local Municipality

Tel: +27 17 712 9600 | Fax: +27 17 712 6808

Website: www.lekwalm.gov.za

Mkhondo Local Municipality

Tel: +27 87 630 0180 | Fax: +27 17 826 3129

Website: www.mkhondo.gov.za

Msukaligwa Local Municipality

Tel: +27 17 801 3500 | Fax: +27 17 801 3851

Website: www.msukaligwa.gov.za

Pixley Ka Isaka Seme Local Municipality

Tel: +27 17 734 6100 | Fax: 086 630 2209

NKANGALA DISTRICT MUNICIPALITY

Physical address: 2A Walter Sisulu Street,

Middelburg 1055

Postal address: PO Box 437, Middelburg 1050

Tel: +27 13 249 2000 | Fax: +27 13 249 2056

Website: www.nkangala.gov.za

Dr JS Moroka Local Municipality

Tel: +27 13 973 1101 | Fax: +27 13 973 0974

Website: www.moroka.gov.za

Emakhazeni Local Municipality

Tel: +27 13 253 7600 | Fax: +27 13 253 2440

Website: www.emakhazeni.gov.za

eMalahleni Local Municipality

Tel: +27 13 690 6911 | Fax: +27 13 690 6207

Website: www.emalahleni.gov.za

Steve Tshwete Local Municipality

Tel: +27 13 249 7000 | Fax: +27 13 243 2550

Website: www.stlm.gov.za

Thembisile Hani Local Municipality

Tel: +27 13 986 9100 | Fax: +27 13 986 0995

Website: www.thembisilehanilm.gov.za

Victor Khanye Local Municipality

Tel: +27 13 665 6000 | Fax: +27 13 665 2913

Website: www.victorkhanyelm.gov.za